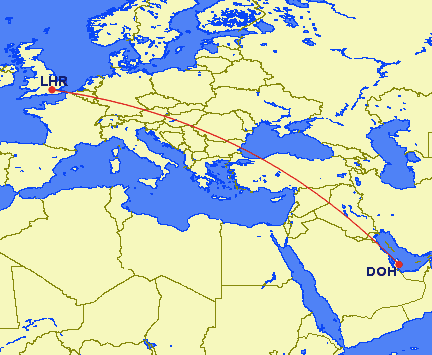 Qatar Airways (QR)
Flight: QR 813
Class: First Class
From: Doha (DOH)
To: London (LHR)
Duration: 7h10m
Aircraft: A380
Seat: 1A
Frequent Flyer status during flight: OneWorld Emerald (AA Executive Platinum)
Booking type: €650 round trip London to Tokyo in First and Business
Flight date: November 2017
---
Intro
---
We ended up in First Class for this flight as a result of a schedule change and my subsequent good fortune in dealing with the Qatar Airways Call centre. I've flown Qatar First on the A380 a couple of times before, once on a short hop between Doha and Bangkok and again on a far longer flight between Sydney and Doha. You can read those reports here:
These two flights were diametrically opposed in terms of the quality of service, with the former having some of the worst service I've ever encountered and the latter being for the most part fantastic. With such varying results I was glad to have the opportunity to add another datapoint to my analysis of Qatar's flagship product.
I was particularly interested to see how I would feel about the merits of flying First now that Qatar had introduced fully enclosed Q suites in Business Class.
Qatar's CEO famously stated that Q Suites were "frankly First Class at a Business Class fare", which of course leaves you questioning the viability of First Class going forward…
---
Pre-Departure
---
We didn't have too long to spend in the Al Safwa lounge, which I reviewed in full the last time we were here. So, we made the most of our time by having a few glasses of Veuve Clicquot La Grande Dame (I can't believe they actually served Krug Clos du Mesnil here for a very brief period of time!) and relaxing in the cavernous main atrium, by the fountain.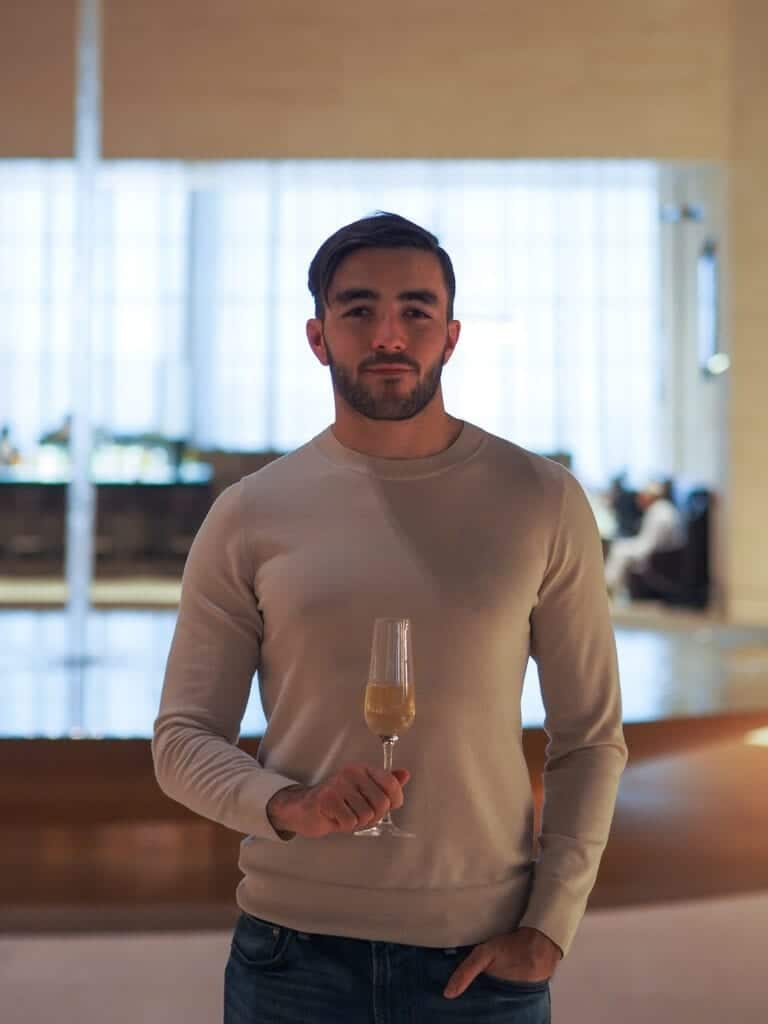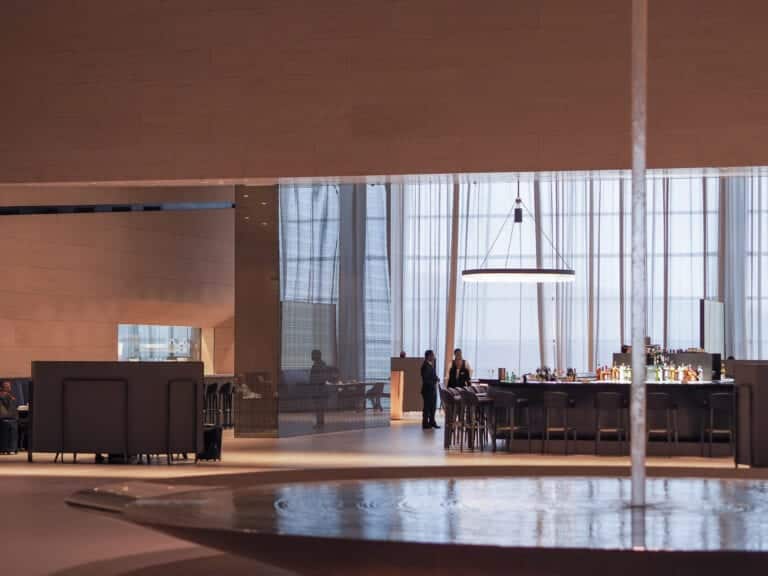 Since our flight was departing from a gate only two minutes away from the lounge we didn't make use of the chauffeur service. Still, we had the opportunity to get a fantastic close up view on the way to the plane.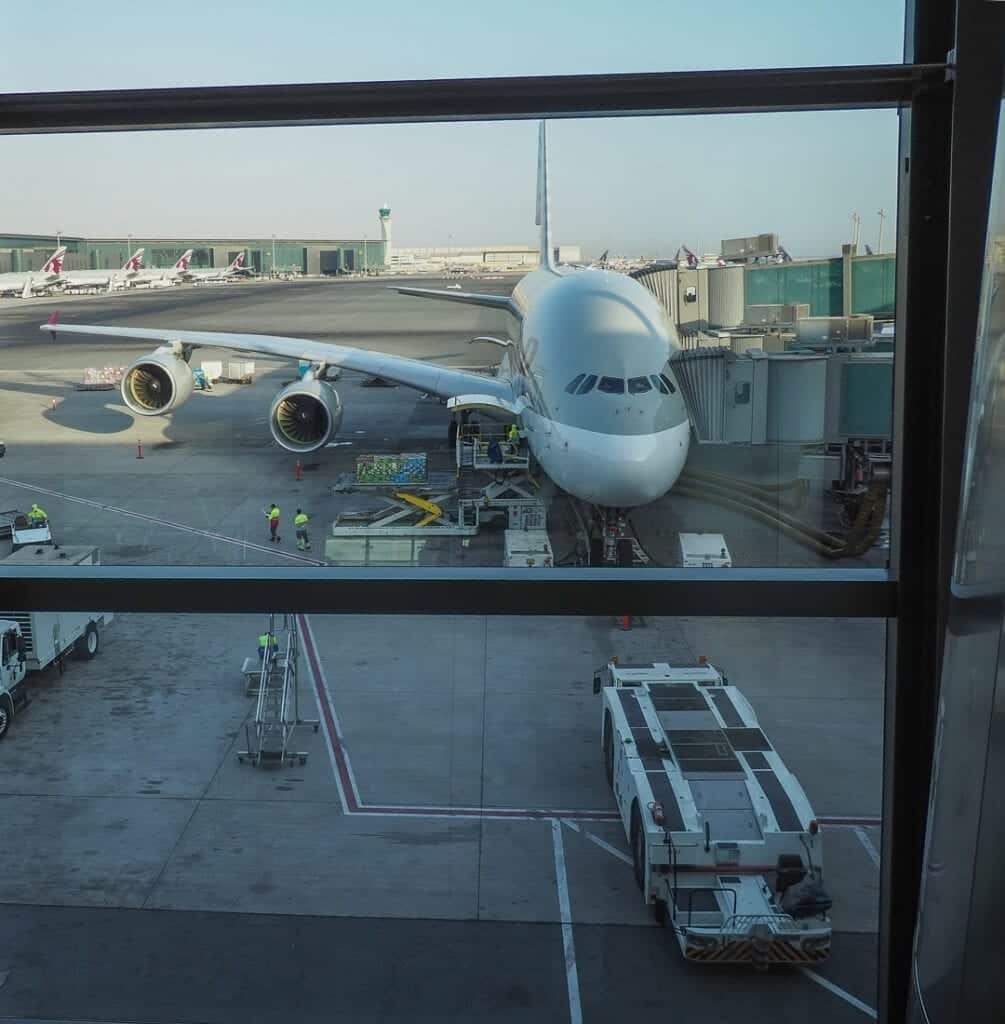 As Kamara and I stepped on board we were greeted by two members of cabin crew, one of whom escorted us to our seats. Since there was only one other passenger on board, sitting in Seat 1K, we had the whole left hand side of the cabin to ourselves. Seats: 1A and 2A for dining and relaxing in with seats 1E and 2E to be used for sleeping.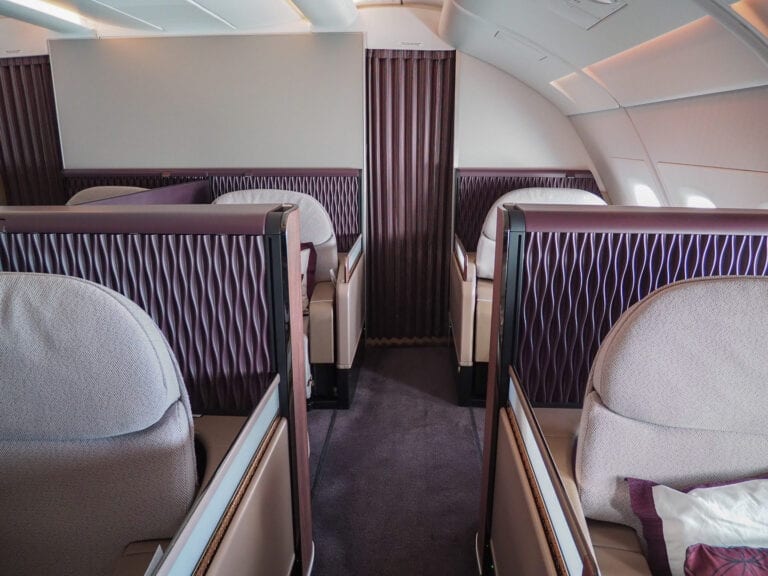 Prior to takeoff we were first offered our choice of either a hot or cold towel, followed by the traditional Arabic coffee and dates. We were also offered our choice of any PDBs . I went with my favourite champagne: Krug.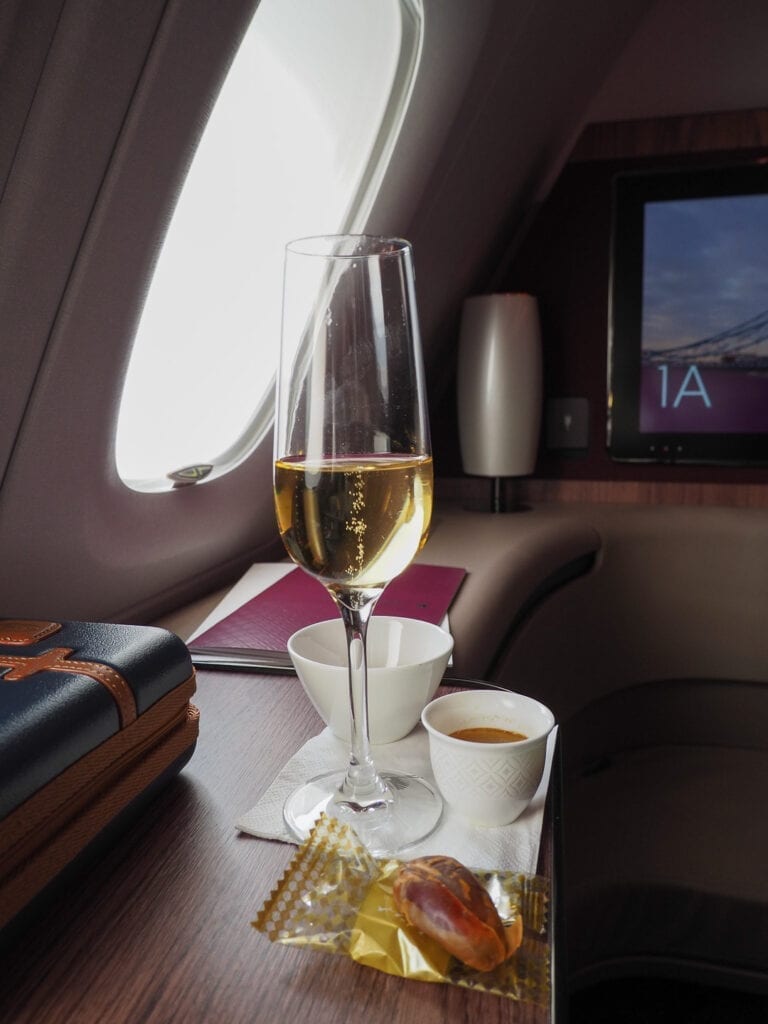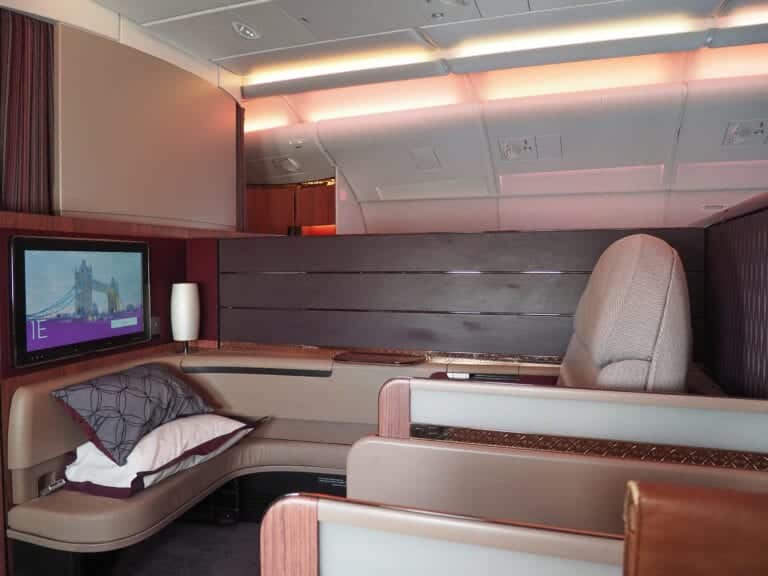 Amenity kits were also distributed before take-off. These were a larger version of the Business Class kits by BRICS. The actual contents were almost identical though, the key differentiators being that the First Class kit contains one additional cream and a leather luggage tag. We were also handed a fast track immigration card which is borderline useless to EU/UK passport holders at LHR but good to see that it was proactively offered at the beginning of the flight.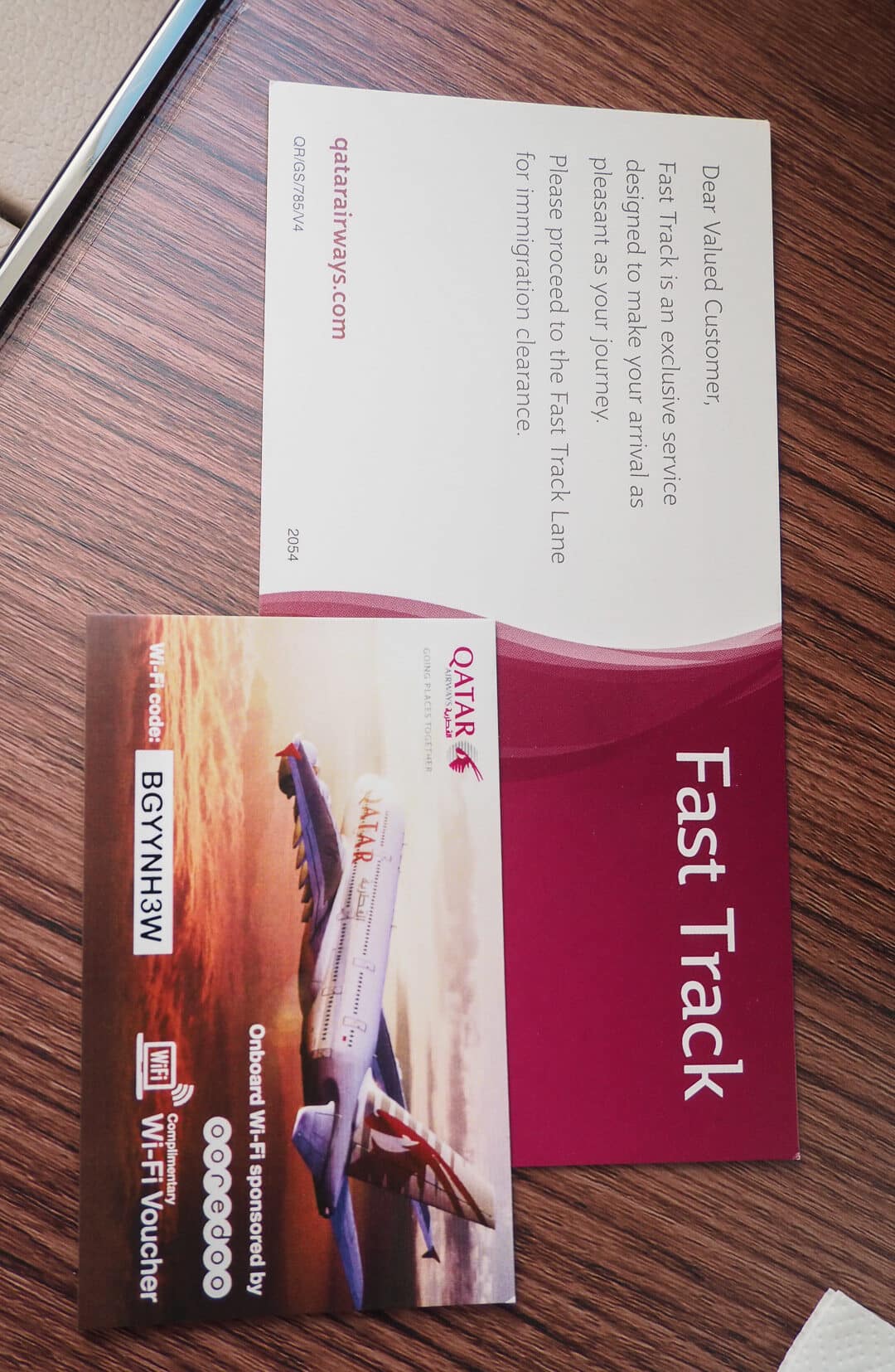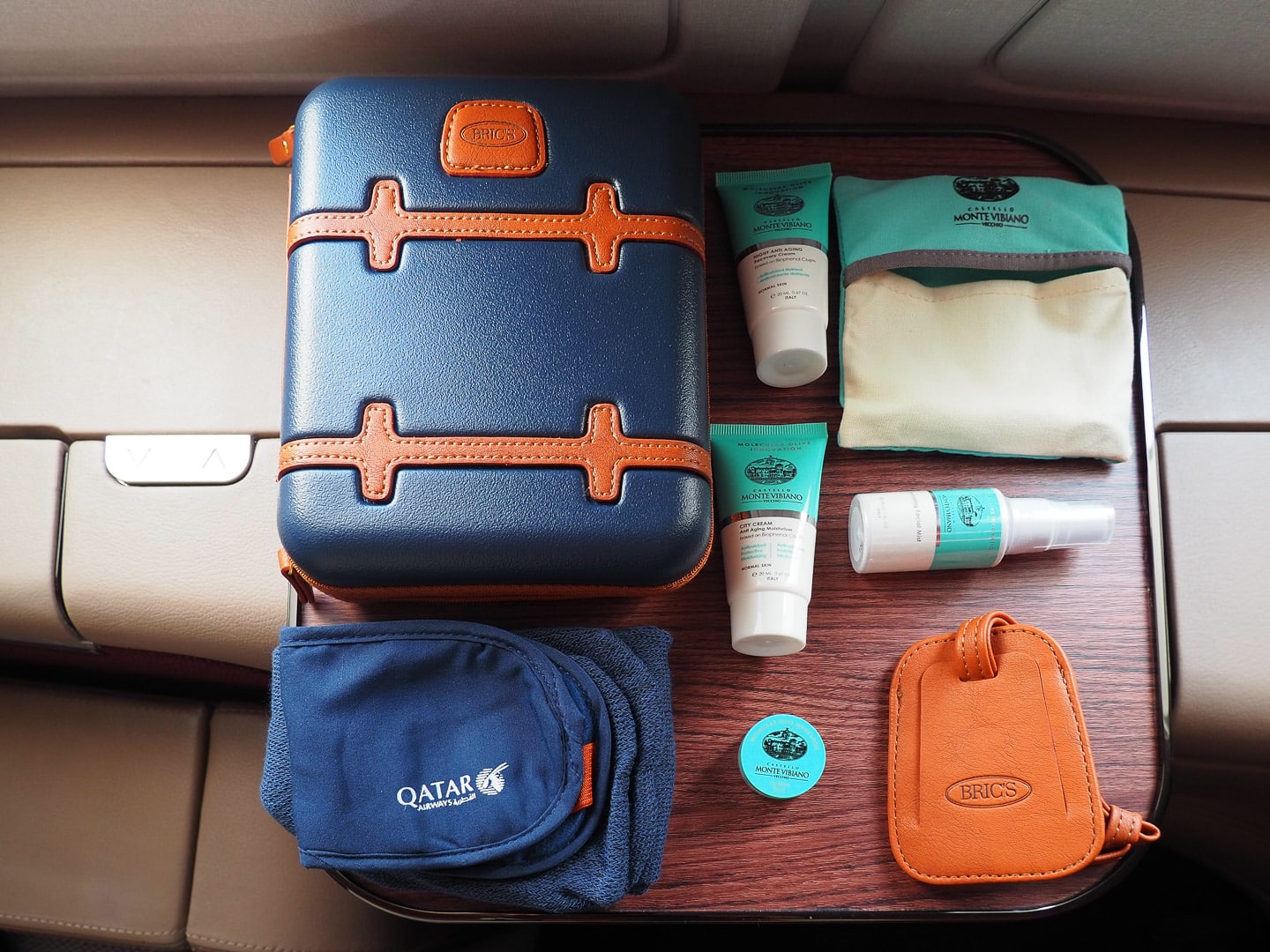 We were also given vouchers for complimentary WiFi – thankfully it seems like the nickel and diming attitude of charging premium cabin passengers for WiFi is changing. It's always bewildered me that airlines thought it was ok to charge for WiFi in First and Business. It would be unthinkable (and very tacky) to charge for drinks or bags but for some reason WiFi wasn't seen as a basic part of the package. Qatar was one of the first to offer WiFi on a complimentary basis.
Finally, a pair of noise cancelling headphones were waiting at my seat. The headphones were good but not great and were the same as the ones provided in Business Class. These aren't a patch on the extravagant B&O headphones you'll receive on Singapore Suites for example.
I've covered the design of the seat in depth in my previous reviews but this was actually my First time flying this cabin in daylight hours, so I took the opportunity to get a fresh set of brighter pictures. I really don't need much of an excuse to photograph a First Class cabin!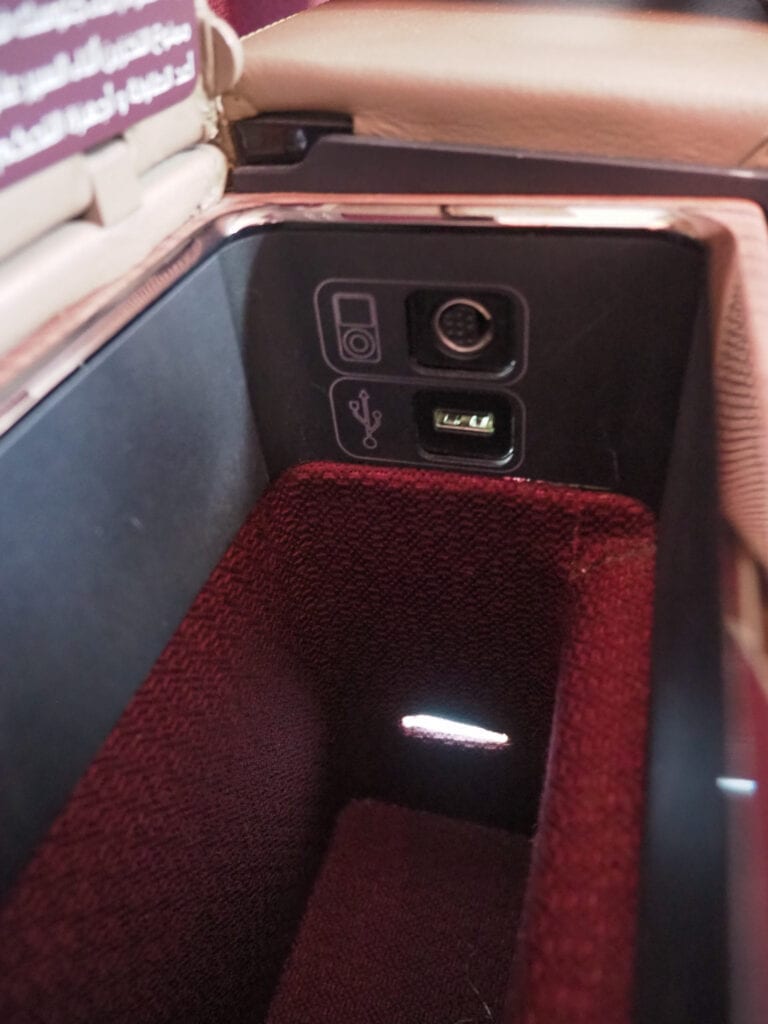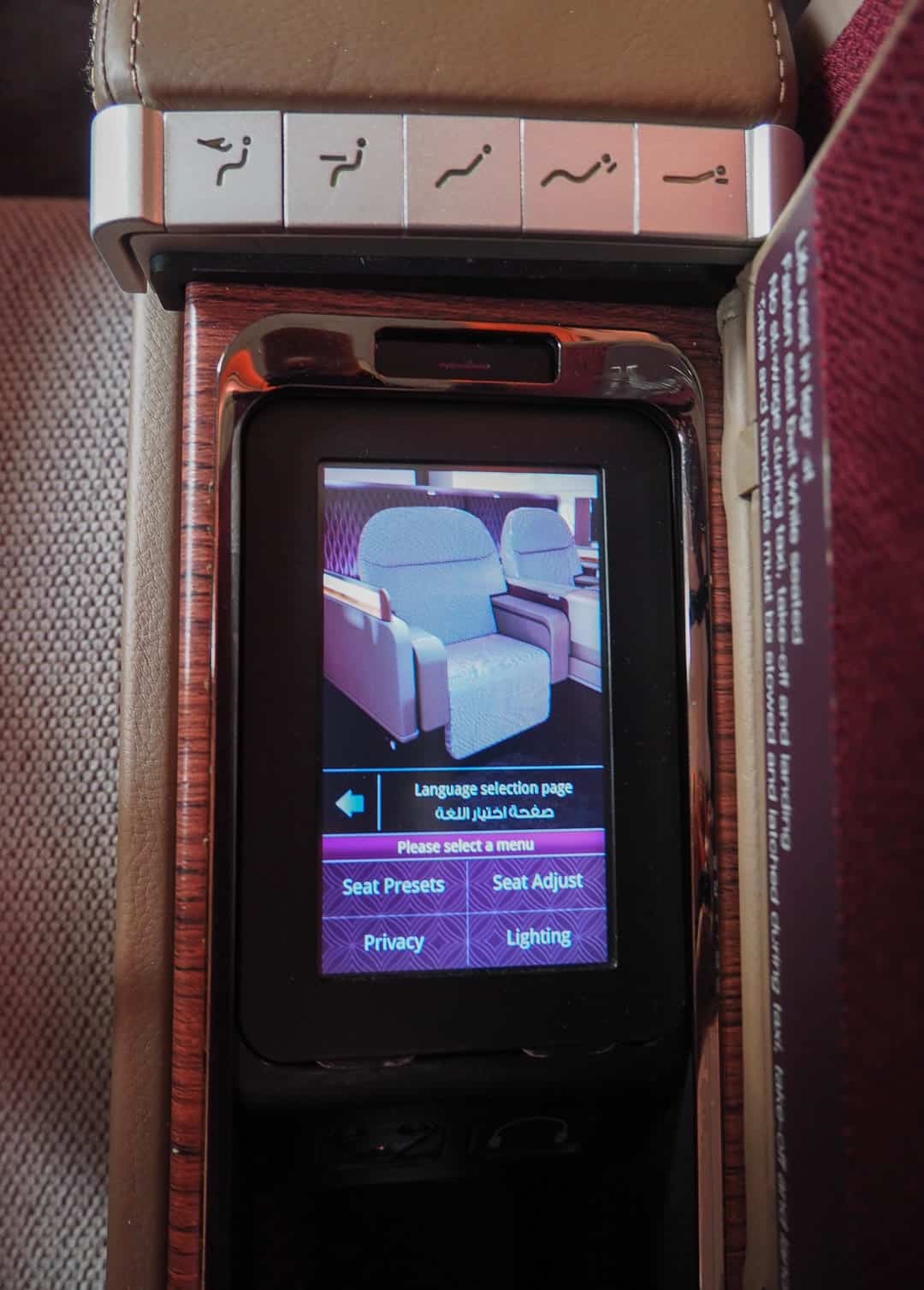 That iPod input could do with being replaced by an HDMI socket in this day and age.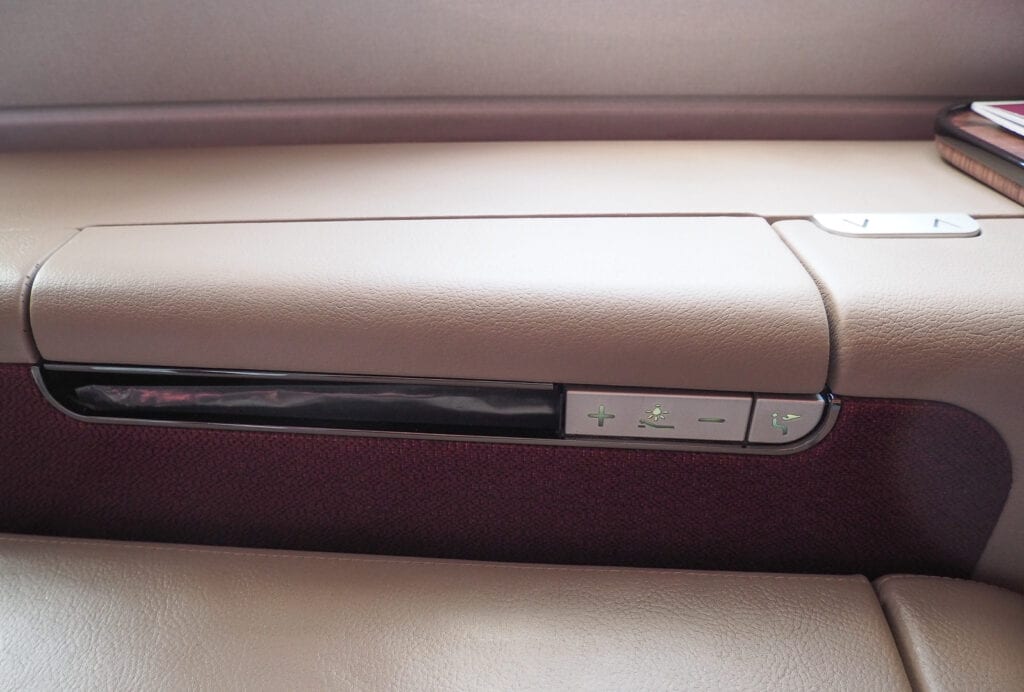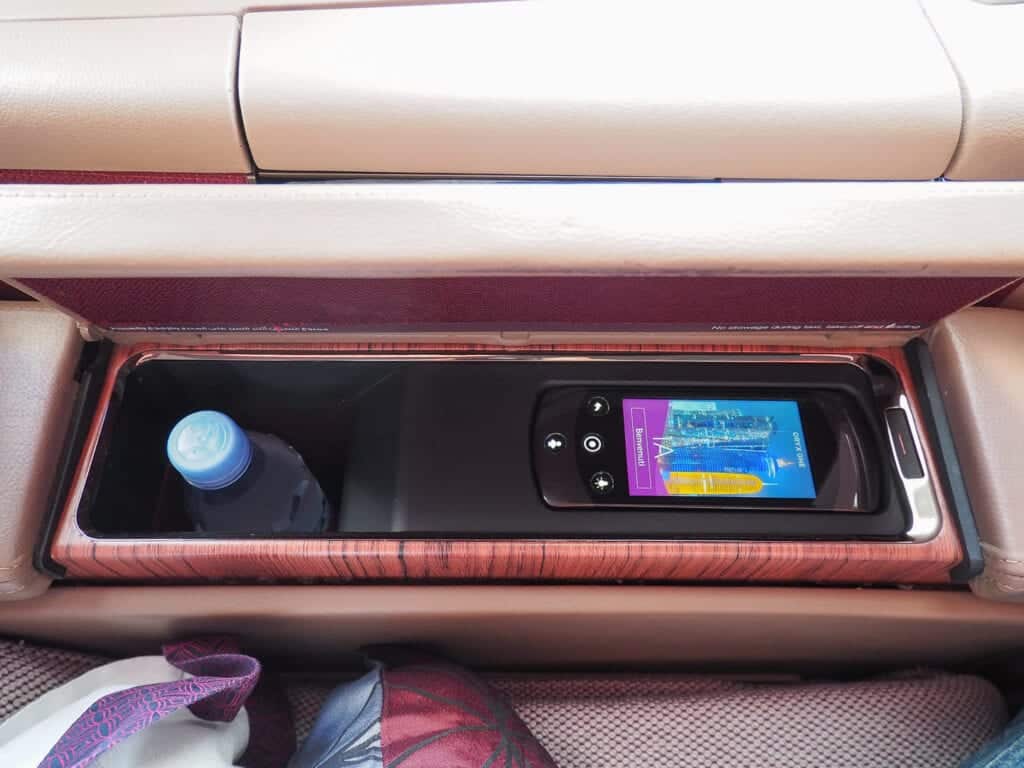 The seat is very elegant and spacious with lots of beautiful touches but I honestly felt like I ran out places to put my things. The storage compartments are very small for a First Class seat, to the point where it felt like I had considerably more storage in Q Suites Business Class.
---
The Flight
---
Before taking off, the crew checked to see if I'd like to eat immediately after take off, or wait until later in the flight. I was pretty hungry, having not eaten anything in the lounge and was keen to see what the breakfast was like. Breakfast in First Class is actually pretty tough to get right and even my beloved Thai Airways has previously transgressed rather spectacularly in this regard.
Given that the flight length is not dissimilar to LHR-NYC, I was surprised to only see breakfast and light options in the menu. I would have expected two full meals on a First Class flight of this length or at least one or two more substantial dishes in addition to the 'Light Options' section.
The wine list was every bit as good as I've come to expect on Qatar: Krug champagne, a 1er Cru Chassagne Montrachet, a 'Super Second' from Bordeaux and one of Chile's best wines…If you're an oenophile you won't be disappointed (although you'd almost certainly be happier on Emirates).
I ordered a celery, apple and pear energiser to begin with; this was served like a pre-dinner drink on the side table before the table was set. I found this drink to be quite watery and very sweet, not something I'd order again.
We asked to dine together since there is more than enough table and seating space for companion dining in this cabin. We both ordered the same dishes: the greek yoghurt with compote and mixed nuts followed by the 'create your own breakfast' option. The greek yoghurt was exactly what you'd expect, if a little on the sweet side. The eggs and steak were very overcooked and somewhat lacking in the presentation department.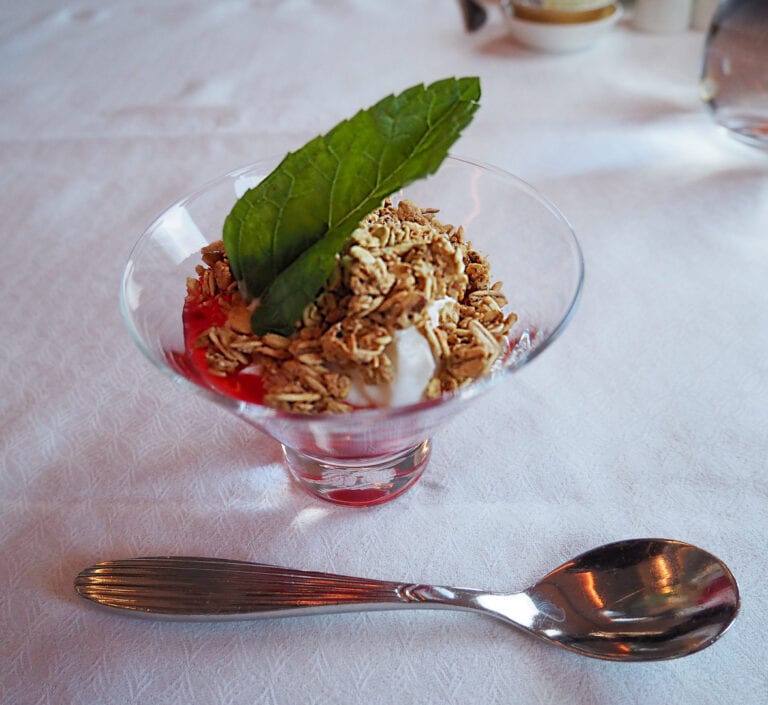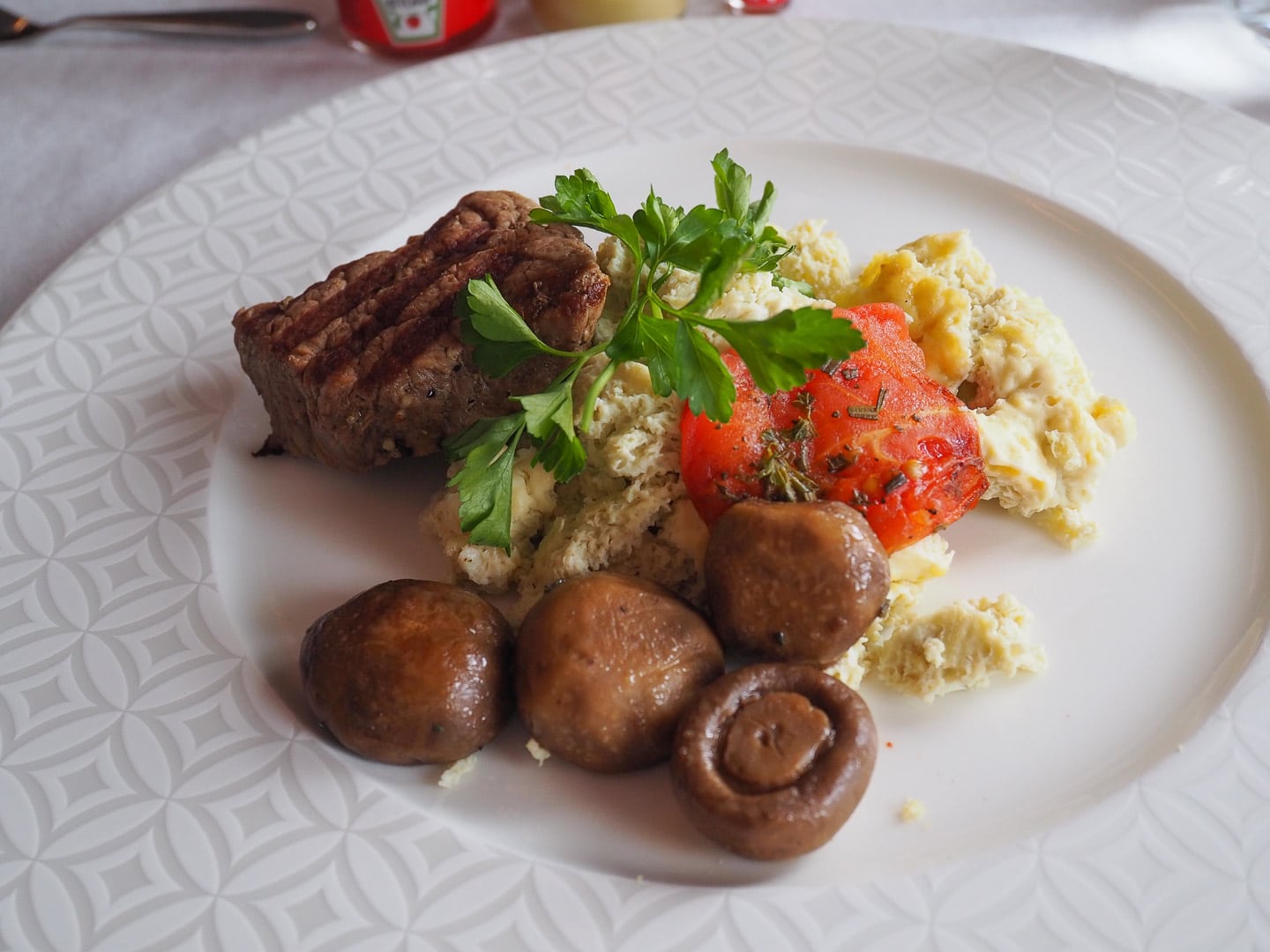 Compare this to freshly cooked, silky scrambled eggs topped with caviar on Cathay Pacific or eggs and caviar with the addition of a freshly grilled steak sandwich on Etihad and you see that Qatar is demonstrably lacking when it comes to breakfast.
When breakfast is the only meal that you're serving on a long haul First Class flight you can't just put a Business Class breakfast on fancy plates and hope that people won't notice.
My double macchiato was perfectly made and Kamara's tea was presented on a tray as a full pot with a separate milk jug and a dish on which to place the tea bag. The tea presentation was a small incremental improvement over Business Class where only an individual mug is offered. We were also presented with the obligatory Qatar bread basket to share, which included some rather soft and doughy breakfast pastries.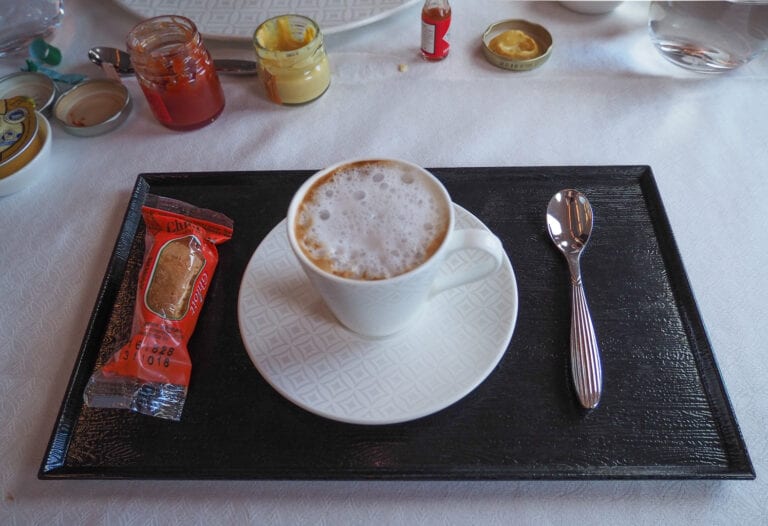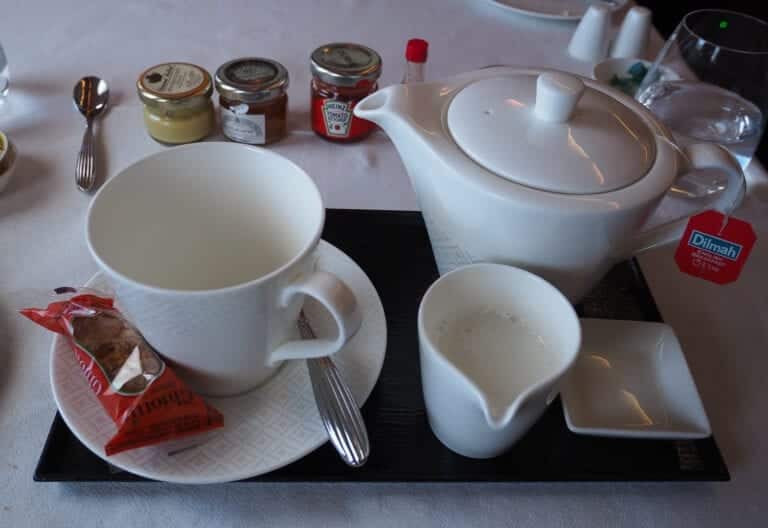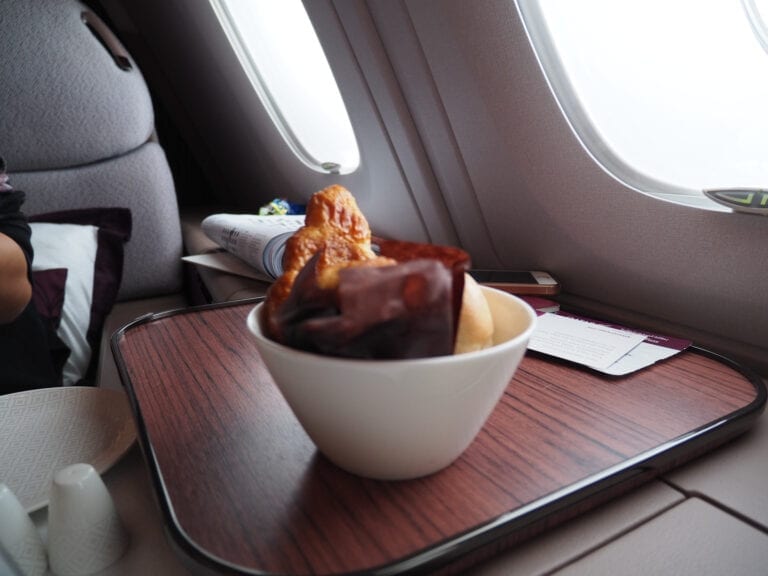 Honestly, it was great to have a bright and spacious cabin almost entirely to ourselves but nothing about the actual contents of the meal was First Class, other than arguably the presence of a teapot.
Here's where things took a turn for the worse.
The service during the meal was a little brusque as it seemed that crew were being spread between First and Business and seemed borderline resentful of having to perform duties in this cabin.
When I asked if the crew if they would be able to make my bed in the seat next to me I was informed that since this was a daytime flight neither bedding nor pyjamas were offered to passengers. This was materially worse than my evening flight in Q Suites Business Class, where both were on offer on this route.
I was told by a member of cabin crew that they'd see if they could find a blanket and pillows. This was their idea of making a bed for a First Class passenger:
Thankfully I still had my Business Class pyjamas in my carry on and so was able to change into something more comfortable to sleep in. I passed the always impressive library/minibar area with its beautiful chandelier on the way to the enormous bathroom.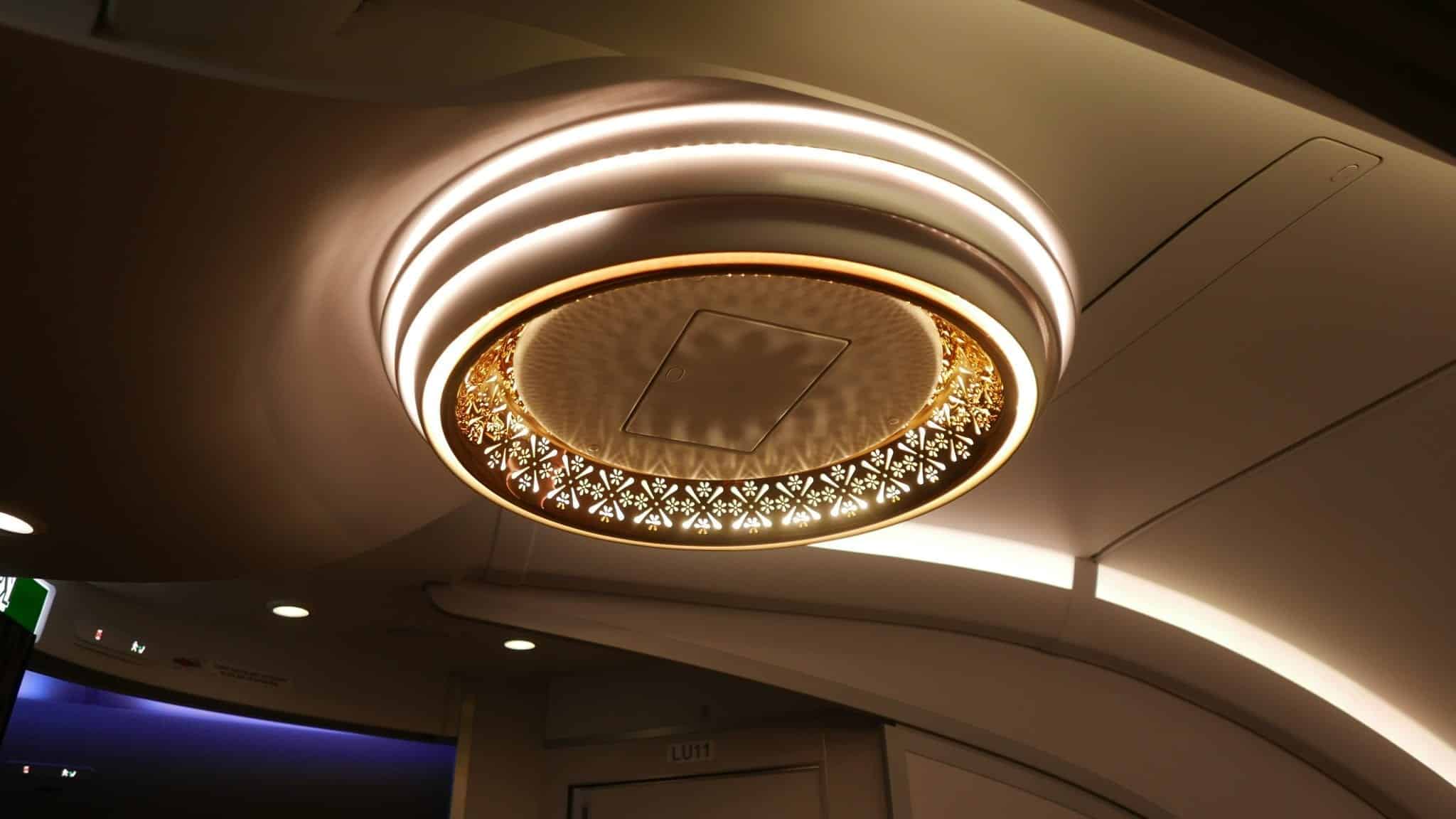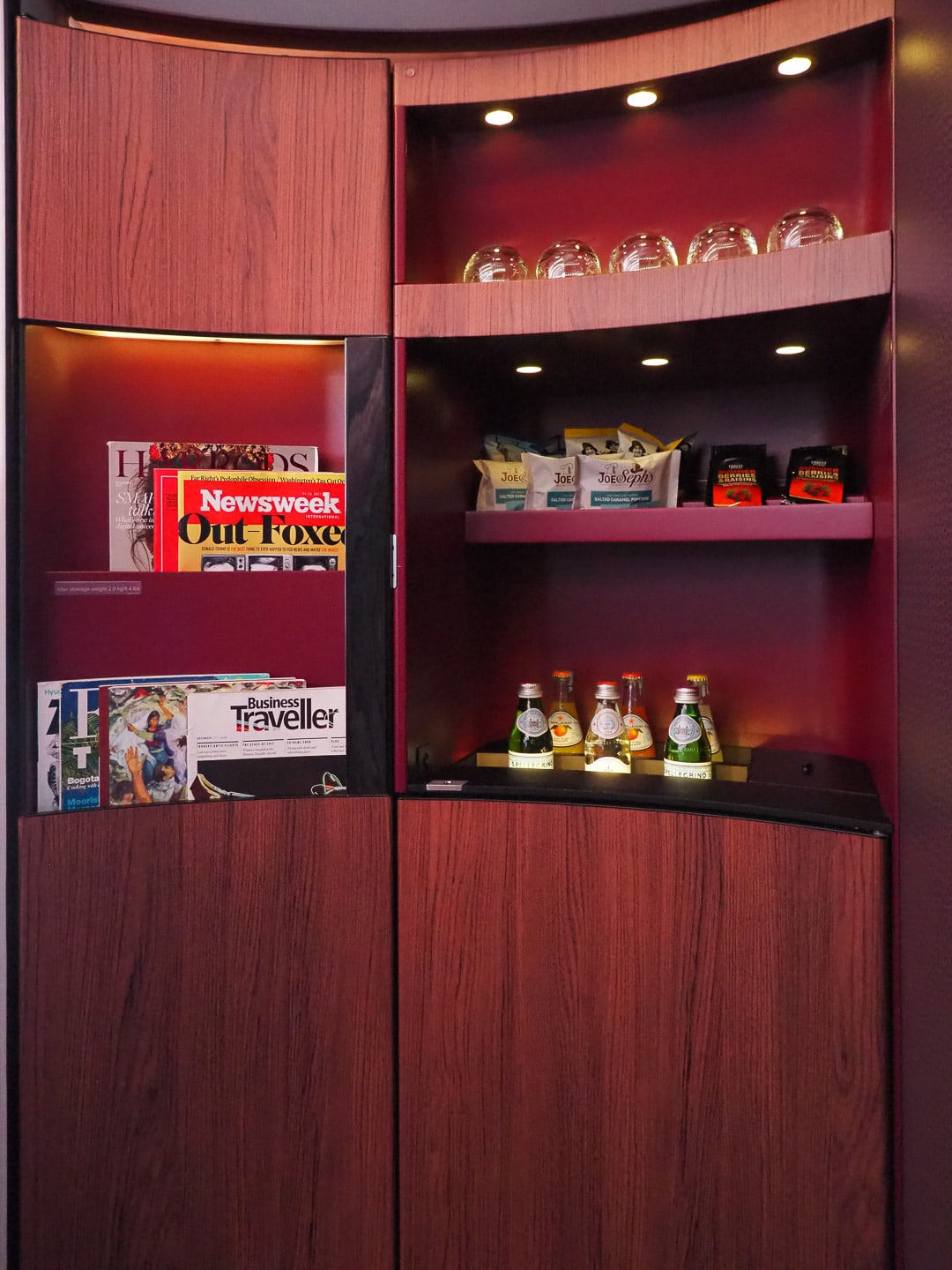 There's certainly no doubting the First Class credentials of this ornate and expansive space, although it seems a little strange that Qatar is the only Middle Eastern carrier not to offer showers on its A380.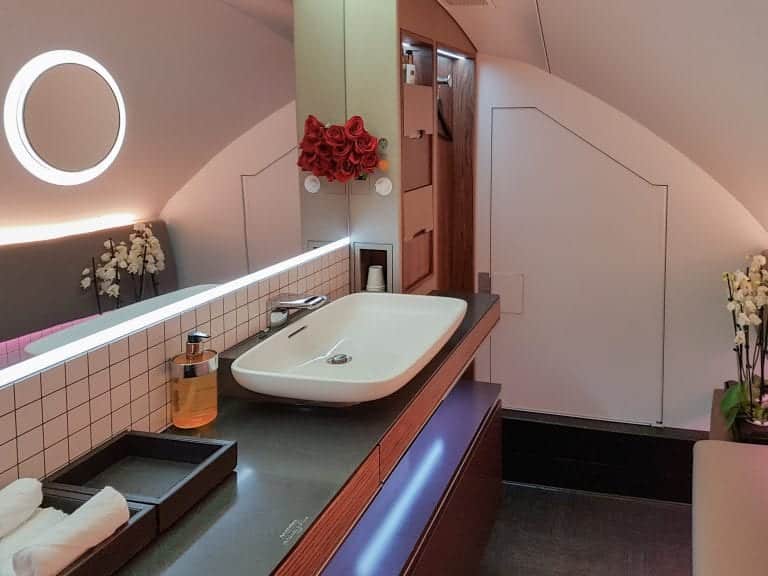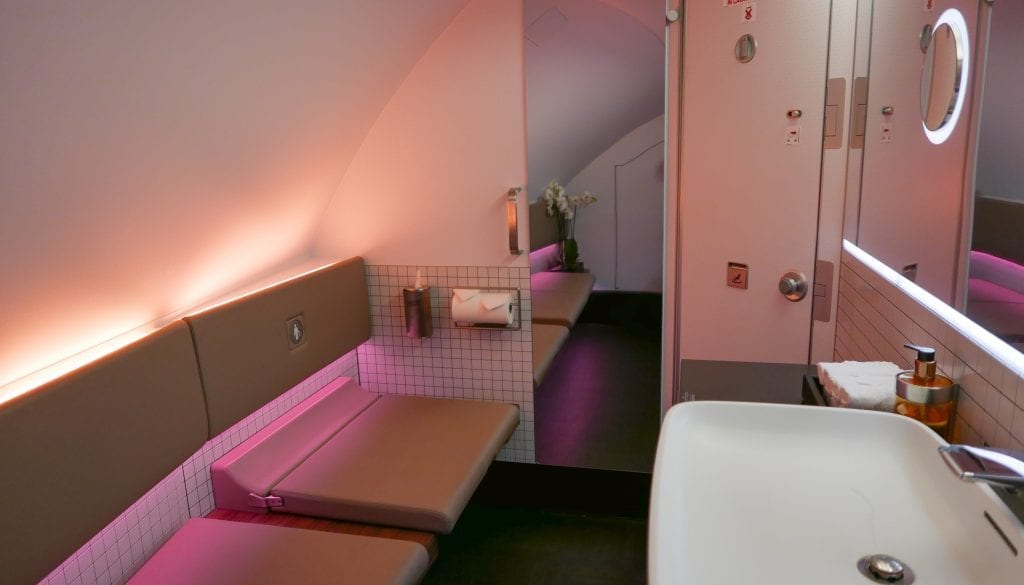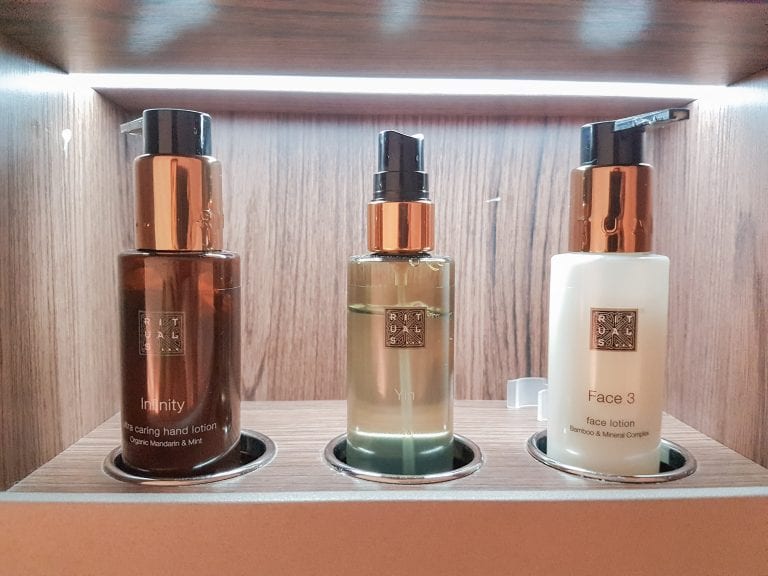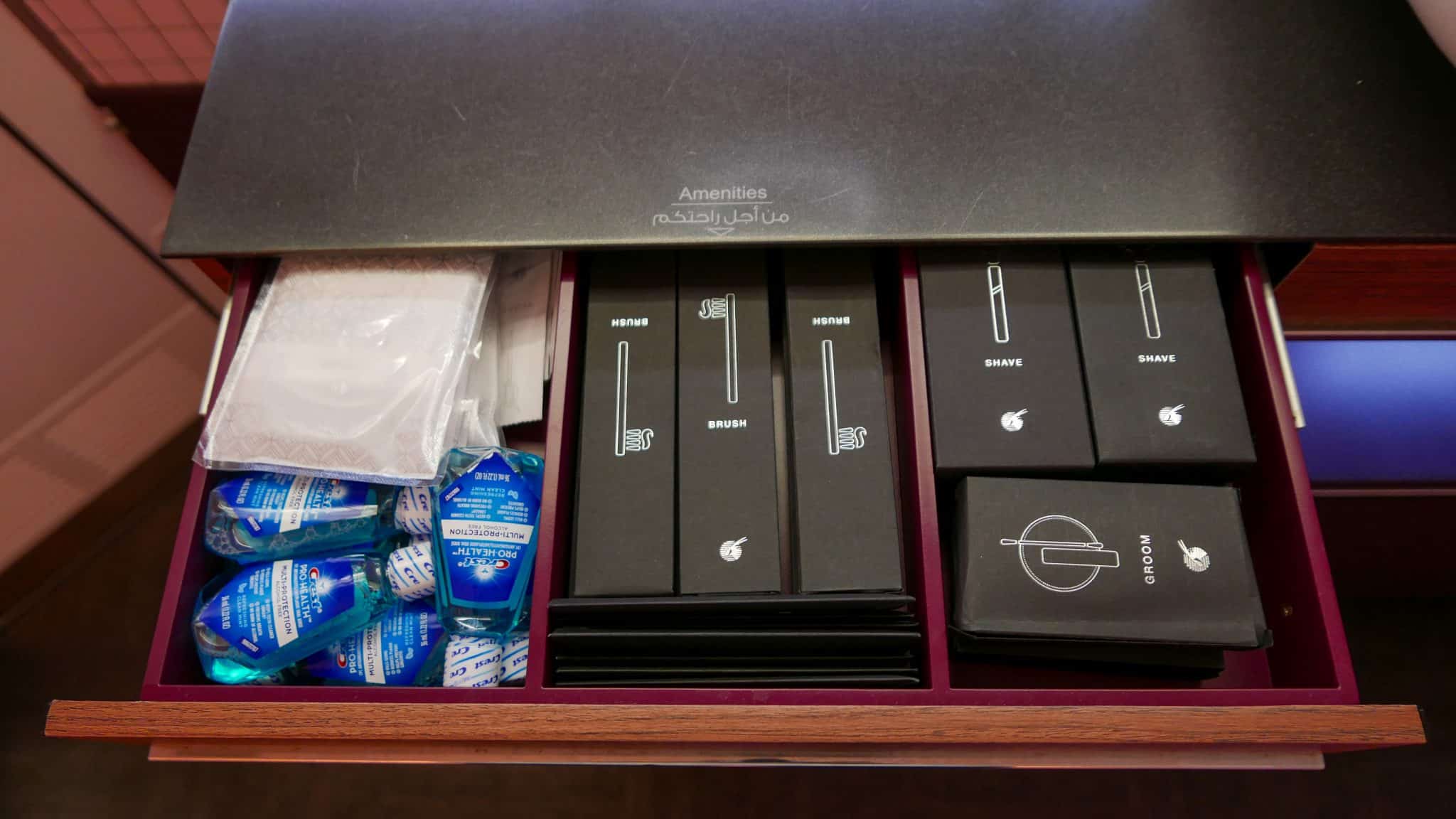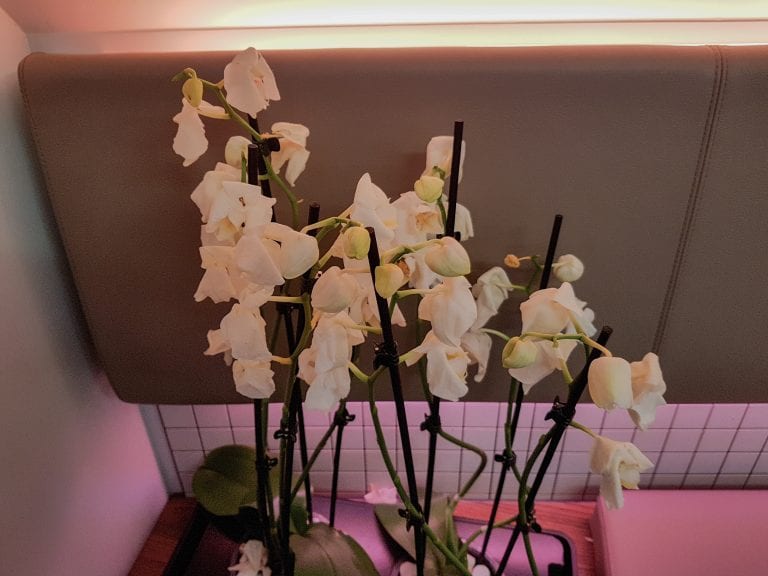 After a two hour snooze I decided to make the best possible use of my time… by ordering a glass of Krug, which was served with warm mixed nuts.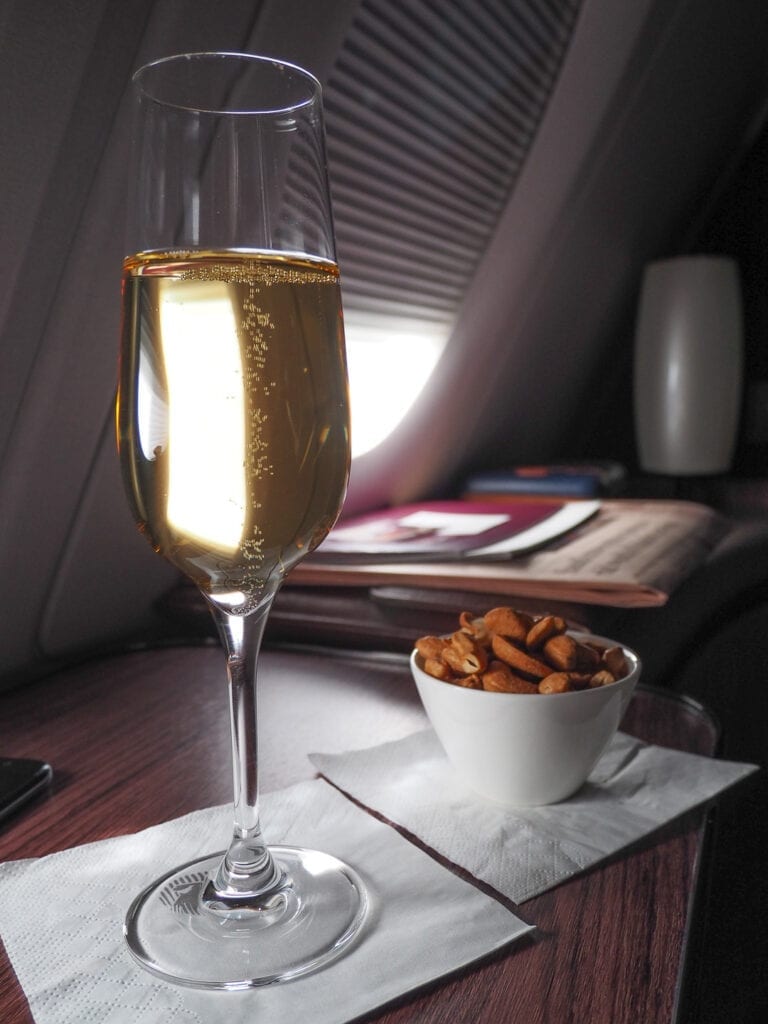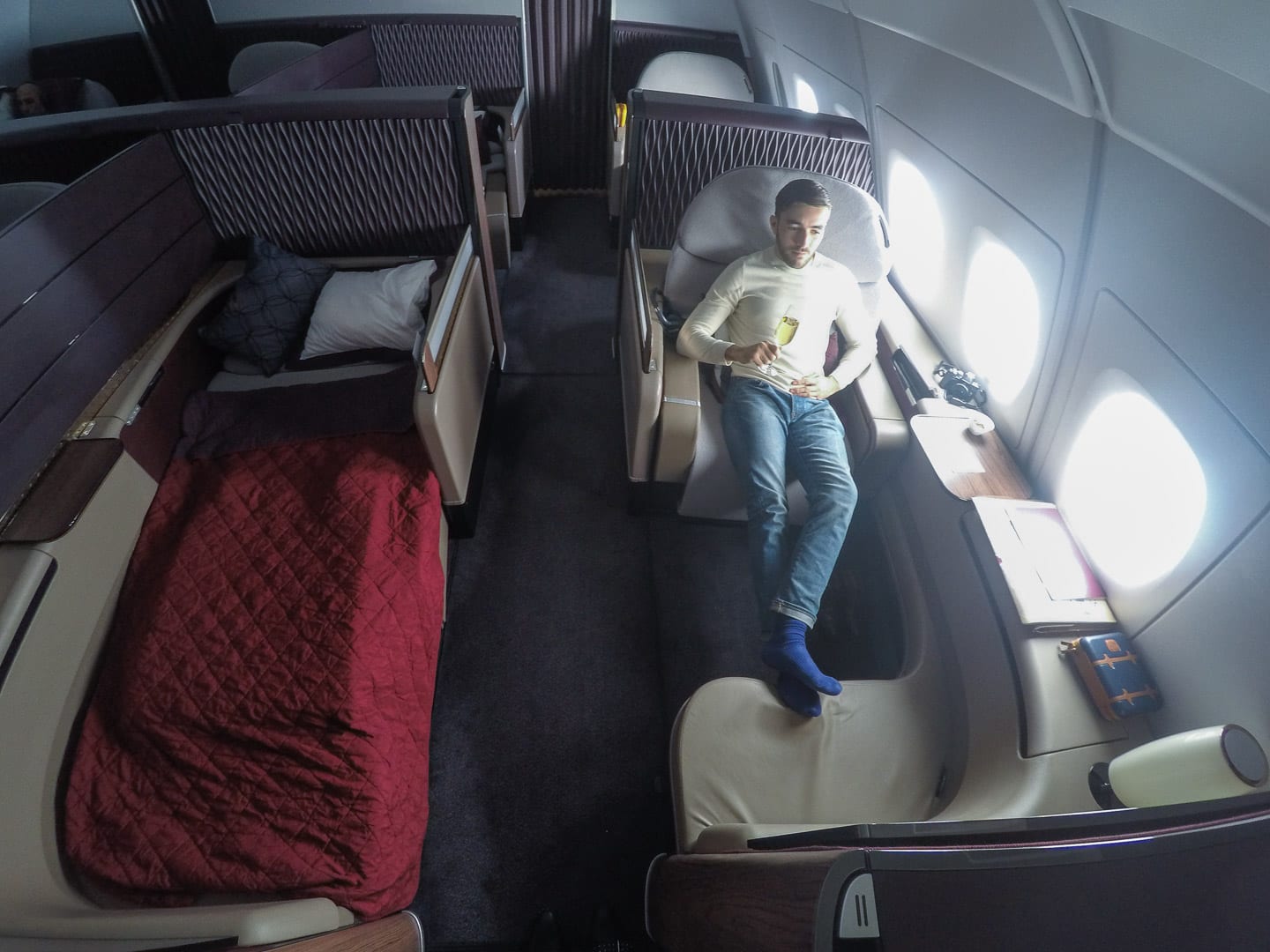 As you can see from the image above, the sleeping surface was lumpy and uneven without a mattress topper. I honestly can't understand why bedding wouldn't be provided in a First Class cabin. There could very well be people on this route flying in from a completely different time zone, expecting a proper sleep. To not be able to do this in First Class is astonishingly poor.
One thing that was astonishingly excellent was the view from the window though. Sipping my favourite champagne whilst staring at the morphing vista of snow capped peaks is a hell of a way to spend an afternoon and it has to be said that for lounging, the Qatar First seat is excellent.
I started to get quite hungry as the flight wore on since the breakfast wasn't exactly huge. I asked if any of the breakfast main courses were still available but was told that they were not, so I went with a cajun chicken salad and a double macchiato to help counteract the soporific effects of the champagne.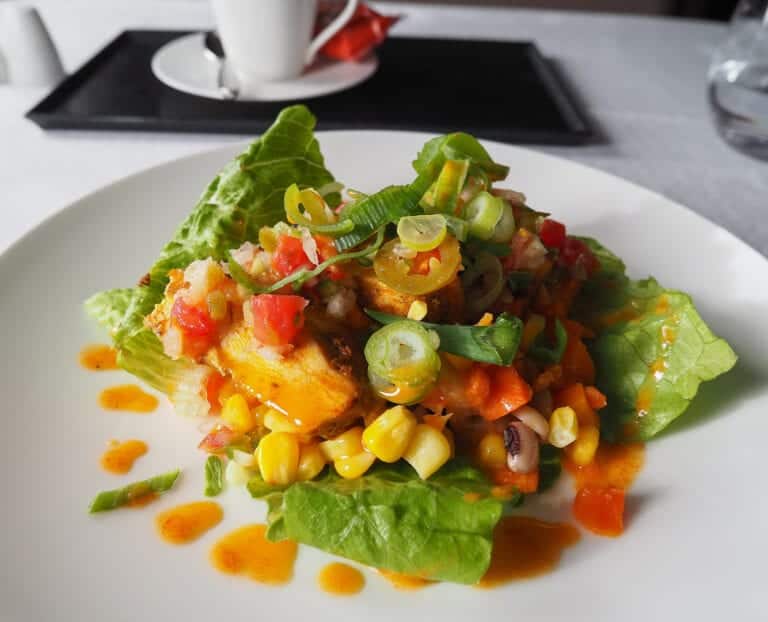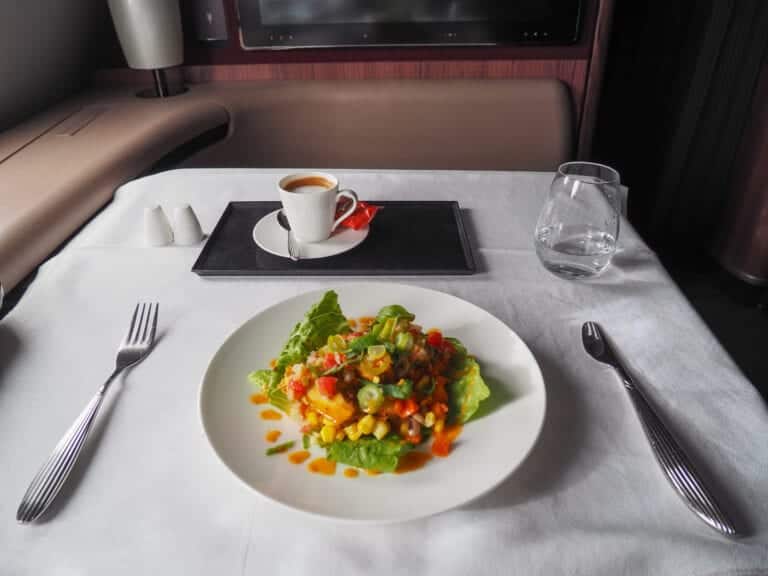 The salad was delicious and healthy, although once again nothing about it was First Class, other than perhaps the plate. It's the sort of thing you'd grab for lunch at Pret, rather than what you'd expect to be served for lunch at Le Gavroche.
Did I mention the views though?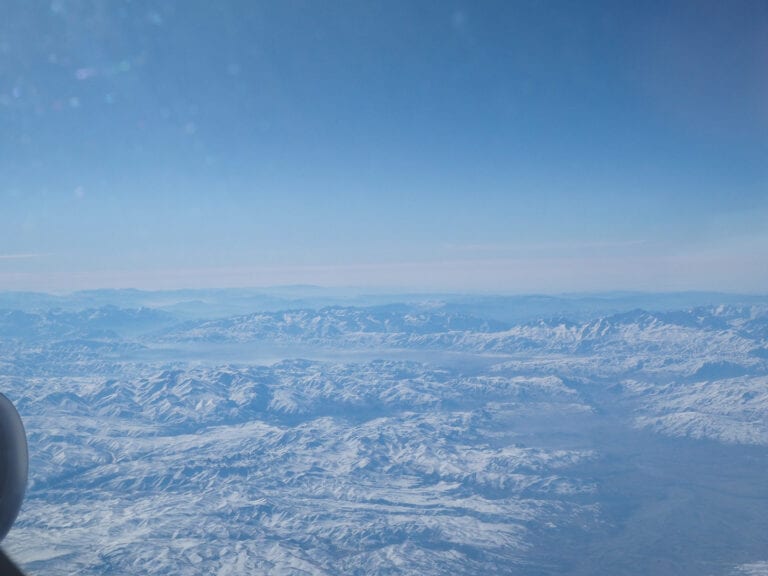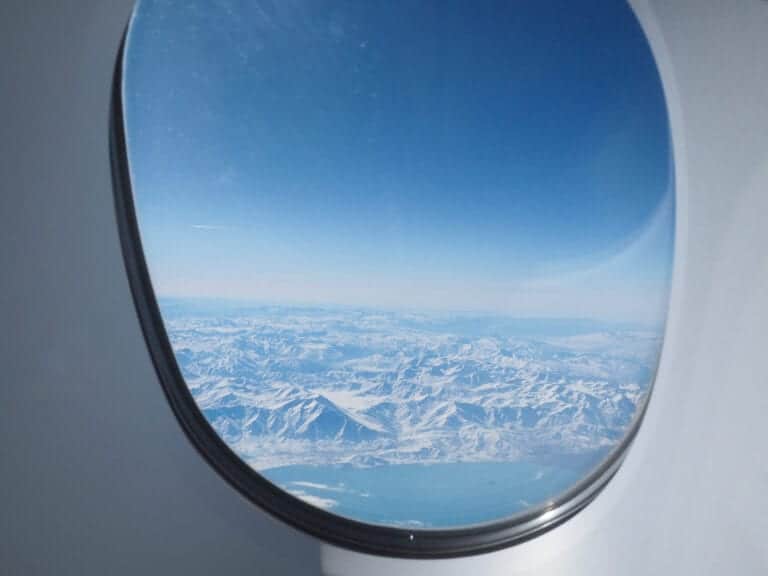 ---
Conclusion
---
Overall this flight firmly cemented to me the fact that Qatar First Class is a complete waste of time.
Let's compare this to my outbound flight in Business Class:
| Feature | Q Suites Business Class | A380 First Class |
| --- | --- | --- |
| Suite with closing doors | ✅ | ❌ |
| Double bed | ✅ | ❌ |
| Pyjamas | ✅ | ❌ |
| Bedding | ✅ | ❌ |
| Full menu of hot dishes available throuhgout the flight | ✅ | ❌ |
| Caviar | ❌ | ❌ |
| Krug champagne | ❌ | ✅ |
| Extravagant bathroom | ❌ | ✅ |
If you care more about Krug, bathrooms and teapots, Qatar First Class is for you. Otherwise you're best off sticking to Q Suites on this route, where you'll be able to sleep comfortably in an enclosed suite with a double bed, with sleepwear and bedding provided and your choice of hot meals whenever you like.
Qatar's CEO famously declared that with Q Suites he was offering "First Class at a Business Class fare". I'd say that in many ways it is actually better than First Class… at least where his airline is concerned.
---