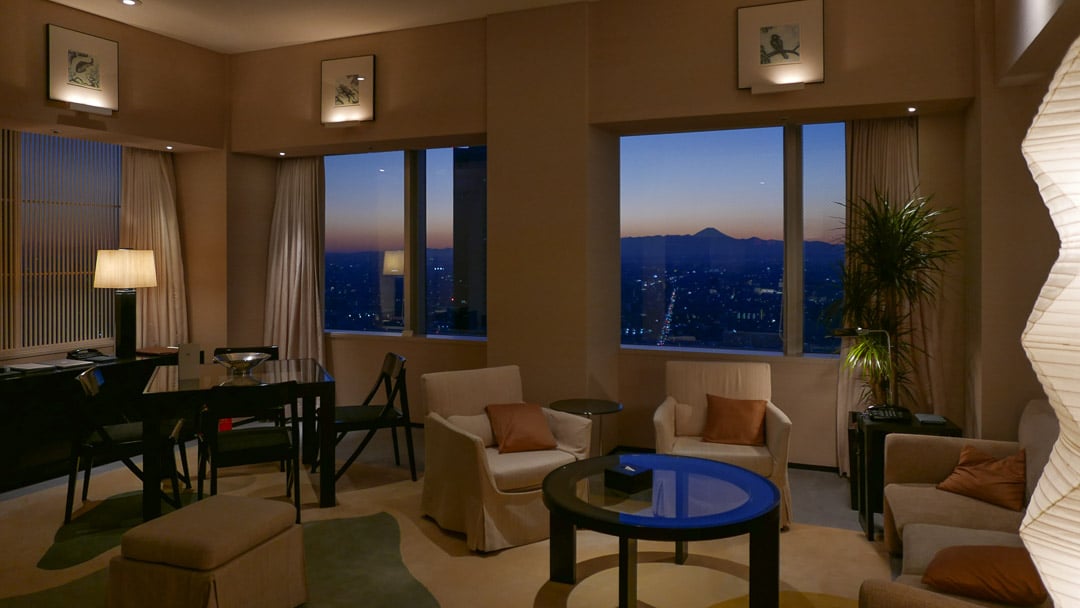 REVIEW – Park Hyatt Tokyo : Park Suite (NYE Stay)
June 29, 2020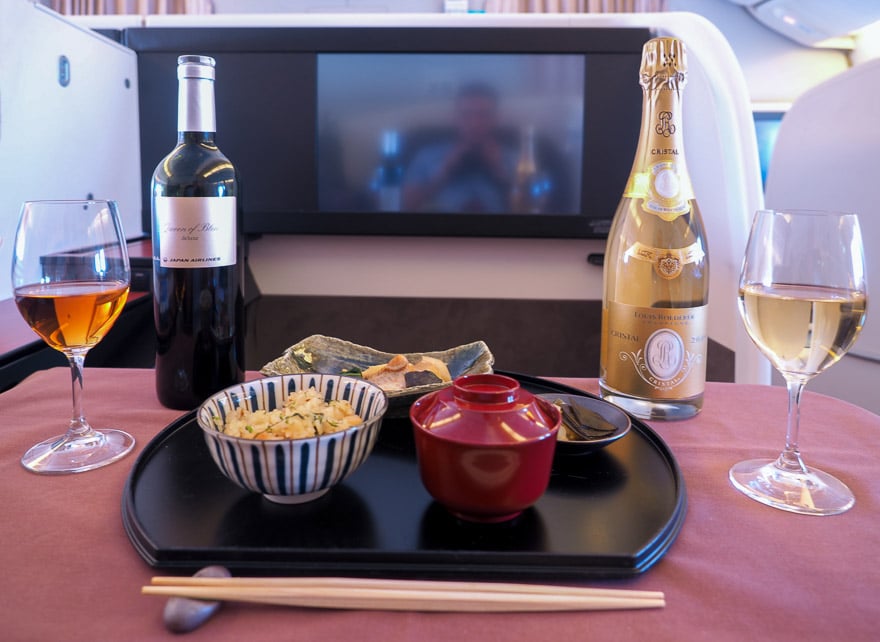 REVIEW – JAL : First Class – B777 – Tokyo (HND) to London (LHR)
July 5, 2020
Conrad Tokyo
Rate: various
Room Types:

King Bayview Suite
Twin Bayview Suite
Corner King Bayview Suite

Status During Stay: Hilton Honors Diamond
---
Intro
---
I've stayed at the Conrad Tokyo more times than at any other hotel on the planet. If you're wondering about staying here and weighing up the merits versus another hotel: Don't worry, just book it.
It honestly warms my heart just seeing the entrance to this hotel.
More than anywhere on earth, this hotel feels like home. I've tried a few other hotels in Tokyo like the Park Hyatt and the Prince Gallery Kioicho but somehow, the Conrad keeps pulling me back.
You can read about some of my previous visits here:
One of the main reasons that I keep coming back is that my Hilton Diamond Status not only guarantees me executive lounge access but they hotel is also very good at upgrading me to suites if they're available.
I've also found their cash rates for suites to be the very best amongst Tokyo luxury hotels. During one of their regular flash sales I was able to book a higher level King Corner Bayview Suite for ¥40,000, which wouldn't even get you an entry level room at a lot of other luxury properties in this city.
I would absolutely recommend booking with Impresario benefits too. You'll pay the hotel's best available flexible rate and also receive:
Upgrade of one category

based on availability at time of check-in
Full breakfast for up to two in room guests
$100 Hotel Credit
Welcome amenity
Early check-in/late check-out subject to availability
Double Hilton Honors points and stay credit.
---
King Bayview Suite (End unit)
---
We were given this suite in December of 2016 (hopefully the progress in my photographic skill will be apparent in this review…). I emailed ahead to request the upgrade since we have friends in Tokyo who were going to come over to hang out with us and the property very kindly upgraded us in advance.
What's interesting about this suite is that it isn't featured on their website at all. It seems to just be categorised as a regular King Bayview Suite, but given that it is at the far end of the property its layout is quite different to the standard suites here.
What makes this suite so unique?
The Tokyo Bay view, right at the foot of the bed. Standard rooms and entry level suites have the bed facing the wall but due to the L-shaped design of this particular suite, the bedroom is wider than it is deep, with a fantastic view of the bay.
Living Room
As you enter the suite there's a guest bathroom immediately to your right.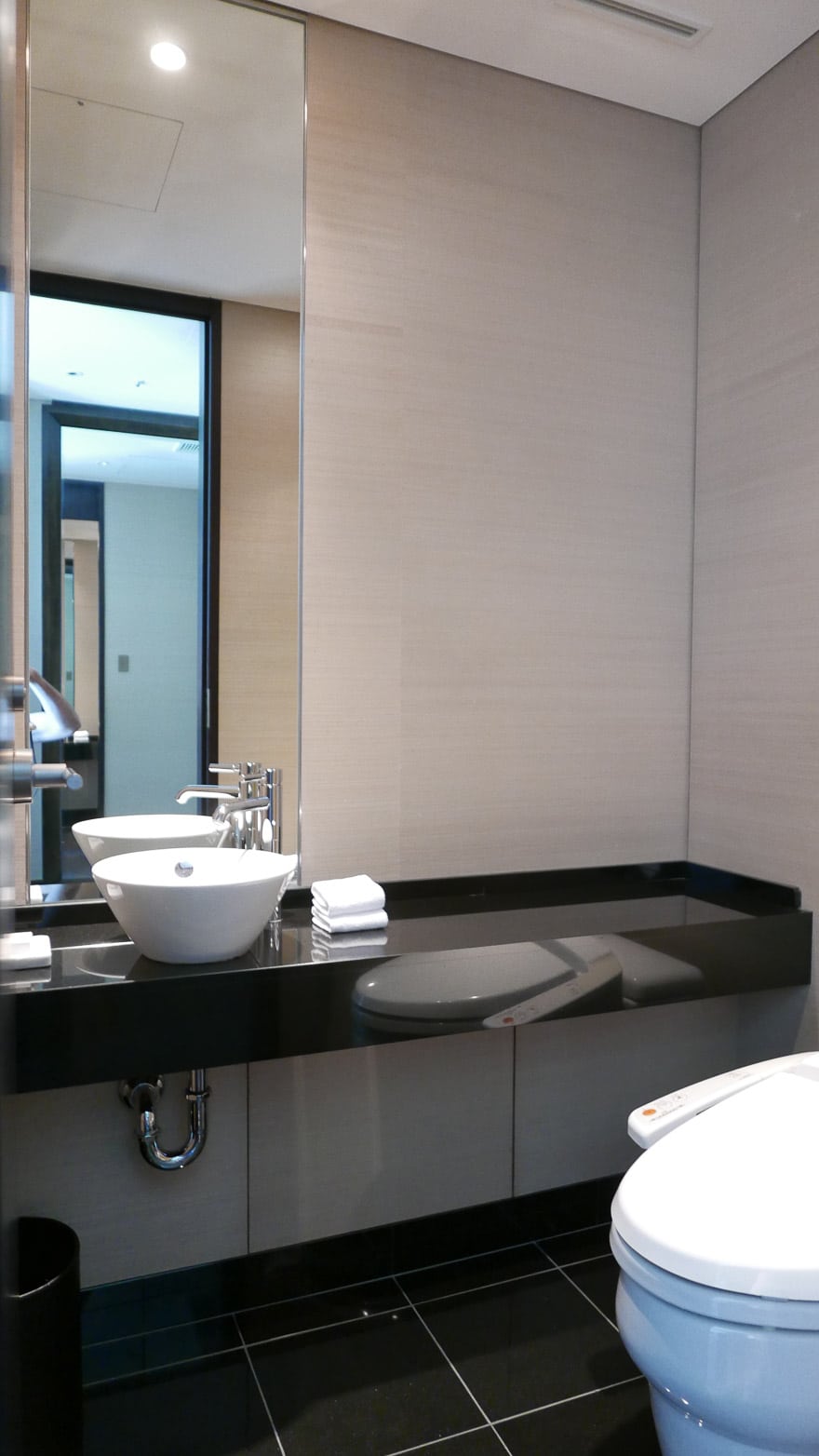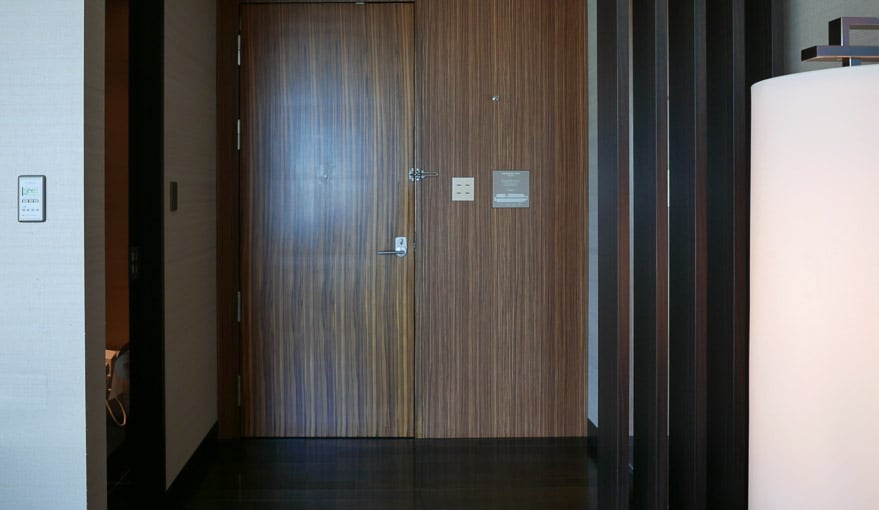 The living room features all of the familiar design touches of this hotel: diffused lantern style lighting, the Time Life Eames chair, acres of polished walnut and the cherry blossom carpets. The layout feels more cluttered than a regular suite though, with the writing desk just kind of being wedged into a corner.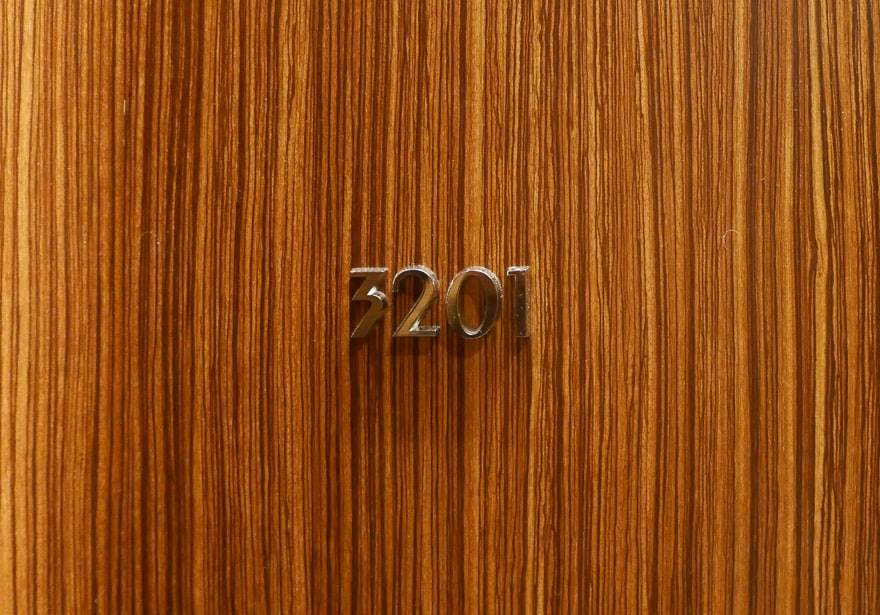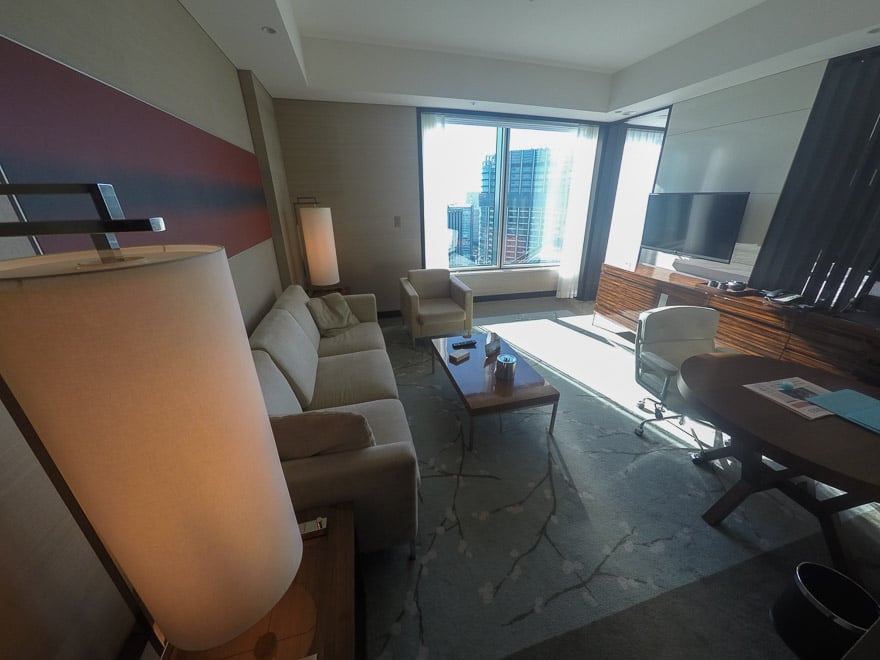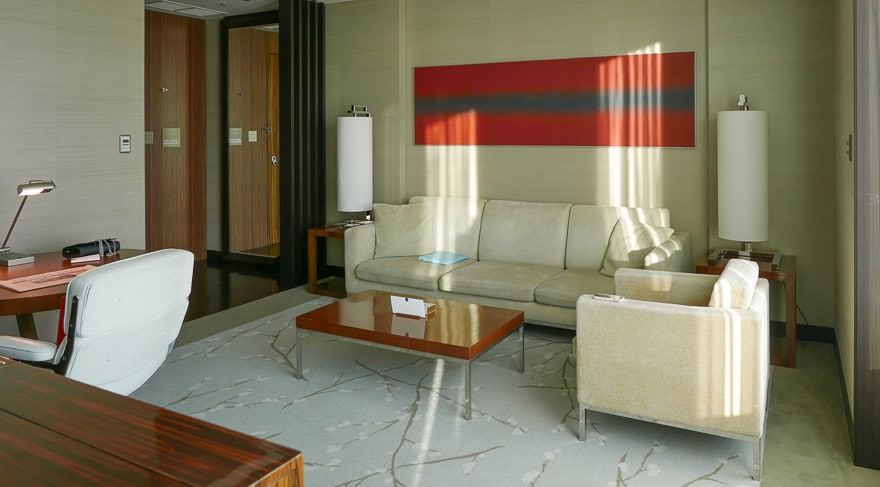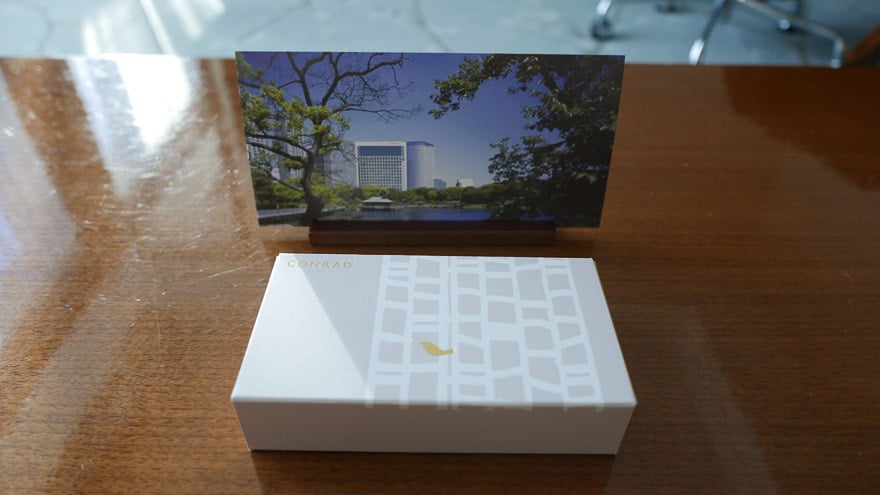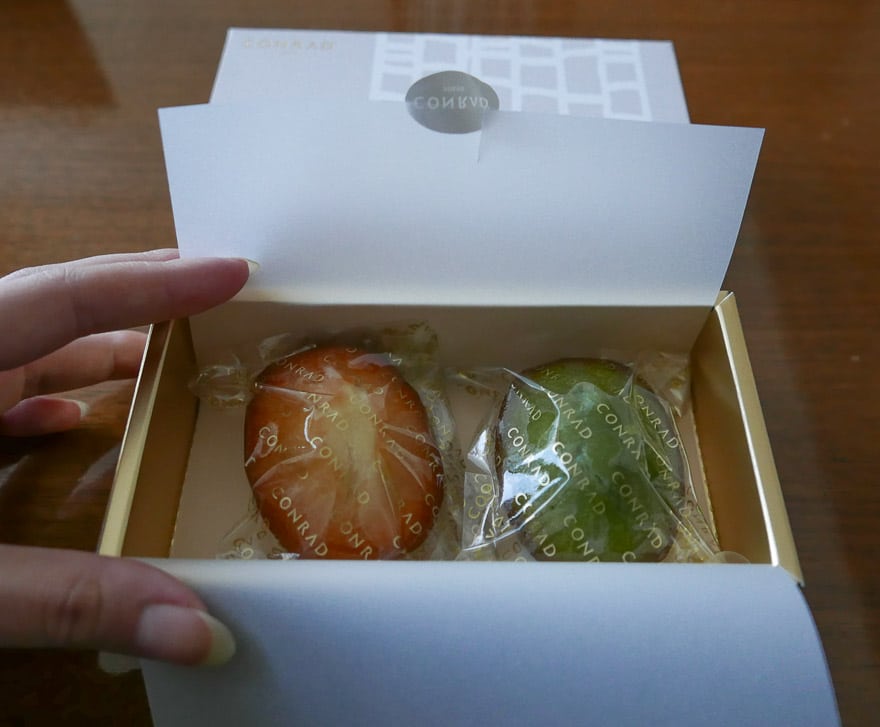 The entertainment consoles at the Conrad Tokyo are truly impressive. Polished to within an inch of their lives and housing not only the TV and sound system but also the very elegant minibar and the tea and coffee making facilities.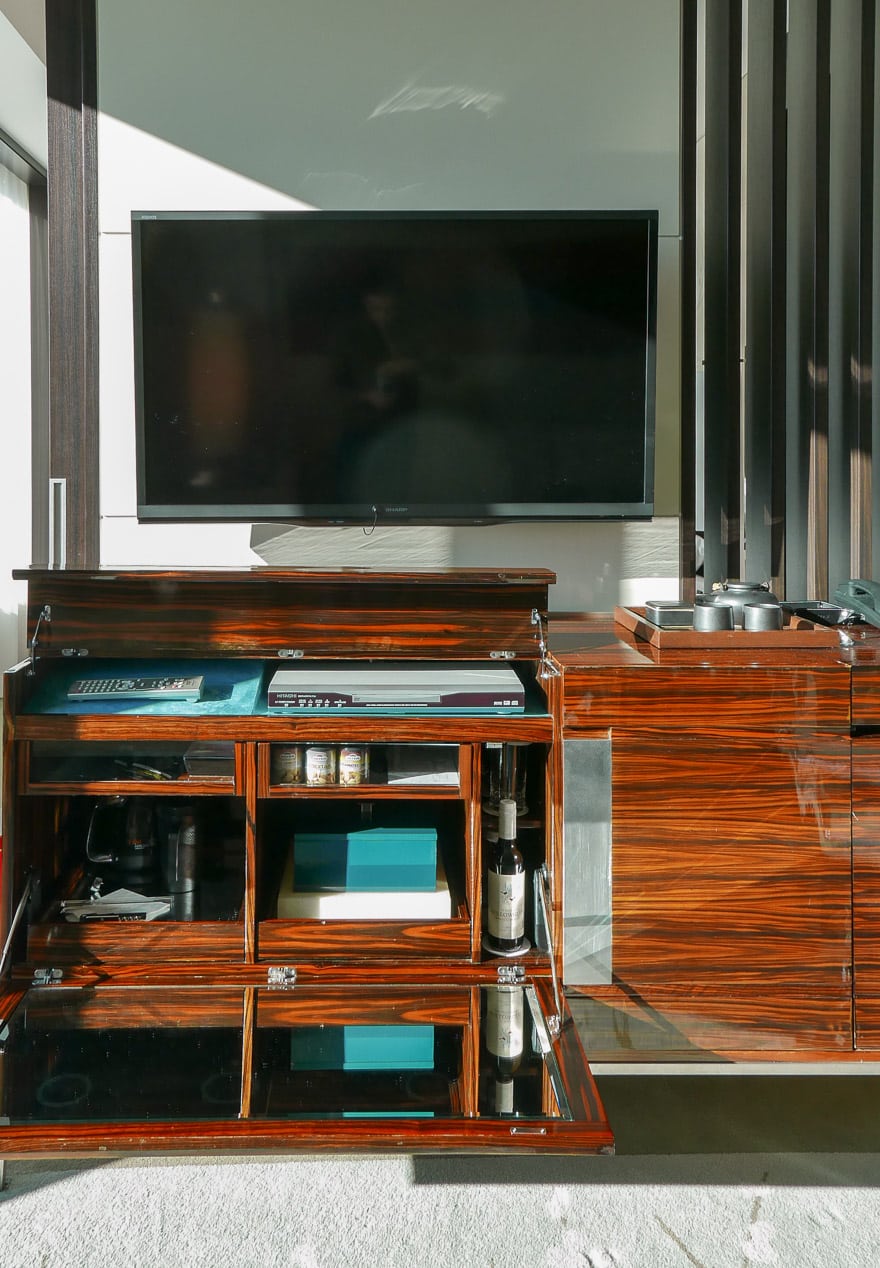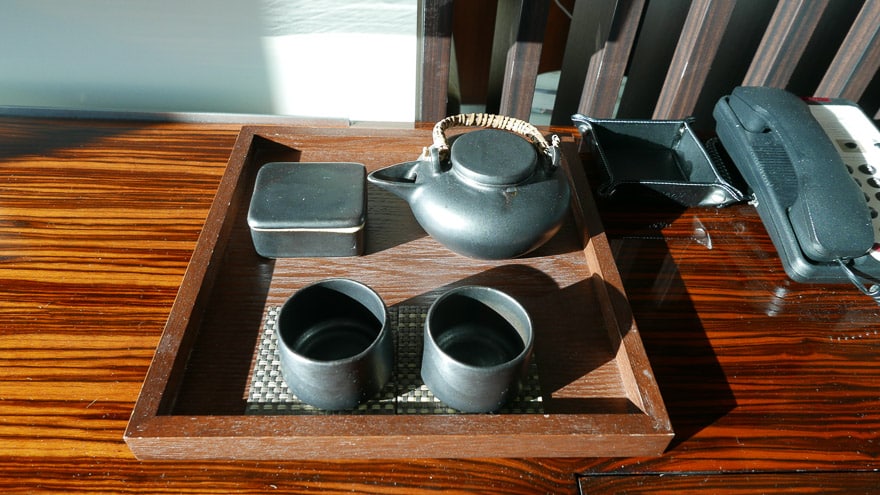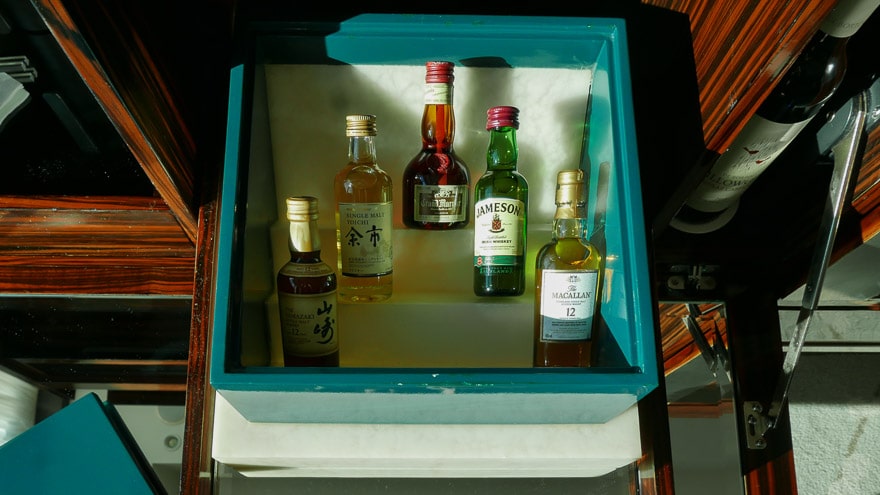 I'm not sure if I'd personally pay £5,500 for a Time Life chair but I certainly appreciate the fact that the Conrad put one in every room. They are incredibly comfortable.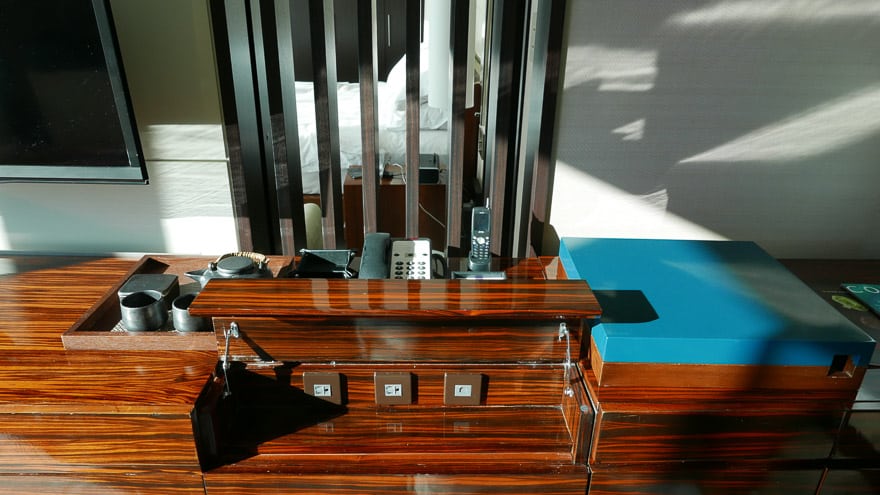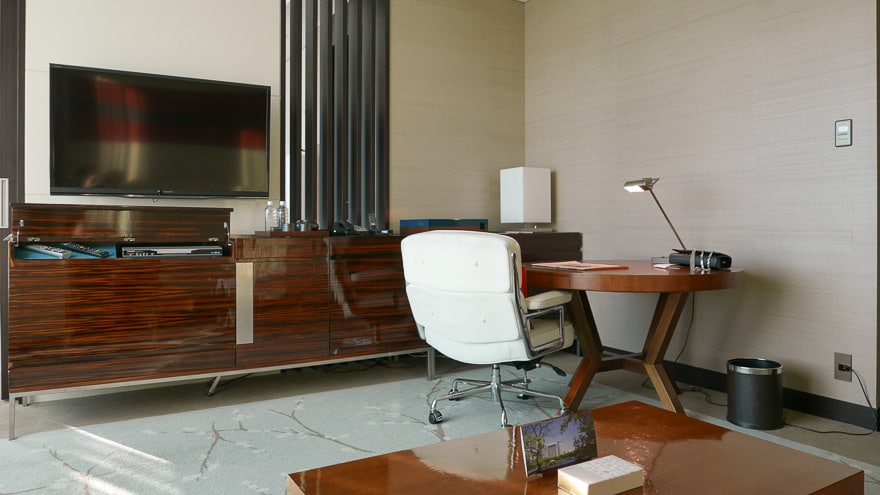 Bedroom
I love visiting Tokyo in the winter, the sky seems to be perpetually clear and rooms facing Tokyo bay at the Conrad are inundated with warm sunlight every morning.
What a way to wake up…
One thing missing from this room was a padded bench by the window; this is something of a signature for the hotel and it was a shame they couldn't add one here.
However, there was a miniature chaise longue by the bed, which could easily be moved around if you wanted to replicate the setup.
A couple of other things to note: the wardrobe space seemed a little cramped for a suite and the bedside tables were very small, with no integrated power sockets. The setup for charging my phone at night was not exactly elegant.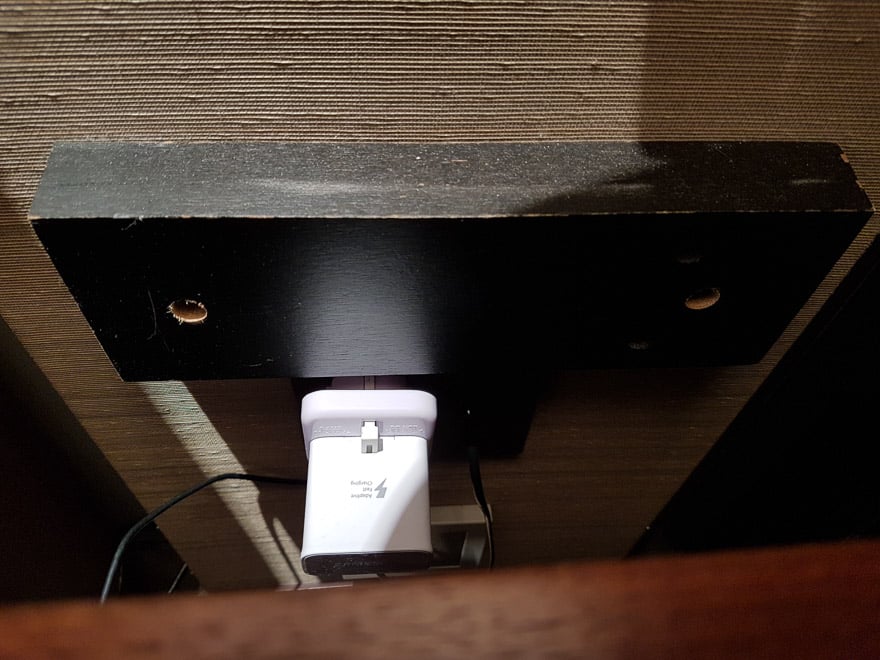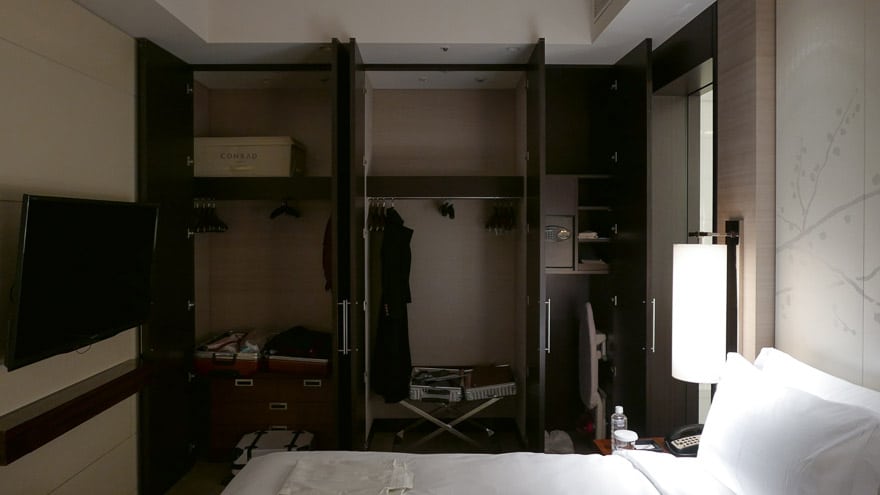 Bathroom
The bathroom felt smaller and darker than in other rooms at this hotel – there was no glass wall and no natural light provided by windows either.
Having a bath didn't really have the usual appeal that it does here as a result of the dingy atmosphere.
The shower was pretty cool though, featuring a kind of hallway design, which reminded me of a scaled down version of my suite at the Fairmont Singapore.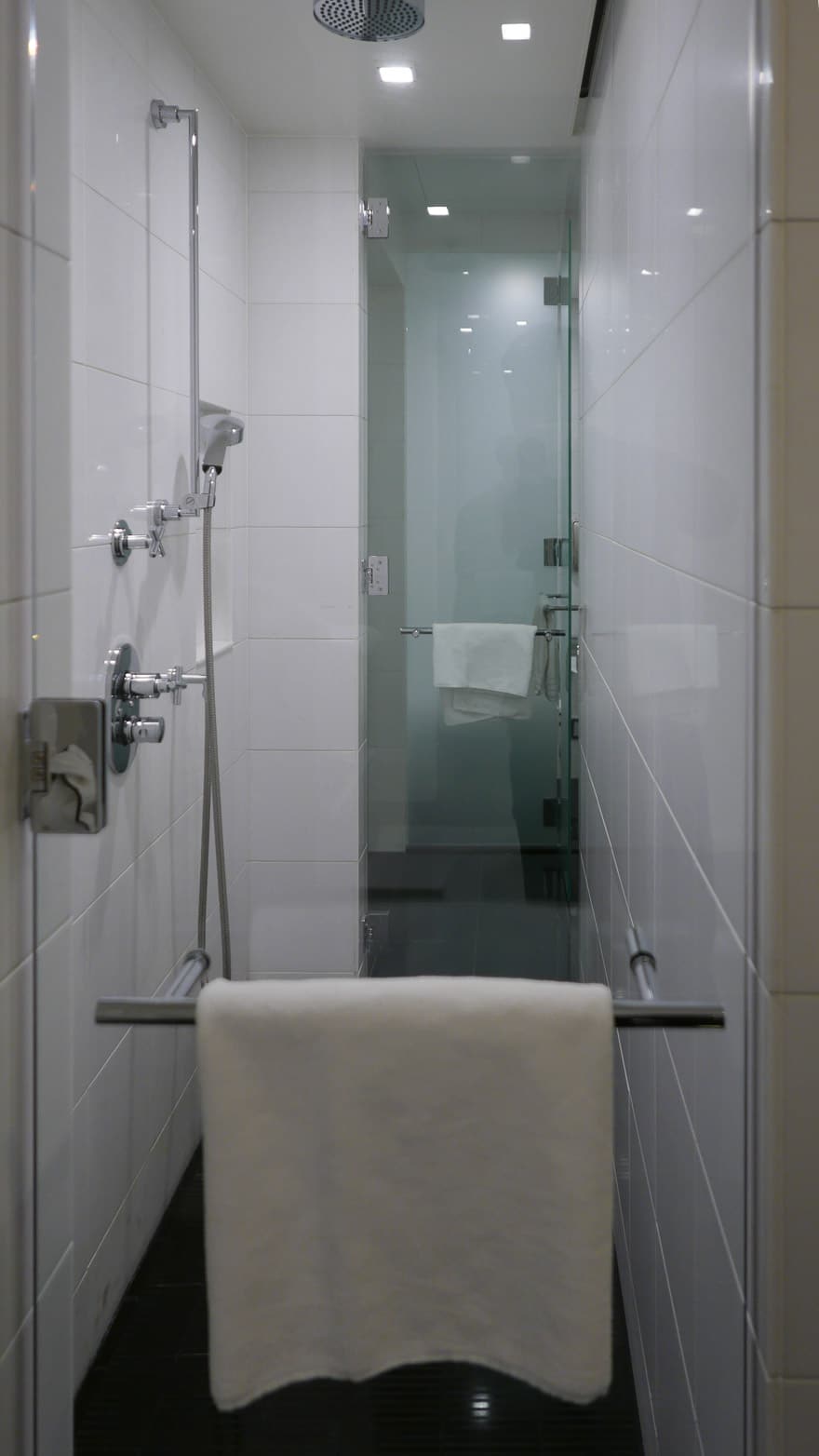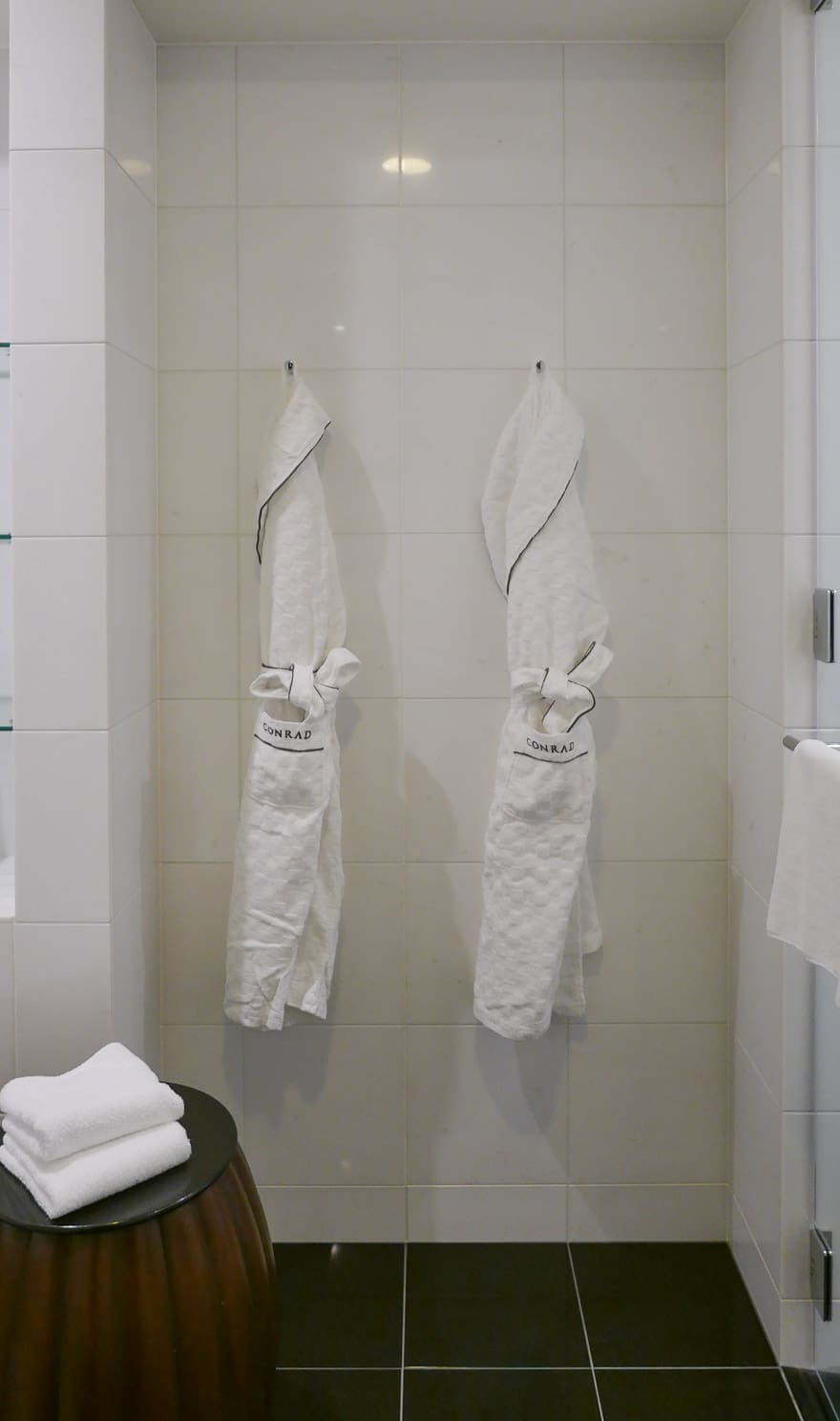 Of course, the bathroom wouldn't be complete without a complicated Japanese toilet.
---
Twin Bayview Suite
---
We were given this suite in October 2019 (two nights before taking the flight to London on ANA's New First Class). During check-in we weren't initially offered a suite but they said they could make one available, if we were happy to wait in the lounge for 30 minutes.
I still remember when the lounge was only half the size – the bay facing side was added in 2017. Now it seems to have the same effect as adding lanes to a freeway. No matter how big they make it, it still fills up during rush hour…
This time our suite was located right in the centre of the floor, near the lifts.
Living Room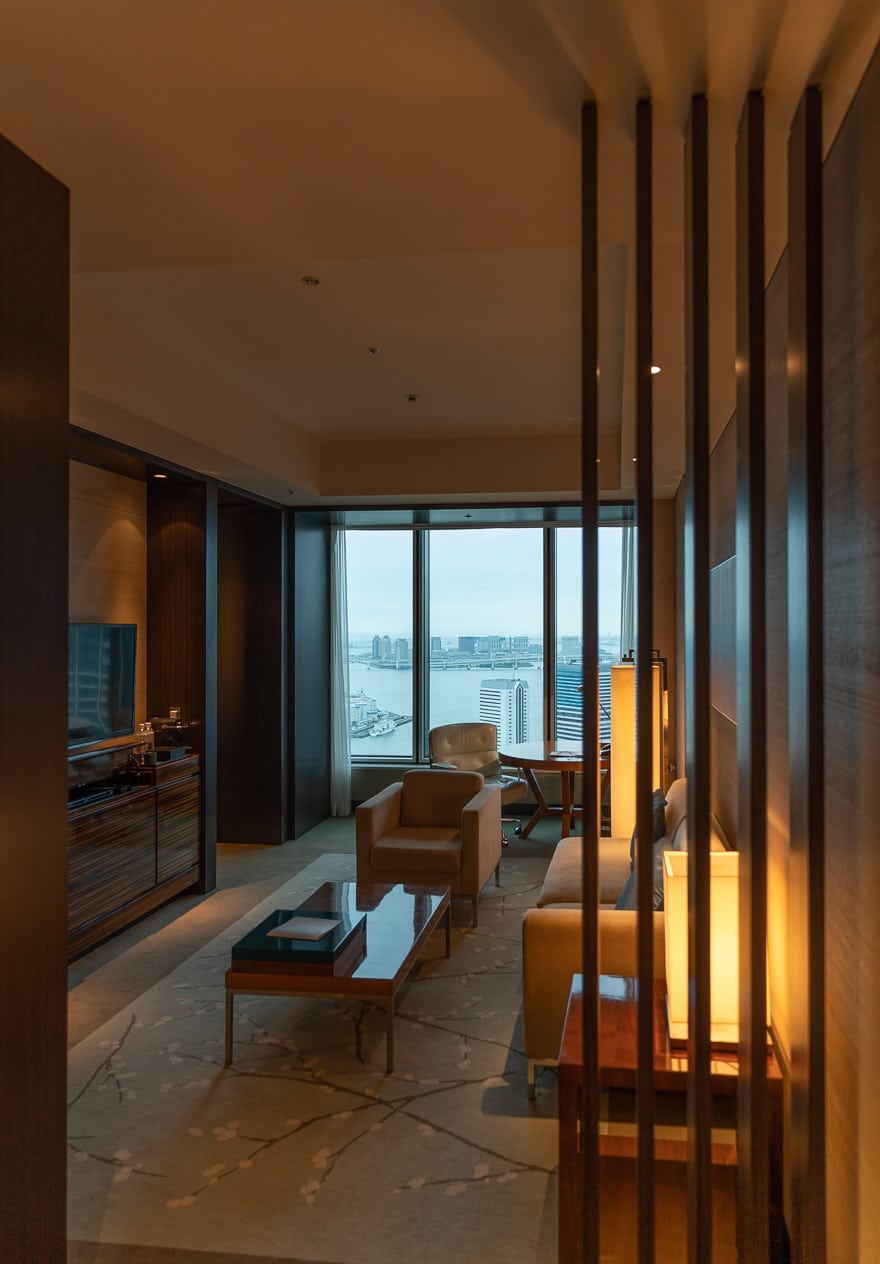 Much like the last suite, this one had a guest bathroom by the door.
This suite felt a lot more balanced in terms of its layout. The bedroom and living room were relatively similar in size and being rectangular rather than square meant that the living room felt properly distributed – I hadn't actually noticed until now but the end unit suites actually have smaller coffee tables to hide the fact that there isn't as much room for the sofas there!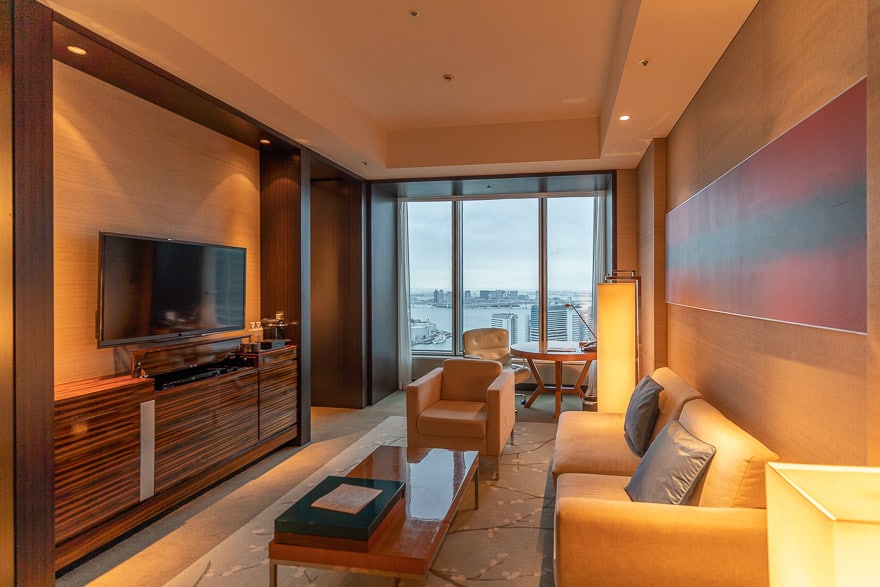 The twin suite also benefited from having a completely distinct and separate area for a writing desk, with plenty of natural light.
The door on the left leads to the bathroom and the door on the right leads to the bedroom.
Bathroom
This time we had ample room to open our suitcases and hang our clothes since there was a walk-in wardrobe leading to bathroom.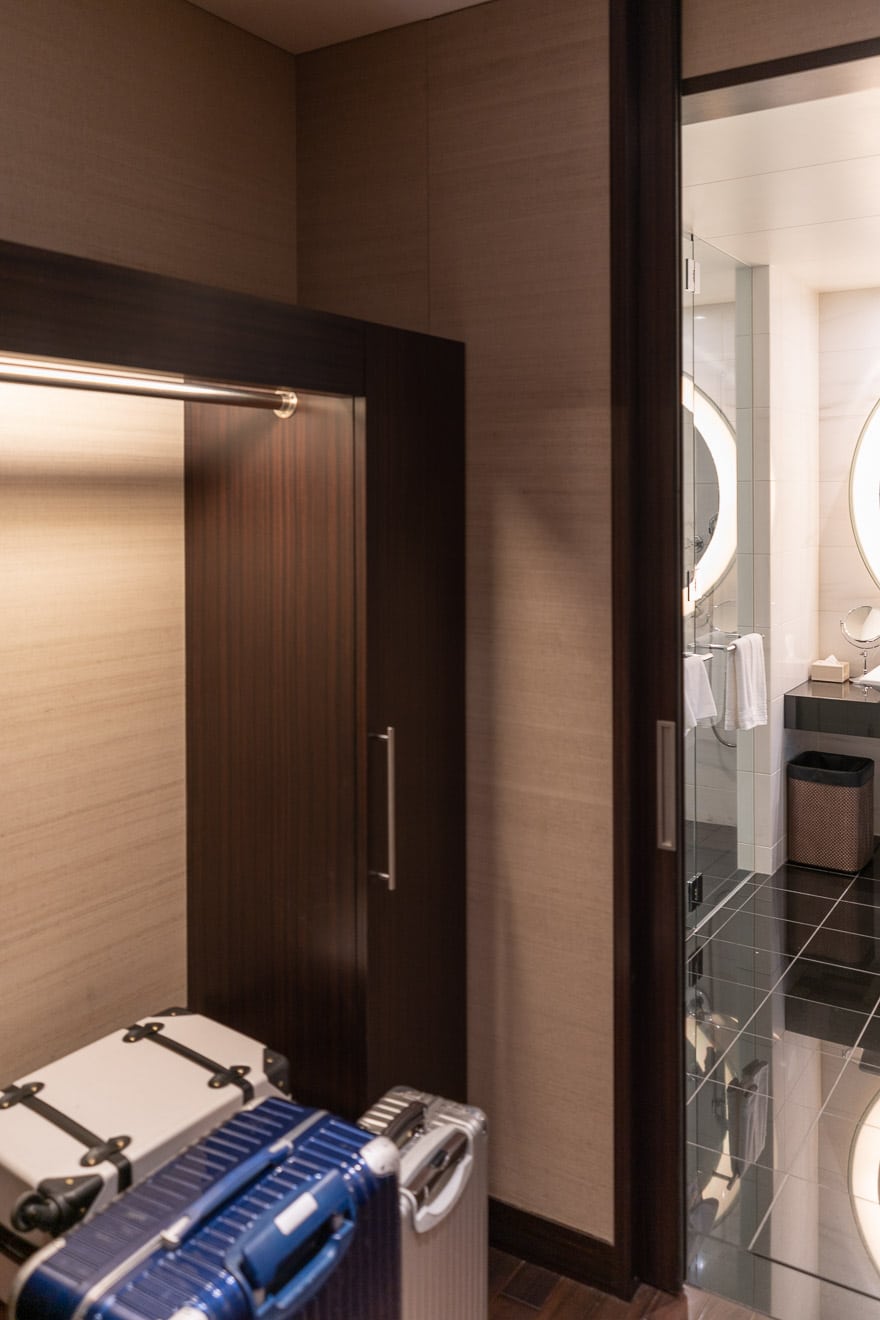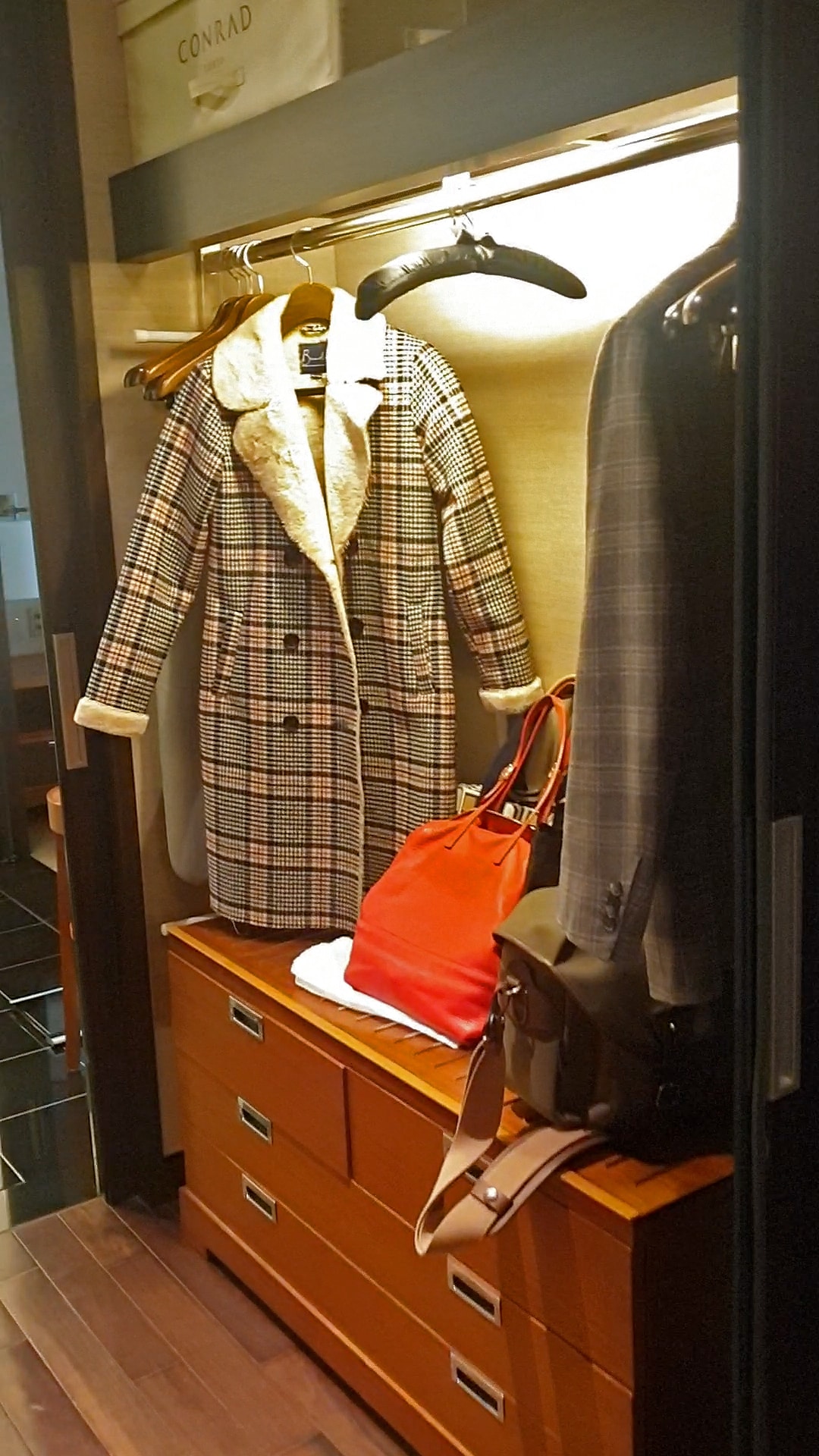 The bathroom featured a glass walled bathing room so that you could shower and then get straight into a clean bath without getting cold. I'm a big fan of this setup as I mentioned in my reviews of the Ritz Carlton Kyoto and Park Hyatt Shanghai.
The toilet was located in a separate frosted glass cubicle. As always at the Conrad, the bathtub had its own small television.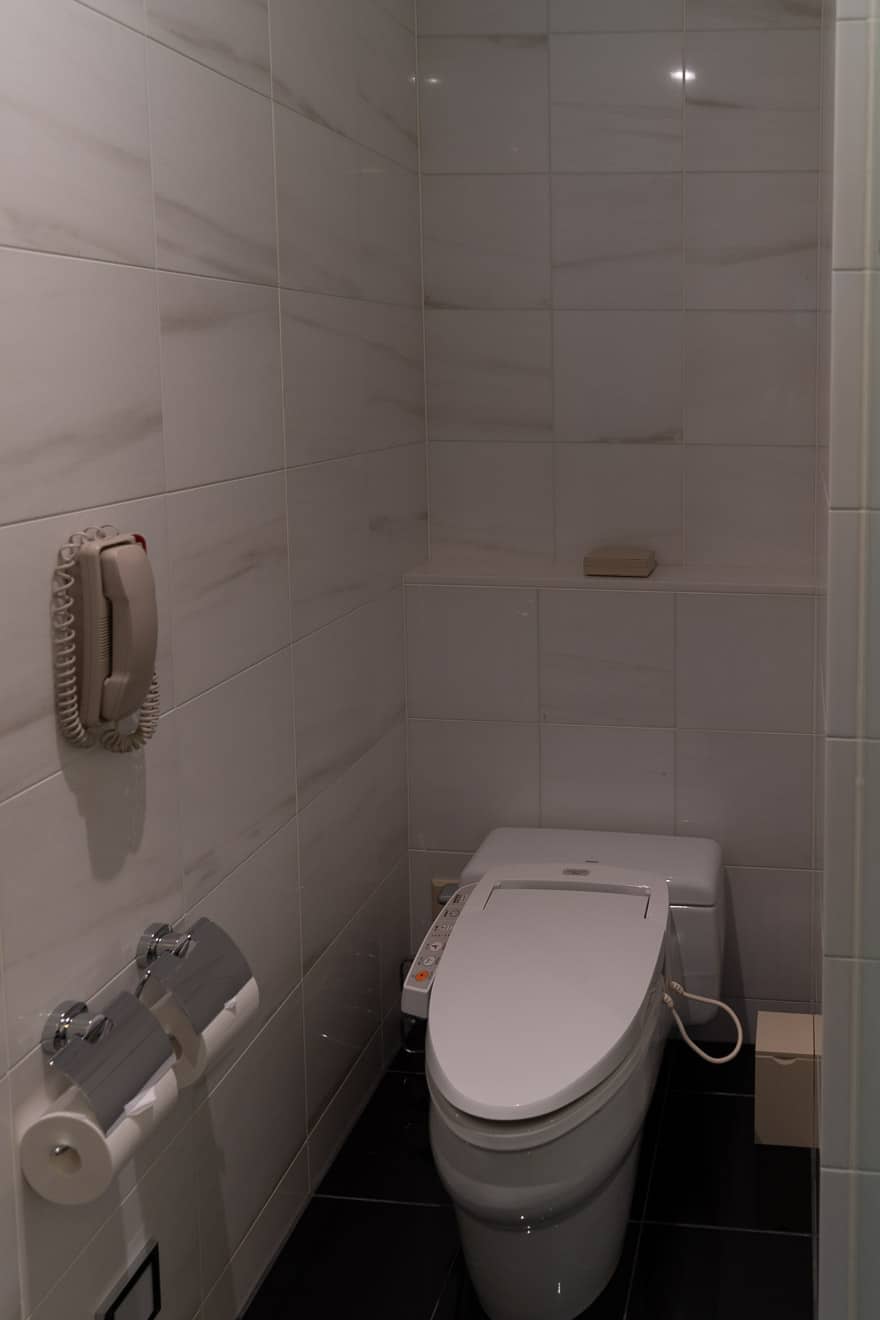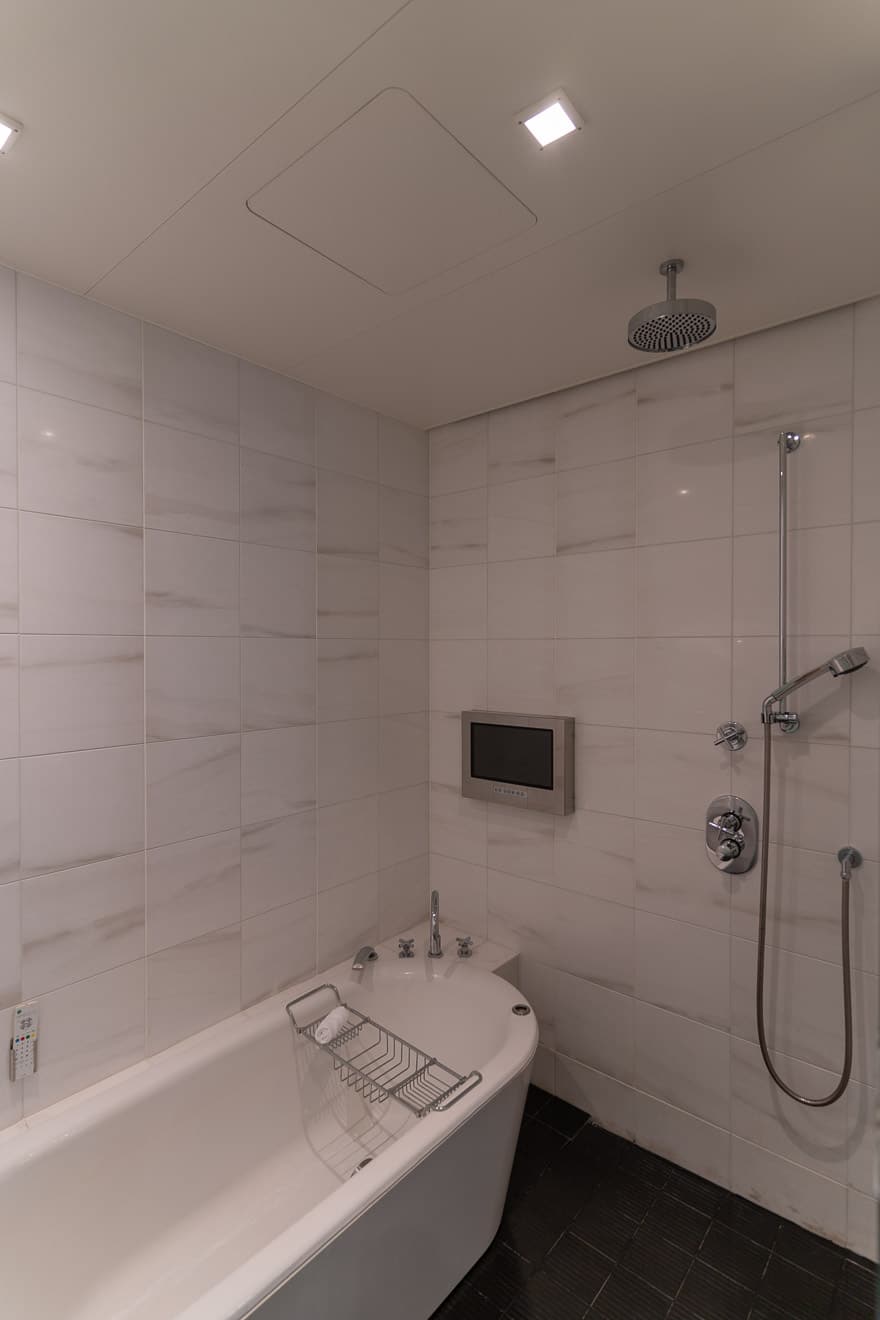 Small details: Shanghai Tang toiletries and bathroom flower.
Bedroom
The bedroom was almost identical to the Executive City Twin room that I stayed in back in 2015. The layout meant that we didn't get a bay view at the foot of the bed but the trade off was a far larger space and a bigger and better chaise longue compared to the end unit suite.
---
King Corner Bayview Suite
---
I booked this suite during one of Hilton's regular Asia Pacific flash sales. At only ¥40,000 per night this was an amazing deal. I don't doubt that the Aman has more impressive public spaces and a unique design aesthetic but I fail to see the value in paying as much for one night in a standard room there as 3 nights in a mid-level suite here…
We stayed in this suite in December of 2018.
The end unit suite I featured in the beginning of this review (3201) was located in the far right hand corner of the hotel, where other buildings were quite close by. This Corner Bayview Suite was located in the far left hand corner of the building, where there is a panoramic view of the bay with no other buildings obscuring your line of sight.
Living Room
The living room here was markedly larger than in a regular suite. It featured not only a sofa area and a full sized rectangular writing desk but also a dining table and chairs by the window. There was also a guest bathroom by the door, as with the other suites, but at this stage I've probably maxed out the number of acceptable pictures of toilets for a single hotel review.
Plenty of space to entertain guests.
A full sized writing desk, as opposed to the oval shaped mini-desks in most other rooms at this hotel.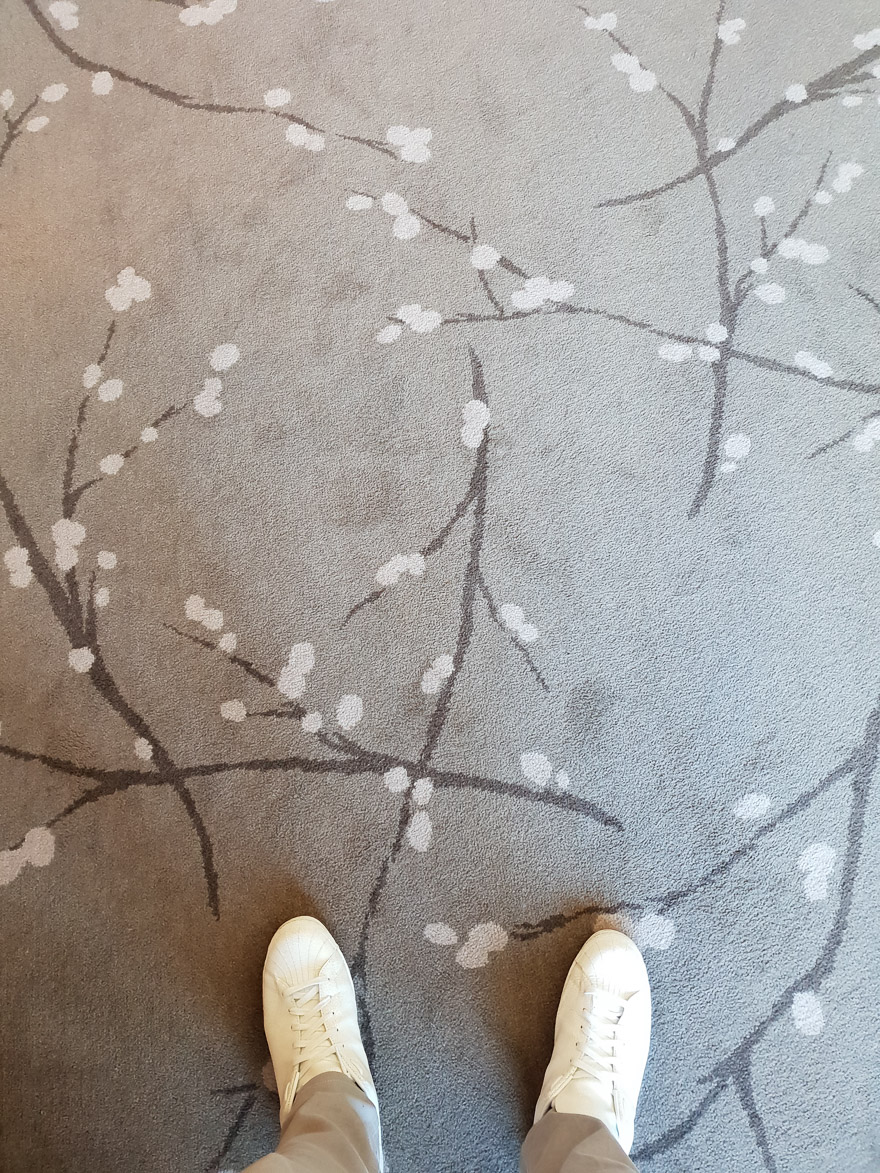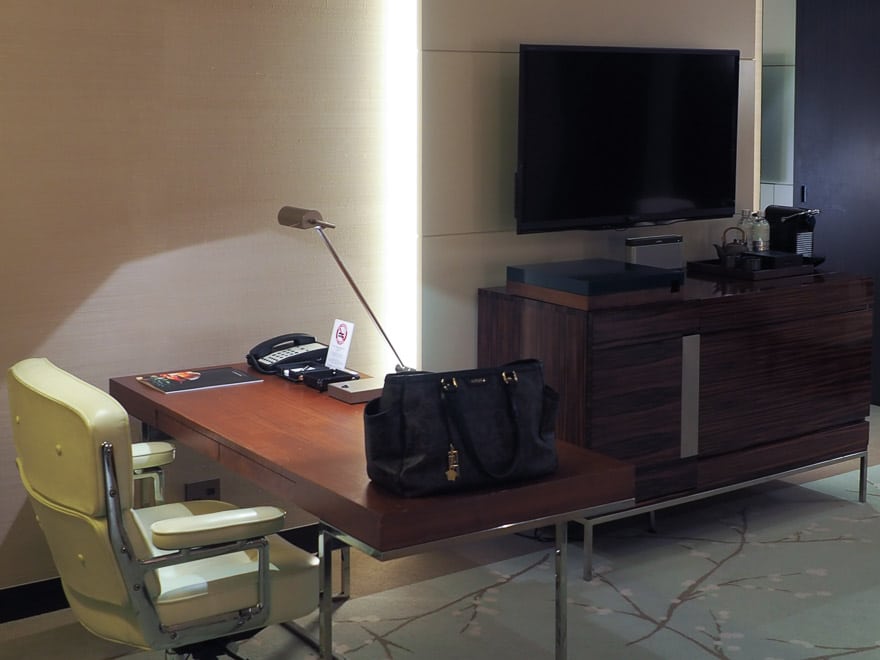 The ever present polished walnut entertainment centre…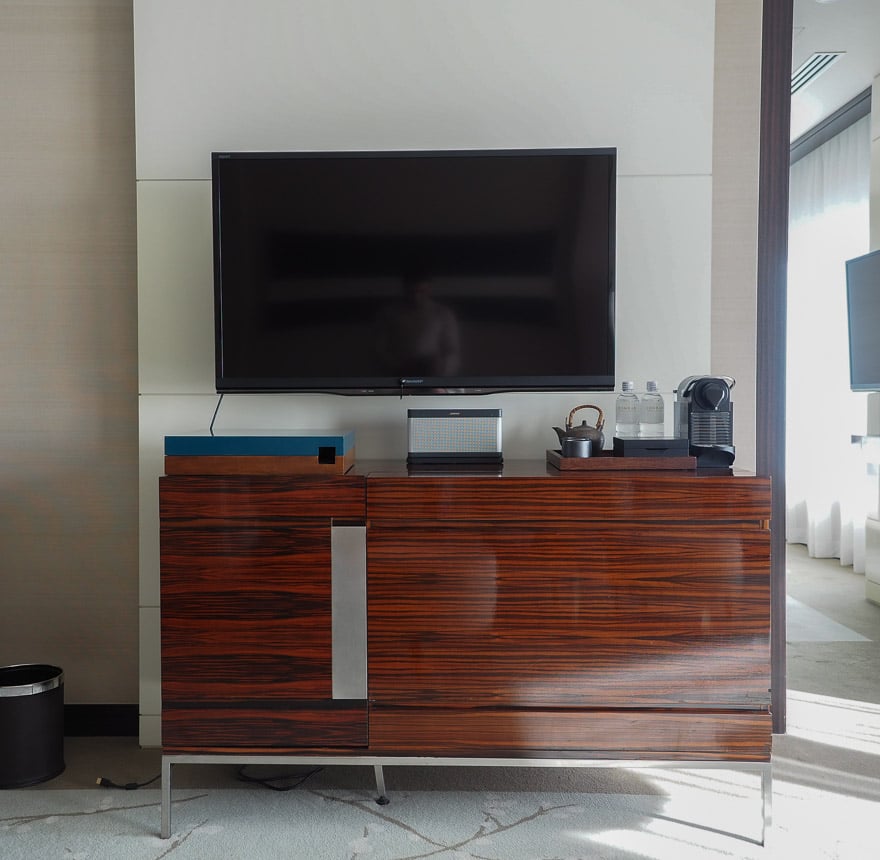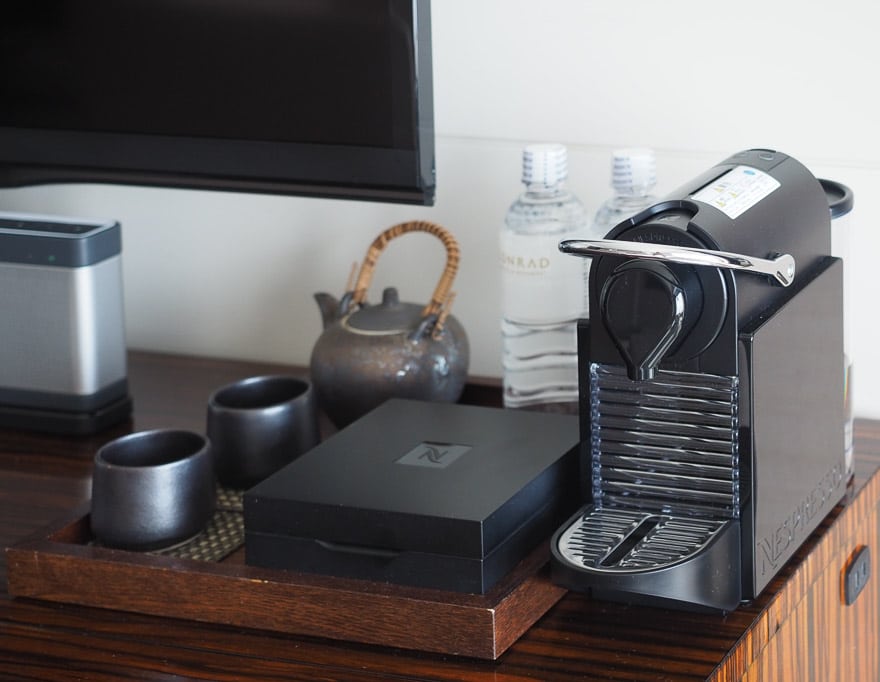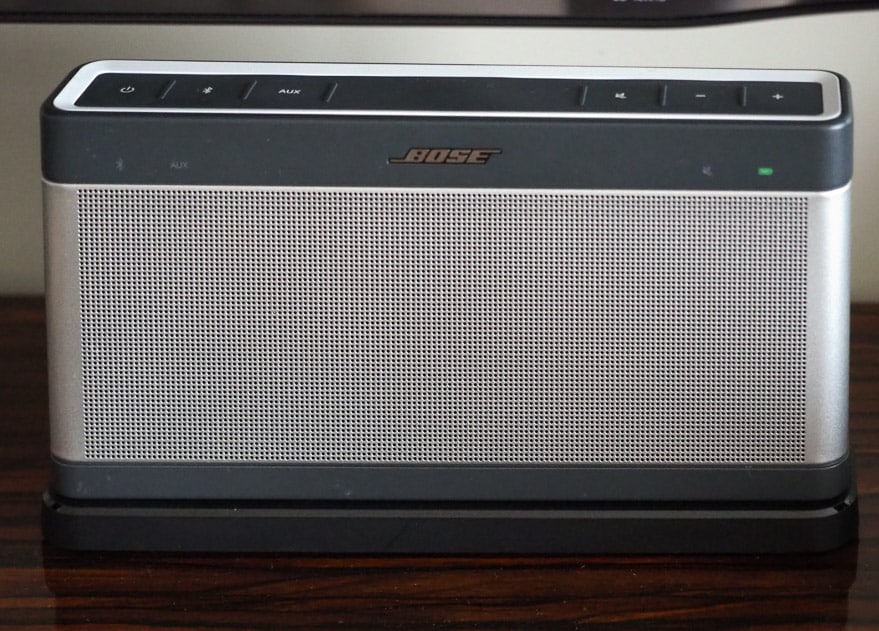 My favourite spot to have a morning coffee, overlooking the bay.
Bedroom
The bedroom here featured the best of both worlds: plenty of space and an incredible Tokyo Bay view at the foot of the bed.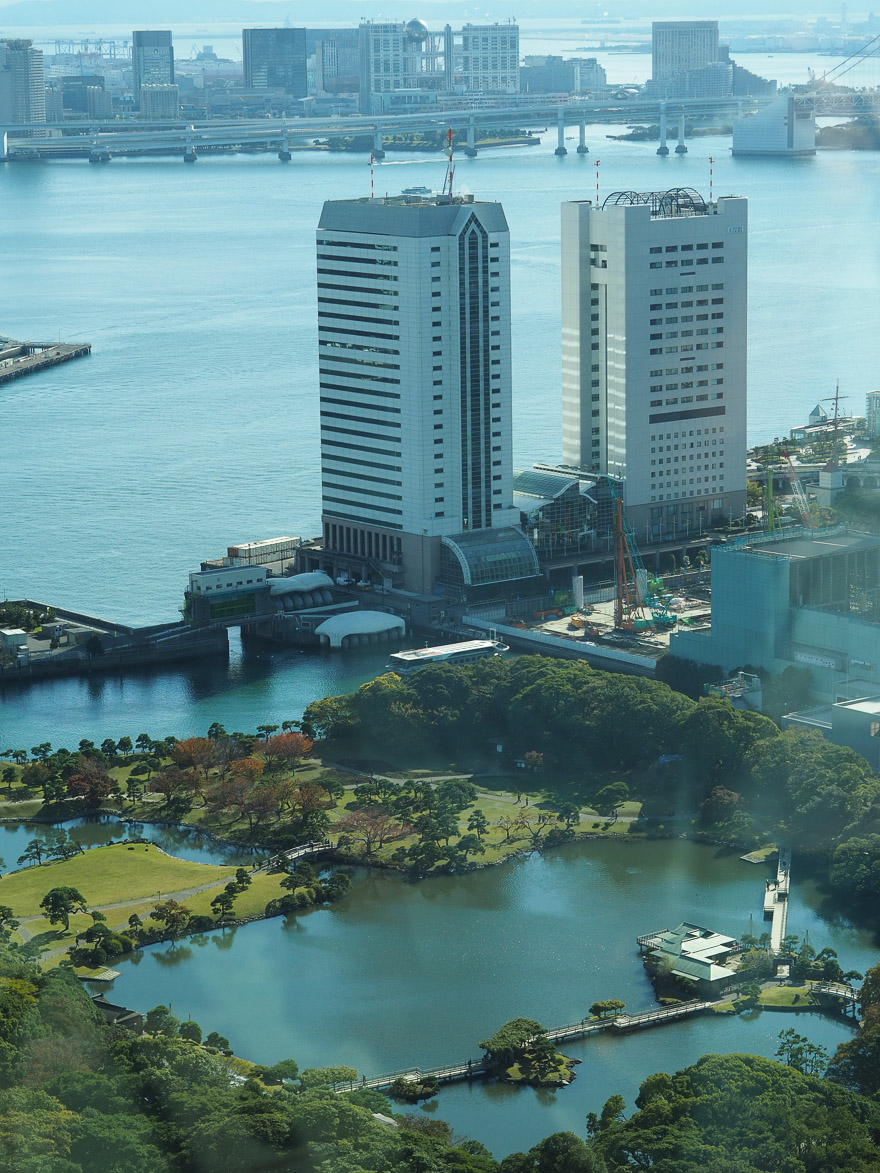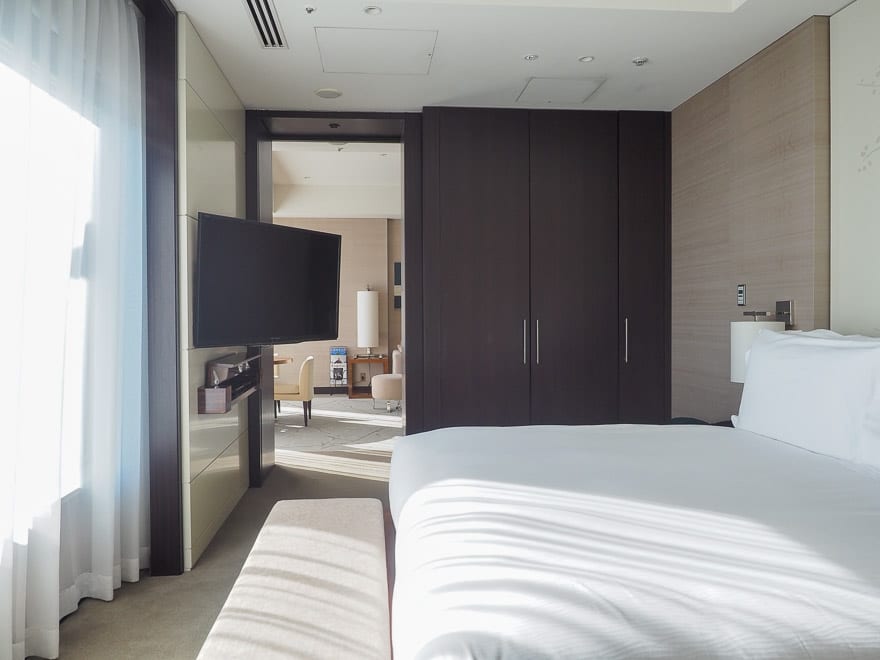 Not only did we have full sized bedside tables, one of them was even expanded to incorporate a small bench and vanity area.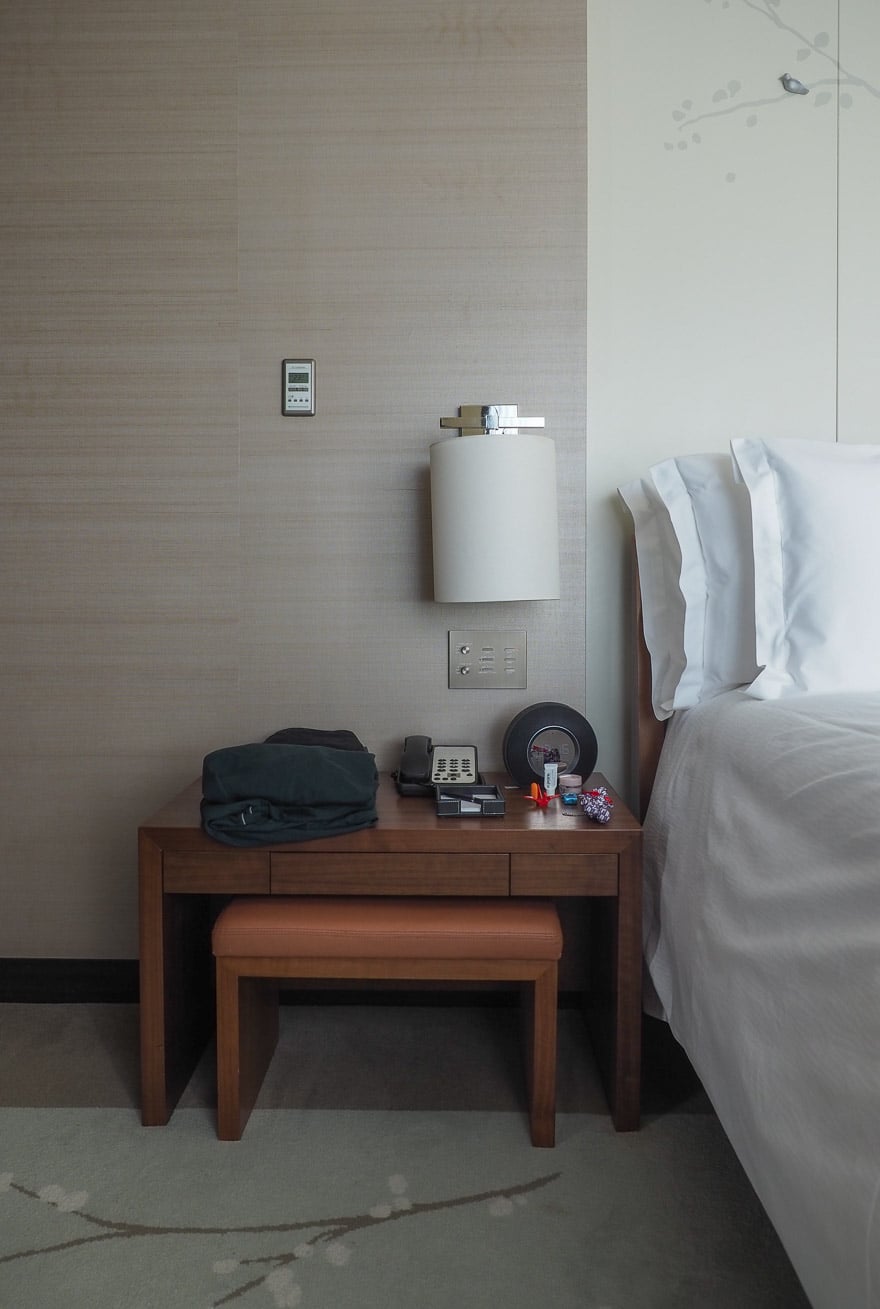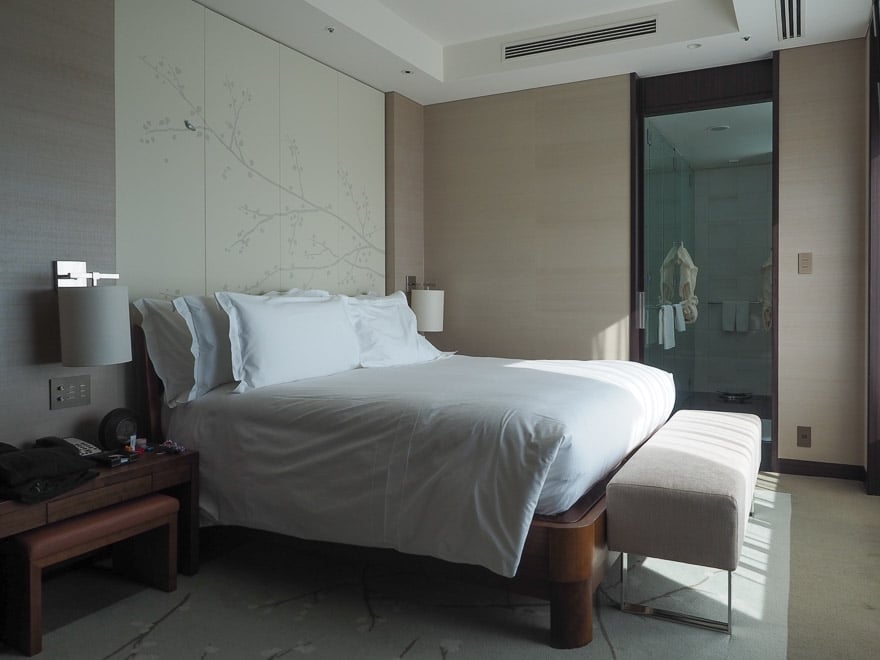 Unfortunately, wardrobe space was still at something of a premium here though.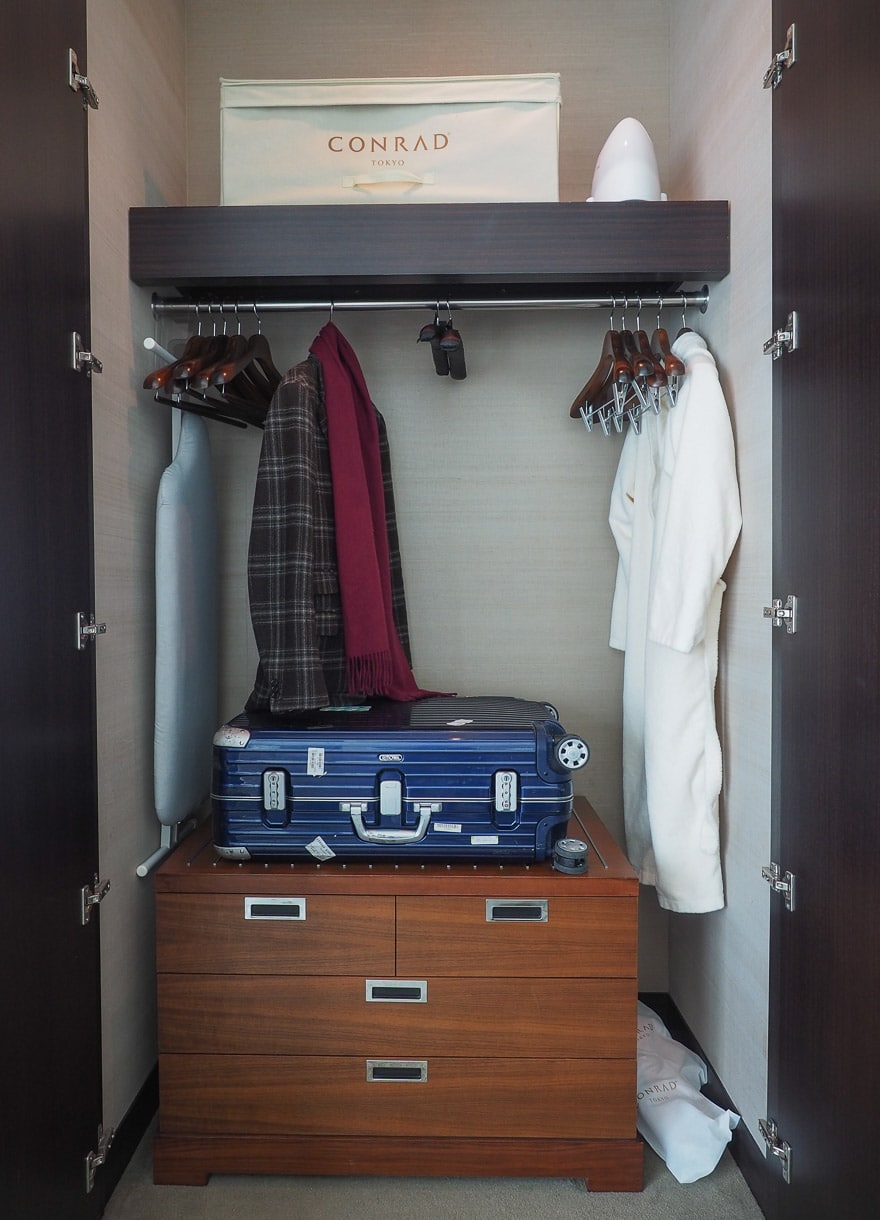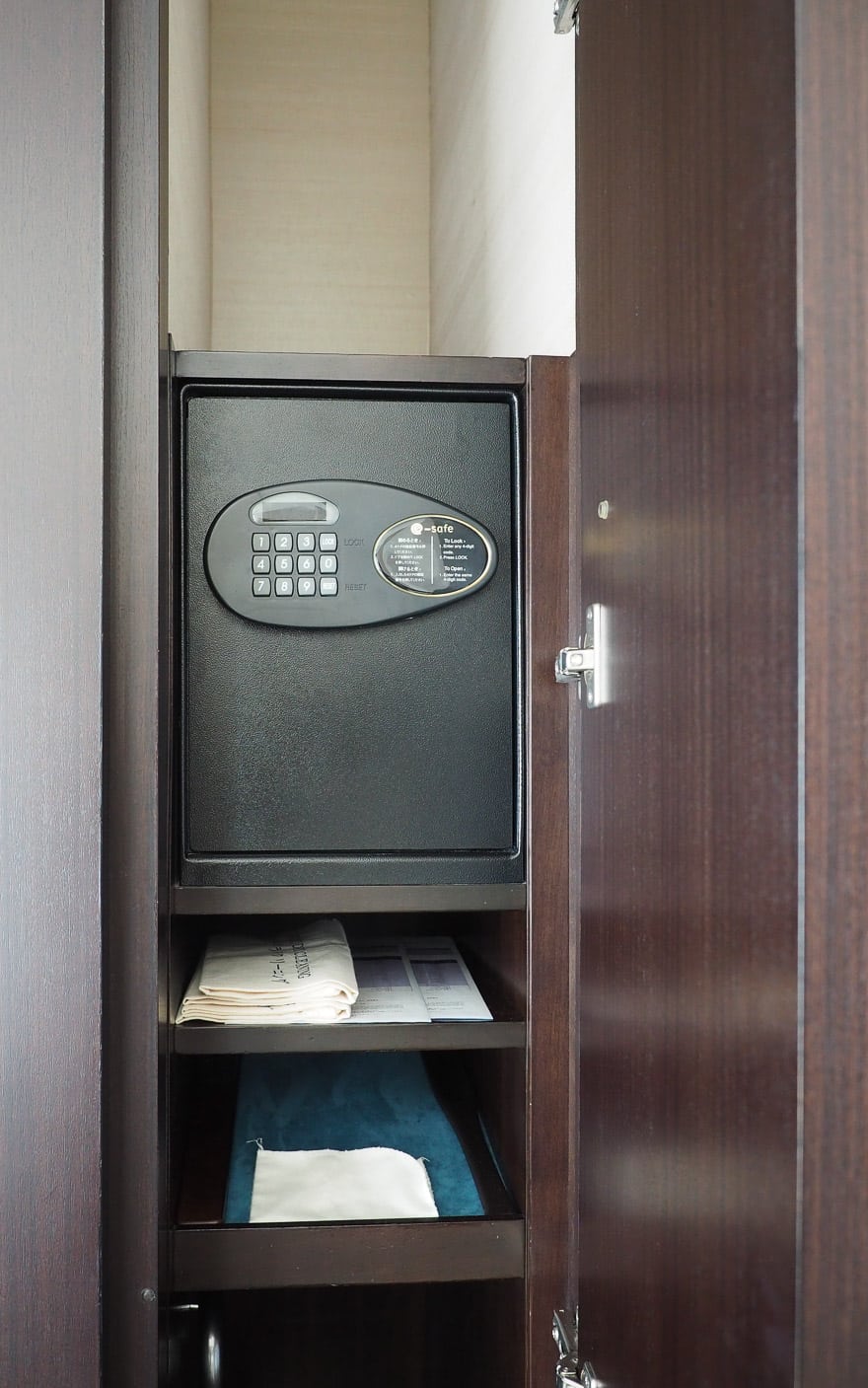 Bathroom
The bathroom here was unique in that it had windows to the outside and a ton of natural light. This is the only room at this hotel that I've ever had with this feature. Indeed, it is something of a rarity in most Tokyo hotels to have bathrooms with windows. Unless you have a corner room you're most likely to have a glass walled bathroom but no windows otherwise.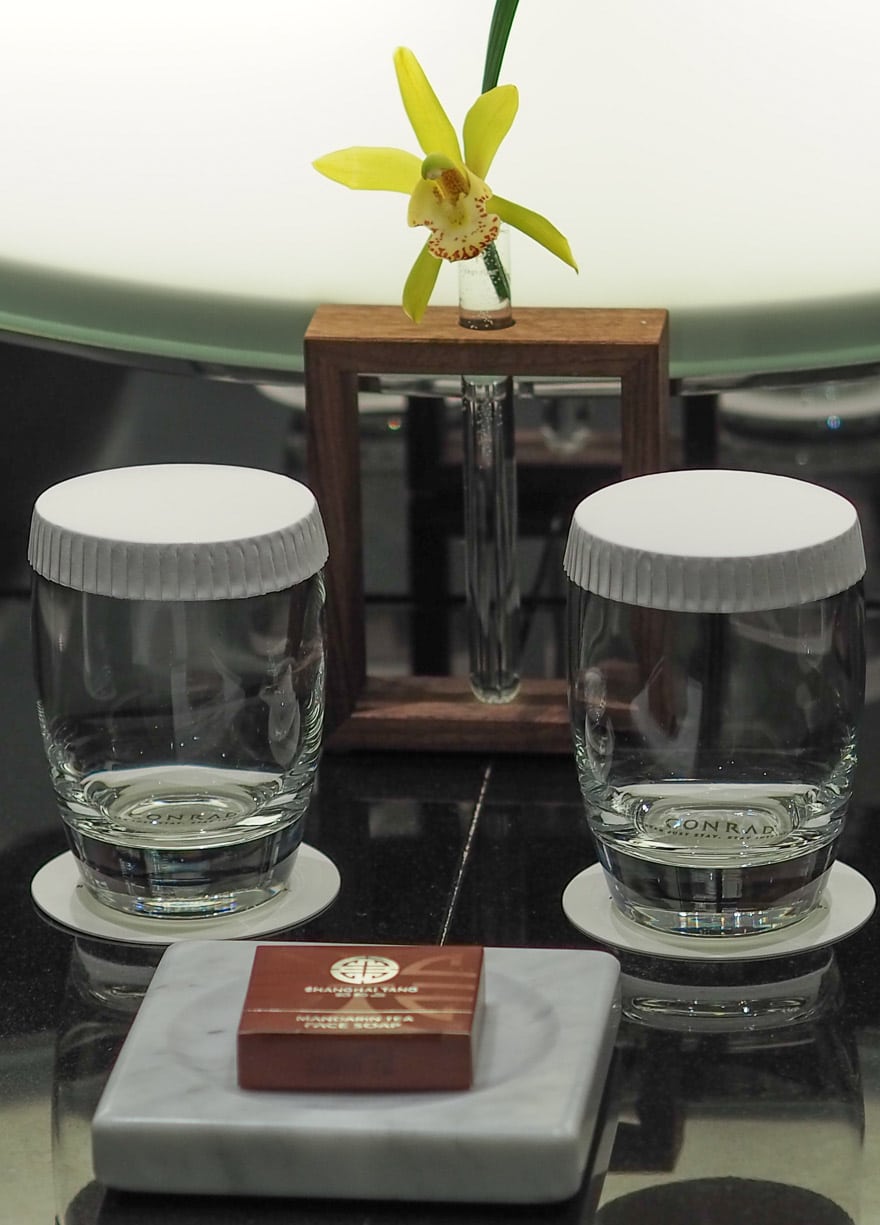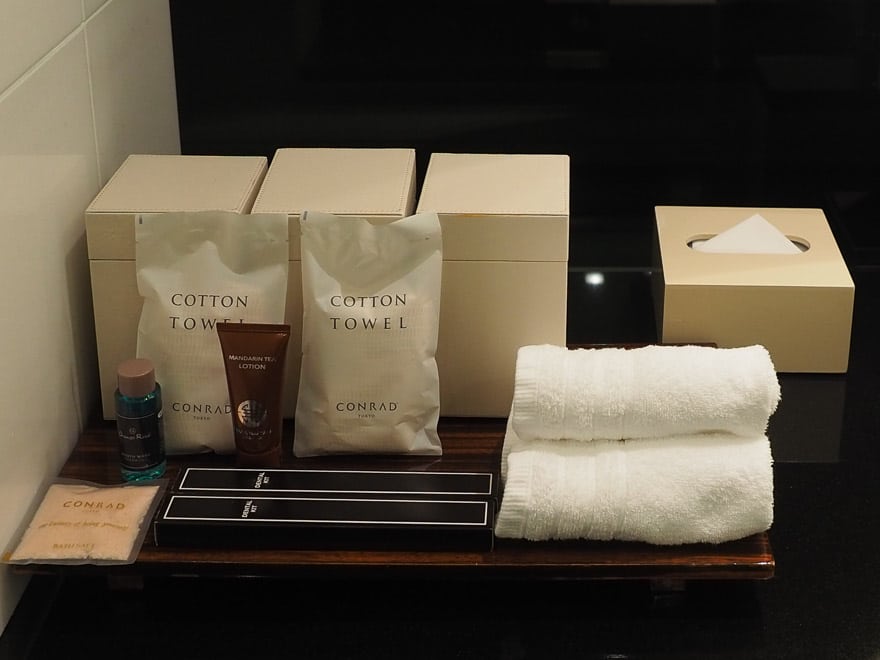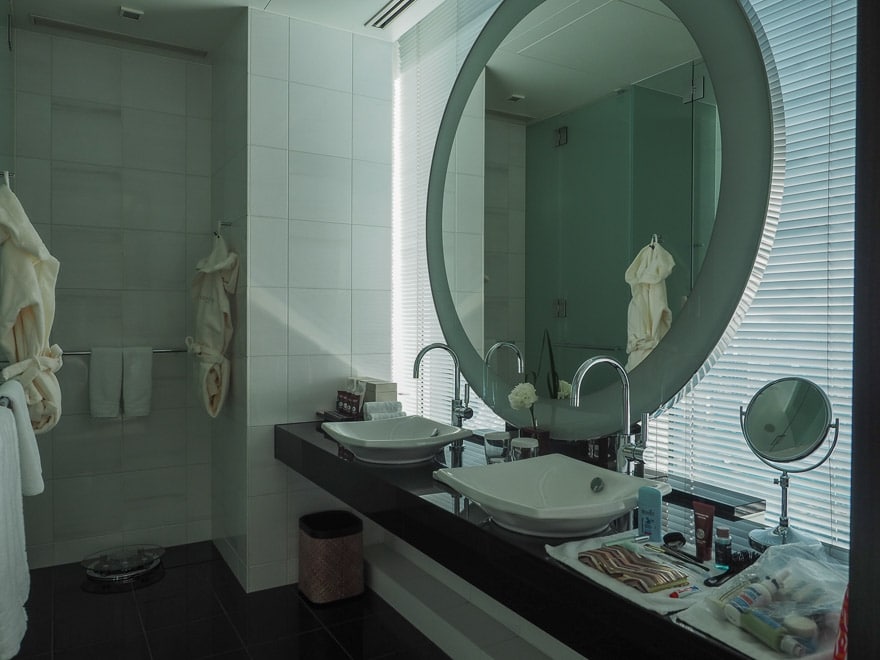 The shower and bath were once again enclosed in their own glass walled room… with a TV.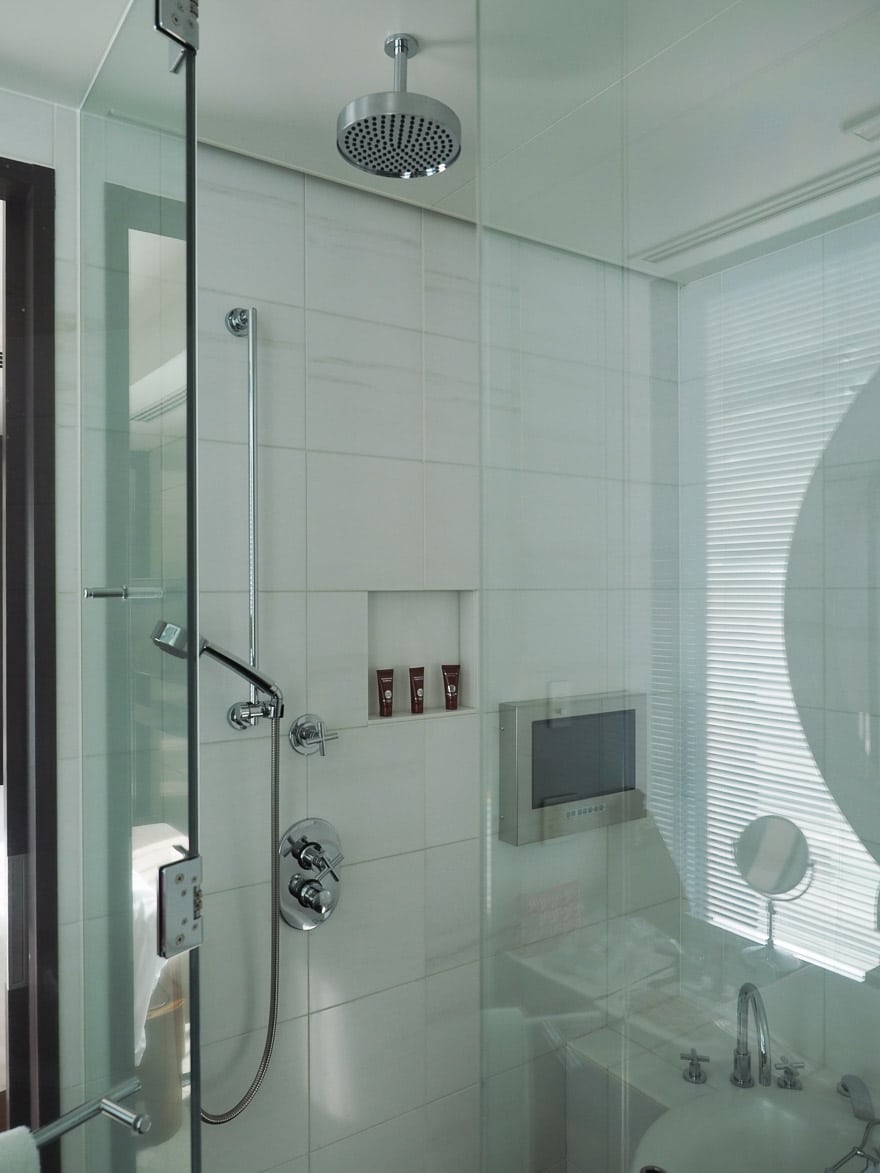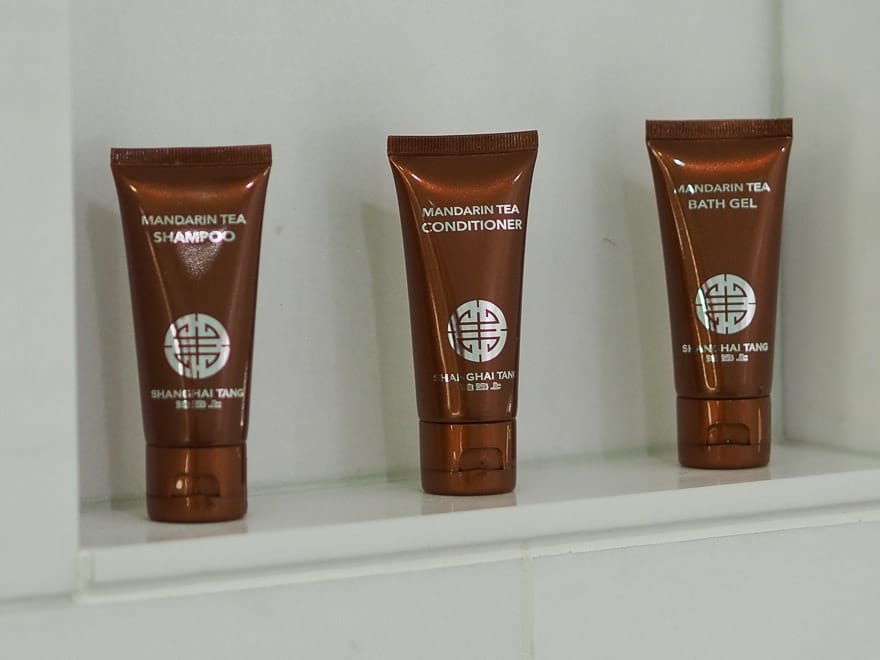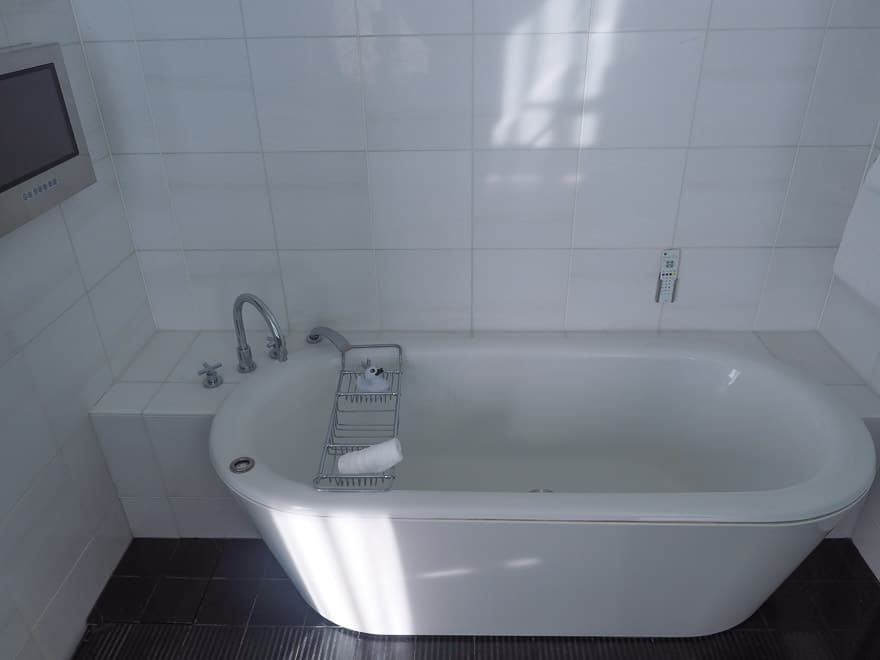 ---
Conclusion
---
There's a reason why I've been back here over ten times. This hotel just ticks so many boxes.
The location is fantastic: you can reach Tsukiji fish market on foot and eat some of the best sushi on earth (the restaurants are still open even though the wholesale market has since moved).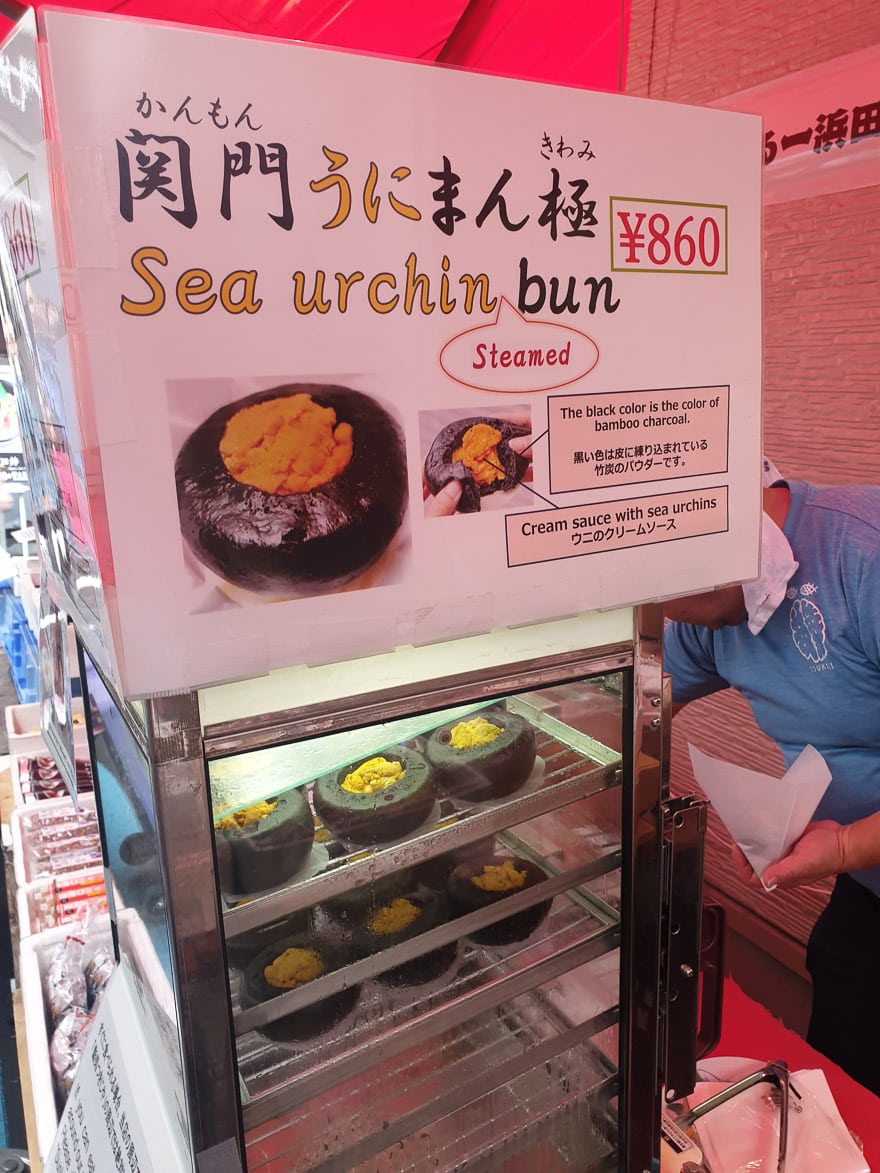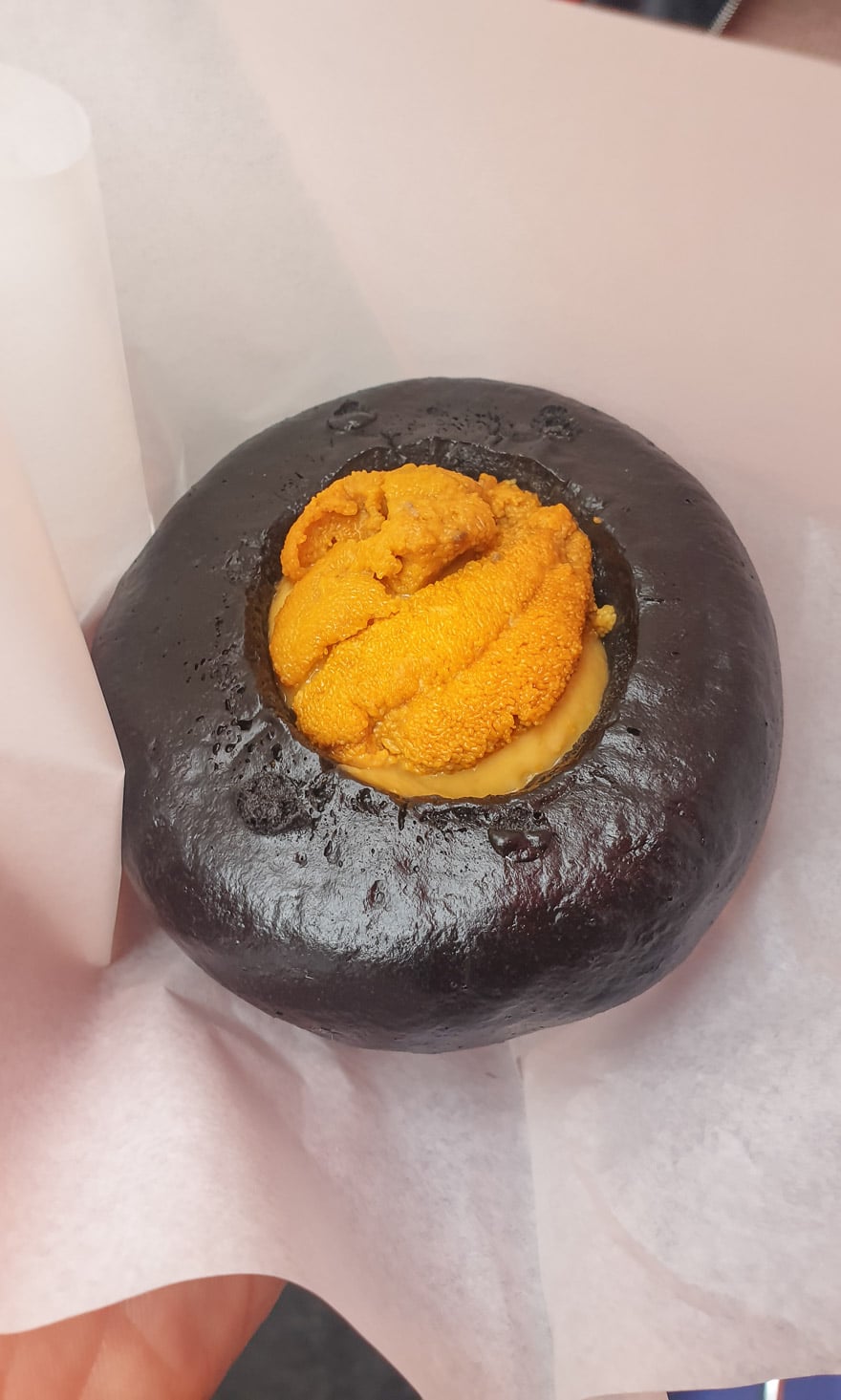 There are numerous different JR and Tokyo Metro stations nearby, you are super close to Haneda airport and Ginza is a short walk away – great not only for high-end shopping but also some surprisingly affordable restaurants – like Midori no Ginza.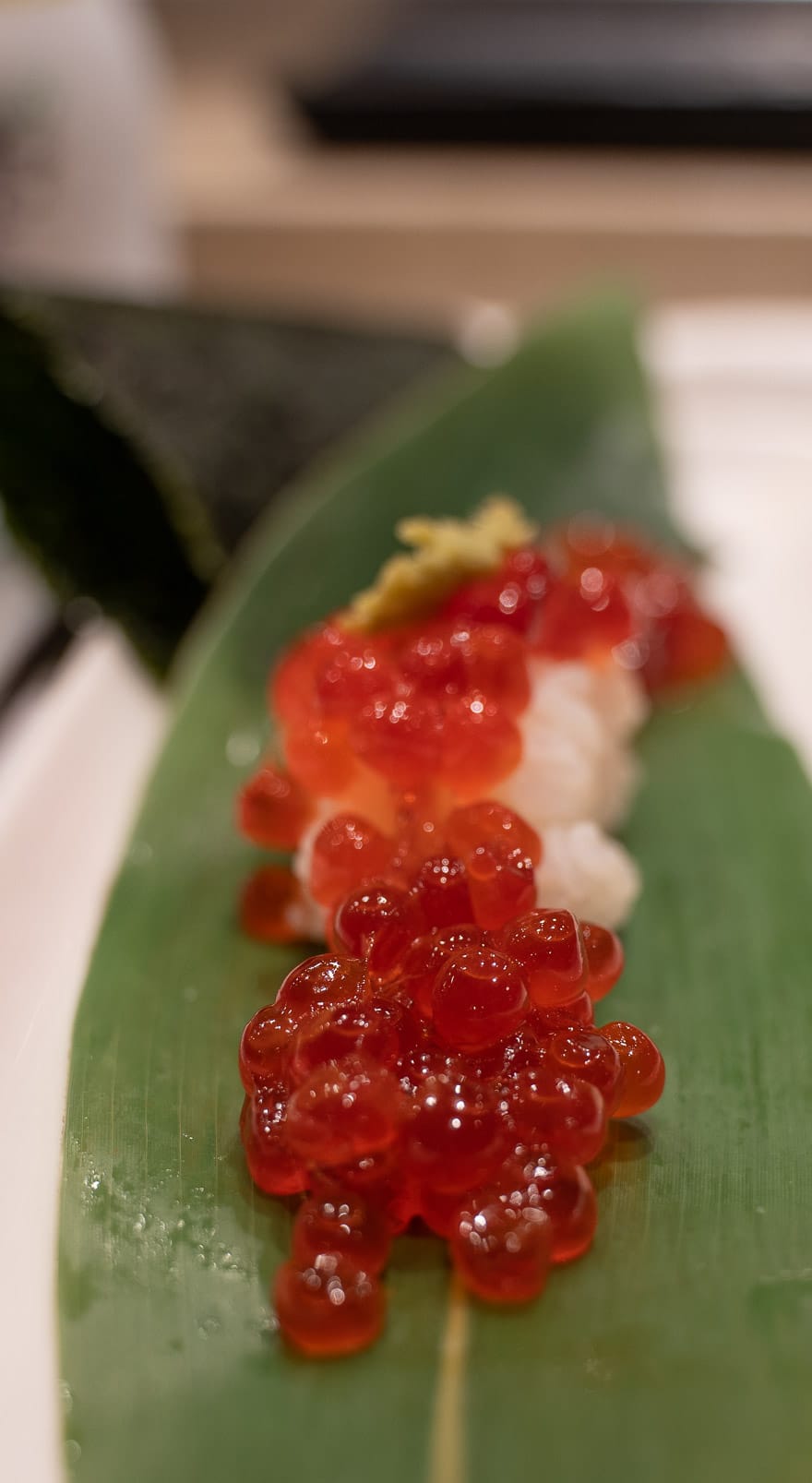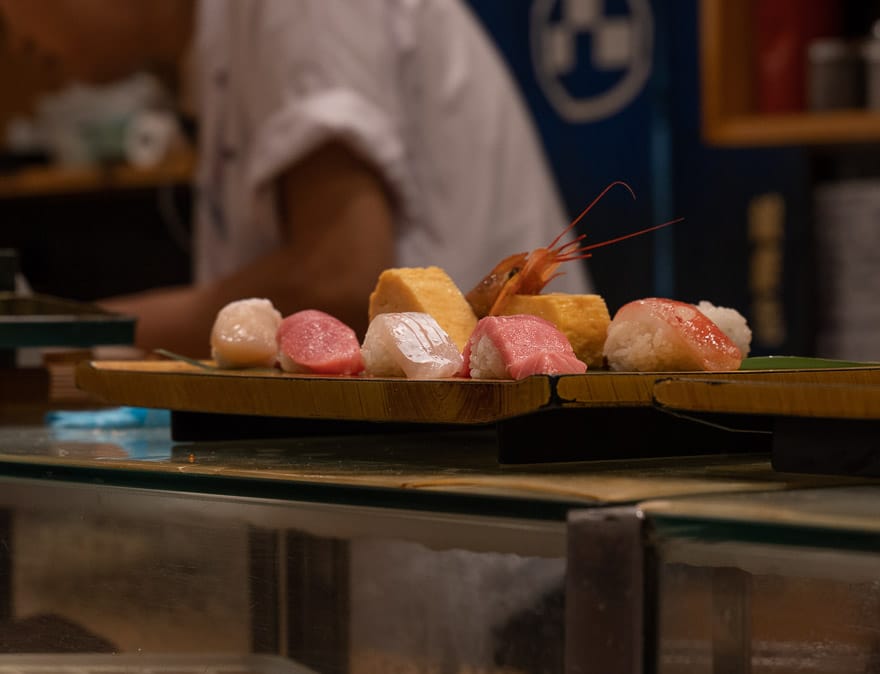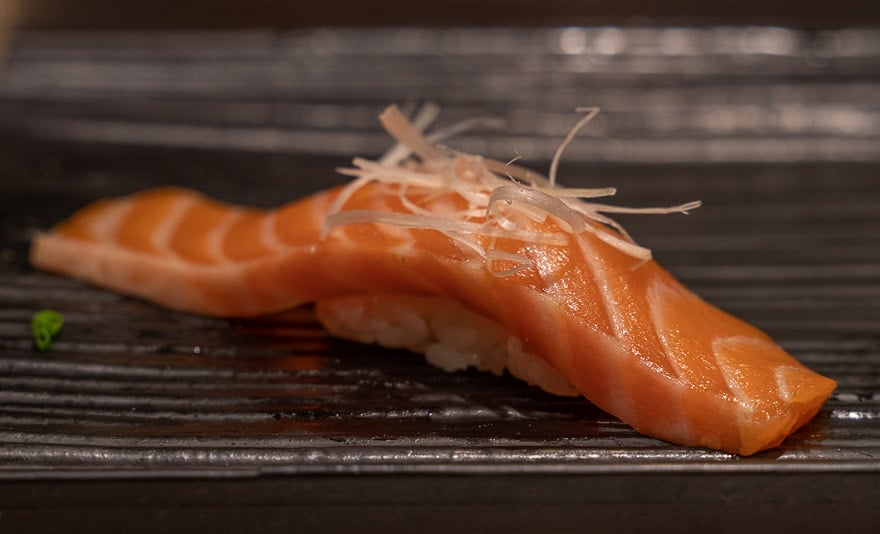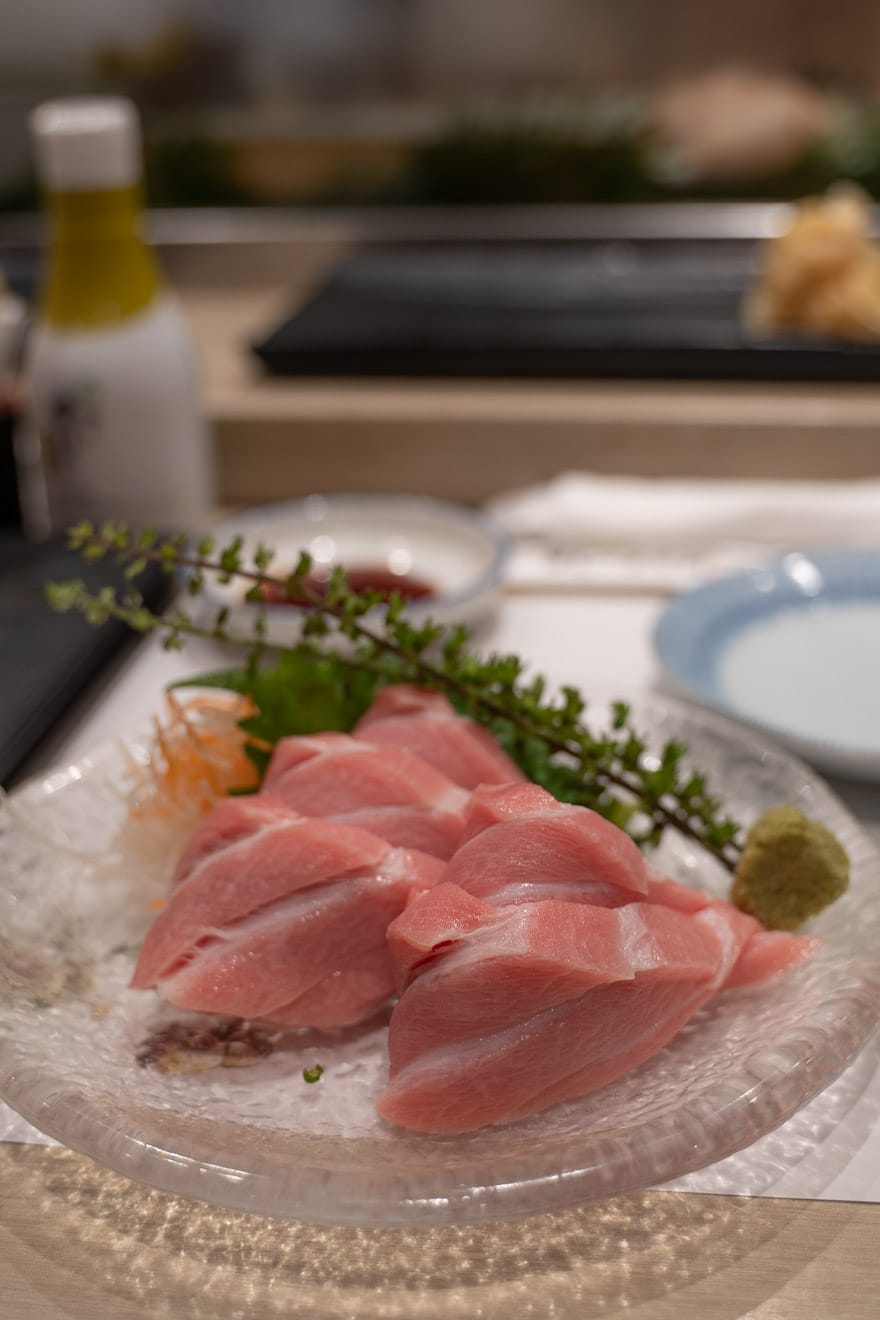 The lobby is superb. Elegant, modern and buzzing with life. No other Tokyo hotel I've visited compares in this regard. The views of Tokyo Bay are wonderful too, a perfect mixture of nature and city. Even if you get a city view this is fantastic too. There really aren't any bad rooms in this hotel.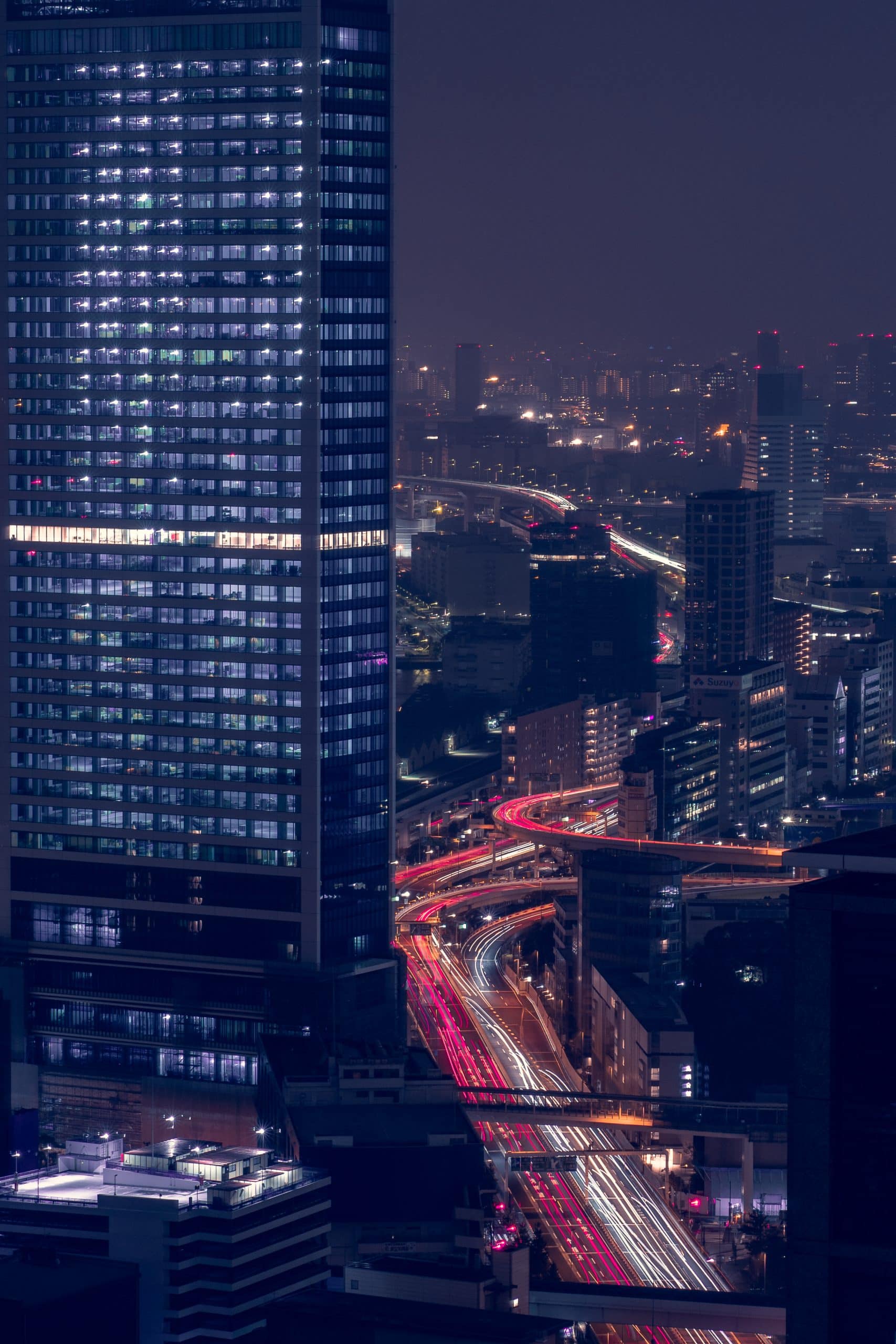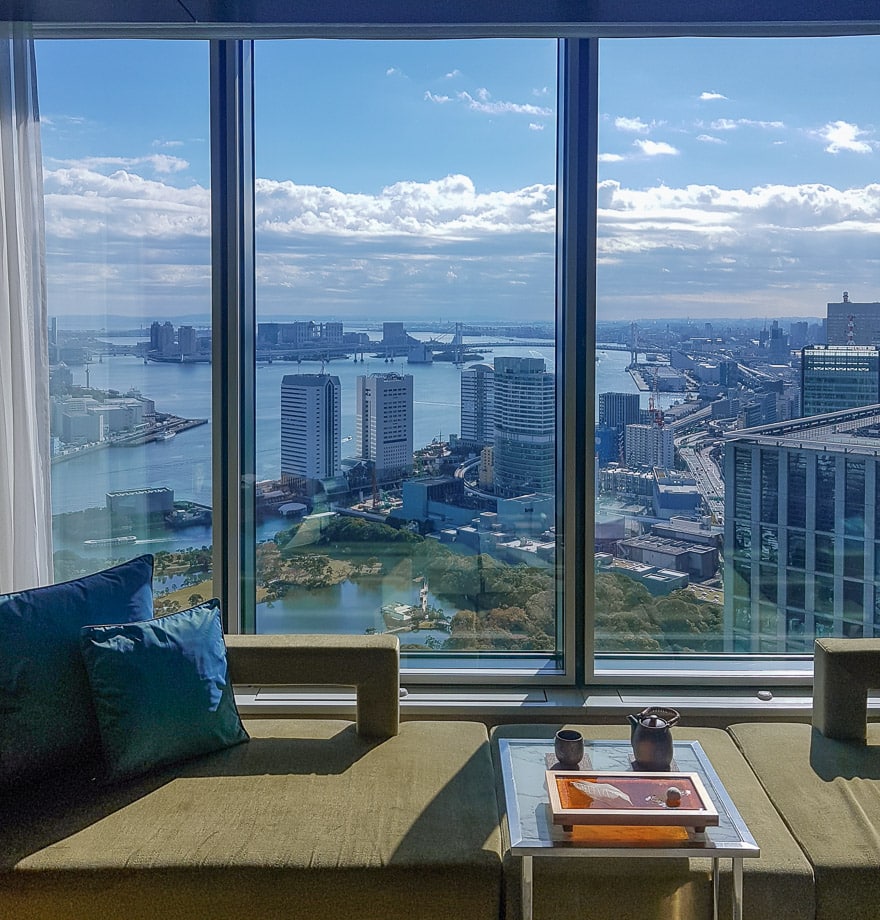 The beds are also extremely comfortable, softer than in most Japanese hotels – no need for an additional mattress topper here.
Then you get to the Hilton elite treatment. I've never been denied late checkout and only once failed to get club lounge access as a Hilton Gold (Hilton Diamonds are guaranteed it). The fact that they regularly upgrade Diamonds to suites and otherwise sell them at very reasonable prices also helps.
My only complaint is that they used to serve the greatest Eggs Benedict on the planet…then in 2017 they stopped torching the hollandaise. The horrific Eggs Benedict devaluation of 2017.
That made me sad.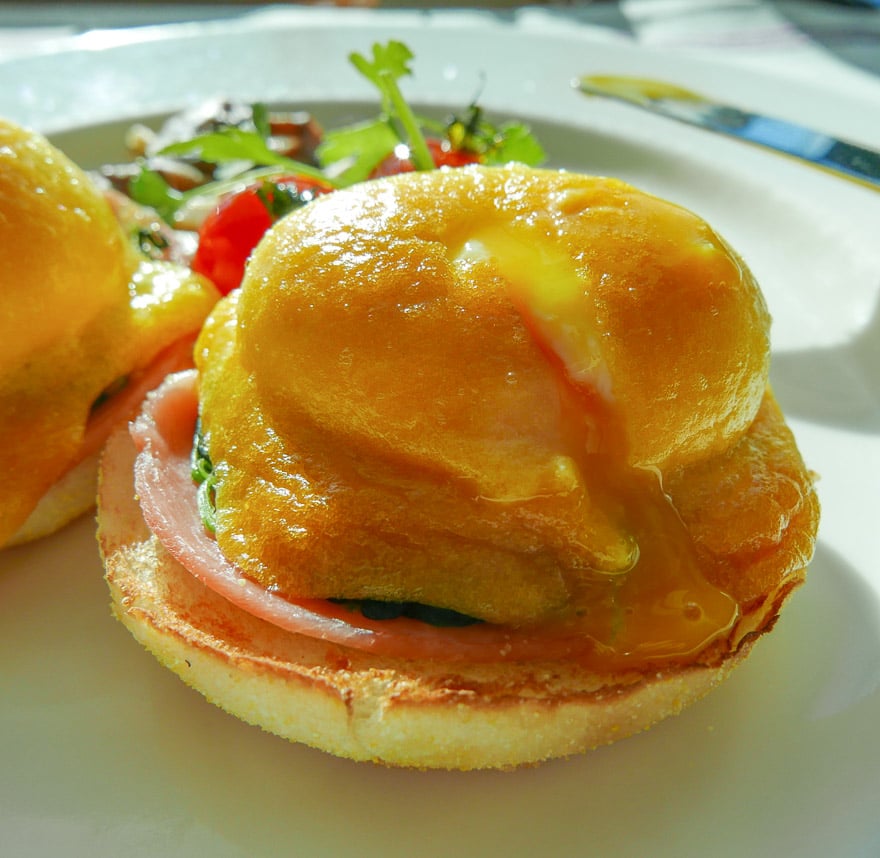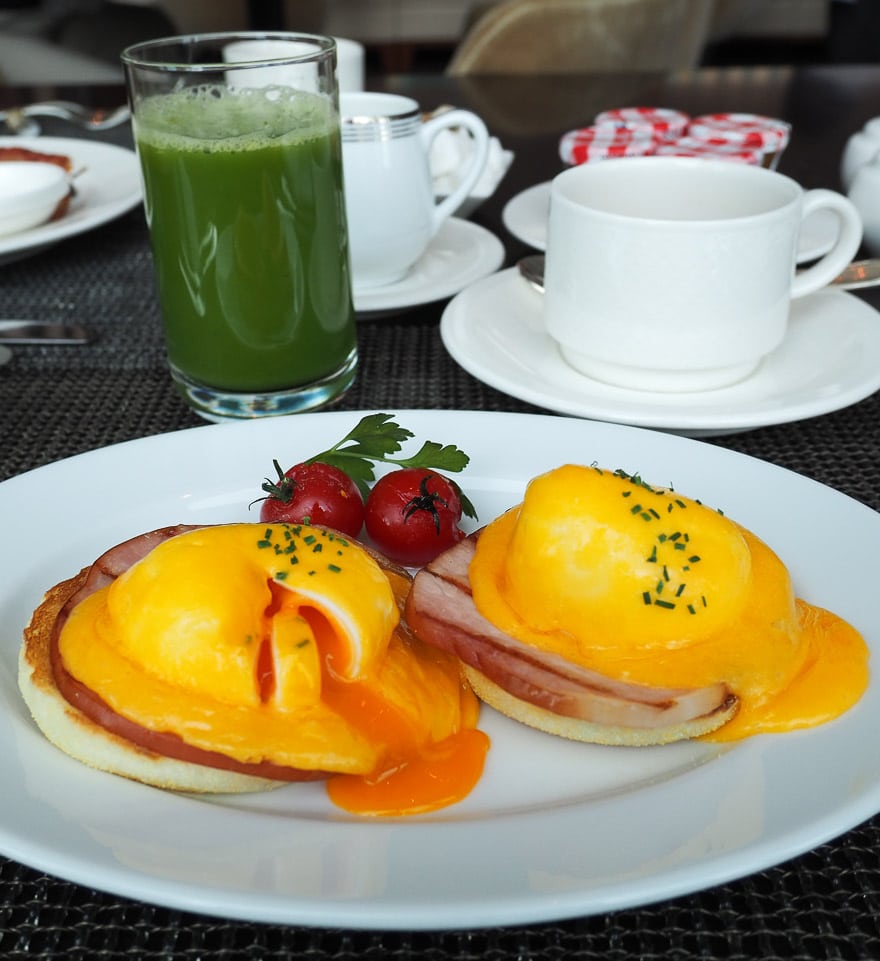 Everything else about this hotel makes me happy.
Conrad Tokyo, my second home.
---
Book the Conrad Tokyo with Hilton Impresario Benefits
---
Hilton Impresario Partner Booking
Click the image to get the best fully flexible rate and also receive:
Upgrade of one category,

based on availability at time of check-in.
Full breakfast for up to two in-room guests.
$100 Hotel Credit.
Welcome amenity.
Early check-in/late check-out, subject to availability.
Double Hilton Honors points and stay credit.
The Conrad Tokyo can be booked directly online by clicking the "BOOK NOW" image.
First time booking with us? Here's how to quickly get set up:
---