Surprisingly Great Deal: Buy Alaska Miles with up to a 50% discount
August 19, 2020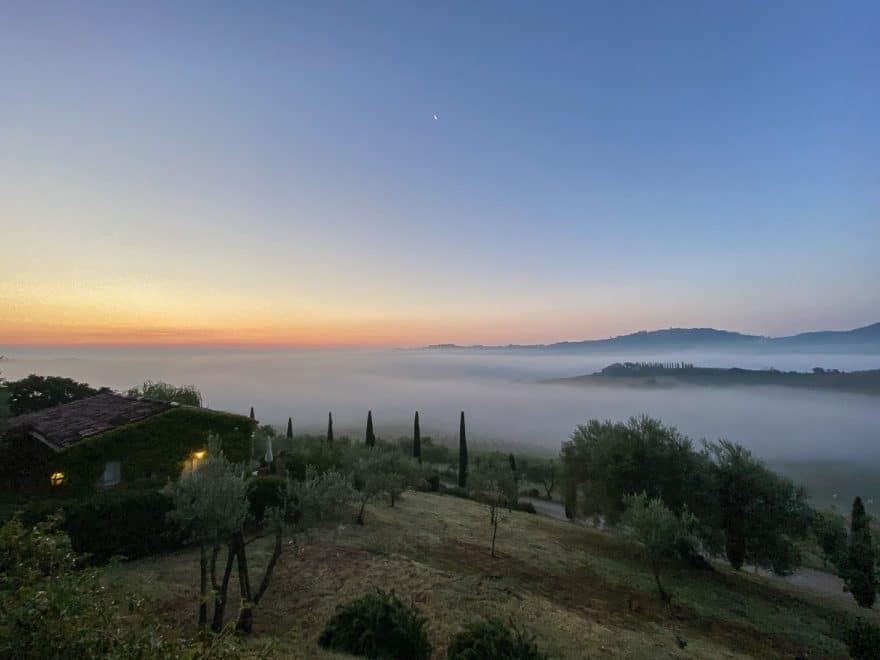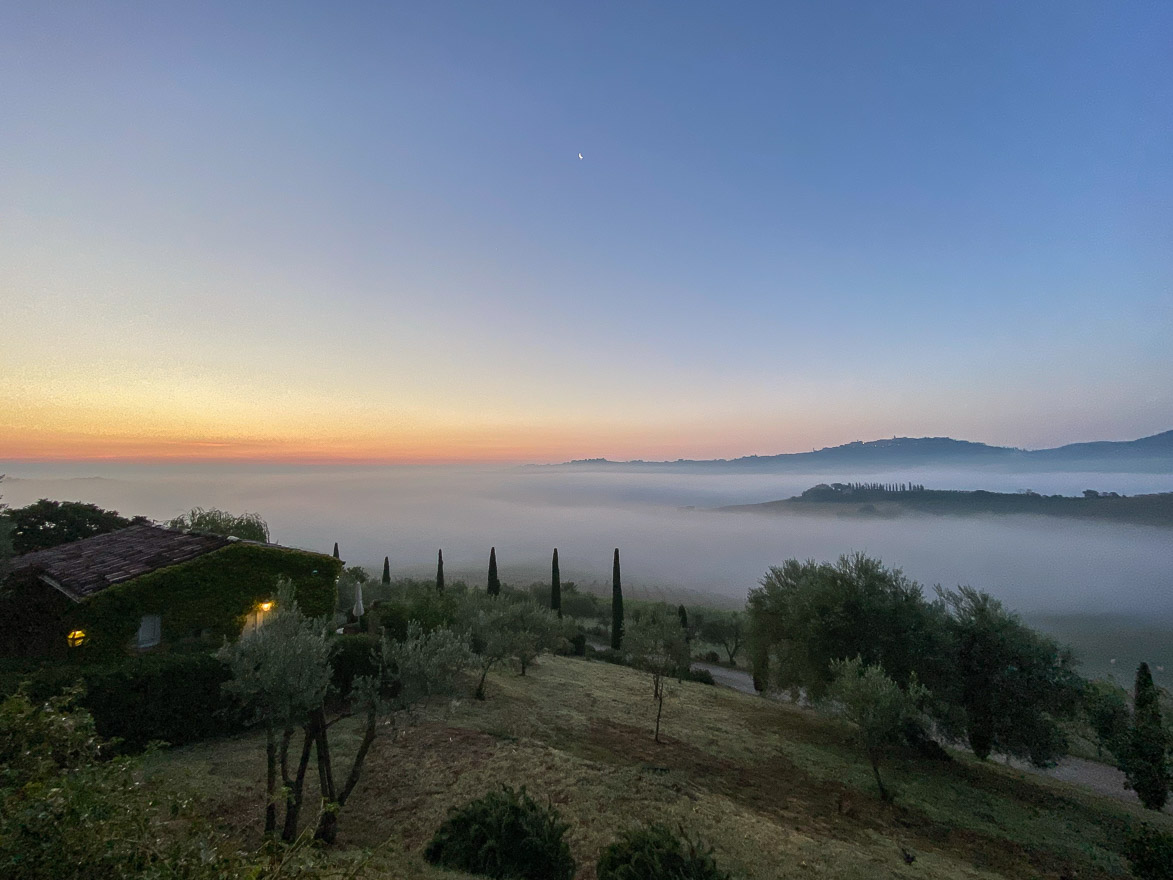 REVIEW – Lupaia (Tuscany)
August 21, 2020
Since becoming one of the worst hit countries at the very beginning of the COVID pandemic, Italy has seen a massive reversal in its fortunes.
It is now one of the safest countries in all of Europe and has seen a steady influx of tourists, willing to adjust their behaviour in order to enjoy the piazzas, galleries and trattorias without the crowds.
Rome was our first stop on this trip and as such it became the gauge by which we measured the rest of our time in the country.
In Rome, face masks are invariably worn indoors, at all times, by all people. No exceptions, no messing around. If you're indoors you wear it.
There are also contactless sanitiser machines at the entrance to every building and next to basically any door. This is not just limited to large and expensive establishments but indeed runs the gamut all the way through to the humblest souvenir shop or streetside panini stall.
Every restaurant requires guests sitting to eat to fill out a contact tracing form and will insist on patrons cleaning their hands with sanitiser before being seated at their table.
In short, everything here felt safer, cleaner and better organised than in London.
---
Historical Sites
---
The Trevi Fountain
It was seeing a picture of this iconic baroque monument completely devoid of tourists that first inspired me to take this trip. Logic would dictate that if Rome was empty enough that arguably its most popular monument was empty, then surely maintaining social distance would not be an issue.
Upon taking a taxi into the city from the Waldorf Cavalieri we didn't have anywhere specific in mind for our first afternoon so we figured we might as well head here first just to see if it was really as deserted as people said…
This is the Trevi Fountain at around 2pm on a Friday in July.
I can't promise it'll still be this empty if you go today but when we were there it was startling how quiet it was. Every time we passed there were no more than ten people taking pictures and everybody was politely waiting their turn or getting out of the way of other people's pictures since it was abundantly clear that everyone would get a chance to take pictures with a completely empty fountain.
It almost felt like showboating knowing that we could come back and get pictures whenever we wanted. It became something of a running joke saying, "shall we pop by the Trevi again?" whenever we were anywhere nearby.
Ordinarily you'd avoid it like the plague, desperate to get away from the enormous crowds gushing around the streets nearby with a force to rival the water.
Not this time though.
The Pantheon
The story was much the same at the Pantheon, where the line was roughly fifteen people long.
The Forum
Even the vast expanse of the Forum was empty.
The Vatican Museum
Ordinarily you have to buy tickets weeks in advance or face a line that's over an hour long to get into the Vatican Museum. This is arguably the world's greatest collection of antiquities and artwork, crowned by Leonardo's Sistine chapel.
We were able to book tickets online 15 minutes in advance and walked straight through. At one stage I spent 15 minutes completely alone in a room with a Rodin sculpture, a Mondrian painting and another by Van Gogh. Once in a lifetime opportunity. Seriously incredible.
The Sistine chapel had around a hundred or so people in it and despite being far, far quieter than usual, it was actually little jarring. It was the first time I'd seen this any people in one place since attending a rock concert in February. I'd almost forgotten what a crowd looked like.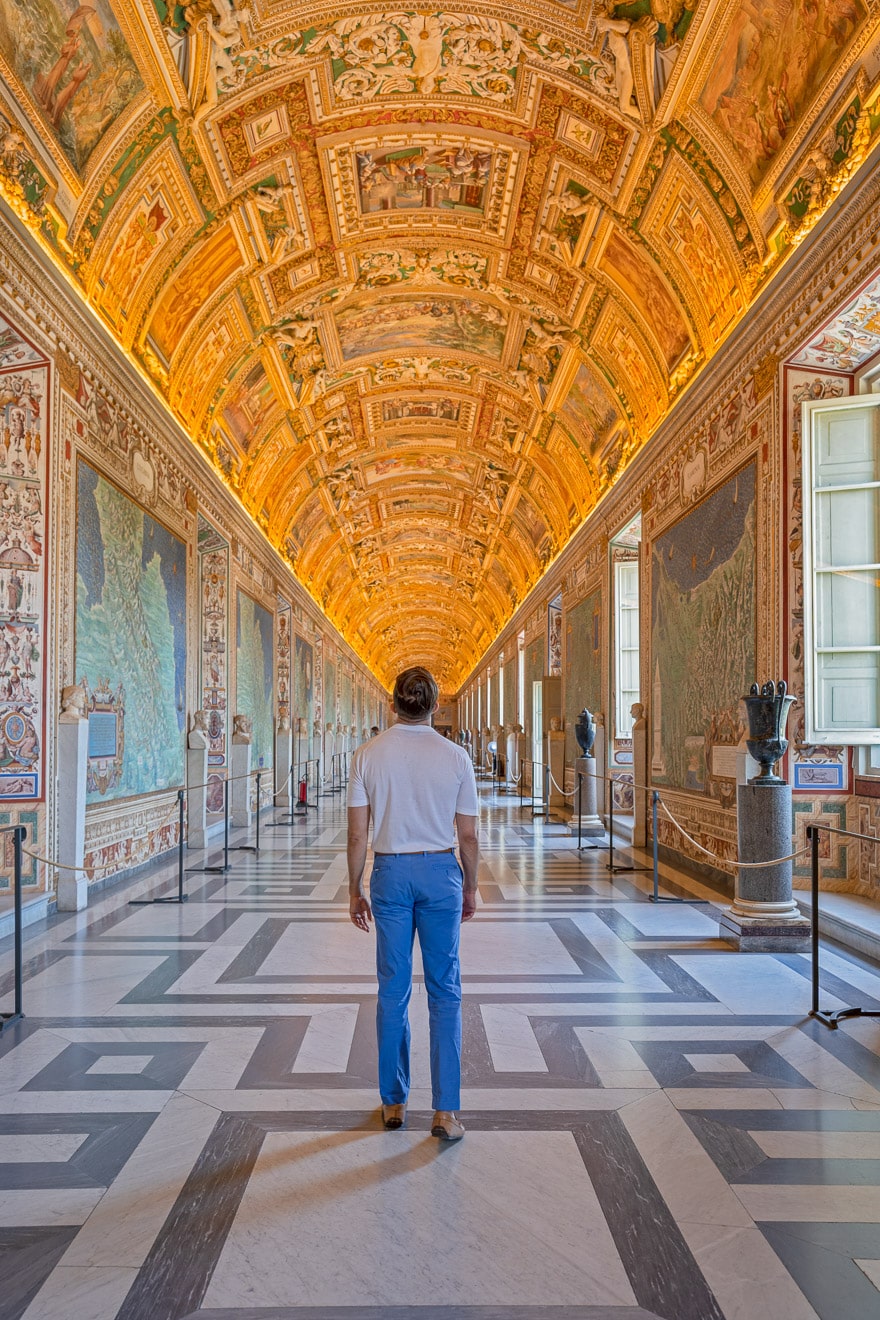 ---
Bars and Restaurants
---
---
La Tavernaccia
Unpretentious Roman classics with very friendly service and an extensive wine list.
---
---
It was a bit hot in here considering that the AC had to be turned off but there was a decent breeze from the open doors, facing the local streets. All COVID measures were admirably adhered to.
This was the only place in Rome where we got a physical menus rather than a QR code but the menu was easy to clean and you didn't have to touch it to look at it.
The wines were particularly good and unbelievably cheap. I went with the waiter's recommendation, based on other wine styles I liked and he absolutely nailed it… at under €5 per glass!
The food pictures I think speak for themselves. Portions were massive and everything was extremely fresh, delicious and reasonably priced. When I mentioned to the concierge at the Waldorf that we wanted to eat here, he gave a knowing smile. "It's good?" I asked. "Very", he answered. I don't think there's any chance we'd have gotten a reservation here were it not for COVID.
---
Mirabelle at Hotel Splendide Royal
Spectacular rooftop terrace bar based in one of Rome's classic 5* hotels
---
---
We originally intended to visit the rooftop bar of the Sofitel next door but it transpired that the venue was still closed due to COVID. The staff at the Sofitel very kindly called over to Mirabelle and confirmed a reservation for us.
The hotel is very old school and not somewhere I usually would have considered but we ended up really enjoying our time here.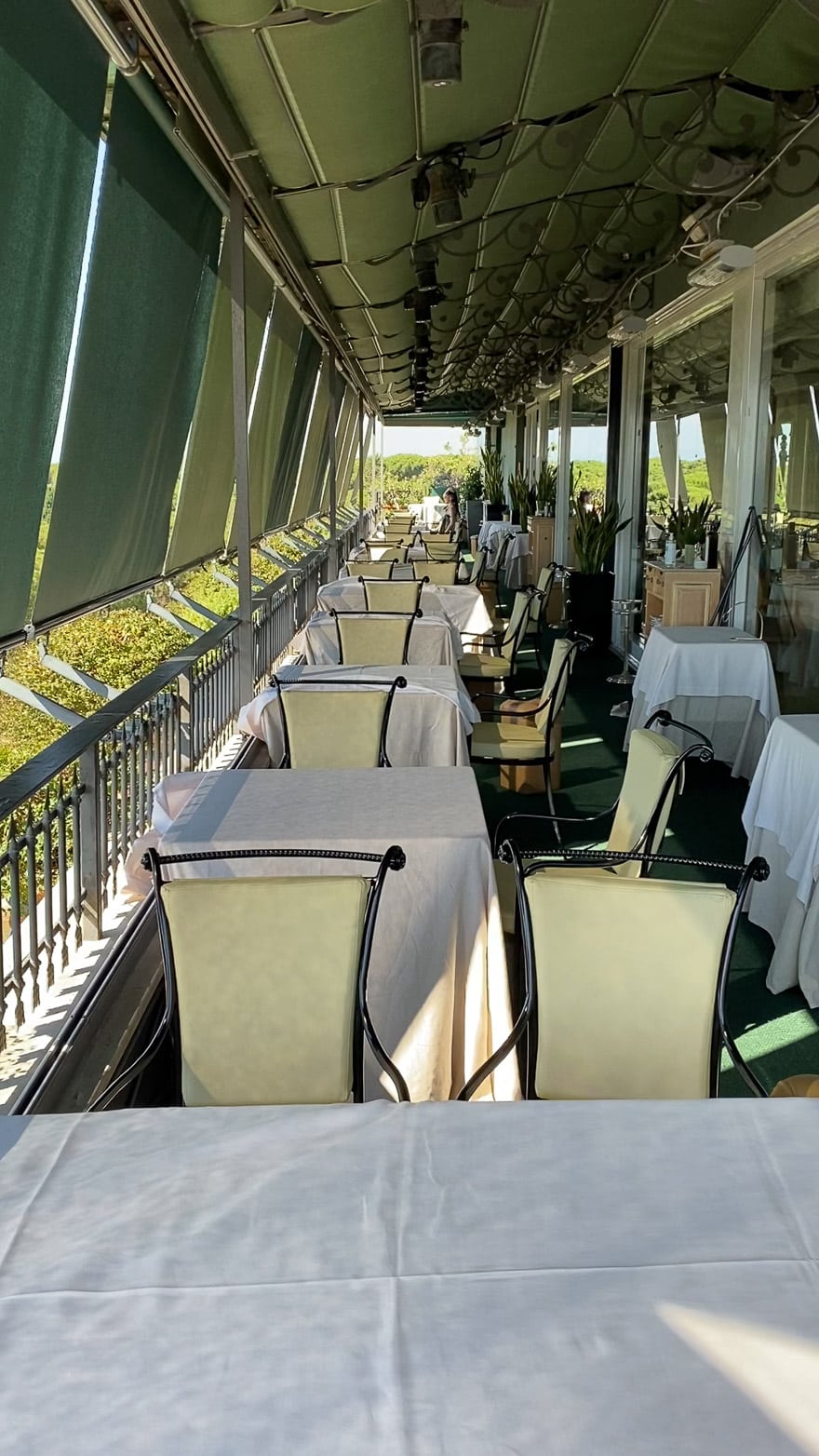 In a surreal turn of events we were the only guests enjoying an aperitivo on this warm Friday evening, so obviously the service was exceptional, as was the view over the landscapes gardens of Villa Borghese.
The drinks were around €25 each and included some highly elaborate and delicious aperitivi.
---
Acquaroof – Terrazza Molinari
A buzzing rooftop bar with a young and trendy atmosphere serving high end cocktails and seafood
---
---
The first time in months that I almost forgot that COVID was even part of our reality. The bar was at capacity, which meant that there was a very lively atmosphere, yet spacing between tables was more than adequate and being completely outdoors meant we never felt unsafe at all.
Sanitiser was provided by the lifts and at the entrance to the bar, in addition to the individual bottles supplied at each table. The views here aren't of any specific monument but the overall feel of being immersed in a Roman neighbourhood is really invigorating.
The cocktails were of a high modern international standard (as opposed to the more 80s/90s classics at the Mirabelle) and the aperitivi were varied and delicious.
---
Per Me (1* Michelin)
A modern and romantic restaurant serving imaginative re-interpretations of classic Roman dishes
---
---
Having been rather disappointed by a staid and lacklustre meal at the 3* Michelin La Pergola I was hoping that Per Me would salvage Rome's reputation as not only a city of hearty meals in trattorias but also one of refined culinary elegance, able to compete with the very best in the world.
Per Me achieved that…in spades.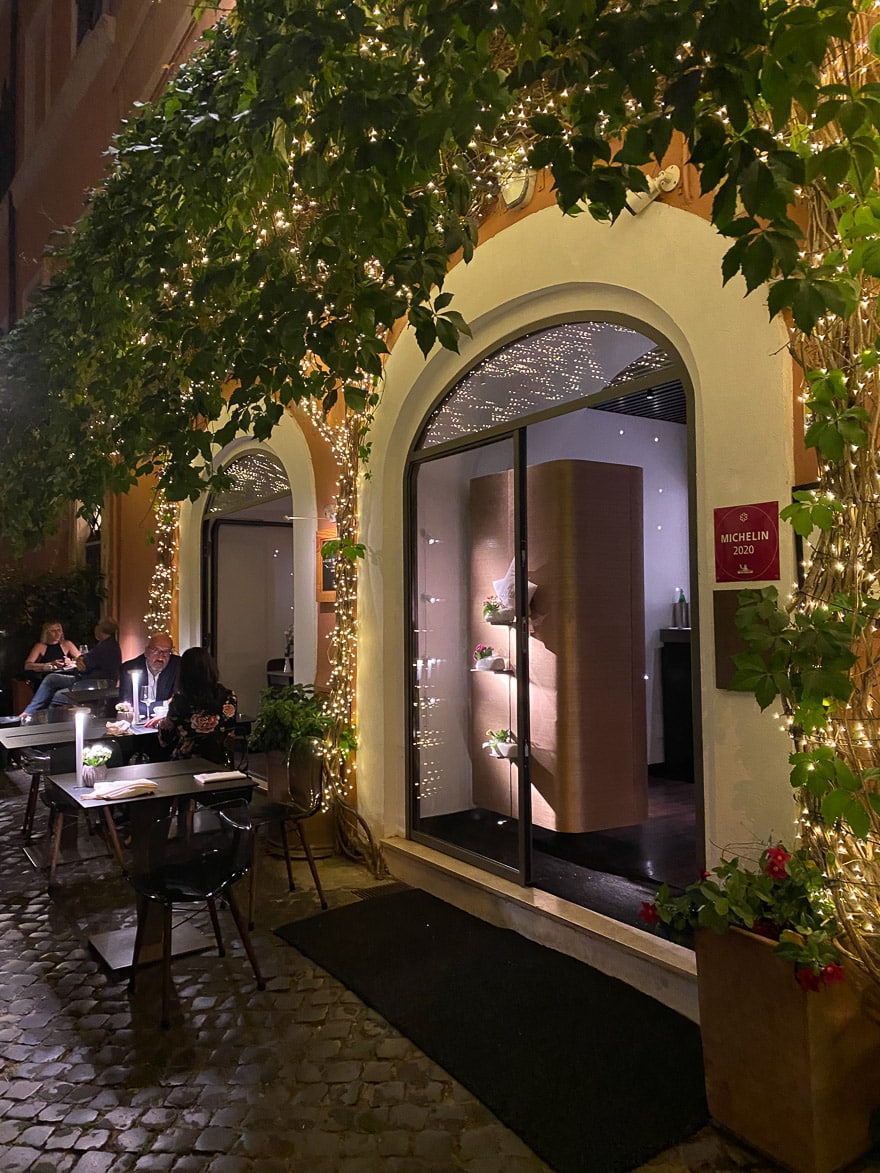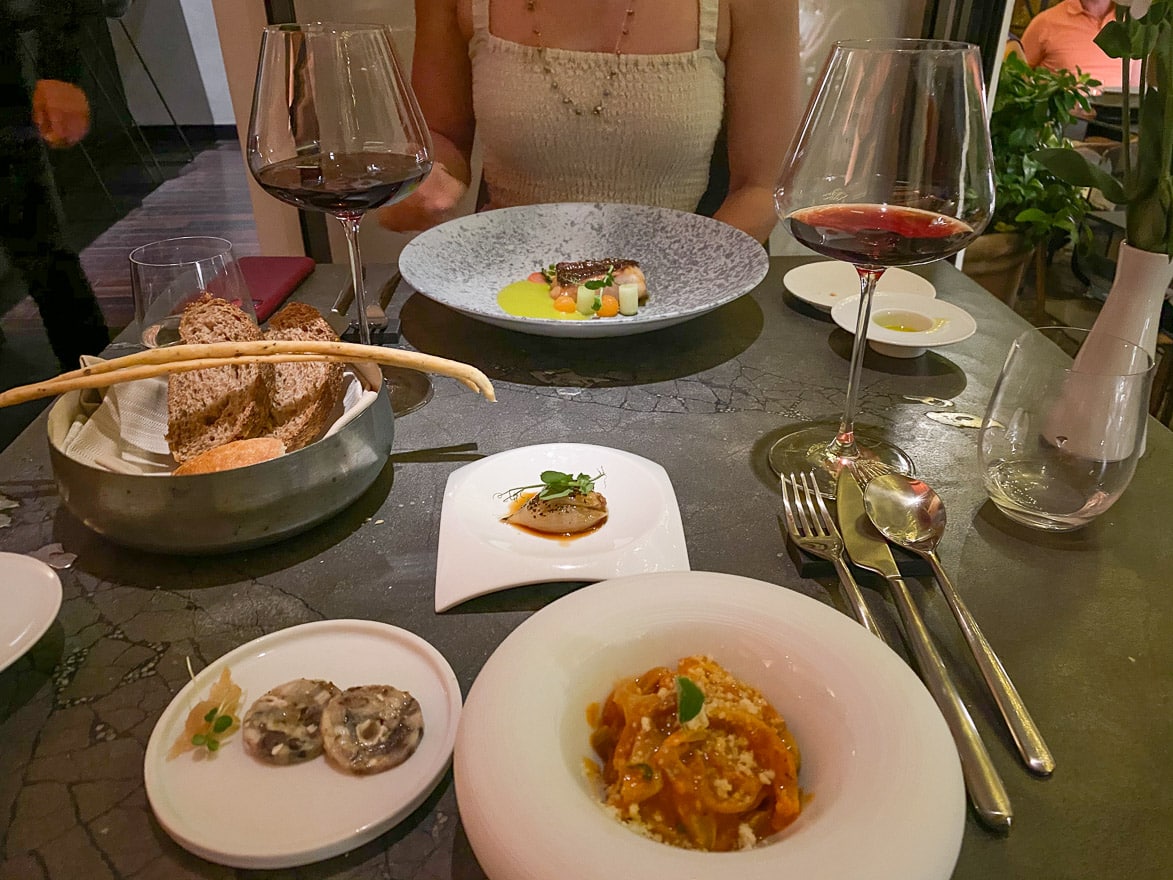 The staff were incredibly polite, friendly and welcoming. The decor was modern on the inside but retained a real local charm owing to its location, opening out onto a quiet side street.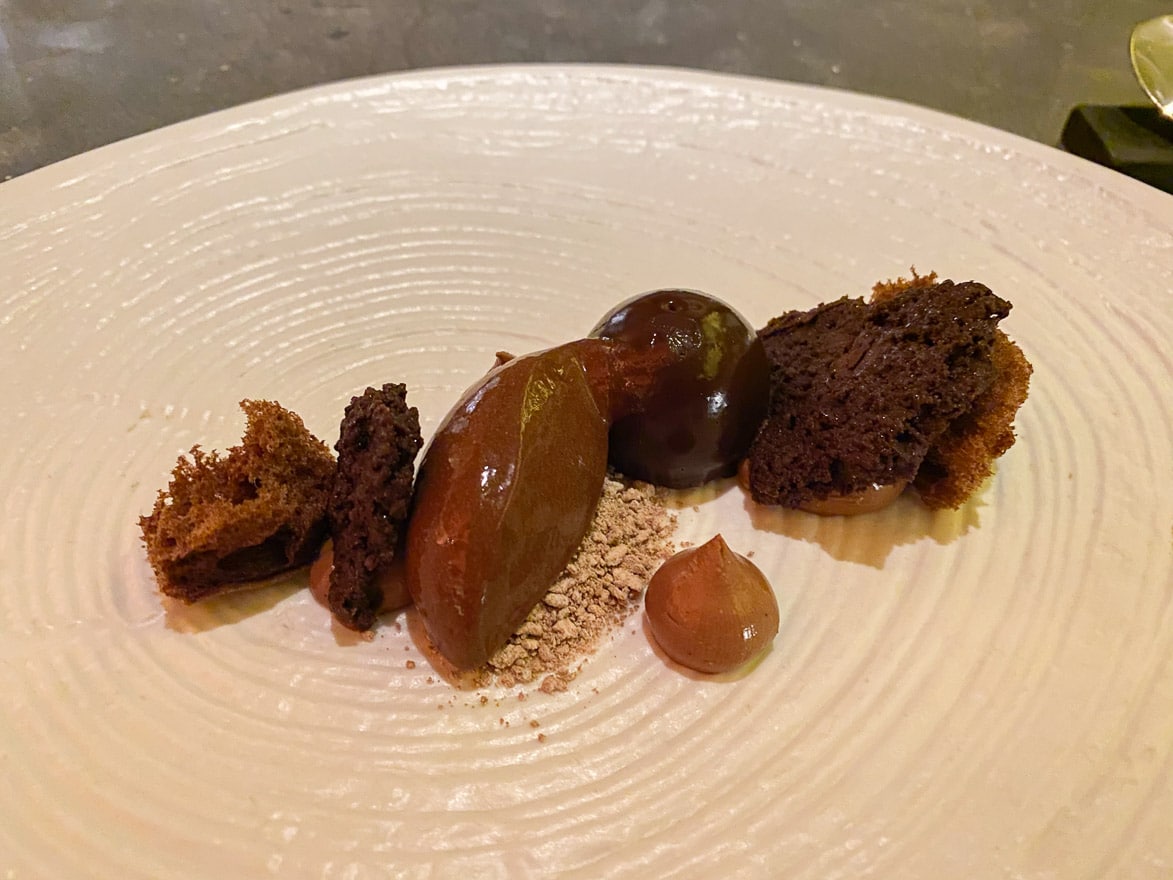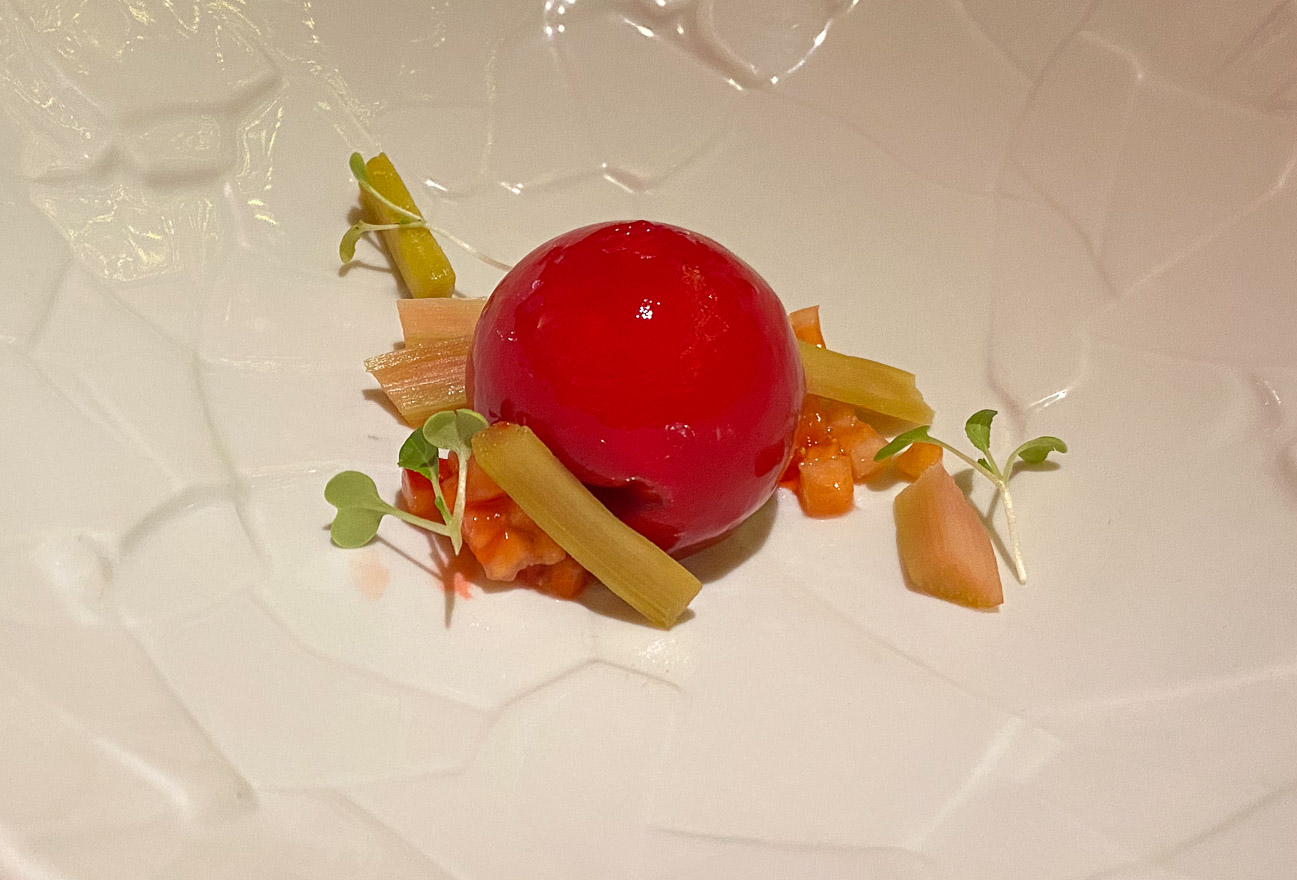 Everything about the food was superb as well: beautiful presentation, exciting flavour combinations and unique dishes like the monkfish tripe that were a real standout. Definitely a place I'll return to in the future.
---