Galleries
Location: London LHR T5
Galleries First Class Lounge access:

Oneworld Emerald status
First Class passengers on Oneworld airlines

Concorde Terrace access:

First Class passengers on BA
Concorde Room cardholders

Date visited: July 2020
---
Intro
---
Having barely set foot outside of my front door for four months, I was a little apprehensive about taking this trip but as soon as I heard that the First Class wing and lounge were open I immediately became more comfortable with the idea.
Premium travel experiences are now not only a question of comfort and convenience but also of safety. Now more than ever I can see the value in more personal space, more privacy and better service.
As soon as I exited my taxi at the far end of Terminal 5 my first mistake became immediately apparent. The doors nearest the First Class check-in are currently shut, with all passengers being directed to a single set of doors in the middle of the terminal.
Creating a single bottleneck, through which all passengers must enter, seems to run counter to the idea of social distancing but at least there were plenty of sanitiser stations set up, as well as a trial temperature monitoring system which was not yet operational.
Other than the sanitiser stations the other major physical change in T5 is the placing of large placards on every other seat, to ensure social distancing. Given the passenger numbers on the day we travelled, this hardly seemed necessary though.
As we approached the First Class Wing we noticed that the podium is now surrounded in perspex, the agent was wearing a mask (as were all BA employees throughout our journey) and there was a sanitiser station, this time in a more elegant shade of BA blue than the generic red and white ones elsewhere in the terminal.
At the podium we were asked about our destination and when we mentioned that we were flying to Italy the agent immediately handed us a pair of Italy specific tracing forms. She also informed us that Italy requires all larger hand luggage to be checked into the hold.
As a traveller it is tough keeping track of the rules and regulations for just my own travel destinations so hats off to the BA podium staff who have a very tough job keeping up to speed with the regulations for every BA destination.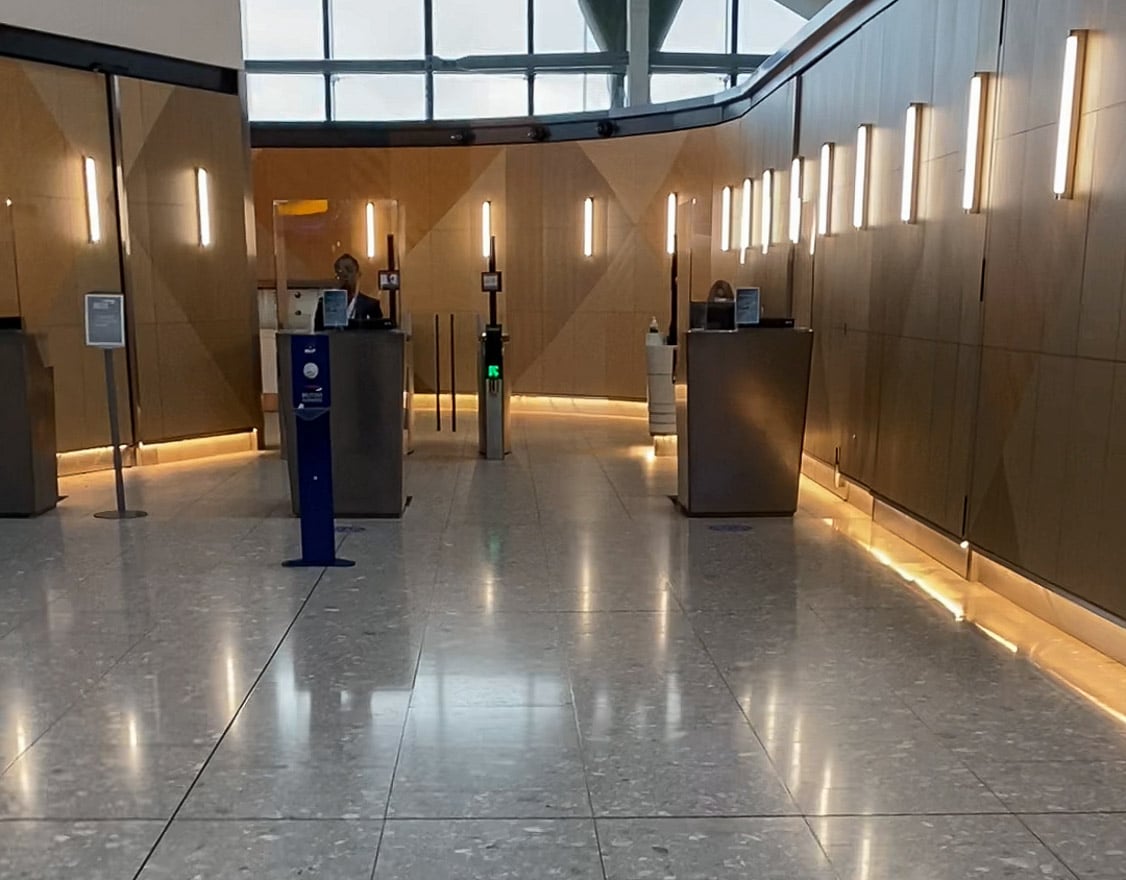 Once we were done with check-in we headed through the barriers and into the security screening area.
Here only one of the two scanners was open and only two of the three slots within it were available, the middle one being blocked for social distancing.
---
The BA First Class Lounge
---
During check-in the agent had handed us a special lounge card. The card opened out to explain the new modus operandi of the lounge and doubled up as a handy means of communicating with cleaning staff.
Once you are done with your seat you can let staff know it is ready to clean. Alternatively if you're briefly leaving to use the restroom, you can let staff know that they shouldn't come over and start cleaning yet.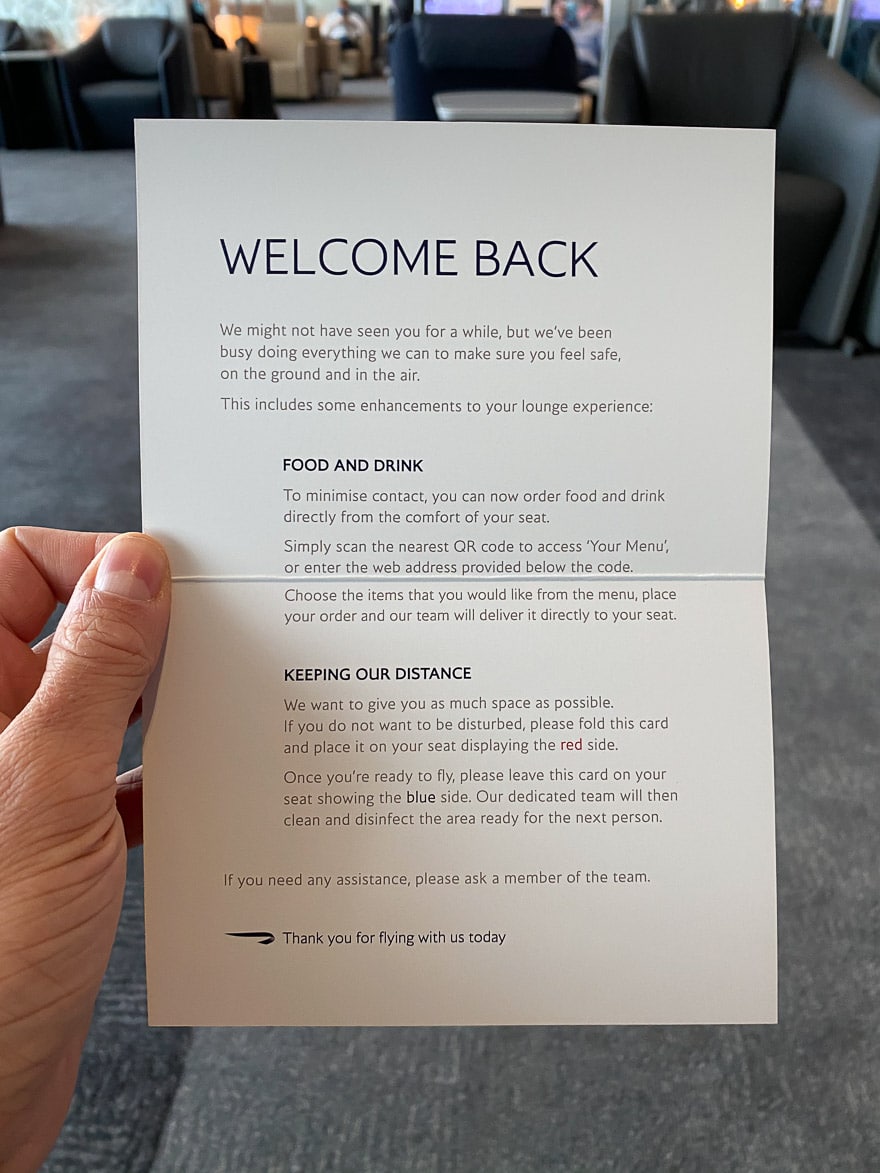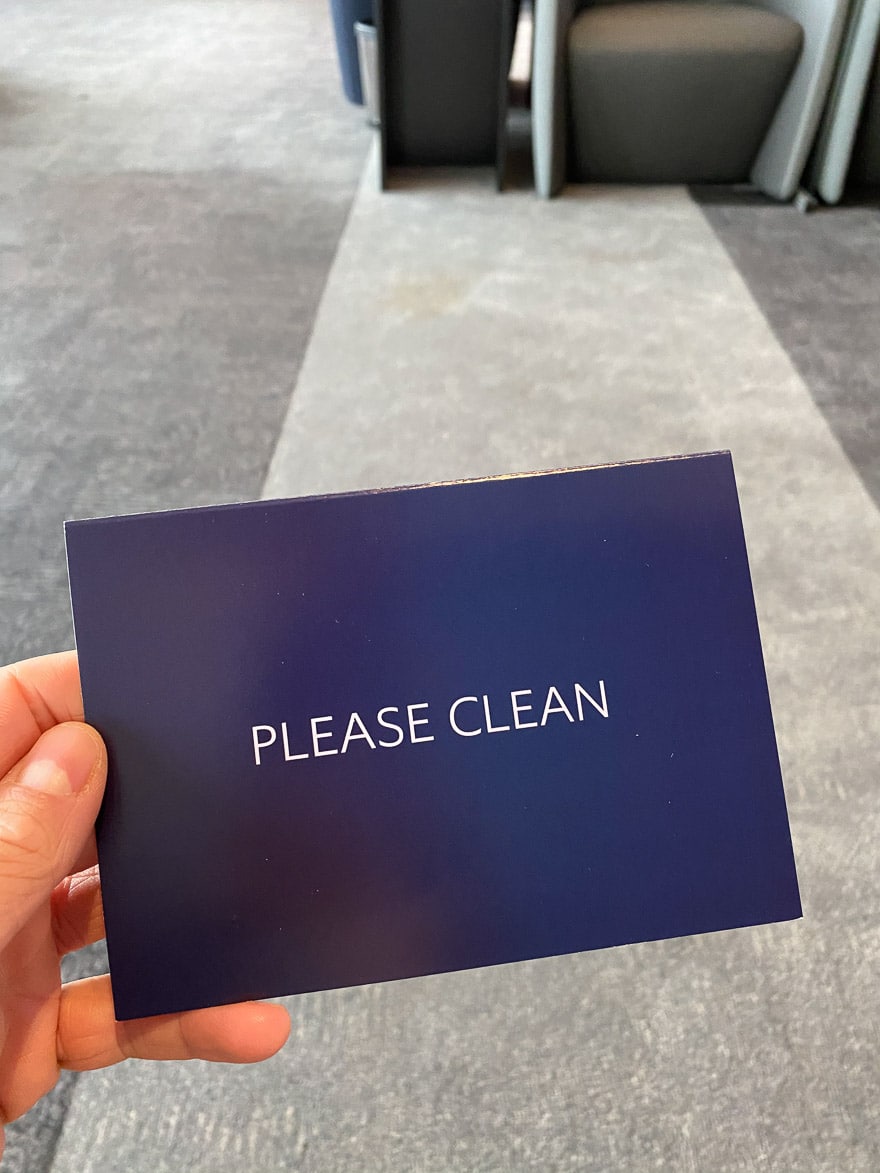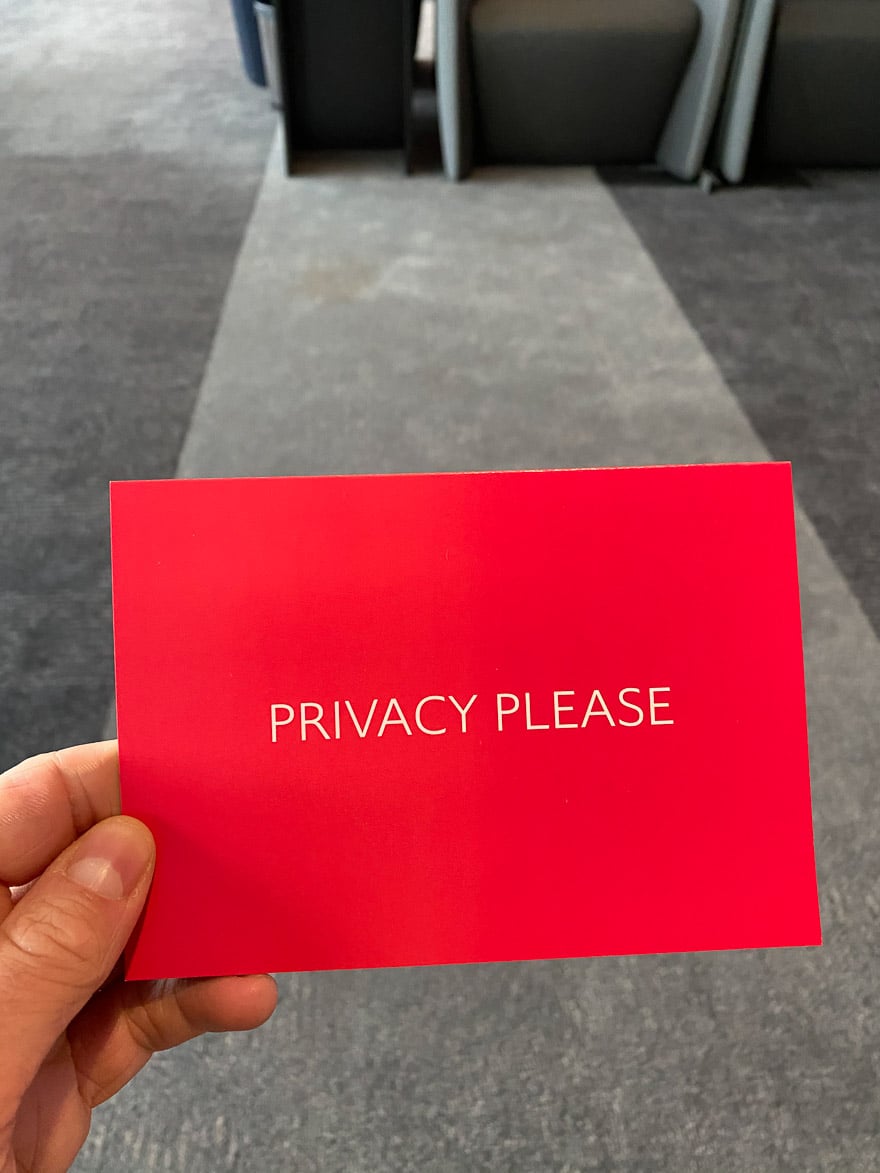 However upon entry it became immediately apparent that things had changed. Both the self service spirits bar and the champagne bar were empty.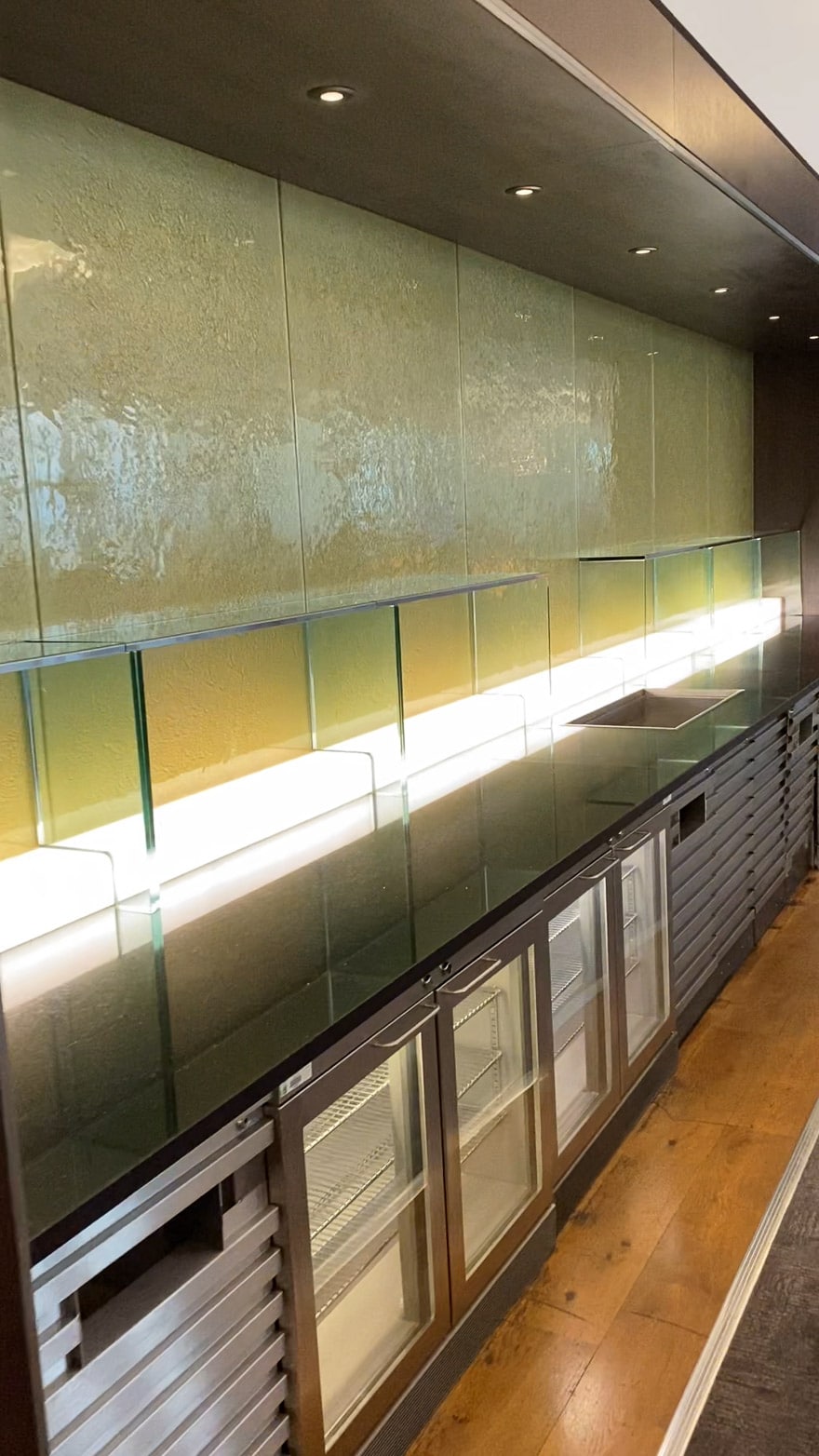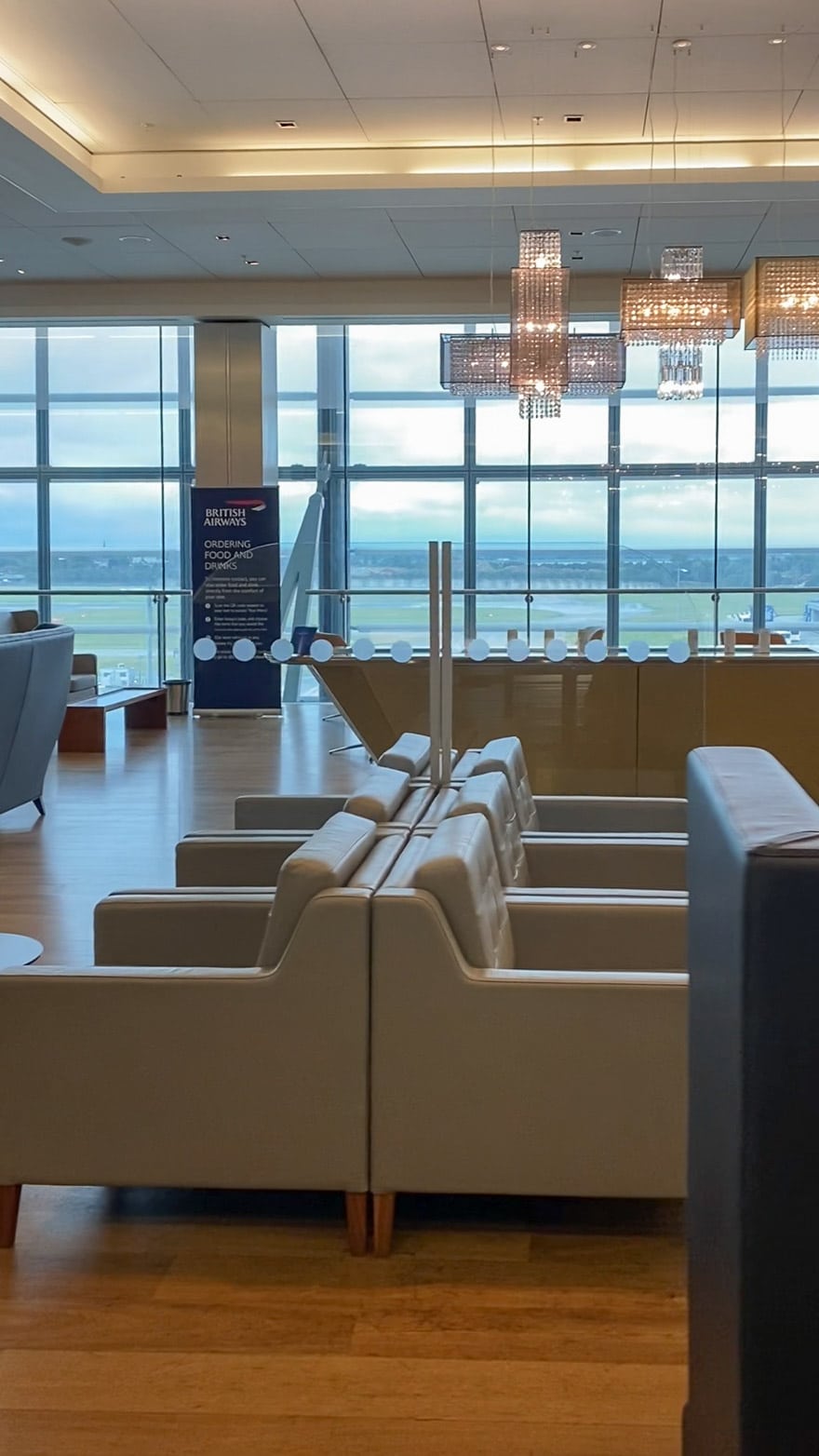 Having said this, on a return visit to this lounge a few days ago I noticed that takeaway water bottles were available in the spirits area.
This seems to be an angle that many buffet style establishments are espousing during COVID. Table service for most things, with a vary pared down self service offering for items that are individually wrapped.
Usually it's a mad scramble to find a single empty seat here but on this occasion the options were seemingly endless.
Perspex screens separated the seating into neat blocks of single, double and triple seats. Larger groups of four or more could sit in the small number of low tables near to the Concorde Terrace.
This lounge previously had a well deserved reputation for being rather…untidy. I'm very happy to report that nowadays the cleaners are out in full force, constantly tidying and cleaning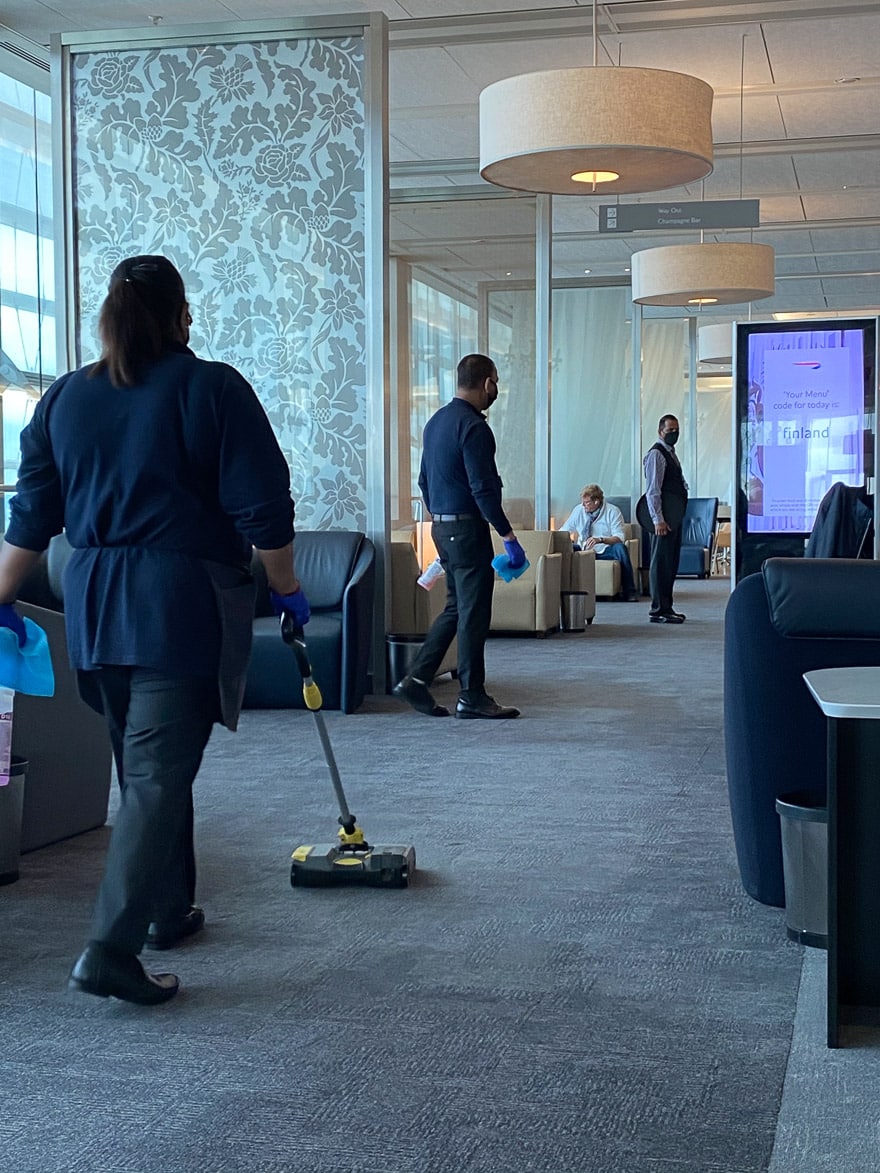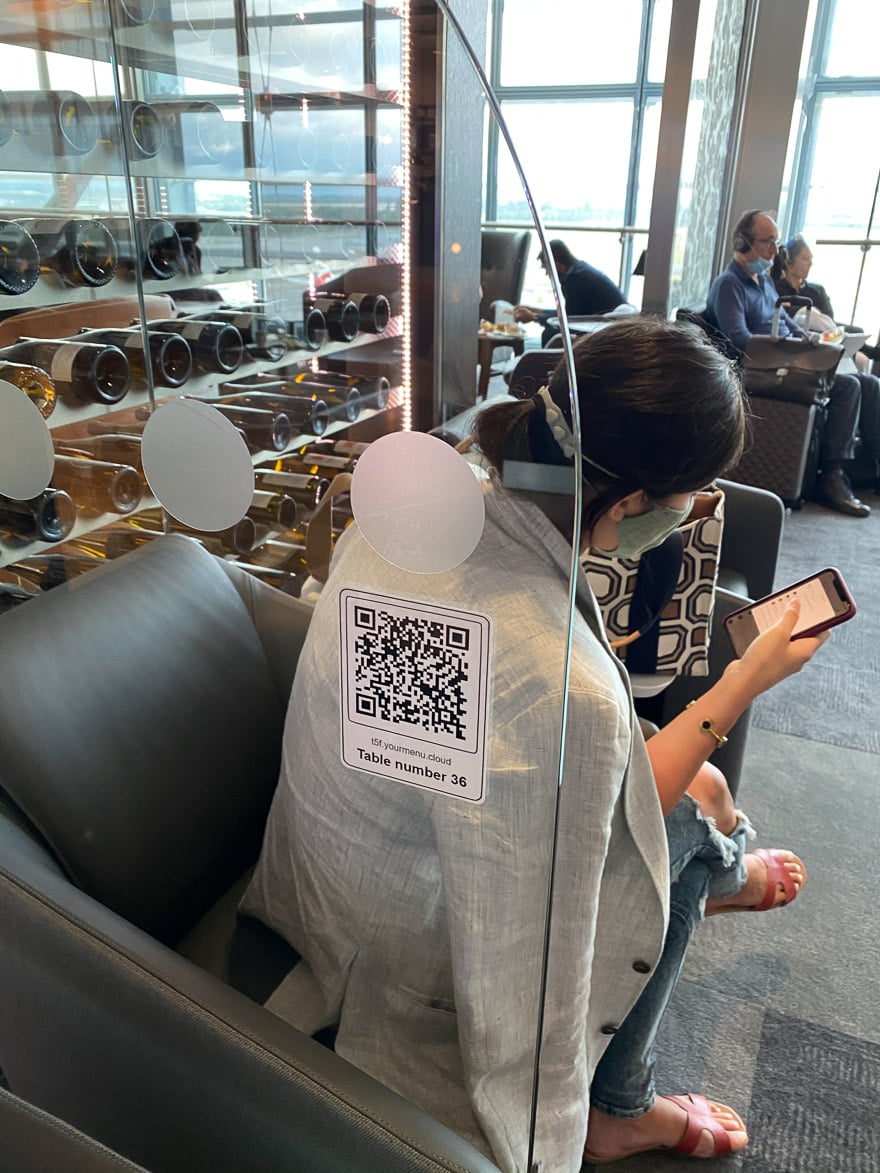 In addition to serving as protective barriers, the perspex screens now display prominent QR codes and table numbers.
When you scan the code you are required to input the daily password, as displayed on the video screens – this unlocks the current menu and allows you to make food and drink orders, delivered directly to your table, via your phone.
Breakfast Menu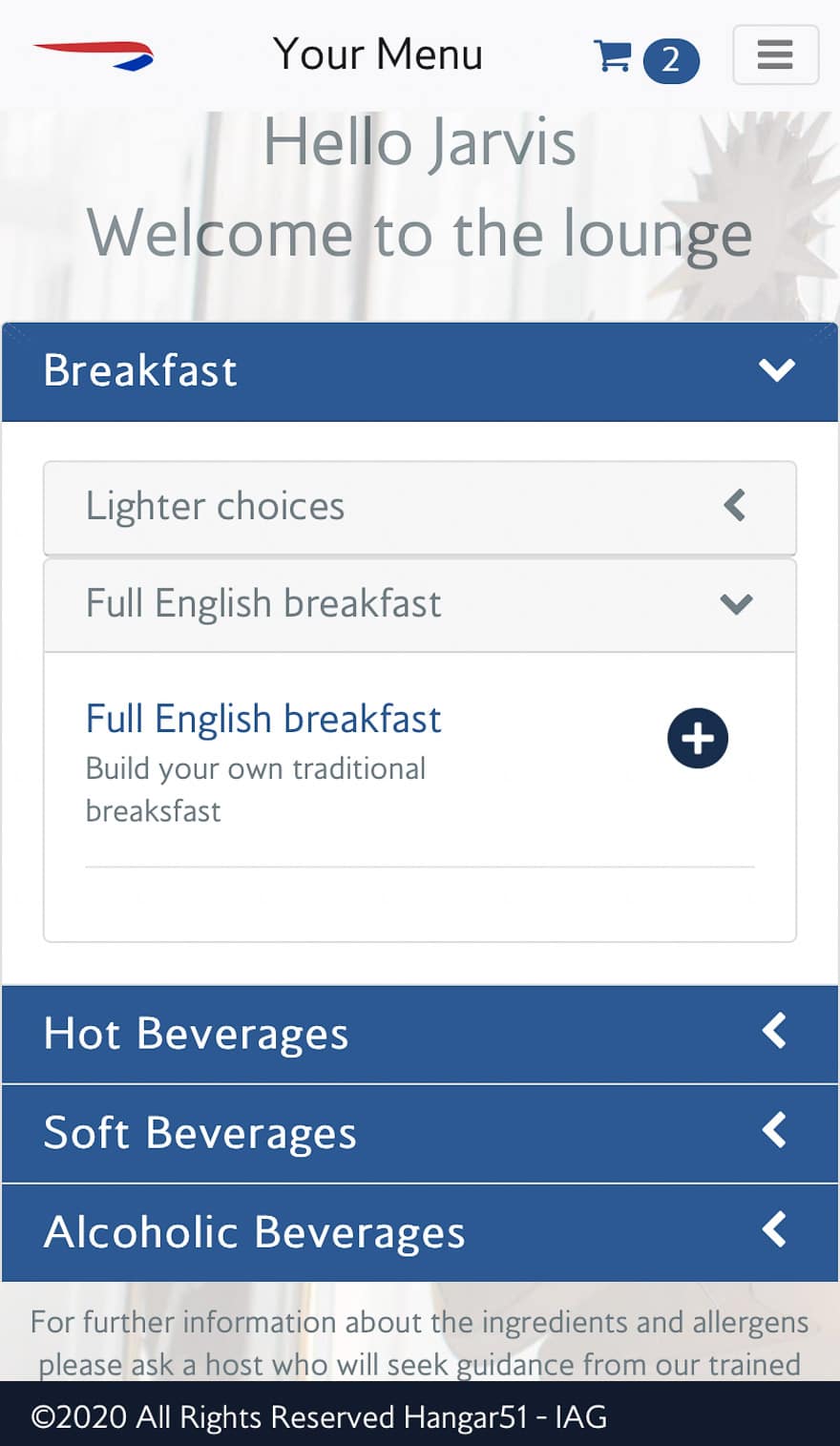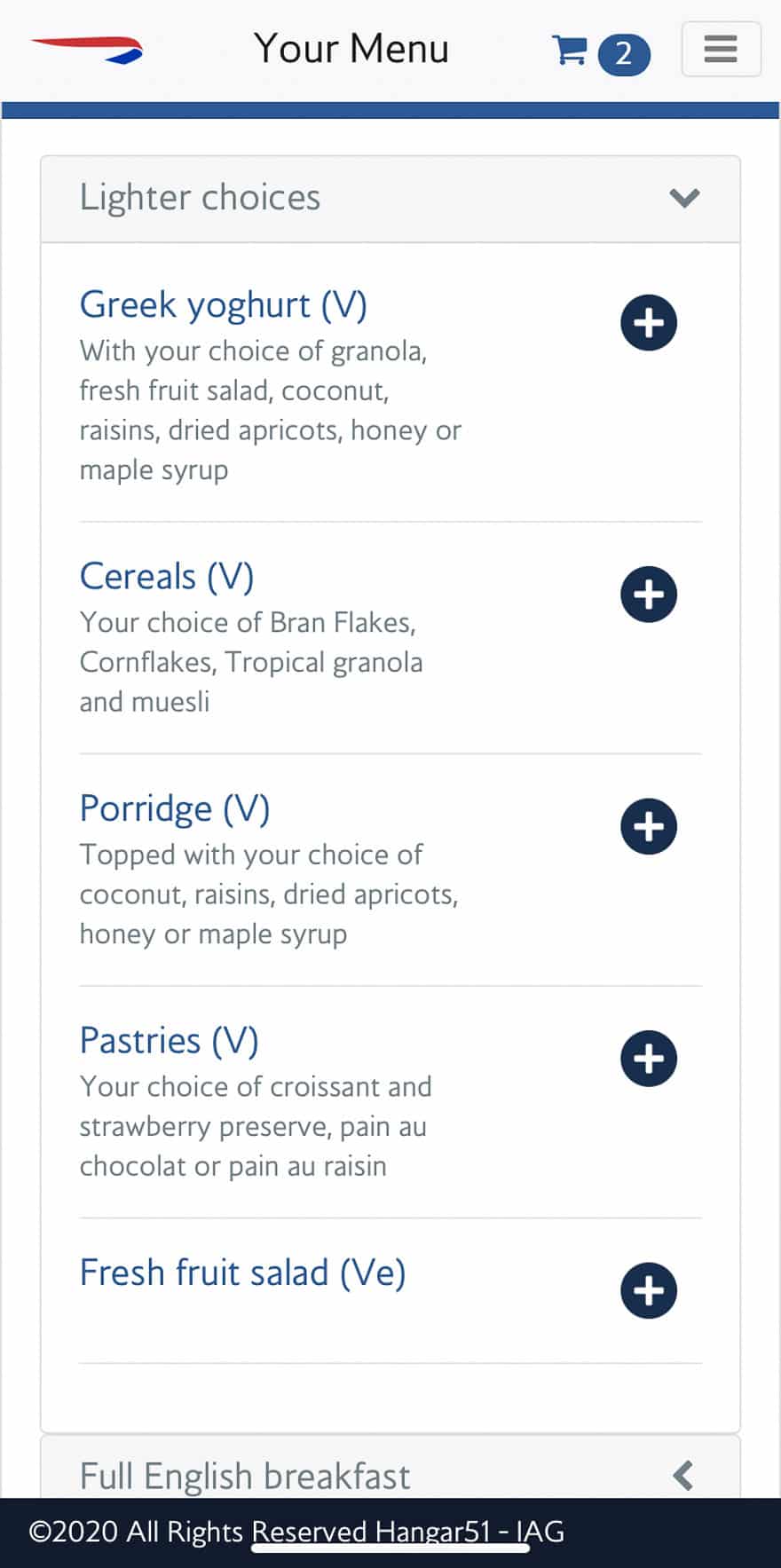 All Day Menu
Drinks Menu
A couple of things to note: the blanc de blancs champagne is a decent upgrade but Johnny Walker Blue Label has now completely disappeared. Still, you can hardly accuse BA of being stingy with their digital tome of alcoholic beverage options.
Also, the food menu is identical in both the First Class Lounge and the new Concorde Terrace. This represents a material upgrade for those with status driven access to the First Class lounge and a downgrade for those with access to the Concorde Terrace.
Despite the overall improvement in the food offering here, BA is still serving powdered eggs in its First Class lounge. This is a product ordinarily used by the military, hospitals and prisons, seeing this type of low-grade mass catering is rather shocking.
Most Business Class lounges would balk at the idea of cutting costs on such a basic item but for whatever reason BA have chosen to focus their efforts here.
Although anybody that's ever seen a BA First Class lounge bathroom knows that the eggs aren't the only thing that look like they came from a hospital canteen…
---
The BA Concorde Terrace
---
I had access to the Concorde Terrace, whilst flying short-haul, thanks to a kind friend of mine who amasses more Tier Points in a year than many people do in a lifetime. If all goes well I'll be back here before a flight to the Seychelles in late-September, unless things go REALLY well and the actual Concorde Room reopens by then.
The Concorde Room was never the best First Class lounge but as so often tends to be the case in life, you miss things once they're gone…
First review Second review Third review
The Concorde Terrace is a stop-gap solution. A space occupying what was formerly my favourite part of the First Class lounge.
It is interesting to note that here the QR codes were less prominently displayed, with more of a focus on personalised service from the staff. There are also no perspex screens. I imagine that once passenger numbers increase, those screens will be going up. On this Friday afternoon the place was deserted though, so for now social distancing is not difficult to enforce.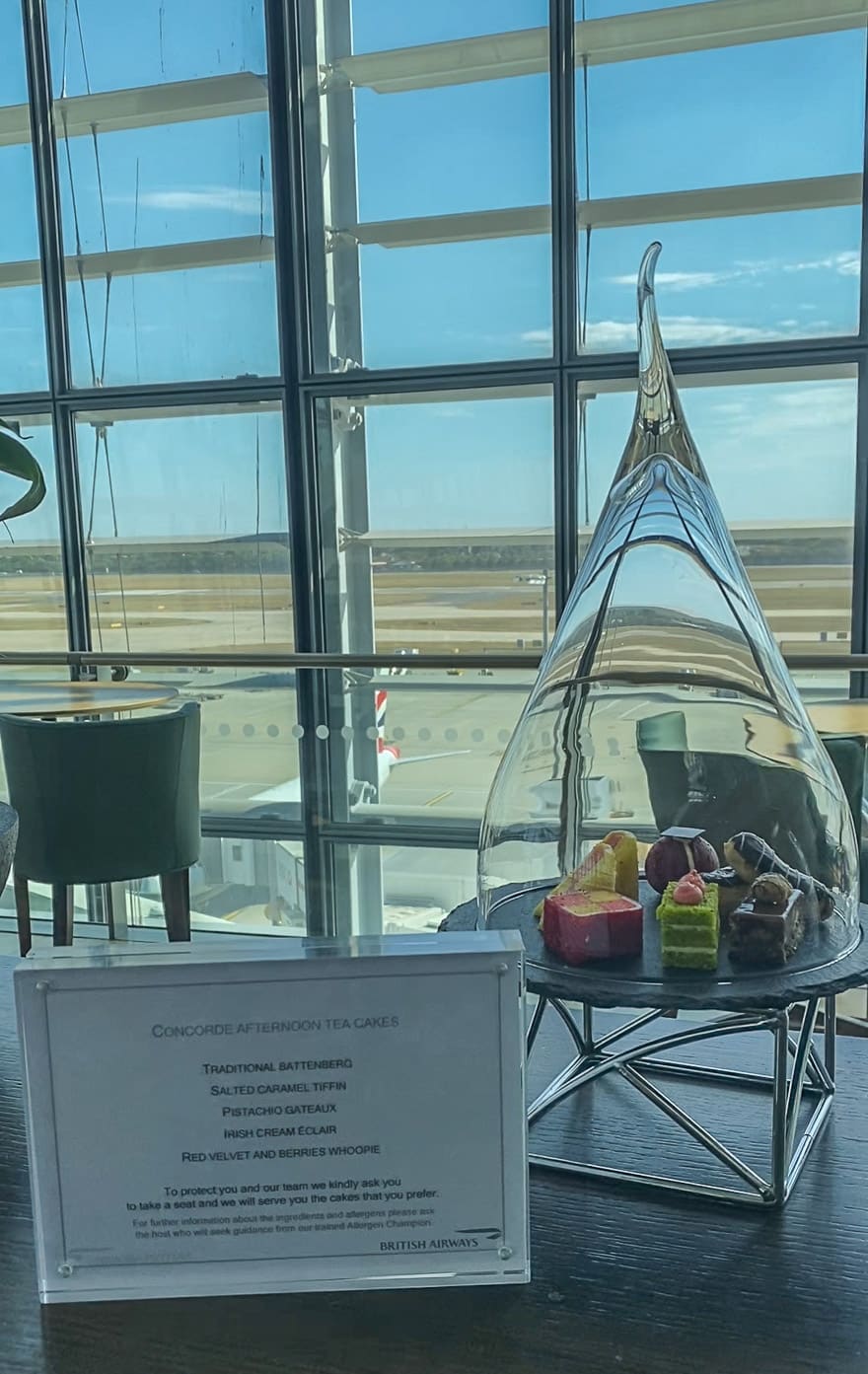 Although the food comes from the same menus for both lounges, I was delighted to see that the Laurent Perrier Grand Siècle was still very much in full flow.
On board, BA have decided that it is more 'COVID-safe' to serve cheaper Business Class champagne to First Class passengers so at least they didn't add insult to injury here!
---
Conclusion
---
The First Class lounge experience has improved considerably in the COVID-era, whilst the Concorde Terrace represents a significant downgrade.
BA Gold card holders (and their Oneworld Emerald equivalents) now have:
table service
spotlessly clean public spaces
blanc de blancs champagne
ample seating
If COVID does away with buffets forever I'm sure that few people will lament their passing. Filling your boots at a trough of slop is just about as far from First Class (or any class) as it gets. Being able to order quickly and efficiently from an app is unquestionably more relaxed and more civilised.
The reduction in foot traffic is not only safer in times of COVID it also makes the lounge feel a lot more peaceful. Additionally, solo passengers no longer need to worry about leaving their belongings unattended as they fetch food and drink, possibly even wheeling their bags around the buffet with them.
Table service clearly makes a lot more sense, provided you have the resources to deliver it.
I also love the QR code system for menus and I think the new cards for communicating with cleaners are a fantastic idea.
I sincerely hope that all of these positive changes are kept once we return to normality.
Conversely, people who previously had access to the Concorde Room have gotten a raw deal. The table service menu represents a significant downgrade from what used to be served at the restaurant. The selection of wines has been dramatically reduced and cocktails are gone.
BA clearly seems to be taking from First Class passengers in order to give to status holders. The improvements in the First Class lounge have to come from somewhere.
Given that First Class passengers get what looks like an economy meal, served alongside Business Class champagne in the air…I sincerely hope that BA have something up their sleeves. Otherwise I can see the demand for First Class tickets remaining extremely muted for the foreseeable future.
For now though, anybody with a BA Gold card and a ticket in a cheaper cabin is enjoying a previously unthinkable level of luxury on the ground.
---