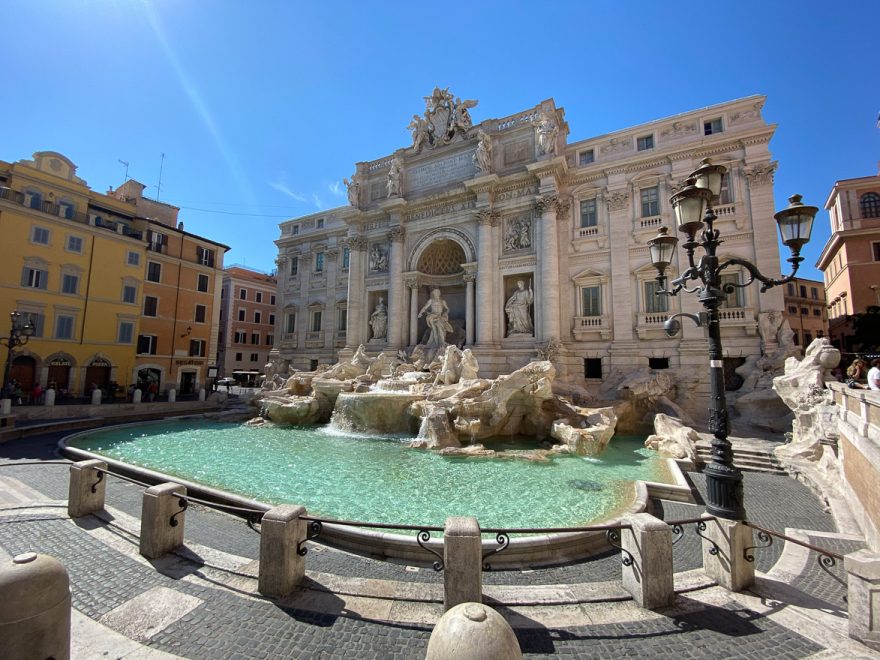 GUIDE – Visiting Rome during COVID
August 19, 2020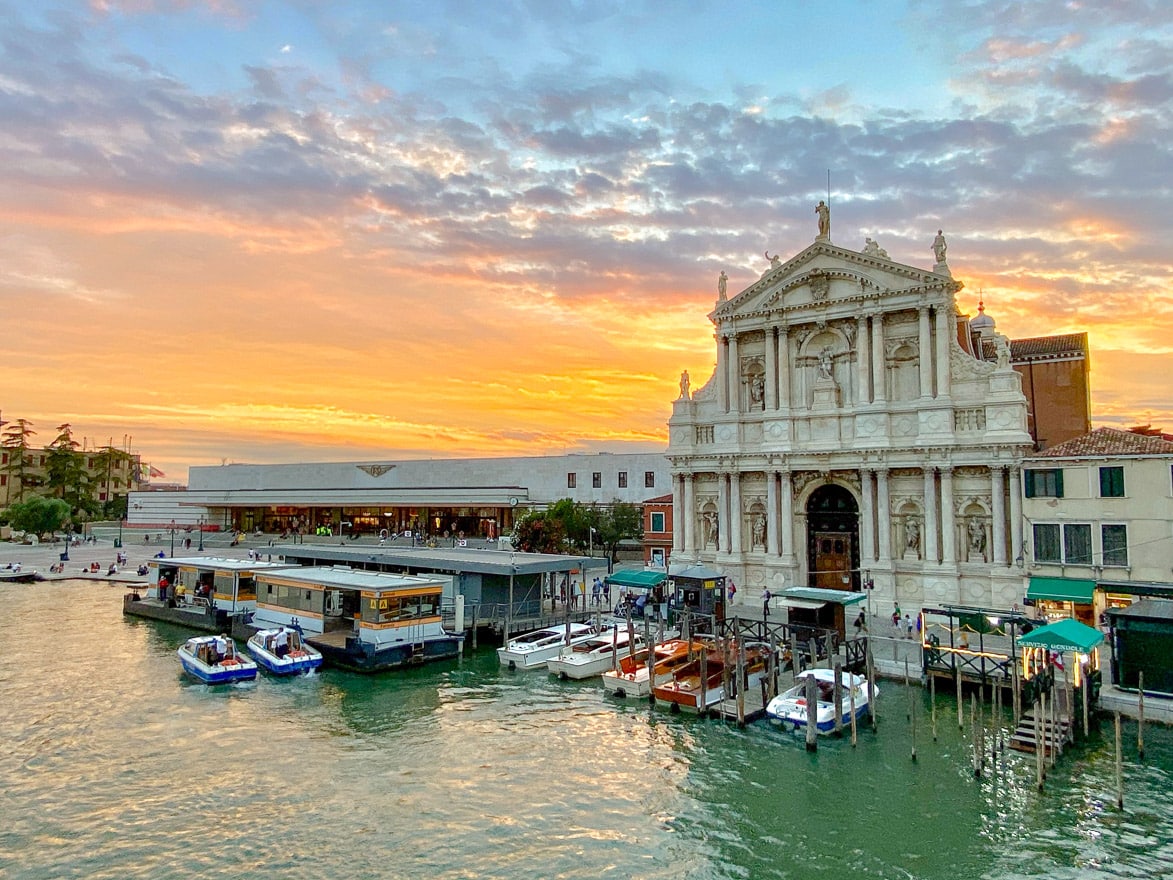 REVIEW – Frecciargento : First Class – Train – Florence to Venice [COVID-era]
August 26, 2020
Lupaia
Location: Tuscany, Italy
Rate: €380 including breakfast
Room Type:
Chain: SLH
---
Intro
---
I booked this stay completely at the very last second and with nowhere near the level of painstaking detail that I usually put into my trips. I normally have a full year of travel booked up in advance and do a huge amount of research on where to stay and what to see.
COVID has taught me to reassess this methodology.
I bought flights to Italy within minutes of the announcement that the UK government was opening travel again and booked the Rome Cavalieri straight away since the Hilton Impresario rate was absolutely unbeatable.
Once in Rome we had a few different ideas on where to go and had initially thought that we'd just take the train up to Florence. It's one of our favourite cities in the world and the idea of seeing it without the crowds was very appealing.
However, as I was looking at properties in Florence I remembered a message that somebody sent me after I posted and Instagram shot at the St Regis a few years ago.
I immediately recognised Christopher's username from the Flyertalk Luxury Hotels Forum.
He said that I should absolutely make the time to visit the Tuscan countryside next time I was in the area, since it has every bit as much to offer as the city of Florence. As the owner of a luxury hotel in Tuscany, I figured he would say that!
The town of Montepulciano as seen from the track to Lupaia.
Still, I thought why not take the chance on doing something new? We had five nights free in the schedule and figured we could spend two in Tuscany and still have three nights at Portrait Firenze after (where I could get a 3rd night free Virtuoso Rate).
So I reached out to Christopher on Instagram and asked whether he had availability for our stay. He said that in spite of the coronavirus they were actually really busy with last minute bookings, however he very kindly offered to extend me a discounted Friends and Family rate for the last remaining suite.
I was both excited and slightly anxious about this turn of events. Excited because we were trying something completely different and it's always fun to meet somebody face to face after years of seeing nothing but a username.
I was anxious though because I am always honest in my reviews, even if properties extend me a totally complimentary visit I make it clear from the outset that I will not alter my review in any way. I will always tell the absolute truth, otherwise my reviews are pointless advertising.
What if Lupaia sucked? That would be pretty awkward…
---
Booking
---
Lupaia is a member of SLH hotels and can be booked via our online web portal.
If you're booking with us for the first time, here's a quick guide on how to use the booking portal:
If you are planning an itinerary involving multiple rooms or properties, please get in touch for immediate booking assistance:
---
Arrival
---
Fast forward two days as we take a turn off the road next to the church of San Biagio (for which our suite at Lupaia was named) and onto the dirt road leading to the property.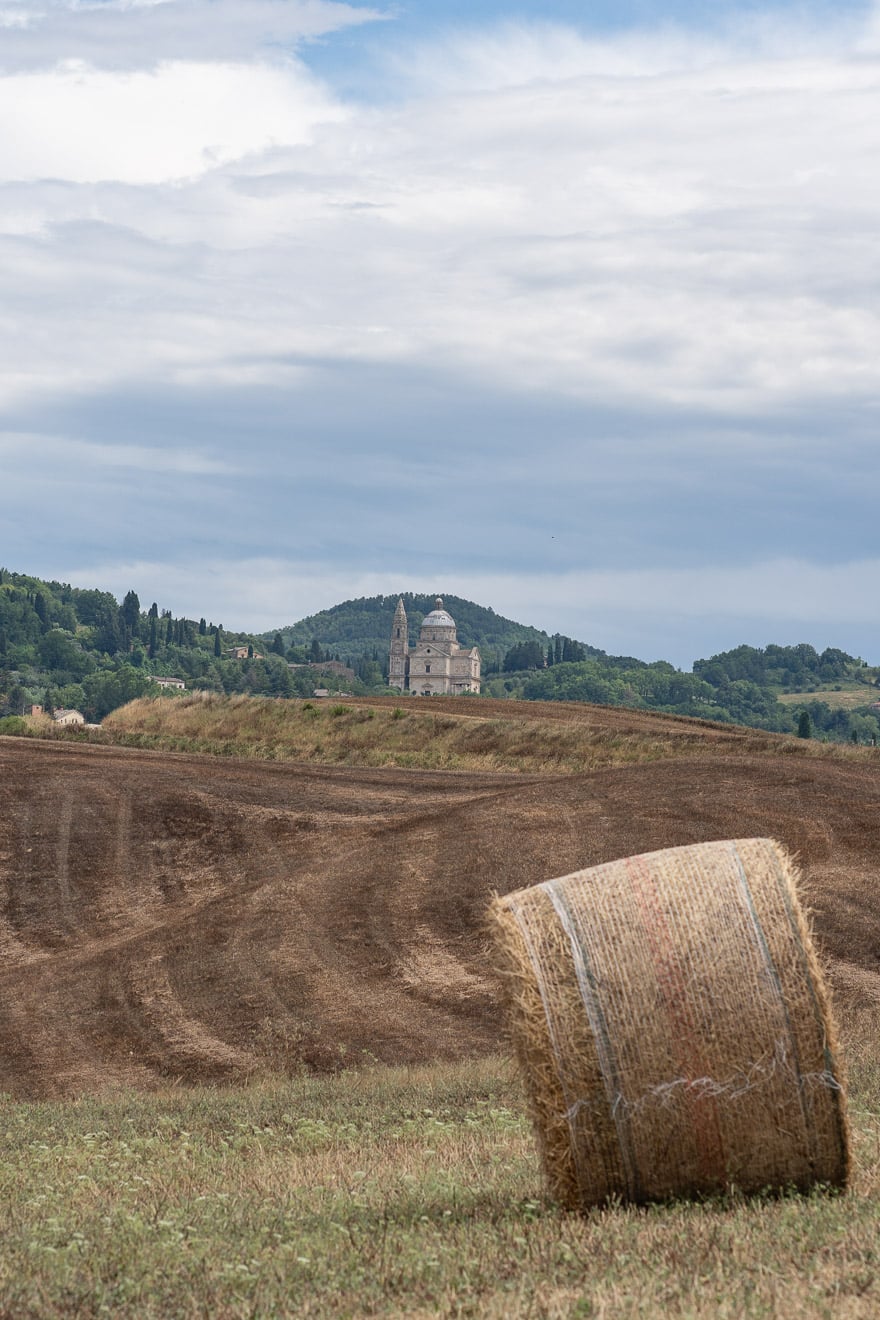 As soon as I caught sight of the hotel's sign, I immediately felt better. First impressions count and their professional font and logo looked considered and elegant.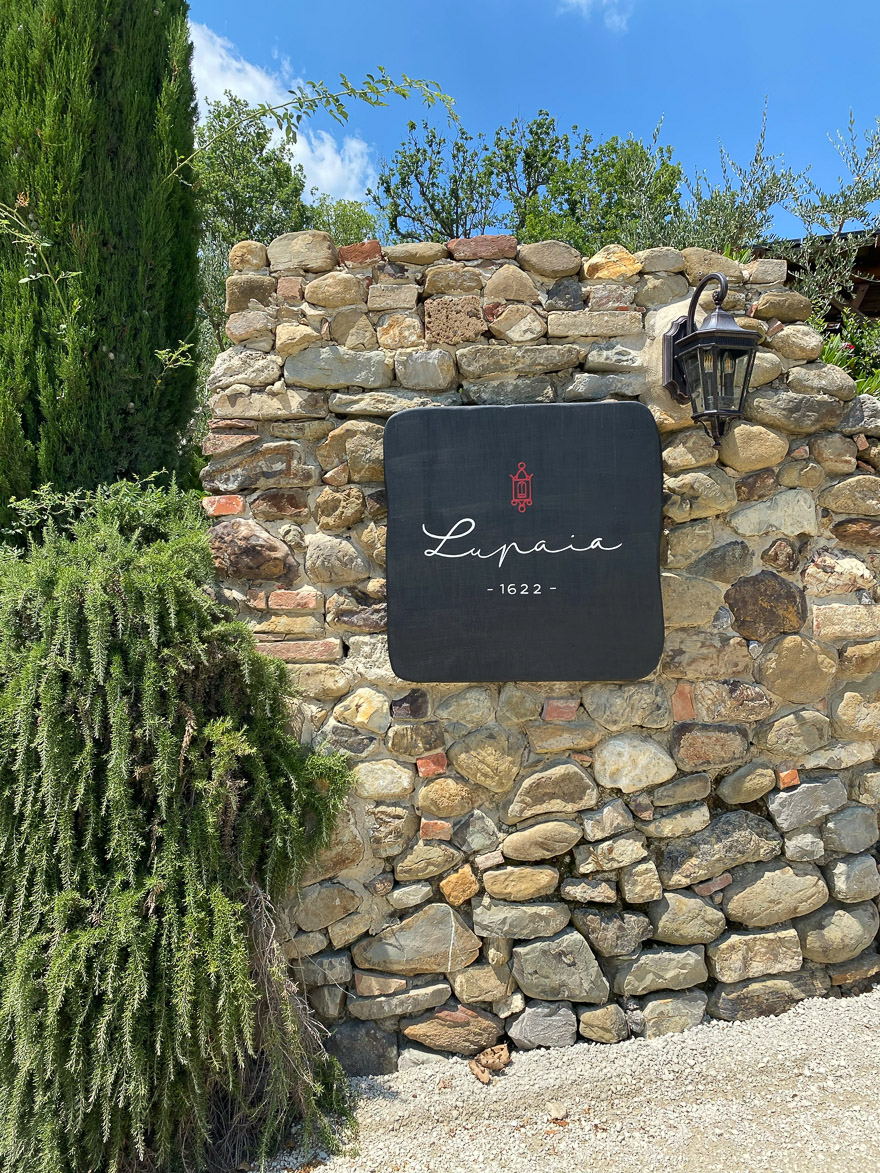 As we pulled up to the property in our little Fiat Panda, we started to feel like we might be a little underdressed!
Stepping out of our car I felt like we'd entered an enchanted world. The most perfectly manicured Tuscan village, frozen in time for guests to enjoy. Not a single leaf or stone appeared to be out of place, the word pristine doesn't even come close to describing it.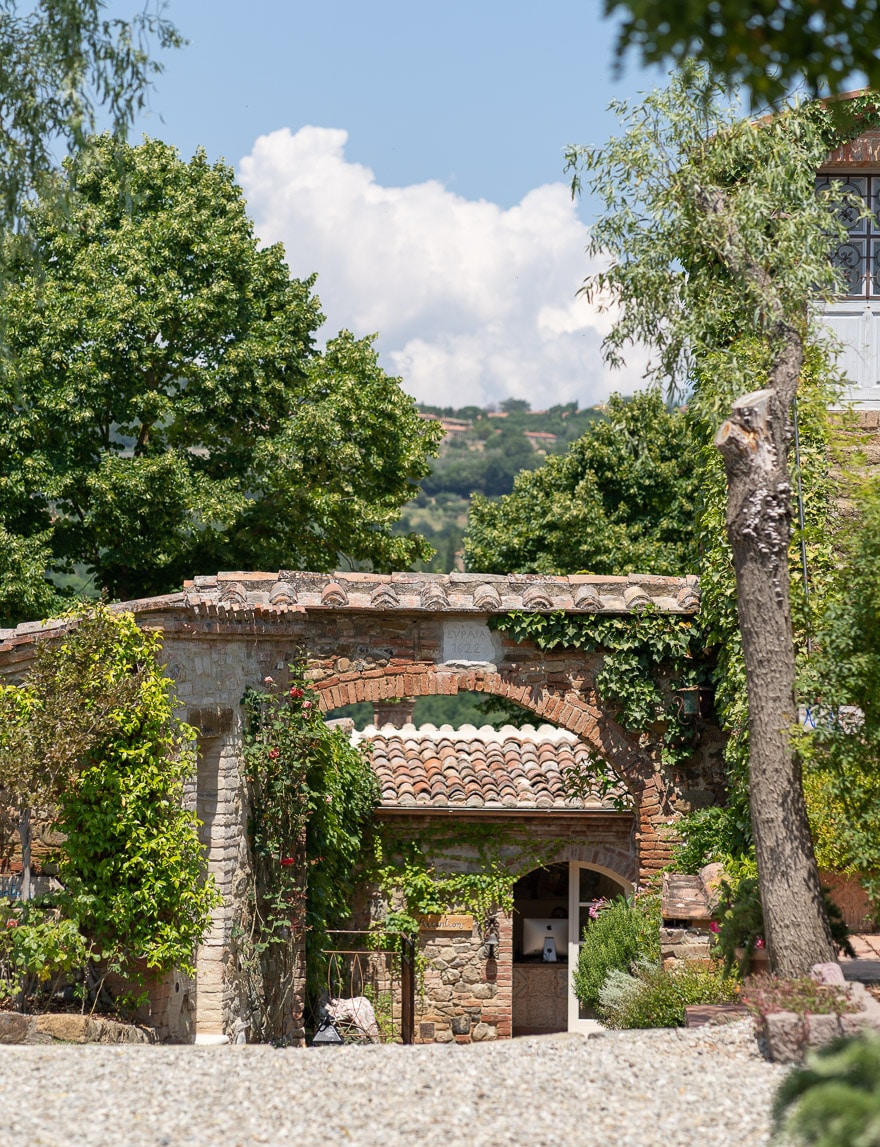 The reception was located within a stone walled courtyard, a large iMac sitting in sleek contrast to the ancient buildings. Here we were greeted by the British front office manager, Christine, who very efficiently handled our check in before guiding us to the garden for a welcome drink.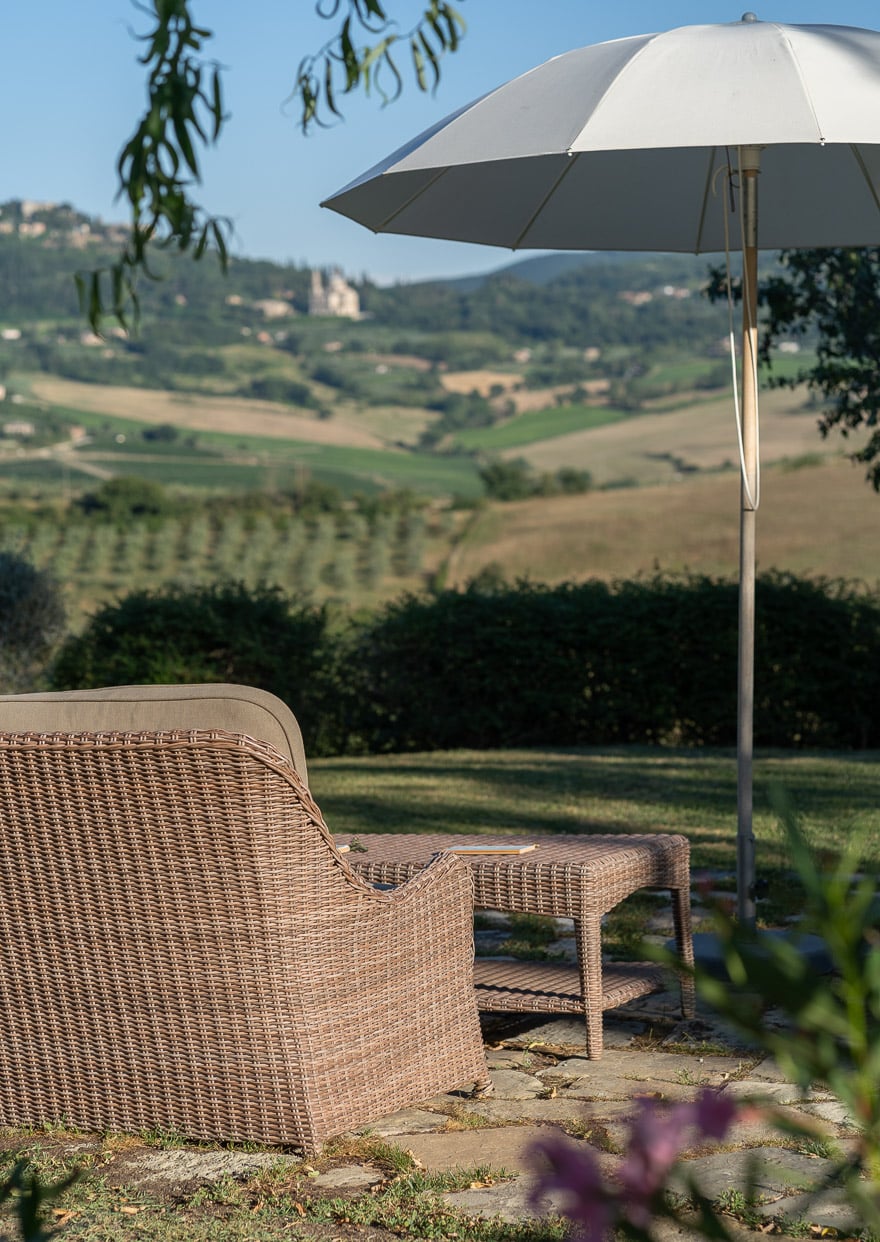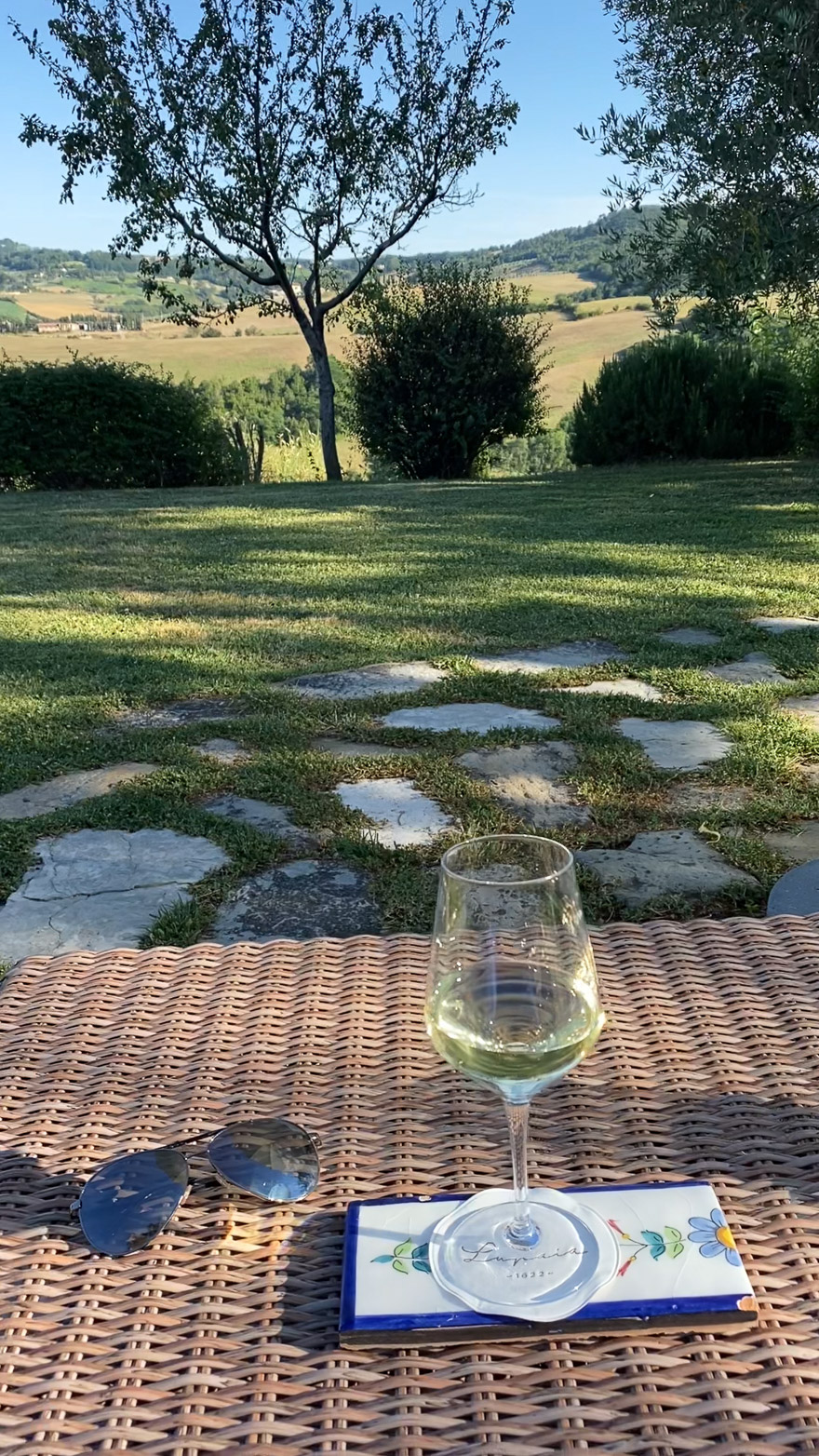 Enjoying a glass of wine and this view I felt instantly relaxed. The horrors of driving in Italy already a seemingly distant memory.
As we finished our drinks Christine approached to take us to our room… which was approximately 5 seconds walk away!
---
San Biagio Suite
---
Lupaia is effectively a small Tuscan hamlet, every room and suite is completely unique, with internal features and views varying quite considerably. Given our location right next to the garden, we knew that we were in for a spectacular view but I was still a little unsure of what to expect inside.
Google still has this property incomprehensibly listed as a 3* hotel and despite everything I'd seen thus far I was worried that I was suddenly about to find out why.
Living Room
The first thing I noticed upon entering was how robust and smooth the door mechanism felt. All the fixtures appeared to be in keeping with the traditional style but the windows and doors were all brand new. Every latch, handle and drawer worked perfectly. This was certainly not a 3* hotel.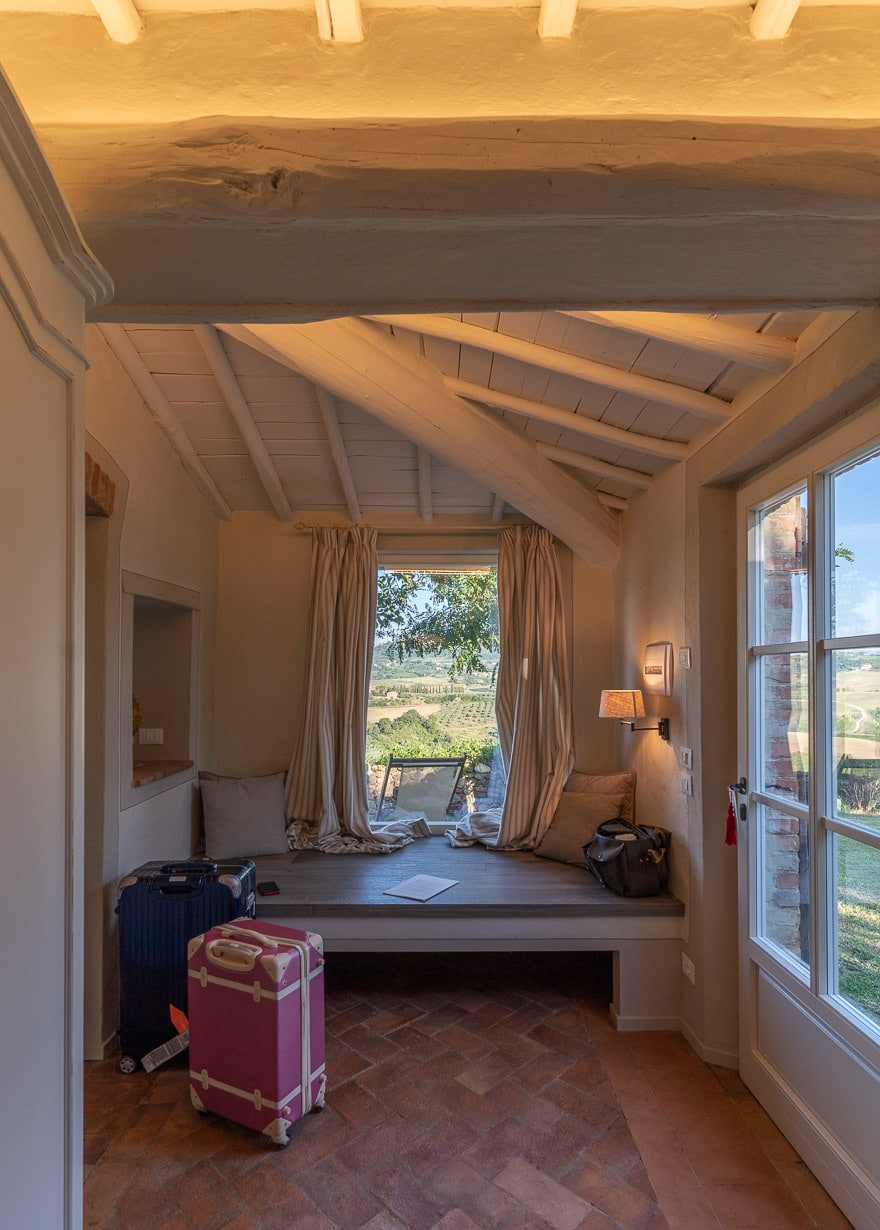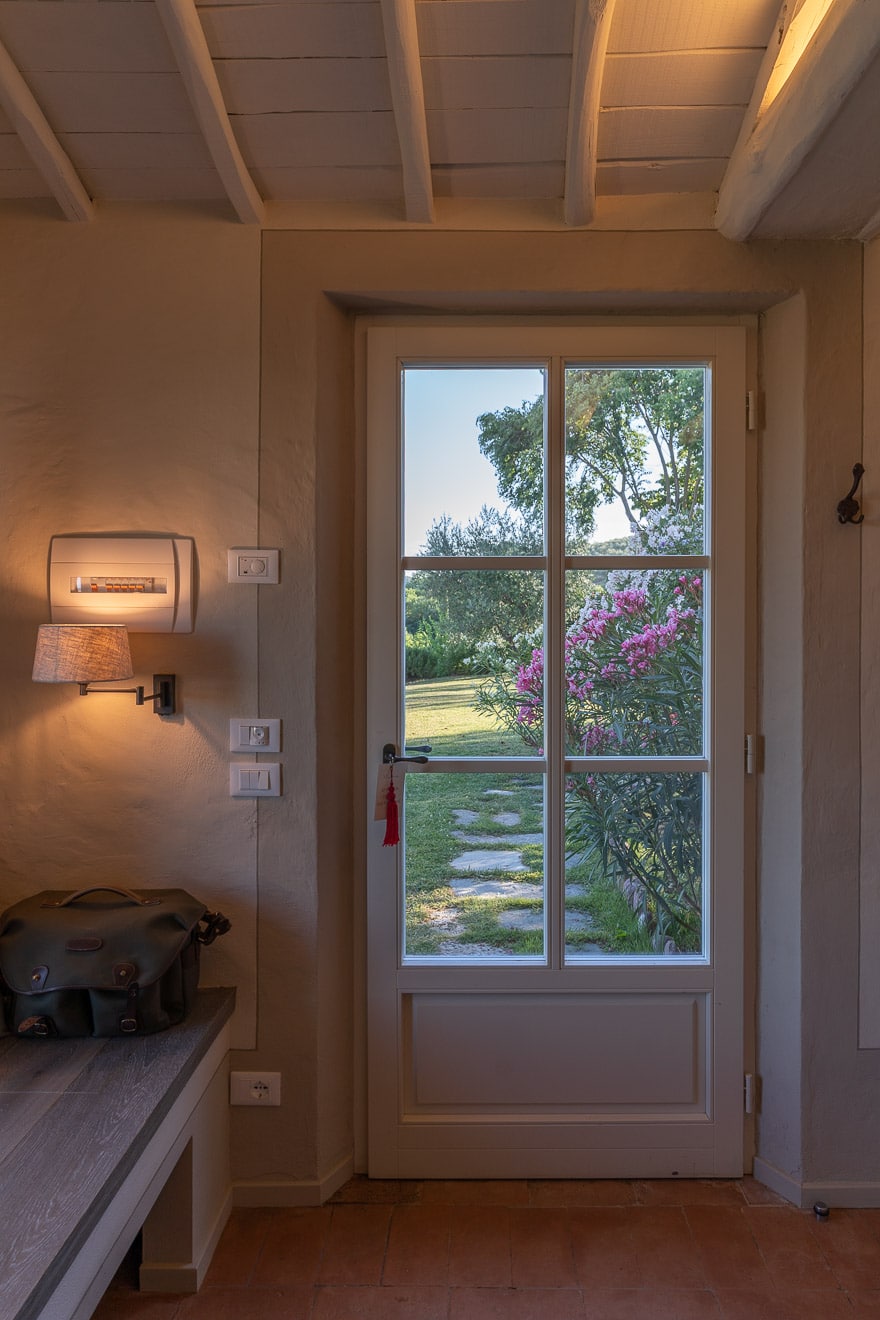 Although there were perfectly sealed shutters on the front door (as well as every window facing the bedroom), I did feel like the the front door was missing a net curtain for privacy during the day. When other guests were in the garden they could see right into our bedroom!
Having said that, more often than not we were outside enjoying the sunshine ourselves.The garden was the perfect spot to enjoy the bottle of Prosecco that the property so kindly provided for us as a welcome amenity.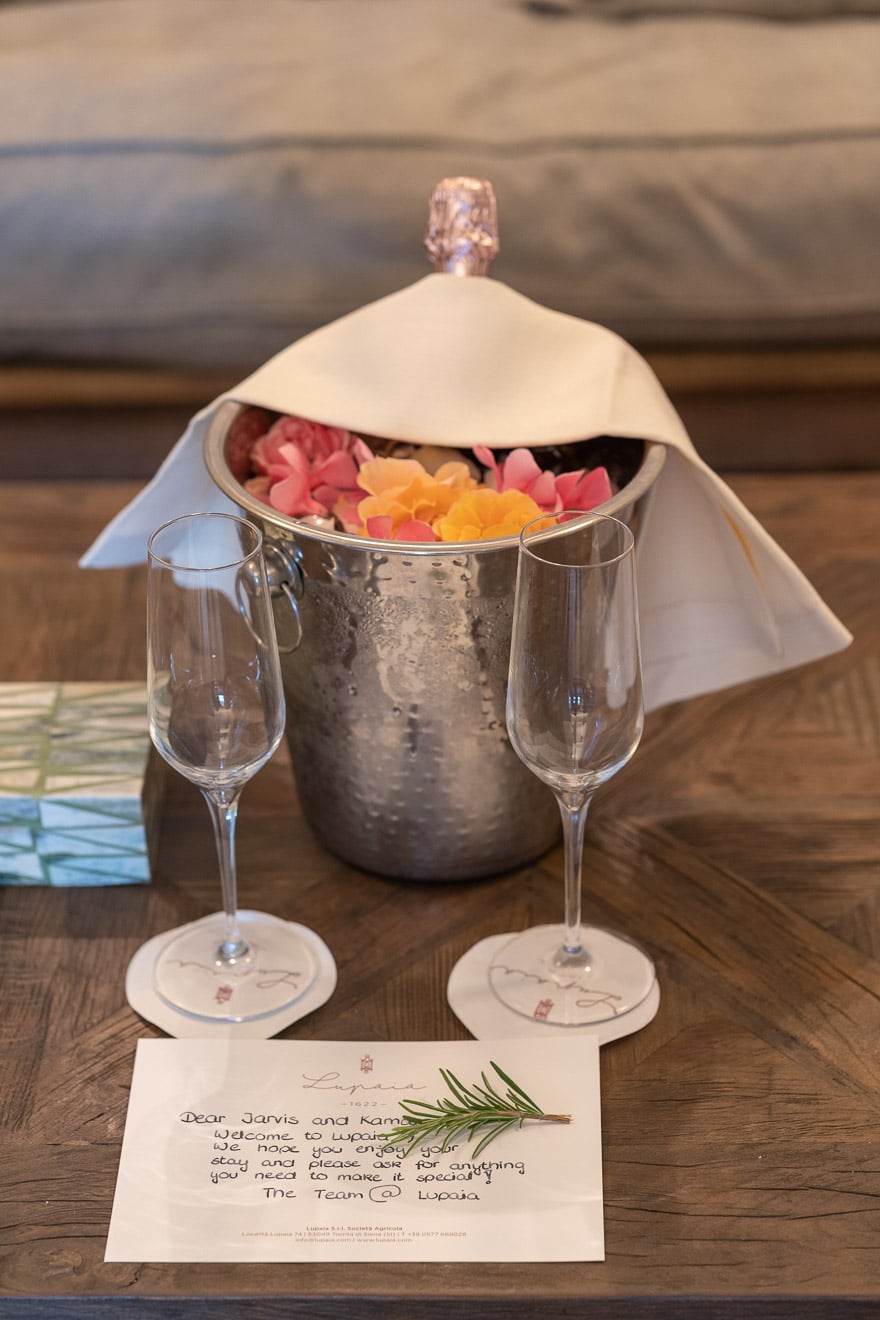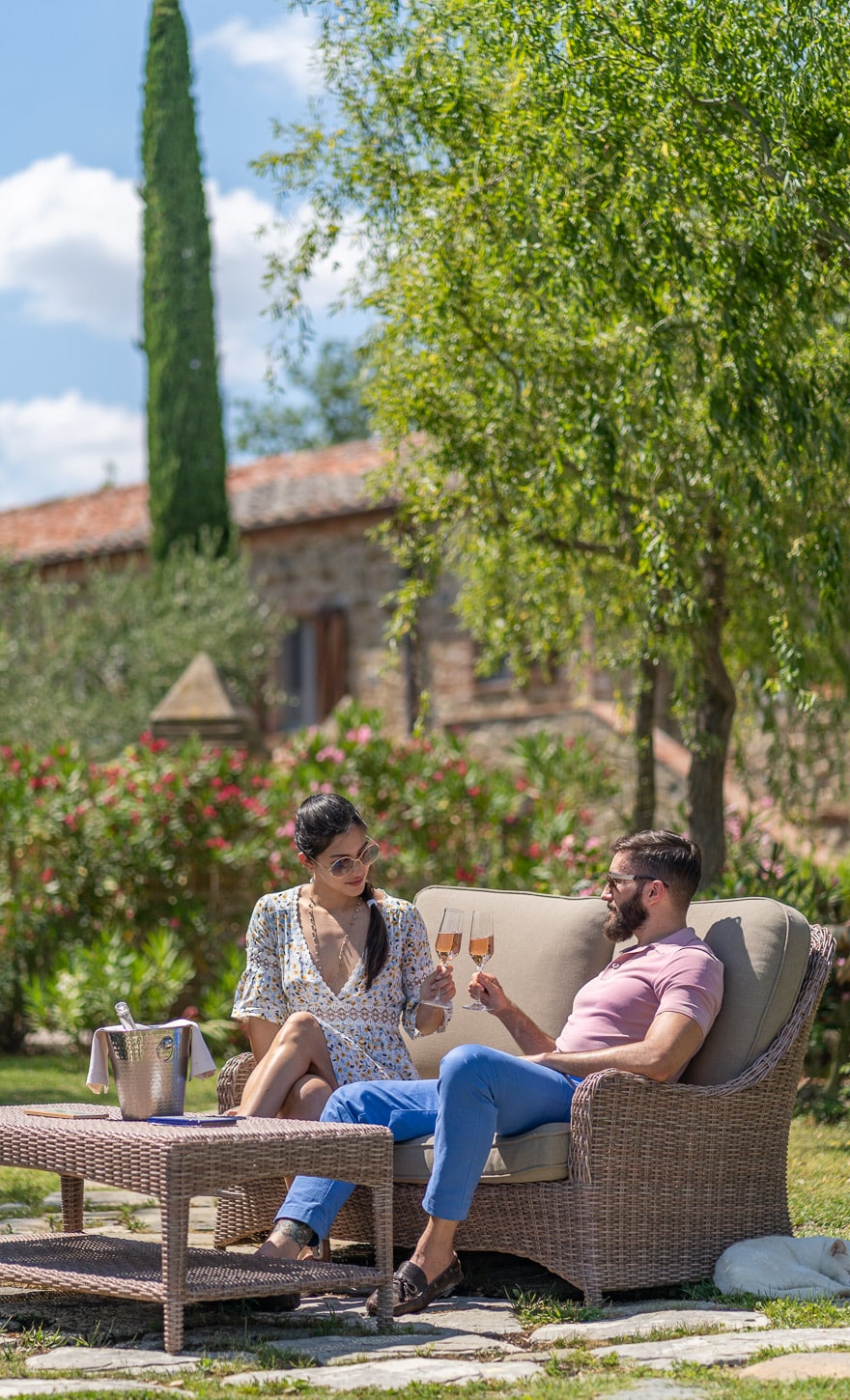 The wardrobe in the living room featured a multitude of wooden hangers, although none were sized for a sportcoat so I did my usual trick of doubling up and stuffing socks in the shoulders.
The wardrobe also contained a safe, minibar, beach bag, some Lupaia branded dressing gowns and slippers.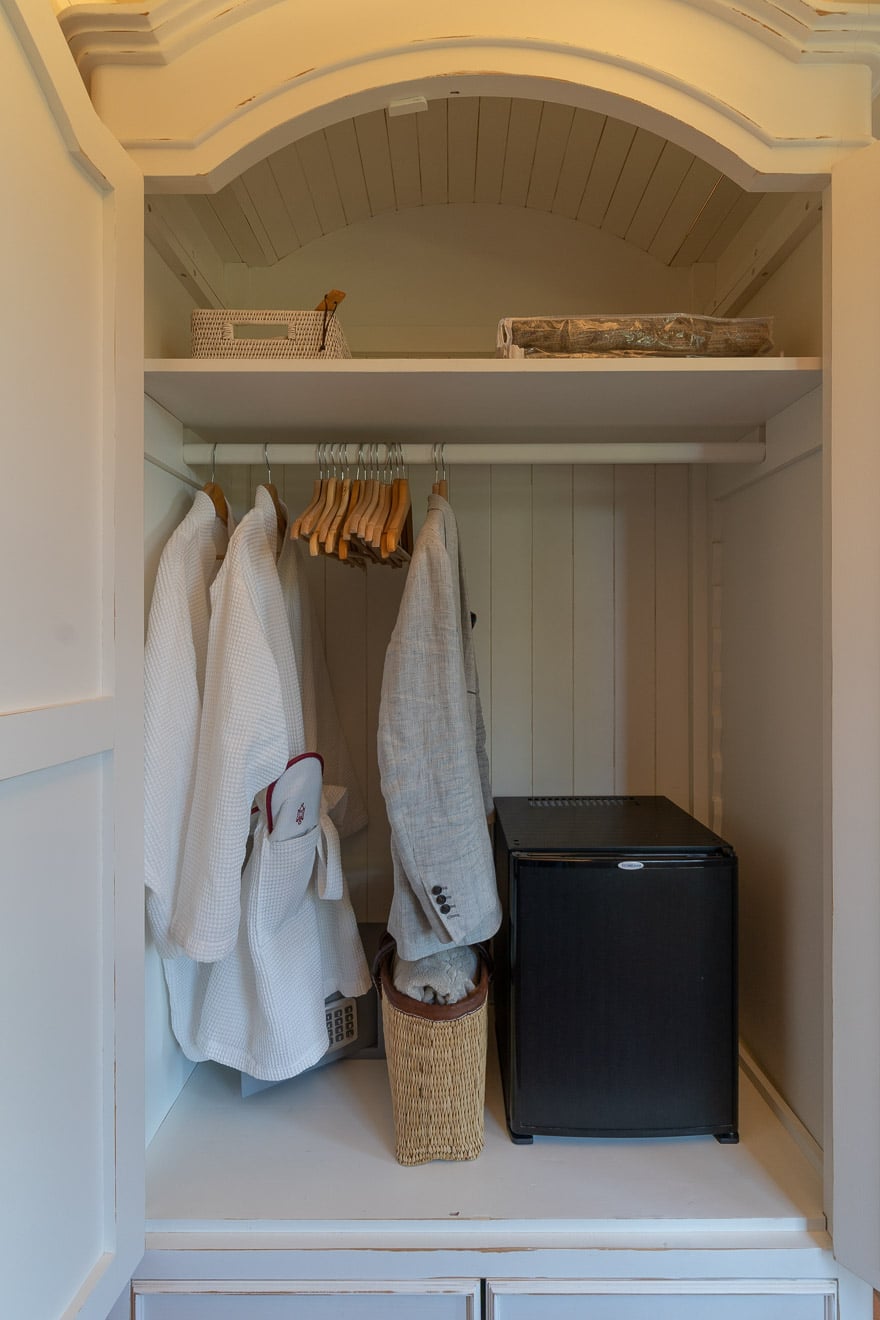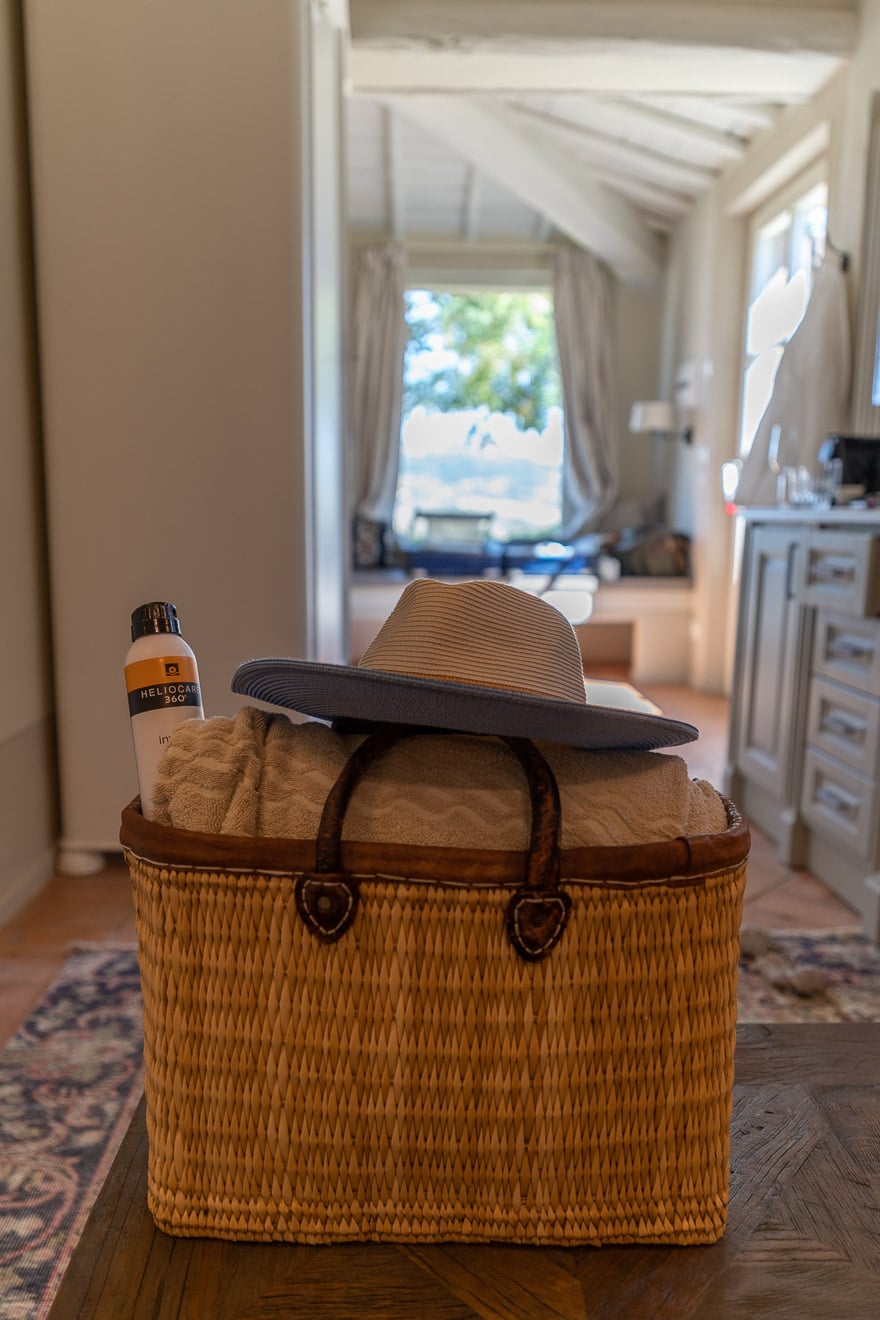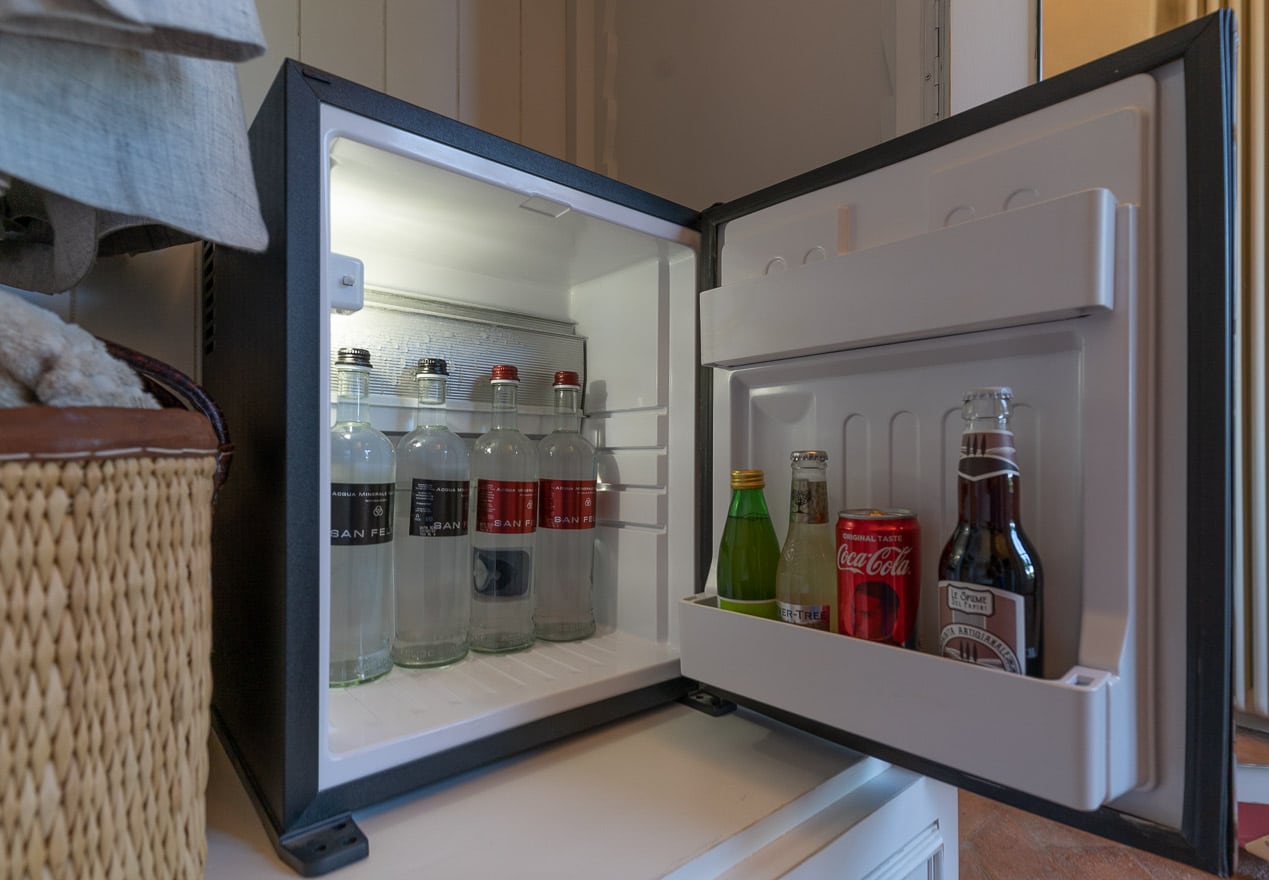 The minibar contained a variety of complimentary soft drinks and was automatically replenished once a day although it could be refilled whenever we wanted by sending a quick Whatsapp to the team.
Indeed the team were on call via Whatsapp at all times; this made ordering lunch in our room or drinks to the pool a very simple task.
Opposite the wardrobe was a console table featuring a TV, which we never turned on and a coffee machine, which I made constant use of whilst logged into work. The wires hanging from the TV felt a little cluttered and messy. I feel like this could easily be fixed by adding a cable tidy tube and TV cover as Aman always does.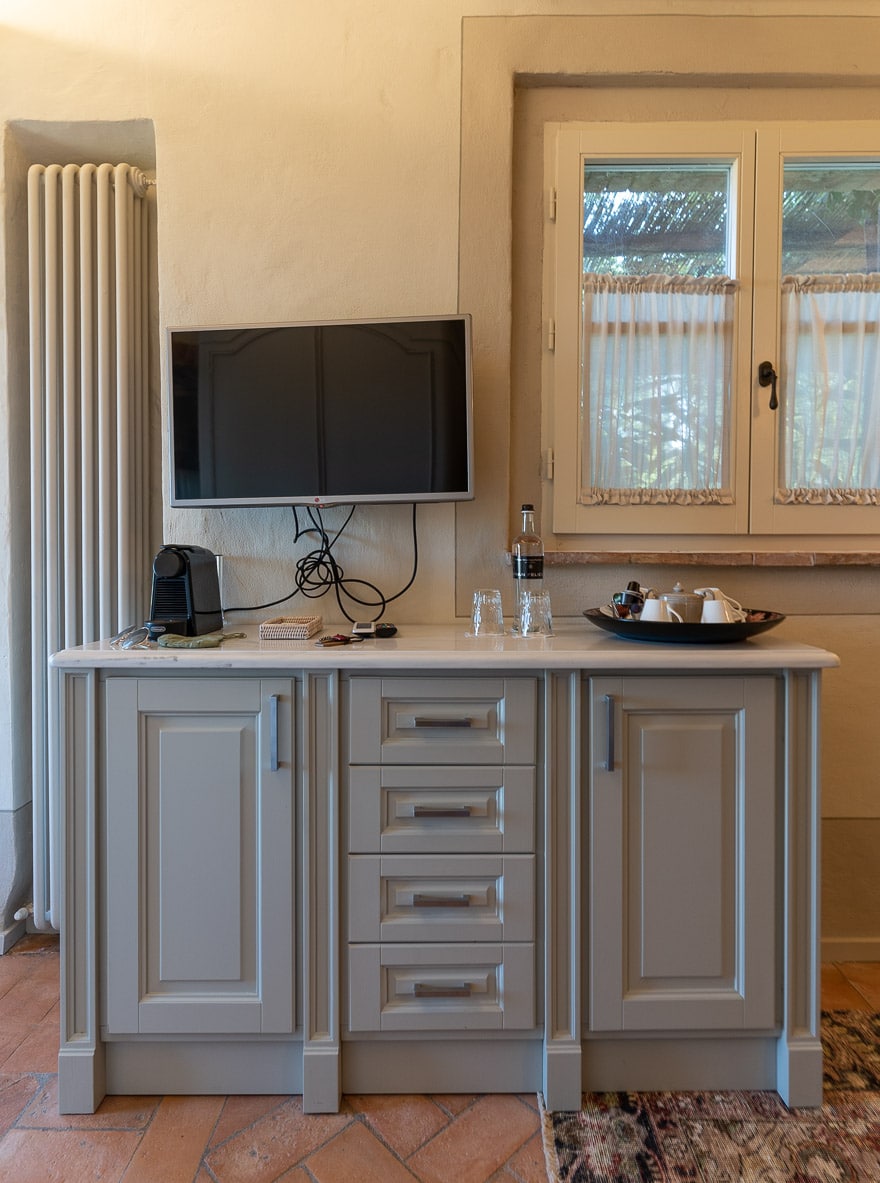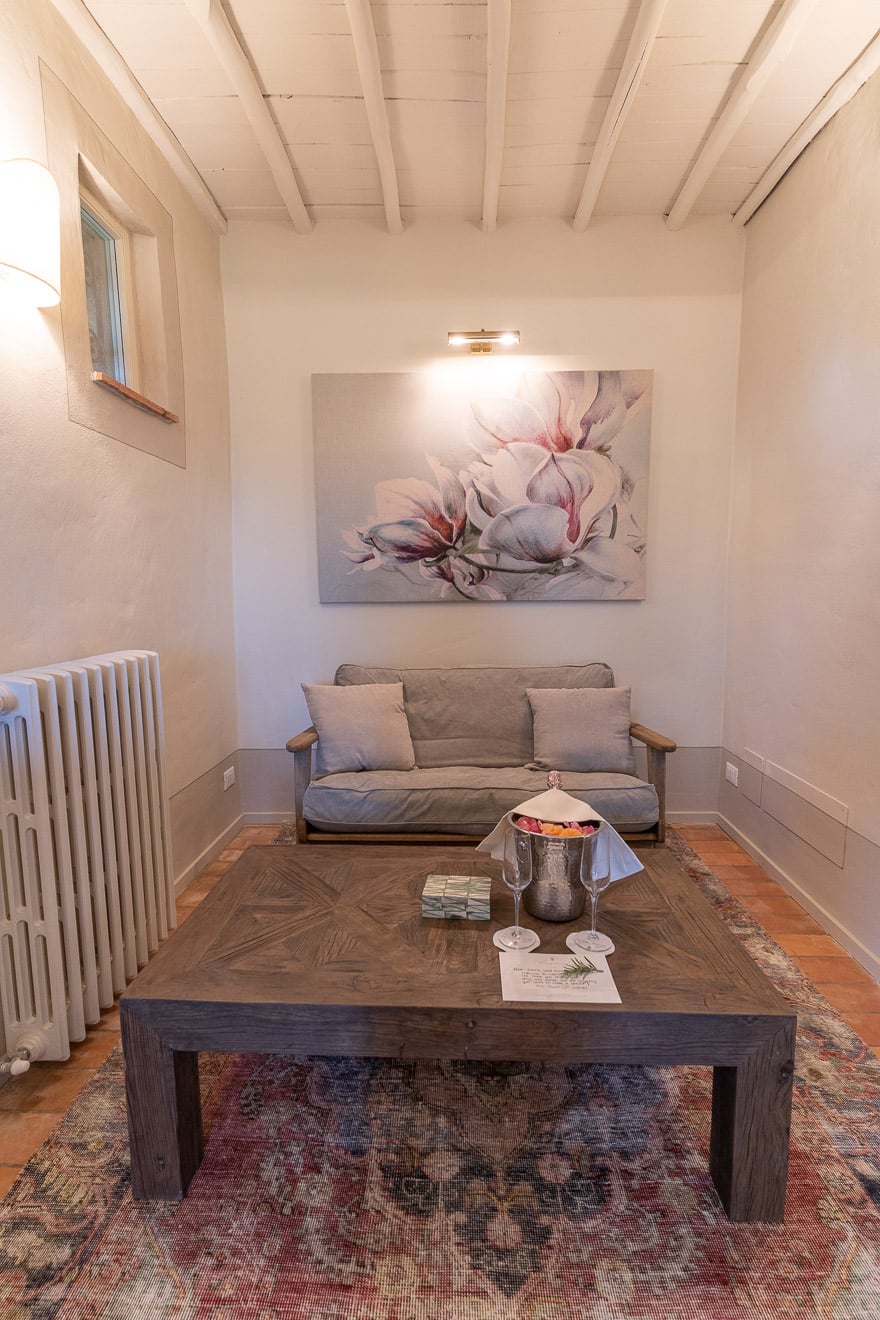 Bathroom
Leading off from the sofa area you arrive at the bathroom. Once again, a simple and rustic design transformed by the use of some very high end materials.
Every surface in the bathroom was completely spotless, it was a joy to spend time here.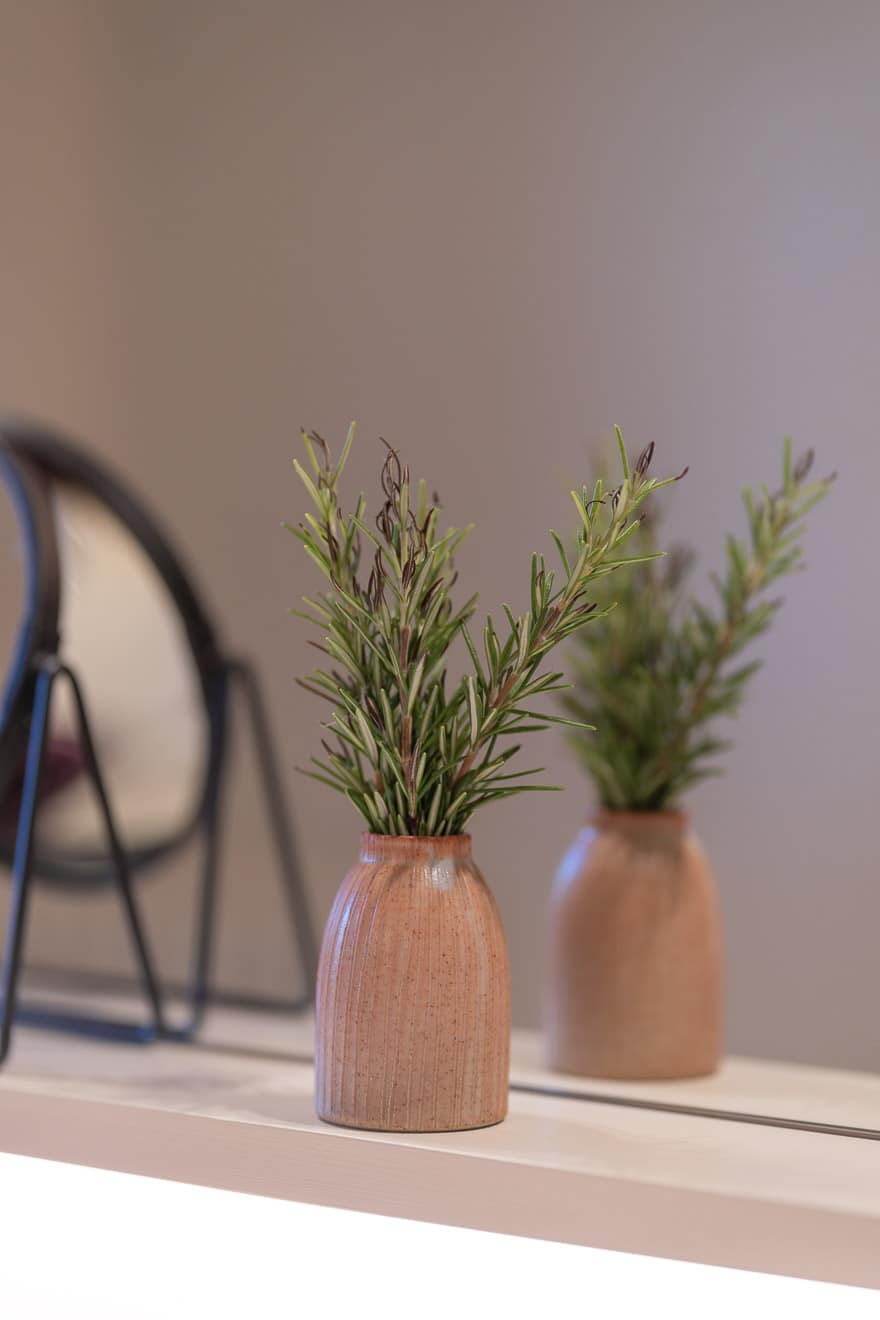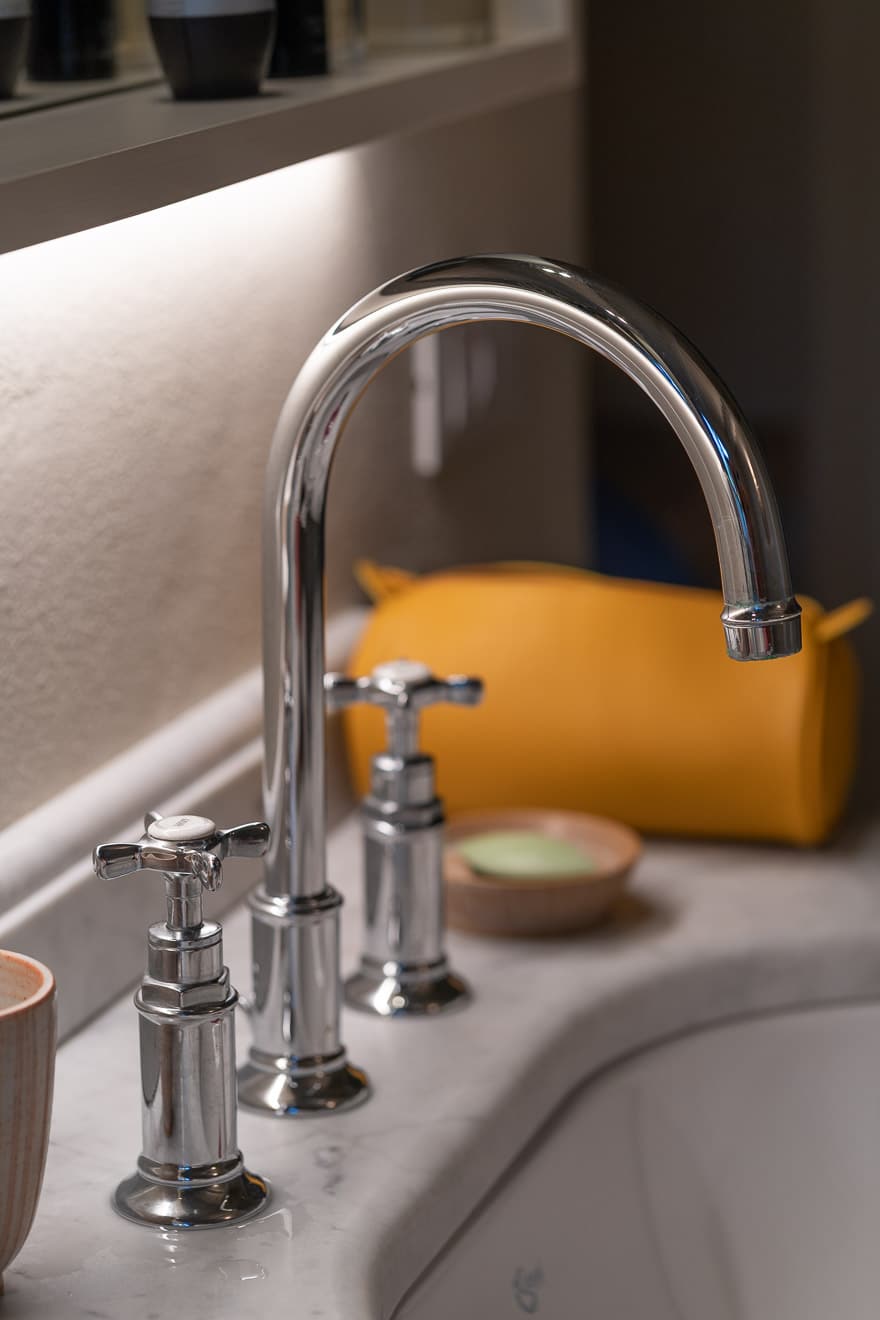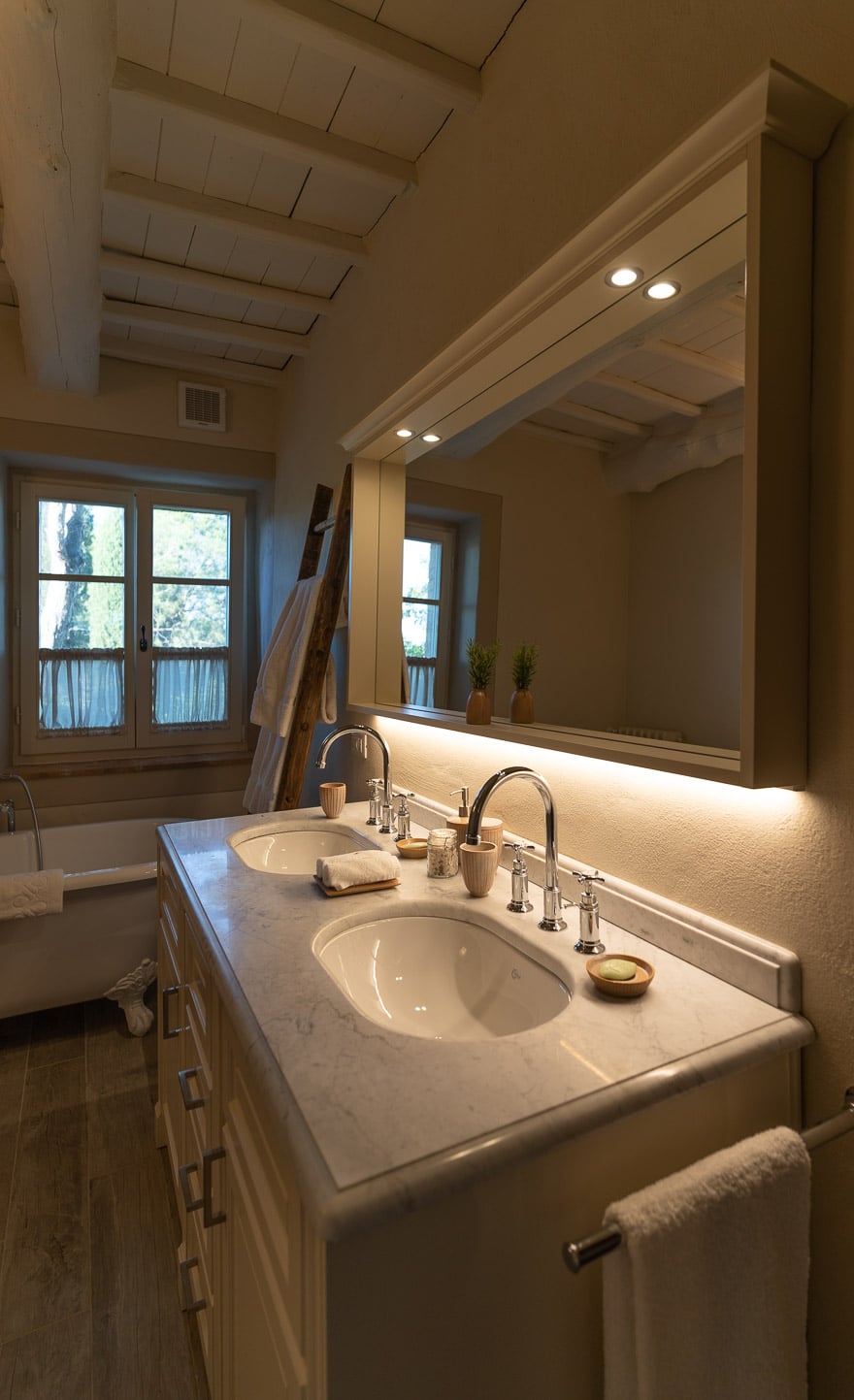 The oversized shower had incredible water pressure and featured locally made toiletries in refillable jars. My only complaint is that there were no hooks anywhere in the bathroom for hanging a towel or a dressing gown. I feel like two hooks on the back of the door would put dressing gowns next to the shower where you need them as well as freeing up space in the wardrobe.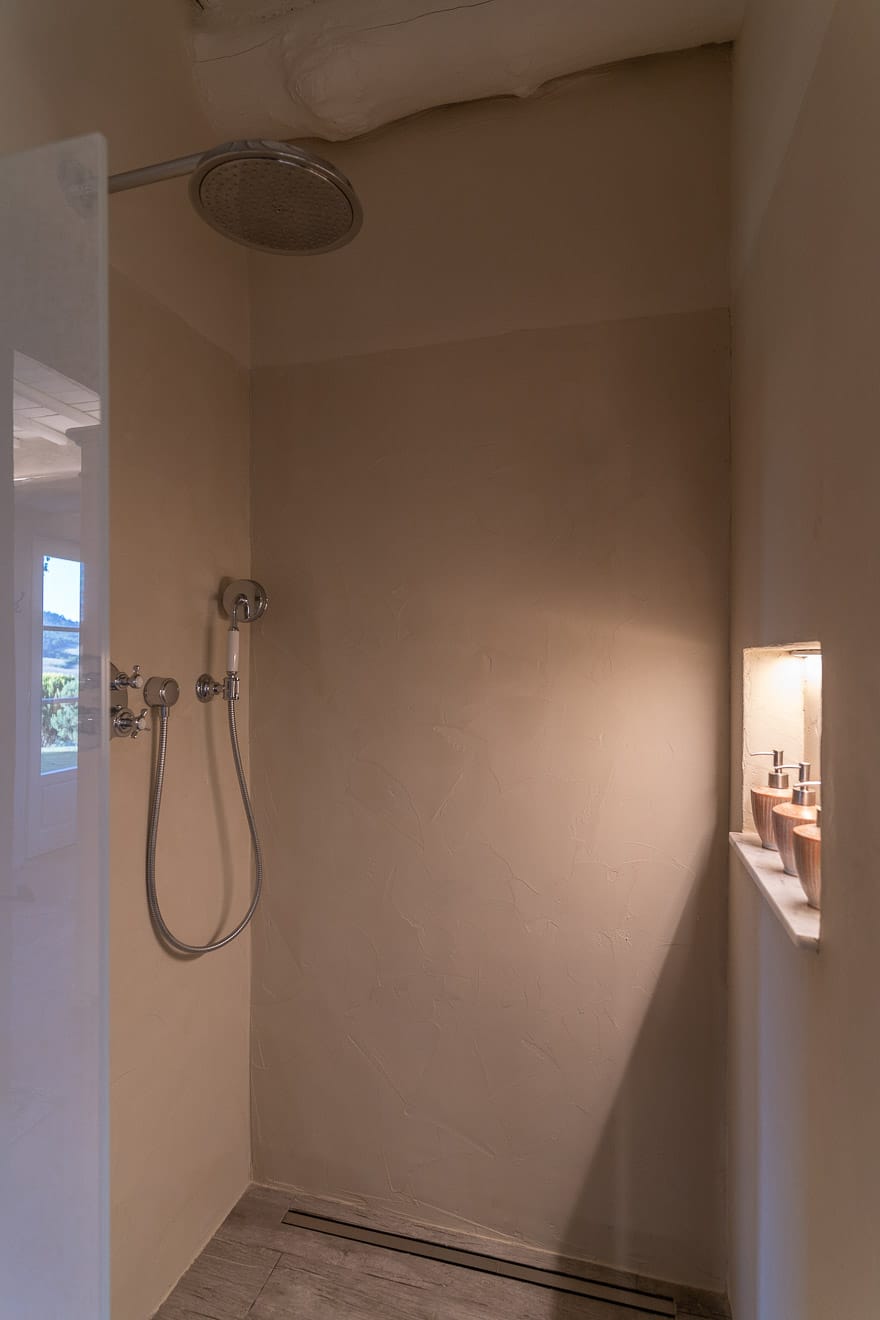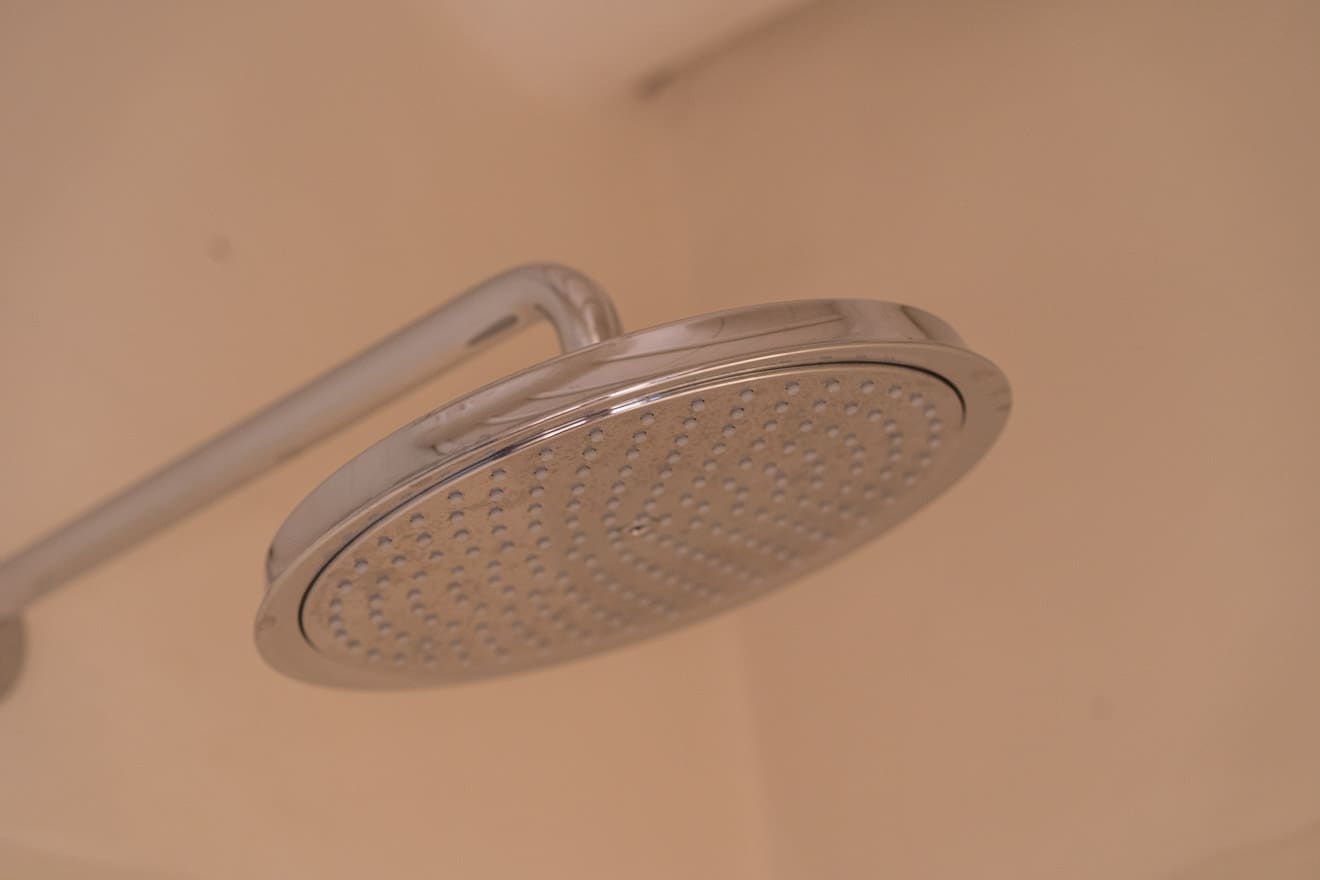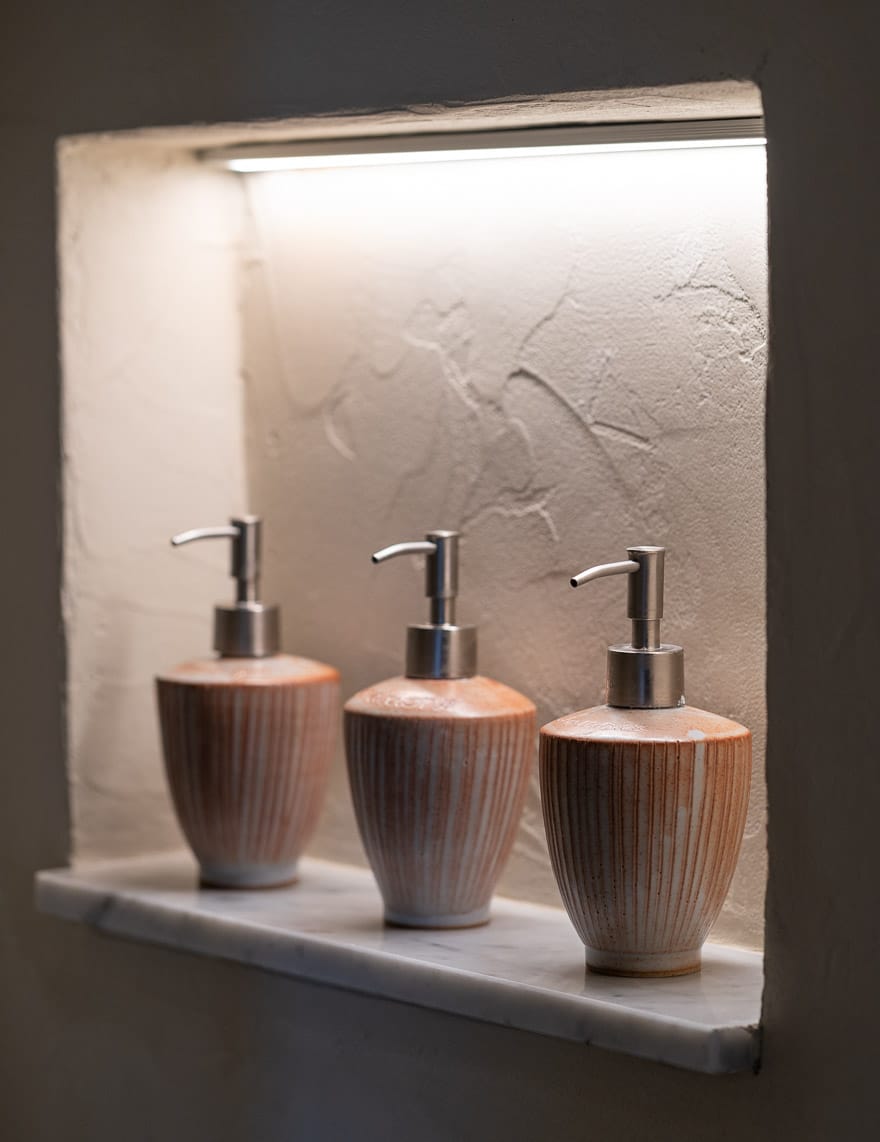 I really wish somebody would just tell Italians about the superior technology of Japanese Toto washlets. Does anybody ever actually use a bidet?
The clawfoot bathtub was absolutely unreal. I don't know what magical pump they had behind the taps but it seemed to fill in seconds without a single excess drip once the taps were turned off.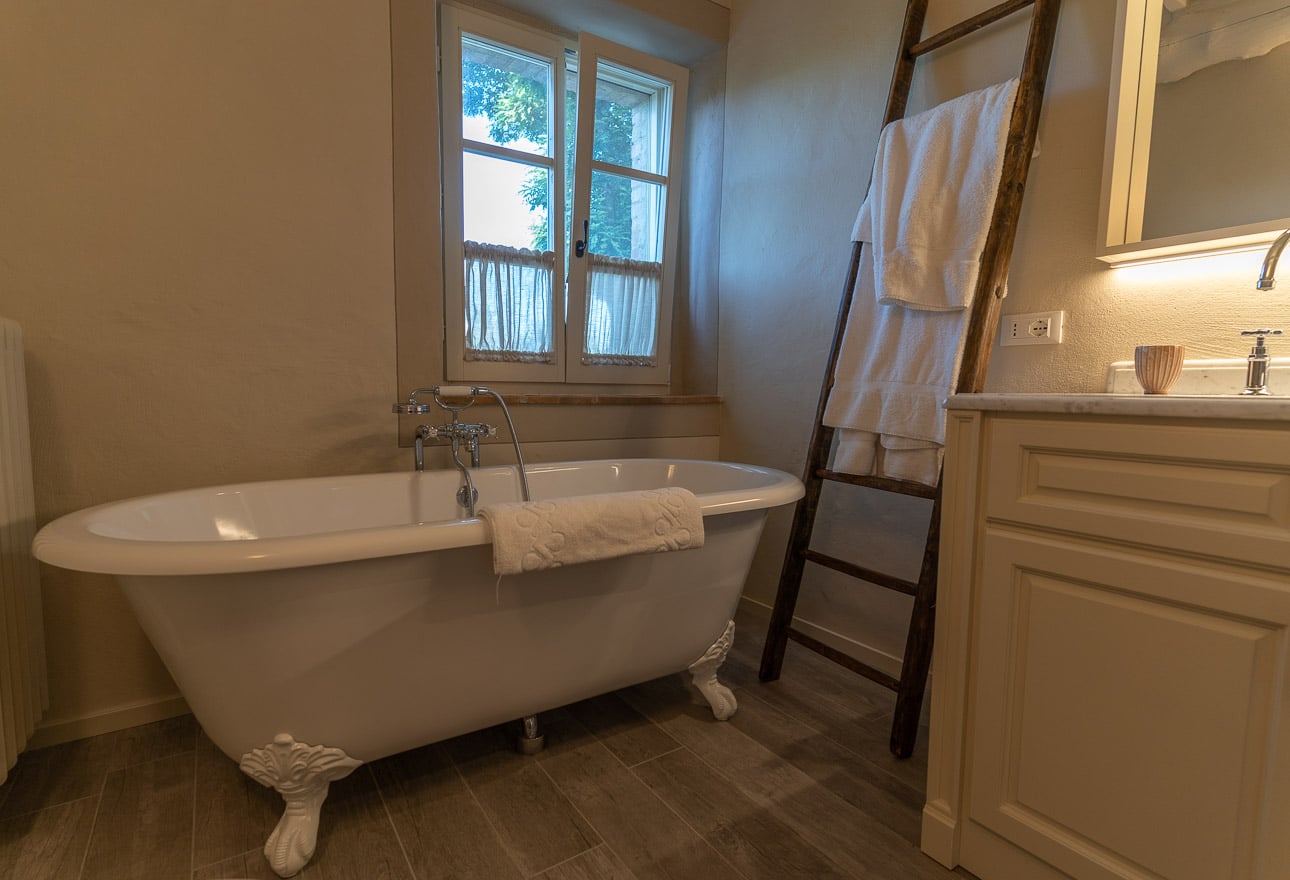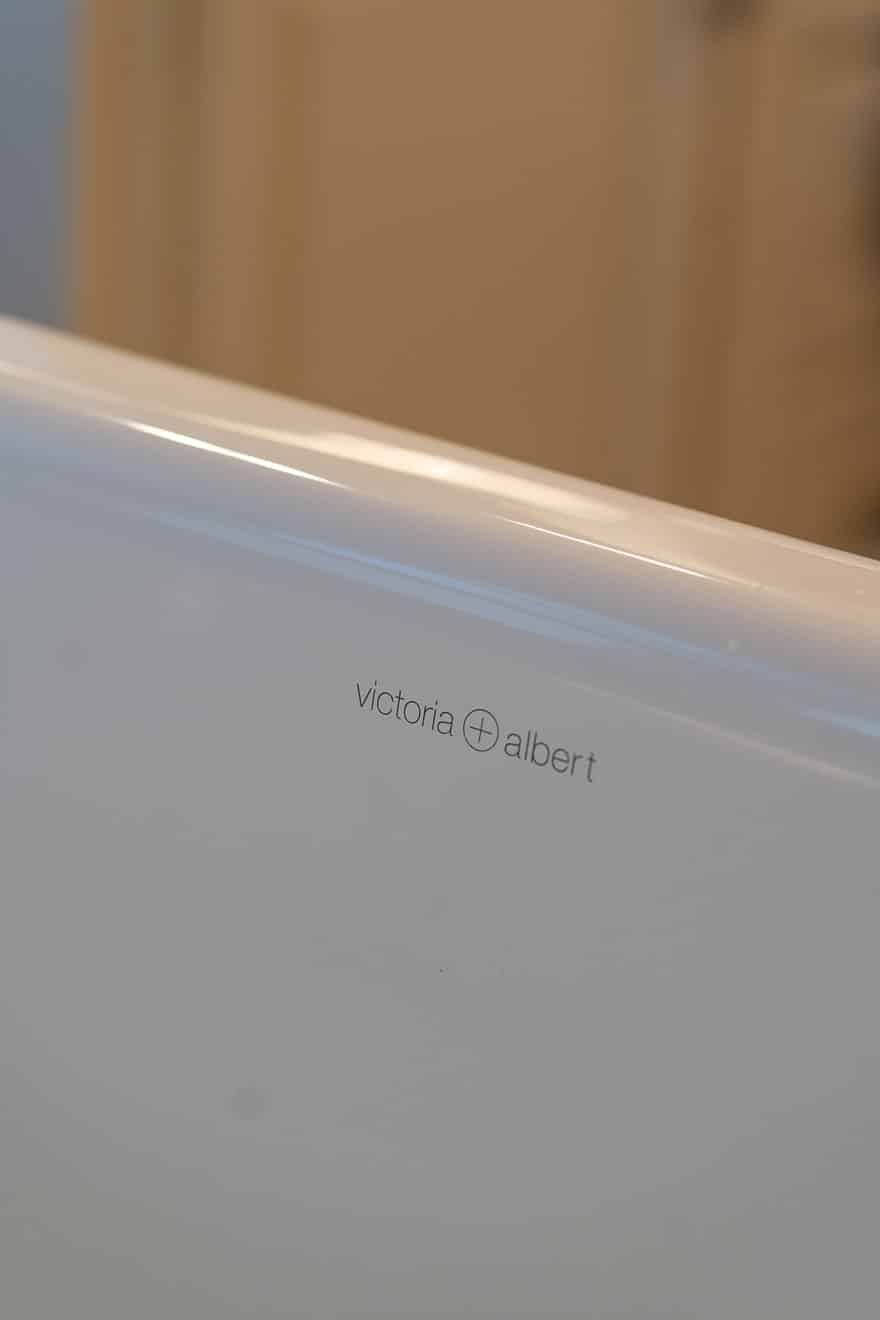 One final little touch that I really liked was the provision of complimentary Lupaia branded flip flops in the bathroom cabinet. Very useful for making your way to the pool.
Bedroom
The bedroom was every bit as cosy and inviting as you could hope for in this rural setting, with the fireplace in the corner adding real character to the space.
The bed was unbelievably comfortable, to the point that I'm going to track one of these Silverline mattresses down for home. The feather pillows and bed linens were also of a very high quality and the window and door shutters provided near absolute darkness at night.
Fast charging USB ports were available on both sides of the bed as well as a high end Tivoli radio alarm clock just like at the Ritz Carlton in Kyoto.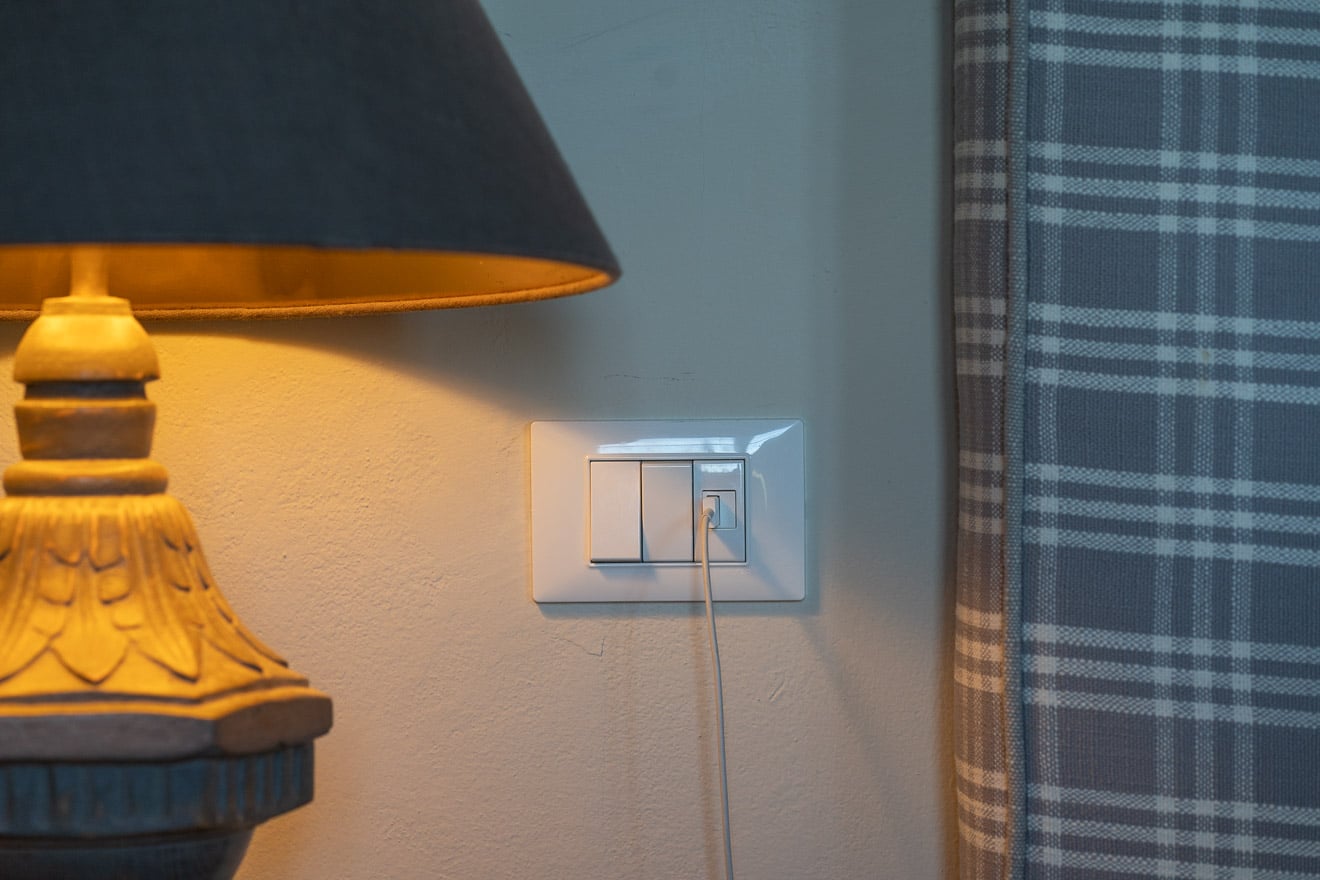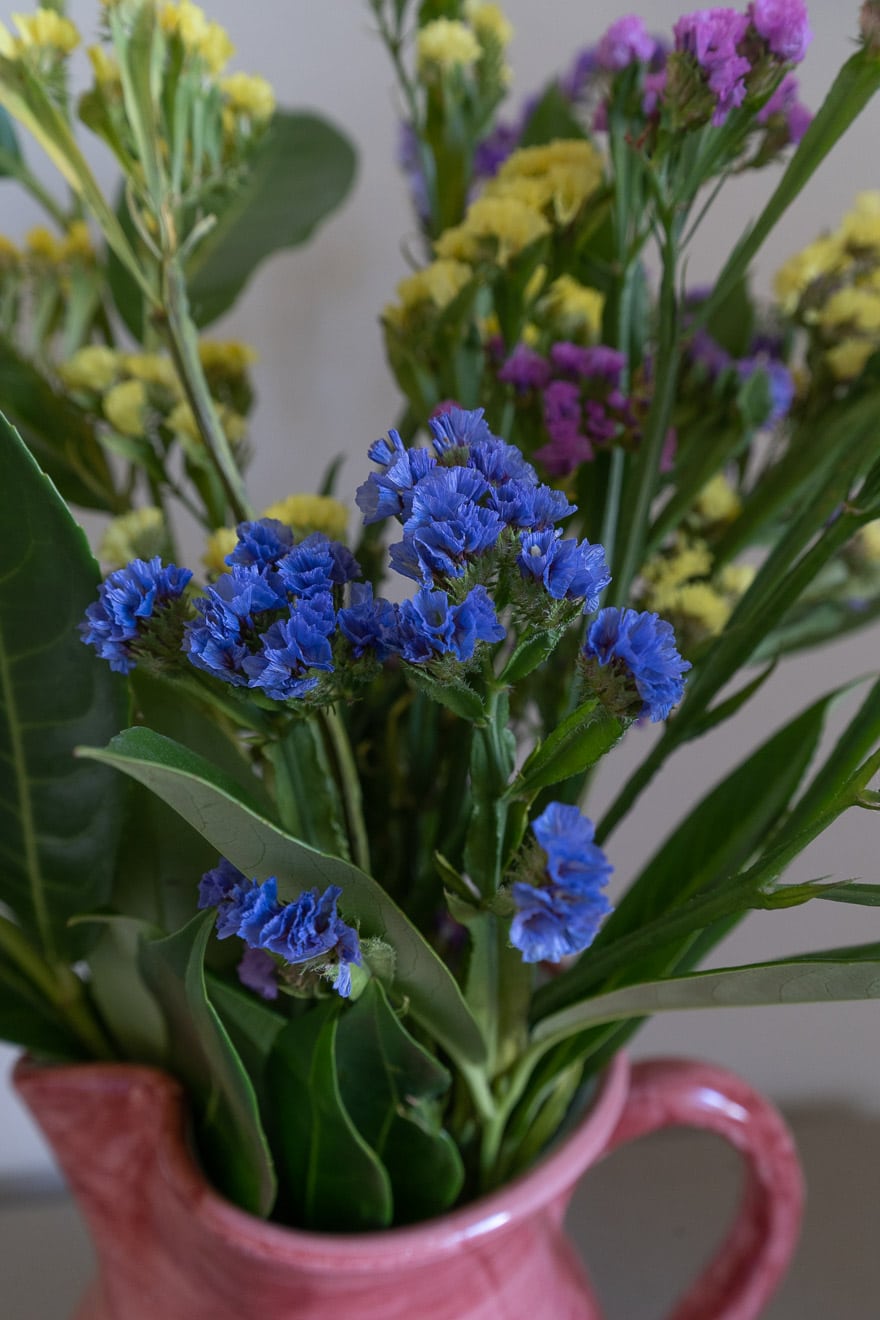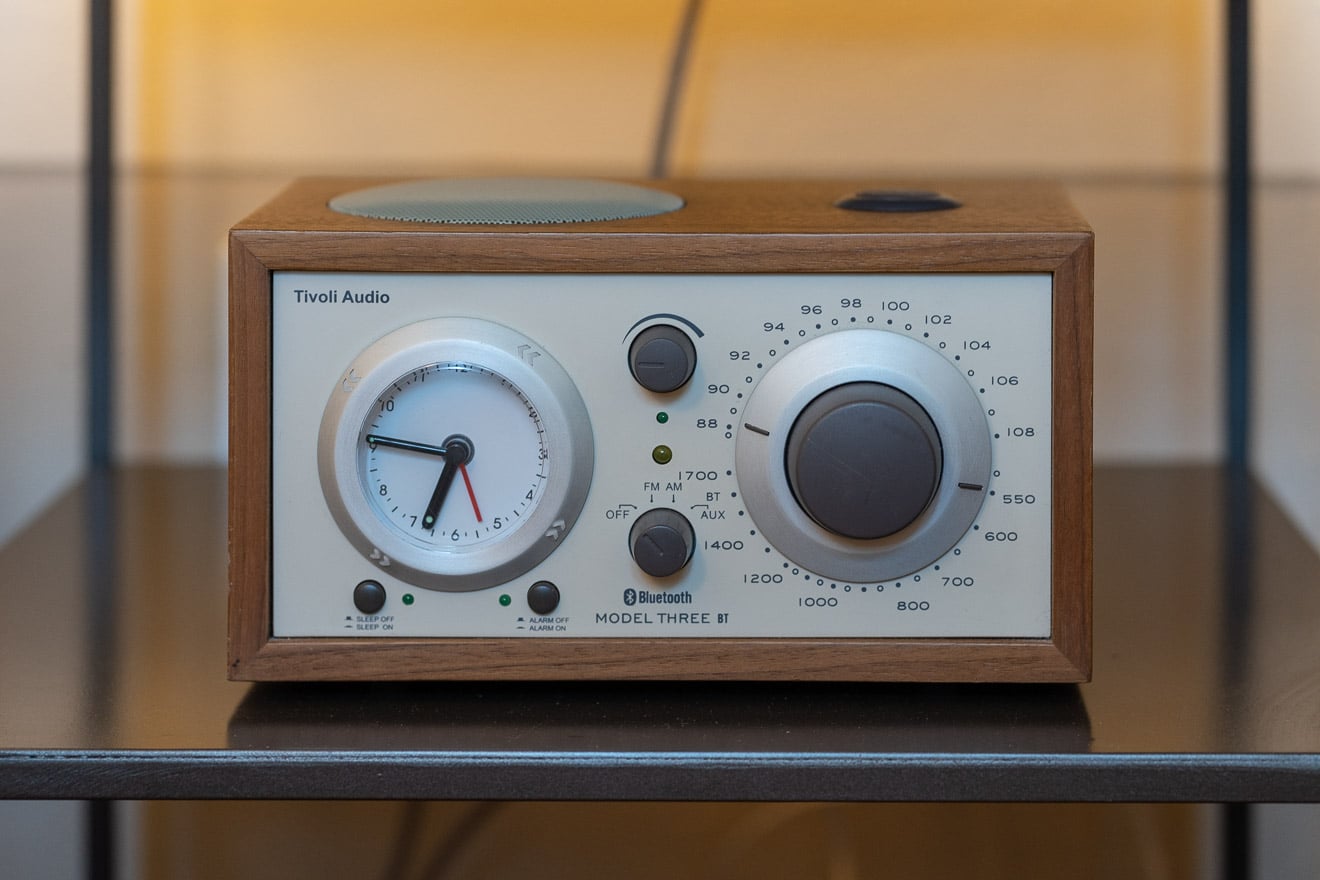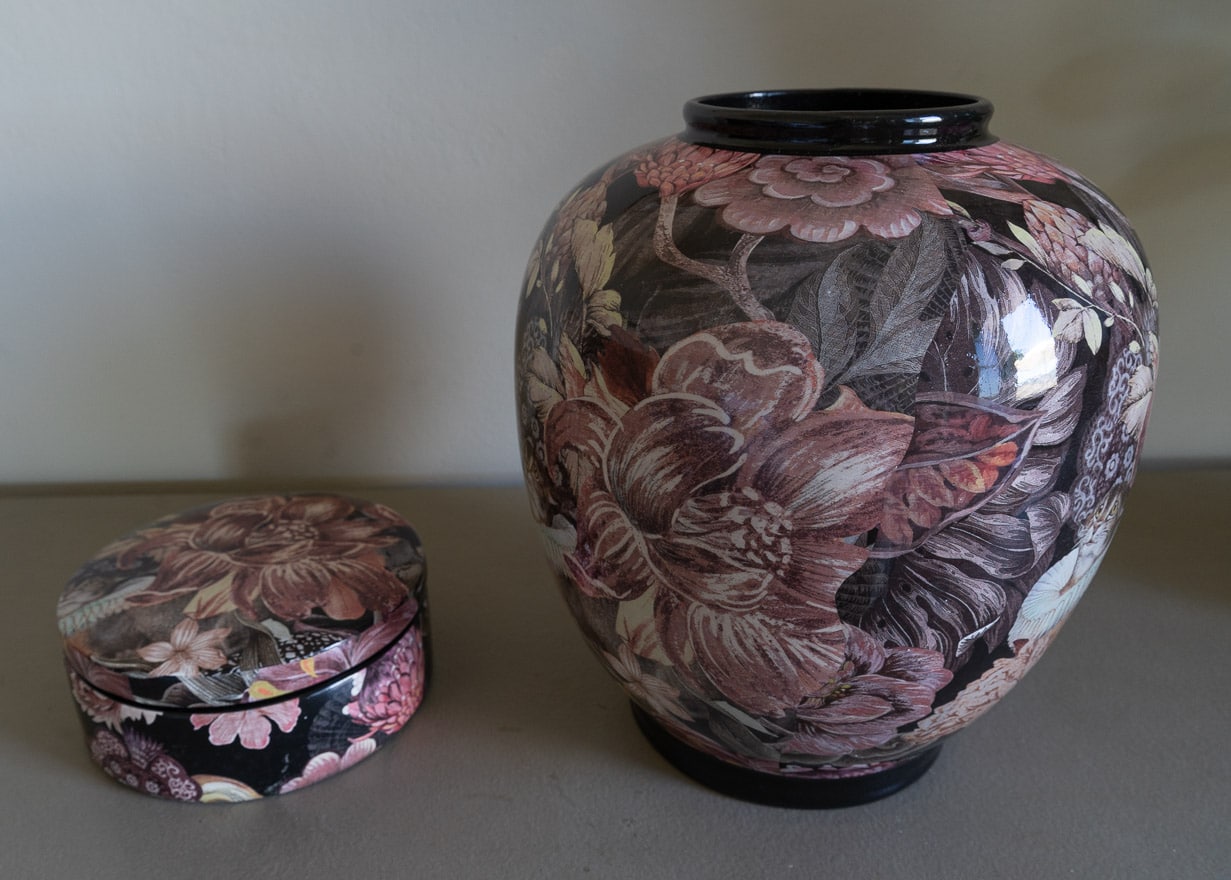 The air conditioning was extremely powerful and borderline silent. Very impressive during the Tuscan summer. Indeed the thick stone walls meant that we could turn the AC onto full blast during dinner and then return to an icy cold room and turn off the unit as we slept.
Garden
We had the most amazing view from bed and every morning it was a real joy opening the shutters to see what the day had in store for us.
For some reason, I woke up really early one morning after an uncharacteristically stormy evening. Nothing could have prepared me for the ethereal scene that unfolded in front of me. Truly one of the most spectacular sights I've ever witnessed in my life.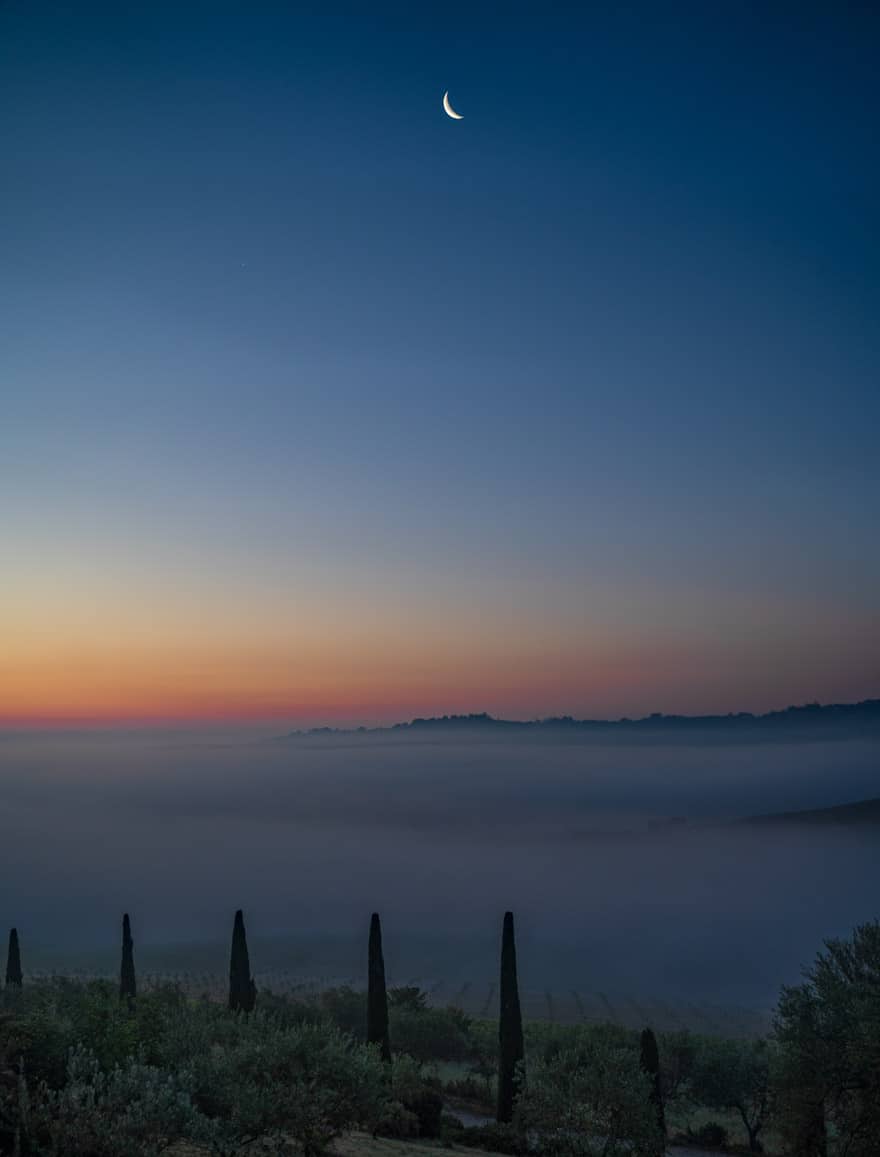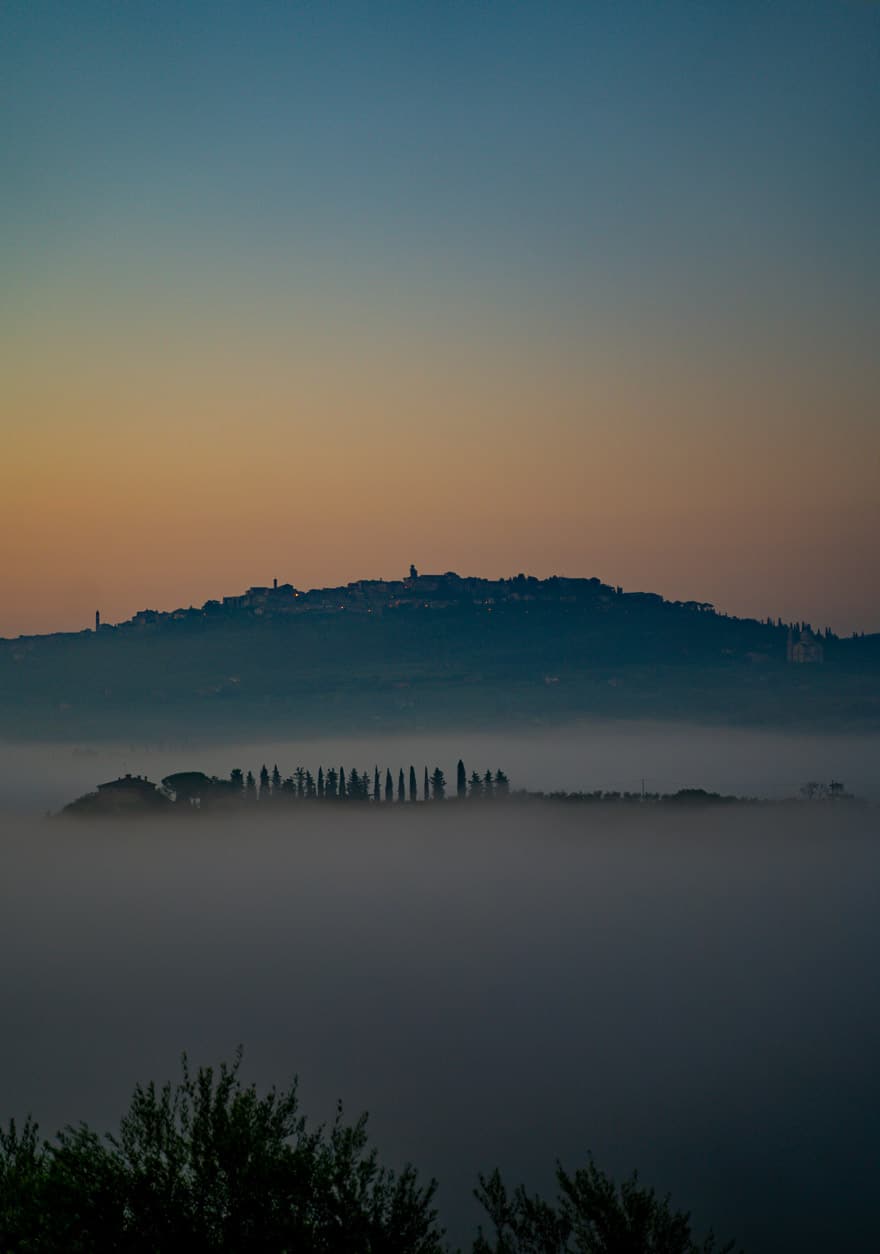 I HIGHLY recommend paying for a room with a view of Montepulciano at this property. You will not regret it.
The property's cat Neve also made a guest appearance on this magical morning, darting into our room and hiding under the bed for 15 minutes until we finally coaxed him back out!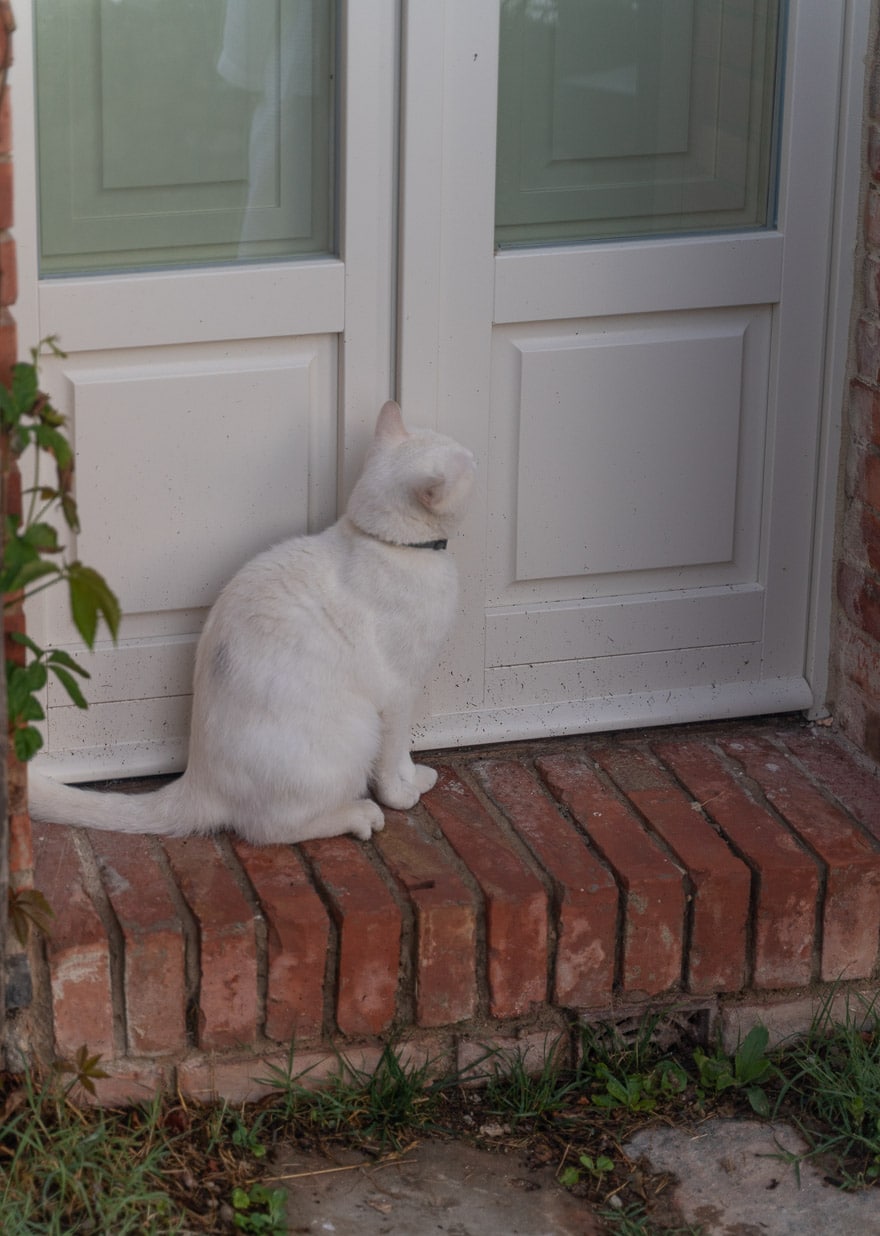 Our private garden was the perfect spot to enjoy a morning coffee.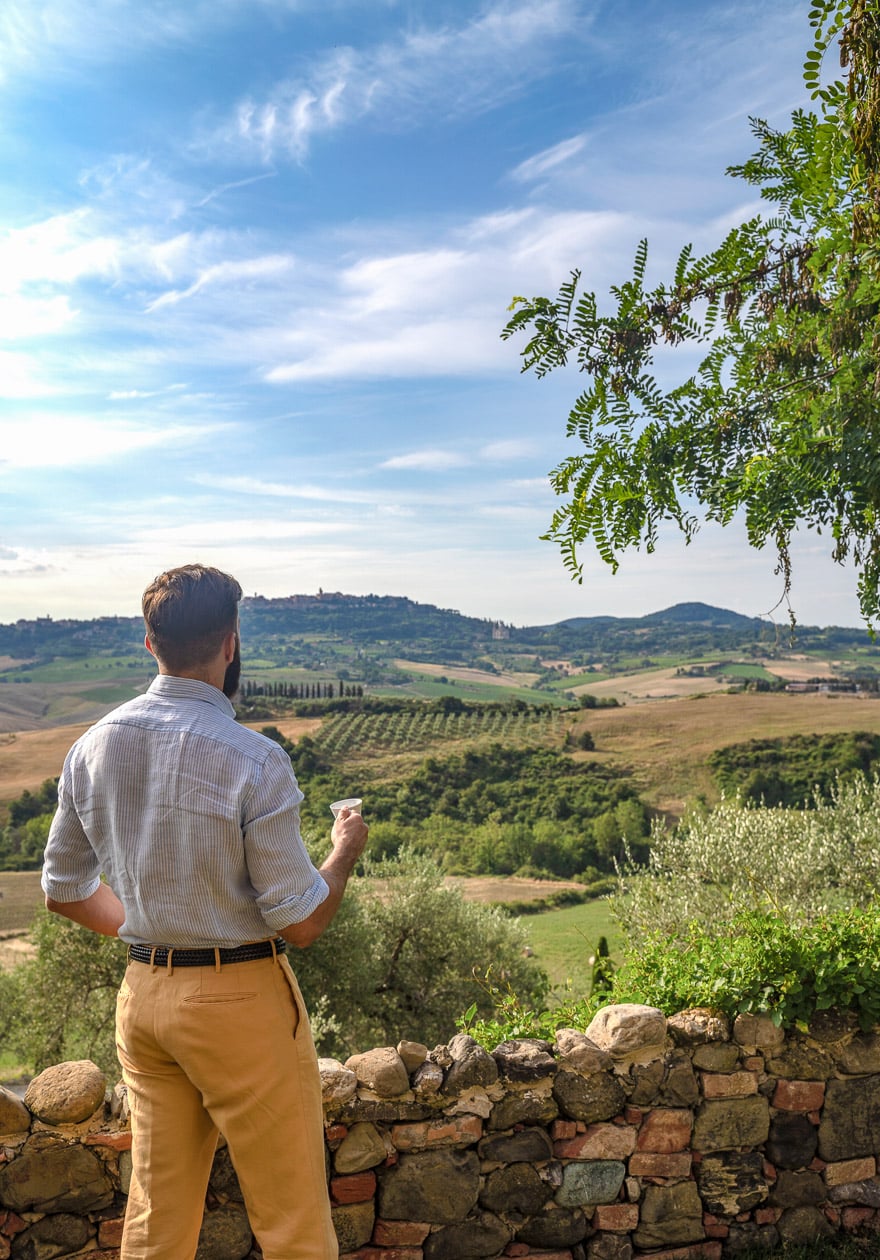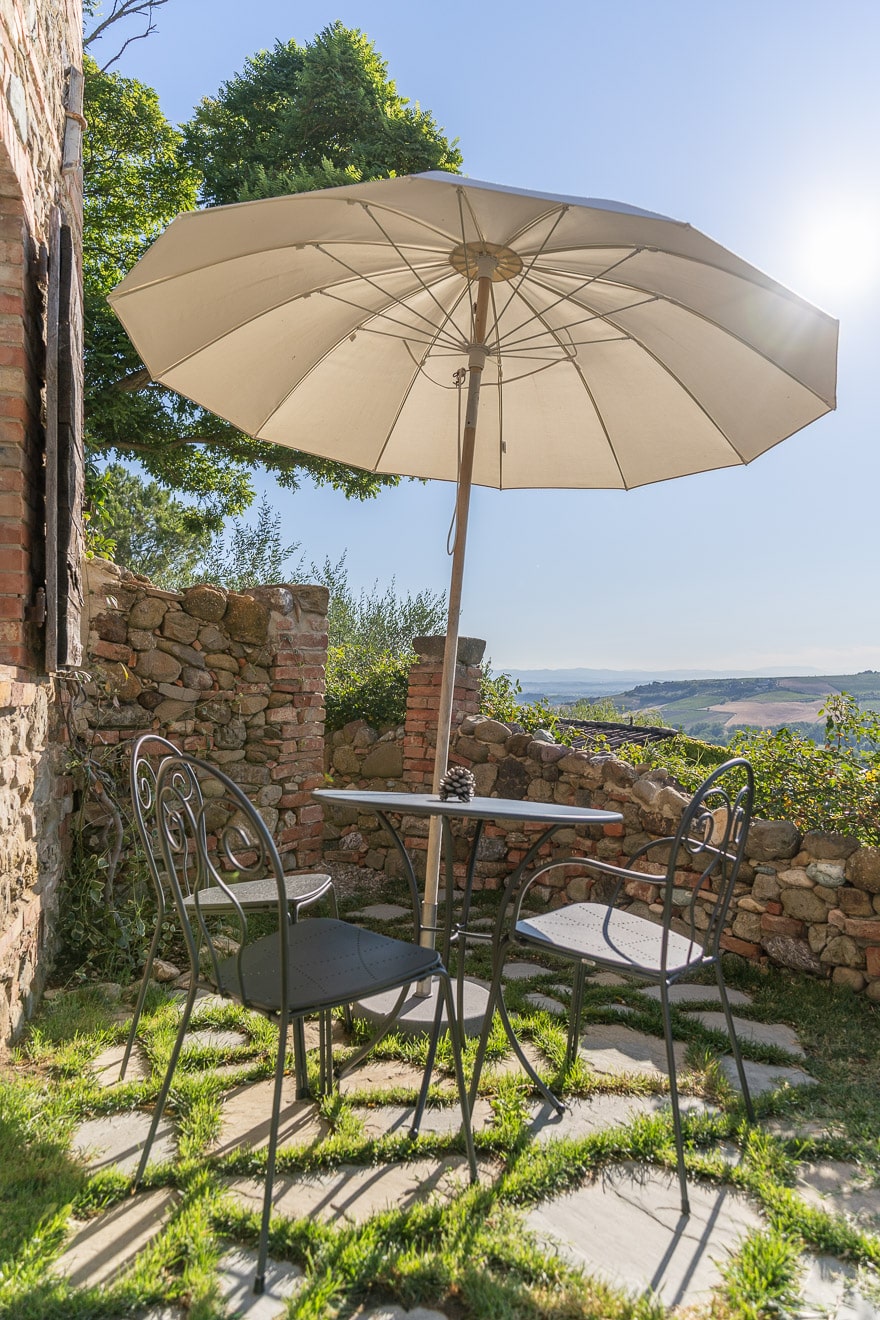 I loved the fact that there was so much variety in terms of seating areas.
My favourite home office of the trip! Having said that the WiFi was very patchy and quite slow at times. I was only able to set up outside on one day, after that I had to physically sit on top of the router to get fast enough signal.
The perfect spot for a mid-morning break.
There was even an additional courtyard where we could enjoy sunlight, as our main garden fell into shade. In the evenings though we would return to the main garden to enjoy an aperitivo as the sun set.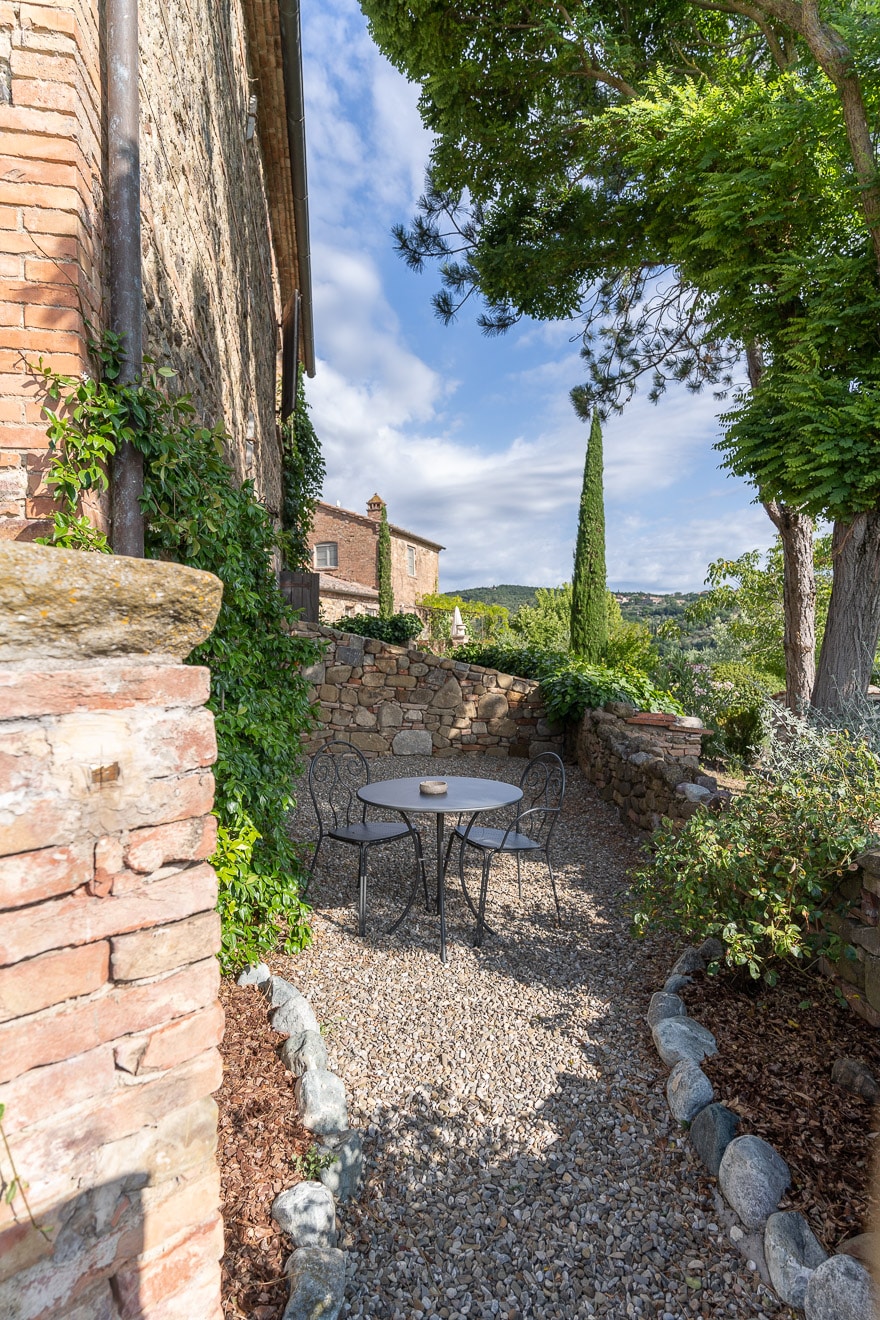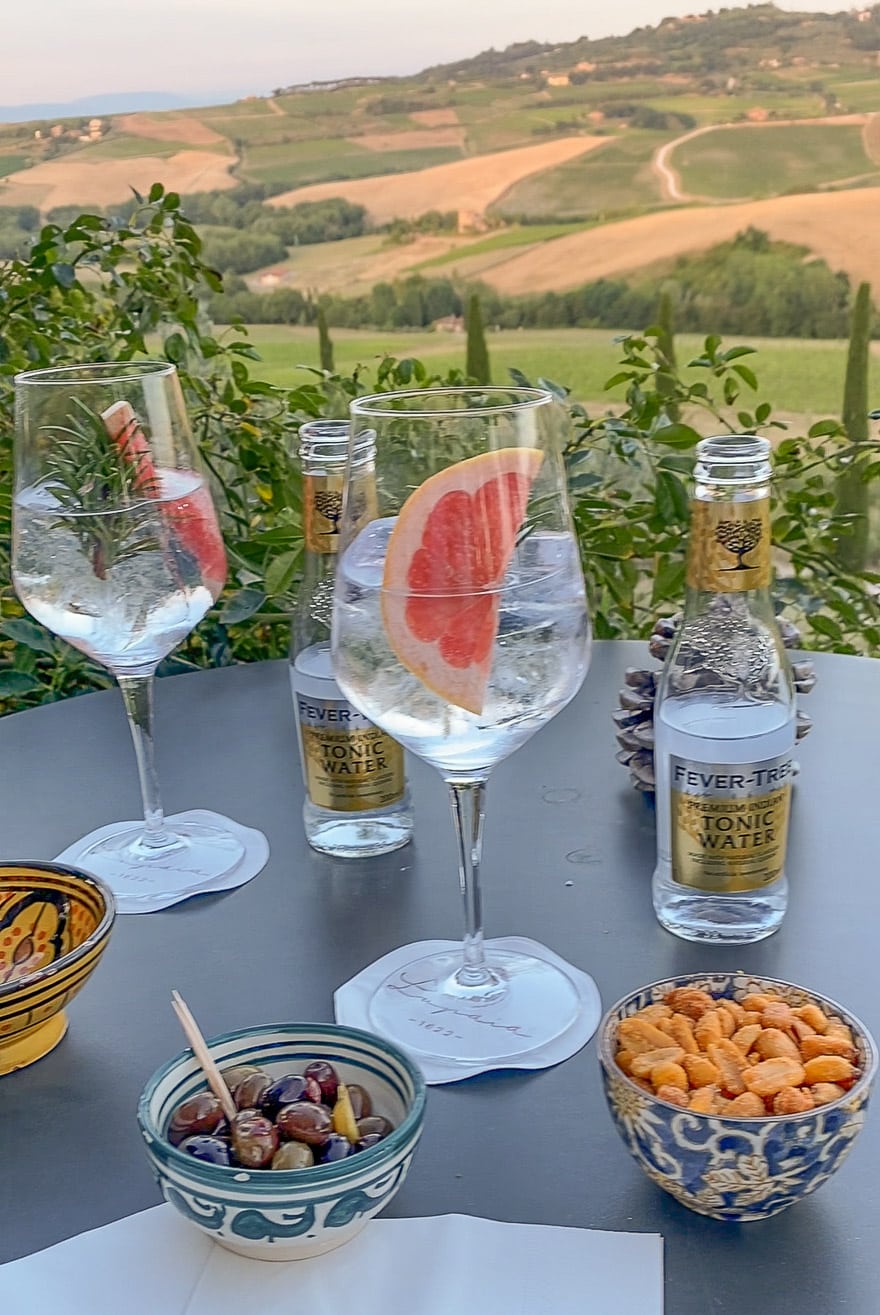 Every day the sunset would hit a little differently but it was invariably spectacular.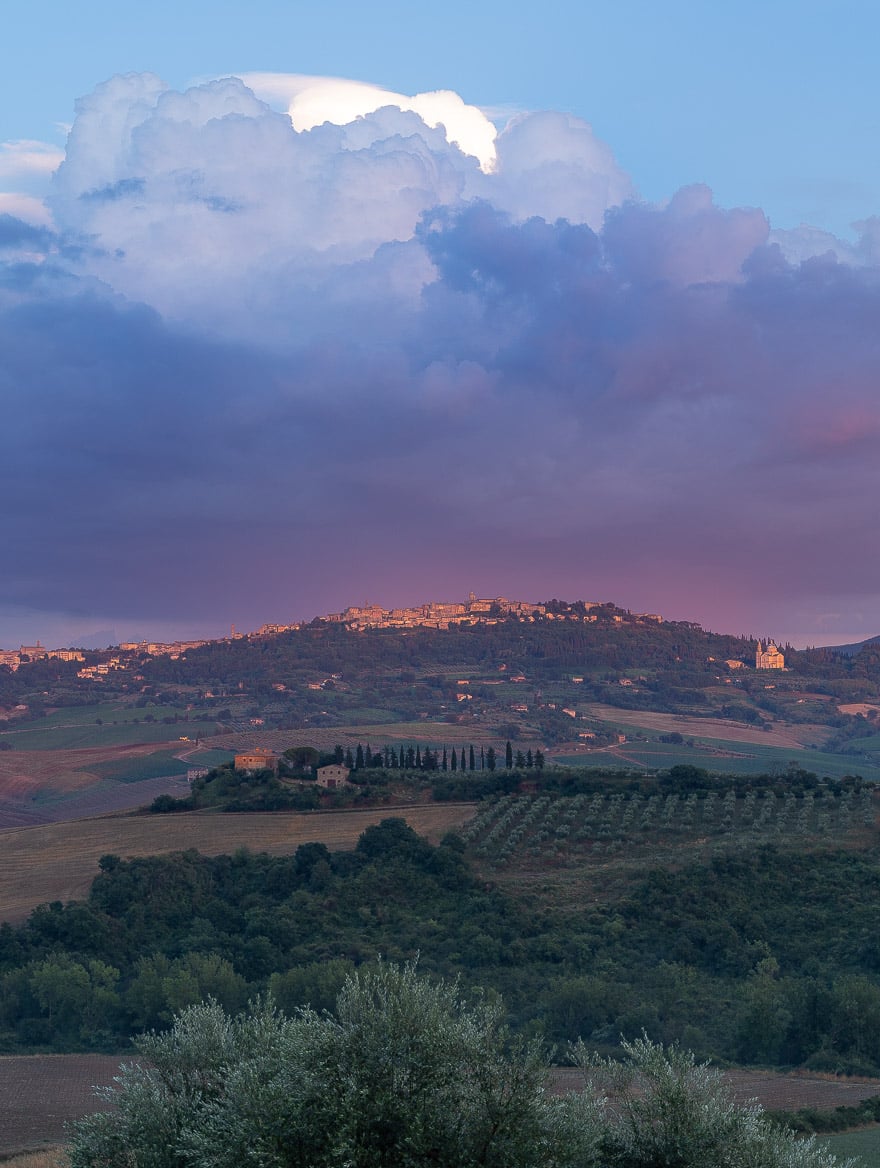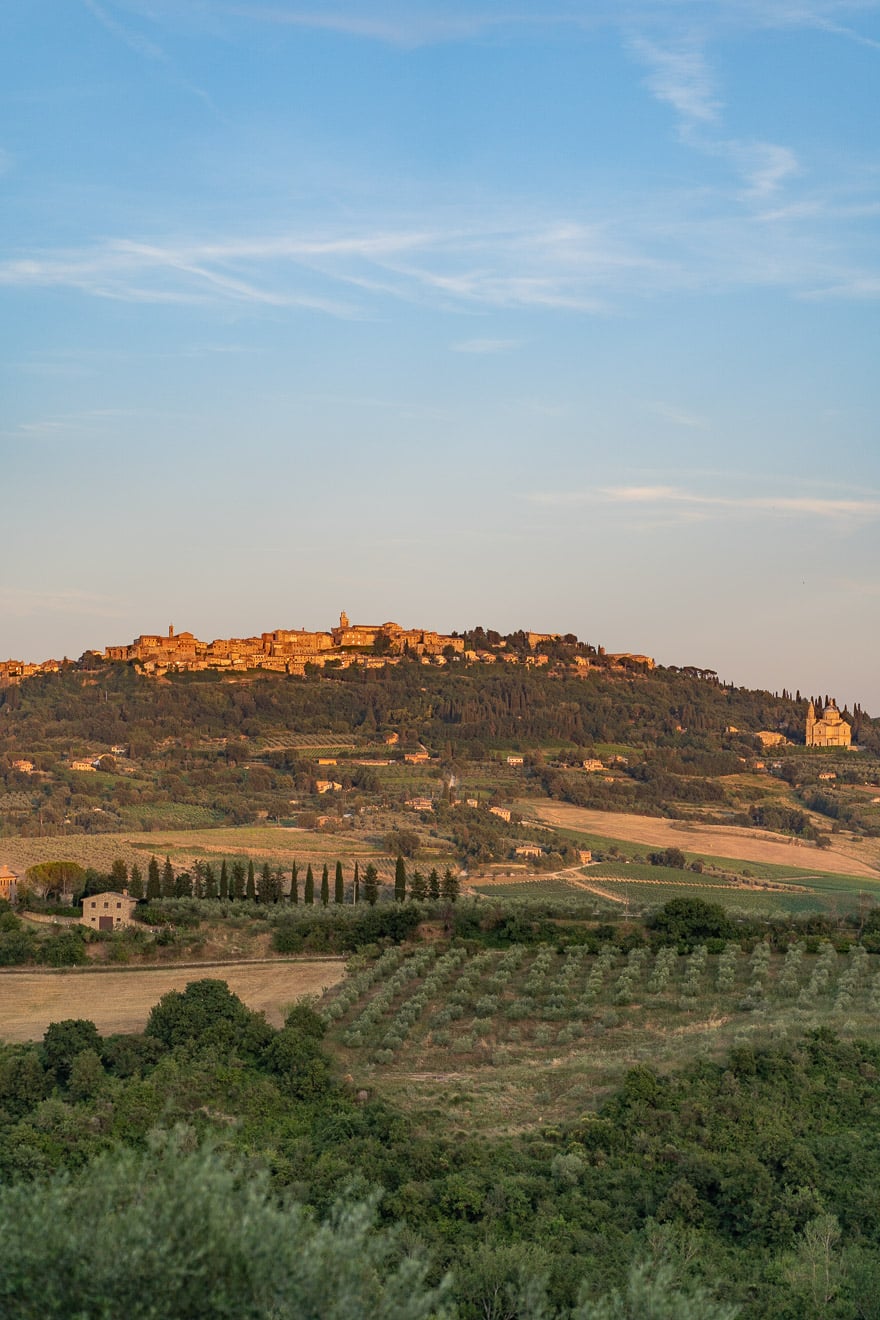 ---
Leisure facilities
---
Common Areas
The main hotel building housed a number of common areas in addition to the property's only two bedroom suite.
There was a cosy outdoor terrace complete with blankets.
Whilst inside there was an expansive drawing room featuring a log fireplace and a collection of board games for rainy days.
Inside the courtyard and directly adjacent to the reception were the library and the wine cellar. Guests can enjoy a private tasting of 5 wines alongside some canapés for €50 per person. We planned to do this on our final day but given the amount of food and drink we'd gotten through during our stay, we decided to give our bodies a break!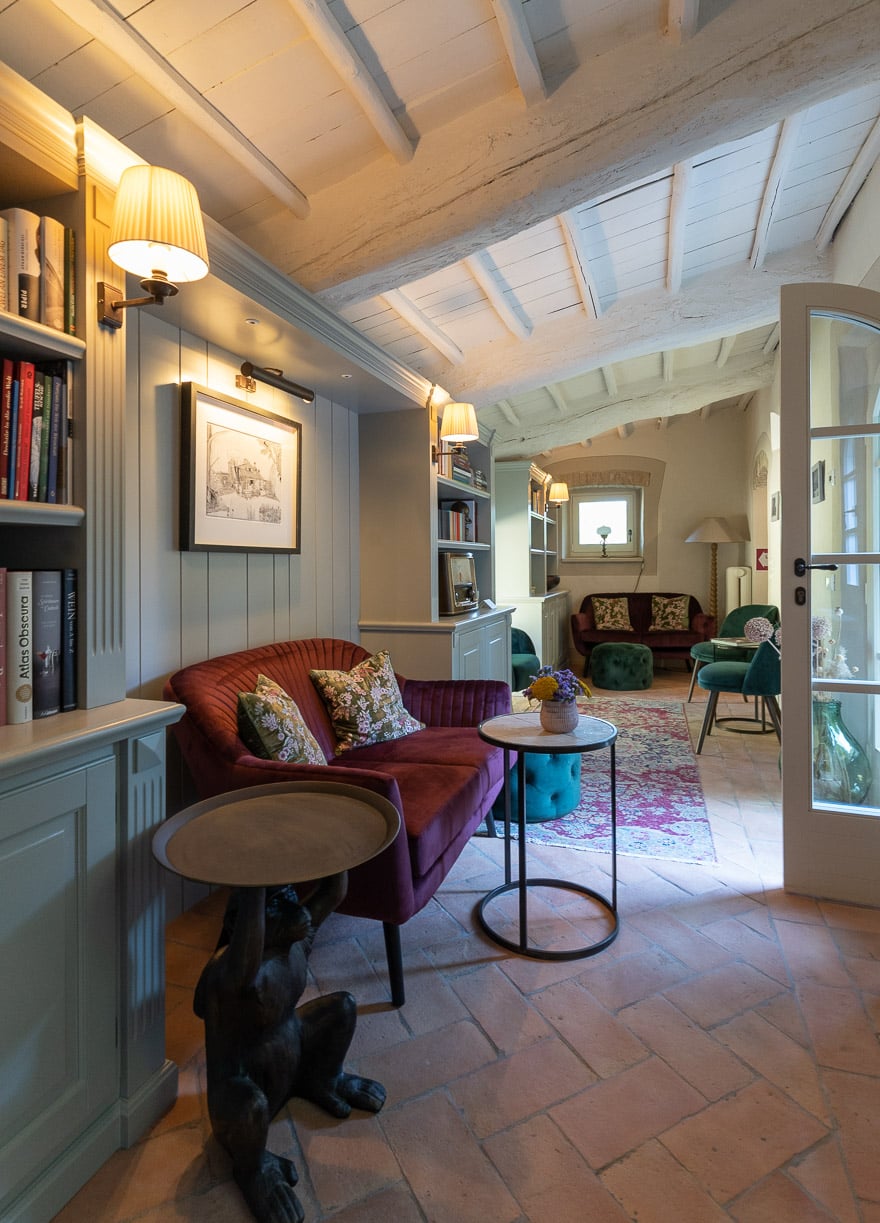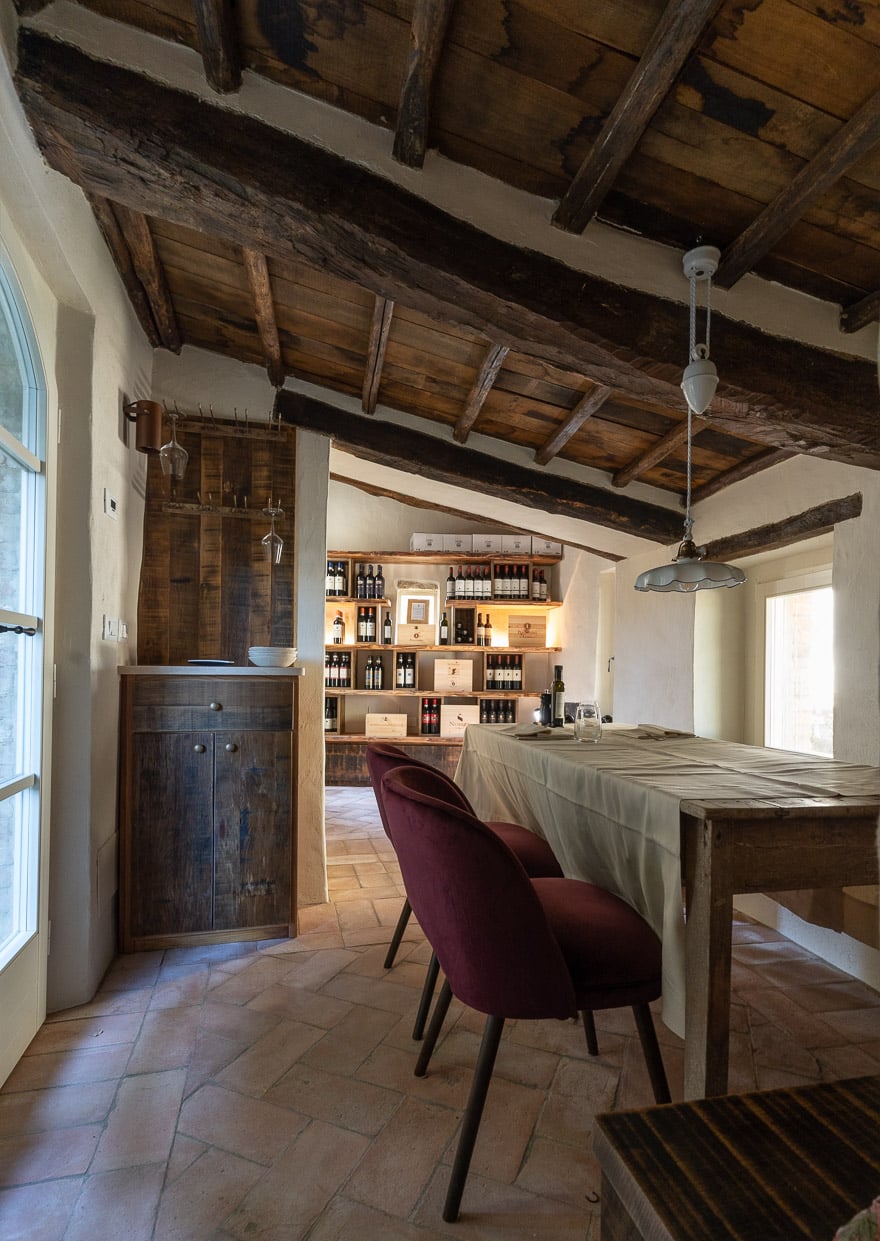 The Pool
Something I really was not ready for was the utterly jaw dropping swimming pool. There are so many pools that have been made world famous by Instagram that you kind of feel like you must have seen them all by now.
We dispelled that notion moment that we peered over the fence and set our eyes on this: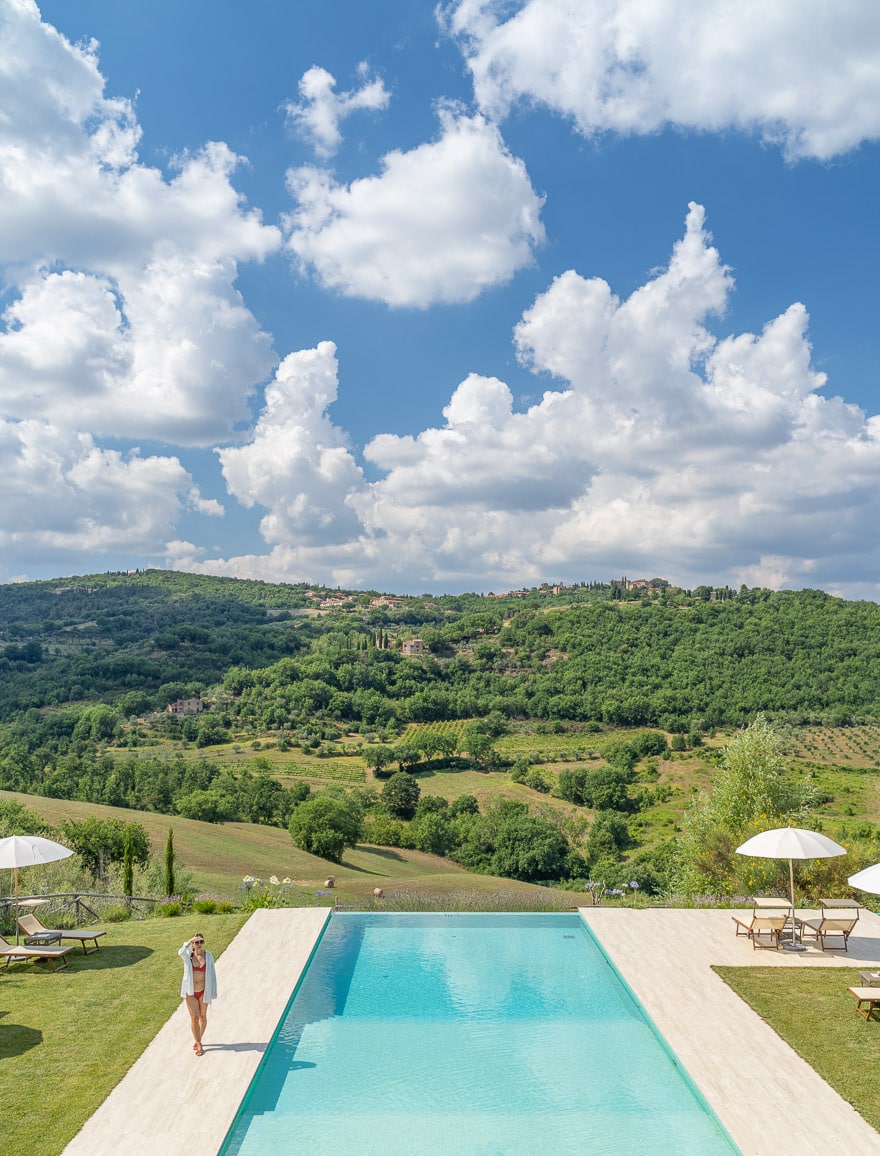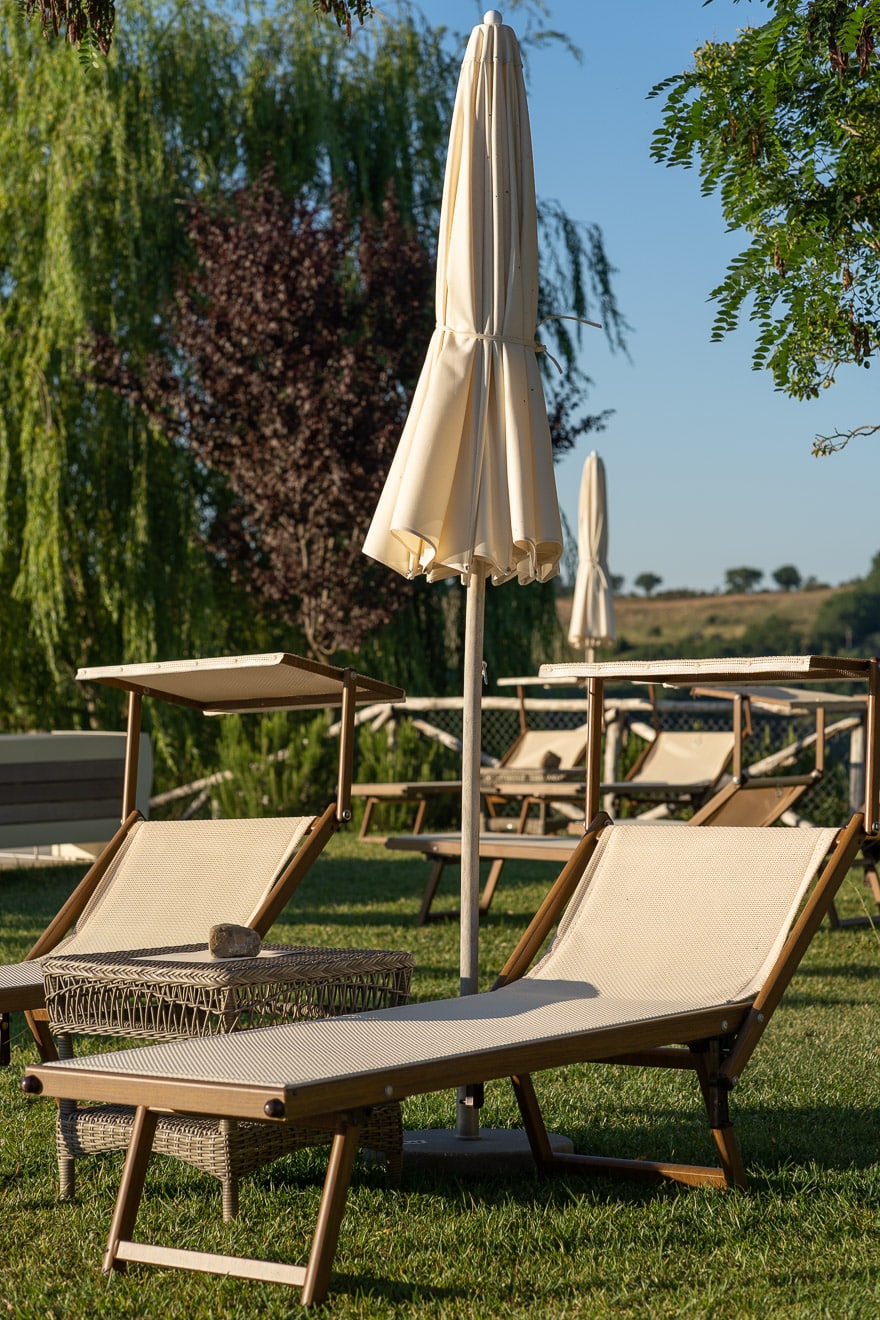 An almost surreal vision of Maldivian blue water surrounded by verdant countryside in all directions.
As part of the COVID regulations we had to sign in at the bar, indicating which chairs we had used. Thankfully they all had a number attached which could also be used when ordering food and drink via Whatsapp.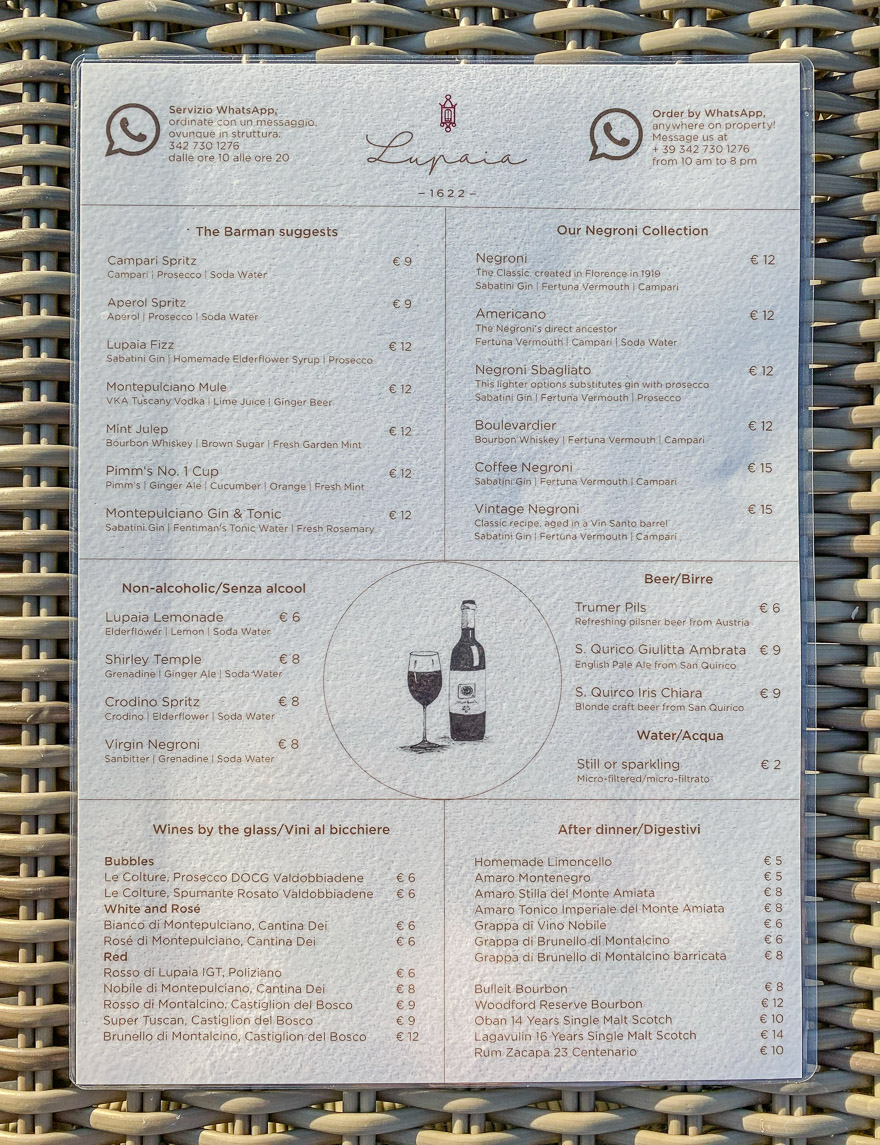 The seating options were plentiful with loungers spaced around 2m apart.
I could have stared out at these views all day…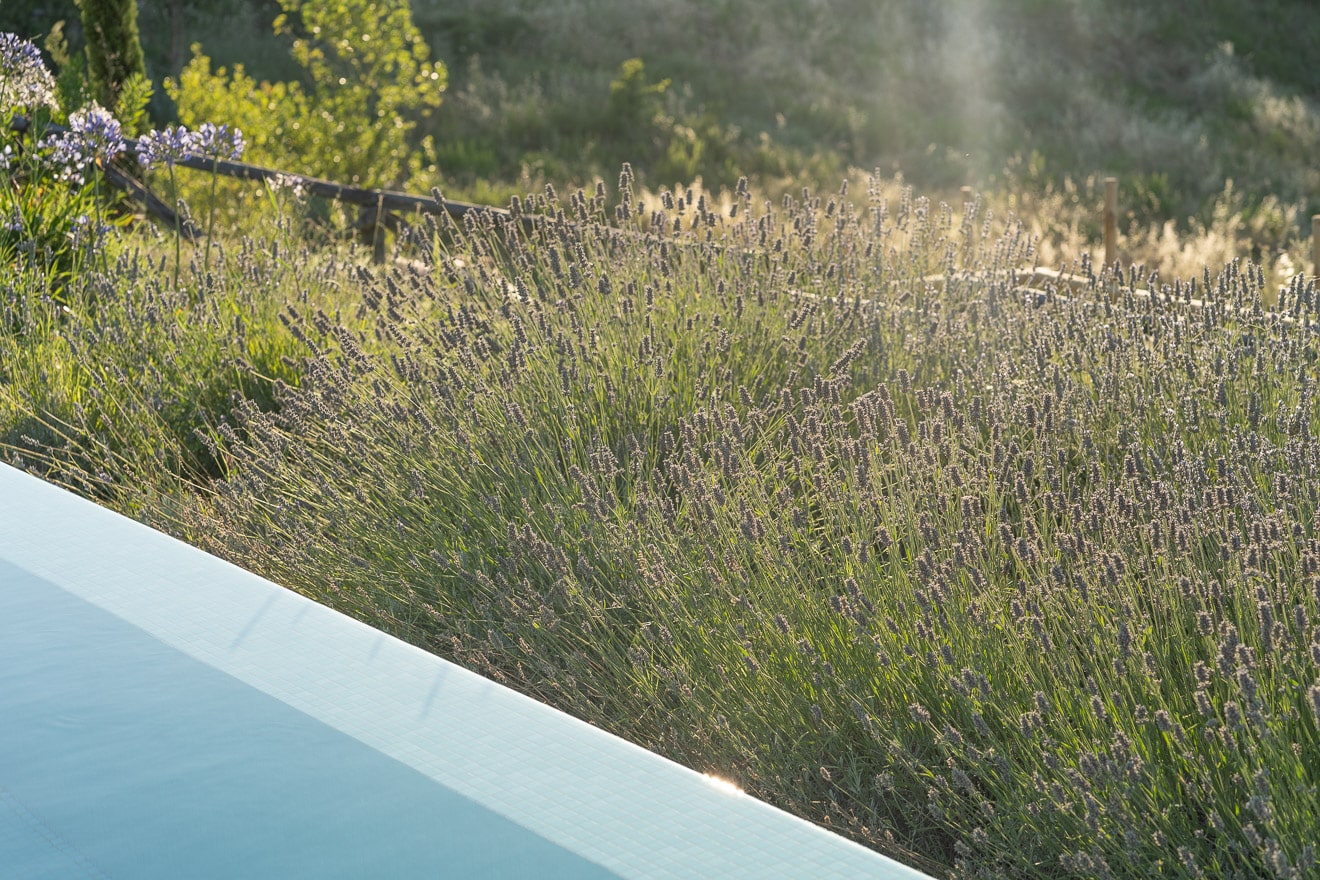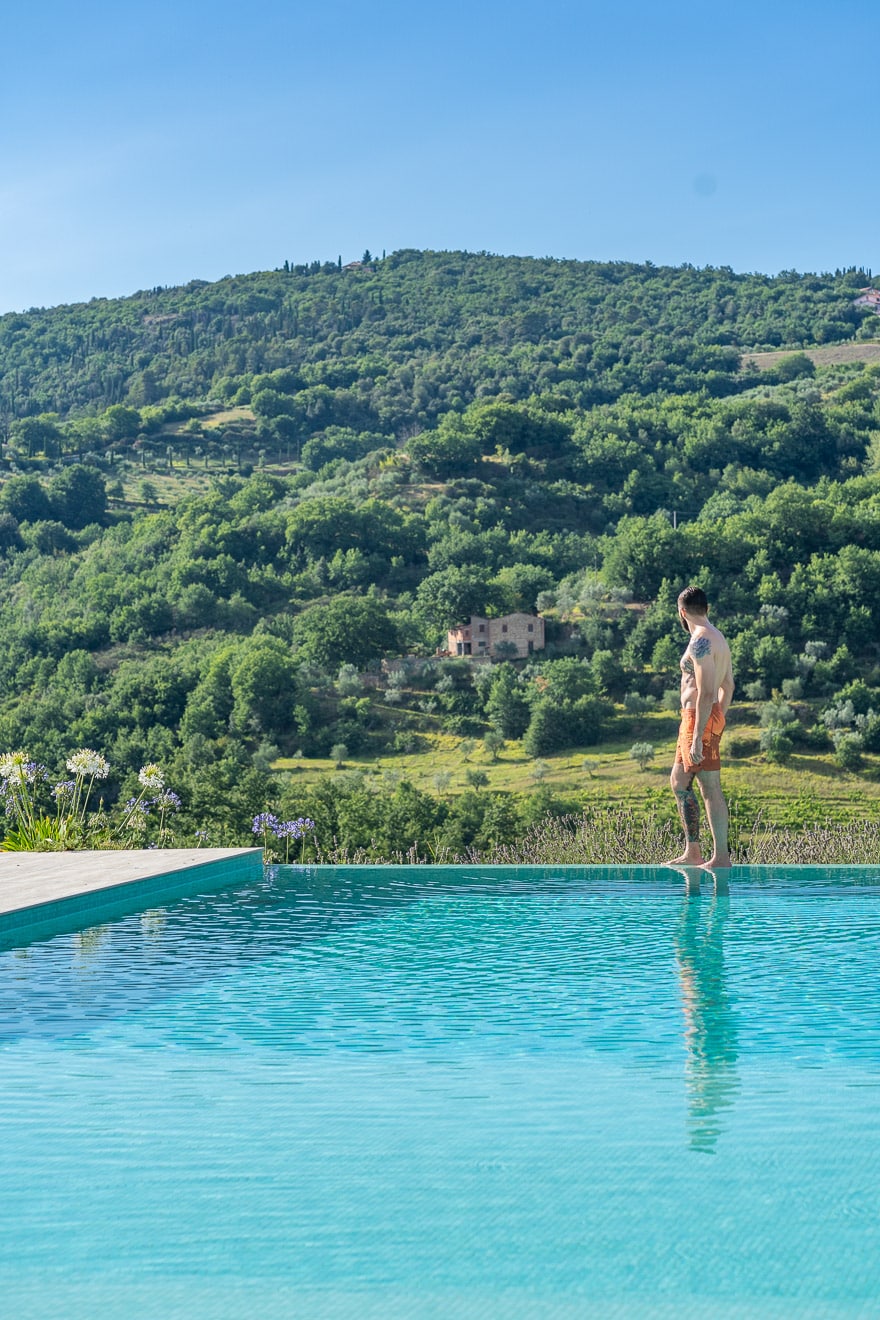 There was a hot tub in addition to the pool although in all honesty I found it to be more of a tepid tub.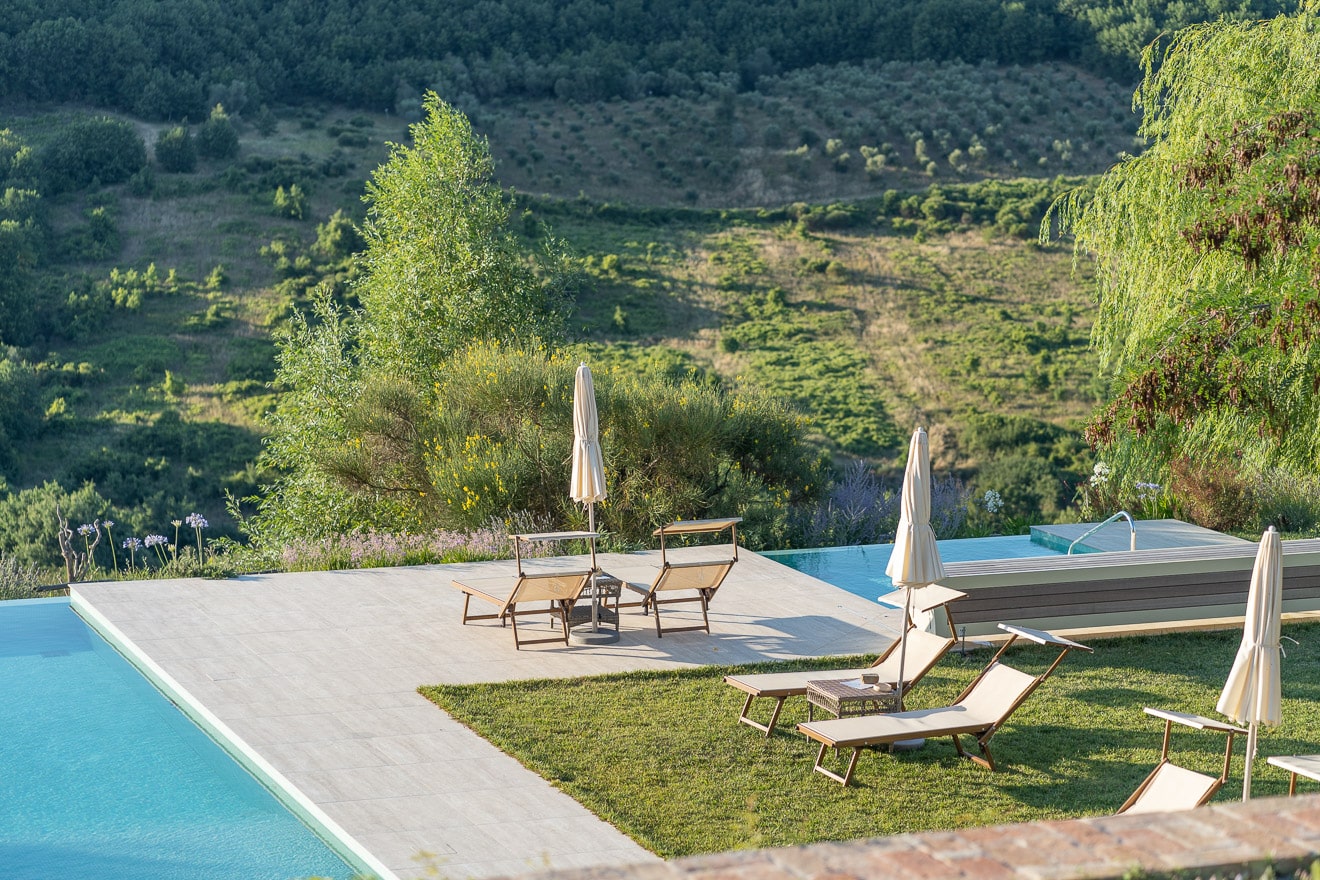 In addition to the outdoor shower, there were changing rooms located through an archway carved into the hillside.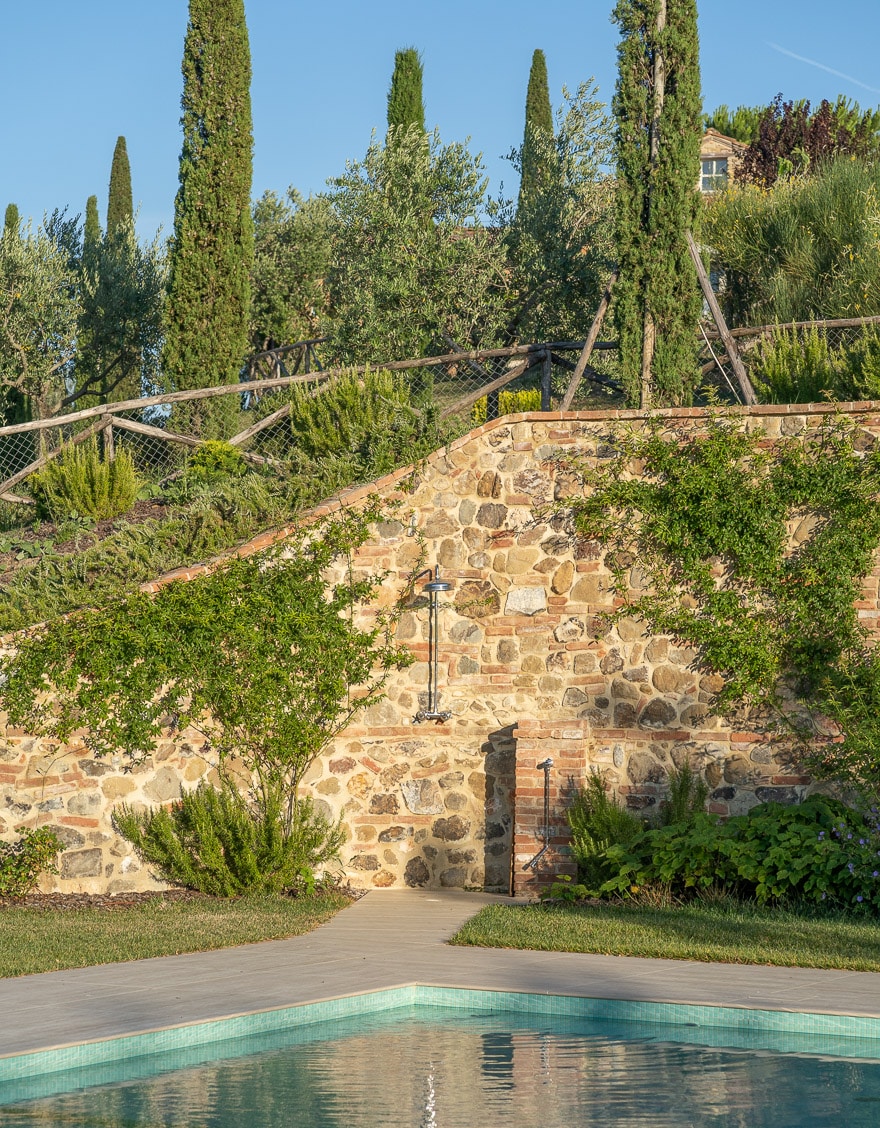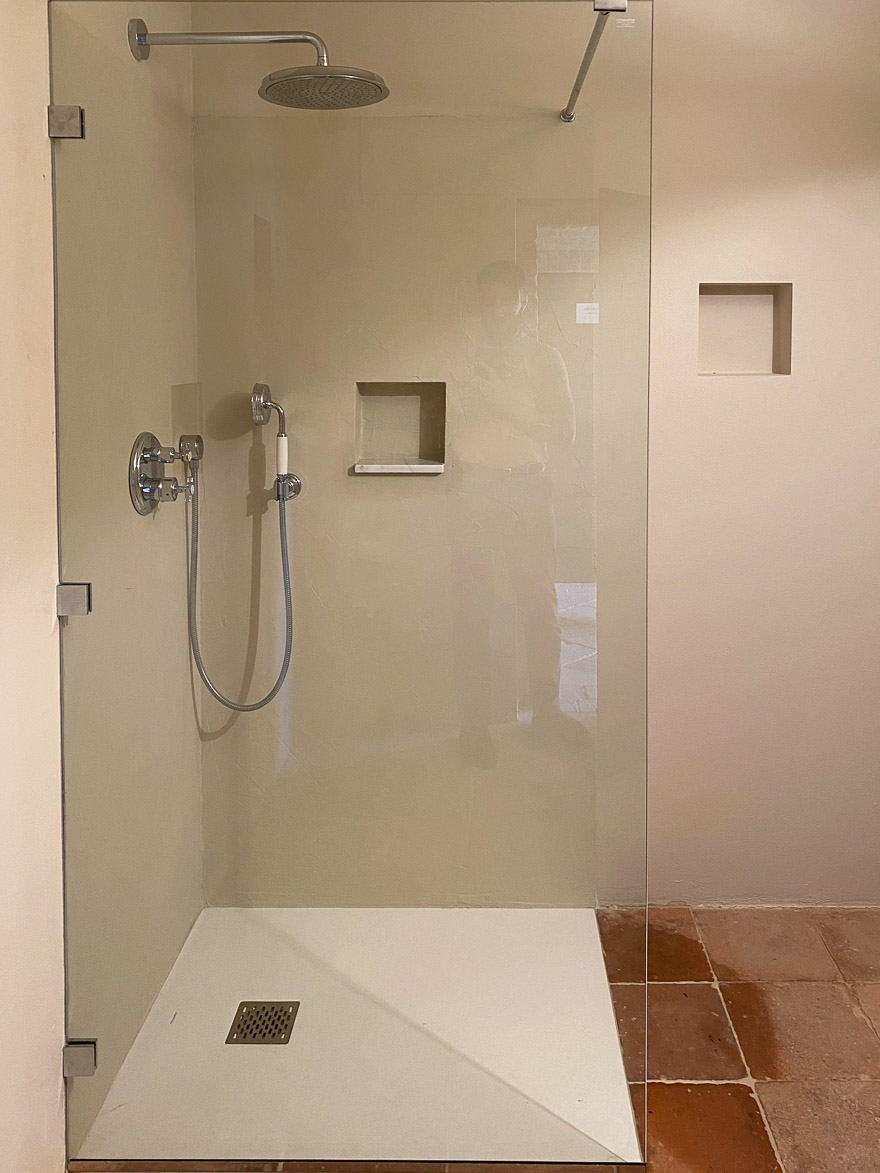 The Gym
The gym was also located in this hillside grotto and required pre-booking given increased hygiene measures around COVID.
Although the gym signposts around the property had a picture of a kettlebell on them, I was disappointed to find that there were only two cardio machines and a Swiss ball here, not a single weight in sight…or even any water!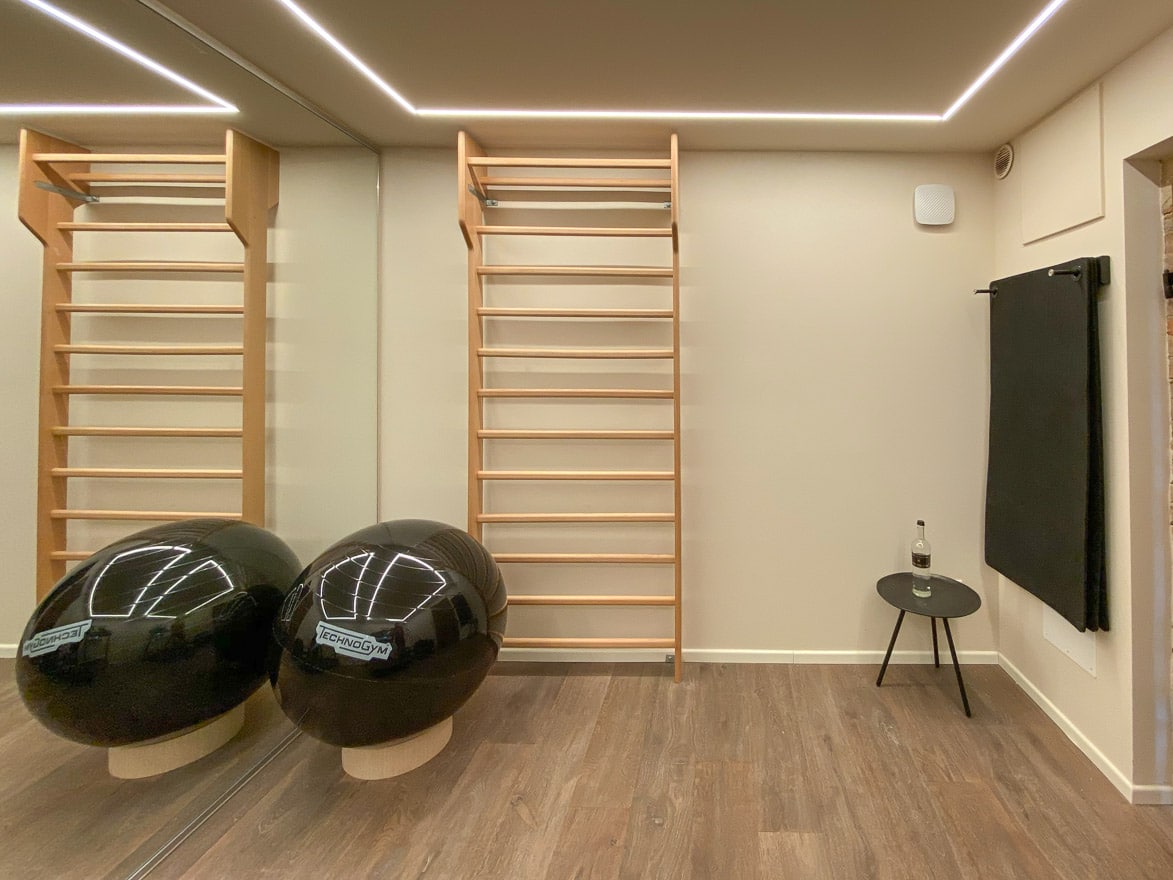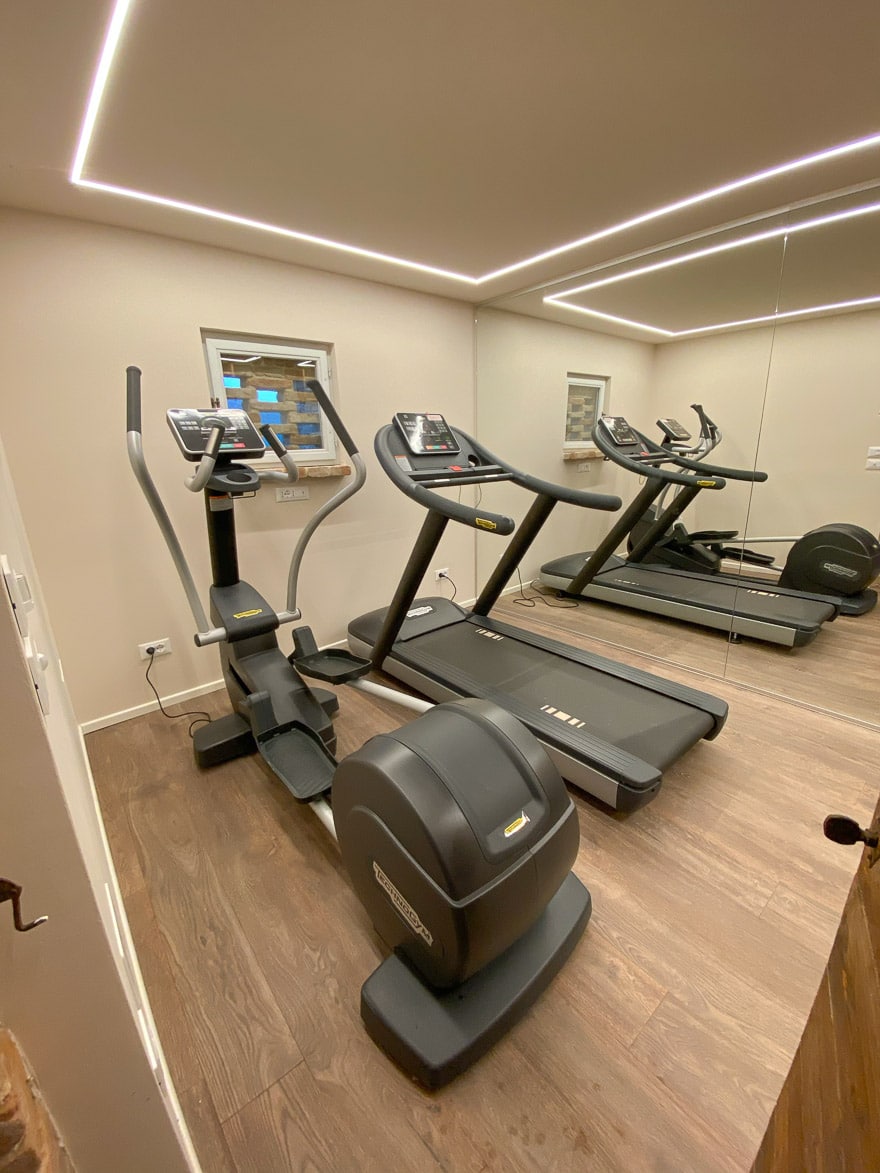 I think the property could dramatically improve the offering by buying 4 kettlebells of different sizes and adding a water machine, which could be used not only by gym goers but also people at the pool, most of whom were carrying their own glass water bottles down from their rooms.
---
Food and Drink
---
The Kitchen is the heart of Lupaia and is indeed the oldest building on the property, dating all the way back to 1622. Walking through here each morning we felt immediately at ease, helped of course by the very gracious and friendly staff cheerfully greeting us with a "buongiorno!" as we entered.
Staff wore masks at all times and sanitiser was provided at the entrance to the main dining room.
Ordinarily there'd be a breakfast buffet set up here, however Lupaia has now switched to an entirely a la carte breakfast.
Breakfast
Depending on the weather, you can have breakfast either in the cosy confines of the main dining room, or outside in the garden.
Since the hotel was still adjusting to offering breakfast a la carte to all guests, we were asked to fill out forms the night before, indicating our breakfast preferences each day.
In practice though, the staff were more than happy to bring you anything else that you would like, during breakfast too.

I ordered an almond cappuccino on the first day but reverted back to my usual macchiatos for the rest of the stay. I was impressed to see almond milk, given that dairy alternatives are still something of a rarity in Italy, outside of Milan and Rome.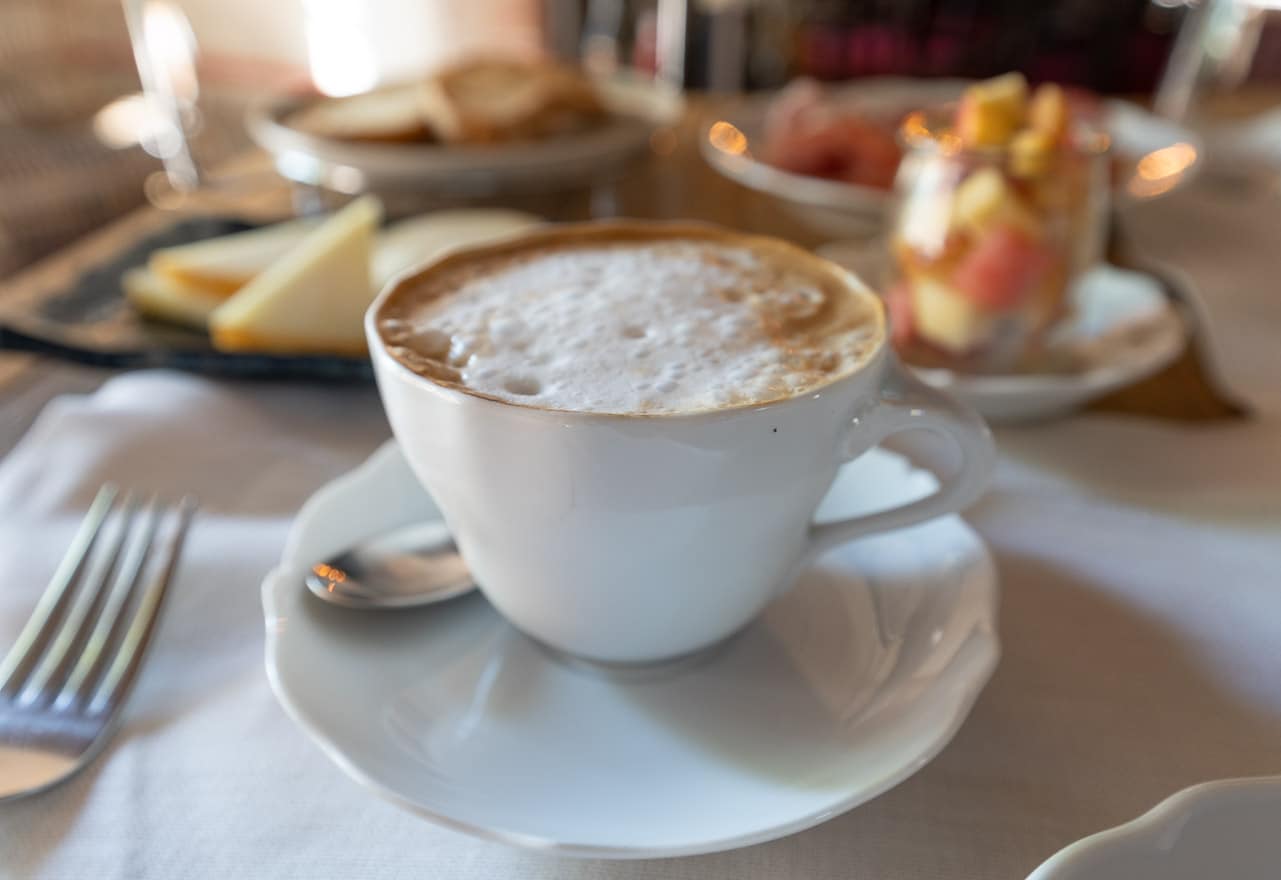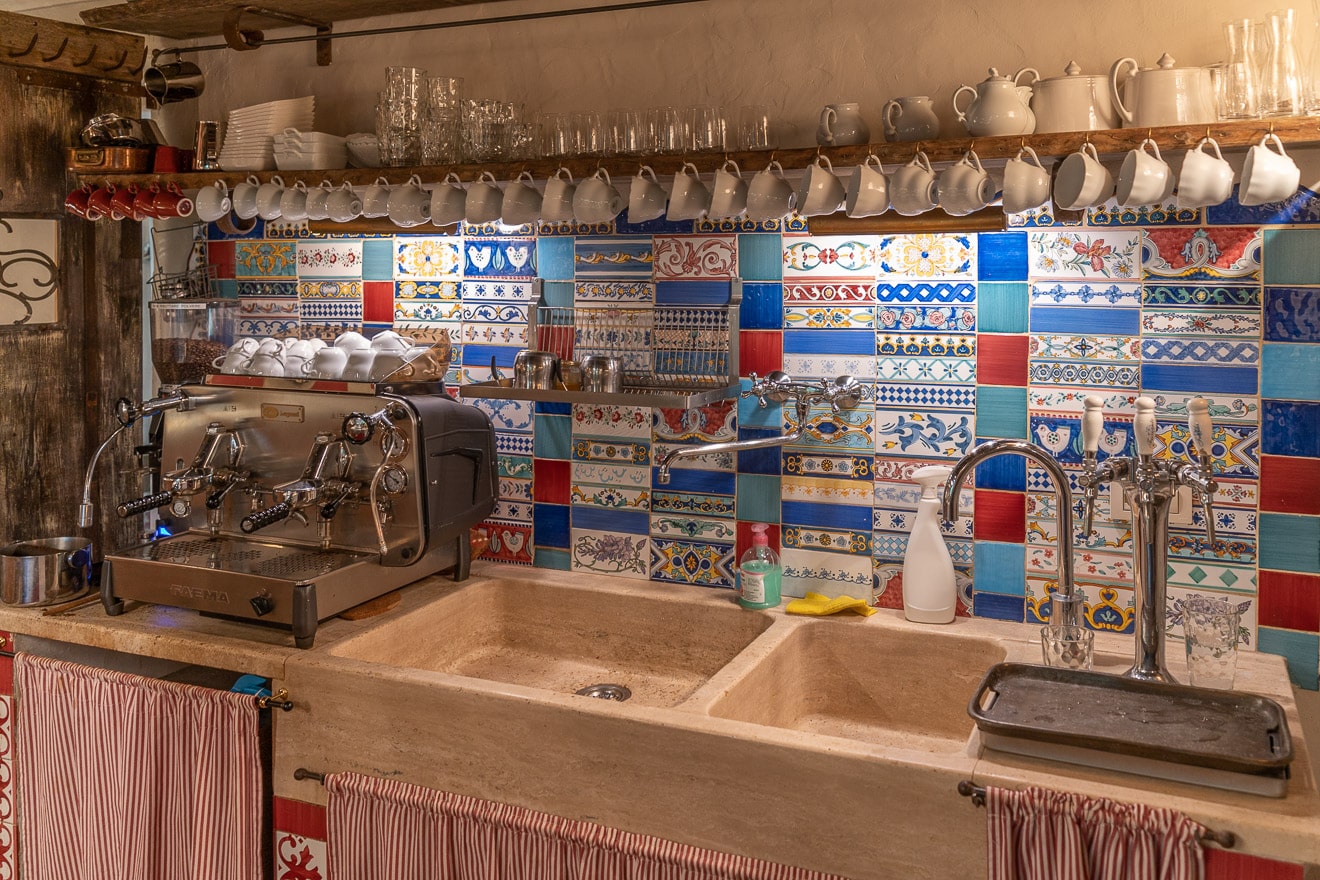 Much like at the Rome Cavalieri we were served a tiered stand with bread, pastries and fruit to begin the meal – with the a la carte items to follow. Thankfully that's where the similarities between these properties ended.
At Lupaia, the service was friendly, prompt and very efficient. The food quality was also absolutely superb with pastries and bread being freshly baked each day, honey coming from the property's own bees and the hand carved cured meats as good as any you could hope to encounter.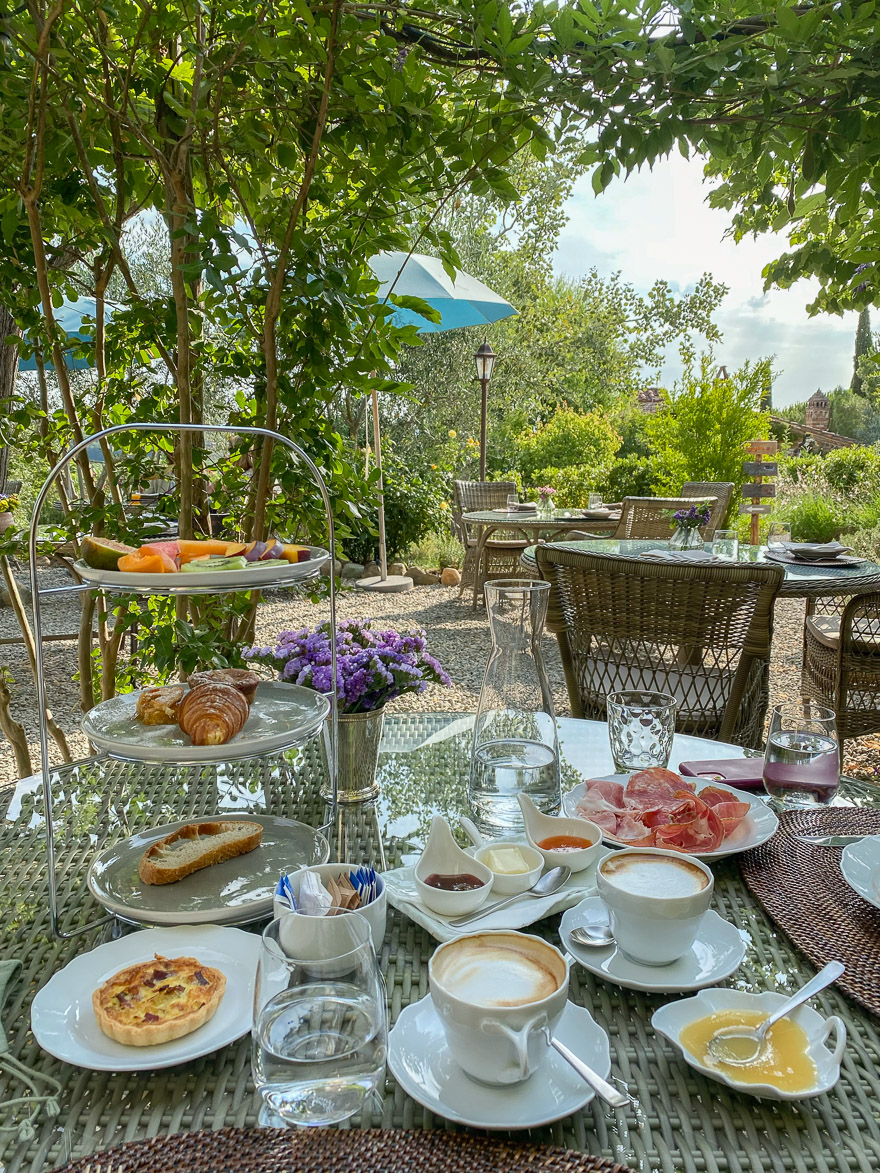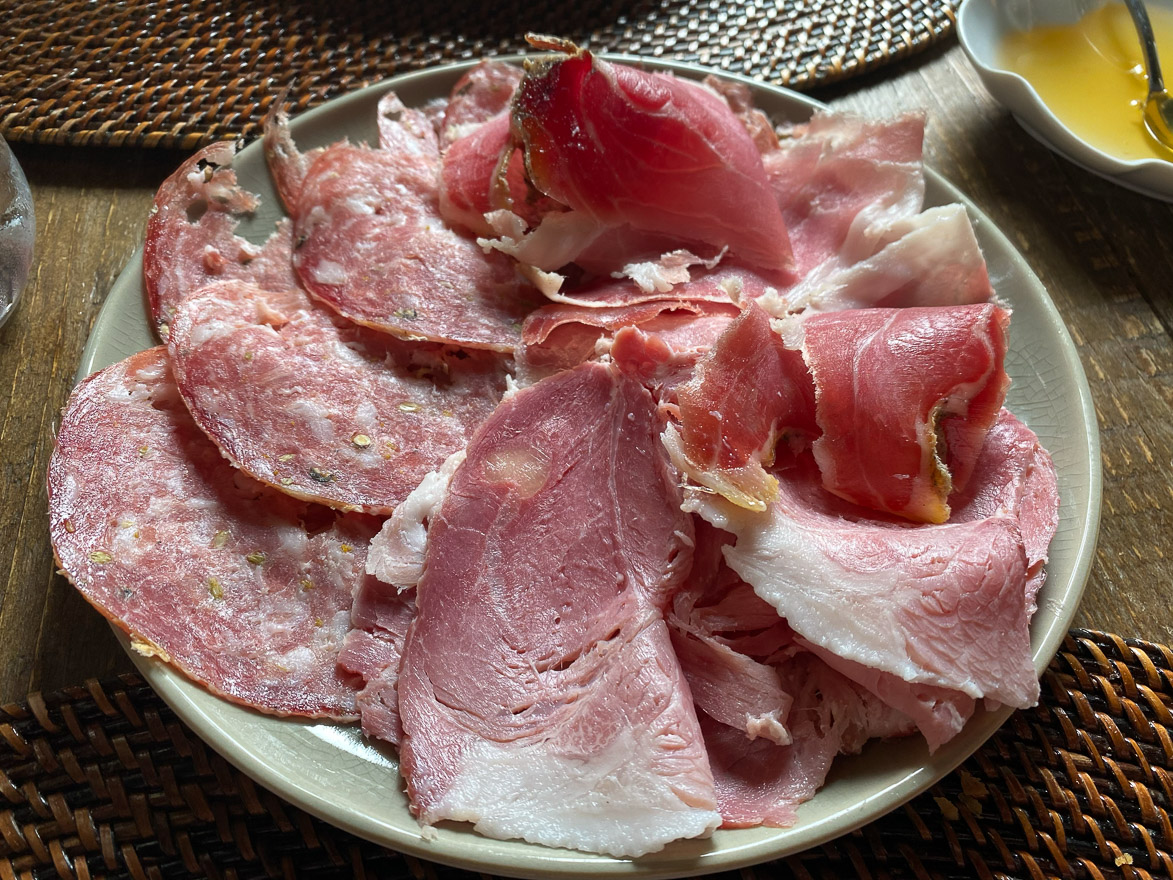 Lunch
Lunch was a far less formal affair than the other meals and most days we didn't bother, given how large breakfast and dinner were. Although tables were set at the restaurant it seemed a shame to miss out on our private view of Montepulciano in the garden.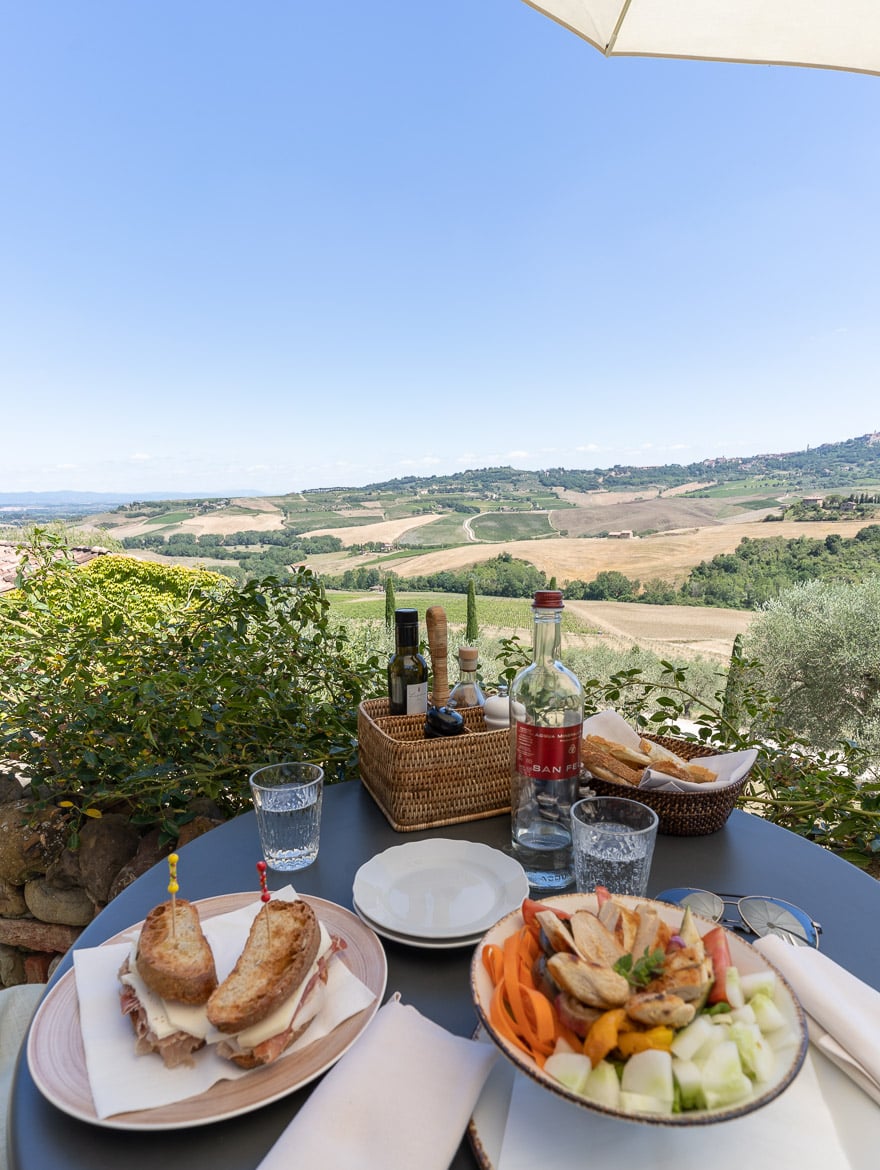 Delivery to the room was handled very efficiently with the food arriving within 20 minutes of ordering. Lunchtime dishes were simple Italian fare but the pasta was cooked to perfection and the kitchen was more than happy to add grilled chicken to their salads despite it not being on the menu.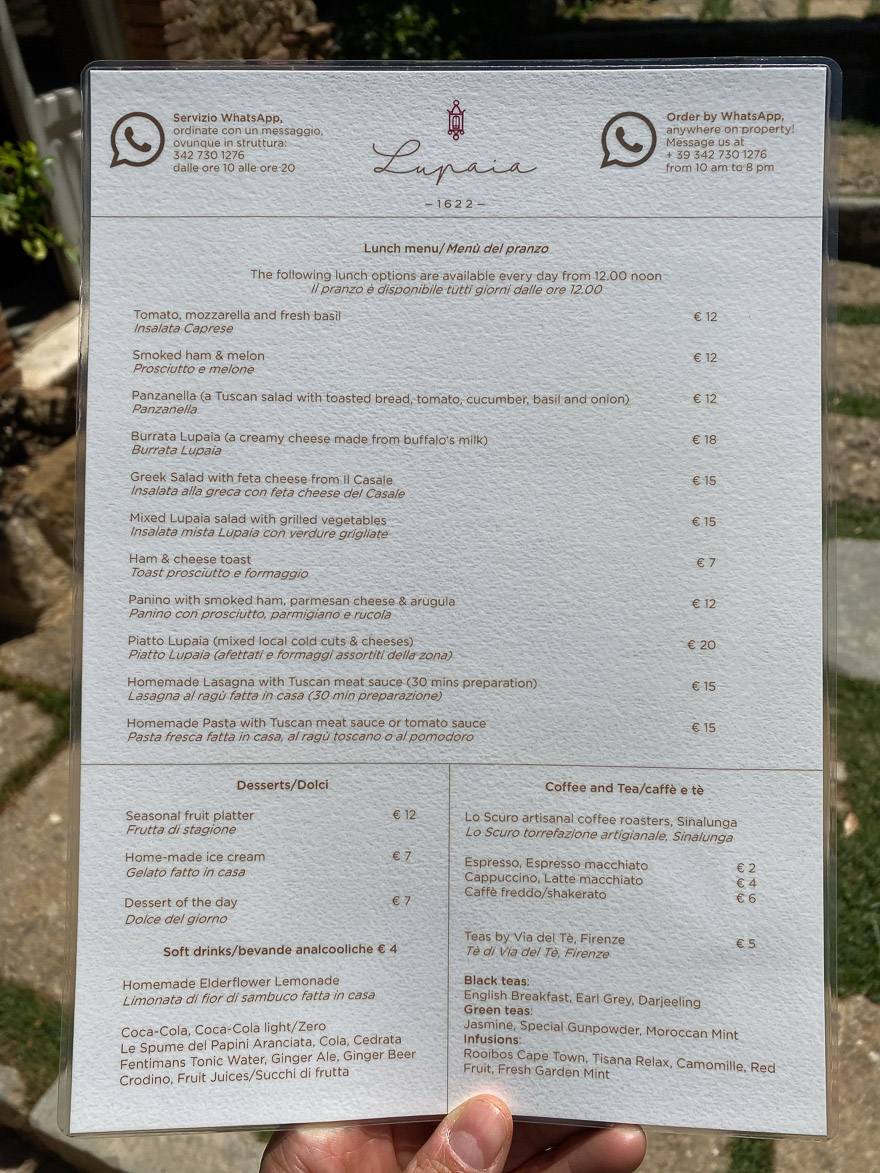 Dinner
Every morning a chalkboard was placed in the dining room indicating what the evening dinner menu would consist of. At Lupaia dinner is a lavish four course affair and it was a true highlight of each of our days.
Dinner was priced at very fair €55 per person for the fixed menu.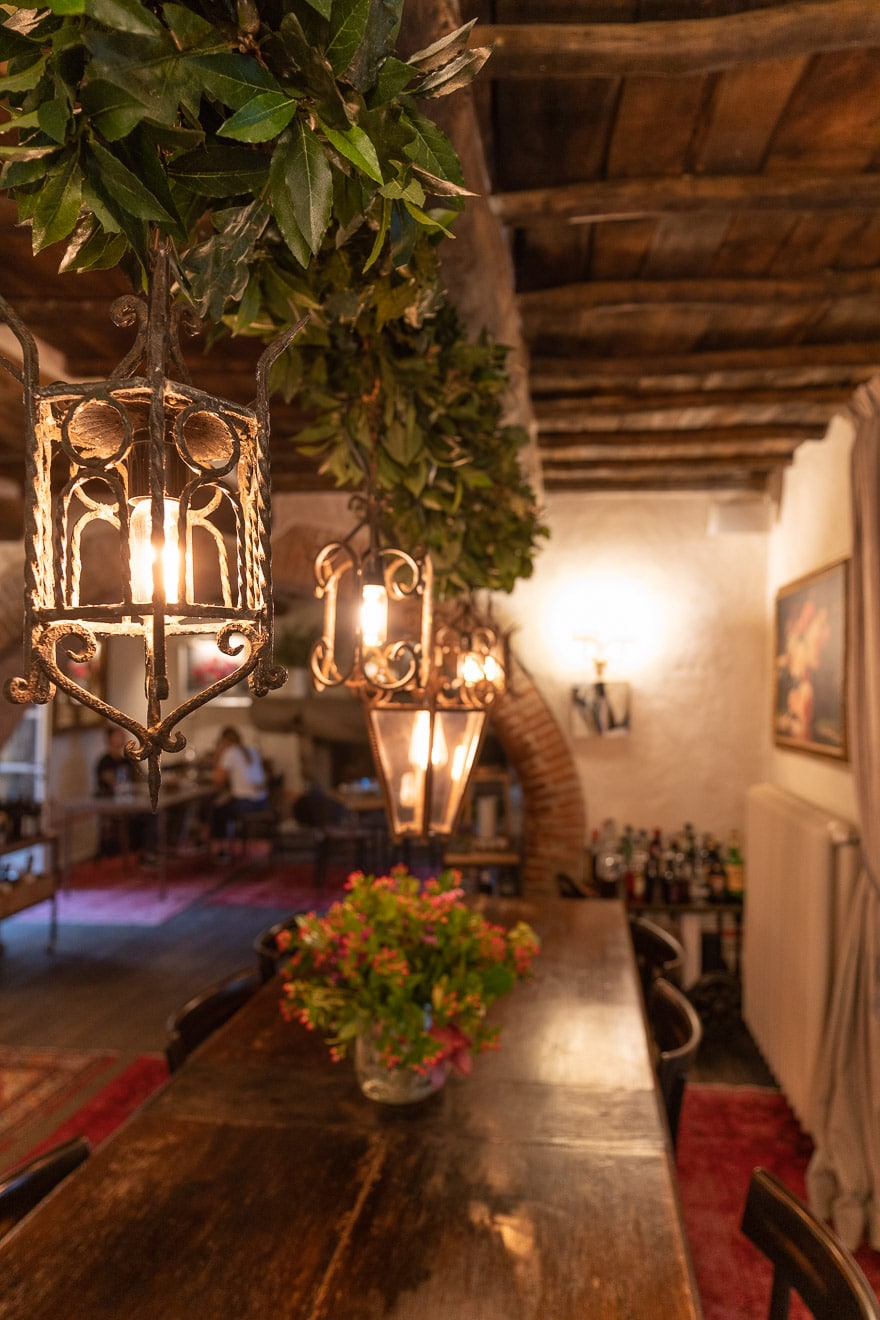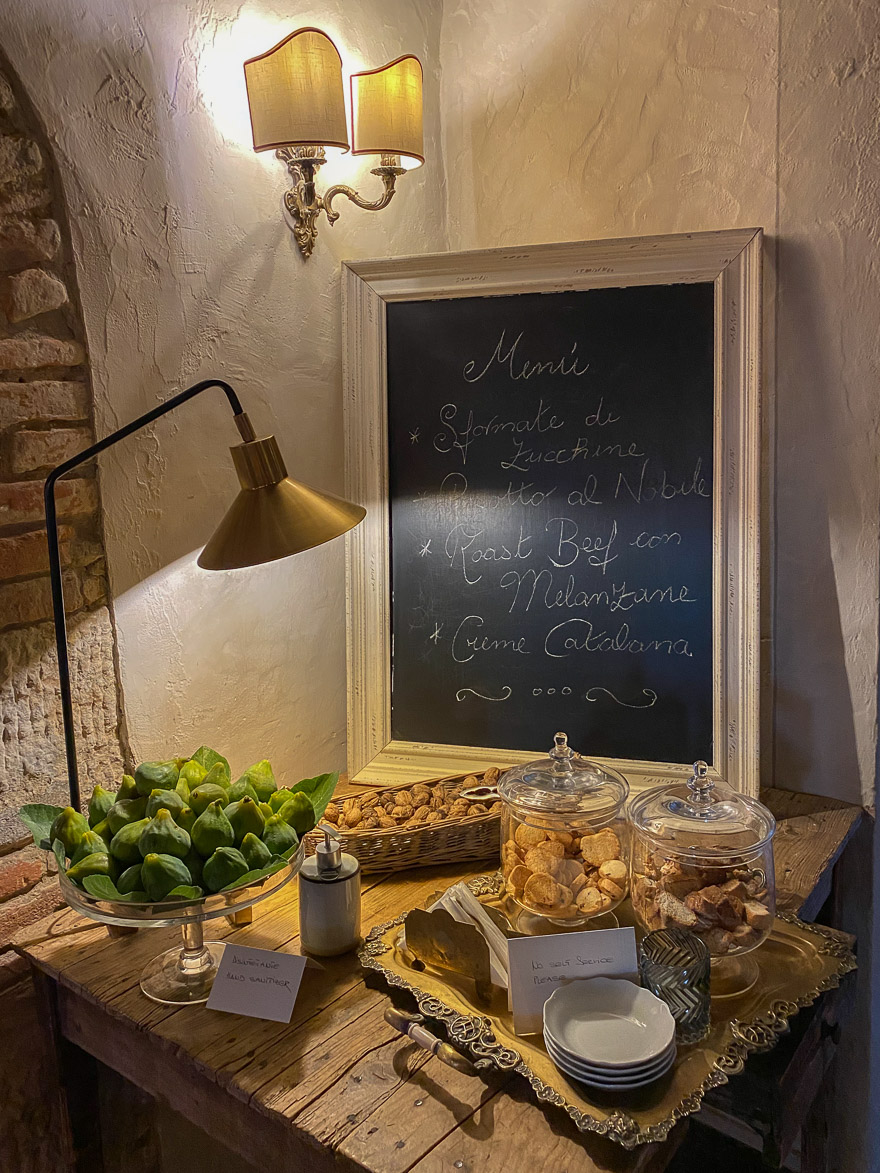 Those that arrived earlier for dinner could enjoy the last hour of sunlight, along with some beautiful sunset colours.
Whilst those that waited until later could enjoy some of the cosier nooks, illuminated with lanterns.
The tables were beautifully set with pressed linen tablecloths, fresh flowers and cordless copper table lamps. Although there is no dress code many guests dressed up in their finest clothes, matching the elegance of the surroundings.
The meal would begin each evening with a selection of freshly baked bread served with Lupaia's own incredible, vividly green olive oil and the chef's amuse bouche.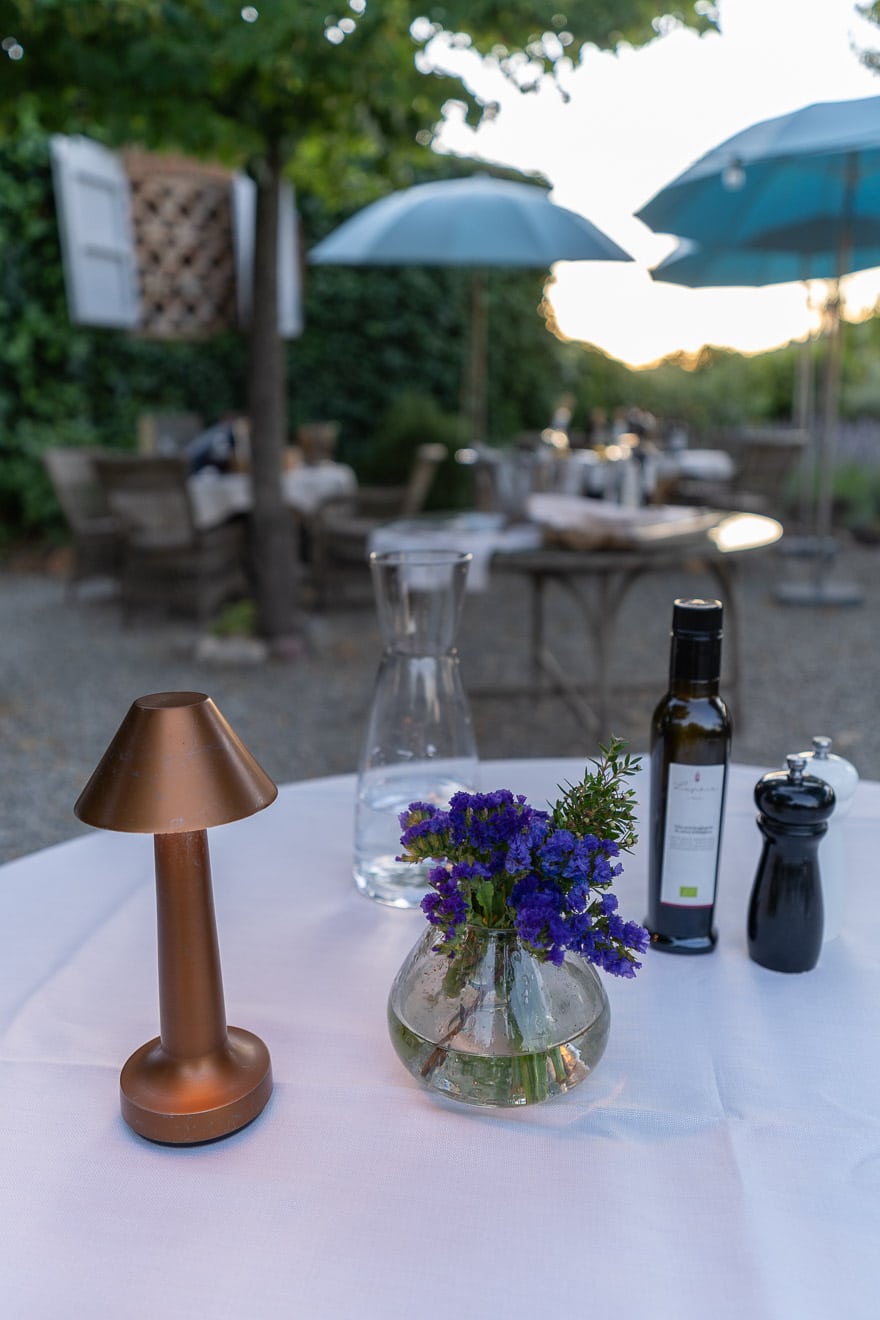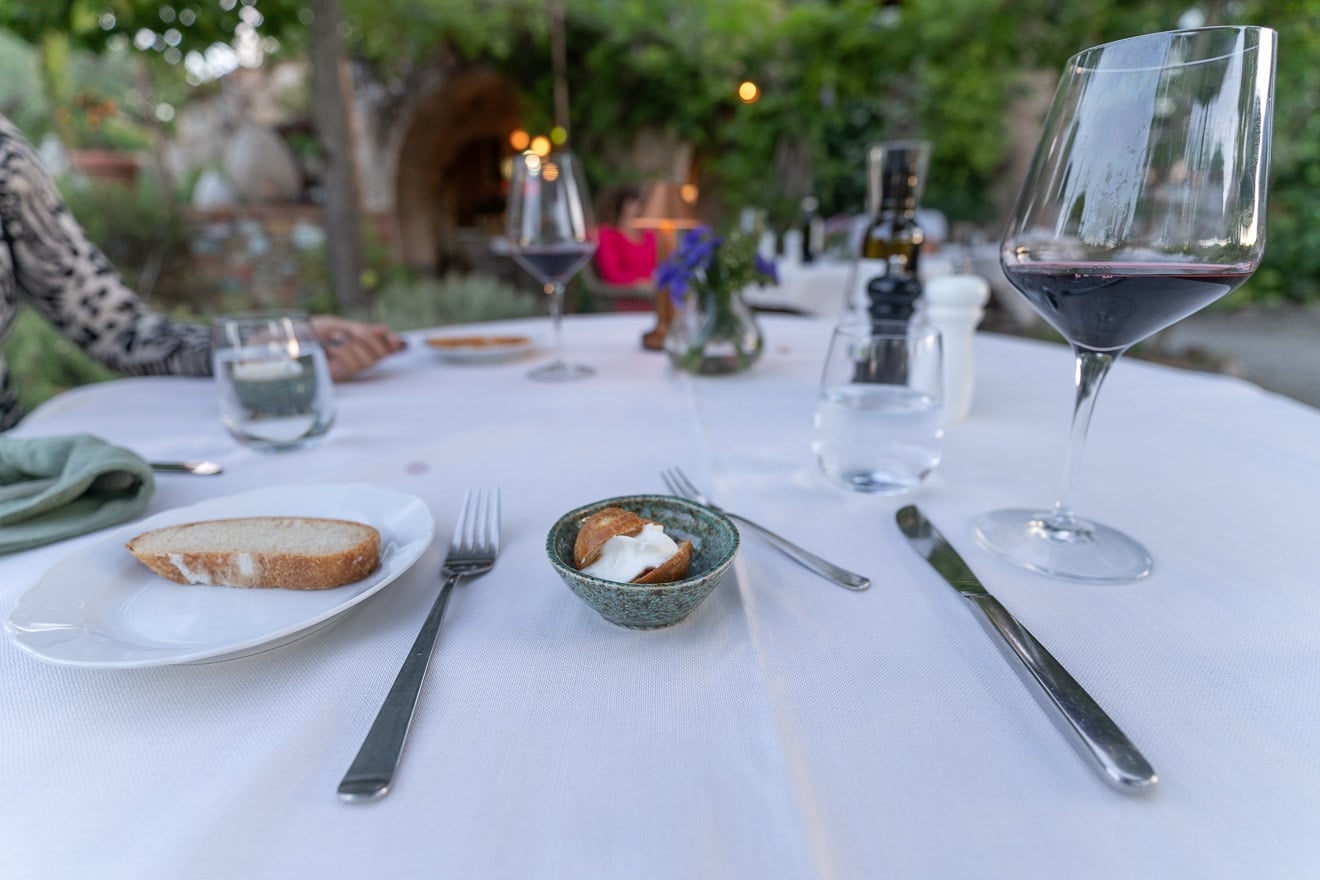 The starters were generally quite light and ranged from an Italian take on a Niçoise salad to my absolute favourite: the deep fried cod with basil and tomato.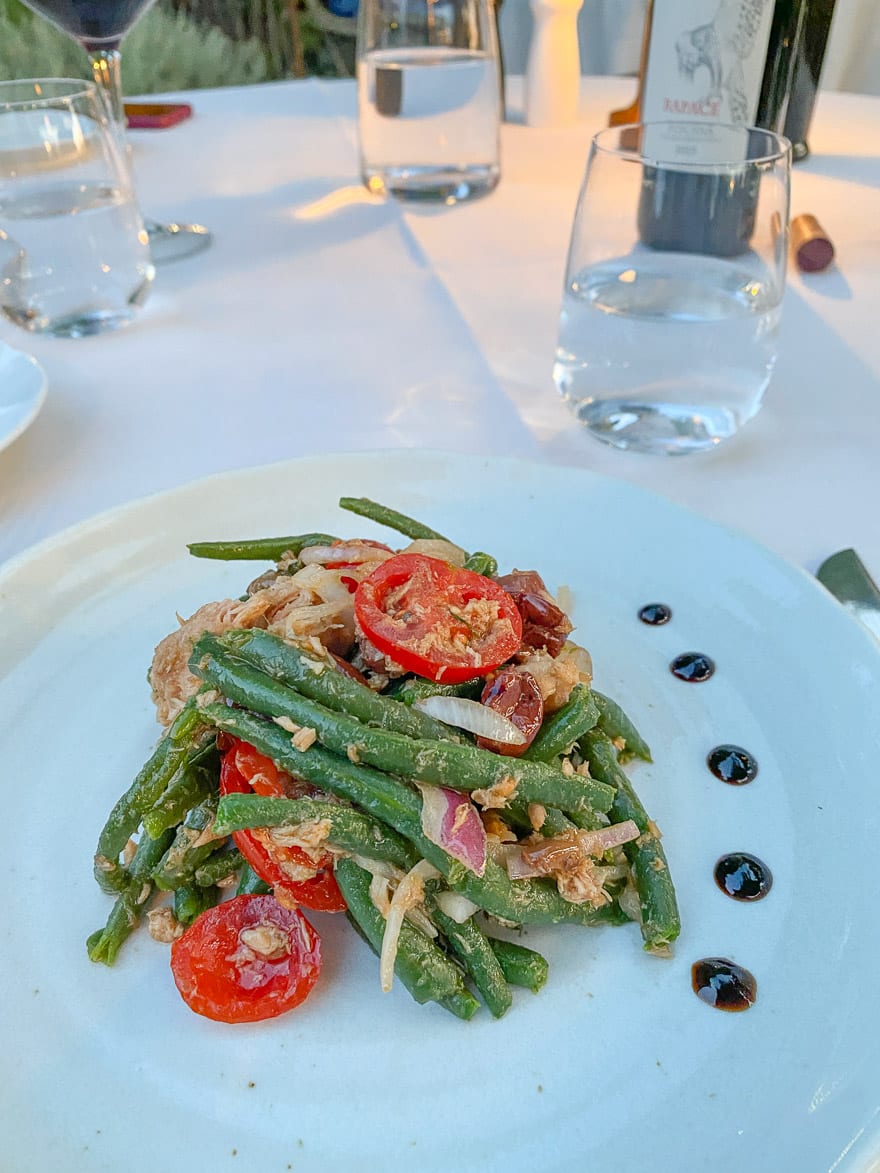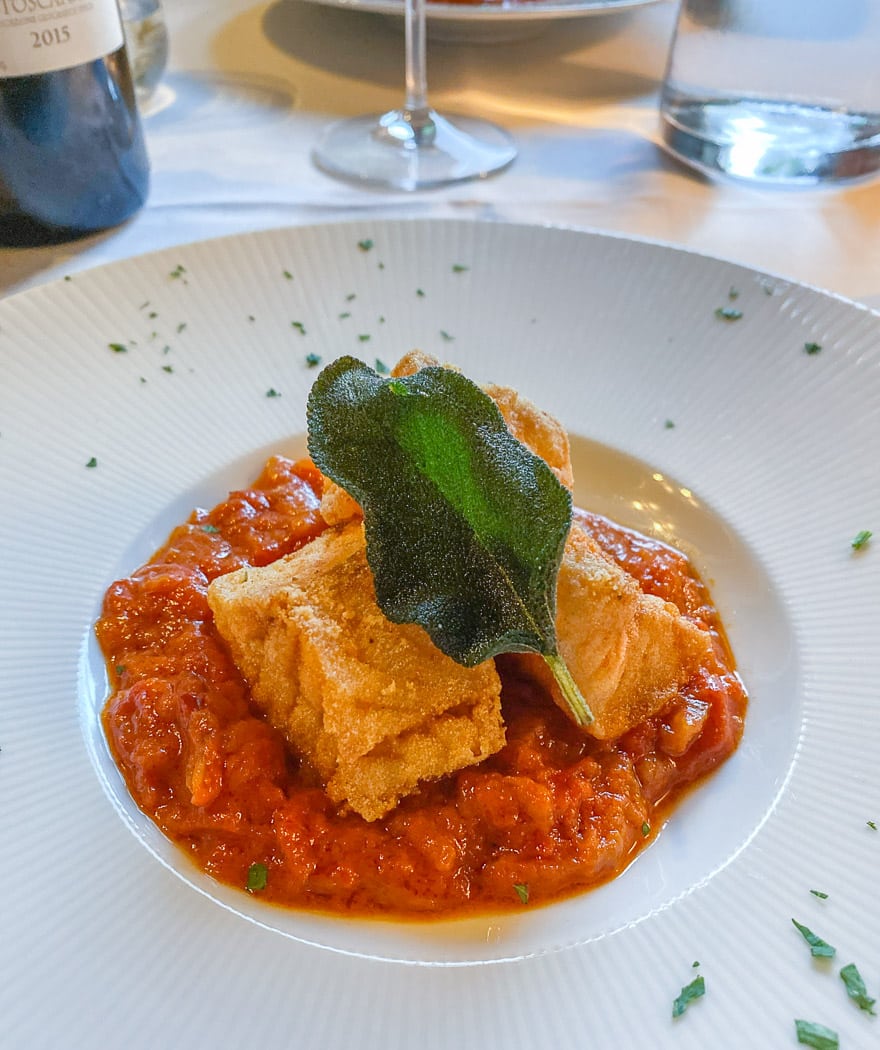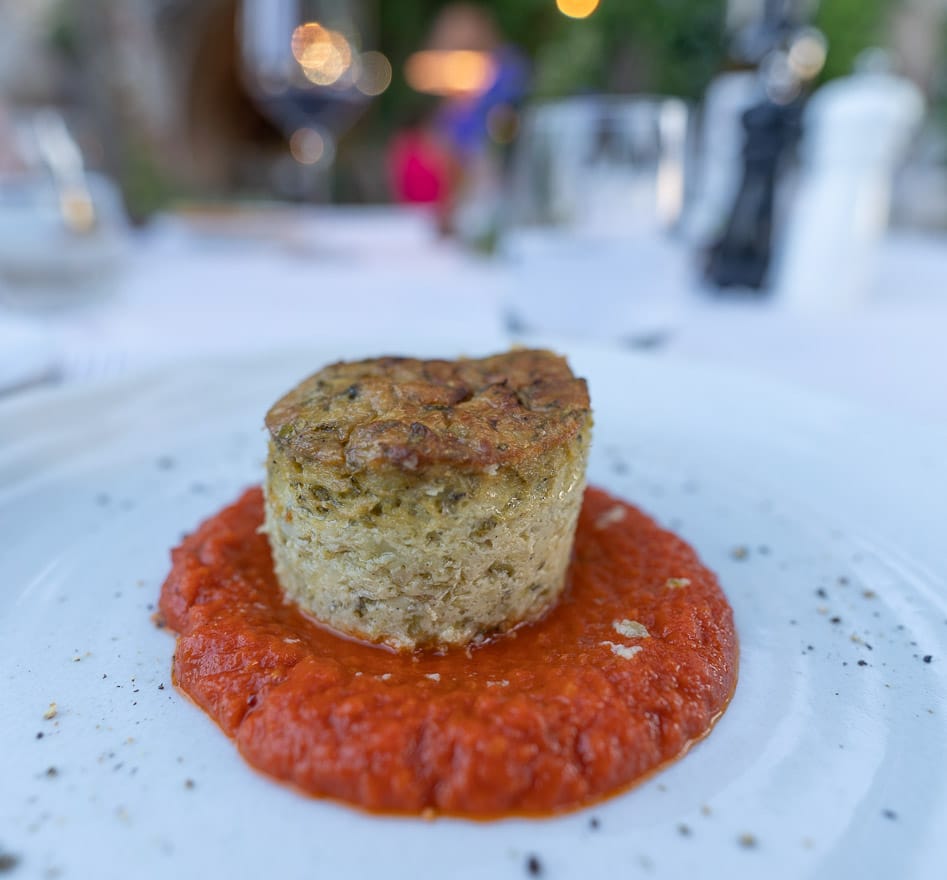 Next came the second course which was either rice or pasta, I don't have a picture of my favourite pasta dish of our stay. The winner was easily the Taglioni with zucchini and pancetta. If a dish is so delicious that I completely forget to photograph it, you know it must be good!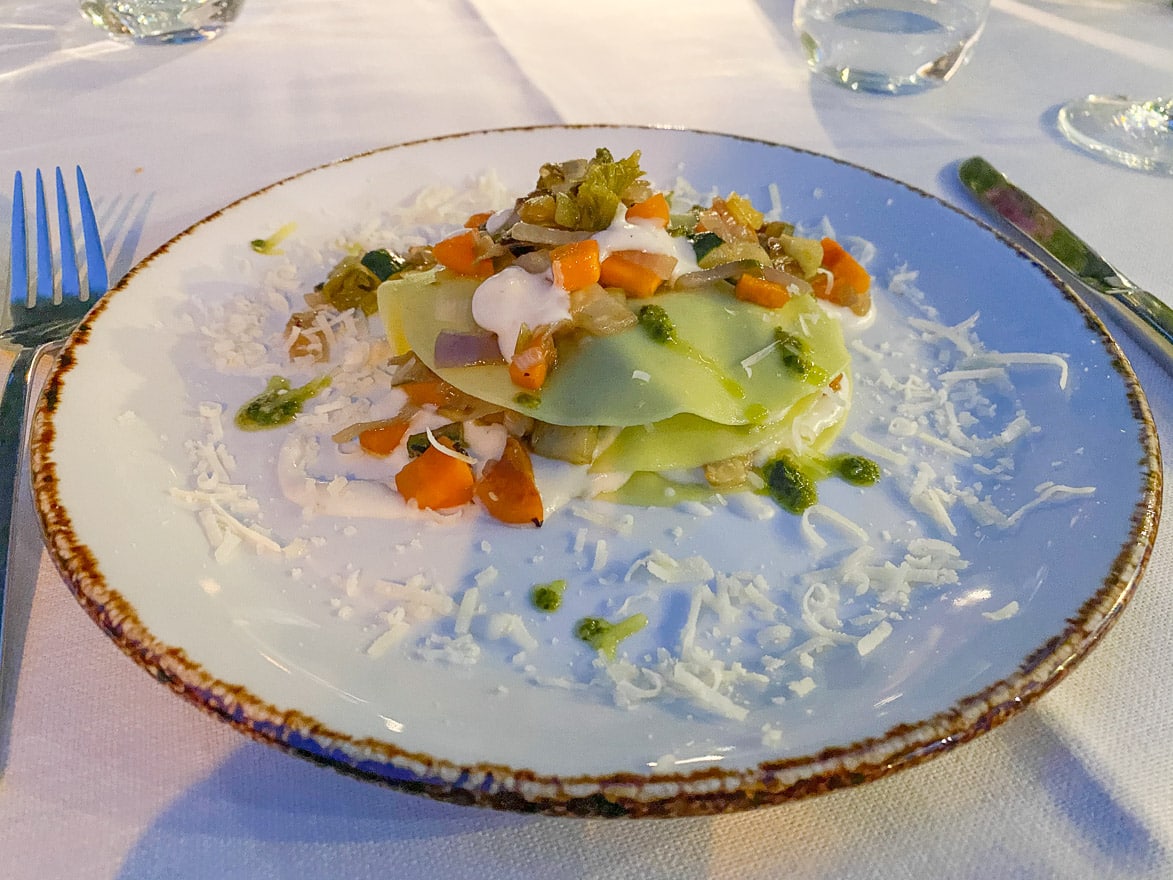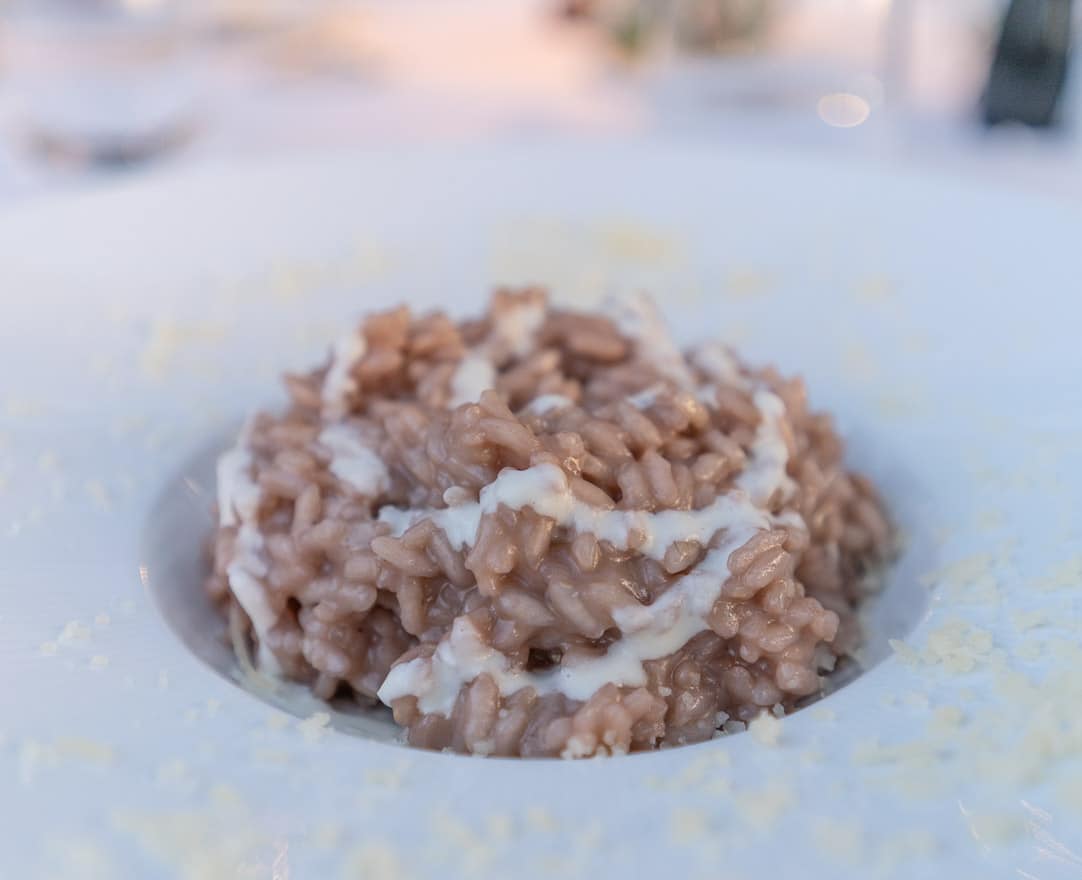 The protein was a little more hit and miss than the other courses with the roast beef and duck breast missing the mark a little. The former because it paled in comparison to the local Bistecca Fiorentina and the latter because it was somewhat overcooked and served with only onion as a side vegetable.
Having said that, we really enjoyed the pork cutlets but felt like the main courses could have been used to showcase the best Tuscan cuisine rather than venturing into international territory.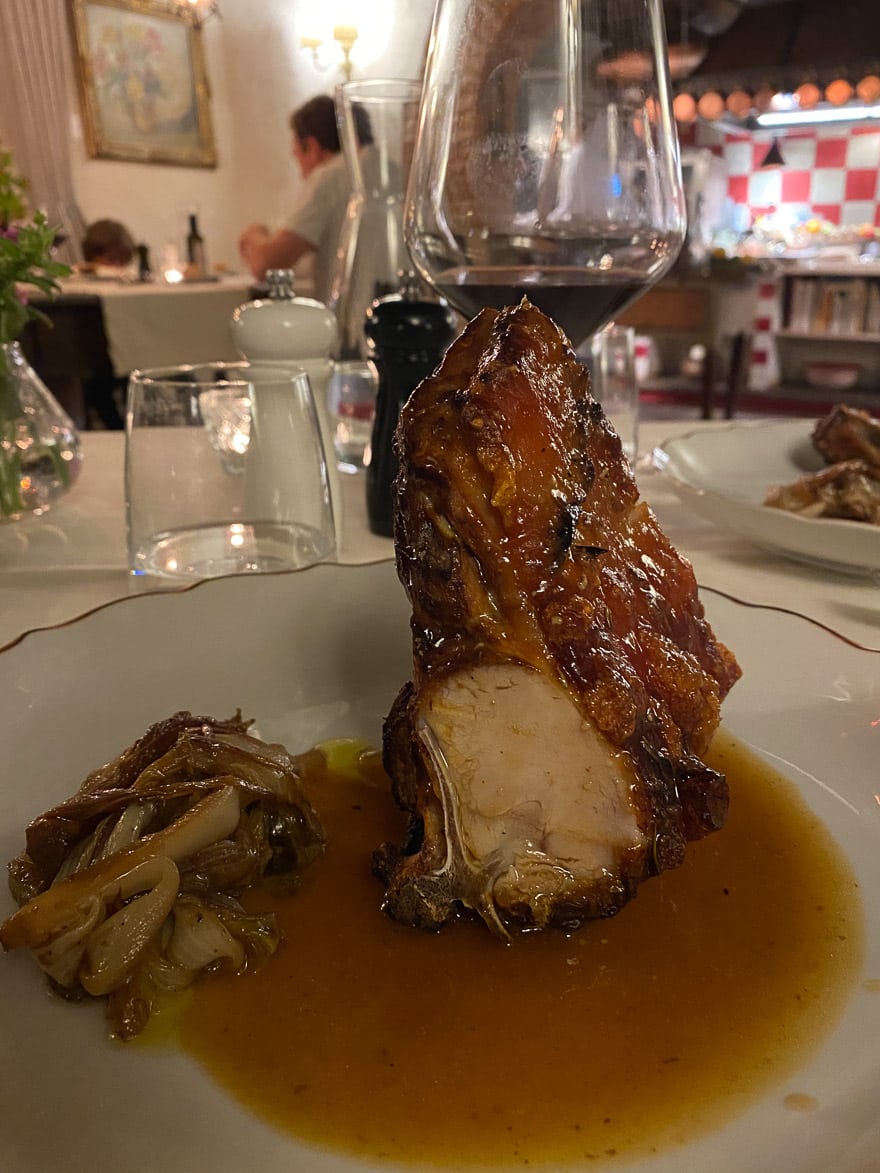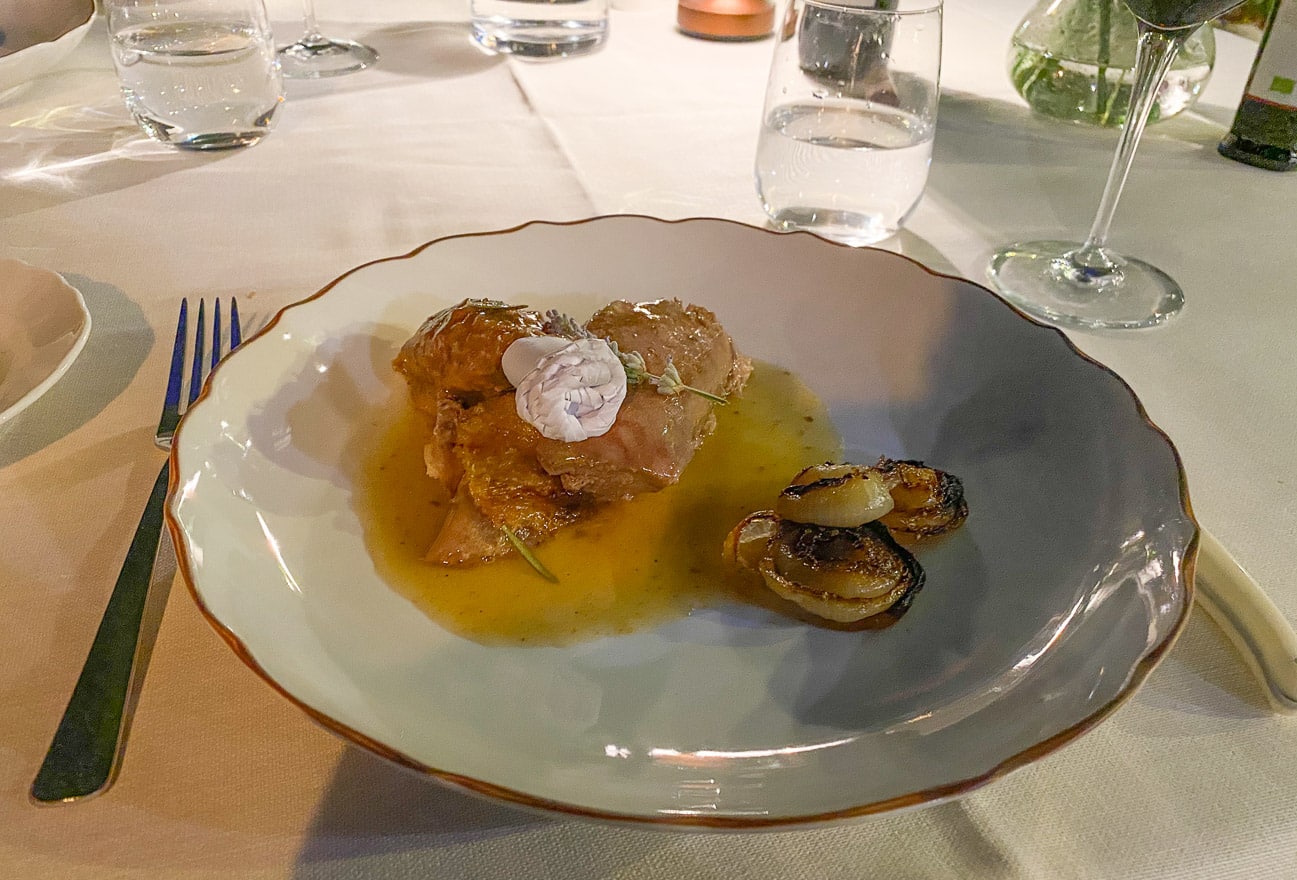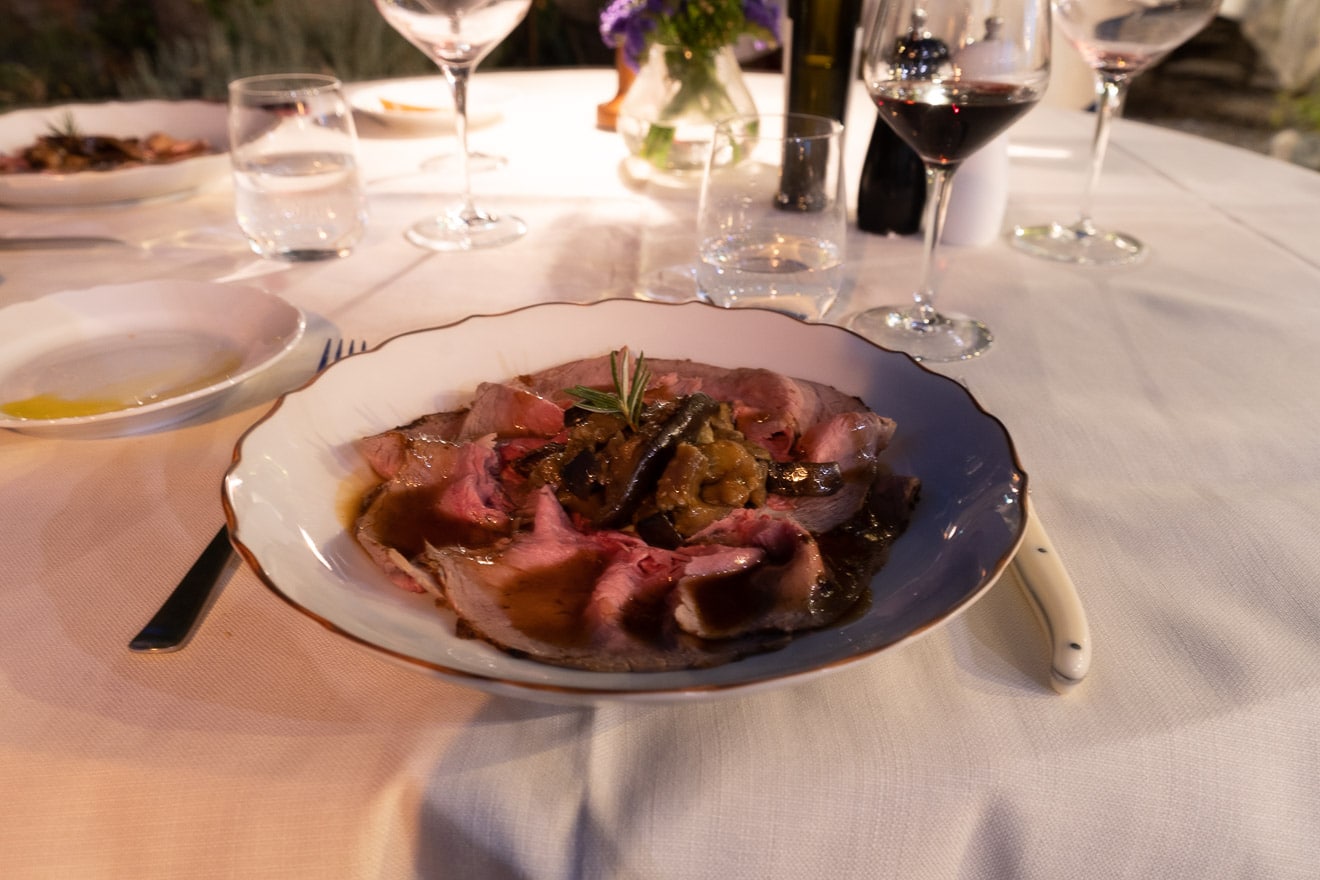 To be honest, most nights we either shared dessert or skipped it entirely but the black forest millefeuille was a thing of true beauty. I'd eat another one of those, no matter how full I was.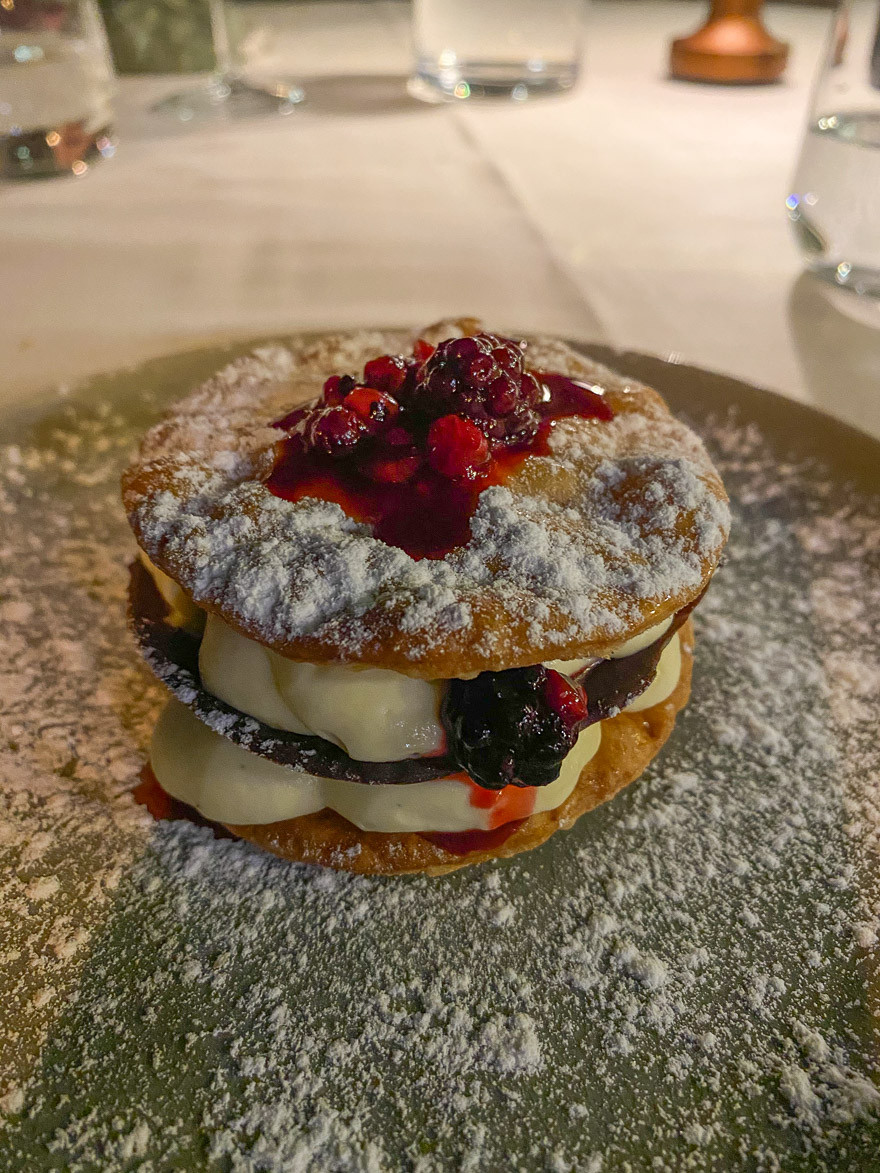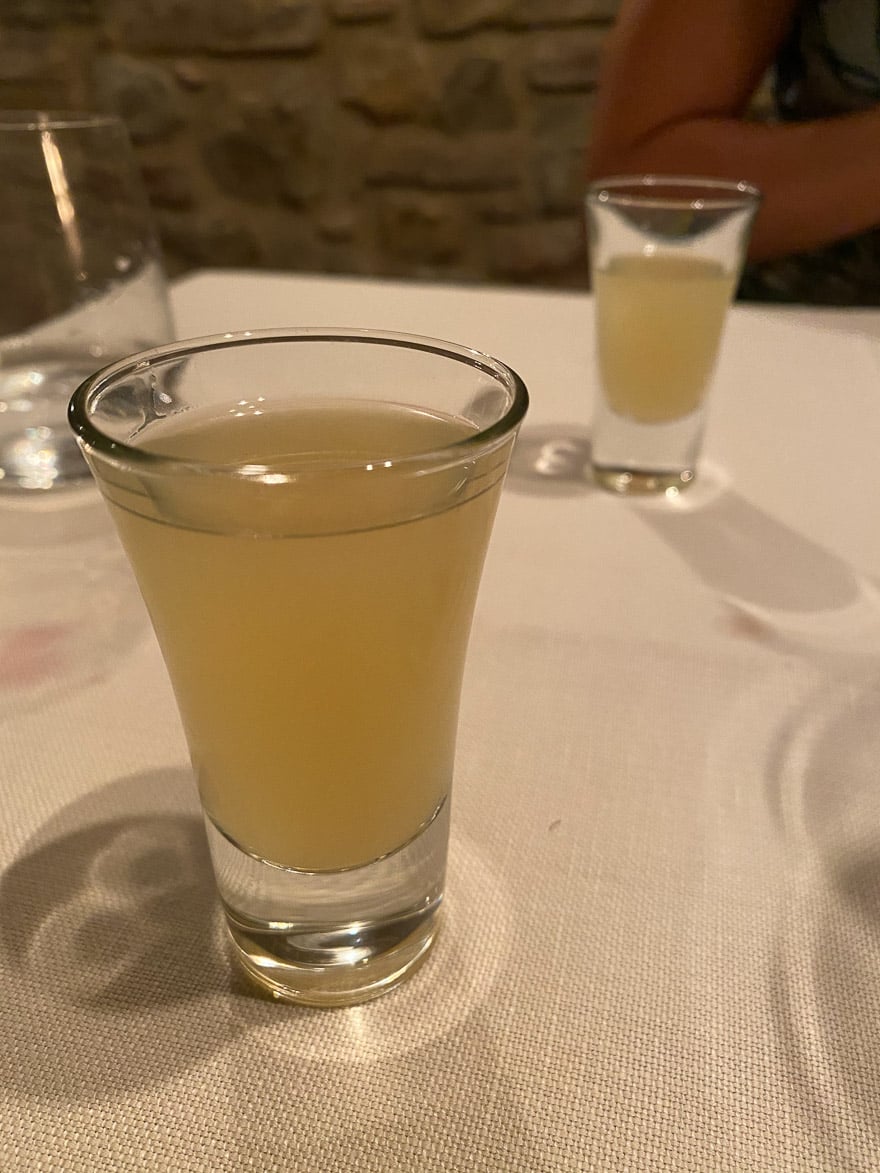 Service throughout the meals was absolutely superb. It really is hard to find fault with the staff at Lupaia. At every stage we felt like we were warmly taken care of by a the perfect combination of different personalities. Marco, Francesca and Andrea were all fantastic in their individual way and part of the fun was seeing which one of them would be looking after us at each meal since their styles and personalities were so different yet complementary.
If you ask very nicely Marco will even let you try his homemade Limoncello, a drink that could quite possibly send a rocket to the moon.
In terms of wine I found the variety and pricing to be exceptional, with some rare Super Tuscans costing less than UK retail… if you're fortunate enough to even find them here.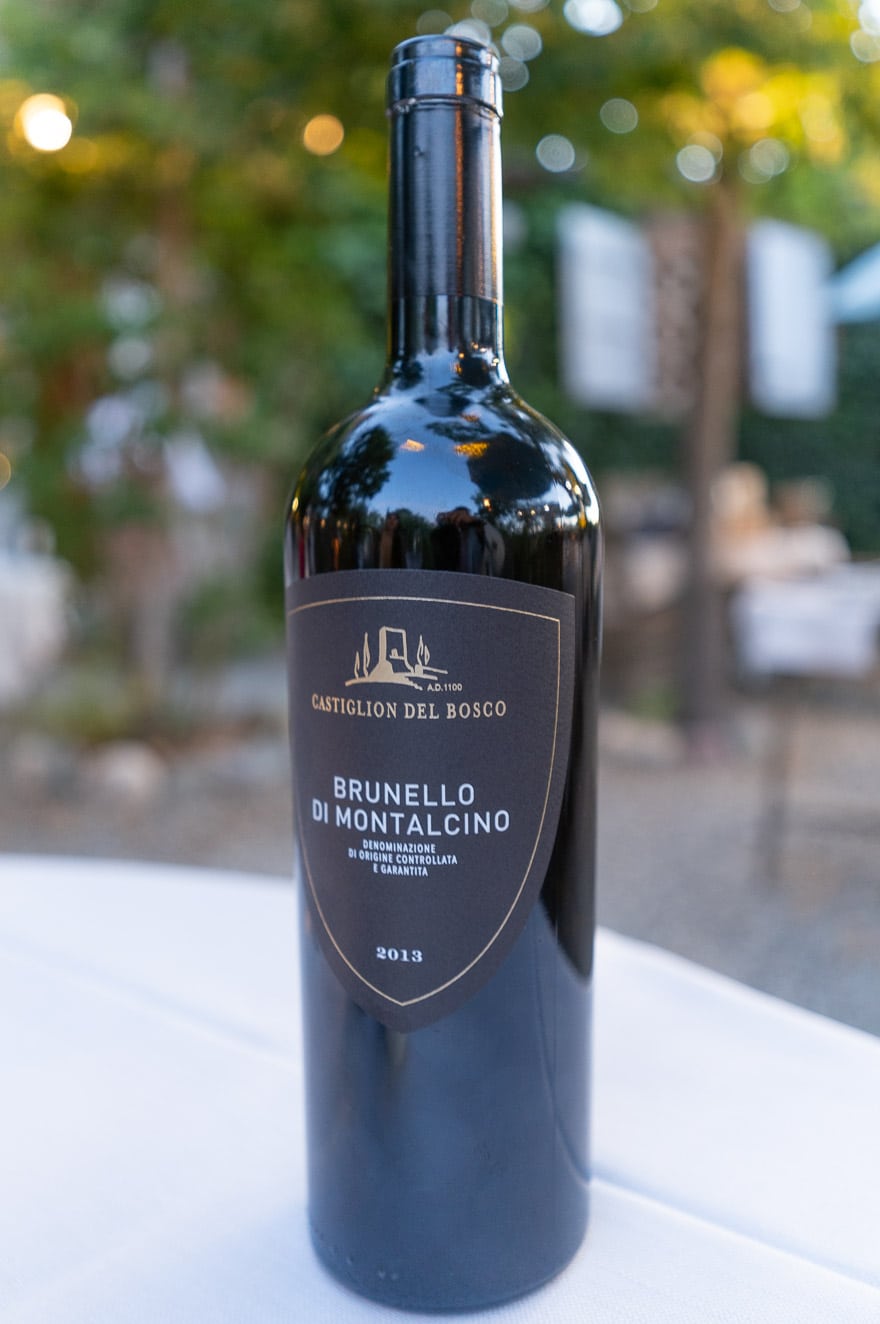 ---
Activities
---
To be honest Tuscany is all about wine, food and relaxation. However there are numerous activities offered by the property including one which particularly caught my eye: truffle hunting.
For €80 per person local truffle broker Pierpaolo will take you onto his land with three of his dogs in search of these rare and prized fungi. Although there are no guarantees, Summer truffles are relatively easy to find and the price includes a pasta lunch, cooked back at Lupaia, with some of the treasure that you uncover on your walk!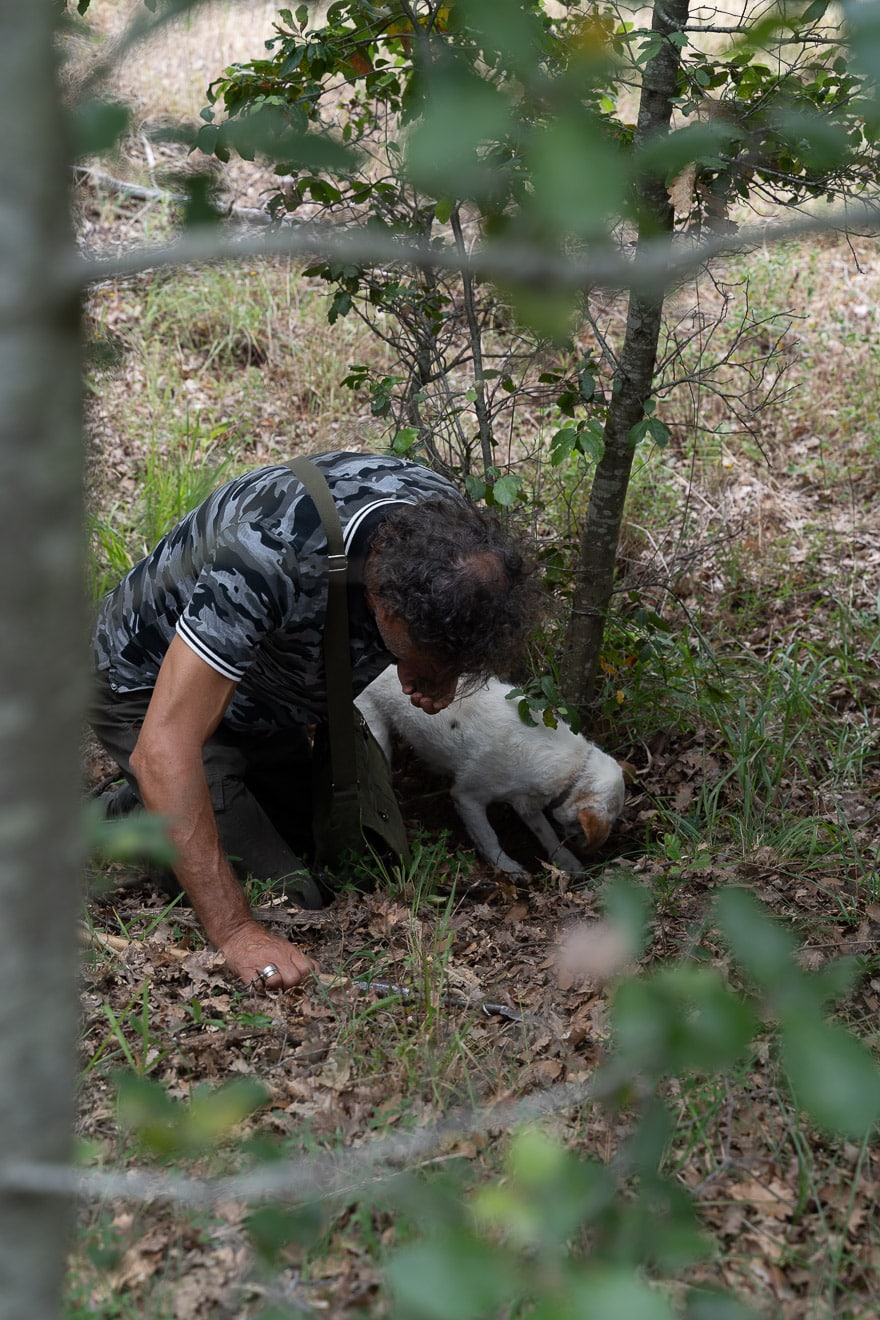 I was honestly shocked at how quickly and consistently we found truffles on our walk. Pierpaolo was very pleased to see us driving a Fiat Panda, just like him, but I can assure you that if our morning was any indication, he could easily afford a Ferrari.
It seemed like every 2-3 minutes the dogs would begin to scratch away at the ground with Pierpaolo helping with the digging. Their reward was a fairly sizable quantity of pecorino and stale bread which seemed like a slightly unfair exchange for the 500g of truffles they found during our hour long stroll.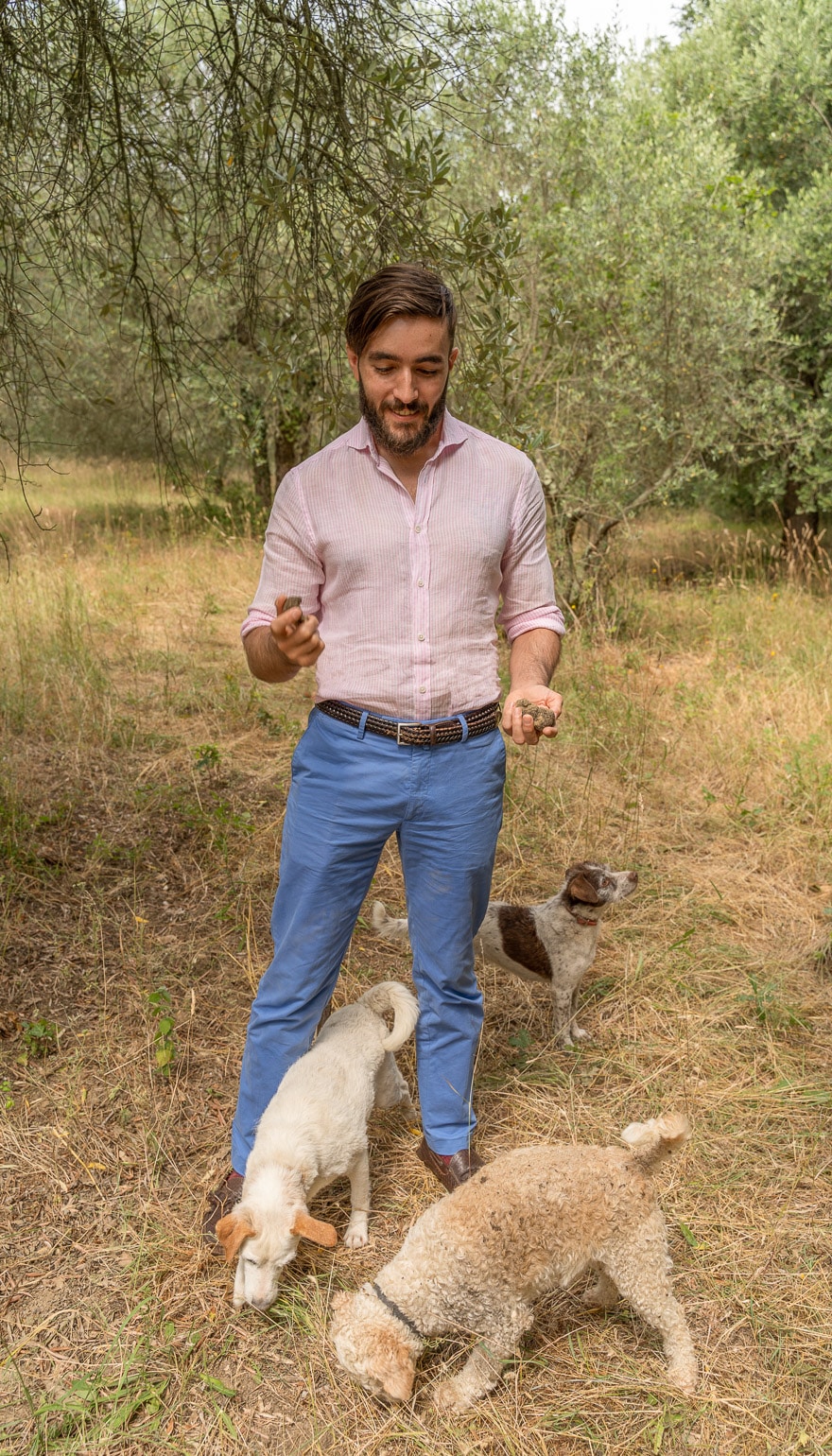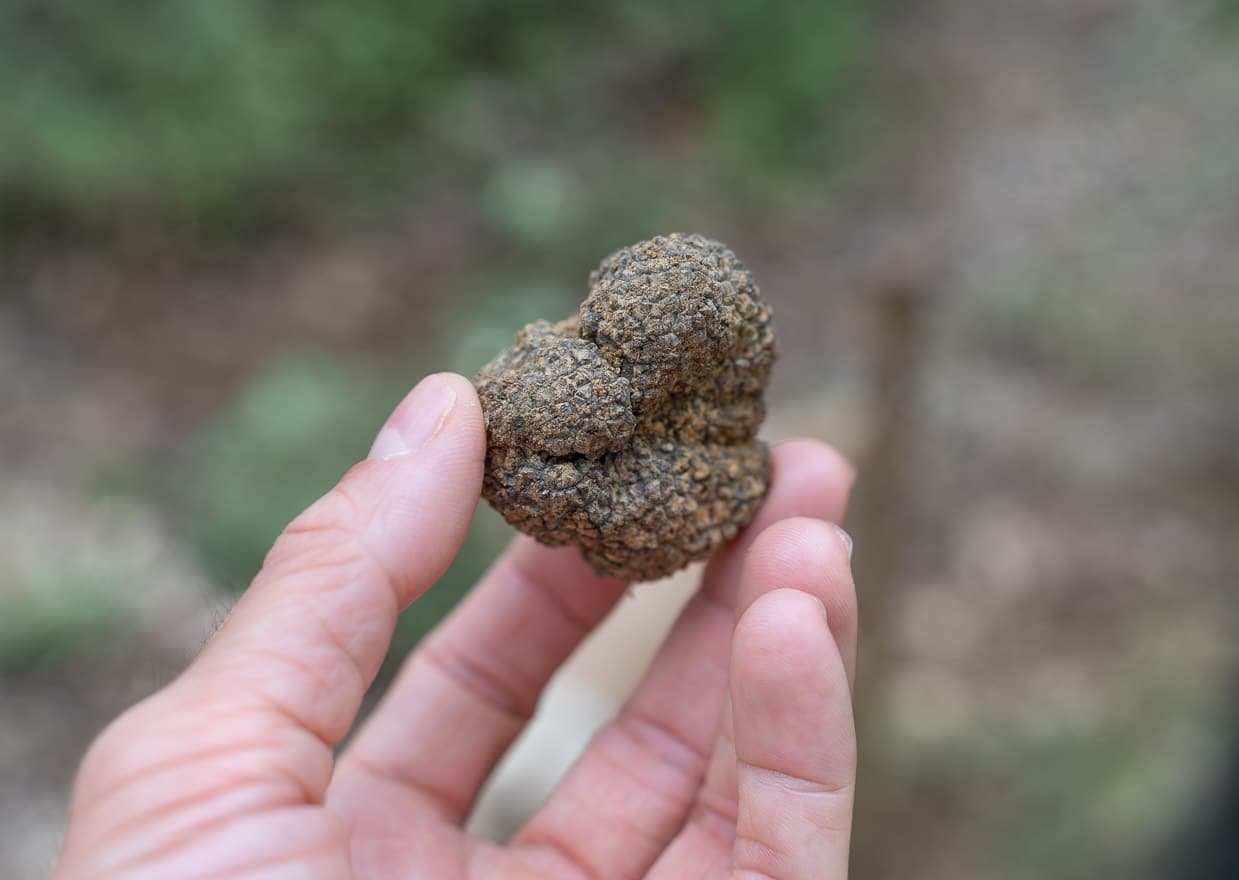 Back at Lupaia the chef prepared us two plates of very fresh pasta. One cacio e pepe (cheese and pepper) and the other plain with olive oil. Both were topped with tremendous quantities of fresh summer truffle with even more left at the table for us to grate ourselves.
This is the only time in my life that I've eaten truffle so fresh that it actually sticks to the shaver and it was incredible.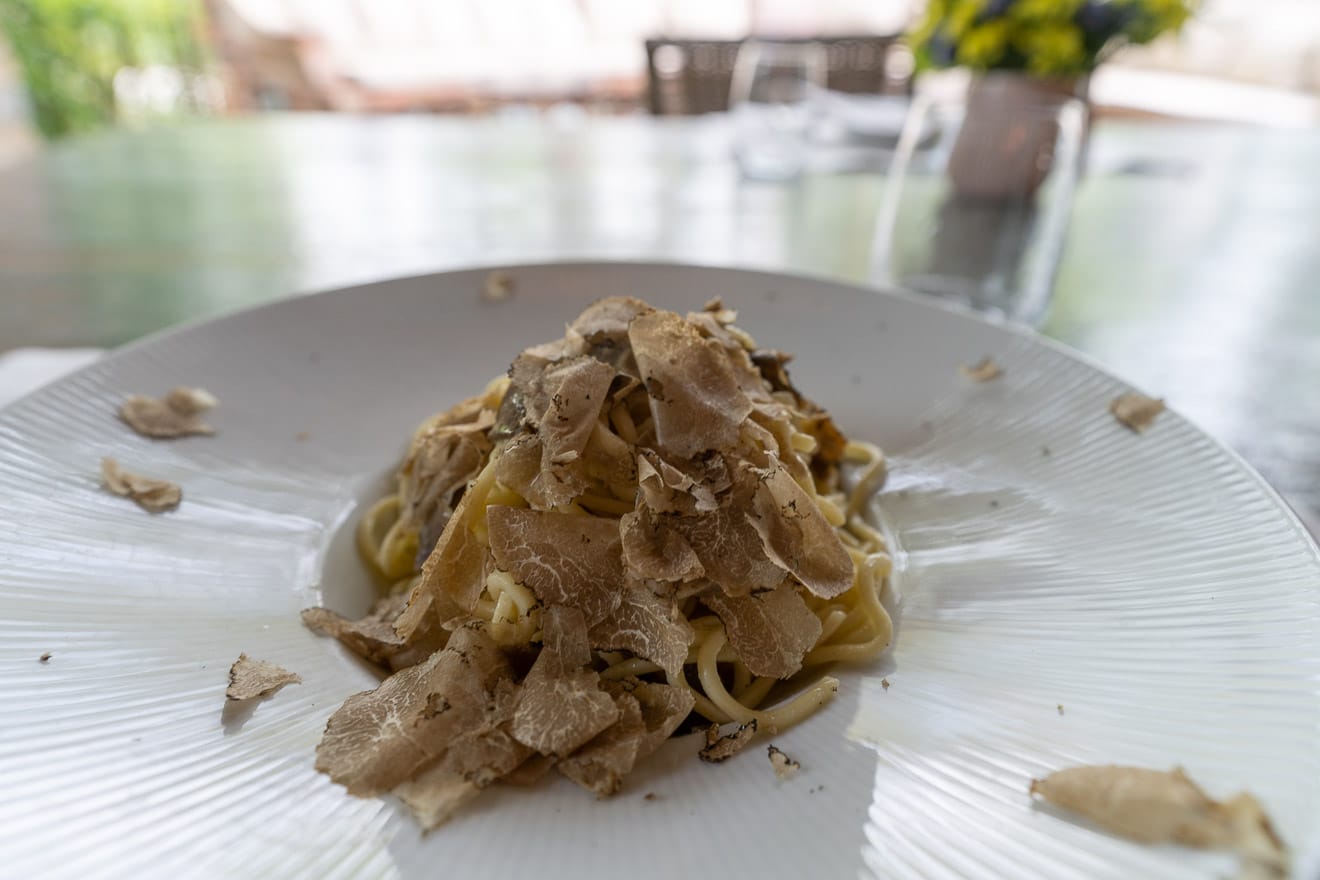 Overall a very fun, worthwhile and delicious experience!
---
Conclusion
---
Basics Checklist
☑︎ Power sockets near the bed
☑︎ Easy to understand light switches
☑︎ Coffee machine
☑︎ Separate shower and bath
☑︎ Blackout blinds
X Stable, fast and free Wifi
Our connection struggled a lot given the thick stone walls.
☑︎ Feather pillows
☑︎ Quiet and powerful aircon
This stay exceeded all of my expectations, so much so that on our first morning, after having one of the best sleeps of my life, I decided to cancel our stay at Portrait Firenze. This meant foregoing a visit to one of my favourite cities in the world, in order to extend our stay here to 5 nights.
That's how good Lupaia is.
Honestly my closest point of comparison is to Aman Sveti Stefan, a hotel which has also painstakingly and faithfully restored ancient stone buildings with modern materials. Also feels wonderfully relaxed and private, also has spectacular views and also has exceptional service.
Where Lupaia differs (other than being half the price) is in its even lower room count and even more personal feel. You genuinely get the impression that you're spending time with family here, in a way that is impossible to capture in a larger hotel.
Sure, there are a couple of things that I would personally improve upon – not least of which would be the addition of weights in the gym (those four course dinners really add up after five nights!) but overall this was one of the better hotel stays that I can recall in recent memory and exactly what I would expect of owners who diligently spend time discussing and researching luxury hotels on Flyertalk.
I honestly can't imagine that it gets much better than this if you're looking for a Tuscan countryside hotel. If you're fortunate enough to find availability here don't hesitate, book before it's gone!
---