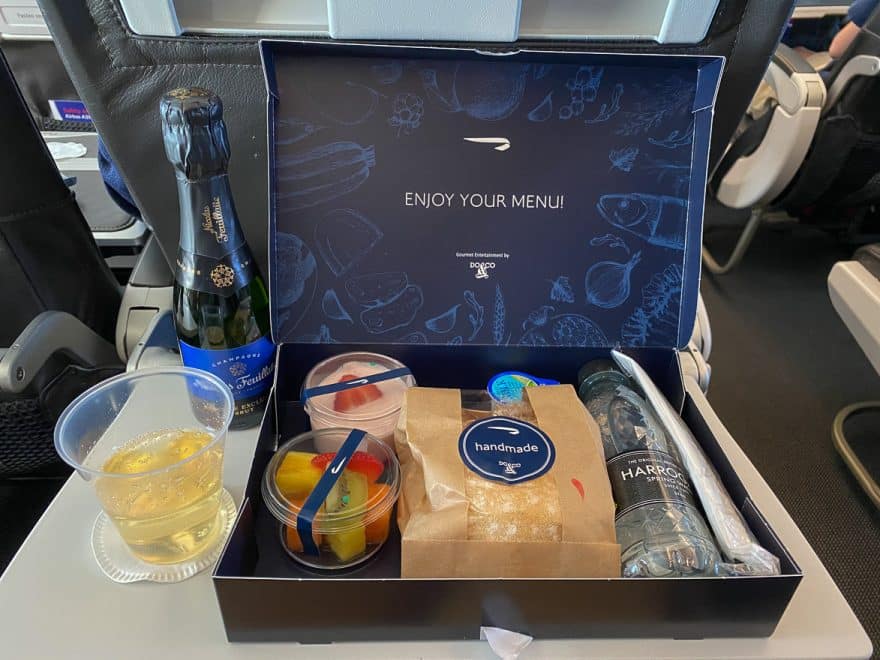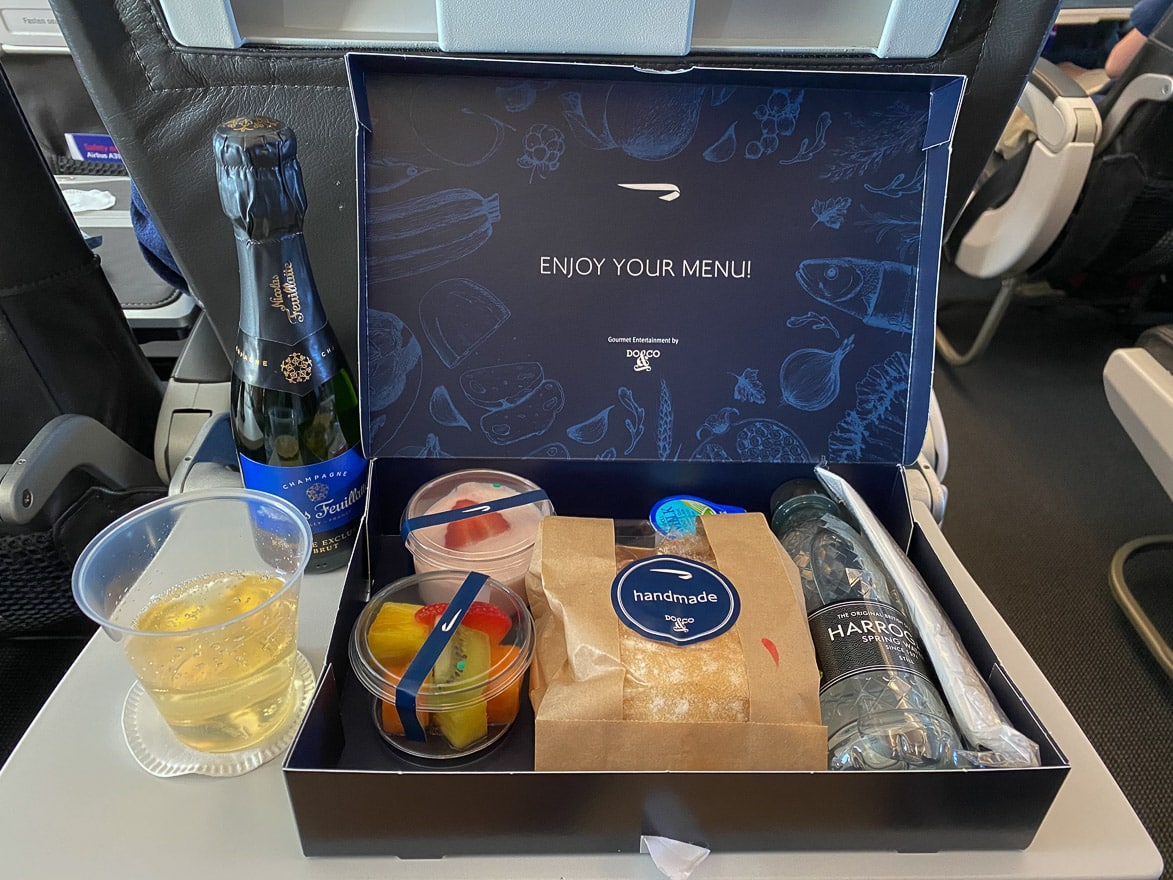 REVIEW – British Airways : Club Europe Business Class – A319 – London (LHR) to Rome (FCO) – [COVID-era]
August 13, 2020
Surprisingly Great Deal: Buy Alaska Miles with up to a 50% discount
August 19, 2020
Rome Cavalieri a Waldorf Astoria Hotel
---
Intro
---
This hotel was much of the reason why I decided to finally leave the confines of my home and head out into the open world after 4 months of lockdown.
The idea of Rome without tourists is obviously massively alluring in and of itself but I've done Italian cities in the summer before and they are scorching hot. You sweat through your clothes before you've even had your first espresso of the morning.
The Cavalieri however is located on a hillside overlooking the city. It is surrounded by extensive, manicured grounds and has a rooftop bar, a 3 Michelin star restaurant and multiple pools. In short it is like a resort, located in a major city. It truly appears to offer the best of both worlds.
The thought of finally being able to set foot in a gym, swim in a pool and walk outside without worrying about the hordes of people near my place in London…that was the appeal. As was the prospect of my first dinner not served in my apartment, in months, taking place in a 3 Michelin star restaurant!
---
Booking
---
Ordinarily, rates at this property are understandably elevated during the summer months but due to COVID I was able to find exceptional pricing online via Classic Travel.
They matched the best available Hilton rate but added:
complimentary upgrade
$100 dining credit
3rd night free
breakfast for two
late checkout
double Hilton Honors points and stay credit
As a Hilton Diamond I already get upgrades, breakfast and late checkout but the $100 credit and 3rd night free were better than anything Hilton could offer directly AND I was earning double stay credit and Hilton points as well! The total cost for 3 nights including all those extras came to €699.
I also had $250 of dining credit to spend courtesy of my US Hilton Amex Aspire card, which I intended to put to very good use at the highest rated restaurant in Rome!
---
Arrival
---
Italy is notorious for its rip-off taxi drivers but thankfully Rome and Milan both have Uber, albeit only Uber Black, provided by licensed drivers. It'll cost you around €50 and take around 25 minutes to reach the property from FCO airport.
As our car pulled into the entrance of the hotel I thought it strange that there were no staff to greet us or help with out bags. There were two lanes created at the door to stop people entering and exiting brushing past each other. Italy has taken to this idea with aplomb. Most restaurants, shops, hotels and even railway carriages now have clearly marked entrances and exits, to cut down on foot traffic.
There was also a touch-free sanitiser station facing in each direction and every member of staff was wearing a mask properly, covering their mouth and nose.
Speaking of staff, there were some porters just inside, who watched us wheel our bags in but didn't bother to welcome us or help with the doors. They just said "check-in?" and gestured towards a counter at the far end of the lobby. Not a great first impression for a luxury hotel.
The lobby itself was very impressive though, featuring acres of polished marble, a halo of bright lights and numerous Renaissance paintings and tapestries.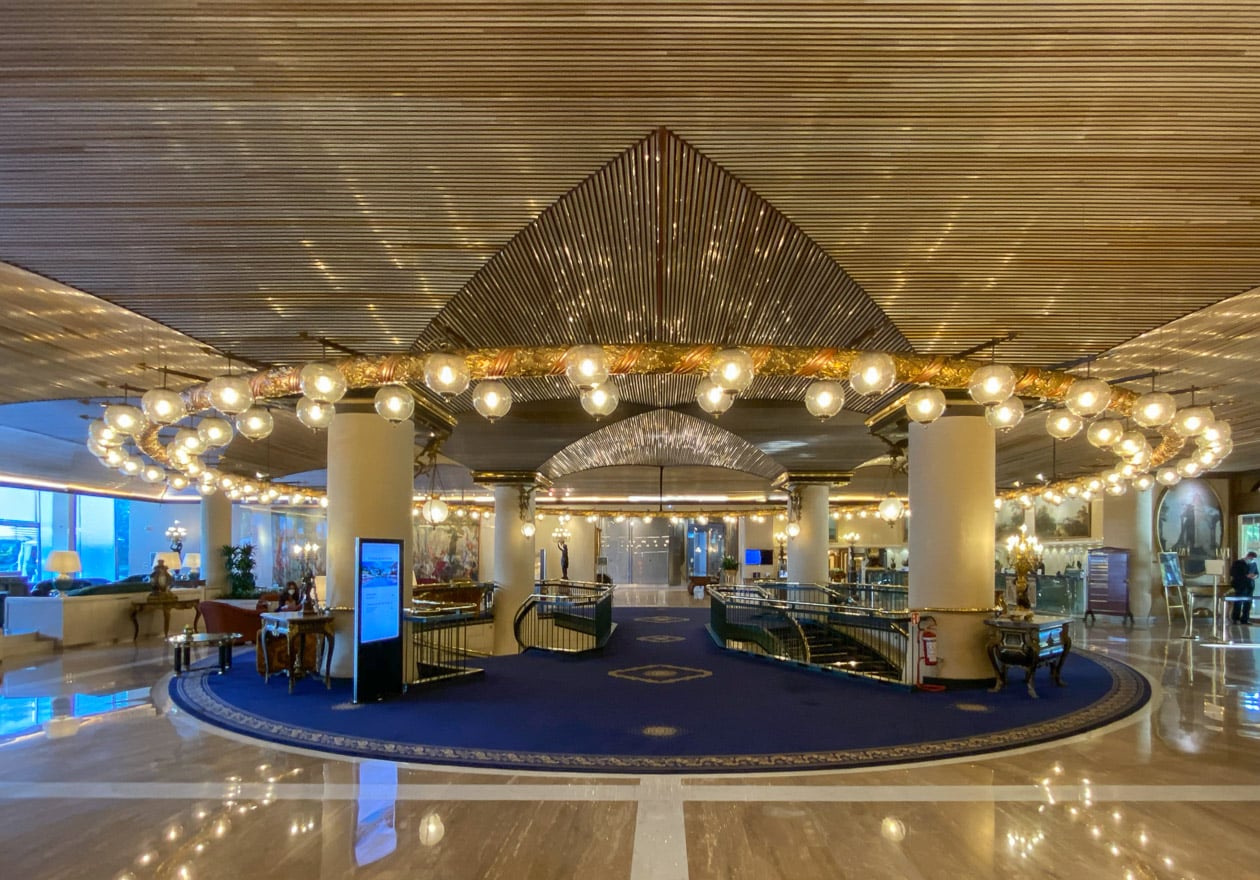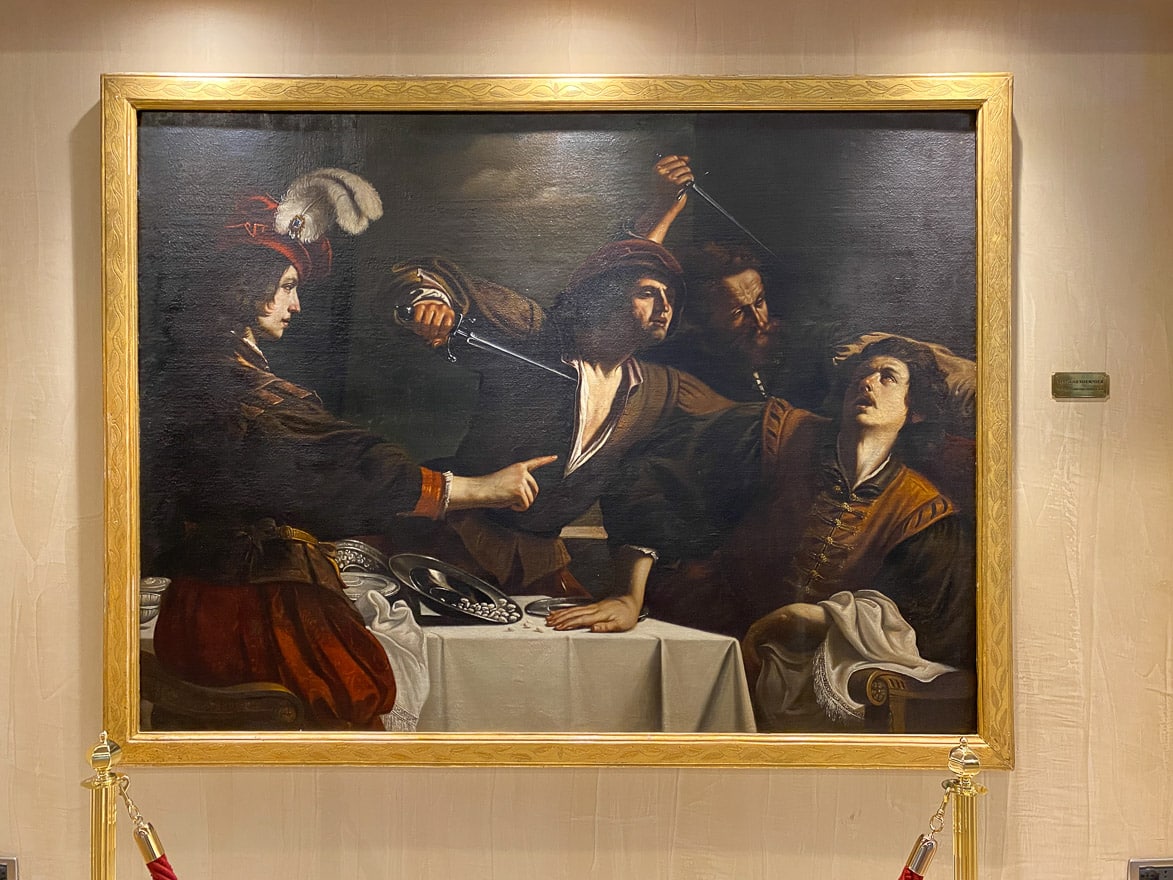 The art collection stretches all the way down one of the wings of the hotel, past all of the large conference rooms. It is genuinely worth dedicating at least half an hour or so to seeing it, especially as so few guests bother and you'll likely have it to yourself.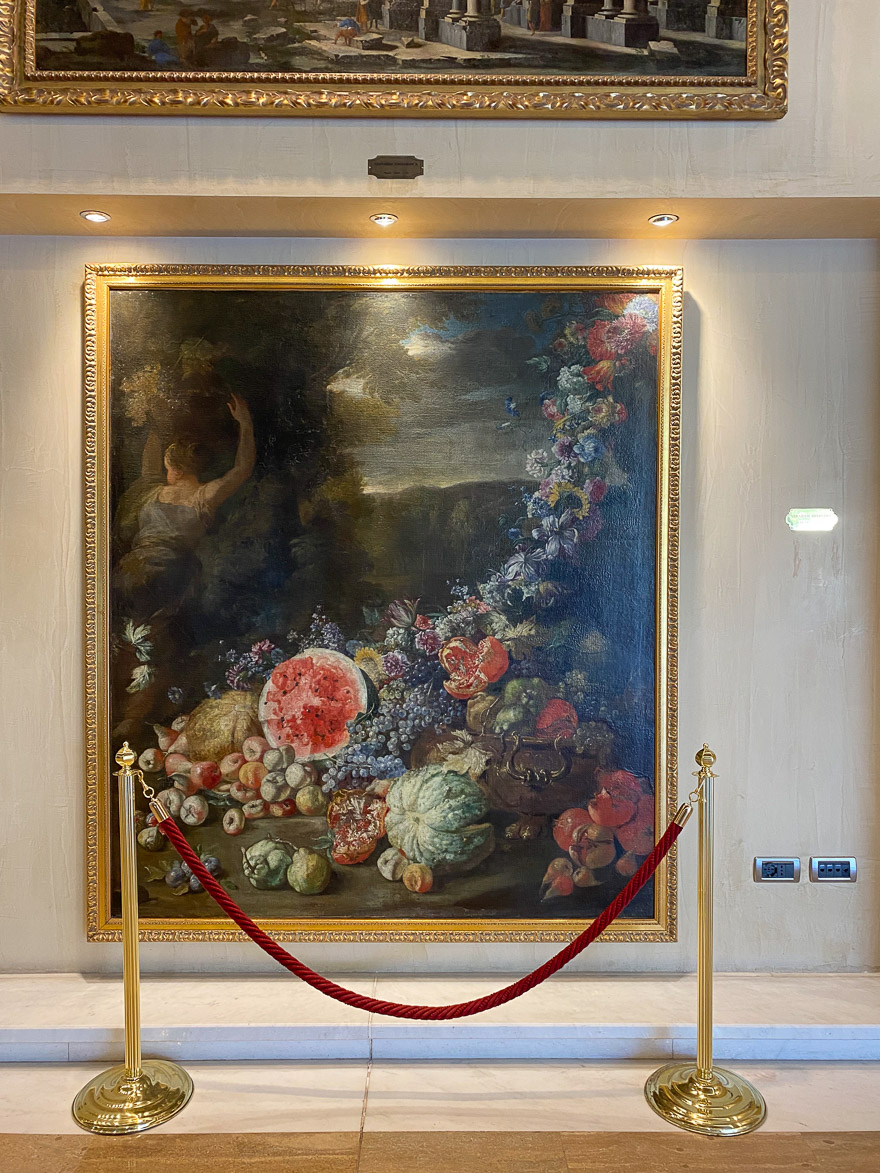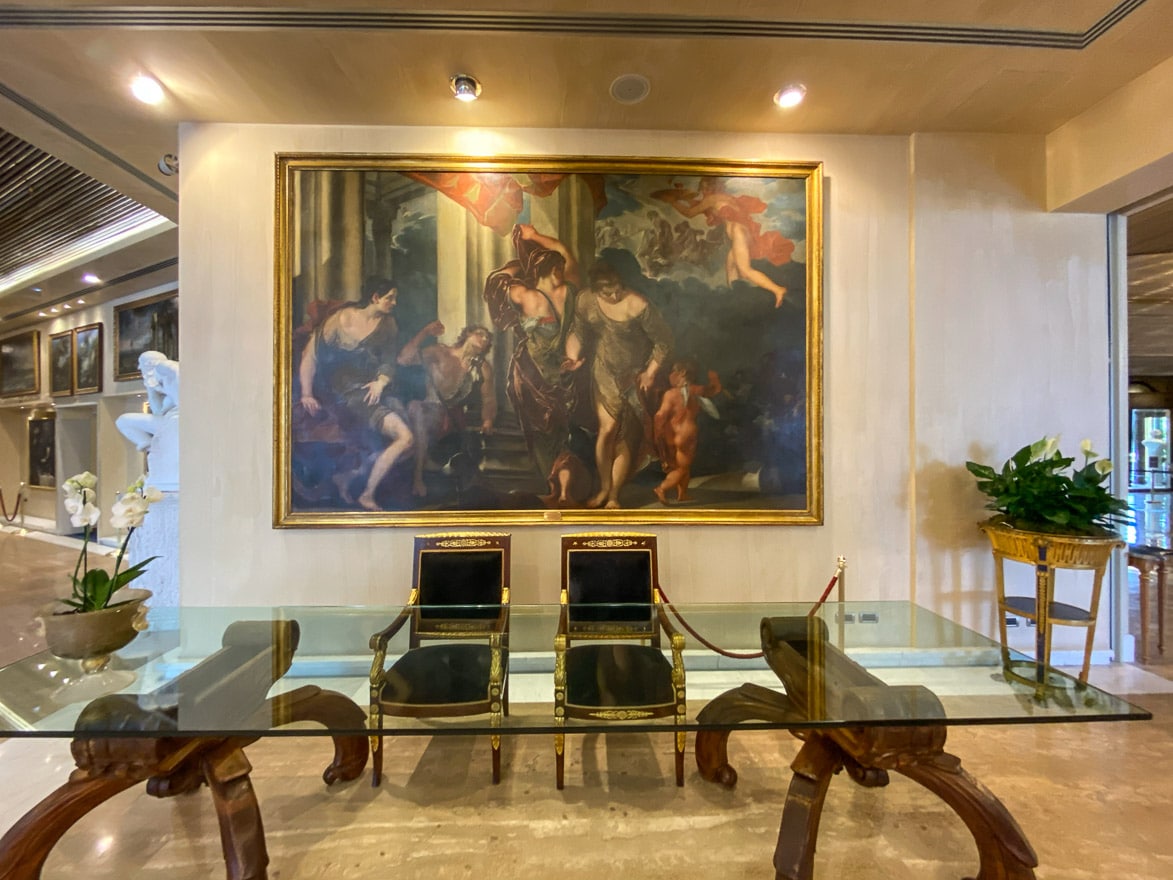 At the check-in counter we were warmly welcomed to the property and advised of the various measures that had been taken to maintain hygiene standards in light of COVID. We were invited to scan a QR code that linked to a detailed description of these cleaning measures.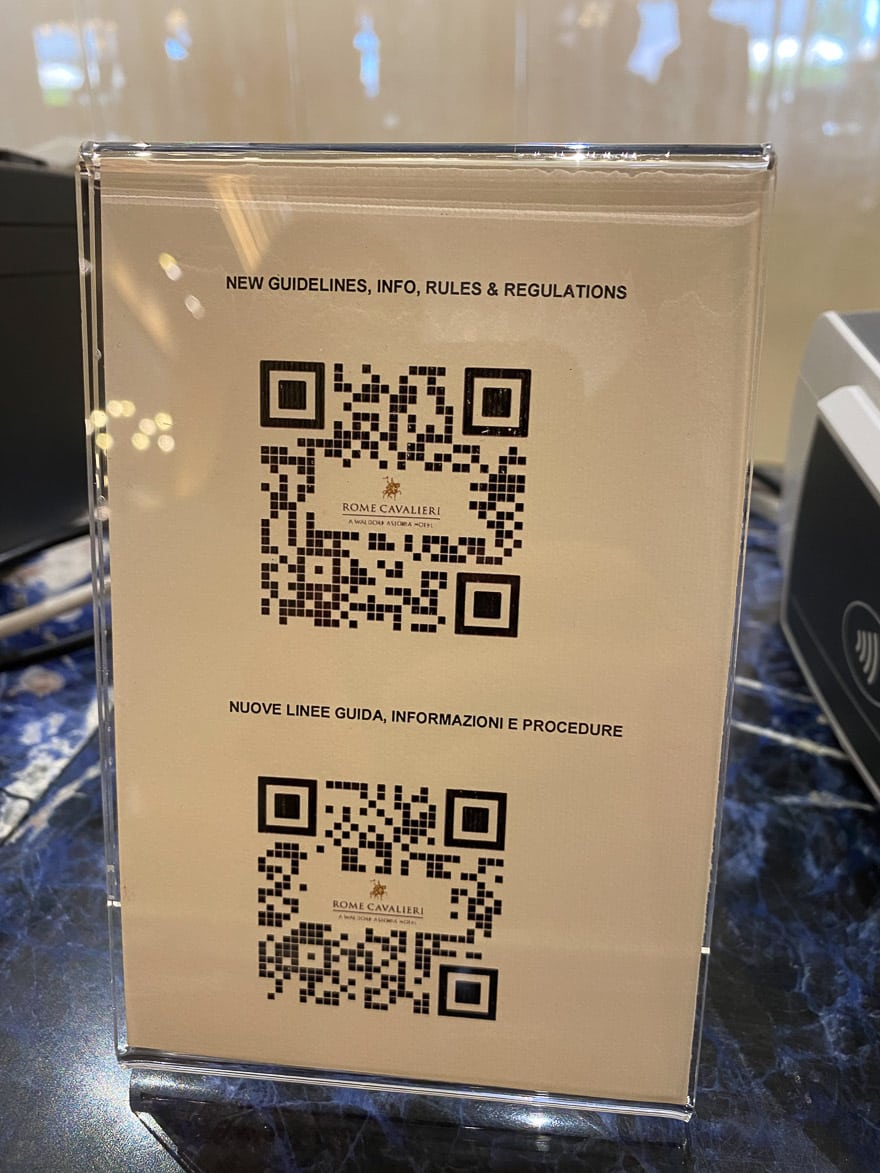 We were given a letter explaining our Classic Travel benefits and also told that we'd received a double upgrade as a result of being both Diamond and having a Virtuoso travel agent booking. I was expecting this property to be extra stingy given that the Hilton terms and conditions have a specific exclusion written in for it but at least they didn't limit our upgrade to a single category.
After completing the check-in formalities the agent offered to walk us to our room on the fourth floor, passing numerous sanitiser stations and displays of individually wrapped hand gels and wipes on the way.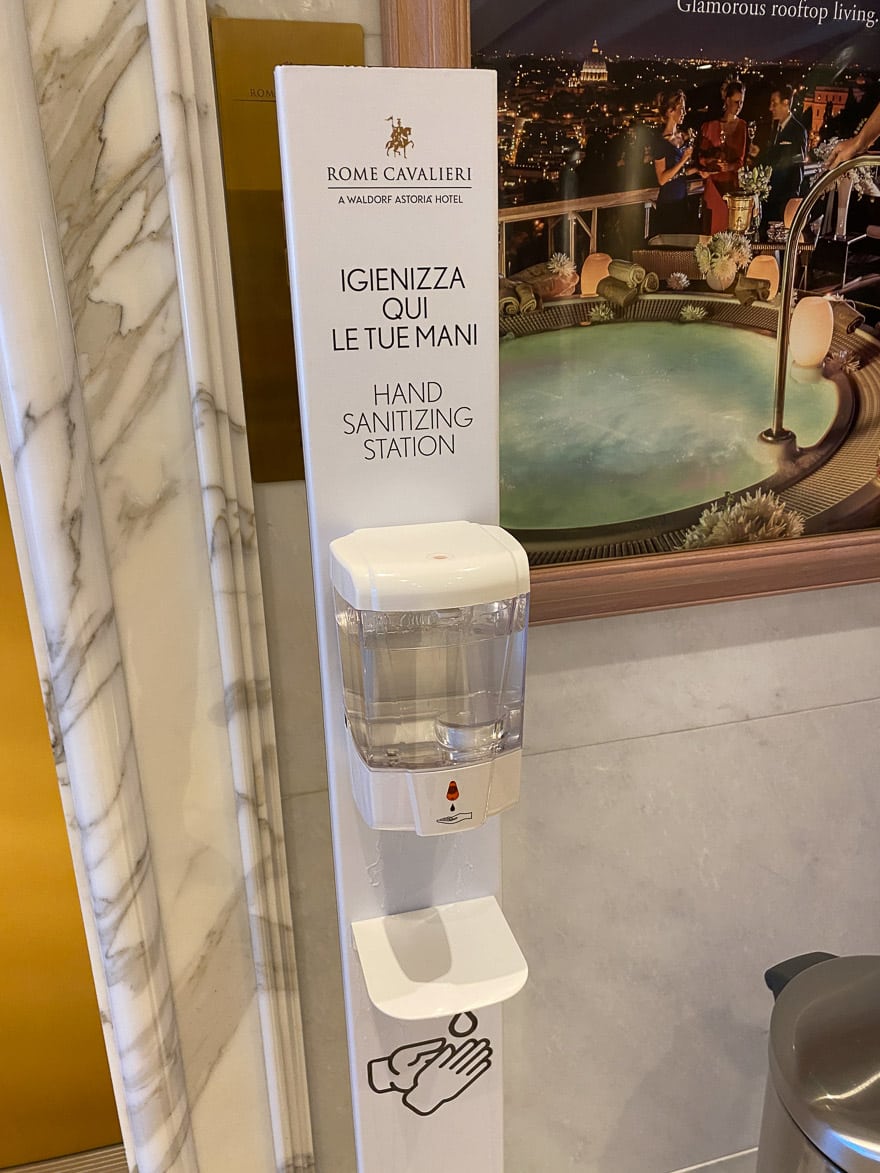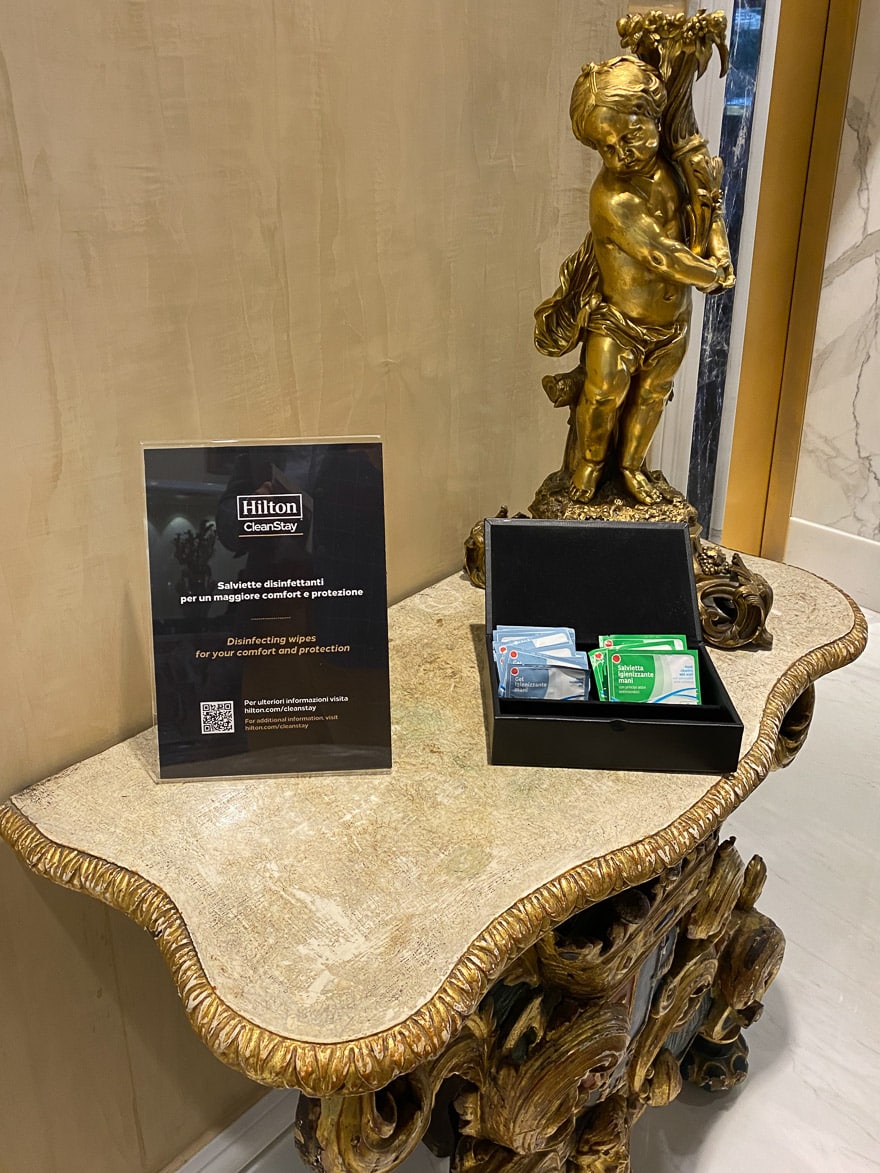 More artwork and antique furniture greeted us as we exited the lift on our floor.
As we approached the room the check-in agent said that she would be happy to explain any room features or answer any questions but she was not permitted to enter the room herself. Only cleaning staff and room service are currently allowed into guest rooms.
The door had a breakable seal on it, indicating that the room had been fully disinfected, with a QR code explaining Hilton's CleanStay policy in greater detail.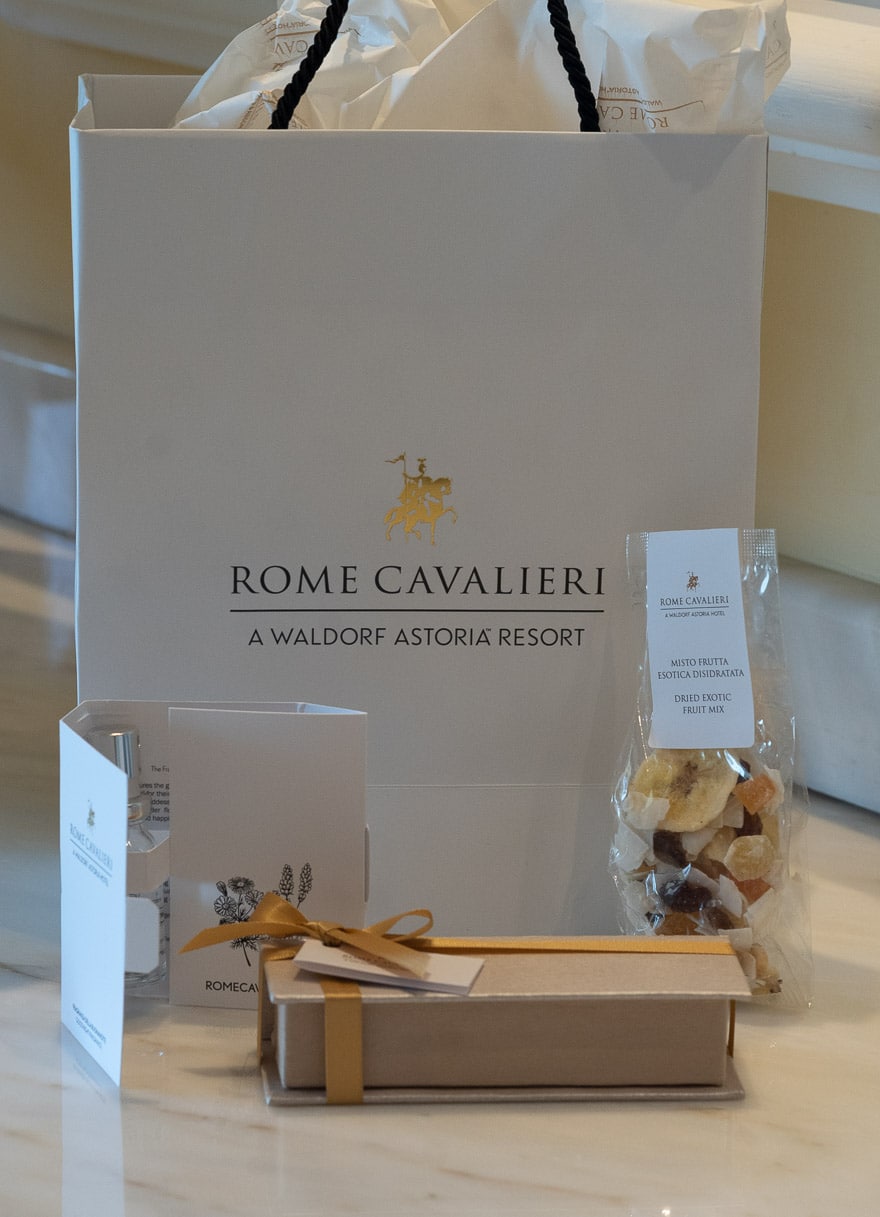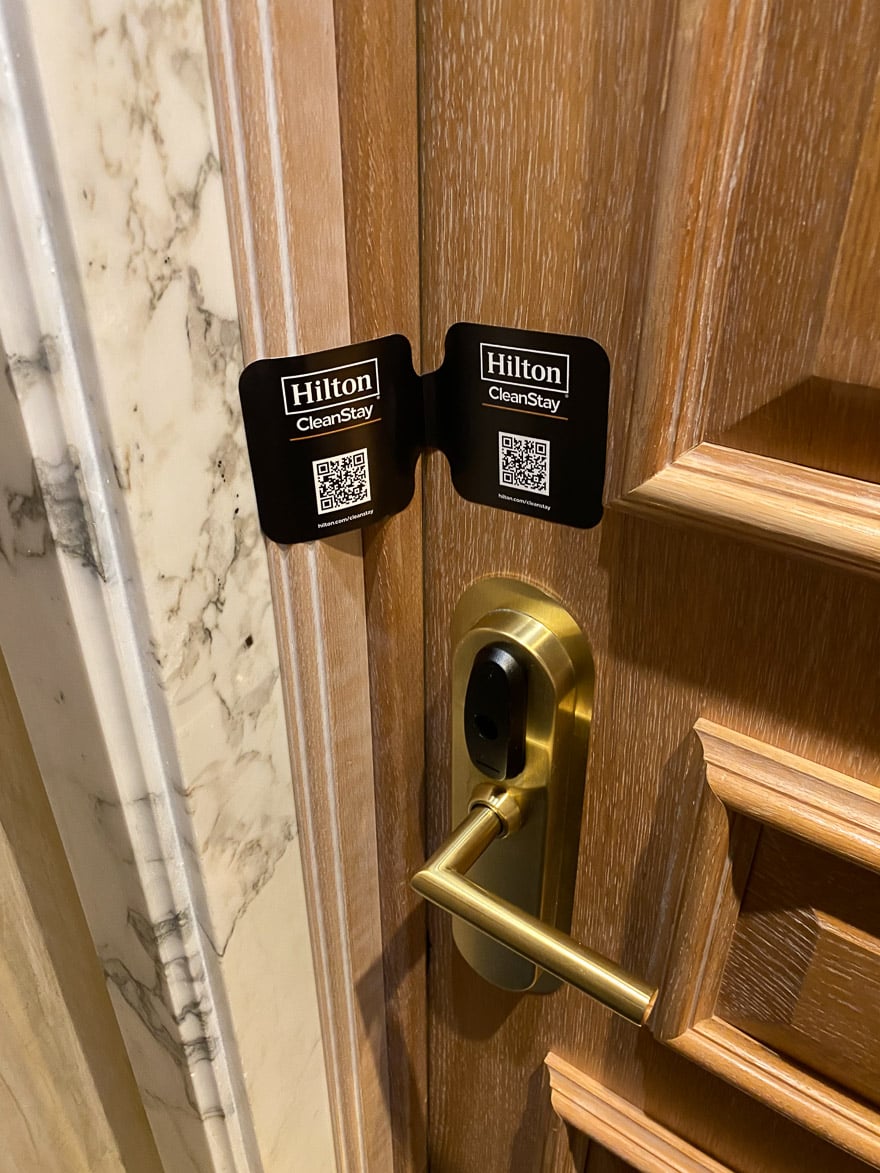 Just before heading off, the check-in agent handed us a Diamond welcome gift bag. She explained that it was just small because of COVID but said that she hoped we liked it and wished us a pleasant stay.
The bag contained a box of three chocolates, a lavender pillow mist and a bag of dried fruit. I'm sure a sealed bottle of wine would have passed hygiene standards and suspect this was cost cutting under the cover of COVID. Still, the overall presentation and quality of the contents were very good.
---
Premium Rome View Room
---
Entrance
Upon entering the room the first thing that I noticed was an ingenious feature that I've never seen in any other hotel before: A heavy, mirrored soundproof door swings out to seal off the wardrobes and front door from the rest of the room. I can attest to the fact that this worked perfectly at night. We never heard a single sound from the hallway even on Friday and Saturday night.
The wardrobe space was ample, with plenty of wooden hangers and even a complimentary suit bag provided. Unfortunately there were no full sized jacket hangers though, like you get at Four Seasons hotels, so I had to double up on regular ones to stop the shoulders of my linen jackets getting stretched out.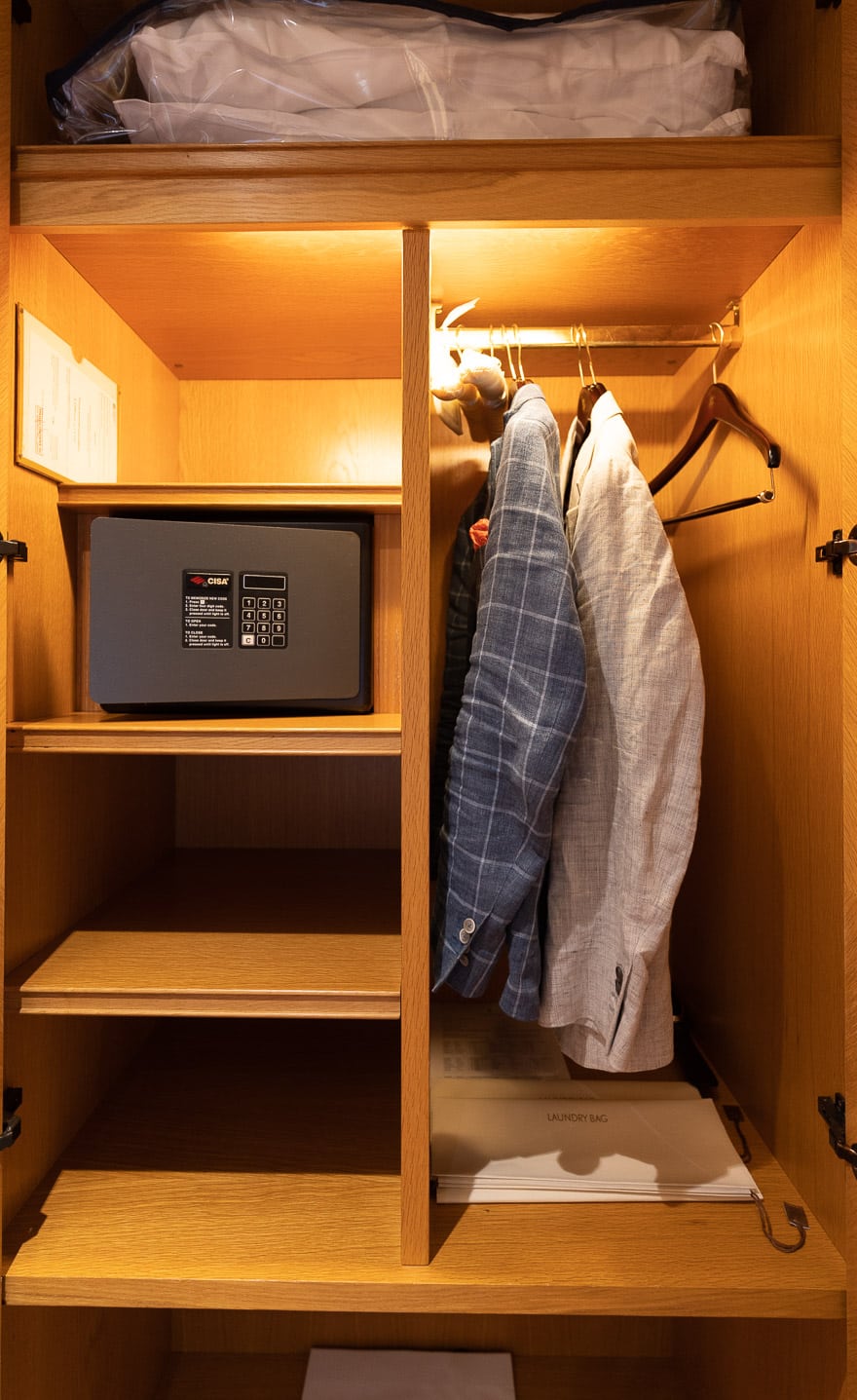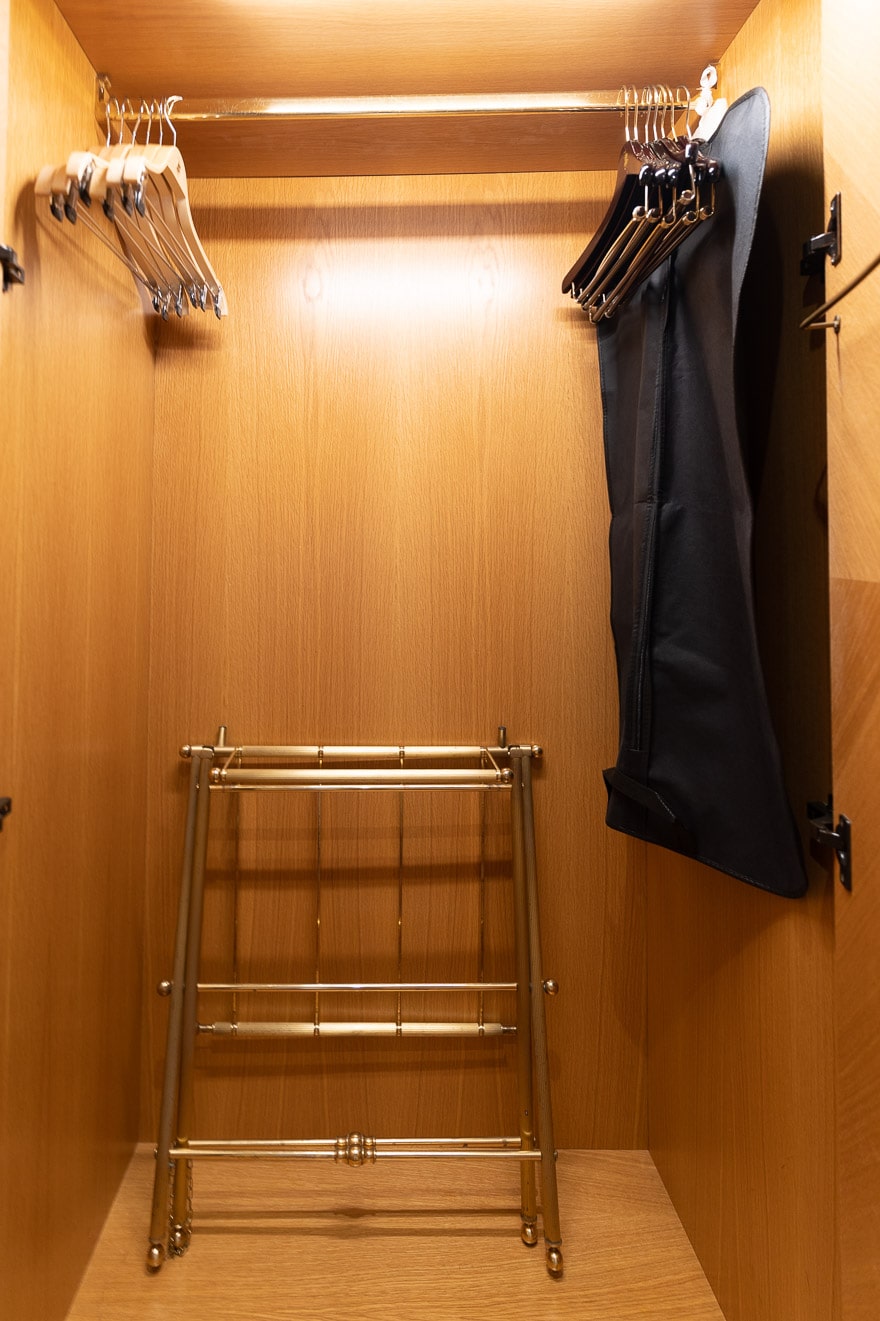 Bathroom
Immediately to the left as I passed the entrance hall was the small bathroom. Despite the hotels' best efforts to just cram the space with marble, it didn't feel particularly luxurious. I'm not sure if anybody on earth actually uses bidets and I can't help feeling that it would have been better to just have one normal sized toilet rather than the two miniature porcelain oddities sitting alongside each other.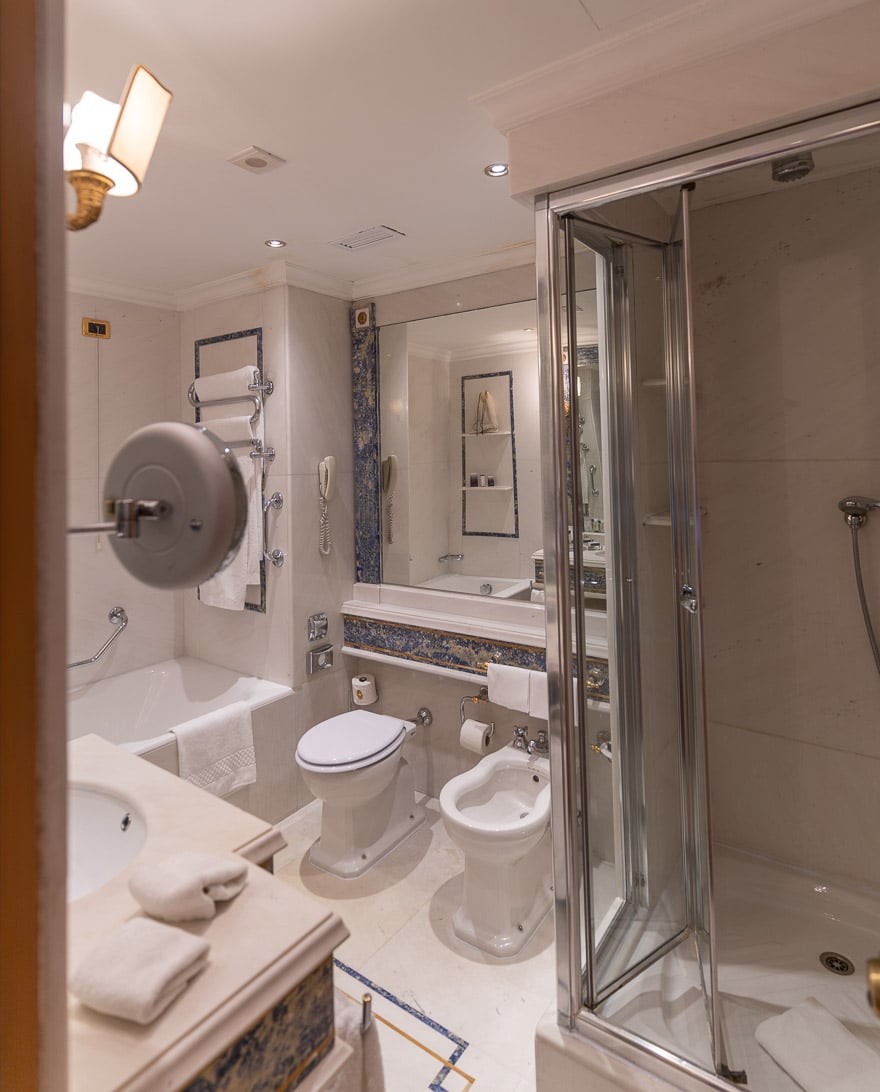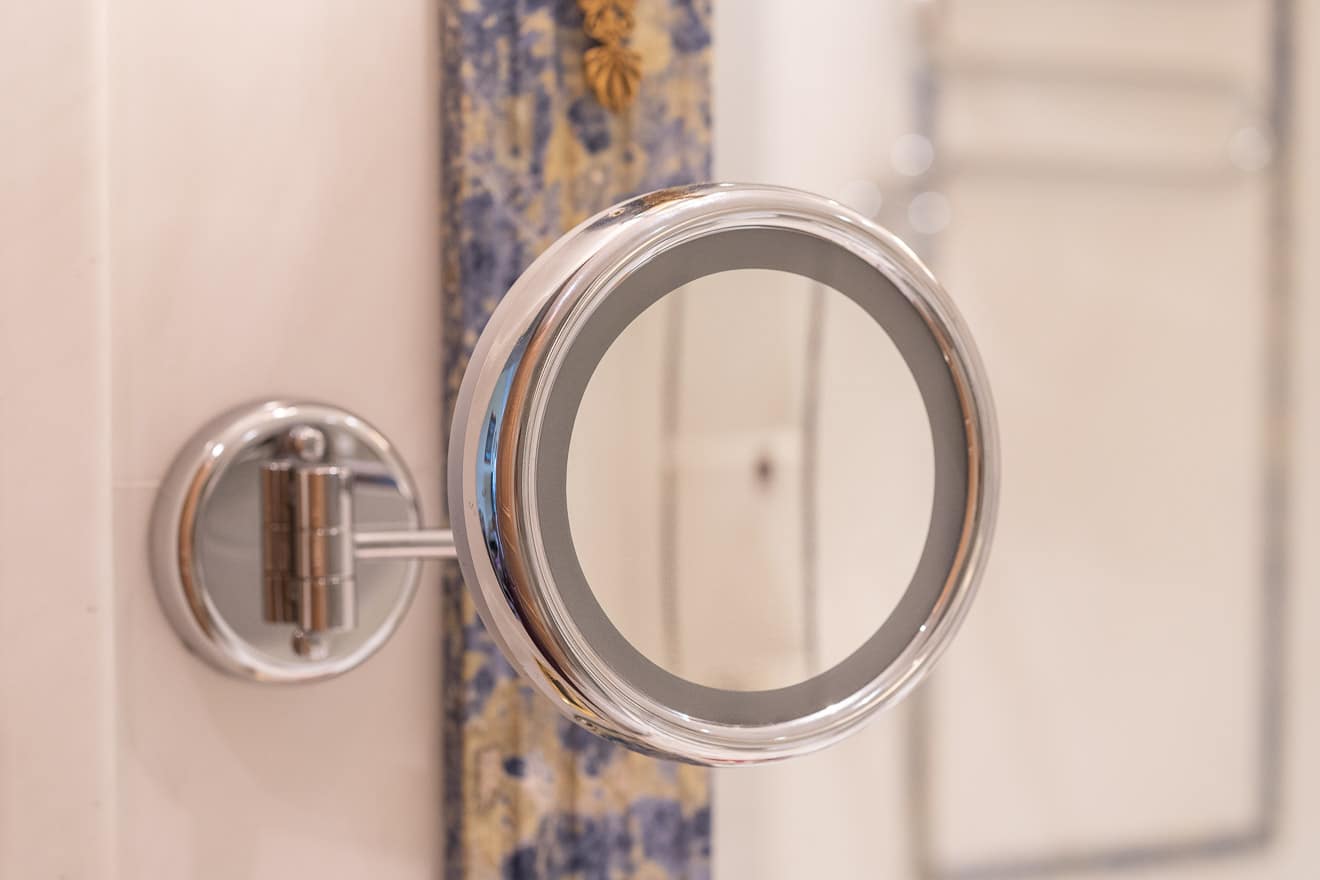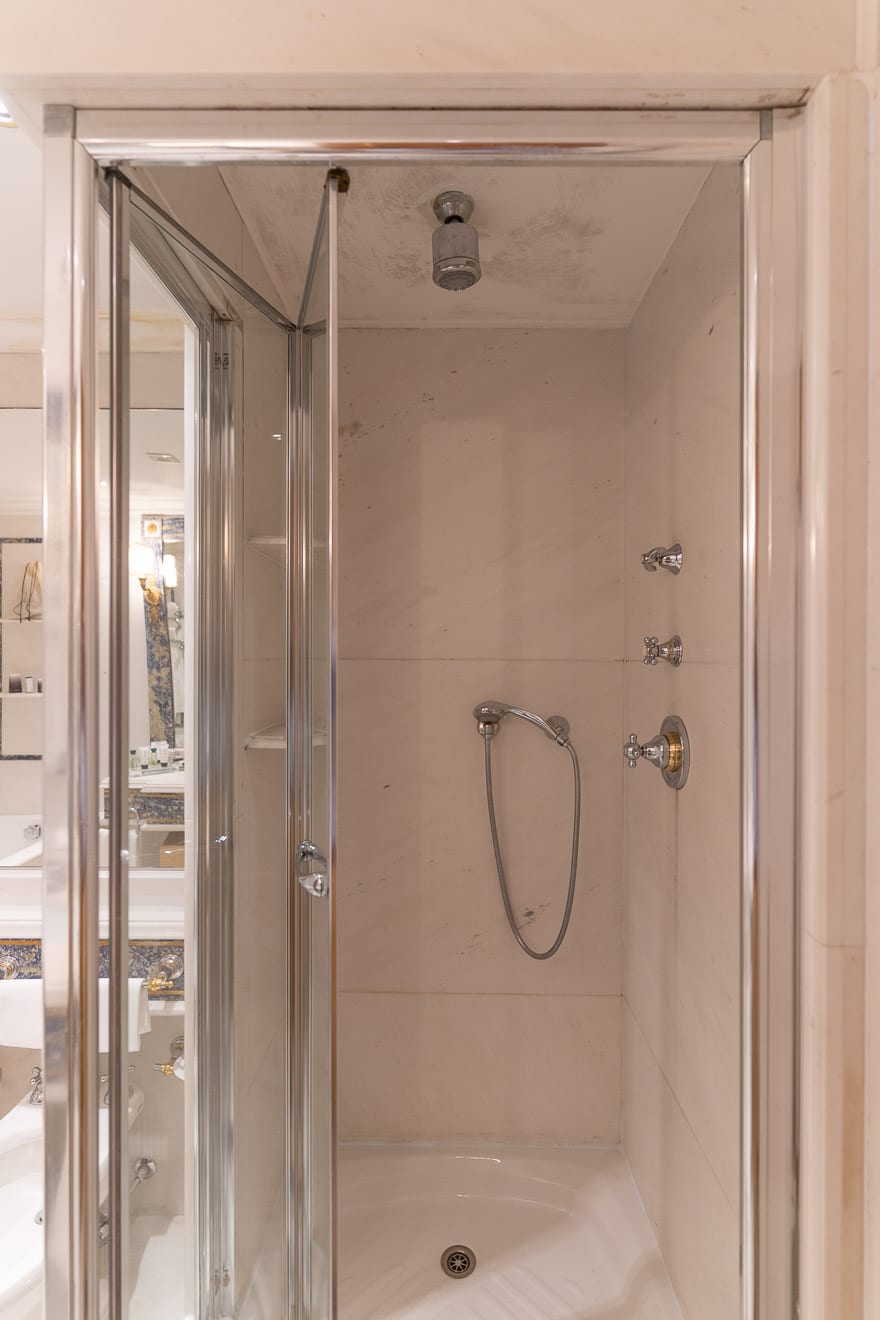 Despite having decent pressure, the shower appeared to have some sort of damp or mould around the shower head. The handheld shower head also had only one clasp at waist height and this was loose and unable to hold onto the unit as soon as any water flowed through it.
The bathtub was also comically undersized and the bathroom only featured a single sink. At least the Waldorf standard Ferragamo toiletries were there to add a touch of elegance.
Bedroom
Whilst not decorated to my personal taste, the bedroom was very spacious and comfortable. In terms of sleep quality the bed was superb, especially when combined with the soundproofing. My pre-stay request for additional feather pillows was ignored but I find that only the very best hotels actually pay attention to this.
Neither side of the bed had readily accessible power sockets or USB ports and the iPhone dock was broken, which is unfortunate as it meant we were unable to use the in built Bose speaker system. We ended up unplugging the dock to access the socket behind one bedside table and on the other side I just made use of my rechargeable power bank to charge my phone overnight.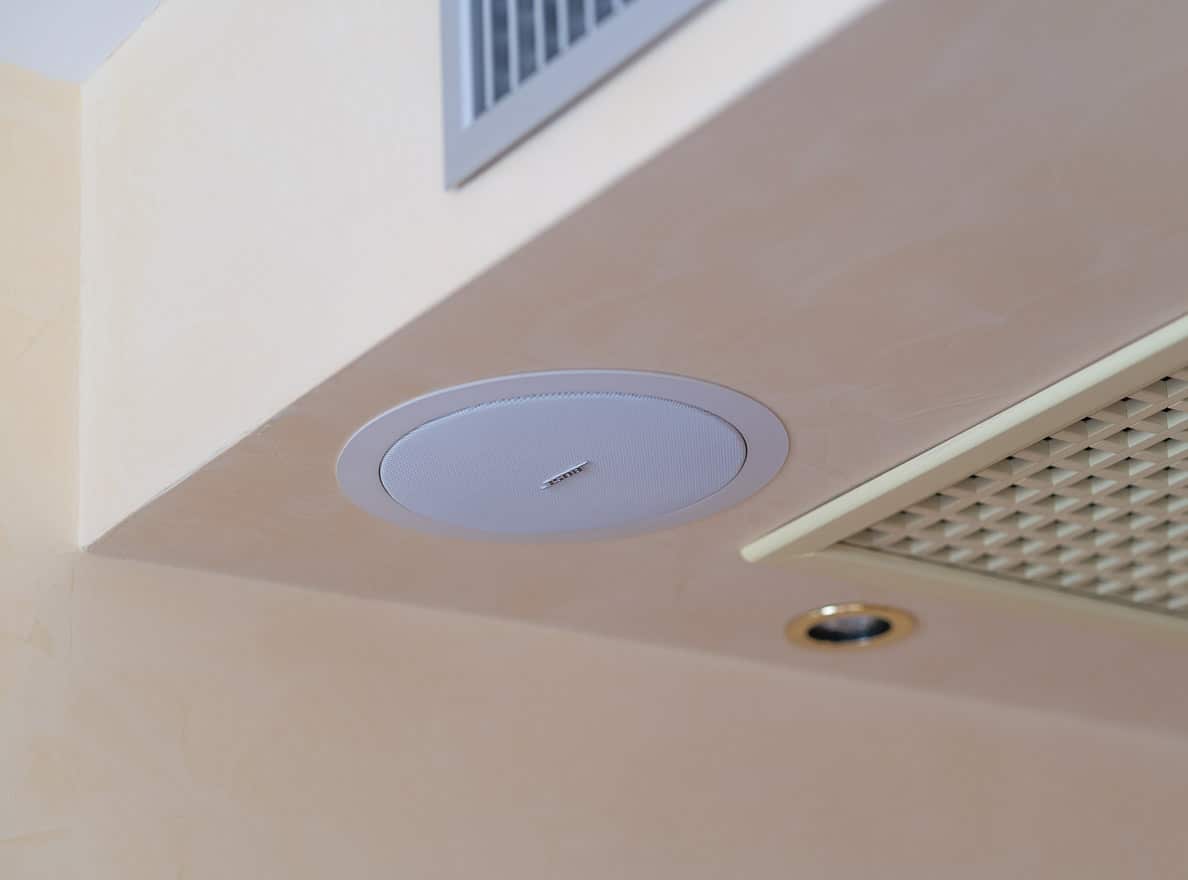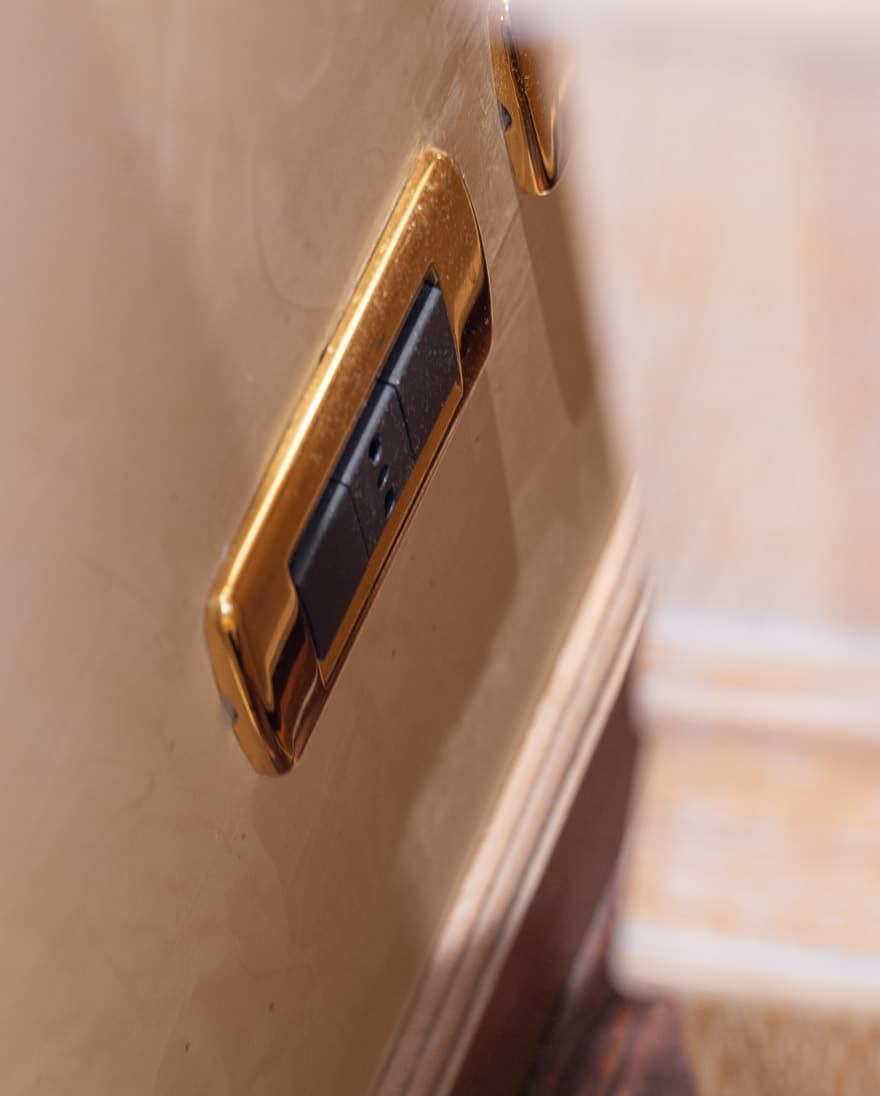 At the foot of the bed was a small television with a small bench on one side and the minibar on the other.
In addition to being too small for the room, the TV was wired into the wall to prevent you bringing it closer to the bed (and stealing it). This is the kind of thing you expect to see in a cheap motel not a 5* hotel. Although the minibar had been emptied due to COVID you could see that it was also pressure sensitive, again a chintzy move that treats guests with suspicion rather than with hospitality. I've never seen this kind of thing at a Mandarin Oriental or Park Hyatt, hotel chains which Waldorf Astoria finds in its peer group.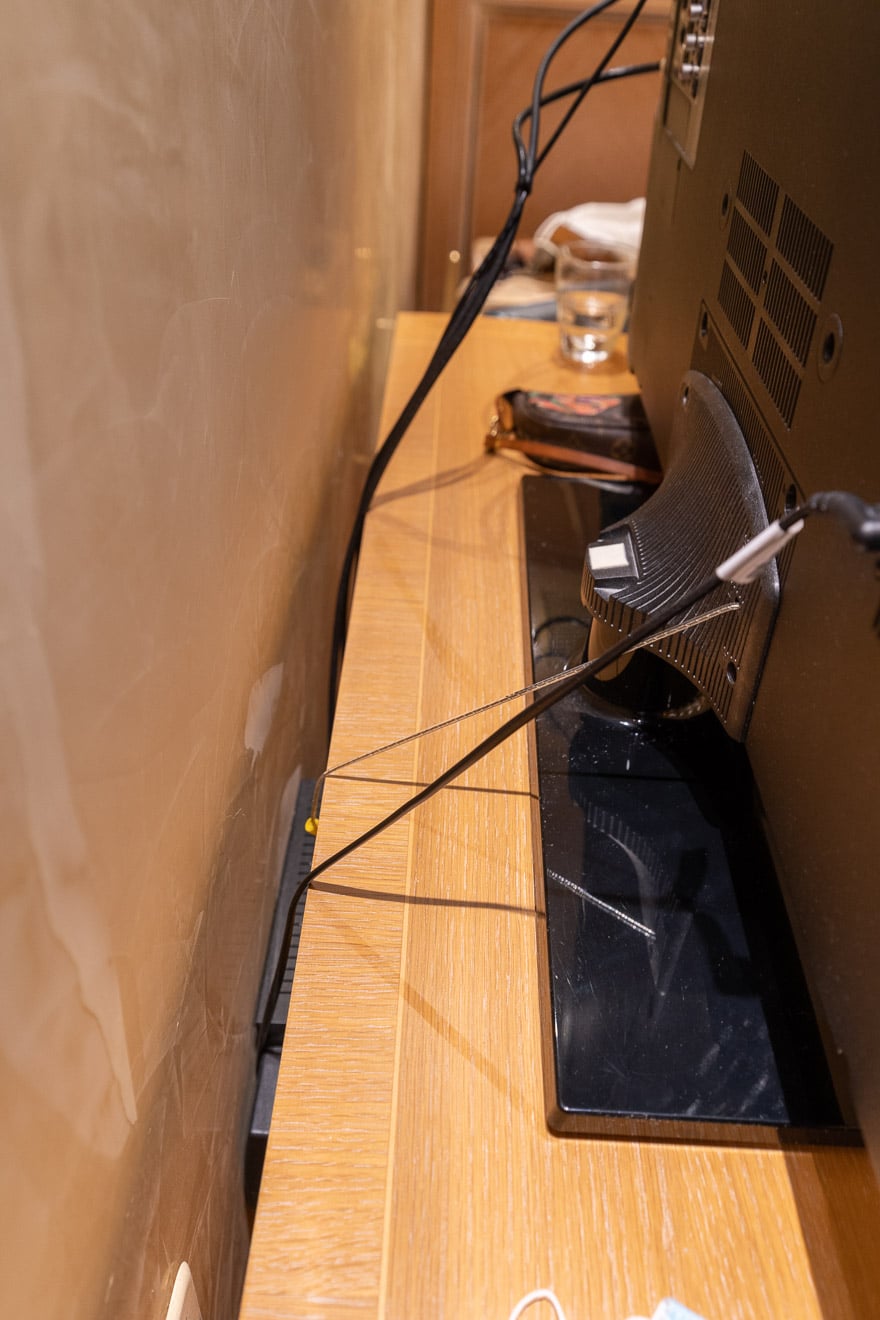 The greatest transgression though was in the conspicuously empty space above the minibar. It turns out that only suites and Imperial Floor rooms have coffee machines. All other rooms get a kettle 'on request' with packets of instant coffee.
When the man at the front desk told me this, I thought he was joking. To not have an espresso machine in a 5* hotel in Italy is comically poor. If the airport Hilton in Frankfurt can manage Nespresso machines then honestly I'd be expecting a top tier Waldorf Astoria to have an Illy, Segafredo or Lavazza machine, not packets of instant coffee.
Ultimately, I managed to get a Nespresso machine delivered to the room but only after asking about the cancellation terms of my reservation upon hearing that no machines were available. The thing is, I absolutely meant it. This hotel was failing one item after another on my basics checklist and this would really have been the straw that broke the camel's back…
One thing I feel I must note at this stage is the quality of the housekeeping. They were extremely friendly and competent, always willing to go the extra mile. When we asked for some more drinking water, they brought six large bottles. Extra sets of toiletries were always provided even if all we'd done was move the body lotion from the bathroom to the terrace for example.
When we asked for some ice and milk to make iced coffee with, they came back with an enormous silver champagne bucket and two silver jugs – one filled with cold milk and the other filled with hot foamed milk.
Sitting Area
The layout of the room felt almost like a Junior Suite, with a distinct sitting area and oversized marble desk, away from the main bedroom.
The desk featured a limited selection of international power sockets, the only location in the room to do so.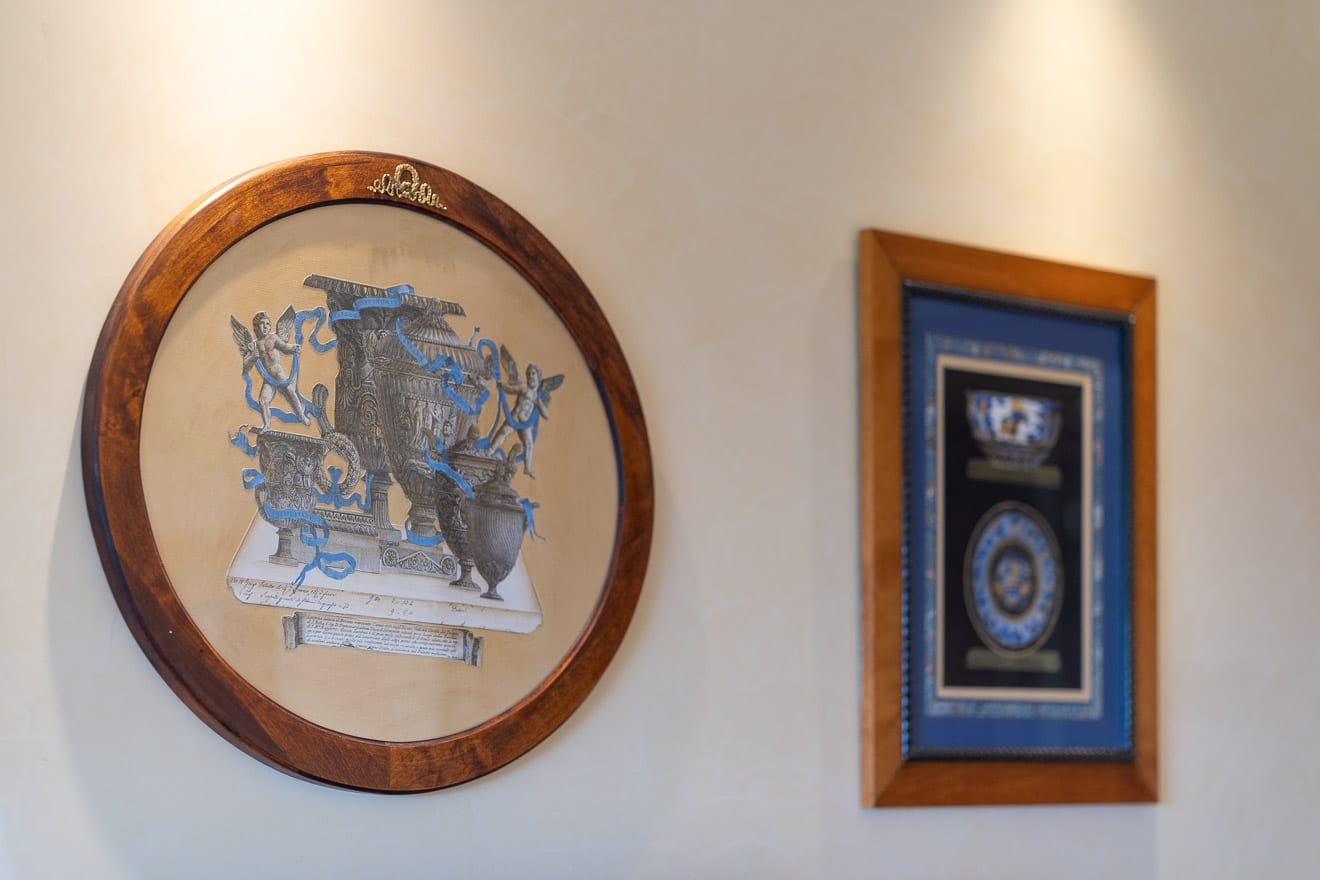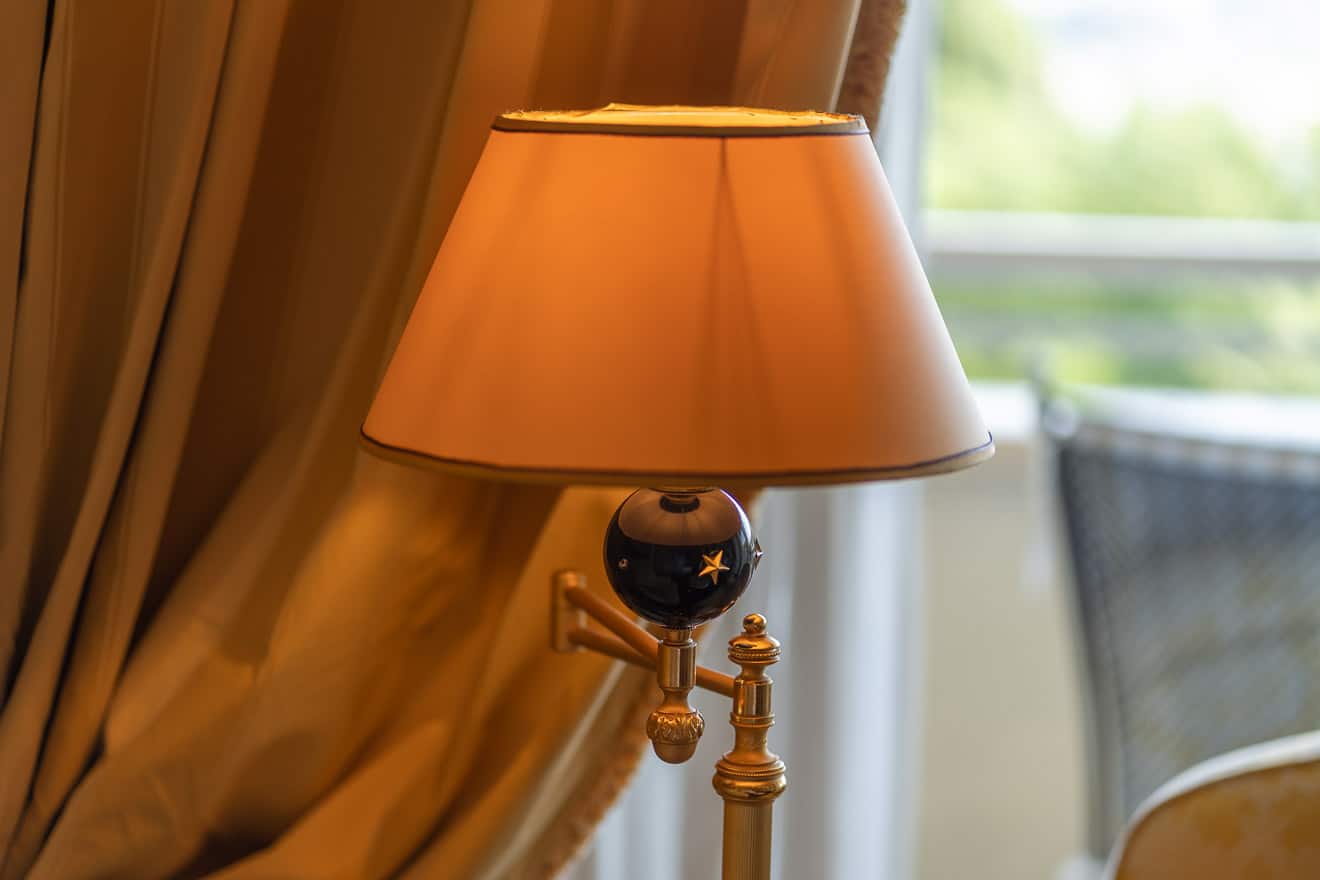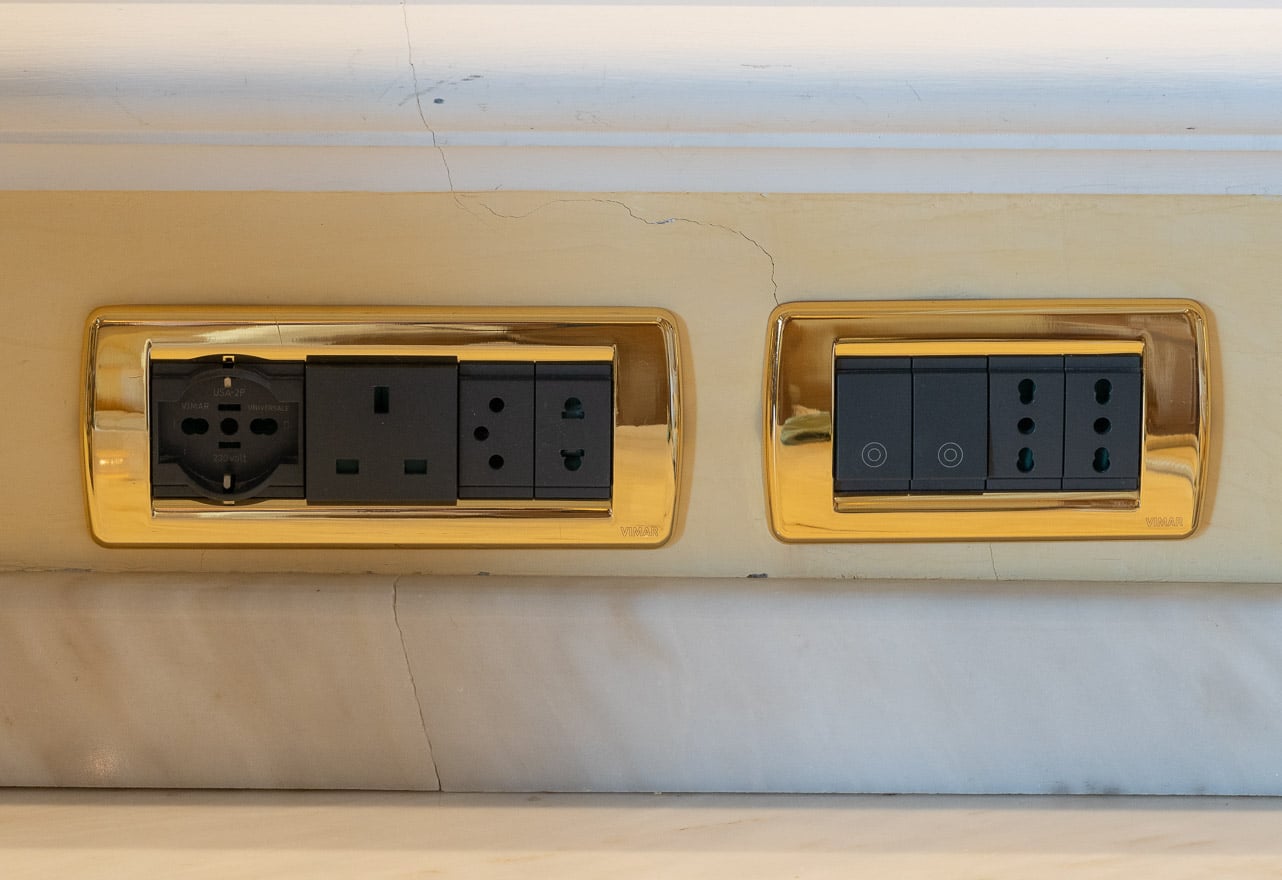 The light switches were completely unlabelled though and we found that we'd only just learned which does what, just before checking out after 3 days.
There were electronic blinds to the terrace outside but they weren't properly maintained, meaning that light would stream into the room in the mornings, even when in the fully closed position.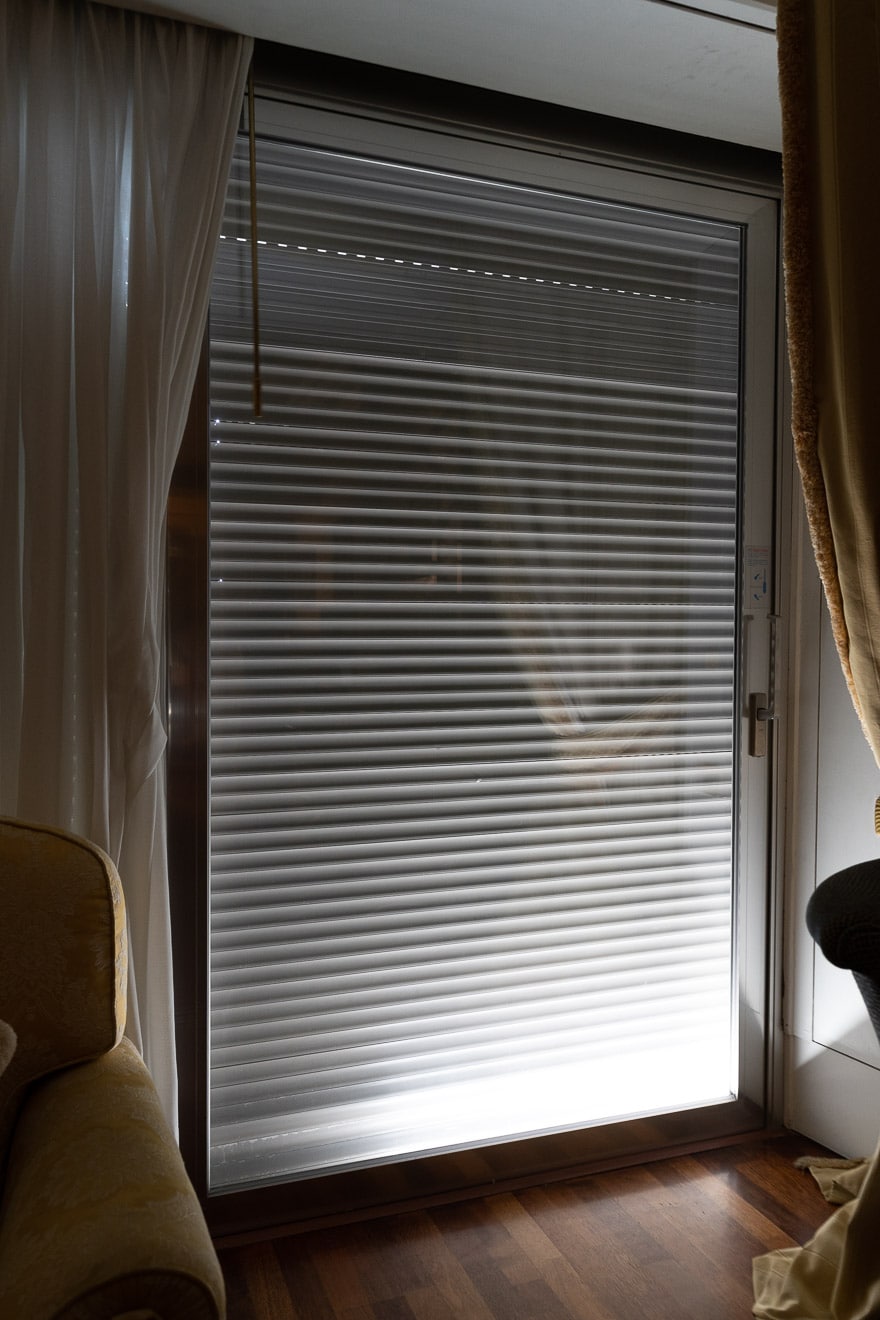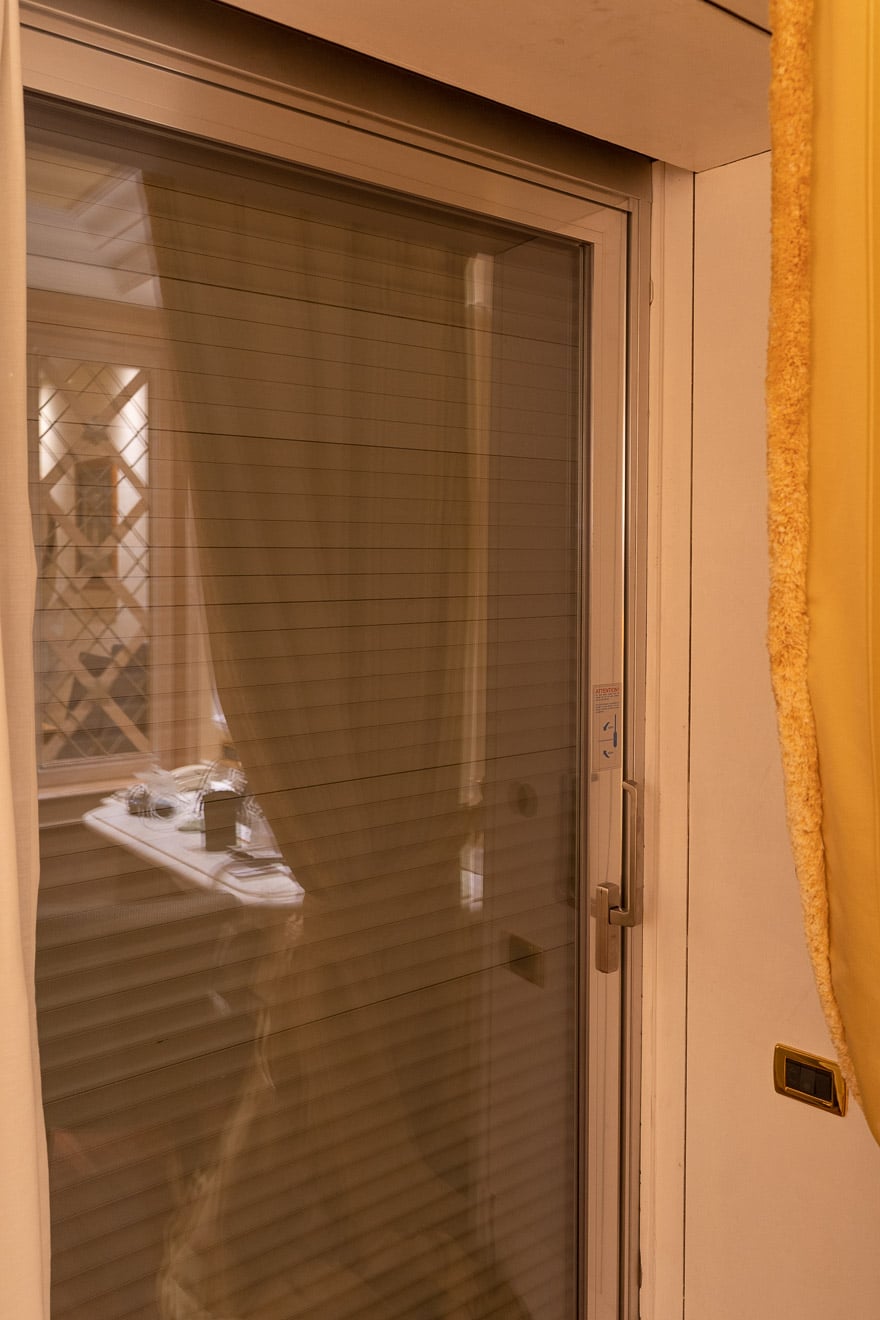 Terrace
The terrace was one of the key selling points of this hotel to me, since I planned to use it as a work space. The wifi worked perfectly, I had my coffee machine to keep me functioning and the views were nothing short of fantastic. As far as home offices go, it's hard to find fault here, other than the fact that I didn't have any outdoor power sockets.
The mirrors either side were a very clever design touch, making the space seem much larger.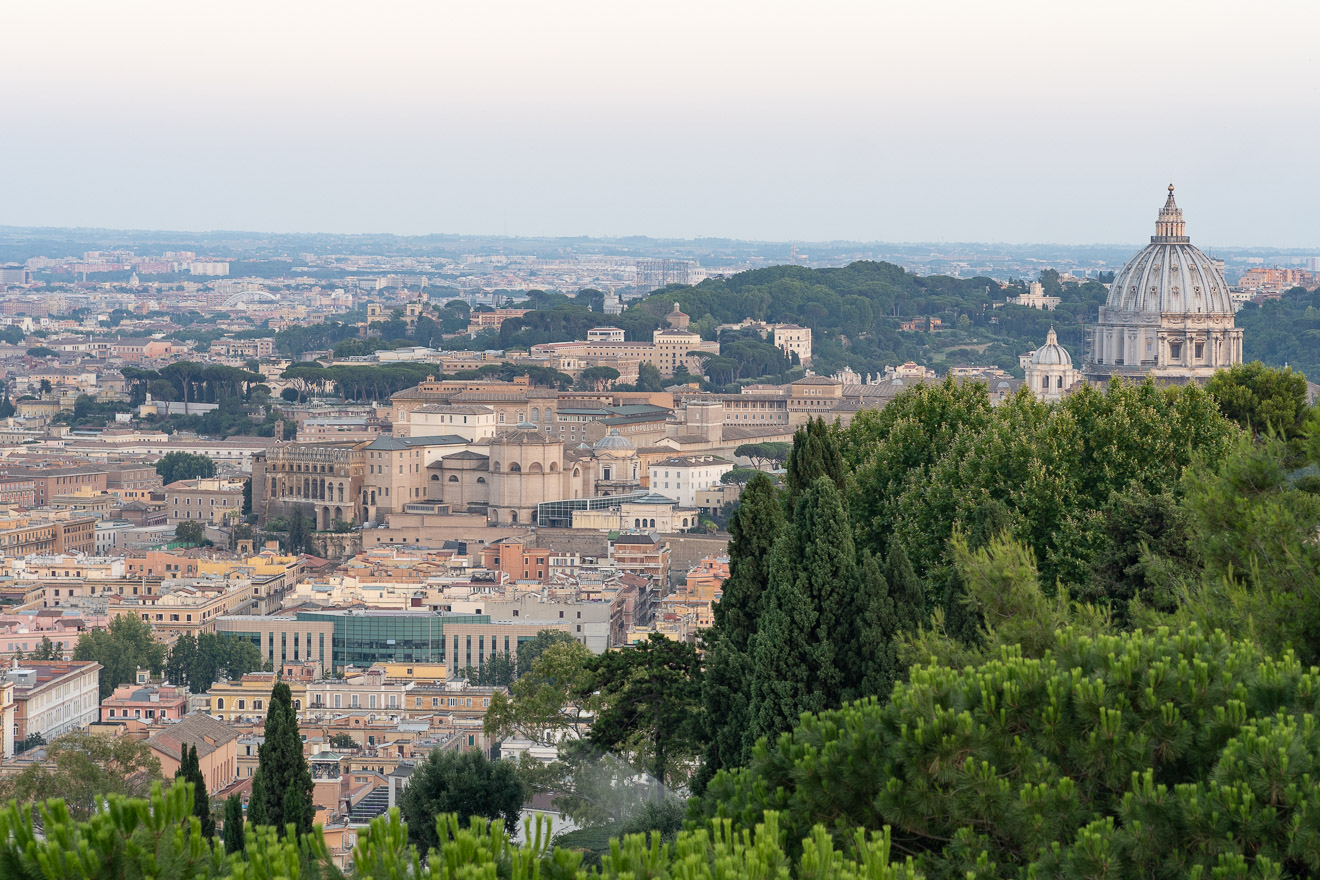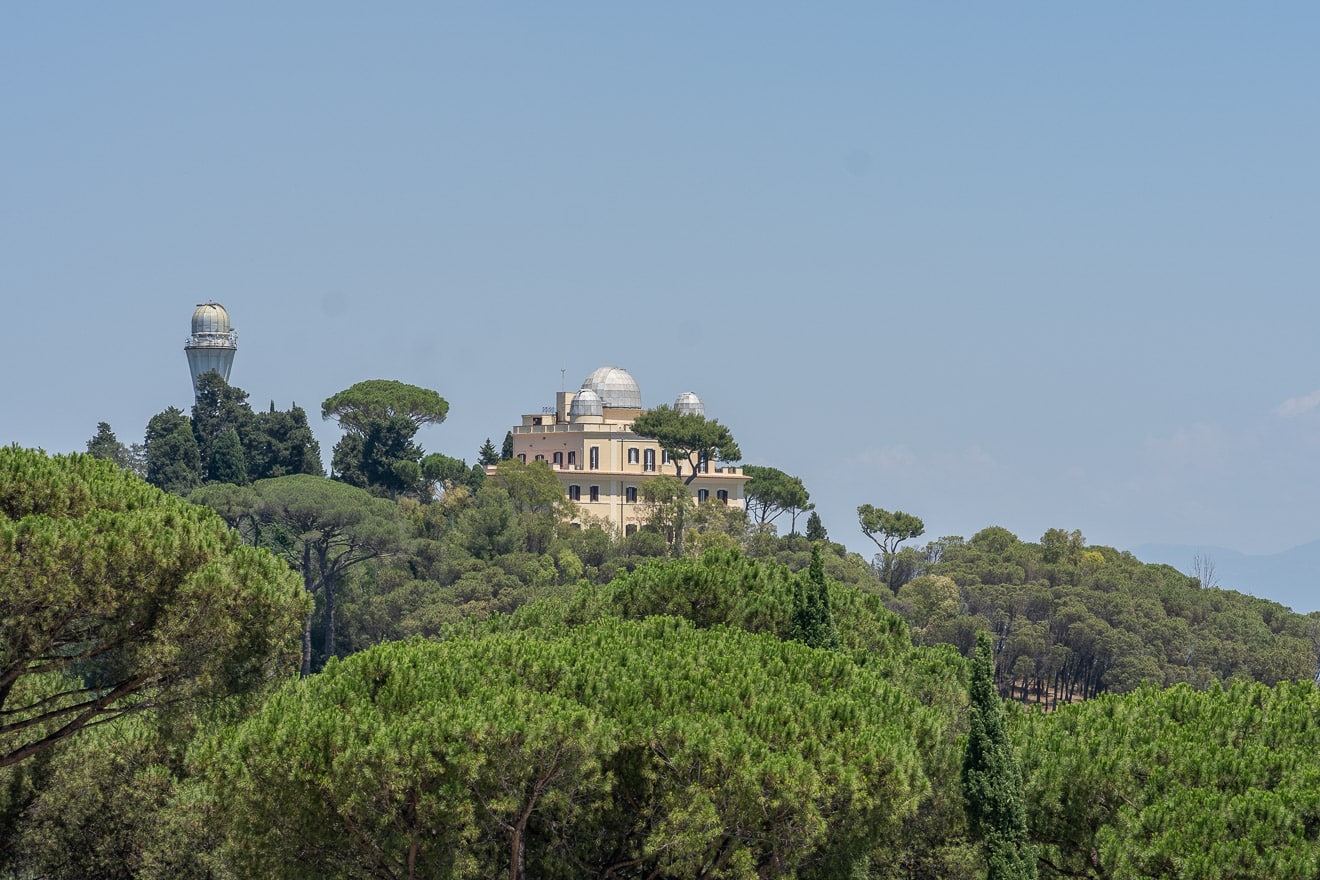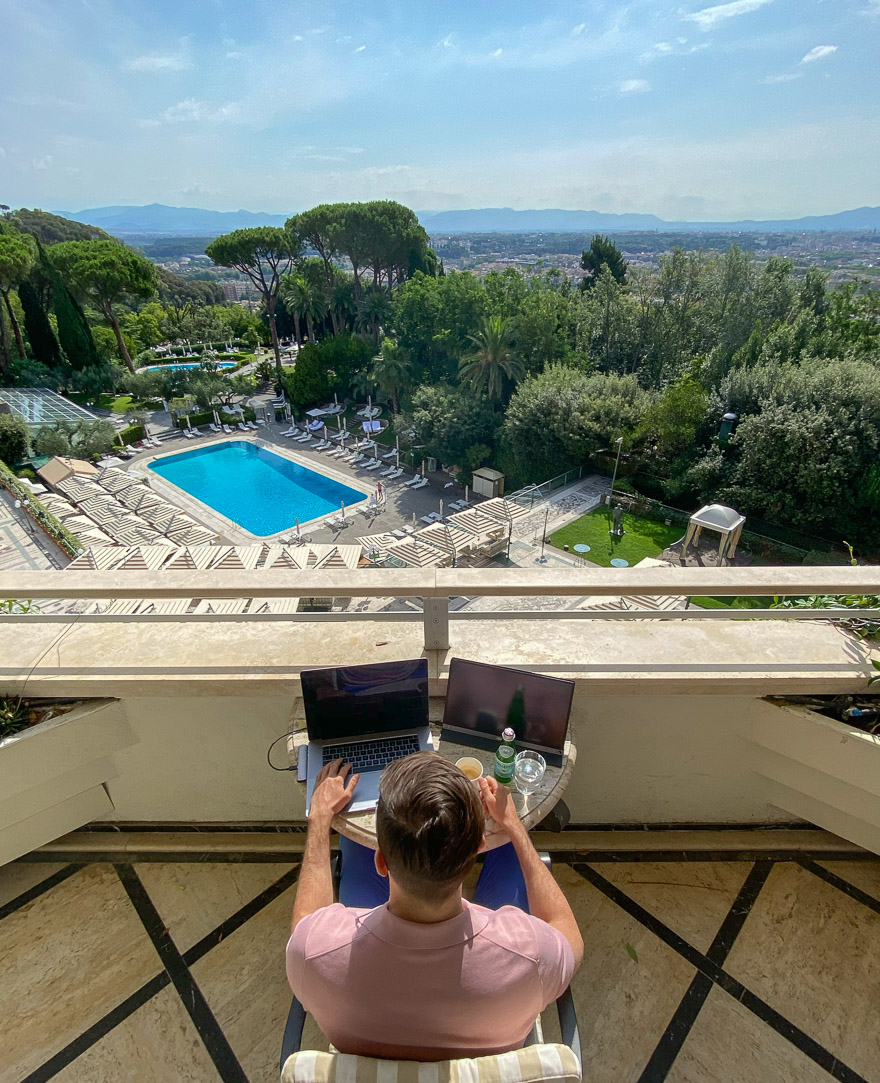 ---
Leisure facilities
---
The Pool
Moving seamlessly from this view, we come to another of the major selling points of the hotel. The swimming pool. Indeed this property is the only one in all of Rome to feature an outdoor pool and the thought of logging off from work and spending the afternoons here seemed massively appealing.
On the Friday when we first arrive the pool looked super empty. I assumed it would continue to look like this all weekend…
…I assumed incorrectly.
Honestly, after seeing how busy the pool got, we just didn't bother. I'm not sure if this is a COVID thing or just an Italian thing in general, but the pool required swimming caps too.
The idea of being packed in with a ton of people in a confined space, whilst wearing a rubber hat just did not appeal at all.
The pool allows off property guests for a €50 daily fee and this has not been suspended during COVID; I understand that the property needs to make money but this did seem like a case of putting finances before guest safety given the crowding.
Some shots of the pool taken at dusk from the rooftop: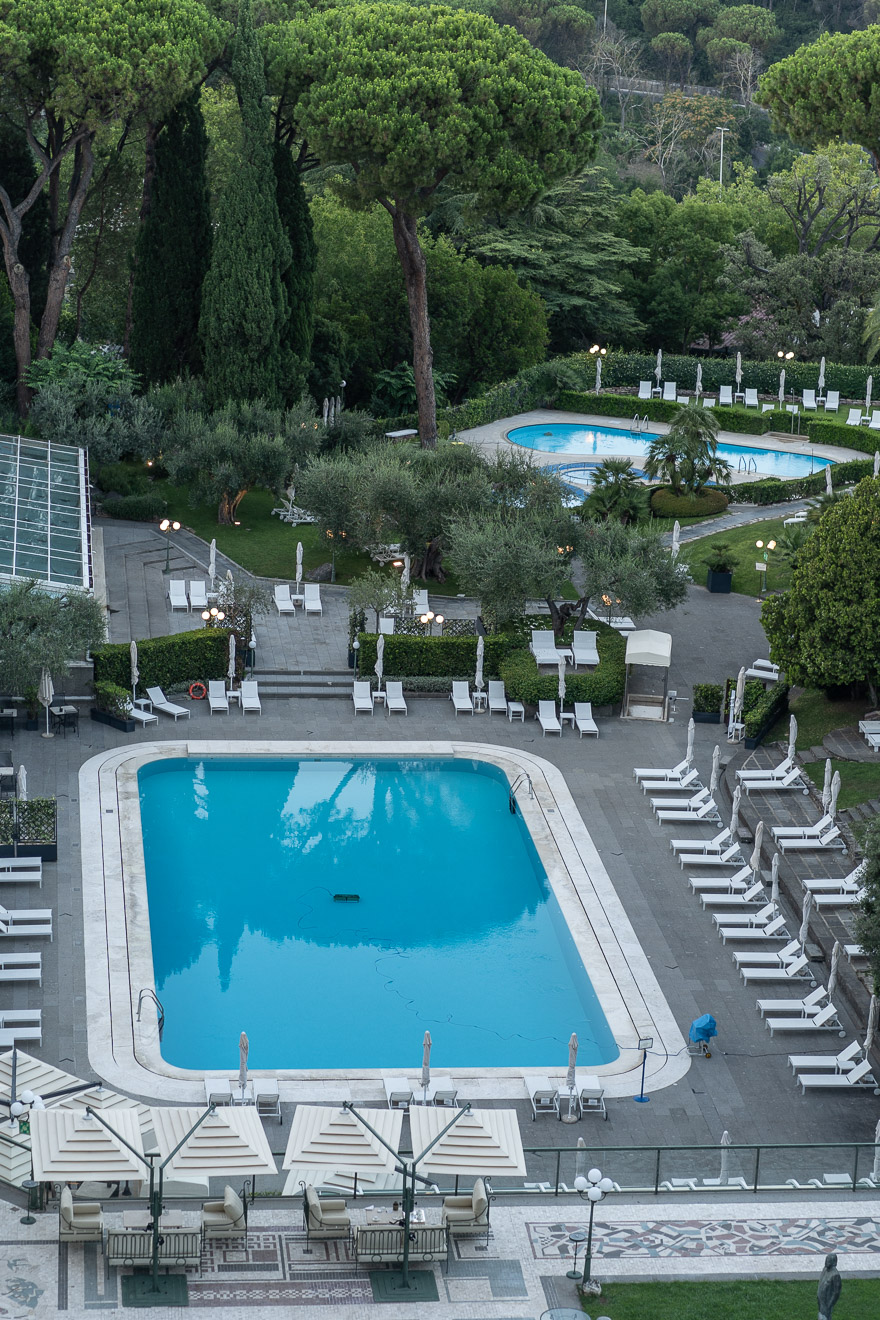 The Gym
Thankfully the situation at the Cavalieri's extensive gym was almost the polar opposite. It seemed like I was the only person at the entire hotel who had been sorely missing the ability to train in a proper fitness facility for the last four months!
I called reception beforehand to enquire if there were any special regulations around the gym and they said that I would need to download an app and book a time slot.
Time slots were for 30 minutes and were limited to:
10 people per slot for the indoor pool
25 people per slot for the gym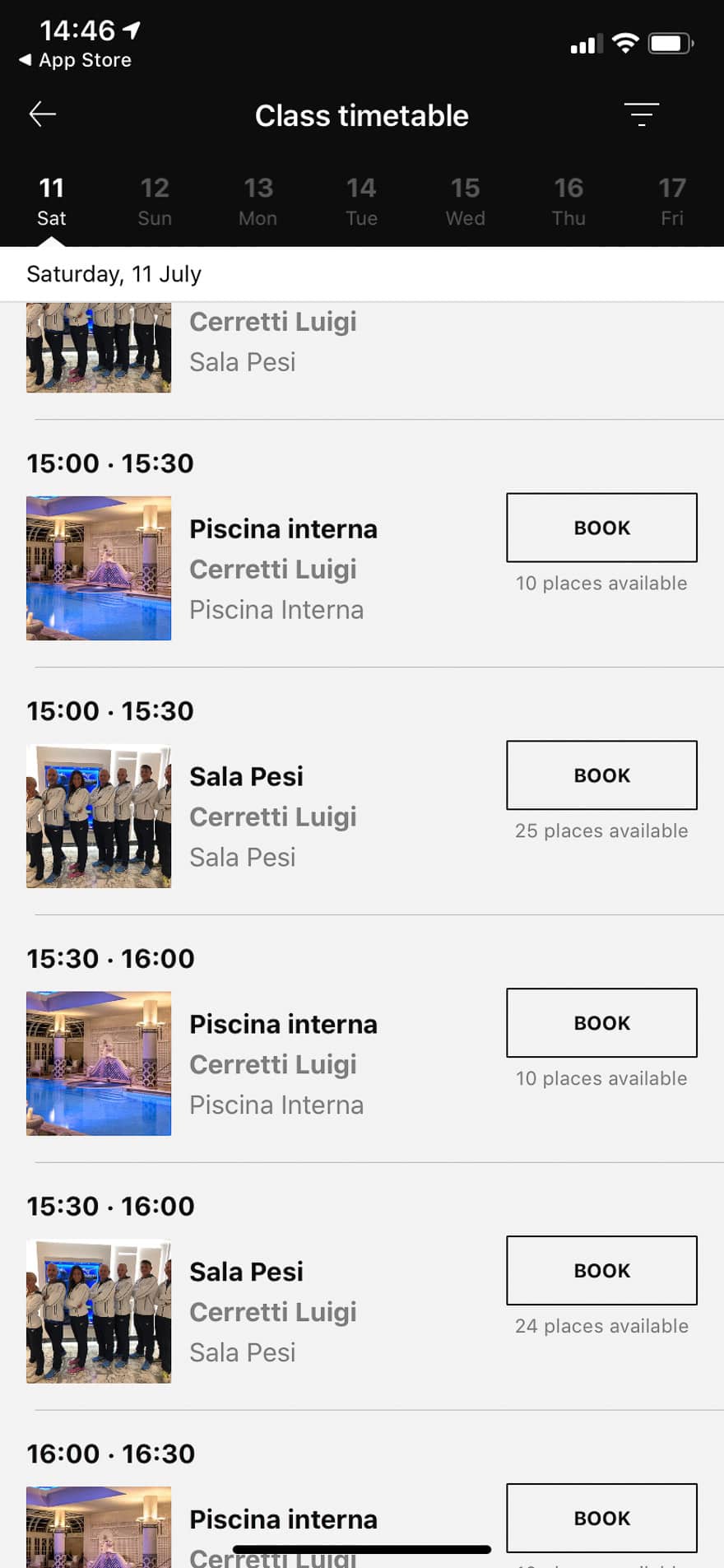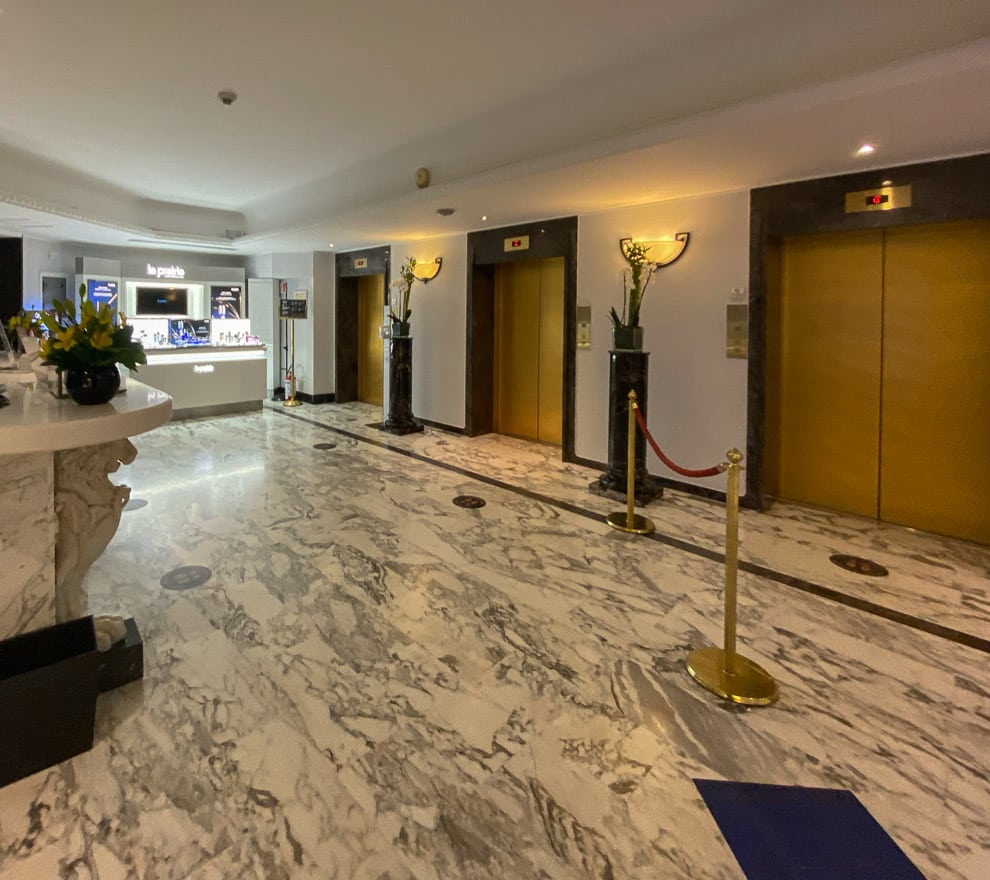 The lifts were configured so that only the one of the three could directly descend into the spa floor (-2). The other two were configured to only be used going back up.
The decor in the public spaces was what you'd expect if Julius Caesar decorated the Titanic.
The gym was extremely modern with a superb selection of cables, plates, free weights, cardio and functional strength equipment.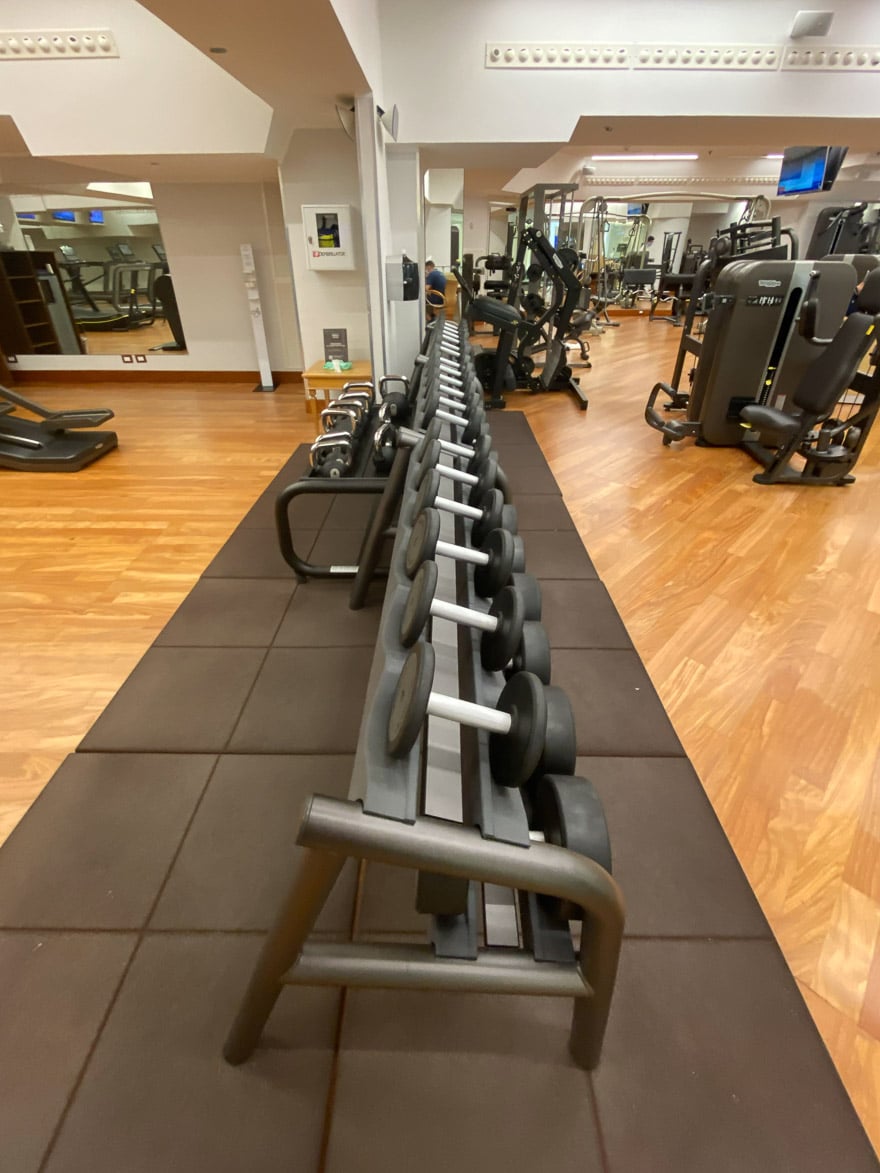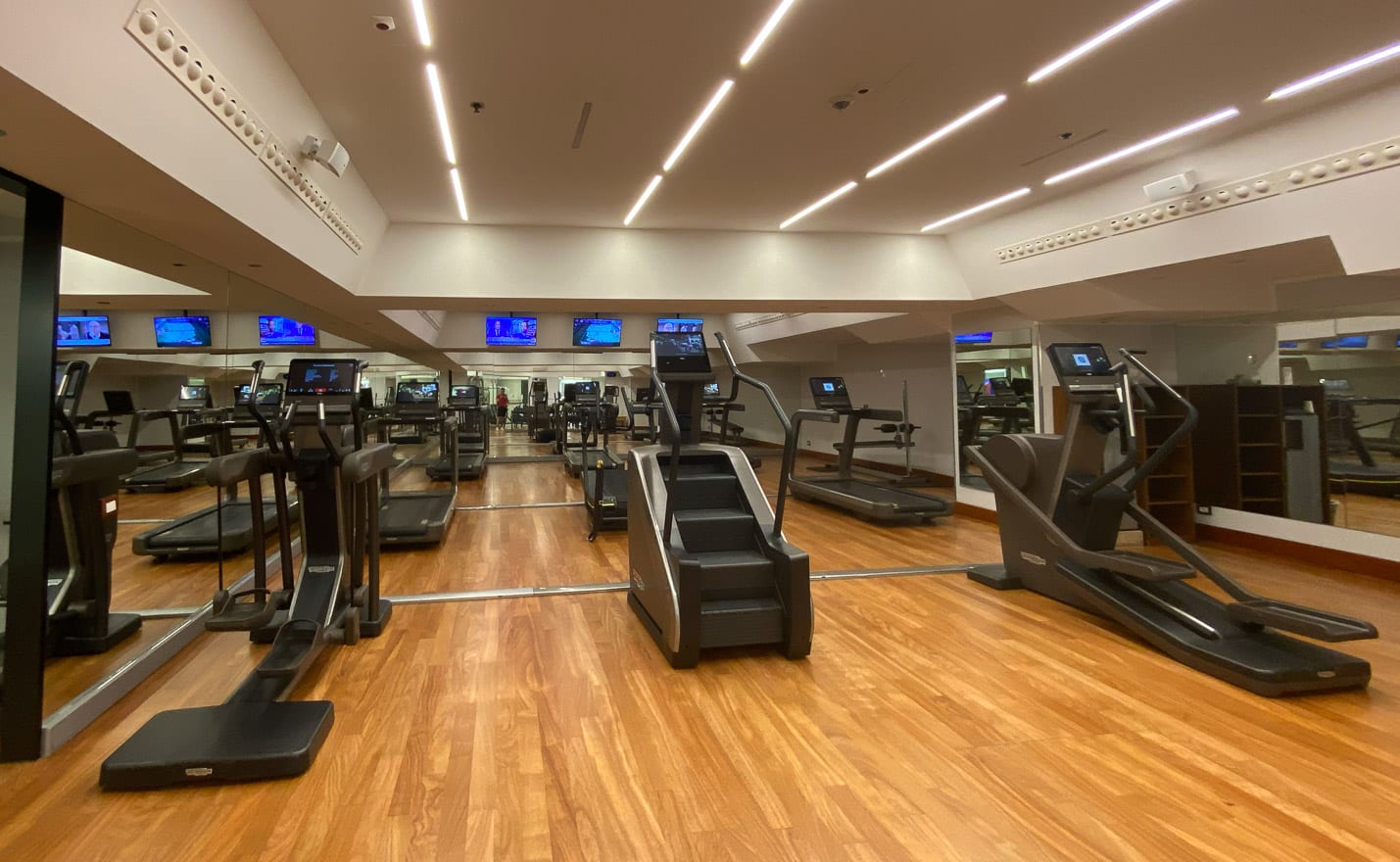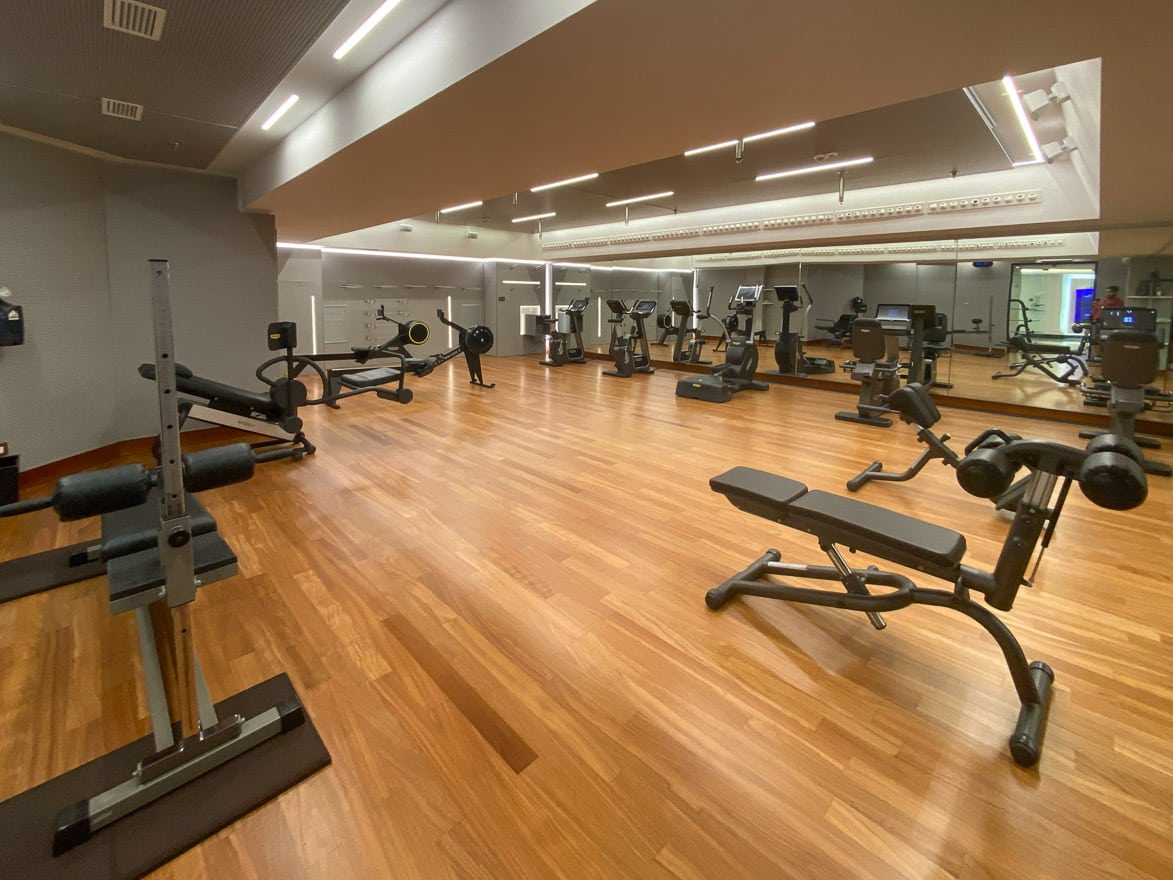 It honestly felt incredible to be finally using proper heavy weights again. Masks were required upon entry and exit but not whilst using the equipment. Since it was just me in there it didn't feel weird at all but I think I may have felt uncomfortable if it did get busy and nobody was wearing a mask.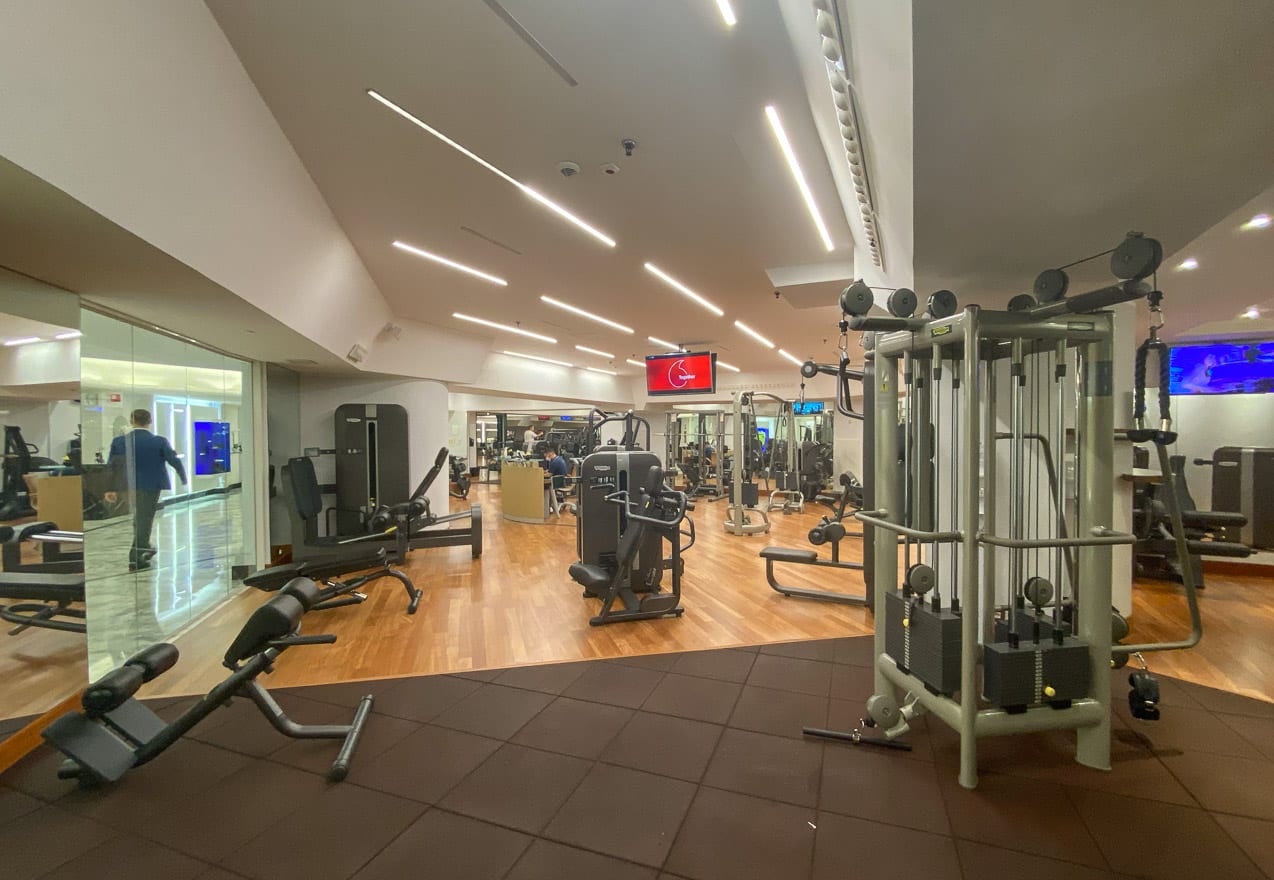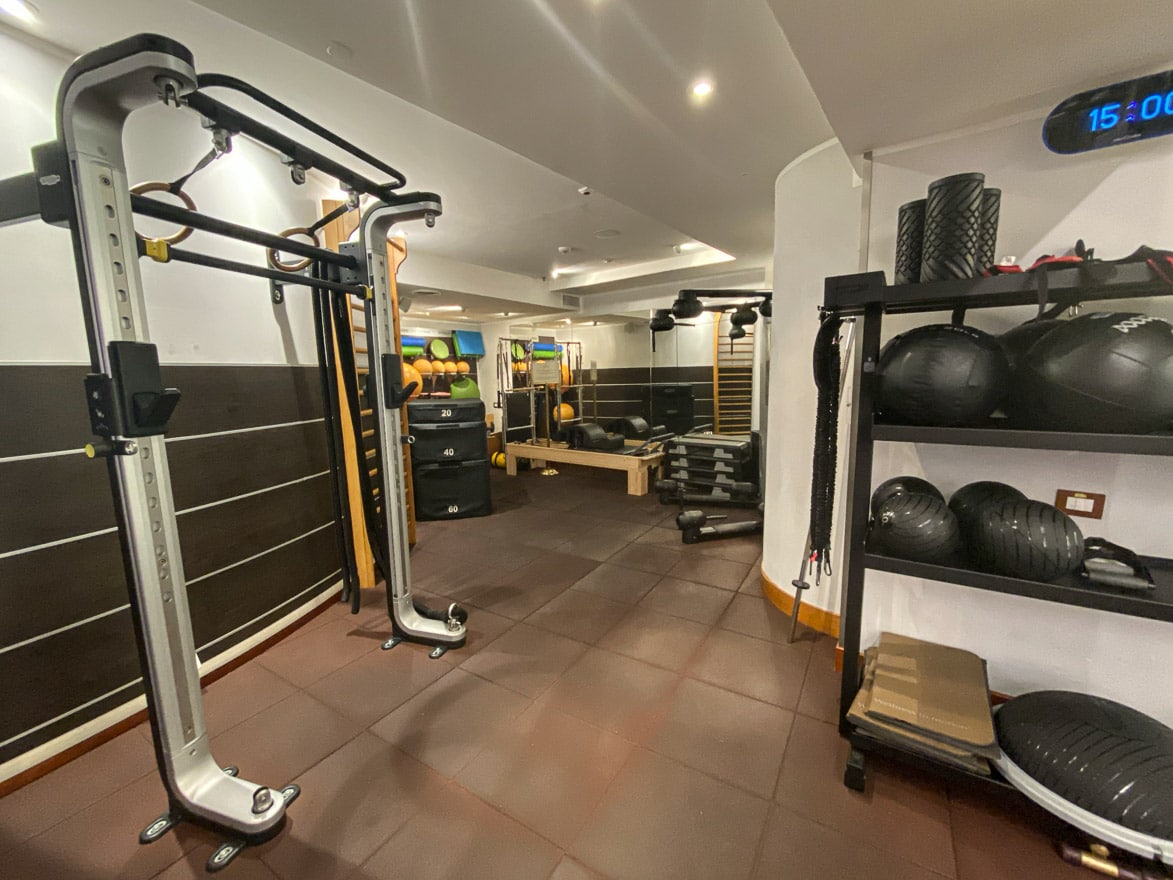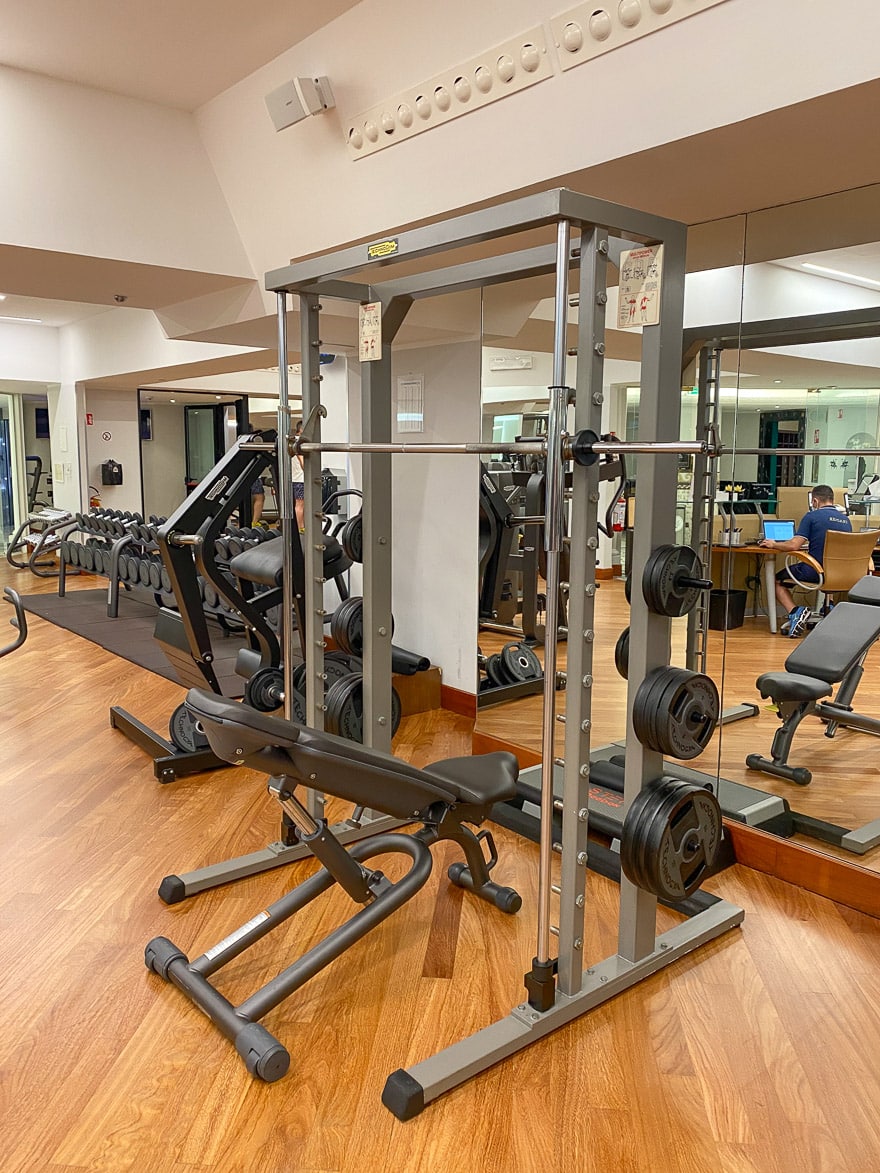 Having this gym to myself was by far the most luxurious aspect of my entire stay. Without question.
Kids Club
Children seem to be very well catered to here, you may have noticed that in one of my pool pics the kids pool had an enormous inflatable slide set up for the weekends.
There was also a kids club which we passed on the way to breakfast in the mornings. The space looked enormous and was filled with soft toys for younger children as well as a ping pong tables and other more advanced toys for older kids. Kamara was particularly jealous of the section featuring a gigantic Nutella tub.
---
Food and Drink
---
Breakfast
Once again that moves us very conveniently onto breakfast itself. I'm on a roll with the transitions between sections today!
Breakfast was served on Floor -1, the same floor as the pool. As you first exit the lifts here you are welcomed by a grand staircase, with a small boutique, a conference room and the aforementioned Kids Club surrounding it.
We were advised to reserve breakfast in advance each day to help the restaurant to maintain appropriate social distancing between tables. Breakfast is served at Uliveto Restaurant, which has both an indoor area and a large number of tables outside, right by the pool.
There was a bit of a wait for a table on the first day and it was immediately clear that the staff were overwhelmed. Ordinarily there is a buffet indoors but this has now been removed, the increased burden on the staff does not appear to have been adequately provisioned for. Plenty of tables were left uncleared for the duration of breakfast each day, attracting swarms of hungry wasps.
Uncleared tables with food and cutlery strewn across the floor does do not make the best first impression.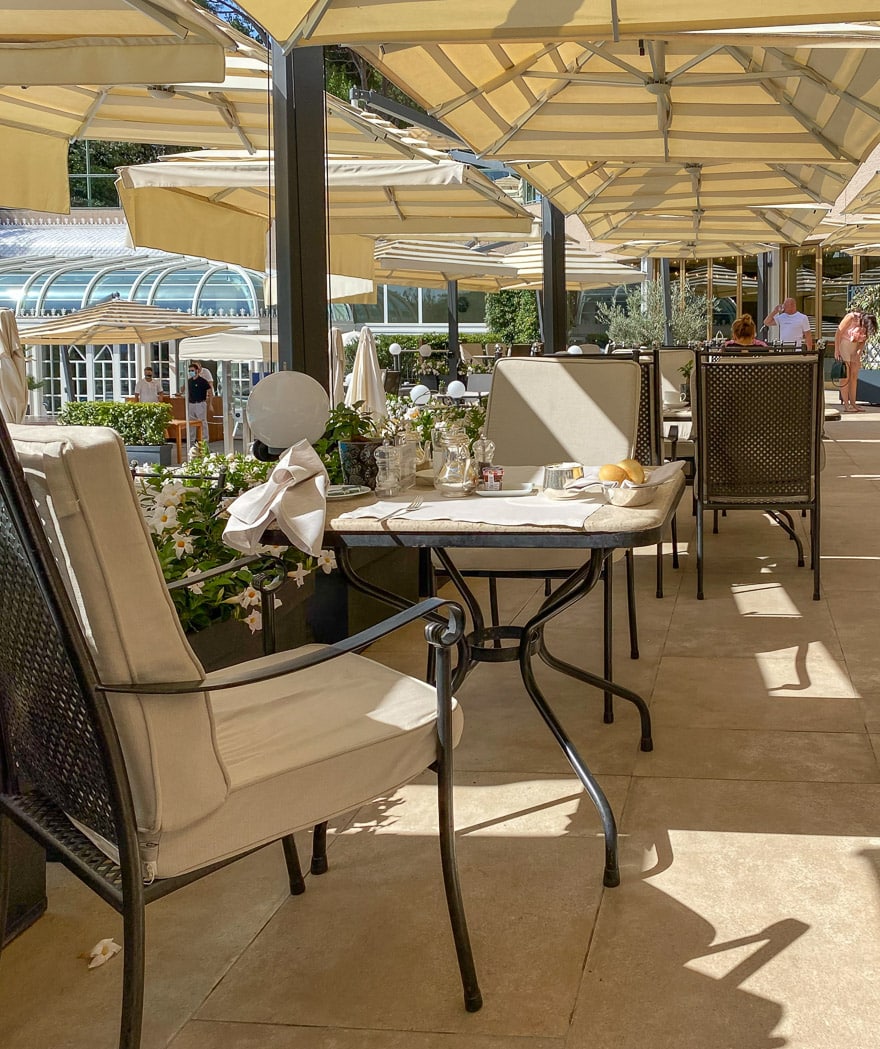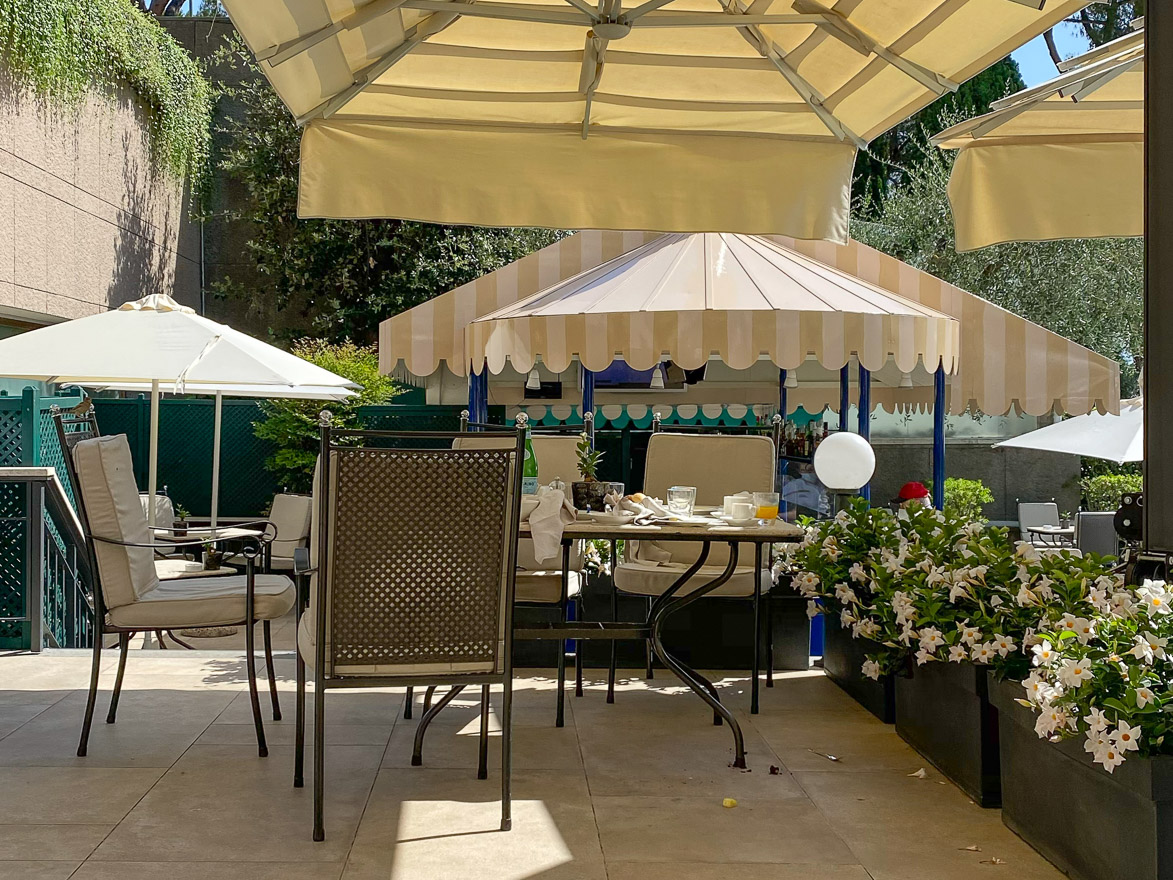 On the first day, we were handed physical plastic menus from which to order a la carte: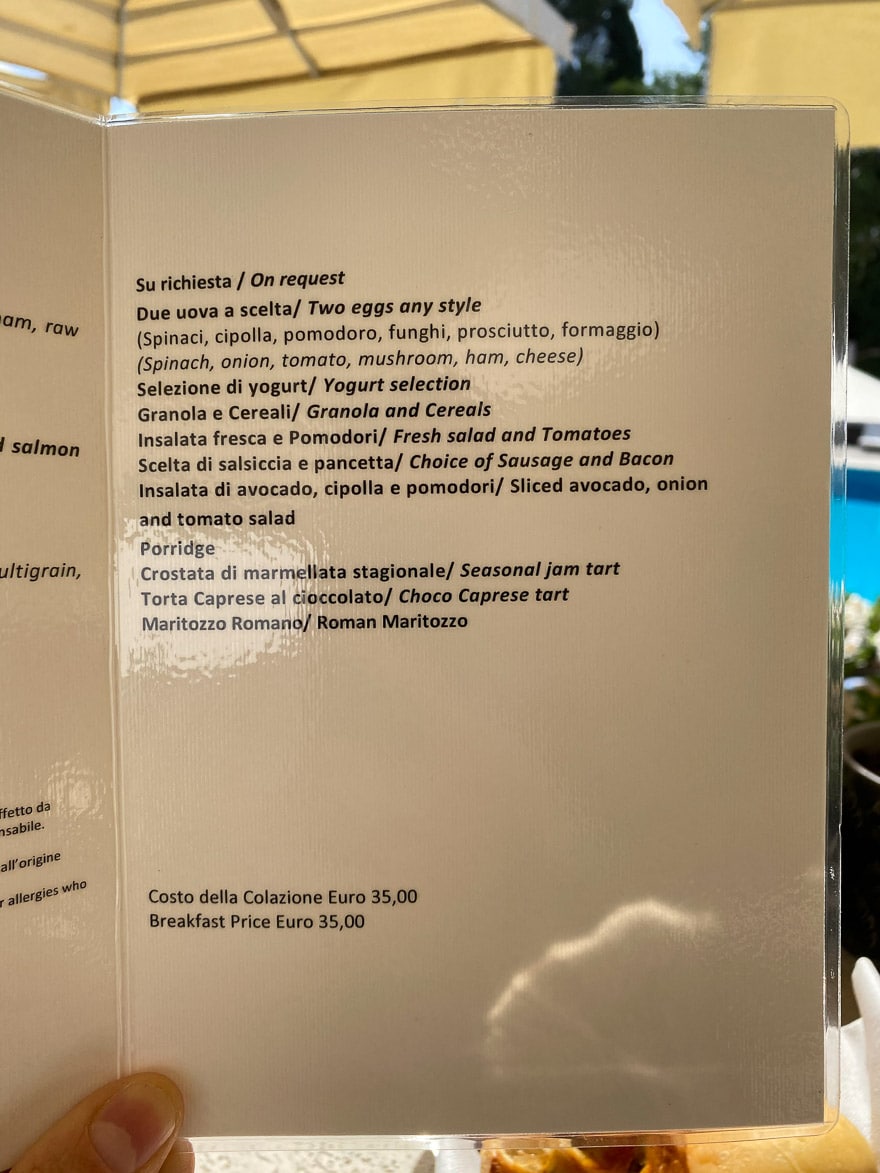 However, on the following day, a plastic block with a QR menu was placed on the table instead. I have to say I'm a huge fan of QR code menus; they are cleaner, more efficient and better for the environment than regular menus. It's crazy that it took something like COVID to push this kind of advance through but all over Italy you can see that the new technology has been warmly embraced.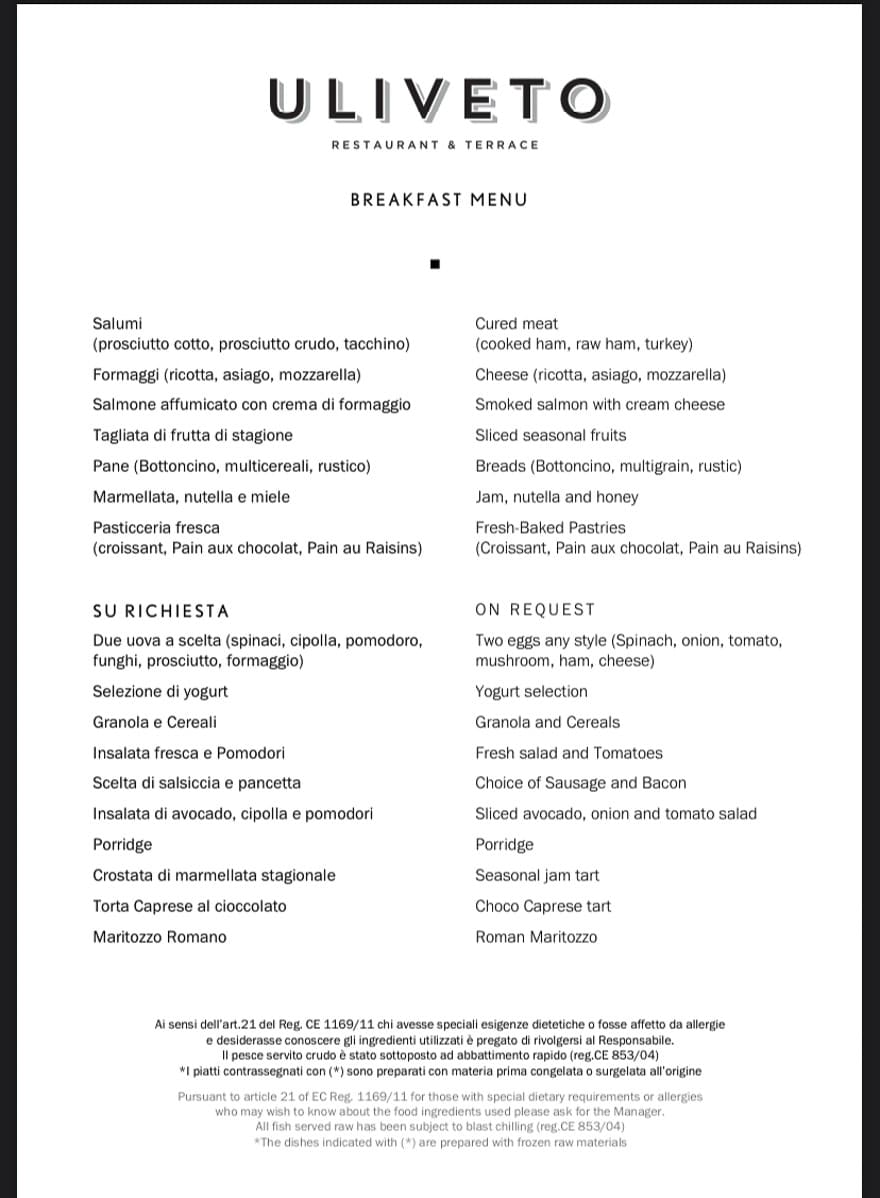 Breakfast began each day with a tiered mini-buffet of sorts as well as a copious bread basket. It would have been great to customise this as well to reduce food waste but given the strain that staff were already under, I can understand why this wasn't possible.
A la carte egg dishes took quite a while to arrive but were of reasonable quality, if a little overcooked.
Once the food arrived, it was a mad rush to eat the meat before the wasps arrived. I always thought they like sweet things but the ones here were completely obsessed with ham.
A leisurely poolside breakfast served in a 5* hotel sounds great but honestly the ingredient quality was pretty low, the "freshly baked" pastries had clearly come from a packet, the service was disjointed and the wasps meant that people were constantly waving napkins around or shrieking. We actually didn't bother eating breakfast on the last day, opting to have a protein bar and an iced Nespresso on our terrace instead.
I think that tells you everything you need to know.
Lunch at Uliveto
We only had lunch one day at the hotel and despite it also being served at Uliveto, the experience was completely different. The staff were relaxed, friendly and efficient. The food quality was superb and even the wasps seemed to be a little more relaxed, having doubtless eaten their fill a few hours prior.
Food Menu
Wine List
I ordered a superb frittura mista of very delicately fried seafood in a light an airy batter. Kamara opted for their raw seafood dish, which was equally fresh and absolutely delicious too.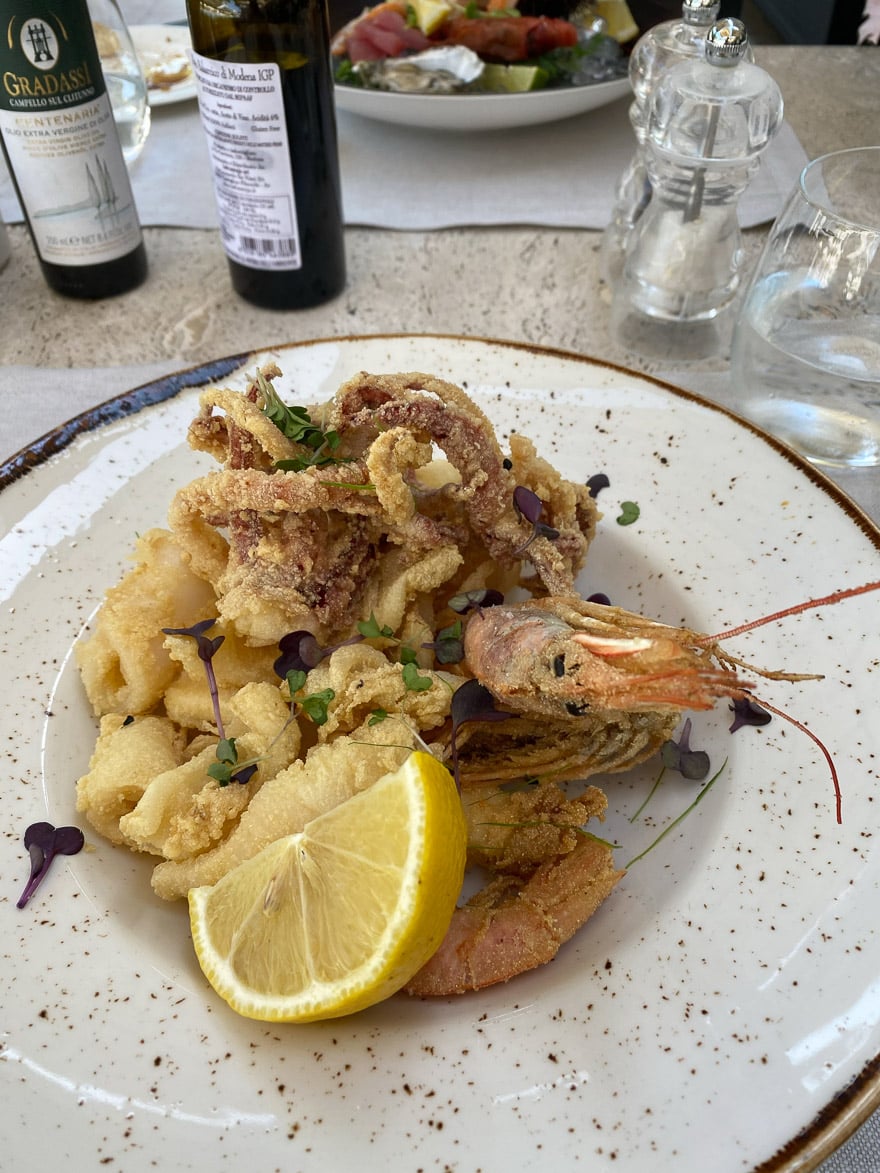 Rooftop drinks at Vista 101
The hotel's rooftop bar is a destination in and of itself, with many non-residents coming to visit either for an aperitivo or for pre or post dinner drinks when dining at La Pergola next door. The vantage point from the top of the Cavalieri hotel is truly spectacular and watching day to turn to night as the twinkling lights of Rome reflect the stars above, is truly a magical experience.
If you've not staying at the hotel, I'd highly recommend coming to take a look at the art and then to have an aperitivo on the roof. There can't be many better ways to begin your evening in this city.
The interior bar was completely empty when we visited, though I imagine that this gets busier in ordinary times.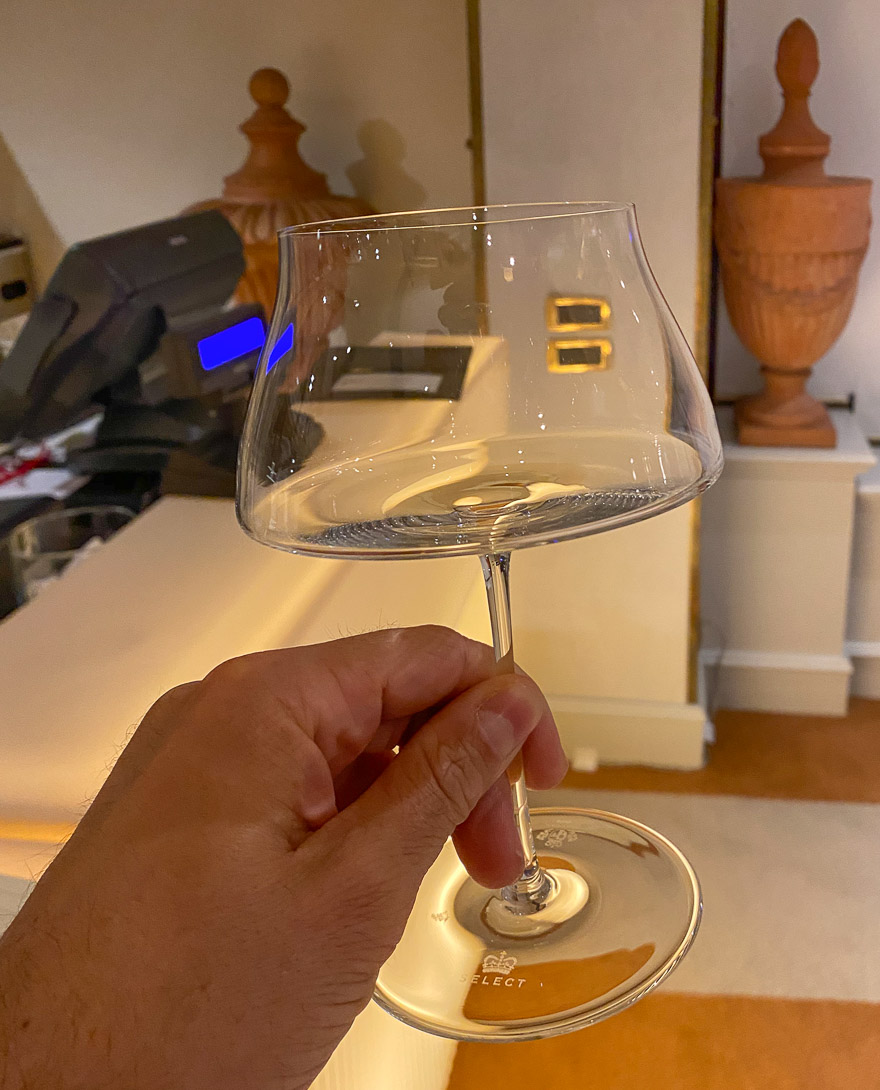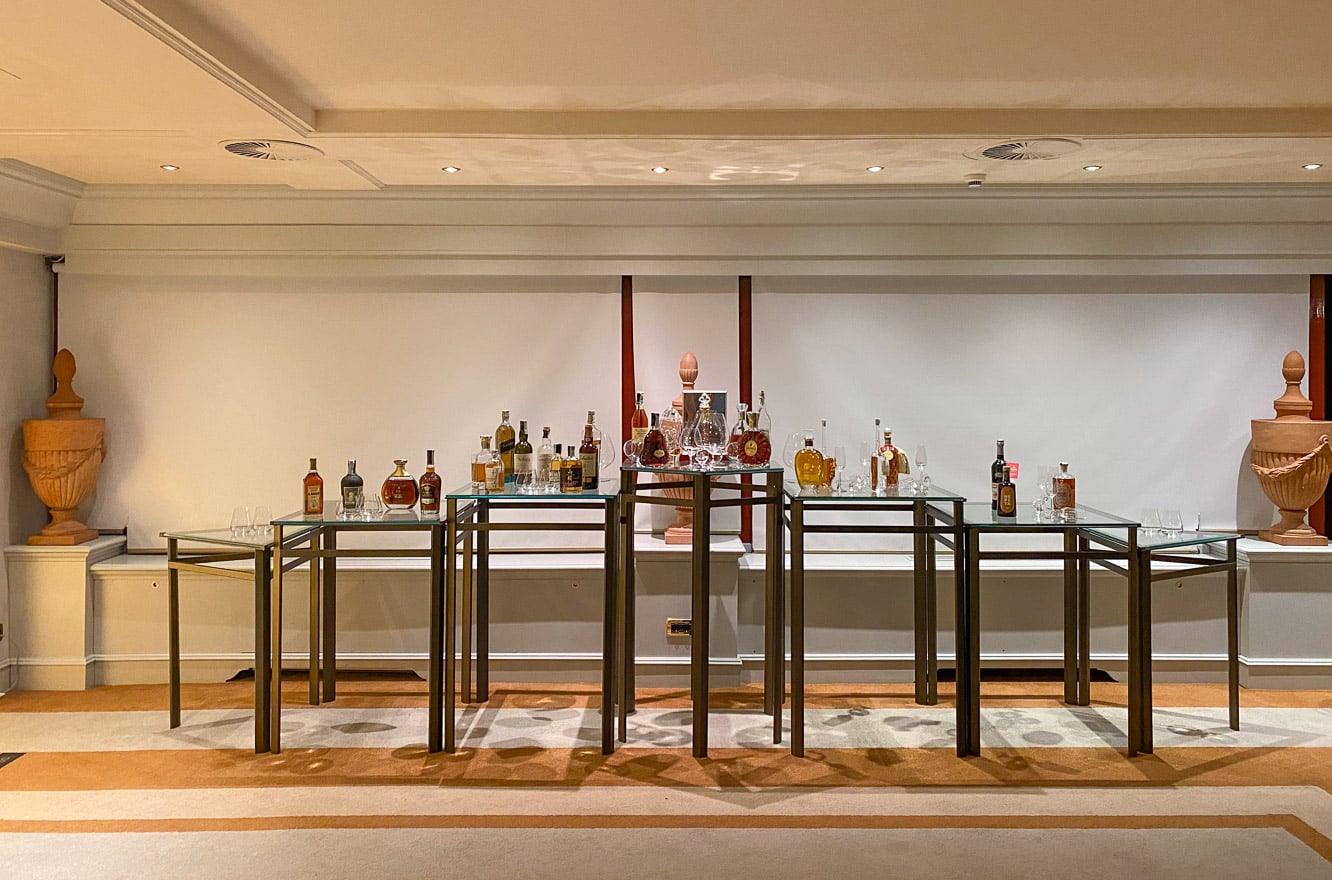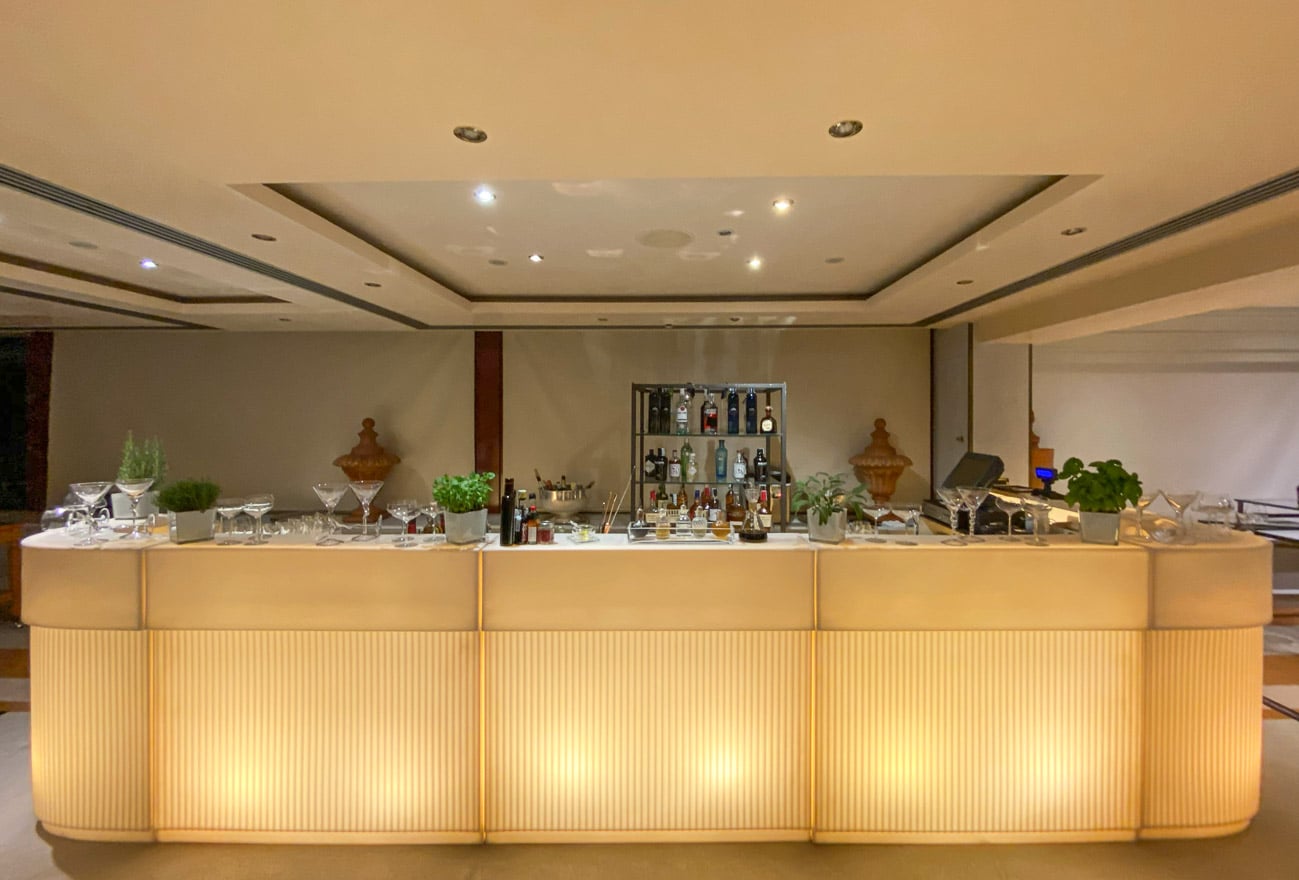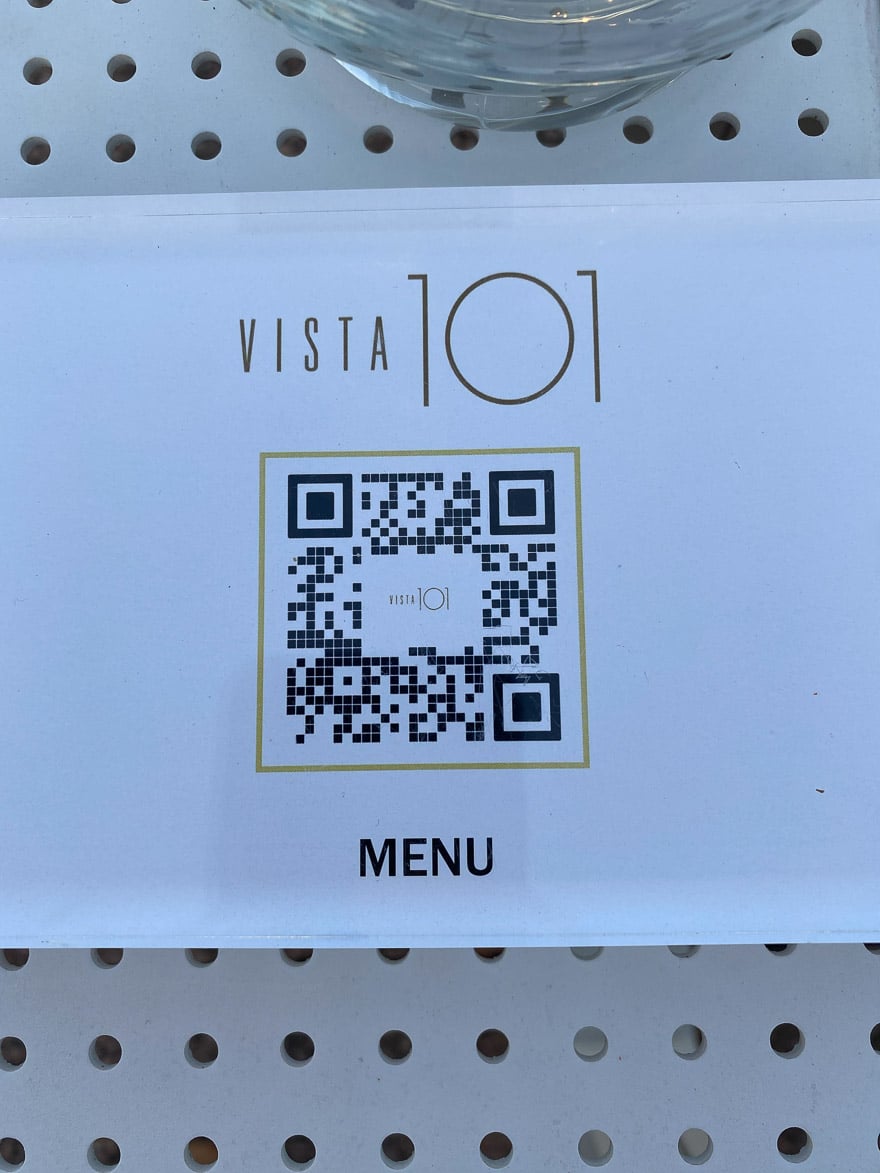 The cool thing about reviewing bars and restaurants nowadays is that whenever you're reading this review you should be able to scan that QR code to see the latest menu!
Here was the menu when we visited. It seems that €18-€25 is the going rate for cocktails at high end establishments in Rome, given that they are generally served as an aperitivo with food. As such the drinks here were on the cheaper end of the spectrum that we encountered on this trip.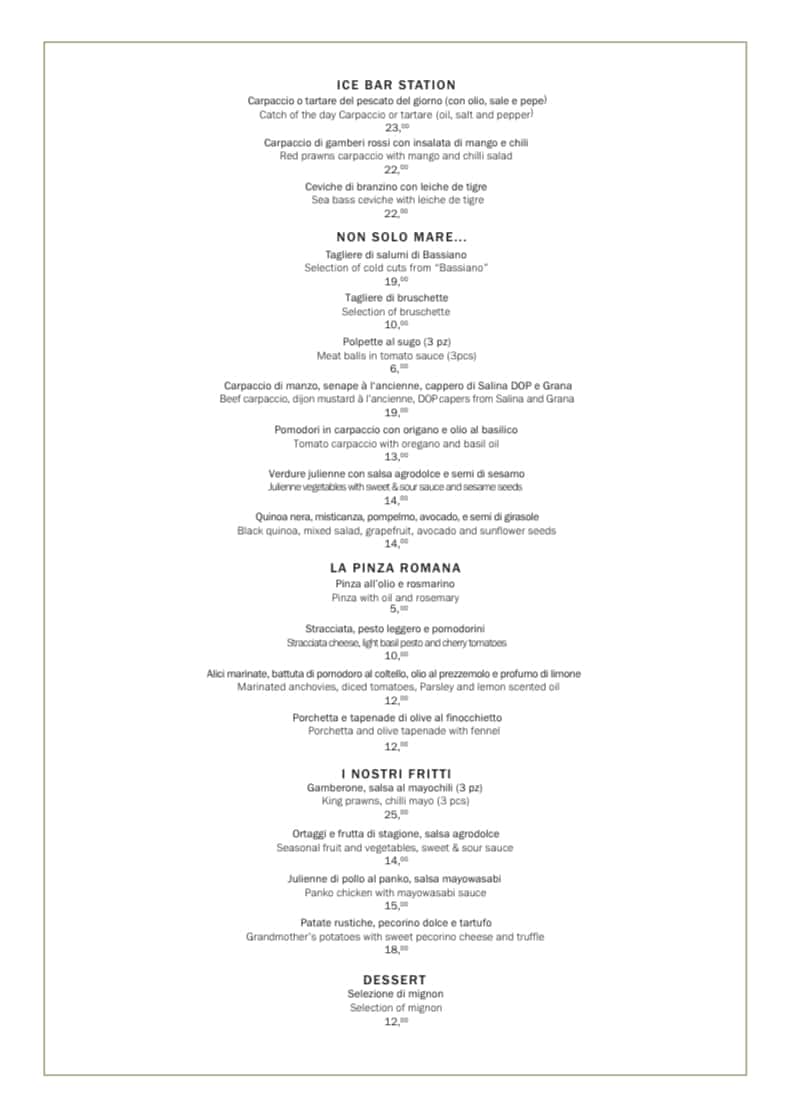 To begin we ordered two amazing gin based cocktails. the OCG and the Nitro Smash Basil. These were served with a selection of aperitivi, which honestly were the worst we had in Rome…although the view certainly made up for it.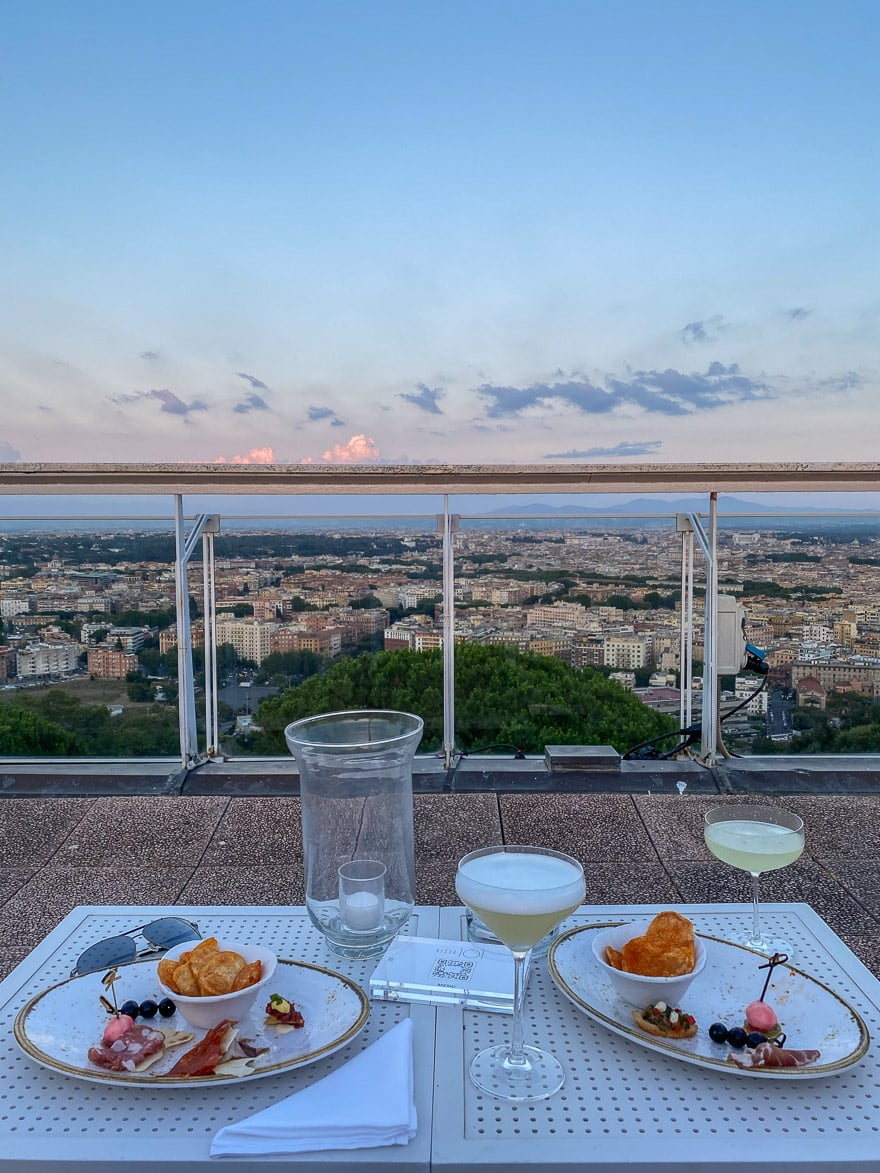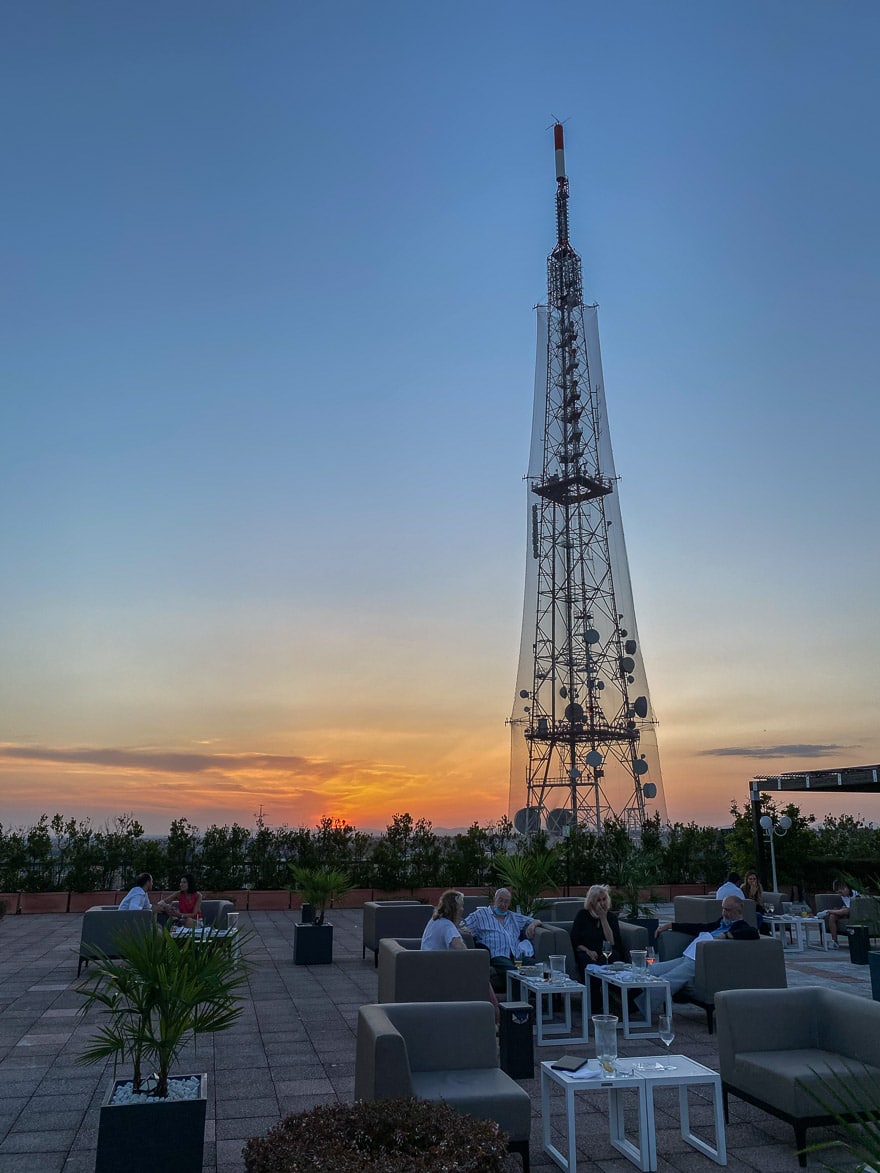 The hotel faces East but we could easily turn around to see the sunset colours behind us, although the lights of the city soon caught our attention again… as did round two of drinks. Unfortunately they were all out of my first choice of Bollinger but I soon forgot about that once I got a second OCG down me.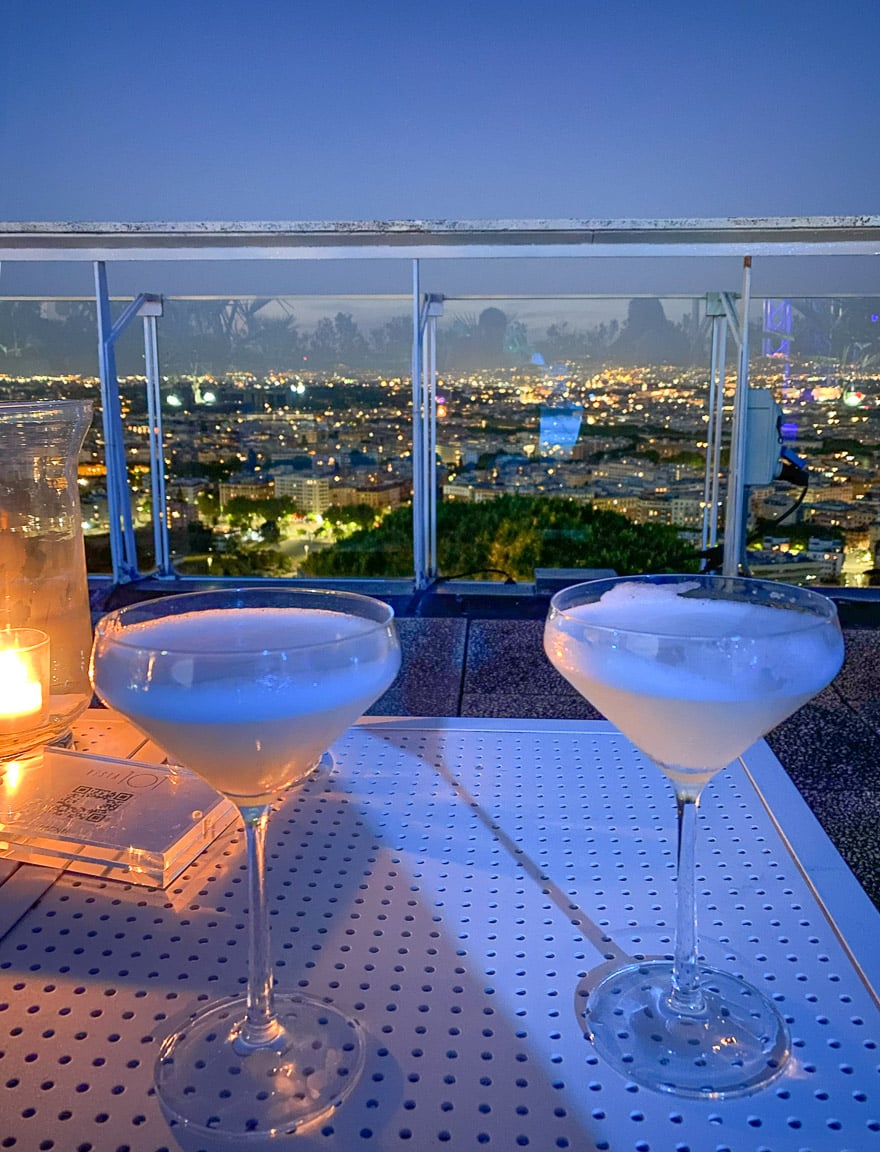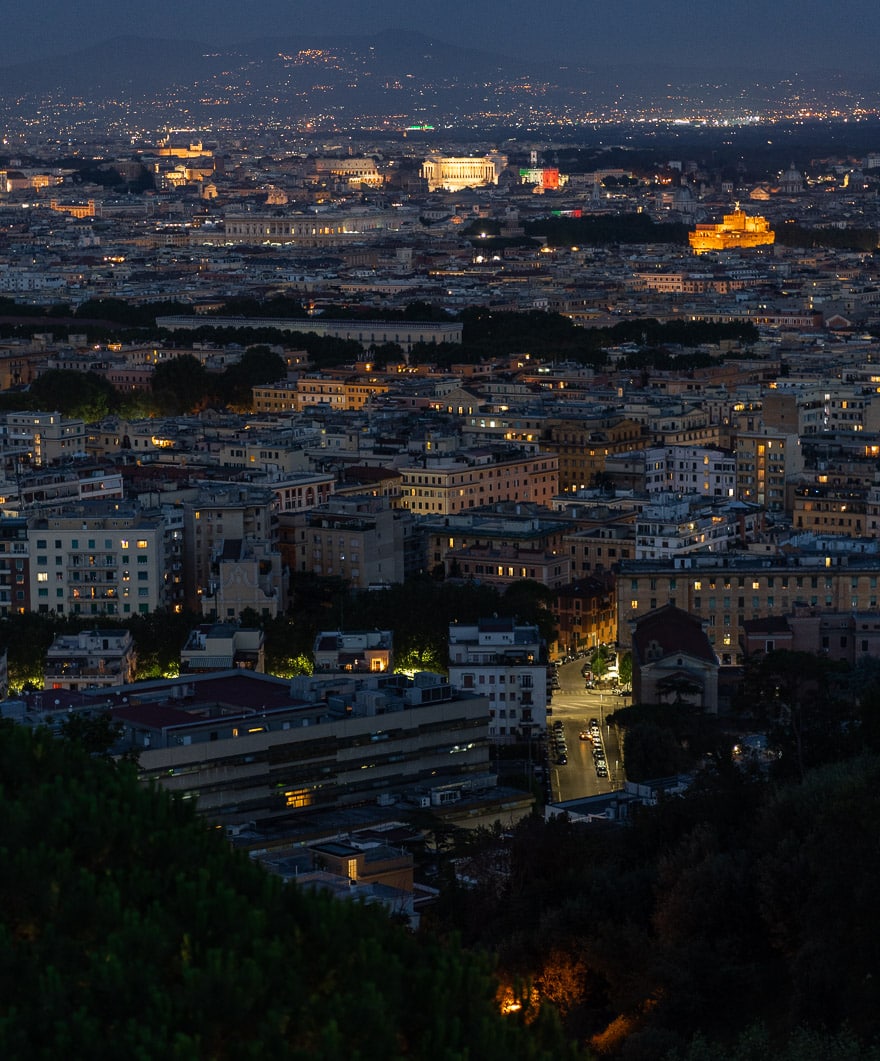 The service was very attentive, the drinks were very well made and there was even live music to keep us entertained.
Did I mention the view?
Before we knew it, we'd had several drinks and spent nearly 5 hours here. It was one of those perfect warm evenings that seemed to go on forever. Very relaxing.
---
Dinner at 3* Michelin La Pergola
---
Eating at any 3* Michelin restaurant is an experience to be revered and treasured. Establishments which gain the Michelin Guide's highest accolade are expected to deliver a flawless and near transcendental dining experience, commanding prices commensurate with the lofty weight of diners' expectations.
As we exited the lifts on the 8th floor, after a day spent seeing the sights in Rome, my heart began to beat a little faster. The moment that I caught a glimpse of the three white outlined stars, mounted on their familiar red background, I couldn't help but smile.
In a way, it was almost refreshing to see this award displayed so prominently since having eaten in multiple 3* establishments in Japan, I found that they almost hide the fact that they have the award.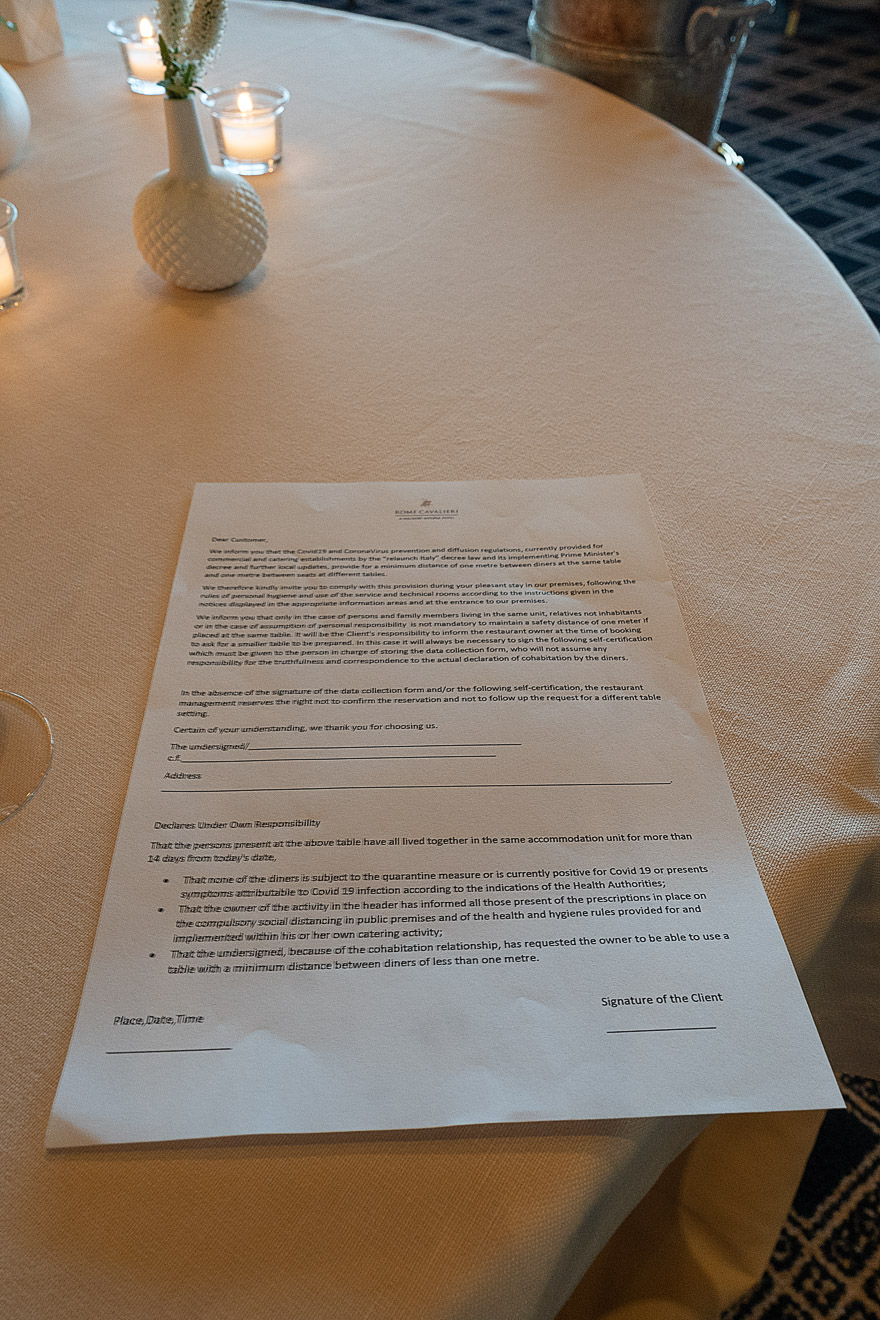 Since we had made the reservation literally one night before, for a Friday night, I wasn't too surprised to see that we'd been given an indoor table rather than one of the ones outdoors with the view of Rome.
I was, however, a little surprised to see that we were required to fill in a paper contact tracing form, given that we were hotel guests and therefore the restaurant had all of our details already. Just a minor observation but I also didn't really like handling one of their pens to fill this form, since no sanitiser was provided at the table.
Similarly the menu and wine list were old fashioned, heavy tomes – although it looks like they've switched to QR codes in the last couple of weeks.
The Summer Menu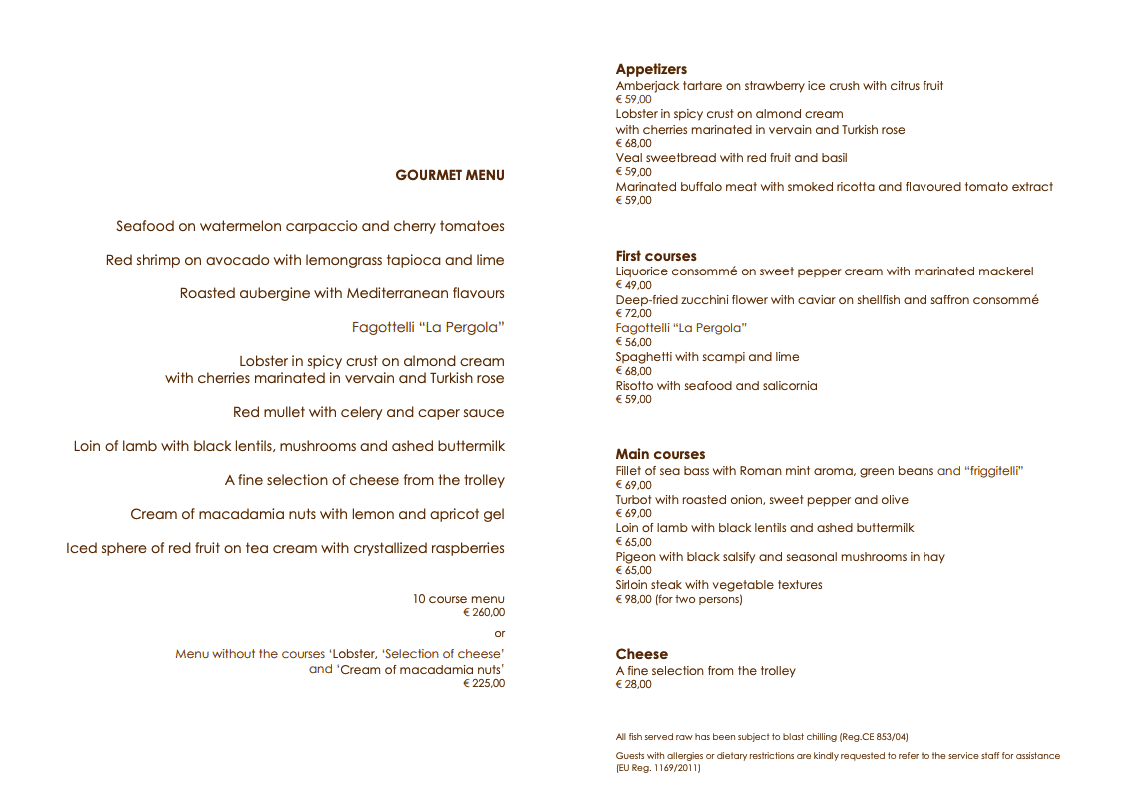 Both Kamara and I opted for the full 10 course tasting menu at a price of €260 per person. Given the $250 resort credit from my US Hilton Amex Aspire card, this meant that one of us was effectively dining free of charge!
The wine list was absolutely monumental and pricing was very similar to the one at Uliveto i.e. around 300% mark-ups. Since Kamara doesn't drink very much, I asked if the sommelier could arrange for a pairing of Italian wines, this came to €110 for what ended up being a rather substantial quantity of wine!
The table was extremely ample and laid out beautifully with a series of candles. The breads were a little unexciting but the amuses set the proceedings in motion; they were delicious and also presented in quite a fun way.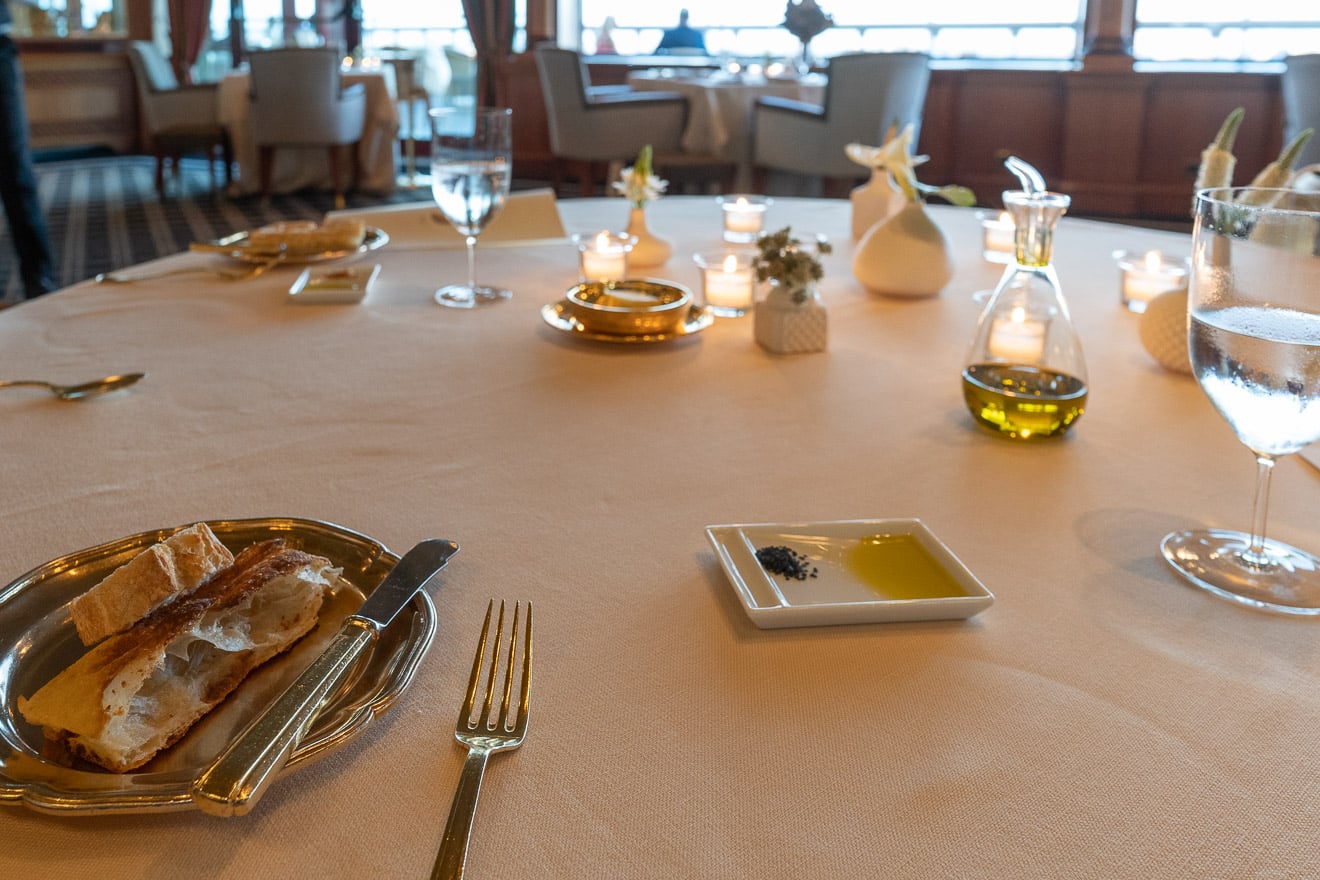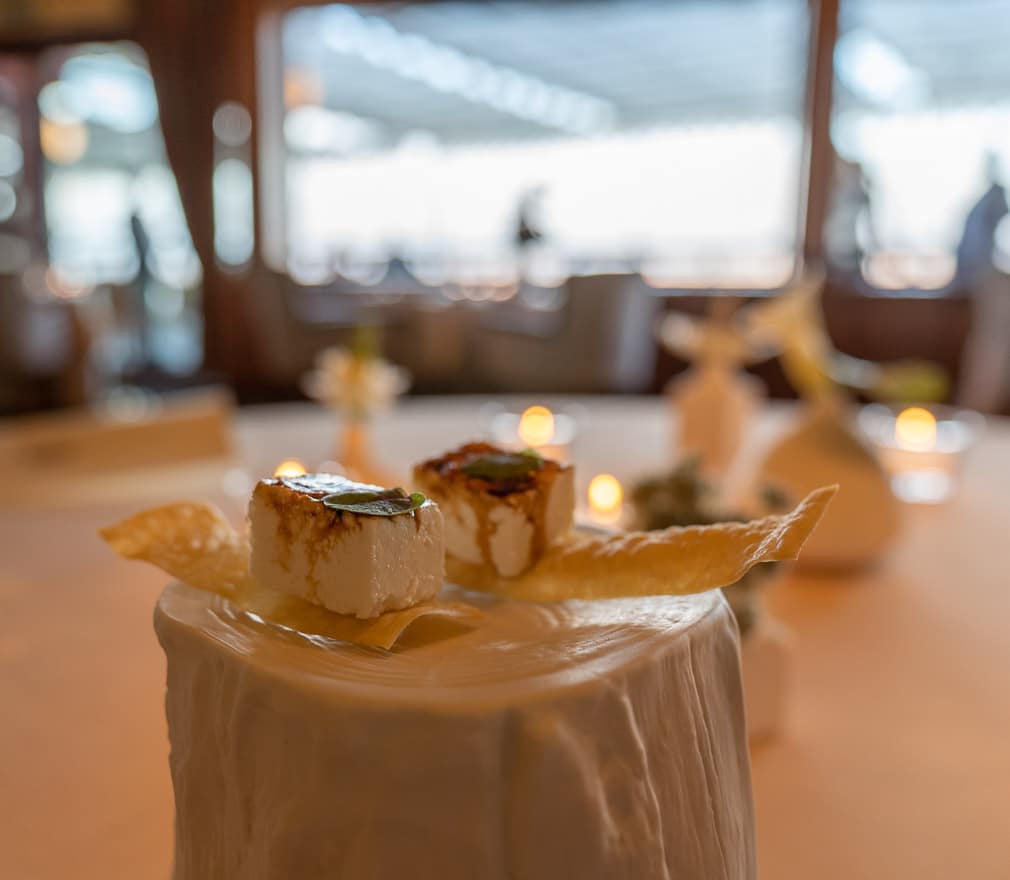 What then proceeded was a series of beautifully presented but ultimately uninspiring and unmemorable dishes.
The main issue for me was that there was no textural contrast, 99% of what we ate was soft and a little mushy. Perfect if you're wearing dentures (which I imagine a great deal of patrons were upon scanning the room) but for me, a great meal has to have standout dishes, one where you look over to your dining companions with wide eyed wonder, as you both nod in recognition of excellence.
I've had those moments at Le Bernardin in New York, Fat Duck in Bray, Wa Yamamura in Nara and at countless other restaurants holding less stars or no stars at all. However at La Pergola, nothing came close. It was all very safe and very boring.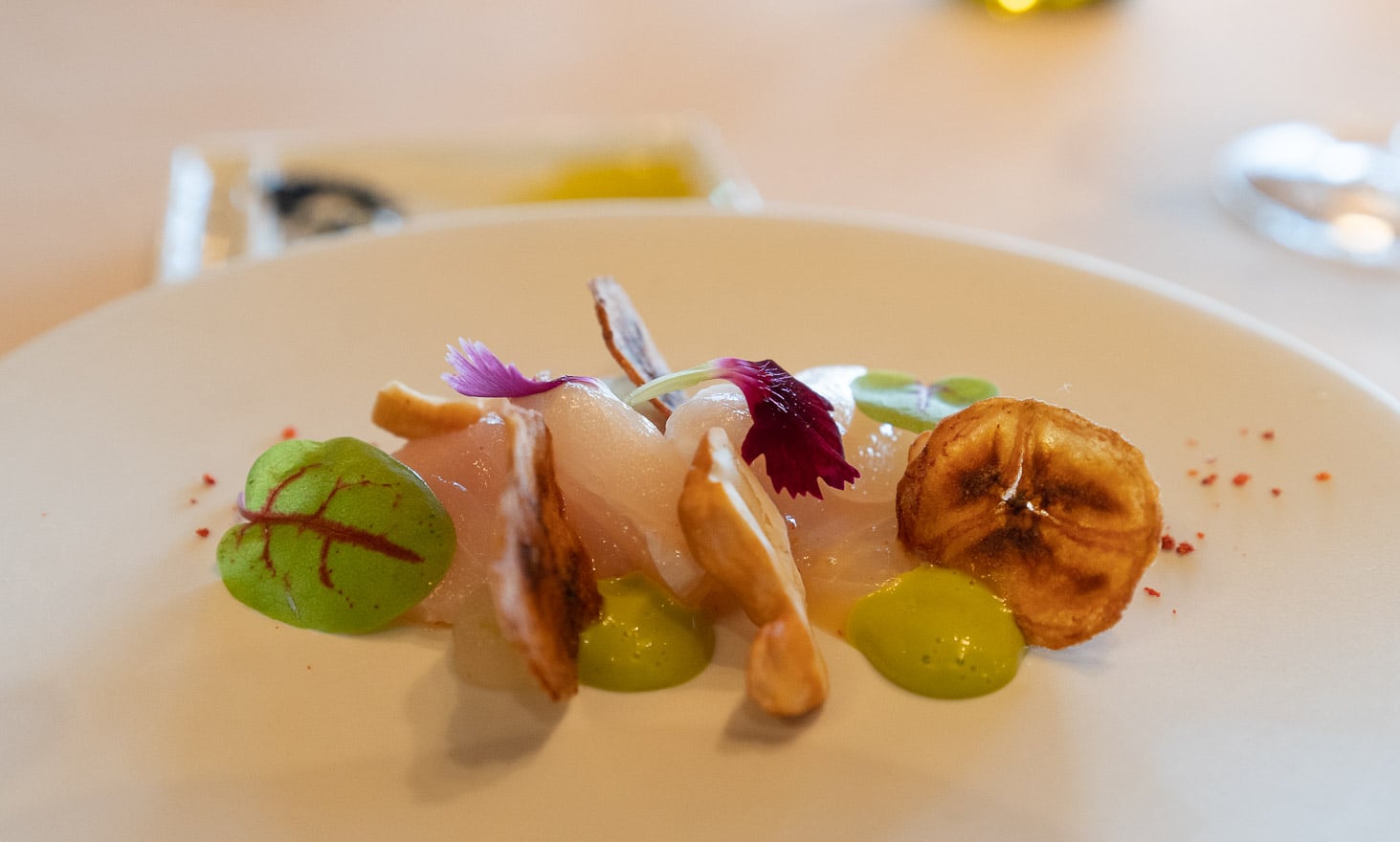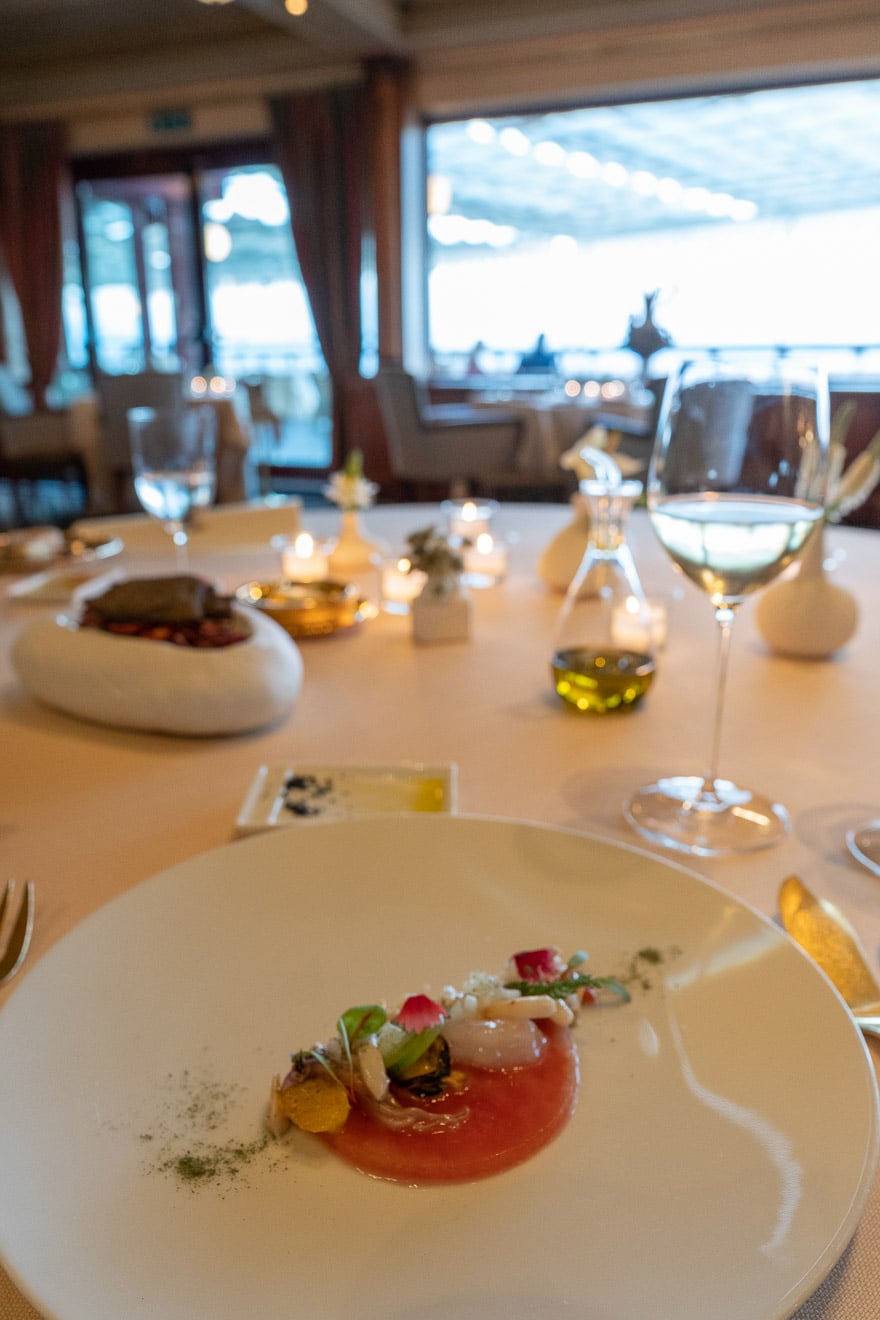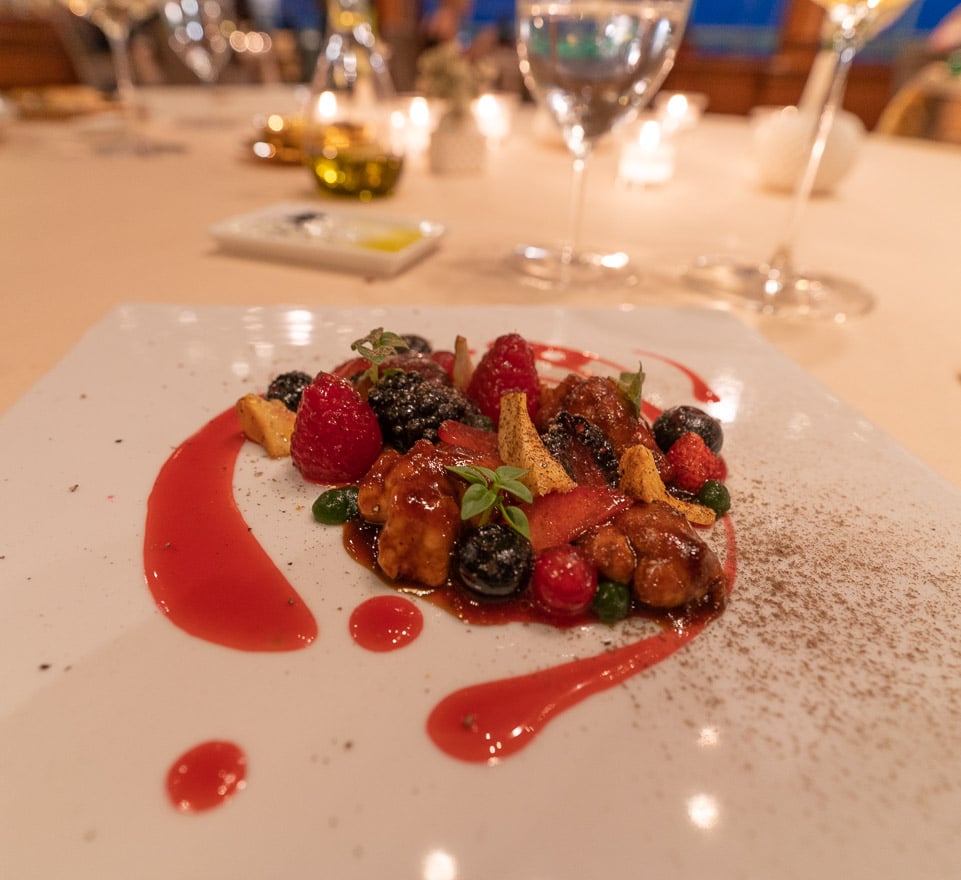 Things got decidedly less boring during the cheese course though…when the waiter proceeded to serve me a bread containing walnuts even after specifically asking about any allergies at the beginning of the meal.
Admittedly, I'd had a few glasses of wine at this point so wasn't overly cautious in taking a bite of the fig bread that accompanied the cheese. I figured it must just contain almonds since surely the staff would remember the allergy I was asked about at the beginning of the meal.
Thankfully my allergy is mild, my lips swell up a bit and my throat feels itchy and slightly closed for a few hours. Not deadly but by no means ideal.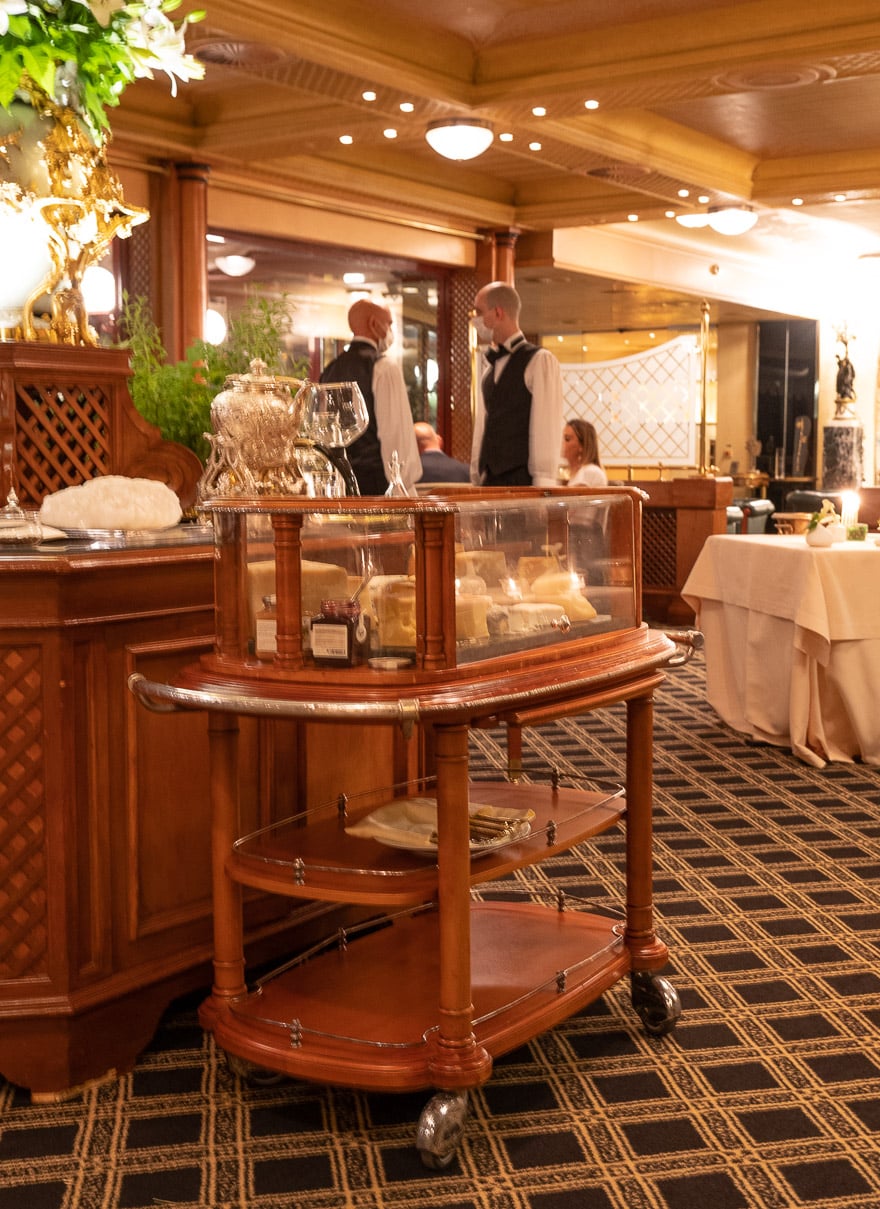 What was most concerning was the staff's method of handling the situation. No overt admission of the mistake, no apology, just the removal of the offending bread from the table, the replacement of our waiter with another for the remainder of the meal and a knowingly large top up of my wine from the sommelier.
This is not how you handle a serious mistake. At all.
The three dessert courses that followed were delicious but obviously the meal had taken a bit of a weird turn at this point; we kept wondering when somebody was actually going to apologise but sensing this, the staff very quickly served and cleared each sweet course, never stopping to explain them in depth or ask if we enjoyed them.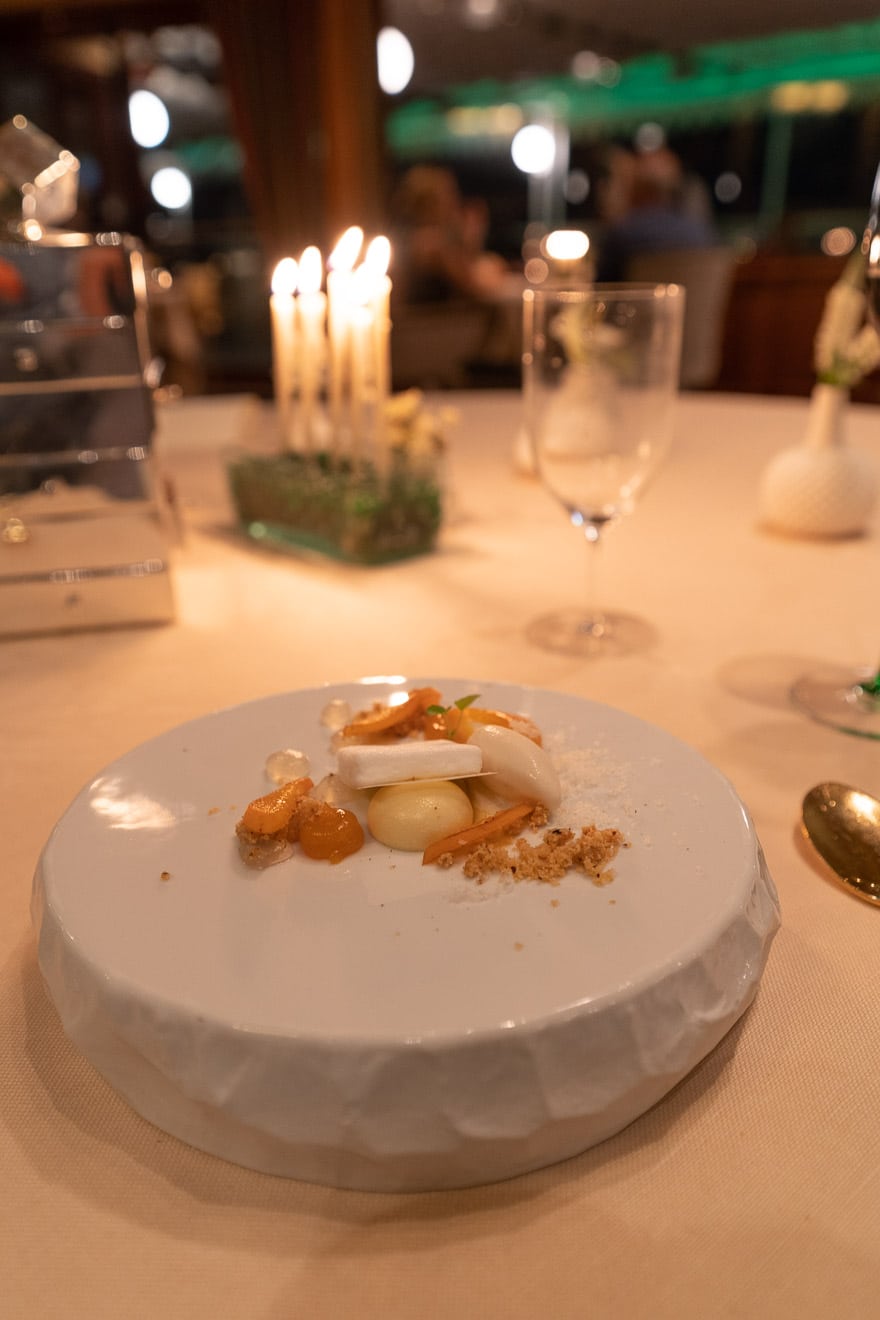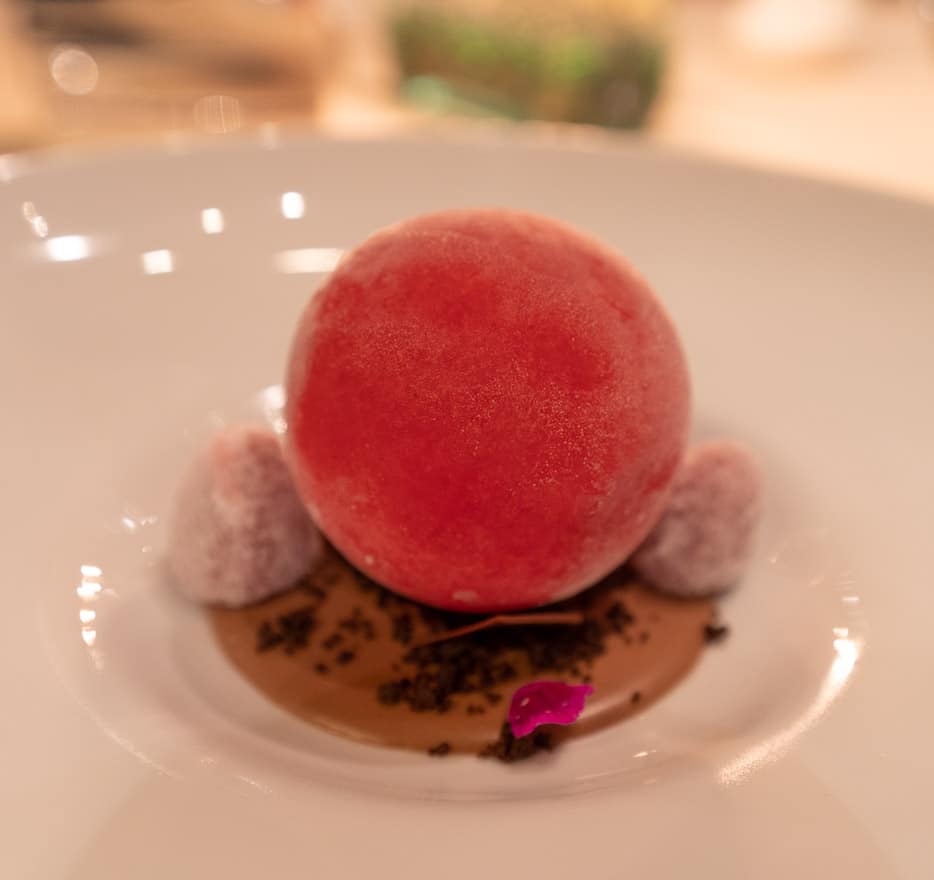 When the bill came, I had a feeling that I'd need to have a word with the Maître D and I was right.
In order to atone for serving a guest a food to which the restaurant knows the guest is allergic – the compensation offered? A reduction in price from the 10 course to the 7 course menu. So €70.
I explained my displeasure at the situation, particularly since I'd received no apology and indeed had seen markedly worse service after the incident and thankfully the Maître D took care of the situation. He apologised profusely and said that of course there would be no charge for my meal.
This is exactly what should have happened when the error was first committed but better late than never I guess.
So, in the end one of us ate for free, the other had their meal almost entirely paid for by Amex and I drank a significant quantity of wine for €110. Net out of pocket cost: around €180.
Even at that price, I wouldn't recommend this restaurant. I'd rather go and eat at Per Me, which may 'only' have one Michelin star but eclipsed this meal in every possible way and is less than half of the normal price here.
---
Conclusion
---
Basics Checklist
X Power sockets near the bed
X Easy to understand light switches
X Coffee machine
☑︎ Separate shower and bath
X Blackout blinds
☑︎ Stable, fast and free Wifi
☑︎ Feather pillows
☑︎ Quiet and powerful aircon
It's been a long time since I visited ANY hotel that misses so many of the basics. Even 4* airport hotels which I spend a single night in will tick all but one (with feather pillows and separate shower and bath being the most 'at risk').
To visit a hotel that clearly regards itself so highly yet falls so short on even the basics is an unusual experience. Cognitive dissonance reigns supreme at the Rome Cavalieri hotel.
I felt like I had to fight for the simplest of things here and it wasn't at all a relaxing experience.
Despite being at approximately 15% capacity, the hotel denied me a 4pm checkout as a Hilton Diamond. I've never experienced this at any Hilton before. The lady at reception without irony used the following phrase: "you were upgraded to a Premium Room with spectacular views of the Eternal City and we need it for another guest". The implication being that I should be thankful for the bare minimum upgrade and the chance to witness such greatness…
Delusional nonsense in what ultimately is a tarted up former Hilton, resting on its laurels, fuelled by a clientele of elderly locals who either don't know any better or don't care.
The bathrooms are tiny, there are cracks in the walls, the pool is overcrowded and breakfast is shambolic.
In terms of positives, I liked the soundproof door, the bed was very comfortable and housekeeping were great. The gym is also exceptional, as good as – or better than – most proper commercial gyms and the concierge was very friendly and helpful.
I'll definitely stay elsewhere next time I'm in Rome but as I mentioned previously, a drink on the rooftop is worth visiting for.
---
Book The Rome Cavalieri with Hilton Impresario benefits
---
Hilton Impresario Partner Booking
Click the image to get the best available rate and also receive:
Upgrade of one category,

based on availability at time of check-in.
Full breakfast for up to two in-room guests.
$100 Hotel Credit.
Welcome amenity.
Early check-in/late check-out, subject to availability.
Double Hilton Honors points and stay credit.
The Rome Cavalieri Waldorf can be booked directly online by clicking the "BOOK NOW" image.
First time booking with us? Here's how to quickly get set up: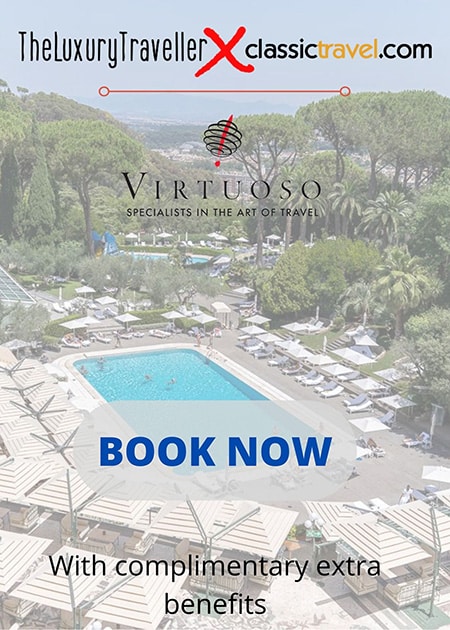 ---