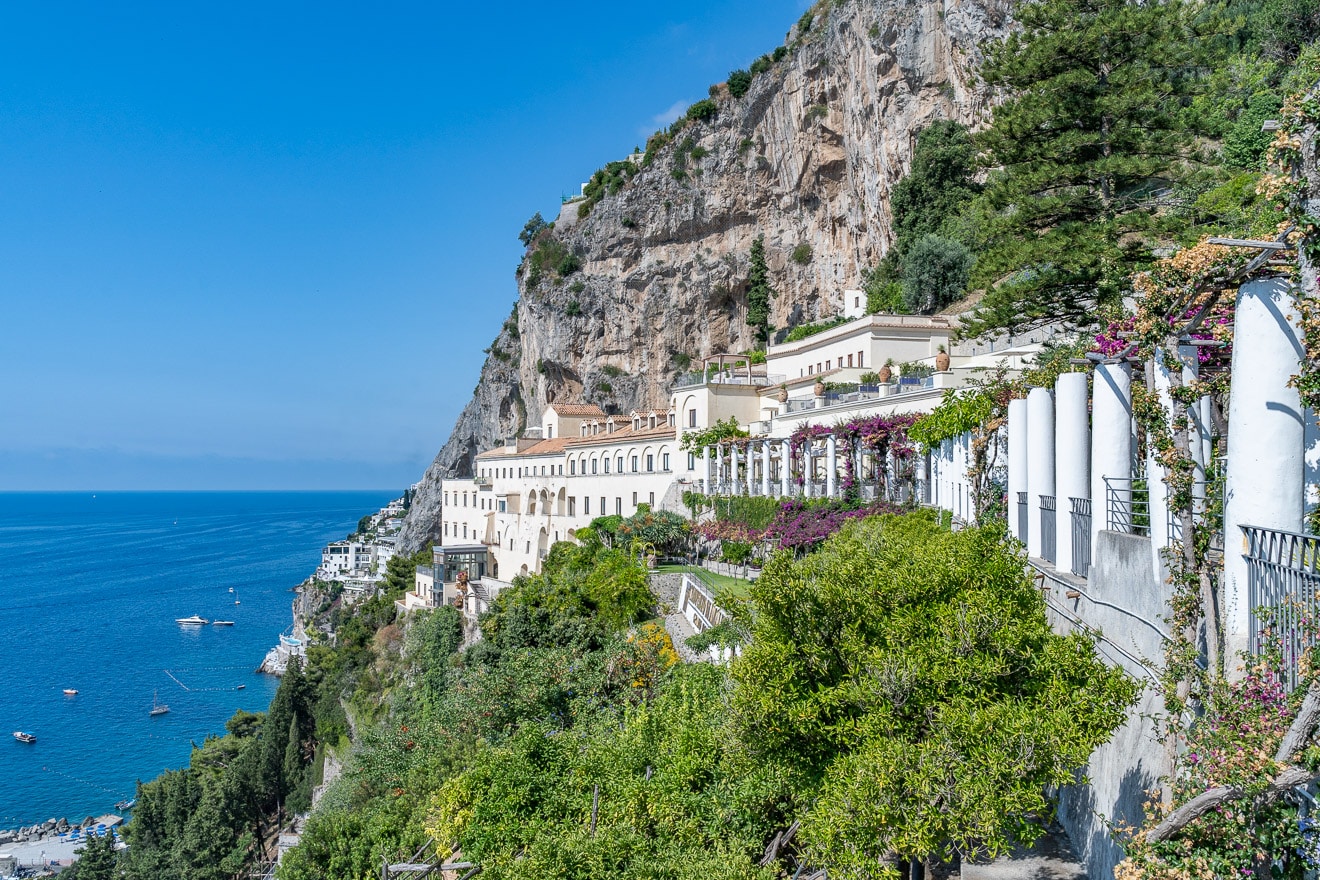 REVIEW – NH Collection Grand Hotel Convento di Amalfi [COVID-era]
September 3, 2020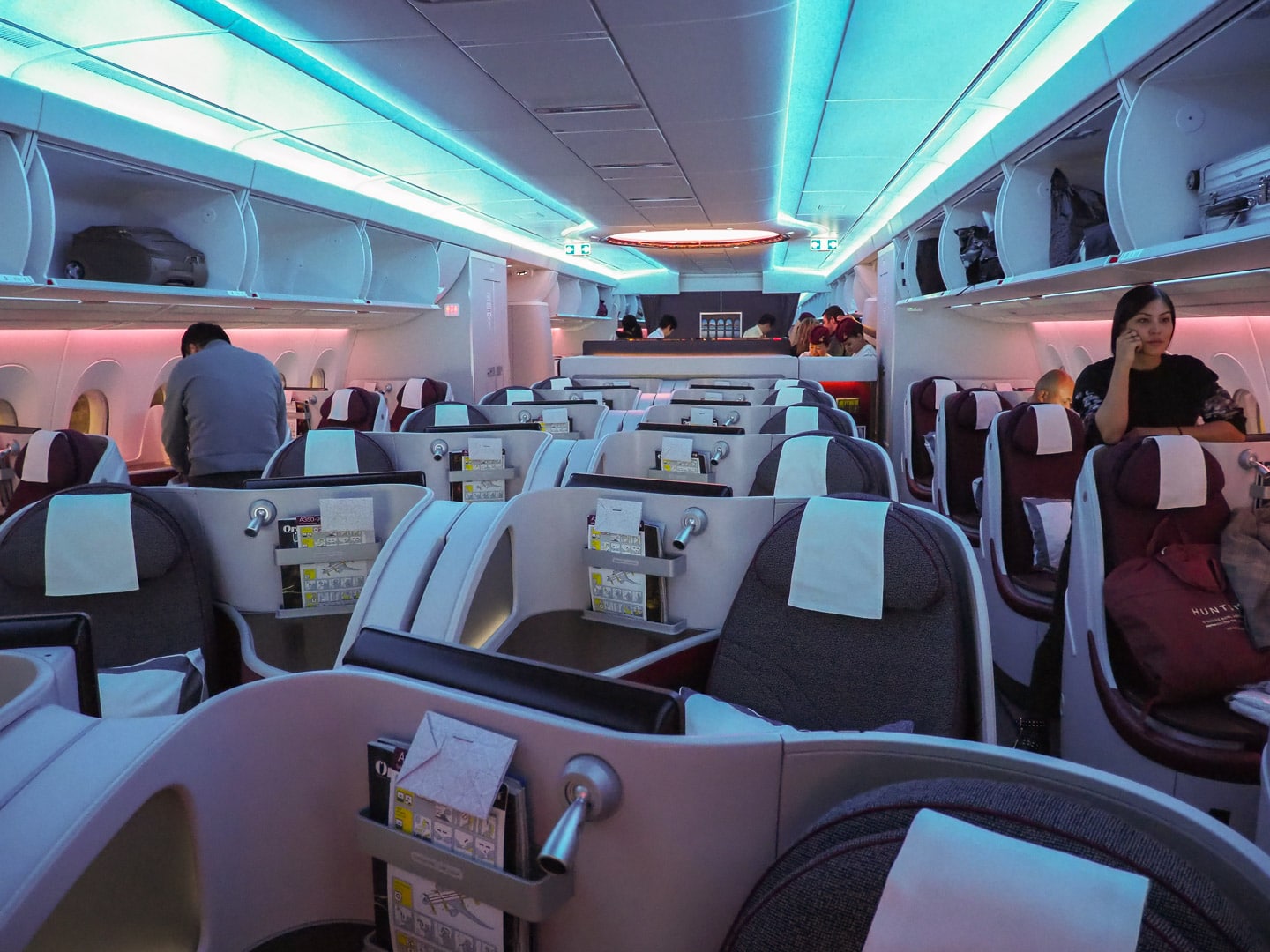 The October 2020 update to the Qatar COVID policy
October 1, 2020
Since becoming one of the worst hit countries at the very beginning of the COVID pandemic, Italy has seen a massive reversal in its fortunes.
It is now one of the safest countries in all of Europe and has seen a steady influx of tourists, willing to adjust their behaviour in order to enjoy the piazzas, galleries and trattorias without the crowds.
Rome was our first stop on this trip and as such it became the gauge by which we measured the rest of our time in the country.
In Rome, face masks are invariably worn indoors, at all times, by all people. No exceptions, no messing around. If you're indoors you wear it.
In Amalfi though, we found that attitudes towards COVID safety were rather more…relaxed.
The Amalfi Coast is dotted with numerous famous towns, most of which offer ocean views, narrow streets, impossible parking and expensive restaurants.
---
Positano
Where almost every visitor to the Amalfi Coast ends up at some point.
---
---
Positano is possibly the most famous town in the region and is certainly the most crowded. My recommendation would be to avoid it like the plague. It is overrun with tourists (even during COVID) and filled with trinket shops and overpriced and unappealing restaurants.
We spent half an hour looking for somewhere to park, with every spot on the road taken and every carpark completely full. Driving down the main strip we felt like we saw as much as we needed to…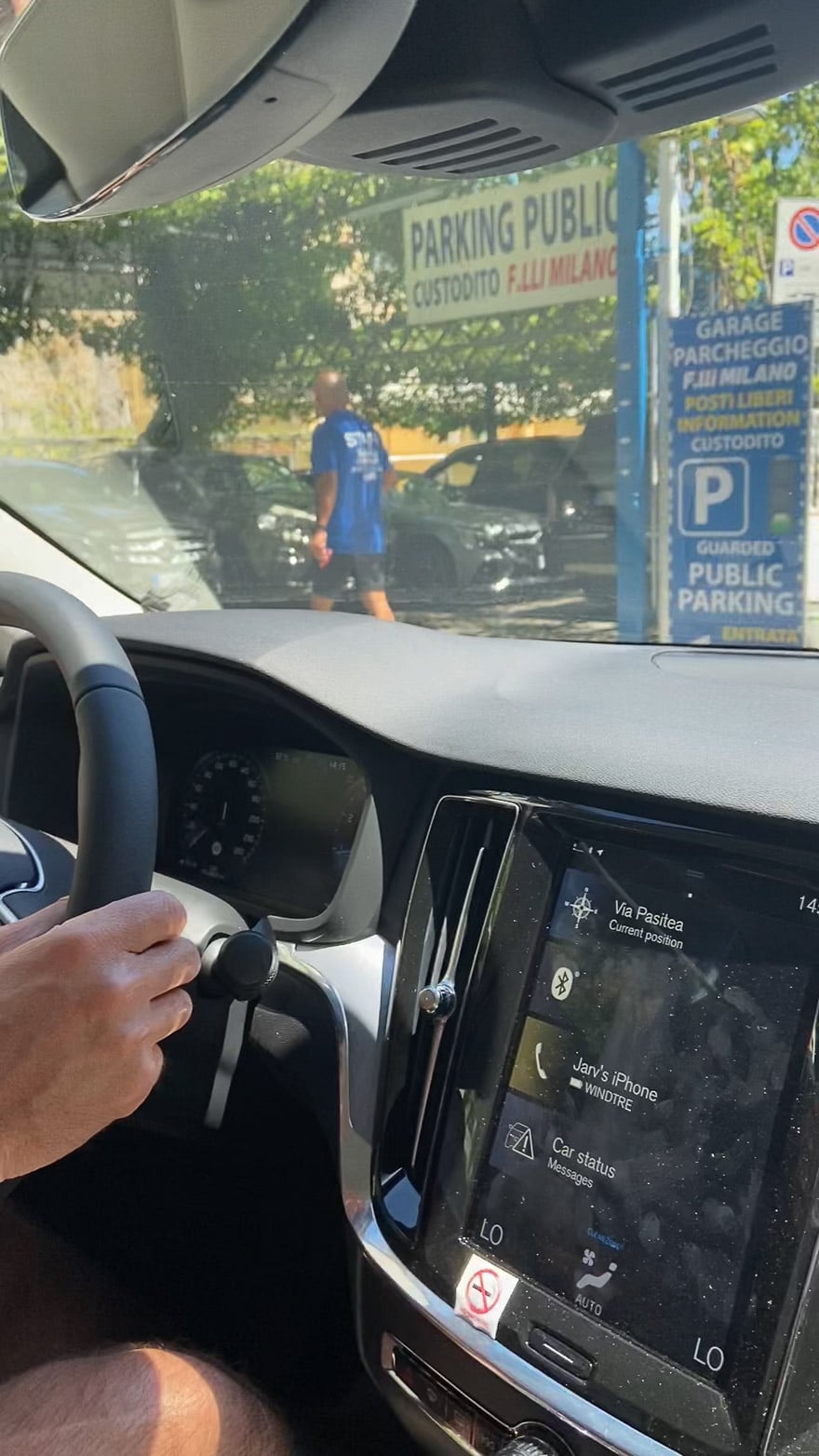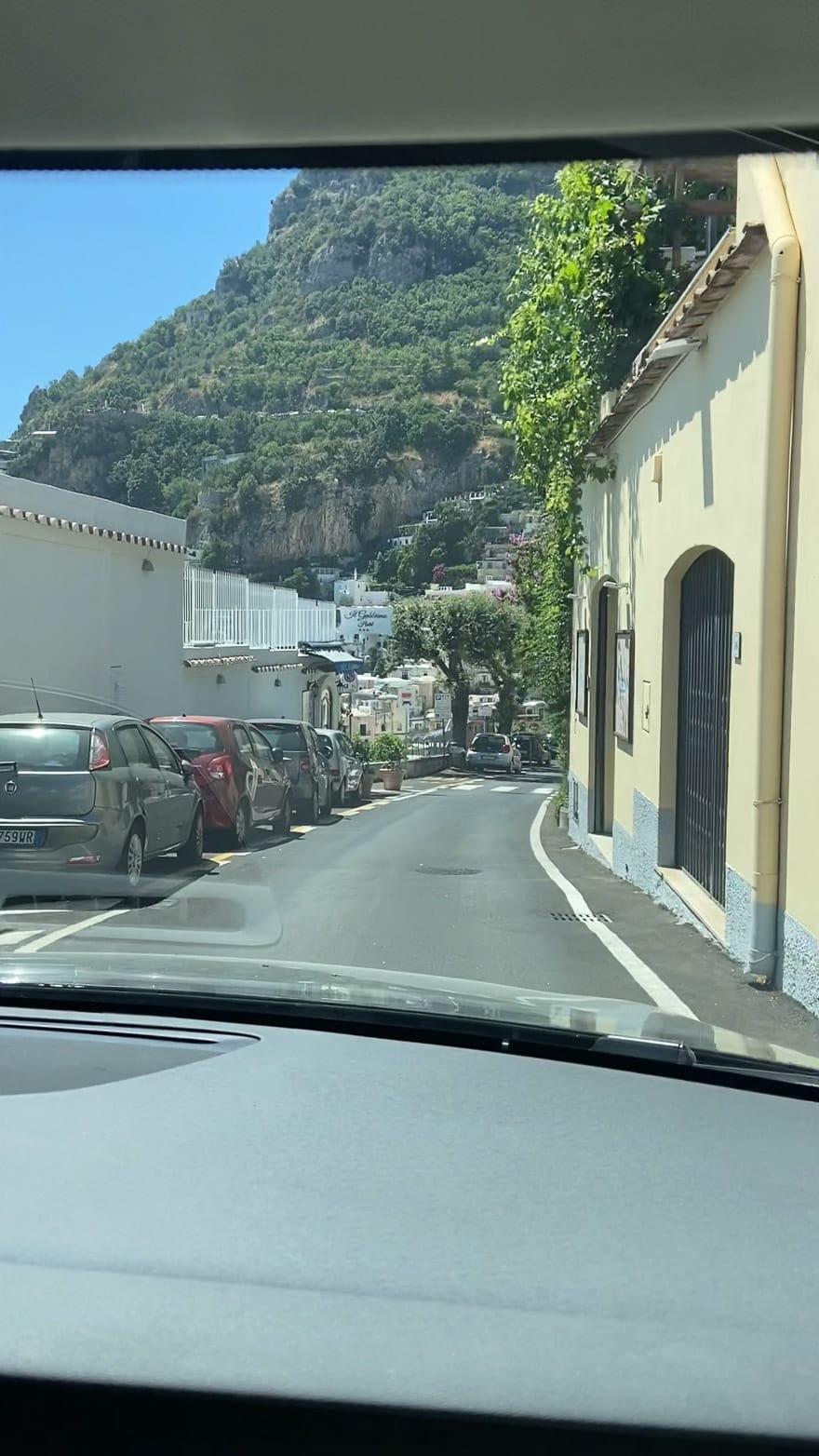 It looks beautiful from a distance but even then you catch sight of the densely packed parasols on the beach and you realise that this is not a place to visit if you're after peace or tranquility.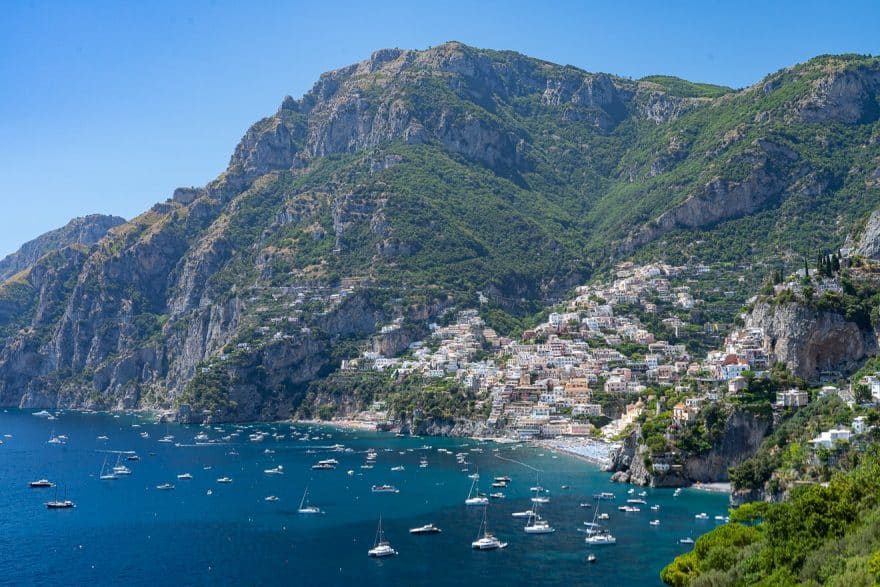 Much better from a distance: even the water is crowded!
---
Il San Pietro di Positano
The most expensive hotel on the Amalfi Coast
---
---
Immediately to our left as I took the above shot was Il San Pietro. A hotel that always mentions which Hollywood celebrities stay there. Prices are around €1200 per night for a basic room from June-August. The views look great but their 'beach' quite frankly looks like an NCP car park.
Looking on the website their main pool is also tiny and surrounded by restaurant tables. At least you can revel in the fact that Julia Roberts stayed here once.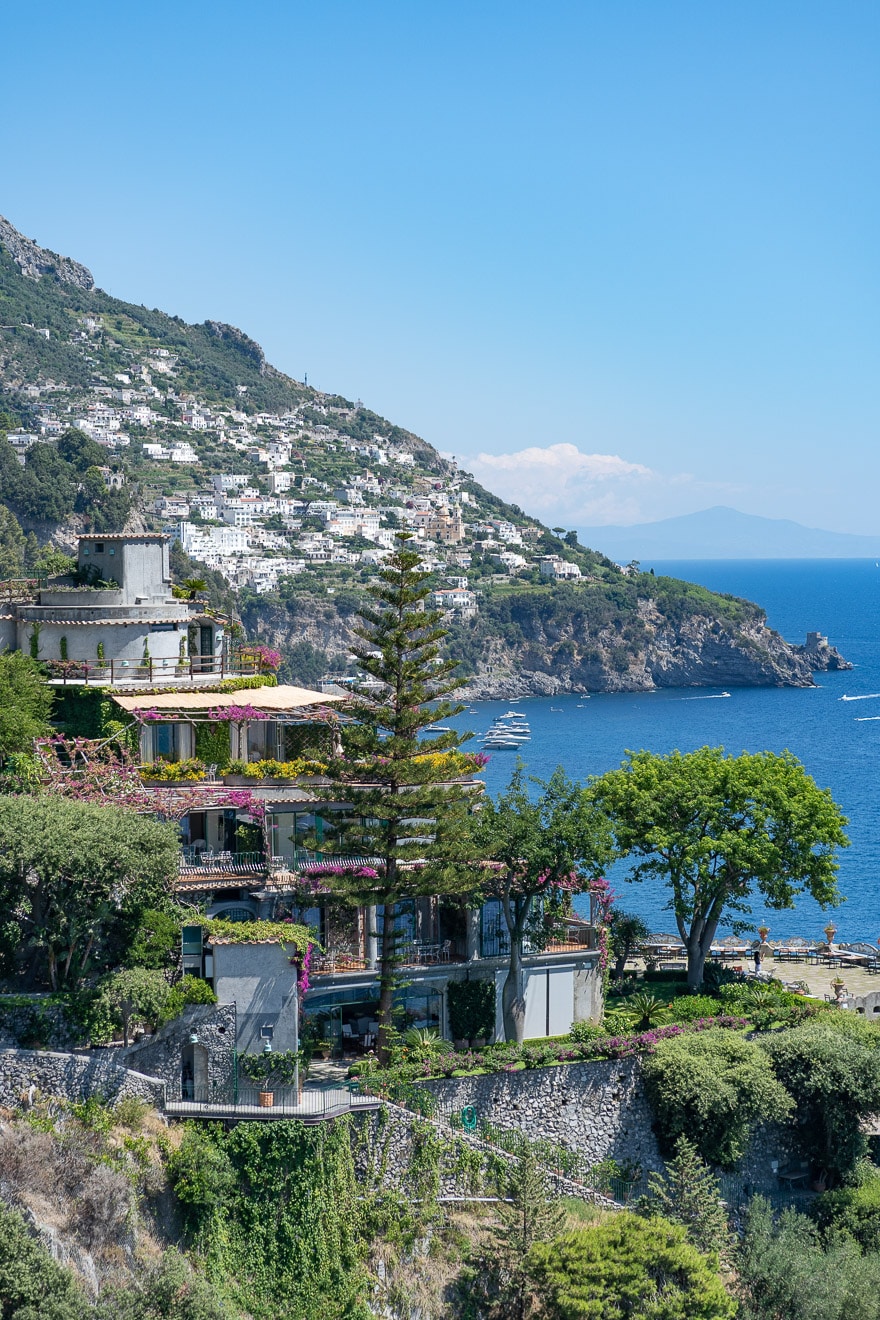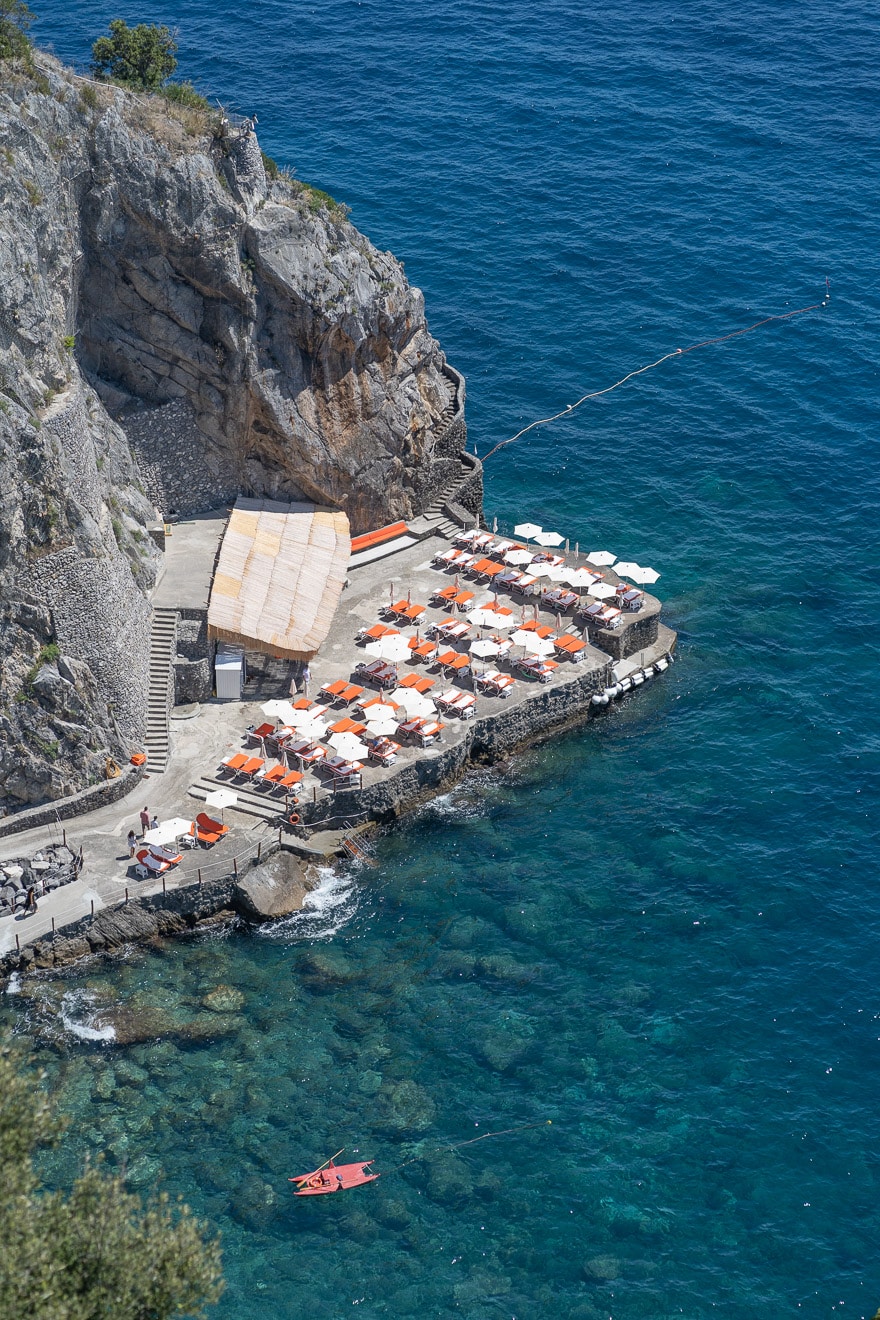 For that price I'd much rather spend time at Aman Sveti Stefan but maybe the service and food here are so extraordinary that they make up for the hard product. Personally, I'm in no rush to find out.
---
Grand Hotel Tritone
The closest place to Positano where you can both have lunch and park a car
---
---
Grand Hotel Tritone is not somewhere I'd ever heard of before, it is a 4* hotel awash in sea of 5* luxury. Yet it has one amazing trump card. It is a place, with free valet parking where you can eat lunch on the Amalfi Coast!
No navigating into a tiny and expensive car park, no leaving your car unattended to get scratched on a 1m wide road (if by some miracle you find a spot). Here you can actually park like a genuine person. Upon discovering this rare unicorn, a wave of relief washed over us.
We took a lift down into the main lobby and were absolutely wowed by the view. The lobby faces out onto a wraparound terrace with views or Praiano on one side and views of Positano on the other.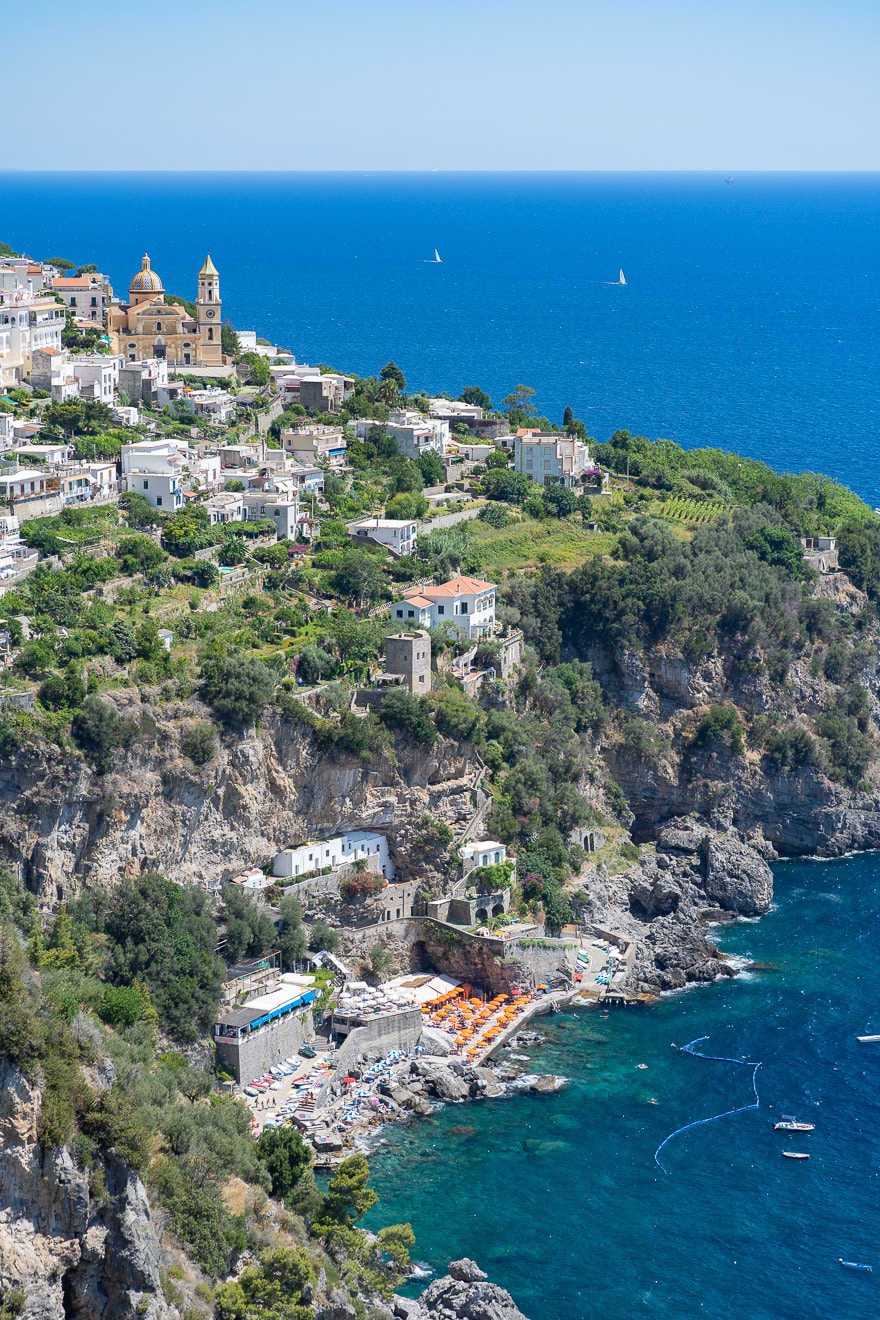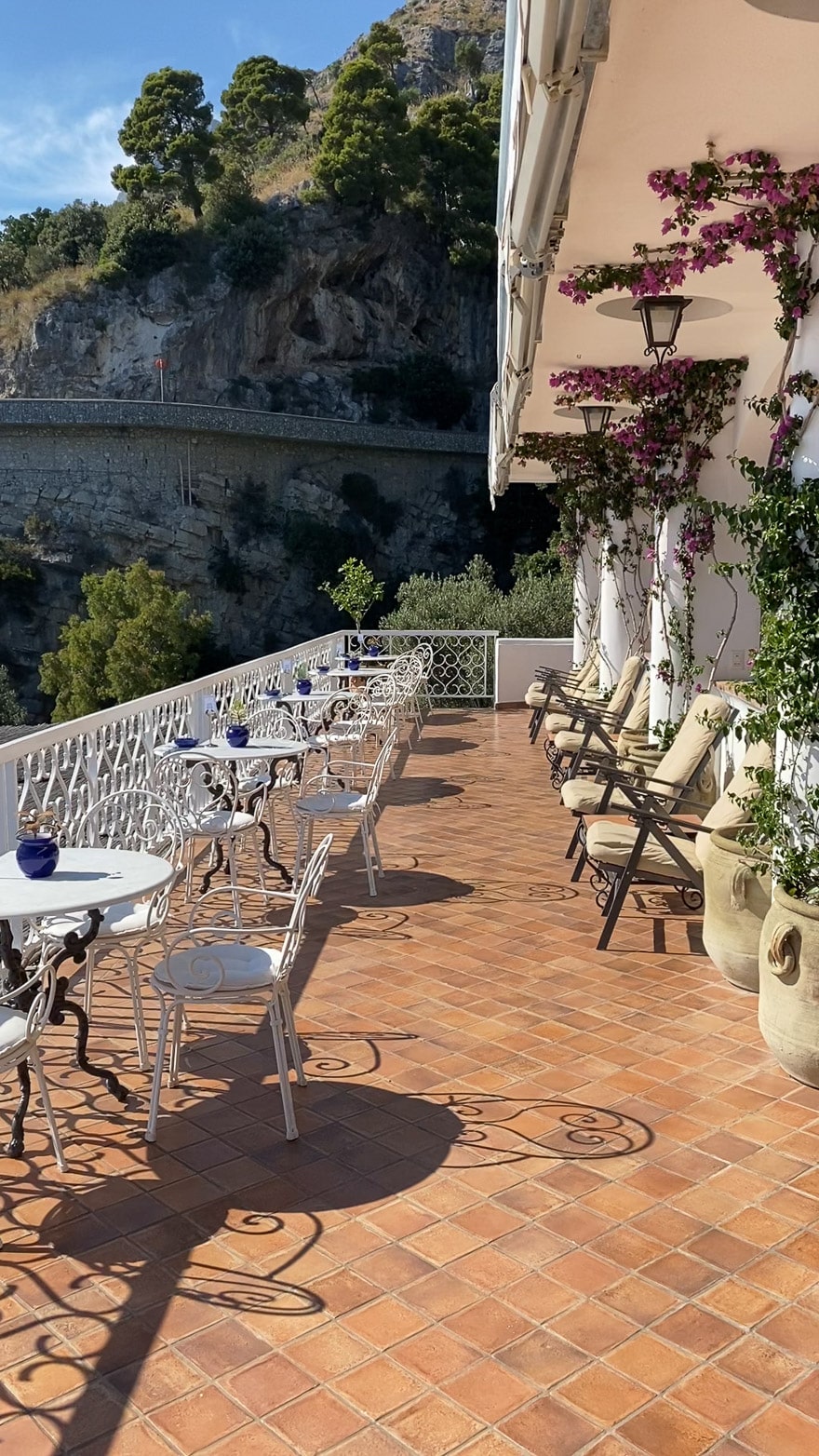 From here we took one more lift down to sea level, walking through a very dramatic stone tunnel, carved into the cliffside. At the end of this tunnel we were greeted by the twinkling Mediterranean and finally caught site of the hotel's waterfront restaurant. I can't tell you the name of it because the hotel's website is truly awful but what I can assure you of is that it is not La Cala delle Lampare, the hotel's main restaurant.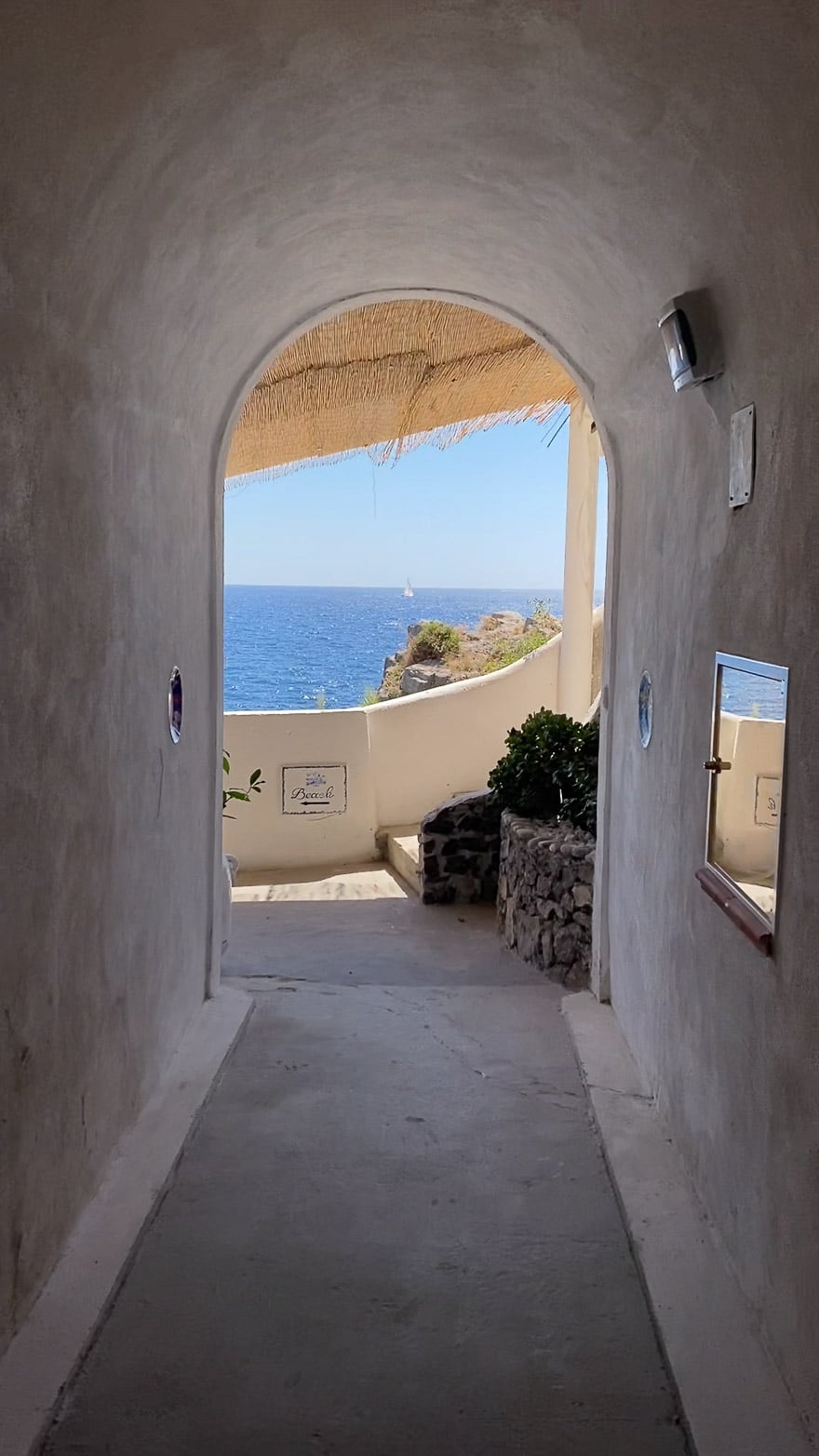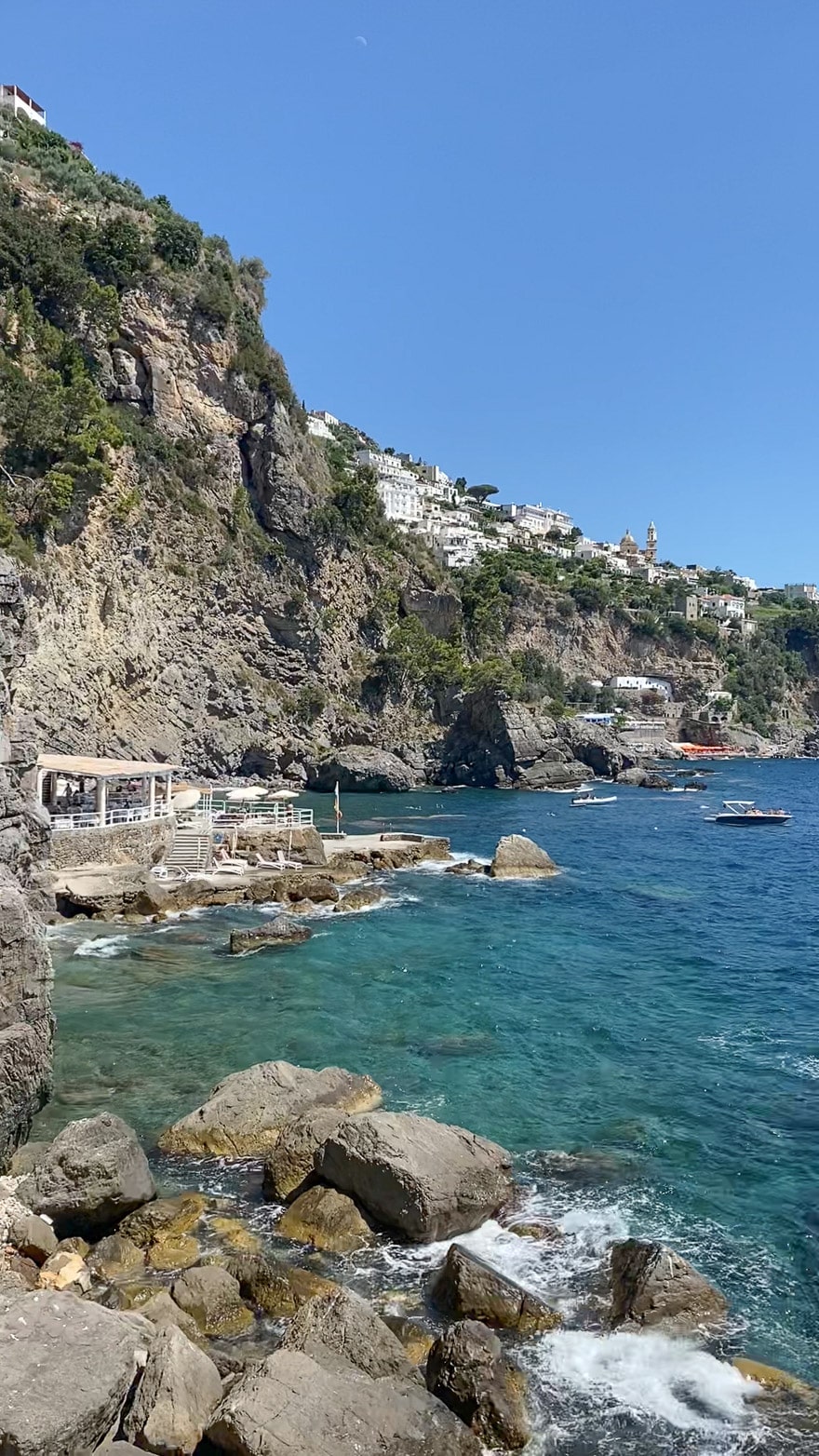 We were seated at a table right on the water's edge in a very bright and airy outdoor terrace with views of Praiano and the passing boats. When you picture lunch on the water's edge you're basically imaging this place. You couldn't ask for more in terms of the setting.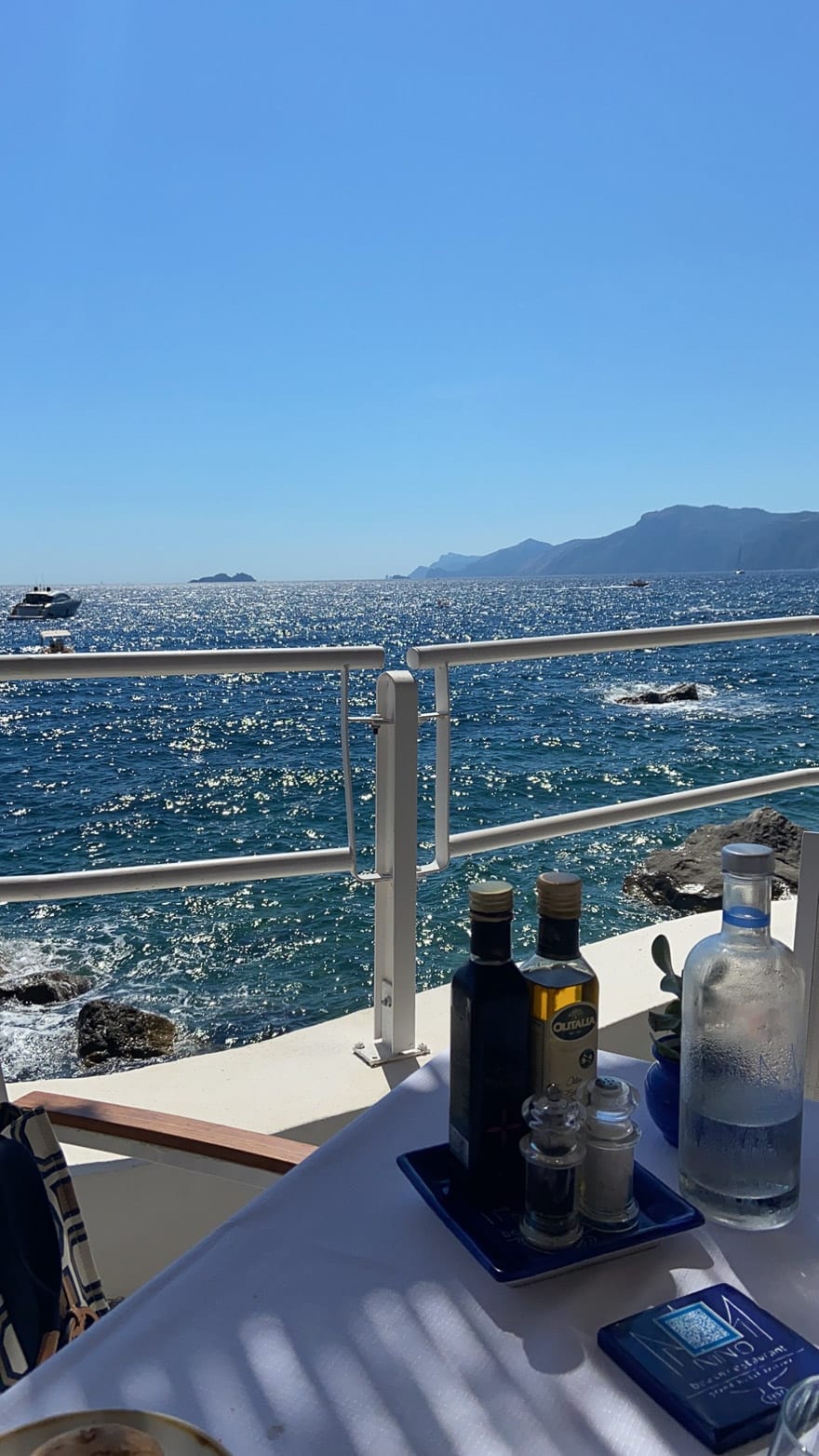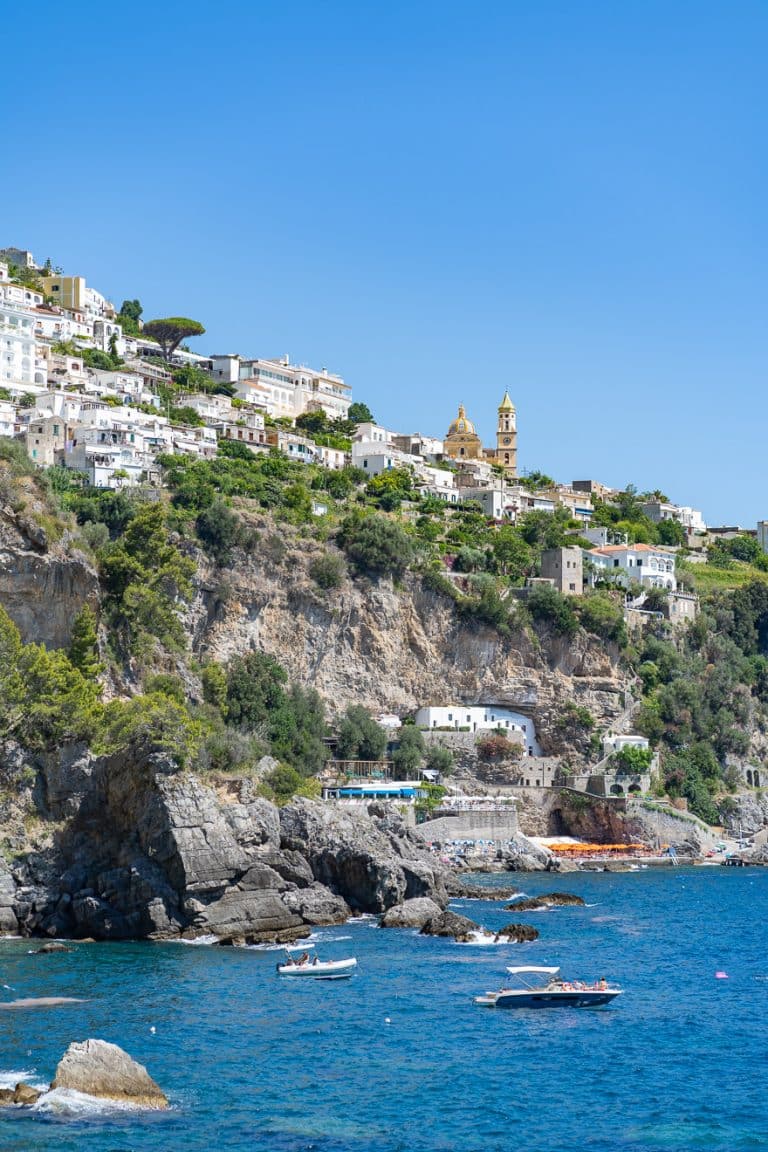 The prices were as elevated as you might expect given the surroundings but the service and ambiance certainly warranted them….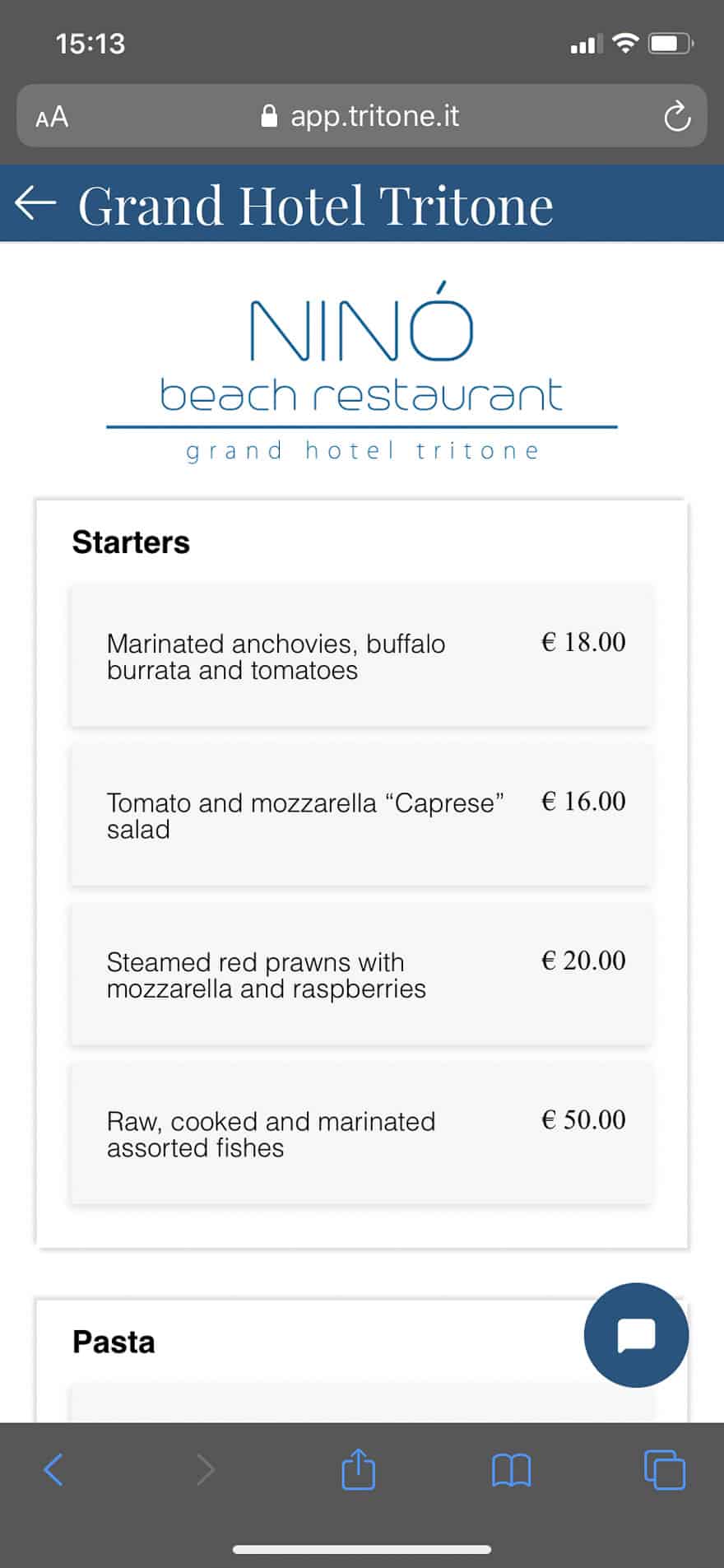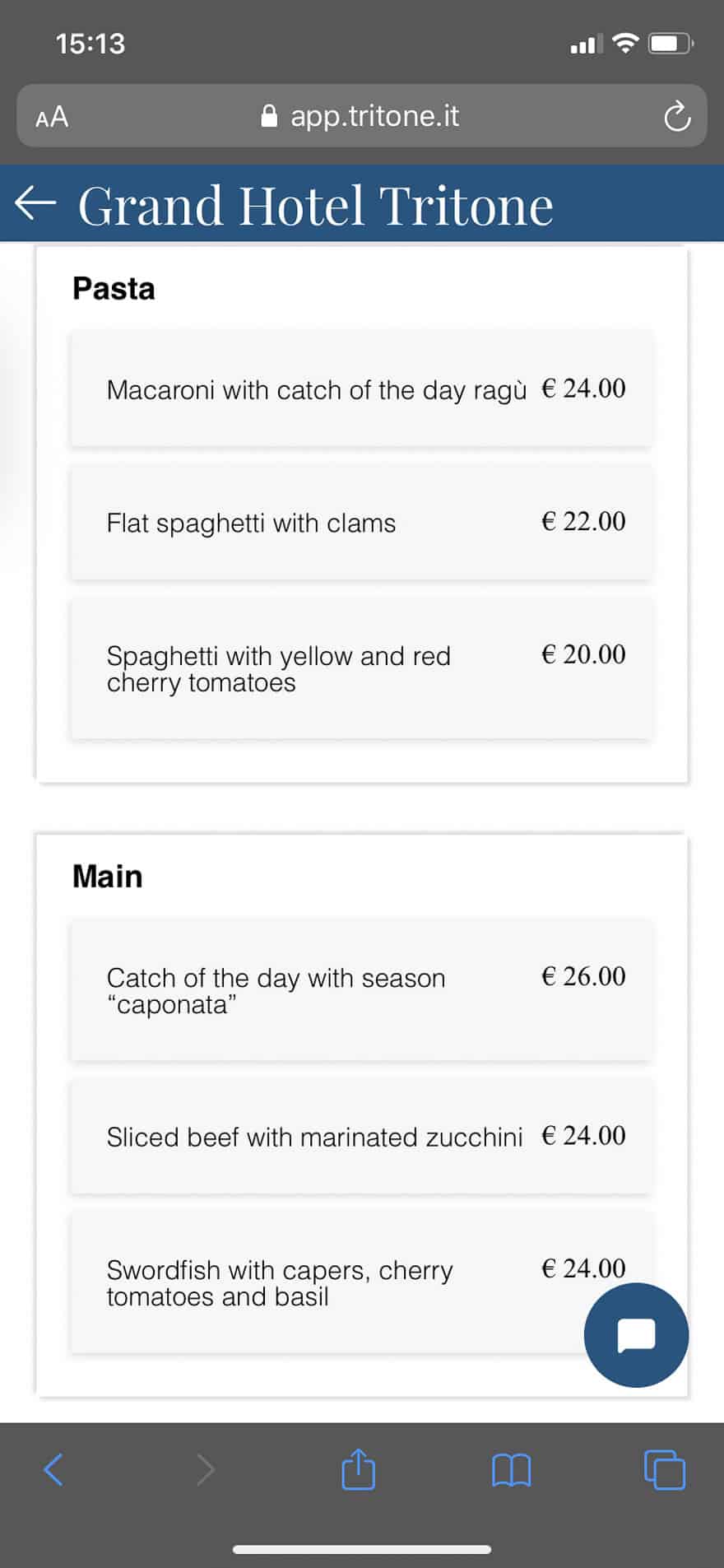 ….although honestly the food looked better than it tasted and a couple of rather dubious smelling pieces of salmon were left uneaten on our raw platter.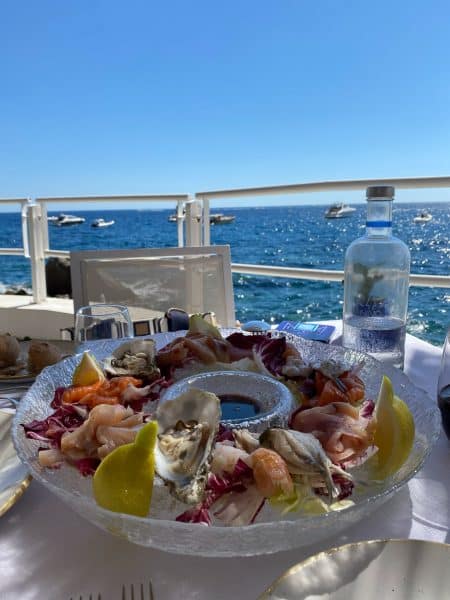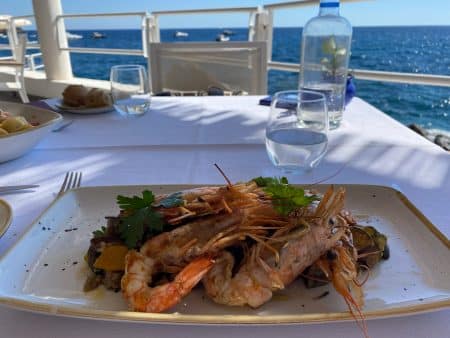 ---
Amalfi
A very busy tourist town dominated by a main piazza filled with bars and restaurants
---
---
Amalfi is basically an unending series of alleyways filled with shops selling things with pictures of lemons on them.
Compliance with facemasks during our visit in July 2020 was basically zero, although a fair few shops did have sanitiser set up outside of them. This was my first time in months seeing more than 10 people without facemasks on.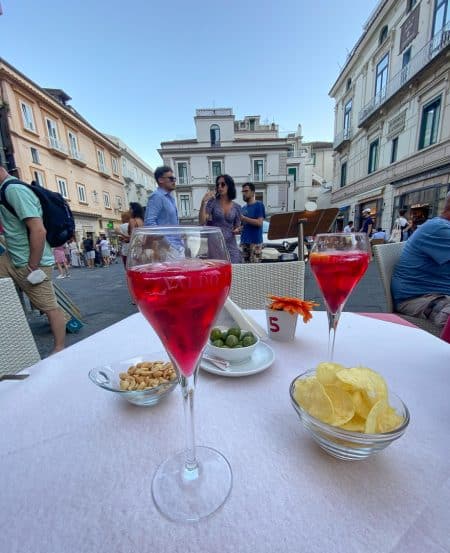 We didn't spend too long here before heading back to the tranquil and elegant surroundings of NH Grand Hotel Convento di Amalfi.
---
Santa Caterina
A long established, traditionally decorated hotel with a Michelin starred restaurant near Amalfi
---
---
Fancying a change of scenery we asked the concierge at Convento di Amalfi to book lunch for us at Santa Caterina one day. Things got off to a great start with a complimentary car being sent to collect us for the short drive. The driver was very polished, greeting us by name at the outset and again on the return journey.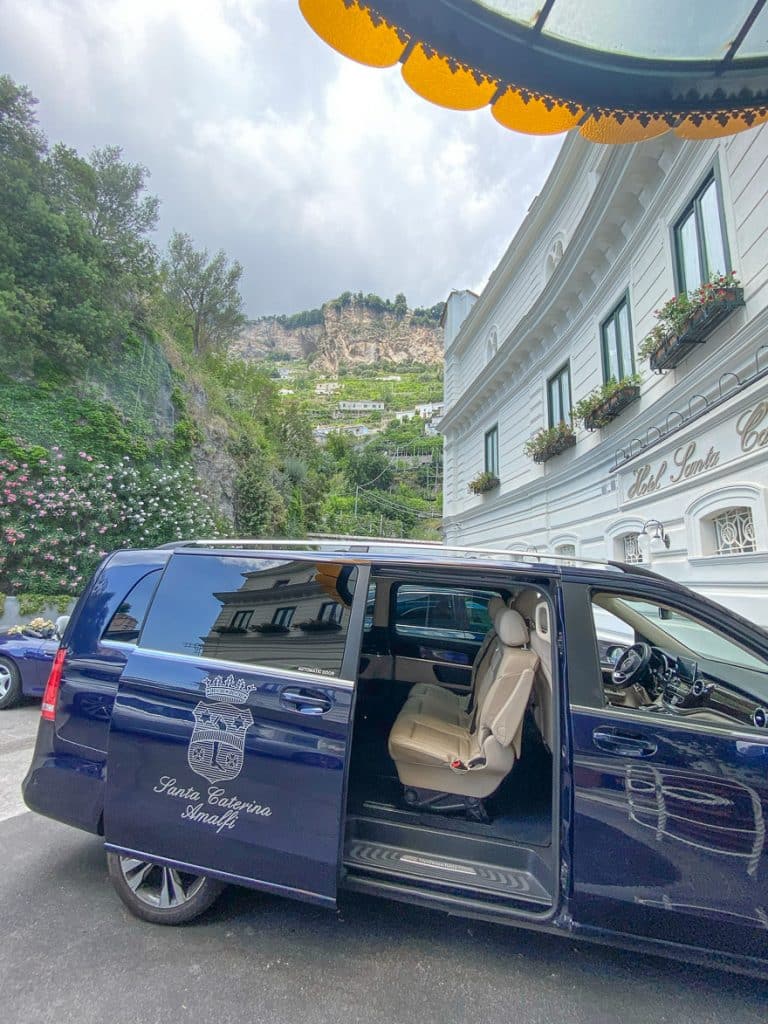 The interior of the hotel was very old school, as was the attitude of the gentleman at the reception desk. Not exactly rude but definitely abrupt and standoffish. This attitude is particularly prevalent amongst older staff members in Italian and French hotels…which is probably why I spend most of my time travelling in Asia.
The provision of QR code menus at the reception was a welcome touch of modernity though and the younger staff that we encountered on the property were all very friendly. Meanwhile, the lift that took us down to sea level was straight out of a Wes Anderson movie.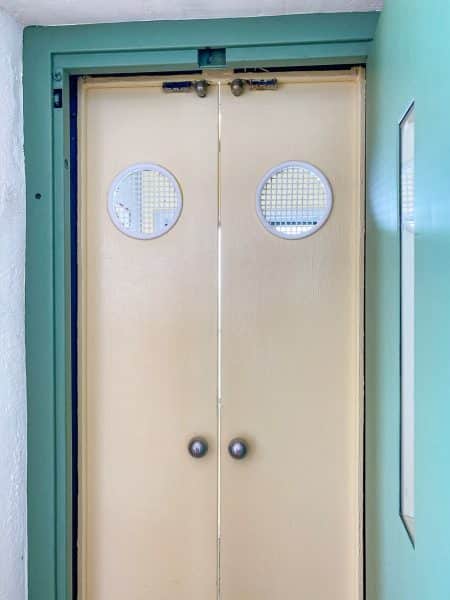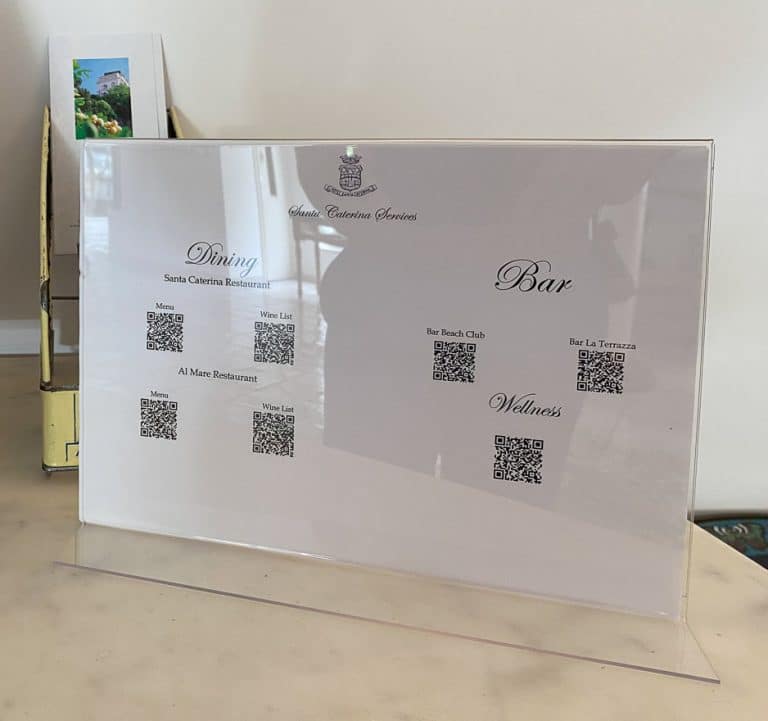 In all honesty nothing about the public spaces in this property made me think this was worth of an additional * over the Grand Hotel Tritone. The setup was very similar with space at a real premium, deck chairs everywhere and an ugly and small concrete pool close to a rocky outcropping of shoreline.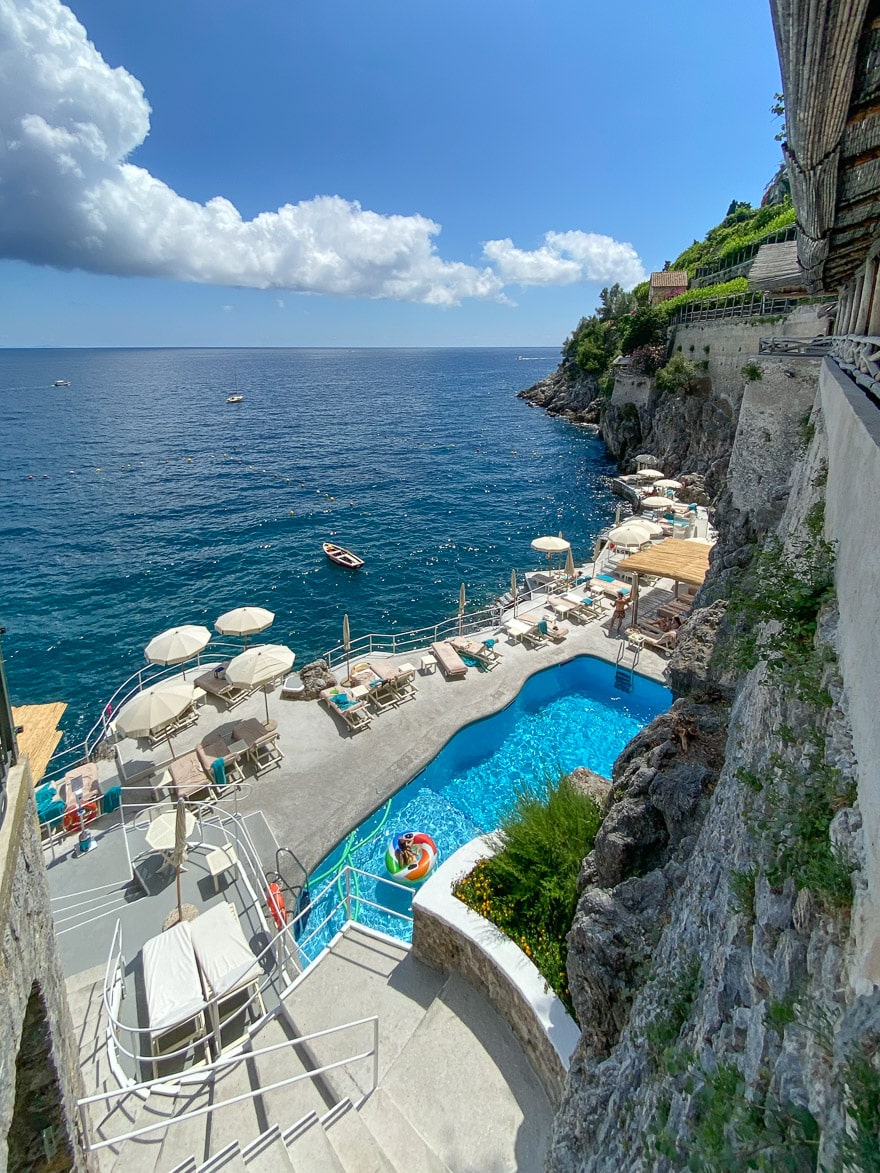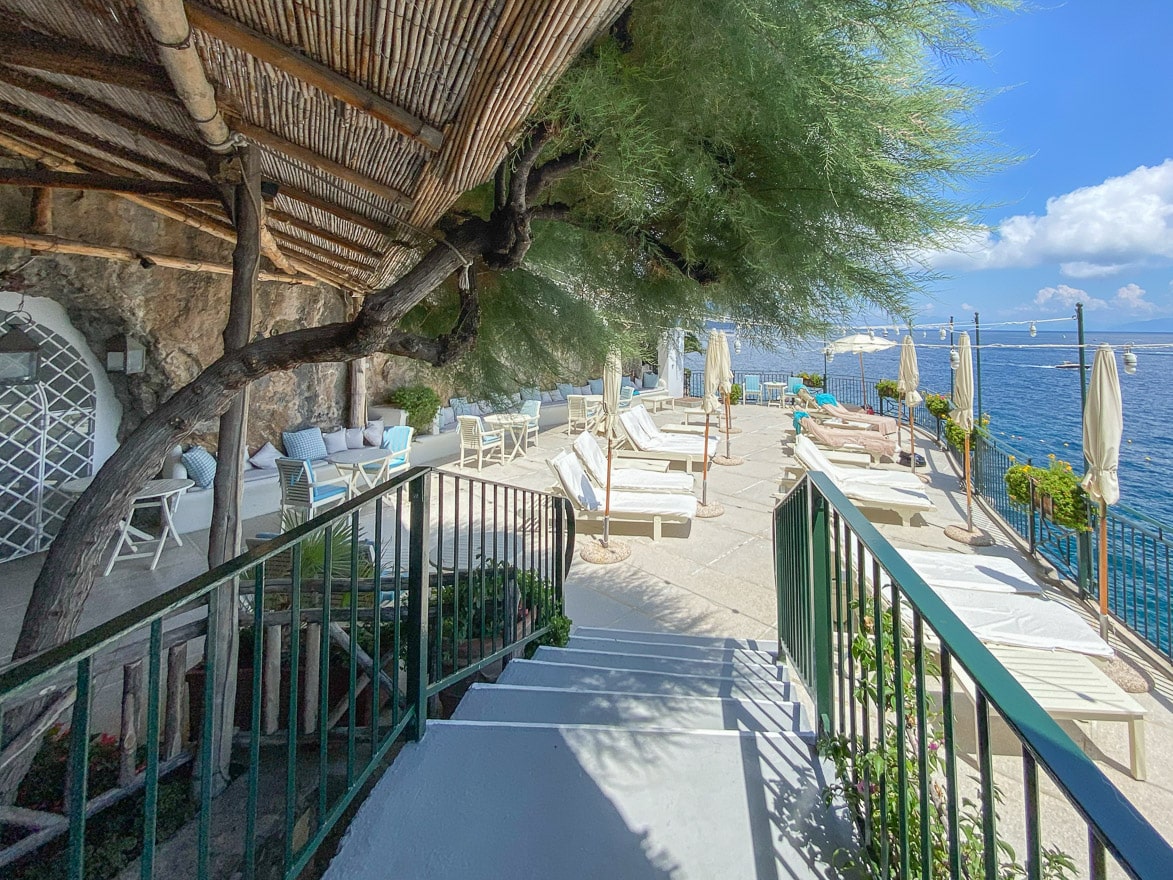 Service was good but I saw staff taking off their masks or half wearing them under their noses on a few occasions, something I hadn't witnessed in any Italian restaurant until this point. The food was fantastic and priced accordingly.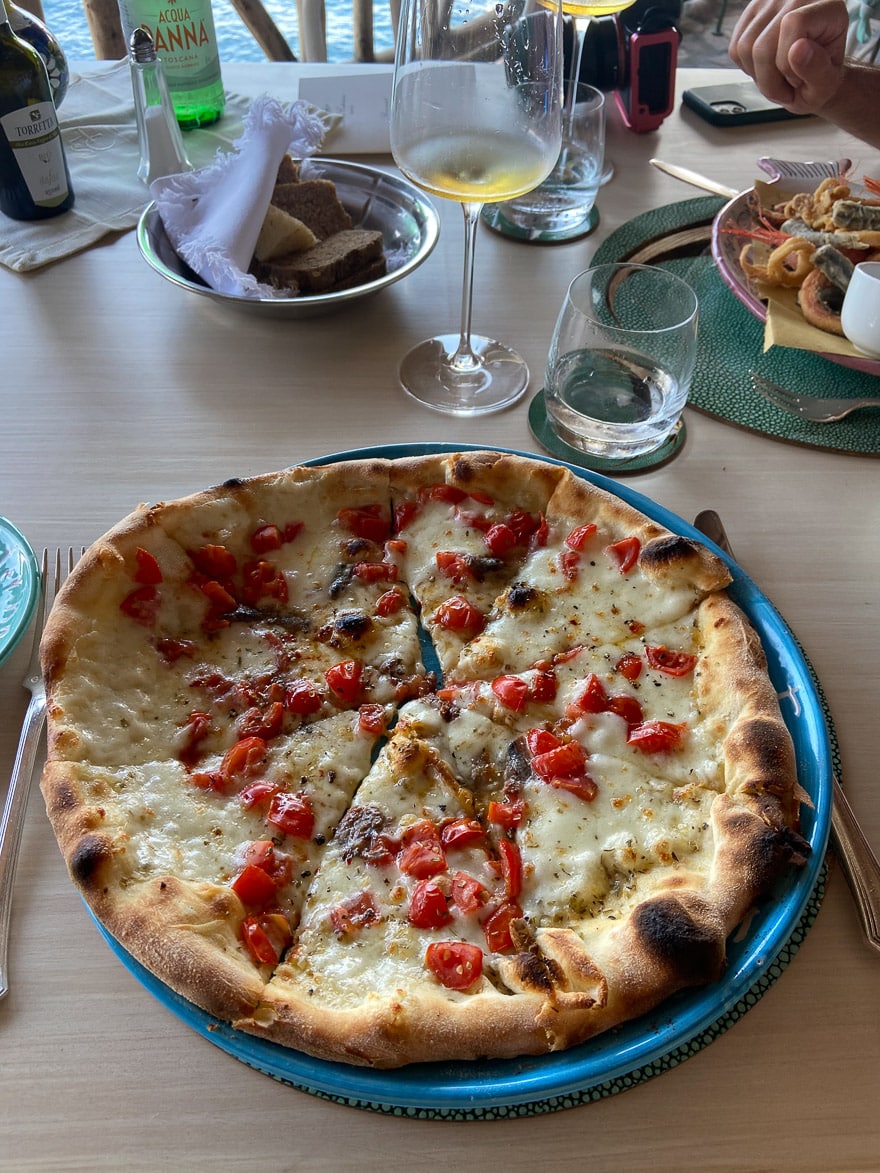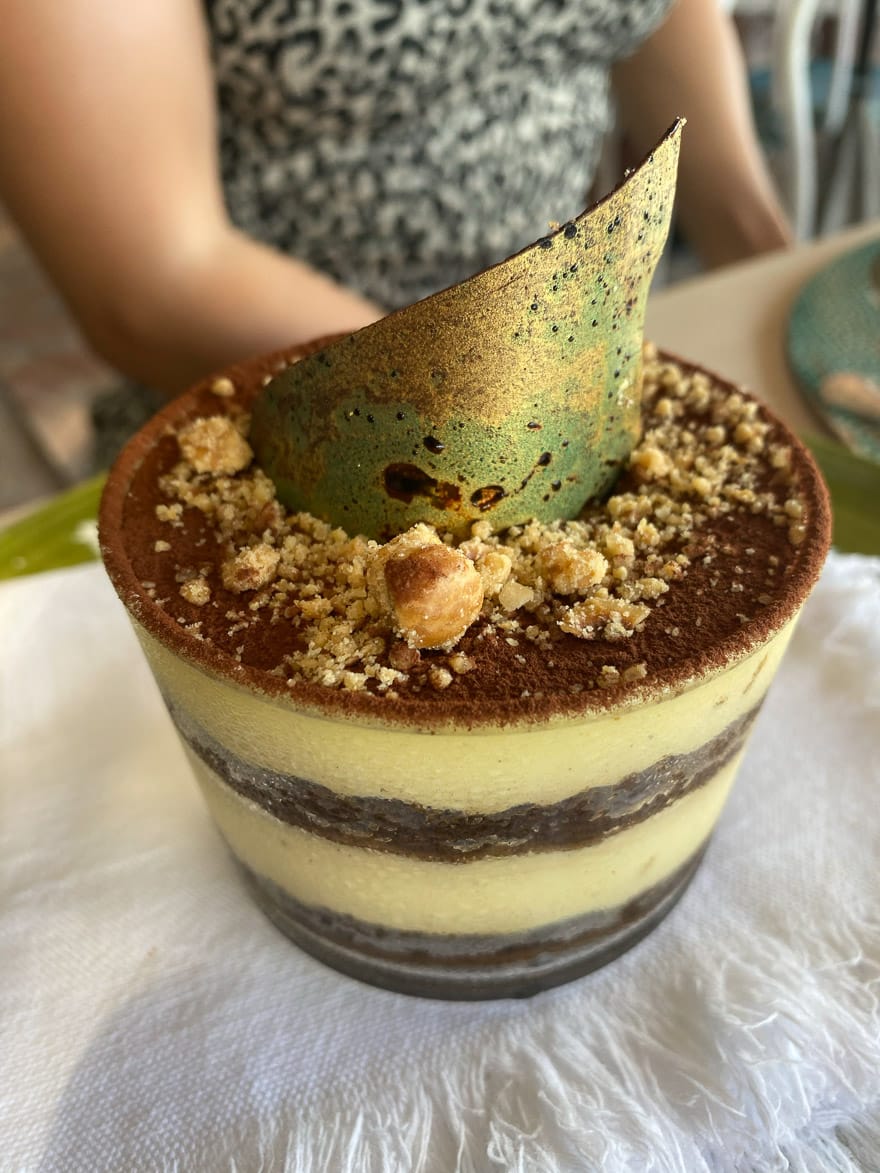 Overall, the experience of dining here whilst sipping a chilled white wine from Zalto glasses was very pleasant and certainly a world away from anything you'd find in the town of Amalfi. I'd recommend coming to lunch here but nothing about the public spaces was appealing to me at all. I was very happy with our decision to stay at Convento di Amalfi after seeing this place.
---
Conclusion
---
I was a little sceptical about coming to the Amalfi coast. I figured that if I was ever going to enjoy a summer here it would be at a time when it was less crowded and hopefully less expensive. Neither of which turned out to be particularly true.
Where my visits to Rome and Venice were truly once in a lifetime experiences, it was business as usual in Amalfi and quite frankly it's not for me.
The narrow roads, impossible parking, super crowded beaches and pools, combined with eye watering hotel and dining costs just don't make a lot of sense to me. I can see the value in paying £1000 a night for an overwater villa in the Maldives, an Aman hotel or a unique safari experience. Paying that for a room that's 30m² or less, for access to an ugly concrete pool, densely packed with people? No thanks.
The traffic on a Sunday night, heading back to Naples was 10x worse than anything I've experienced in LA too. I honestly never felt able to truly relax here and for me that's a dealbreaker when it comes to luxury travel.
My advice when it comes to the Amalfi coast? Don't bother.
---