---
NH Collection Convento di Amalfi
Location: Amalfi, Italy
Rate: €200 Media Rate
Room Type:
Chain: NH Hotels
Loyalty Program: NH Rewards
Status During Stay: None
---
Intro
---
I must admit, the Amalfi coast has never been a place that has held a particular allure over me. The winding narrow roads, row upon row of crowded parasols on beaches and the sky high accommodation costs never looked like a particularly pleasant alternative to the likes of Conrad Koh Samui or Amanoi in Asia.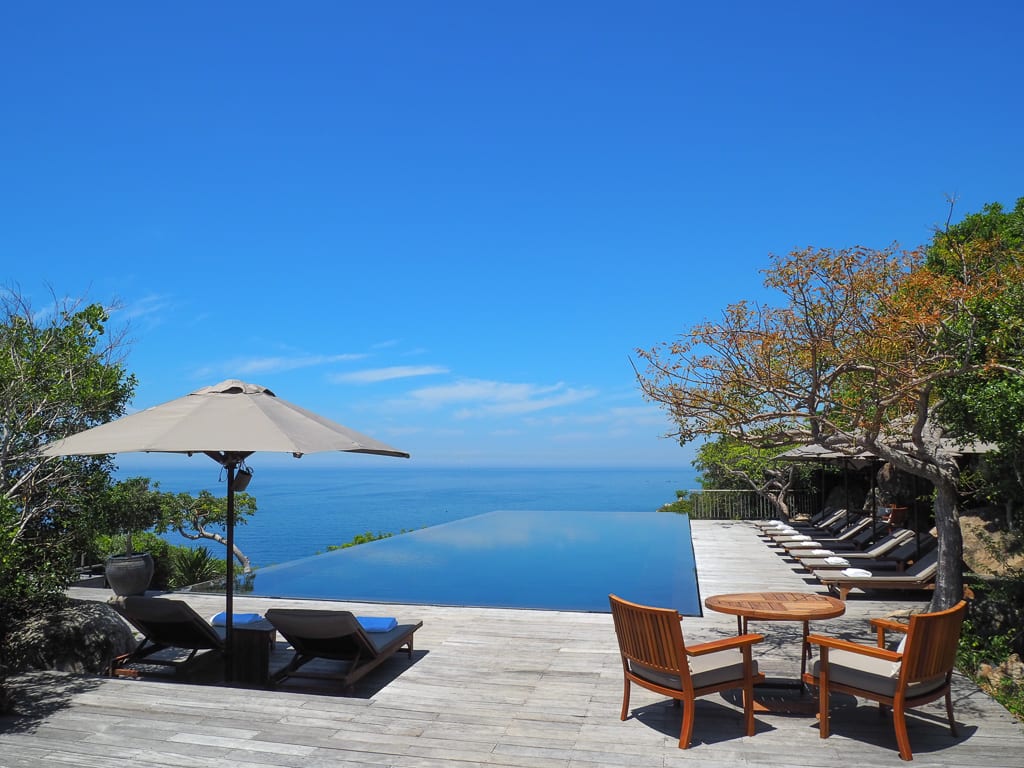 Amanoi in Vietnam. When I think of luxury by the ocean this is usually what I have in mind.
Given the popularity of the destination though, I've felt almost duty bound to see the Amalfi Coast for myself and provide a first hand account of how it is to spend time here.
Since I saw so few people in Rome and Venice I thought that 'The Summer of COVID' would be the perfect time to finally visit this stretch of coastline near Naples. Surely things would be a little less crazy in Amalfi now?
Although a few properties had reduced their prices I still struggled to get my head around the idea of spending €800 for an 18m² room, with a partial sea view, no private pool and furnishings resembling Grandma's house. A lot of the famous properties in the area have extremely limited footprints and even those that have been recently renovated still feature decor which I personally find overly frilly, ornate and quite frankly antiquated.
Things changed when I found NH Convento di Amalfi, a property that looked to have very clean and minimal decor, expansive grounds and a pool with an actual view (as opposed to a part pool/ part restaurant like many of the more popular 5* hotels in the area).
The fact that they extended me a favourable media rate sealed the deal but generally speaking, rooms here are 50%-75% of the price of the other 5* hotels in the area: €440 or so for a standard room in peak season, where Santa Caterina two minutes drive up the road charges north of €650.
---
Arrival
---
We were fortunate enough to receive a complimentary upgrade from a basic Fiat Panda to a very sleek Volvo C90, thanks to my Hertz Status (which came free with my UK Amex Platinum card).
This made for an amazingly comfortable drive down but also made for some nail biting moments driving through the very narrow streets on the way to the property.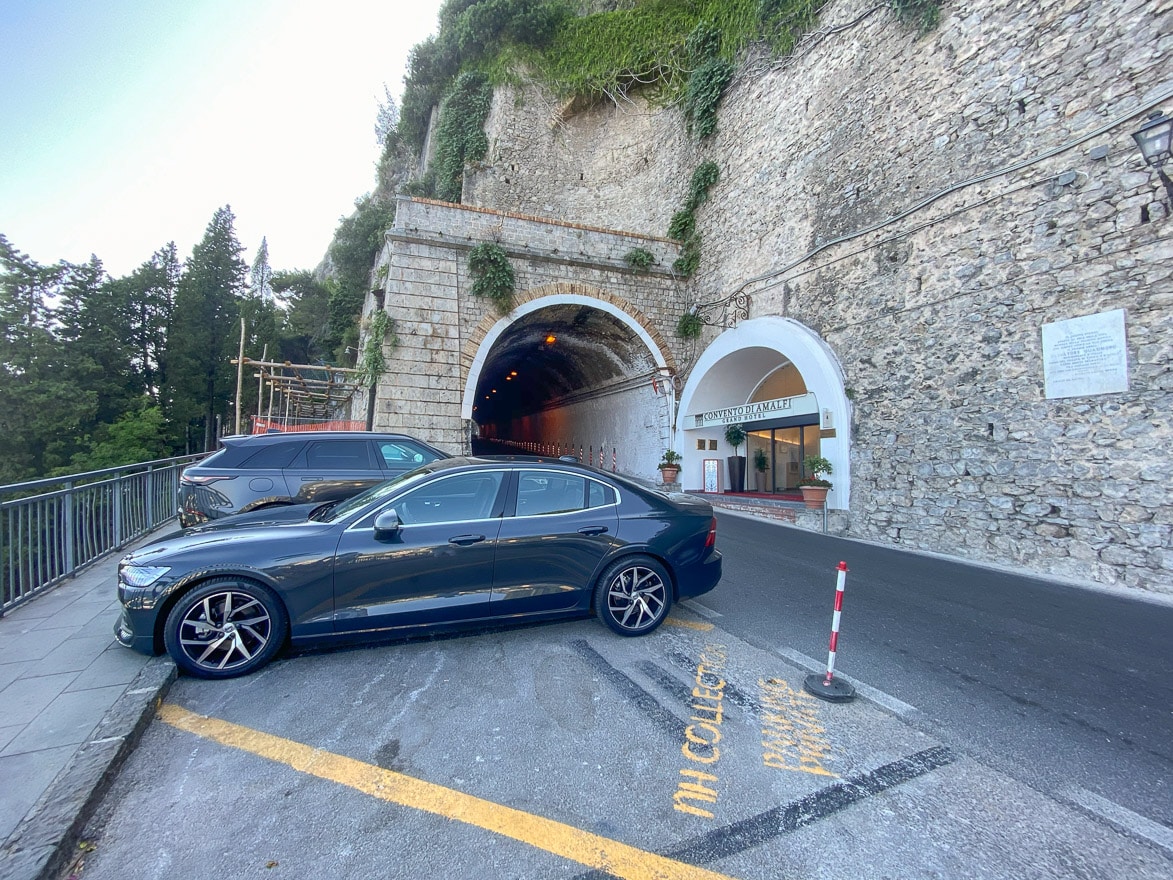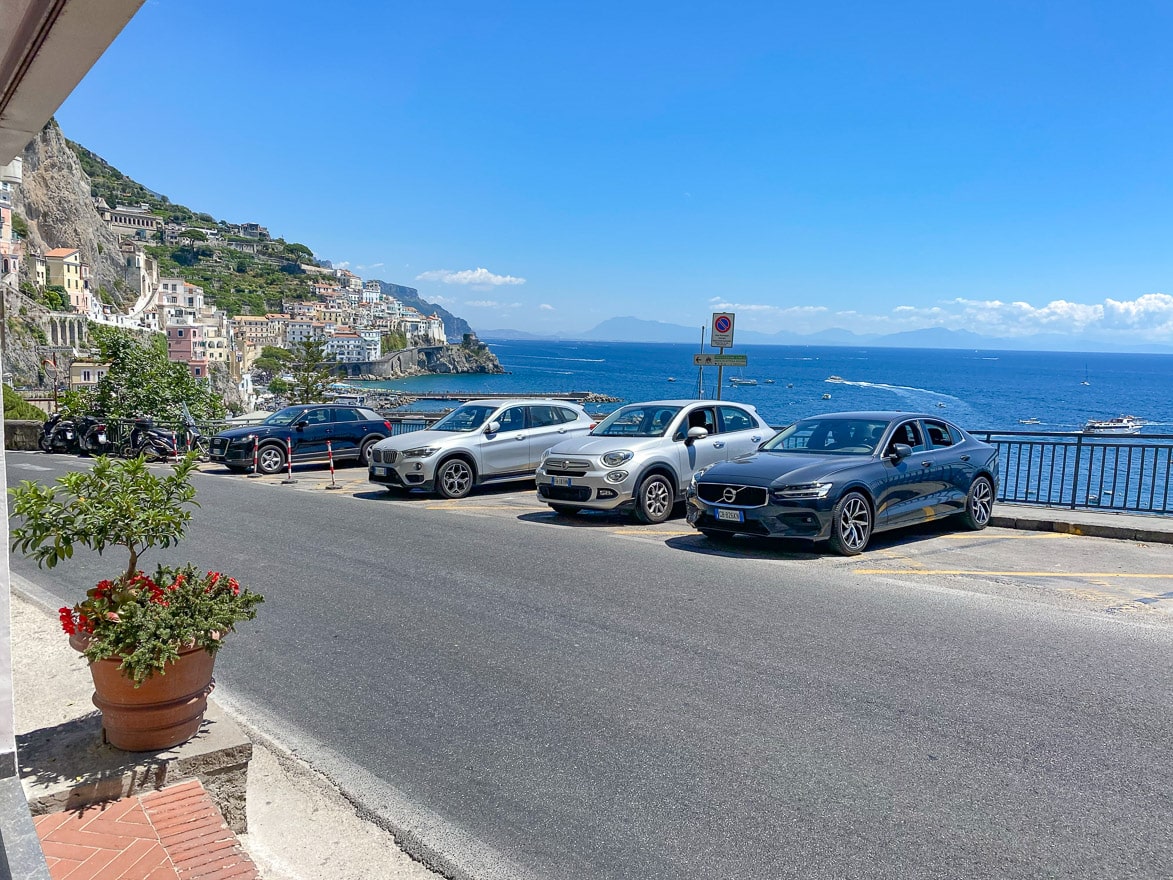 The hotel is not very well signposted and the entrance is actually right next to a tunnel, close to sea level, despite the fact that the property itself is built high up, into a cliff. After half an hour of driving in the wrong direction we finally managed to turn back around and find the property (thanks in no small part to the helpful NH staff on the phone!).
Thankfully a valet was on hand to help with our bags and assist us in crossing the very busy road. He took our keys and explained that this parking spot was just a holding area. He would drive our car away to another car park and we'd need to give 45 minutes notice any time that we wanted to take it out again. The daily cost for this valet parking service was €35 per day.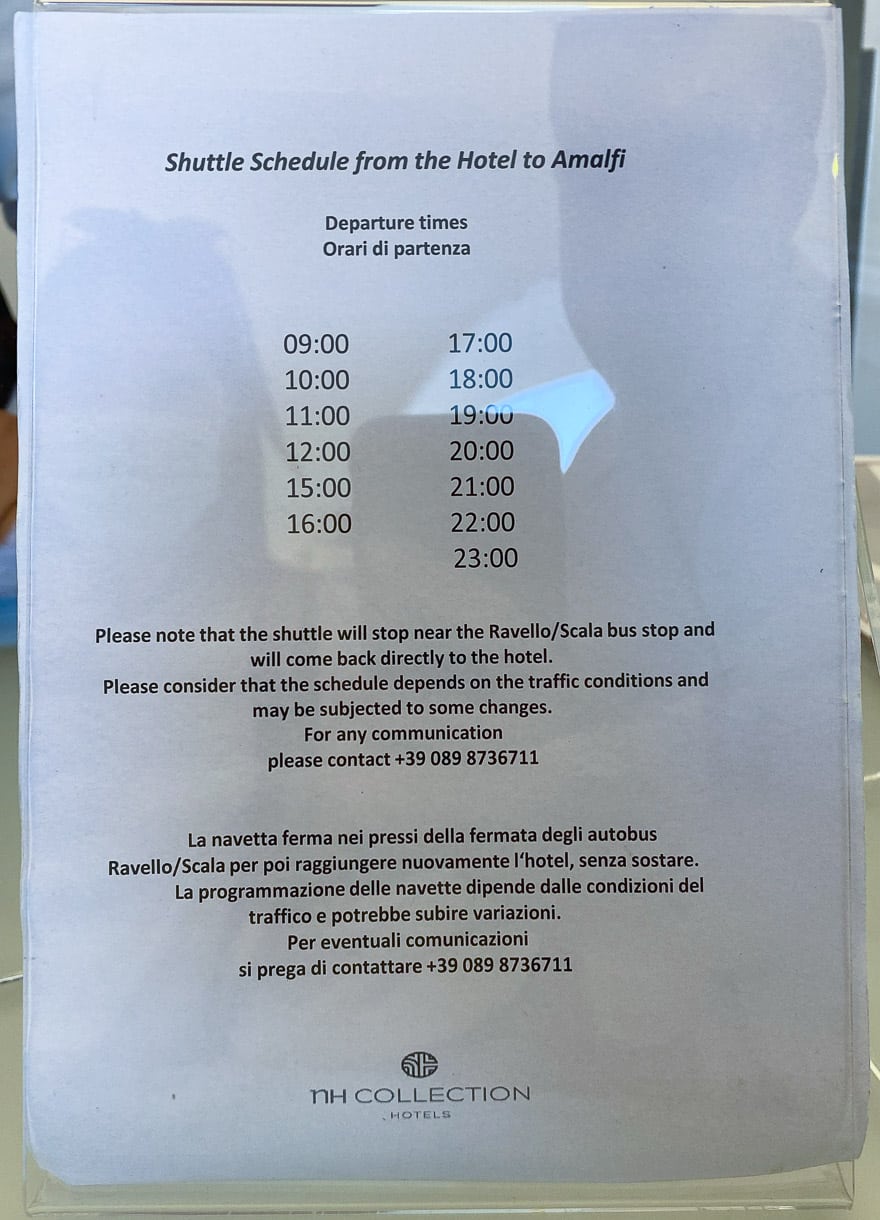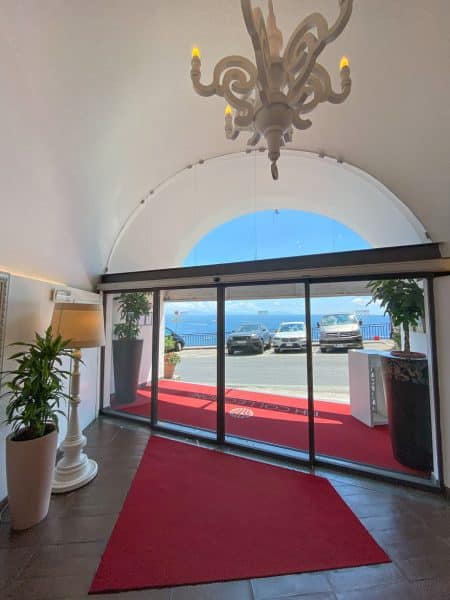 Our details were taken at the ground floor lobby and we were briefly told about the complimentary shuttle service to town. Given that you could walk to town in 15 minutes we never bothered taking the shuttle but it's good to know the service is available to those who may struggle with mobility.
I was surprised not to be escorted up to the hotel, instead we were given a rather convoluted set of instructions involving two different lifts and a long walk. We found the reception without too much trouble but this seemed like an odd way to welcome guests.
A glass encased lift took us all the way up the cliff face to the main hotel building, where we then took another internal lift up to the reception.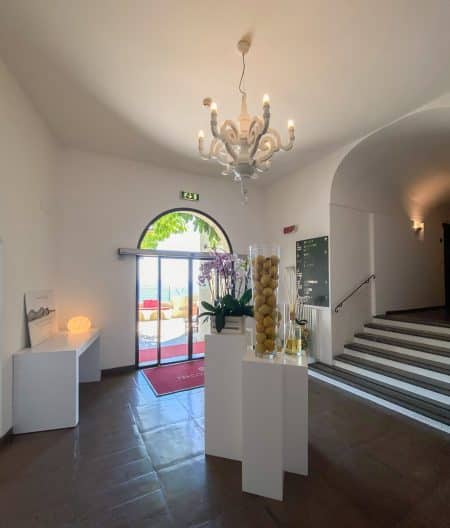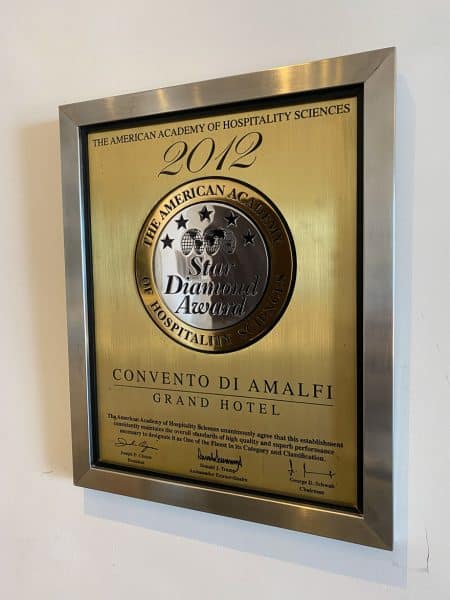 The decor of the public spaces at the hotel is very minimal and modern, a sea of white punctuated by designer lighting.
The two reception desks were both located behind perspex barriers and a touch free sanitiser station was provided for guests to use before and after handling cards and documents. Francesca at the reception was very friendly and welcoming, offering us a full tour of the property before escorting us to our room.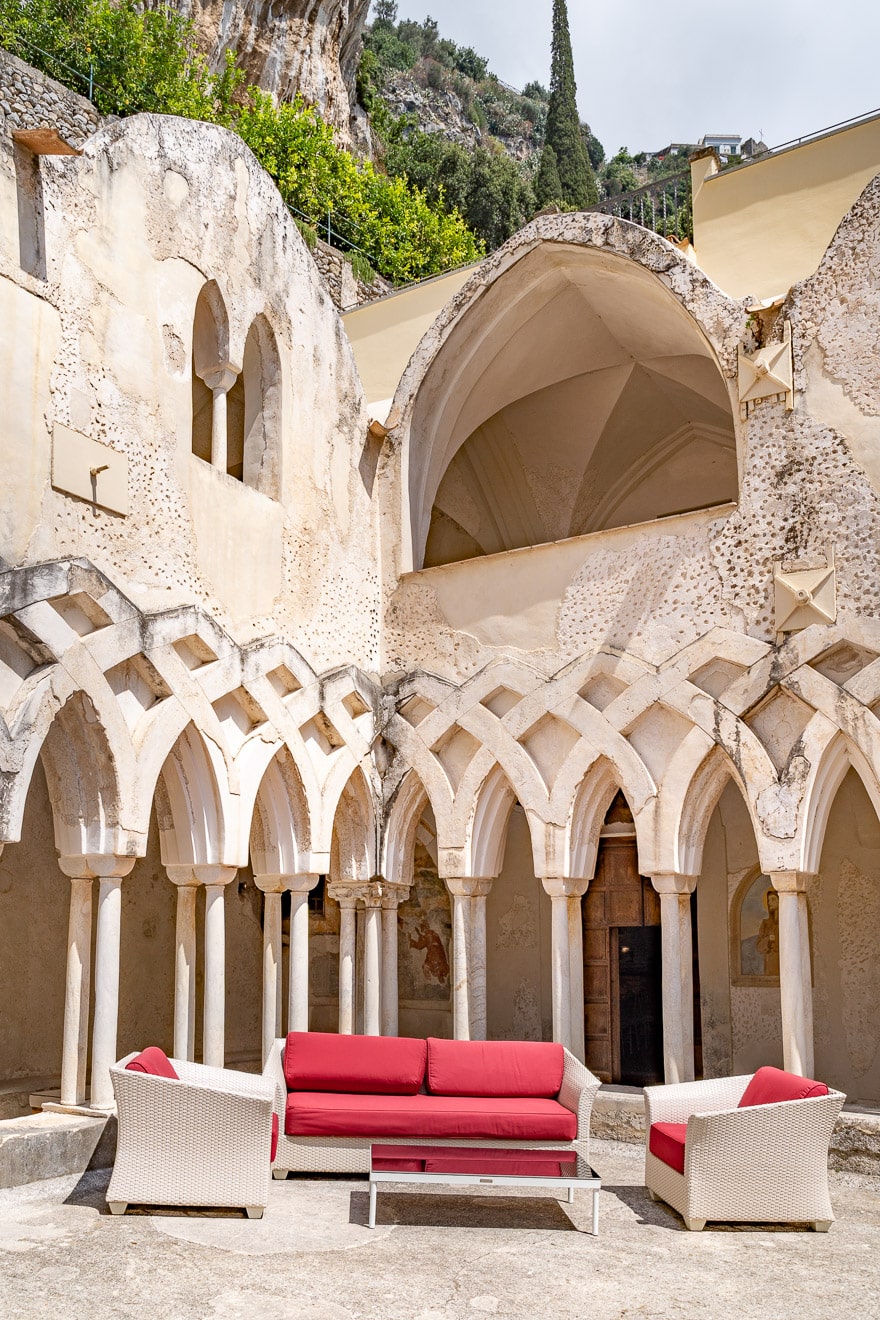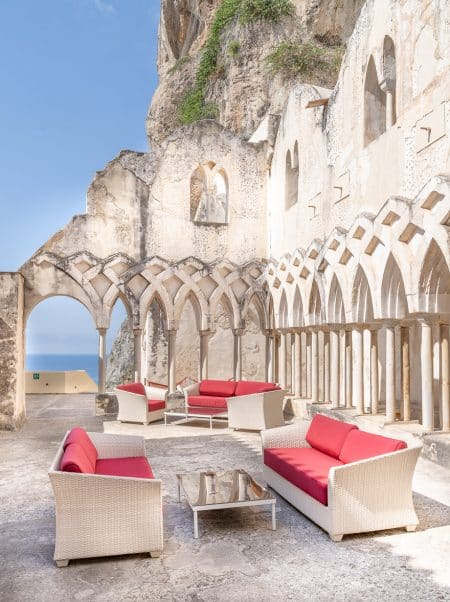 Although much of the hotel has been modernised there are still preserved ancient ruins, including the original cloisters of the convent.
The most unexpected 'amenity' though was the fully functional church located a few metres away from our bedroom! This was adjacent to an office/lounge area with vaulted ceilings and a Macbook with printing facilities.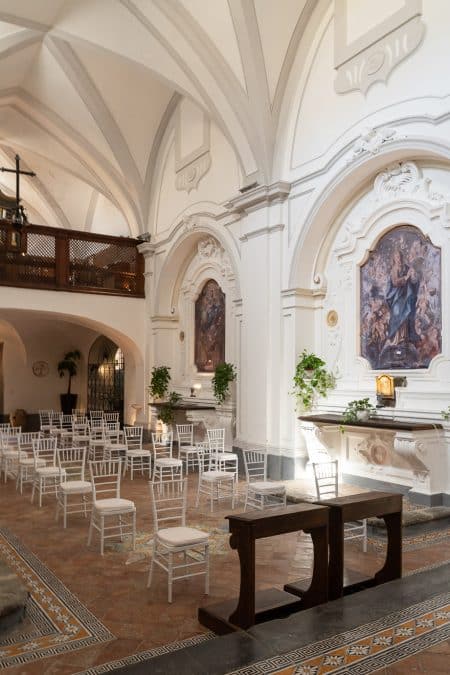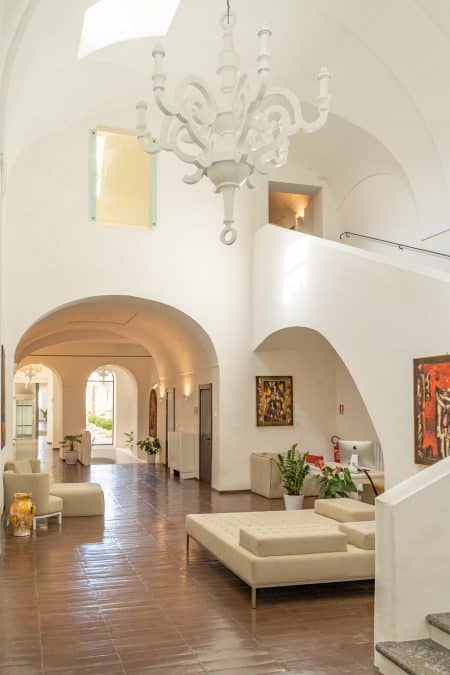 ---
Junior Suite with Tatami Bed
---
Given the nature of the building, many of the rooms and suites have unique layouts. Our suite had two unique features: a tatami style bedroom and a glass encased room looking out over the Mediterranean and the town of Amalfi. When booking online it is impossible to tell which room you'll get so I would recommend contacting the hotel directly if you have a particular request in terms of room layout.
Bathroom
The bathroom was spotlessly clean and very brightly lit. It featured NH Collection's own brand of toiletries which were fine but for a 5* hotel I would have expected a partnership with either a local producer or one of Italy's many internationally renowned cosmetics brands. I thought that the addition of a hand cream was a nice touch though.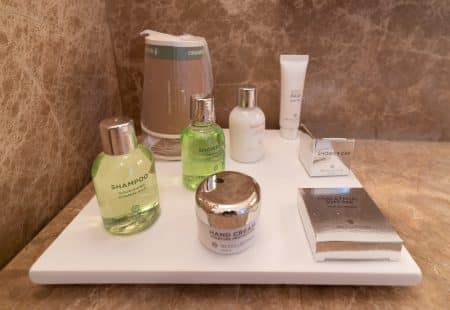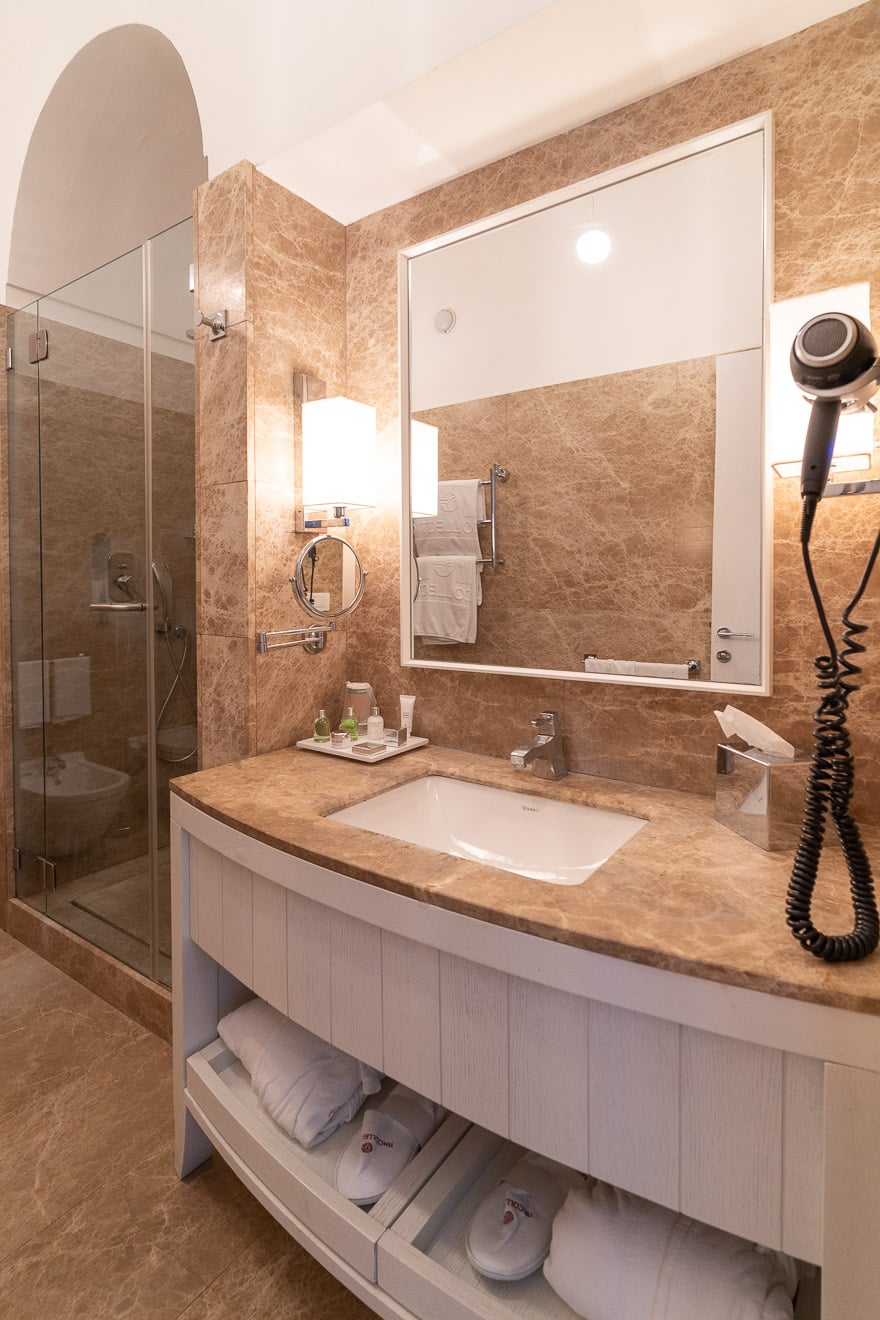 Italy is a country with hotels that all too often suffer from the dreaded bath/ shower combo. I was happy to forego a bathtub in exchange for a proper shower, one with amazing pressure and an arched ceiling no less.
Bedroom
Both sides of the bed featured power sockets and a full set of light switches. None of the switches were labelled though so it was always a bit of a hassle to get all the lights turned off at night, especially as some lights could be controlled by multiple switches throughout the room.
The TV remote had been wrapped and sanitised which quite frankly is something I feel that hotels should have been doing since well before COVID.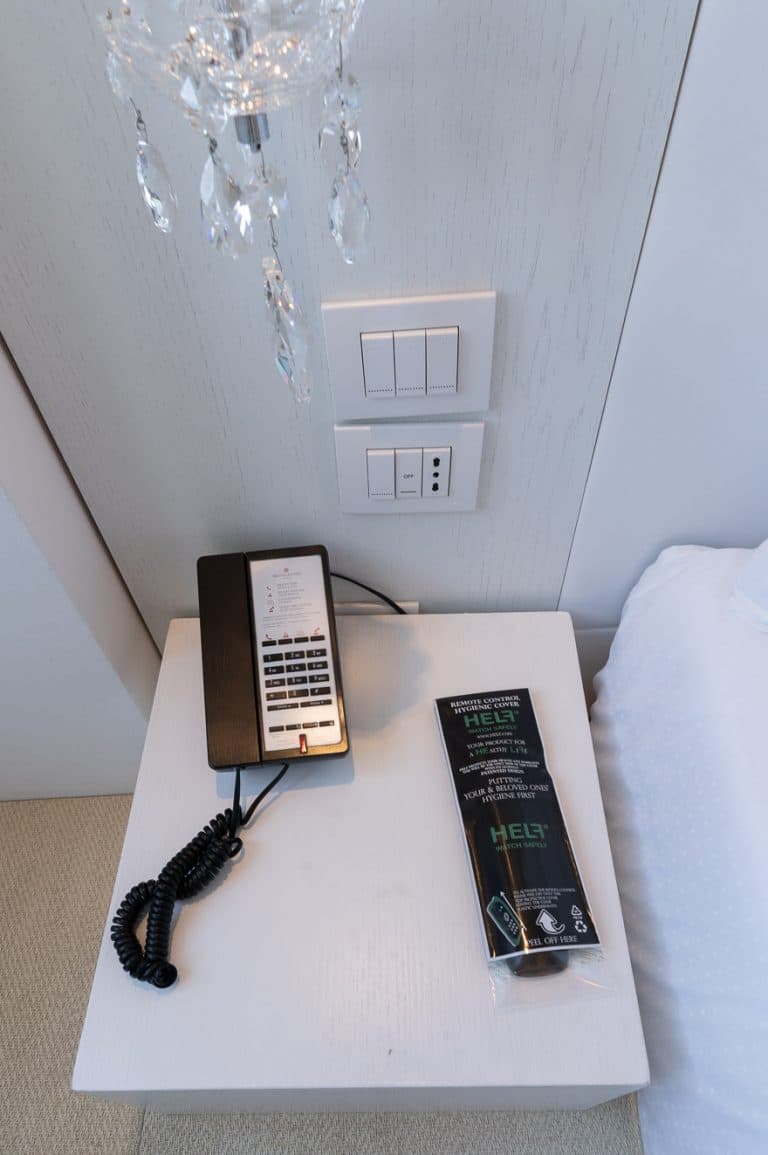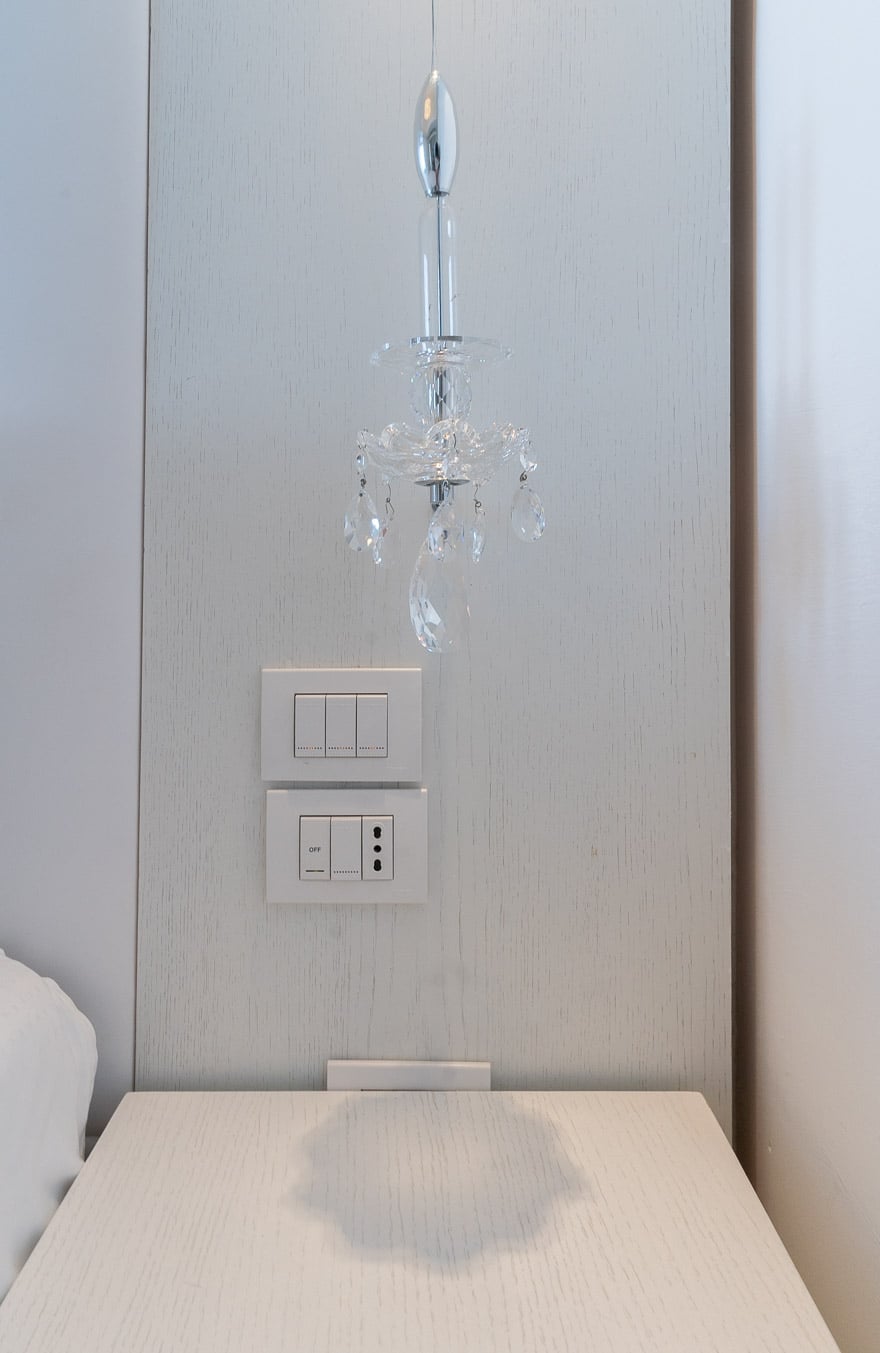 Although there were shutters on the windows these were quite rickety and difficult to latch. Even when fully closed they still allowed a significant amount of light to pass into the bedroom, as did the curtain shutting off the viewing gallery from the rest of the room.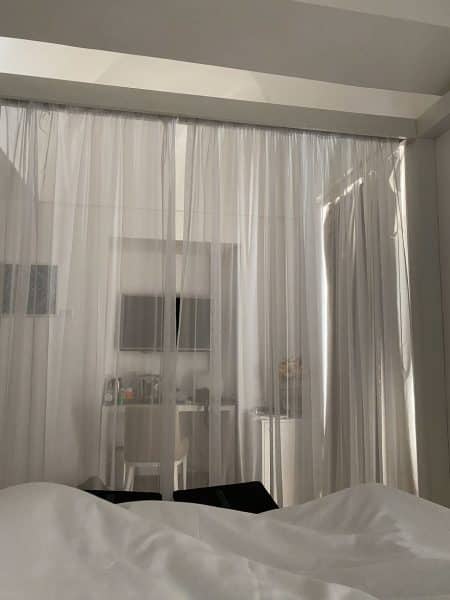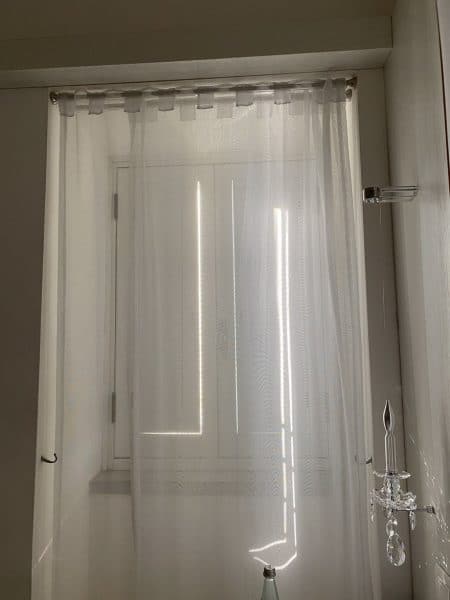 At the foot of the bed was a small desk with a fantastic Lavazza coffee machine as well as two complimentary miniature bottles of sun lotion. It really annoys me when resorts overcharge for a basic necessity like this, so big bonus points to NH Collection for providing it for free.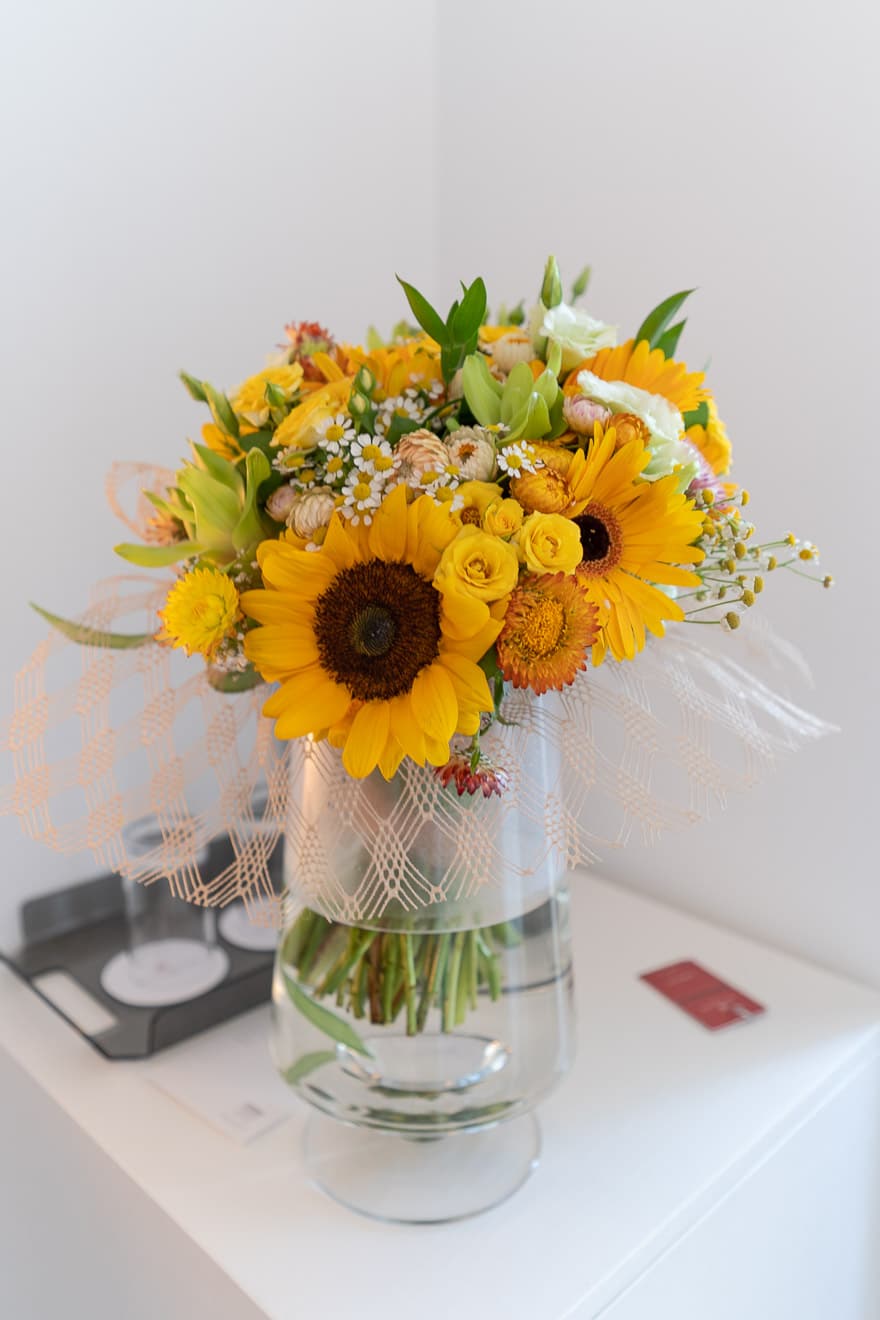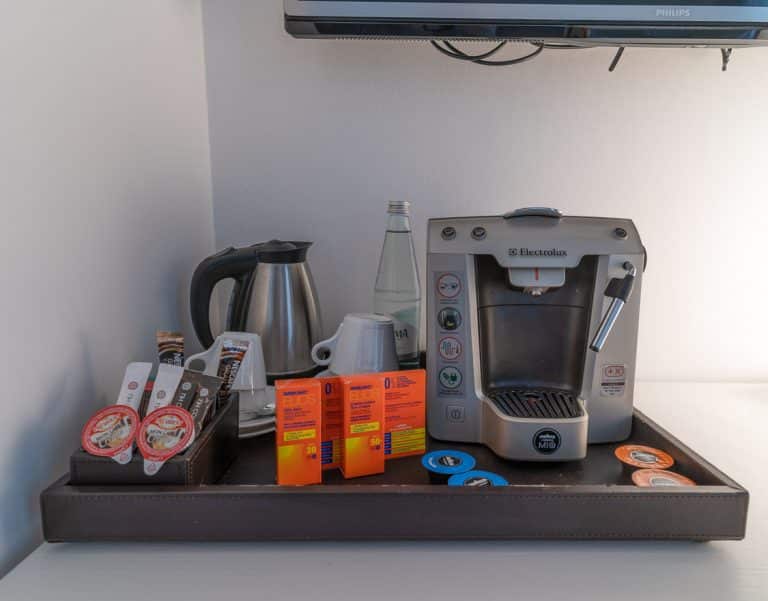 Speaking of overcharging, beneath a beautiful vase of fresh flowers was the minibar. A place where you could find such delights as a can of coke for €6.
Viewing Gallery
The real standout feature of this room was without question the glass encased viewing gallery with its two suspended chairs. A place where you could relax with an enviable view of the Amalfi coast.
Although the curtain between this and the bedroom didn't form a proper seal, the reflective coating did a good job of preventing the sauna like morning temperatures from heating up the rest of the room.
In the evenings the air con helped to cool the room back down and it was an ideal spot to enjoy the bottle of prosecco kindly provided to us as a welcome amenity.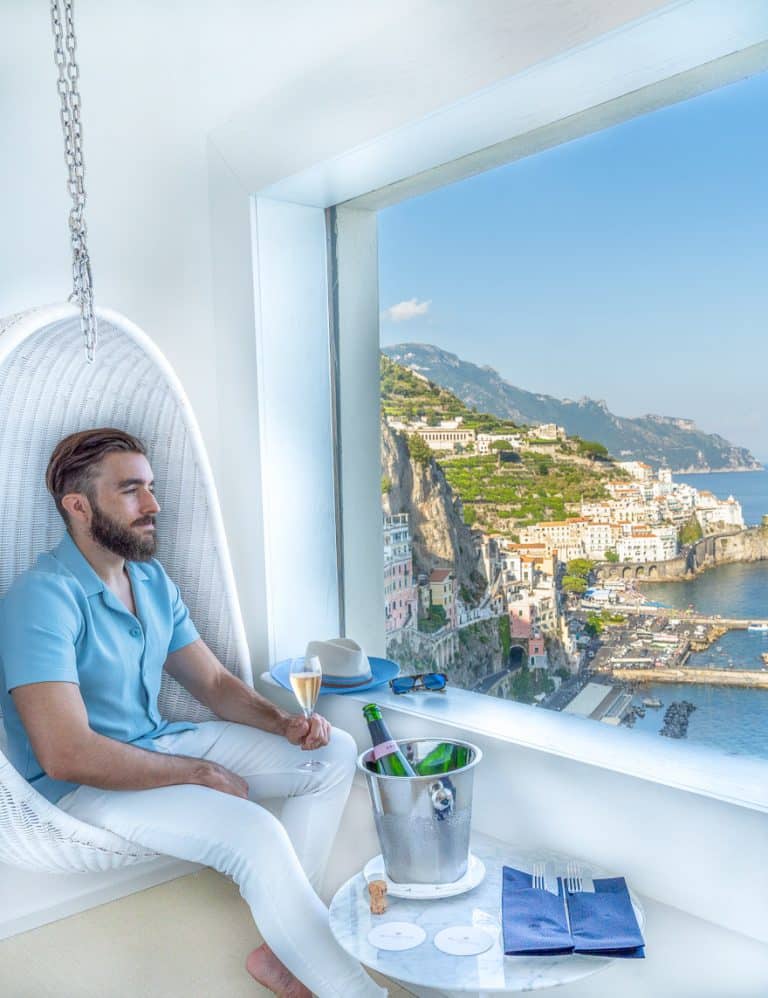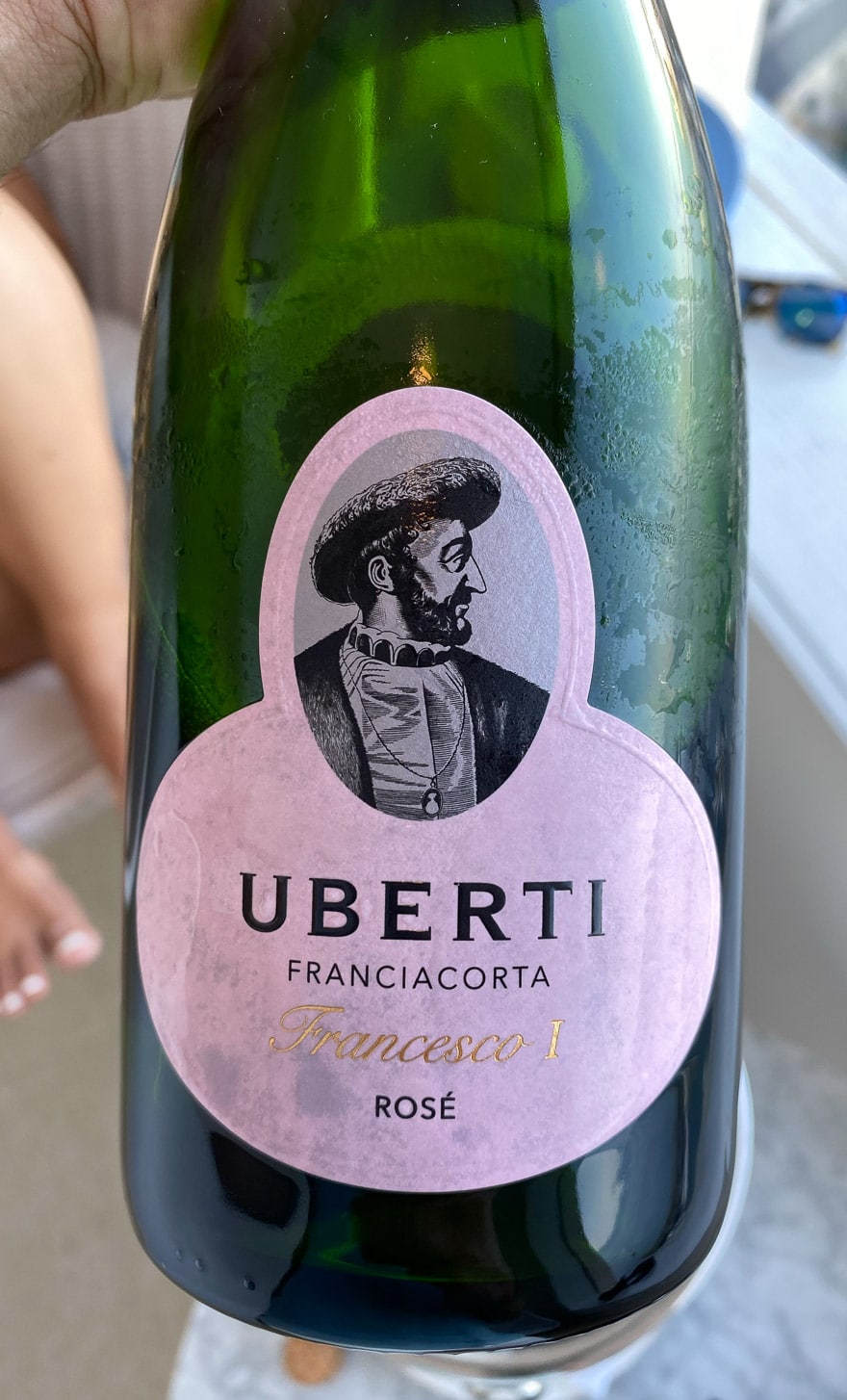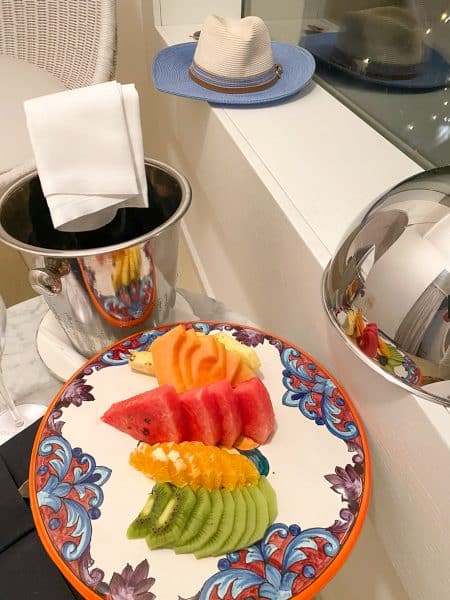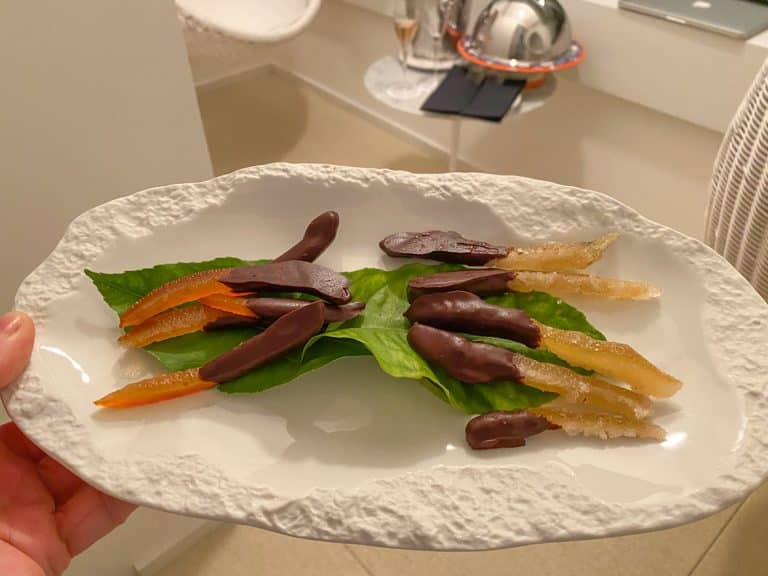 In England I must admit that Prosecco has something of a tarnished reputation but this bottle of Uberti Franciacorta was genuinely excellent. In addition to the drink we were given a large fruit platter as well as some candied citrus fruits coated in chocolate. As far as welcome amenities go, this was very generous and made a great first impression of the property.
Housekeeping were very efficient and friendly. Whenever they knocked they were very sweet and always asked if there was anything else we needed.
Having said that, turndown felt like a bit of an afterthought with just a solitary sweet left on each side of the bed, no slippers, no note and pillows left upright…rather than being turned down.
---
Food and Drink
---
Breakfast at Dei Cappuccini Restaurant
Guests have the choice of having breakfast either amongst the arches of the interior dining room (with all tables spaced at least 2m apart) or outside on the terrace. Given the blue skies, sunshine and prime Mediterranean views, you can imagine that there weren't many takers for the indoor option.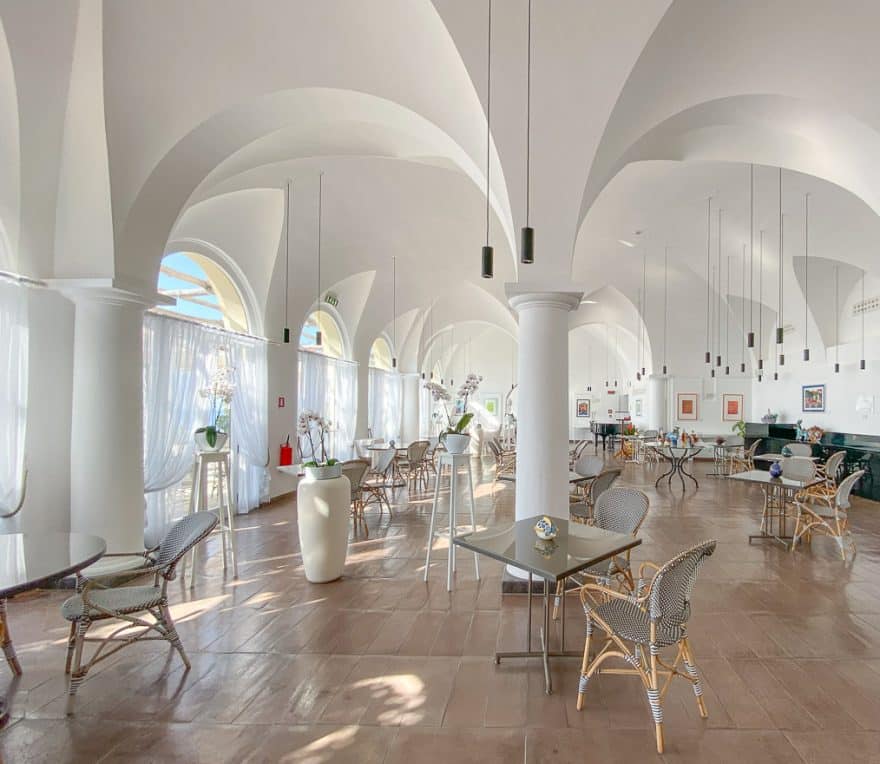 Table service was provided by an extremely well trained and polished complement of wait staff who spoke perfect English. Drinks were brought out almost instantly and a la carte dishes were generally delivered in under 10 minutes, even with off menu customisation requests.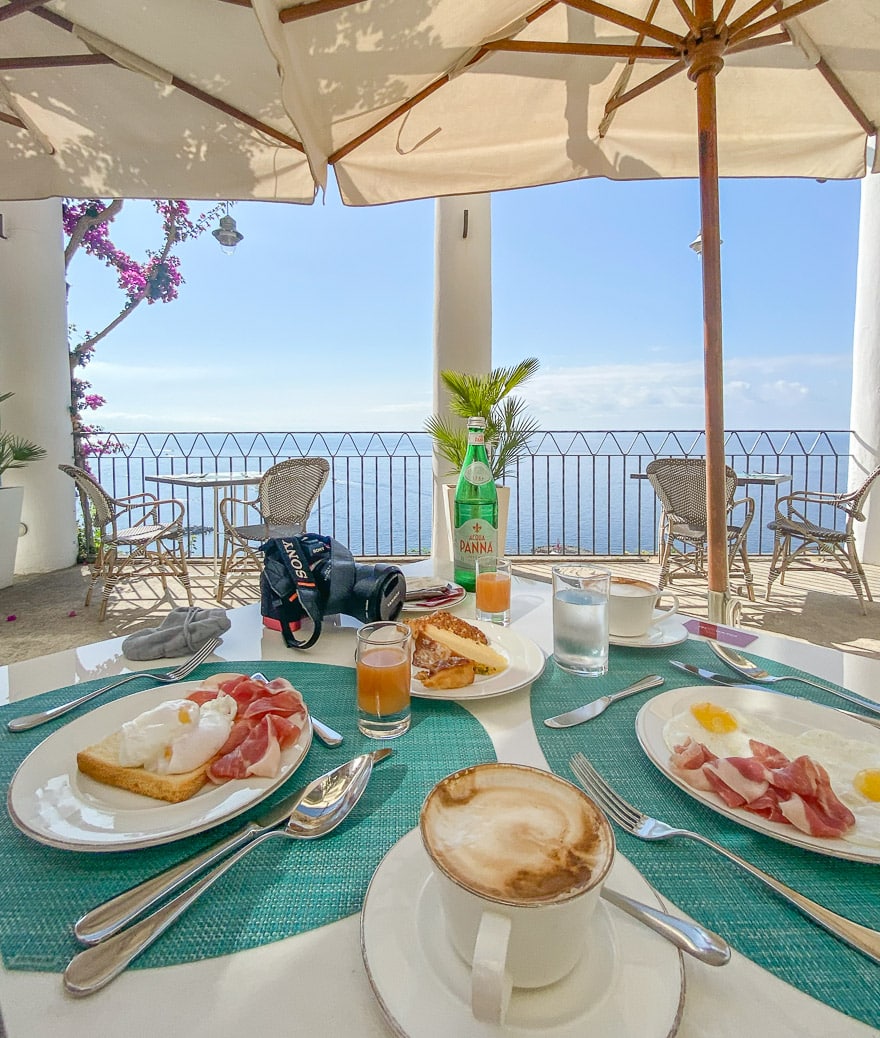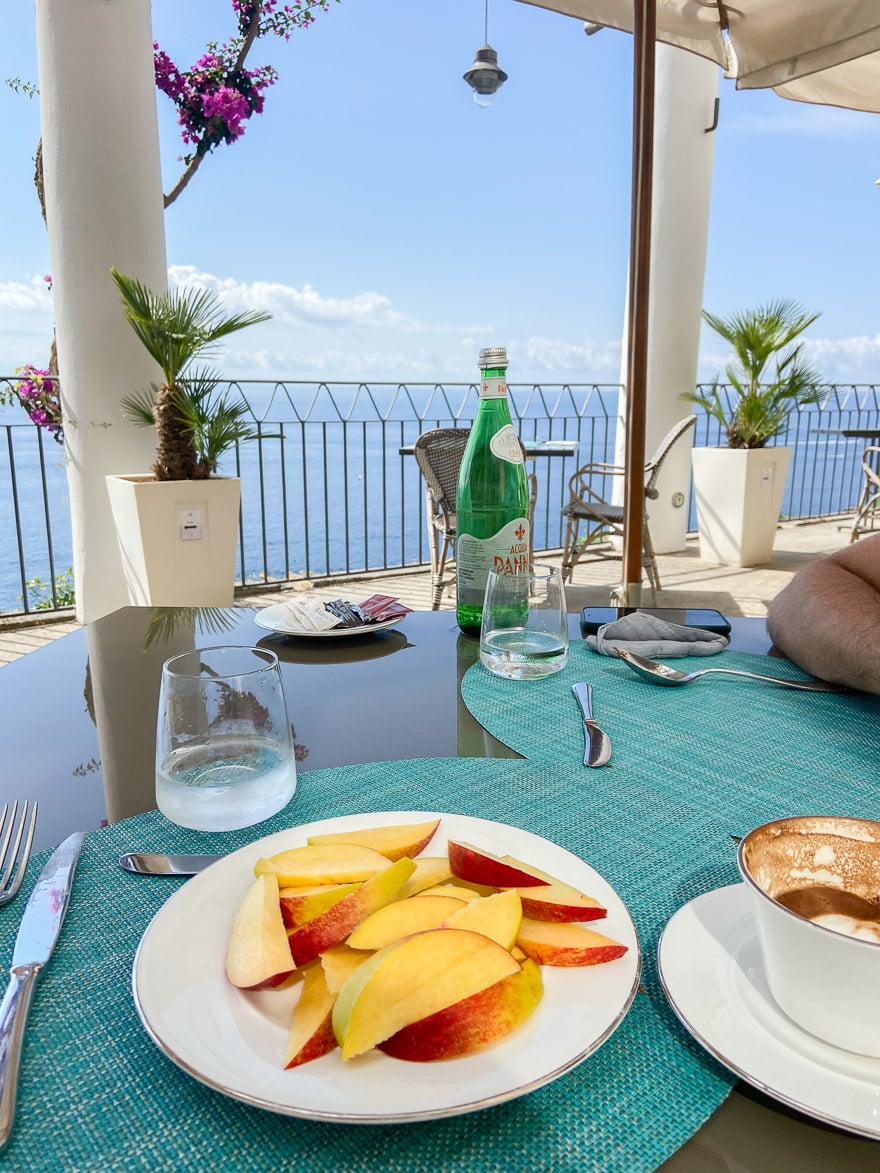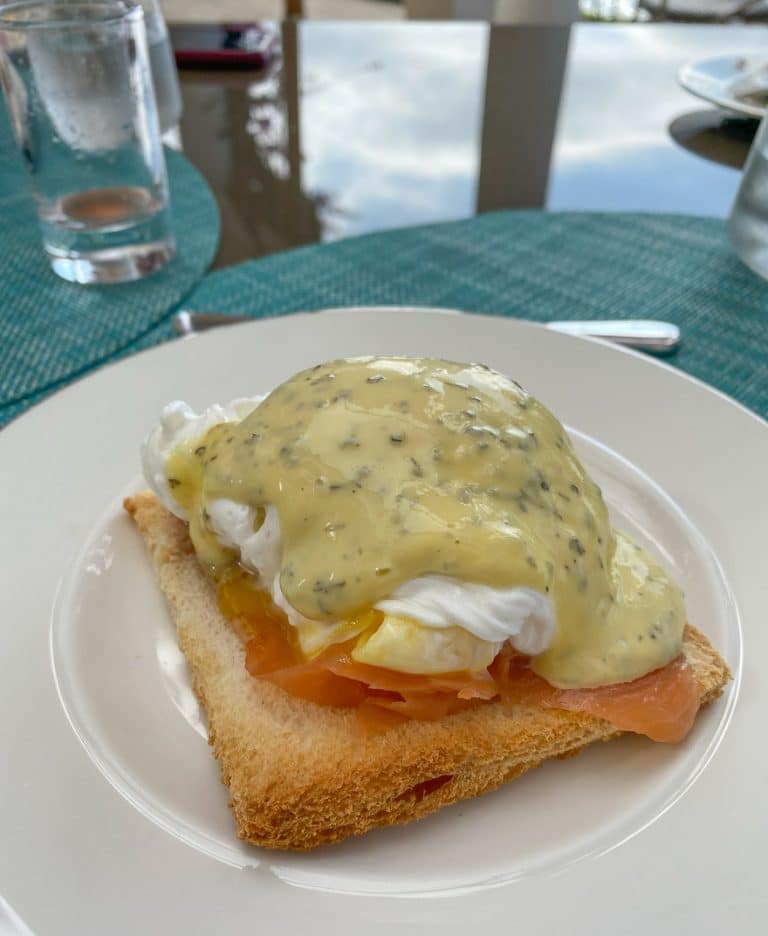 The eggs benedict I ordered at our first breakfast were not particularly great, there was no muffin and the Hollandaise was a little insipid. However, my alternative suggestion of poached eggs with lashings of freshly carved prosciutto were a highlight of every morning thereafter.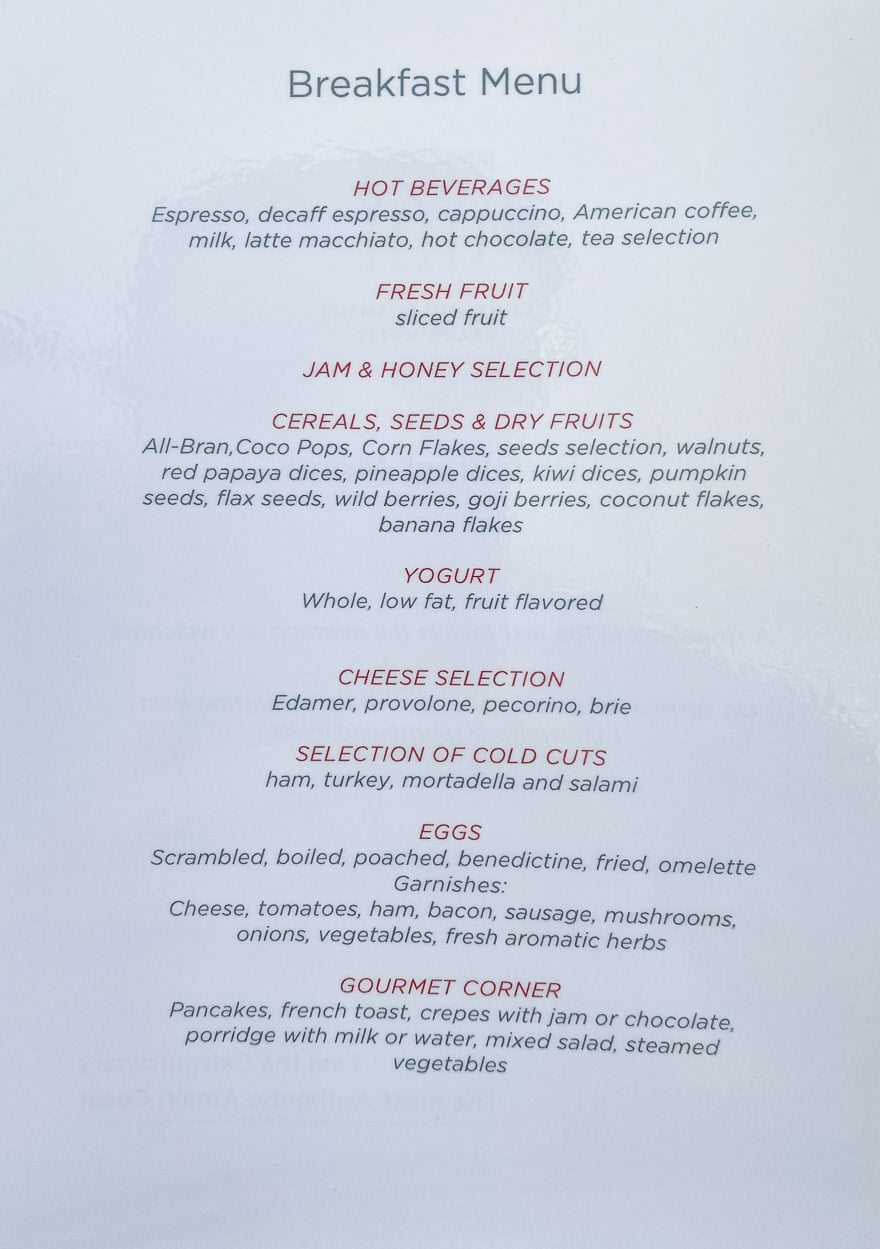 I was surprised to see that the property was still offering a buffet in addition to the a la carte service. The way in which it was presented was excellent though and clearly a lot of thought had gone into how best to strike a balance without overwhelming the staff or compromising on guest safety.
The rest of the buffet was beautifully presented inside glass cases, with multiple members of masked staff on hand to assist in serving guests.
There were never any lines or bottlenecks at all. If things started to look busy, staff would ask guests to take a seat and offer to take their selection out to them.
The views, food quality and service were all as good as I can remember in any recent hotel breakfast, rivalled only by the likes of the Conrad Maldives (which incidentally also had Italian waiters). When everything comes together like this it's a real joy to jump out of bed knowing that you have this to look forward to!
Lunch at La Locanda Restaurant
We only stopped for lunch on one day of our stay. This was served in a restaurant located a few minutes walk away from the breakfast venue, through a garden walkway facing the sea, in an area close to the pool.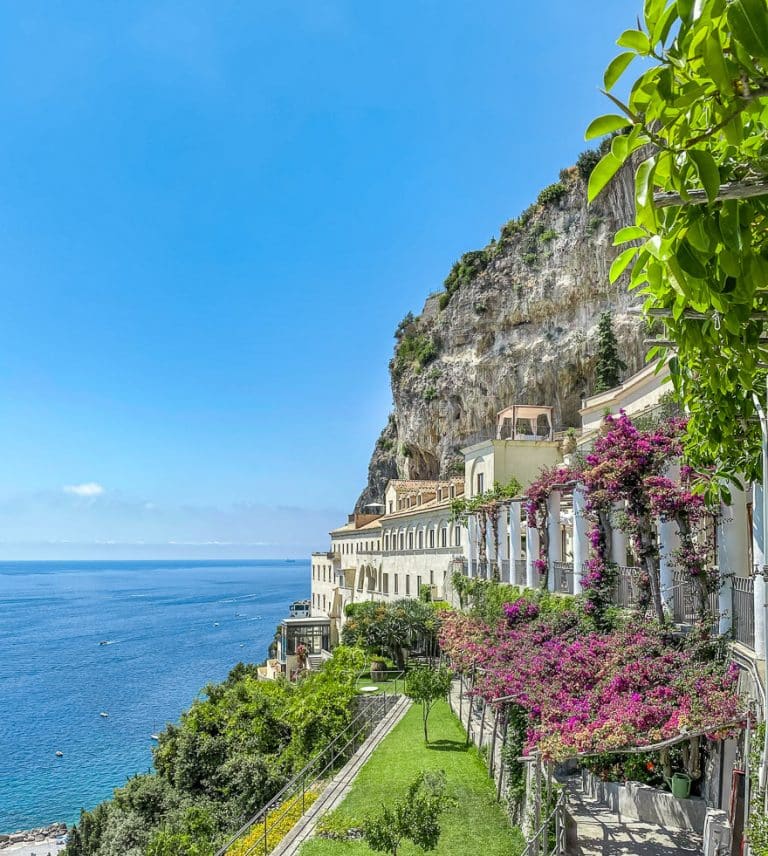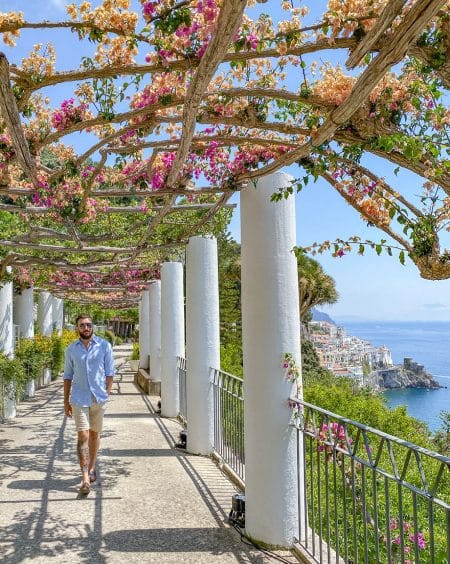 Food Menu
Pricing was in line with what you'd expect at a 5* resort with the international pool restaurant staples of burgers, pizzas, caesar salads and club sandwiches rounded out by some local pasta dishes and grilled mains.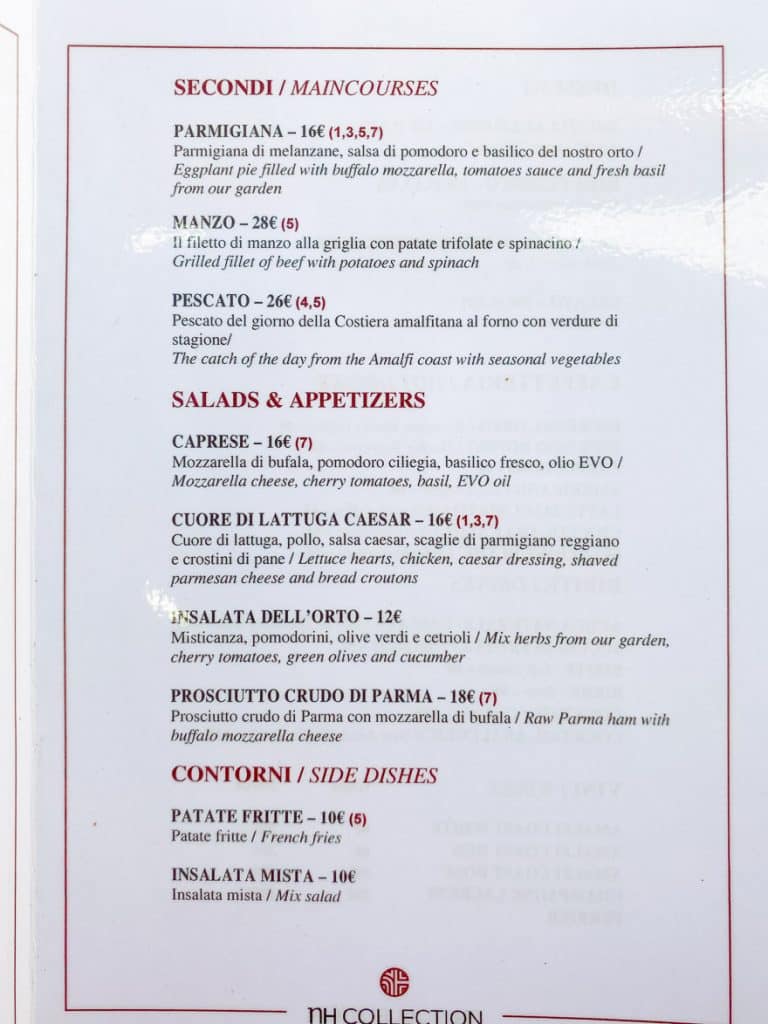 Drinks and Dessert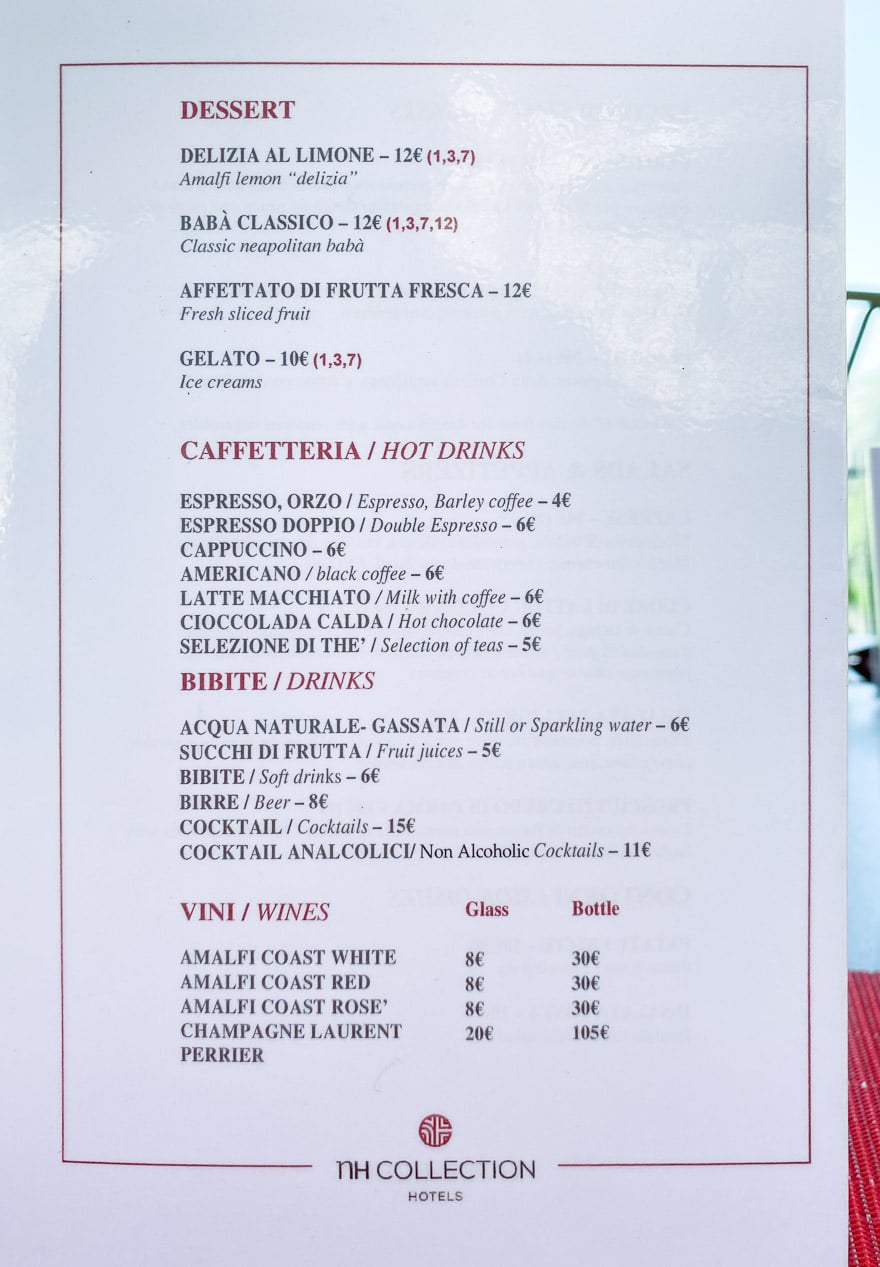 We tend to eat light lunches when travelling, the inevitable consequence of days bookended by lavish breakfast buffets and elaborate evening meals. I ordered the club sandwich (for the first time in approximately a decade) and Kamara went with the Caesar salad. Both dishes were delicious and very generously proportioned.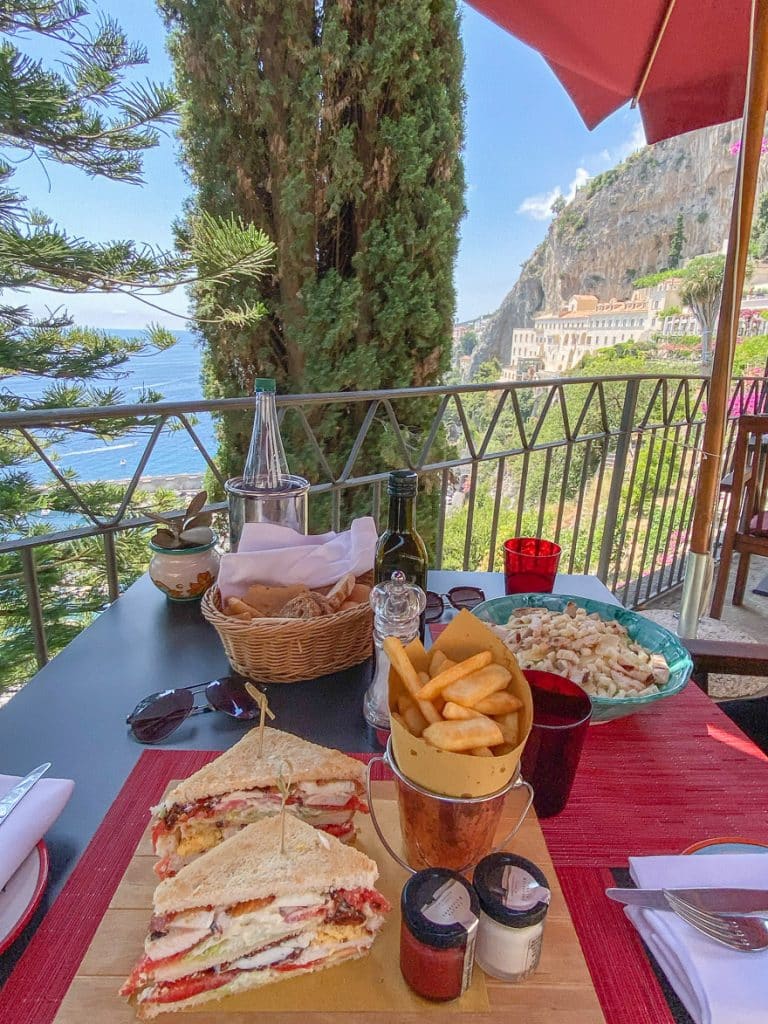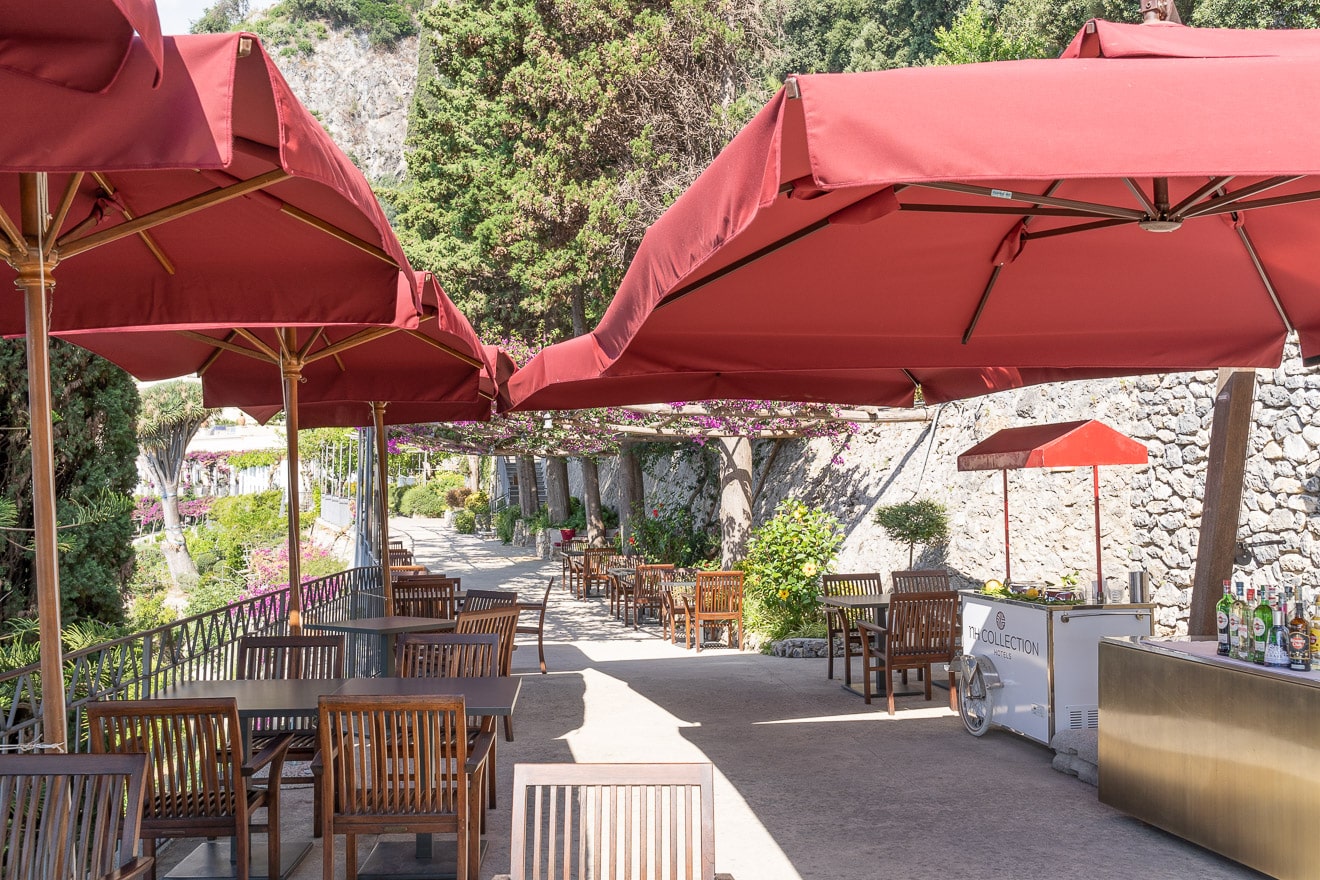 Cocktail Bar
The bar area is located just before Dei Cappuccini restaurant; the indoor area was never busy but the outdoor terrace was a real draw, particularly for non-residents.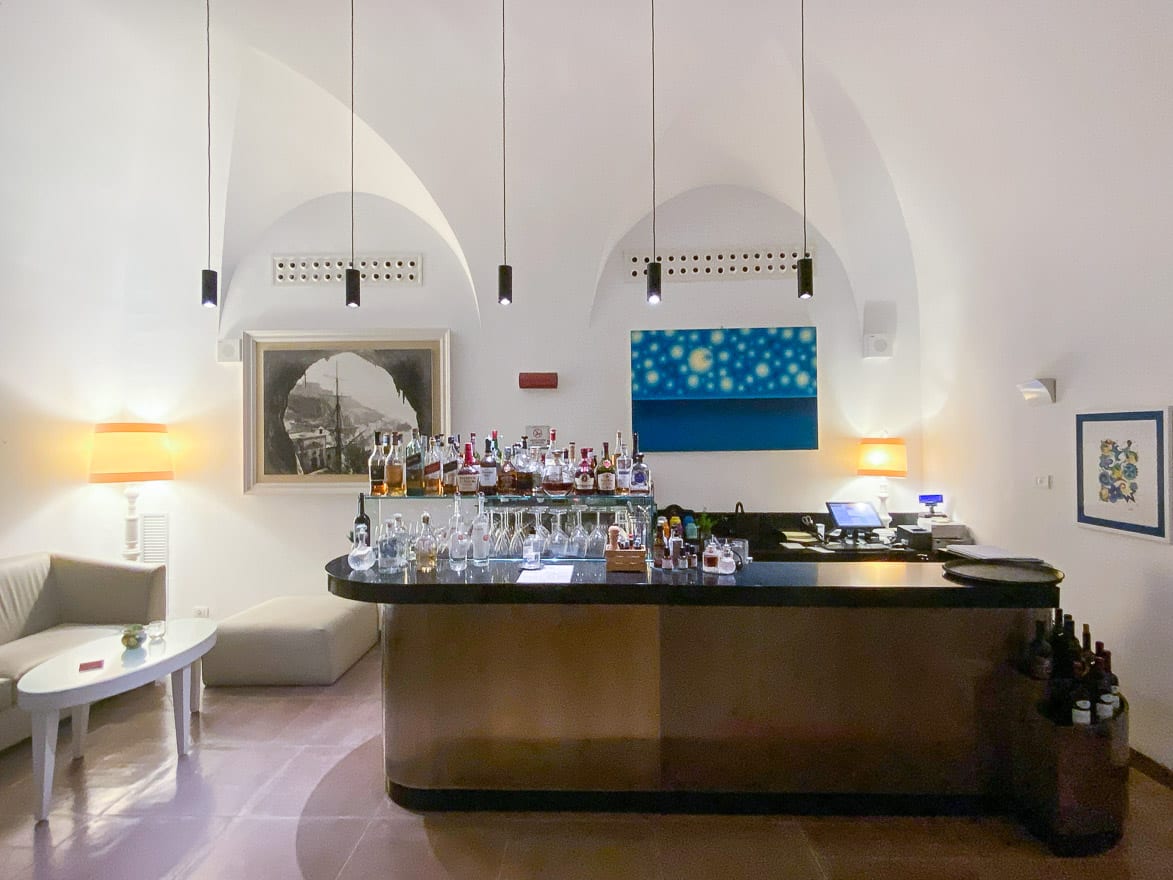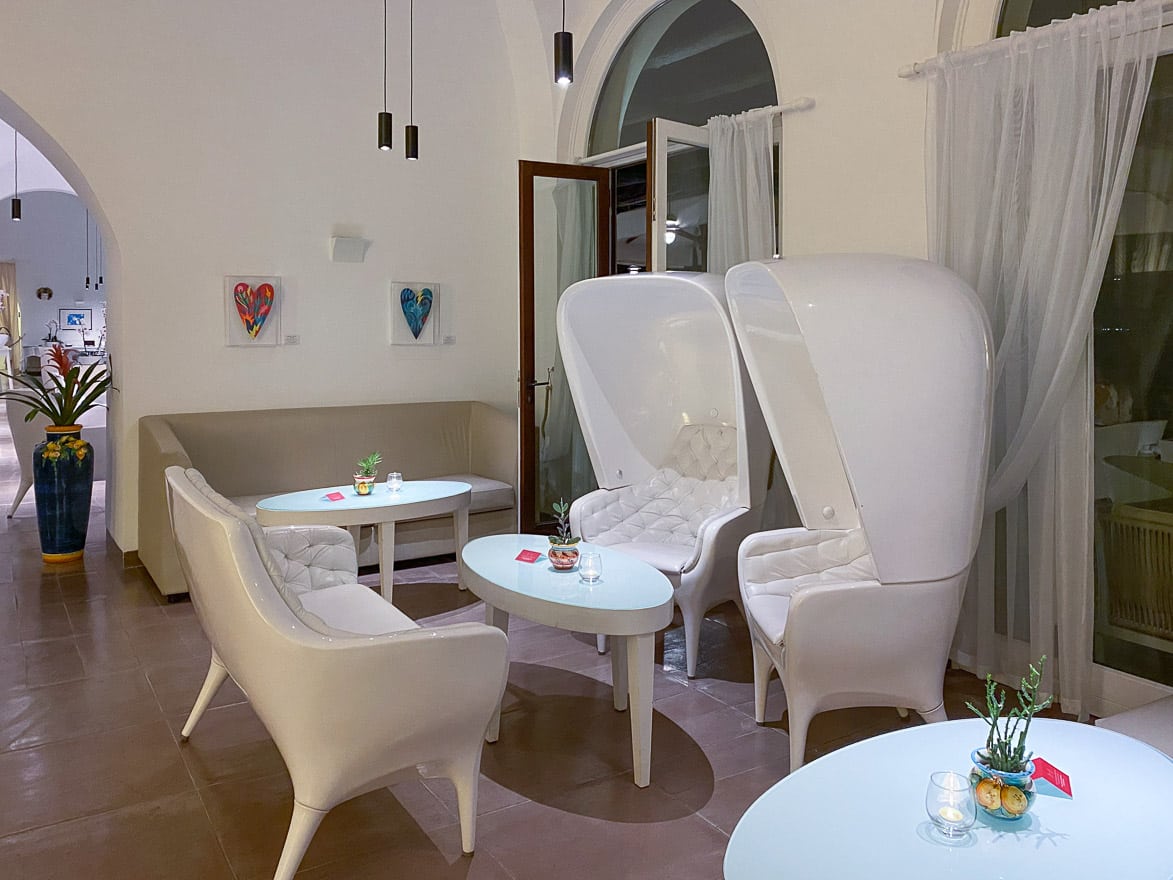 Thankfully the property reserves the best seats, with the sunset view, for guests of the hotel.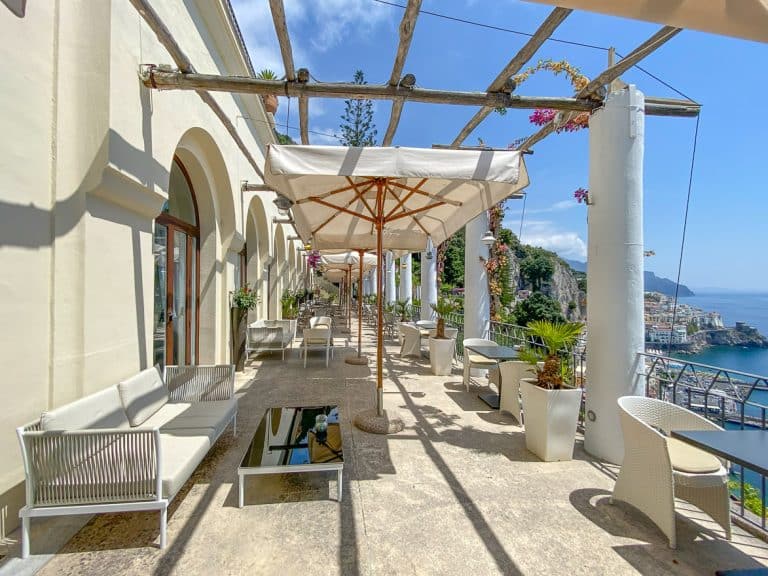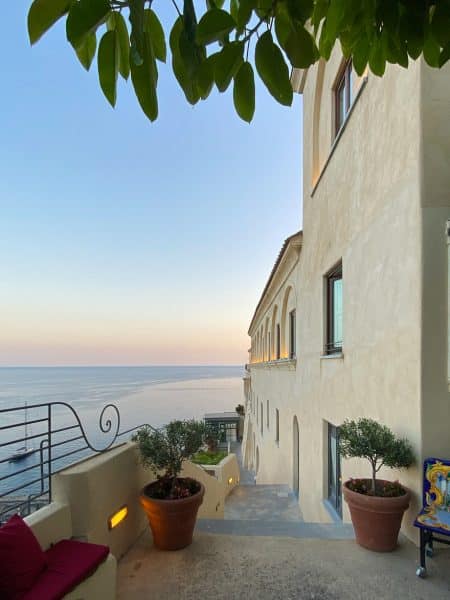 Drinks List
The cocktail list wasn't particularly modern or exciting but this was soon forgiven when I was presented with one of my favourite gins: Monkey 47, as an option for the Dry Martini. The canapes served alongside the cocktails were uncharacteristically lacklustre though, particularly when compared to some of the delicious and inventive aperitivi we encountered in Rome.
Still, on a warm evening with live music playing and the sunset colours filling the sky, the canapes were never going to be the highlight…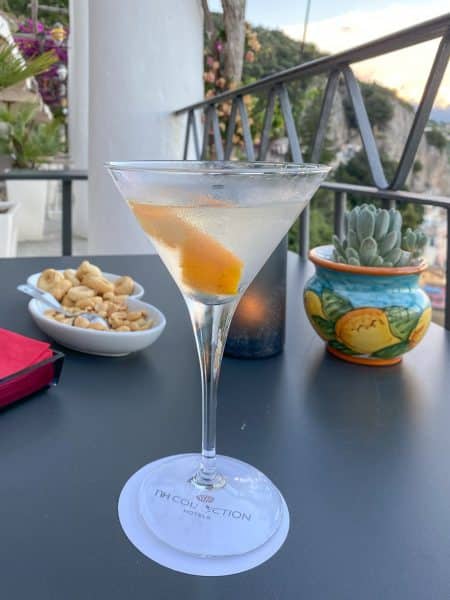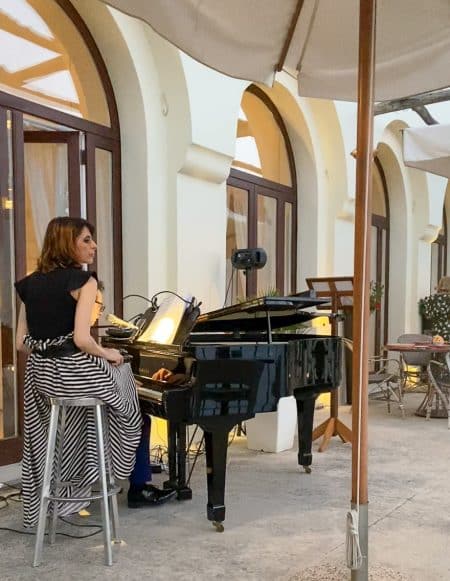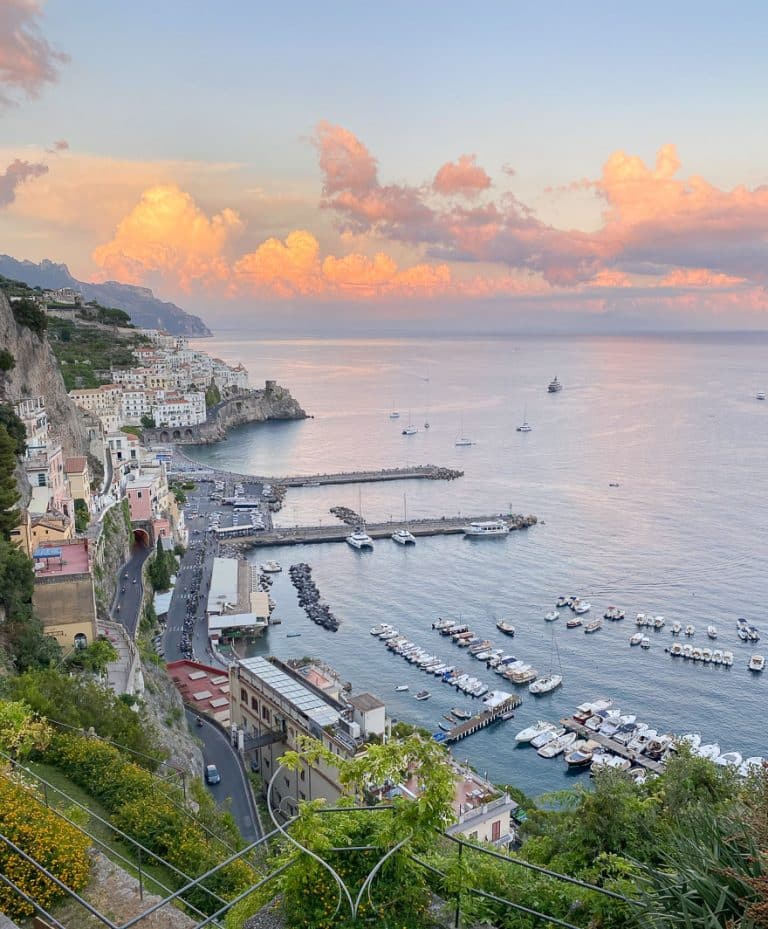 Dinner at Dei Cappuccini Restaurant
The hotel offers half board for a supplement of €100 per room per night, which given the quality of the offering is a fantastic deal. We ate dinner at the hotel every night and honestly couldn't have asked for much more. The quality of the service and food was on the verge of Michelin star territory.
Food Menu
Wine List
We tried almost everything on the menu over the course of three nights and the dishes were universally superb. On the second and third nights we were also offered alternatives from the chef, in case we wanted a little more variety. When we asked for a substitution of squid for the octopus in one of the dishes this was easily accommodated.
The bright tableware was unmistakably Amalfian. I felt that the restaurant did very well in selecting tableware that was of its place whilst still retaining an overall air of elegance.
Our two favourite starters: the cod with crispy black squid ink and the grilled squid with lemon scented potatoes and hazelnut crumble.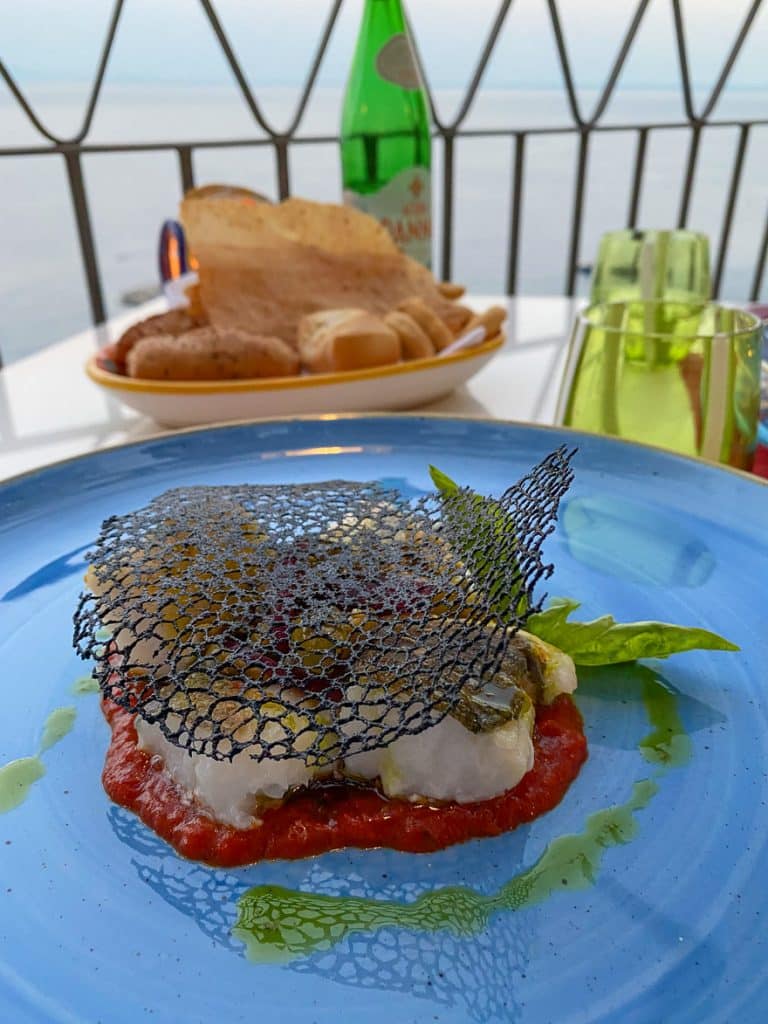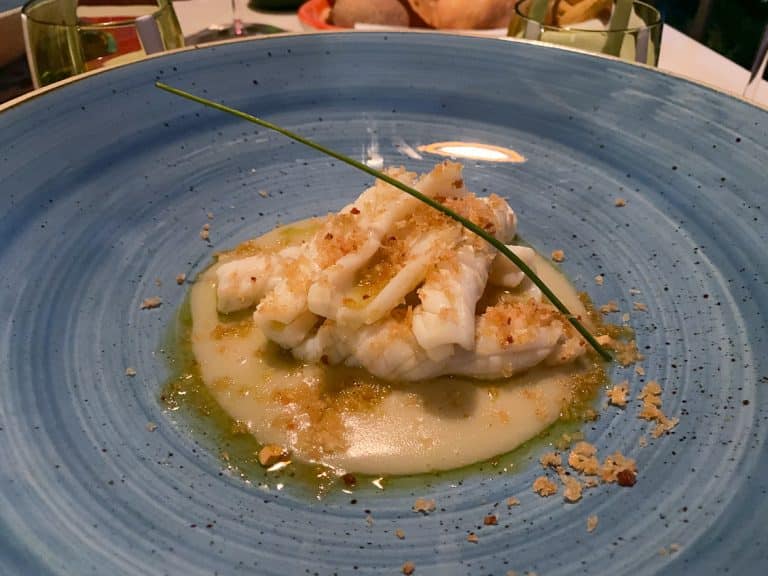 It was a real pleasure watching the transformation of the landscape over the course of the meal. After the starters came the first courses of pasta or risotto. The Genovese pasta with crunchy Parmesan was the star. We ended up ordering it four times between us and would have eaten it again for breakfast if we could!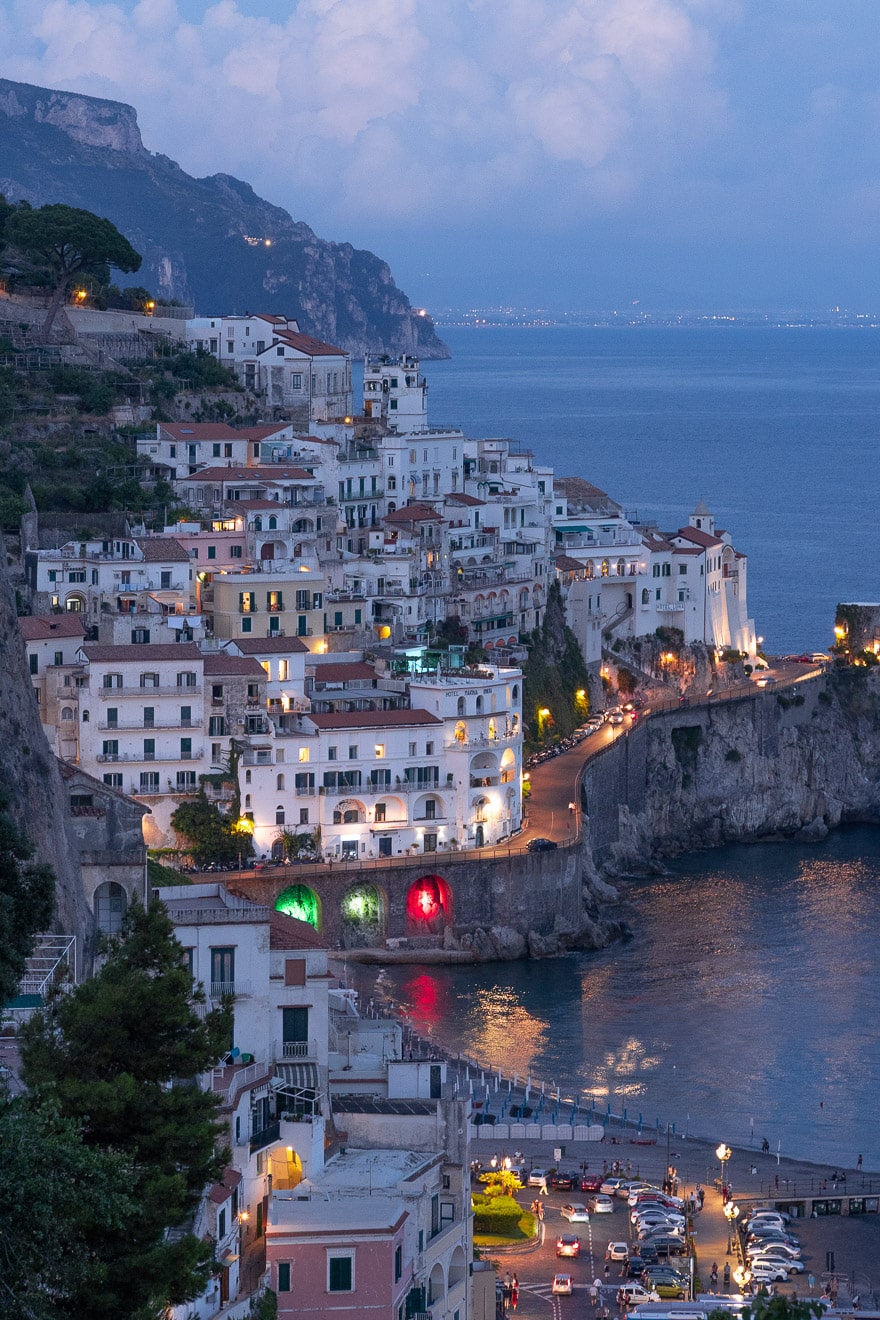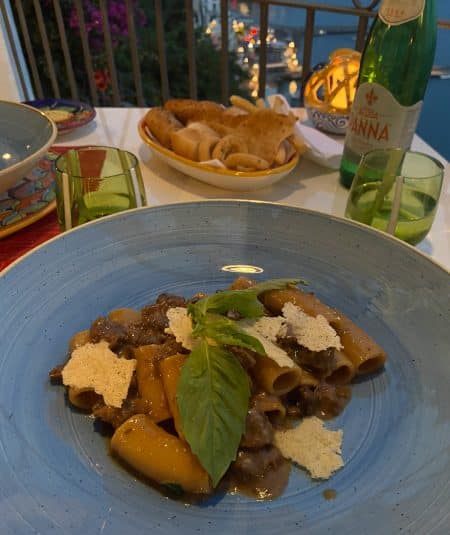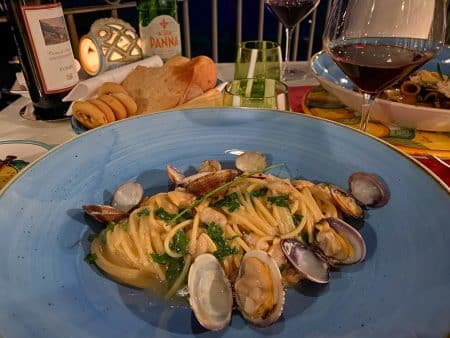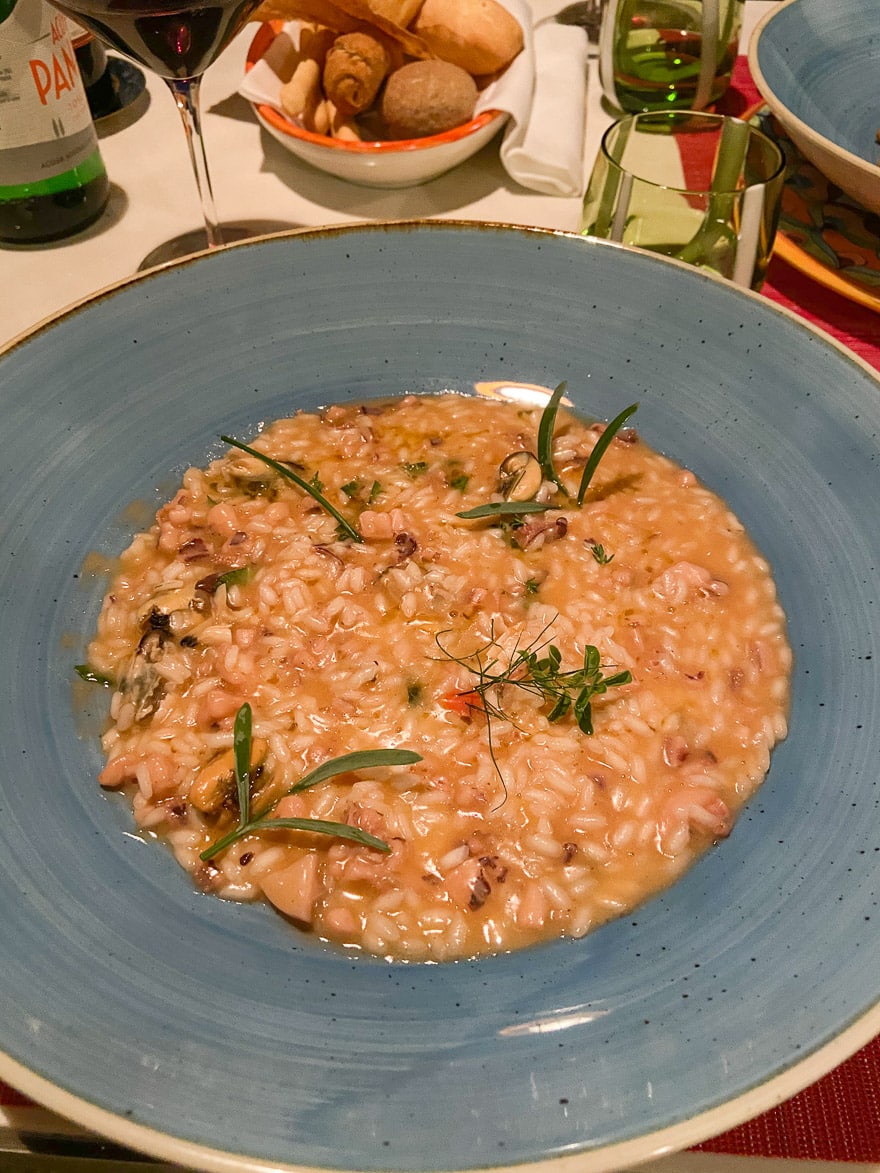 The grilled catch of the day was my favourite main course (and mercifully light, given how much we were eating). Meanwhile, the veal escalope could have given the Wiener Schnitzel in the Lufthansa First Class Terminal a run for its money.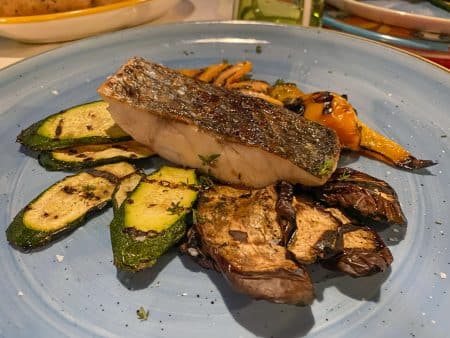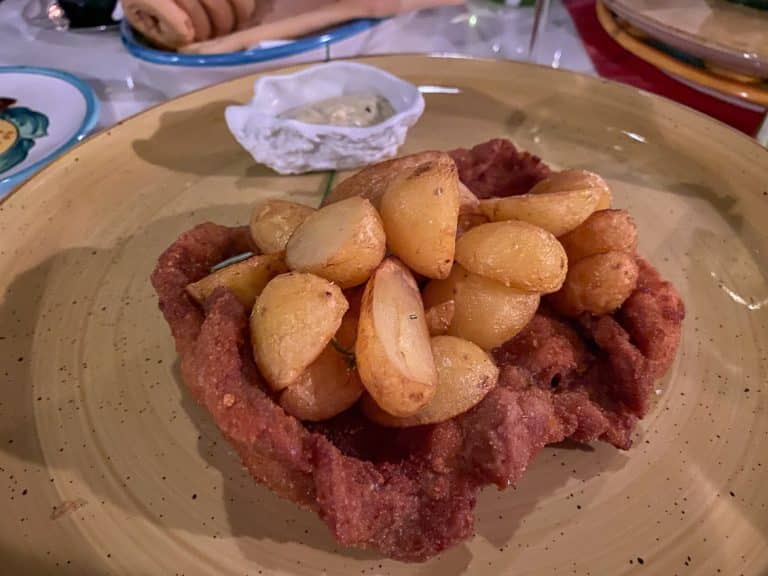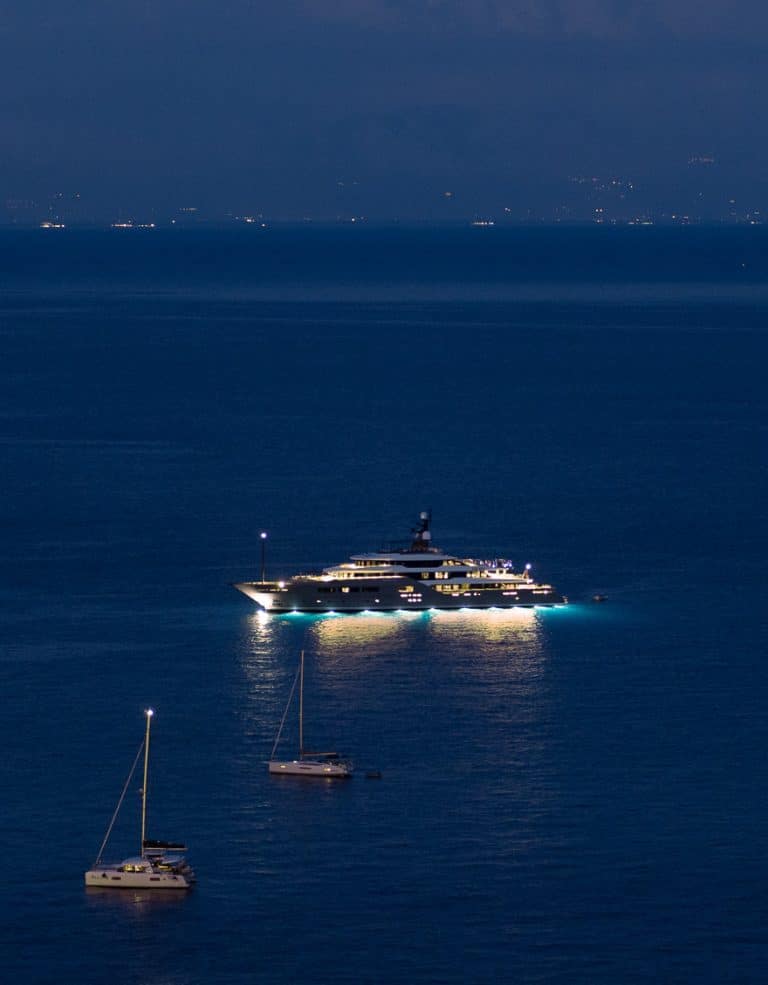 I've never been the biggest dessert fan and in this regard, the restaurant was unable to sway me, the fresh fruit was by far the strongest offering. The Amalfi lemon delizia could have been sharp and citrusy and refreshing but instead it was a big ball of cake covered in sweet lemon icing.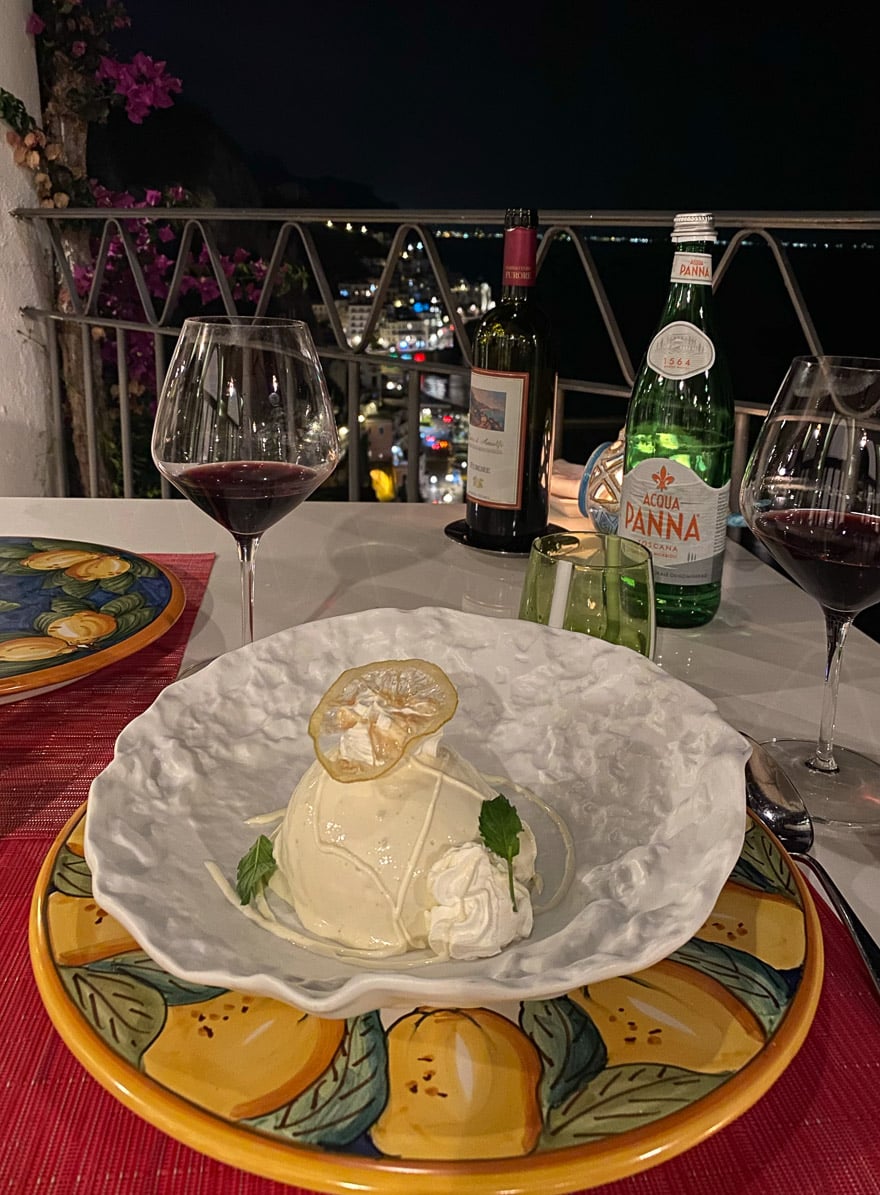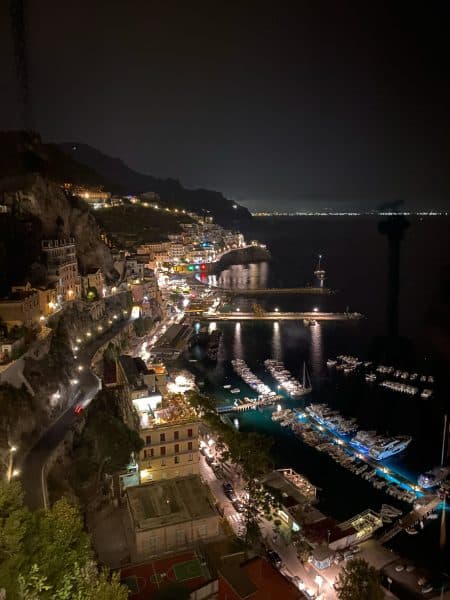 Still, overall the food here was exceptional and I would strongly recommend a visit for dinner even if you aren't staying at the hotel. The 15 minute stroll downhill to the town of Amalfi would be the perfect end to an evening after a meal here.
---
Leisure facilities
---
The Pool
The pool is located close to a restaurant and bar but unlike many resorts in the area, it enjoys an uninterrupted horizon view and doesn't have any through traffic from guests passing through to access other parts of the hotel.
The perfect spot for an instagram shot:
In light of COVID we were asked to reserve spots here in advance, although on our first day here we had the pool entirely to ourselves for around three hours. Service was excellent with staff coming out a periodic intervals to offer us complimentary drinks and ice cream.
The Gym
The hotel offers two almost identically equipped gyms. The indoor one is located on the same floor as the spa and was a windowless, depressing little box.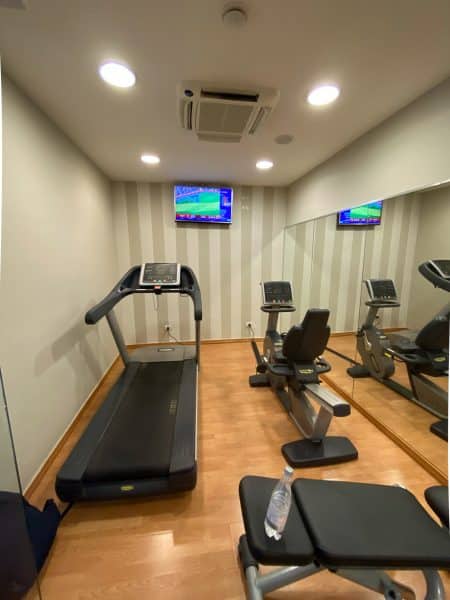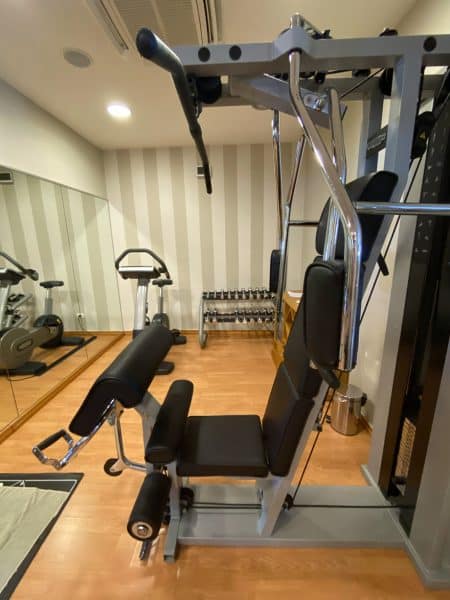 Better still was the outdoor Panoramic Gym, located just by the pool. With enviable views over the Mediterranean and shade provided by a canopy of trees, this was the perfect spot to build up an appetite before dinner, whilst not feeling like you were missing out on the experience of being in the Amalfi Coast.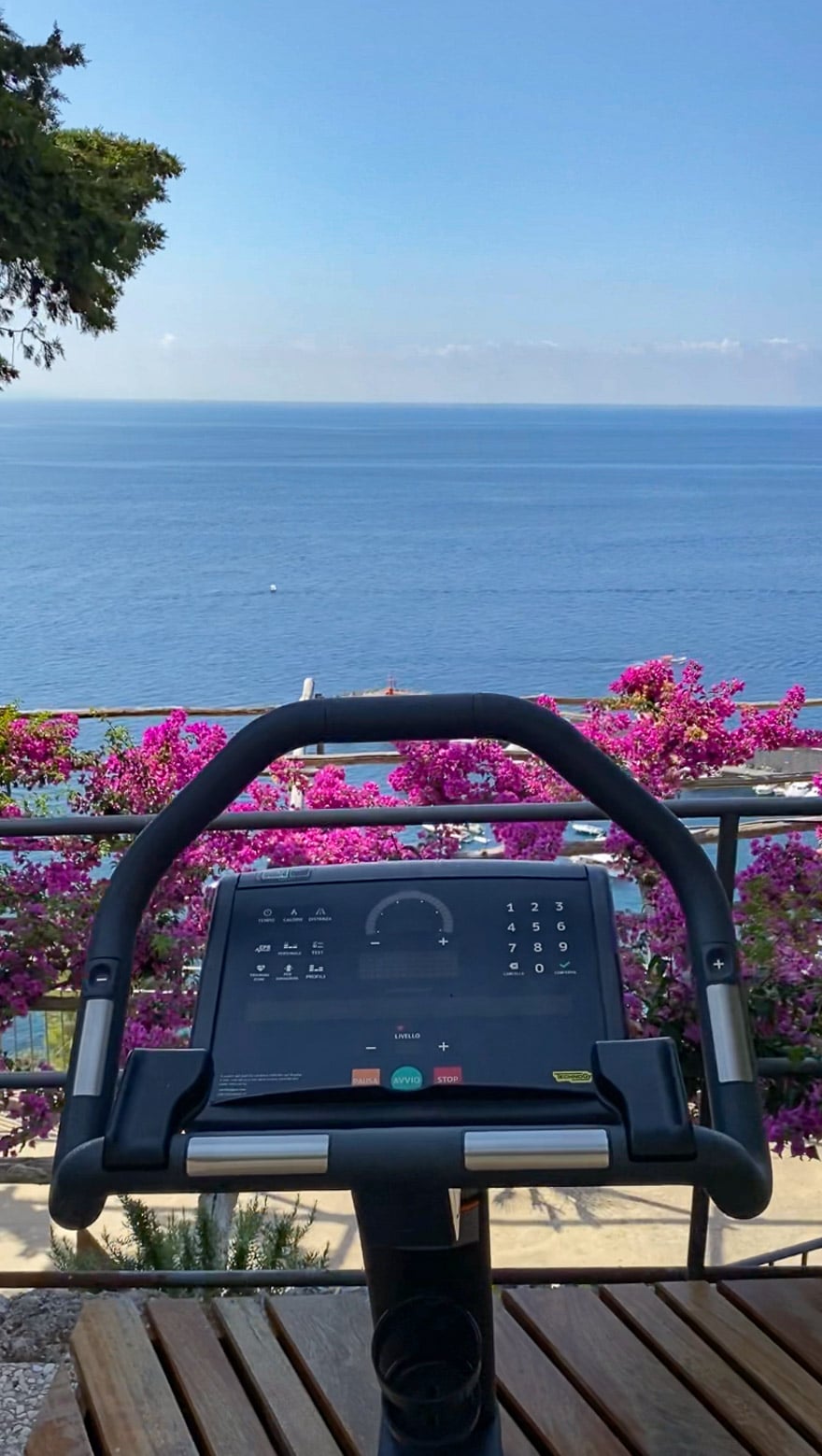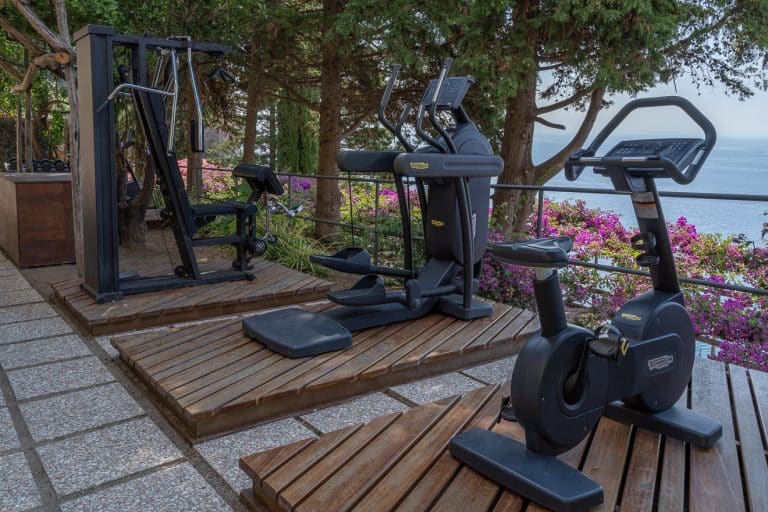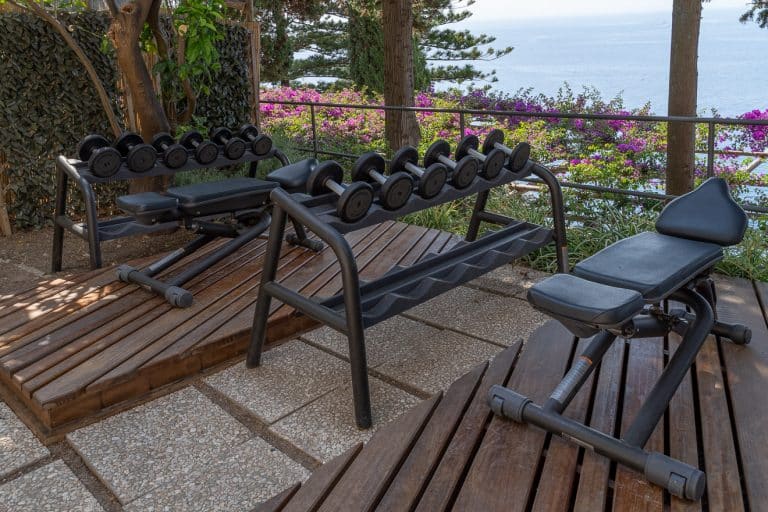 Access to the town of Amalfi
The Amalfi Coast is named for the town of Amalfi, a fifteen minute walk from the property. You can take a lift down to the parking level and take a periodic shuttle there but the walk through the winding alleyways and courtyards is far more interesting and honestly much more convenient too, since you don't need to stick to a timetable when walking.
Access to Amalfi is via an electronically locked gate and involves a gentle downhill walk.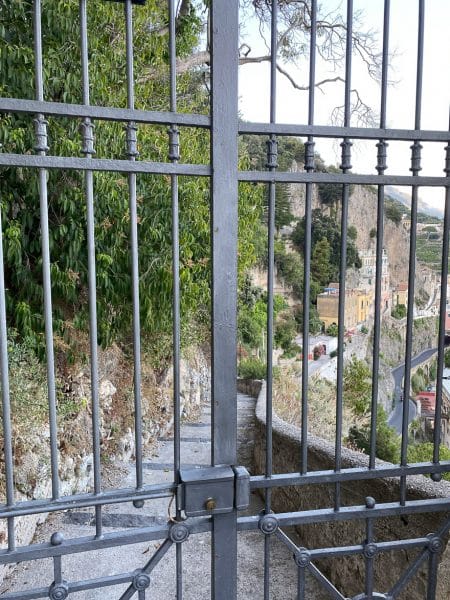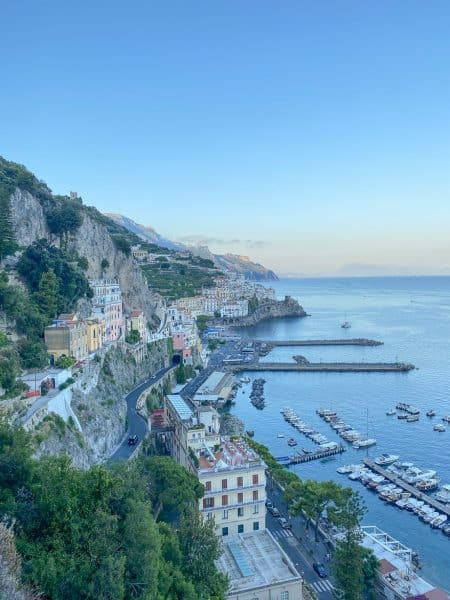 Whether you actually want to spend much time amongst the throngs of unmasked tourists, jostling for position in shops selling anything and everything with a picture of a lemon on it…is a matter of personal preference.
---
Conclusion
---
Basics Checklist
☑︎ Power sockets near the bed
X Easy to understand light switches
☑︎ Coffee machine
X Separate shower and bath
Just a shower but this is preferable to having a shower within a bath
X Blackout blinds
☑︎ Stable, fast and free Wifi
☑︎ Feather pillows
☑︎ Quiet and powerful aircon
Overall, we had a very enjoyable stay in NH Collection Grand Hotel Convento di Amalfi and would highly recommend a stay here to anybody considering a visit to the Amalfi Coast.
I honestly think that the main issue here is that the property suffers from a marketing problem. The name of the hotel is unbelievably long and cumbersome, they could easily shorten it to Convento di Amalfi and design a new, modern logo. The 'Grand Hotel' name immediately makes you think that this will be an antiquated property with laughably outdated furnishings and honestly this couldn't be further from the truth.
The hotel doesn't work with influencers in the way that Le Sirenuse, Casa Angelina, Villa Franca do and as such people aren't really familiar with its expansive grounds, outdoor gym and clifftop infinity pool. I sincerely hope that this review goes some way towards remedying this.
Beyond that, let's be honest, the NH Collection website is pretty terrible. The user experience is significantly worse than some of the property's competitors in the region. If I was managing the property the first thing I'd do would be to create a separate web presence for the hotel, in much the same way that top tier Conrad and Waldorf properties have their own pages, in addition to being featured on the standard Hilton website.
All of that aside, we enjoyed this stay a great deal.
This is still the Amalfi coast so the rooms are small, by anybody's standards. However the modern design works really well within the confines of an enviably located heritage building. The service throughout our stay was absolutely excellent at all times. As far as regular hotel service (i.e. not Aman) goes this is as good as you can reasonably expect.
The attention to detail was remarkable, with staff ensuring that, coasters and even bottles were perfectly aligned when we ate. Housekeeping saw that we drank more still than sparkling water and as such replenished our room accordingly. Our day by the pool with no other guests was amazing, we basically ended up with our own butler, custom making different drinks and ice cream for us since he had no other guests to look after.
The views here are incredible and the property knows this, ensuring that all public spaces face out to the ocean. The quality of the food was as good as I've had in any European hotel (The Ritz Carlton Kyoto holds that honor for me globally) and I was very impressed with how the breakfast buffet service was adapted for COVID.
The parking situation is something of a negative but on the Amalfi Coast this is something you'll have to tolerate no matter where you go (much like the room size).
When you look at all the positives though and add to them the fact that this hotel is consistently cheaper than its 5* peers in the region… and you have the recipe for a wonderful stay.