Waldorf Astoria Dubai DIFC
Rate: 703AED (3rd night free Hilton Impresario deal)
Room Type: King Corner Suite with Skyline View

triple upgrade from King Premier Room

Loyalty Status During Stay: Hilton Honors Diamond
---
Intro
---
I was really spoilt for choice when picking a hotel for my birthday weekend in Dubai. This city has an abundance of luxury properties competing to outdo each other and pricing in September is generally very keen, even before you factor in COVID.
Since the highlight of my birthday weekend was a huge Friday brunch at ZUMA, I figured it made sense to book a property nearby in the DIFC, Dubai's financial centre. Friday brunches in this city are notoriously debauched affairs with gallons of free flowing alcohol. I wanted to make it as simple as possible to get back to my hotel afterwards in one piece…
---
Booking
---
As always I was able to find exceptional pricing booking instantly online via Classic Travel.
The nightly rate was identical to Hilton.com but Classic Travel also threw in the following Hilton Impresario amenities:
3rd night free !
Double Hilton Points and Elite Credits
a complimentary room upgrade
$100 resort credit
Breakfast for two
Late checkout
As a Hilton Diamond I already get upgrades, breakfast and late checkout but the $100 credit and 3rd night free were better than anything Hilton could offer directly AND I was earning twice as many Hilton points and twice the usual stay credit! The total cost for 3 nights including all those extras came to 2120AED (roughly £430).
You can often tell a lot from the pre-arrival experience at a hotel and here the Waldorf DIFC was about as good as I could possibly have hoped for.
As more people confirmed their presence at my birthday celebration the hotel not only made notes of everybody's preferences and arrival times, they also ensured that we'd be assigned rooms that were close to one another and pre-upgraded everybody two categories, to King Premium Suites, days before our arrival!
[King Deluxe Rooms are also bookable for as little as 61,000 Hilton Honors points per night but given the low cash rates here you'd be best off saving your points for places like the Waldorf Astoria Maldives, Conrad Maldives or Conrad Tokyo.]
---
Arrival
---
The hotel is housed within floors 18-55 of the brand new Burj Daman building in DIFC, Dubai's financial centre. This is around a 10-15 minute drive from DXB airport.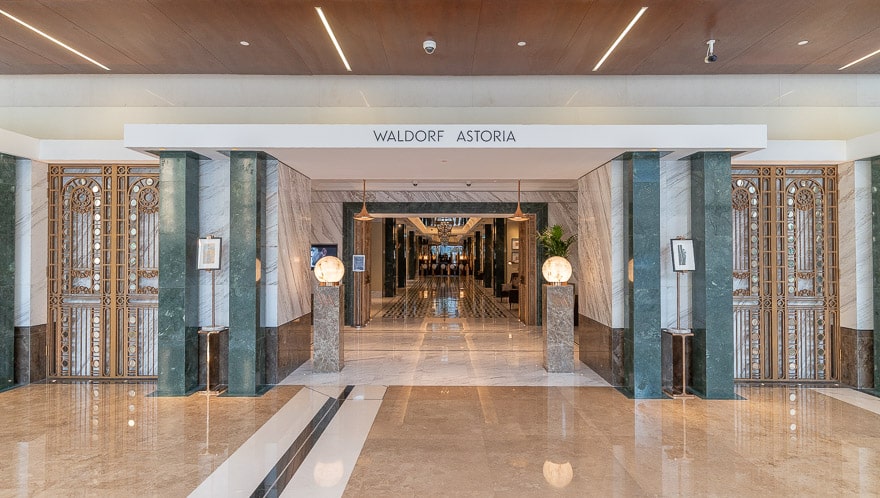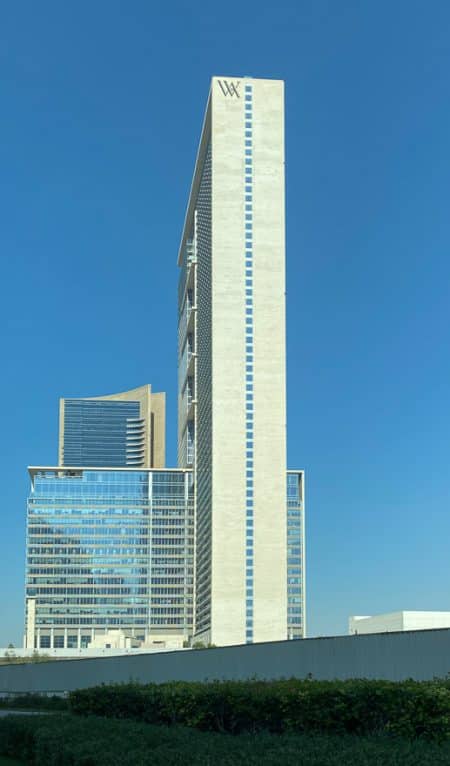 We were greeted at the door of our vehicle and had our bags immediately taken from us by numerous waiting door staff.
Immediately upon entering, I was struck by the impressive art-deco design. This is a bold choice in a city which generally favours either local or far more modern aesthetics but I personally thought that the execution was superb.
We were guided past an Italian restaurant, shops and meeting rooms on the way to the ground floor lift, as the bellhop explained various features of the hotel to us. He then apologised for not being able to enter the lift with us, due to COVID restrictions, but explained that the reception would be just in front of us as we exited on the 18th floor.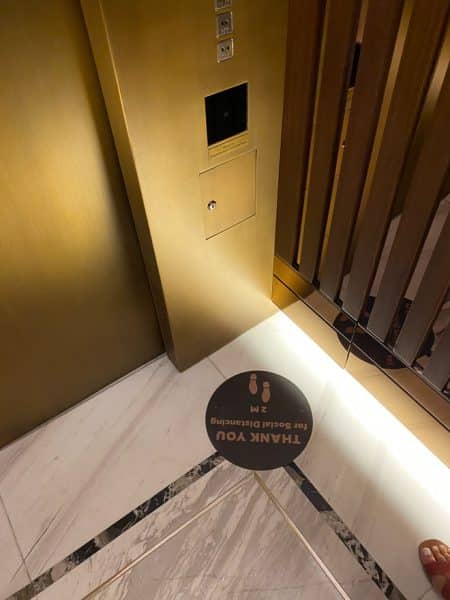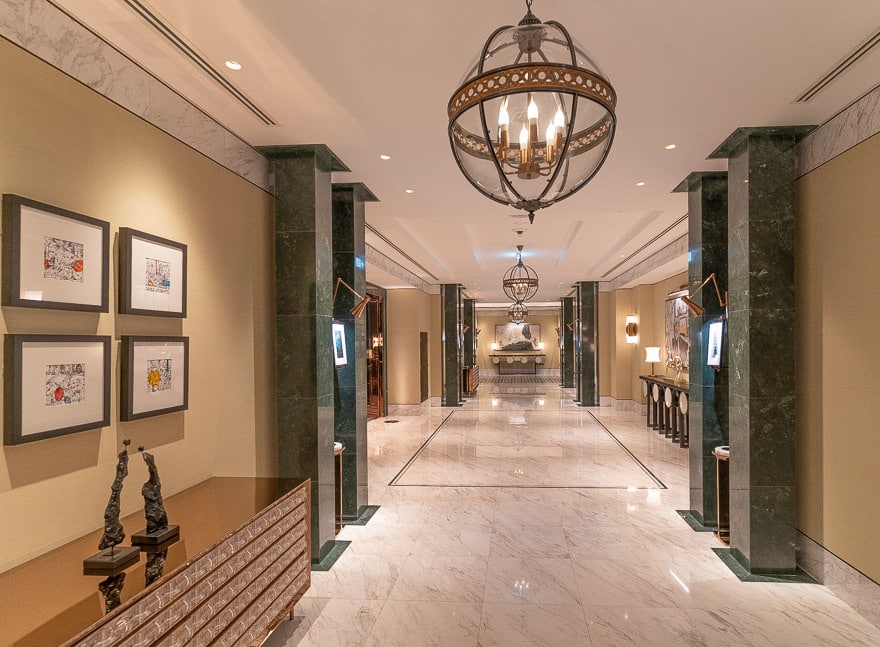 Five of us arrived at around 9am straight from the BA red-eye flight and the hotel was more that capable of processing our check-ins at the same time. They also didn't bat an eyelid when it came to assigning us rooms, hours before the normal check-in time.
Dubai hotels are generally quite lenient when it comes to early check-ins and late check-outs, given the amount of continuous air traffic through DXB. However, double upgrading everyone AND having rooms ready immediately? That's a huge tick for the Waldorf.
What's more, as a special birthday surprise they upgraded my room another category still, to an absolutely gigantic King Corner Suite with Skyline View.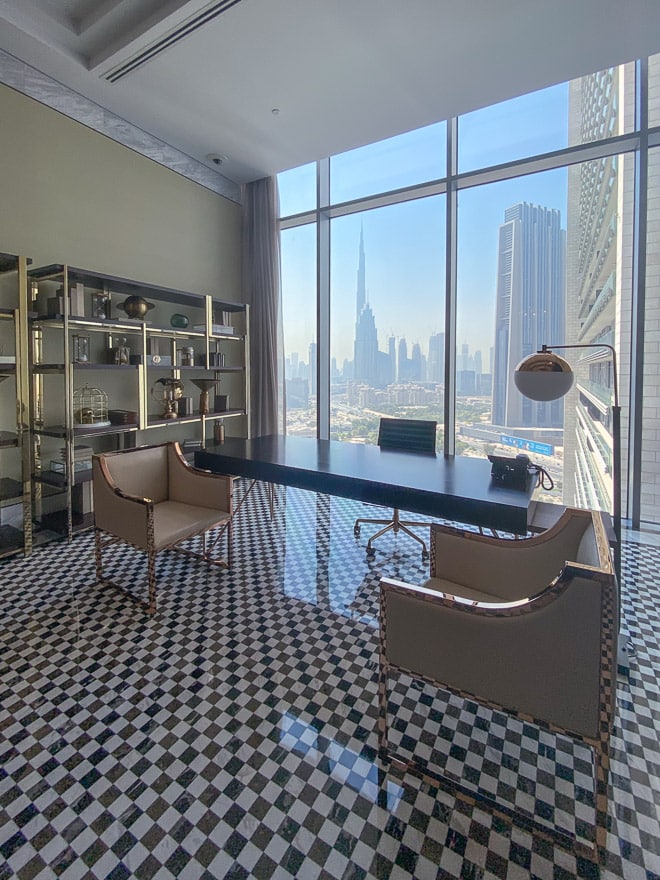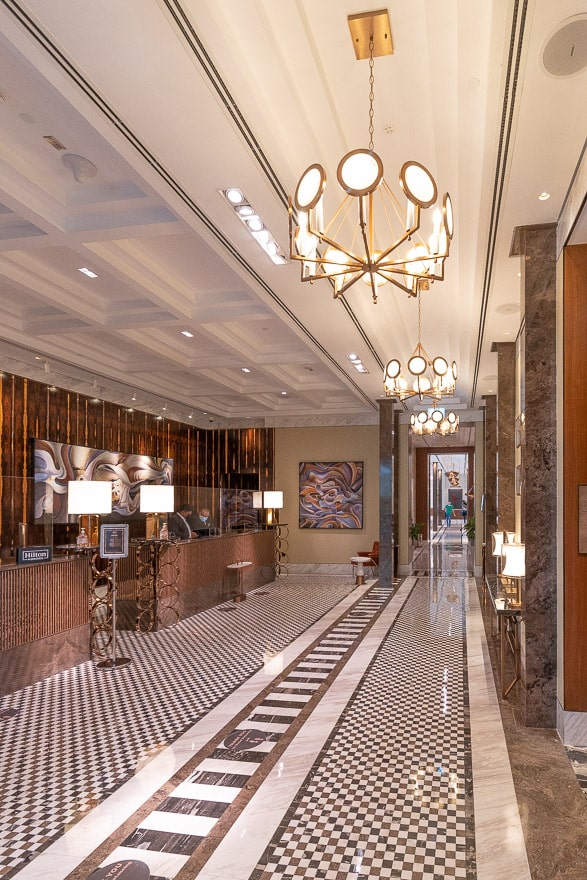 The 18th floor lobby and reception area of the Waldorf Astoria Dubai DIFC.
We were escorted to our room on the 48th floor by a member of the reception team, although she was unable to enter, once again as a result of COVID restrictions. A familiar Hilton CleanStay sticker and QR code were on the door, showing that the room had been recently sanitised.
---
Corner King Suite
---
IGTV Room Tour Video
Entrance
The entrance to our suite featured a small sitting area right by the door, presumably this is where the receptionist would set up if you were hosting an exclusive cocktail party!
Immediately adjacent to this was a small guest bathroom featuring Salvatore Ferragamo toiletries.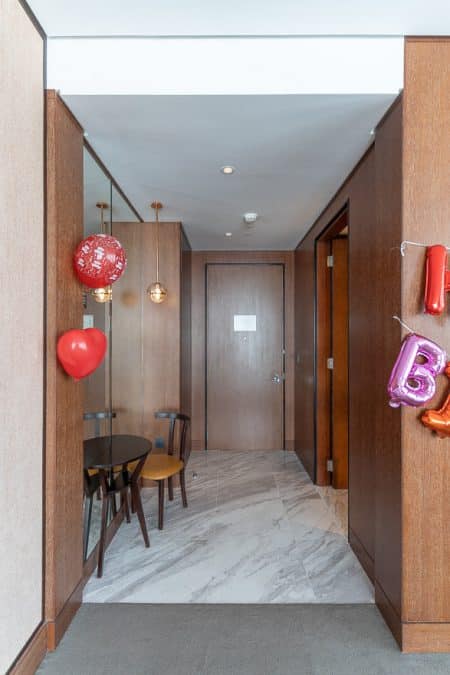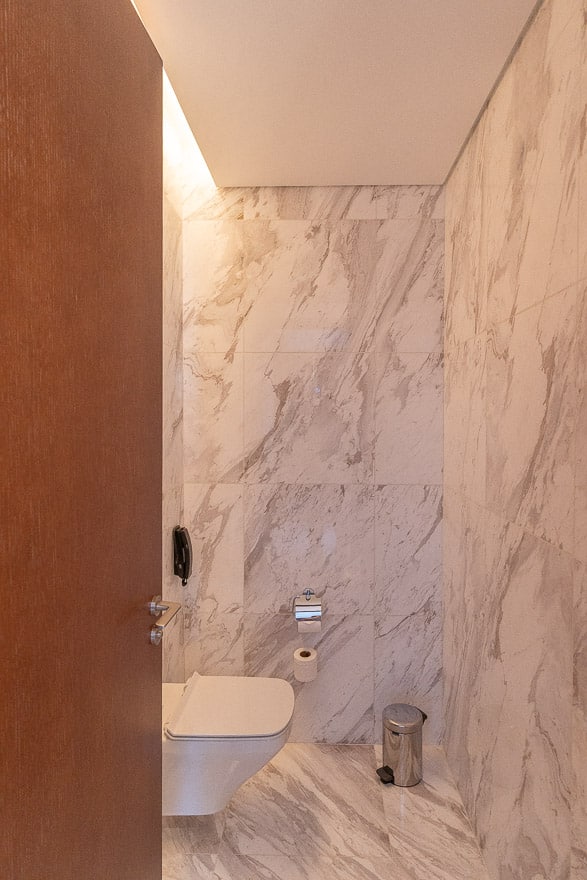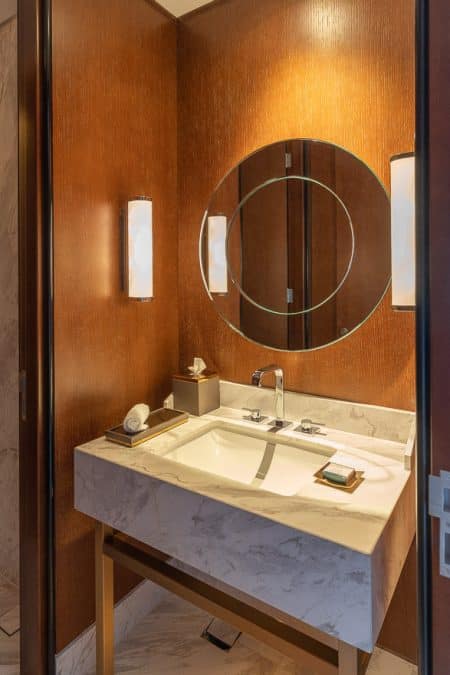 Living Room
The main living room area was enormous, easily as big as a full standard room.
The staff had made a huge effort to decorate the space with happy birthday balloons, a towel cake and shortly after we settled in, the piece de resistance was delivered to the room: a luxuriously rich Waldorf Astoria chocolate cake.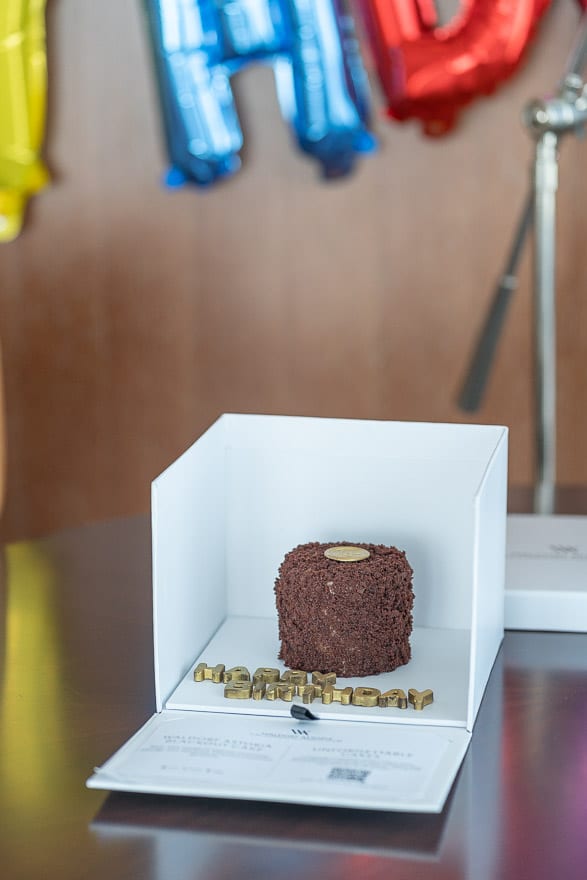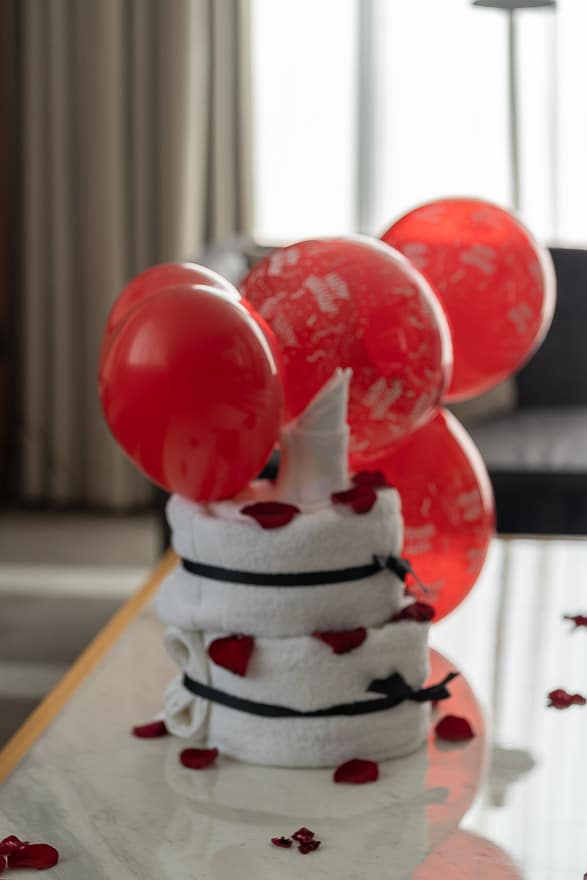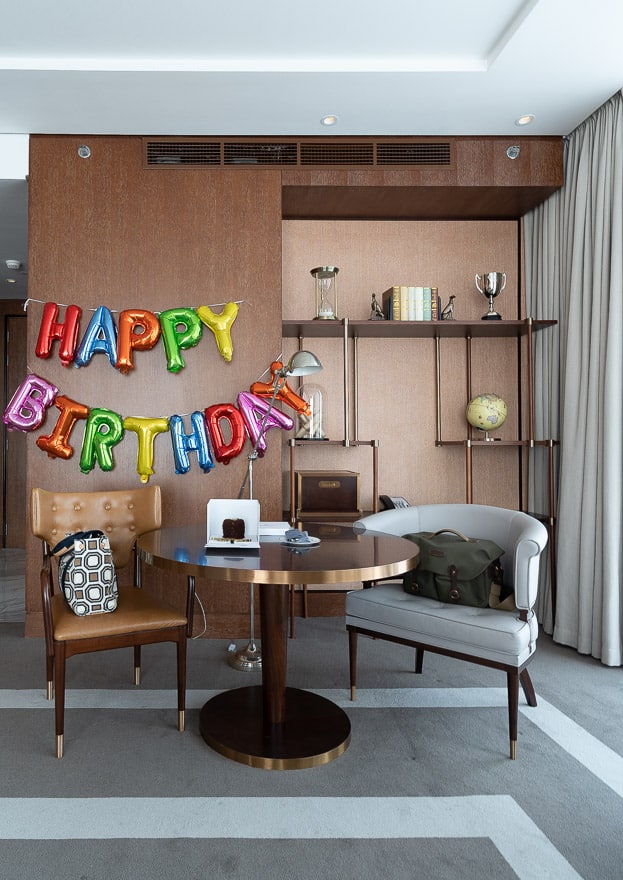 Connectivity and technology were generally excellent throughout the room, one of the benefits of staying in such a recently completed property. I particularly like the fact that there were hidden ports and power sockets located on the far side of the room so that you didn't need to put your laptop right next to the TV to connect to it.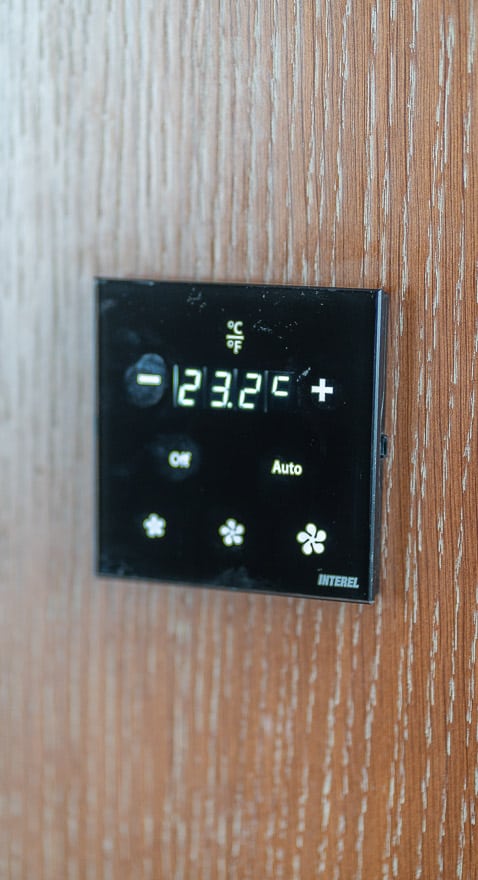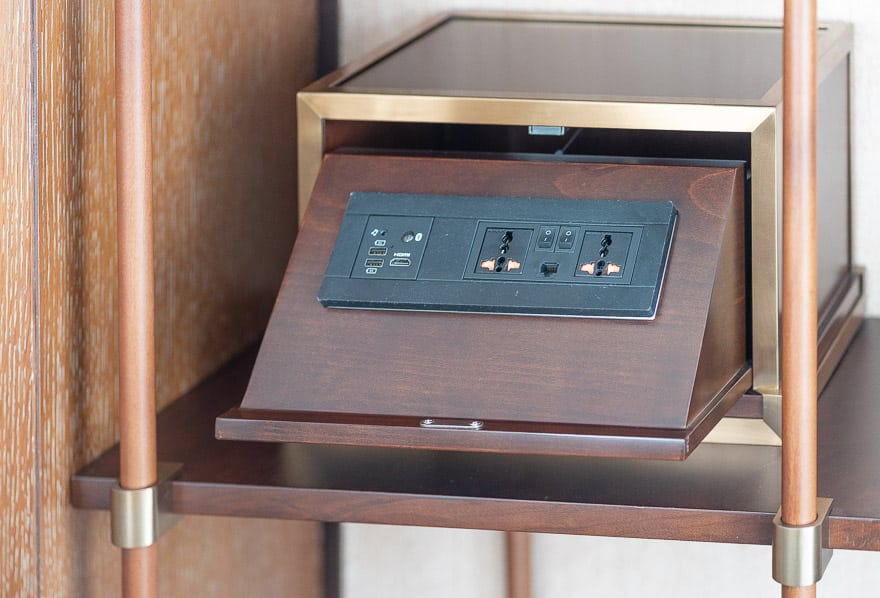 I love when properties actually label light switches, particularly in larger rooms, where otherwise it can easily take a day or two just to figure them all out.
The one area where the room technology fell flat was in the TV control via an app. The app currently has a 1* rating on the apple app store and I can see why: you can't share your screen or cast anything, you literally are just changing channels on your phone, replacing the remote. Kind of pointless and quite complicated to set up.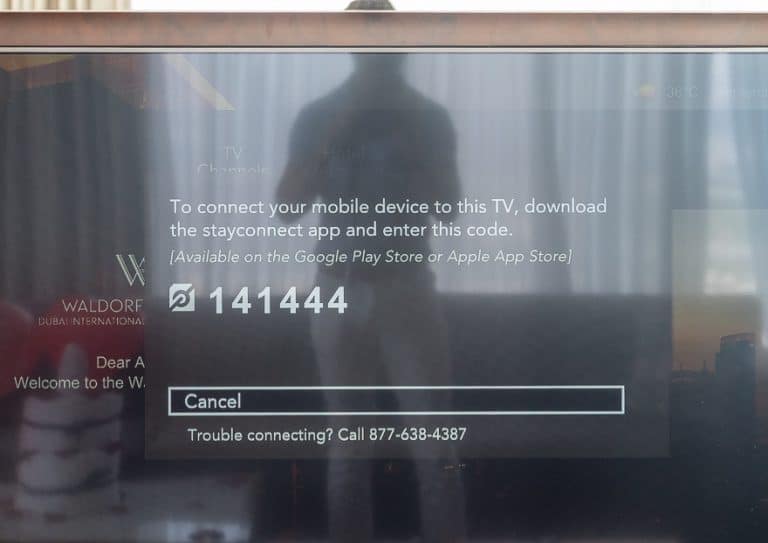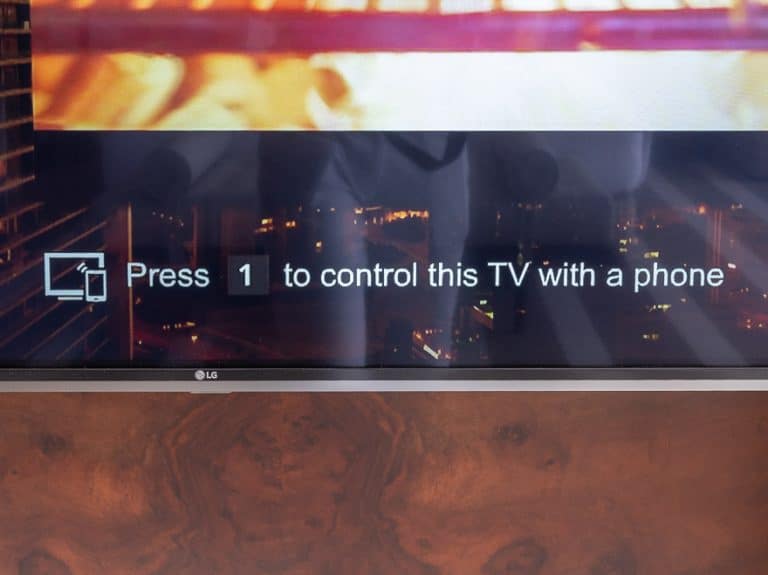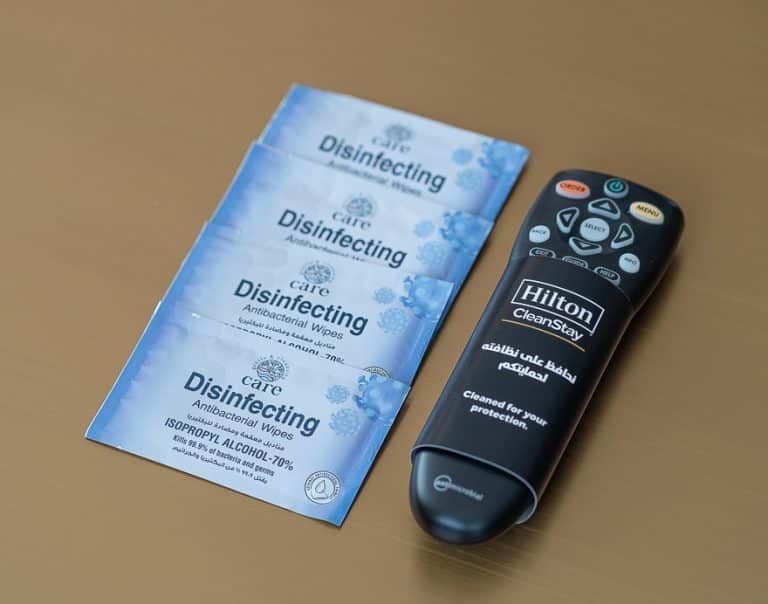 Next to the TV was a bit of technology that worked perfectly though. The tea and coffee making facilities were housed inside a very cool cabinet, designed to look like a piece of vintage luggage.

Tea, coffee and water were regularly topped up and when we returned from my Zuma brunch at 11pm, the staff were more than happy to deliver 8 fresh bottles when I asked.
Bedroom
The bedroom could be accessed from sliding doors located either side of the TV.
This room was the mirror image of the living room in terms of overall footprint, which is to say that it was also enormous.
I really love the light tones and art deco furniture, the rooms here have real character and are the total opposite of the tired, antiquated accommodations at the Waldorf Cavalieri in Rome.
The bed was very comfortable indeed, although I personally would have preferred firmer pillows, since these ones needed to be doubled up to get a decent amount of neck support.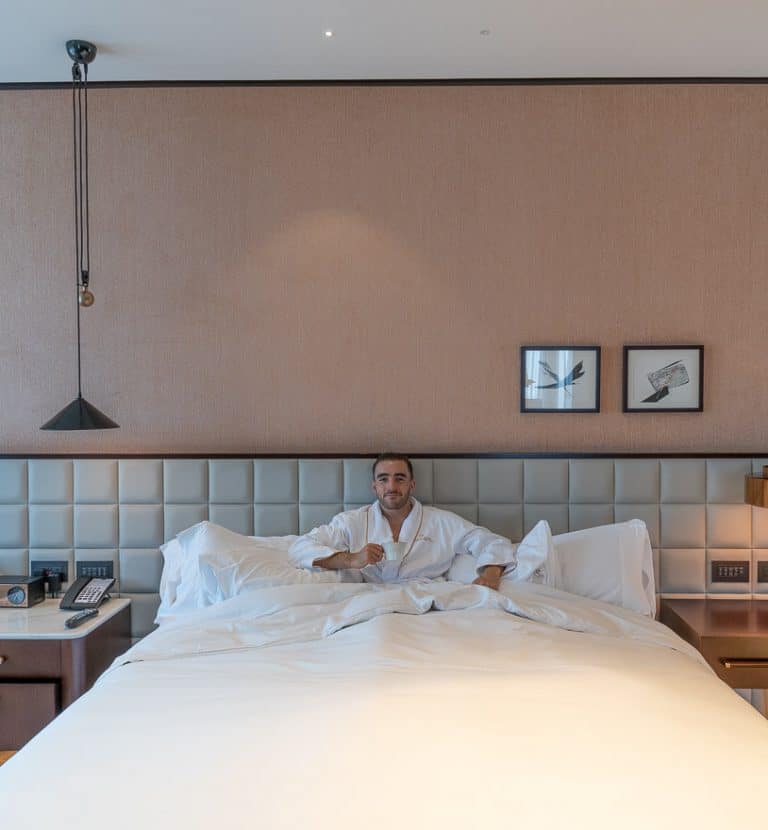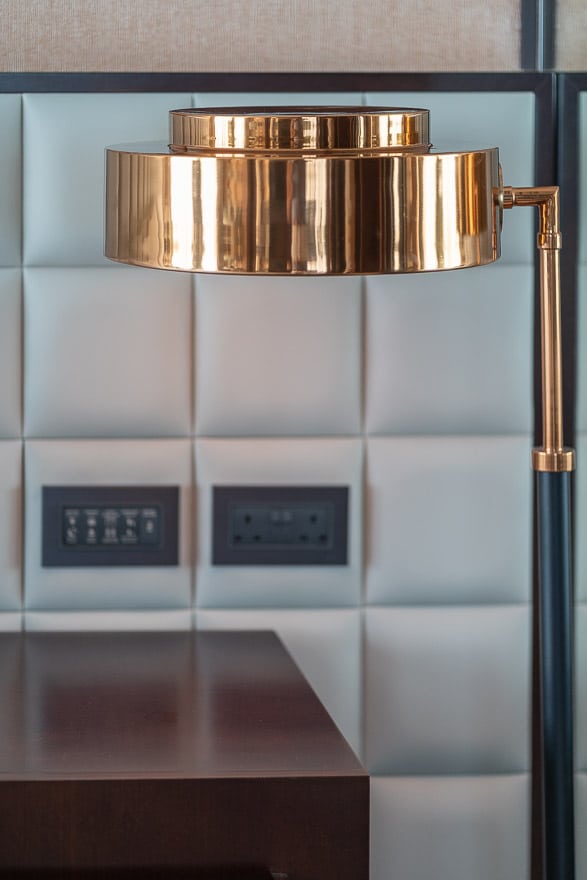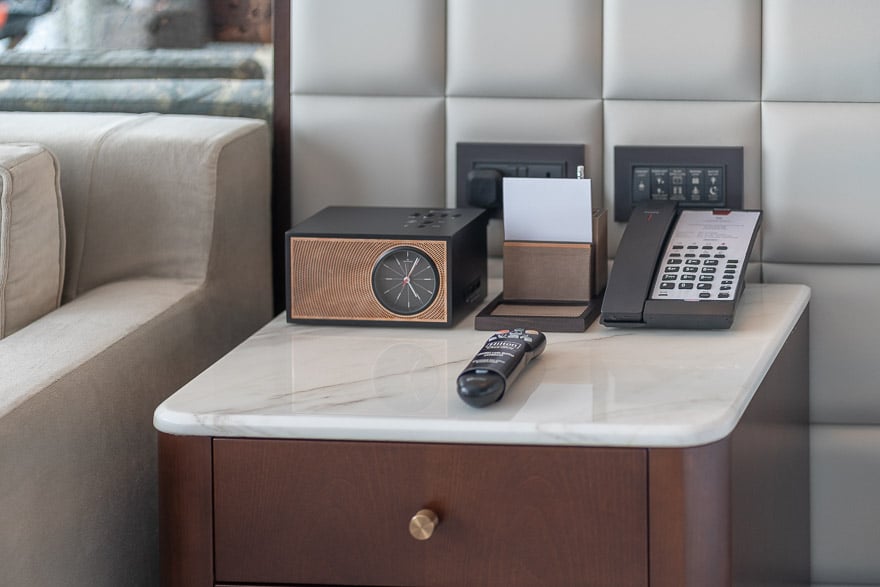 Connectivity was fantastic on the bedside tables, with both sides featuring universal power, USB and a full array of light switches.
A little touch of class with a white leather chaise to rest my brand new Billingham bag on. I can't imagine how hard it must be to keep the upholstery this clean!
As if the living room was't spacious enough, the bedroom had its own small sitting area too.
Opposite this was a work desk complete with a full set of power sockets.
Being a corner suite, the views were spectacular, with the bedroom having a view of the Burj Khalifa whilst the living room looked out towards the airport and Dubai Creek.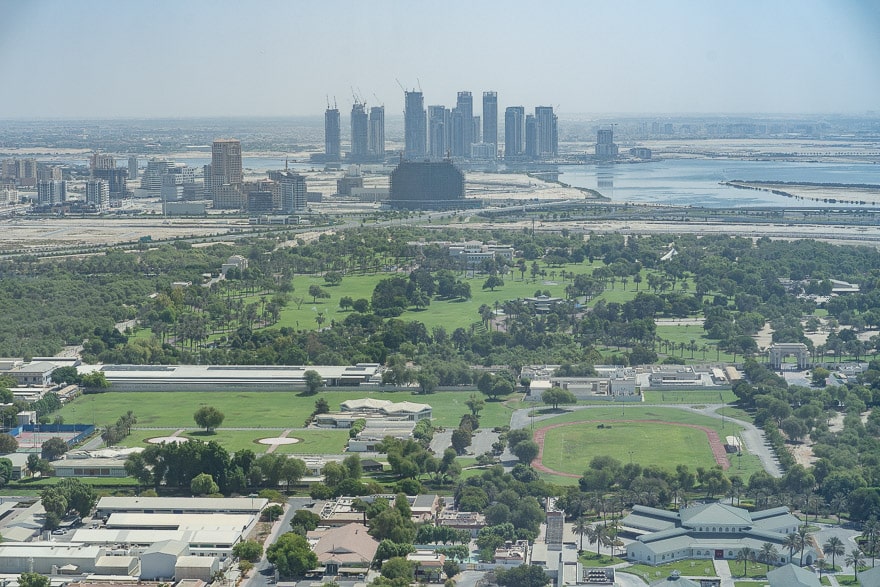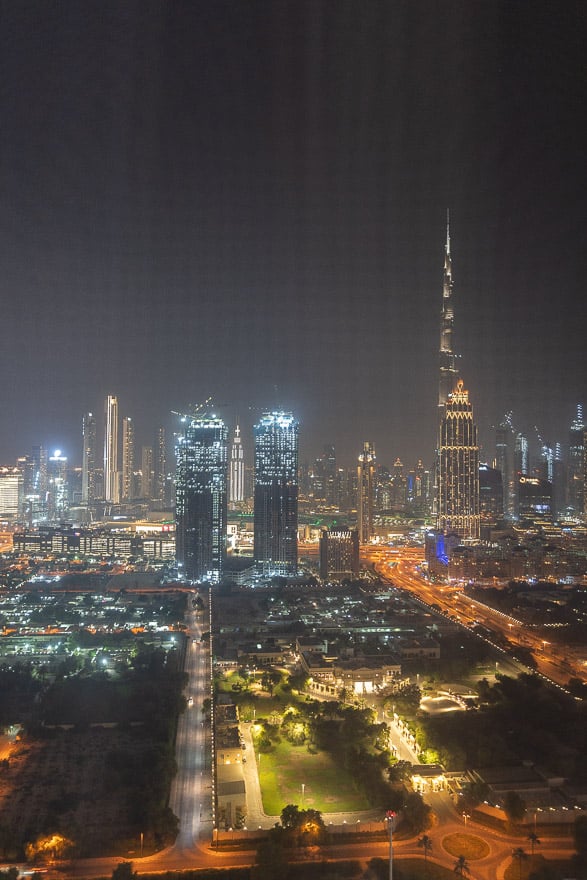 A variety of wardrobes were located at the far end of the bedroom.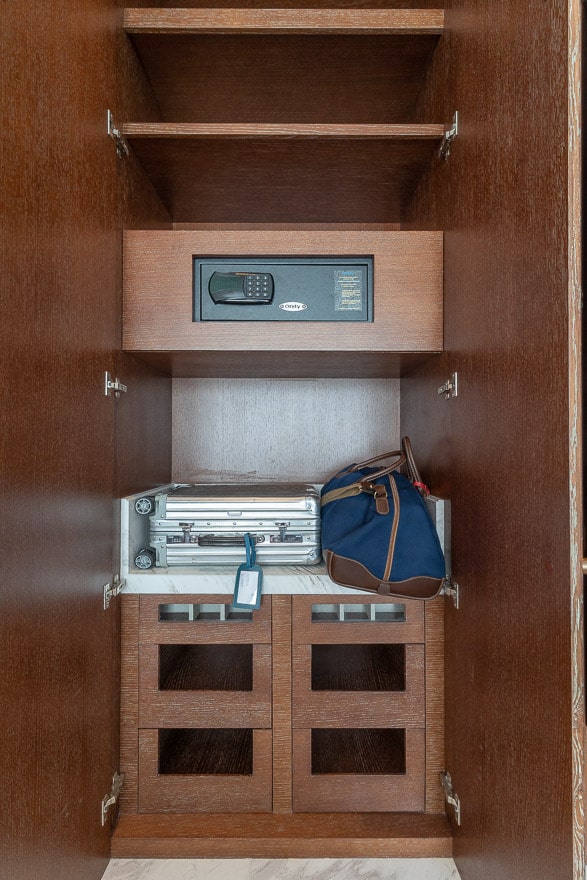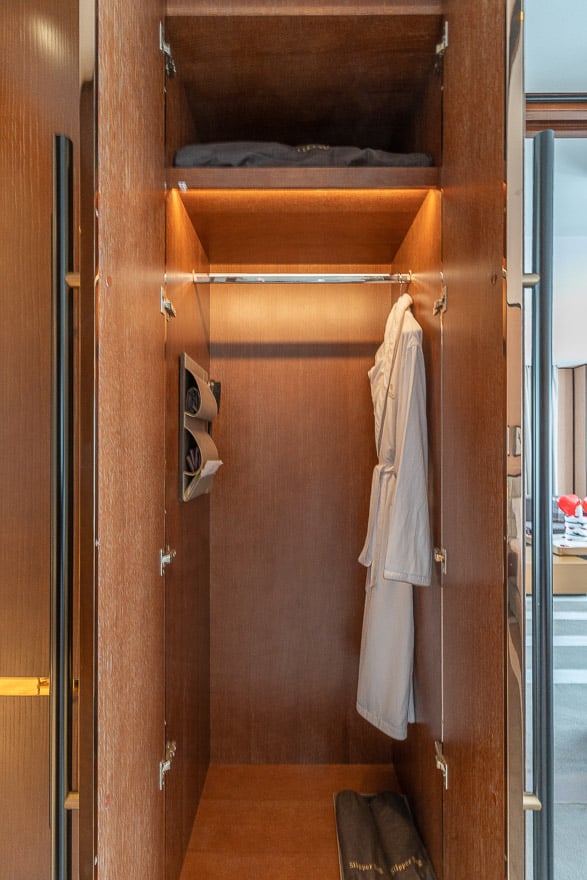 In total, there were eight wardrobe spaces like the two above, more than enough to store everything you might need for a weeklong trip.
Bathroom
The bathroom actually felt a little dark and undersized when compared to the rest of the room. I did like the fact that there were two individual sinks on opposite ends of the room though.
The toilet was quite small and simple though and for a modern hotel, I would have expected a Toto washlet rather than a separate bidet.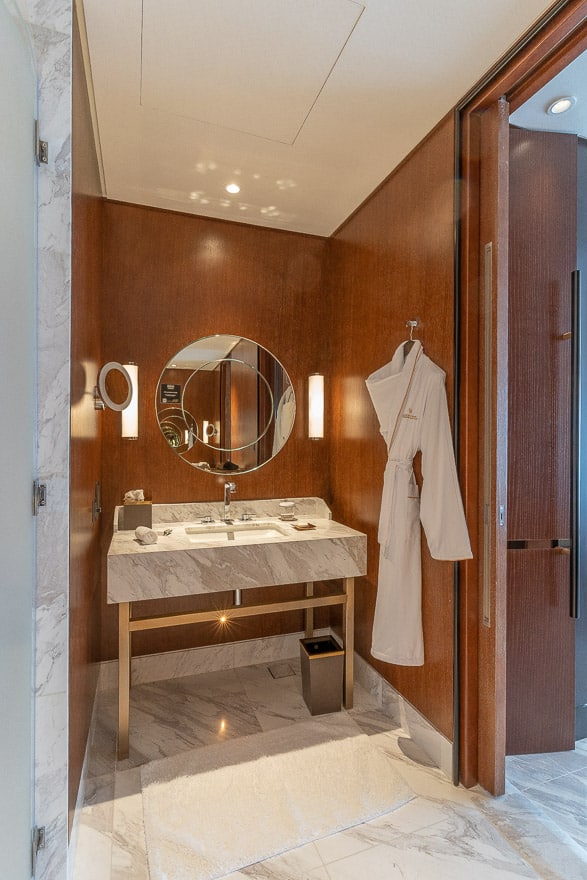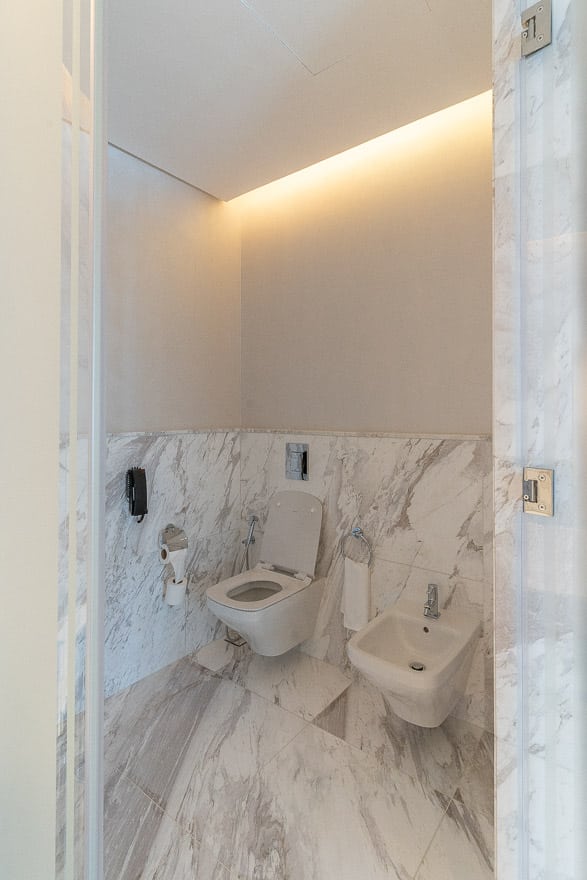 A full complement of amenities was available in the bathroom, including numerous larger format bottles of Ferragamo bathing products.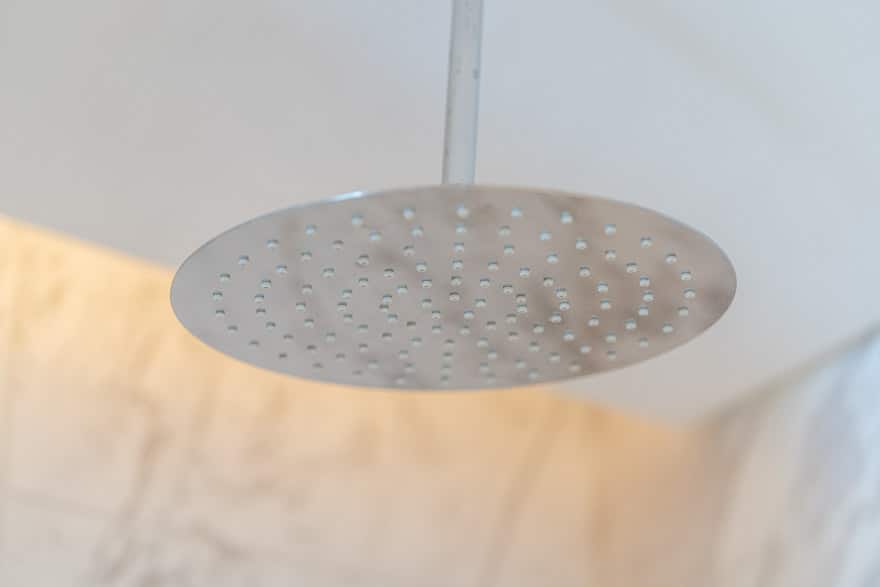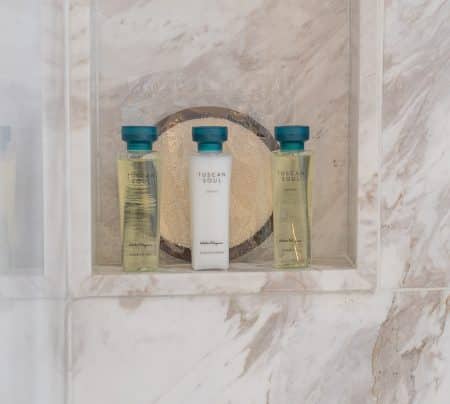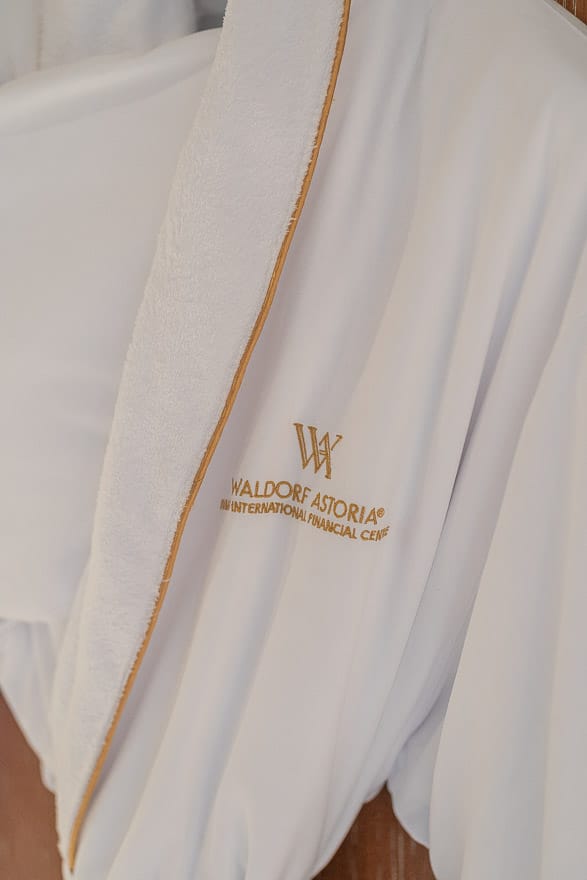 ---
Leisure facilities
---
The Pool
Although this is ostensibly a business hotel, the Waldorf DIFC has a definite resort feel when it comes to its leisure facilities. The rooftop pool boasts some amazing views of Dubai and is beautifully designed with a number of different seating areas.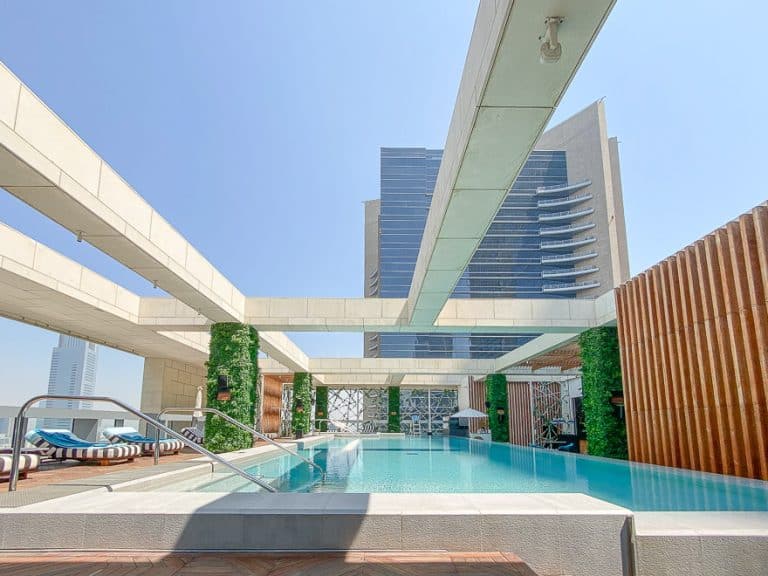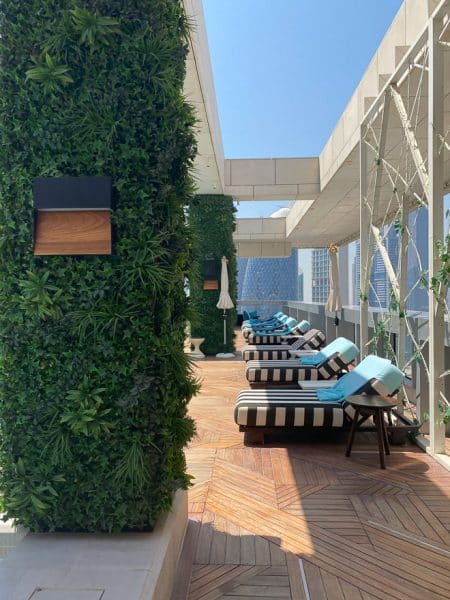 Definitely not your average business hotel.
Presumably this area would usually be full of guests enjoying the pool bar: St Trop.
The pool features an oversized jacuzzi at one end.
Service at the pool was a little off. One of the pool attendants insisted that members of the same household had to be at least one and a half metres apart. When I suggested that it probably made more sense for Kamara and I to be close together, rather than moving one of us closer to the lady next to us, he insisted that he had correctly interpreted the rules and that one of us should move closer to this stranger.
We ended up just hanging out in the water and leaving shortly after.
Other attendants didn't try and enforce this 'rule'.
Although the St Trop pool bar was shut due to COVID, it was still possible to order food and drink via Whatsapp.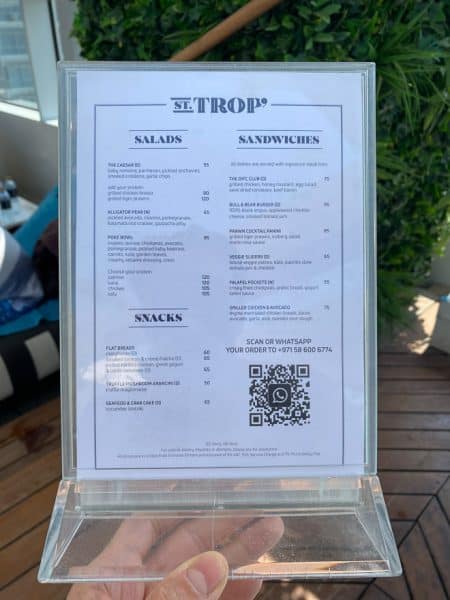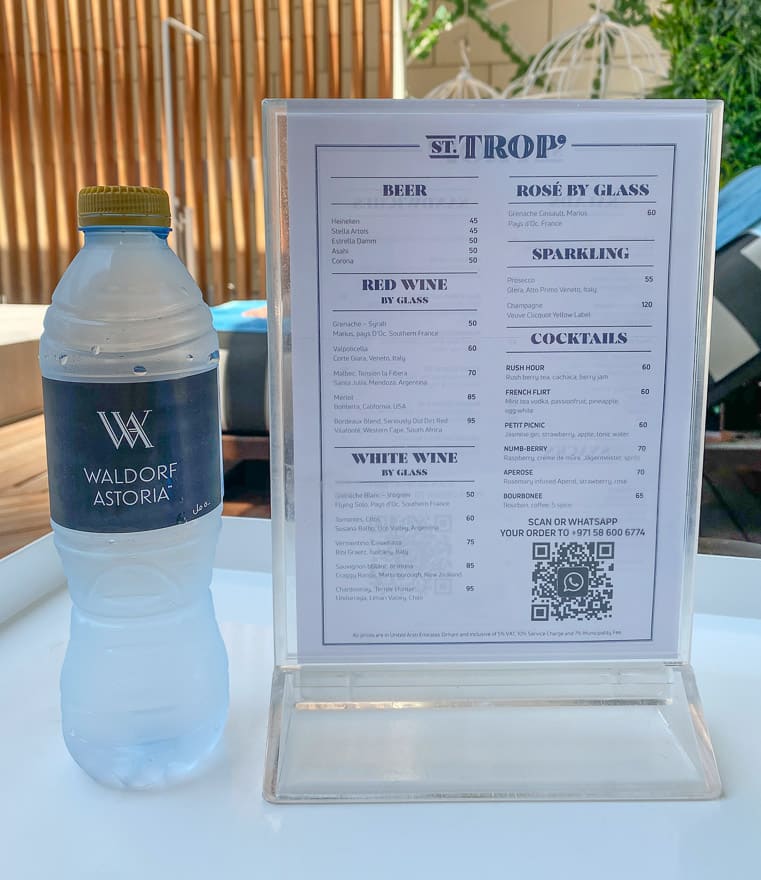 Unfortunately, service was extremely slow. Our friends ordered club sandwiches, which took 45 minutes to arrive and when they did, only one had been delivered, instead of the two that had been ordered.
The front desk staff were extremely polished and professional and of course offered to have the charge removed from the bill. The irregular service at the pool was all the more noticeable given the quality of the staff on reception.
The Gym
The gym was very modern and featured a reasonable variety of Lifefitness machines. However it did feel like it had been shoehorned into quite a small space.
The corridor style design meant that it was hard to maintain any social distance as soon as other people came to use the facility.
Speaking of which, in a rather bizarre turn of events, a local football team was staying at the hotel and from 11am-1pm every day they took over the gym. The space was clearly too small for such a large group and immediately afterwards they would take over a large section of the pool.
I understand that hotels need to be inventive when staying in business during COVID but this seemed like quite an imposition on the rest of the hotel's guests.
We opted to come to the gym and pool in the appropriate attire, since the lifts opened directly into the hallway upon which the leisure facilities were located. However changing facilities were available should we have preferred to get changed outside of our room.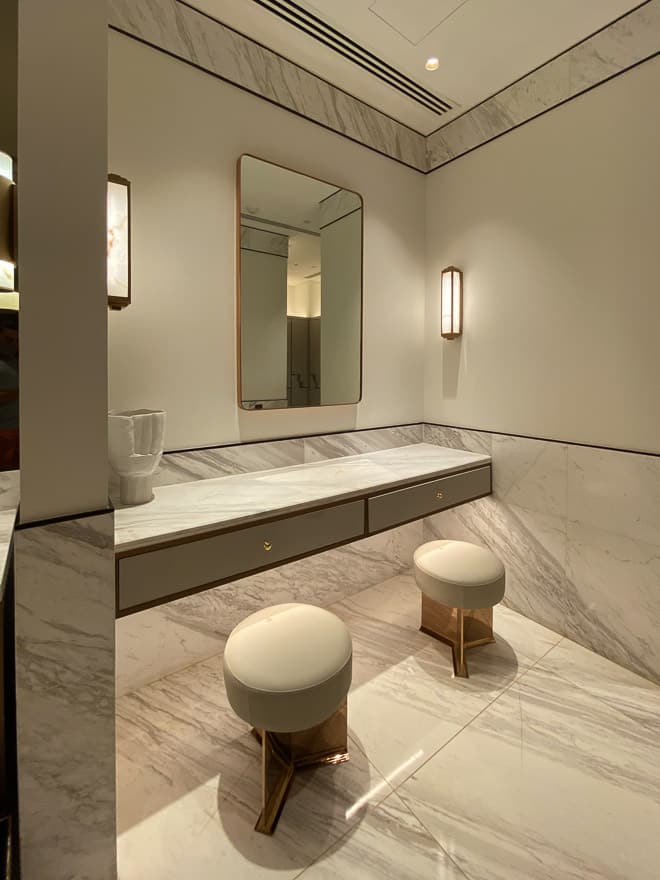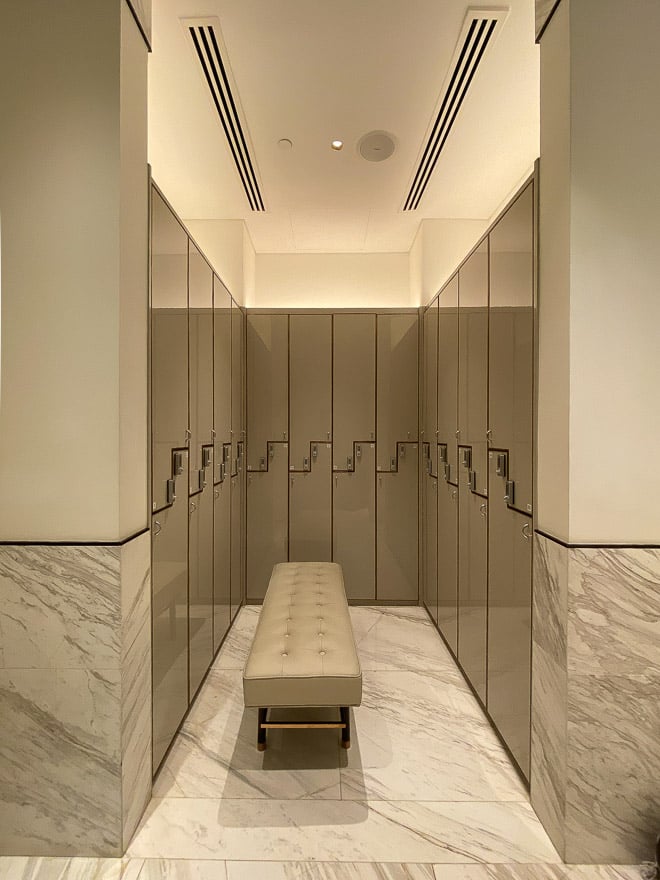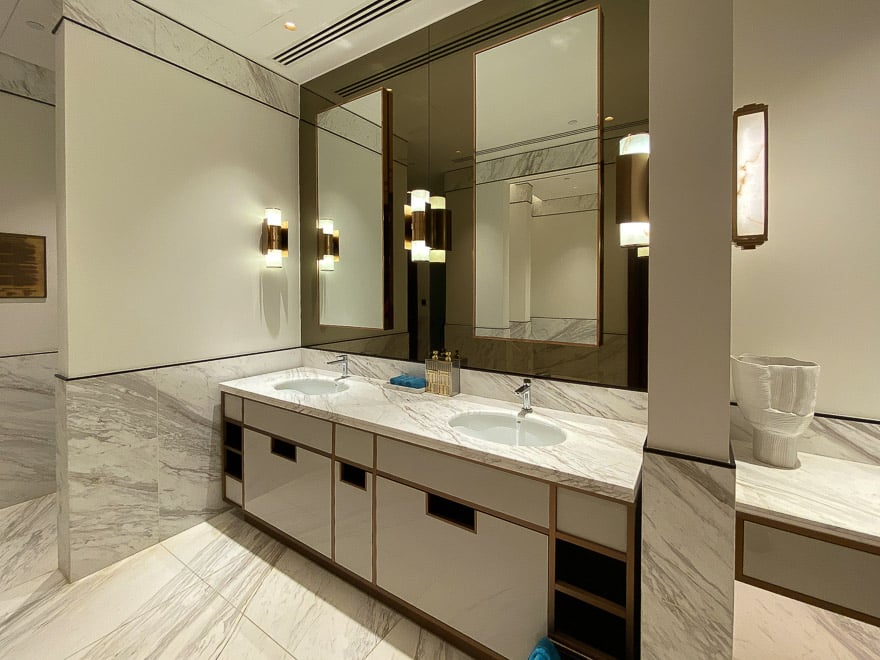 Spa
The spa was located next to the gym and featured large individual treatments rooms with personal showers, bathrooms and changing areas.
I only had time for a 30 minute deep tissue massage before checking out but wish I could have extended the treatment for longer. The pressure and technique were excellent and the relaxation area in which I enjoyed a ginger tea afterwards was very soothing and tranquil.
---
Food and Drink
---
Breakfast
Breakfast was served in the hotel's flagship restaurant Bull & Bear, located on the same floor as the reception.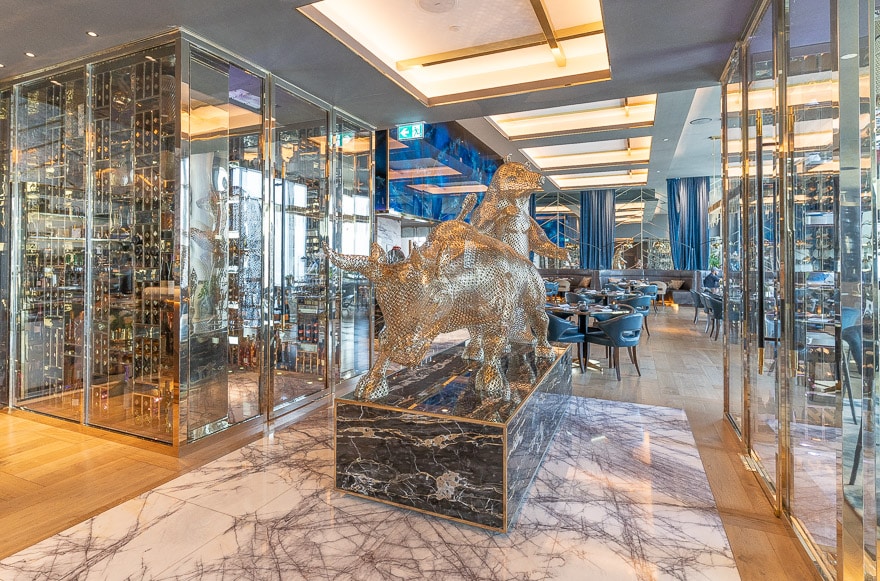 The interior decor is very impressive and this is a popular destination restaurant in its own right.
Indeed, it is often mentioned in lists outlining Dubai's top restaurants.
One thing worth mentioning is that the air con here was definitely a lot more in keeping with a business hotel than a resort. Which is to say that it was set to somewhere between zero degrees Kelvin and arctic expedition.
Probably fine if you're dressed in a suit and tie but uncomfortably cold if you're dressed in light resort wear.
A very impressive setting in which to enjoy breakfast.
On our first morning the service was extremely slow and disjointed. We waited over 30 minutes for coffees, following up on two occasions. On our second follow up we encountered a different member of staff who was extremely apologetic and really tried to turn things around.
When it did come out, the coffee was very weak and clearly the barista had given up on trying to decorate the foam. This was in total contrast to the next to mornings on which service was very prompt and the coffee was excellent.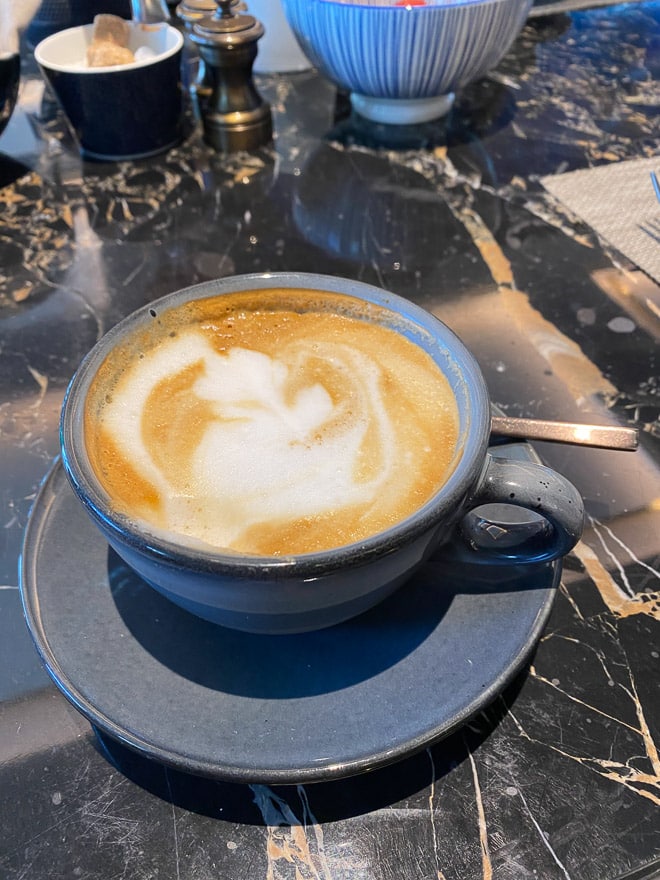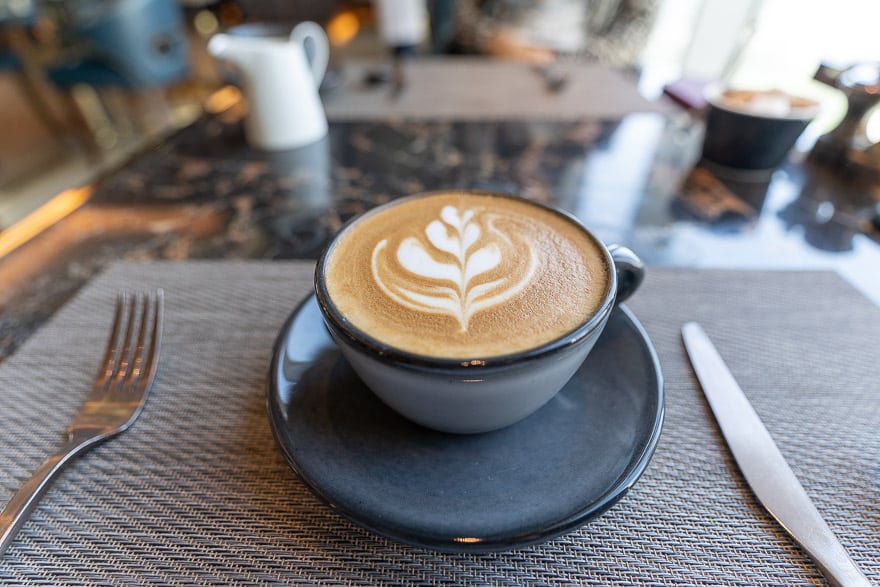 The breakfast menu concept took some getting used to. The restaurant had subdivided the menu into various 'packages' which inexplicably could not be combined or altered.
Kamara really wanted egg fried rice from the Asian menu and the Masala omelette from the Indian menu but our server told us that the packages had to be ordered in their entirety.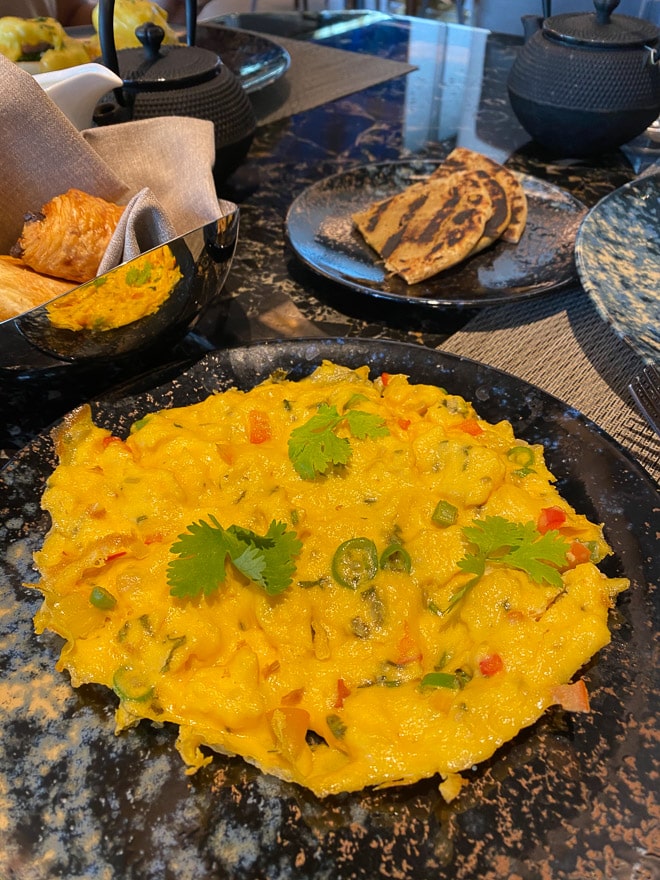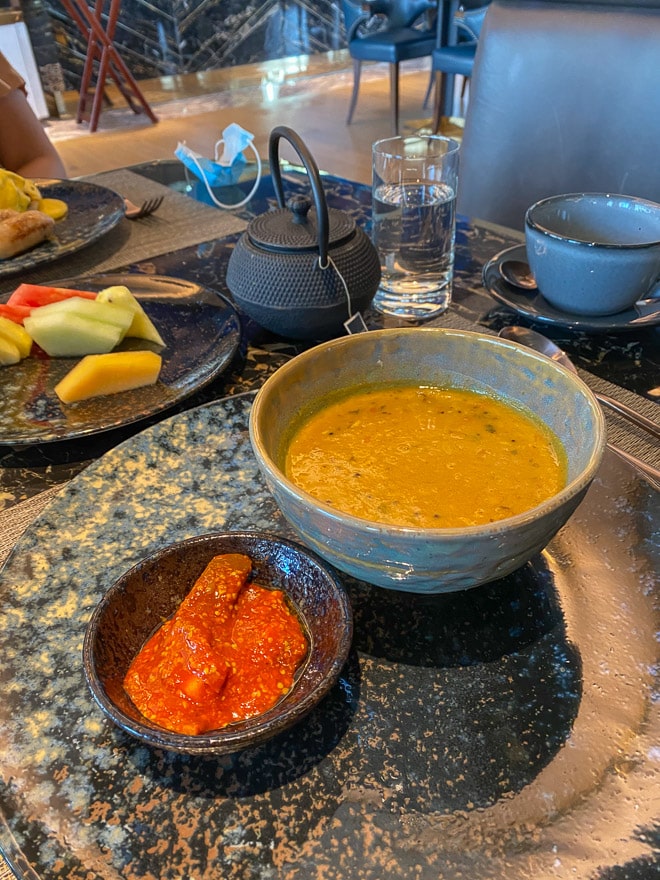 Masala omelette with mandatory chana dal, mango pickle and roti.
This seemed like a bizarrely inflexible approach for a 5* hotel to take but in fairness this may just have been our awful server on day 1 making things up.
Sweet items like acai bowls, pancakes and French toast, were all ostensibly chargeable as extras, although in practice we were never charged for them.
The same goes for the wild mushroom and truffle omelette.
Fresh fruit and bakery items were all included as part of the 'Breakfast Classics' section and you could order as much as you wanted.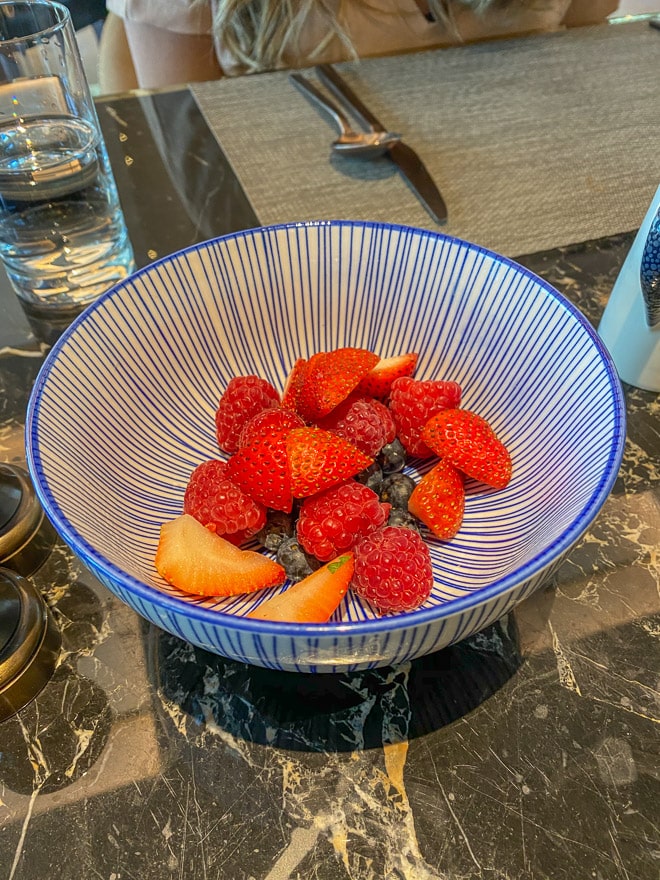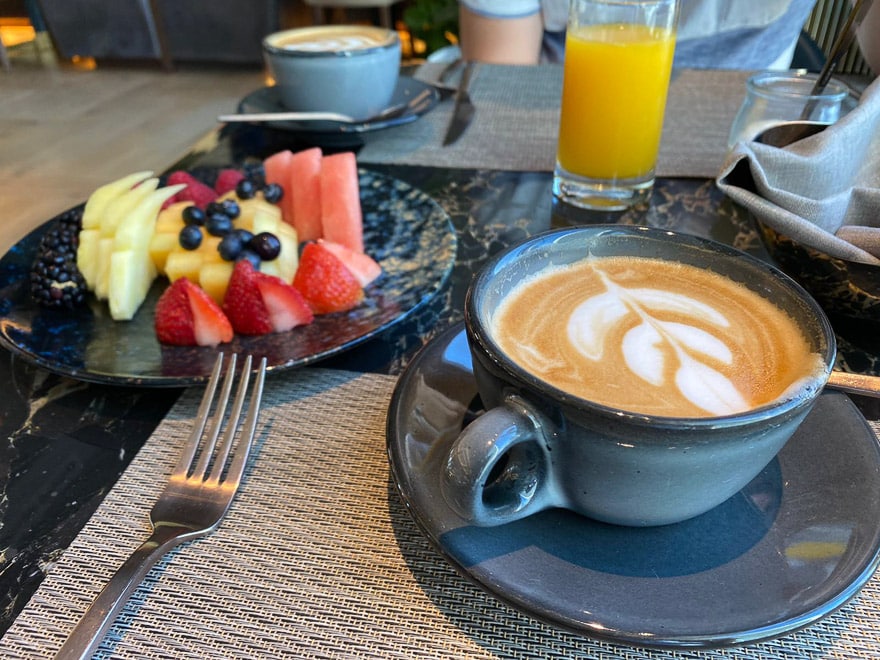 Another nice touch was the fact that Badoit sparkling water was served without any surcharge.
Overall the food quality was excellent, with eggs cooked perfectly and all of the fruit and vegetables being very fresh and packed with flavour.
Eggs Royale with cherry vine tomatoes and a side of avocado.
Room Service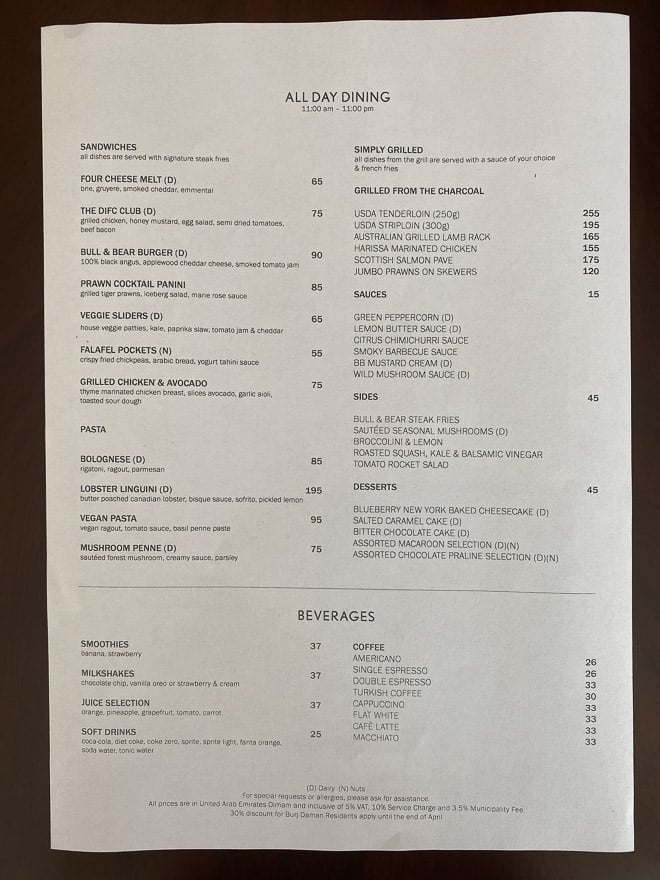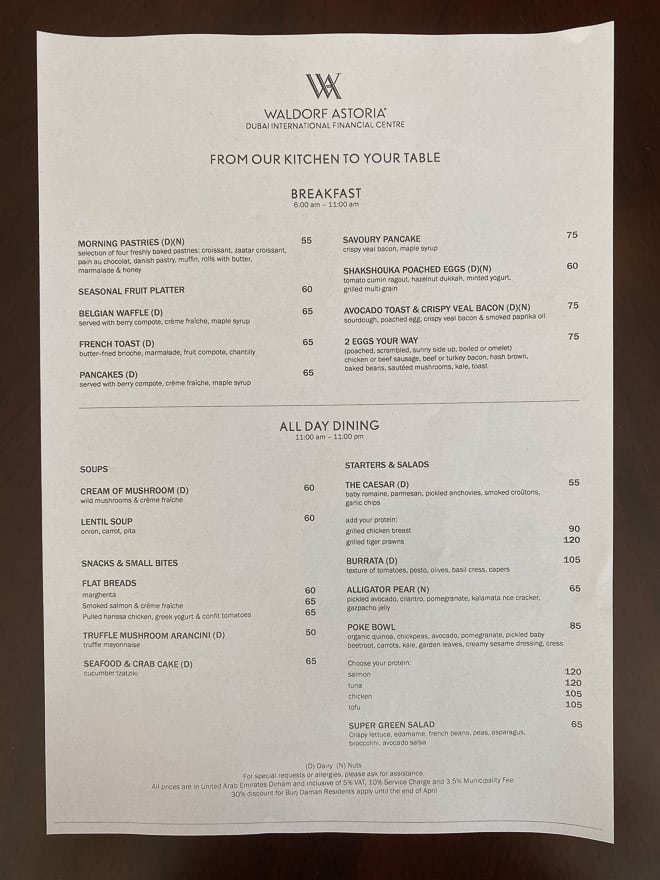 Room service was a very pleasant surprise at the Waldorf DIFC. The menu choices and prices were similar to eating at Bull & Bear. All too often you find that hotels prepare room service from a different kitchen, with nowhere near the level of variety and quality found in the property's restaurants. This was categorically not the case here.
We were happy to be able to order one of the restaurant's most popular signature dishes: Alligator Pear. It was not only creative and delicious, it was beautifully plated too. The poke bowl was very limited in terms of protein but otherwise was every bit as fresh and healthy as you'd expect. It was a very welcome alternative to the usual room service staples of Caesar salads and club sandwiches.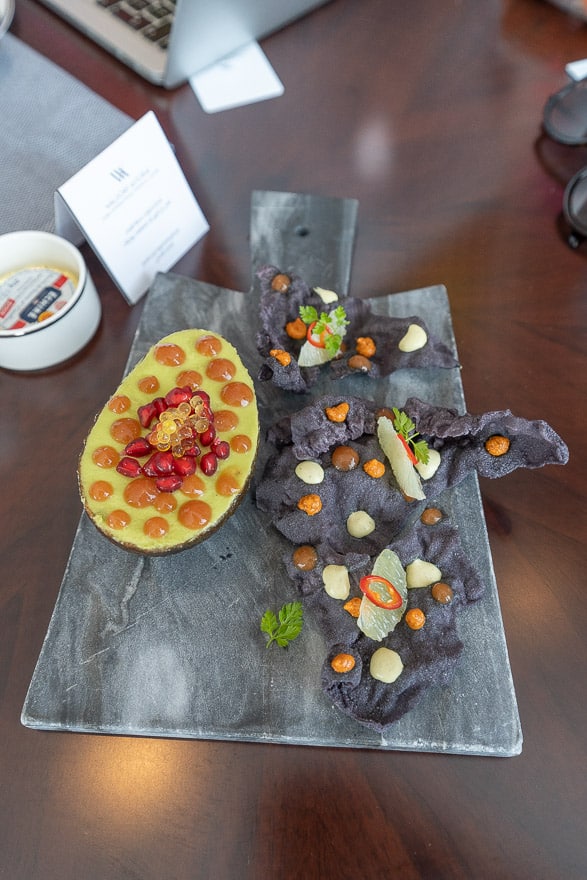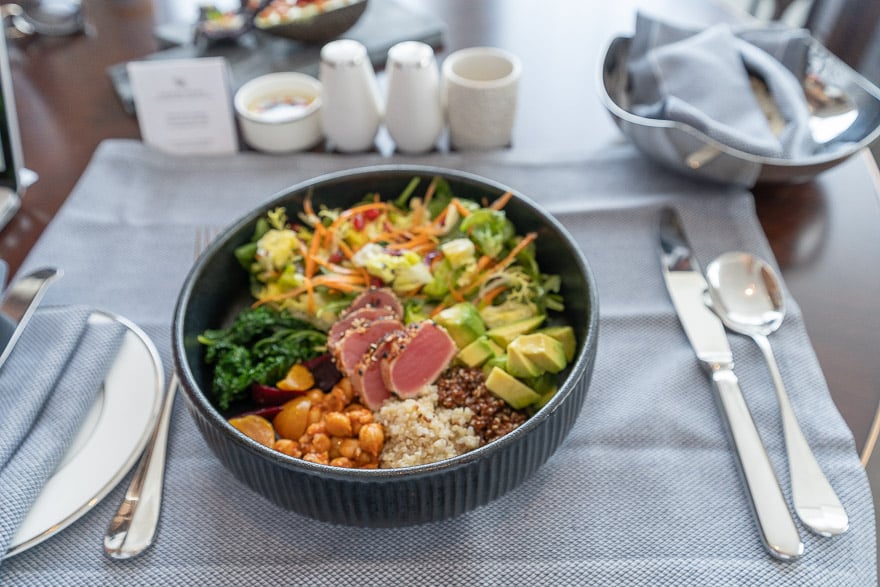 The food was delivered with 25 minutes of ordering and cleared moments after we called.
---
Conclusion
---
Basics Checklist
☑︎ Power sockets near the bed
☑︎ Easy to understand light switches
☑︎ Coffee machine
☑︎ Separate shower and bath
☑︎ Blackout blinds
☑︎ Stable, fast and free Wifi
☑︎ Feather pillows
☑︎ Quiet and powerful aircon
It's been a while since any hotel I stayed at hit every single one of the basics on my checklist and that alone should tell you something.
The Waldorf Astoria DIFC is a hotel that offers a hell of a lot in a market which is arguably rather saturated already. The decor makes it a real standout amongst DIFC properties and the location makes it an ideal base of operations for a visit to Dubai.
You're close to the airport, Dubai Mall, Jumeirah Beach and the Burj Khalifa. You're also extremely close to arguably the best brunch in Dubai at Zuma.
If you're after a resort style property, this is not the hotel for you but if you're interested in enjoying the city and also want to spend some time relaxing at a landscaped rooftop pool with a bar, then it's hard to argue with the value proposition here.
Hilton elites are treated extremely well and the front of house staff were genuinely exceptional. The level of communication was truly in keeping with the Waldorf Astoria brand name.
There were service issues at breakfast and at the pool, but I think that these can be put down to changes of procedures around COVID more than anything else.
I would absolutely recommend this hotel to anybody looking to stay in the DIFC area.
---
Book Waldorf Astoria Dubai DIFC with Hilton Impresario benefits
---
Hilton Impresario Partner Booking
Click the image to get the best available rate and also receive:
Upgrade of one category, based on availability at time of check-in.
Full breakfast for up to two in-room guests.
$100 hotel credit.
Welcome amenity.
Early check-in/late check-out, subject to availability.
Double Hilton Honors points and stay credit.
The Waldorf Astoria Dubai DIFC can be booked directly online by clicking the "BOOK NOW" image.
First time booking with us? Here's how to quickly get set up:
---