Four Seasons Dubai DIFC
Rate: 4000AED for 3 nights (including taxes and fees) FSPP Rate via Classic Travel
Room Type: Four Seasons Room & Studio Suite

upgraded from Premier Room

Loyalty Program: FSPP
---
Intro
---
I've had my eye on the Four Seasons DIFC ever since I caught sight of the promotional material featuring their glass walled rooftop pool, back when the hotel first opened in 2016.
Dubai has long had a Four Seasons property at Jumeirah Beach but as soon as I saw that glass pool I knew I had to stay here. The low room count (78 rooms and 28 suites) also meant that this property was far more likely to retain a boutique, residential feel – something which is impossible to do at a beach resort with 250+ rooms.
The clincher for me when booking was the fact that DIFC guests have full access to all of the facilities at the Jumeirah beach property and the DIFC property will even foot the bill for car transfers between the two!
---
Booking
---
I booked as always via Classic Travel since they offer the full suite of Four Seasons Preferred Partner benefits on ALL flexible rates offered directly by Four Seasons.
For a Premier Room, I paid the exact same 4000AED for 3 nights as offered by FourSeasons.com but ALSO got:
• Upgrade of one category, based on availability at time of check-in.
• Full breakfast, for up to two in room guests. Either at the restaurant or via in-room dining.
• $100 Hotel Credit.
• Early check-in/late check-out subject to availability.
Since I was staying over a weekend I was able to book a rate that included a 15% discount on the standard weekday rates too!
95% of the time you can book everything entirely online with Classic Travel, no emails and no waiting for confirmations. FSPP bookings are slightly different in that you have to book a regular flexible rate and then email Classic Travel to ask them to convert it into an FSPP booking.
Still it's one quick email which gets you a ton of benefits, on a rate which you've already locked in.
In the past I've dealt with traditional agencies that have to email properties to get you a rate…only for the price to go up while you're waiting for a response. Most of these agencies charge you a booking fee and insist on a minimum spend per booking too.
Classic Travel don't play games like that, which is why I'm always happy to partner with them.
---
Arrival
---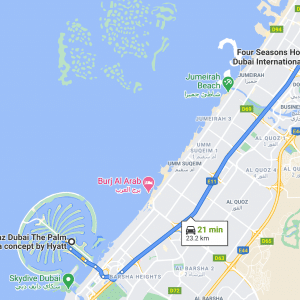 We took a Careem Lexus from the Andaz Dubai The Palm, which took around 20 minutes and cost roughly 80AED.
The Four Seasons DIFC is located in a low rise building just across the road from the Waldorf Astoria and indeed it was visible from the Waldorf's Pool and Gym when we stayed there.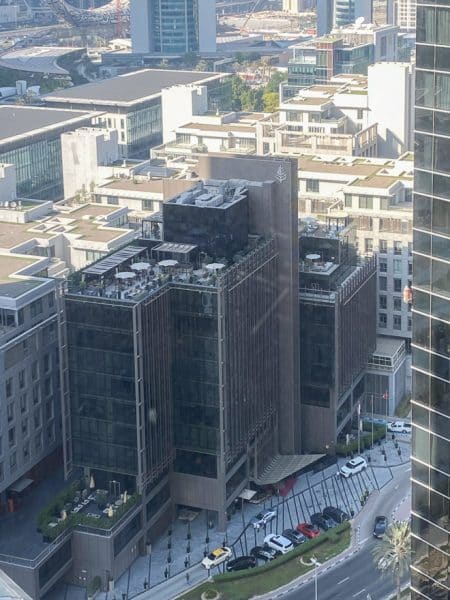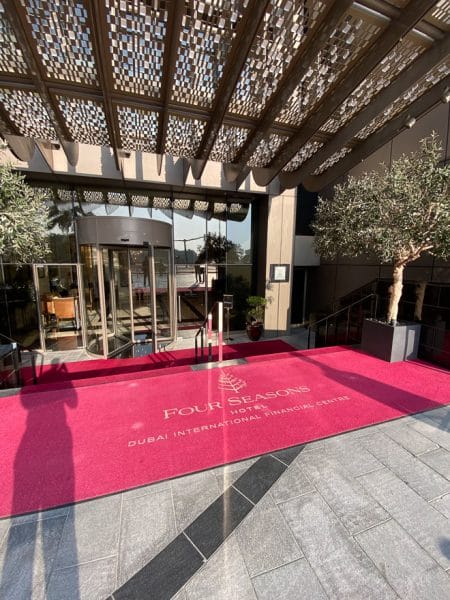 The doors of our car were opened for us by staff as we arrived, something that never happened at either of the other two Dubai properties that we visited on this trip. We were asked for our reservation name and escorted into the small lobby of the hotel.
During check-in we had our FSPP benefits explained to us, including the fact that we were able to use the facilities at the Four Seasons Jumeirah Beach whenever we wanted. We merely had to call or message via the (truly excellent) Four Seasons app a few minutes before we wanted our complimentary transfer.
Once check-in formalities were complete we were escorted to our room on the third floor. The wide and softly lit hallways had a tranquil, luxurious feel which was rather reminiscent of the Ritz Carlton in Kyoto.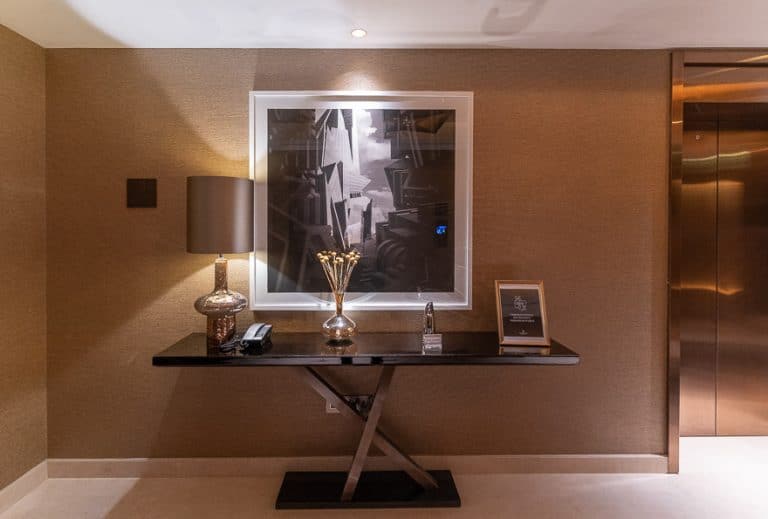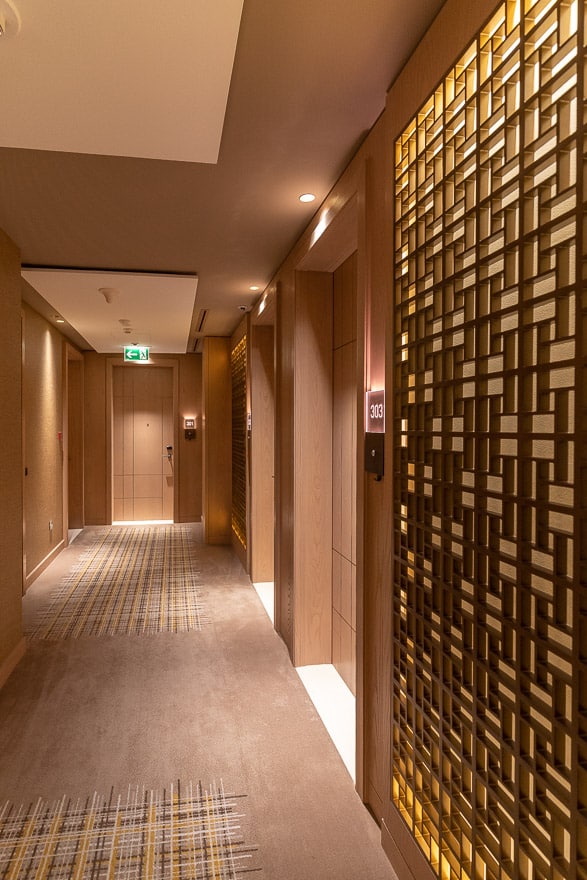 ---
Four Seasons Room
---
Thanks to our FSPP booking we received a one category upgrade from our booked Premier Room to a Four Seasons Room, the hotel's highest non-suite category.
Entrance
The Four Seasons Rooms vary from 54-59m². Presumably our room was on the larger end of the scale since we had an additional entrance hallway, which I've very professionally added to the floorplan from the hotel website.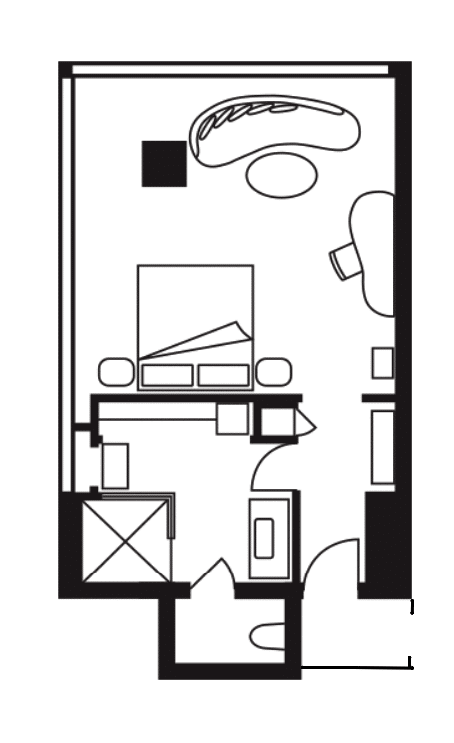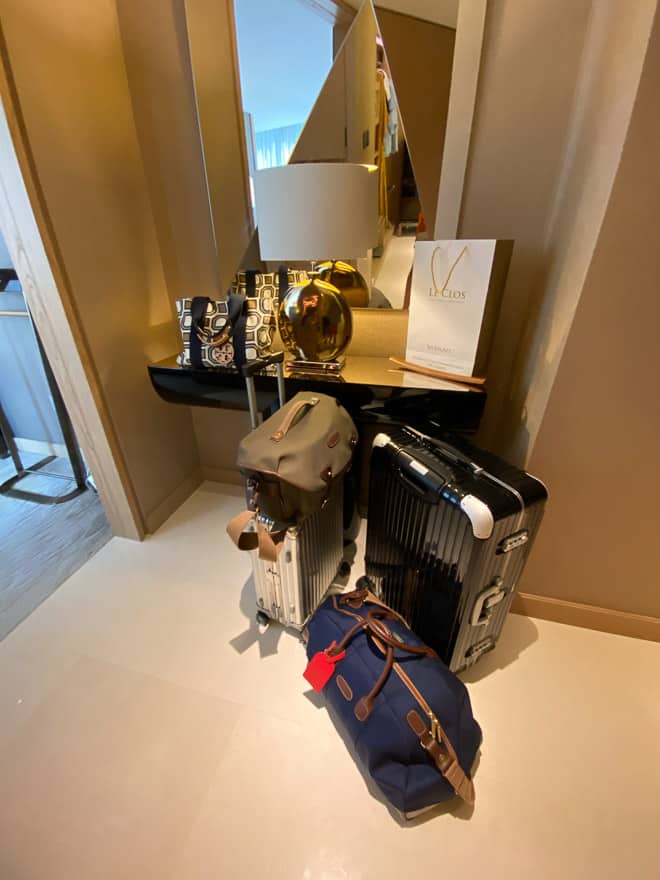 The minibar and coffee making facilities were located in the entrance hall, with organic milk provided free of charge. It's amazing how many 5* hotels still provide little UHT creamer cups instead of fresh milk… or worse yet, powdered creamer and Nescafé coffee sachets.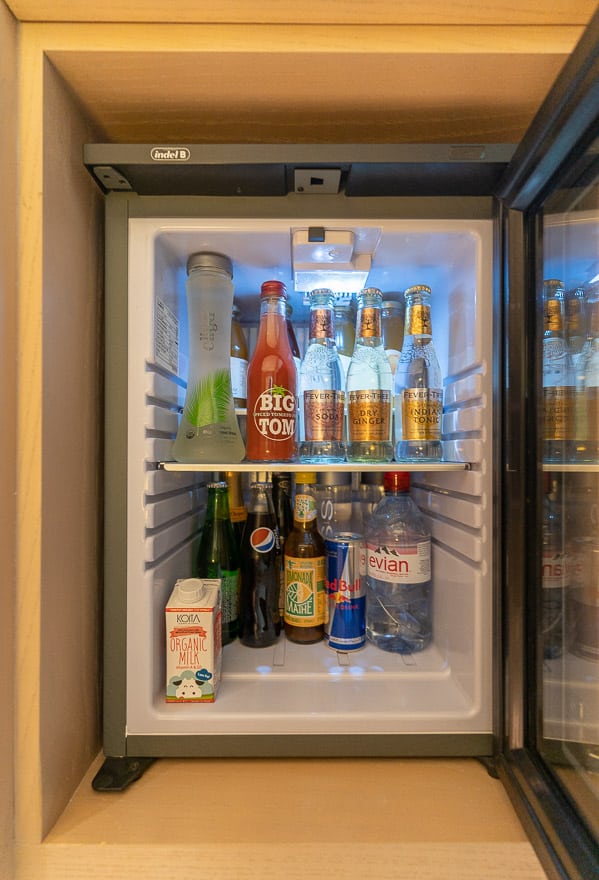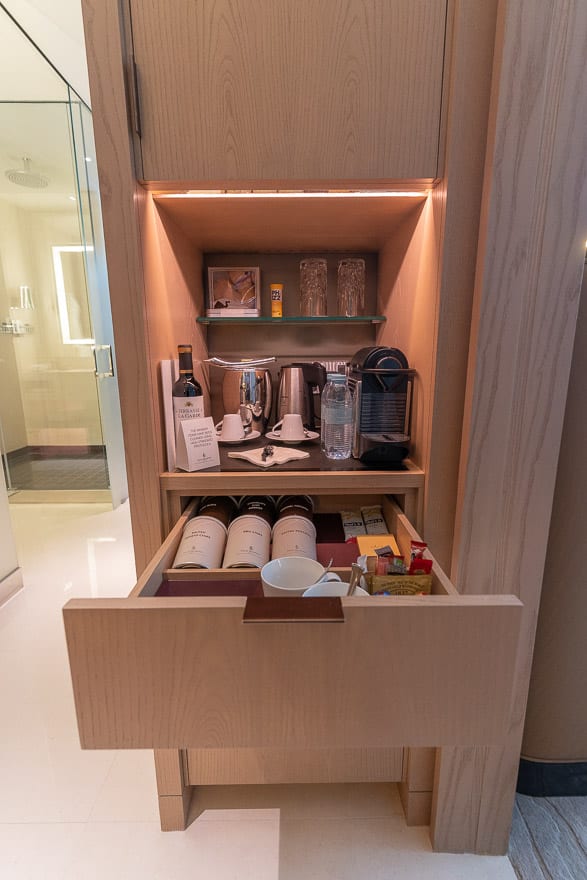 There really wasn't much space to fully open a large suitcase, let alone our cornucopia of baggage. However, the hangers were absolutely beautiful and the finishes and lighting here were of the highest quality.
Bathroom
Opposite this dressing area was the glass walled bathroom. Space is clearly at a premium in this building so there was only a single sink. Once again though the quality of the finishes was absolutely superb. Every surface was beautifully polished and illuminated, every tap flowed perfectly, every mechanism felt robust. From the moment you step into this hotel there's an overarching feeling that not a single corner has been cut anywhere.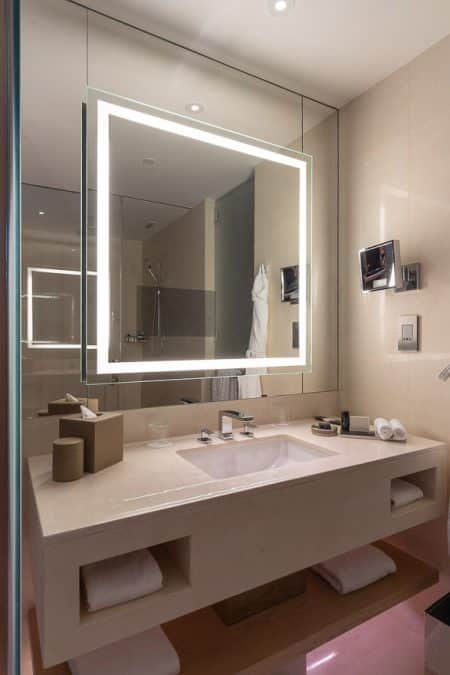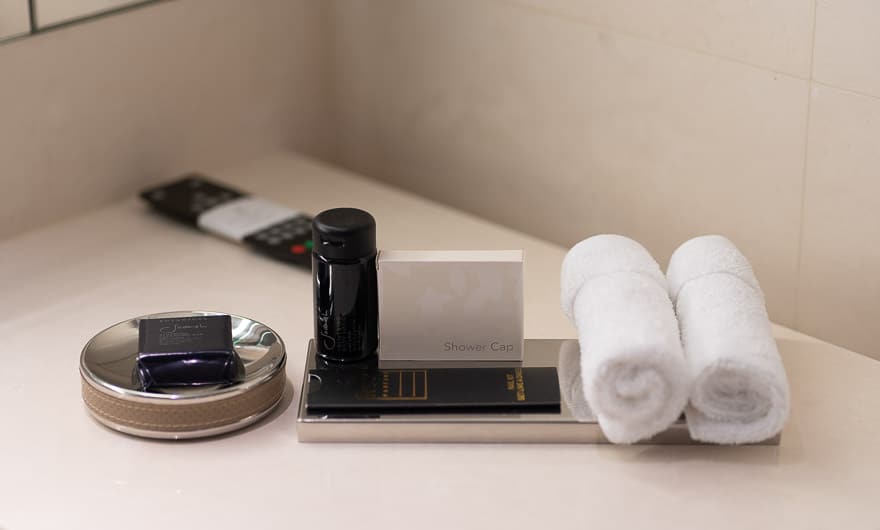 The toiletries were by the Australian brand Sodashi. The smell was quite neutral but the quality was absolutely unmistakable, the body lotion is my favourite of any I've every encountered in a hotel and that includes fellow Aussie rival: Aesop (at the Park Hyatt Tokyo).
The shower was enormous and it felt a shame that the design of the room hadn't been altered slightly, to better utilise this space and incorporate a bathtub. I was also a little bit disappointed not to see a Japanese Toto toilet but happy to see that the hotel did away with the ridiculous and rather unhygienic practice of adding a toilet phone.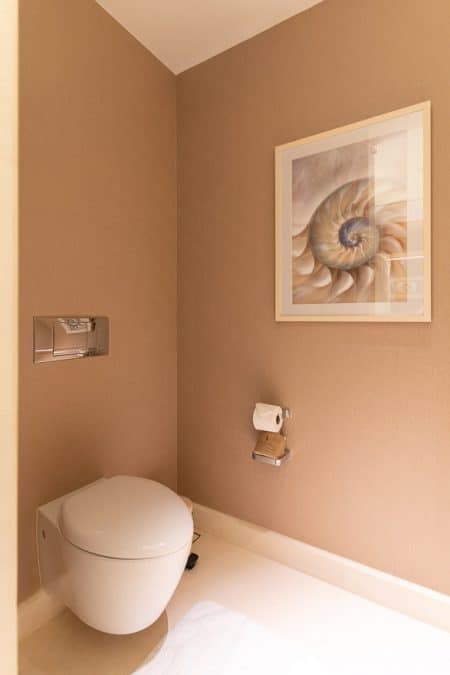 Nowhere was the quality of the housekeeping more evident than in the bathroom, where a mirror shine was always buffed onto every surface, mats were laid out for toiletries and wet swimwear was placed on hangers to dry.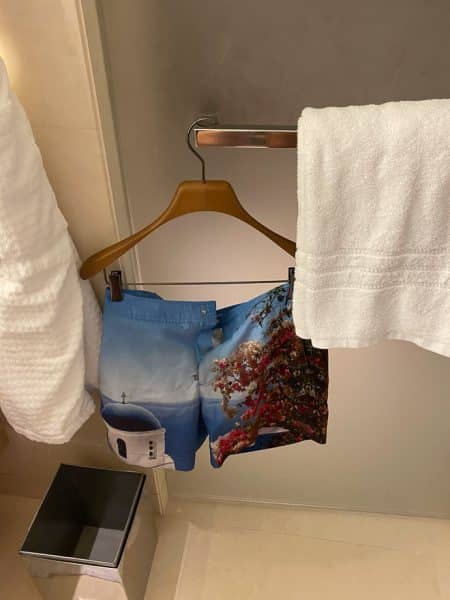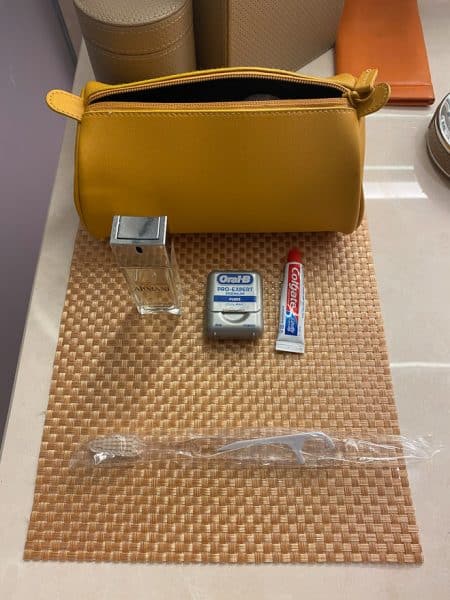 Bedroom
The view behind the sofa was of an office building, so we kept the day curtains in place the whole time, the view to our left as we sat in bed was rather more exciting though. A perfect corridor had been carved between two buildings to frame the world's tallest building for us.
View this post on Instagram
As you can see in the shot above, all of the furnishings looked to be bespoke and every surface, however plain, had some added texture. Subtly grooved wallpaper, ornate laser-cut day curtains, the patterned carpet. Whilst the tones of the room were certainly neutral, the overall aesthetic was far from boring.
My one issue with the room was the placement of the rather large structural column next to the sofa. Not only did it eat away at valuable real estate, it also completely stopped the flow of the air conditioning (more on this in a second).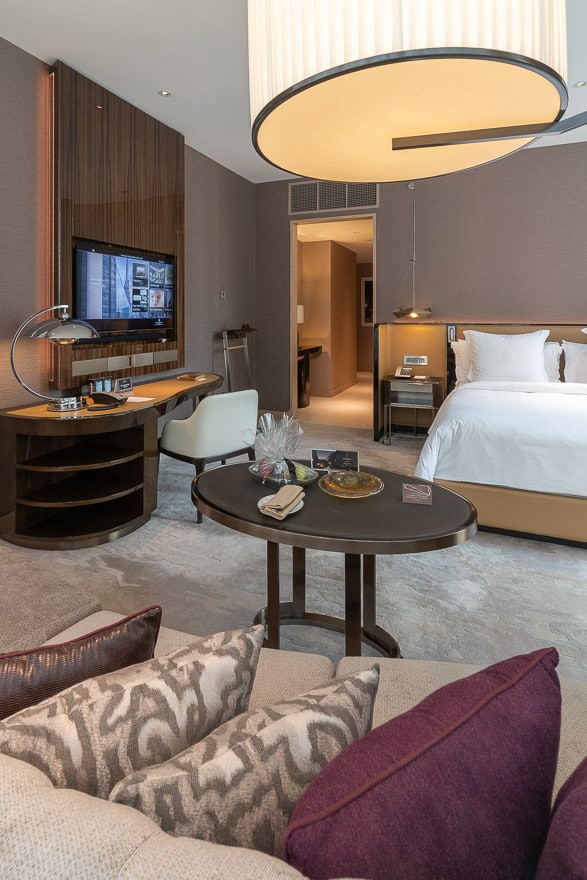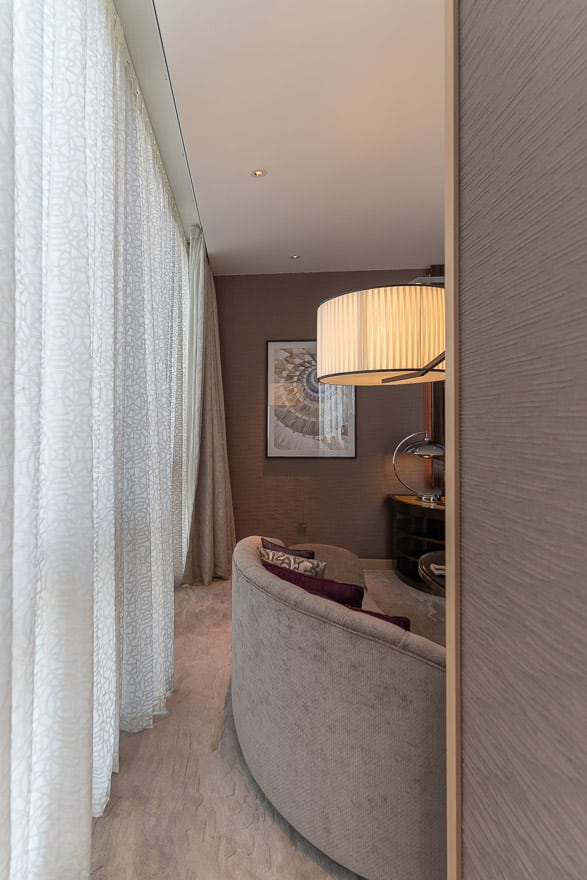 As always with Four Seasons hotels, the bedding was extremely comfortable, with a pre-arrival choice of pillows and mattress toppers being the brand standard. I also loved the cosy feeling of being cocooned by the oversized headboard and really liked the fact that the bedside lamps were suspended, leaving more space on the bedside tables.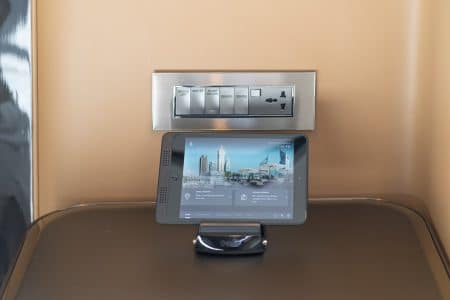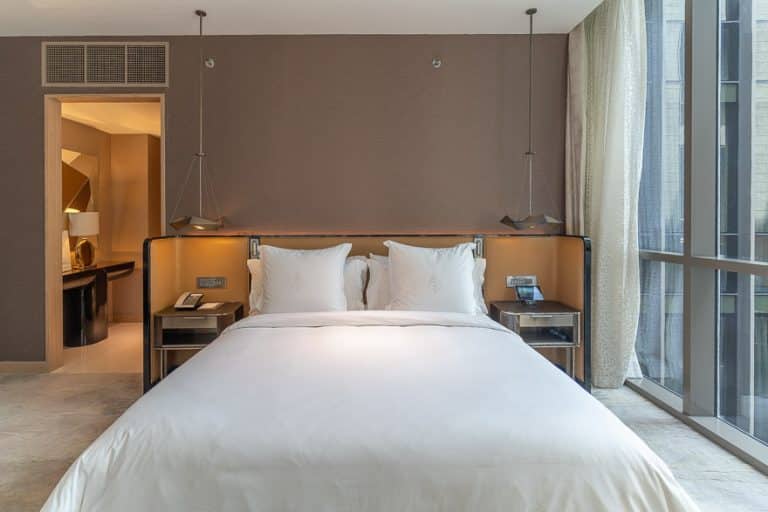 Both sides of the bed also had universal power, with one side being given an additional USD charger and the other having an iPad pre-loaded with the Four Seasons app.
I loved the fact that we could converse with the concierge team and order room service or cars to the sister property on Jumeirah Beach, effortlessly handing off between devices.
Connectivity elsewhere in the room was good too. The desk had numerous power sockets available as well as inputs for the TV and soundbar. I did come across the age old problem of trying to plug in a mac charger though…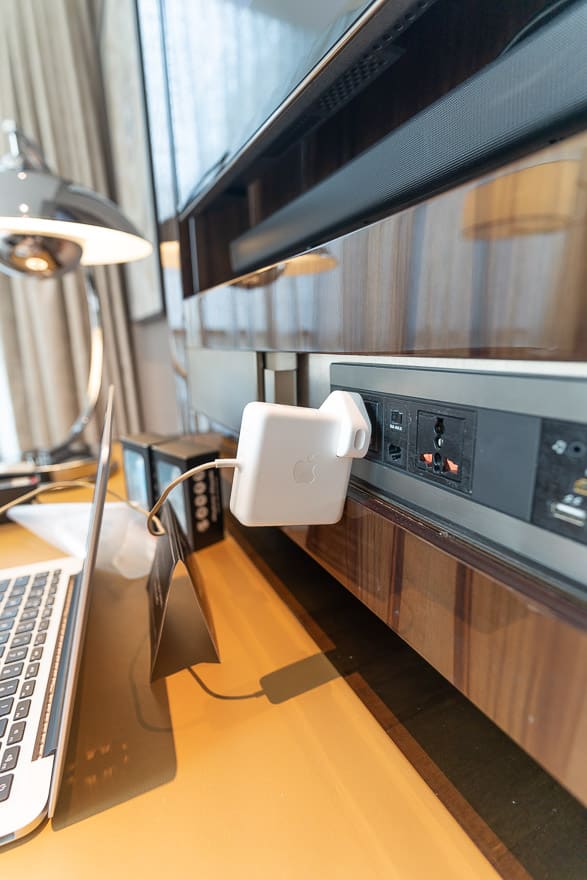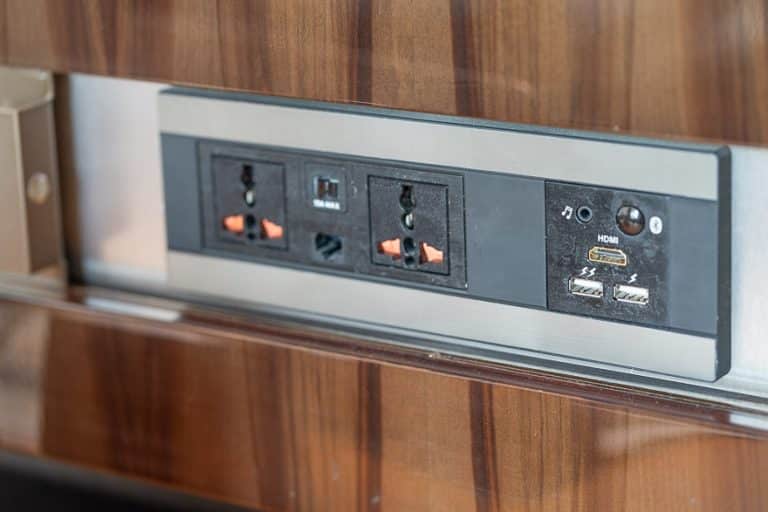 The hotel clearly takes COVID seriously, with touch free sanitiser stations set up throughout the property, many items in the room hygiene wrapped and a pair of sanitiser kits provided on the desk by the TV.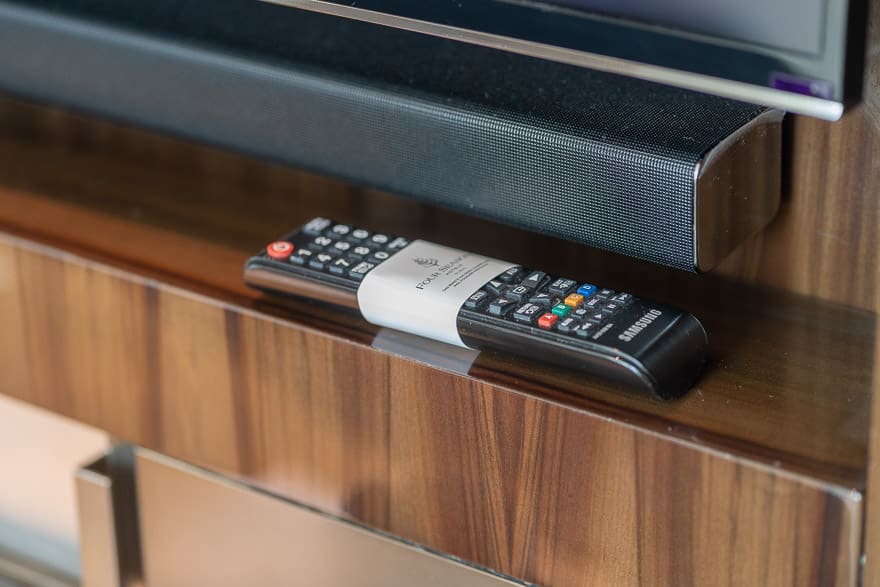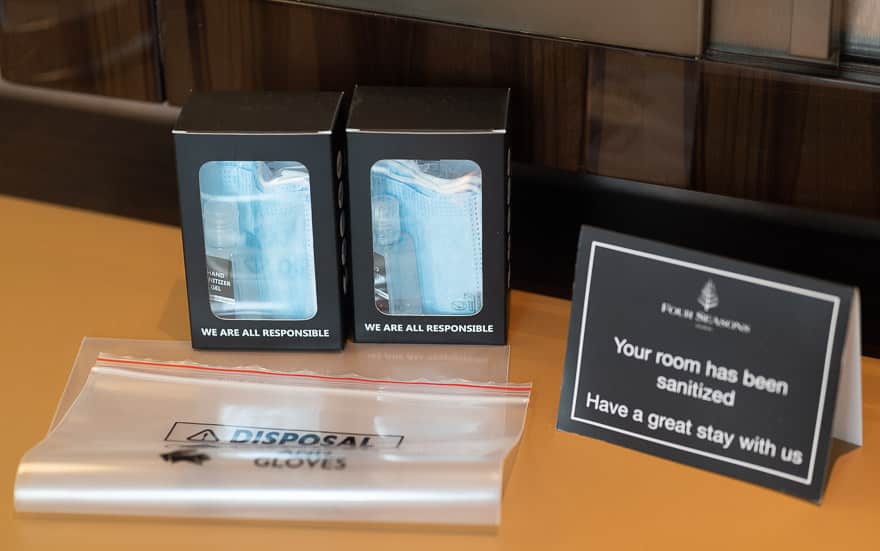 Despite the undeniable comfort of our surrounding, I unfortunately had a major issue with sleep quality in this room. Even when we set the A/C to 17º the room became roasting hot at night, thanks to the airflow being blocked by the structural column. Worse still, Kamara would be freezing on her side of the bed, directly under the air vent. Both of us victims of a savagely localised microclimatic system.
Here are the results from my sleep app on the first night:
The hotel staff were very apologetic when I messaged to explain the situation and offered to send an engineer straight away but I said I preferred for them to do this the following day. The engineers couldn't find any faults when they checked so I figured everything would be fine the following night…until I woke up sweating profusely at 4am again.
If I stood by the sofa I was able to immediately cool down but on my side of the bed nearest the window there was no airflow at all and it was impossible to sleep.
I messaged the front desk via the app, once again receiving an immediate response in the early hours of the morning and I was told the hotel would do whatever necessary to take care of the problem.
Service recovery is where great hotels really make their mark and Four Seasons have always been one of the very best at this in my experience.
The following morning when we were at breakfast we were approached by a member of staff saying he would be happy to show us an alternative room once we had finished eating.
Which is how we ended up in the Studio Suite for out final night….
---
Studio Suite
---
Entrance
Despite this not being a true suite due to the lack of a dividing wall between the living room and bedroom, it was immediately apparent upon entering the room that it was significantly larger than the Four Seasons Room that we had been staying in for the previous two nights.
Living Room
It's hard to describe just how immaculate the finishes were in this room. Every little detail was basically perfect, the furniture and the fixtures felt completely solid and not a single stitch was out of place anywhere. The writing desk had been clearly made bespoke to exactly hug the curve of the sofa. Things like this give me goosebumps.
The Waldorf Astoria DIFC was very comfortable and had a cool design but entering this room you are instantly aware that you are somewhere special. It is on a completely different level.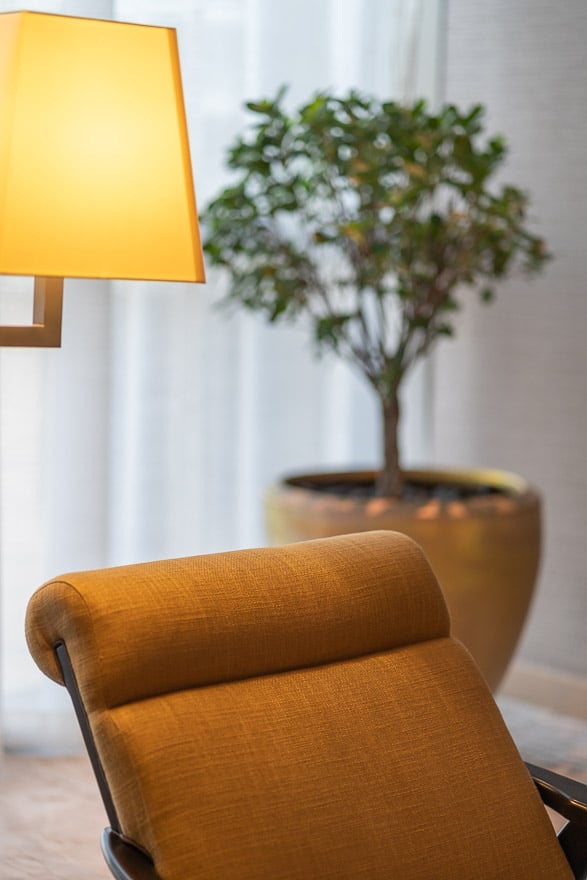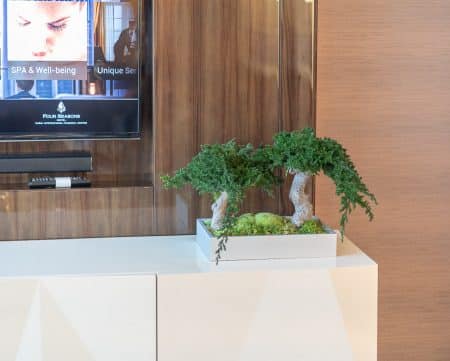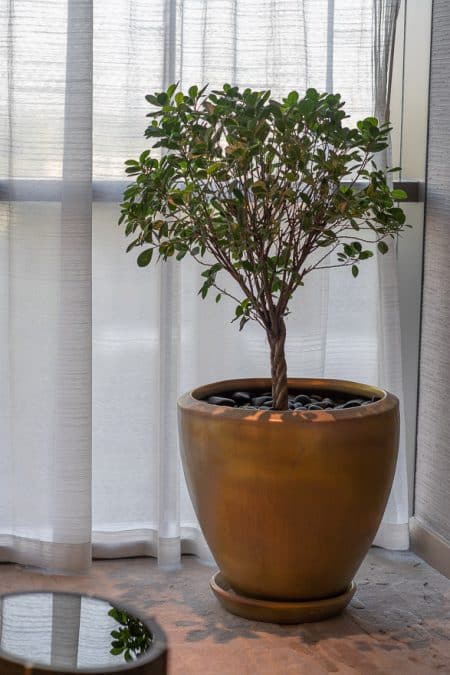 Bedroom
The bedroom featured an identical bed to the one in the Four Seasons Room, which is to say that it was excellent. The view wasn't as good but I really liked how much brighter this room was overall, since we no longer had office buildings pressed right up against us.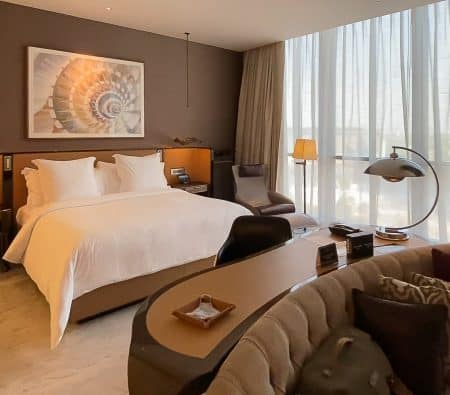 Bathroom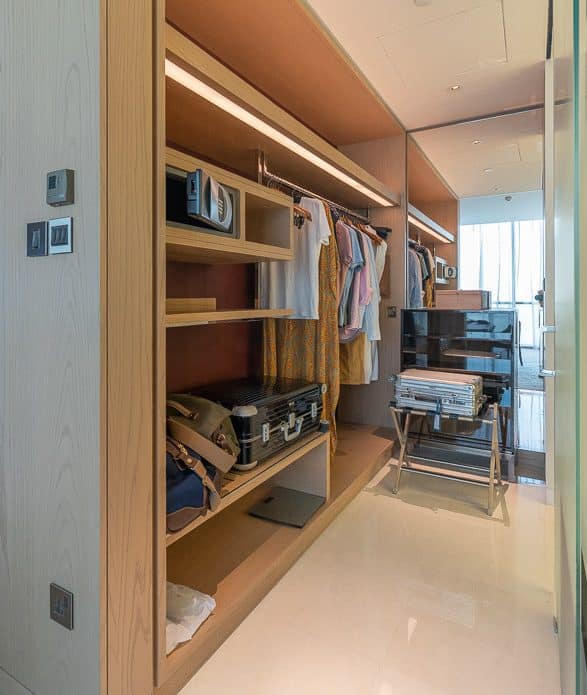 With this being a suite though, I guess the allure of providing a toilet phone was too strong. After all, standard room guests' calls can wait but guests in suites are so important that NOTHING can stop them from doing business…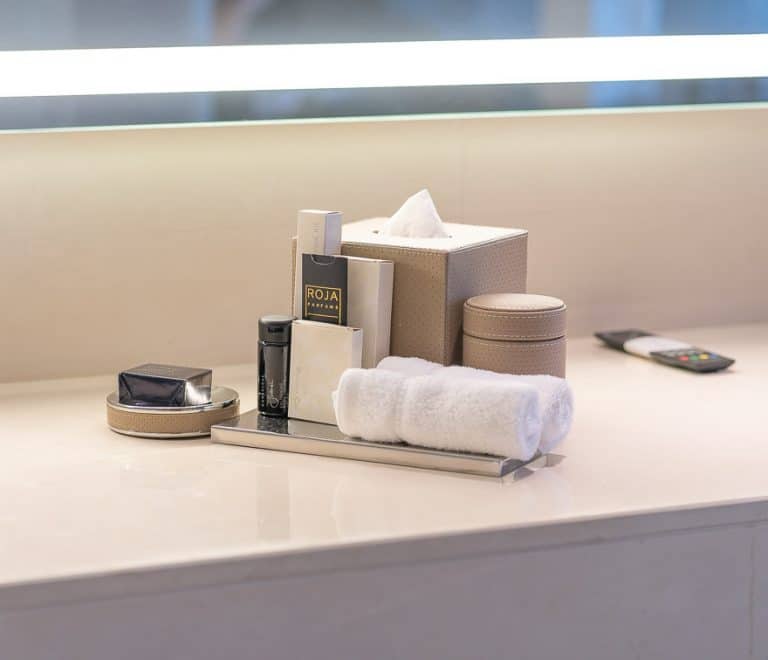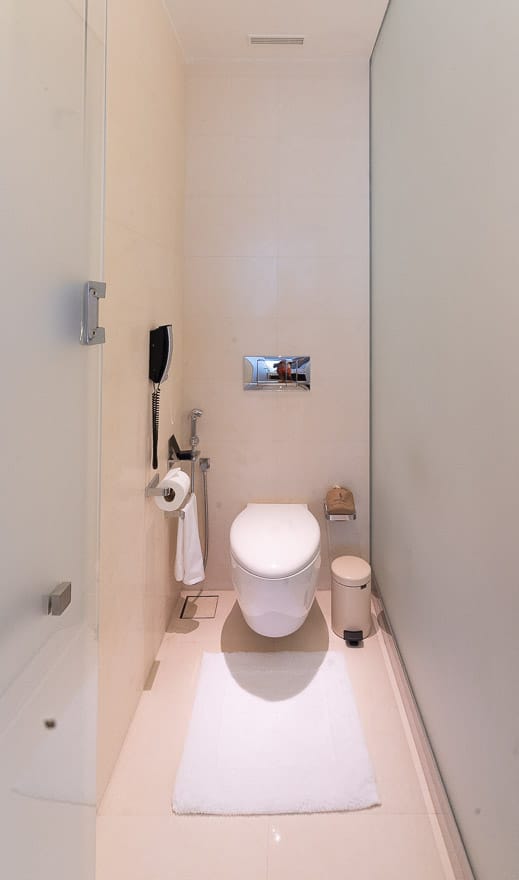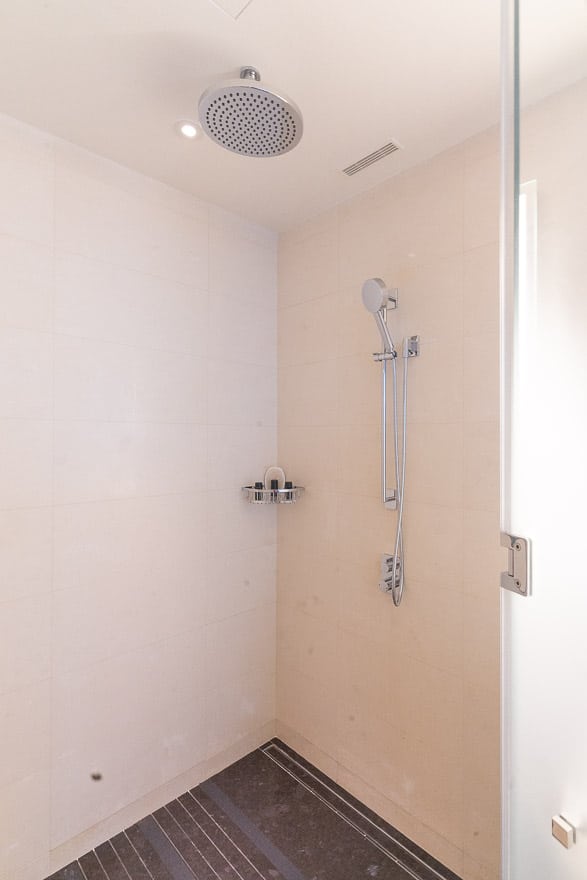 Overall was the Studio Suite worth the incremental cost over the Four Seasons Room? Absolutely.
The air con worked perfectly, with none of the issues we encountered in the smaller room, which in and of itself would be reason enough to upgrade. There was also considerably more space; the Studio Suite felt less like a place to crash and more like somewhere you could relax and unwind after a busy day in Dubai.
---
Leisure facilities
---
Glasswater Rooftop Pool
As I mentioned at the beginning of the review, the glass walled rooftop pool was the main reason that I booked this hotel. I had been captivated from the moment that I first saw pictures of this mirage-like oasis nestled amongst a sea of skyscrapers.
My expectations here were high…and they were comfortably exceeded.
Once again this space completely and utterly outclassed every other hotel pool we've encountered in Dubai – including the Andaz, Waldorf and Park Hyatt. This tranquil sanctum is luxurious in a way that other hotel pools can only aspire to be, mostly as a product of its exclusivity. This is why I almost invariably prefer hotels with low room counts. This is another world from the likes of Atlantis, although both properties purport to be luxurious and both feature similar room rates.
There are no screaming kids here, no large party groups and no loud business calls. This is true relaxation.
Moments after stepping foot onto the deck we were greeted by a host, behind the bar, who offered to show us to our choice of seats. Since we were the only people here we took our time finding the perfect spot.
At the far end of the deck was a hot tub pavilion although personally I fail to see the appeal of soaking in a small cauldron when the daytime temperature regularly exceeds 38ºC.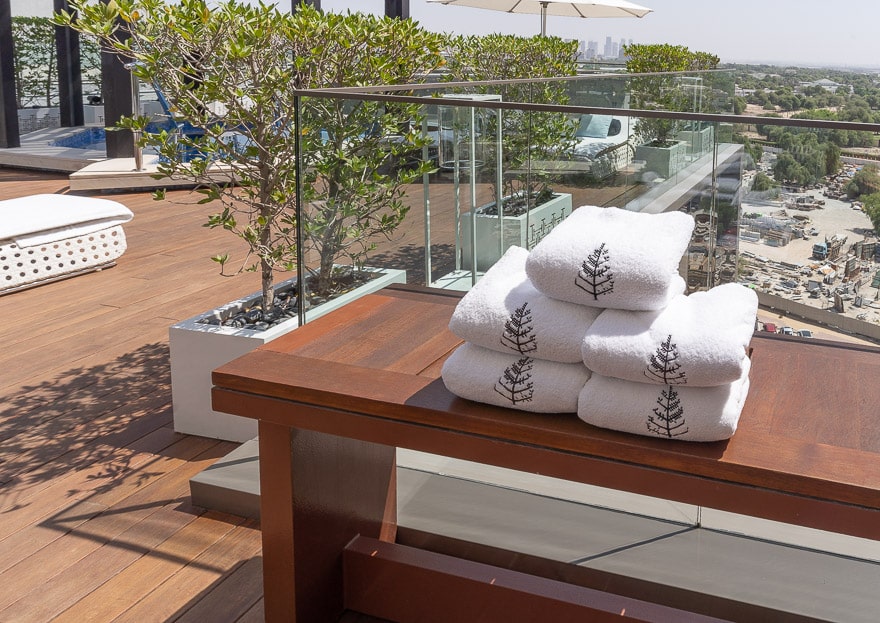 We found our perfect spot up the stairs on the left of the pool. As soon as we picked our spot our host laid out towels for us making sure to tuck in every corner perfectly before disappearing to grab us some water. I was expecting perhaps a couple of Four Seasons plastic bottles and a little cool bag but he returned instead with a gleaming silver cone, filled with ice and glass bottles of Evian.
Next. Level.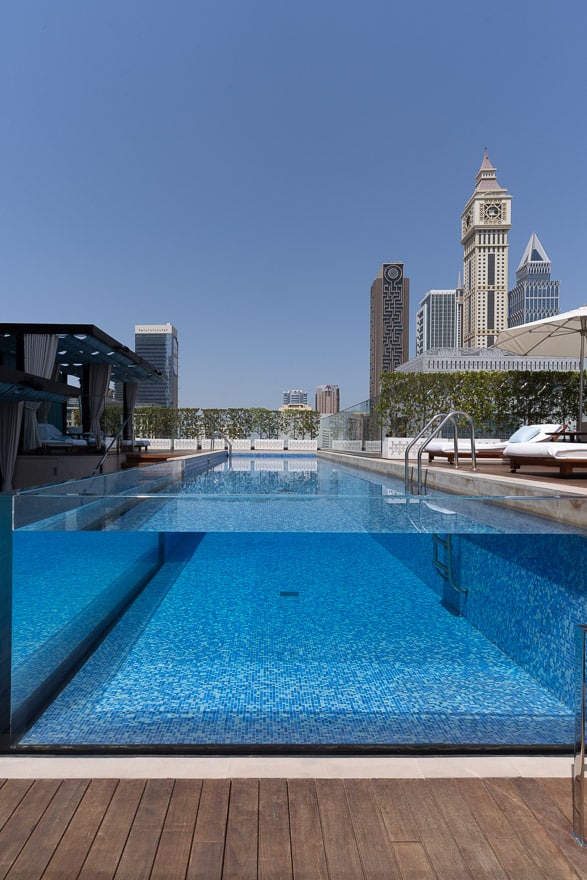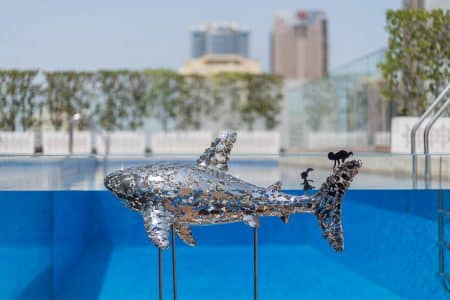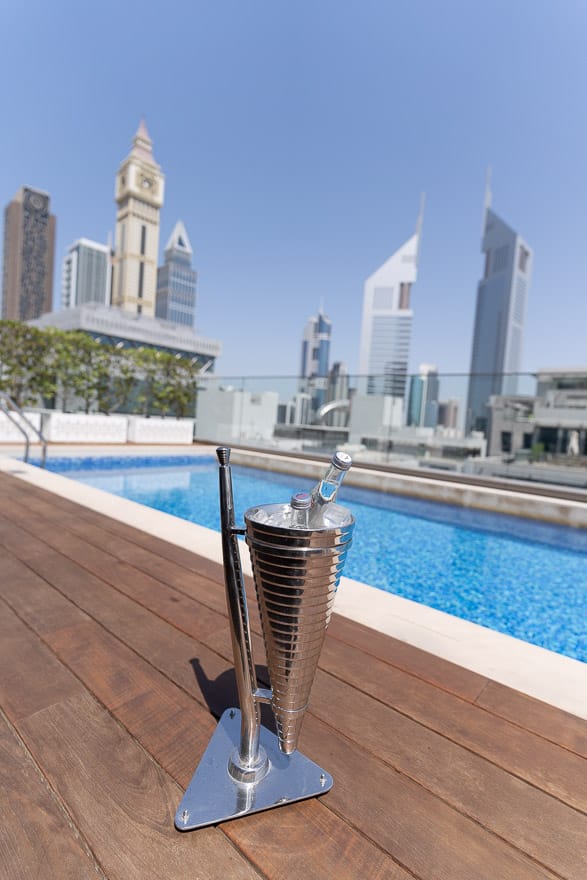 Our chosen area also featured a shower with an enviable view of the Burj Khalifa.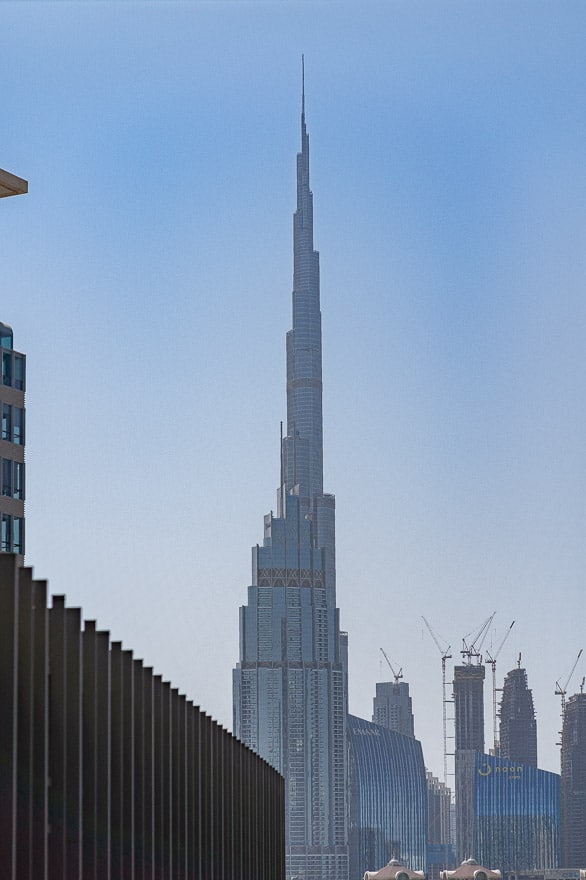 Despite its small size, the pool was the perfect temperature to cool down on a scorching September afternoon. I had picked this hotel above all else for the ability to spend hours relaxing by the pool and I couldn't have been more pleased.
I'm really happy with how my shots came out here too, I'd been picturing this exact frame in my mind for at least a year, so realizing this dream and then having it reposted by both Visit Dubai and Forbes Travel Guide was an amazing feeling!
View this post on Instagram
The service was superbly attentive, the hardware beyond reproach and the pool menu was slightly cheaper than at the Andaz and orders of magnitude better (Evian is priced on the menu but was provided free of charge to all guests enjoying the pool. Presumably large format bottles are chargeable for people who just come to eat at the restaurant tables).


The Gym
The property has a very compact but very modern gym. The changing rooms were located deep within the spa so I always went to the gym in my workout gear, a process made all the better by the incredibly flattering lighting in the lift.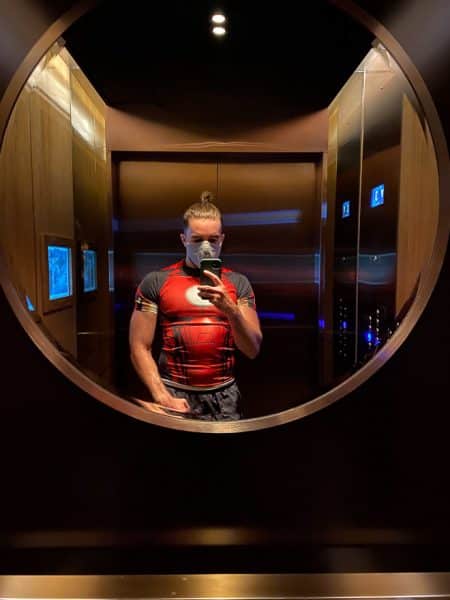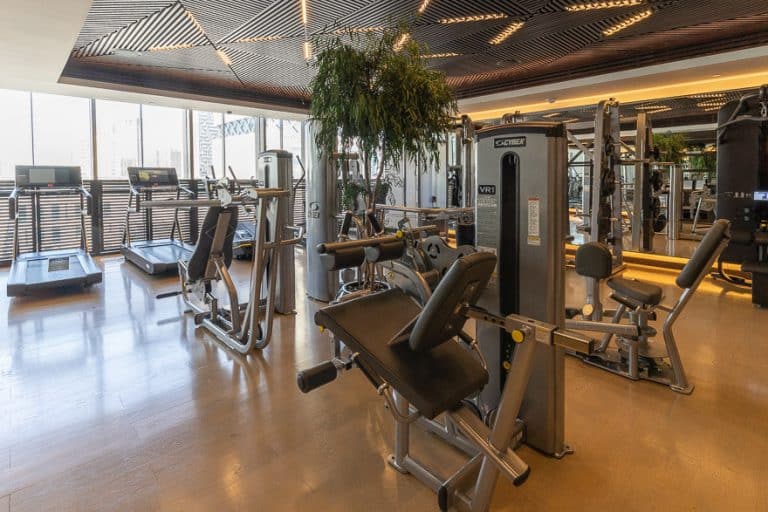 The facility was fully disinfected before use, with my temperature being taken each time that the staff unlocked the door for me.
The equipment was the most modern and high end Cybex gear I've ever seen. The ellipticals looked like something out of Lawnmower Man and doubtless cost as much as a mid-range family saloon.
There was a leg press, smith machine and cable crossovers. Honestly the gym may have been small but it had absolutely everything I needed.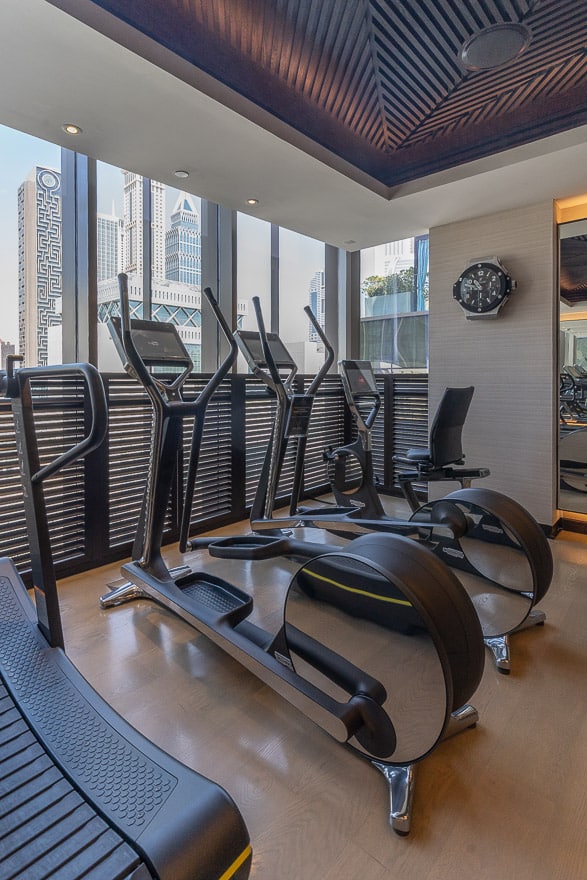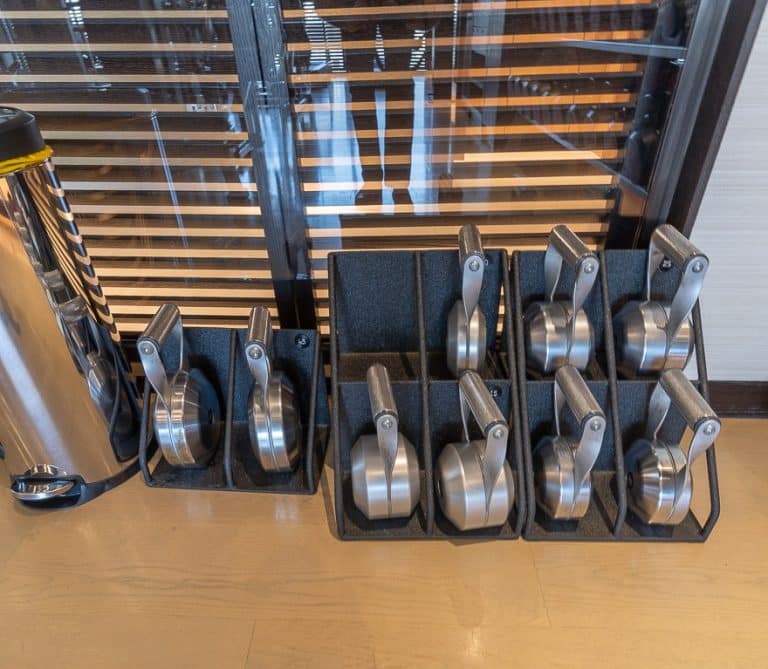 Monogram Room
The monogram room is located on the ground floor, along the hallway lobby. It isn't really advertised on the hotel website but it's part business centre, part living room and has coffee and water available behind the bar.
The colour scheme reminded me somewhat of the lobby at the Prince Gallery Hotel in Tokyo but everything about this space was more luxurious… except for the lack of a view.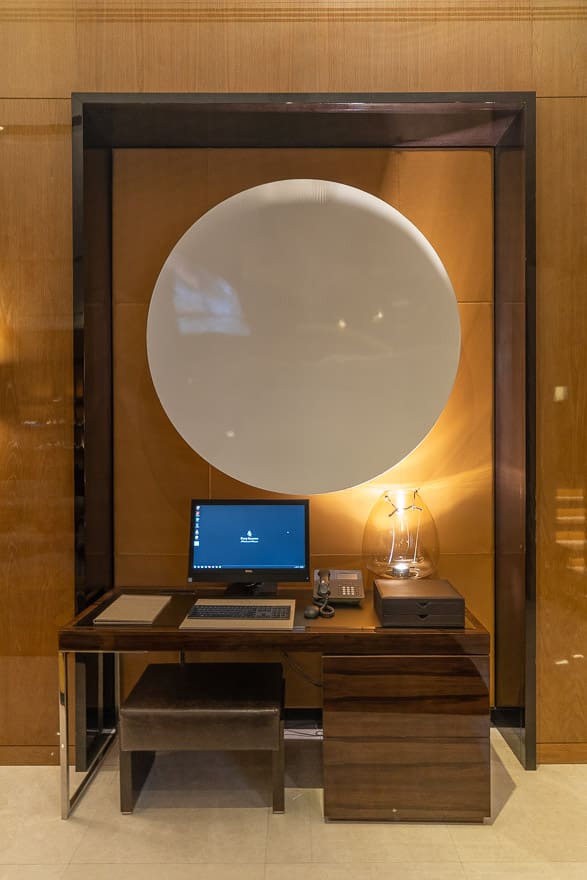 ---
Food and Drink
---
Breakfast at the Penrose Lounge
Although our FSPP booking allowed us to order breakfast as room service for no extra charge we were intrigued to see how the restaurant breakfast would compare to the Waldorf across the road.
On approach to the restaurant you are greeted by a shimmering pool filled with rose petals, topped by a chandelier of crystal raindrops. If anything this is demure and understated compared to the remarkable styling of the lounge itself.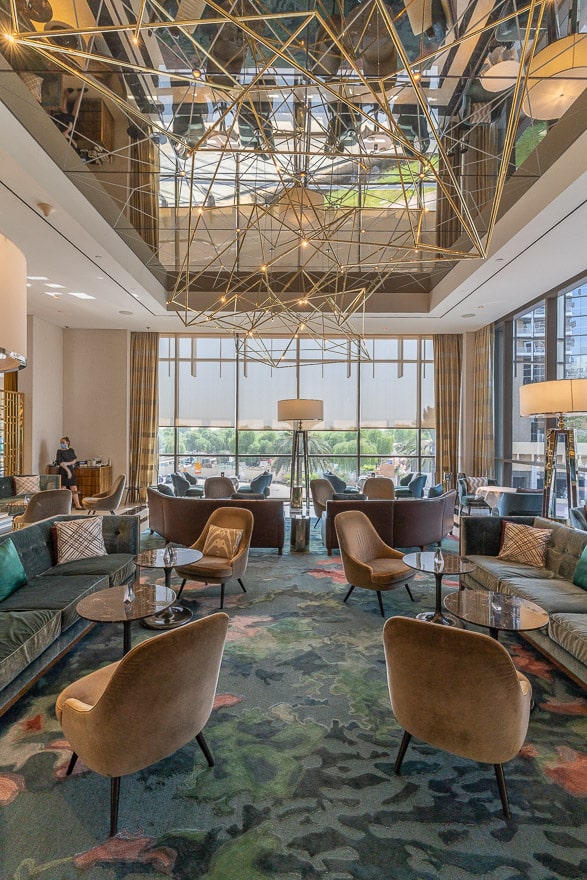 We opted however to stay in the first room since our table had a view of both the cake display and the Burj Khalifa.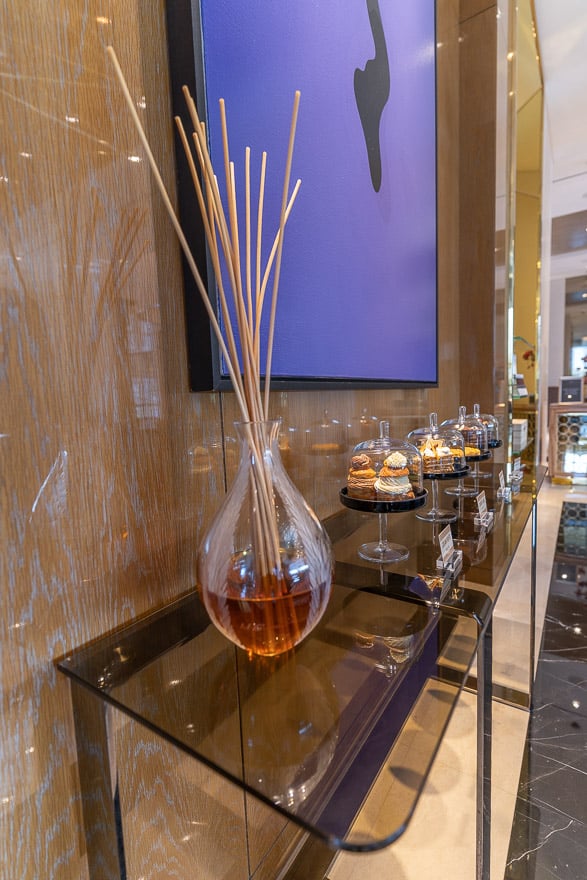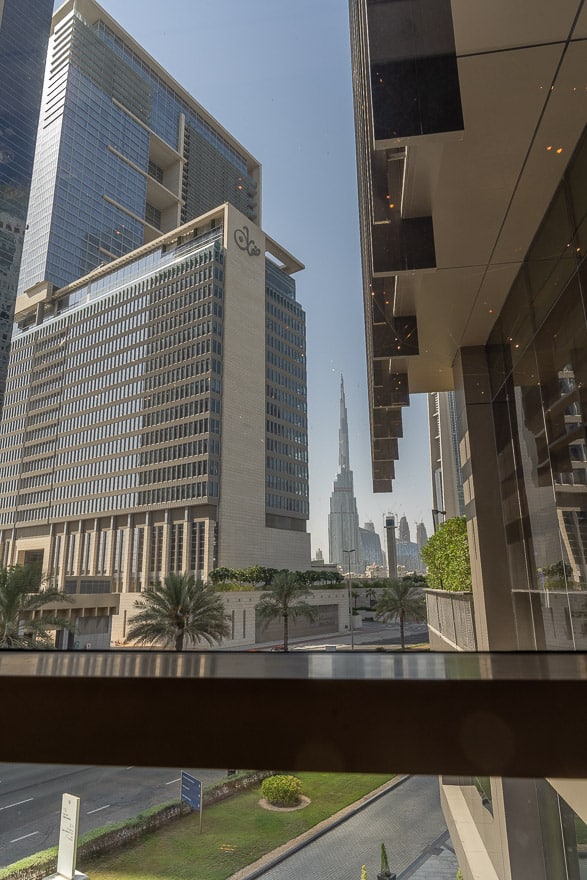 Service here was beyond exceptional. We were addressed by name throughout and never so much as turned our heads in the direction of the staff before they instantly appeared next to us. As soon as we sat down our drinks orders were taken and we were given a QR code to scan for the breakfast menu.
There was no limit to what we could order although ostensibly our rate was only inclusive of regular breakfast sets. We ordered what we wanted and were prepared to pay extra should we need to but the cheque came to 0 AED.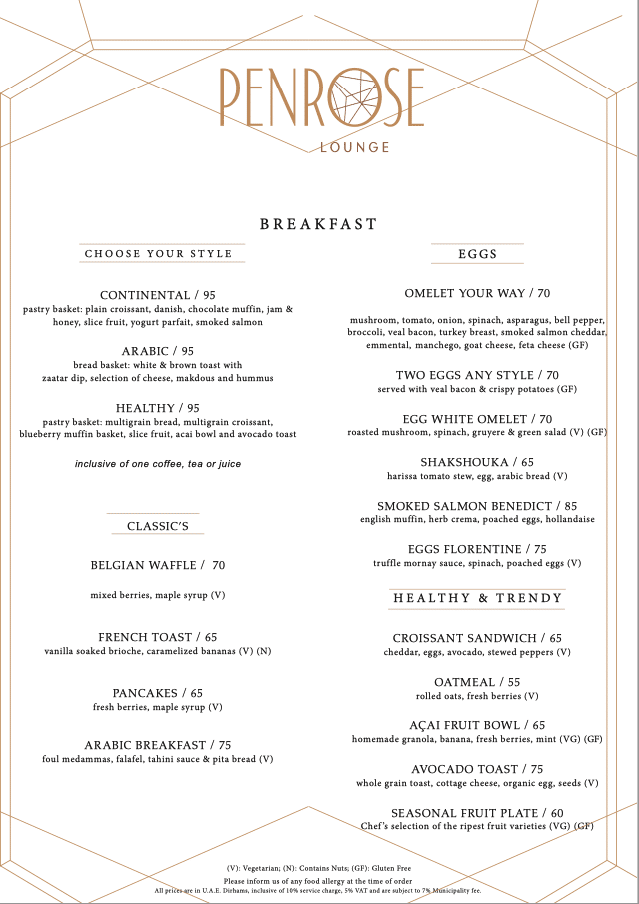 Staff noticed that I had a large camera and immediately brought over a side table which also served as a very handy place to hang our masks. This is proper service.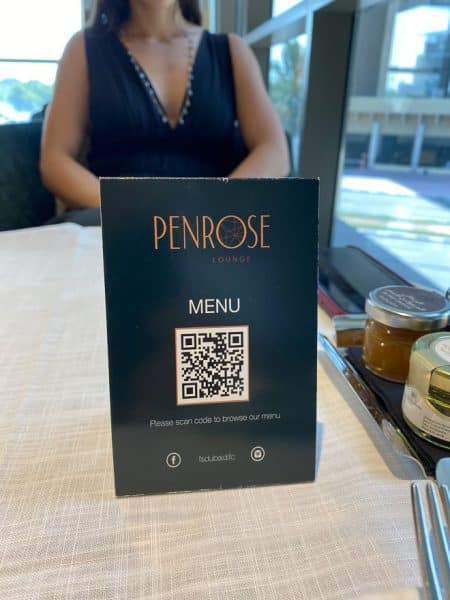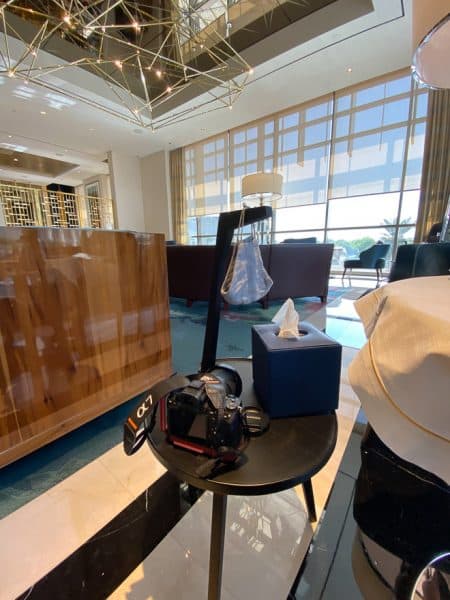 I ordered a strong cappuccino, which was expertly executed and our still water was Evian rather than the filtered water which we'd encountered at other properties on this trip.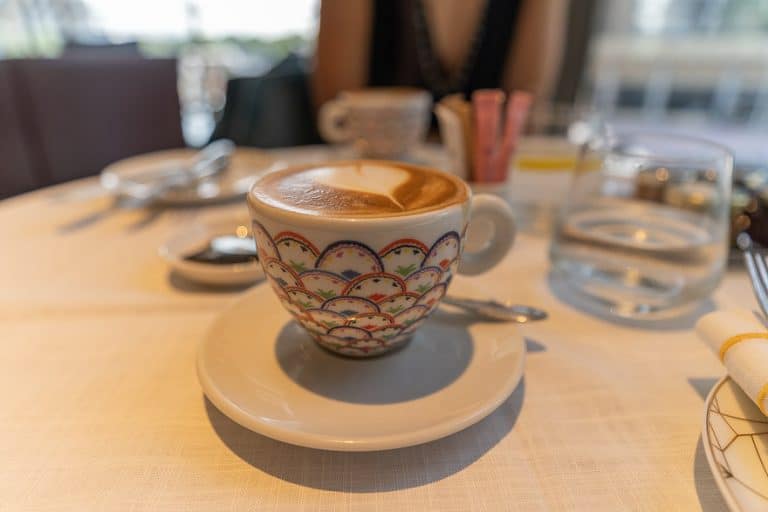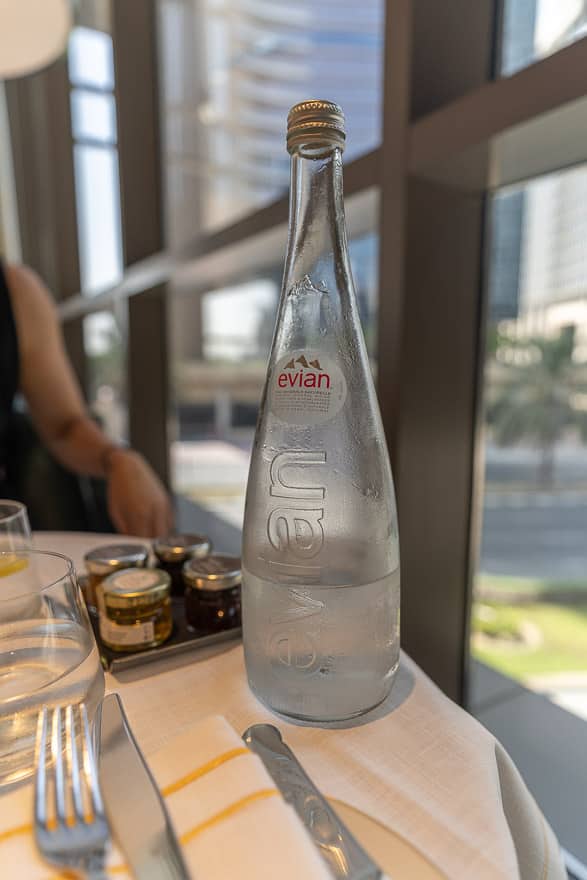 On the first day we tried the egg white omelettes which were perfectly rolled and served alongside a platter of deliciously fresh fruit and some very thick cut smoked salmon garnished with fresh dill.
On the second day we split an absolutely gigantic açai bowl and some very flaky freshly baked croissants. For the main course I had the shakshouka, which had great flavour but was missing some merguez pieces to really take it to the next level.
Despite my sleepless nights I genuinely headed down here with a spring in my step on the second morning, excited for what is easily one of the most enjoyable breakfast experiences I've ever encountered in a hotel (up there with the Park Hyatt Sydney and Ritz Carlton Kyoto). I honestly long to come back to Dubai just to bask in the excellence of what the hotel has achieved here.
Room Service Breakfast
It was with a heavy heart that I ordered room service breakfast on our final night at the property. We had an early morning flight home and there was no way we'd have time to eat in the Penrose Lounge.
I ordered two breakfast sets via the app and specified delivery at 6am and takeaway boxes to be provided. The concierge immediately messaged back to confirm the time and ask whether I wanted the breakfast served directly in boxes, or whether I preferred normal service with boxes on the side.
It is this level of attention to detail that really sets Four Seasons apart. They never miss an opportunity to fine tune the service.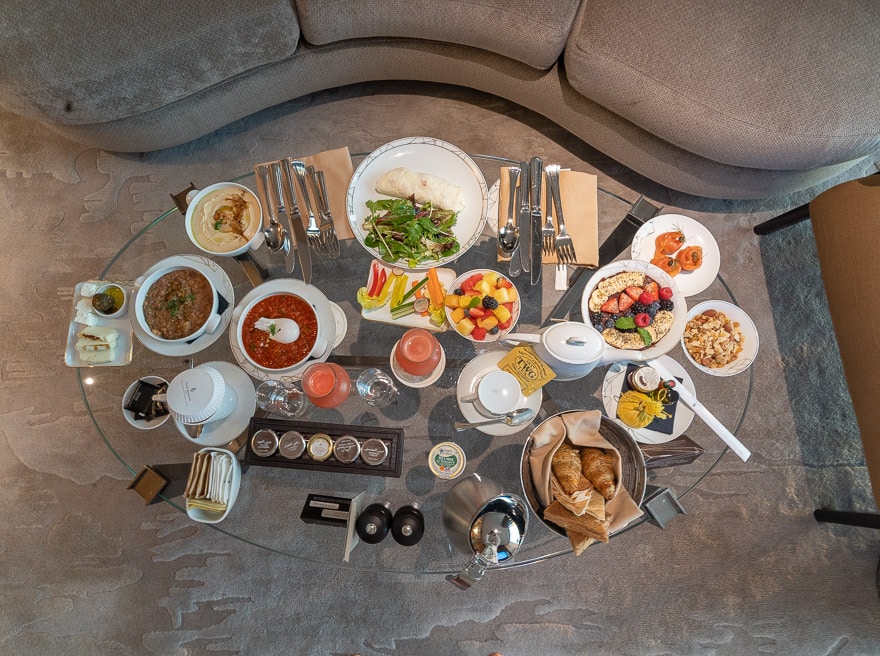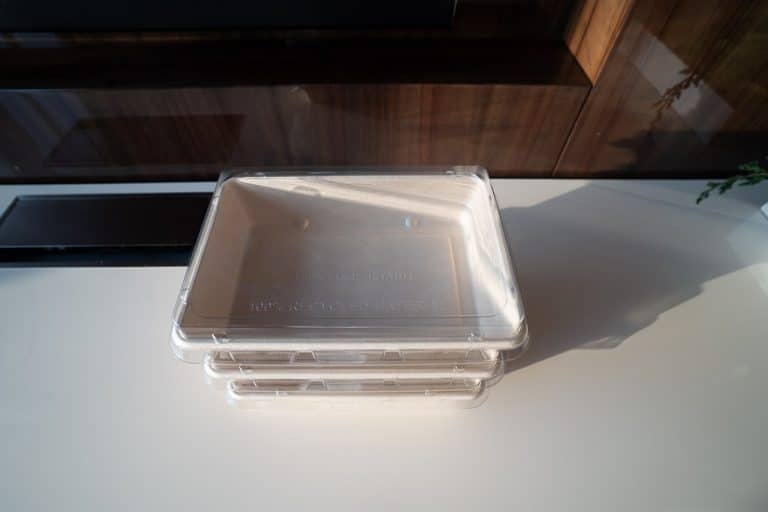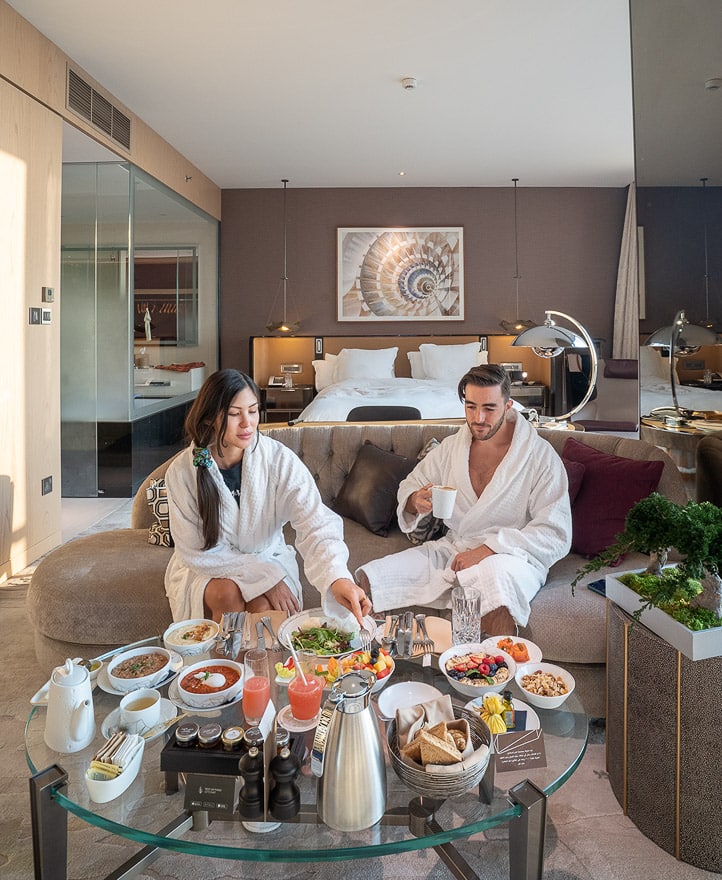 The amount of food offered within two standard breakfast sets was borderline ludicrous. I can't imagine that anybody ever finishes all of this. For the record, this is one Arabic breakfast and one Healthy breakfast. We declined the additional pastry basket.
The takeaway packaging was all fully compostable and biodegradable, which I thought was a great touch. It was also very sturdy and made it safely onto our BA Club Suites flight where it supplemented the greatly reduced catering on board.
Luna Sky Bar
Everything you've read so far has made reference to the residential quality of this hushed sanctum, amidst the chaos of downtown Dubai. Luna Bar is the exception.
On Thursday and Friday night it can be seriously tough to find a spot here if you aren't staying at the hotel. There are lines of Lamborghinis outside waiting for a a valet and you'd probably be forgiven for thinking that a stripper convention was in town.
We came early on Saturday night for pre-dinner drinks, so were fortunate to catch the bar in one of its quieter moments. Service and drink quality was everything that you'd expect from Four Seasons and pricing was certainly reasonable by Dubai standards. If you avoid the weekends (Thursday and Friday in the UAE) this is a great spot to enjoy a relaxing drink with a view.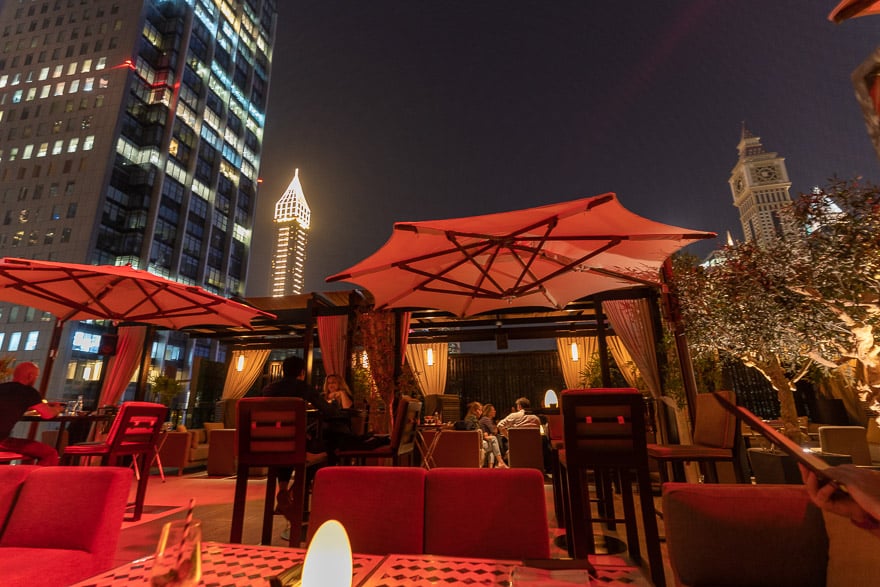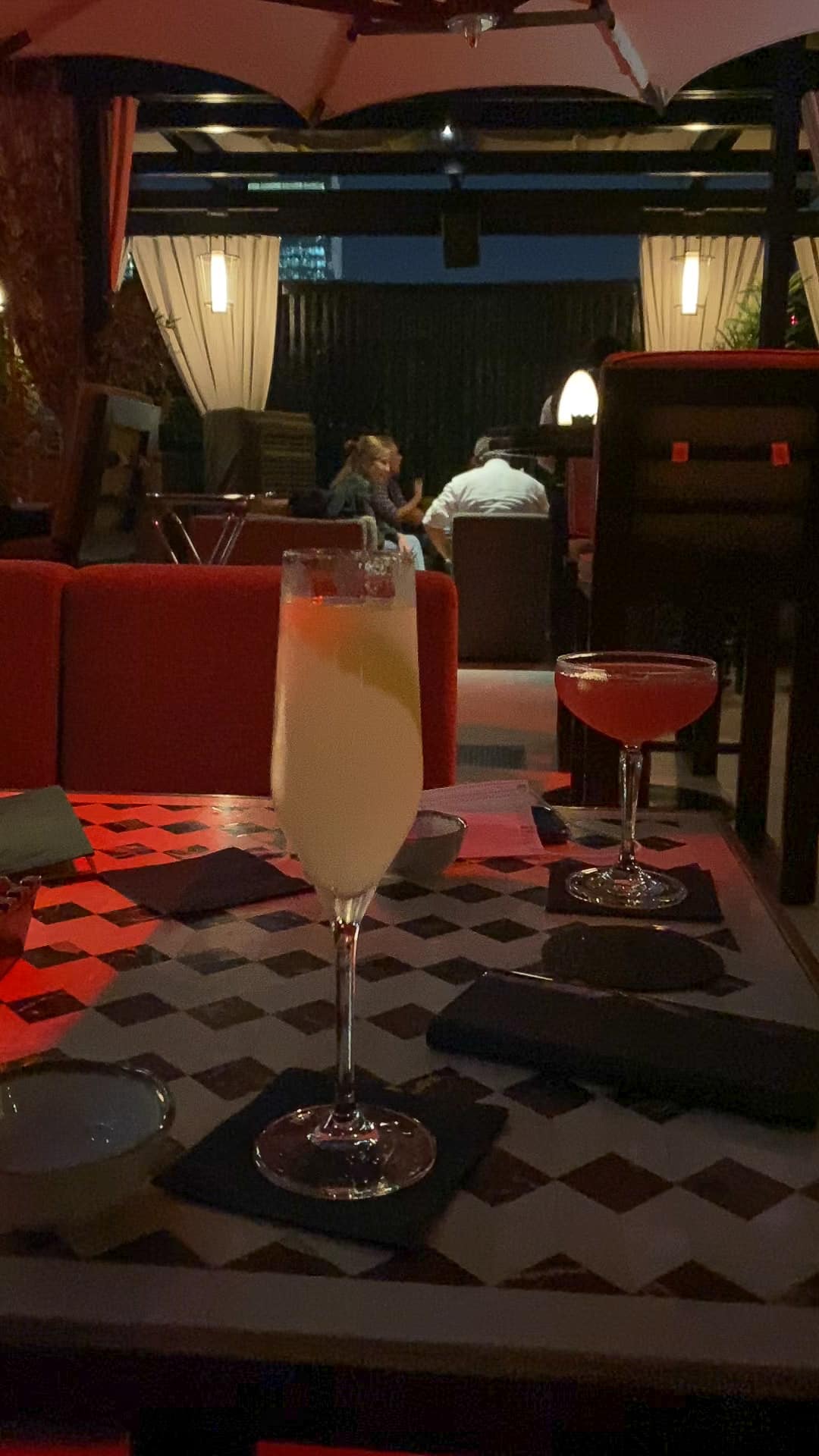 ---
Conclusion
---
Basics Checklist
☑︎ Power sockets near the bed
☑︎ Easy to understand light switches
☑︎ Coffee machine
☑︎ Separate shower and bath (only in the suite)
☑︎ Blackout blinds
☑︎ Stable, fast and free Wifi
☑︎ Feather pillows
X Quiet and powerful aircon
I had two terrible nights of sleep here and despite that I would still return in a heartbeat and emphatically recommend this hotel to anybody.
The quality of the hardware and service isn't just better than everything in Dubai, its up there with the best I've ever encountered globally. Despite very healthy occupancy by COVID standards the property almost always felt like it was ours alone. It is hard to overstate how special it is to have this feeling in a large city like Dubai.
The afternoons spent at the rooftop swimming pool were truly relaxing in a way that very few properties are capable of achieving. The steady supply of iced Evian bottles served in their glistening silver cone is now a barometer for pool service, a level which I'm certain that few properties will ever surpass.
Add in the fact that we had complete use of the facilities at the sister property on Jumeirah Beach (including complimentary transfers) and honestly you'd struggle to find a reason to stay anywhere else, unless you're looking for a kids club and a family pool moments from your bedroom. If you want that, you'd be better off at the Four Seasons Jumeirah Beach because quite frankly the Four Seasons DIFC is a very grown up hotel and personally, that's exactly what I'm looking for.

---
Book Four Seasons Dubai DIFC with FSPP Benefits
---
Four Seasons Preferred Partner Booking
Click the image to get the best available rate and also receive:
Upgrade of one category

based on availability at time of check-in
Full breakfast for up to two in room guests. Either at the restaurant or via in-room dining.
$100 Hotel Credit
Welcome amenity
Early check-in/late check-out subject to availability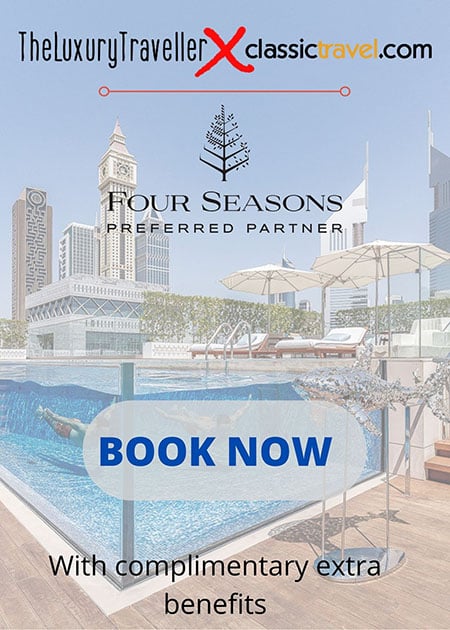 ---
Another birthday trip to Dubai…this time during COVID
Part 1:

Part 2:

Part 3:

Part 4:

Four Seasons Dubai DIFC : Four Seasons Room & Studio Suite

Part 5:

Four Seasons Resort Dubai Jumeirah Beach : Deluxe City View Room

Part 6:

GUIDE : Leveraging huge discounts to eat our way around Dubai