British Airways (BA)
Flight: BA61
Class: First Class
From: London (LHR)
To: Malé (MLE)
Duration: 10h25m
Aircraft: B777
Seat: 1 K
Frequent Flyer status during flight: Oneworld Emerald (BA Gold)
Booking type: £990 return Business Class fare upgraded with 22.5k Avios per person one way.
Flight date: November 2020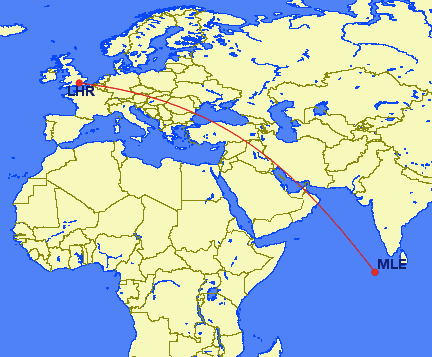 ---
Intro
---
Jump straight to The Conclusion
---
Much like our September flights to Dubai on the A350 Club Suites, this was a bit of a last minute booking.
I had initially planned to visit South Africa in November and when this plan fell through I made arrangements to fly to Bora Bora via Tokyo, making use of an amazing FRA-NRT fare on Japan Airlines. Unfortunately the connecting flights from NRT-PPT on Air Tahiti Nui were also cancelled, so with only a few weeks to go I had a blank space in my diary and no trip to fill it.
Thankfully BA came to the rescue with a spectacular sale to commemorate the end of an era, the retirement of all the remaining Boeing 747s. The sale included most BA long haul routes with direct flights in Business Class being priced at an incredible £999! (and actually most coming in a few pounds cheaper.)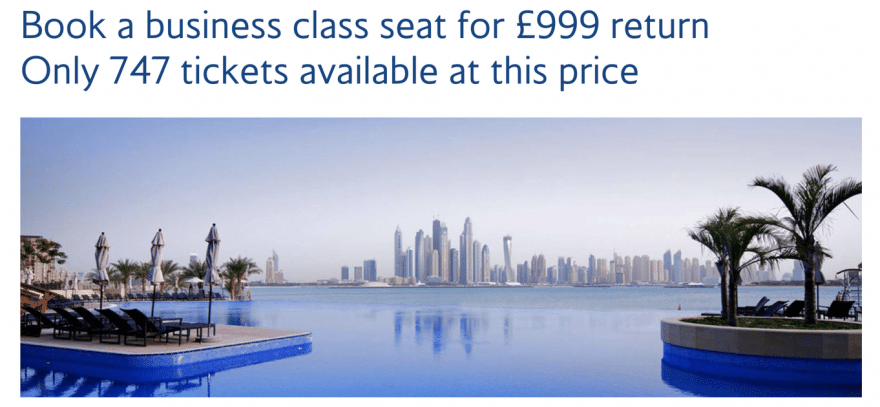 Whilst it was a crushing blow to lose the 747s without the chance to fly them one last time, being able to scoop up direct flights to the Maldives in Business Class, out of London, for £990 was definitely a strong consolation prize.
If you're interested you can read my reviews of First and Business on the (sadly departed) British Airways 747 below:
BA 747 Business Class (Upper Deck)
Two weeks before departure I was performing my (now daily) task of checking all of my reservations for changes and I thought I'd check for upgrades. I figured my chances were extremely low but by some miracle there were two First Class seats available for 22.5k Avios per person. Not only was I getting an upgrade to First, I'd also be one of the very first people to try the new First Class Suites since this was the debut route!
Unbelievably it all worked online as well; I can't remember the last time I was actually able to easily service a booking on BA.com without having to call on the phone to complete the process.
---
The Cabin
---
As we boarded the plane we were very warmly greeted by a lovely pair of gentlemen, both named David, who looked after us for the duration of the flight. Since this plane was only three weeks old it was the first time that either had seen the cabin and both were as excited to see it as we were!
BA has always featured some very sleek finishes in its First Class cabins and I'm happy to report that the new 777 Suites are no exception. The various tones of black contrast very elegantly with the brushed metal accents and blue lighting.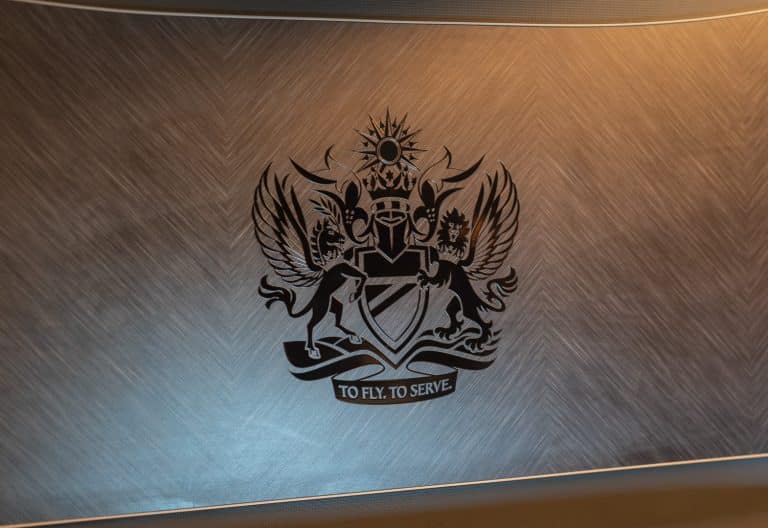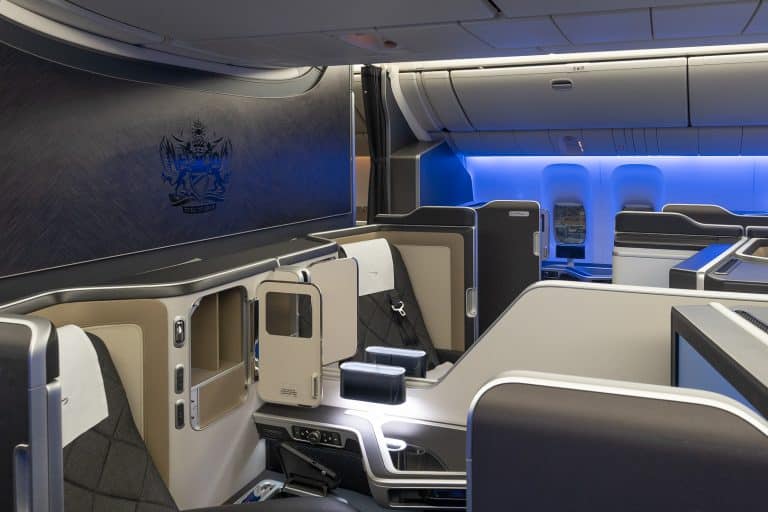 Rather bizarrely, as I started taking pictures I was approached by the Cabin Manager who said that the Captain had already told me that I wasn't allowed to film. I explained to him that I had only just boarded the plane and had not spoken to the Captain at any point. If the Captain had given me a direct instruction I certainly wouldn't dream of disobeying it.
The Cabin Manager disappeared for a while and I put my camera down whilst continuing to chat with the Davids.
He returned a couple of minutes later and apologised for the misunderstanding. A passenger in economy had requested to film the cabin prior to boarding and wanted to take a full video of every class all the way back to economy. The Captain had told him no and the Cabin Manager had mistakenly thought that this request had come from me.
He explained that the Captain was happy for me to film and take all the pictures I wanted in this cabin since we were the only passengers in First but kindly asked that I not film any other cabins or take pictures of crew or passengers without their permission.
I guess there must be a few vloggers out there getting in people's faces and the captain understandably didn't want this happening on his plane.
I assured the cabin manager that we had no intention of filming crew or carrying out video expeditions to other cabins. I then resumed the taking of pictures like a normal(ish) human being who understands how to behave in public…
Much like the Club Suites however, the walls are pointlessly low. Nothing like the tall walls on Garuda, Emirates , Etihad Apartments or Singapore Suites. The only enclosed First Class product with similarly low walls is First Class on the SWISS 777, which doesn't even advertise itself as a suite…
Overall the cabin feels a lot more private and secluded than anything currently in the BA fleet today. It's obviously impossible to replicate the feeling of 1A and K on a 747 but overall this takes everything that I like about the Dreamliner First cabin and adds both extra personal space and privacy.
---
The Seat
---
Since we were the only passengers on board we had free reign when choosing seats; we were warned however that one of the seats on the A side wasn't reclining and later discovered that the middle divider between the pair in Row 1 wasn't working. No big deal for us but slightly concerning for such a new plane.
We opted to stick with our initially chosen window seats for take-off, 1K and 2K.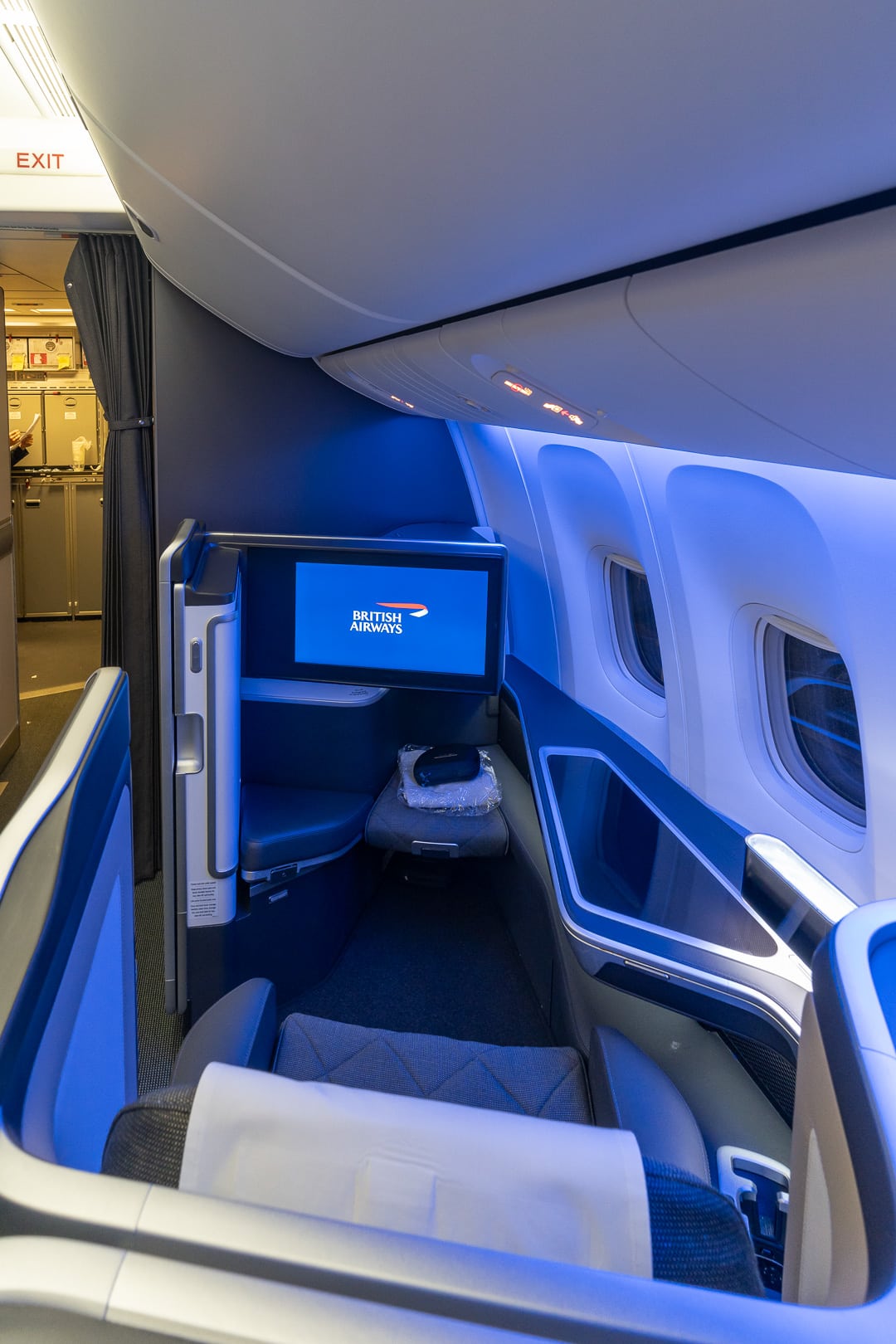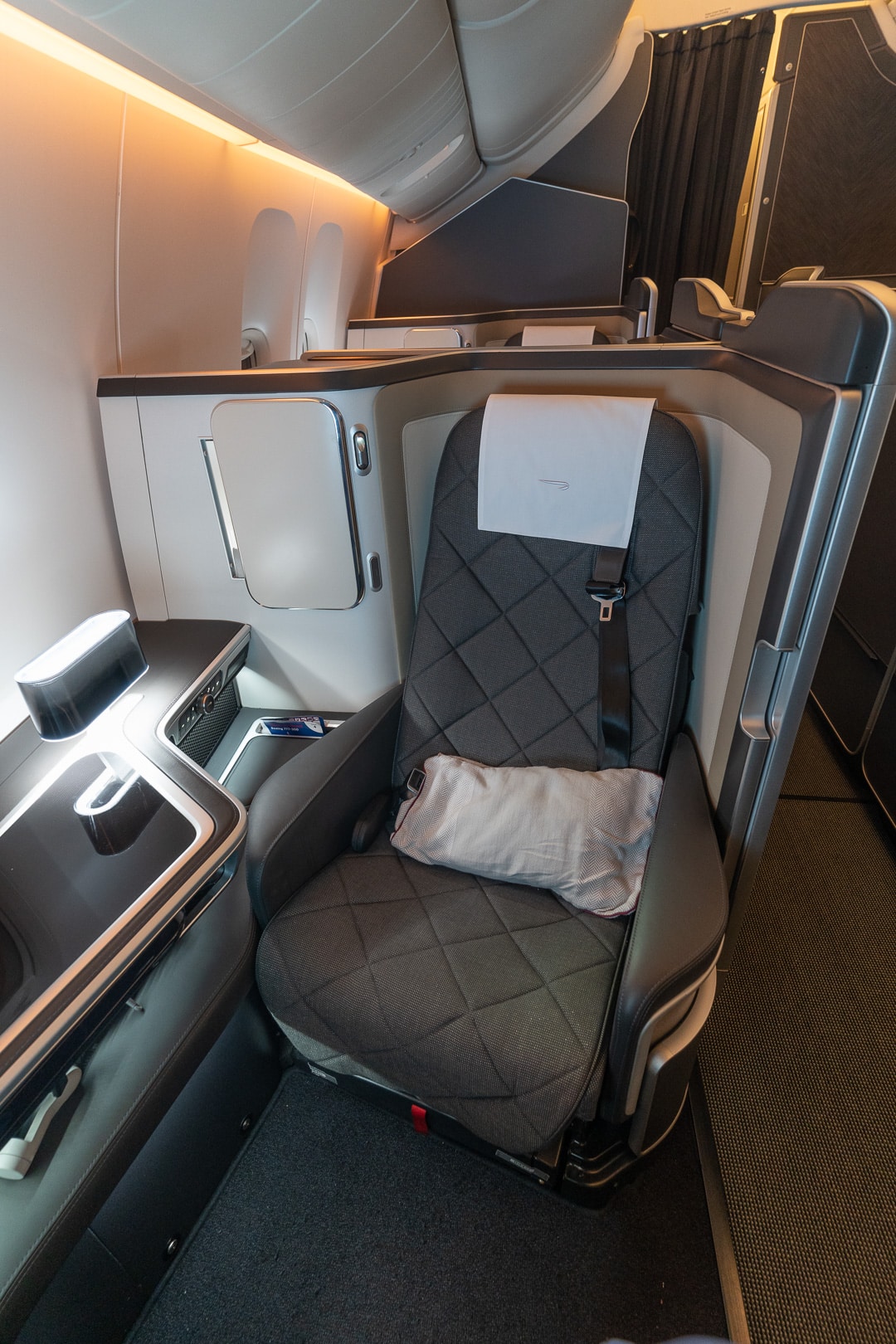 It's a bit of a tired old trope to say that BA First Class is "The World's Best Business Class". From what I've seen personally, that accolade falls to either Qatar Q Suites (which we flew again on the journey home) or ANA's The Room (which I briefly looked at when flying the new ANA First Class).
Whilst both of those products are impressive, the footprint of BA's First Class seat is substantially larger. Your screen is far further away from your face and you don't have half of your body underneath the seat in front. Most of all, the level of finishes is not only superior to ANY Business Class seat, it is also far superior to the likes of JAL's interminably dull First Class seats or Cathay's very comfortable but now undeniably ancient First Class offering.
As soon as you sit down on the thickly quilted seat and see the reflection of the lamp in the shimmering piano gloss side table, as stitched leather walls surround you – you know you are in a modern and stylish First Class cabin.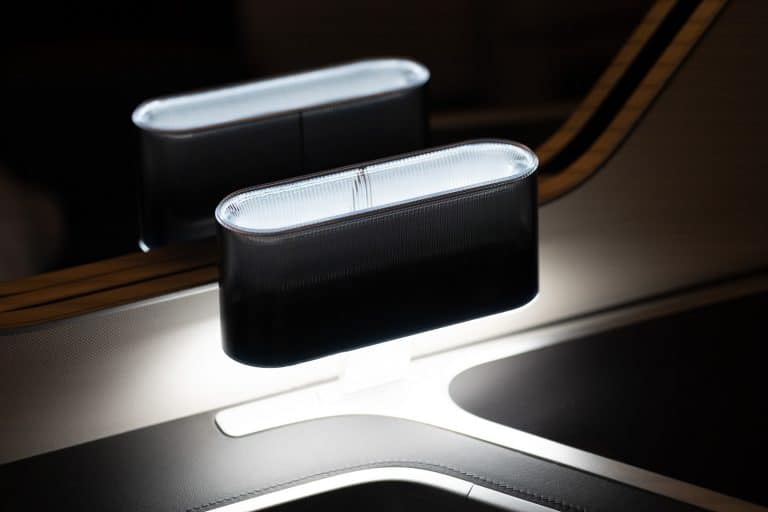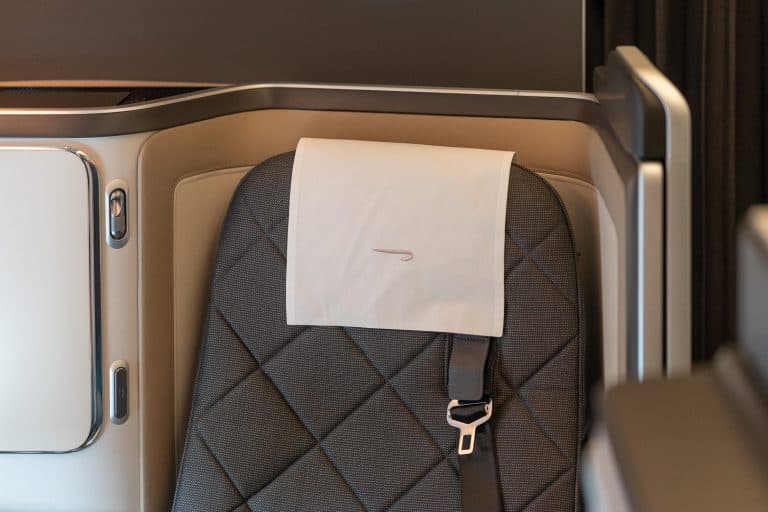 I'm not sure why these seats require a shoulder strap for take off and landing since they are almost identical to the seats on the 789, which don't. Club Suites also require this 3-point system when other seats based on the Collins Diamond don't. Presumably the addition of the door creates the need for this extra precaution across BA's new cabins.
Storage is abundant, with a cornucopia of compartments cocooning you. The wardrobe feels significantly larger than on the 789, as does the footstool cubby. Meanwhile, the mirrored cupboard at head height proves the perfect spot for storing headphones and travel documents.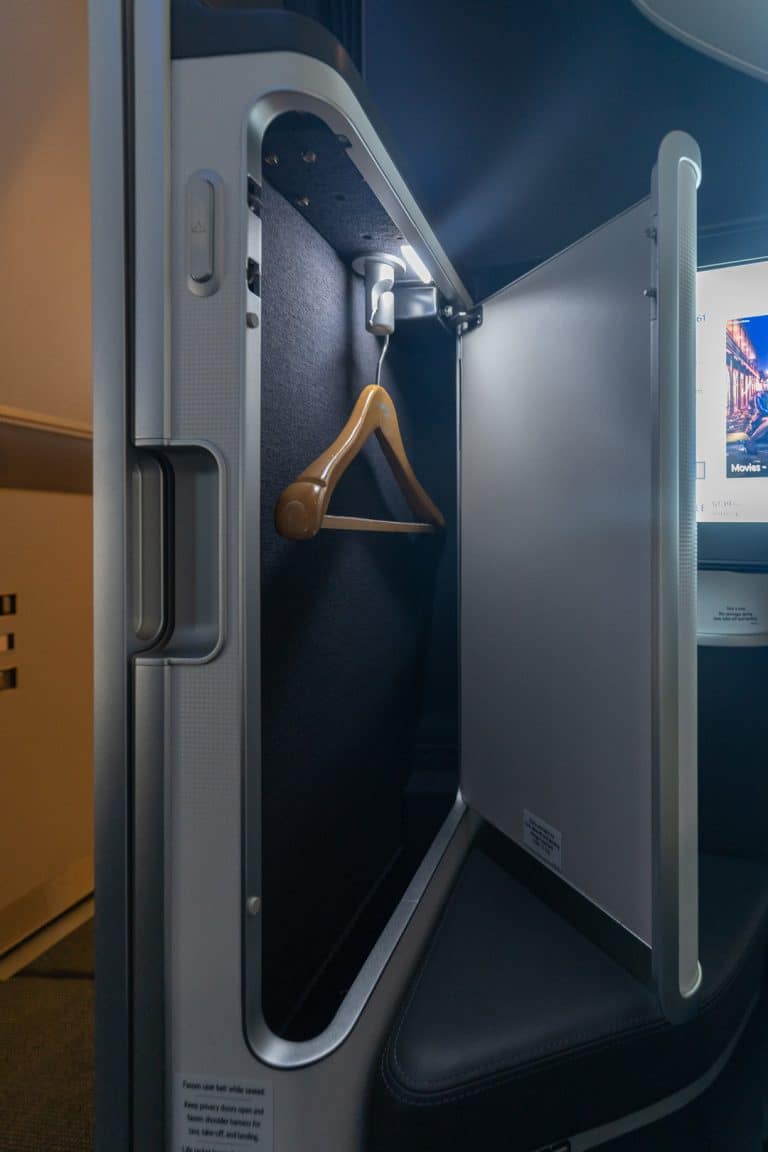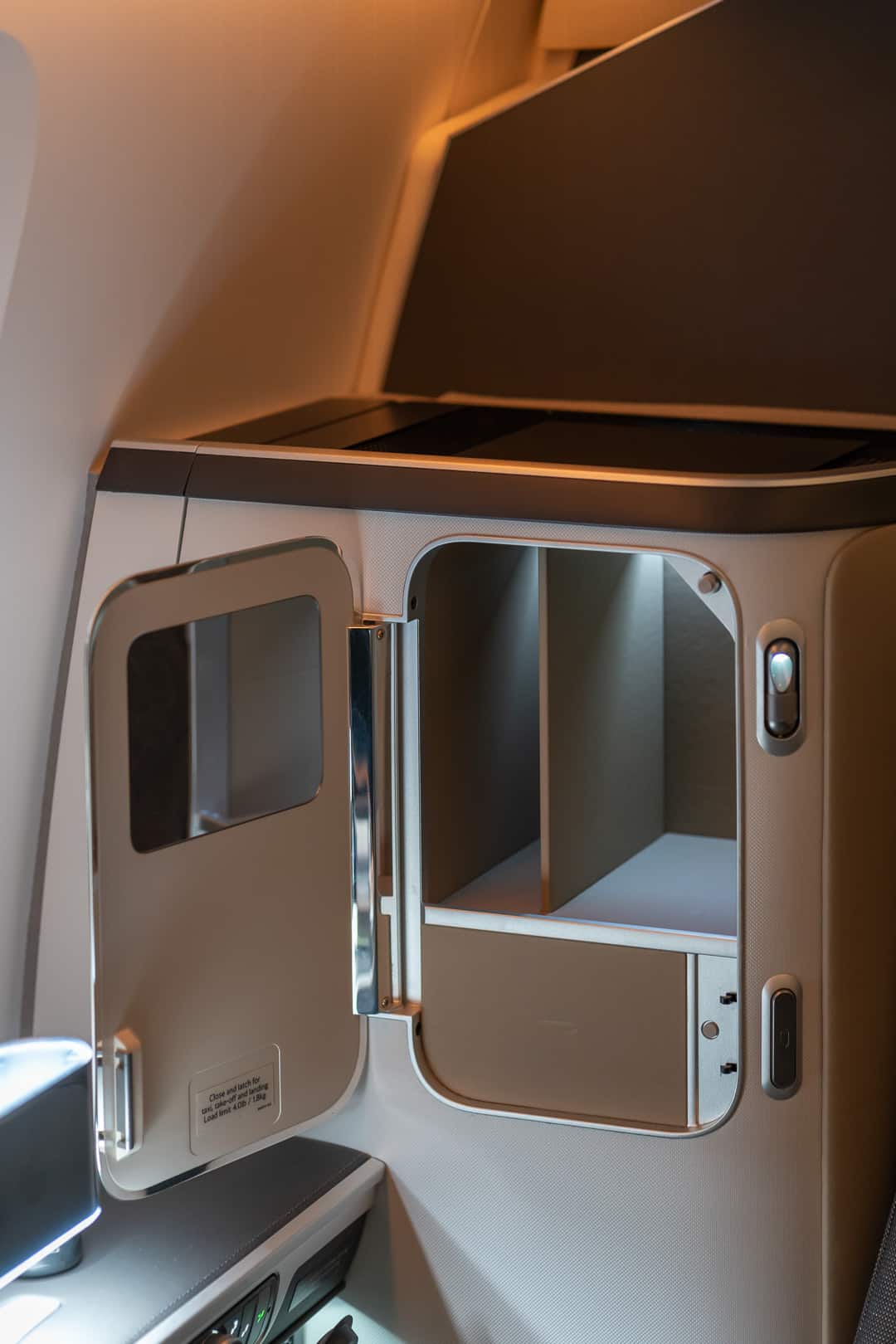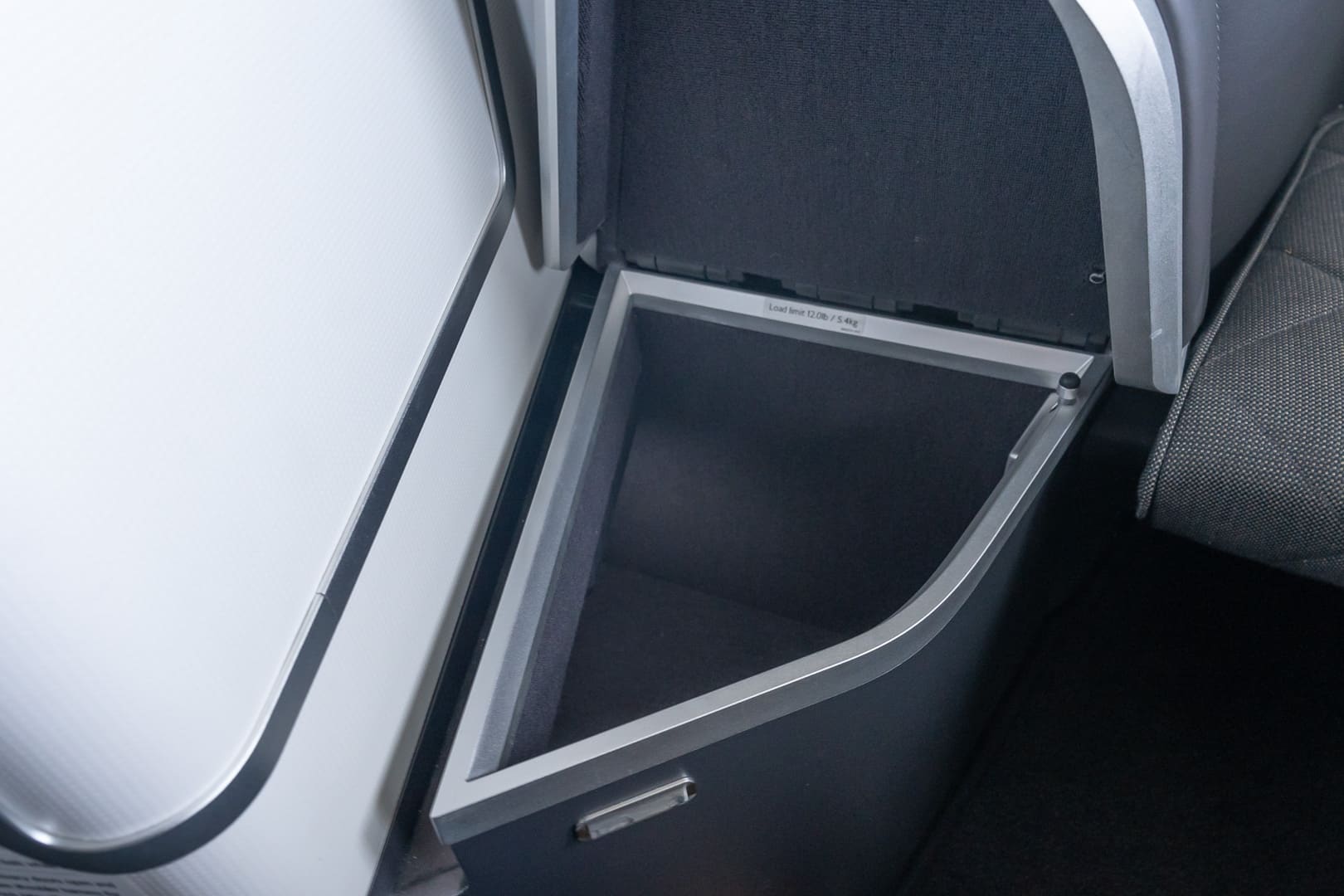 There is also a deep cubby hole underneath the suite's side table. This contains the IFE remote as well as a universal power socket and two USBs. It also has a satisfying cut-out so that leads can be connected to sockets when the lid is shut. Smaller phones can even slot into a special indentation whilst charging.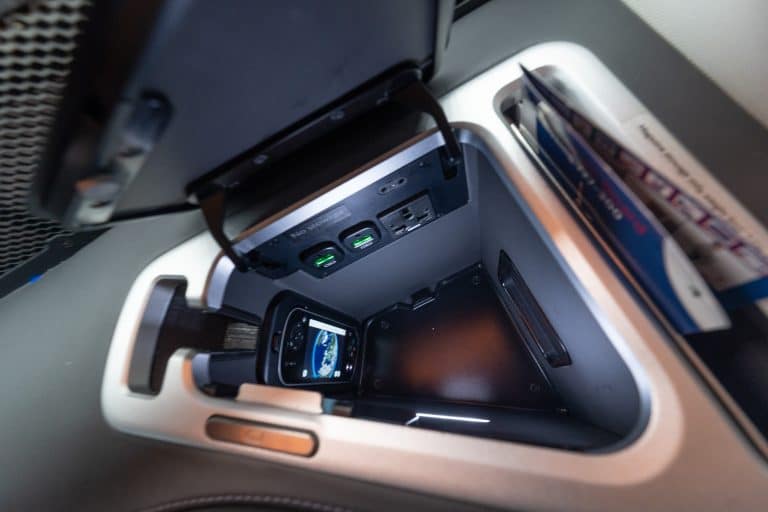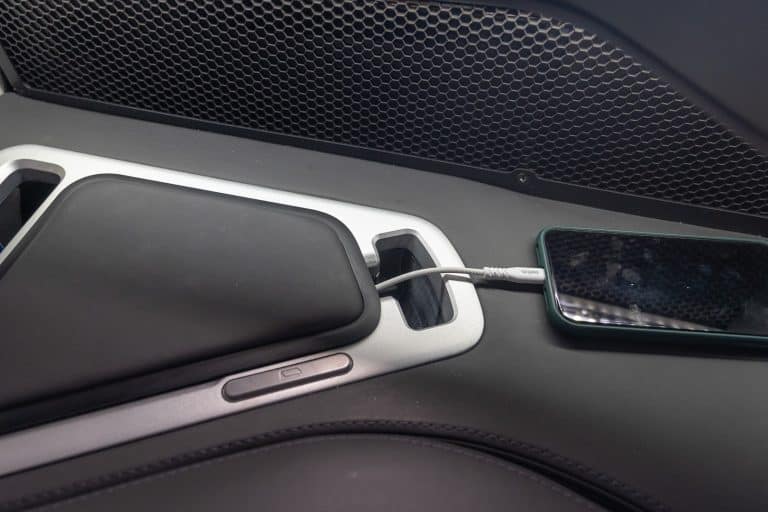 Another key difference between this and the Dreamliner product is that the screens are no longer at such a severe diagonal angle. The suite feels wider and the overlap between seats, whilst still visible, is a lot less perceptible. There is no table lip under the screen and there is considerably more space for companion dining, even if it isn't officially advertised.
I'm not sure why there is such a thick bezel around the screen since ANA managed to fit a 43″ 4K screen into their latest suites on the same plane. However the entertainment selection has always been a strong point of BA's and the controls were responsive and intuitive.
Unfortunately the same could not be said for the WiFi which didn't manage to kick into action at any point during our flight (although if it had been functional, BA now offers it free of charge to First Class passengers).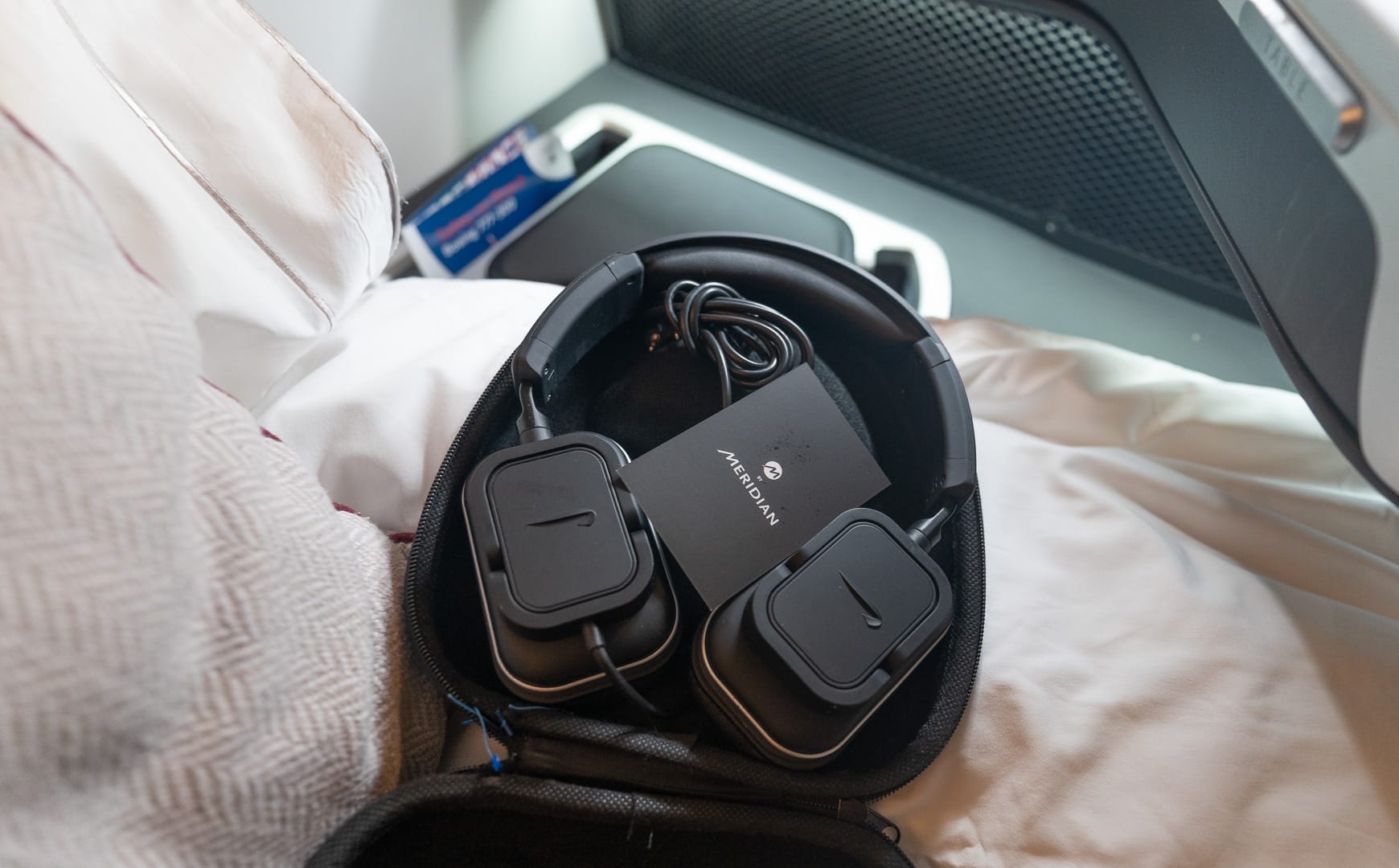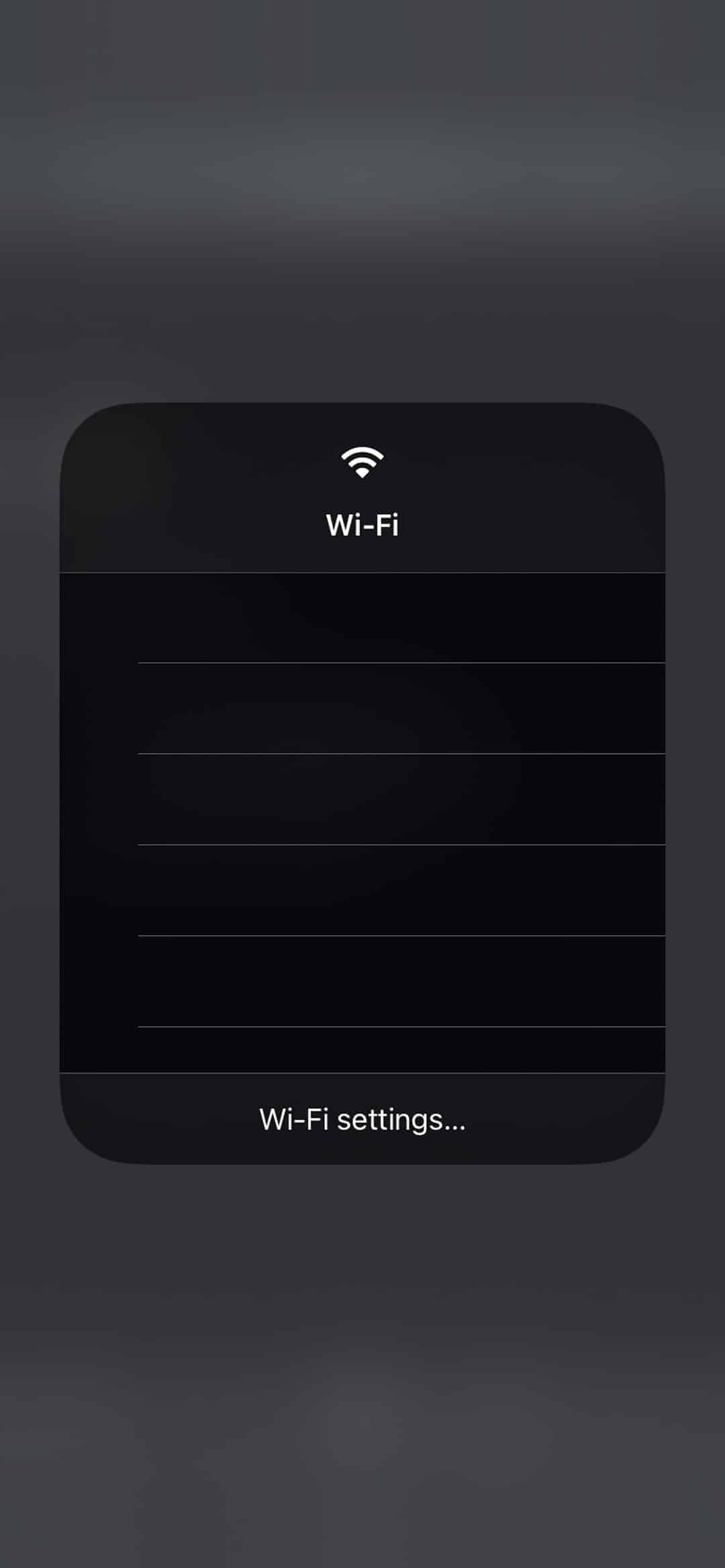 The new headphones were a big improvement on the old headsets however and they worked perfectly. They featured full noise cancellation and were very comfortable.
Overall, this is not a revolutionary product but arguably it doesn't need to be. In terms of cabin design BA have always been unfairly maligned despite featuring far more attractive finishes and a higher level of privacy than their competitors.
Looking purely at the hardware here, this is a substantially more attractive product than the likes of Lufthansa, for example.
Having said that, much like in Club Suites, the door is a complete gimmick, a cargo-cultish nod to doors without too much consideration as to why people want them. If the door isn't tall enough to block the gaze of somebody standing in the aisle then it's as useful as a chocolate teapot.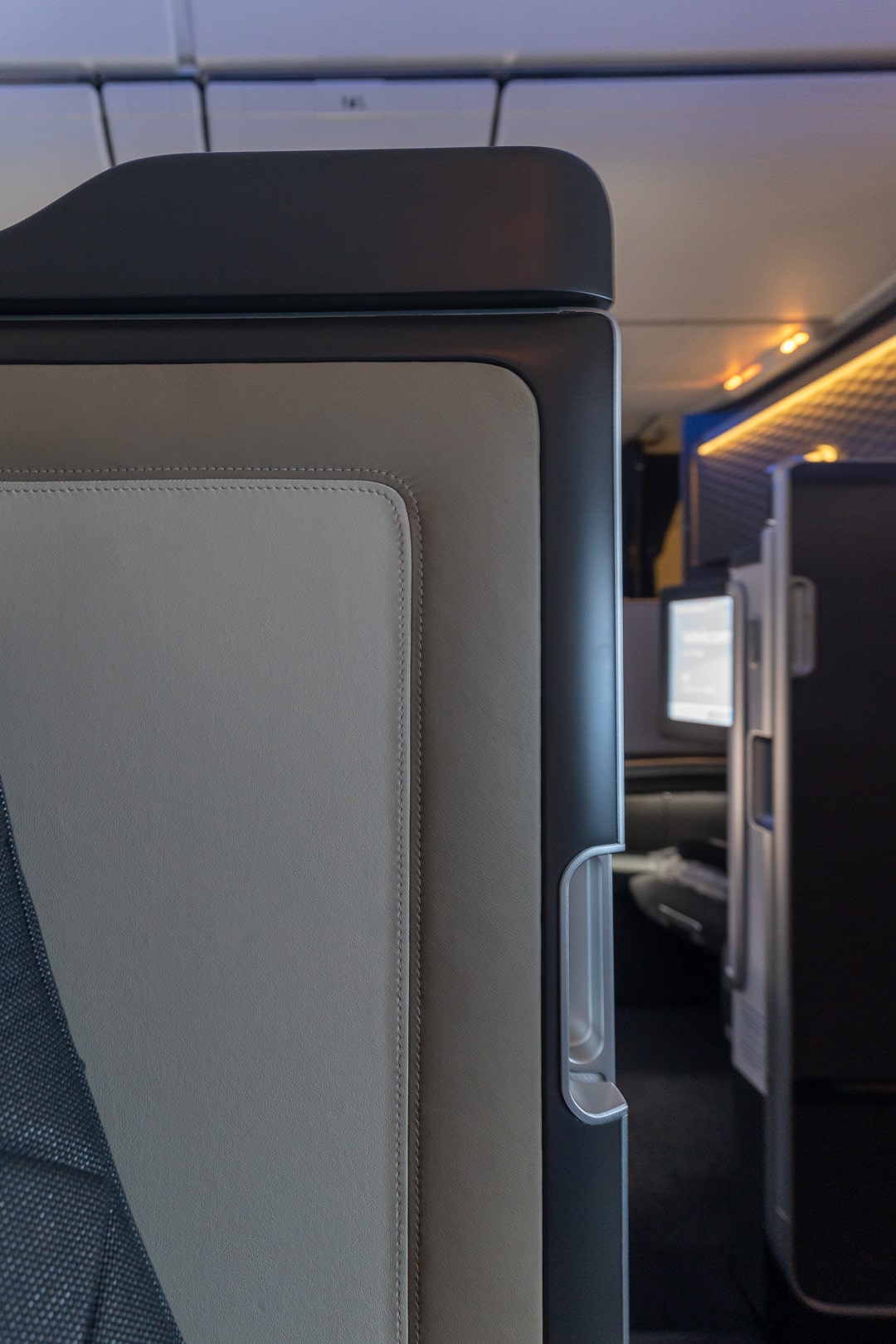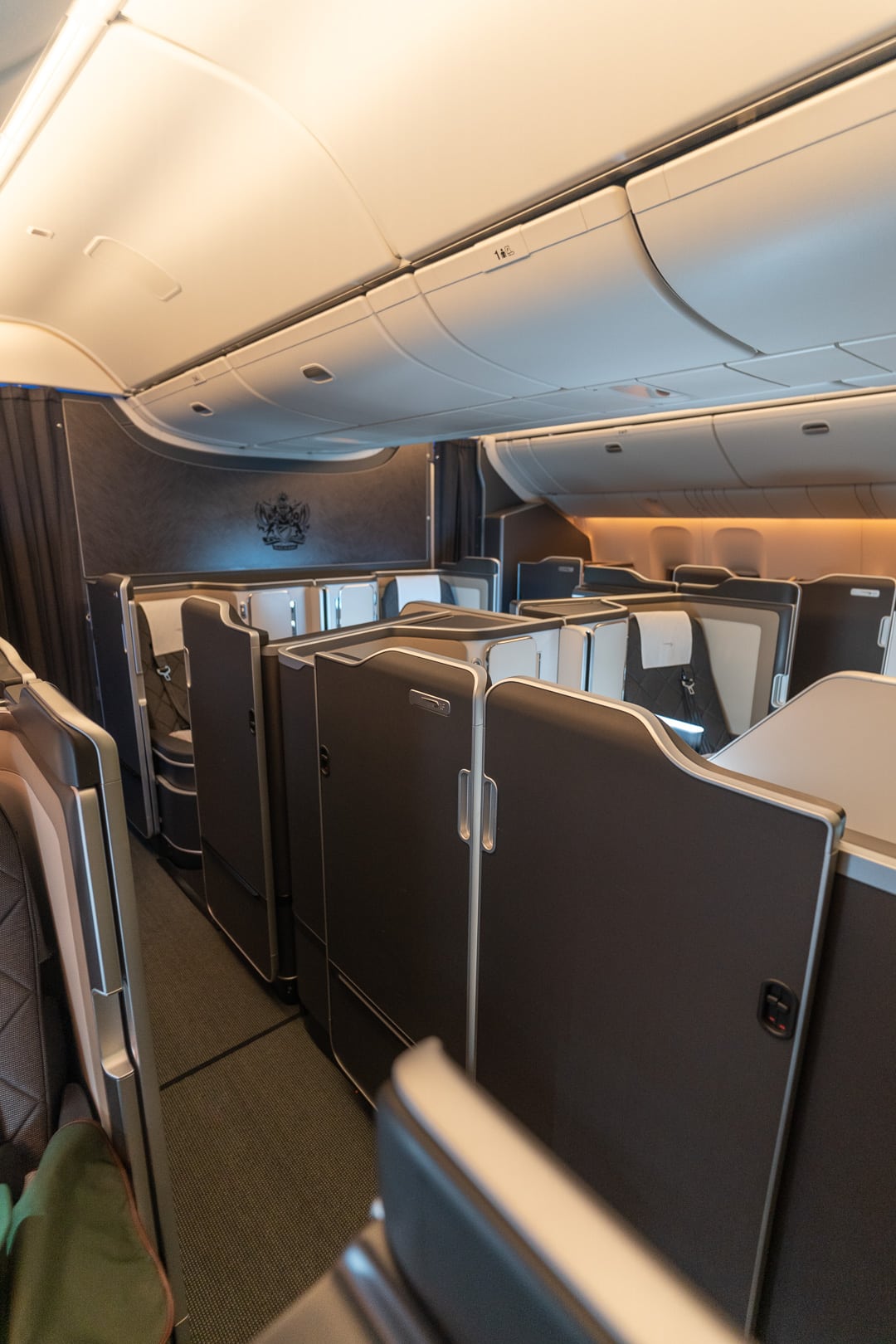 ---
First Class service during COVID
---
I previously reviewed the reduced short-haul Business Class service in July, followed by the long-haul Business Class service in September.
As such, I had a pretty good idea about what I was letting myself in for when it came to the catering on-board.
Where a bed is the real draw in Business Class, the incremental benefit of First Class to me lies in superior ground facilities as well as better food and drink in the air.
The Concorde Room has been closed since March 2020 and the replacement Concorde Terrace is merely the terrace of the Galleries First Lounge, with an identical menu save for the welcome inclusion of Laurent Perrier Grand Siècle.
You could be forgiven for thinking that BA would therefore be shifting all of their focus onto the onboard experience, ensuring that demand for their top cabin remains intact…
You would be forgiven but you would be wrong.
As I started taking photos of the suite, I noticed that for the second time during COVID my tray table was visibly soiled. BA have a well deserved reputation for not cleaning their aircraft properly. In this day and age this is a safety issue.
To their credit, the crew were really great and did whatever they could to ensure we had a First Class experience within the limitations placed upon them by BA. Crew aren't supposed to give out PDBs any more but we were offered bottled water and some packets of biscuits, just so we'd have some semblance of pre-departure service.
We were also presented with Temperley Amenity kits filled with a variety of Elemis creams as well as Temperley PJs with matching slippers. This is one area in which BA hasn't cut back at all since COVID.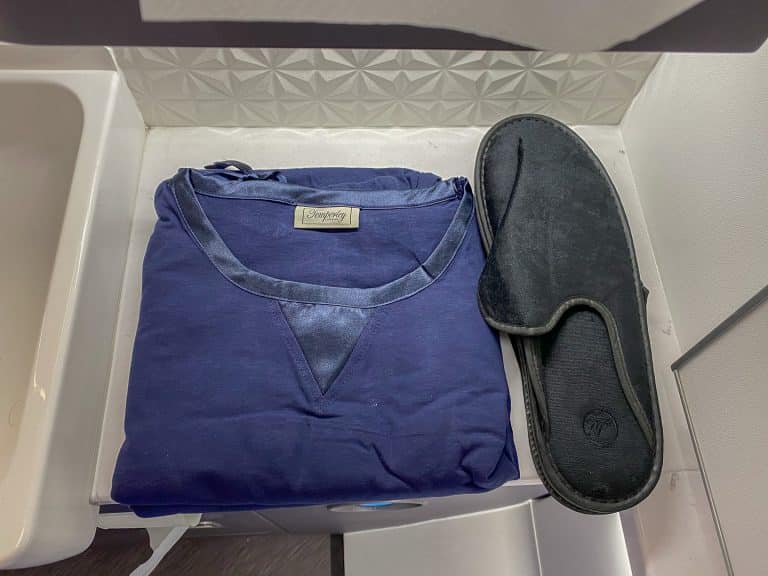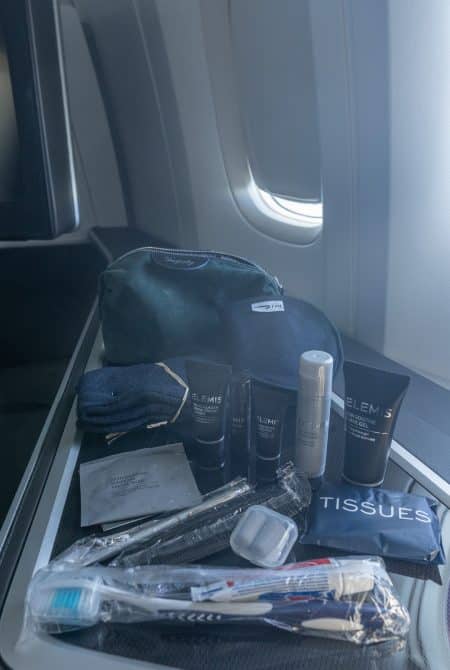 Once we were airborne the crew immediately came out to offer drinks and ask when we wanted to dine. They said that although the presentation wouldn't be quite what we are used to, we could still dine on demand.
One major cutback that BA has made in both Business and First Class is in serving only miniature bottles of alcoholic beverages. This meant that we were served the exact same bottles of Nicolas Feuillatte champagne that are currently being served in short haul club Europe Business Class.
Ordinarily BA would serve Laurent Perrier Grand Siècle in First Class – a champagne that retails for £125 per bottle. Nicolas Feuillatte is seemingly permanently on 'special offer' in supermarkets at around £20 per bottle.
Using the cover of COVID, BA slashed costs and served a markedly inferior product. Similarly there were no decent wines to choose from, only miniature bottles of what most airlines serve in economy.
If for some reason smaller bottles are desperately necessary, since they somehow block COVID transmission, then perhaps BA could try shopping here for their First Class offering?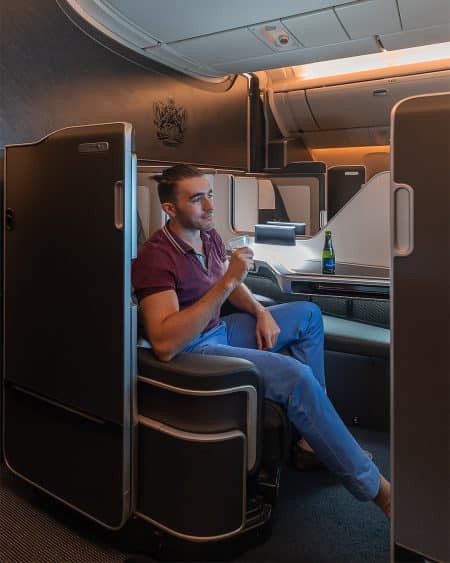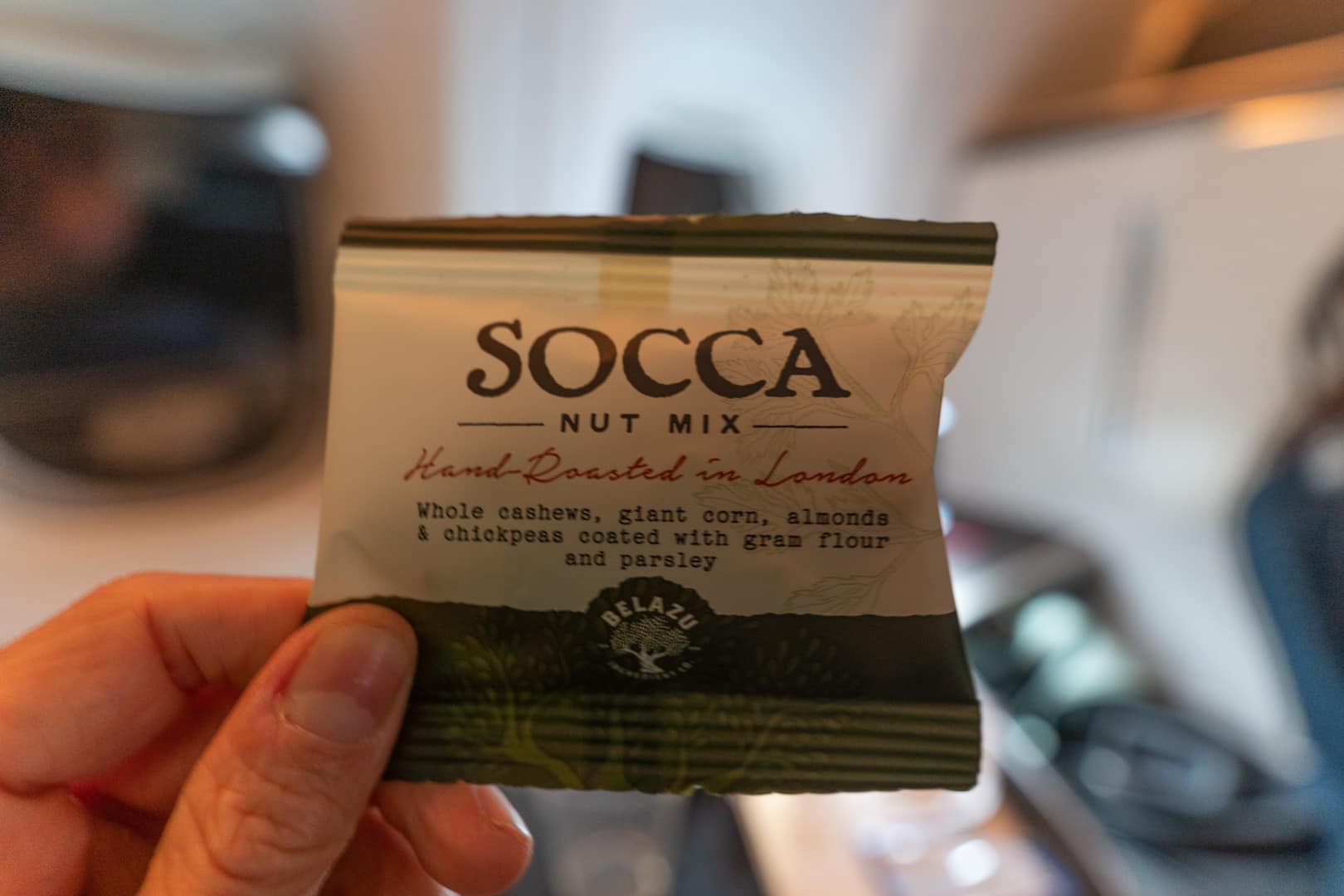 Additional packaging waste was also generated by the ludicrously small packets of mixed nuts. If the usual portion of nuts served in first Class is equivalent to three of these small packs then it probably makes sense to stock larger packs. This will not only generate less waste but also reduce the number of crew interactions with passengers.
Dinner
Since this was a night time departure we opted to dine as soon as possible and set ourselves up in a centre pair so that we could talk whilst we ate. The Davids were once again great, chatting and joking with us as they brought the food and drinks out.
We were given a linen tablecloth and a napkin, although the cutlery was still made of plastic and the the food was presented in cardboard boxes… In First Class.
What the food lacked in visual appeal it certainly made up for in flavour though. Both of the starters were absolutely delicious and to be fair, although the cardboard won't be winning BA any accolades, the actual presentation of the food within the boxes was excellent.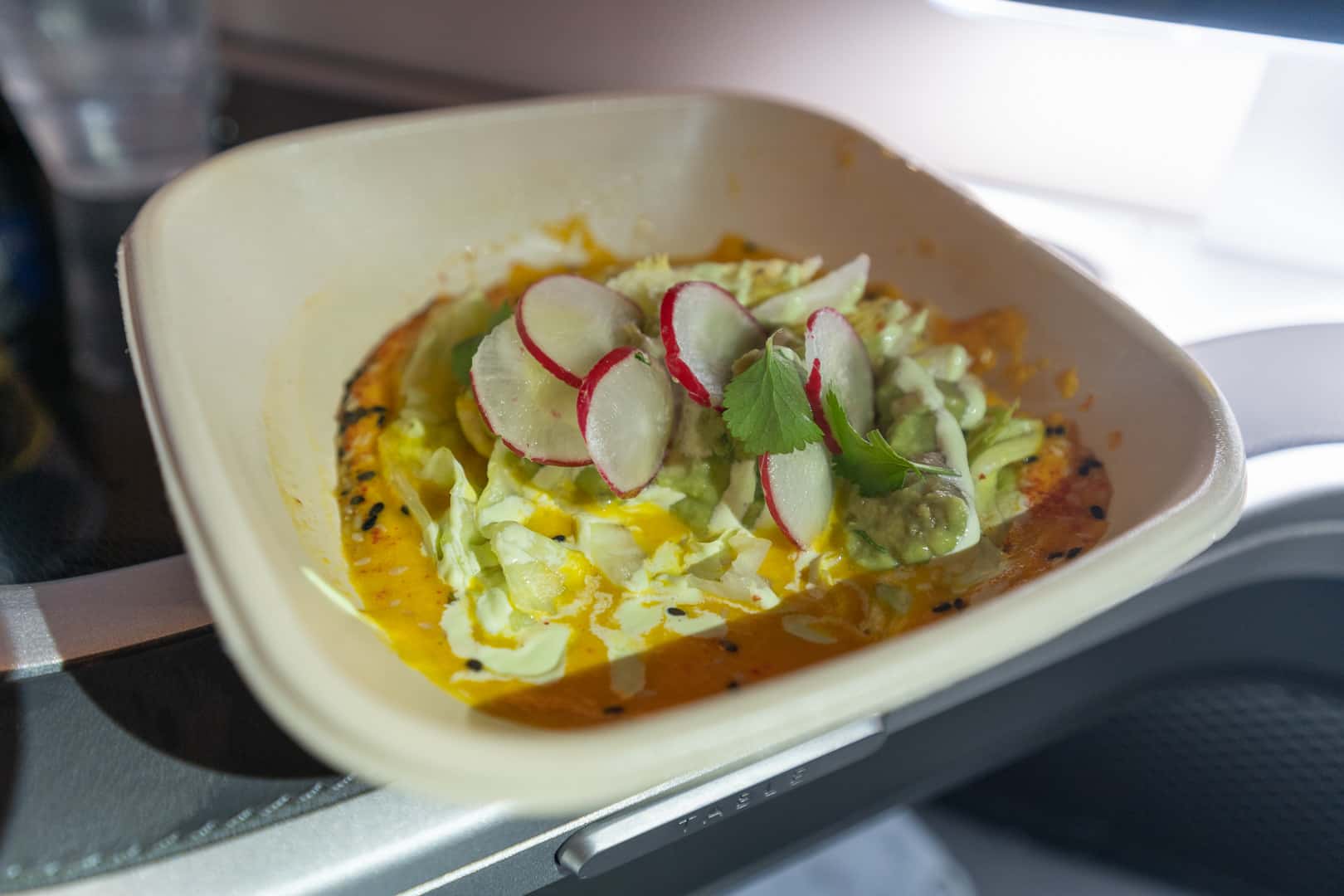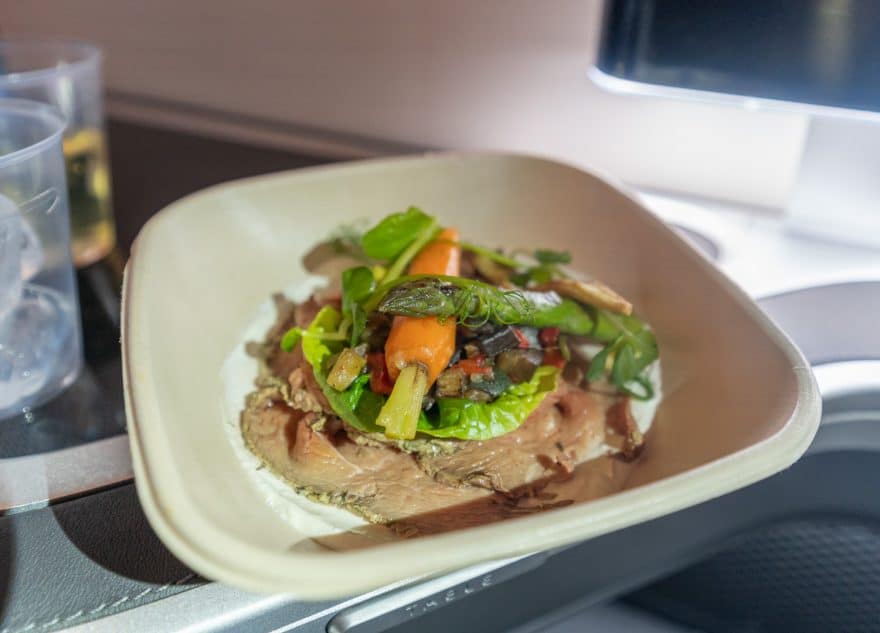 I chose the chicken for my main course but soon came to regret my decision as it was rather bland and uninspiring, whilst Kamara's truffle pasta was fantastic.
The meal concluded with a trio of desserts: crème fraîche with berries, cheese with walnuts and grapes and the famous Do&Co chocolate mousse. Within the confines of disposable packaging the presentation was actually pretty decent and everything was delicious.
Overall the meal was as good as I could have hoped for, given that I knew in advance about the drastic cost cutting.
The food itself was varied, fresh and high quality. This to me is more important than presentation. Do&Co catering makes a world of difference and honestly this food served in plastic is far preferable to some BA First Class meals I've previously been served on fine porcelain.
The cost cutting with regards to drinks is hard to forgive though. There really is no safety justification whatsoever, it is simply a case of BA seeing what they can get away with.
The problem for BA is that the drinks are such a big part of the product differentiation between Business and First.
When both premium cabins have fully flat beds and suites with closing doors I think that offering identical drinks is a big risk…which is probably why BA have announced that not only will normal tableware return, we should also see normal drinks service resume in ALL cabins from January 20th 2021.
Of course this is still subject to change and should further lockdowns come into play I wouldn't be surprised to see a resumption of these cutbacks 'for your safety and that of our crew'.
Sleep
After the meal we asked to have our beds made up in the centre seats, closest to our window seats. When I went to change into the Temperley sleepwear I was very pleasantly surprised by the newly refurbished bathroom. Finally BA have installed lighting, surfaces and sinks that correspond to a First Class cabin! (More eagle eyed readers will note that flowers are once again absent though, much like during the peak of BA's cost cutting in 2016-17.)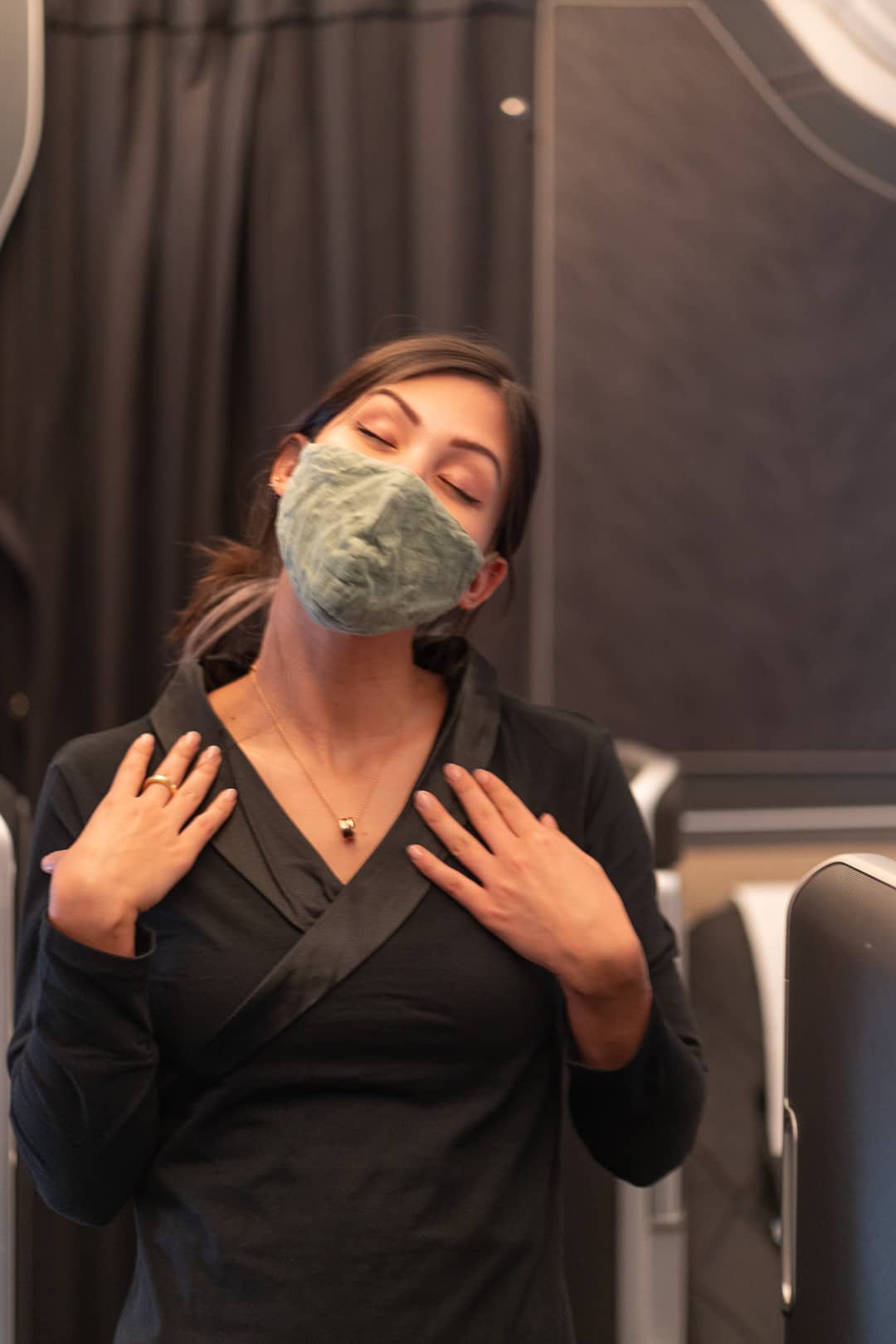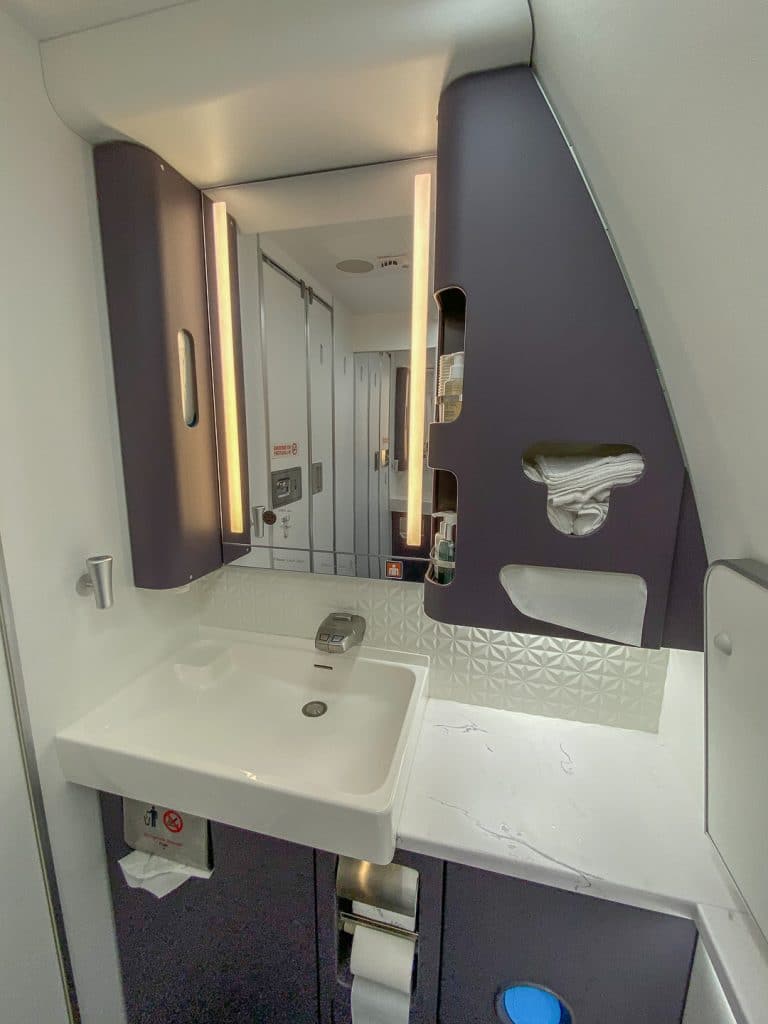 As I mentioned previously the closing doors are basically pointless when you're sitting in your seat, since anybody walking down the aisle can see into your suite. When you're tucked away in bed though you do feel more cosy knowing that your sleep area is enclosed.
The bedding is also substantially thicker and more comfortable in First than in Club Suites, where the lack of a mattress topper is a real issue given that the new Business Class seats are so hard.
I slept very comfortably for around 7 hours and awoke with about 90 minutes to go before landing.
Breakfast
Breakfast on a plane is never the most exciting meal (unless you're getting a steak sandwich on Etihad or caviar heaped on top of freshly scrambled eggs on Cathay) so I wasn't expecting much from BA here.
However, the most important thing was thankfully taken care of: BA serve proper espresso coffee in First Class (one area in which Business Class endures worse drinks than First, even during COVID).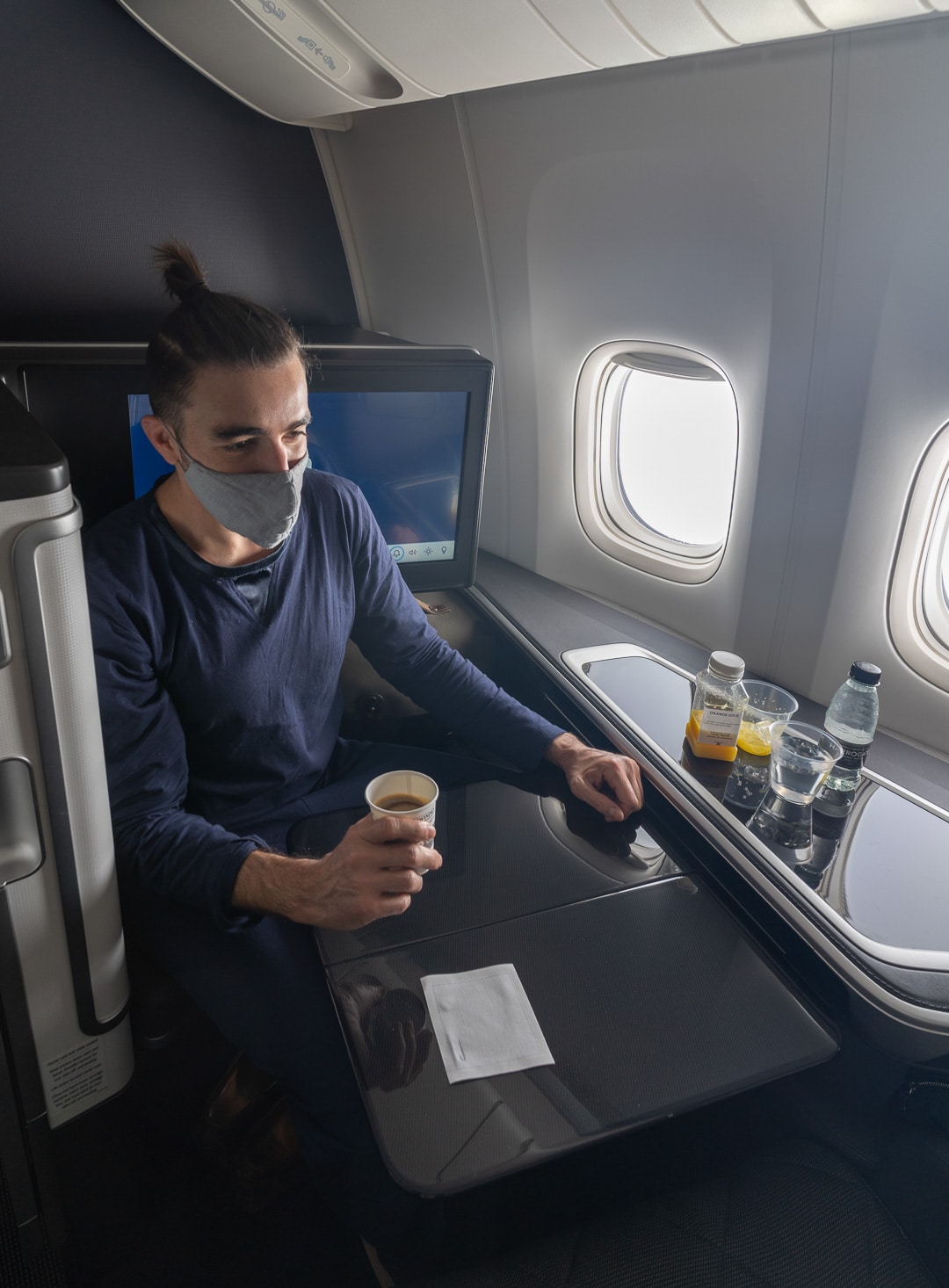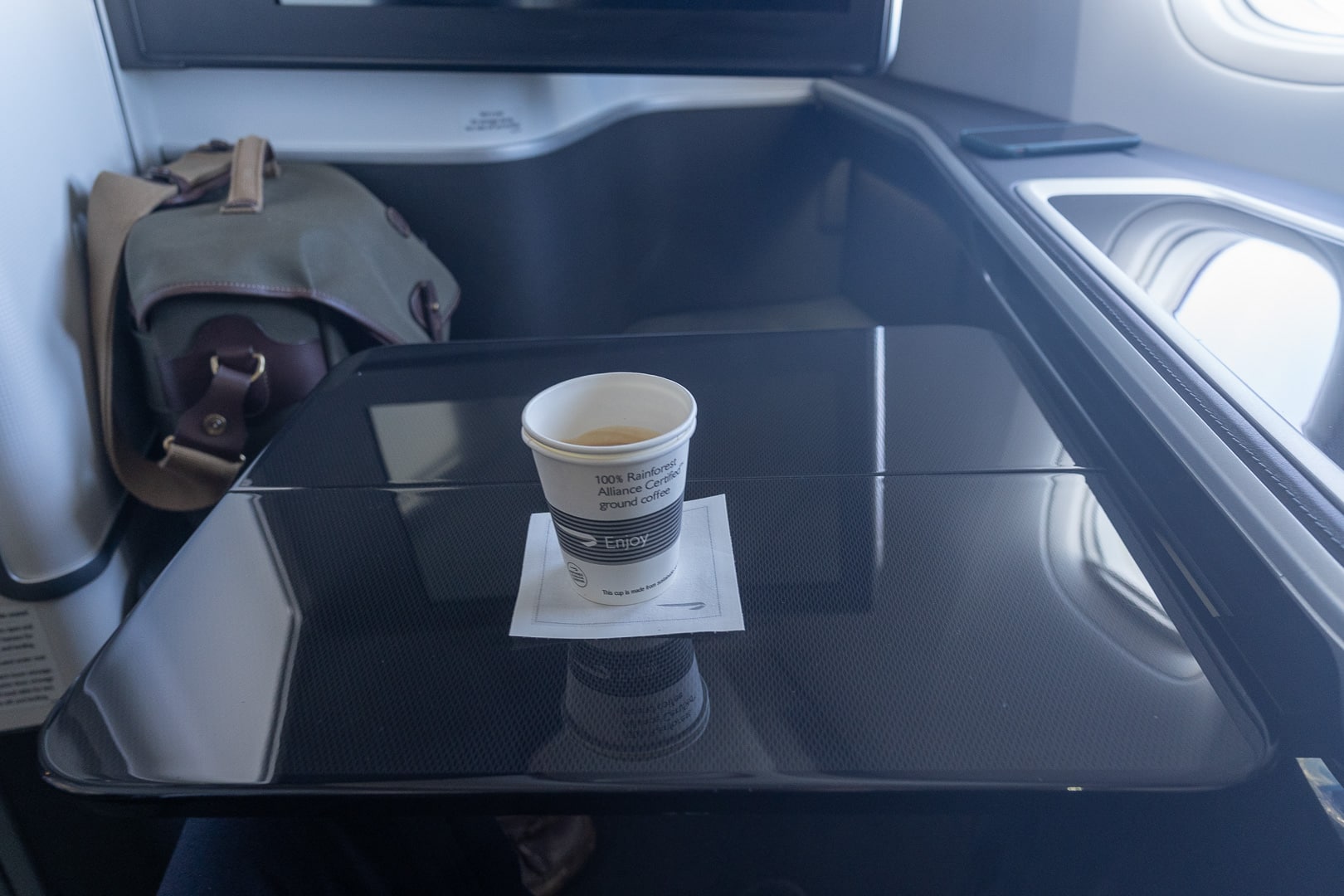 I tried sitting on the footstool during my first coffee of the day since I wanted to look out of the window and also wanted to see how viable companion dining is. It would be a bit of a squeeze but definitely doable.
The bircher muesli and fruit salad both looked and tasted very fresh and the cheese was completely devoid of any sweat or other signs of improper storage that you often see on planes. Again, none of it looked exciting but all of it tasted great.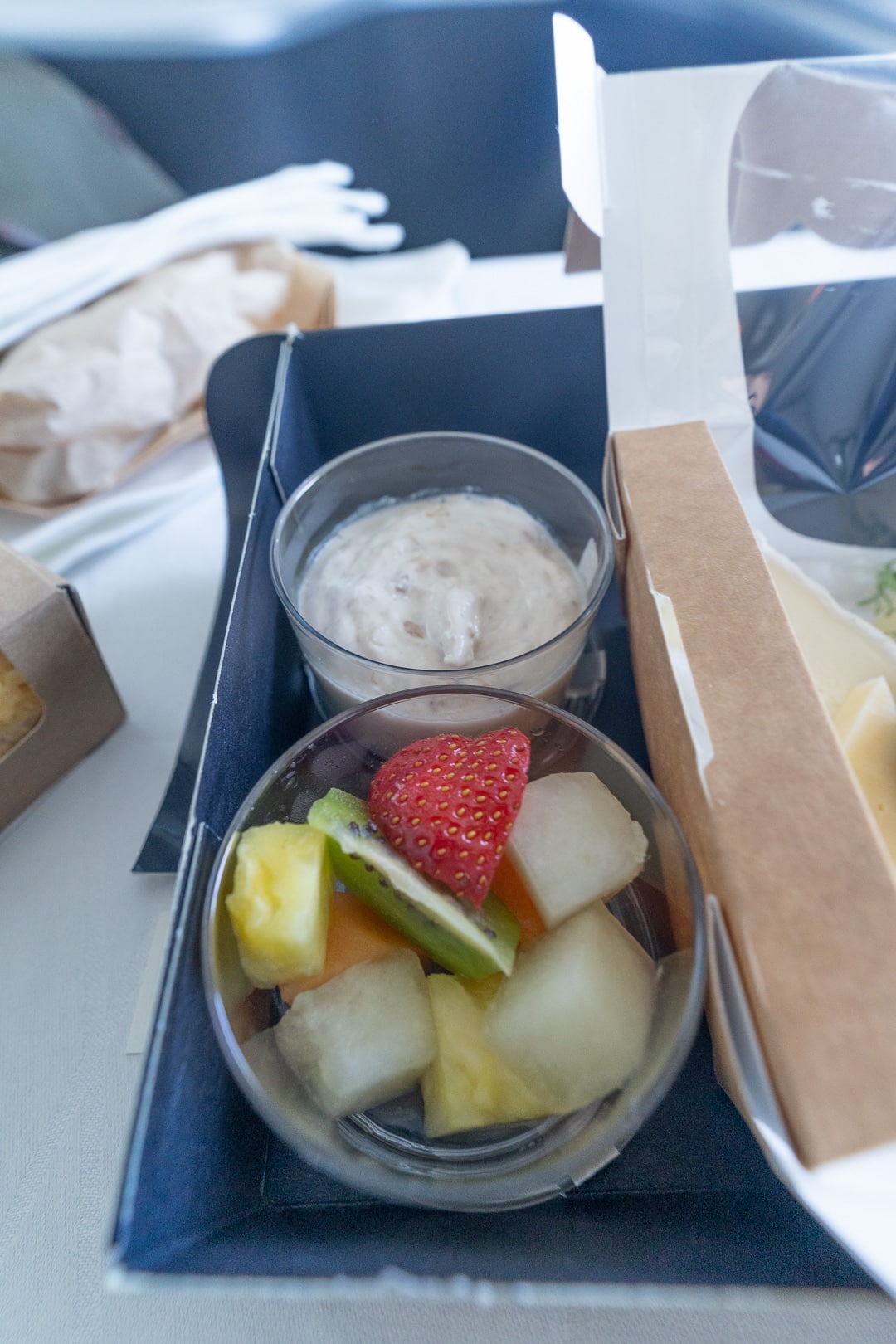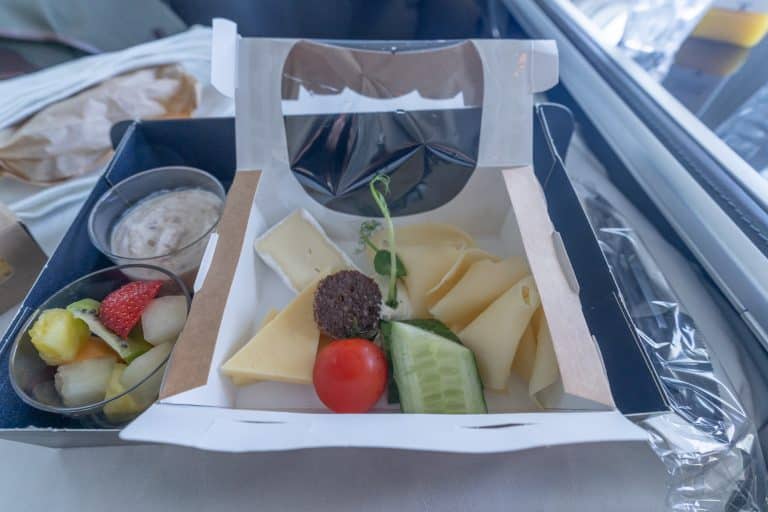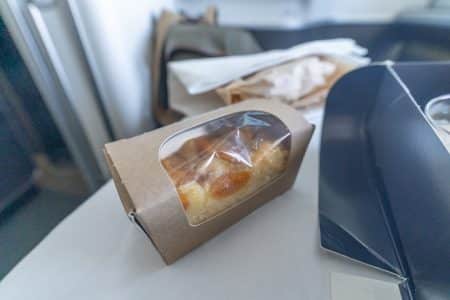 I resisted the temptation of the apricot cake but I was informed by Kamara that it was superb. The 'main course' was an option of either a plain cheese or a ham and cheese croissant.
---
Conclusion
---
I was curious to see the new First Class cabin in the flesh and when you compare it to the 14 seat cabins that previously graced the 777 this is clearly a superior product.
The doors are actually the least exciting change, in my mind. I can see the business logic for installing them but in reality they make little difference to the overall experience.
For me the biggest difference here is that the 777 is now getting a similarly exclusive feeling to the Dreamliner's 8 seat cabin, albeit with a slightly larger seat.
14 seats can work in a First Class cabin if you have the entire nose of an A380 to play with (like the old Singapore Suites) but on a 777 the British Airways First Class cabin looked and felt more like Business.
With this refurb things have changed.
Keeping the lack of electronic window blinds aside (apparently these will soon be retrofitted) what you now have is a cabin which now looks and feels a lot more like First Class. The dark bulkheads, thick curtains and even the improved bathroom give you the sense that you are in a private cocoon, removed from the mass transit experience of most passengers.
With only 8 passengers in the cabin, staff to passenger ratios are markedly improve. Few will disagree that BA's greatest asset is its staff and in this instance their wonderful ability to endure these most trying of circumstances was truly laudable.
Take this seat, a motivated crew and the re-introduction of full catering on board and early next year BA could have quite the compelling First Class proposition…