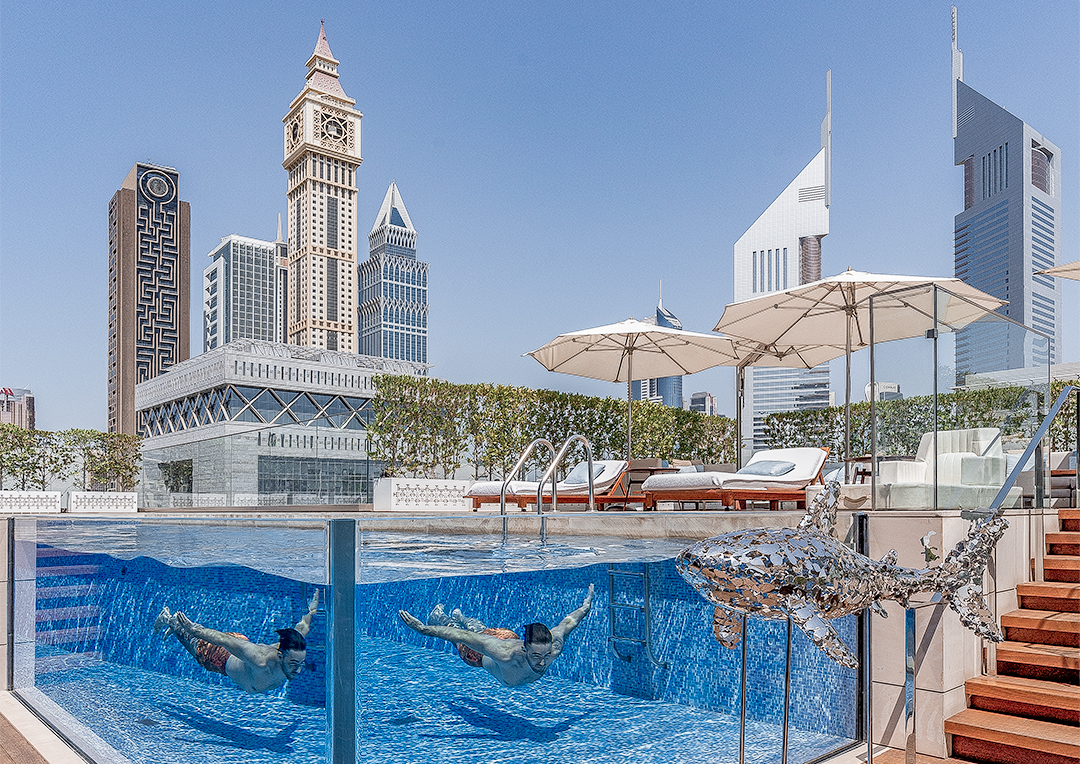 REVIEW – Four Seasons Dubai DIFC
November 29, 2020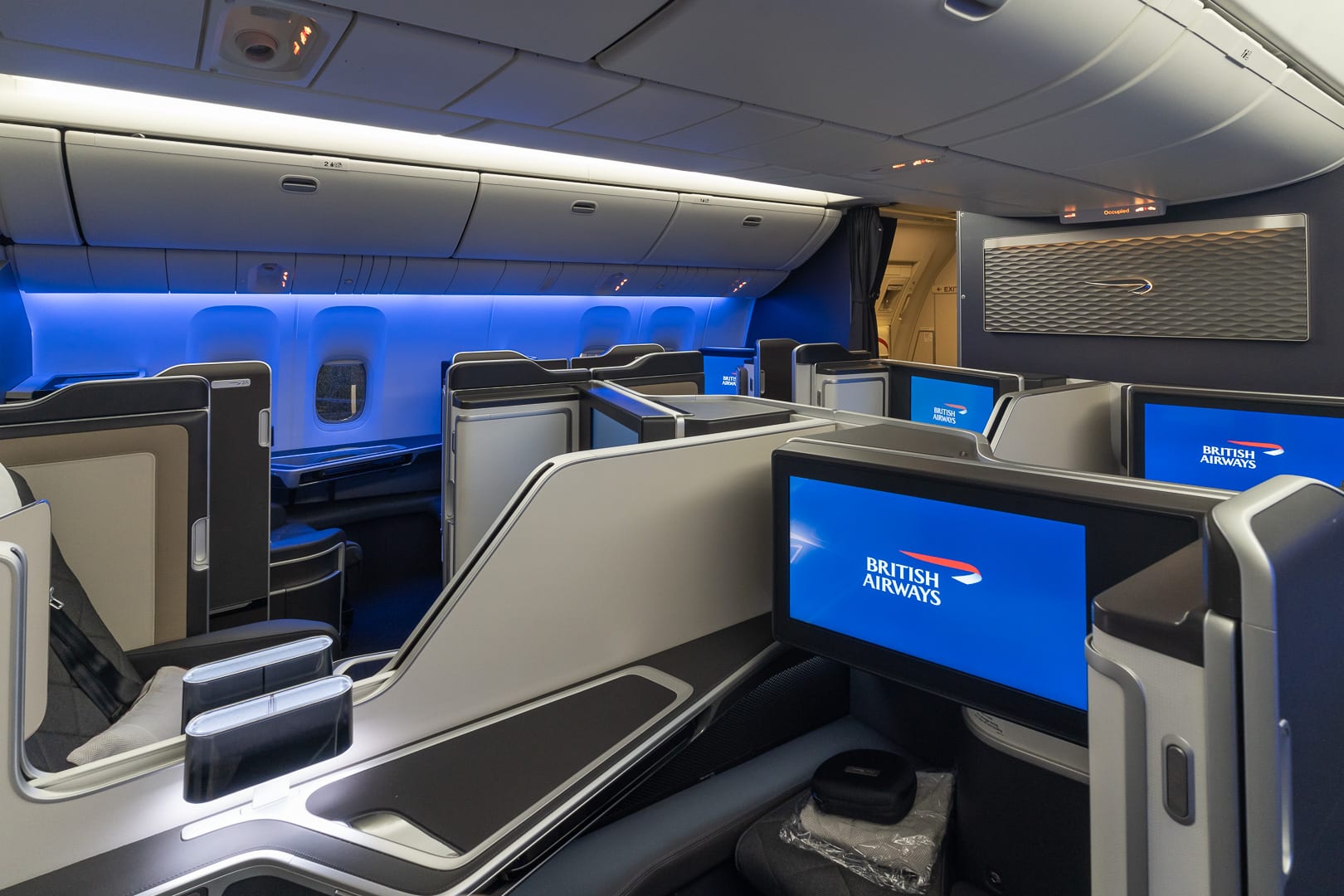 REVIEW – British Airways : First Class Suites – B777 – London (LHR) to Malé (MLE) – [COVID-era]
December 30, 2020
---
Intro
---
This is a bit of a weird hybrid review.
Personally I stayed at the Four Seasons DIFC during this trip (as well as spending a few nights at the Andaz the Palm and Waldorf Astoria DIFC) and never actually stayed overnight at the Jumeirah Beach property.
So why am I reviewing this hotel?
As a guest of the Four Seasons in DIFC I was able to make full use of the facilities at the Jumeirah Beach property, with complimentary Lexus transfers between the properties provided by the Four Seasons DIFC.
Additionally, my friend Cherag was completing a 1 night stay at the Jumeirah beach property, whilst I was in town. This meant that I not only sampled all of the public facilities but also got to see one of the rooms. The only thing missing from this review is an assessment of the breakfast. I hear it's great, for what it's worth…
---
Booking
---
Booking via a Four Seasons Preferred Partner agent is a no brainer. FSPP bookings always match the best rate on the Four Seasons website but ALSO add extras which may include:
• Upgrade of one category based on availability at time of check-in.
• Full breakfast for up to two in room guests. Either at the restaurant or via in-room dining.
• $100 Hotel Credit.
• Early check-in/late check-out subject to availability.
Since I am a Four Seasons Preferred partner agent, I can offer you FSPP benefits at any Four Seasons property.
I will always match the rate that you see on FourSeasons.com and if you find a cheaper rate elsewhere I can help to get the price matched AND STILL add the FSPP benefits to your booking!
EMAIL FOR FSPP BOOKING ENQUIRIES
---
Arrival
---
We sent a message to the concierge team at the Four Seasons DIFC on the Four Seasons app asking for a transfer. By the time we came down to the lobby our complimentary Lexus to the Jumeirah Beach property was waiting for us.
Unfortunately the FS DIFC doesn't provide any beach bags for guests visiting the sister resort, which I think would be far preferable to carrying swimwear, sunscreen etc. in one of the Four Seasons cardboard bags. We also weren't greeted in any way or offered a tour of the facilities. We just kind of had to figure things out for ourselves, asking if there was a changing room we could use before we headed to the pool.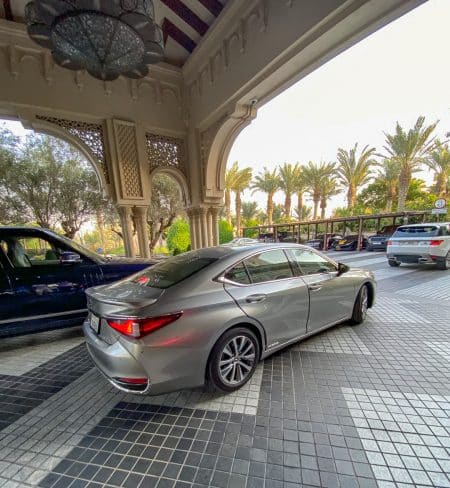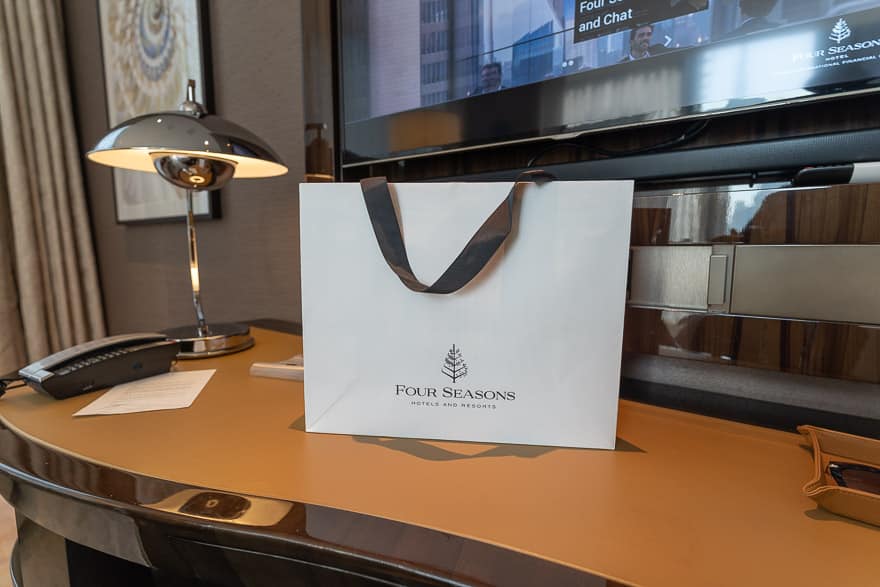 If we had been given DIFC beach bags to carry, staff would be able to immediately spot these and offer assistance to us as visiting guests…
It is also worth noting that the reception area was extremely busy and staff didn't seem too interested in helping us when we enquired about getting a car back to DIFC. They said that we would need to pay for a hotel car and the cost would be around $70! The lady we spoke to was quite stand offish and it took a lot of pushback to finally get the car to take us. The following day we just arranged the car with DIFC directly via the app, rather than talking to FS Jumeirah Beach staff.
As I said, this relationship between the two properties could do with some work…
The lobby area was the complete antithesis to the DIFC property, with queues of cars waiting for valets and countless people walking in and out. There were ostensibly temperature checks and a requirement that masks be worn when entering or exiting the property but neither of these measures were enforced in any meaningful way.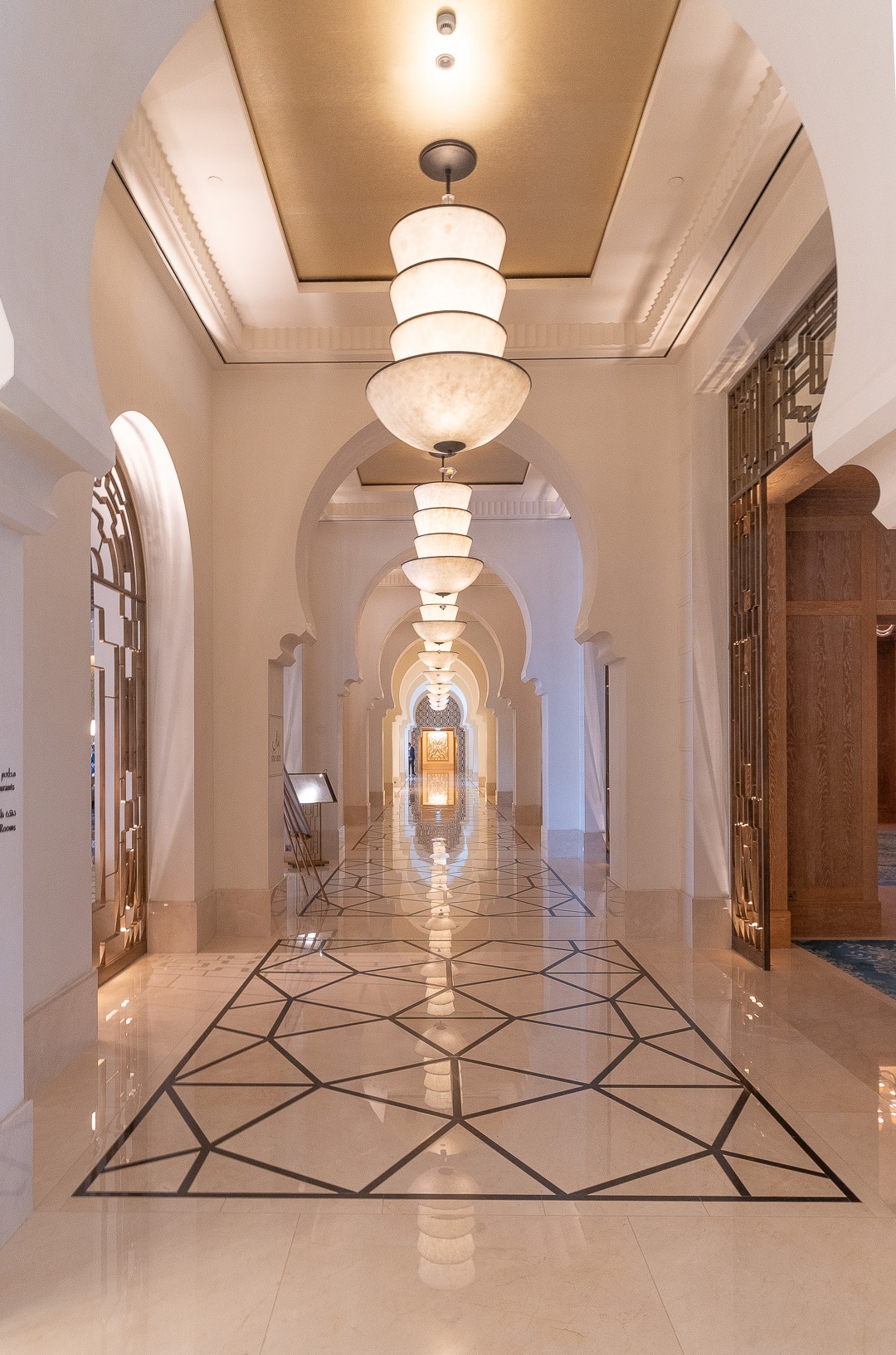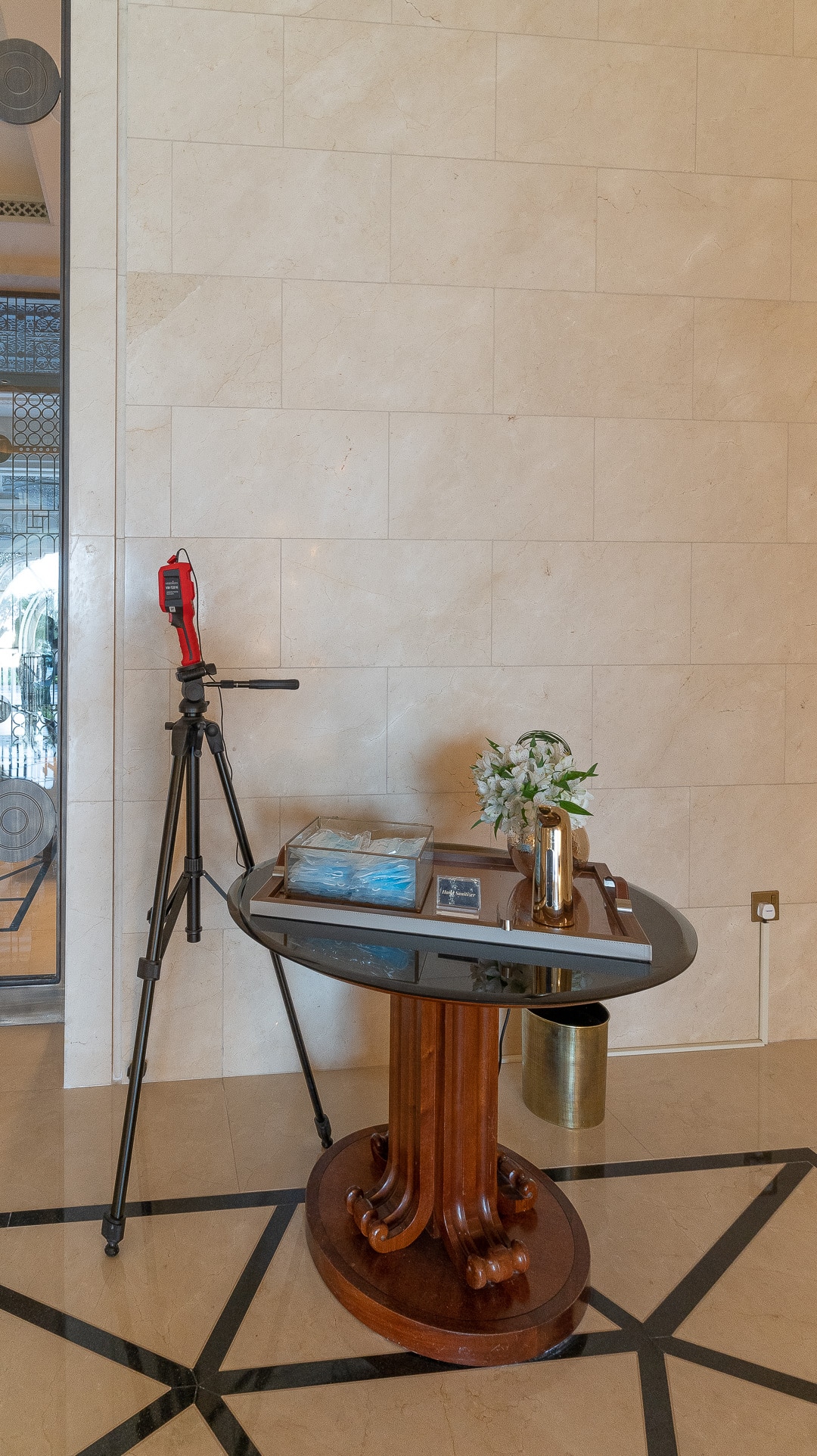 However, once you got away from the main entrance the crowds seemed to dissipate and immediately I was stricken by the supreme grandeur of the surroundings.
A gilded geometric dome sits atop a grand staircase fronted by an enormous window, facing a lawn that stretches as far as the sea…like an Arabic version of Petrodvorets.
---
Deluxe City-View Room
---
My friend booked a Deluxe Resort-View Room and received a one category upgrade to Deluxe City-View Room. Note that these categories are somewhat interchangeable and that the hotel appears to alternate between selling either of them as the entry level room. As such there is considerably more value to be had when booking higher room categories where the value of the upgrade really comes into play (see my Terrace Suite trick at the Andaz Dubai for an example of this!).
Having said all of that, on a one night stay the key benefit of booking FSPP is the $100 credit, which would come in handy at Sea-Fu later…
Entering the room I was immediately struck by how much more modern and high quality the fixtures seemed when compared to the website. Much like the rooms at DIFC, there are textures and lighting elements everywhere, with pieces of art dotted around to ensure that no blank canvases remain.
Immediately facing the door was a walk-in wardrobe area which totally dwarfed the dressing area of our Studio Suite at the Four Seasons in town. Very impressive for a standard room.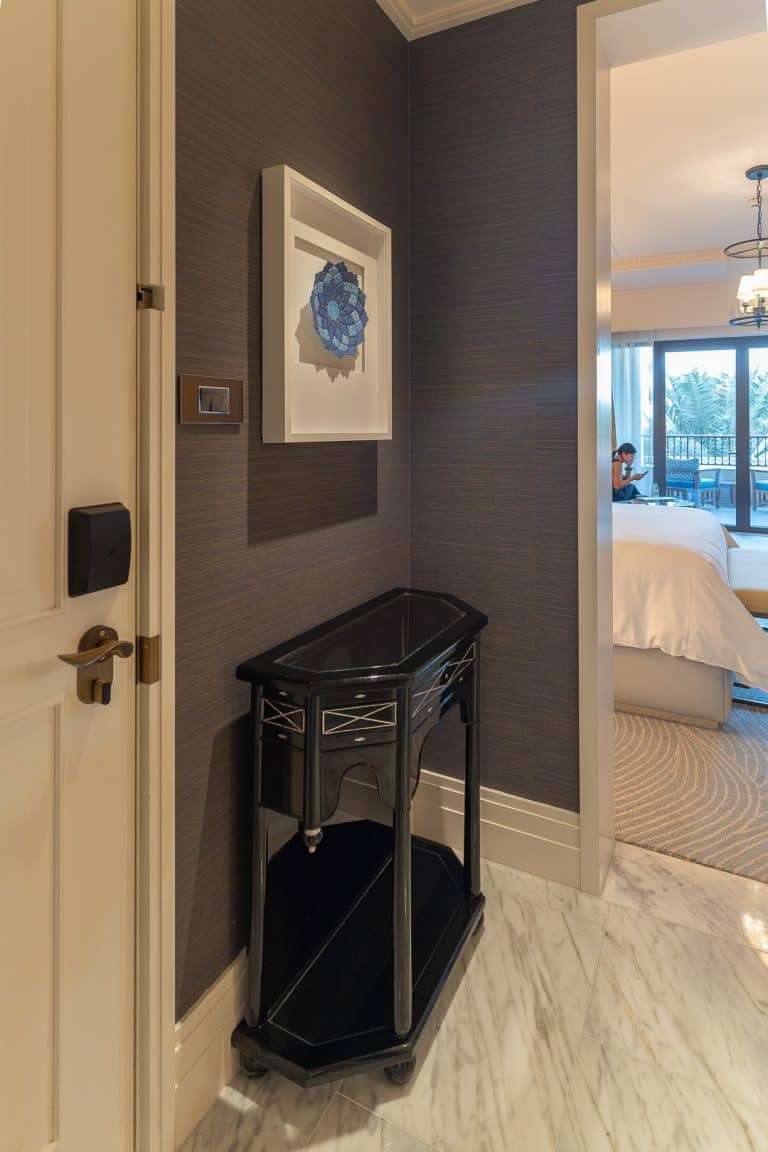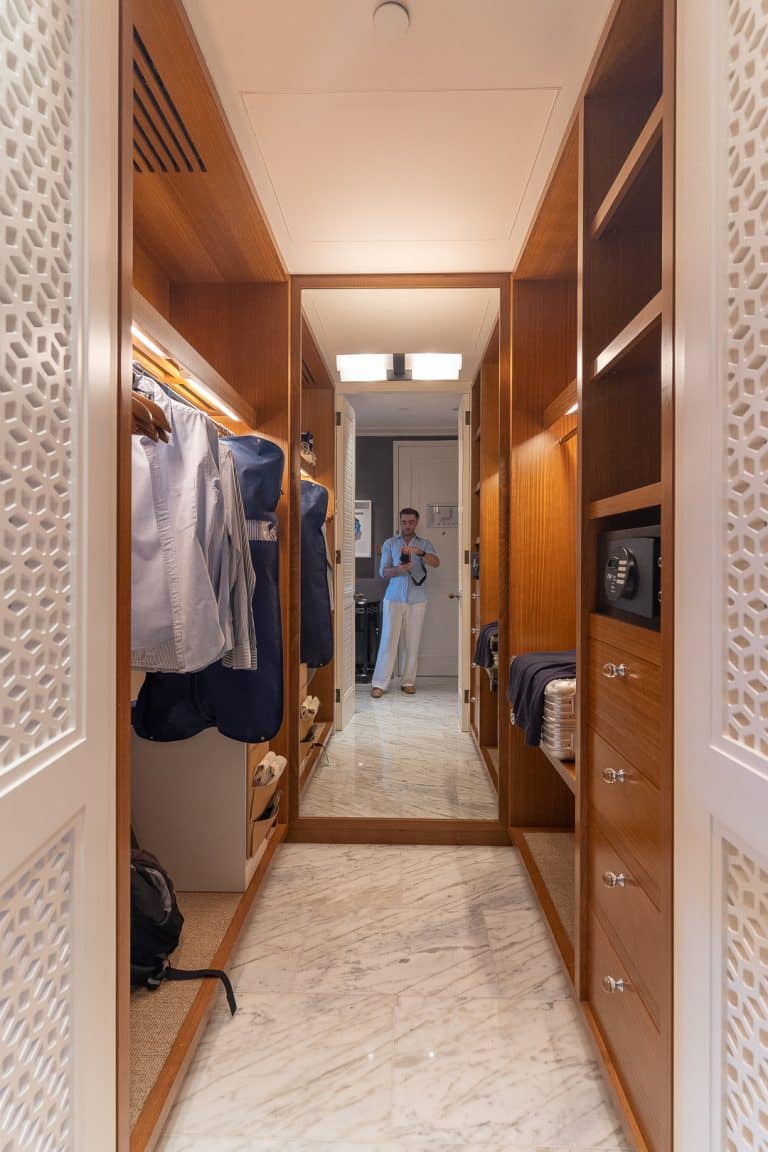 To the right of this was a large bathroom, clad in various shades of marble and wood with a very cool mosaic accent wall above the bathtub and even a TV built into the main mirror. Again, in contrast to the DIFC property this bathroom had a pair of dual vanity sinks and a substantial area on which to place toiletries.
Much like the sister property, this hotel also supplies superb quality Sodashi amenities in the bathroom.
Space is so abundant in these rooms that they installed a completely superfluous bidet, next to the toilet shower attachment. The showers here also feel a lot more luxurious than in DIFC with a spa-like marble clad enclosure.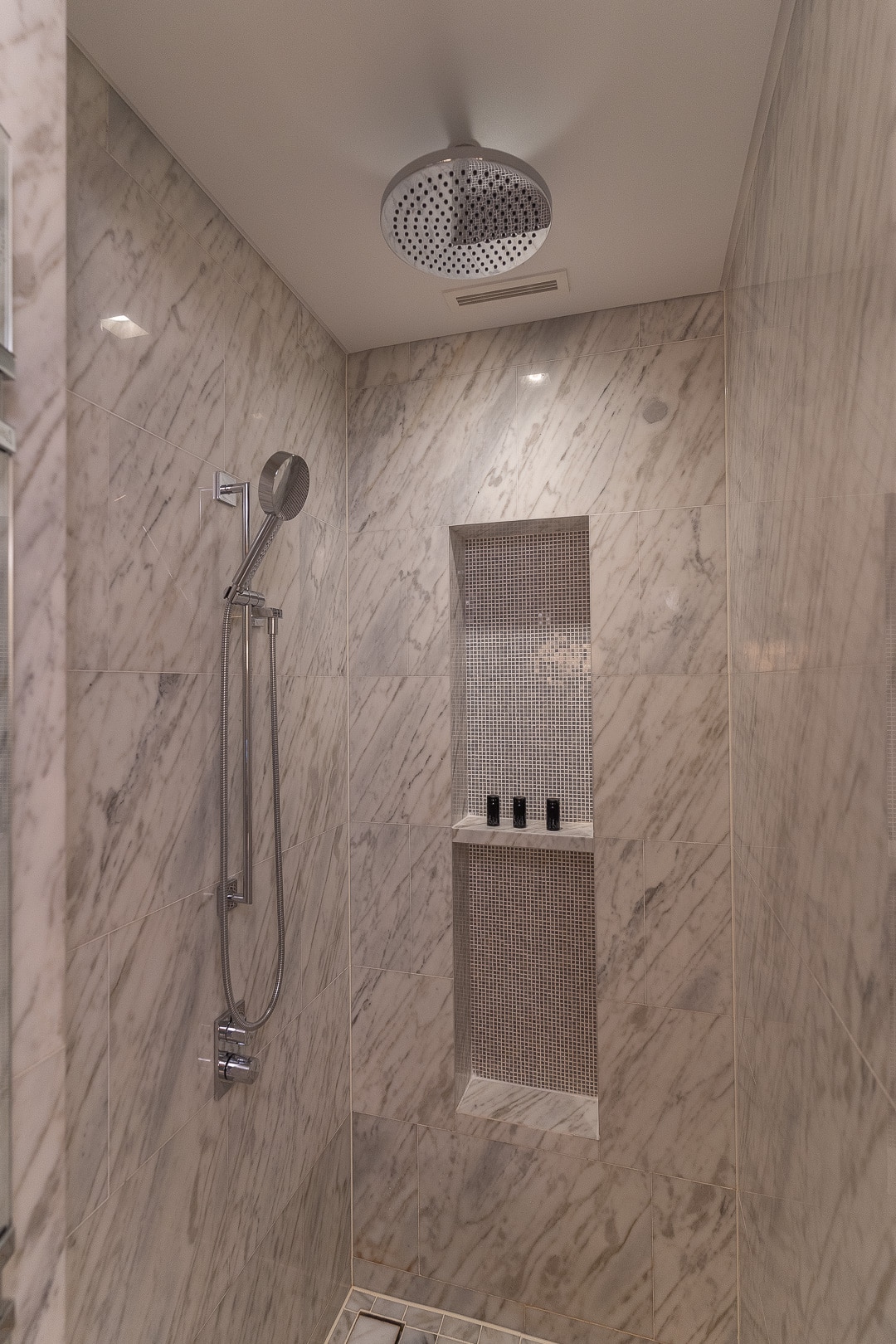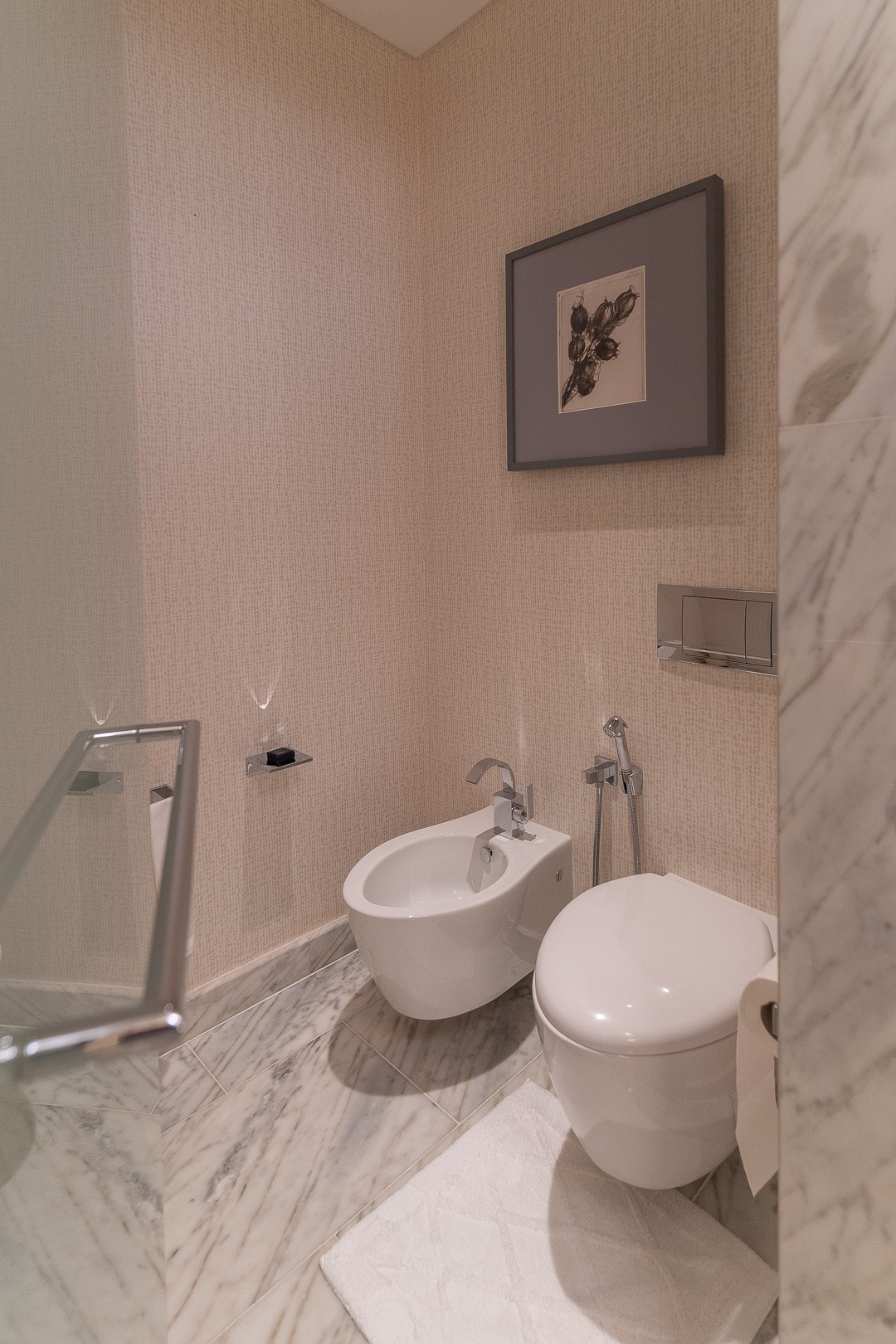 The bedroom featured a Mediterranean beach-house aesthetic, awash with white and neutral tones. I really liked the design of glass encased main lamp and the bespoke TV stand was clearly very high quality (and huge).
The magnificent Four Seasons bed that we all know and love and the Nepresso machine that we all know and tolerate…but secretly wish was either Segafredo or Illy branded.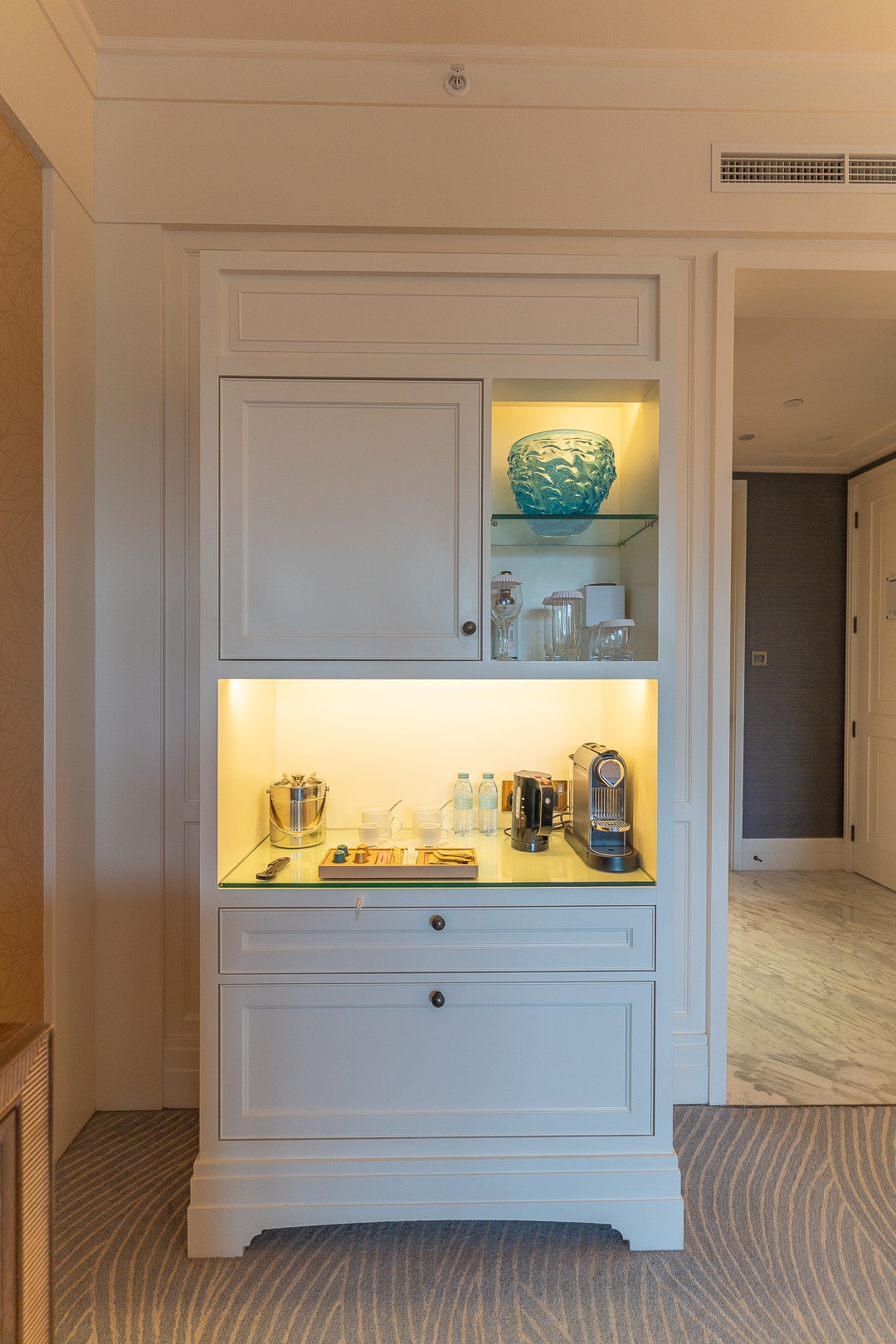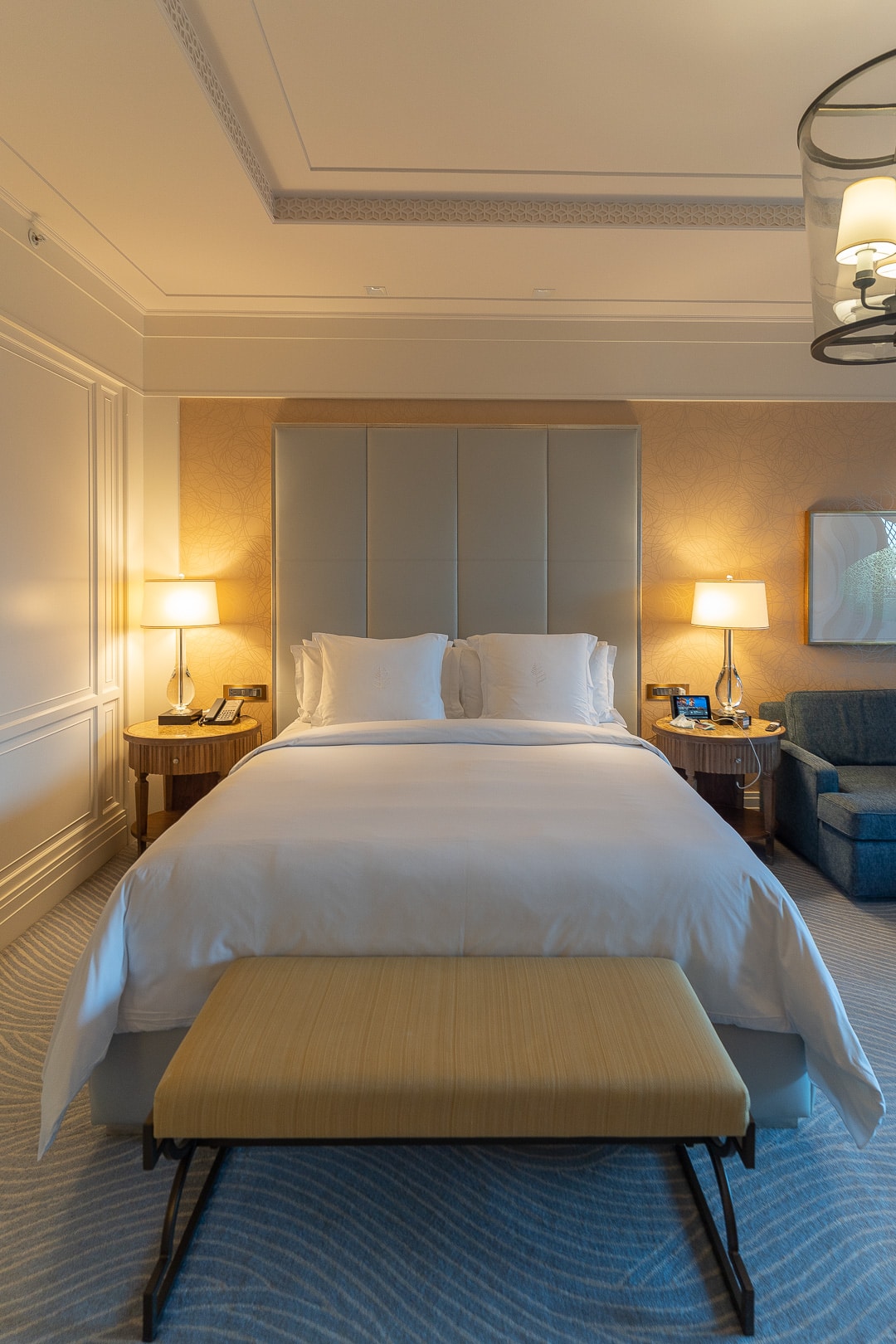 Both bedside tables featured universal power sockets, USBs and clearly labelled light switches. One table also had an iPad pre-loaded with the Four Seasons app.
For a standard room there was also a surprising amount of space to sit and entertain. Not only was there a sofa next to the bed, there was also an indoor dining table and a large outdoor terrace with chairs, a daybed and a view of the Burj Khalifa.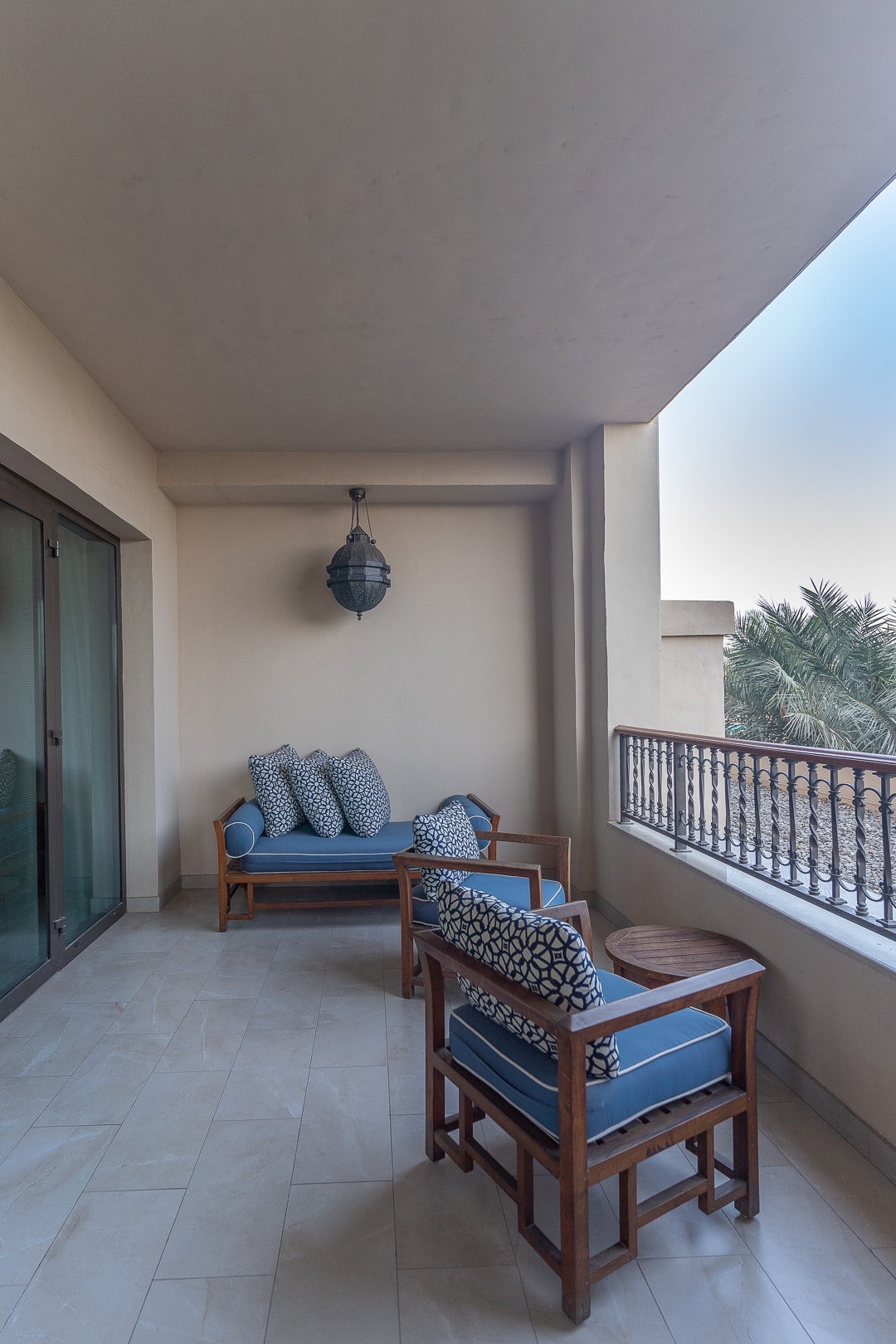 ---
Leisure facilities
---
As visitors from the DIFC property, the first place we headed to was the spa, to see if there were some changing rooms we could use. We were advised that these were more easily accessed via the gym.
The Gym
Before I even mention how incredible the facilities here are, I really feel like I have to mention how superb the staff were. They were so helpful and eager and friendly, immediately making us feel at ease. We were given a full tour of the gym and pool and everyone we met seemed to really love their jobs, smiling happily and welcoming us. When a property treats staff well you can really tell and here the positivity was radiating from everybody.
You know you're at a Four Seasons when you have lamps made of amber in the gym.
I didn't even know that Zero-sodium water was a thing. I'm not even sure it's healthy but I'll be damned if I don't now expect it in all hotel gyms!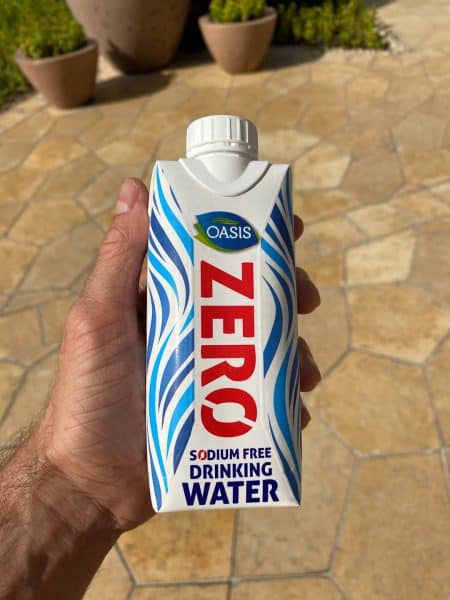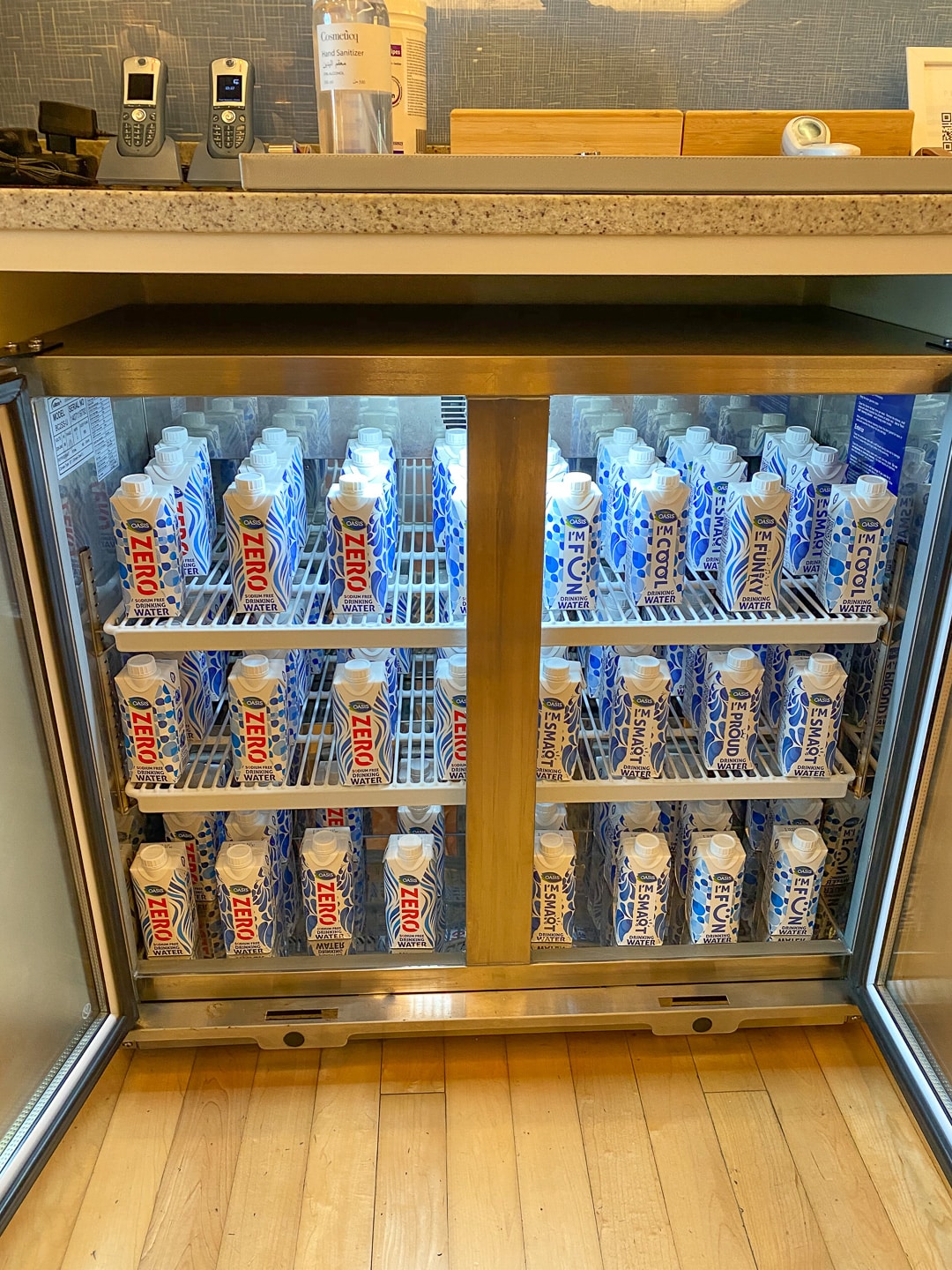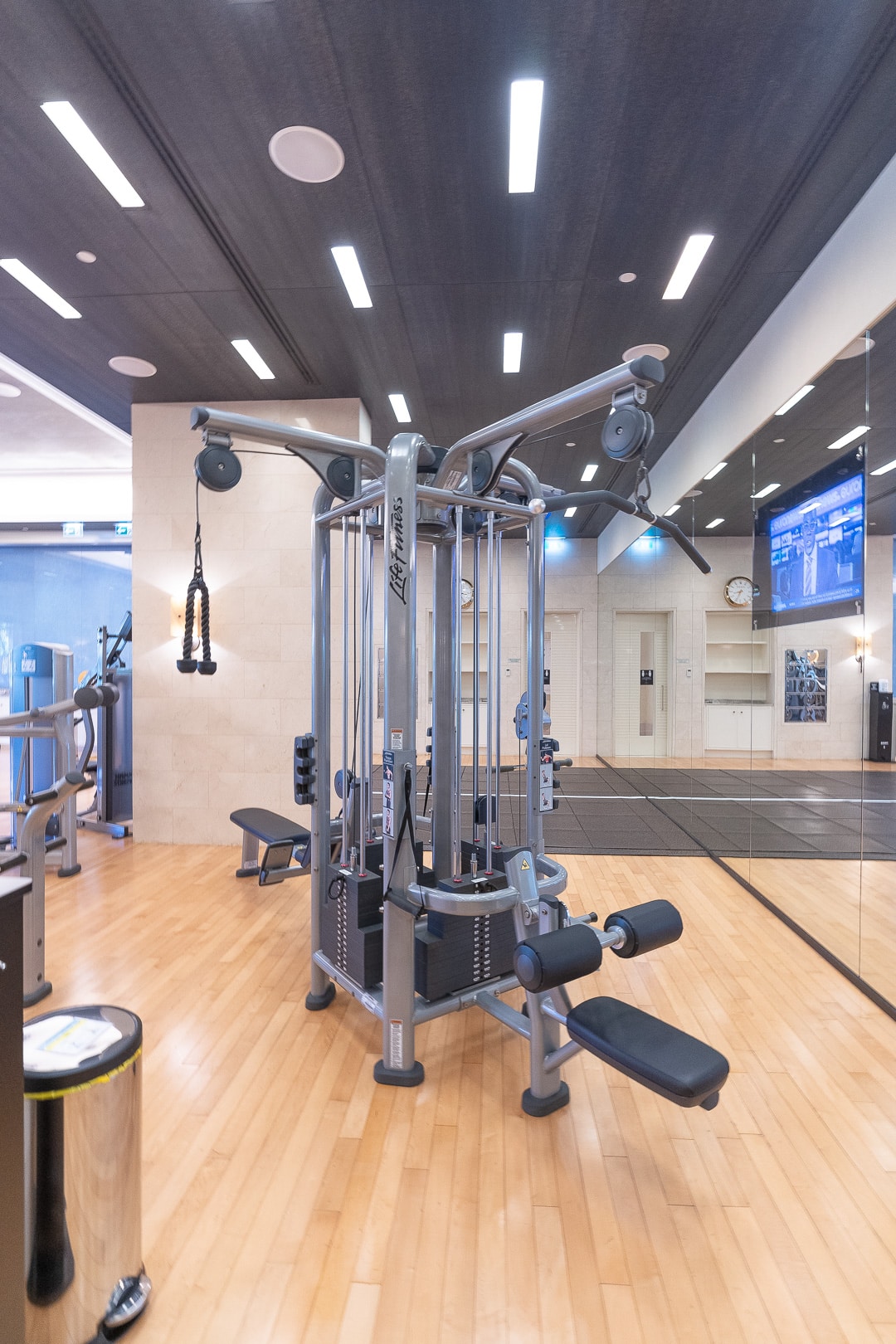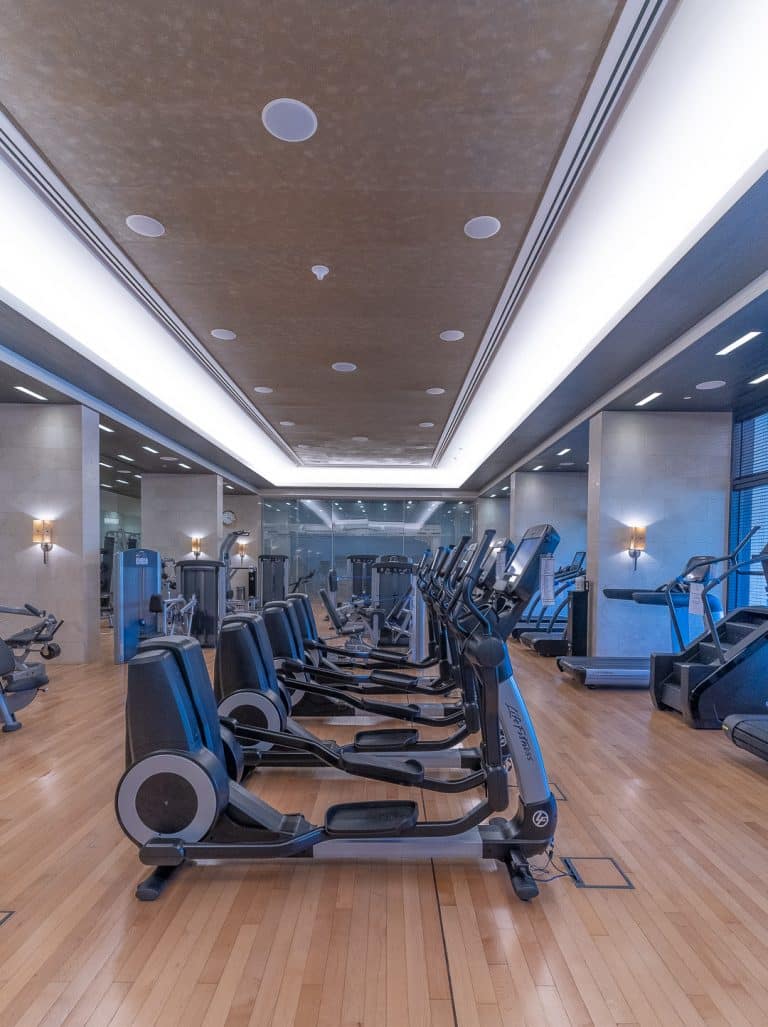 Certainly no lack of free-weights, usually the biggest problem at hotel gyms. They even doubled down with both straight and EZ versions of every fixed barbell!.
This large stretching area was available in addition to the separate yoga studio, adjacent to the main gym floor.
Pretty much every LifeFitness machine in the catalogue.
After being taken around the gym we were each shown around the spa changing facilities. Foot operated sanitiser stations were located throughout the property, including at the entrance to the changing rooms.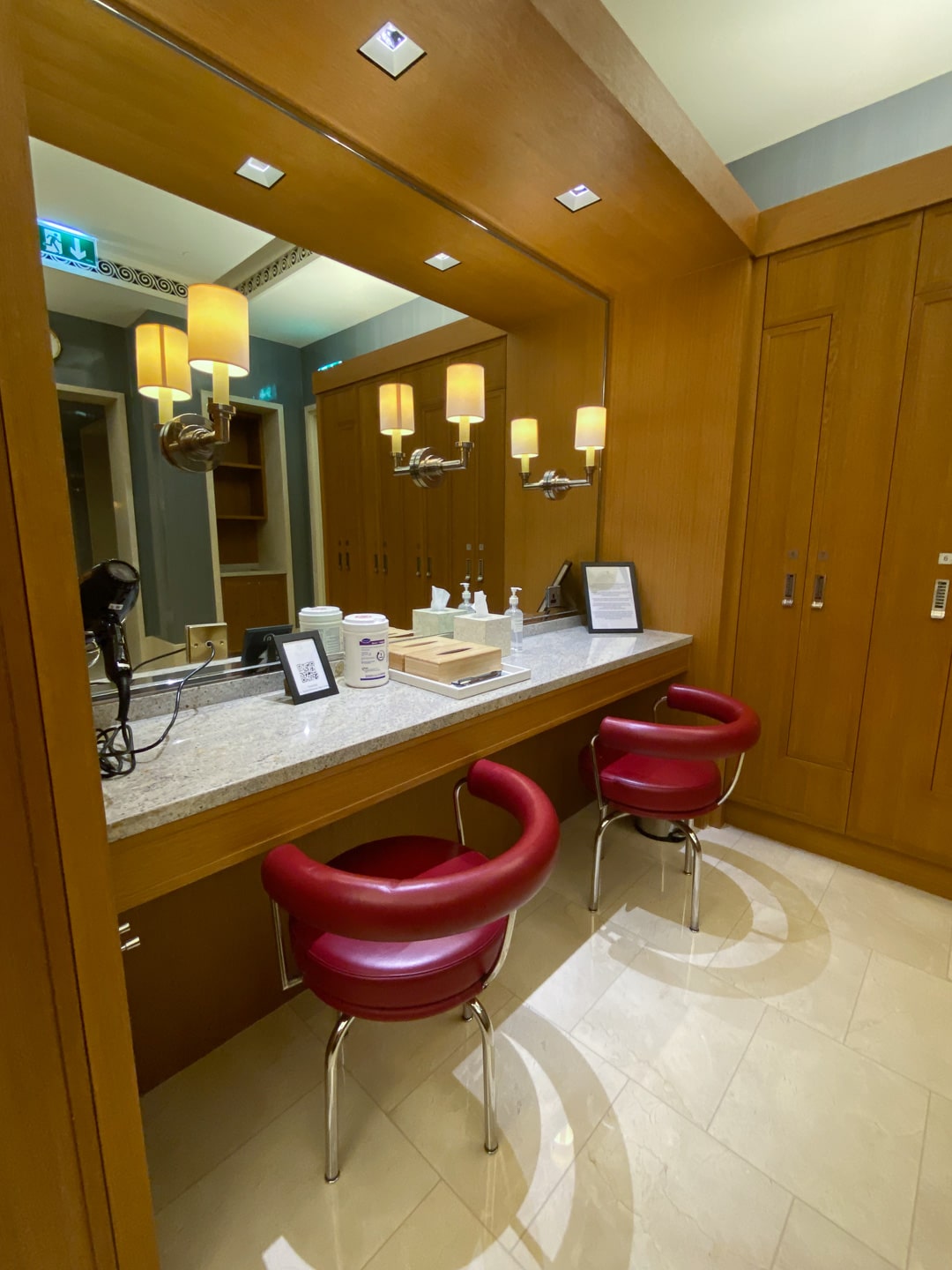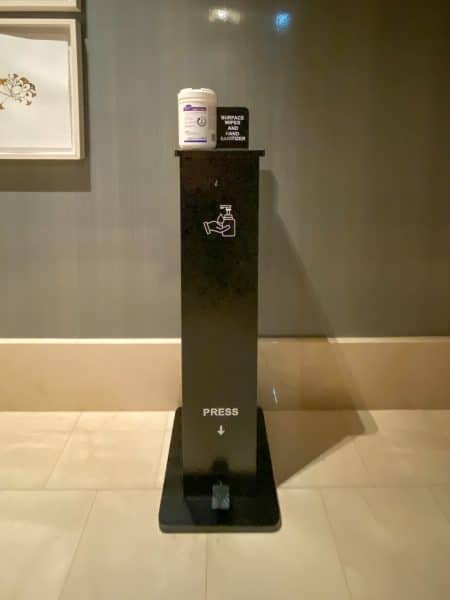 The overall feel was more akin to a 1920s gentlemen's club than a modern spa and certainly no comparison to the unbelievable spa facilities at the Four Seasons in Tunis, however the giant bottles of Sodashi toiletries were a most welcome feature.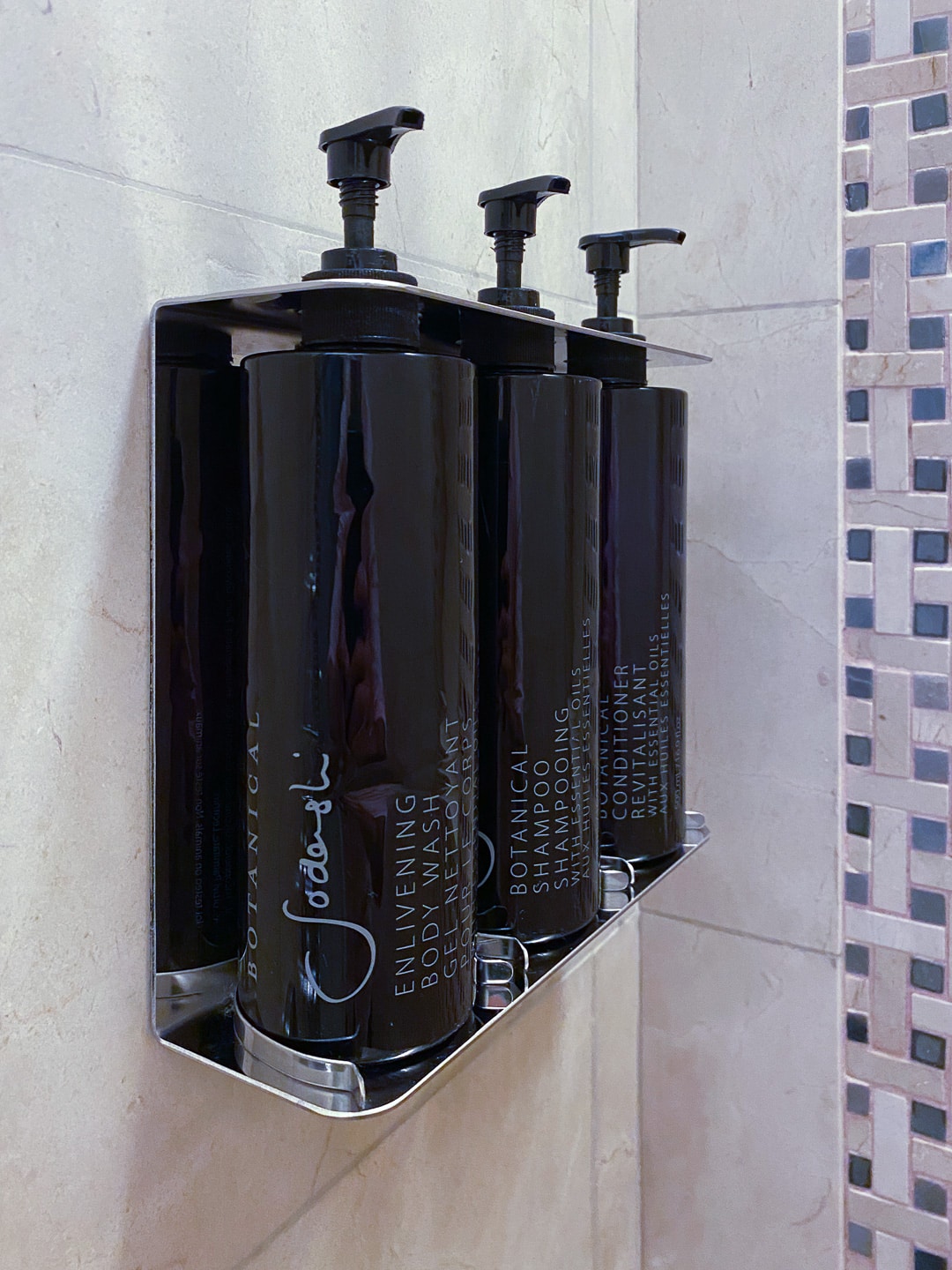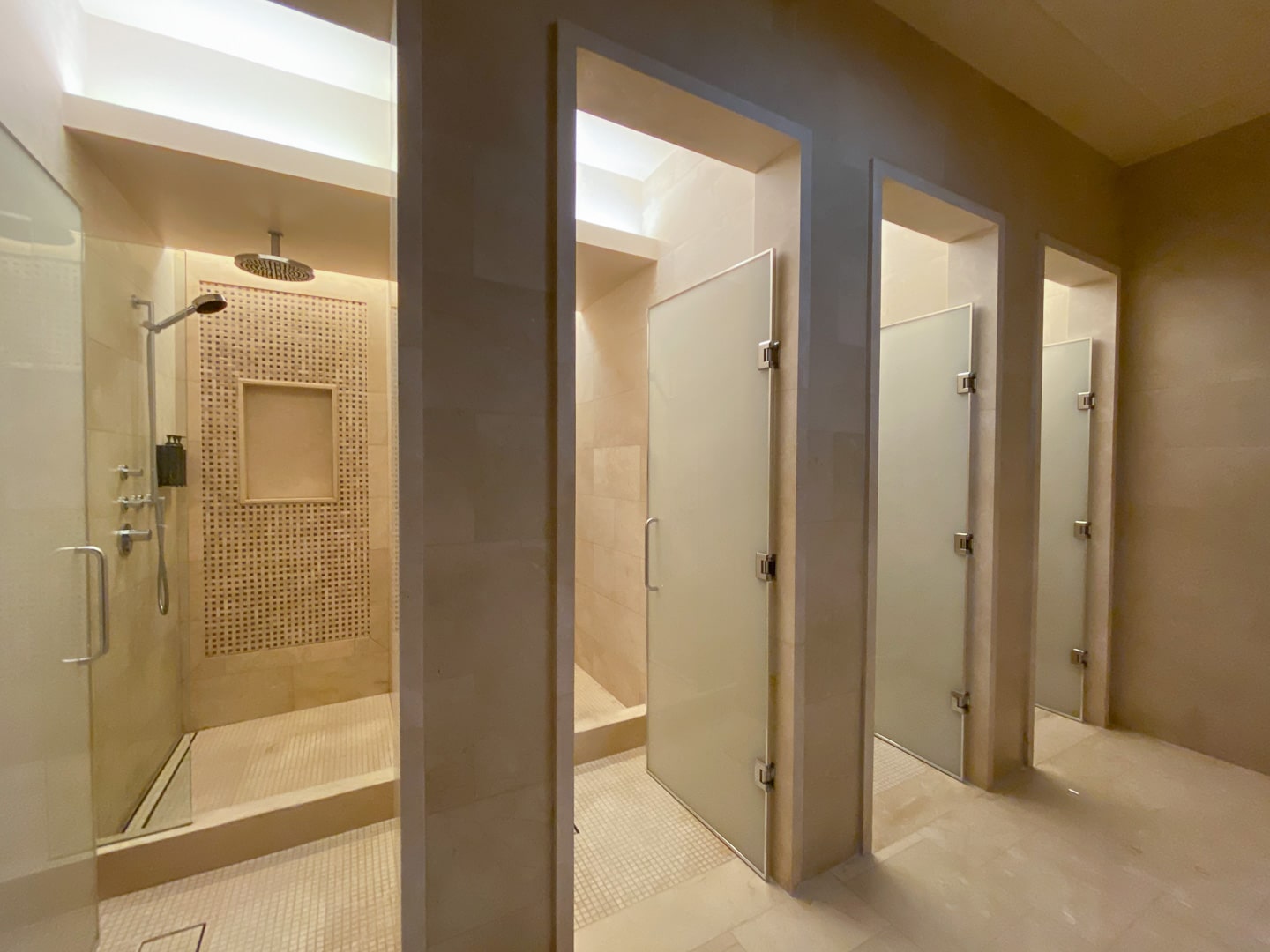 Indoor Pool
I forget that it can actually get a little bit cooler outside during the winter months in Dubai, which is why I was surprised to see such an enormous and opulent indoor pool on the other side of the changing rooms.
A Roman style bathing room with a glass ceiling to bathe the area in natural light.
Adults only pool
It's a very fine balance providing family friendly facilities in a resort without scaring away couples without children. The obvious answer is for hotels to provide an adults only pool. Unfortunately this pool was shut when we visited on a Wednesday and Thursday, although it seems like the weekday closure is only happening during COVID.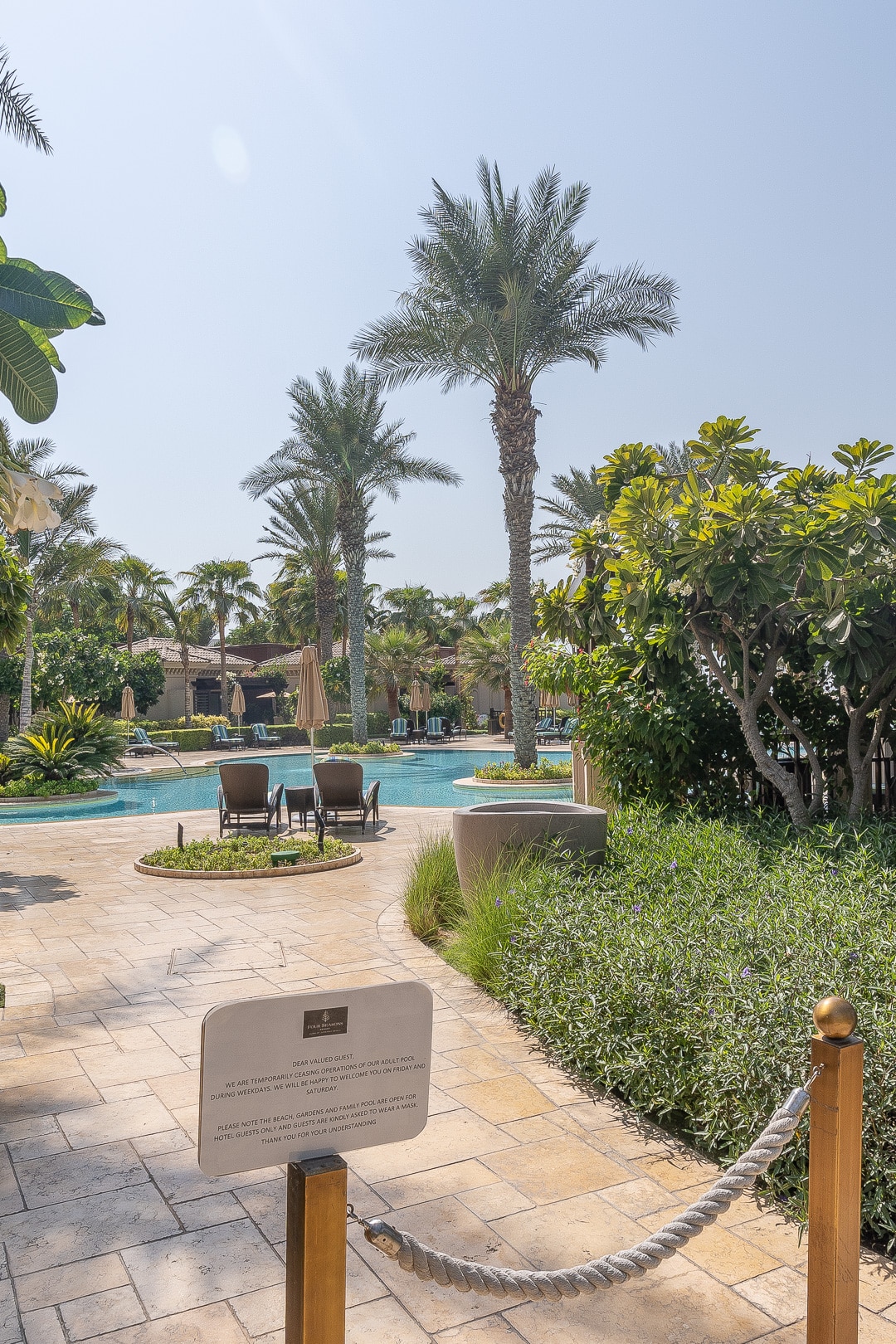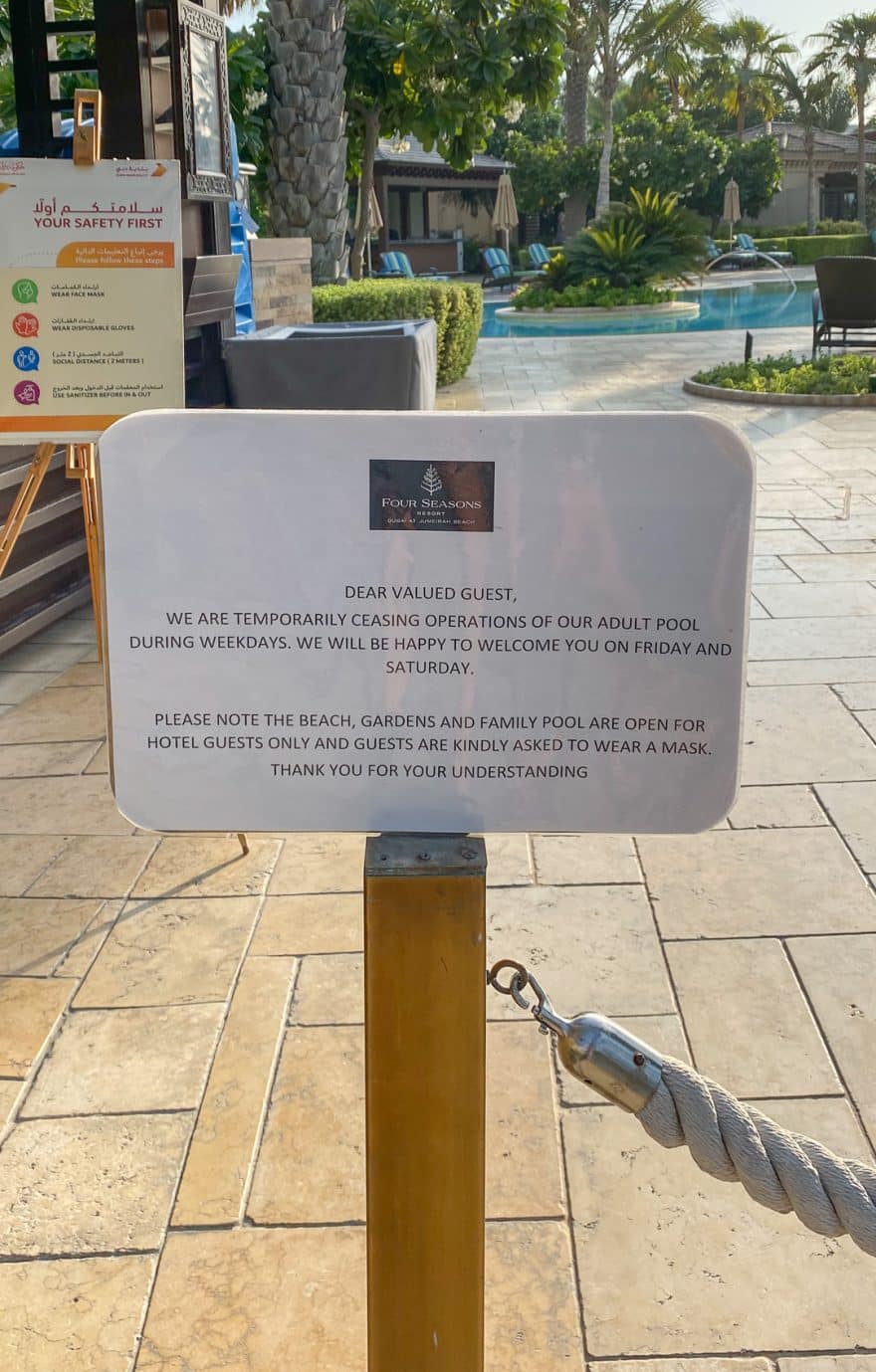 Crowding people together in a single pool doesn't make a lot of sense in the era of social distancing but that's the policy the hotel went with…
Family pool
The family pool was quite busy and noisy, a real contrast to the ethereal tranquility of the rooftop pool at the Four Seasons DIFC.
We managed to find a spot in a covered verandah at the far end of the pool, next to the beach and jacuzzi. As we set our things down, we were offered a cooler with some plastic bottles of drinking water, definitely not in the same league as the silver cone of glass bottled Evian at the sister property. The attendants also just handed us the towels rather than laying them out for us as you would have expected.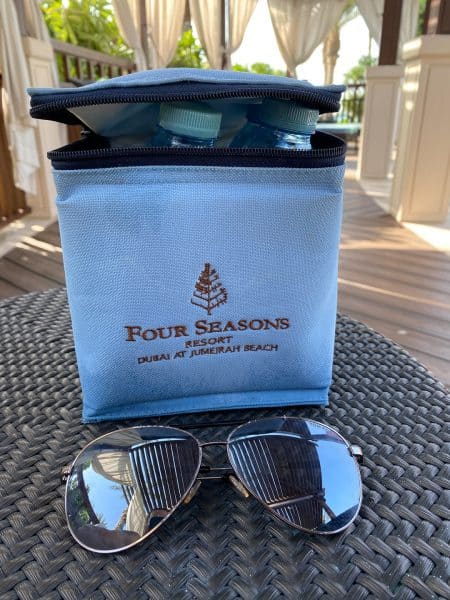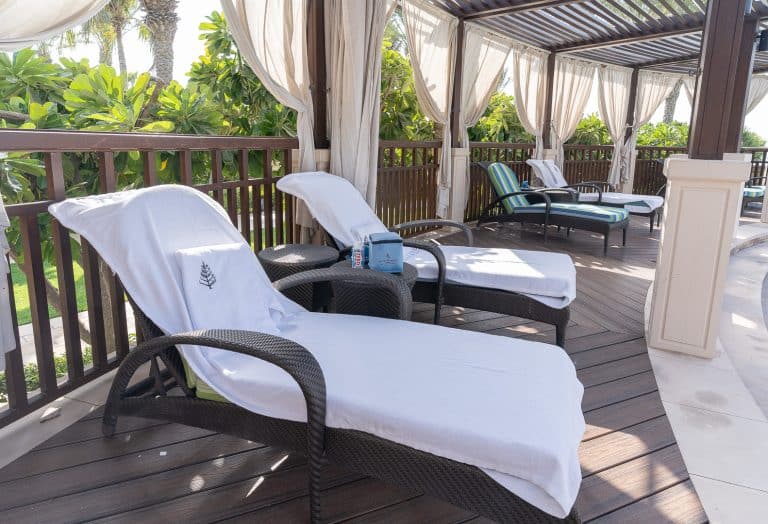 Just beyond our sun loungers was the beach, which was completely deserted given the soaring temperatures.
After an hour or so of lounging around the pool, the building directly opposite began to draw our attention…
---
Food and Drink
---
Sea Fu
I love seafood, I love sushi and I love beachside restaurants. So Sea Fu was already doing pretty well before we'd even set foot inside. Best of all, you can use Entertainer app there to get buy one get one free main courses here and cocktails from Sea Fu Bar.
Sea Fu… not as good a name as Kung Food, next to Liverpool Street station in London. A bit nicer to look at though.
I can't believe I didn't use Entertainer before this trip but the amount of money it saves is crazy and basically every person that lives in Dubai uses it (unless they're Emirates crew using FACE card). I was worried that there might be loads of restrictions or that you may get funny looks using it, but it is totally ubiquitous and they accept it at a lot of very high-end places including here, the Waldorf DIFC, the Ritz Carlton and all of the bars and restaurants at the Armani hotel.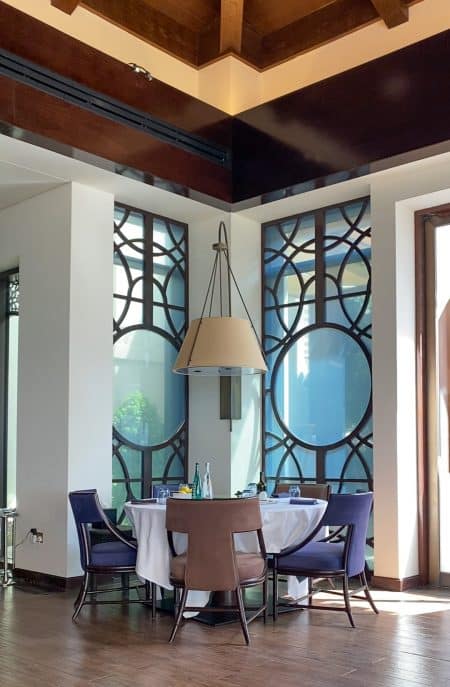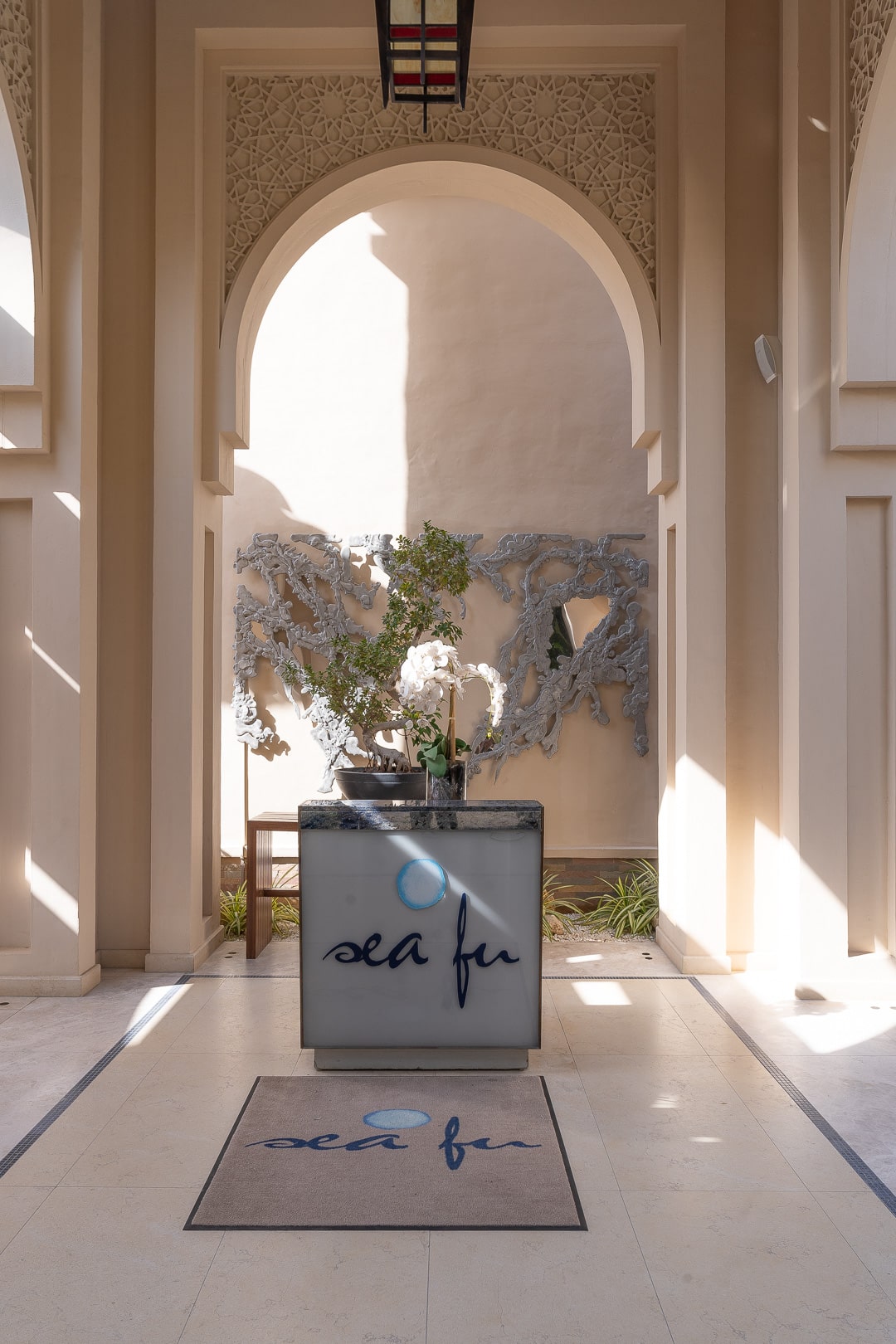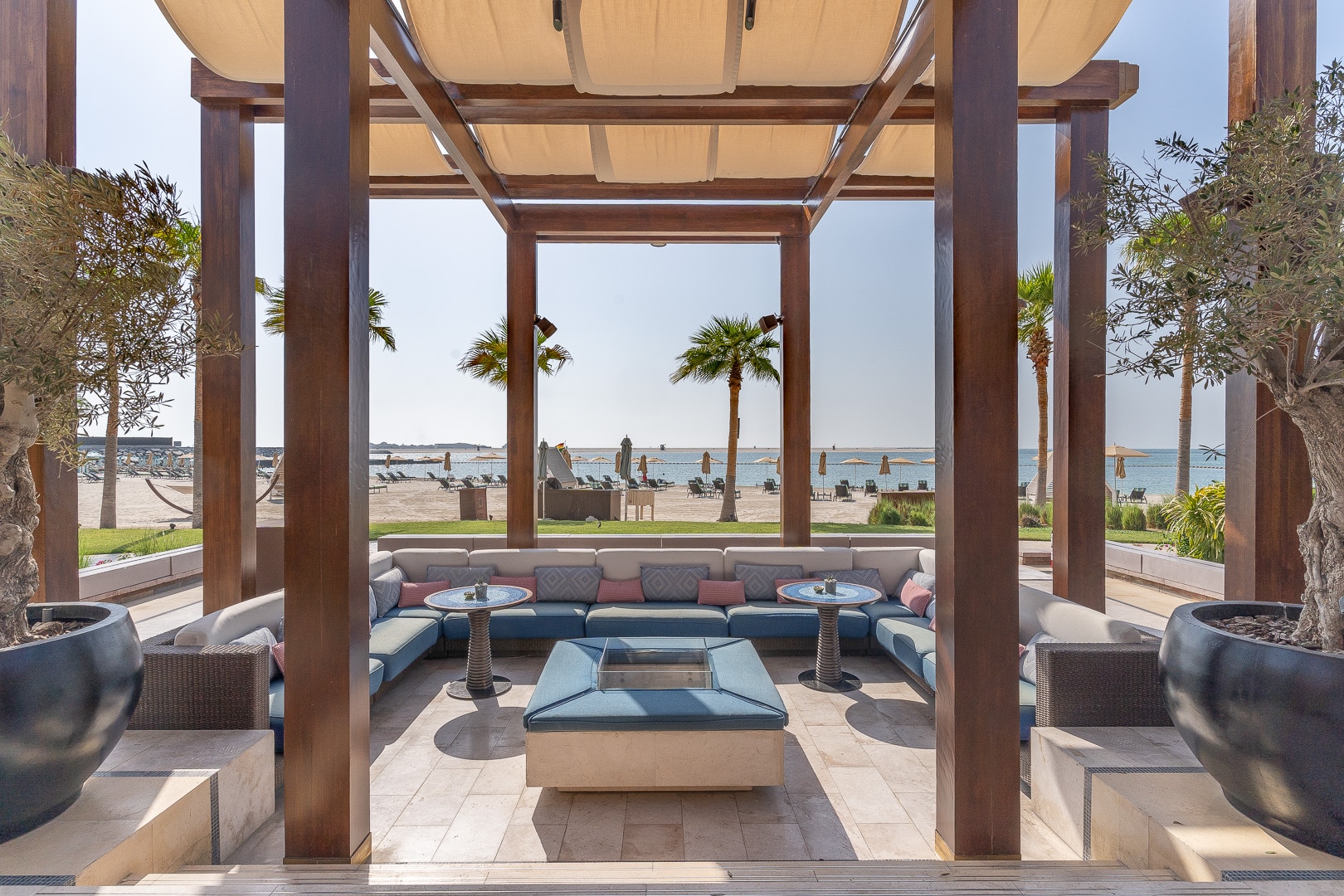 Since it was scorching hot outside, we opted to eat indoors under the cooling embrace of the air con. The high ceilings and polished surfaces are very slick and the overall standard of the finishes and service was far above what you would expect at a beach resort in Europe, for example.
One particularly thoughtful touch was the inclusion of a large copper envelope with every place setting. The idea being that this could be used to store your face mask whilst eating.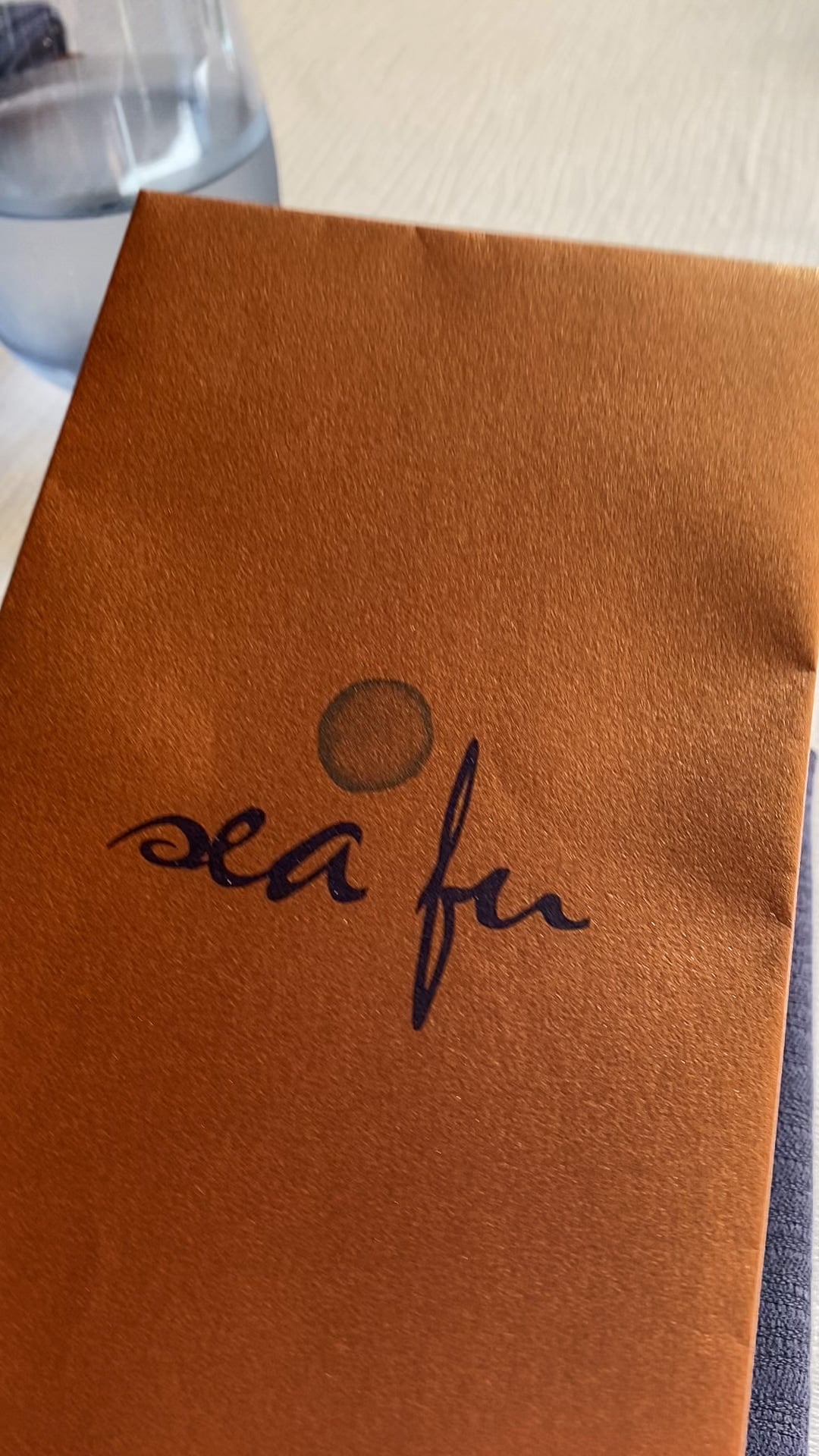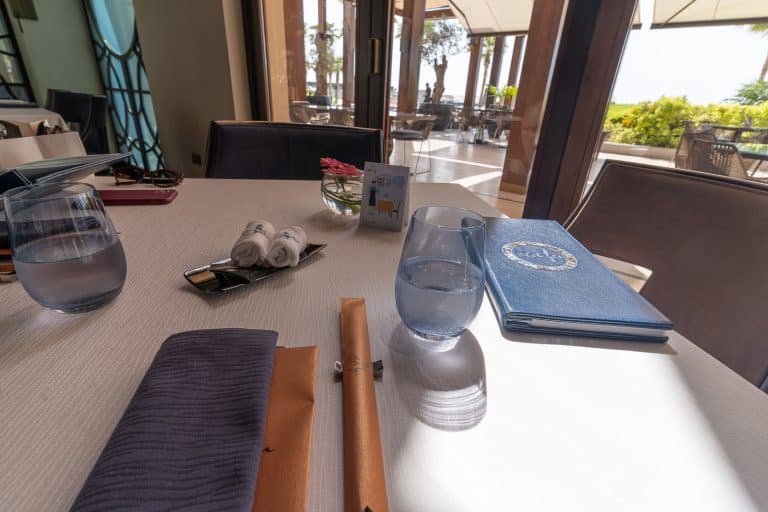 The menu was a mixture of both European seafood and sushi, reminding me in many ways of Sexyfish in London.
Uni and caviar sushi. Exactly what I needed in my life.
We had both a lunch and a dinner here and everything we ordered was truly superb. The preparation of the lobster was particularly impressive, with our crustacean having been de-shelled and kept intact as a single piece!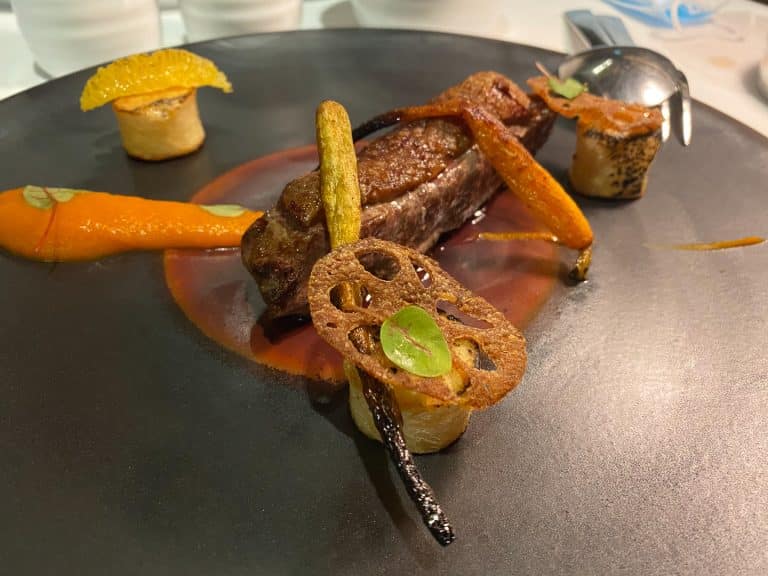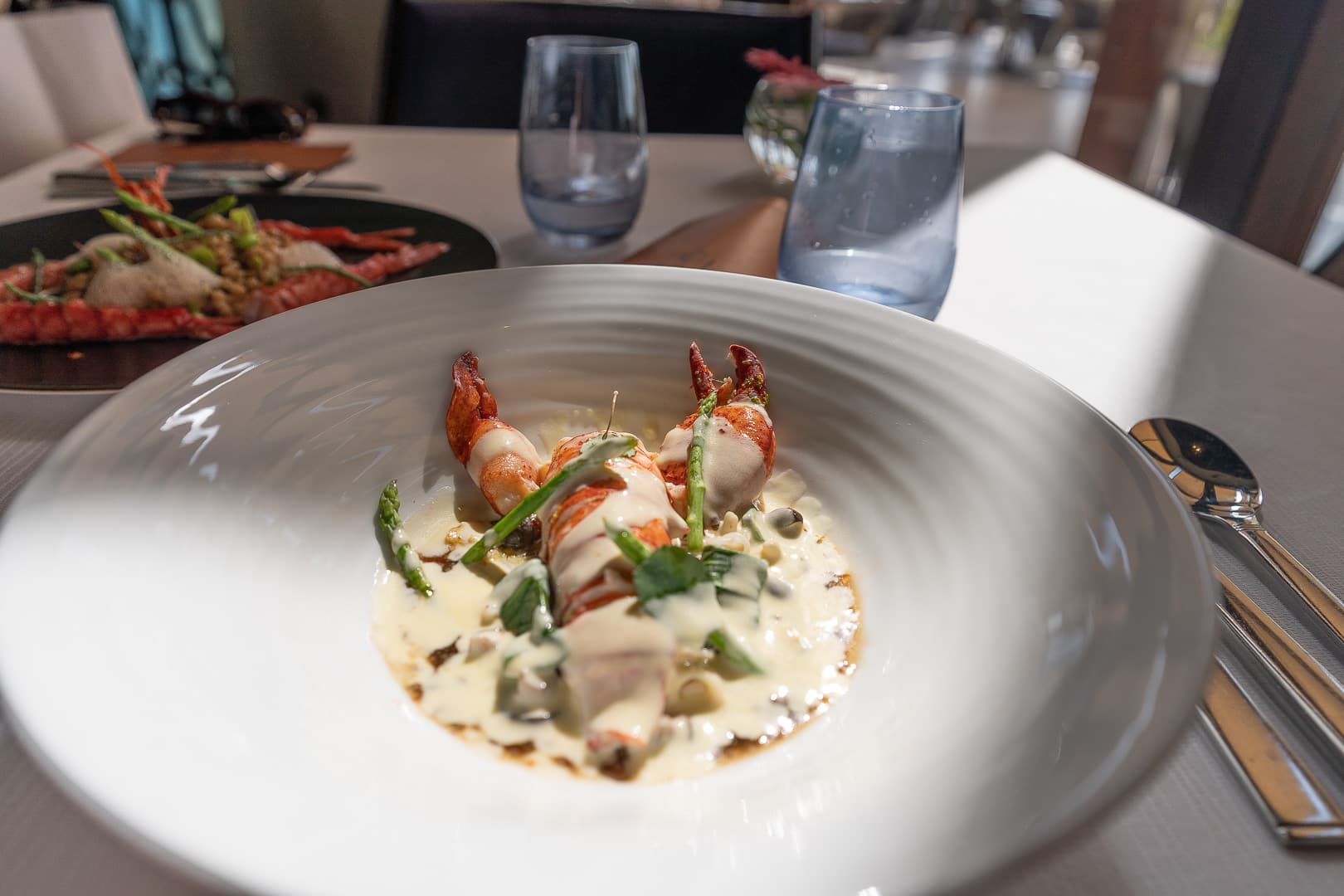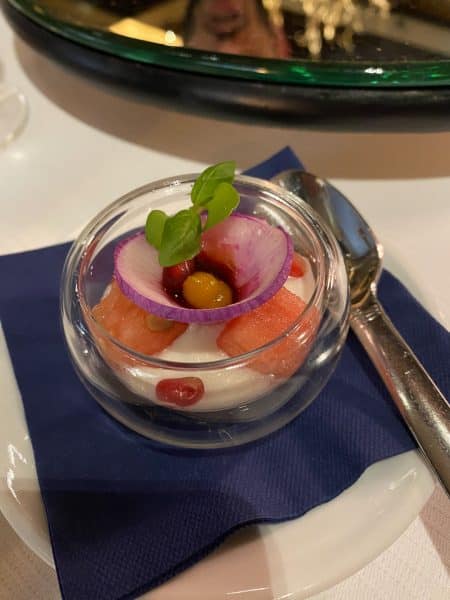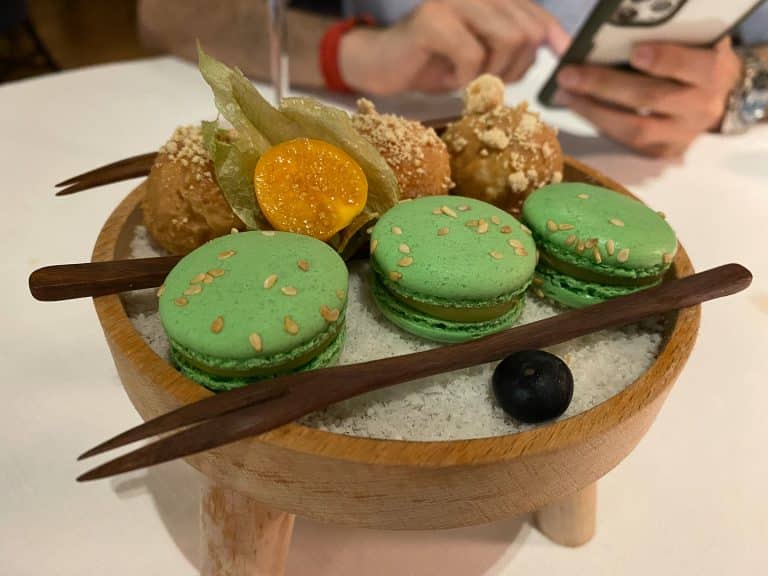 ---
Conclusion
---
Basics Checklist
☑︎ Power sockets near the bed
☑︎ Easy to understand light switches
☑︎ Coffee machine
☑︎ Separate shower and bath (only in the suite)
☑︎ Blackout blinds
☑︎ Stable, fast and free Wifi
☑︎ Feather pillows
☑︎Quiet and powerful aircon
It feels a bit weird to recommend a hotel that I didn't actually spend a night in, but I spent more than enough time using the facilities, interacting with staff and hanging out in one of the rooms to do so.
My main takeaway with this property is that it looks and feels so much better in person that the pictures on the Four Seasons website would imply.
It is also a hell of a lot busier than I would have imagined. There's a real scene here, even during COVID. For some people that may be off putting, but if you enjoy the buzz of having various bars and restaurants right on your doorstep then this is the hotel for you.
Not only do you have the refined elegance of Sea Fu within the property, you also have Nammos, Coya and Salt Bae's Nusr Et (and more) right next door in the Four Seasons Restaurant Village.
If you stayed here for a week, you'd have more than enough dining venues to keep you entertained within walking distance of your room, with plenty of space in your walk-in wardrobe to pack all of your favourite outfits.
When it comes to working off those meals, you have access to a truly exceptional gym, with enough options to rival the best commercial facilities I've encountered in any city. The staff there were also some of the most friendly and welcoming I've come across in any hotel.
Right now, my main concern with the property is the fact that the adults only pool is closed on weekdays, causing overcrowding in the main pool. For that reason, I'd still personally favour staying at the Four Seasons DIFC during the week, making use of the complimentary transfers (15 minutes) between the two hotels when you need them. On weekends though, starting with Coya brunch on Fridays, the Four Seasons Dubai Jumeirah Beach is the place to be.
---
Book Four Seasons Dubai Jumeirah Beach with FSPP benefits
---
Four Seasons Preferred Partner Booking
An example of FSPP benefits which may be available on your stay:
Upgrade of one category,

subject to availability.
Full breakfast for up to two in-room guests.
$100 Hotel Credit.
Welcome amenity.
Early check-in/late check-out, subject to availability.
---