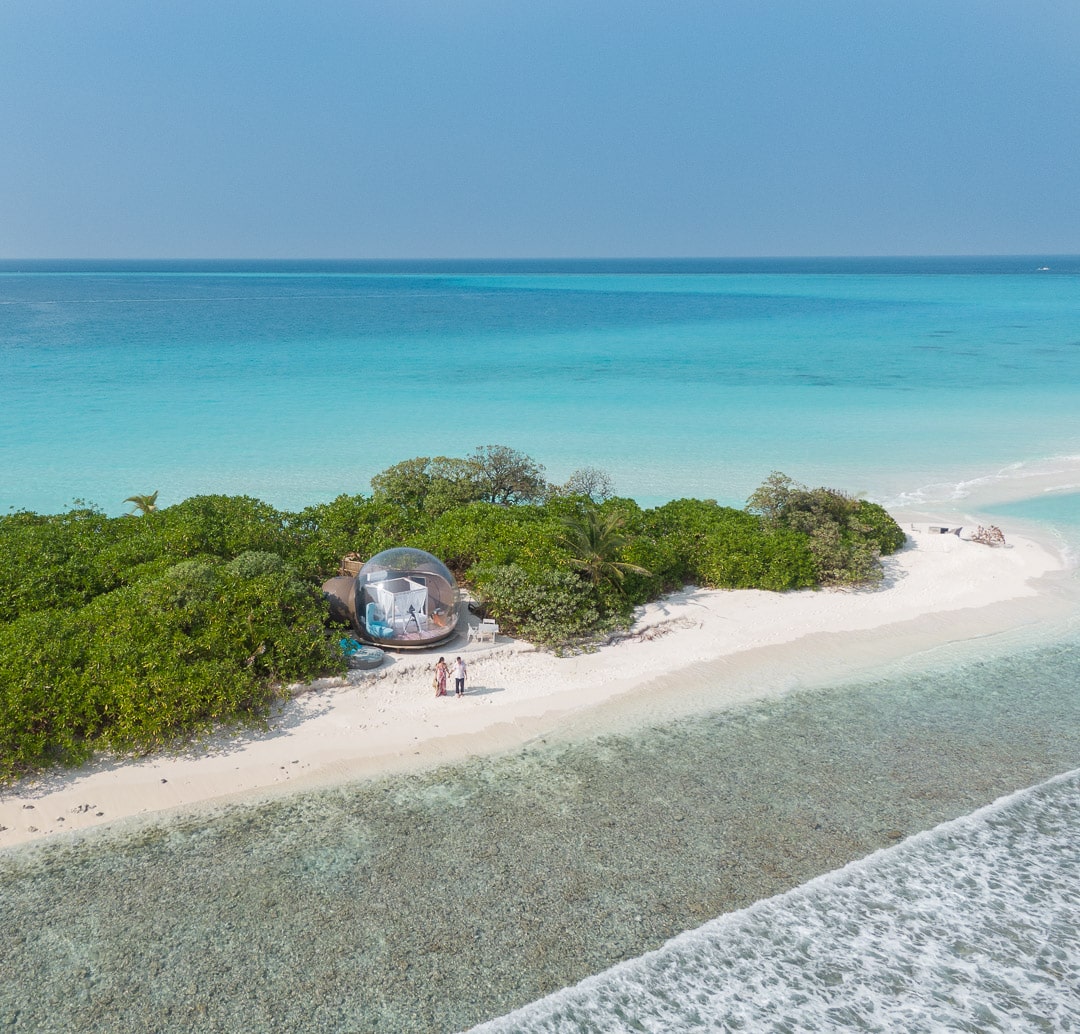 REVIEW – Finolhu
February 12, 2021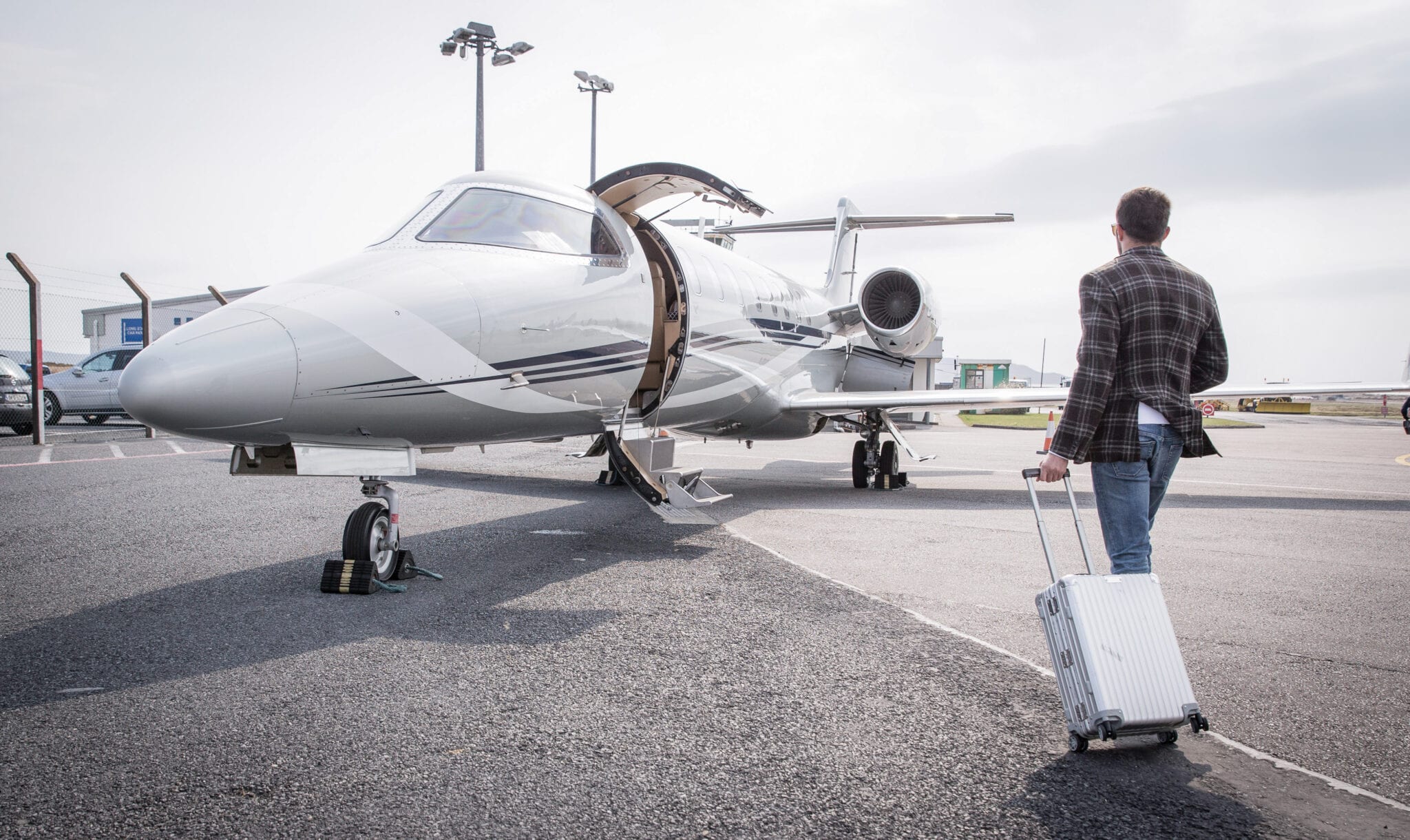 Massive Amex UK retention offer!
March 2, 2021
Anantara Veli
Location: Maldives
Room Type: Deluxe Over Water Pool Bungalow
Typical Rate: $1000 per night ☔️ season/ $1400 per night ☀️ season
Rate: Hosted Stay
Loyalty Program: GHA Discovery
Status During Stay: Platinum
---
Intro
---
Anantara is a global hotel chain headquartered in Thailand, with the kind of deeply ingrained service ethos that you'd expect from the Land of Smiles.
We had previously dined at a couple of Anantara hotels in Thailand as well as spending three wonderful nights at the Anantara Royal Livingstone in Victoria Falls and were very excited to see how the brand would express its unique style in this most competitive of hotel markets.
View this post on Instagram
Anantara has a cluster of three resorts near to Malé, gathered around a central lagoon : Veli, Dhigu and Naladhu.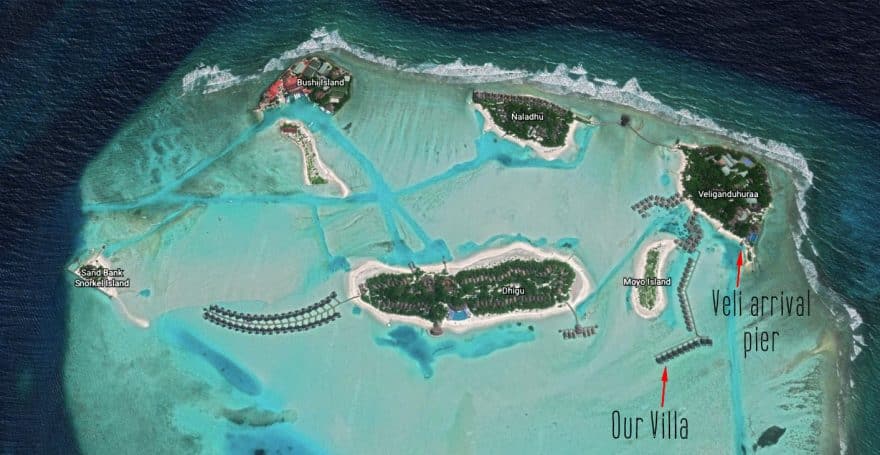 Guests from Veli and Dhigu having reciprocal access to each other's facilities. Naladhu is a private island accessible only to those staying there. Naladhu guests have additional access to both Veli and Dhigu.
Naladhu is pitched as the most luxurious option with Dhigu being more family friendly and Veli being referred to as the 'honeymoon island'. Veli is also the hotel that famously launched a campaign allowing guests to have unlimited stays for a year, for $30,000.
The enormous expanse of the tranquil lagoon is one of the key selling points for this cluster of resorts, as is the quality of the surfing here.
---
Booking
---
Anantara Veli and Dhigu don't participate in Virtuoso but they have kindly offered to match the usual Virtuoso amenities for guests of TheLuxuryTraveller.com.
$150 resort credit
room upgrade (subject to availability)
free breakfast
early check-in/ late checkout (subject to availability)
welcome amenity (on our stay, ours was exceptional!)
Email us and we can arrange this for you on any flexible rate visible on the Anantara website. The rate you pay will match Anantara exactly but you'll get the above extras thrown in for free!
Cash rates for an entry level Over Water Bungalow start at around £310 per night in the off season and increase to around £500 at peak times.
We stayed in a Deluxe Over Water Pool Bungalow, which is the property's highest room category, retailing for an average of £700 per night.
---
Speedboat Transfer
---
Being so close to Malé means that the resort can offer speedboat transfers instead of the usual seaplanes that many expect in the Maldives.
Speedboats can run 24/7 so there's no chance of being forced to wait for hours at the airport.
Getting straight to the resort as soon as you land and being able to eke out every last minute of time here before leaving is a key selling point of picking a resort near to Malé.
Speedboat transfers are priced at $260 per person round trip. The speedboats are fairly basic and definitely don't offer the opulent magnificence of the Waldorf Astoria's Yachts – then again, they don't come with an $800 per person price tag…
For the price, you get a rather fetching slimline lifejacket, water, wifi and even USB charging ports. In all honesty this is far cheaper, more comfortable and more convenient than a seaplane.
Crew wore masks throughout and sanitiser and masks were also provided for guests.
---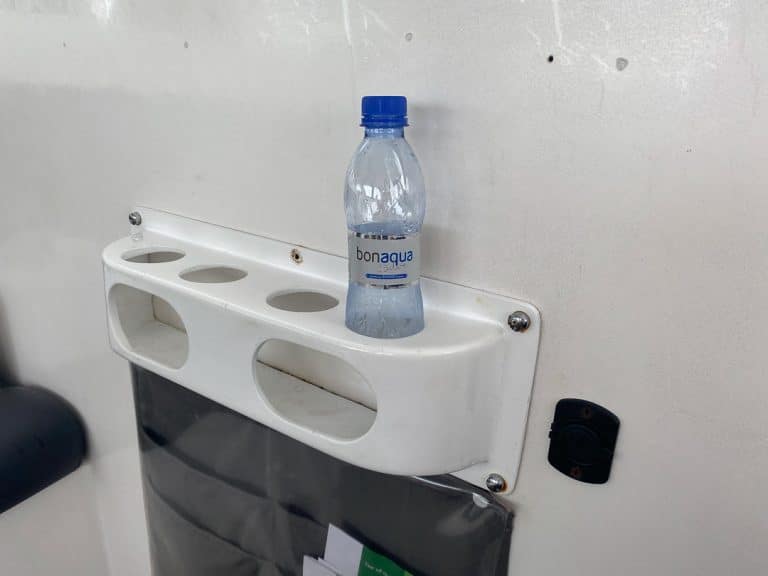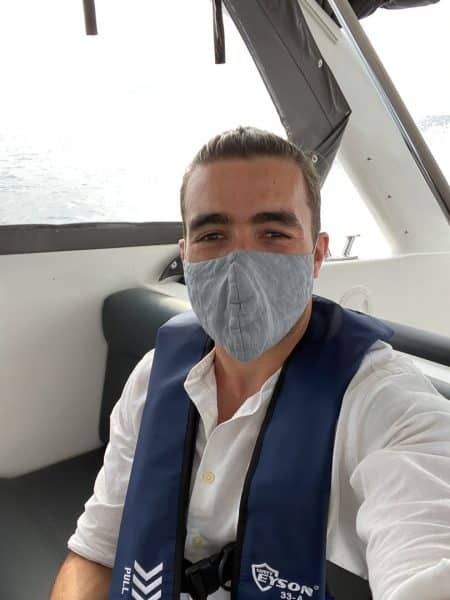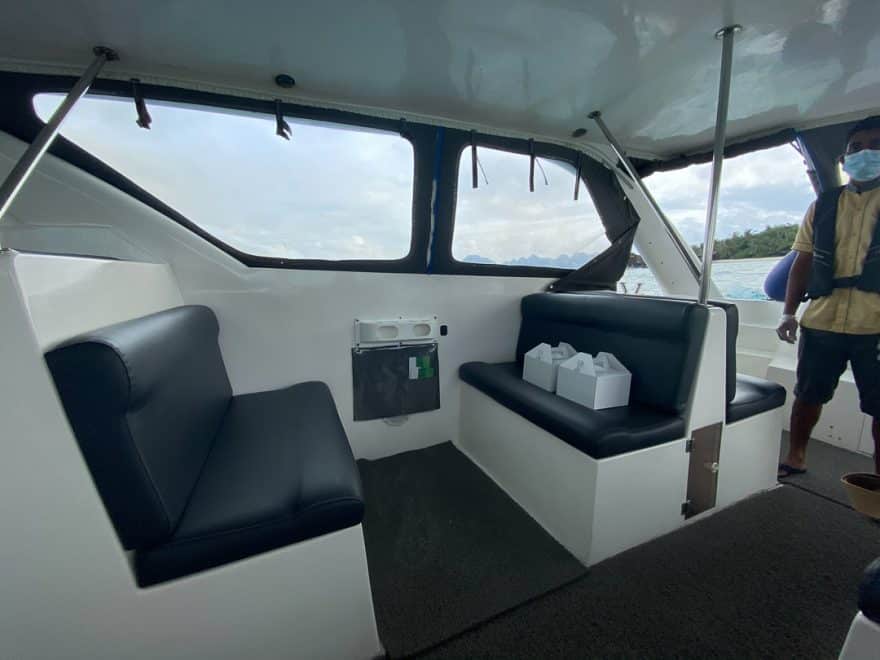 As we approached the resort we caught sight of the Deluxe Over Water Pool Bungalow that would become our home for the next three nights.
In terms of isolation and privacy you couldn't ask for much more. Other than occasional guest transfer boats there is nothing between these bungalows and DonMaaGaa island, 4 miles away.
Even then, we passed the bungalows from the side, meaning that privacy for guests was in no way compromised.
As we arrived we were warmly welcomed by a clapping and singing welcome committee, under a thatched grass pagoda. This was the first time I'd ever seen this kind of island welcome in the Maldives and it was really reminiscent of our spectacular visit to The Remote Resort in Fiji.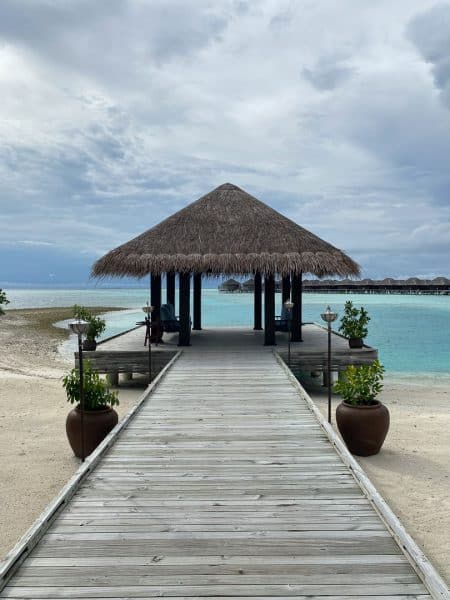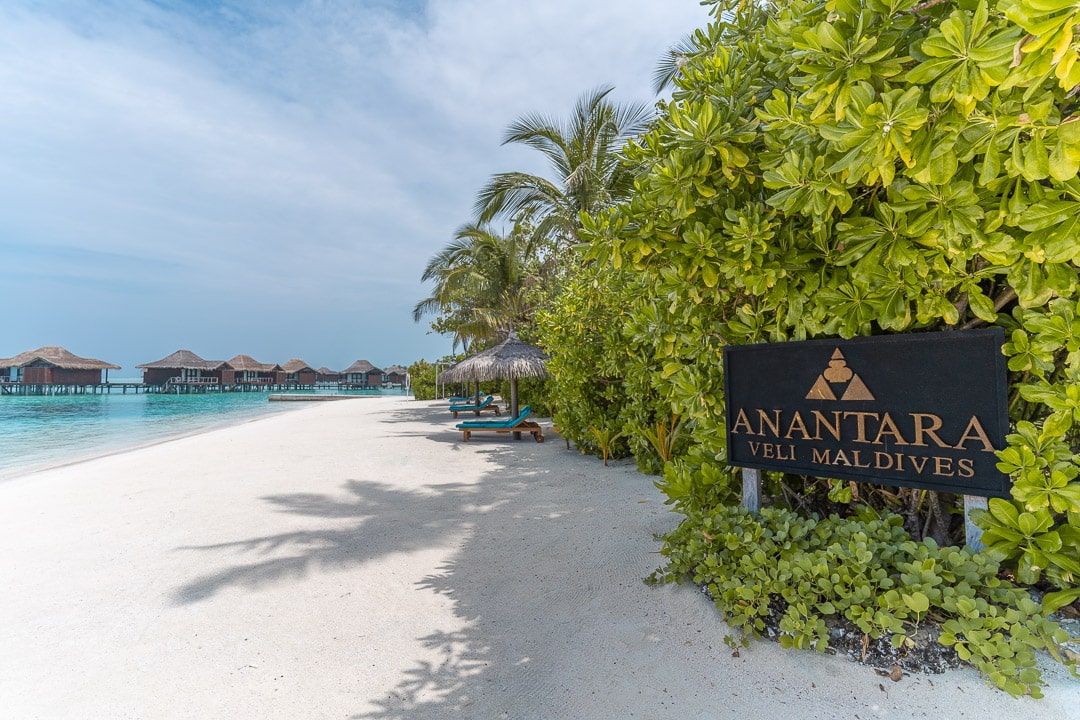 What struck me immediately was the natural charm of the island. The white sand beach provided ample space to explore and the surrounding foliage was dense and vividly green.
Up until now my only experience of a resort close to Malé had been the Waldorf Astoria – a resort built on a man made island with coarse sand beaches and heavily manicured foliage.
Don't get me wrong, it looks beautiful, but it's like comparing a golf course to a natural forest. From the moment you set foot at Anantara Veli, you realise that you are in a very special place alive with natural charm.
Walking through the jungle interior of Veli, we were immediately cooled by the thick canopy of trees above us.
On our way to the bungalow we passed by the dive centre, where we were issued with complimentary masks, snorkels and fins – perfect for exploring the abundant marine life here.
We were also informed of the turtle and nurse shark snorkelling trips, which are frequently arranged by the dive centre.
There are no beach villas on Veli island, meaning you can take up a spot wherever you like without worrying that you'll be taking sun loungers belonging to somebody else. A couple of the water villas were right on the sand, but the windows were completely covered and it looked like these had been repurposed as storage areas for cleaning supplies.
The resort has 7 Ocean Pool Bungalows located around the coastline of the island. The remaining 60 Bungalows branch off from two long wooden piers.
Our bungalow was the second from the left, on the front row. The design is quite different to anything I've seen elsewhere in the Maldives. We were in the highest room category: Deluxe Over Water Pool Bungalow, which had the privilege of lots of privacy and perfect sunset views. However, the walk to the end of the pier was no joke. It took a good 10 minutes and in the midday sun this was unbearably hot.
The walkways are too narrow for buggies or bikes so your only option is to walk… and there's no shade at any point.
If you love the idea of the privacy and having a pool over the ocean but don't like the idea of the long walk, then the Ocean Pool Bungalow would be perfect. These bungalows are located around the coastline, on the Southern and Eastern sides of the island.
Another option is to go for one of the rather unique Superior Over Water Bungalows. These don't have pools but do have an outer deck right on the water facing a deserted white sand island.
By some bizarre twist of fate, this happens to be called Moyo Island… which is also the name of the remote Indonesian island where Amanwana is located.
At cooler times of day, the walk to the bungalow was really enjoyable. I've never seen as much marine life walking to my room as we did at Anantara Veli.
I thought that the multitude of stingrays that we saw from our villa at the Conrad Maldives was as good as things could possibly get. I also thought that being this close to Malé meant that there would be a tradeoff, losing the variety of sea creatures in exchange for a convenient location.
I'm happy to report that I was spectacularly wrong.
Anantara have been actively involved in marine preservation and several coral gardens were clearly visible around the beginning of the water bungalow piers. Baby black tip reef sharks really seemed to like it here.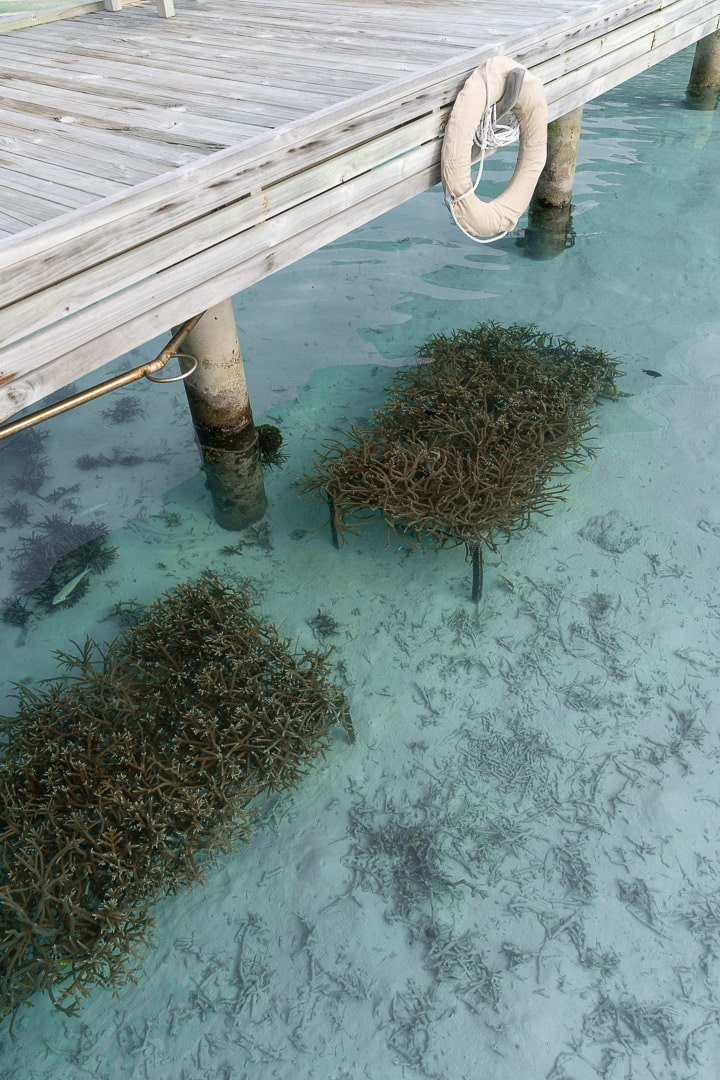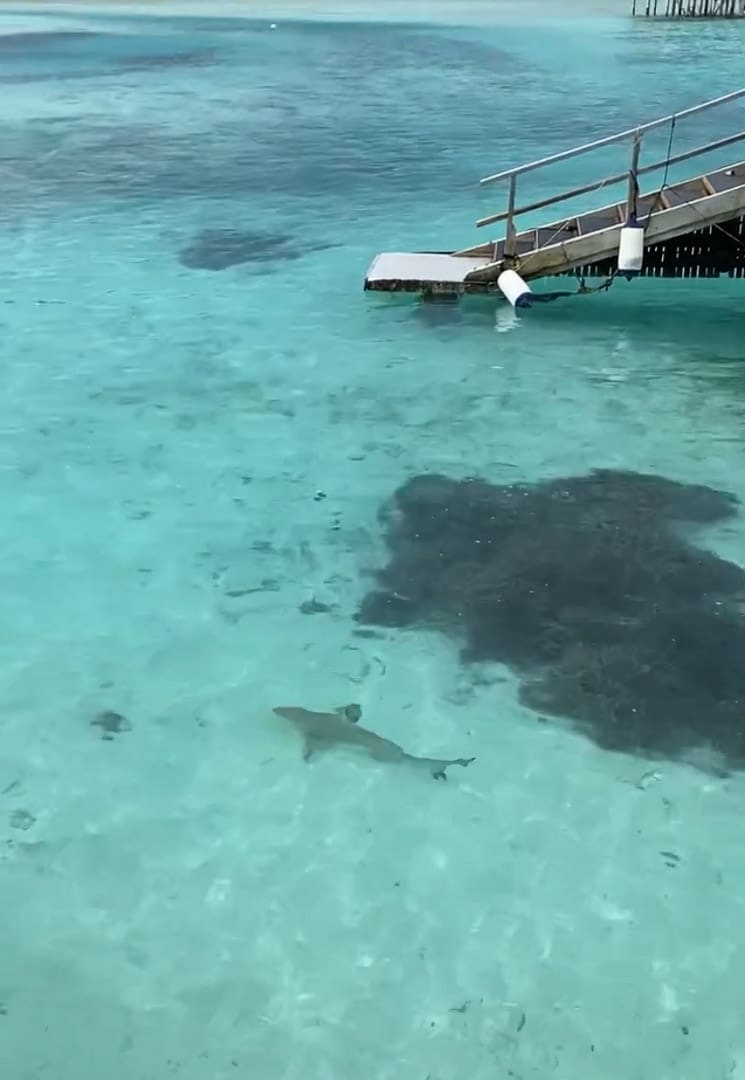 As my inexplicably popular TikTok video points out, these sharks are harmless and actively swim away if they so much as see your shadow…but they look pretty damn cool.
As we made our way to our bungalow for check-in, our host pointed out a stingray with its child (pup?) patiently resting outside one of the bungalows.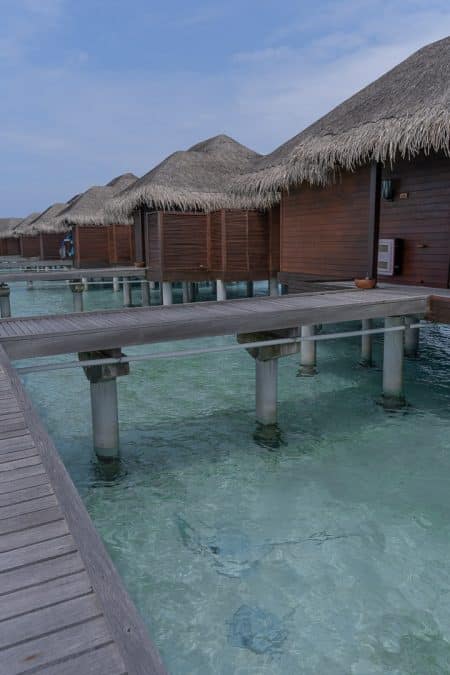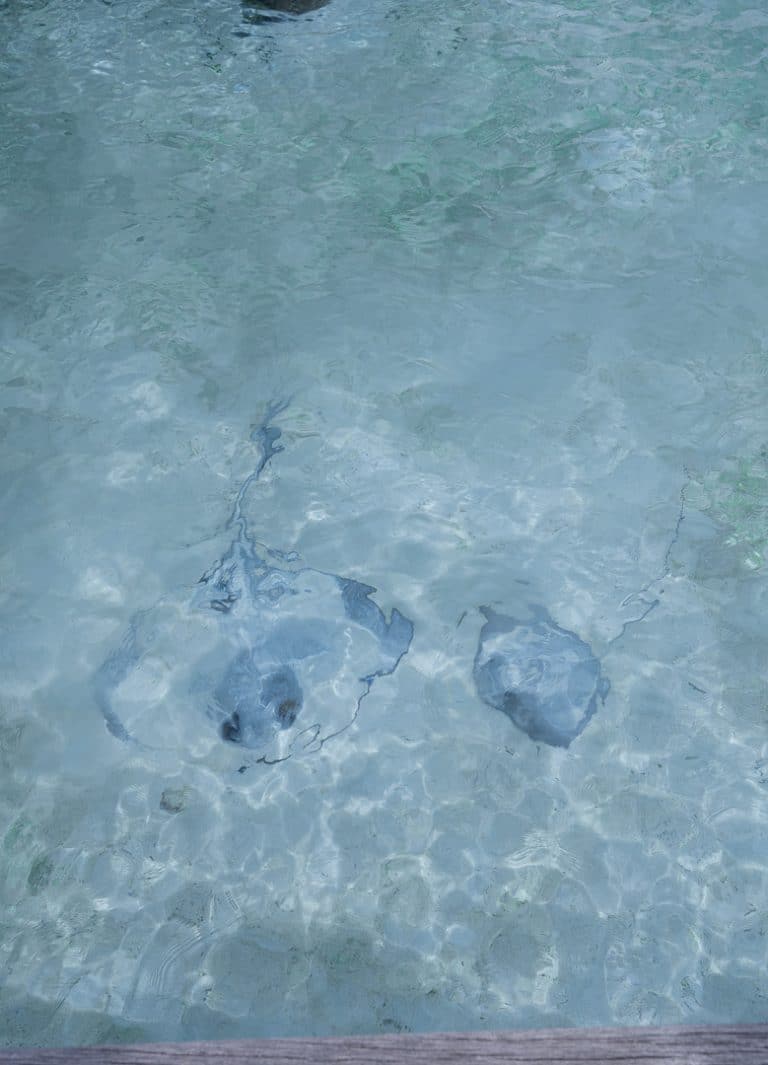 We also frequently had herons coming to visit and even spotted a turtle coming up for air after a swim under a row of bungalows!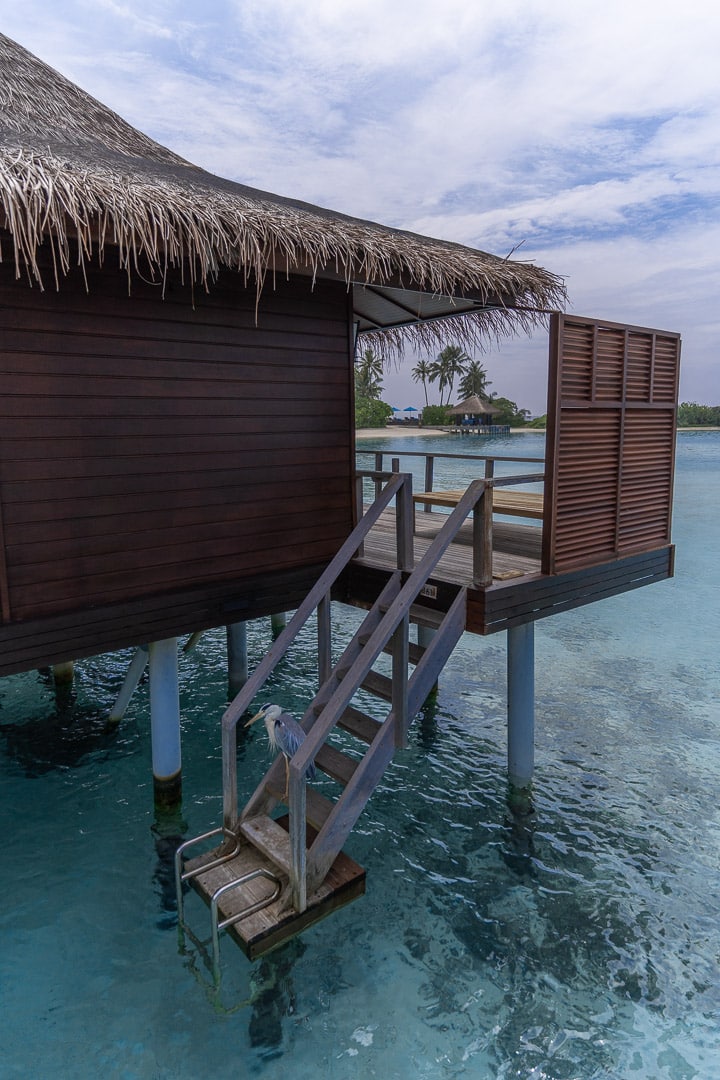 Seeing turtles underwater when you're diving can be tough. I've been on plenty of trips where a spot supposedly had turtles…but they never materialised.
I honestly never thought I'd see one swimming around a resort, especially one this close to the airport!
---
The Bungalow
---
Room Tour Video
View this post on Instagram
Entrance
At the entrance to our bungalow was an expansive marble topped bar area. There was a Nespresso machine and kettle as well as various Dilmah teas (as found on Emirates). There was no real milk but some non-dairy creamer was supplied in the fridge.
Unusually for a Maldivian resort, drinking water was supplied in plastic bottles. This is the only resort in the Maldives (that I've visited) where water isn't purified on site and provided in glass bottles.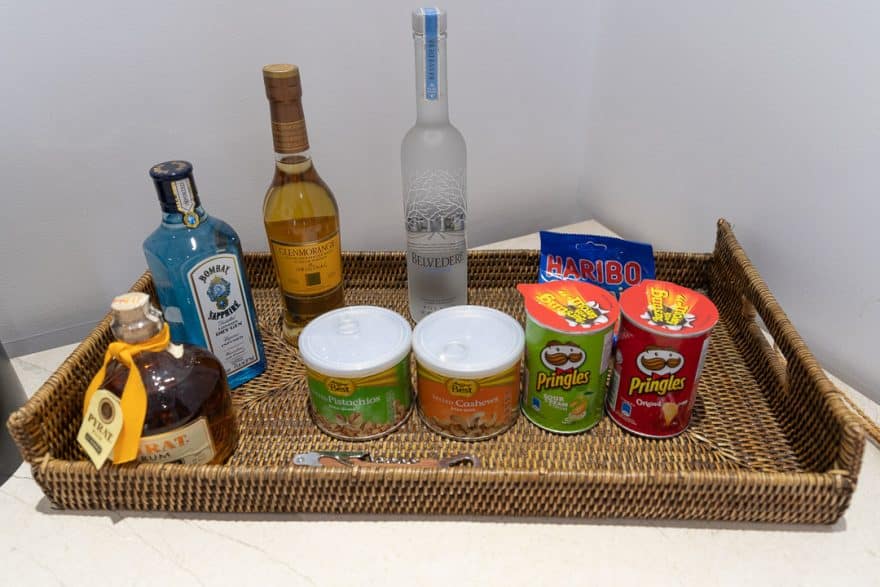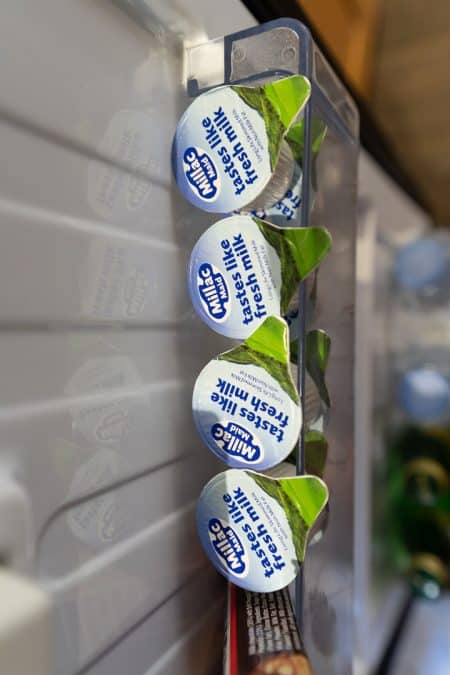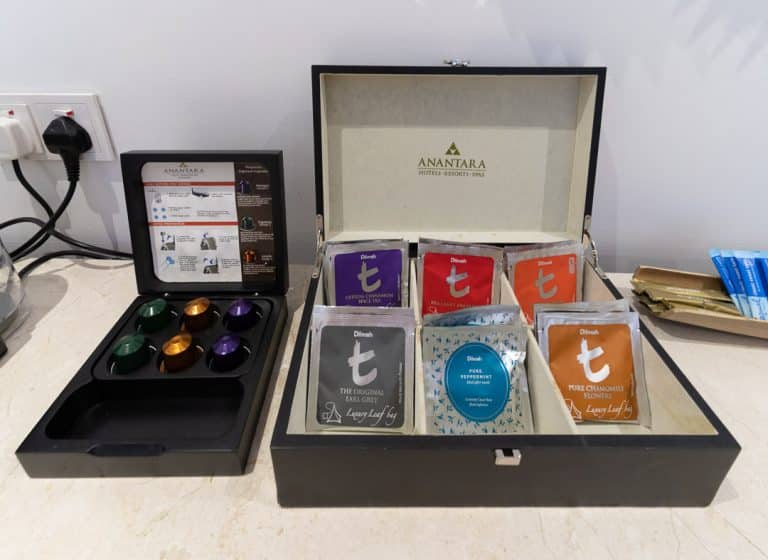 A QR code was supplied for minibar pricing and I was struck by how much more reasonable it was than Hilton's properties in the Maldives. It is also worth noting that all prices here are inclusive of taxes and fees.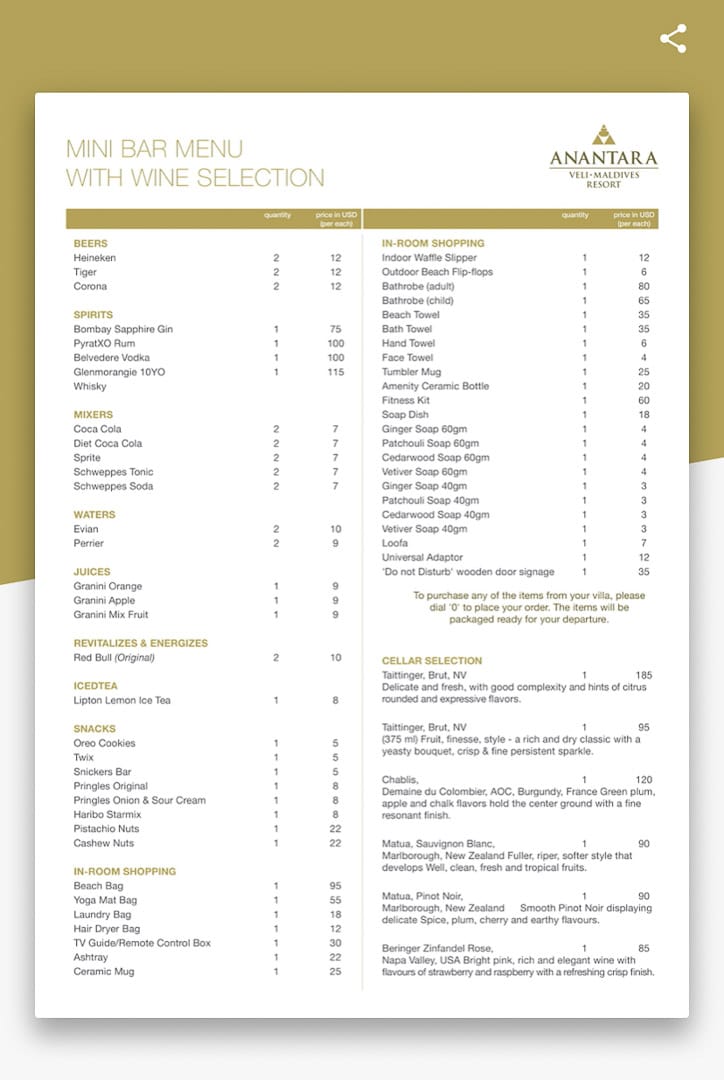 The best value minibar award still lies firmly with Finolhu though (bottles of gin for $50!).
Bedroom
Entering the bedroom I was immediately struck by the amount of natural light and the spacious feel of the room. The vaulted ceilings and ample walking space around the bed are luxuries that you don't generally expect in overwater villas. There was also a four door wardrobe with extensive suitcase space on either side. In terms of storage this equalled what we had at the Waldorf Astoria.
The desk behind the bed offered ample space to set up our laptops and camera equipment but suffered from the age old problem of not being able to handle a Mac charger (I've run into this on so many airlines over the years too).
On the plus side we were supplied with a pair of binoculars, great for spotting dolphins from a distance!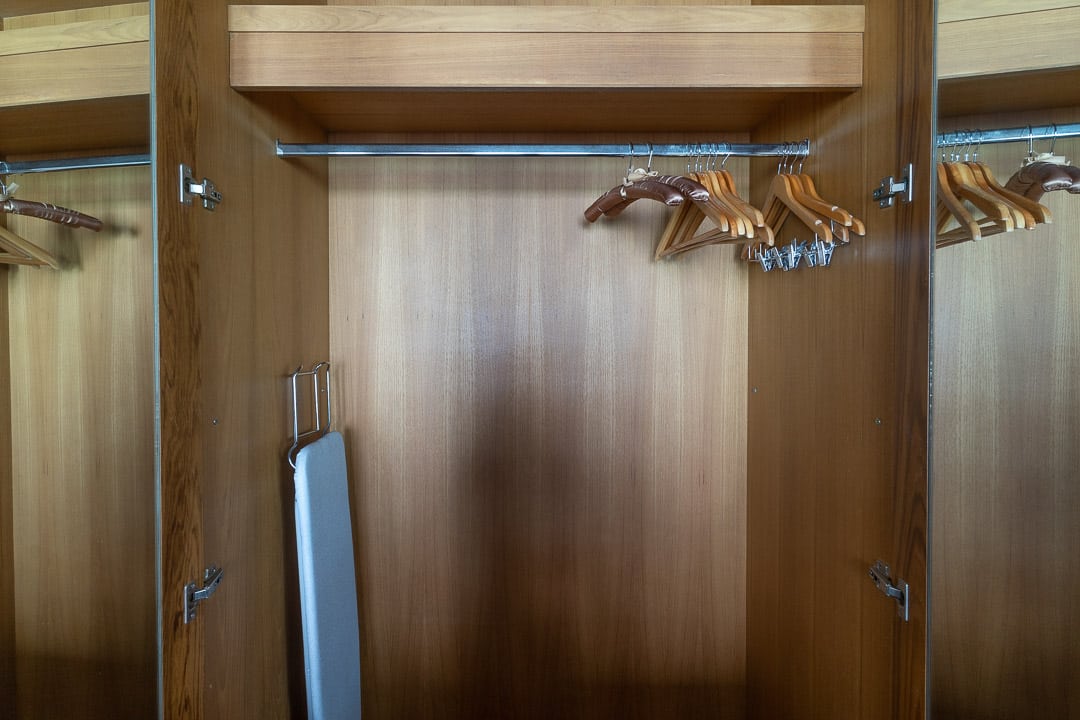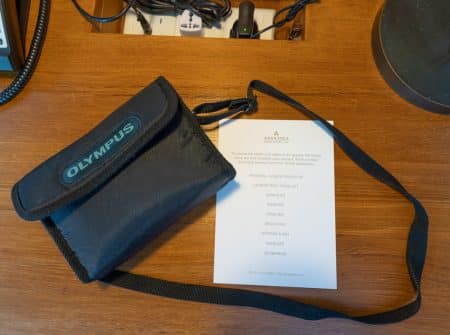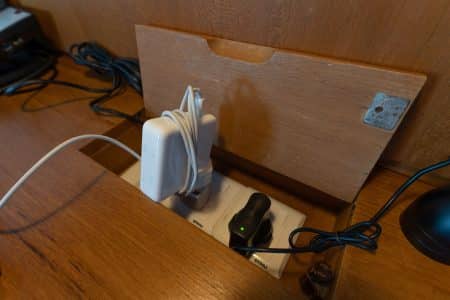 A note on the desk indicated that a number of items were available on request, including beach bags, raincoats and yoga mats.
The GM explained to us that these are usually permanently supplied in every room. During Covid though this would represent a substantial amount of extra cleaning for items which tend to have very low usage from guests.
The bed was very comfortable and featured high quality feather pillows. There was a bank of four USB ports on one side of the bed but the other only had a light switch. It was possible to run a cable from the desk to charge a phone though so we didn't have the age old fight for the 'good side' of the bed.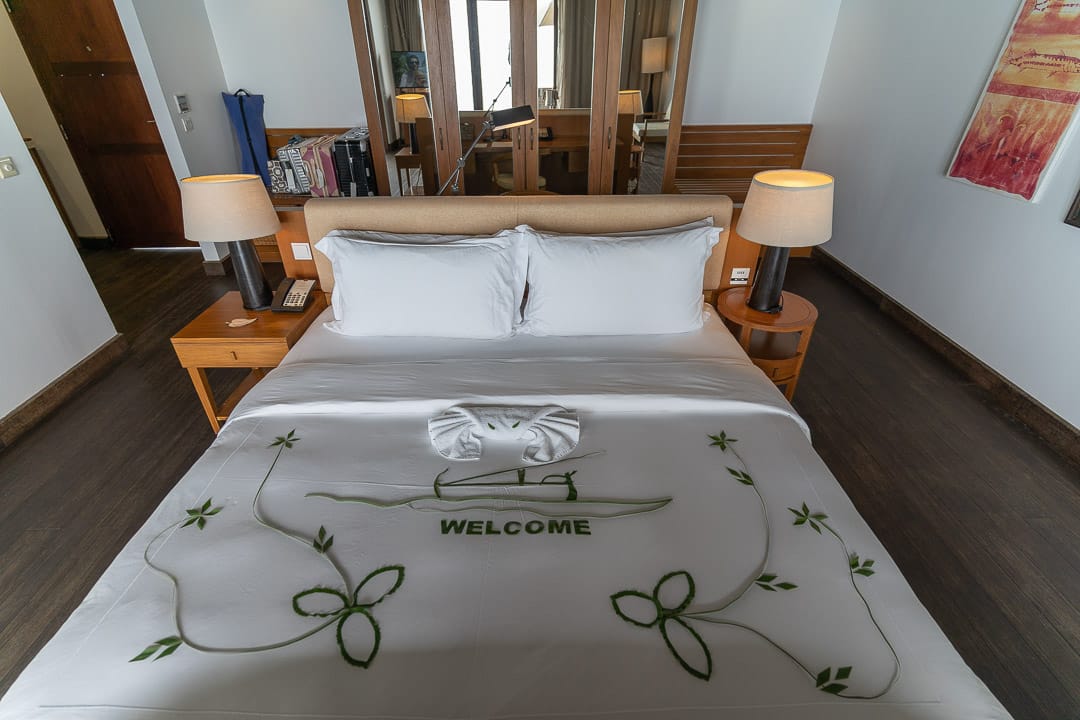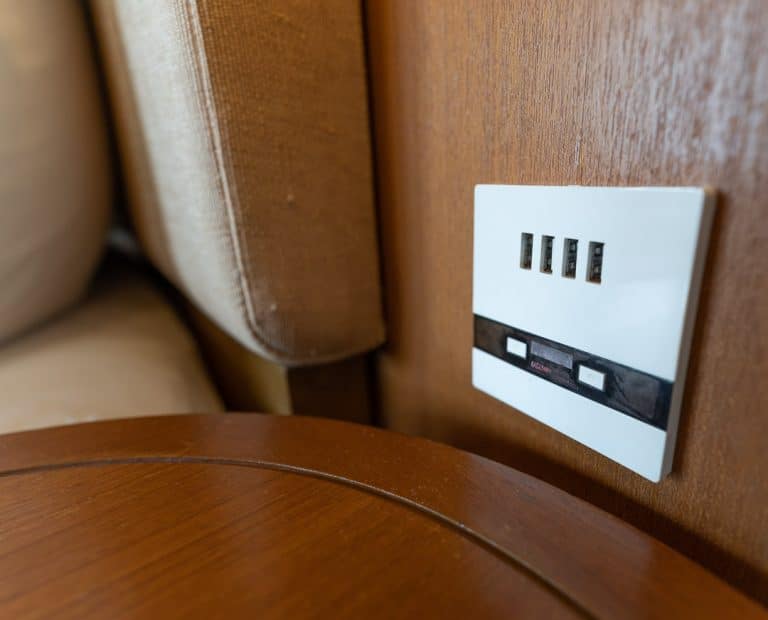 I think that the traditional water villa setup of desk -> bed -> sofa flows really well which is why so many properties adhere to it. However I didn't find the look and finish of the sofa to be particularly luxurious, either in terms of the colour or the choice of material.
What was luxurious however was the munificent welcome spread that awaited us in the room. A selection of juices, smoothies, pastries and fruit together with a bottle of Taittinger.
Given that the Waldorf charges 3x the room rate and now only gives guests a £5 bottle of red as a welcome, I think that Anantara Veli made a real statement here. This came up when we had dinner with the GM on our final night. He described one of his most disappointing hotel stays ever, which began with a very stingy welcome amenity. He said this really set the tone and things went downhill from there.
He went on to say, "I firmly believe that if you're paying £700 a night for a hotel they should be popping a bottle of champagne in the room".
I couldn't agree more.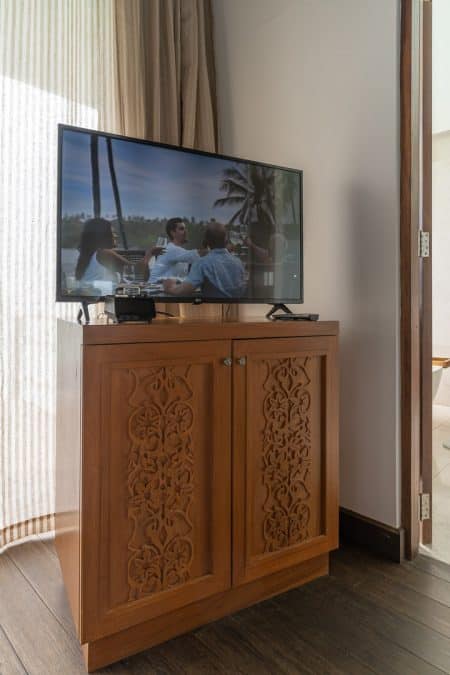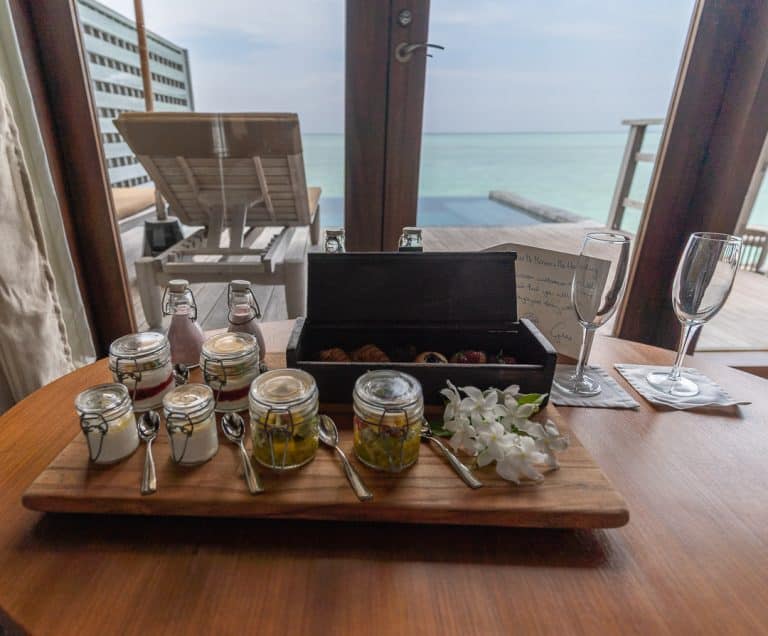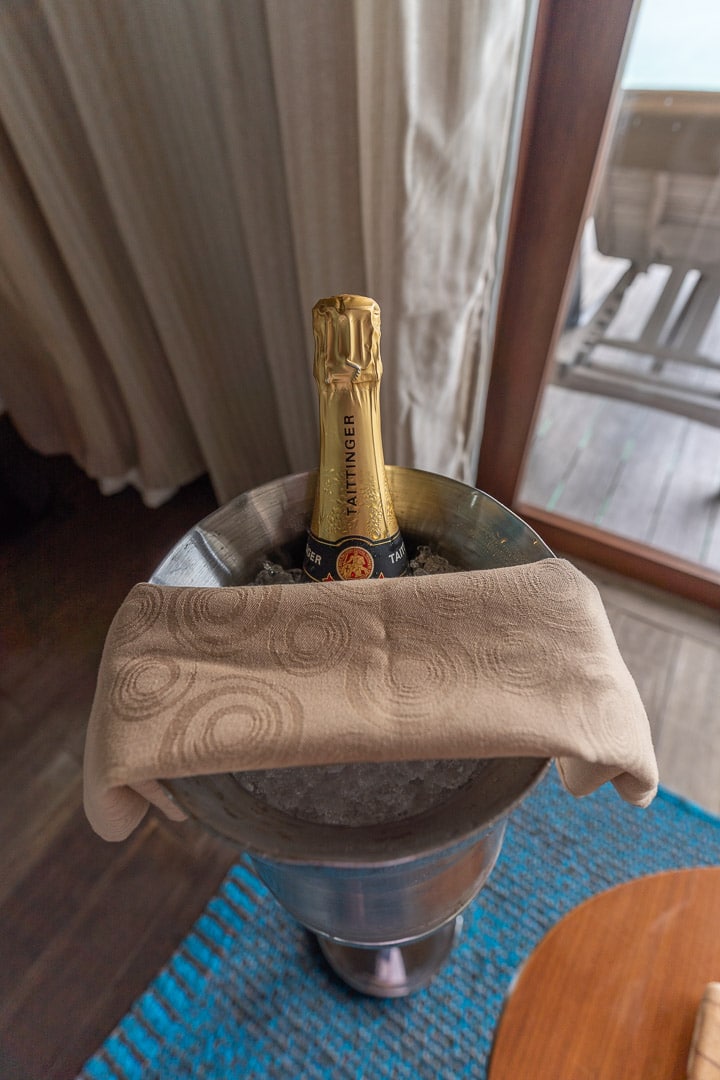 Bathroom
The bathroom had a really clean, modern and luxurious feel to it. A swathe of light marble offset by wooden accents, which was very reminiscent of Park Hyatts like Siem Reap or Dubai. Electronic blinds were in place for additional privacy but we personally never used them since we had an uninterrupted view to the horizon.
The folded towels in a woven basket provided an immediate nostalgic anchor to Thailand. I also find that a small plant is a great detail that makes a real difference to a bathroom but is often overlooked.
The star of the show was clearly the deep soaking tub with its infinite ocean view.
The shower and toilet both boasted the same beautiful view thanks to the layout of the bathroom. The shower was luxuriously over-sized and featured a powerful rainfall head.
Toiletries were Anantara branded and came in refillable bottles. I love the scent of lemongrass and really enjoyed using these.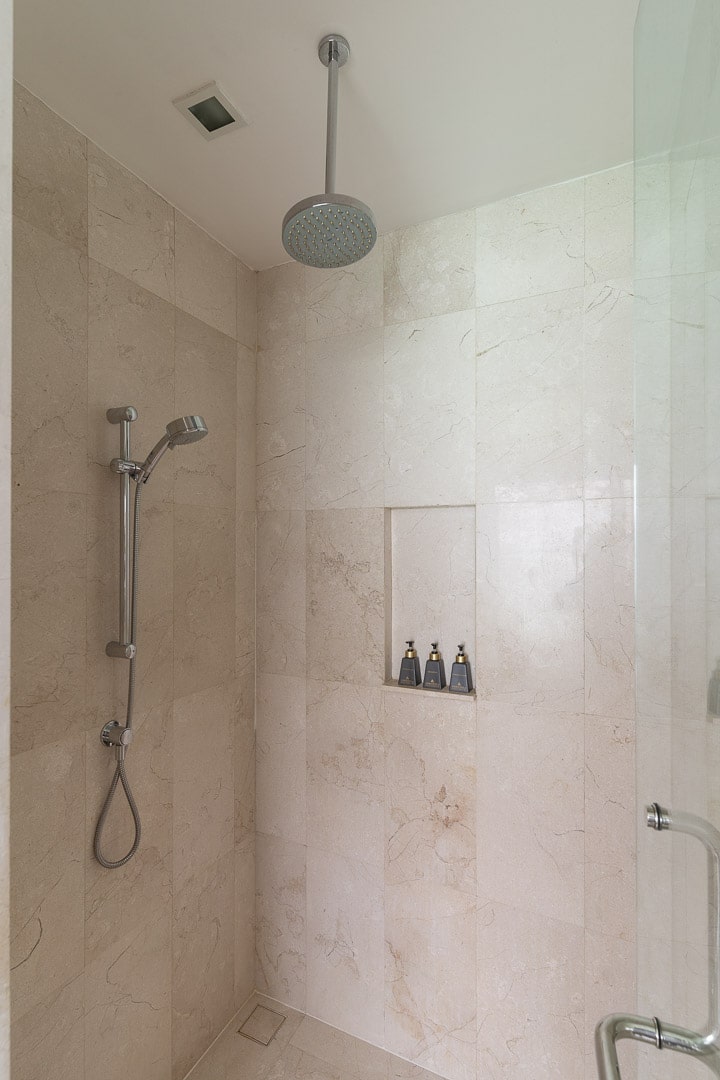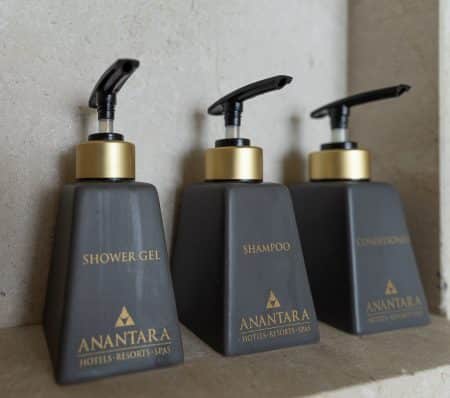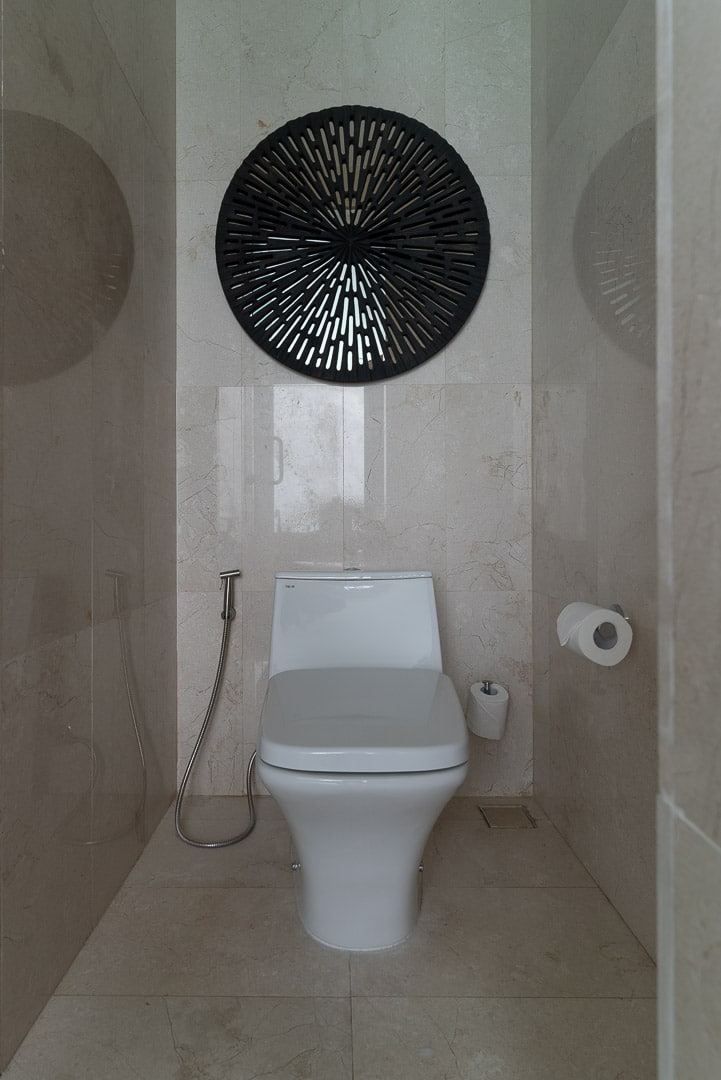 Outdoor Space
The definitive Maldivian experience, an over water deck complete with swimming pool. This is why people pay to visit the Maldives.
As a I mentioned before, I was a little apprehensive about the resort's location. However, I can assure you that despite the resort's proximity to the airport this wasn't a factor as we enjoyed time on our deck. Boat traffic was fairly minimal and despite a nearby inhabited island, our direct line of sight was pointed towards a blue horizon (whereas a great deal of the Waldorf's villas point directly at Malé airport).
You can just see the inhabited island of Maafushi peeking out next to the wooden barrier.
I really liked that the pool had a large shelf built into it for sitting whilst enjoying a drink. Another fantastic sunset spot.
The table and chairs were the perfect place to enjoy the first coffee of the morning with a few chapters of a good book. There wasn't much coral near to our bungalow (the entry level Over Water Bungalows are the best for this), however we did see a huge number of squid right next to our steps. It was amazing watching them suddenly flash from one colour to the next as they caught sight of us.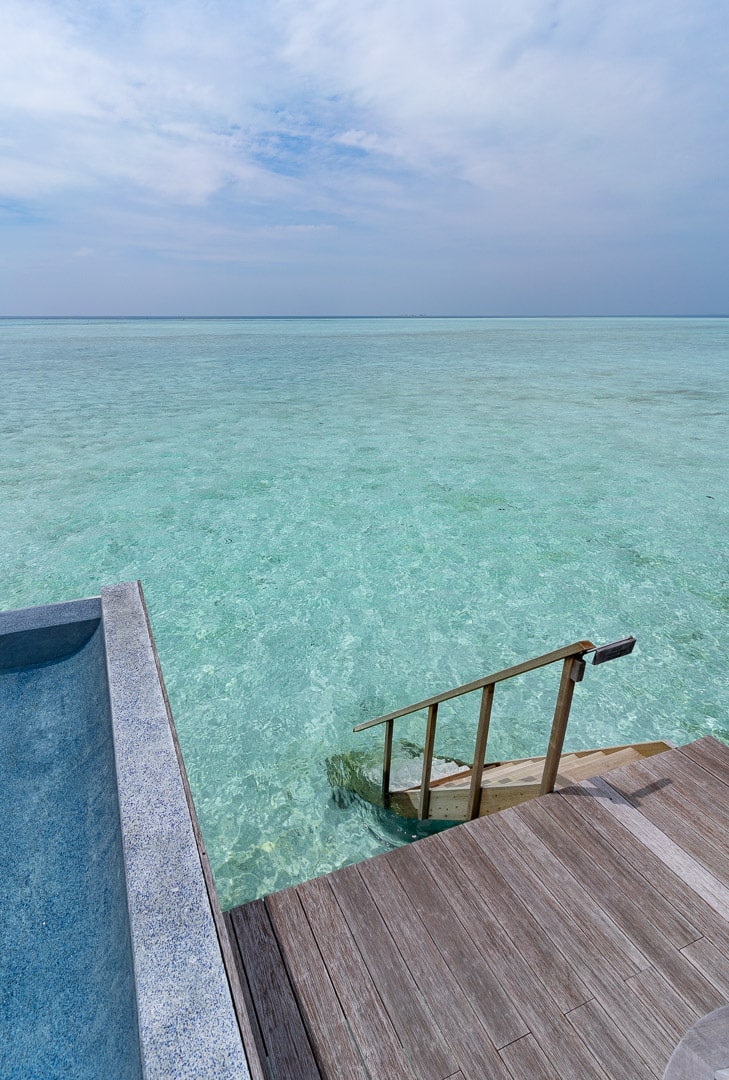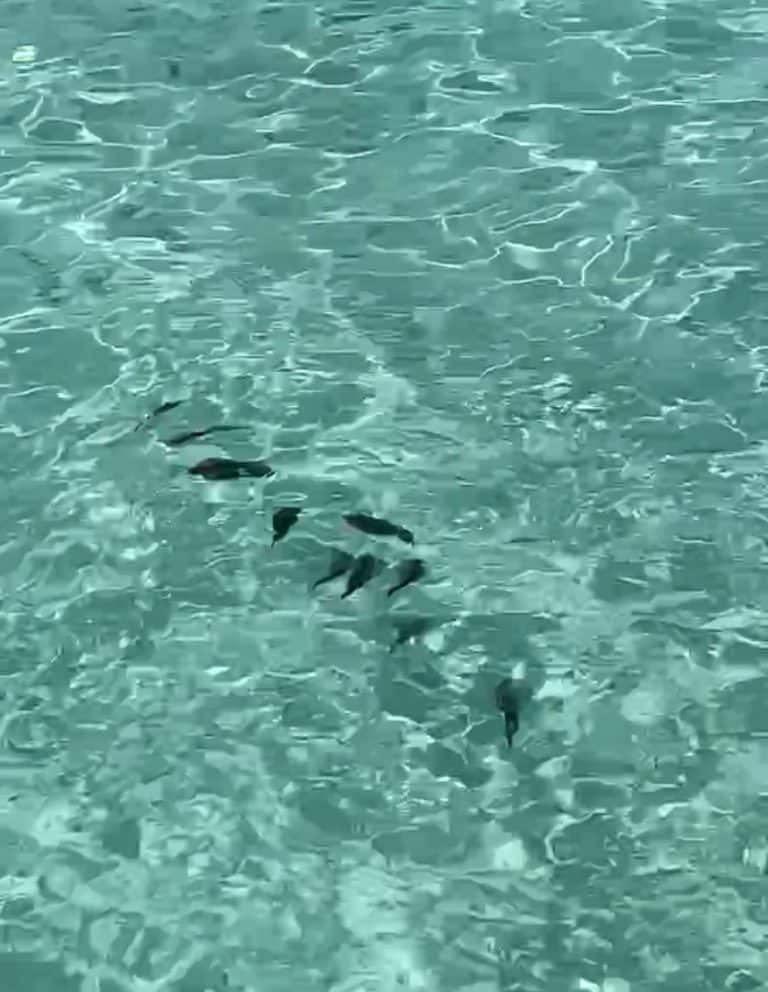 During the day, the ocean is usually where I want to be. There's something absolutely wonderful about a post-dinner swim in your own private pool though.
Housekeeping were great and turndown really transformed the bedroom. After dinner each night we returned to the amber glow of our tranquil sanctum. Thickly padded sippers were carefully placed on linen mats, pillows were plumped and towel animals were waiting to greet us.
The little notes that the housekeepers left us were very cute too.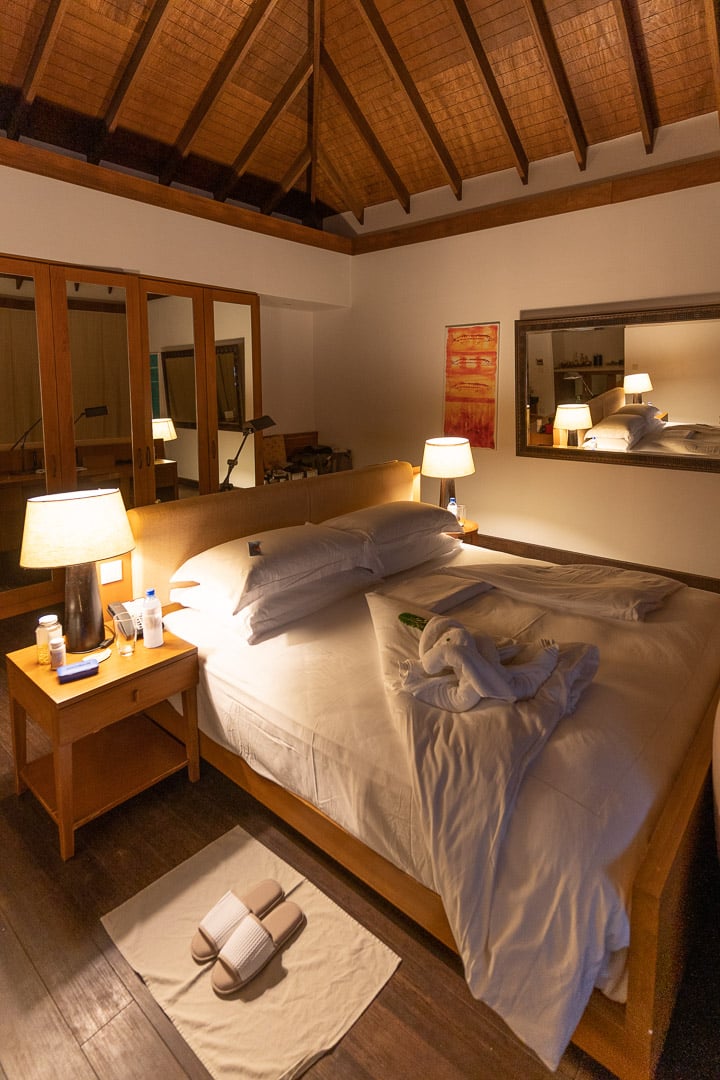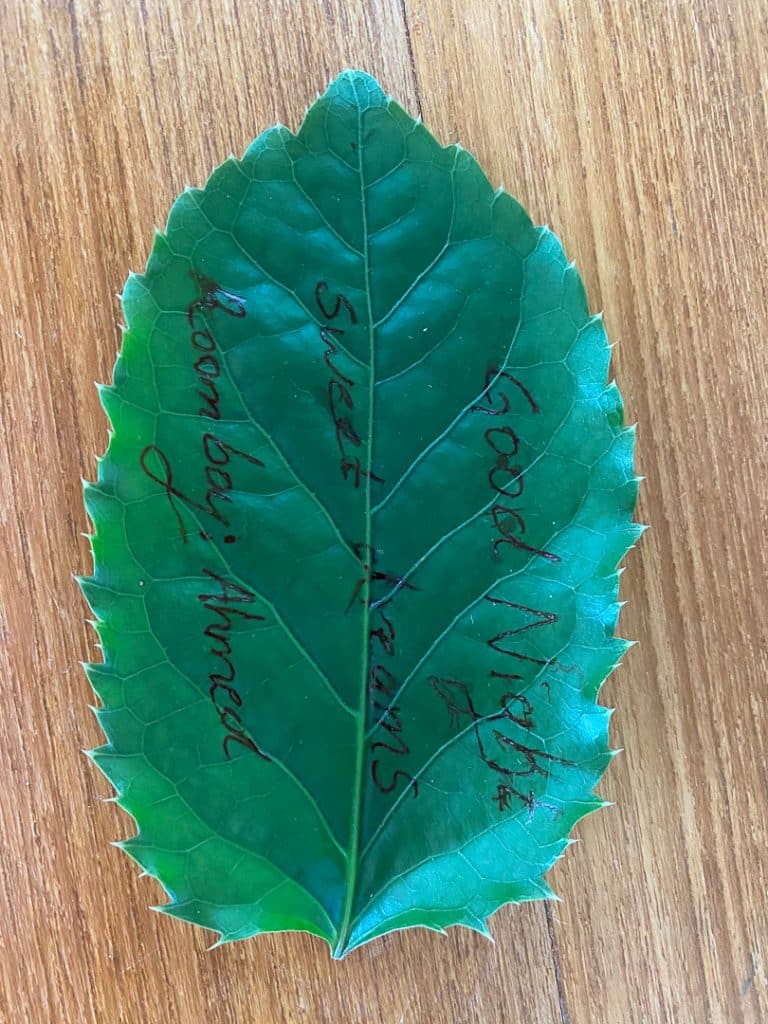 Sunrise at Anantara Veli, about as postcard perfect as it gets…
---
Anantara Veli Facilities
---
As I mentioned in the introduction, the footprint of Anantara's resorts near Malé is significant. We had full access to all facilities at both Anantara Veli and Anantara Dhigu (which is accessed via a regular pontoon boat taking 2 minutes or so to complete the journey).
Veli is an adults only resort which the staff casually refer to as 'honeymoon island' – it is generally much quieter here, especially at night. If you're looking for lively bars and restaurants (as well as the spa!), then Dhigu is the place for you.
Adults Only Infinity Pool
I'm not going to lie, November can be a tricky month in the Maldives and we had some pretty bad luck when it came to the weather. As such, we didn't really get a chance to enjoy this pool. It is located directly adjacent to the Dhoni bar.
The Dhoni Bar was very relaxed and casual during the day. It was a great place to come and play some pool, hearing the sound of the roaring waves crashing against the nearby surf break.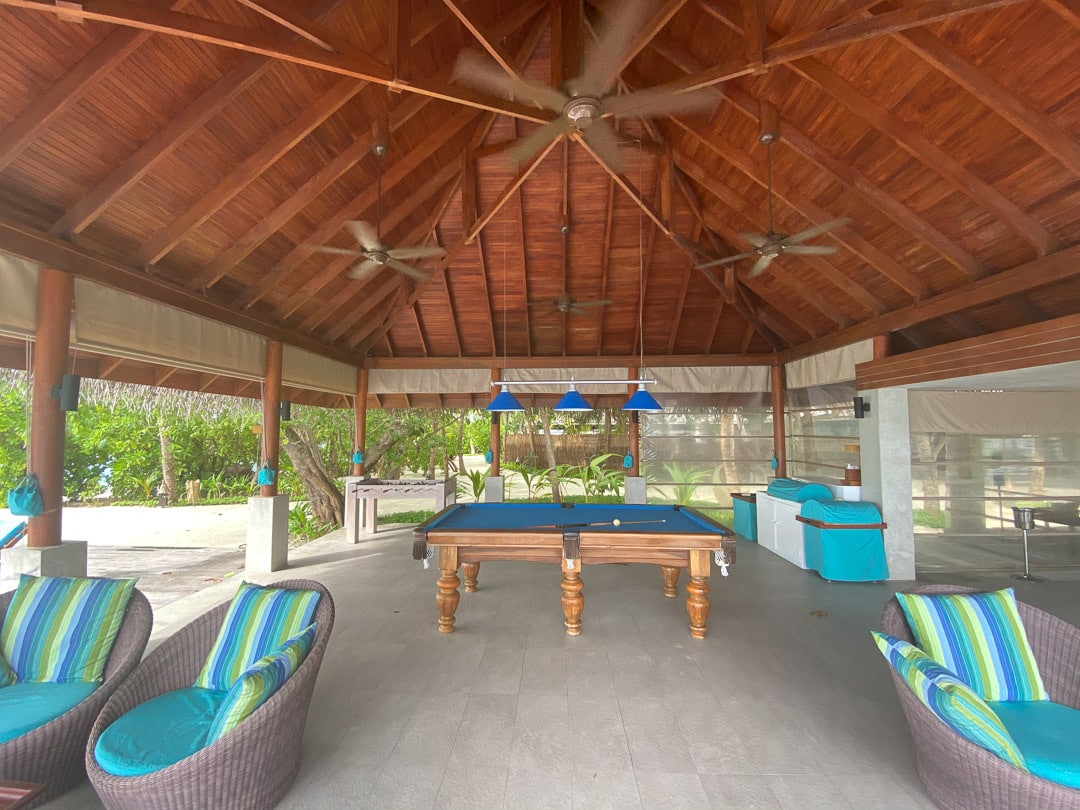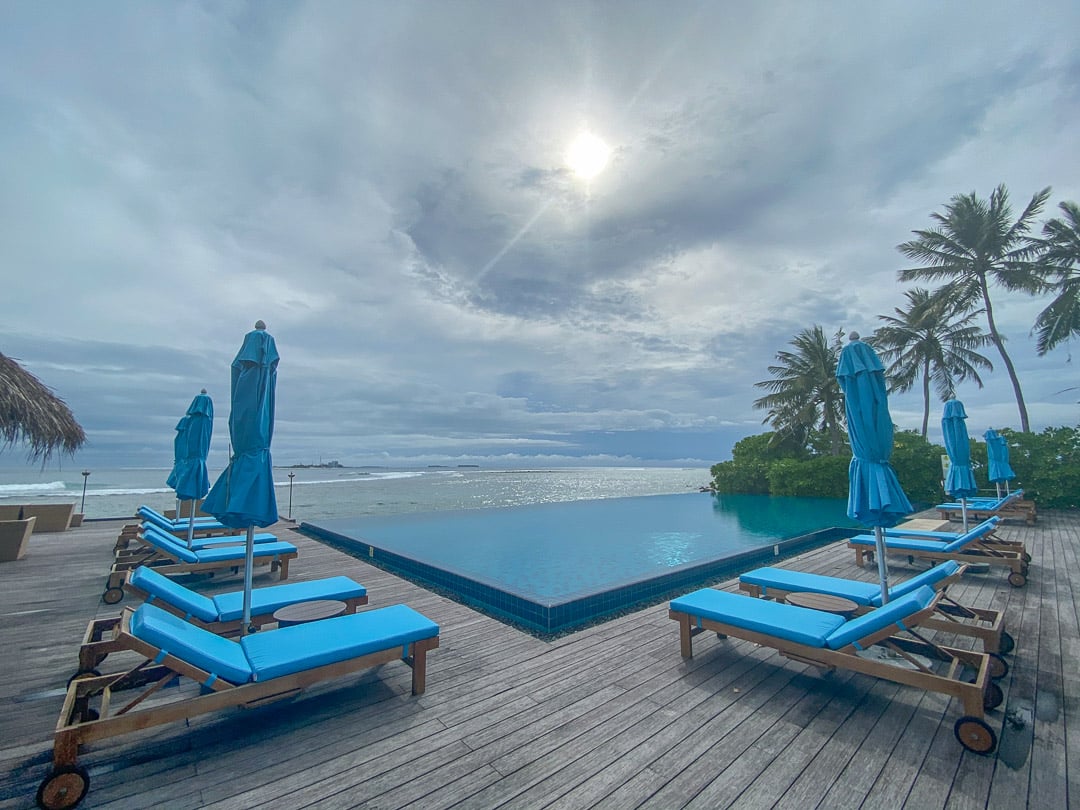 Gym
Veli and Dhigu have almost identical gyms, located in standalone buildings within their respective jungle areas.
COVID safety was front and centre during our visit, with gym use limited to two guests at a time. Sanitiser was available and a card system was in place to alert staff when machines needed cleaning.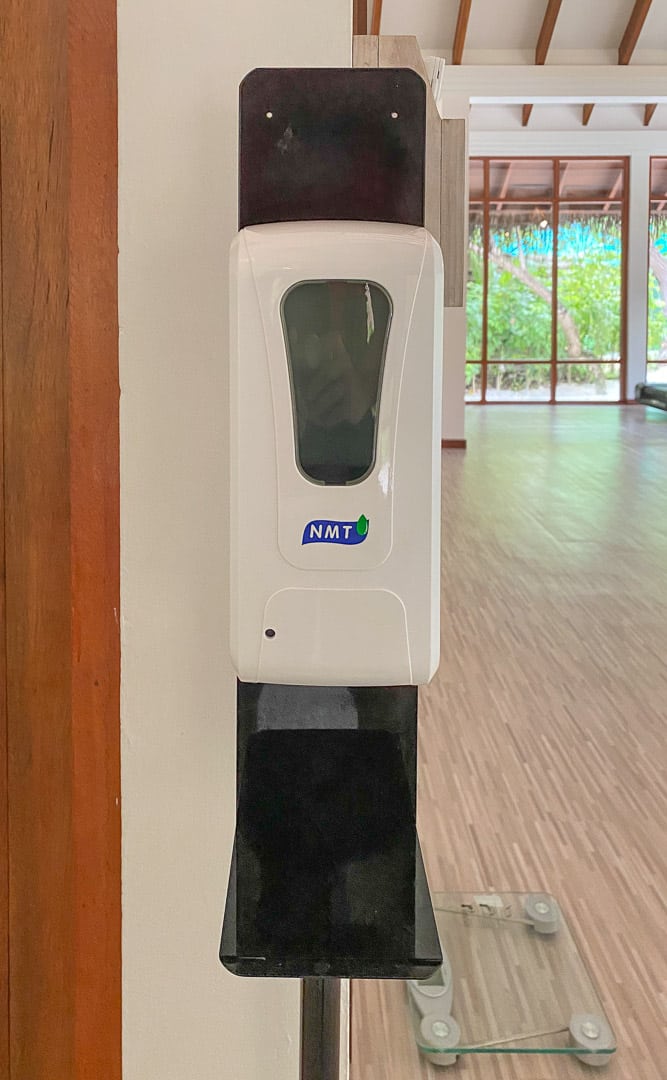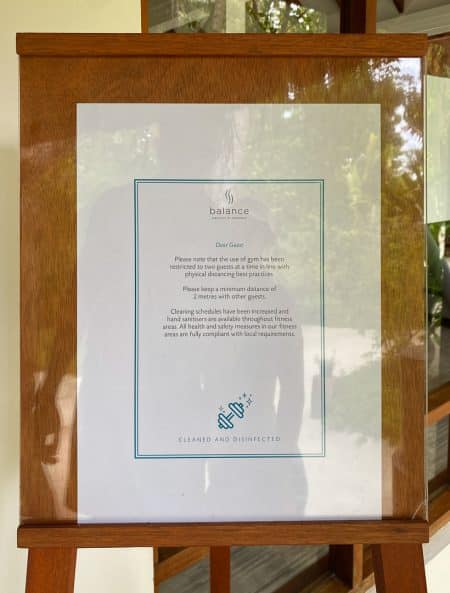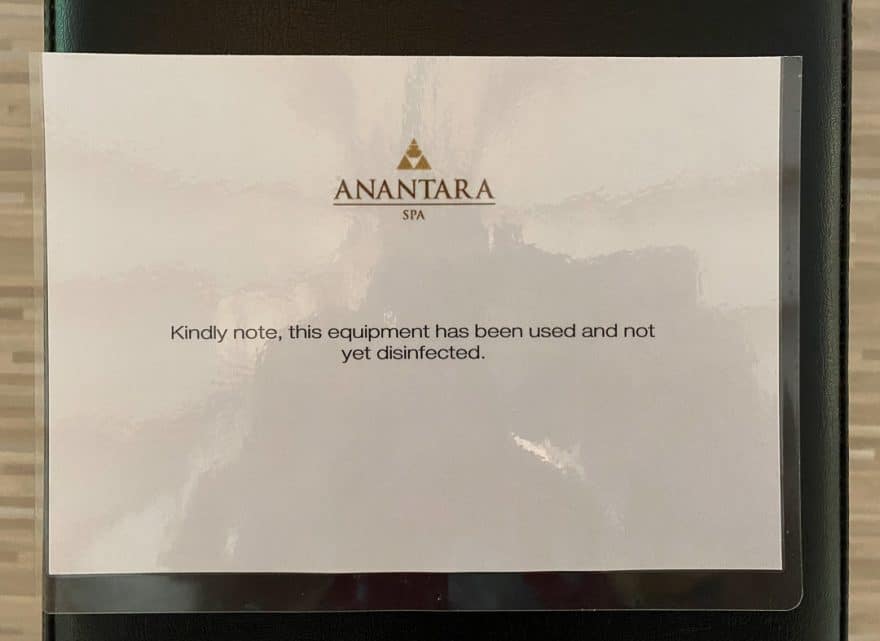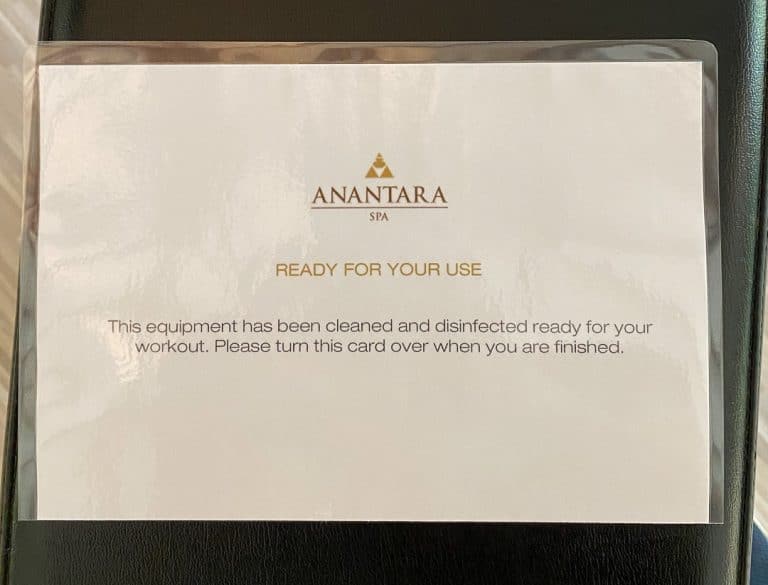 The pavilion felt very spacious and was well air conditioned. It was great to see a leg press but I would have also like to see them add a cable crossover and/or a smith machine. Free weights went up to 20kg.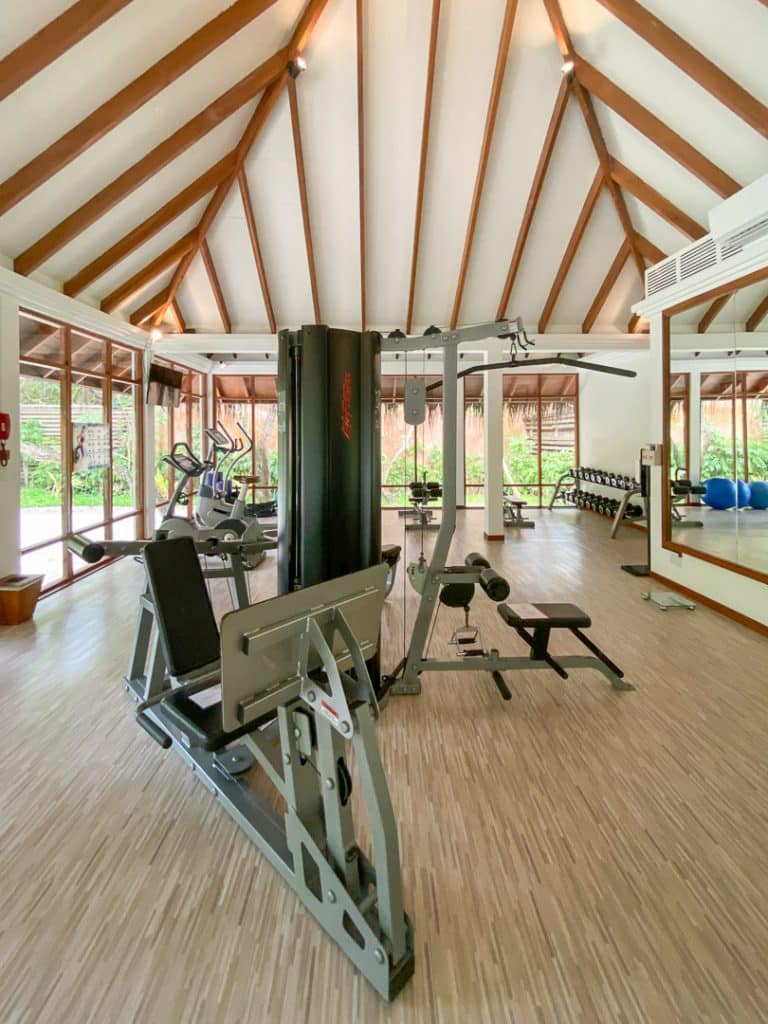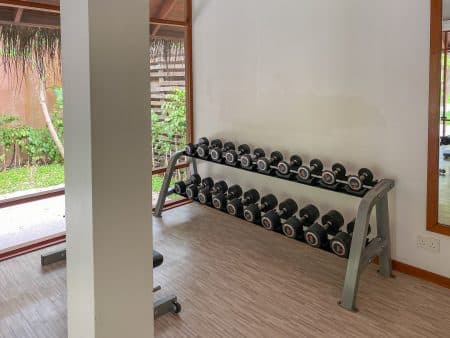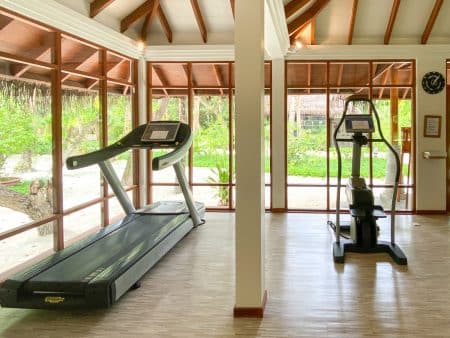 Wax lined paper cones were provided for use with the water fountain. Other resorts still supply reusable plastic cups/bottles during COVID so it was disappointing to see waste being generated in this way.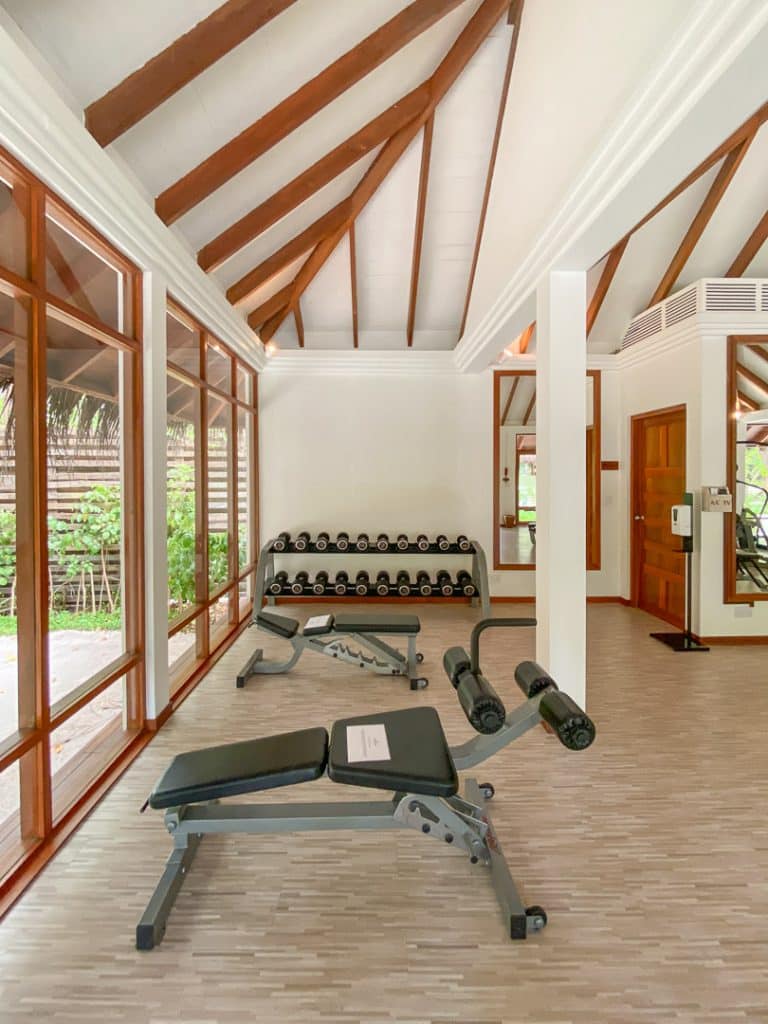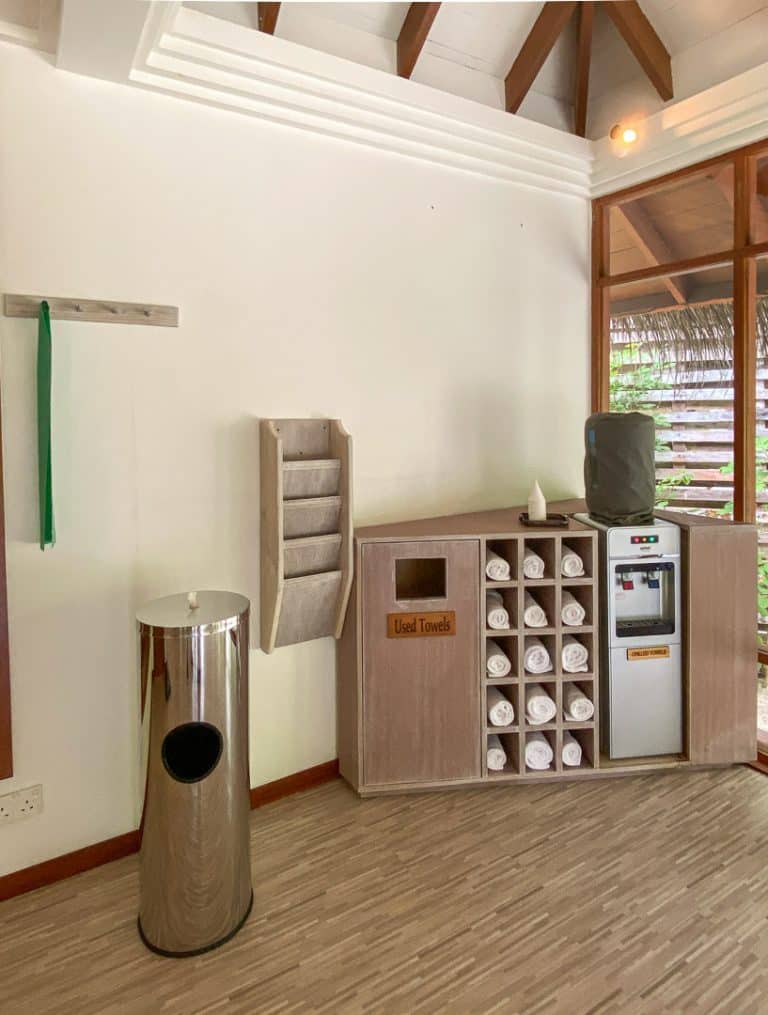 ---
Anantara Dhigu facilities
---
Anantara Veli and Dhigu are linked via a rapid pontoon boat service that runs between the base of Veli's Water Bungalows and the Over Water Spa at Dhigu. The boat takes around two minutes and is in constant operation.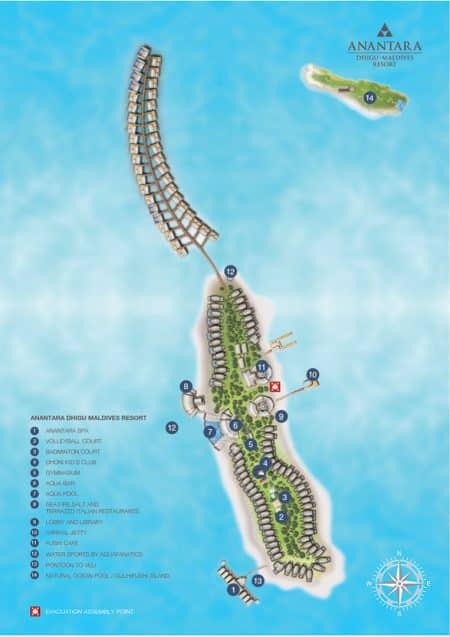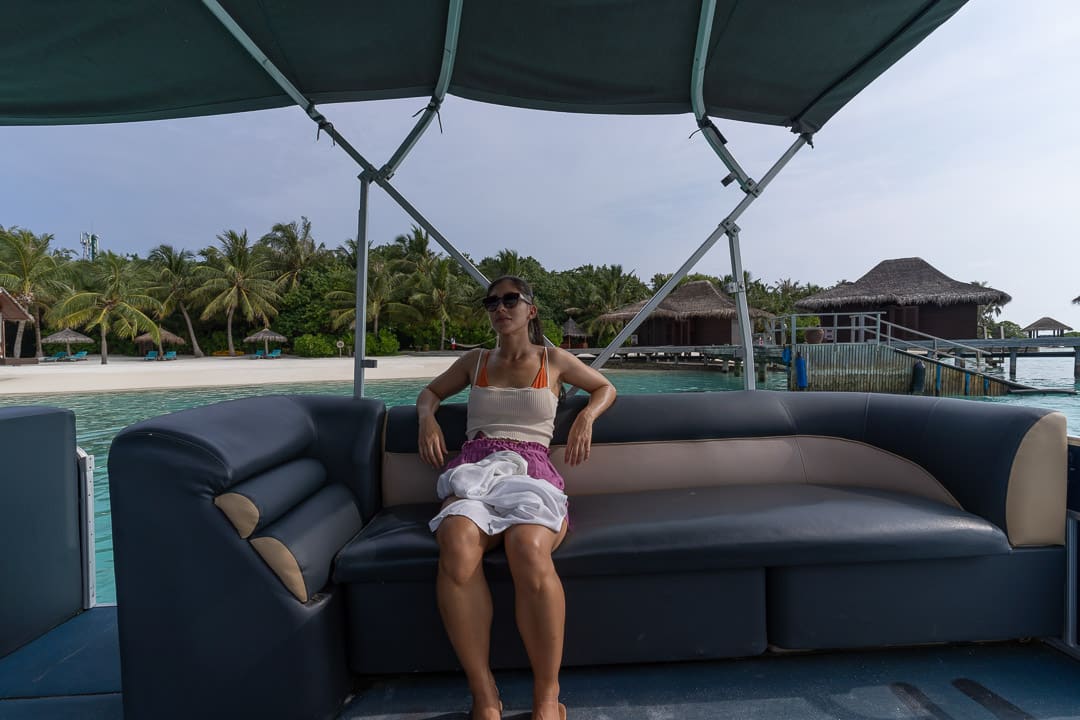 Balance Spa
Balance Spa Wellness Brochure – February 2021
The pontoon boat arrives at the Spa, which is on the far southern tip of Dhigu island. Our bungalow was actually located closer to the Dhigu spa than the Veli pontoon and I did wonder whether a swim would have been quicker…
I went for a spa treatment at midday one day, which I think is the perfect time. It's too hot to be out unless you want to get burnt and you can enjoy a relaxing lunch straight after.
As I approached the spa, I was very warmly welcomed and offered a thick scented towel and a thoroughly refreshing welcome drink. I was then presented with an iPad containing a health questionnaire as well as questions around areas to avoid, pressure preference, etc.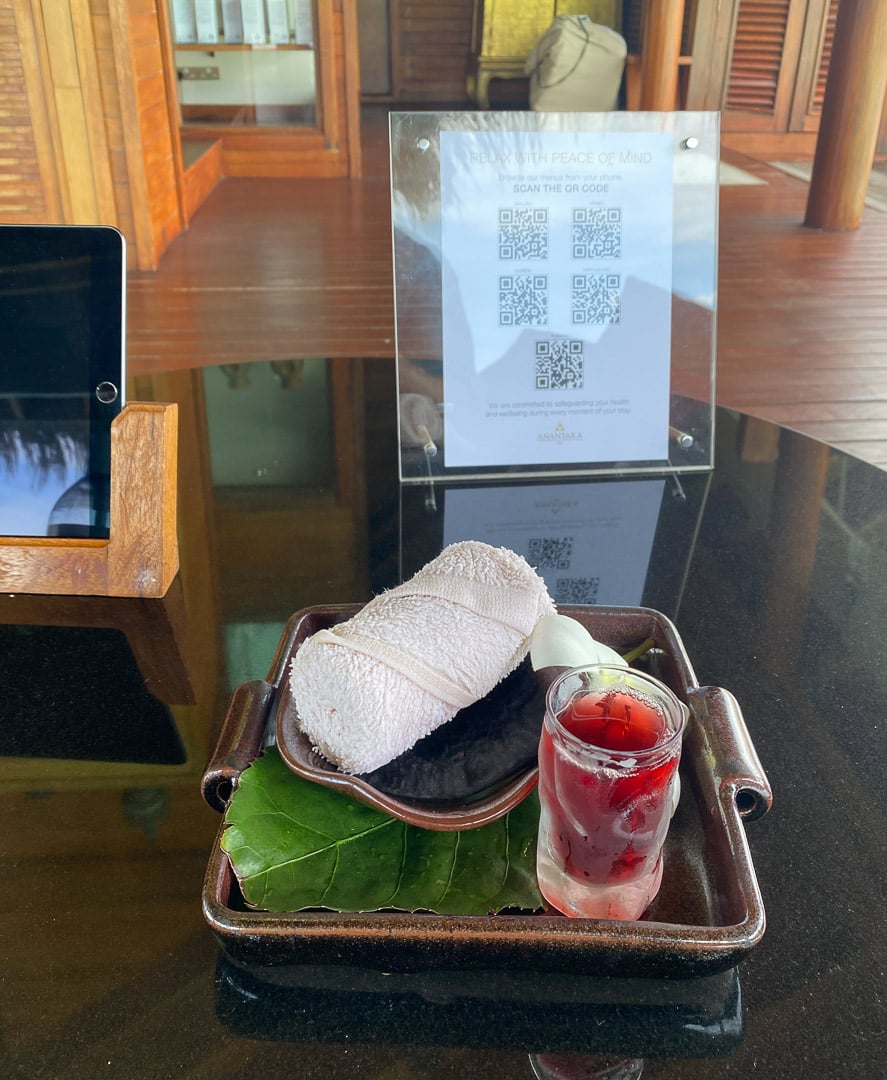 The spa has 6 individual treatments rooms featuring much the same view as our bungalow.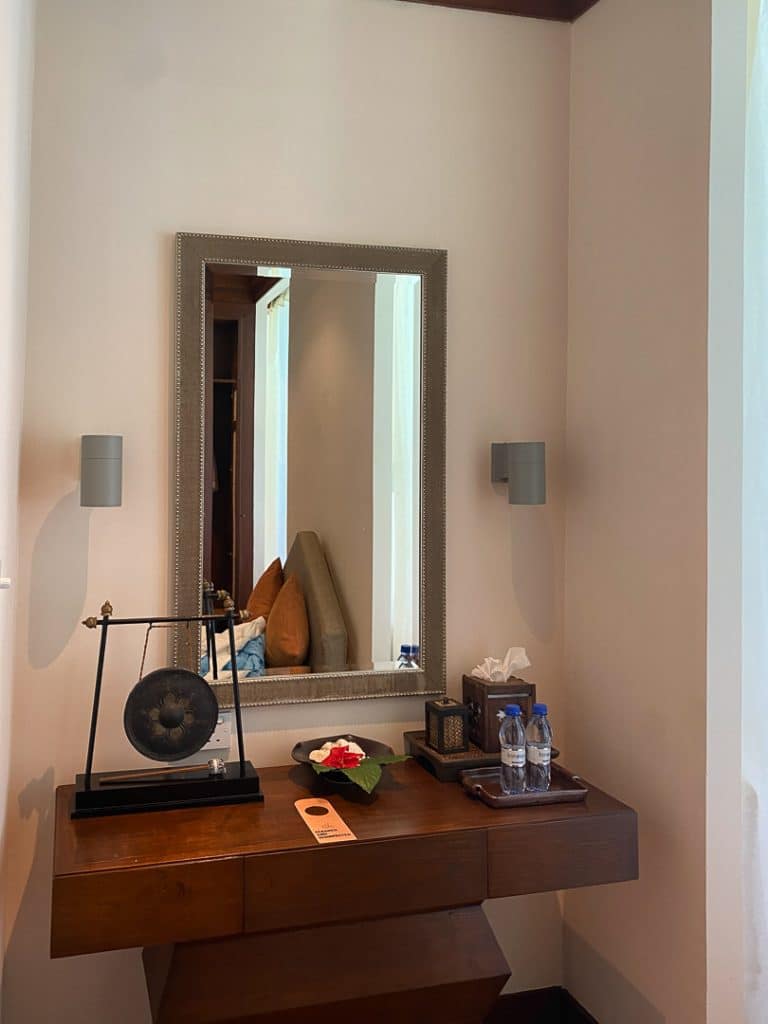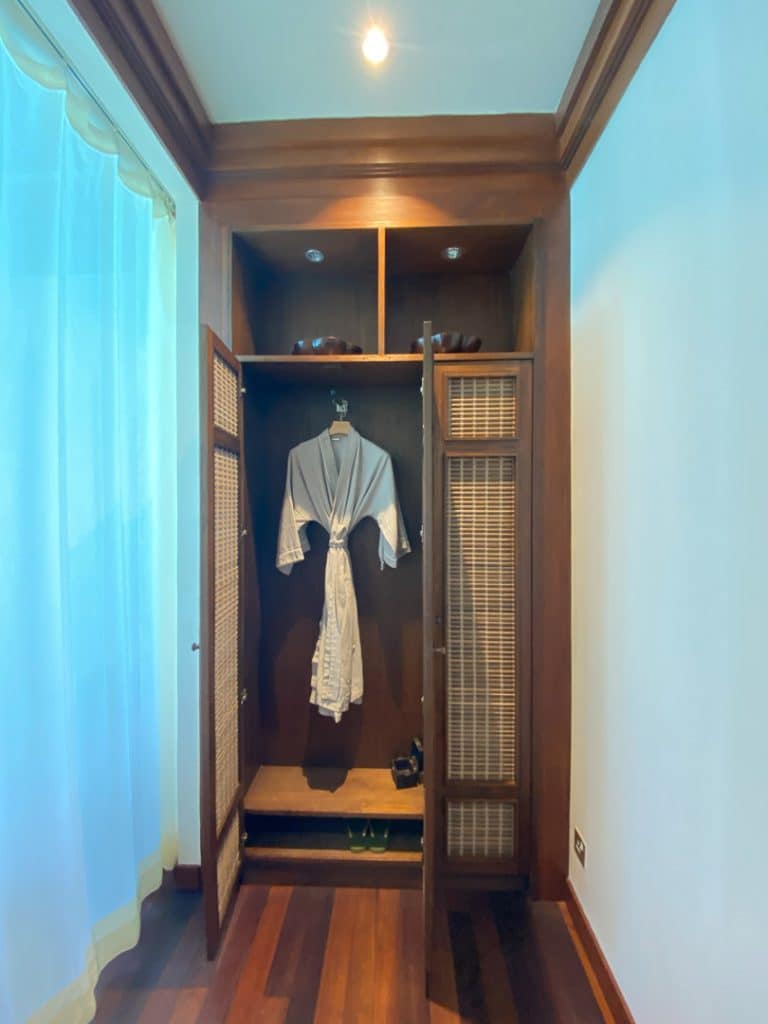 The bathtub was even more impressive than the one in our villa though and the perfectly padded headrest on the massage table positioned my head over a glass panel, affording me a wonderful view of all the passing marine life.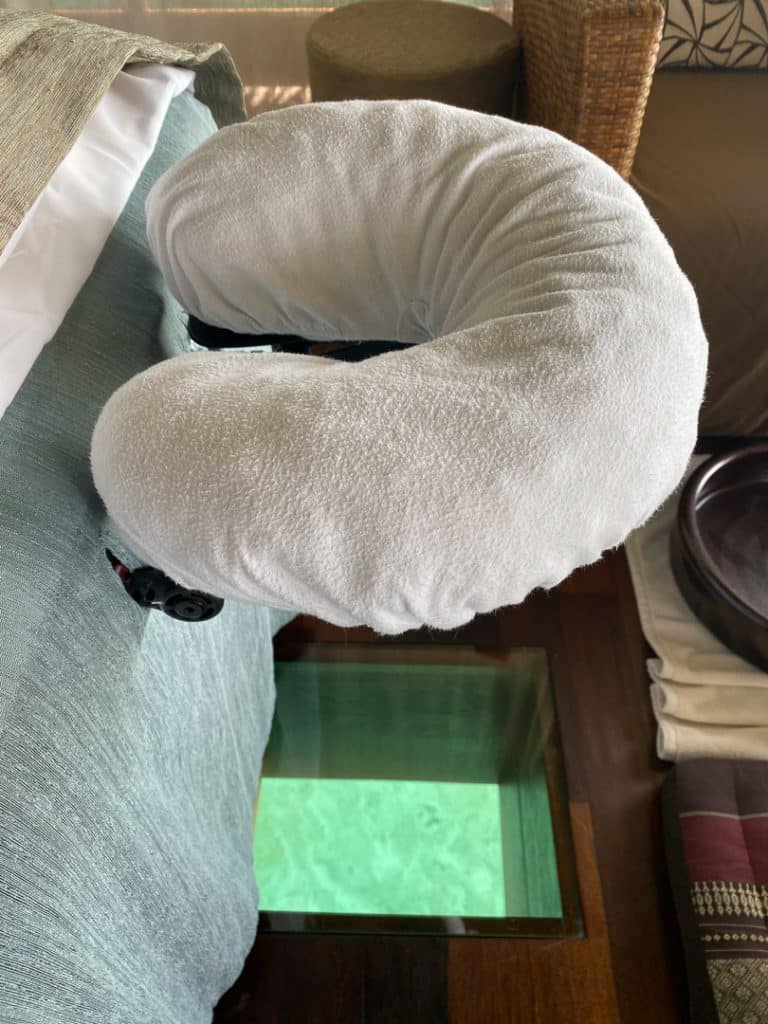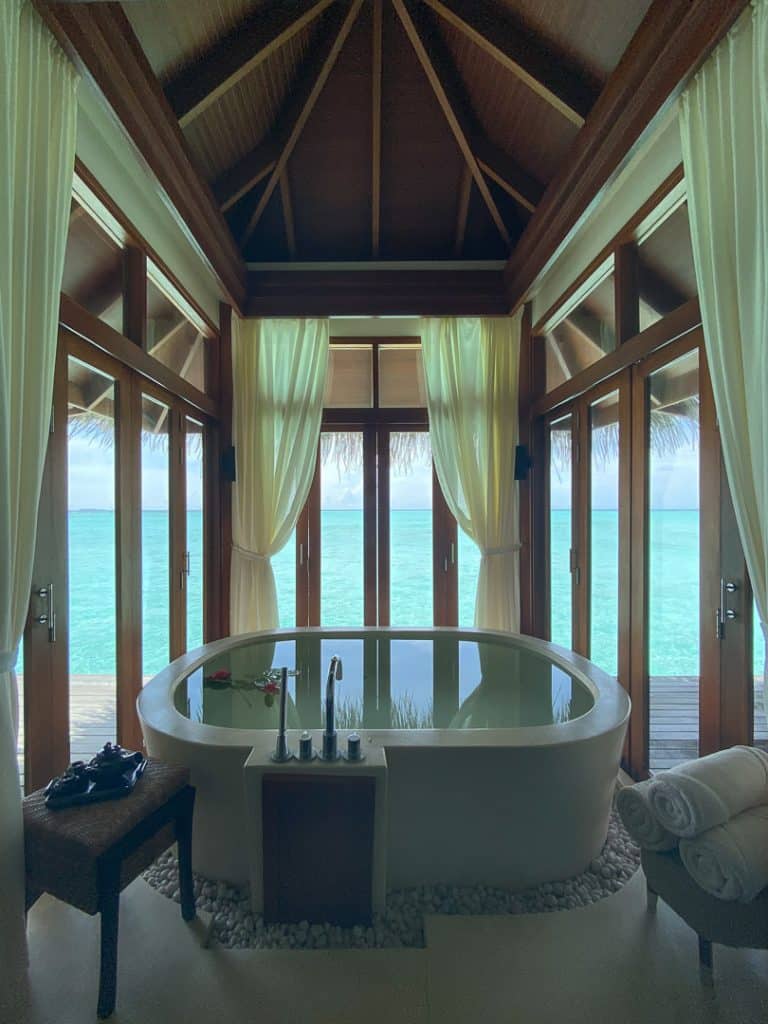 The massage was excellent, with the therapist taking time afterwards to explain areas I should work on to improve my postural alignment and soft tissue health. After 15 solid years of hard sparring in Brazilian Jiu Jitsu I've got a pretty long list….
Dhigu Island
Stepping off the spa pier and onto Dhigu island itself, the feel is quite different. The sand feels a little softer and the beaches are wider than at Vilu, wrapping all the way around Dhigu.
It is worth noting though that on Dhigu there are a large number of beach villas and the sun loungers and shades belong to them. Another difference between here and Veli is that guests on Dhigu all have bikes, since the island is so much larger. Being visitors from Veli we had to walk; thankfully the centuries old vegetation provided ample shade on our walk to the main pool.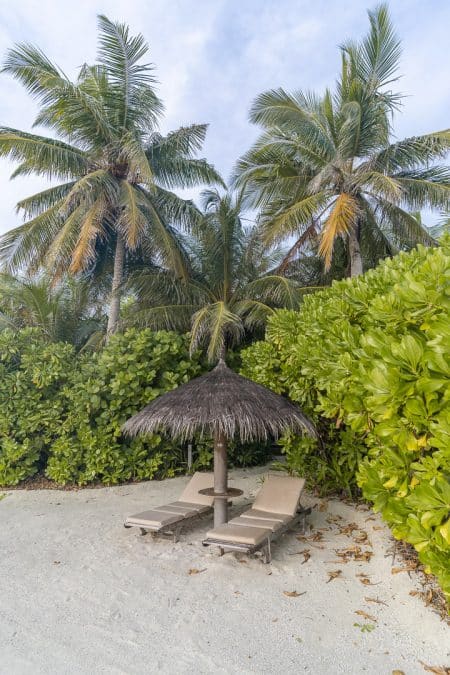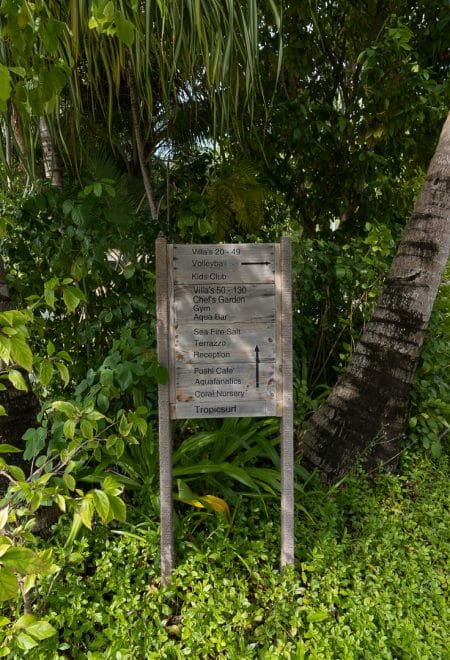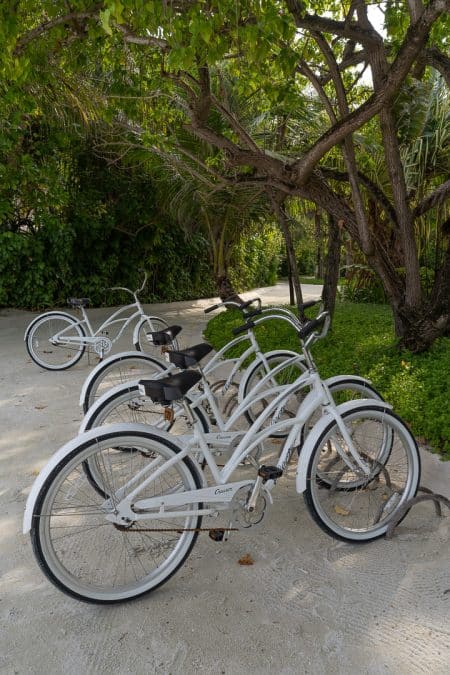 Despite being the family friendly island, the setting was still very tranquil, with the sights and sounds of nature being the dominant force here.
One thing I really wish we had time for was the surf school, since Veli is one of the privileged few Maldivian resorts to have proper surfing nearby.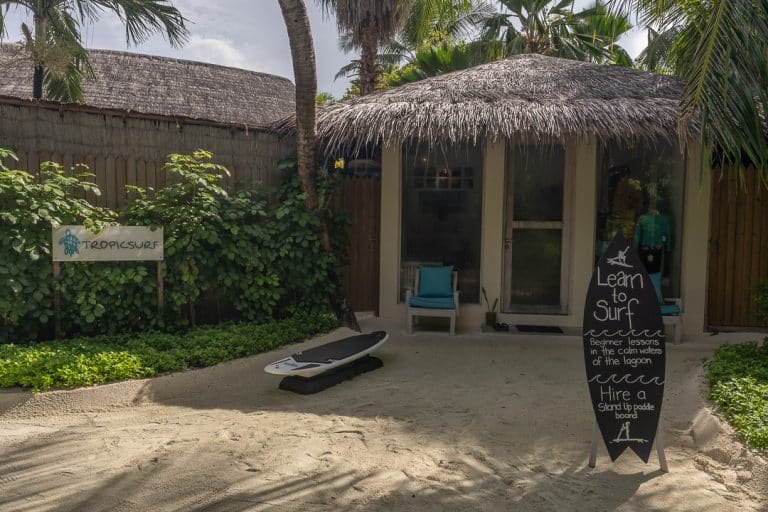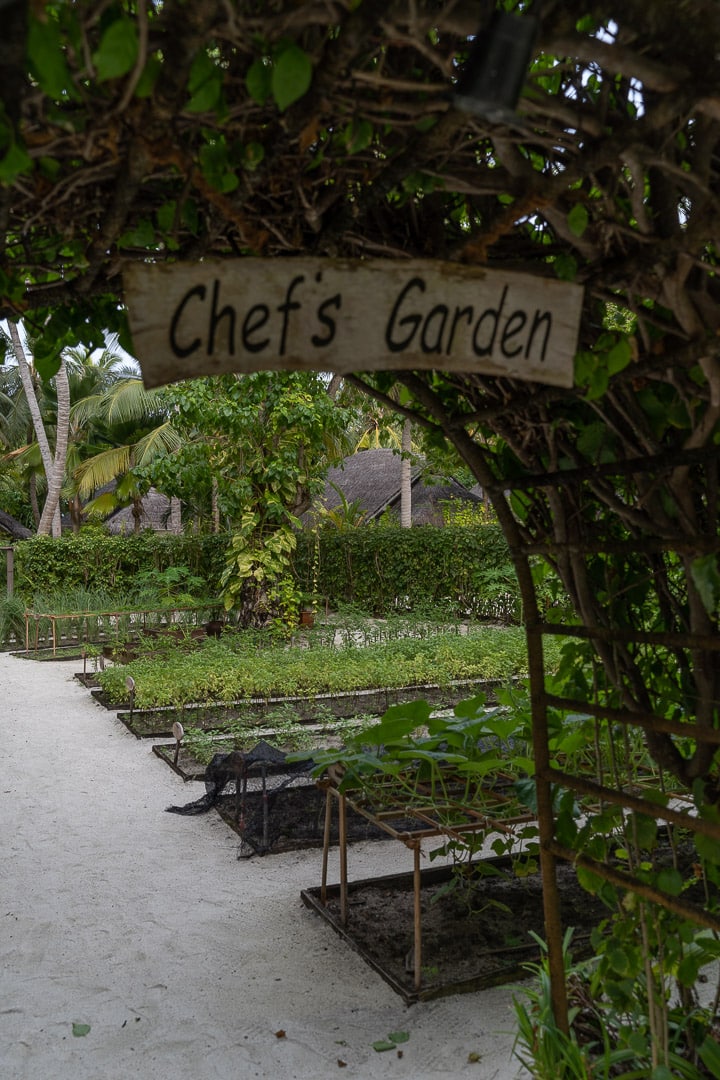 We passed an enormous looking kids club on the way to the pool – it honestly looked more like a fully fledged school. I'm sure kids would have an amazing time here!
There were also two beach volleyball courts in the centre of the island, one full sized and the other for children.
You really feel immersed in nature walking through the thick foliage here. All sound is dampened by the leaves to the point that you can hear lizards scuttling through leaves or birds chirping at quite some distance.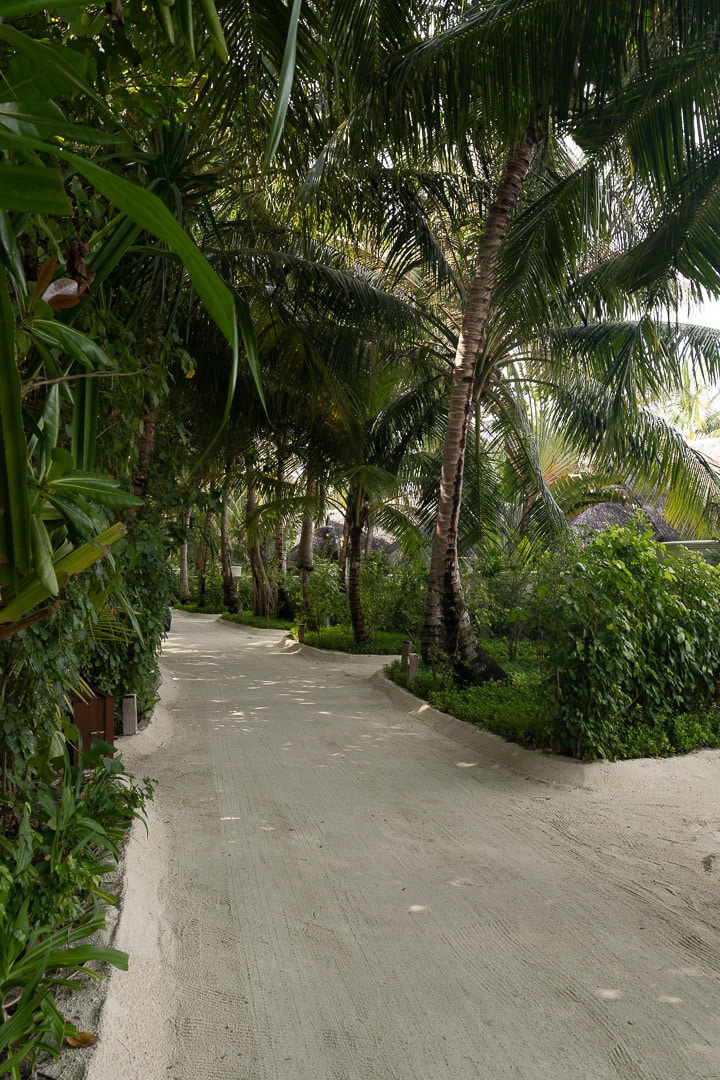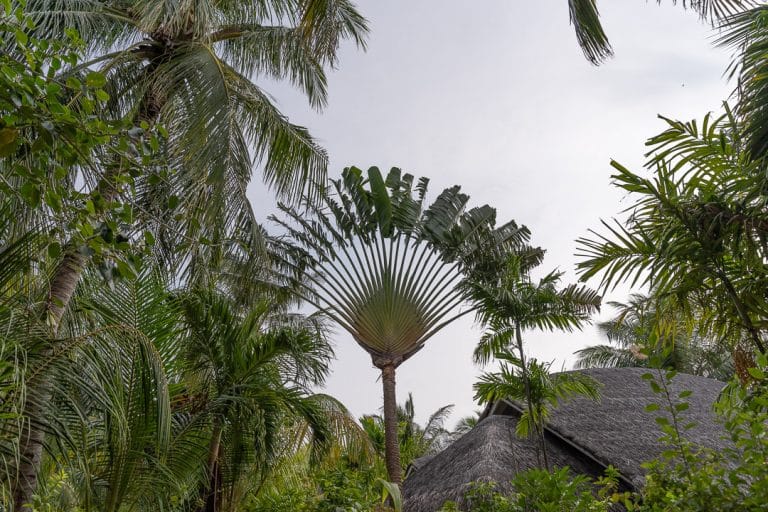 All Ages Pool
The enormous, fan shaped pool and the surrounding restaurants (Aqua and Sea.Salt.Fire) form the beating heart of Anantara Dhigu. This is where you come if you're looking for a bit more action and atmosphere.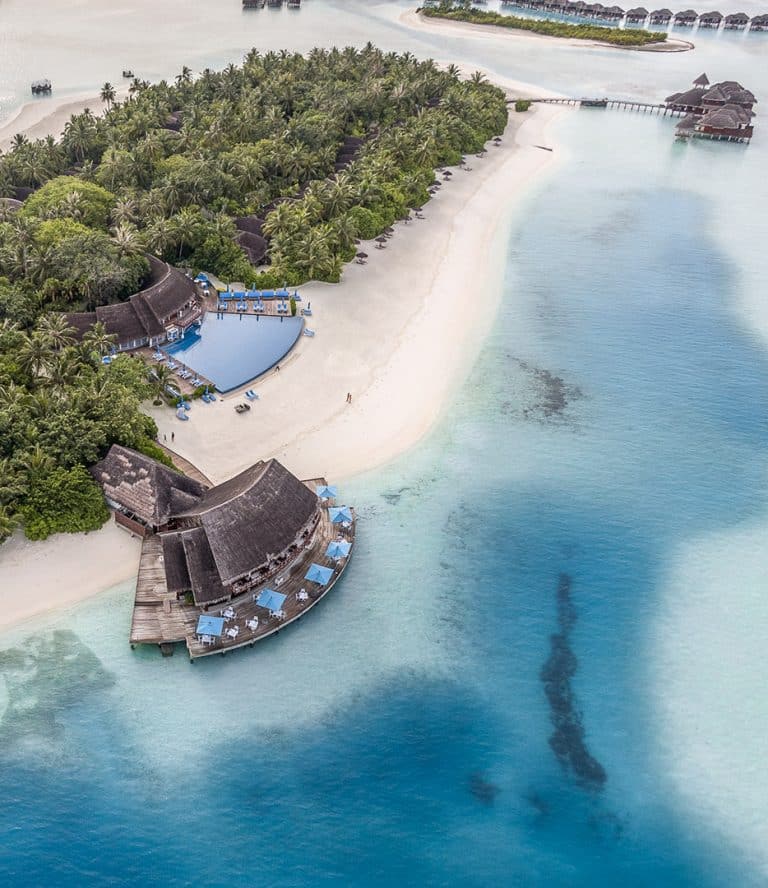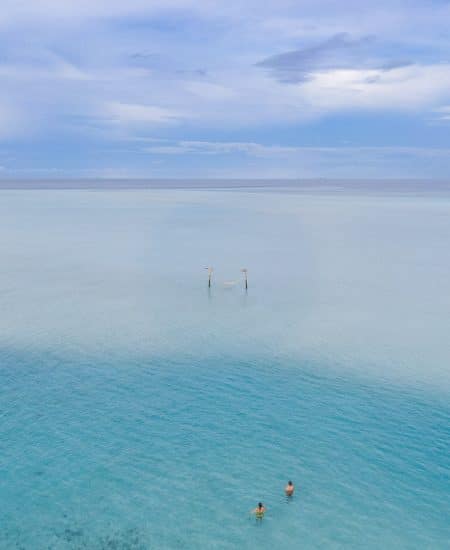 The pool had a swim up bar area, which is always a sure-fire recipe for feeling like you're on holiday. The shape and location really made it feel very spacious even when all the loungers were taken.
I really liked how you could use it as a base of operations for heading out in the vast lagoon too. It was a surreal feeling walking for 20 solid minutes in and still having your head above water. Honestly it's the kind of natural feature that you travel to the Maldives for and that many resorts are sadly lacking.
The lagoon hammock is actually a fair distance from the shore, just to the right of frame in the aerial image above.
Snorkel Island
Not content with having two full resort islands (three if you count Naladhu private island), there is also an uninhabited snorkelling island at the far north of Anantara Veli's water villas.
It had some fantastic snorkelling (as the name implies) as well as some swings and hammocks. This definitely had more of a castaway feel than Moyo island since it faced out into deep blue ocean and wasn't so close to surrounding villas.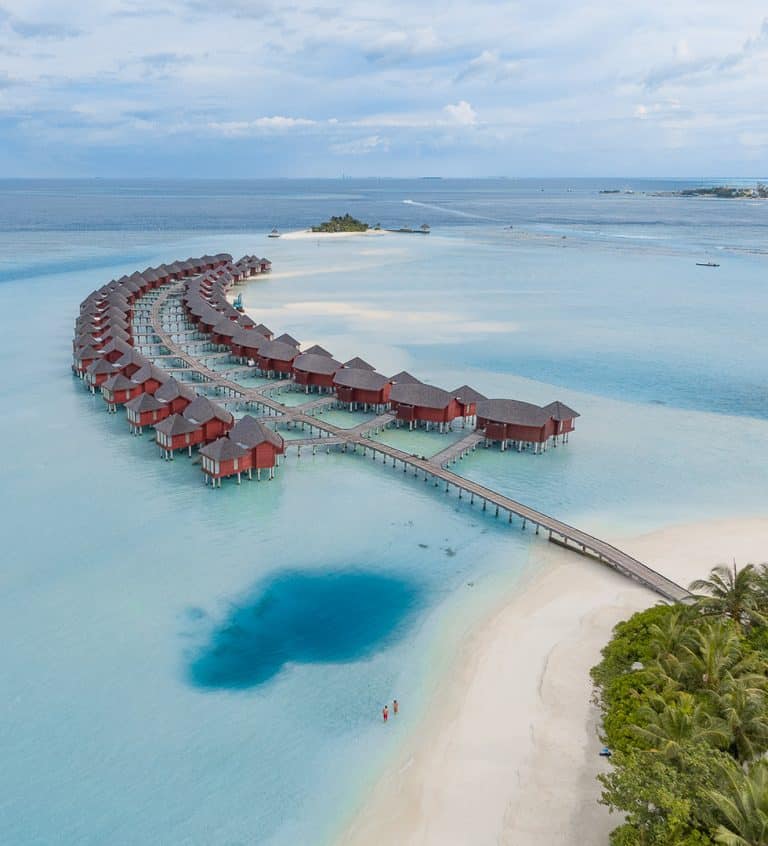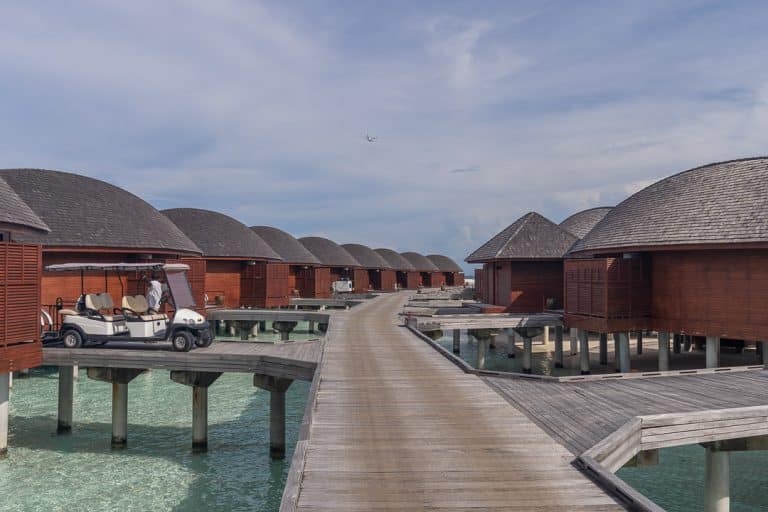 We walked along the length of the Dhigu water villas, descending some stairs at the end to reach snorkel island. These villas looked much newer that those at Veli and had a walkway large enough to offer buggy service.
Turtle Snorkelling
The resorts organise both nurse shark and turtle snorkelling trips. During our stay only turtle snorkelling was available and this was a group trip taking around 1hour each way by boat. The boat was large and comfortable featuring plenty of space to spread out as well as a shower to rinse off after coming out of the ocean.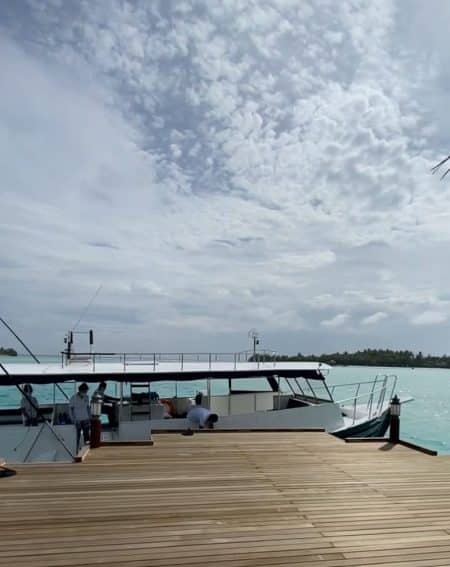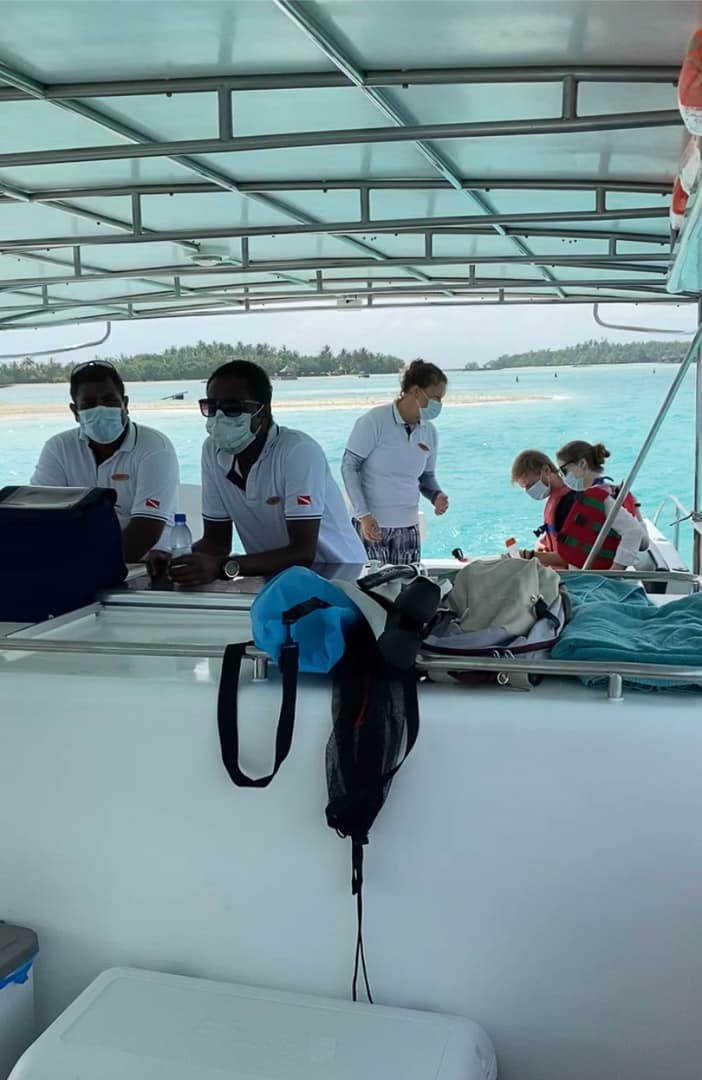 The resort's marine biologist came along on the trip, which really added to the experience. Not only was she super knowledgeable and great at entertaining kids (and big kids!) with her facts, she also took a great pic of me with one of the turtles we spotted.
The worry with these kinds of 'creature specific' activities is that you'll strike out but given how many turtles we saw, this trip feels like a sure bet.
---
Food and Drink
---
---
Breakfast at 73 Degrees
---
---
73 Degrees is located next to the reception on Veli island and is the location of breakfast, transforming into an Italian restaurant at night.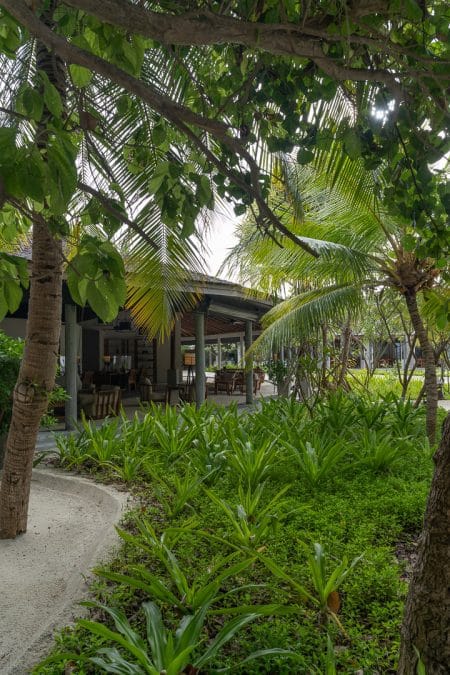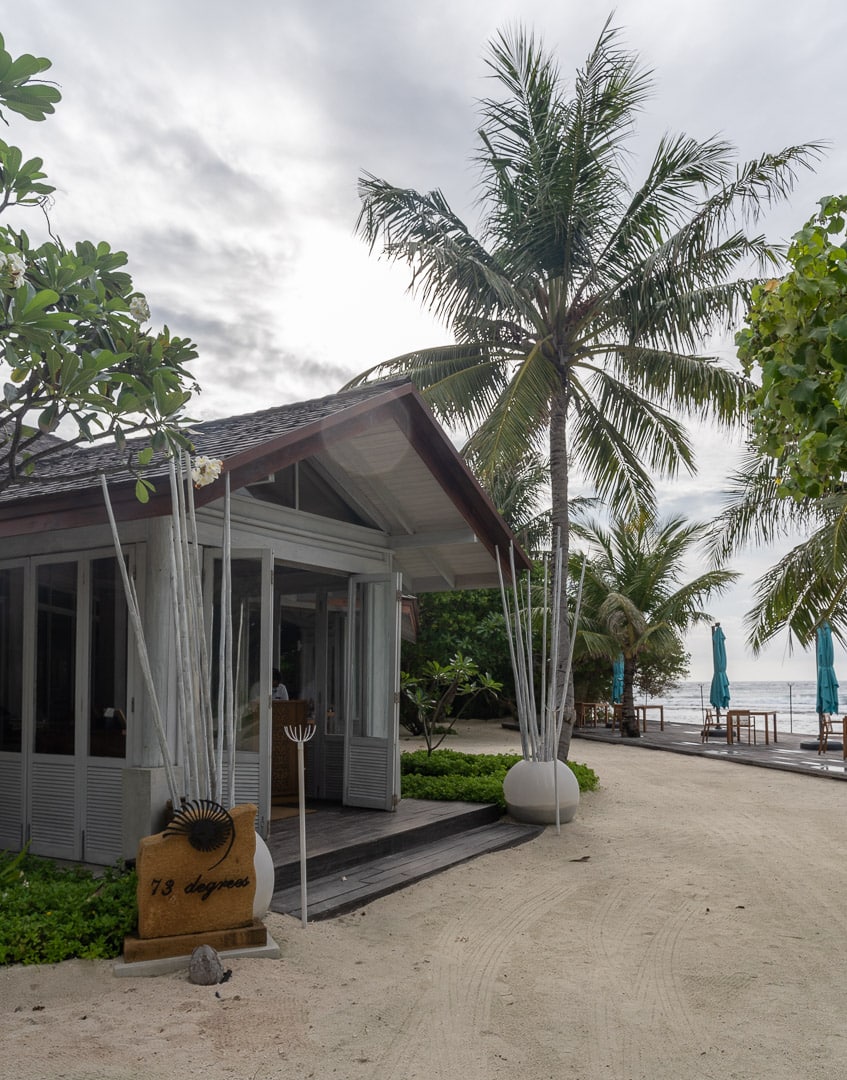 On sunny mornings, you could sit outside on the water's edge but as I mentioned earlier, we didn't have much luck with the November weather this time.
There was a glass walled buffet area located inside but all food and drink was delivered by staff due to COVID. This was a similar setup to what we saw at NH Convento di Amalfi in Italy with the buffet existing more for the benefit of staff logistics than for guests.
The resulting guest experience was excellent. No people milling around, no getting up from our table and aside from certain a la carte dishes, almost no wait at all for food and drink!
Service was exemplary, very proactive indeed. On the first morning, after some heavy rain, mosquitoes began to appear. As soon as they did staff immediately started burning coffee grounds and handing out repellent to every table.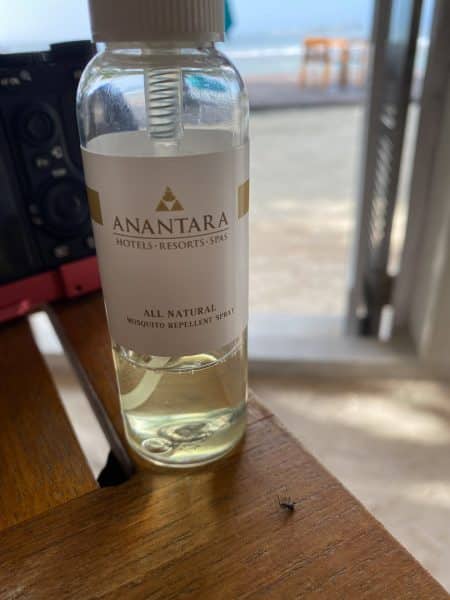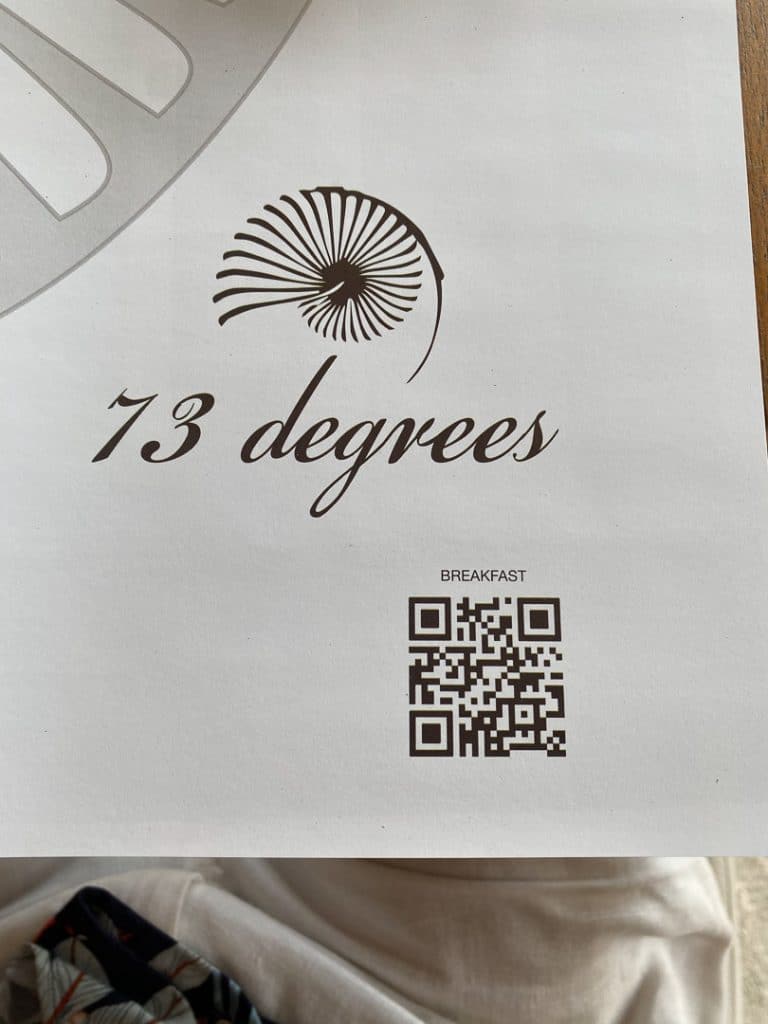 The restaurant has a sand floor and opens out completely so even when we were sat indoors it felt like we were outside, watching the ocean waves breaking directly in front of us.
As soon as we were seated we were presented with a welcome shot containing various healthy herbs (this reminded me of the Jamu shots at Mesastila in Java and the breakfast shots at the Ritz Carlton in Kyoto) alongside some freshly squeezed orange juice. This was followed moments later by a tower of fruit and pastries.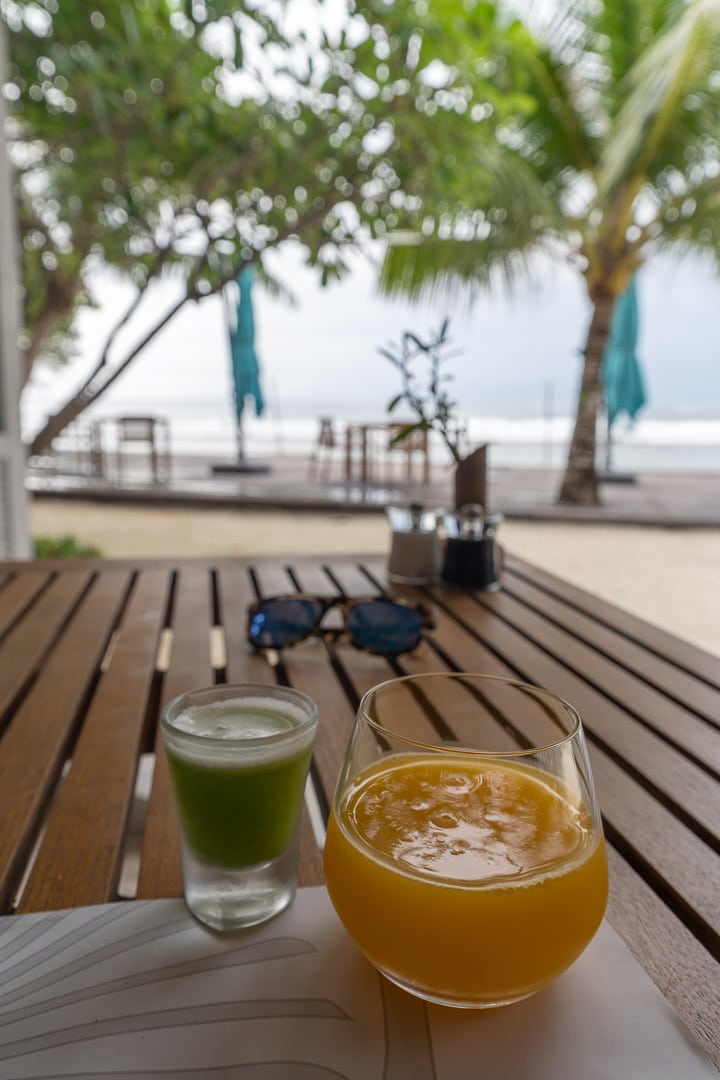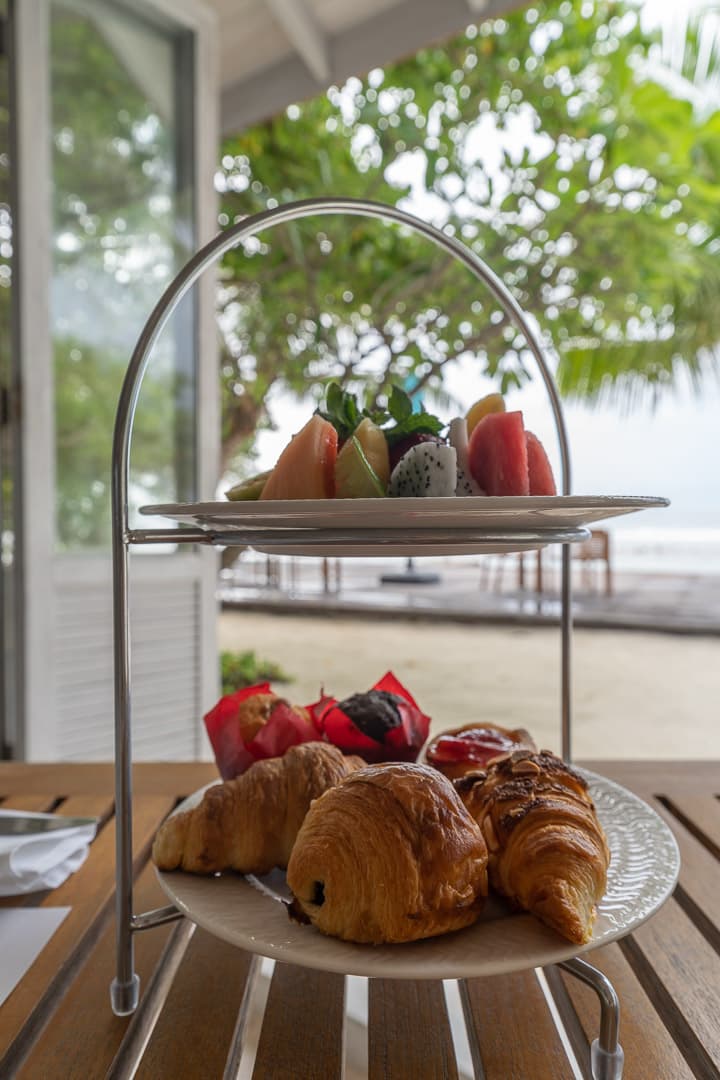 Coffee orders and cold items followed less than five minutes after being ordered. Even if the cold food was retrieved from a buffet, the fact that it was delivered to us and presented so thoughtfully really made a difference.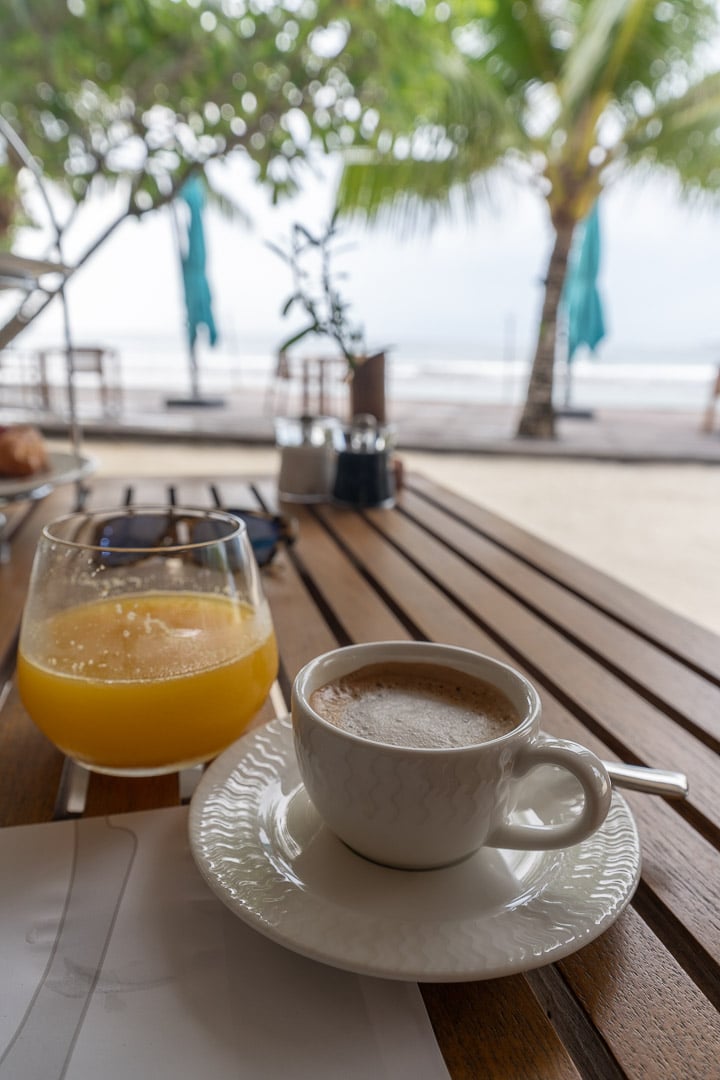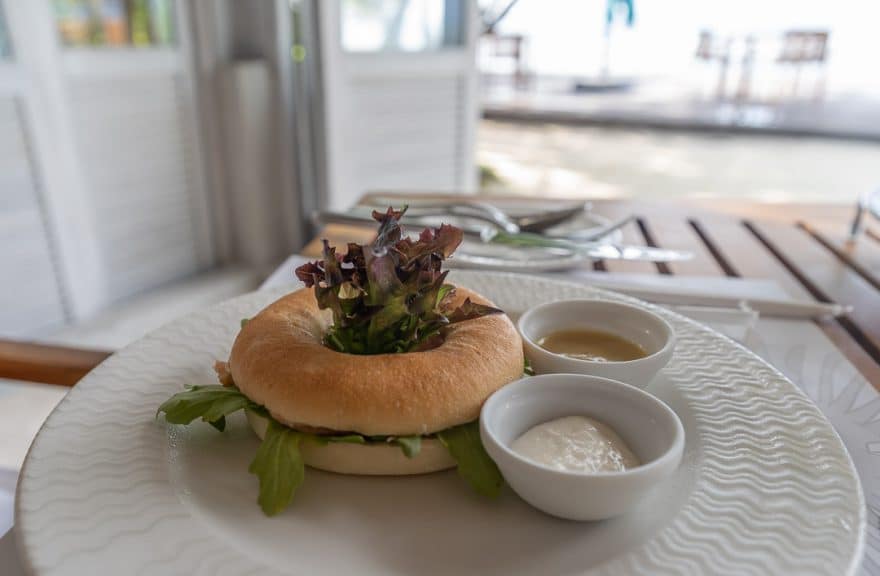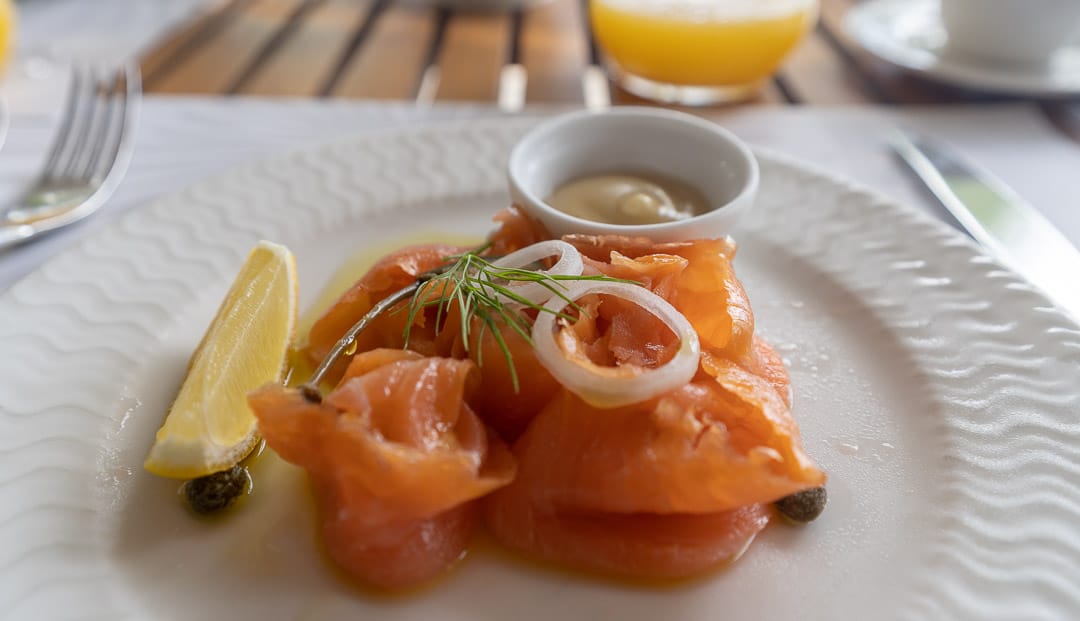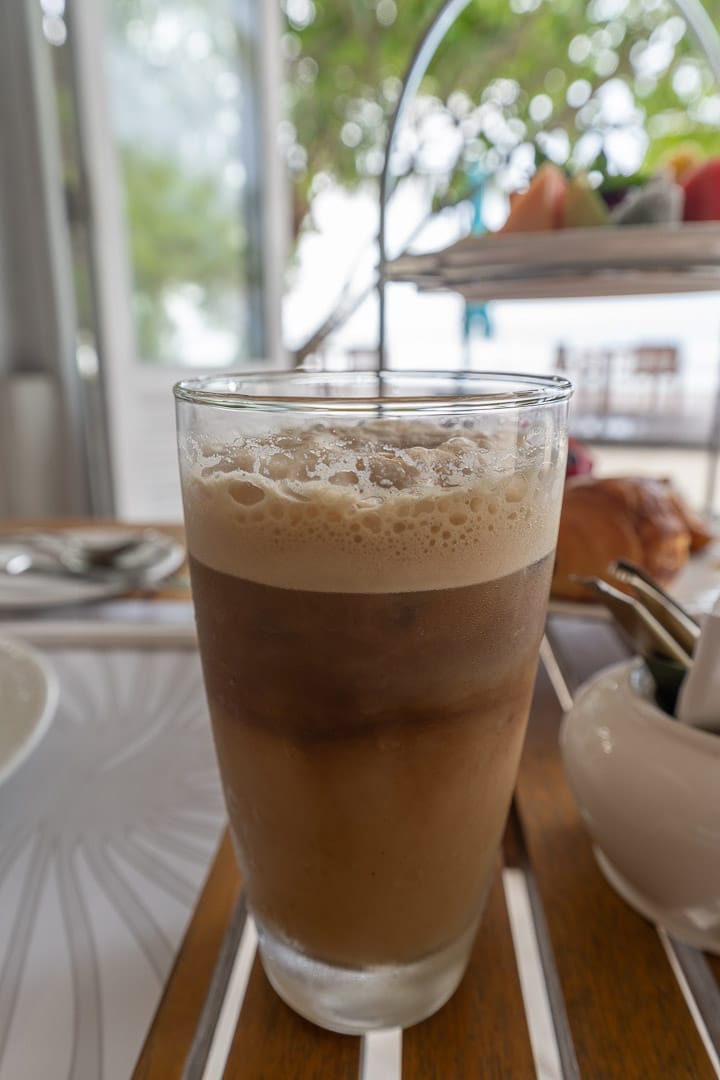 There was a variety of a la carte dishes from around the world and they were all pretty great. The standout for me was the Shakshouka, whilst Kamara went crazy for the Puri Bhaji (although nothing will ever compare to the one at Amanbagh!).
You can also have a floating breakfast delivered to your room but honestly I've never really seen the appeal. I prefer to keep swimming and breakfast separate but I'm ready to admit that I may just be old fashioned when it comes to that…
---
Lunch at Aqua
---
ALL DAY MENU & BEVERAGES
---
Aqua is the main pool bar and restaurant serving the usual 'resort food' all day long: salads, pasta, burgers and quesadillas. We went at about 2:30pm one afternoon and we were the only ones there; we don't tend to eat big lunches at beach destinations and it looks like we're not the only ones that often skip lunch entirely.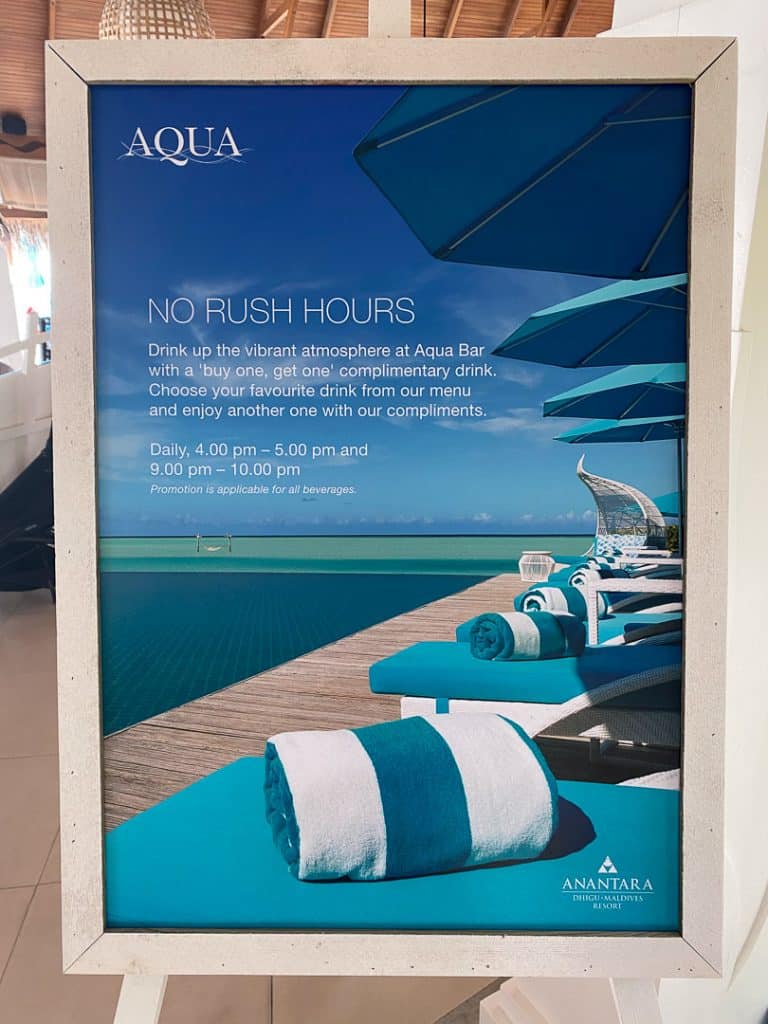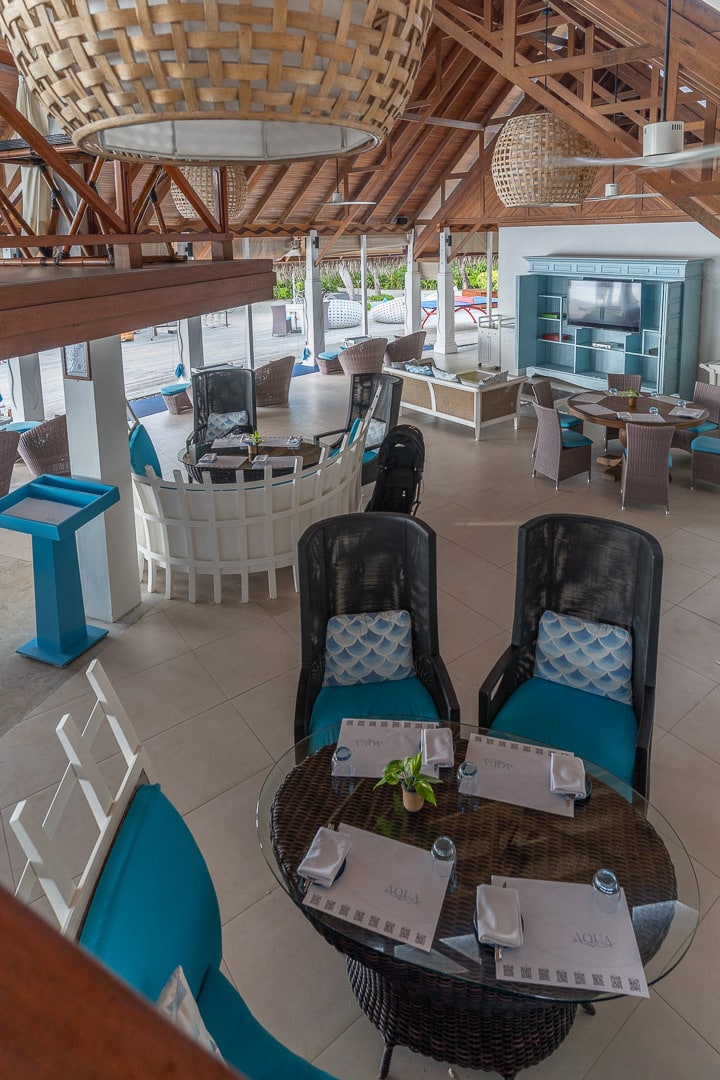 The atmosphere was very laid back and the decor was casual and beach-y. The service was great though, very attentive and proactive.
My calamari tempura were crispy and not at all oily but they did that thing where the batter comes off and leaves the ring behind. I wish the chefs at the Qantas First Class lounges in Sydney and L.A. would share their recipe!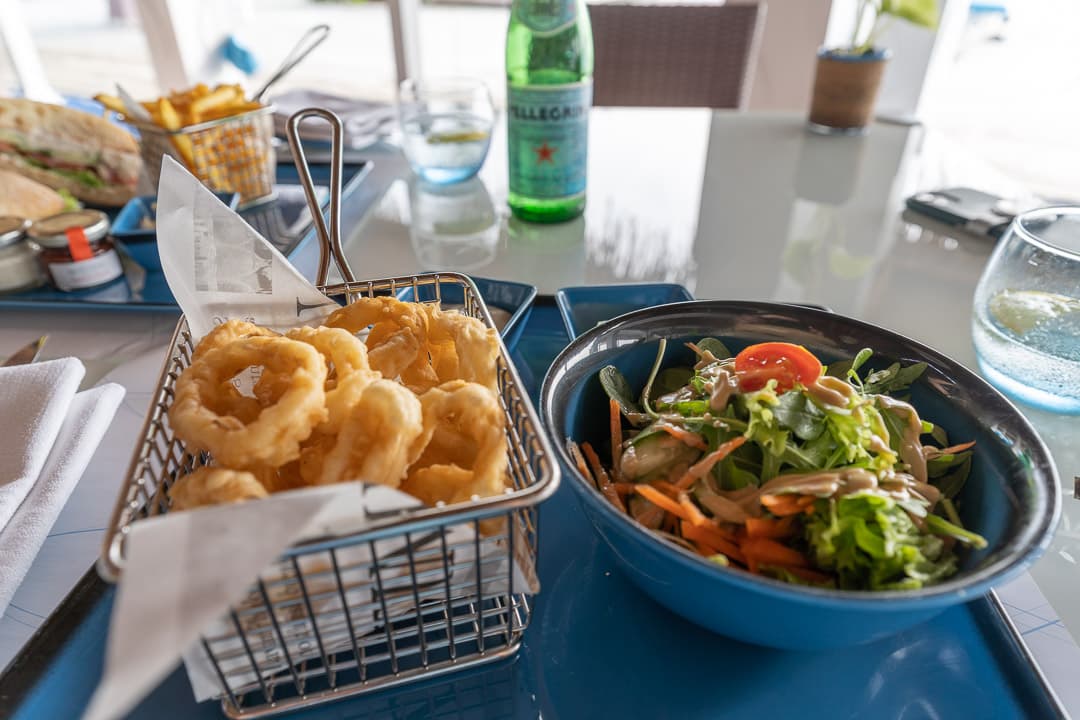 Kamara's lobster and crab sandwich was great though and her fries were cooked to perfection.
---
Lunch at Dhoni Bar
---
---
Dhoni bar is a far quieter and more intimate setting than Aqua, with the ocean right in front of you. This was much more our style. The menu was a little more to our liking too, with Maldivian curries and crab cakes as well as pizzas making a welcome addition to the former's offering.
The restaurant offers a selection of sharing platters, which tie in with the idea of this being the 'honeymoon island'. Our 'Cupid's potion' was a fantastically fresh and delicious combo of lightly fried seafood in a paper thin batter, served with steakhouse chips and a salad.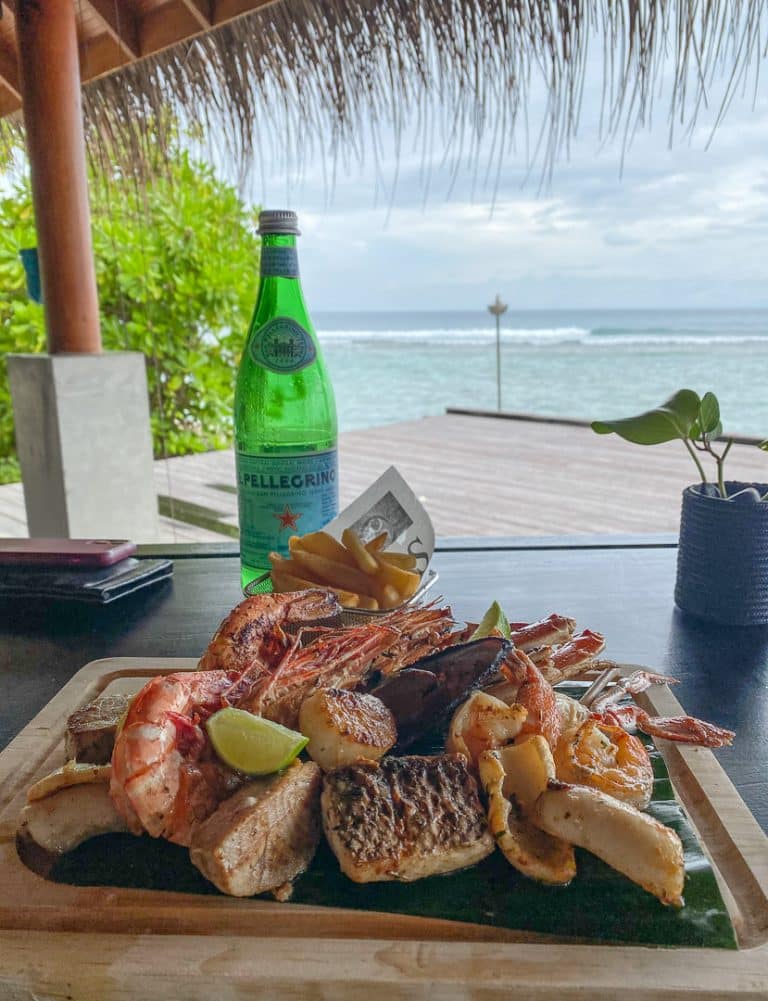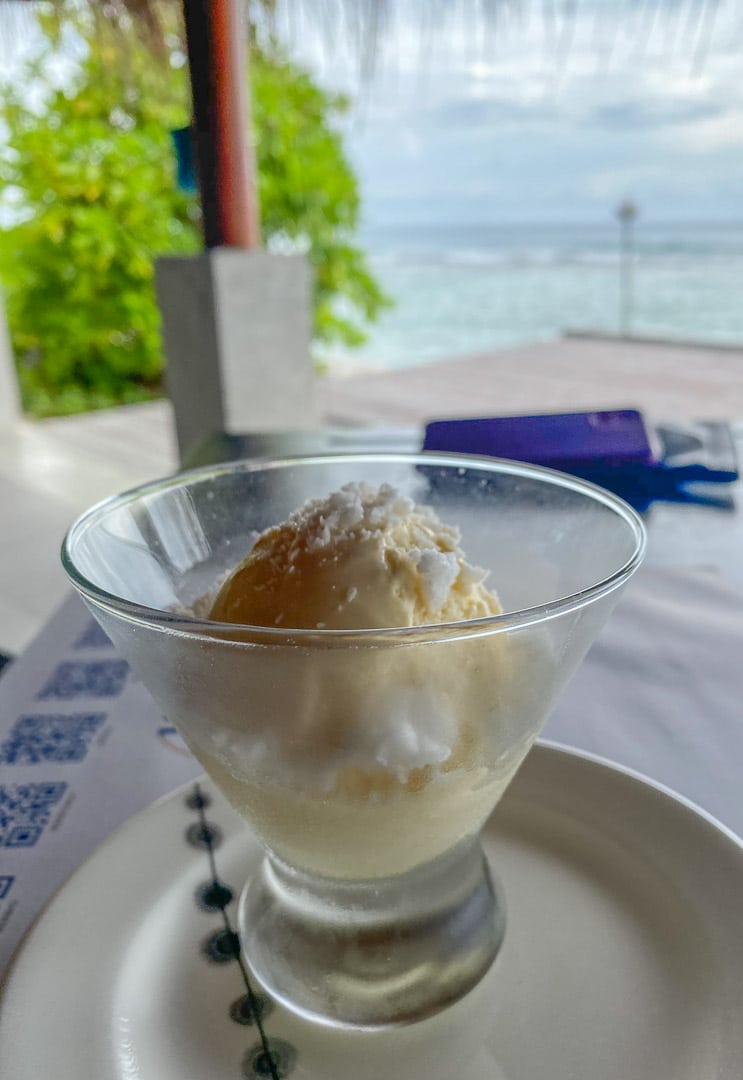 We shared a scoop of ice cream to round out the meal and then moved over to the lounge area for tea and coffee…just as a cataclysmic storm rolled in.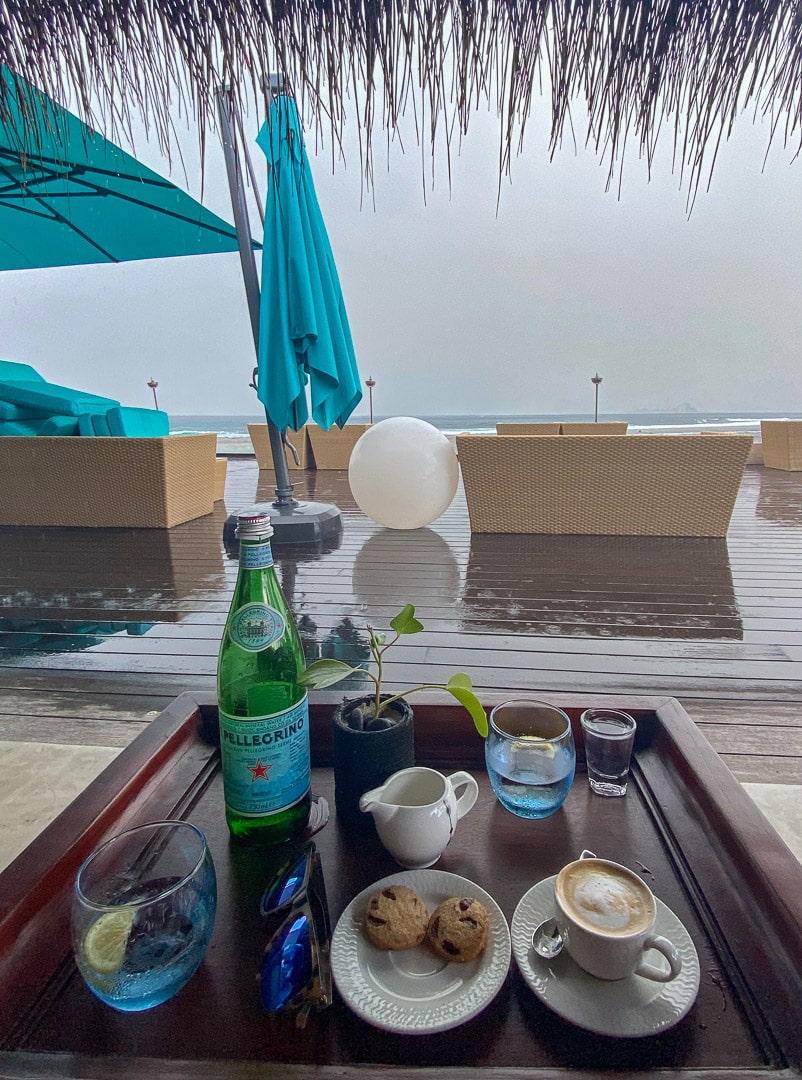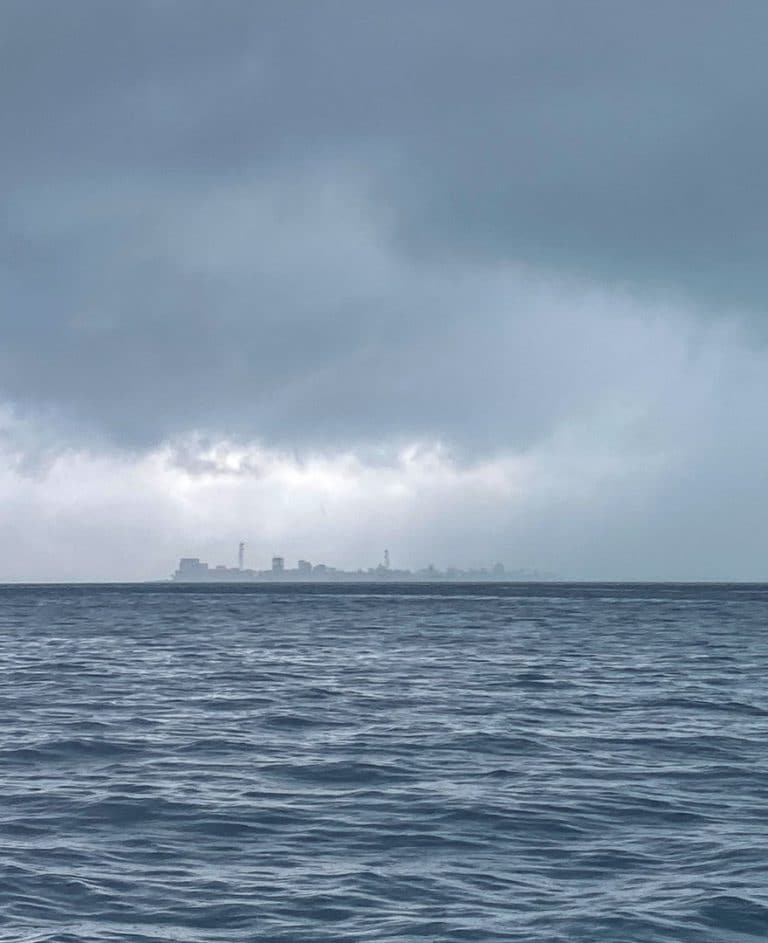 It's funny how a rainstorm can be absolutely hellish when you're commuting to work at rush hour but in the context of a Maldivian holiday it can be captivating and actually rather enjoyable to watch.
---
Dinner at Sea.Fire.Salt
---
BREAKFAST
LUNCH
DINNER
BEVERAGES
WINES
---
I must admit Sea.Fire.Salt did make me feel a little jealous of those staying on Dhigu island. It lacks the quiet charm of 73 degrees but makes up for this with its bustling atmosphere and enormous overwater deck. I can think of few more wonderful looking locations on earth from which to enjoy breakfast.
The menu here is focused on grilled meat and seafood. We went with almost entirely seafood options, which were unsurprisingly very fresh tasting and beautifully cooked (apologies for the mobile phone pictures…).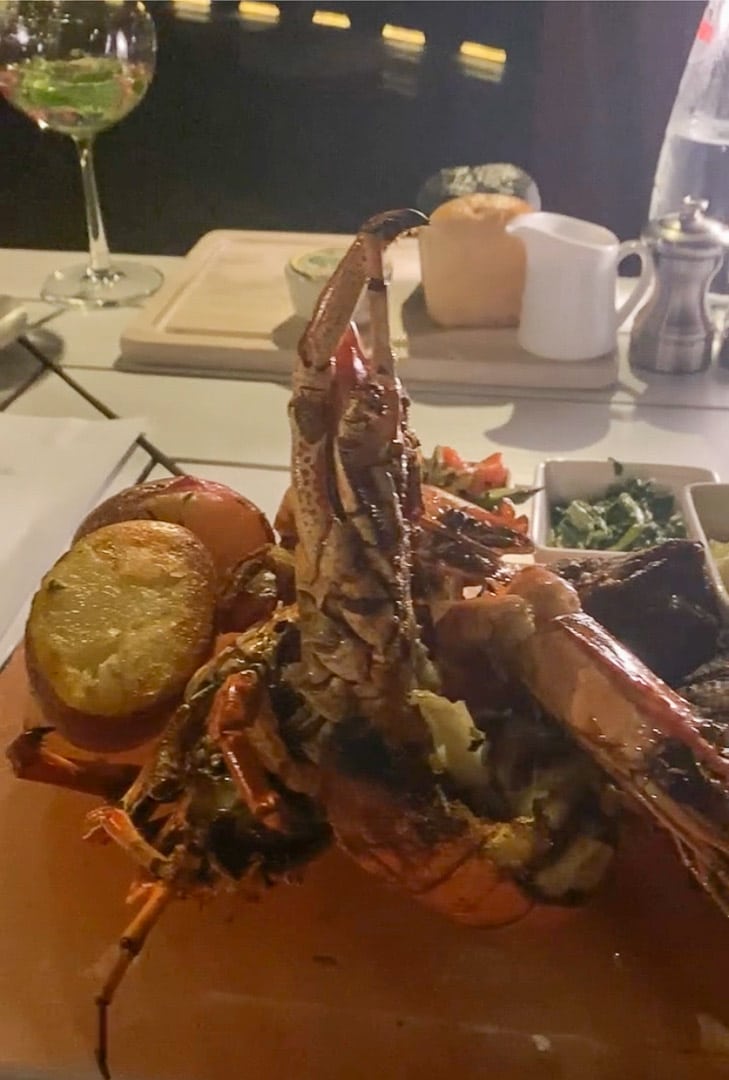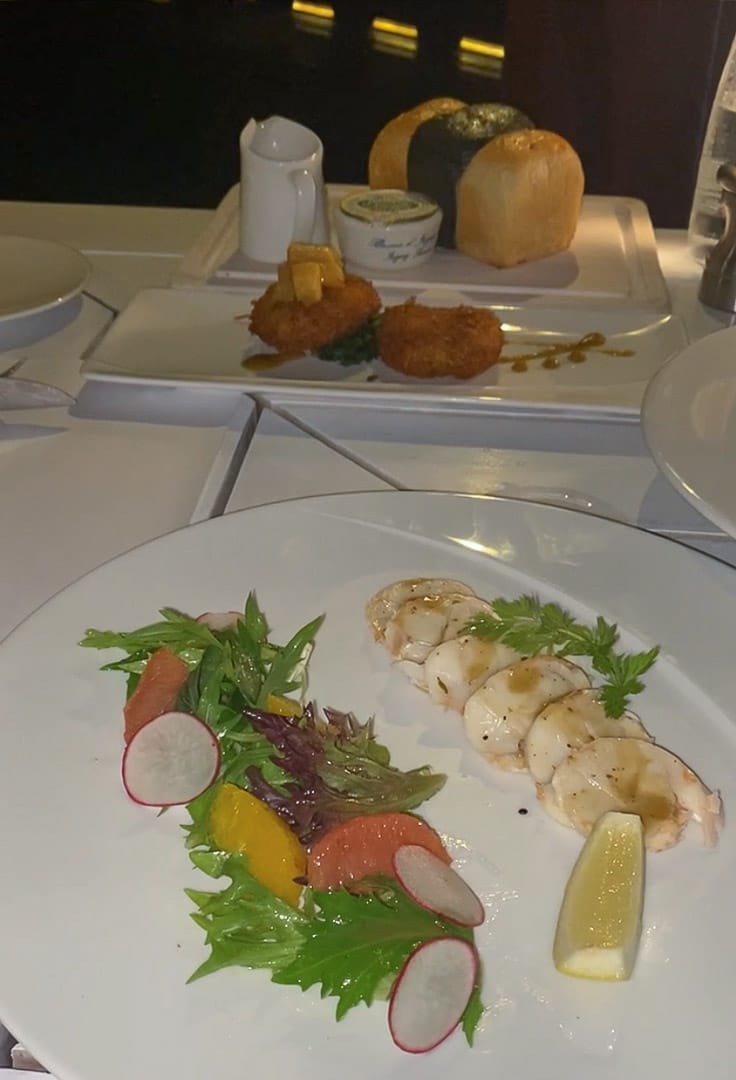 The crab cakes were a real standout and I was rather surprised to see a 'triple bread' just like they serve on SWISS First Class flights.
---
Beach Dinner – Dining by Design
---
MENU
---
I started this review talking about how great our Dining by Design experience had been at the Anantara Royal Livingstone in Zambia (well done if you've made it this far in one go…I know my reviews are lengthy). As such, we had really high hopes for our private beach dinner at Anantara Veli.
Dining by Design is offered at a number of locations throughout Veli and Dhigu, with ours being set up on Veli's main beach, facing the water bungalows.
The setup was absolutely incredible with lanterns, hearts, branches and even a gigantic LED manta-ray.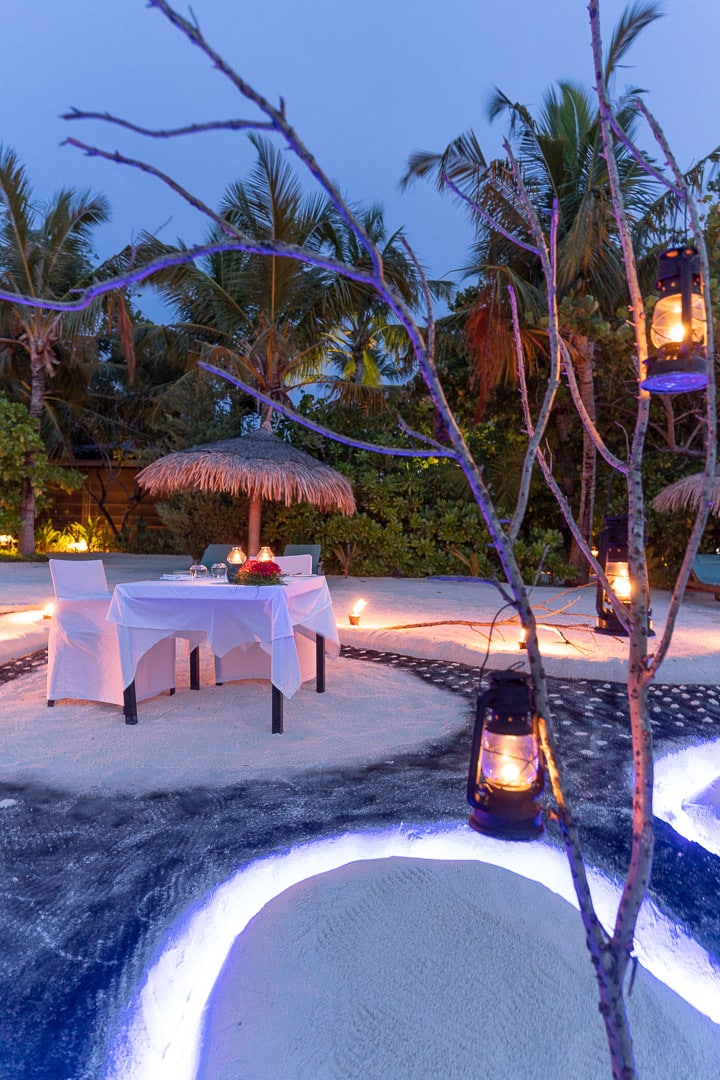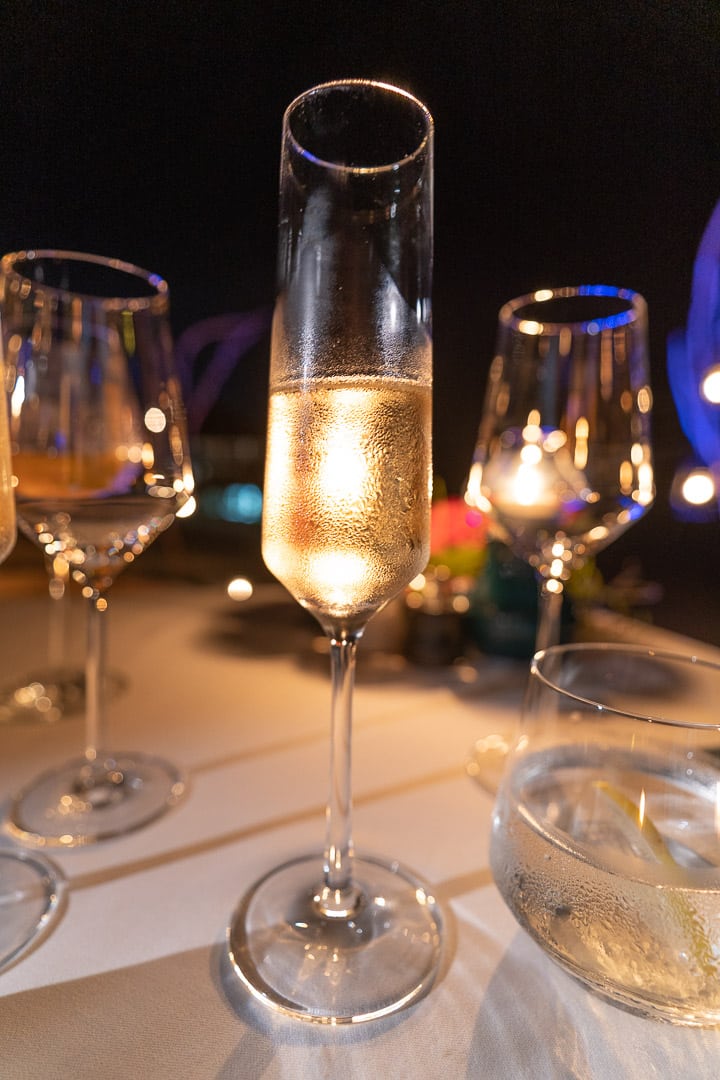 We had a team of personal chefs set up just along the beach from us and a dedicated sommelier who paired wines expertly with every course. He clearly loved wine and was very keen to offer us tastes of different things to see what our palates were like.
We started the meal with some Asian dishes: A sushi selection that had the texture of convenience store sushi albeit with a better filling to rice ratio. Perhaps this was due to the fact that we visited when the Japanese restaurant was closed for renovations. The Thai starter was fantastic though, they asked beforehand what spice level I wanted and when I said I wanted it authentic the server looked a little surprised. I assured him that I'd be ok and what came back was a superbly aromatic and flavourful Krathong Thong.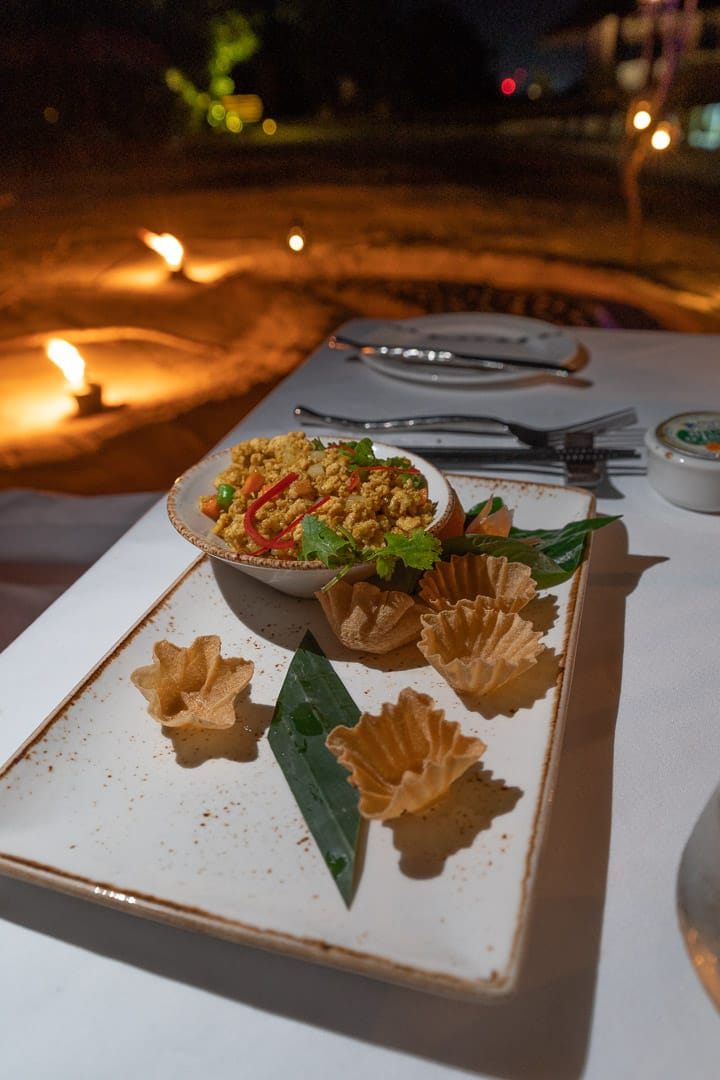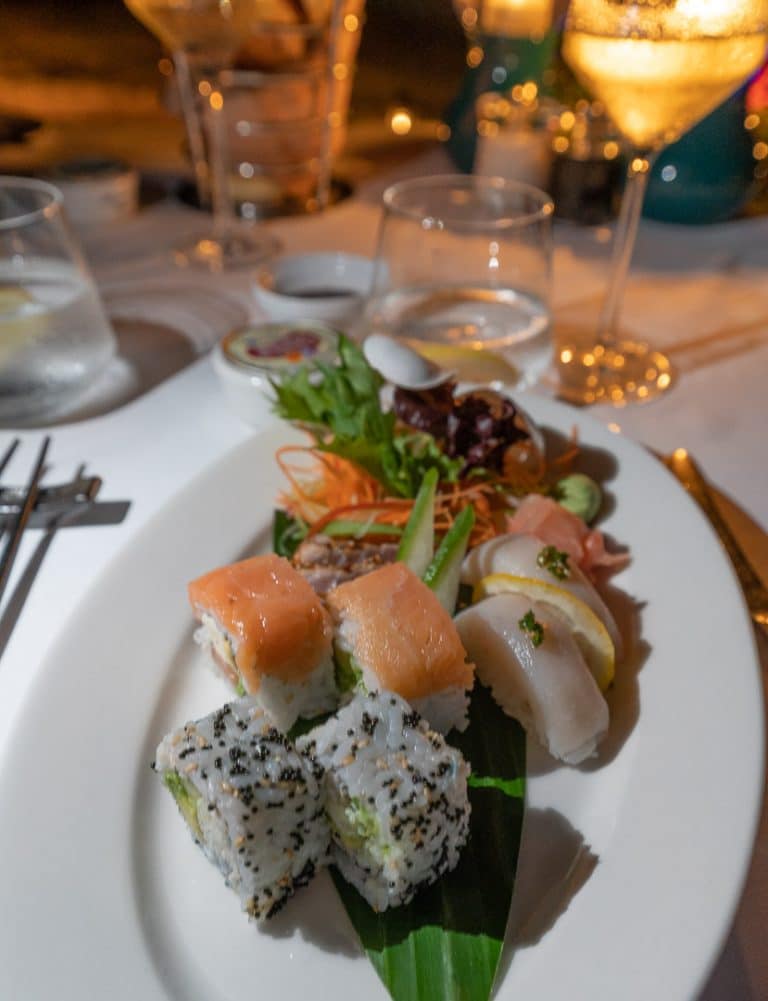 For the main courses we opted for the Seafood Lovers BBQ and the Maldivian Delight: grilled lobster with coconut rice and vegetable curry. These were freshly cooked on the beach and the smell that drifted over from the grill was surpassed only by the amazing taste of this seafood feast.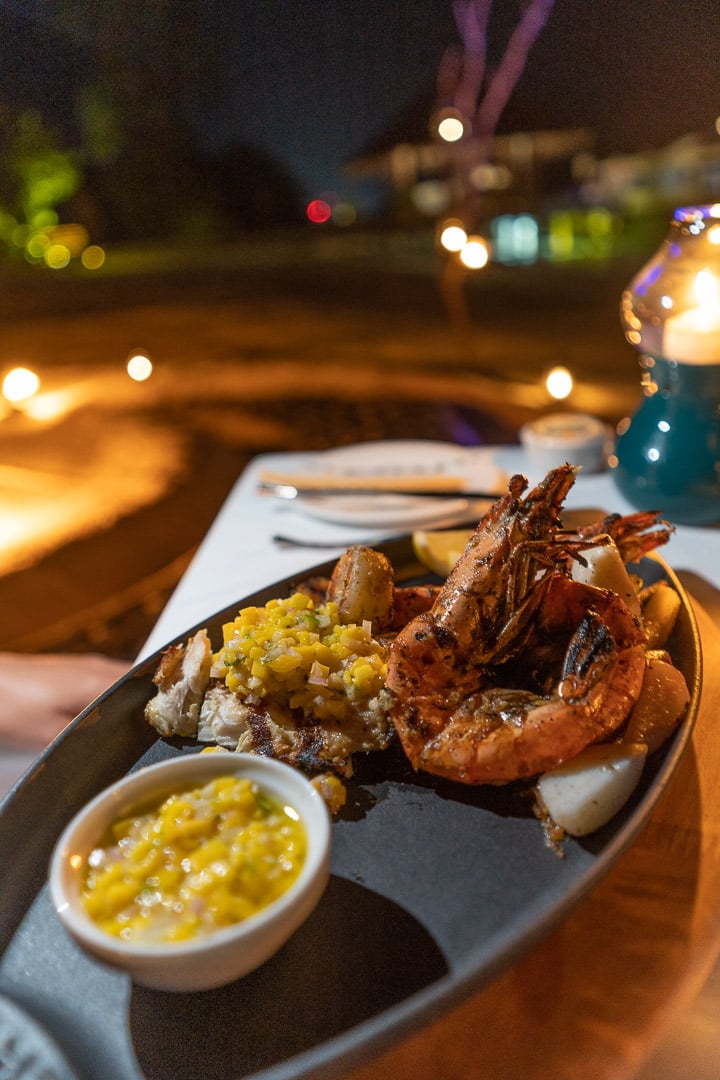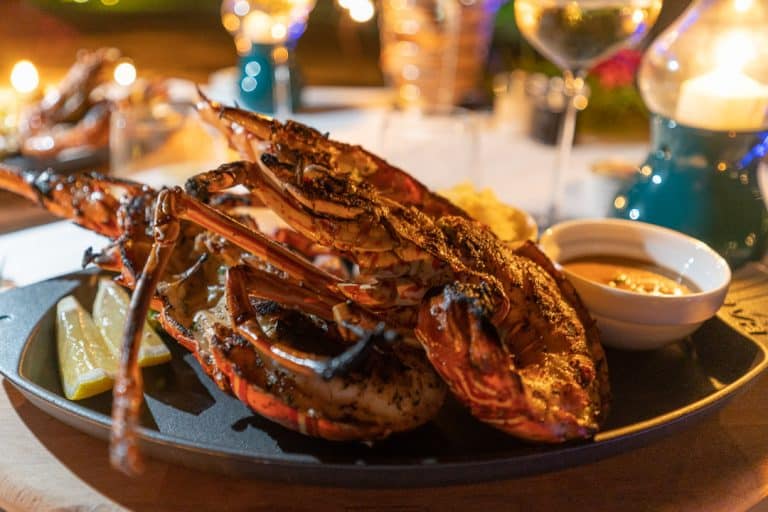 We finished the meal with the churros and mango sticky rice. The former was a bit of a disappointment, churros need to be freshly cooked as they go stale very quickly and clearly the ice cream was more of a soup given the warm temperature. The level of timing and temperature control required for this dessert means it was always a risky option for a beach setting.
The mango sticky rice was superb though. The rice was cooked to total perfection, the mango perfectly sweet and the coconut cream just salty enough to offset it.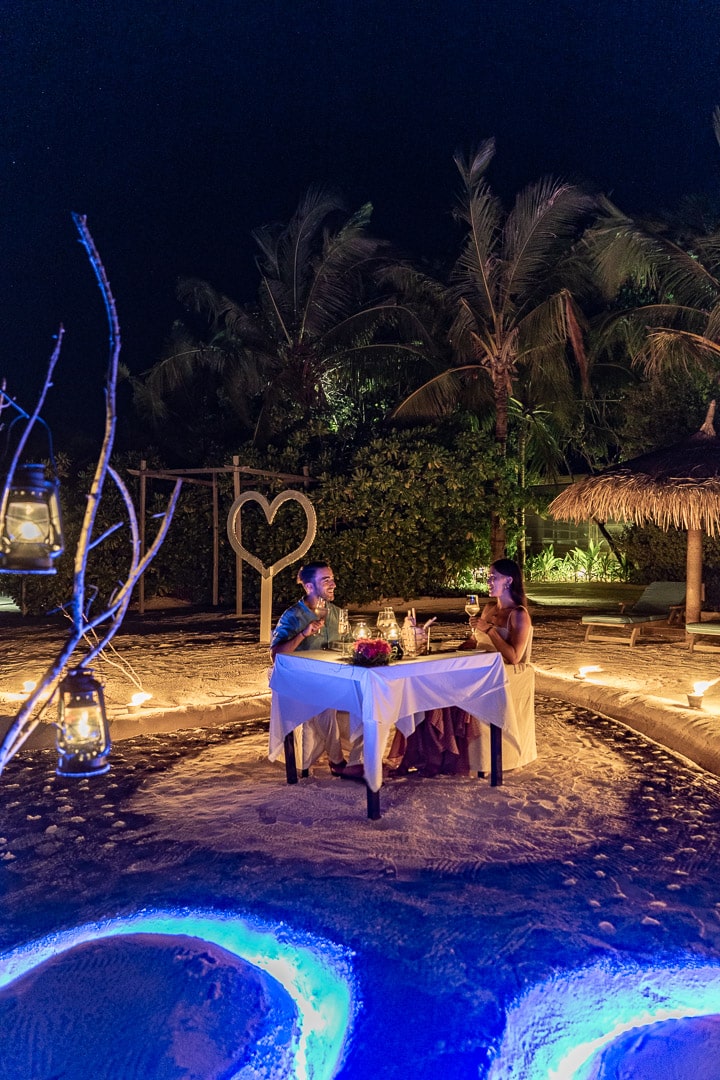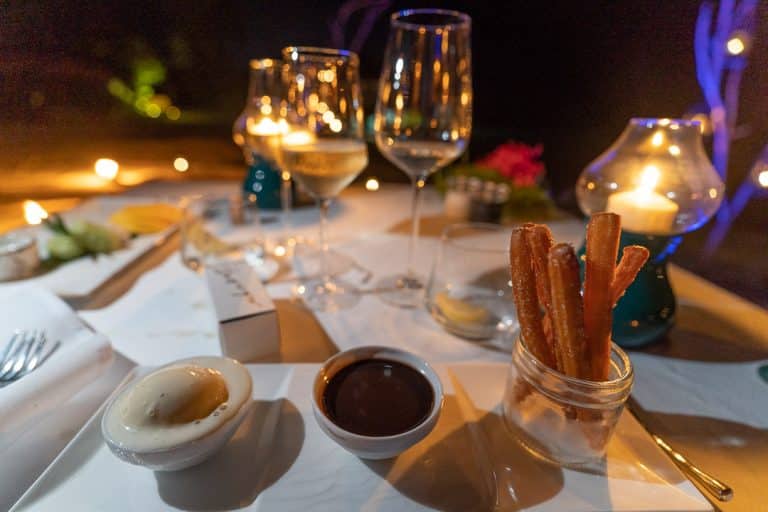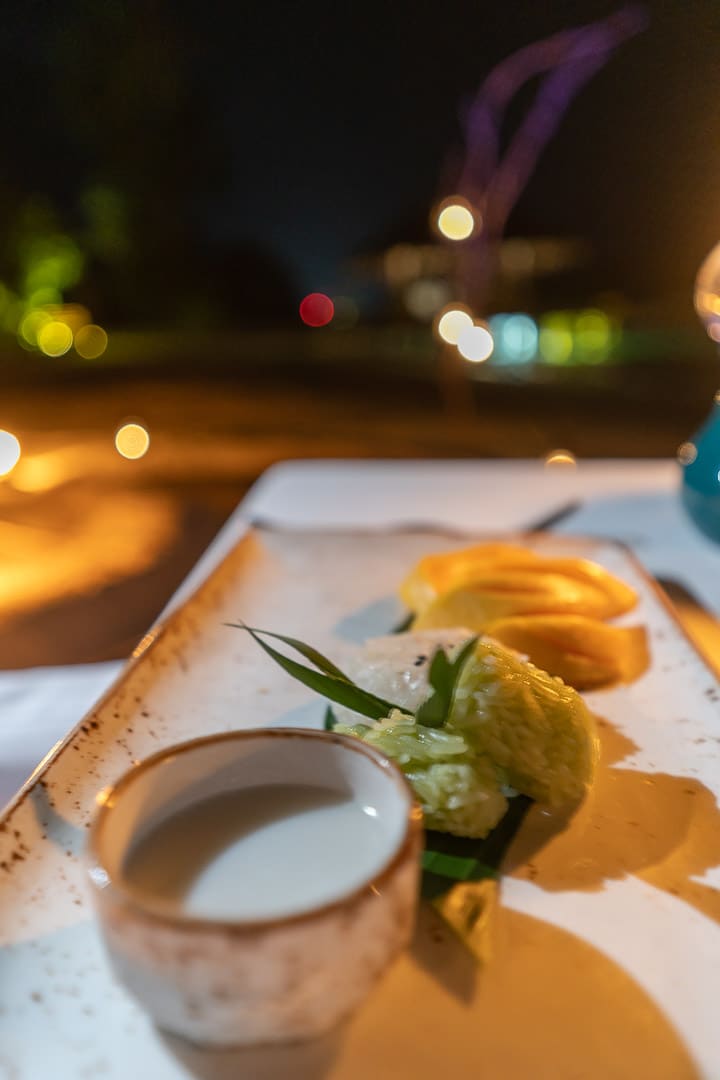 We've done these sorts of meals at a number of different hotels around the world and quite often they stress Kamara out – you have somebody watching over you the whole time, it's usually a long walk to the nearest bathroom, the temperature isn't right, there's often way too much food, etc…
However Anantara are in my experience the very best at delivering these private dining experiences.
Given the level of dedicated service and the effort that went into the setup I think the price for this experience is beyond reasonable and honestly this was one of the most special moments of our entire trip to the Maldives.
---
Dinner at Baan Huraa
---
---
Baan Huraa is Anantara Veli's signature Thai restaurant and is the meal that I was looking forward to the most on this stay. I spent a semester of my MBA studying at Bangkok University and really developed my taste for Thai food in the process.
The restaurant is entirely staffed by Thai people from front to back, a feat uniquely attainable by Anantara given the brand's origins.
Perched atop the illuminated walkway that separates Veli from Naladhu private island, the setting is both dramatic and romantic in equal measure.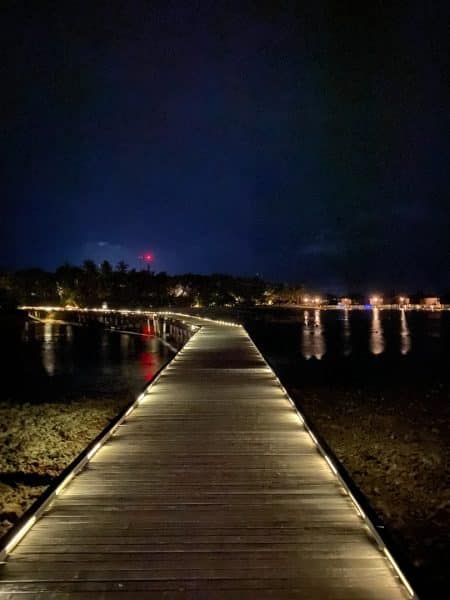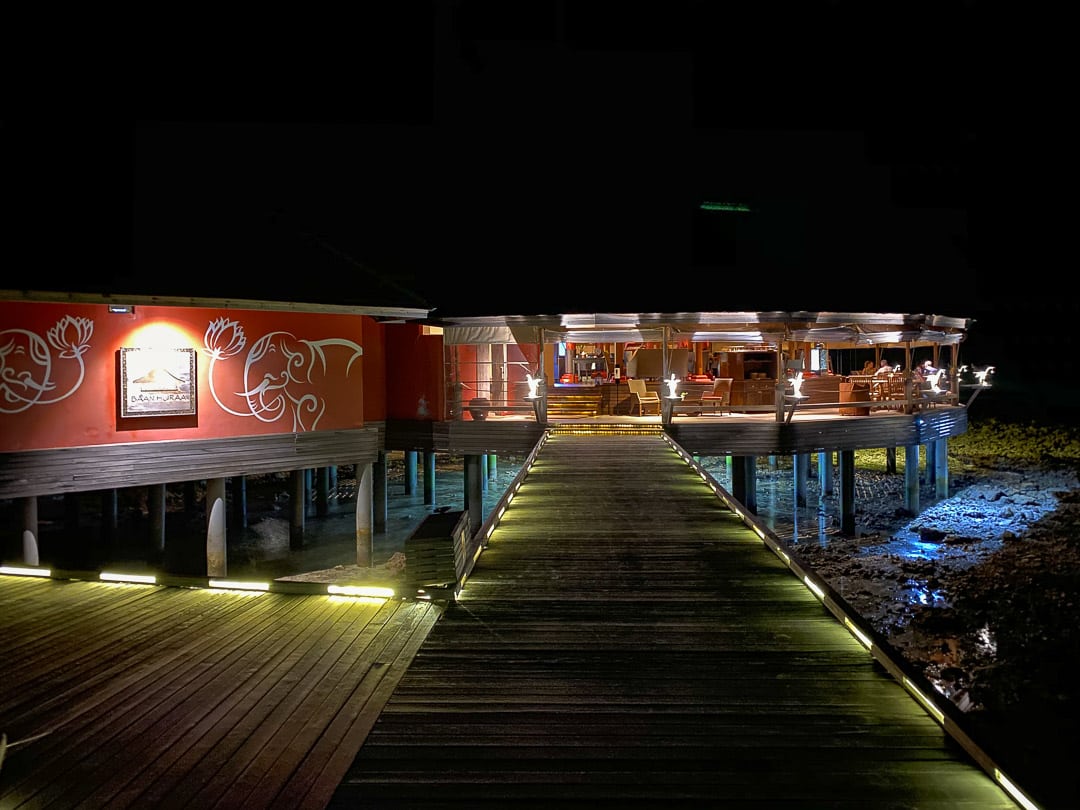 As we approached the entrance to the restaurant we were greeted with beaming smiles and wais accompanied by a chorus of "sawasdee kha". It honestly felt like the walkway contained some sort of spatial vortex which had opened out into Thailand.
Service was exceptionally warm, jovial and charming throughout our meal. You really felt like staff here took pride in showing a little piece of their country to visitors from all over the world.
The menu was an exceptional tome of authentic Thai dishes and everything we ate was executed superbly. Admittedly there was a little less fermented seafood, fish sauce and searing heat than I personally would have preferred but in the context of a restaurant catering to a broad range of holidaymakers, this establishment delivered with aplomb.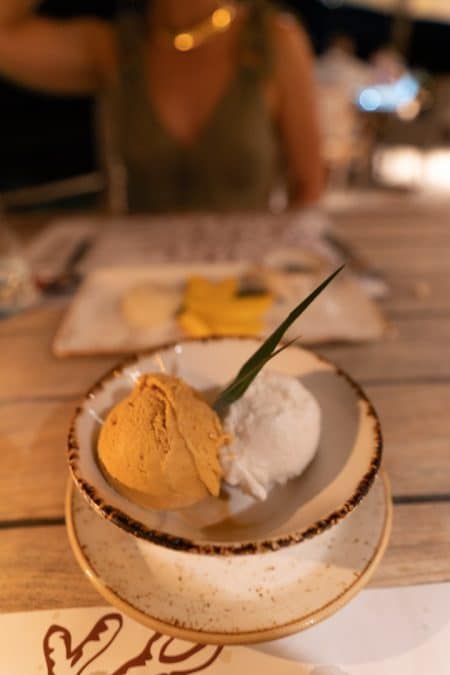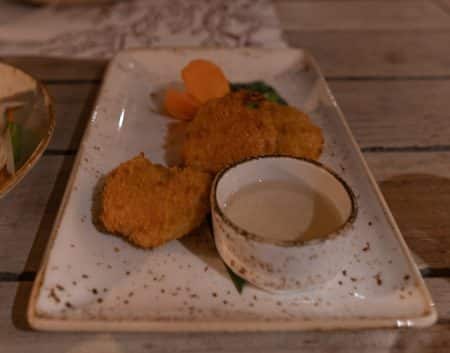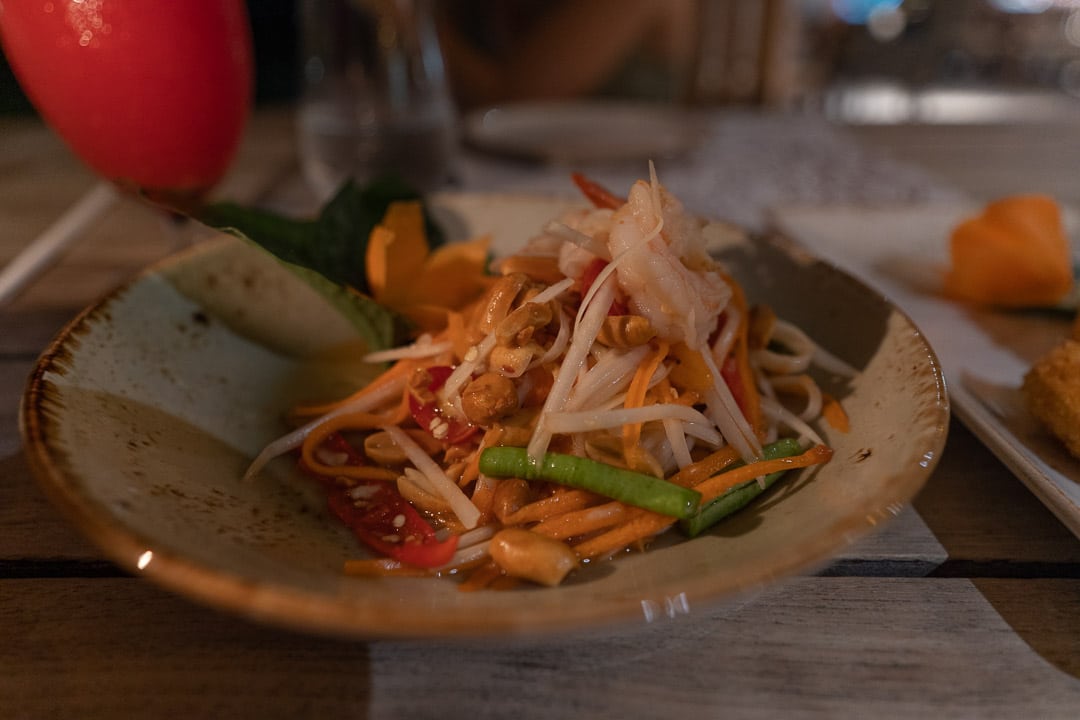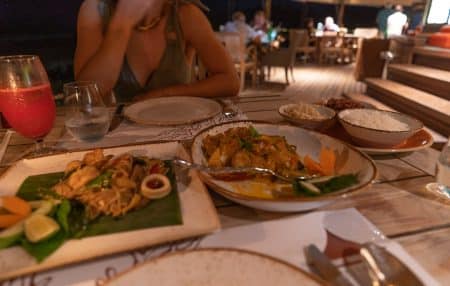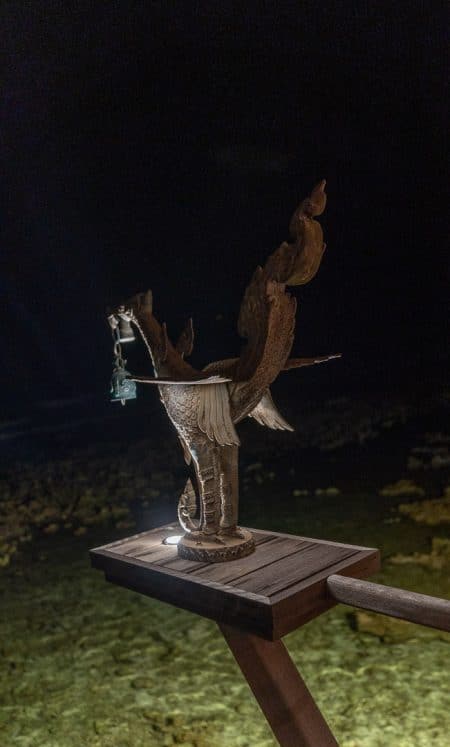 Is this the best Thai restaurant in the Maldives? I can't imagine any other coming close…
---
Conclusion
---
Basics Checklist
– Power sockets near the bed
(usb ports only one one side)
☑︎ Easy to understand light switches
☑︎ Coffee machine
☑︎ Separate shower and bath
☑︎ Blackout blinds
☑︎ Stable, fast and free Wifi
☑︎ Feather pillows
☑︎ Quiet and powerful aircon
Anantara Veli has a hell of a lot going for it. The proximity to Malé means that transfers are quick, simple and cost effective. Unlike the Waldorf Astoria and One & Only Reethi Rah, the islands and lagoon are completely natural. This means that you can expect thick, lush foliage and water that remains waist deep almost to the horizon.
The room hardware on Veli is not up to the standards of the latest openings in the Maldives, but the interiors are nevertheless imbued with a sense of understated elegance. Moreover, this is a resort which has stood the test of time.
You will find staff who have been working here for a decade or more and the breadth of Anantara's global portfolio of properties means that service never has a chance to become stagnant, since many staff are on rotation from other flagship Anantara properties.
The size of the resort also means that you can easily stay here for two weeks and not get bored. The fact that a serial repeat guest took up the $20,000 offer for a year of stays is clearly indicative of this.
Although Veli is adults only, the number of families staying on Dhigu was a testament to the child friendly nature of Dhigu. Of all the places we've visited in the Maldives thus far, this is the one I'd most recommend for a young family.
My final takeaway is that this felt like a place where you could truly relax, given that prices for everything were not only reasonable but also included tax and service. Credit to Anantara too for displaying all of their menus with prices on their website. Too many resorts effectively bait and switch guests by waiting for them to arrive before charging ludicrous amounts for standard items.
To conclude: convenient distance to Malé with abundant natural charm and fantastic value for money.
---
Booking Enquiries
---
Do you want to stay at multiple properties? Send us an email here and we'll manage your booking for you and secure you extra benefits, over and above a direct booking.
If you aren't sure which resort to choose and would like our advice, please fill out our quick & easy Maldives form and we'll match you up with your perfect property.
---
More Maldives Reviews
---
We are a luxury travel agency specialising in the Maldives, with plenty of first hand experience.
Here is a selection of our most recent Maldives hotel reviews:
---