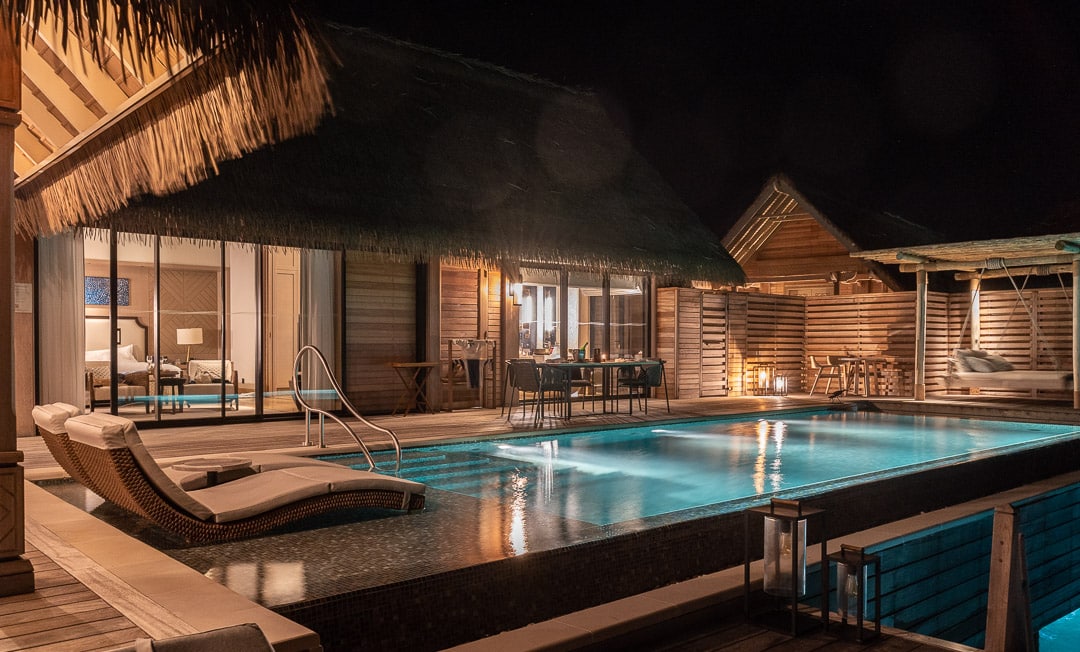 REVIEW – Waldorf Astoria Maldives Ithaafushi
February 6, 2021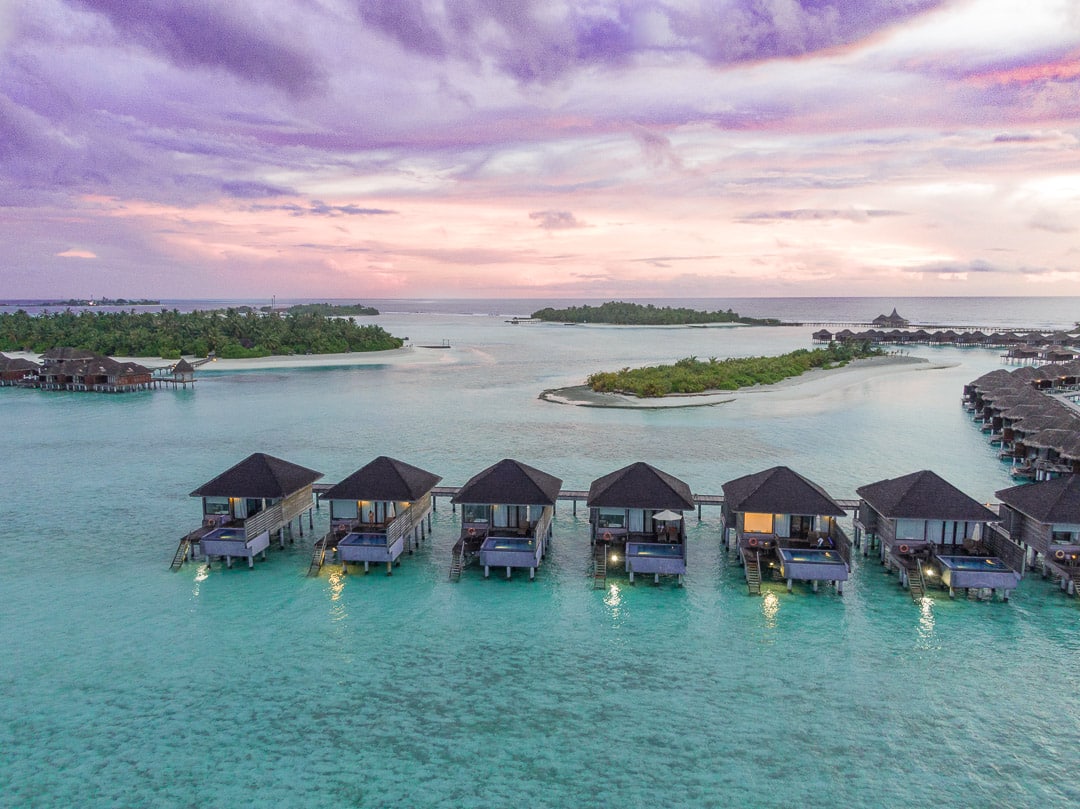 REVIEW – Anantara Veli
February 25, 2021
Finolhu
Location: Maldives
Rate: Press Stay
Room Type: Ocean Pool Villa
Stay Date: February 2020
---
Intro
---
Finolhu is best known for two things: The Beach Bubble villa and the fact that it has the longest sandbar of any property in the Maldives.
It's a resort that has been around for a number of years but was recently taken over by Seaside Hotels, a small independent chain headquartered in Germany, with no other hotels outside of Europe.
I'd heard that the chain's owners are extremely meticulous and detail focused and that they were looking to make a name for themselves on a global stage with this acquisition. This is something that immediately piqued my interest.
Prior to this visit I'd only ever stayed at Maldivian properties operated by Hilton (Conrad Rangali and Waldorf Astoria Ithaafushi) so I was also really keen to see how other chains approached the delivery of luxury service in this most competitive of markets.
---
Booking
---
The standard room at Finolhu is an overwater Lagoon Villa which ranges from $400++ per night including breakfast in the off season (May is usually a perfect balance of price and weather) through to $820++ in the peak months.
The hotel doesn't participate in Virtuoso so your best bet is to book directly with the property when they are offering a promotion, discounts of 25% are typical when booking in advance.
The property also offers the following meal plans at an additional cost:
| Meal Plan | Cost | Inclusions |
| --- | --- | --- |
| Half Board | $80++ per person | Breakfast and Dinner without Beverages |
| All Inclusive | $160++ per person | Breakfast, Dinner and Beverages at all times |
| All Inclusive Premium | $200++ per person | As above with Premium beverages and a greater selection of dining venues. |
If you're happy with the standard dinner buffet and only have one drink per day then Half Board may work for you but honestly All Inclusive Premium offers far greater value. You can eat and drink whatever you want whenever you want, for only $40++ more per day than the standard All Inclusive option.
The access to Crab Shack restaurant alone makes this worthwhile before you even get into the superior wines and spirits.
---
Seaplane Transfer
---
Finolhu is located in the Baa Atoll around 70 miles or 40 minutes by seaplane from Malé.
The Baa Atoll is a UNESCO designated biosphere reserve, renowned for its abundant marine life – particularly its resident manta rays.
Seaplane transfers are priced at $570++ per adult and $342 per child, which is a similar price to Conrad Rangali (for a similar distance).
In my review of the Waldorf Astoria Ithaafushi I wrote about all of the reasons why I prefer yacht transfers but there's no denying that seaplane transfers are a lot of fun and it would be a shame to come all the way to the Maldives and never experience one!
---
We were greeted at the airport by Finolhu staff who helped with our bags and escorted us to the TMA check-in desks, where our luggage was weighed before being tagged with the resort's airport code.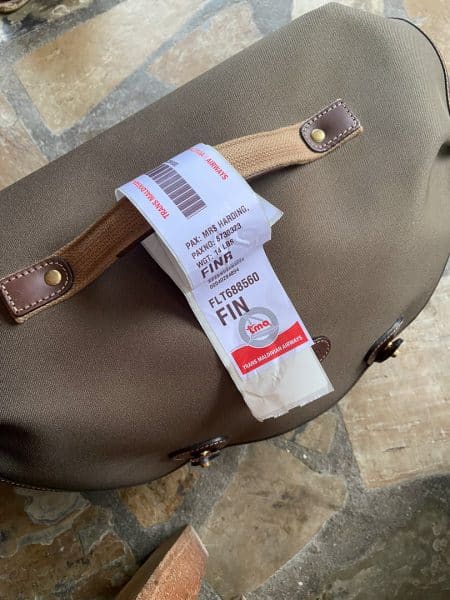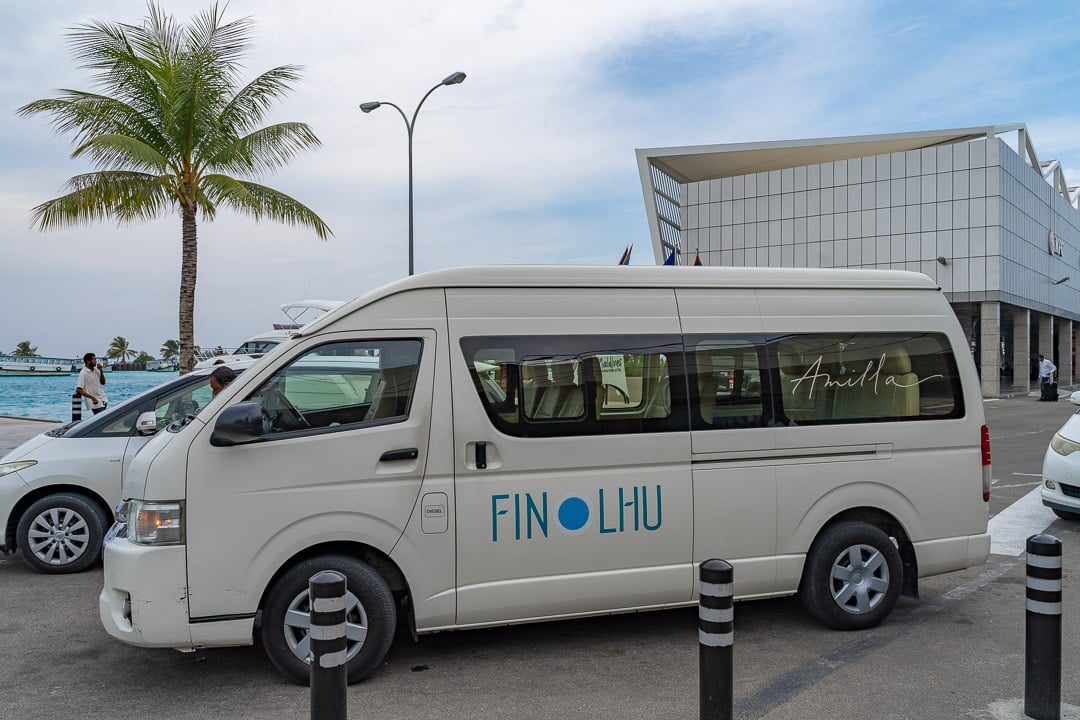 We were then driven in a Finolhu branded minivan to the resort's seaplane lounge. The minivan is certainly not as luxurious as the Teslas and Bentleys used by some resorts but for a 5 minute drive it was perfectly comfortable and far superior to the shared airport buses used by many of Finolhu's competitors.
Finolhu's lounge is located in a building that looks like an office block, containing numerous other resort lounges.
As is common with many smaller independent resorts, Finolhu shares the facility (and the minibus) with another resort. In this case: Amilla.
The staff at reception told us that we would have an estimated wait of around 90 minutes before our flight and asked us to make ourselves comfortable.
A large family took over this area around the TV.
We didn't struggle to find an empty sofa elsewhere though.
There was also plenty of seating on the balcony outdoors, which for the time being has a view of the water. With each passing year that I visit the Maldives though, I see more and more water around these lounges being reclaimed and filled with additional buildings.
All the lounges here used to have views like this…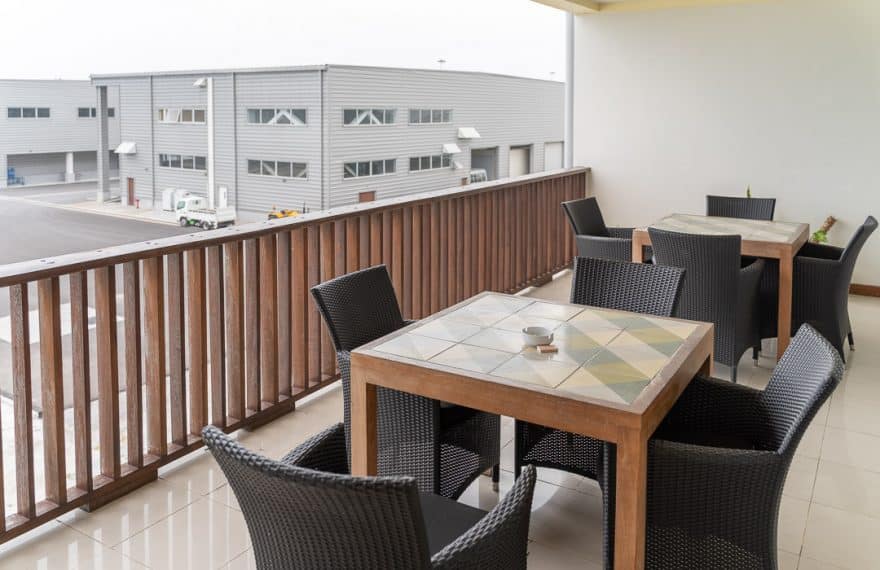 …but slowly they're turning into this.
For the time being though, you can still see planes coming in to land if you lean over the balcony.
This visit took place in February 2020, a few weeks before COVID had begun to properly impact daily life. There was a full buffet laid out containing not only individual snacks but also more substantial boxed salads, wraps and even Vietnamese summer rolls. I was happy to see quite a few healthy options on offer, although the fact that nothing was refrigerated was a little worrying.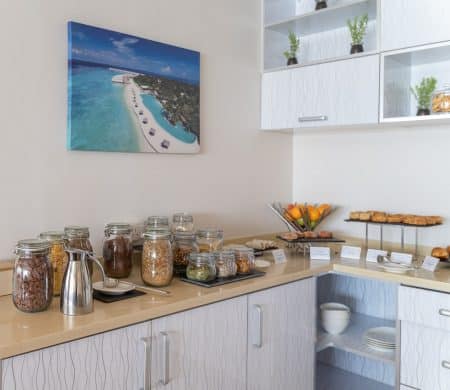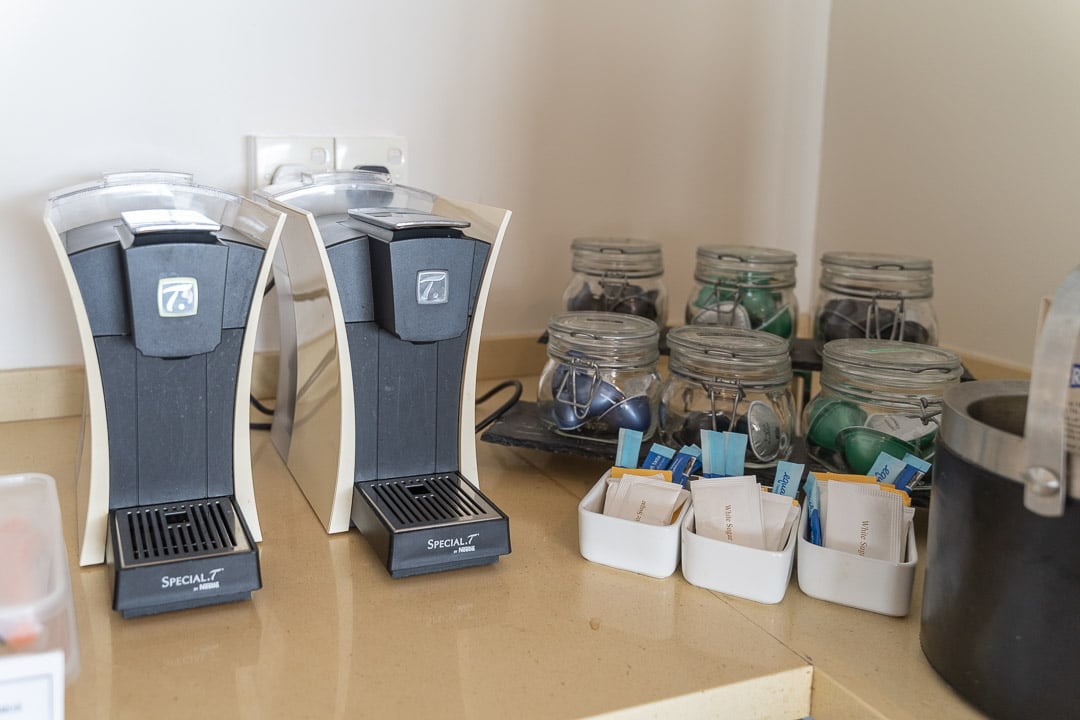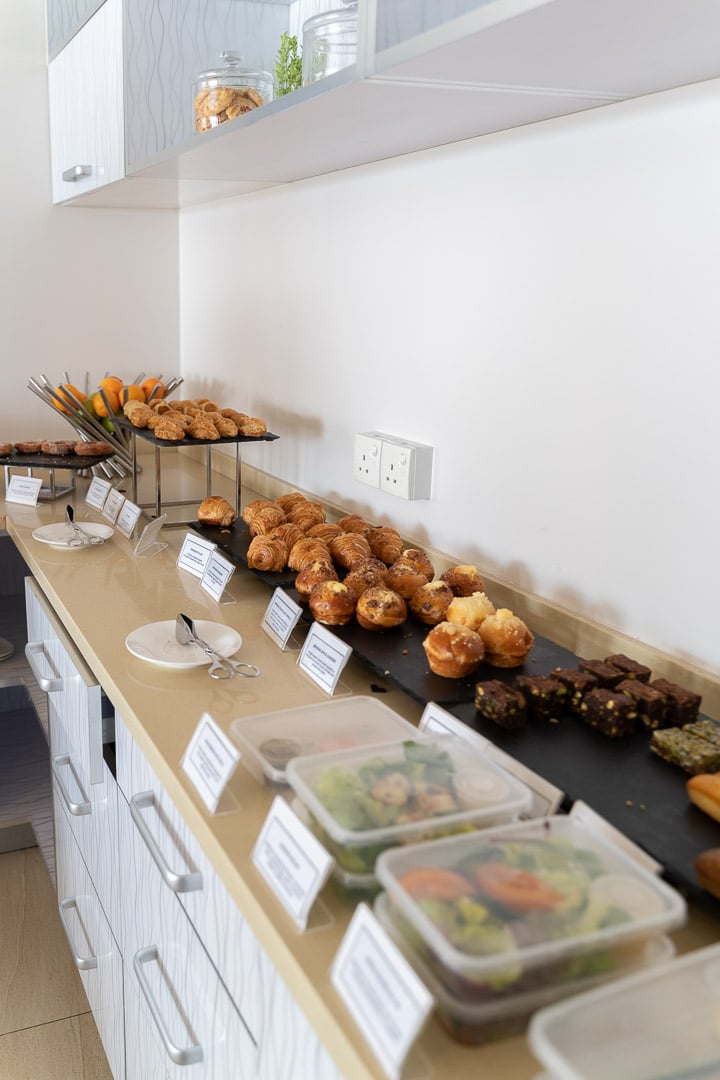 Not only did the lounge have a coffee machine, it is the only place in the world that I've seen a Nespresso Special T. machine, outside of the Ritz Carlton Kyoto!
The lounge also featured one of the hotel's signature Smeg fridges filled with soft drinks, alongside an iMac for those without a device of their own with which to access the complimentary WiFi.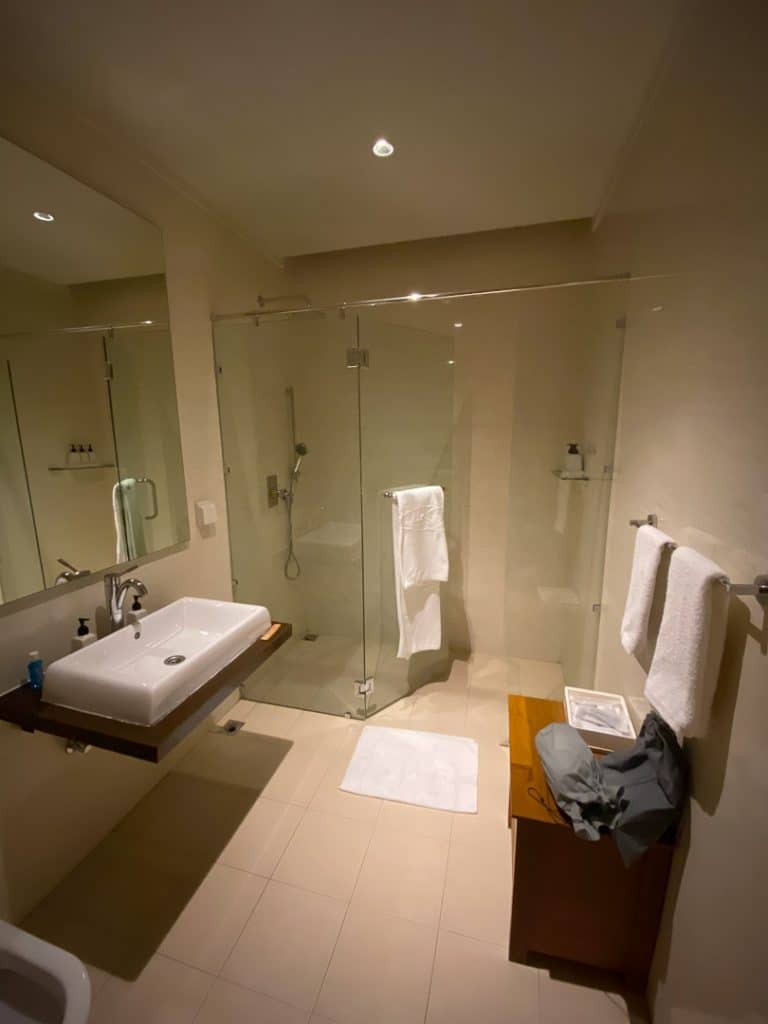 The bathrooms featured large and very powerful showers, with a variety of amenities supplied for those looking to freshen up after a long flight.
As our boarding time drew closer, we were approached by a member of lounge staff and escorted to the waiting minivan for a further, very short, transfer to the main seaplane terminal. No matter how many times I visit the Maldives the feeling of walking across the floating gangways to the seaplane is utterly surreal and magical.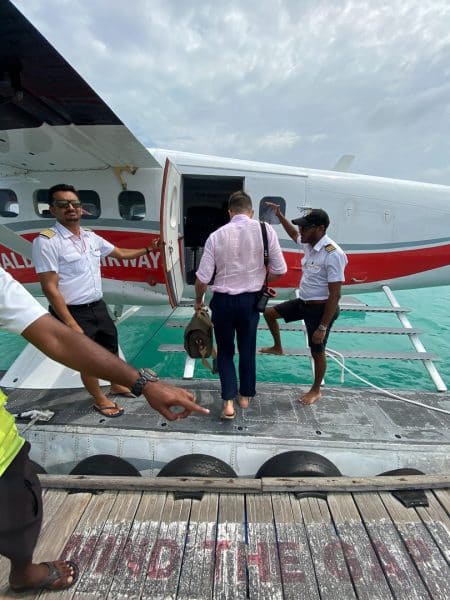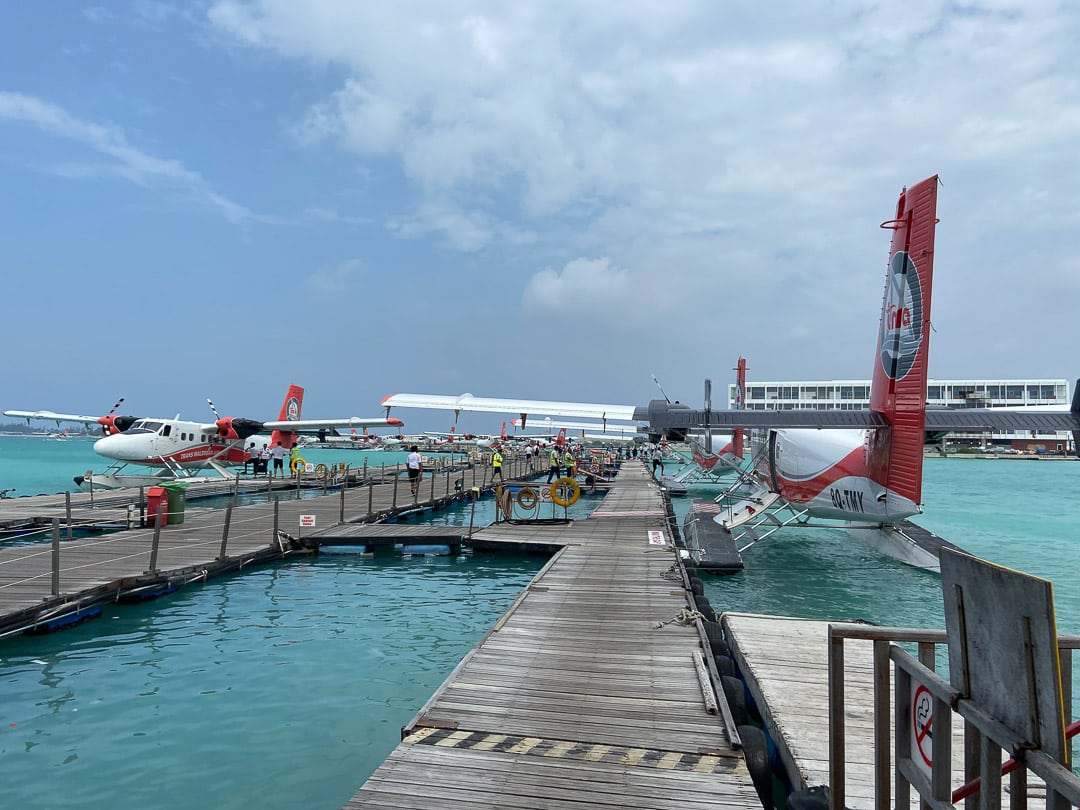 As part of TMA's COVID measures, all passengers receive hygiene travel kits containing masks, gloves and sanitiser. Ear plugs are also available on request. If you don't have noise cancelling headphones handy I'd recommend asking for ear plugs because the propellers are LOUD.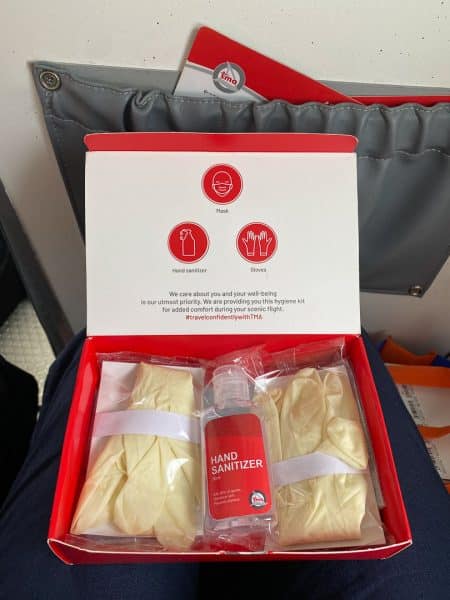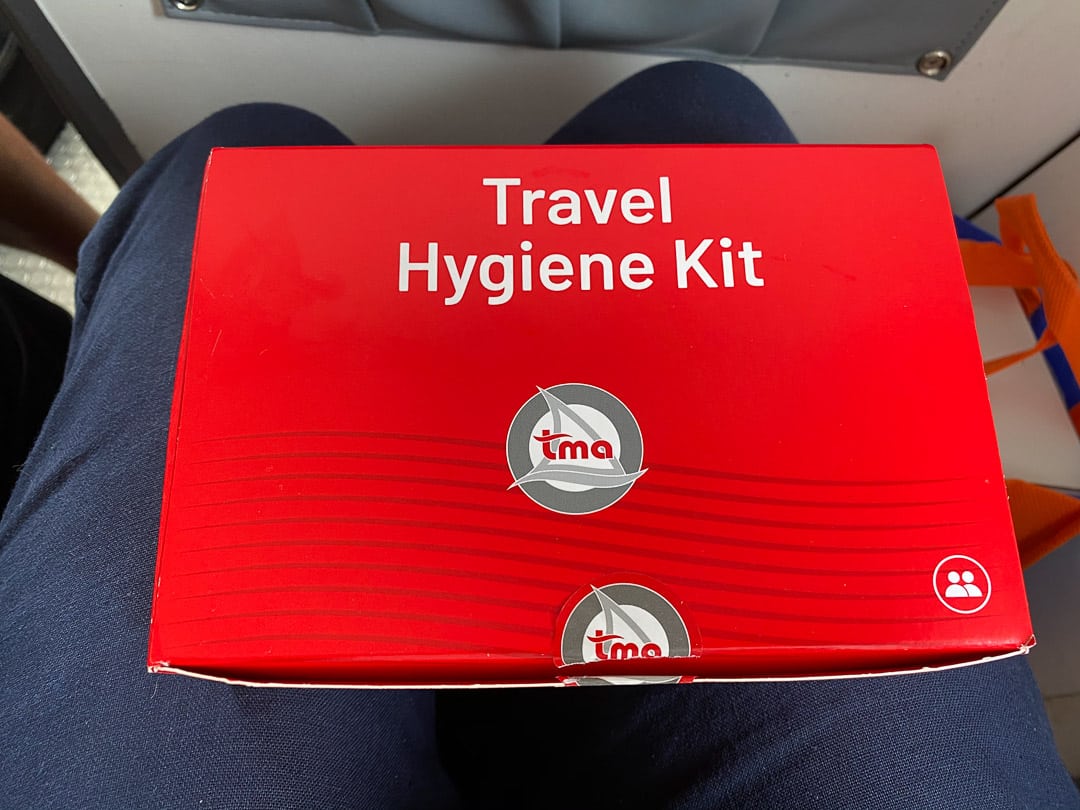 We opted to let everybody board ahead of us so we'd be far enough from the propellers to get an unobstructed view and also to be first off once we arrive at Finolhu. The views from the seaplane were amazing and I loved spotting all the resorts that we'd previously visited or read about.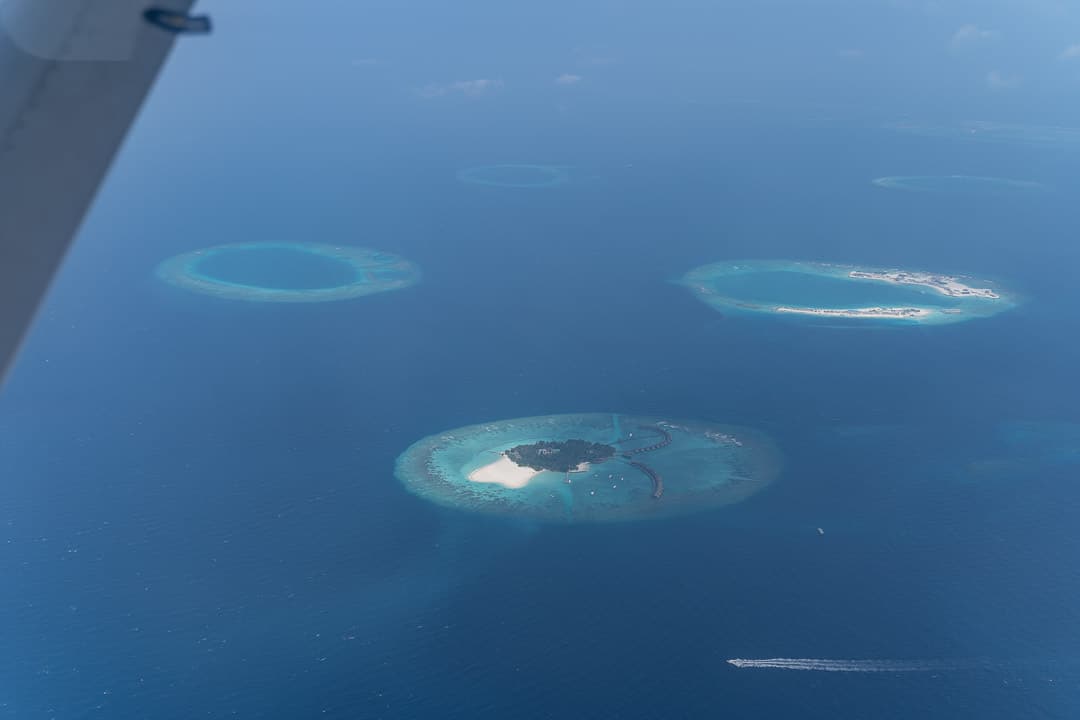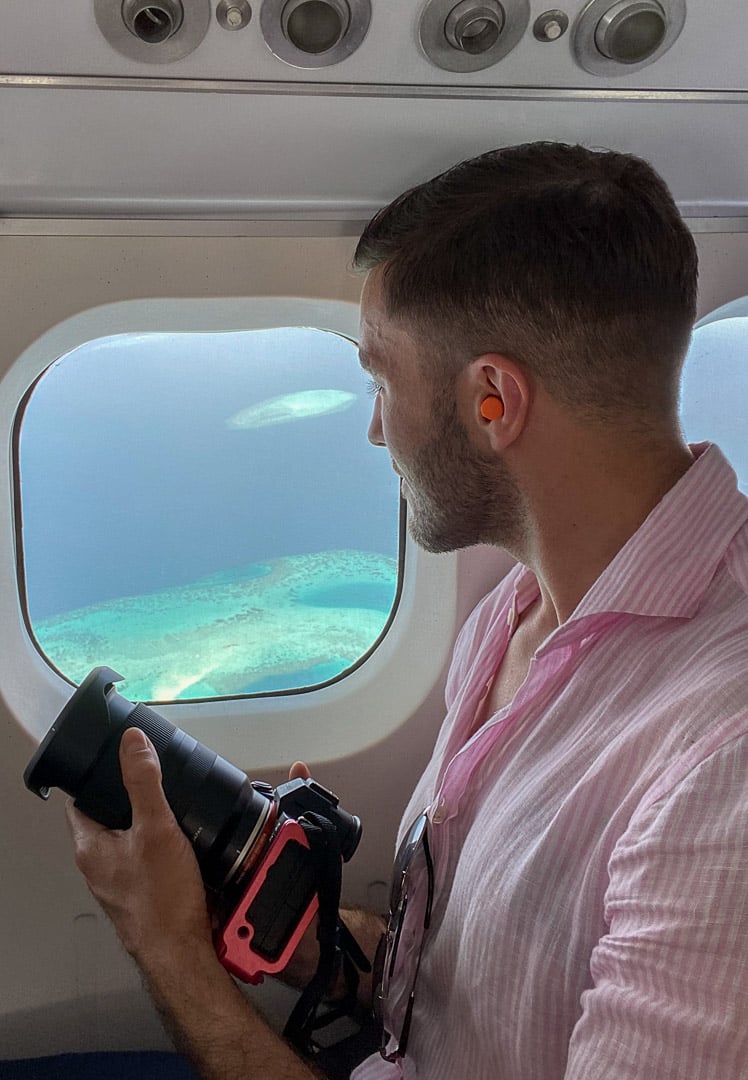 The final approach into Finolhu was spectacularly unique as we passed a few feet over the resort's gigantic sandbar.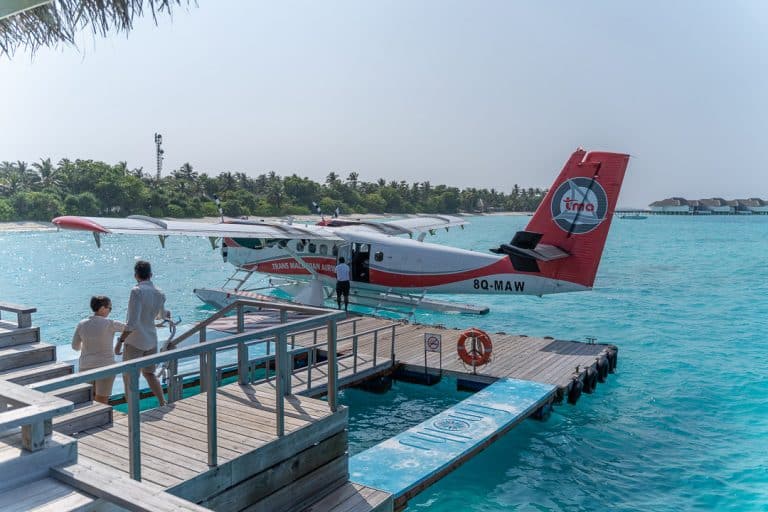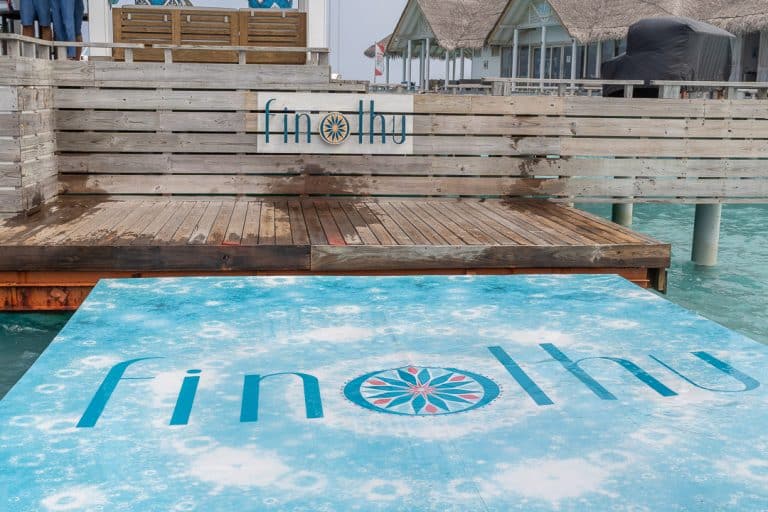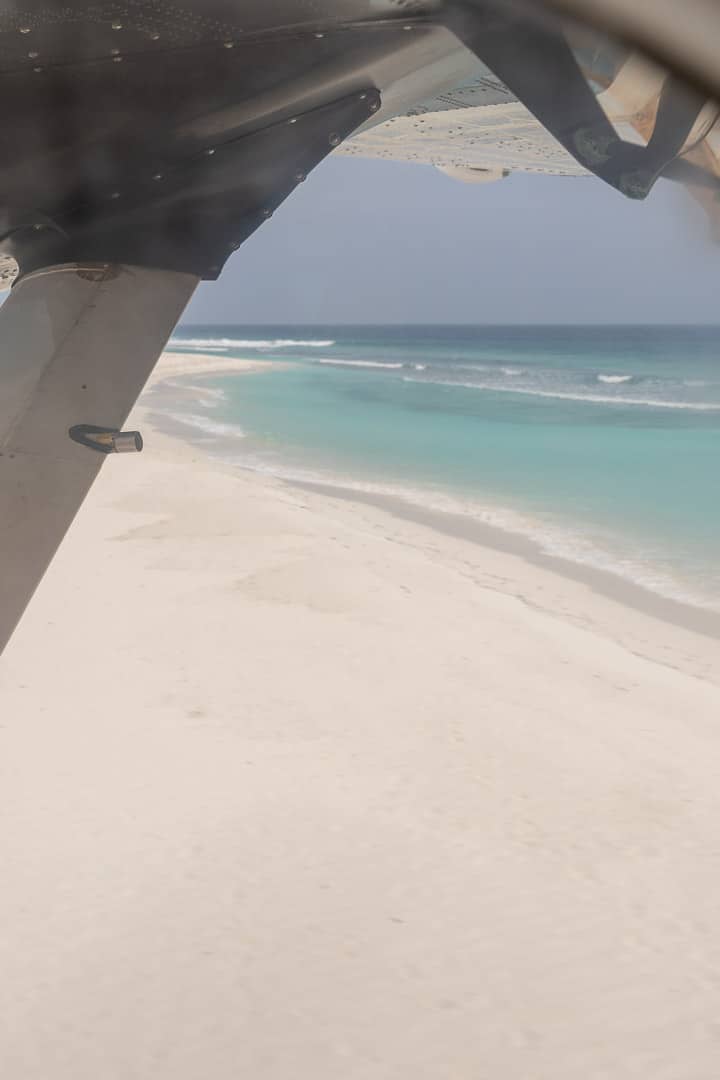 We were greeted by numerous staff at the arrival pier and were quickly escorted past the Dive Centre to 'Mission Control' – the central hub of the hotel where we completed check-in formalities.
As we took our first steps through the sandy pathways of Finolhu, it was immediately apparent that this was quite a different prospect to the formality of Hilton's Maldivian properties. The public spaces here are still beautifully maintained but they are a lot more laid back and brightly coloured.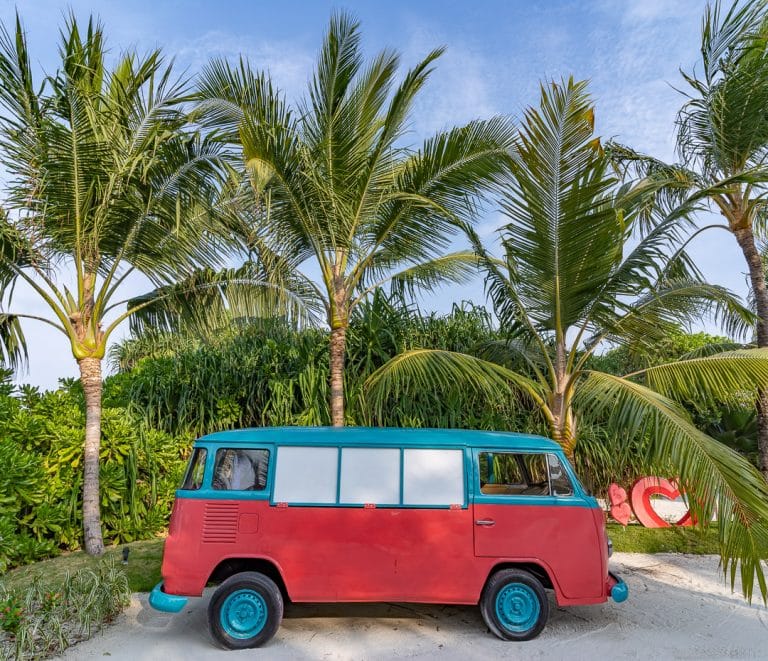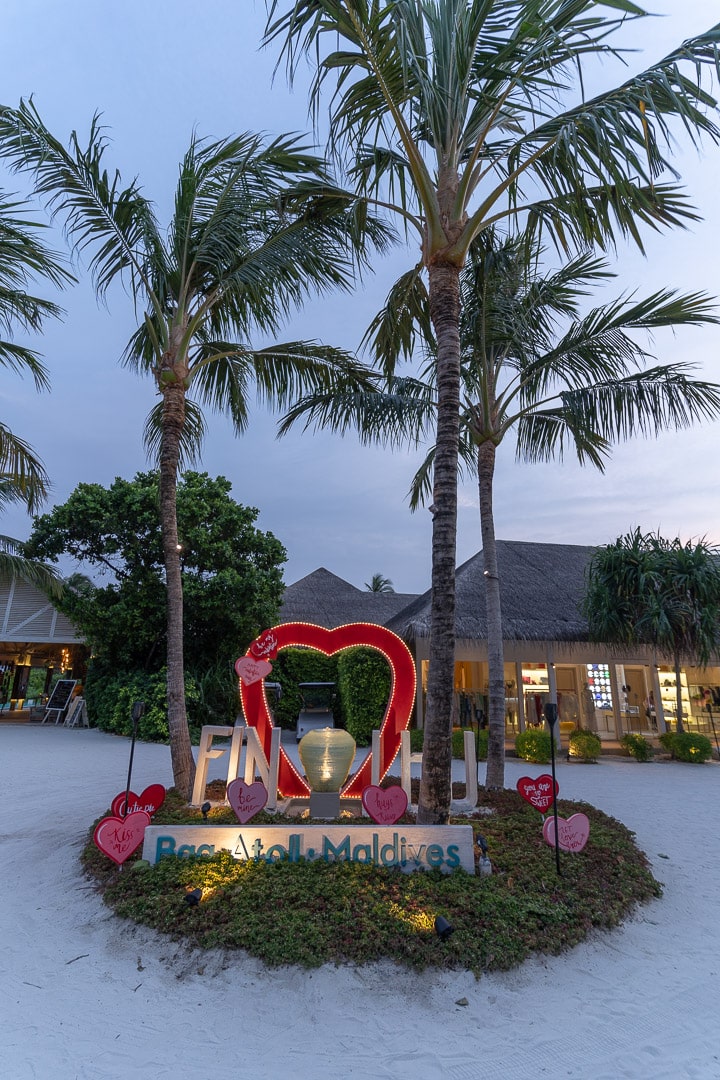 Check-in was quick and simple and was accompanied by a refreshing welcome drink.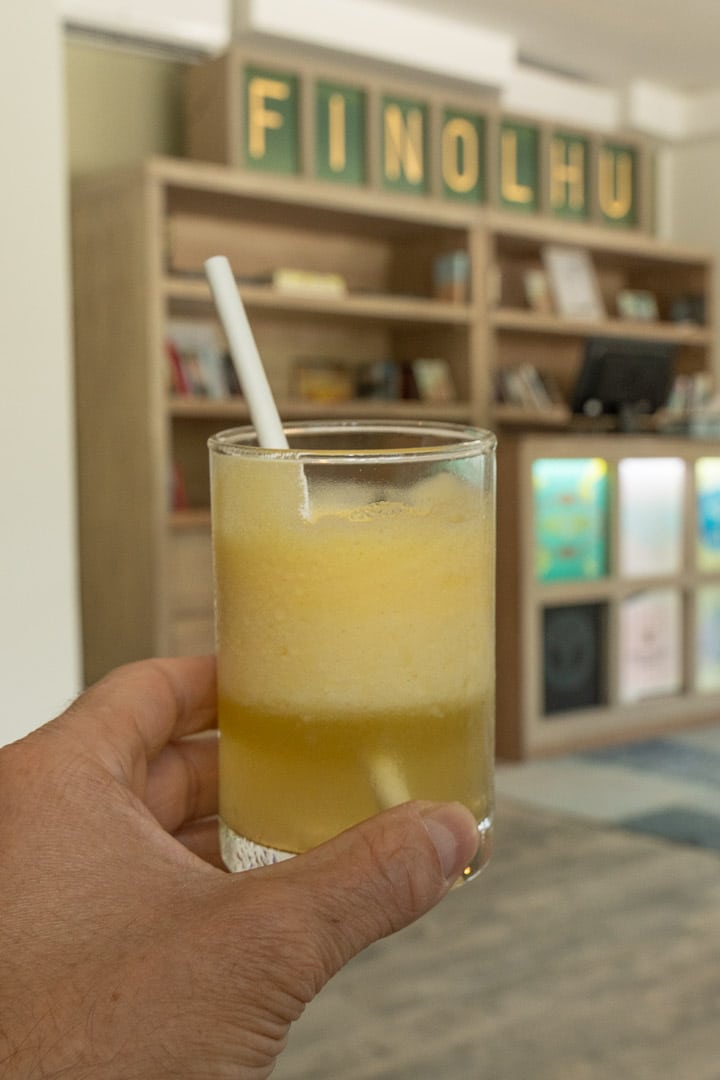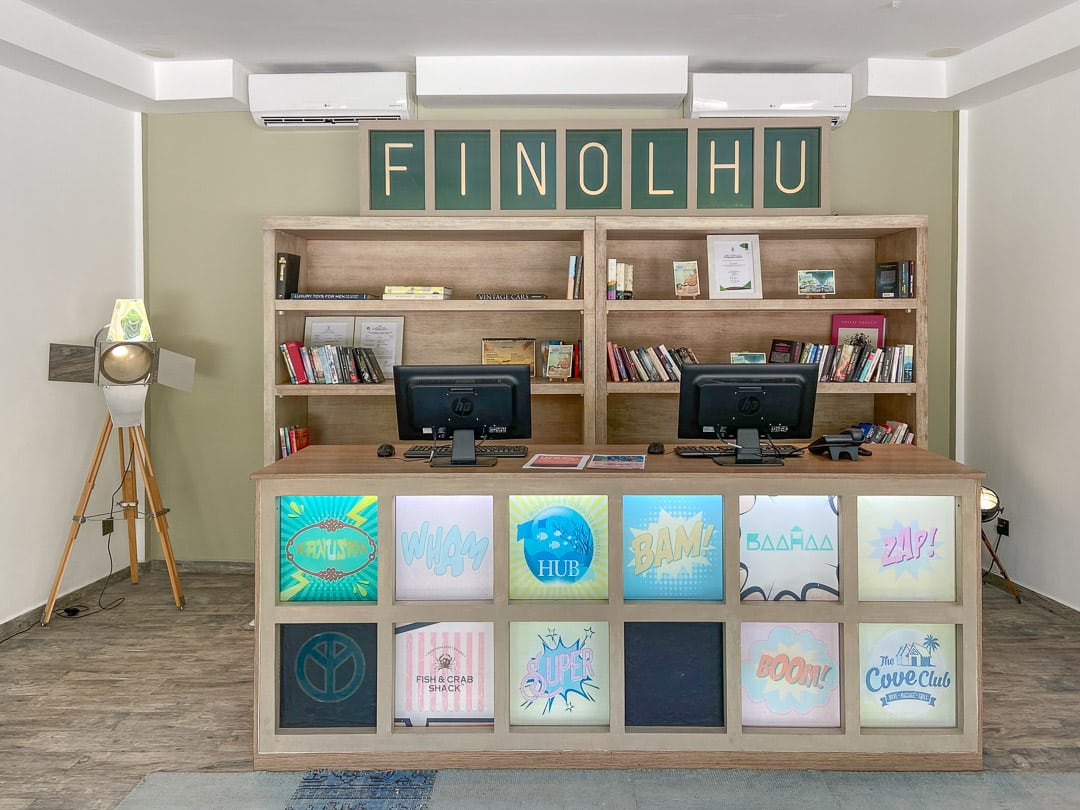 We were then escorted by one of the Finolhu hosts to a waiting buggy. Finolhu doesn't assign individual hosts to each villa, instead you have the option to contact a central host team via Whatsapp, Wechat or of course by phone.
From Mission Control we followed a dense jungle path behind the beach villas and up to our Ocean Pool Villa.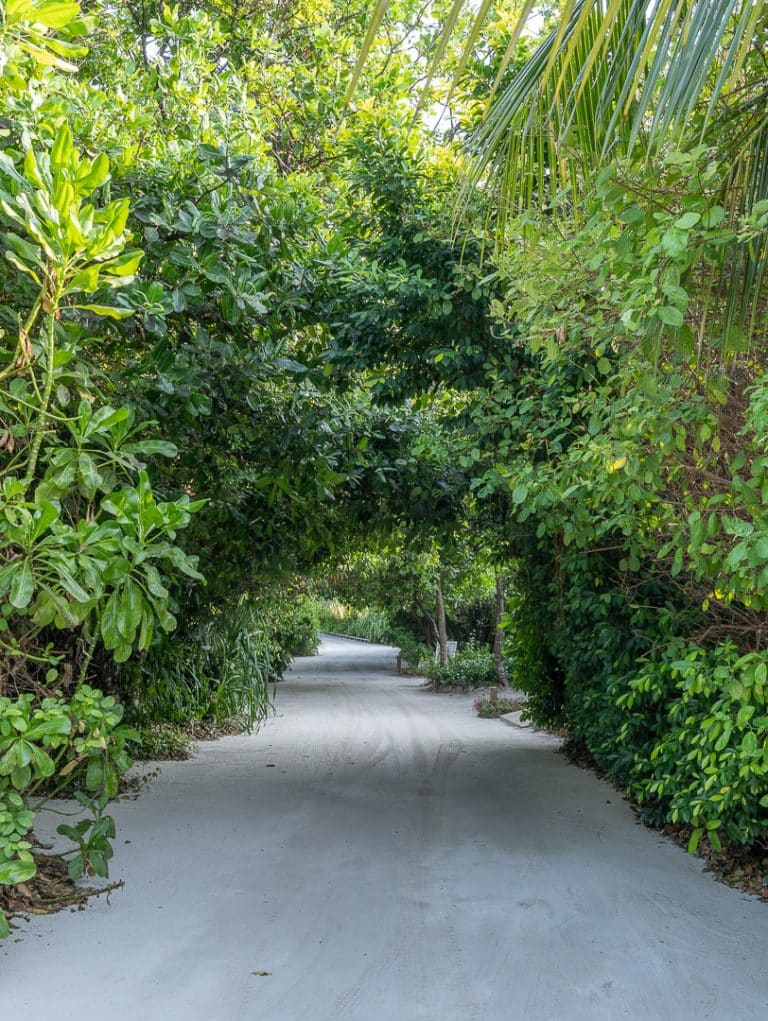 The greenery here stands in stark contrast to the limited and manicured vegetation at the Waldorf. You could also hear the sound of geckos and koel birds, which reminded us of great trips to Bali and Sri Lanka.
Here, you really feel like you can connect with nature and get away from it all. Night time strolls using our phone torches for light felt like a real adventure!
---
The Villa
---
All of the resort's water villas are located along a central pier referred to as 'Sunset Boulevard'. Those facing towards the lagoon have sunrise views whereas those facing out, like ours, have a full sunset view.
It is worth noting that guests here cannot call for buggies from their villas. Individual buggies are only used by staff and those staying in the Rockstar Villas at the far end (which you get to drive yourself and even come with personalised number plates!).
The standard procedure is that you wait at one of the 3 circular huts located along the pier, for the next buggy to come along. The waiting area is shaded and has a phone to call, should you find that no buggies have come around for a while.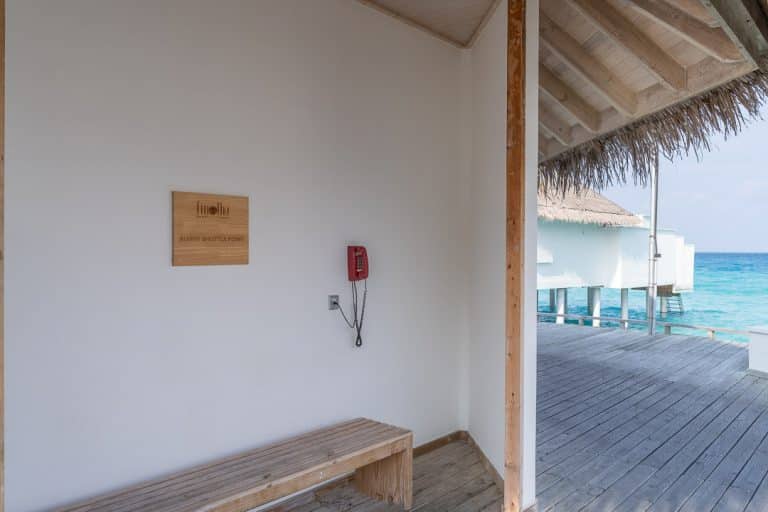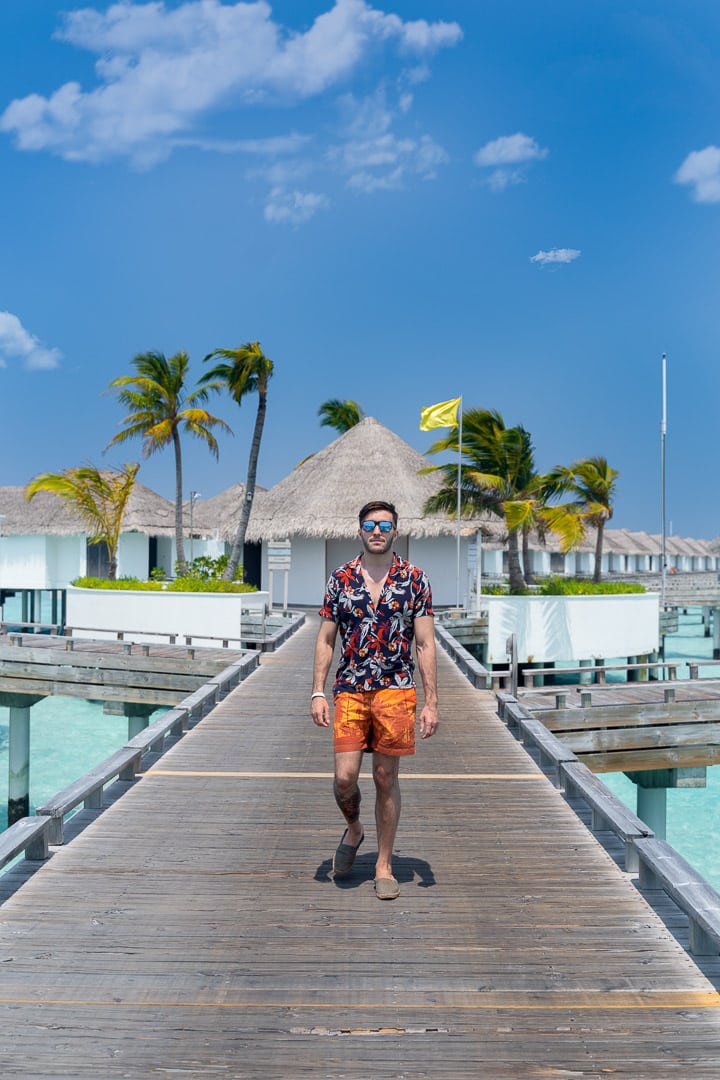 Thankfully our Villa: 203 was right by the first Buggy Shuttle Point, which in turn was only a couple of minutes walk from the best snorkelling spot, the spa and the gym.
IGTV Ocean Pool Villa : Room Tour Video
View this post on Instagram
Bedroom
Our bedroom had a soothing colour scheme, awash with light wood and oceanic tones of blue. Finolhu's refurbishment has drastically overhauled the interior of the rooms and with this metamorphosis, Finolhu became the first Design Hotels property in the Maldives.
As you can see from the slider below, the transformation was nothing short of spectacular. From 3* Moroccan riad to elegant oceanic oasis in one fell swoop.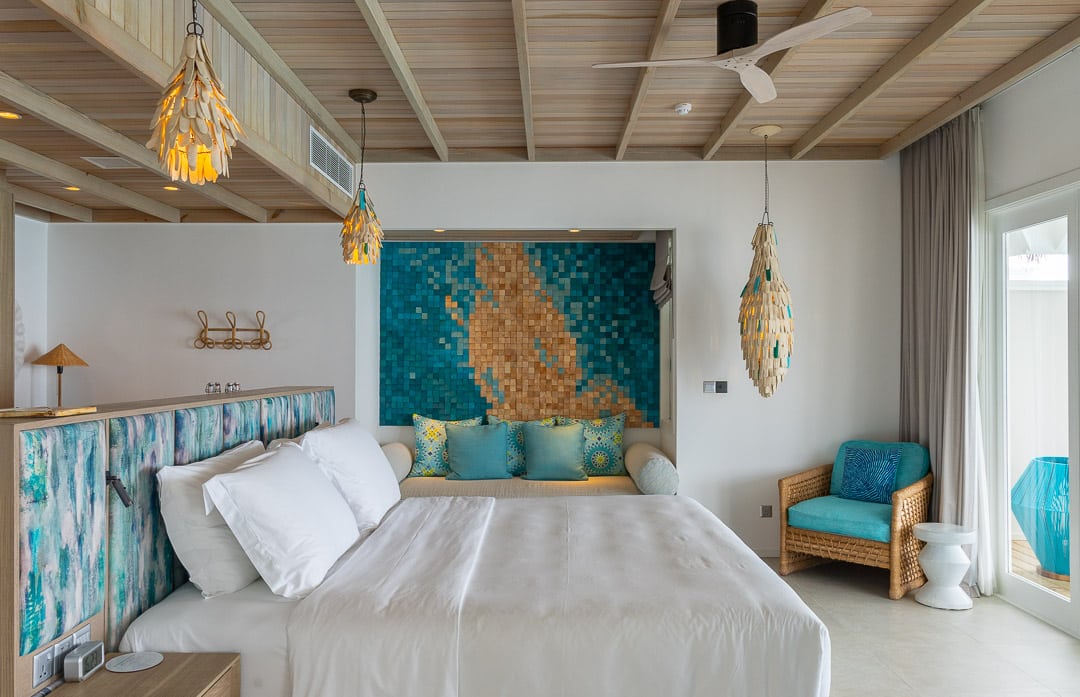 The window sofa and the armchair got more use as clothes horses than anything else, but they helped to give a cosy feel to the bedroom.
The King sized bed was comfortable and faced directly out towards the sunset, which we appreciated. However the synthetic pillows were not ideal; at this price point you'd expect feather pillows (or indeed a pillow menu).

Both bedside tables had USB and universal power. However none of the light switches were labelled and many could be operated from multiple points in the villa. This meant that turning the lights off at night was a trial and error process involving coordination from both sides of the bed.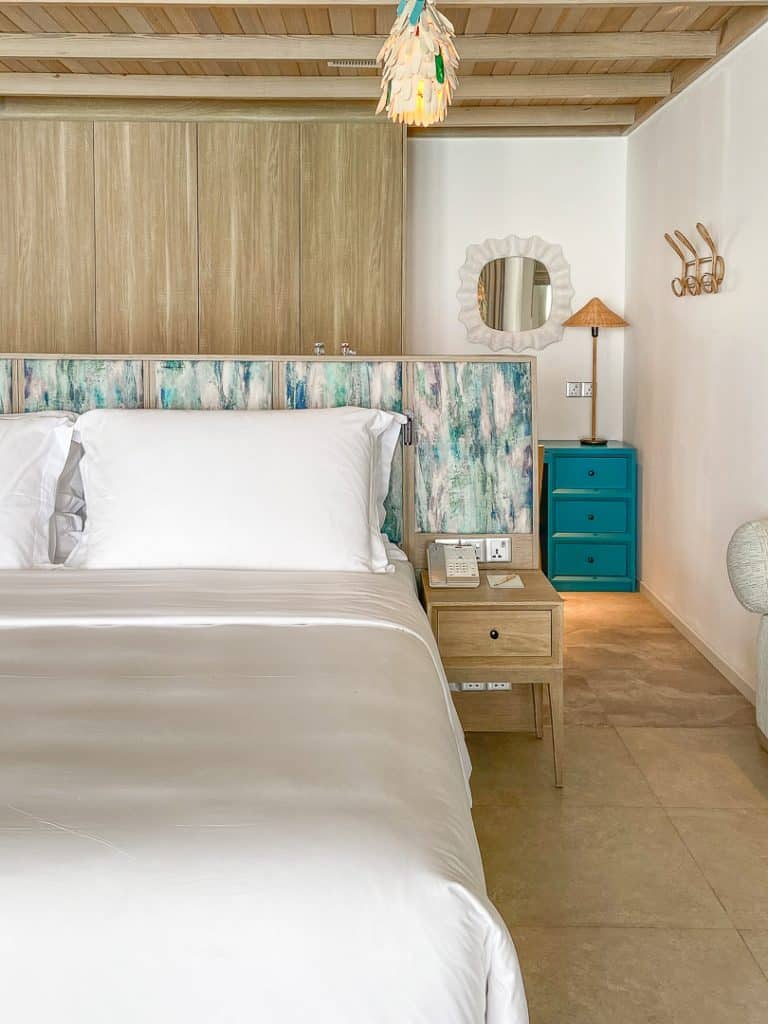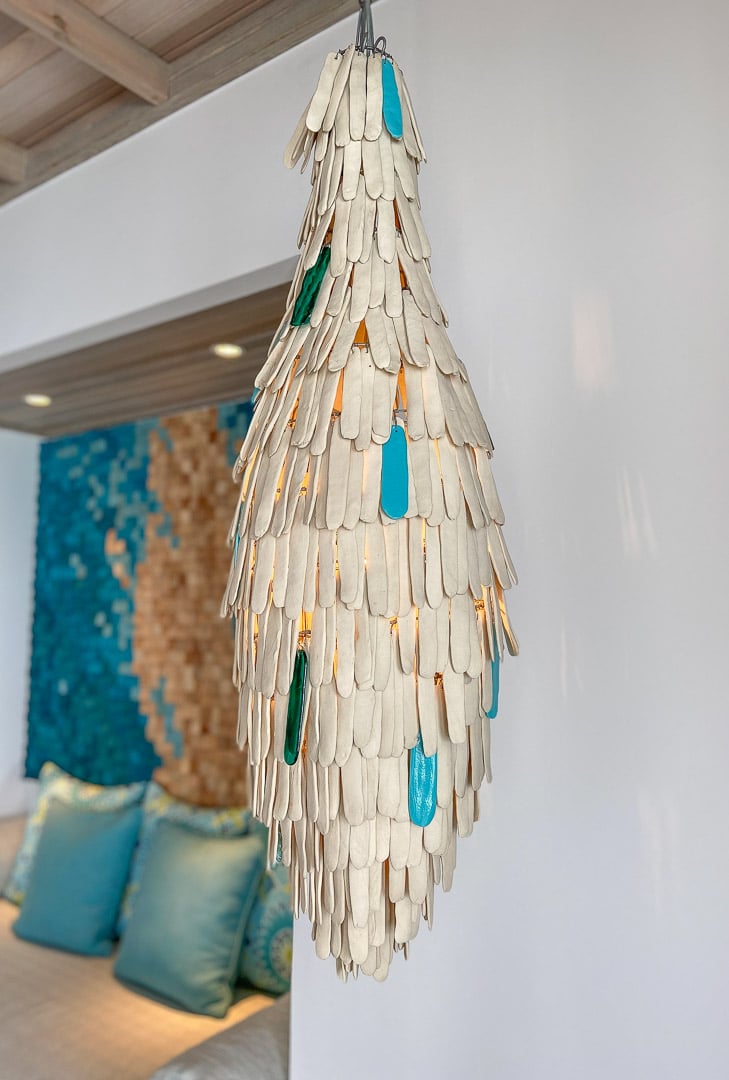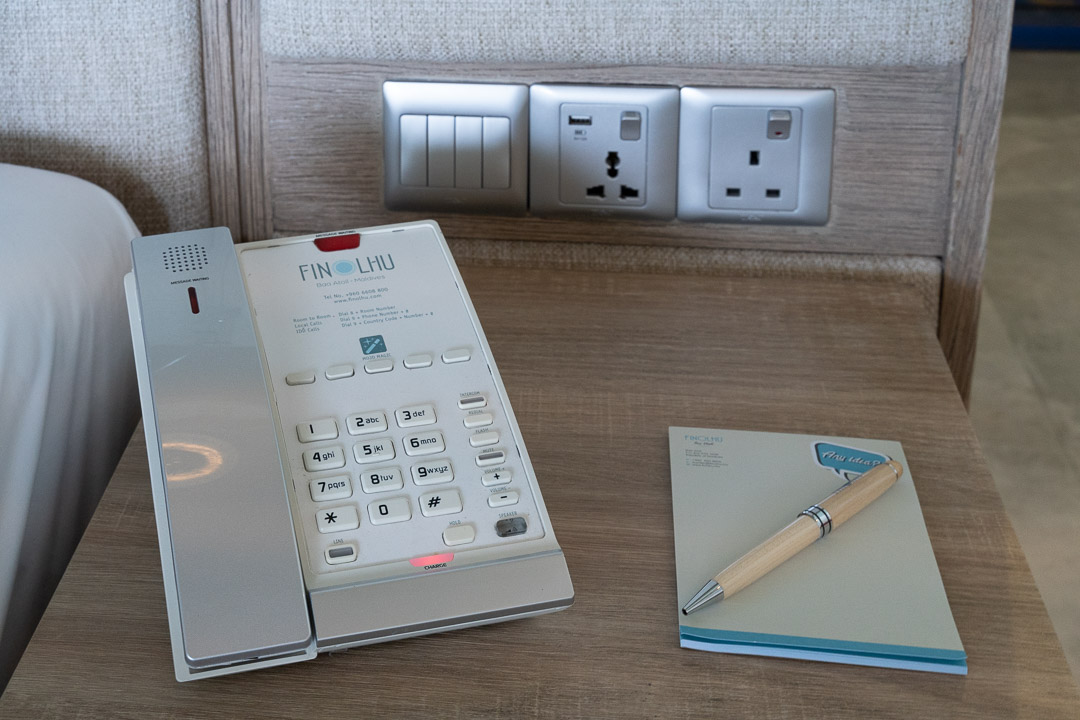 The wardrobe and a small turquoise dresser were located along the back wall. The dresser had plenty of storage and two power sockets but the mirror was too high up to be used when sitting down.
Directly behind the bed was a large desk area which served primarily as a minibar and tea and coffee station. The duck egg blue Nespresso machine and SMEG kettle were perfectly in keeping with the colour scheme of the villa, a fantastic detail. Fresh milk was provided free of charge in the minibar fridge.
Less impressive was the welcome bottle of Prosecco. Outside of Italy, I think there's little justification for offering anything other than champagne as the welcome amenity for rooms at this price point. Having said that, the Waldorf has recently cut it's welcome amenity to a £5 bottle of Spanish red and Constance Moofushi gives a bottle of Sekt (despite being French owned) so perhaps hotels like Anantara Veli are the Maldivian exception with their welcome bottles of Taittinger…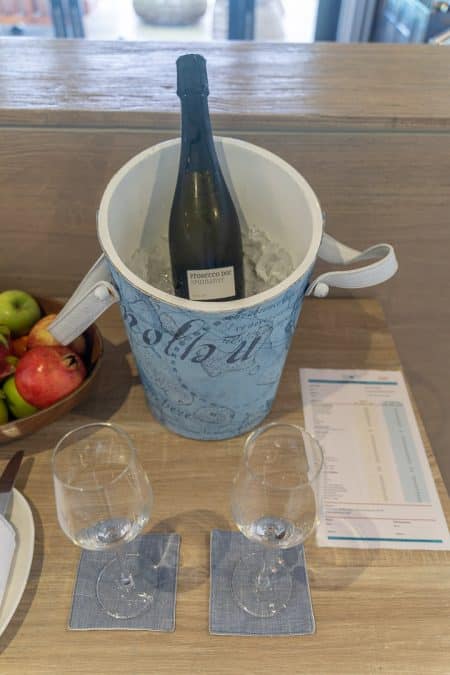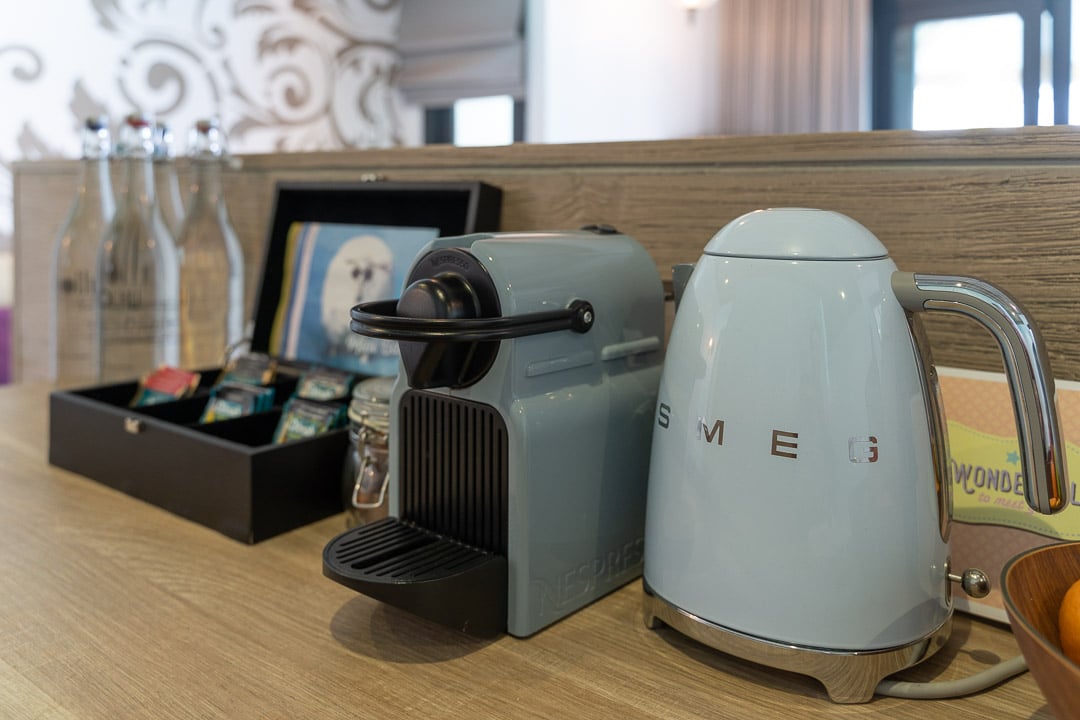 Minibar prices were listed for those not on the All-Inclusive premium package and by Maldivian standards they were very reasonable indeed. $40++ is an incredible price for 300ml bottles of spirits.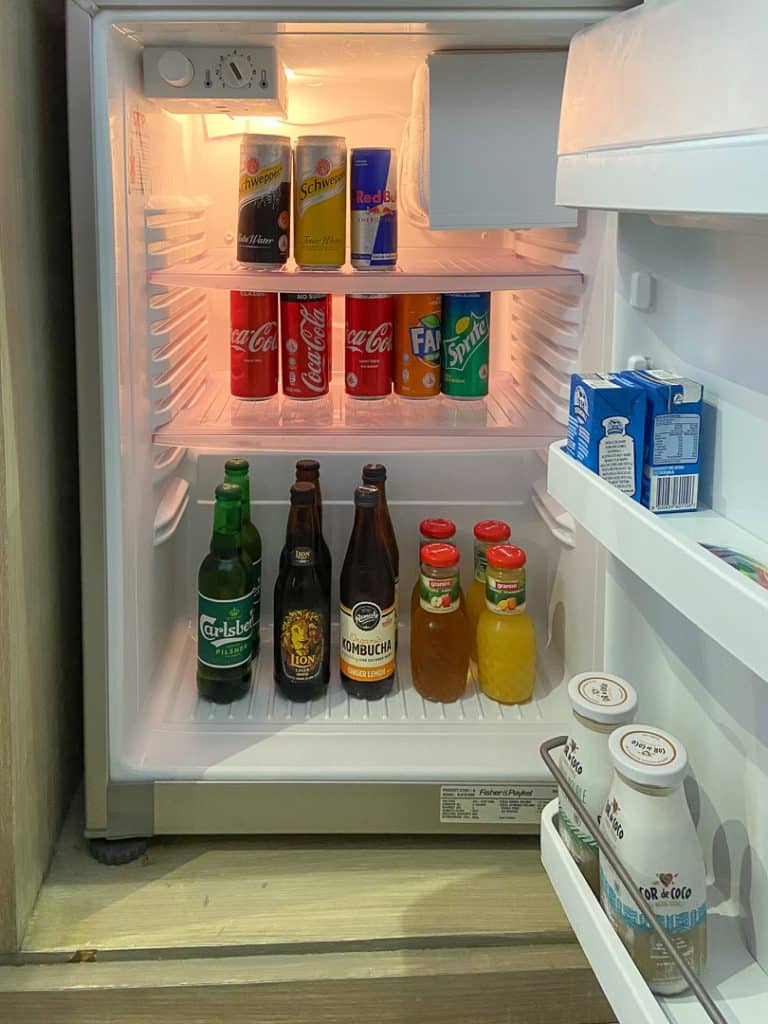 Wines were stored in a proper wine fridge and the glassware in the villa was by Schott Zwiesel. Complimentary still and sparkling drinking water was provided in reusable glass bottles.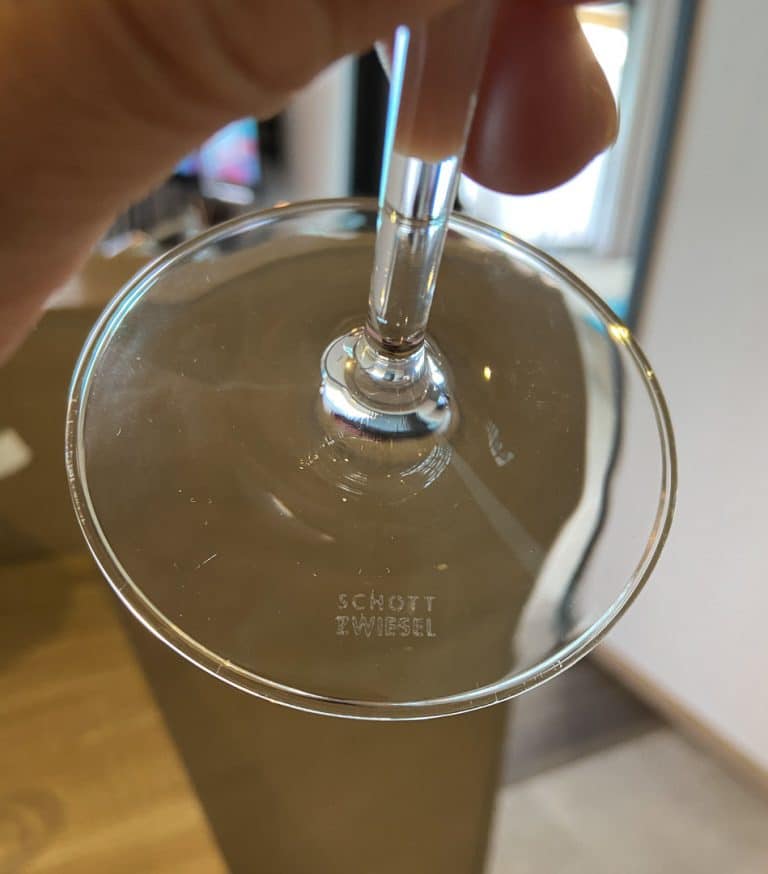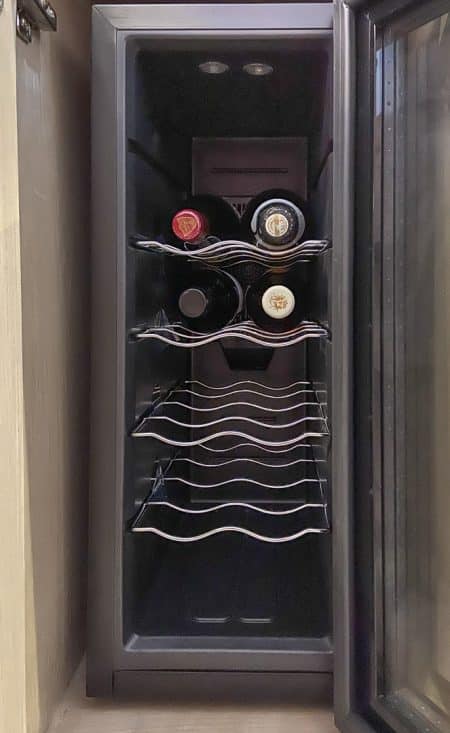 The TV unit was pushed up against a wall so as not to block the ocean view from the bed. The Marshall speakers are a very cool and unique feature at Finolhu and we enjoyed using ours to listen to music whenever we were in the room.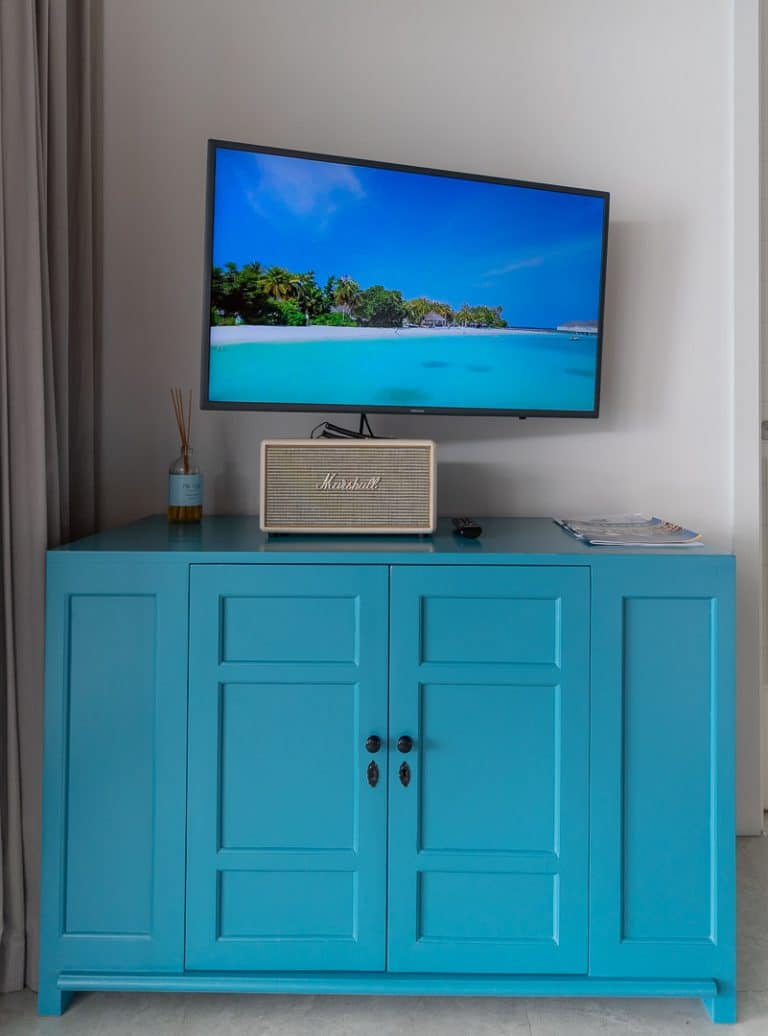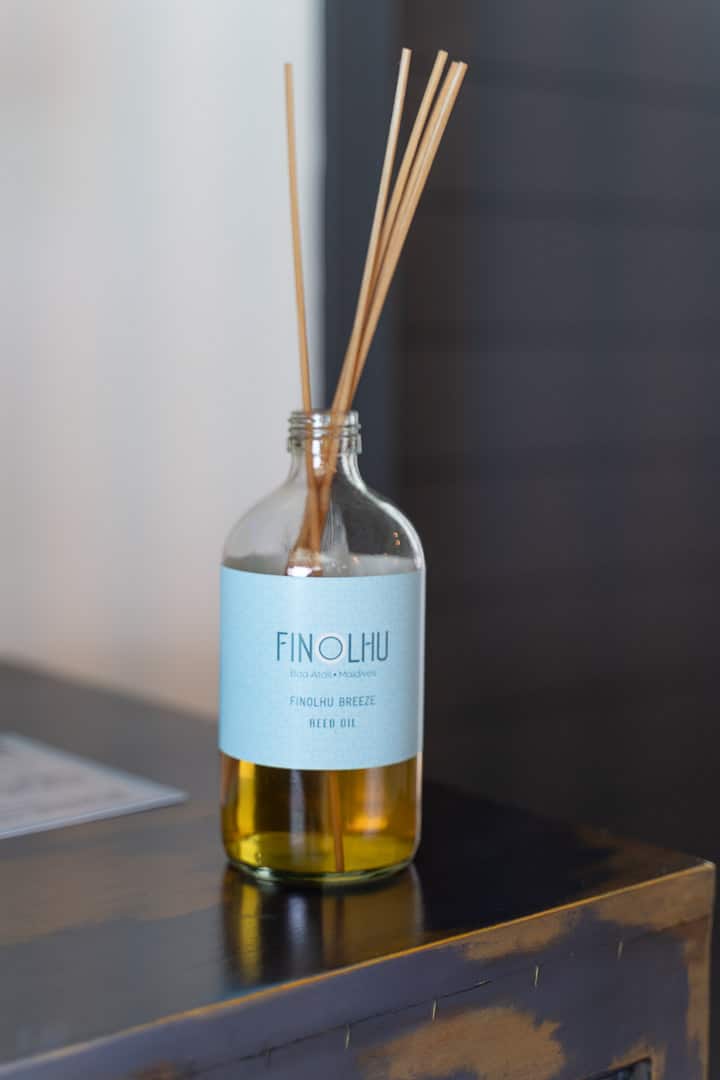 Bathroom
There is nothing more quintessentially Maldivian than a deep soaking bathtub overlooking the ocean. Thankfully our bathroom not only featured this but also twin granite vanities with plenty of counter space and and absolutely enormous mirror.
I loved the Maldivian touches like the beaded wall hanging, the mirror frame and the woven laundry basket, which gave little pops of colour to the otherwise very cleanly styled bathroom.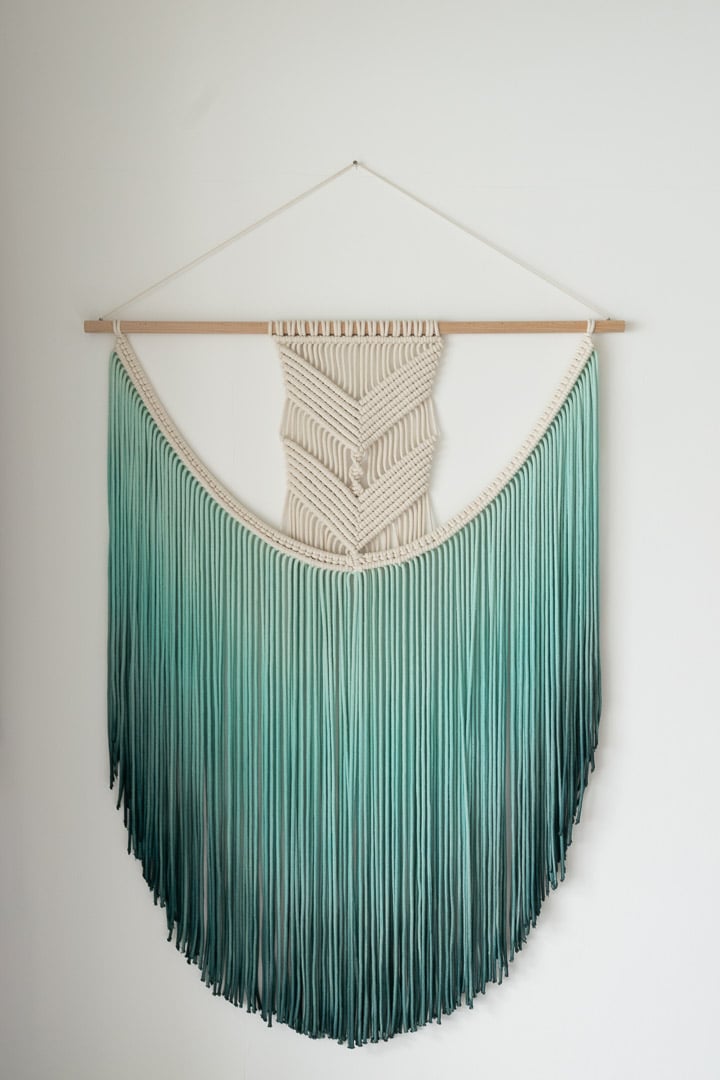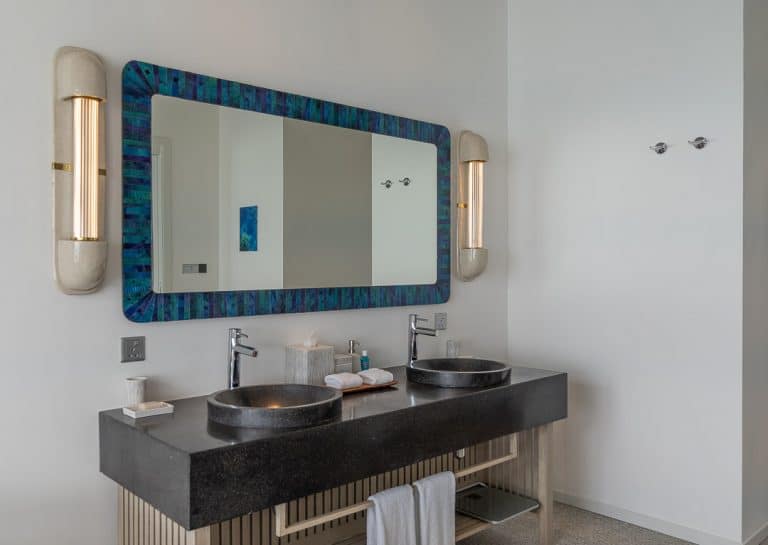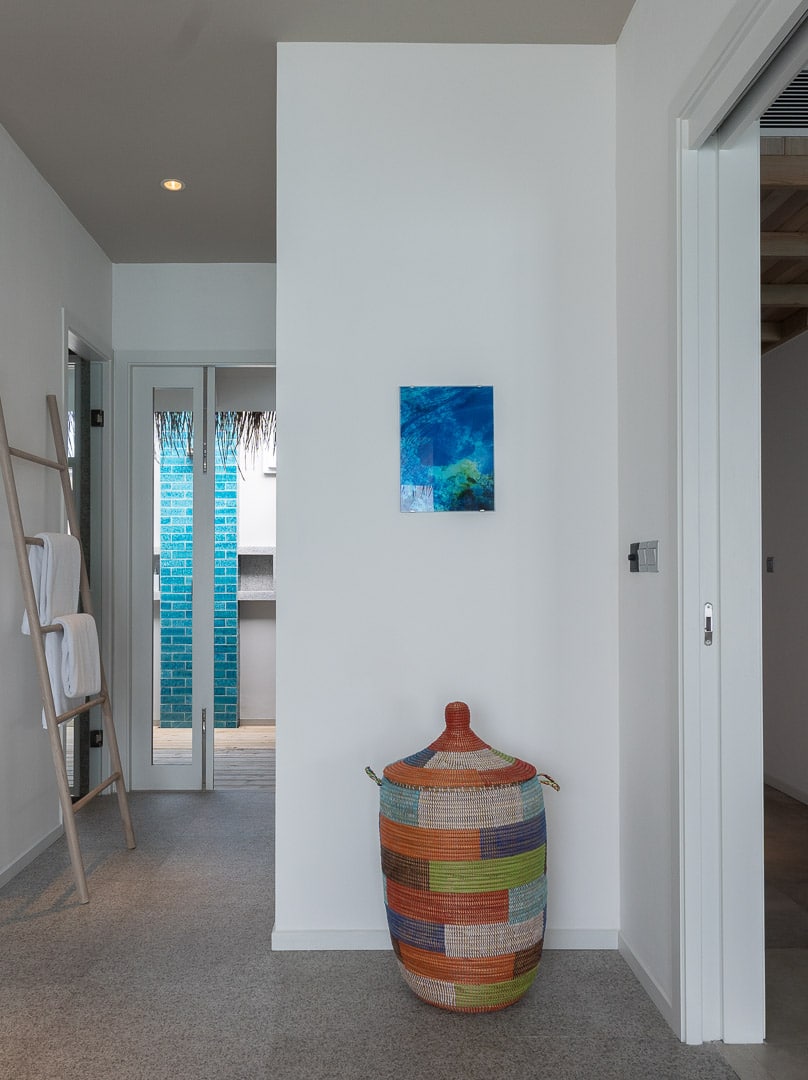 The bathroom was a lot larger than I was expecting with the indoor shower located in a separate room behind the main bathing area. This in turn faced into an outdoor courtyard, which housed an impressively oversized outdoor shower featuring a cascade of water rather than a traditional shower head.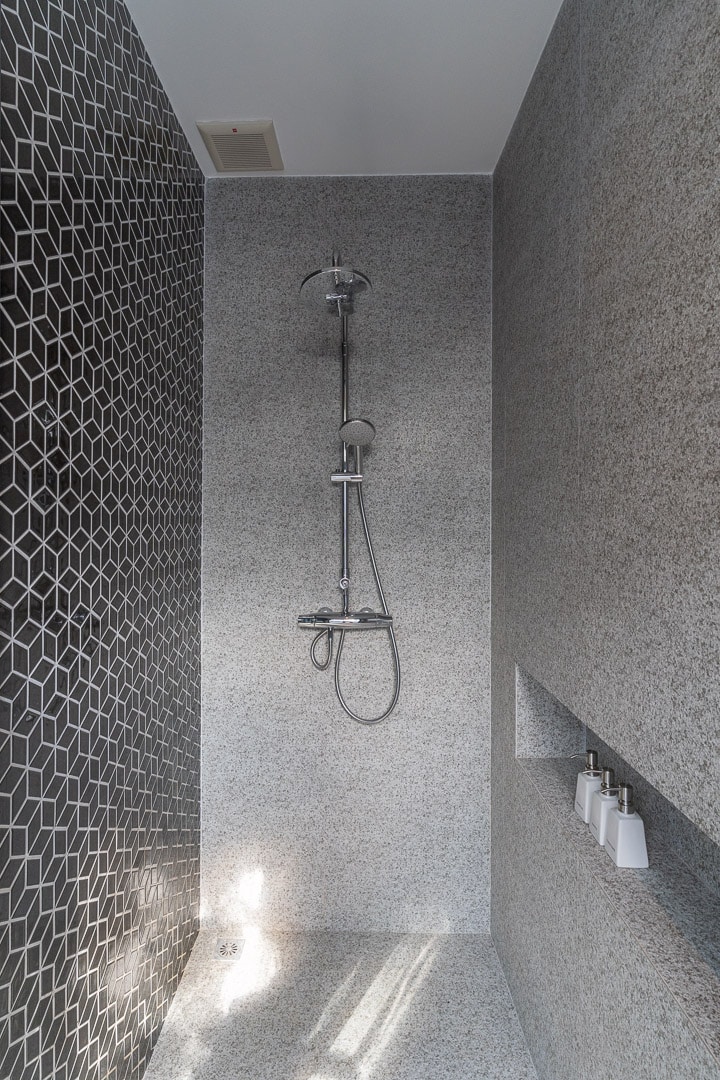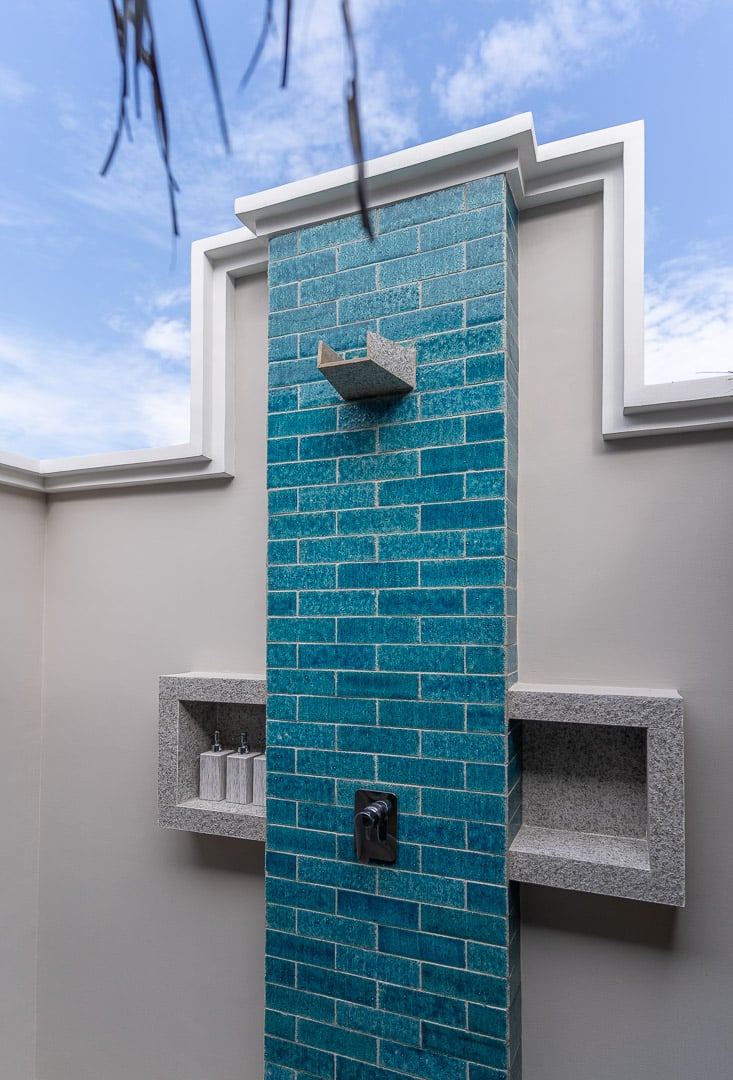 Outdoor Space
The outside deck was very spacious and I appreciated the fact that there was permanent shade over the sofa style seating as well as a parasol for the thickly padded sun loungers.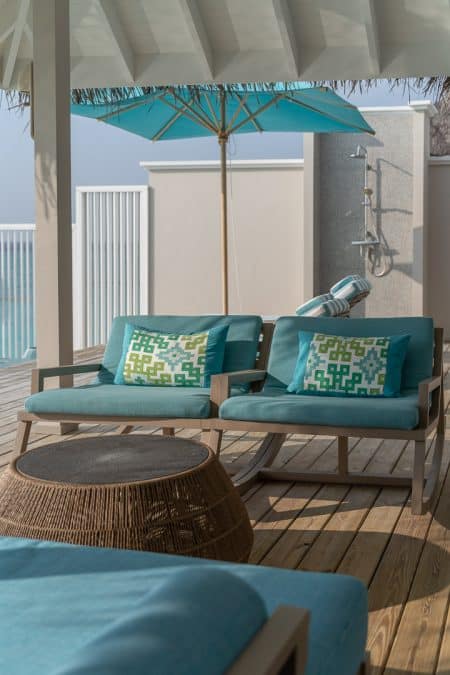 The swimming pool was by no means enormous but certainly a big step up from the tiny plunge pools/ jacuzzis in most overwater villas at the Conrad. I also appreciated having a proper outdoor shower (this was in addition to the outdoor shower in the courtyard) rather than a 'hose by the stairs' offered in so many resorts.
View this post on Instagram
The sunset view was pretty special too although being so close to some large, inhabited islands did make it weirdly feel like we were on a peninsula rather than a small atoll in the Indian Ocean.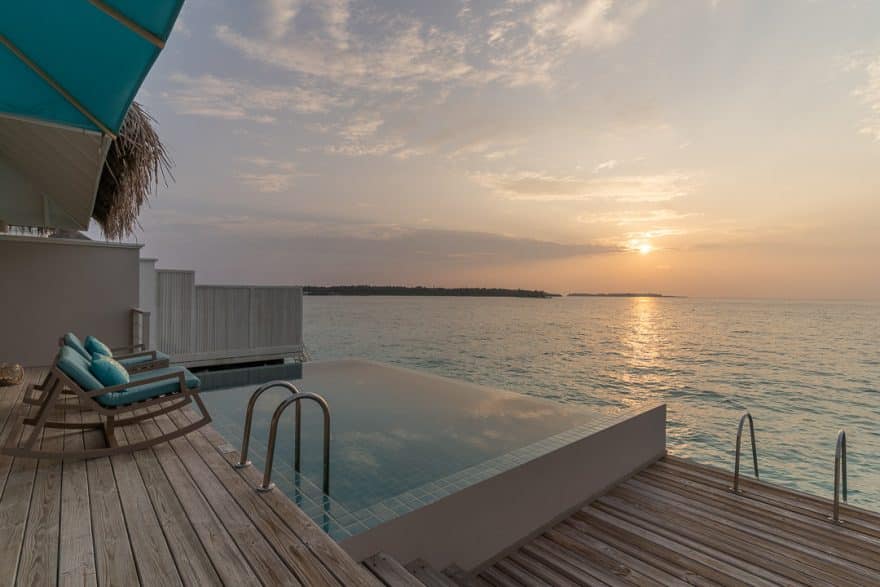 The perfect way to end the day…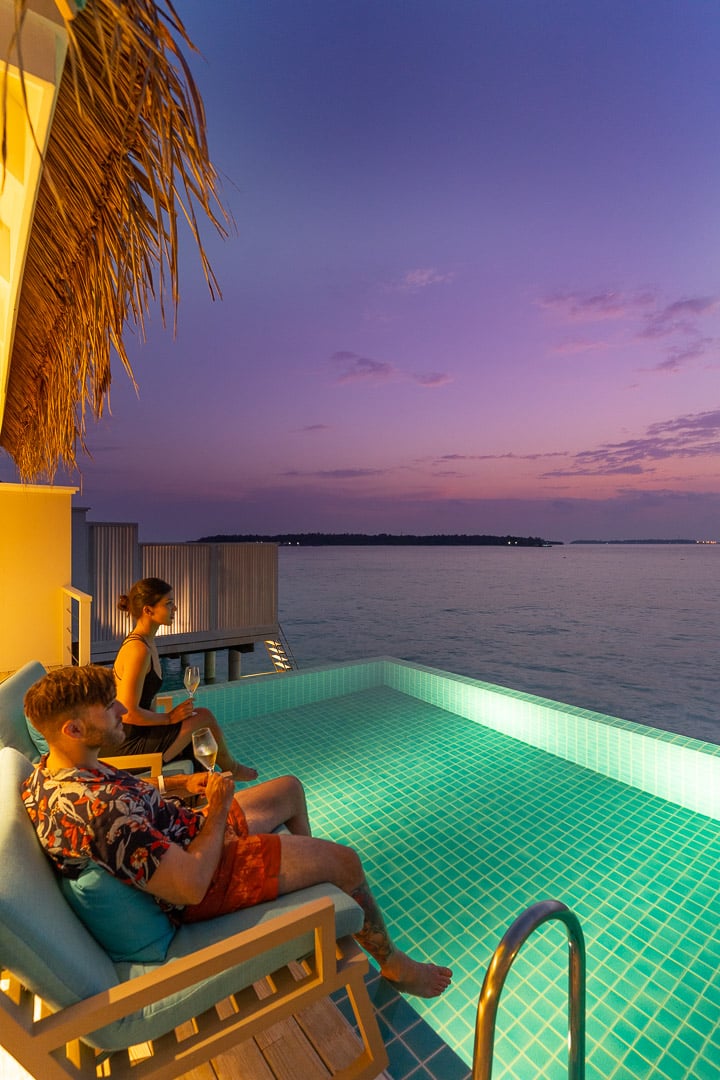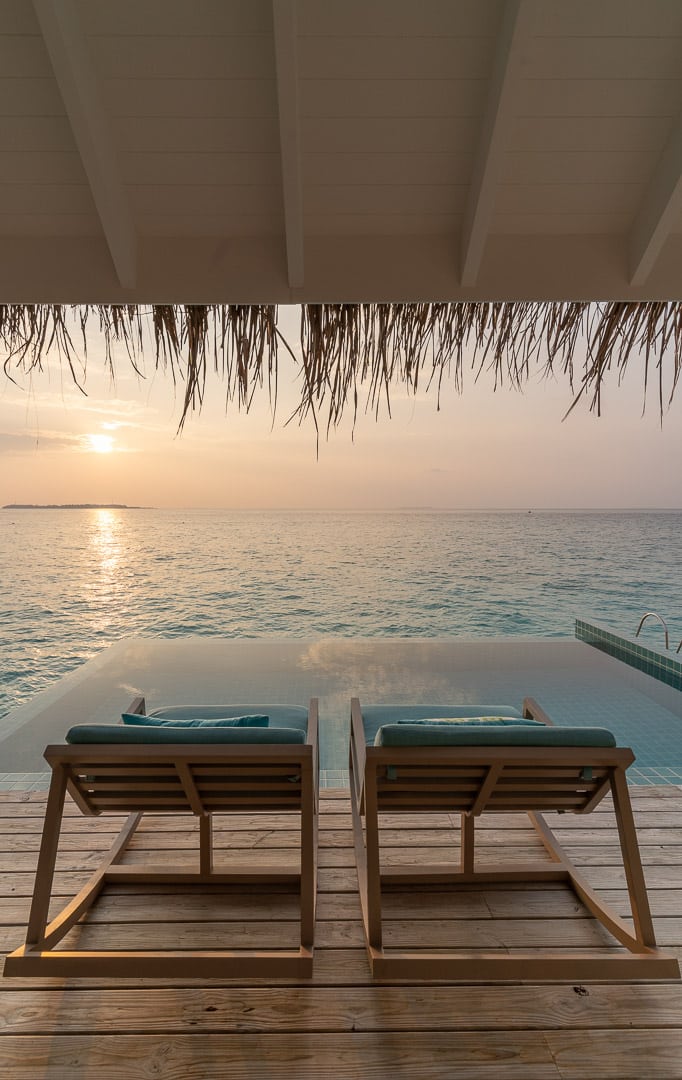 At night the illuminated deck felt really cosy and having the covered pagoda meant that we were able to stay dry whilst enjoying an incredible thunderstorm.
My relatively okay attempt at manually focusing on a lightning strike…(it was more impressive in real life).
---
Leisure facilities
---
'Palm Beach'
Finolhu has an enviable footprint with kilometres of beaches surrounding the island.
Right by the base of Sunset Boulevard, you have a town square of sorts referred to as 'Palm Beach' on the resort map. This area contains the Gym, Spa, Milk Bar and a white sand beach with sun loungers, bean bags and swings.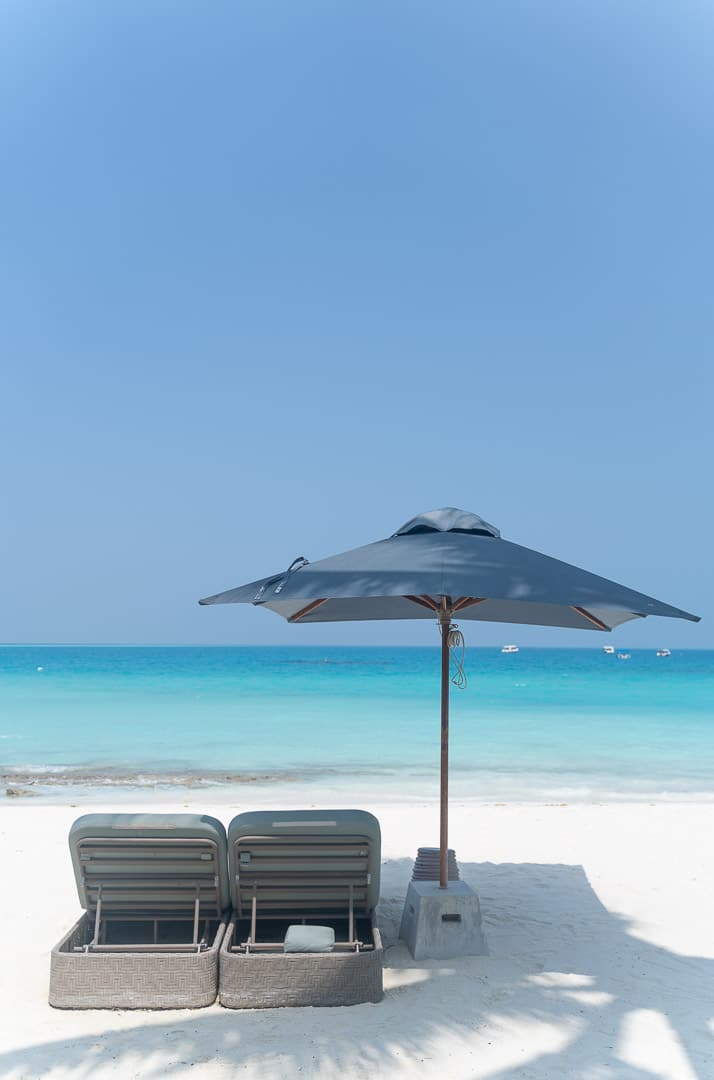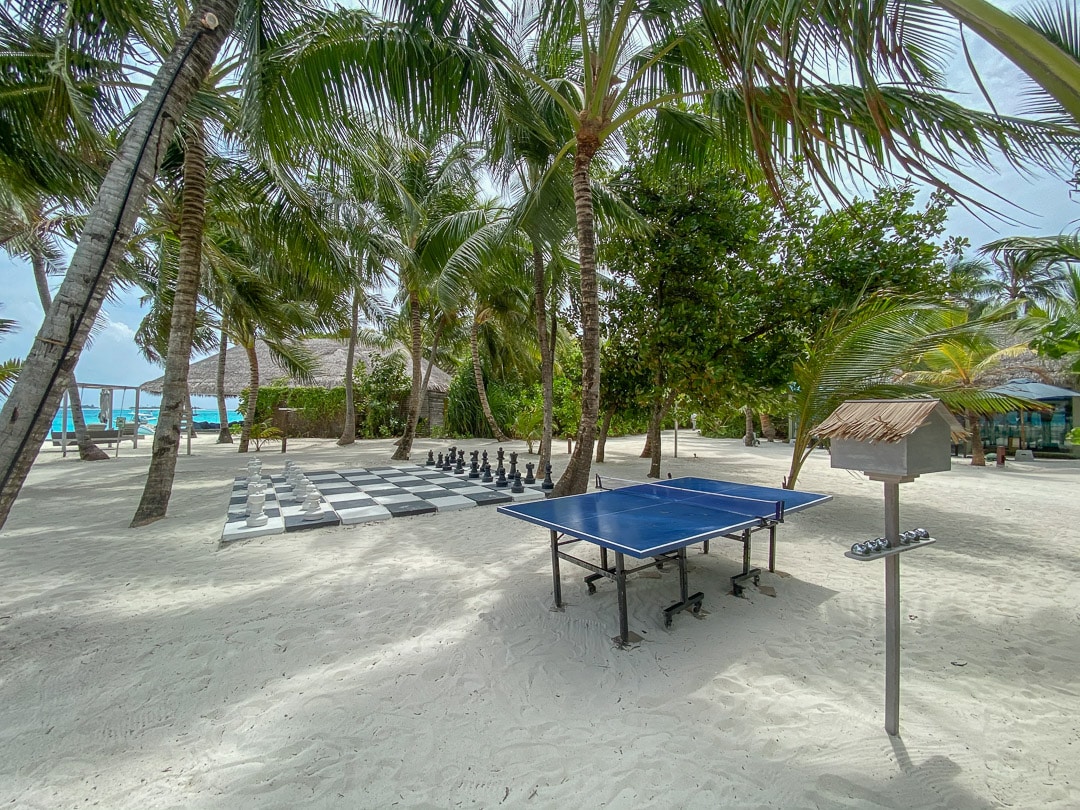 Fitness Facilities
The outdoor gym area was surprisingly well equipped and included a climbing wall, cargo net and battle ropes.
The gym itself is quite an impressive space and I was very happy to see a smith machine with a decent amount of plates. As is almost always the case with resort gyms, cardio machines outnumbered weights machines by a ratio of about 5 to 1. In fact aside from the smith machine there was only a single cable crossover station, that's it.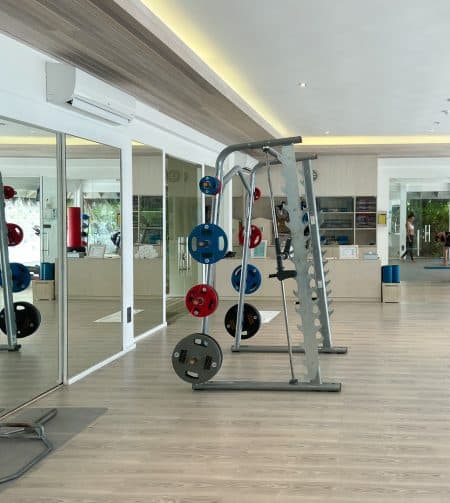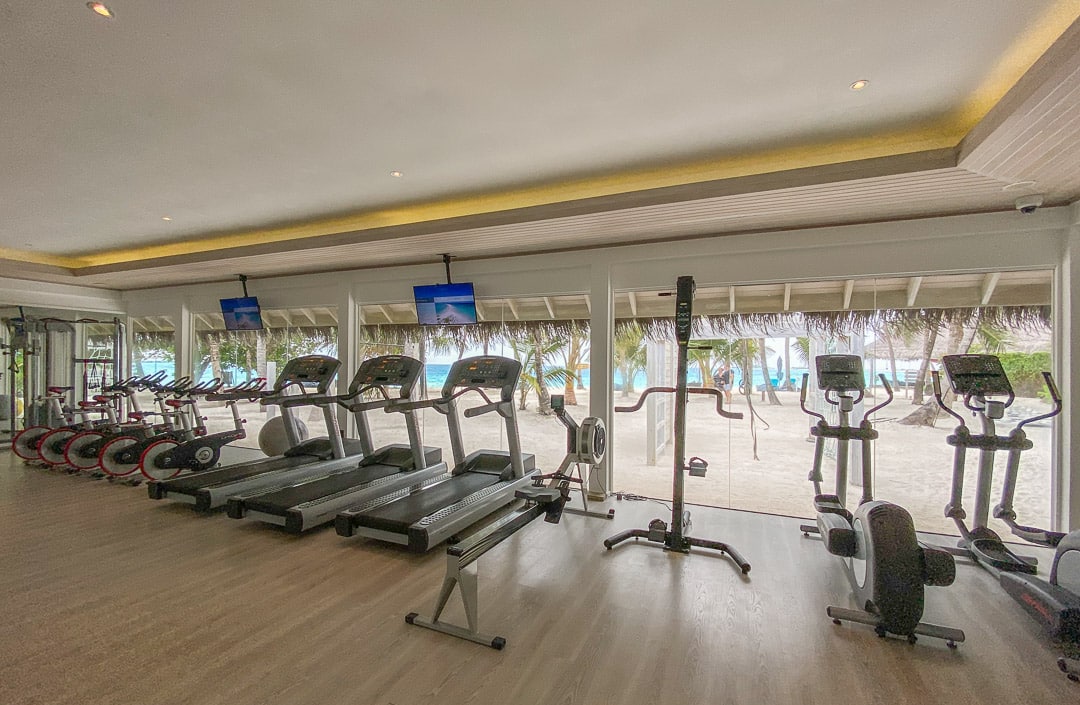 Regular dumbbells went up to 30kg, which isn't bad for a hotel gym. This was supplemented by a couple of kettlebells and a PowerBlock dumbbell adjustable up to 90lbs (41kg).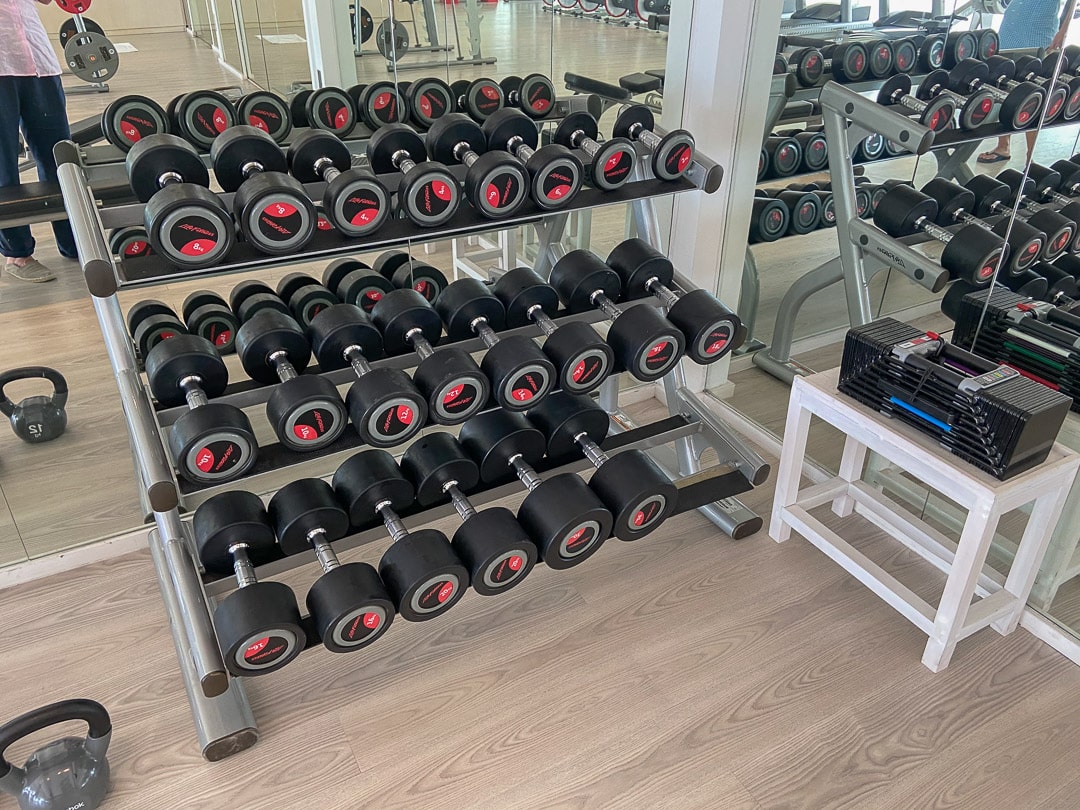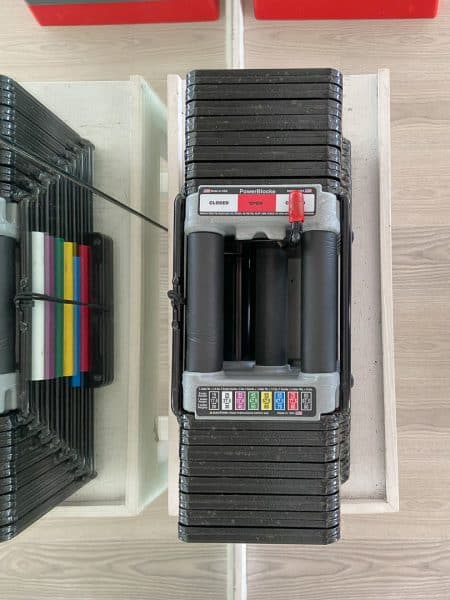 The service in the gym was a bit weird, with the staff appearing to consist solely of masseuses from the spa, who weren't able to answer questions about the equipment. I tried asking for collars for one of the olympic bars but had to give up in the end.
The water fountain was also rather oddly located behind the reception desk so that you had to ask for individual cups of water or wait for staff to disappear and just go back there and help yourself.
Spa
Next to the gym is the resort's spa – we didn't have time to get any treatments here but had a quick look around.
The stepped, conical water fountain in the central courtyard is a wonderful piece of architecture that really sets the mood here.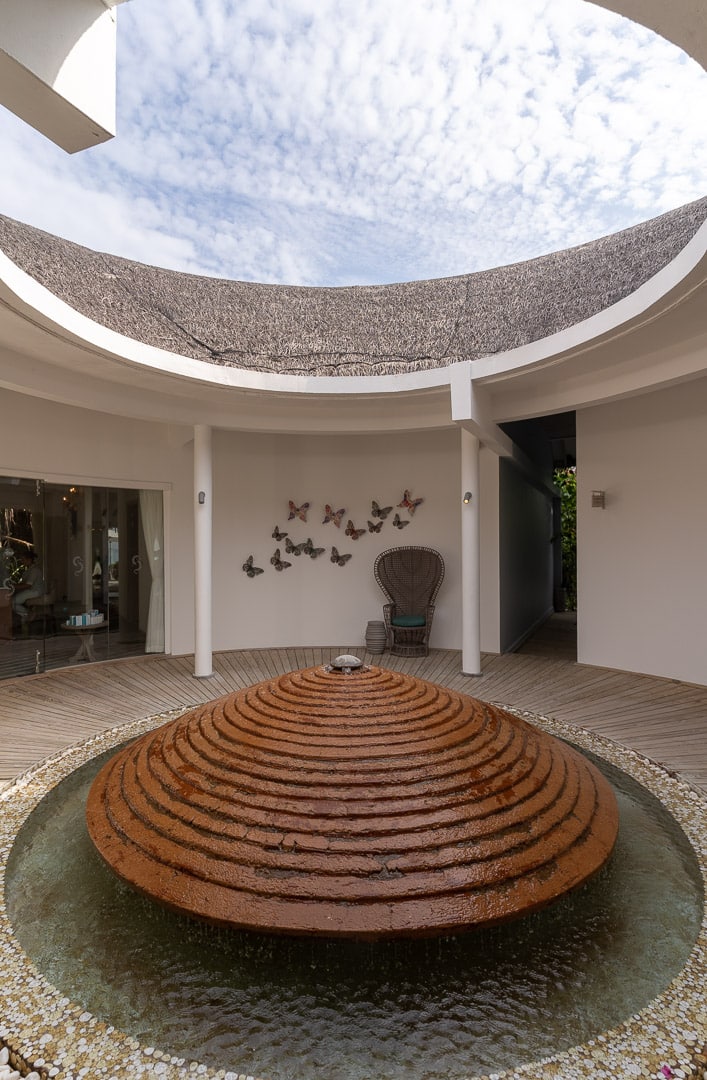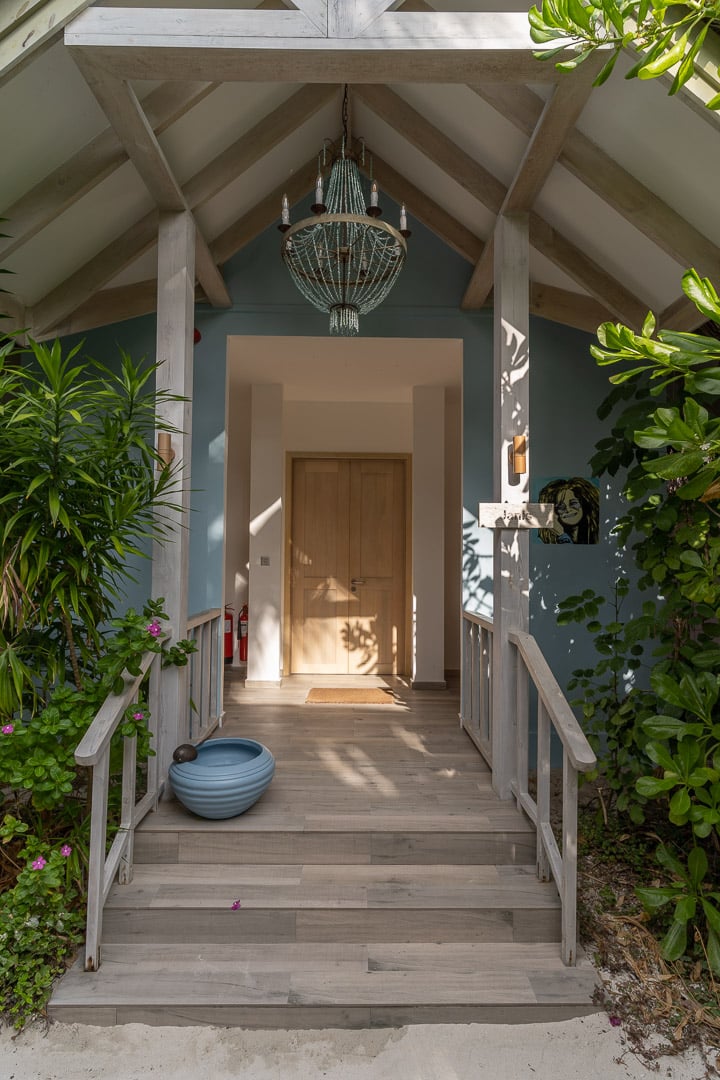 Each treatment room at the spa is located within a standalone cottage named after a female celebrity.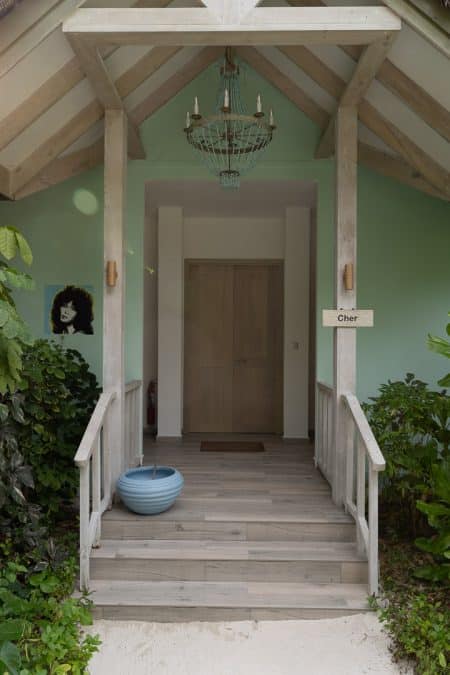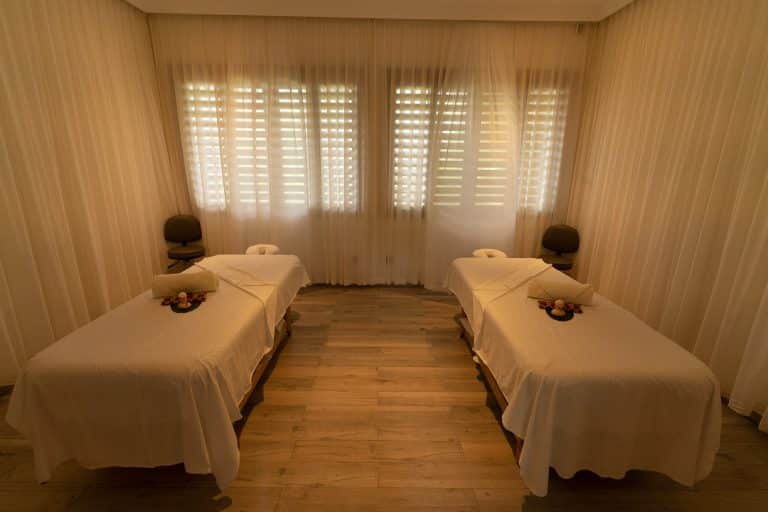 All guests are free to use the relaxation deck, regardless of whether or not they've booked a spa treatment. For those not residing in one of the West facing pool villas, this is not only the perfect spot to come and enjoy the sunset, it also leads to a beautiful stretch of wild beach and is by far the best location for snorkelling on the house reef.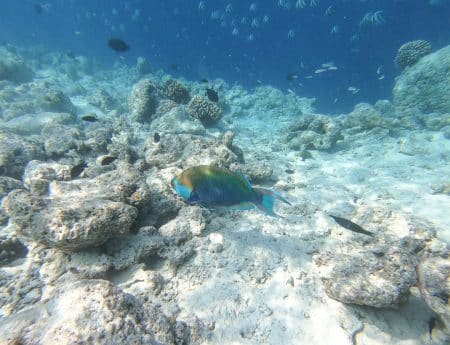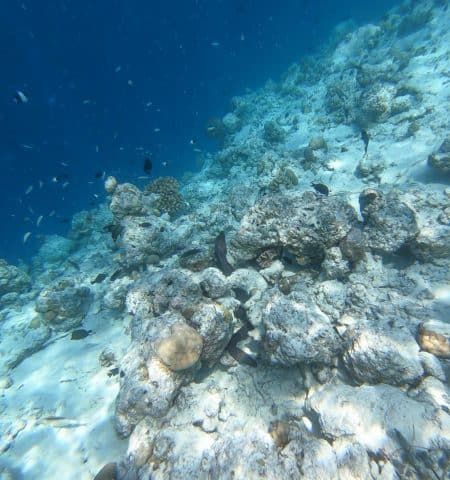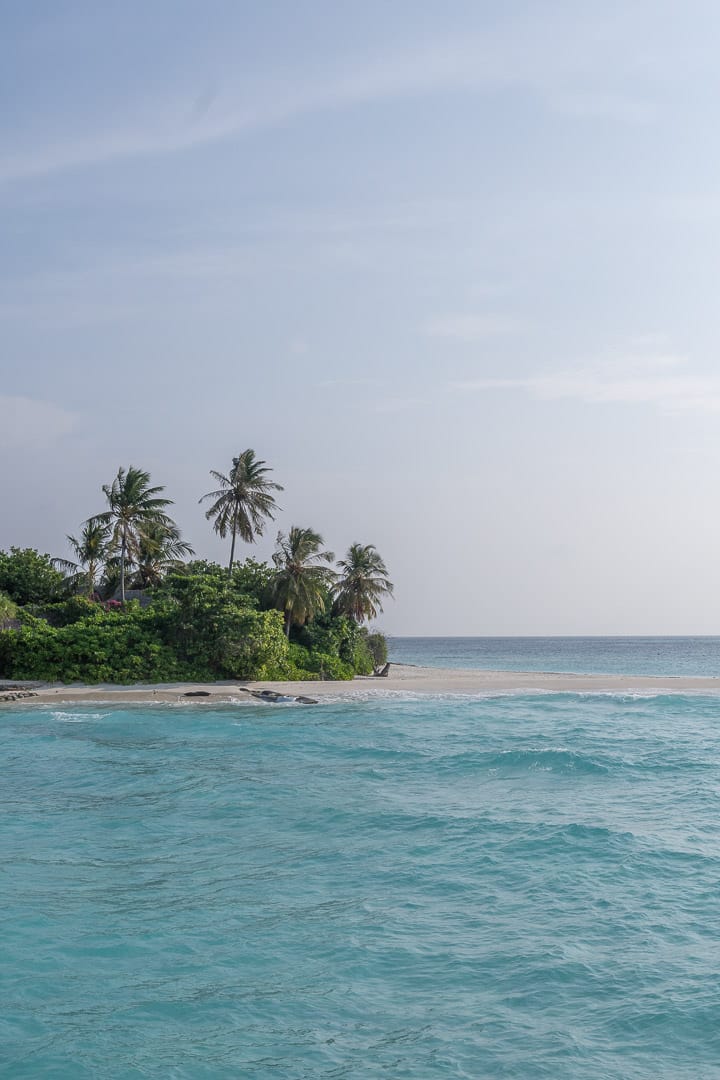 The house reef at Finolhu is undoubtedly the best of any resort I've visited in the Maldives. In my first 30 minutes I saw numerous sharks, box fish, eels and even an eagle ray. The coral is sadly bleached throughout the Maldives these days but this didn't seem to have any impact whatsoever on the thriving marine life here.
The Pool
The pool is the vibrant, beating heart at the centre of Finolhu. It is the nexus around which all life here revolves. At so many Maldivian resorts the main pool is something of an afterthought, a quiet little spot where you may bump into two or three other people.
At Finolhu the pool has a shisha kiosk and a swim up bar with a 20 foot tall UFO protruding from it. Finolhu sells itself as a party destination – with the majority of guests here staying on all inclusive packages, the drinks and the party atmosphere are never in short supply.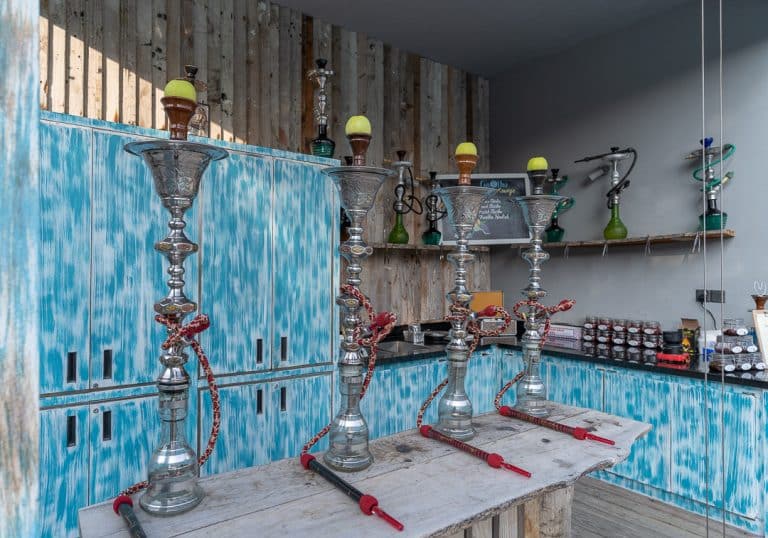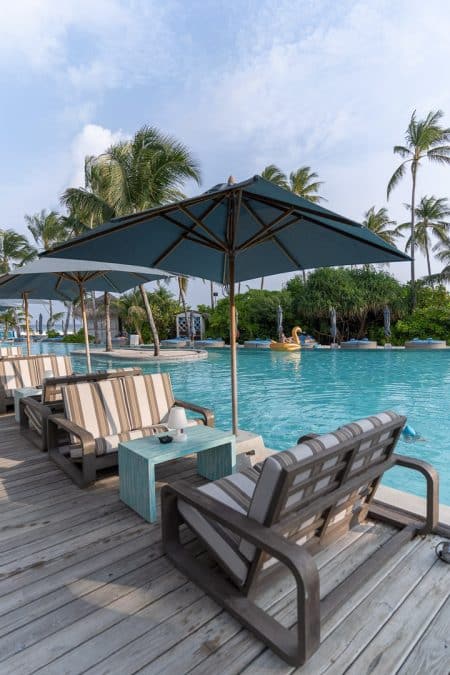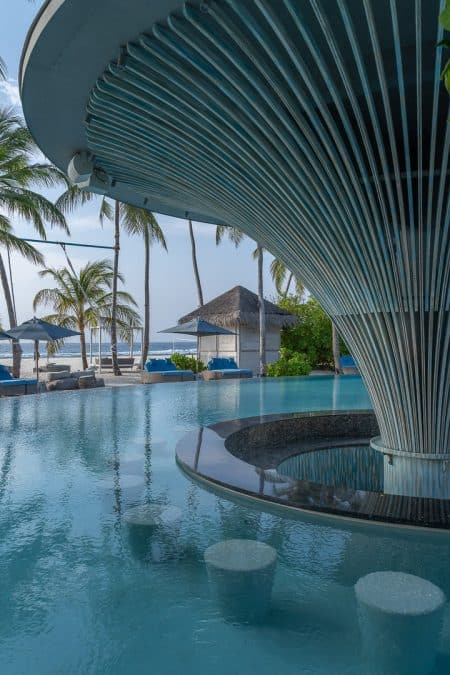 At night the illuminations really transform the area magically transforming it into a proper nightclub.
On our first evening at the resort there was a white party held for all guests here.
Guests were served complimentary cocktails and entertained by the resort's resident performers.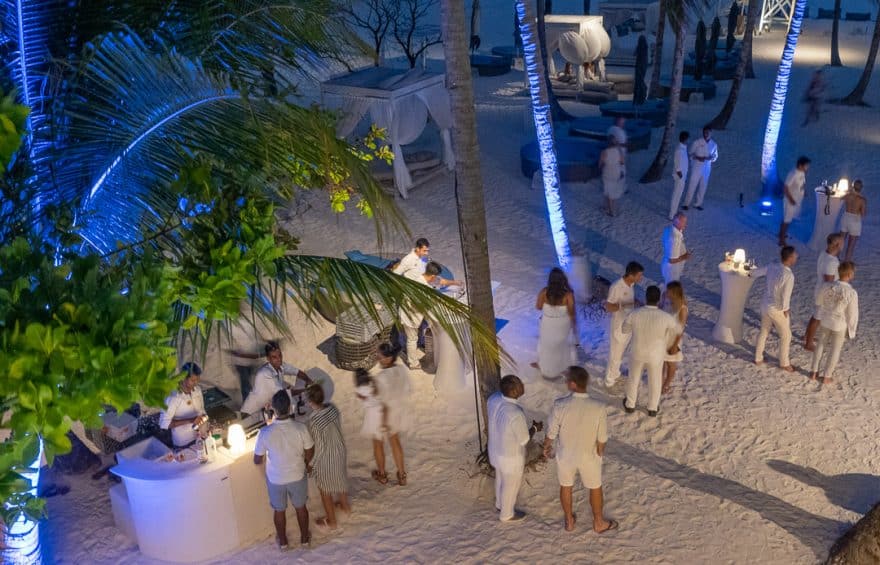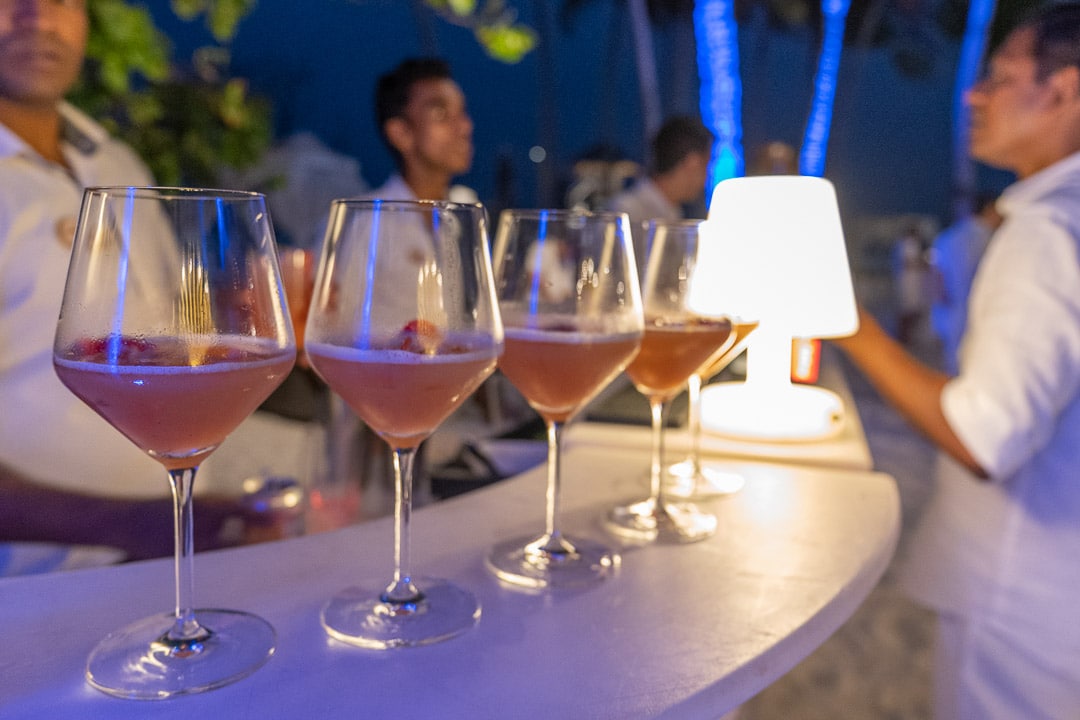 The performers were around most evenings, performing a variety of very impressive acrobatic feats. Definitely a unique selling point, where most resorts would be happy to hire maybe a singer or a pianist to entertain guests.
After the fire performance, most people took up spots in the bar but those with children stayed for an educational talk given by the resort's resident marine biologist.
Beach Club
The talk actually took place within the confines of the beach club rather than the pool bar. The beach club looks rather different during the day: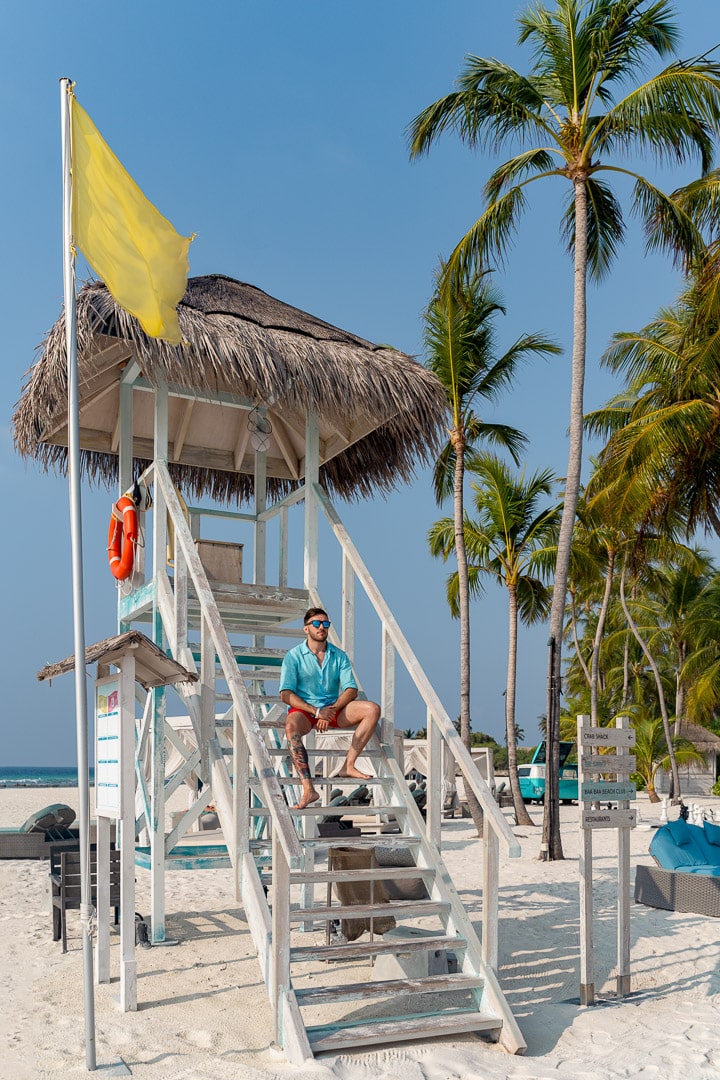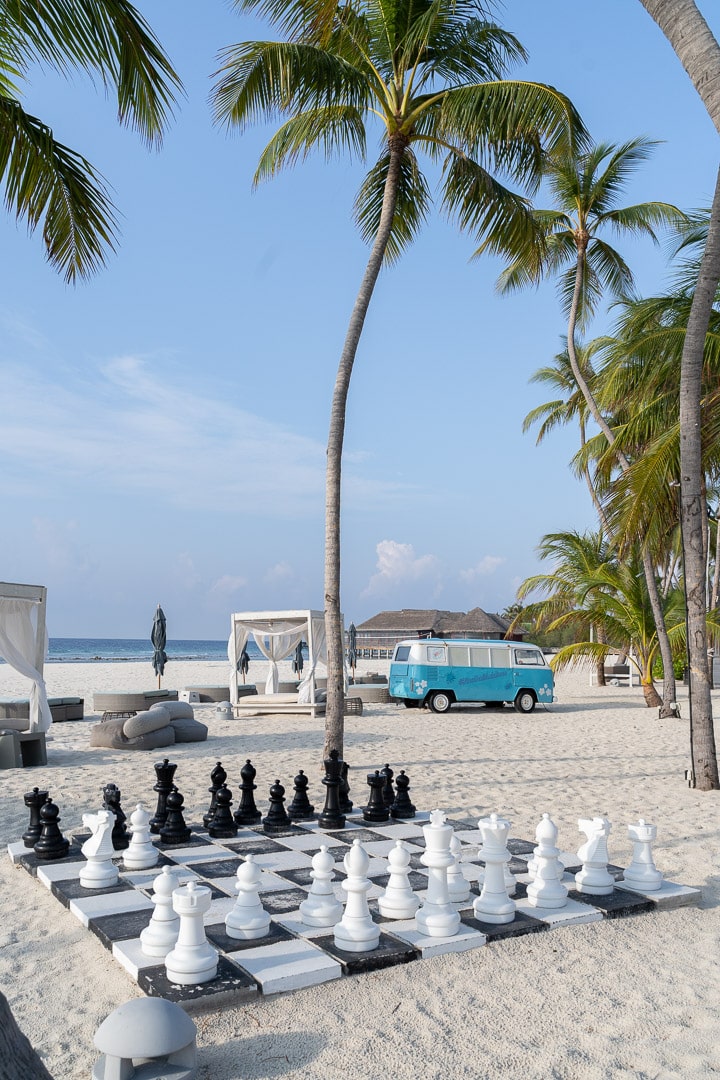 The cabanas and sun loungers are spread over such a wide area that it never felt particularly crowded. Such a contrast to the Waldorf with its limited beaches. Indeed, Finolhu's beaches are about as unlimited as they come in the Maldives…
The Sandbar
Finolhu's sandbar is the longest in all of the Maldives and is an incredible place to go for an early morning stroll and watch the sun rise. It genuinely felt like we were the only two people on earth when we went on this walk, it's a memory that will stay with me for a very long time.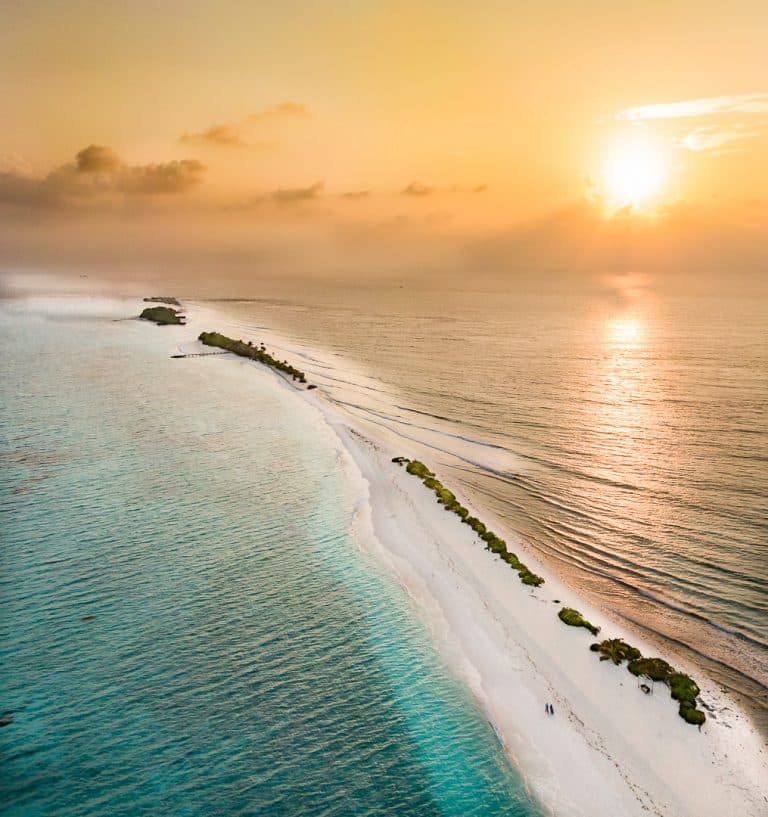 It's also really fun standing here when seaplanes come in to land, like a scaled back version of SXM airport (the Flightradar app is really useful for seeing when the next seaplane is due in).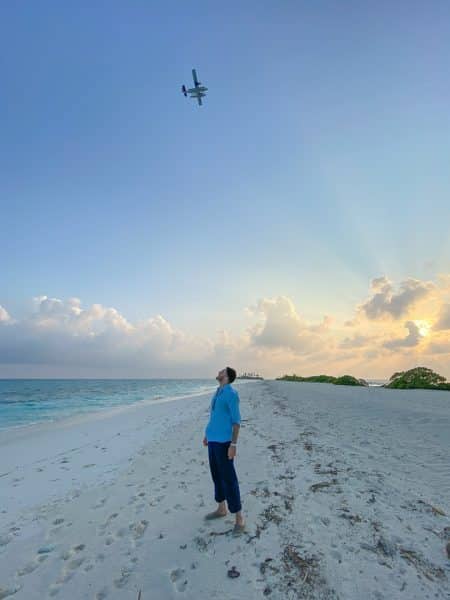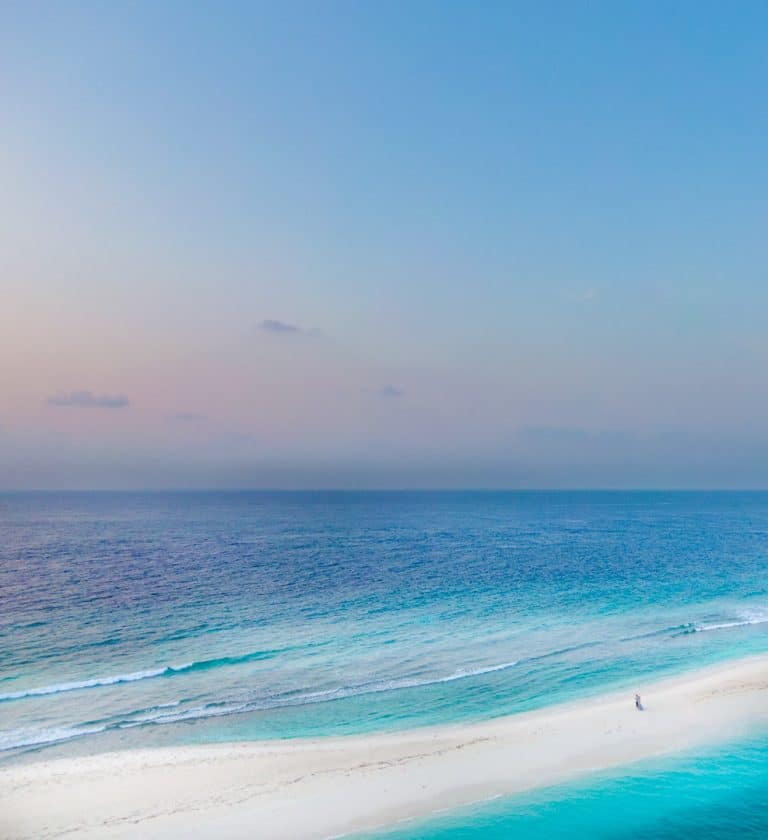 Walk far enough and you'll reach another beach club, attached to the Crab Shack (which we'll discuss later).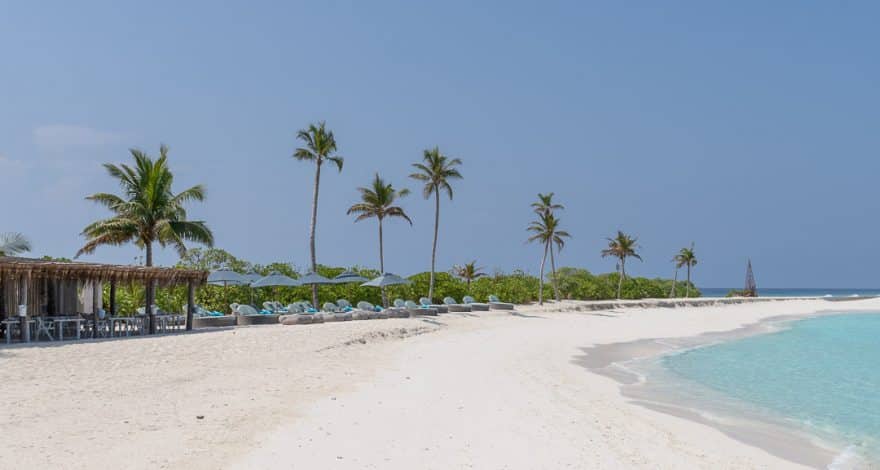 The Beach Bubble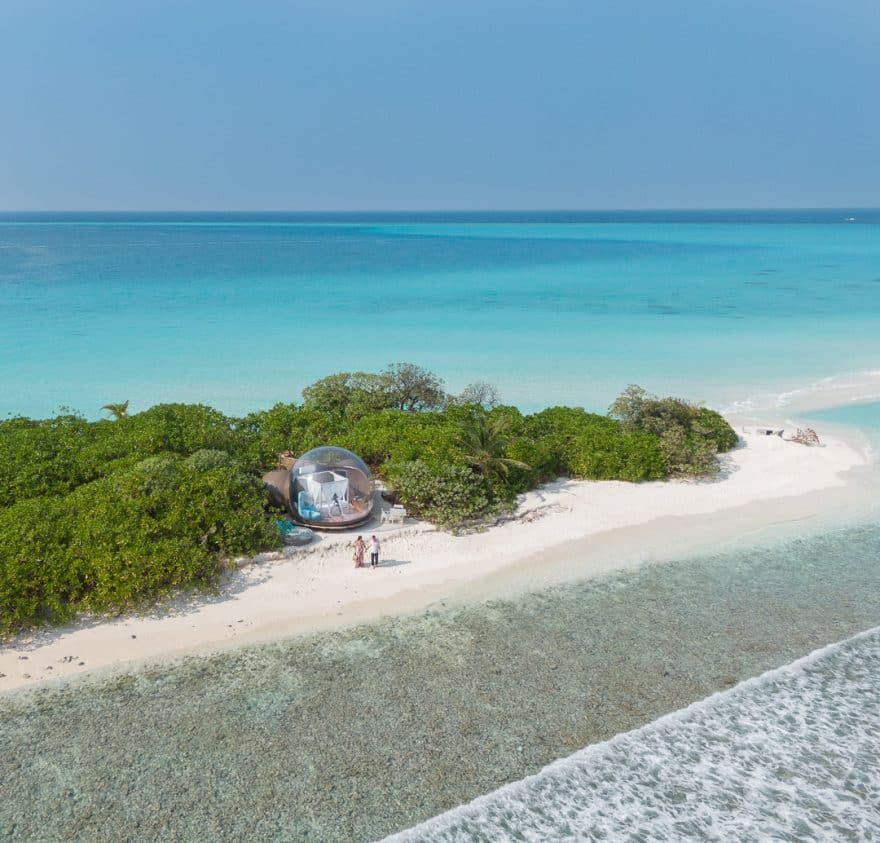 Finolhu's Beach Bubble is all over social media and rightly so! It is a striking idea that really captures the imagination. However, prior to coming here I thought of it as a kind of presidential suite; ultimately another room within the resort.
To consider it as such really misses the point though.
Anybody staying in any room at Finolhu for 3 nights or more can book the Beach Bubble for $800++
In return you get:
An overnight stay in the Beach Bubble.
A private beach BBQ dinner.
Butler service.
Breakfast on the beach.
When you consider that a private beach BBQ alone can set you back $800++ at a lot of top Maldivian resorts, the value here is incredible.
If you were planning on splashing out on a private dining experience, you'd be getting the night in the beach bubble and the private beach breakfast basically thrown in for free!
Clearly a lot of people have cottoned on to this since the Bubble tends to be booked up months in advance. As such, we weren't able to spend a night there ourselves.
However, we were able to get a tour by the butler and spend a while on the private beach before a new set of guests checked in.
It is worth noting a couple of things though:
1. The bubble gets infernally hot during the day even with the A/C on full blast. Guests tend to check in just before sunset and checkout shortly after breakfast.
2. The bubble faces the sunrise, but the far superior beach is just behind it facing into the lagoon.
At low tide, the Bubble's beach is just a sea of broken coral.
Still, since most people aren't spending the whole day here; what they want is a beautiful sunrise and an inky black sky at night and on both of these counts the Beach Bubble certainly delivers.
---
Food and Drink
---
Click below for PDF versions of Finolhu dining menus (current to February 2021)
---
---
Breakfast at Beach Kitchen
There's nothing quite like a leisurely breakfast spent watching the ocean's waves twinkling in the sunshine. Thankfully, the layout of beach kitchen means that there are plenty of ocean facing tables and – perhaps due to the free flowing drinks – we noticed that guests at this resort tend to be late risers.This meant that grabbing a beachside table with ocean view was never a problem.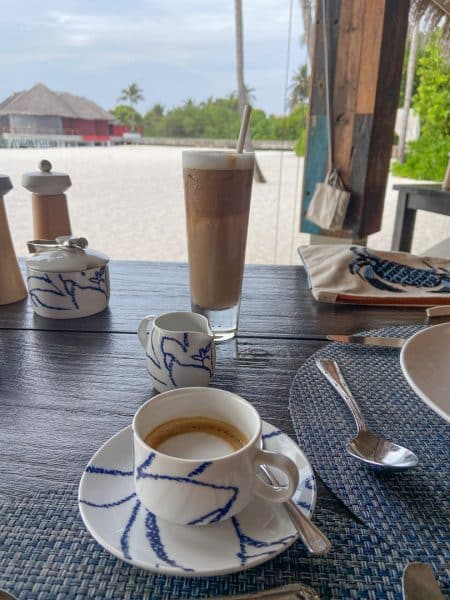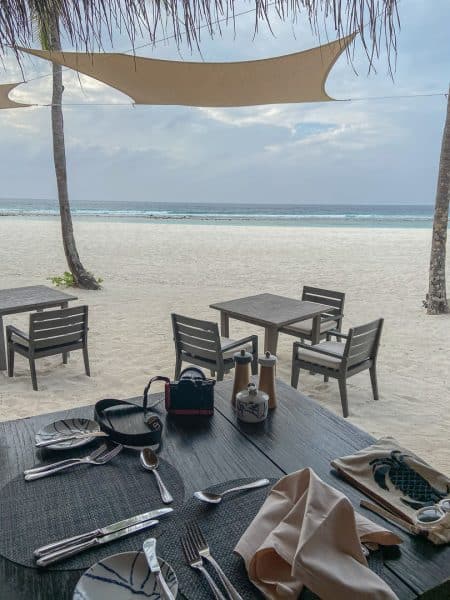 Given the high ceilings and open sides, you never feel like you're truly indoors in any case.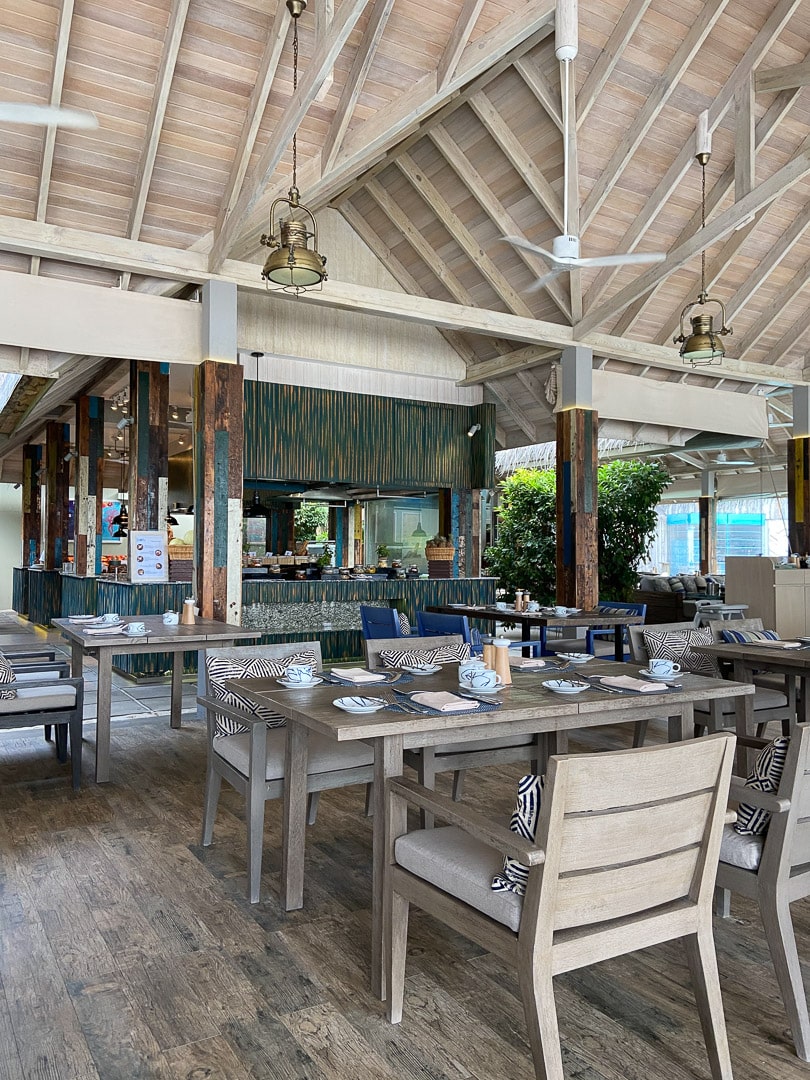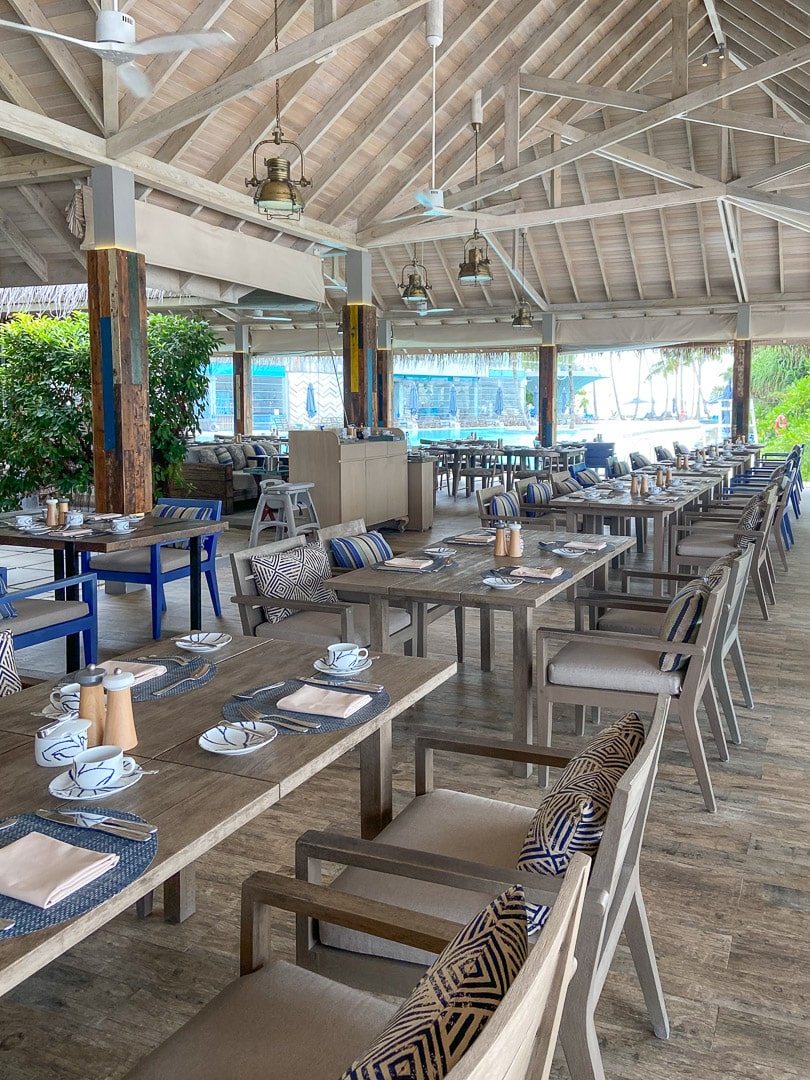 The servers here were very friendly and attentive, and despite being a buffet, the overall experience had a high quality feel brought about in no small part by the designer tableware and proper coffee (even Cheval Blanc is using commercial Nespresso machines in its restaurants now…).
The buffet featured a glass encased interior section containing all the food that required refrigeration. The selection here was really impressive and included a variety of house cured fish and pickles to be eaten with the home made mini bagels.
The fresh papaya was absolutely delicious too.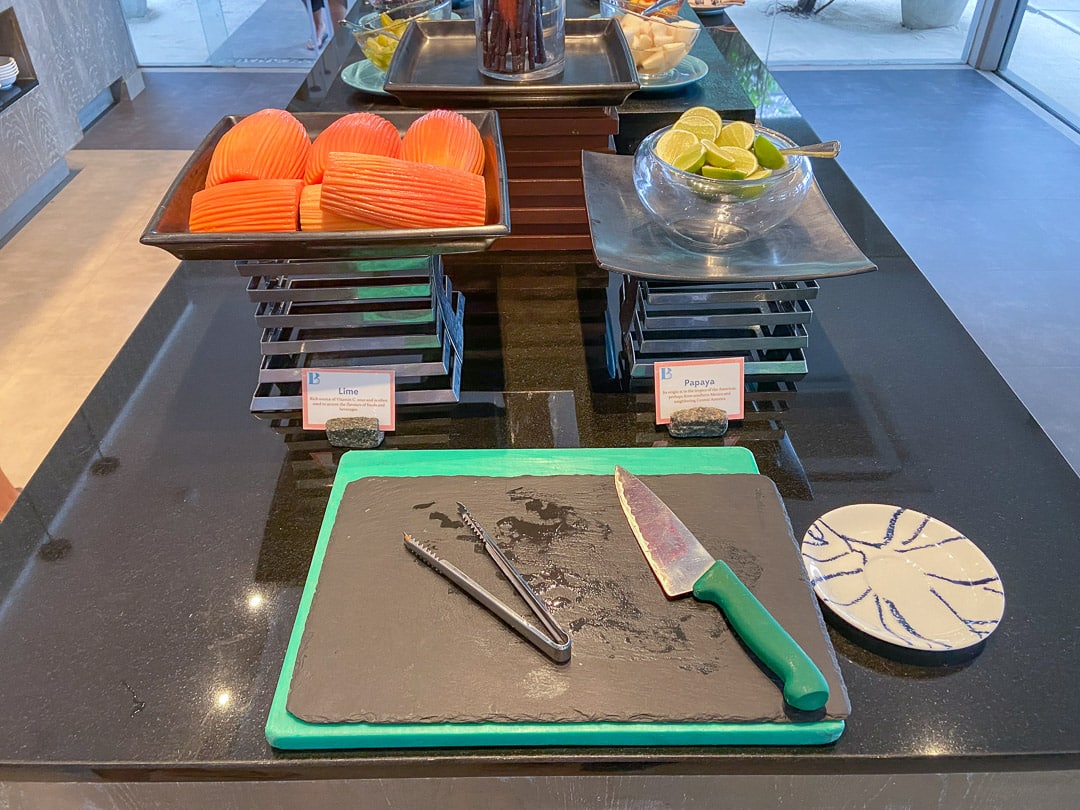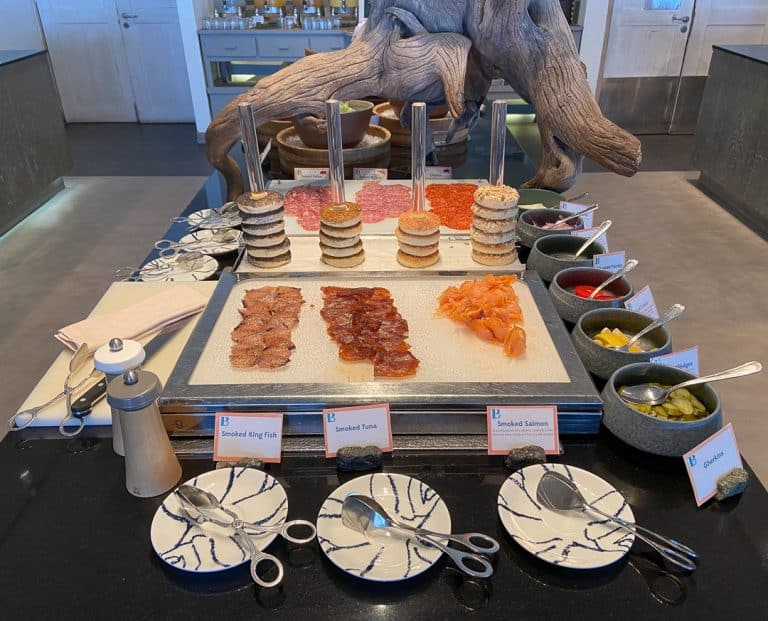 A wide variety of cereals and muesli components were on offer alongside a plethora of milk options.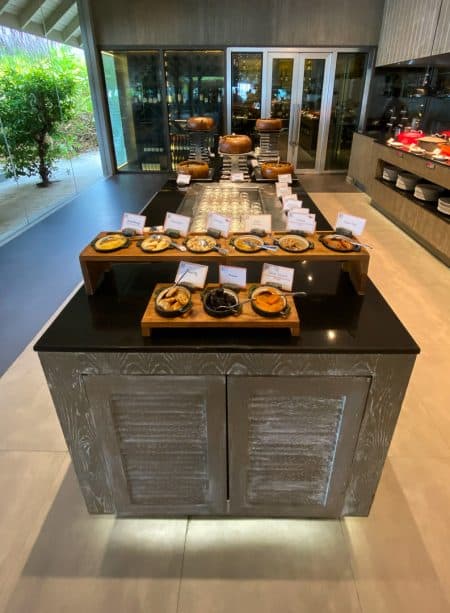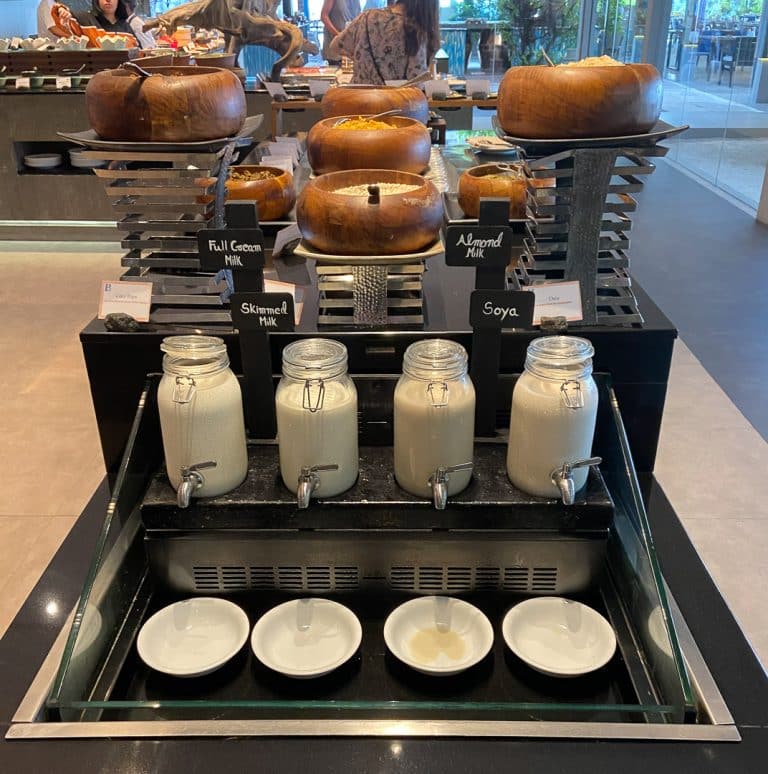 There was also a kitchen area, where numerous hot buffet dishes were available in addition to made to order eggs.
Outside, there was a section dedicated to making breakfast bowls…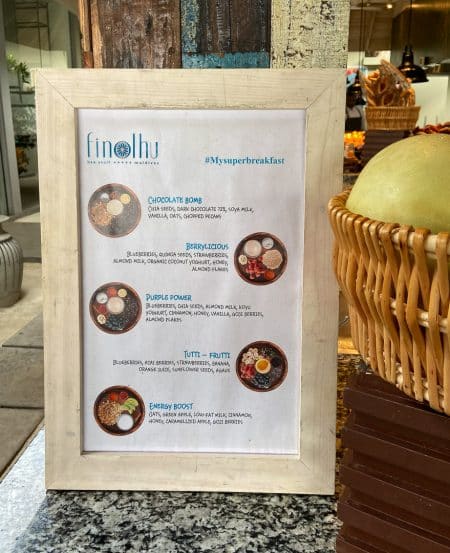 As well as a dedicated bakery section cranking out some amazing pastries, alongside freshly made crepes and pancakes.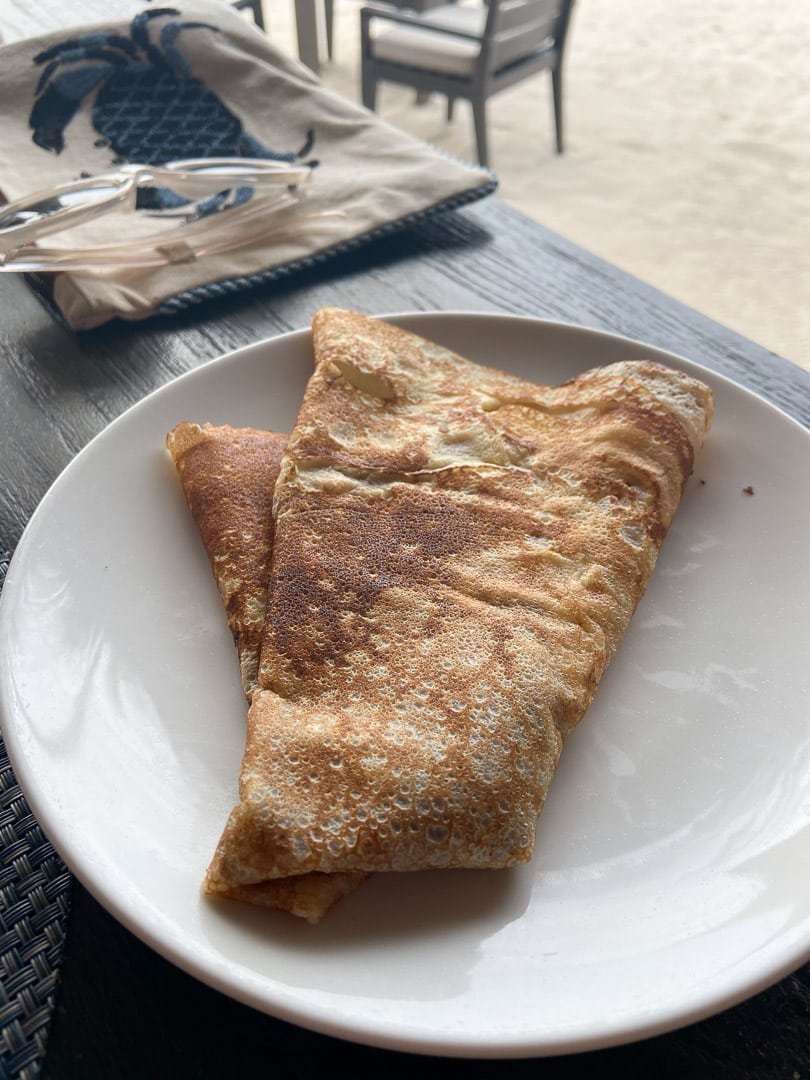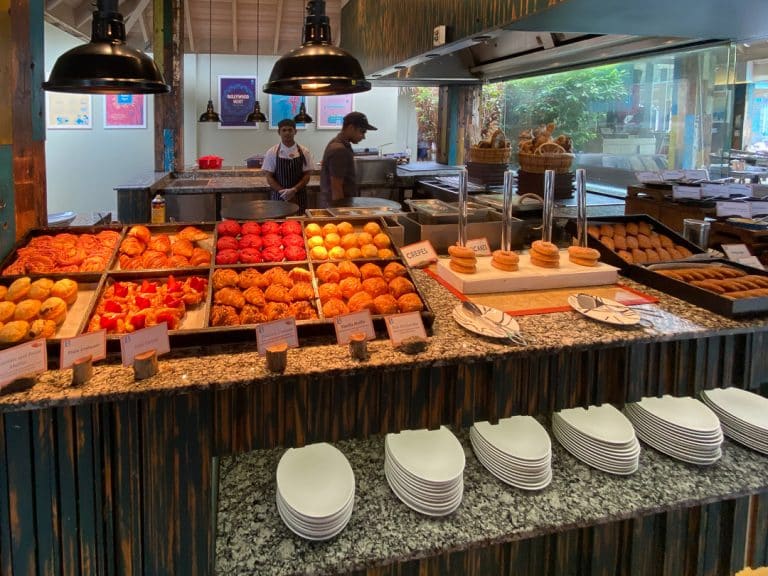 There really isn't much you could ask for other than free flowing champagne, but given that I like to go out diving and snorkelling, I don't to tend to indulge in that much even when it's offered.
Give me fresh fruit and tons of protein and I'm happy.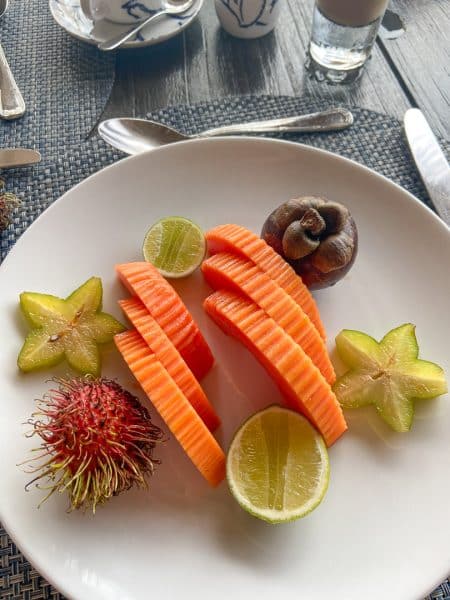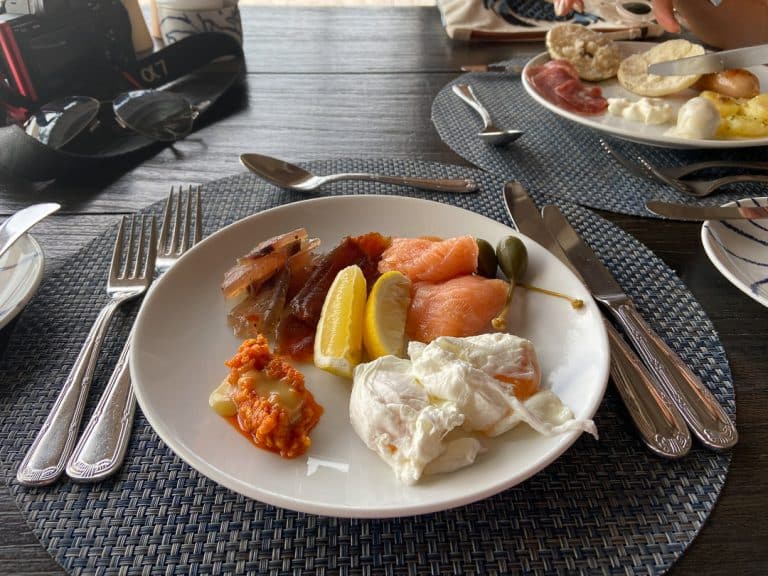 Beach Club
The beach club serves typical pool / bar food throughout the day. We never really bothered with this since we were either A: too full from breakfast or B: heading to the Crab Shack.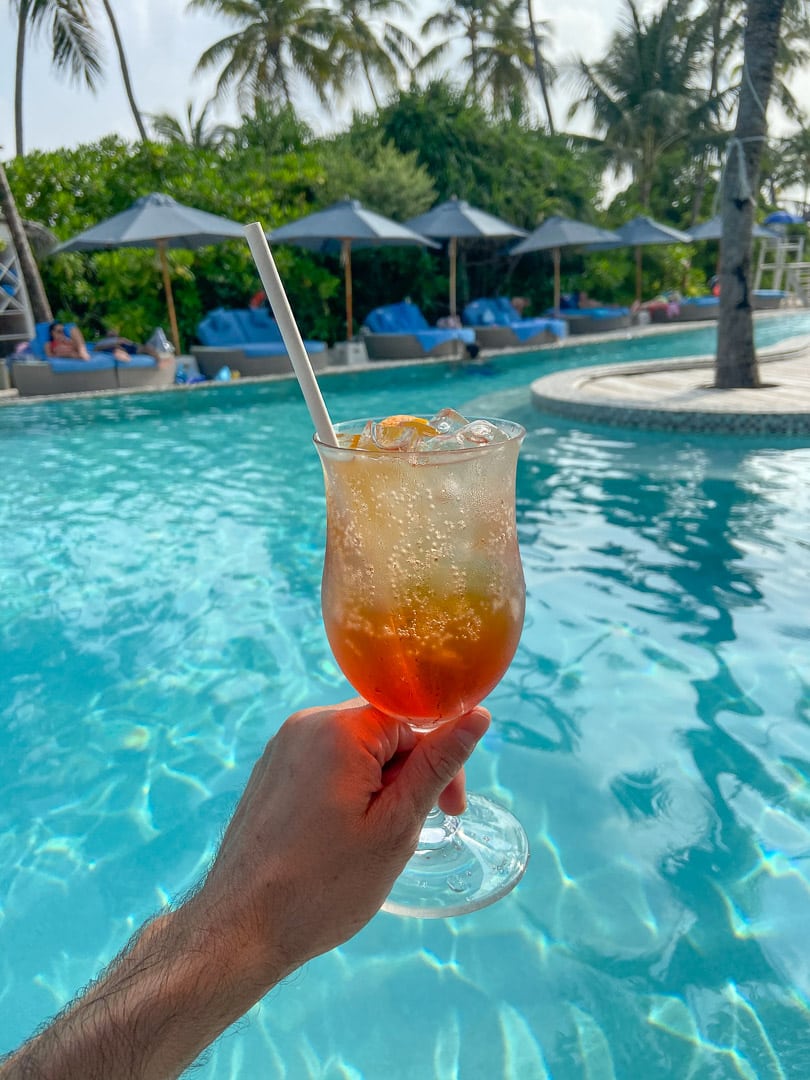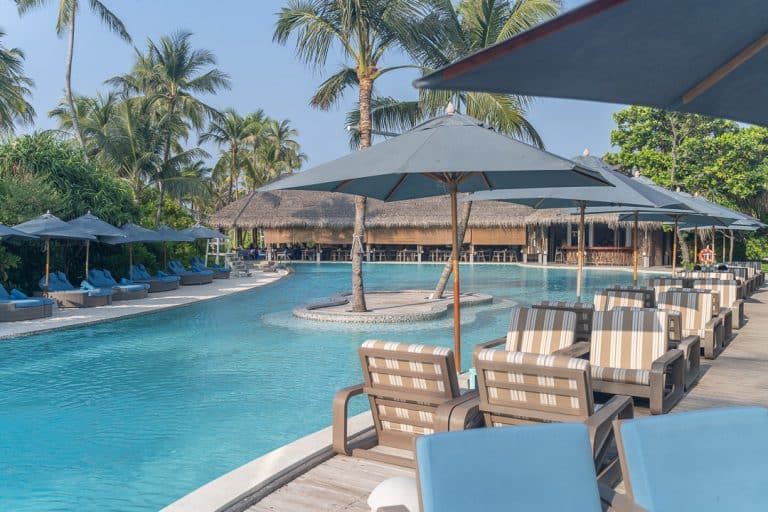 The beach club menu extends to the pool area too and although we never ate here, we enjoyed a few drinks.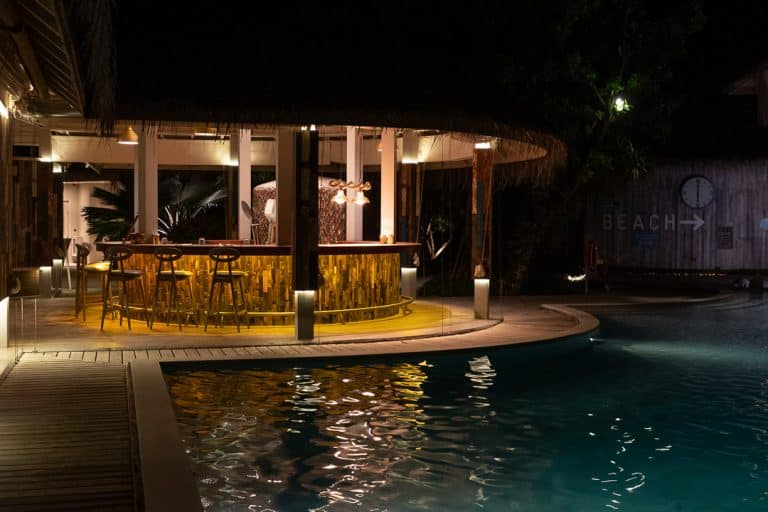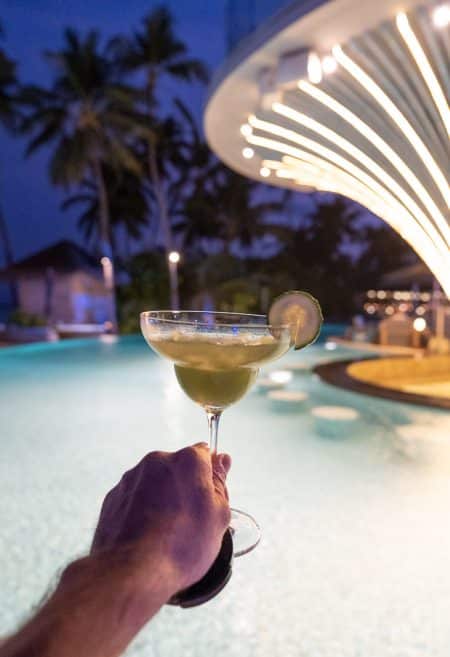 Here are some pictures I took of the drinks list:
Lunch at the Crab Shack 🦀
Walking here in the scorching Maldivian sun can be tough given how long the sandbar is. Thankfully, the resort has a dedicated boat service that shuttles guests across the lagoon from Mission Control.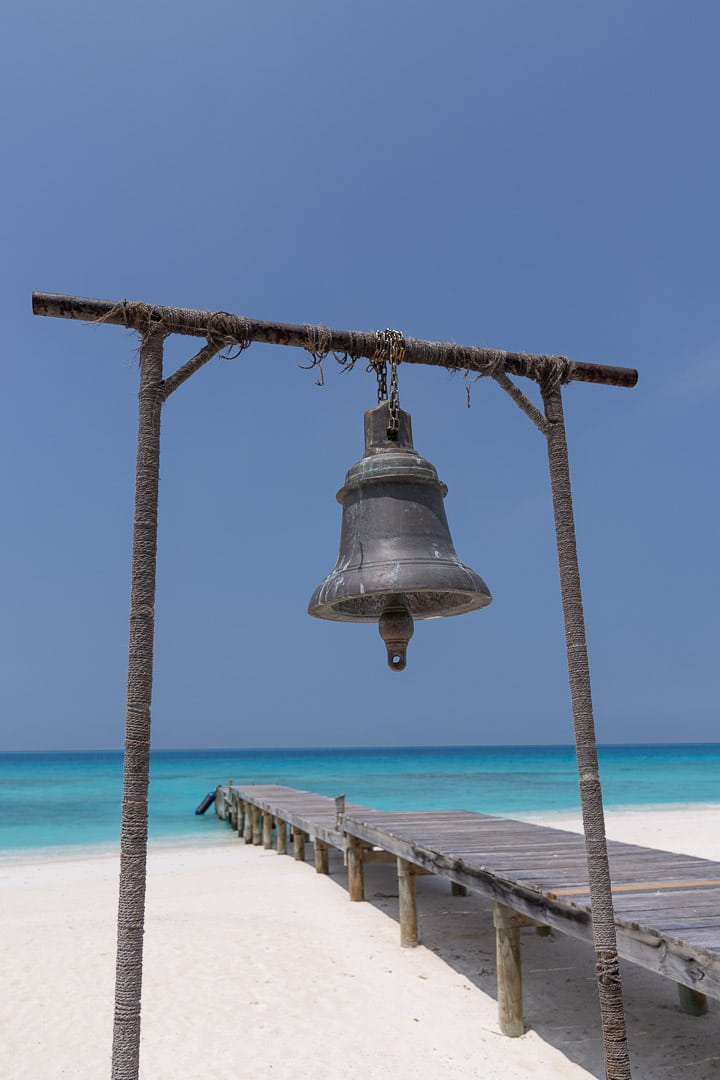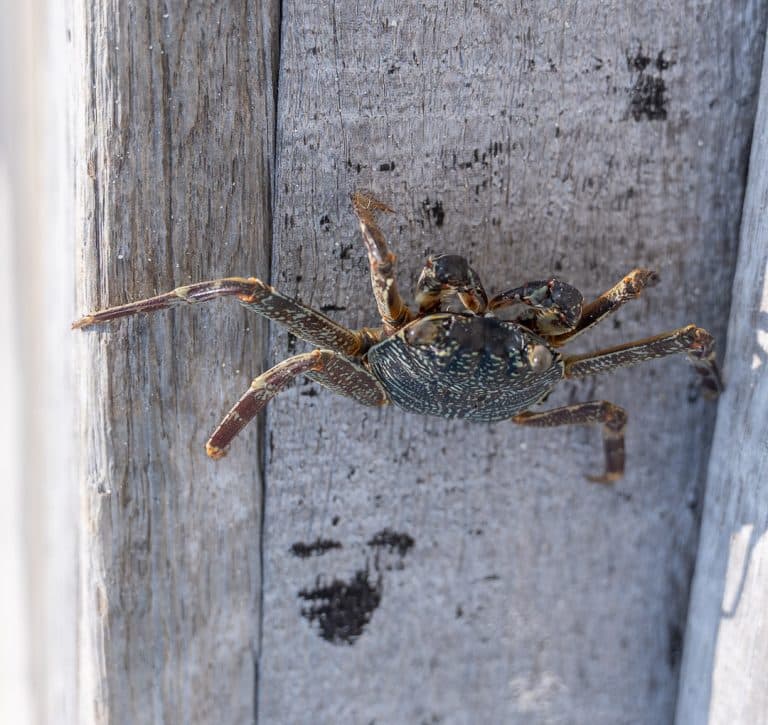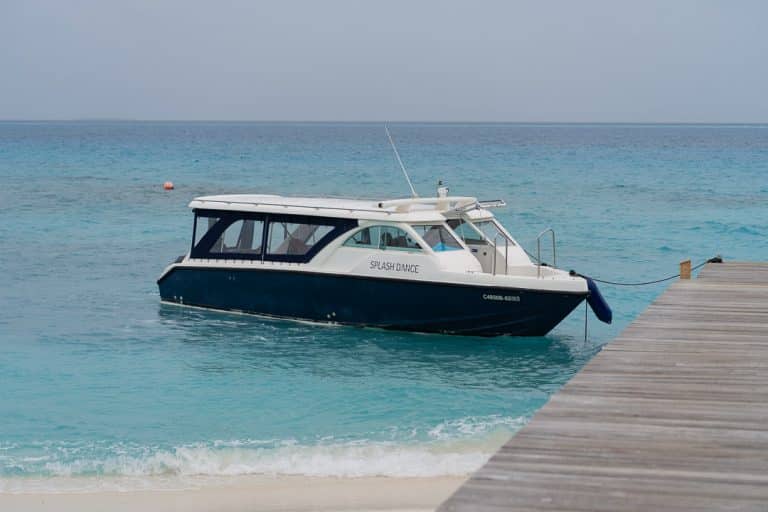 The Crab Shack is probably my favourite restaurant in the Maldives. Sure there are others that have crazy wine lists and unreal cuts of meat imported from Kobe but ultimately the best thing about the Maldives is….The Maldives.
I'd rather eat something simple and delicious with the sand under my feet and the ocean in front of me, than having some spectacular tasting menu indoors. The Maldives will never have fine dining establishments that compete with the best in New York, London or Paris. Then again, none of those cities will ever have anything that compares to this.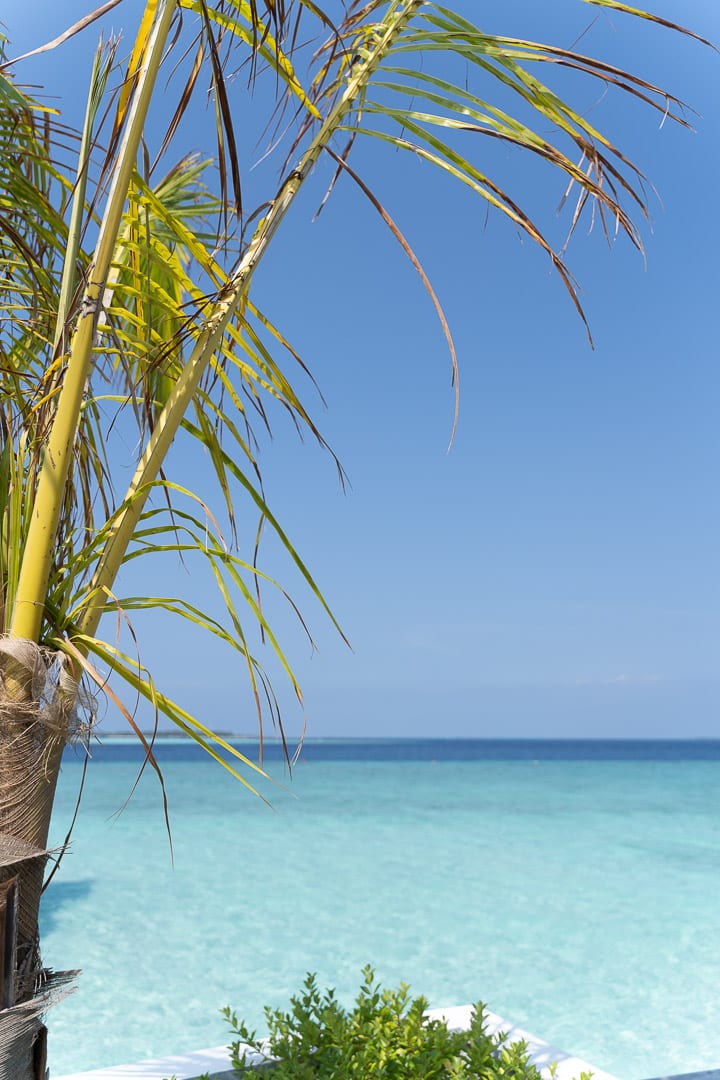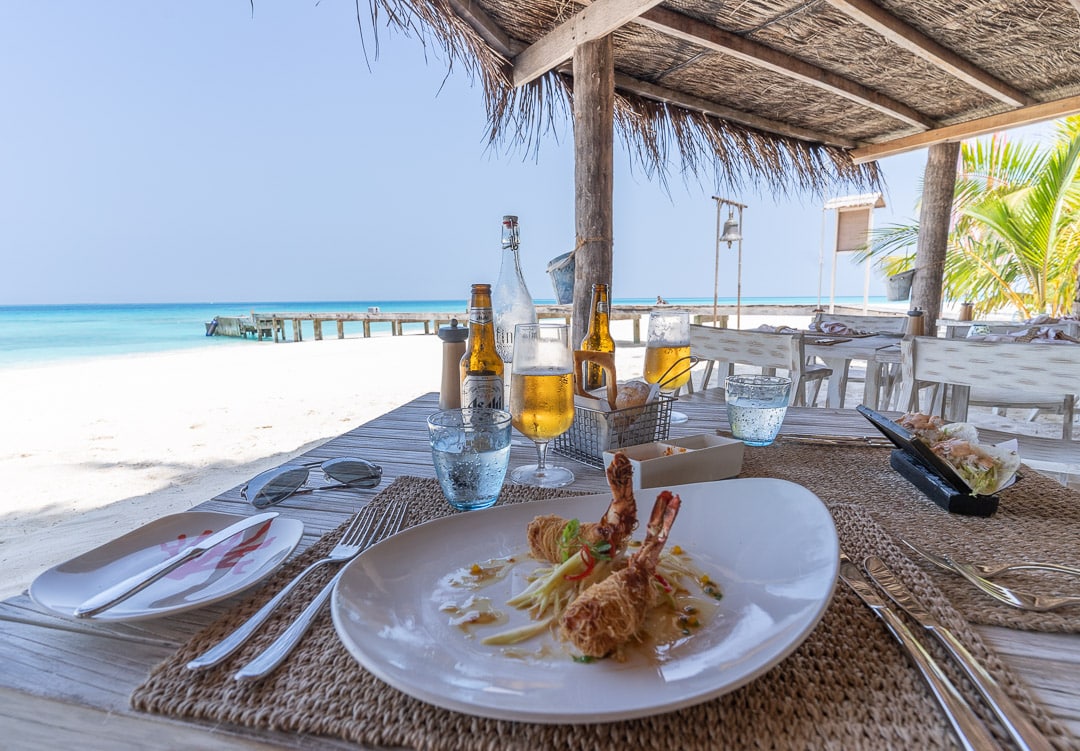 That's not to say that the food was basic in any way. Every dish that we tasted was beautifully prepared and crab tacos, lobster rolls and truffle fries aren't exactly 'peasant food'. I'm not usually a big beer drinker but I swear I never tasted an Asahi in Tokyo that was as refreshing as these effervescent amber chalices.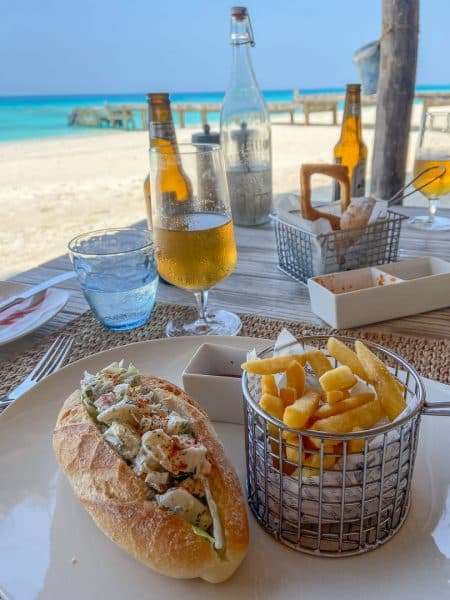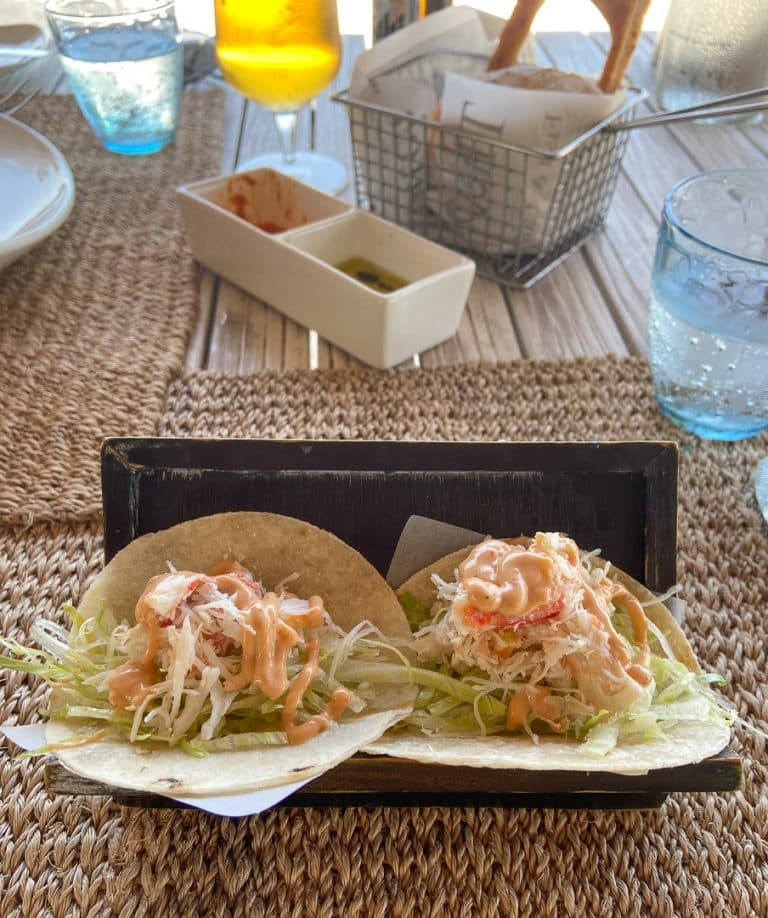 Most people stick around for the whole afternoon after eating lunch here, since the Crab Shack has its own beach club with live DJs.
Dinner at Kanusan
Kanusan is Finolhu's signature pan-Asian dinner venue and somewhere that I had quite high hopes for. Unfortunately, we visited on an evening when it was raining, so we weren't able to fully enjoy the overwater ambiance.
If the logo didn't give it away, one step inside confirmed my worst fears. This place is an 80s throwback, a radically different proposition to the Waldorf Astoria's beautifully elegant, overwater Chinese restaurant: Li-Long.
Service was also very odd here. Staff insisted that the handful of guests on this rainy evening should wait at the bar for their tables. This despite the fact that almost every table in the restaurant was empty and the bar area was full of uncleared tables.
We took a seat at the bar where the door to the kitchen had been left open. We were then greeted by the one member of bar staff who promptly ran off after a loud crash emanated from behind the open door. After five minutes or so we wandered back to the restaurant area and took a seat at an empty table, since the server never returned from the kitchen. Another equally bemused couple, who had been waiting at the bar, did the same.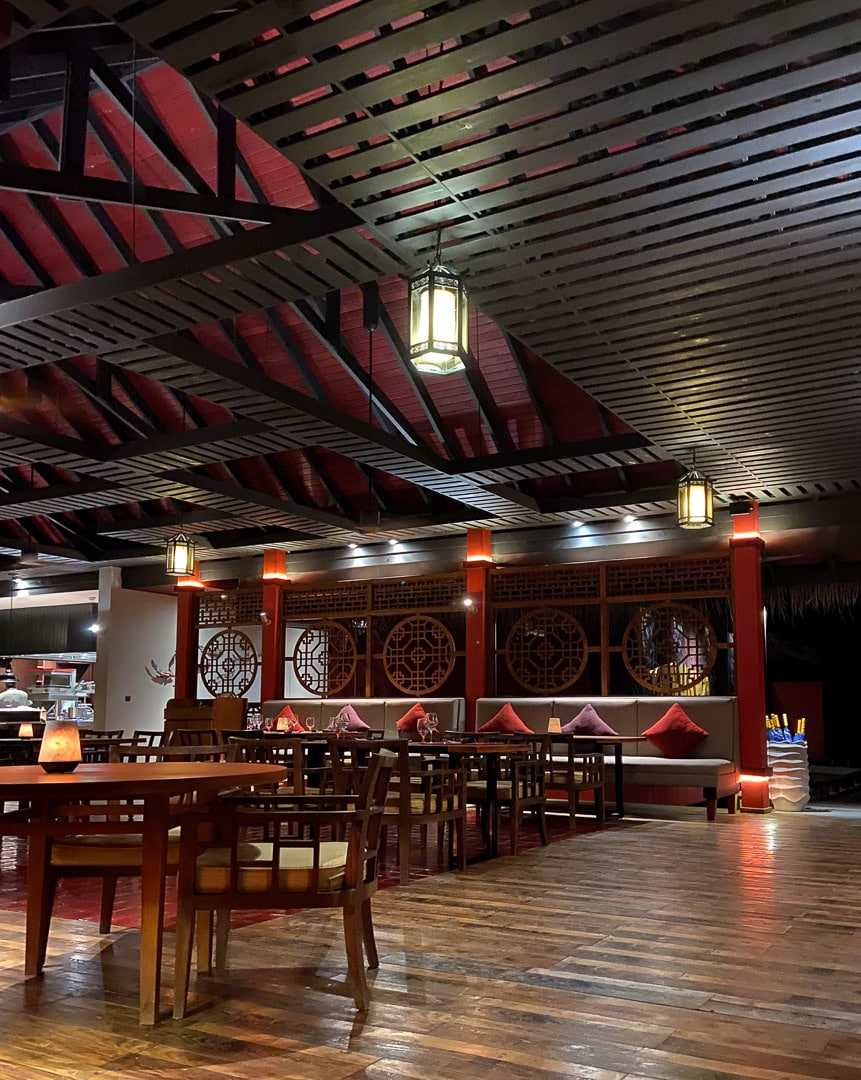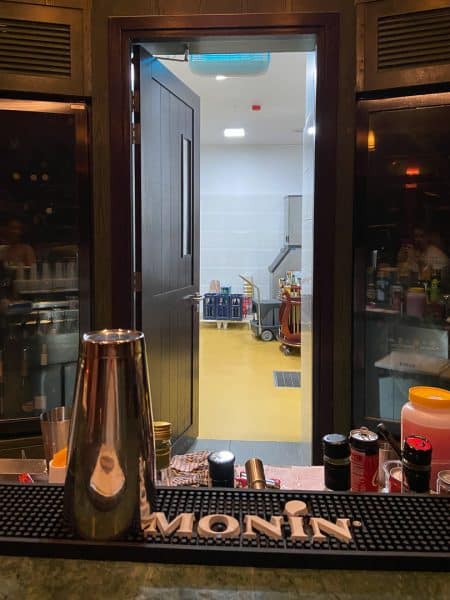 The menu consisted of a variety of Westernised 'classics': chicken chow mein, sweet and sour prawns, Thai green curry etc. There was nothing wrong with it per se, but in combination with the decor it felt more like an exercise in nostalgic comfort eating than the signature dining experience that this restaurant purported to deliver.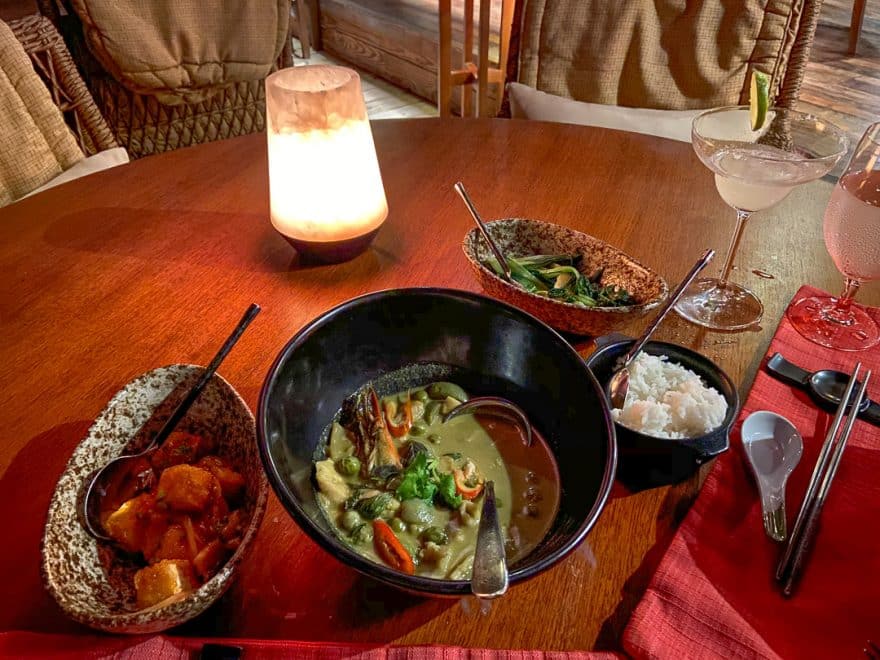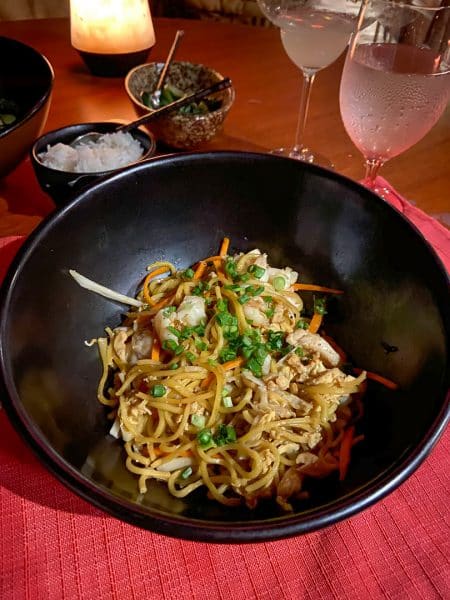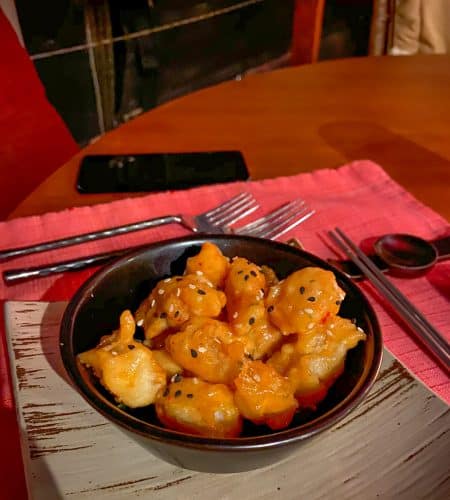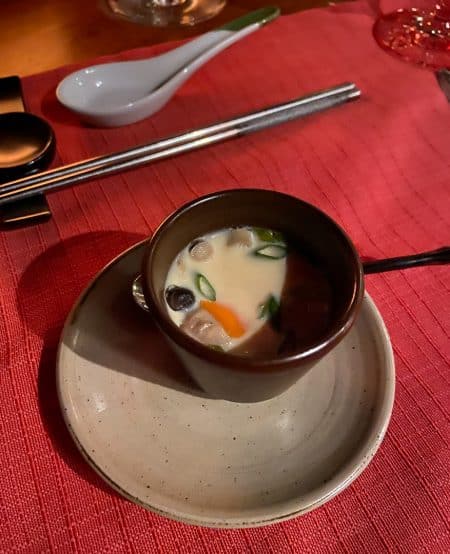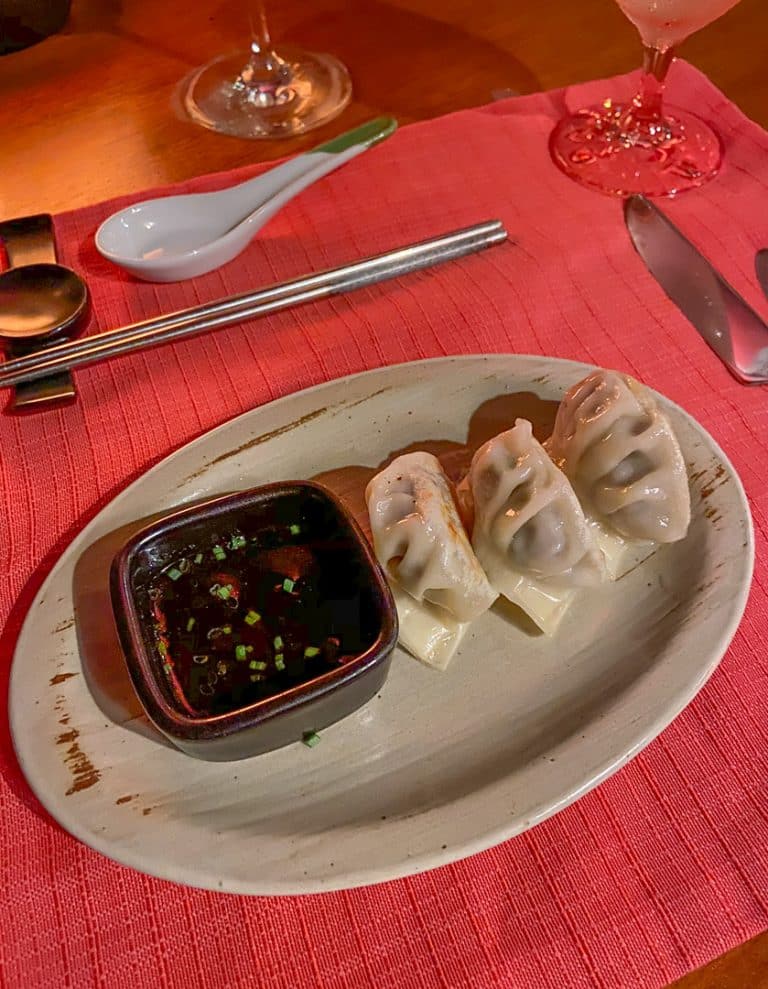 I've lived in both China and Thailand before so admittedly I have a unique frame of reference. Nevertheless, compared to London favourites like Hakkasan, Som Saa and Smoking Goat, this meal still fell far short.
Having said all of that, the menus which I was sent in February of 2021 look radically different to what we were served on our trip a year prior. It seems like the new owners took on board feedback about this restaurant and have made a concerted effort to improve things.
Dinner at Beach Kitchen
Beach Kitchen sets out a different themed buffet dinner every night of the week. A lot of guests at Finolhu are on half board packages that don't include a la carte dining, so it's a real credit to the management that they make an effort to keep things interesting.
We went in with low expectations but honestly we were blown away.
The staff at Beach Kitchen were always great but on this particular evening they really seemed to kick things up a notch. A lot of restaurant staff in the Maldives come from India and Sri Lanka and visiting on a South Asian themed night just seemed to make everybody deliver at their best.
Every staff member that we spoke to on this evening was really eager to make personal recommendations for different curries, chutneys, breads and grilled meats. The chefs and servers all seemed to be very passionate about the food and it shone through not only in the cooking but also the service.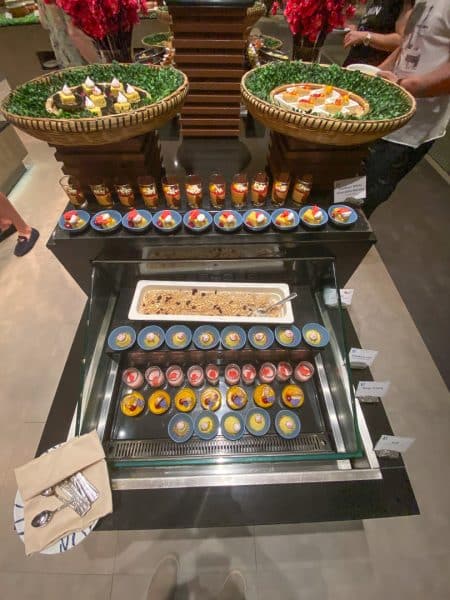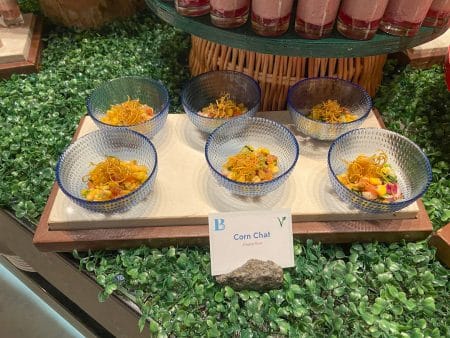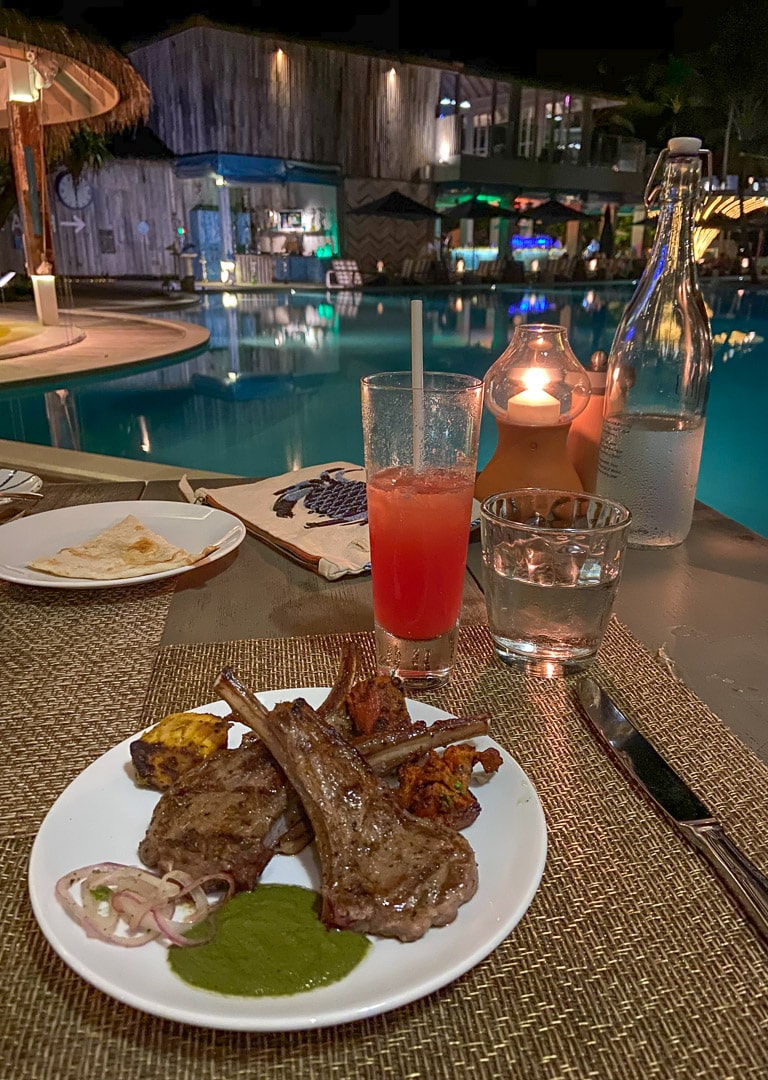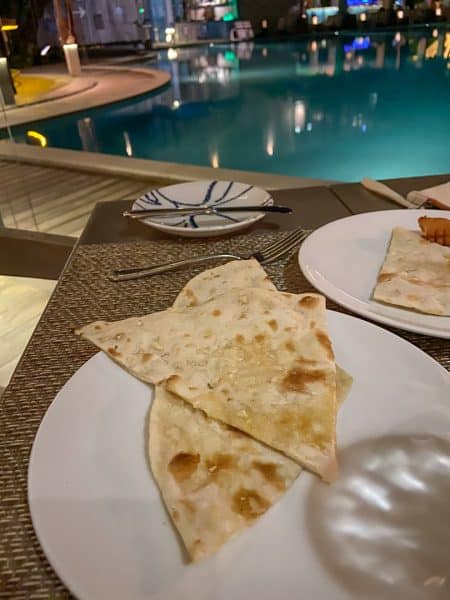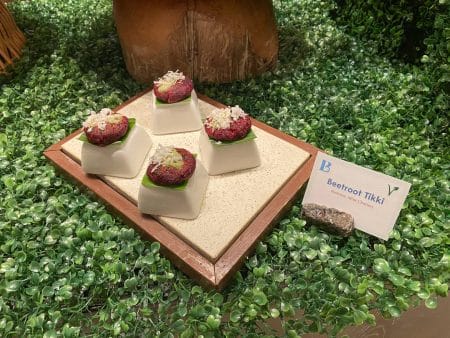 Overall the food, service and atmosphere were considerably better than at Kanusan.
Dinner at Arabian Grill
Arabian Grill is located immediately adjacent to Beach Kitchen but seems like it is a world away. It manages to retain a relaxing beach-y atmosphere, which is also imbued with a sense of elegance and romance.
We opted for an indoor table since the weather was looking rather cloudy (a decision which we later came to appreciate).
The restaurant had a real buzz to it and by the time our starters arrived there wasn't a single empty table. I'm happy to report that the service was in no way impacted by this and the atmosphere was fantastic throughout.
The meal began with a basket of freshly baked Arabic bread with a delicious dip, served in a slate bowl.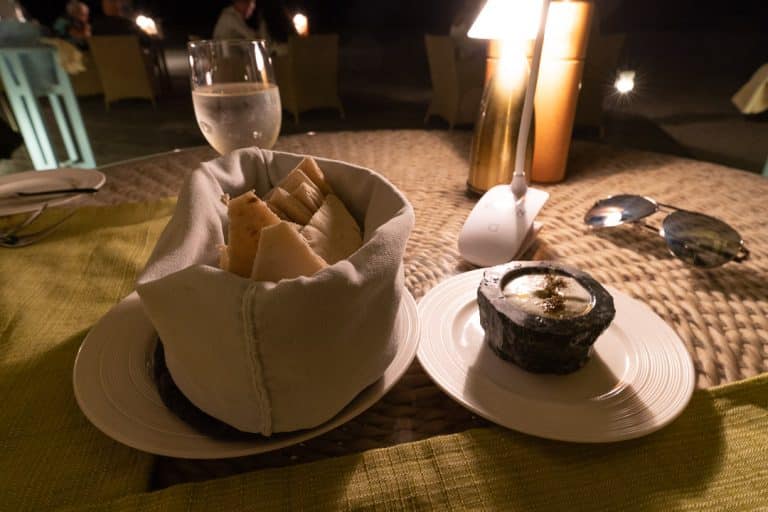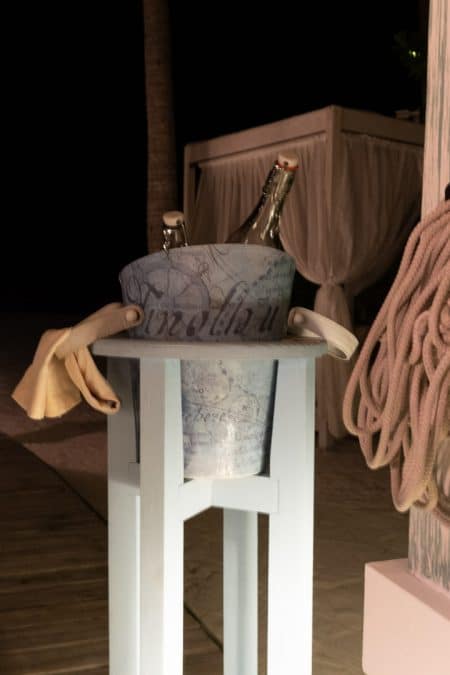 For starters we went with some superbly executed kibbeh and grilled marinated prawns.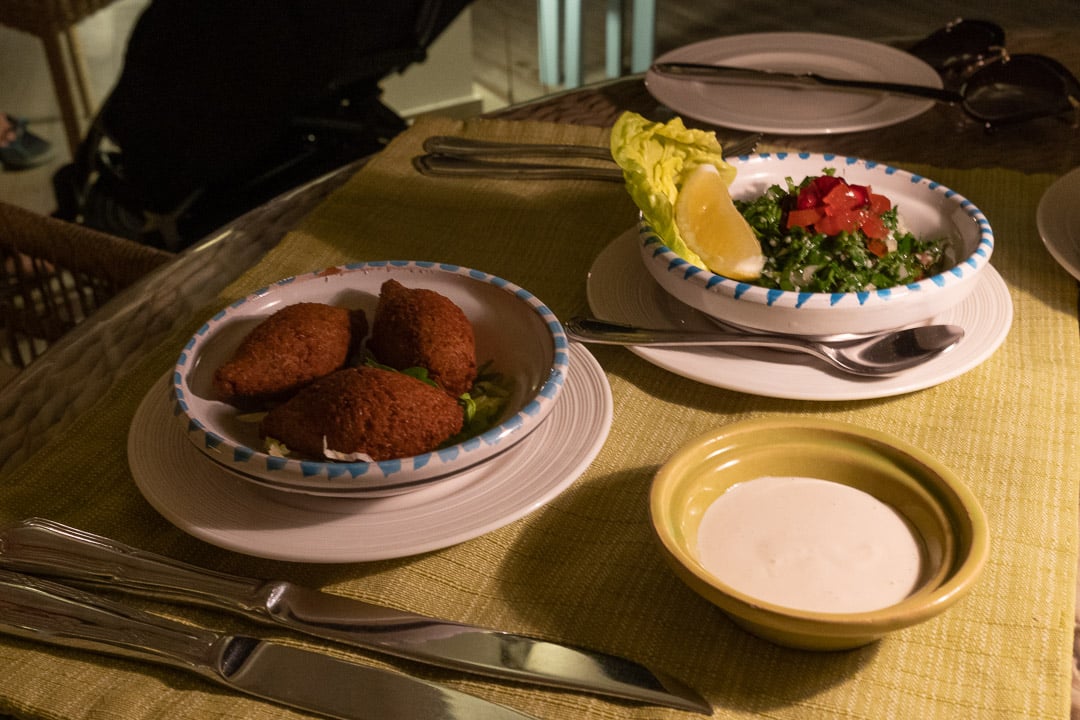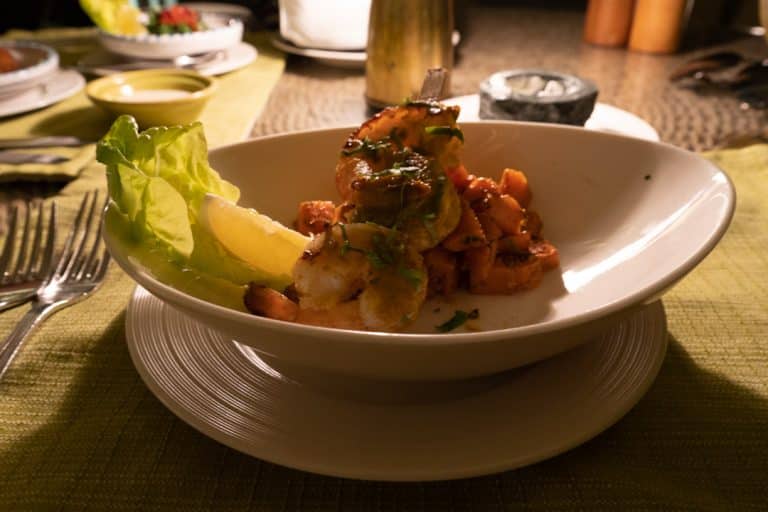 Most of the main course options were served table-side with each table having its own small grill on which to finish the proteins. The smell of fresh herbs filled the restaurant from the moment the first table received a main course. It was great how this small detail added flavour to the food and atmosphere to the dining room simultaneously. Both the steak and the prawns were incredibly fresh tasting and were seasoned perfectly.
I'm not usually one for desserts and tend to find Arabic specialities far too sweet for my palate. However once again this restaurant impressed not only with the presentation but also with the execution of the dishes. My pistachio ice cream was dense, rich and on a par with some of my favourite gelato places in Florence. Meanwhile Kamara's dessert was a beautifully plated combination of not only sweet but also sour and salty flavours. An exercise in balance and harmony.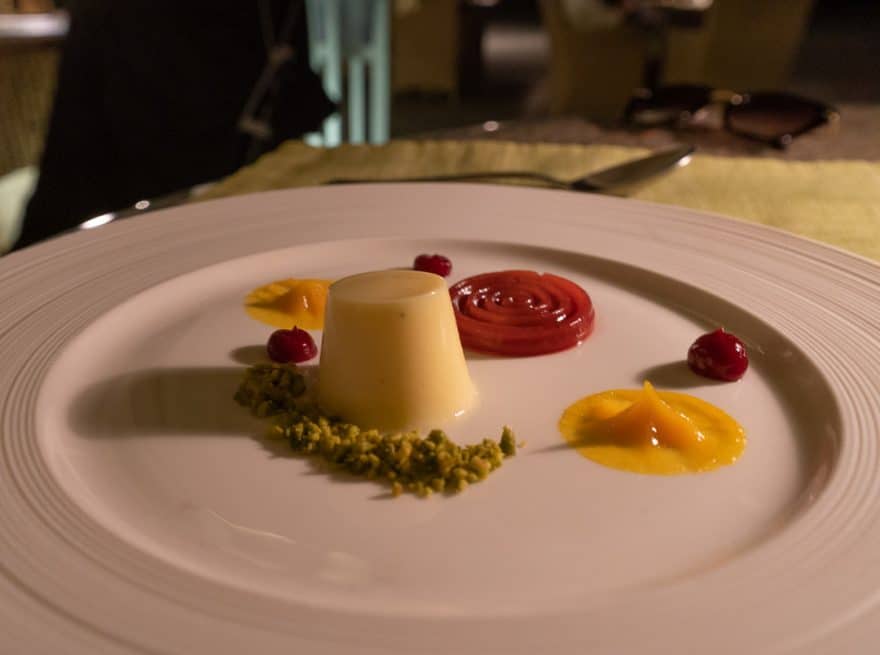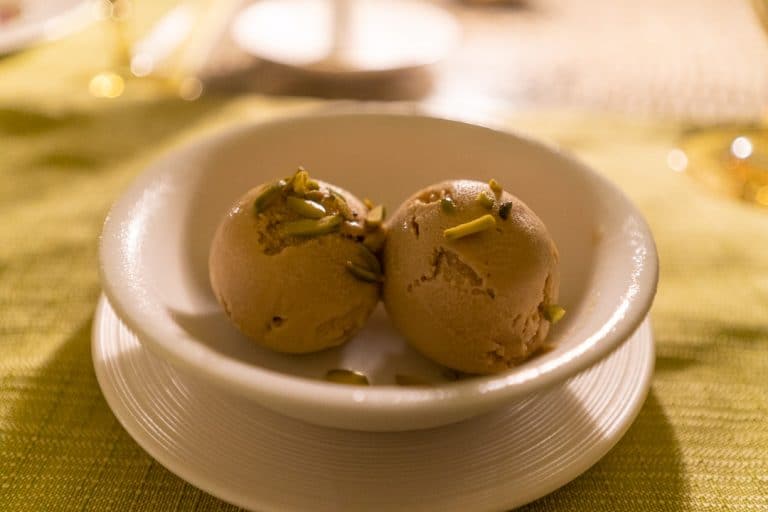 ---
Conclusion
---
Basics Checklist
☑︎ Power sockets near the bed
X Easy to understand light switches
☑︎ Coffee machine
☑︎ Separate shower and bath
(+ two outdoor showers!)
☑︎ Blackout blinds
☑︎ Stable, fast and free Wifi
X Feather pillows
☑︎ Quiet and powerful aircon
Finolhu is a radically different proposition to the majority of luxury properties in the Maldives. It is not looking to be the most OTT or the most luxurious; if that's what you're looking for, you'll be disappointed. There are plenty of other resorts which will happily take $25,000 from you for a bottle of Mouton Rothschild, before you wander back to the rooftop deck of your duplex villa….
Service was also rather disjointed at times and we certainly felt a stronger language barrier here than in resorts which form part of larger multinational chains.
However, Finolhu is fantastic for young couples or even groups of friends who want to enjoy a proper resort feel, where the bars and beach clubs are busy throughout the day and live entertainment is in abundant supply.
For those wanting to dive or snorkel, there can be little doubt: this is the pinnacle of what you could possibly hope for. This alone is reason enough to recommend the hotel.
The fact that you have so much space to explore – almost infinite stretches of wild beach – means that you have total freedom to live any kind of experience you want here.
You can snorkel in the morning, have a lively lunch at the crab shack, head back to a private stretch of beach for an afternoon nap and then have a massive night out at an illuminated bar as people eat fire around you. All in one day.
Raging party or complete relaxation: Finolhu offers both and few other resorts can say this, because honestly, they don't have the fortune to feature such a perfect natural setting. In a country where space is undeniably at a premium, Finolhu has an abundance of riches.
---
Booking Enquiries
---
Would you like us to assist you in booking a Maldives property, with plenty of value added extras like upgrades, resort credit and VIP welcome amenities? Drop us an email below!
If you aren't sure which resort to choose and would like our advice, please fill out our quick & easy Maldives form and we'll match you up with your perfect property.
---
More Maldives Reviews
---
We are a luxury travel agency specialising in the Maldives, with plenty of first hand experience!
Here is a selection of our most recent Maldives hotel reviews:
---