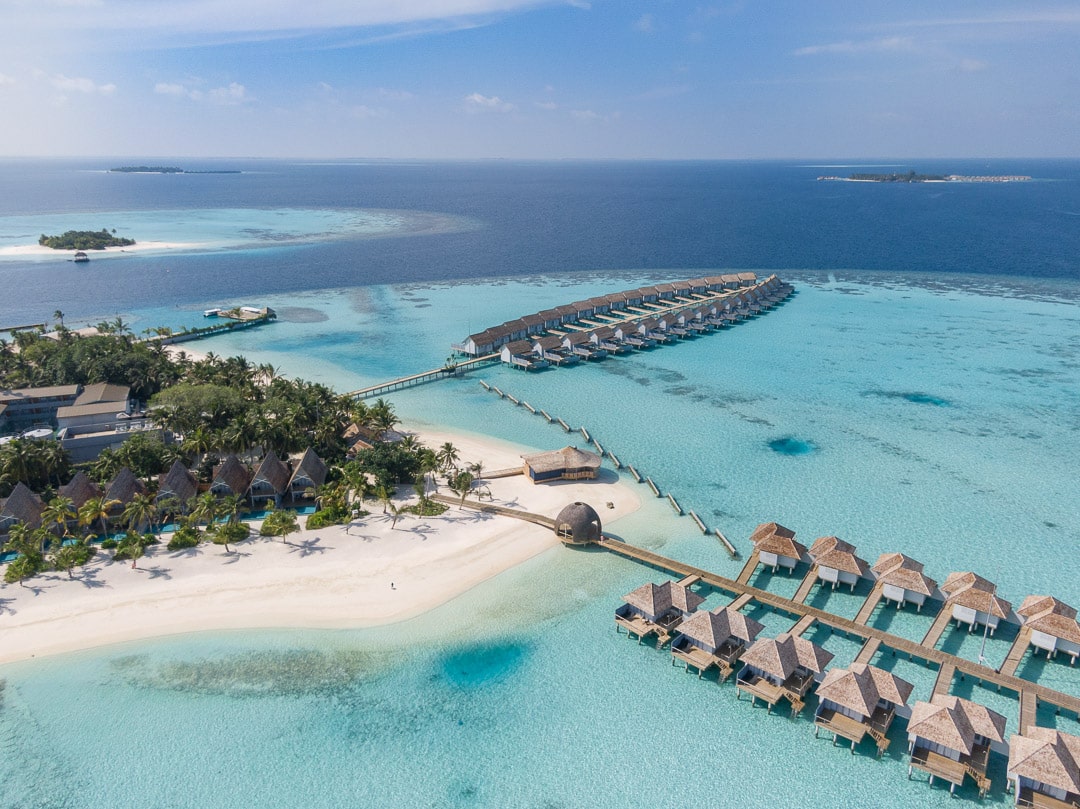 REVIEW – Outrigger Maafushivaru
March 4, 2021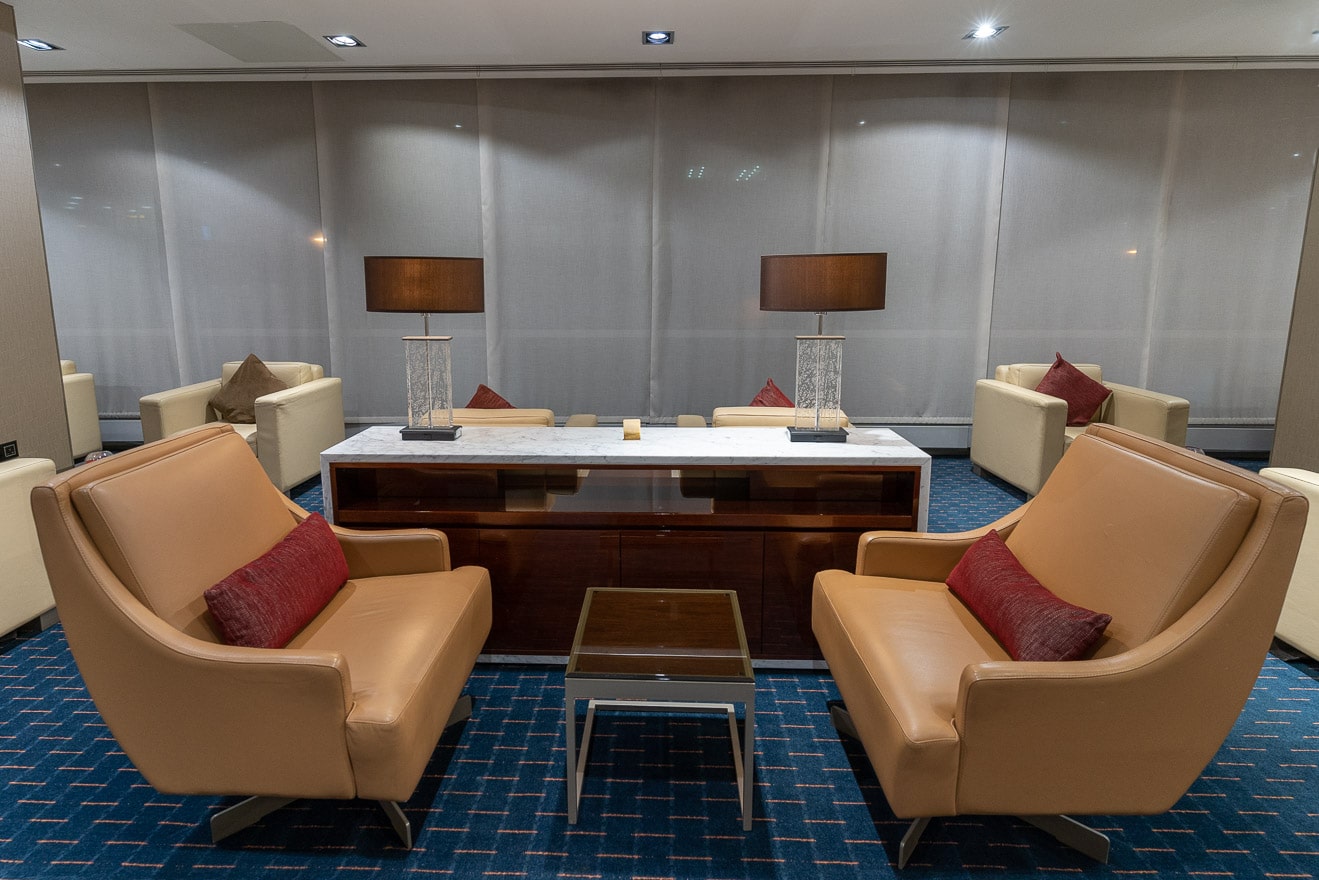 REVIEW – Emirates Lounge – London (LGW)
March 22, 2021
Constance Moofushi
Location: Maldives
Rate: Press Stay
Room Type: Water Villa
Stay Date: November 2020
---
Intro
---
Constance Hotels is an international hotel chain with its sole focus on the Indian Ocean. In addition to the two Constance properties in the Maldives: Moofushi and Halaveli, there are properties in the Seychelles, Madagascar and Mauritius.
It is one of the most well established brands in the Maldives with decades of experience here and as such I was really excited for my first ever stay at a Constance hotel.
Between the two Maldivian properties, Moofushi is seen as being the more casual and relaxed property, with a greater focus on nature and a pared back aesthetic.
Conversely Halaveli focuses more on room hardware and a higher level of formality in its service.
---
Booking
---
Constance Moofushi doesn't participate in Virtuoso so your best bet is to book directly on the Constance Hotels website.
The resort operates on an all-inclusive basis with rates starting from around $700 per night in a Water Villa (including tax). Other booking sites may show slightly cheaper rates that don't come with the all-inclusive package but honestly I would recommend going with the all-inclusive package. This is especially true if you like wine, since the all-inclusive list has over 200 bottles available!
For help selecting a Maldivian resort and planning your Maldives trip, please fill out the form below. We'd love to welcome you as a LuxuryTraveller client!
---
Seaplane Transfer
---
Constance Moofushi's is located in the Ari Atoll, the same group of islands that is home to the Conrad Maldives and Lti Maafushivaru. This is 95km and around 30 minutes by seaplane from Malé.
In my opinion this location is at the Goldilocks distance from the International airport. Resorts within a speedboat ride of Malé often suffer from light pollution and boat traffic (like the Waldorf Astoria for example), whereas travelling to a truly remote atoll (like Laamu or Haa Alifu) can mean a lengthy domestic airport transfer on a decidedly un-luxurious local plane (even if Maldivian do have the coolest callsign of any airline: 'Skysurfer').
When you arrive at Malé airport you will see island hosts from every Maldivian resort waiting in the arrivals hall: as soon as you spot the right one they'll escort you to the TMA seaplane check-in, around twenty metres from the main arrival hall doors.
I always think it's really fun to see how different each resort's uniforms are, it's kind of like when you see airline crews walking through the airport – if you see a really smart looking uniform you wonder what it must be like to fly on that airline.
---
Constance have a mini bus that transports guests on the five minute drive between the international terminal and the seaplane terminal. Some resorts (like Lti Maafushivaru) rely on the airport's own public buses for this, so it's always welcome when you get proper private transfers.
Seaplane Lounge
Up until this stay, every seaplane lounge I'd encountered in the Maldives was in a large office building away from the actual seaplanes.
As I noted in my review of Finolhu, over time the water has been reclaimed and used for additional buildings so these lounges have become a little sadder as a result. Indeed, my 2016 review of the Conrad Maldives lounge shows a water view that is now almost entirely gone.
The reason I mention this is because Constance Moofushi has an amazing lounge location right on the water! You can walk outside the lounge whenever you want and go right to the water's edge to watch the seaplanes take off and land.
The interior design is also by far the best of any seaplane lounge I've visited. It really feels like they made an effort to make this a special experience even before you've set foot in the resort.
Close to the entrance, you have a few larger tables that can seat families comfortably.
Further inside, you have seating that is designed for couples.
There was a sanitiser station set up detailing the resort's COVID protocols and power was available at most tables via a series of carved wooden poles.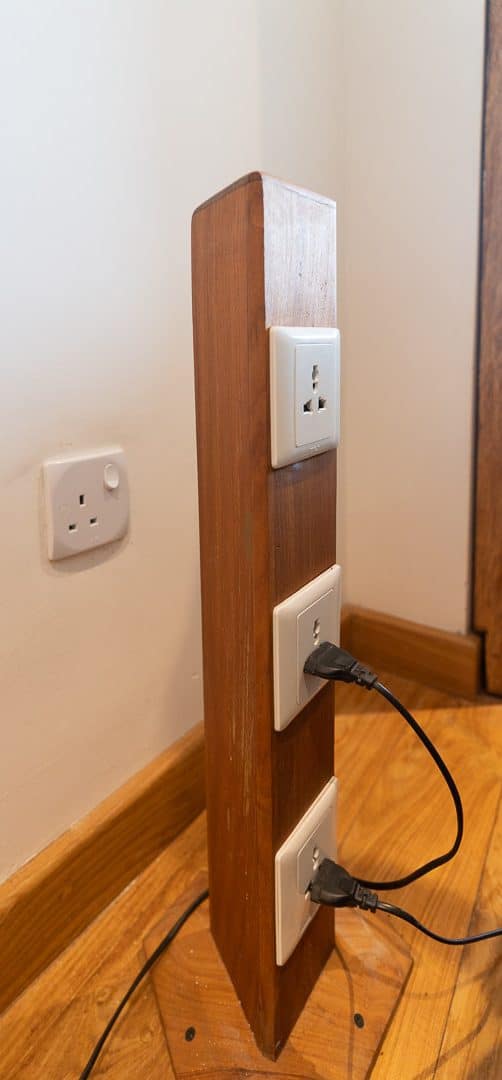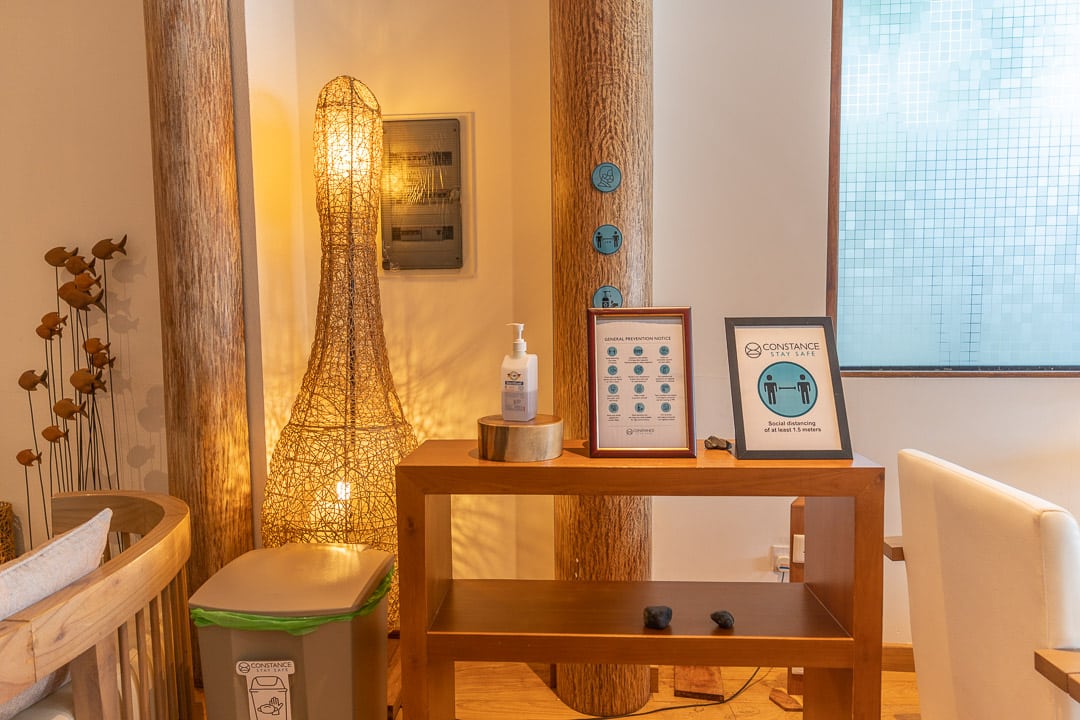 Towards the back of the lounge was a small business centre as well as several semi-private lounges featuring daybeds behind white draped partitions.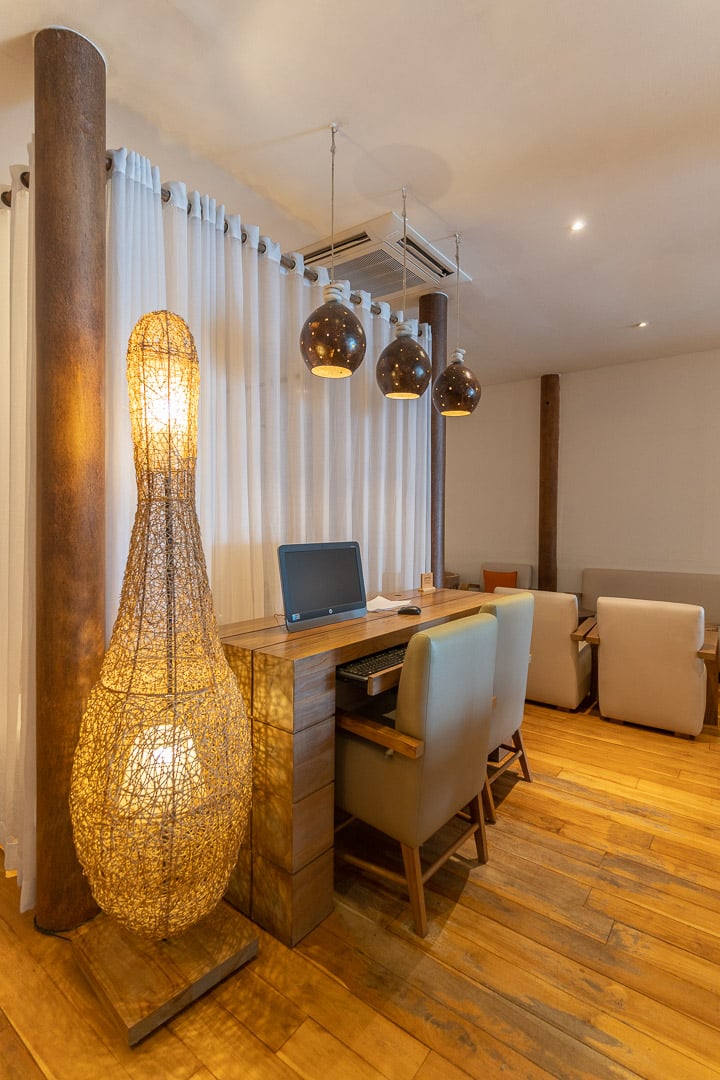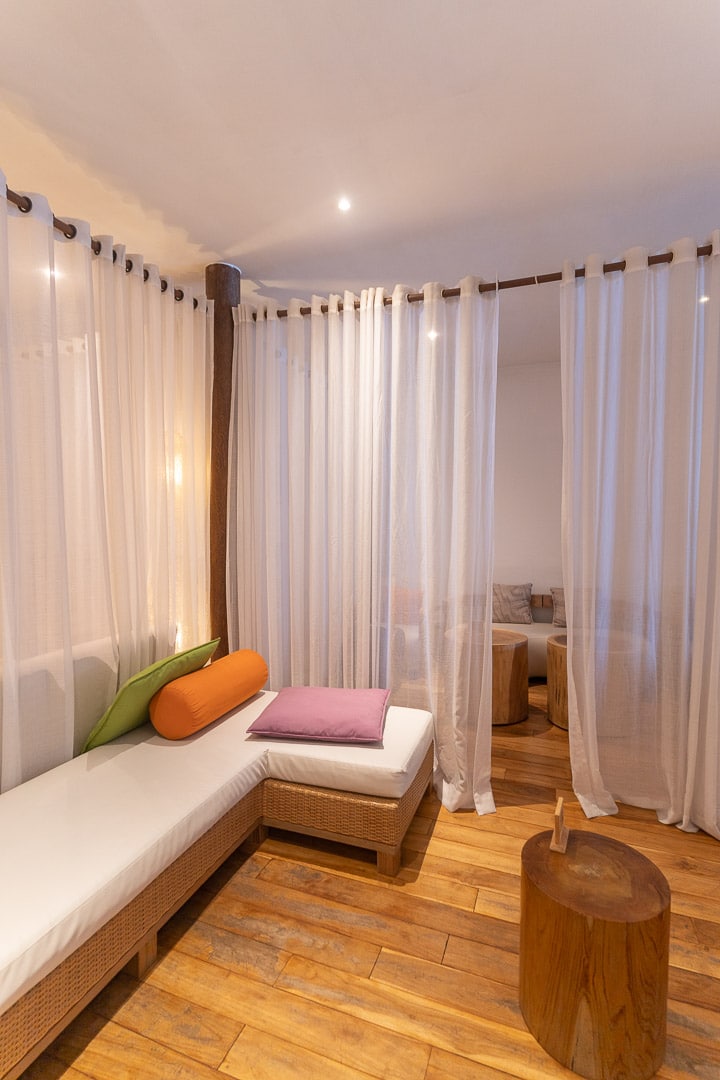 A granite topped bar area featured tea and coffee as well as a variety of cold soft drinks. No food was available during the time of our visit though.
When it's time to leave, the planes are right by the lounge so there's no additional vehicle transfer like we encountered with other resorts.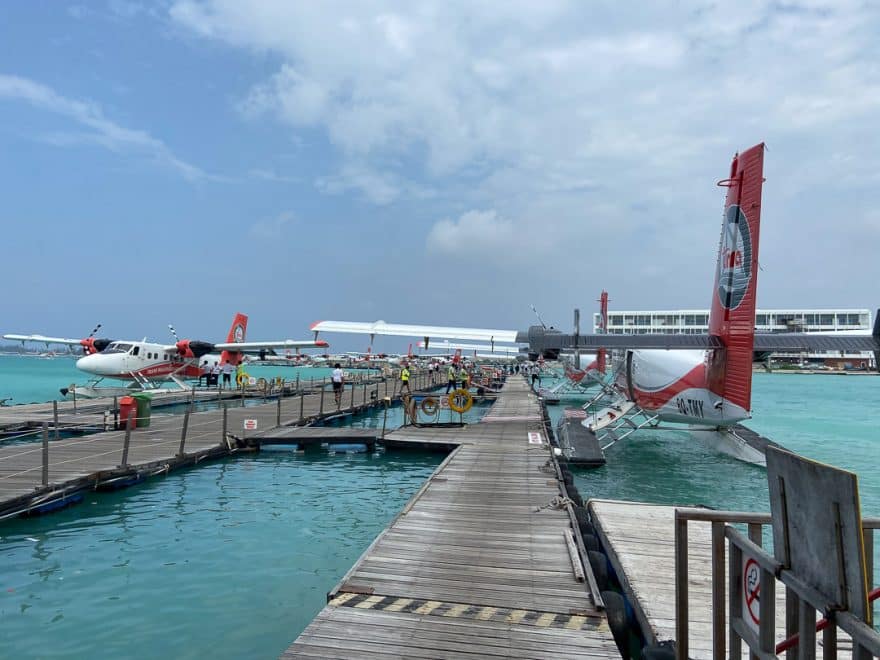 On board the seaplane, travel hygiene kits were distributed and we were reminded that masks needed to be worn at all times.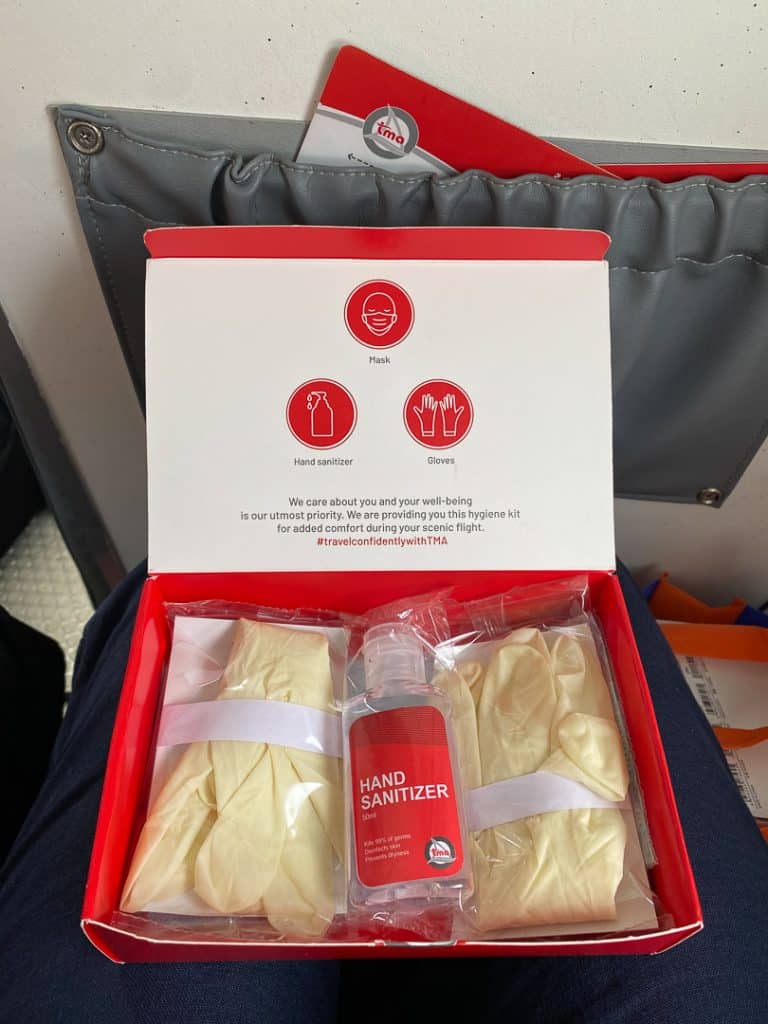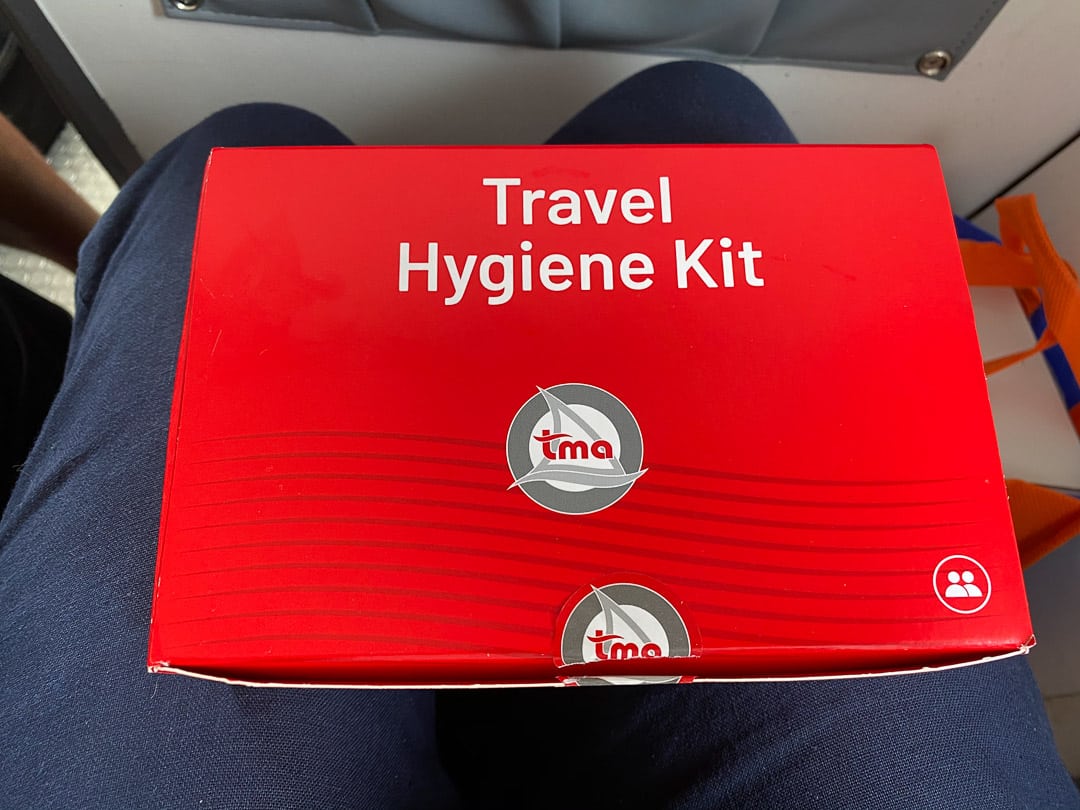 Despite the cramped seats, lack of air-conditioning and massively loud propellers, the seaplane experience is always a genuine joy. You just can't beat the incredible views.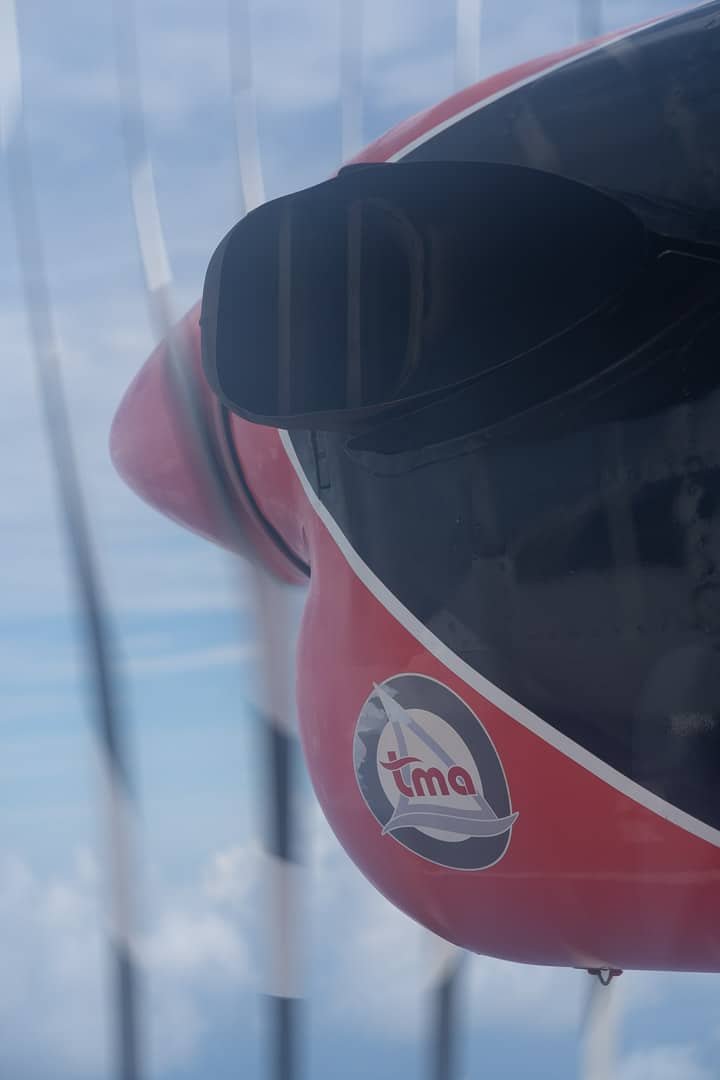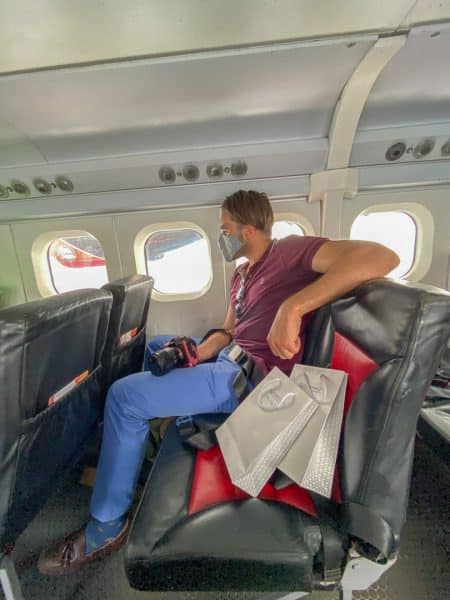 I've only once had a seaplane ride in the Maldives that wasn't shared between multiple resorts. On this occasion we stopped briefly at Constance Halaveli; it was interesting to quickly get a glimpse of the villas and public spaces and take a mental note to compare them to Constance Moofushi.
Upon arriving at Constance Moofushi's seaplane platform I was immediately struck by the natural beauty of the surroundings and by how quiet everything seemed. The only thing you could hear was the gentle lapping of the ocean against the soft white sand and the chirping of birds. The feeling of tranquility at Constance Moofushi is tangible.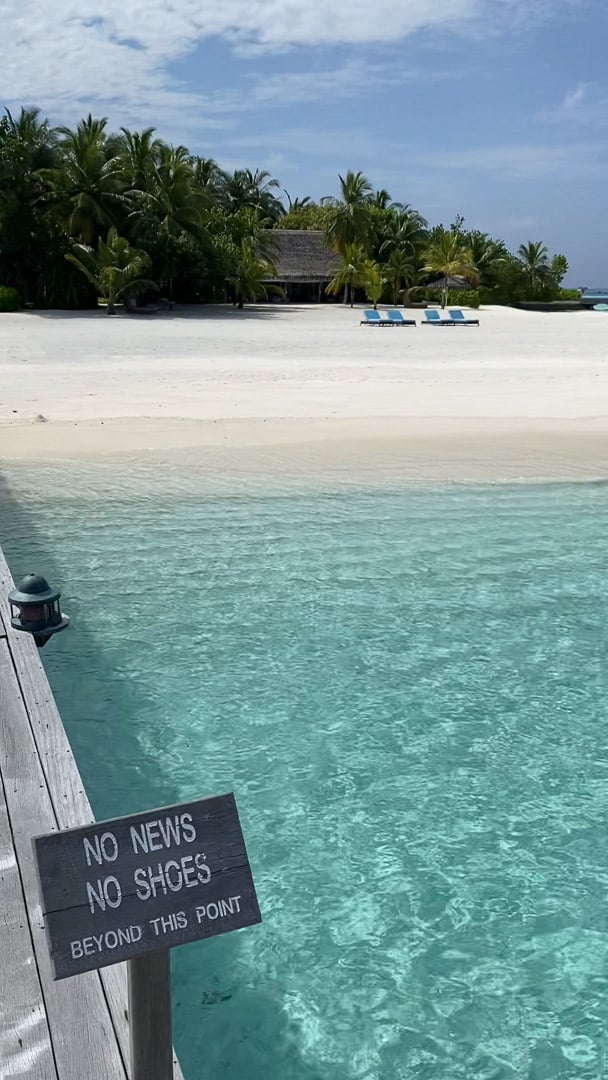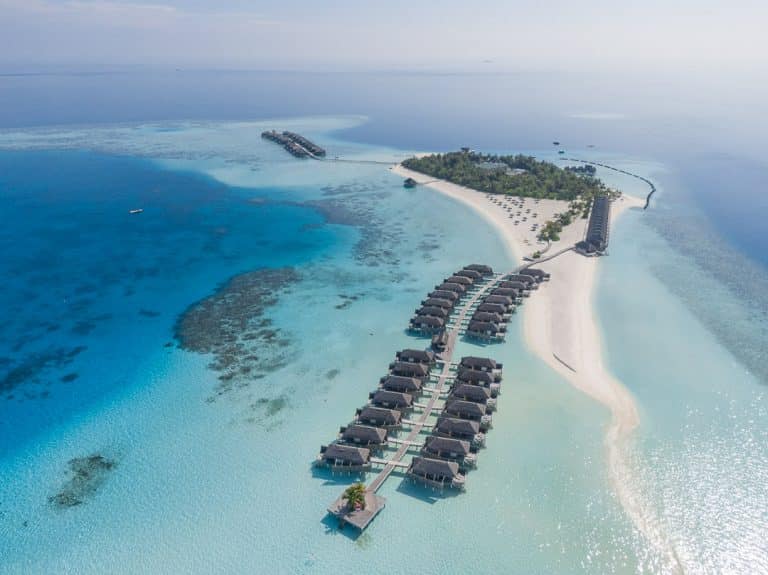 The sign as we arrived read "No shoes. No news. Beyond this point". When we sat down at the whimsically decorated reception, we saw just how seriously they take this…
We were welcomed by an island host who offered us a refreshing fruit drink and explained to us that we now had to 'trade-in' our shoes for pairs of Constance Moofushi flip flops. These were great quality and were ours to keep after we left. Our shoes were sealed away in shoe bags, which were later delivered to our room.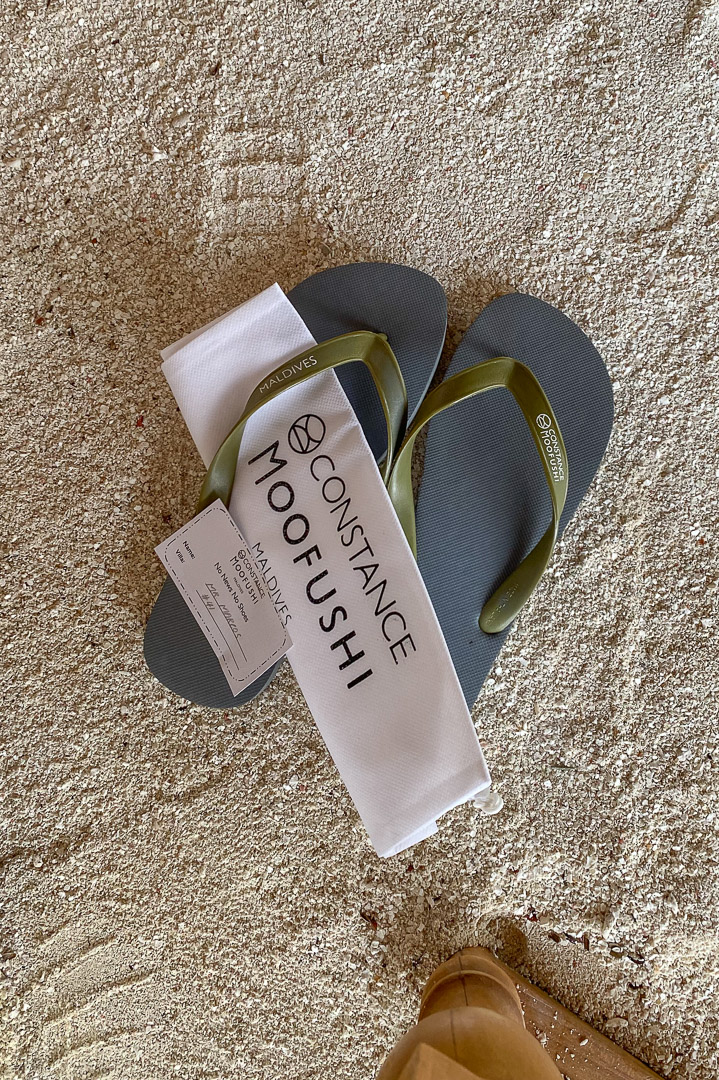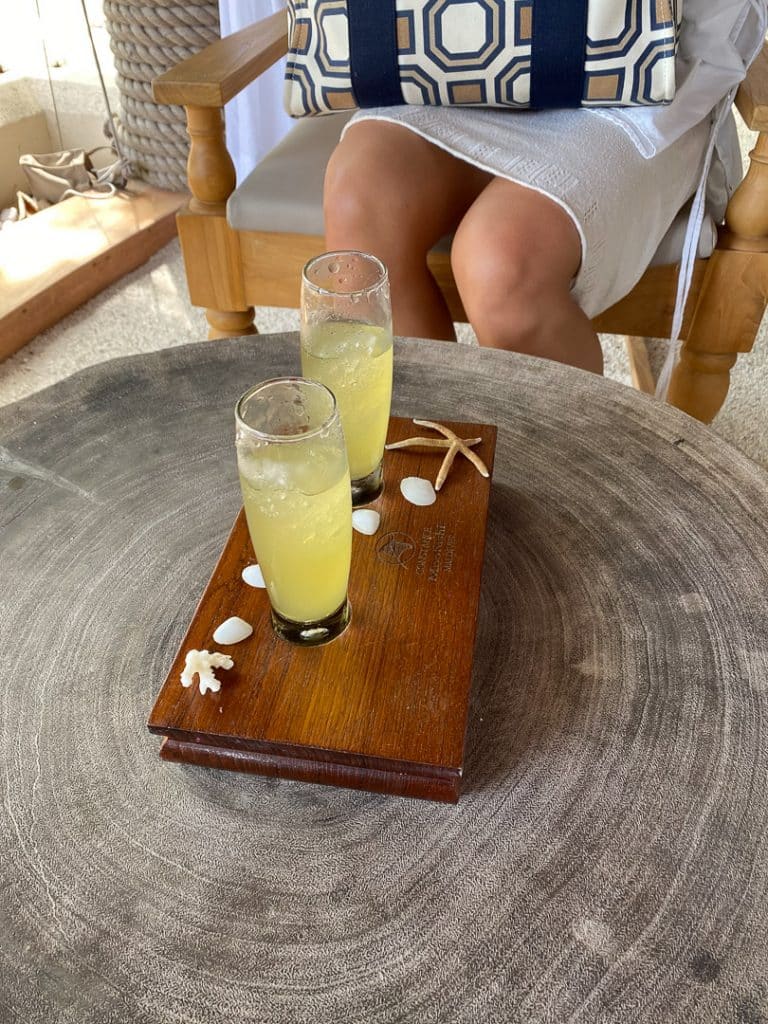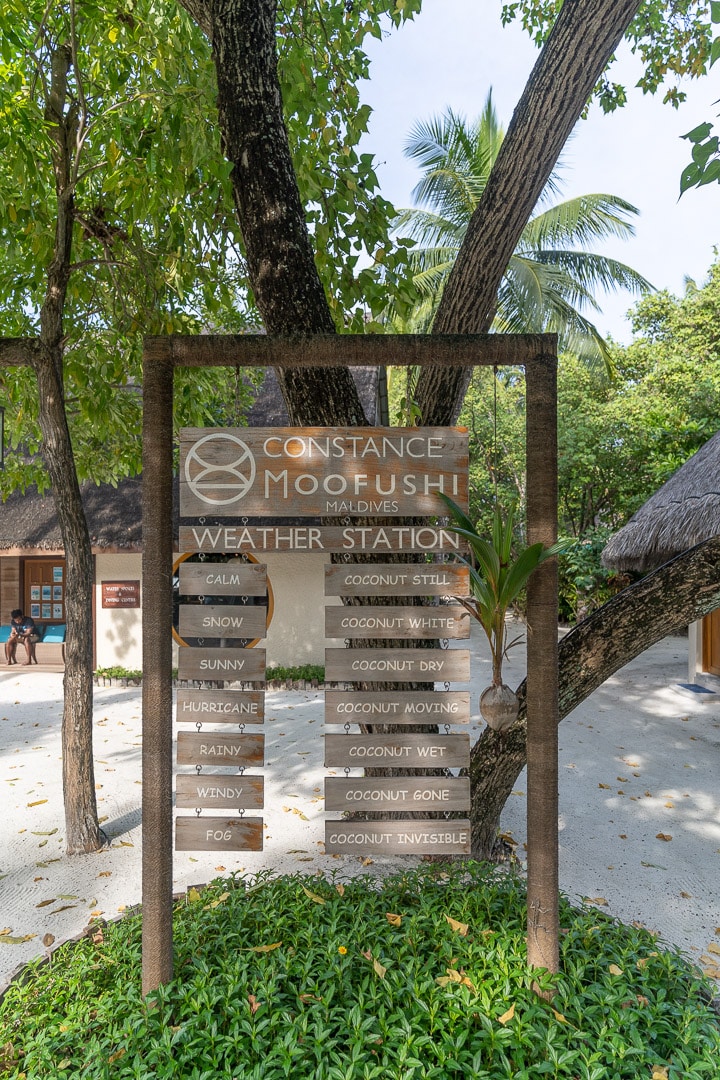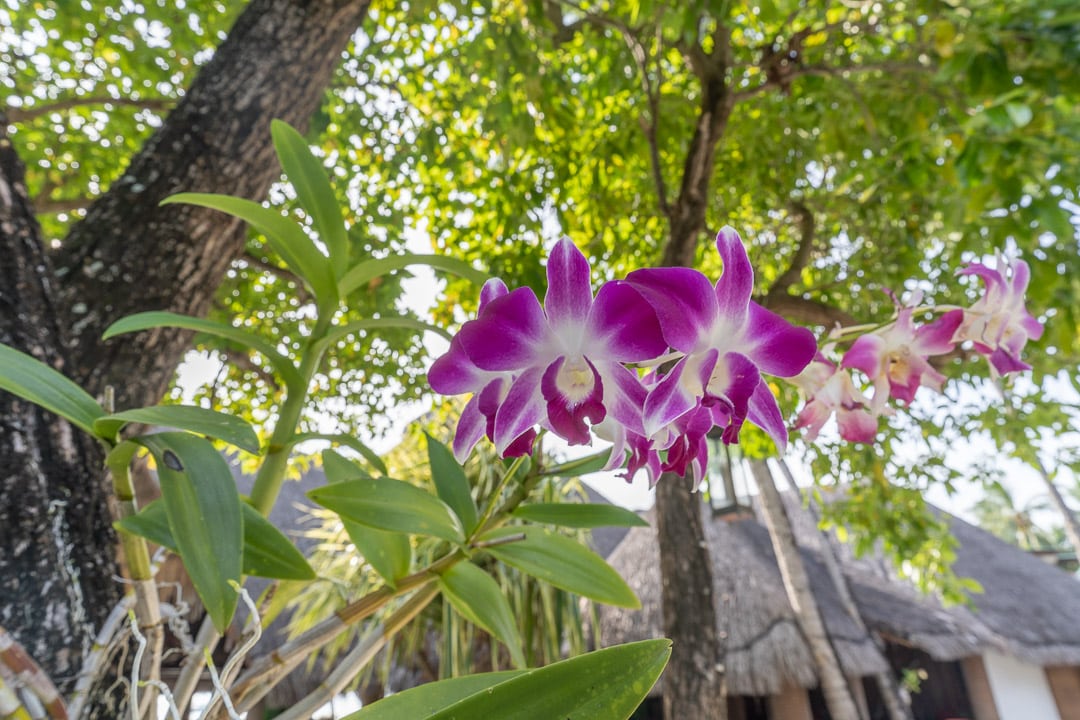 (I think they got windy and hurricane the wrong way around…).
COVID procedure
Many resorts in the Maldives permit international visitors to enter without any supplementary testing, since all arrivals to the Maldives require a PCR test prior to arriving in the country.
However in order to be extra safe, Constance Moofushi requires that all guests take an additional PCR test before being allowed to explore the island freely.
Our tests were administered at the hotel's clinic, located in the jungle interior of the island. We were then escorted to our villa where we were required to stay in quarantine until the test results came back, the following morning.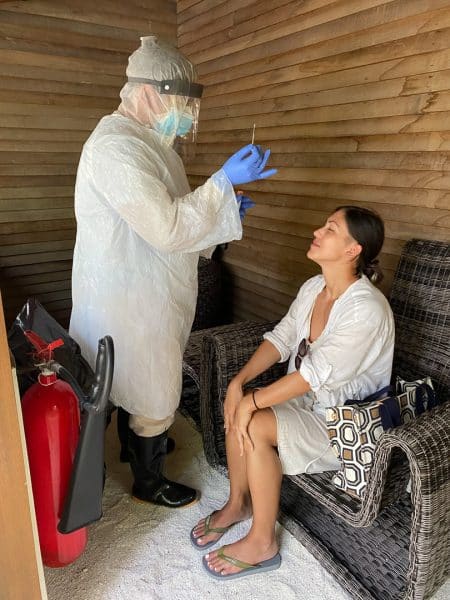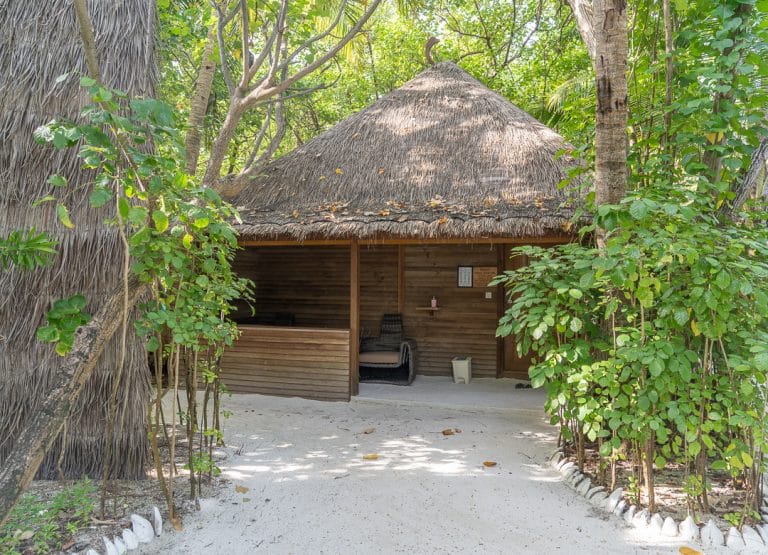 ---
Picking a Room Type
---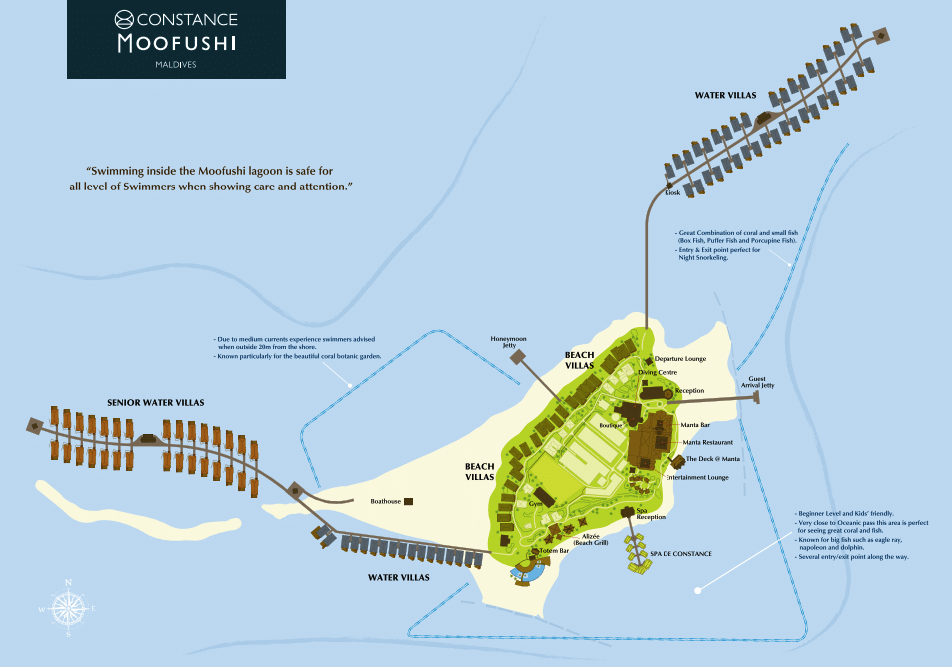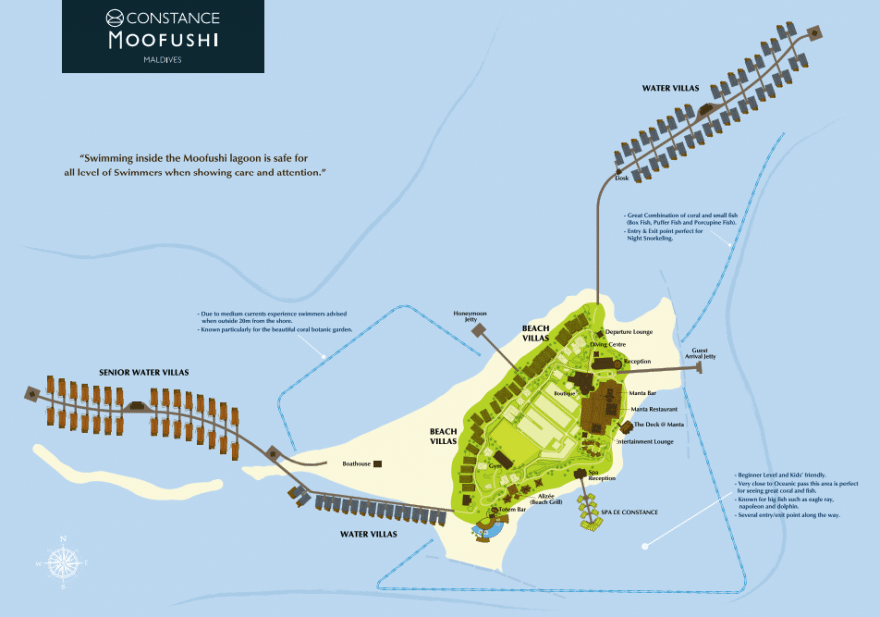 There are three room types at Constance Moofushi:
Beach Villas – some face out towards the ocean and others face the sun loungers on the main beach. I would always request the former if possible.
Senior Water Villas – on a private pier to the far West of the island.
Water Villas – some on a pier at the Northeast of the island with others backing onto the main beach and facing Southwest.
One thing to be very mindful of is that a large number of both the standard and the Senior Water Villas are actually sitting on sand and aren't overwater. You could be in for a shock if you'd been planning your dream honeymoon and ended up with a beach house on stilts, so make sure you are clear about your preferences when booking.
Our Water Villa was located in the middle of the block below so we were truly overwater but obviously the term 'Water Villa' is pretty misleading when it comes to the first few villas in this block:
Due to the nature of ocean currents, the exact location of sand changes over time and the main sandbank near the Senior Water Villas is not located exactly as it appears in the resort map.
During our visit the first block of South facing Senior Water Villas had only a few metres of knee deep water before hitting the sandbank (and a couple were right on the sand). If you're picturing a clear blue lagoon in front of your room I would recommend a North facing Senior Water Villa to be safe. You'll miss out on sunsets but the snorkelling and privacy will more than make up for it in my opinion.
---
Water Villa
---
In terms of location, our Water Villa was pretty ideal. Sure it wasn't truly overwater since it was built onto the beach but as I stated in my Waldorf Astoria review, for me this gives you the best of both worlds.
I liked the fact that we had the beach club right behind us with the amazing snorkelling and sunsets directly in front of us.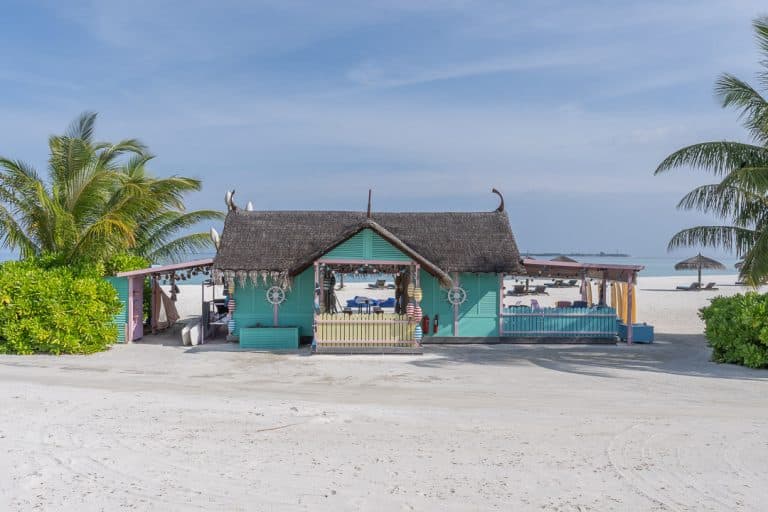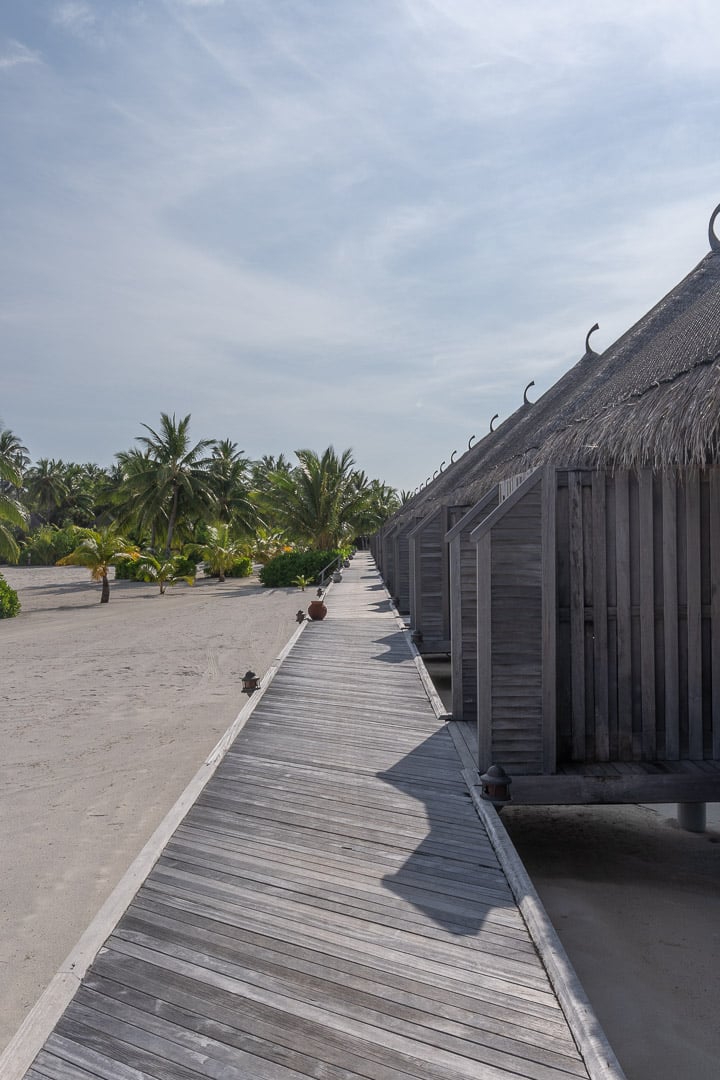 Room Tour Video
View this post on Instagram
Bedroom
The Water Villas at Moofushi are 66m² including outdoor space, which is rather compact by modern standards. As such, there was no separate entrance – the front door opened directly into the bedroom.
I really liked the colour palette and the abundance of wood carving and woven textures. This was my first experience of this rustic-chic style design and I must say it works quite well.
I think the worry with this design style is that it is basically used as an excuse to cut corners and still charge luxury prices.
This brings me to the welcome amenity in our room…a bottle of Sekt, at a French owned resort with a French GM. A resort which serves house champagne as part of its all inclusive package.
The message that this bottle of Sekt sent was quite frankly worse than leaving nothing at all. The words of Anantara Veli's GM rang clearly in my mind:
"I firmly believe that if you're paying £700 a night for a hotel they should be popping a bottle of champagne in the room."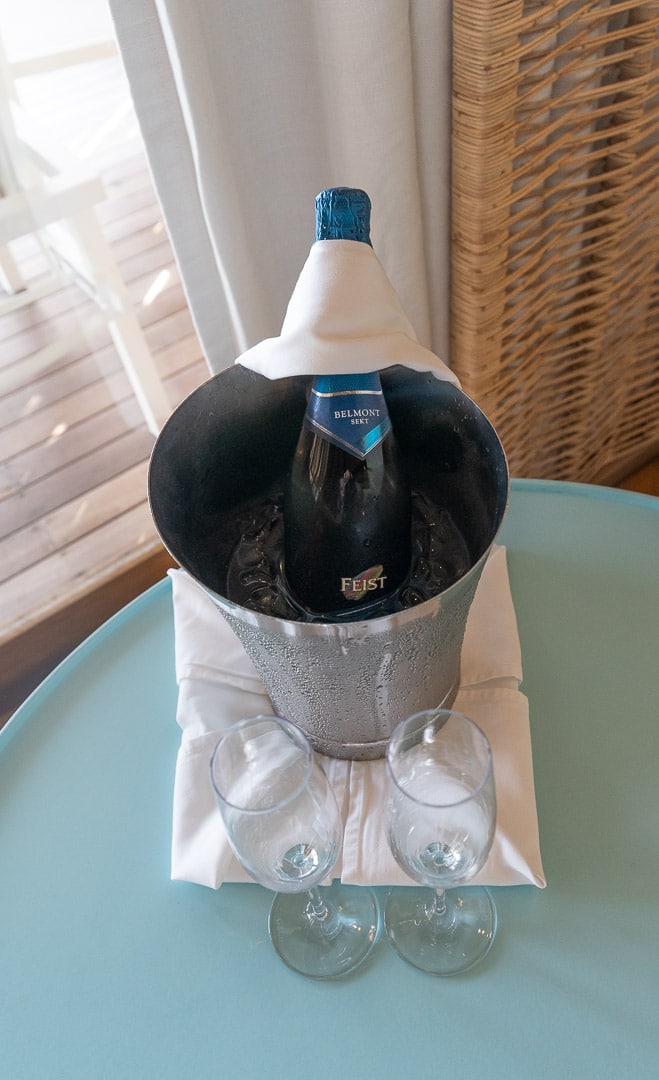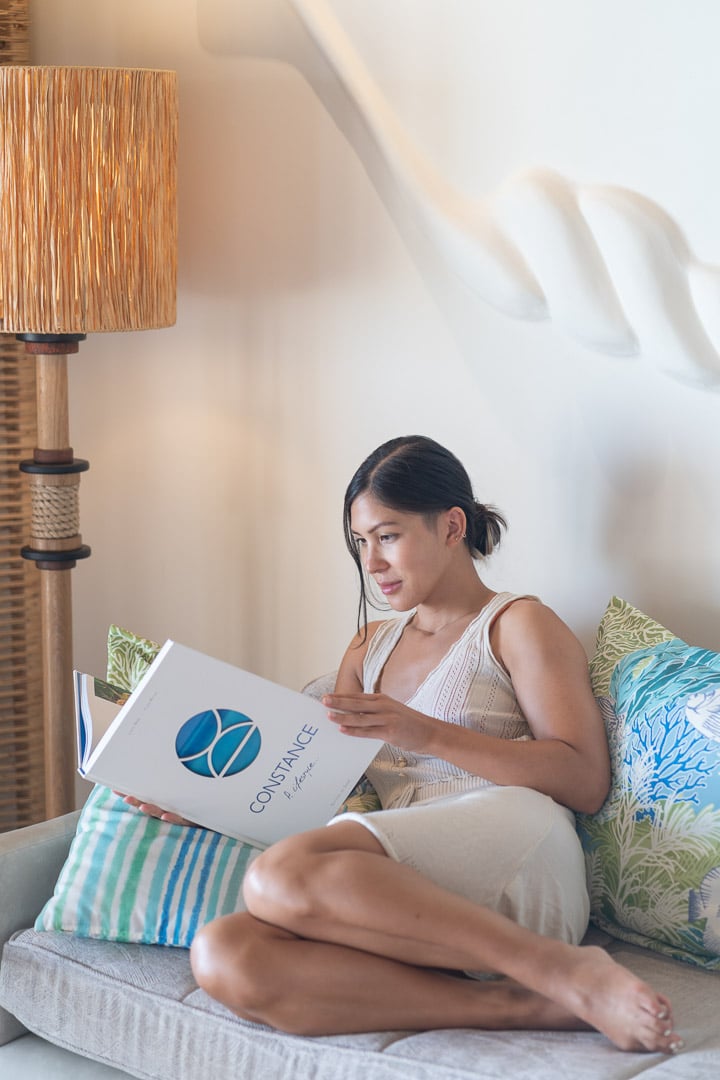 The bed was comfortable and featured power on both sides of the bed. One side had two USB ports and a universal socket whereas the other had a single UK style socket.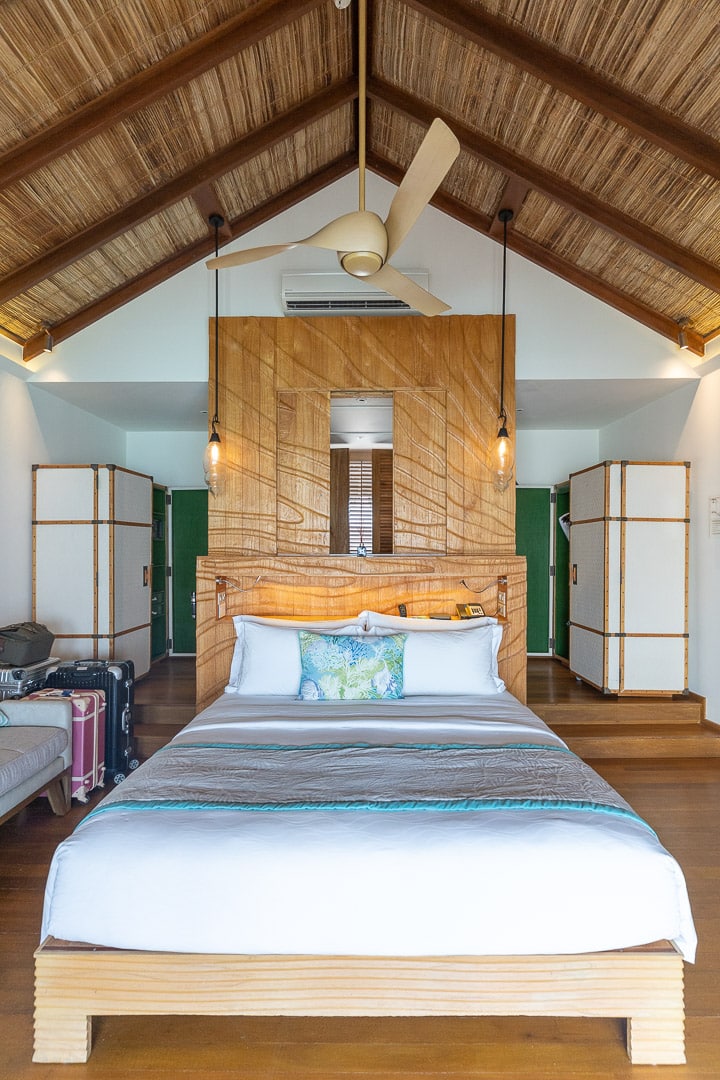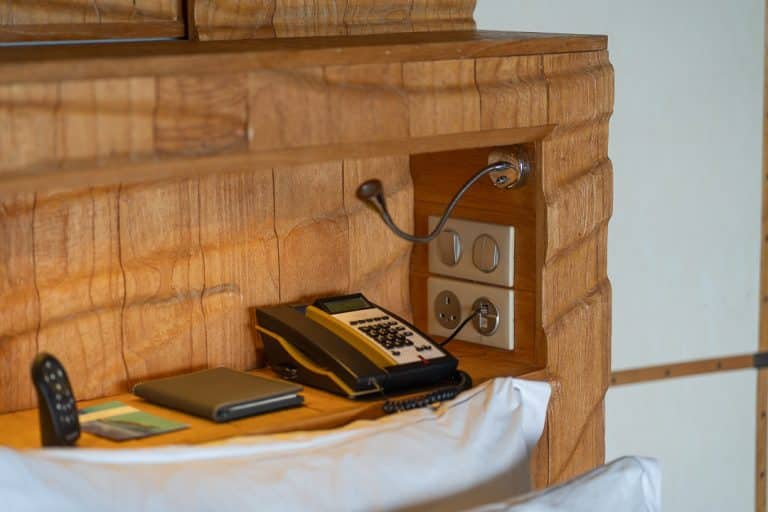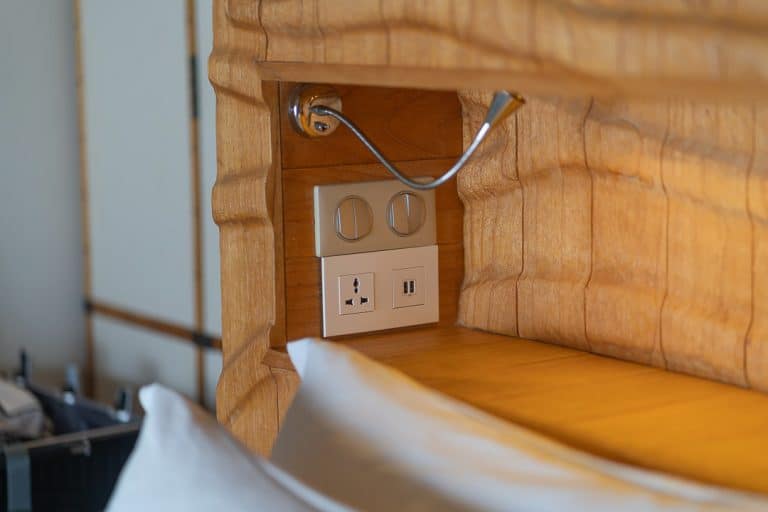 Unfortunately the curtains don't come down all the way to the floor and didn't quite seal properly on one side, so if you're sensitive to light you'll definitely want to bring a sleeping mask with you.
In one corner of the bedroom was a lacquered desk with mother of pearl inlays, above which sat a modern TV with Apple and Android casting software.
I'm all for saving on packaging but I found the presentation of the mask, glove and sanitiser to be rather off-putting. They had just been left open inside the desk. No note, no packaging. Just some sanitary equipment that has presumably been handled by the cleaners.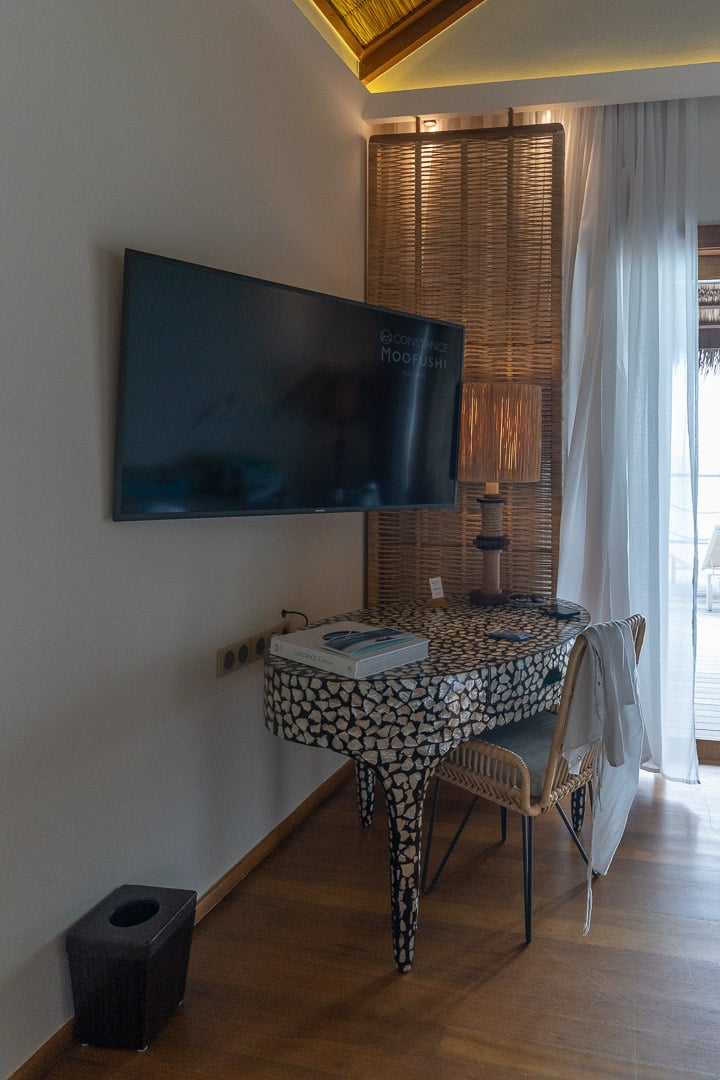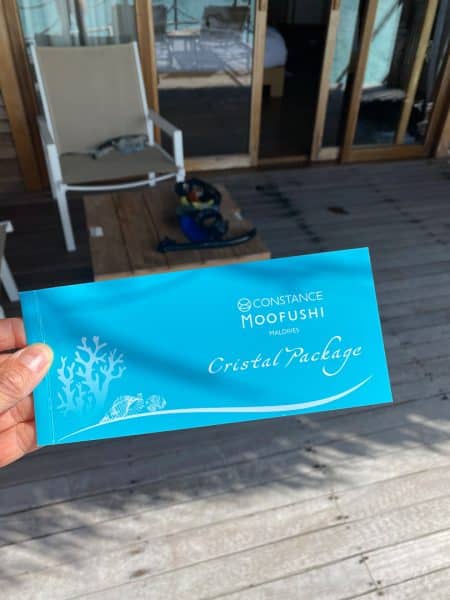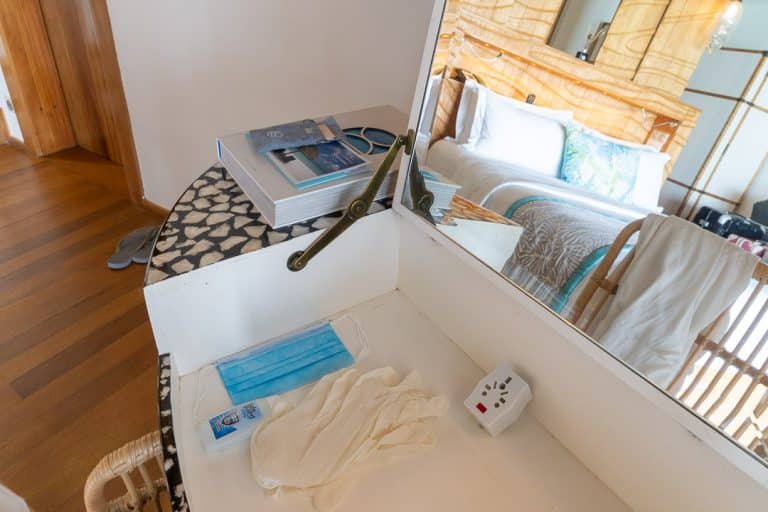 Another odd touch here was the 'Crystal Package' coupon booklet. In my mind this conjures up images of package holidays to Butlins, not an image of luxury. The fact that there was a coupon for a welcome trinket, that we had to collect in the gift shop, just felt really tacky. It is clearly a sales tactic designed to get people away from the ocean and into the gift shop whilst on their holiday.
I did like the woven Constance branded keycard holder though. I thought this presented a simple solution to the problem of loose keycards and swimwear with no pockets.
One final thing to note in the bedroom is that the air conditioning was permanently stuck on a single setting. The remote didn't react to any button pushes at all. It was fine since the setting seemed to work for us and it wasn't noisy at all. So, much better than the more modern yet more temperamental A/C at the Waldorf Astoria.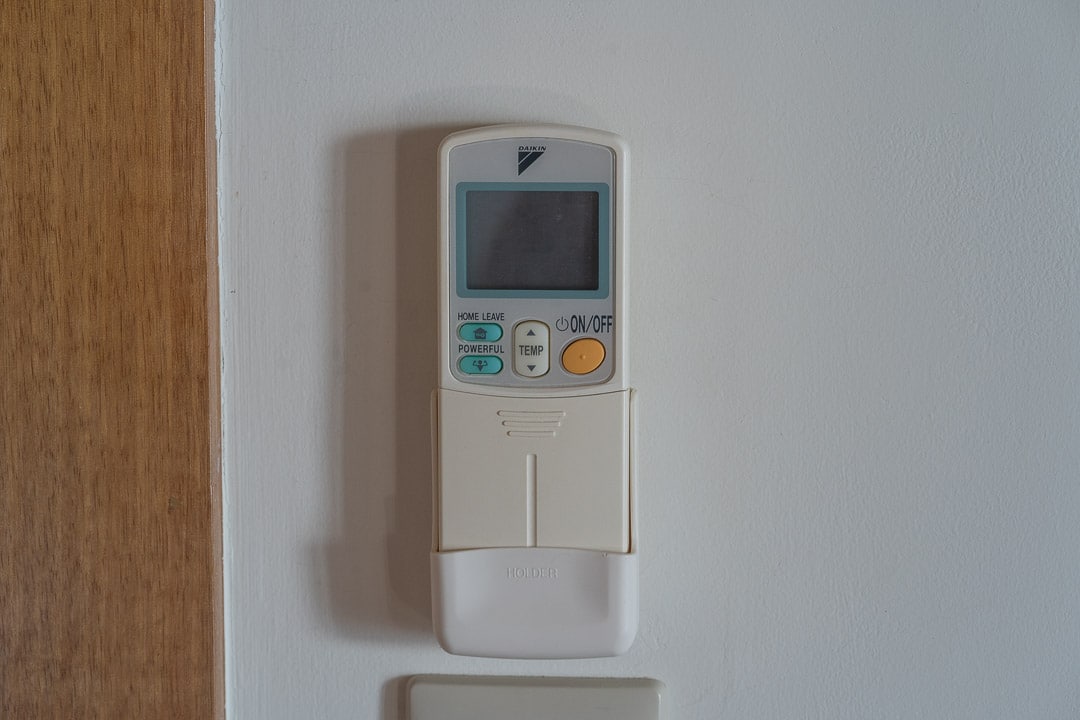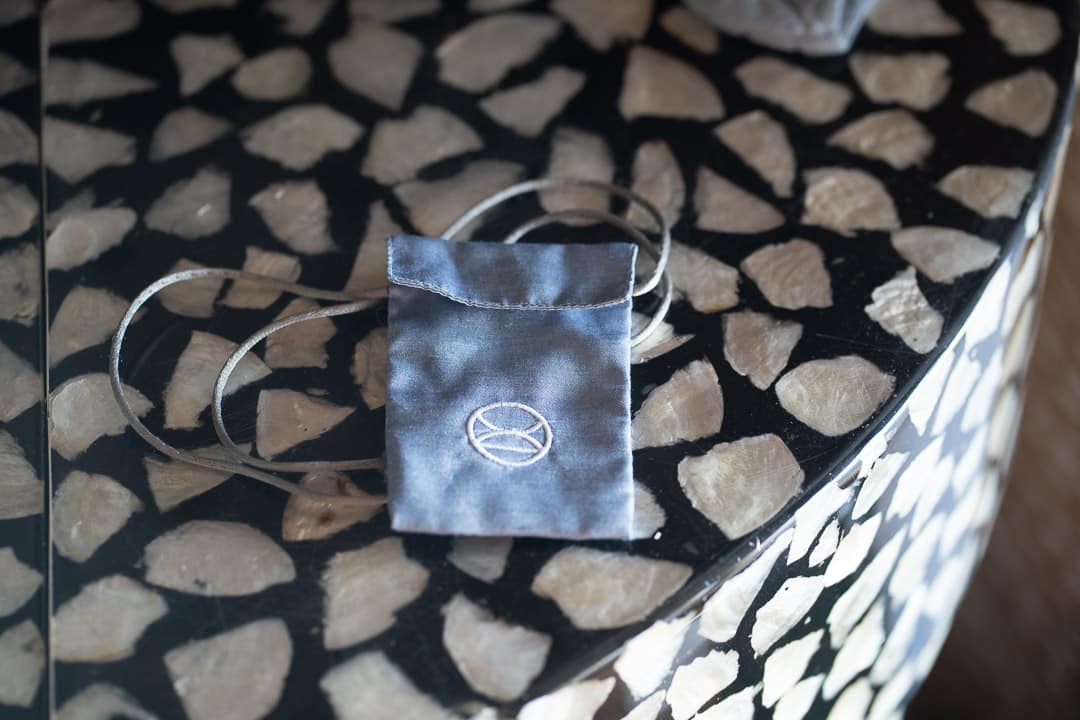 Bathroom
The bathroom was set a couple of steps above the bedroom and had a very clever design. The oversized granite sink was a real showstopper, as was the split mirror which could be moved aside to reveal the ocean view.
Bathing amenities were Constance branded and had a great smell and texture. However they came in plastic bottles rather than reusable containers favoured by most major chains in the Maldives.
The toilet and shower were located in separate rooms behind the sink, with the shower having a particularly cool design.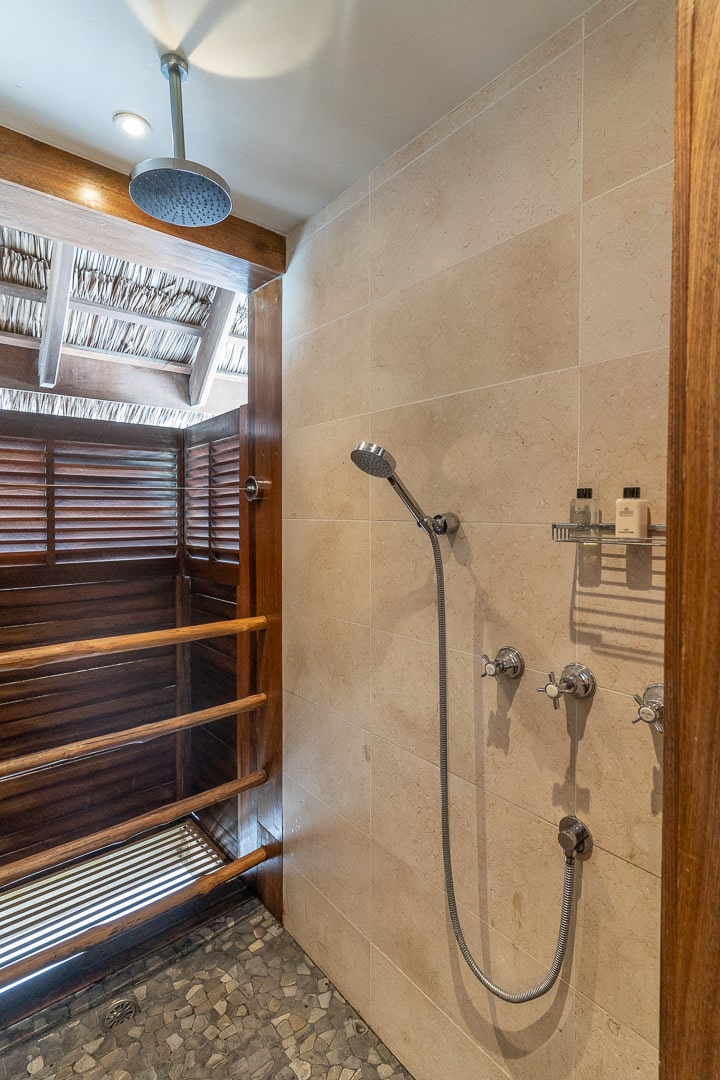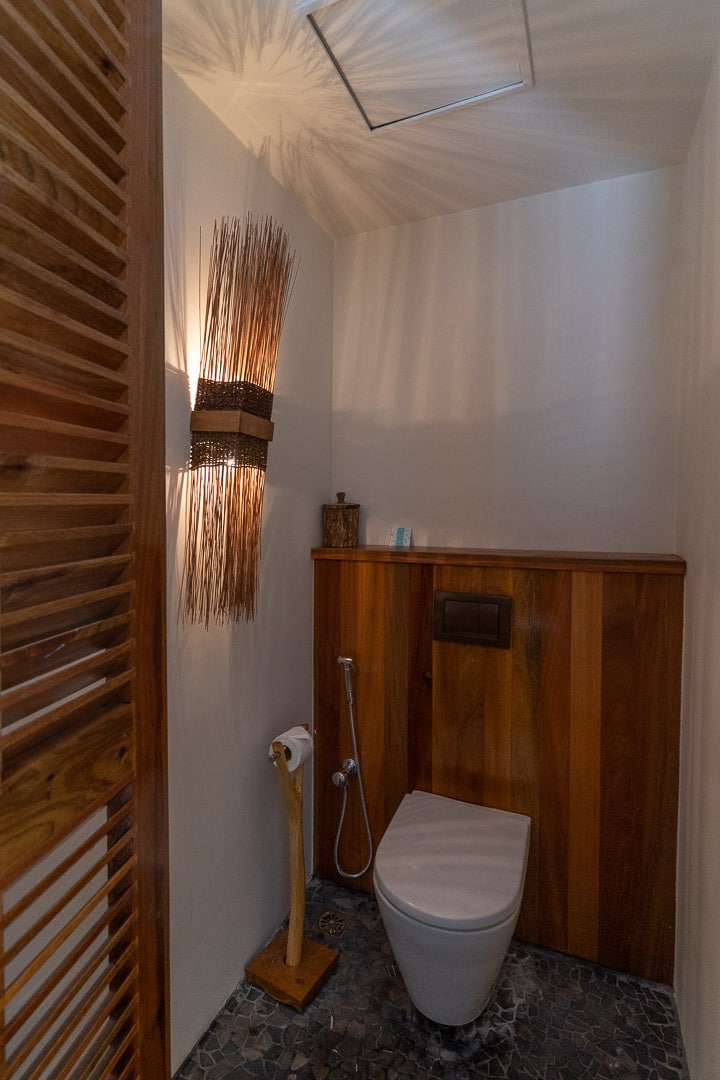 The shower room had an open wall on one side and was basically outdoors. You could hear waves crashing beneath your feet and feel the warmth of the outside whilst taking your morning shower. In order to make this work, the door was heavy and had an airtight seal to prevent the A/C escaping.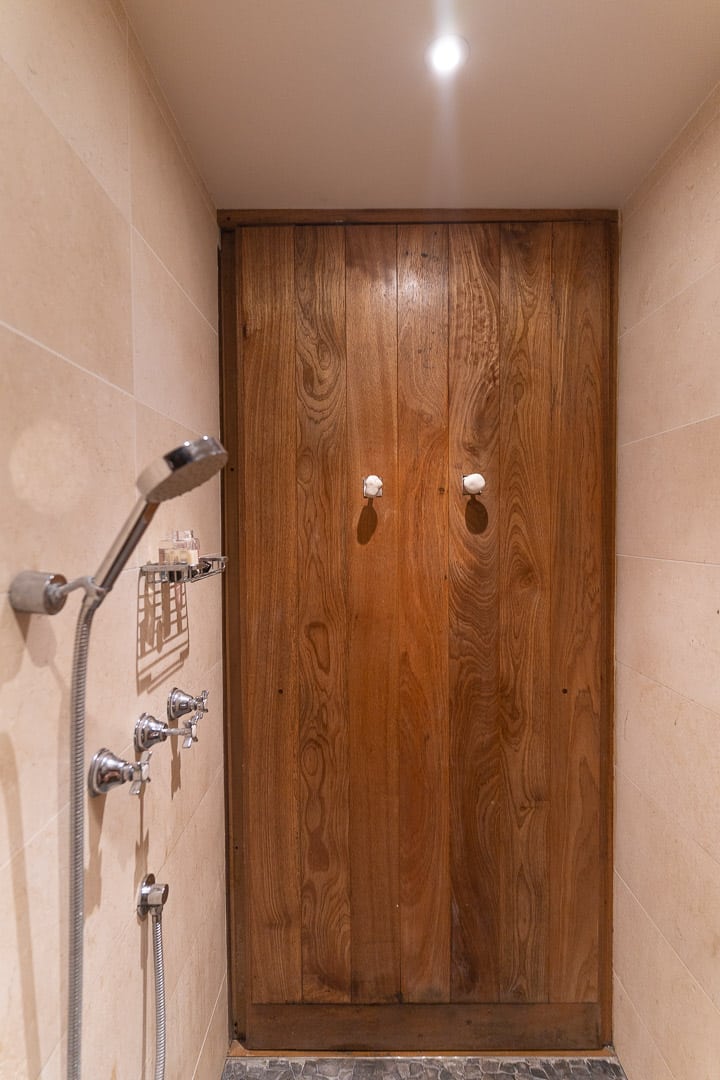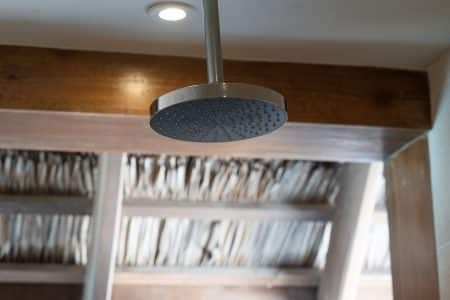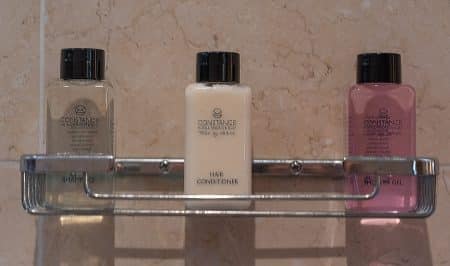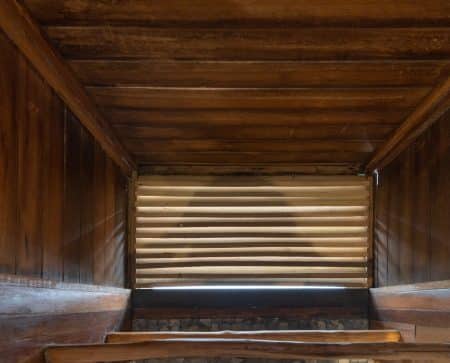 This was probably my favourite feature of the room and something for which I will always remember Constance Moofushi. The water pressure, the smell of the toiletries, the warmth of the sun and the sound of the waves. As a sensory experience, it was pretty much perfect.
Back indoors….
Either side of the sink were two large white wardrobes designed to look like old fashioned steamer trunks. The one on the left contained slippers, dressing gowns and even life jackets.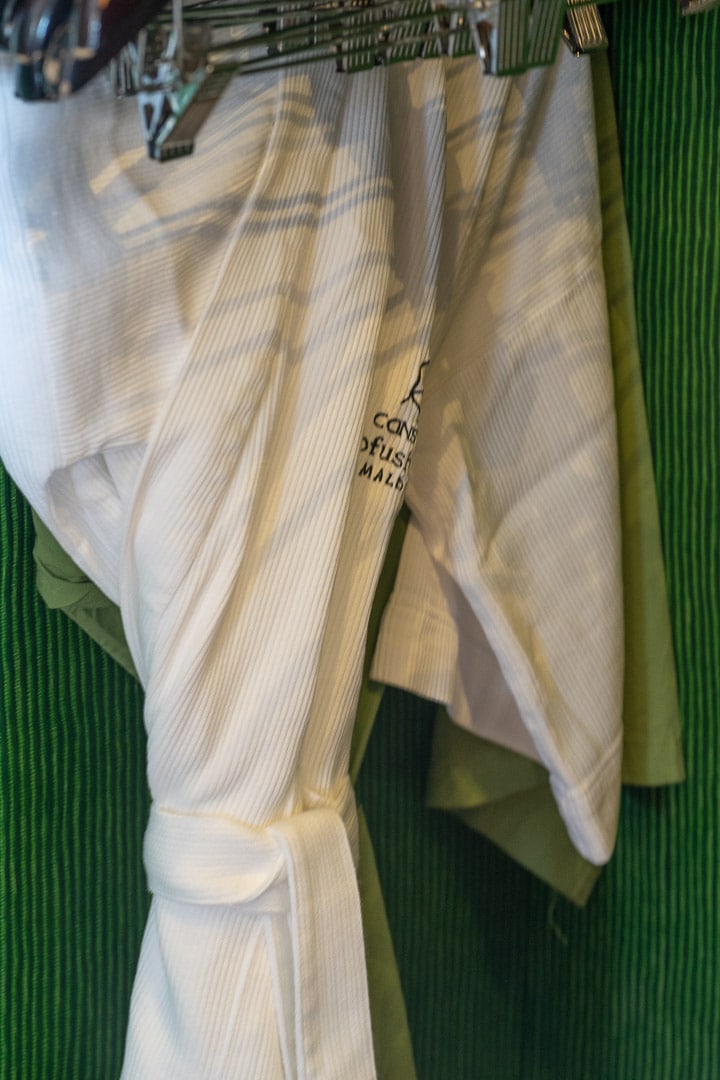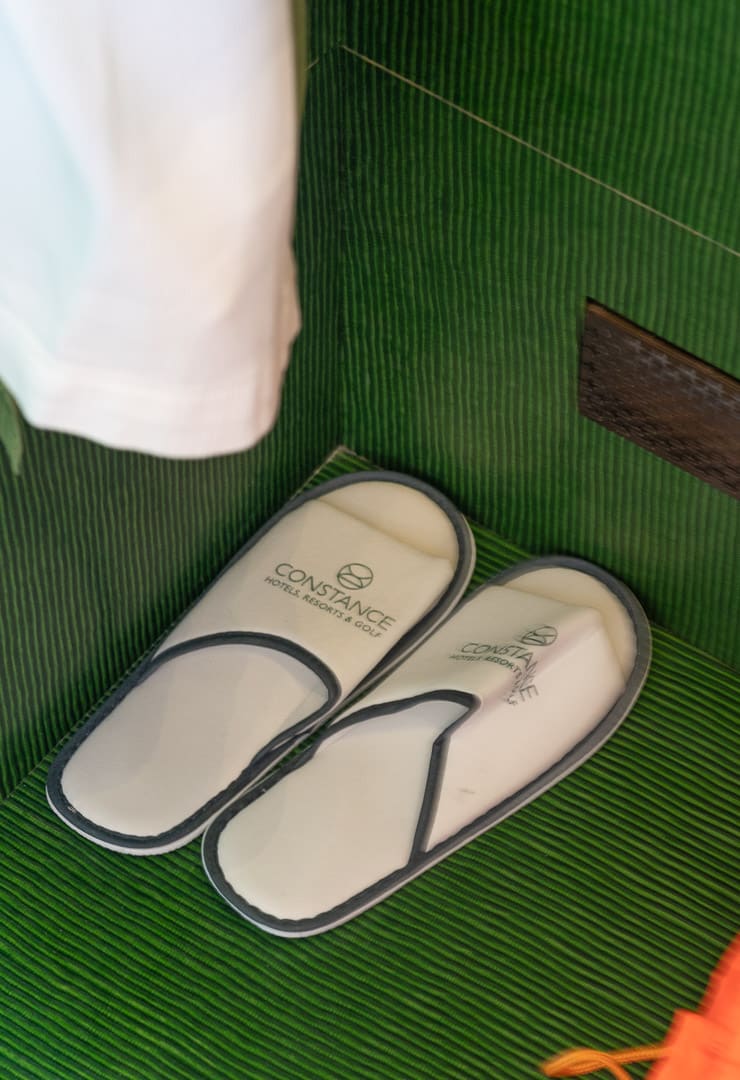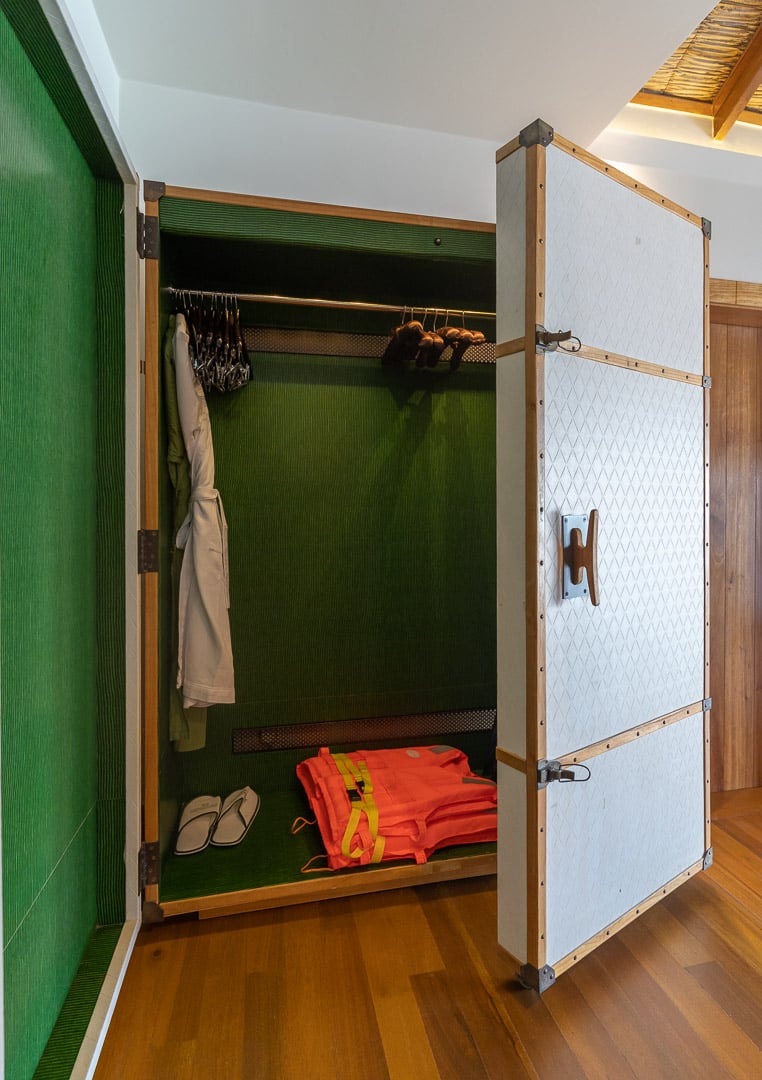 The wardrobe on the right contained some drawers as well as the complimentary mini-bar. Some all-inclusive hotels in the Maldives limit the mini-bar but Constance Moofushi don't play games here. All of the mini-bar is included in your room rate, even the wine and beer.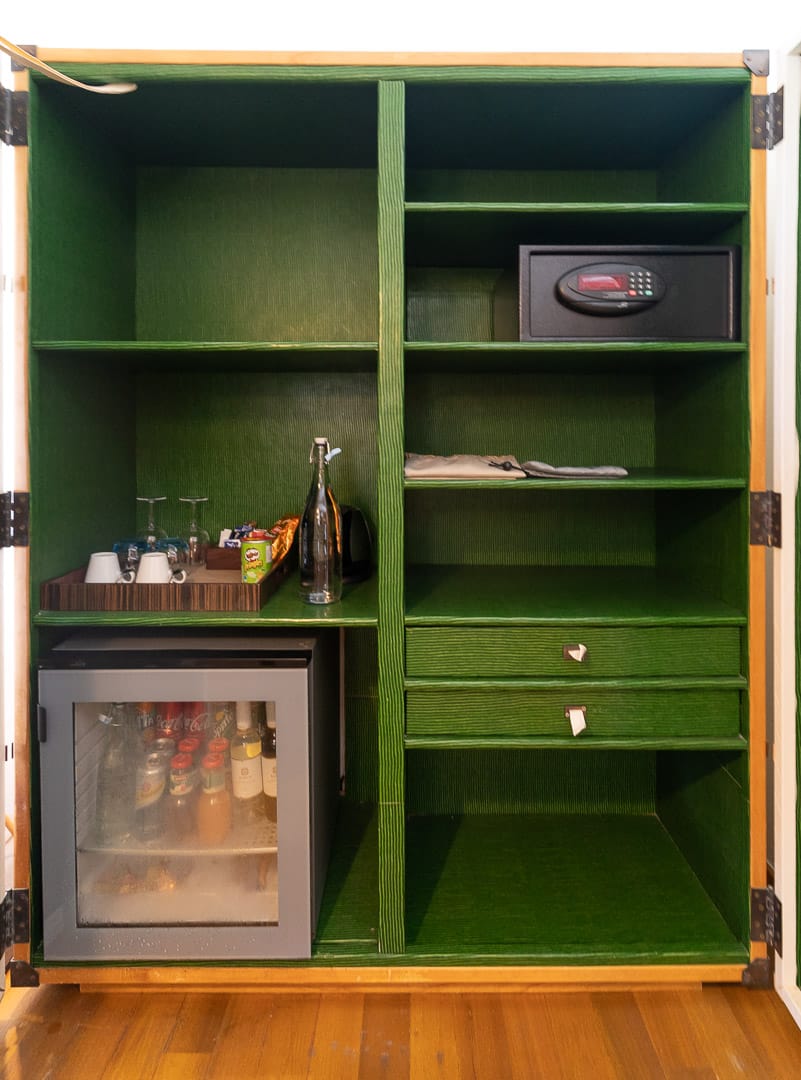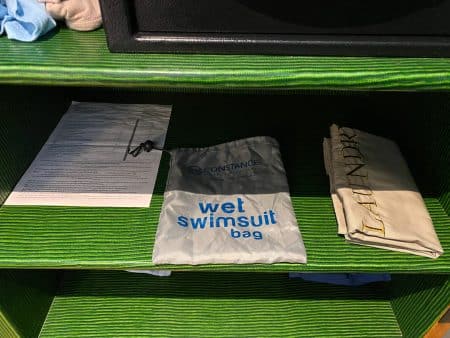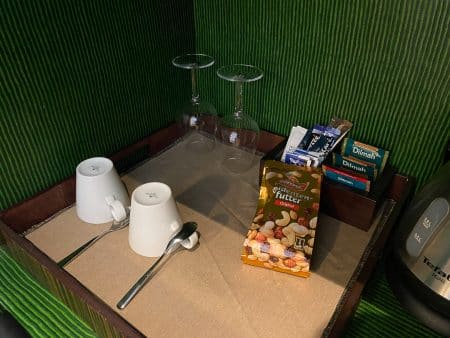 For me though the main standout here was the fact that there was no Nespresso machine. In a 5* hotel this is unforgivable.
Sachets of Nescafe have no place in the modern world and certainly not in any luxury property.
I didn't touch the wine or the beer and would gladly have swapped them for the ability to have a morning coffee on my balcony. When capsules costs less than 10p wholesale, to hold back on them seems monumentally stingy and means that this luxury hotel experience began with a materially worse start to my days than back home in London.
Nespresso machines are available in the Senior Water Villas however…
Outdoor Space
An outdoor deck facing a clear blue lagoon with steps directly into the water. This is what people picture when they think of the Maldives and this is an area in which the Water Villas at Constance Moofushi really shine.
The nautical ropes, thatched roof and wooden beams worked beautifully as a cohesive whole. Nowhere is the concept of barefoot luxury better encapsulated at Constance Moofushi than here.
The sunset views were also absolutely remarkable. We were really unlucky with the weather on our November trip to the Maldives and the image below was taken during the first sunset we saw in 10 days!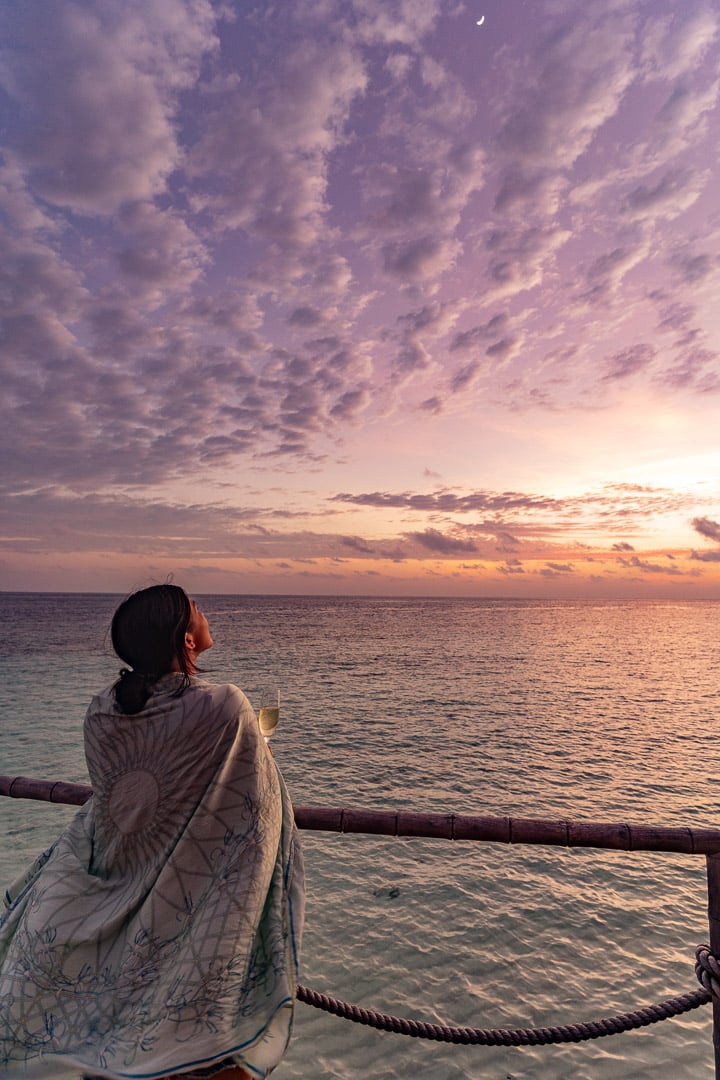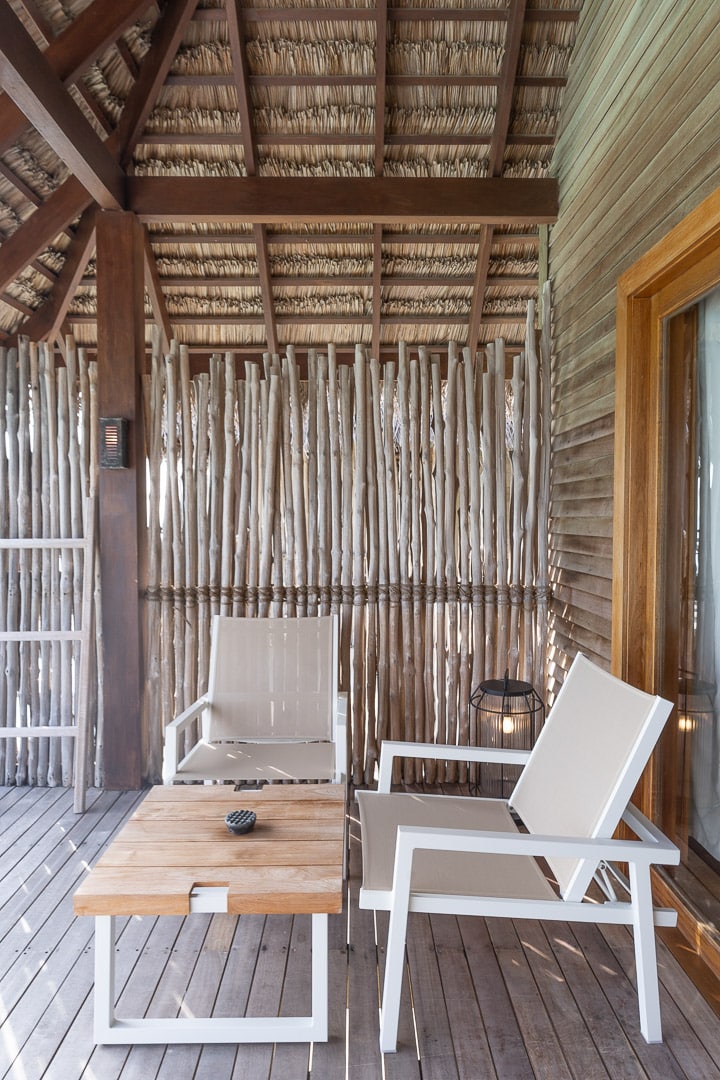 Herons and crows really seemed to love our balcony too.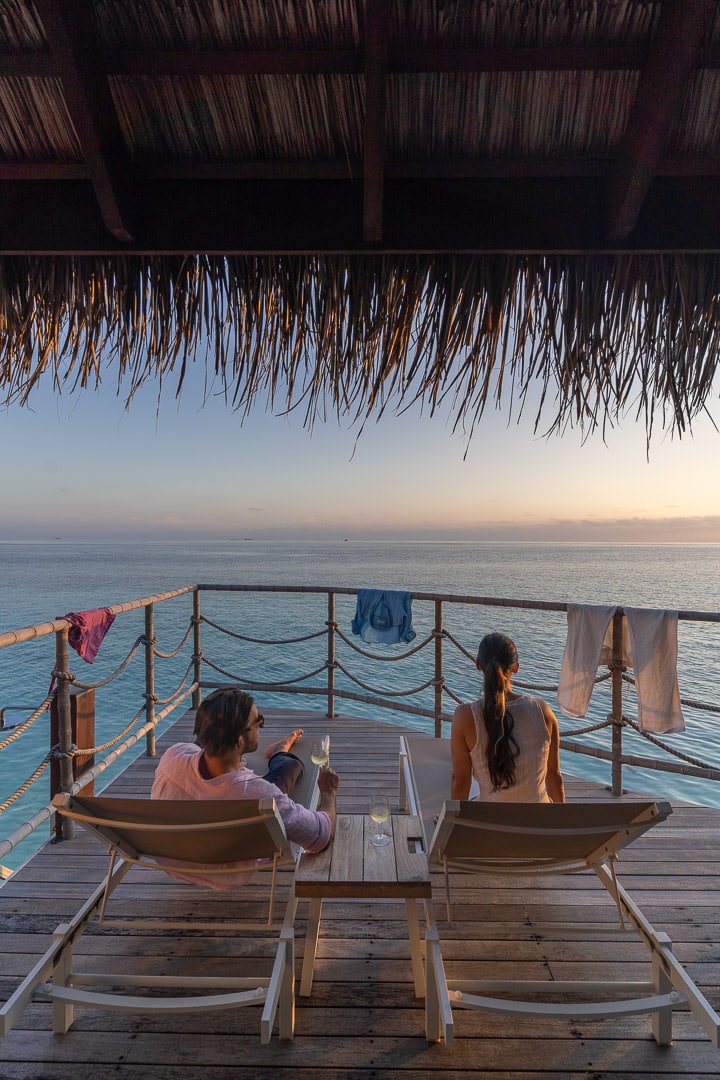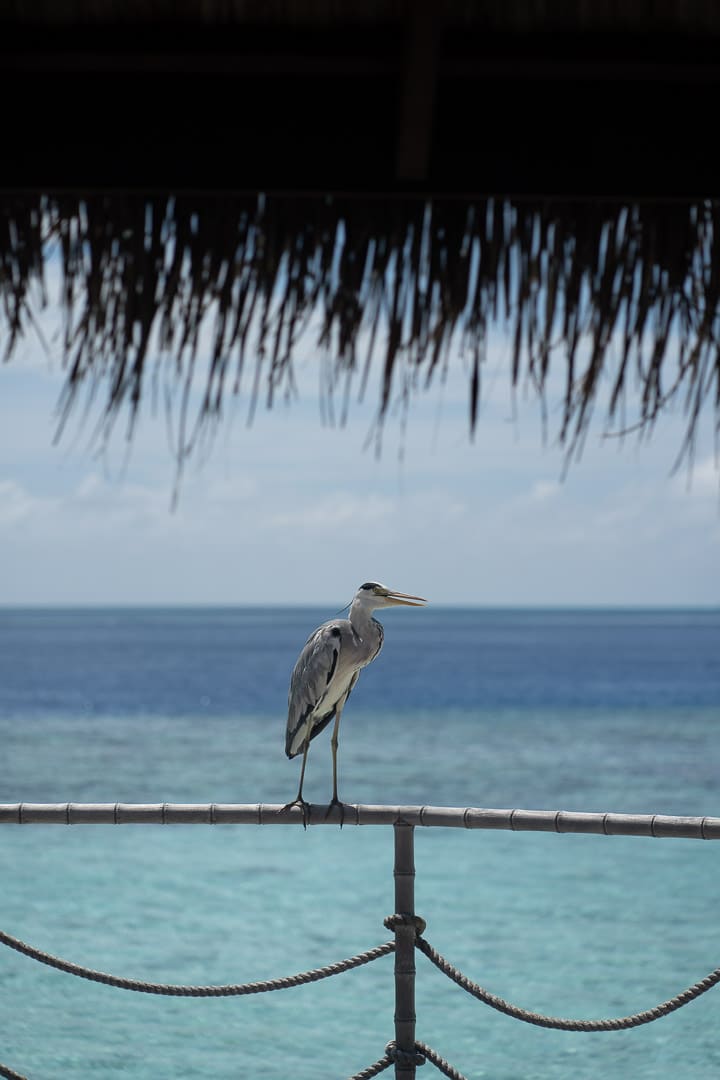 The lagoon in front of our villa was super shallow but once you got to the drop off there was a fantastic reef, teeming with marine life.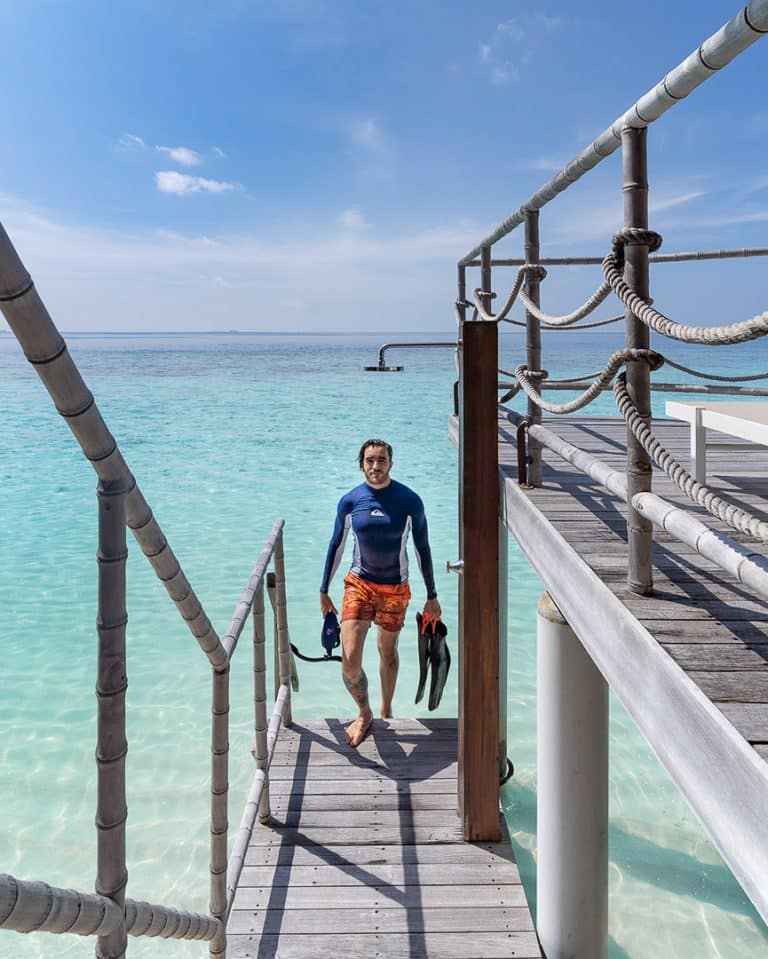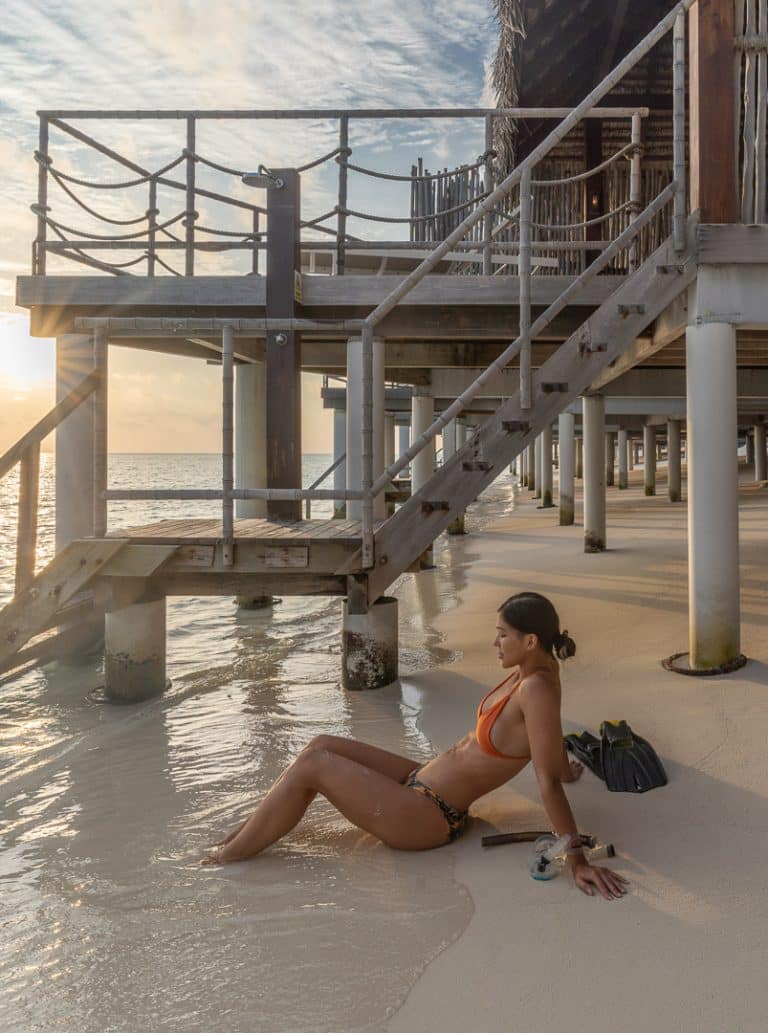 One key point to note though is the lack of privacy outdoors. The villas are very close together and you will hear your neighbours' conversations (and vice versa). The couple in the villa next to us got engaged whilst at the resort and we heard every word of their Skype conversations as they shared the news with their families whilst sitting on their balcony.
(Kamara also managed to accidentally photobomb their engagement photoshoot whilst very slowly losing control of her paddle board but that's another story…)
Turndown
Turndown service was completed each evening with pillows plumped up, curtains drawn and slippers laid out for us on linen sheets. On the final evening our cleaner really went all out:
---
Leisure facilities
---
Beach Club
The quality of both the sand and water at Constance Moofushi is exceptional and the main beach felt really spacious.
There were a few hammocks and swinging chairs located around the periphery of the beach itself, for those looking to spend time by themselves.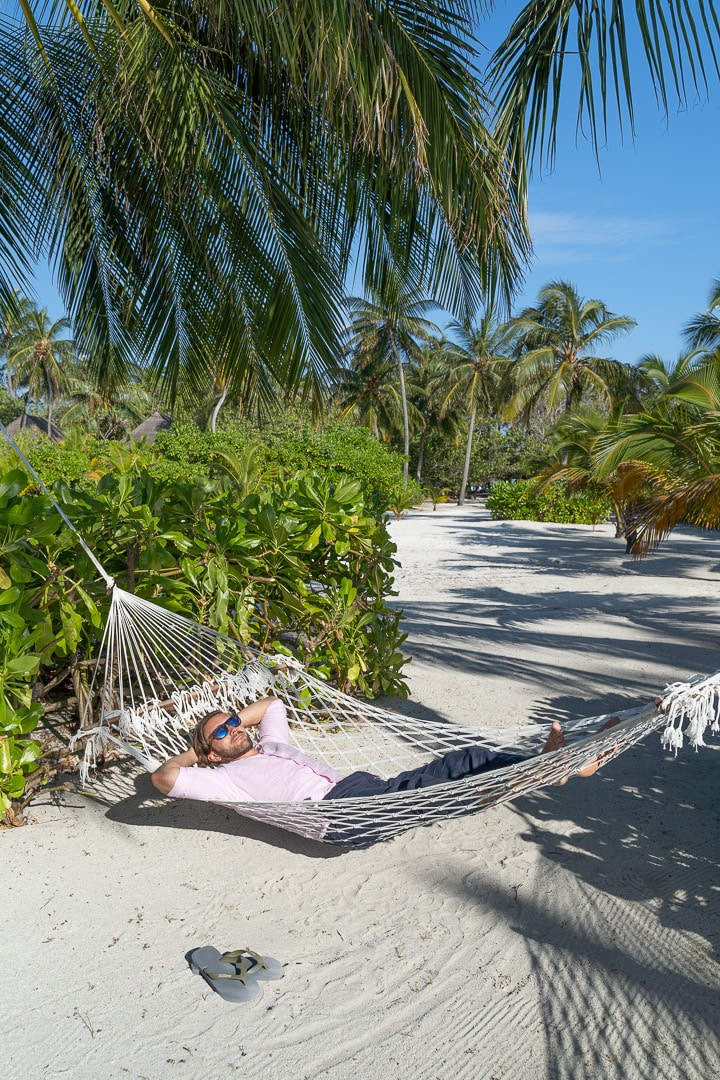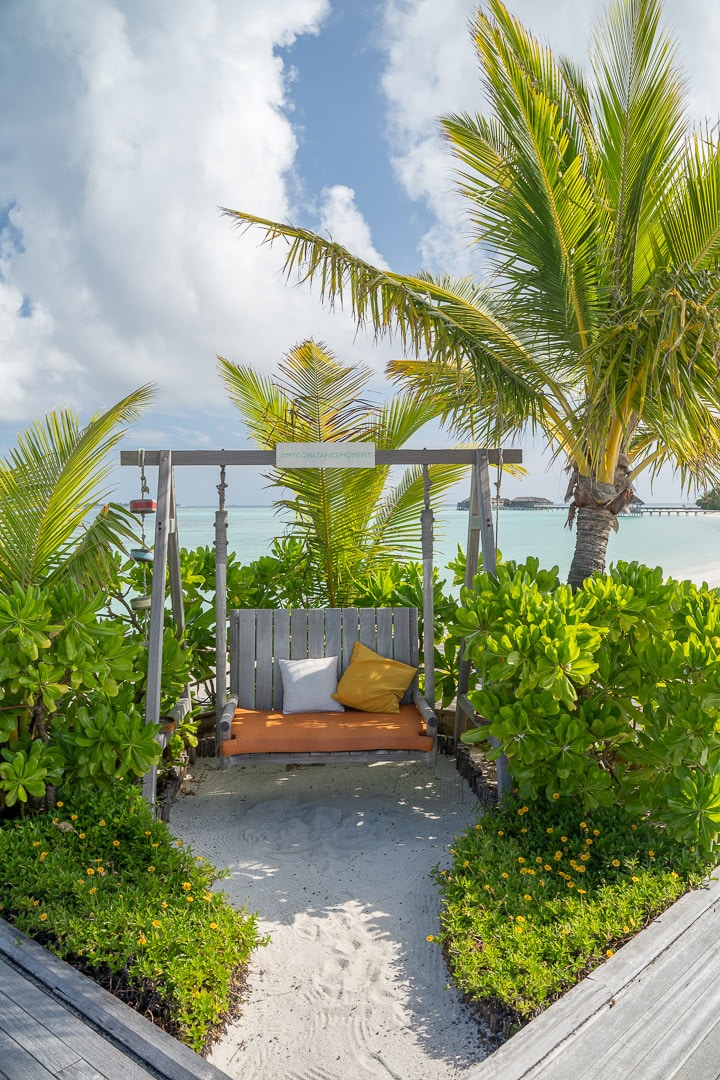 The Beach Club was located directly opposite our villa and served as a self-service hub of sorts with drinks and snacks available for resort guests.
Perhaps as a result of COVID and the lower occupancy during our visit, the offering was rather bare bones. Only one of the three drinks machines was in operation and the fridge contained only a few bottles of water and a couple of cans of ginger ale.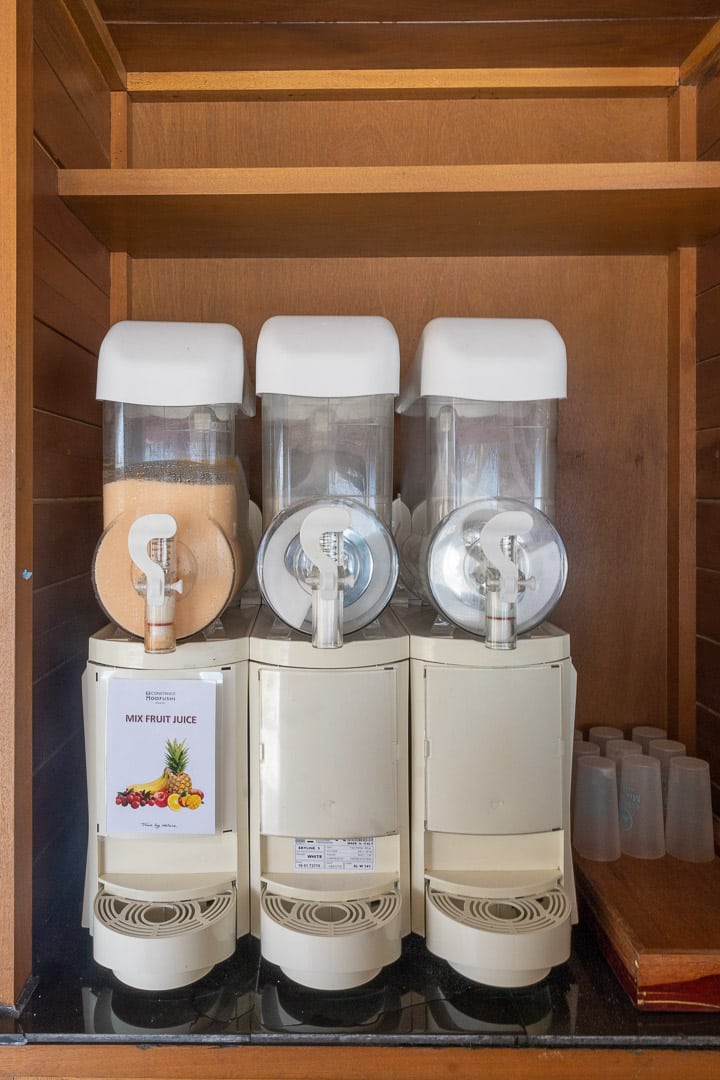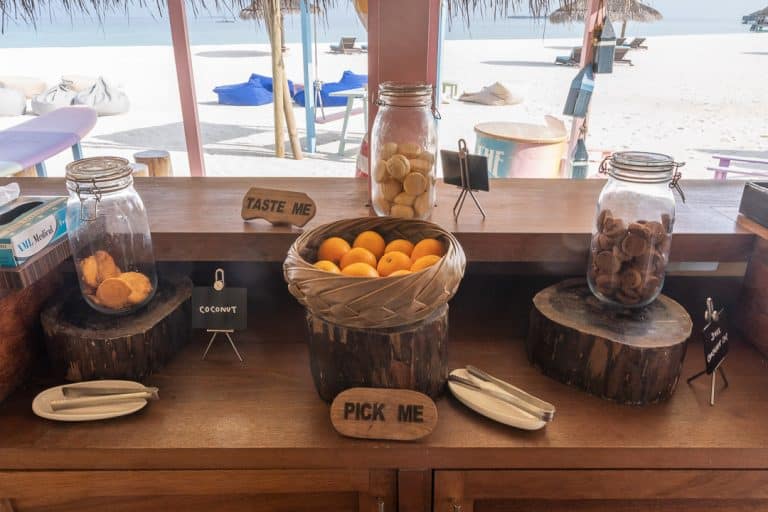 There wasn't really any service as such here, the idea being that you grab your own towels and drinks and take care of yourself.
Paddleboards were available free of charge but when we asked the attendant he wasn't really able to distinguish between surfboards, paddle boards and windsurfing boards. Another guest came over to ask for a paddleboard when we were there and basically took charge, explaining to the Constance team member what it was that we all needed.
The lagoon was as still as bathwater and perfect for using a SUP. We paddled as far as the honeymoon pavilion and back… which is where Kamara's photobombing took place.
The Pool
Given that none of the rooms at Constance Moofushi have their own pools, you'd think that the main pool would be busy but honestly it seemed that most people were more than happy to just spend time in the ocean near their villas.
It did get busier around lunch time and sunset since the pool had full food and beverage service from Totem Bar. If you aren't in one of the adjacent Southwest facing Water Villas, this is an ideal spot to come and watch the sunset.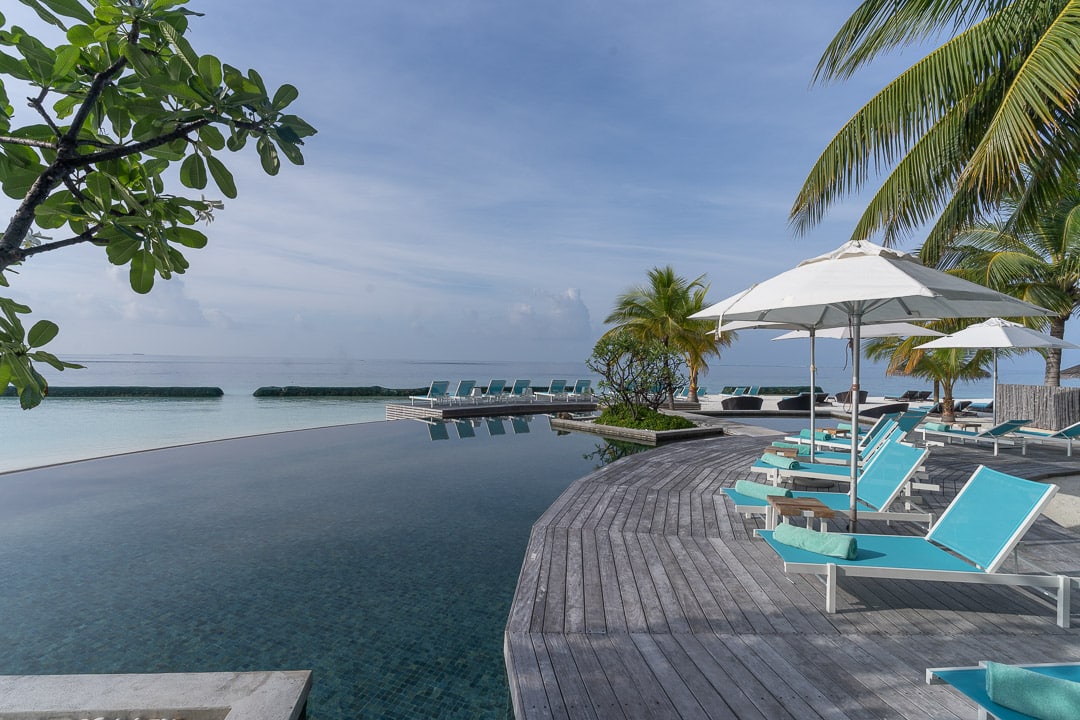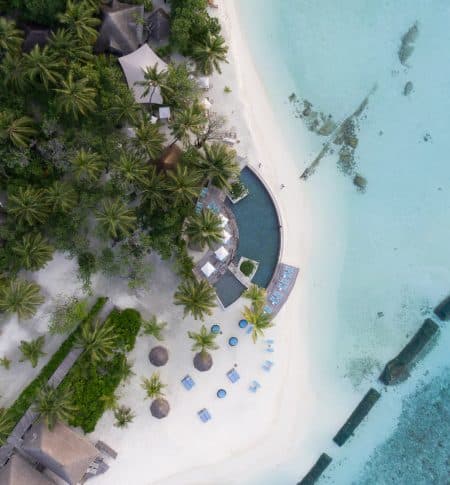 Spa
Continuing along the beach from the pool you'll come to the resort's overwater spa. We didn't have time for any treatments but you can click here for details and pricing.
The Gym
Much like at Finolhu, the gym at Constance Moofushi is located immediately beside an outdoor recreation area, featuring an oversized chess set, petanque, a ping-pong table and monkey bars.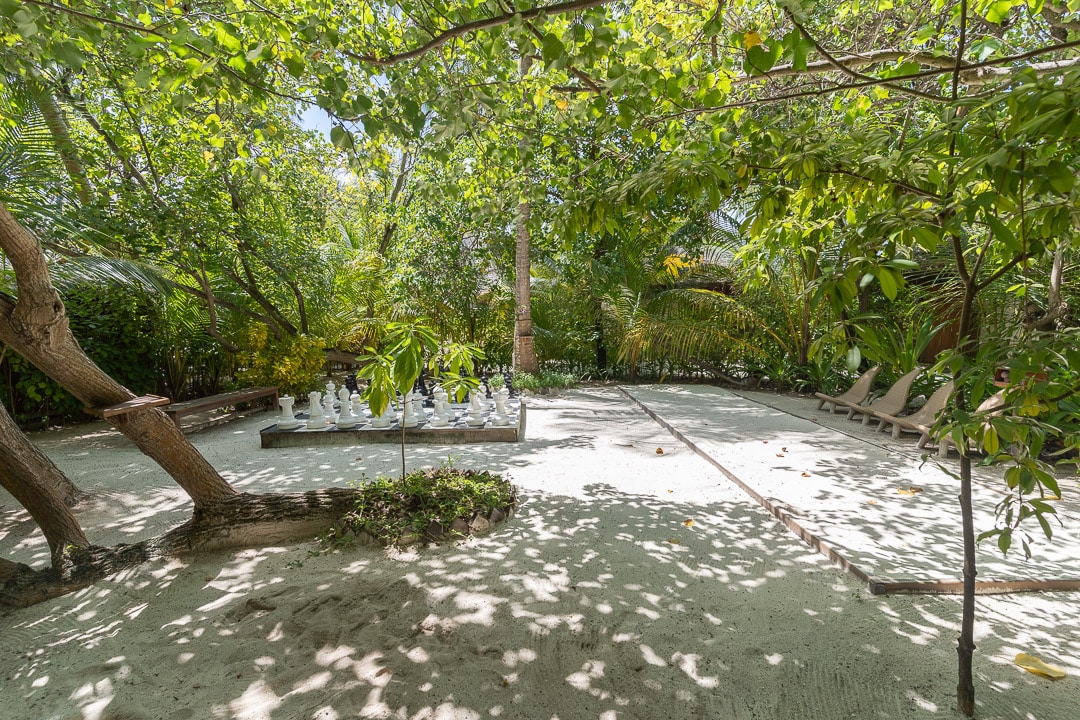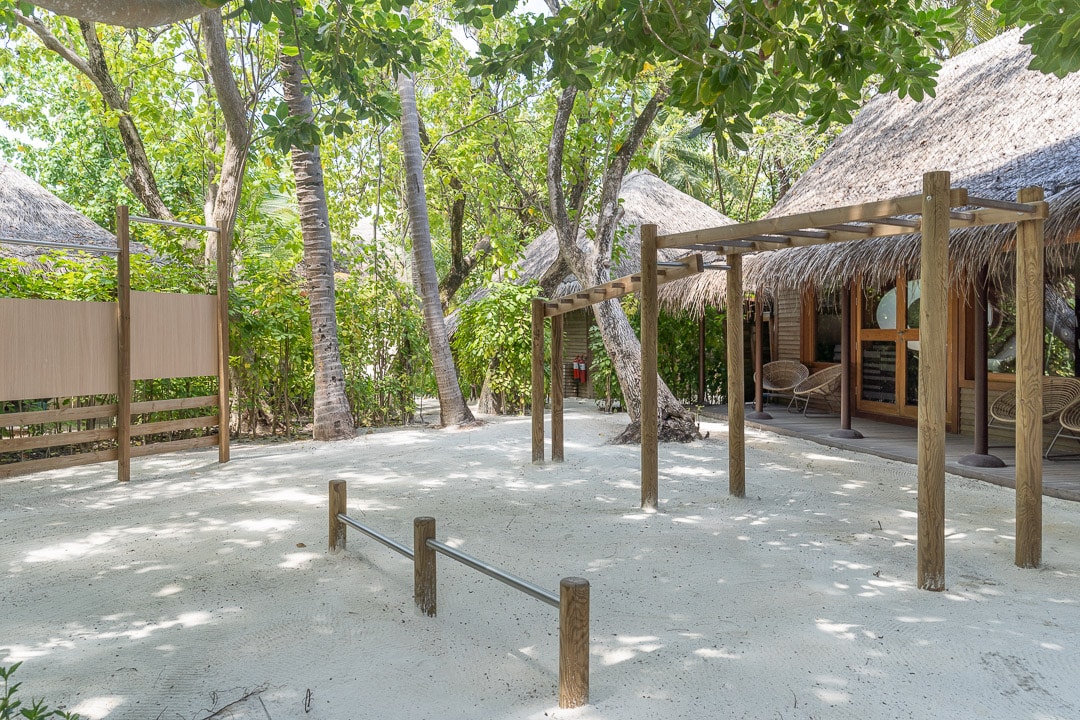 The gym itself is by far the most impressive fitness facility that I've seen in the Maldives. This is head and shoulders above anything else I've seen, with a remarkably equal balance between cardio and weights machines!
They even had the concept rowers with the water resistance as well as multiple fixed Hammer Strength barbells and dumbells going up to 45kg.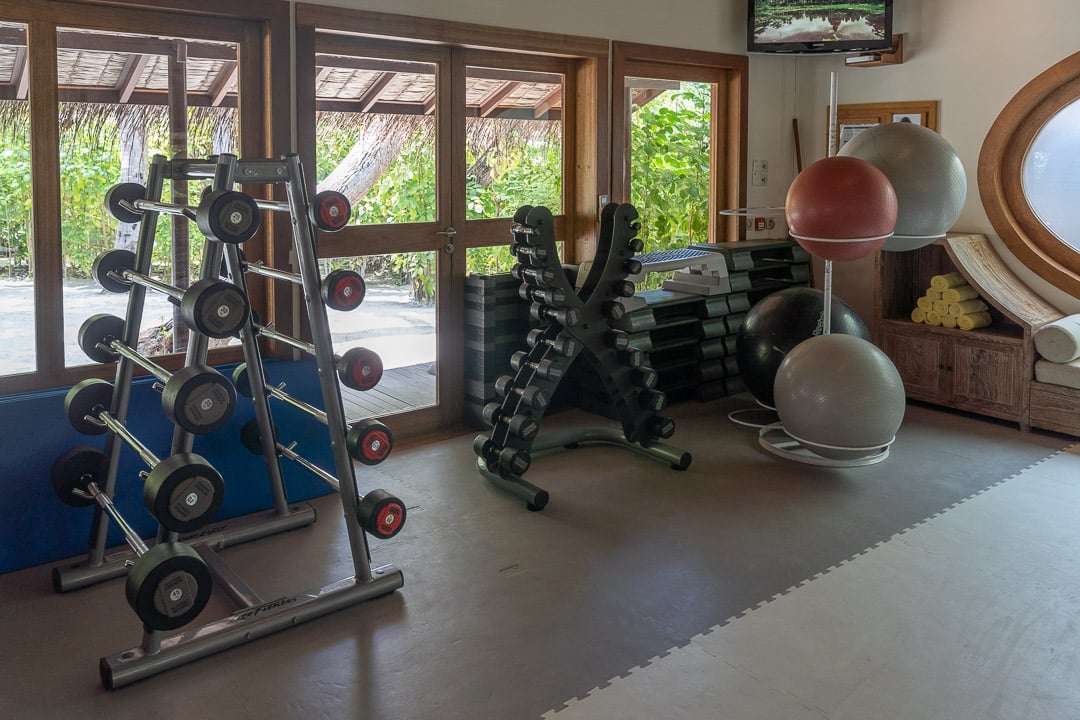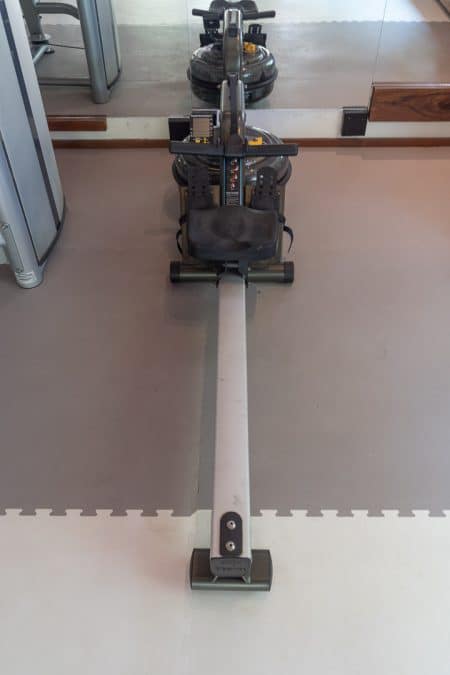 There was a decent amount of natural light thanks to the porthole windows at either end, windows along one wall and mirrors all along the opposing side.
In addition to regular chilled water there was a container of flavoured water as well as a glass klosch containing some fruit. Next to the entrance was a sanitiser station as well as a guest book for logging who had recently used the facilities.
Blue Bar
The newest addition to Constance Moofushi, this area made its debut immediately after the resort's reopening in November 2020. There is a huge outdoor lounge area, complete with a food truck.
Indoors there is a full sized pool table as well as table football, a small library area and a TV with video games consoles.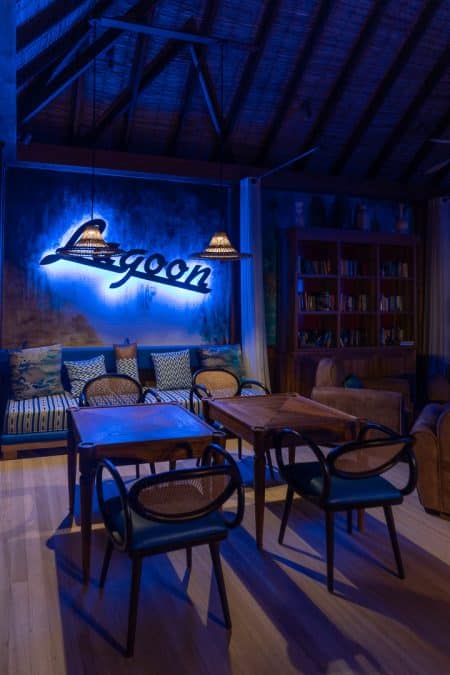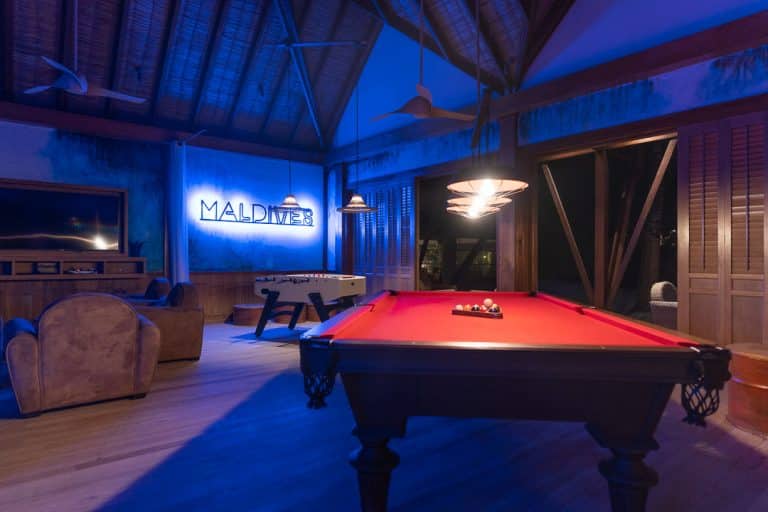 The Sandbank
For me the greatest moments on trips rarely come from the room hardware, they come from unique natural experiences which are impossible to replicate at home. For me, Constance Moofushi's sandbank is just such an experience.
During the day it gets savagely hot on the sandbank since there's no shade.
At this time of day you're better off sitting in the shaded swing chair at the end of the Senior Water Villa pier or taking a photo at the resort's picture frame window opposite.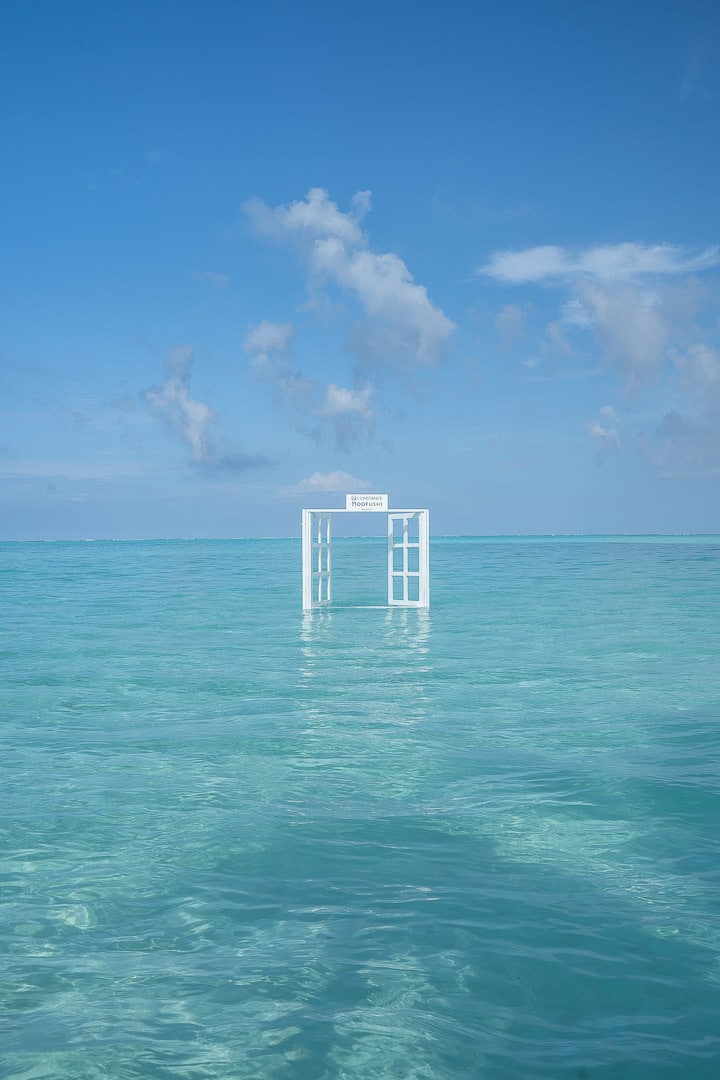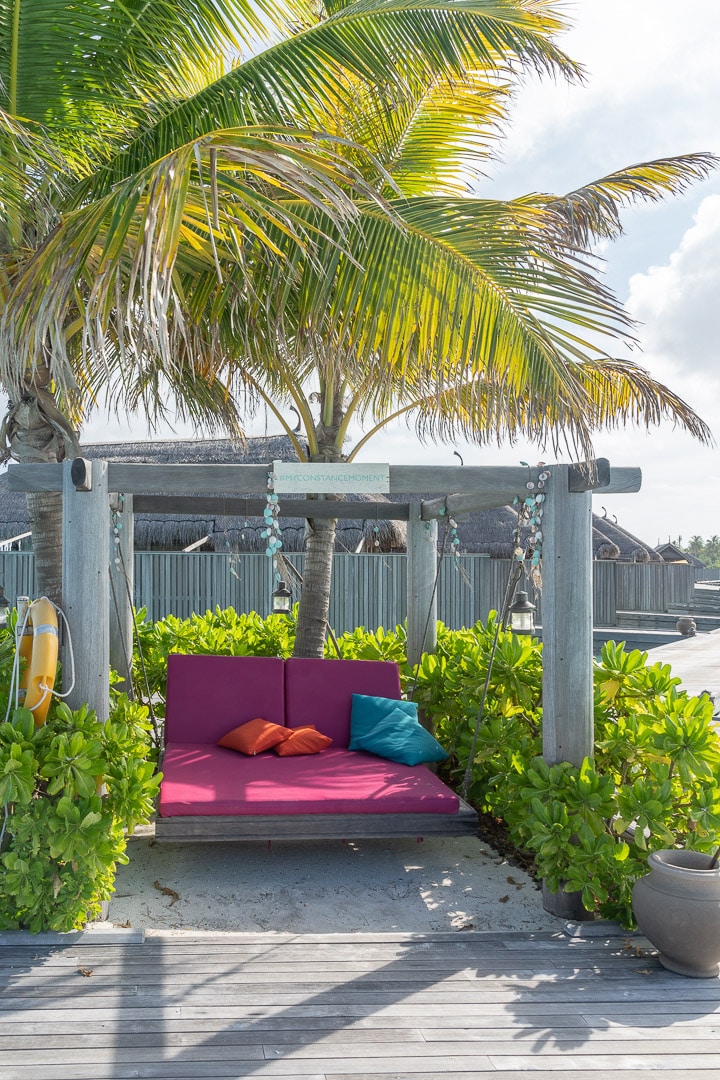 As the evening temperatures drop, the magic happens at the sandbank… the sense of tranquility is palpable as you tread the gently illuminated boardwalk on the way there. The sandbank stretches far beyond what you see above the surface and it feels as if you could walk all the way to the setting sun as waves lap your feet from both directions.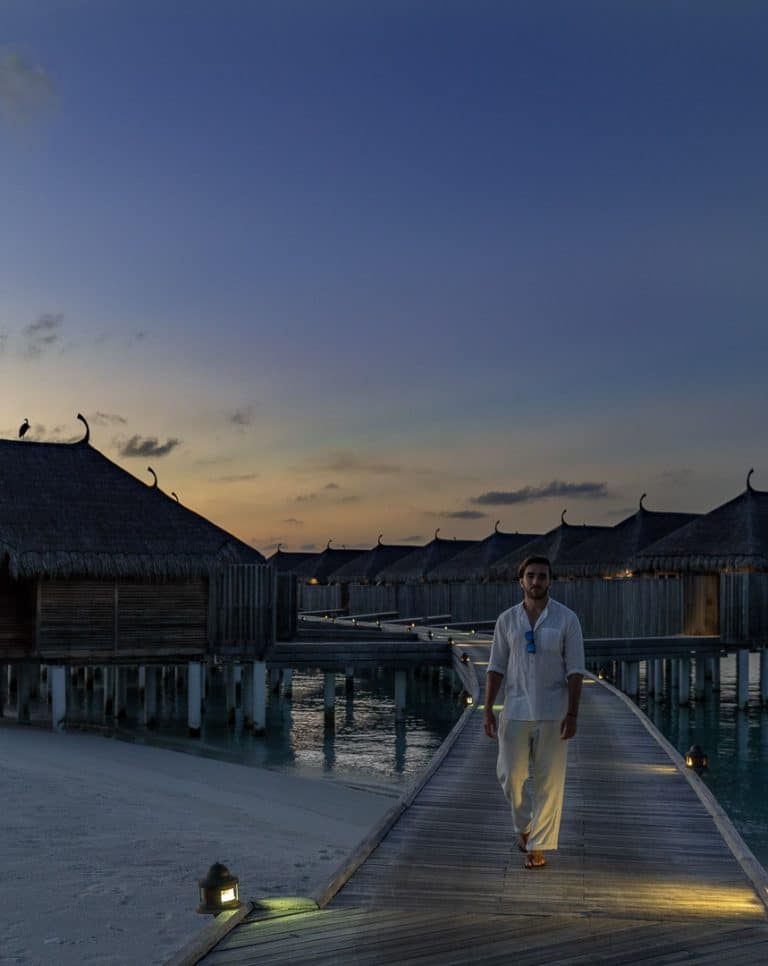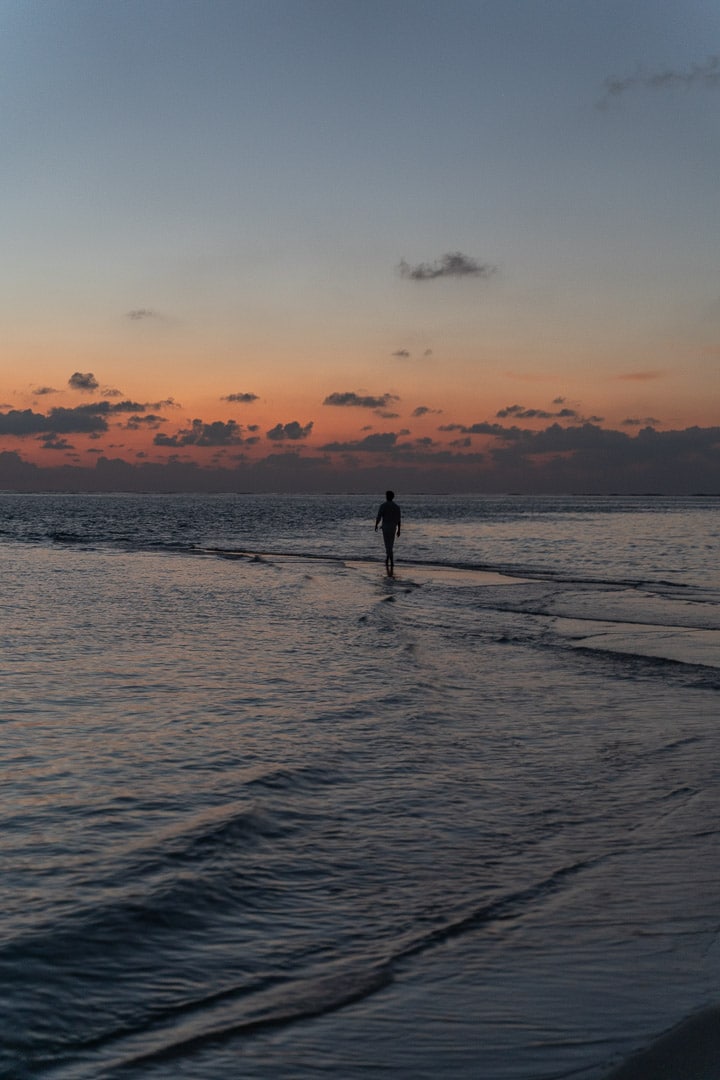 Stargazing
At night the canopy of stars that is visible to the naked eye is truly spectacular. Something that cannot be said for resorts closer to Malé. I thoroughly enjoyed stepping directly outside of the villa to capture some astrophotography.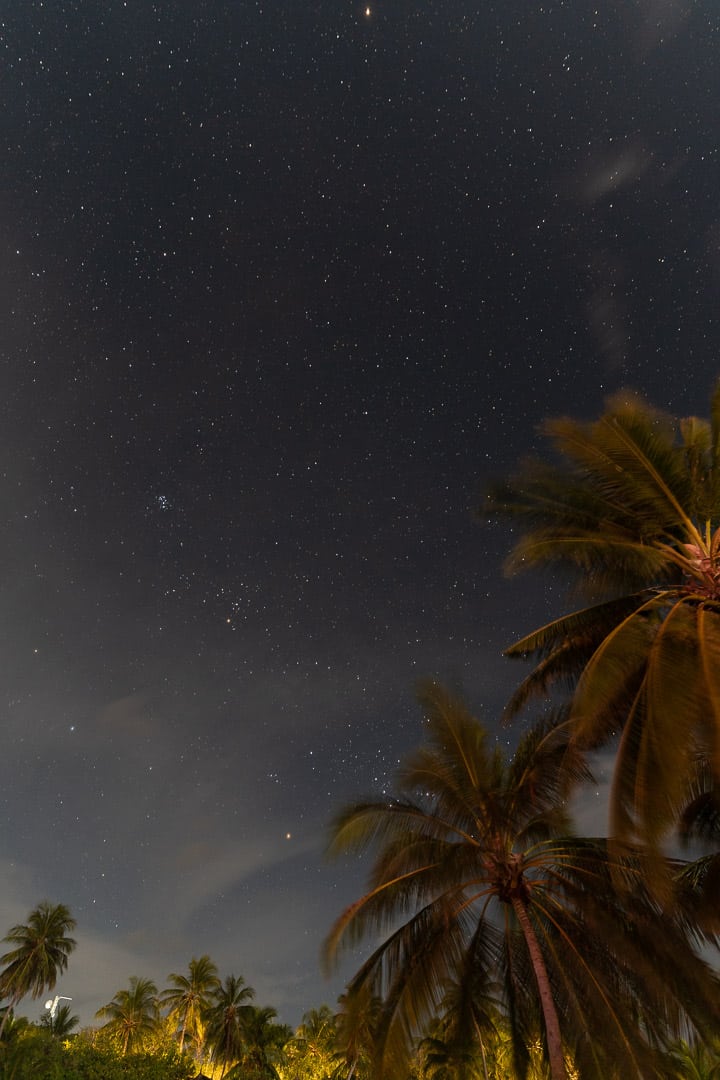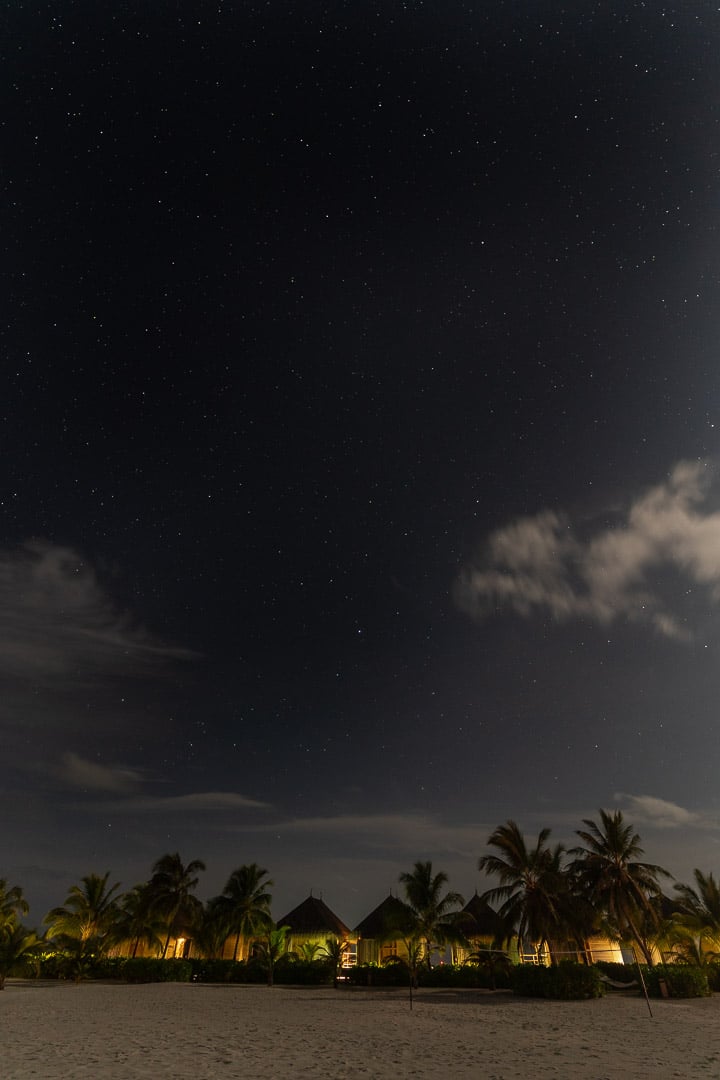 It's almost like fishing – where you have to wait a long time for the payoff but just being outside, immersed in nature, is part of the experience.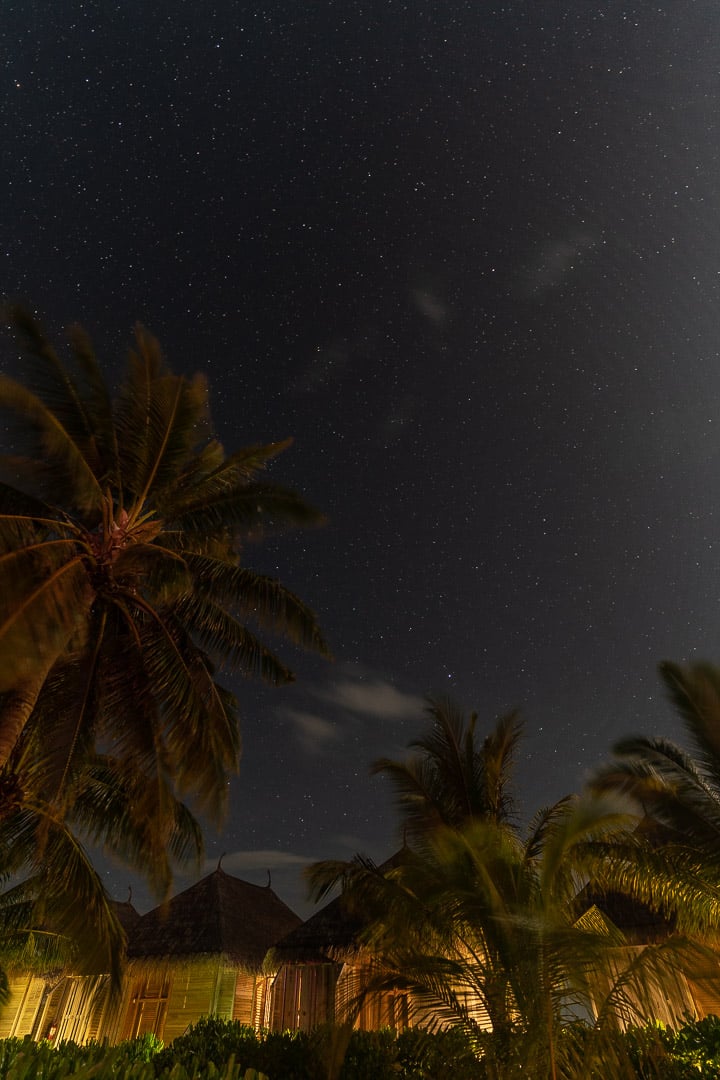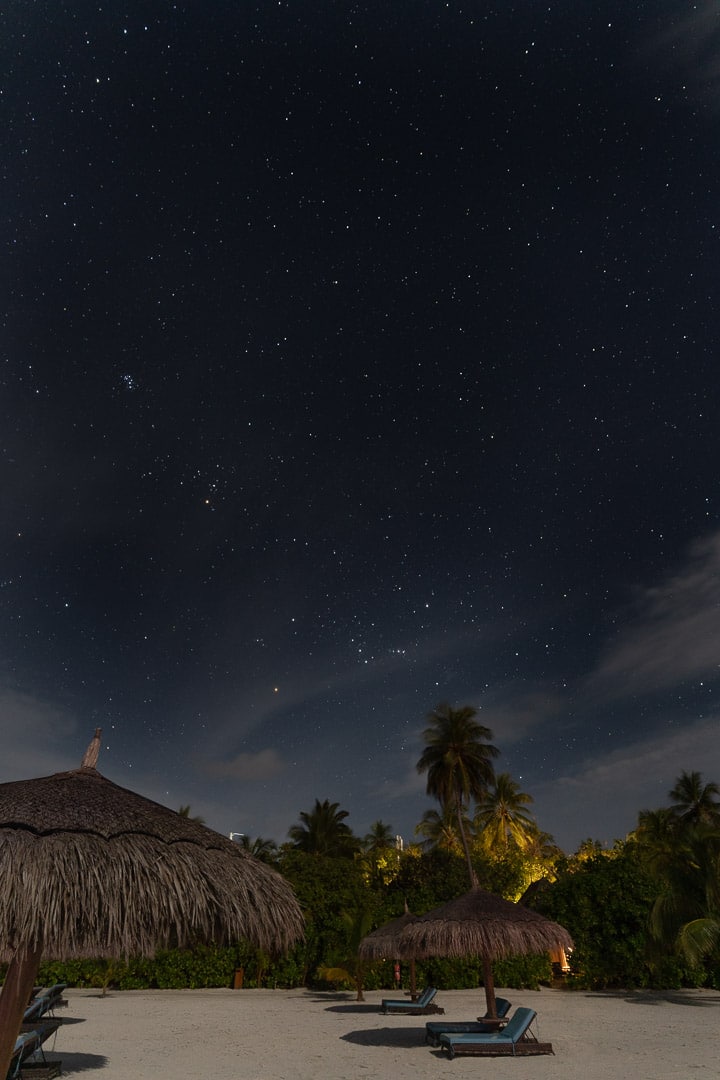 These were shot at ISO 1250 at 17mm and f 2.8 on a 15 second timer.
Camera: Sony ⍺7III
Lens: Tamron 17-28mm
---
Food and Drink
---
Wine list
Constance Moofushi has an incredible selection of over 200 wines available on the all-inclusive package, including house champagne.
---
I'd heard from several people that the food at Constance Moofushi was great so I was really looking forward to this aspect of the stay. Although the other resorts we visited in November 2020 were almost back to normal in terms of restaurant service, this wasn't the case here.
Ordinarily all meals would be served in the Manta Restaurant buffet with the additional option to have lunch at Totem Bar. Additionally, guests are entitled to a set number of special dinners at Alizée, the number of which depends on the length of their stay.
Since Manta Restaurant was closed for the duration of our stay, our experience was rather different to the standard offering.
Room Service Dinner
Ordinarily room service isn't offered at Constance Moofushi but since guests are asked to remain locked down whilst receiving PCR test results, the hotel has done its best to implement a solution.
We were left a photocopy of the menu at Totem Bar and told to call an attached number to order dinner. When we rang it transpired that dinner was actually going to be served to us from a buffet. The items of which didn't match the photocopied menu, these were instead described to us over the phone.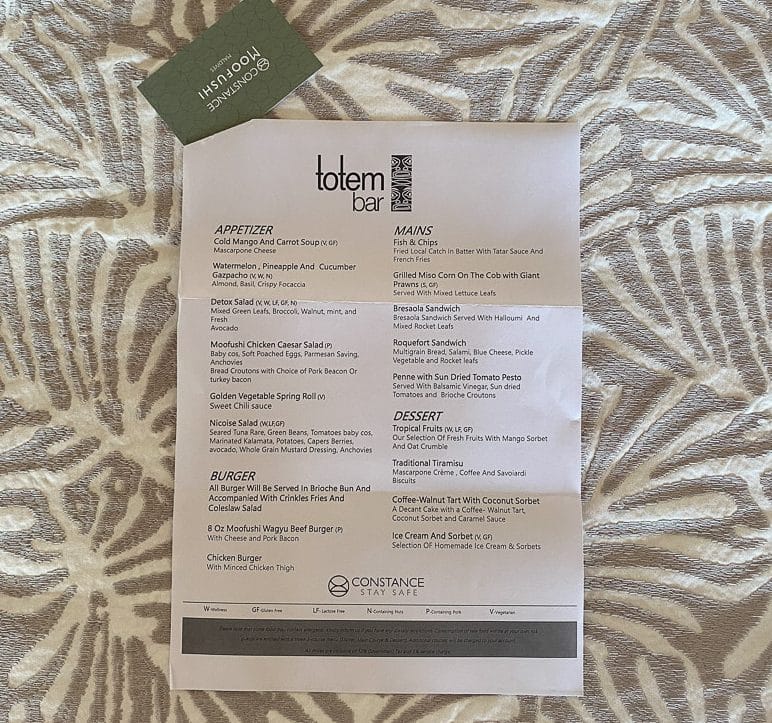 Obviously as a service experience this was less than ideal but you can forgive the staff for still not being completely used to the new system. However, when the food arrived it was all wrapped in tin foil and no cutlery had been brought with it.
In terms of presentation it was hard not to compare the overall appearance of Constance Moofushi's room service (left) to the Waldorf Astoria's (right).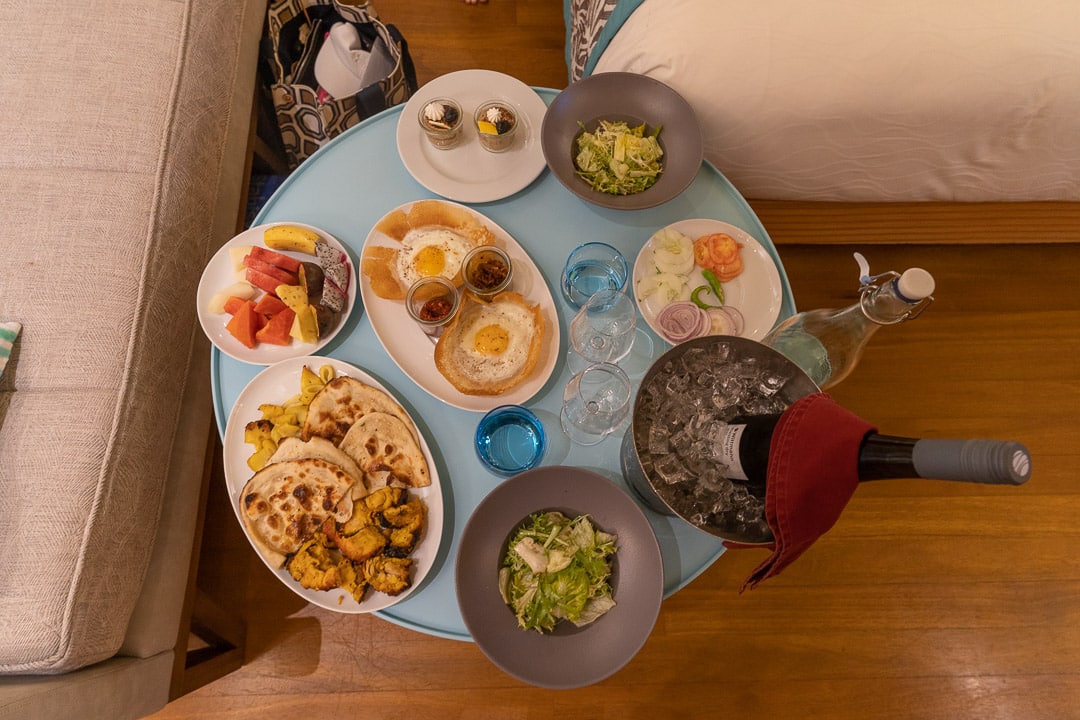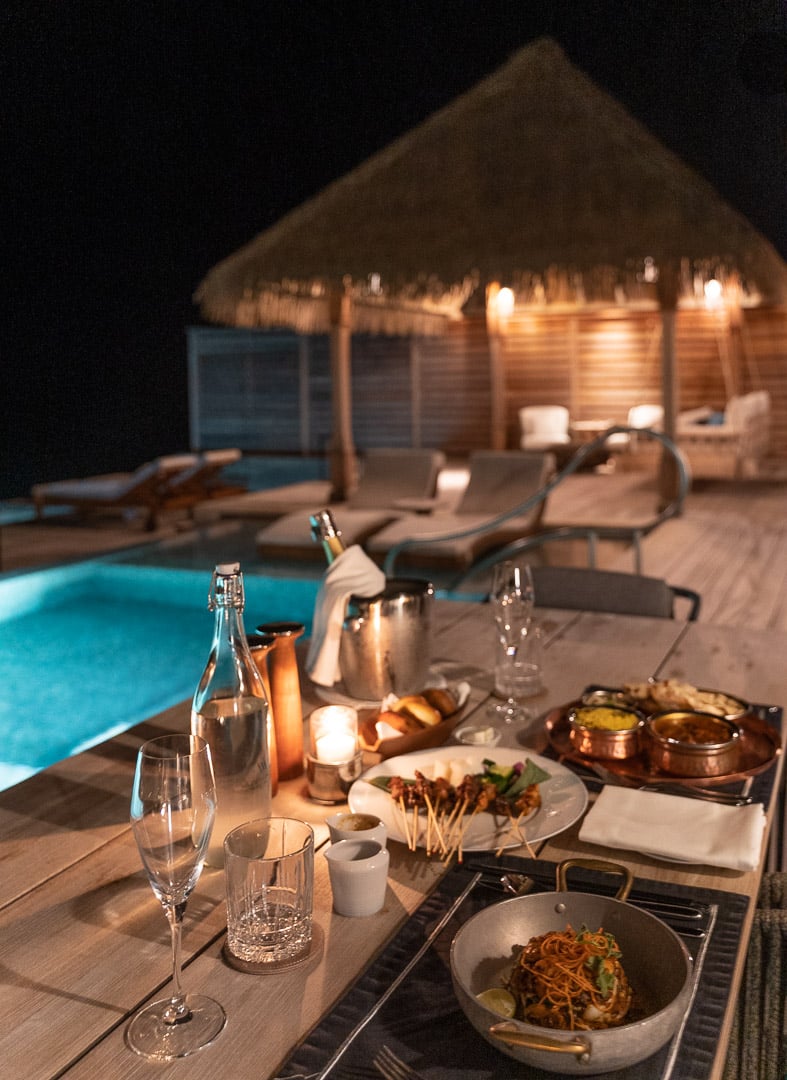 The fact that we had our full choice of over 200 bottles of wine was of course absolutely fantastic and this should have been the defining feature of this meal.
Instead our first impression of the food here was of disjointed service, a photocopied menu, inadequate catering equipment and worst of all, the fact that the meat and naan bread were cold and chewy. They had clearly been sat under a heat lamp at the buffet before being sent to our room.
The sole redeeming feature of the meal came in the freshly cooked hoppers, which were absolutely delicious.
I can't emphasise enough how important first impressions are in the hotel industry. Being locked in your room with a bottle of Sekt followed a couple of hours later by cold buffet food does not paint a luxurious scene.
---
Breakfast at Totem Bar
---
I had a couple of people DM me when I posted Instagram stories of breakfast here. For them, breakfast at the Manta Restaurant buffet had been a defining feature of their stay and they were sad to see that I'd miss out due to COVID.
As a location, Totem Bar ticks a lot of boxes. It is a cool Tiki style bar surrounded by palm trees, on a white sand beach facing the ocean.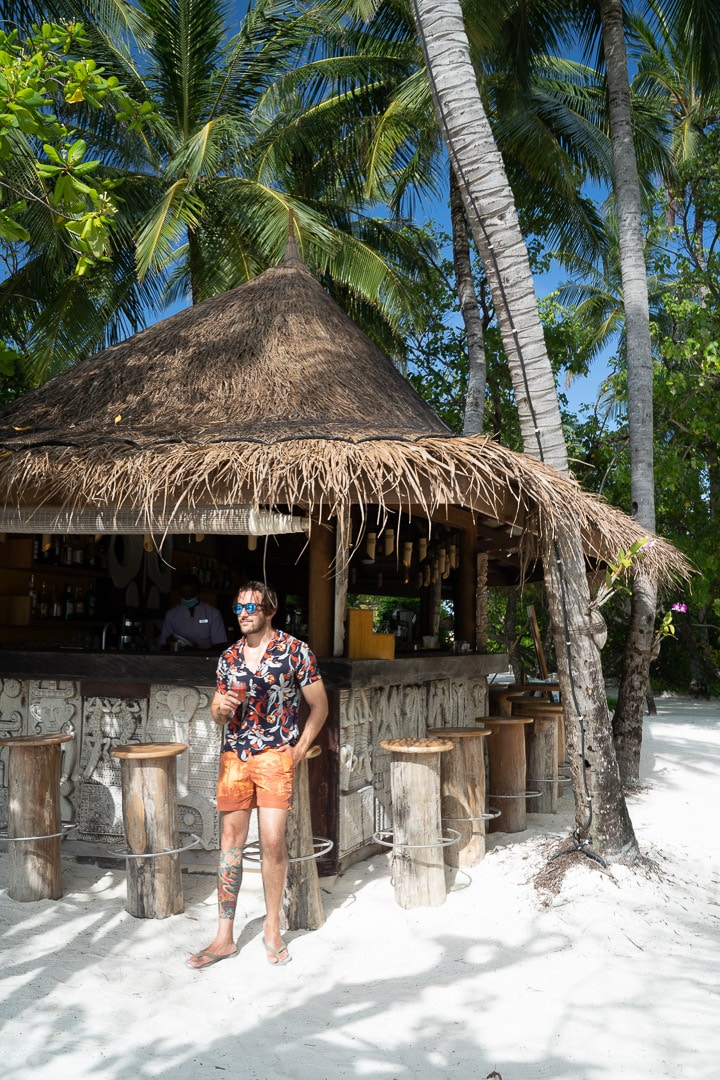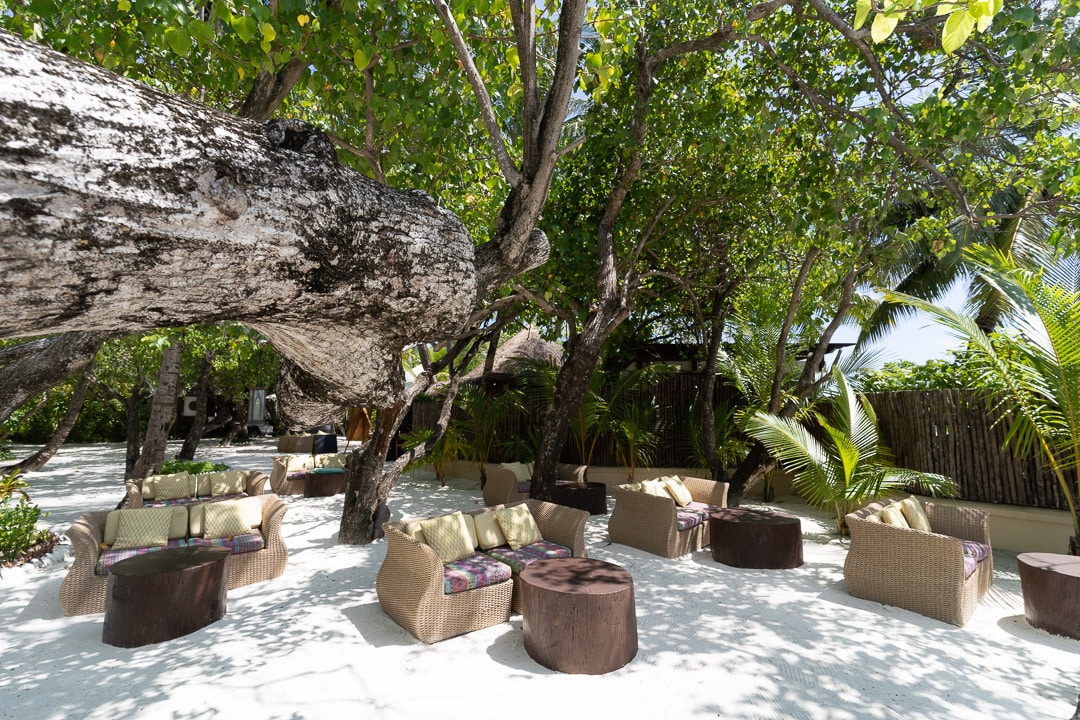 It is a suitably chilled out spot to begin the day and conceptually far preferable to a large buffet located further away from our villa.
However, from the moment we set eyes on the buffet here it was immediately apparent that the location was not fit for purpose. None of the food was covered or refrigerated and there were lots of flies around.
As a side note I'm not sure if the resort usually bakes its own pastries but the ones on display were clearly factory made. In any case we stayed away from the buffet and ordered coffee and eggs from the menu instead.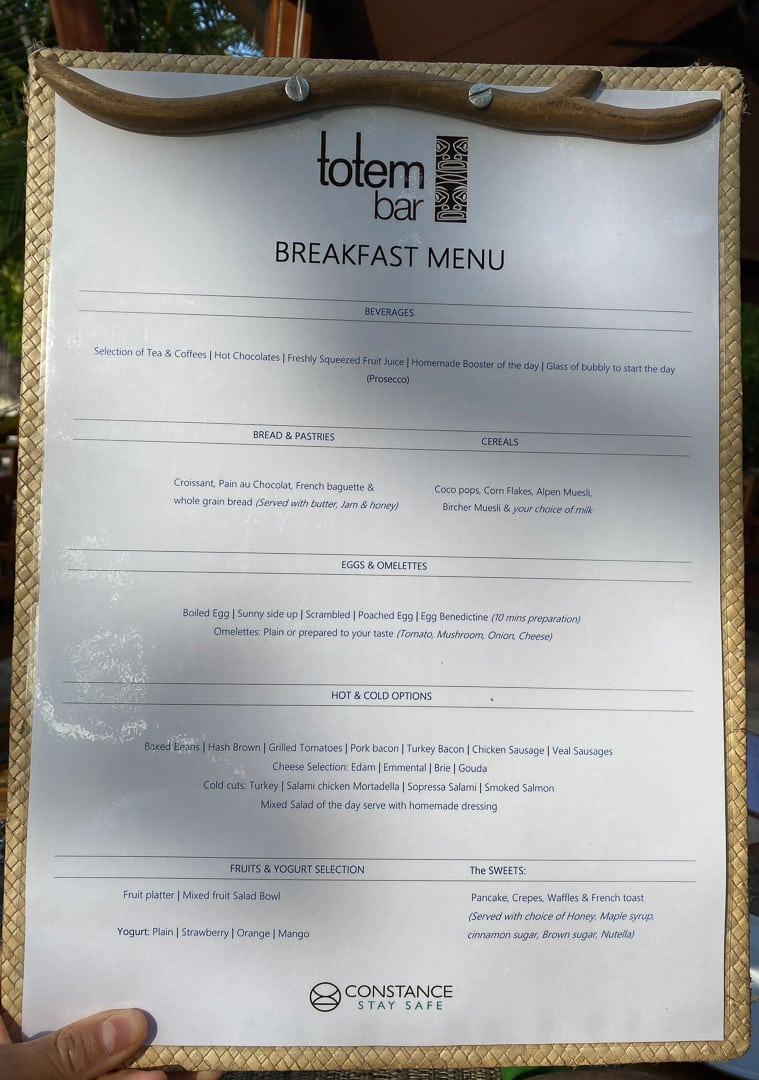 The eggs Benedict were decent but the omelette was overcooked and quite greasy.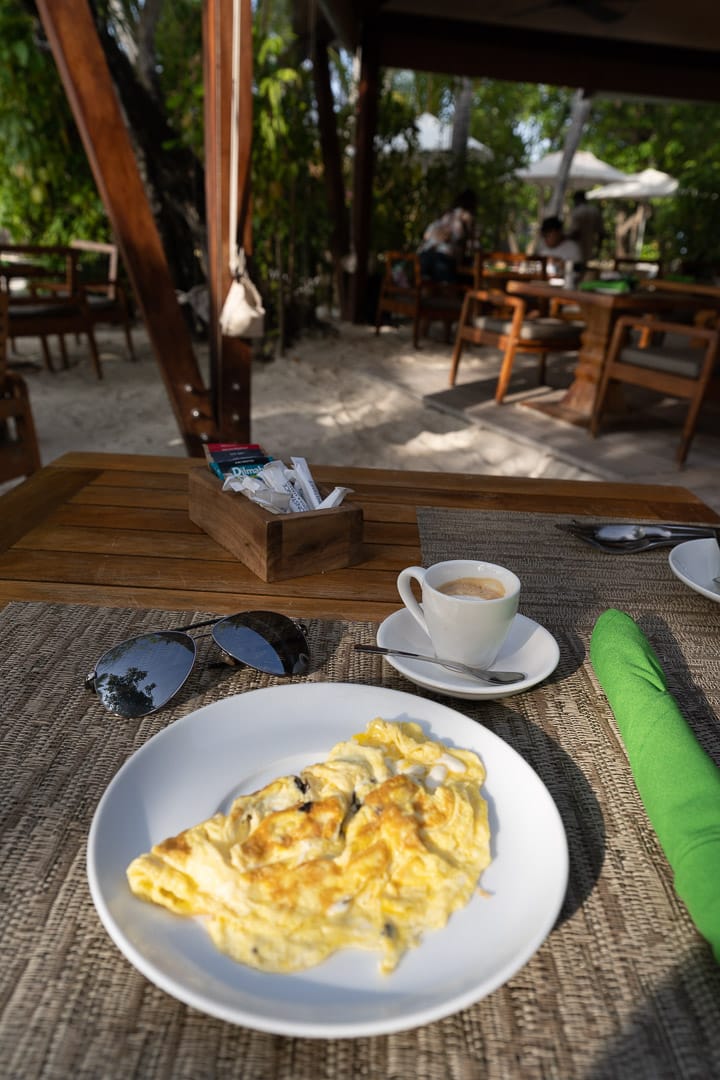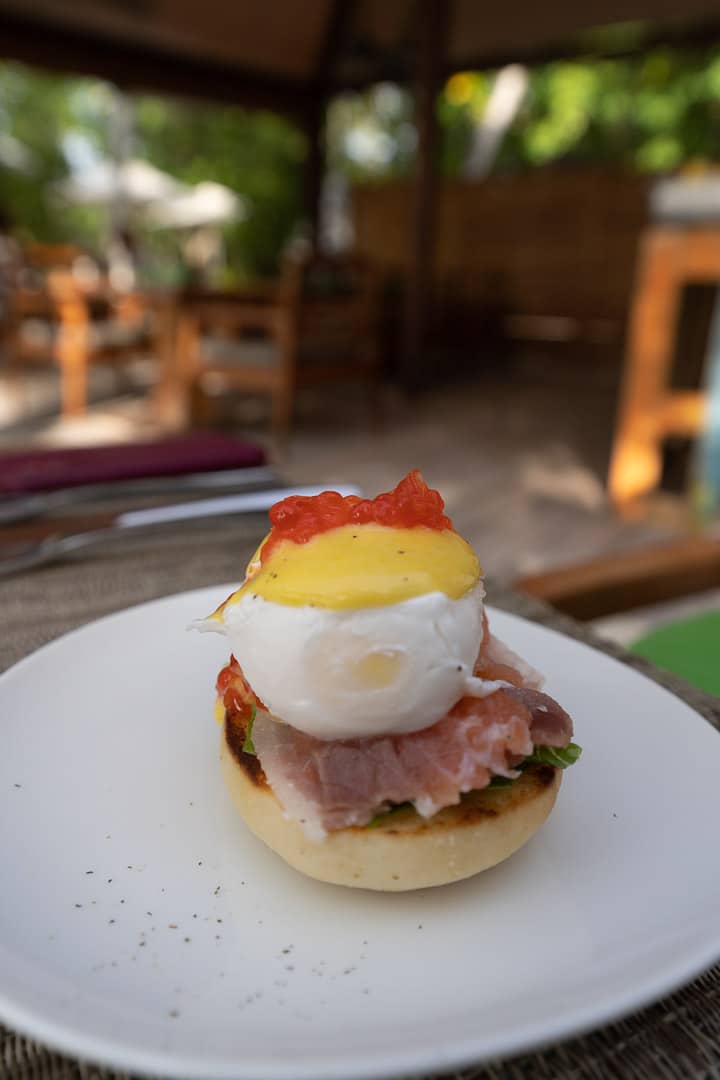 Compare this to having freshly grated truffles served on your perfectly poached eggs whilst overlooking the lagoon at the Conrad Maldives (a similarly priced resort, which in fairness also overcooks the omelettes).
After the first morning we decided not to bother with breakfast and just came down to drink coffee on the beach chairs instead.
---
Lunch at Totem Bar
---
I'm very pleased to report that lunch at Totem Bar was considerably better than breakfast. The menu was the same one that had been left in our room as a photocopy. It contained a couple of healthier options in addition to the the usual resort food of burgers, pasta and sandwiches.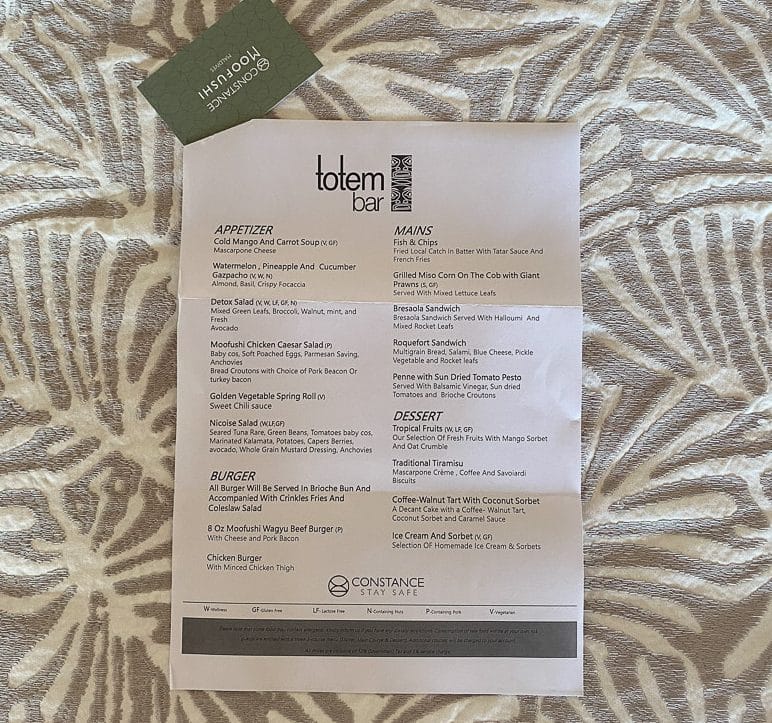 I ordered the Niçoise salad every day since it was fresh, light and healthy. The cold mango and carrot soup was pretty great too. Kamara made it her quest to try all the unhealthy options since she has the metabolism of a hummingbird.
She thought that the battered fish was "too bready" but didn't leave behind a single fry. She liked the sandwich more but didn't like the crinkle cut fries as much. She loved the pasta and wished the portion was bigger.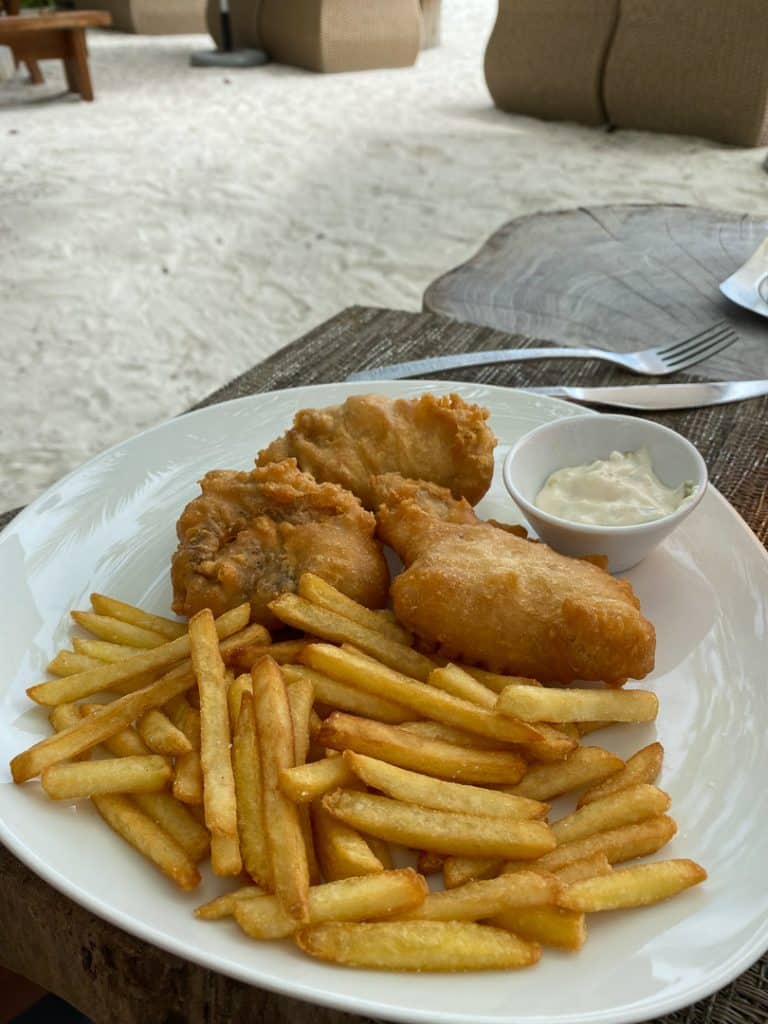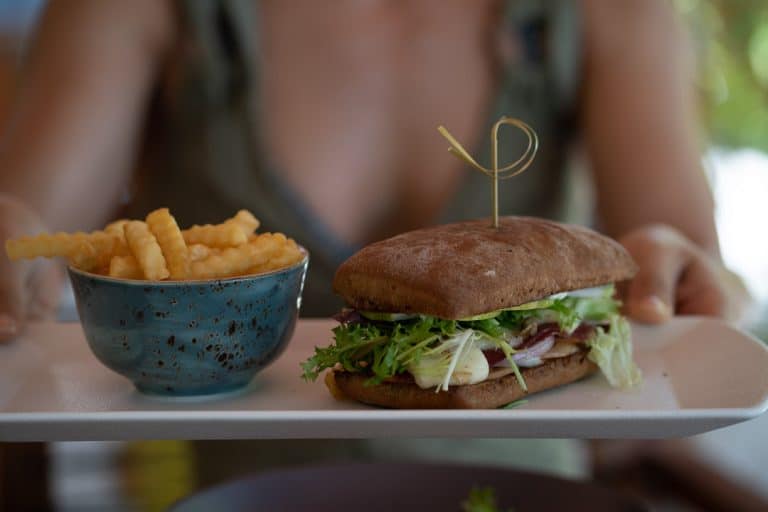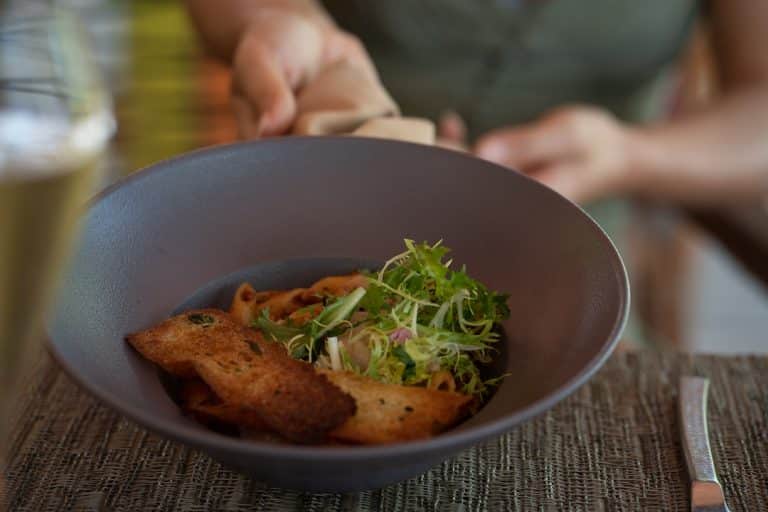 We didn't usually go for dessert but the mixed fruit with sorbet was a highly refreshing way to end a light lunch.
The free flowing champagne and cocktails really helped to liven up lunch times. My absolute favourite was the Pachamama – a blend of Tequila Reposado, grapefruit, chili and rosemary.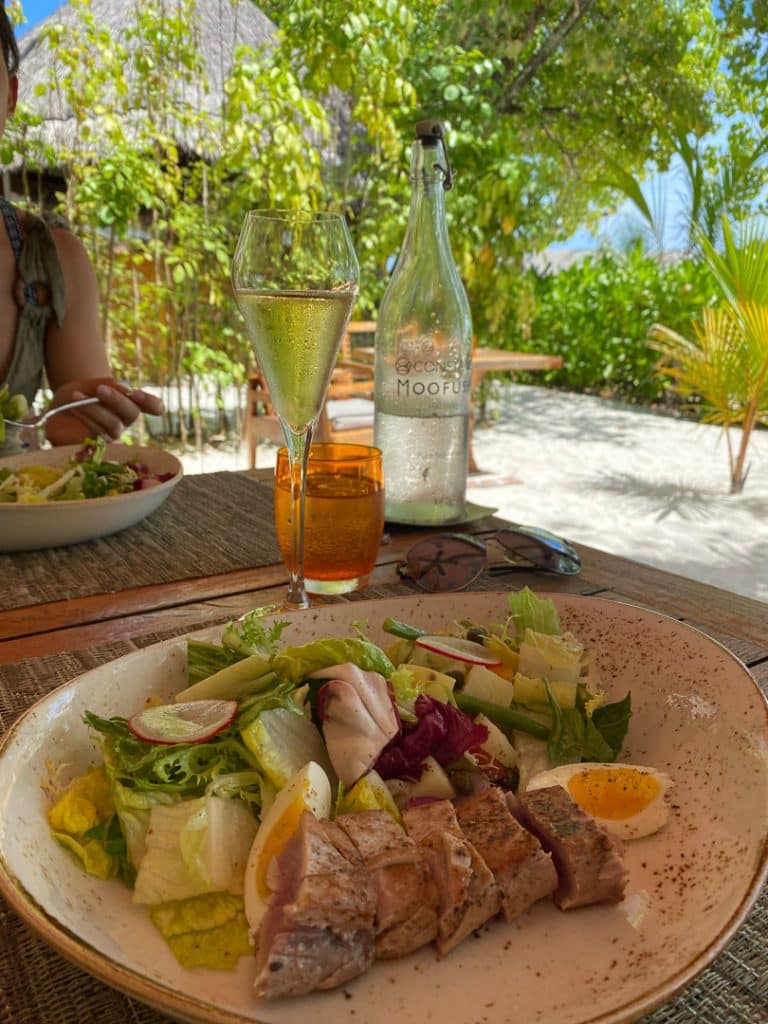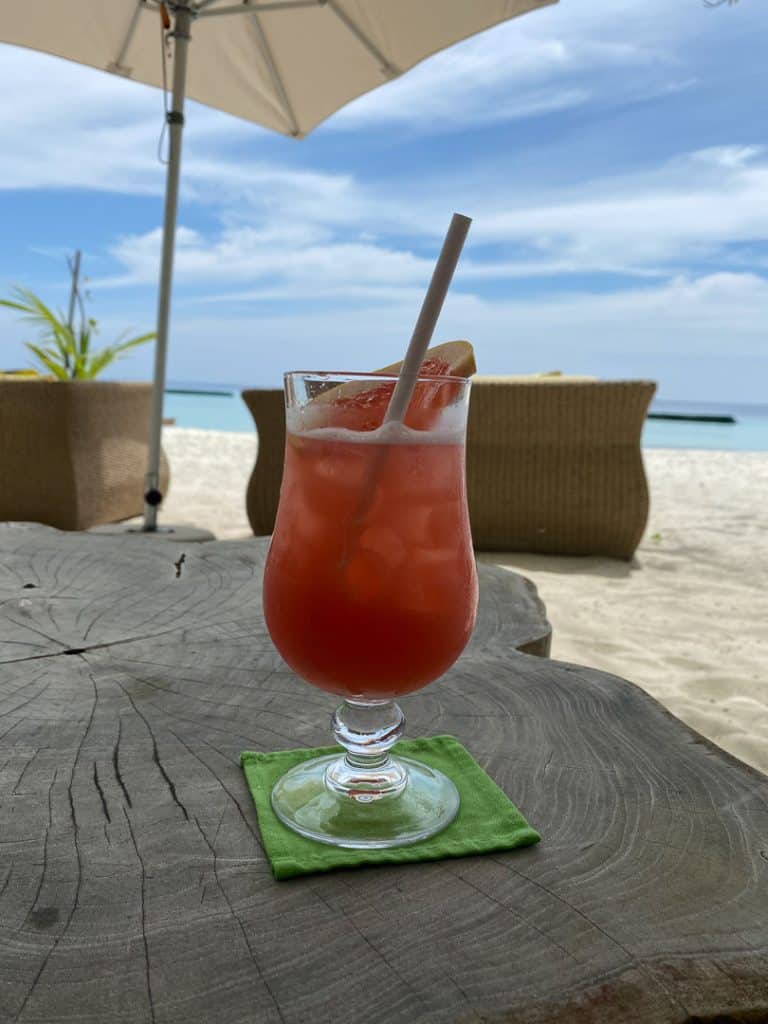 Totem Bar Drinks Menu
---
Destination dining: Lagoon lunch
---
This was a super memorable experience and offers really great value for money at only $70. A table was set up for us in the lagoon in front of Totem Bar and our lunch was served by our own personal waiter: the super friendly and efficient Pincher.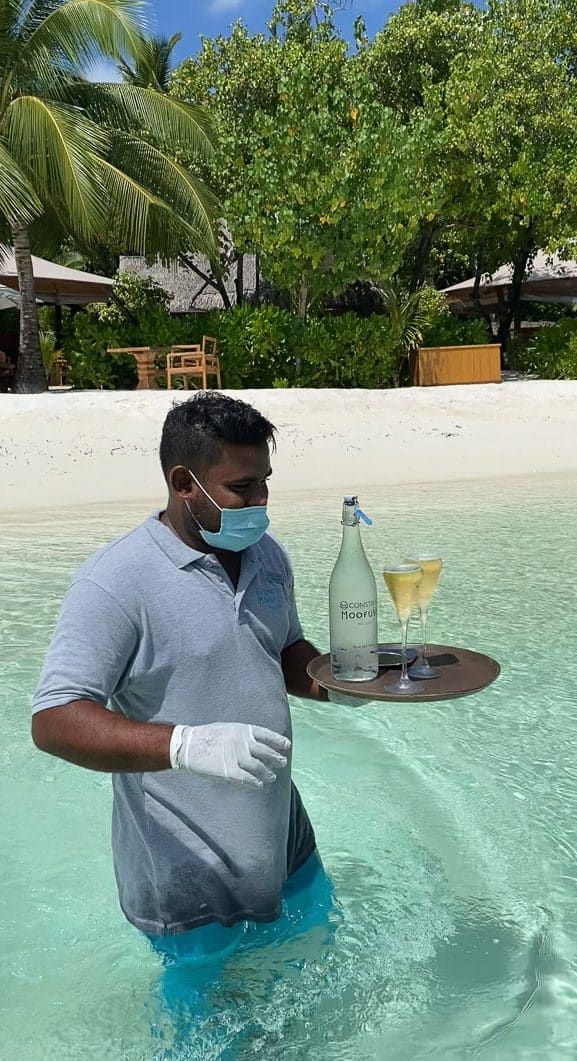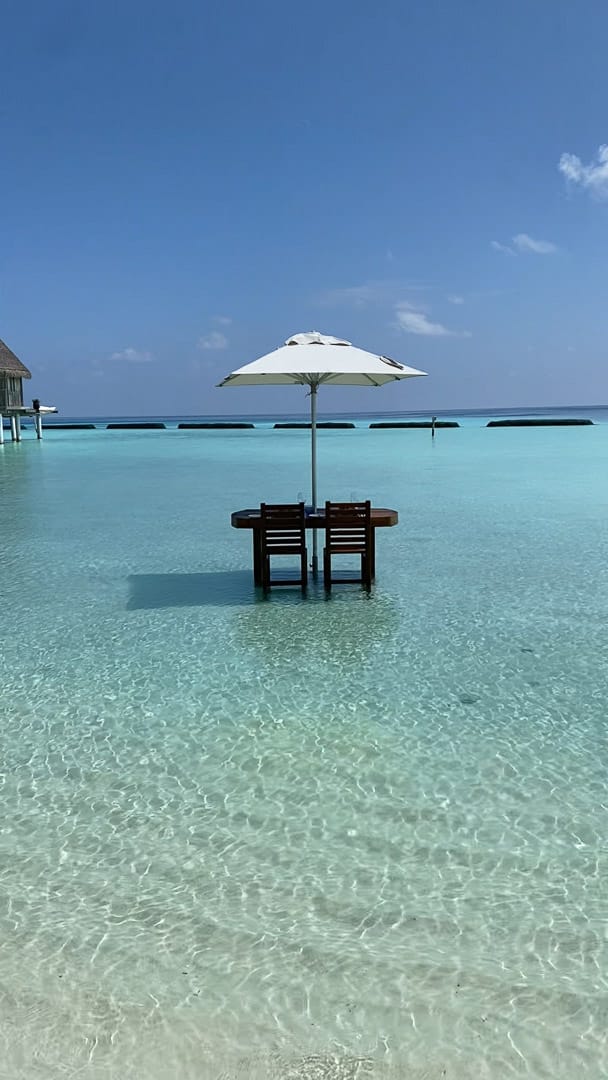 The menu was exactly the same as at Totem Bar but everything tasted better with our feet in the water and such dedicated and diligent service!
I started with my favourite tuna Niçoise whilst Kamara opted for the watermelon gazpacho, which whilst delicious was also very garlicky.
The 'Giant Prawns' were good but didn't quite live up to the name, so we ordered an extra wagyu beef burger to split as an additional main course.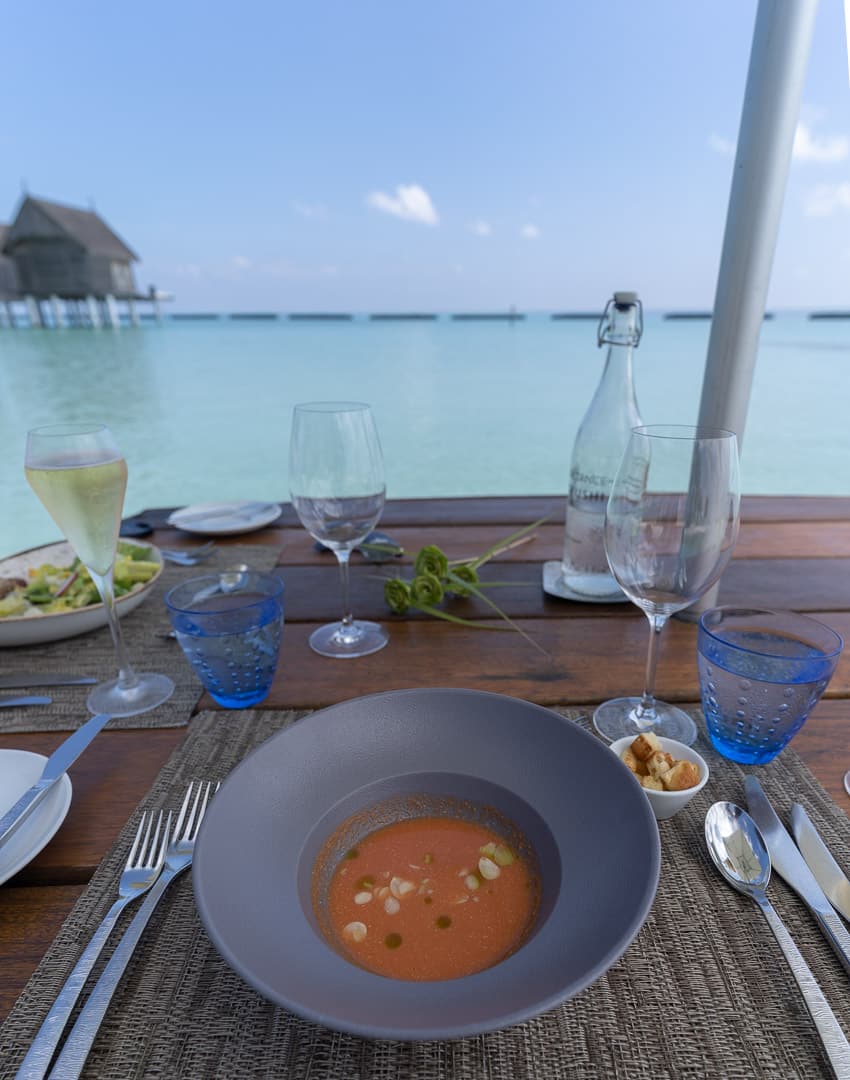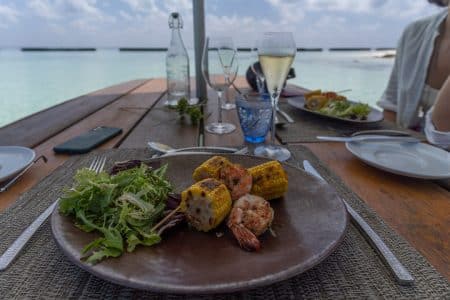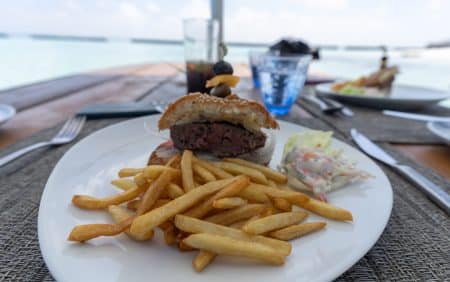 It wouldn't be a special meal without a tiramisu to finish and personally I quite like this drier style. All too often you order a tiramisu and get what amounts to a small jar filled with cream.
---
Beach BBQ Dinner
---
Since occupancy was quite low due to COVID; the usual indoor dinner buffet was instead held outdoors as a beach BBQ, during our second night at the resort.
The setting was really beautiful, a quiet sandy bay illuminated by a variety of glowing rods and storm lanterns. The tables also featured illuminated centrepieces to help add to the romantic ambiance. When I was picturing an all inclusive resort I certainly never had anything this elegant in mind.
Before venturing to the buffet, our server asked if we would like some pre dinner cocktails or perhaps a glass of champagne. A very civilised start to the proceedings.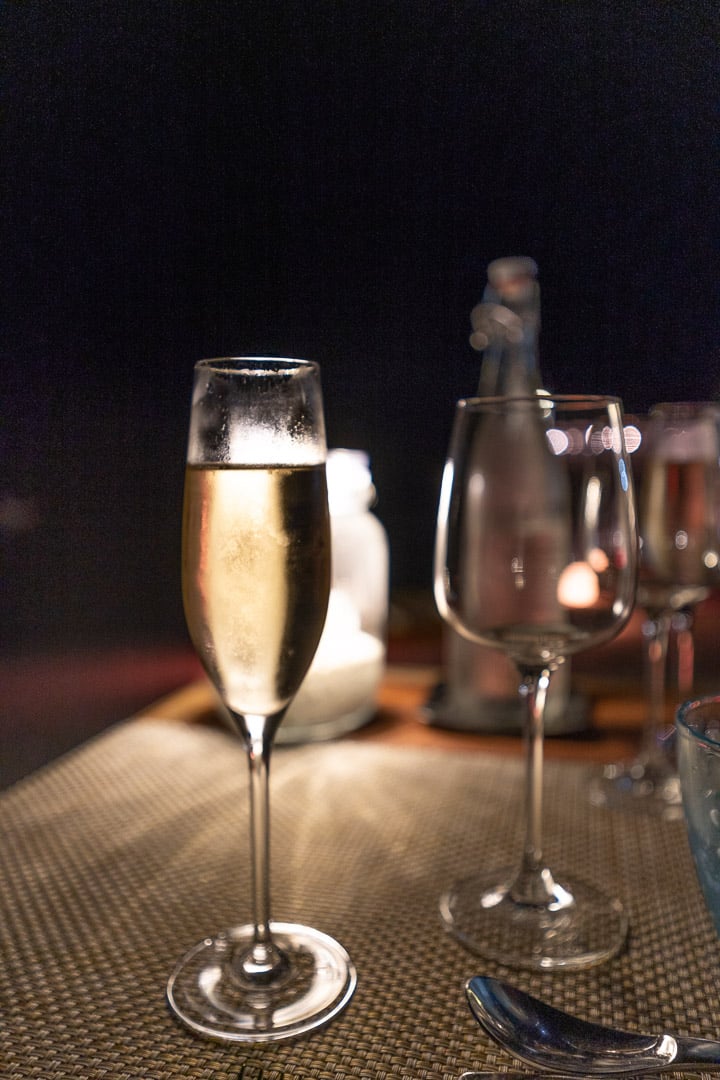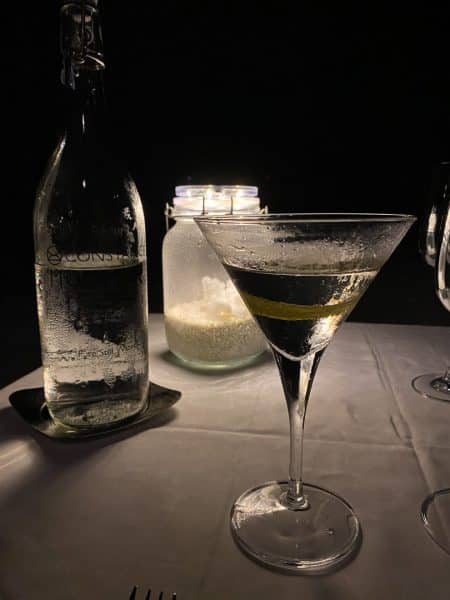 During this meal was the first time that we met the resort's wonderful sommelier Madu, a man with a deep passion for and understanding of wine. He was in high demand, with many tables not wanting to make their selection from the gargantuan list without his counsel.
It really does set this resort apart, that full bottles of an excellent variety of wines are served to guests at no extra charge. If I were in the marketing department I would display this far more prominently in advertising for the property as it is such a unique selling point.
The buffet consisted of various cuts of meat and fish which were freshly grilled on charcoal.
There was also a dessert station containing various home made cakes and pastries but after all the sand lobster, tuna and beef steak, neither of us could manage it!
---
Dinner at Alizée
---
Ordinarily guests will save their one permitted meal at Alizée for their final evening but on our final night it turned out that everybody was having dinner there since it was the only available option.
Alizée is located immediately adjacent to Totem Bar and features a variety of tables on the water's edge, not unlike the setting for our BBQ dinner the night before.
What was different was that this was purely a la carte and really felt like a proper restaurant experience in a way that a buffet never can.
We began with cocktails and a perfectly chilled and light bodied pinot noir, which we enjoyed alongside the starters. I had the tuna and avocado tartare which was well presented, if a little lacking in acidity. Meanwhile Kamara had the scallops, which were delicious.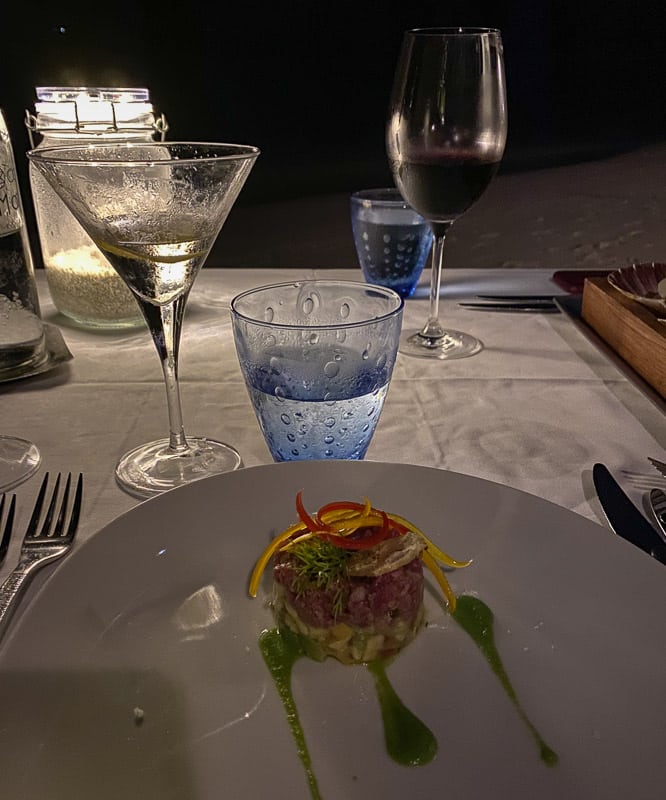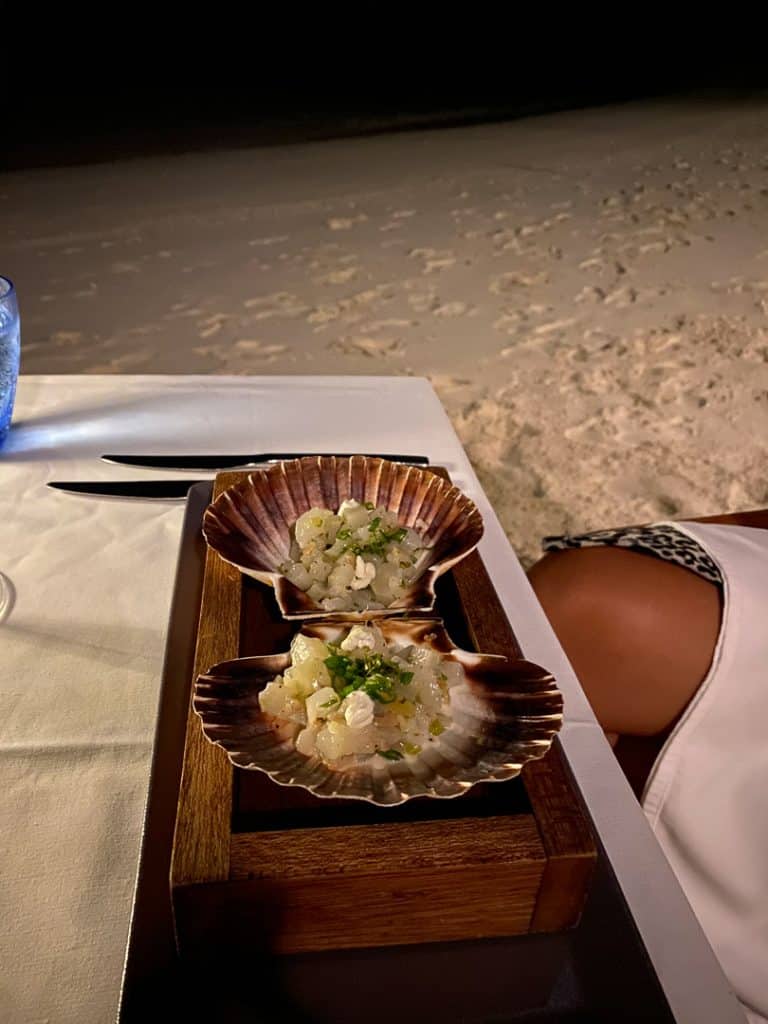 For the main course I ordered the grilled veal rare. It was beautifully cooked and the accompanying vegetables and potato espuma were equally great.
Kamara ordered her lamb medium rare…which it absolutely wasn't. Alarmingly, when the server asked how the main courses were and Kamara said that the lamb was very overdone, hence why it was uneaten, the server neither apologised nor offered her another dish. He just shrugged and hurried off with the plates. This to me is as severe a service lapse as the initial overcooking, if not more so.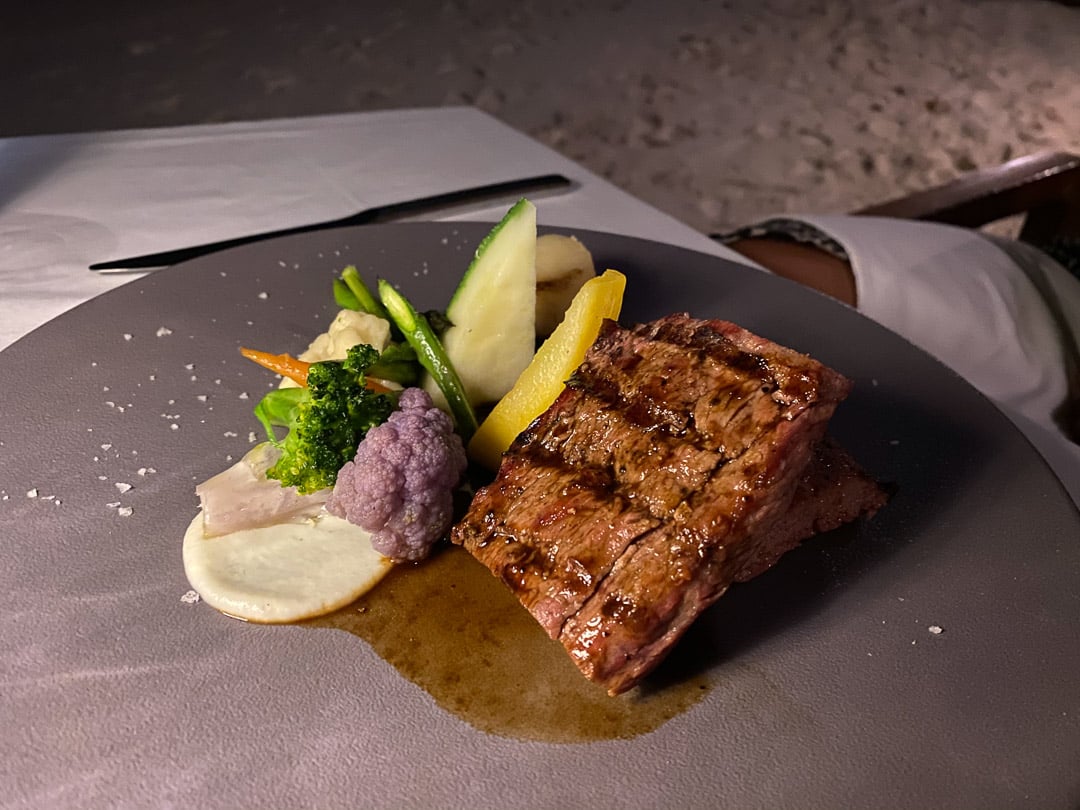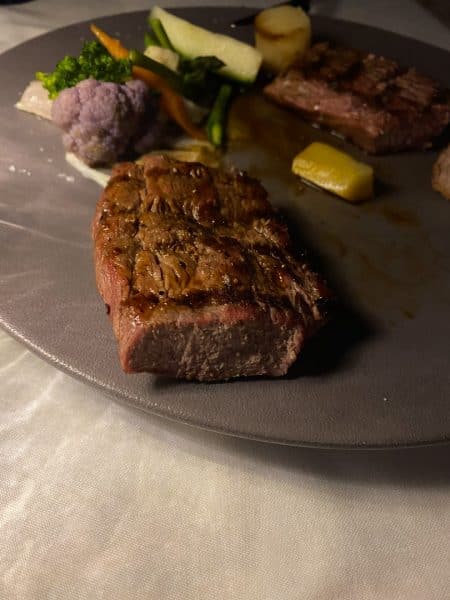 Despite all of this, the meal ended on a high note with a delightful sauternes served alongside a decent pistachio crème brûlée and a phenomenal salted caramel tart with lemongrass ice cream.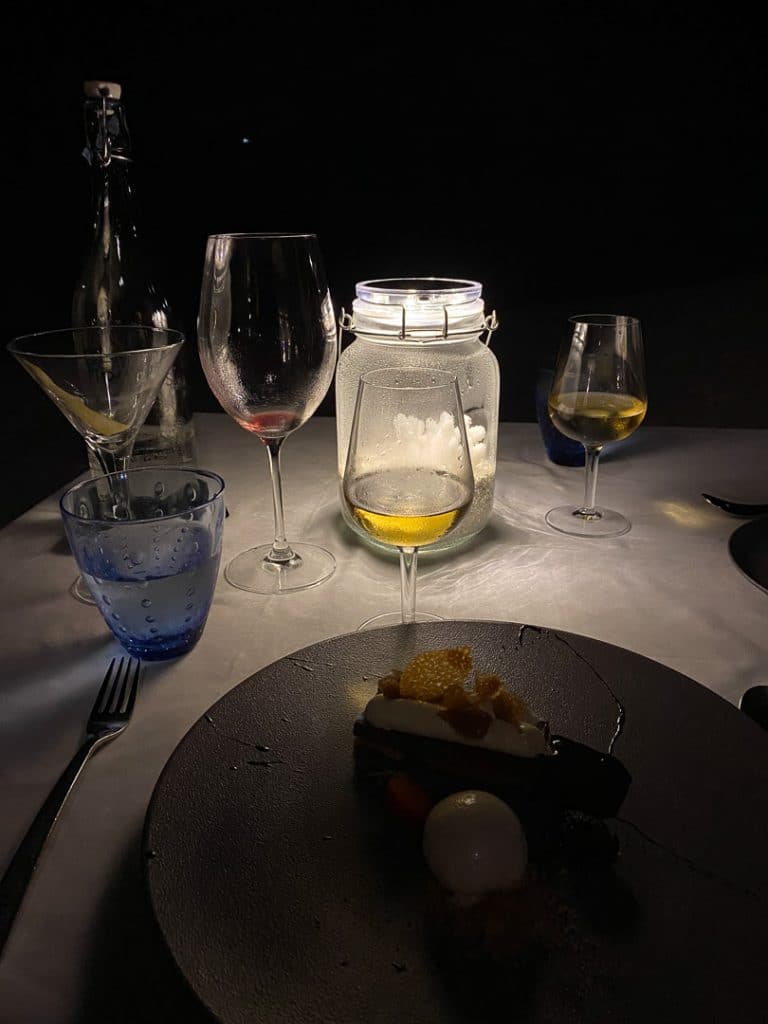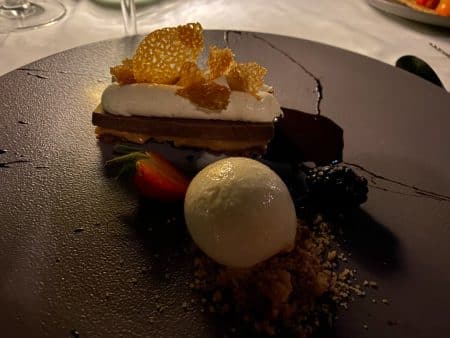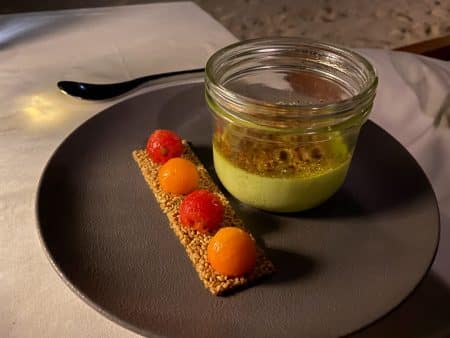 ---
Cellar visit
---
During our final dinner I got chatting to Madu the head sommelier some more, about wine and how he got into the business. After a lengthy conversation, he suggested that we should come over and check out the wine cellar the following day before our transfer back to the airport.
I thanked him profusely for his kind offer and we agreed to meet him before lunch at Manta Bar. The bar has been recently renovated and has a great atmosphere in the evenings, when everyone comes to visit after dinner.
The bar was completely dead during the day, but Madu soon livened things up by cracking open a half-bottle of champagne for us to share as he showed us around the extensive, temperature controlled cellar.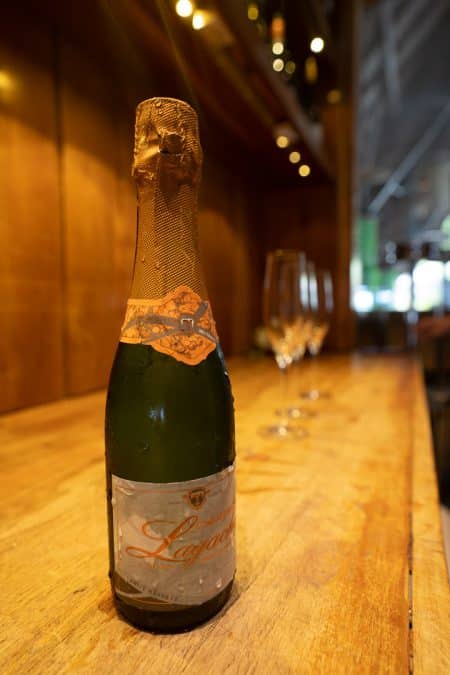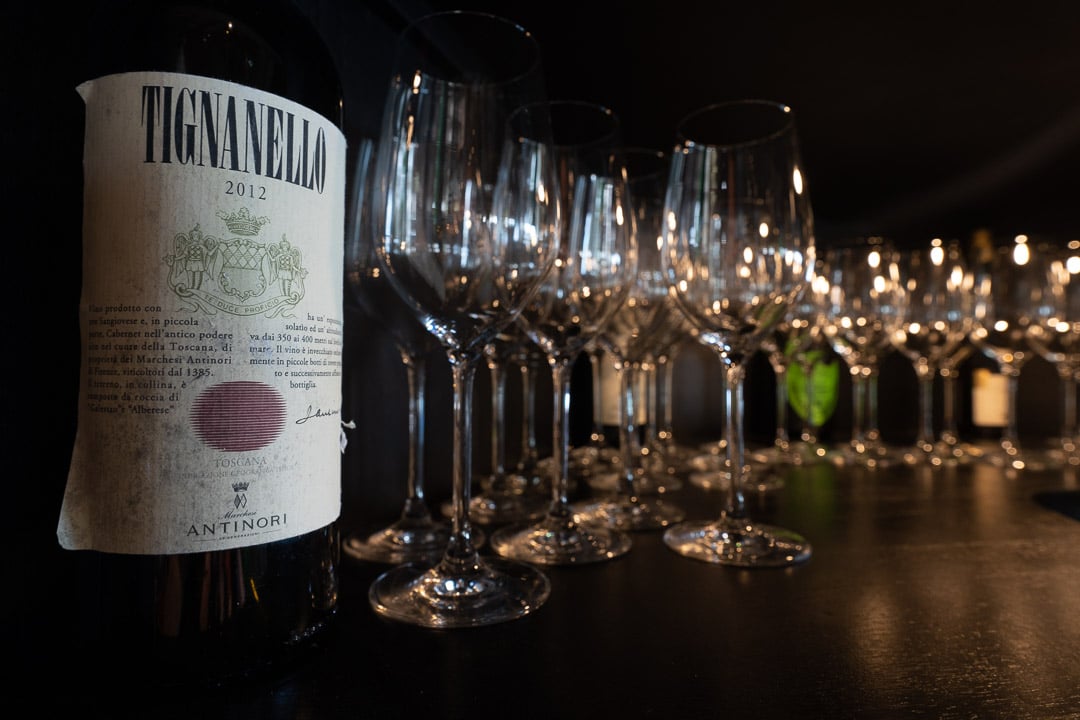 We not only looked around the central cellar within the bar, Madu also took us to the even larger cellar in the back of house area. It was a veritable treasure trove of first growth Bordeaux, super Tuscans and champagne. I even spotted a case or two of one of my favourite dessert wines: Klein Constance vin de Constantia (which brought back fond memories of lunch at La Colombe in Cape Town).
Towards the end of the tour, I spotted a sabre and asked Madu if it was decorative or if he ever used it. At which point Madu said that not only was it designed to be used, but that I should personally sabre a bottle of champagne during our final lunch at Totem Bar.
Madu really made our final day at Constance Moofushi very special and I don't think I'll ever forget my first time sabering a bottle of champagne.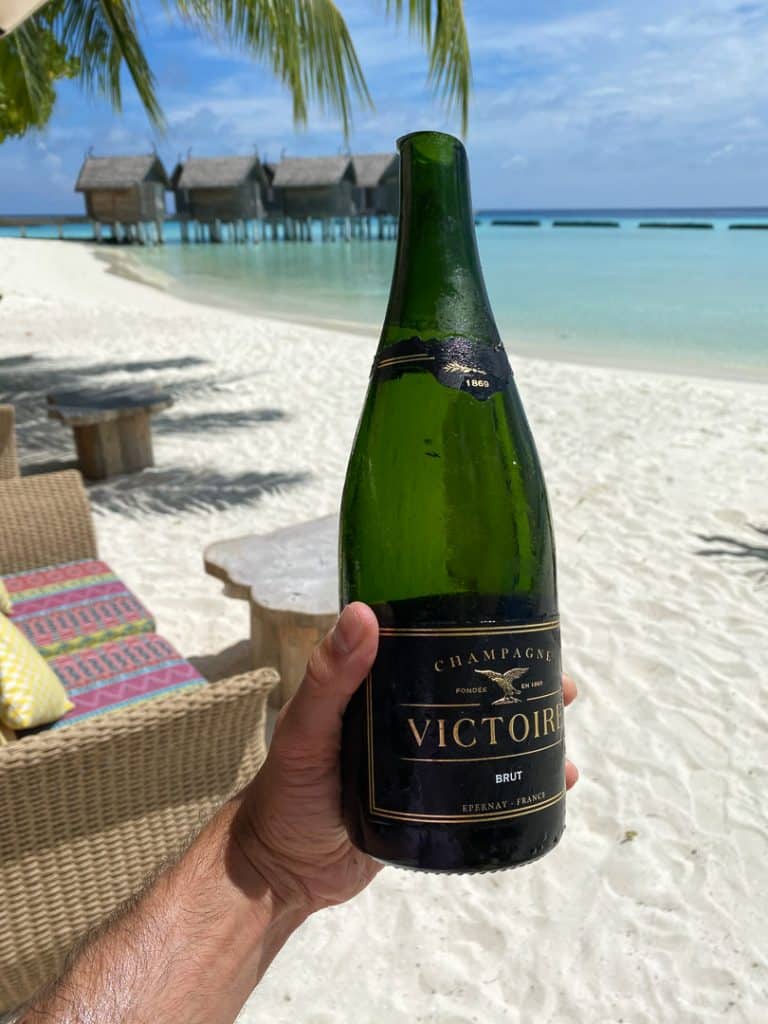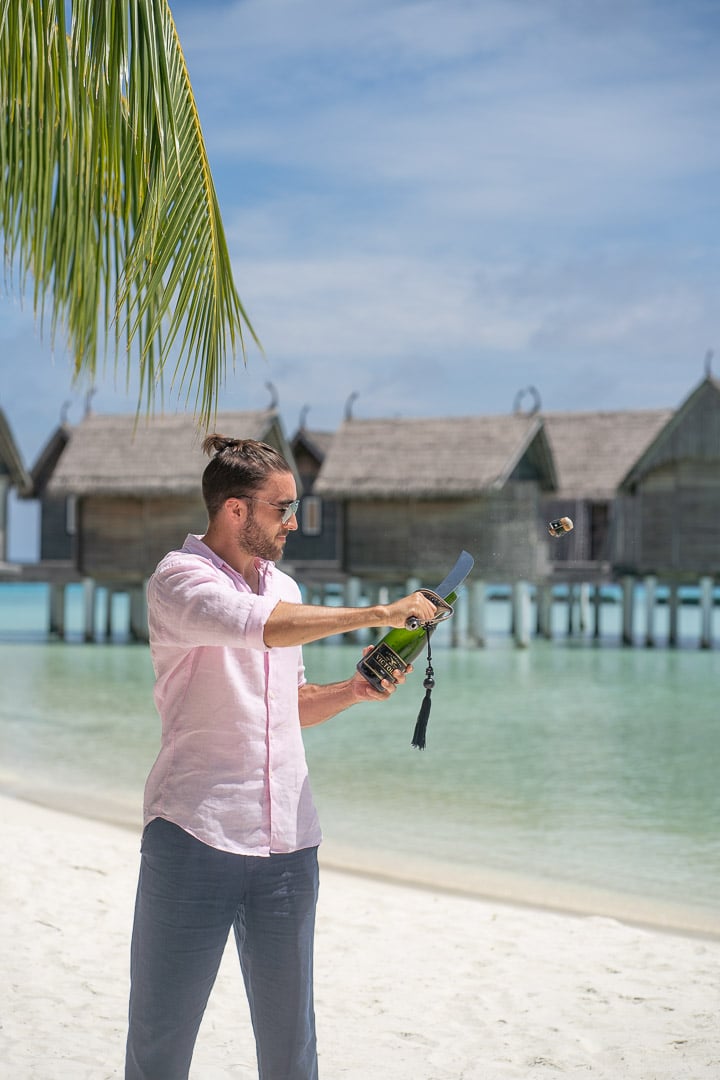 After sabering this bottle of Victoire, Madu suggested we should also try this sparkling wine from Southwest France that he really liked. The Chateau de Rhodes had quite a strong acidity and was very crisp and refreshing, almost like a very refined and light apple cider.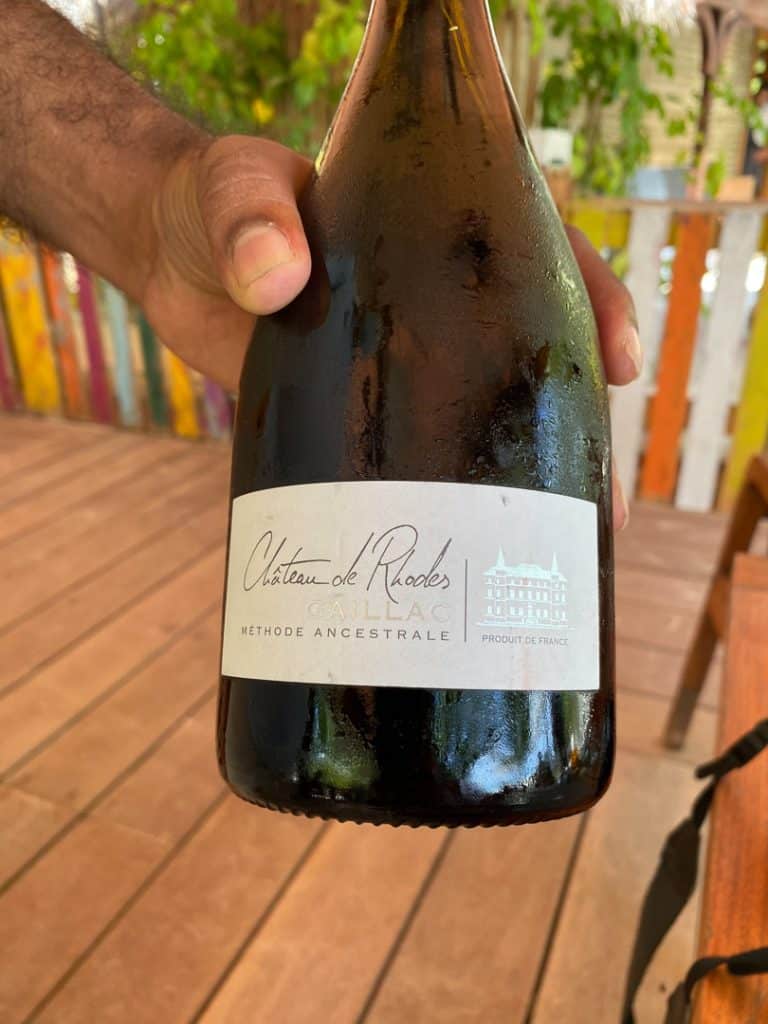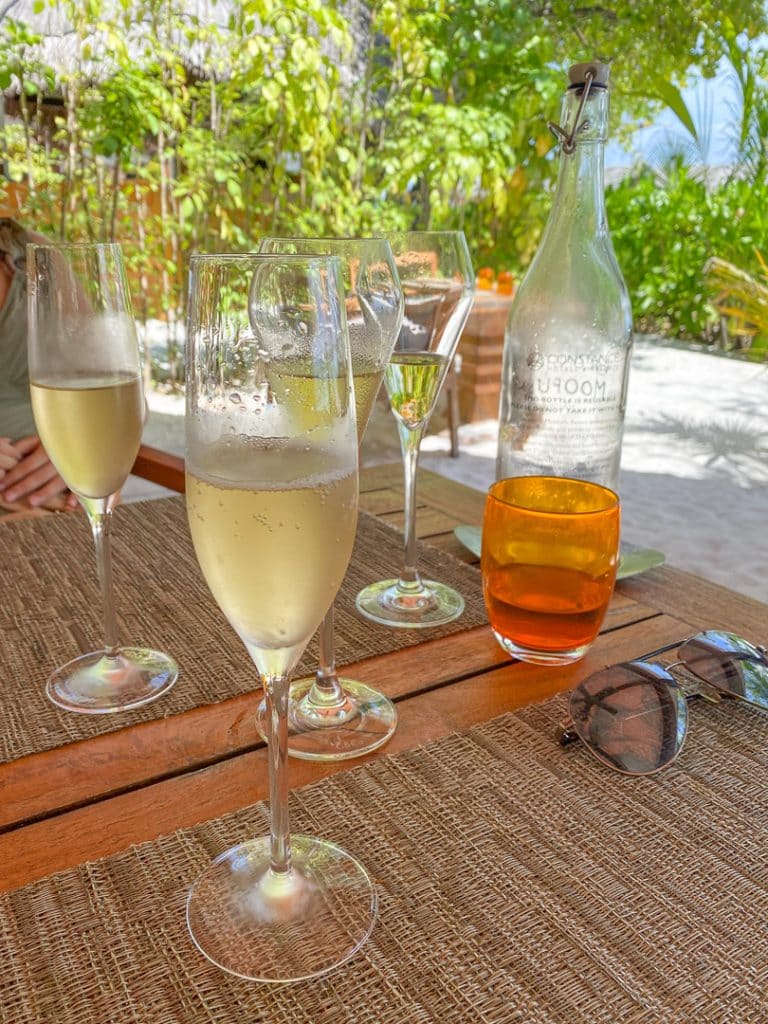 Overall, an absolutely fantastic way to conclude our stay at Constance Moofushi.
---
Conclusion
---
Basics Checklist
☑︎ Power sockets near the bed
☑︎ Easy to understand light switches
X Coffee machine
X Separate shower and bath
X Blackout blinds
☑︎ Stable, fast and free Wifi
☑︎ Feather pillows
☑︎ Quiet and powerful aircon
There are a lot of things to like about Constance Moofushi. The reef and lagoon are truly spectacular. If you're into diving, the Ari Atoll also has some of the very best dive sites on earth. The vegetation is lush and dense and the sand quality is fantastic too. This is not a resort which is lacking in natural charm.
The gym is also the very best I've seen in the Maldives and is clearly the benchmark to which all others will have to compare in future.
There is however no question that when you come here you compromise on room hardware. Compared to all other Maldivian resorts I've visited, the villas are lacking in privacy, pools of any kind and in all but the top category of rooms you won't even get a Nespresso machine.
The food was, surprisingly, the weakest aspect of the resort's offering, with nothing here to compare to breakfast at the Waldorf Astoria, lunches at the Crab Shack in Finolhu or dinners at Moodhu Grill at Lti Maafushivaru.
For me, picking a Maldivian destination is all a question of your priorities. There is no 'best resort', there's only the one best suited to you and your budget.
For the price, Constance Moofushi offers you the best of Maldivian nature and the most outrageously enormous all-inclusive wine list you could ever hope for. If that is more important to you than a private infinity pool or a signature restaurant from a big name chef, then Constance Moofushi may just be the right choice for you.
---
Booking Enquiries
---
Do you want to stay at multiple properties? Send us an email here and we'll manage your booking for you and secure you extra benefits, over and above a direct booking.
If you aren't sure which resort to choose and would like our advice, please fill out our quick & easy Maldives form and we'll match you up with your perfect property.
---
More Maldives Reviews
---
We are a luxury travel agency specialising in the Maldives, with plenty of first hand experience.
Here is a selection of our most recent Maldives hotel reviews:
---