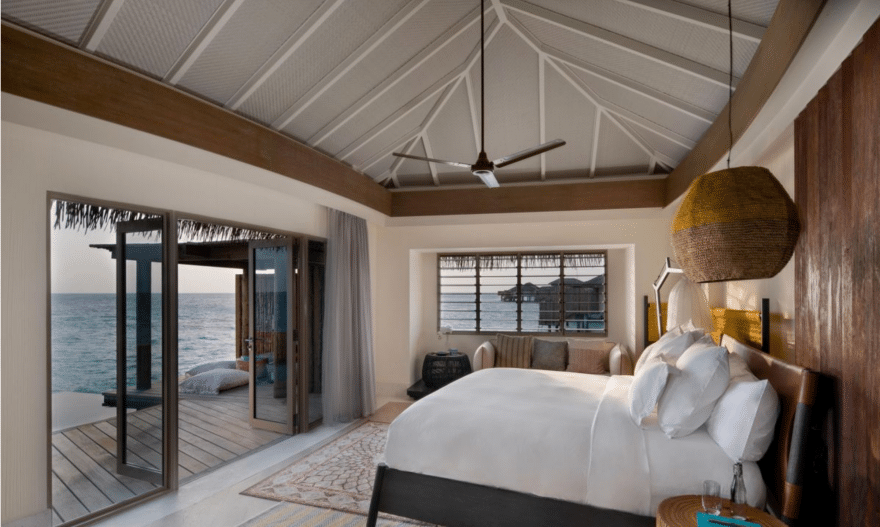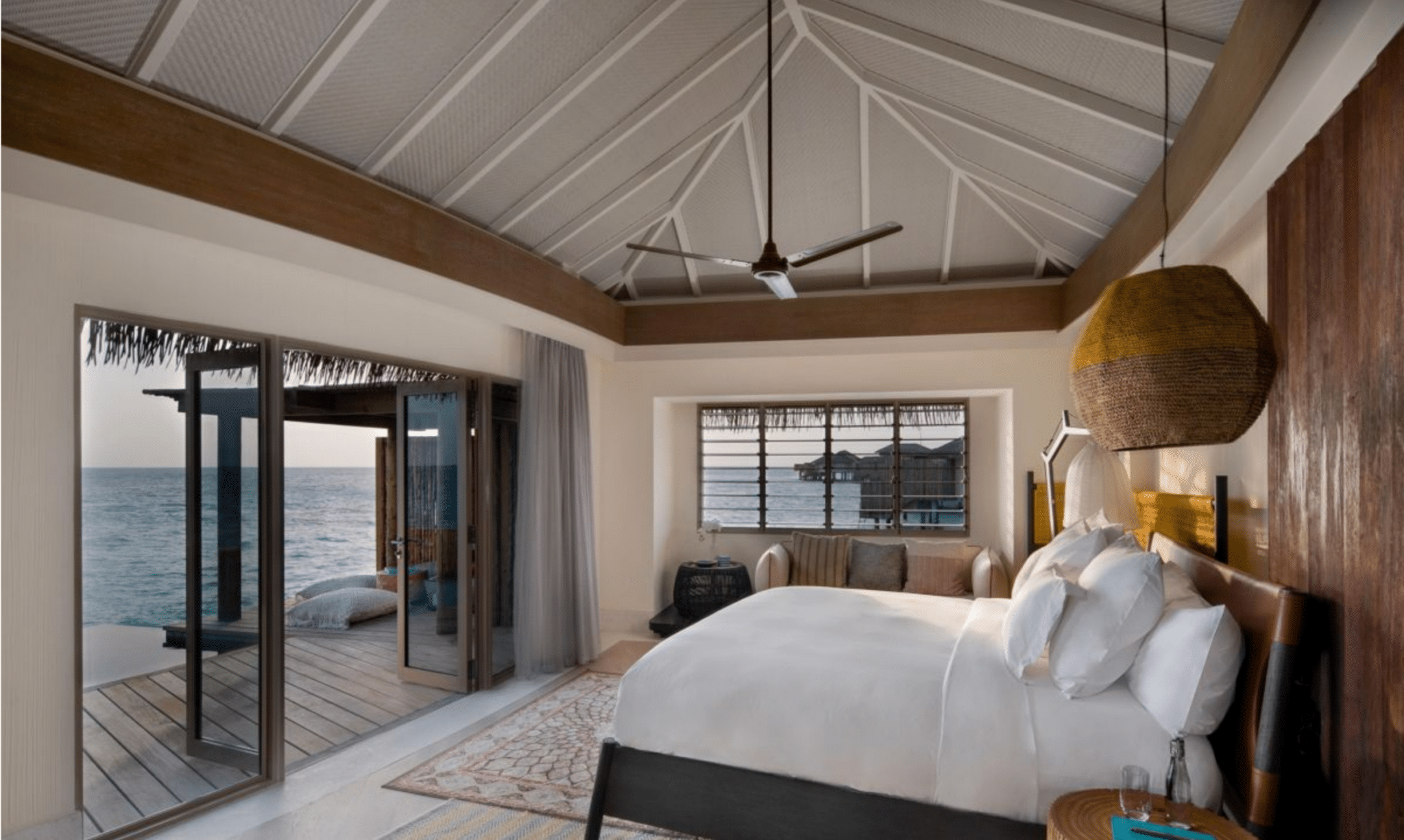 AMAZING DEAL – $600 a night water villa with pool at the Intercontinental Maldives!
April 11, 2021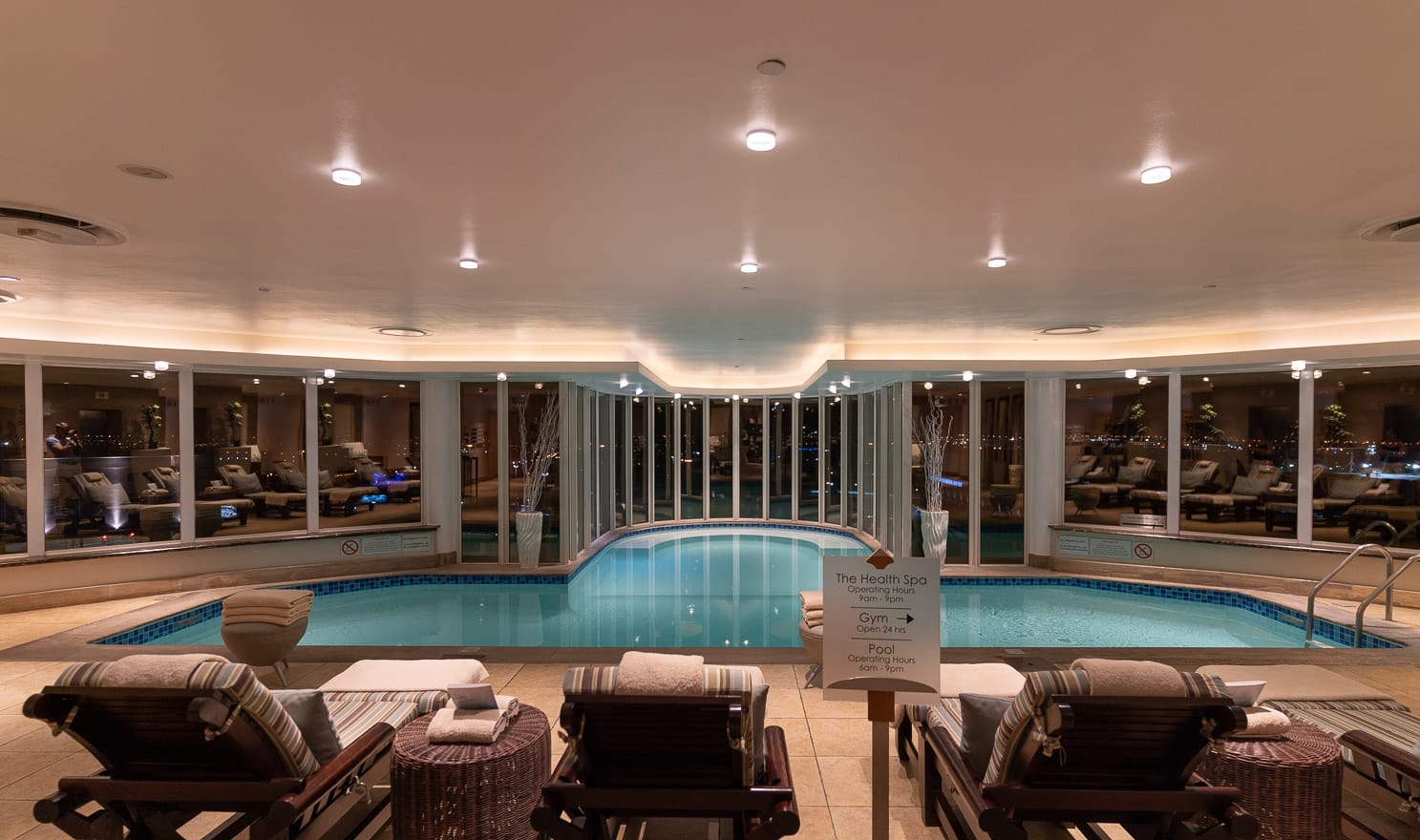 REVIEW – Intercontinental JNB Airport (SA)
April 29, 2021
Amilla
Location: Maldives
Rate: Complimentary Press Stay
Room Type: Sunset Water Pool Villa
Stay Date: March 2021
---
Intro
---
Amilla is an independent Maldivian resort, owned by the same family who up until recently owned Finolhu (which I visited in February 2019).
Where Finolhu had a focus on a playful and cheerful aesthetic, Amilla is far more focused on delivering a high level of luxury. The entry level rooms are 220m² overwater villas with pools, there's Moët at breakfast and each room comes with its own dedicated butler.
Being located in the UNESCO recognised Baa Atoll biosphere reserve means that snorkelling and diving is particularly good, as is the quality of the sand on the beaches.
---
Booking
---
Rooms start at around $700++ in off season and climb to around $1200++ in the peak travel weeks.
The resort offers three levels of dining packages, which come at an incremental nightly per person cost (higher pricing applies during the Christmas/NYE period) :
| Half Board | Full Board | Dine Around Inclusive |
| --- | --- | --- |
| $80++ | $120++ | $190++ |
| Breakfast + 3 Course Dinner | Half Board + 2 Course Lunch | Full Board + Beverage package |
As always in the Maldives, those who drink alcohol will invariably make a huge saving by opting for the Dine Around Inclusive package. The soft drinks here are particularly excellent too with organic Lavazza coffee served in all bars and restaurants as well as a huge menu of sodas and kombuchas made on site as part of the resort's sustainability program.
As an SLH Within agency, we can offer these additional benefits on bookings for our clients:
USD 150 F&B or spa credit to be used during the stay (credit is not combinable, not valid on villa rate, no cash value if not redeemed in full)
Complimentary daily breakfast for two
Upgrade to the next villa category at the time of check in. Not applicable for residence bookings and subject to
availability.
Late checkout at 4 pm upon availability.
Complimentary bottle of Champagne and amenities upon arrival with a personalised letter from the GM.
Depending on the season and length of stay, we may also be able to offer:
Complimentary transfers
Complimentary upgrade to half-board
Complimentary nights.
EMAIL ME FOR BOOKING ENQUIRIES
---
Seaplane Transfer
---
As with the majority of resorts in the Maldives, getting to Amilla requires a seaplane transfer from the International airport.
In my opinion, the Baa Atoll is located within the 'Goldilocks zone' from the International airport.
Resorts within a speedboat ride of Malé often suffer from light pollution and boat traffic (like the Waldorf Astoria for example), whereas travelling to a truly remote atoll (like Laamu or Gaafu Alifu) can mean a lengthy domestic airport transfer on a decidedly un-luxurious local plane (even if Maldivian do have the coolest callsign of any airline: 'Skysurfer').
Walking into the Arrivals hall at the airport can be a dizzying experience, as there is always a crowd of island hosts holding up signs with their resort's name on it.
Thankfully our Amilla hosts were easy to spot and they very efficiently took charge of our bags and whisked us over to the Manta Air counter to check us into the seaplane flight.
---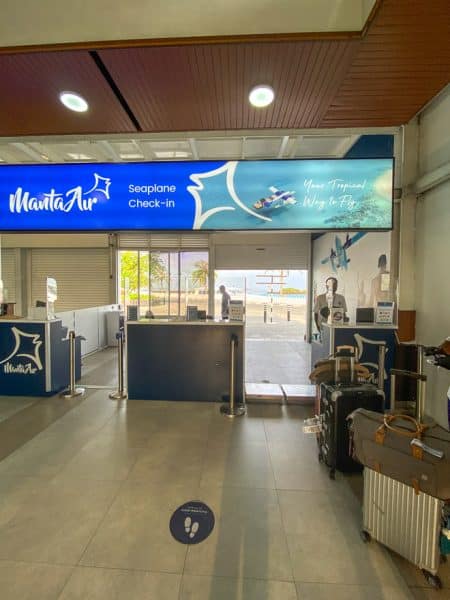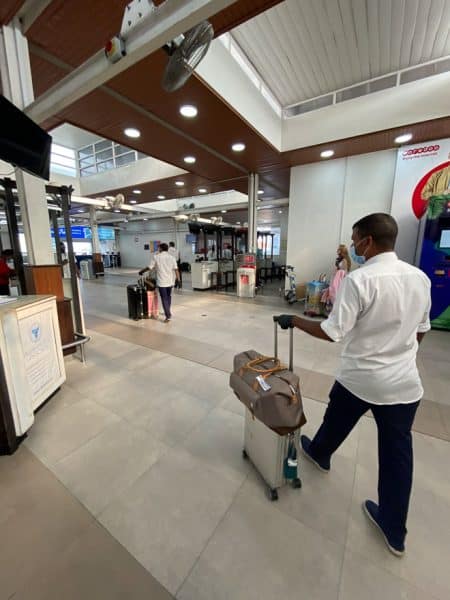 Up until recently, TMA had a monopoly on seaplane transfers in the Maldives, which is why the prices are as outrageous as they are. Manta Air is ostensibly a competitor, although the airline is still very small and continues to charge as much as TMA for flights.
Still, the check-in experience was very pleasant and they were happy for me to keep hold of my Rimowa carry-on until the last moment, whereas TMA always insist on taking it from me during check-in.
Once we had our boarding passes we were taken by the resort's private vehicle to the Manta Air Terminal around 5 minutes drive from the International Terminal.
Seaplane Lounge
Back when Amilla and Finolhu were sister resorts they shared a lounge. Now that Amilla's owners have sold Finolhu and formed a partnership with Manta Air, resort guests are invited to use Manta Air's own lounge. This lounge is also used by guests visiting Milaidhoo and The Nautilus.
Our Amilla host escorted us into the lounge, offered us drinks and supplied us with a wifi password for the world's slowest internet connection. Despite the slow WiFi the ambiance was very pleasant since this single building terminal is so small and is located right on the water.
It honestly felt as different to flying on TMA as flying private does to flying commercial first class.
The Amilla host served as our own personal butler for the duration of our lounge visit, keeping us regularly updated on the seaplane times and bringing us drinks when he saw that we had empty cups or glasses in front of us.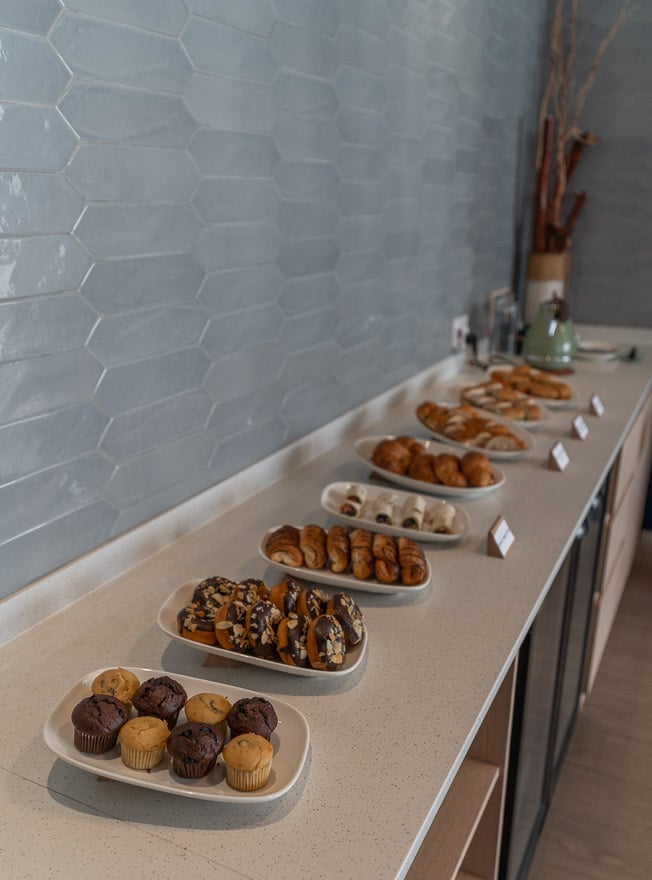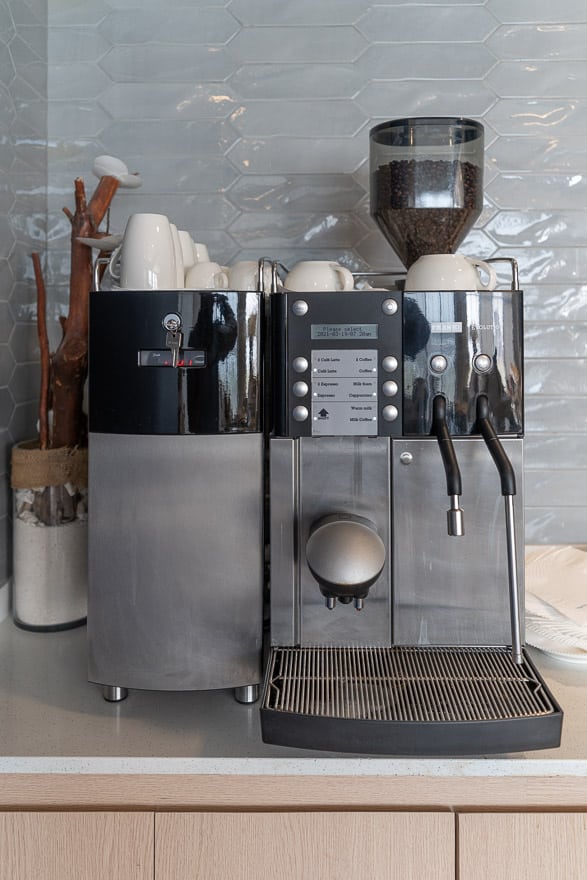 The breakfast buffet wasn't particularly appetising and consisted of factory made pastries and some dubious looking wraps. The cold drinks selection was limited to water or sugary drinks but the coffee was pretty decent.
The best part of the lounge experience was definitely the outdoor deck, where we were able to feel the warmth of the Maldivian sun whilst watching the seaplanes come and go.
Manta Air Flight
After around 90 minutes or so our host informed us that our flight was ready to board; we walked straight out of the lounge and onto a very new looking plane.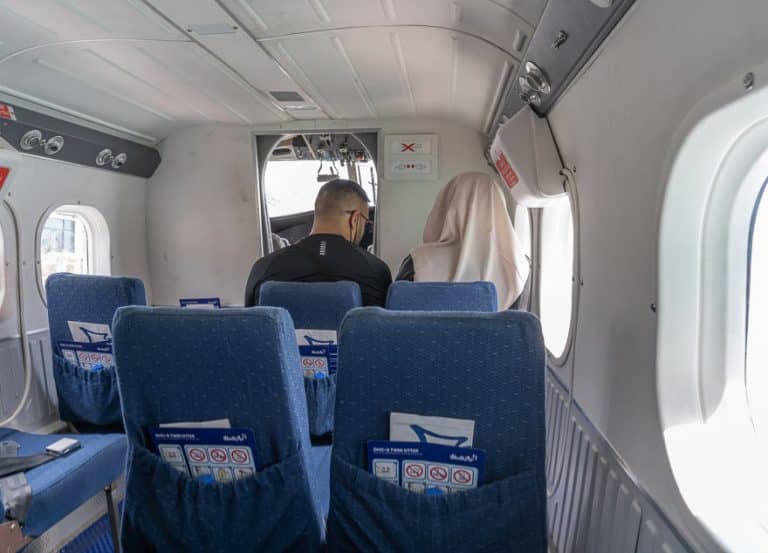 Unlike TMA, we were not provided with hygiene kits – just bottles of water. Masks were required for all passengers throughout the duration of the flight.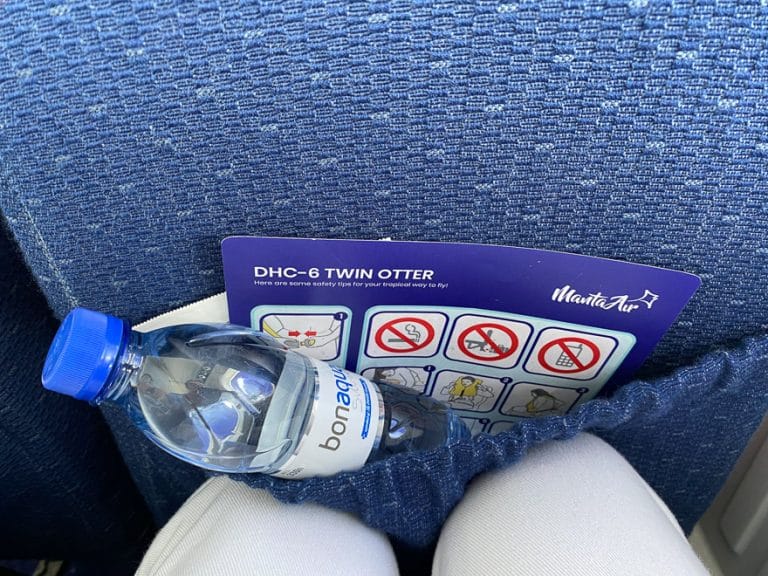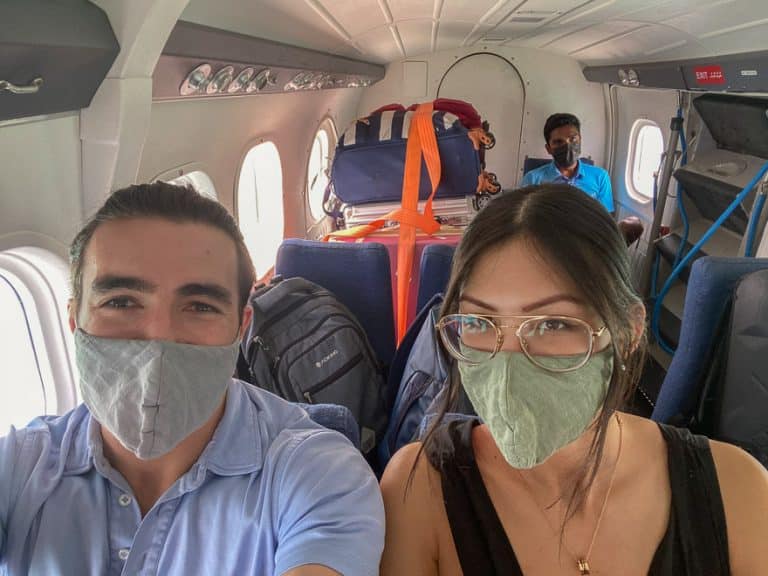 It was a really clear day and we got some great views on the 35 minute flight. I love looking out of the window on seaplanes, seeing if I can recognise resorts from above.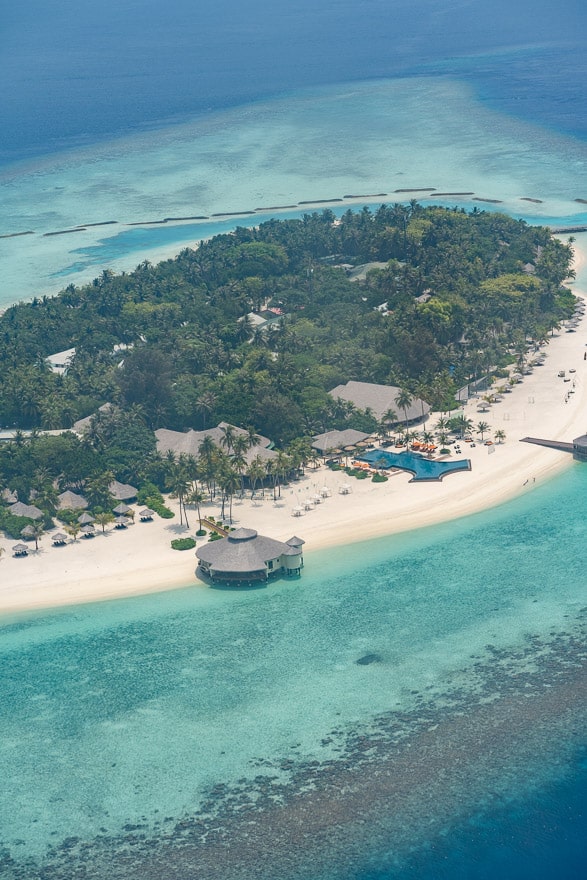 We touched down at Amilla's seaplane platform which was located just beyond the resort's reef, almost directly opposite our villa.
From here we were taken on a one minute speedboat trip to Amilla's arrival pier.
As we pulled up to the resort's arrival pier, we saw a group of smiling and waving staff ready to welcome us to the island.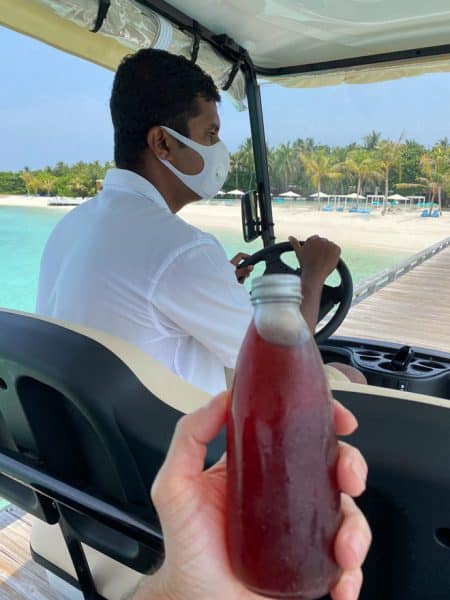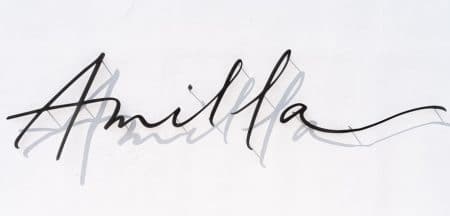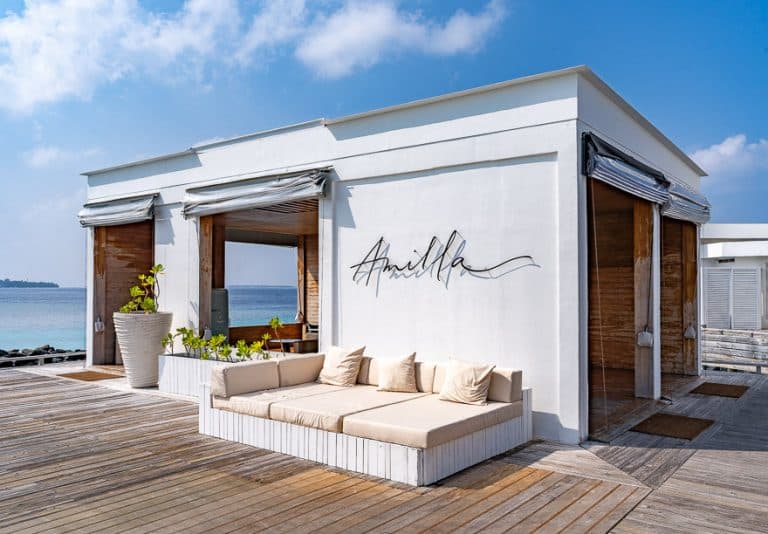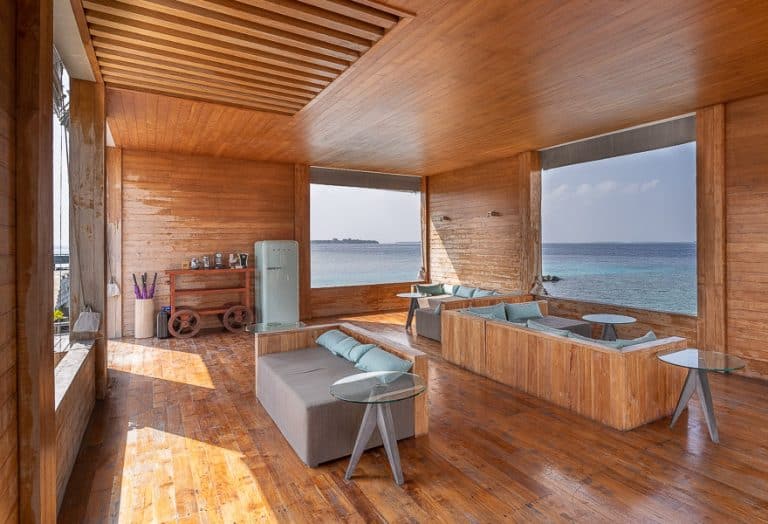 Here we were introduced to our personal butler, who gave us a cold refreshing towel and a welcome drink containing specially selected ingredients to help combat jet lag and dehydration. We then jumped into a buggy and were driven to our villa where we would be quarantining until the next morning…
---
Amilla COVID protocol
---
Although all visitors to the Maldives currently require a negative PCR test to enter, the timeframe for this is 96 hours prior to departure and a number of resorts have decided to further protect staff and guests with an additional test.
Upon arrival at Amilla we were required to keep our masks on and were taken straight to our villa. A few minutes after getting settled in, a doctor came to administer a complimentary PCR test to us both.
We were then instructed to remain in our villa or the ocean directly in front of it until we received confirmation of a negative PCR test result.
You may think that this is overkill but at the time of our visit this on-site test had already identified 9 cases of COVID where guests had caught the virus en route to the resort, after passing the initial test in their home countries.
Thankfully it isn't exactly a hardship spending the day in a gigantic overwater villa with an infinity pool, wine, champagne and possibly the world's most comprehensive room service menu (which we will come back to later in the review).
---
Selecting a Villa at Amilla Fushi
---
Our four nights at Amilla were spent in a 220m² Sunset Water Pool Villa. The resort only has ten of these villas which are located overwater but are still very close to the main island. For me they strike a perfect balance between location, views and privacy.
In many ways the concept reminds me of the Reef Villas at the Waldorf Astoria Maldives, where the front is overwater but the back is on land.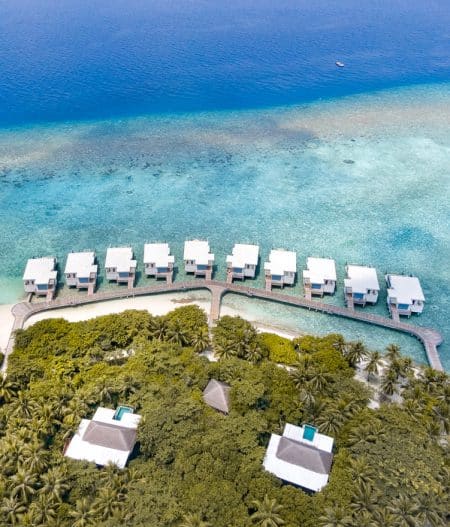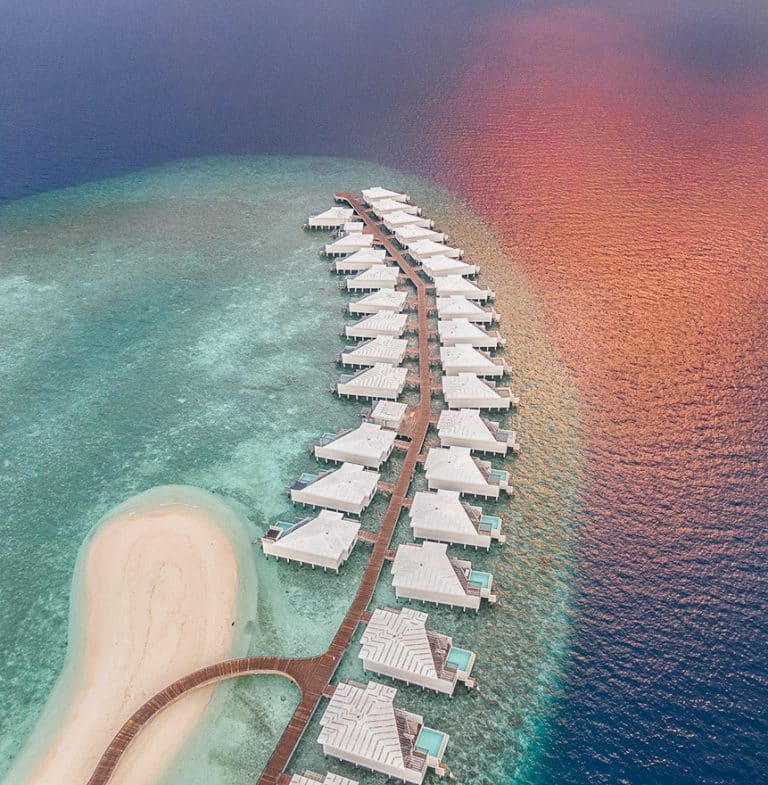 The Reef Water Pool Villas and Lagoon Water Pool Villas are located on a more traditional overwater pier with the difference in villa category being determined by the direction that the villas face.
These villas are also 220m² but have a larger indoor space and smaller deck (and pool) than the Sunset Villas. The Lagoon Water Pool Villas are also the only overwater villas which offer a 2 bedroom option (350m²).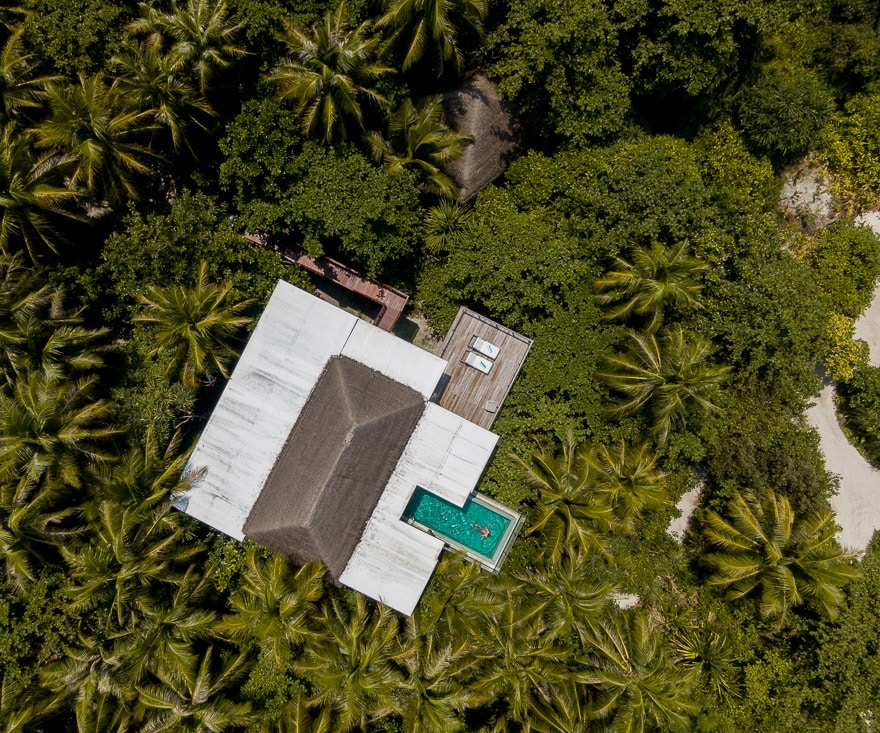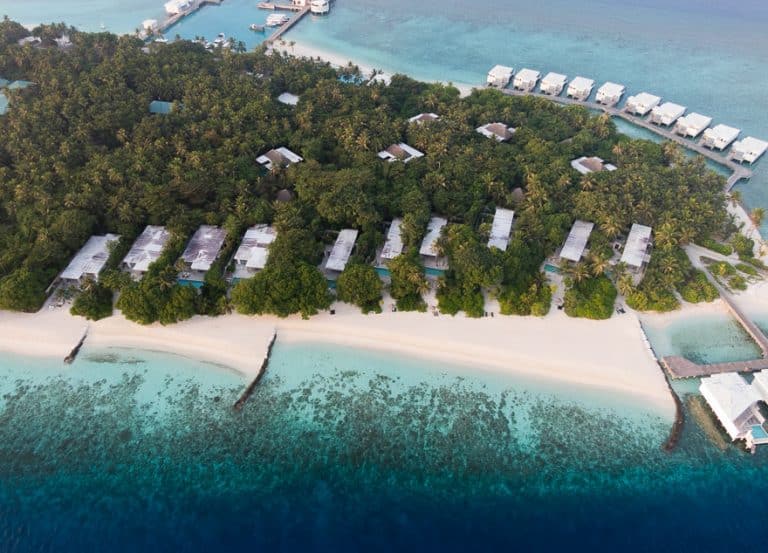 The resort also has seven Treetop Villas, perched on stilts within the island's centre. These 250m² villas feel more Balinese than Maldivian in terms of design and ambiance and really are an amazing way to add variety to a stay without needing to change resorts.
You could spend 5 nights in one of these followed by 5 nights in a water villa and you would arguably feel like you'd had a more varied experience than if you split the 10 nights across two resorts in which you spent the whole time overwater (also wasting a day and considerably more money, transferring between resorts).
Finally the Beach Pool Villas are located adjacent to the water villa pier, on the island's sunrise side. These are the top regular room category at Amilla and are considerably larger than the other villas, coming in at 470m² for the one bedroom and 530m² for the two bedroom version.
---
Sunset Water Pool Villa
---
Our villa was located conveniently close to the main lagoon pool and beach yet suffered from no noise issues at all. Once we set foot upon the wooden boardwalk of our new neighbourhood, we felt like we were miles away from civilisation.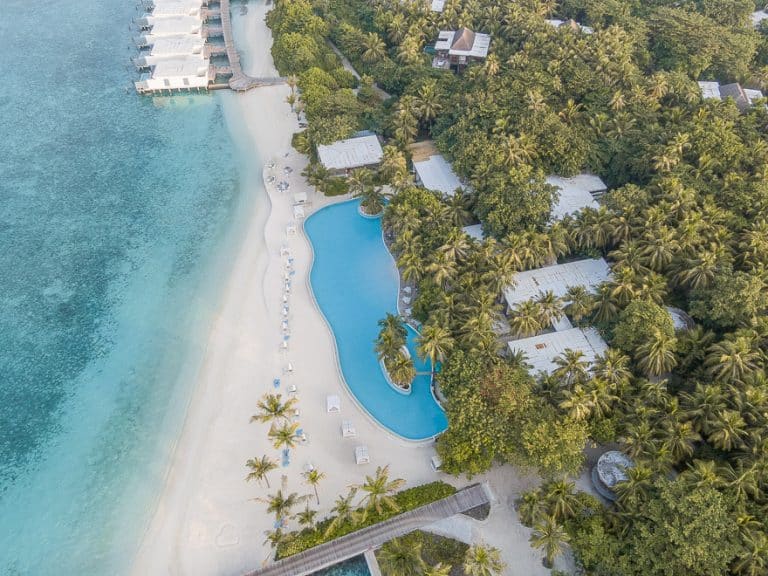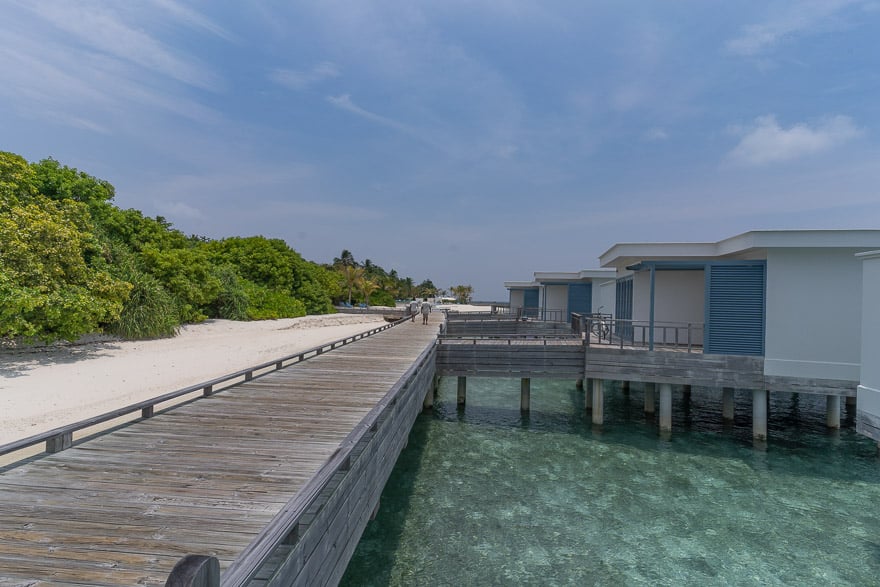 Buggies are not allowed onto this boardwalk, which means that it is significantly quieter than similar areas at other resorts. Whenever we called for a buggy it would wait for us in the jungle area at either end.
There was also the option of riding one of the fixie bikes, which even came with personalised number plates!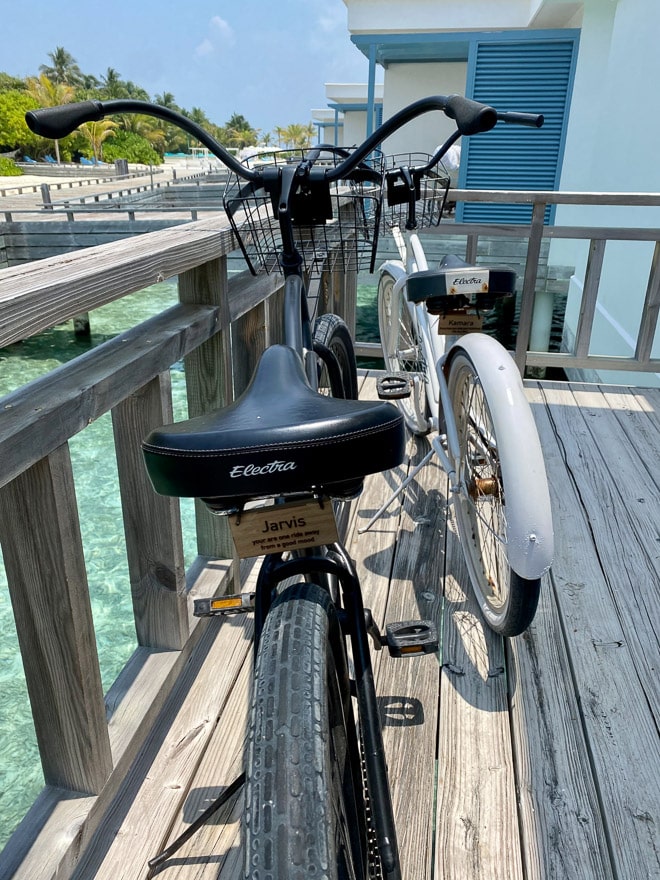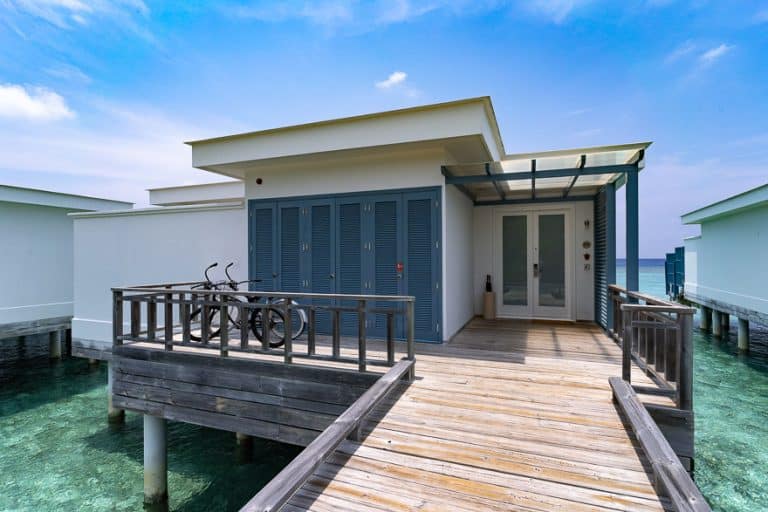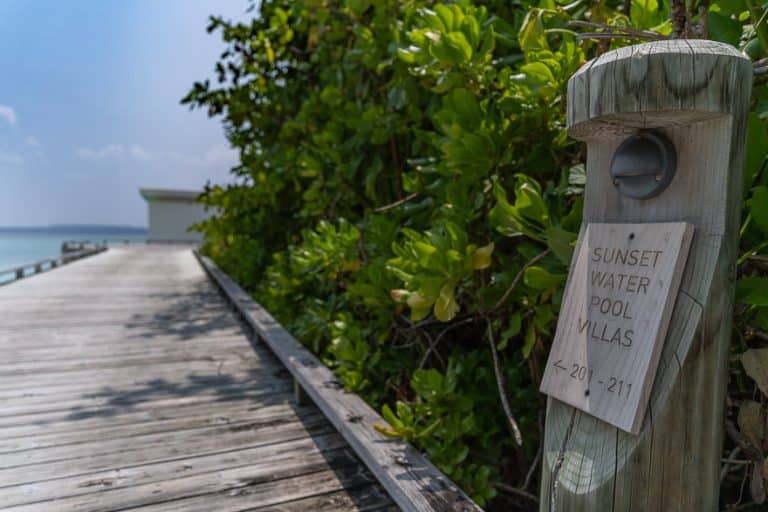 Sunset Water Pool Villa – Video Tour
View this post on Instagram
Bedroom
Upon entering the room the first thing that you see is an enormous mirror surrounded by recessed lighting, sitting atop the gigantic minibar (macrobar?),
Let's be honest here, minibar prices in the Maldives can be pretty silly and Amilla is no exception to the rule. You're looking at $15 for a bag of potato chips or $200 for a bottle of champagne that retails in the UK for under $50.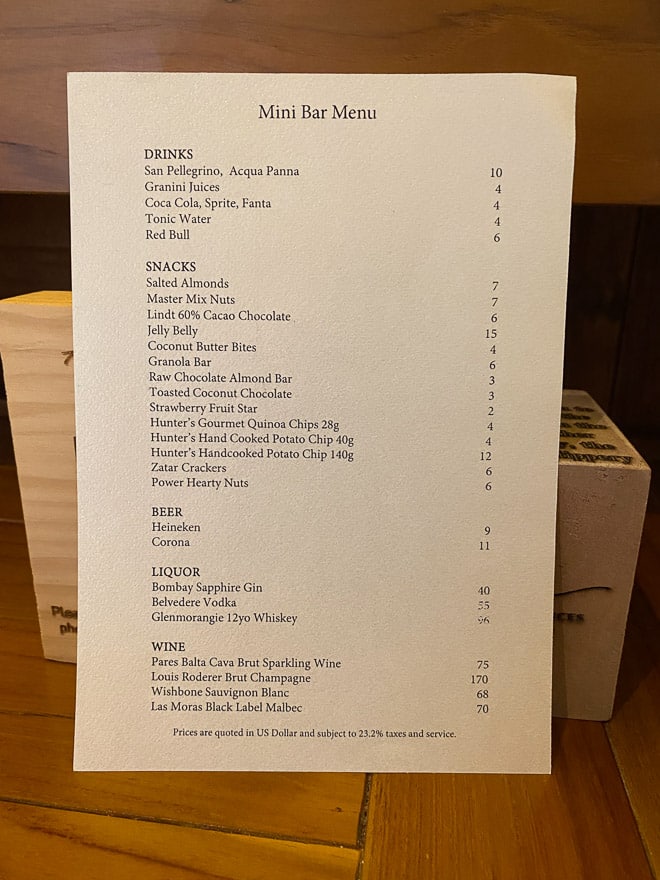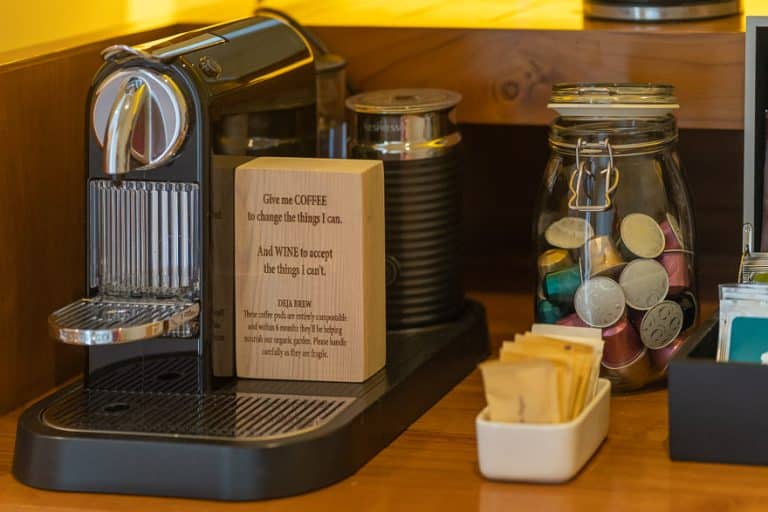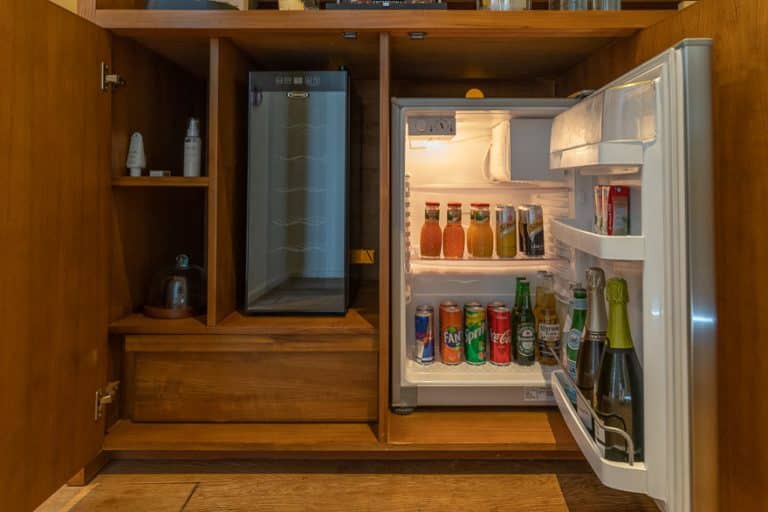 On the plus side, I was impressed to see a dedicated wine fridge and I was a big fan of the box of varied Dilmah teas too.
I also loved that not only were there tons of coffee capsules (I can easily get through ten a day), they were also fully biodegradable.
The resort really takes its sustainability credentials very seriously and this is something I will focus on later in the review.
Turning left into the bedroom I was greeted by another mirror as well as a huge wall of wardrobes.
Many resorts compromise on space in their overwater villas but the moment I set foot in the main bedroom I could see that this was going to be right up there with the largest and most impressive water villas I'd seen to date.
There was plenty of space to open up multiple suitcases on either side of the desk and I'm happy to report that the desk itself was full sized and featured two universal power sockets.
Whenever I'm travelling I tend to carry at least two screens, multiple cameras, drones, lenses and chargers. Having a large desk like this makes my life a hell of a lot easier.
In terms of storage: even the most high maintenance of travellers would struggle to fill all four wardrobes and given my penchant for wearing linen at the beach I'm always happy to see an ironing board provided.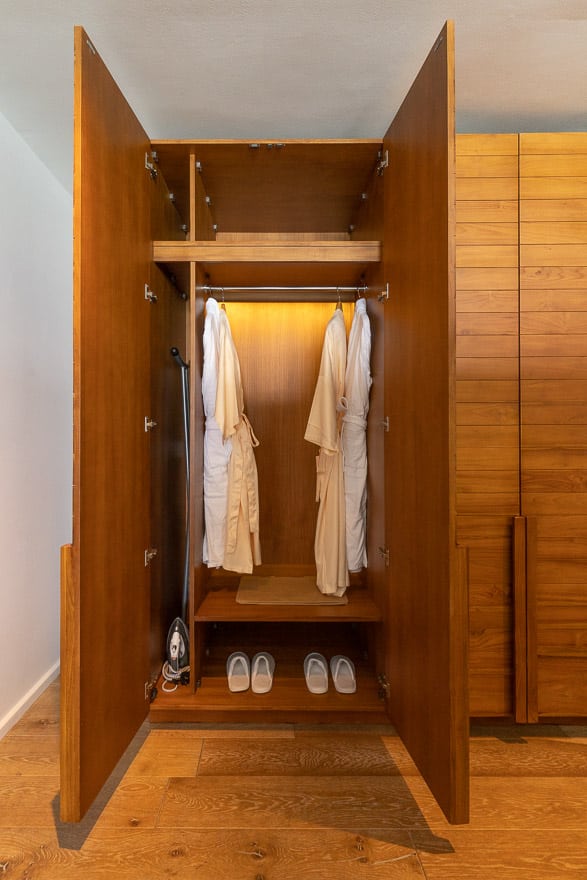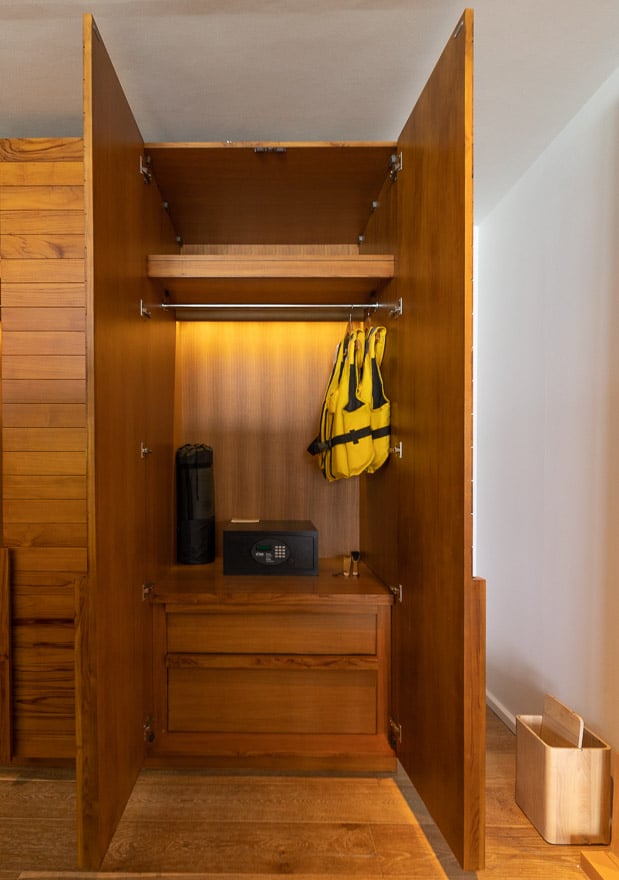 The bed was absolutely enormous, right up there with the beds in the suites at the Park Hyatt Tokyo. The bed linens were clearly top quality too, with that perfectly crisp feel as I ran my hand across them.
I use a sleep app to monitor my sleep every night and enjoy using it to add a quantitative element when explaining how comfortable a hotel bed is.
Despite the fact that the bathroom had no blinds and let tons of light through in the morning…I still got 99% sleep quality: where my average at home is closer to 75%.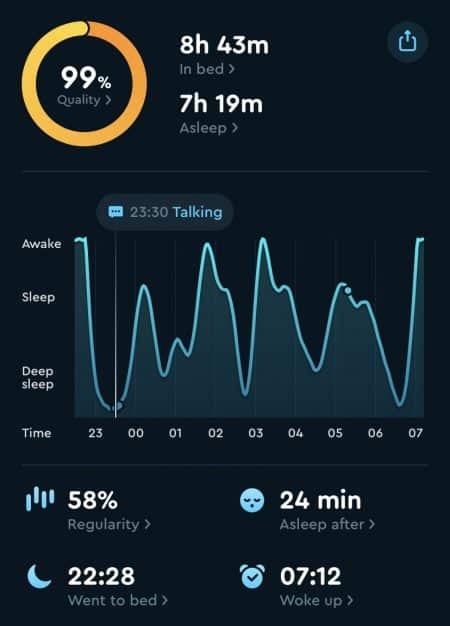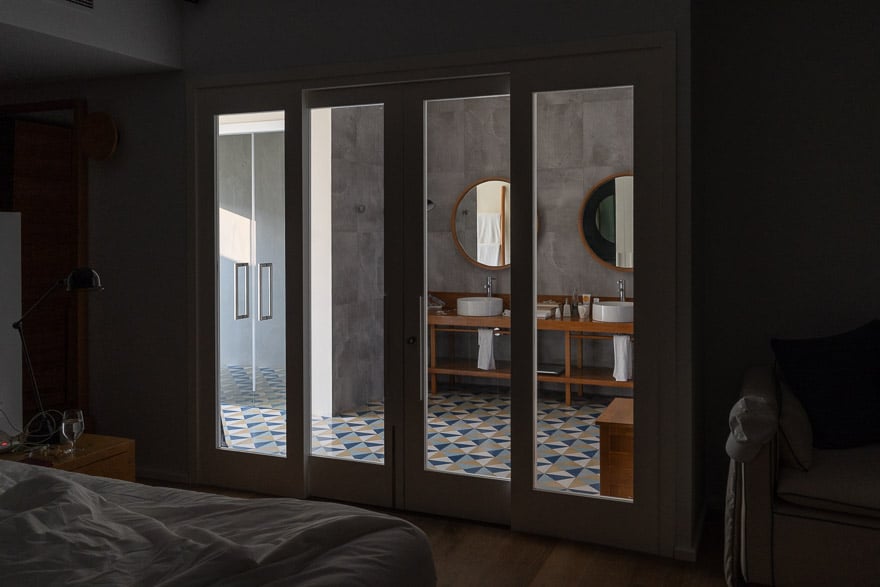 Both sides of the bed also had not only universal power and USB ports but also featured a full set of very clearly labelled light switches. There's nothing more annoying than running around trying to turn off individual lights at night when all you want to do is get to sleep.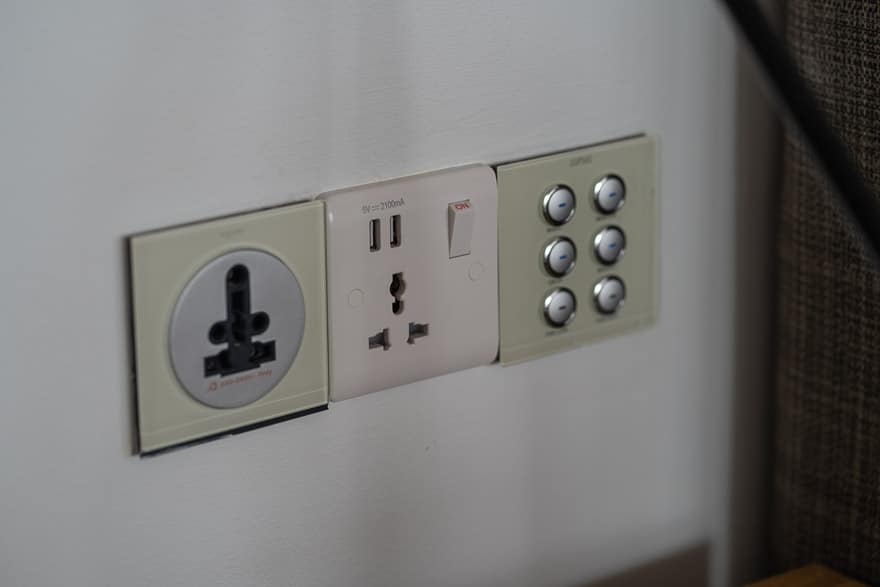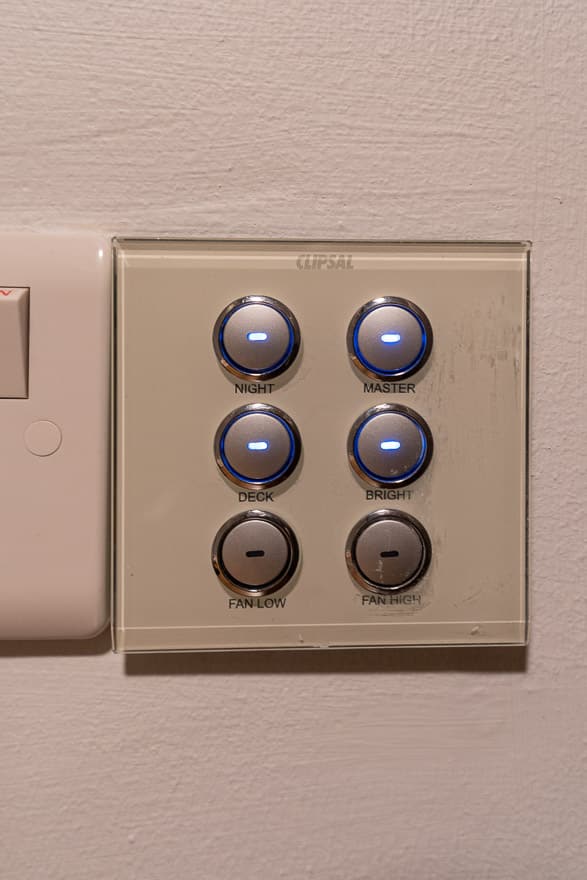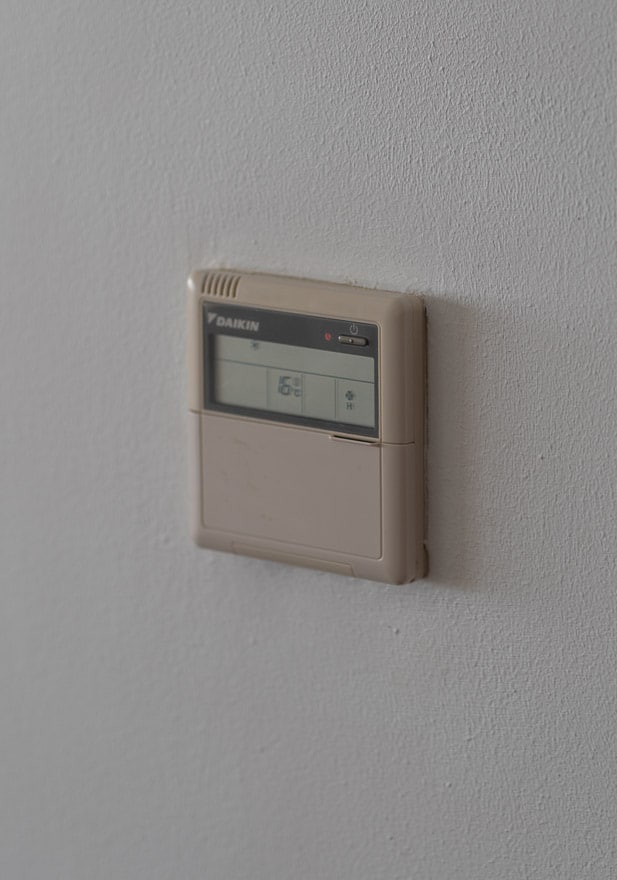 The AC was initially not working (hence it being set all the way down to 16℃ in the picture) but after one quick Whatsapp to our butler, an engineer was sent over to repair it within a few minutes.
After this the AC was both extremely powerful and relatively quiet. You could easily and quickly get the villa down to a temperature that would require knitwear.
At the foot of the bed was a large sitting area featuring an oversized sofa and lamp. The white and blue colour palette brought a real touch of elegance to the room and was a welcome departure from the old standard of wood with bright 'tropical' accents that many Maldivian resorts go for.
Waiting on the table was an absolutely fantastic welcome amenity, probably the most generous that I've seen in any hotel ever. Not only did we get a superb bottle of 2015 Yarra Valley Chardonnay, we were also given a bottle of Louis Roederer champagne.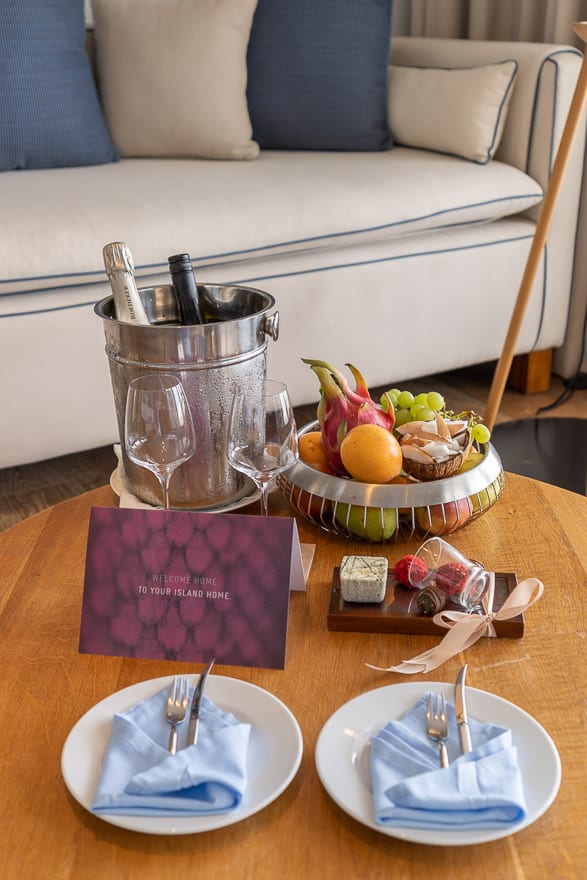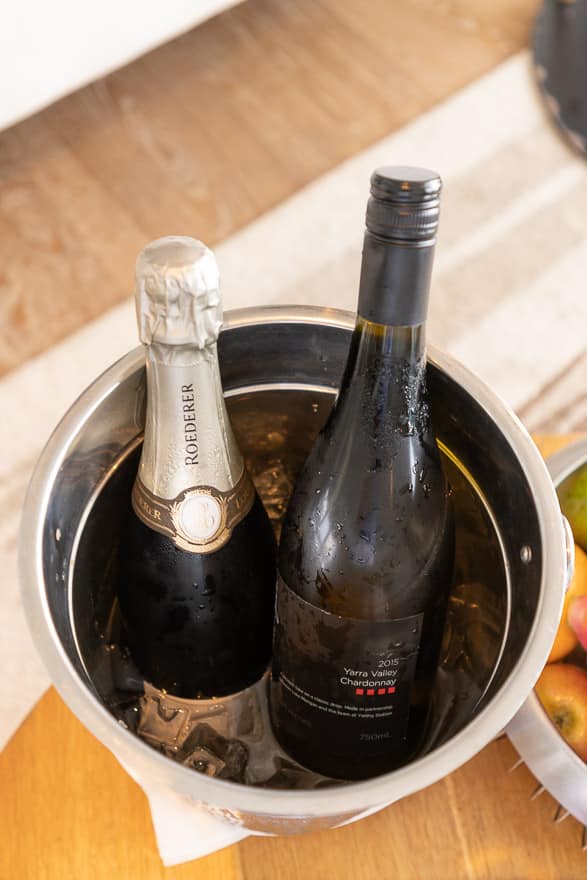 Roederer is one of my favourite champagne houses, producing some of the highest quality NV champagne in the business and its presence in the room was a real show of class from Amilla. The fruit platter was great too, they really went all out with the exotic elements: dragon fruit, mango, passion fruit and even a whole prepared coconut.
The small dessert platter was fantastic, with some form of inverse lamington filled with chocolate and raspberry standing out as one of the better desserts I've eaten in the last year. Better still, every night we would return to see our bed freshly made, the curtains drawn and a new dessert sitting under a glass klosch on the table.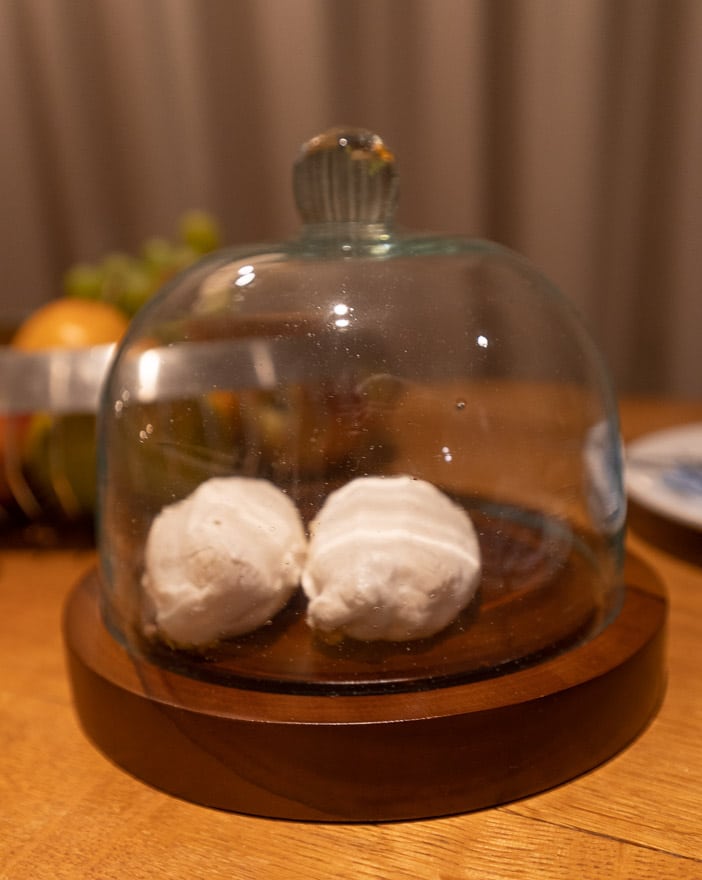 Another thoughtful gift was waiting for us on the bed when we first arrived: an Amilla branded beach bag. This was high enough quality that you'd want to keep it afterwards. Other resorts have stopped offering beach bags during COVID since they need to be deep cleaned between uses. Amilla's approach has been to not only keep the beach bags but to let guests take the bags home afterwards as a memento of their stay.
I also thought that the zippable rubber lined wet clothes bag was a thoughtful touch. It was left on our bed on the final night, just in case we had wet clothes to pack before departure.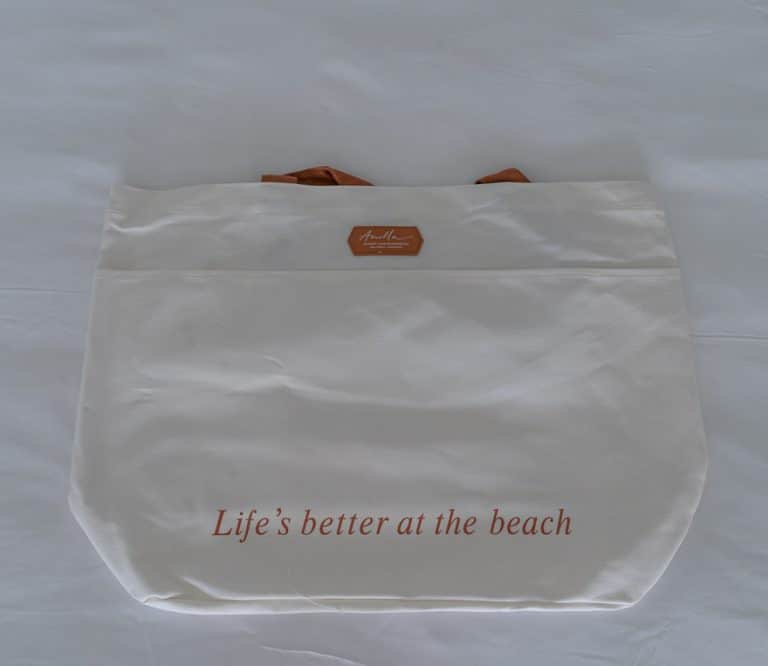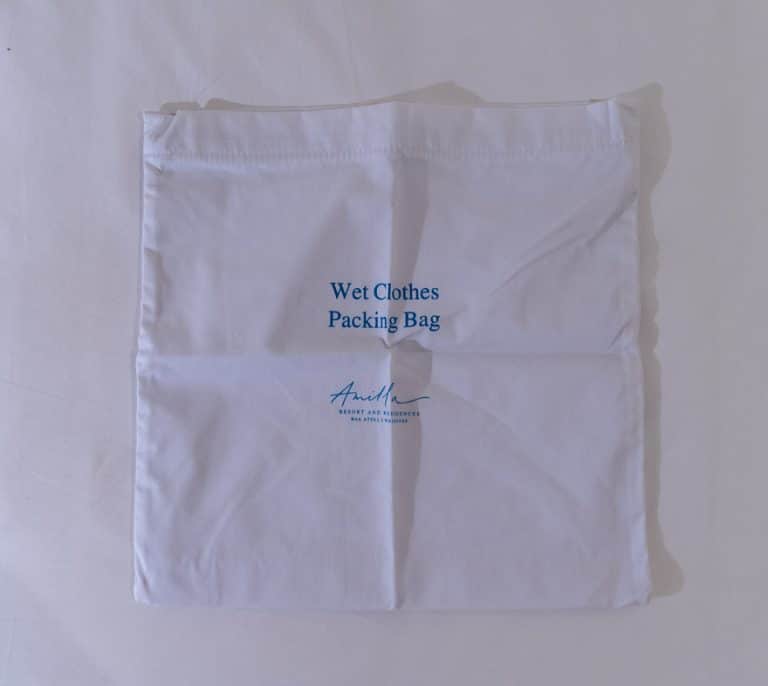 Back to the room layout: the TV was in a bit of a weird position since it was too far from the sofa and off to one side of the bed. In order to be truly watchable it would need to be at least 55″ and ideally mounted on an arm which could be turned to face the bed.
I personally found the extra desk very useful though since often Kamara and I will answer emails or edit photos at the same time. This is one of the few occasions on which we've both been able to do so comfortably whilst travelling.
The media area also housed the controls and amp for a rather large and powerful Bose surround sound system.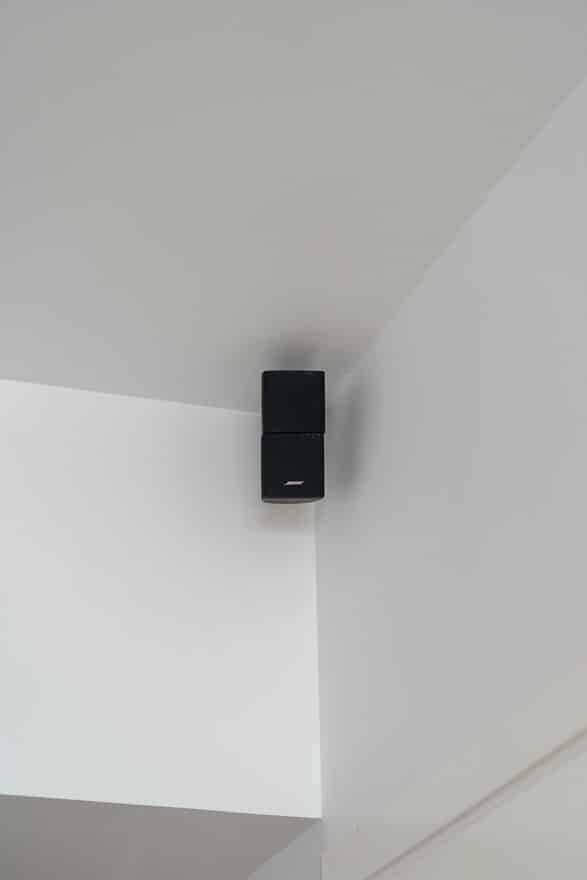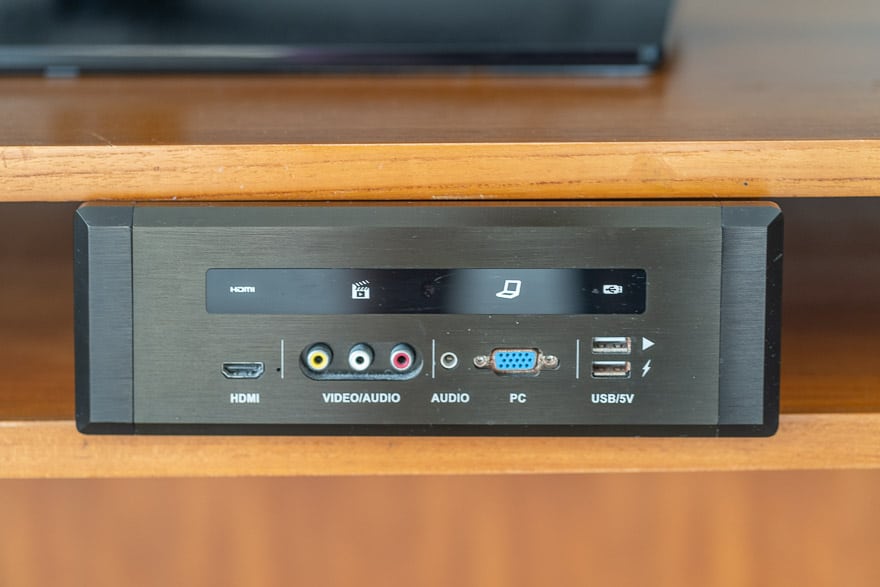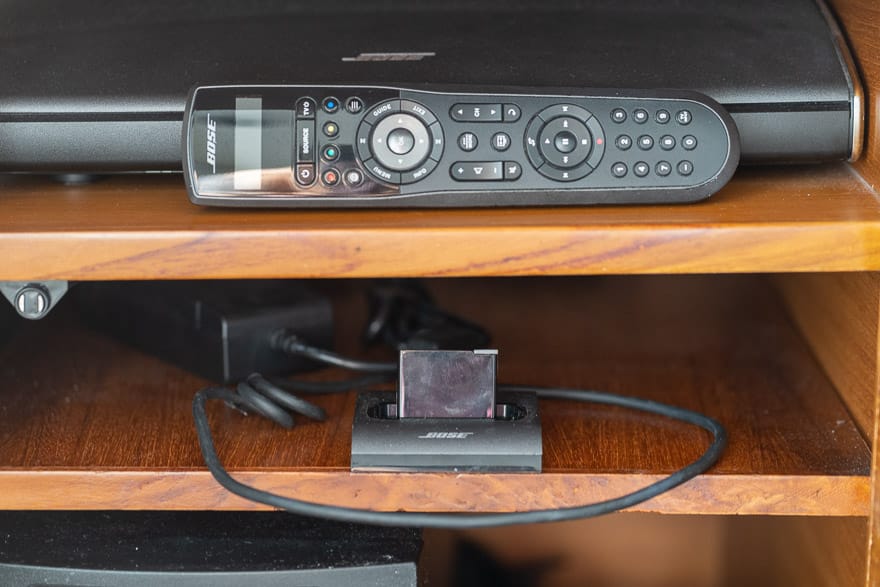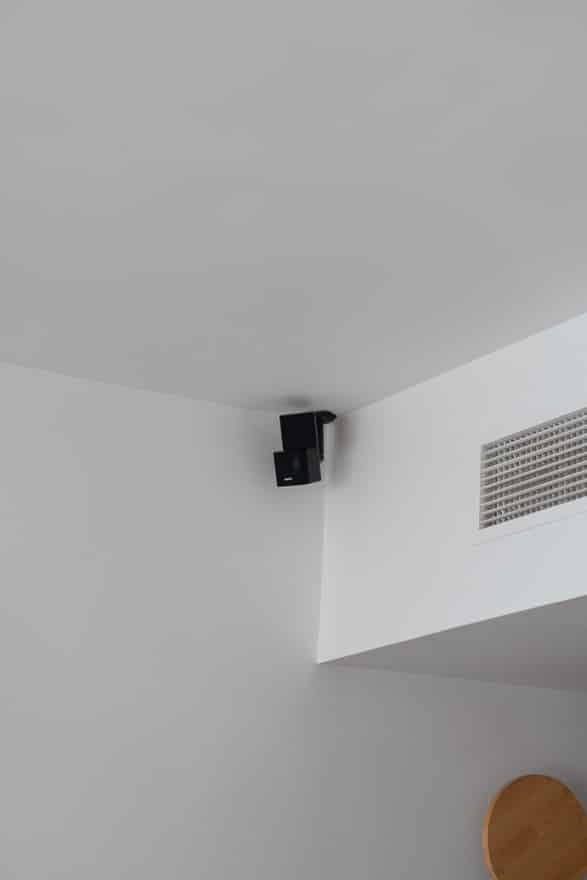 Bathroom
The villa's bathroom was impressively enormous although the modern tiling and concrete didn't seem to be quite in keeping with the design of the bedroom.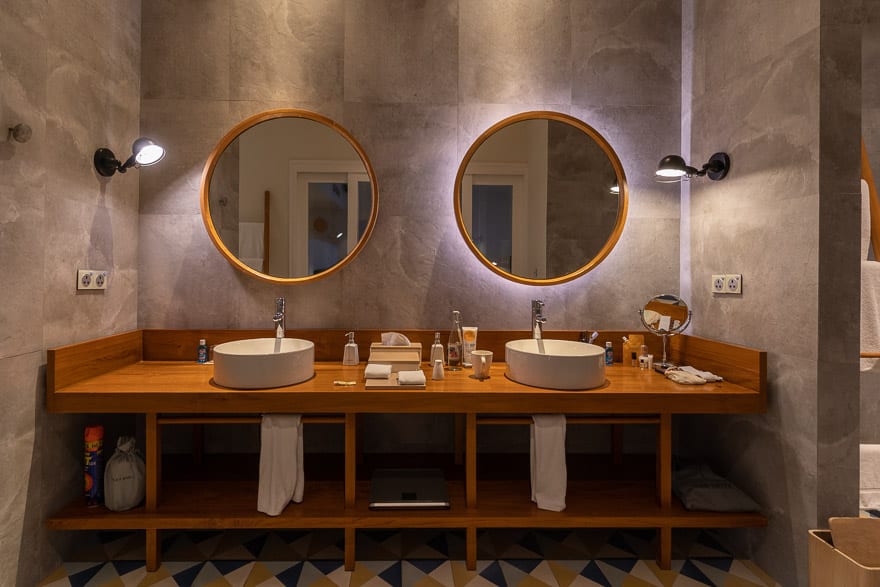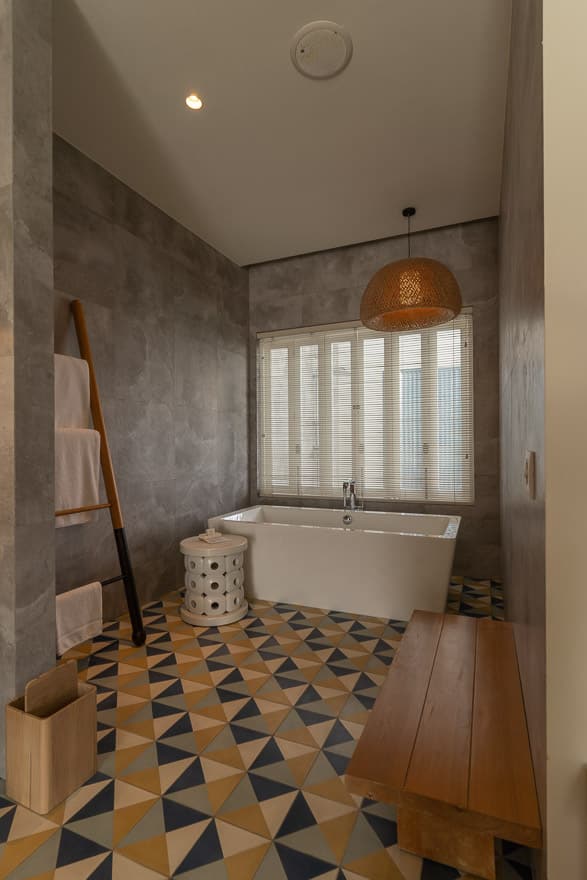 There was plenty of counter space at the dual vanity area and more plug sockets that you could ever possible require. The toiletries are developed in house at the Amilla spa and with the exception of the hand soap, all were provided in refillable containers.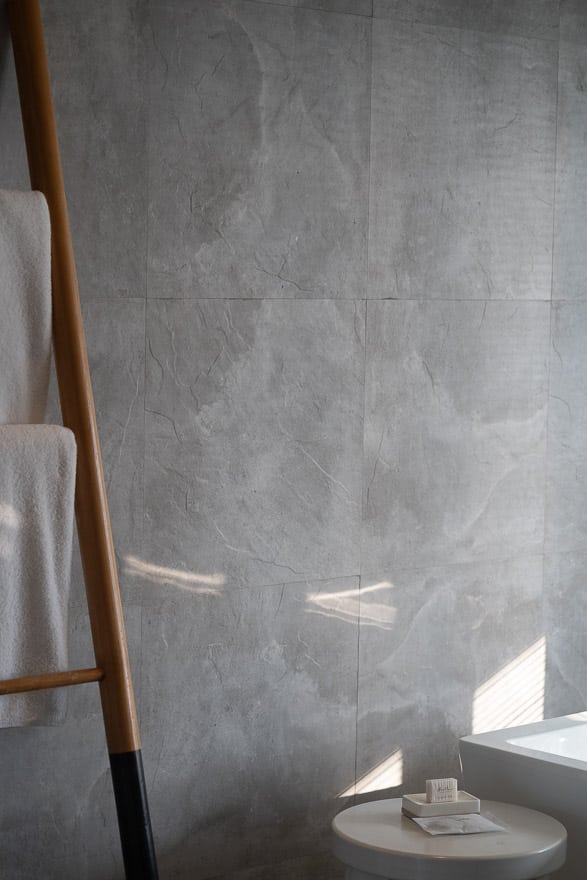 The deep soaking tub filled up quickly and was the perfect spot from which to experience sunset. On the first day I sent a Whatsapp to our butler asking for bath salts, he told me that the island didn't have any at the moment due to supply issues. However the next day I was presented with some homemade 'tea bags' filled with aromatic herbs from the resort's own garden.
This was the perfect illustration of how sustainability can materially enhance your experience when done well.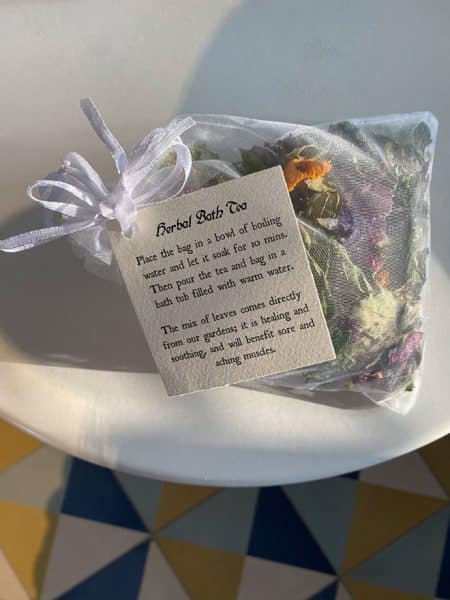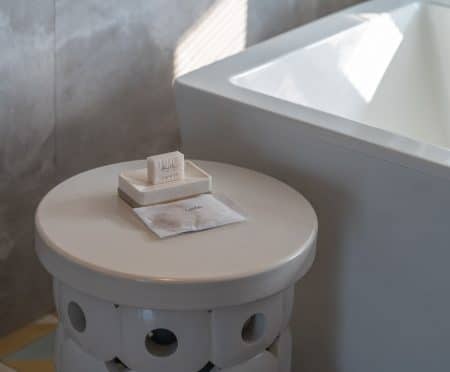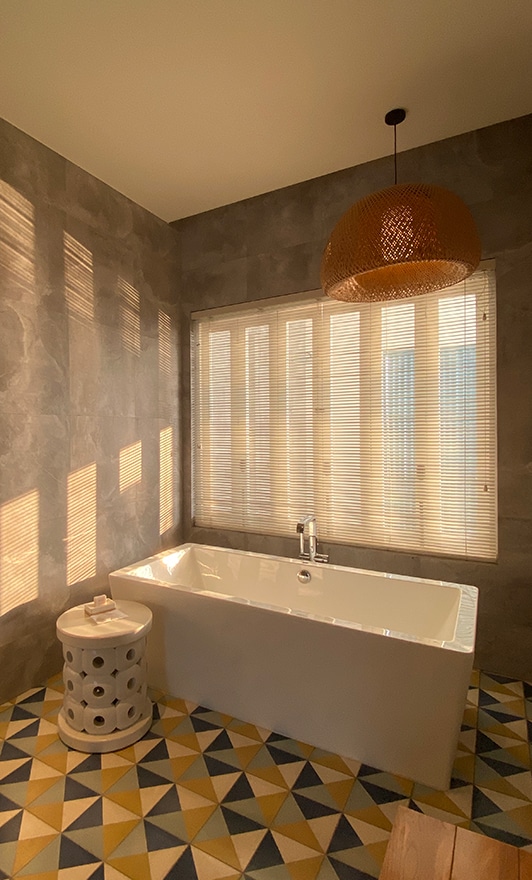 The indoor shower was impressively sized, although I rarely used it given that we had two wonderful outdoor showers as well. At this price point most resorts are offering Japanese toilets these days but presumably these will be fitted during the next refurb…especially since water is a lot more sustainable than toilet paper!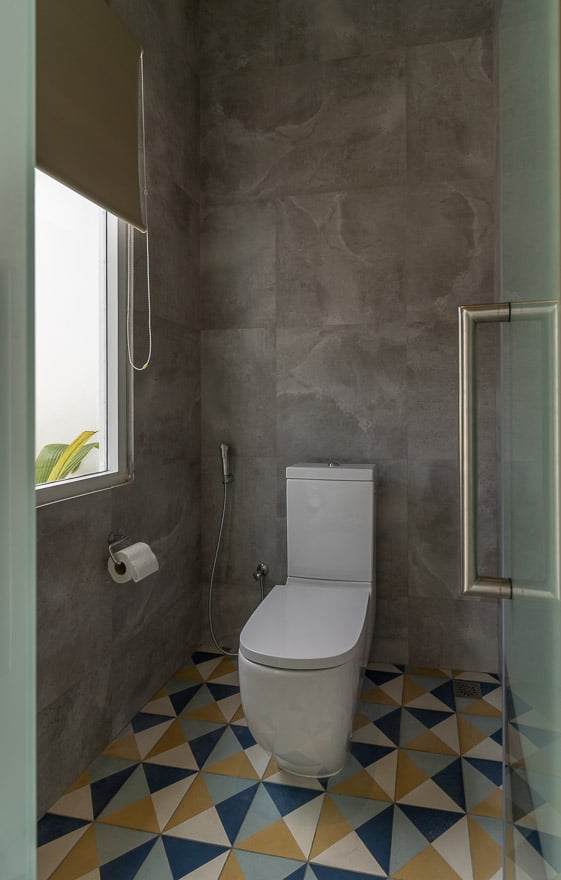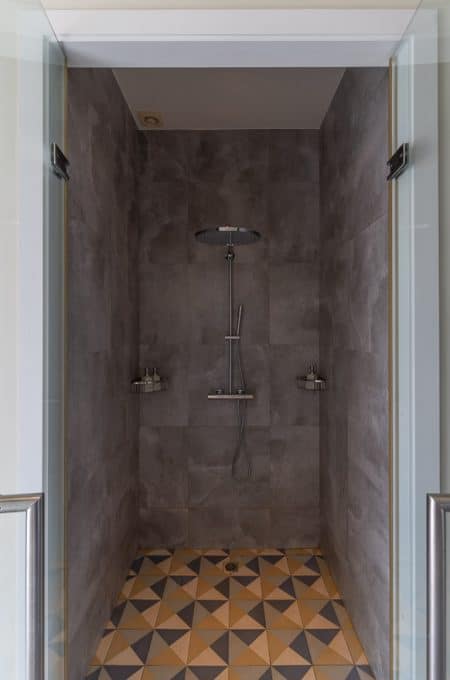 At the far end of the bathroom was a sun filled outdoor courtyard featuring a waterfall style outdoor shower. This area was absolutely huge and completely private; it also made the perfect spot to hang swimsuits and rash guards out to dry as there was no fear of them getting blown away if the wind picked up.
Pool Deck
From the bed a series of panoramic sliding glass doors framed a view of the 120m² outdoor deck. You read that correctly. The outdoor space in our villa was even larger than the interior!
A second outdoor shower was located directly outside the interior bathtub. This was ideal for washing off after a dip in the ocean or the pool.
The deck featured two dedicated seating areas; one was a more formal dining area with director chairs and a white linen table cloth (a detail which I absolutely loved). The other was a more casual spot with soft chairs and a lower drinks table, ideal for watching the sunset with a glass of wine.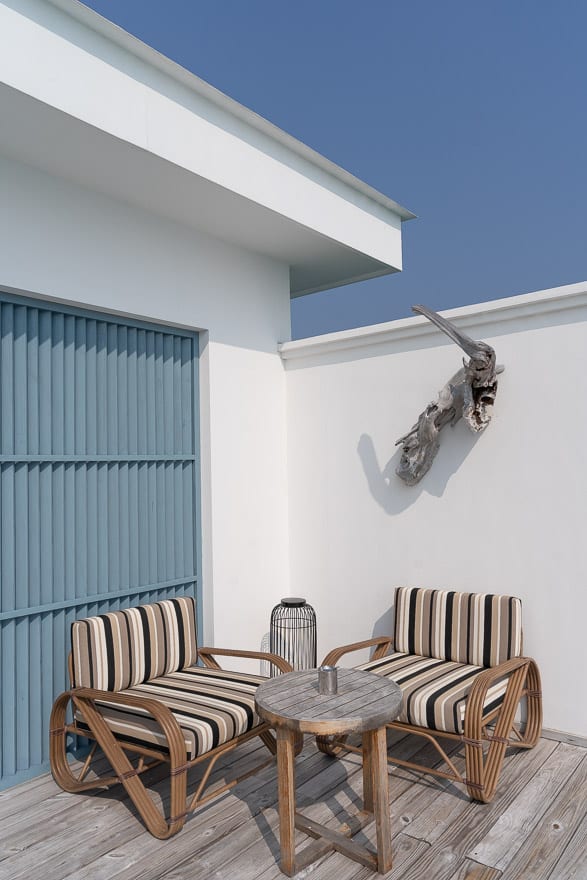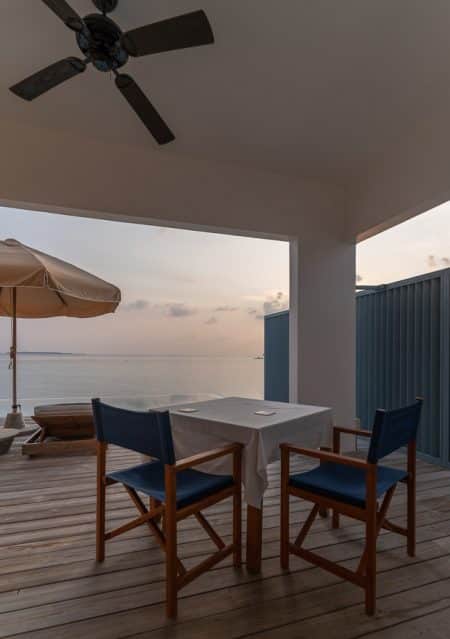 Of course, the centrepiece of the outdoor space was the pristine infinity pool with its sky blue interior and gleaming white border. The pool was large enough to swim laps in, placing it at the top of the class for this price point in the Maldives.
Directly outside our villa was an in-ocean hammock which, let's be honest, is a fun gimmick. Nobody actually spends any time in these things.
---
Treetop Villa
---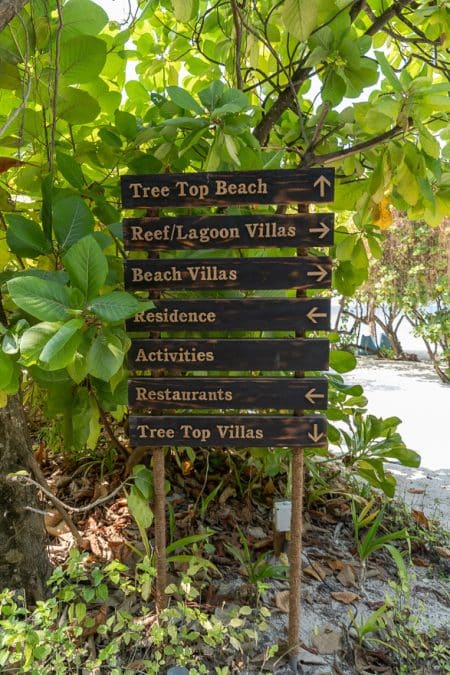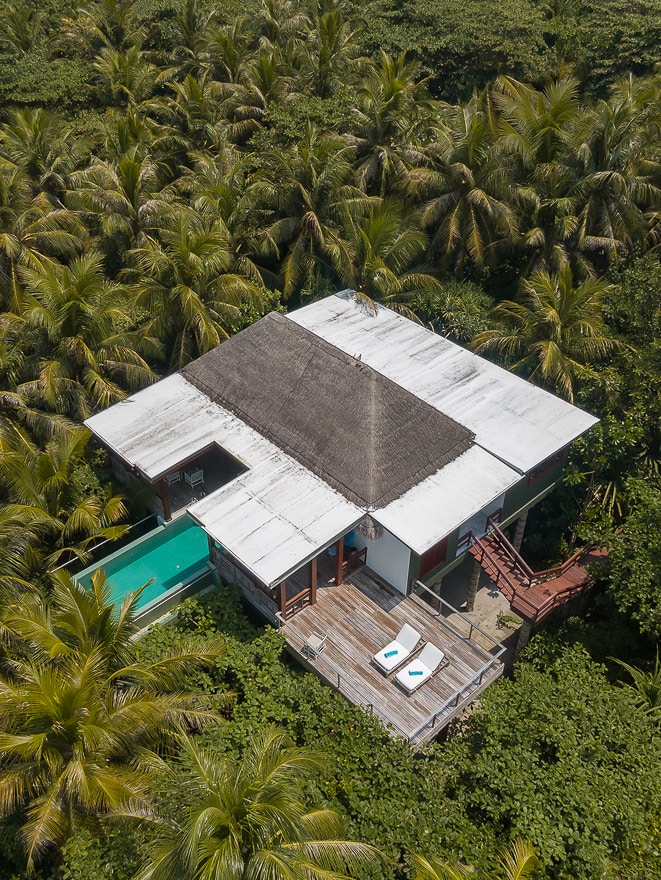 The Treetop Villas are absolutely unique within the Maldives and are more reminiscent of what you would expect to see in Ubud than in this atoll nation of turquoise lagoons. As you can see from the signpost above, the Treetop Villas do have access to their own private beach though, so you won't be missing out on your dose of vitamin sea during your stay.
Since there are only 7 of these in the entire resort they tend to be booked up quickly. We were able to briefly spend time in one a few hours before some guests were due to check in. All the others were occupied for the duration of our stay.
If you're interested in this room type my advice would be to book early!
The villas are located in the jungle interior of the island and are perched on stilts 14 metres up in the air, perfectly nestled amongst the tops of the palm trees. If you suffer from vertigo the stairs alone will be enough to put you off: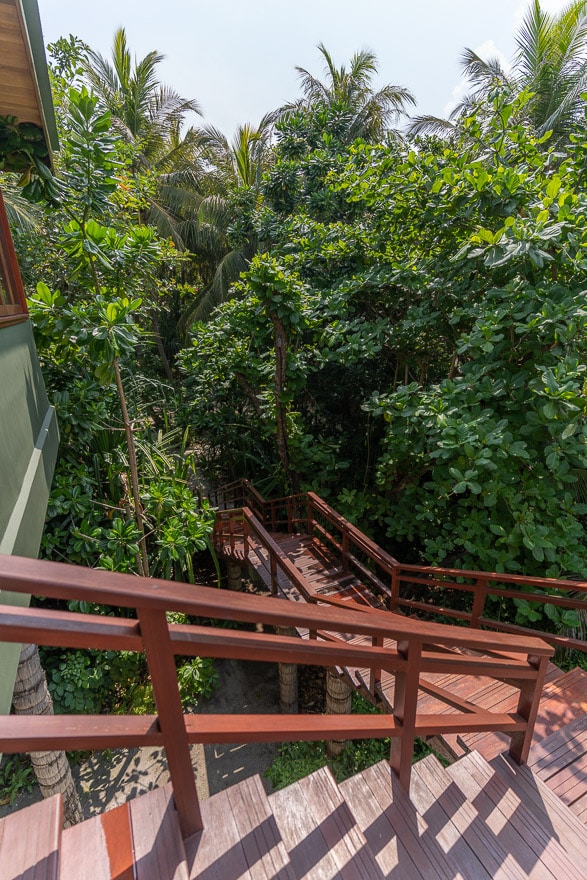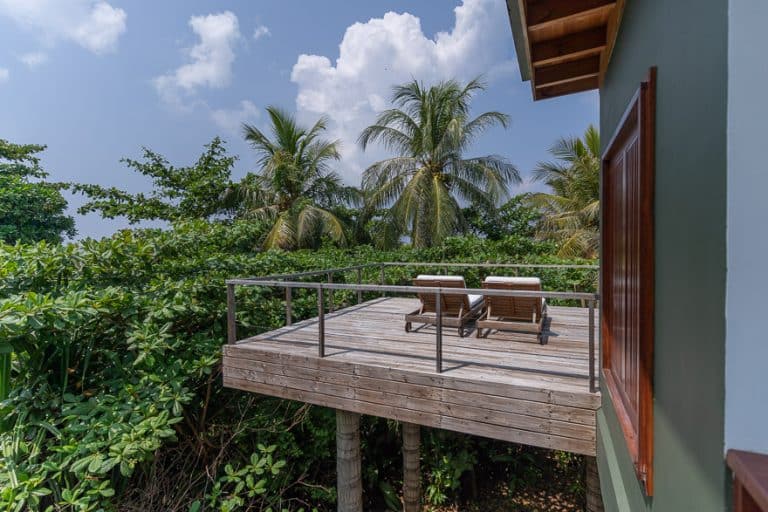 Treetop Villa – Video Tour
View this post on Instagram
Living Room
Unlike the overwater villas, the Treetop Villa had a genuine, dedicated living room that was separate to the bedrooms. The TV was again too small in my opinion but was properly positioned for viewing. The desk was also ideally positioned so that you could catch up on emails while others sat on the sofas watching TV.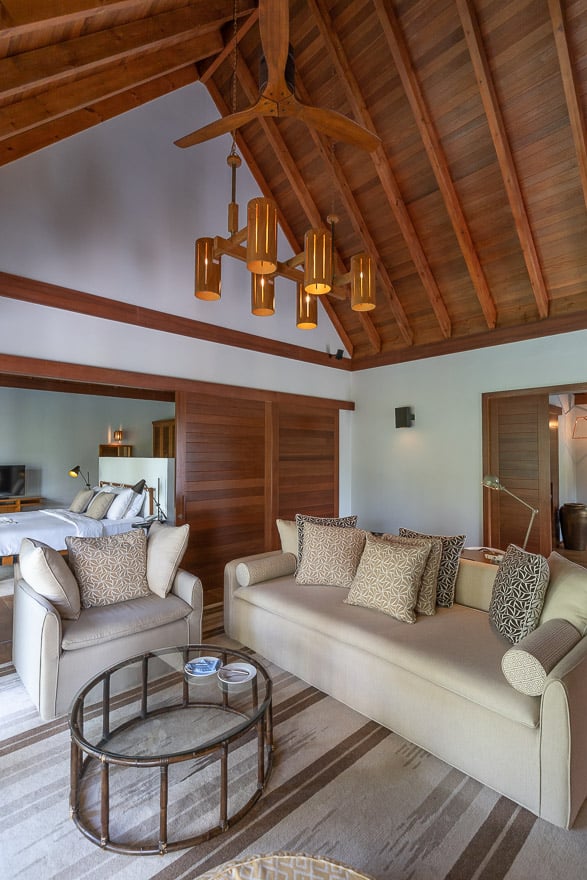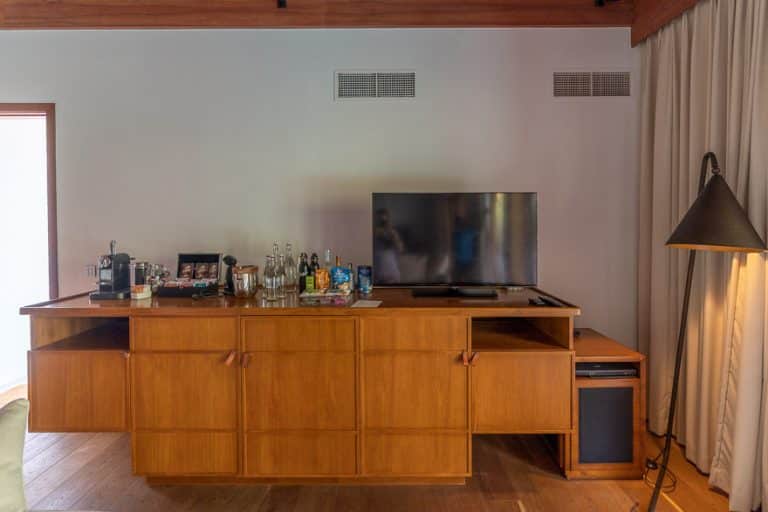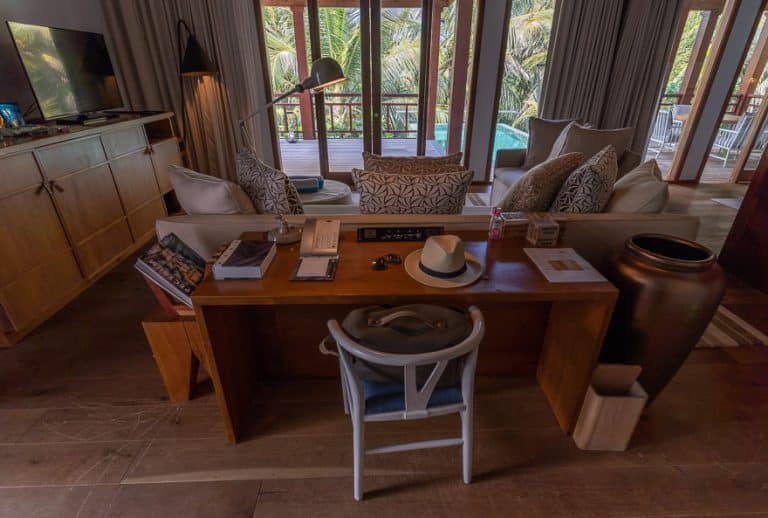 Guest Bedroom
This particular villa was unique in that it had a second bedroom located just off the bedroom (it also had an additional terrace where the glamping dome was previously located before being moved to its current beach location).
This second room also featured an en-suite bathroom with concrete walls, light green tiles and wooden framed windows which fit the environment perfectly.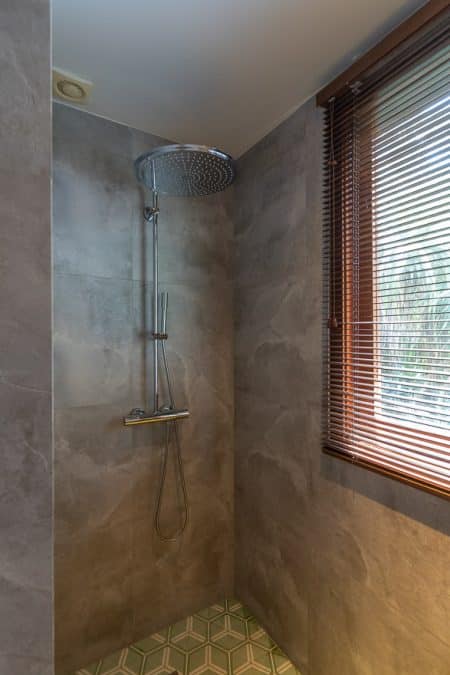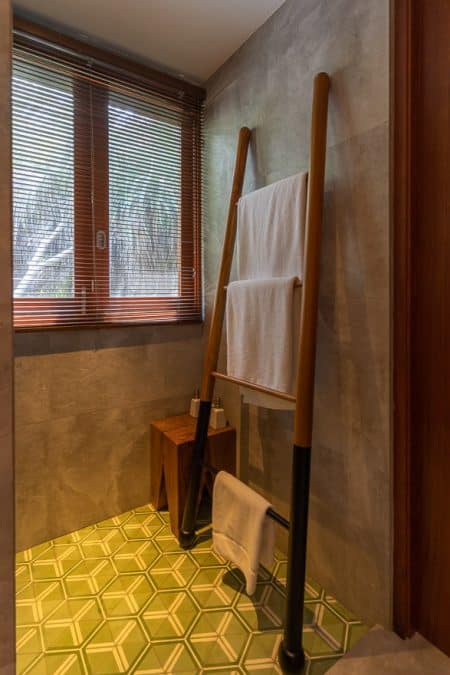 Master Bedroom
The master bedroom was located on the other end of the living room and had many familiar elements from our Sunset Water Pool Villa. The bed was just as enormous and there was an equally munificent space in which to both open suitcases and hang clothes.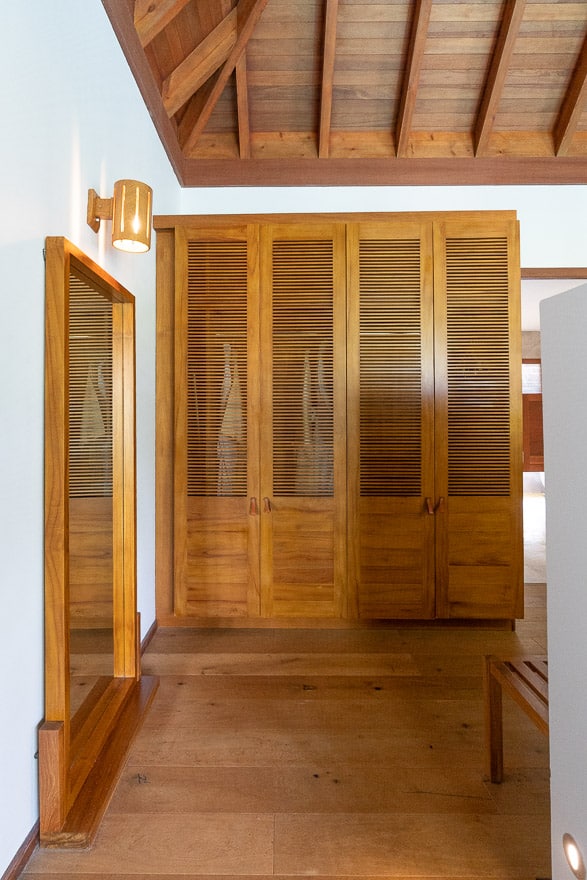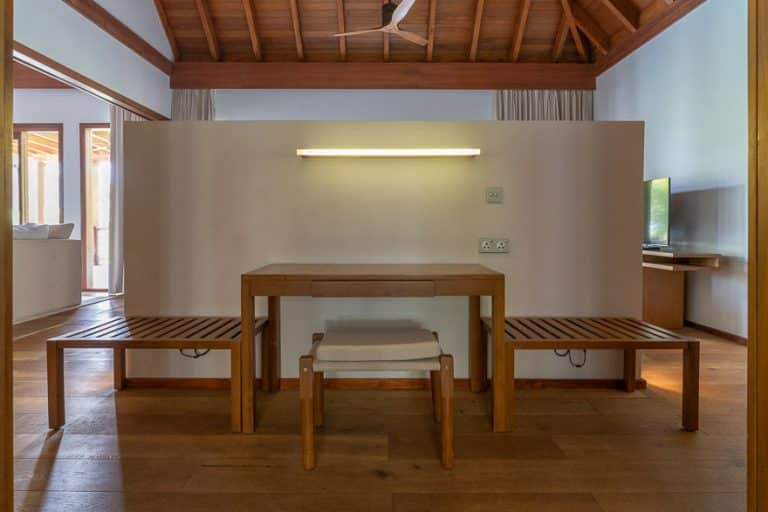 Unlike the living room, the bedroom didn't feature a Bose surround sound system but it did have an iPod dock. The bed also had access to universal power, USB and labelled light switched on both sides.
Master Bathroom
The master bathroom was a serene tropical oasis. The only noises you could hear were palm fronds rustling in the wind and the chirping of birds. What an ideal spot for a relaxing bath!
The little details really stood out to me here. Extra hooks for hanging gowns or towels within reach of the tub, the rustic 'chandelier' above and the fact that no other exposed bulbs or cluttered pipes were visible from inside the bath.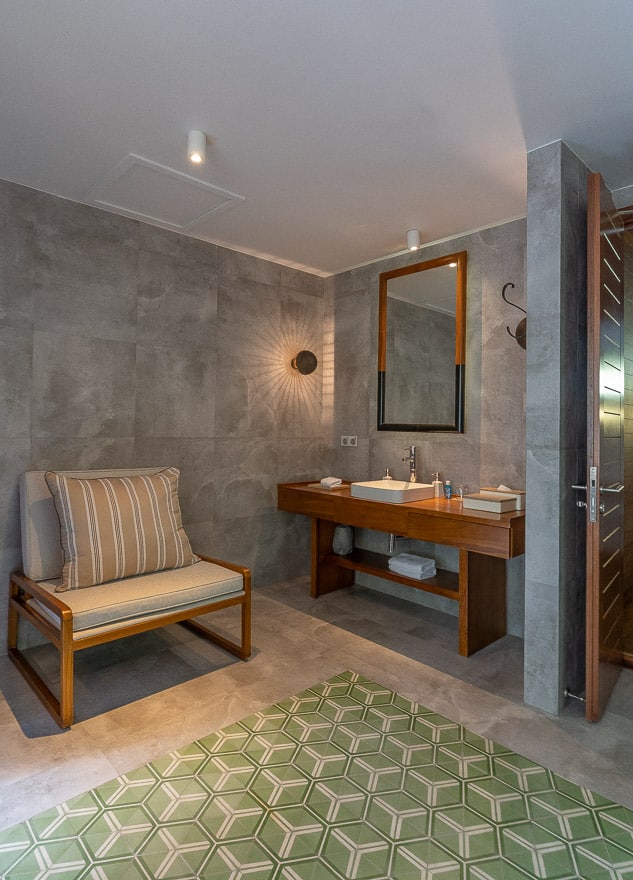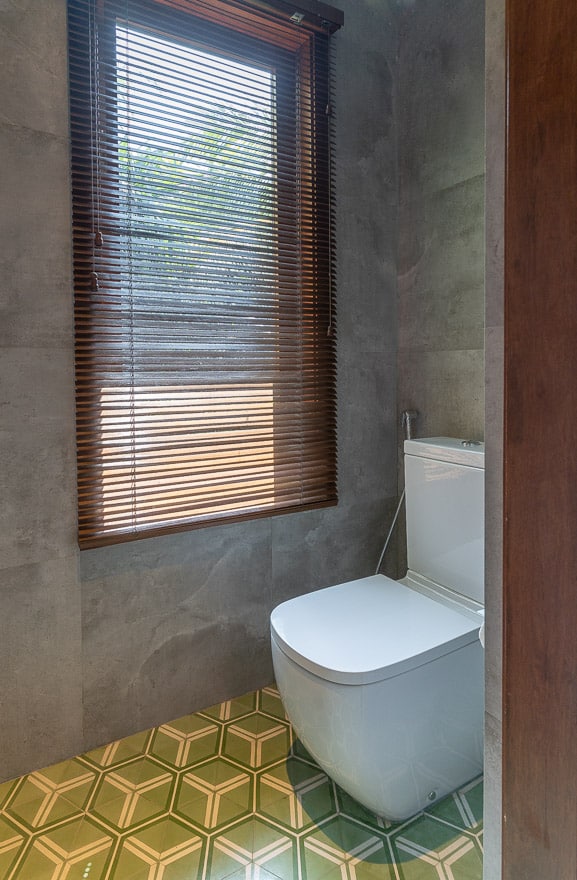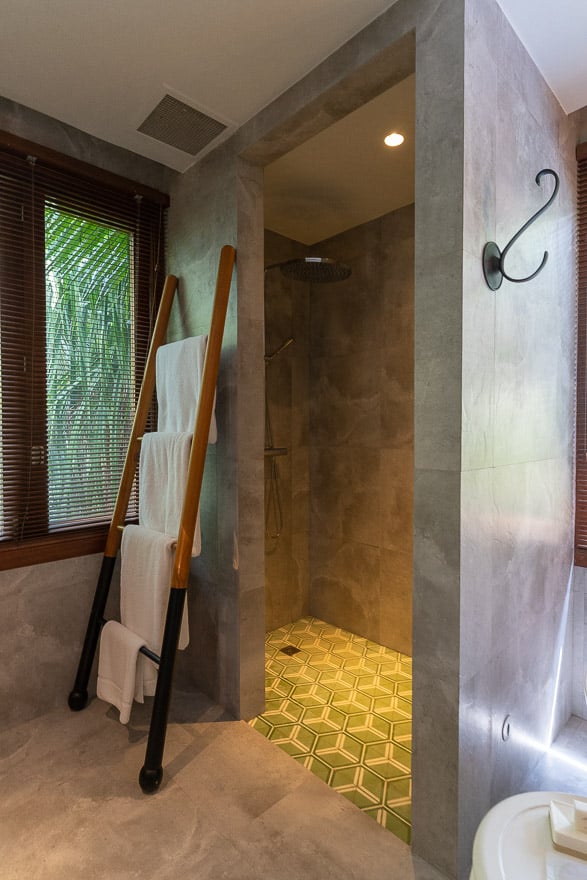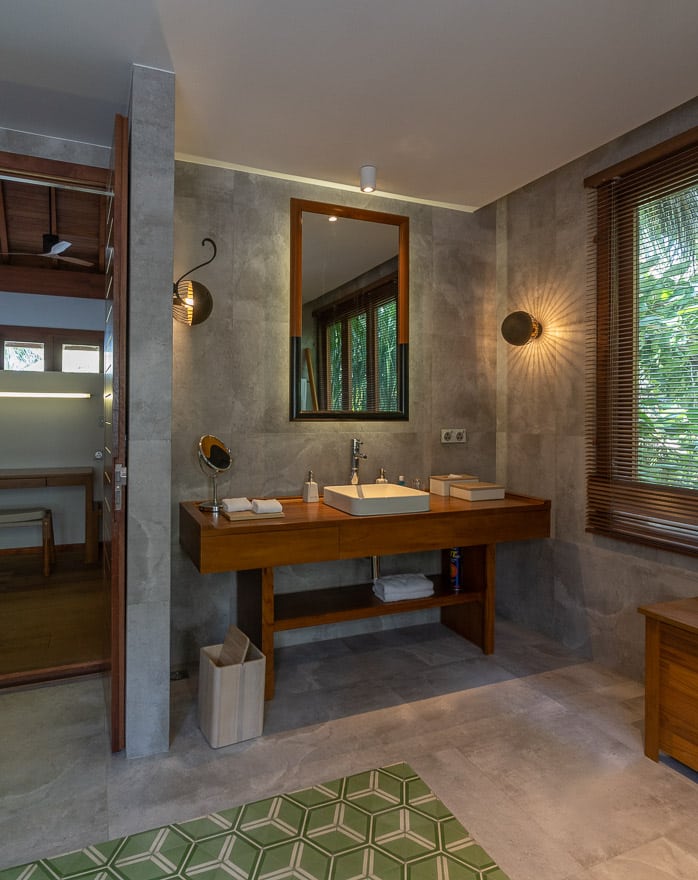 Outdoor Deck
The outdoor deck was a real showstopper. Not only was there a glass walled infinity pool nestled amongst the palm tree canopy, there was a dining area, outdoor shower and two decks, one in the shade and one in the sun (note the far deck in the sun is unique to this villa and was the former location of the Glamping Bubble).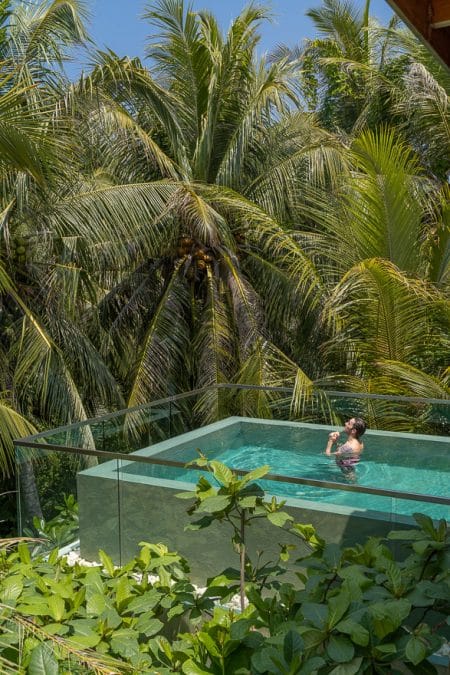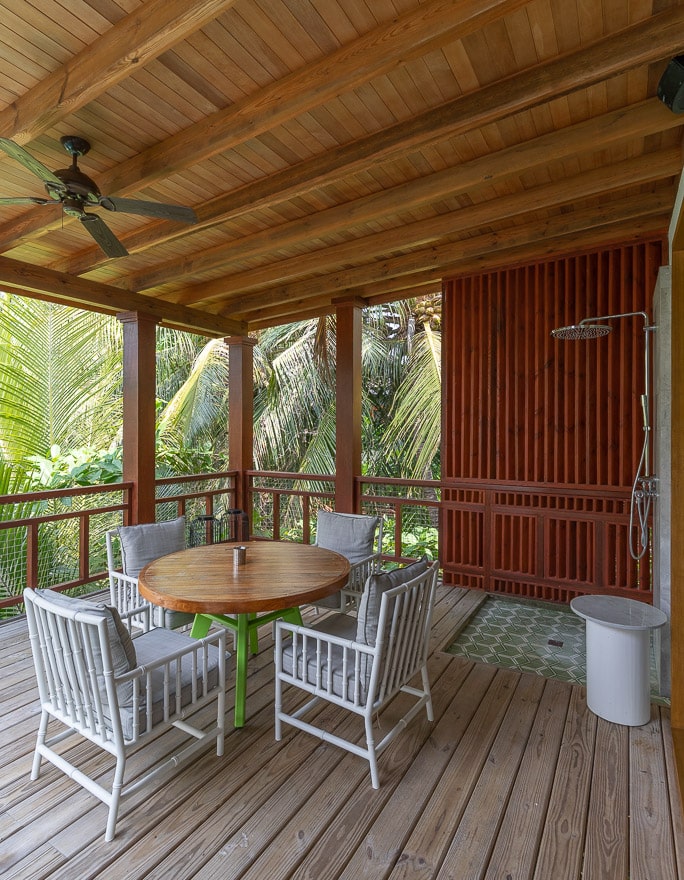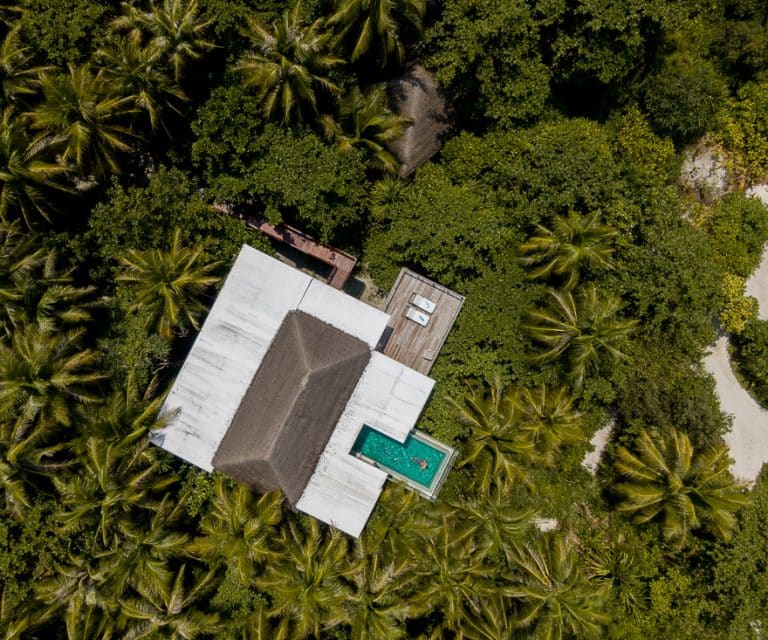 This is without a doubt one of the coolest villas I've ever seen in the Maldives and the perfect antidote for anybody who proclaims that they would get bored spending more than a week on a single island. The feeling up here is just so different to the beach that it truly feels like you're thousands of miles away in Costa Rica or Bali.
---
Food and Drink
---
Click here to view current menus for all restaurants.
---
Home Delivery during our Quarantine
Since we were on an all-inclusive package, we were able to order more or less whatever we wanted during our initial quarantine period in the villa. This was the diametric opposite of how our experience began at Constance Moofushi.
At Amilla we had 35 pages of in-villa dining to choose from: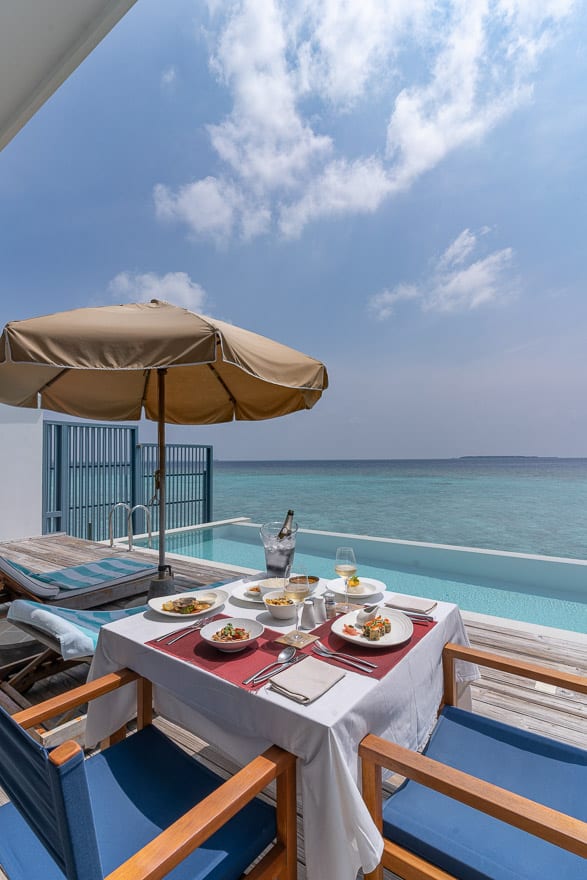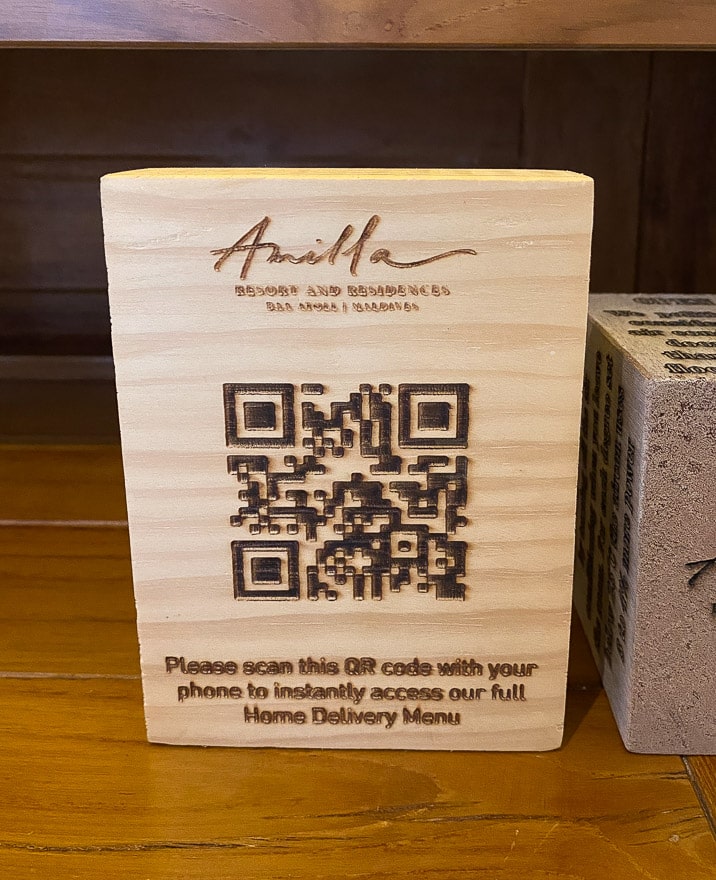 The philosophy at Amilla is that wellness and nutrition is an individual choice. A luxury property should cater to this in all of its establishments without forcing guests to adapt and compromise on their usual habits.
Amilla calls this: Wellness Your Way and personally I think that it is an absolutely fantastic concept.
We were always asked about dietary requirements at every meal and customisation requests were delivered with aplomb.
Similarly the 'Home Delivery' menu not only featured all manner of cuisine from around the world it also offered paleo, gluten free, vegetarian and vegan options.
Our first meal at Amilla was a spectacular lunch served on a white linen draped table, on the expansive deck of our villa.
Every single thing we ordered was great: the Som Tum, freshly grilled catch of the day, Maldivian tuna curry, truffle fries, crispy tuna maki and mango sticky rice. Everything had the right balance of flavours and was cooked exactly as it should be.
We washed this down with a few glasses of the Roederer that Amilla kindly provided as a welcome amenity. As soon as we sat down to this amazing meal, Kamara and I breathed a sigh of relief. We had a feeling we were going to be in for a phenomenal stay.
For dinner we ordered a lobster pizza, which was delivered in a custom wooden pizza box and came on a super thin crust with just the right of char around the edges. It was easily the best pizza we've had in the Maldives.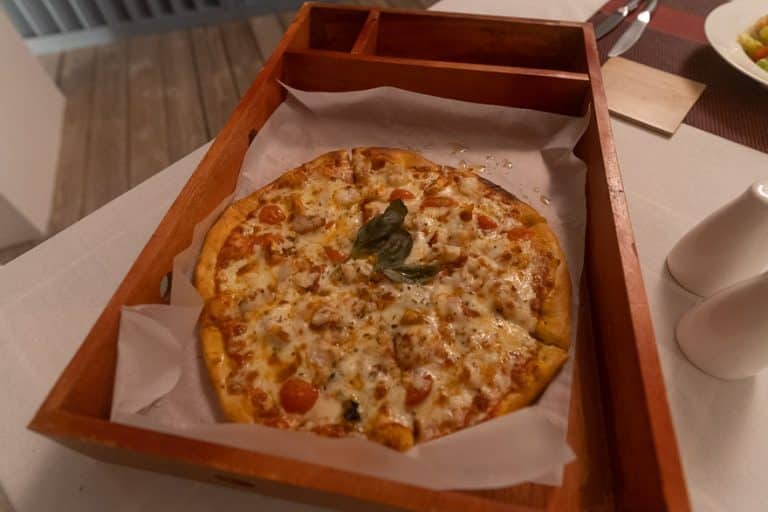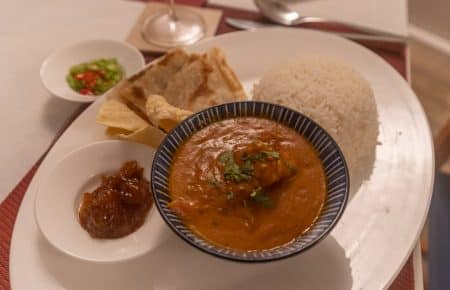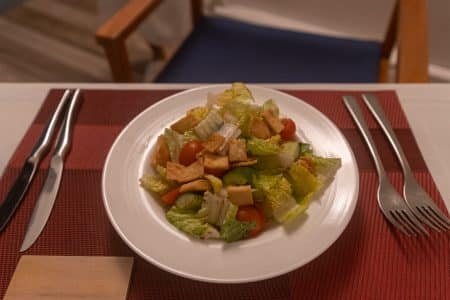 For the other main course we ordered a North Indian curry with king prawns. I know that this is technically an inauthentic dish as Northern India is not exactly famed for its seafood, but honestly the curry and the chapatis were as good as any we had when we visited Rajasthan in 2019. We accompanied the mains with a very generously proportioned fattoush salad to add a healthy counterbalance to the meal.
---
Breakfast at Fresh
---
Fresh is the main breakfast restaurant that all guests have access to at Amilla. Those in beach villas or residences also have access to the premium overwater breakfast at Feeling Koi, other guests can access the Feeling Koi breakfast for $25++ per person.
Fresh is located at one end of the enormous lagoon pool that dominates the main public space at Amilla and was only a two minute walk from our villa, across a small patch of beach.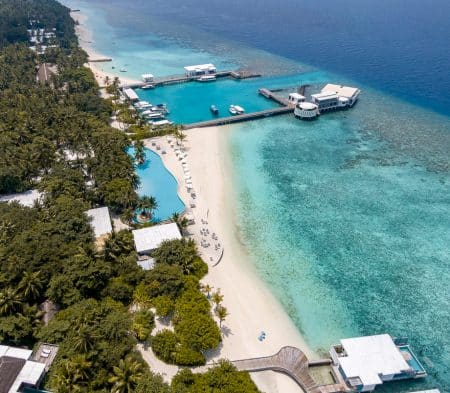 Since all guests require PCR tests before being allowed to leave the room and all staff also quarantine upon arrival and receive regular testing, the breakfast buffet was completely normal with no restrictions or special procedures.
All bread and pastries were freshly baked onsite and they were truly excellent.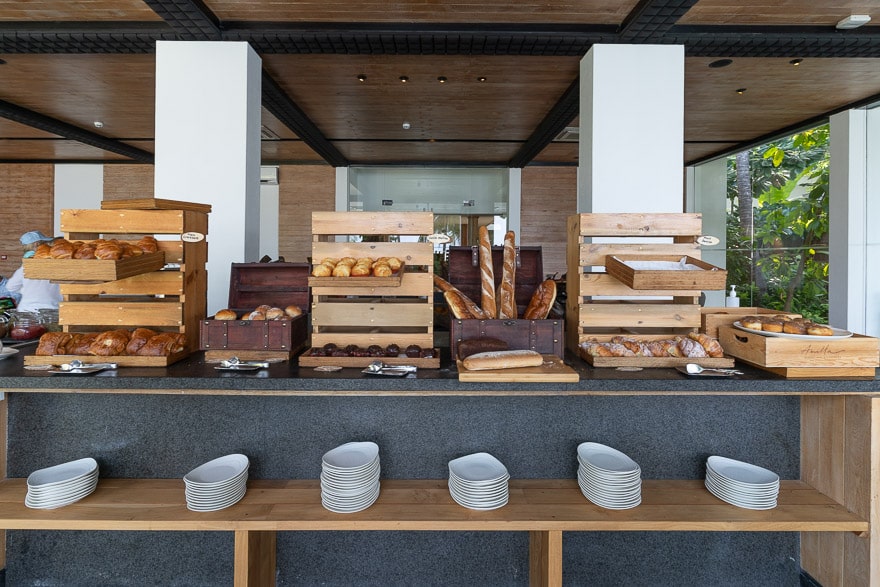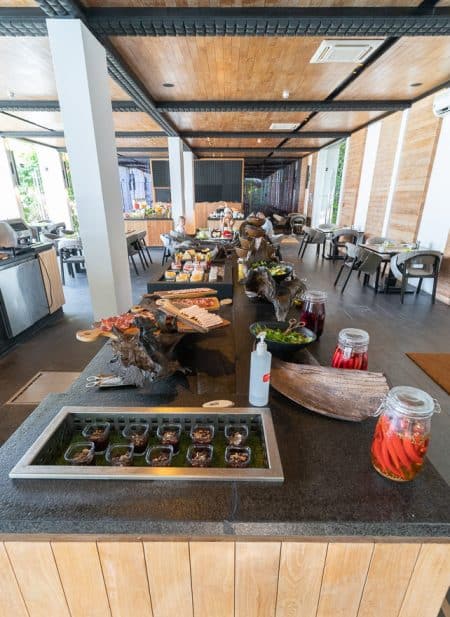 There was a very decent selection of charcuterie (great to see freshly sliced copa!) as well as a variety of cheeses.
Fresh fruit, pickles and cereal.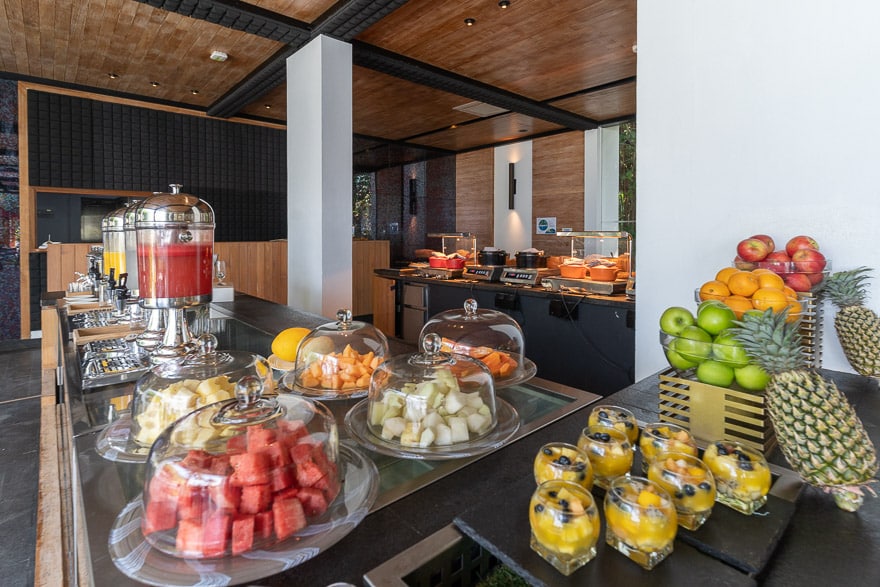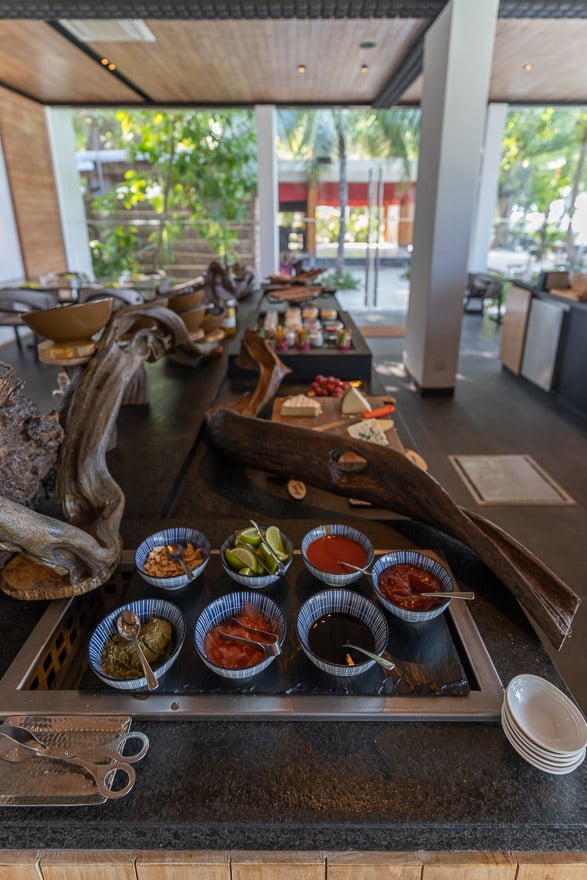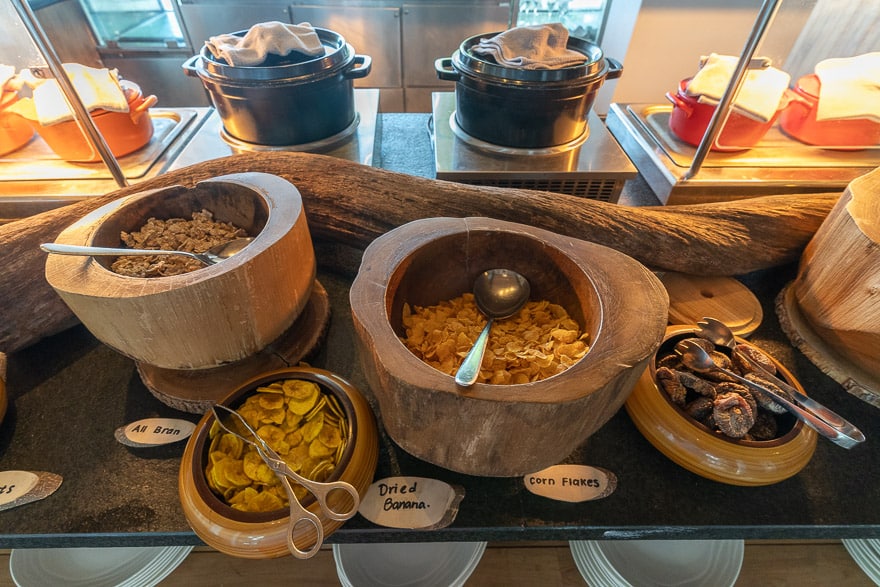 In addition to the juices there were also a variety of flavoured waters on offer, as well as Chapel Hill sparkling wine.
Supremely crispy bacon and hash browns were also available at the buffet, as well as a delicious Maldivian curry and chapatis.
There were plenty of air conditioned tables indoors but with this being our first breakfast in the Maldives we opted to sit in a recessed sofa located on its own island within the lagoon pool.
The service was very good indeed here, highly polished and professional. The staff made a fantastic first impression since up until this moment we had only experienced meals delivered to our villa. Coffees and water were delivered and topped up promptly and our napkins were even folded between visits to the buffet despite our table's awkward location.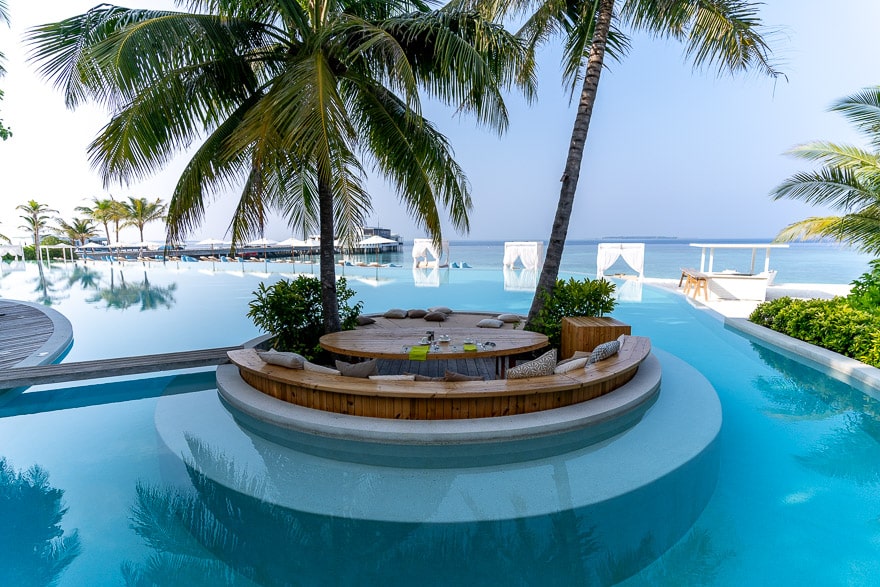 The coffee was Lavazza organic and it tasted great. It is an unfortunate trend amongst many Maldivian resorts to serve Nespresso even in their bars and restaurants (Waldorf Astoria and Cheval Blanc are notable culprits) – thankfully quality is important to Amilla.
In addition to the buffet there was a menu of a la carte dishes to order from: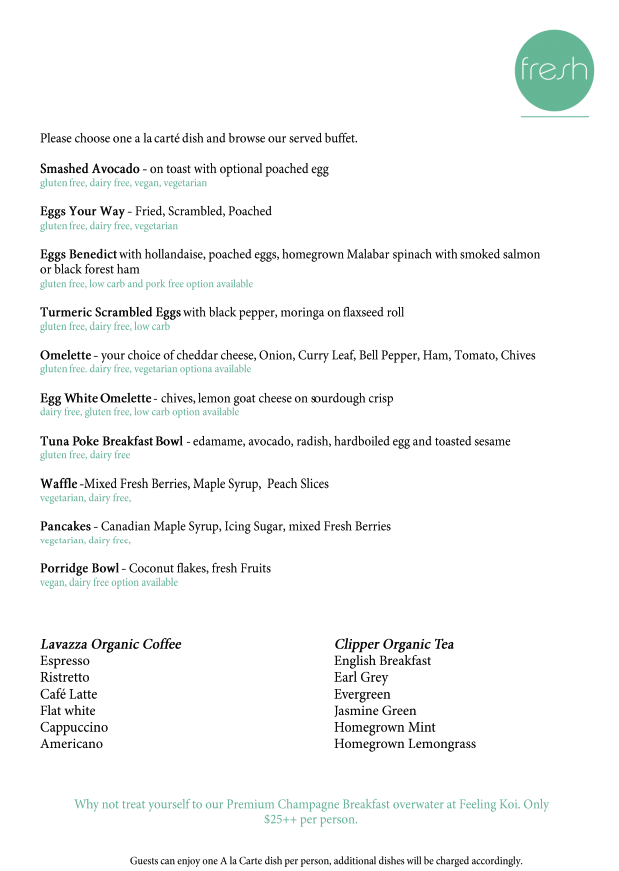 My poké was a bit of a miss unfortunately. If you've been to Hawaii and eaten real poké you'll be well aware of how frequently the concept has been butchered since going global.
Hard boiled egg has no place on a poké bowl and serving unmarinated fish is borderline criminal. There was no pickle of any kind for sharpness and no crunch from the usual crispy shallots, dried coconut or macadamias.
The turmeric scrambled eggs were great though and could have easily fed a small family on their own!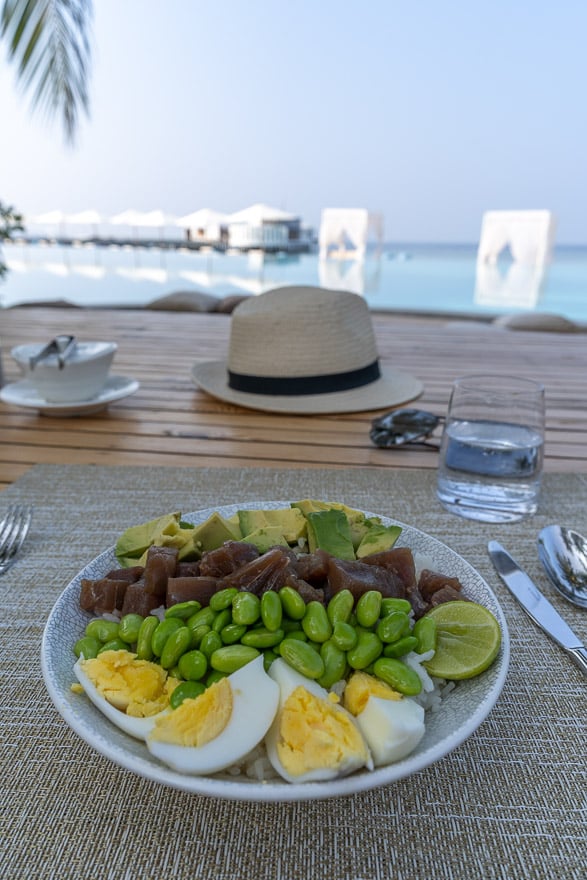 ---
Floating Breakfast
---
I'm not sure how the whole floating breakfast trend started but honestly I can't wait for it to be over.
Even as a one off novelty I just don't see the appeal in putting cold drinks and dairy in direct sunlight or getting wet in order to eat breakfast.
---
Breakfast at Feeling Koi
---
Where the floating breakfast seems like a total waste at $89++ per couple, the $50++ cost per couple to upgrade to 'Premium Breakfast' at Feeling Koi may well be the best money you ever spend.
For me this breakfast was one of the highlights of the stay and genuinely ranks up there with the Ritz Carlton Kyoto, Umaid Bhawan Palace or Four Seasons Dubai DIFC as one of my favourite breakfasts ever.
Firstly the setting is beautifully serene. An overwater water restaurant located far away from the rest of the resort. There's an immediate sense of occasion as you make your way along the long wooden pier.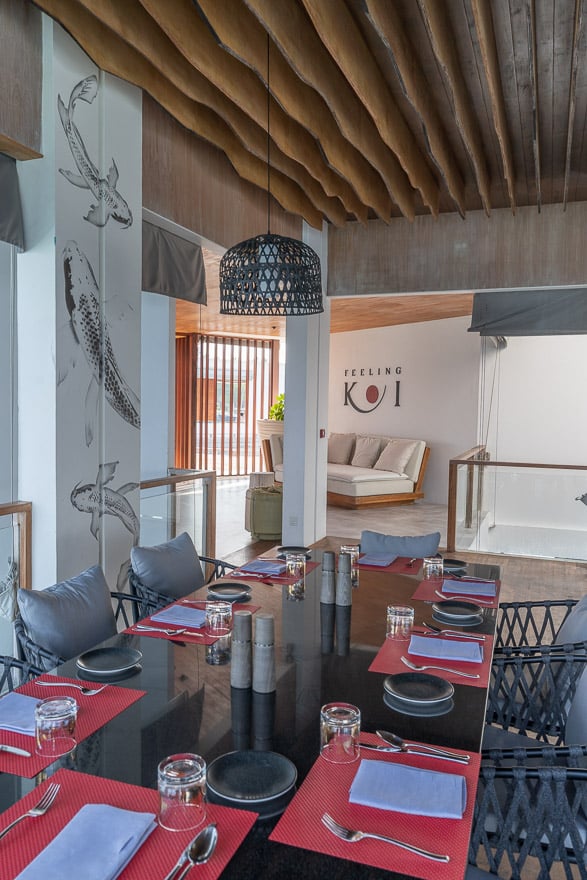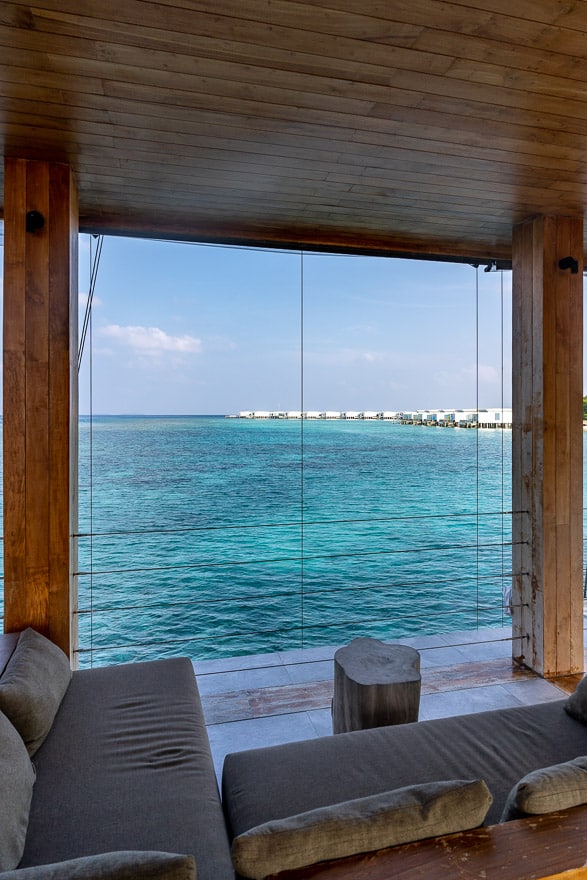 We opted for one of the outdoor tables, which were thankfully in the shade the whole time (you definitely do not want to sit directly in the Maldivian sun when you're eating … or probably ever). Being overwater meant that we not only heard the sound of the waves gently lapping against the pier beneath us, we also enjoyed a wonderful morning breeze.
The buffet was located within a small air conditioned room and despite its small size, it was clearly a cut above Fresh.
The amazing pastries were still present as were the cold cuts and cheese, additionally there was a selection of fresh sushi and sashimi.
The drinks section was what really set the buffet here apart: fresh young coconuts, free flowing Moët champagne and a selection of home made kombuchas and juices.
We had seen the homemade kombuchas on the menu before but the charcoal tonic was new to us and served as the perfect antidote to the wine tasting we'd enjoyed the night before!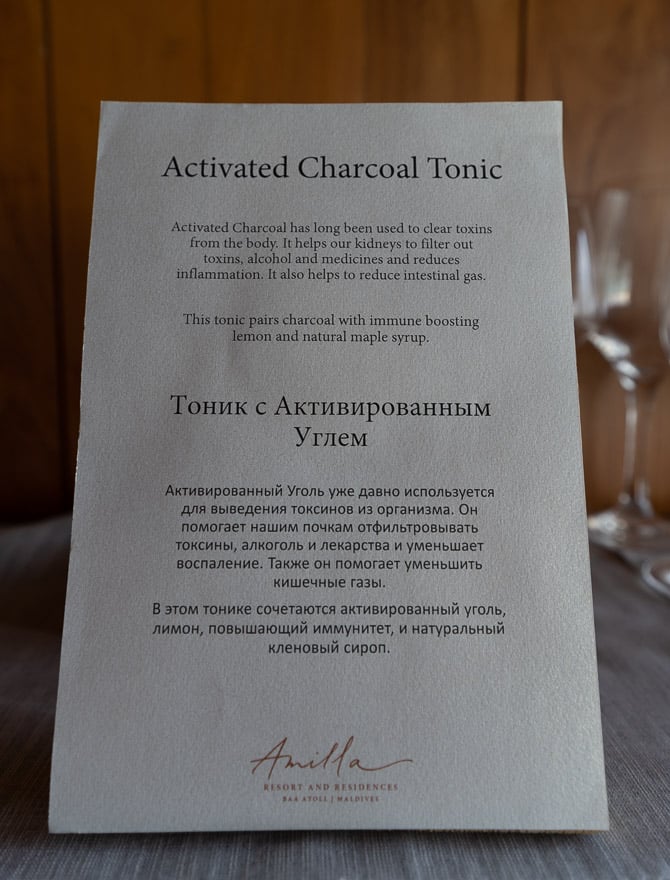 I returned from my first trip to the buffet with quite the selection of drinks.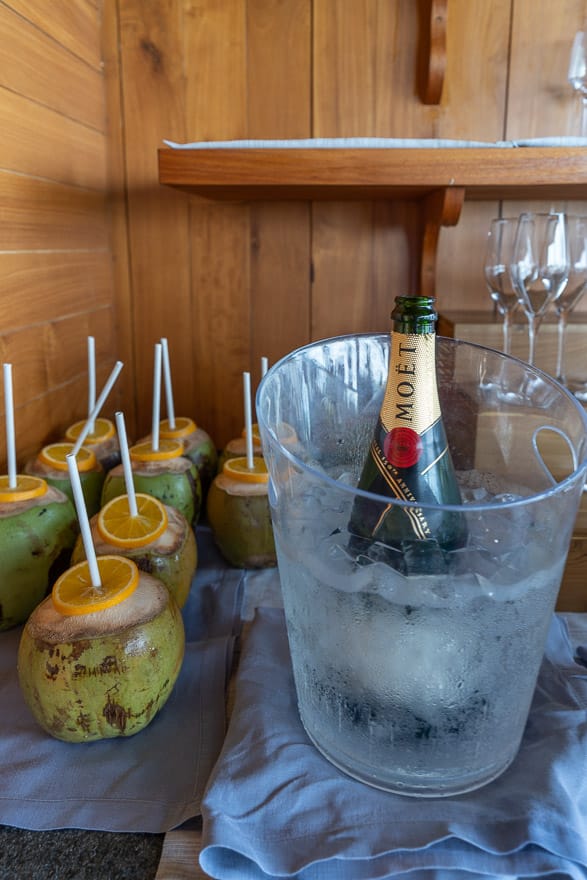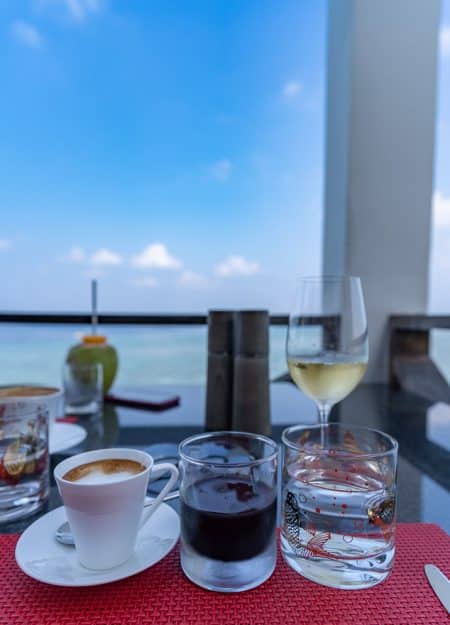 The service here was every bit as fantastic as at Fresh. As chance would have it, my personal idea of wellness involves drinking champagne at breakfast and eating truffles whenever humanly possible.
I took one look at the menu at knew what I needed: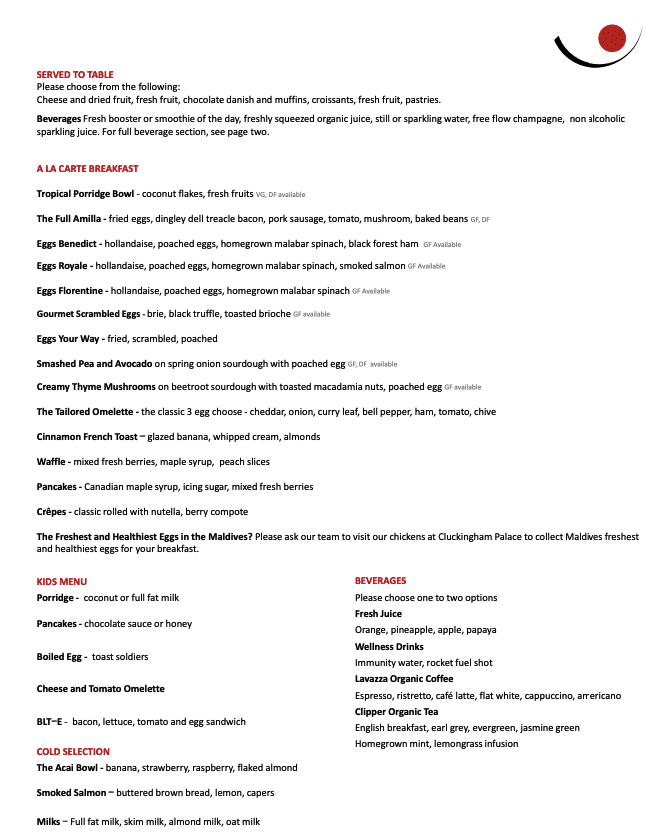 Kamara ordered the Gourmet Scrambled Eggs with brie and black truffle. I ordered the Creamy Thyme Mushrooms with beetroot sourdough, macadamia nuts and extra black truffles. Both dishes were beyond spectacular. I genuinely can't say enough good things about breakfast at Feeling Koi.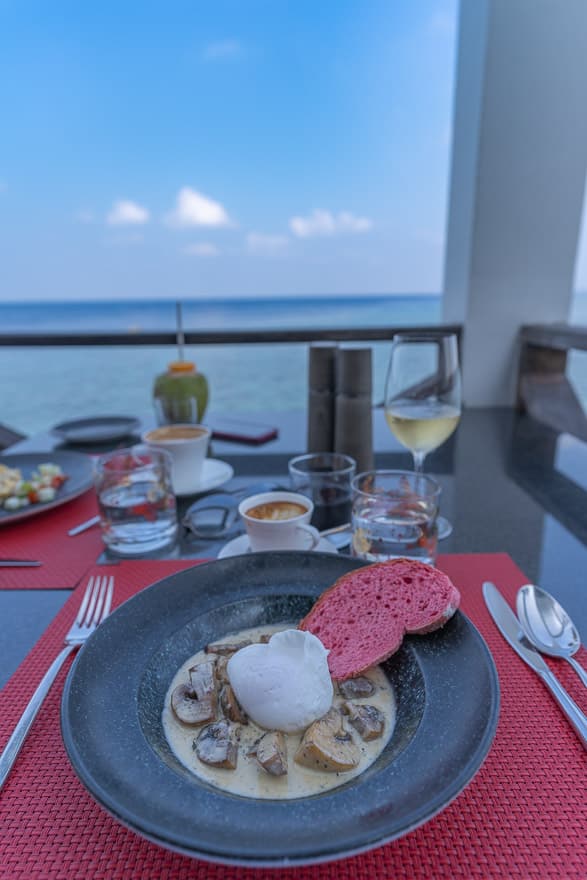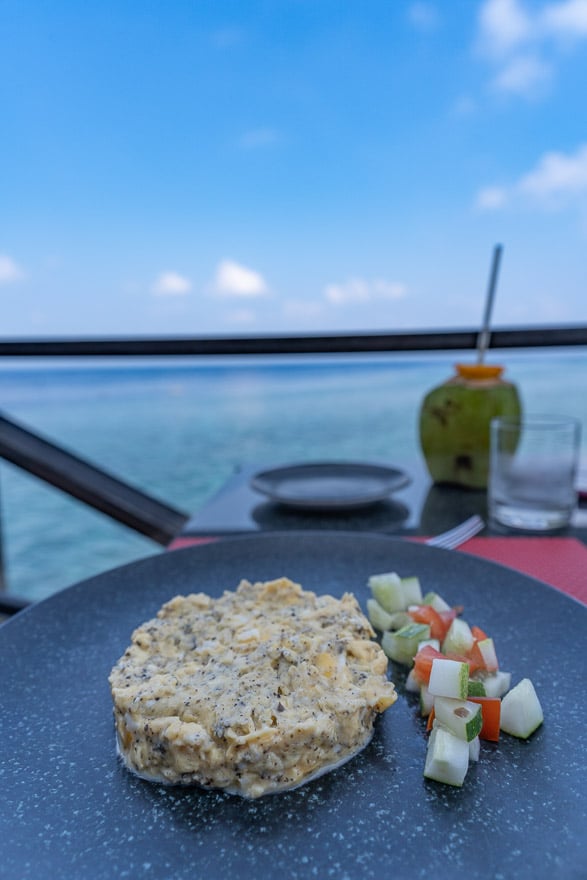 You may also have noticed the mention of the eggs coming from 'Cluckingham Palace' and this is yet another example of Amilla doing something which is not only sustainable but also improves the guest experience. There's no question that an egg laid by a free range hen the same morning tastes a hell of a lot better than one shipped from Dubai.
---
Lunch at Emperor Beach Club
---
Emperor Beach Club is located away from the main restaurant hub, beyond the resort's marina and has a very sleepy, relaxed feel to it.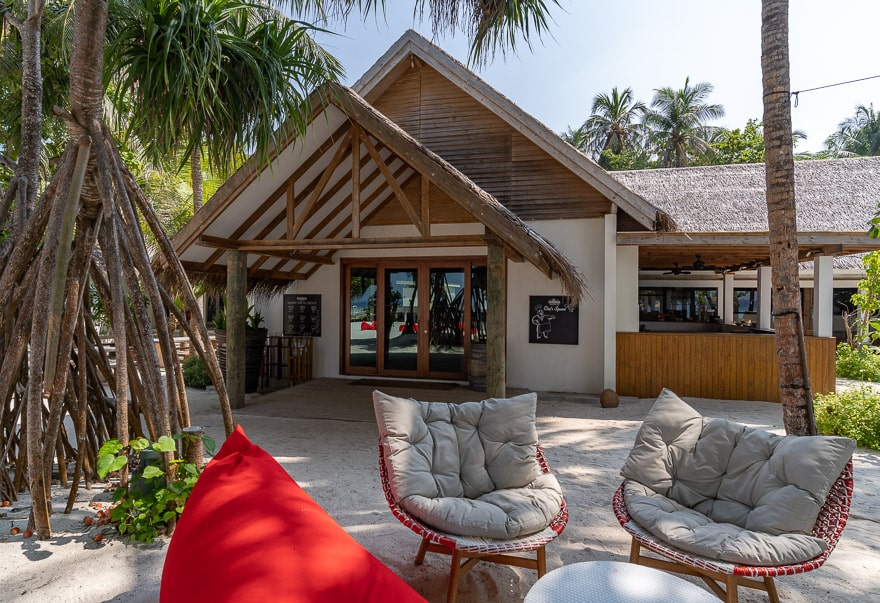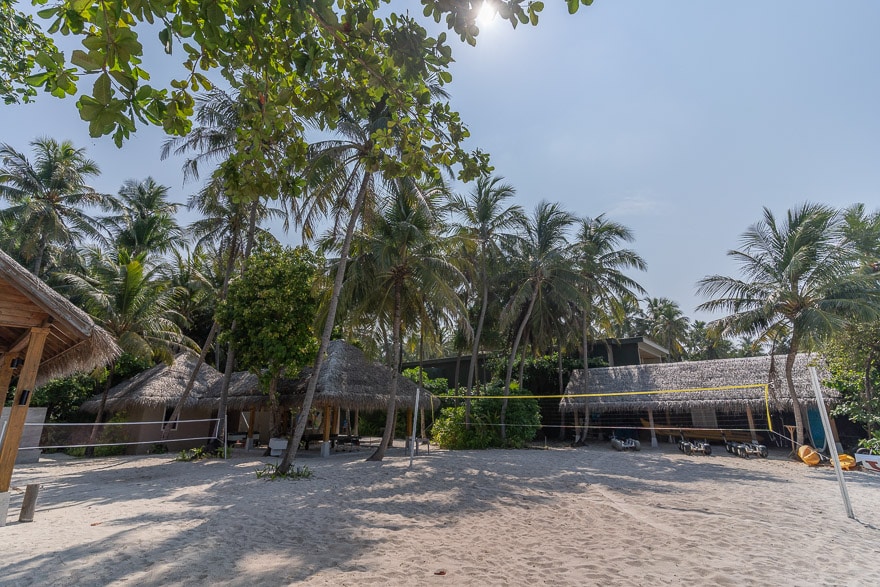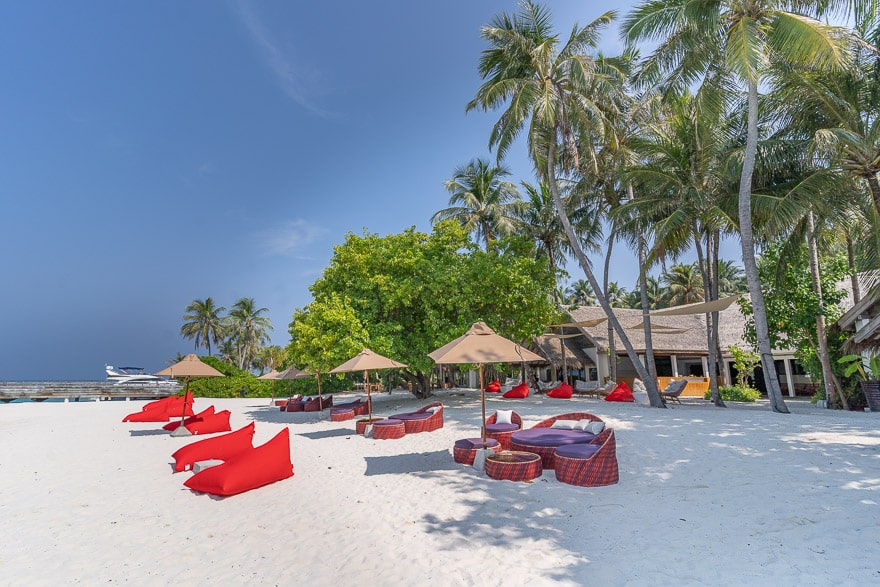 Despite the sleepy feel, the service was great and I particularly liked the small touch of the drinks being served in custom made stands alongside cold refreshing towels.
Everything we tried was very good but the standout dishes for me were the king crab salad and the Sri Lankan Chili Crab. I'm just sad I missed out on the Ministry of Crab pop-up that took places here a couple of weeks after we left!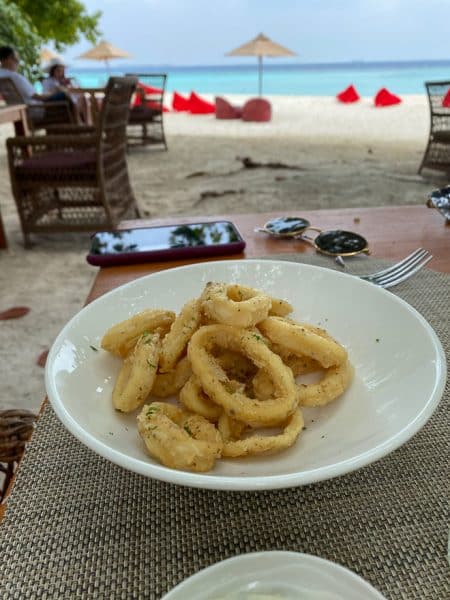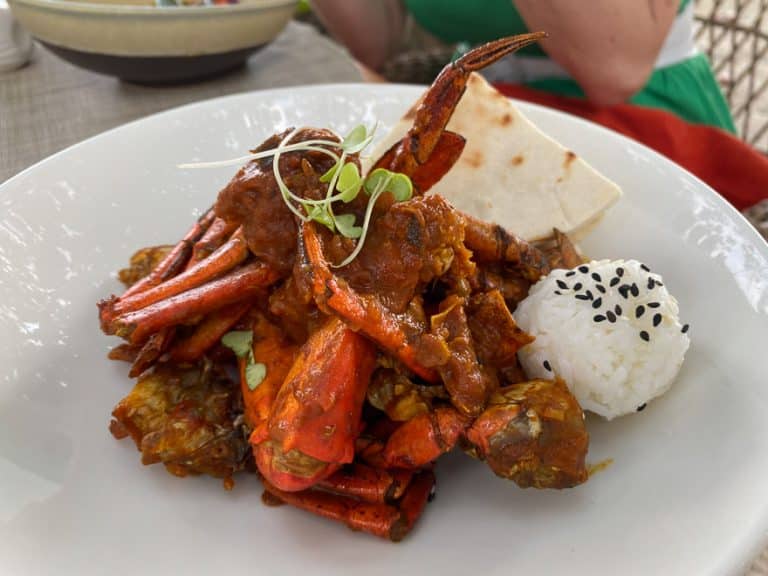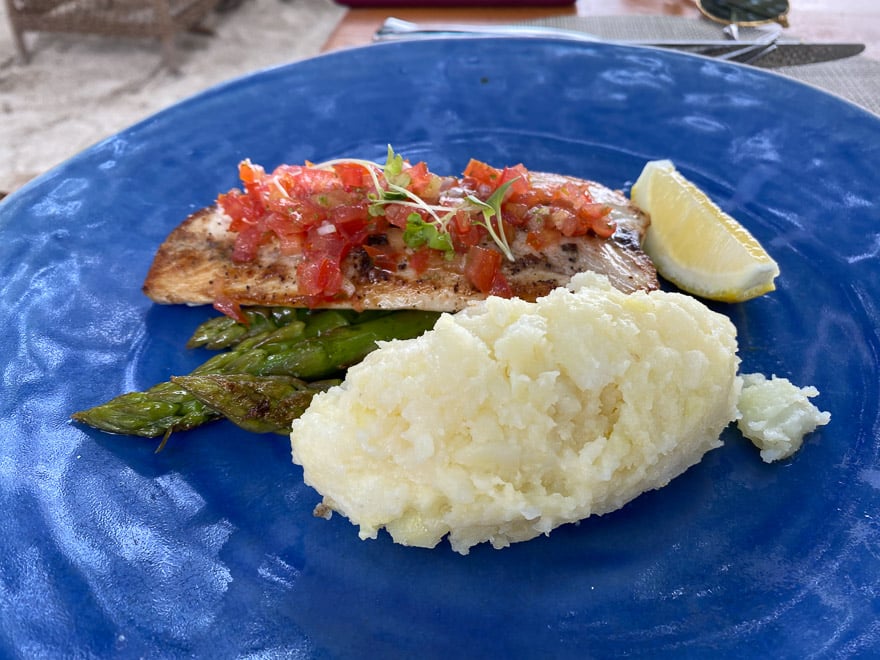 ---
Lunch at Chill'd
---
The layout of the restaurants at Amilla is rather unique. The majority of them are located just behind the main lagoon pool, which gives the area the bustling feel of a busy seaside town. I personally really enjoyed the atmosphere and loved the fact that Emperor Beach Club and Feeling Koi provided quieter alternatives for those who wanted a little more tranquility.
Chill'd was located on the opposite end to Fresh (where we had breakfast on the first day). Immediately next to it was Joe's Pizza where you could sit to have lunch but honestly we never saw anybody eating there.
Anybody that wanted a pizza just ordered it to the table at Chill'd or asked for it to be delivered poolside.
Still, I made sure to let the guy working there know how good our room service pizza had been and I have to say that he was one of the most friendly and jovial people I've ever met (as well as making one hell of a pizza).
From that moment on he'd always wave and smile, asking how our day was going every time we passed by him.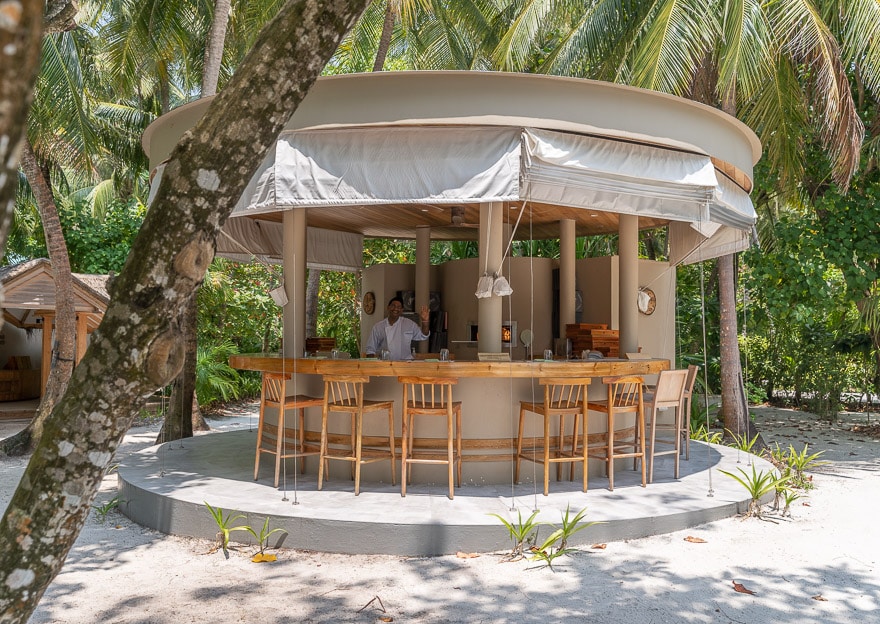 Anyway back to Chill'd. The ambiance was casual and I loved the combo of the big squishy chairs and sand underfoot. It felt like a proper holiday restaurant.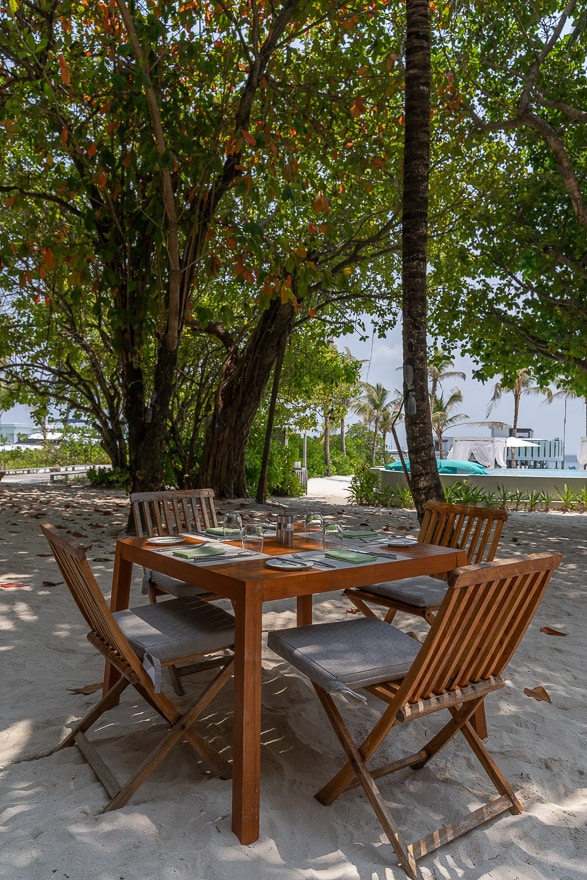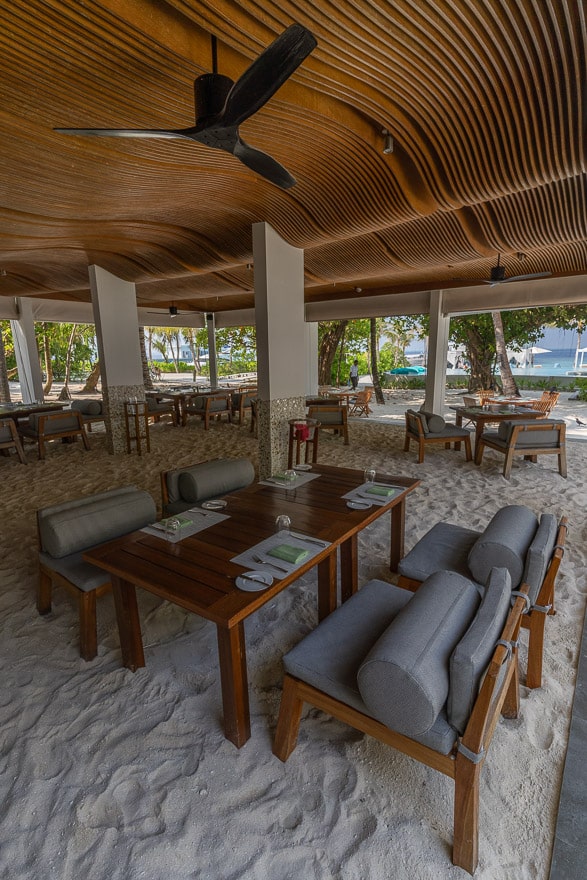 There were still numerous amazing dishes here: the seared scallops and the Thai beef salad were standouts for me.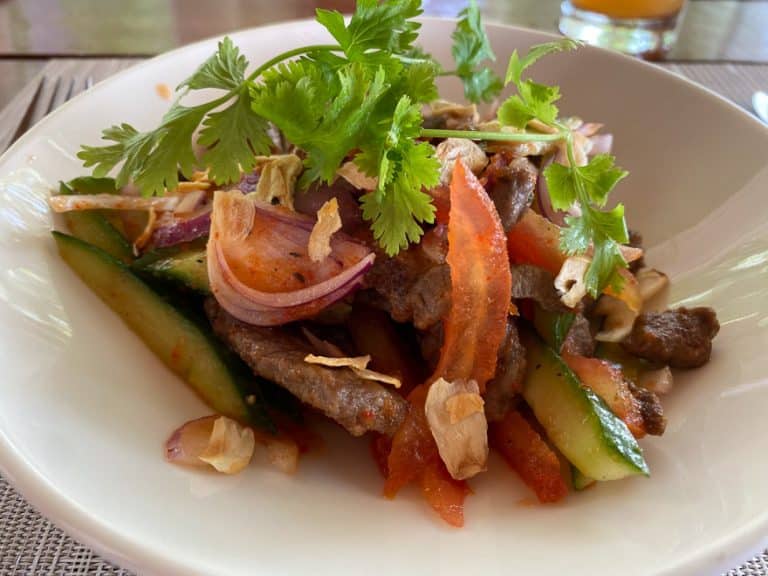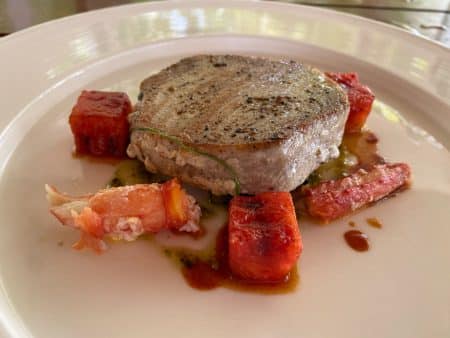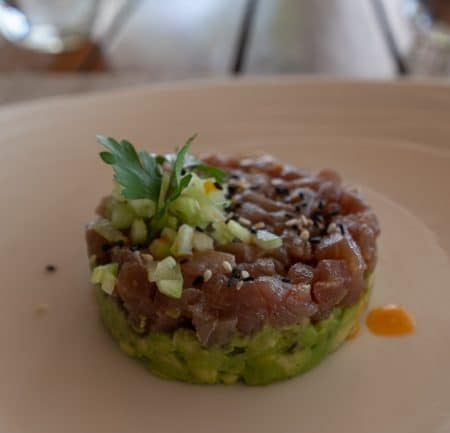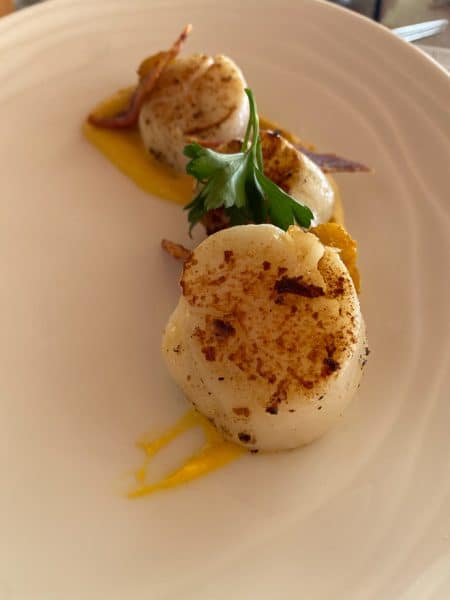 We really enjoyed the kombuchas and iced coffees too.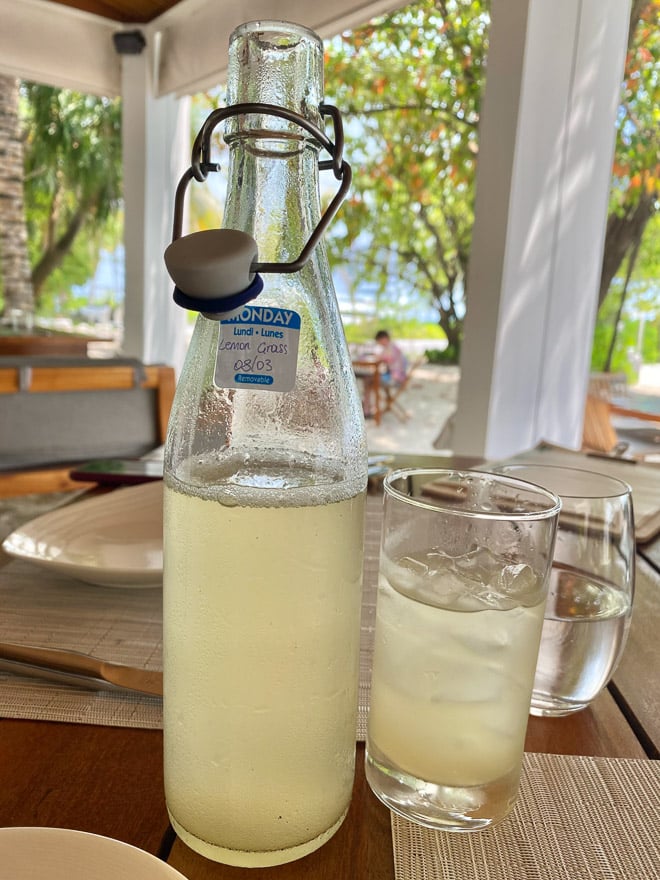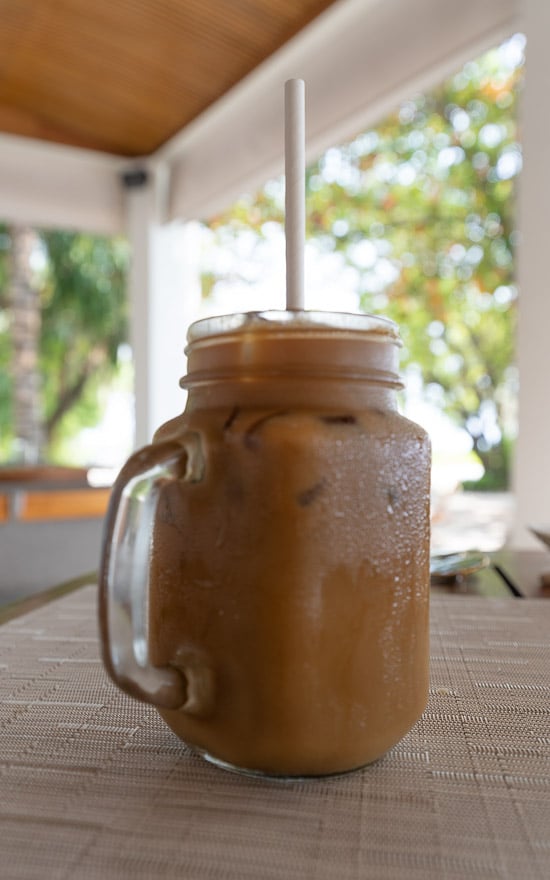 ---
Dinner at Barolo
---
Barolo is located just next door to Chill'd but represents a step up in terms of formality. During the day it was generally pretty empty but at night it was the throbbing heart of the resort's nightlife.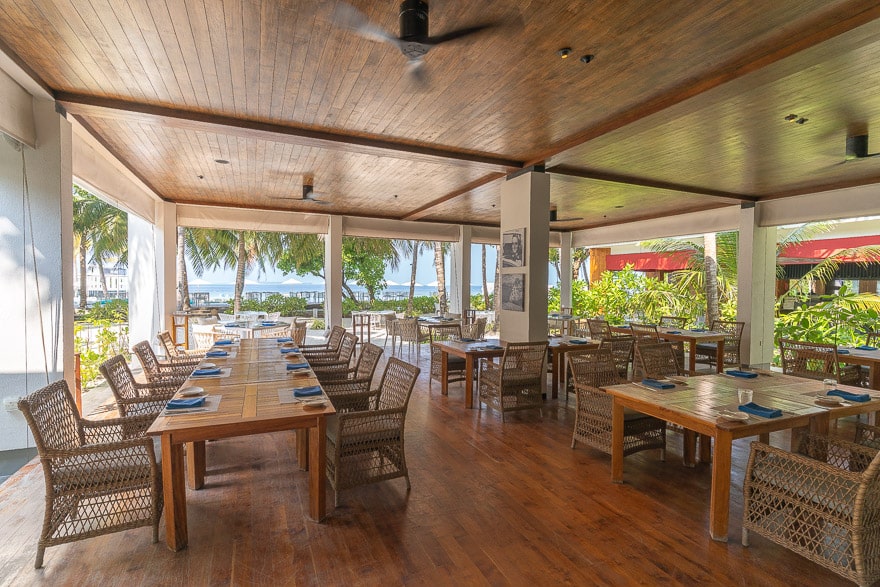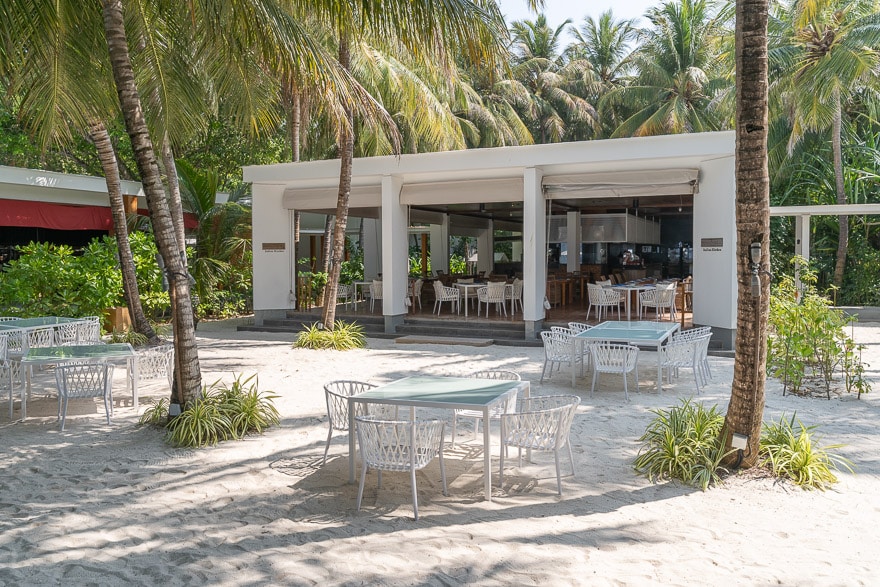 Given Barolo's popularity, the restaurant's service extended to tables all around the edges of the lagoon pool, where we chose to sit.
The service was good but the food wasn't on the level of the other restaurants at the resort. Perhaps we've been spoilt on our frequent visits to Italy but all of the pastas and salads here just seemed a little bland and nondescript. They weren't terrible by any means but they were remarkable in how unremarkable they were when compared to all the other food we ate here.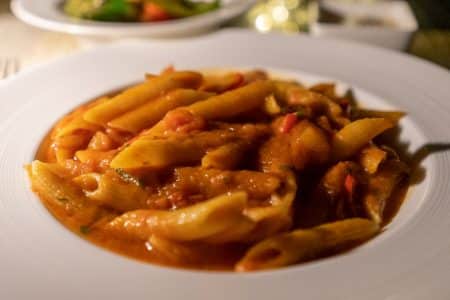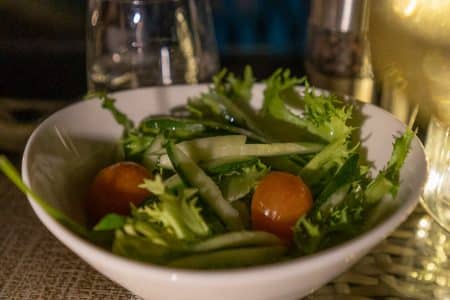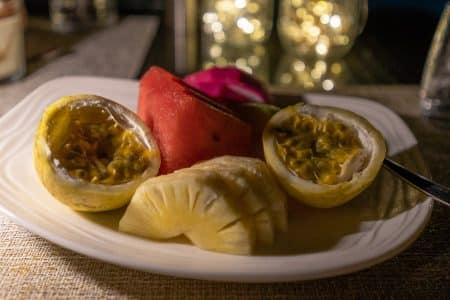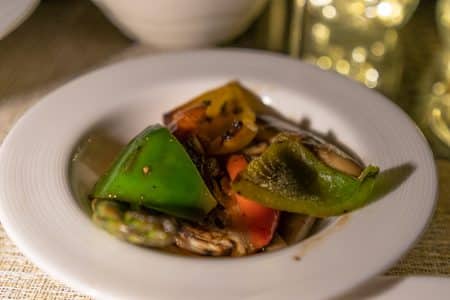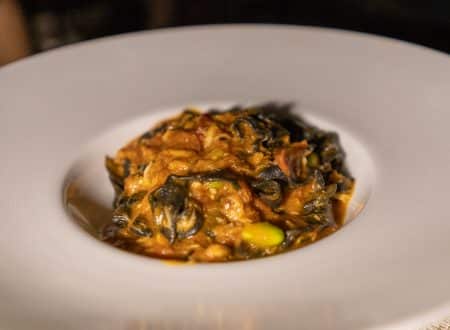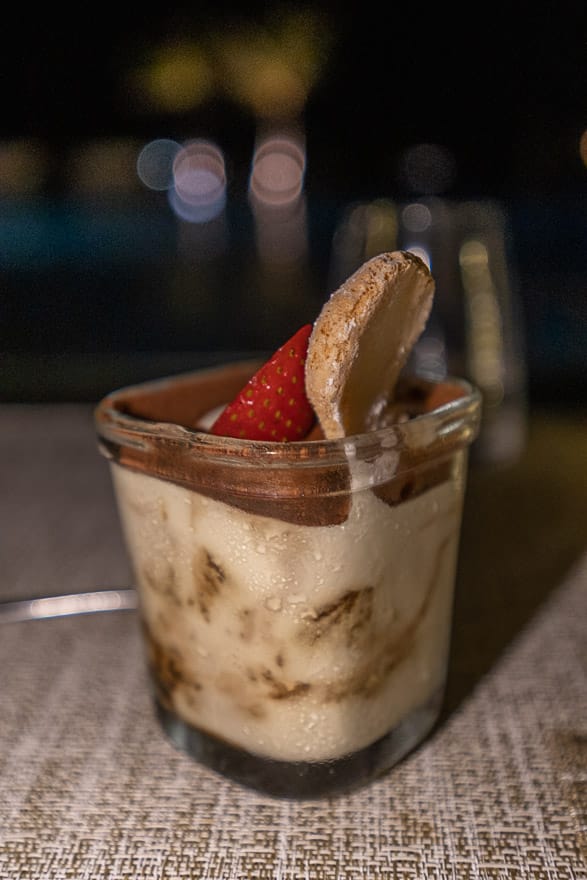 ---
Dinner at Feeling Koi
---
As it transpires, our favourite breakfast spot was also our preferred dinner location.
At night, Feeling Koi faces the sunset and there is a bar upstairs which is perfectly positioned to capture the moment as you enjoy a pre-dinner cocktail.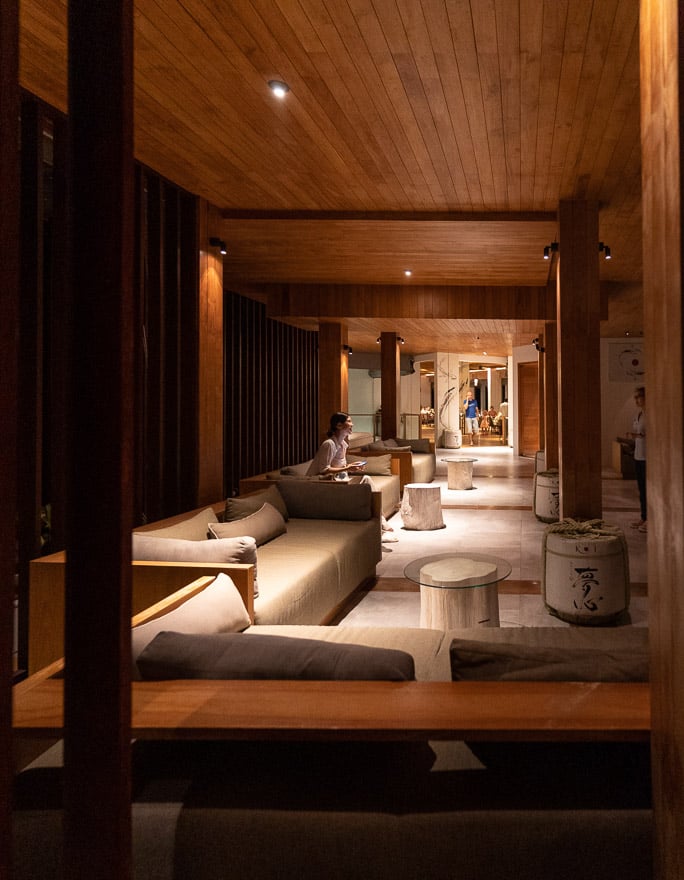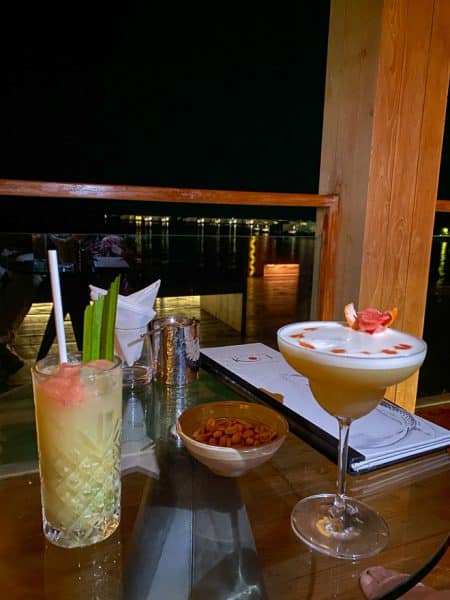 Unfortunately the cocktails here didn't taste as good as they looked. We'd been told that the cocktail menu at the Baa Baa Bar was excellent and figured that the drinks here would be the same.
Instead we had a couple of drinks that didn't really taste like they had any alcohol in them and just made tokenistic nods to Asia by including wasabi and pandan but lacked balance. A real shame since some of my favourite cocktail bars are in Japan and drinks incorporating shiso, umeshu and yuzu can be truly sublime.
Moving on to the restaurant, the main room was almost exclusively filled with large families.
We were very fortunate to be seated in the perfect spot both times we came here: the corner table at the far end of the outdoor deck.
Why was this perfect?
It was a lot quieter and more private than the room filled with kids but that wasn't what made it so special. I've not seen this mentioned on the website or any other reviews but this restaurant has a significant population of enormous nurse sharks that come to feed at night!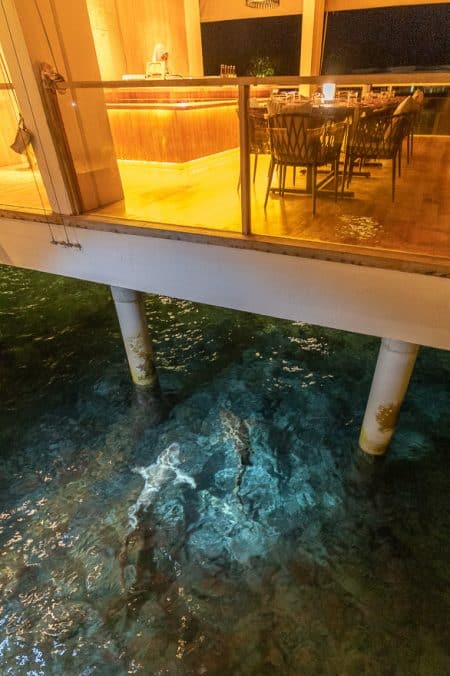 To me this stands out as a key selling point of Amilla as a resort. No amount of expensive construction can replace the natural wonder of seeing these enormous creatures in their natural habitat.
It you want to have this experience this is the only place in the Maldives that I know of to provide it!
The service here was the best that we had throughout our entire stay and was genuinely as good as you get in Zuma or Nobu in London.
The sushi wasn't quite on the same level as those auspicious venues but was still very decent… I'm always happy when I get my hands on an uni gunkan.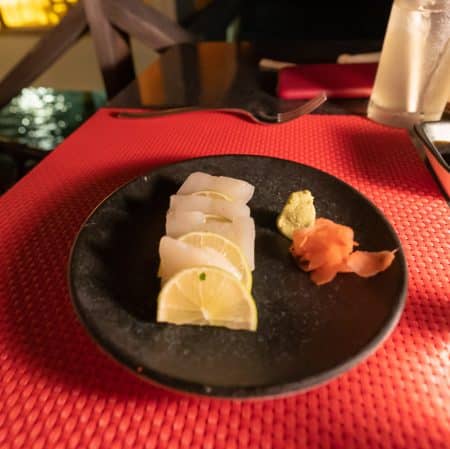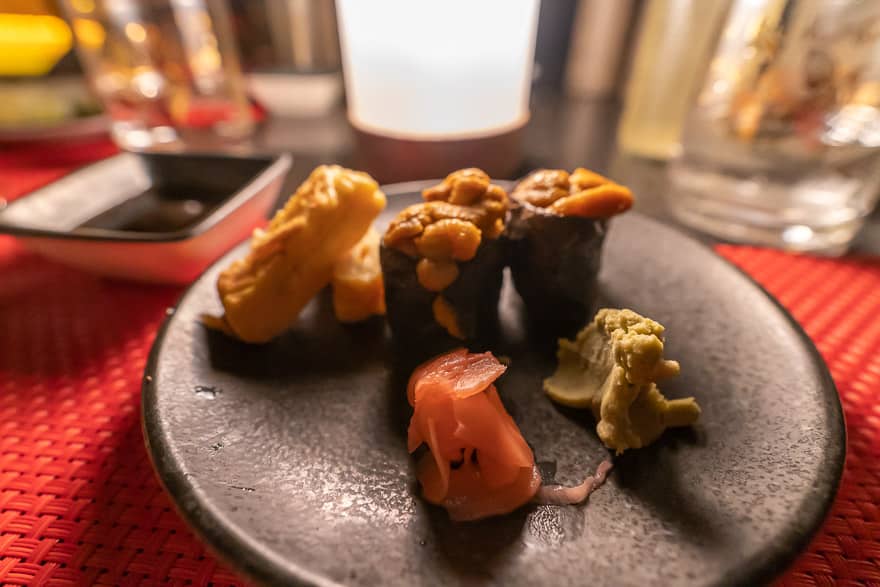 The miso black cod was truly excellent as was the seaweed salad. The umami laden Japanese fried rice was as good as Gohan courses I've been served at the end of 3* Michelin Kaiseki meals in Kyoto.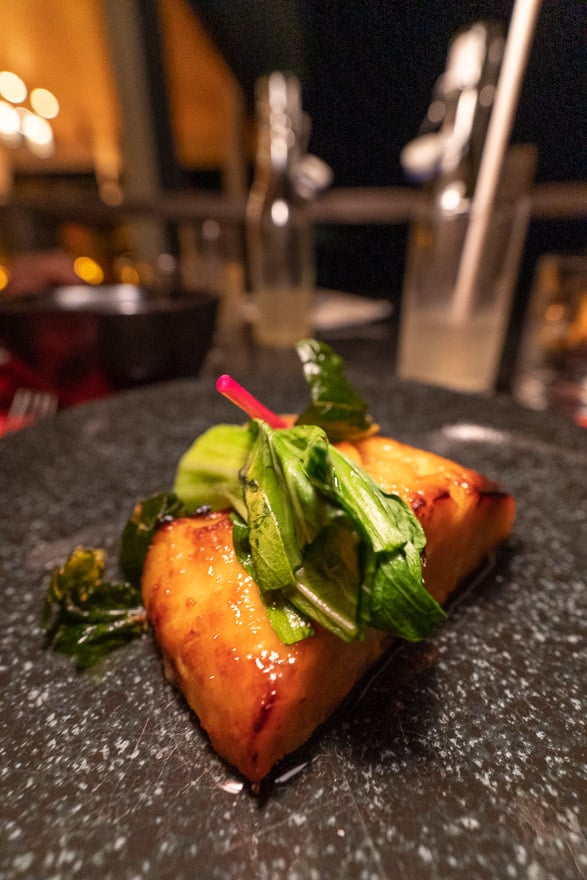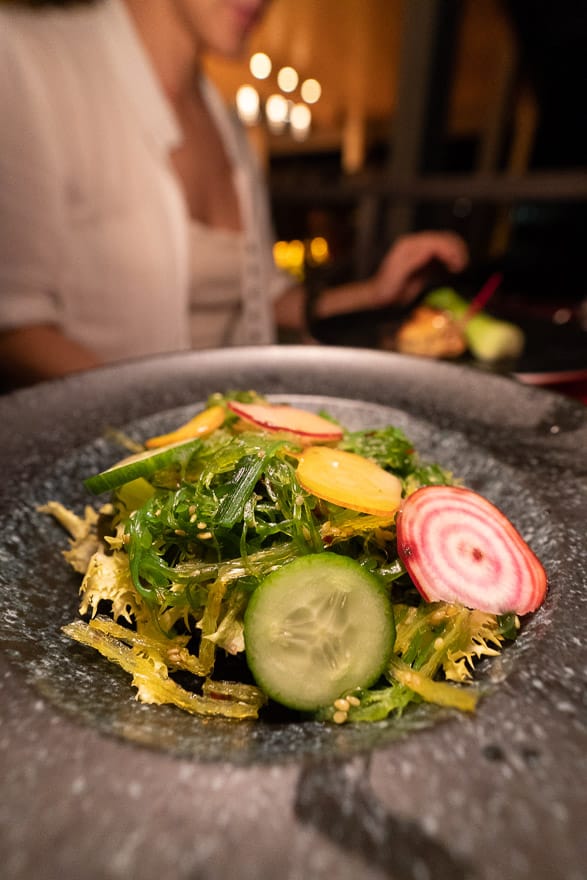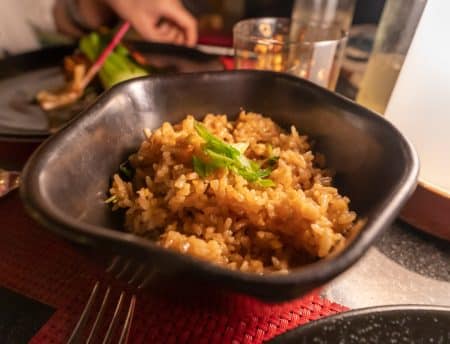 The two desserts we sampled were polar opposites. The mochi were glucose laden sorbets that fell limply from their starchy skins, inferior to Little Moons in every way.
Conversely, the matcha chocolate fondant was the kind of dessert which even the staunchest carb-phobe would gladly debase themselves for. Utterly superb.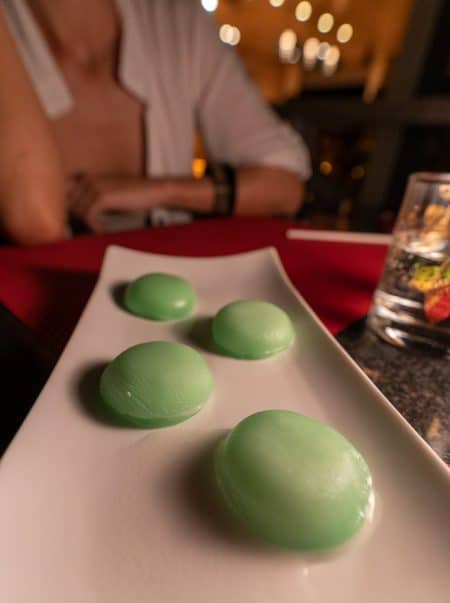 ---
Sustainability
---
I've touched on the sustainability efforts of Amilla on a number of occasions and I must admit that I was a little sceptical before coming here. What could sustainability and wellness really have to do with luxury? Surely luxury and sustainability are usually at odds with one another?
I was picturing cost cutting disguised as environmentalism: toilet paper that felt like the surface of a skateboard, 'recycled for the benefit of the earth – guaranteed 50% splinter free'.
Instead, I came away extremely impressed and have genuinely compared all resorts since to the very high bar set by Amilla.
The Wellness angle is a little easier to understand. Basically, all bars and restaurants feature menus with a host of dietary accommodations. This means that guests with dietary requirements of almost any kind are very well catered to.
If you want carb free bread rolls made out of seeds or a cocktail containing zero sugar you'll not only get it – it will be proactively offered to you.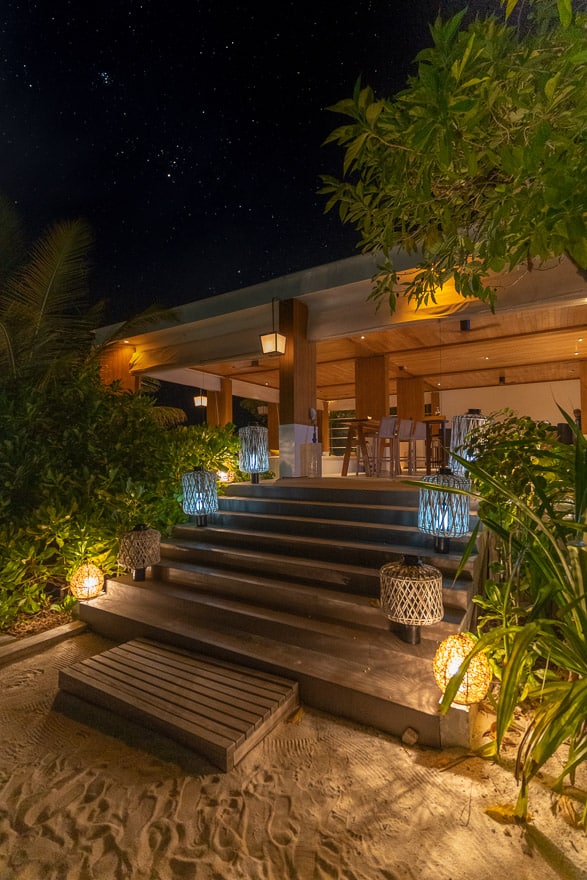 Compromising on your dietary needs is not luxurious, having your every whim catered to is.
The sustainability angle comes in when you factor the immense cost of importing all of these weird and wonderful ingredients, particularly at a time when the world has been crippled by COVID.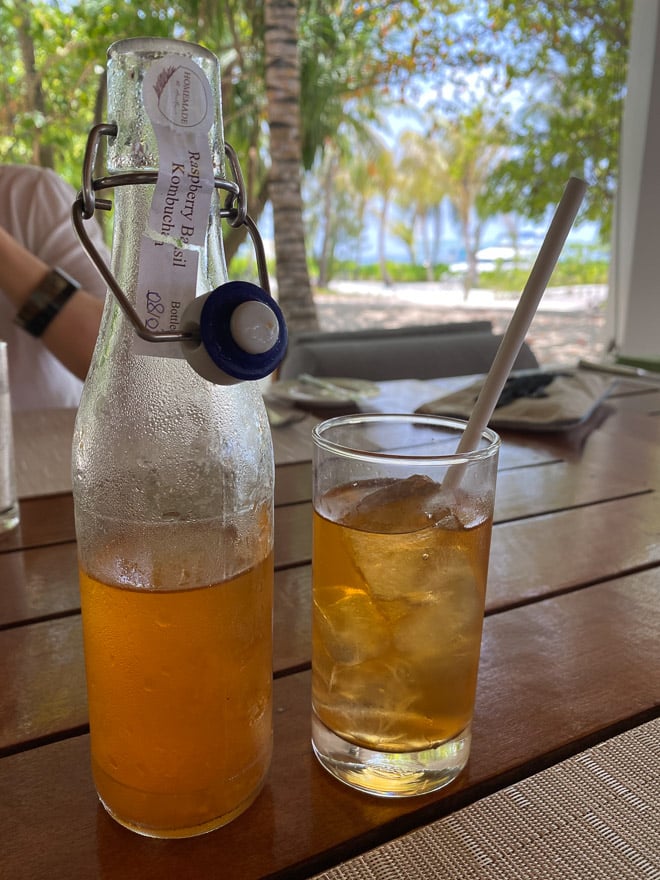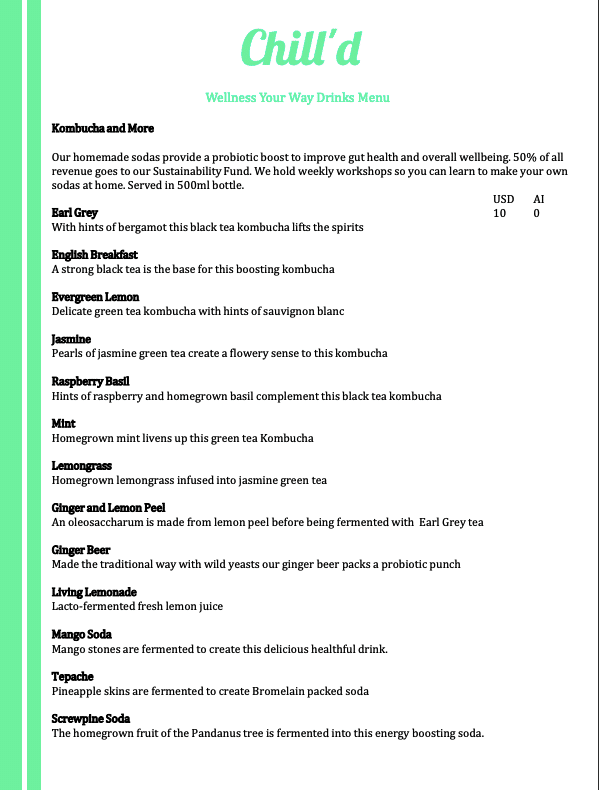 Why import kombucha drinks from the US or Australia when you can ferment them in house using waste products like lemon and pineapple peel or mango stones?
Most resorts in the Baa Atoll are covered with palm trees. The majority will pay to have their coconuts removed and thrown away – whilst also paying to import fresh coconuts from Sri Lanka.
Clearly this is insane.
Amilla instead decided to create a coconut processing factory that not only prepares coconuts for drinking but also extracts the oil for cooking and spa products. They also distill vinegar as well as producing butter, cream and flour from these 2000 coconut trees.
There is also an enormous garden and a series of greenhouses used to produce all of the resort's produce including papaya, mushrooms, microgreens, pineapples, sweet potatoes and countless other fruits and vegetables.
Necessity is the mother of invention and when COVID meant that nothing but carrots or cabbage made it out here for months, Amilla got creative.
Aside from this there's Cluckingham Palace, the resort's free range chicken farm and even home made spa products like the bath tea bags, which I was given when I asked for bath salts.
All of these elements not only made our experience more enjoyable, they also massively reduced the carbon footprint of our visit and contributed to the local community by creating jobs outside of the standard customer facing roles found in the tourist industry – undoubtedly this nation's lifeblood.
---
Leisure Facilities & Activities
---
Main Pool and Beach
Every villa has its own pool so I was so surprised to see how much action the main pool got. Perhaps people are just keen to be around others at a time when COVID has pushed us all apart.
Still, given the pool's gargantuan size it never felt crowded in the slightest and even the most hardened traveller couldn't help but admit that it is very impressive in its execution.
The main pool sits atop a beach of fine white sand dotted with a series of cabanas and loungers, all of which receive full service from the bars and restaurants immediately adjacent.
At the far end of the beach you'll find Baa Baa Bar's outdoor lounge area.
Javvu Spa
So far we've focused almost exclusively on the lagoon pool side of Amilla. All the bars, restaurants and even our villa were located on this sunset side of the island yet on the sunrise side things looked a lot more…wild.
If you're looking for that castaway feeling, it is remarkable how raw and natural this part of the island is. The sole exception is the far Northern tip where you'll find the beach villas and the Spa and Gym complex: a series of wooden buildings dotted amongst manicured jungle foliage.
Just walking past the spa building evoked in me an immediate sense of calm. The sea felt louder here and there were no boats or seaplane platforms to interrupt the view. This felt like real nature.
The interior was very warm and welcoming and felt like a high end cosmetics boutique.
Kamara and I booked the resort's signature Dhivehi Beys Massage, which was performed in one of the individual spa cottages dotted around the jungle.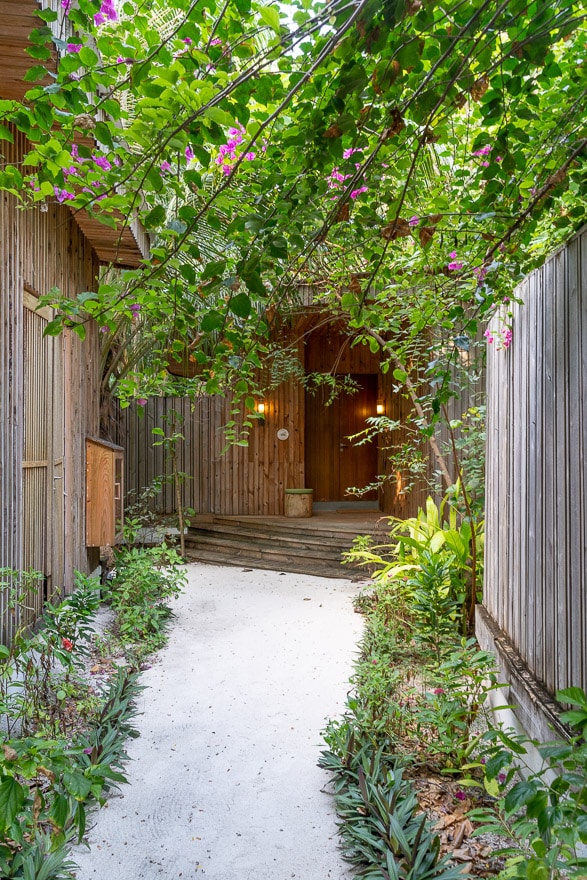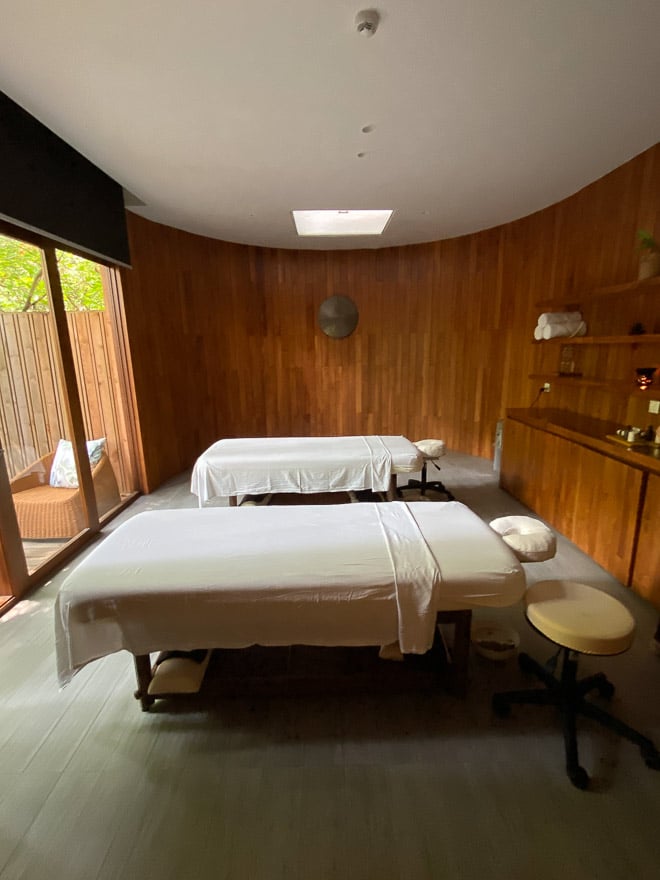 The massage was very relaxing and our therapists were really friendly and professional. Unfortunately we didn't have more time otherwise we would have loved to make use of the very unique sauna shower in our treatment room!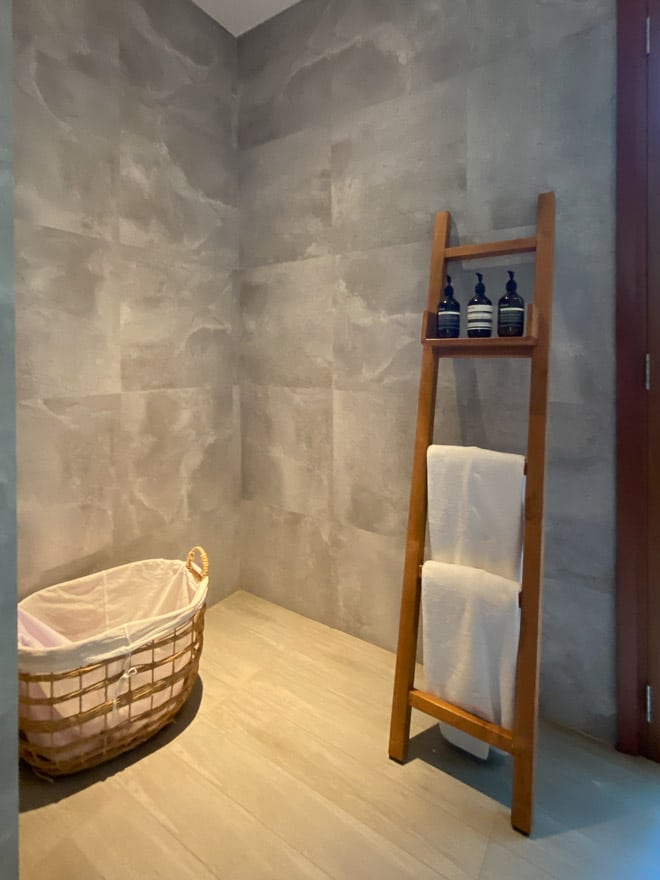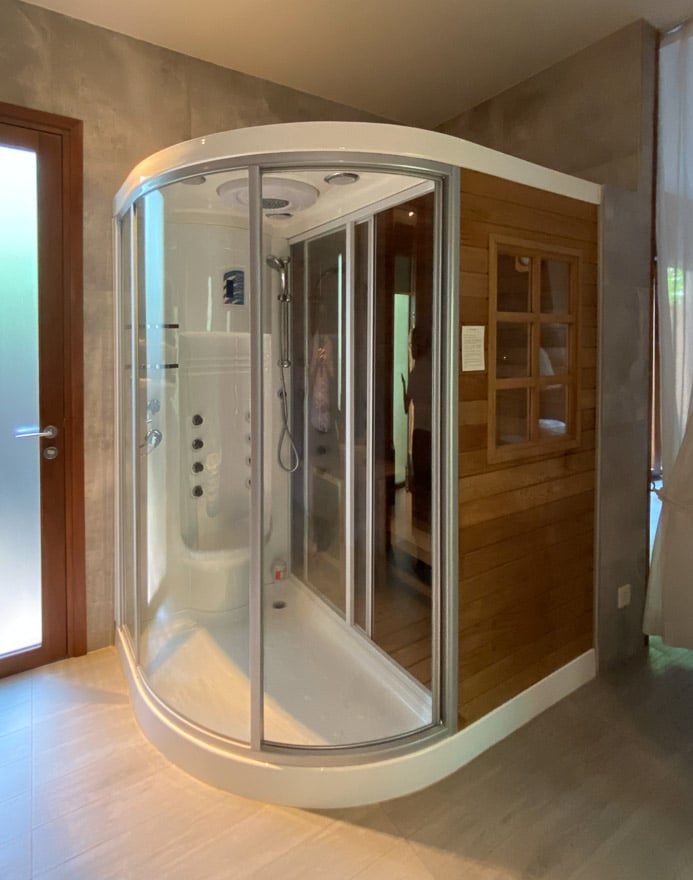 Indoor Gym
Amilla's gym is open 24 hours and sits in a standalone cabin in the jungle, right next to the spa.
Right by the door there was a registration sheet as well as towels, sanitiser, wipes and water.
Surprisingly for a hotel gym there was a very reasonable balance between weights and cardio equipment (even if one of those unbelievably pointless wobble machines made its way in).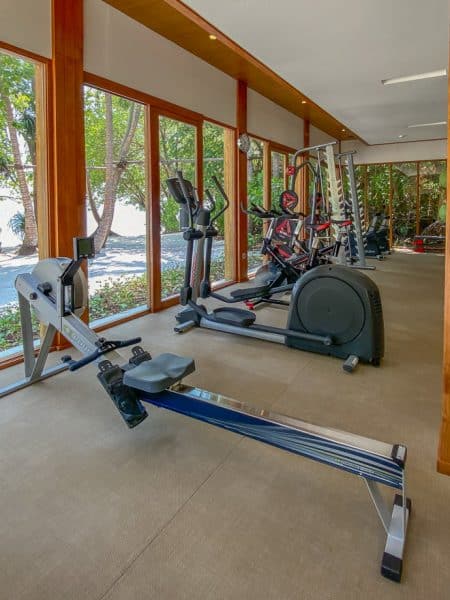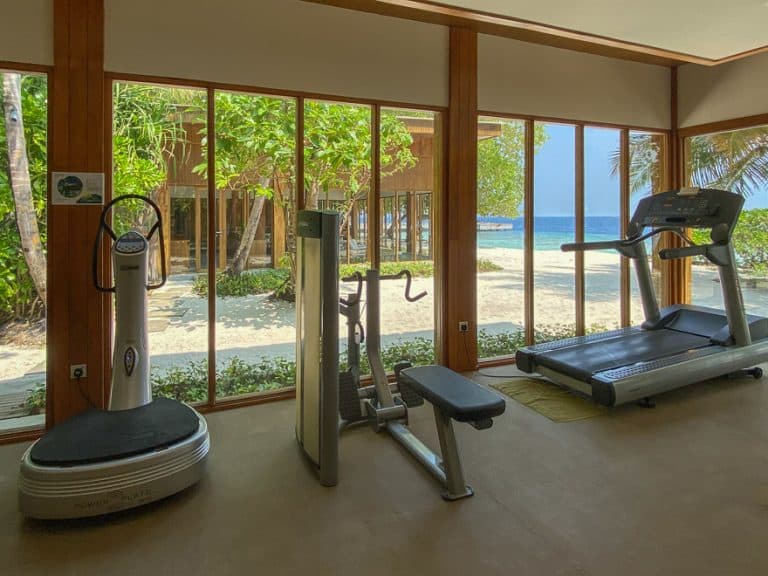 Not only was there a Smith machine and a cable crossover…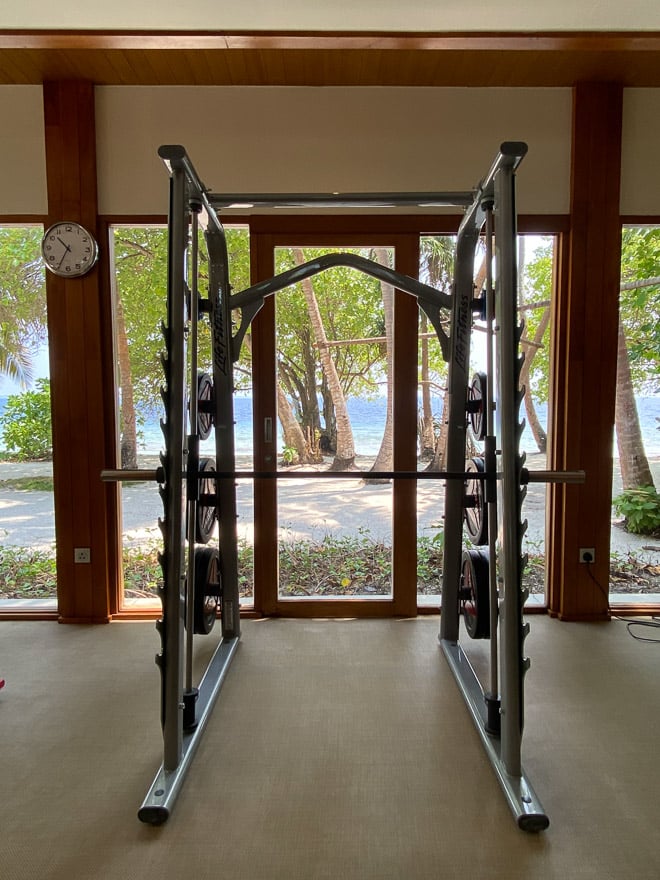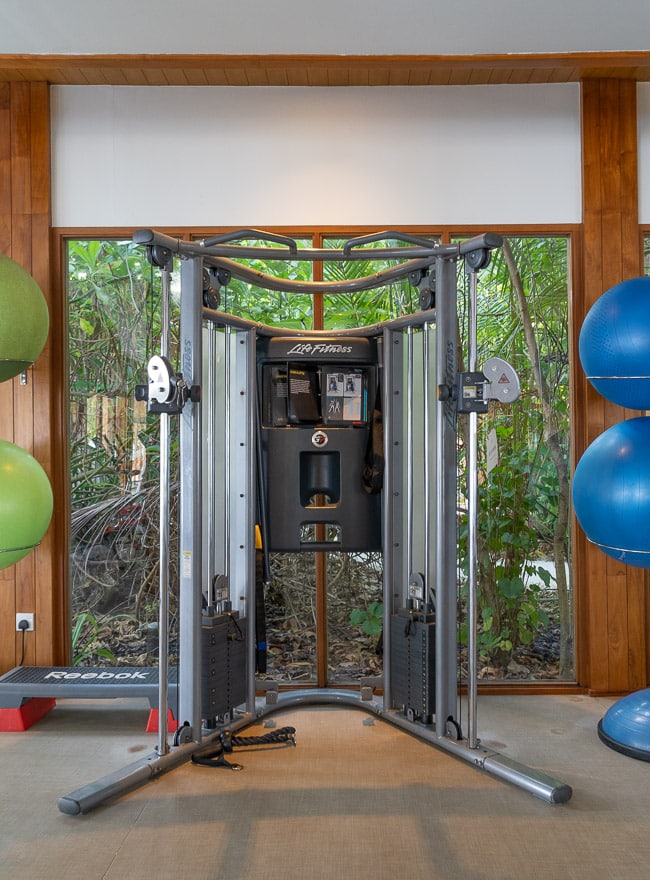 ….the dumbells even went to 30kg!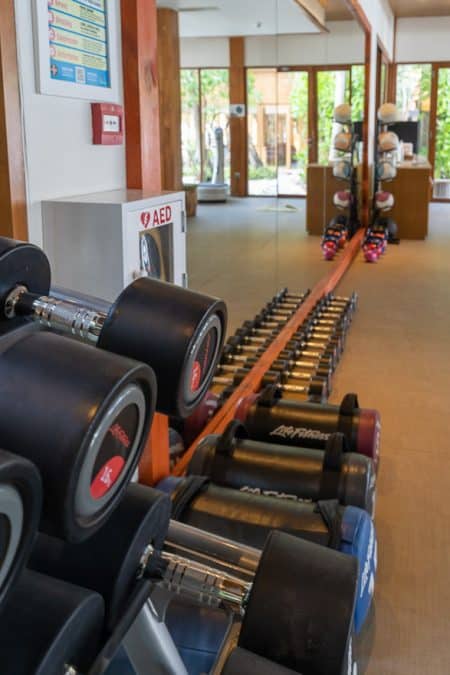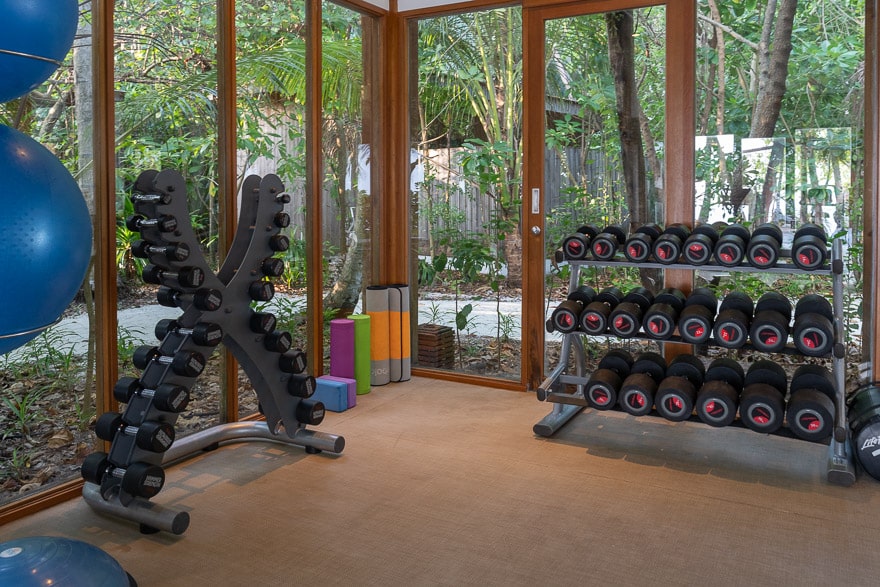 Jungle Gym
Outside there was a yoga pavilion, where we enjoyed a super relaxing session focusing on breathing – something most resorts in the Maldives offer.
However right next to it was something I'd never seen before. A fully fledged jungle gym!
Right next to the cargo net there was a basket filled with logs, that worked as a lat pulldown machine:
Battle ropes and various pullup and parallel bars are a little more standard. The pièce de résistance though was the full set of fixed barbells made out of wood!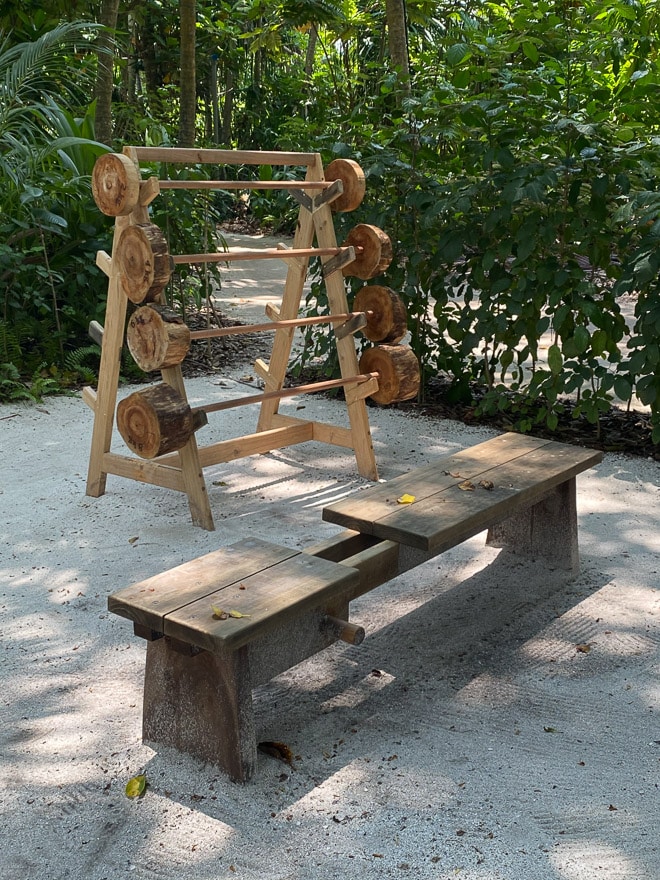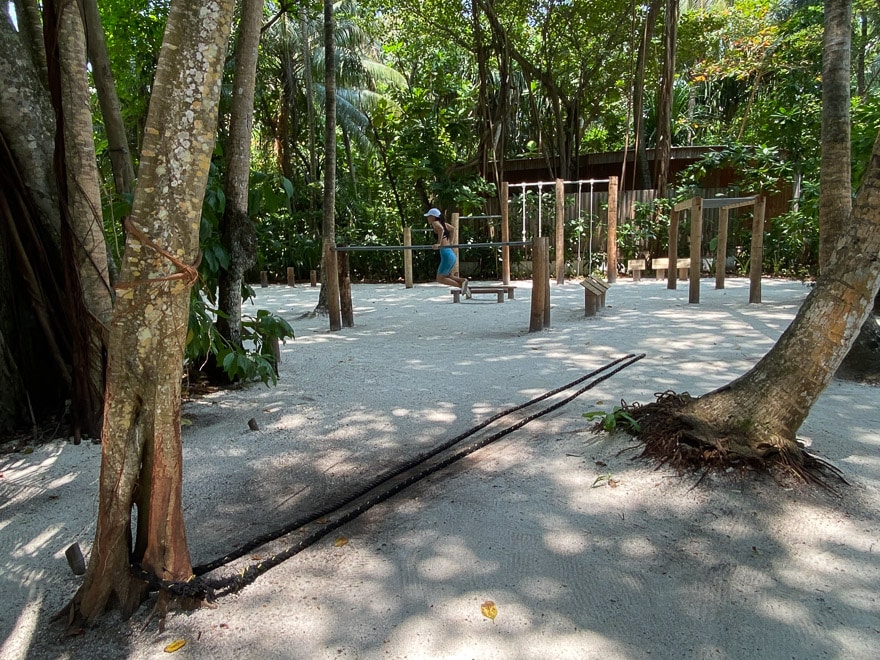 Glamping Bubble
One of the most unique aspects of our stay was the night that we spent in the Glamping Bubble. The only other resort in the Maldives that does something similar is Finolhu, which was previously owned by the family that owns Amilla.
At Finolhu, the bubble itself is a little bigger but the dedicated area around the bubble is far more impressive at Amilla.
The bubble was located down a dedicated pathway immediately adjacent to the gym.
The pathway was very well manicured but this was otherwise a very dense area of jungle. There was no way that anybody could just walk round to our private space.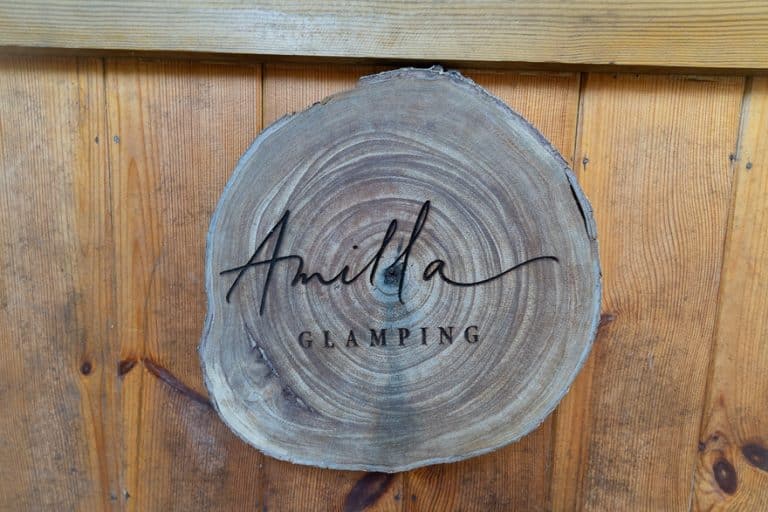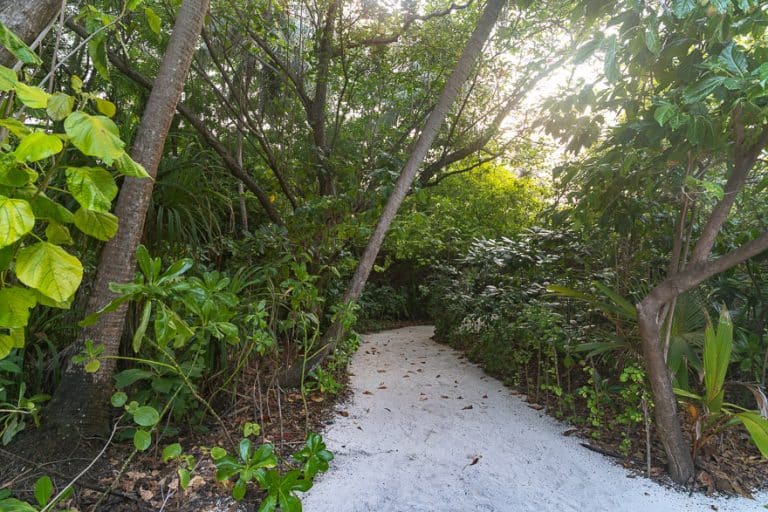 The bubble had its own enclave within the jungle, featuring an outdoor shower and sink carved from wood as well as some amazing Aesop toiletries. Next to this was a sitting area.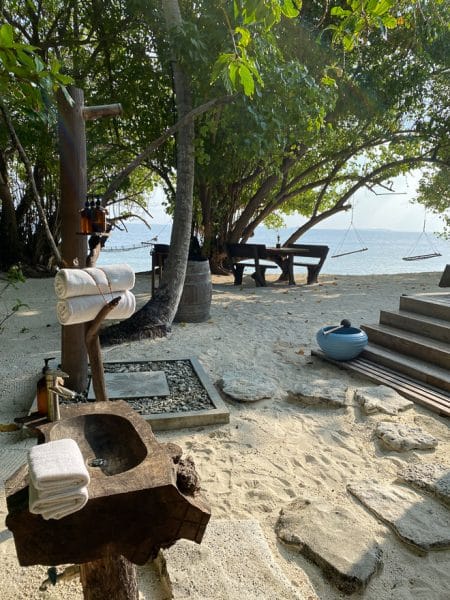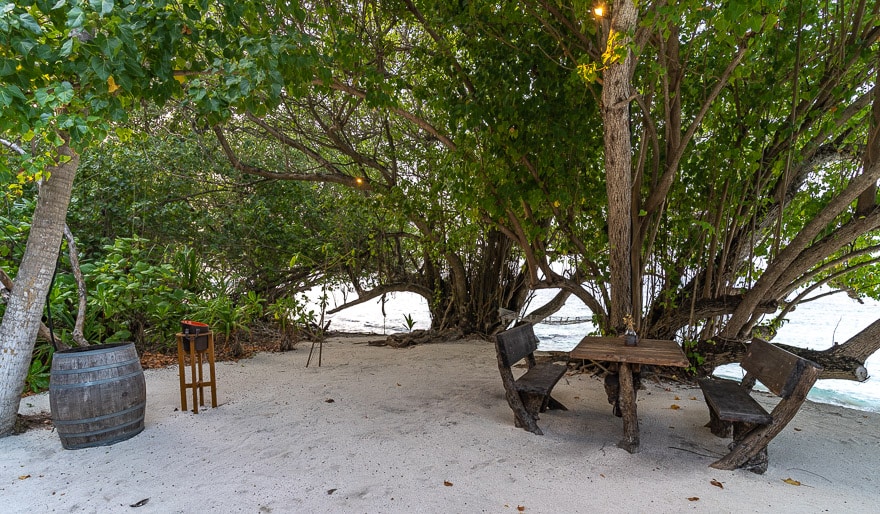 Beyond this were some beanbags as well as a pair of framed hammocks, hovering above our own private beach.
The bubble itself was quit compact, sitting on a dedicated wooden platform above the sand.
The circular bed was pretty cosy and rather hard, definitely not as luxurious as the bed in our villa. However all other creature comforts were well accounted for.
The AC worked perfectly, to the point where we even had to turn it up a bit to stop the bubble from fogging up!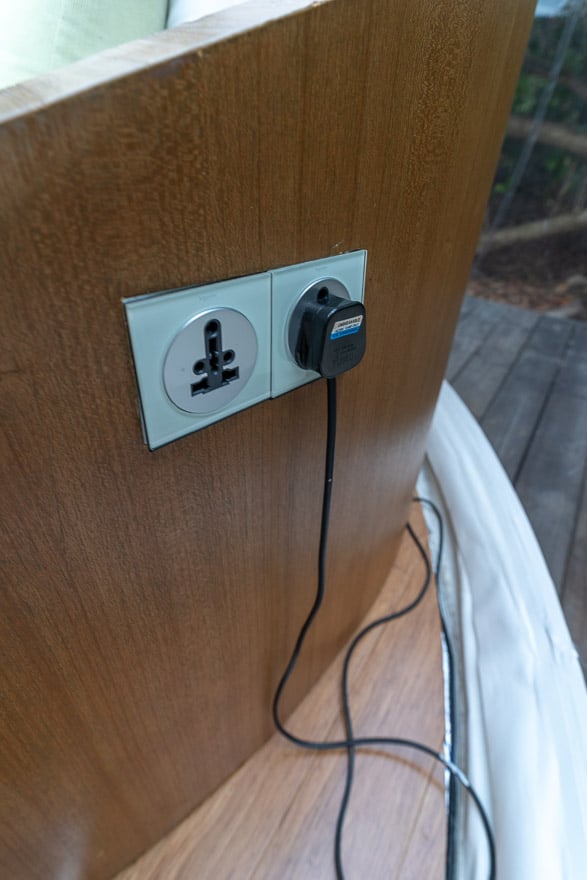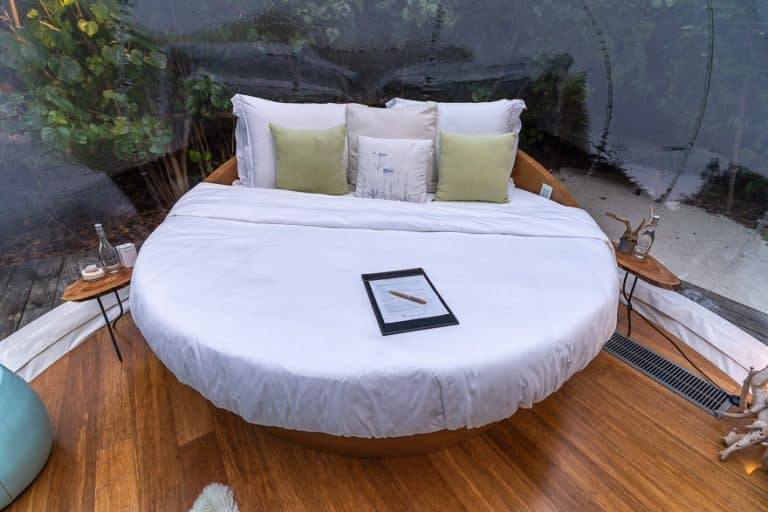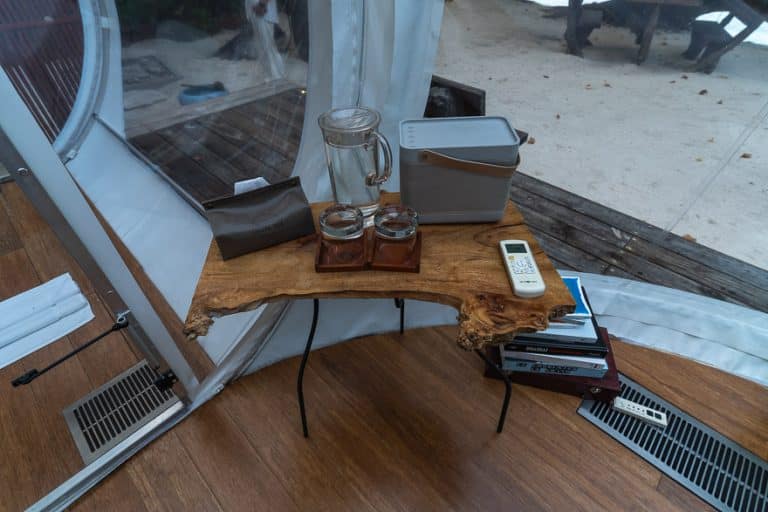 We had universal power on both sides of the bed, plenty of water, books and a radio as well as a dedicated wifi hotspot.
You may well be wondering where the toilet is. A valid question.
Thankfully the answer is rather fantastic. Being as close as we were to the spa, we had exclusive use of the ladies' changing room after hours. Meaning that we not only had access to the toilets, we also had indoor showers, a sauna, steam room and a plunge pool.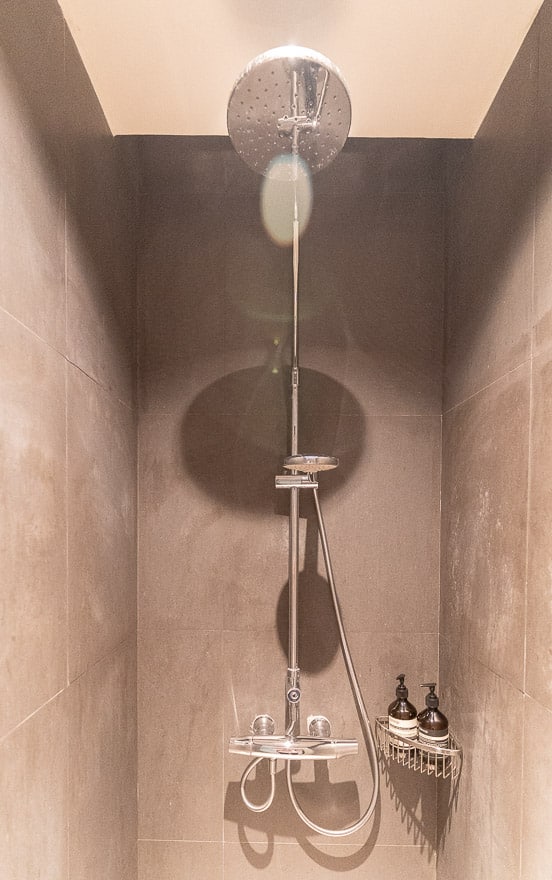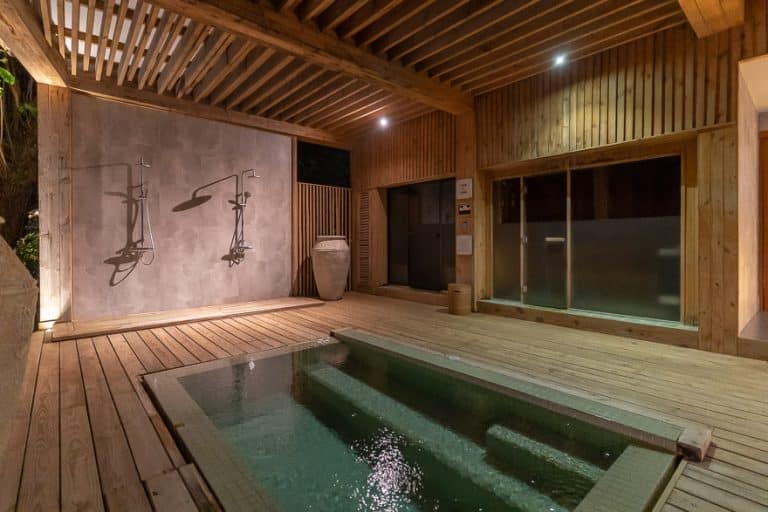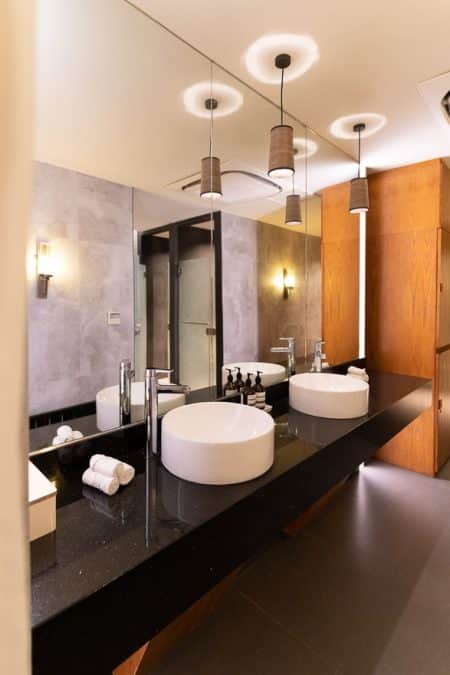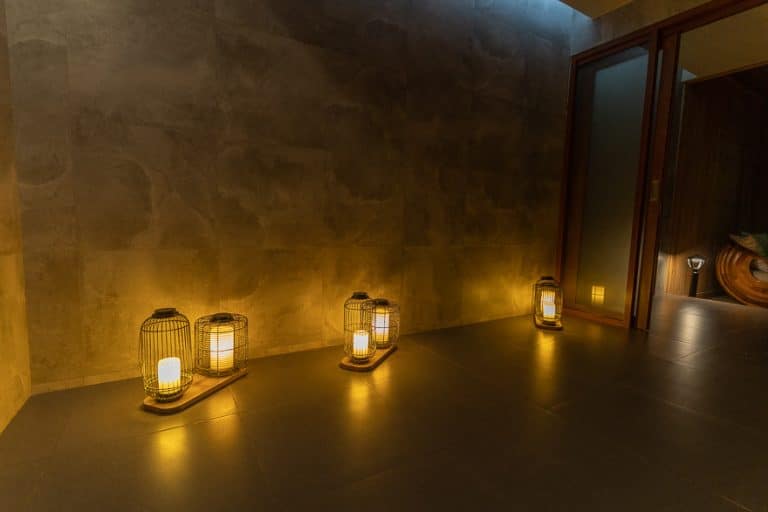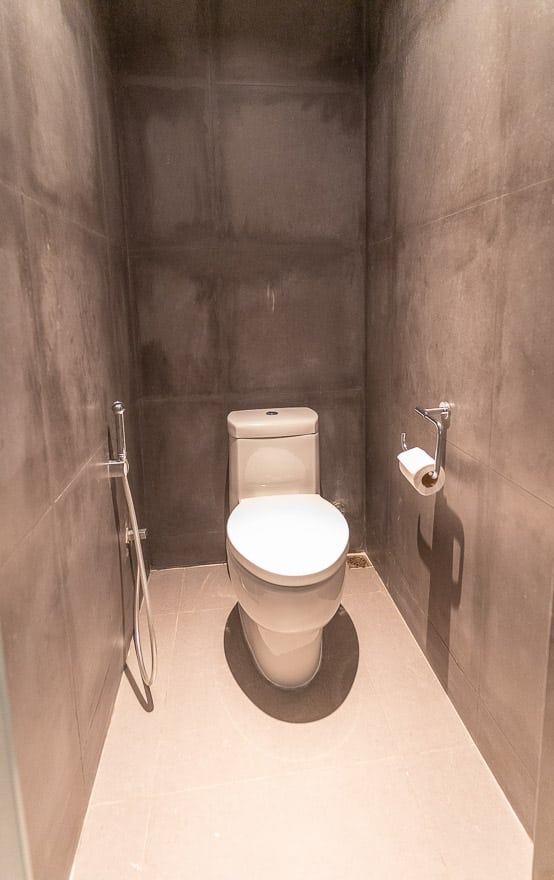 After returning from dinner we headed to our private spa to freshen up before returning to this magical scene:
View this post on Instagram
Falling asleep in a pitch black bubble with zero light pollution and a cloudless sky was an utterly breathtaking experience. In the morning I was awoken by the song of playful chirping birds just as the sun was rising.
I took the opportunity to run outside and take my drone for a spin, capturing some shots that I think perfectly captured the moment.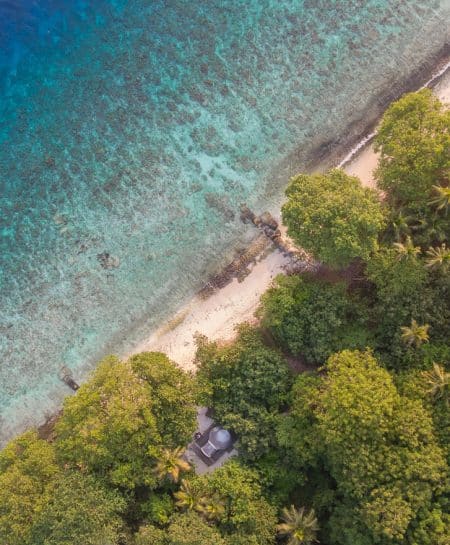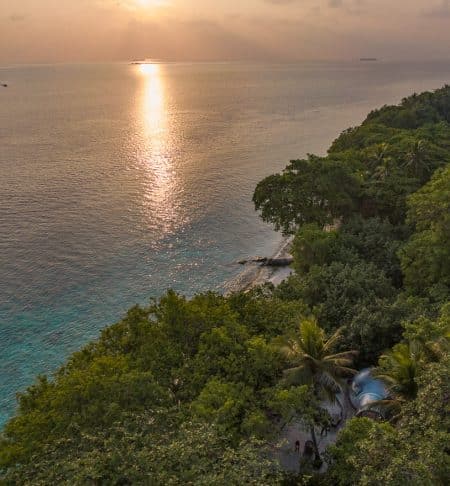 Snorkelling
Being a UNESCO biosphere reserve I had high hopes for the snorkelling at Amilla and as you can probably guess from what we saw at Feeling Koi, I did not come away disappointed. In fact I can say unreservedly that Amilla has the most amazing snorkelling that I've ever encountered in the Maldives.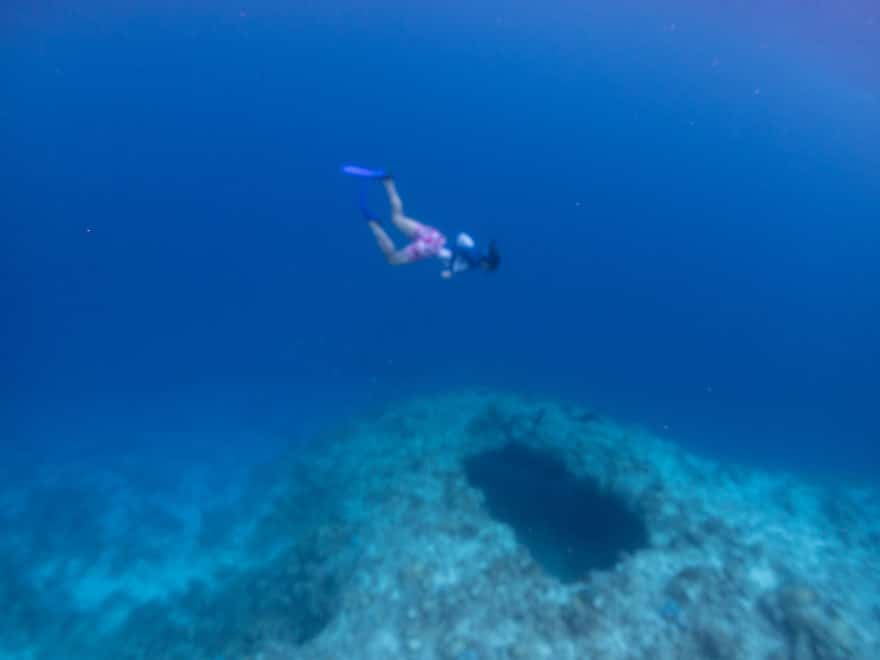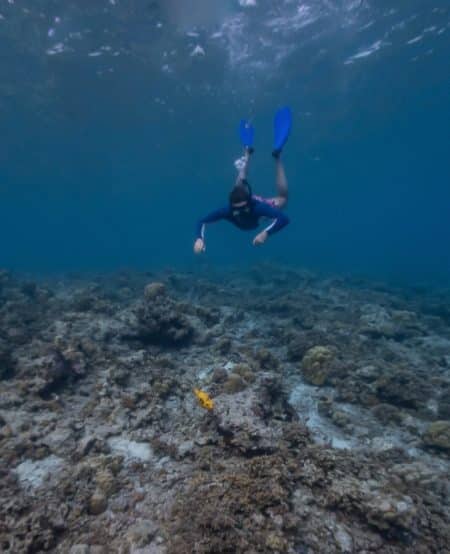 I went on a snorkel trip along the house reef with one of the staff and in the space of an hour we saw 12 reef sharks, a turtle, a couples of eagle rays and two pairs of mating octopodes (correct plural).
The latter of which was something I never thought I would ever see in my life.
Indeed the first octopus that we spotted was running along the sea floor on two of its eight tentacles as it wrapped the others around its body. I'd only ever seen this behaviour on video before and that alone was incredible. However as this bipedal octopus took refuge in a rock another swam over to show its interest by unfurling one of its tentacles and briefly changing colour before hurriedly swimming off to a nearby rock.
After seeing this we then made our way back to the pier thinking that there was no way we'd see anything else … at which point we spotted another pair nesting together inside another big rock!

Short of seeing a whale shark on the house reef I can't imagine a more incredible snorkelling experience ever!
Sandbank Trip
Amilla has a series of regularly scheduled activities which are generally chargeable, although if you book with a Virtuoso agent (like me!) they are free of charge.
One of the more popular activities is a regularly scheduled trip to a nearby sandbank where you can enjoy a castaway island experience alongside some spectacular lagoon colours.
A word of warning though, it gets incredibly hot on the sandbanks during the day so you'll probably spend a lot of time just sitting in the shade.
Also the guy running the sandbank believed that sugar free sodas are "made up" (his words), so there was only full sugar Coke and Sprite available…maybe he knows the guy that stocks the Manta Air lounge?
Sunset Wine Tasting
I personally far preferred this activity. A wine and cheese tasting set up on the beach, moments away from our villa as the sun was setting.
Conrad and Afnan kept were delightful hosts, keeping us entertained with their deep knowledge of wine and Maldivian history. Conrad is the resort's head sommelier and actually trained for his qualifications with Madu, who we had such a great time with at Constance Moofushi.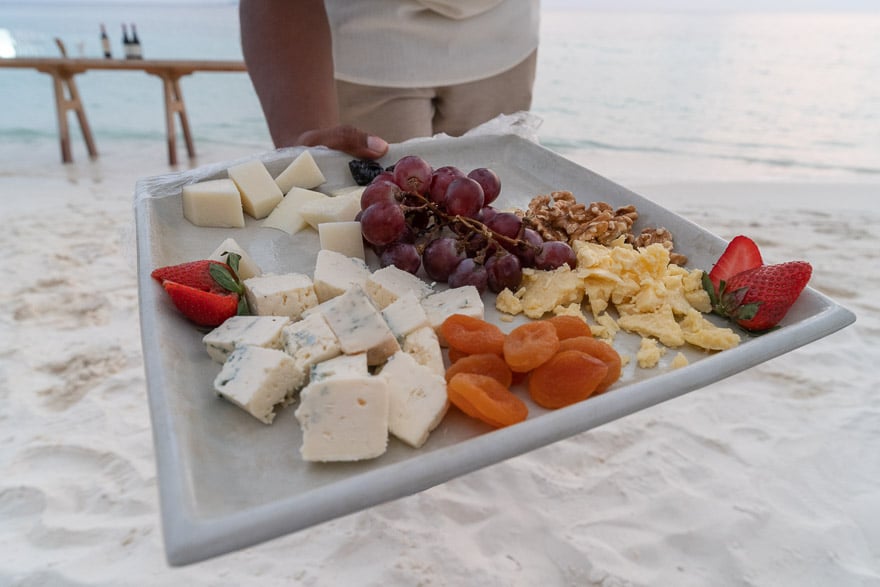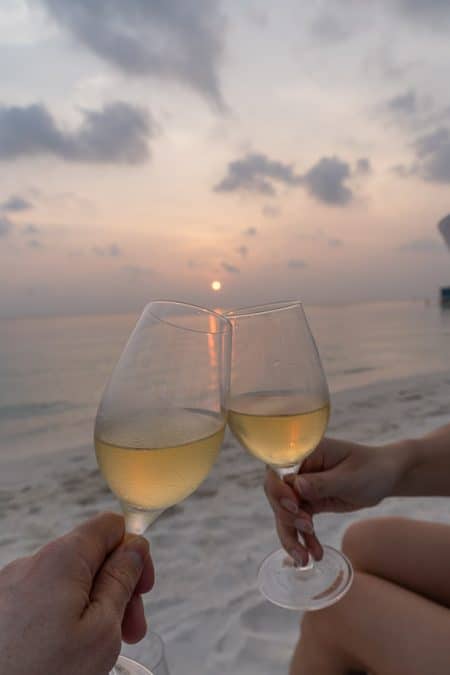 Afnan used to work at the Museum of Maldivian History in Malé and was able to share all kinds of fascinating facts with us about the history of the nation. I genuinely came away feeling like I had learned a lot and finally started to connect with a country that I've been fortunate enough to visit on so many occasions.
---
Conclusion
---
Basics Checklist
☑︎ Power sockets near the bed
☑︎ Easy to understand light switches
☑︎ Coffee machine
☑︎ Separate shower and bath
X Blackout blinds
☑︎ Stable, fast and free Wifi
☑︎ Feather pillows
☑︎ Quiet and powerful aircon
It's safe to say that this stay absolutely blew away all of my expectations. Amilla is a resort that delivered not just on the things that I thought I wanted – it fulfilled needs that I didn't even know I had.
A glamping bubble on a private beach, nurse sharks, treetop villas and free flowing Moet champagne at breakfast. Amilla has it all.
The food was comfortably amongst the best we've ever encountered in the Maldives. The bed was also the biggest and the snorkelling the best I've ever encountered.
The variety of accommodation options is fantastic and the combination of beach, treetop, bubble and overwater could keep you entertained for weeks.
The room hardware itself it isn't quite at the level of the Waldorf Astoria but it comes a close second in terms of anything I've personally experienced in the Maldives. Whilst the villas may look like functional white boxes from the outside, the interior decor is very elegant and I loved the fact that our outdoor table always had a freshly pressed linen tablecloth on it. I felt like I was at a restaurant every time I sat on the deck with a coffee and a glass of sparkling water.
Our butler wasn't the most attentive and missed a few Whatsapp messages – my feeling is that the butlers are quite thinly stretched and could do with a triage system like the Intercontinental has. This allows them to differentiate between buggy requests – which any staff member could pick up – and the 'true' butler requests, which are more guest specific.
Otherwise, the service was incredibly sincere, friendly and competent. If staff didn't know the answer to something, they always appeared to be genuinely empowered and motivated to seek a solution. This is always hugely promising to see as it tells you that the service will only continue to improve over time.
The wellness and sustainability angle really set Amilla out from the crowd and since returning home, we've not only been drinking more kombucha, we've also been paying more attention to what we eat and where it comes from. This stay really cemented the idea to us that this needn't be a hardship, quite the opposite in fact.
Ultimately, travel should not only serve to relax you but to broaden the mind – and in both of these areas, Amilla categorically excelled.
---
Booking Enquiries
---
Looking to book a stay at Amilla? Do you want to stay at multiple properties? Send us an email here and we'll manage your booking for you and secure you extra benefits, over and above a direct booking.
USD 150 F&B or spa credit to be used during the stay (credit is not combinable, not valid on villa rate, no cash value if not redeemed in full)
Complimentary daily breakfast for two
Upgrade to the next villa category at the time of check in. Not applicable for residence bookings and subject to
availability.
Late checkout at 4 pm upon availability.
Complimentary bottle of Champagne and amenities upon arrival with a personalised letter from the GM.
If you aren't sure which resort to choose and would like our advice, please fill out our quick & easy Maldives form and we'll match you up with your perfect property.
---
More Maldives Reviews
---
We are a luxury travel agency specialising in the Maldives, with plenty of first hand experience.
Here is a selection of our most recent Maldives hotel reviews:
---
The Maldives: the ultimate socially distant destination?
Part 1:

Part 2:

Part 3:

Part 4:

Part 5:

Part 6:

Amilla Fushi Maldives : Sunset Water Pool Villa

Part 5:

Park Hyatt Maldives Hadahaa : Deluxe Beach Pool Villa

Part 5:

Intercontinental Maldives Maamunagau : Sunset Overwater Pool Villa