Emirates (EK)
Flight: EK10
Class: First Class
From: London (LGW)
To: Dubai (DXB)
Duration: 6h55m
Aircraft: A380
Seat: 2K
Frequent Flyer status during flight: None
Booking type: £1,376 Cash fare upgraded with Skywards Miles
Flight date: November 2019
---
How to book Emirates A380 First Class
---
I already had accommodation booked for my December trip to Zambia and Zimbabwe but I really didn't want to be boring and fly British Airways First Class for the hundredth time. As the date of my trip drew ever closer I did start to worry though. I wasn't particularly keen on having to launch a backup plan involving a combination of Aeroflot and Kenyan, or worse…
Then one lucky day, I was searching for fares at random, as I often do (I'm sure I'm not the only one) and I stumbled upon this absolute gem:

This is a spectacular ex-London price for a Business Class flight to South Africa on any airline. On Emirates this was absolutely unprecedented. I immediately sprung into action, checking upgrade costs and ensuring that I could make this work.
Not only was this a great airfare, it just so happened to appear at a time when UK Amex Platinum Cardholders were being offered £200 off a reservation made with Amex Travel. This is one of the best perks of the card and is usually offered twice per year.
I immediately booked one ticket for myself on my card and another for Kamara on her supplementary card. This gave me an instant £400 return on my £450 annual Amex Platinum fee and we got our entire trip covered with Amex Platinum's insanely generous travel insurance to boot (this came in very handy when Kamara's iPhone went missing at JNB airport)!

I deliberately picked Gatwick for the outbound because I'd already sampled the Emirates Heathrow lounge a few times when flying Qantas First Class and wanted to try something new.
I also suspected that First Class award space would be easier to find out of Gatwick since it is a far less popular airport than LHR. My suspicion was correct and I was able to easily upgrade LGW-DXB-JNB into First Class for a total of 65,000 Skywards Miles per person.
I found the award space by setting an alert on Expertflyer (which alerts you before the Emirates.com system). Upon confirming the upgrade space on the phone with Emirates, I instantly transferred the points over from my UK Amex Platinum card to book the upgrade.
---
Pre-Departure
---
With each passing year there are less and less new experiences for me to try, as I work my way through all of the world's First and Business Class cabins.
It's still great ANY time you get to fly in First Class but that childlike, sleepless excitement happens less and less these days.
However, I'd be lying if I said I wasn't as giddy as a schoolchild for this one. I was unbelievably excited for this flight.
Emirates First Class has a dedicated legion of followers and so many aspects of their product seem to be pitched at a level that truly destroys the competition.
…and the list goes on.
If all of this was truly correct, this was destined to be one of the greatest flights of my life.
So safe to say these were some pretty lofty expectations.
Were they met?…
---
Flight EK10 LGW-DXB
---
Given the decidedly average Gatwick lounge experience, we decided that there was no sense hanging around. We headed to the gate just before the official boarding time, in order to be the first passengers on board.
Unlike most Emirates outstations, there is no direct boarding from the lounge and it was a rather long walk to the A380 gates.
At the gate, priority boarding was strictly enforced with all of First Class being called to board before the Business Class passengers.
As we made our way up the jet bridge my heart started beating a little faster – just catching sight of an Emirates crew onboard a plane for the first time was exciting!
Emirates A380 First Class Cabin
Actually stepping on board and seeing the First Class cabin in the flesh for the first time was a surreal experience, which reminded me of my first time visiting New York. I'd seen it so many times in images that I almost felt like I'd been here before.
We were warmly welcomed on board by Mohamed, the cabin manager, who escorted us to our seats and said that we could sit anywhere we wanted since there was only one other passenger on board and they were right across on the A side of the cabin.
I was immediately struck by how high the walls were; these are materially higher than what you see on British Airways Club Suites or even the new BA First Class Suites. In fact, they are even taller and more private than my beloved SWISS 777 First Class Suites.
It was only after heading to my seat that I realised exactly why the walls were so high: this was one of the very latest versions of the Emirates First Class cabin, featuring a number of significant upgrades over previous iterations of the product.
As somebody who has only ever watched Emirates from afar, I didn't realise that they had been constantly tweaking the product. I assumed that all they did was change the design of the bar on their last delivery of A380s.
I went with 2K rather than sitting in row 1, as I preferred the idea of being further from galley noise and had also heard that window alignment is better in row 2.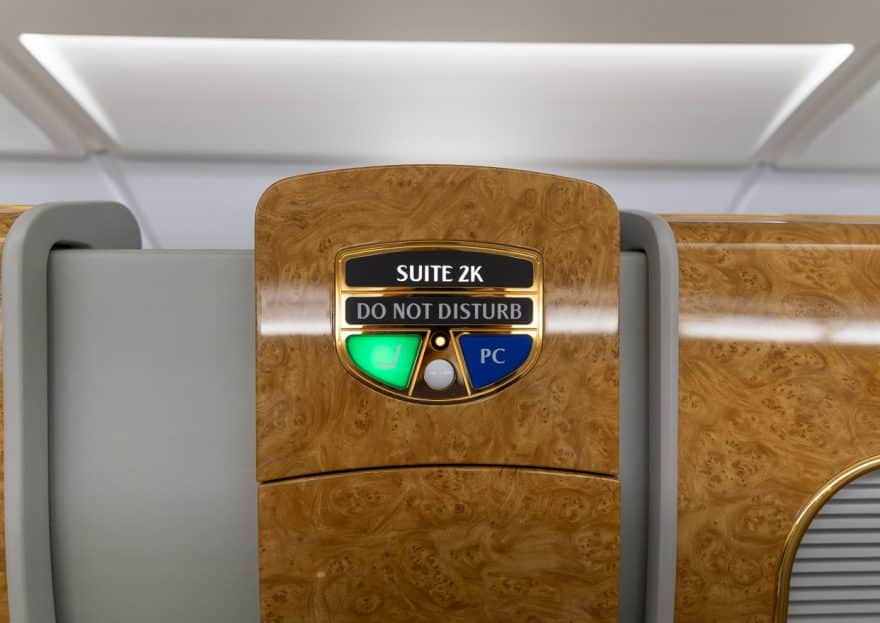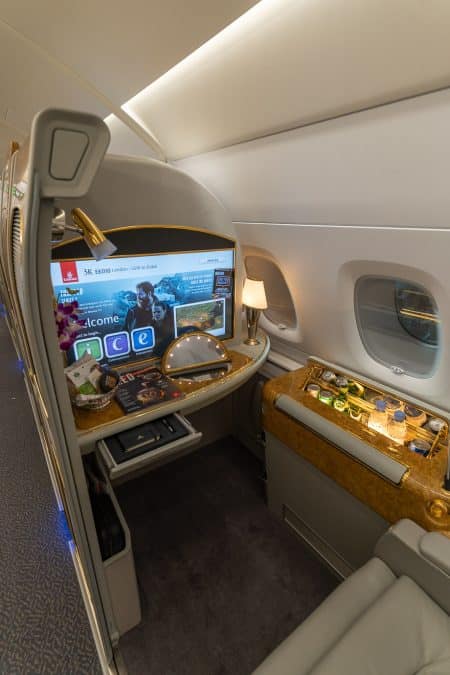 Clearly the faux wooden trim is not for everyone (it certainly wouldn't be my first choice when designing a cabin) but overall I couldn't help but be impressed with the design. The 'more is more' maximalism is certainly far preferable to the overly restrained and downright boring Garuda First Class seat, which shares a similar 'skeleton' to this but none of the modern features. It also has a downright ugly colour scheme, where Emirates makes you laugh out of admiration for its audacity, if nothing else.
The seat itself was very comfortably padded and when you look at the image below you get a real idea of the height of the walls. They are a good 2ft above your head and curve to give you even more of an enclosed and private feeling.
Another way that you can tell you are on one of the newest A380s is that your table lamp will be squashed to one side as a result of the screen being a few inches larger, with a higher resolution than the previous generations of the A380 cabin.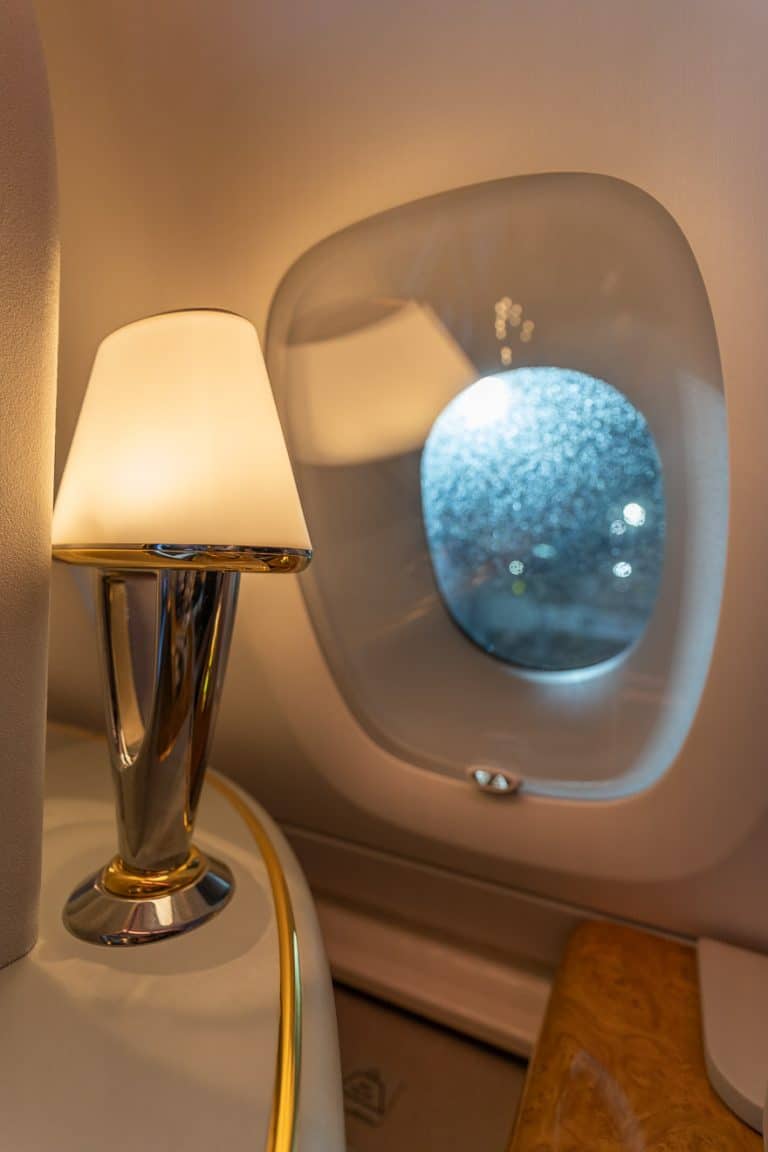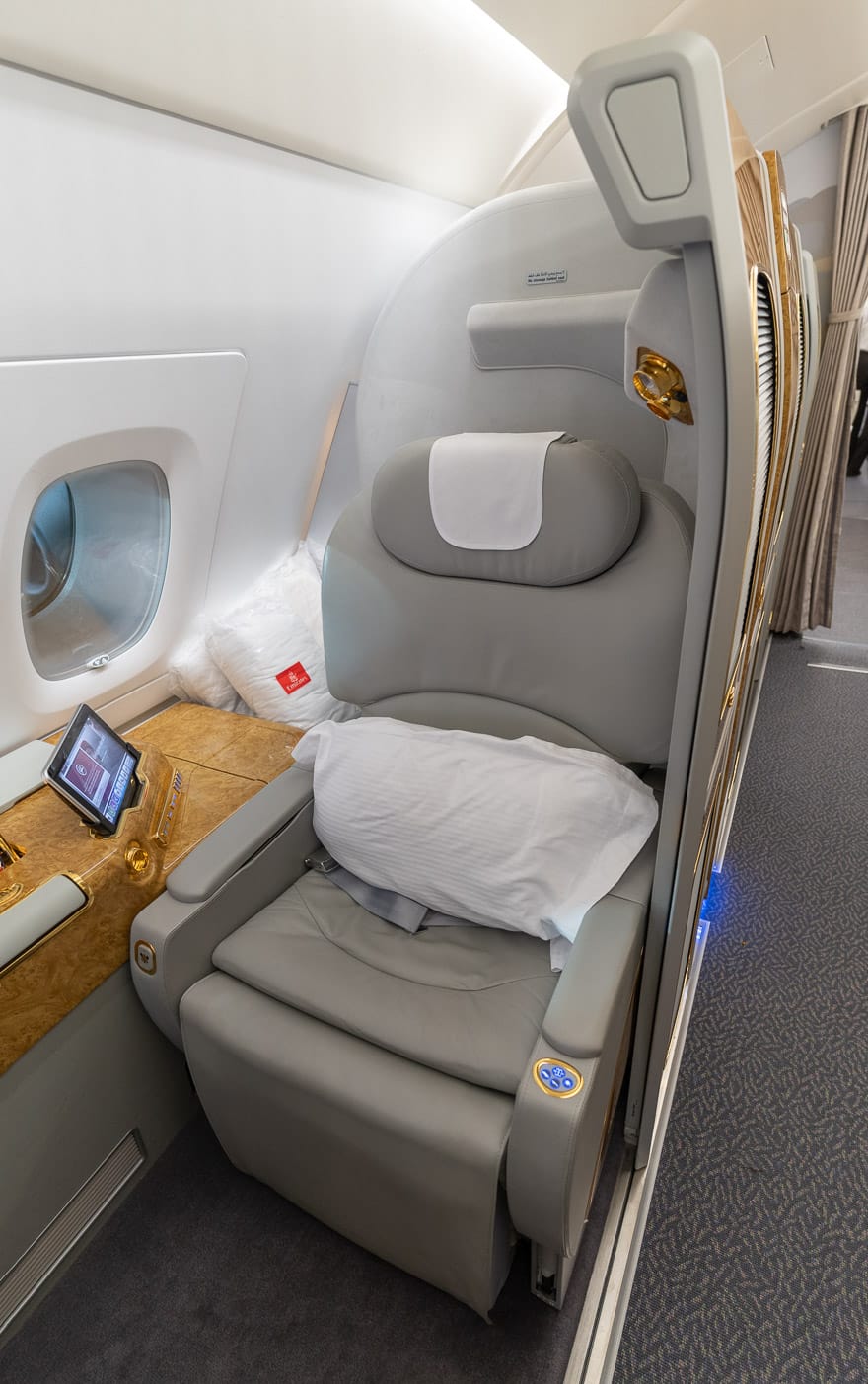 As I sat down, I took a moment to breathe it all in. The way the cabin is lit before take off is truly remarkable, the soft glow of the lamps contrasting with the glamorous spotlights that frame semi-circular table mirrors and freshly cut orchids in each suite.
Despite this being an empty cabin I noticed that every mini-bar and snack basket was full and every suite featured a freshly cut orchid.
Emirates could have cut costs but wants to show its guests a 'full house'. This is exactly the same reason why you'll see every table set with fully polished cutlery and tableware even when a high end restaurant is empty. It makes for a far better impression and it also means that last minute guests can be accommodated without suffering delays or a diminished service.
Exploring a new seat is always a lot of fun and Emirates really kept me entertained with the endless features that they offer on board.
There was snack basket filled to the brim with luxurious treats including chocolate covered lakrids and effervescent rehydration tablets – these came in very handy the morning after the flight…
There was also a chilled minibar filled with drinks and even a leather bound notepad and pen.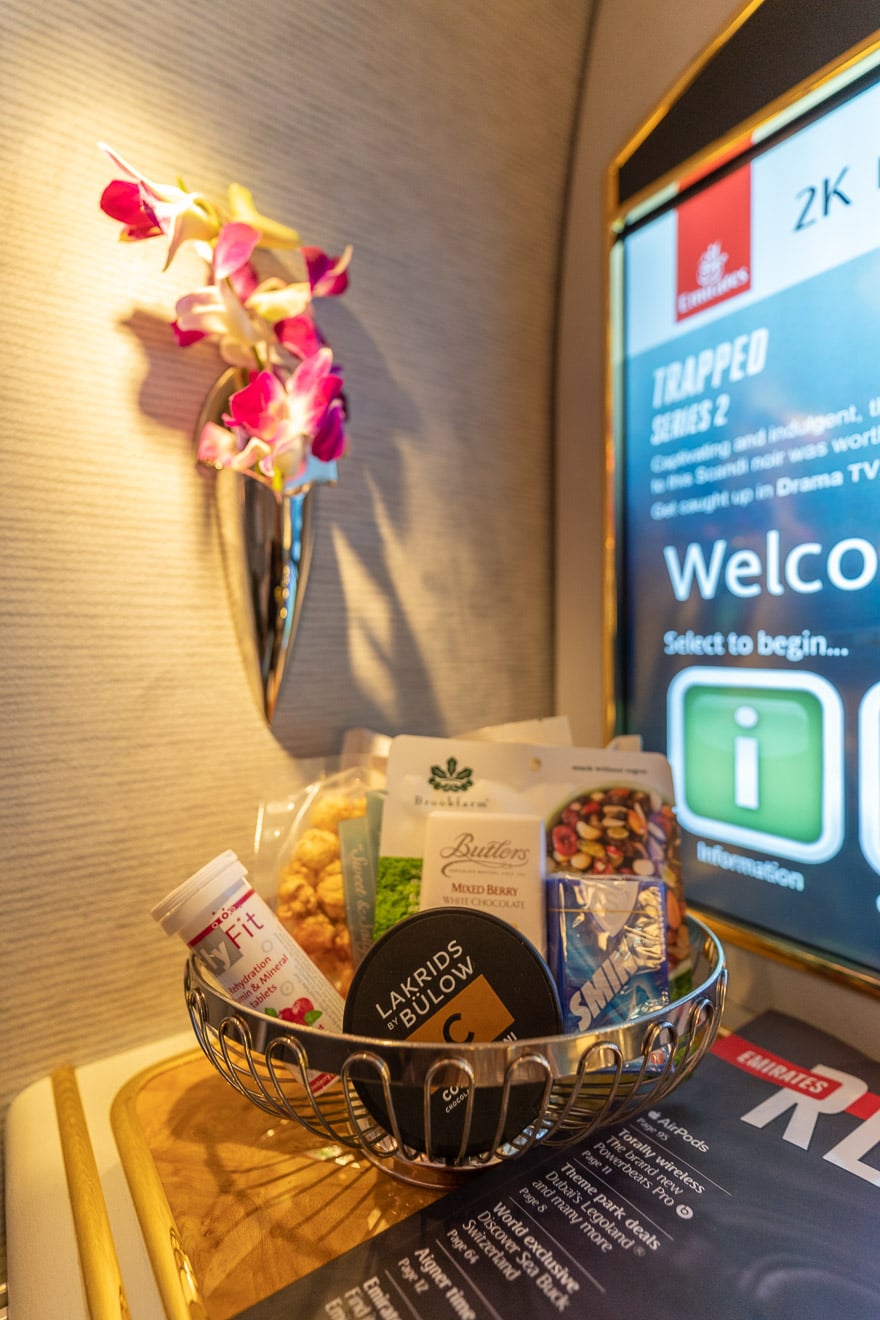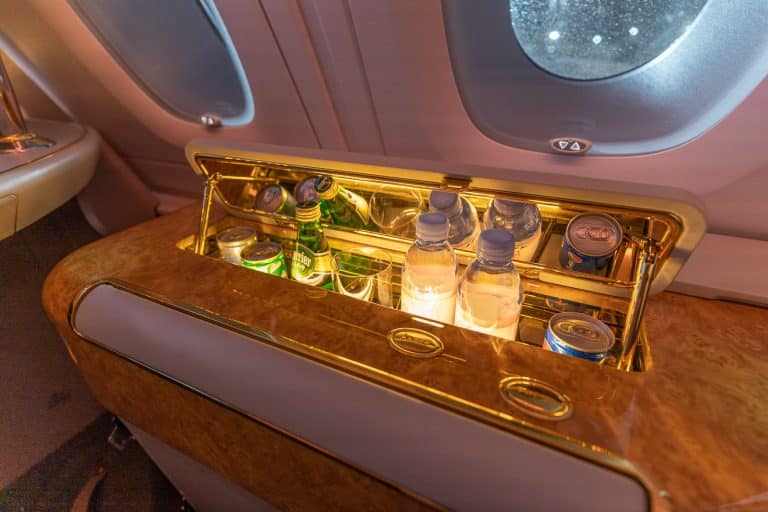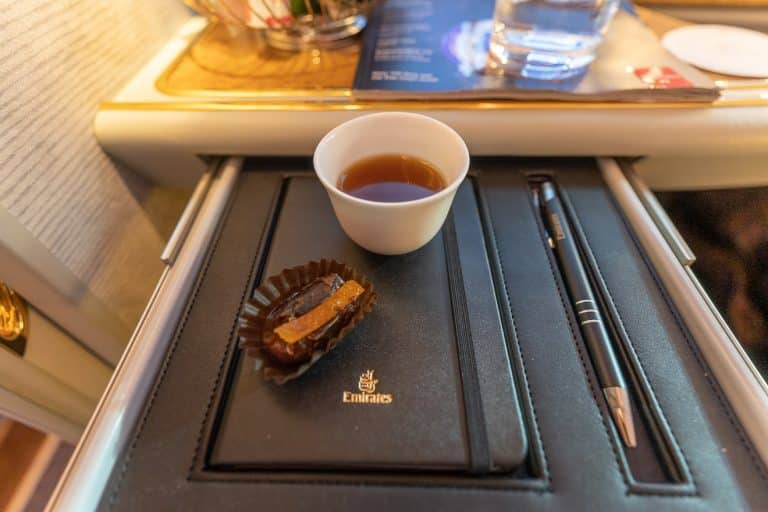 Champagne was offered on the ground but it was only Veuve Clicquot; Mohamed informed me that the good stuff would come out once we were airborne. As such, I was happy to stick to water and Arabic coffee before departure.
Everywhere that I looked there were more and more little details. I love the fact that there are twinkling star lights not only on the cabin's ceiling but also on the floor of each suite.
Running along the wall was a large cabinet housing a chilled and illuminated minibar, as well as a tablet, which could be used to customise the lighting and seat position as well as controlling the entertainment.
Some of the simpler seat functions such as the call bell and upright position were also implemented as more traditional push buttons, to save you hunting around for them on the tablet screen.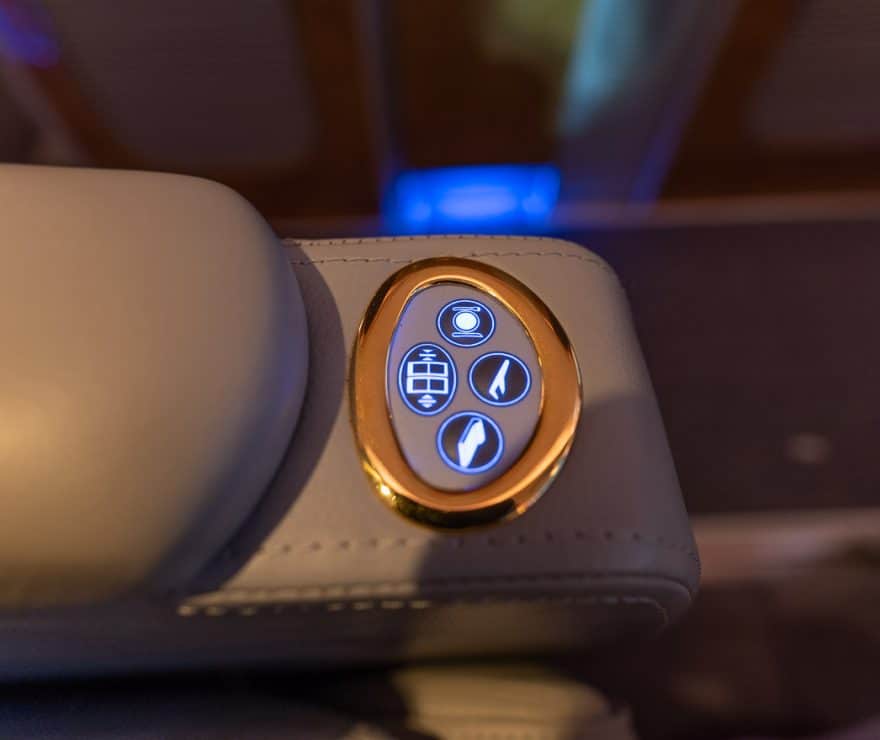 I was extremely pleased to note that the suite came with its own air vents. The fact that there are still First Class cabins out there where passengers can't control airflow is borderline absurd. If you've ever flown on JAL First Class you'll know what I mean….
Seat Storage
Whilst undoubtedly a smaller seat than the likes of Etihad apartments or Singapore Suites (even BA First Class on the A380 feels significantly larger), I was surprised by the generous amount of storage space on offer.
The wardrobe had enough space for me to hang two jackets or one very large winter coat, as well as a slot for shoes beneath.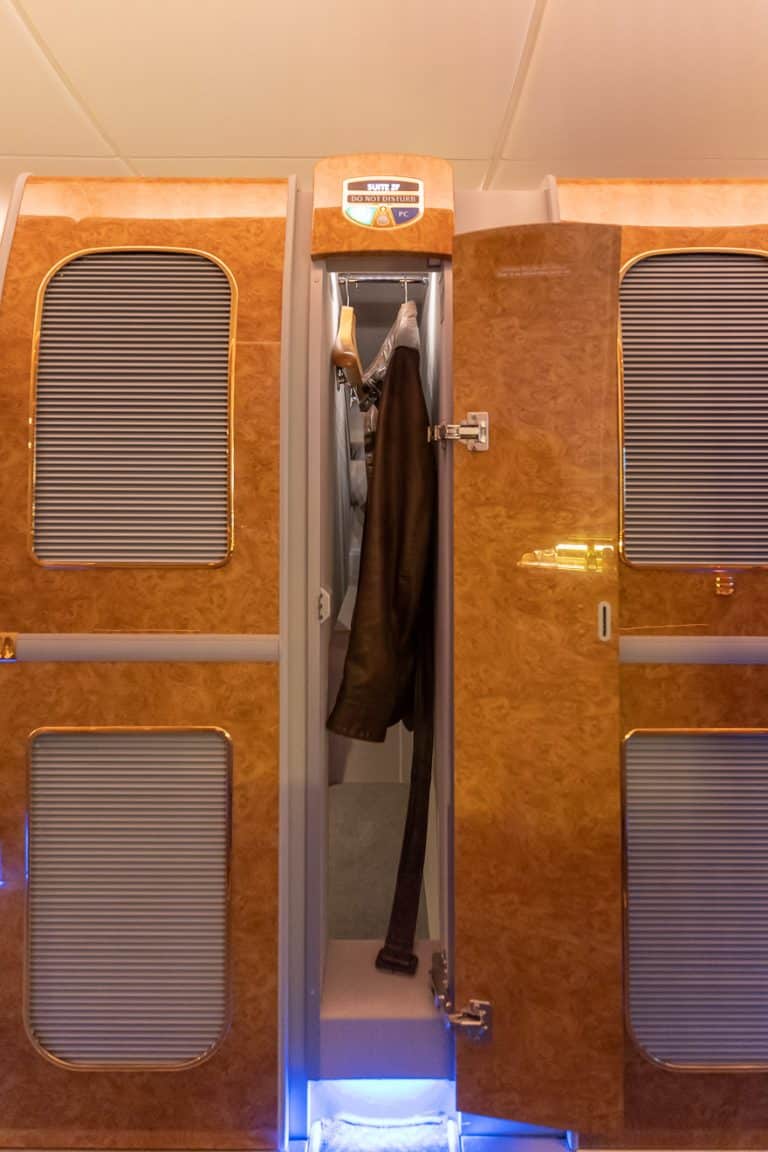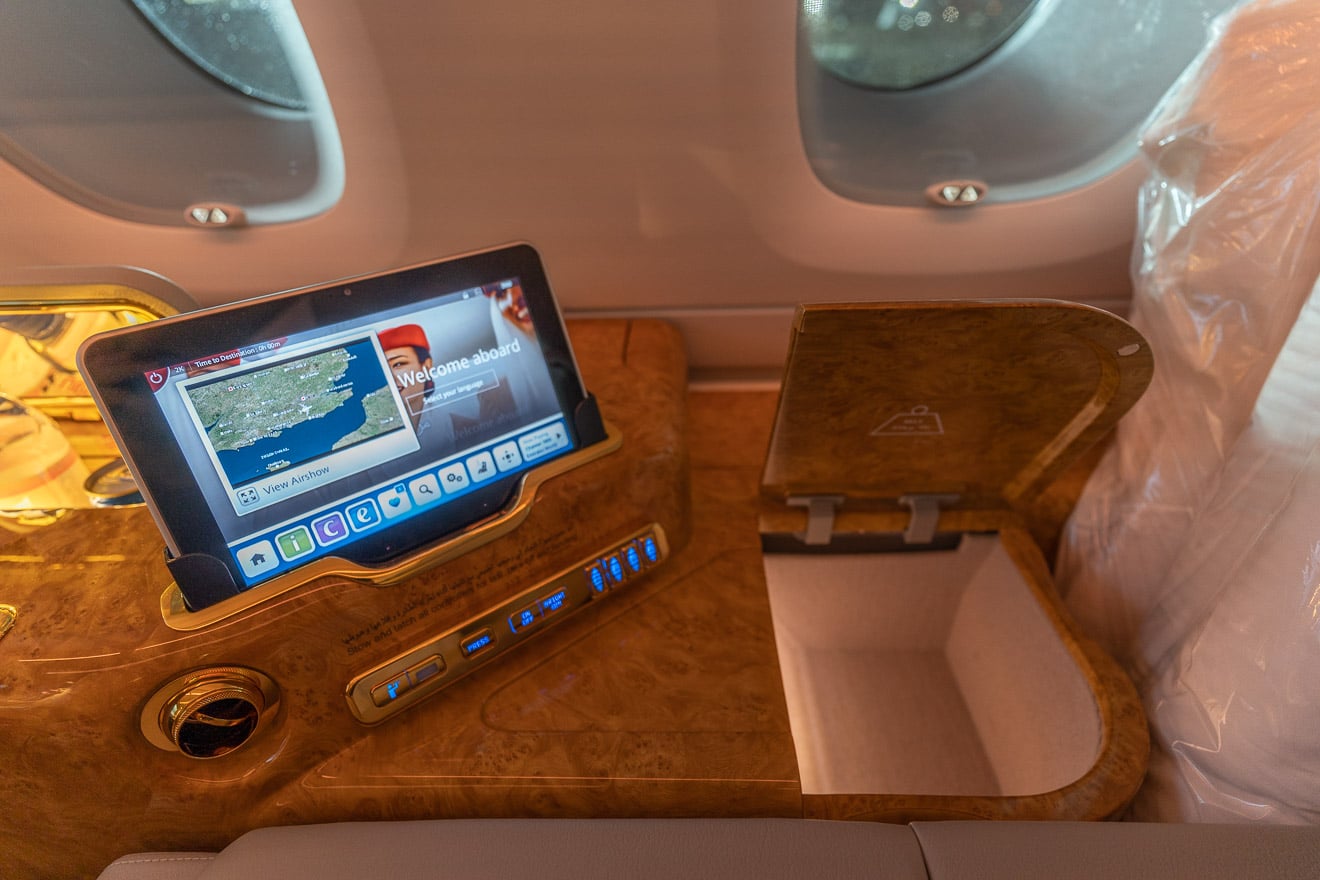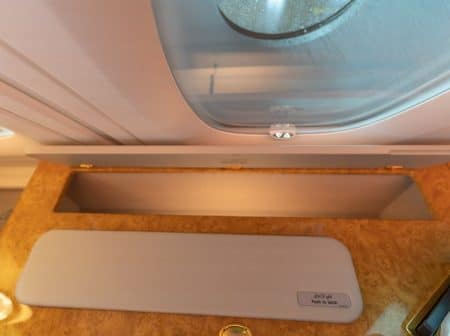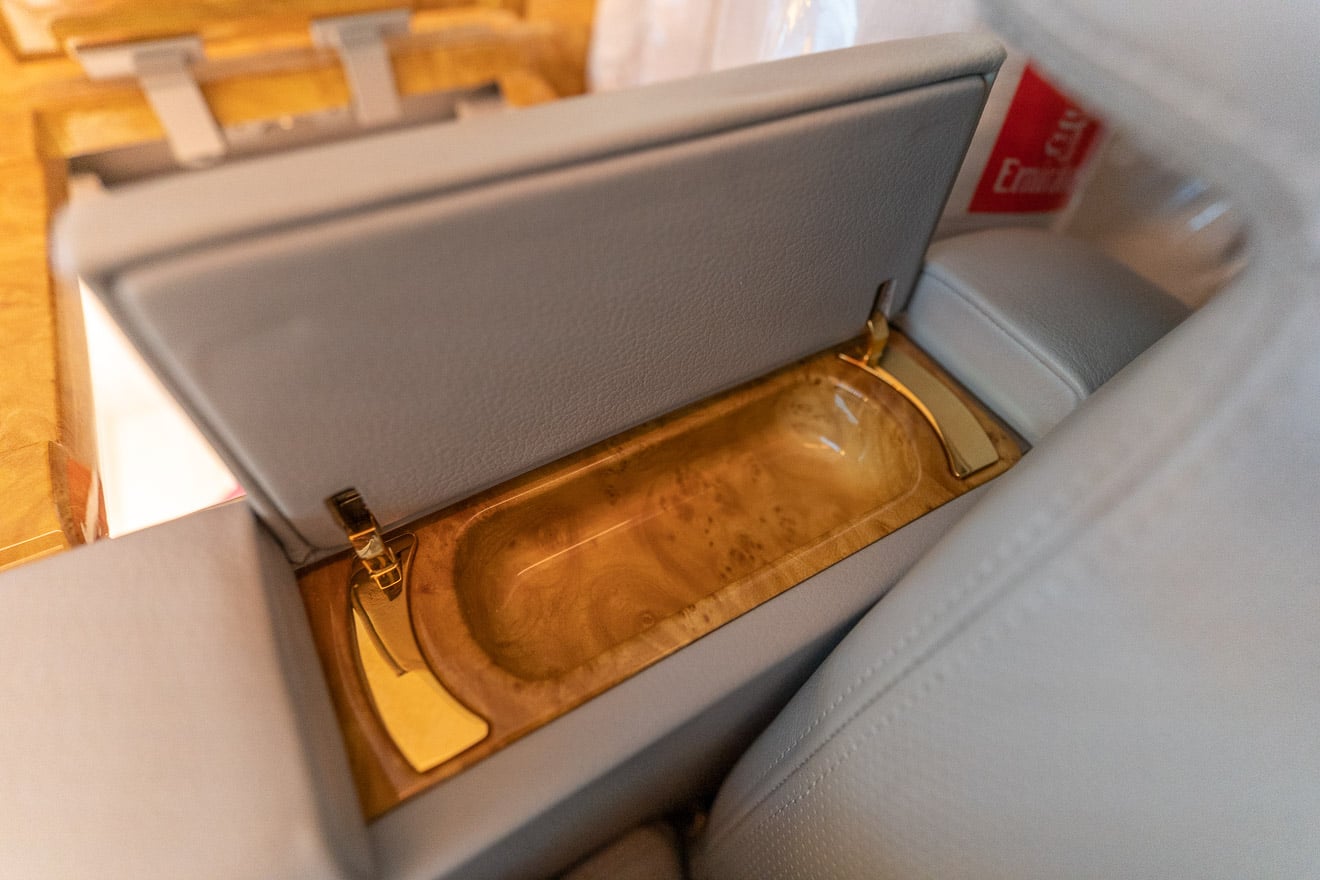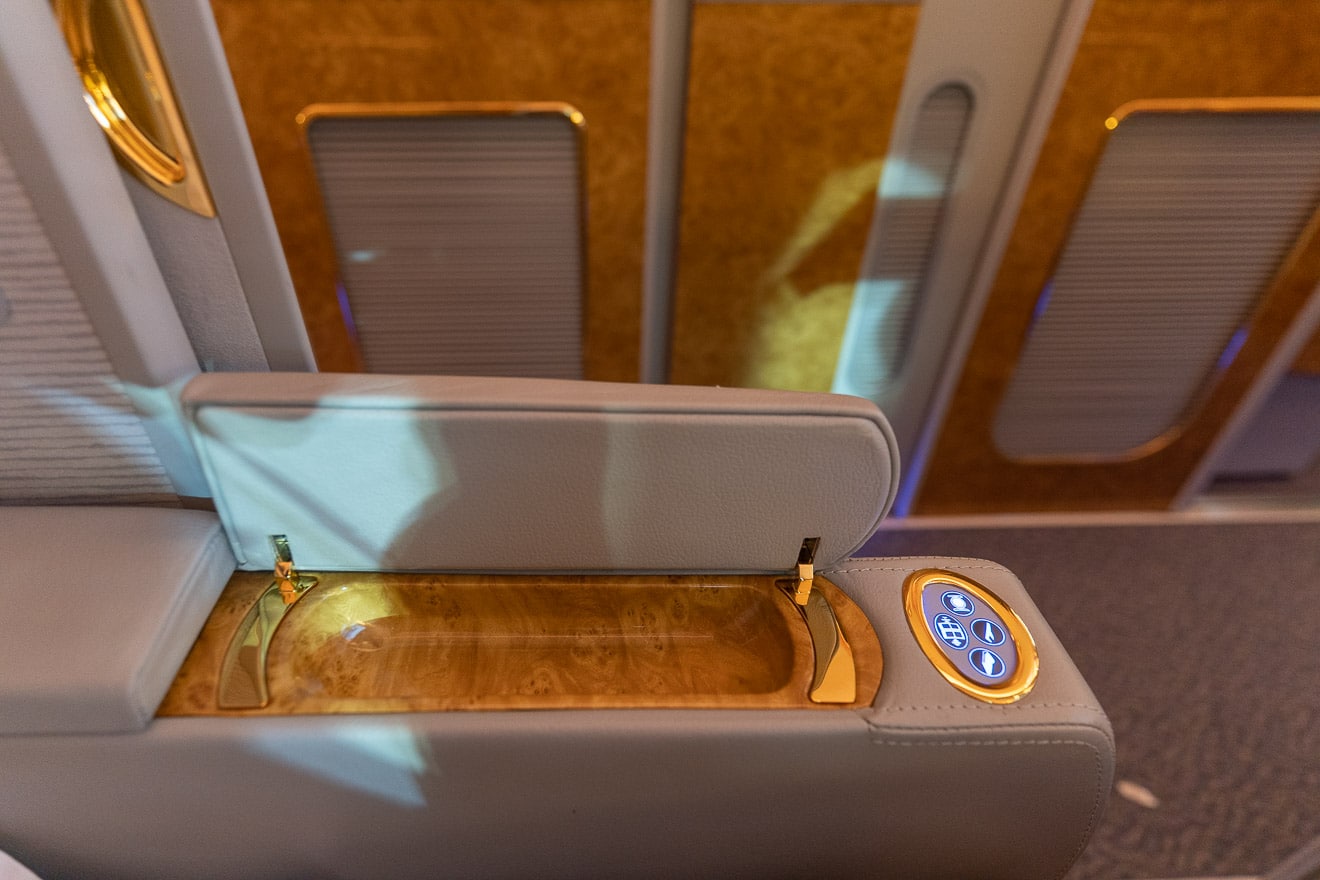 There was the usual A380 side storage bin right beneath the window, next to the minibar (second image from top, right) as well as a deeper storage bin next to the tablet (top right). Smaller items could also be stored beneath the flaps on each armrest.
Connectivity / Emirates I.C.E.
Emirates is an airline which is famed for its I.C.E. – the in-cabin entertainment system. The amount of video and music options on offer are quite frankly ludicrous, although personally I felt that they paled in comparison to the entertainment provided by the wine list.
The ICE could be controlled from either a standard touch screen remote (like the ones on Qatar Q Suites) or the tablet. Additionally a very premium looking (and sounding) set of Bowers & Wilkins headphones was supplied at every seat.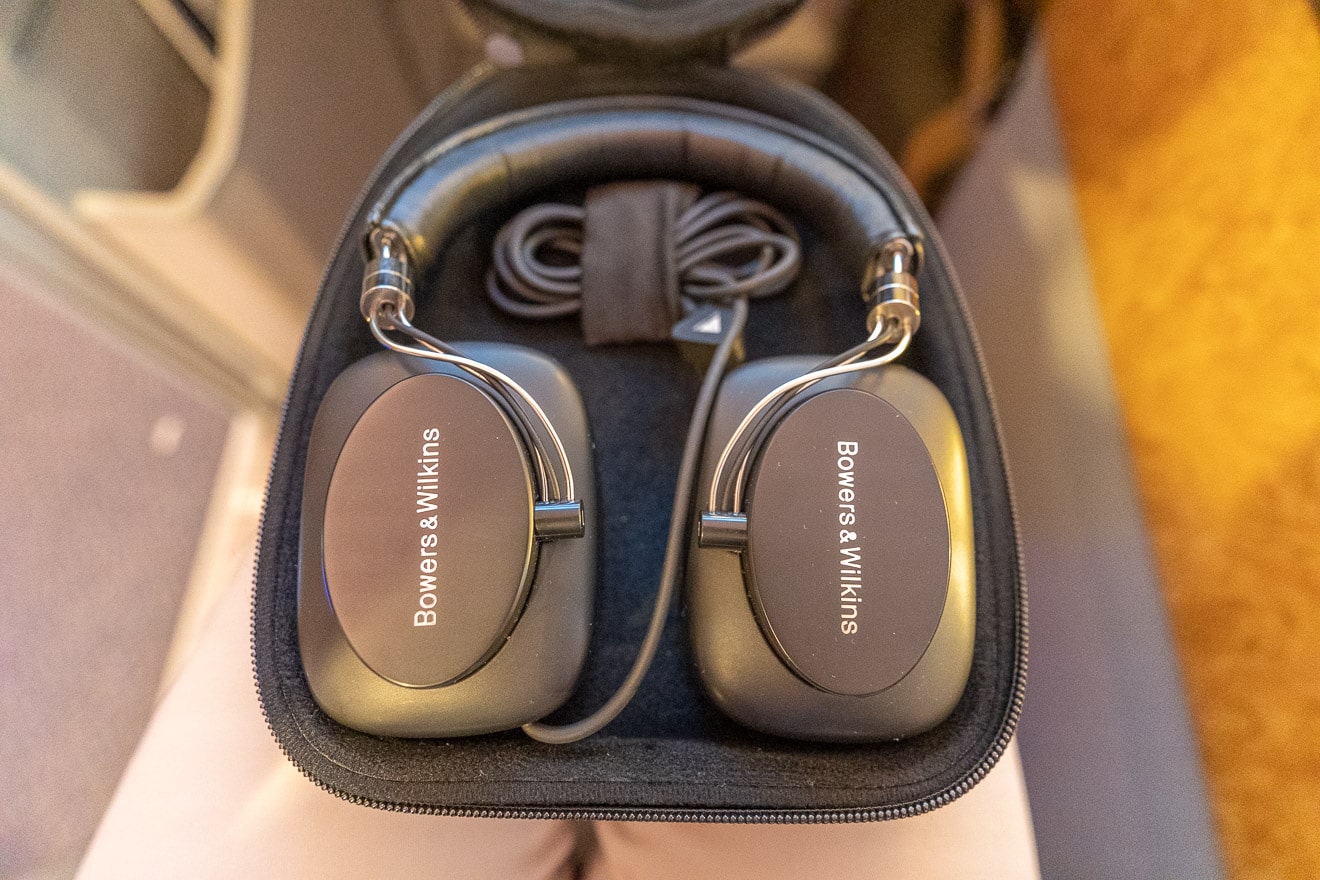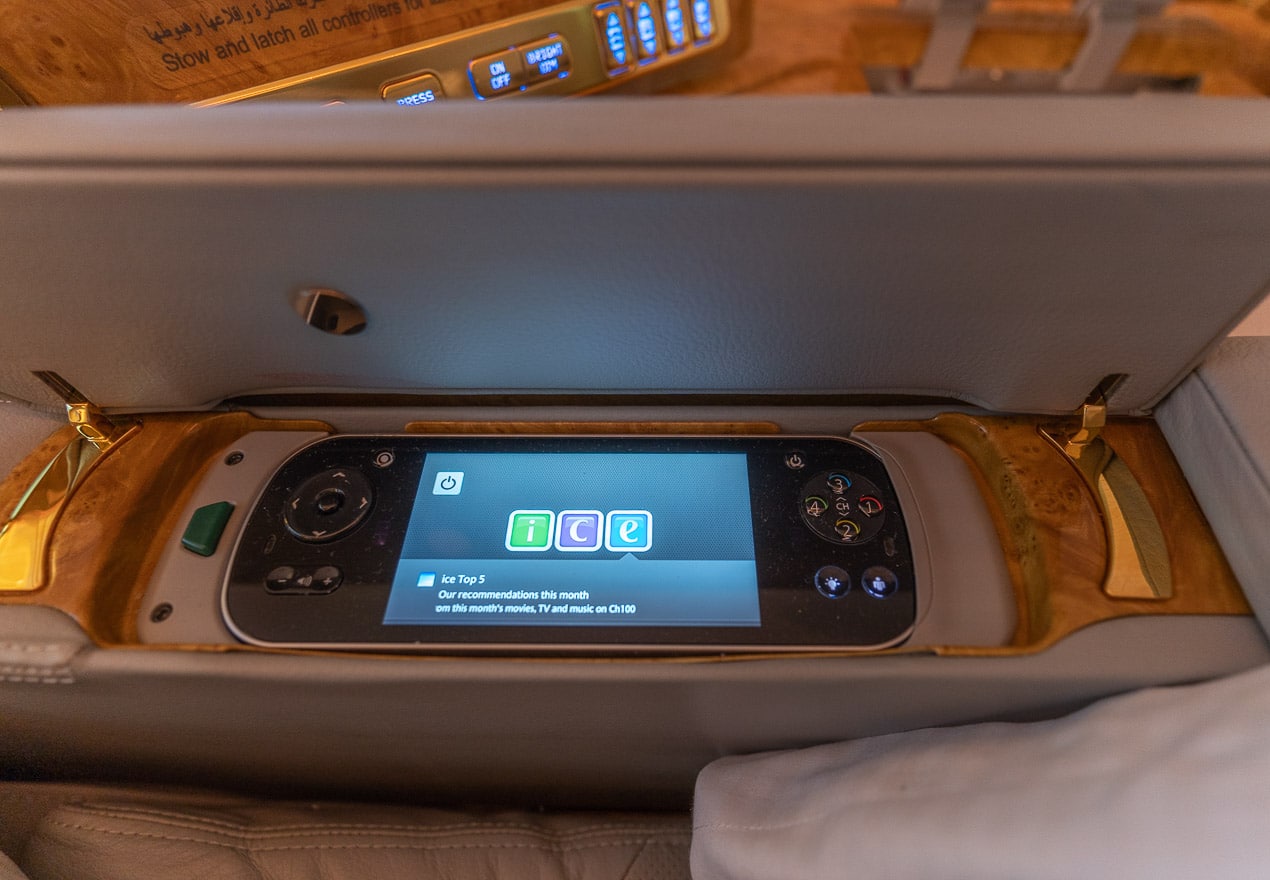 There was also a universal power socket with fast charging USB directly beneath the TV as well as a separate USB and HDMI port.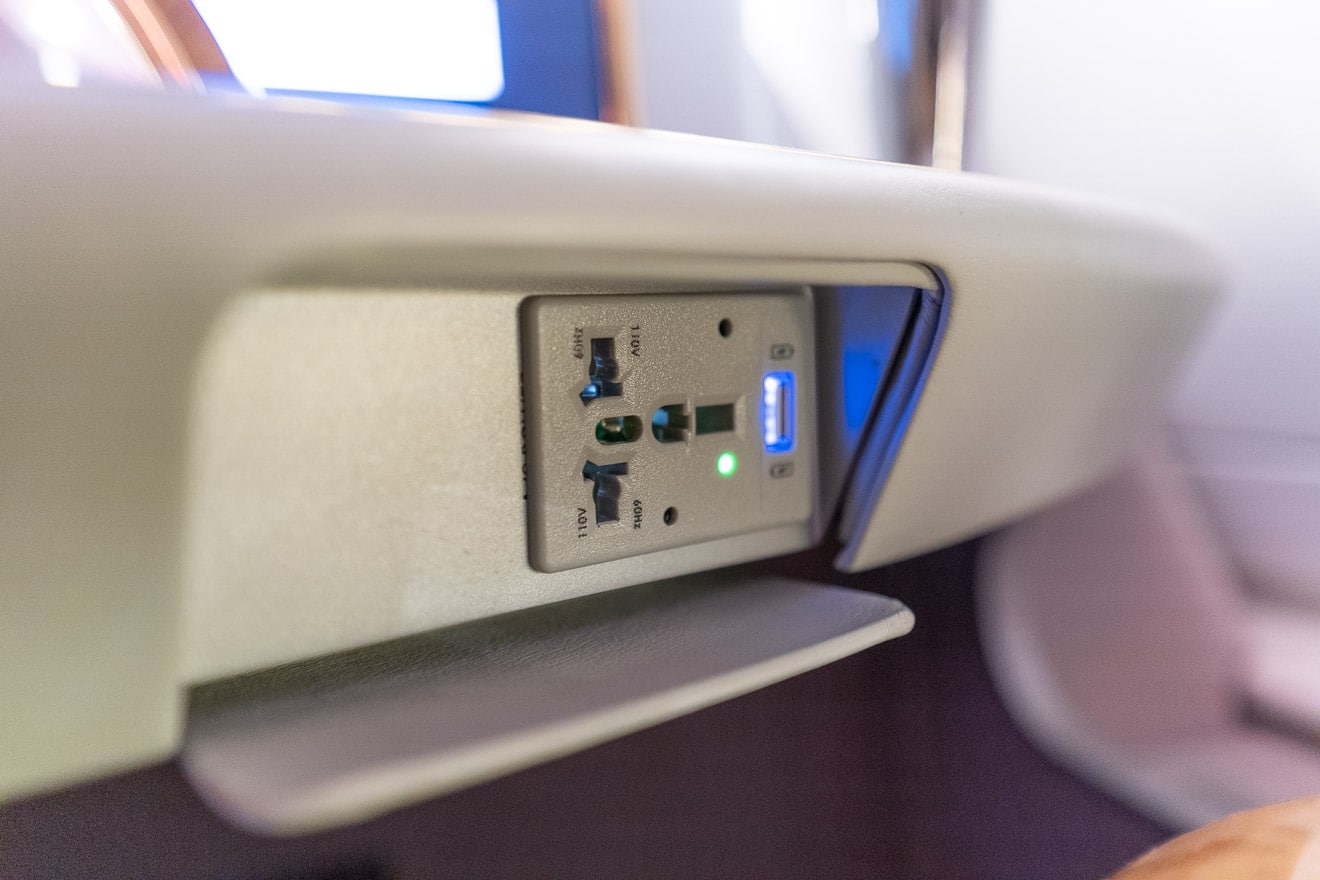 Emirates First Class Amenity Kit
As I was busy exploring and photographing the seat Mohamed came over to offer me an amenity kit, slippers and PJs. The amenity kit was absolutely enormous, by far the most generous I've seen on any airline. It came inside a large Emirates branded bag, which could later be used to carry all of my goodies off the plane.
The kit itself was Bvlgari branded and contained numerous full sized lotions, a shaving kit and a 5ml eau de cologne.
Mohamed brought me a pair of medium sized PJs at first and said that I could always try a large set if medium didn't work, mixing and matching as I needed. These came in an oversized felt envelope with a wooden button closure. A considerable improvement over the standard cloth bags most airlines offer.
The slippers were a bit generic though, and no comparison to the amazing woven ones you get on Garuda First Class, for example.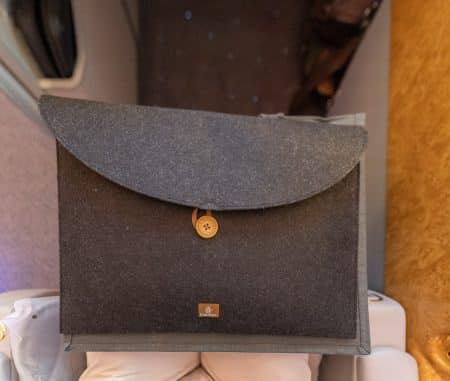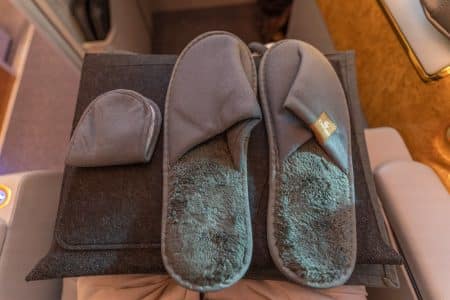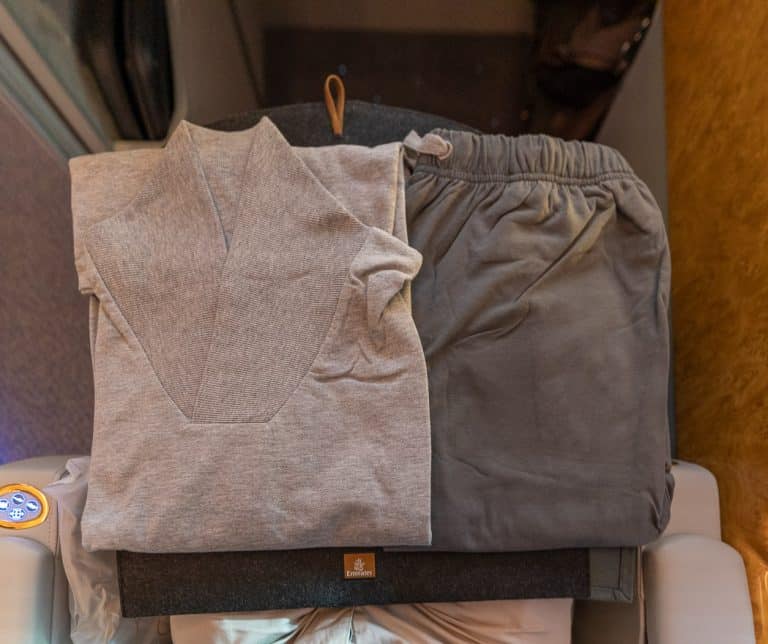 The PJs were very comfortable and were purportedly imbued with some form of protective shield which prevents dehydration at altitude.

Emirates First Class Wine List
Prior to take off I was presented with a very elegant leather binder, containing both the food menu and the wine list. This was one aspect of the flight that I was particularly interested in, having researched a great deal about how Emirates are able to source the best wines of any airline.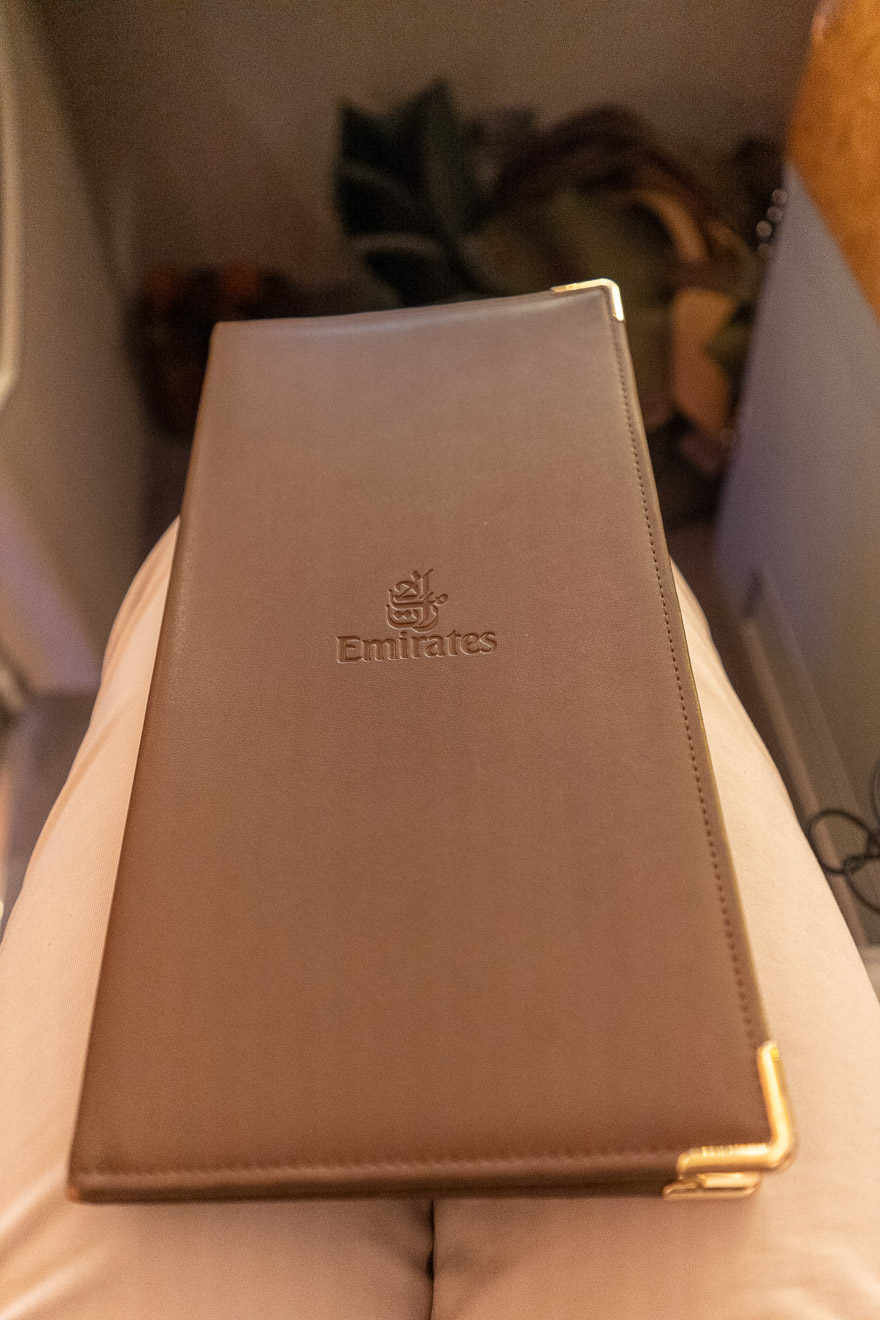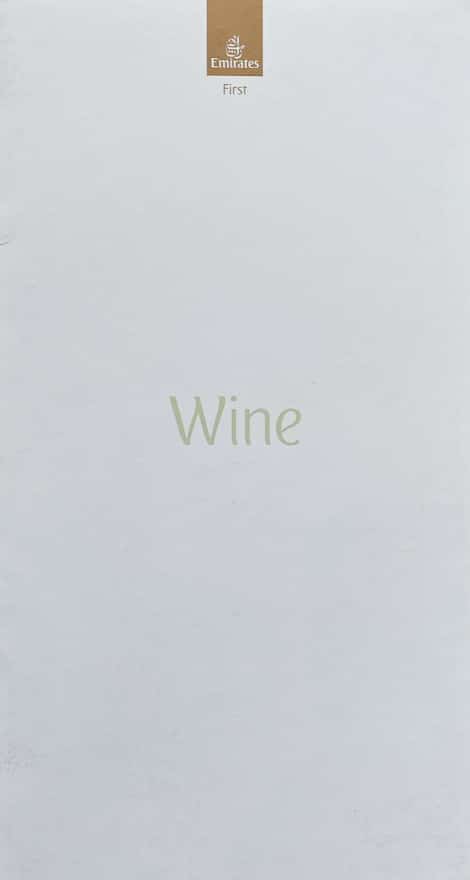 Most airlines have an annual drinks budget which their purchasing manager will use to get best possible deal on whatever is available for the next year. This generally results in bottles retailing for $50-$100 appearing in most top tier First Class cabins – with the two Japanese carriers JAL and ANA spending a lot more to acquire ultra-prestigious drinks like Salon champagne and Hibiki whisky.
Meanwhile Emirates have a deep partnership with LVMH, the consortium which owns not only luxury brands like Bvlgari (hence the amenity kit) but also Moët, who make Dom Perignon. As a result of this relationship they have integrated themselves into the very supply chain of many wines. They buy huge lots 'en primeur' and cellar the wine themselves so as to be able to offer some exceptional vintages from time to time. Emirates apparently even own a substantial hectarage of their own vines in Bordeaux and champagne.
Wine List
By Emirates standard, the wine list was actually rather restrained on this flight. Big names like Opus One, Château Margaux and Château d'Yquem were absent and there were no insane vintages like the 1956 Ducru Beaucaillou that a friend of mine got on his flight a few years ago (check out the Emirates Wine List thread over on Flyertalk for some idea of what's possible).
However by almost anybody else's standards the absolutely sublime Dom Perignon P2 alone would make this one of the best wine lists in the sky. I also asked for a bottle of the Kapcsándy to be poured into a carafe for me prior to take-off, so that it would be fully open by the time I was eating my main course later in the flight.
The fact that this is even an option on Emirates is mind blowing.
---
In the air
---
After a characteristically gentle takeoff, the chime sounded to release the crew, who immediately came over to offer pre-dinner drinks.
I asked for a glass of the Dom Perignon P2, which was quite frankly unbelievable. Without getting too technical, normal Dom Perignon is aged for around 8 years on its lees – the delicious yeasty leftovers of the fermentation process. It is then disgorged, removing the lees, and bottled.
P2 spends almost twice as long in contact with the lees, which results in an incredibly rich, toasty flavour.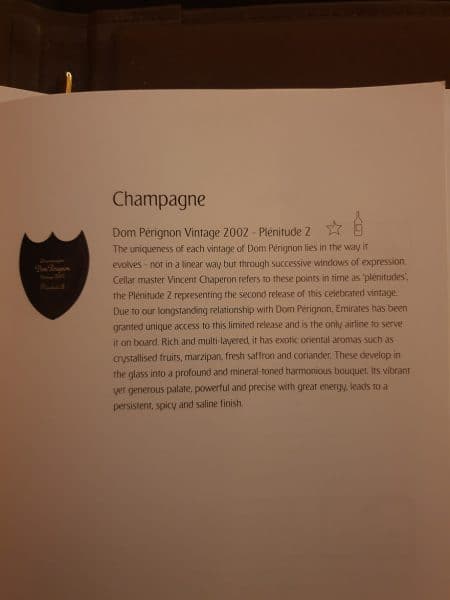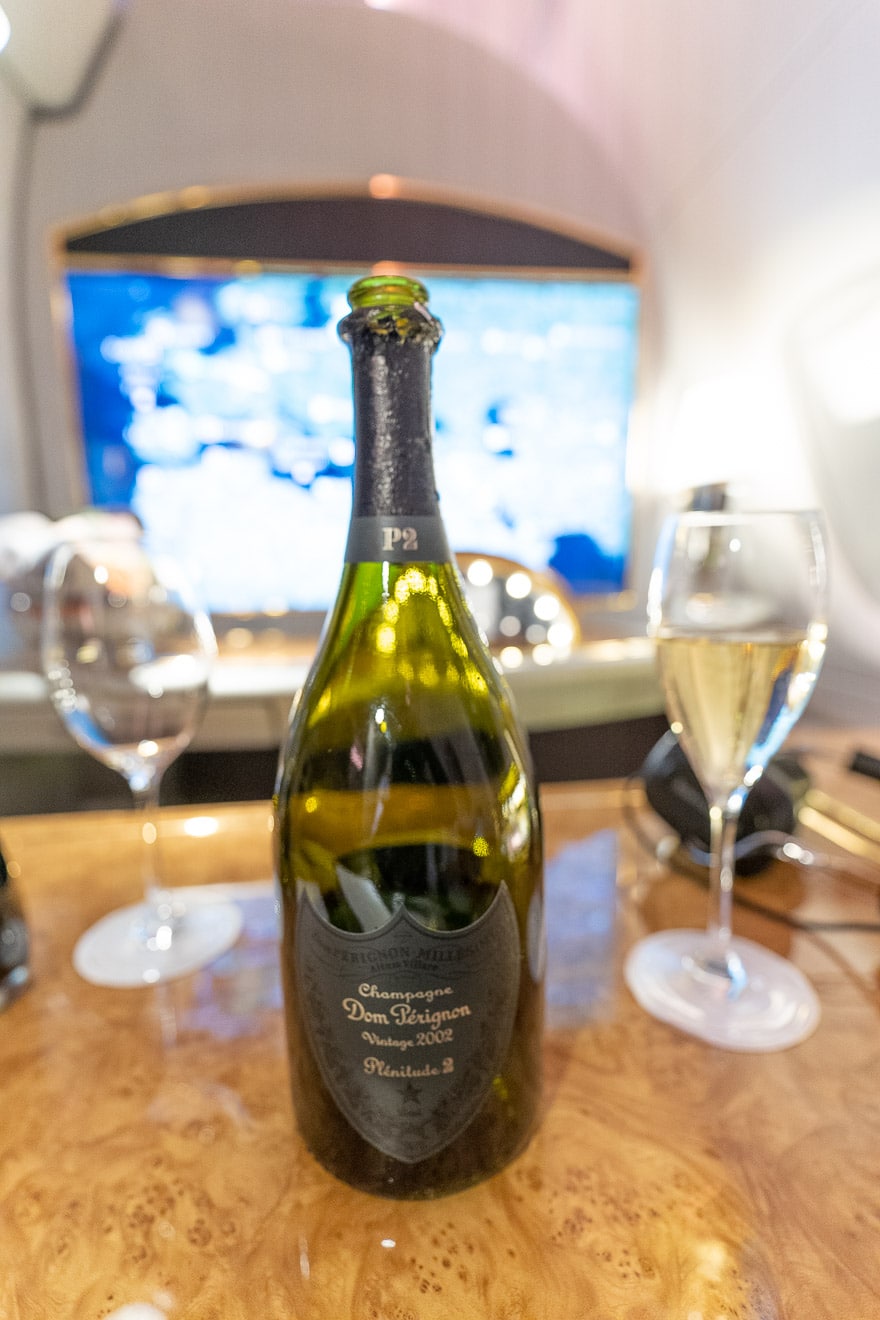 It felt like I was drinking a glass of Dom Perignon that had been raised on a diet of Lotus Biscoffs. The taste honestly haunts me to this day.
Mohamed very kindly brought out the carafe of Kapcsándy as well so that I could see how it was getting on. Alongside these two remarkable wines I was served an enormous dish of warmed cashews, almonds, hazelnuts and pecans.
View this post on Instagram
As I enjoyed this wonderful aperitif I took the opportunity to take a look at the dining menu.
The food on Emirates has always had a reputation as being solid but not overly special. I managed to lose the paper menu but Emirates customer support were very helpful in providing me the full details when I emailed them after the flight:
Main course
Malwani chicken
Spicy chicken and coconut curry, served with buttered rice and
mushrooms with corn in creamy gravy
Braised beef short ribs
Served with demi‑glace, sautéed gnocchi, grilled courgette and
spinach with pine nuts
Prawn machbous
Prawns marinated in a traditional Emirati spice blend,
served on fragrant rice
Truffle cappelletti alla panna
Pasta filled with truffles, served with parmesan cream, grilled asparagus
and roasted cherry tomatoes
Chicken with lemon and rosemary
Served with grilled peppers, broccoli and steamed wild rice
Steak sandwich
Seared beef fillet in grilled focaccia with cheddar, Pommery mustard and
red onion chutney, served with coleslaw and potato crisps
Dessert
Millionaire's Shortbread bar
Layers of crumbly shortbread, caramel and milk chocolate,
served with fruit and nut compote
Blueberry and vanilla slice
On a praline base, served with kumquat compote
Selection of Arabic pastries
Halawat el jibn, walnut baklawa and pistachio mafroukeh
Seasonal fruit
An assortment of fresh cut fruit
Breakfast
Cheese and onion frittata
Served with veal rashers, baked beans, portobello mushrooms
with herbs and roasted tomato
Continental cold plate
Sliced chicken, bresaola, cheddar, camembert,
goat's cheese and red onion chutney
Breakfast cereal
Choice of cornflakes or Brookfarm muesli
Dinner
Kamara and I opted to move over to a centre pair to have our dinner. As we walked over it almost felt like we were being escorted from the bar to our table in a restaurant.
We both began with Caviar (which wasn't mentioned on the emailed menu from Emirates). The portions were generous and second helpings were offered, however I did find it odd that mother of pearl caviar spoons weren't provided, since most other airlines do this.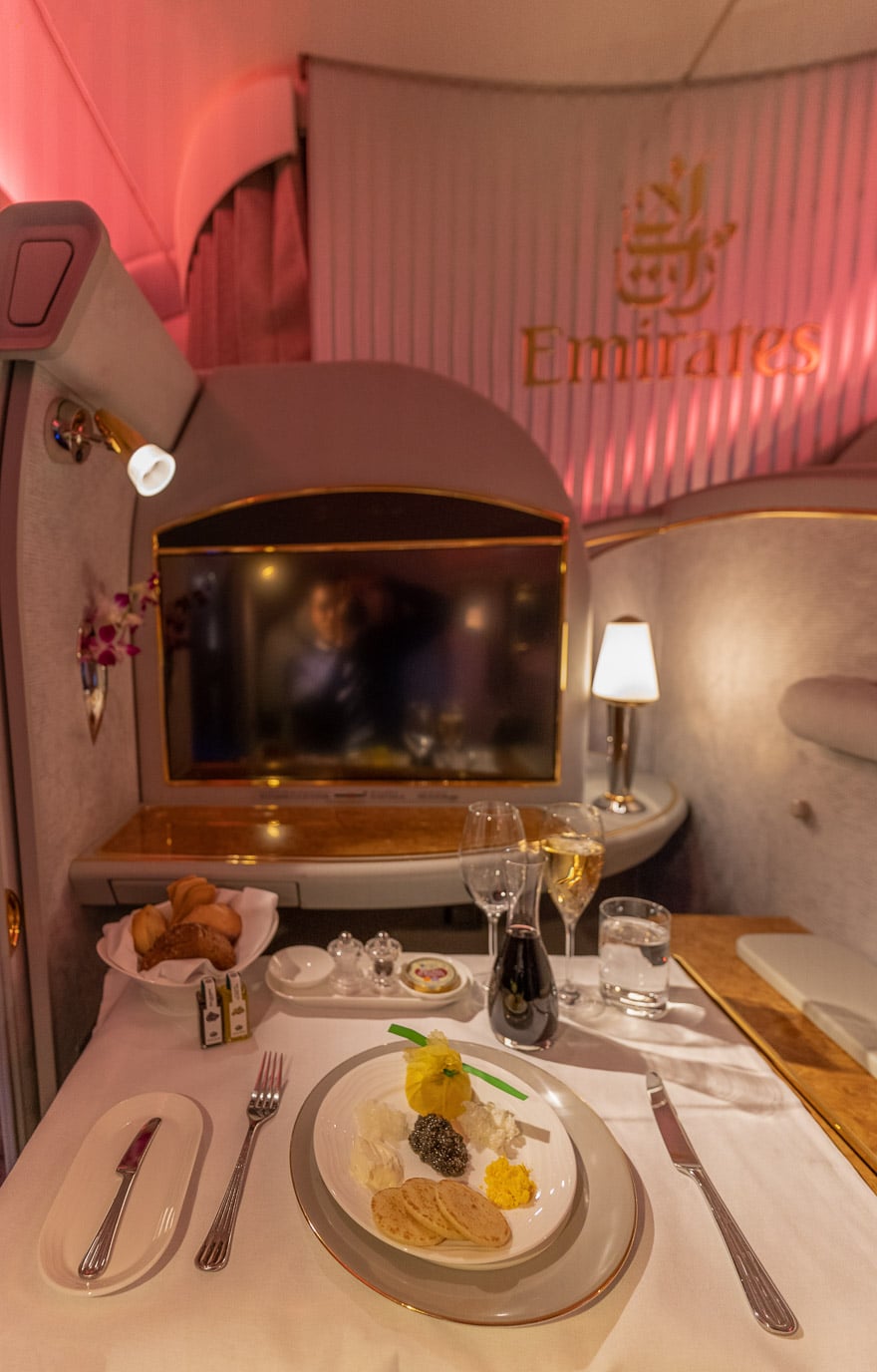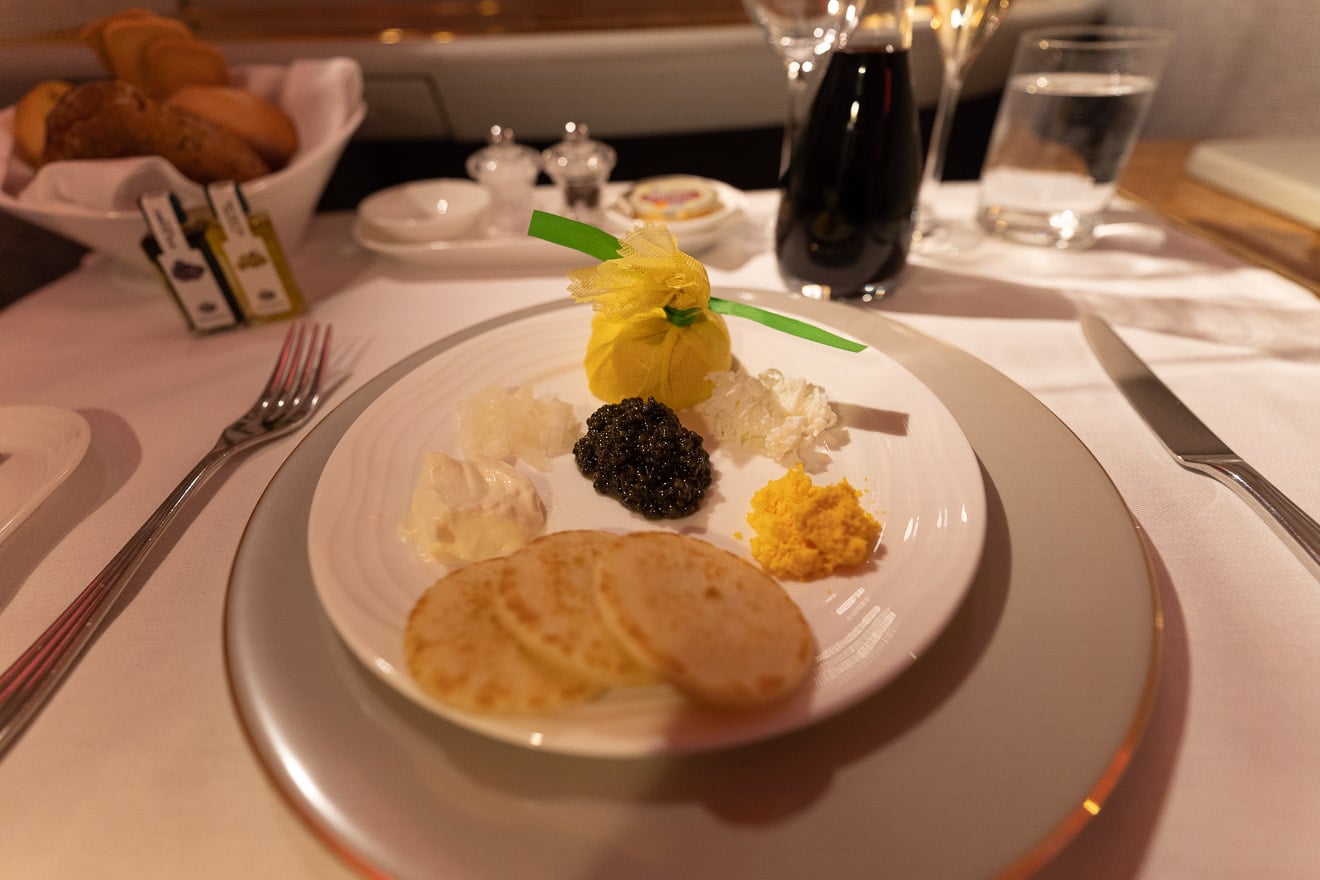 Kamara opted for the truffle filled pasta for her main course, served with parmesan cream, grilled asparagus and roasted cherry tomatoes.
It filled the cabin with a fantastic aroma and the vegetables had a great crunch to them, perfectly complementing the rich sauce.
I went for the braised beef short ribs, which I've long been an advocate for on planes. Slow cooked meats are ideal for re-heating and despite being an ostensibly less 'luxurious' cut of meat than a sirloin steak, there's no question that this dish was superior to any steak that I've ever had in the sky.
This dish also paired spectacularly with the Kapcsándy, which had really opened up after two hours or so in the carafe.
The short ribs were served with demi‑glace, sautéed gnocchi, grilled courgette and spinach with pine nuts. After all this food and wine we were both rather full, so we skipped dessert. We were still able to finish the meal with something sweet though as the crew brought out cold towels and Hotel Chocolat chocolates for us.
First Class Shower
As soon as the meal was over I had one main goal in mind: to finally have a shower in Emirates First Class after reading about it for all of these years! I'd previously showered on Etihad's First Class A380 on numerous occasions but always found the shower to be rather cramped and small.
The reason for this is that Etihad took the footprint of one A380 bathroom and placed The Residence there, meaning that the remaining bathroom had to be split into two smaller ones.
Conversely, Emirates has two enormous A380 bathrooms with plenty of space in which to shower and get changed.
The bathrooms are located immediately off a lobby of sorts, containing a self service bar, which features some exceptional bottles of spirits.
Ordinarily crew come around the cabin asking if people would like to make shower reservations. Since our flight was so empty we were told that we could basically shower whenever we wanted.
Having seen this shower suite countless times online still I still wasn't quite prepared for the sheer audacity of the experience presented to me.
I had a choice of different bathing scents to select from and my chosen VOYA branded bathing products (the same Irish brand used at Lti Maafushivaru in the Maldives) were laid out for me alongside a thick warm towel.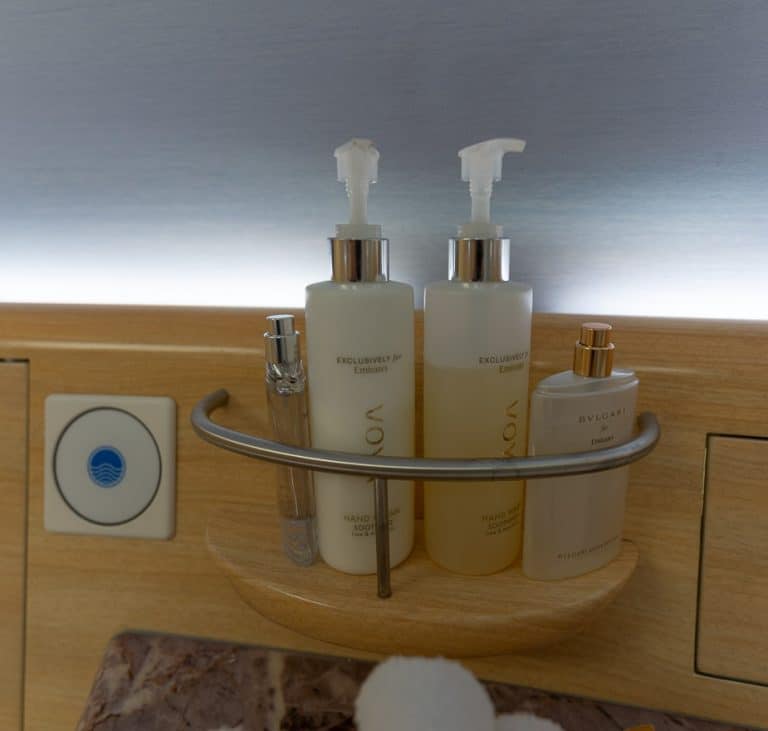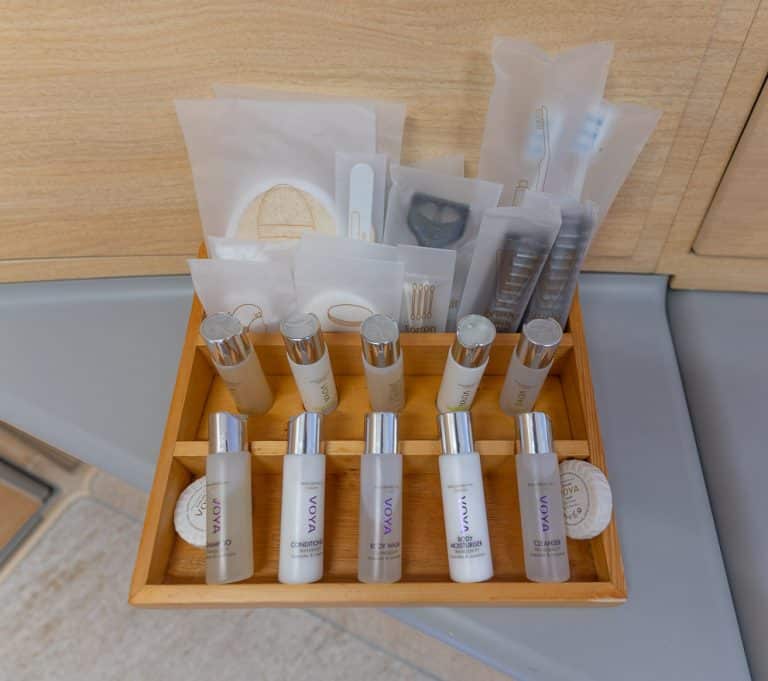 There is such an abundance of space in these shower suites that you almost lose sight of the fact that you're on a plane. Remarkably enough, there is even a heated floor!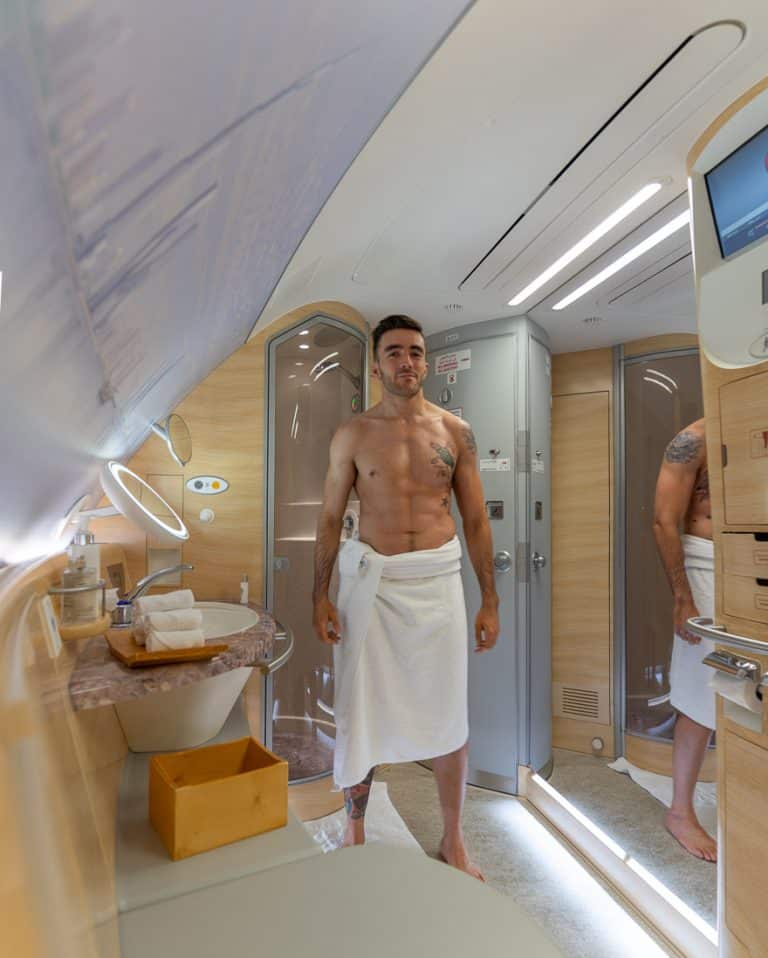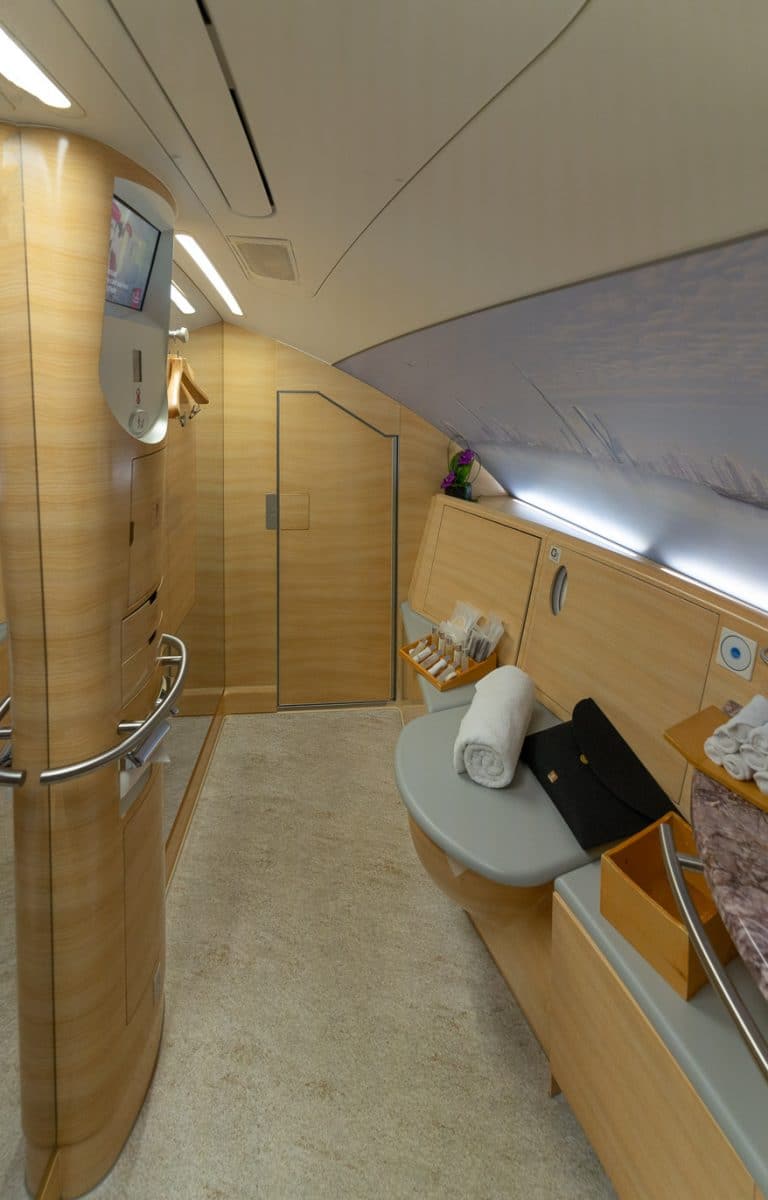 The pressure was great and I felt like I had a lot more room to move around within the shower cubicle than I did on Etihad. The bench is a safety feature in case the plane encounters turbulence whilst you're lathering up.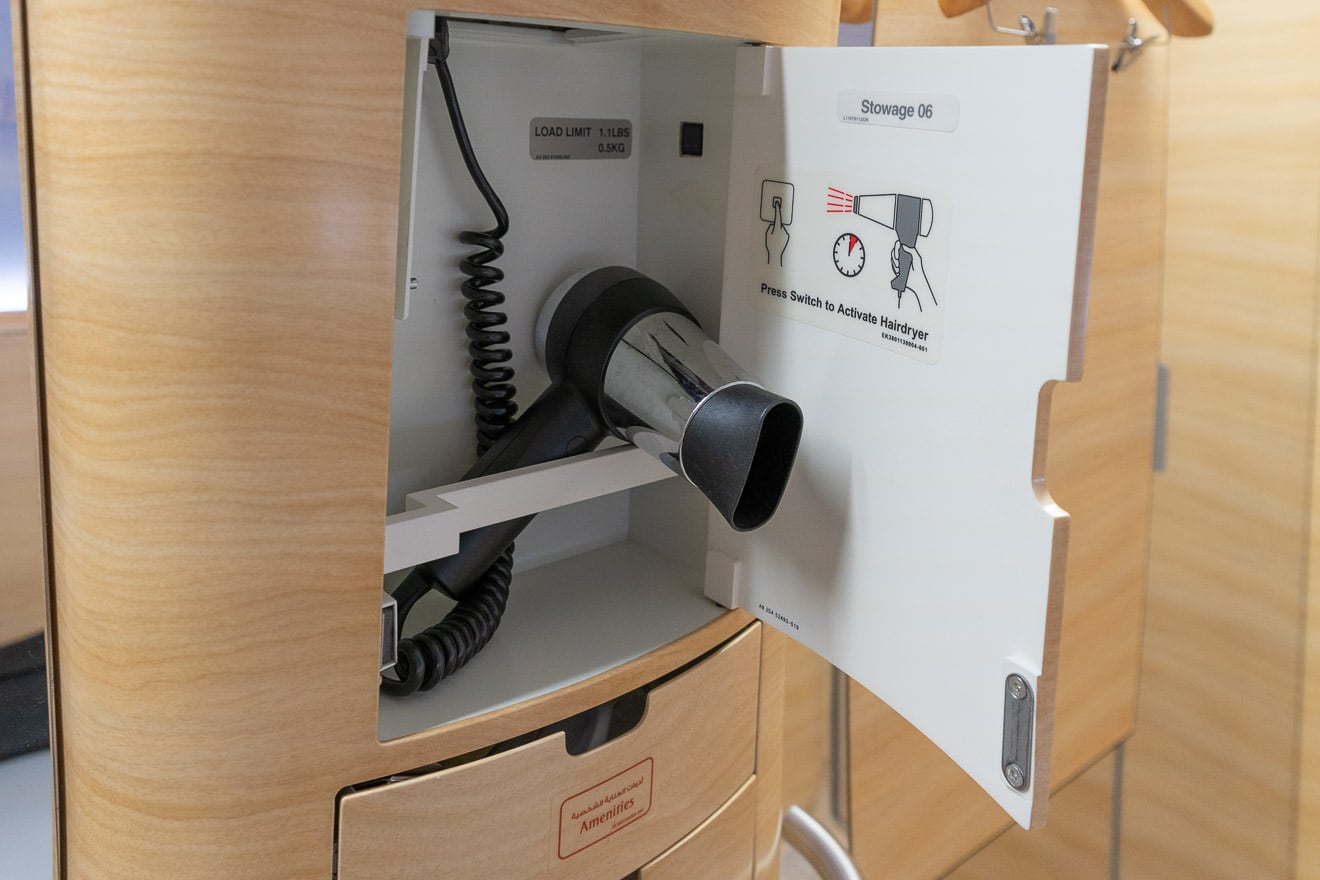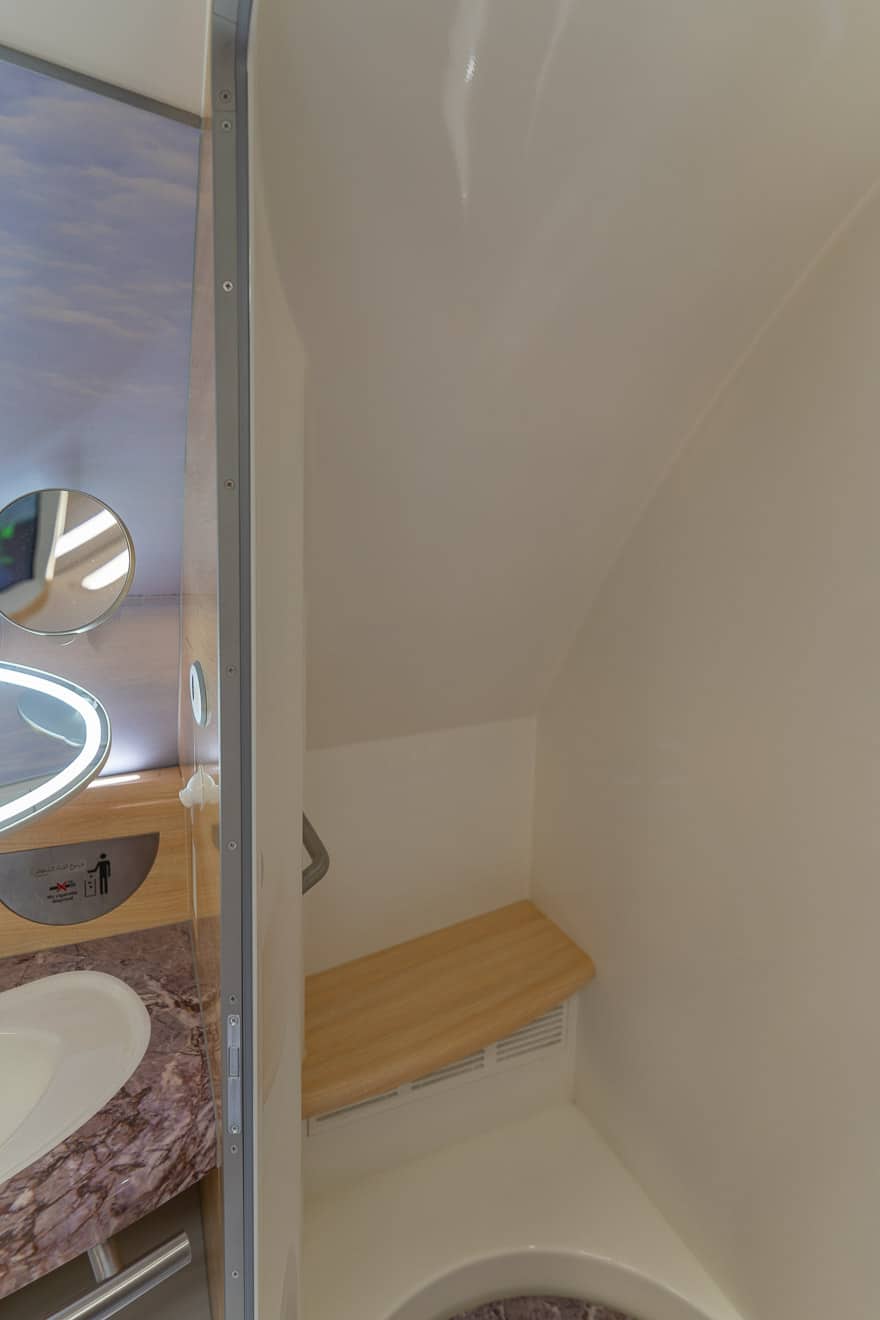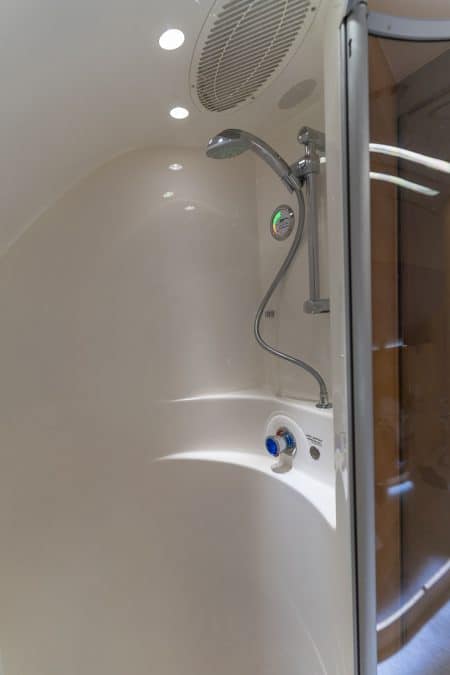 First Class Bed
Prior to showering I asked the cabin crew to make a bed up for me in yet another of the empty seats. It was such a great feeling, returning from my warm shower to a soft and freshly made bed.
The bed featured two very large pillows as well as a mattress topper and some high thread count sheets, together with a lightweight duvet. The sleeping surface was very comfortable but not quite up there with my favourite Qantas First Class bed.
Since I had just finished with my shower I was offered a customary post-shower tea and fruit platter (another small touch which really made this feel like a spa experience).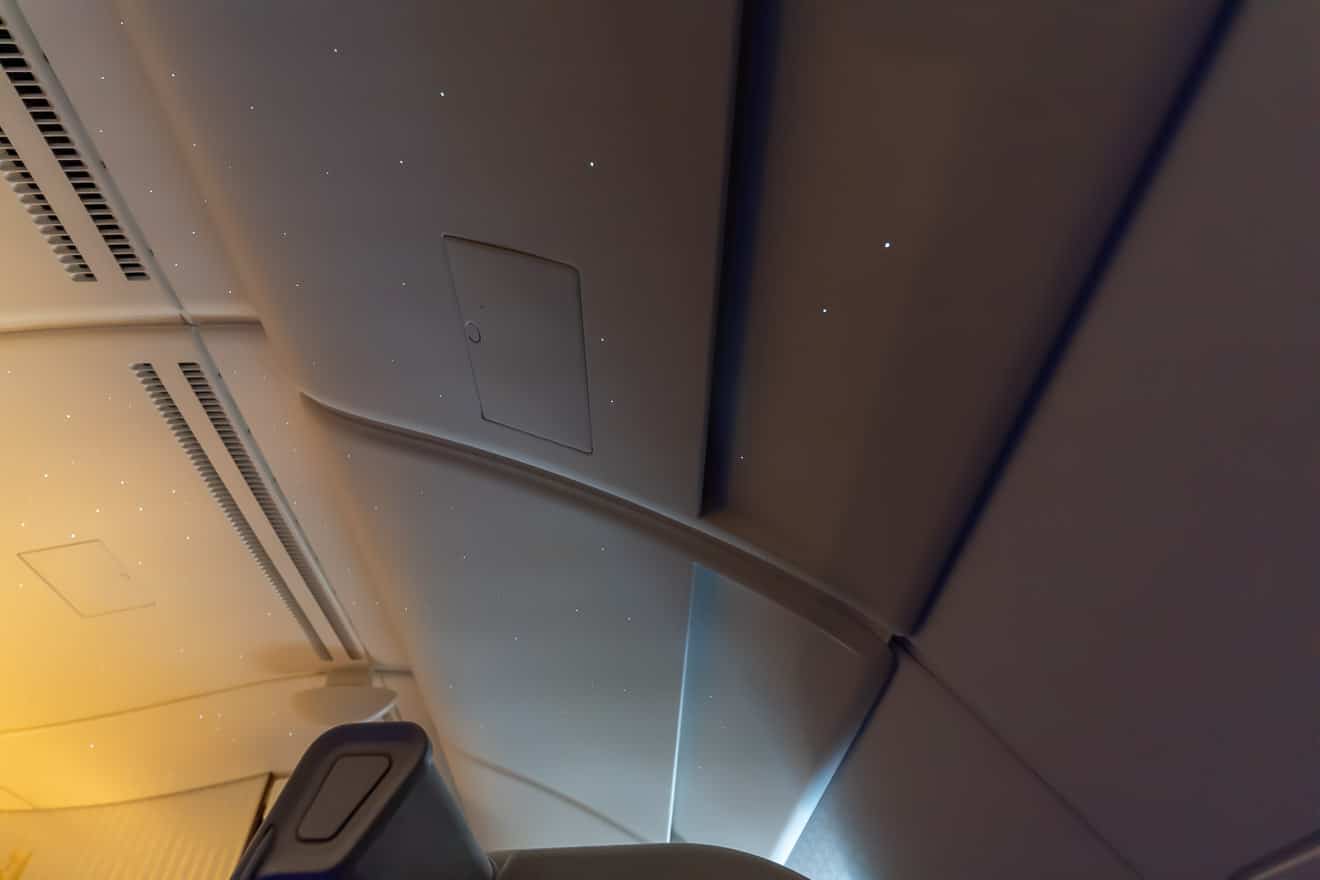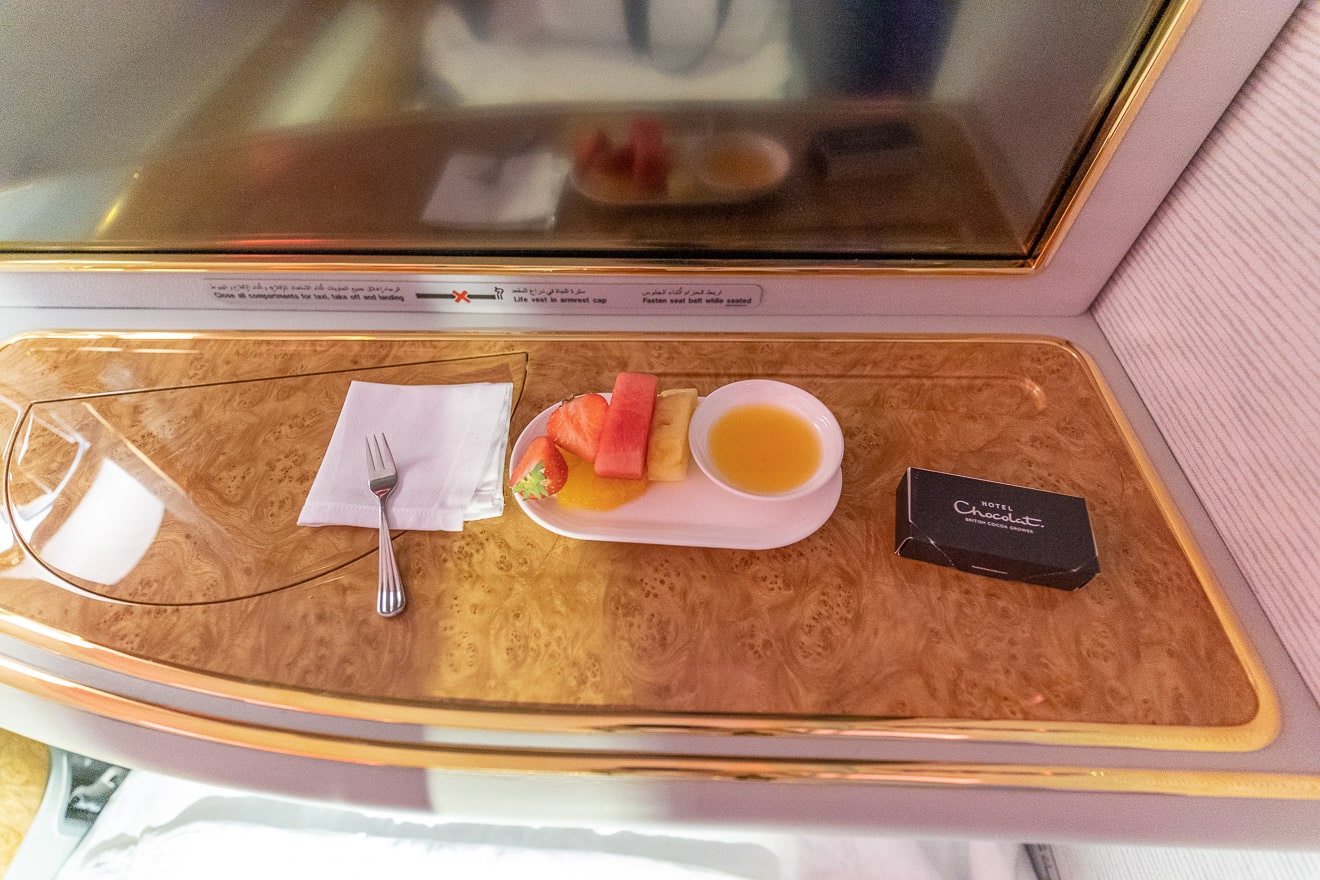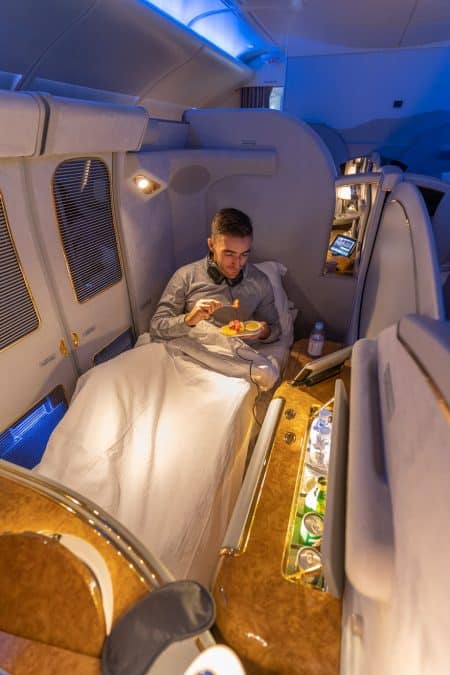 I slept soundly for around 4 hours with the sight of twinkling stars on the ceiling to lull me into my slumber. I could have easily slept for longer but with a flight length of a little over 7 hours, it's tough to sleep much longer without missing the in flight experience entirely (thankfully we had a longer flight from Dubai to Jo'burg immediately following this one).
Breakfast
Emirates offers a full breakfast on this short flight but I was still stuffed from dinner. I asked for an espresso macchiato as I made my way to the bathroom to change out of my sleepwear. It was waiting for me at my seat alongside a couple of excellent biscotti and a cute, restaurant style sugar receptacle.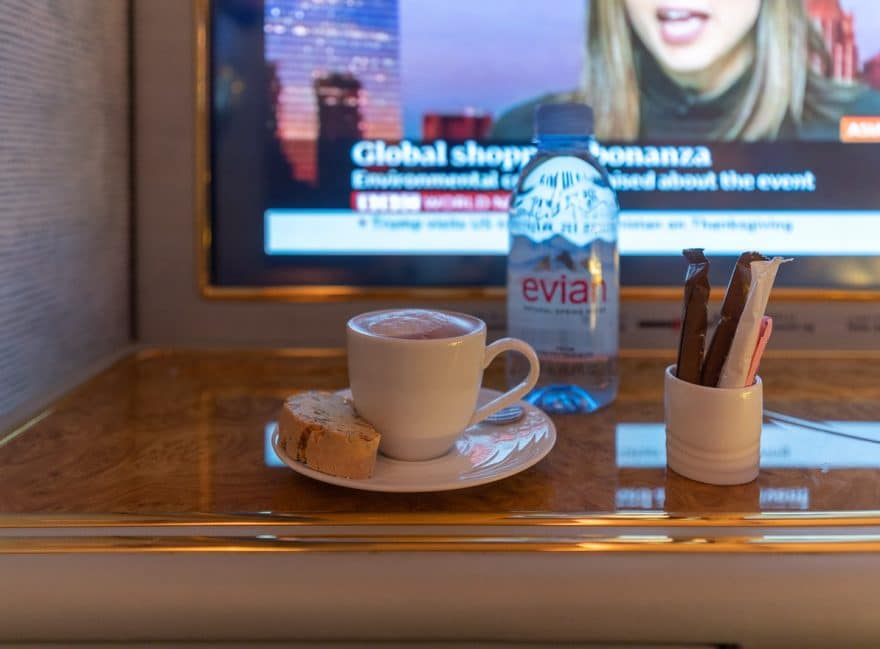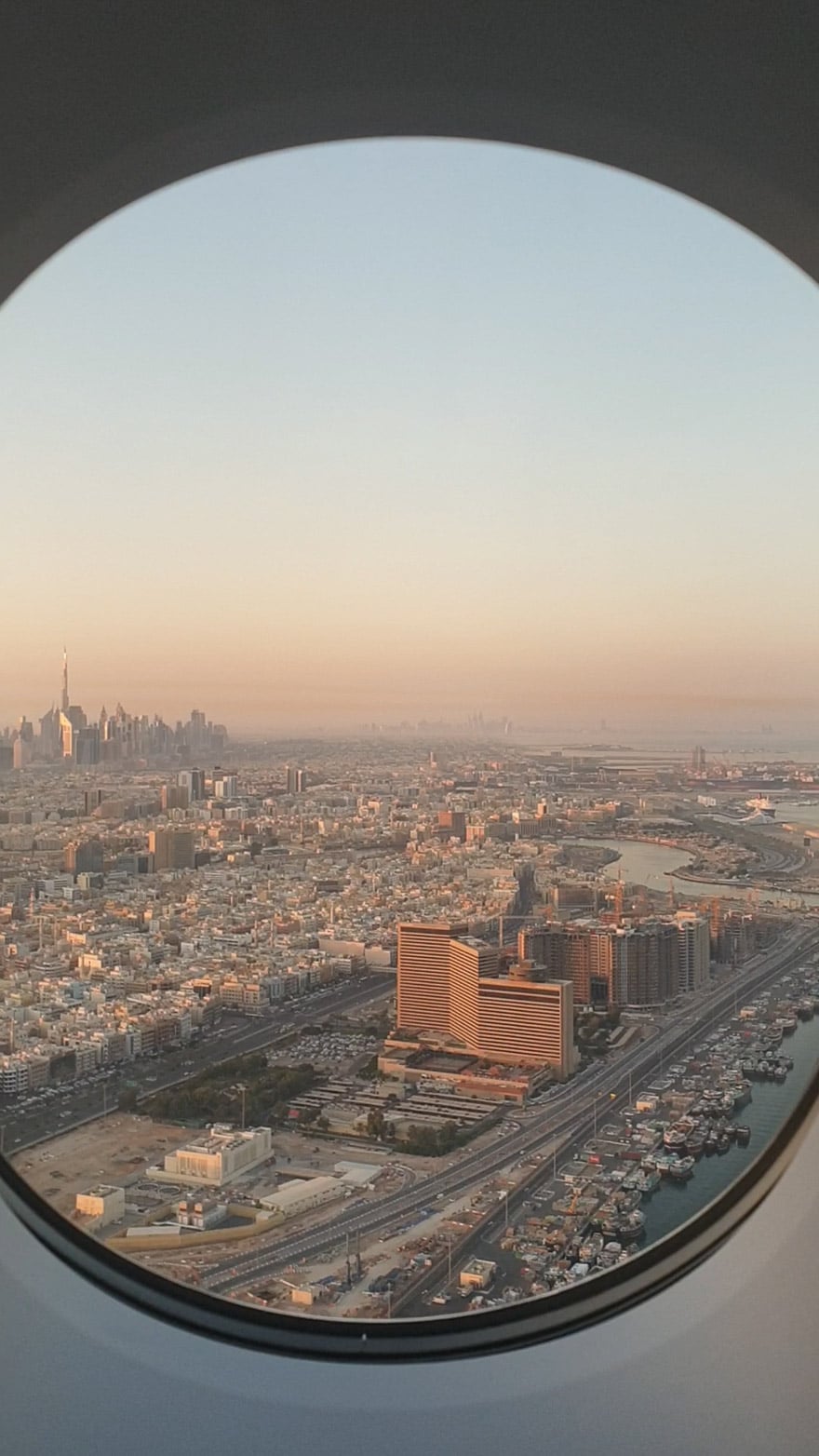 ---
Conclusion
---
Expectations can be an odd thing. Emirates First Class is an internationally renowned product, even outside of the frequent flyer community people are likely to have heard of the shower suites and the on board lounge bar (which I had no time to visit on this short flight).
This is a cabin which has a halo effect over the entire Emirates brand, meaning that people buy Economy seats on Emirates, on the basis of how good their First Class is.
Despite it being marketed as the best First Class in the world, I always had a suspicion that this was bluster and quite frankly I'd always thought that the decor looked a bit tacky. With these somewhat dampened expectations I am happy to report that I was genuinely blown away.
The service was very, very professional. The wines are at the very upper echelon of anything I've ever encountered anywhere. The amenity kits are the most generous of any airline. The showers are the the biggest and best offered on any commercial airplane and the new suites have extra high walls providing an abundance of privacy.
There are parts of other First Class cabins that I like more but as an overall experience Emirates A380 First Class is hard to fault. Best of all, it is flown to an enormous number of destinations worldwide, with a cabin size large enough to mean that award space is never hard to find.
This is a product that delivers on its promises and if you ever have the chance to fly it, you won't be disappointed.
---
Booking Enquiries
---
Do you want to book a Maldives resort with added booking benefits? Maybe you have questions about picking the perfect resort for your needs and budget?
If so, drop us an email below and we'll get straight back to you!
EMAIL FOR MALDIVES BOOKING ENQUIRIES
---
Dubai Hotel Reviews
---
Here is a selection of our most recent Dubai hotel reviews:
---