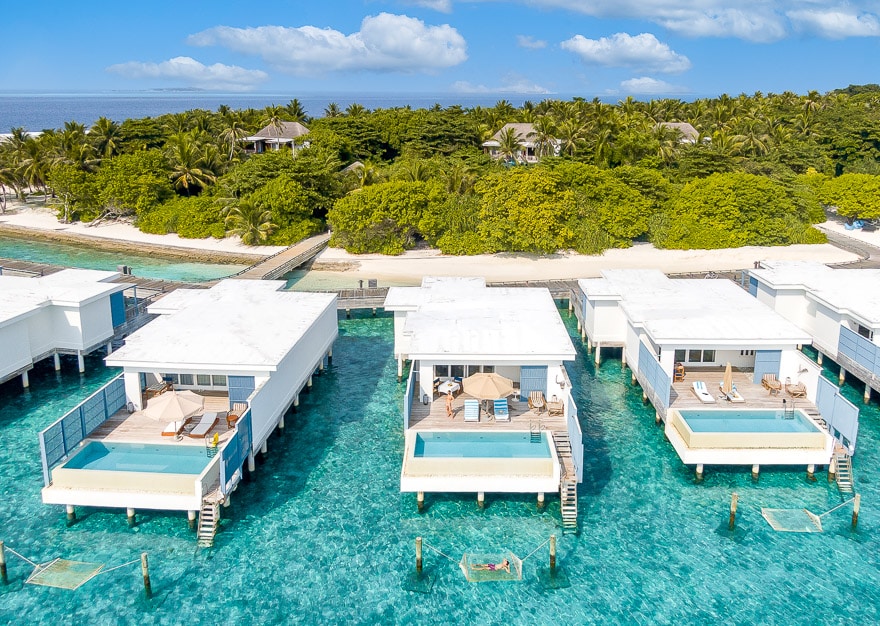 REVIEW – Amilla Fushi
April 12, 2021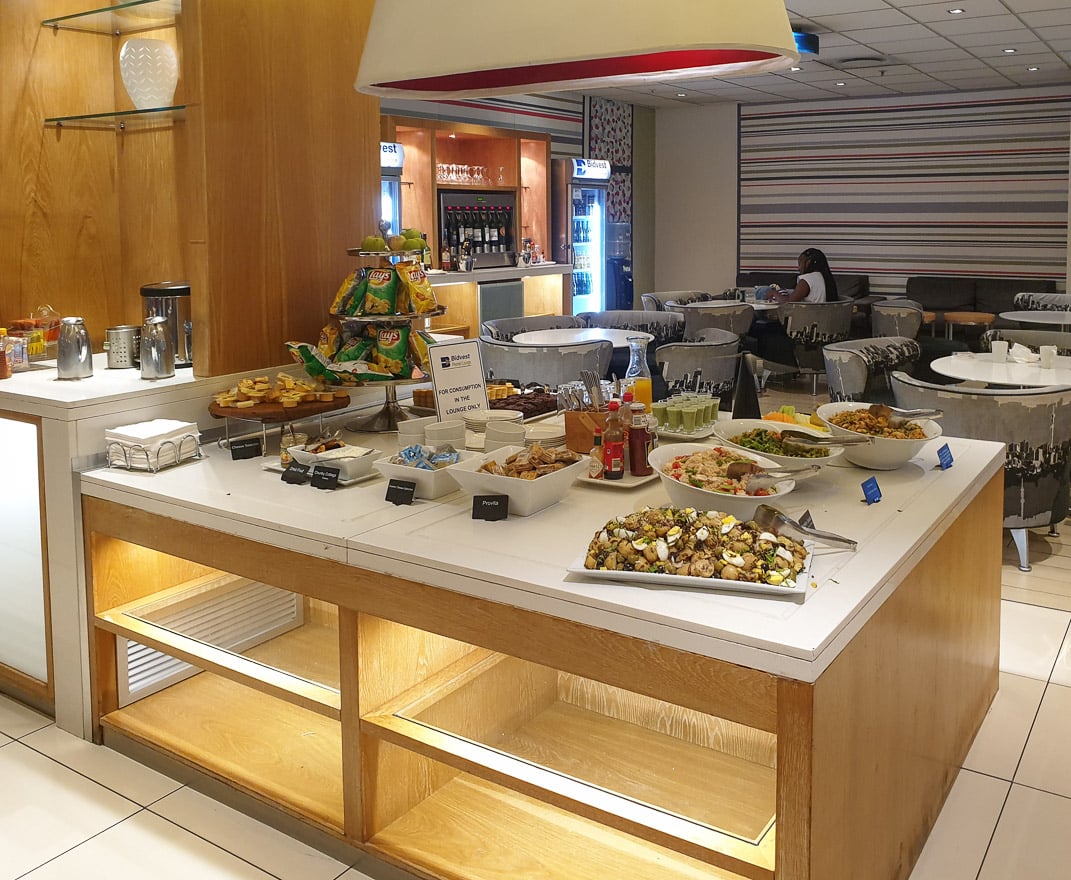 REVIEW – Bidvest Lounge – Jo'burg (JNB)
May 10, 2021
Intercontinental JNB Airport
Location: Johannesburg JNB Airport
Room Type: King Deluxe Room
---
Booking
---
I booked this room for 30,000 IHG points, which can be bought for $150 during one of IHG's many 100% bonus sales.
This compared very favourably to a standard cash rate of around $270 per night.
Given IHG's new experiment with dynamic award pricing, it is worth checking to see how the cash and points rates compare on your dates.
---
Arrival
---
Given our relatively late arrival from Dubai on Emirates First Class it made perfect sense to spend a relaxed night here ahead of an early morning flight to the Sabi Sands game reserve.
The Intercontinental JNB is very conveniently located, a few moments walk away from the main terminal building.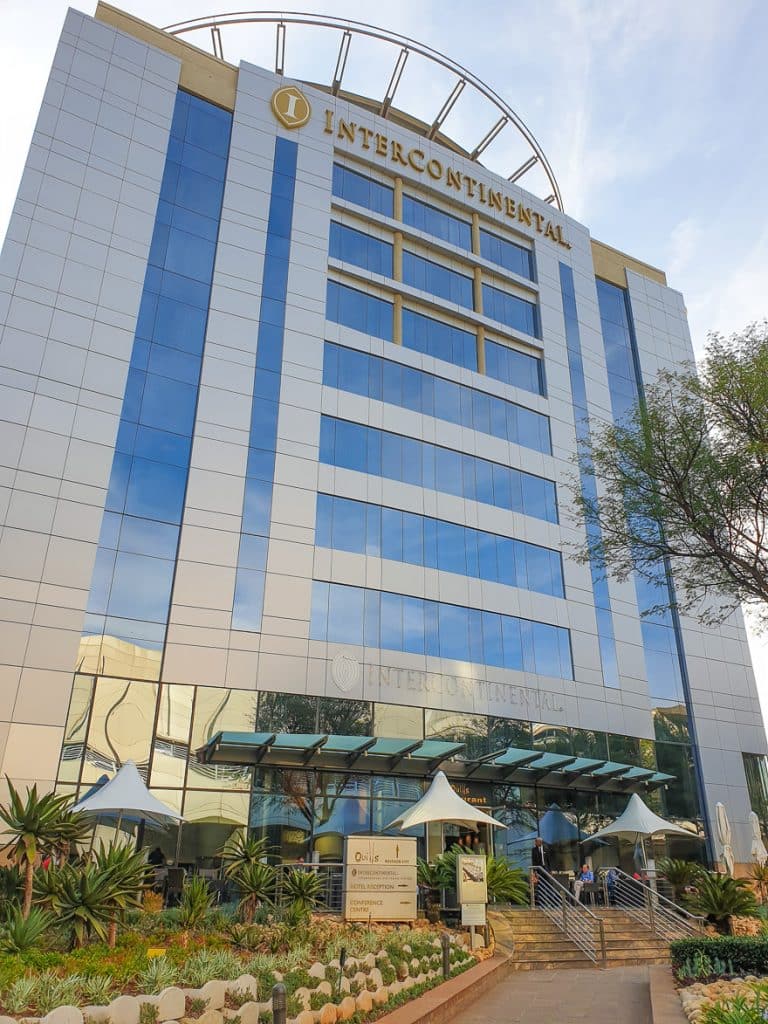 During daylight hours the outside dining area was very lively, giving the hotel a materially different feel to the often sombre and utilitarian airport hotels that tend to dominate the European market.
The lobby and public spaces were decorated in elegantly neutral tones with a few subtle nods to traditional African design.
The check-in process was very smooth and professional with our (extremely limited) IHG Spire benefits being briefly explained to us.
Making our way to the room it again felt that this was a cut above an average airport Hilton. The hallways had a very hushed and tranquil feel to them with artwork and plants complementing the the geometric design of the rugs and the dark marble elevator enclosures.
---
King Deluxe Room
---
Bedroom
Despite being the entry level room at this property, our King Deluxe felt very spacious and well appointed. Immediately upon entering we found ourselves in a corridor containing a large double wardrobe.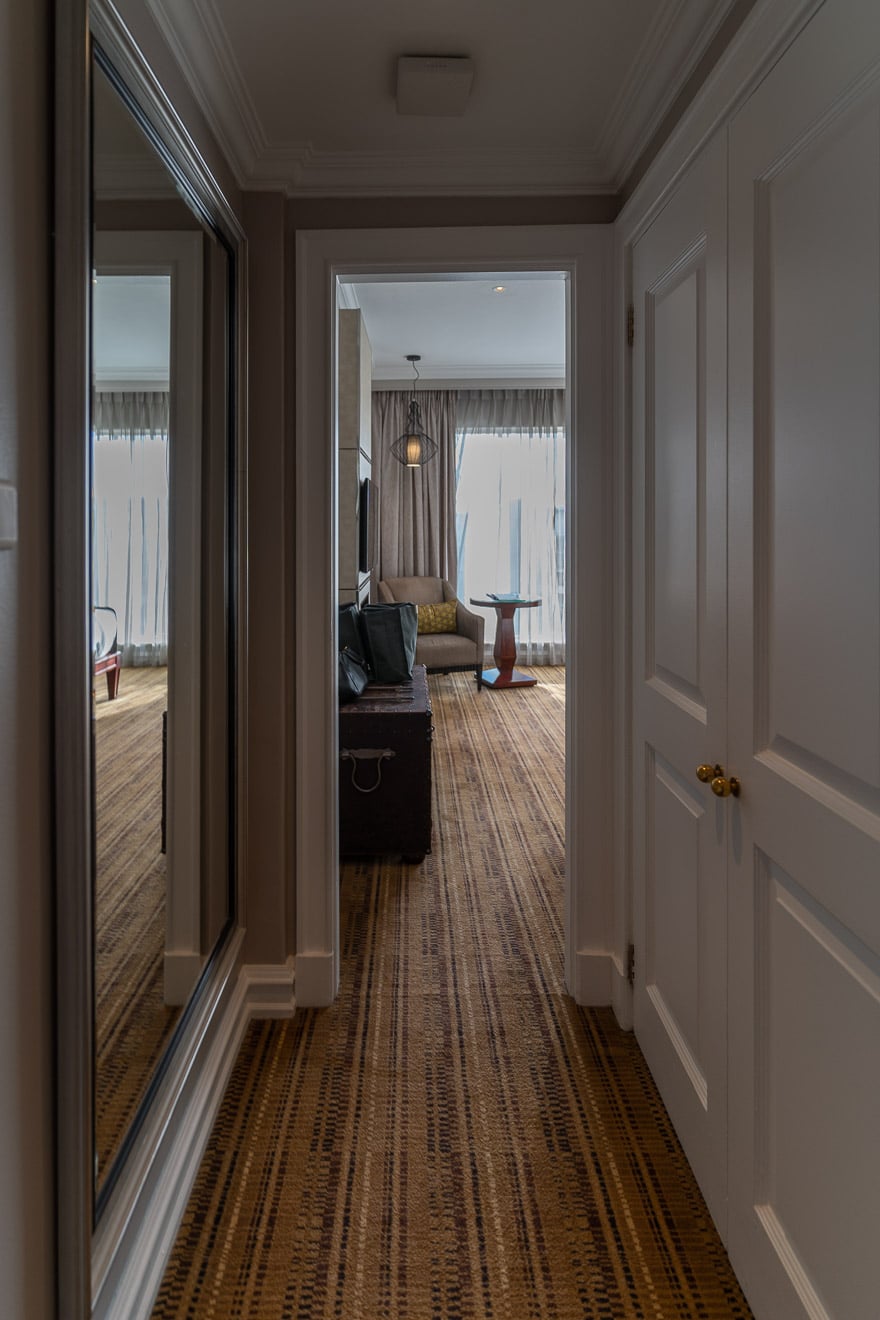 Having this additional separation between the bedroom and the hallway is a great way of ensuring reduced noise and better sleep. This is particularly important at an airport hotel when guests can be arriving and departing at all times of day, dragging noisy suitcases behind them.
The room itself was bathed in natural light, perfect for adjusting your body clock if you're flying in from outside of Europe and Africa.
There were plenty of small design touches here that really made this feel like a luxury room. The high gloss bedside tables with their designer lamps, the oversized white leather headboard, the artwork, the white marble countertop, the frame around the TV. These elements acted in unison to deliver a truly elegant ambiance.
The TV had an easy access panel for connecting USB and HDMI and one side of the bed featured a Bose dock with USB power. The other side of the bed had an elongated bedside table that cleverly doubled as a desk. Here there was a full complement of not only universal power but also multiple USB ports.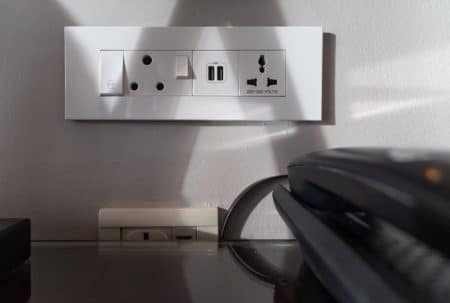 The minibar featured a selection of complimentary teas as well as a Nespresso machine. I was particularly relieved to see the latter… I still don't think I've ever forgiven the Intercontinental Hong Kong for its Nescafé sachets in the rooms.
Bathroom
Despite having a really amazing piece of local art and being awash with marble, the standout feature of the bathroom was its size, or rather its lack thereof.
The bathroom felt far too compact for a true luxury property. Having said that, the shower was very spacious and had great pressure.
The toilet was also in a completely separate room, unlike the very cramped bathrooms at the Waldorf Astoria Rome Cavalieri, so it definitely could have been worse.
---
Leisure facilities
---
The top floor of the hotel features an impressive panoramic pool with some thickly padded loungers.
The rest of the floor is occupied by the spa an a very modern and decently equipped gym. The dumbbells only went up to 20kg but I've found this be pretty standard for most hotel gyms.
---
Quills Restaurant
---
As I mentioned at the start of the review, there's a real buzz around this hotel, with all the tables on the outdoor terrace perpetually occupied with groups of people enjoying meals and drinks.
Bizarrely, it seems as though an airport hotel restaurant is something of a local hotspot in Joburg!
We ate at Quills restaurant out of convenience since we had to be up early to fly to our safari the next morning. However it ended up being a truly excellent meal, with fantastic service and food as well as a great atmosphere.
The alligator carpaccio was a real standout dish, although the signature grill was great too and astonishing value at only around $15!
---
Conclusion
---
Basics Checklist
☑︎ Power sockets near the bed
☑︎ Easy to understand light switches
☑︎ Coffee machine
☑︎ Separate shower and bath
☑︎ Blackout blinds
☑︎ Stable, fast and free Wifi
☑︎ Feather pillows
☑︎ Quiet and powerful aircon
This is a hotel that is moments away from the airport. It ticks all of the items in my basics checklist and also has a full size gym and excellent restaurant.
The room decor is a cut above most airport hotels globally, as is the service.
Unless you have a layover of over 20 hours, I can't imagine why you'd consider anywhere else in Joburg.