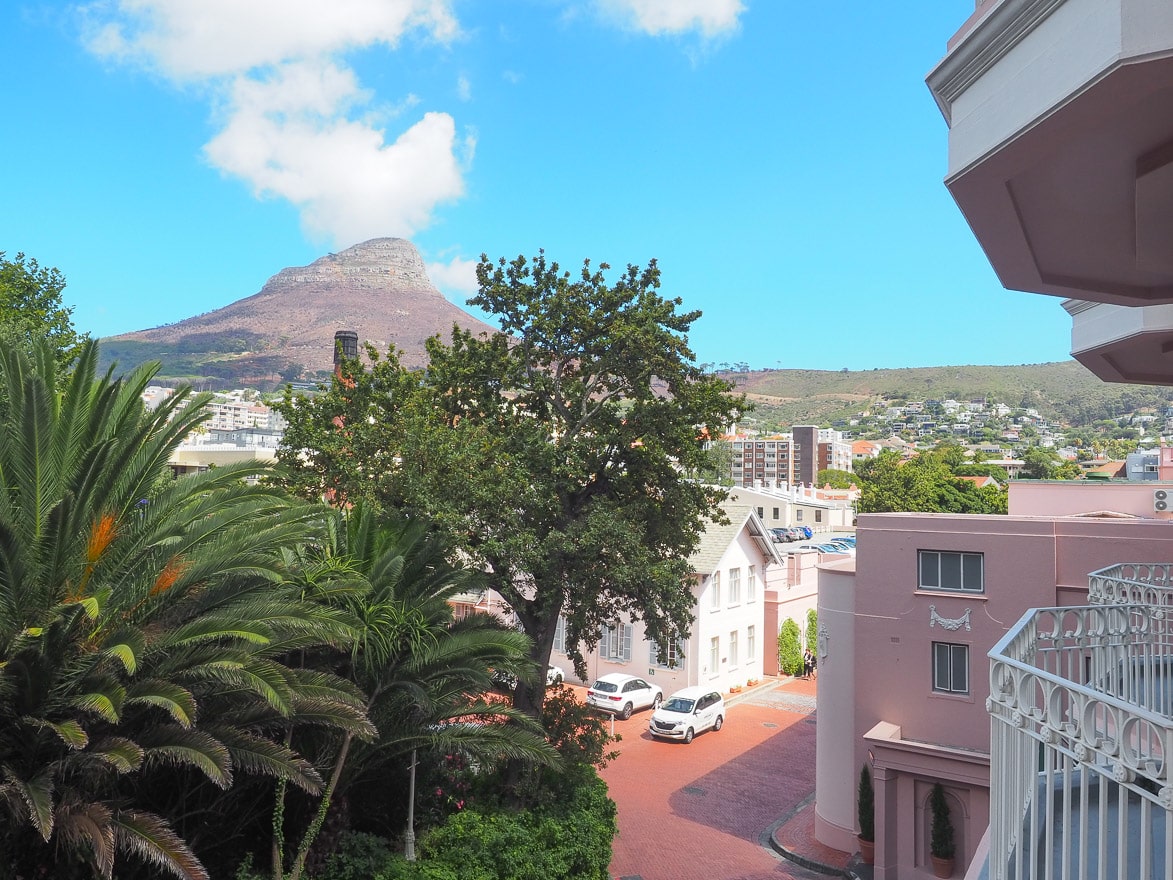 REVIEW – Belmond Mount Nelson (Cape Town)
June 29, 2021
FANTASTIC DEAL: Mandarin Oriental 3rd Night Free offer
August 18, 2021
InterContinental Maldives
Location: Raa Atoll, Maldives
Rate: 100,000 IHG points per night
Room Type: Sunset Overwater Pool Villa
Stay Date: April 2021
---
Intro
---
There can be no doubt that the Maldives is currently experiencing an explosive proliferation of luxury resorts. Almost every major hotel chain has established a flagship property in the country, in order to lure brand loyal customers (particularly those looking to trade in their hotel points for a highly aspirational stay).
The Park Hyatt has been around since 2011, Marriott has both a W and a St Regis, Hilton has both a Conrad and a Waldorf Astoria, but up until recently, the only IHG property in the Maldives was a Holiday Inn. Not exactly a brand name that conjures up images of paradisiacal honeymoons or 'once in a lifetime' experiences.
With the late 2019 opening of the InterContinental Maldives Maamunagau, IHG is finally in a position to compete with its main rivals – offering a true luxury experience, in this most prestigious of luxury destinations.
Interestingly, the property bills itself as including Club Intercontinental service for all guests. Ordinarily, Club Intercontinental service is only offered for a substantial cash premium over regular room rates (or on a complimentary basis to holders of InterContinental's invitation only Royal Ambassador status).
This means that ALL bookings at the InterContinental Maldives include the following complimentary benefits:
Breakfast
Afternoon tea from 3pm-5pm
Cocktails and canapés from 5pm-7pm
Soft drinks at The Retreat and Pool Bar from 11am-6pm
In-room soft drinks in the mini-bar (replenished daily)
These very generous benefits certainly make this hotel stand out from its major chain peers, where the above could easily cost north of $200 per person, per day!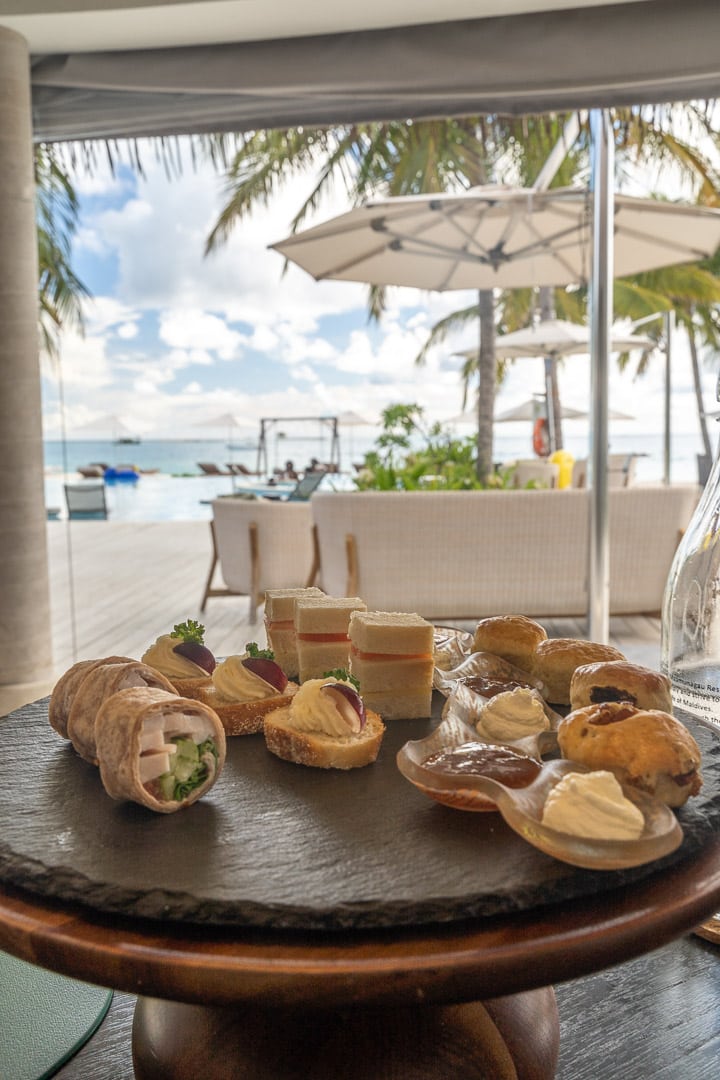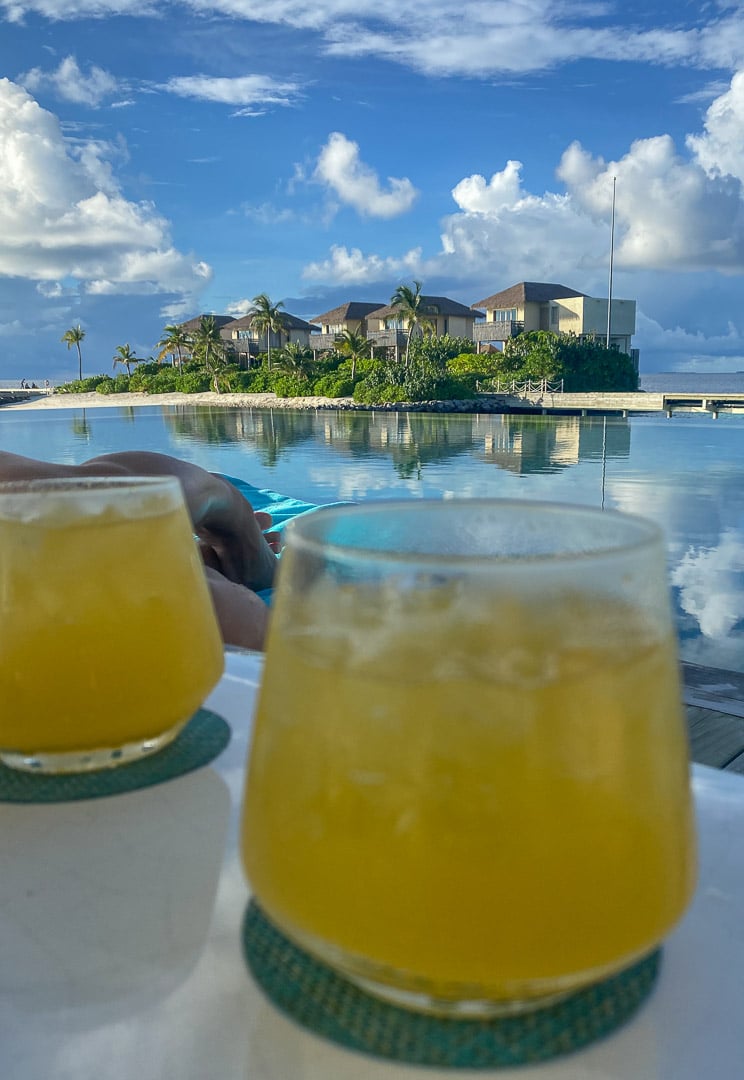 ---
Booking
---
I wrote a post about how I booked a while ago.
Room rates at the property are generally around $1300 per night, but I was able to pay $500 per night by using IHG points.
I bought the points on sale directly from the IHG website, at a cost of $500 per 100,000 points.
The hotel used to cost 100,000 points per night but this has now increased to 120,000 points.
Still this means that you will only be paying $600 per night if you buy the points (a saving of over 50% on the cash rate).
---
Seaplane Transfer
---
The Intercontinental is located in the Raa Atoll, which is located to the Northwest of the international airport and is reached by means of a 35 minute seaplane flight.
The cost of the return seaplane transfers is $739.20 (including tax) per person.
Uniquely, the hotel demands online prepayment of the transfers before your date of arrival.
It seems odd for the property not to just include this in the final bill (like all other resorts in the Maldives), but I can confirm that payment is processed by Holiday Inn, meaning it still earns credit card points as a hotel stay.
We came from the Park Hyatt Maldives and were met at the Malé Domestic airport by a Park Hyatt host.
He thanked us for visiting and wished us a pleasant stay at the InterContinental as he handed our bags to the awaiting InterContinental host.
We were escorted over to the international terminal, located 50m away from the domestic terminal, and stored our bags in the InterContinental's private transfer vehicle, which was parked just outside.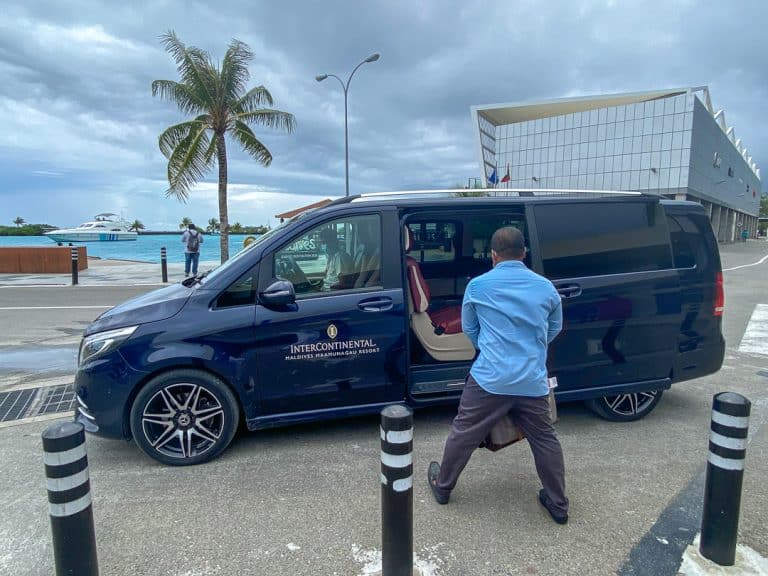 We then very quickly checked in to our seaplane flight and returned to the vehicle for a 5 minute transfer to the resort's seaplane lounge. The vehicle was very comfortable, perfectly air conditioned and had chilled bottles of water and even wifi!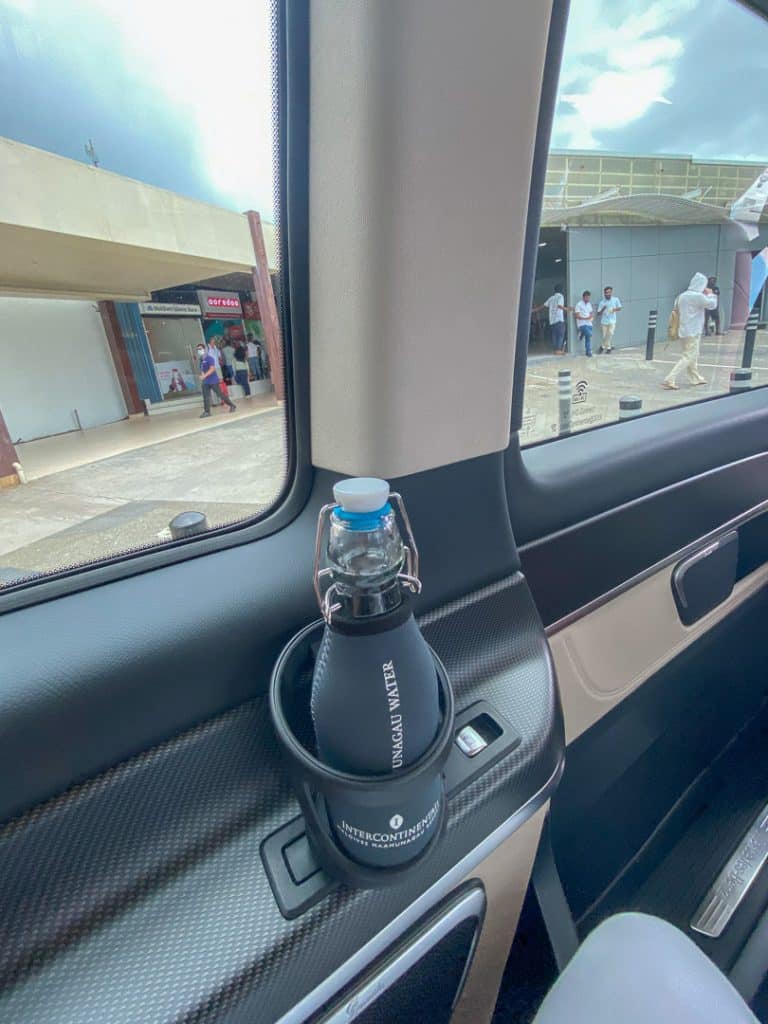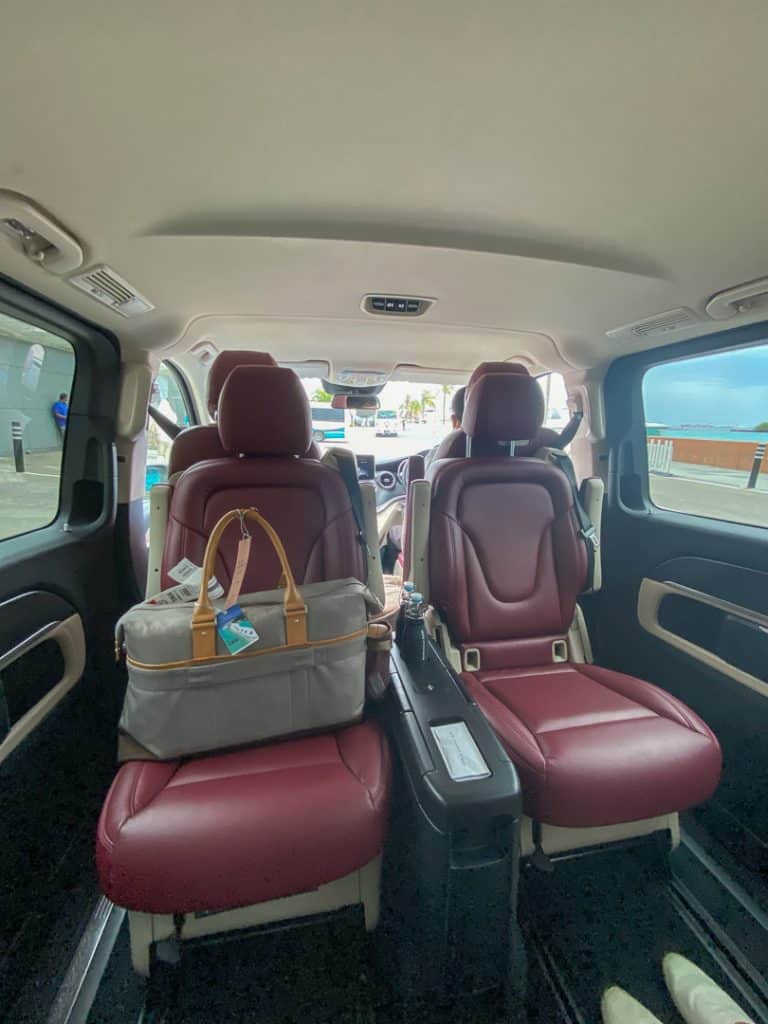 Plenty of resorts in the Maldives use shared transfer buses to take guests to the seaplanes (LTI Maafushivaru for example), so the InterContinental was making a great impression so far.
This was soon to change however….
Intercontinental Seaplane Lounge
Malé airport is in the midst of a complete overhaul and expansion, which includes a radical redesign of the seaplane terminal. As it stands, the terminal is completely stretched beyond capacity, with numerous hotels offering lounges in an office building, located at an intermediate point in the airport grounds.
This building used to have decent views of the water (like when we first visited the Conrad Maldives in 2015) but over time that water has been built over, to the point that this area looks more like an industrial estate than an island paradise.
InterContinental managed to secure a little side room in this old building, as a temporary solution before moving to an enormous lounge in the new terminal.
However with the onset of COVID, the new terminal opening has been delayed and for the time being hotel guests have a pretty miserable experience whilst they wait for their seaplane.
The lounge is smaller than the entry level room at the hotel, but at least they made an effort to put in some non-generic furniture and paintings to brighten the place up.
There was a buffet table and drinks station available but staff would always offer to assist, so that you never ended up serving yourself.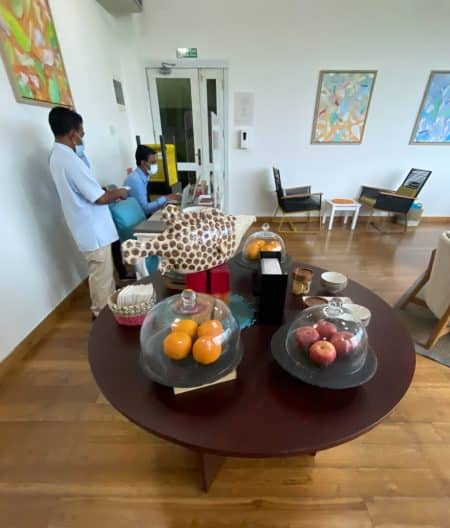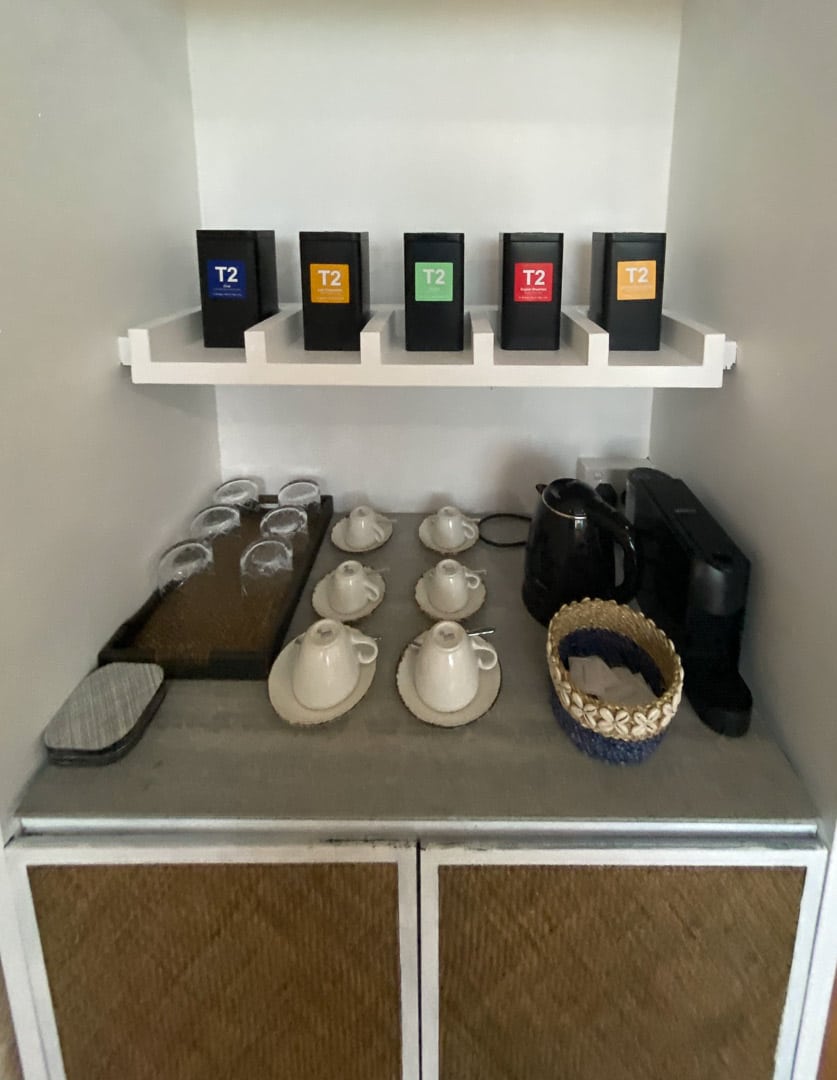 The service was genuinely excellent. There were as many staff as guests so not a moment went by without glasses being cleared or more food and drinks being offered.
However, the food was exceptionally low quality. There was only one food option outside of the buffet table.
We were offered a tuna sandwich and received a one micron thick layer of tuna mayo, presented on stale white bread alongside some ice cold fries.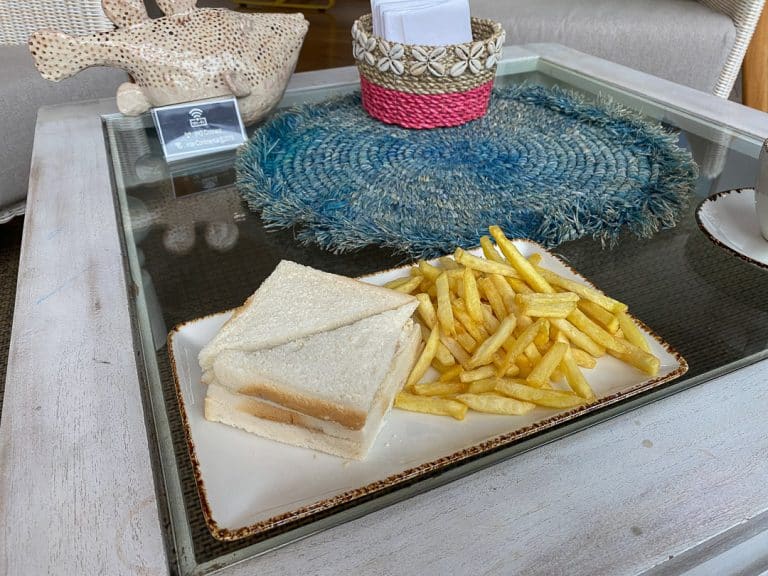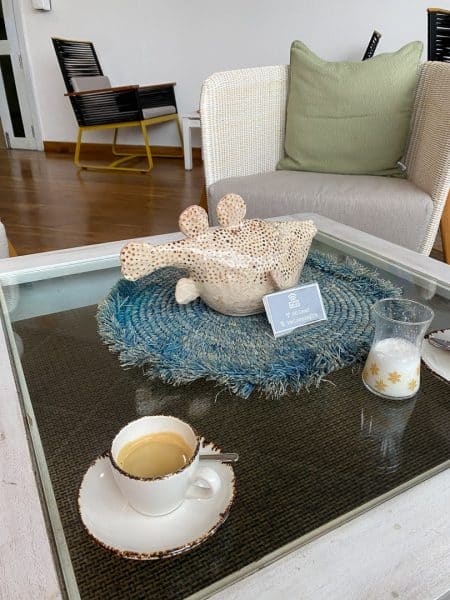 Shameful, in comparison to the offering at the Conrad seaplane lounge a few metres away:
Ordinarily the bad food and small lounge wouldn't be a huge issue, but unfortunately a storm kept us in the lounge for 4 hours and to add to our woes, there were no power sockets and the wifi was horrendously slow.
The view from the window wasn't exactly the best either…
After what seemed like an eternity, we were informed that our flight was scheduled to depart in 30 minutes. We went downstairs and got back into the transfer vehicle for an approximately 30 second drive to the seaplane terminal proper.
TMA Seaplane Flight
We went for seats at the back of the plane in order to get an uninterrupted view without propellers.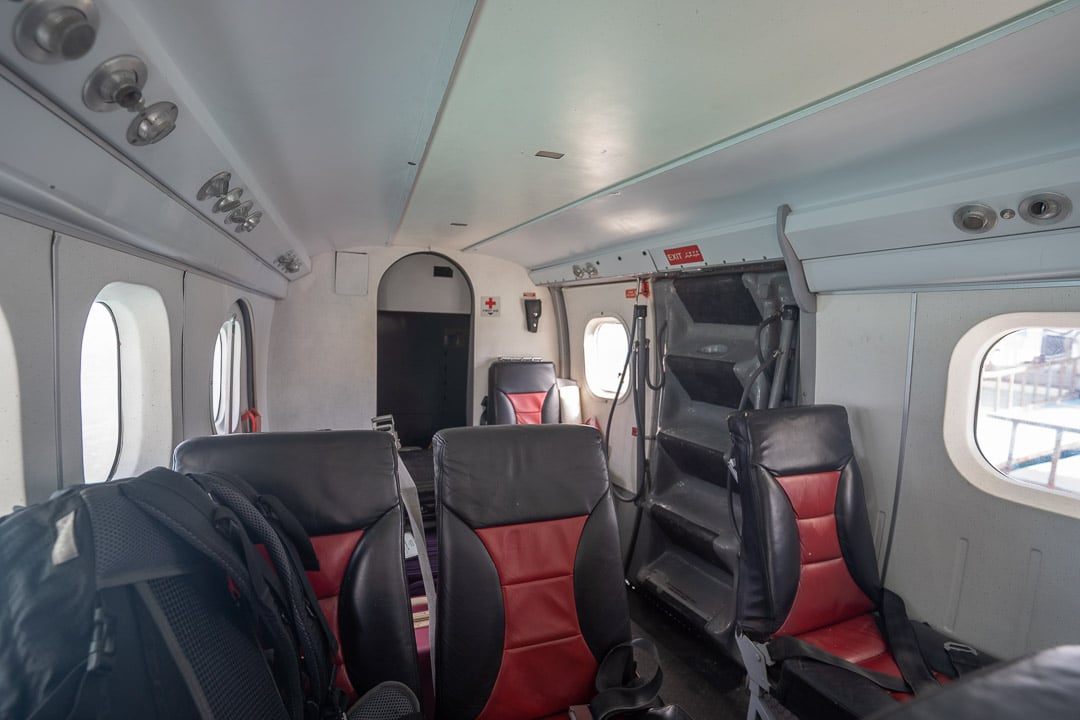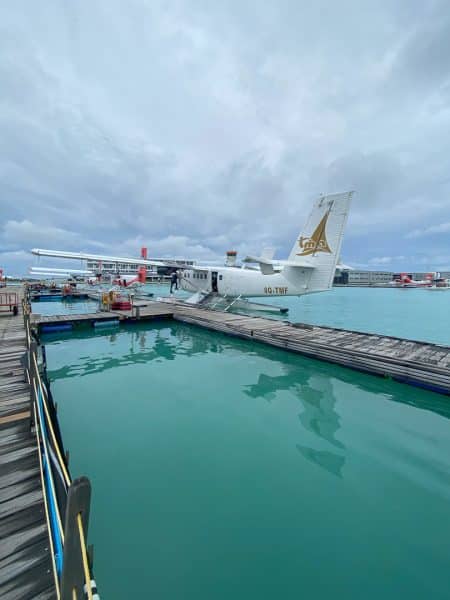 The stormy weather meant that there wasn't a whole lot to see though:
Luckily on our flight home the weather was significantly more co-operative.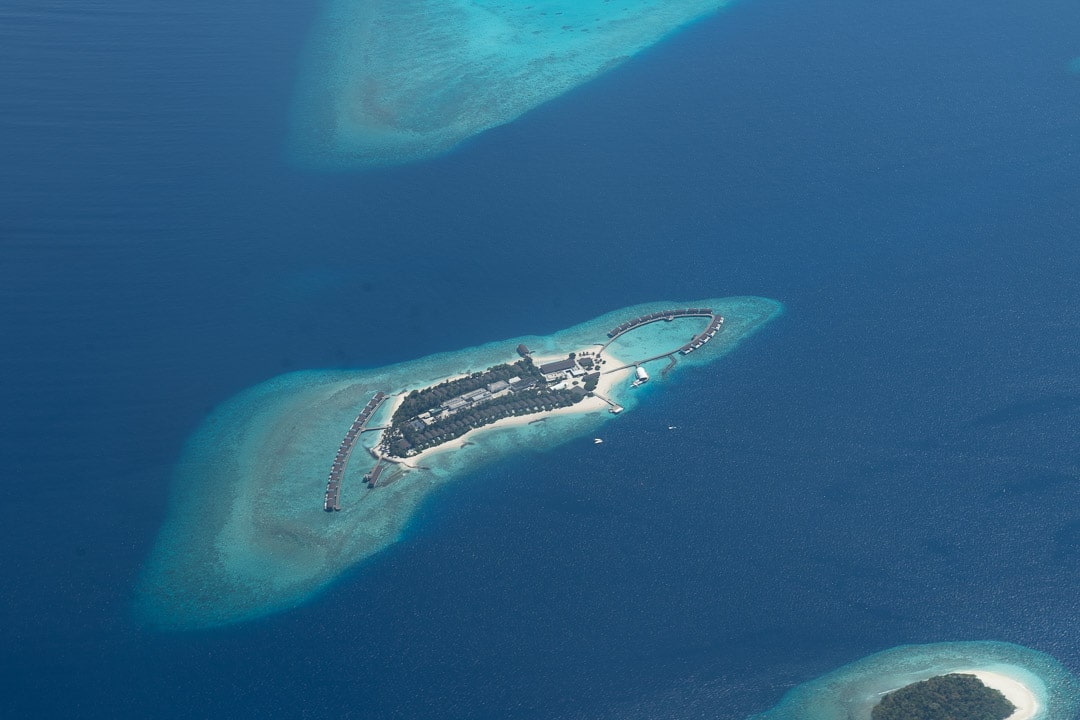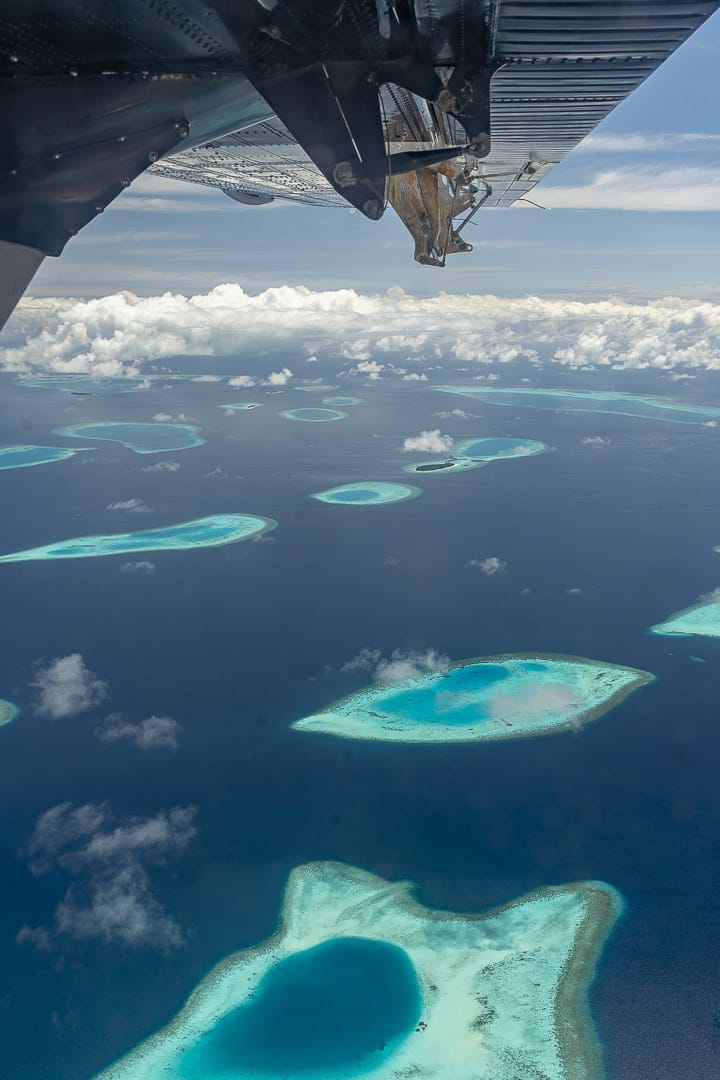 Boat Transfer
In order to minimise the disturbance of engine noise, seaplanes land at a platform a short five minute boat ride from the resort.
On this particular day, this setup made for a rather exhilarating arrival, as evidenced in my TikTok video:
Check-in
We were greeted by our island host, the amazing Shijin, on board the boat to the resort. She was our main point of contact throughout the stay and was always available to assist with reservations, buggy rides or any other requests we could possibly think of!
We had completed most of the check-in paperwork at the seaplane lounge, so Shijin drove us directly to our villa when we arrived.
Since the resort is an all Club Intercontinental property and all guests have personal island hosts performing in-room check-ins, the reception area never seemed to get much use. A shame, since clearly a lot of effort had gone into the design.
On the buggy ride to our villa, we were given a quick tour of the resort, starting with the lagoon. The lagoon is flanked by Duplex Pool Villas, which rather uniquely have no direct ocean access, despite being right over the water.
Initially, I was struck by how boxy and beige these villas were and by how artificial and small the lagoon seemed. Despite being a natural island, in many ways this felt a lot more artificial than the Waldorf Astoria Maldives (which is made of reclaimed land).
At the far end of the lagoon were the overwater villas. These were also boxy and beige but I was impressed by the generous spacing between each villa.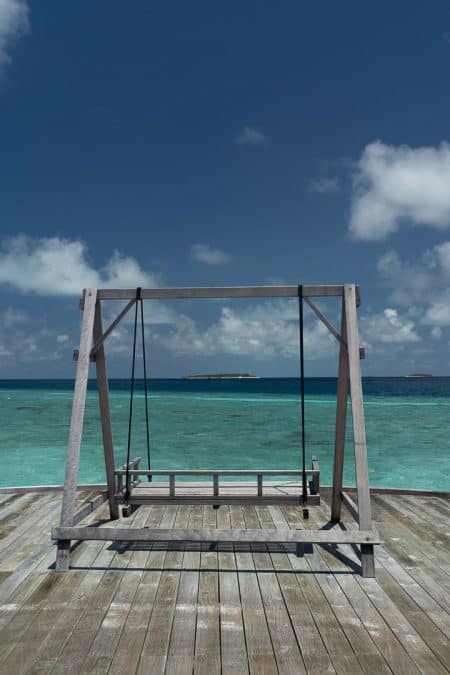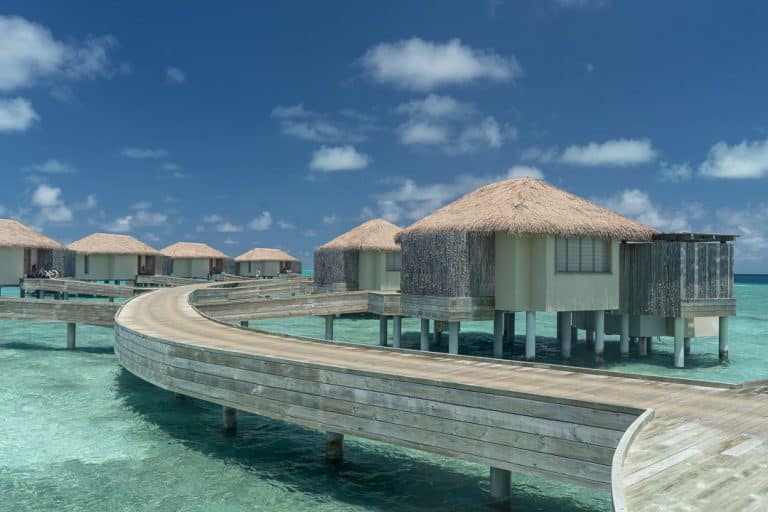 The layout was a world away from the dense and sprawling pier of tightly packed water villas at Anantara Veli, for example.
---
Overwater Pool Villa
---
Overwater Pool Villa – Video Tour
View this post on Instagram
Bedroom
On the face of it, it's very impressive that the entry level room at the hotel is not only overwater but also features a private pool. However, as soon as we stepped inside, things became a little less impactful. The colour scheme and layout were more akin to what you'd expect at a Moxy hotel than an InterContinental.
The room was entirely open plan and this made things feel quite messy and not particularly functional.
As you can see in the image, there really wasn't enough space for two people's luggage or clothing, meaning that we were always rummaging around suitcases sprawled throughout the room. The only time I've stayed in a smaller water villa was at Constance Moofushi – where rooms retail for half of the InterContinental and include full board.
The bed was very comfortable though, with a fantastic array of firm feather pillows provided. The bedside tables were a case of form over function, with neither having any drawers (again, adding to the cluttered look of the room).
However, both sides of the bed featured an array of charging options, as well as both lamps and reading lights.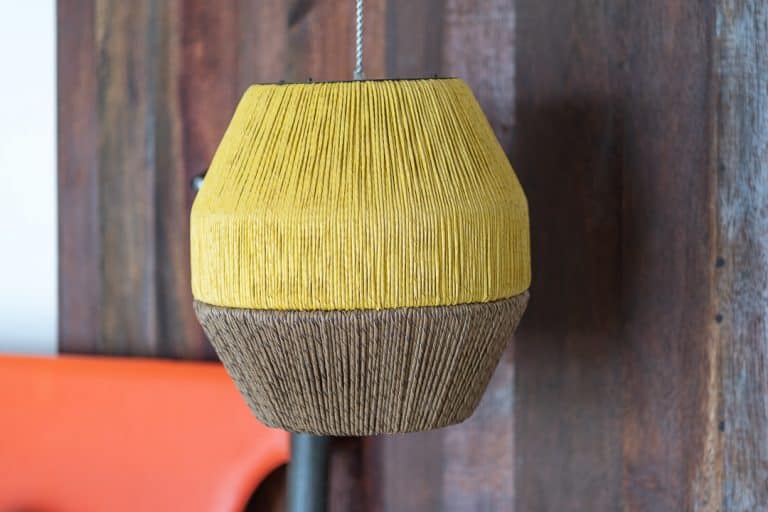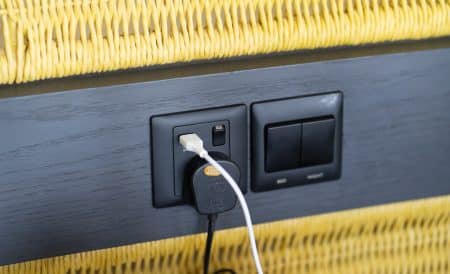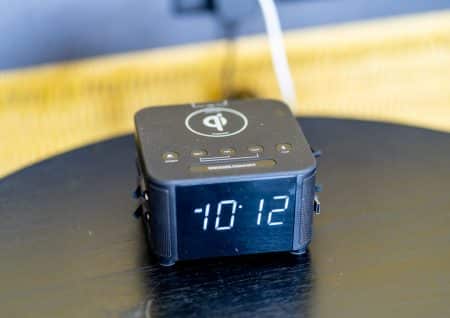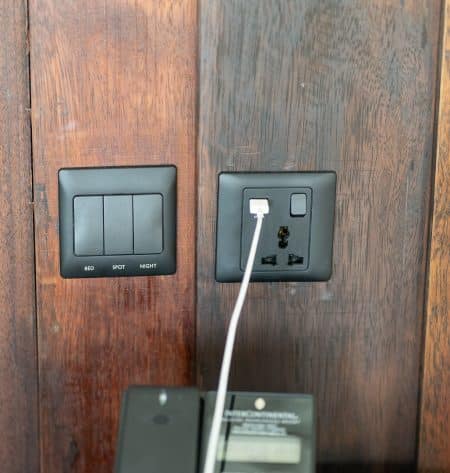 The villa didn't have a proper lounge; instead, a small sitting area was located to the far side of the bed.
There wasn't really a sofa, just a bunch of large cushions strewn into a nook. The kind of design you'd expect in a youth hostel, not a $1000+ a night hotel.
Bizarrely, the shutters were completely open – meaning that if you wanted to let light in and see the view, you also had to let out all of the air conditioning and invite flying insects into your room.
We only used this area on one particularly stormy evening, when we ordered room service rather than risk getting soaked on the way to dinner.
The TV couldn't be comfortably viewed from either the sitting area or the bed, and the WiFi was far too slow to stream anything. If you plan on watching any series or movies whilst you're here, make sure you download them in advance.
The InterContinental Maldives has the slowest and patchiest WiFi of any resort I've ever visited in this country.
On the plus side, the TV was large and modern and there were a multitude of power sockets, as well as a Bose dock, located directly beneath it.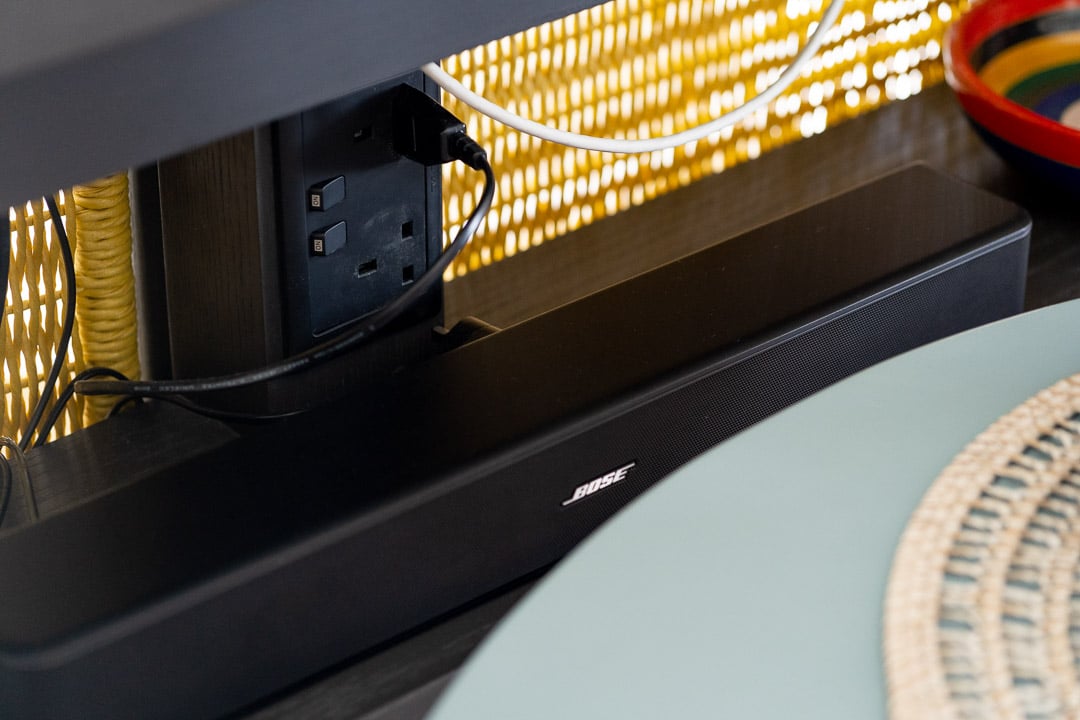 Our welcome amenity as IHG Spire Elite guests was a bottle of Prosecco, alongside some juice, fruit and afternoon tea bites.
At this price point it is shameful for a hotel to be offering Prosecco rather than champagne. Generally, when a luxury hotel cuts corners (and costs) here, it is a clear indicator of a more endemic problem in the corporate culture.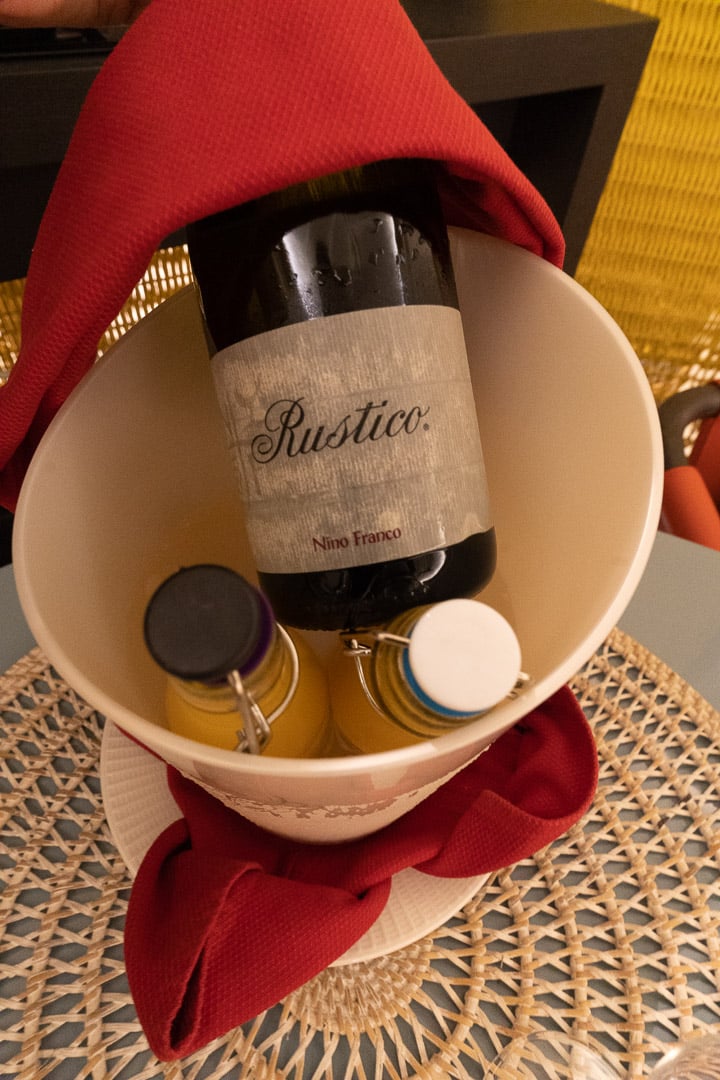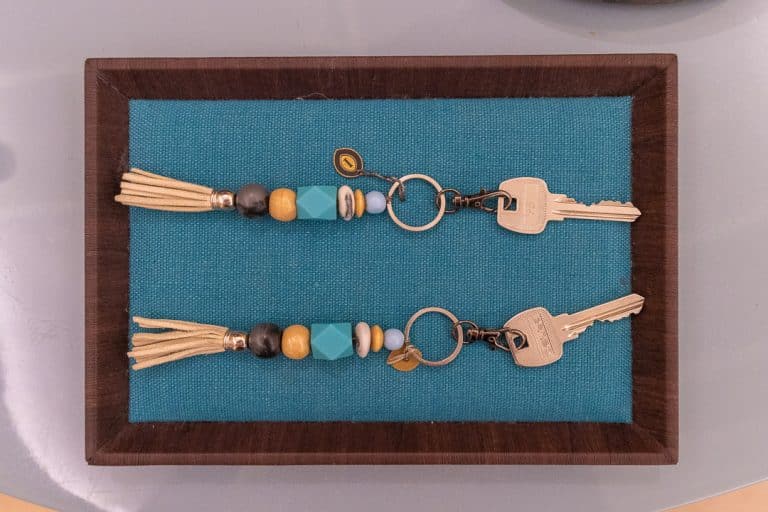 We were also presented with a colourful set of room keys, which I personally find quite inconvenient on a beach holiday. I would much rather have a keycard, or better yet a wristband (like at Finolhu) for room access.
Immediately adjacent to the table was the minibar area. This is one aspect of the stay in which the hotel really excelled.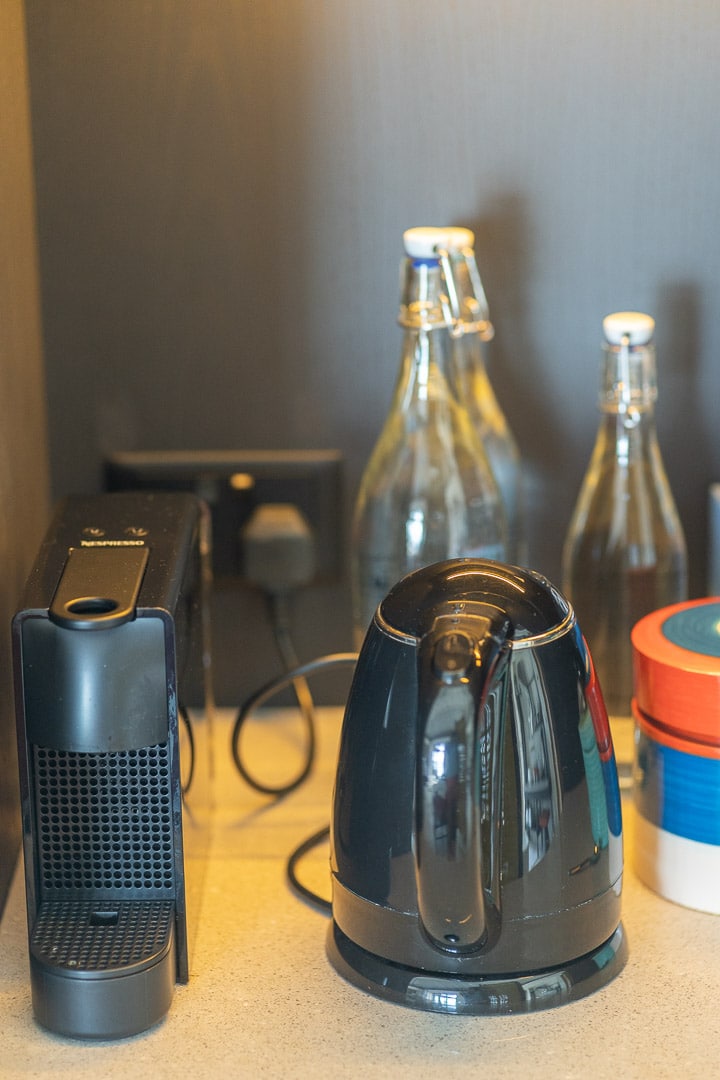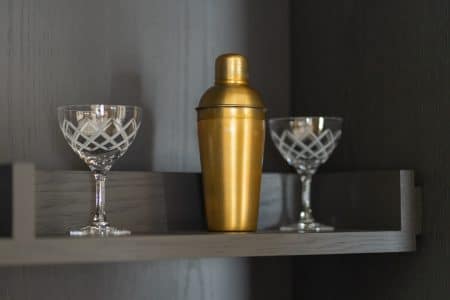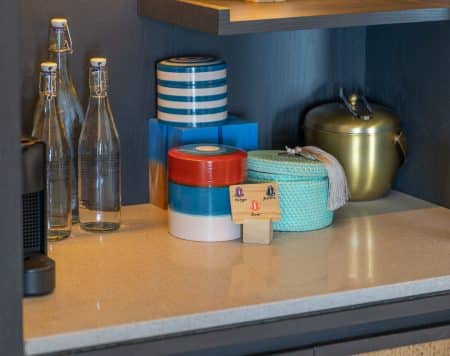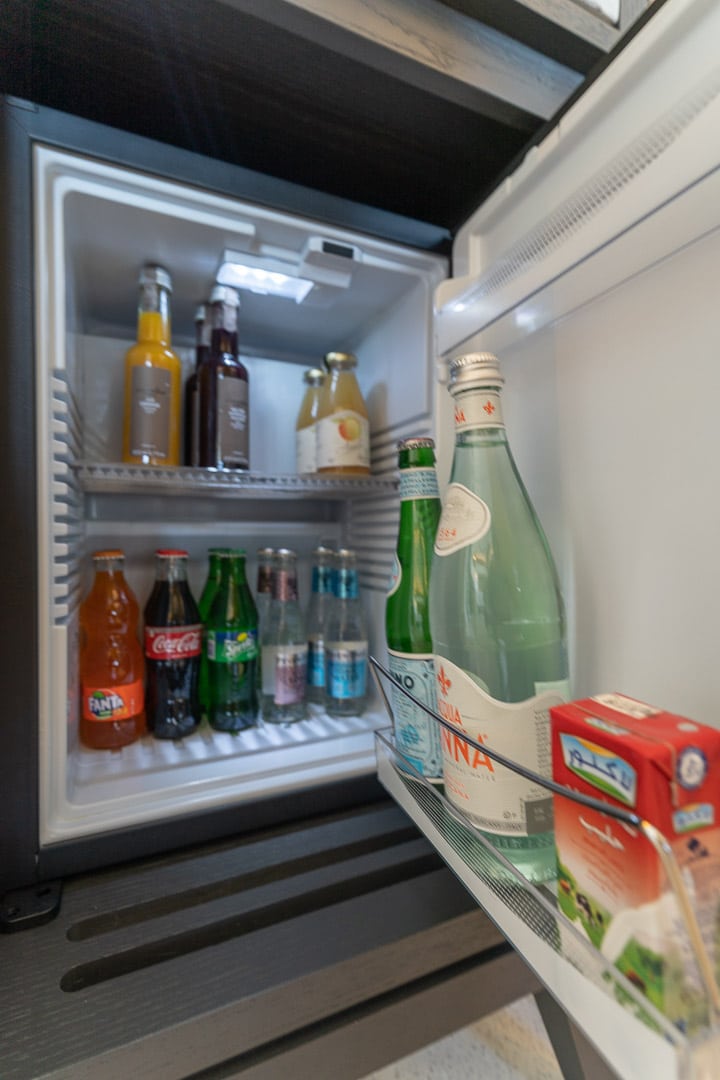 In addition to the usual Nespresso machine and kettle, there was also a fridge that was fully stocked with complimentary soft drinks, which were replenished daily.
Enjoying an ice cold bottle of San Pellegrino by the pool, alongside my first espresso of the day, became a wonderful morning ritual during this stay.
Next to the minibar was the extremely limited wardrobe space. There were four drawers, ten hangers and enough space for a single carry on. That's it.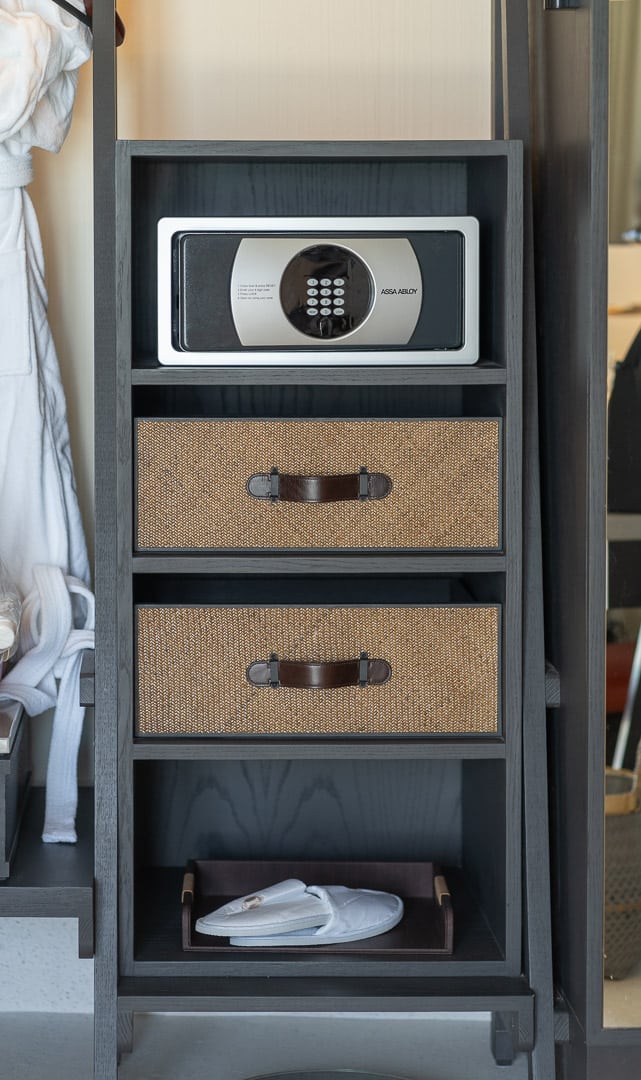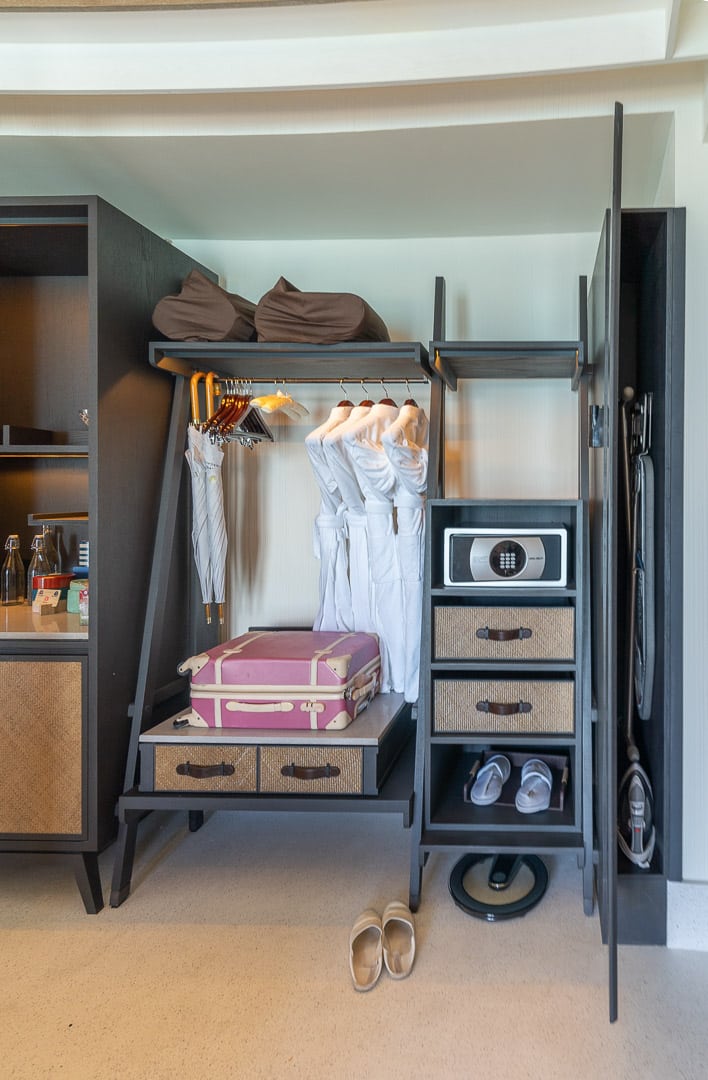 Bathroom
Not only was the wardrobe Lilliputian in its dimensions, it was also totally open. This meant that you'd be staring at your hanging clothes from the bath.
Not exactly an oasis of serene, spa-like tranquility.
Of course, the lack of any proper separation between the bathroom and the bedroom meant that both had to be the same temperature. So in practice, the bath got no use because who wants to take a bath in the chill of air conditioning?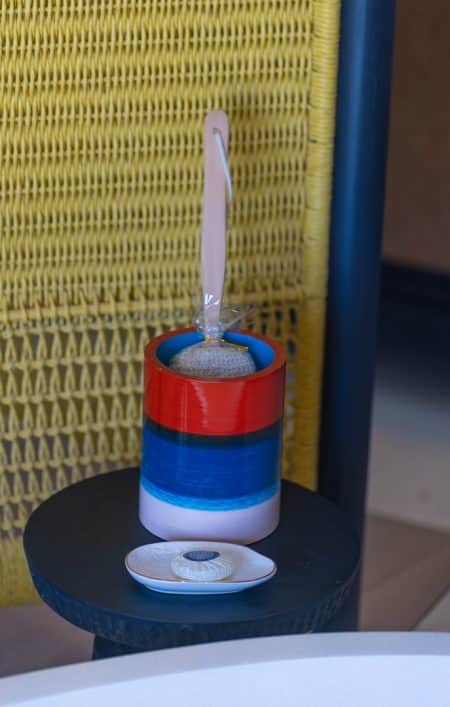 In a true luxury hotel you'd expect dual sinks, but again the InterContinental fell short in this regard. On the plus side: there was plenty of counter space, a well illuminated main mirror and a large, separate makeup mirror.
There was also a very wide selection of amenities on offer, including bamboo toothbrushes, and even scrunchies!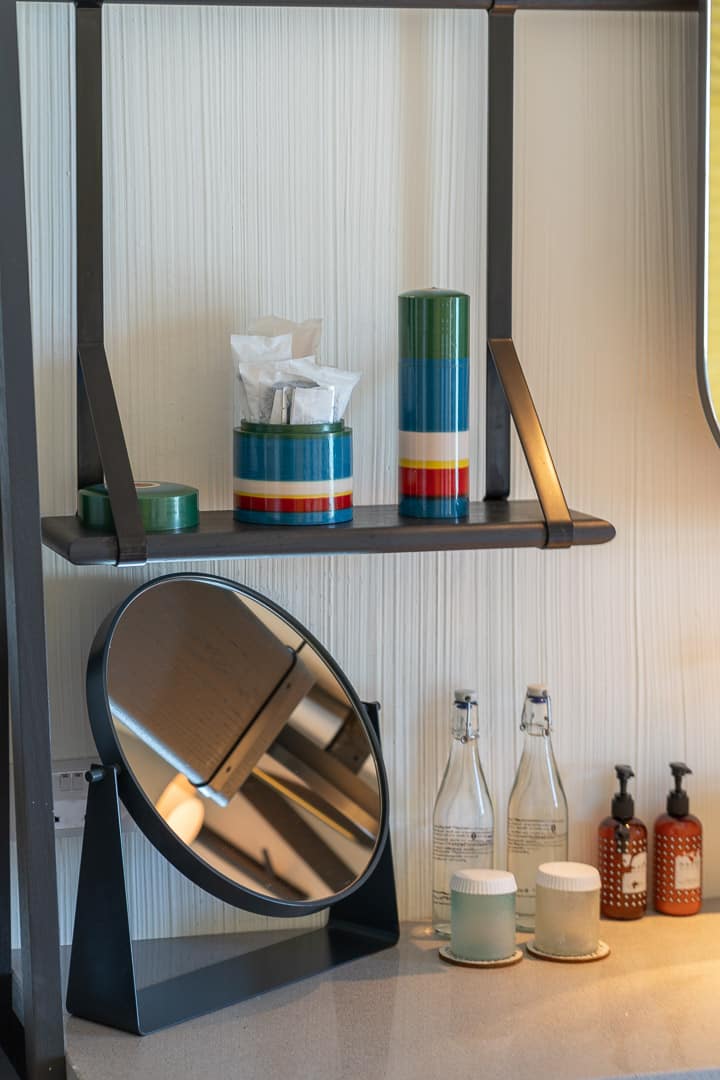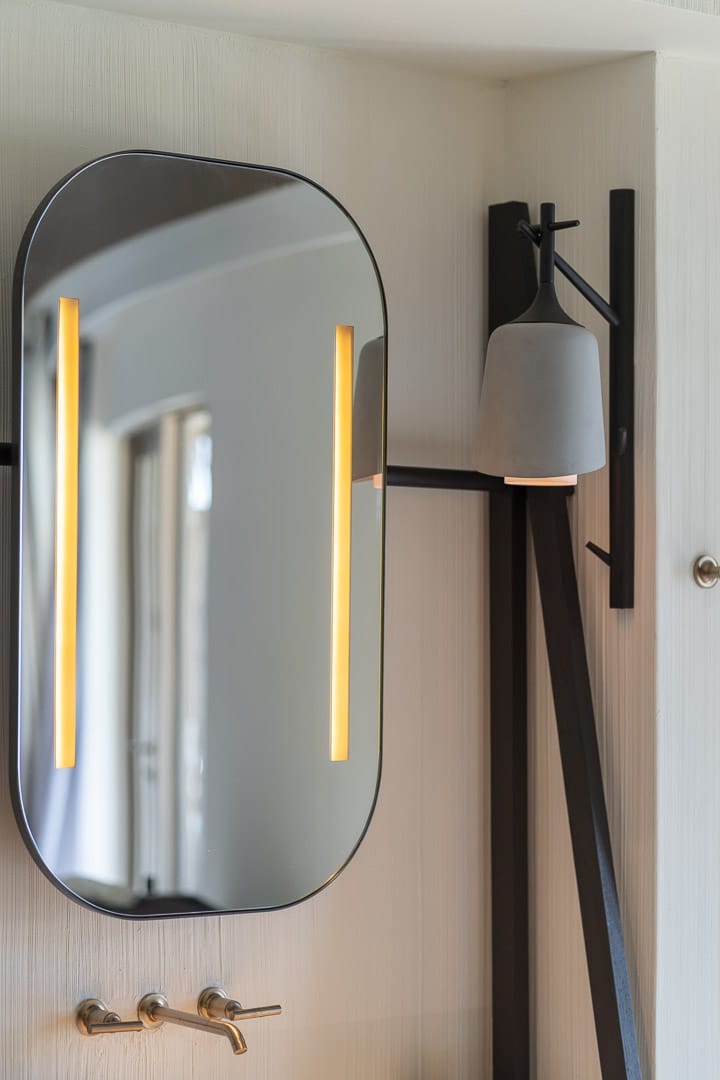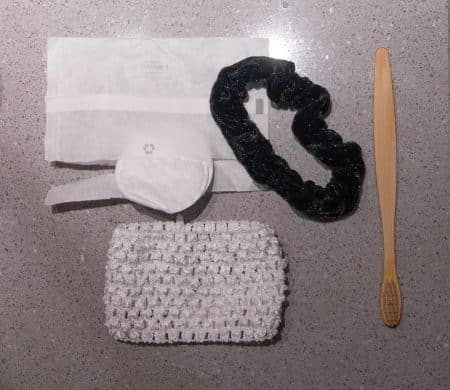 The toilet and shower were located in separate rooms on either side of the sink.
The toilet was a hi-tech Japanese Toto washlet and once again featured fully opening shutters (which made a bit more sense here).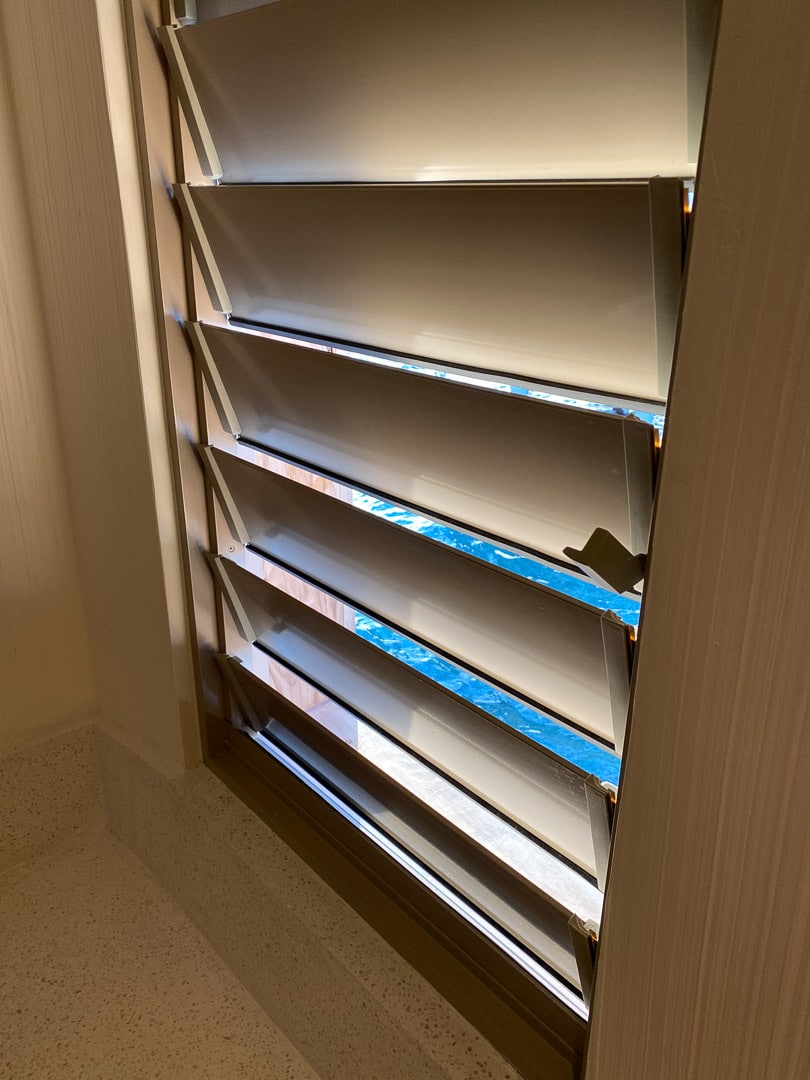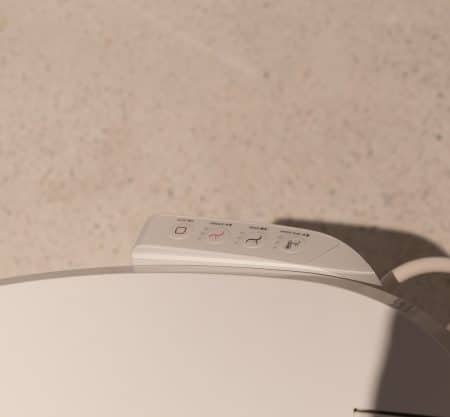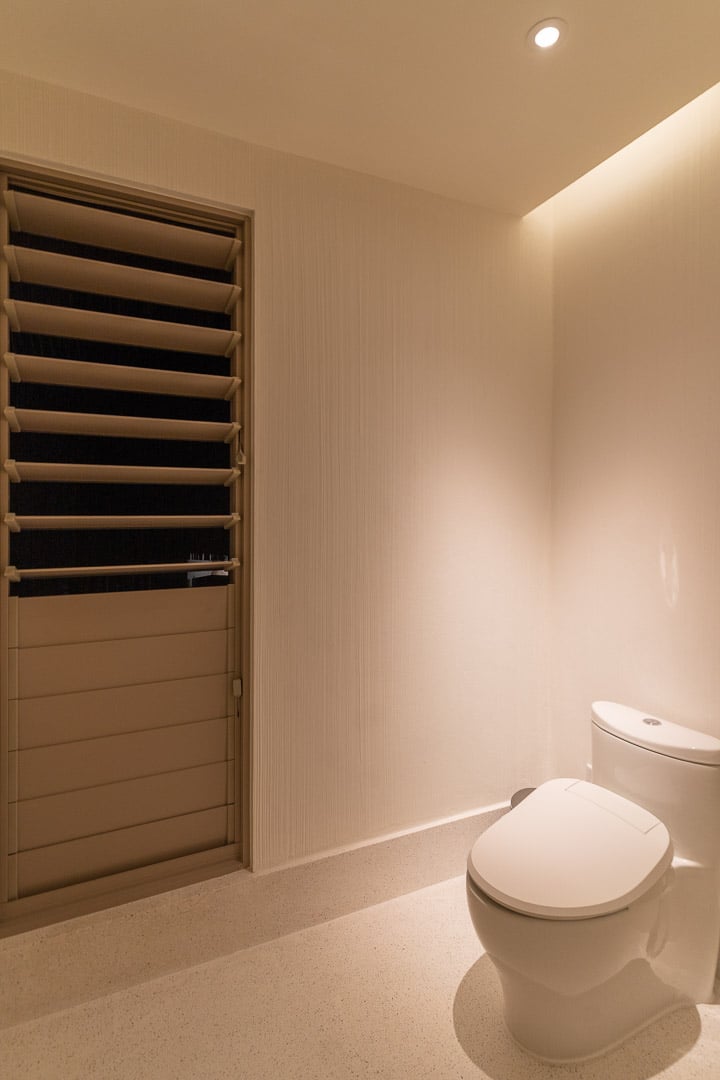 The shower room was a great size but totally lacking in natural light. I feel like the designers really missed a trick here by not fitting either a skylight or a half open roof.
Pool Deck
Based on the indoor space alone, the villa was nothing special, however as soon as we stepped outside, it was hard to deny the allure of the semi-circular plunge pool and the turquoise blue water of the Indian Ocean.
Although many times smaller than the decks at somewhere like the Waldorf Astoria, the overall size and layout were pretty great. The ocean view was completely uninterrupted and we didn't feel like we were stacked close to our neighbours at all.
When you look at the resort from above, it really is remarkable how generous the spacing between villas is.
We actually spent one night in a Sunrise Overwater Pool Villa before being 'upgraded' to a Sunset Overwater Pool Villa for our next 3 nights.
Despite ostensibly being worse, I personally preferred the view from the sunrise side, since it was completely uninterrupted and sunrise was harder to observe from public areas than sunset.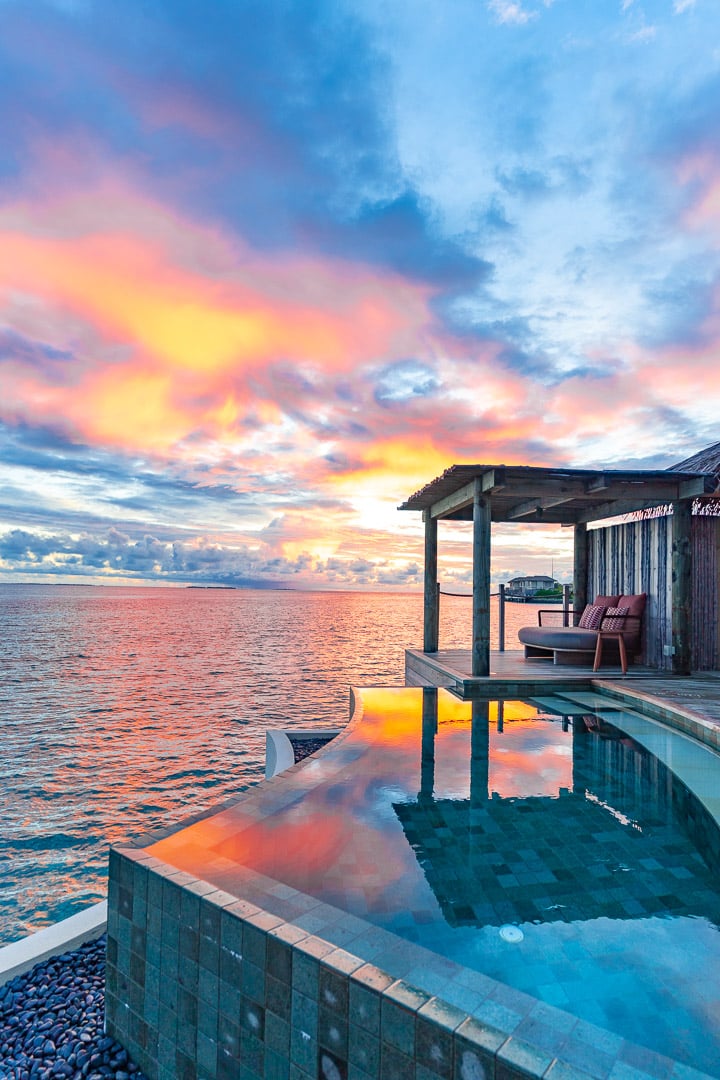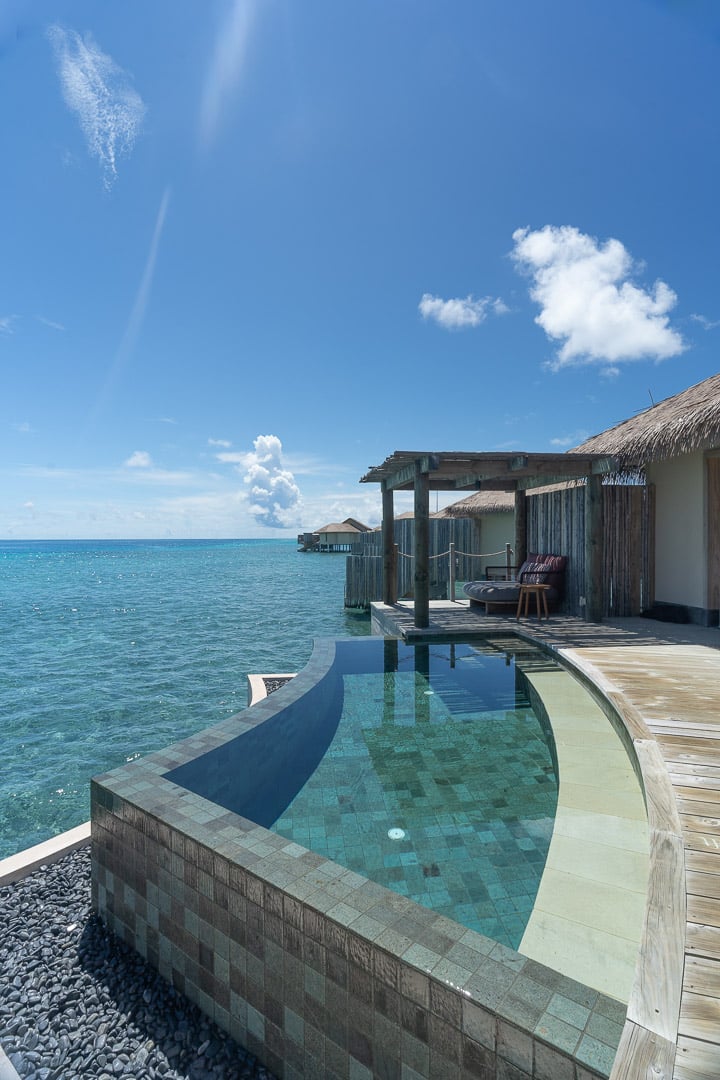 The Sunset Overwater Pool Villa had a view of the lighthouse, boat traffic and seaplanes. Some may prefer this, but for me the total tranquility of the sunrise side is really what I come to the Maldives for – peace and relaxation.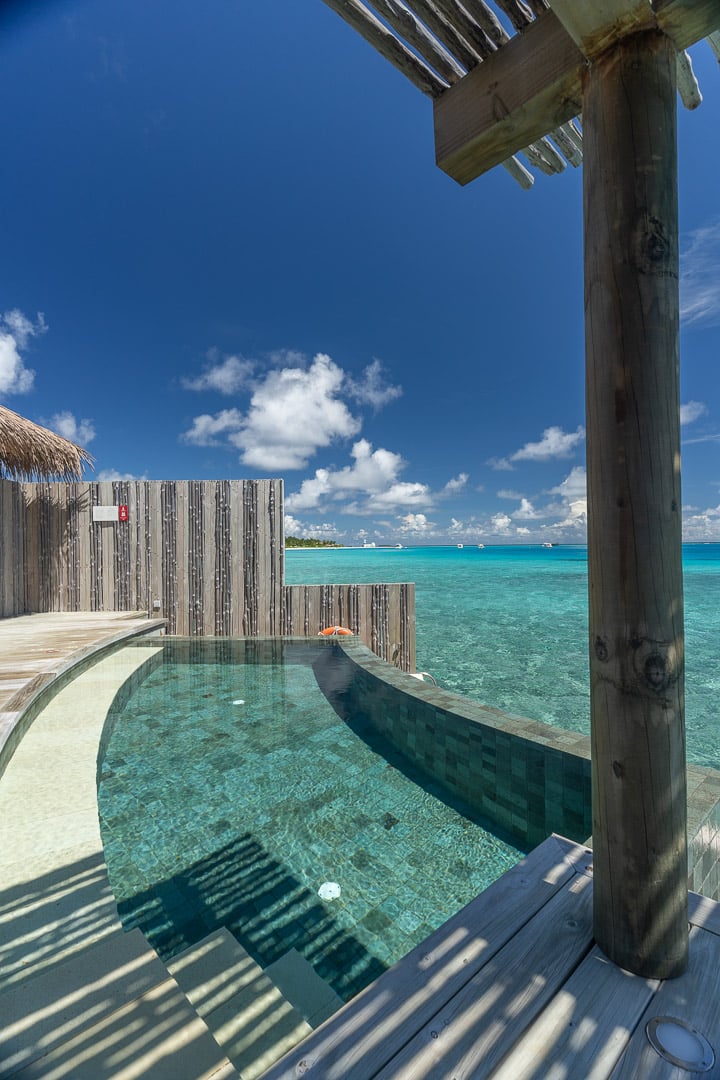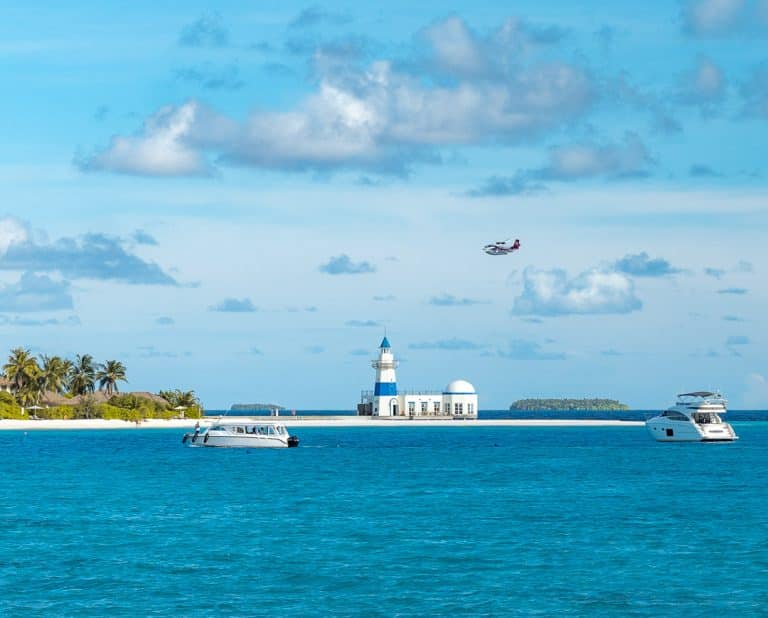 The direct ocean access was nice to have, although on two of the days we were here the ocean was so choppy that it was impossible to get in. There also wasn't much in the way of coral or marine life anywhere near the overwater villas.
There was a small handheld hose to rinse your feet by the steel steps, but an overhead shower was notable in its absence. This was strange, since there was a perfect corner for it, against the outer wall of the shower room.
The complimentary InterContinental flip flops were a great touch, though.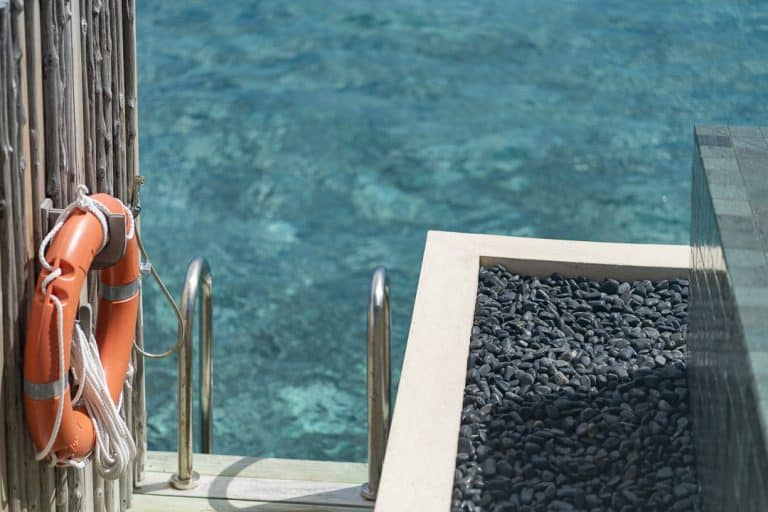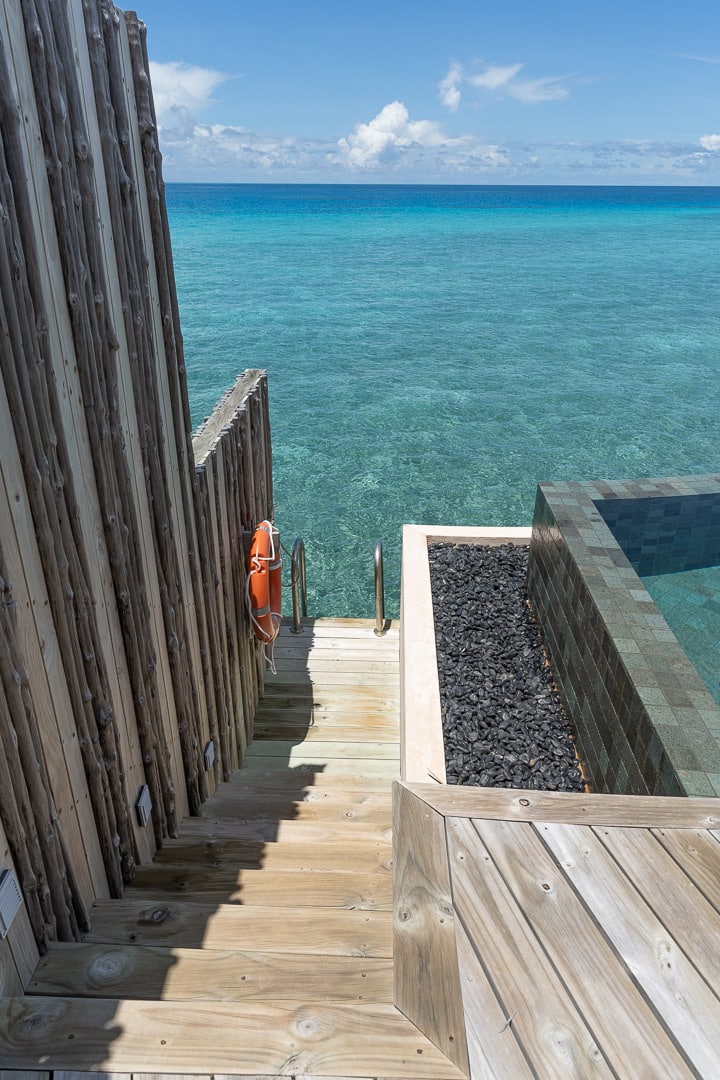 The shaded daybed was fantastic for lounging on and personally I preferred this to having sun loungers, since I never spend time sunbathing this close to the equator.
However, the fact that the outdoor power socket couldn't take a Mac charger, coupled with the complete lack of WiFi signal, meant that my aspirations of using this as an outdoor office were thwarted.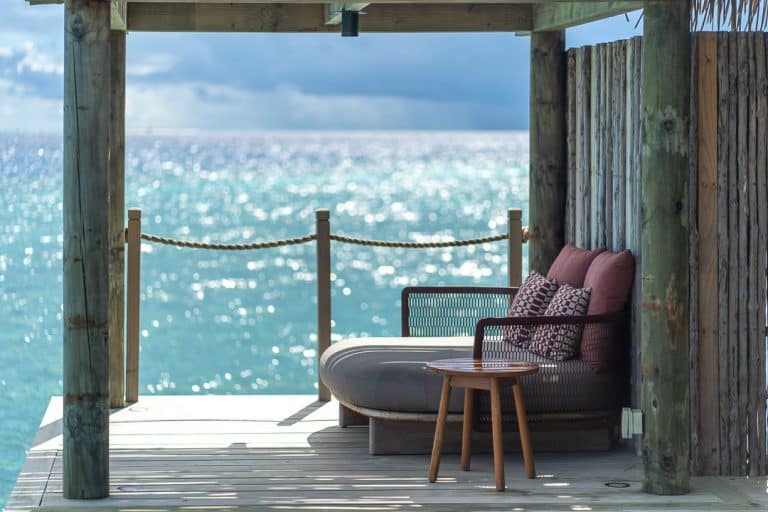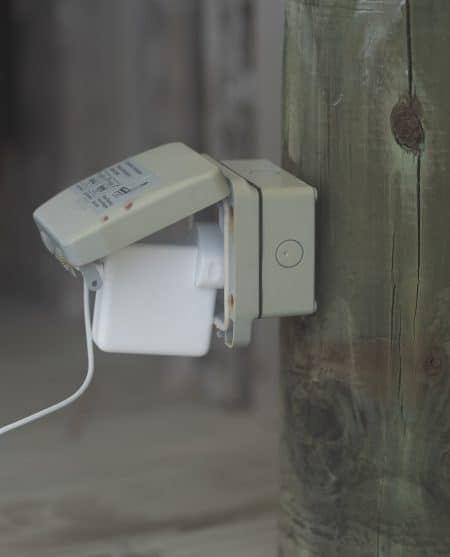 ---
Leisure Facilities
---
Snorkelling and Diving
All guests are provided with snorkelling equipment, free of charge. This can be collected from the Marine Centre, right by the main pool. The Marine Centre is run by Ocean Dive, who also run the centres at the Waldorf Astoria and the Conrad. Indeed, one of the dive instructors immediately recognised us, from our visit to the Waldorf Astoria a year ago!
The snorkelling at the resort is somewhat limited, since the reef only runs along the beach villas between the gym and the spa. There is nothing much to see if you snorkel in the lagoon or near the water villas.
Unfortunately, I didn't have much luck with the diving either. Despite being located in the Raa atoll, near some very well known manta ray habitats, I saw nothing bigger than a reef shark on two dives.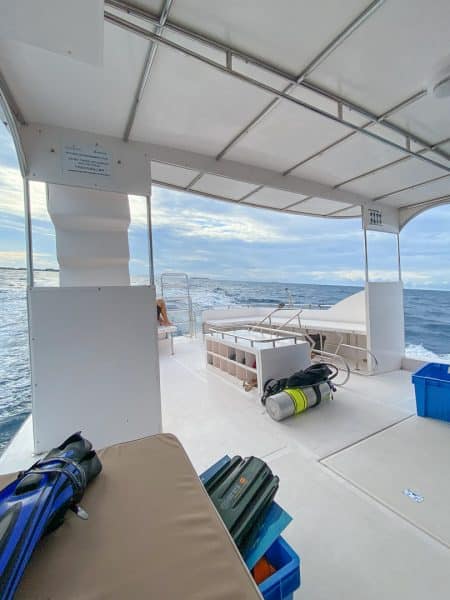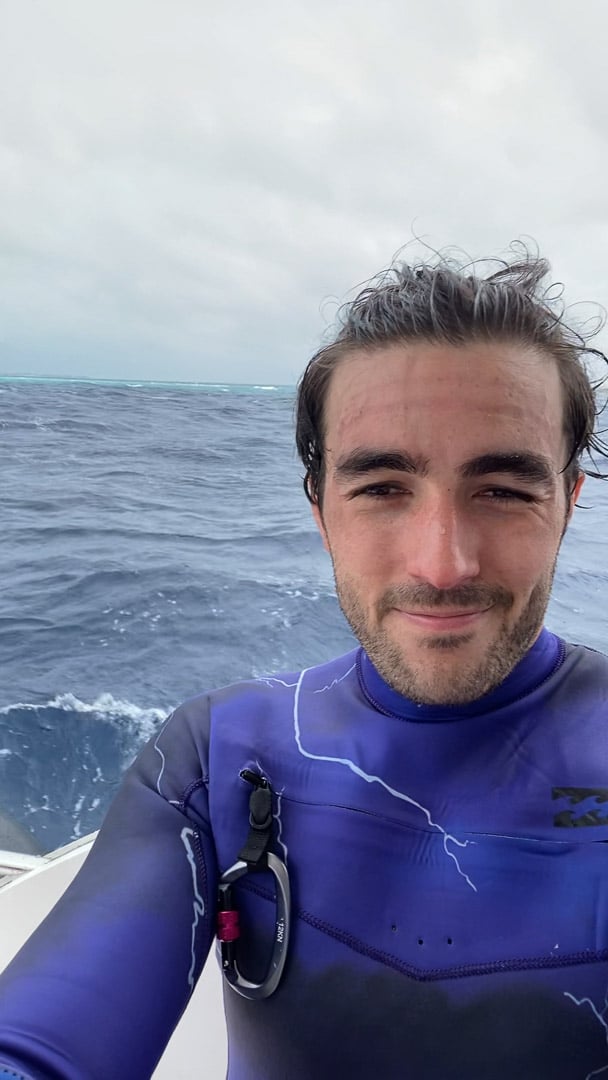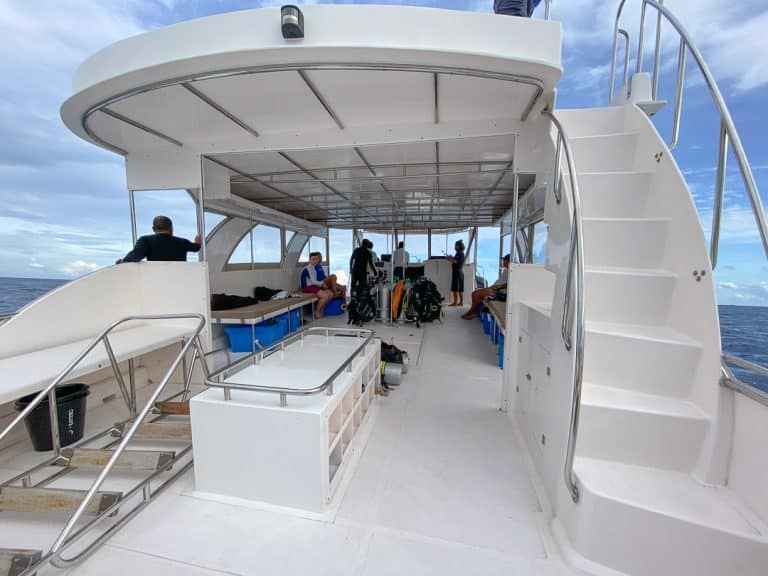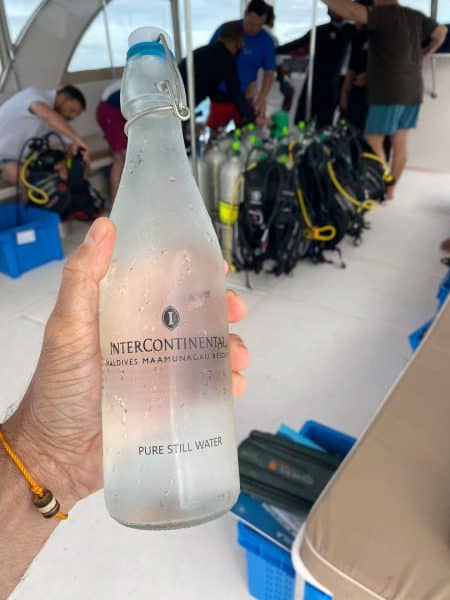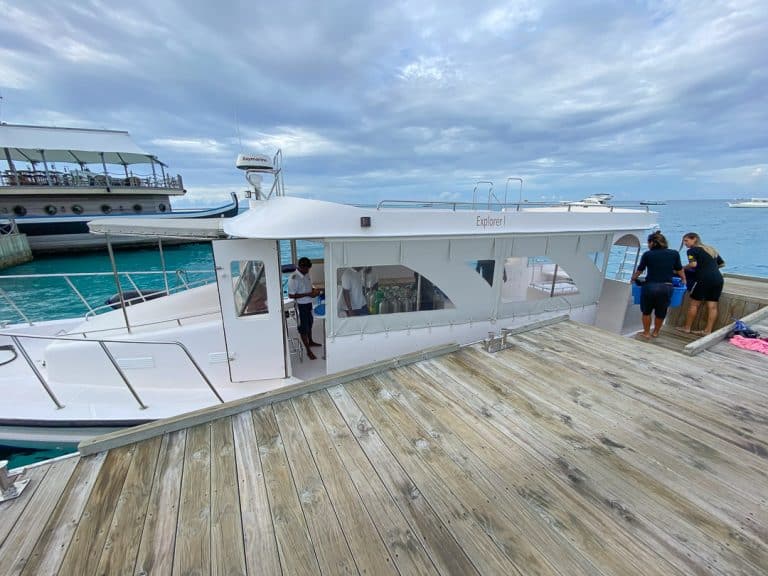 You can't always have great luck when diving, but the service was great and the boat was very comfortable.
Gym
The 24h Gym was absolutely one of the highlights of the property for me. Our daily routine involved coming here at around 1:30pm, avoiding the hottest time of the day and building up our appetite for afternoon tea!
A reservation system was in place, as a COVID precaution, but this was seamlessly handled by our island host Shijin.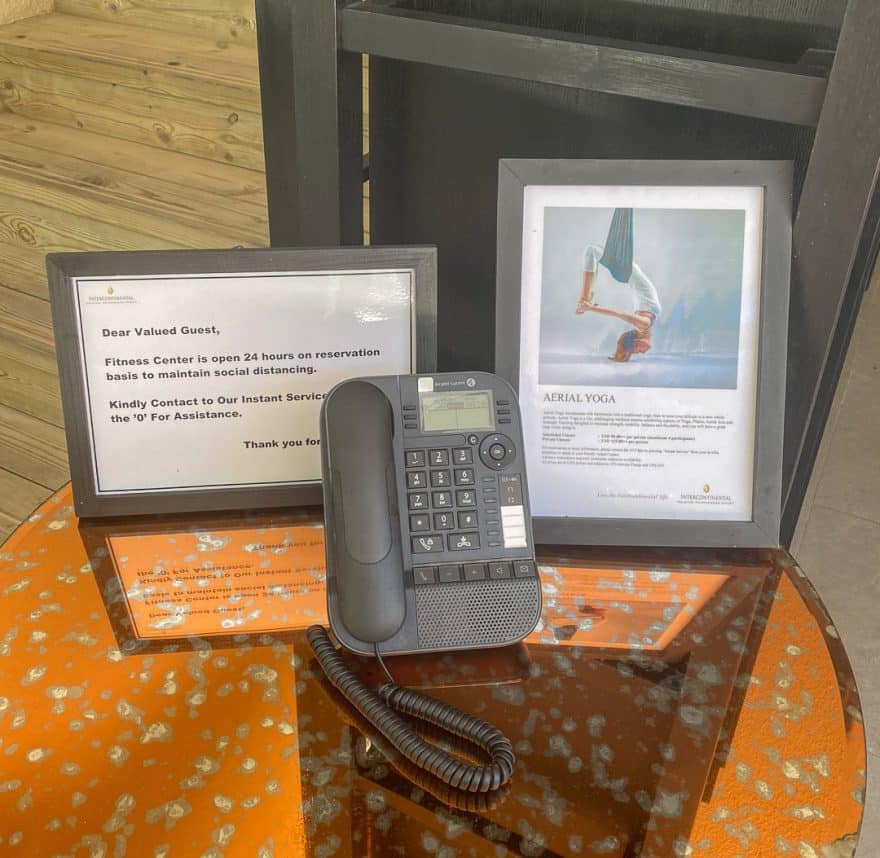 Both chilled and room temperature water were available from a large stand by the door, which also housed a very powerful Bose sound system. We were able to connect via Bluetooth and blast Rammstein at a suitably powerful volume to propel us through our workouts.
There was the usual variety of cardio equipment facing out over a white sand beach, as well as some additional ellipticals tucked into the back.
I was impressed to see a variety of functional strength training equipment, including sandbags, kettlebells, medicine balls and TRX straps.
There was also a smith machine, cable crossover, pull up station and even an infinite climbing rope and fixed landmine press.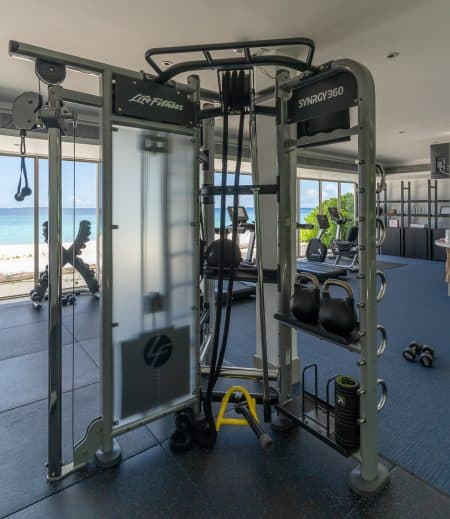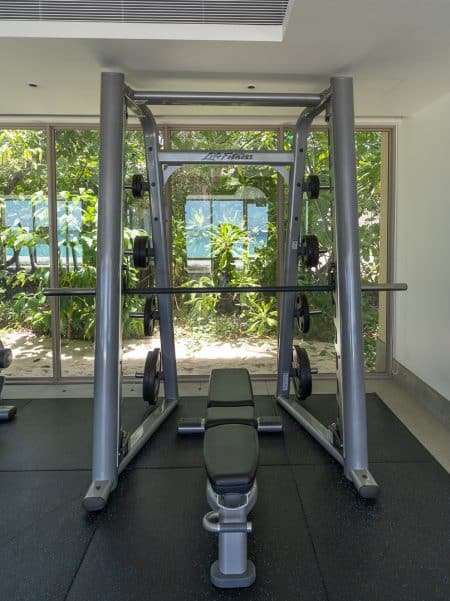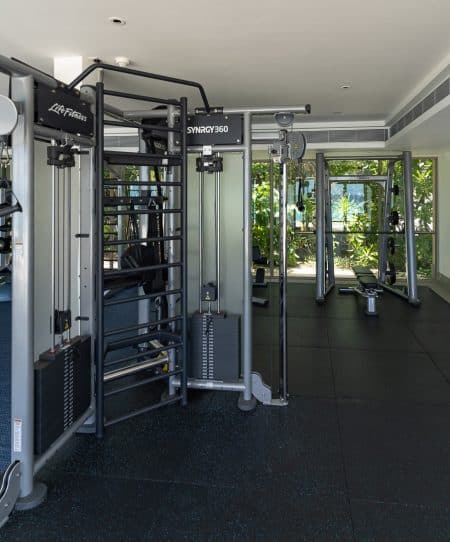 Hammer strength rubberised dumbbells ran all the way up to 30kg too, which is about as good as it ever gets in a hotel gym.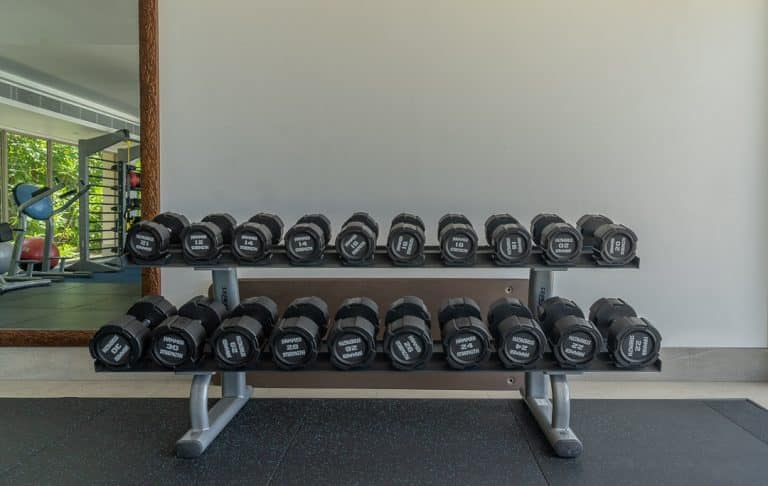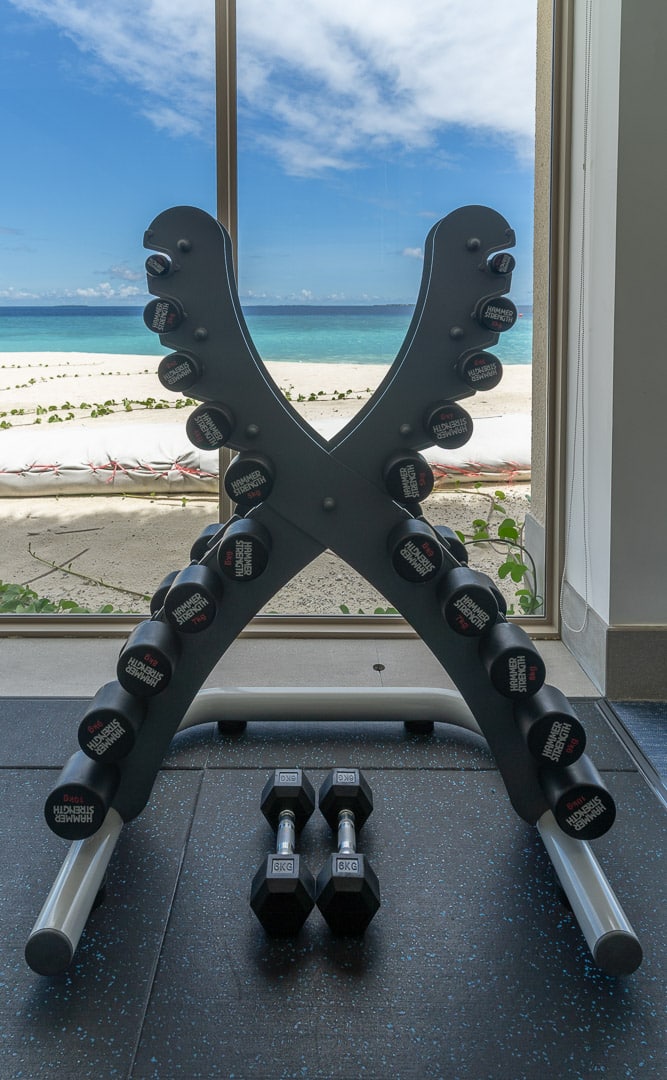 The Adults only Retreat
Another very impressive standout feature of the hotel is The Retreat, an adults only area located at the base of the lagoon.
The Retreat was just a quick cycle ride away from our room, although after happy hour we generally felt safer taking a buggy back!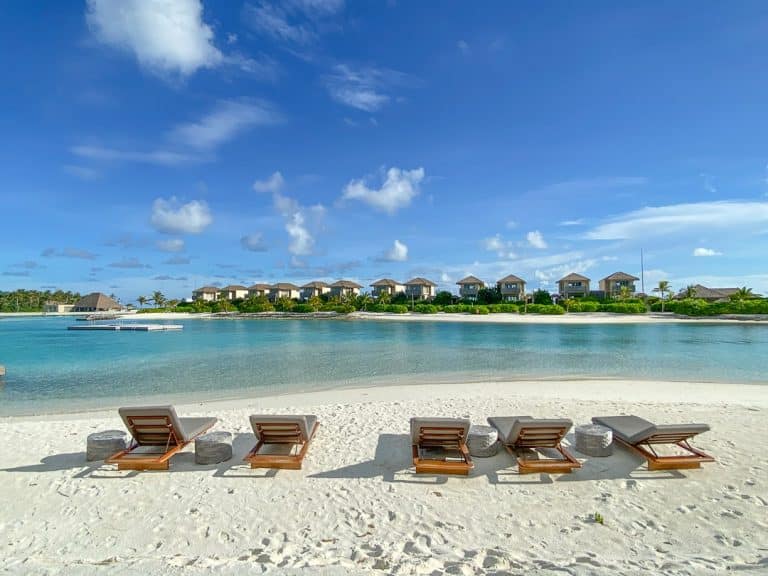 When the resort first opened, it was possible to enjoy your complimentary breakfast and afternoon tea here. However, this is no longer the case.
This is a shame, as The Retreat is such a relaxing spot compared to the chaos around the main pool and restaurants.
During our visit, The Retreat opened its doors from 10am and was the perfect spot to while away a couple of hours after breakfast.
One minor issue was that there was nowhere near enough space for everybody to park their bikes. Later in the day, there would invariably be large numbers of bikes strewn across the entrance area.
The atmosphere changed from the moment that we stepped into the reception area; it honestly felt like we were in a different resort here. An oasis of relaxation.
There were a variety of different seating areas on offer, ranging from outdoor restaurant tables, daybeds and sofas to swinging chairs at the bar.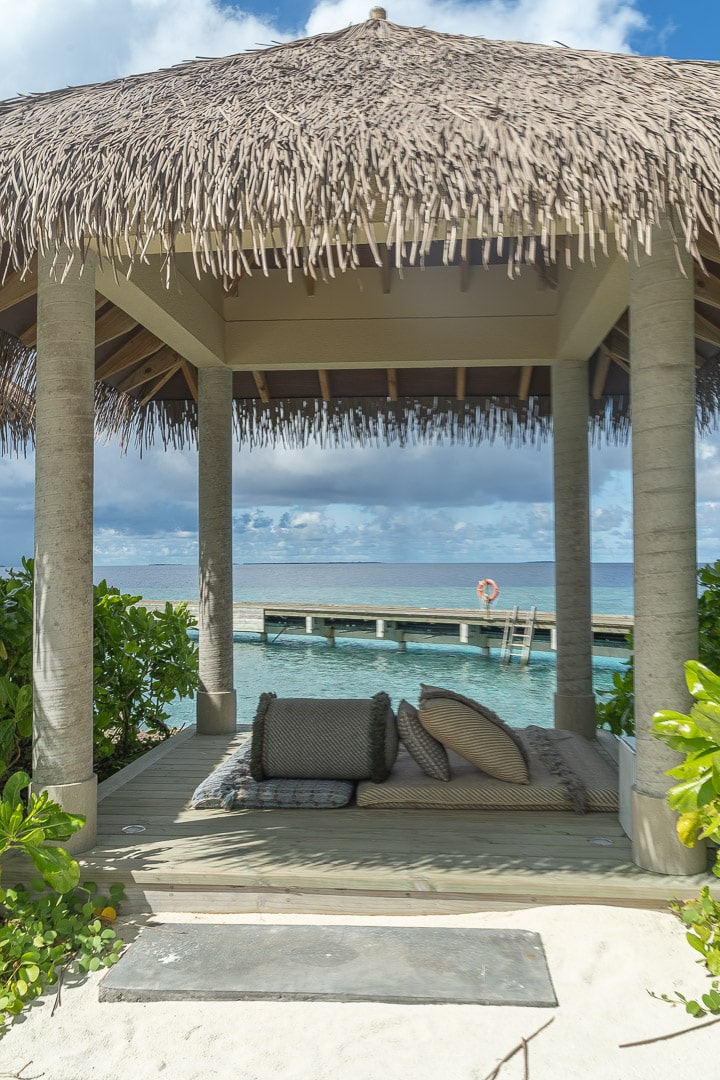 The star of the show was undoubtedly the pool, featuring a cantilevered infinity edge, suspended over the lagoon.
There were also some completely pointless cargo nets, which nobody ever used but everybody wanted to get pictures in. I struggle to see the appeal in trussing yourself up like a roast and cooking yourself in the sun, but I guess somebody must be into it because these nets keep popping up at Maldivian resorts.
Speaking of cooking in the heat, one of my favourite parts of The Retreat was the indoor library area. Kept at the arctic temperature of a Singaporean office building, it was one of the few places that you could find respite from the searing equatorial sun on a hot day.
The decor here was much better than in the villas, still modern and evocative of a certain island chic, but without the swathes of neon yellow to cheapen it. The selection of books on offer was truly excellent too, as were the complimentary coffees, served at all hours.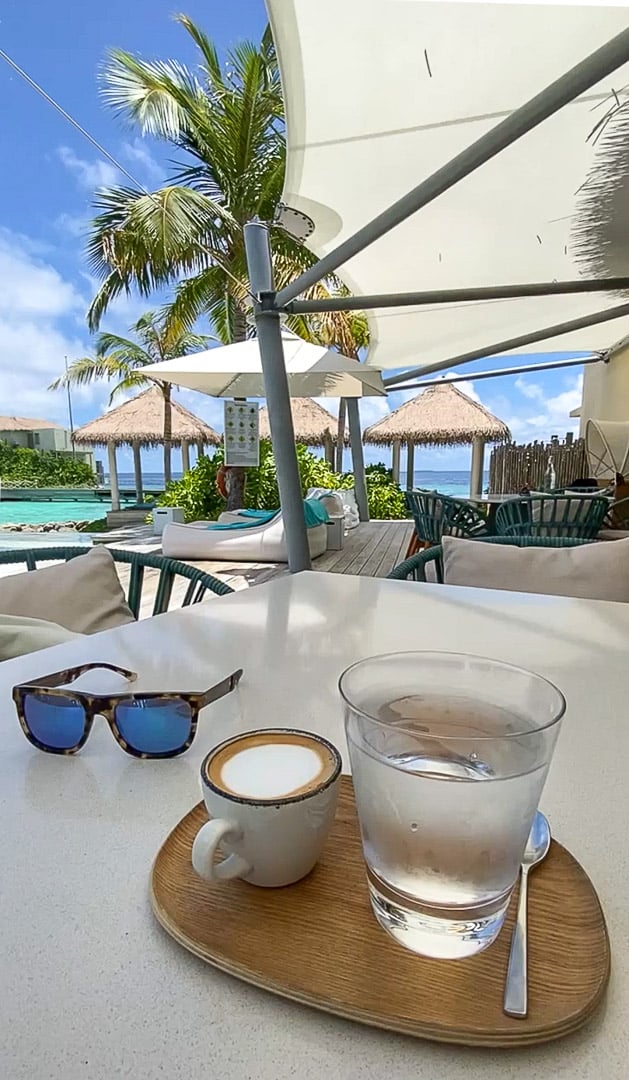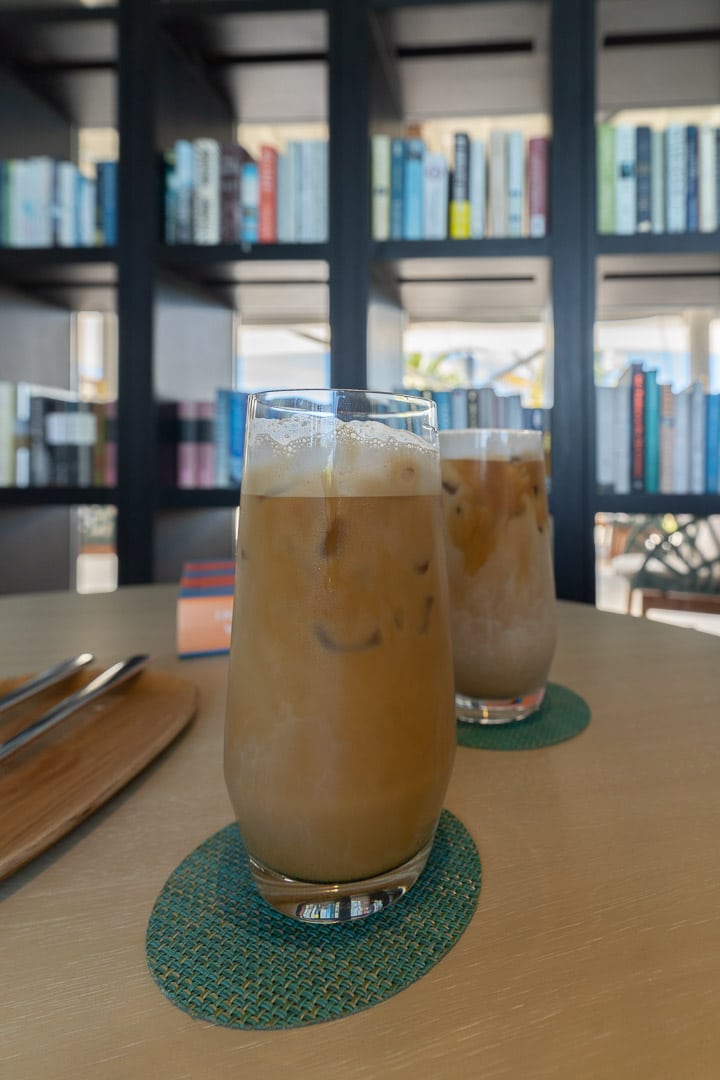 Not only are soft drinks free here (and at the main pool bar) all day long, there is also a daily complimentary aperitif hour.
Aperitif Hour 5pm-7pm
Service at The Retreat was absolutely fantastic. The staff were so kind, genuine and fun to interact with. During aperitif hour we initially ordered drinks from the menu:
However, once the staff got to know our drinks preferences, they cut loose and made us all kinds of drinks that they thought we would enjoy.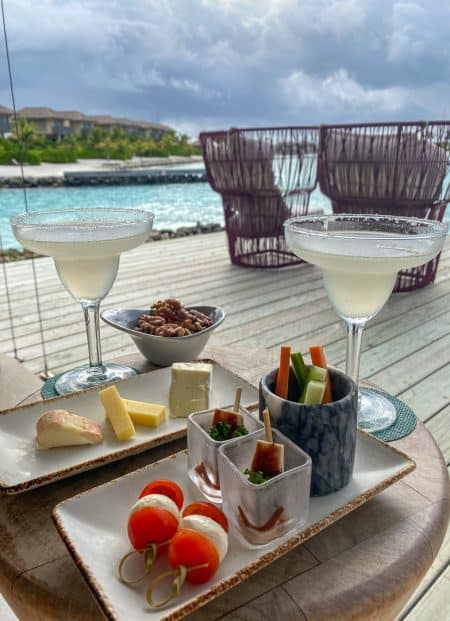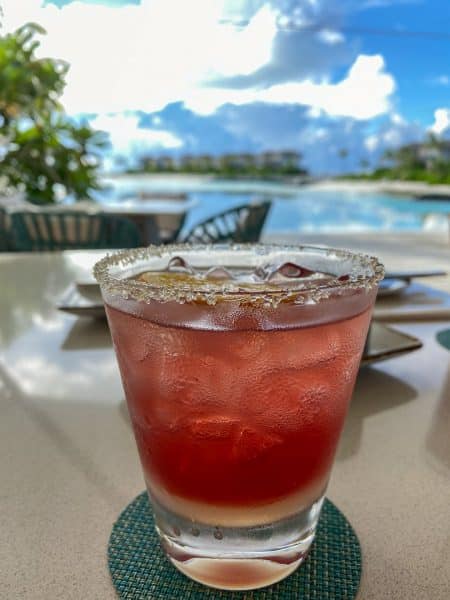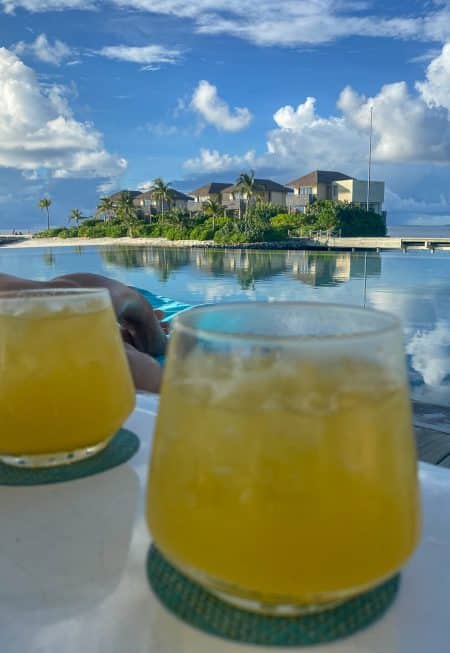 The first round of drinks was always accompanied by a tray of hors d'oeuvres, which were generally cheese focused.
What was great about this was that it wasn't at all crowded or rushed, unlike similar offerings at the Waldorf and Conrad Maldives. The atmosphere was very pleasant – you could start off with a couple of drinks by the pool and have a quick swim, before retiring to a table for another drink or two after sunset.
If the whole resort was like The Retreat, this would be one of my favourite hotels in the Maldives.
The Main Pool
As with many resorts in the Maldives, everyone at the InterContinental has their own pool. As such, the main pool here felt like a bit of an afterthought. Honestly, the overall vibe was more akin to a large Floridian resort than high-end Maldivian luxury.
The finishes, design and materials all had a distinctly pedestrian feel, more Holiday Inn than Intercontinental.
---
Food and Drink
---
Up to date restaurant menus are available by clicking through to each restaurant here.
This isn't available on the hotel website but it is available here!: InterContinental Maldives Wine List
---
Breakfast at Café Umi
Breakfast is included free of charge for all guests at the hotel, a fact which makes IHG points stays particularly attractive. Breakfast is served at Café Umi, right next to the main pool. This is a sprawling restaurant, spanning multiple rooms and very much geared towards the large groups that abounded during our stay.
The beachfront sofas looked very private and comfortable, but in practice they were far too low for the tables.
Instead, we usually ended up taking a table in this area by the coffee machine.
Since we ate breakfast early, we tended to avoid the mad rush of families that started showing up just as we finished our breakfast each morning.
Breakfast consisted of both a buffet and a selection of a la carte dishes. Although prices were shown on the menu, nothing appeared to actually be chargeable, since nobody ever seemed to be presented with a cheque.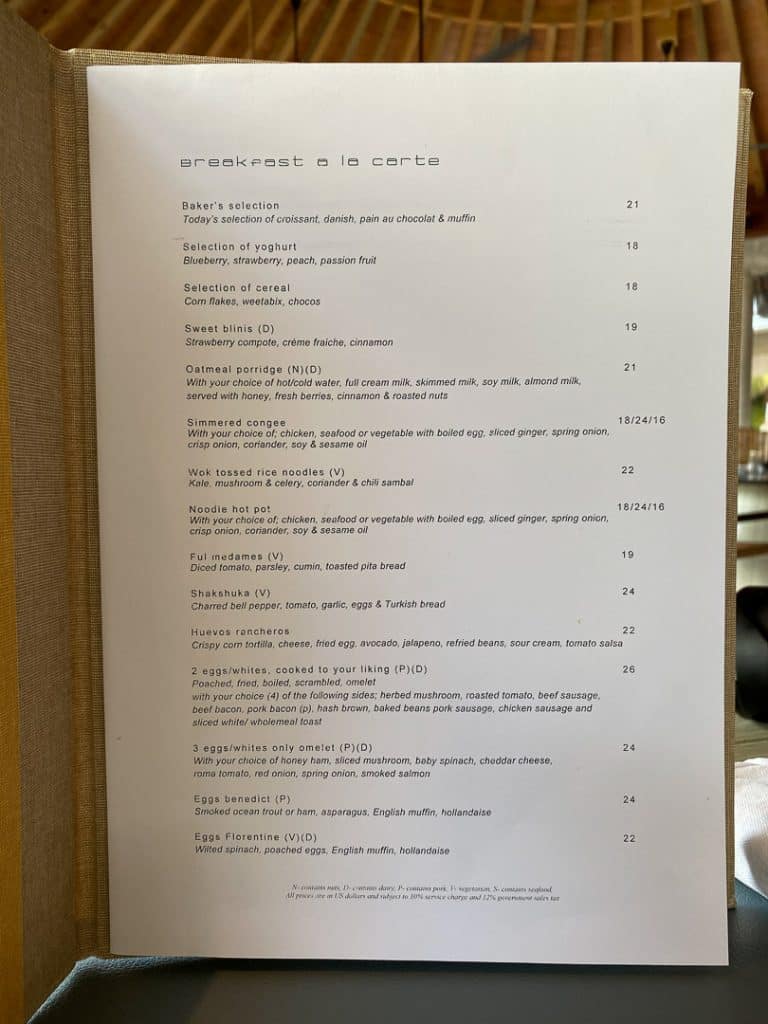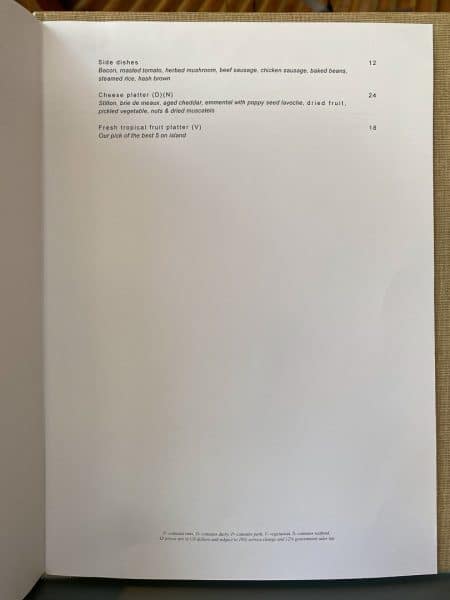 Service was speedy and attentive, with drinks orders being taken the moment we sat down and delivered by the time we returned from our first trip to the buffet.
Speaking of which, the buffet was superb. It was located in an air conditioned room that required the use of masks, which were provided at the door.
Opposite this was a station offering an iced Prosecco…which made me yearn for the free flowing Moët at Amilla, or the Delamotte at the Waldorf Astoria's breakfast.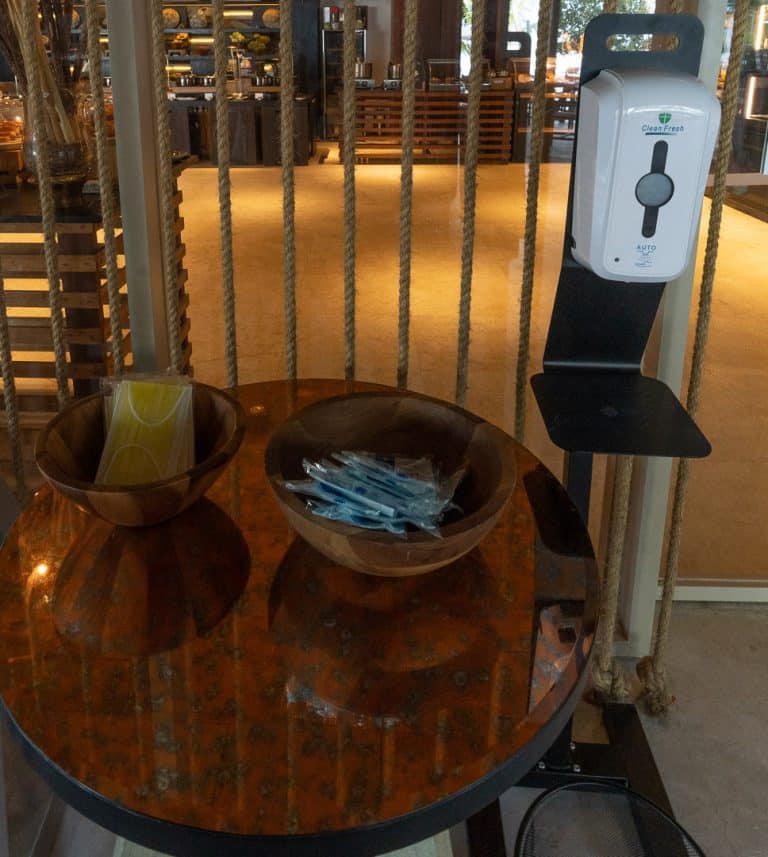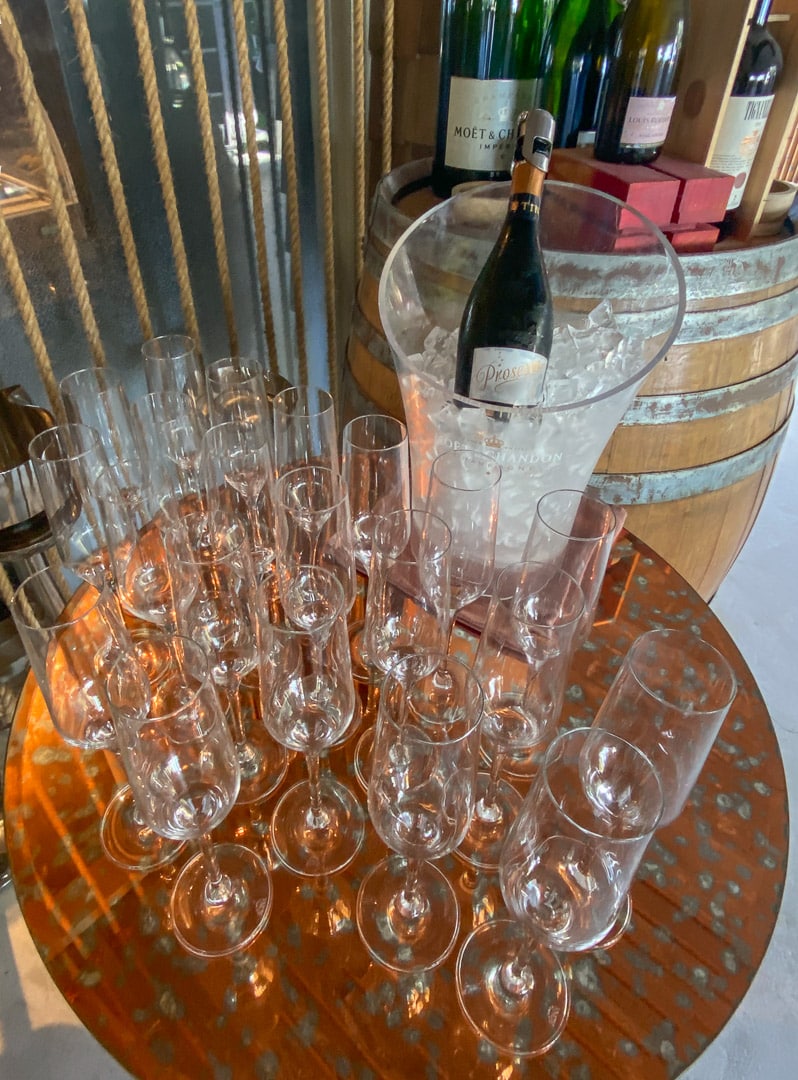 Inside, there was an entire table dedicated to freshly baked goods (I'm amazed that some Maldivian resorts try to get away with factory made pastries and bread).
Those with a gluten intolerances are well catered to, with the entire front table dedicated to gluten free items.
The chilled section included all manner of homemade sauces, dips and pickles, alongside house cured salmon, cheeses and a selection of charcuterie.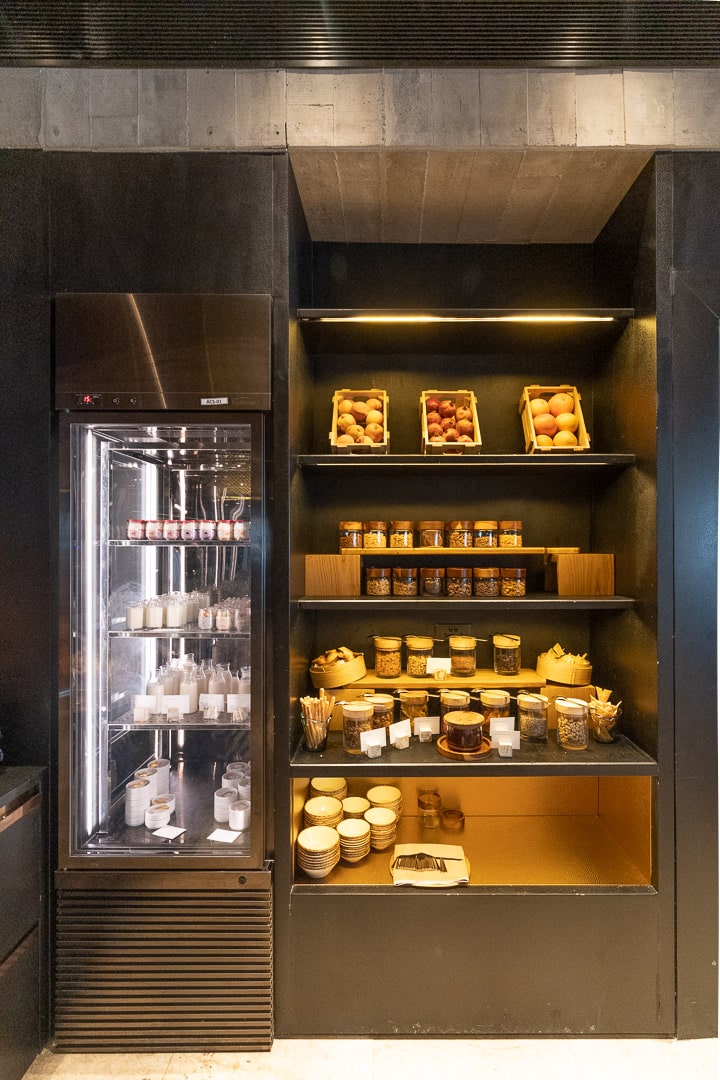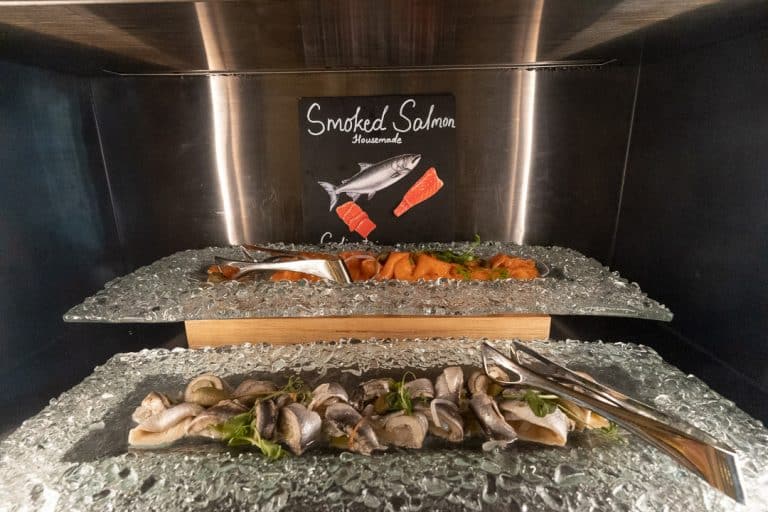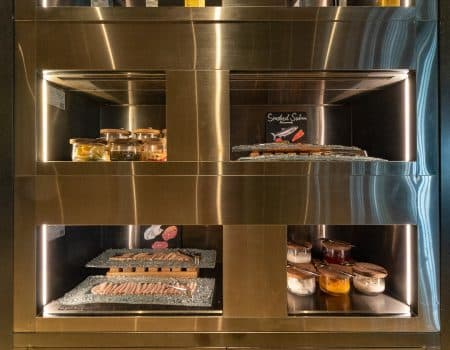 There was also a hotpot station and even more bread, sliced in preparation for toasting.
A wide variety of hot dishes from around the world were also on offer, including freshly made dosas!
…and finally, a very wide selection of fresh fruit, alongside freshly made crepes and waffles.
The a la carte and freshly made dishes were, for the most part, excellent, the dosas in particular were astounding. The only real let down was the coagulated mess of wok fried noodles.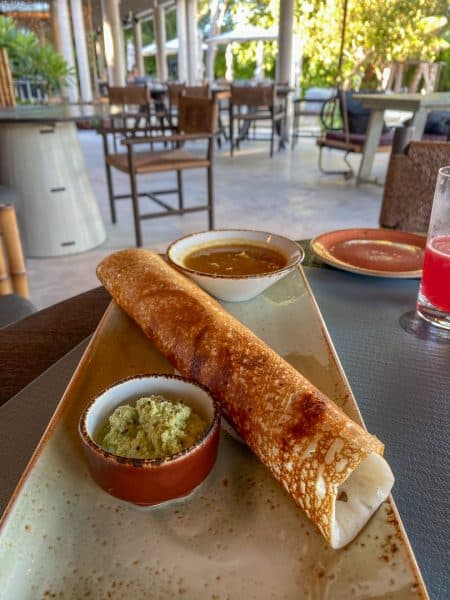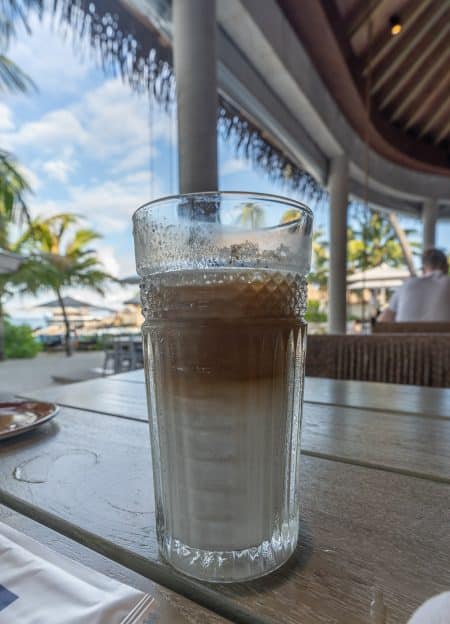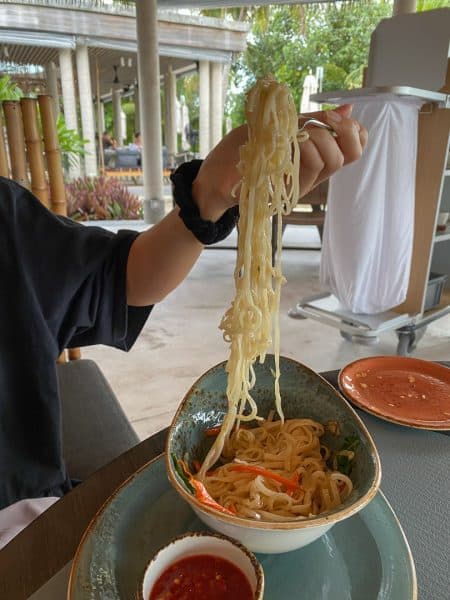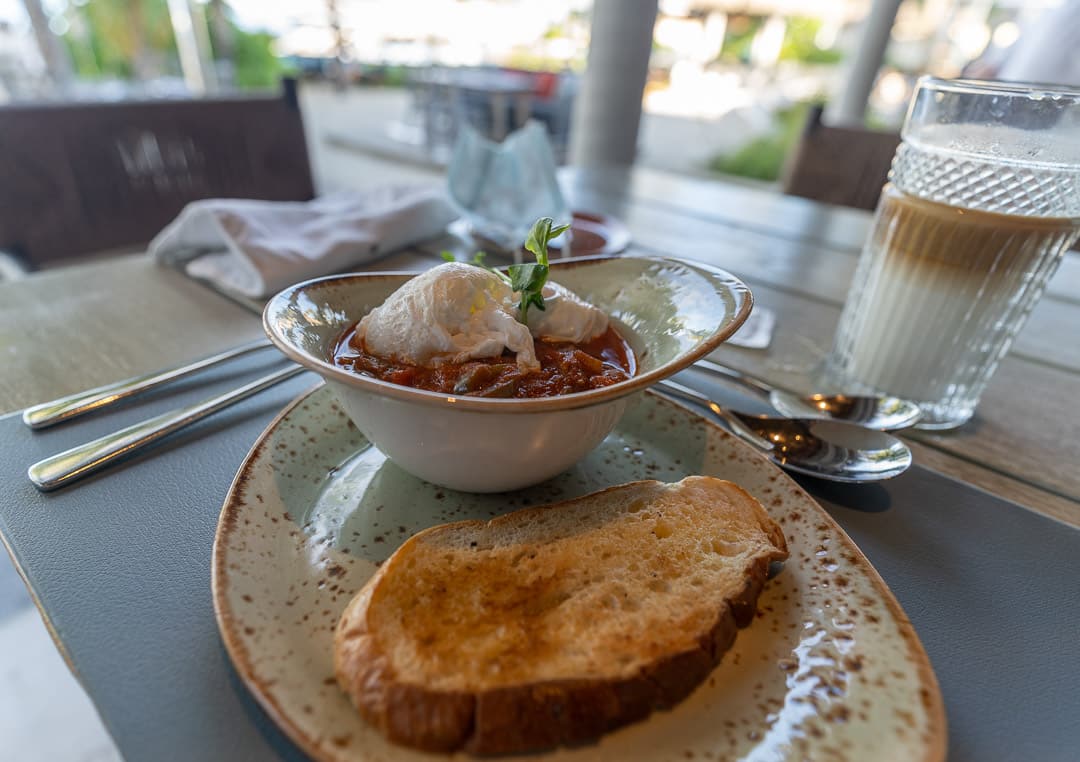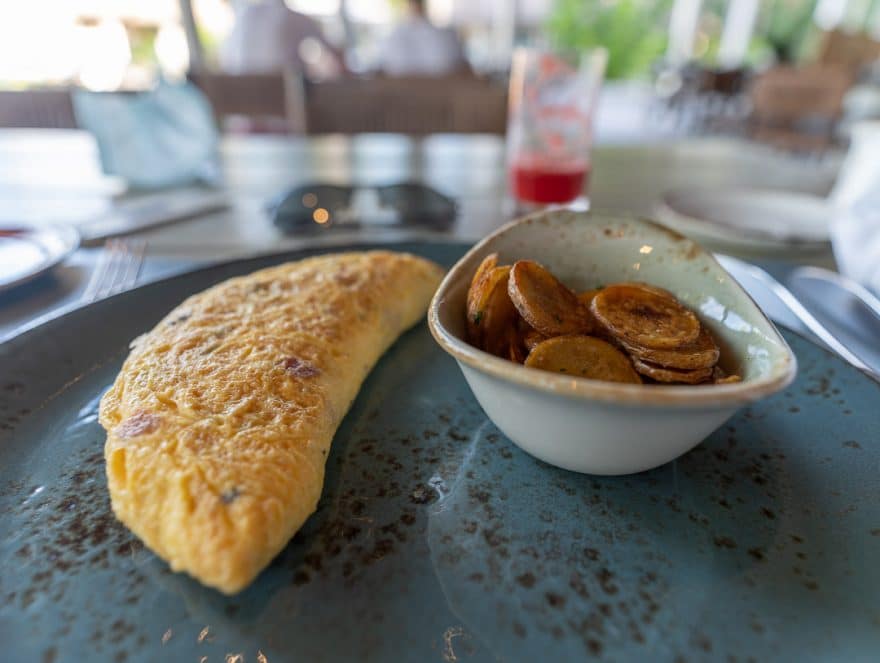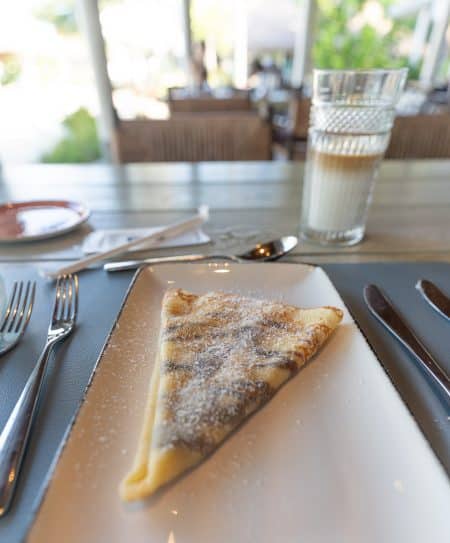 Afternoon Tea (3pm-5pm)
Although the Conrad Maldives used to offer complimentary afternoon tea, it was limited to Hilton Gold and Diamond guests, only lasted 1 hour and was pretty miserable in terms of the food on offer.
By contrast, the InterContinental offering is remarkably generous. Every person at the hotel is entitled to afternoon tea, lasting for 2 hours. This includes custom barista made coffees, since these are complimentary all day anyway.
Afternoon tea used to be offered at the adults only Retreat but is now only available at The Collective: a restaurant/lounge spanning several indoor and outdoor areas, immediately adjacent to Café Umi and the main pool.
Service here was excellent again, with staff enquiring if we had any allergies or specific preferences before delivering large trays of sweet and savoury treats to our table.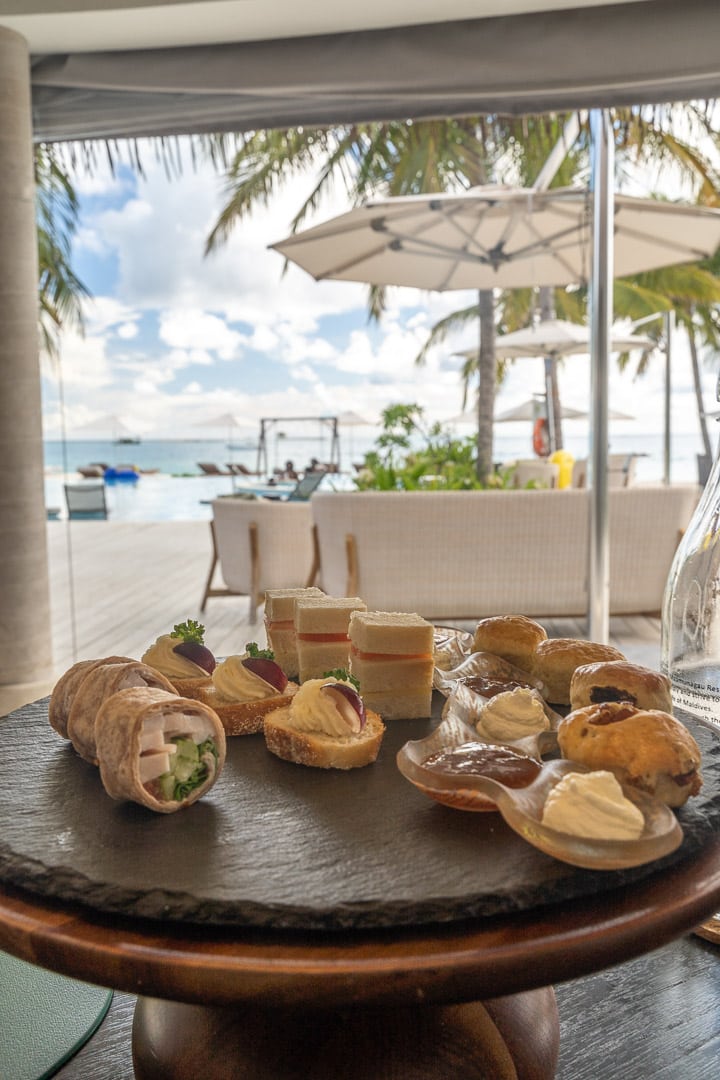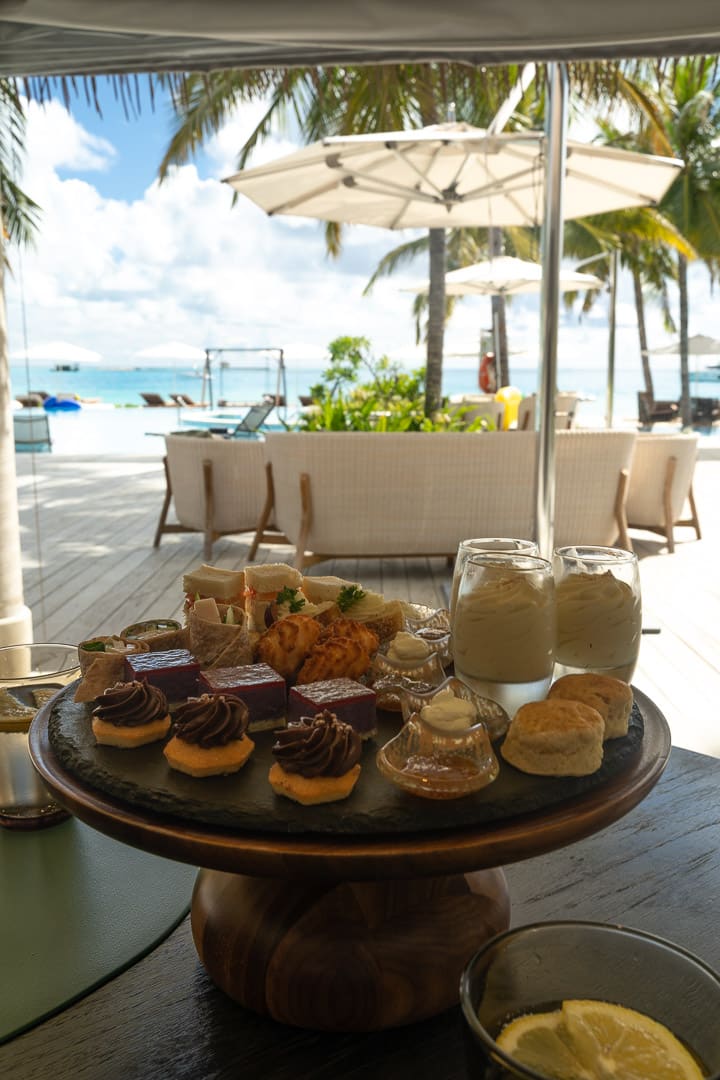 Staff were great at enquiring about refills of both food and drink, too. We were almost overwhelmed by their generous hospitality, as they kept insisting that we should have just a couple more sandwiches.
Dinner at Café Umi
On our first evening, we went to Café Umi for dinner, since the other restaurants were fully booked. Having to pre-book meals at a luxury resort is far from ideal, but this seems to be a problem at numerous hotels in the Maldives.
Unfortunately, despite being the fallback option, even Café Umi was overwhelmed – with not a single table available when we went to dinner at 7:30pm. So we spent 20 minutes waiting at the pool bar, in the drizzle.
Once we were seated, service was very prompt and friendly. We were presented with a basket of bread whilst waiting for our orders to be delivered.
The hotel doesn't insist on guests ordering overpriced mineral water with meals, and most guests were drinking the same filtered water that was available in the rooms.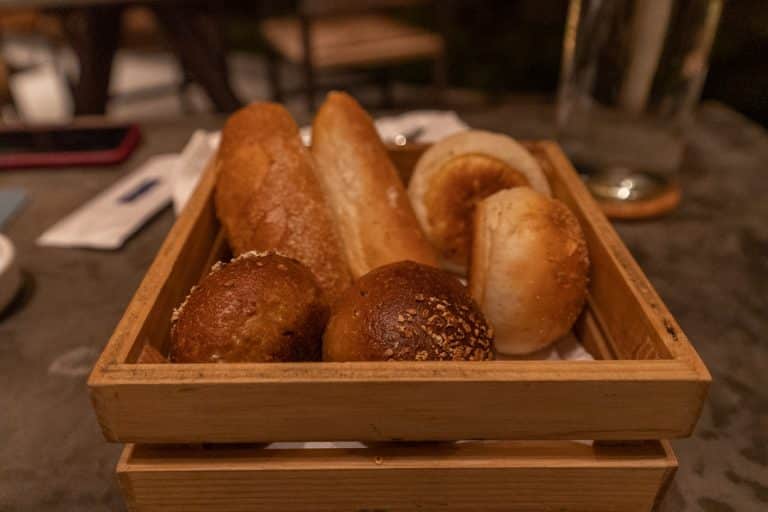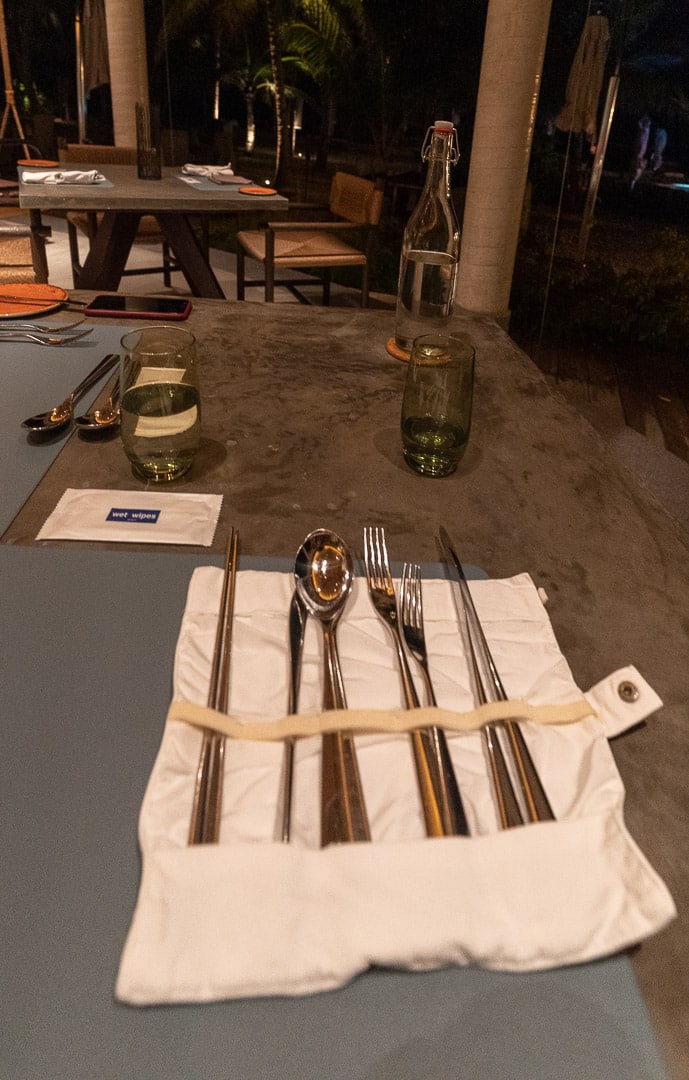 Pricing and portion sizes meant that food was significantly better value here than at the Conrad or Waldorf, too.
Our starters were decidedly average, with salt and pepper calamari ($24++) that left behind entire rings of batter, and a crispy tuna roll ($24++) that resembled mastic in texture.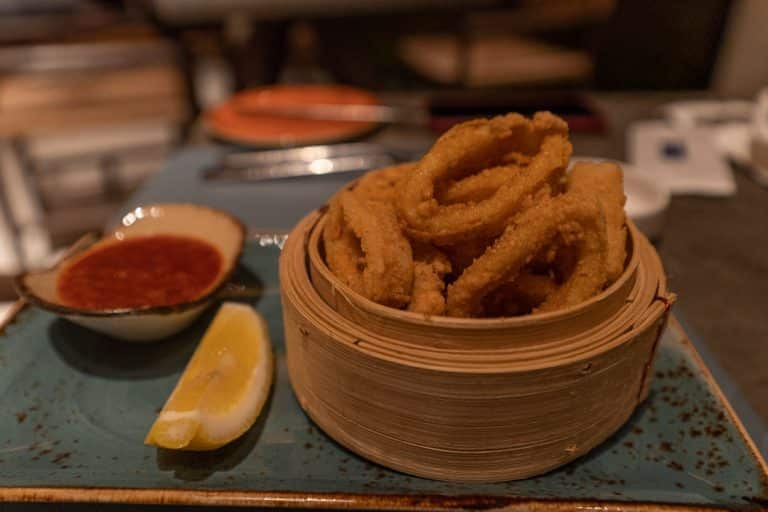 The main courses were excellent though. Kamara went for the local reef fish ($34++), which was so generously proportioned that she needed assistance to finish it. I ordered a Maldivian tuna curry ($36++) that was superbly spicy, served with steamed rice and fantastically fresh rotis.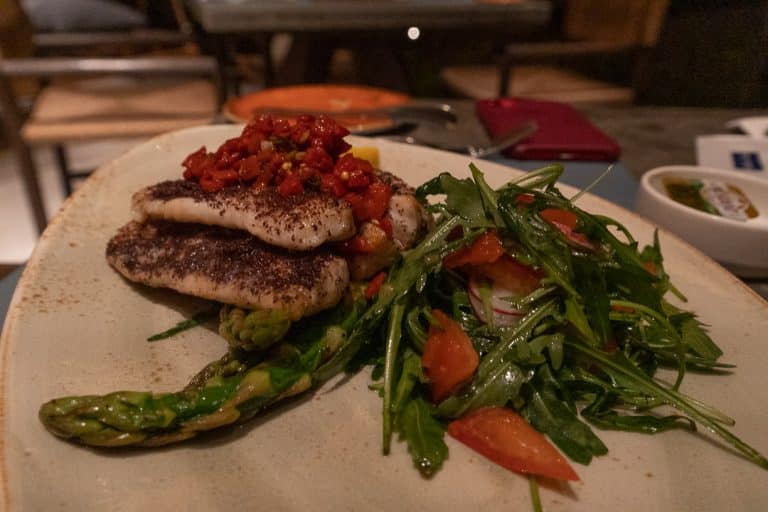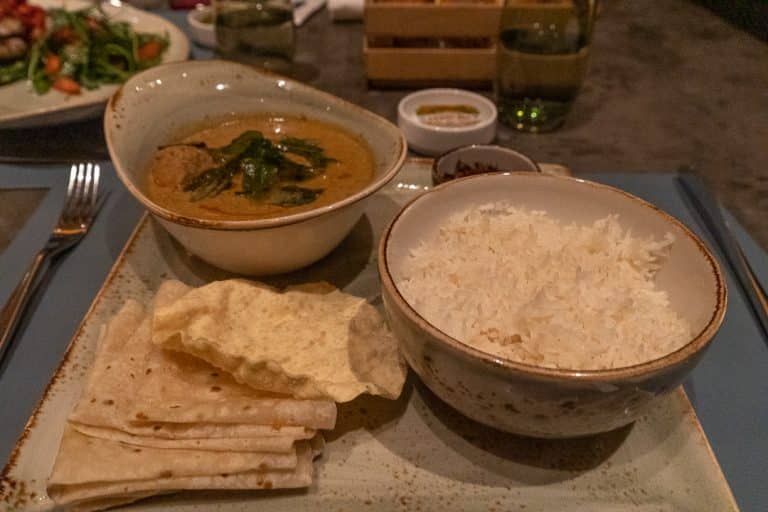 Room Service Dinner
One evening was so stormy that I doubt anybody visited any of the restaurants. Waves were crashing into our pool from the ocean, and all we wanted to do was spend a cosy night indoors. The Room Service menu was identical to Café Umi. The curries ($36++ each) were fresh, delicious, plentiful and delivered in around 45 minutes.
Dinner at Fish Market
Fish Market is a waterfront restaurant, which specialises in East Asian seafood. On a clear night, you can sit atop the deck of the boat-like structure and enjoy a view of the aquatic life beneath.
Once again, it was raining when we visited so we were all huddled together in the main building on the right. Service was absolutely fantastic. Very friendly and proactive. The staff seemed to be genuinely having fun interacting with customers and despite the drizzly weather, the atmosphere was great.
Instead of a normal bread basket, we were offered a bamboo steamer of bao, served with two different dipping sauces.
For starters, we ordered a superb tuna tartare ($29++) with lemon dressing and Muc nuong ($26++) – spicy fried squid with dry shrimp and lemon grass.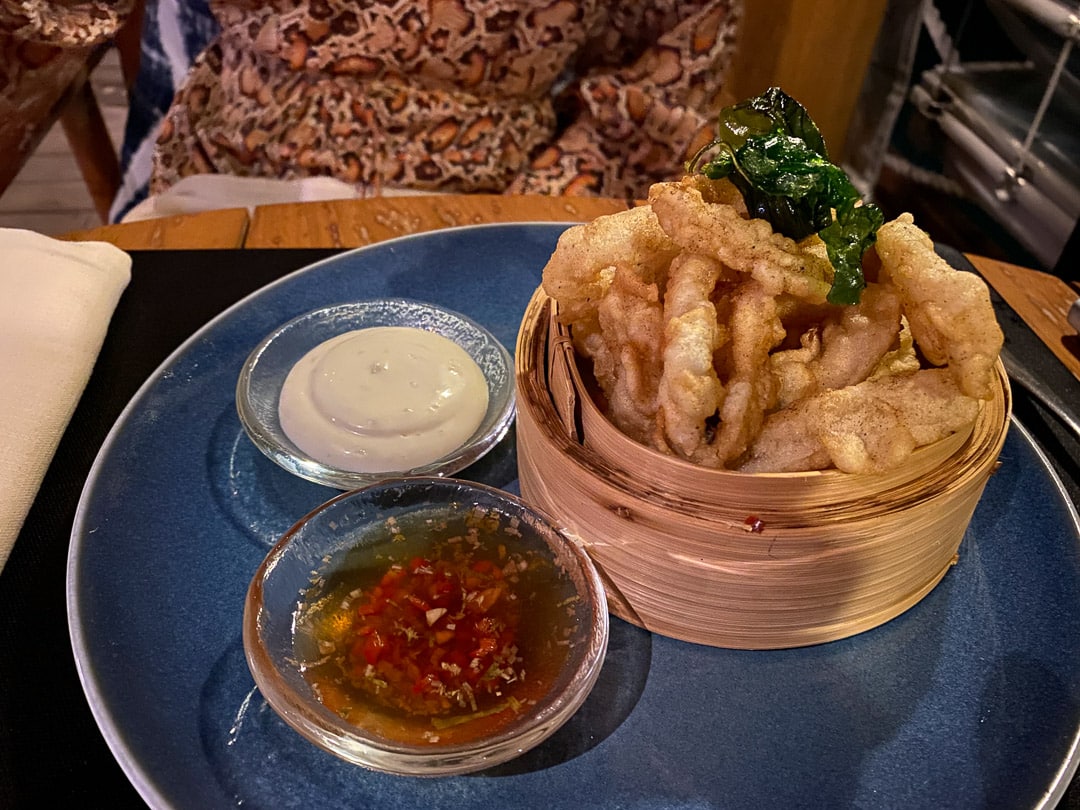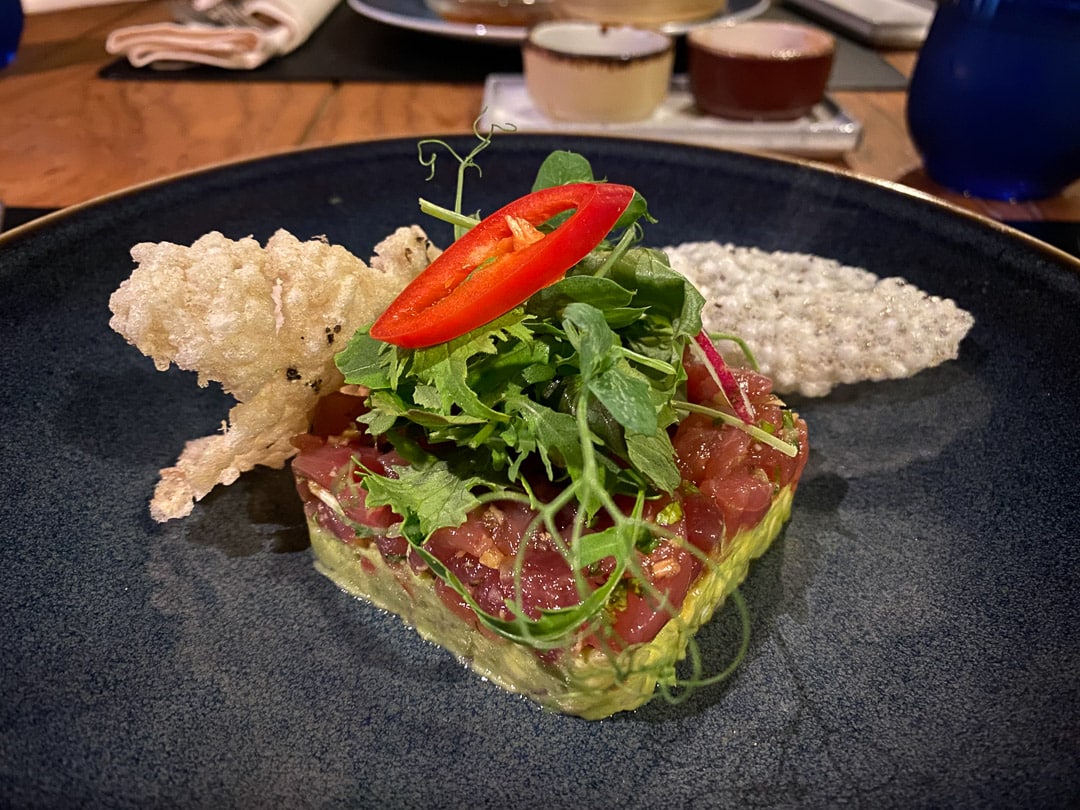 For mains, we ordered Salt and Pepper Prawns ($36++) and Spicy Grouper Fish ($36++). Both dishes were complex and balanced, achieving a great deal of crunchiness on the protein, without being oily in the slightest. All mains include freshly steamed rice and cucumber salad (something other resorts in the Maldives would be happy to charge you another $40 for).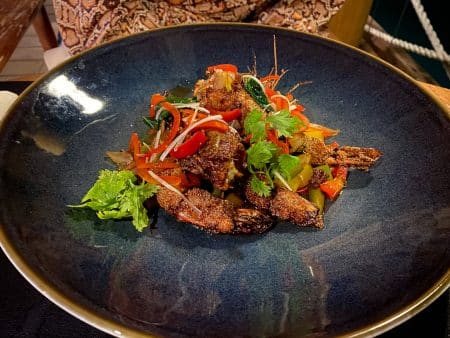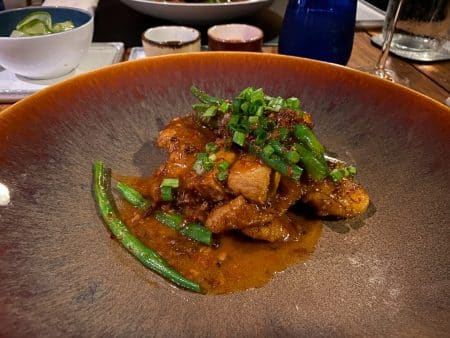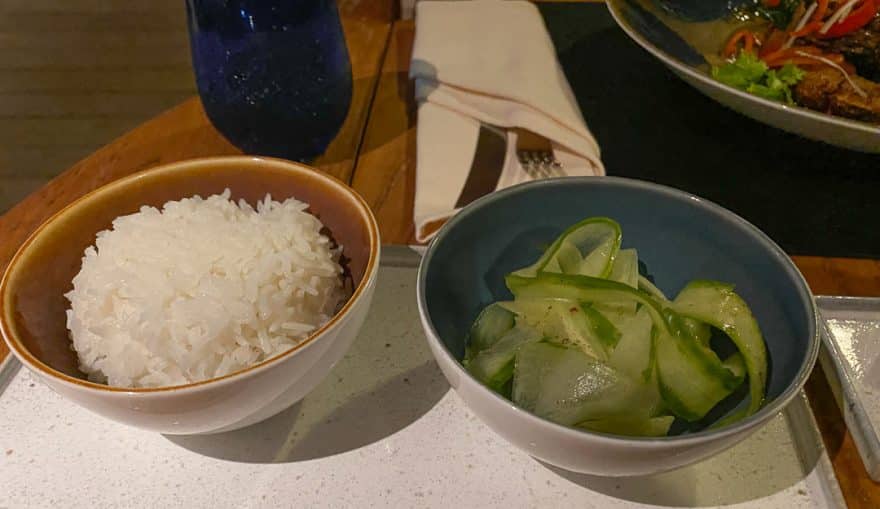 Dinner at the Lighthouse
The lighthouse is both a fine dining restaurant and the InterContinental Maldives' attempt to distinguish itself from the dizzying array of luxury resorts in the country. I wouldn't exactly call the structure elegant or authentic, but it is certainly memorable!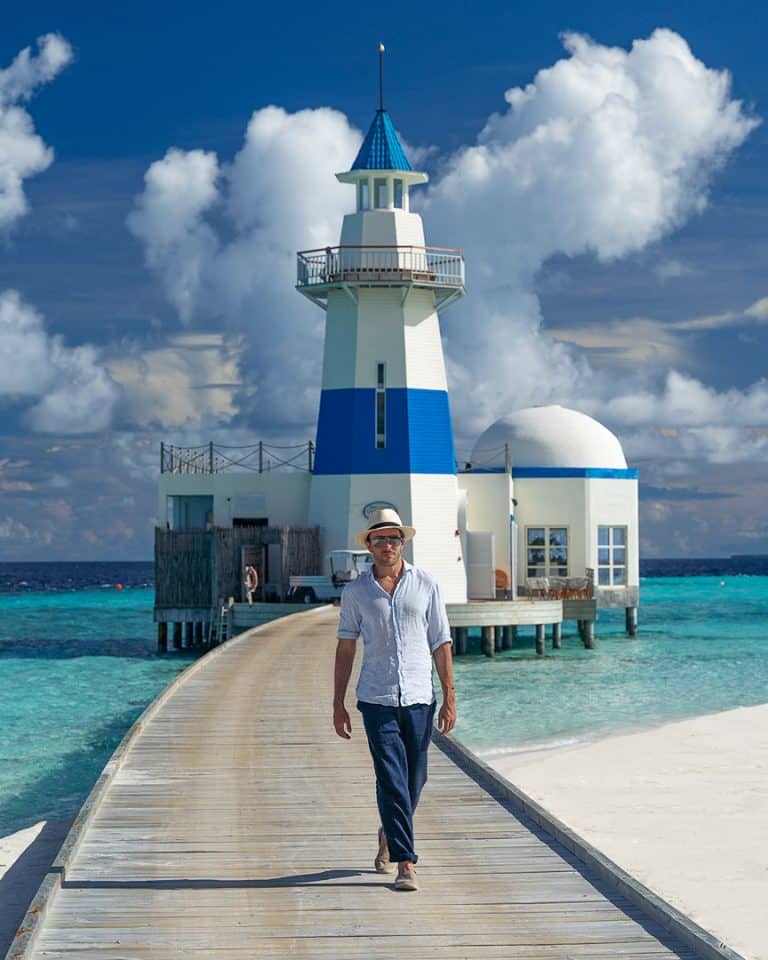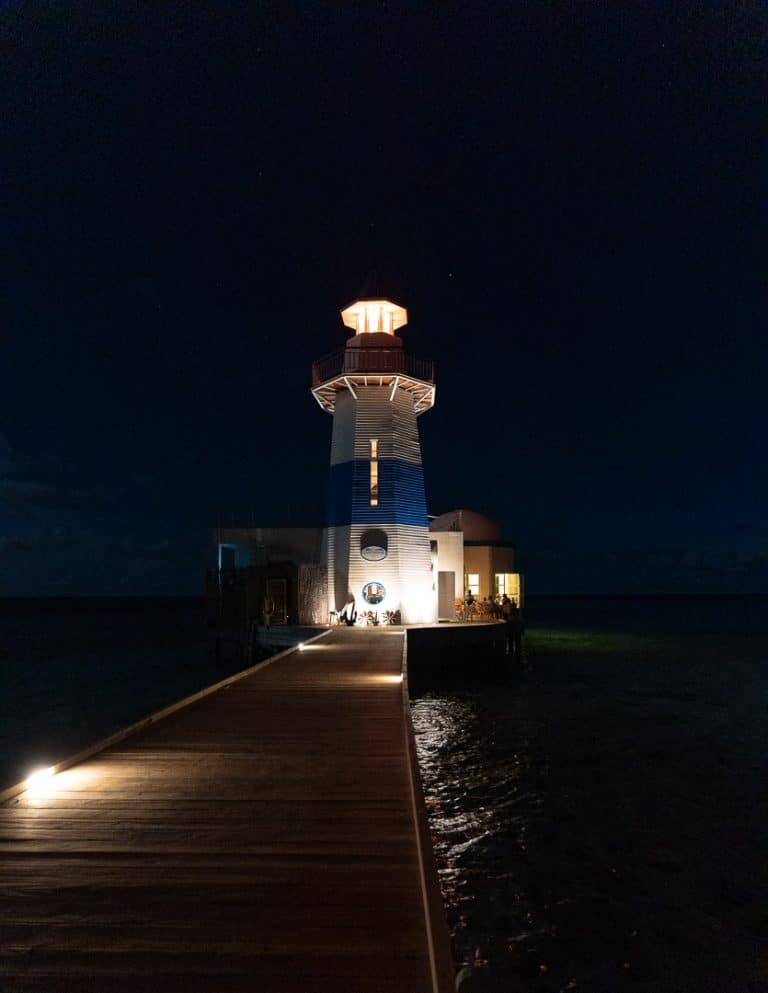 Luckily for us, we dined here on the only evening with perfect weather; a clear, starry sky and a gentle ocean breeze.
Service was once again excellent, with staff taking time to explain every minute detail of every dish, as you'd expect from a true fine dining experience.
Given the setting, the prices were remarkably fair, with starters ranging from $20++ to $24++ and most main courses around the $40++ mark. Of course this is the Maldives, so Oscietra caviar and Wagyu steaks were also available for many multiples of these prices.
The meal began with a basket of freshly baked breads and a gazpacho-like amuse bouche, compliments of the chef.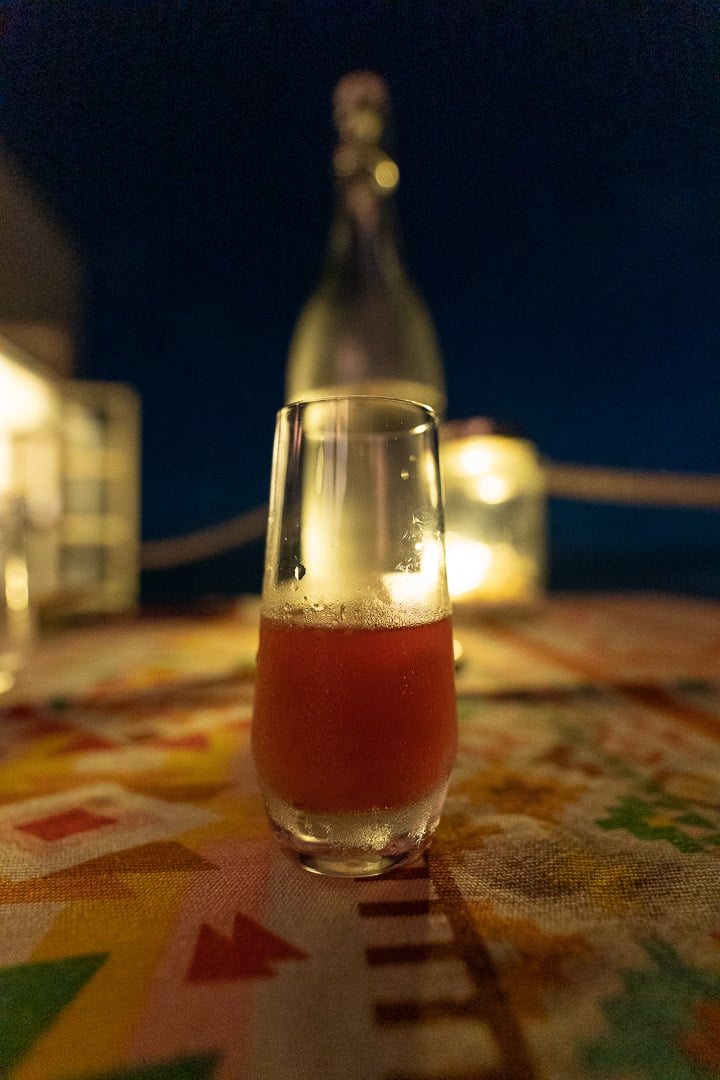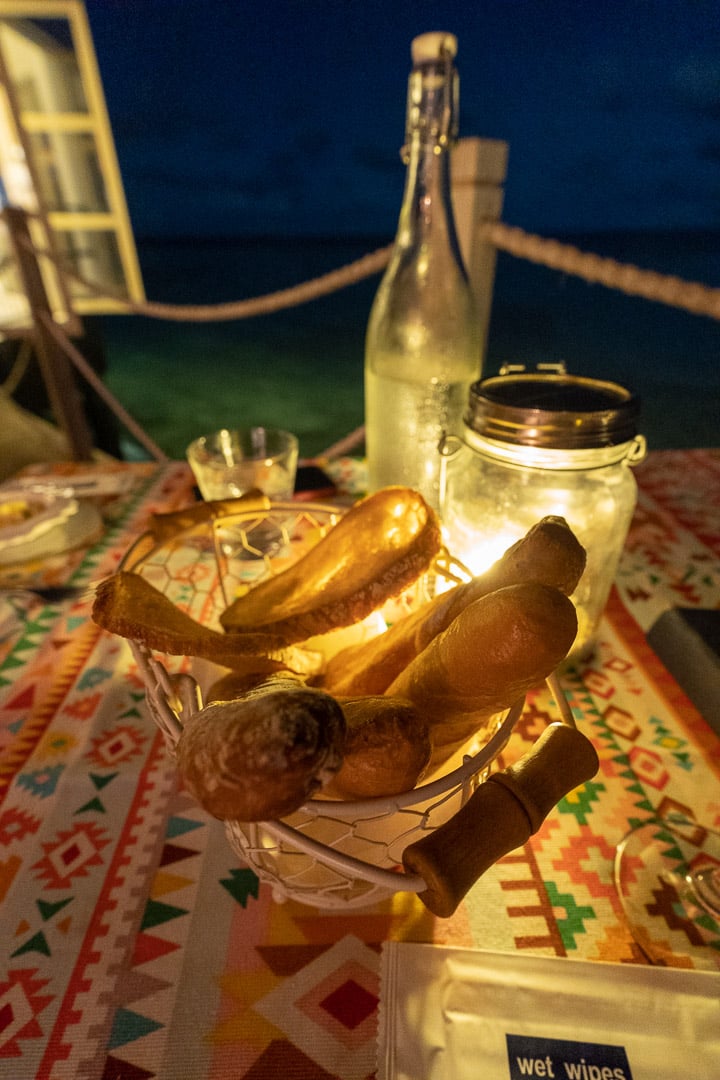 The plating and flavours of our starters were truly spectacular. If there was a restaurant in London serving these dishes, I'd be a regular!
I had the avocado cannelloni with salmon, roasted tomato and passion fruit caviar ($30++). Kamara went for the house cured ocean trout with lemon gel, squid ink, sour cream and Arabica coffee sauce ($34++). The latter dish, in particular, presented a bold combination of flavours that demonstrated an adventurous flair from the kitchen.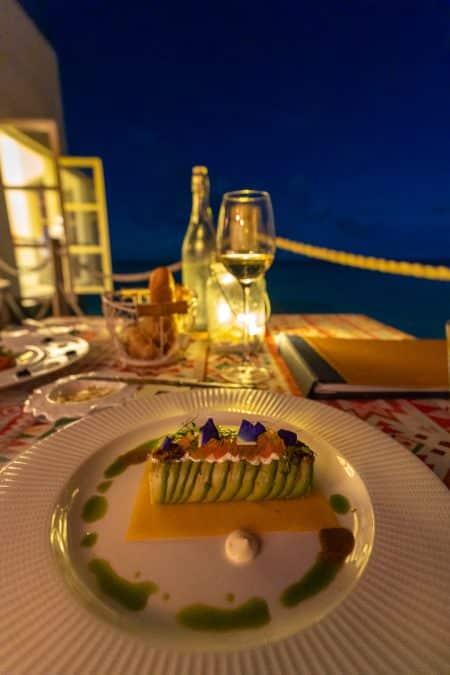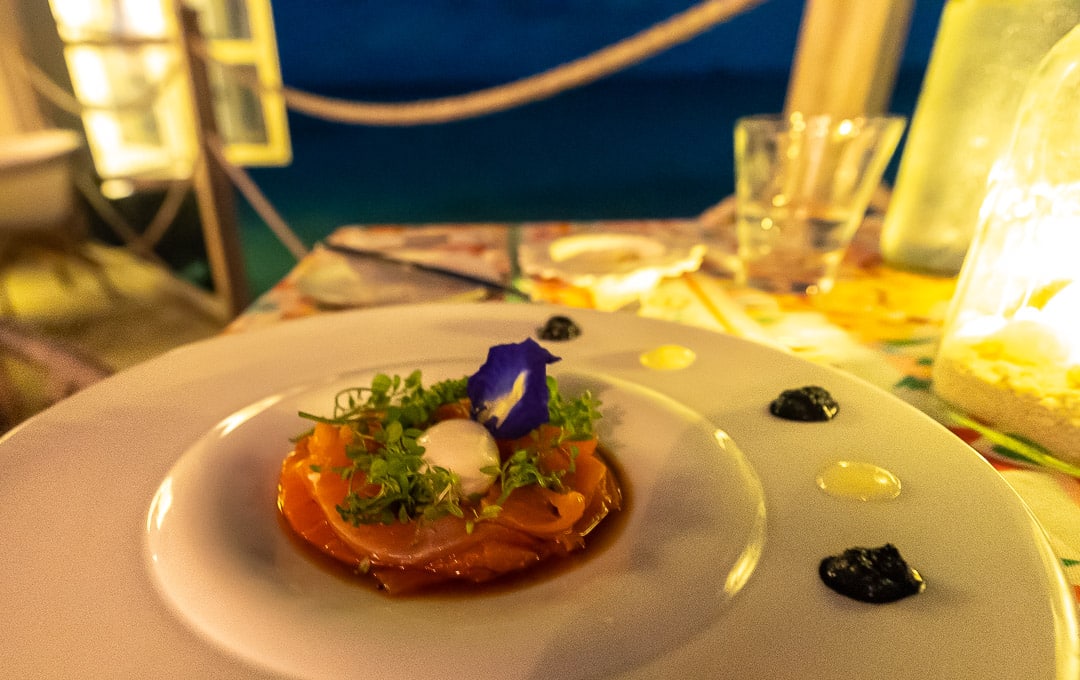 The main courses were equally beautiful, in terms of both presentation and the execution of flavours. Kamara's scallop dish ($38++) had the appearance of a fantastical coral garden, with vegetables cooked to perfection, standing upright amongst an abundance of enormous and wonderfully cooked scallops.
My roasted local fish ($36++) was perfectly cooked and plated with real panache, albeit not to the degree of the scallops.
The InterContinental doesn't make the Wine Lists publicly available on the website, but here's the In-Villa Dining Wine List, which was used universally throughout the resort.
Wines were the usually Maldives prices of around $20++ by the glass, but the quality level was higher than in a lot of resorts. Cloudy Bay was the entry level white, for example.
---
Atmosphere
---
It would be a dereliction of my duties as a reviewer if I didn't caution my readers about the overall aesthetic of this property.
There are no two ways about it, the materials and design here feel very cheap. This is especially true when you consider that rooms retail for $1,300 a night, and the transfer from the airport costs even more than this for a couple.
Where other resorts make an attempt to camouflage staff quarters, the InterContinental has this bleak monstrosity in full view – complete with chain link fences and security cameras:
The lagoon is also very small and completely artificial feeling, not a patch on the stunning streaks of neon blue, hundreds of metres across, that you'll see at Anantara Veli or the Conrad Rangali. This isn't helped by the rows of densely packed duplex villas, little beige boxes that wouldn't look out of place in Benidorm.
Even when illuminated by the colours of a Maldivian sunrise, it's hard to shift the impression that this is less of a lagoon and more of a puddle.
For a brand new resort, there is also considerable wear and tear in public spaces, with construction workers a permanent presence and chunks missing from numerous piers.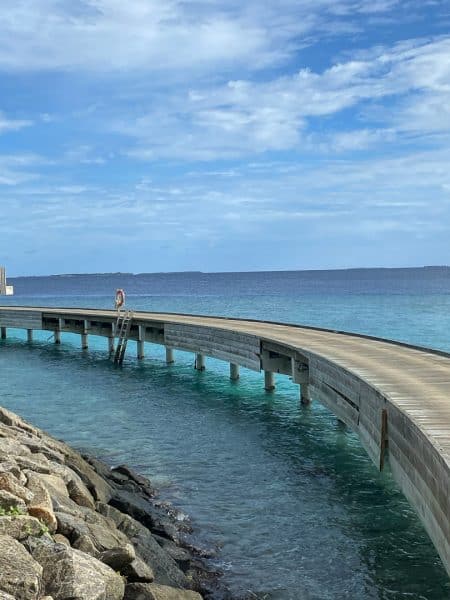 Somehow, I couldn't help feeling like this was originally planned as a Holiday Inn and that at the last minute the licensing deal with Intercontinental came through. Beige concrete is the predominant building material at this resort.
The main pool in particular feels like it belongs in a 4* family resort in Florida. Not a patch on somewhere like LTI Maafushivaru.
I mean honestly, which of the below would you prefer?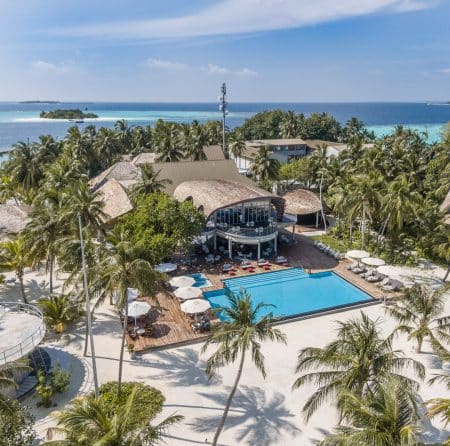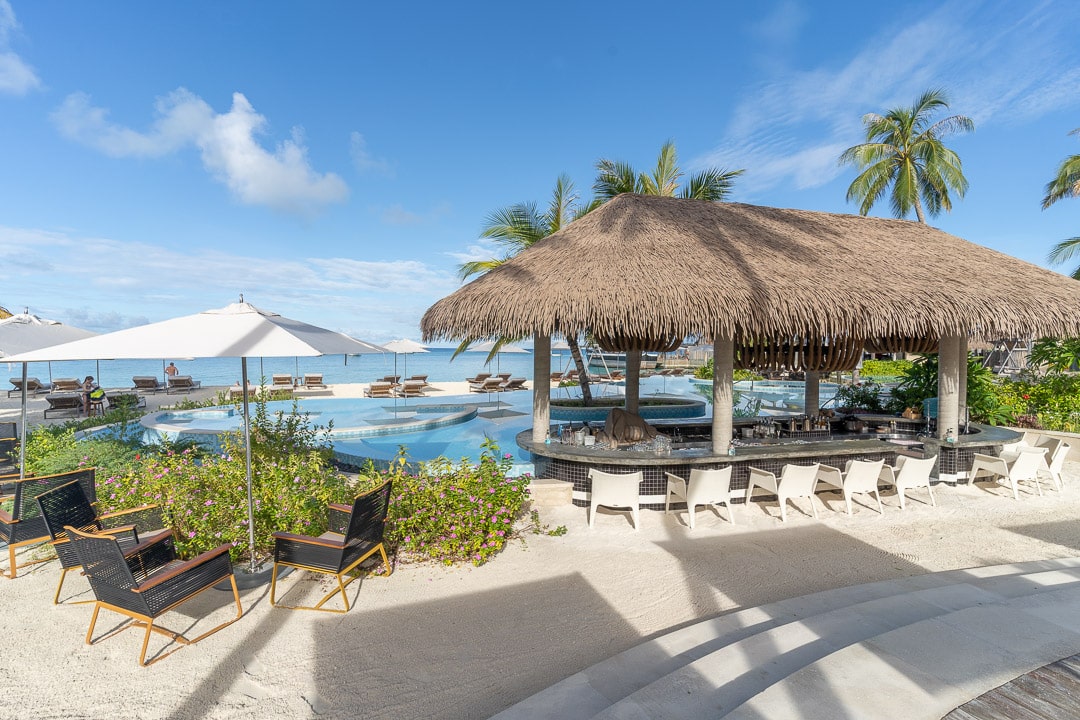 ---
Service
---
Despite the property's uphill struggle against subpar hardware and design, one area in which the InterContinental truly excelled was the service.
The training standards here are genuinely a cut above. Staff were universally engaging, articulate and customer focused.
Our island host Shijin was amazing, it felt like her talents were wasted as she could easily be running a small country by now, given her unwavering (and ever smiling) work ethic.
The resort handled the concept of hosts better than any other that I've encountered in the Maldives. Guests were all given a central Whatsapp point of contact, and requests were triaged here. Housekeeping and restaurant bookings could be handled easily by a central team, so hosts could focus on ensuring that they met face to face with their guests at key points of the day.
We've had experiences at other resorts where we've had to wait 20 minutes for a buggy, purely because our host was busy driving other guests. At the InterContinental, we didn't always get Shijin as our buggy driver, but we did always get a buggy on time and Shijin at her best…which is a formula that I can get behind.
---
Conclusion
---
Basics Checklist
☑︎ Power sockets near the bed
1/2 Easy to understand light switches
No master off switch in the bedroom.
☑︎ Coffee machine
☑︎ Separate shower and bath
☑︎ Blackout blinds
x Stable, fast and free Wifi
☑︎ Feather pillows
☑︎ Quiet and powerful aircon
The InterContinental Maldives is a bit of an odd resort. It does a lot of things quite differently to other properties in the Maldives.
When it comes to the spacing of villas, the generosity of the Club benefits and the service, this is a very good thing indeed.
Similarly, restaurant prices are certainly not cheap, but by Maldivian standards, they are very reasonable.
However, this is offset by a tacky feel, which commences before you even set foot in the resort. The prepaying of transfers, the beige buildings, the 80s style pool, the use of 'packet' juices instead of freshly squeezed, the neon yellow walls in the villa…not to mention the design of the Lighthouse.
This is not an elegant resort at all. Which is a shame, as the service is on a level that many of the InterContinental's competitors could sincerely learn from.
If you're using the trick below to book for $600 a night, then the value is undeniable. If you're parting with cash, then you'd be crazy to consider this over somewhere like the Park Hyatt or Amilla Fushi.
---
Book for $600 per night using IHG points
---
---
Booking Enquiries
---
Looking to stay at multiple properties? Maybe you still have more questions about picking the perfect resort for your needs and budget?
If so, please fill out our quick & easy Maldives form and we'll match you up with your perfect property.
---
More Maldives Reviews
---
We are a luxury travel agency specialising in the Maldives, with plenty of first hand experience!
Here is a selection of our most recent Maldives hotel reviews: