FANTASTIC DEAL: Mandarin Oriental 3rd Night Free offer
August 18, 2021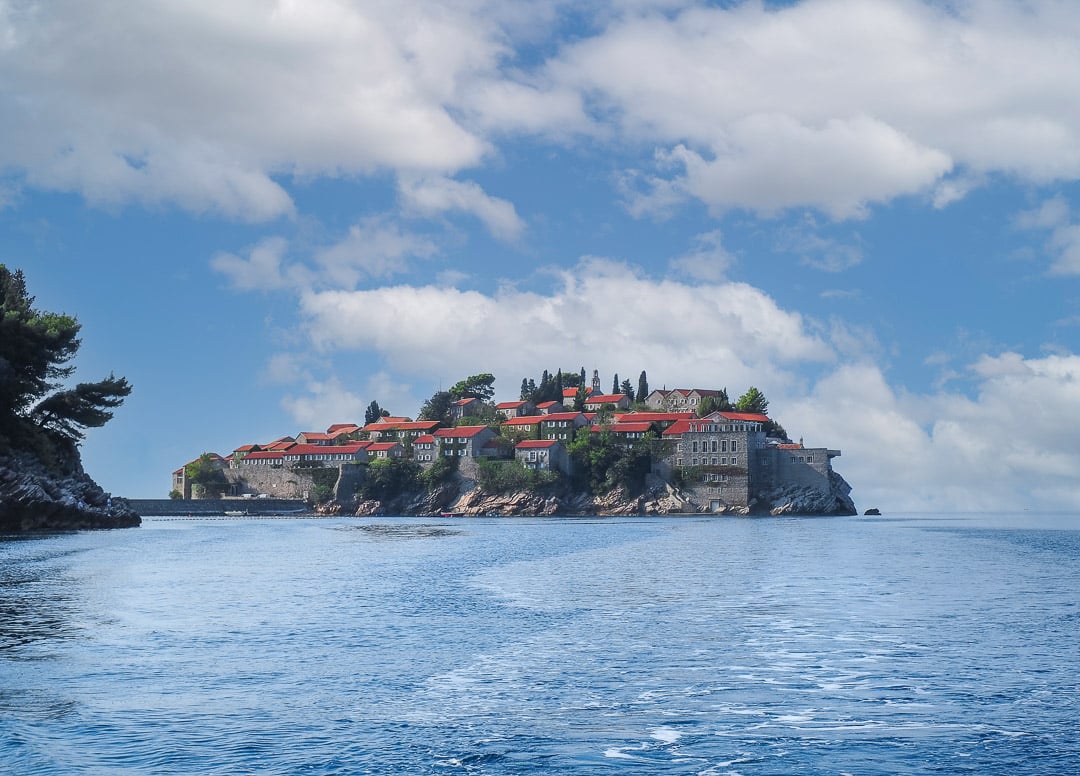 REVIEW – Aman Sveti Stefan (Montenegro)
September 17, 2021
Matetsi
Location: Victoria Falls, Zimbabwe
Rate: Complimentary Press Stay
Room Type: Luxury Suite
---
Intro
---
Zimbabwe is not at the top of many people's lists when considering luxury holiday destinations.
Indeed, it is a country whose name is synonymous with Robert Mugabe, the despotic tyrant that ruled here for decades, an ever present reminder of the adage: "only the good die young".
However, scratch beneath the surface and there are a number of very highly regarded safari lodges, responsible for not only employing large numbers of local workers, but also for protecting wildlife which would otherwise be ravaged by poachers.
One such lodge is Matetsi, located less than an hour away from Victoria Falls, the largest body of falling water on earth and a sight to behold, in and of itself.
The lodge is a member of Virtuoso, which brings with it the reassurance that the service and hardware will be of the highest international standards.
---
Booking
---
We were invited to visit as guests of Matetsi.
Since this is a Virtuoso property, I am able to book my readers on to exclusive rates, with numerous inclusions beyond what Matetsi ordinarily offers.
$180 USD credit, once during stay, applicable towards Spa Treatments and/or Owner's Collection Wines from the specialised wine cellar

Bookings in River House exclusive-use Private Villa will receive an additional $180 USD credit (for a total of $360 USD)

Early check-in/late check-out, subject to availability
Stay 4 nights pay for 3
Stay 7 nights pay for 5
Rates start from $2,400 per night and are inclusive of all meals, house alcoholic drinks, laundry, game drives and river activities.
EMAIL ME FOR BOOKING ENQUIRIES
---
Arrival
---
There are two airports at Victoria Falls, one on the Zambian side (Livingstone – LVI) and one on the Zimbabwean side (Victoria Falls – VFA).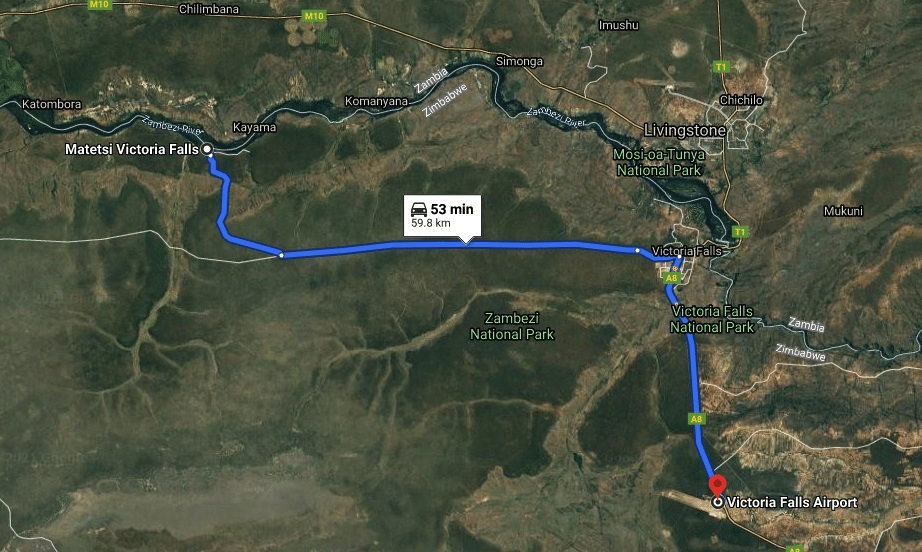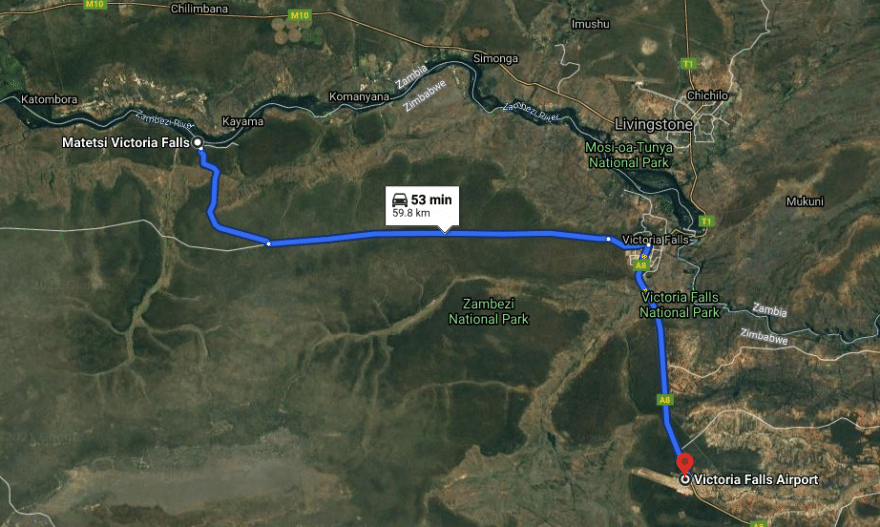 We flew into LVI in order to avoid a lengthy border crossing process (something which we would later experience when visiting the Anantara Royal Livingstone on the Zambian side of the falls). Having said this, the arrival into LVI wasn't without issues, since everybody had to fill out an entry form which wasn't provided prior to arrival.
This meant that a giant line of people were all in a race to find a pen, fill out a form and run to the front of the line once they were finished!
Despite the chaos, the airport terminal was very clean and modern, far better than many airports in European holiday destinations. Our luggage arrived within a couple of minutes and immediately upon exiting the building, we were greeted by a Matetsi representative.
Our bags were loaded into a Matetsi branded van, which was comfortable but not particularly luxurious. Similarly, we were offered chilled bottles of water but this was 'purified borehole water' rather than mineral water.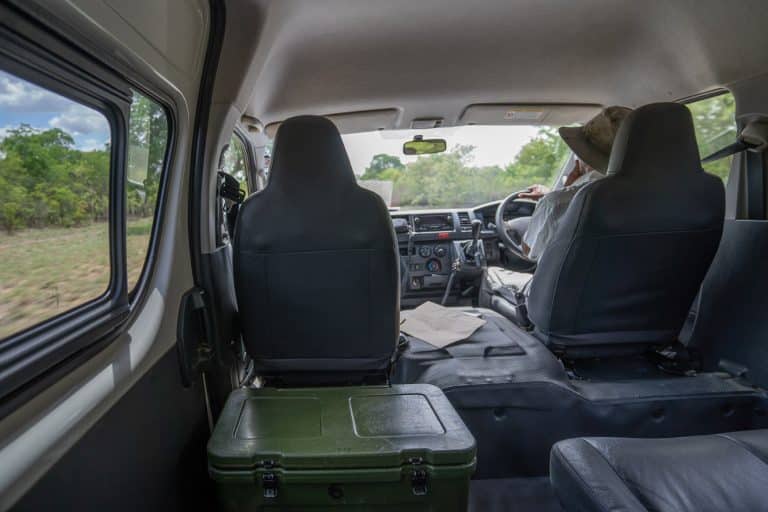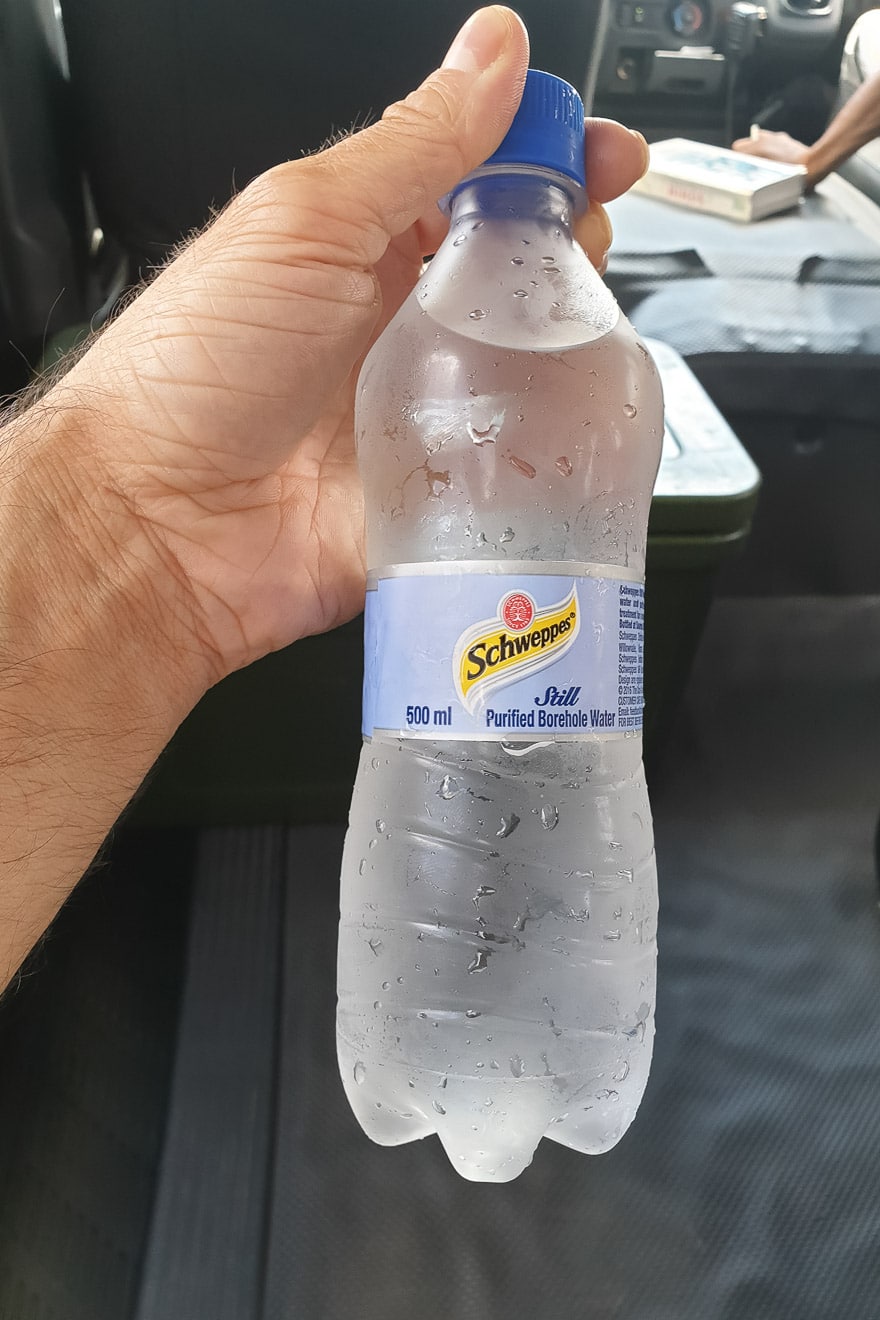 The drive took just under an hour along a paved highway. As soon as we turned onto the grounds of Matetsi itself, we spotted our first wild animals, an adorable family of warthogs!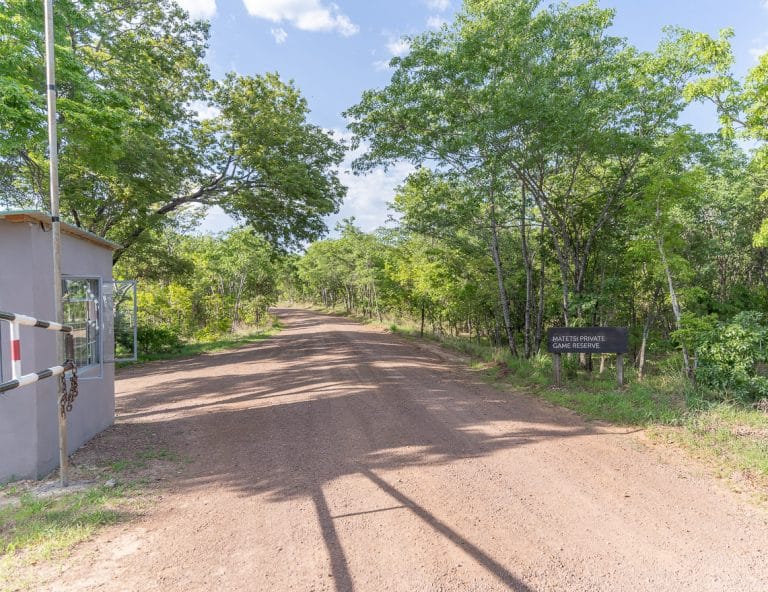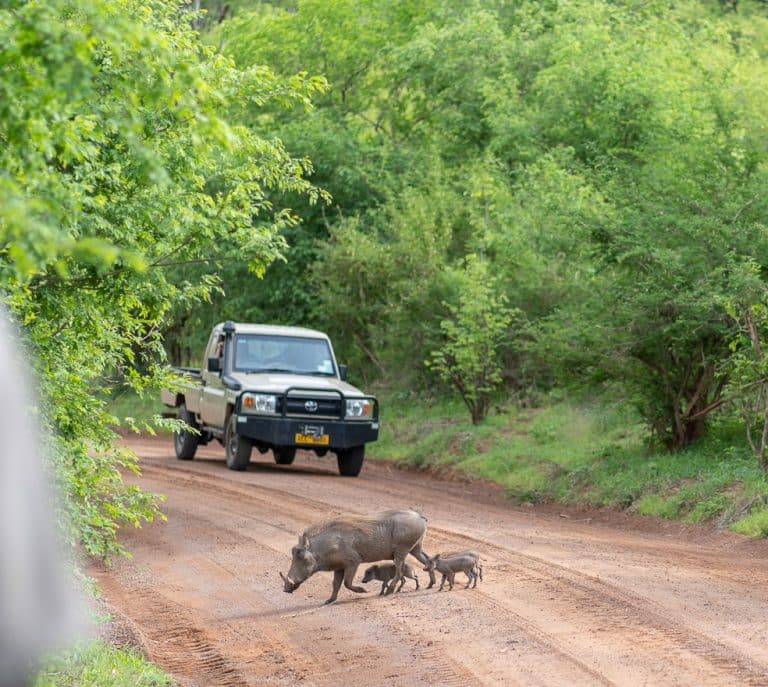 As we pulled up to the lodge, we were greeted by a cavalcade of smiling and waving staff, one of whom had some thick, ice cold, scented towels and some refreshing welcome drinks for us.
---
River House Private Villa
---
We spent the first two nights of our stay in the 4 bedroom River House with a group of friends, celebrating @FlyLikeLinz's birthday.
Linz was able to secure a great rate as a returning guest and we had a wonderful time enjoying the prime riverfront view and the various common areas.
This is not the standard room type, so if you're visiting as a couple, you may want to skip ahead to the section where we spent two nights in a standard River Lodge Suite.
The River House immediately opens out onto an amazing view of the Zambezi River, with the dining room sitting just above the living room.
At the back of the dining room is a fully stocked bar; we never needed to help ourselves though. Our personal Butlers, John and Timmy, were on hand to take care of us whenever we were in the River House.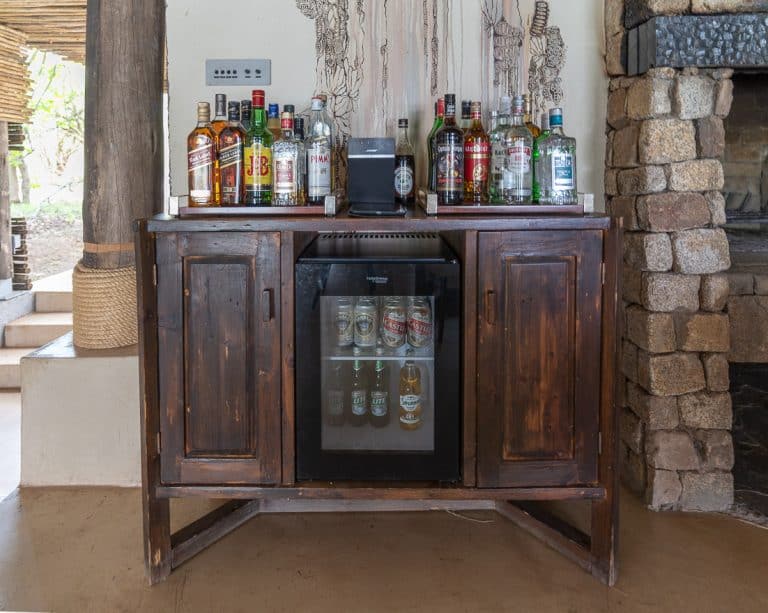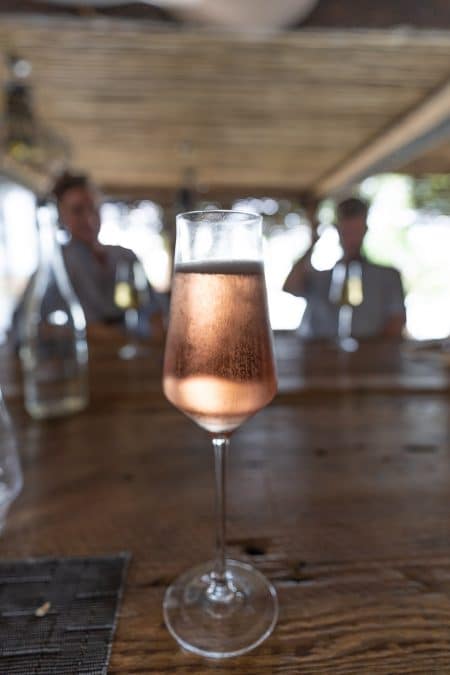 The Living room was the perfect spot for pre and post dinner drinks, with only the occasional crocodile interrupting the otherwise tranquil view of the water. (Rangers are posted outside of all the rooms at Matetsi and are ready to step in should any of the wildlife get a little too close for comfort!)
Outside, we had a decently sized plunge pool with daybeds and loungers, as well as a fully outdoor dining area, next to a large propane grill.
The River House has a total of four bedrooms, two on either side of the main living area. We were located on the outermost room on the left hand side, as you face the river.
When I first stepped into the room I was really wowed. Although the riverside setting is truly remarkable, the decor in the common areas of the River House isn't particularly modern or elegant. There's a certain 'rustic chic' to it and I was certain that the bedrooms would likely be the same.
I was wrong:
The combination of varnished wood, concrete, recessed lighting and drapes was fantastic. The elements all combined to make for a bedroom that felt very modern, whilst still retaining a definite sense of place.
The view, of course, was every bit as impressive as in the rest of the River House, with the glass corner allowing us to see quite some way down the river.
I also appreciated that the bedside tables and power sockets lay within the confines of the mosquito nets, so that we had access to whatever we might need during the night. The Bose speaker was a great touch, too.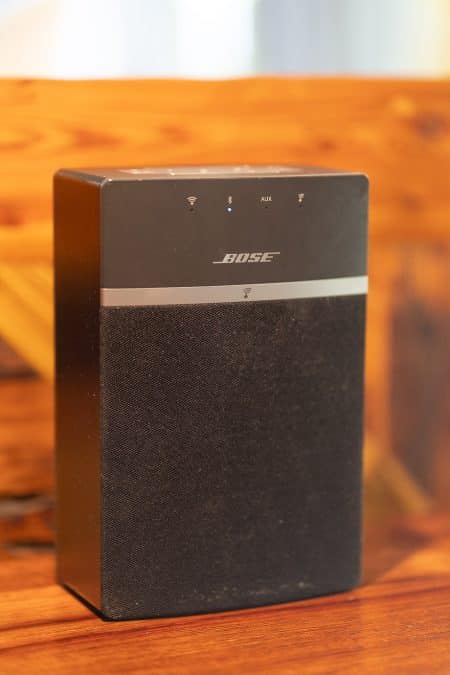 You never go hungry when you're on safari and the millionaire shortbread (as well as additional cookie jars) ensured that even a 2am hunger could be easily taken care of, without so much as leaving the bedroom.
We were also provided with tea and coffee facilities, as well as an ample supply of milk and both still and sparkling water.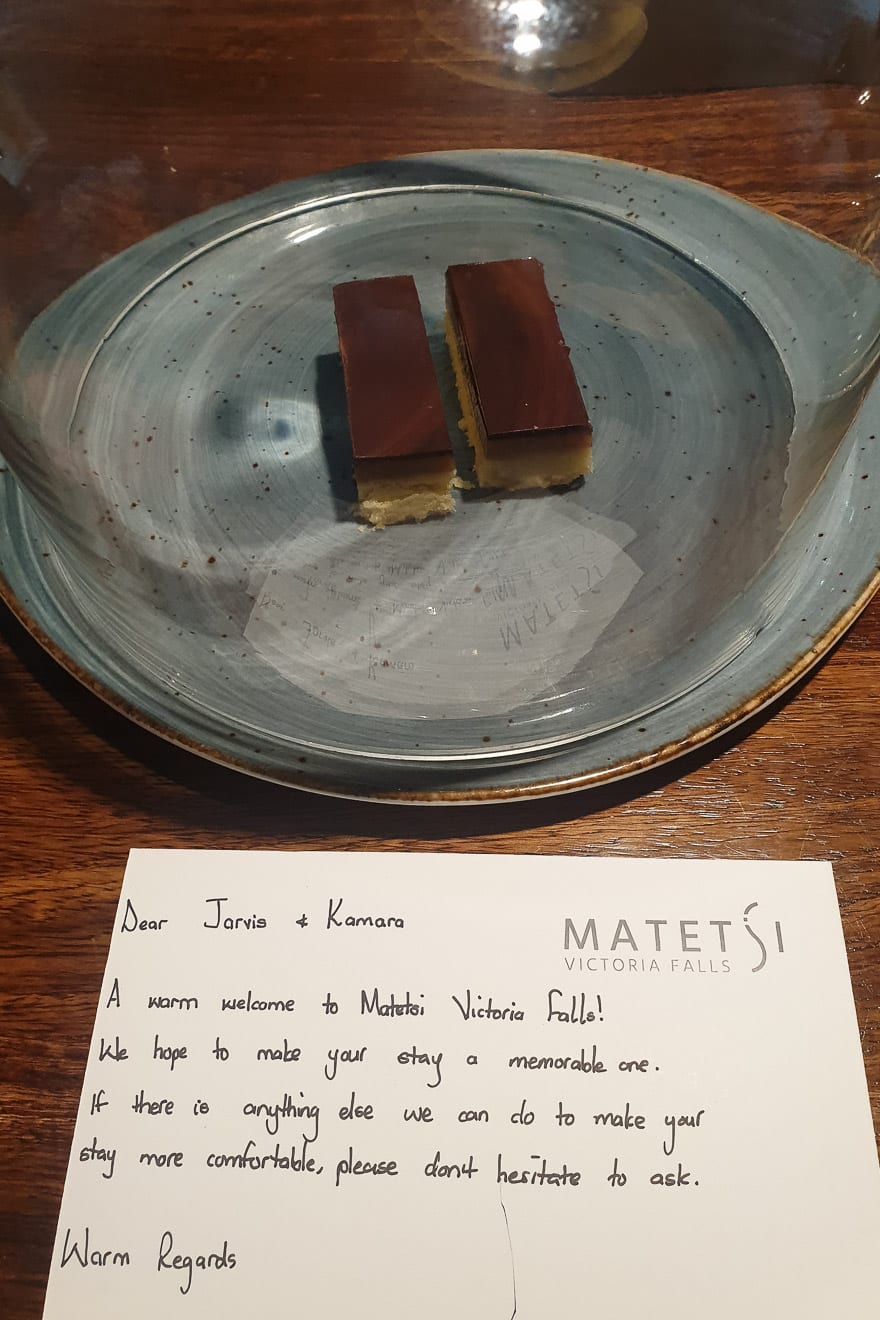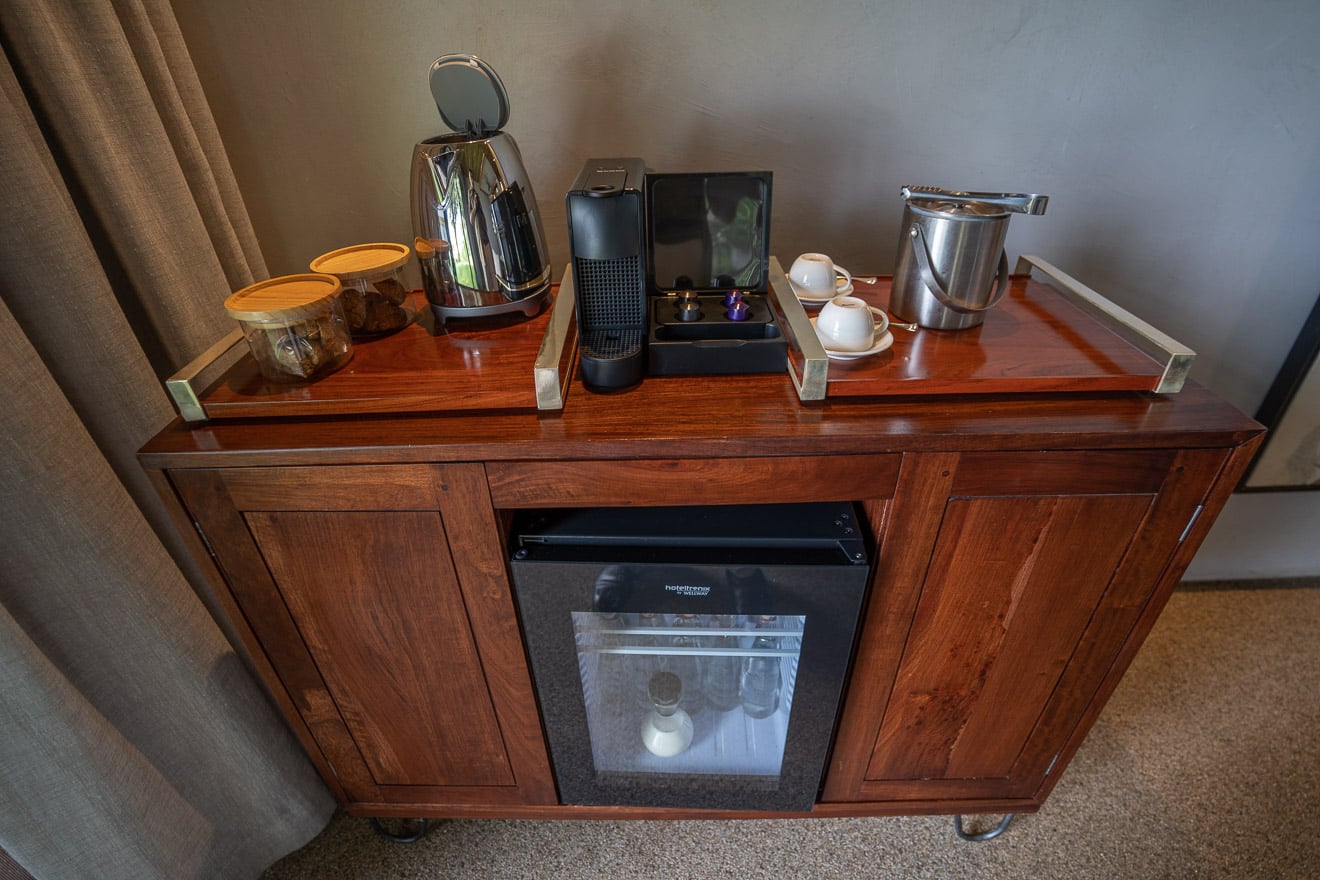 When you're on safari, stepping outside of your room can be an adventure as soon as darkness falls. So it was great to have all of this inside our own personal space, rather than needing to wander into the living room for a drink or snack.
Beautiful though the room was, it was quite compact – many times smaller than our private River Lodge Suite, which is the standard accommodation type experienced by most guests.
There's no question that you compromise a lot on personal space at the River House, for the sake of the common areas.
Having said that, it was nice to have our own little sitting area, directly in front of our bathroom and away from the rest of the house.
Speaking of the bathroom, this was a real showstopper. A dramatic chandelier hung above our freestanding tub, with drapes to mirror those of the bedroom. After an action packed day of safari, this was the perfect spot to unwind, with our padded slippers and plush dressing gowns.
Two beautiful stone sinks sat atop a counter filled with various locally made toiletries, as well as natural mosquito repellent.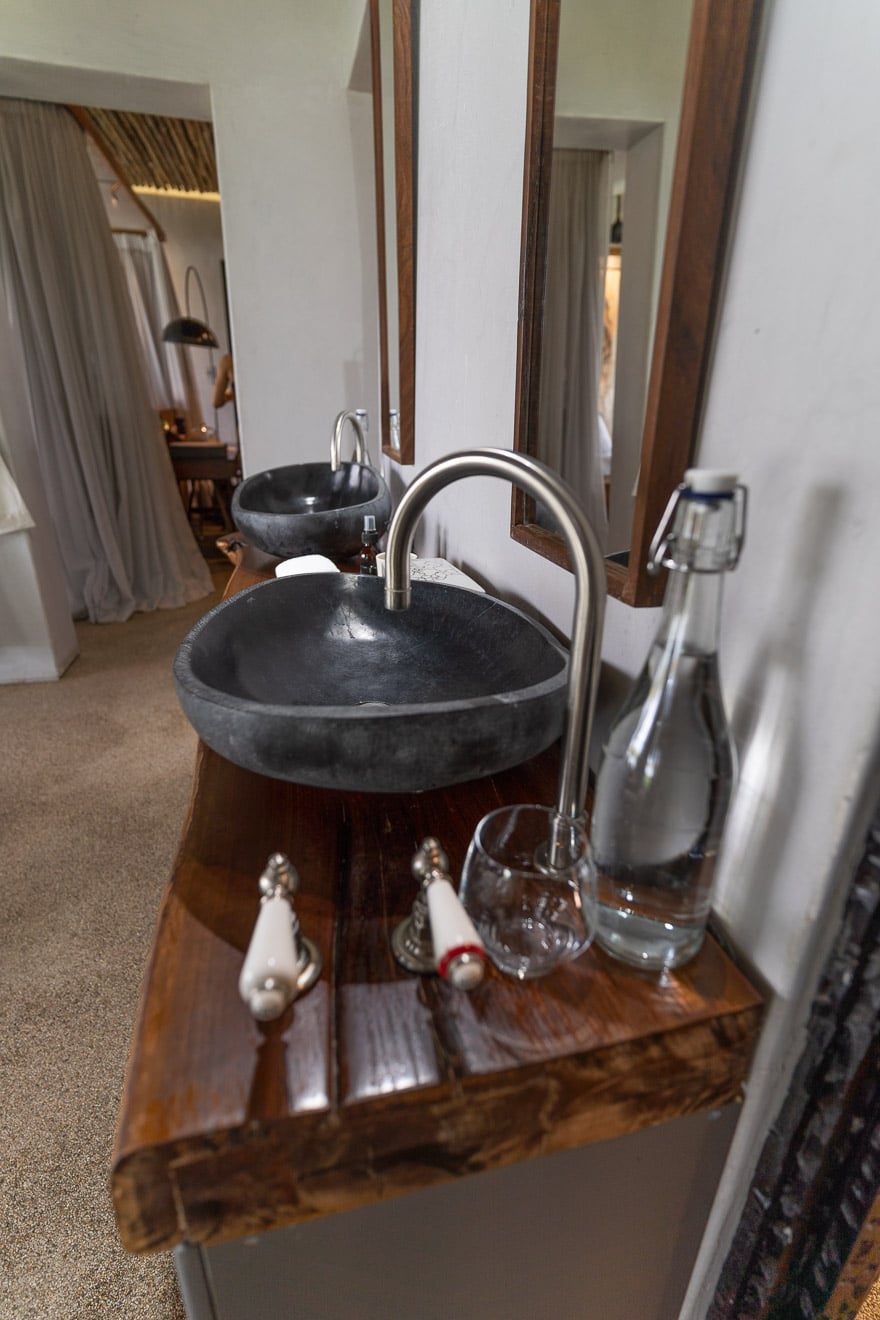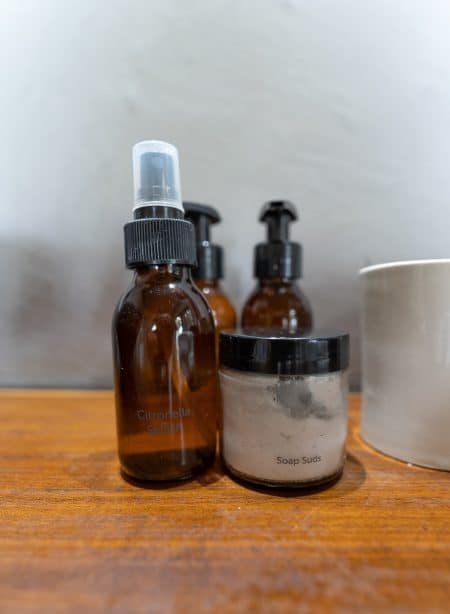 The huge shower was located in a side room, with a full length window providing plenty of natural light (and views of curious kudus!).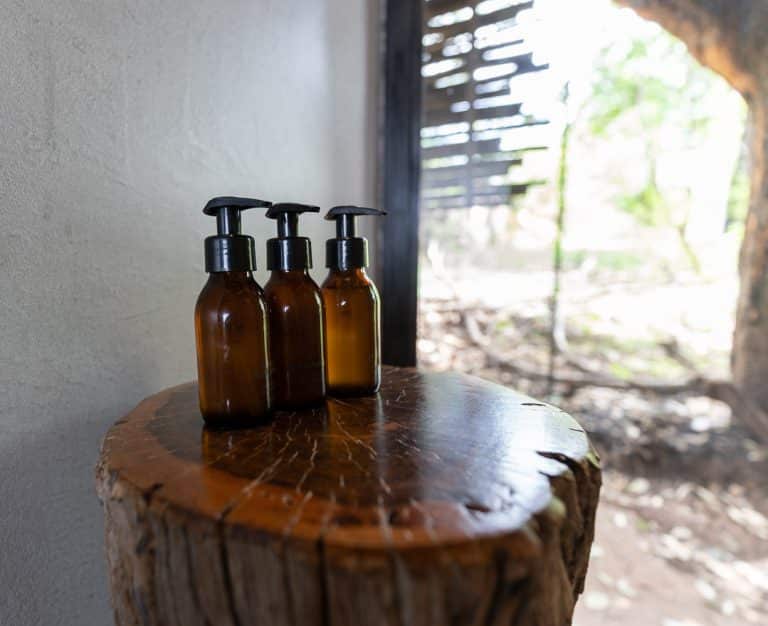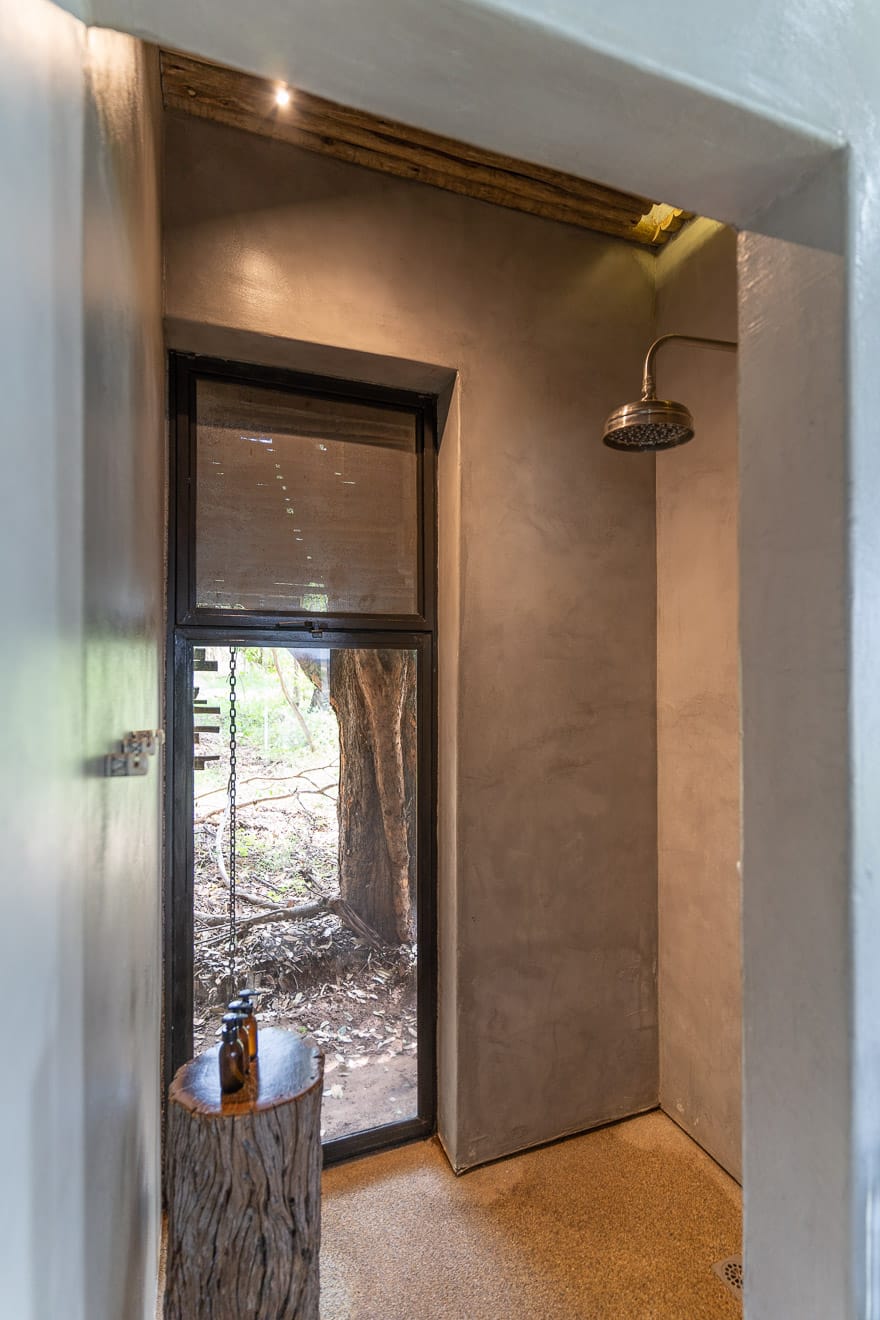 ---
River Lodge Suite
---
After two fun filled days in the River House, we bade farewell to our friends and moved into our own private River Lodge Suite.
The 17 River Lodge Suites are the standard accommodation type at Matetsi, with a further 2 River Lodge Family Suites also available.
The lodge is split roughly in half, with a Guest Recreational Area in the middle and two Guest Dining Areas, one in the East and one in the West.
Our River Lodge Suite was located in the West, a short walk to the Guest Dining Area.
Our suite looked fairly nondescript from afar; but as we approached the front door, the presence of a service hatch and a shoe shine box hinted at the fact that this was indeed luxury accommodation.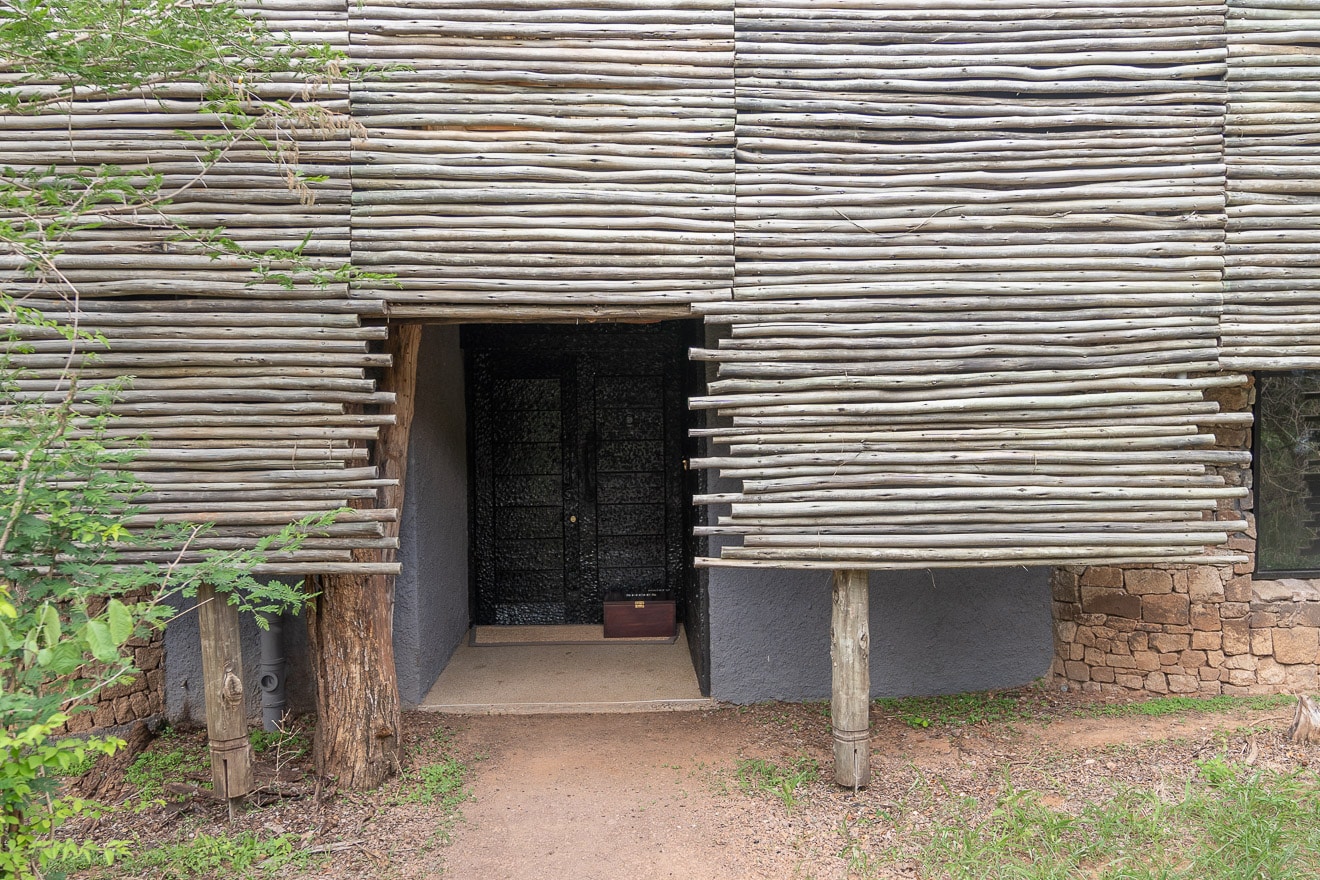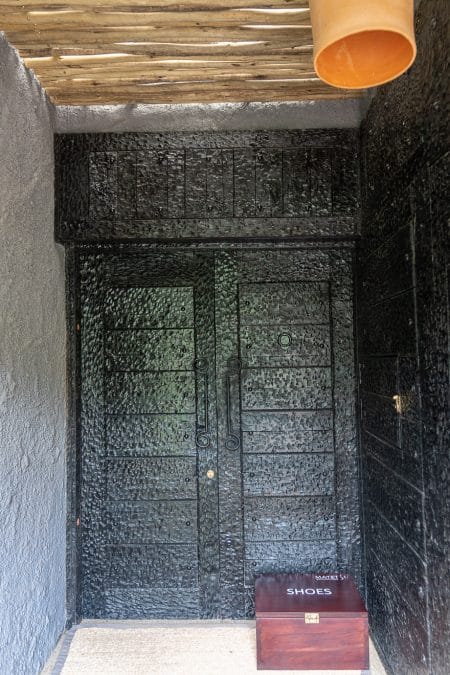 IGTV Room Tour
View this post on Instagram
Bedroom
The overall look and feel of this room was a significant step above our room at the River House. A lot of the same design elements were evident but everything was bigger and better here.
The height of the ceilings, combined with the abundance of natural light flooding in from all sides, made for a wonderfully bright and expansive space in which to relax.
It can be hard to balance the space with a canvas this large, but the design genuinely succeeded in retaining a warm and residential feel. The room felt abundant, without feeling cavernous.
Much like in our other room, this one featured a work desk, with a Bose speaker, directly behind the bed. The bed itself was remarkably comfortable and topped with a plethora of enormous pillows. I slept wonderfully here.
On the desk was a box filled with postcards, sprays and even an emergency horn – to be used in case of leopards! There was also a universal power socket, should you wish to connect a laptop.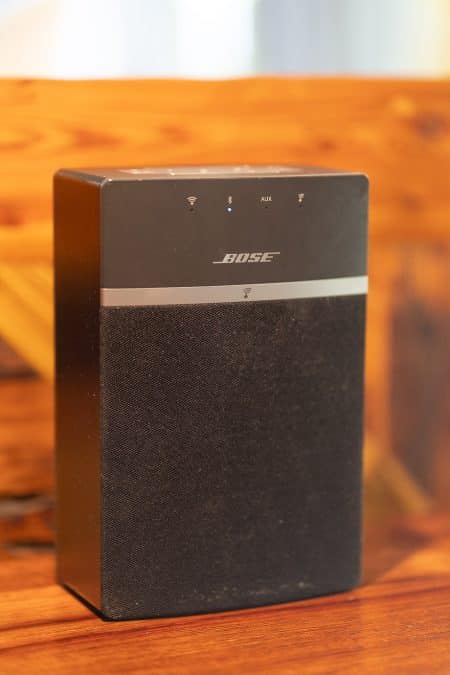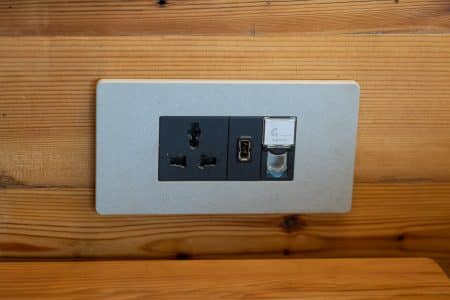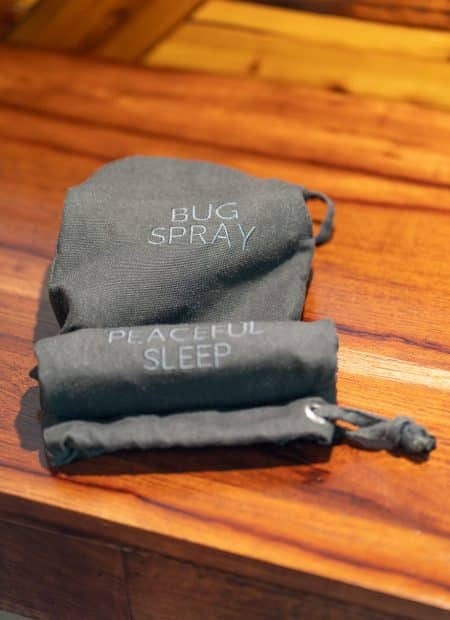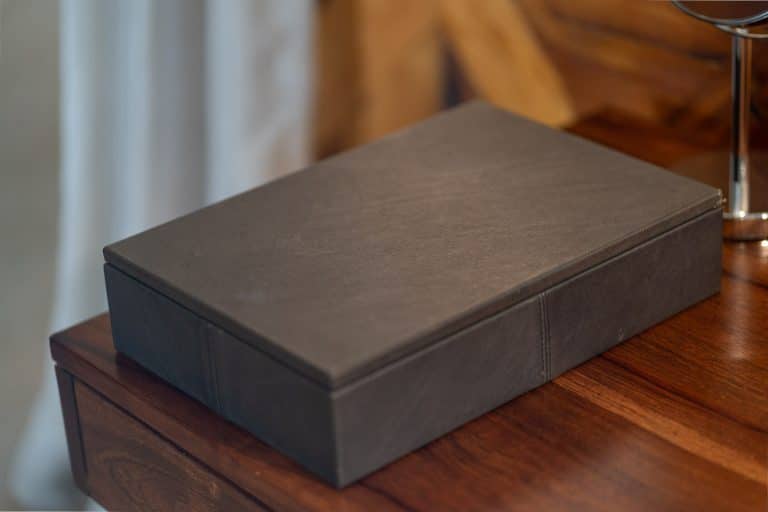 Next to the desk was the wardrobe. There was ample space here for numerous safari outfits per person (and laundry is included for free on all stays).
There's something undeniably luxurious about receiving a hamper of freshly cleaned and wrapped laundry.
In the centre of the wardrobe was the serving hatch, which staff used to deliver our 5am cappuccino, tea and biscuits – before the morning game drive.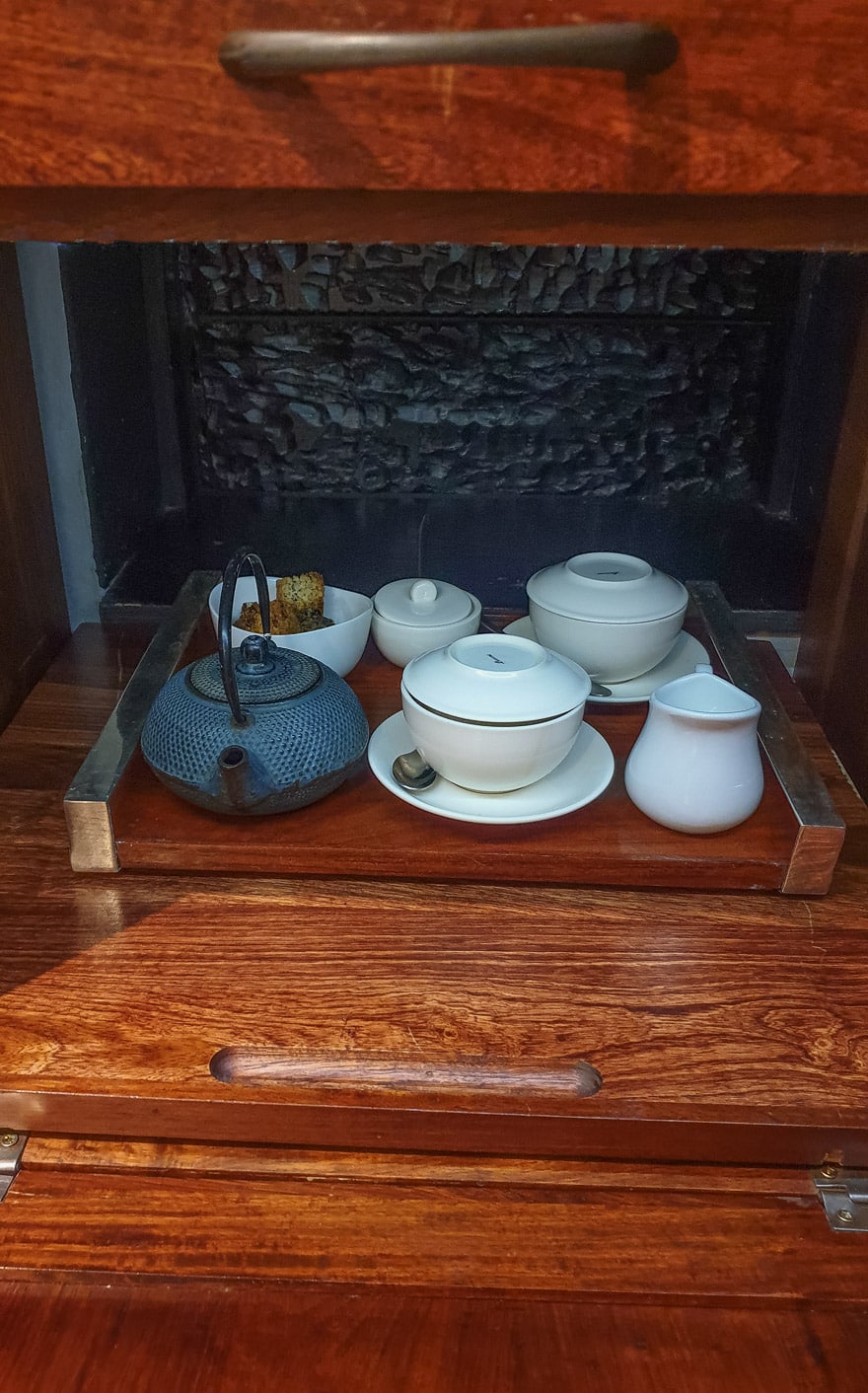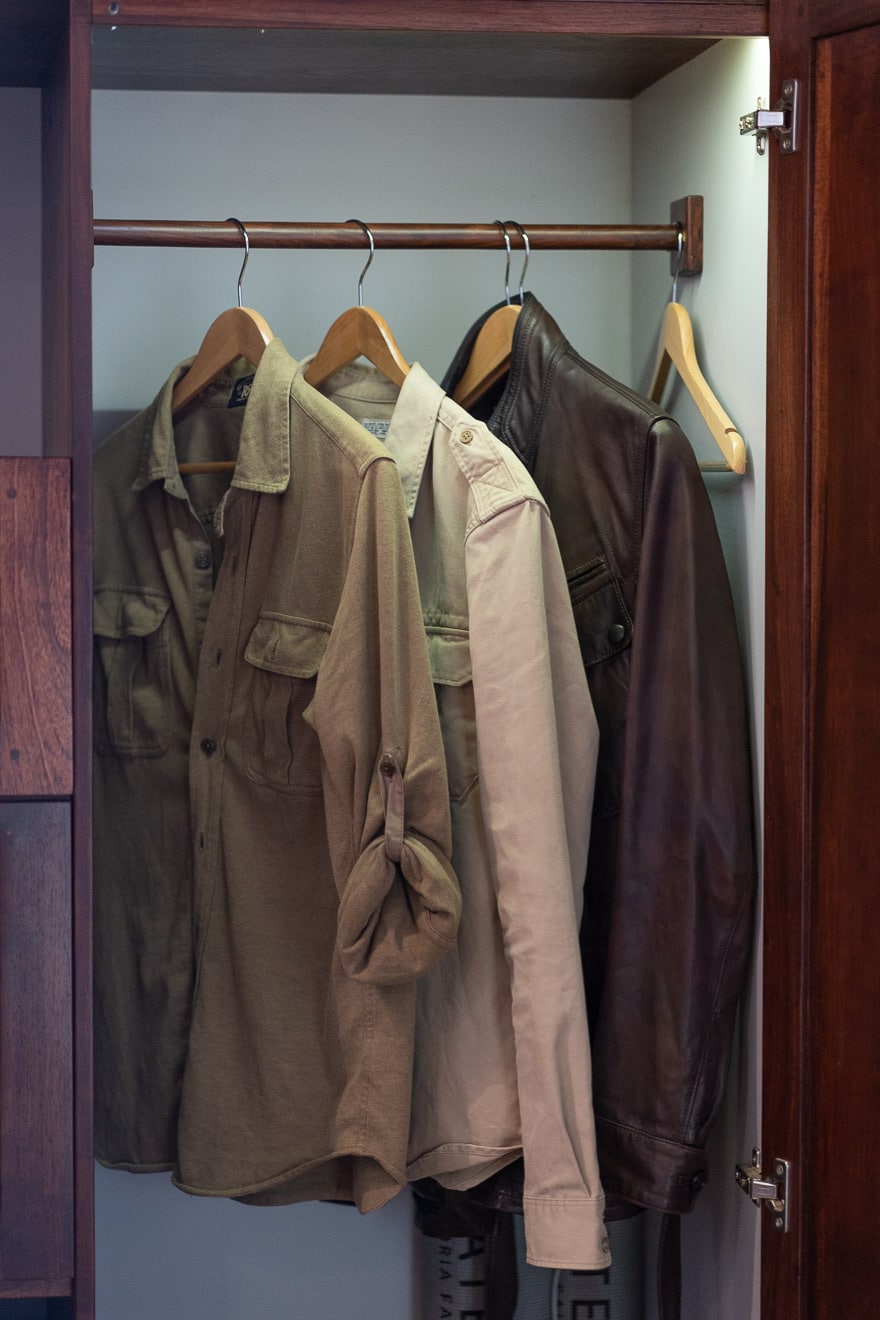 The far end of the bedroom featured a sitting area, complete with minibar. Unlike the minibar in the River House, this one contained complimentary soft drinks and beers, in addition to the tea, Nespresso and water. I loved the Chef and Sommelier glassware we were provided with, too.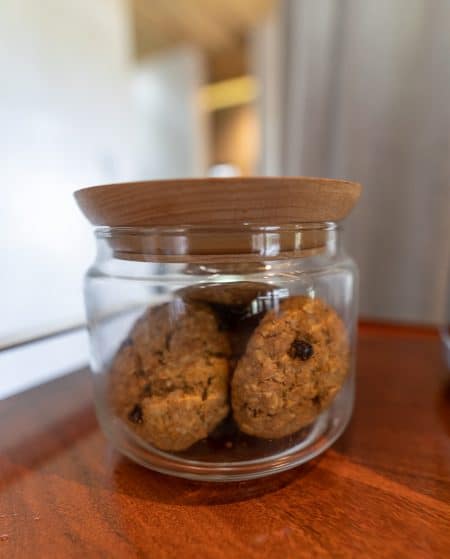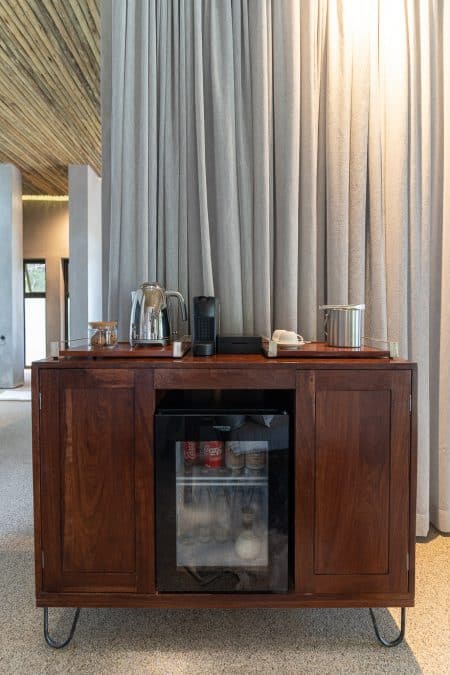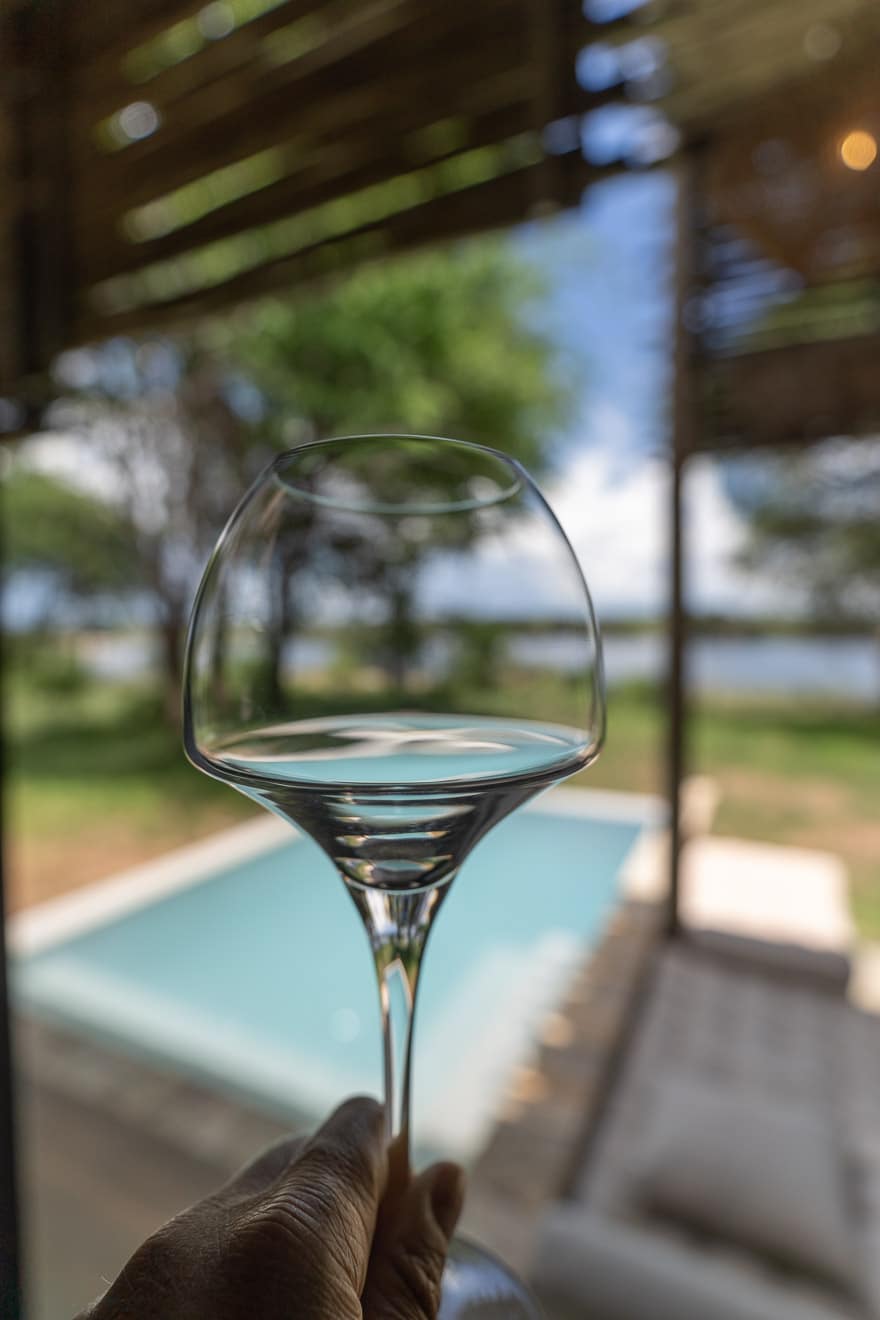 Bathroom
The bathroom featured a wooden chandelier hanging over an oversized circular bathtub, which was very reminiscent of the Conrad Koh Samui.
The bathroom was extremely spacious and featured the same beautifully carved stone sinks and locally made toiletries as our room in the River House.
The bathroom featured two showers. One indoors and one outdoors. Both gigantic.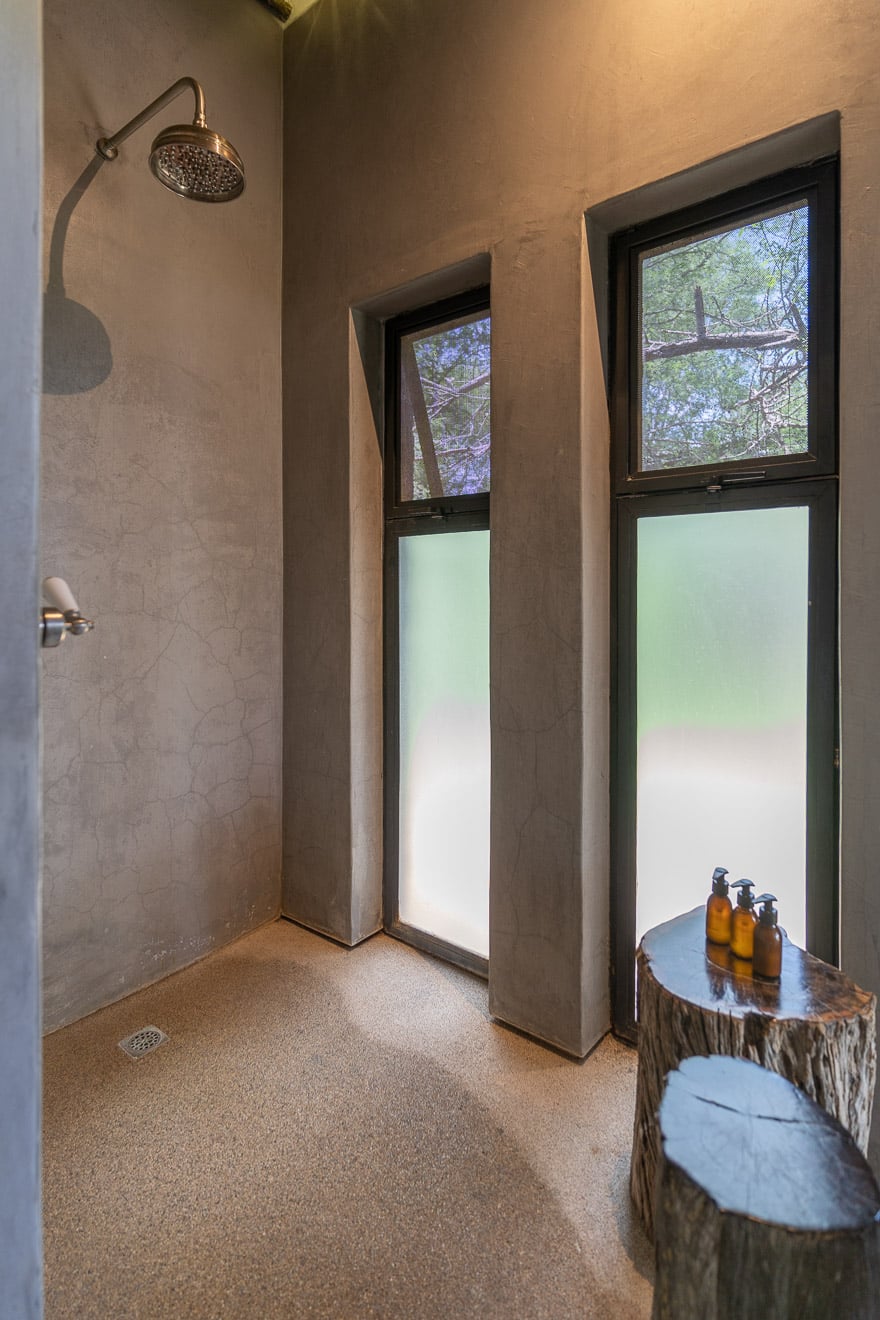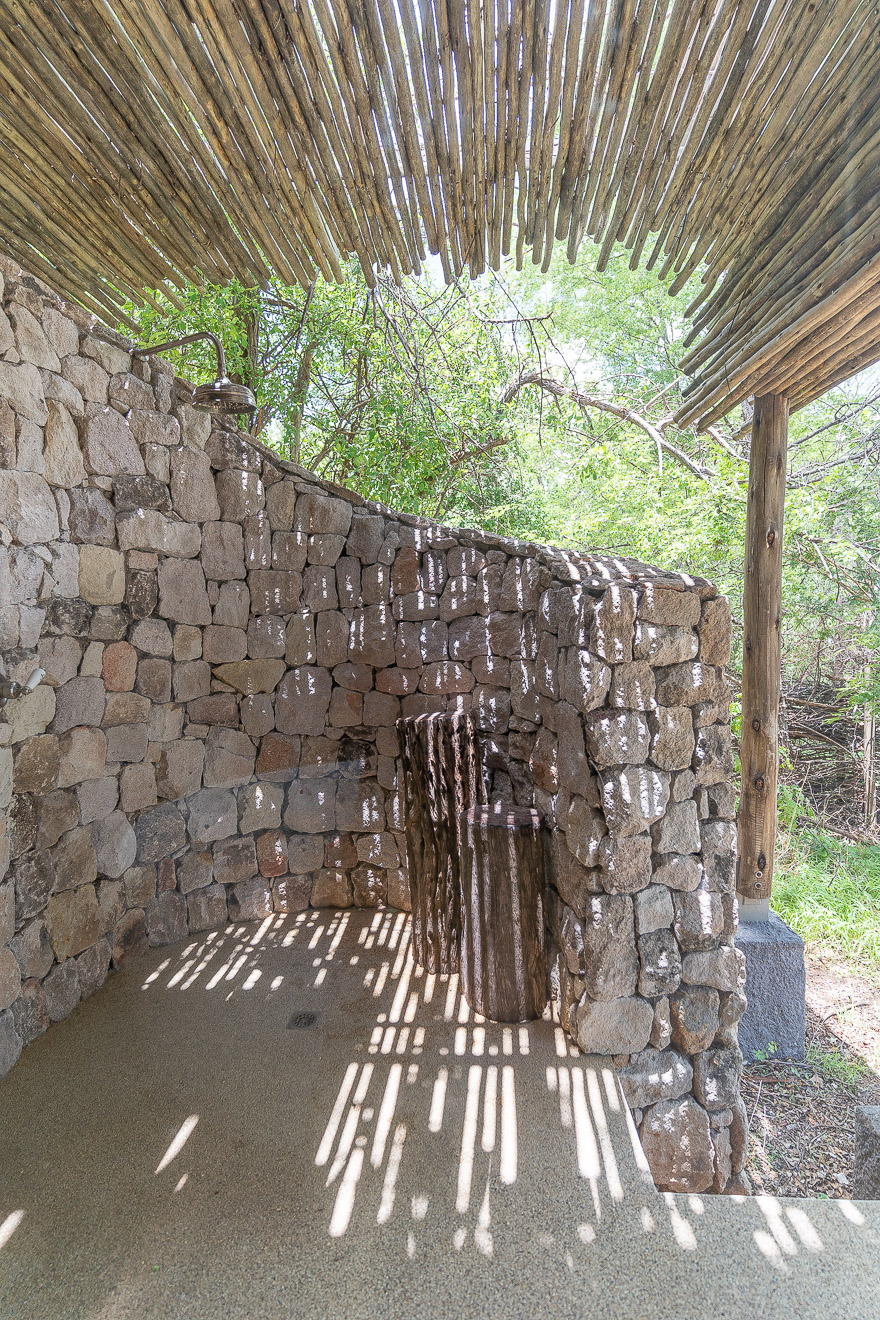 Much like during our visit to Silvan Safari, we were advised not to leave any toiletries outside, in case any baboons came over and decided to destroy them when we were out of the room.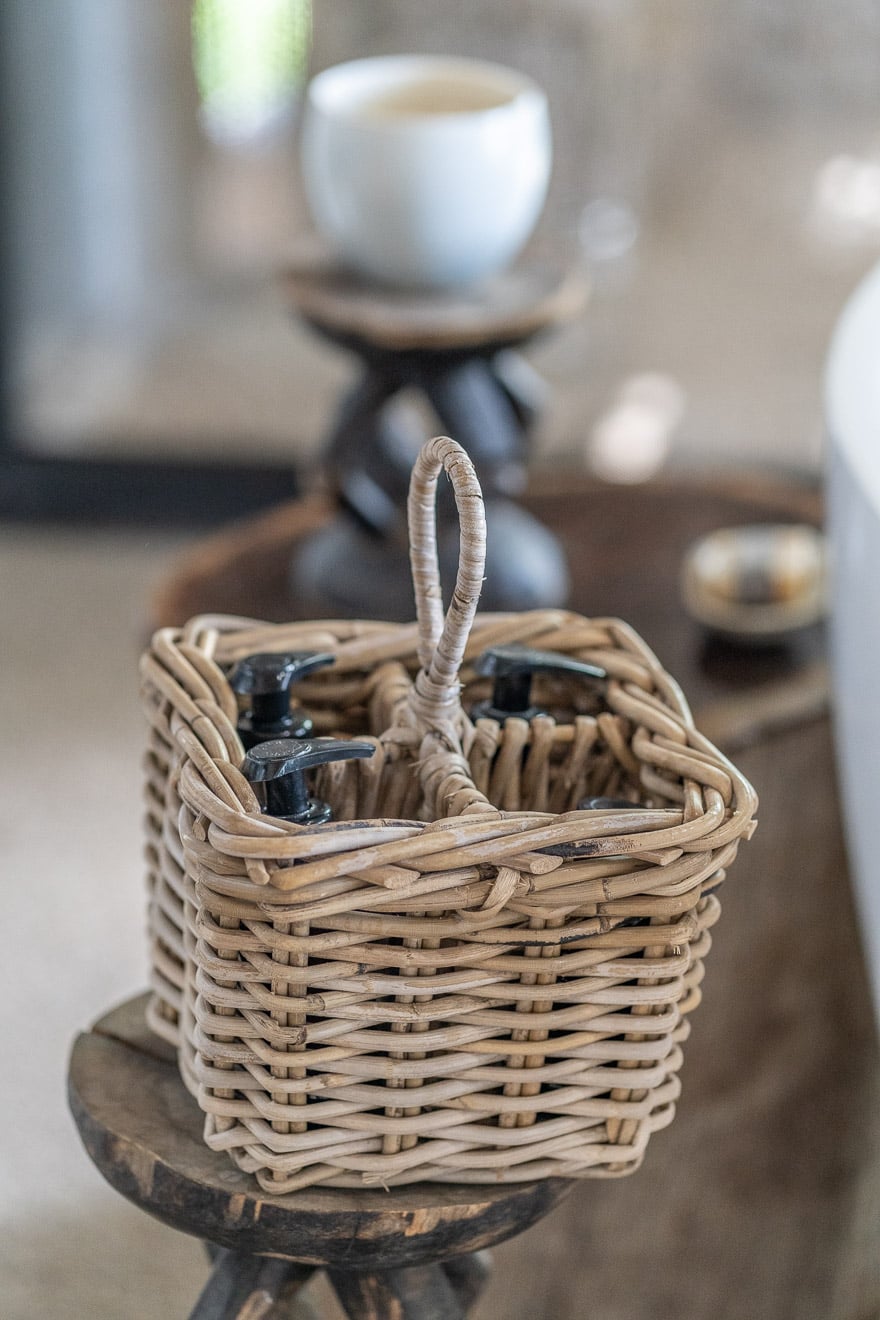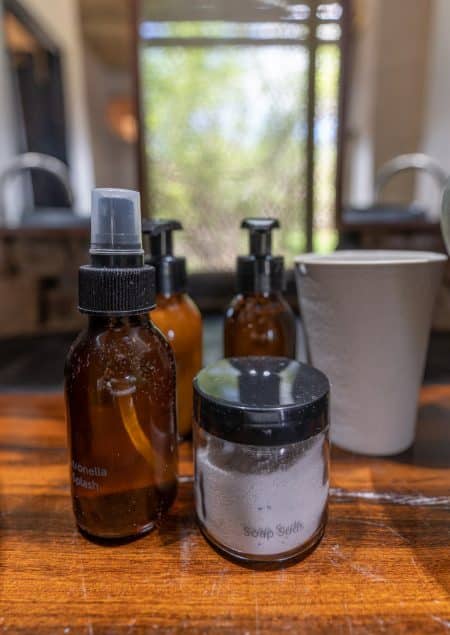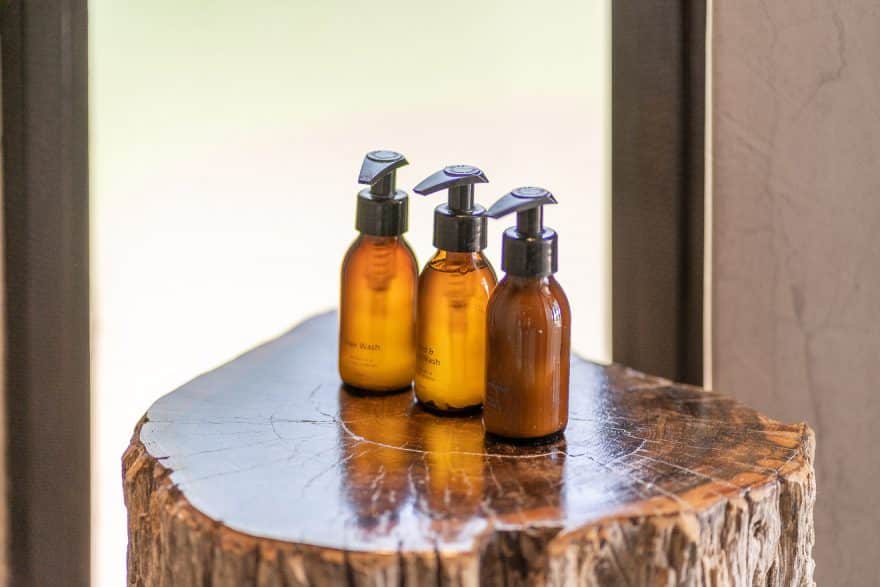 A handy basket was provided though, should we need to carry shampoo and conditioner to use in the outdoor shower.
Outdoor Space
Our suite featured a huge outdoor garden, with an outdoor dining table, cushioned seating in the shade and a large plunge pool.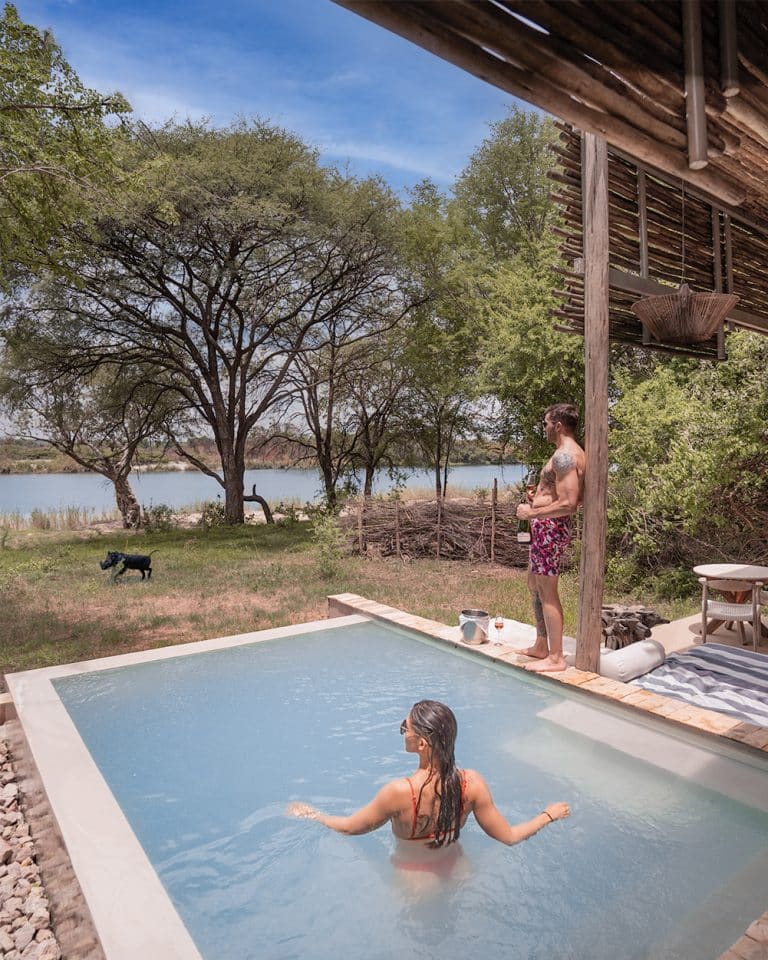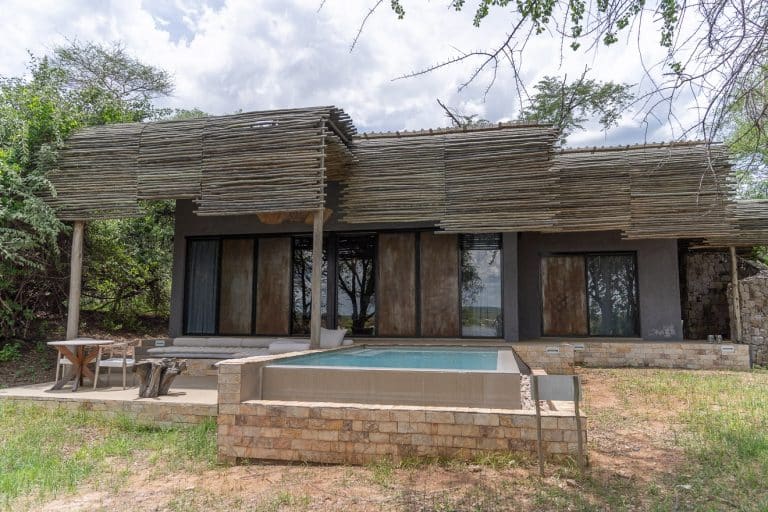 As you can see in the image above, our garden got one or two visitors (warthogs loved bathing in the river during the day)! It was only when elephants came close one day that the rangers had to get involved, since elephants could easily tear down all of the supports for the outdoor verandah.
Otherwise, it was very relaxing sitting in the shade and enjoying a few dips in the pool during the hottest hours of the day.
---
Food and Drink
---
Food and drink is a defining feature of any luxury safari experience, as almost all reputable lodges are all inclusive. This makes sense, given the lack of any viable alternatives out in the middle of nowhere!
Not only was the quality of all the meals and the alcohol selection superb, it was also delivered with an absolutely spectacular level of service!
Our butler John was one of the most kind, gracious and welcoming individuals whom I have ever had the pleasure to meet.
He's up there with Dedung at Bulung Daya as one of the greats in the world of luxury hospitality.
5:30am Morning Coffee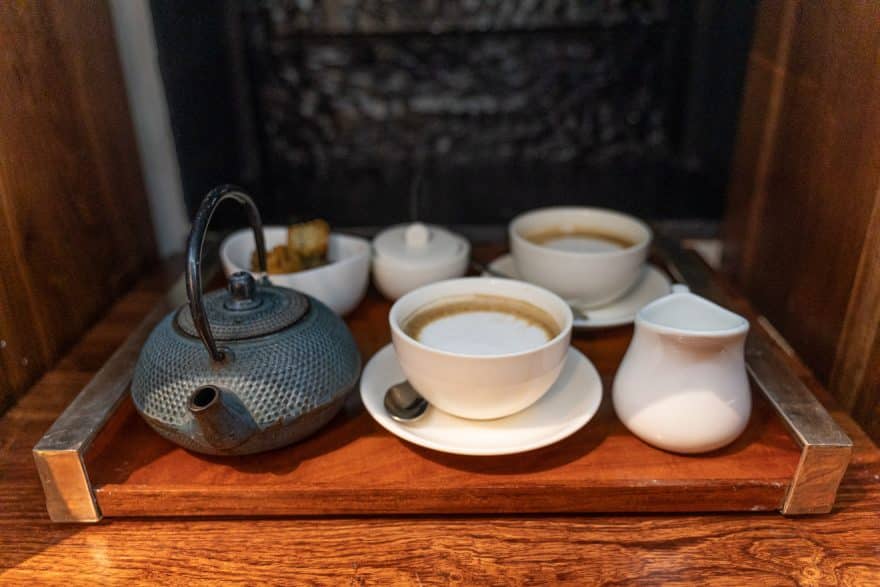 After a busy few hours of keeping us safe from leopards, our night guard Poto would finish his shift by cheerily bidding us good morning and hand delivering our cappuccinos and rusks.
At this time of day we weren't hungry at all, but this was perfect to sharpen up our senses for the game drive ahead!
7:30am Bush Breakfast
After an hour or so of spotting wildlife, our guide Ophius would pick a suitable spot and Decent, our tracker, would set up a bush breakfast table. This consisted of freshly brewed tea and coffee, as well as hot chocolate, cookies and pastries.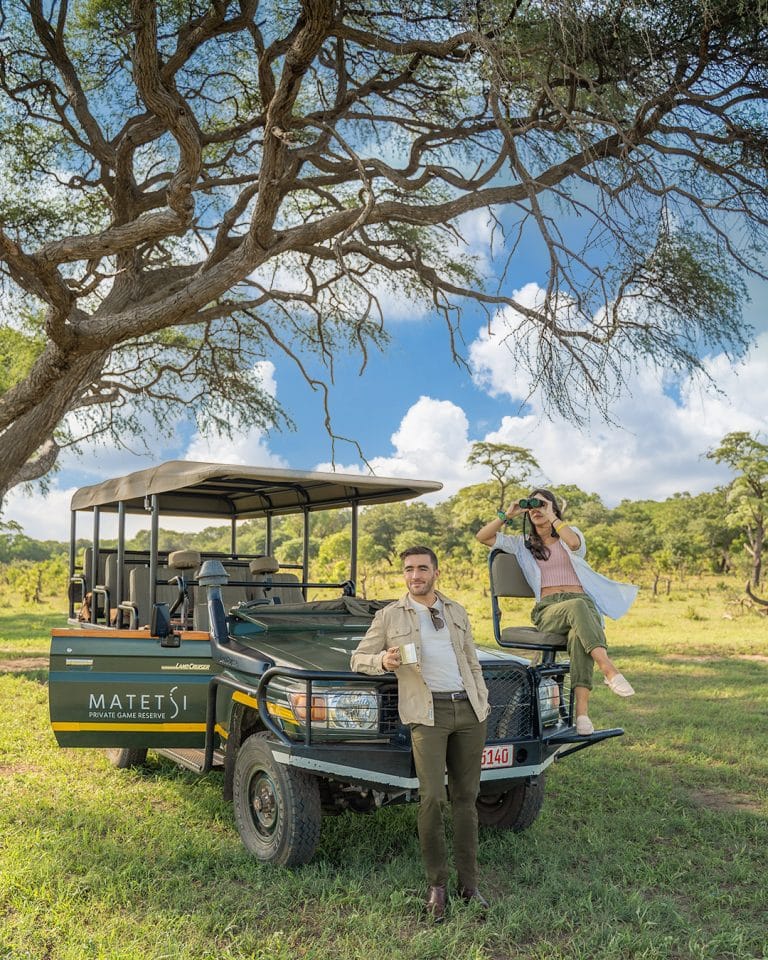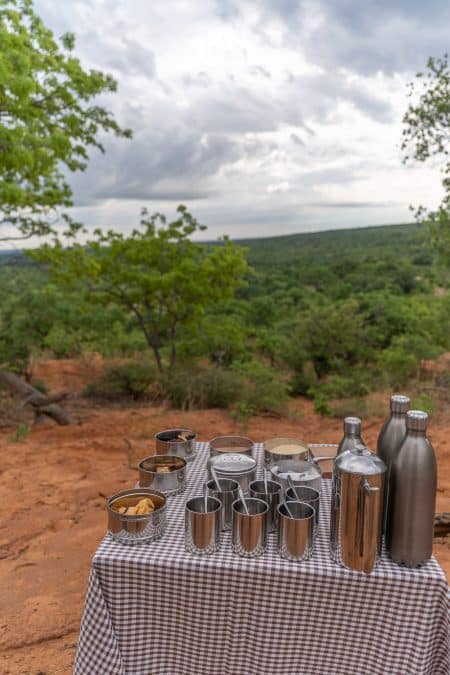 9:00am Breakfast
Upon arriving back at the lodge, after the excitement of the morning game drive, the butlers would be waiting for us with cold towels and a tray of mimosas.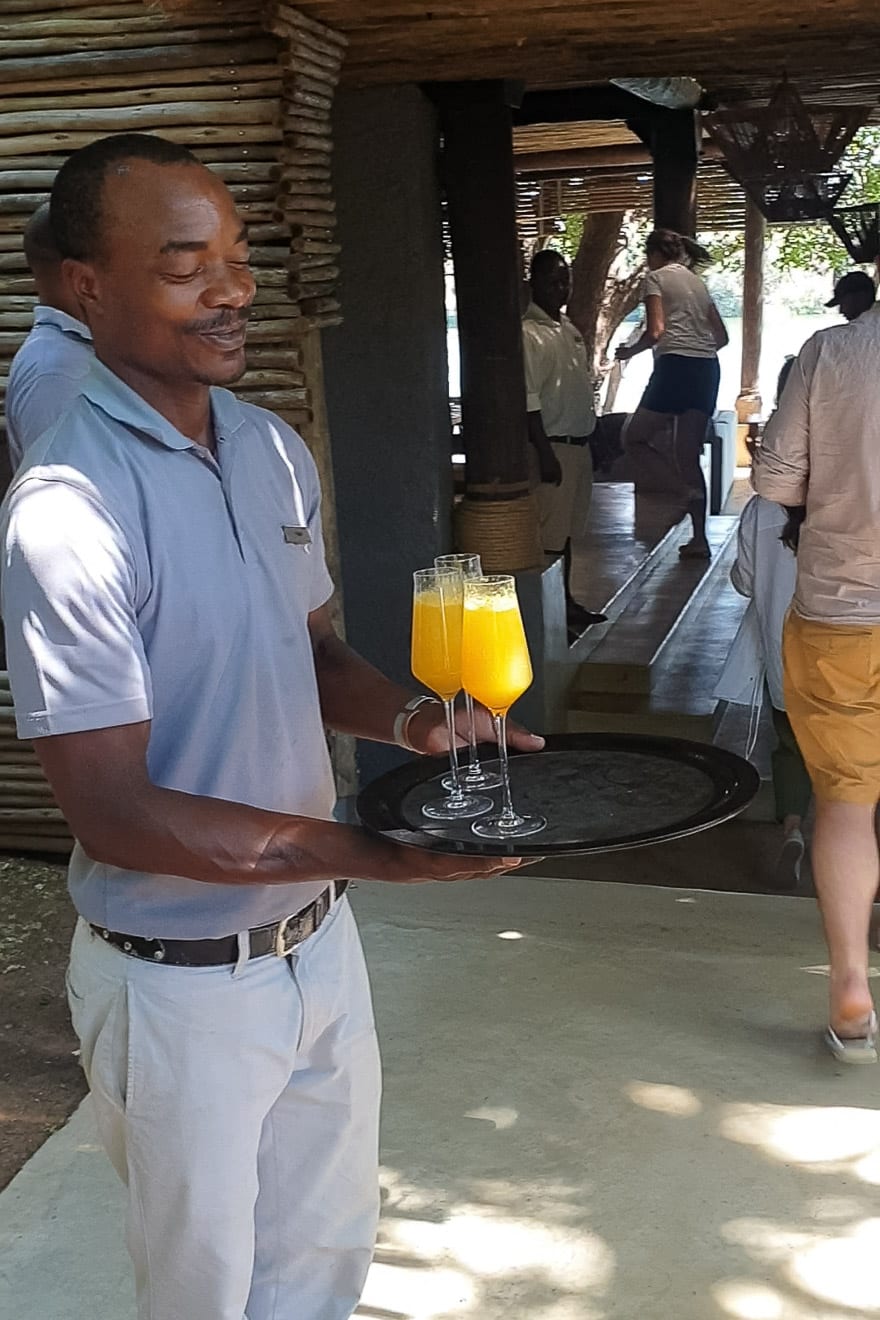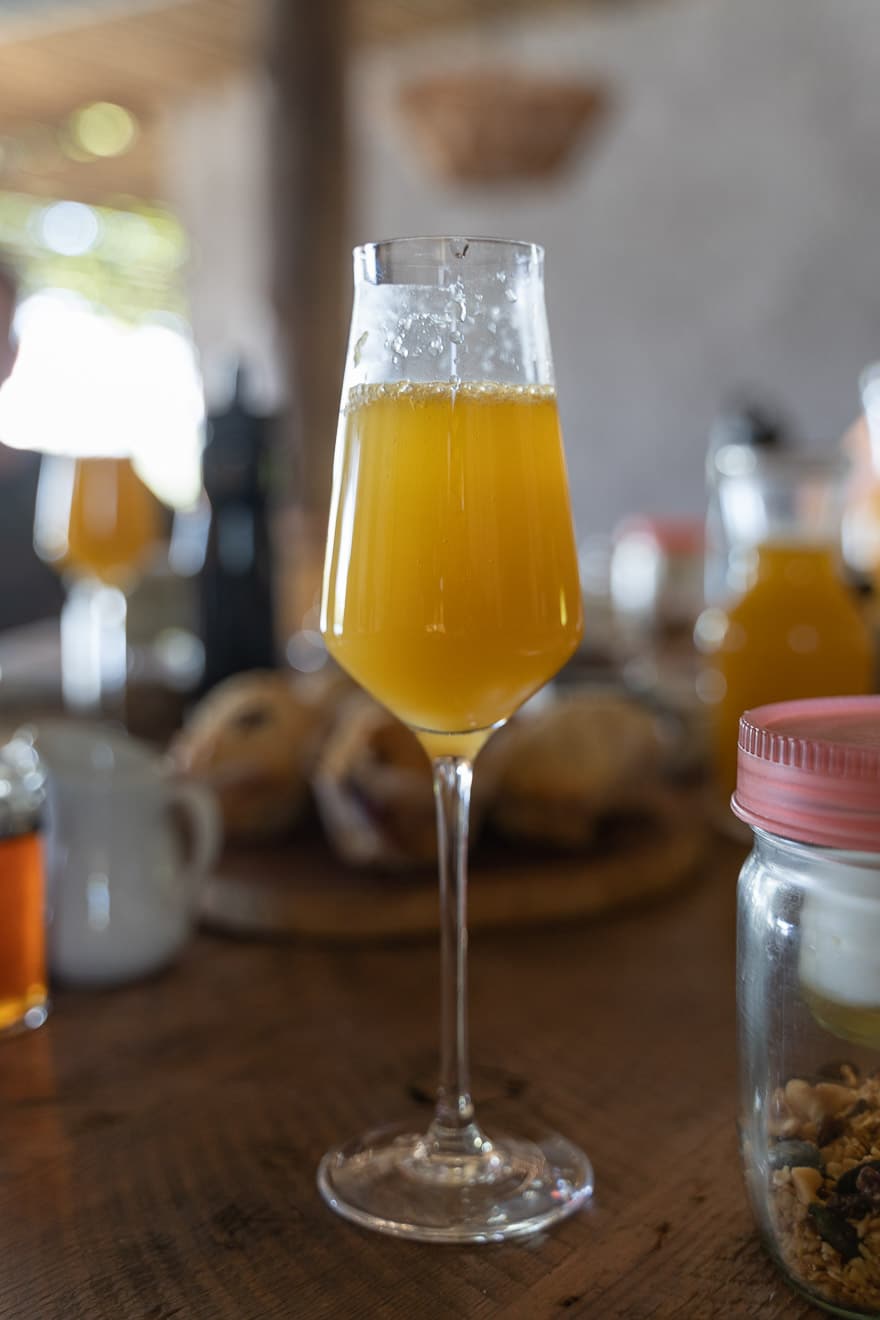 The West Camp dining area was huge and offered numerous different spaces in which to enjoy breakfast.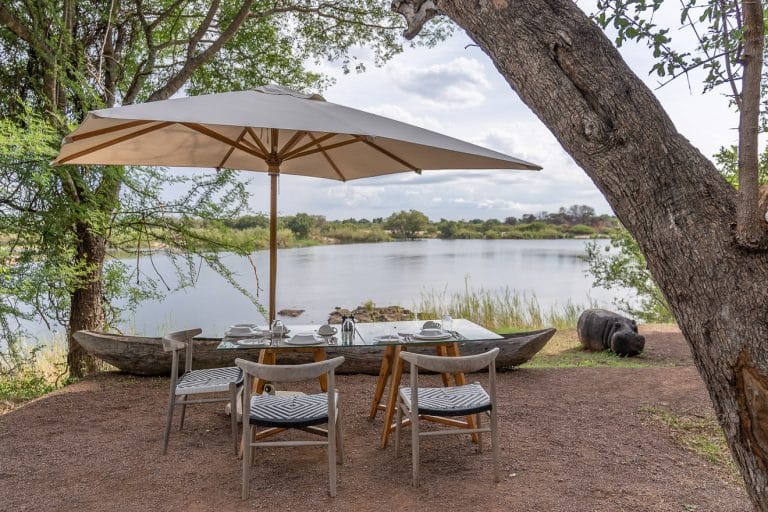 Breakfast started with freshly baked pastries and jars of homemade granola and fruit salad. Coffees were excellent too, proper strong cappuccinos and macchiatos with the correct ratio of foam to milk.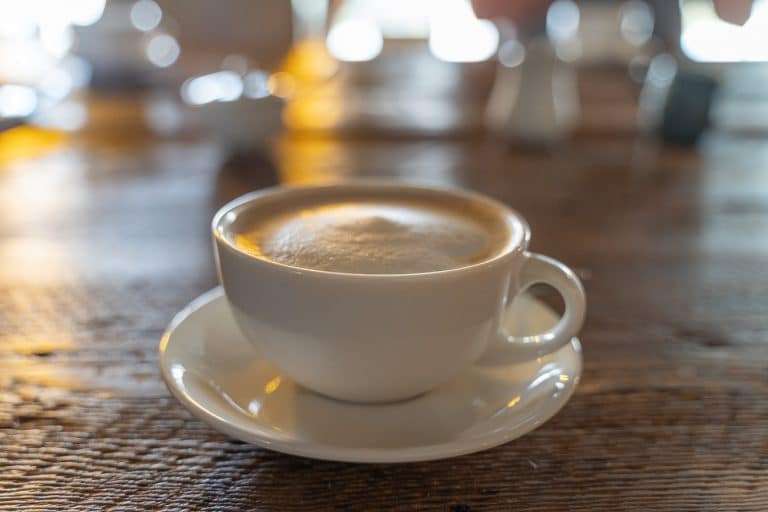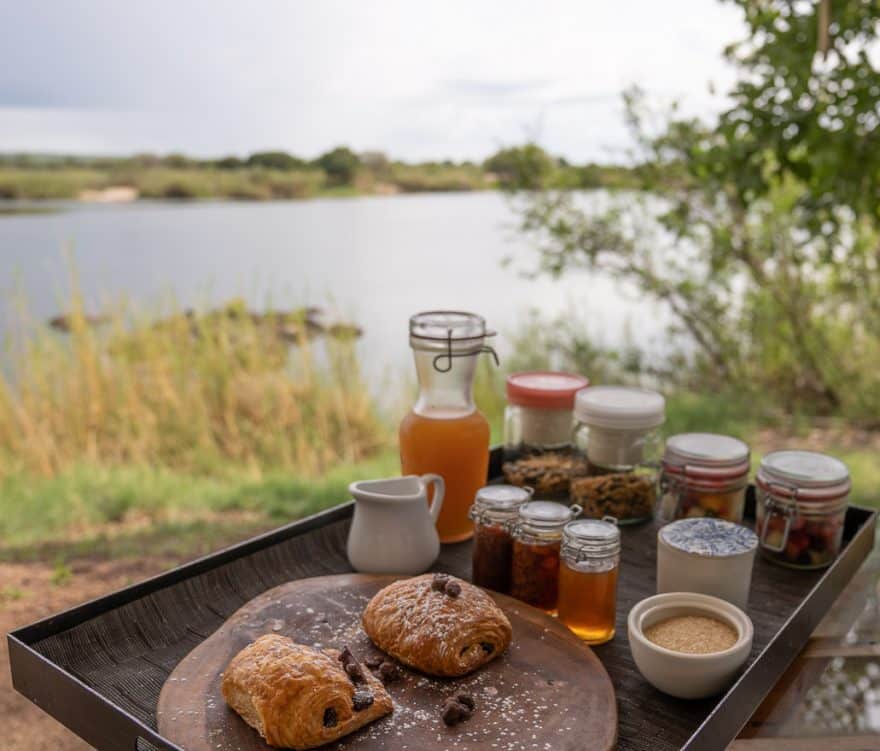 A la carte dishes were available from a menu of classics and specials:
Breakfast Menus
(click to expand)
Eggs, steaks, bread and muffins were all perfectly cooked and delicious.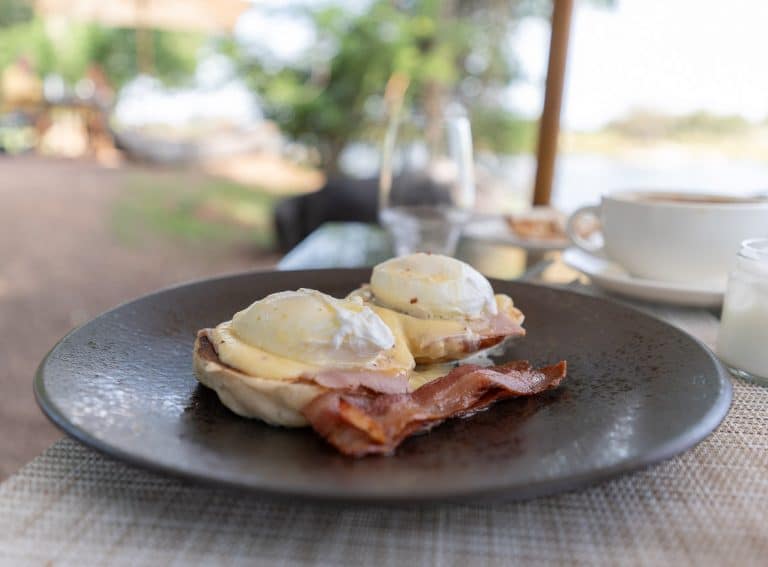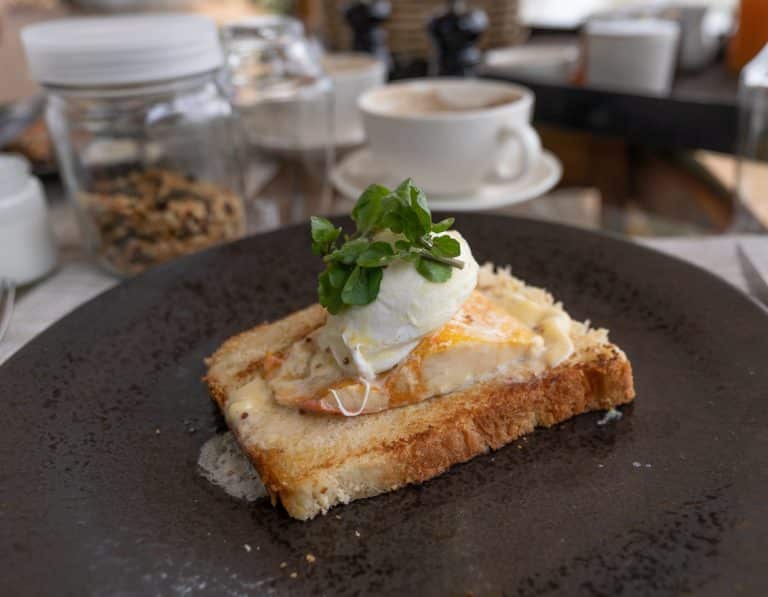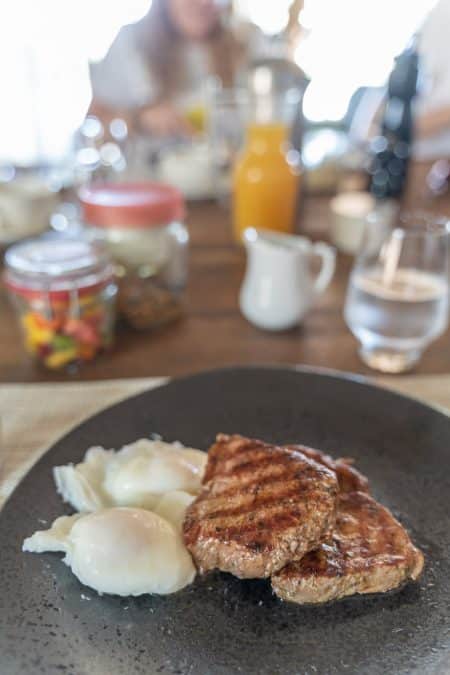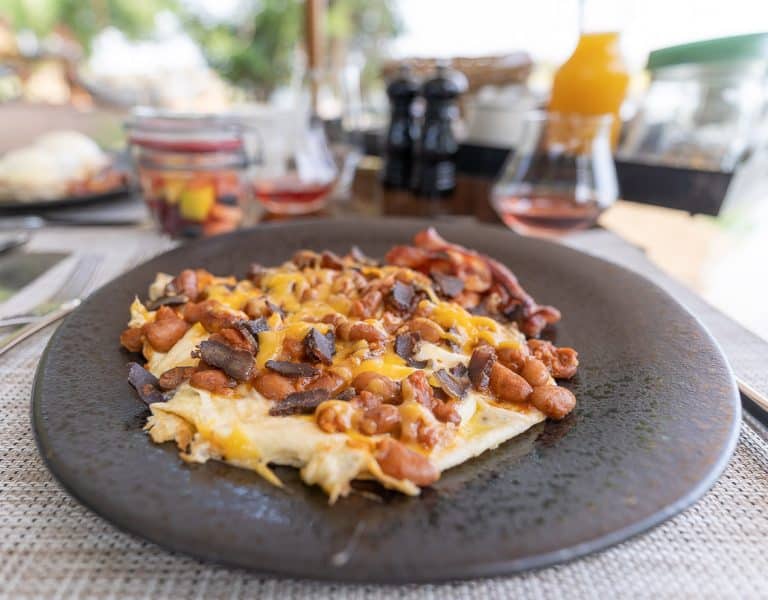 One day, the lodge staff arranged a surprise for all the guests and prepared breakfast on the banks of the river, a mile or two away from the lodge.
The setting was wonderful, exactly the kind of thing that you picture when you imagine escaping from city life and coming to Africa on safari.
This wasn't just some makeshift picnic, either. There was an enormous buffet table, live cooking stations and full restaurant service at tables draped with white linen tablecloths. True luxury.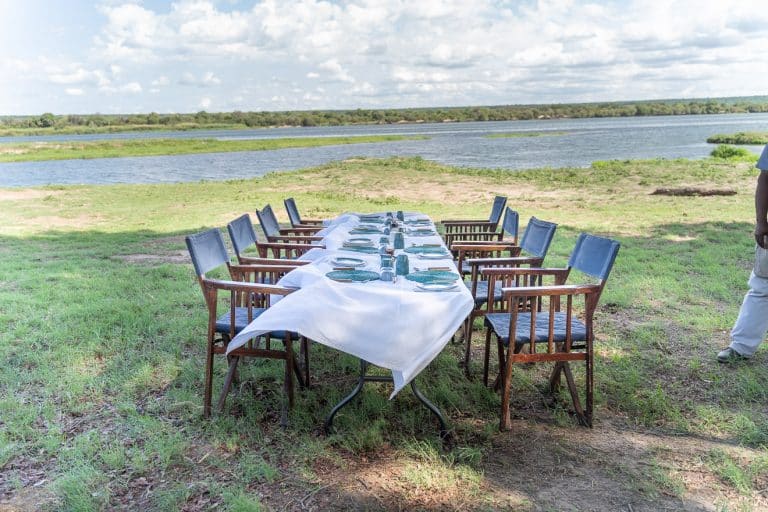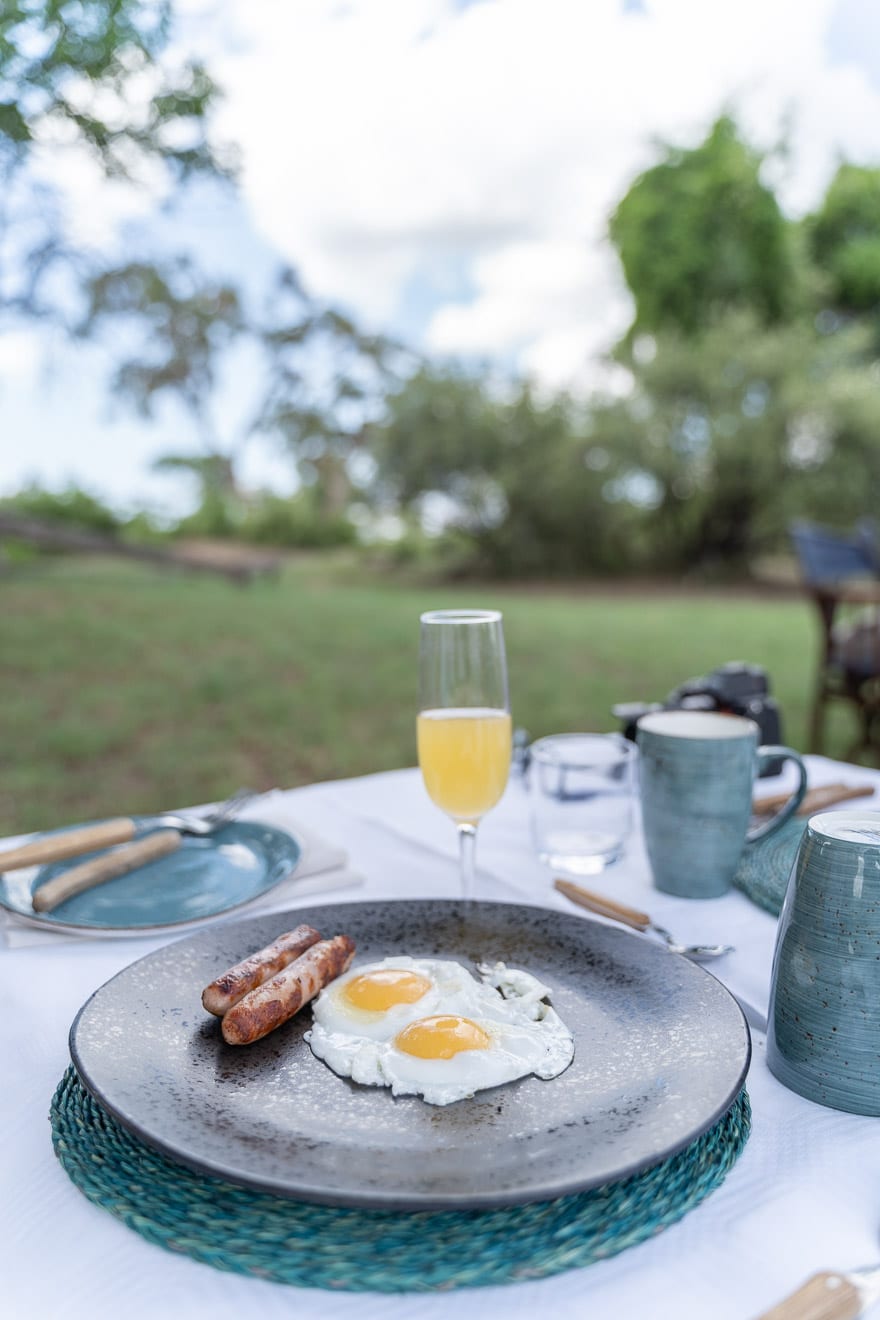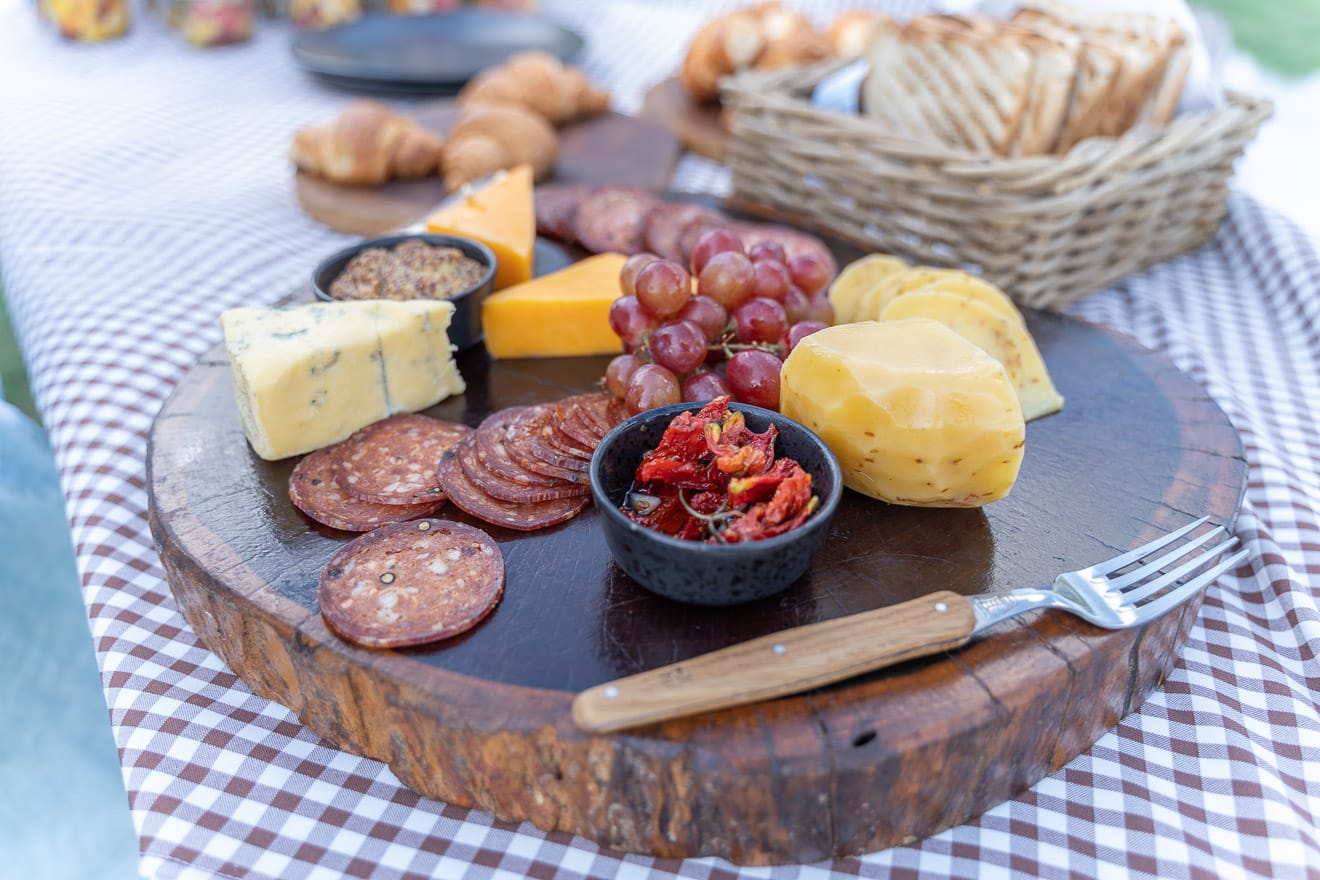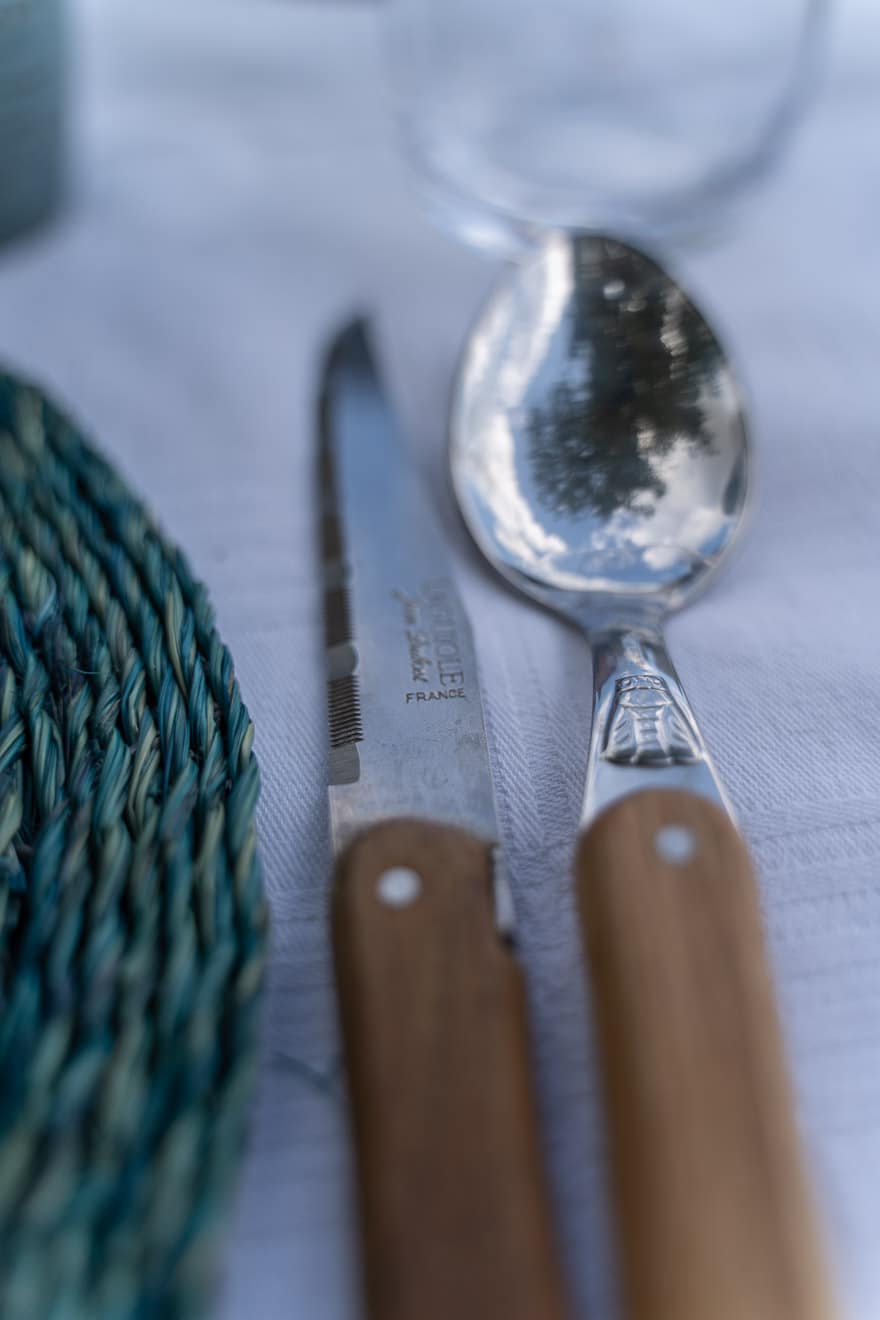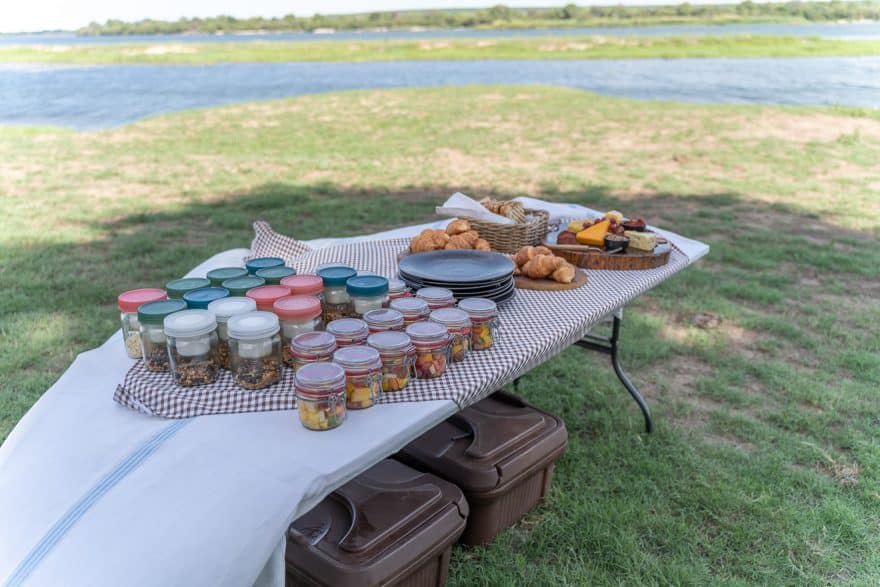 1:00pm Lunch
Lunch was served at the West Dining Area and was generally preceded by a G&T at the spectacular copper bar, designed to resemble the scales of an African pangolin.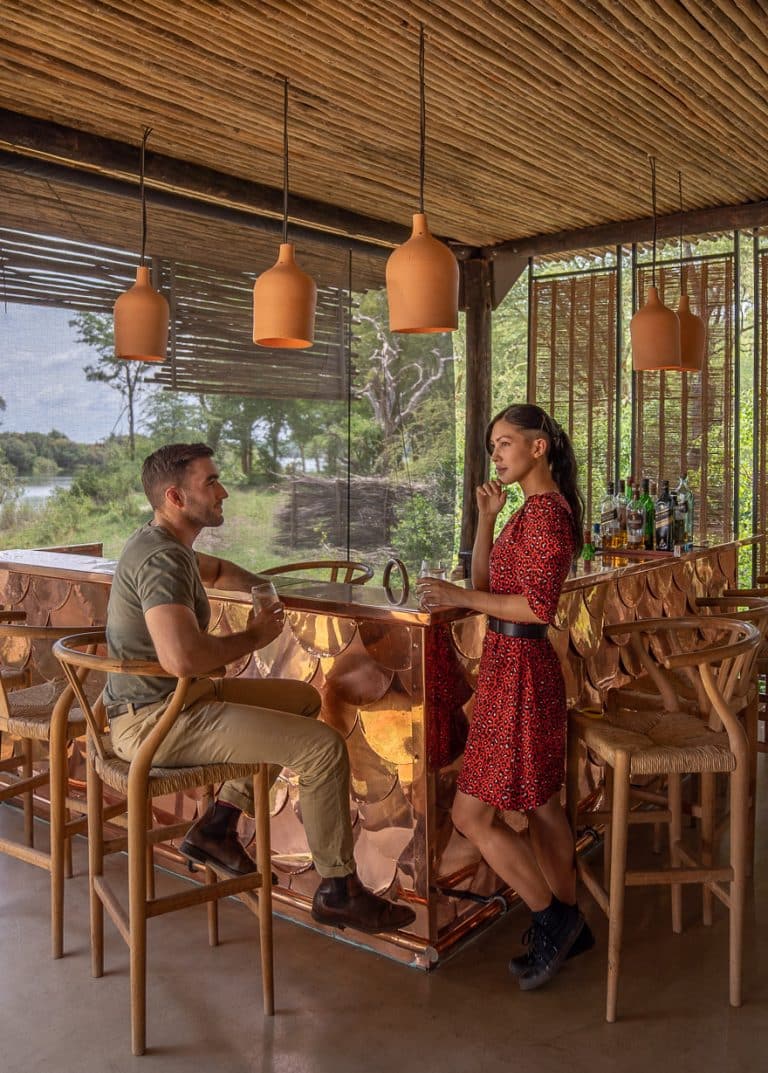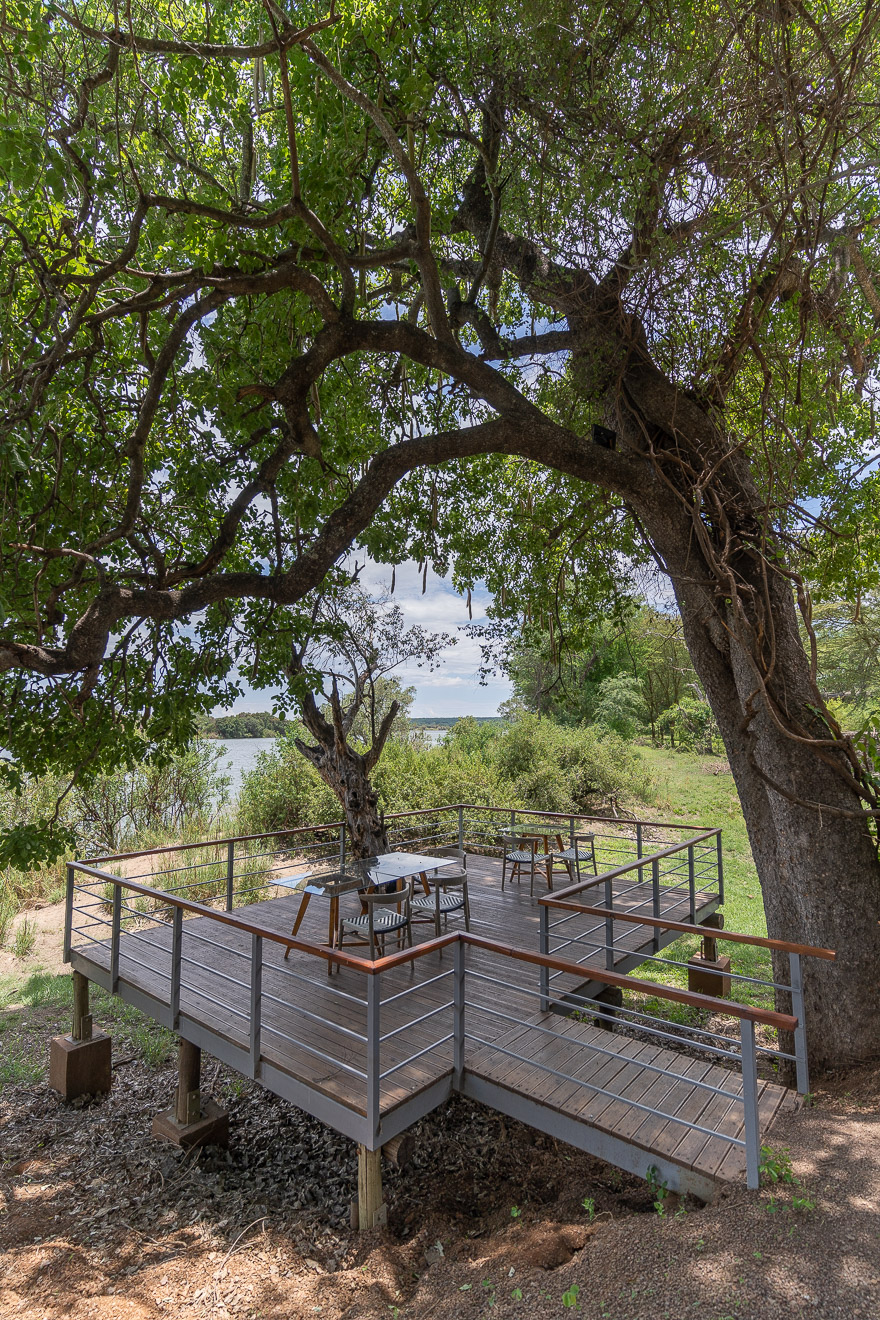 We tried to keep lunch relatively light by only ordering a single dish each, but somehow John always managed to talk us into at least sharing an extra dessert!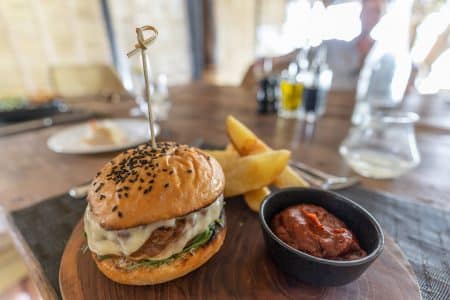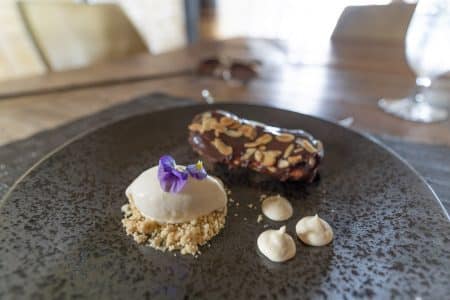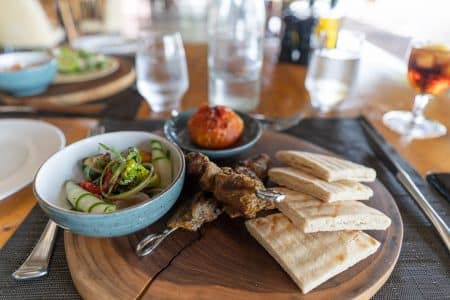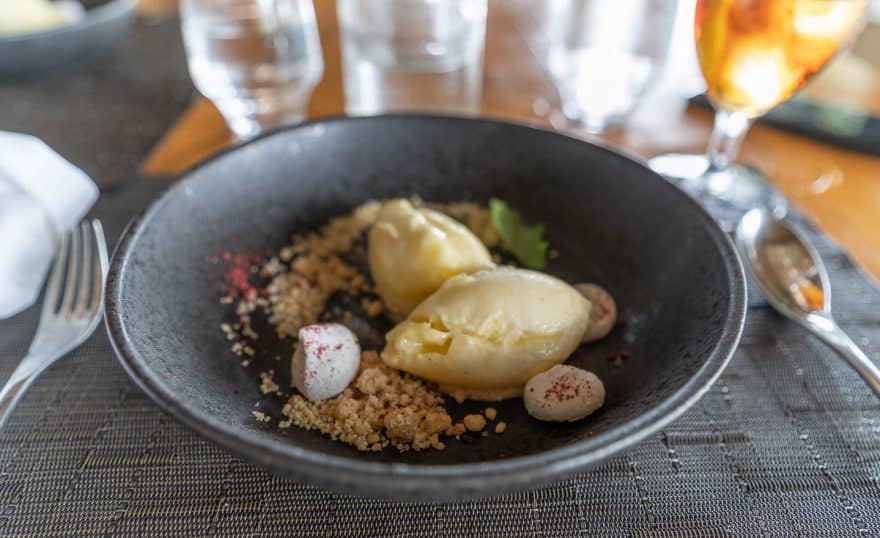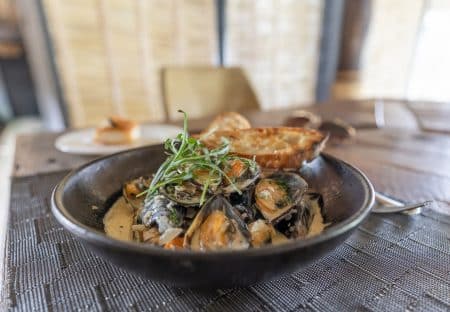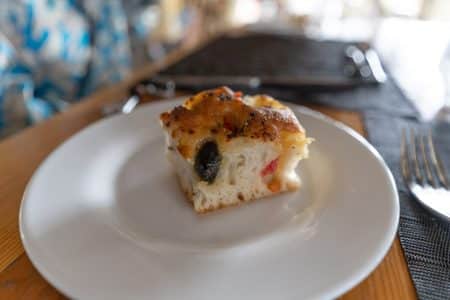 On our final afternoon, we were offered lunch at the Wine Cellar, located in the Guest Recreational Area, in the middle of Matetsi.

There was a large pool here as well as a spa, but we never had enough time to make use of either of these.

Thankfully, the wine cellar was above ground so we were still able to enjoy the beautiful scenery.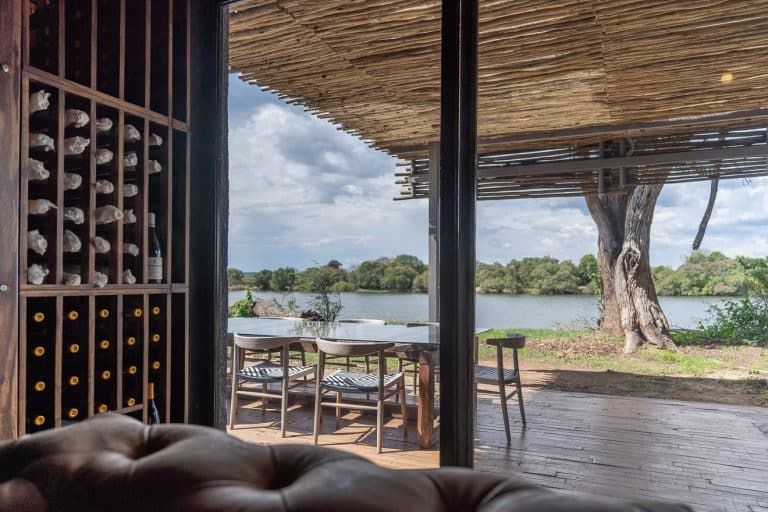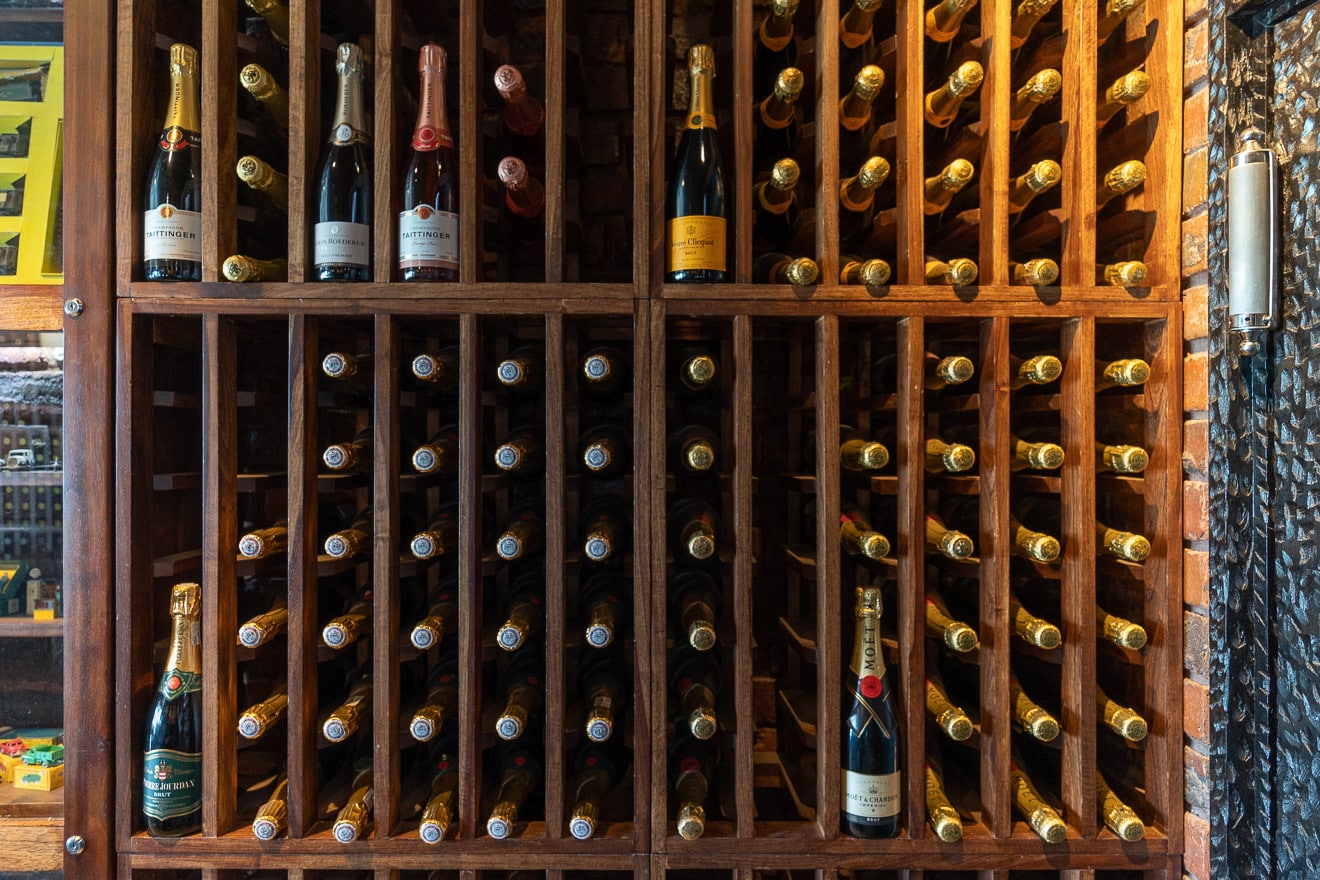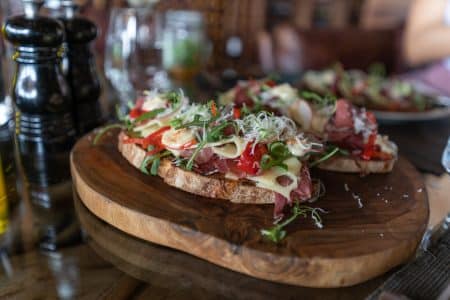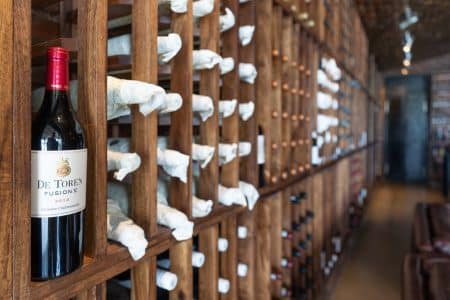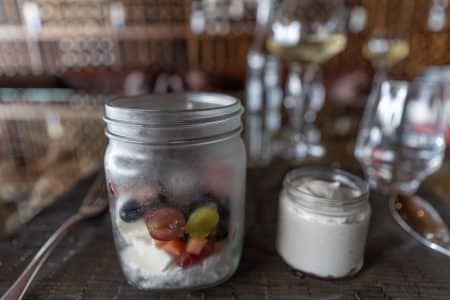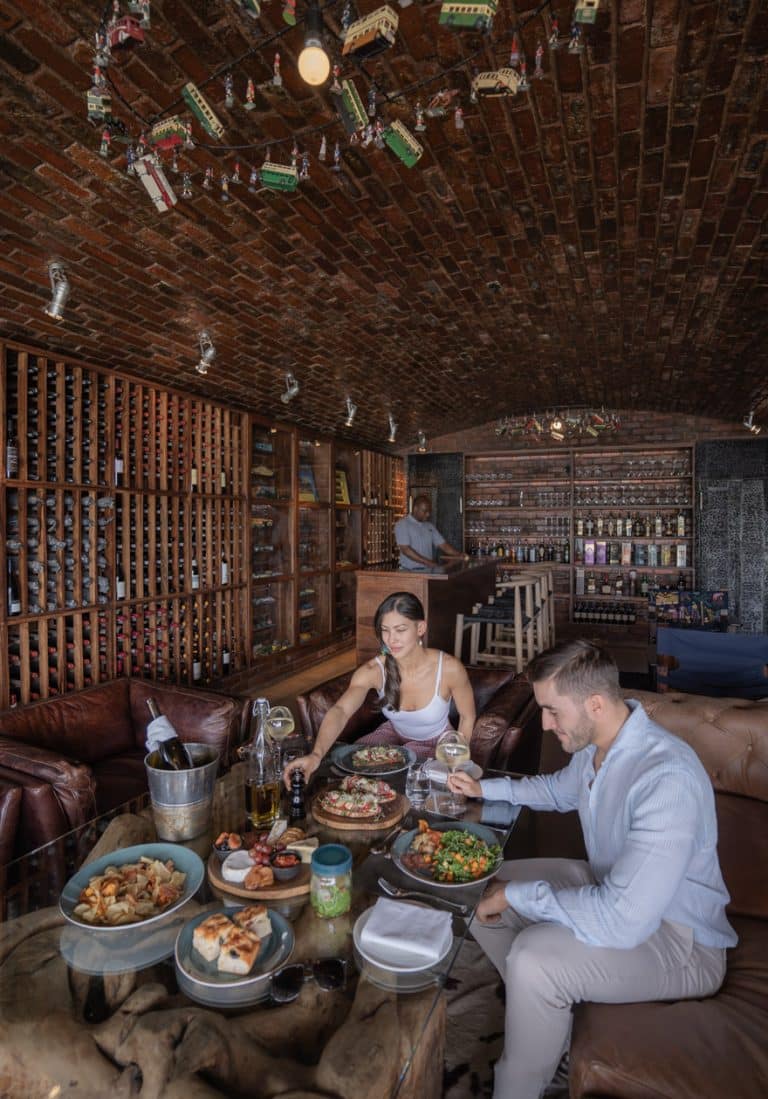 4:00pm Afternoon Tea
Prior to the afternoon game drive, we were offered the opportunity to once again absolutely stuff ourselves with delicious sweet and savoury treats. I don't have a sweet tooth at all, so I was really pleased to see samosas and summer rolls in addition to the usual cakes and pastries.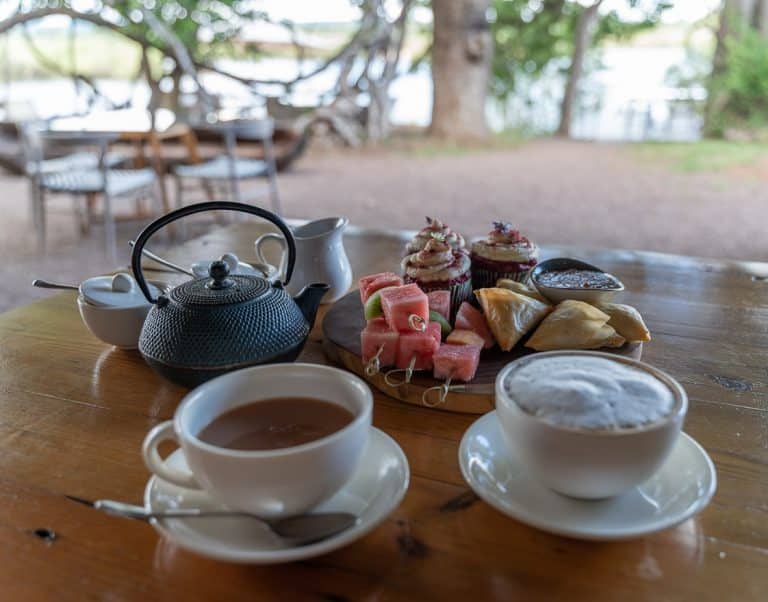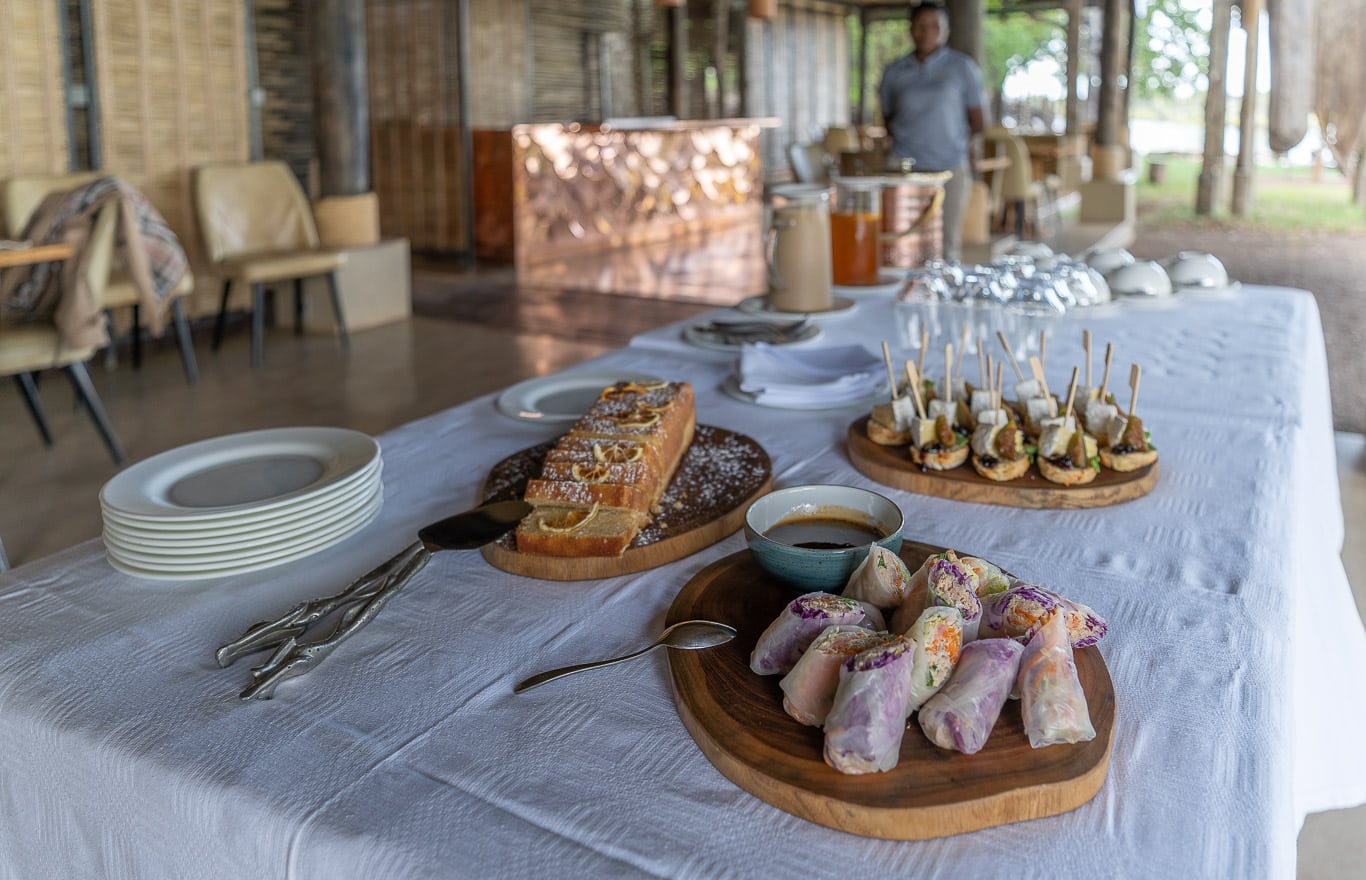 6:30pm Sundowners
Sundowners: one of the defining aspects of the safari experience. Towards the end of your second game drive of the day, your ranger will find a suitable spot to watch as the sun sets over the plains.
We were offered a selection of wines and spirits. I was disappointed however that the house pour was Gordon's; you'd expect much better for a property of this calibre. This was in marked contrast to the variety of craft gins and garnishes that we were offered at Silvan Safari.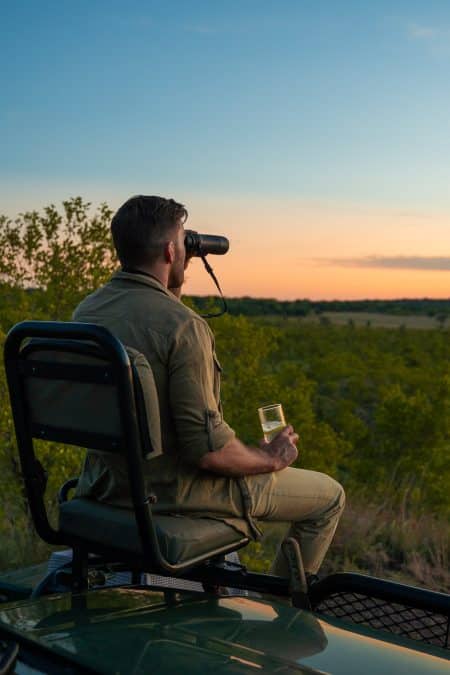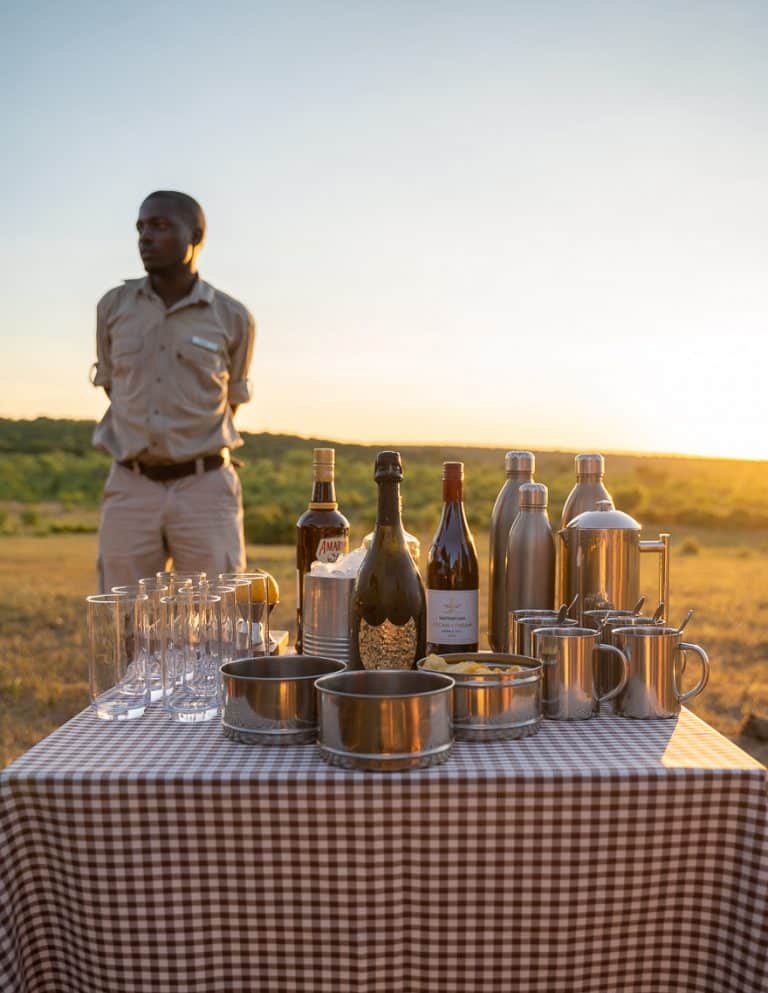 Thankfully, we picked up a few bottles of the truly sublime 2008 Dom Perignon at Dubai duty free, inspired by our flight on Emirates First. These were perfectly chilled for us to enjoy alongside crisps, freshly made biltong and bacon wrapped sausages.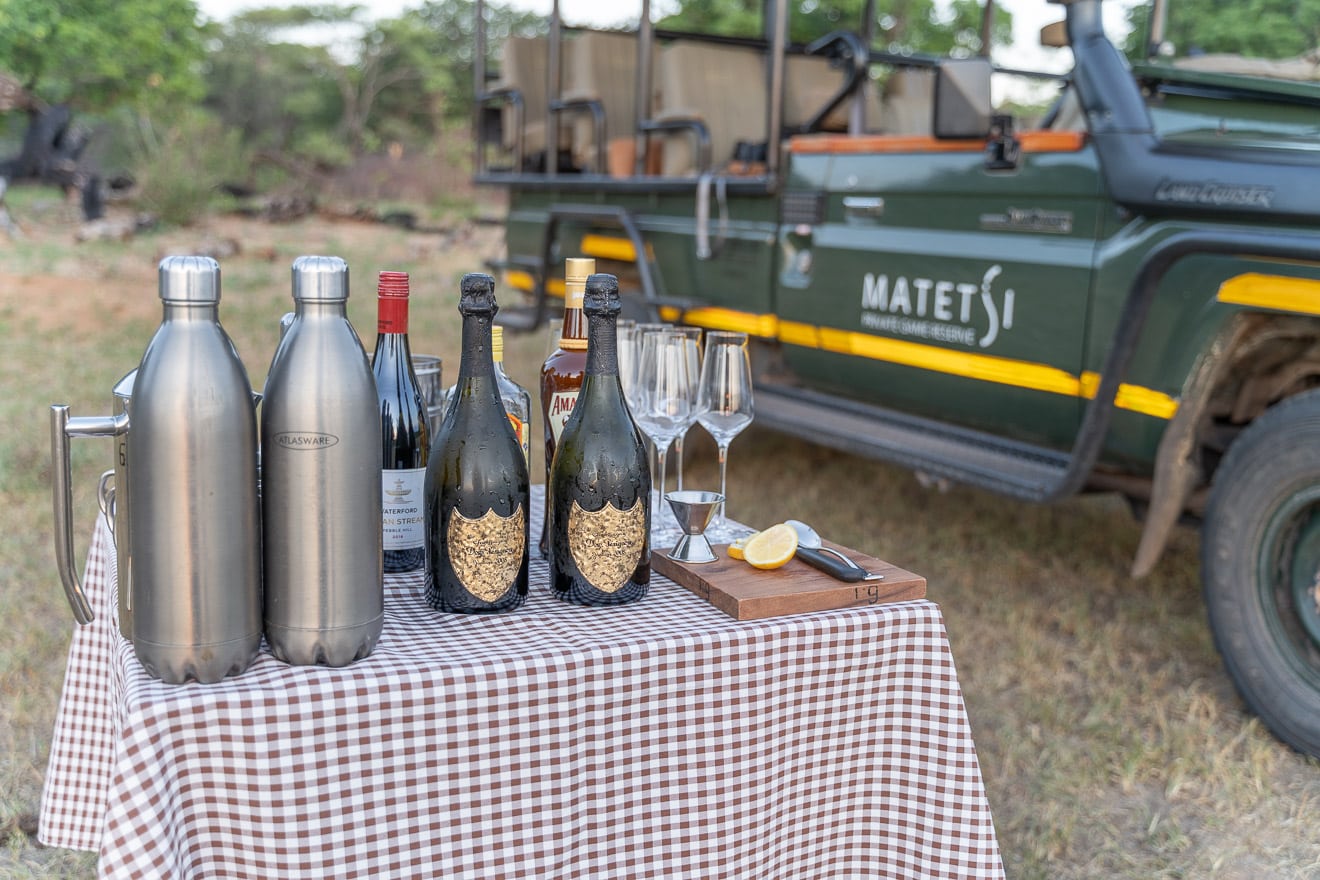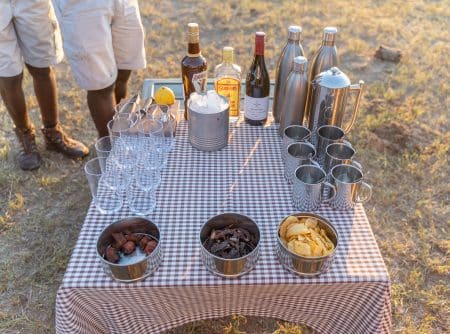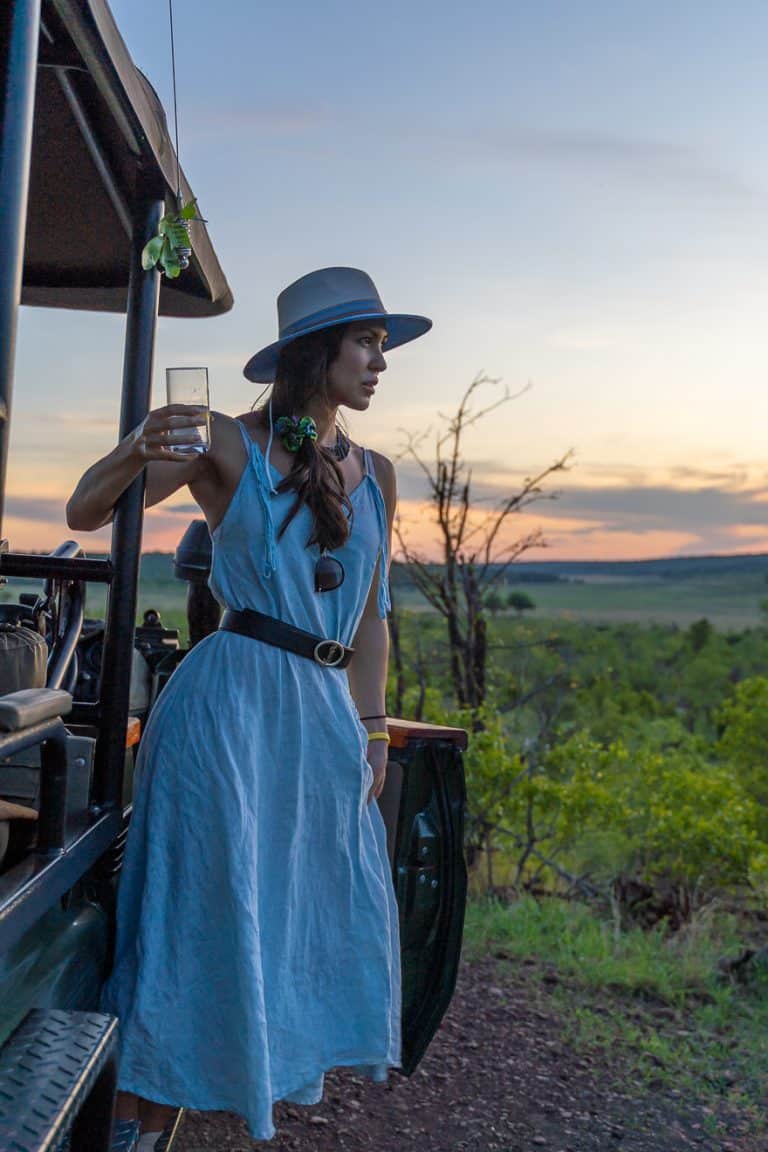 7:30pm Pre-Dinner drinks
Pre dinner drinks were served to us at the River House at around 7:30pm, once everybody had a chance to shower and get changed after the evening game drive.
John and Timmy were great at suggesting different wines from Matetsi's extensive cellar.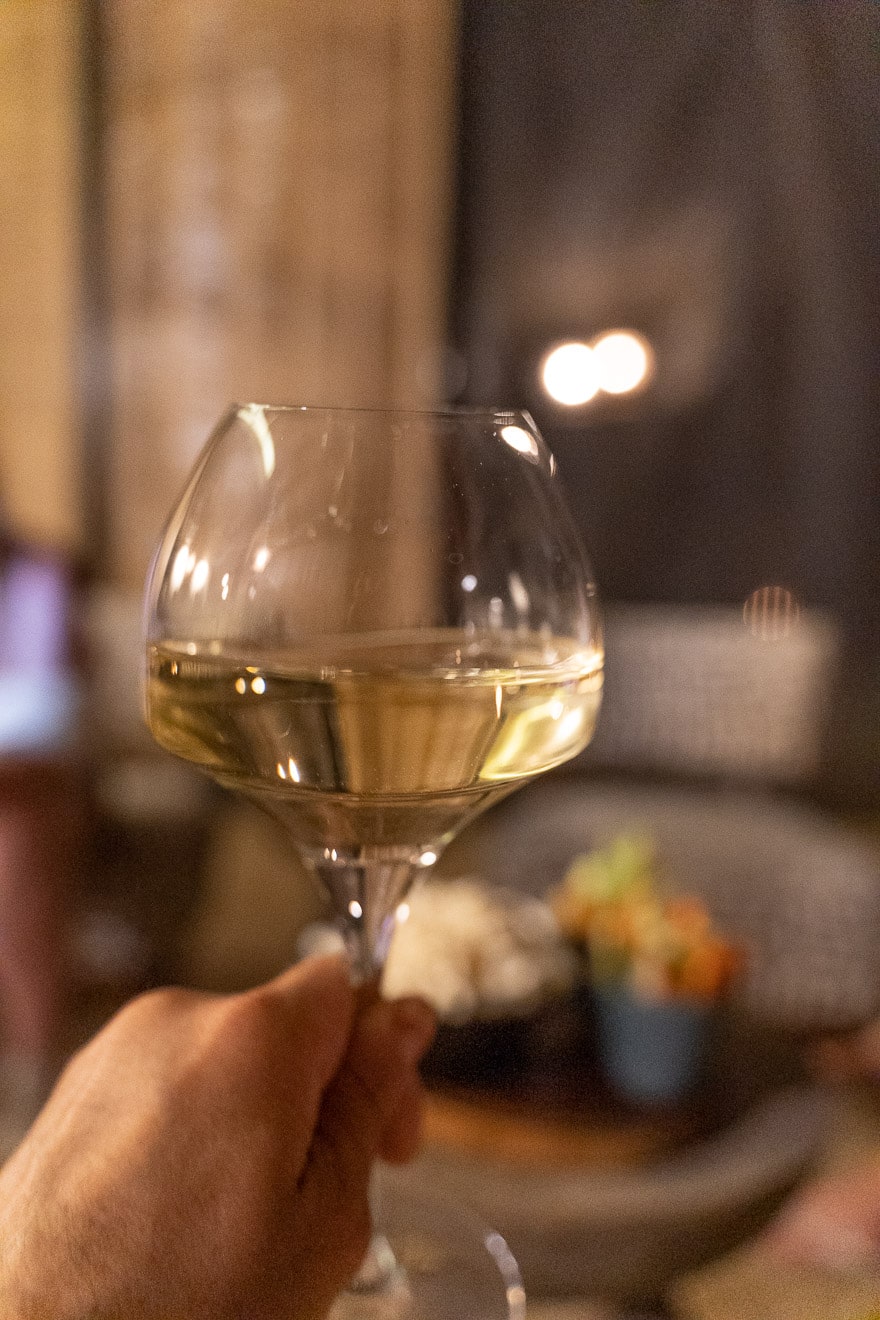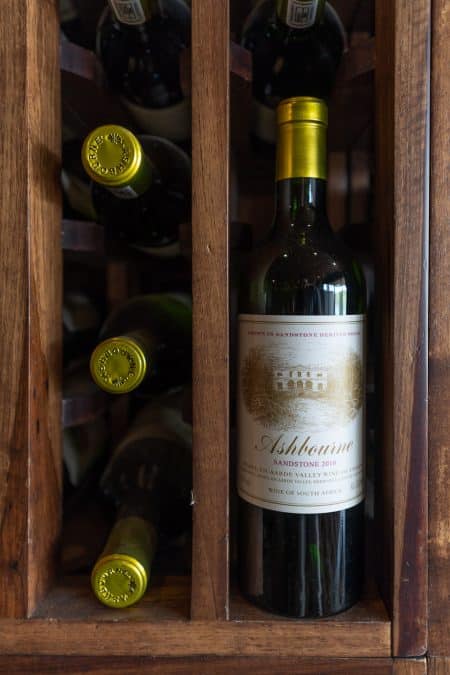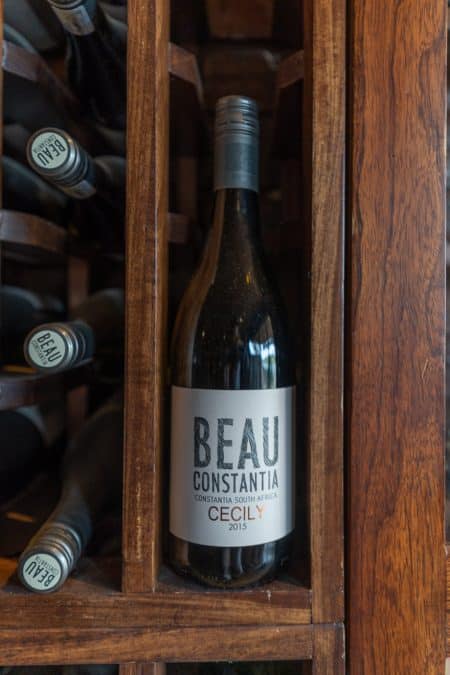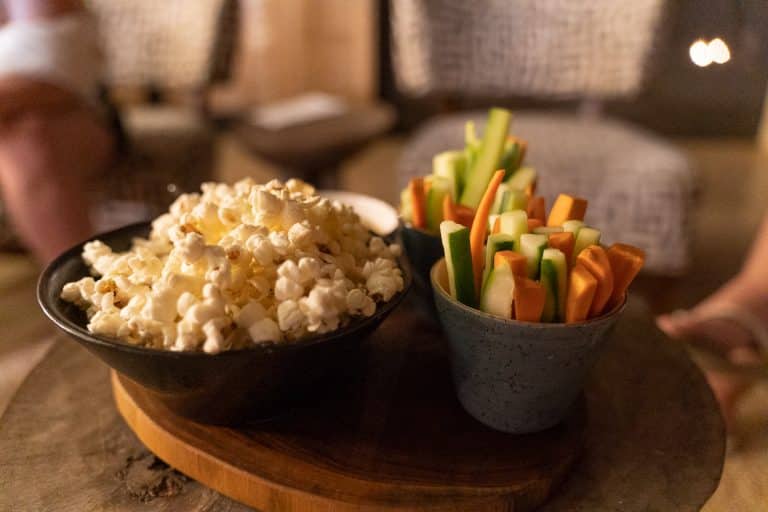 When we moved to the River Lodge suite, we noticed that there was less of a buzz around the bar, with most guests heading straight to their tables for dinner. A shame really, as we had enjoyed interacting with other guests at Silvan, exchanging stories about what we'd seen on our drives.
8:30pm Dinner
Dinner was the meal where the kitchen at Matetsi really had the chance to shine. Dishes had a predominantly French and Italian focus, with one or two East Asian dishes thrown in daily for good measure.
Dinner Menus
(click to expand)
Service, flavours and plating were all of an extremely high standard. If Matetsi was a city restaurant, you'd definitely need to make bookings a month in advance!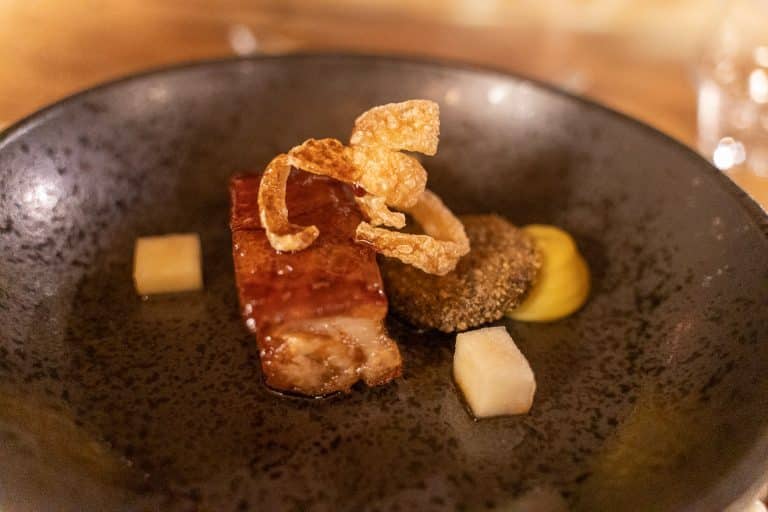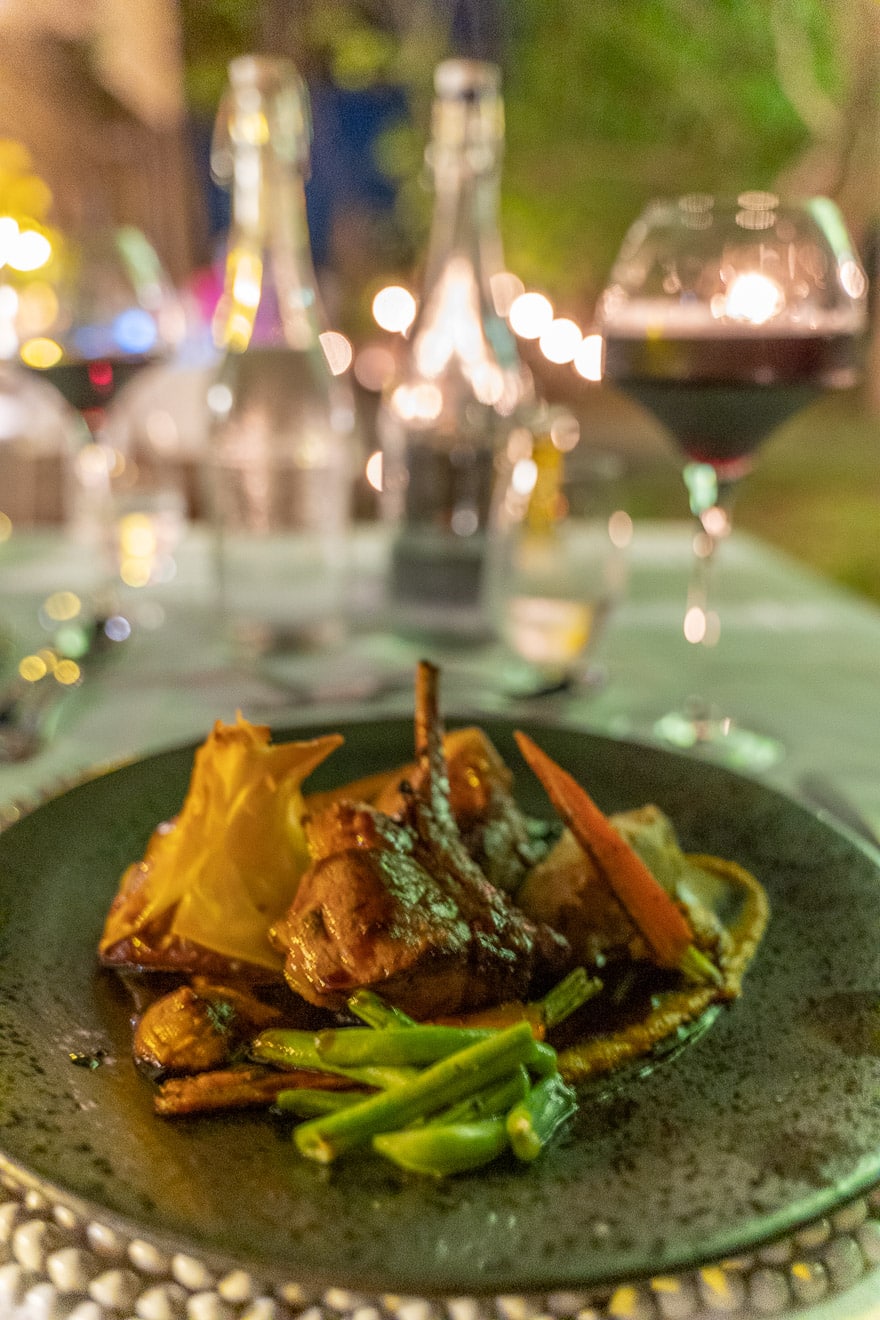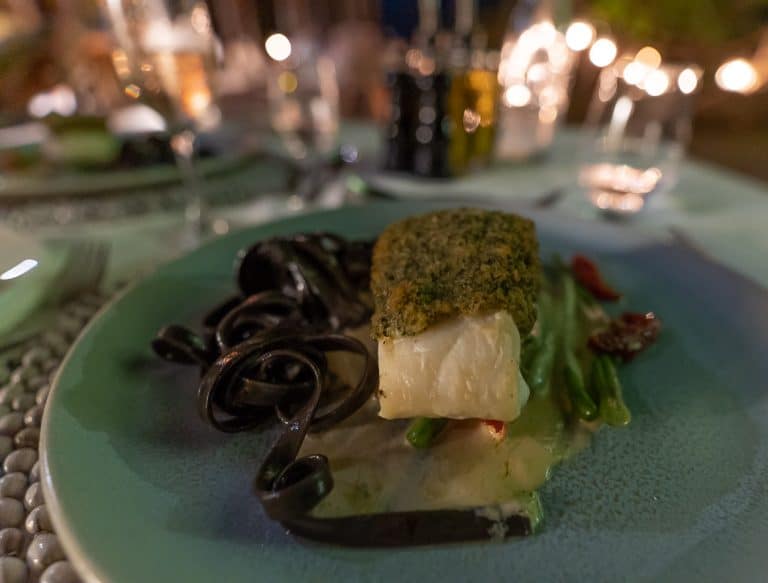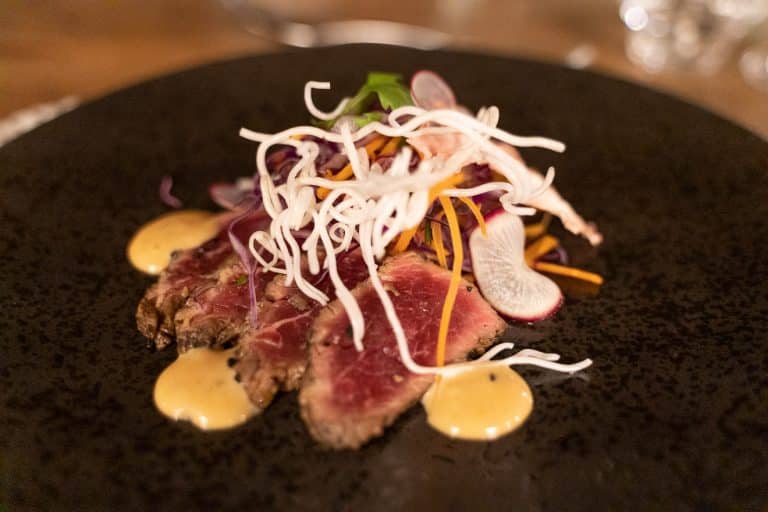 Desserts, accompanied by a glass or two of Amarula, were the perfect way to round out the day's feasting.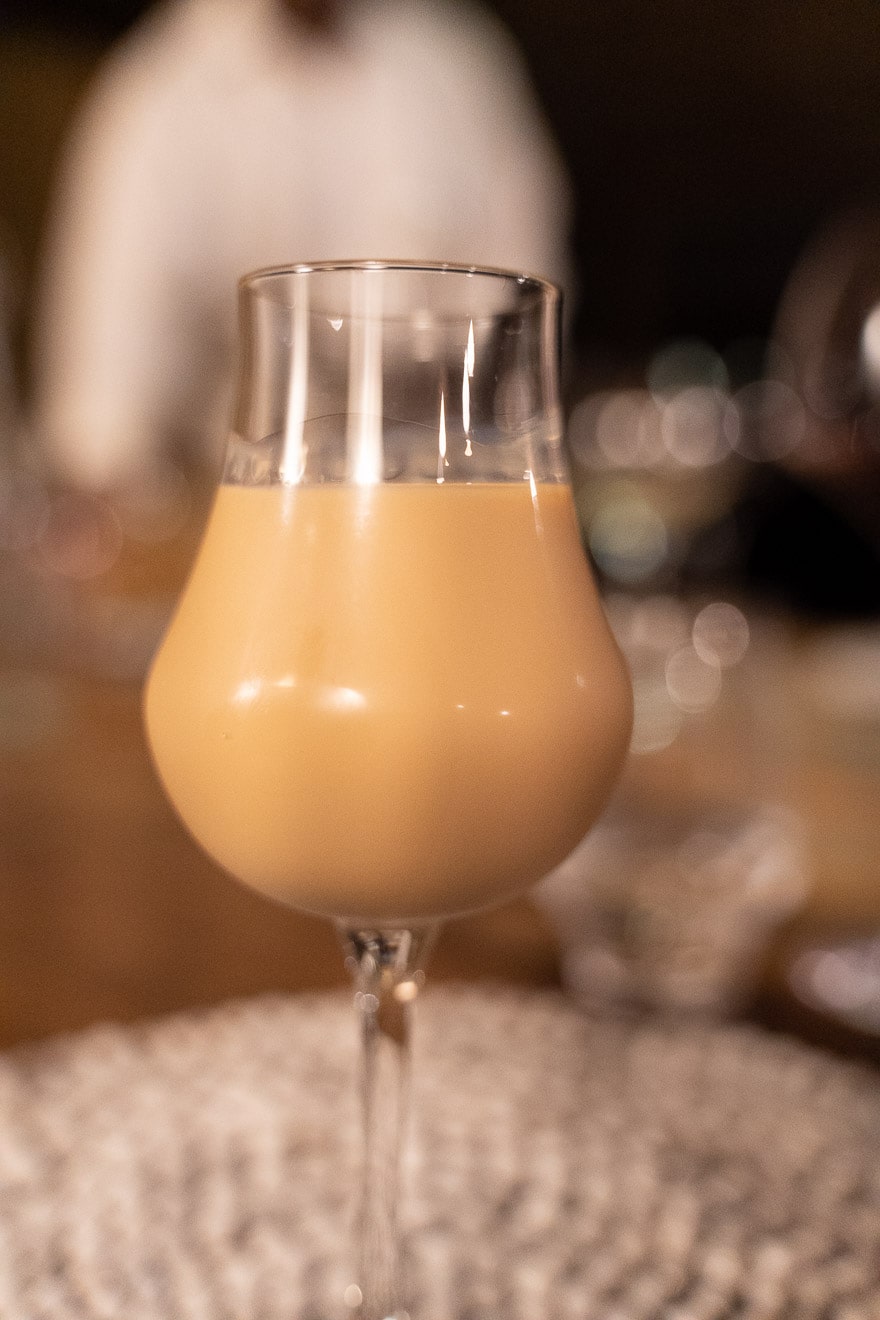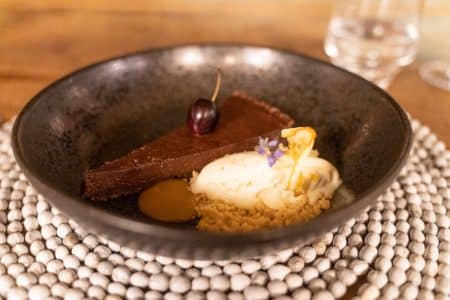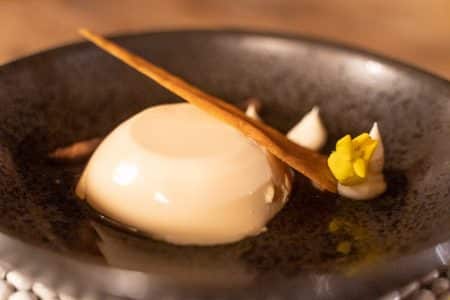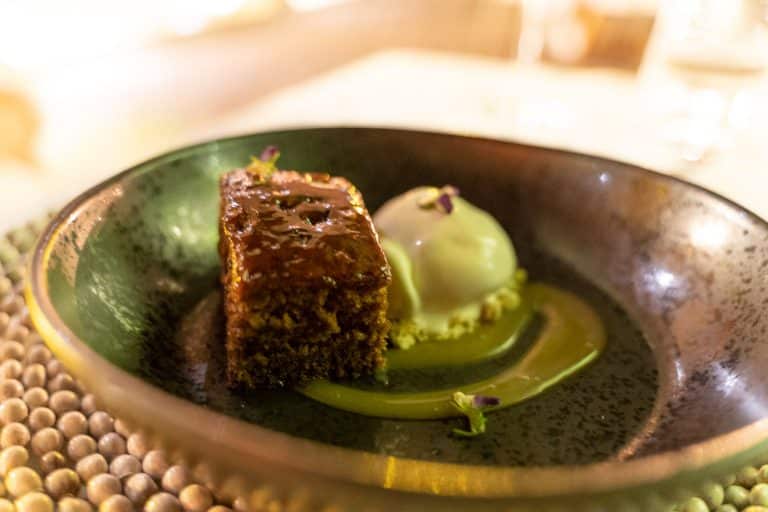 ---
Game Drives
---
This, of course is the main reason for coming on safari.
It is also an area in which it really pays to do your research.
The key things to look for when picking a safari destination:
number of vehicles permitted at any one animal sighting
number of lodges sharing an area of land
type of vehicle
typical number of guests per vehicle
ability for vehicles to go off-road
Matetsi did extremely well with regards to the list above.
The lodge is the only one with access to the game reserve, so we seldom encountered any other vehicles. At the lodges of Sabi Sands in South Africa, you are almost guaranteed to see anything you could ever imagine. A network of lodges shares the reserve and is in constant communication.
The flipside is that you are always encountering other vehicles and at times it can feel like a borderline zoo.
At Matetsi, I genuinely got the feeling that we were alone in the wilderness. Sightings were tougher to come by, but this also meant that the adrenaline rush was magnified, since we really had to work to see the rarer animals.
We only ever shared our vehicle with our friends and on the two days that we stayed by ourselves, we had a private vehicle (something the lodge will try to do to ensure guests have the best possible experience, and rangers and trackers are always out checking on the reserve).
The Toyota Land Cruiser was very comfortable, and unlike the vehicles in Sabi Sands, at Matetsi we also had a canvas roof to protect us from the searing heat of the sun.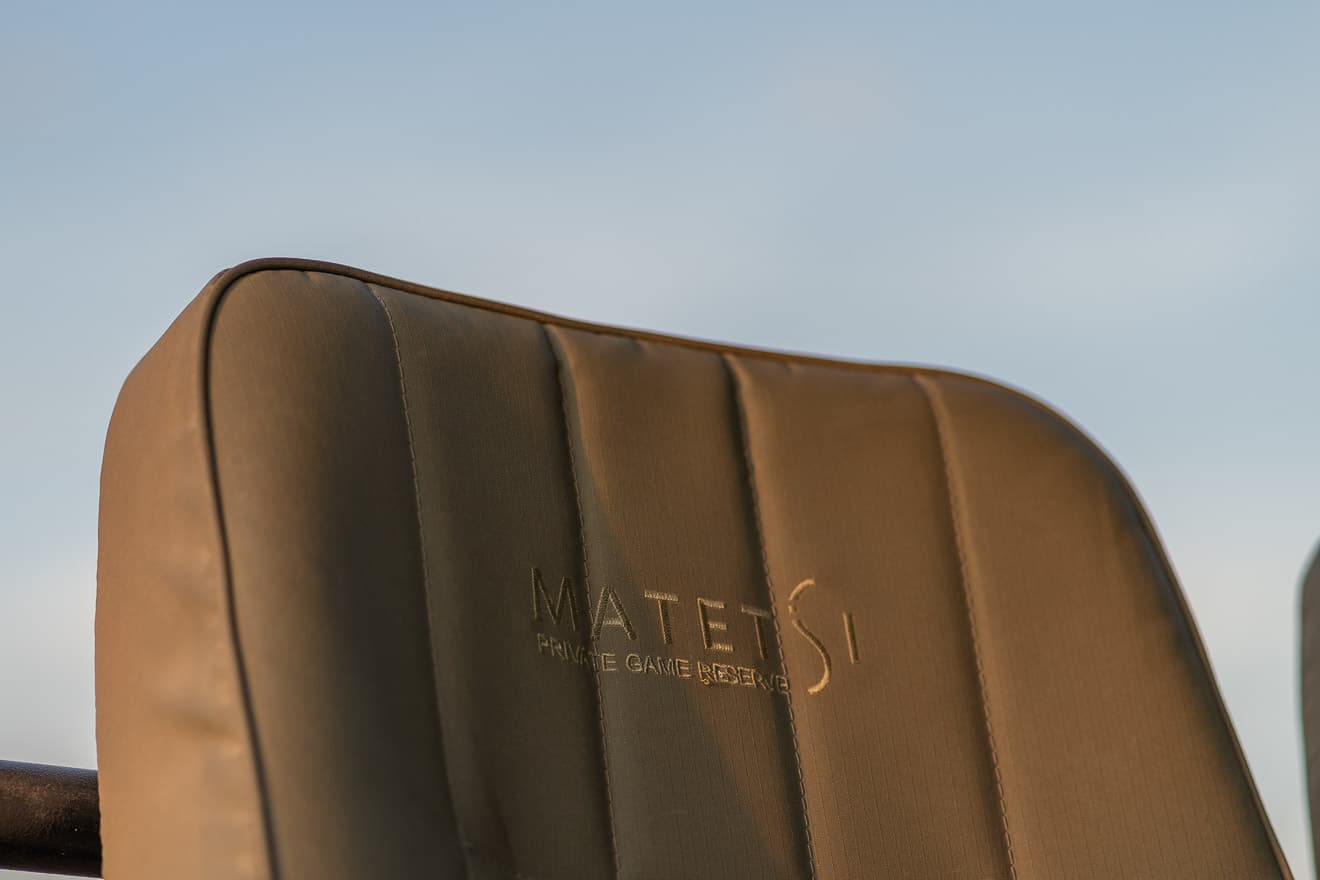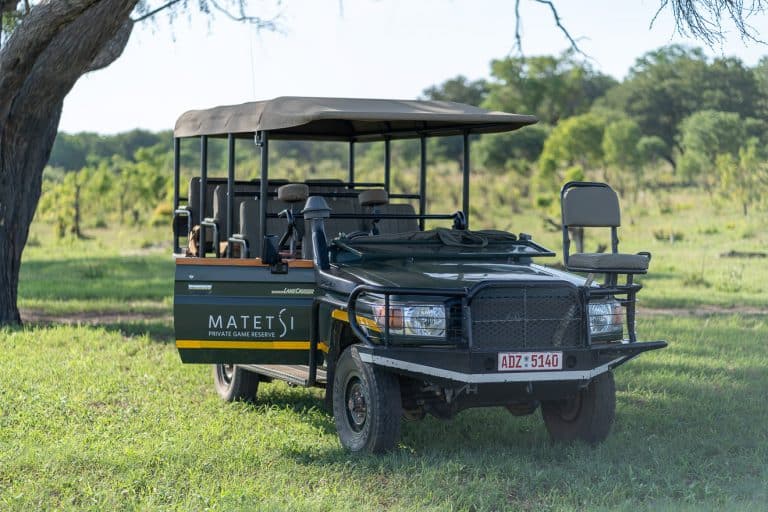 Our ranger Ophious was a fountain of endless animal knowledge, his level of experience is truly remarkable. Meanwhile our tracker, Decent, more than lived up to his name.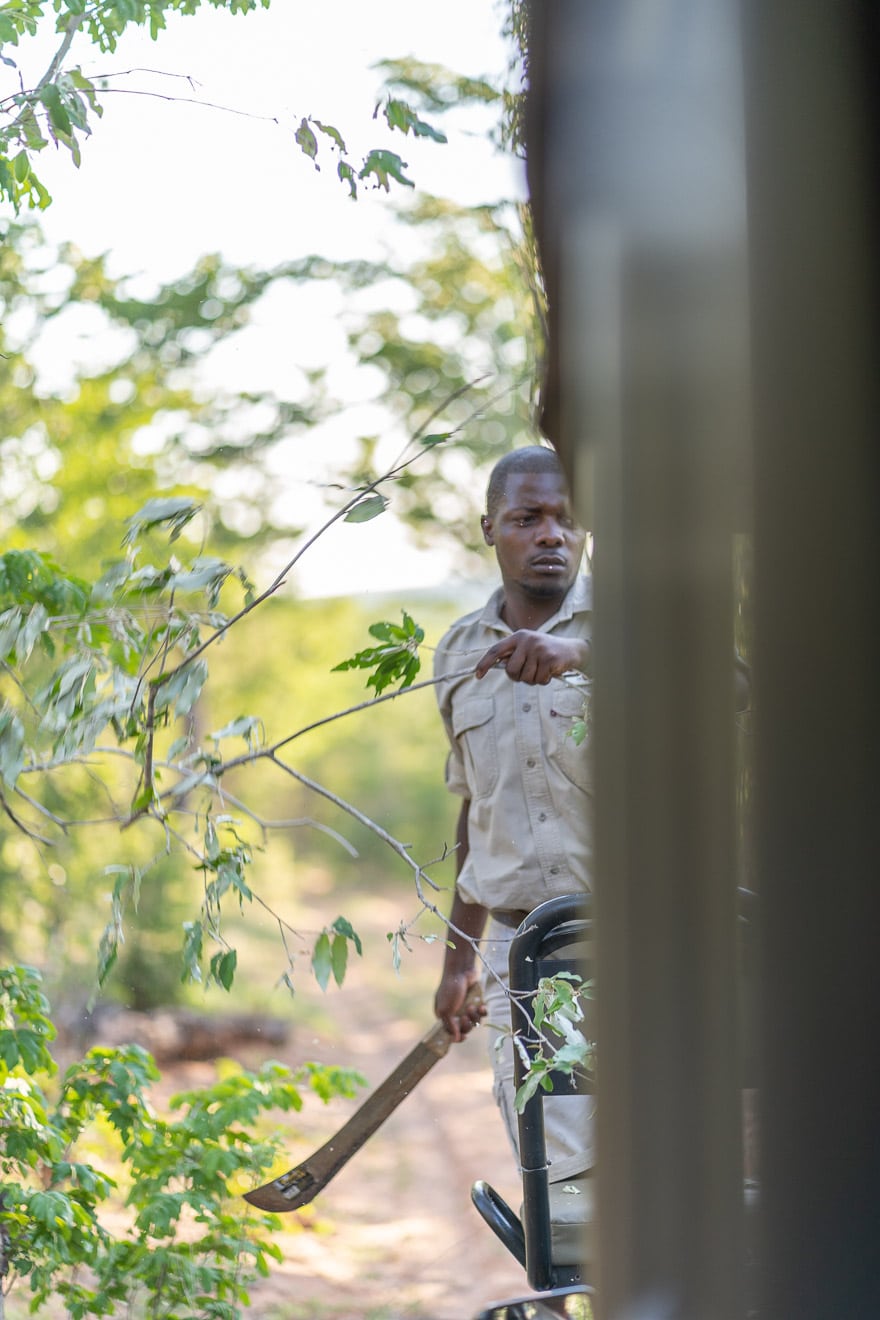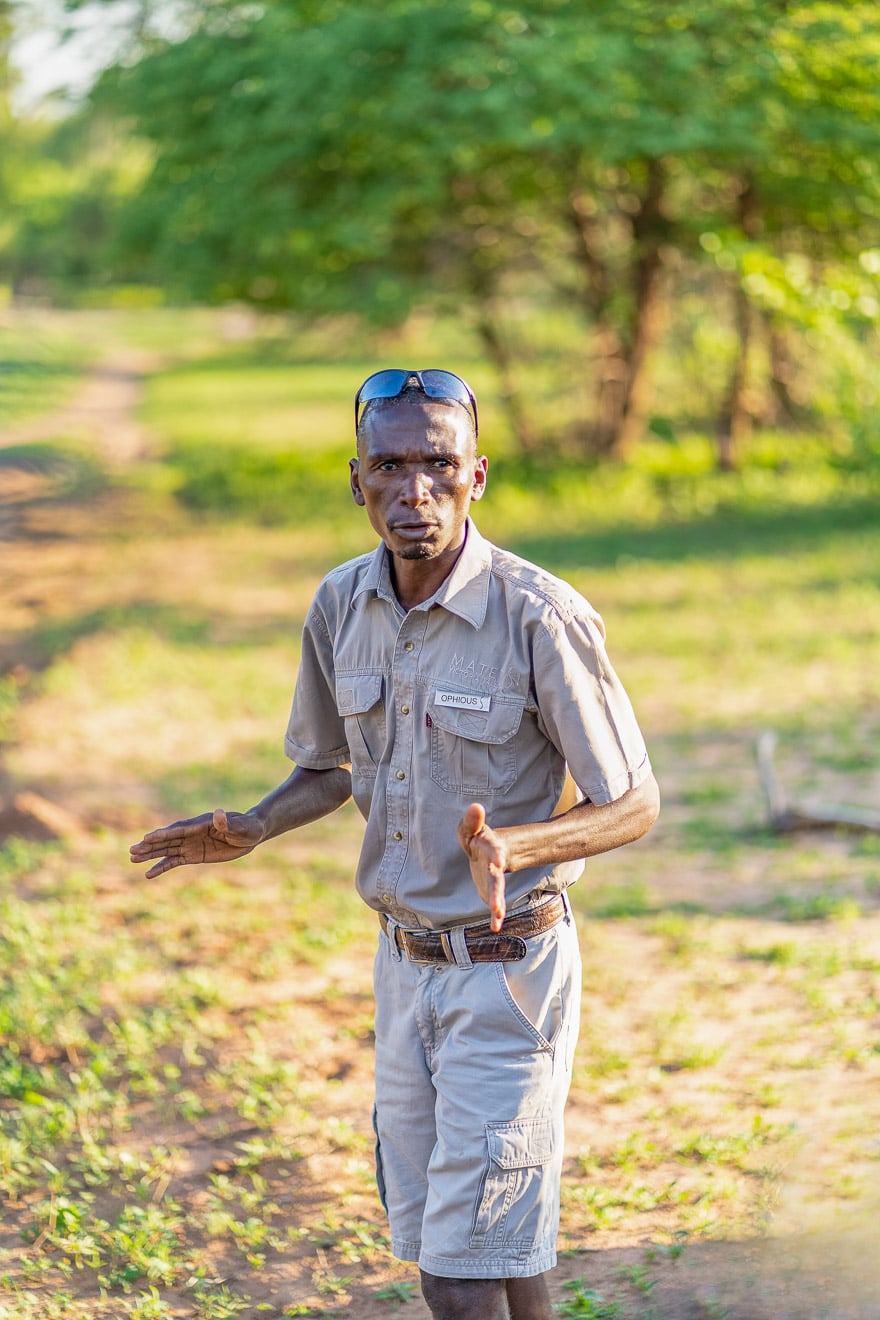 Their job was clearly many orders of magnitude more difficult here than at the more commercialised reserves of South Africa, but thanks to their expertise, we encountered a phenomenal variety of wildlife, even when animals did their very best to hide from us:
We only saw one giraffe in 4 days in South Africa, so we really made up for it here: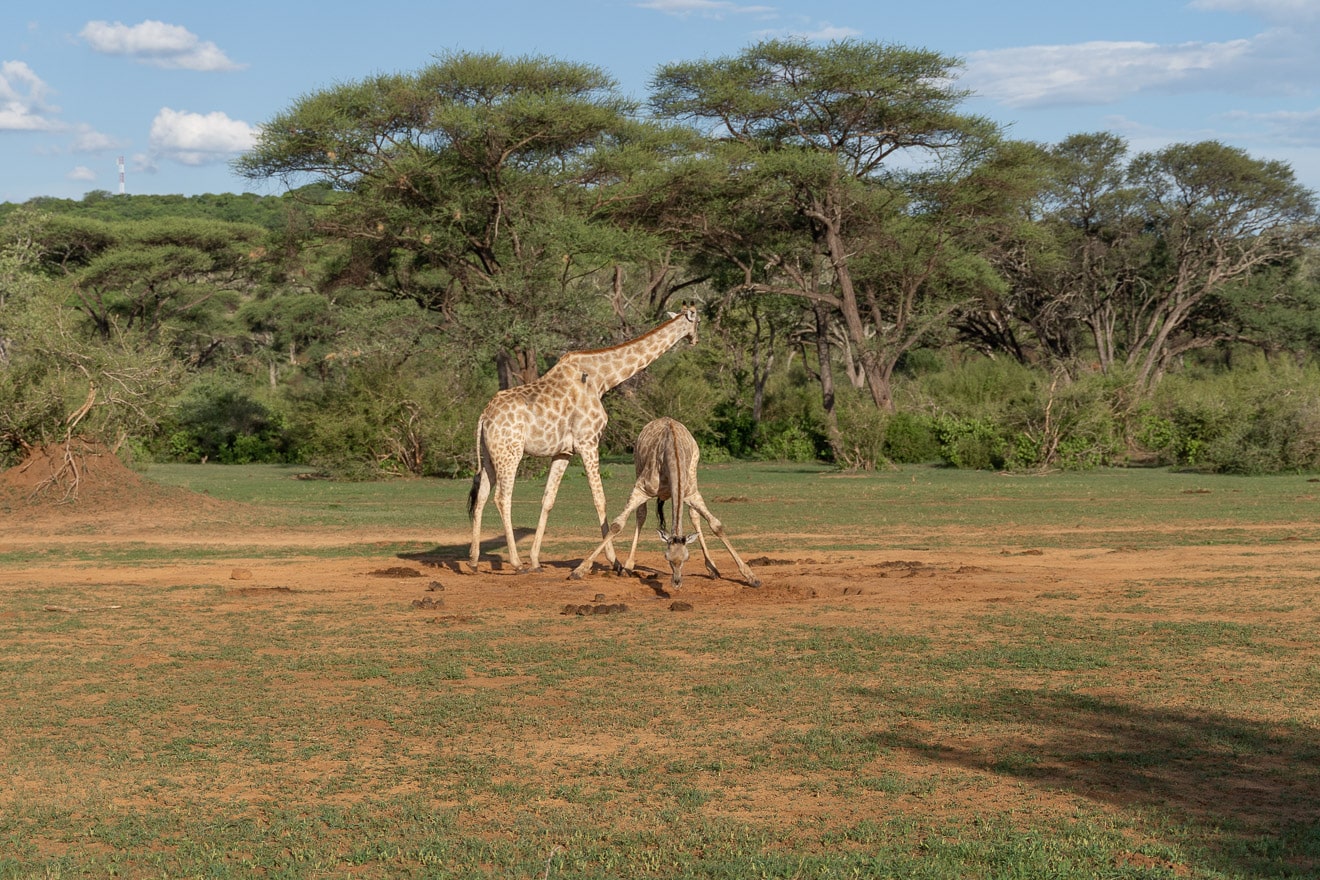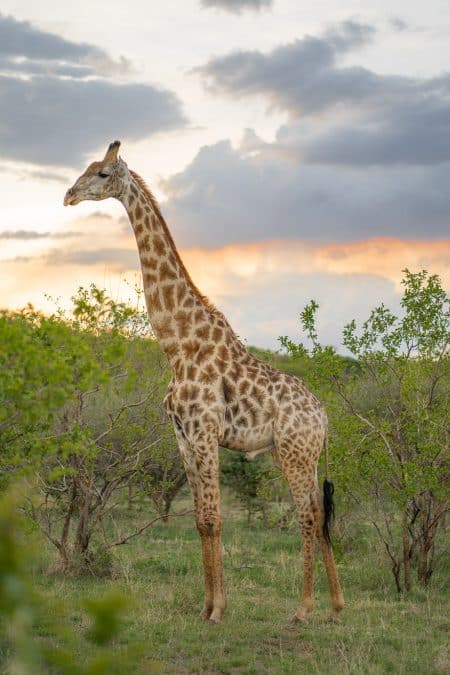 Elephants were in plentiful supply too.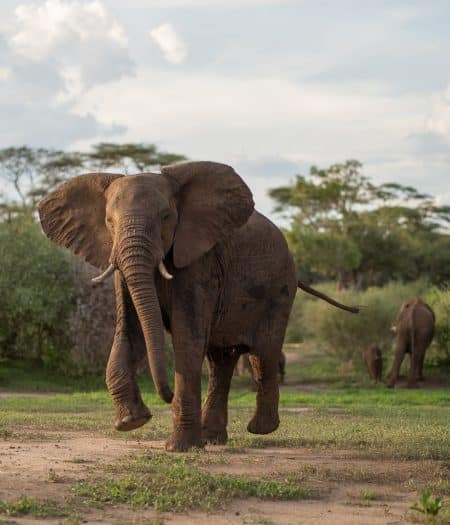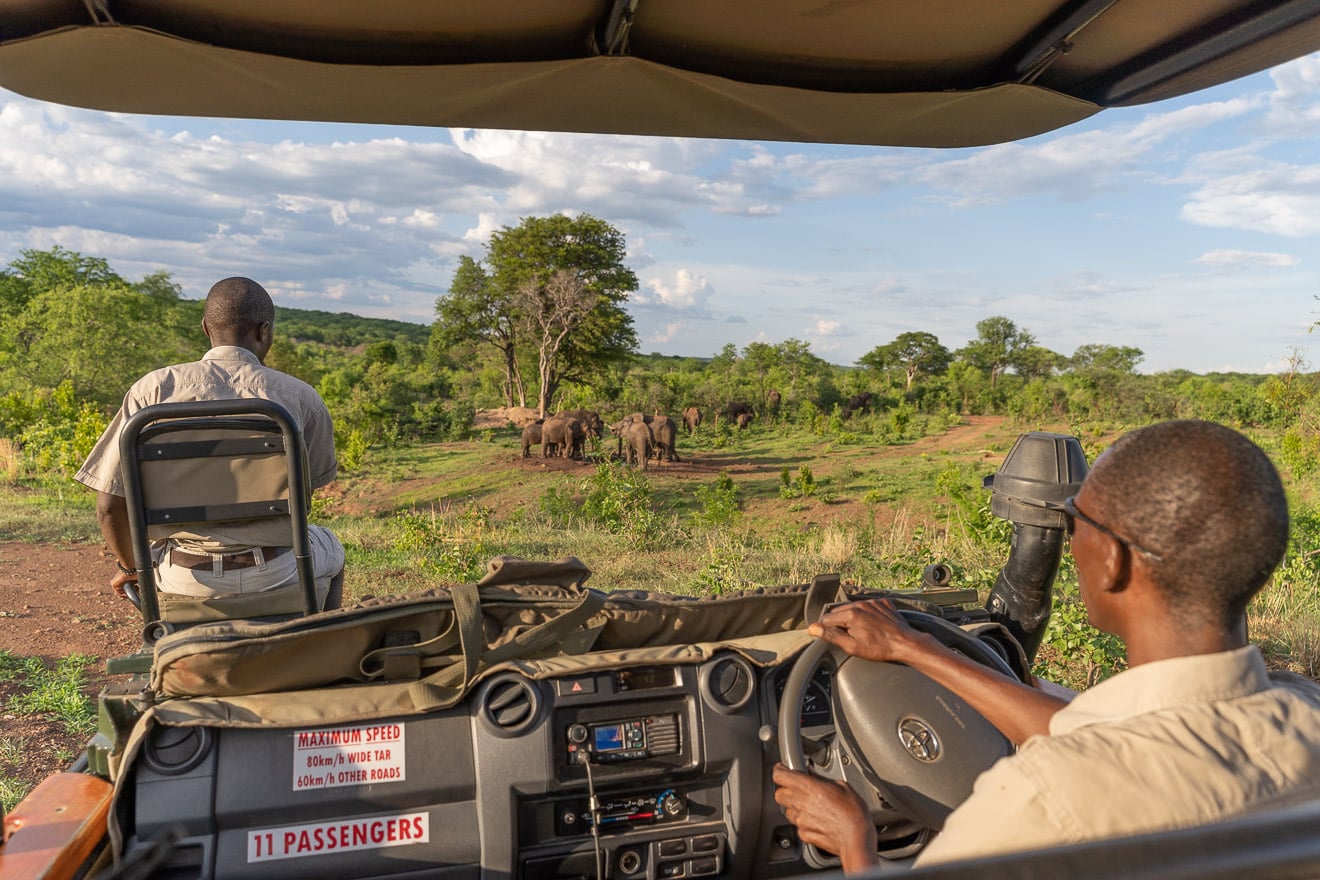 As were Cape buffalo, the deadliest of the "Big 5" safari animals.
Having only spotted females in South Africa, it was great to finally see male lions with full manes. More special still was the fact that we spotted a lion and lioness relaxing under a tree, grooming each other peacefully.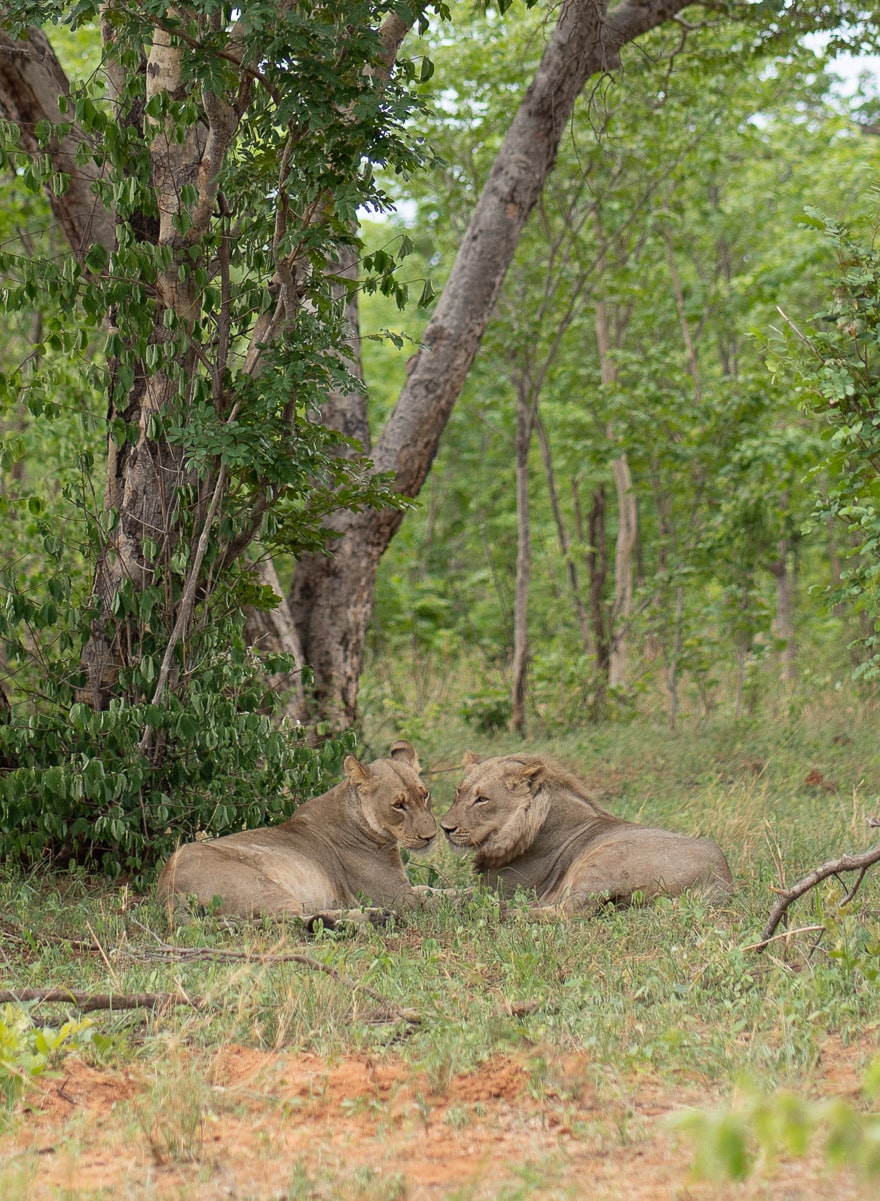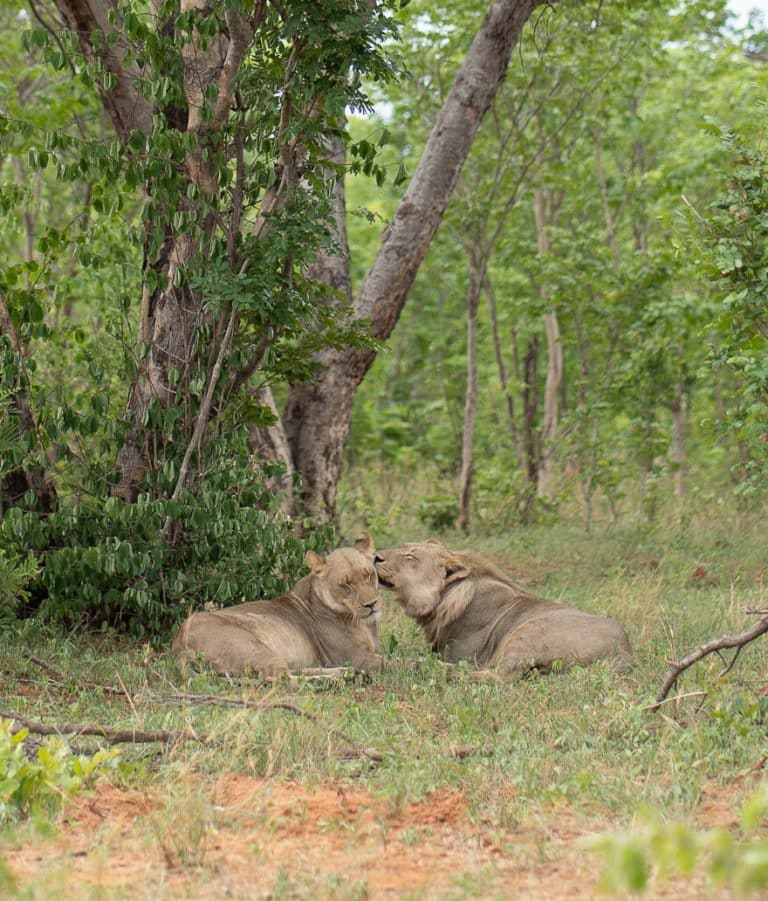 Visiting in December meant that we were also able to see all kinds of newly born baby animals. This made things adorable for us, but tougher for the rangers, as new parents tend to behave more erratically and need to be observed very carefully.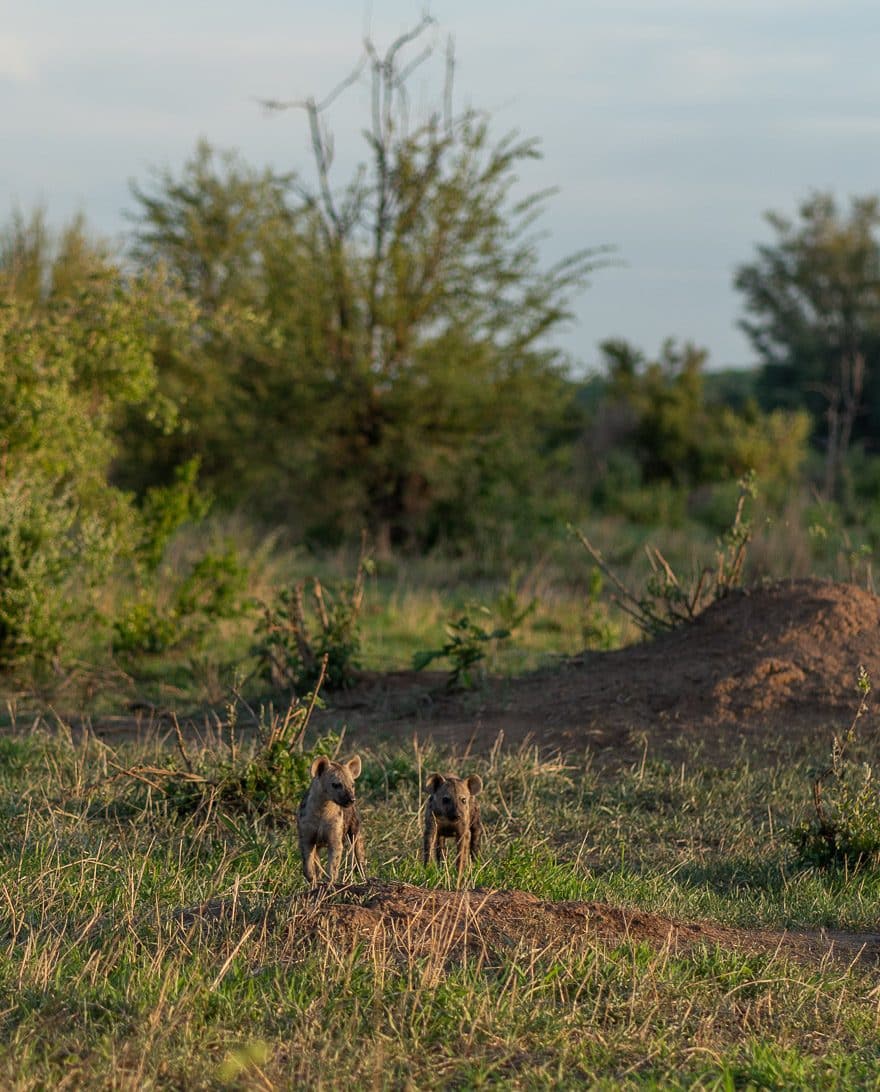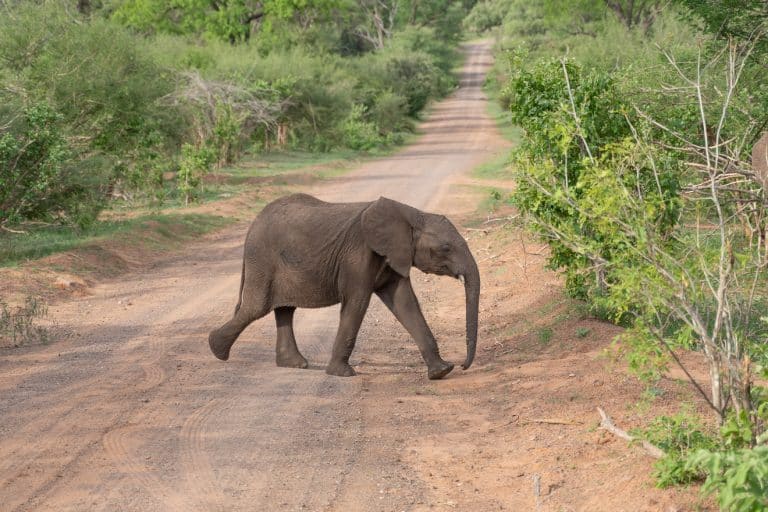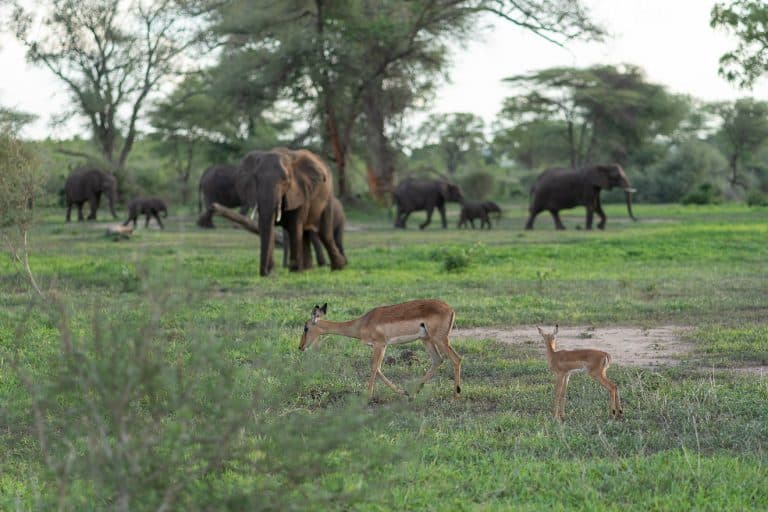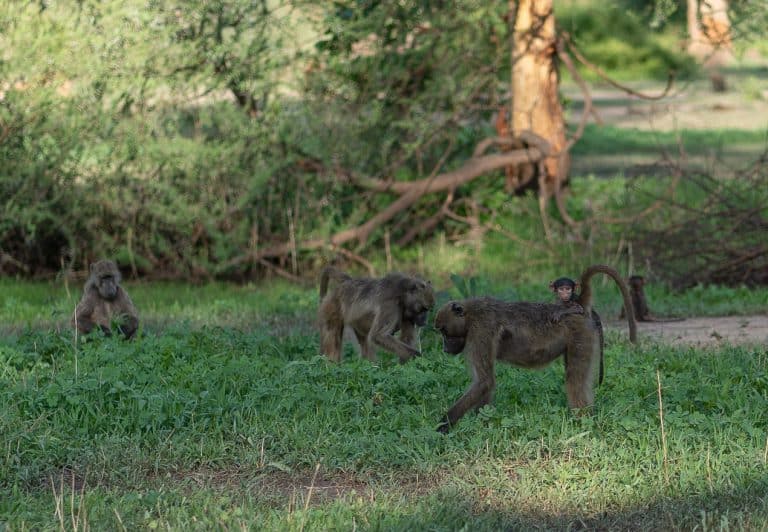 By far, the most impressive moment of our time on the game drives was when we were headed back to the lodge in total darkness and Decent quickly shouted "stop, stop, stop". Ophious quickly cut the engine and asked what Decent had seen. "Leopard," was his immediate response.
Leopards are highly reclusive creatures, which are very rarely spotted at Matetsi. At first, Ophious laughed, thinking that Decent must have been seeing things, but Decent was certain.
So for the one and only time at Matetsi, Opihous edged our vehicle a few metres off the path and sure enough, we spotted a very impressive male leopard panting heavily next to a pile of broken wood.
As soon as we shone a light near to it, it stared directly at us. Moments later, we were surrounded by the sounds of howling baboons in the dense canopy of trees above. They had now spotted the leopard and were warning each other of the danger.
As the leopard got up we saw a wound above one of its legs. Clearly a fight between leopard and baboon had already taken place this evening, with the leopard coming away rather worse for wear.
It is moments like this that make going on safari so incredibly addictive.
Sure, you can go and see a leopard or a baboon in a zoo, but seeing the entire drama unfold in front of you, in a fully open vehicle, just a couple of metres away – honestly there's no feeling like it on earth.
---
Other Activities
---
River Safari
On our first evening, we thought we'd try something a little different and opted for a sunset river safari on the Zambezi, rather than a normal game drive. Both are included in the nightly rates here, so you can mix and match however you like.
The setting was beautiful but the game viewing paled in comparison to the drives. We saw a few crocodiles and a hippo or two, that was it.
The sundowners were a lot of fun though and went on for the duration of the entire boat trip. As a group of 8, it was the perfect way to settle into our first night in Zimbabwe (supplemented once again by our own personal stash of champagne!).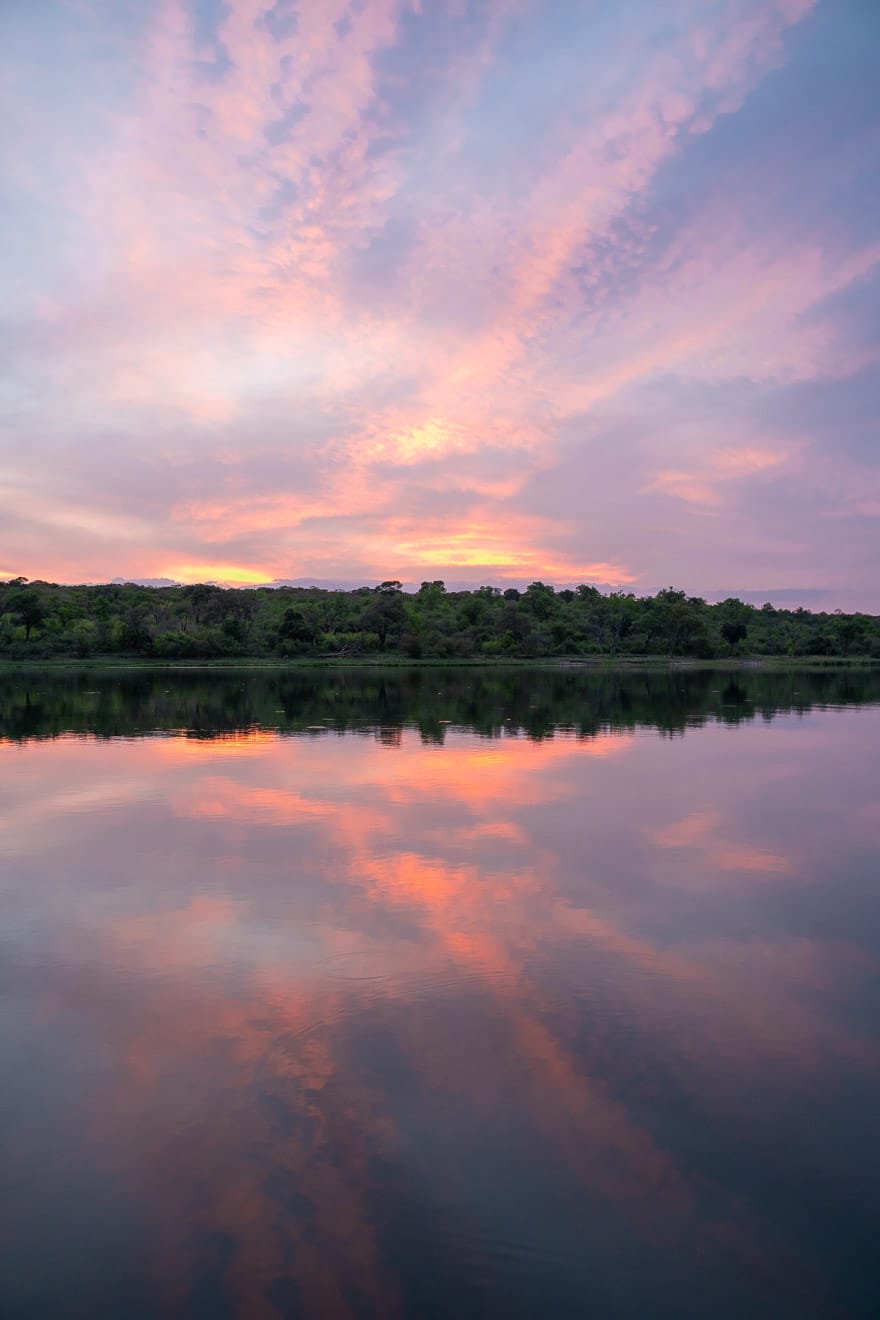 Victoria Falls Visit
No trip to Matetsi would be complete without a trip to the world's largest body of falling water: Victoria Falls.
The falls can be visited from both the Zimbabwean and Zambian side, with each side offering a very different perspective.
Matetsi offers all guests a private tour of the falls (including transport and park fees) at no additional cost.
It took us around 45 minutes by car to reach the falls and the guided walk lasted a little over an hour. The scenery was absolutely breathtaking and our guide was very fun and knowledgeable.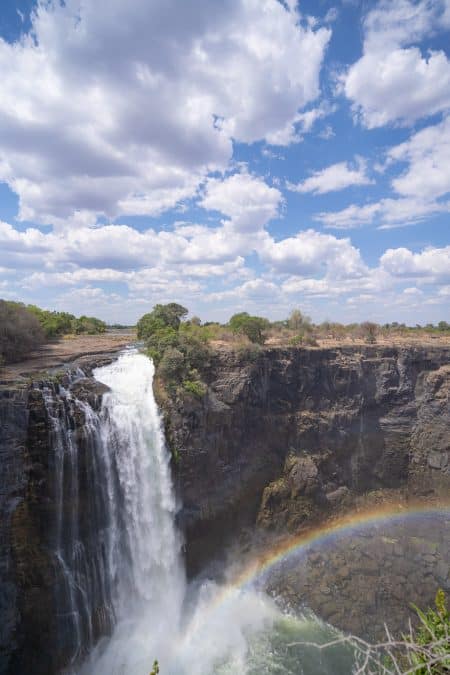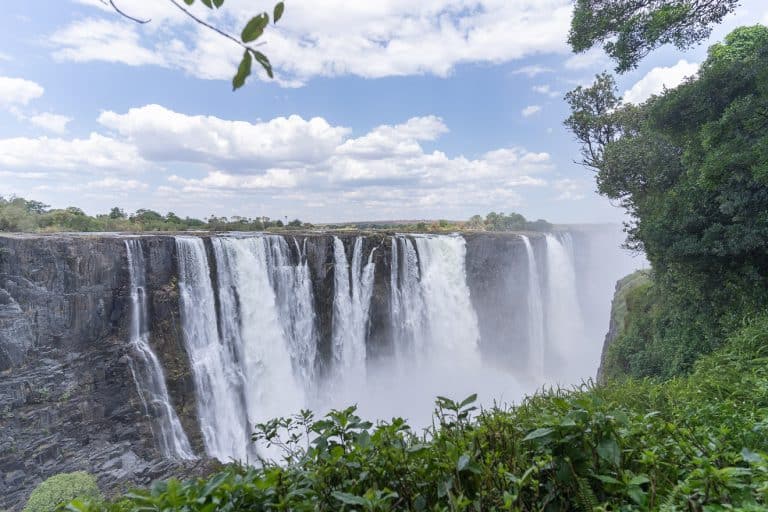 Overall though, I'd say that visiting from the Zambian side was a lot more interesting…not least because we sat in the Devil's Pool, right on the edge of the falls!
Bubble Bath
On our final day at Matetsi, our wonderful housekeeper Collett prepared a scented bubble bath for us alongside a handwritten note and a bottle of Rose Graham Beck MCC.
I'm slightly disappointed in myself for not coming up with this idea of my own accord. Of course with this being an all inclusive property, this is something that you could do every day, even multiple times a day if you so chose!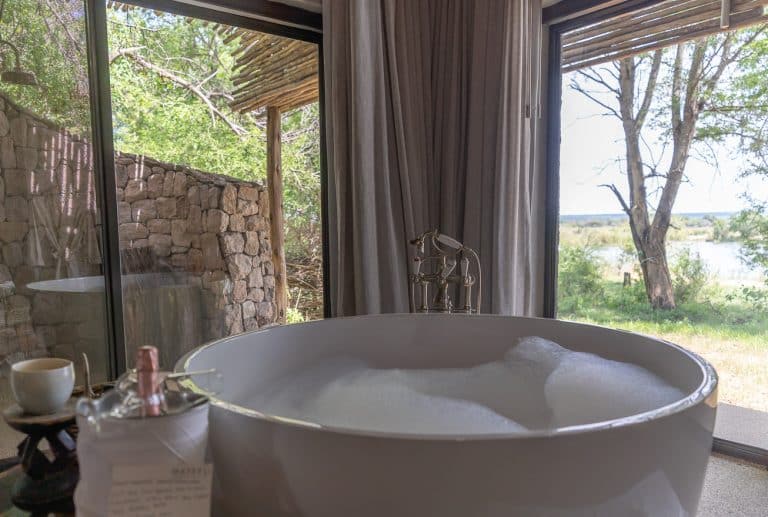 ---
Conclusion
---
Basics Checklist
☑︎ Power sockets near the bed
☑︎ Easy to understand light switches
☑︎ Coffee machine
☑︎ Separate shower and bath
☑︎ Blackout blinds
☑︎ Stable, fast and free Wifi
☑︎ Feather pillows
☑︎ Quiet and powerful aircon
Matetsi delivered all of the basics on my checklist with ease, and went on to offer so much more beyond.
The hardware in the standard rooms was at the standard of the highest category of villa at most luxury resorts around the world. The service was also absolutely spectacular – warm, professional, customised and totally anticipatory. Nothing was ever too much trouble for the staff here, and clearly there is a culture of doing whatever is needed to really shine in the eyes of the guests.
Staff at all levels appear to be extremely proud to work at Matetsi, and as a guest, this really serves to improve the guest experience.
There were a couple of minor areas where Matetsi could improve: adding a greater quality gin than Gordons, providing guests with binoculars on game drives instead of requiring them to bring their own. For the most part though, the experience was flawless.
The game viewing was as private and wild as you could possibly hope for. For the majority of our time on the game drives, it felt like we were at one with nature, totally disconnected from other human beings and the outside world.
When you're paying room rates of $2400 per night, you expect a property to deliver at the highest possible level, and Matetsi did so with ease. Being only our second ever safari after Silvan in Sabi Sands, I'd say that this is easily in the same category. The very highest level of what a safari experience could possibly be.
---
Book Matetsi with Virtuoso benefits
---
For access to preferential rates including:
$180 USD credit, once during stay, applicable towards Spa Treatments and/or Owner's Collection Wines from the specialized wine cellar

Bookings in River House exclusive-use Private Villa will receive an additional $180 USD credit (for a total of $360 USD)

Early check-in/late check-out, subject to availability
Stay 4 nights pay for 3
Stay 7 nights pay for 5
EMAIL ME FOR BOOKING ENQUIRIES