Lufthansa First Class Terminal
Location: Frankfurt FRA
Lounge access:

Lufthansa and Swiss First Class Ticket holders
Miles and More HON Circle Status holders
---
Intro
---
This visit took place before COVID, but now that service is more or less back to normal, it feels like a good time to share this review of my visit to the highly exclusive Lufthansa First Class Terminal.
Lufthansa is unique in offering an entirely separate terminal for its First Class passengers. Singapore Airlines has a dedicated First Class check in facility and BA also offers a First Class Wing, but both are still attached to main terminal buildings and passengers still mix with other passengers on their journey to the plane.
Lufthansa went one step further by creating an entirely separate Terminal away from the rest of the airport. Given this setup, passengers have to be driven to their planes by private limousines, which only adds to the feeling of exclusivity.
In order to qualify for access, you either have to be in possession of a First Class ticket on Lufthansa or SWISS, or you need to have HON Circle Status with the Miles and More loyalty program. The latter option presents a significantly higher barrier to entry, given the requirement to earn 600,000 miles in two consecutive years!
---
Accessing the First Class Terminal
---
The FCT is most easily accessed by car.
If you are connecting in Frankfurt, you are expected to use the regular First Class lounges within the main terminal. If you are a transfer passenger and want to use the FCT, you will need to exit immigration and follow my steps below:
Since I had spent the night at the Frankfurt airport Hilton, I took a ten minute stroll from the main terminal building.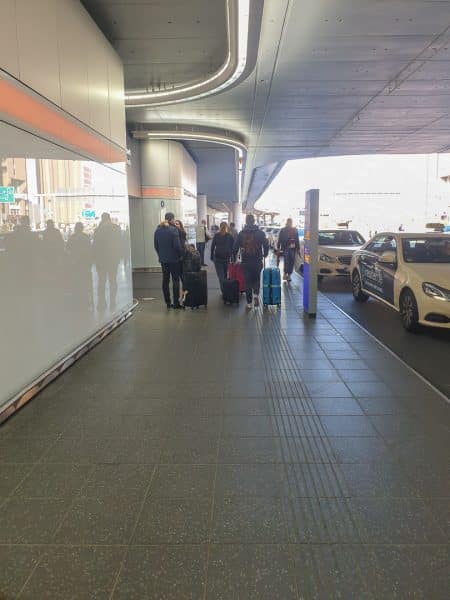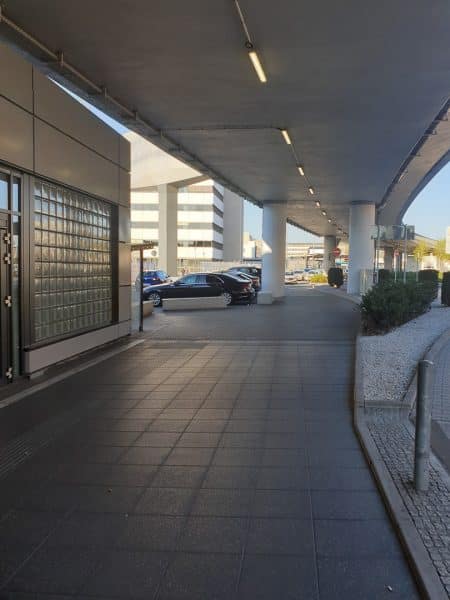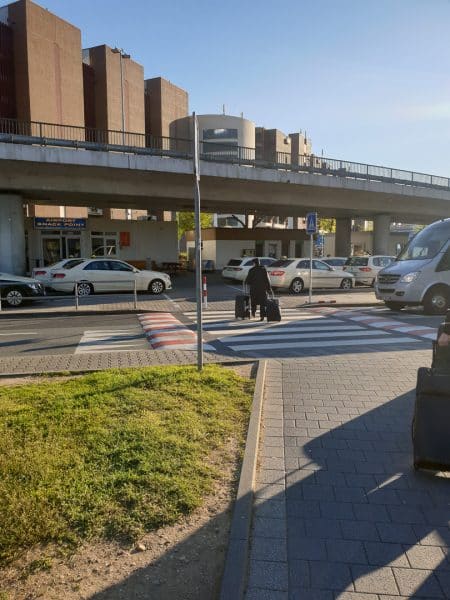 Thankfully, the weather was beautiful as we walked past the huge line of resting taxi drivers and their small cafeteria. Not exactly a red carpet welcome on the way to the First Class Terminal but the walk was well worth it, once we arrived!
We accessed the building from a very clean, minimal and elegant ground floor lobby.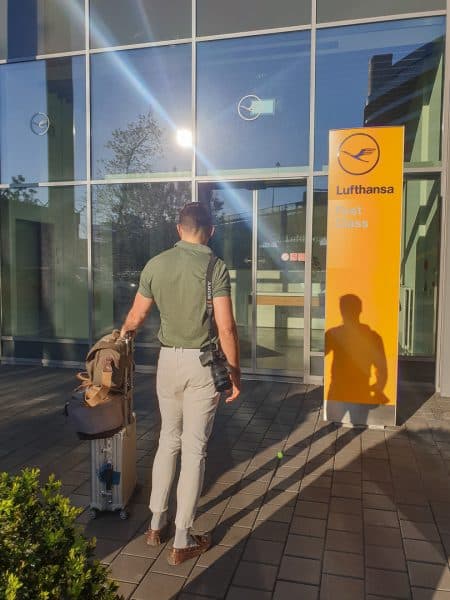 From here, we took a lift upstairs to the main reception area, which is where passengers arriving by car enter the First Class Terminal.
Here, we were warmly welcomed and checked in for our flight to Delhi. We were asked if this was our first time using the facilities and when we confirmed that it was, we were given a brief explanation of the processes and procedures here.
Our passports were taken from us and handed to our Lufthansa personal assistant. She then walked us through a private security channel, where our bags were scanned before we proceeded into the lounge.
Having a personal assistant is a fantastic touch. They are in charge of ensuring that you make it to your flight in time and they hold on to your passport for the duration of your stay.
This means that you can kick back and relax, enjoying the facilities without worrying about the time (or misplacing your passport!).
FCT Duty Free Store
Immediately after security and before entering the lounge, there was a small duty free store.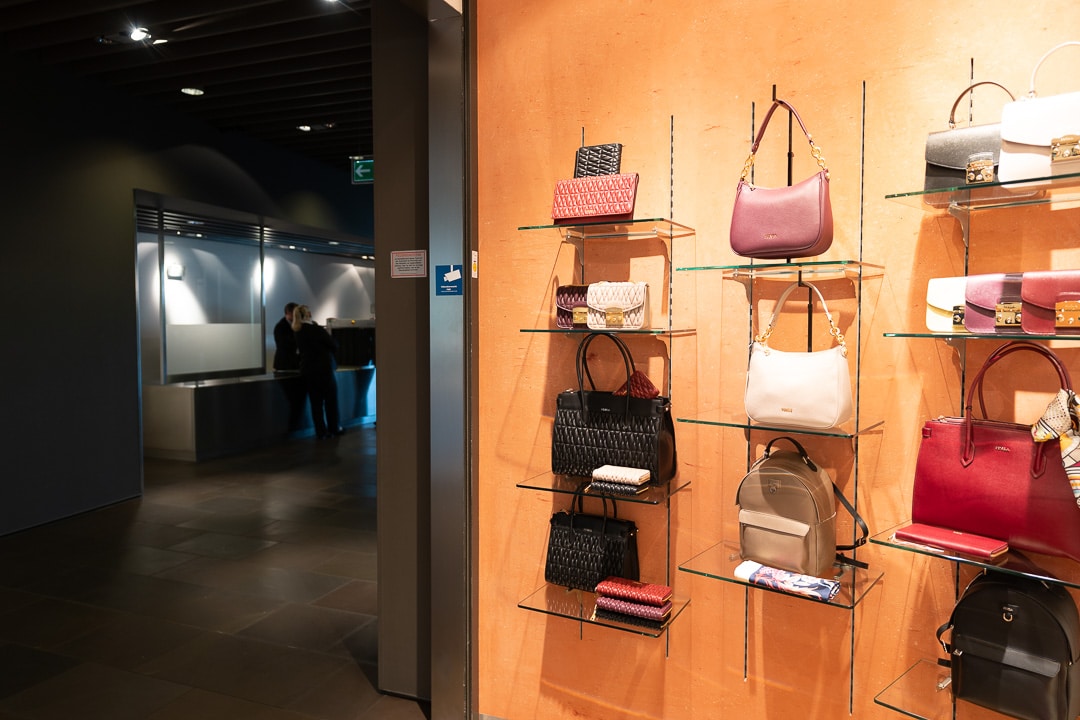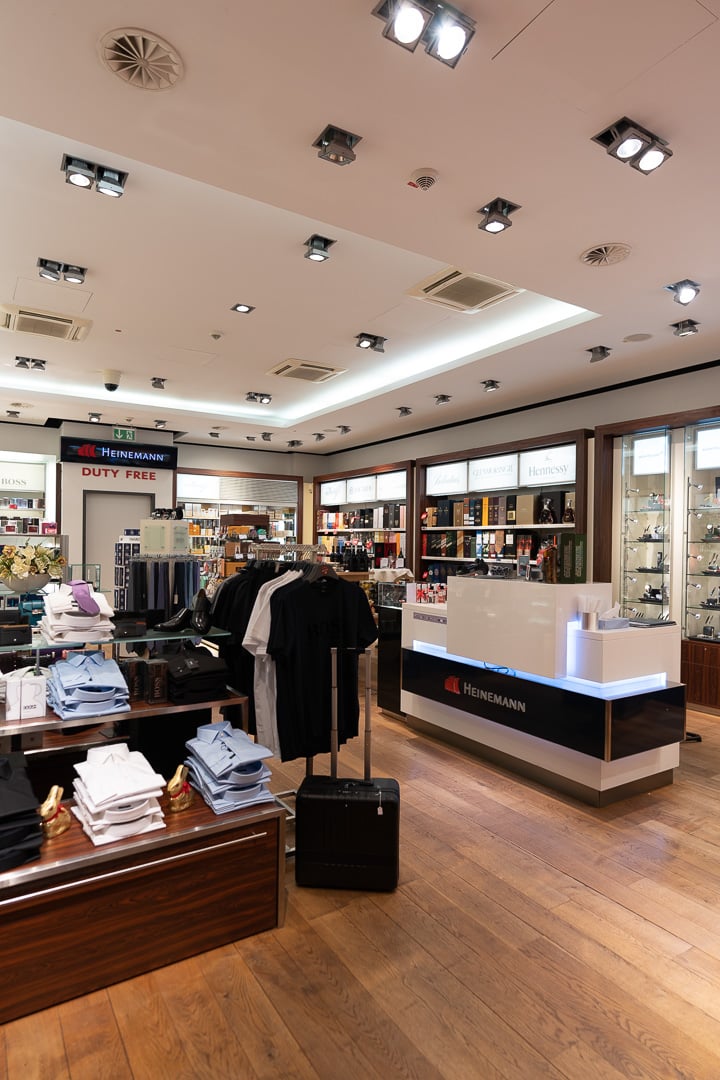 FCT Main Lounge Area
As the doors to the lounge slid quietly open, we were greeted by numerous displays containing glossy magazines as well as a digital world time clock.
Immediately adjacent to this was the bar, which we'll come back to later…
In front of the bar was a large sitting area, featuring clusters of comfortable leather chairs around low coffee tables.
The central tables featured an array of self-service snacks, although these have currently been removed – thanks to COVID.
A series of recliner style seats ran along the length of the lounge's ample windows, with each having access to power sockets. Unfortunately, there were no views to speak of, however.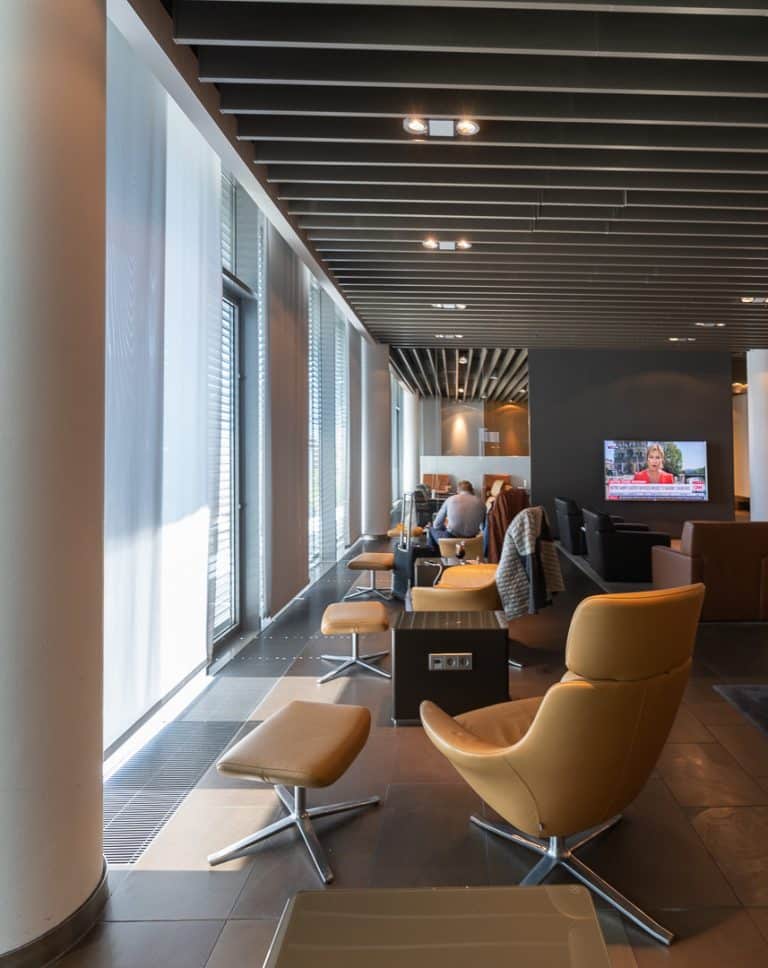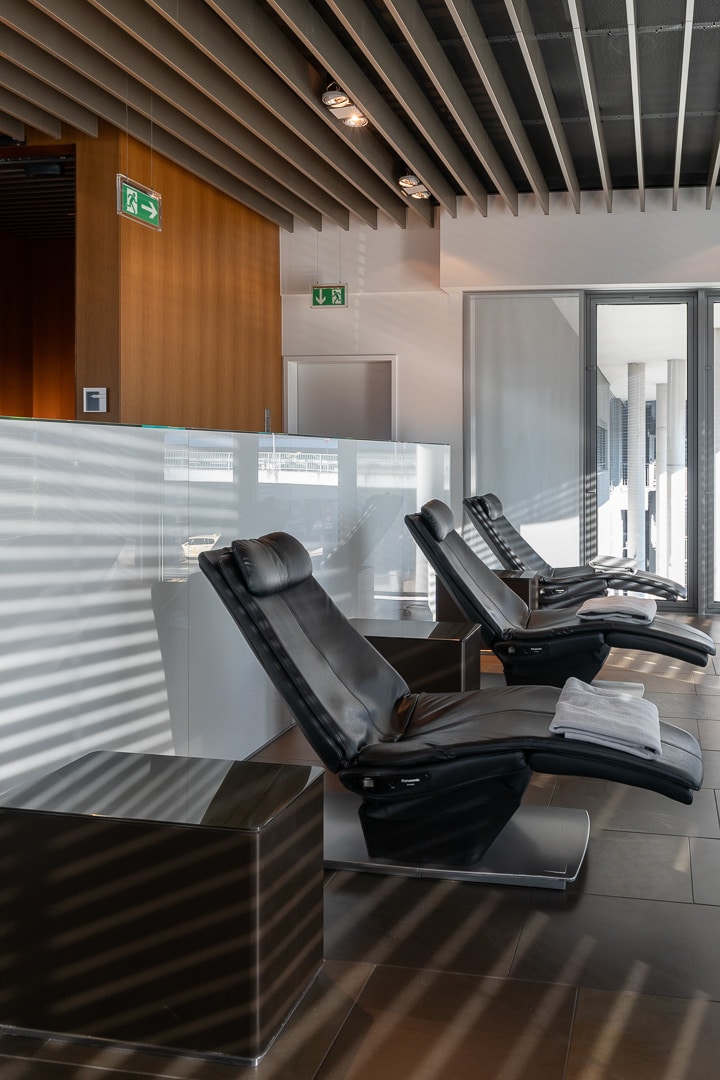 At the far end of the lounge were some deeper reclining chairs topped with blankets (again, currently removed due to COVID).
This quieter end of the lounger was also home to several private work rooms, as well as a concierge desk.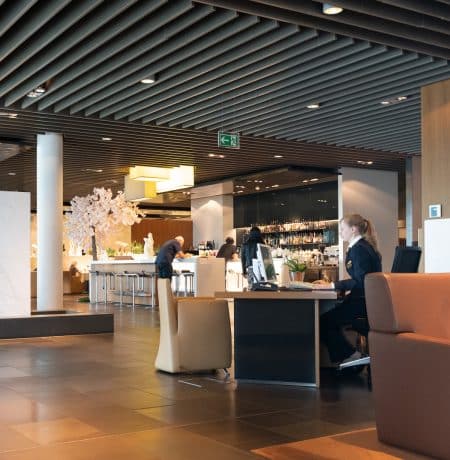 However, my focus was rather more firmly set on the bar that we first saw by the entrance…
First Class Terminal Bar
Since our visit took place during Easter time, the bar area was adorned with cherry blossoms, Easter bunnies and eggs.

The drinks selection was without a doubt the most impressive I've ever seen in any lounge, with an enormous variety of spirits from around the world – including a whisky selection to rival the SWISS Senator lounge at the ZRH E Gates.

(click the thumbnails below to view the full sized gallery)

Although this lounge lacked a prestige cuvée champagne, there was still a very strong selection of standard vintages to choose from. My personal favourite of these being the Roederer 2013 rosé.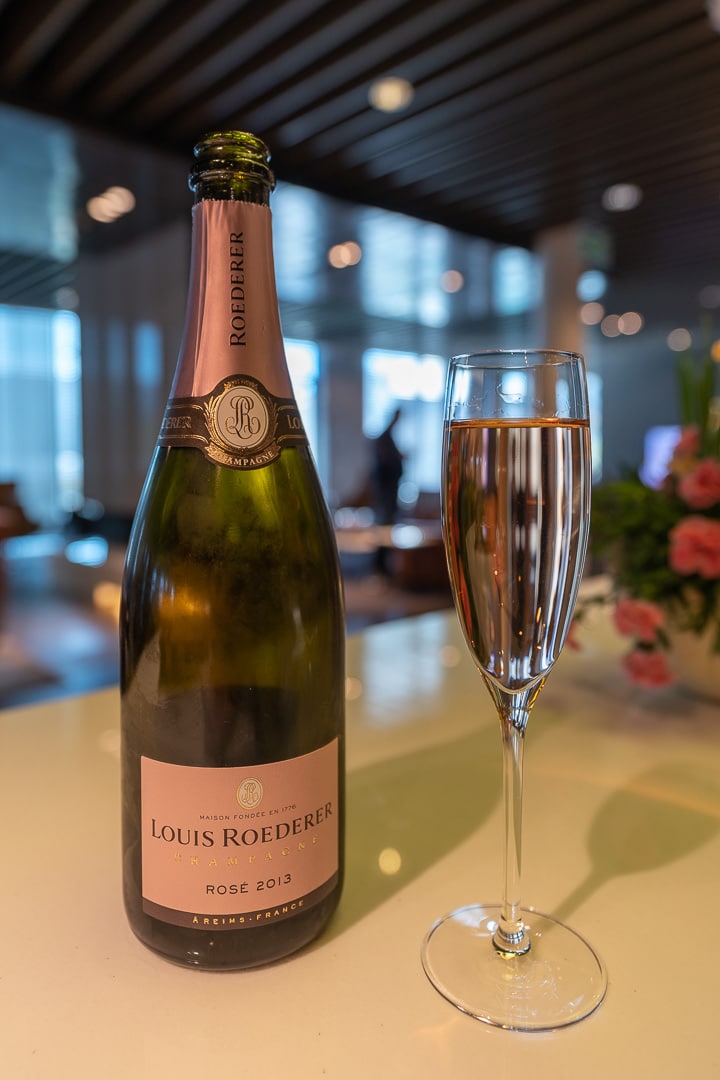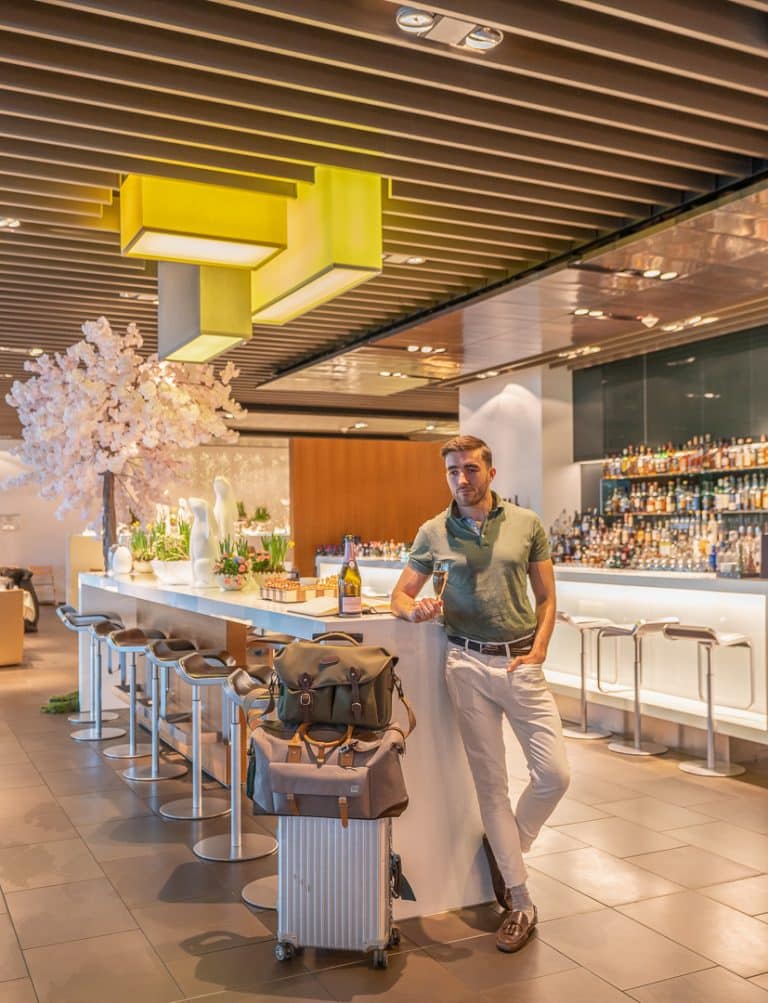 First Class Terminal Dining Room
Right next to the bar was a very elegantly designed dining room, featuring tables laid with white linen tablecloths, comfortable leather seats and freshly cut flowers. I couldn't help but compare this to the rather pedestrian and dreary decor at BA's Concorde Room (although the wine list there is admittedly better).
As we approached the dining area, we were met by a server who escorted us to a table, presented us with breakfast menus and took our drinks order.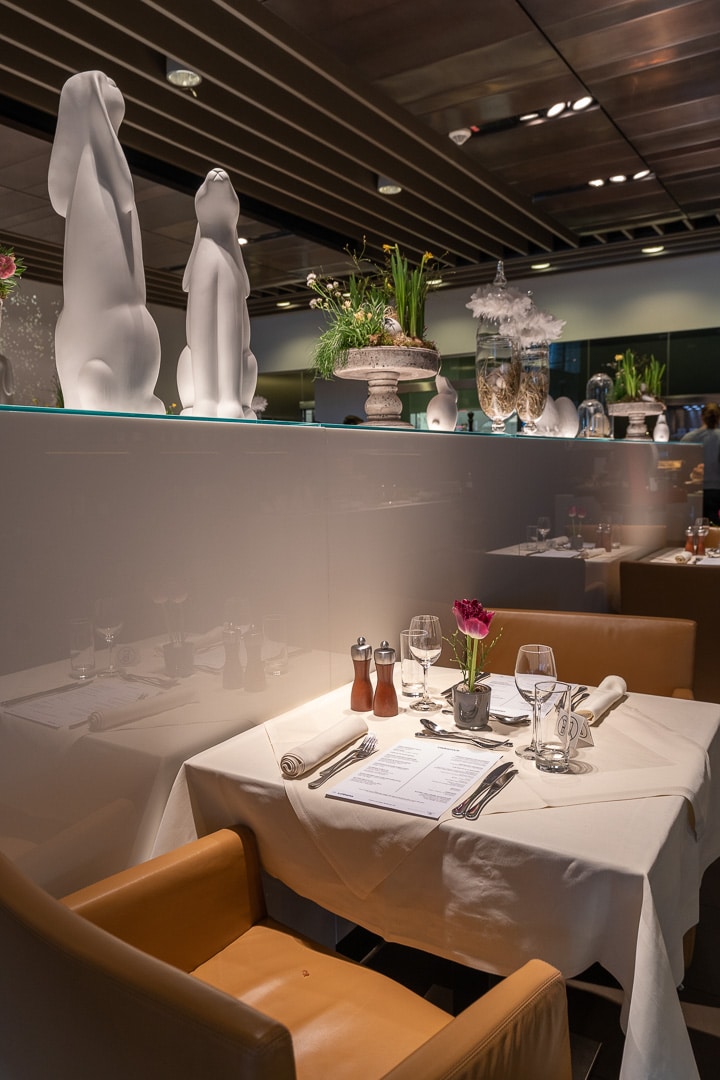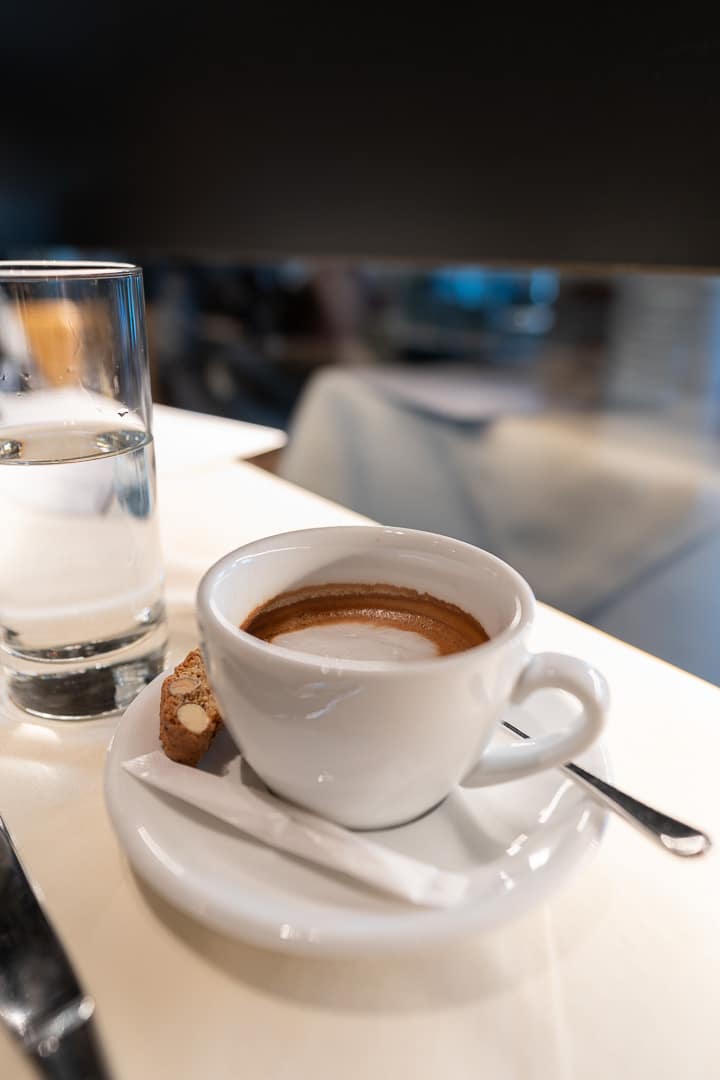 My espresso macchiato was expertly pulled and served alongside a biscotto and a small glass of iced water.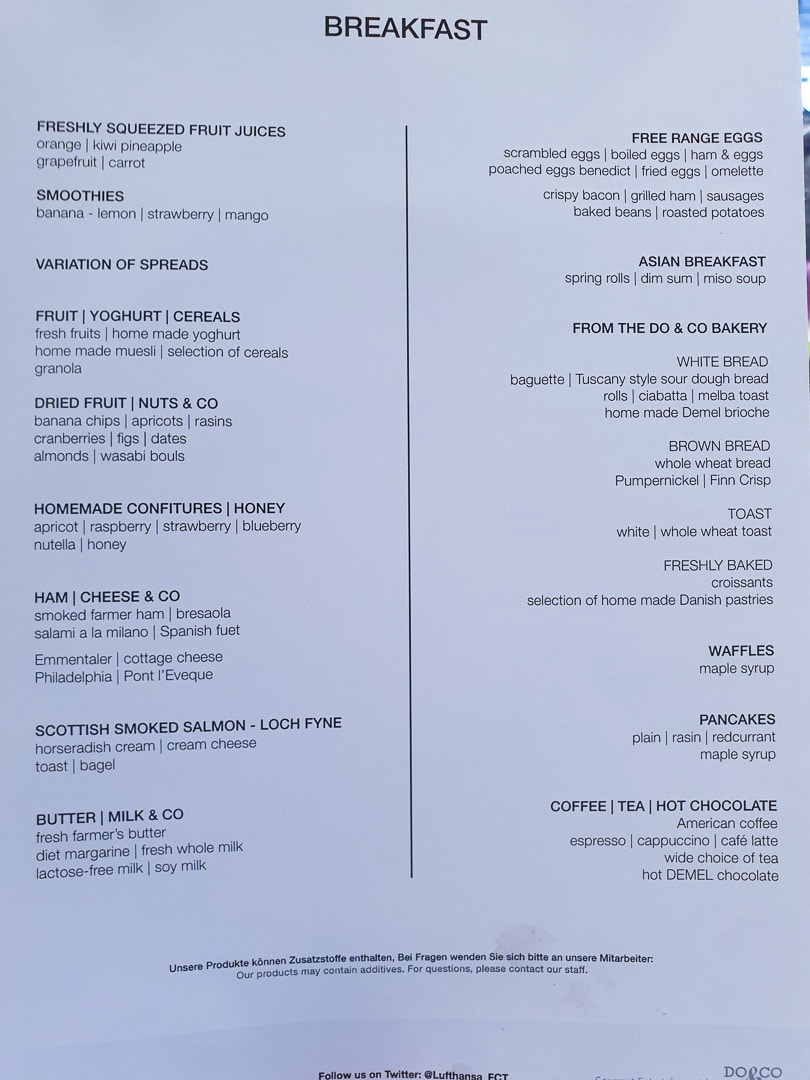 The majority of the items on the breakfast menu were also available at the buffet – so we decided to just try a few small things there, rather than ordering larger dishes to the table.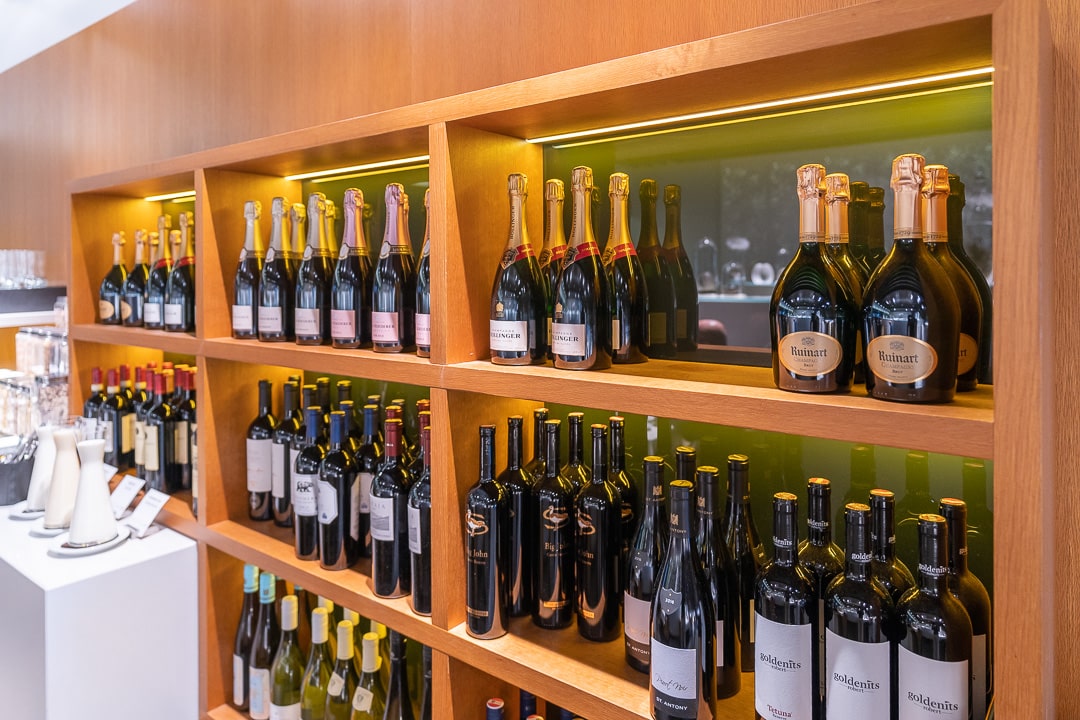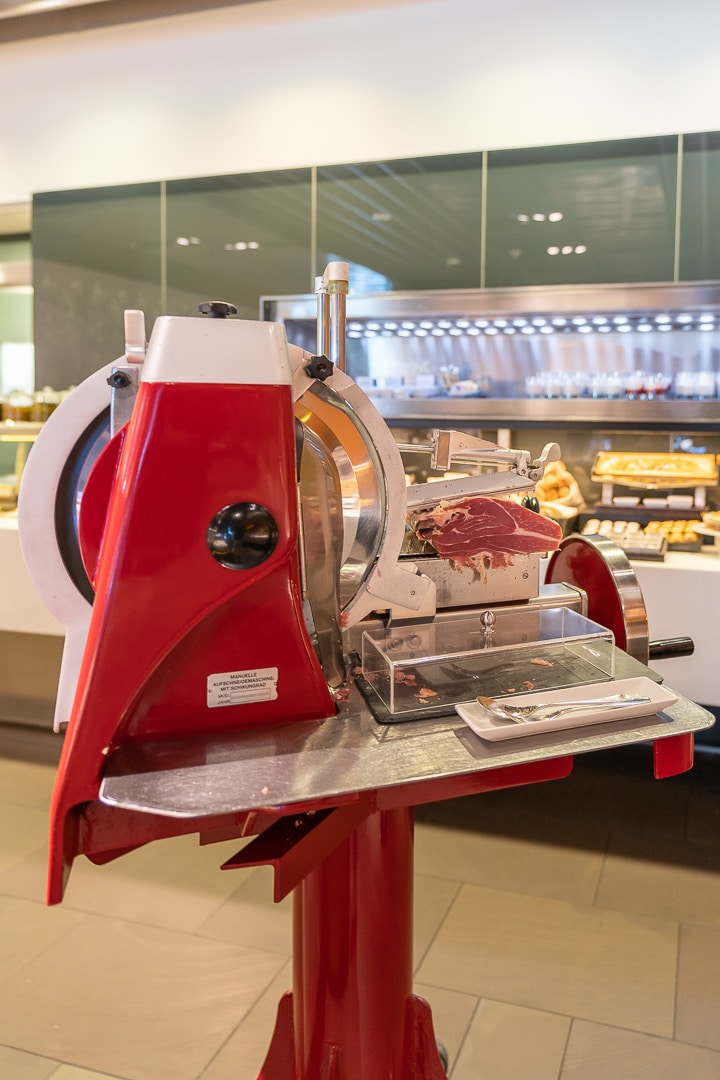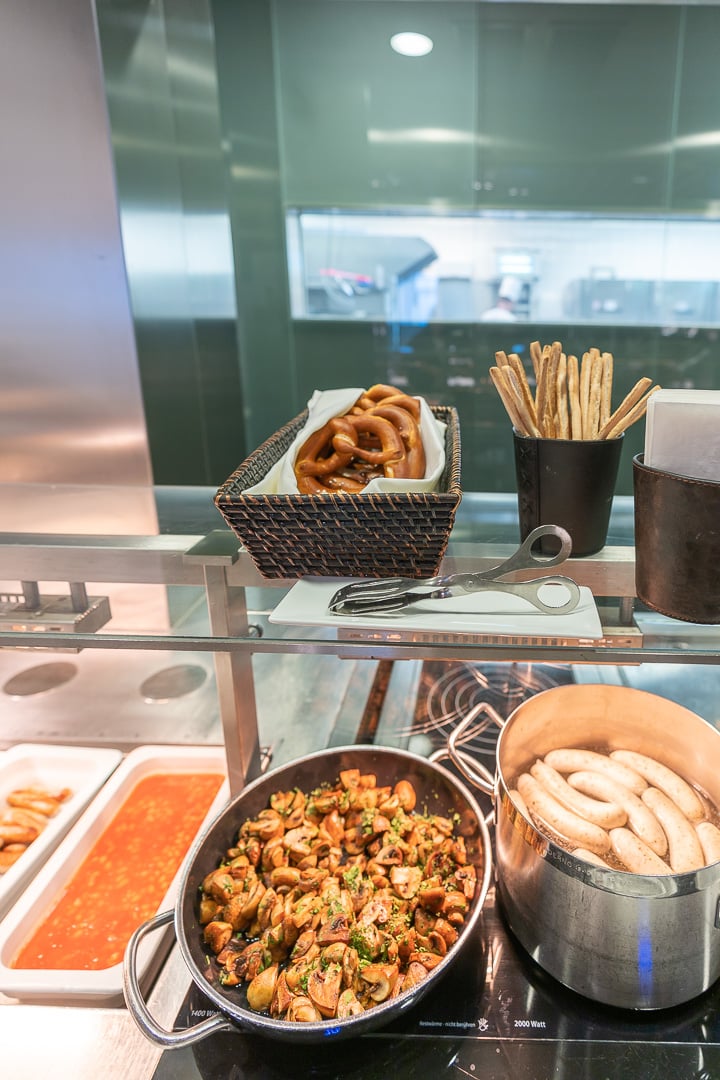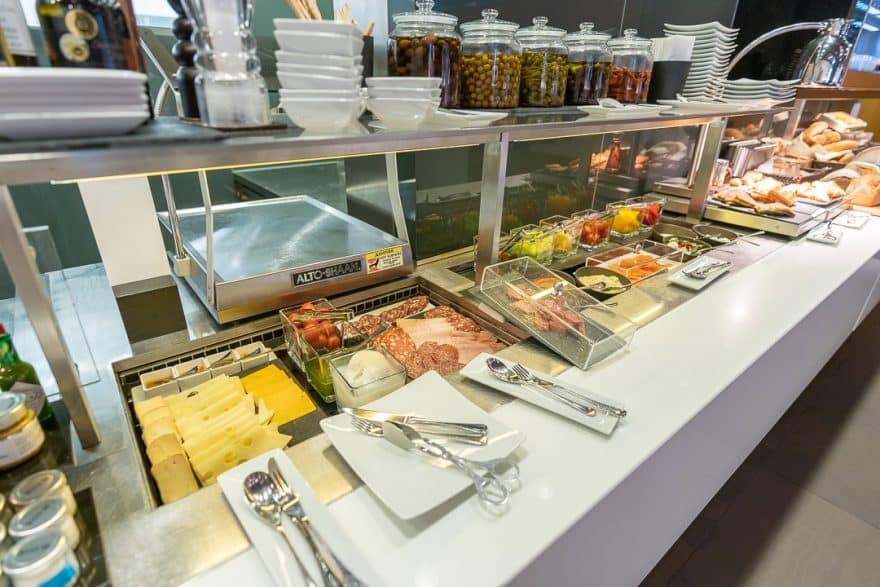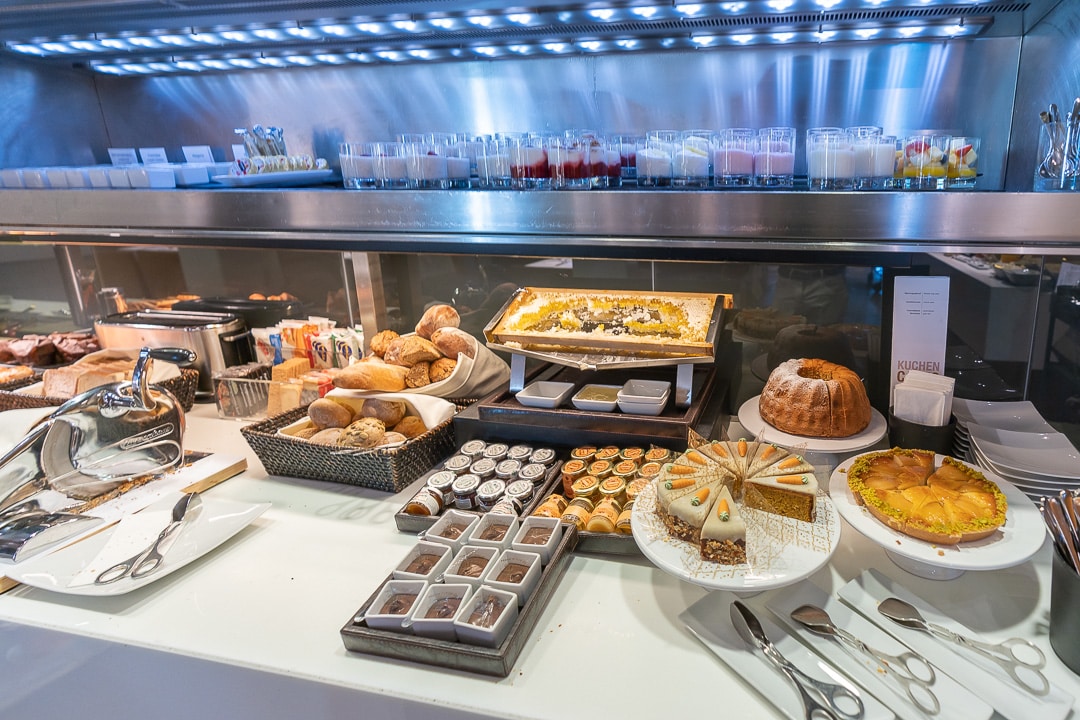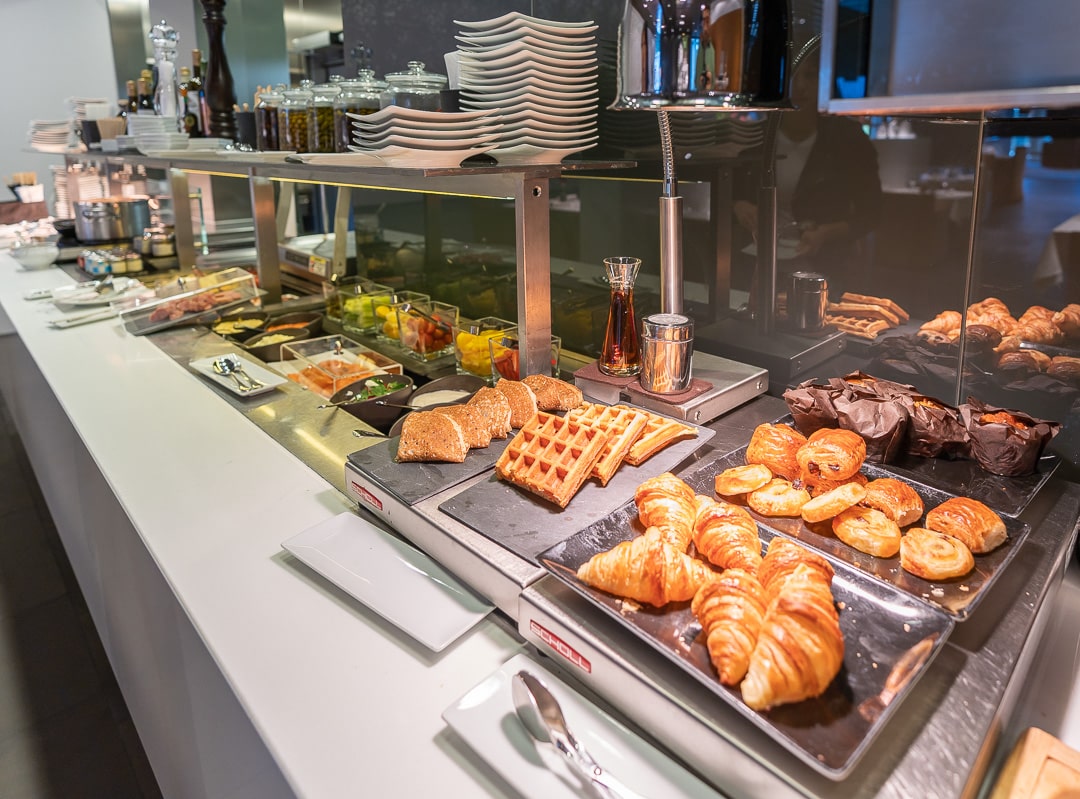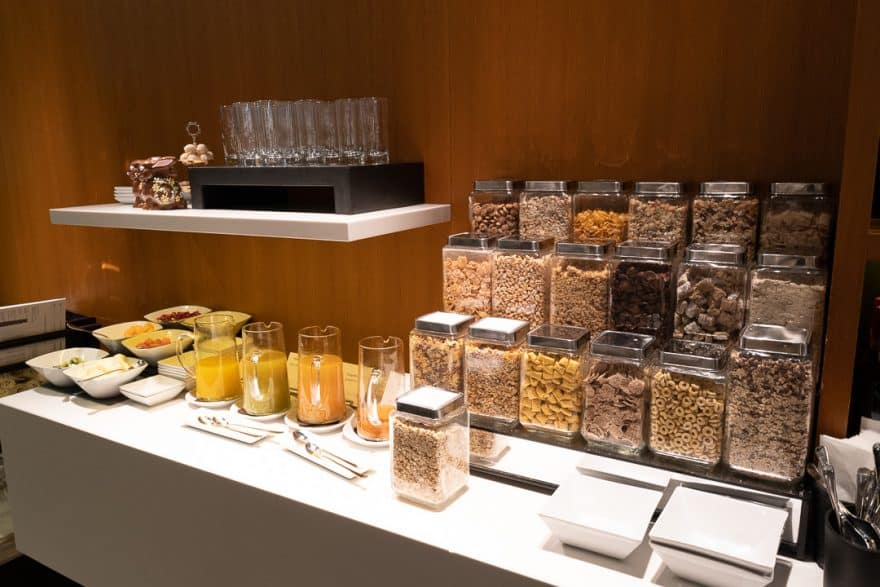 Although the buffet featured plenty of great looking items, I opted to keep it light and save myself for a more robust lunch, since I'd heard that the menu was rather more impressive later in the day.
Indeed, when we returned a couple of hours later we found an enormous selection of dishes on the afternoon menu.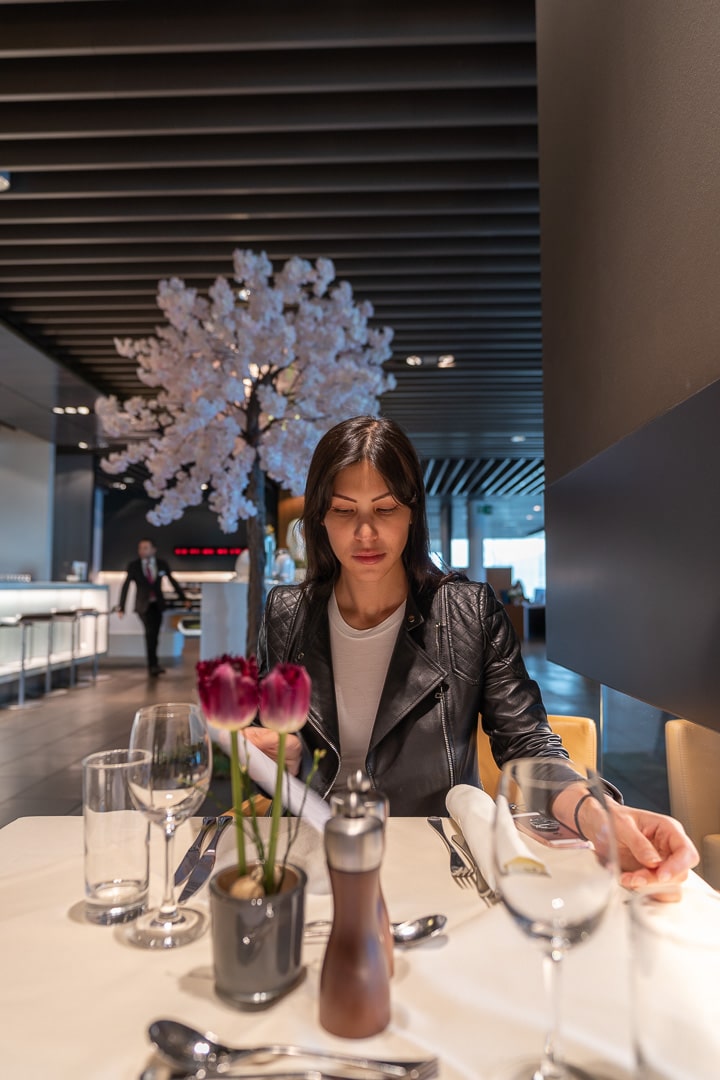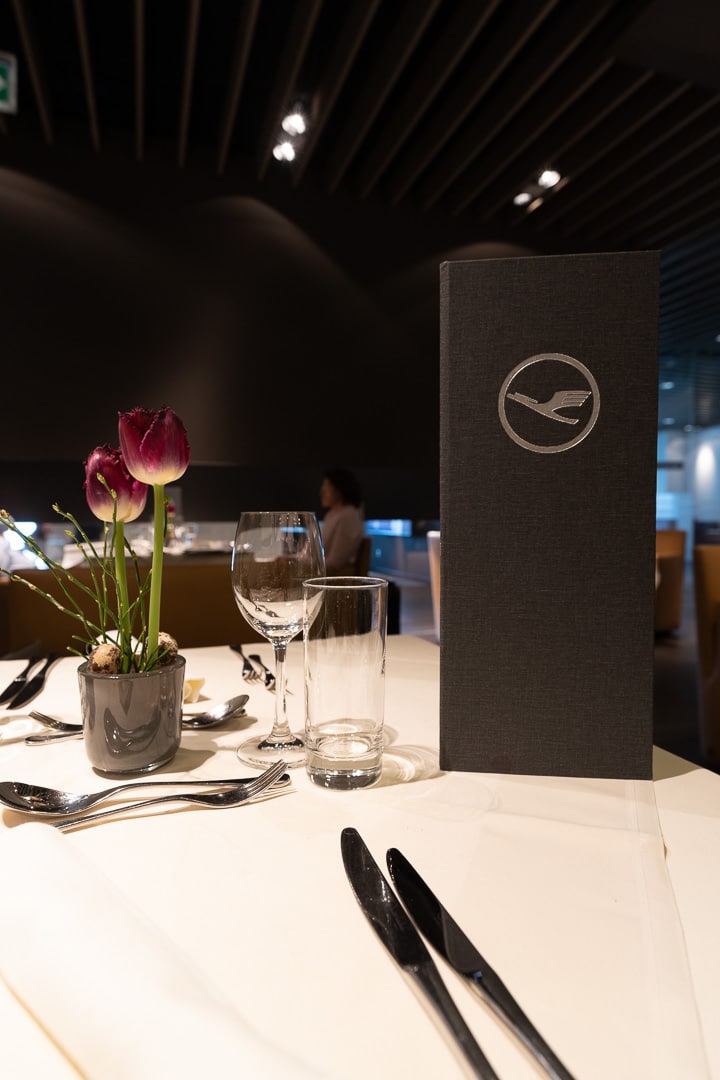 FCT Lunch and Dinner Menu
(click the thumbnails below to view the full sized gallery)
There is no question that the food here was a cut above most First Class lounge offerings globally. The only lounge I've been to with comparable inventiveness, ingredient freshness and service quality is the SWISS First Class lounge in Zurich.
To begin, Kamara tried the Bear's garlic cappuccino: an extraordinary soup packed with flavour, accompanied by a pink pepper and goat's cheese crostino. Meanwhile I opted for the baked egg from the seasonal menu – quite possibly the greatest example of a Scotch egg that I've ever had the pleasure to sample.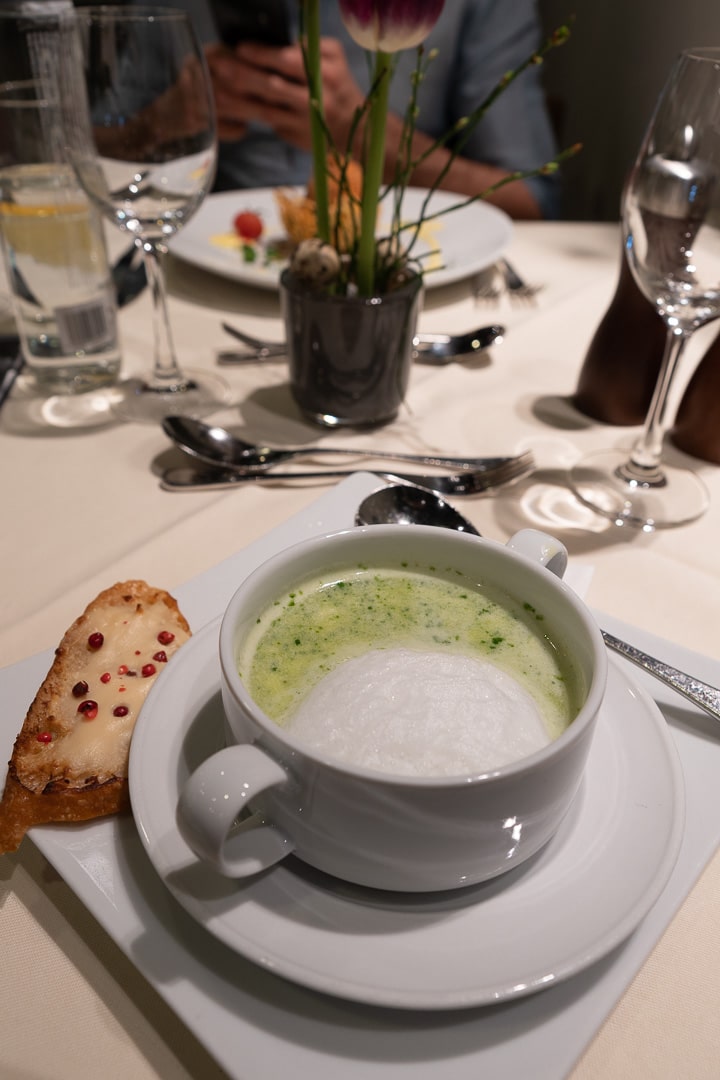 It would have been a shame to miss out on the local cuisine and I have to say that in terms of presentation and taste, my schnitzel was really fantastic. Meanwhile, Kamara was overjoyed to find that one of her all time favourite dishes from any country was on the menu: leberkäse – a kind of soft spiced meatloaf served with a freshly baked pretzel.
Meanwhile at the buffet, the breakfast dishes were switched out for a heartier afternoon and evening offering.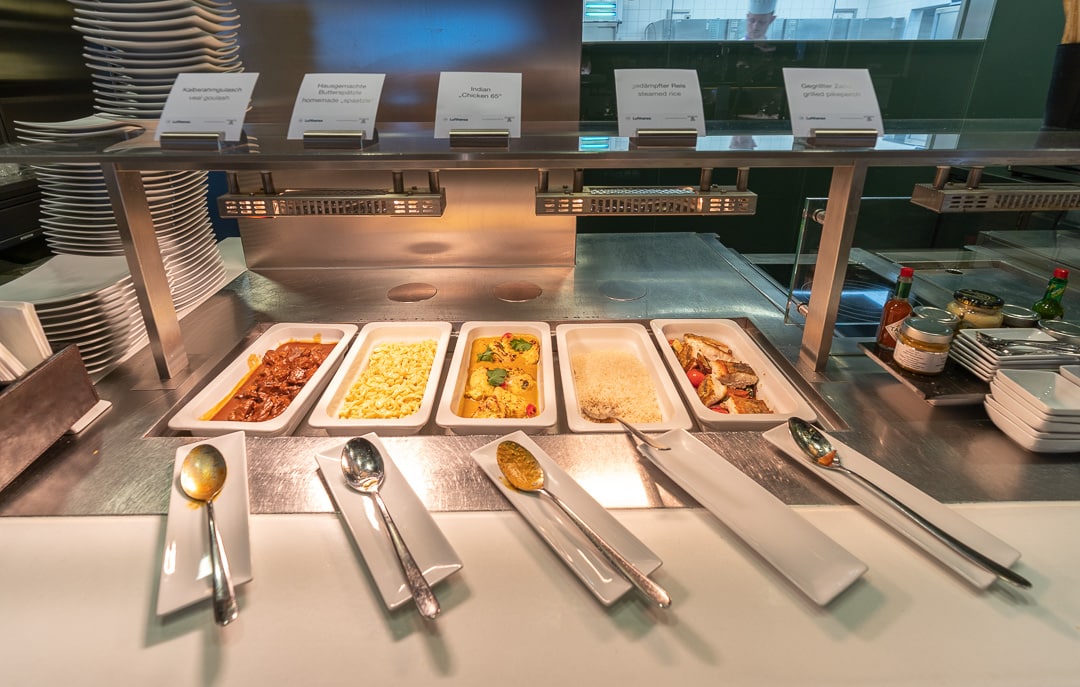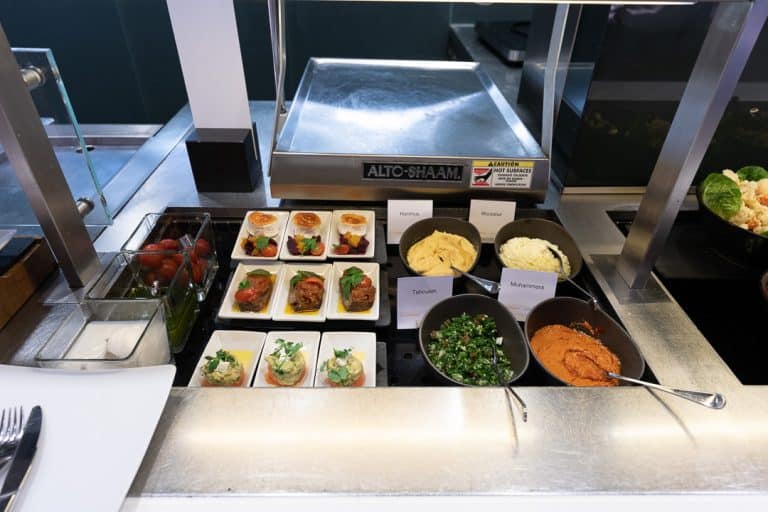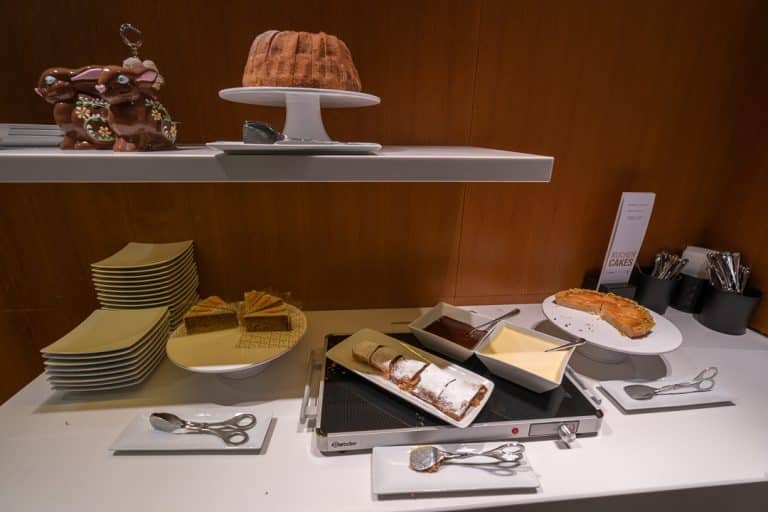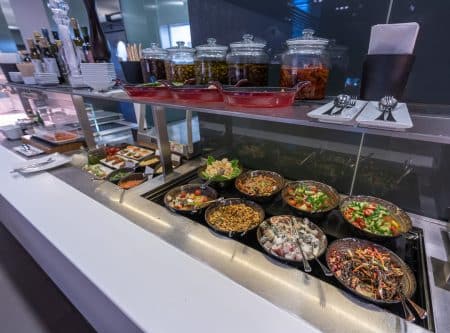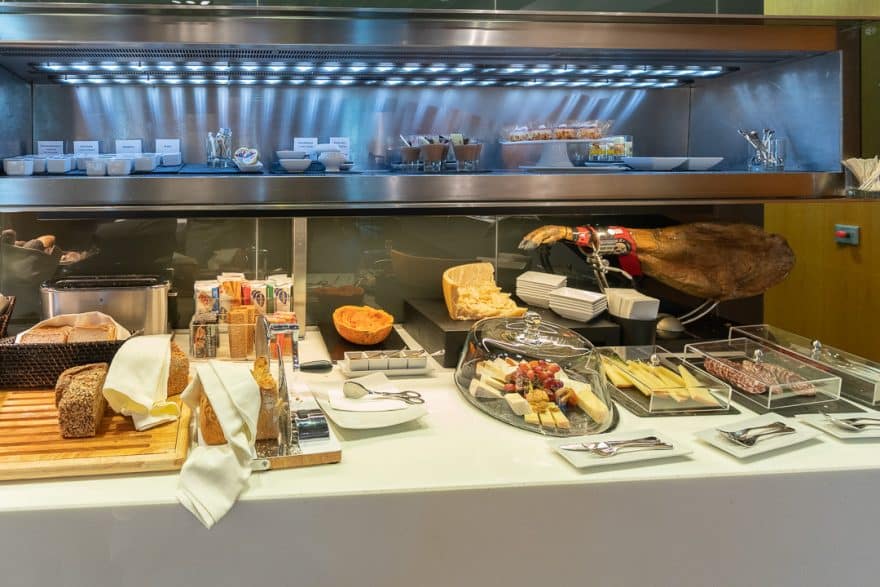 After a very enjoyable lunch, we made our way to one of the few corners of the lounge that we had yet to explore:
FCT Cigar Lounge
Much like the Etihad First Class lounge in Abu Dhabi, the Lufthansa First Class Terminal features a Cigar Lounge. However Lufthansa's cigar lounge was quite a lot larger than Etihad's, featuring numerous seating areas, windows and a self service bar.
There was also a multi CD changer that would have been the height of cool in Patrick Bateman's era, but didn't seem to add much in the way of functional value.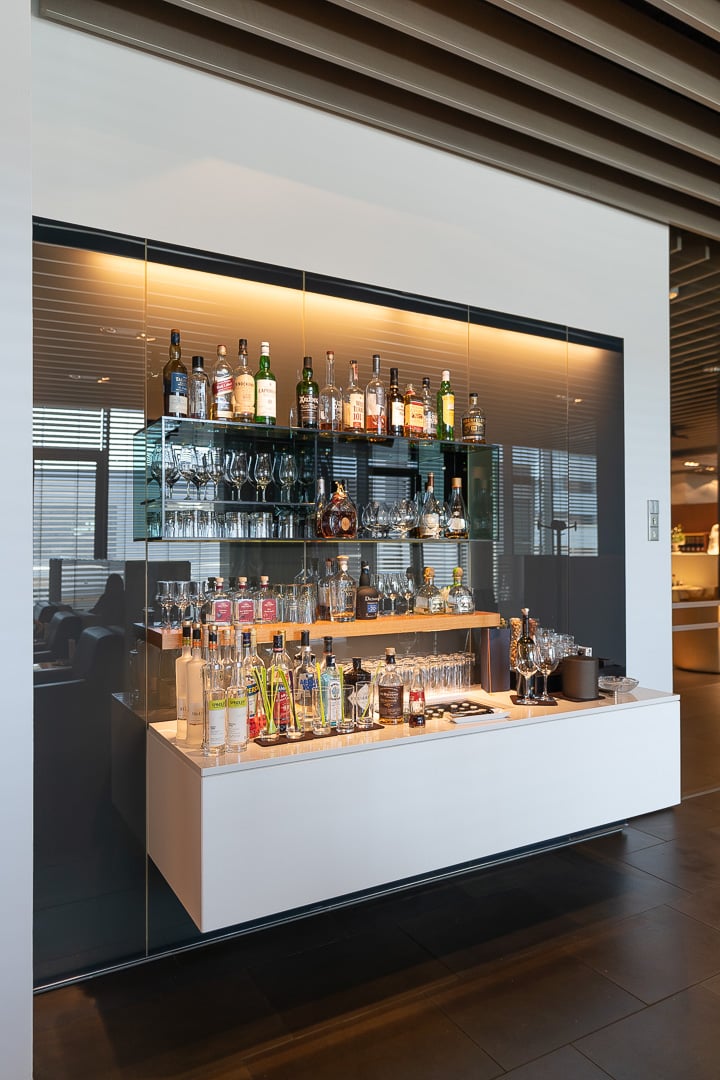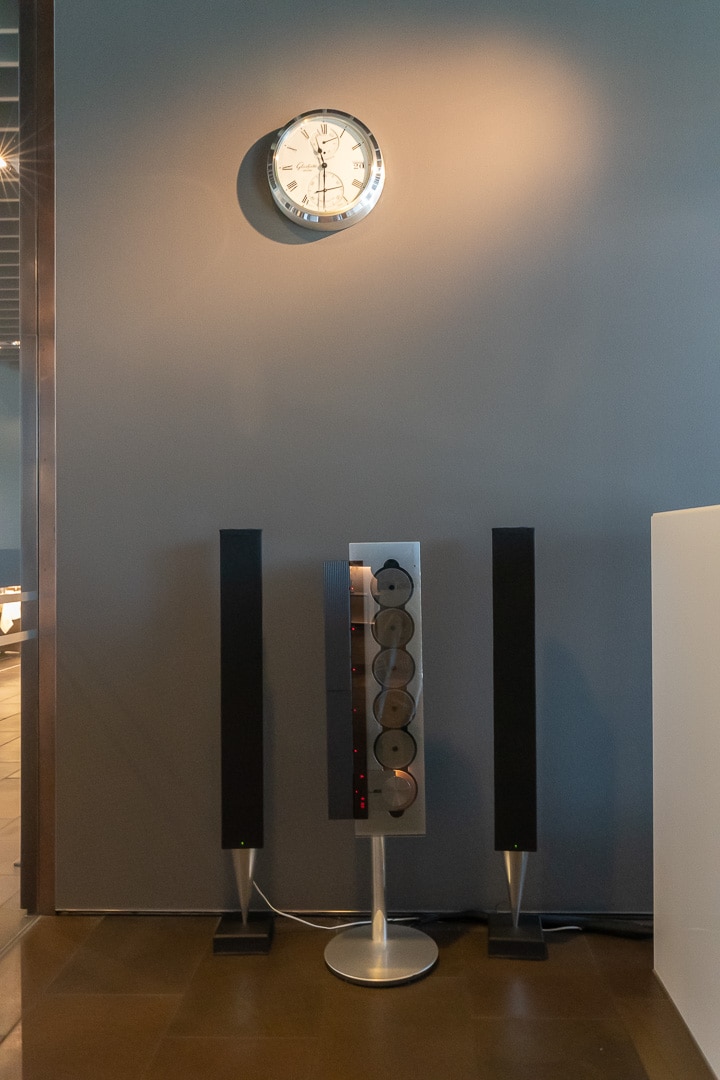 There was no cigar menu visible, no people using the lounge and no smell of cigar smoke – so we basically used it as our own private lounge for a while as we took it in turns to take showers just next door.
FCT Shower facilities
The Lufthansa First class terminal is famed for its series of collectible rubber ducks, ostensibly given to those taking a bath in the one private bathroom that offers one.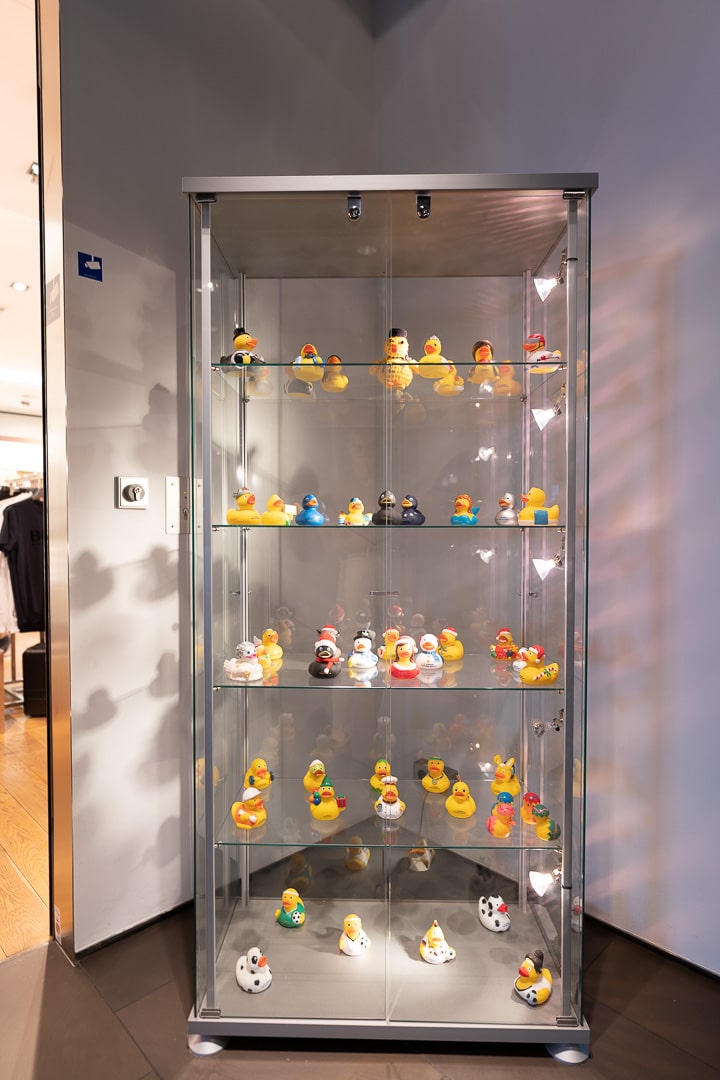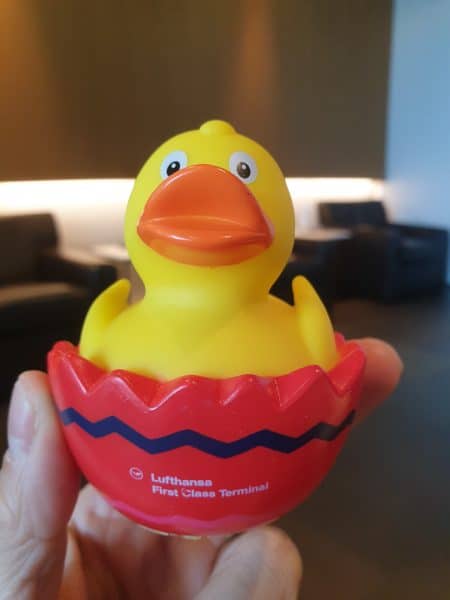 However, in practice, these are now given out to all guests and many ducks sit on the spa reception counter waiting for passengers to help themselves. There was even a case displaying favourite ducks from years gone by.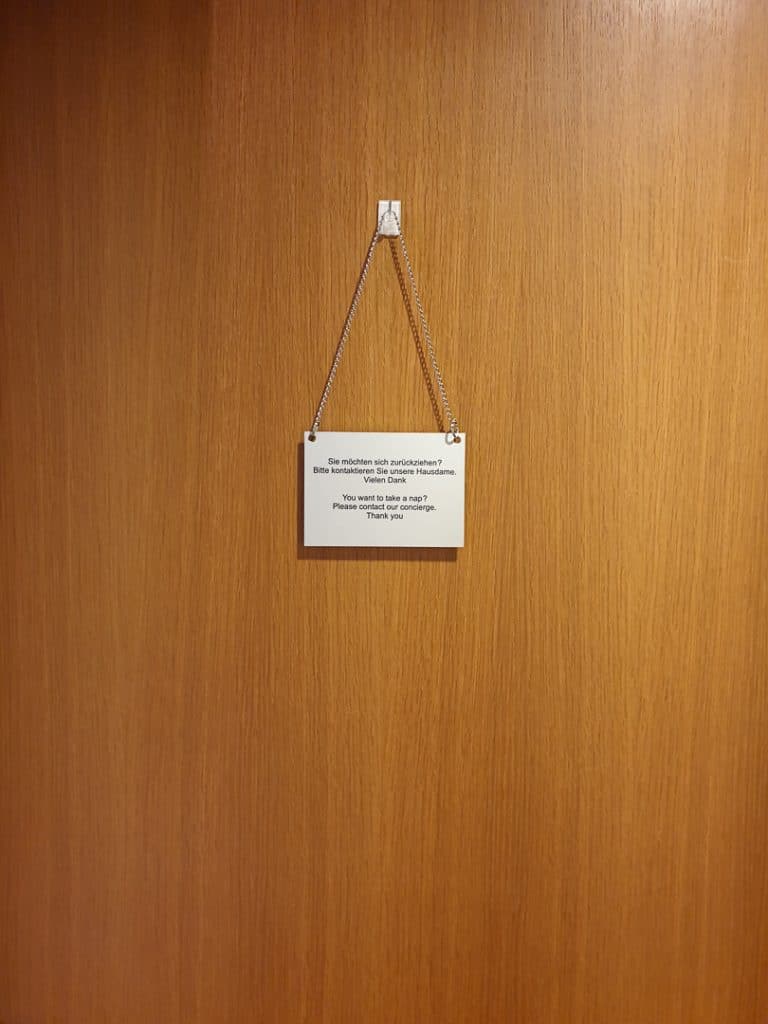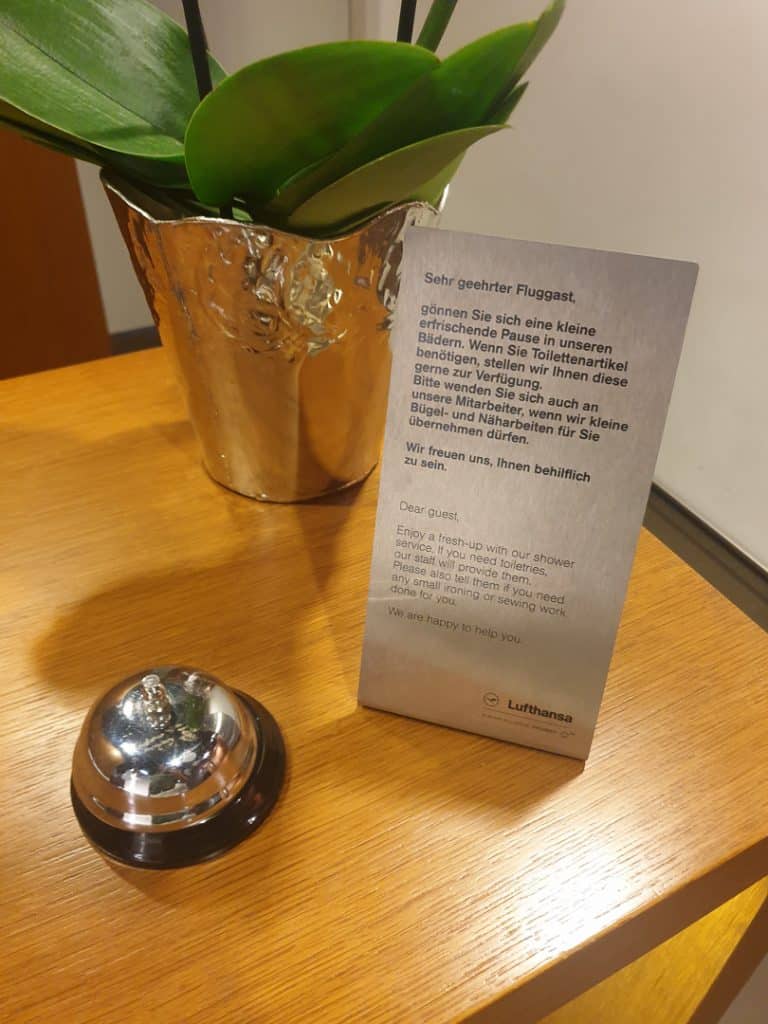 The spa receptionist informed me that the bath was fully booked for many hours and mentioned that the current guests had even taken in food and champagne with them!
I was also informed that both of the bedrooms were currently occupied as well. These are nothing special though. Windowless boxes with a generic single bed. Not a patch on the epic bedrooms with Hästens beds and runway views at the SWISS facility in Zurich.
Personally, I was happy to just grab a quick shower and to have a shirt pressed for me whilst I did so. Staff will even perform minor repairs on clothing for you, which is a lovely touch.
My personal bathroom was very spacious and clean, with a simple and modern design.
On one side of the sink was the powerful shower and on the other was the toilet.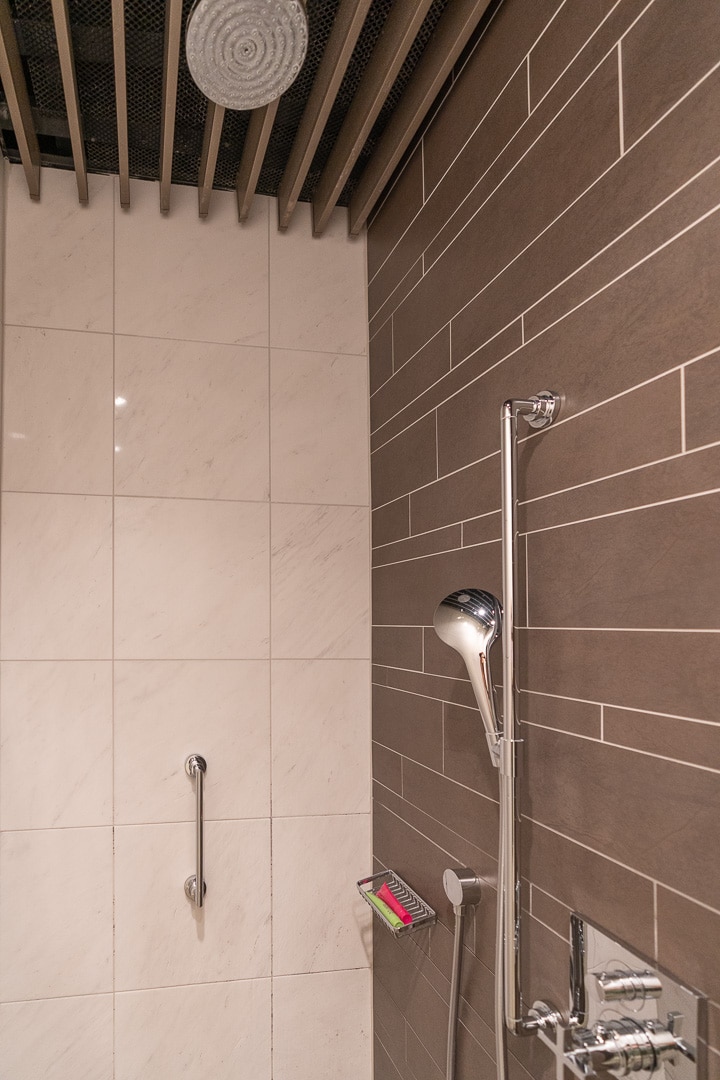 Toiletries were by Italian fashion house Etro, with numerous amenities like loofahs, toothbrush, hair ties etc. also provided in a wooden box.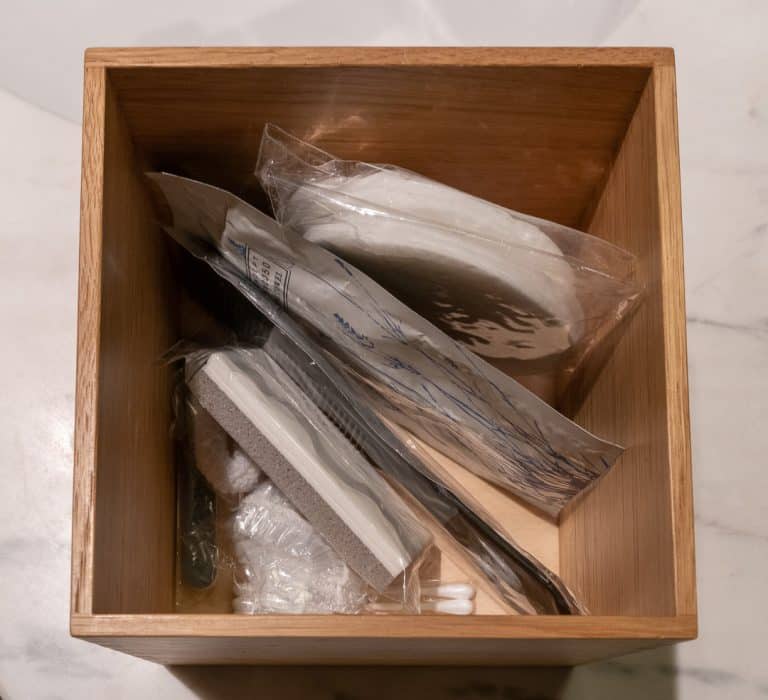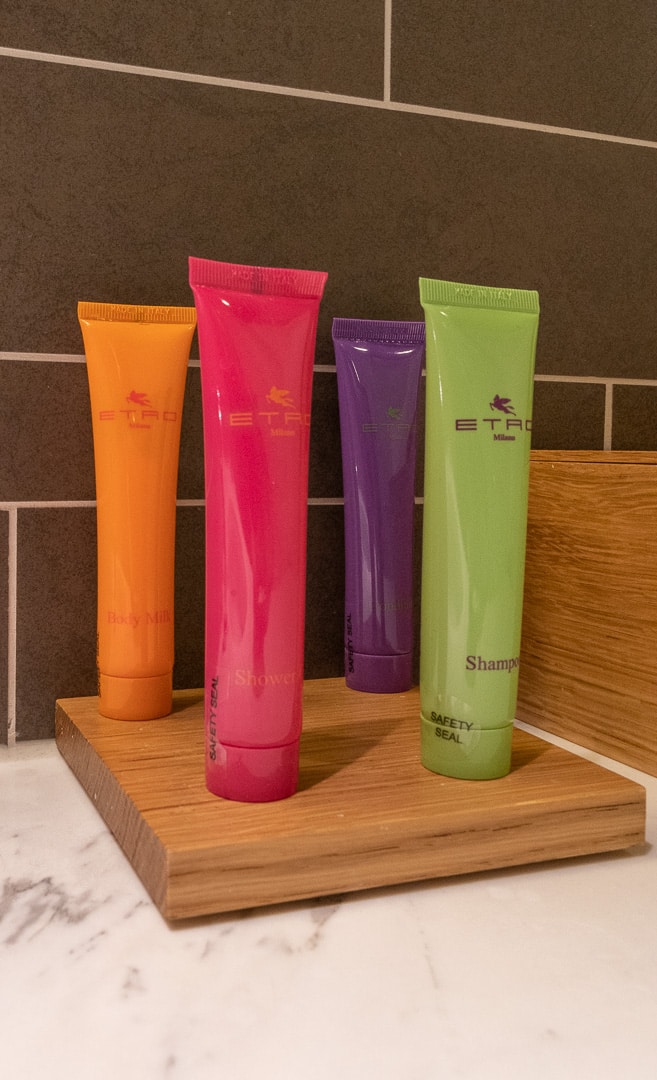 My shirt was ironed and returned to me within a couple of minutes, looking sharp and ready for my photos on the tarmac later in the day!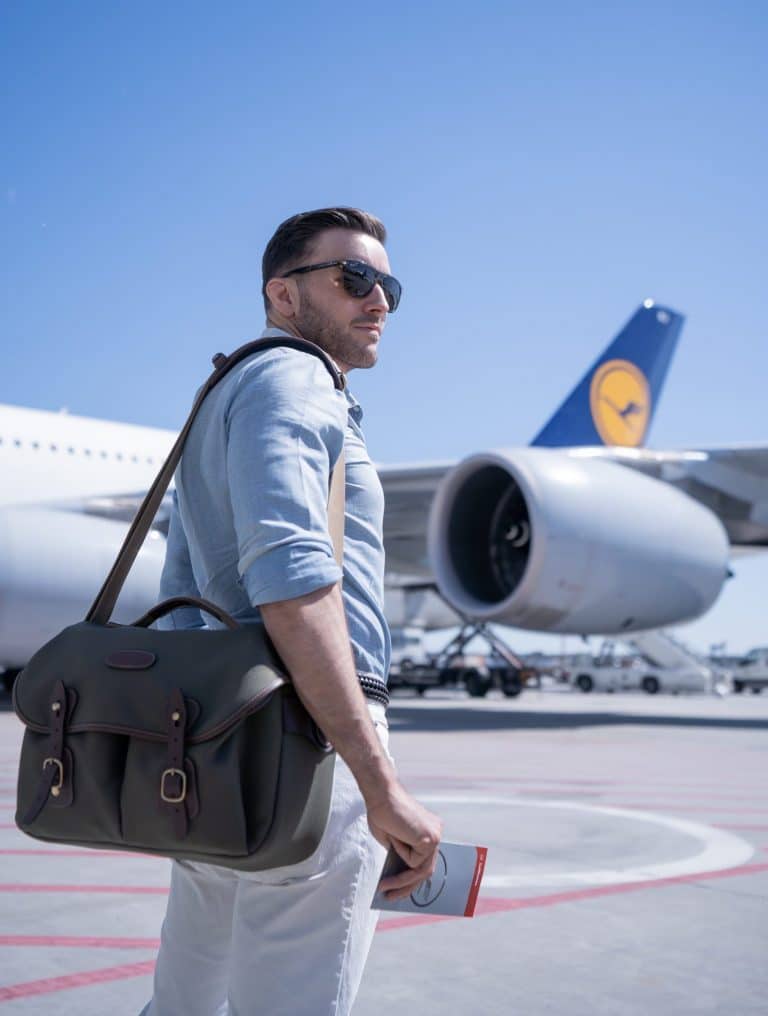 Departure
As our boarding time approached, our personal assistant came over to see if we preferred to board first or last. I said that we'd like to board first in order to have time to take pictures of the aircraft.
She was happy to oblige and returned ten minutes later to tell us that our car was waiting for us. We took a lift down to the lower level, where the terminal has a border control area.
Here our passports were checked by a very friendly order officer, after which our driver introduced herself to us and escorted us to our Porsche.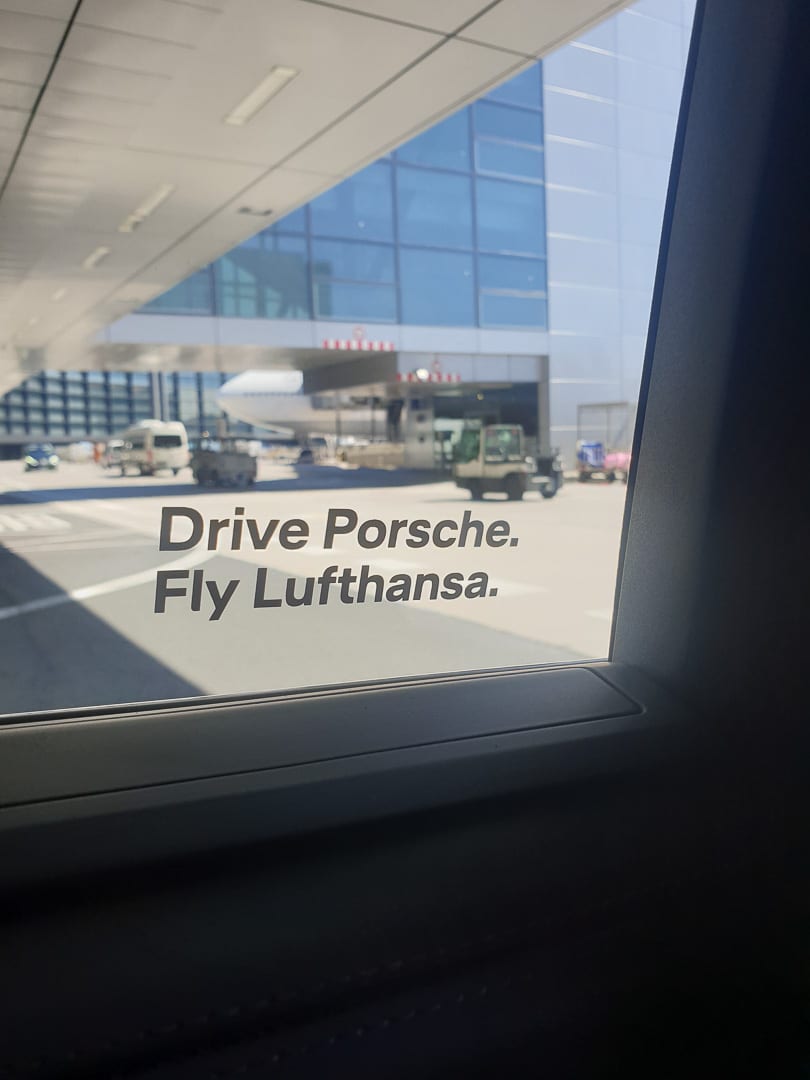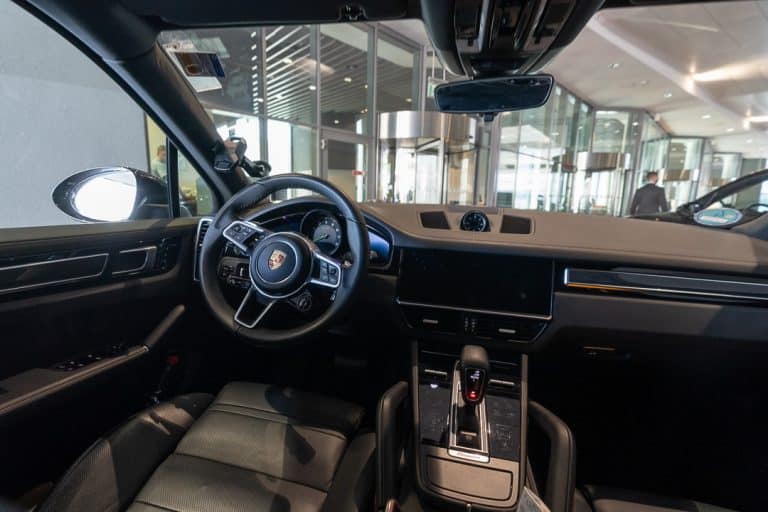 ---
Conclusion
---
It is really hard to fault the service and execution here. The Lufthansa First Class Terminal is an incredible passenger experience from start to finish.
The fact that you never once set foot in a regular airport terminal is truly remarkable. I'd say that the experience was more akin to flying on a private jet, but of course private jet facilities are generally not much to write home about. You'll be lucky to get a mediocre cup of coffee and a packet of crisps at most private jet terminals.
What Lufthansa offers in Frankfurt is all the convenience of a private jet terminal, with markedly superior facilities.
The variety of wines and spirits on offer puts most restaurants to shame, let alone airport lounges.
The quality of the service was excellent too; all guests have a personal assistant, wait staff were very competent and friendly, and shirts were pressed and missing buttons sewn as part of the standard service!
The final cherry on the cake is of course the direct Porsche transfer to the plane, which is not only very convenient, but also provides you with a wonderful experience as you weave between the parked jets on the tarmac.
This really puts the likes of British Airways to shame and shows what can be done within a European context when quality is pursued over cost-cutting. A truly first class experience.

---
Germany Hotel Reviews
---
Here is a selection of our most recent Germany hotel reviews: