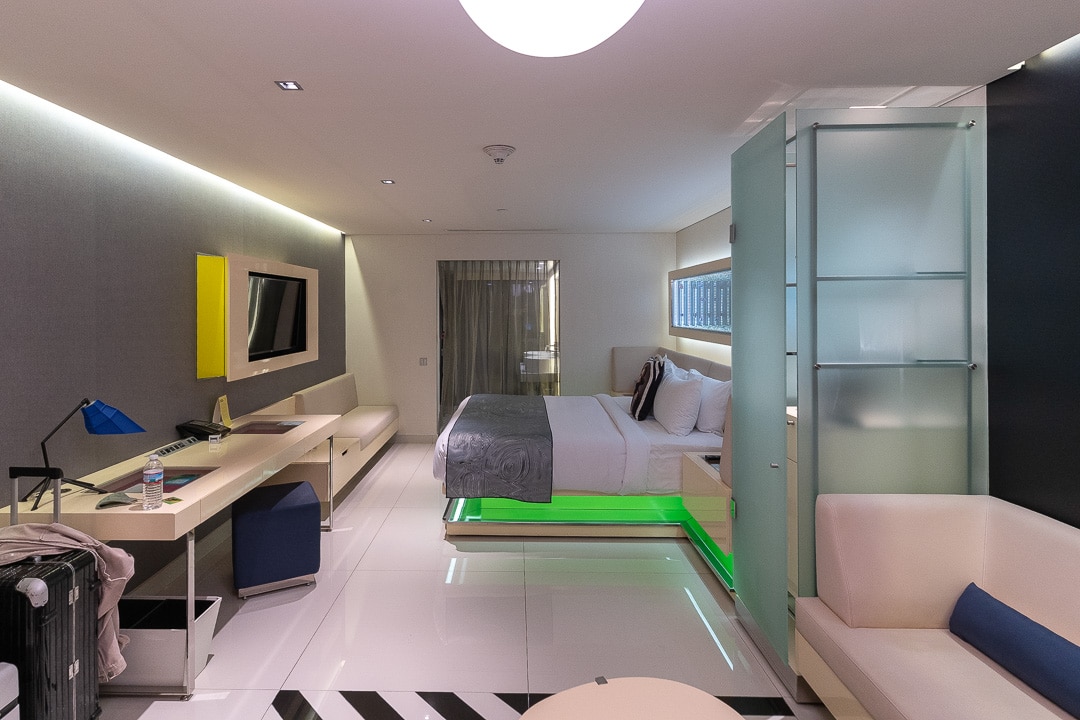 REVIEW – W Mexico City
January 17, 2022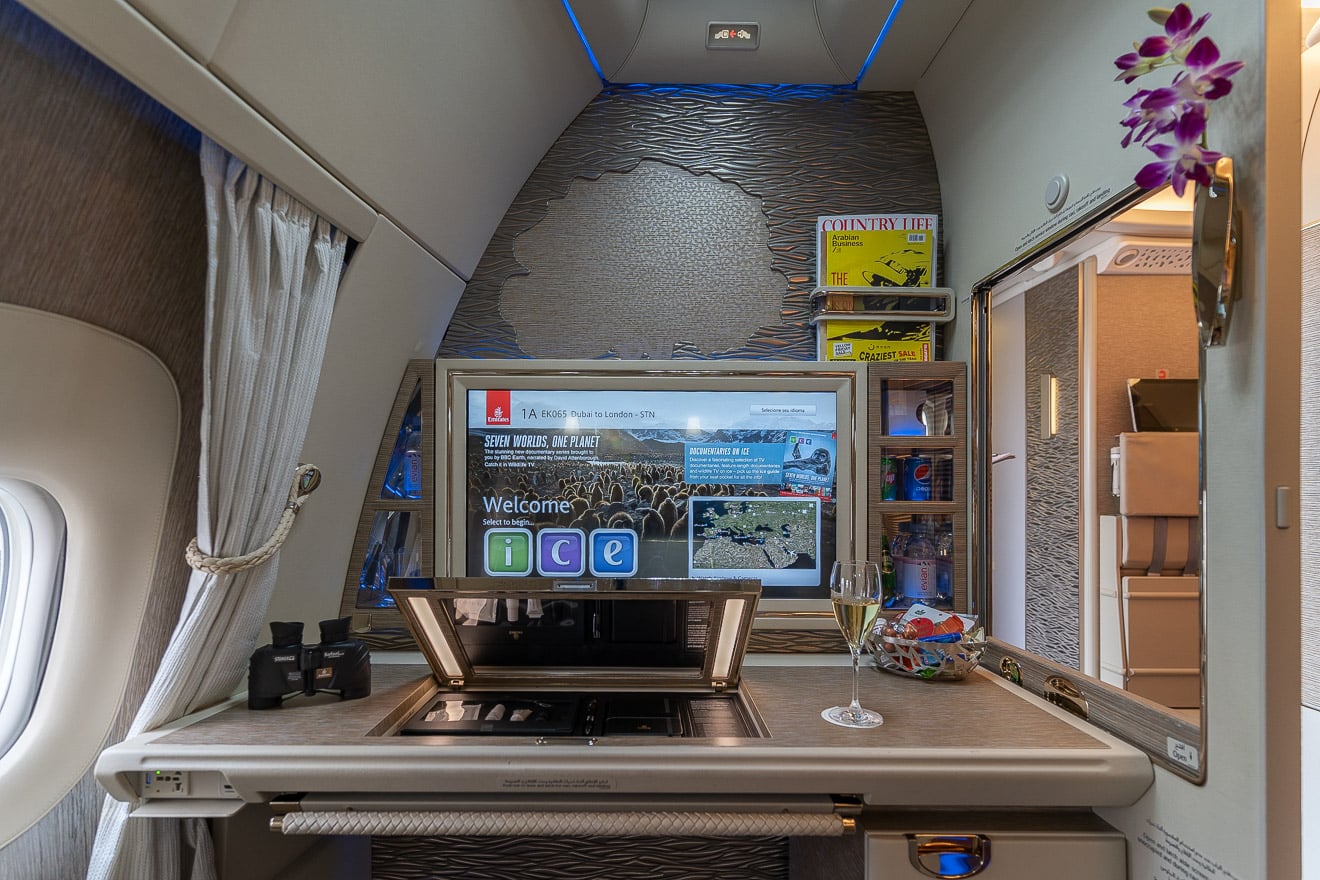 REVIEW – Emirates : Gamechanger First Class – B777 – Dubai (DXB) to London (STN)
January 24, 2022
Four Seasons Johannesburg
Rate: Hosted stay
Room Type: Panoramic View Premier Room
Loyalty Program: FSPP
---
Intro
---
There are a number of interesting luxury options in Joburg but, of course, there's always a certain reassurance that comes from booking a Four Seasons hotel.
Whenever you stay at a Four Seasons hotel: the service is great, the beds are comfortable and the app makes interacting with staff seamless.
Since I had to log into the office and work from 7am – 6pm most days, I wanted to ensure that I had a decent desk space and no service issues.
Kamara was on a less strict schedule and wanted space to relax and use the gym etc, as well as enjoying outdoor spaces. People still somewhat unfairly malign Joburg (even though crime is worse in Cape Town) but the fact that the FS is basically its own walled village, meant that there were zero safety or security concerns of any kind here.
---
Booking
---
Since I am a Four Seasons Preferred partner agent, I can offer you FSPP benefits at any Four Seasons property.
An example of FSPP benefits, which may be available on your stay:
• Upgrade of one category, based on availability at time of check-in.
• Full breakfast, for up to two in room guests. Either at the restaurant or via in-room dining.
• $100 Hotel Credit.
• Early check-in/late check-out, subject to availability.
I will always match the best standard rate that you see on FourSeasons.com and if you find a cheaper rate elsewhere, I can help to get the price matched AND STILL add the FSPP benefits to your booking!
EMAIL FOR FSPP BOOKING ENQUIRIES
---
Arrival
---
We took an Uber from the airport, which cost 540ZAR and took around 45 minutes.
Honestly, there isn't much need to take a hotel car; the airport feels completely safe and organised and there aren't all the usual touts and chaos that you'd expect in North Africa or South East Asia.
As we pulled up to the gates of the property, flanked on either side by palm trees, it felt more like we were entering the grounds of an embassy than a regular hotel.
Our vehicle stopped at the grand, gated driveway and we were met by staff who helped with our luggage.
Looking around, it felt more like we were in Italy than in South Africa. White columns, olive trees and fountains stood against the background of neoclassical pink buildings, dotted around the landscape.
As we entered the lobby area, we were warmly greeted by a group of very friendly staff. Here, the design was a little more African, featuring a palette of gold and cream alongside dark wood.
Of course, with this being a Four Seasons, the floral displays were very impressive, as were the finishes in general. Every surface was free of scuffs, every light bulb worked and all of the furniture exuded an air of robust elegance.
The gift shop just off the lobby also housed an ATM, very useful for withdrawing money for tips.
Despite our very early arrival time of 8:00am, we were informed that our room was ready for us (our FSPP clients have priority for early check-in too, something which is very useful when taking an overnight flight from Europe).
The FS Joburg property is housed across a series of buildings, running along a steep hillside. Thankfully, buggies are on hand and ours was driven by a very polished host, who stopped to explain various features of the property to us, as we wound our way up to the uppermost building – where our room was located.
Room selection is very important here, with the biggest distinction coming in regards to the view offered.
Garden view rooms look like this:
A few of the better Garden rooms have views of trees and gardens at more of a distance…
However, we were fortunate enough to have a Panoramic View Room located at the top of the uppermost building, right by the hotel's signature restaurant: Flames.
An ornate Tuscan style courtyard led to our home for the next few days:
Inside was a very tastefully designed hallway, featuring various sculptures, flowers and mirrors.
---
Panoramic View Premier Room
---
Entrance
The door from the hallway opened into a small corridor rather than opening directly into the room, something which I greatly appreciated. The prints of the late, great Nelson Mandela left no doubt as to the location of this property (despite the Roman columns outside).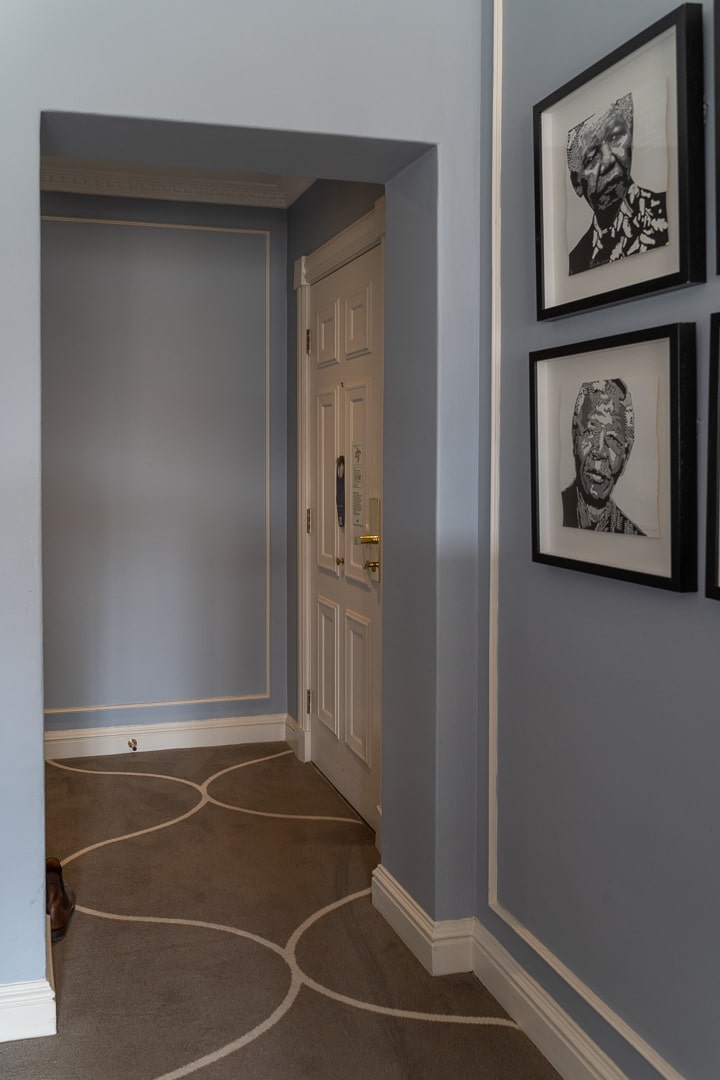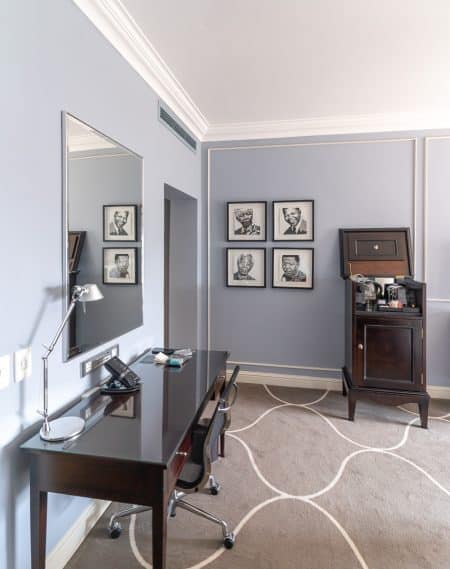 Upon entering the room, the first thing that came into view was a dark oak cabinet featuring the Nespresso machine, a transparent kettle and a fridge. There was no minibar but rather some complimentary drinking water and a QR code providing guests with a room service menu, should further beverages be required.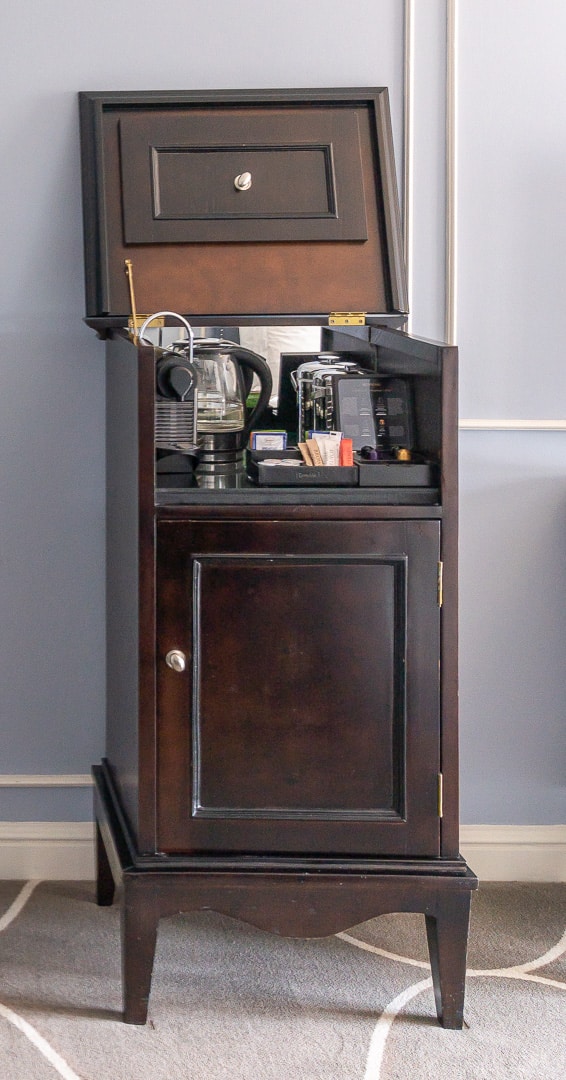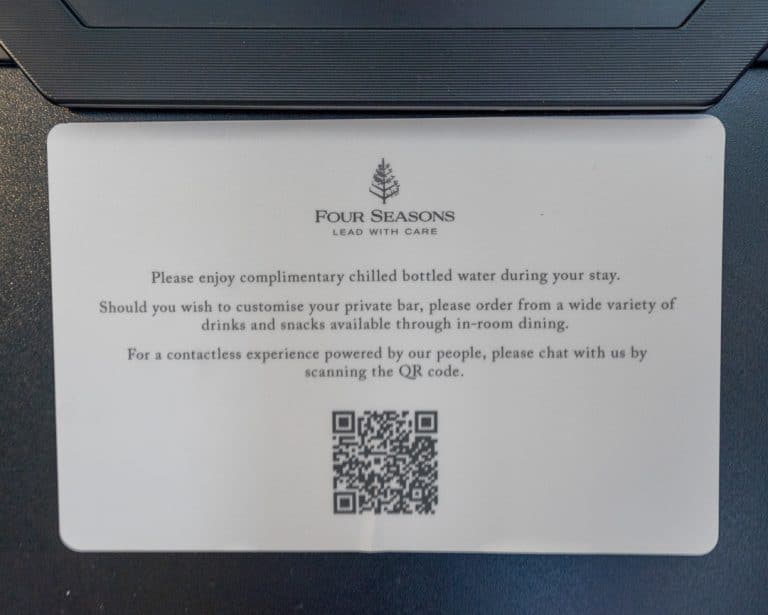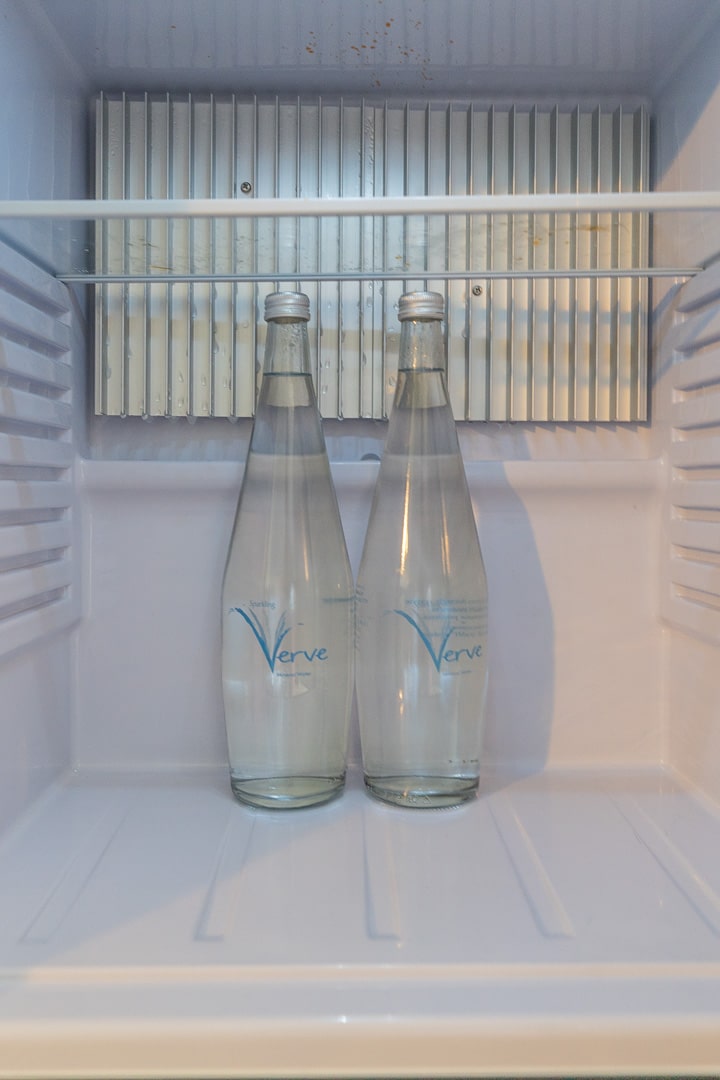 The desk was the perfect spot from which to work. It had a proper Eames office chair, plenty of natural light (but far enough away so as not to create any glare) and access to universal power multiple USBs and even an HDMI port, connecting to the TV.
Placed upon the desk was a COVID care package containing two rather fetching black masks, some wipes and a bottle of scented sanitiser.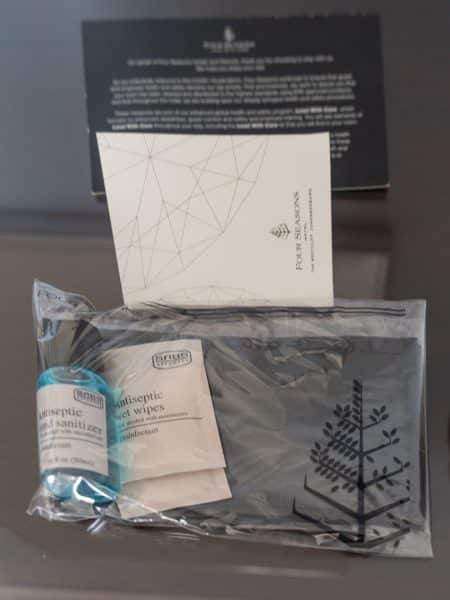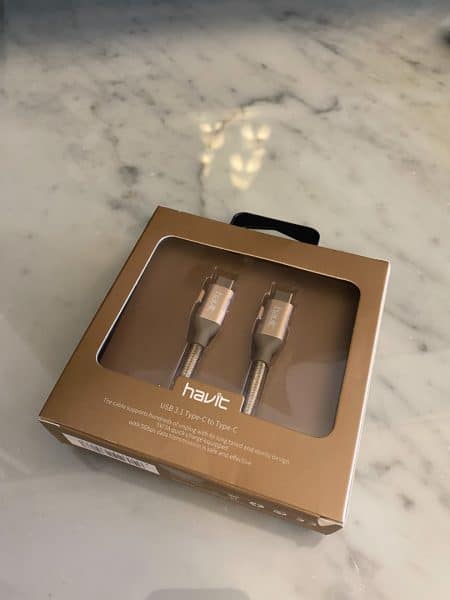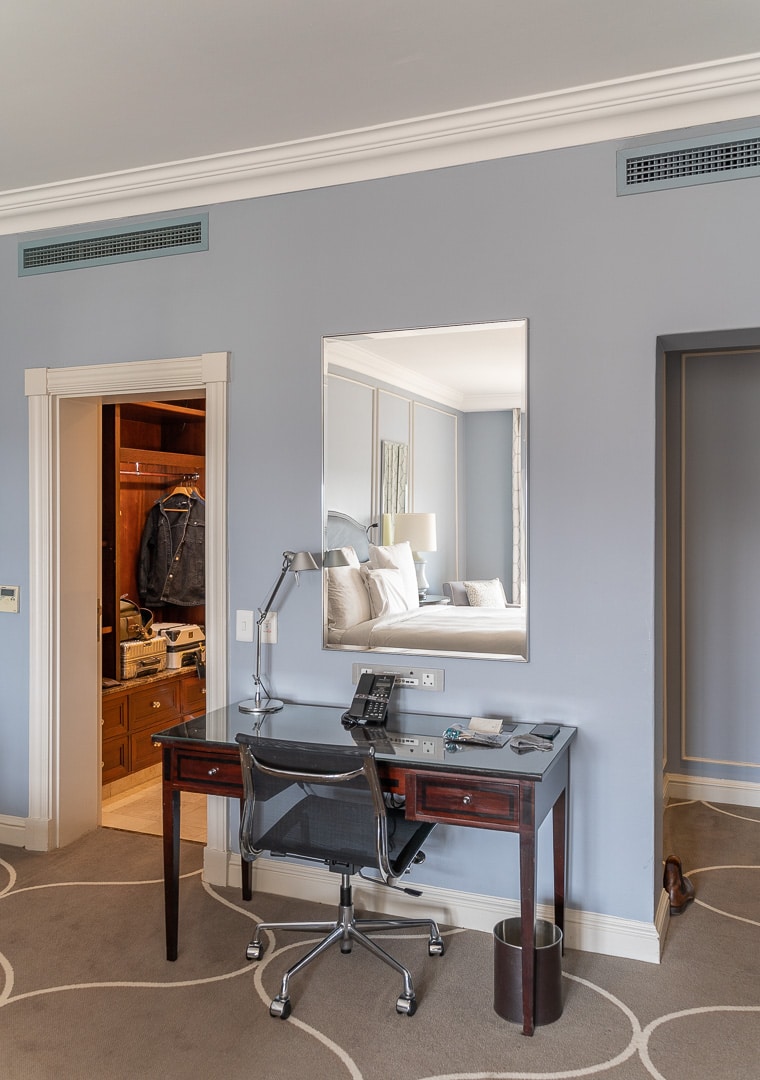 Unfortunately as I unpacked all of my IT equipment, I realised that I had forgotten to pack a cable to connect my MAC to my second screen. This is where the Four Seasons service really shone through.
A brief search of local shops online showed no availability for USB-C to USB-C cables unless I wanted to wait 3 days for one to be shipped from London (where I'd just flown from). I contacted the concierge via the Four Seasons app, attaching a screenshot of what I needed and they said they'd take care of it.
An hour later a brand new and very high quality cable was delivered to the room. They charged me less for it, upon checkout, than the cheapest cable I'd been able to find online. Truly amazing service.
Less amazing was the wifi speed. Despite paying extra for the premium connection – I still struggled to run a stable remote connection to my desktop in London.
Back to the room…
The bedroom had a modern yet restrained feel to it, featuring a coastal palette of light blues and white.
The Four Seasons bed needs no introduction and is truly one of the best in the business. I do wish that the feather pillows were firmer, though. You need at least two of them to do what a single Ploh pillow can achieve. Thankfully, there was no shortage of pillows though.
Opposite the bed was a very large and elegant TV, sitting atop a cream coloured console unit.
Power sockets were available next to each side of the bed but they were rather hidden away and required unplugging lamps, phones etc.
Just along from the TV was a cosy nook featuring a deep sofa, with an iconic Eileen Gray side table alongside it. If you're travelling with a child, the sofa converts perfectly into a bed.
Waiting for us on the side table was a welcome amenity consisting of various delicious desserts. Opposite the sofa was a lounge chair with accompanying ottoman, a very pleasant place to sit as the early morning light streamed into the room.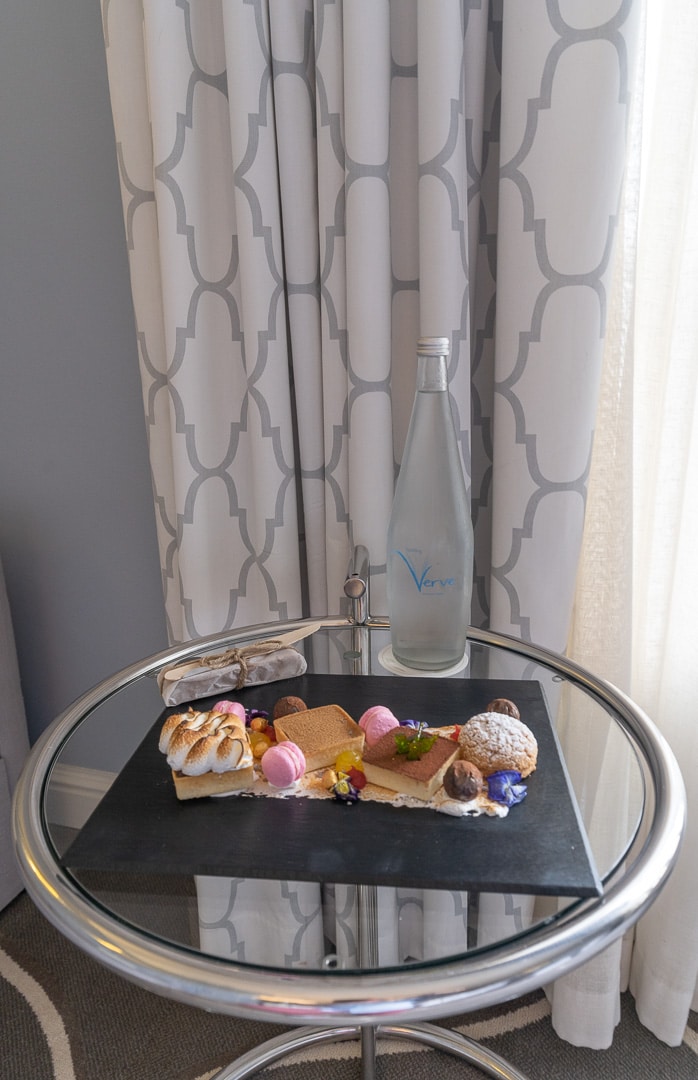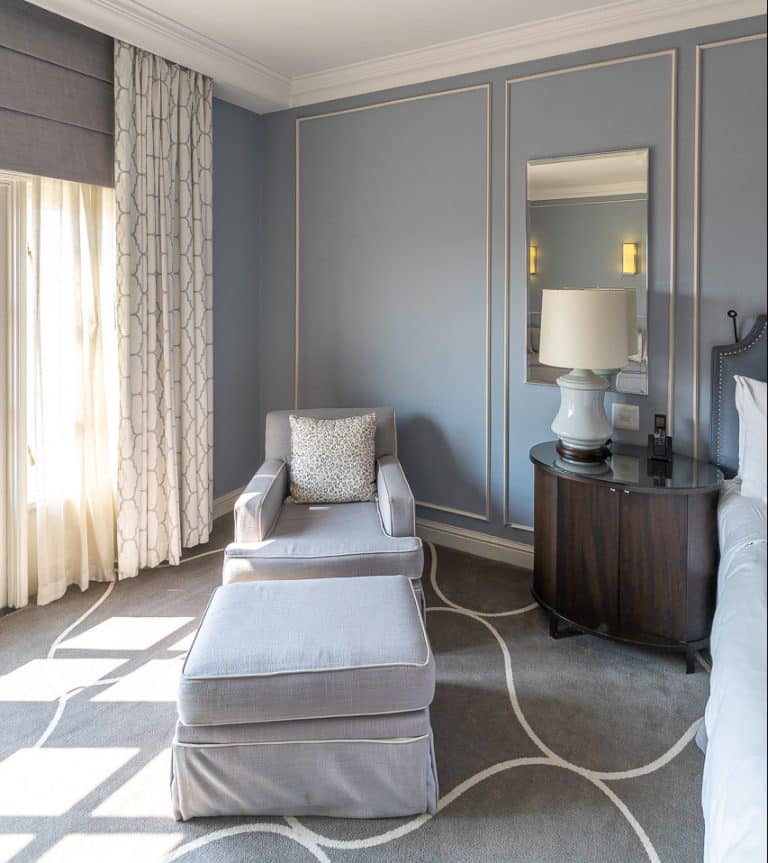 Terrace
The Panoramic View Rooms not only benefit from plenty of additional sunlight, they also have large balconies with expansive views, very much worth the price of the upgrade. (Of course the upgrade is complimentary, if rooms are available during check-in, when booking via FSPP!)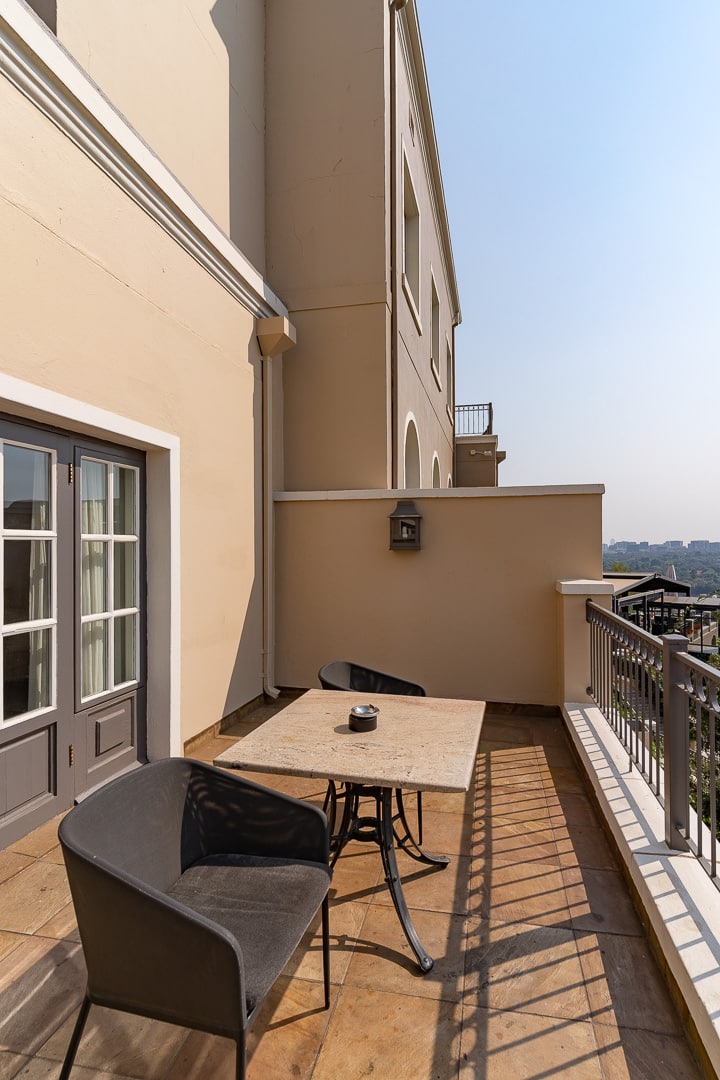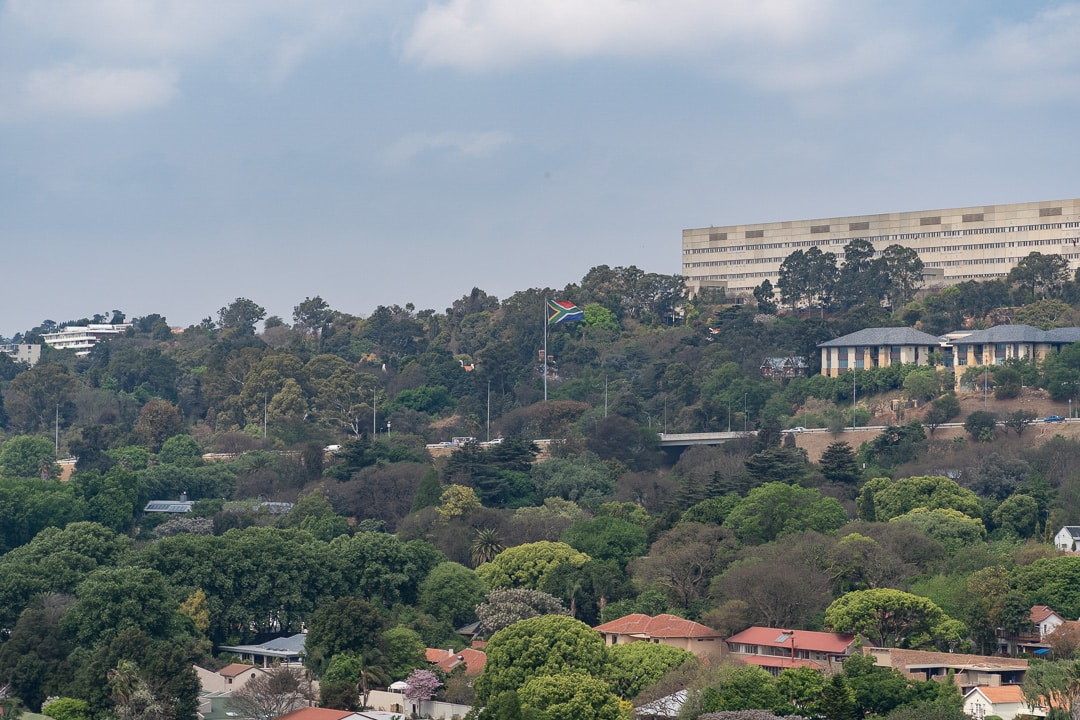 Sitting out on the terrace was an experience in itself. Not only did a huge variety of exotic birds fly by all day long, in the mornings you could also hear the sounds of baboons barking and lions roaring. No need to fear though, this is because Joburg Zoo is just across the road from the Four Seasons.
(I suspect that if travelling with children, behavioural compliance could be assured under the vague threat of nocturnal lion incursion – although this line of thinking is probably why I have no progeny of my own.)
Bathroom
The bathroom was located right by the bed and had a rather unusual feature: it was also the location of the wardrobe! Thinking back, I've seen this concept applied to some extent in tropical beach destinations (Intercontinental Bali for example) but never in a city hotel.
Thinking about it, the idea is actually kind of genius. Any wrinkled clothes are lightly steamed when you use the shower or bath and you get dressed in the same warm room that you've just bathed in. This makes much more sense than walking out into A/C with no clothes on.
I'm a convert.
The room featured dual sinks, although counter space was a little limited. The spa-like abundance of plumped and fluffy towels was much appreciated though, as were the local Terre d'Afrique toiletries (as also featured at the Intercontinental JNB Airport).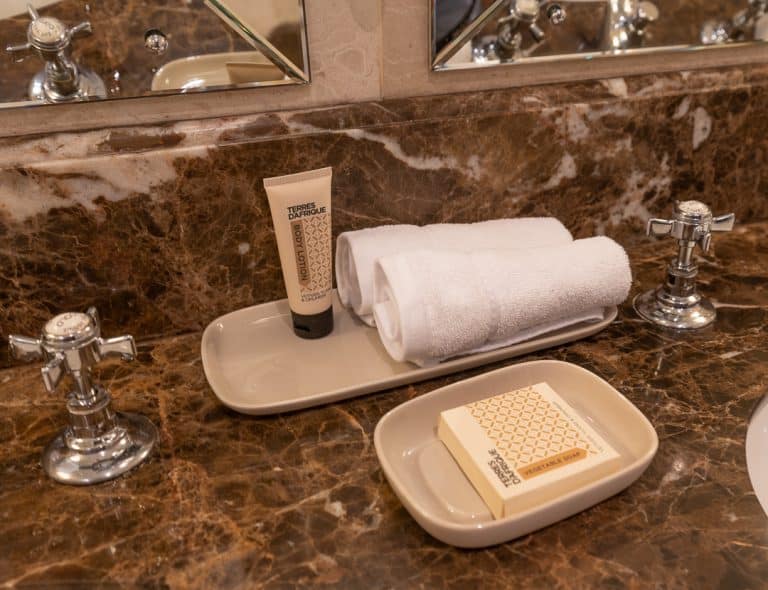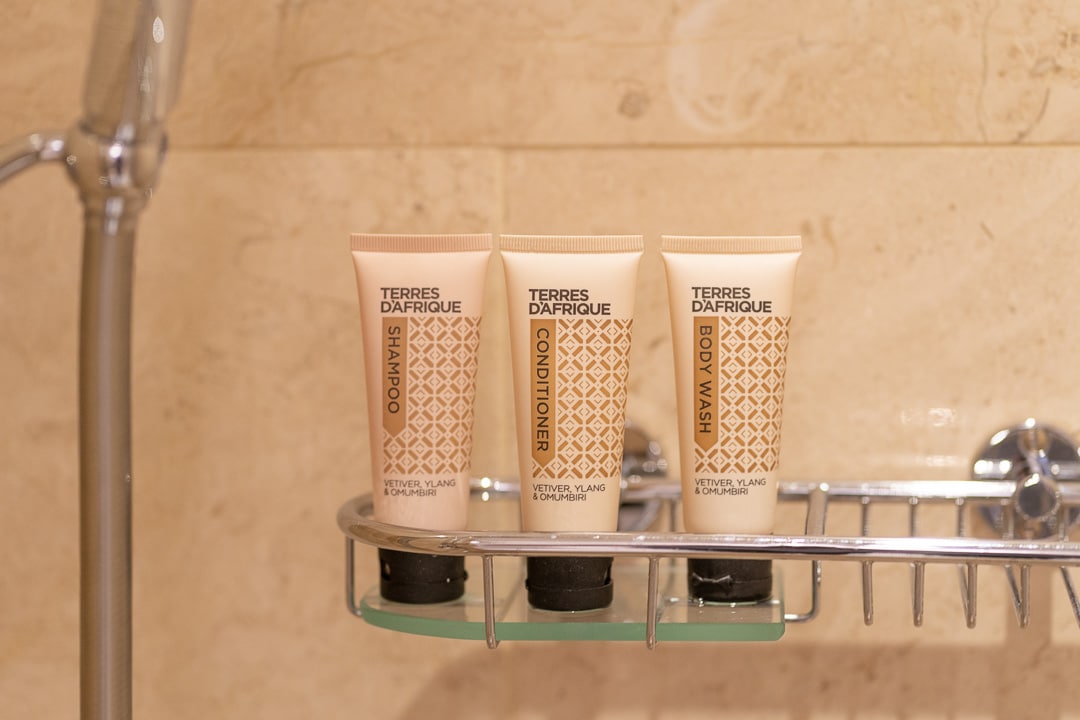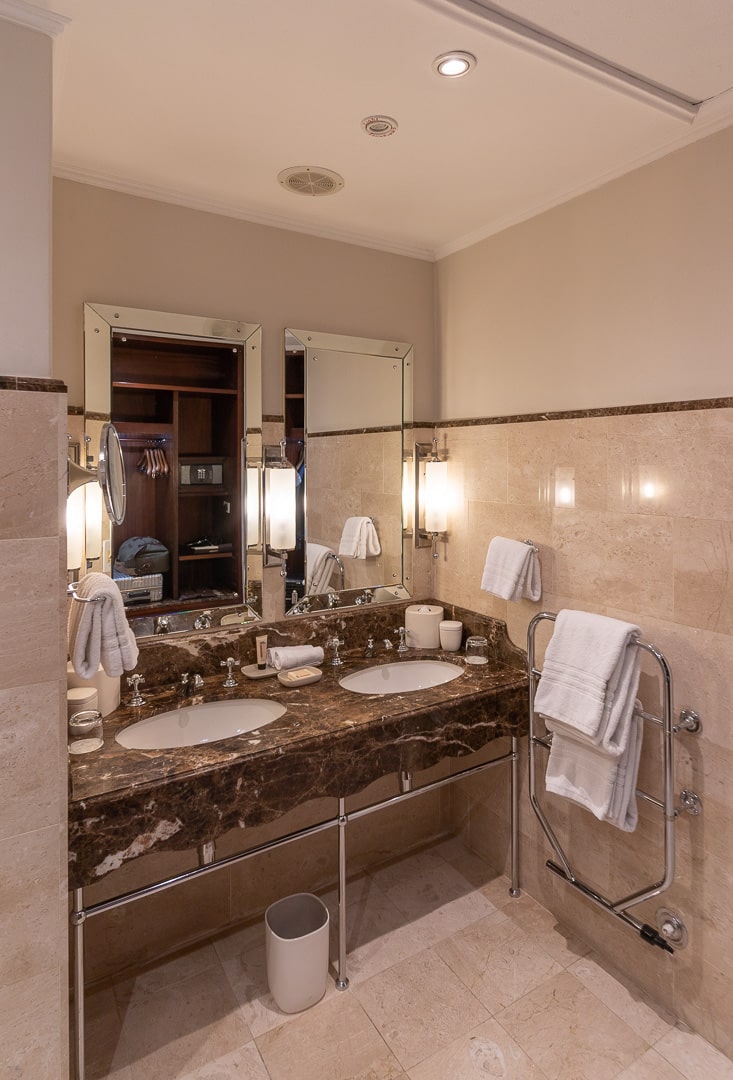 The deep soaking bathtub was similarly well equipped with towels and was also super quick to fill up.
Around the corner from the bath were the shower and toilet. The former had decent pressure but an incomprehensible system that combined both pressure and temperature into a single dial. The latter featured a small art gallery and a large red button, to be used in the event of toilet-based emergencies.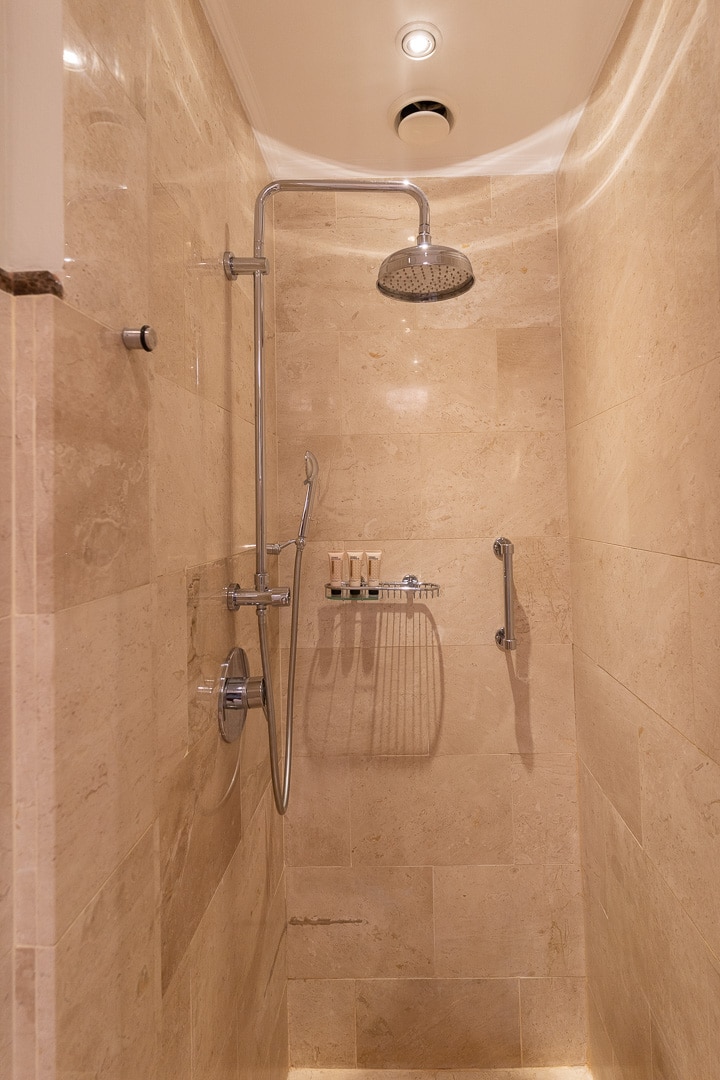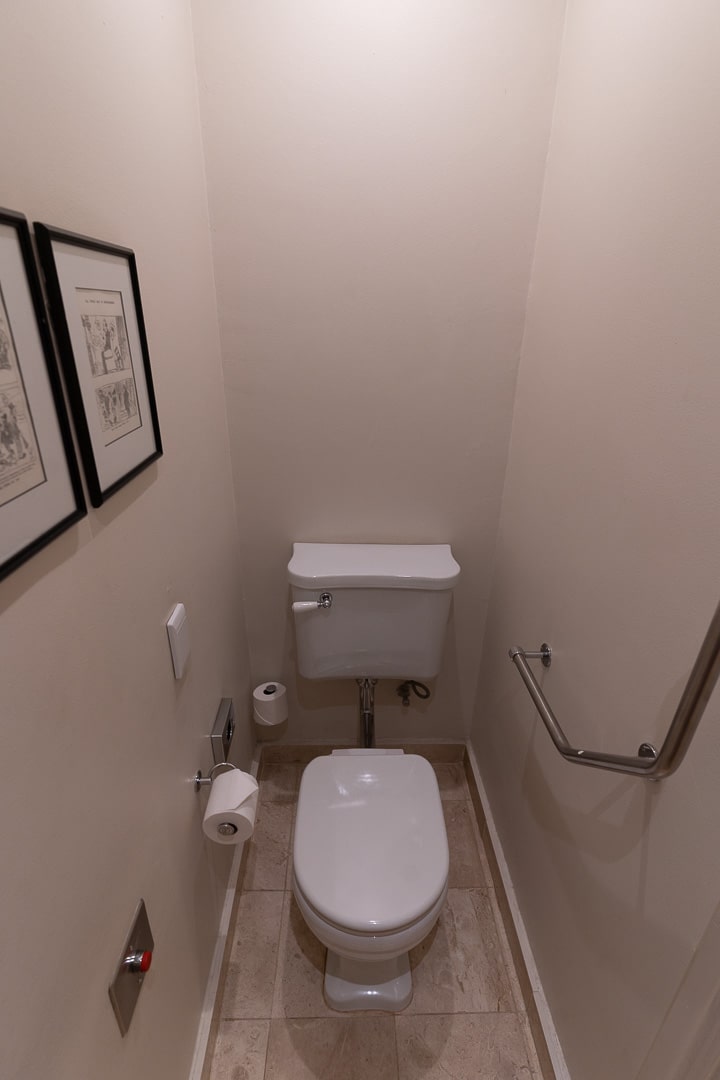 Turndown
Turndown service was provided every evening and cleaners were quite thorough during their morning visits. Some smaller details were missed at times though, like arranging items on the side tables or lining up shoes in the hallway.
---
Food and Drink
---
Breakfast
Breakfast was served about 50 metres away from our bedroom, at the hotel's panoramic destination restaurant: Flames.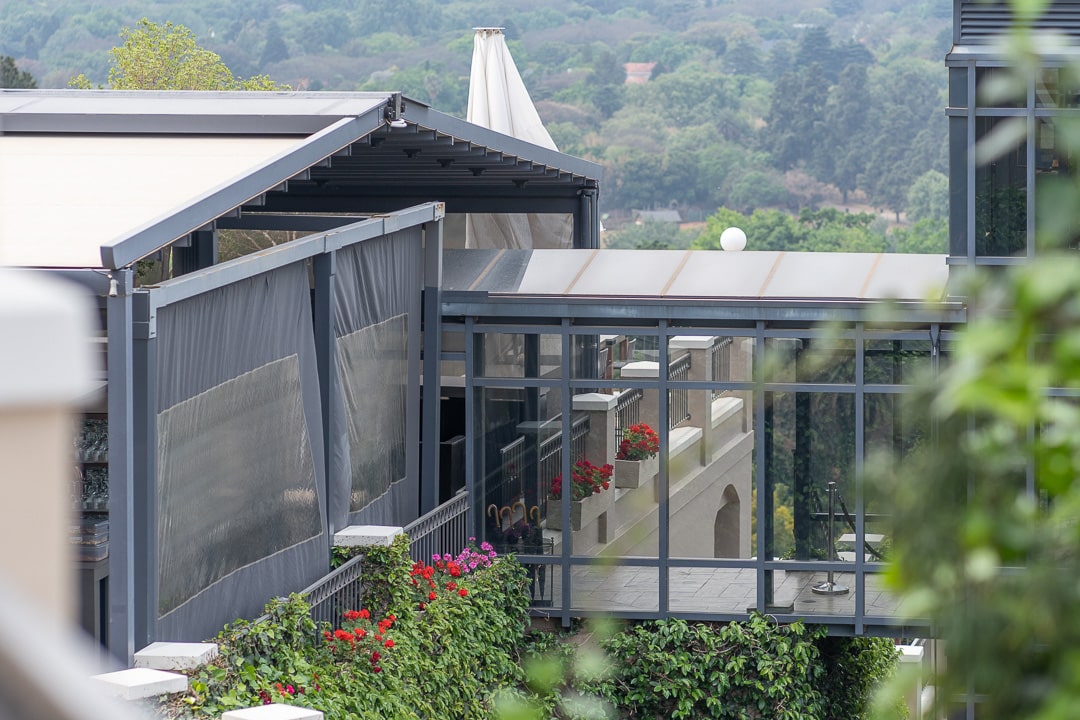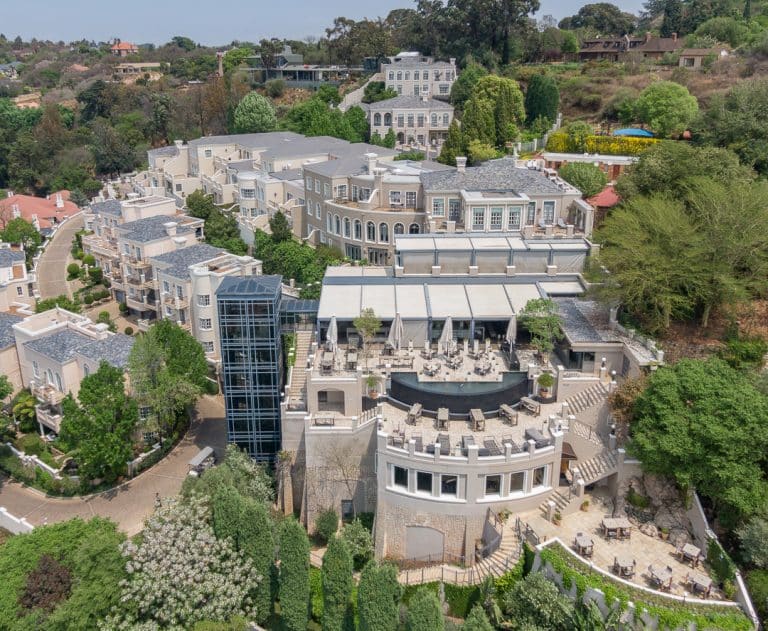 [Flames as seen when leaning over our balcony and from a bird's eye view.]
Were it not for the fact that I spent 11 hours a day at my desk and needed a change of scenery, I would have gladly enjoyed the FSPP benefit of complimentary in-room breakfast though. Our balcony was so pleasant, early in the morning, that I always made sure to have a pre-breakfast Nespresso – watching the flocks of ibis fly by.
Flames has various indoor rooms, which are all decorated in a modern style.
On weekdays, the place was absolutely buzzing – it seems like a real local hotspot. We overheard all kinds of fascinating conversations from politicians, journalists and VIPs of every category. This is definitely not your average tourist breakfast.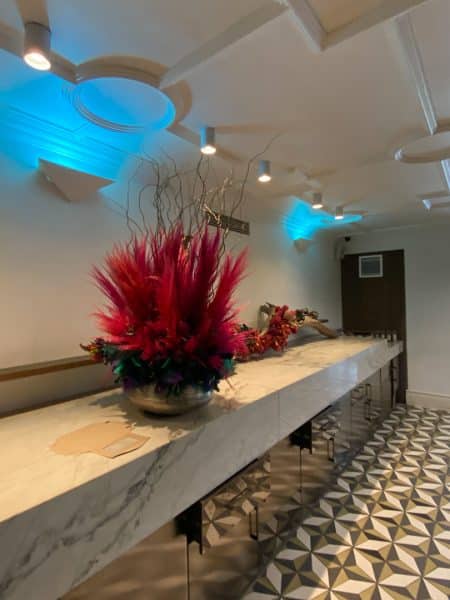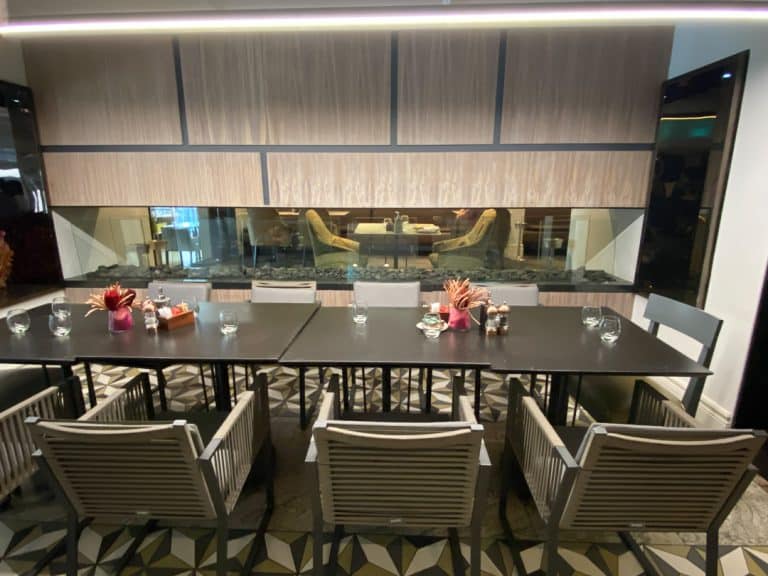 Outdoors was the place to be though on days where the weather allowed (an unseasonal thunderstorm meant that on two mornings, there was no option but to sit indoors).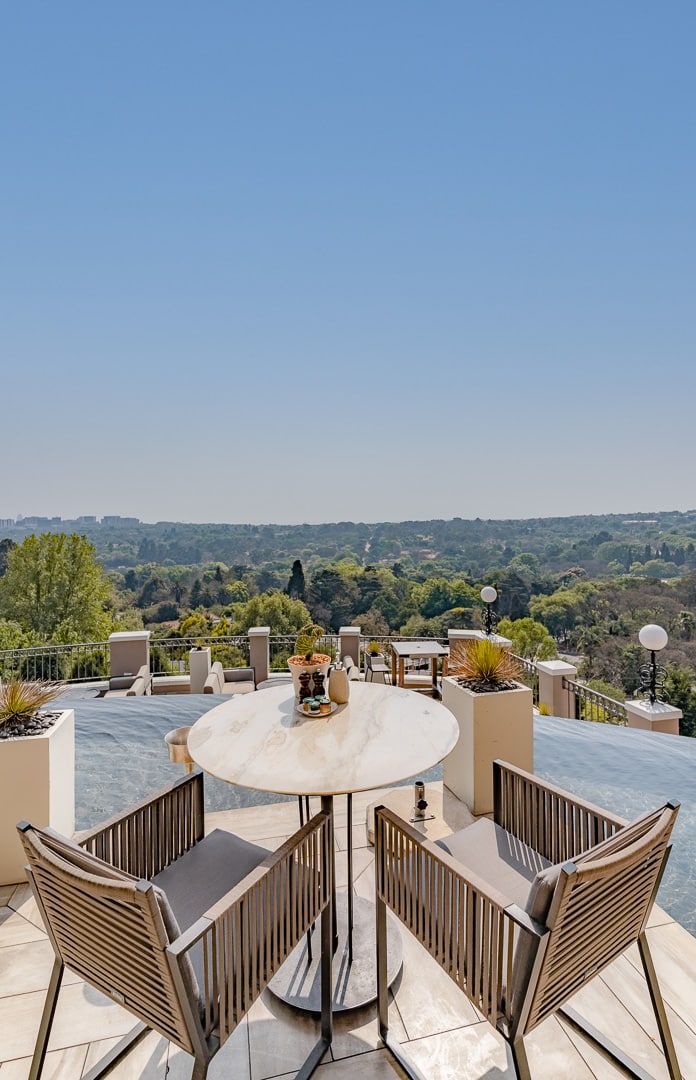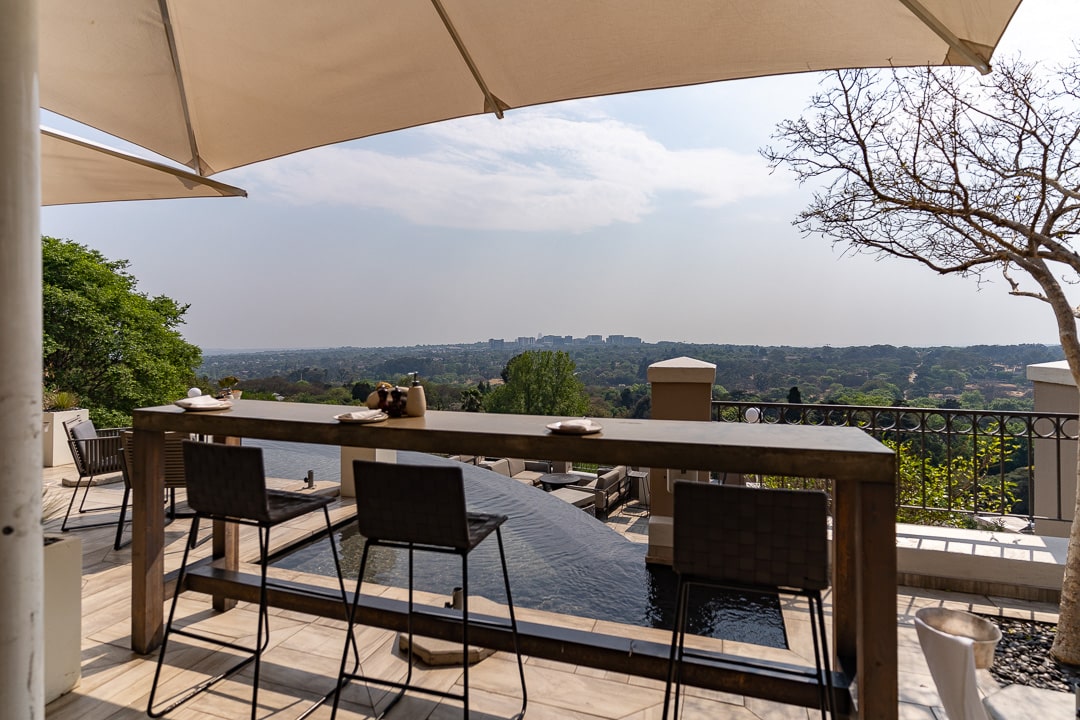 The endless view of an expanse of greenery was absolutely captivating. On sunny days, it felt incredibly special to be up here enjoying a leisurely breakfast.
On our first day, the service concept was explained to us:
First we could order coffee and juices.
Then we could have a selection of cold meats and/or oysters.
Then we would be presented with a fruit selection and a bakery basket.
After this, we could have a savoury main dish.
Followed by a sweet main dish.
Basically a hybrid of buffet style platters, followed by the usual a la carte.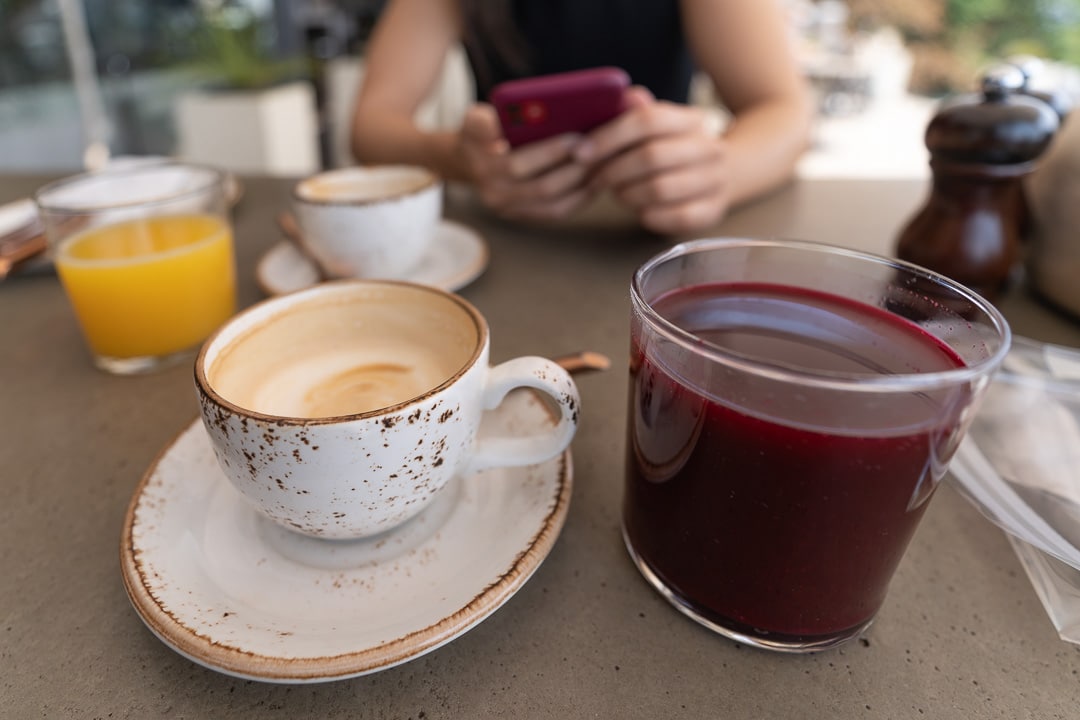 Coffee was a little on the milky side initially, but we got things dialled in after the first order. The selection of freshly pressed juices was excellent.
Every table had a rather elegant stone sanitiser dispenser and plastic envelopes were provided for guests' masks.
We never bothered with the oysters or the meat platter, since it seemed like far too much food, in combination with the a la carte dishes.
Same goes for the bakery basket.
The fruit selection was excellent but absolutely massive. Below is the portion for one person…who is also expected to consume meat, oysters, pastries AND two a la carte dishes.
The eggs Benedict were beautifully presented, although personally I prefer the muffin to be a little crunchier and for the hollandaise to be torched on top. (Nothing will ever beat the Eggs Benedict at the Conrad Tokyo from 2014-2018.)
My default breakfast each day was a fillet steak with two poached eggs, mushrooms and perfectly crispy bacon. This was absolutely excellent.
Kamara opted instead for a slightly healthier vegan tofu scramble, which was surprisingly great. So great in fact, that we made a tofu scramble in its honour, this morning in London!
Kamara usually loves a crêpe but only managed to leave enough space to try one on our last day. She wishes she'd started ordering them earlier.
On weekends, there is also the option to help yourself to an indoor breakfast buffet one floor above the main restaurant. This still includes the option to order a la carte dishes.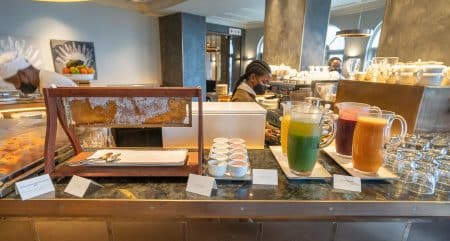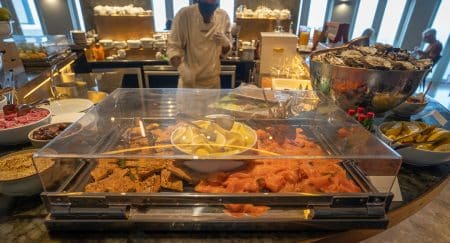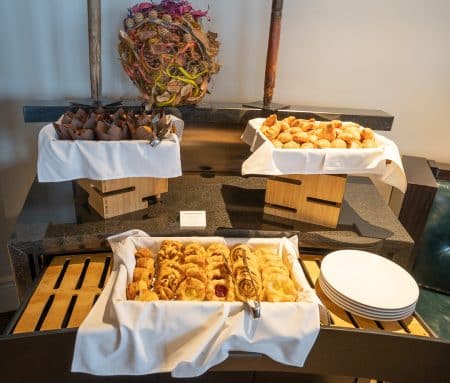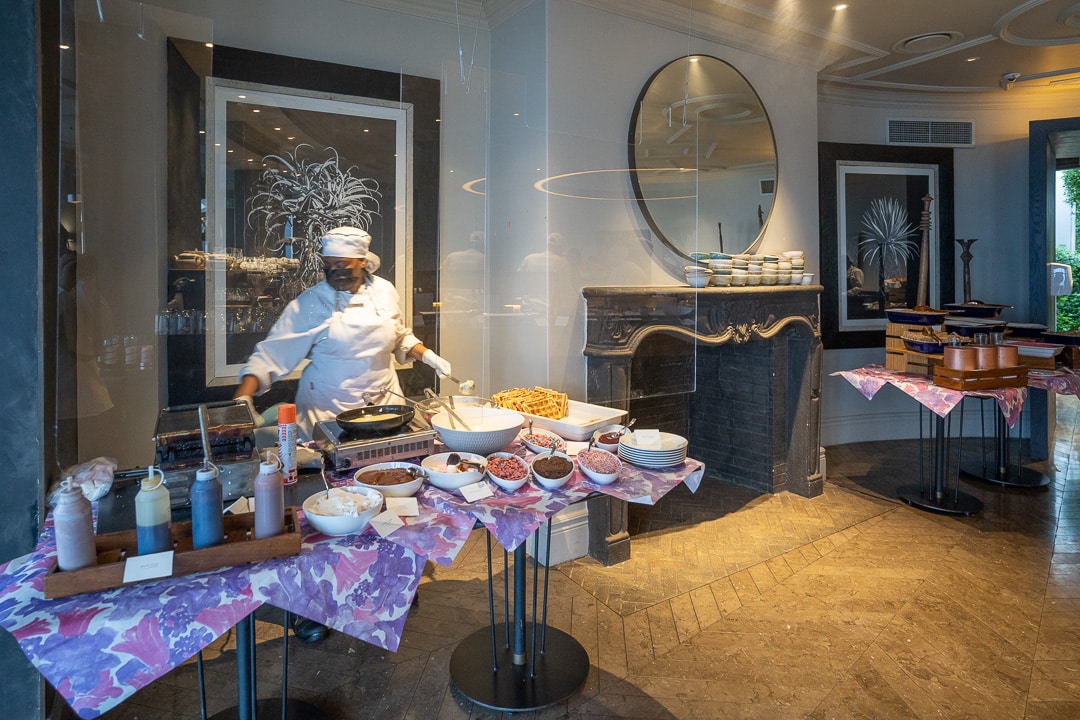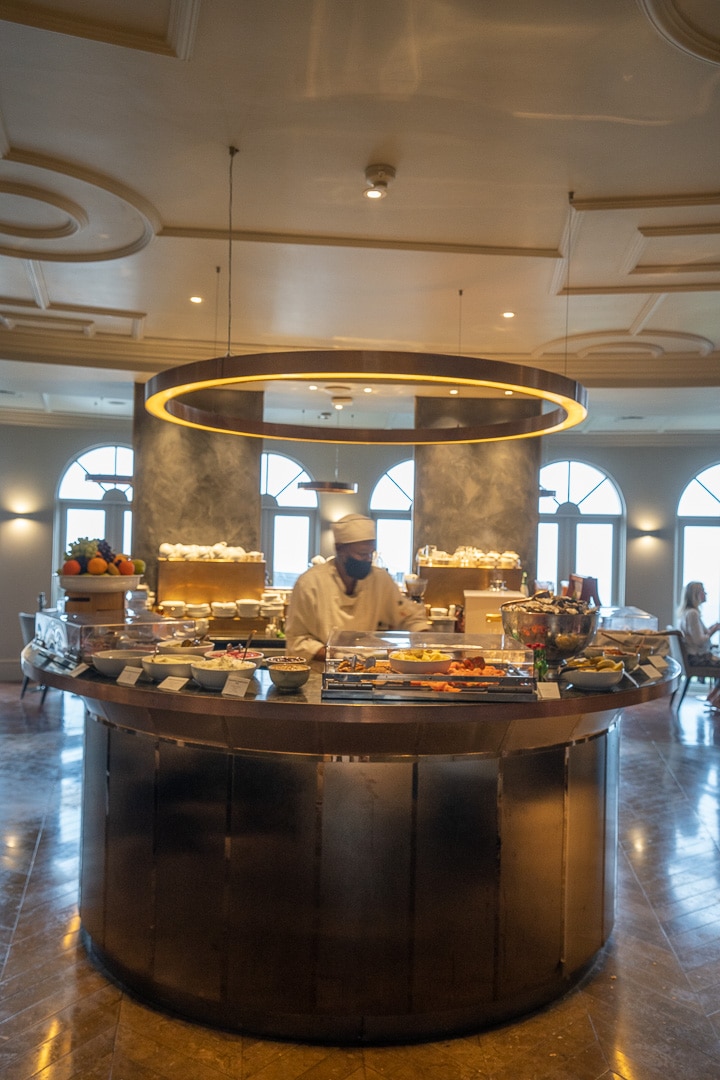 Room Service lunch
Given my work schedule, we always ordered lunch to the room, enjoying it on the expansive terrace area of our room.
Ordering via the Four Seasons app was absolutely seamless, with all possible customisation options already thought of during the ordering process.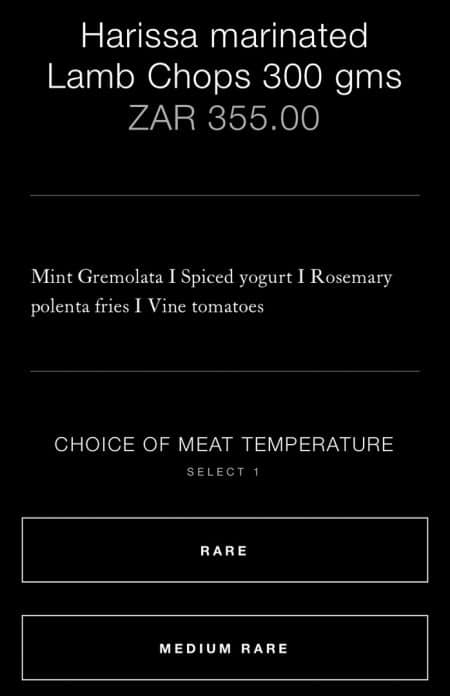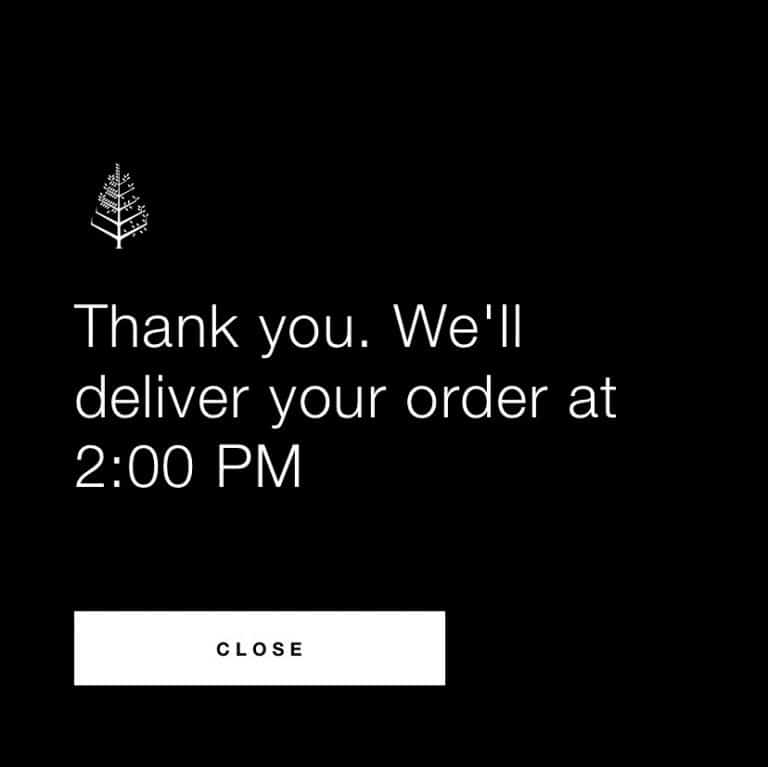 Service was always wonderfully effusive, with food being laid out for us in the manner of a restaurant, as each dish was explained to us sequentially.
Every single dish was absolutely delicious too, packed with flavour….unfortunately, the food was also packed with salt. We tried adjusting our orders each day to avoid the overload of sodium but gave up when even a salad was laced with enormous crystals of salt.
Such a shame, as the flavours were otherwise genuinely excellent, as was the presentation.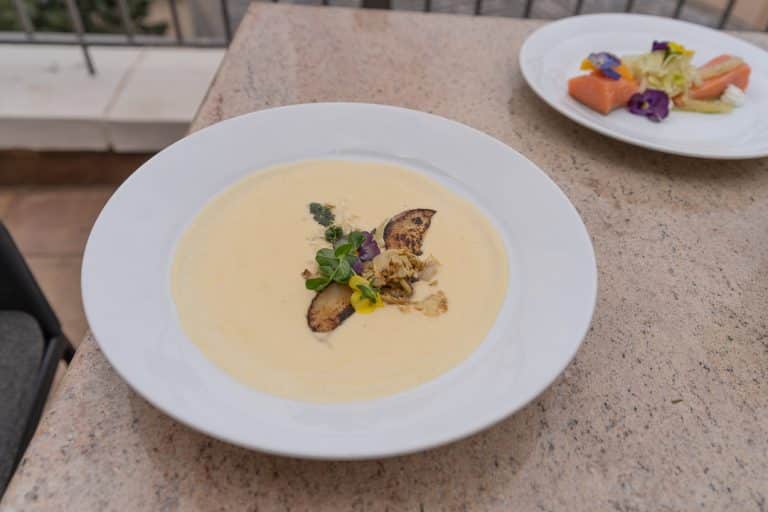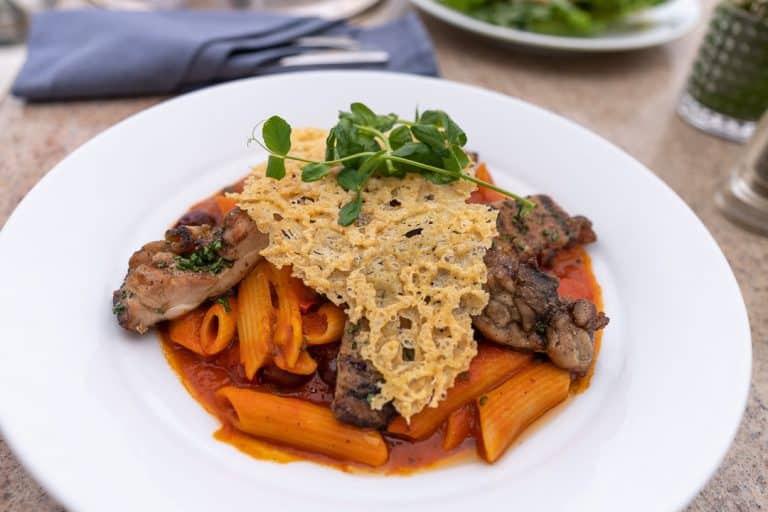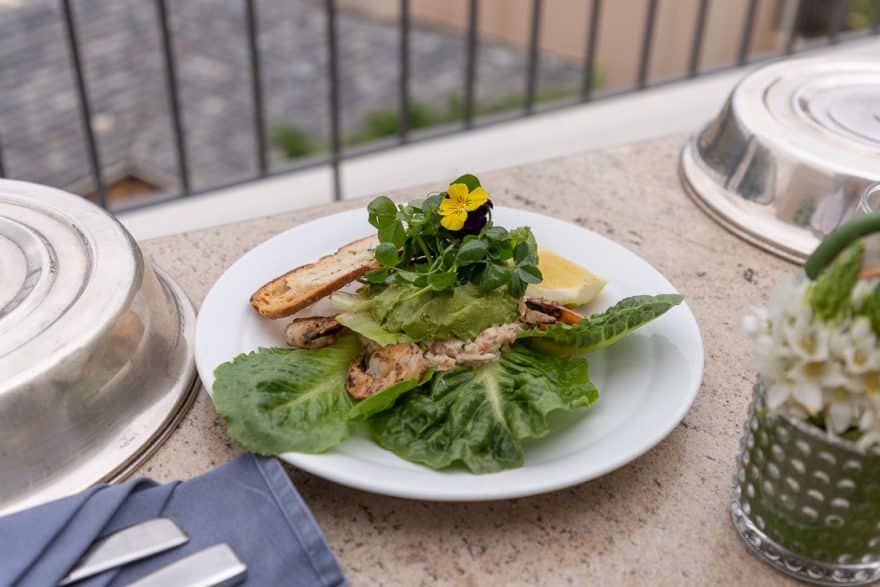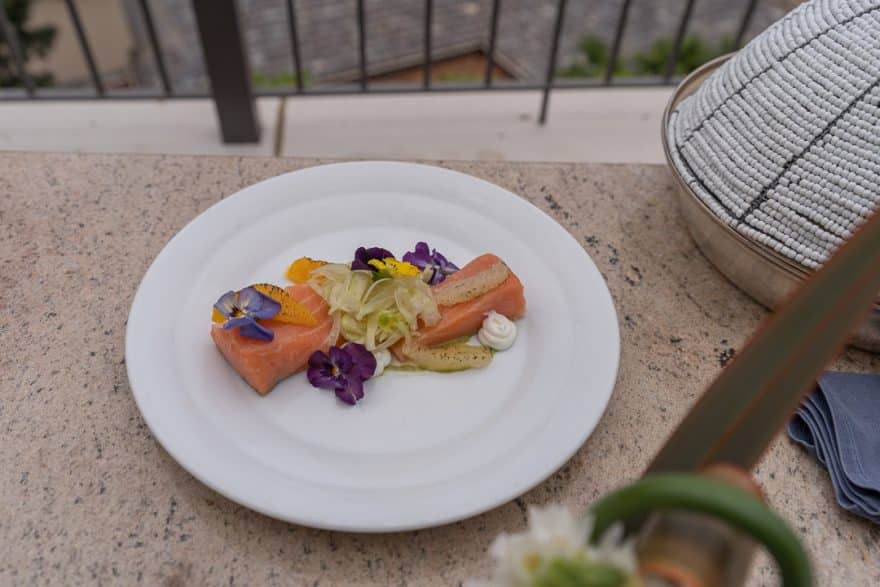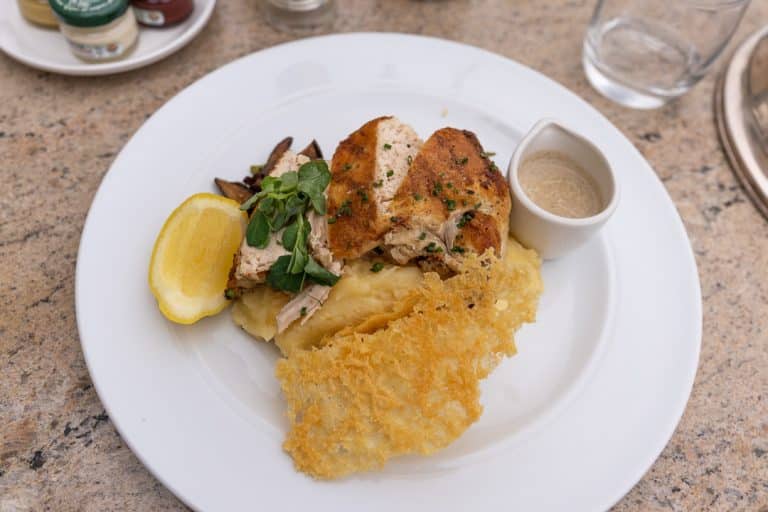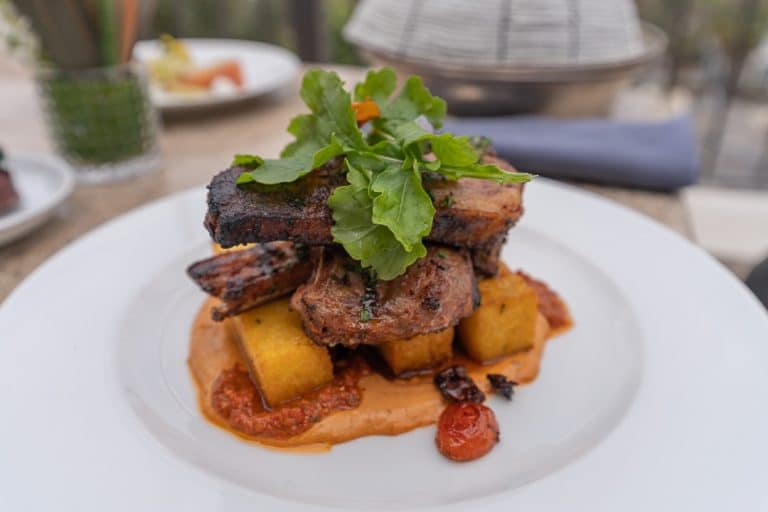 Dinner at Flames
Most people dining at Flames will approach the impressive glass walled lift at the base, enjoying the view on the way up.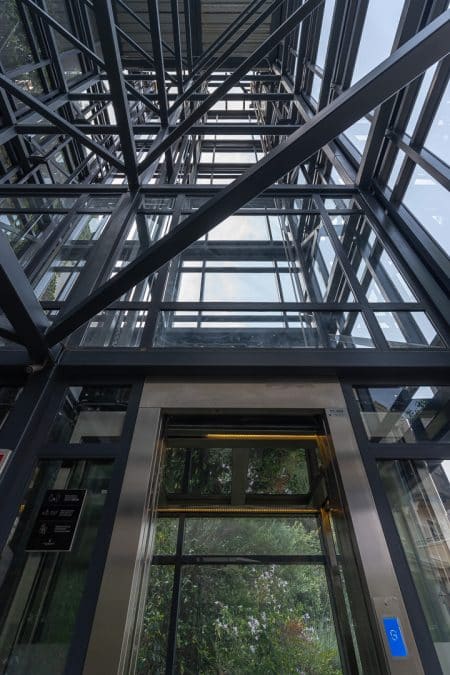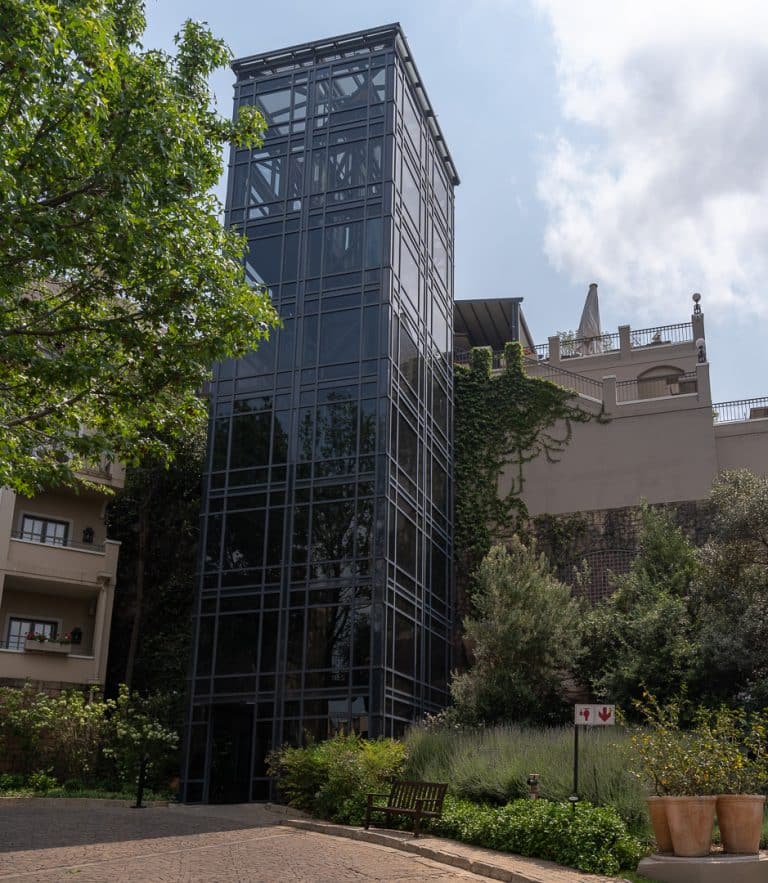 Our saunter over from the room was decidedly more low key.
The restaurant was absolutely packed with people every night of the week. It is unquestionably a firm local favourite. Despite this, service was very attentive and never rushed.
Our meal started with a fantastically fresh bread roll and a flatbread cracker, served alongside two very flavourful dips. We started the meal with a champagne cocktail and a margarita. Both were serviceable but nothing special. At a restaurant of this calibre, I would have expected more elegant glassware with thinner stems.
I don't expect everywhere to wheel out the Zaltos… but a Riedel or Schott Zwiesel wouldn't be amiss.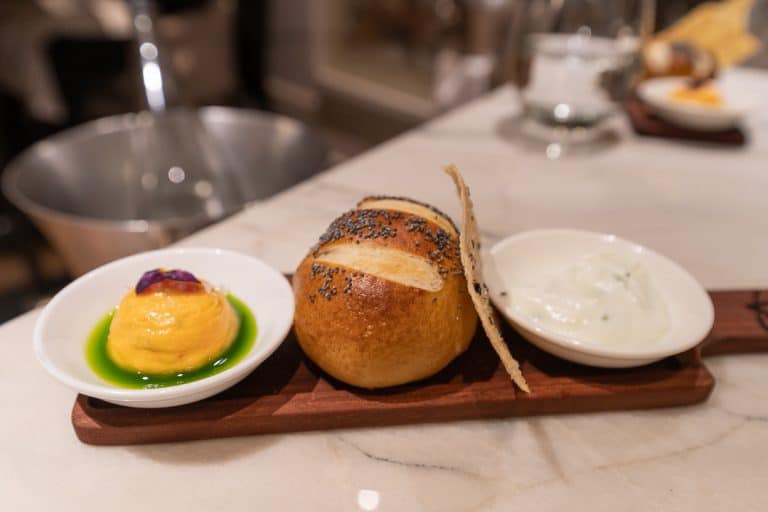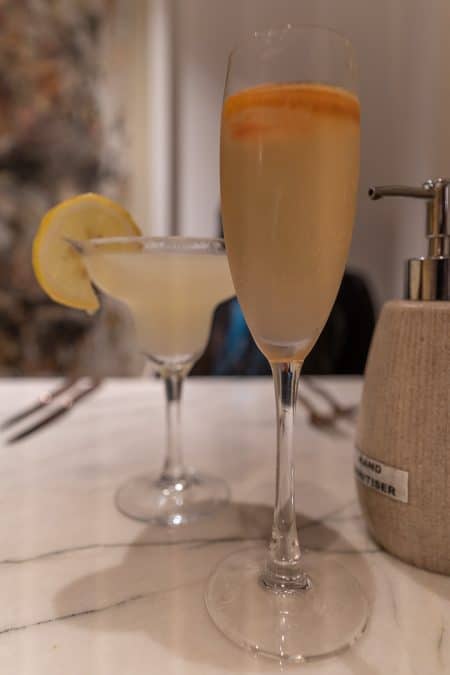 To begin, we had the oysters Rockefeller alongside a sublime springbok carpaccio, served with parmesan crisps and blackberries. Both dishes were fantastic and interestingly, the food in the restaurant was nowhere near as over-seasoned as the food (presumably from the same kitchen) served to our room at lunch.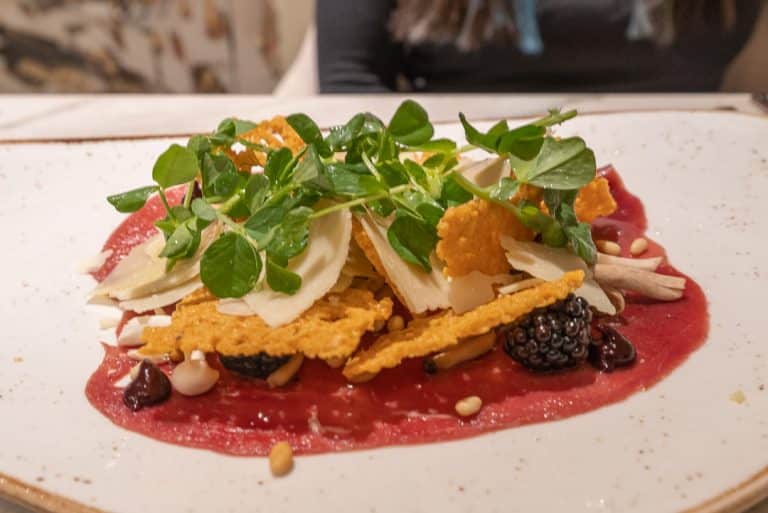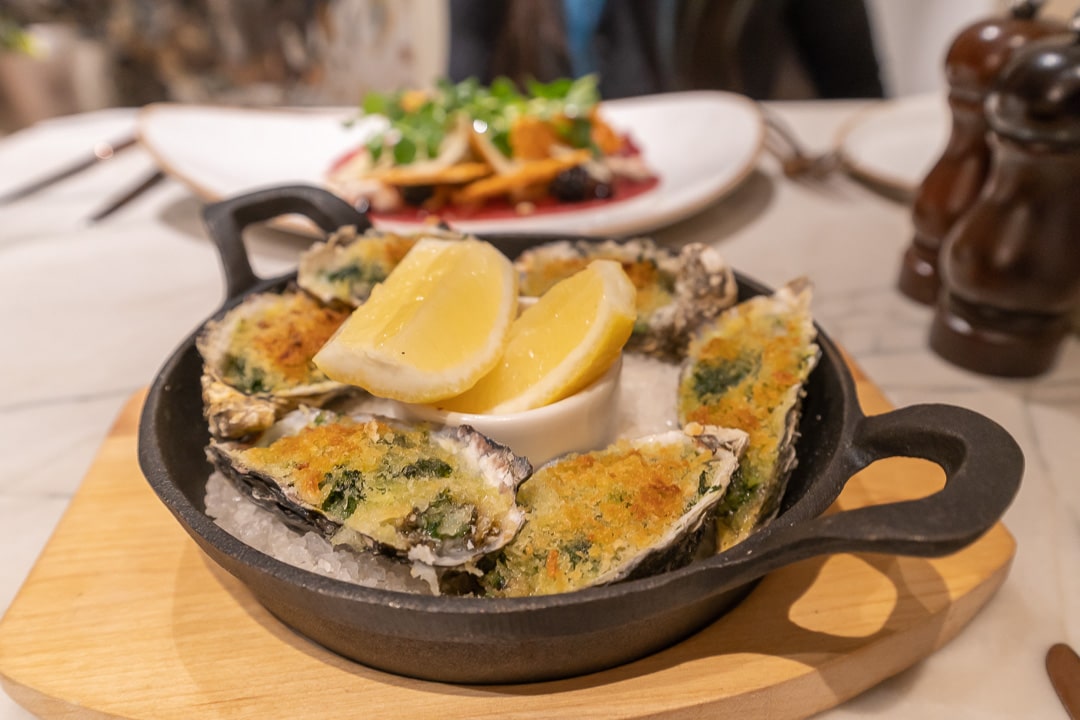 When you come to South Africa, you expect to eat fantastic steak and in this regard Flames did not disappoint…at all. We ordered a rare Tomahawk steak, served with two enormous pieces of bone marrow, topped with a parsley and parmesan crust.
It was magnificent.
As were the hasselback potatoes; a true revelation and without a shadow of a doubt the single greatest iteration of any tuber that I've ever eaten.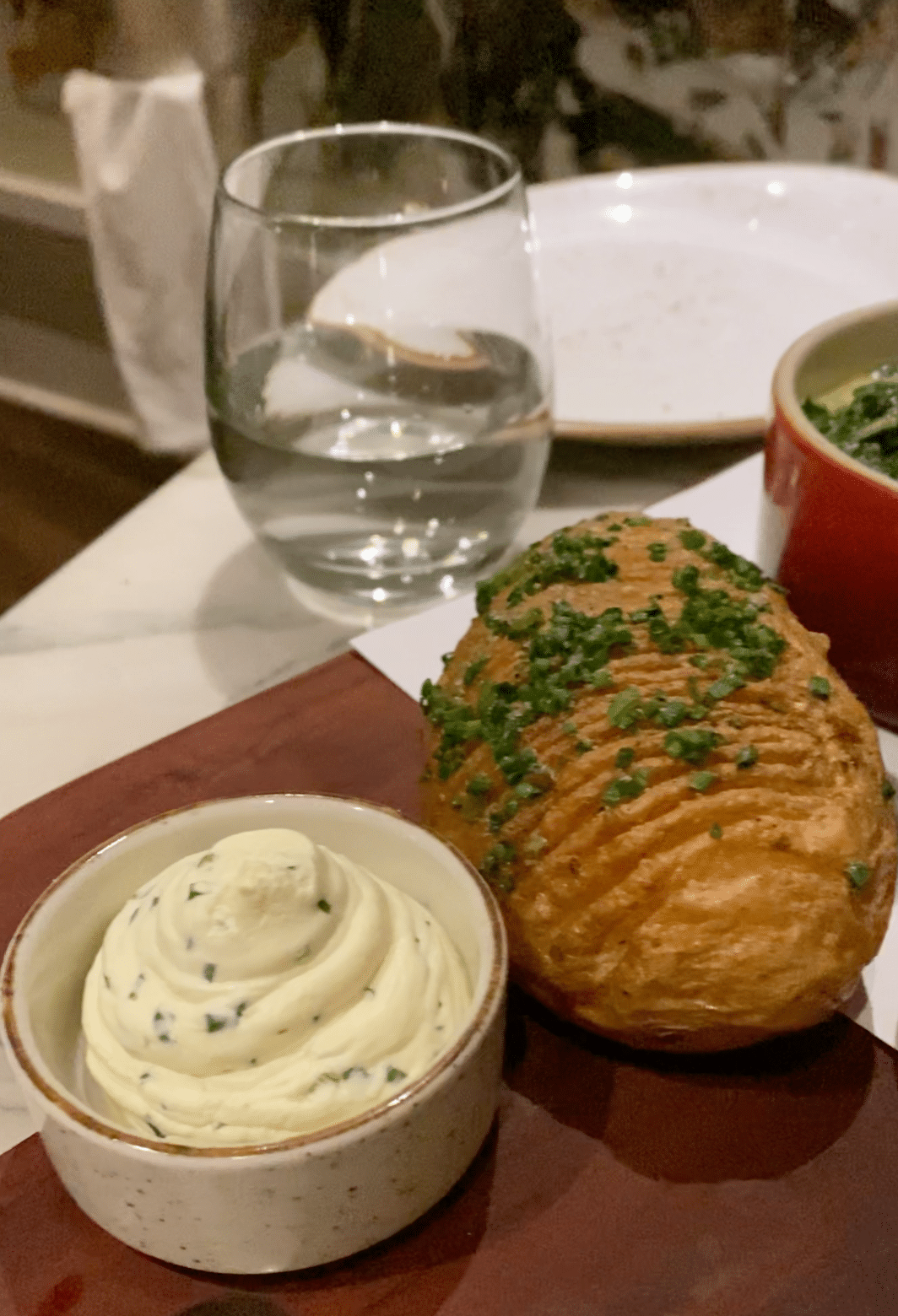 Given the fact that we'd eaten a steak as big as a Macbook, we opted to skip dessert.
---
Facilities
---
Gym
The hotel gym is located right by the lobby, so reaching it from our room, at the very top of the property, constituted a warmup in and of itself!
First, we jogged all the way to the far end of the property, to the Rose Garden.
Then we made our way down these steep stairs, all the way to the lobby.
The Four Seasons Joburg gym is a very modern facility with a studio feel to it. As soon as you enter, you're welcomed by a large unit, housing fresh water and towels.
Machines were rather spaced out (presumably because of COVID) and plastic panels hung from the ceiling to act as an additional barrier (definitely because of COVID).
There was a comprehensive selection of TechnoGym equipment, including a full sized cable crossover station – a real rarity at hotel gyms!
In addition to this, there was also a Smith machine, as well as a single cable stack and a couple of lat pulldown options.
Along from here was a separate studio space containing some TRX straps, mounted to the wall, as well as a rower (the only piece of cardio equipment I ever tend to use).
Free weights went up to the hotel standard of 20kg and were accompanied by some kettlebells that were, frankly, small enough to be used as earrings.
Spa Pool
Four Seasons Joburg has two pools: a family pool (dark blue on the left) and the adults only, spa pool (light blue on the bottom right).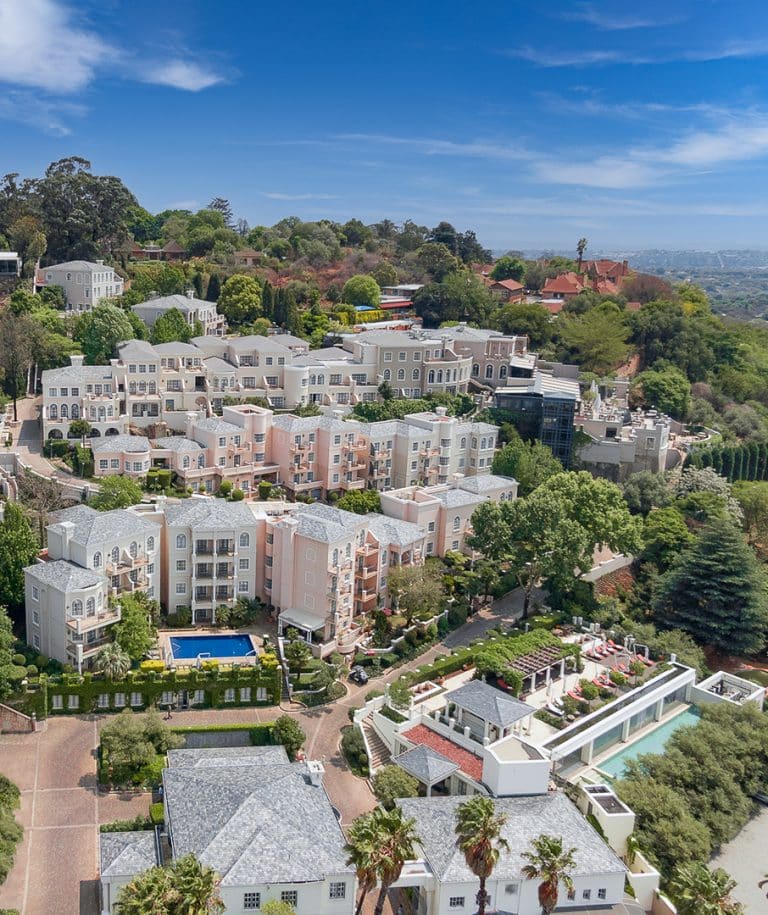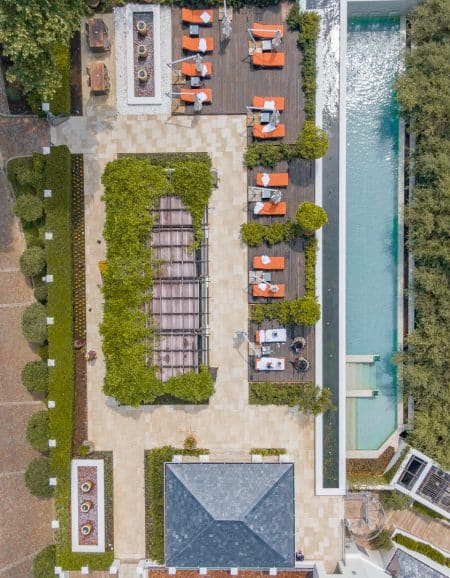 The pool has rather a unique design. It is located on the ground floor, opposite the spa, whereas the sun loungers are located in a garden area on the rooftop of the spa.
Most guests will access the pool directly from the outside, never passing through the spa area downstairs.
On arrival, we were immediately greeted by a member of the spa team, who were always on hand in the pool reception area.
One fantastic touch is that complimentary SPF 40 sunblock was provided for guests here.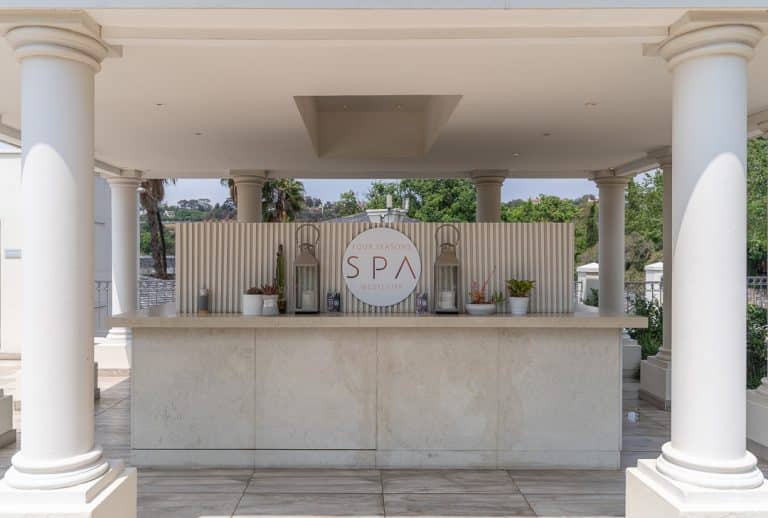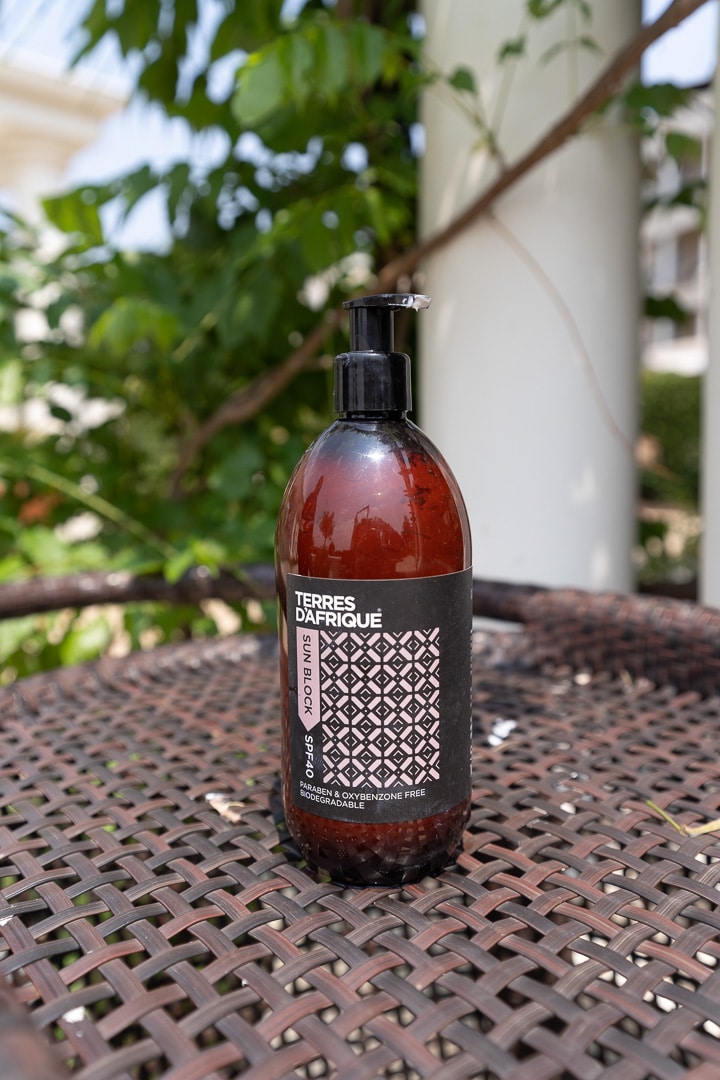 In addition to the usual sun loungers with parasols, there was also an enchanting garden area, bathed in an abundance of greenery.
We personally preferred to sit here, as the shade was constant and didn't require us to move either our chairs or a parasol.
There was a trade off in terms of the view though, since the front row of loungers looked out upon an expanse of green.
For those requiring immediate access to the pool, there was also one pair of sun loungers on the spa level. The atmosphere here was undeniably utilitarian, in contrast to upstairs, though.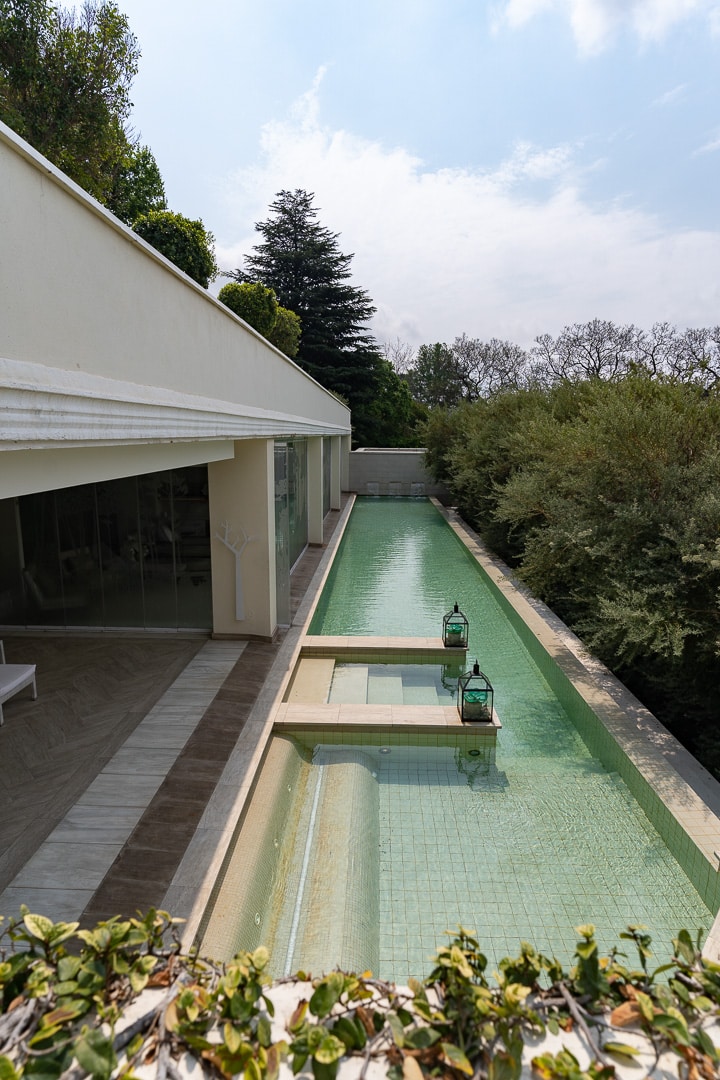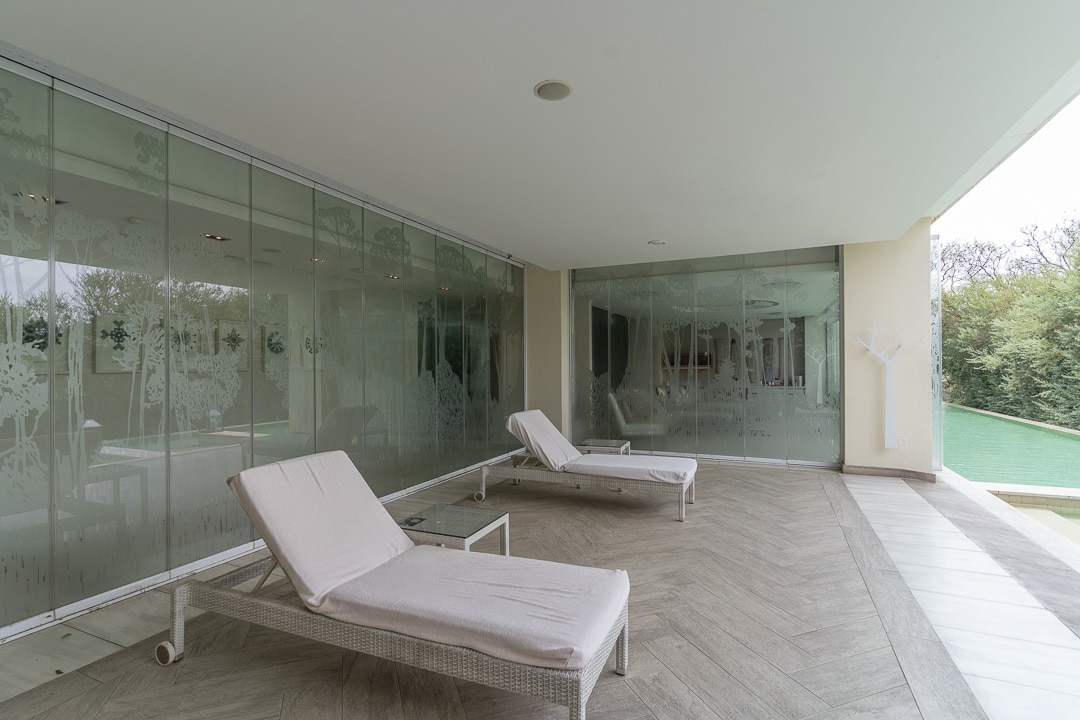 Family Pool
By the time I went to photograph the family pool, the weather had already turned and no staff were visible, so the below is perhaps a slightly unfair image of the facility.
The building directly behind the pool houses the majority of the family rooms at the hotel. These two bedroom family rooms are priced at only 50% more than an entry level garden-view room and provide 79m² of space, a fantastic deal.
---
Conclusion
---
Basics Checklist
1/2 Power sockets near the bed
(need to unplug other devices to access though)
☑︎ Easy to understand light switches
☑︎ Coffee machine
☑︎ Separate shower and bath
☑︎ Blackout blinds
X Stable, fast and free Wifi
☑︎ Feather pillows
☑︎ Quiet and powerful aircon
The Four Seasons Joburg is truly a Four Seasons property when it comes to the service and hardware, even if the lower room rates commended in Africa may lead you to believe otherwise.
The property is more resort than hotel and is the perfect place to spend a couple of nights before or after a safari in Kruger or the Sabi Sand.
The location, close to a hub of restaurants (including the amazing Marble), means that you won't be short of options, should you wish to venture outside the walls of the hotel compound.
The panoramic views are truly worth paying for (or upgrading to for free with FSPP!) and mornings spent over a leisurely outdoor breakfast are truly magical.
Highly recommended.
---
Book Four Seasons Joburg with FSPP Benefits
---
Four Seasons Preferred Partner Booking
An example of FSPP benefits, which may be available on your stay:
Upgrade of one category,

based on availability at check-in.
Full breakfast for two in room guests. Either at the restaurant or via in-room dining.
$100 hotel credit.
Welcome amenity.
Early check-in/late check-out, subject to availability.
EMAIL FOR FSPP BOOKING ENQUIRIES