Four Seasons Kuda Huraa
Rate: Hosted stay
Room Type: Sunrise Water Villa with Pool
Loyalty Program: FSPP
---
Intro
---
There are a huge number of amazing luxury options in the Maldives but, of course, there's always a certain reassurance that comes from booking a Four Seasons hotel.
Whenever you stay at a Four Seasons hotel: the service is great, the beds are comfortable and the app makes interacting with staff seamless.
There are two Four Seasons properties in the Maldives: Kuda Huraa and Landaa Giraavaru.
If you are arriving late or departing early from the Maldives, it can make a lot of sense to think of Kuda Huraa as the 'airport hotel' (albeit the most luxurious airport hotel in the world!).
If combining the two properties, our packages will often offer a free night here or free seaplane transfers to Landaa Giraavaru (the more remote Four Seasons property).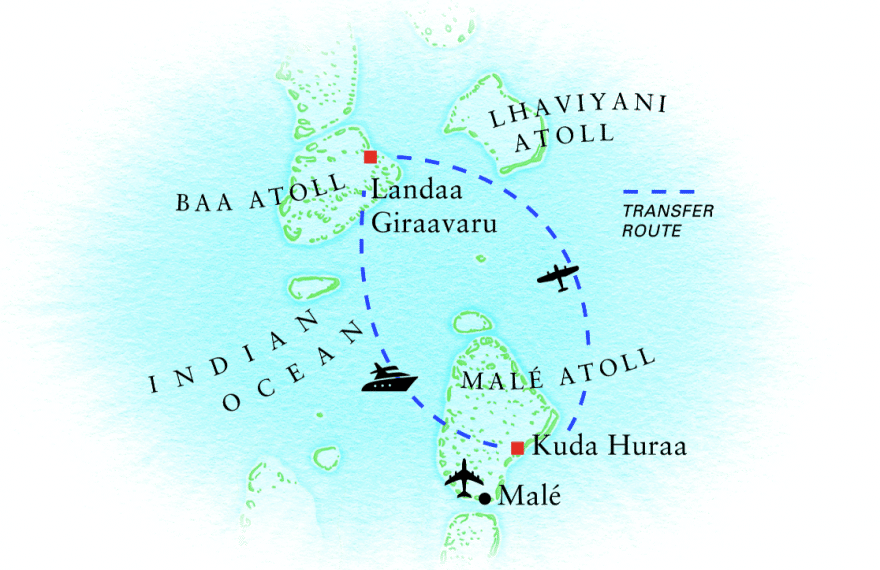 Of course, there are many people who will complete their entire stay at Kuda Huraa, opting for the superior convenience (and cheaper transfers) that this resort offers over its more remote relative.
---
Booking
---
Since I am a Four Seasons Preferred Partner (FSPP) agent, I can offer you FSPP benefits at any Four Seasons property.
An example of FSPP benefits, which may be available on your stay:
• Upgrade of one room category, based on availability at time of check-in.
• Full breakfast, for up to two in room guests. Either at the restaurant or via in-room dining.
• $100 Hotel Credit.
• Early check-in/late check-out, subject to availability.
There are numerous additional offers available throughout the year too, including:
free nights
free transfers
$500 additional credit
….and much more!
Your booking will be direct with Four Seasons but since I'm managing the booking on your behalf, I am able to negotiate all the above extras for you.
Additionally if you find a cheaper rate elsewhere, I can help to get the price matched AND STILL add the FSPP benefits to your booking!
EMAIL FOR FSPP BOOKING ENQUIRIES
---
Arrival / Speedboat transfer
---
Four Seasons Lounge
We were greeted at the arrival gate by a Four Seasons representative, although it wouldn't have exactly been difficult to find our own way to the lounge!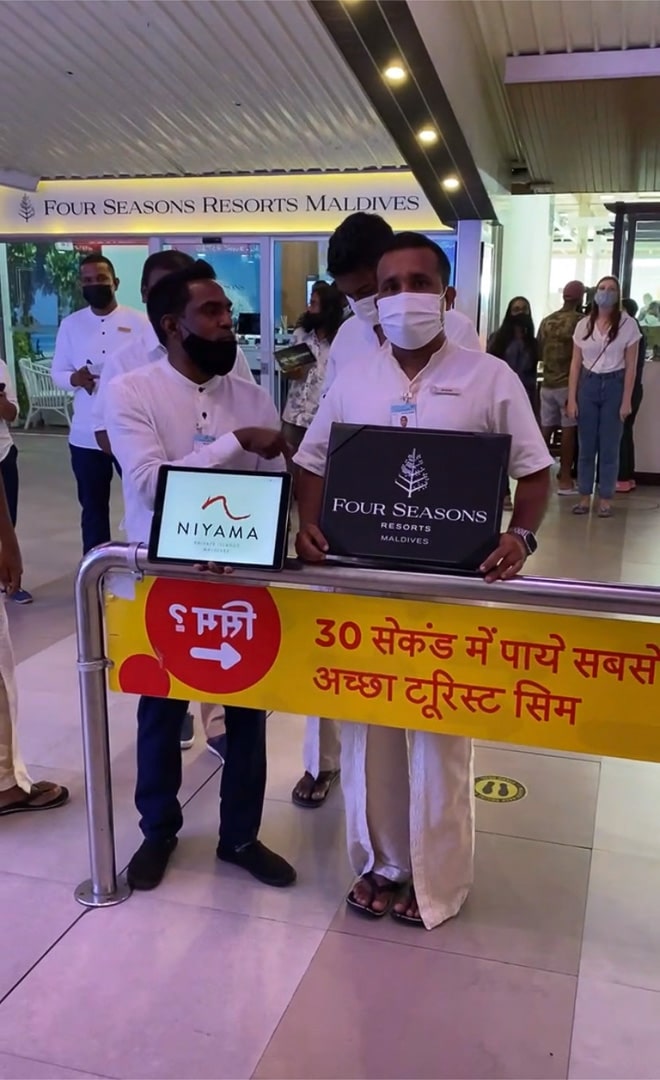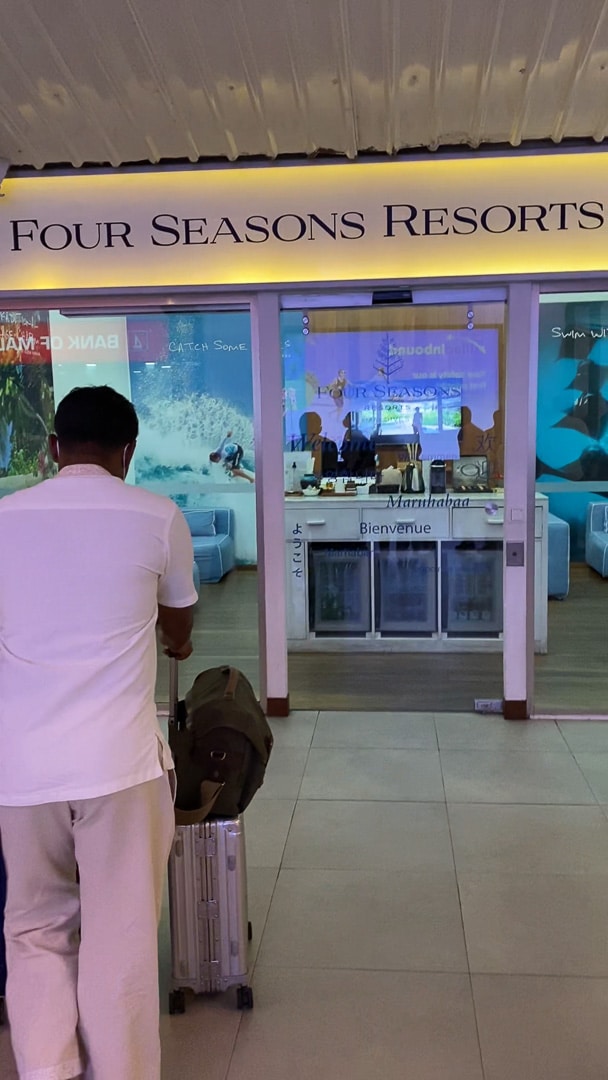 I'm sure Four Seasons paid dearly to secure this super prominent location in the airport. It's basically the first thing you see when you enter the country.
After escorting us into the lounge, our host offered us a soft drink. There was a decent selection, including diet coke – which is often bizarrely difficult to find in the Maldives. Alcohol wasn't served since the Maldives is a strict Muslim country with alcohol only permitted on resort islands.
Wifi was very fast and I now have the password saved so I never need to deal with the horrible airport wifi ever again!
There was a charging station by the TV offering every type of charger imaginable, although I don't imagine many guests spend long enough in here to really make use of it.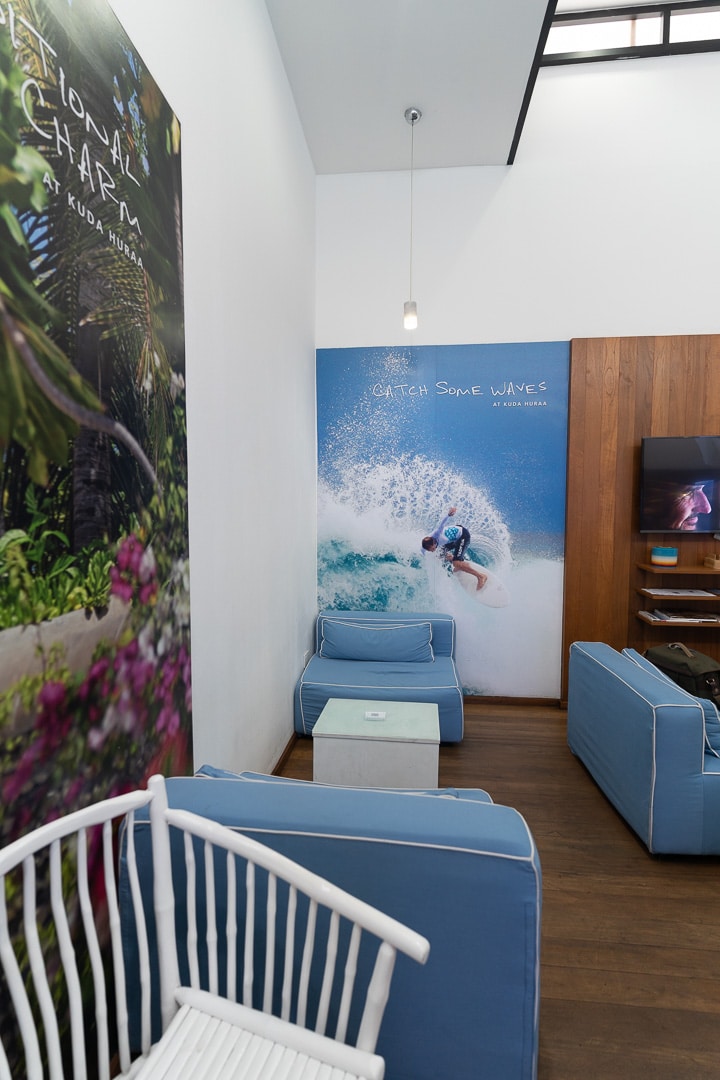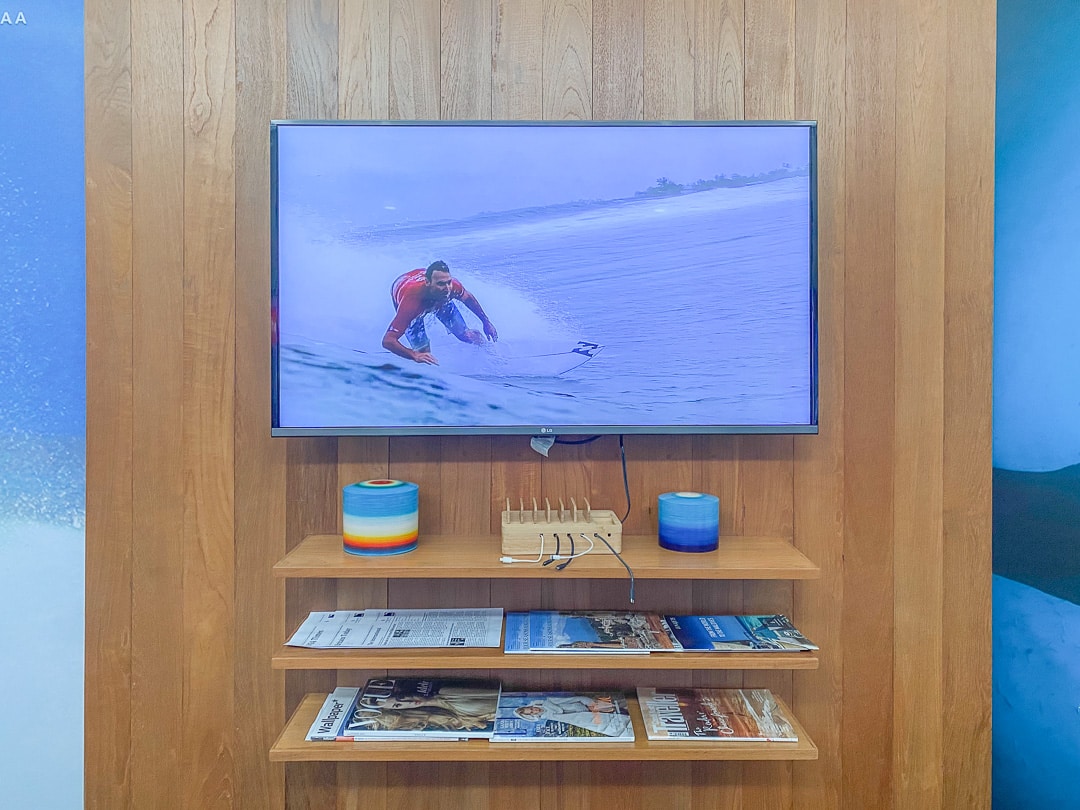 After waiting 20 minutes or so for one other guest to clear immigration, we were escorted over to the speedboat dock – just outside the entrance to the airport.
The overall journey time from the airport to Kuda Huraa was around 35 minutes.
Small Speedboat
Our outbound journey to Kuda Huraa was on a small but perfectly comfortable speedboat.
Catamaran speedboat
On the return journey we travelled on a much larger, catamaran style speedboat.
Although service was great on both boats, with water and cold towels being offered immediately after boarding – the catamaran was much more comfortable. It also offered power at every seat and much better wifi.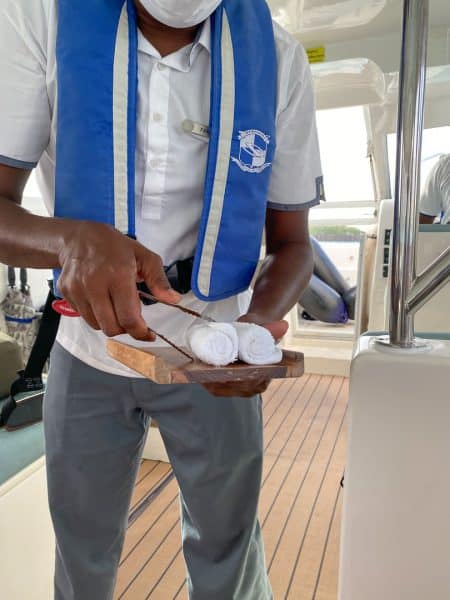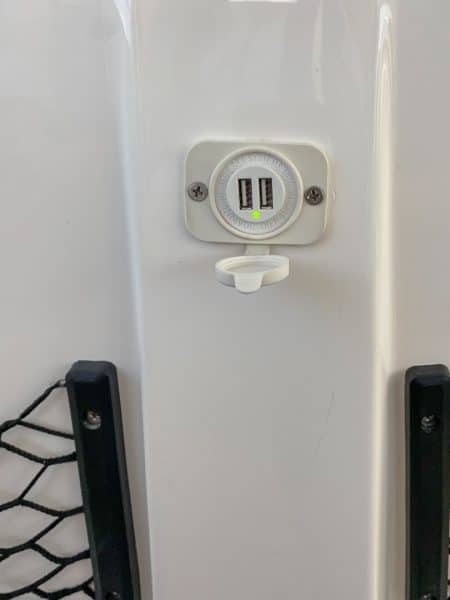 Check-in
As we approached the arrival dock we heard the sound of drums and clapping from the resort's welcome committee. Our temperature was taken as we disembarked and we were then escorted along the dock to the hotel lobby.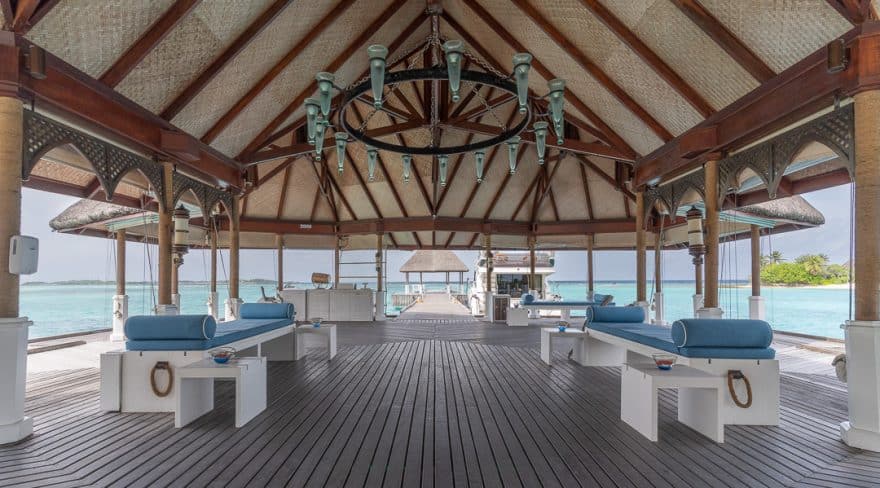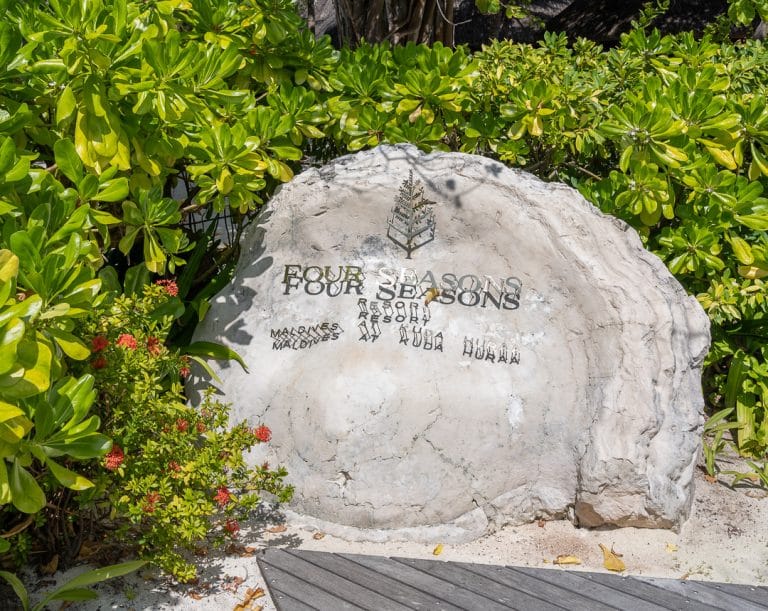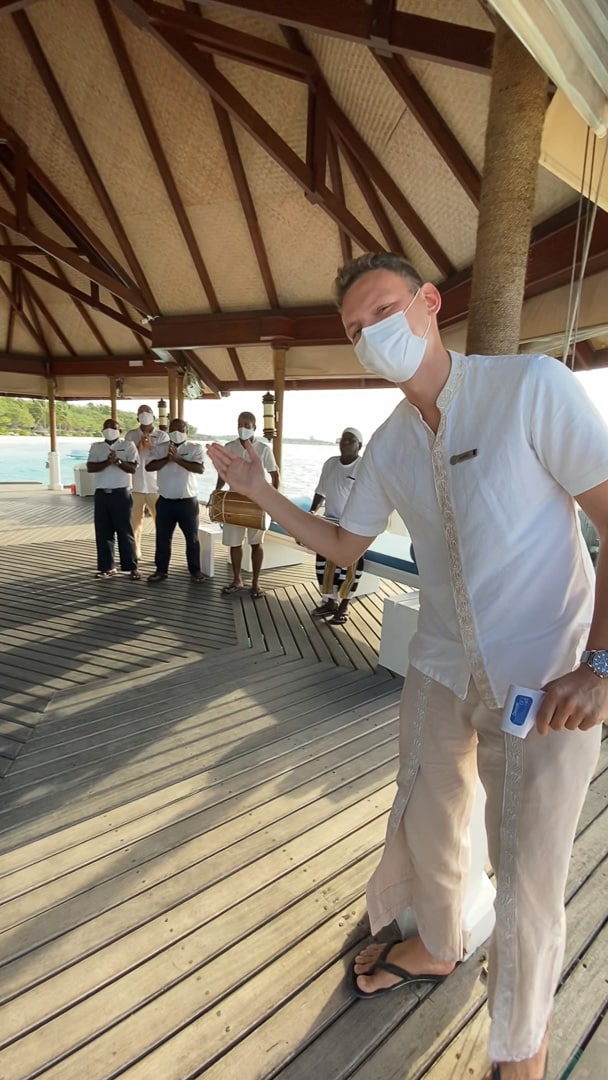 At this point, the polished demeanour of the staff and the pristine finishes of the floors and furniture truly let us know that we were at a Four Seasons. There was an assuredness, an air of quality, from the moment that we set foot on the island.
The first stretch of beach that we saw, right by the arrival pier, made one hell of a first impression too!
The dark wooden furniture, chandeliers and beamed ceilings lent something of a safari lodge feel to the lobby. The stone floor and grand counter also imbued the space with elegance, where many other Maldivian hotels emphasise 'island chic'.
As with most Four Seasons hotels, the lobby also featured a station offering complimentary tea, coffee and water throughout the day – together with some sweet snacks.
Upon entering the lobby, our host asked us to take a seat and offered us each a refreshing scented towel, together with a non-alcoholic welcome drink.
Check in was very quick and we were handed a customised folder with a resort map, an explanation of all inclusions during our stay and a brochure of available activities.
Resort Map
Once check-in was complete, we were driven to our room in a buggy.
Kuda Huraa is a rather compact resort: so much so that bikes aren't offered, since walking is so easy. Buggies were readily available though and could be ordered via the Four Seasons app or by a quick call to guest services.
Passing through the thick jungle canopy of the island's interior, it was abundantly clear that Kuda Huraa is a completely natural island (unlike the Waldorf Astoria, Ritz Carlton and Patina – also a boat ride away from Malé).
Natural islands have better sand quality, more shade from the sun and more wildlife than those that have been dredged up from the bottom of the ocean. I've always found the man made ones to be slightly creepy – it's like comparing a golf course to a forest.
The island itself houses the beach pavilions and villas, with the water villas located on a very long pier, punctuated by a tiny island in the middle. Interestingly the pier continued far beyond the villas to a deserted island, used for private dining.
As our buggy drove through this overwater neighbourhood it was hard to suppress a smile. The setting is truly beautiful, with maintenance clearly of the utmost importance. There were no loose or broken planks anywhere (unlike the Intercontinental).
This may be one of the oldest resorts in the Maldives but multiple refurbishments over the years mean that this resort is still pristine.
Looking into the water I was delighted to see not only an abundance of coral frames but also a thriving marine ecosystem enjoying them. Baby reef sharks were in abundance, as were schools of brightly coloured fish.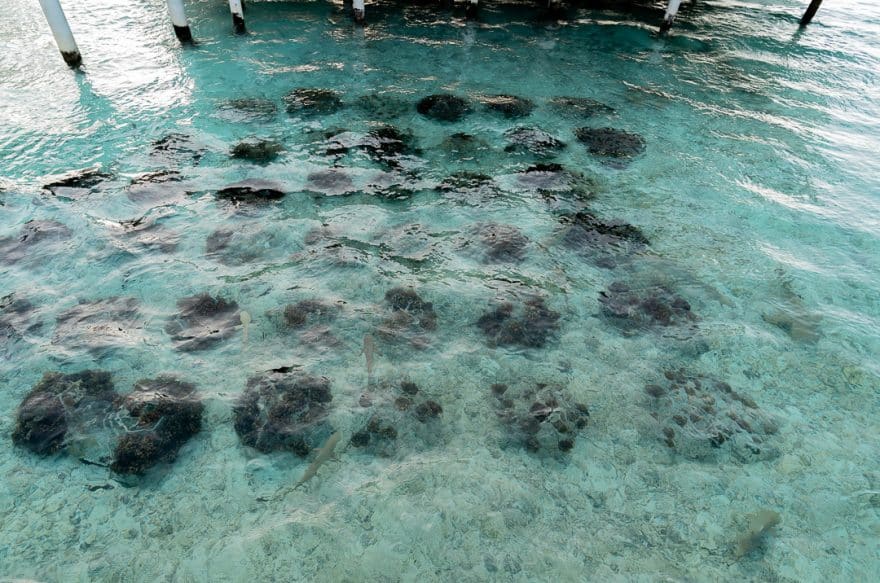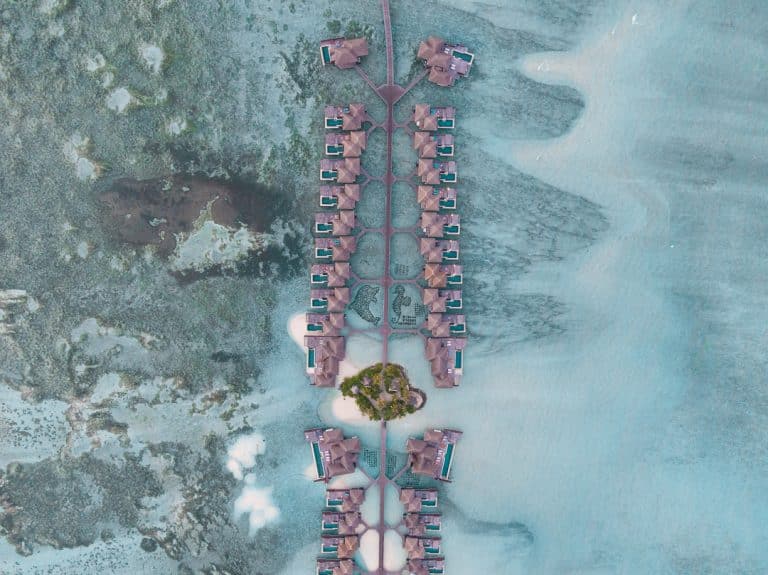 It wasn't until I took my drone up, just after sunrise one morning, that I realised that the coral frames had been planted in the shape of a seahorse and a dolphin!
---
Sunrise Water Villa with Pool
---
Room Tour Video
View this post on Instagram
Entrance
Our Sunrise Water Villa 415 was located midway along the second cluster of villas on the overwater pier.
A padded bench outside provided somewhere to sit, in the rare event that you should have a long wait for a buggy. Meanwhile, a bright blue urn contained a couple of sturdy umbrellas; handy in a country where the weather can change at a moment's notice.
Bedroom
Walking into the bedroom I was immediately struck by the quality of the finishes. There's something undeniable about the furnishing at Four Seasons hotels, everything always looks robust and sleek.
White walls and a straw coloured ceiling helped to lend a bright and airy feeling to the room. Touches like the woven seat and lamps made it clear that we were on an island, with a neon pink lacquered cabin providing a massive pop of colour…something which surprisingly worked very well.
Four Seasons beds need no introduction; they are supremely comfortable and 100% consistent across the brand. I just wish there was an option for firm feather pillows, as I find I need to stack two or three of them together to achieve what a single Ploh can do.
If the room decor didn't give away the fact that the rooms had been very recently renovated, then the bedside tables certainly did. Both sides featured multiple universal power sockets as well as USB power and a master light switch. It's amazing how many hotels still fail on this.
The bedside tables also had a large surface area, with even more space provided on a mantlepiece behind the bed.
This abundance of space doesn't matter much to me at home but in a hotel, where the bedroom is also the living room, it can be easy to overwhelm the space with clutter. So having lots of space to spread out is much appreciated.
Speaking of space, the desk was large enough for me to set myself up with my dual screens and also had easy access to a power socket (the view was pretty good too).
Given the global shift towards remote work over the last two years, I'm sure I'm not the only person to setup a workstation here!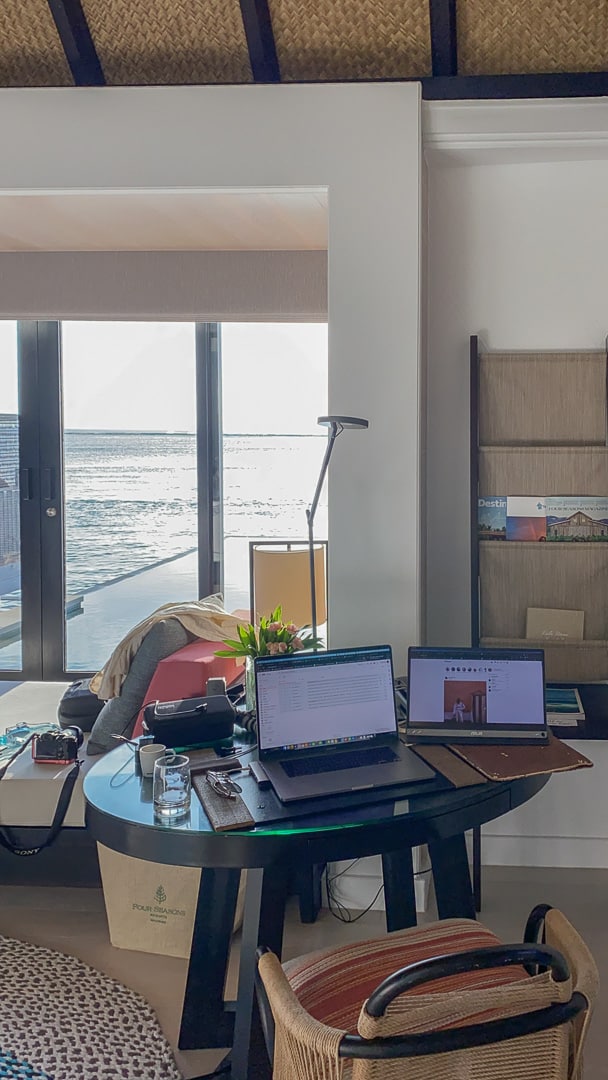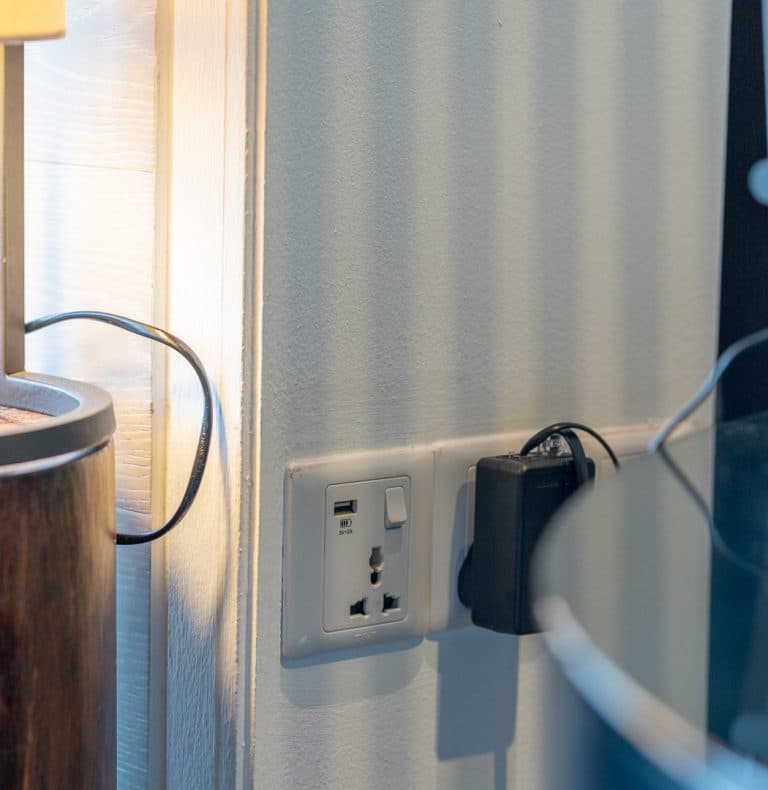 One thing worth noting is that not only did the main window have blackout blinds, the side door to the outside deck did too. Other resorts might have had the curtain hanging limply by the wall, allowing some light to stream through. This is Four Seasons though – that would not do. A curved rail ensured that the blackout blinds completely blacked out the room:
On the left side of the bed was the oversized, pink console cabinet. Home to the TV, Bose sound system and the minibar.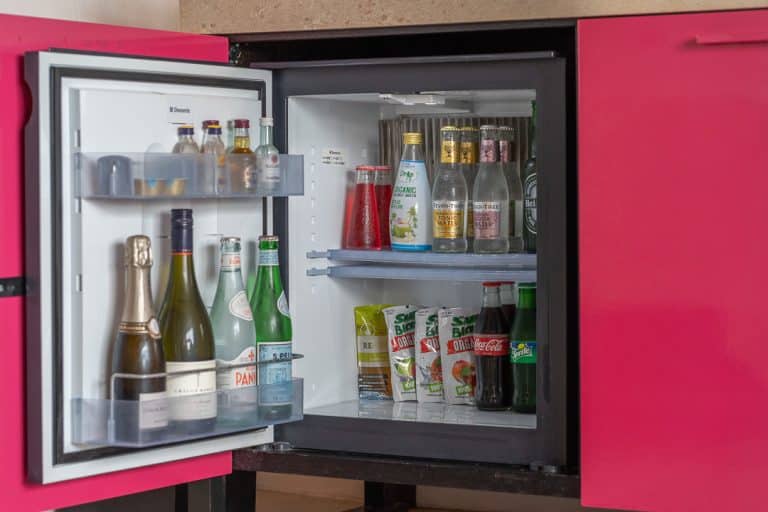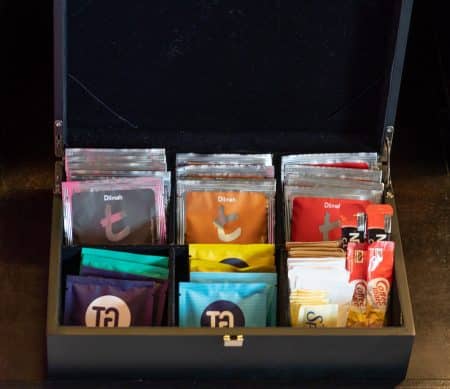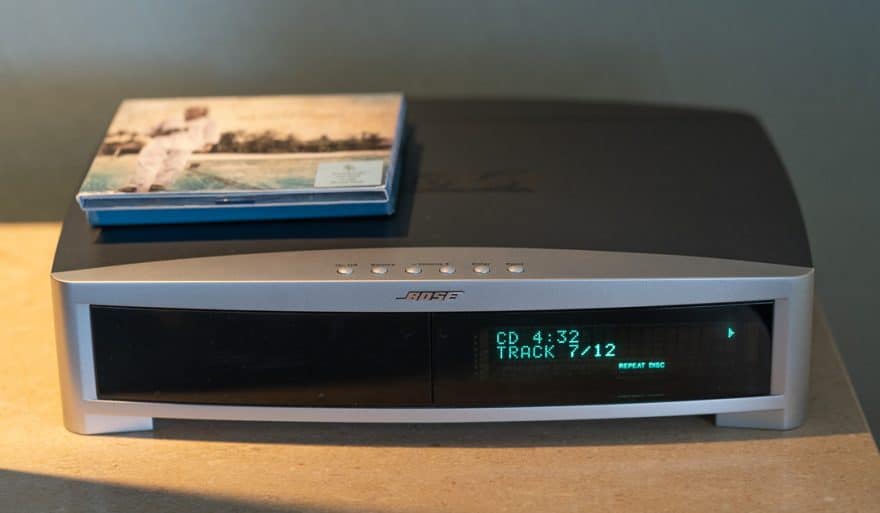 A welcome amenity sat above the minibar, consisting of sweet and savoury snack jars, a bowl of fruit and a bottle of Château de Francs Les Cerisiers 2016.
Walk-in Wardrobe
Located just behind the bed was an ample walk in wardrobe. Even with our abundance of luggage, we managed to find a space for everything.
Although having to spread into the fold out luggage rack did feel a bit like having to request and extender belt on a plane.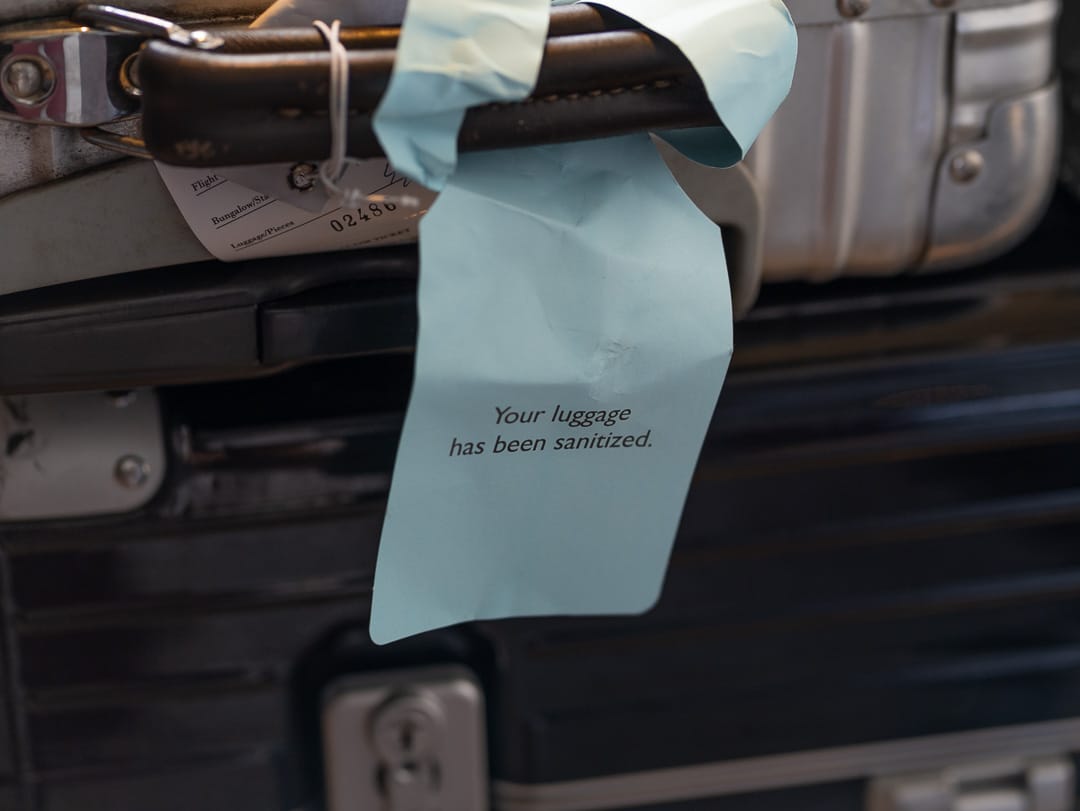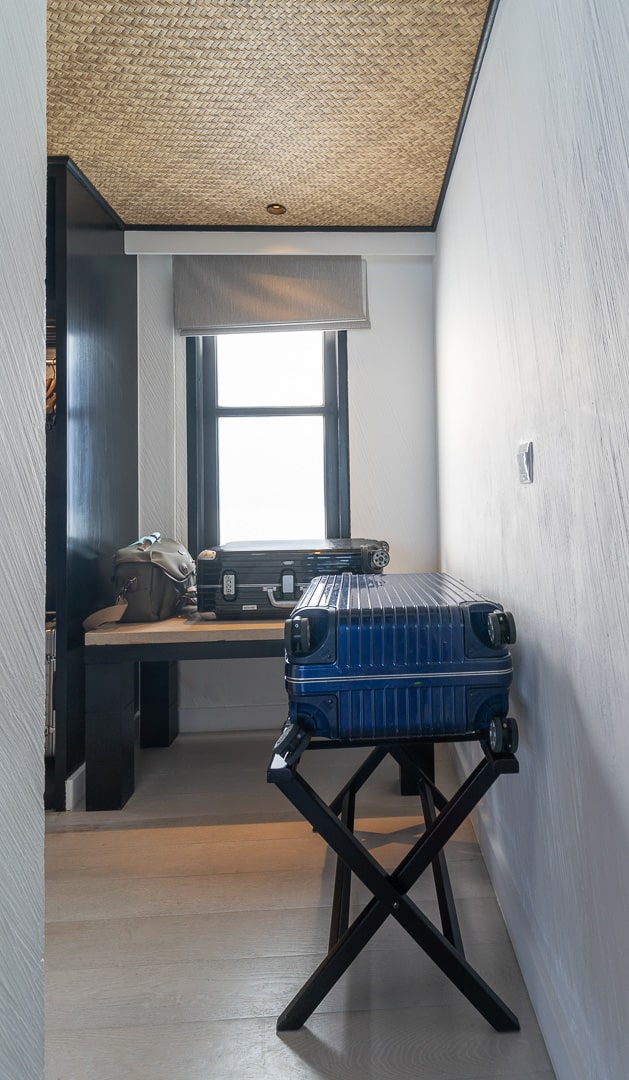 Bathroom
The bathroom was bathed in light, thanks to the fact that the one wall was made of glass and faced onto the outdoor deck. Given the length of the deck and the fact it was filled with furniture, it felt completely private and we had no issues keeping the blinds up the whole day.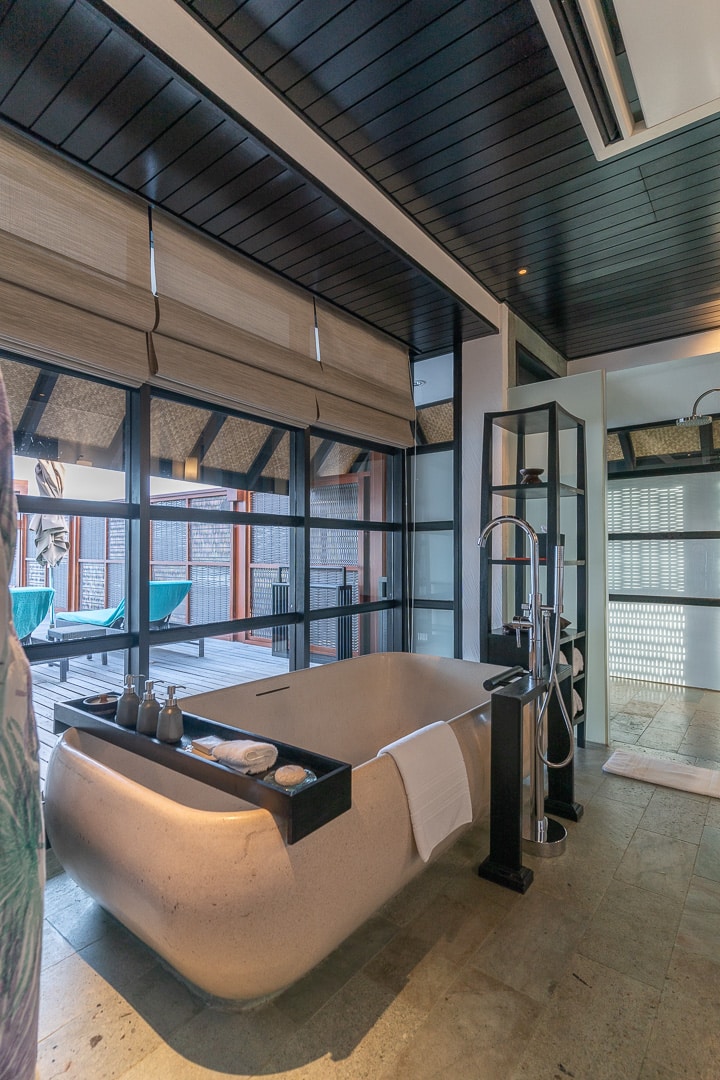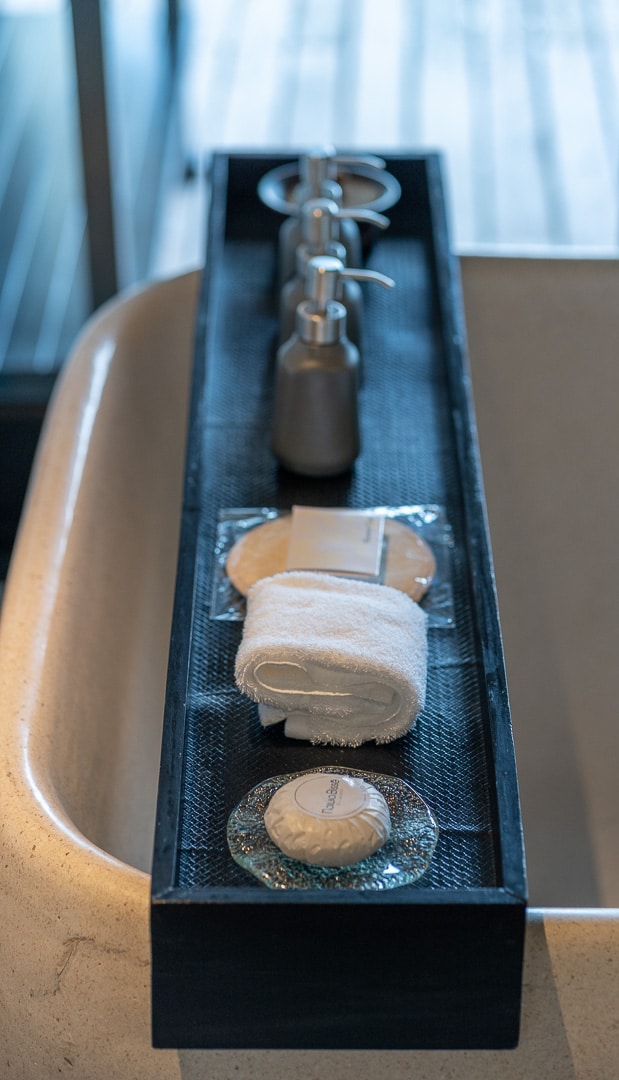 Although there was plenty of counter space, the overall bathroom aesthetic felt a little utilitarian. It would have helped to have a little more colour or perhaps to add a plant to the left of the sinks (or even a miniature plant between them).
Similarly, at this price point you'd expect a Toto washlet or similar. I did however appreciate the inclusion of after sun and a wide array of bathroom amenities.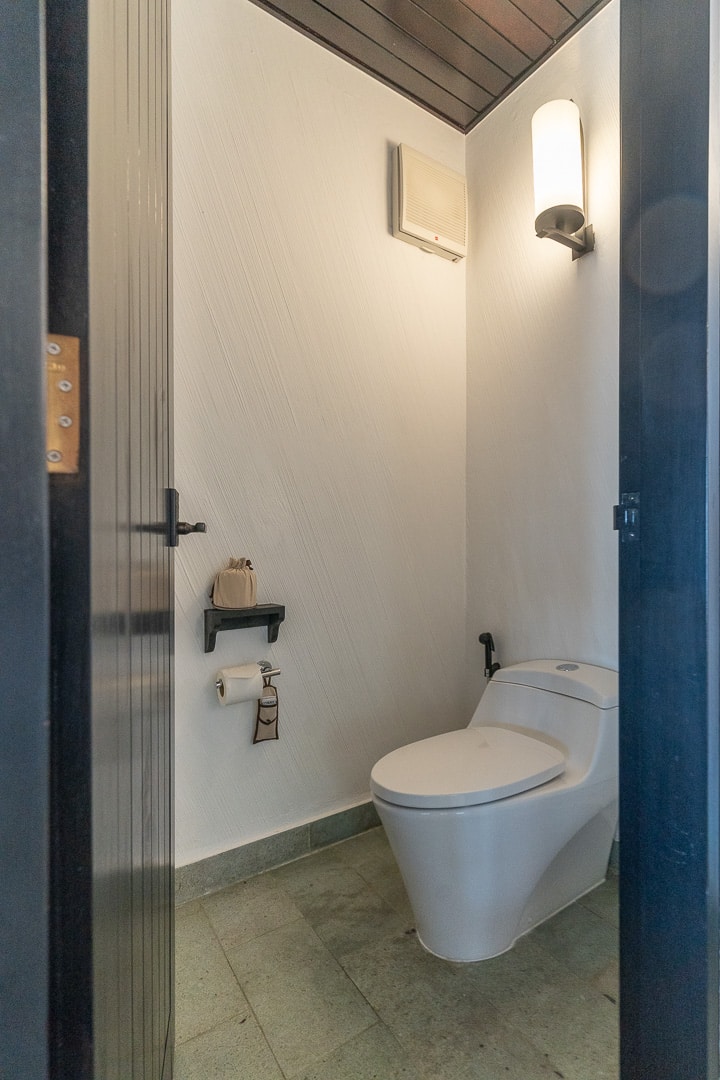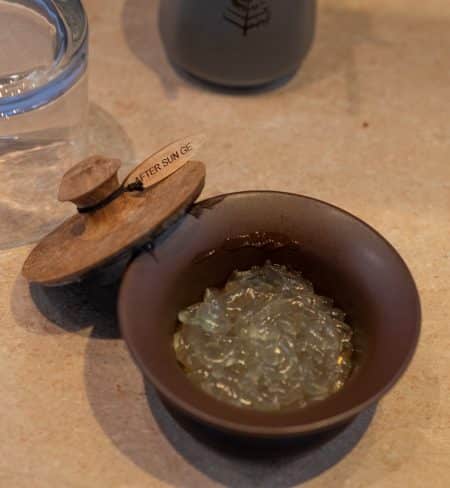 The shower was huge, bathed in natural light and kept spotlessly clean – with amazing pressure to boot. Shampoo, conditioner and shower gel were all provided in reusable bottles, as is now the norm for 99% of Maldives properties.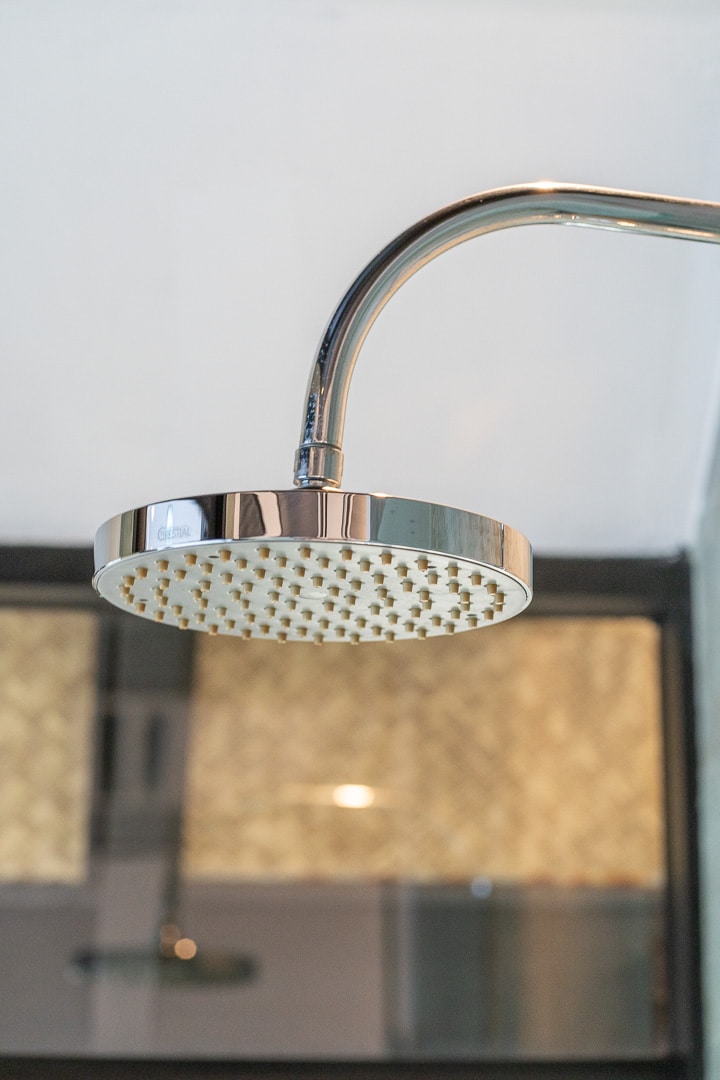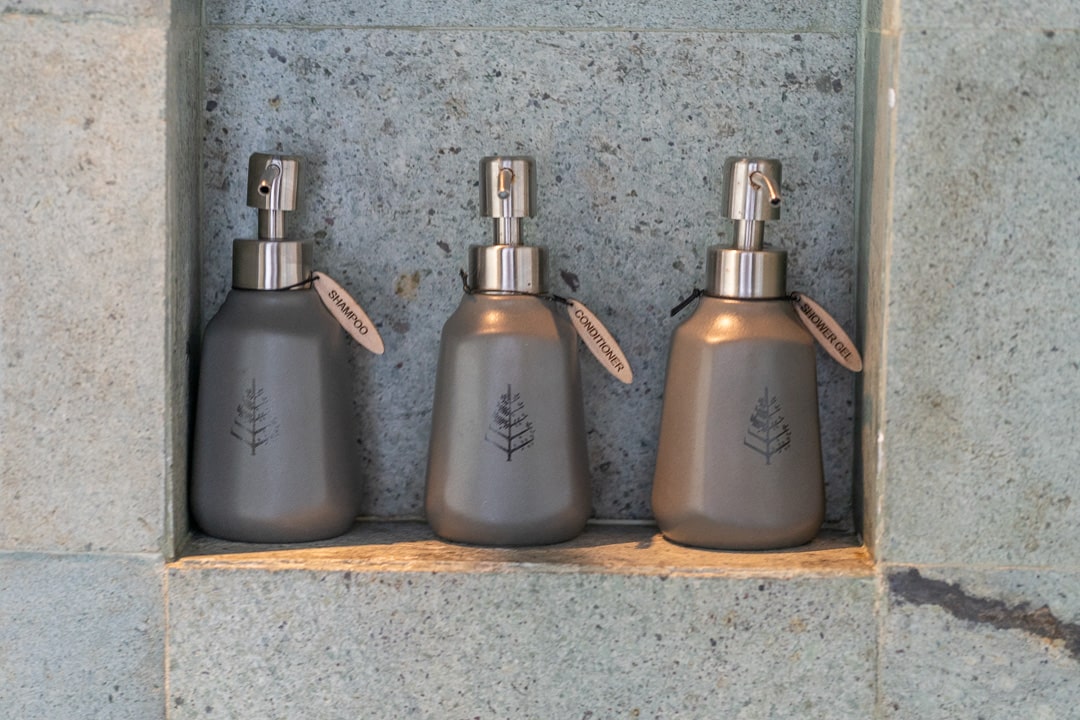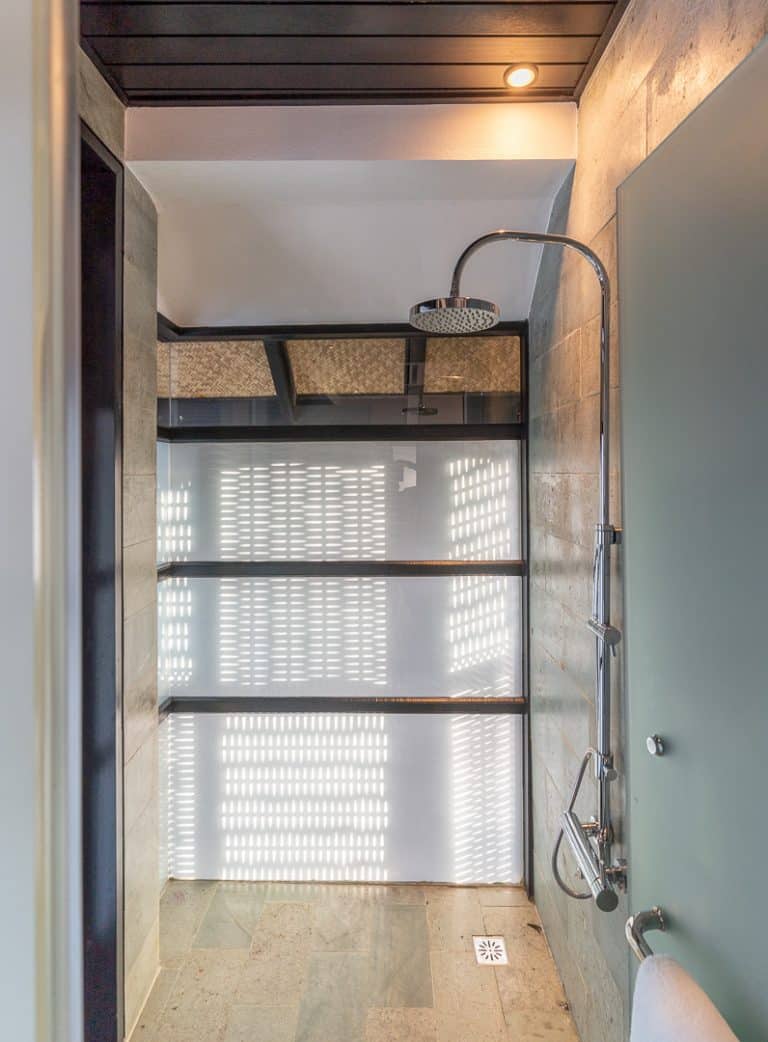 Rather thoughtfully, the deck could be accessed directly via a door in the shower: perfect for rinsing off after a dip in the pool or the ocean.
Outdoor Deck
Additionally, the deck could be accessed via the side door of the bedroom or…
…the fun way, via the sliding doors behind the sofa, overlooking the pool!
The vertical orientation of the deck and pool meant that the rearmost area (by the bathroom) felt very secluded.
The large cargo net felt slightly pointless to us as we never tend to sit out in the direct sun. At night though it was illuminated and looking through it, you could watch all kinds of fish swimming by.
If you are travelling with children (or you've had a few cocktails!) the gap between the cargo net and the pool would be a concern. The wooden fence was less than a foot high and the drop down to the water below was significant.
I loved how the deck stepped down as it approached the water, a clever design trick that made you feel cocooned in the sitting area, whilst also being closer to the water.
Seating options were plentiful and if ordering complimentary room service as an FSPP benefit, the table and chairs would be the ideal location.
Access to the ocean was via a very solid set of metal stairs, featuring a small outdoor shower area.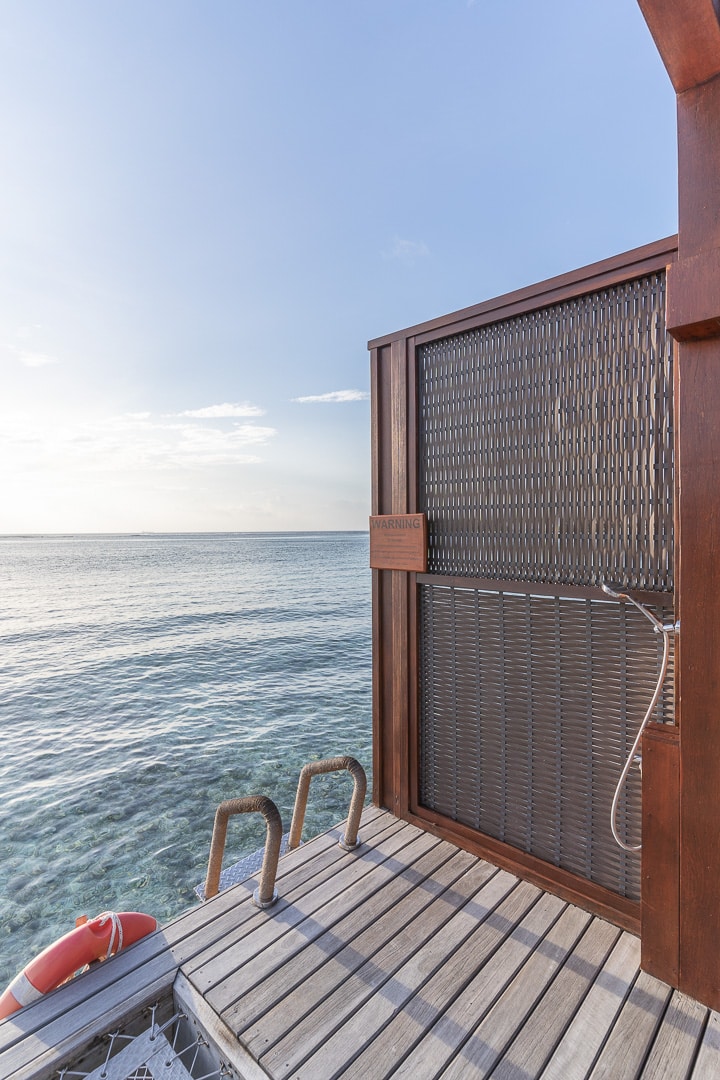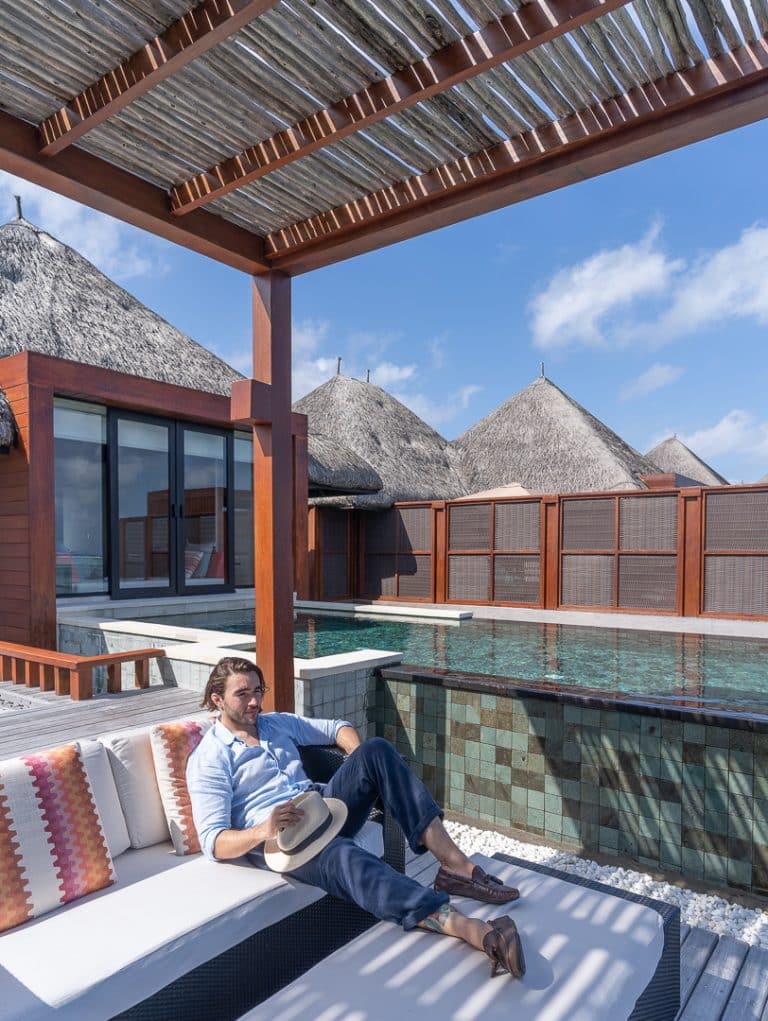 Things to note
Although the villas have been very recently renovated inside and out, this is an older resort – built in an era when villas were set closer together.
I also felt that the Sunrise side offered a far better view than the more expensive sunset side, which had numerous other islands in view.
If your key concern is privacy, then a beach pavilion or villa will likely be a wiser choice. You could easily hear neighbours talking or playing music here. The outdoor fences also alternated between horizontal and vertical panels, the latter of which could easily be looked through.
Finally, it is worth noting that the water around the villas is very shallow. I know that some people envisage diving from their stairs into a deep lagoon but in reality this is far from the norm in the Maldives: it is far easier to build villas where the water is shallow.
This means that during low tide, sand and rocks were clearly visible.
Personally though I always prefer spending time on the deck at night, when the temperature is a lot cooler, the stars are shining brightly and the lights attract a huge variety of marine life (you are also very unlikely to hear your neighbours either as most people stay inside their rooms after dark).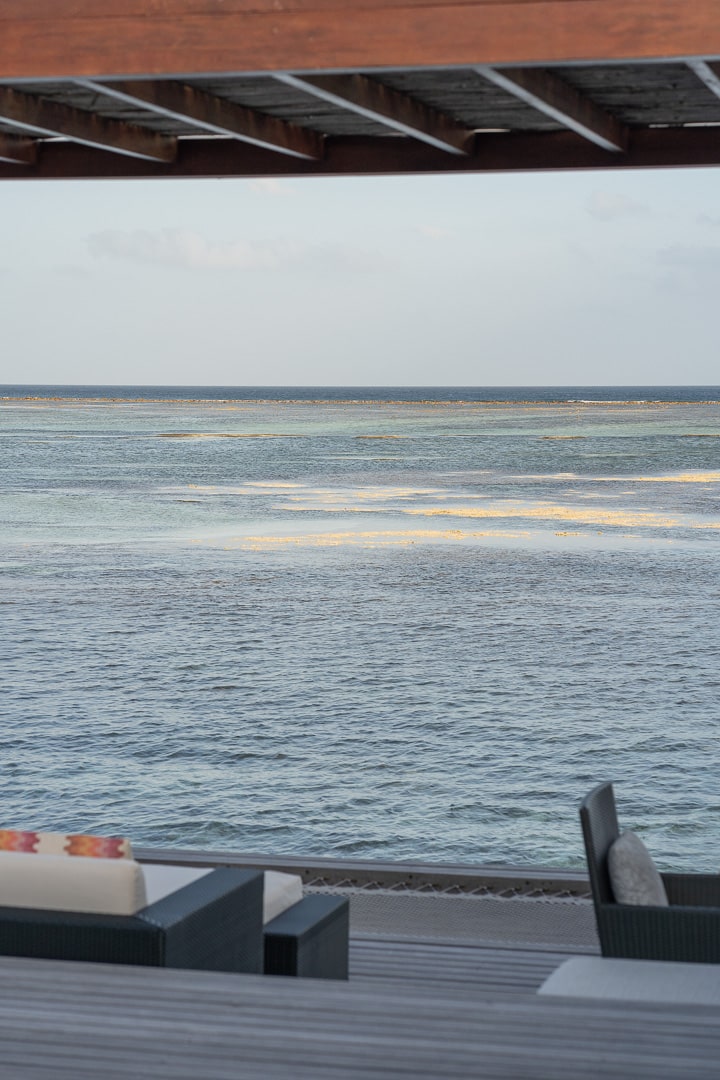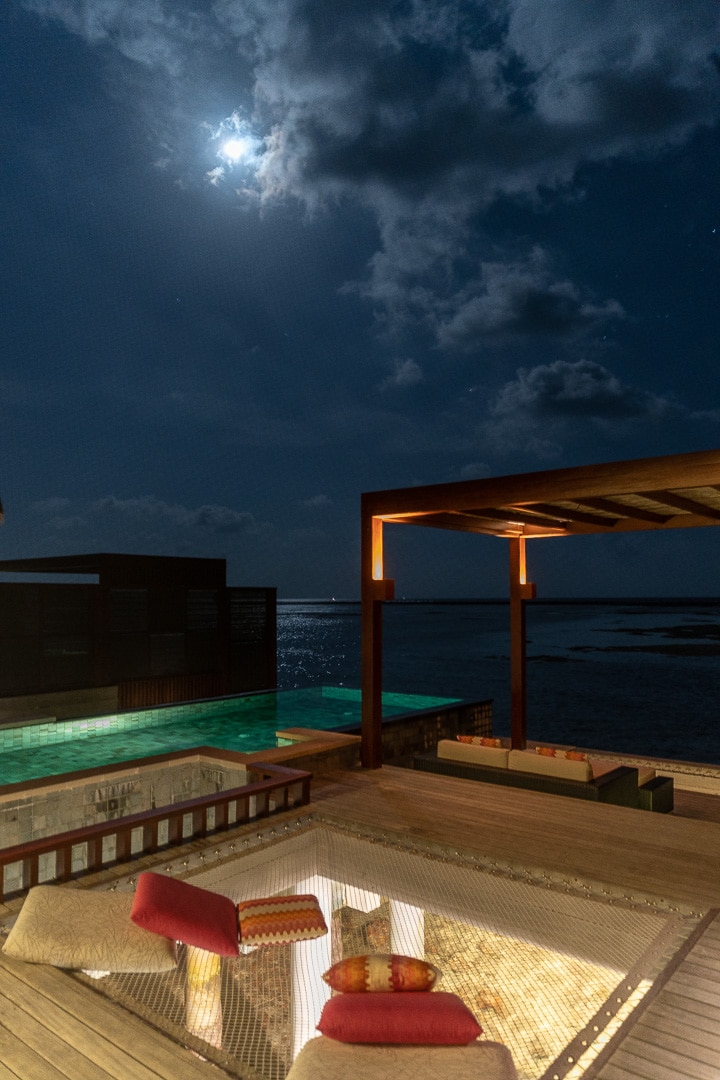 ---
Sunrise Two Bedroom Water Suite
---
Part of my job, as the owner of a travel agency, involves touring various different room types.
I was particularly interested to understand why the two bedroom villas commanded such a premium over reserving two separate villas.
Room Tour Video
View this post on Instagram
Living Room
The most immediate difference between the one bedroom and two bedroom villas is the addition of an enormous interior living space.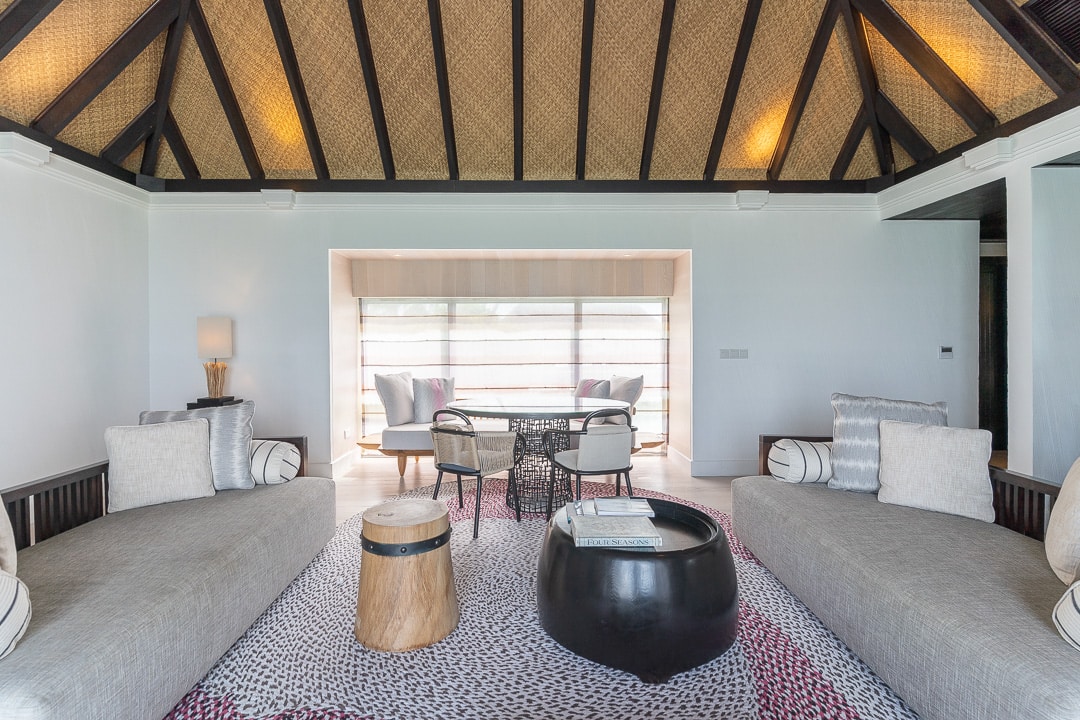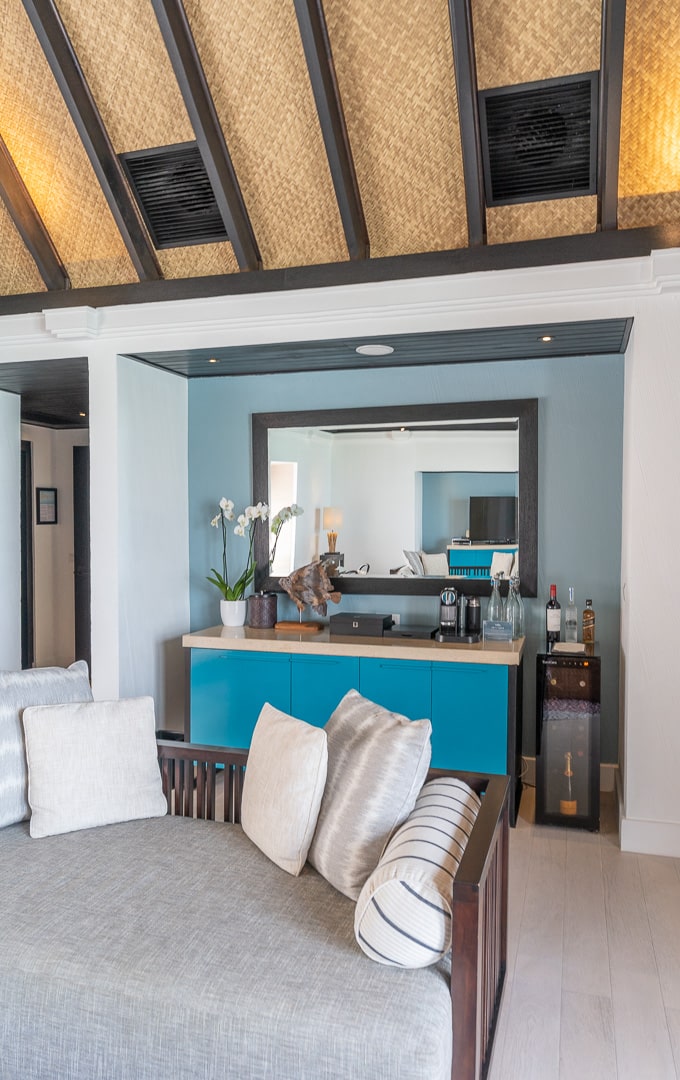 Main Bedroom
The main bedroom was quite similar in design to that of our one bedroom villa. The key difference being the addition of a deep sofa (which can be converted into a child's bed) at the foot of the bed.
There was also a walk-in wardrobe, which was not quite as spacious at the one in the our villa. This led to a bathroom which was identical to ours: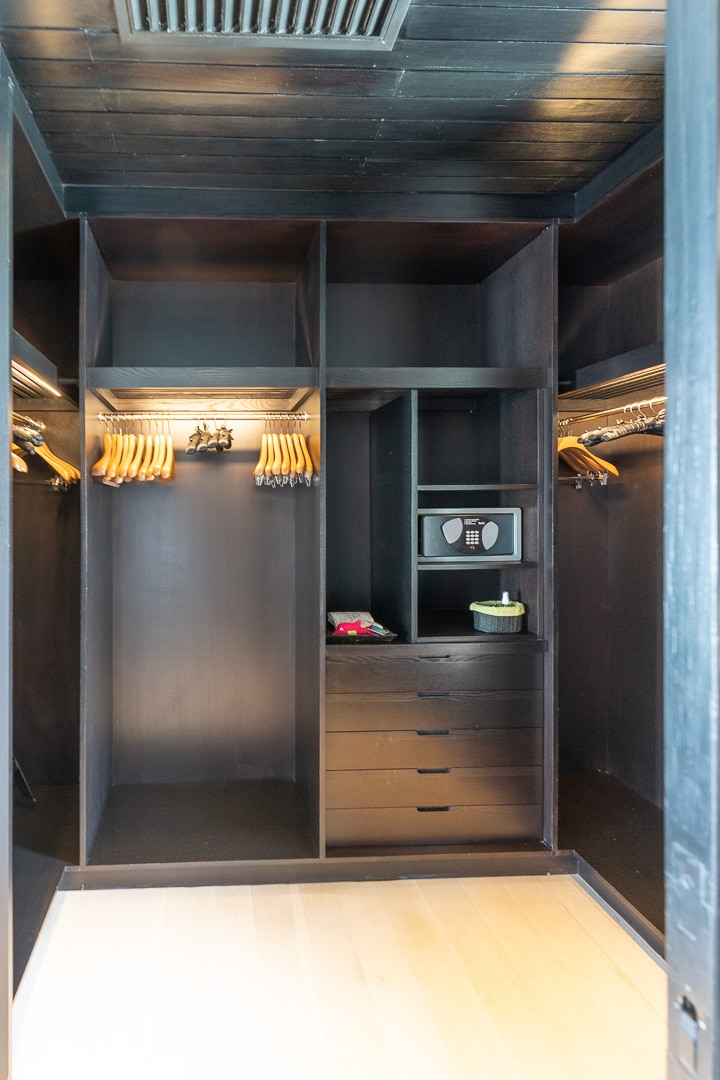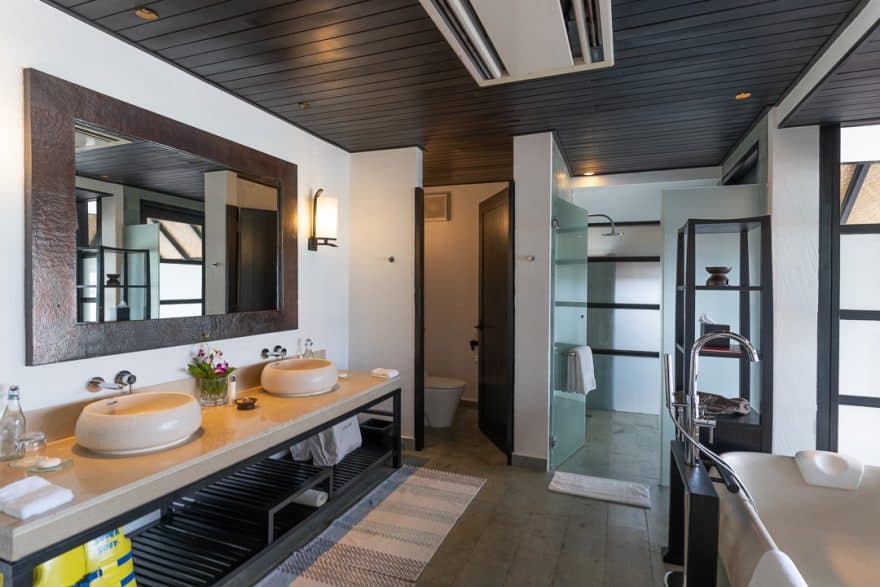 Second Bedroom
The second bedroom was set up with twin beds for children but can also be configured with a king bed if required.
The en suite bathroom was more compact than that of the master bedroom, featuring a shower but no bath.
Outdoor Deck
Unlike the one bedroom units, the two and three bedroom water villas at Kuda Huraa have a horizontal orientation. This means that they receive plentiful sunlight throughout the day and boast an enormously expansive view of the ocean. (This horizontal layout is standard for all villas at the Waldorf Astoria.)
Seating options are plentiful with numerous nets, loungers and dining tables on offer.
---
Deluxe Beach Pavilion with Pool
---
The main island of Kuda Huraa is home to the resort's beach pavilions and bungalows. These all feature private pools and direct access to the beach. For those wishing to snorkel or those concerned about privacy on the overwater units, these are the ideal choice.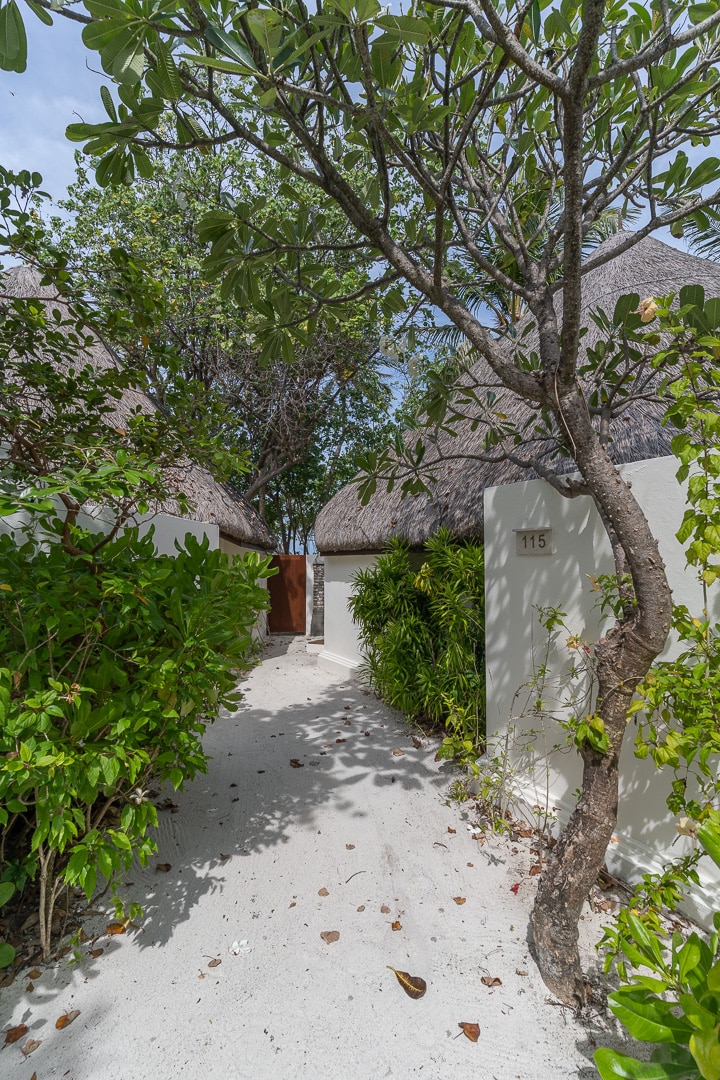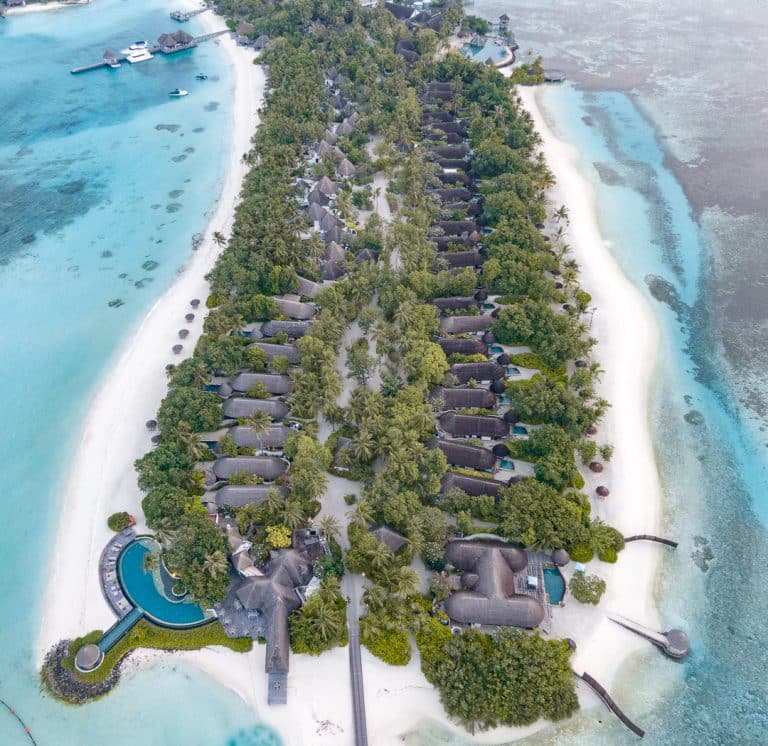 The Deluxe Beach Pavilions were all renovated in 2021 and 2022 and are located on the sunset side of the island (the left hand side of the image above). The sunset side is better for swimming as there is far less coral….which in turn makes it worse for snorkelling.
The Deluxe Beach Pavilions are the entry level room at Kuda Huraa, which makes them all the more impressive.
Of course, if you book through a Four Seasons Preferred Partner Agent (such as myself) chances are you'll never see one of these rooms, as you'll be upgraded upon arrival into a larger Deluxe Beach Bungalow with Pool.
Bedroom
The Deluxe Beach Pavilions are designed in an open plan style, which I thought worked really well. The white walls and abundance of space either side of the bed really made this room feel like more than the sum of its parts.
The room that we viewed had a child's bed set up in the TV area, the ottoman sofa at the foot of the bed could also be made into a second child's bed. This would probably start to feel like a bit of a squeeze though!
The room not only offered two indoor sofas, it also featured a small table and chairs next to the bed, perfect for setting up a laptop or enjoying room service dinner on a rainy day.
Pool
The bed faced directly out over a beautifully manicured pool area, complete with a shaded daybed, sun loungers and an outdoor dining table.
Bathroom
Back inside, the bathroom was bathed in light and featured twin sinks, a large soaking tub and a walk-in shower room facing a garden courtyard, with its own outdoor shower.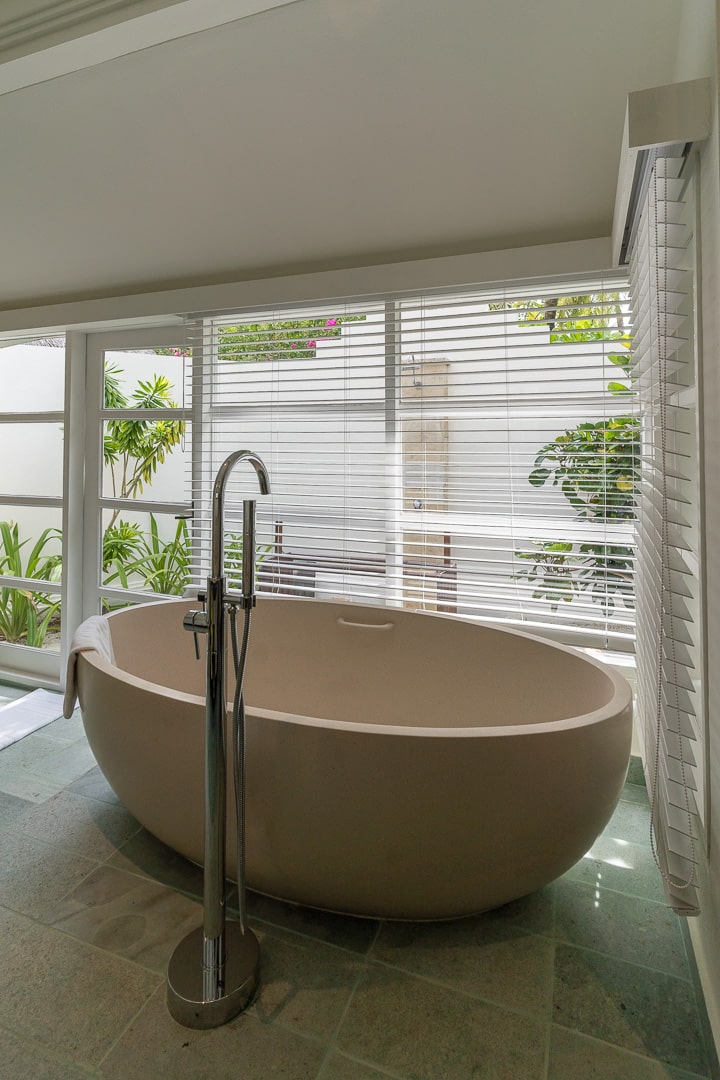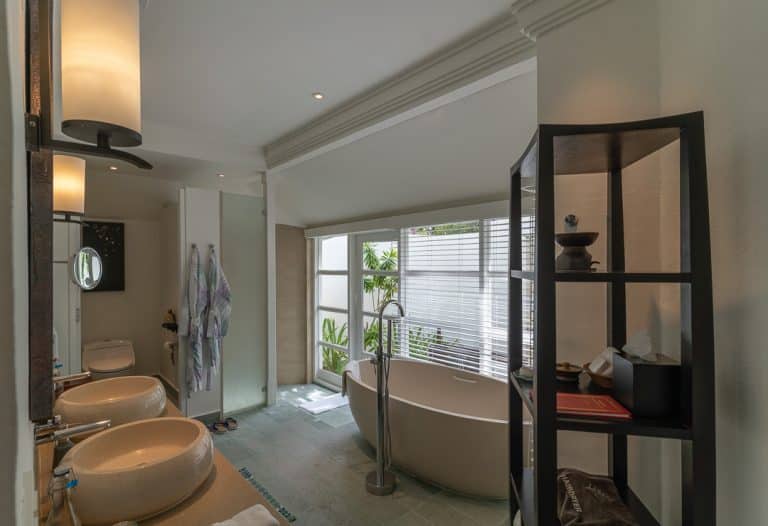 ---
Sunrise Beach Bungalow with Pool
---
The next room category up from the Deluxe Beach Pavilion with Pool; the Sunrise Beach Bungalows with Pool are considerably larger (55m² vs 70m² internal footprint).
The interiors have not been recently renovated and there is some debate within management about whether or not to keep them in this darker, more traditional style.
Personally I prefer the brighter, more modern, feel of the Pavilions but can understand the appeal of these more traditional interiors. At first glance it almost felt like walking into a traditional tatami room at a Japanese ryokan.
Bedroom
The Bungalow had a proper, separate hallway leading up to the bedroom, in contrast to the Pavilion. I also preferred the location of the desk, facing the pool area and bathed in light.
A dressing room was located directly behind the bed, with plenty of storage space, although you'd be hard pressed to open more than one or two suitcases at a time.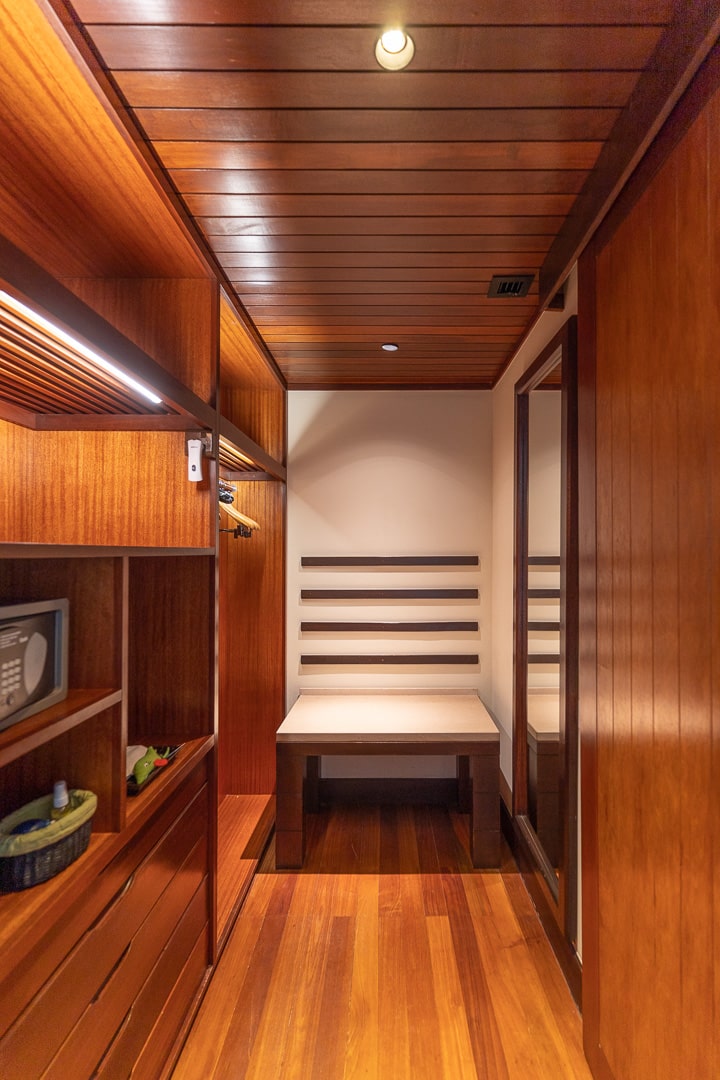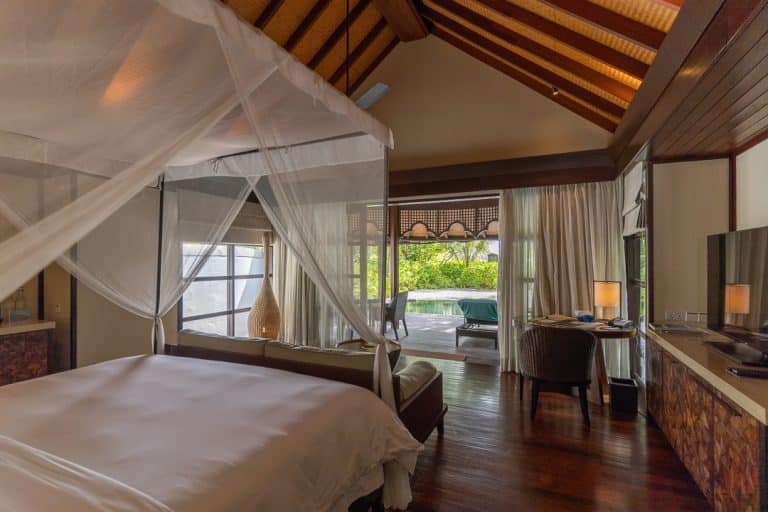 We actually viewed one of the family versions of the Bungalow, which featured a decently sized kids' room, adjacent to the dressing area.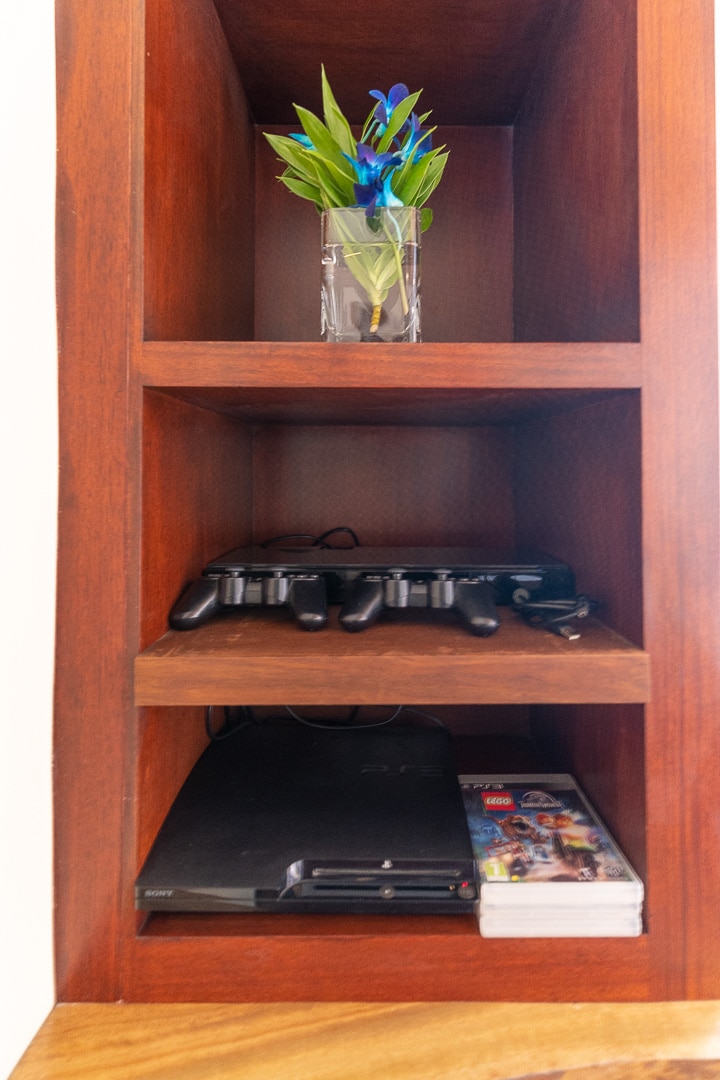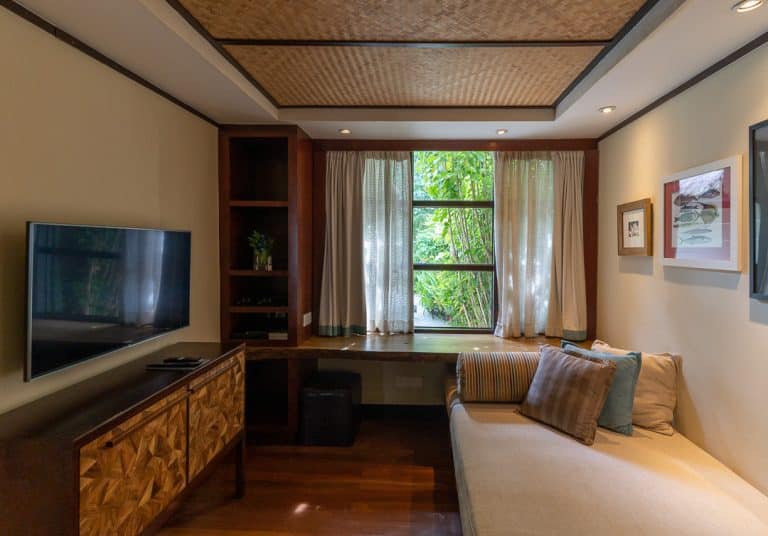 Bathroom
Leading on from this was the very well appointed bathroom. This felt considerably larger than the bathroom of the pavilion both in terms of footprint and ceiling height. The Pavilion was definitely more of a junior suite, whereas the Bungalow felt like a true villa.
Pool
Although the interiors are currently being left as they are, the Bungalows are all having their pools extended to 12 metres in length, bringing them in line with the pool size in the water villas.
Once renovated, the pools will reach the foliage at the end of the gardens.
The outdoor area in the Bungalow was considerably larger than that of the Pavilion, with proper shade covering all of the seating and lounging areas.
The beach was accessible directly from the path at the end of the garden. Some villas look straight onto the beach whereas others face onto an intermediate path behind it. When booking, you should specify whether you prefer an increased sense of privacy from your pool or direct access to the beach. (Although in either case you'll still be close to the beach and still enjoy a great deal of privacy.)
---
Facilities
---
Beach
Speaking of the beach, with this being a natural island in the Maldives, the ocean was as tranquil and clear as you could ever hope for, with powdery soft sand underfoot. Interestingly the loungers and shades are not reserved for specific villas, meaning that anybody can set up anywhere they like.
The idea is that you can shift around during the day, spending the morning on the sunrise side and evening on the sunset side if you feel like chasing the sun.
Since we were staying in a water villa this worked out wonderfully for us, although I can imagine it would become irritating if you had to drag your kids 50 metres up the beach because the loungers in front of your villa were occupied.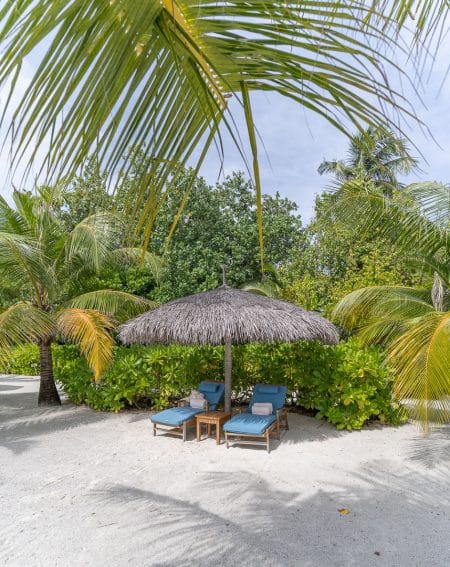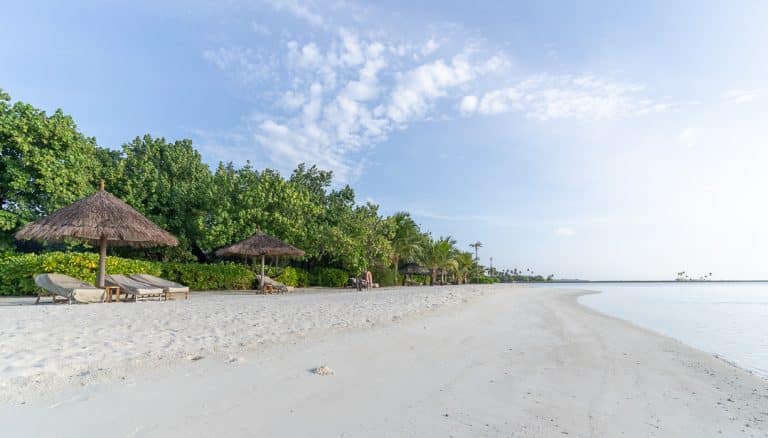 Still, it'd be hard to stay irritated for too long when this is your view:
Service at the beach was extraordinary. Four Seasons has a well deserved reputation for excellence in this regard. No sooner had we approached a set of loungers, than an eager attendant bounded over with towels and an amenity tray in hand.
Our loungers were individually wrapped in towels, with extras offered to use as pillows (just like at the Four Seasons Tunis pool). We were also provided with ice cold water and scented towels as well as sunscreen.
Wifi reached the loungers perfectly and there was even a power socket available for charging phones, during our time at the beach.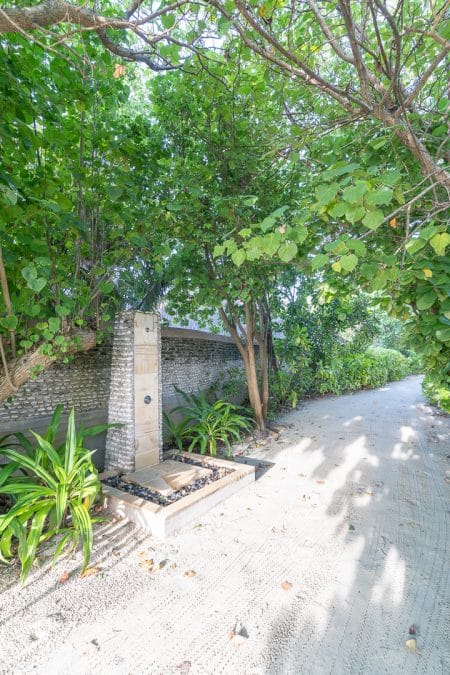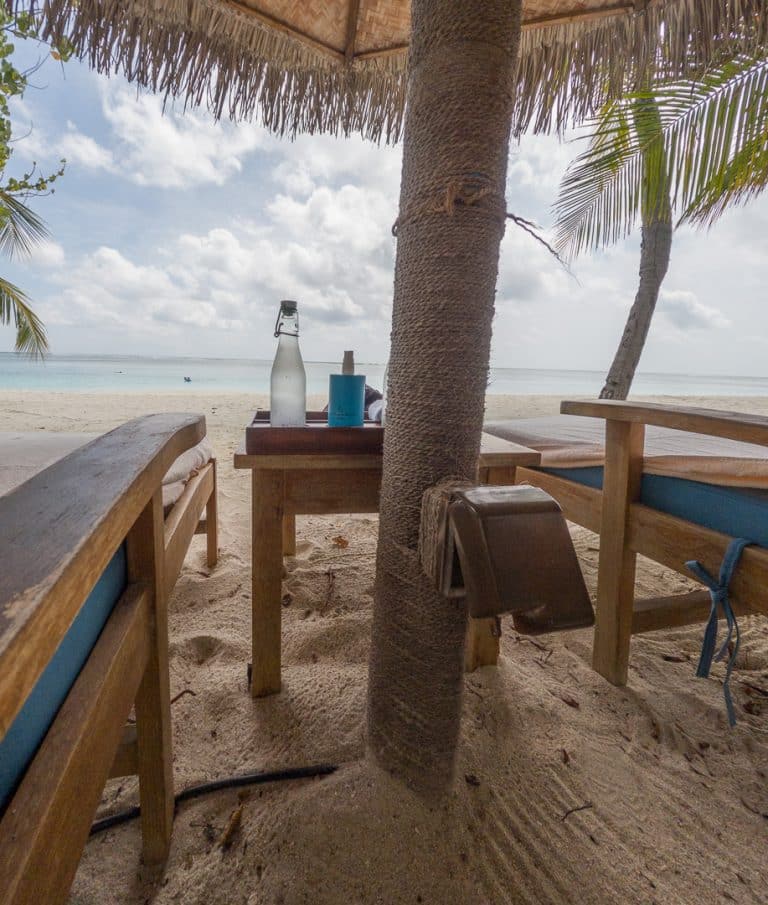 Snorkelling was good but not great. The reef side was quite shallow so we spent a lot of time weaving in between coral frames, rather than exploring large drop offs (like at Amilla for example).
Main Lagoon Pool
Although every villa has its own pool, Kuda Huraa also has two public pools, which tended to be relatively quiet. The main lagoon pool was something of a focal point at the resort, with four different bars and restaurants clustered around it.
I loved how the pool almost looked like a beach: gently sloping, with no visible lip by the sun loungers.
There was also a tiny kids pool but given the kid friendly nature of the main pool, this didn't seem to get any use at all.
Kids Club
Just behind this was the kids club, very conveniently located for parents wanting to enjoy a drink or a swim within earshot of their progeny.
Adults Only Pool
The adults only pool was located on the sunset side of the island, immediately in front of Reef Club: the island's Italian restaurant and pizzeria.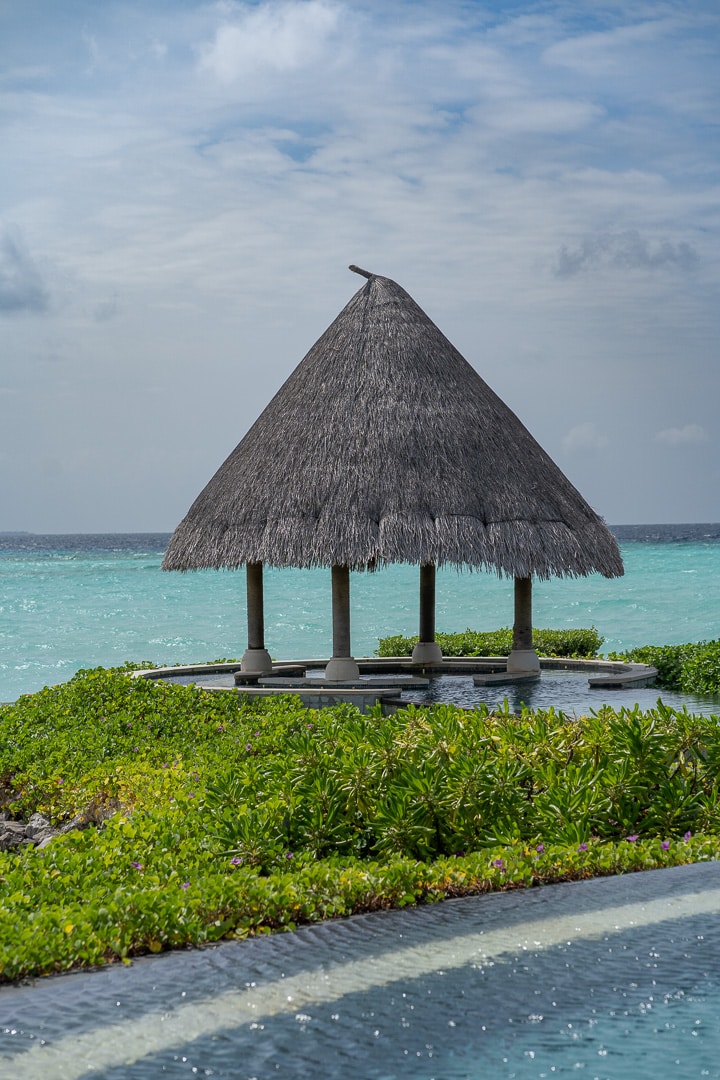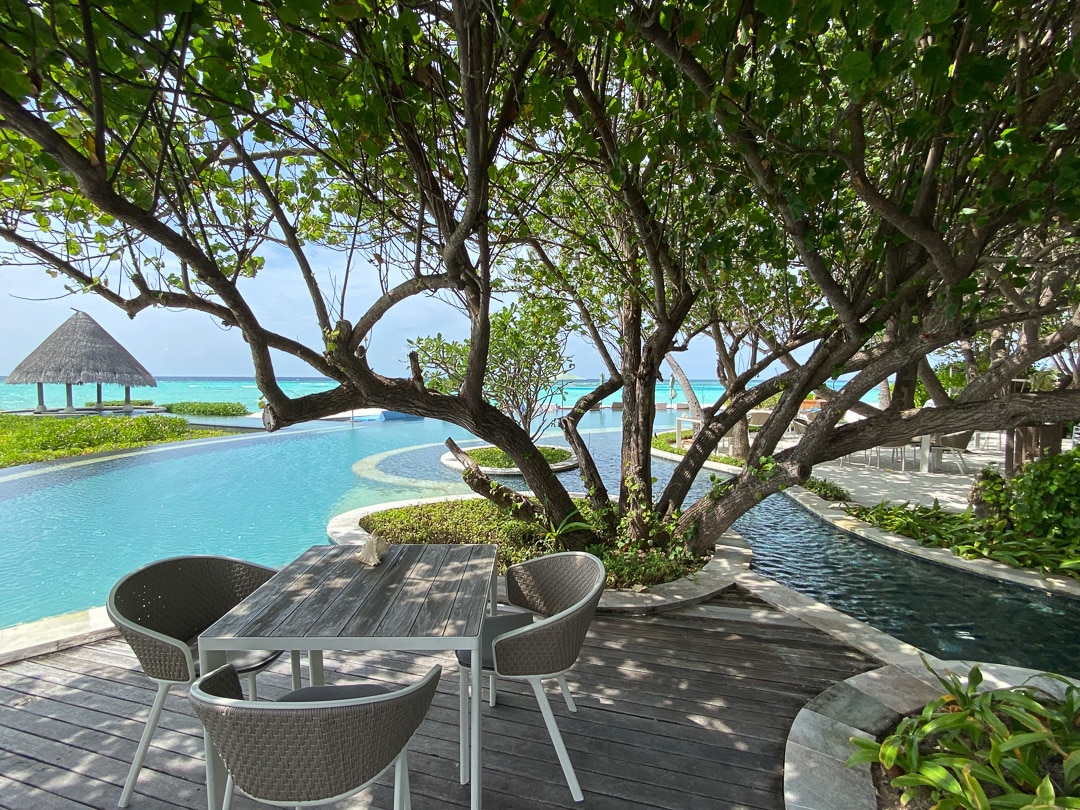 Diving and Surfing
In all honesty, the best dive sites in the Maldives tend to be far from Malé – particularly in the Baa and Raa atolls. If diving is your top priority you'd be far better served by the world class diving at Four Seasons Landaa Giraavaru in the Baa Atoll.
However, one area in which the North and South Malé atolls excel is surfing. Lessons were available for those looking to try surfing for the first time, or perhaps brush up on old skills.
Aside from the coral regeneration project, the resort's efforts in turtle conservation are also commendable. The turtle rehabilitation centre at Kuda Huraa works in tandem with sister resort Four Seasons Landaa Giraavaru to save injured turtles and release them back into the wild.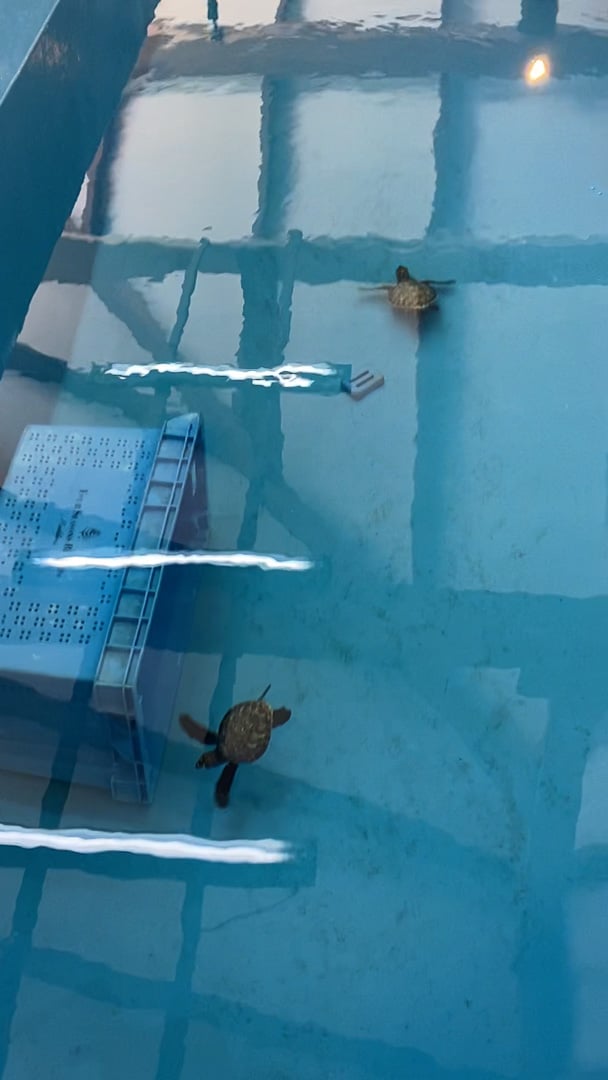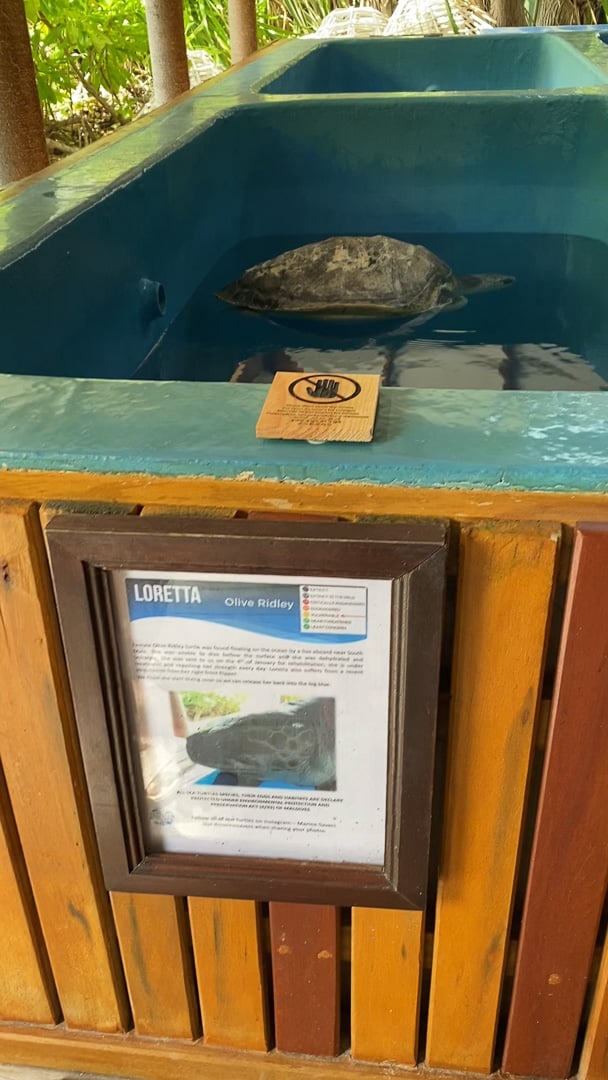 Spa Island
Kuda Huraa is unique in that it has a separate island dedicated to its spa facilities.
Guests first check in for their treatment at the spa reception, next to the hotel lobby…
…then there is a short walk to the jetty, where a spa boat waits to whisk you across to the spa island!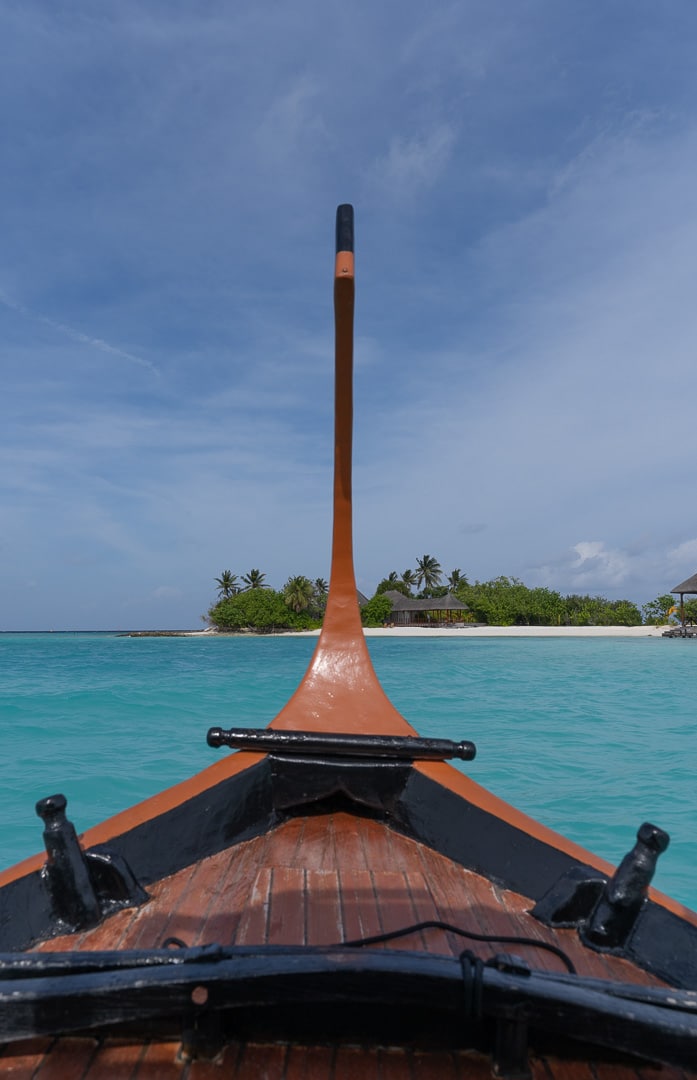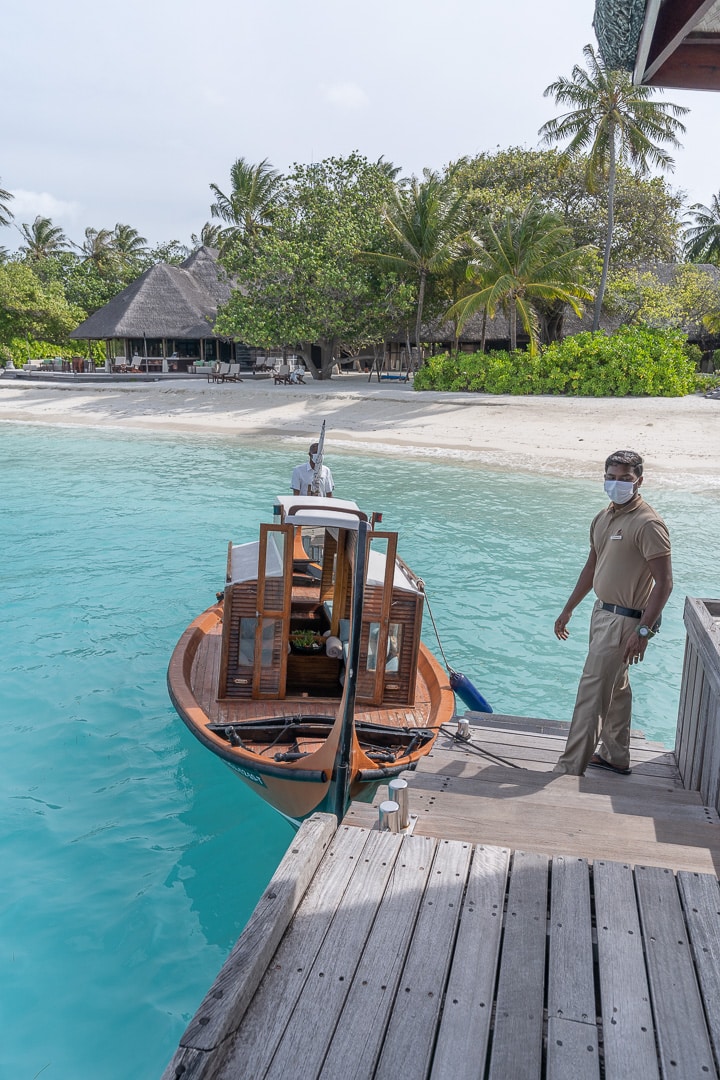 As we boarded the small vessel we were given refreshing towels infused with the scent of lemongrass. This coupled with the decor, meant that we already felt like we were in a spa setting, as we made our way across the gentle turquoise waters.
I'm sure you could probably walk across in low tide but the boat certainly added a sense of theatre to the occasion, clearly demarcating the separation between the main island and the spa.
Immediately adjacent to the pier was a large yoga deck. For those inclined to rise with the sun, I imagine that an early morning session here would be a fantastic way to start the day!
Once inside the spa lobby building, we were offered more cold towels as well as a refreshing iced tea.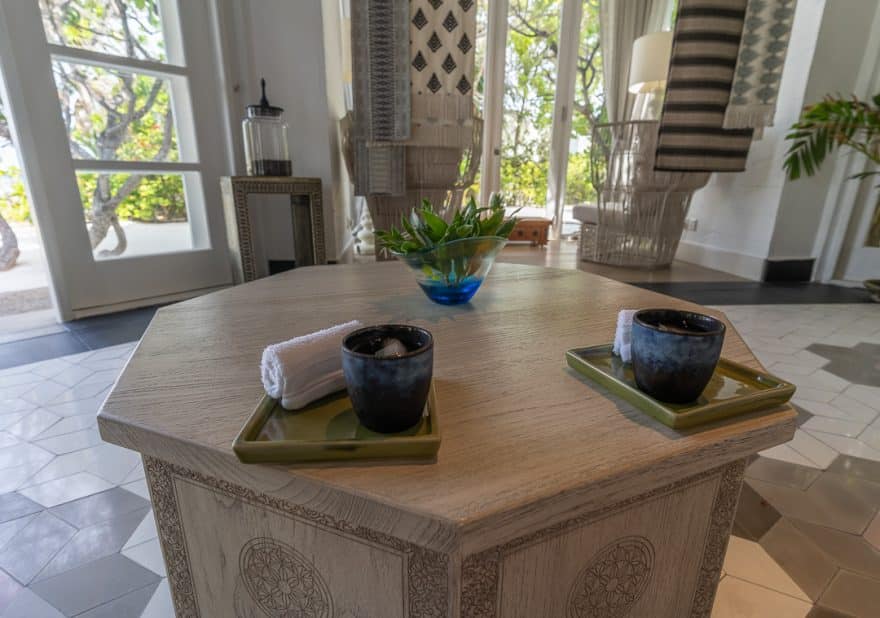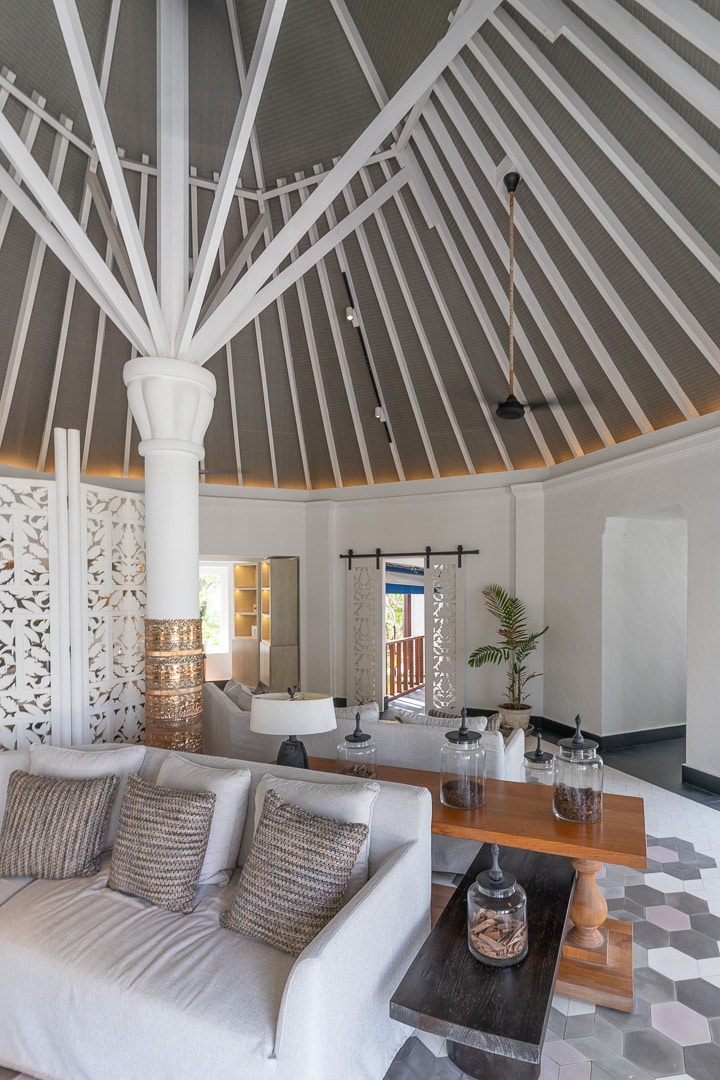 The lobby had various comfortable nooks were you could happily sit and read a book for hours on end.
The treatment rooms were without a shadow of a doubt the most impressive I've seen in any spa, ever. In all honesty these were as good or better than many entry level villas at other Maldivian hotels!
Deep soaking tub, indoor and outdoor showers, overwater sofas, makeup area, garden and of course; an overwater treatment room with glass floors….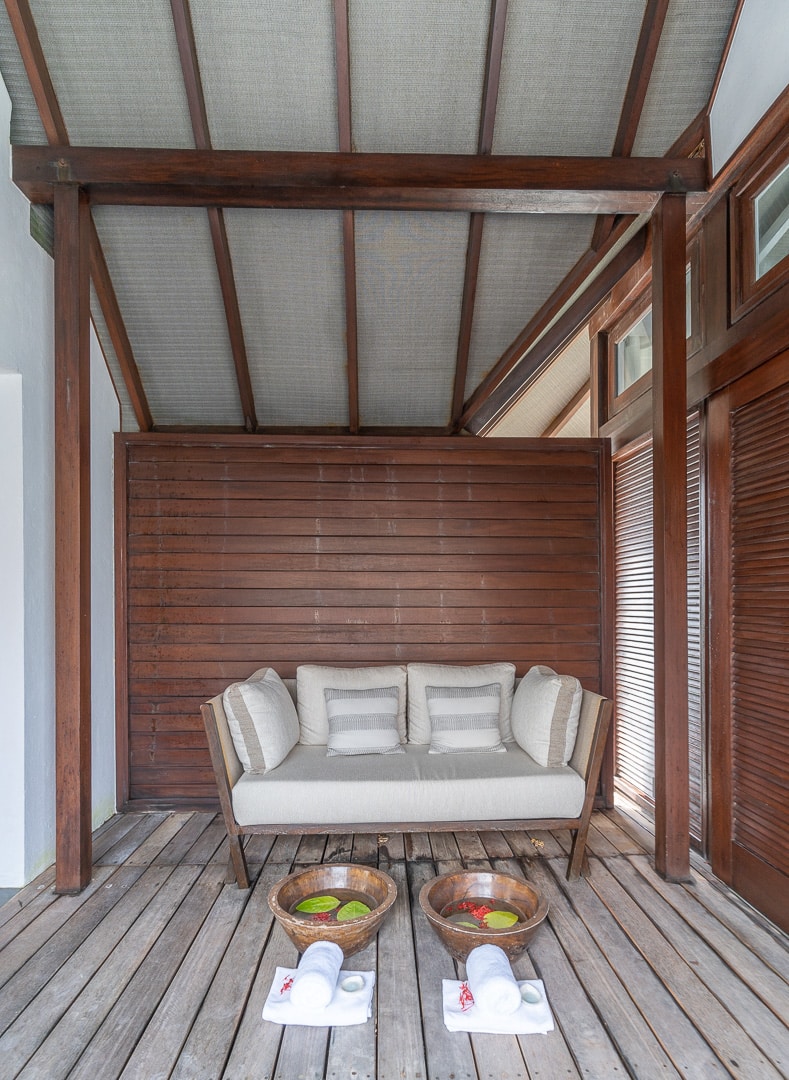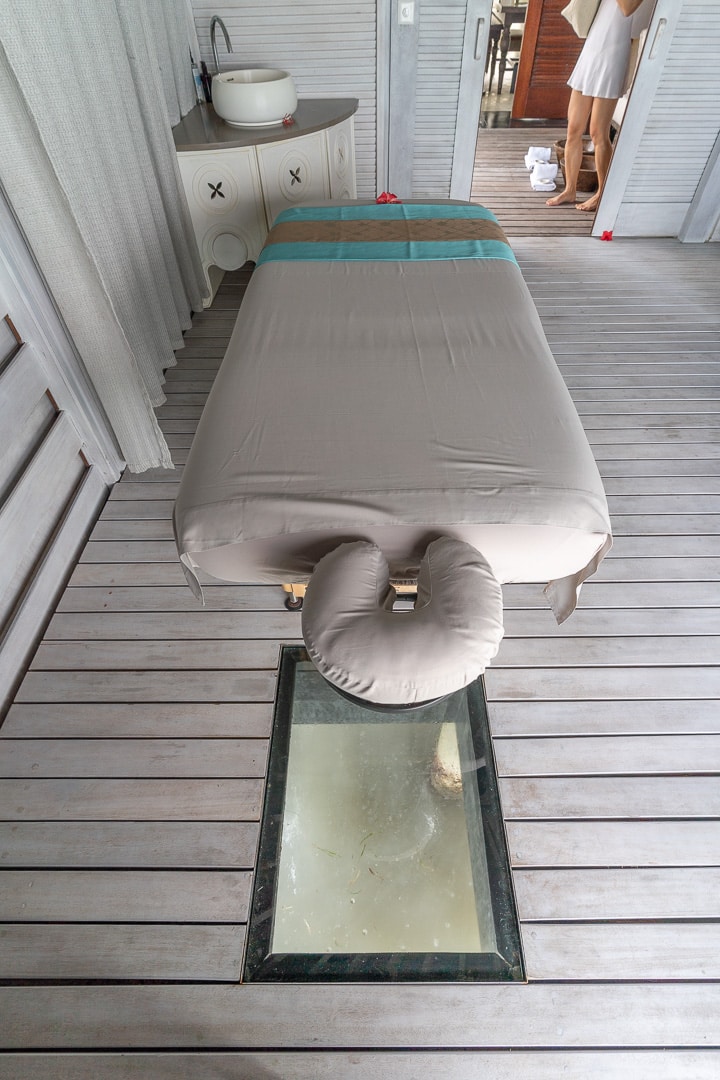 …and an incredible view!
There was also a salon for those wanting to get manicures, pedicures, facials and haircuts.
Gym
The gym was located on the centre of the main island and was one of the unexpected highlights of the property. We actually chatted with one staff member at reception who had been at the hotel for over 20 years! Not many resorts in the Maldives can boast that kind of longevity or staff retention.
The fact that they were selling protein bars for $15 or coconut water for $10 seemed kind of tacky at this price point though, given that many competing hotels will offer these types of amenities for free.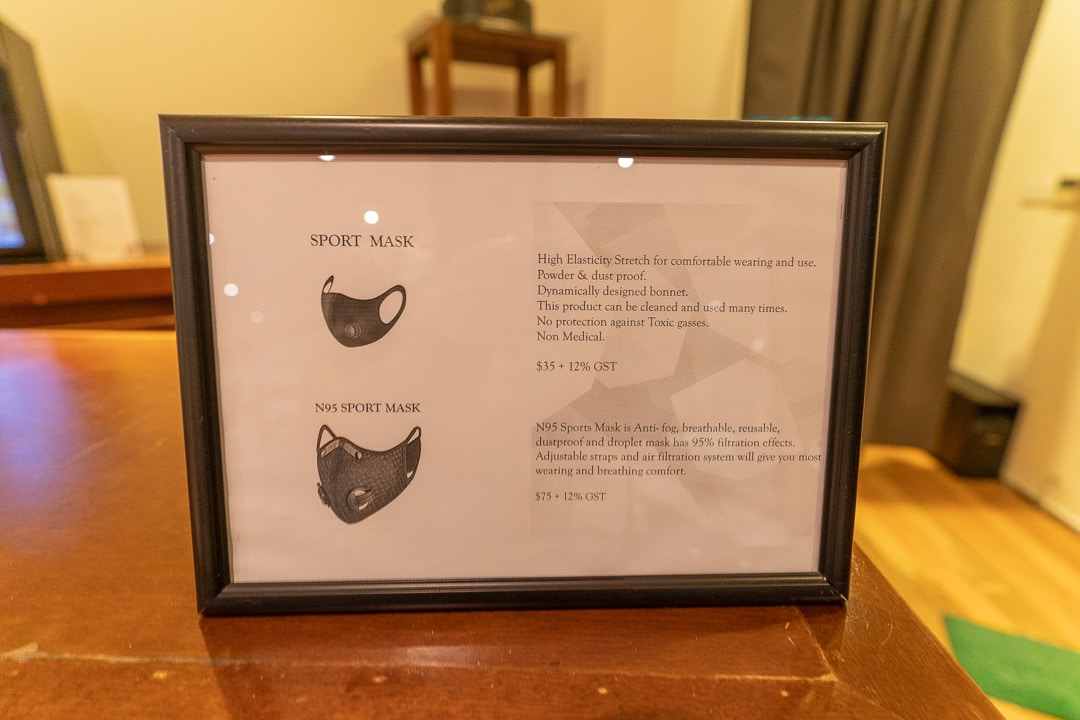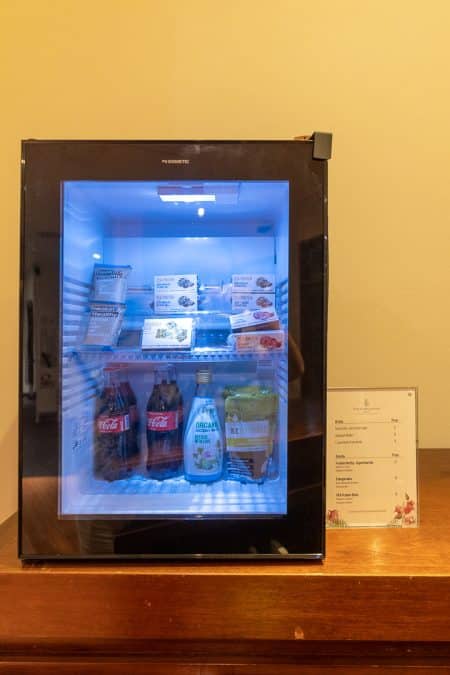 The hotel has mostly eschewed fancy looking TechnoGym or LifeFitness equipment for old school Cybex machines, which are infinitely better.
Honestly, nothing hits you quite like this Cybex equipment and it is all incredibly solid, clearly built to last for decades. I will never forget the burn of the tricep machine on the bottom right.
There was an abundance of Hammer Strength plates, kettlebells and even….
…dumbbells going all the way to 40kg!
The only strange omission was a power rack, the most low maintenance piece of equipment in any gym and one which adds massively to the variety of exercises which can be performed.
There was a decent selection of cardio equipment too.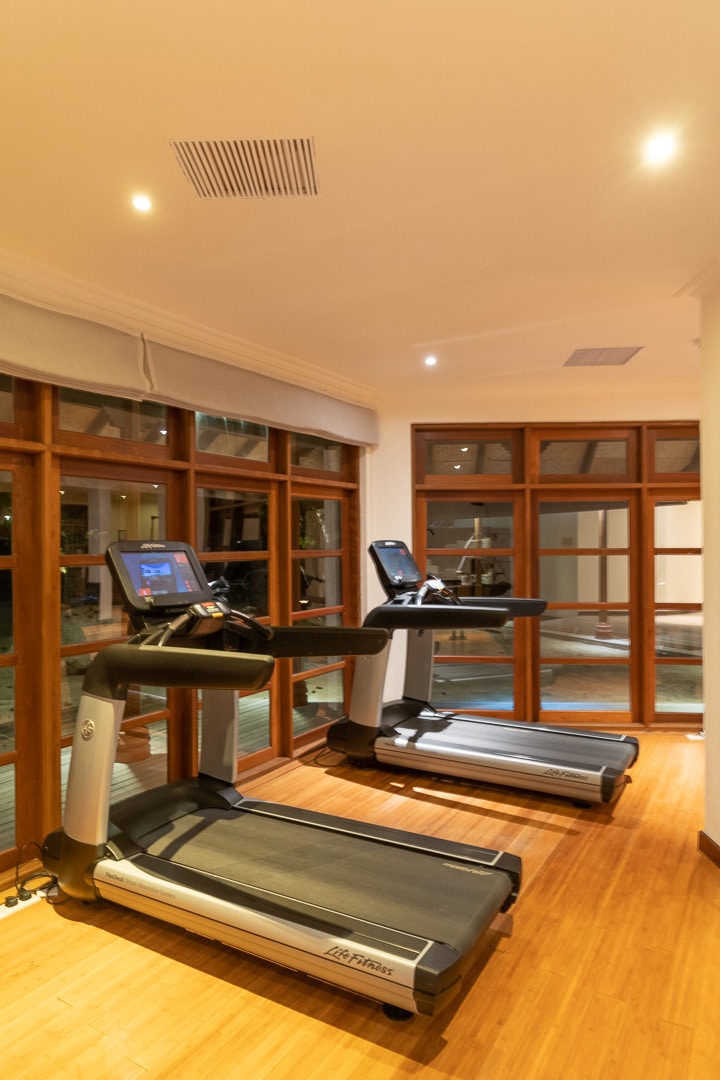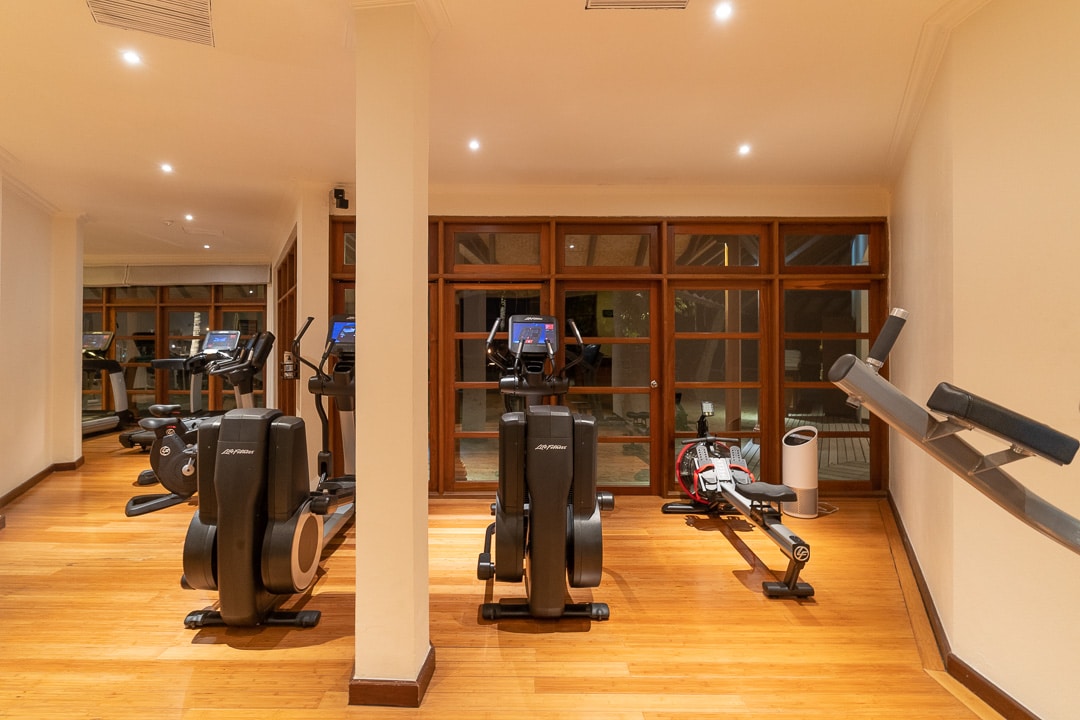 ---
Food and Drink
---
Before I go into detail, I'll go on the record and say that the food and drink here was at the very highest level of any resort we've ever visited, Maldives or otherwise. The quality of dishes was consistently on the level of top restaurants in Mayfair.
Food in the Maldives is never cheap but here it genuinely felt like you were getting an experience that was commensurate with the cost.
Breakfast at Café Huraa
Menu
Having said all of that, breakfast was unquestionably the weakest part of the F&B offerings at the property. The setting on the edge of the lagoon pool was beautiful, a truly relaxing way to start the day.
However, both the buffet and the a la carte offerings were very limited in comparison with the likes of Waldorf Astoria or Intercontinental Maldives.
There was one hot station, with bacon, eggs, some curries and freshly made waffles and pancakes.
One station with a small selection of fruit and juices.
And finally another small station with a selection of baked goods.
Coffee and juices were delivered promptly, although Kamara had her usual struggle in getting a "strong iced coffee with very little milk". It usually takes 2-3 tries in most hotels for the message to be understood and this was no exception!
I was also surprised to see a charge appear on our bill upon checkout for the sparkling water. This is a standard offering at breakfast across the many Maldivian hotels that we've visited and no mention was made of this being a chargeable item on either of the days that we ordered it.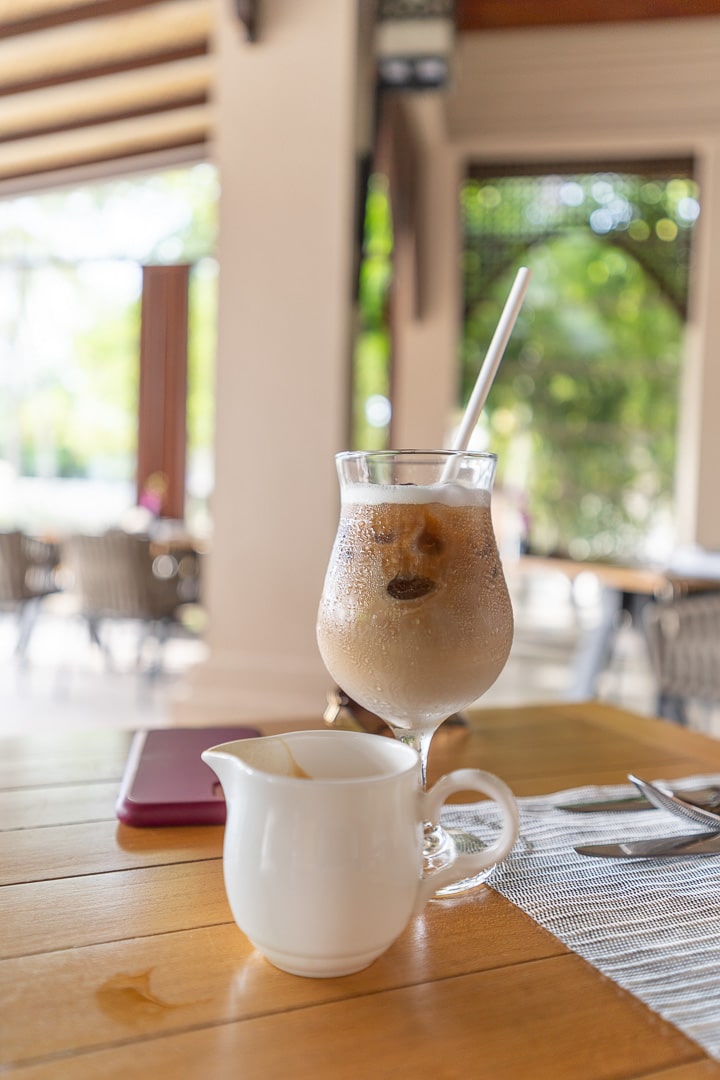 The a la carte dishes were a mixed bag. The smoked fish selection was very salty with no sign of any freshness or acid to counteract it.
The Maldivian selection featured a fantastic fish curry but there was a very small portion compared to the salad and mashuni, which I'd consider as being closer to garnishes.
I was able to order a larger portion to go with my egg white omelette afterwards, whilst Kamara ordered the wok fried noodles – which were oddly devoid of any protein at all. The following day I ordered a dosa which was fantastic.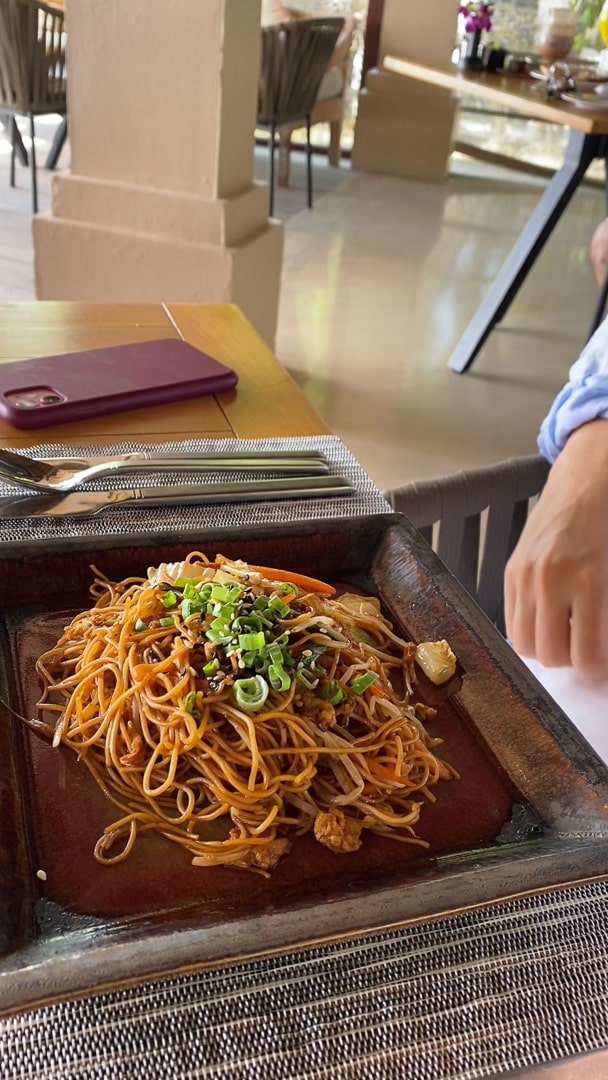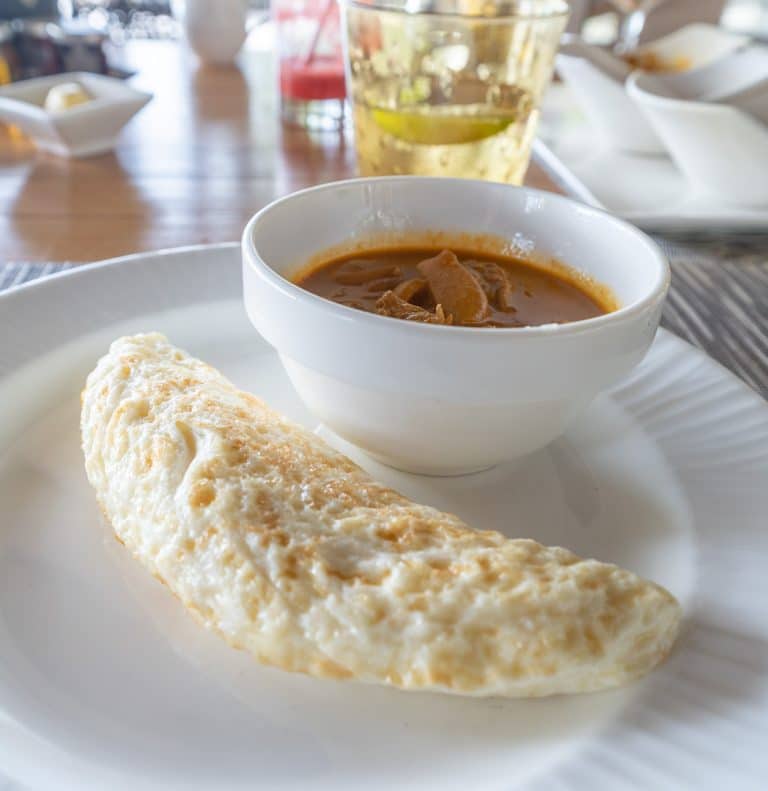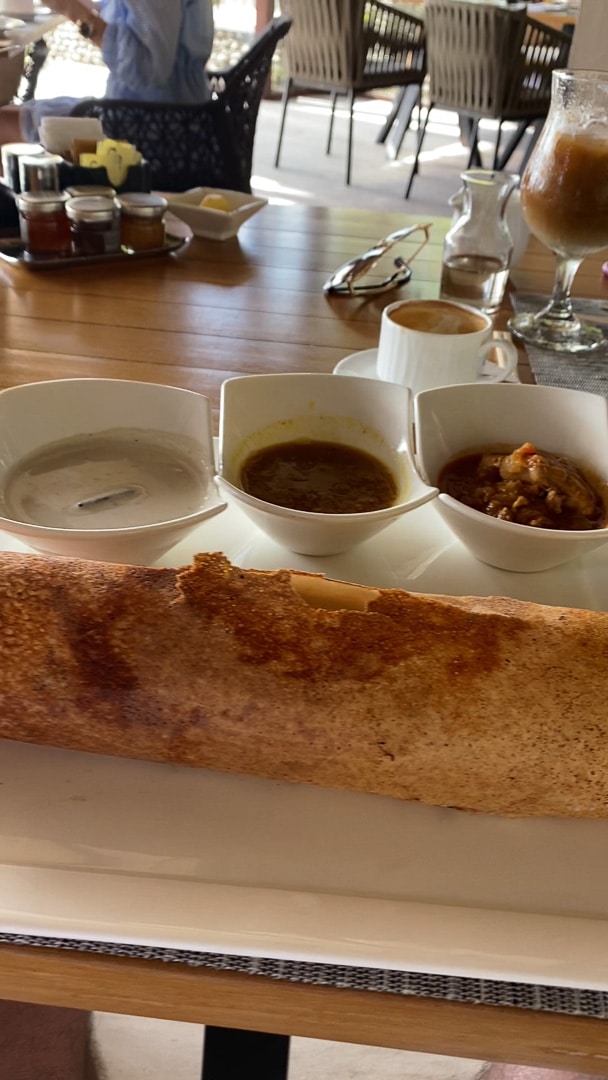 Lunch Options
We skipped lunch on our two days here since they were the first of our Maldives trip. We were eating later breakfasts as we adjusted to the time.
Below are all the lunch menus available at the various restaurants.
Café Huraa Lunch Menu
Western and Asian favourites served by the main lagoon pool
Reef Club Lunch Menu
Fresh seafood pastas and authentic Italian wood-fired pizzas served by next to the adults only pool
Sunset Bar
Sunset Bar is located immediately adjacent to the hotel lobby and was very popular in the evenings. You'll want to arrive early to get one of the prime spots out on the pier.
We enjoyed some truly delicious frozen negronis here on our first evening, alongside a revolving tower of canapés. The phone pics I took in the dark really don't do it justice, so you'll have to trust me when I say that the food and drink quality was on the level of a city hotel. Definitely not the usual fruity sugary drinks with peanuts that hotels in the Maldives try and get away with…
During the day there was a pool table inside the bar itself, that was popular with some of the younger guests.
Personally I wish that they made more use of the lobby area at night though. If they brought in a piano player, this would be an amazing spot to wind up the day with a nightcap.
Dinner at Baraabaru
Menu
When we met with Francesco, the resort's Italian director of food and beverage, he said that Baraabaru was the one restaurant not to be missed. Given that the other signature restaurant serves pizza and pasta, this was quite the glowing endorsement!
Baraabaru is located within the cluster of restaurants that surround the main pool. At night the area was completely transformed via the use of lights – giving it the feel of a fairytale kingdom.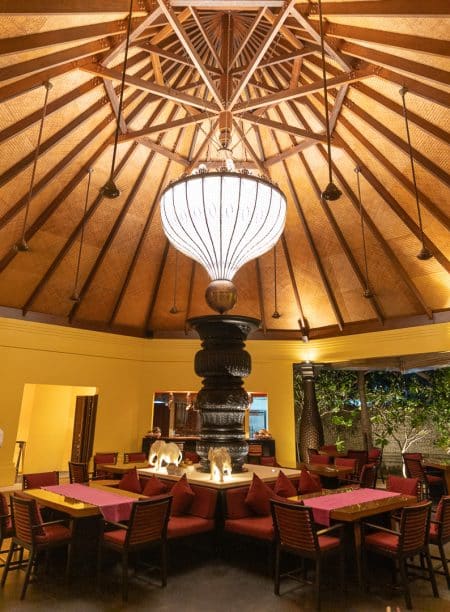 Unfortunately we picked an evening when the tide was completely out during dinner, so we were treated to a view of rocks rather than the gently lapping ocean. Still, the setting was very peaceful and a gentle breeze ensured that no mosquitoes came anywhere near us.
Service was absolutely amazing. Staff not only promptly served us but also engaged in playful banter and steered us towards the perfect selection of dishes for our meal.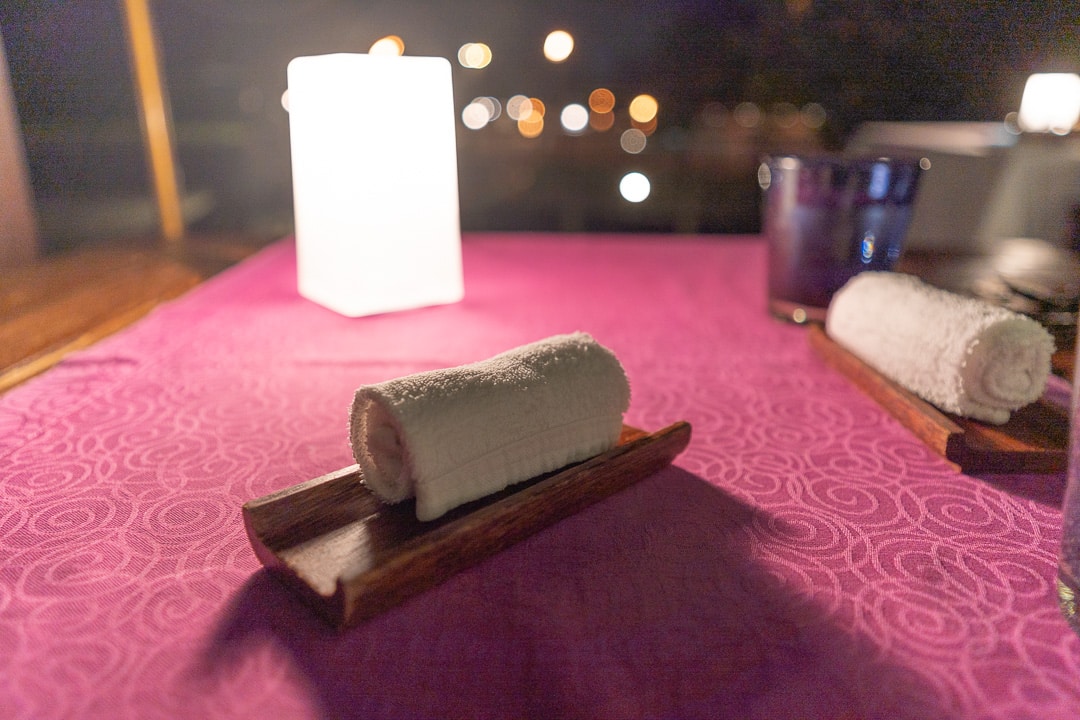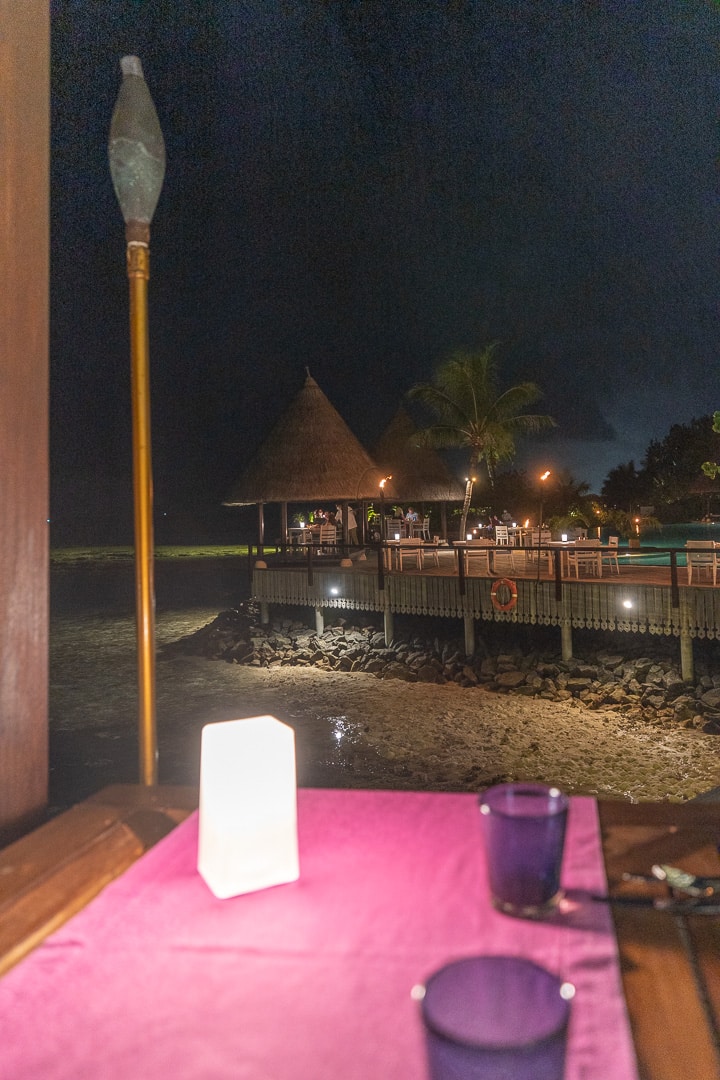 Before we had even ordered, we were presented with a basket of poppadoms paired with chutneys.
Kamara ordered prawns for her starter and I ordered scallops. Both were unbelievably good. The gigantic and flavourful prawns were dramatically served on something resembling the sword of Damocles, dangling over a plate of sauces.
Meanwhile the scallops were cooked to perfection, soft and tender on the inside with a crisp maillard crust on the outside.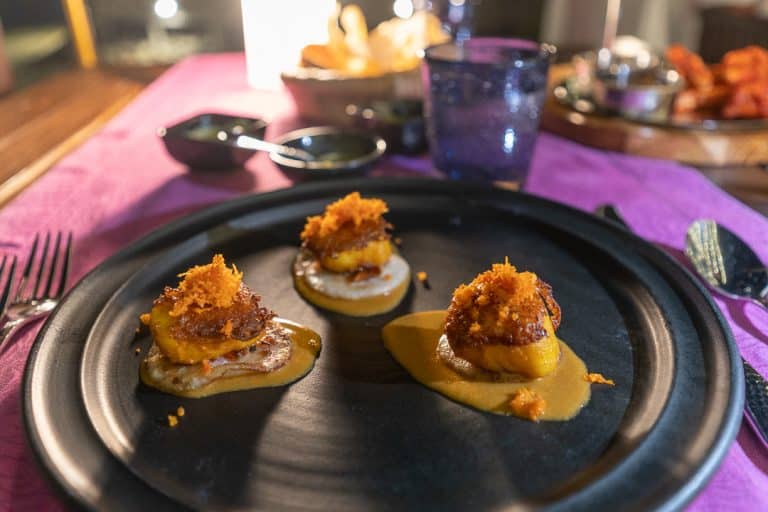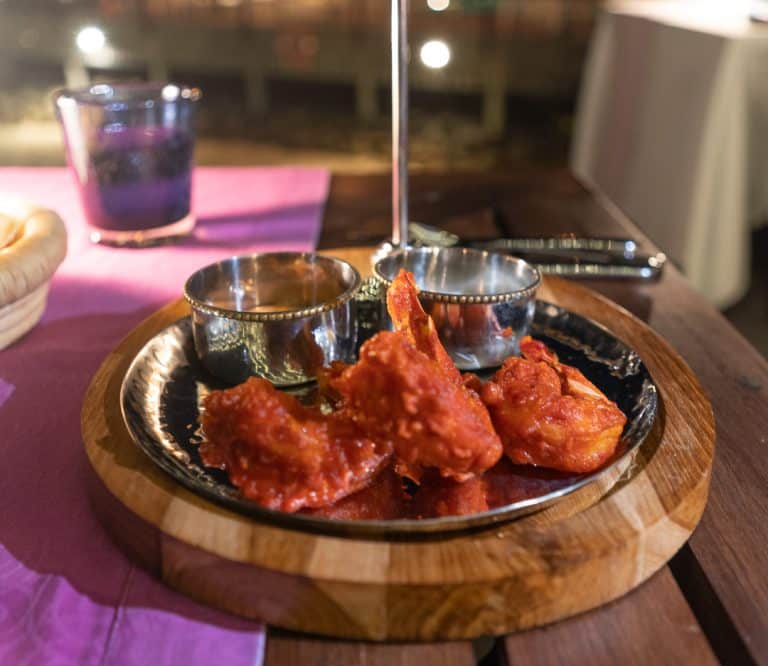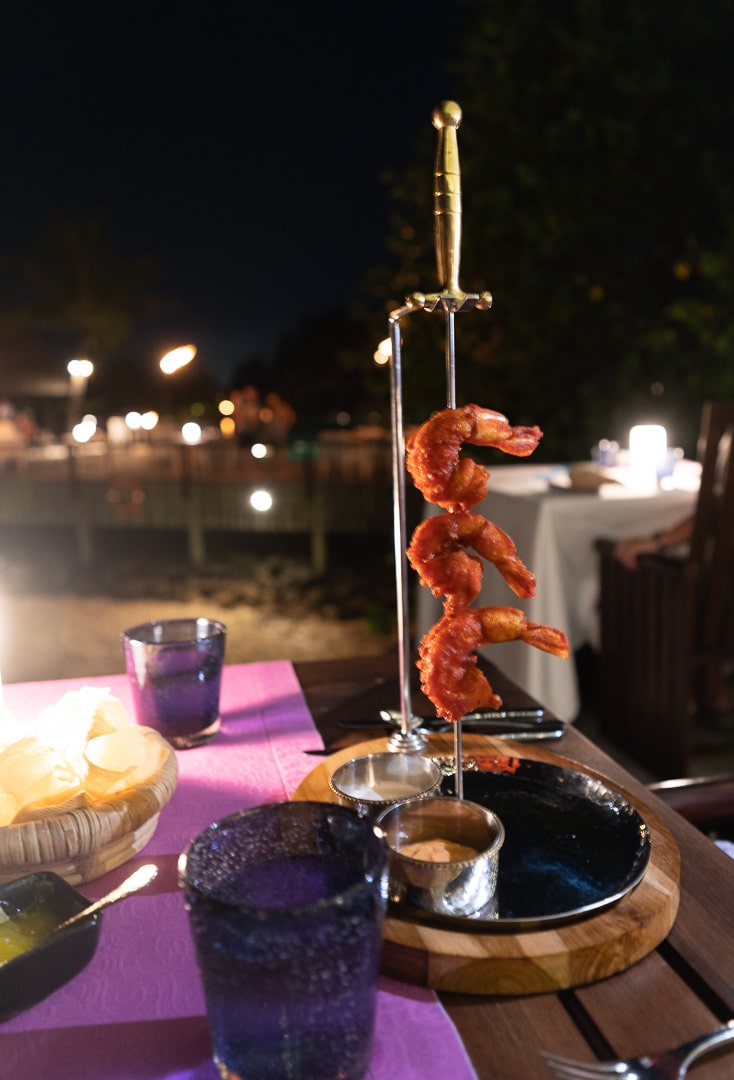 I opted for the "Epigram of Indian Lamb" as my main course. Three different cuts of lamb cooked in three different ways, all of them delicious. To be honest they had already set my pulse racing with the description: "pulled lamb leg and caramelized onion bon bon". Which, bizarrely for Indian food served in the Maldives, most reminded me of a deep fried haggis fritter.
Kamara went for a lighter option: Ajwaini Fish Tikka.
Despite our best efforts to resist, we accompanied our mains with even more poppadoms and a basket of incredibly moreish garlic naans.
Dinner at Reef Club
Menu
Reef Club was perfectly located for us, since it was just a short stroll from our water villa. The setting felt a lot more intimate and closer to the water than the restaurants by the lagoon pool.
The twinkling of stars and the sight of illuminated water villas along the horizon was truly magical.
Service here was even better than at Baraabaru (and that's saying something!). Extremely welcoming and attentive, with supreme attention to detail when placing plates, topping up water etc. The level of polish was readily apparent.
The meal began with a basket of freshly baked Italian breads, served with balsamic vinegar and olive oil. Alongside this we were presented with the chef's lobster amuse bouche.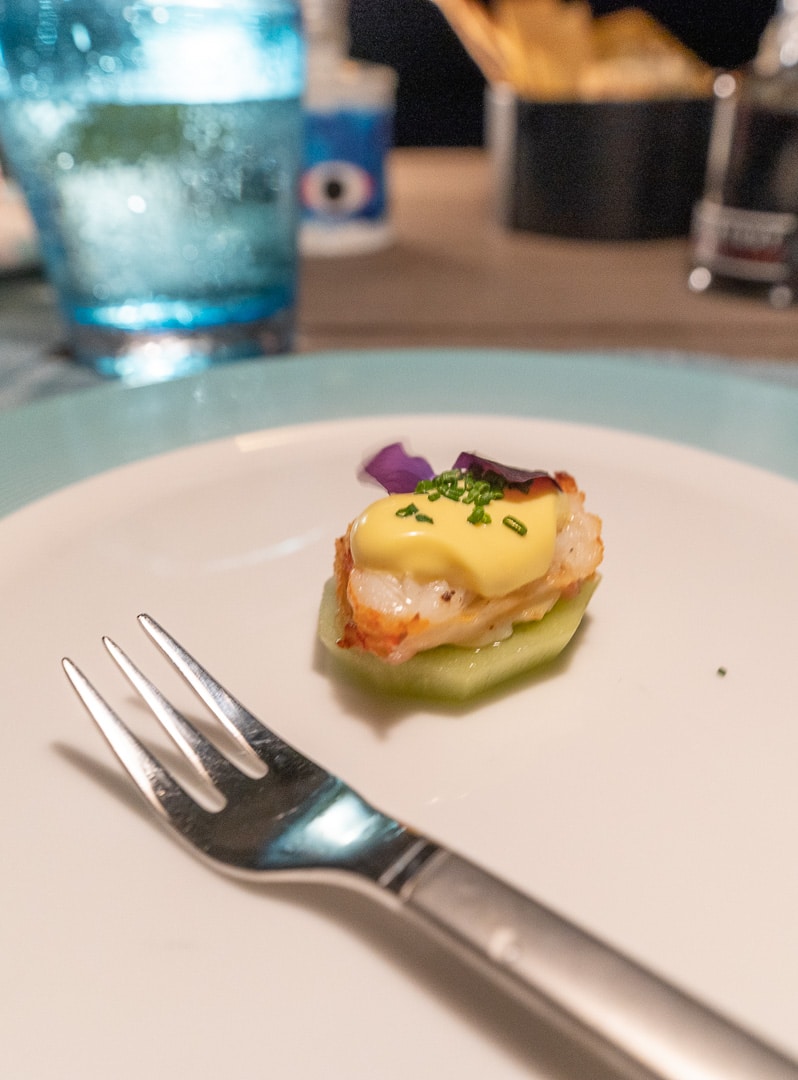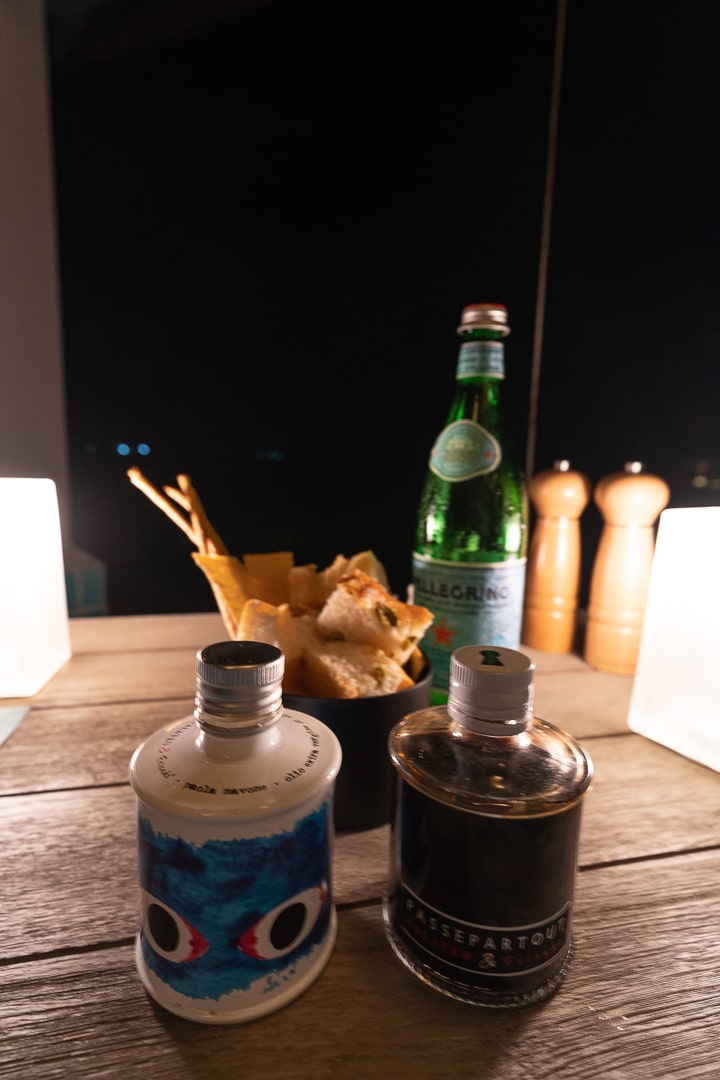 My starter was a beautifully presented crudo of hamachi, topped with an intricate garden of avocado, radish, peach and pickled cucumber.
Kamara went for the equally delicious yellow fin tuna tartare with mustard sabayon, oranges and a Mediterranean ponzu caviar.
The presentation and complexity of flavour in these starters was at the very top level of anything we had ever experienced in the Maldives…and we still hadn't even gotten our main courses.
Kamara's freshly made paccheri pasta was topped with an almost obscene quantity of carabinero prawns and is to this day one of the best pasta dishes I've ever eaten.
I ordered the wagyu beef with a certain degree of trepidation. Wagyu is a term that doesn't mean much, literally 'Japanese beef'. It is often misused in a bid to get the gullible to part ways with their cash, particularly in the form of sliders or burgers, which quite frankly gain absolutely nothing by being made from a more expensive cut, since additional fat can just be dropped into the meat grinder at negligible cost, achieving the same thing.
Anyway, here at Kuda Huraa, my fears were unfounded. The wagyu sirloin was cooked perfectly rare, as I had requested and was phenomenally tender and packed with flavour. The accompanying vegetables were likewise grilled to perfection and tasted like they had just been freshly picked earlier in the morning.
When produce is this good, you really don't need to mess around too much. The quality speaks for itself.
To round out the meal we split a tiramisu, spritzed with coffee liqueur, as I sipped on a beautifully pulled decaf macchiato.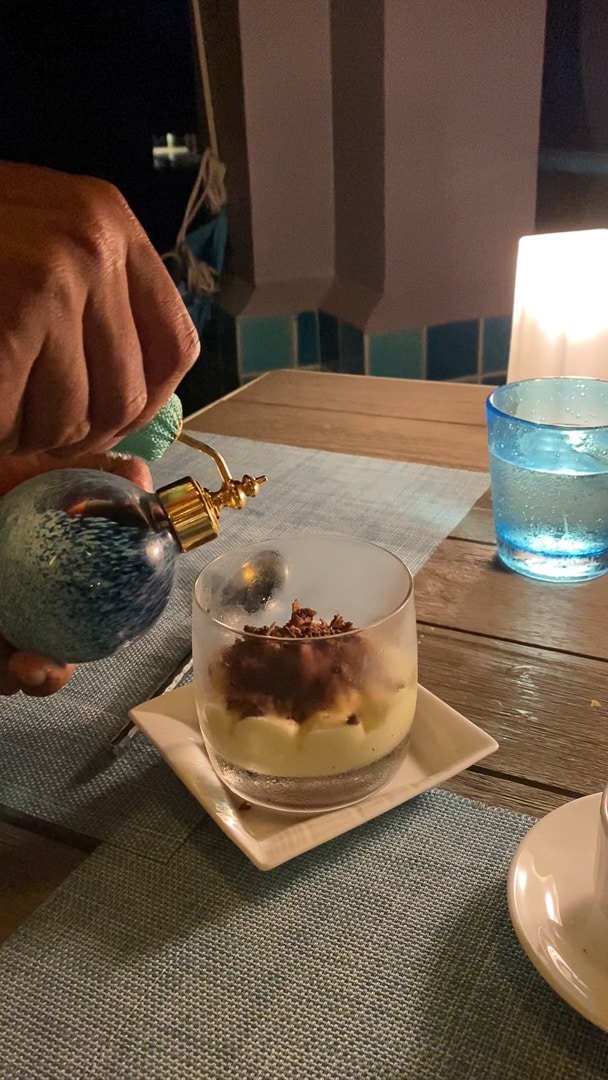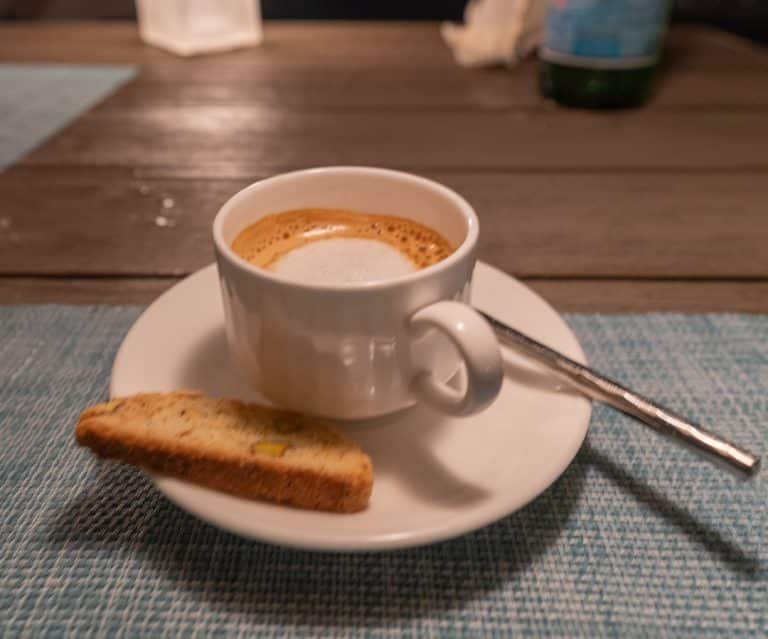 Overall this was one easily one of the best meals we've ever eaten in the Maldives. If this was a London restaurant we'd be back all the time!
---
Service
---
The level of care and attention to detail from all staff was remarkable throughout our stay. During check-in we were handed a custom made folder, containing details specific to our stay as well as resort maps and activity brochures.
A COVID safety kit was also left for us, containing a high quality scented sanitiser as well as some blue and white cloth masks.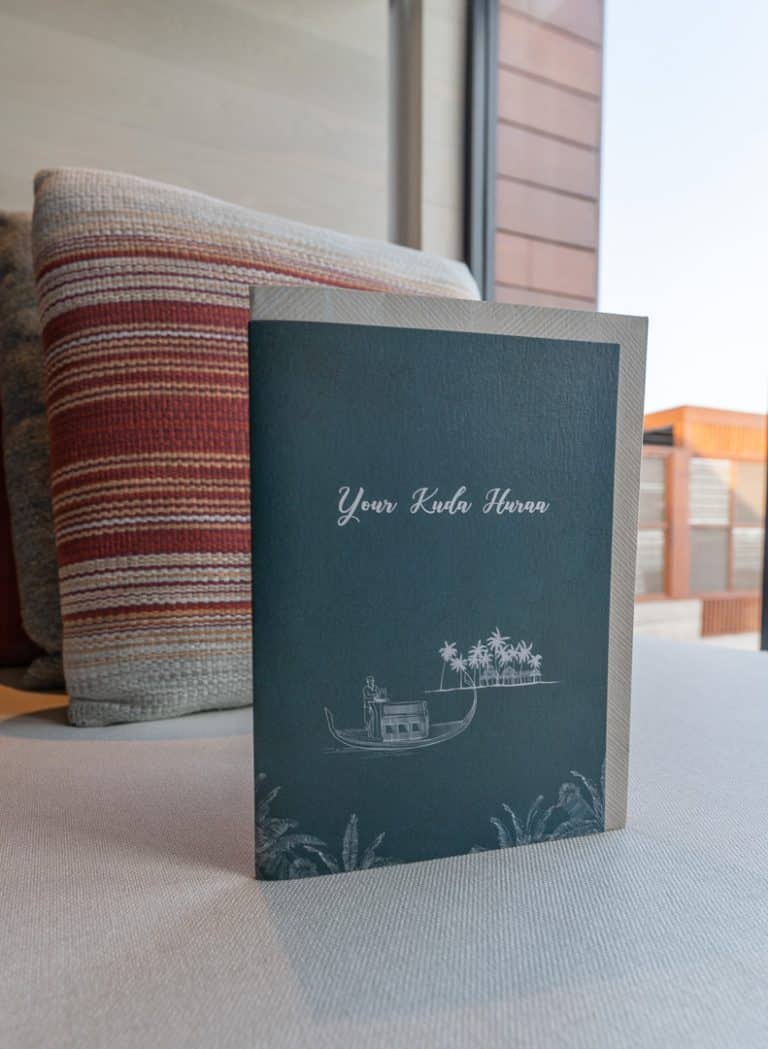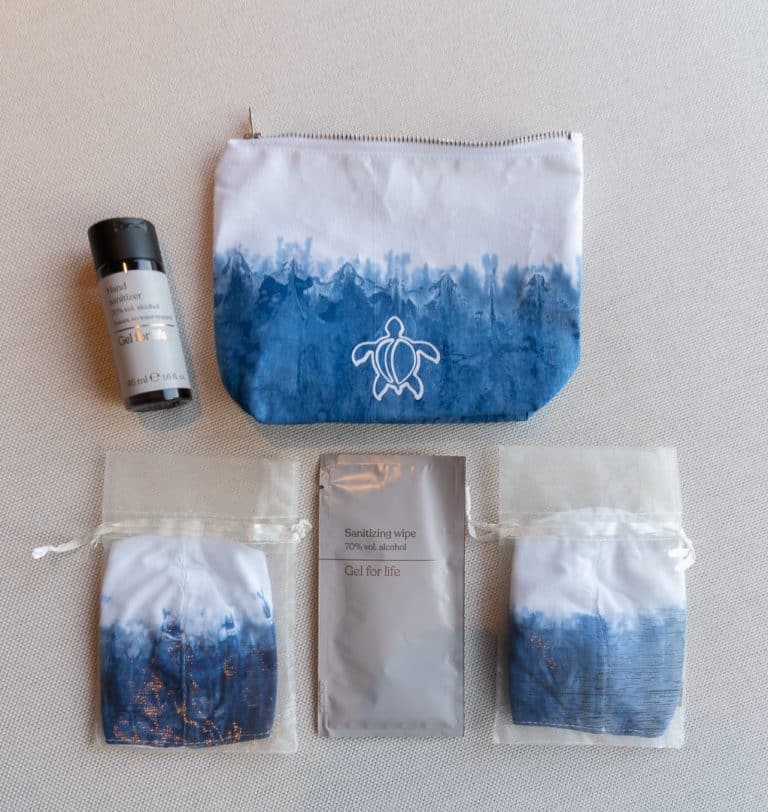 Numerous other thoughtful amenities were left for us in the room: a bag for storing wet swimwear, natural mosquito repellent (together with a very cute card about why geckos are our friends) and even a Four Seasons branded wash bag – left for us by housekeeping after they cleaned the room and tidied our toiletries.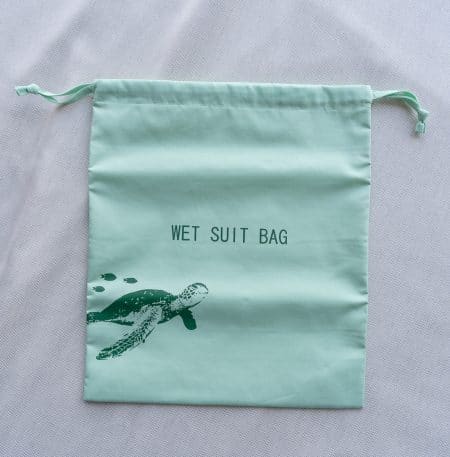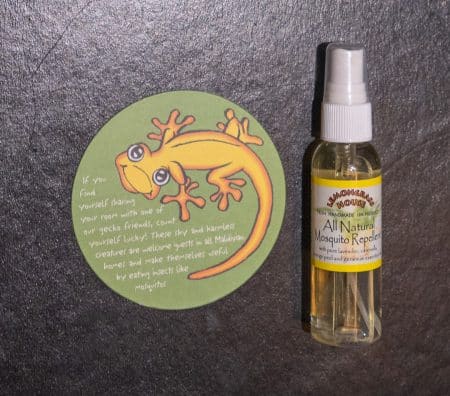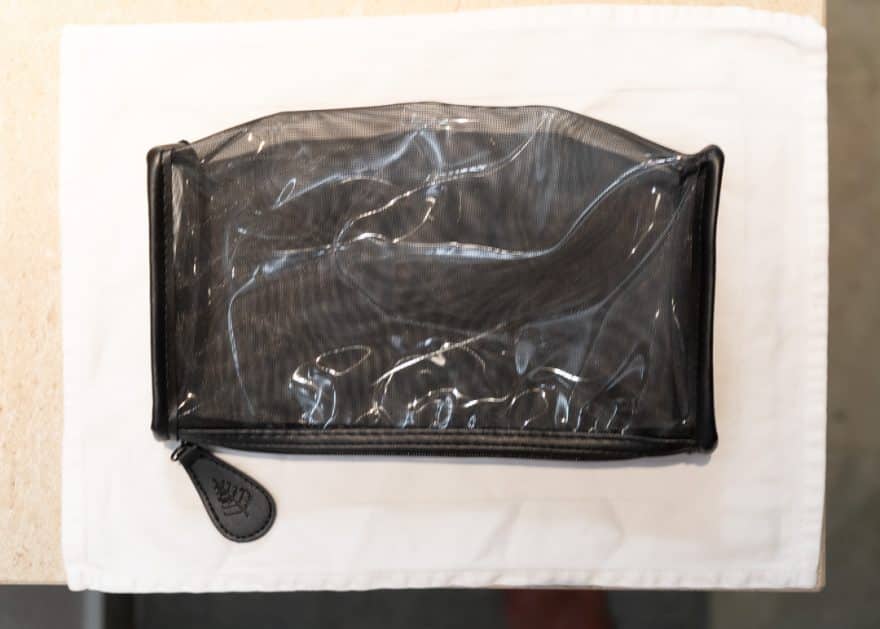 A beach bag was left in the wardrobe, for us to use during our stay. Unfortunately the handle left a stain on Kamara's dress after being heated by sunlight. When I mentioned this to reception they immediately said that they would dry clean the dress free of charge and replace the bag with a new one. The dress was collected from our room before we even returned from reception and was back, fully cleaned within 3 hours.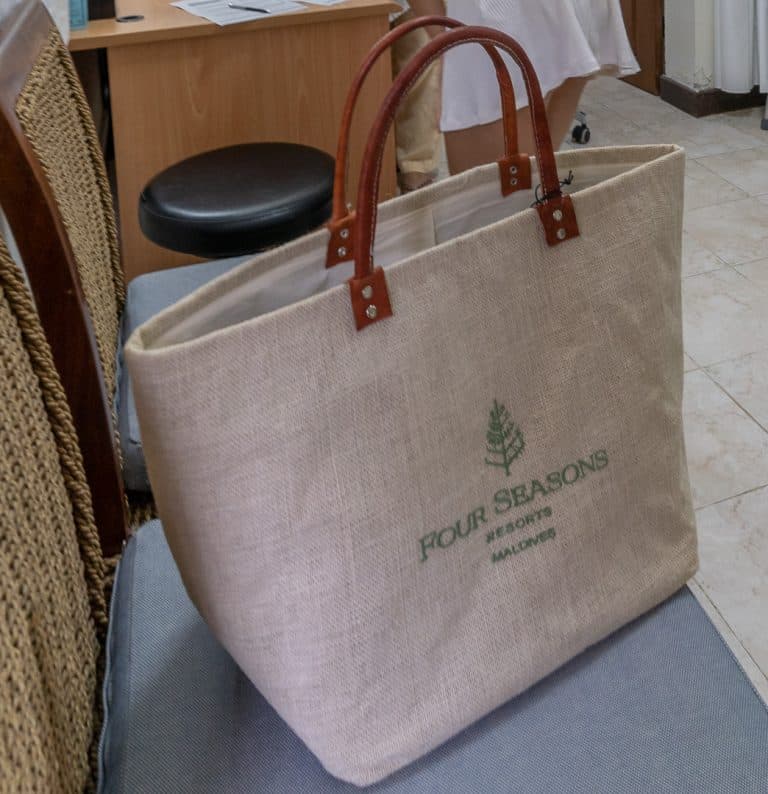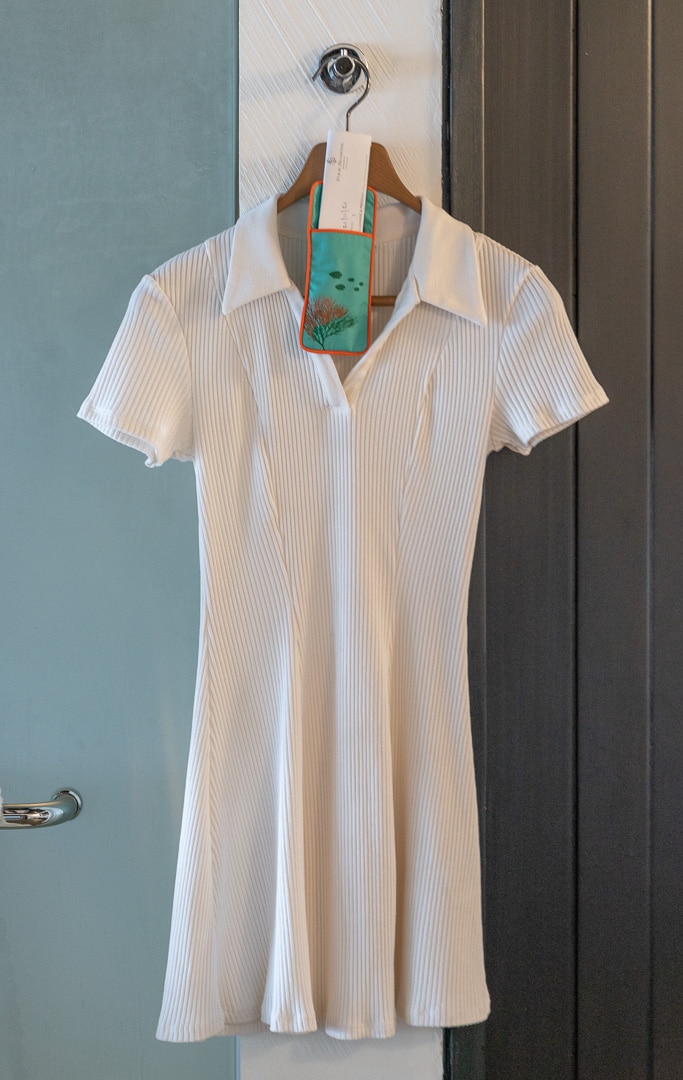 Upon departure we were given a set of rubber luggage tags as well as a key ring, to remember the stay by.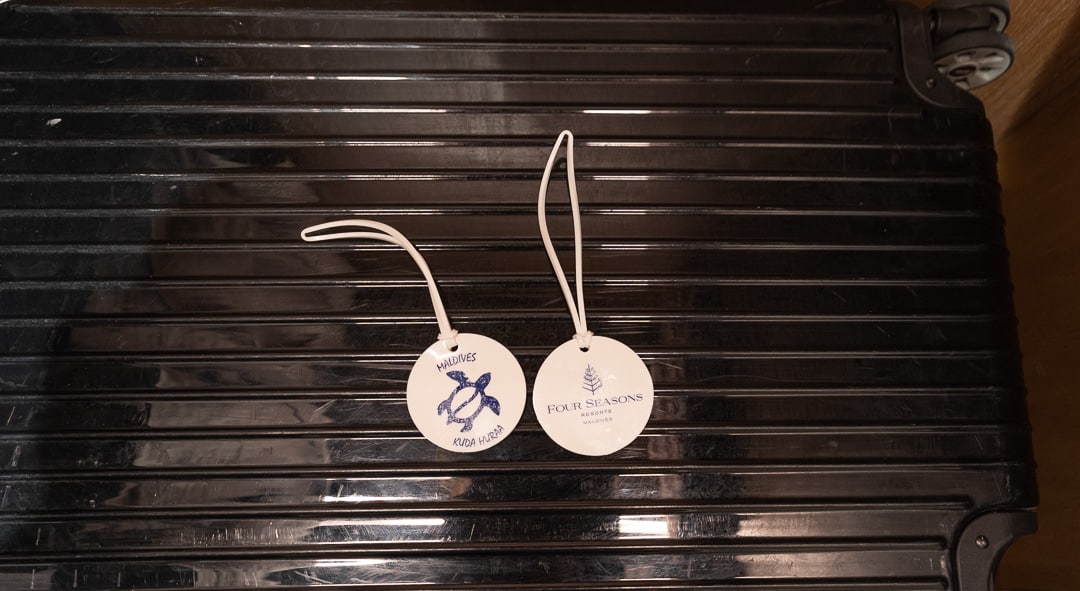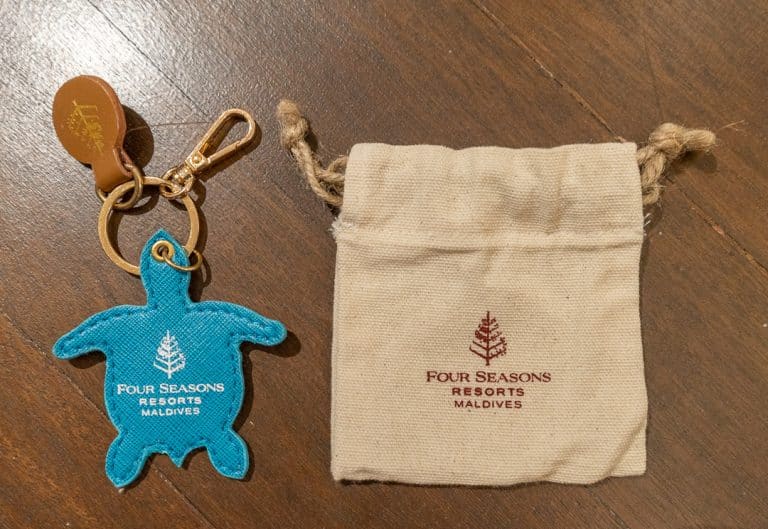 Not only were all of these extra gifts and amenities very generous, they were also very thoughtful – at every possible stage the stay was designed to go as smoothly as possible.This attitude was present in every member of staff as well. All of whom displayed not only a high degree of polish and proactivity, they were also warm and welcoming in their demeanour.
---
Conclusion
---
Basics Checklist
☑︎ Power sockets near the bed
☑︎ Easy to understand light switches
☑︎ Coffee machine
☑︎ Separate shower and bath
☑︎ Blackout blinds
☑︎ Stable, fast and free Wifi
☑︎ Feather pillows
☑︎ Quiet and powerful aircon
Four Seasons Kuda Huraa is the perfect resort for people wanting a super convenient transfer from Malé airport, with minimal waiting time and minimal fuss.
The room hardware has been recently renovated in every room type other than the Beach Bungalows and despite its age, the constant attention to renovation means that the resort continues to feel modern and elegant.
Water villas are a little close together for my liking and certainly cannot compete in size with the likes of Waldorf Astoria or Reethi Rah – also a speedboat ride from Malé. The beach Pavilions and Bungalows would be my personal pick for our clients.
Having said this, Four Seasons Kuda Huraa has never tried to compete on room hardware alone because it has something a lot more special: a truly natural island, close to Malé, filled with highly professional staff, many of whom have worked at the property for a decade or longer.
Kuda Huraa is a Maldivian institution with a huge number of repeat guests and when you experience the service and the incredible food it's easy to see why.
If you're looking for gigantic overwater villas or world class diving you'd be better off at Four Seasons Landaa Giraavaru…but I'd still recommend starting or ending your trip at Kuda Huraa, given the close proximity to the international airport and the seamless transfer offered between the two resorts.
---
Book Four Seasons Kuda Huraa with FSPP Benefits
---
Four Seasons Preferred Partner Booking
An example of FSPP benefits, which may be available on your stay:
Upgrade of one category,

based on availability at check-in.
Full breakfast for two in room guests. Either at the restaurant or via in-room dining.
$100 hotel credit.
Welcome amenity.
Early check-in/late check-out, subject to availability.
EMAIL FOR FSPP BOOKING ENQUIRIES
If you aren't sure which Maldives resort to book and would like our advice, please fill out our quick & easy form and we'll match you up with your perfect property: