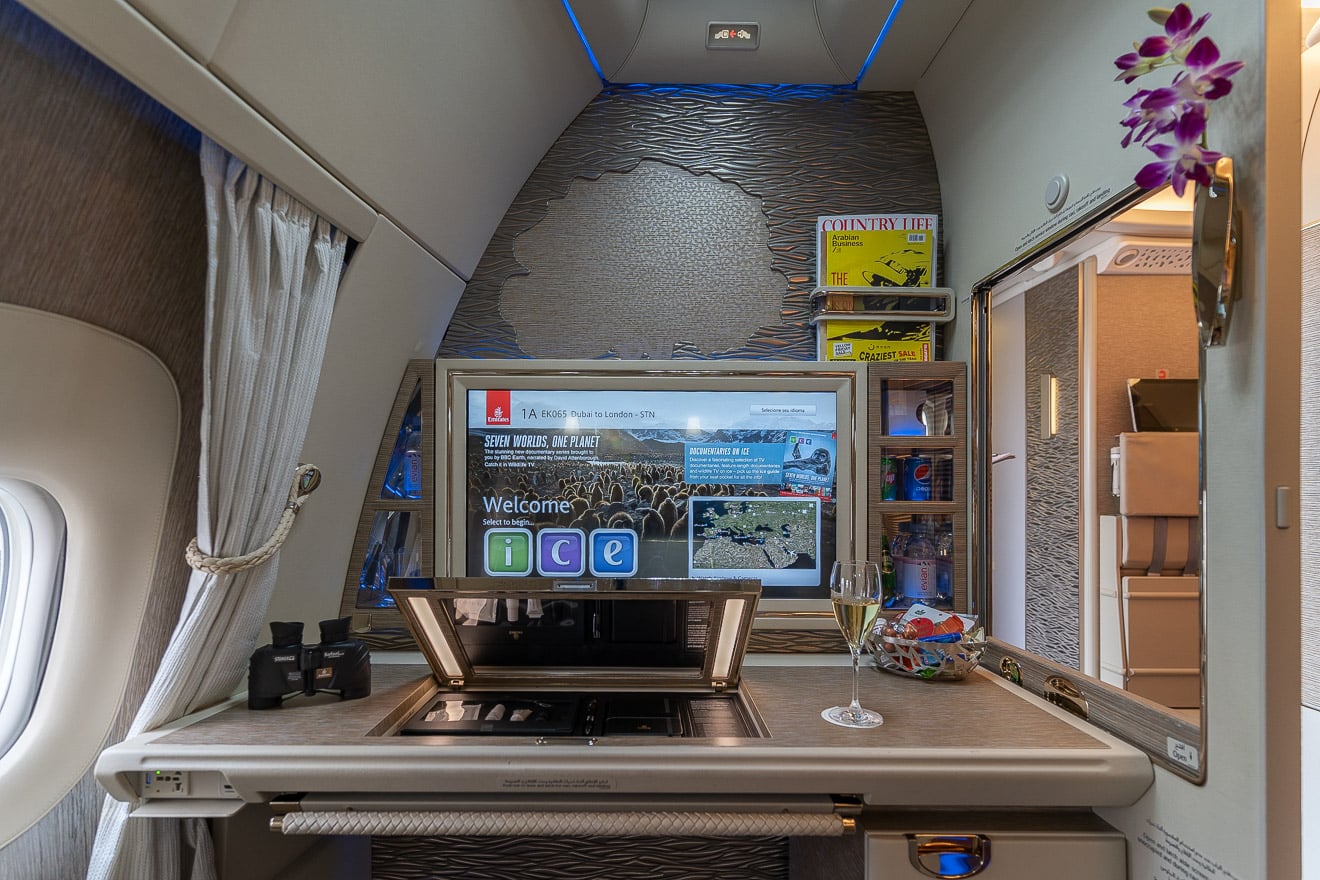 REVIEW – Emirates : Gamechanger First Class – B777 – Dubai (DXB) to London (STN)
January 24, 2022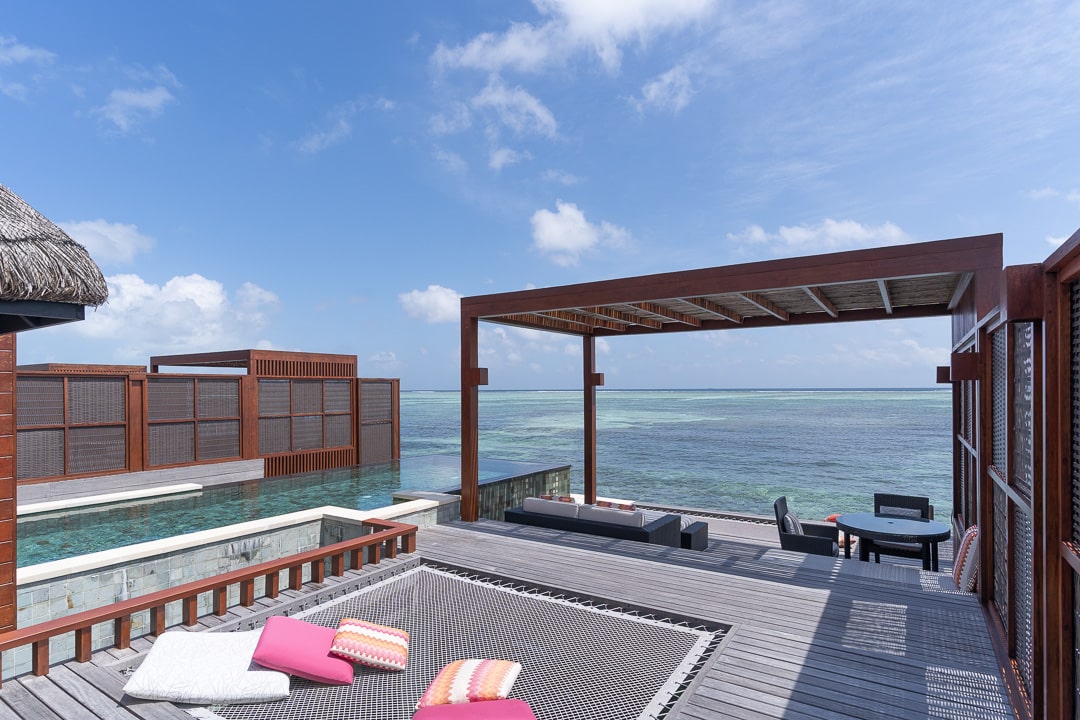 REVIEW – Four Seasons Kuda Huraa, Maldives
February 14, 2022
If I had a penny for every time I've been asked: "What's the best resort in the Maldives?", I could probably afford to retire on my own private island.
Given the very high cost of hotels and resorts in the Maldives, most people are understandably worried about selecting the wrong resort. This is especially true for honeymooners or anybody making this a 'once in a lifetime' trip!
Thankfully at The Luxury Traveller we are specialists in the Maldives and have personally visited a wide variety of luxury properties in the country. We also return on average two times per year, in order to stay on top of all the latest openings and refurbishments.
If you'd like to dive straight into our review section, you can do so here:
Our first hand reviews of Maldives resorts
If you're anything like most people though, simply reading a ton of reviews won't leave you feeling satisfied.
There are so many variables at play that it can be hard to know if a particular resort will work for you.
How to pick a resort in the Maldives?
Working with a specialist travel agency like us is obviously a great way to do things. You'll be speaking to somebody with expert knowledge of the hotels available, who will get to know you and your needs – matching you with your perfect resort!
We run our clients through a list of variables, asking them to rank which are most important to them. By the end of the process, we are able to select a resort which perfectly matches our clients' needs.
The most important things to consider when picking a Maldives resort
I'm sure at this point you're asking yourself what these all important variables are!
Without further ado, here are the most important things to consider when picking a Maldives resort:
When to visit the Maldives
The Maldives has a peak season, running from December to March.
The most expensive times to visit are during Christmas and NYE, as well as the weeks before and after Easter (a late Easter will result in an extended peak season).
Visiting during a peak holiday will guarantee a few things:
Upgrades will be almost impossible, since resorts will be fully booked.
Service will be stretched, since staff will not only be dealing with a full resort but also lots of extra duties (setting up special events etc.).
The prices will be high, with special offers almost unheard of.

A week's stay over New Year's can cost 5x what a week in June would cost!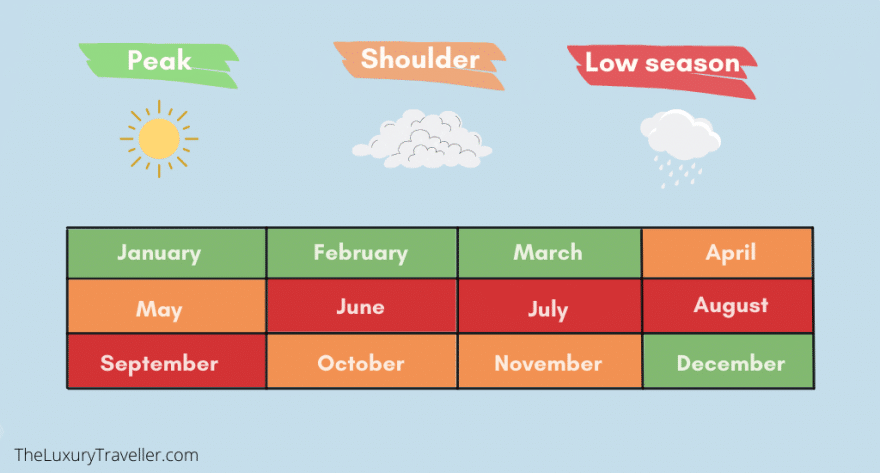 Despite the very high cost of visiting on peak dates, one thing that can never be guaranteed is the weather.
In fact some of the worst weather can come in November and December, since this marks the transition between the wet and the dry seasons.
You may also get very lucky and have superb weather throughout the month of July!
My ideal time to visit is in March or April since the weather is (usually) great and prices are decent, so long as you avoid the week before and after Easter.
It is worth noting that manta and whale shark seasons occur during the wet season in the Maldives. If seeing these gigantic creatures is important to you: I would recommend late April for a perfect combo of weather and whale sharks.
Should I take a speedboat or seaplane to my resort?
This is one of the most important considerations when travelling to the Maldives. If you want more of a remote, castaway feel to your island, then you'll almost certainly need to take a seaplane. The best diving and snorkelling tends to be found further from the capital too.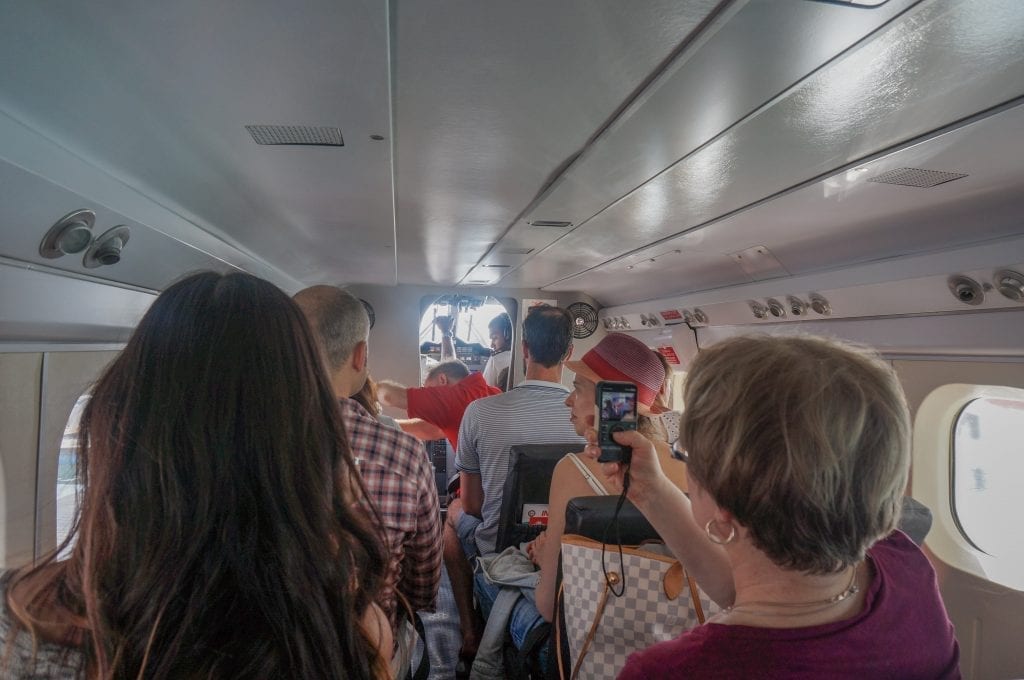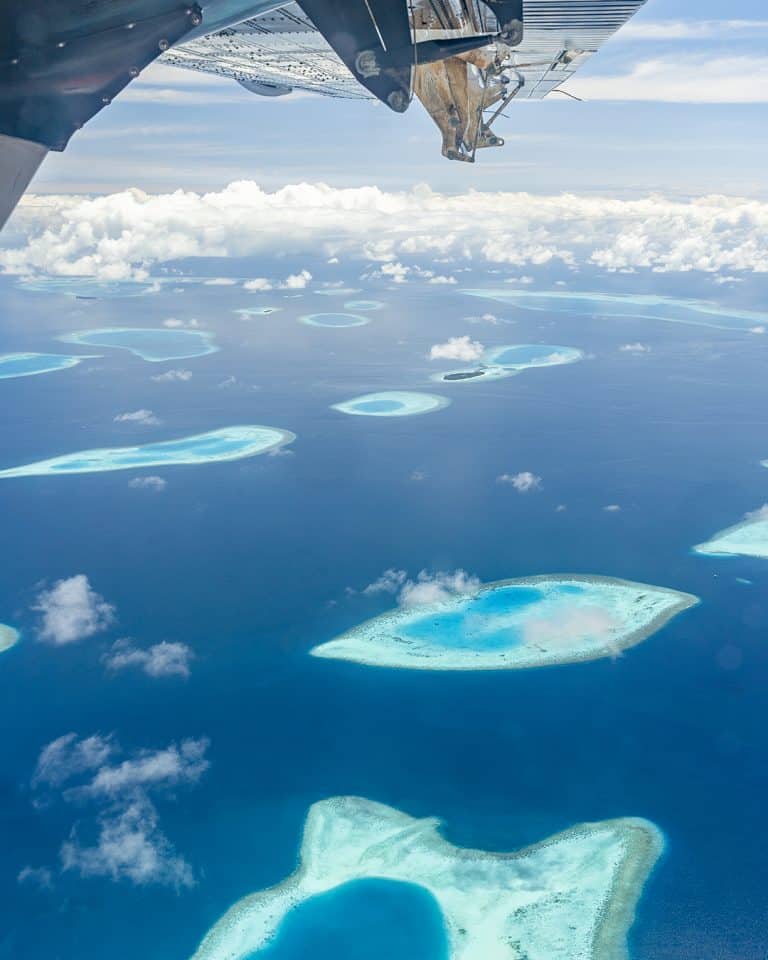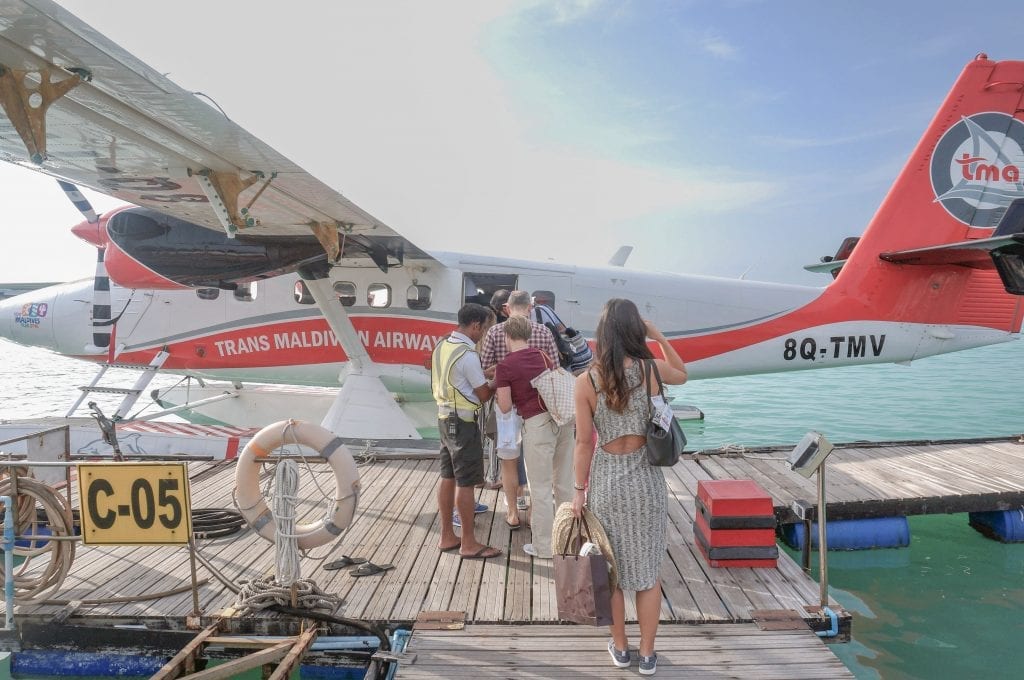 However, if you stick to the resorts close to the airport you could be checking into your hotel within an hour of exiting the airport. Speedboat transfers are also much cheaper than seaplane transfers.
The exception to this is the incredible yacht transfer, arranged by the Waldorf Astoria Maldives. This is priced similarly to a seaplane but instead of a cramped little seat with no A/C and an indeterminate schedule, you get free flowing champagne on a 3 bedroom yacht, departing the instant you clear customs at the airport.
Seaplanes, on the other hand, come and go pretty much as they please. You could find yourself checking out of your island early and spending your final day at the international airport, if the schedules don't work out in your favour.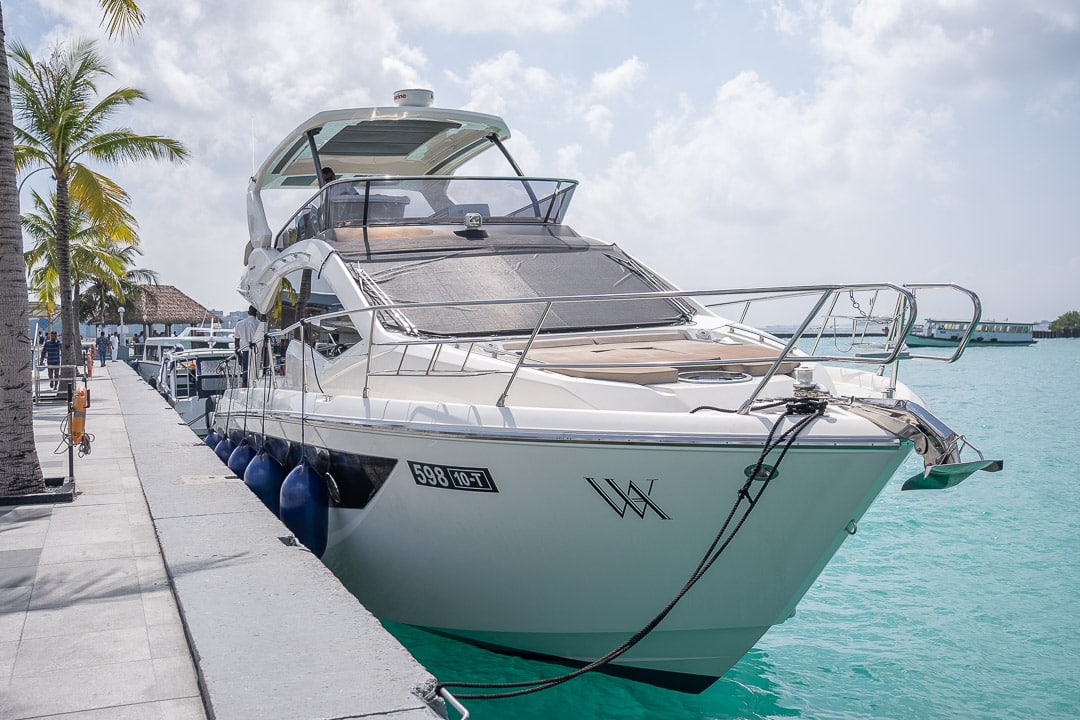 Man made vs natural islands
Not all beaches and reefs are created equal…
As the tourist industry has proliferated in the Maldives, viable islands close to the capital have all been developed. Knowing how much money there is to be made here, major hotels chains decided that something as insignificant as nature was not going to stand in their way.
As such, numerous man-made islands have been created by dredging up sand from the ocean floor. Examples include: Waldorf Astoria, Patina, Ritz Carlton, Saii lagoon and One&Only Reethi Rah (although this resort is only 'partially man-made').
I can't imagine anybody specifically choosing a man made island with lower quality sand but many travellers are completely unaware that this is even a thing. So it's always best to ask!

Lagoon Quality
Chasing those Maldivian shades of blue.
This is an interesting factor which is often under-looked. Most people are drawn to the Maldives by images like this, showing a dazzling array of blue and turquoise colours in the ocean.
The variation in colours is caused by the varying depths of very shallow water, close to the resort.
Multi-island resorts like Conrad Rangali and Anantara Veli/ Dhigu/ Naladhu will often surround a huge internal lagoon, resulting in spectacular colours.
However, plenty of resorts have no real lagoon to speak of. They just dredge some sand and build villas around a small central 'pond', which still looks nice but doesn't quite compare to the real thing! The Intercontinental is a prime example of this:
Room hardware
Is bigger really better?
The Maldives is known as the home of the most unbelievably opulent and extravagant villas on earth. Nowhere on earth compares in this regard.
However, it is important to consider whether a gigantic villa with an ocean facing lap pool is actually necessary or whether you'll actually spend most of the time in your room!
Our one bedroom villa at the Waldorf Astoria featured outdoor seating for 18 people. I honestly feel like at this stage, the room becomes a little impersonal and unromantic (you may disagree of course!).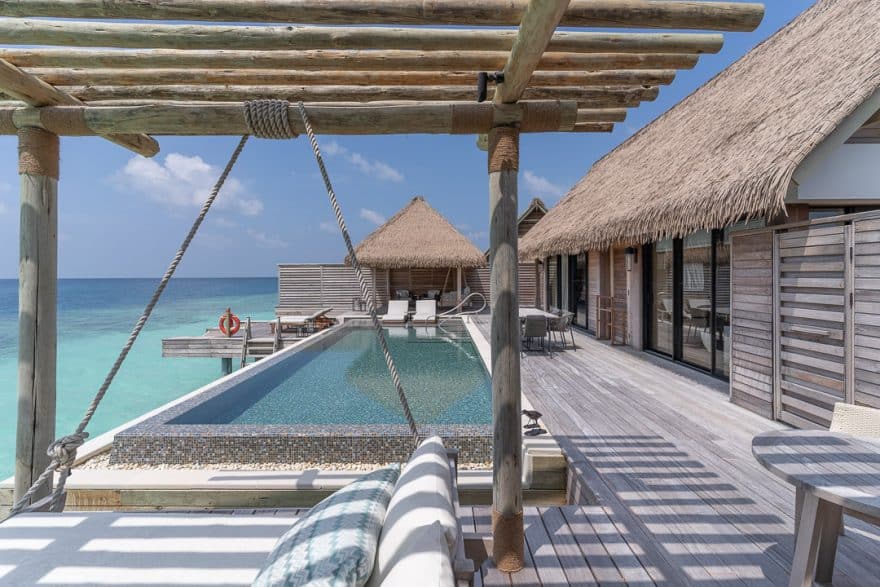 Conversely, our villa at the Park Hyatt was much smaller but still super luxurious. This felt like a cozy home where we weren't separated by giant distances.
The Park Hyatt villa was also not overwater but rather had its own private stretch of beach, which brings us neatly to the next section…
Which type of villa to select?
Overwater, beach or… something more unusual?
This is a contentious issue, perhaps deserving of a full post, in its own right.
Overwater villas are the defining icon of the Maldives and most first-time visitors are understandably keen to experience one for themselves. There are some points to consider before deciding to stay in one though.
Privacy tends to be lower in water villas. Anybody can swim right in front of your pool deck and see into your room. Water villas also tend to be packed closely together on piers, with only wooden privacy screens to separate them.
The privacy screens on the ends of villas are not always solid and at many properties, you can stand right by the screen and see through to your neighbours deck (and vice versa).

Beach villas offer more privacy, more space and of course a private stretch of beach for you to enjoy. Even when packed closely together, the thick vegetation between beach villas ensures that your neighbours will never see you!
Beach villas at the Conrad Rangali and Park Hyatt Hadahaa: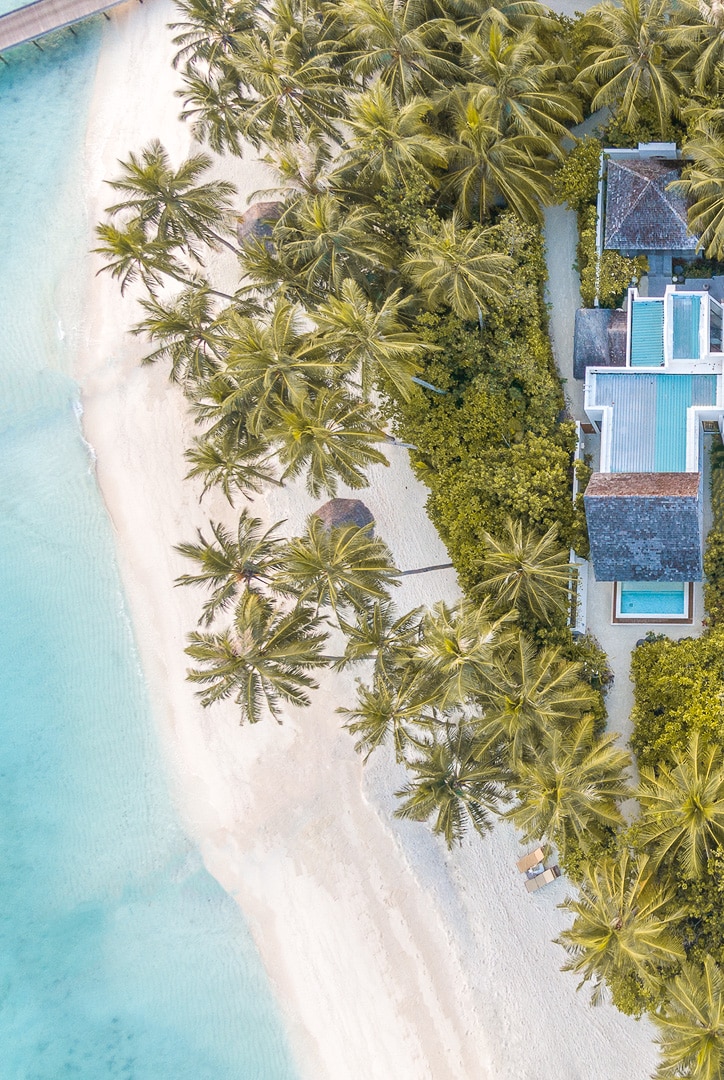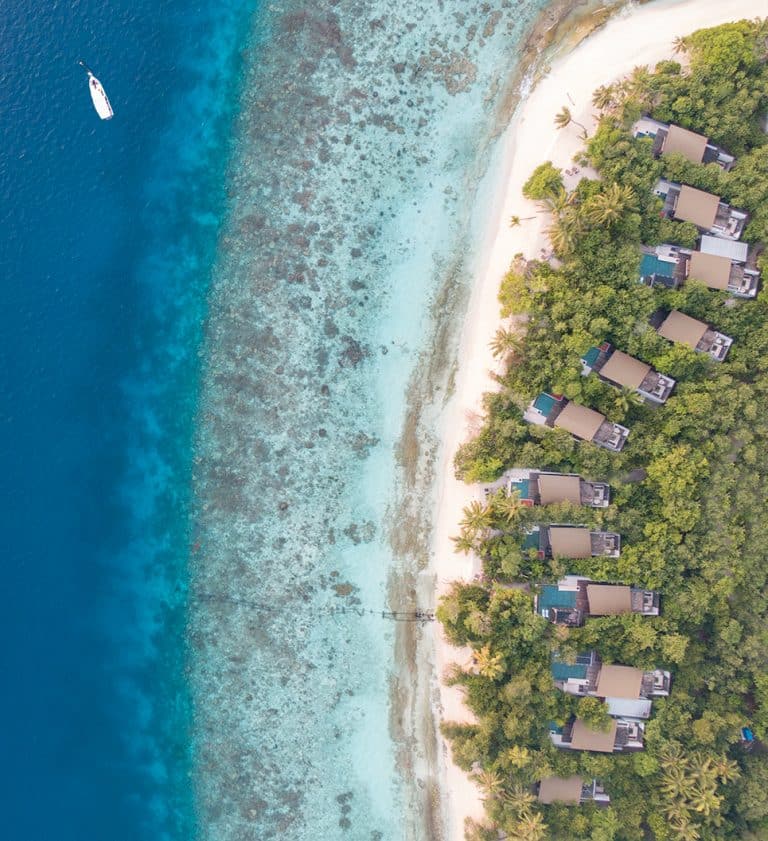 From a beach villa you'll be able to gradually enter the water, swim normally and will often be next to the house reef. From a water villa, you may find nothing but broken coral beneath you, with water that barely reaches your knees, as far as the eye can see!
The most unique aspects of an overwater stay are irreplicable though, if you want to spend your days relaxing in an overwater net, seeing dolphins or stingrays swim by…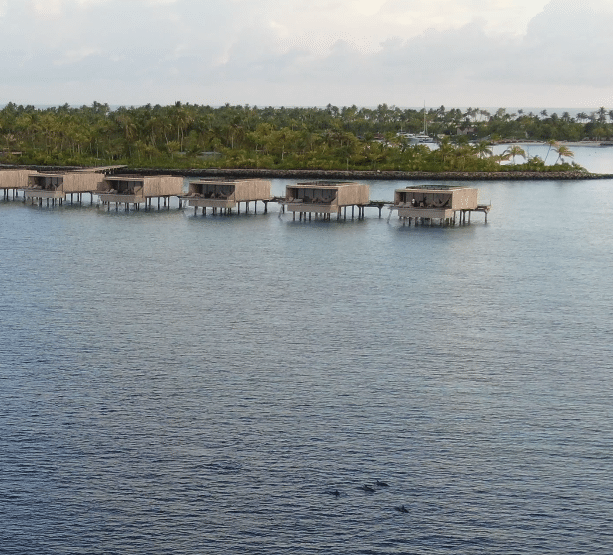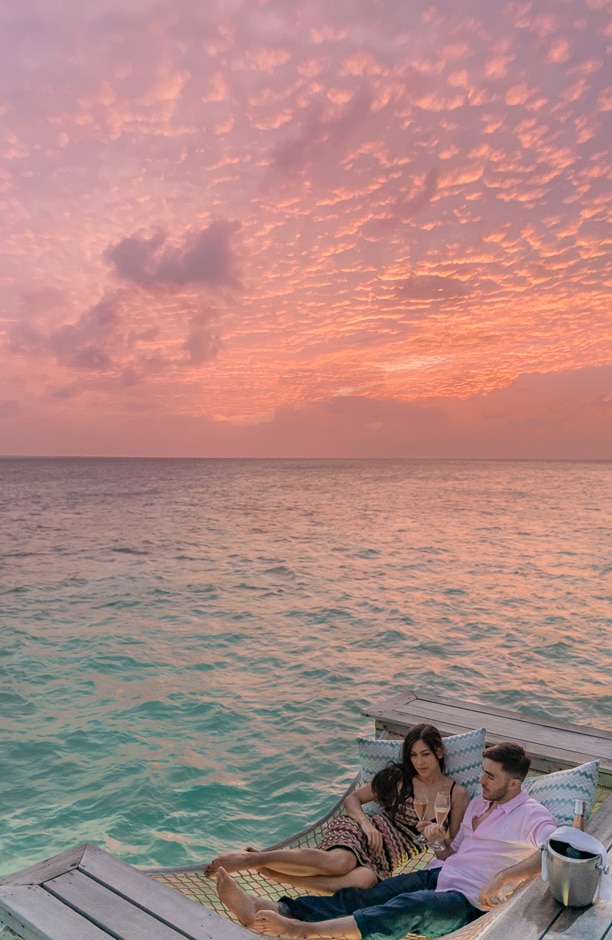 …or if you want to watch fish as you get changed or sit on the toilet…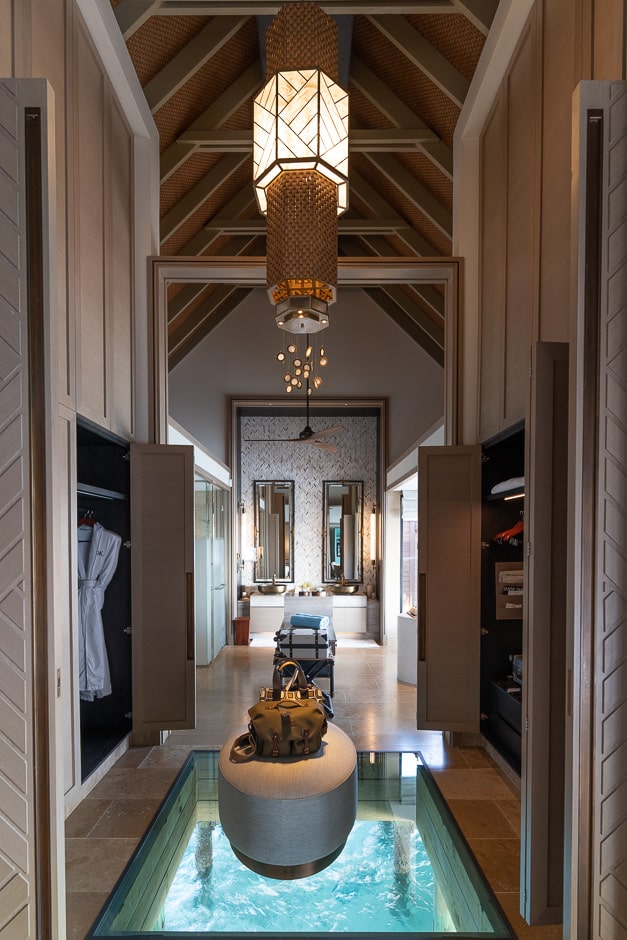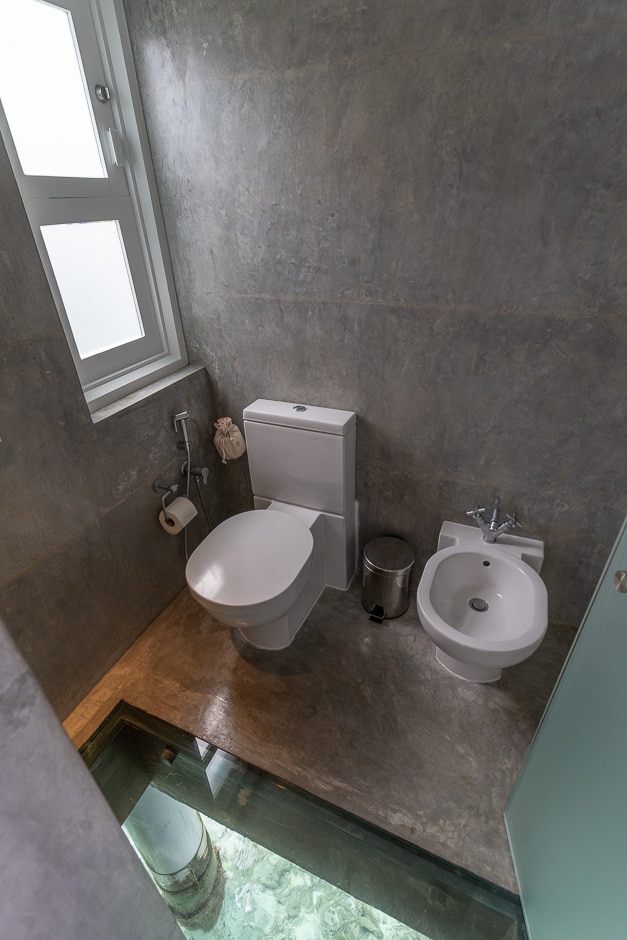 …there's nothing quite like a water villa!
Of course, there are many other weird and wonderful options out there too, like:
Treetop Villas
One of my favourite ever villas in the Maldives! The treetop villa is located at Amilla Fushi.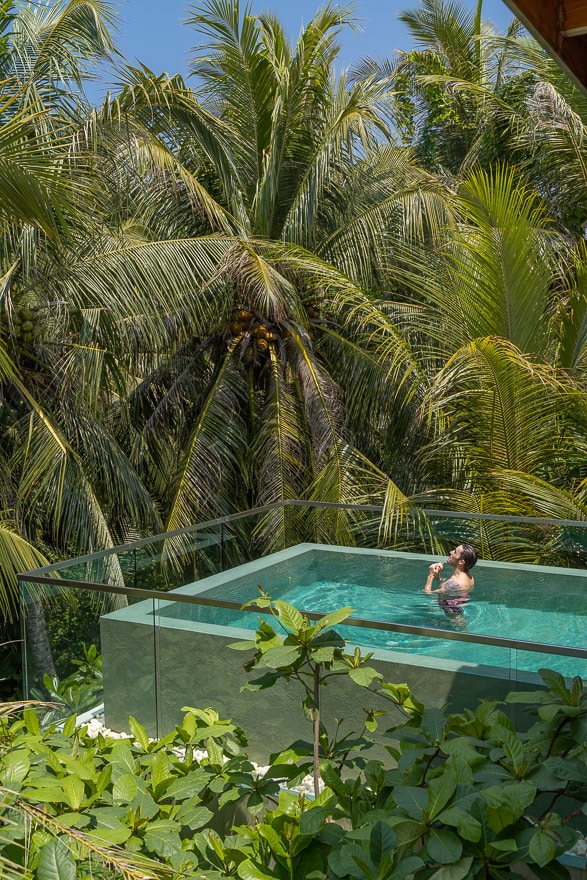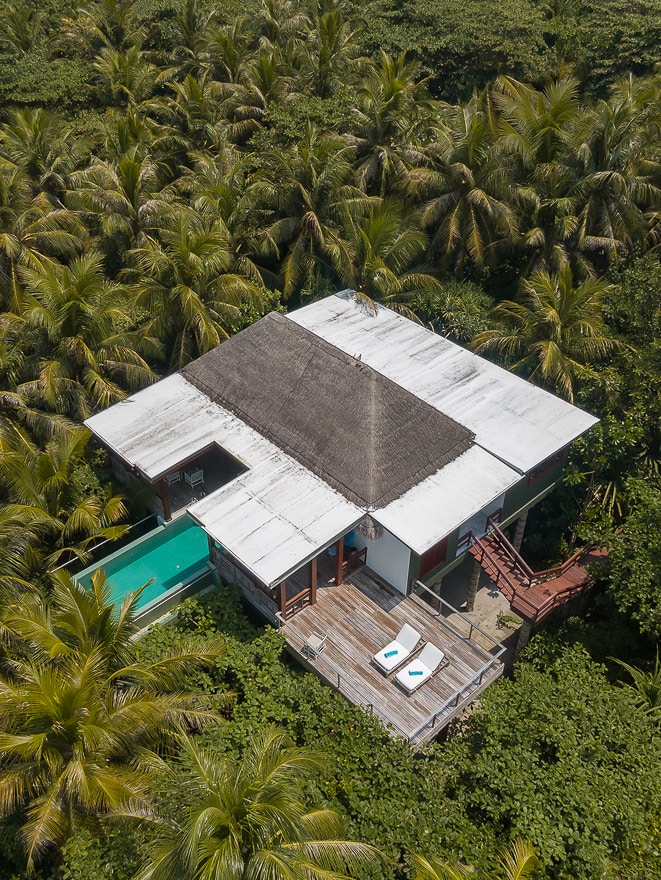 Glamping Bubbles
Both Finolhu and Amilla Fushi offer these. Amilla offer the superior experience overall, since their bubble has shower facilities, more furniture, more privacy and even private access to the resort spa at night!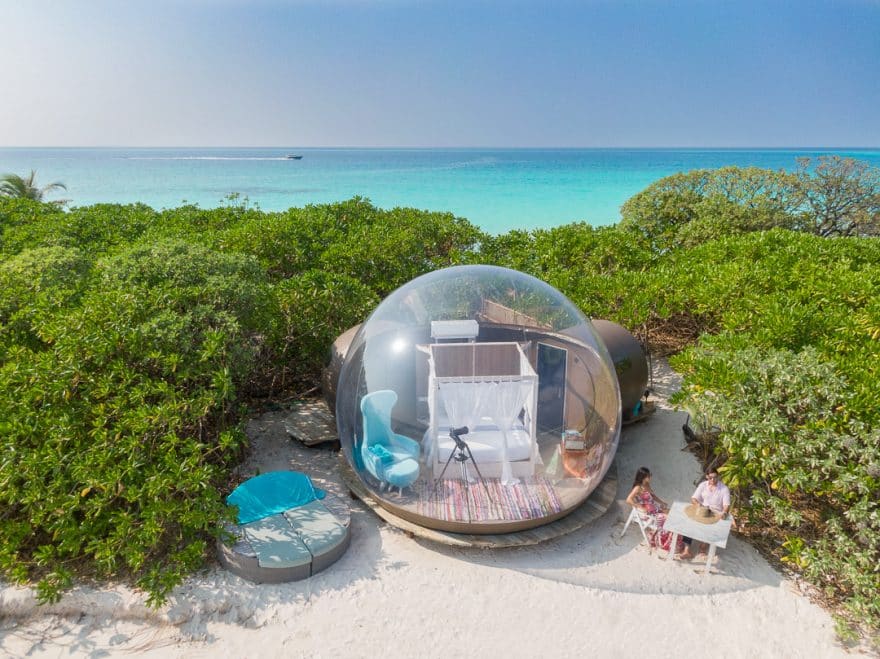 Underwater Villas
The Muraka at Conrad Maldives was the world's first. The bottom floor is completely submerged an you are surrounded by water
The Pullman Maldives has an Aqua Villa too but this only features viewing windows, rather than the fully submerged experience.
Island size: action packed or castaway?
The size of the island you pick not only determines the overall atmosphere but usually dictates the number of dining options and activities too.
Some larger islands like Amilla have wild jungle centres and a whole unspoilt coastline to explore, away from the main villas and restaurants. Islands like this give you the opportunity to feel like an explorer and get away from the usual 'glamour' side of the Maldives.
Meanwhile, resorts like the Conrad and Anantara Veli /Dhigu /Naladhu cluster offer multiple inter-linked islands, each with their own feel. They also feature a dizzying array of dining options. More than enough to keep you entertained for 14 nights (or more!).
On the other end of the spectrum you have truly remote castaway islands, like the Park Hyatt Hadahaa. Here you can easily snorkel around the entire island, taking in the the breathtaking underwater scenery of its 360° coral reef.
Smaller islands like this provide a far more personal feel. It's like comparing a boutique hotel to a mega-resort, they both have their appeal but usually to totally different types of traveller!
If you want inky black skies at night, sprinkled with brilliant stars or if you want almost zero boat traffic and nothing visible on the horizon then an island like this is your best choice. A true castaway feel.
Activities: surfing, diving…or just relaxing?
A major consideration when visiting the Maldives is whether the resort is suited the types of activities that you're interested in.
If you want to surf, then resorts close to the airport like Four Seasons Kuda Huraa and Anantara Veli offer access to fantastic breaks. Further afield, Six Senses in the Laamu atoll does too.
If you're a keen diver though you'll want to take a seaplane further afield to the Baa, Raa or South Ari Atolls. Here you'll find some of the world's best dive sites, close to resorts like Amilla and Four Seasons Landaa Giraavaru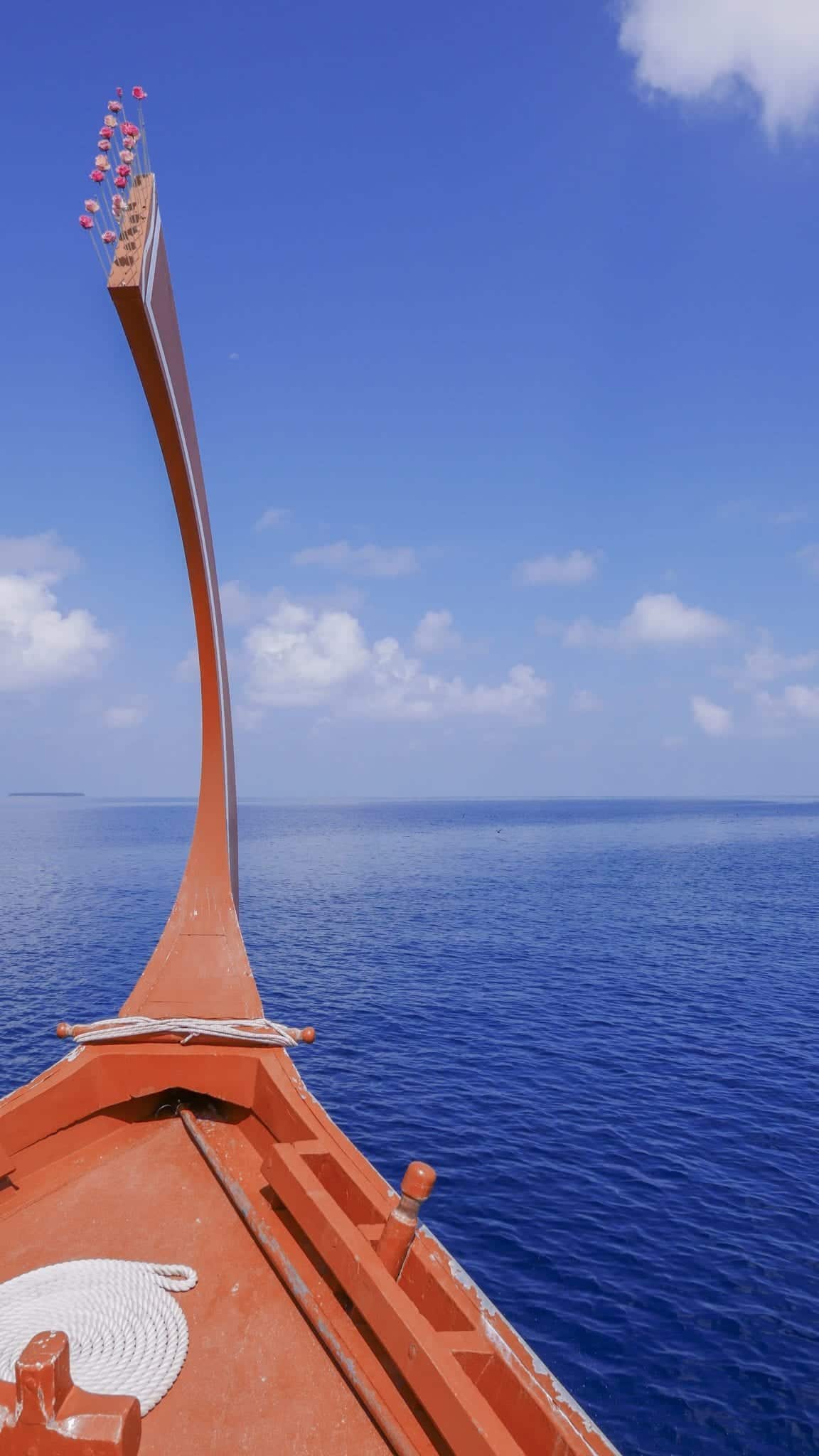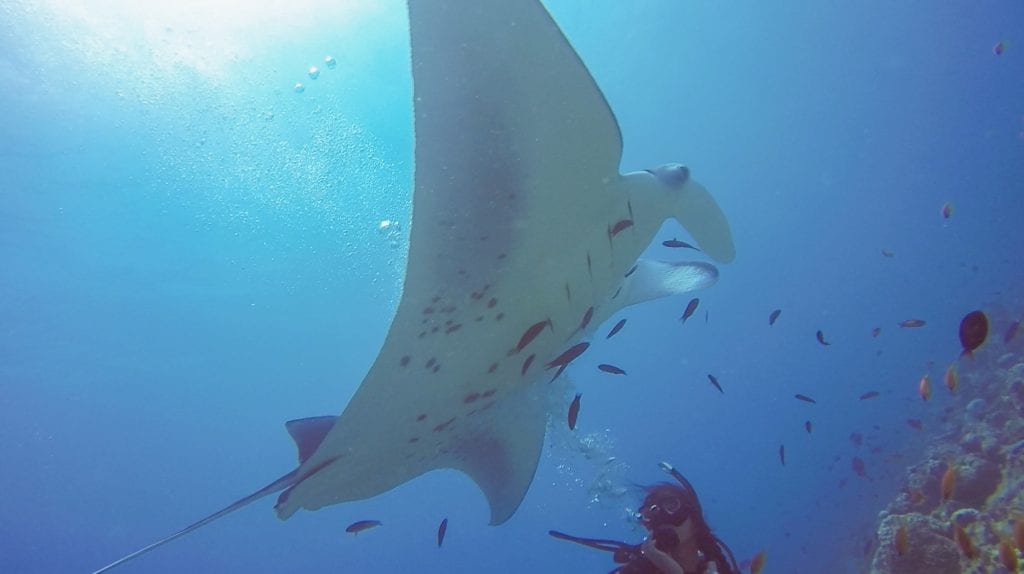 Some resorts also have jet skis, banana boats and even water powered jetpacks. If you're the kind of person who prefers to relax and read a book, you'll probably want to pick a resort that isn't filled with screaming adrenaline junkies (or at least pick a villa far away from the madness)!
Summary / Checklist
Hopefully, you now have a much better idea of the things to look for when choosing your ideal Maldives property.
Of course, now that you know what you're looking for, you'll still need to search for a property that ticks all of your boxes: that's where we come in!
Know what hotel you want to visit? Send us an email here and we'll manage your booking for you and secure you extra benefits, over and above a direct booking.
If you aren't sure yet and would like our advice, please fill out our quick & easy Maldives form and we'll match you up with your perfect property.