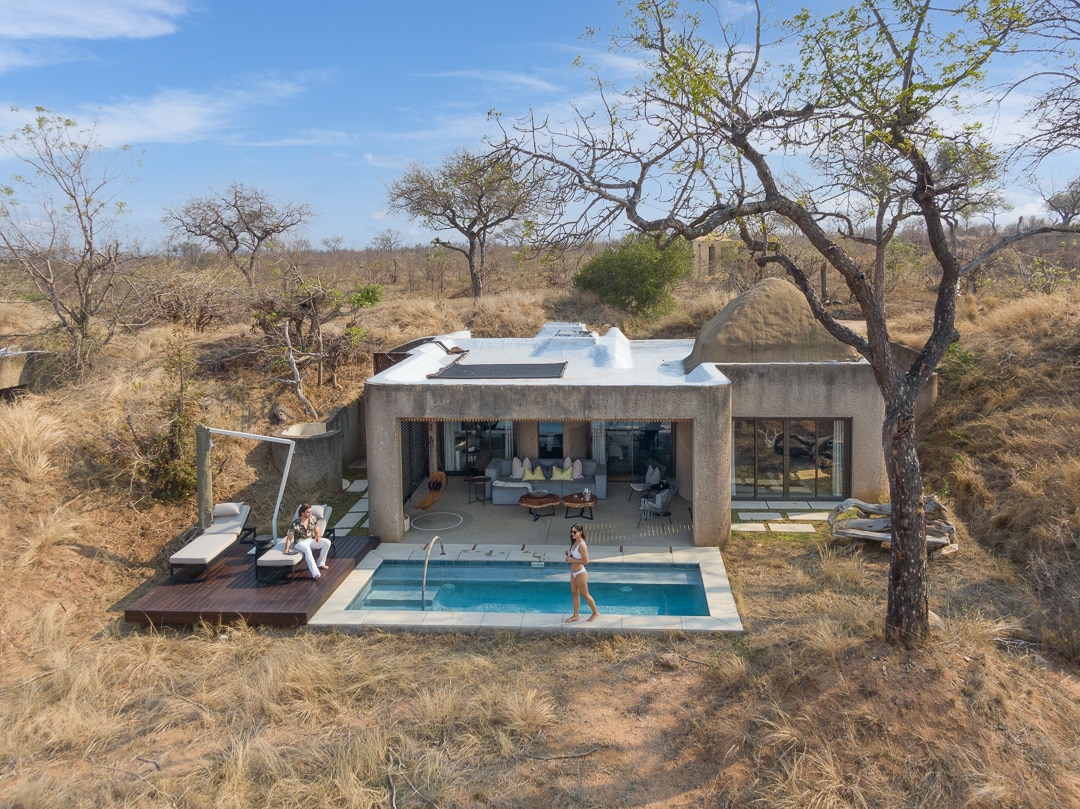 REVIEW – Sabi Sabi Earth Lodge (South Africa)
April 13, 2022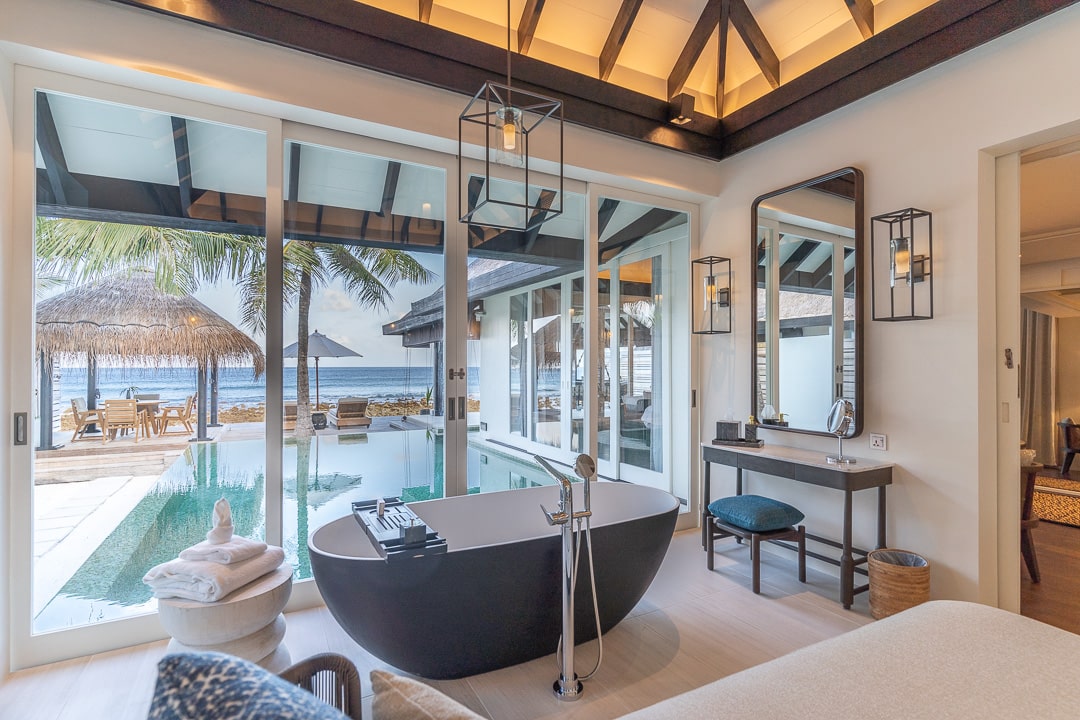 REVIEW – Naladhu Private Island Maldives
May 1, 2022
Lefay Dolomiti
Location: Pinzolo Italy
Typical Rate: €400 per night
Room Type: Deluxe Junior Suite

Standard upgrade from Prestige Junior Suite

Booking type: stay hosted by Lefay
Loyalty Program: World of Hyatt /SLH
---
Intro
---
Lefay Dolomiti is an all suite property (the smallest of which is 57m²) located in the Italian mountain town of Pinzolo, close to Verona.
The local Madonna di Campiglio region is a magnet for those enjoying both winter sports and summertime alpine pursuits.
Aside from the very large rooms, this member of Small Luxury Hotels is best known for having one of the most incredible spas in Italy (if not the world) and a truly outstanding fine dining restaurant: Grual.
---
Booking
---
Our clients are able to access Virtuoso rates at Lefay Dolomiti.
Virtuoso bookings always match the best available rate on the Lefay website, but ALSO offer extras such as:
Upgrade of one category,

based on availability at time of check-in.
Full breakfast for up to two in-room guests.
$100 spa credit for either treatments or cosmetics
One complimentary lunch or dinner (excluding alcohol)
Early check-in/late check-out, subject to availability.
You can book a Virtuoso rate at Lefay Dolomiti for yourself by using our online booking portal:
BOOK LEFAY DOLOMITI WITH VIRTUOSO BENEFITS
If you're booking with us for the first time, here's a quick guide on how to use the booking portal:
If you are planning an itinerary involving multiple rooms or properties, please get in touch for immediate booking assistance:
Stays at Lefay Dolomiti can also be redeemed for 30,000 World of Hyatt points per night – although these will not include Virtuoso amenities.
---
Arrival
---
The simplest way to access the property is via car transfer from Verona airport (VRN).
Transfers can be arranged by Lefay as below (transfers take around 2 hours and prices are quoted one way):
Sedan (suitable for three passengers with two suitcases and two hand luggage) €230
Minivan (suitable for seven passengers with seven suitcases and seven hand luggage) €280
Unfortunately the sedans are not equipped with ski boxes, so those travelling with their own equipment (like us) will need to book the larger minivan instead.
Thankfully there was no compromise at all in terms of luxury or comfort and we found the driver to be very professional. He was waiting for us in the arrival hall of Verona airport, with a Lefay sign and the whole process was seamless.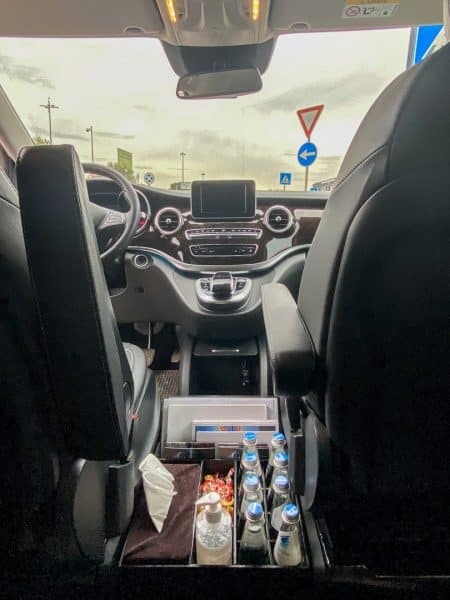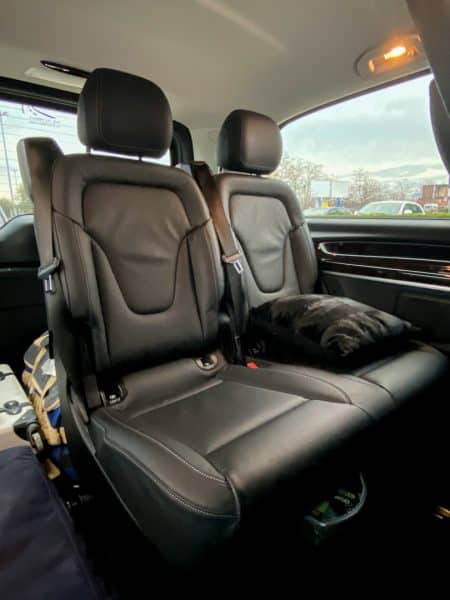 Our vehicle had an ample supply of water, sweets, sanitiser and fluffy cushions to keep us comfortable on our drive past Lake Garda and into the Dolomites.
Despite it being late January when we arrived, the Christmas decorations were still up. Given the general air of negativity that has surrounded travel during the pandemic, we were happy to see some extended festivities!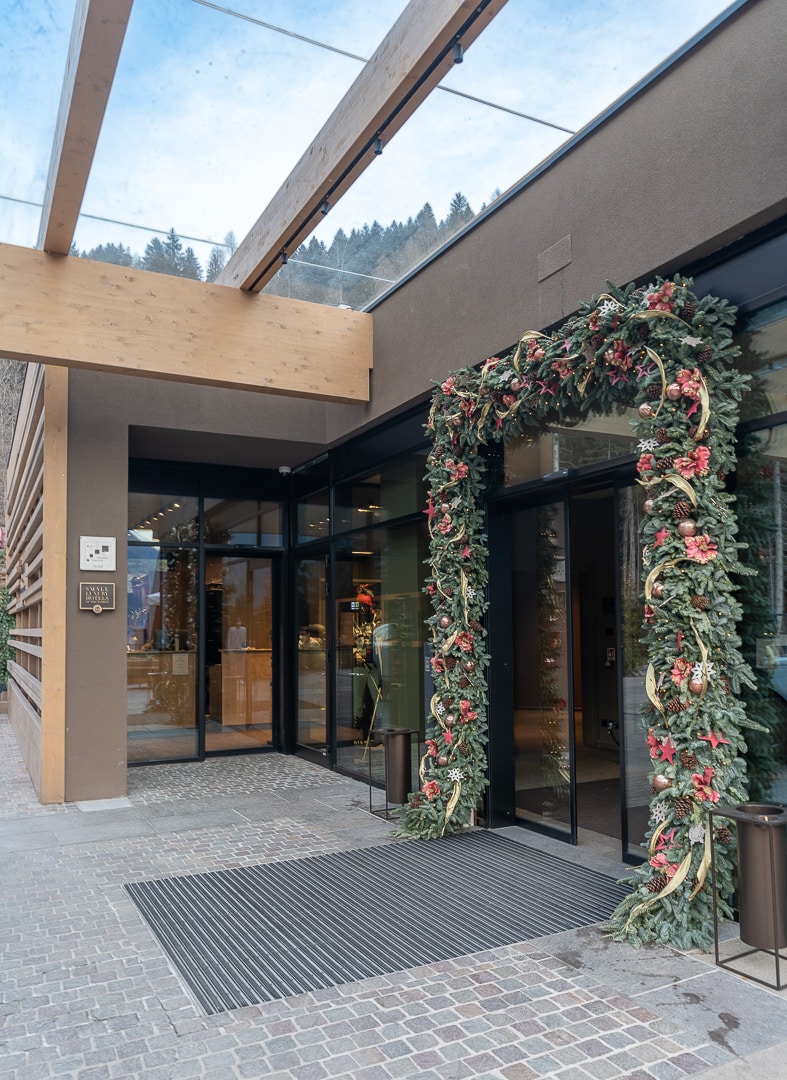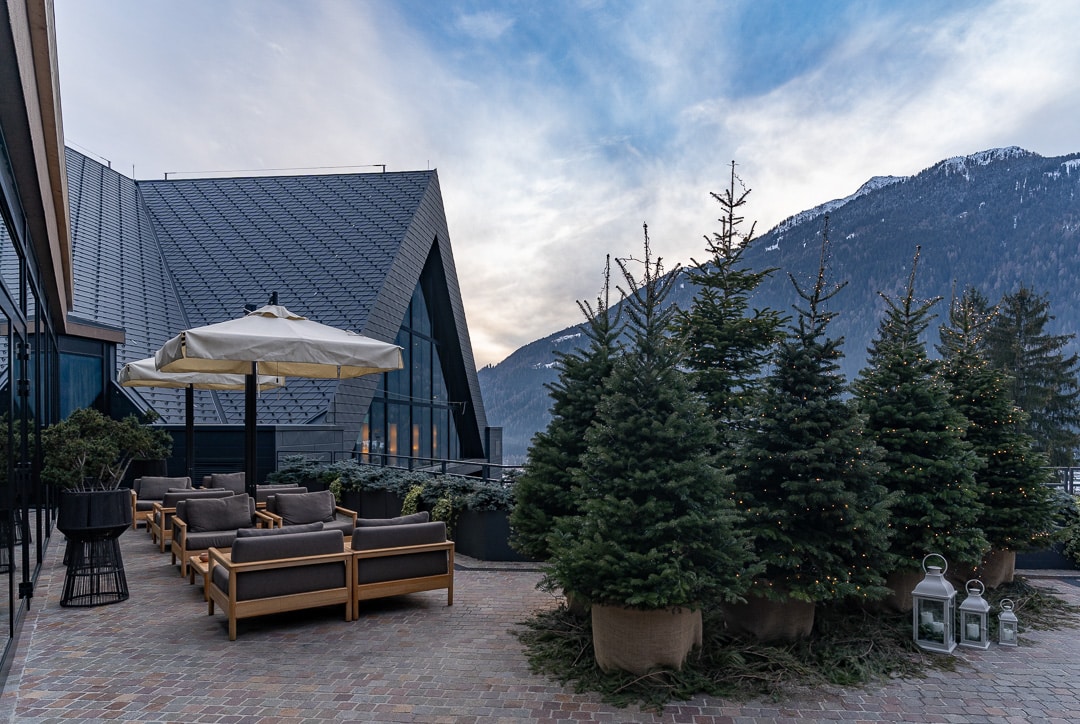 We were warmly greeted by staff at the entrance. They asked if they could take our snowboard bag straight to the ski lockers, or if the equipment needed servicing before separating it from our main luggage.
As the staff were sorting our luggage, we quickly made our way to the edge of the reception's terrace area, taking a moment to admire the idyllic view:
Following the great first impression from the doorman and the views, I was truly wowed by the decor. The finishes throughout the property are extremely polished and modern. The decor in this hotel has more in common with the SWISS First Class lounge in Zurich than it does with a traditional ski chalet.
Checking in on a Sunday at around 11pm we found that the reception desk was overwhelmed. Thankfully a member of staff spotted that we were checking in, rather than checking out and ensured that we were taken care of by a member of the bar staff.
Walking through the bar area I was completely blown away by the stunning views, framed by the gigantic triangular facades. In addition, the glowing amber bar and the elegant furniture really made this space feel very special indeed.
The heart of Lefay is a black glass building, offering panoramic 270° views. The Lobby, Ski Shop and Lounge Bar are all located at the top, on floor 4. Access to floor 3 – where the remaining restaurants are located, is open to the public.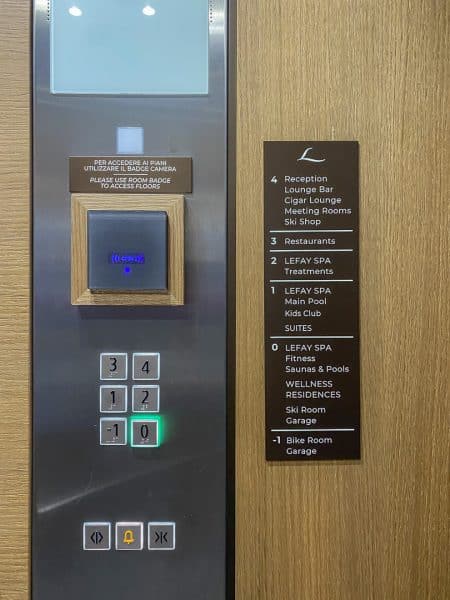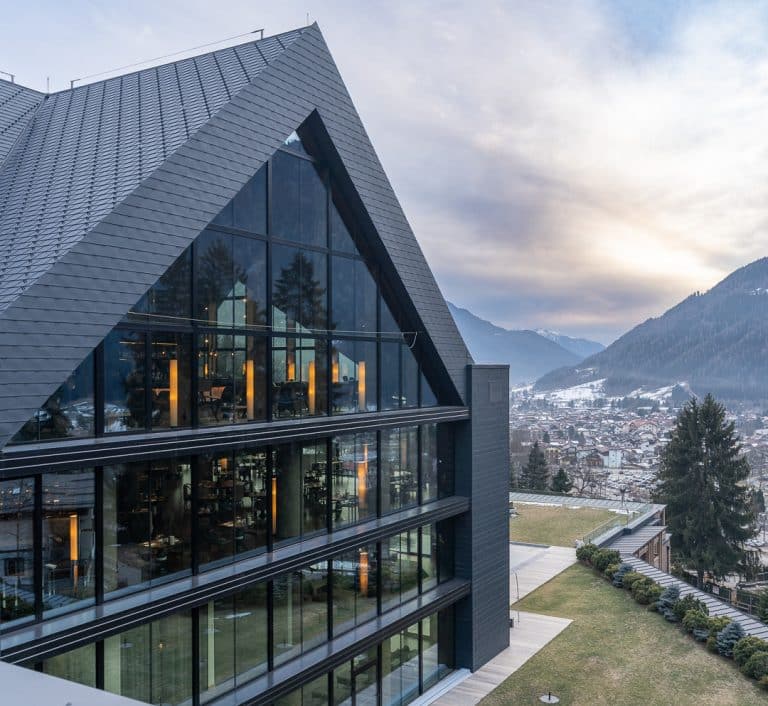 All other floors are private and require a hotel keycard.
Guests are encouraged to treat the place like home and as we were offered our welcome drinks, we noticed that there were more people in dressing gowns than in regular clothing!
We decided to have our drinks on the Sky Lounge terrace just outside, so we could enjoy the fresh mountain air and views, without the interruption of glass.
In addition to being located in a prime skiing location, Lefay Dolomiti is also very much a wellness focused spa resort. As such, the welcome drinks were non-alcoholic, containing various herbs and juices intended to aid in our relaxation and wellbeing.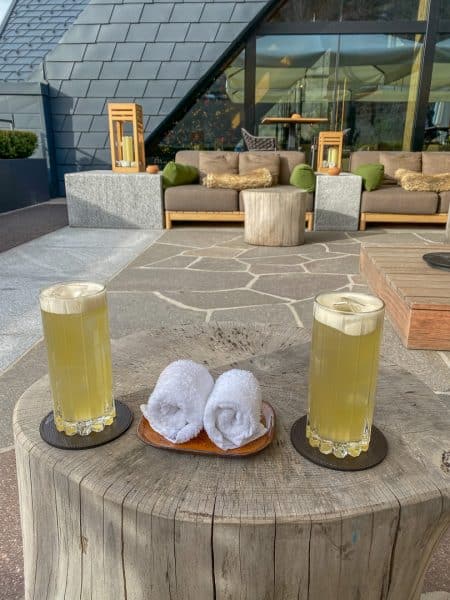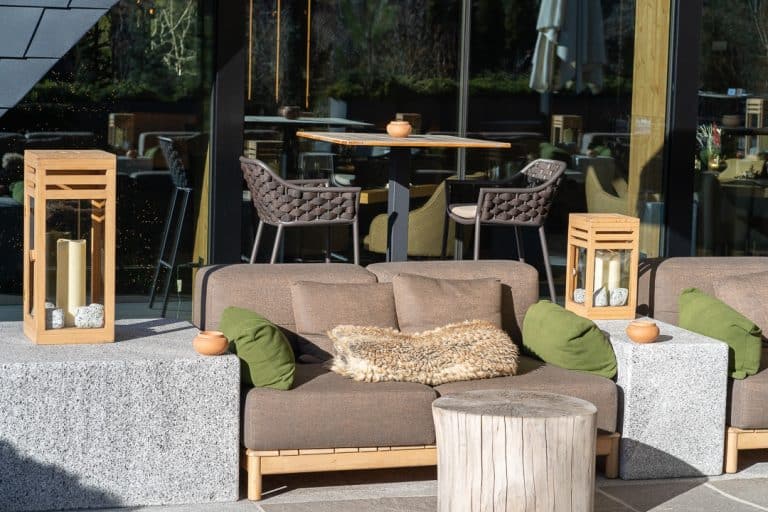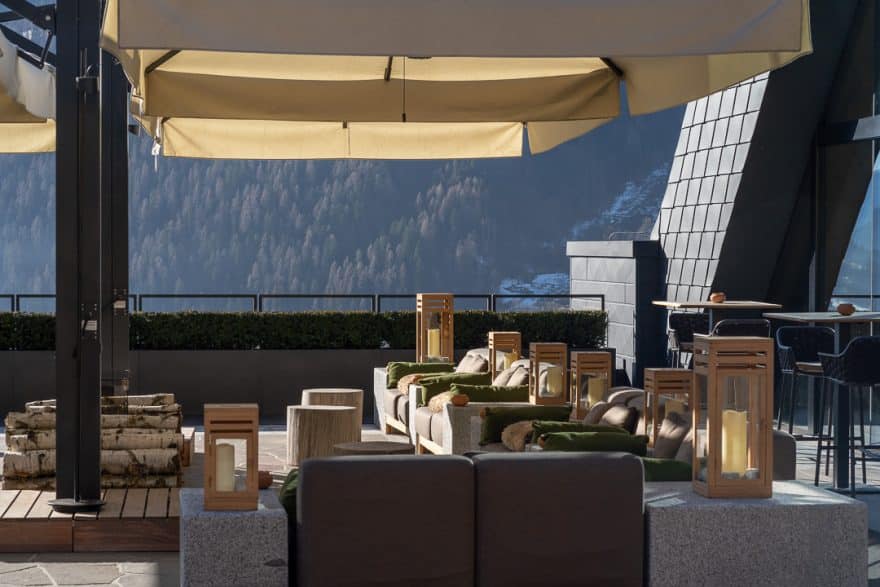 Honestly though, the fresh mountain air and this view were all I needed to feel completely at ease.
Just as we were finishing our welcome drinks, we were approached by a member of the reception team – who informed us that we could now complete check-in.
The check-in process was very quick. Upon completion we were escorted to our room by a staff member, who gave us a detailed explanation of the layout of the hotel.
The hotel's suites are located in two wings, on either side of the core building. In order to access our suite we first had to descend to the first floor, walk along a long corridor to the base of our room wing, before taking a lift up to our suite on the 4th floor.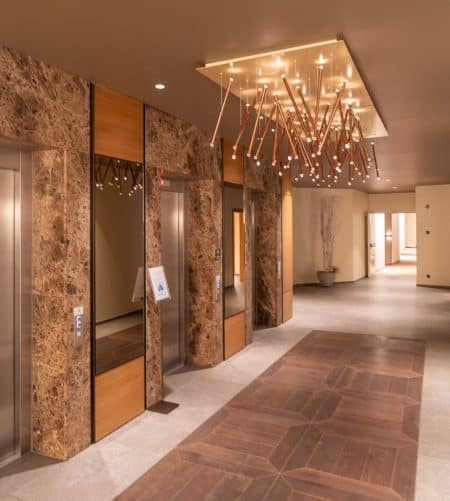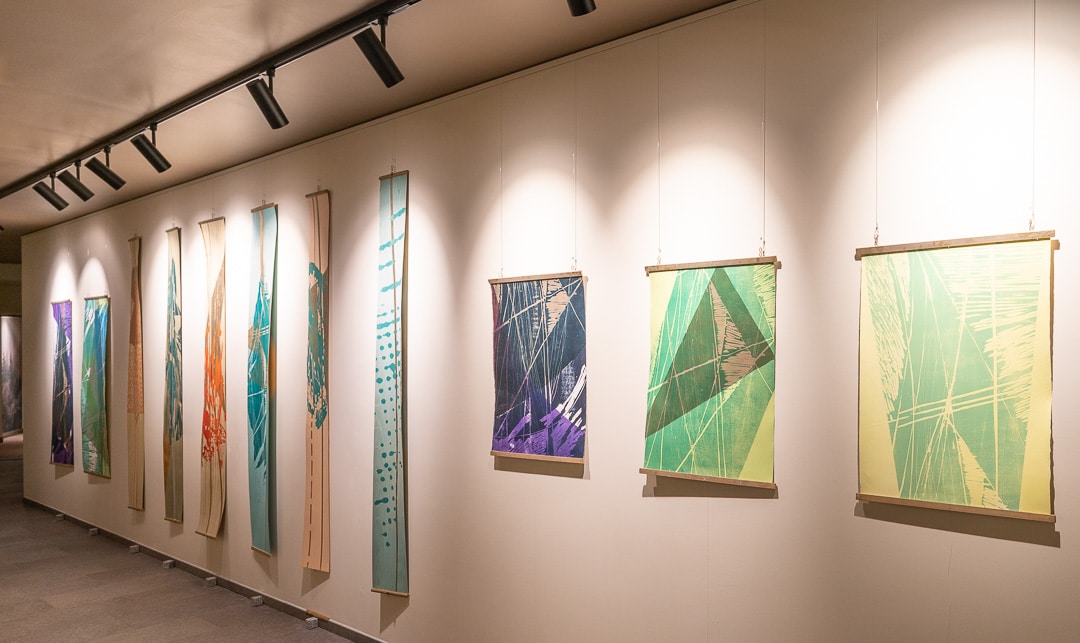 All in all, quite a convoluted process to reach a room which was only moments away from the lobby, as the crow flies.
The advantage of this layout was that the hallways were completely quiet and private. We almost never saw other guests when heading to our room.
We were assigned a Deluxe Junior Suite with a fantastic view. Indeed it is only the difference in view which distinguishes the entry level Junior Suites from their Deluxe counterparts.
---
Deluxe Junior Suite
---
Wardrobe
Our suite had clearly been designed with skiing in mind. A beautiful dressing area was located adjacent to the door of our suite, ensuring that bulky coats could be removed before entering the room. The lighting and finishes were superb as were the carved cedar hangers. It felt like we were hanging our clothes up in a designer boutique.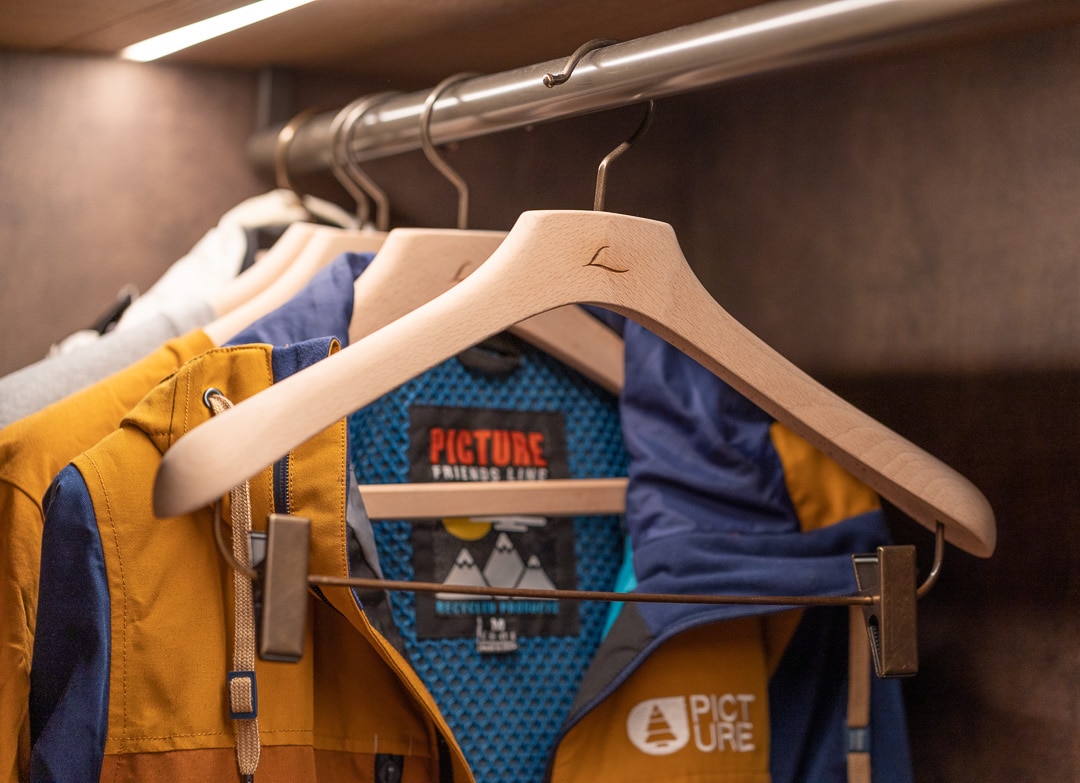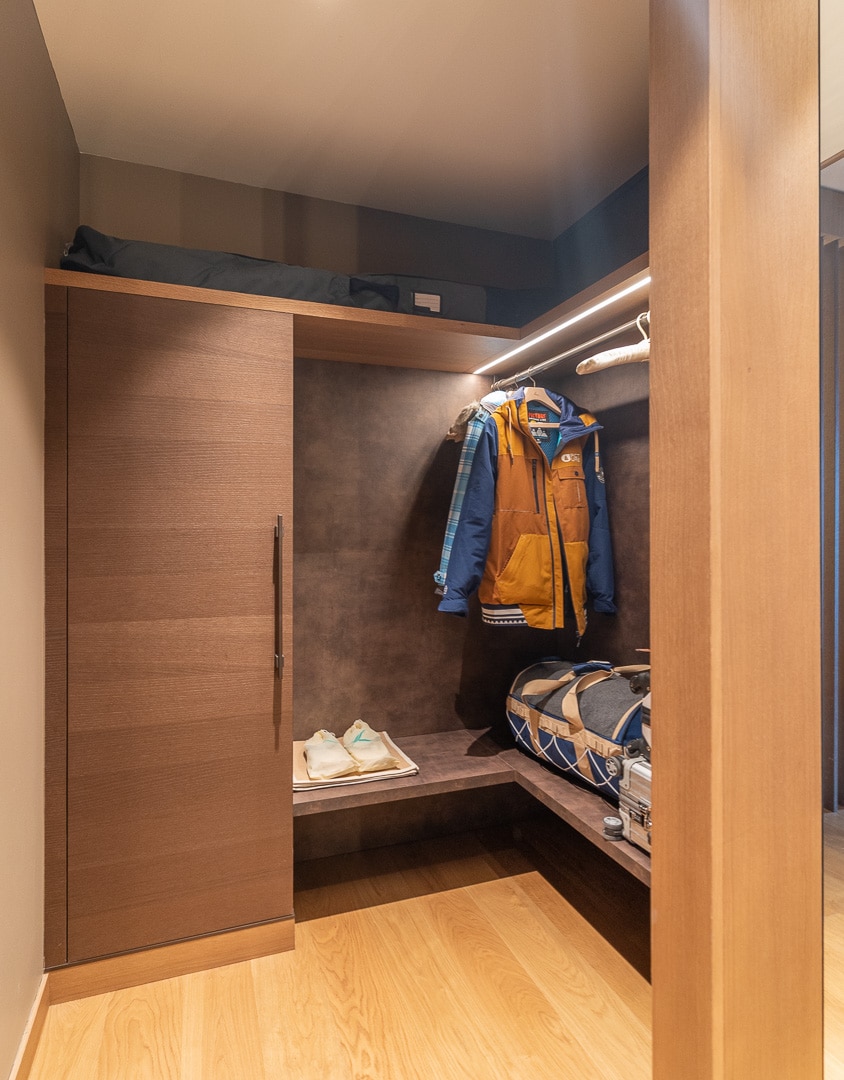 The cupboard here housed a safe as well as a 'beach bag' for visiting the spa and pool, together with Lefay branded flip flops and slippers.
I'm still annoyed at the fact that Four Seasons DIFC doesn't provide beach bags for guests wanting to use the sister property on Jumeirah beach. When properties are thoughtful in anticipating guest needs like this, it makes a really positive impact (not to mention that many people will of course take home the bag and flip flops, keeping Lefay branding in their home upon their return).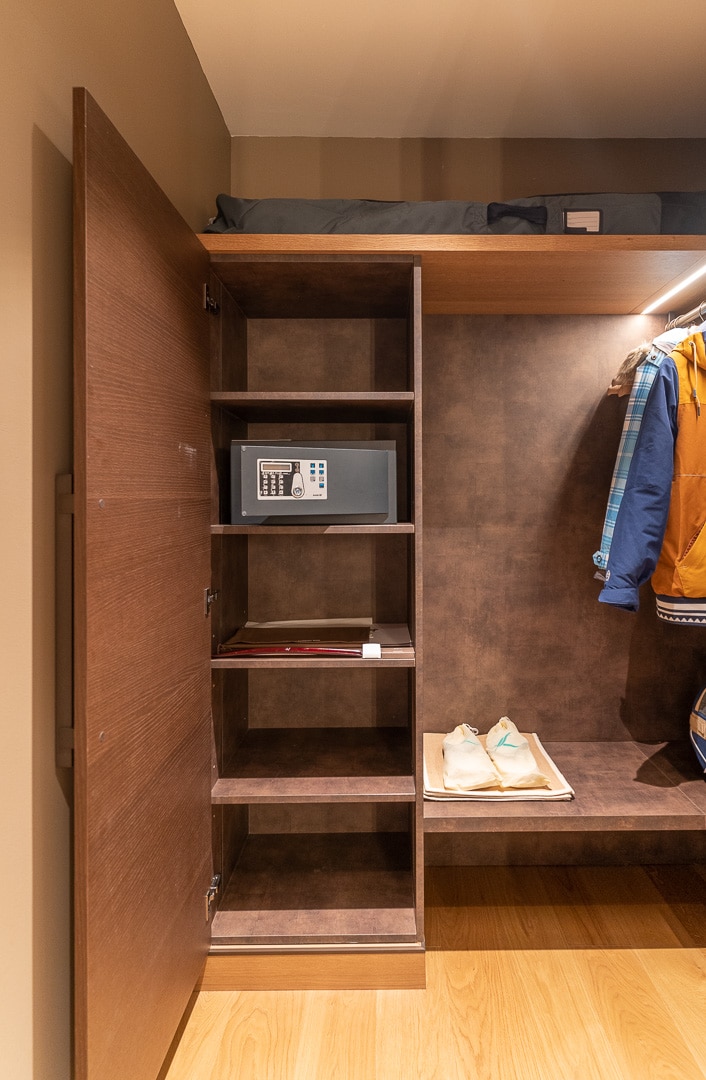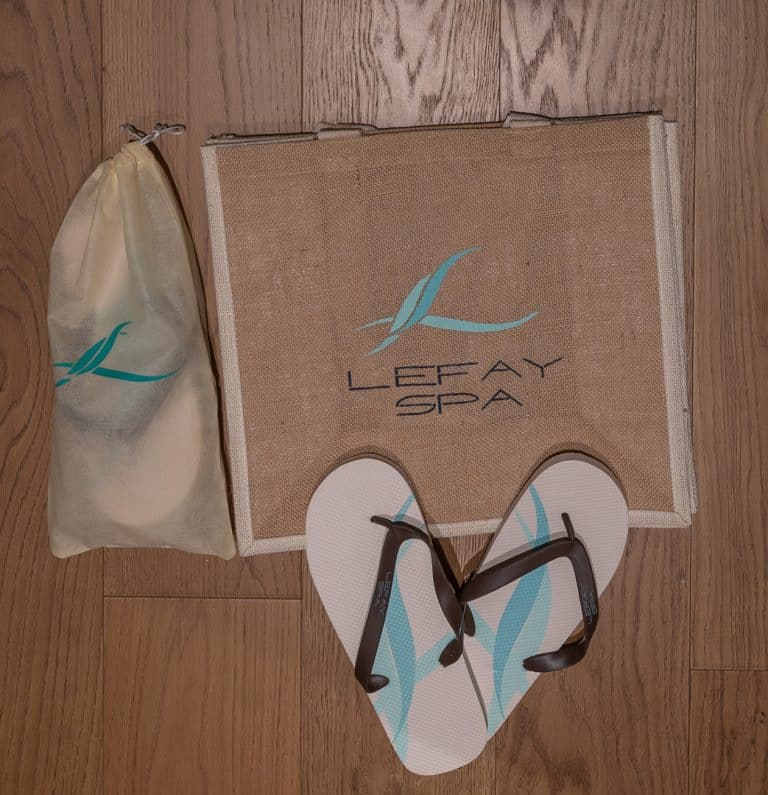 There was ample space to store ski bags bags above the hanging rail and in addition to this, there was even more space for clothing directly opposite, in a cupboard by the bathroom.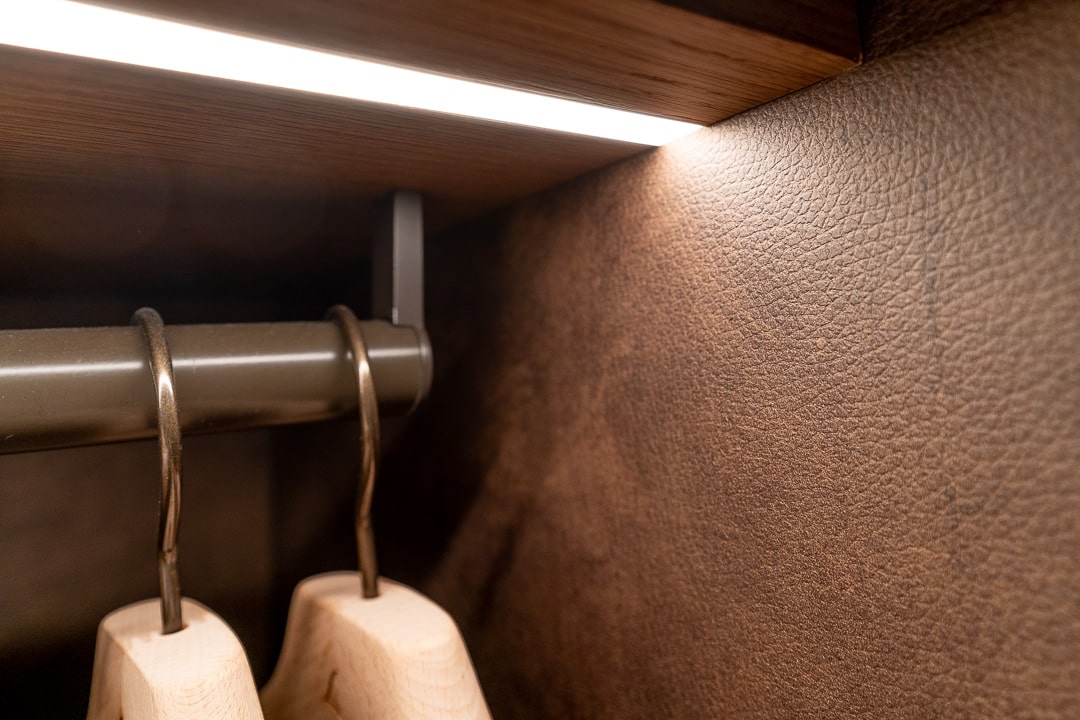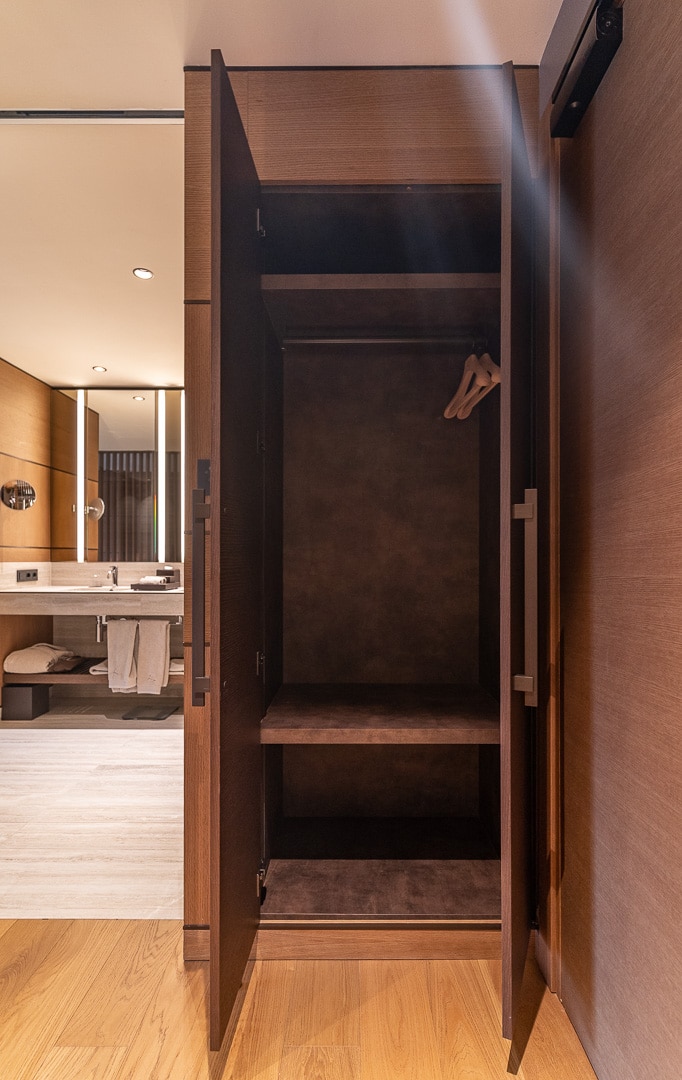 Bathroom
The glass walled bathroom played a wonderful architectural trick. Allowing light to fill the entire room, as well as permitting us to enjoy mountain views from the bath! The wooden slats still gave us the feeling of privacy, rather than being on display in a glass box.
Once again, the finishes here were immaculate. Contrasting stone and wood, the uniquely curved shape of the bath, heated towel rails, recessed lighting. Everything about the bathroom felt spa-like and effortlessly luxurious.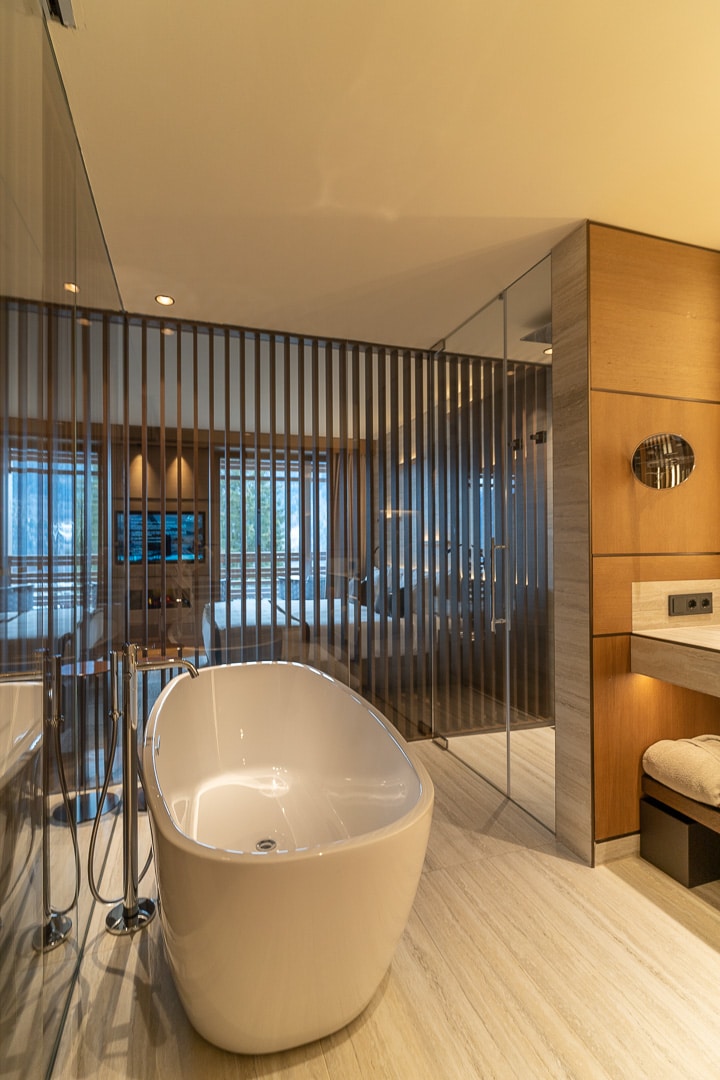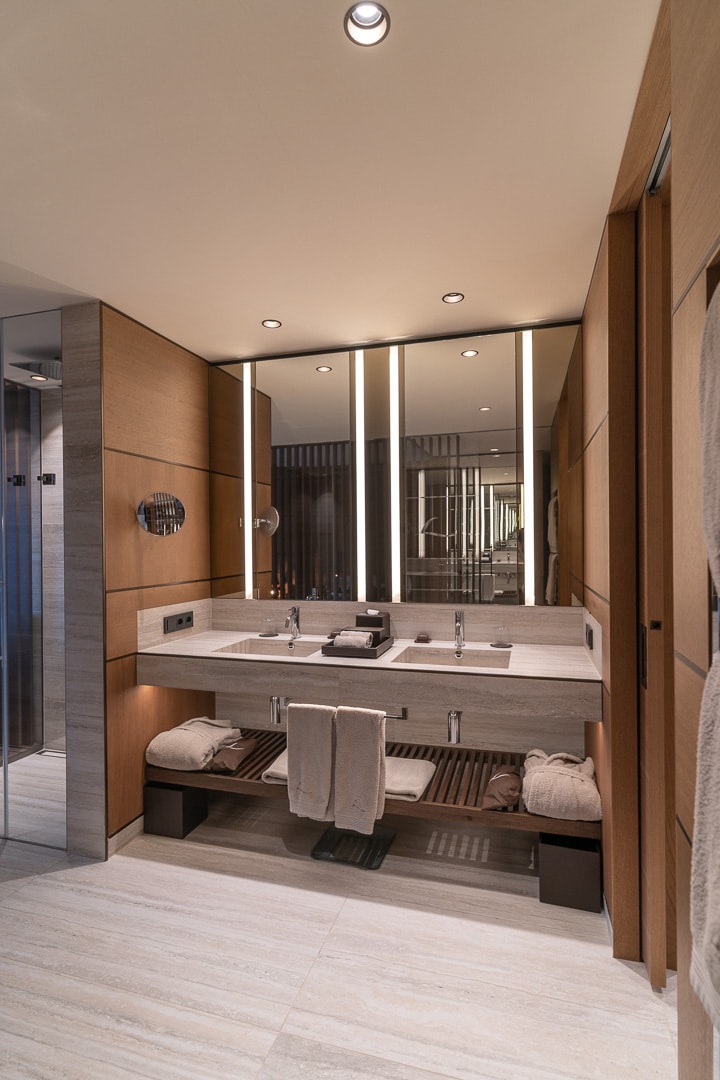 The shower was particularly delightful, encased in stone and glass with an enormous rainfall shower head. Lefay hotels and spas have their own brand of incredible smelling toiletries, with a full array of supplies throughout the bathroom.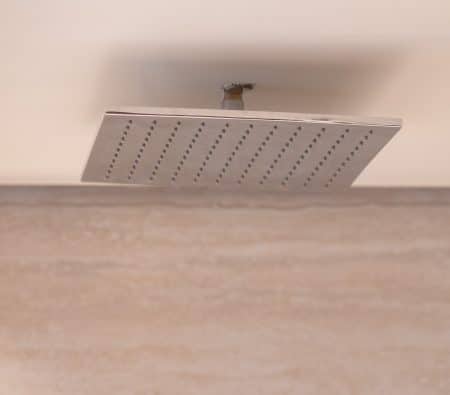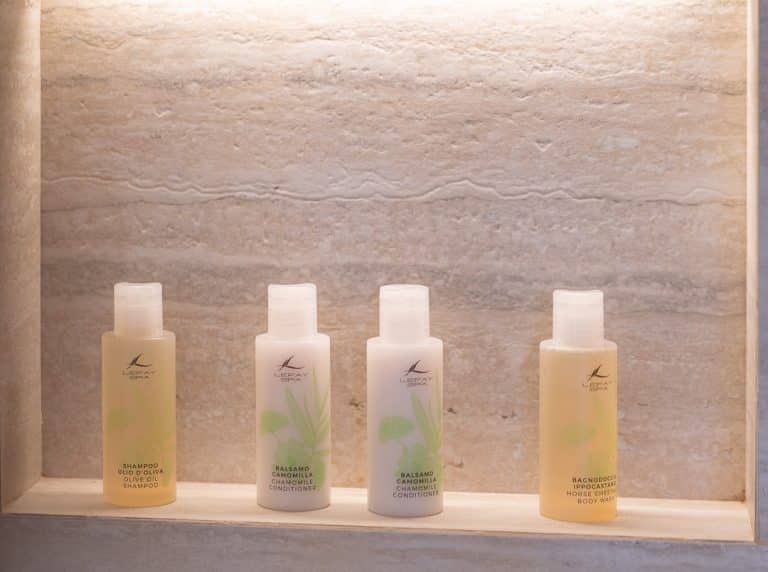 The toilet and bidet were in separate room, behind a sliding door. Although, as always, I feel like the bidet is a waste of space and a Toto washlet would be better…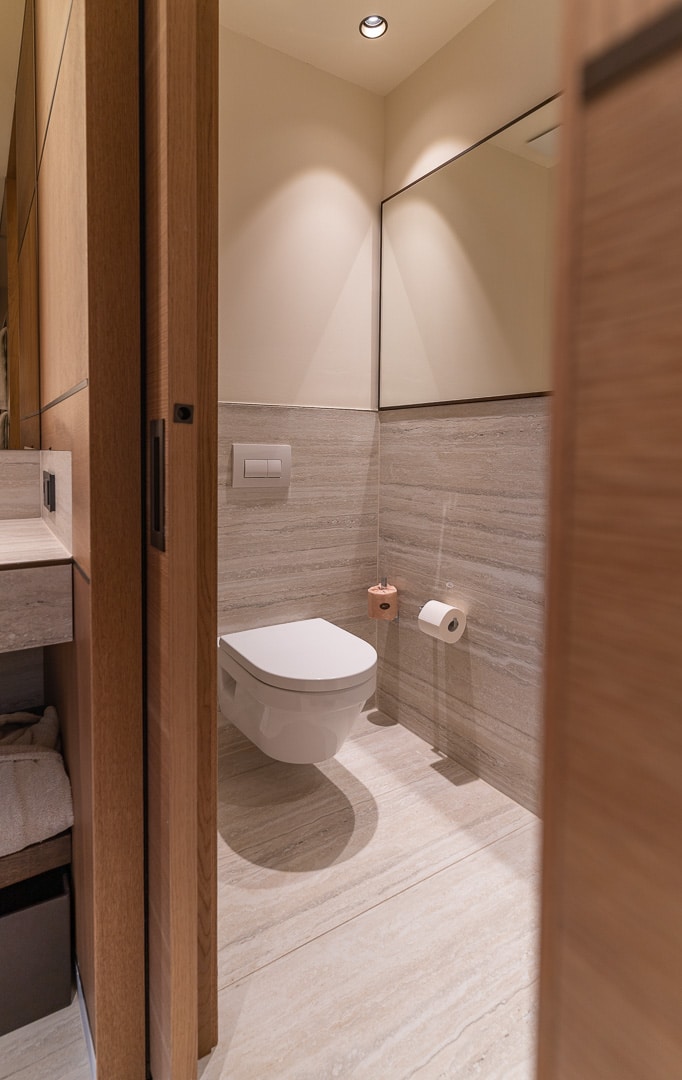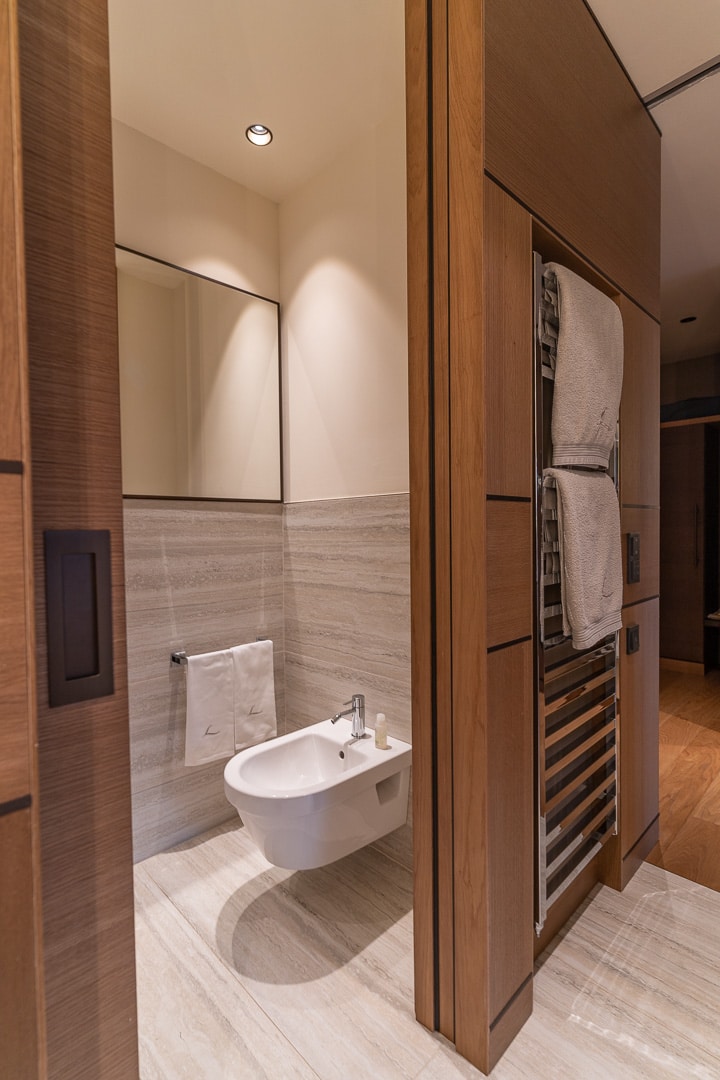 In addition to the bottles of toiletries, a bar of wonderful smelling juniper soap was provided – along with a case full of things like hair ties, cotton pads and nail files.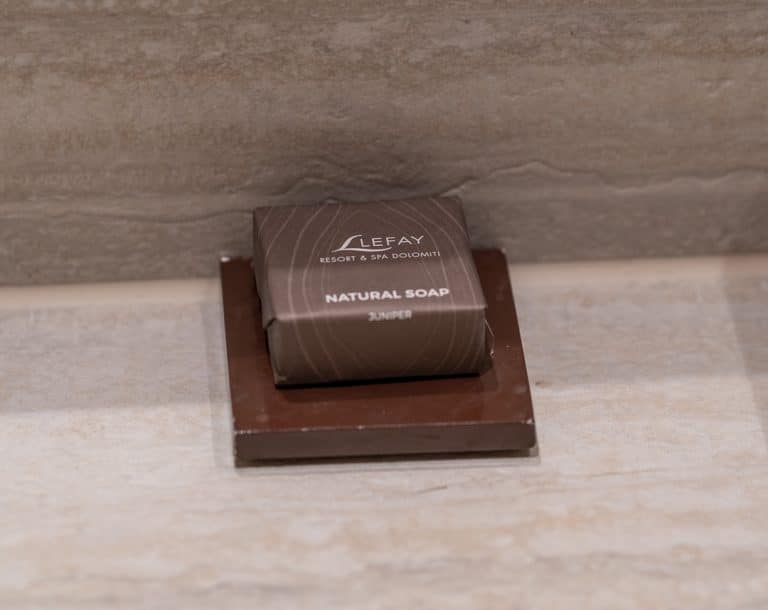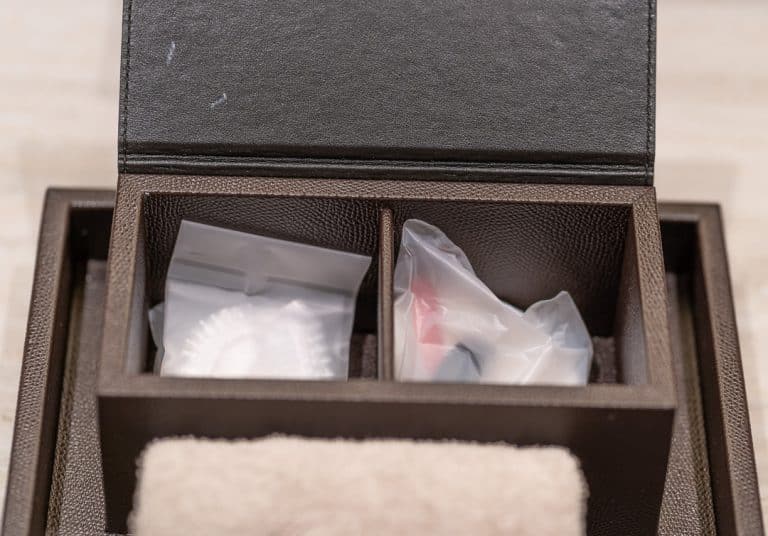 Sitting area
Since this was a junior suite, there was no separation between the living room and bedroom, but for a 4 night stay this felt like an ample amount of space. This was especially true since we spent so much time on the slopes, eating and in the various spa pools.
A couple of things kept me very productive though: a proper desk area with universal power ports and an Illy Espresso machine.
Honestly, I'd say that Nespresso is now so ubiquitous that it even comes as a shock when an airport Hilton doesn't feature one of their machines.
True luxury properties distinguish themselves by offering machines by the likes of Lavazza and Illy, where the quality of the coffee is markedly higher.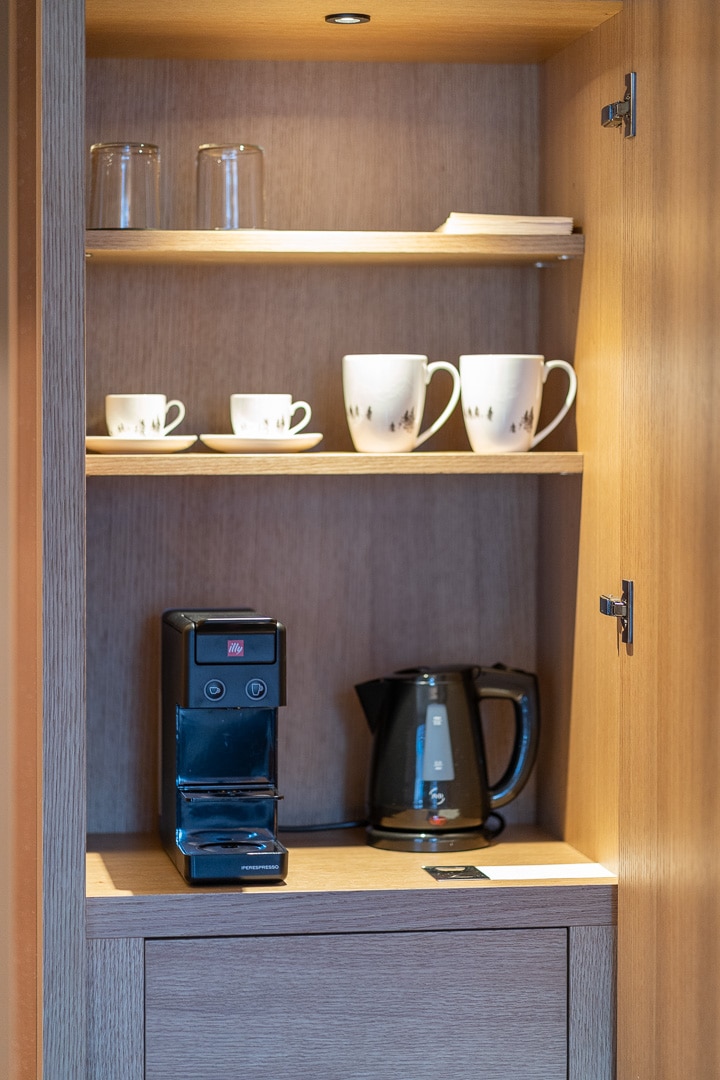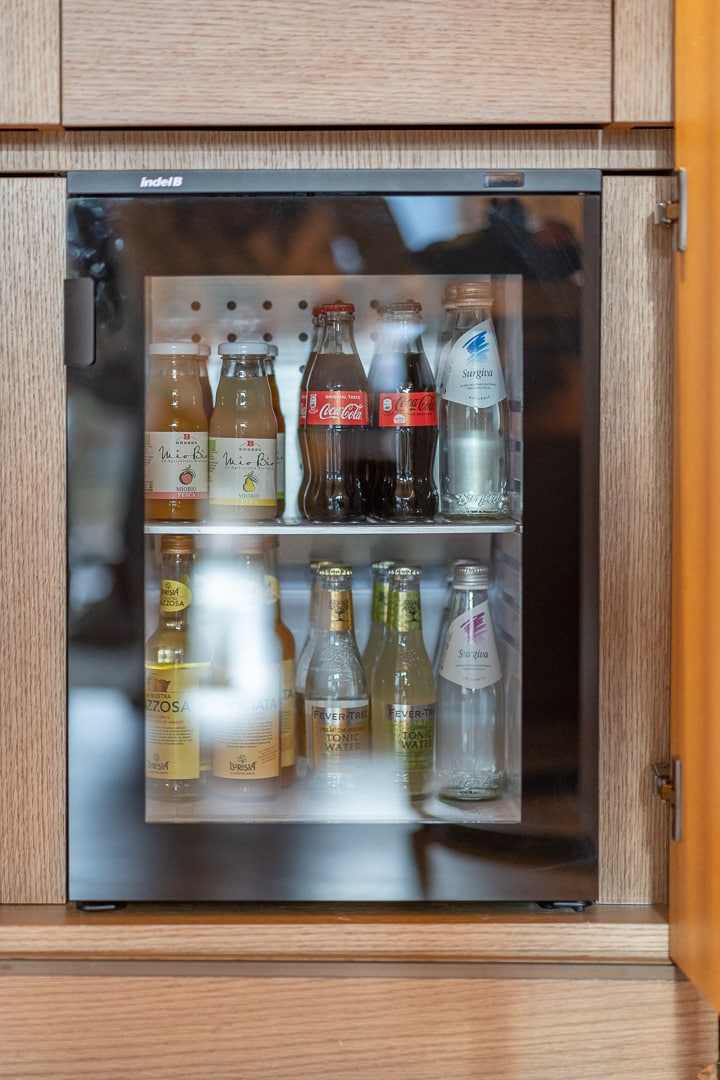 Milk was not supplied in the minibar (only creamer) but it was delivered free of charge, when requested from in room dining.
Waiting for us on the desk was a welcome amenity of some local cookies, together with a bottle of Ferrari Prosecco.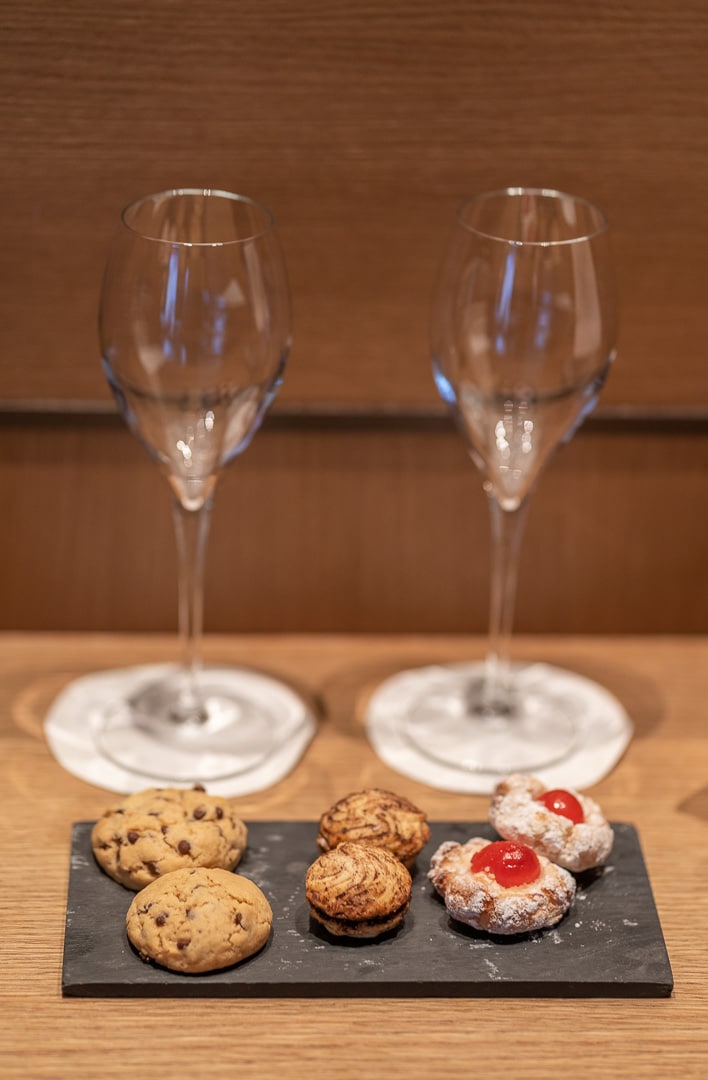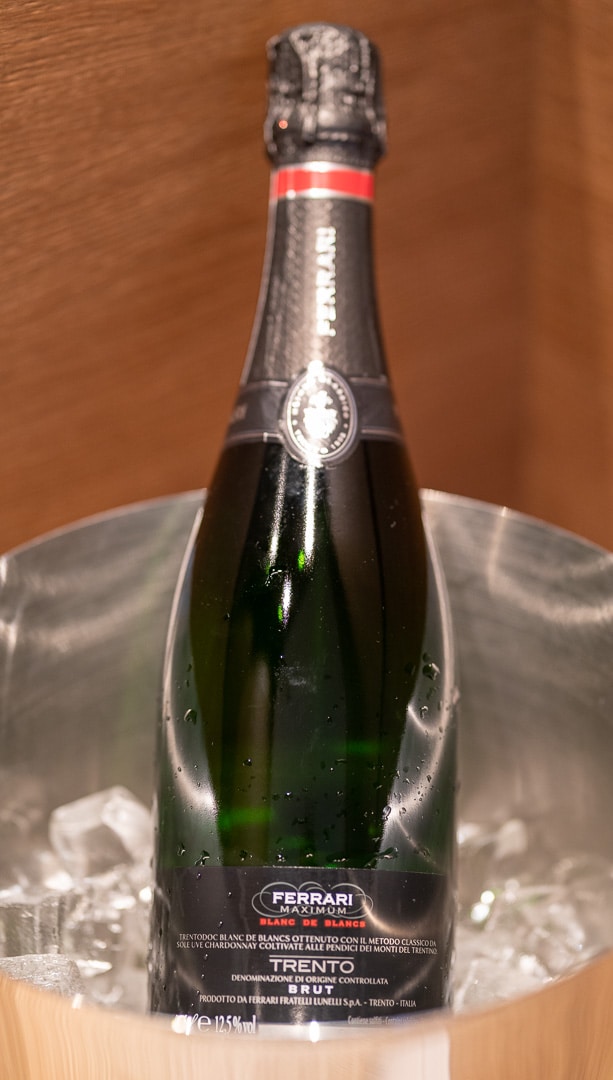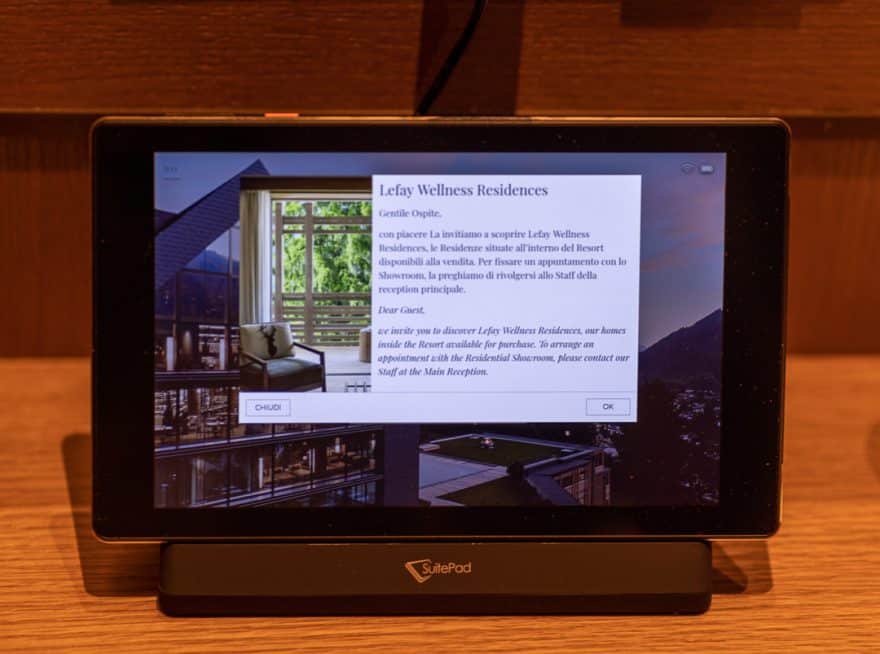 Beside them was an iPad…which we never used.
The final part of our welcome amenity was a bowl of fresh fruit, which was regularly replenished.
Bedroom
Moving on from the desk and small table was a large suede effect sofa, which served as the suite's 'living room'.
The electric fireplace was a very cosy touch and the TV was cleverly placed so that it could be pulled out to face either the bed or the sofa. Sitting on top of the wonderfully impractical coffee table were some additional gifts for us: a set of very luxurious looking lotions from the Lefay spa line.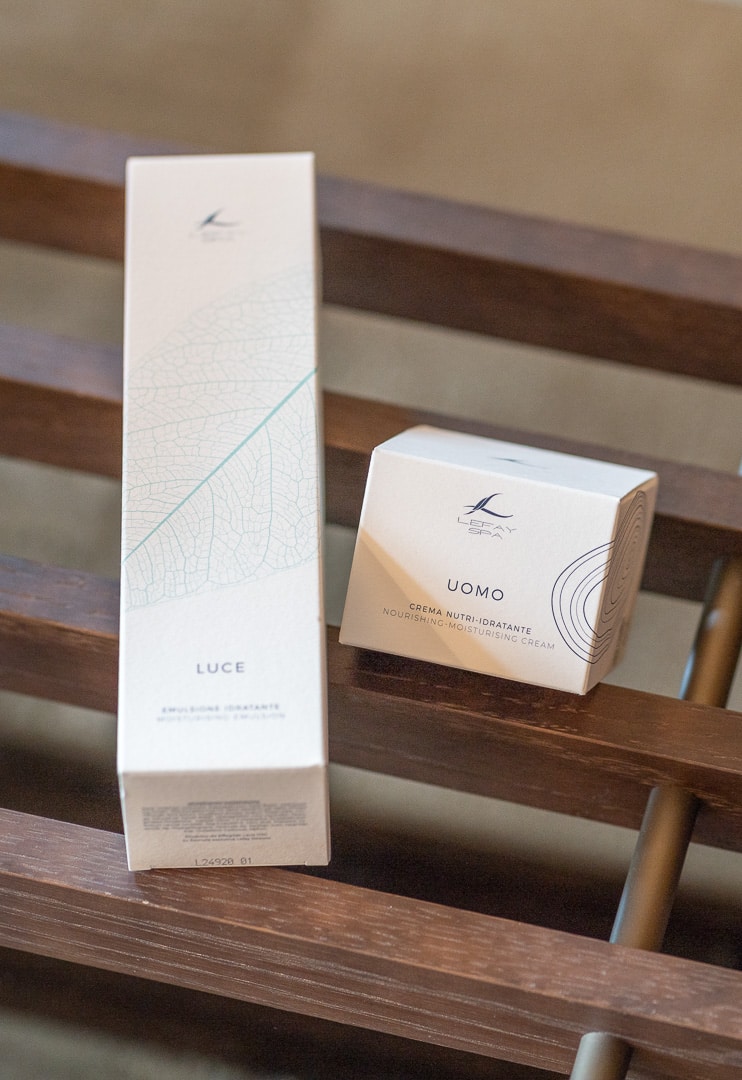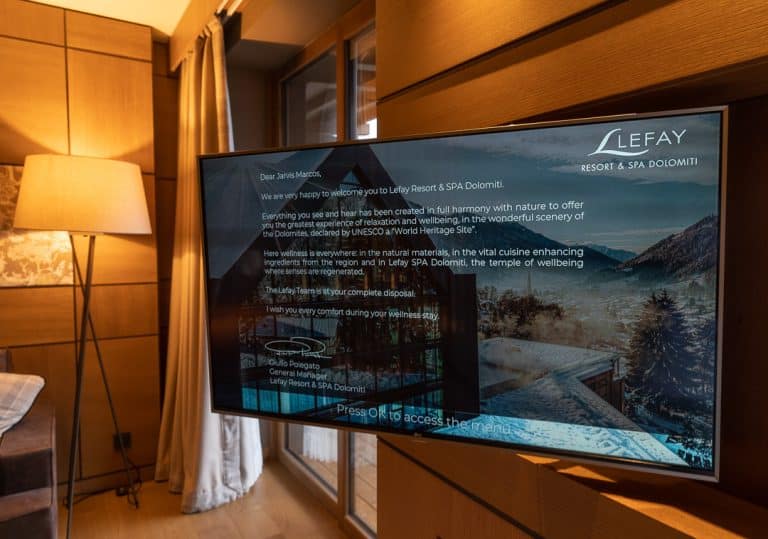 The bed was very comfortable with a mix of both feather and synthetic pillows provided.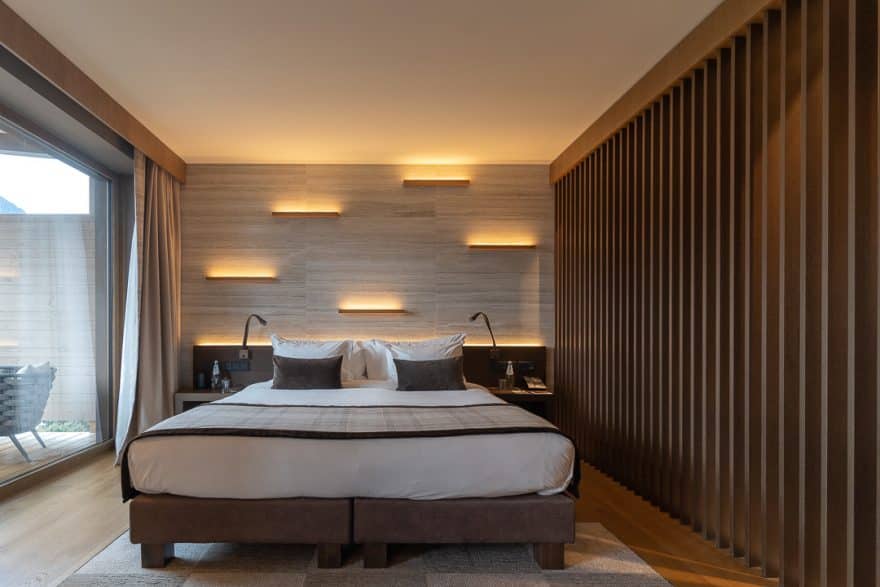 The bedside tables provided a good amount of counter space but had no drawers, meaning that all of our items were on display.
A full array of well labelled light switches with EU type plug sockets was also offered. It would have been preferable to have universal power sockets, especially since only one side of the bed had USBs (do hotel designers really imagine that only one person in a couple charges their phone at night?).
Luckily the room's Bose speaker had a USB charging dock which I ended up using for my phone instead.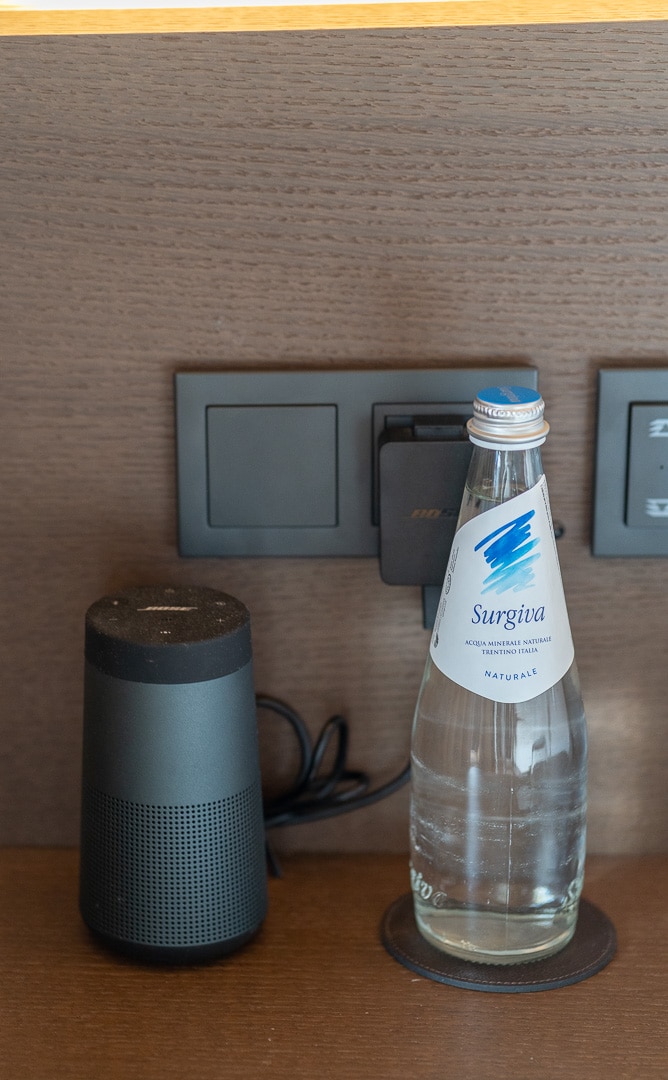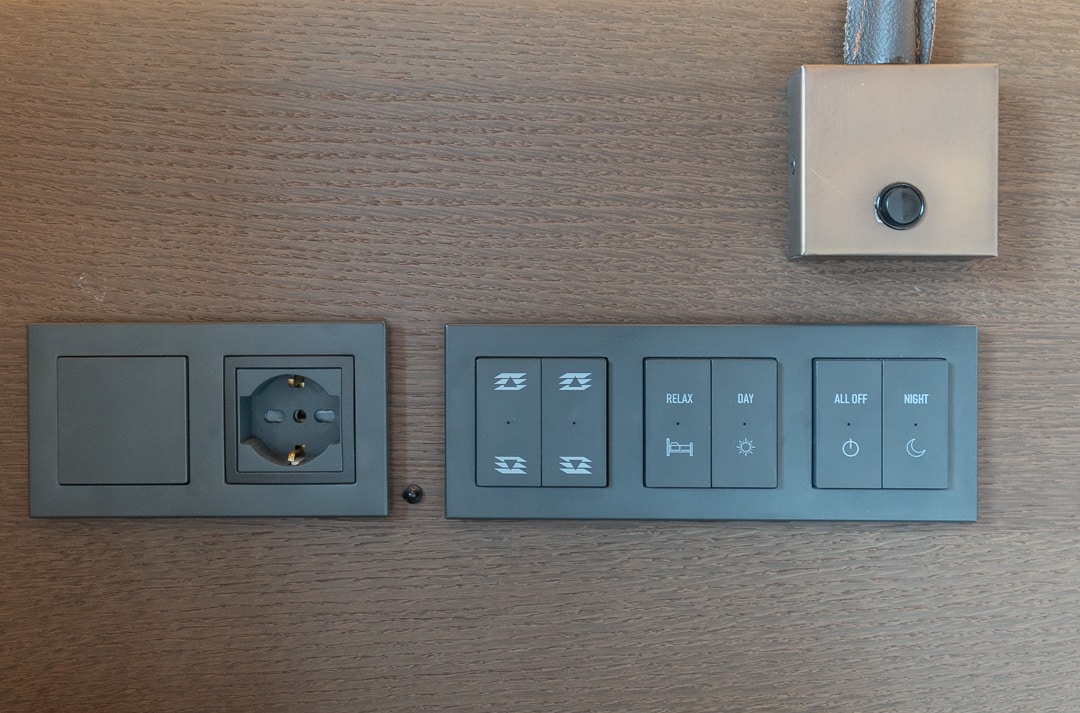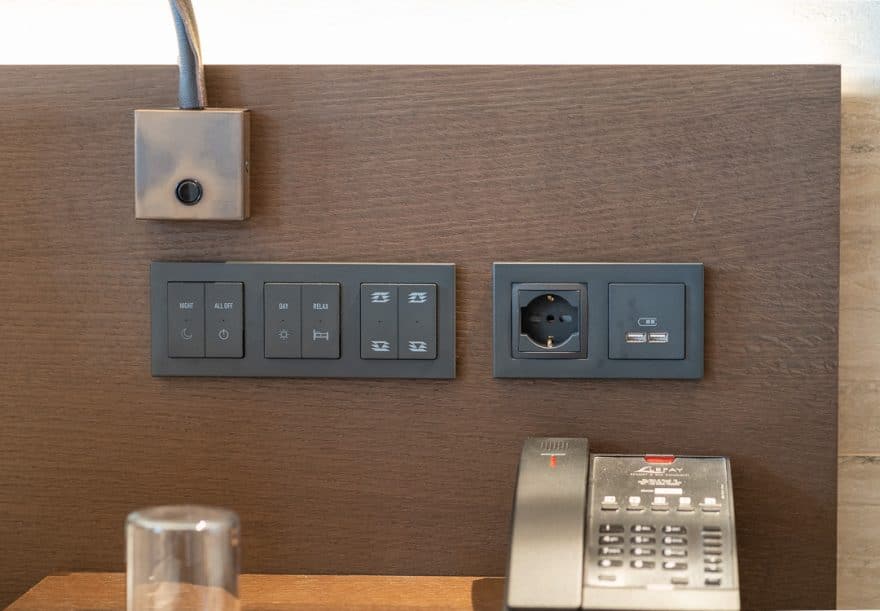 All the rooms at Lefay have very spacious private balconies and we thoroughly enjoyed ours for the combination of incredible views, crisp mountain air and blazing hot sunshine.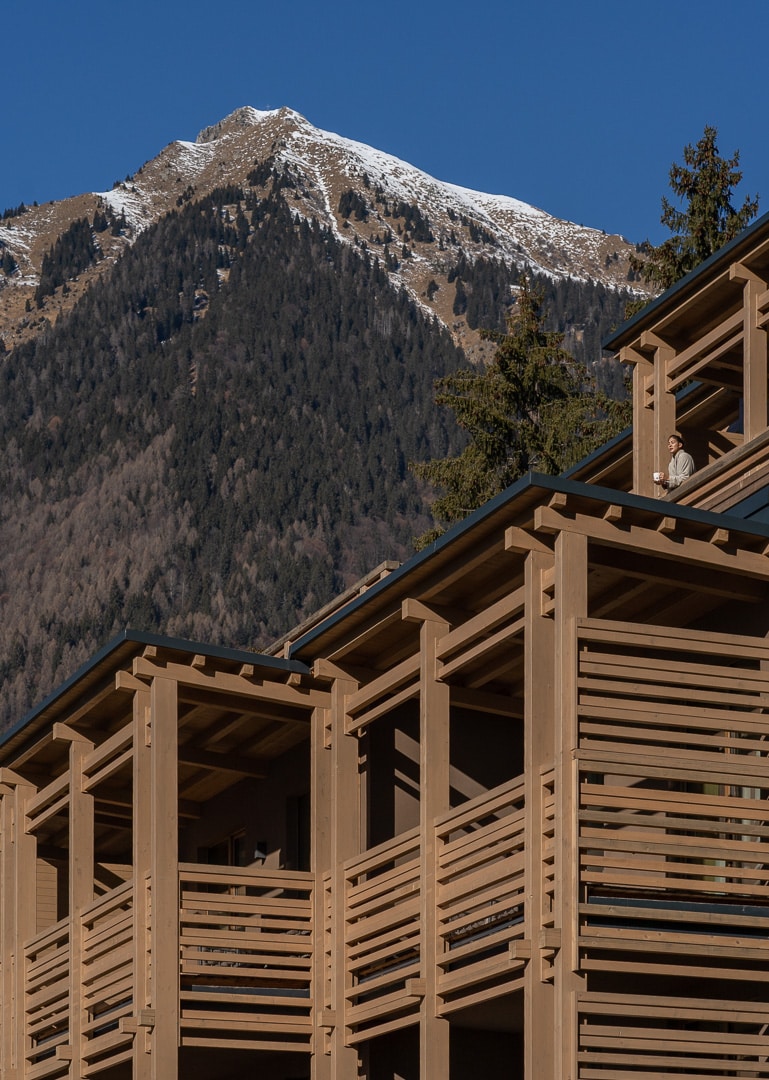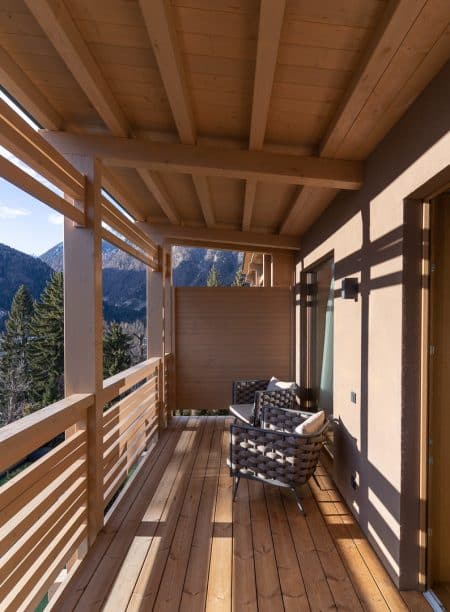 Much like the interior fixtures, the quality of the patio furniture was excellent, with plenty of padding for enjoying extended periods of time basking in the ambiance of the mountains.
Turndown
We tended to watch sunset from our balcony before heading down to the pool for a pre-dinner swim.
Upon our return to the room we would find water prepared on our bedside tables, slippers laid out on mats and pyjamas folded. We would also be presented with a small sweet treat.
One thing that was missed was the tidying of cables though. Not all hotels provide their own branded cable ties, but I would have expected cables to be arranged in neat loops at least.
---
Food and Drink
---
I must admit, the thought of spending all day on the slopes, in order to justify eating gigantic quantities of delicious Italian food – was high on my list of priorities for this stay!
Lefay has a series of bars and restaurants that run the range from super casual (complete with diners in dressing gowns) to fine dining : the truly excellent, Grual.
Breakfast at Dolomia
Dolomia is – for all intents and purposes – the 'main' restaurant at Lefay, sitting just beneath the bar and reception on the third floor. It is an undeniably sleek and polished space, beautifully lit and sharing the same amazing views as the bar upstairs.
The seating capacity is very large, with an additional dining room located next to the buffet area. This however remained empty at breakfast, even in the middle of the ski season (night time however was a different story).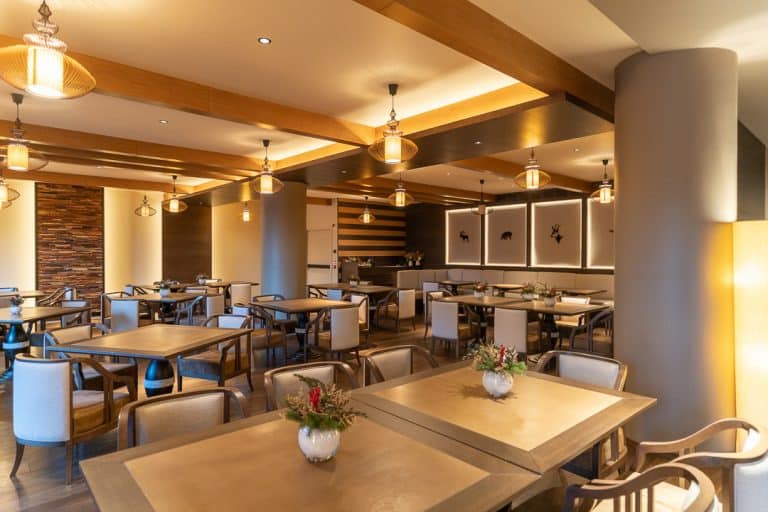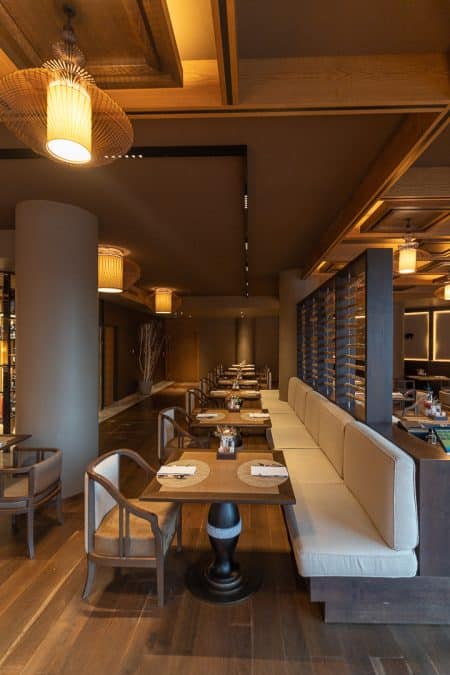 Service was very professional and friendly, with coffees and sparkling water delivered to our table within moments of sitting down each day.
Aside from the hot drinks, the breakfast was buffet only, with egg dishes available from a cooking station.
Despite the lack of a la carte dishes, the quality of the food on offer was truly excellent.
Pastries and breads were all freshly baked on site, with a huge variety presented.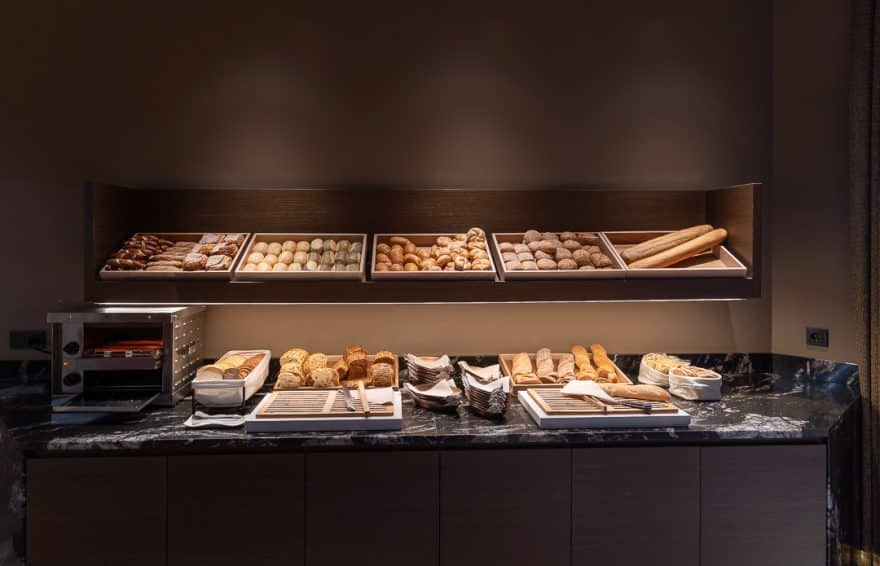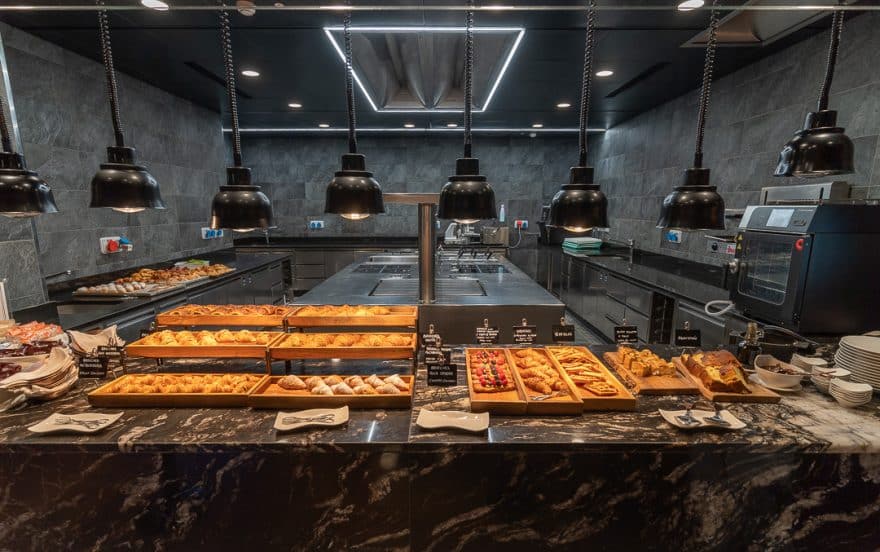 In addition to these breads and pastries there was a selection of gluten free options as well as an entire, multi tiered, table dedicated to more decadent desserts!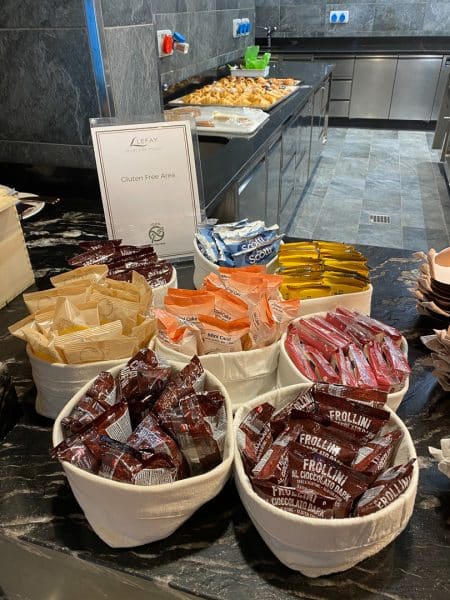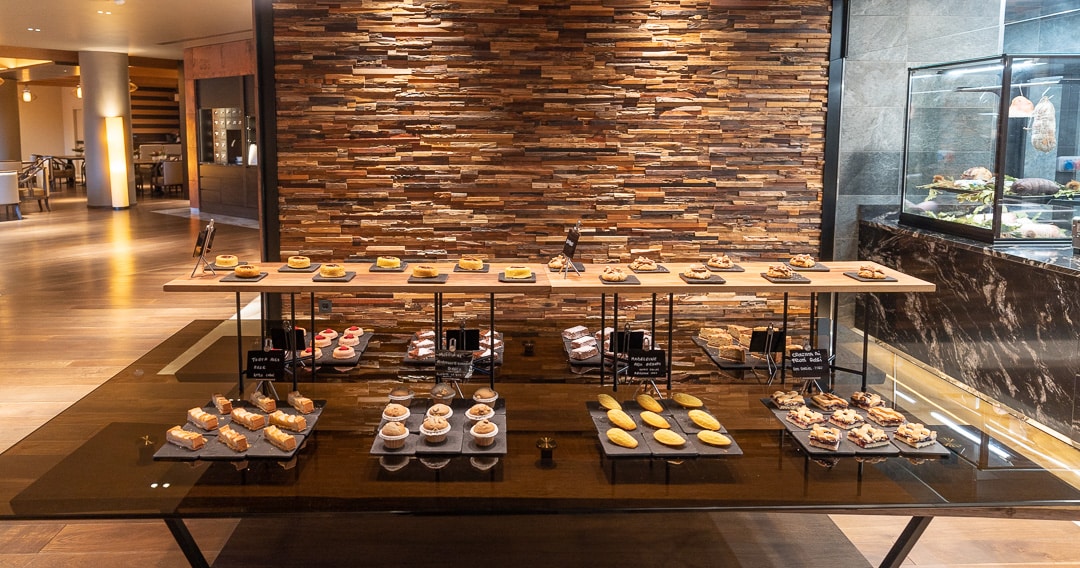 My key area of focus though was the table dedicated to fresh fruit and the best selection of cured meats and fish that I've ever seen at any hotel.
Speck, prosciutto, salami, mozzarella, parmigiano, salmon, tuna and much more. Truly incredible. It felt like we'd been let loose in a high end deli.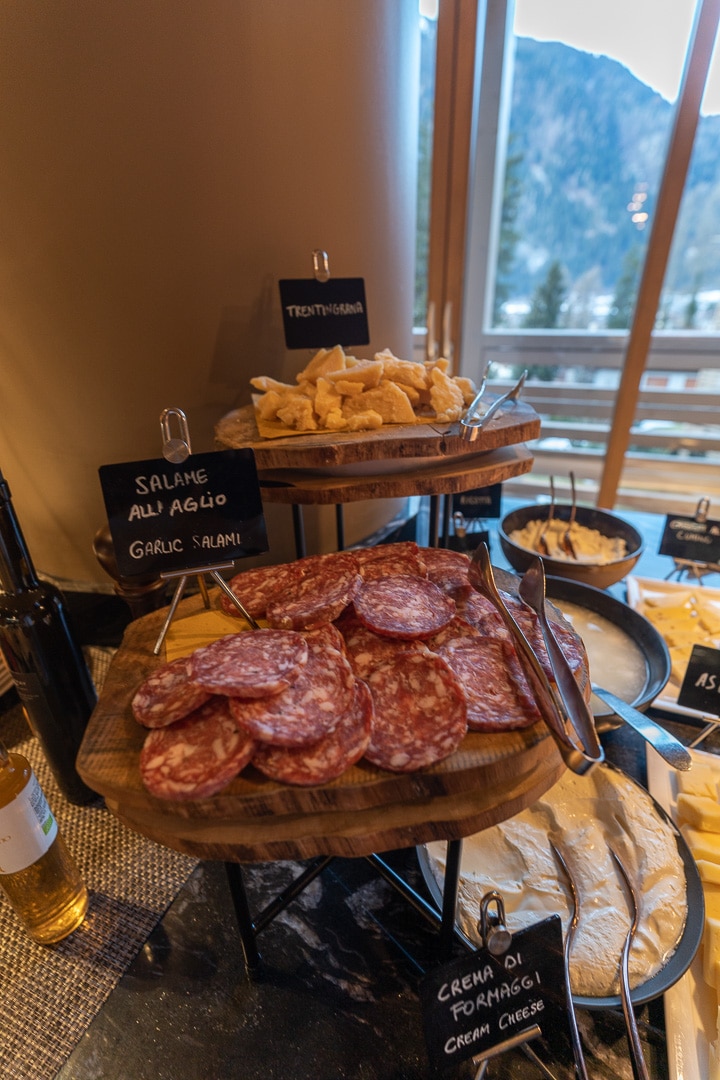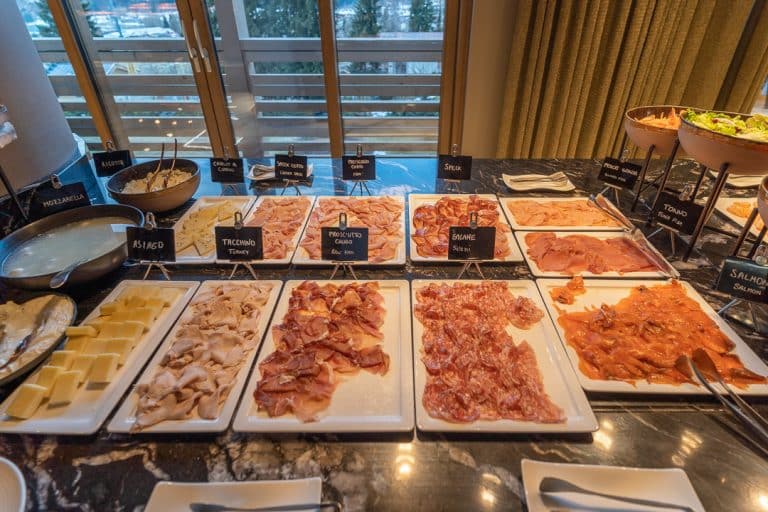 Lunch at Dolomia
Dolomia served lunch up until 3pm, meaning you could get a very decent day on the slopes from 9am until 2pm and then finish with a full meal back at the hotel.
Lunch began with a selection of freshly baked breads served with a delicious olive oil.
Everything that we tried was truly excellent; handmade pastas, house cured salmon, freshly grilled fish and of course, tiramisu.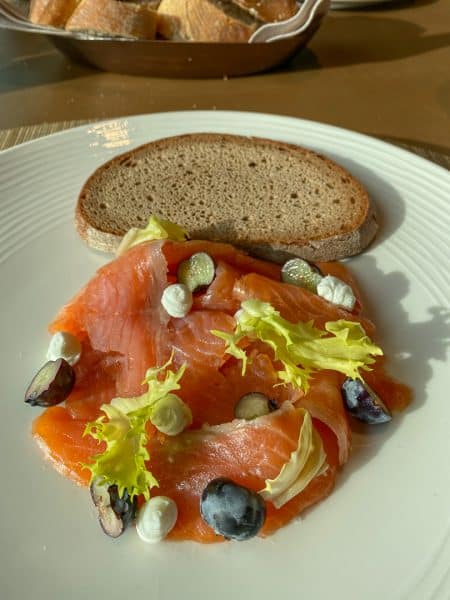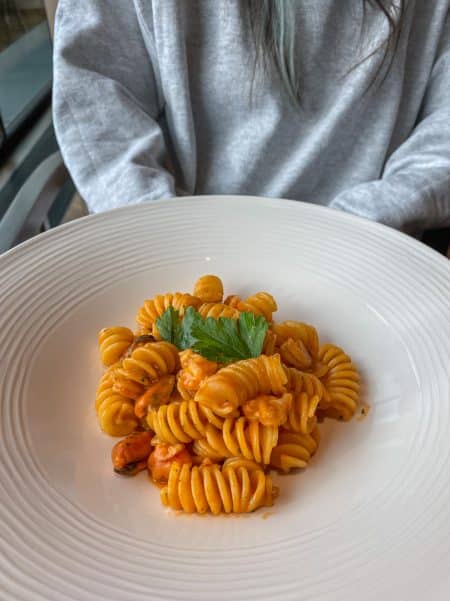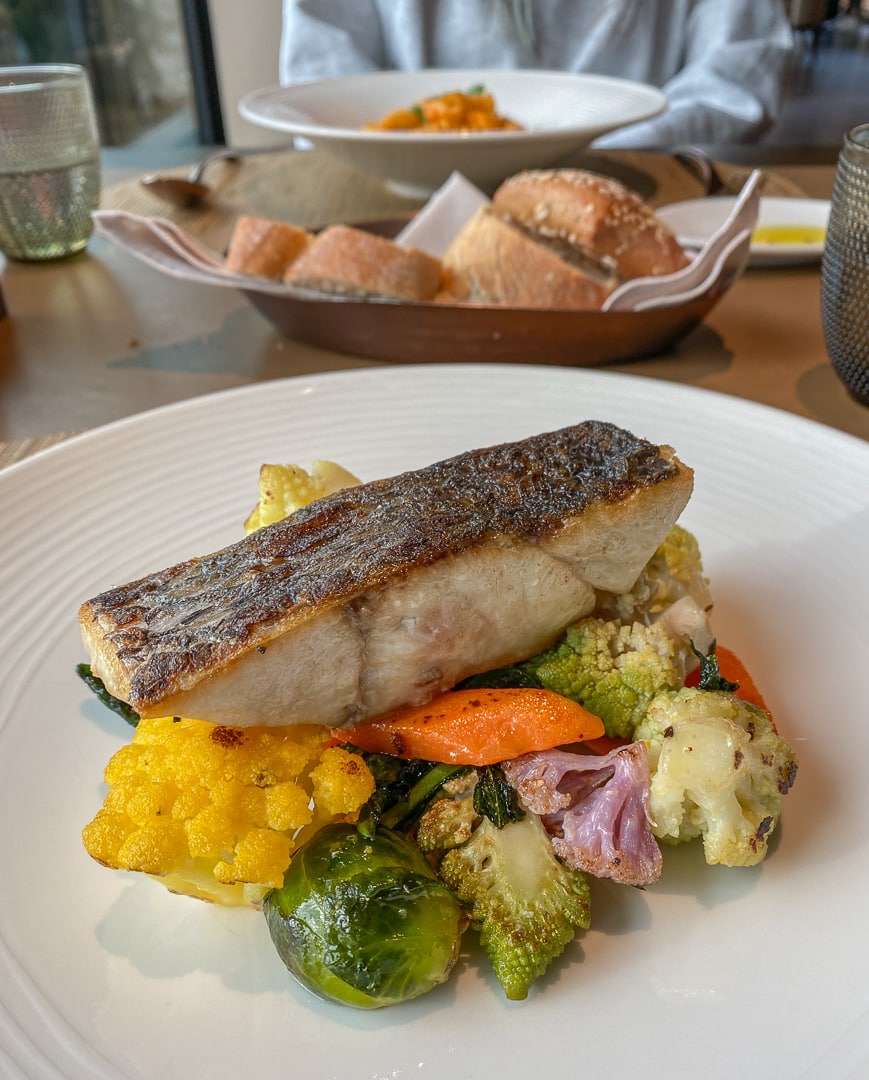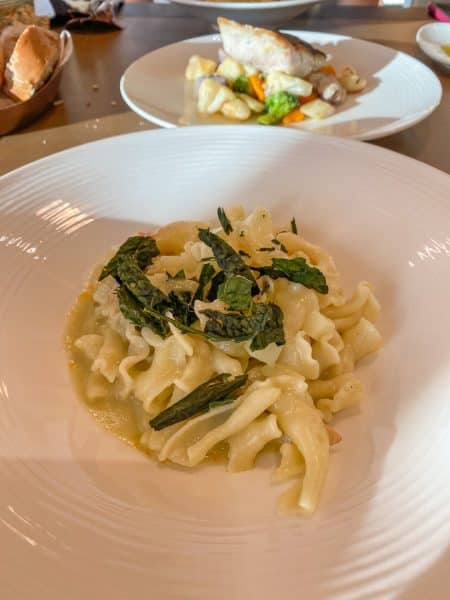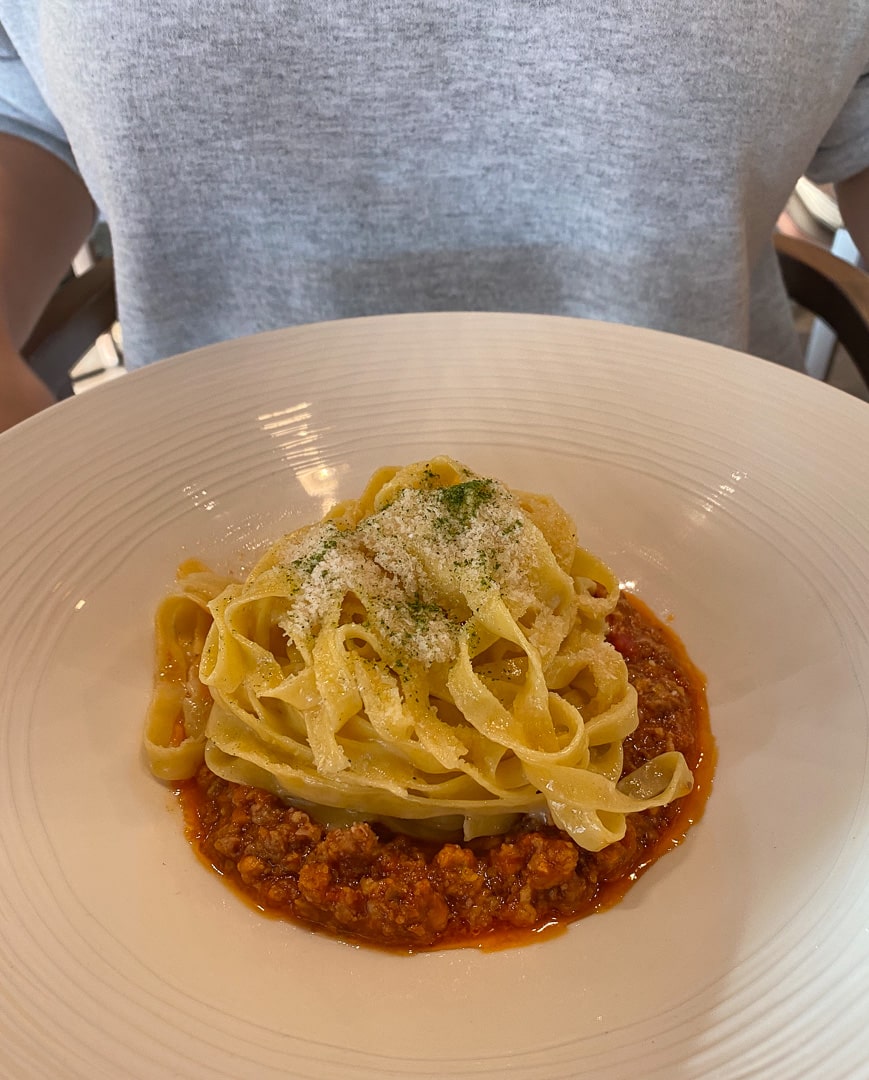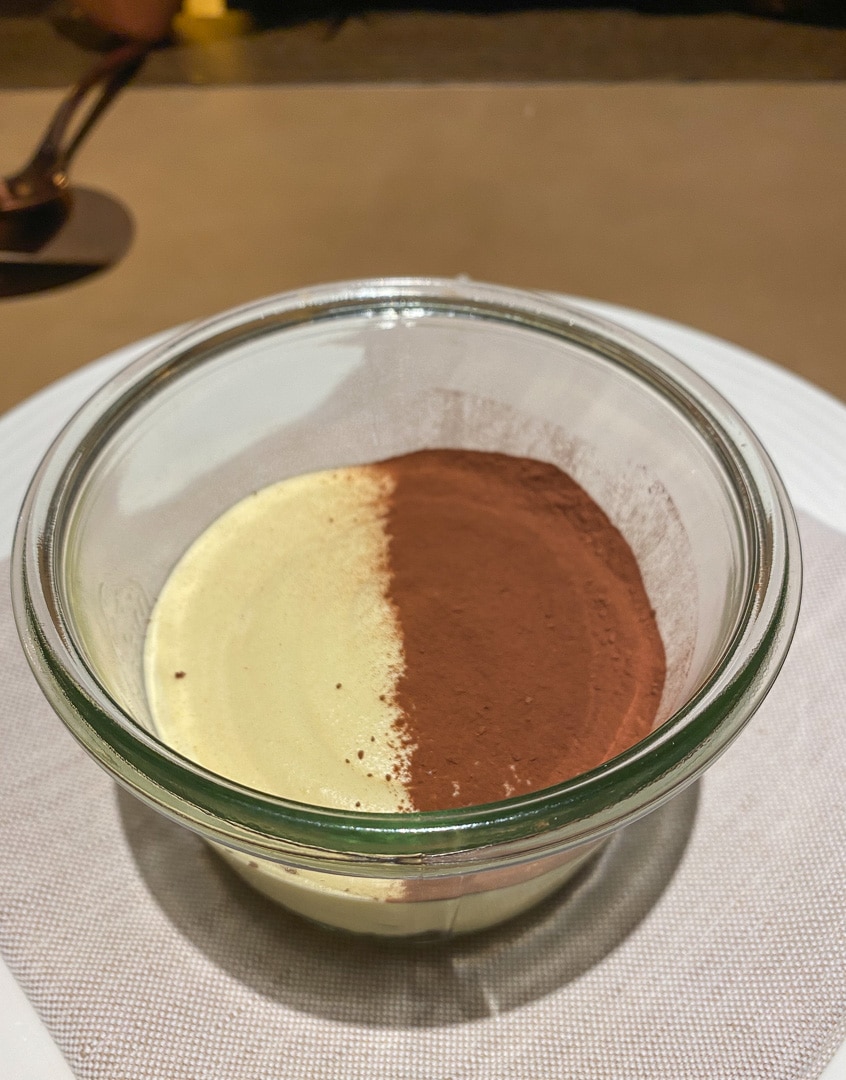 Lunch at the Lounge Bar
Menu and Drinks List
On days where we returned from the slopes later, the only available option for food was the lounge bar. The menu was bizarrely truncated here, with both pizzas and pasta notably absent!
Still, the drinks selection went quite some way towards making up for this lack of culinary variety. As did the fact that guests were encouraged to hang out in their dressing gowns!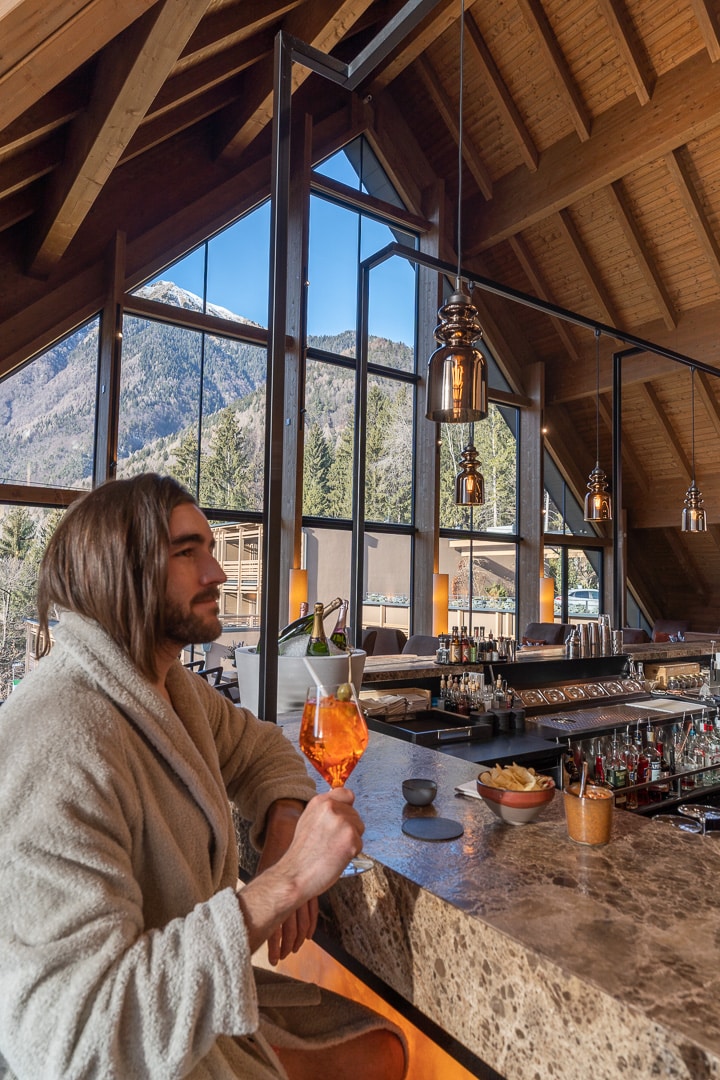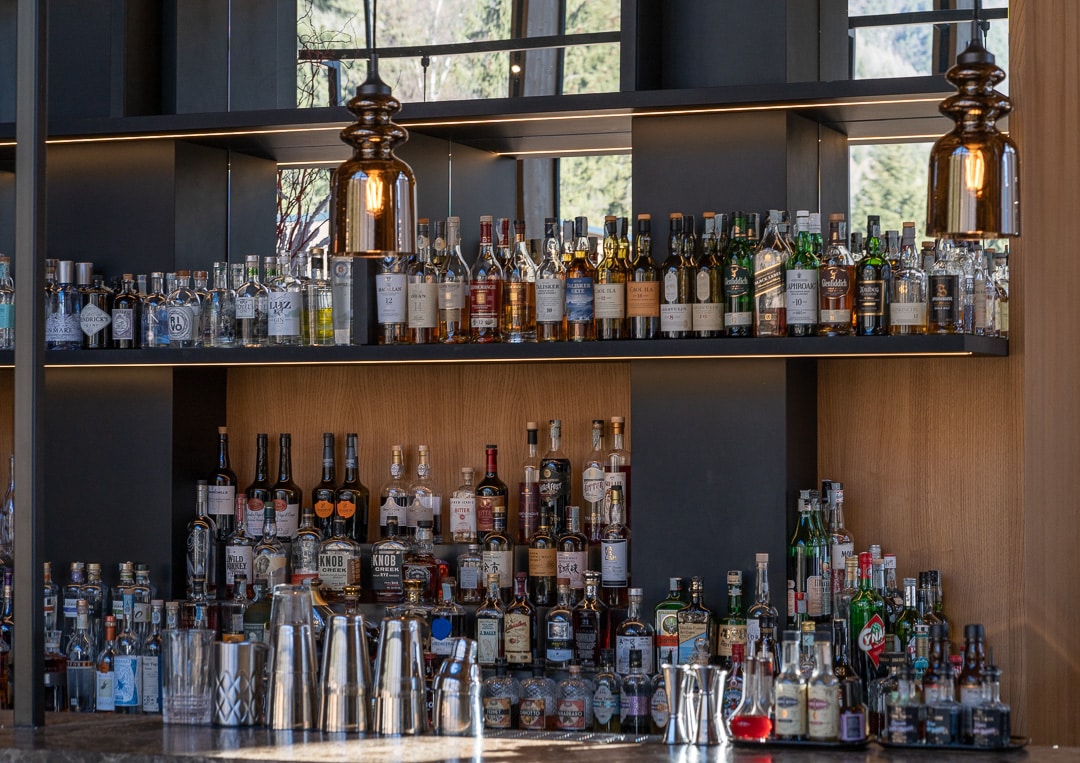 Both the Nicoise salad and the Alpine burger with mushroom chutney and bacon were absolutely delicious.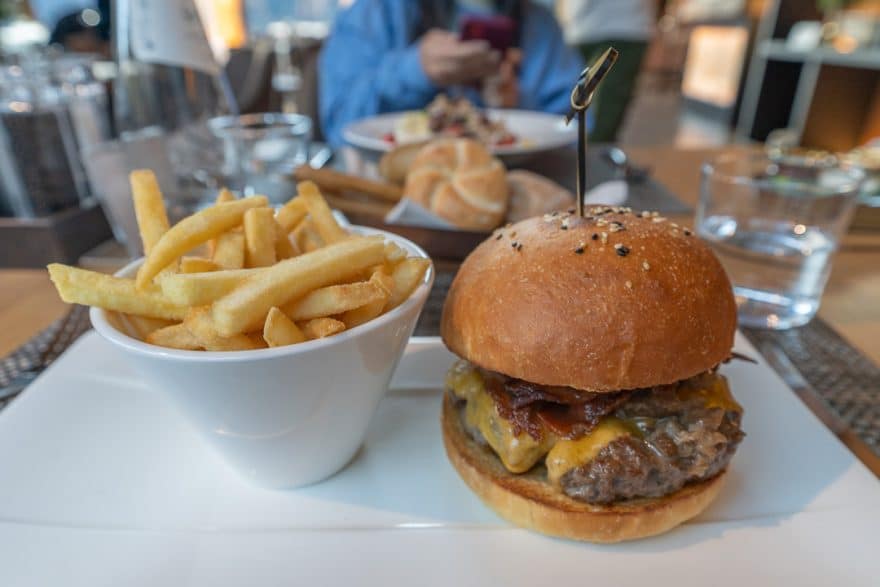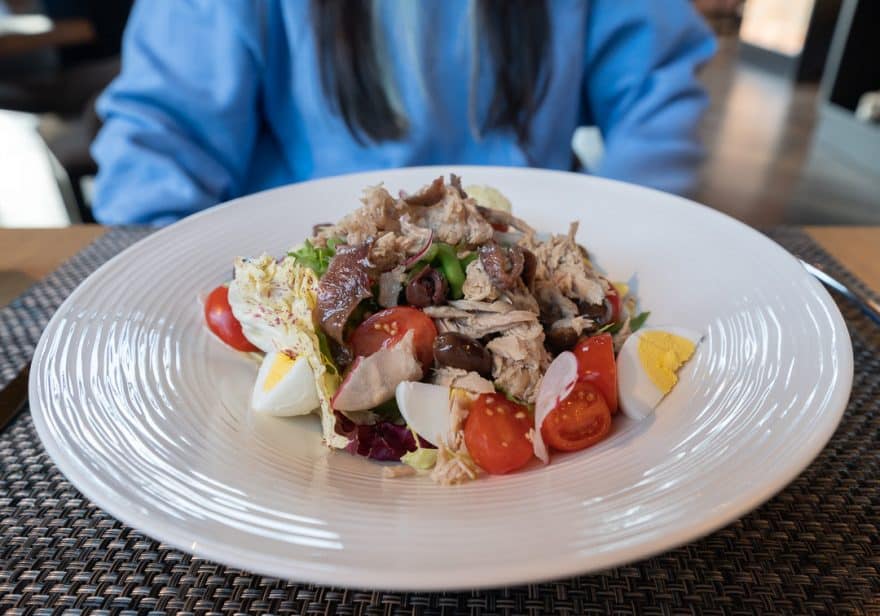 Dinner at Dolomia
Menu
Although Dolomia was a relatively quiet sanctuary during breakfast and lunch, with the warm glow of the sun reflecting off the snow, filling the room – at night this became a thriving and lively hub. There was a real energy here in the evenings and clearly plenty of non-residents came here to eat, in addition to hotel guests.
Given the enormous wine cellar, excellent service and delicious food, it certainly isn't hard to see why!
The gigantic scallops, freshly sliced steak tartare and local dumplings were all great. The latter of which reminded me of matzoh ball soup, something I hadn't been expecting in an Italian ski resort!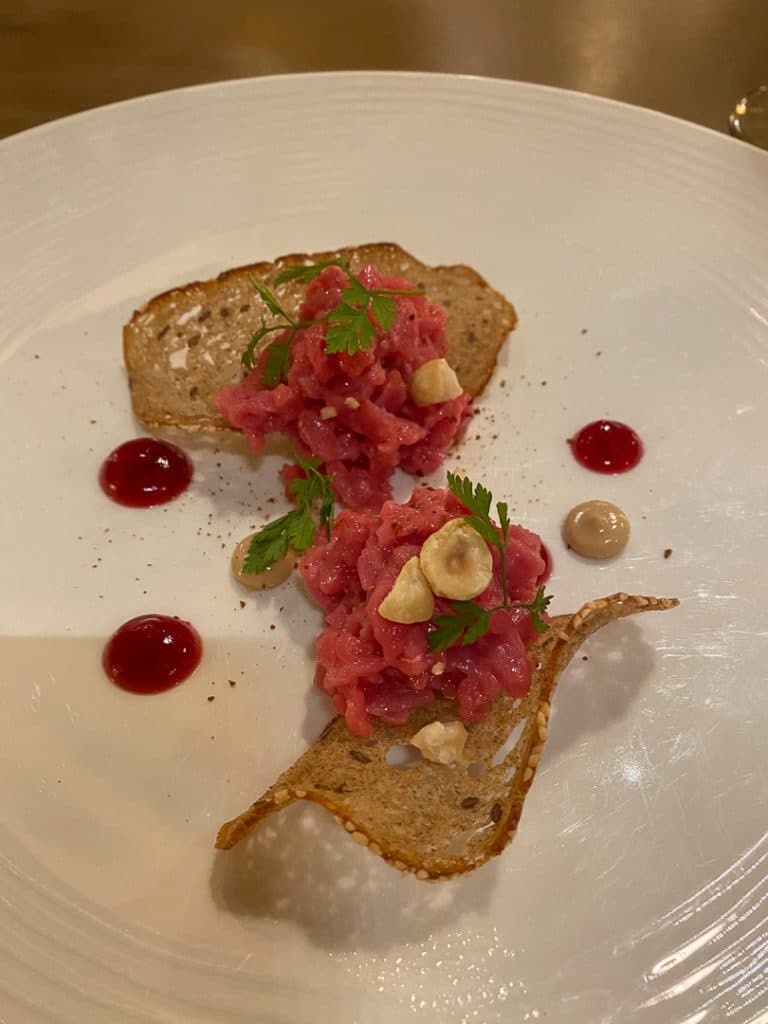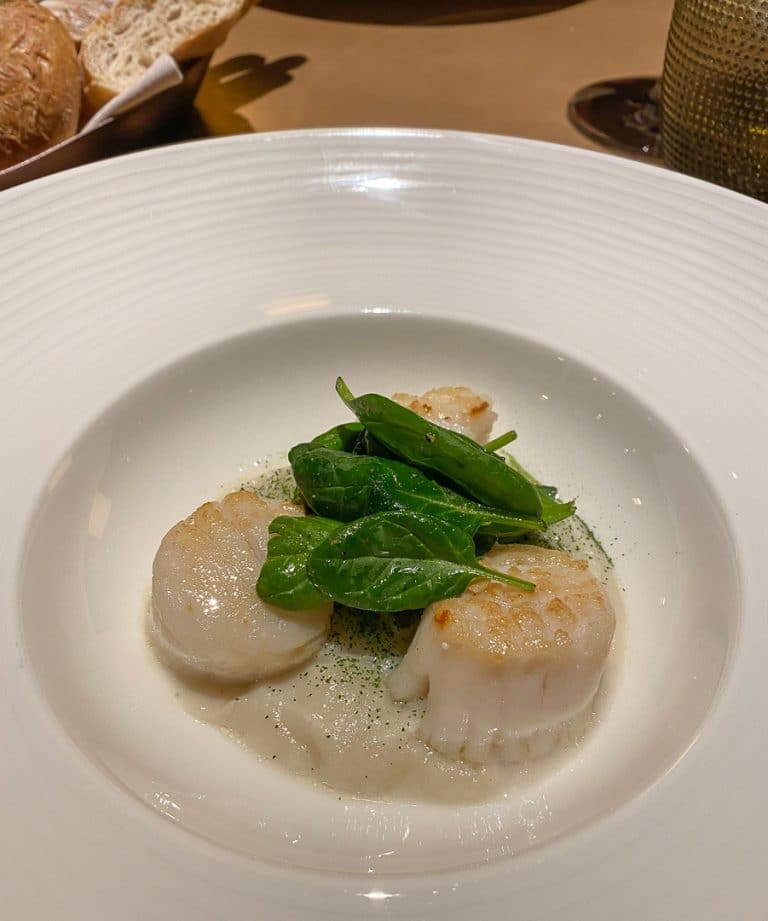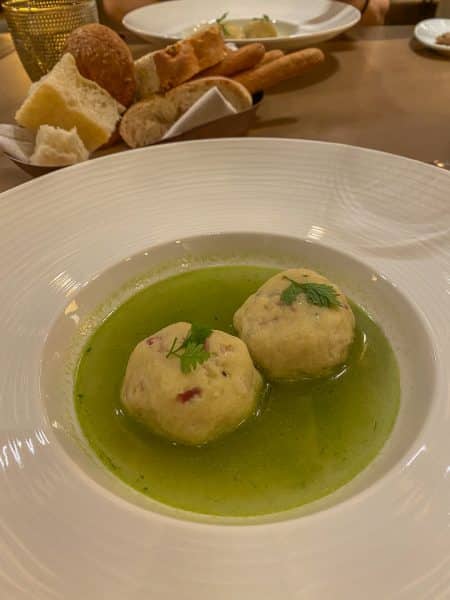 We split a tartare between the two of us, since we wanted to save space for pasta (hence the small looking 1/2 portion in the picture).
The pasta options at dinner were every bit as delicious as they were at lunch time: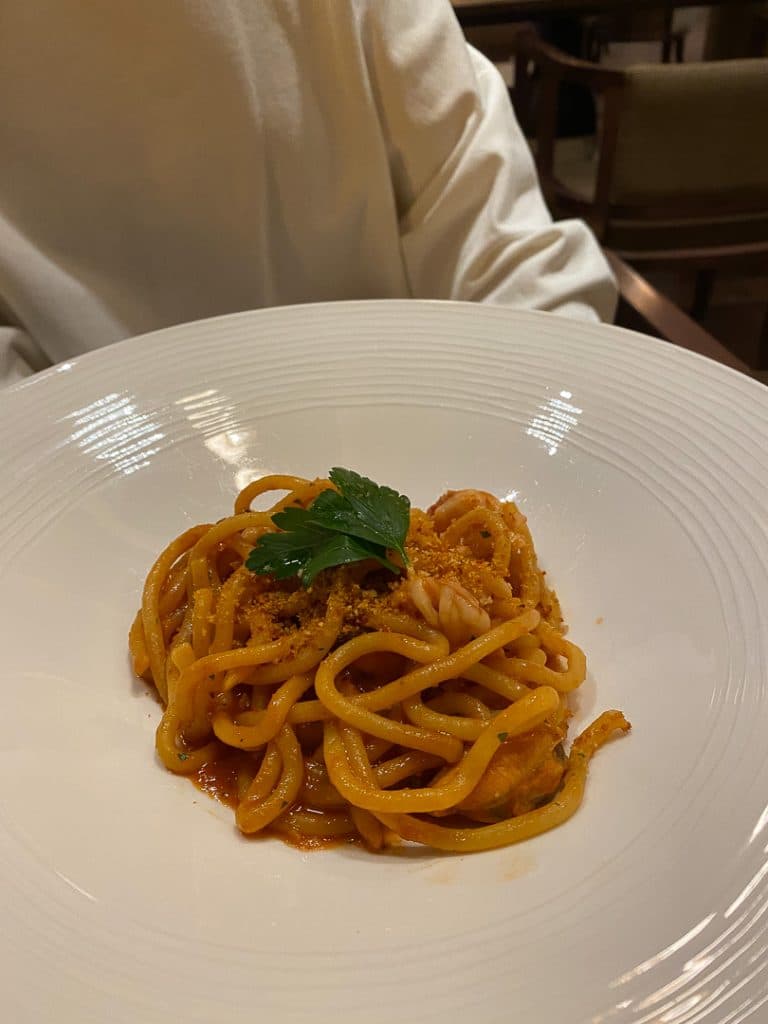 On our first visit we split a gigantic steak between us, which was cooked perfectly rare and served with a selection of incredibly fresh and flavourful vegetables.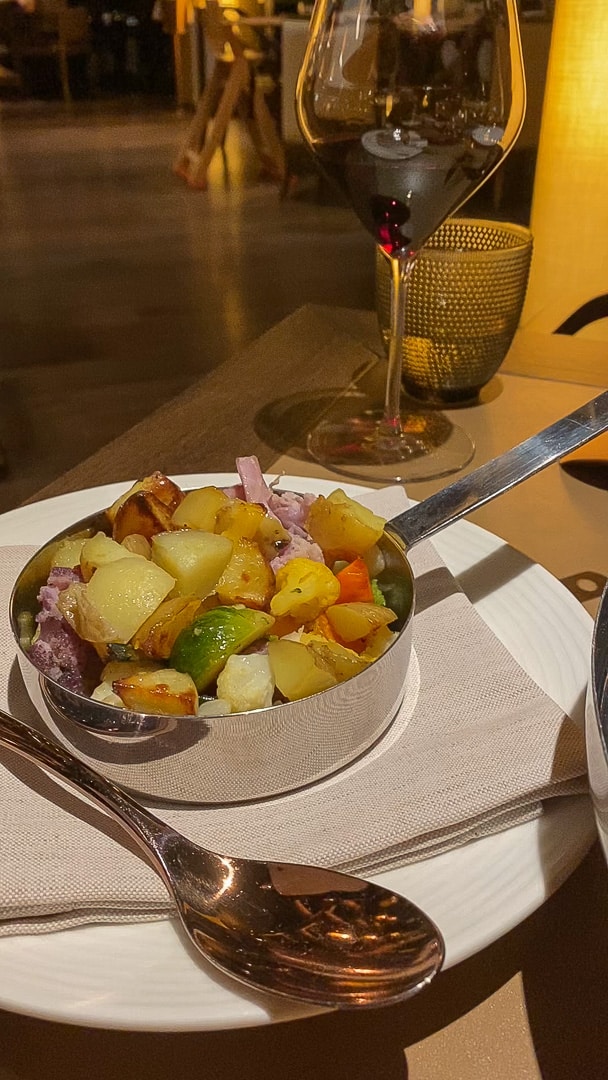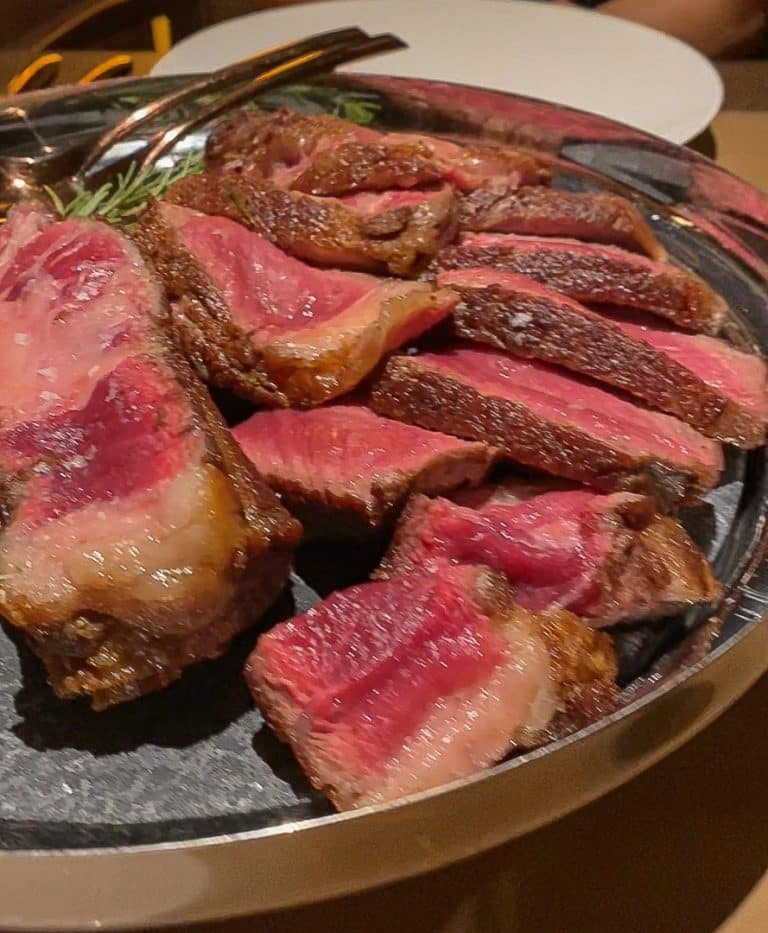 On our second visit Kamara skipped the main course entirely, saving room for a tiramisu. Meanwhile I couldn't resist ordering the local venison dish, which was superb in terms of both presentation and flavour.
We found that the local wines, recommended by the sommelier, paired very well with the dishes that we chose. It's always great to see a local influence on the wine list of a luxury hotel rather than the same old, big international names.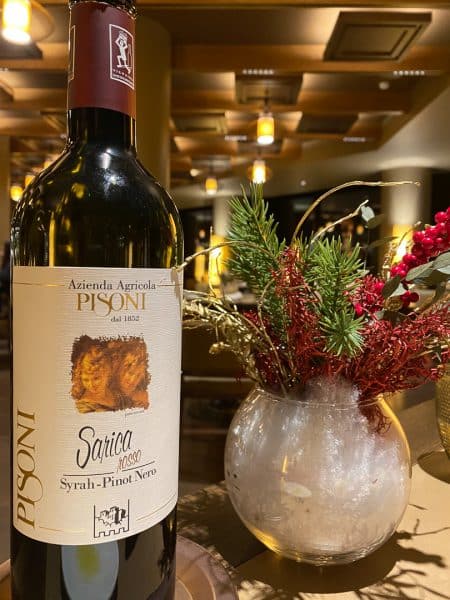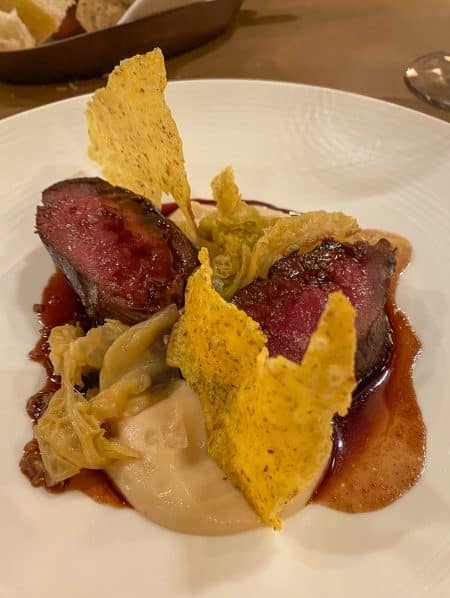 Dinner at Grual
Restaurant website: grual.lefayresorts.com/en/
Grual is one of the best restaurants I've eaten in, in the last 3 years. Having a restaurant of this quality, moments away from our room, was a rare privilege.
Although the Michelin guide visits this region, Grual is incomprehensibly lacking a star. In my opinion the quality of the service, tableware, room design and culinary execution are all on the level of a 2 star establishment.
From the moment that we entered the room, we were whisked away to a hushed and enchanted forest, thick velvet curtains blocked a view from the outside, adding to the dramatic decor and ensuring that quiet conversations did not reverberate throughout the room.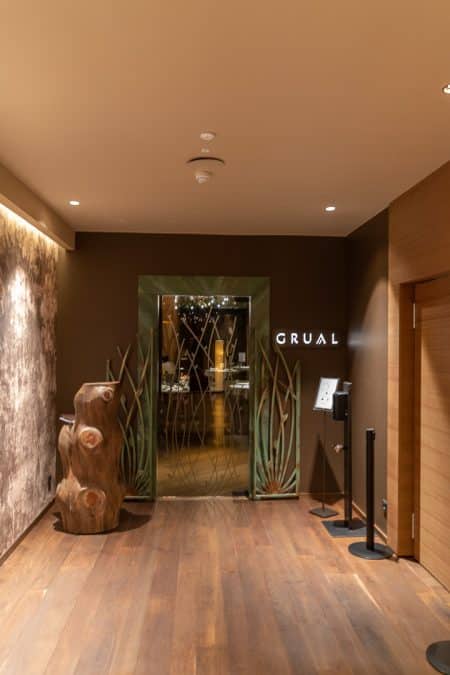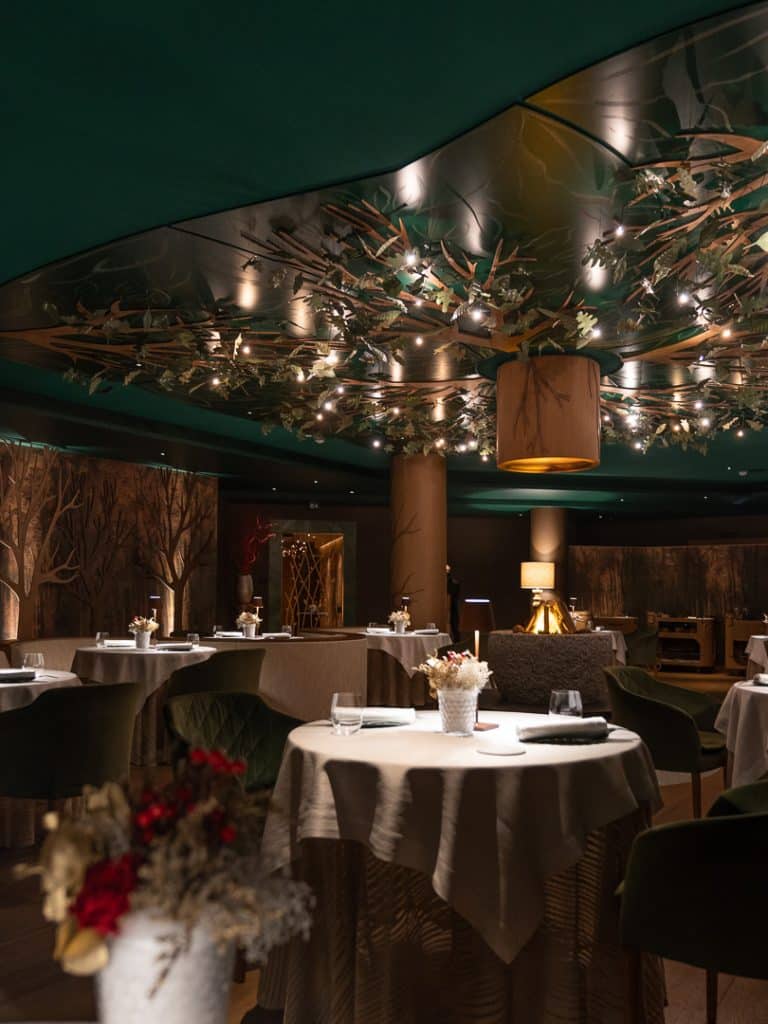 Service was exemplary, with great attention paid to allergies, timing of dishes, refills and placement of everything on our table.
We felt wonderfully looked after throughout, without the service veering into obsequious or overbearing territory.
The meal began with cocktails and a spectacular selection of breads, including a savoury croissant which haunts me to this day.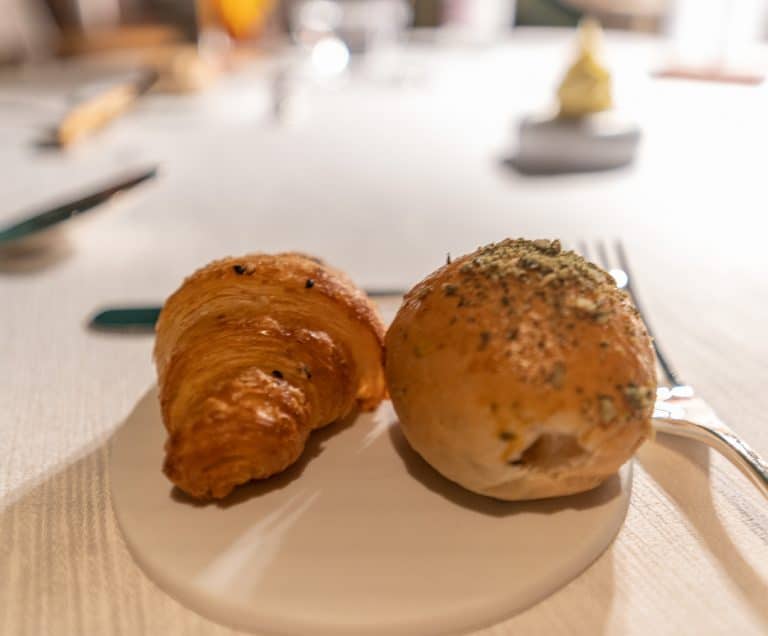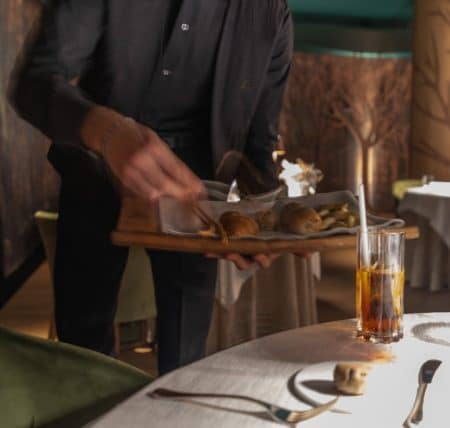 We dined at Grual on two occasions, once a la carte and once sampling the tasting menu.
On both instances there were numerous amuse bouches, palate cleansers and mignardises in addition to the usual courses. We certainly had plenty of fuel in the tank for skiing the following days!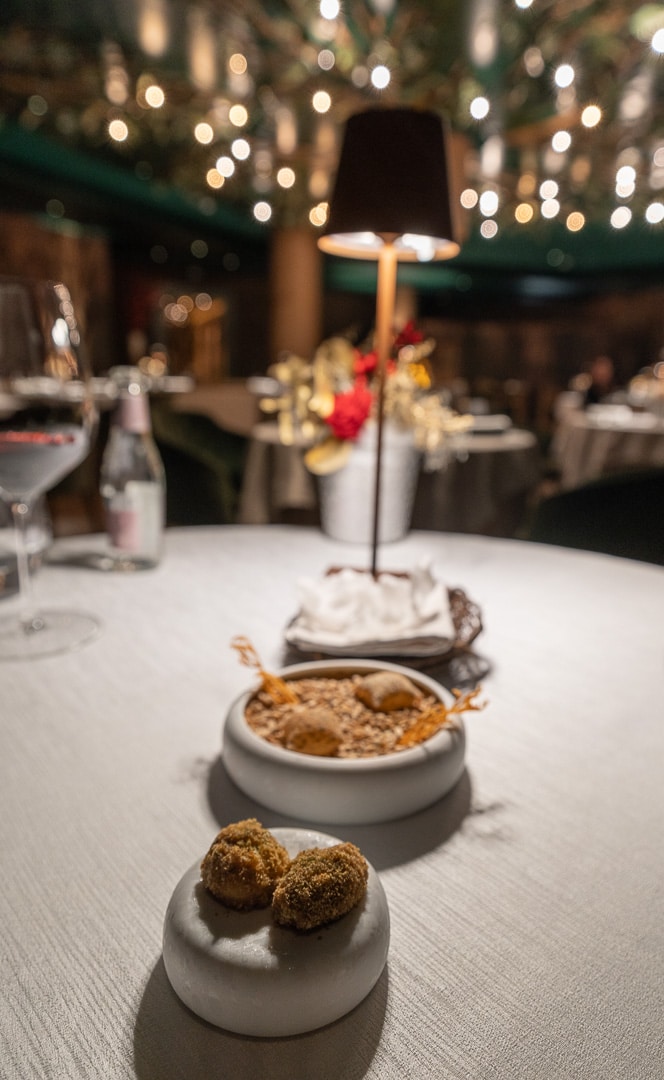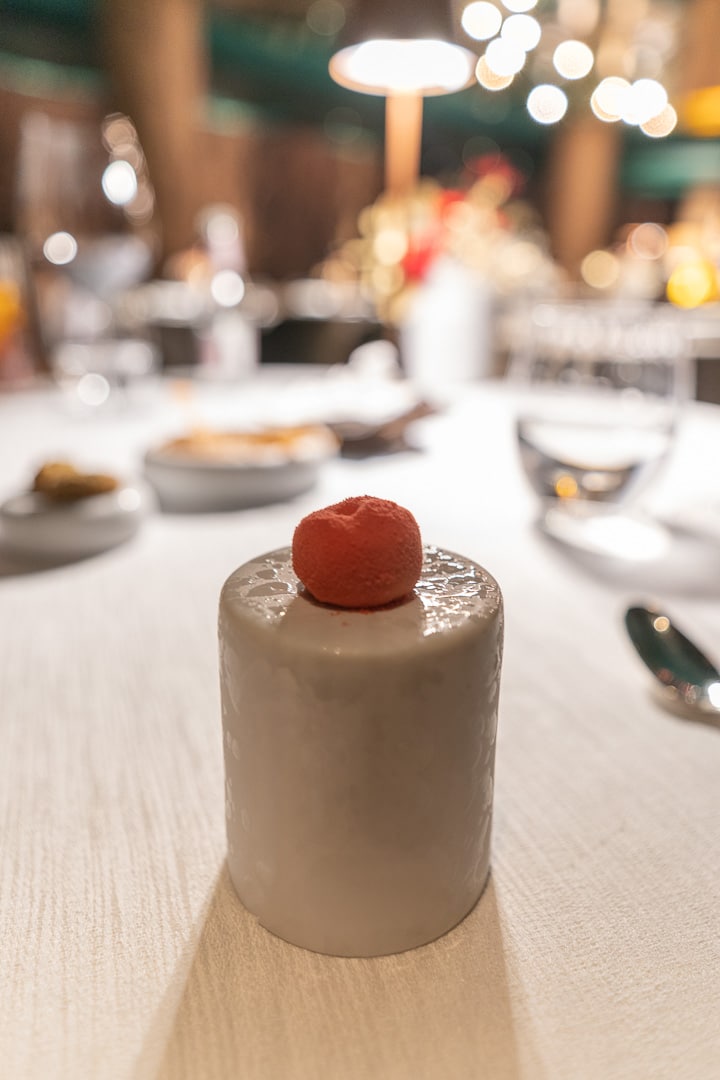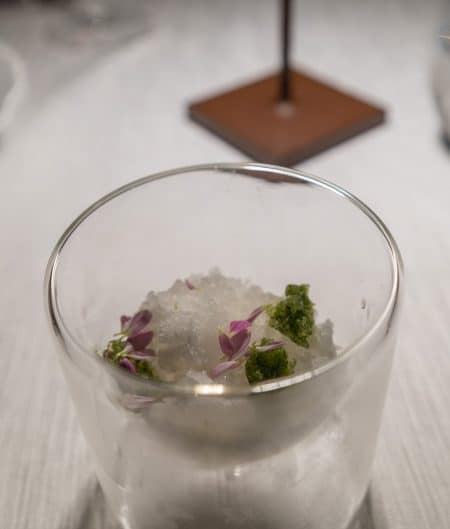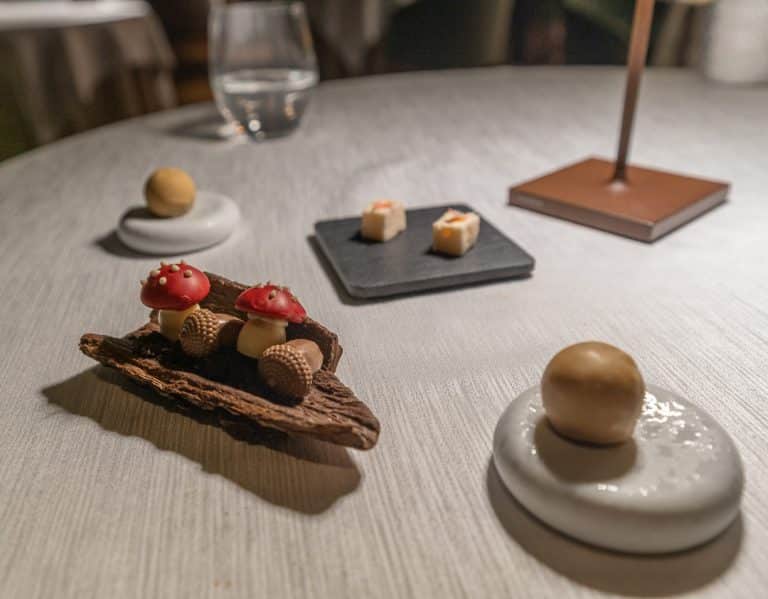 There were so many excellent dishes over the course of both meals that it's hard to pick a favourite. Personally though, the sweetbreads with chamomile, carrots and satureja were as close to a perfect dish as I could hope for. I could eat this every day for the rest of my life and not get bored.
Other standouts were the arctic char with bread cream and cavolo nero…
The exquisitely presented saddle of roe deer…
…and the incredibly decadent mountain egg with buckwheat, cauliflower and lashings of freshly grated black truffle.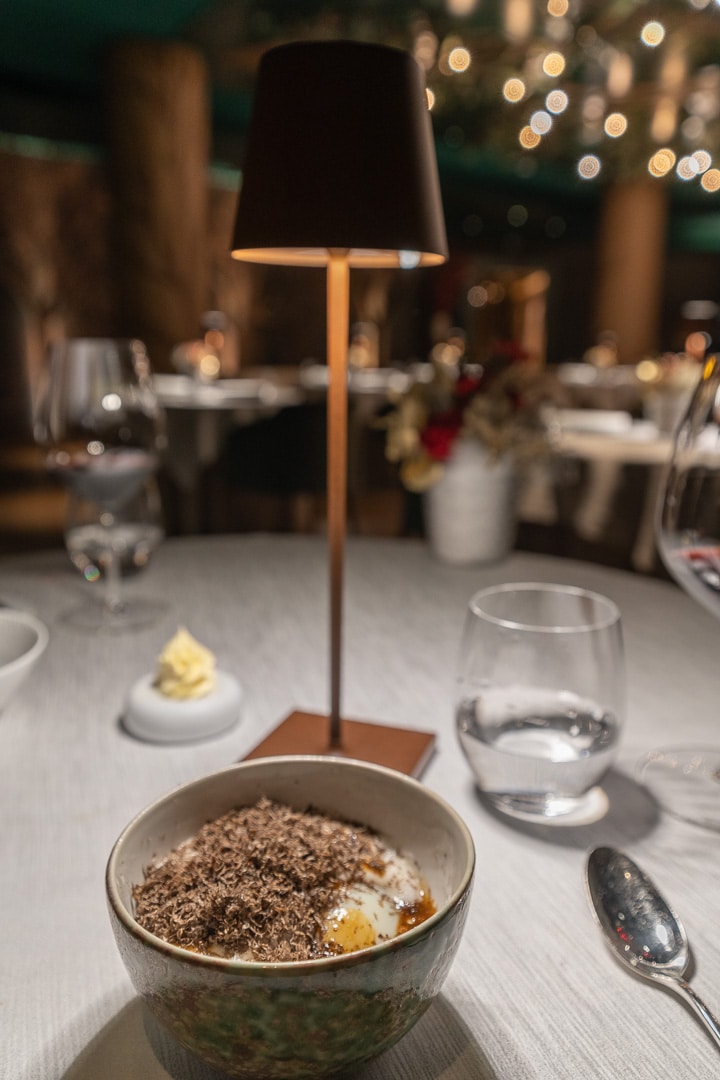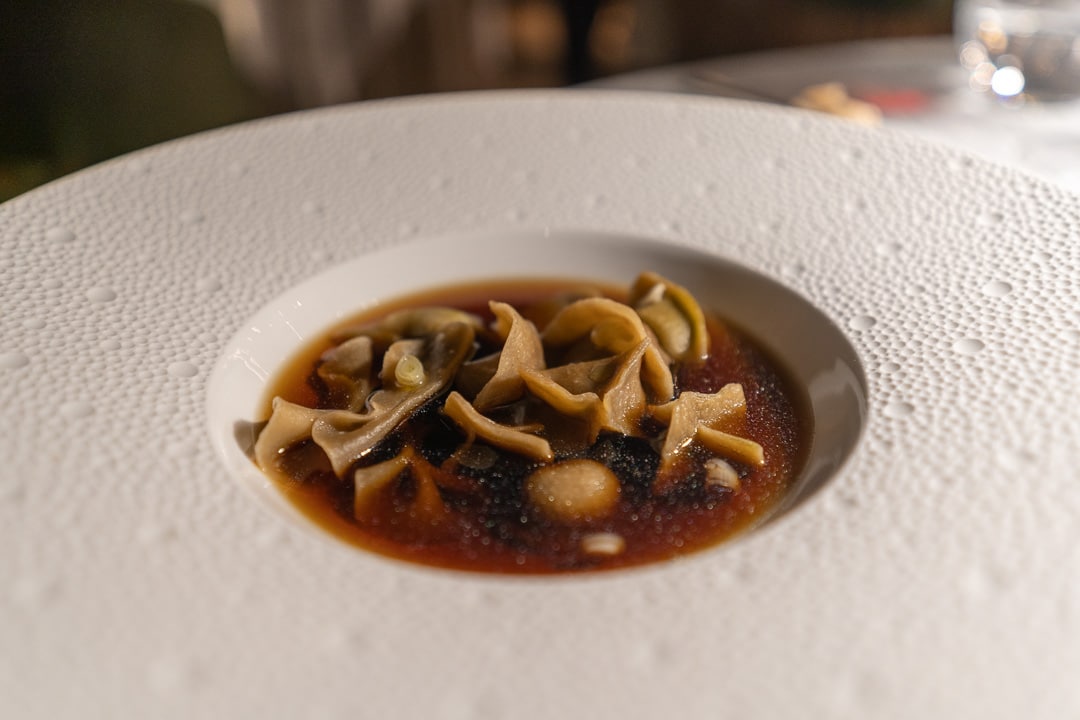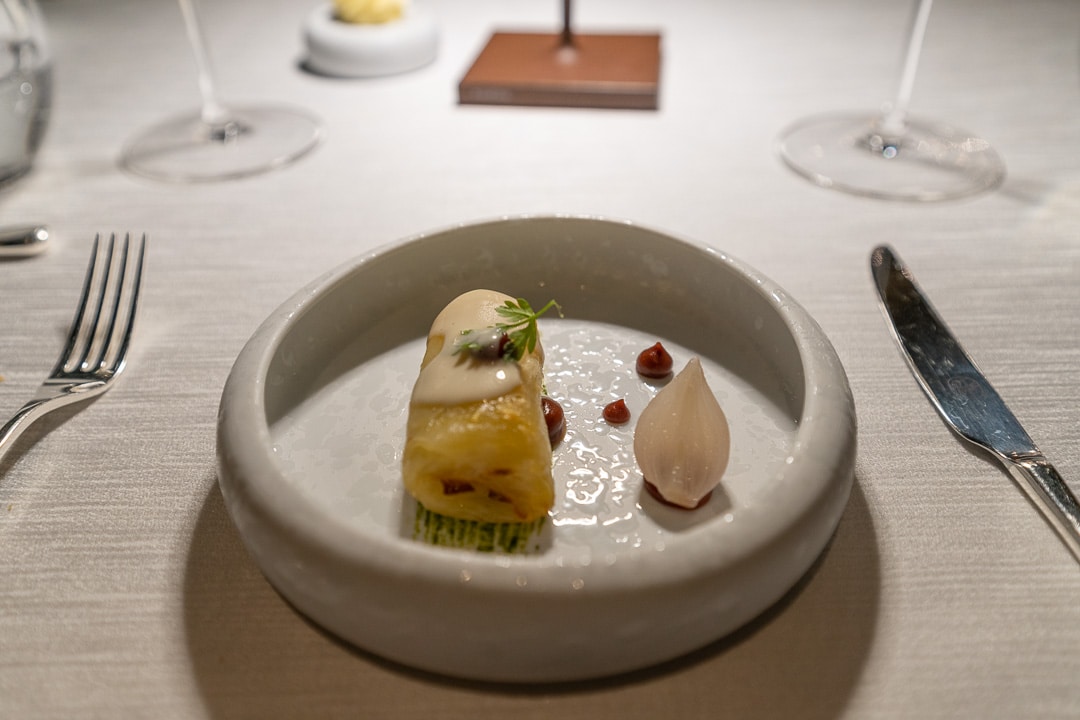 I'm not usually big into desserts but even when I declined to order anything, I ended up being sent delicious ice creams and sorbets, compliments of the chef (followed by the aforementioned mignardises).
Kamara absolutely devoured her caramel 'tarte tatin', a spiralised caramel apple served with puff pastry ice cream and grated almonds.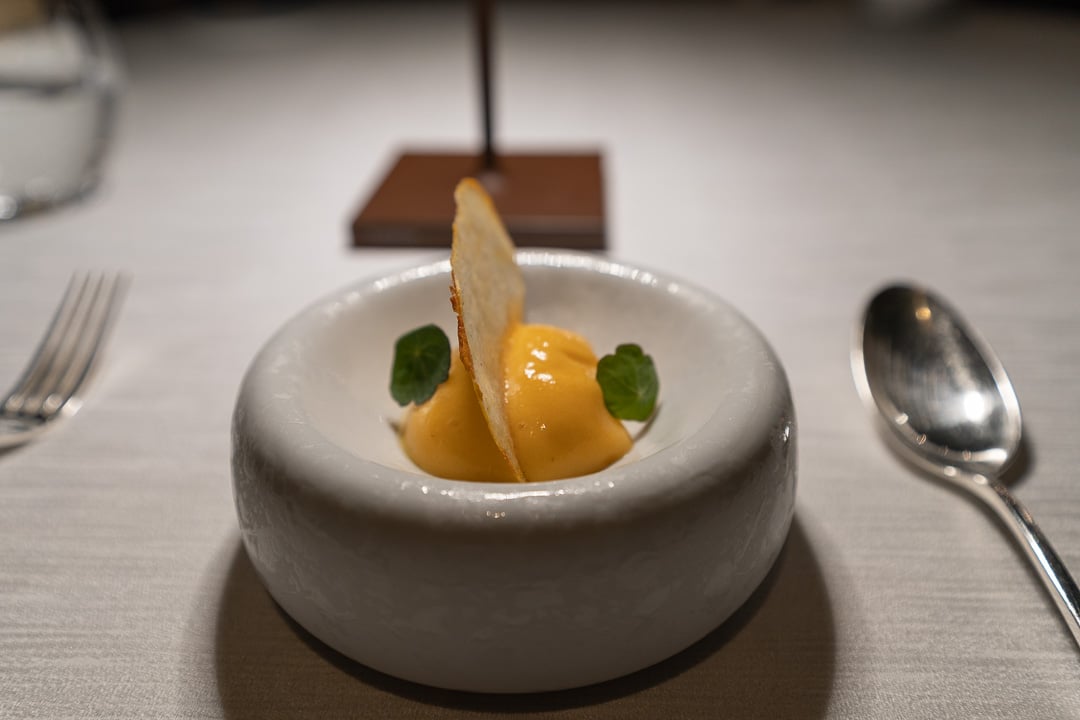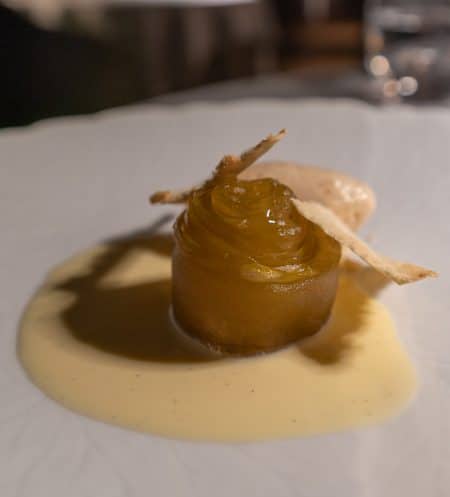 Grual was a truly magnificent experience and reason enough to book a stay at Lefay, in or out of ski season.
---
Leisure facilities
---
Indoor/ Outdoor Pool
The indoor/ outdoor pool on the hotel's ground floor dominates publicity material and with good reason: it's amazing.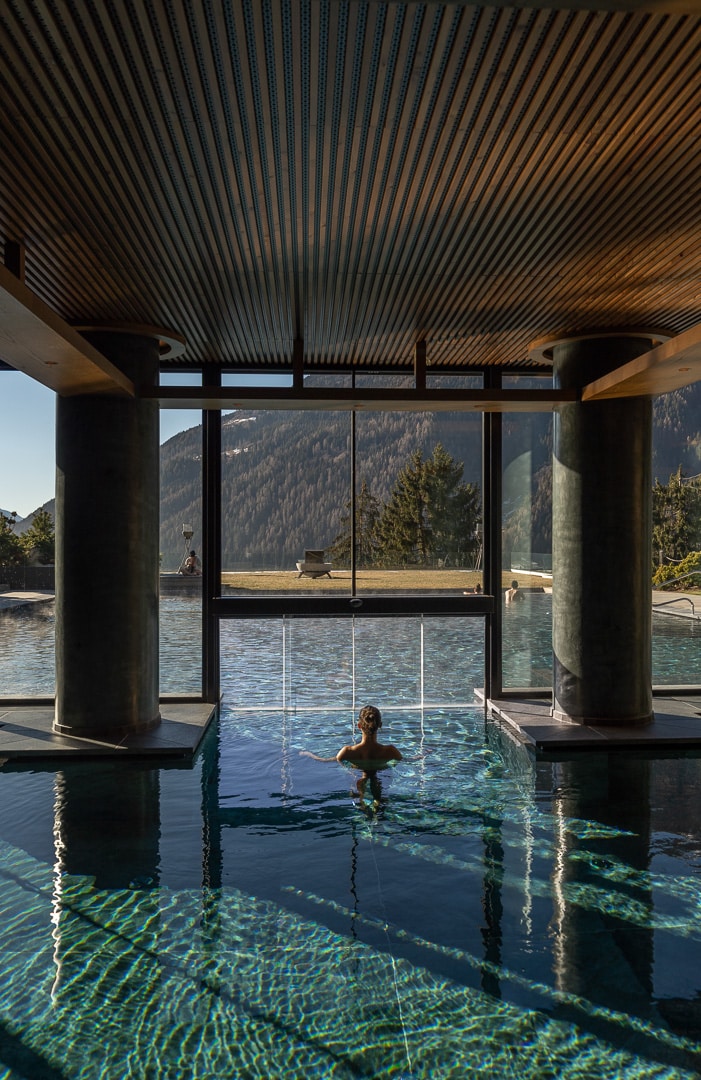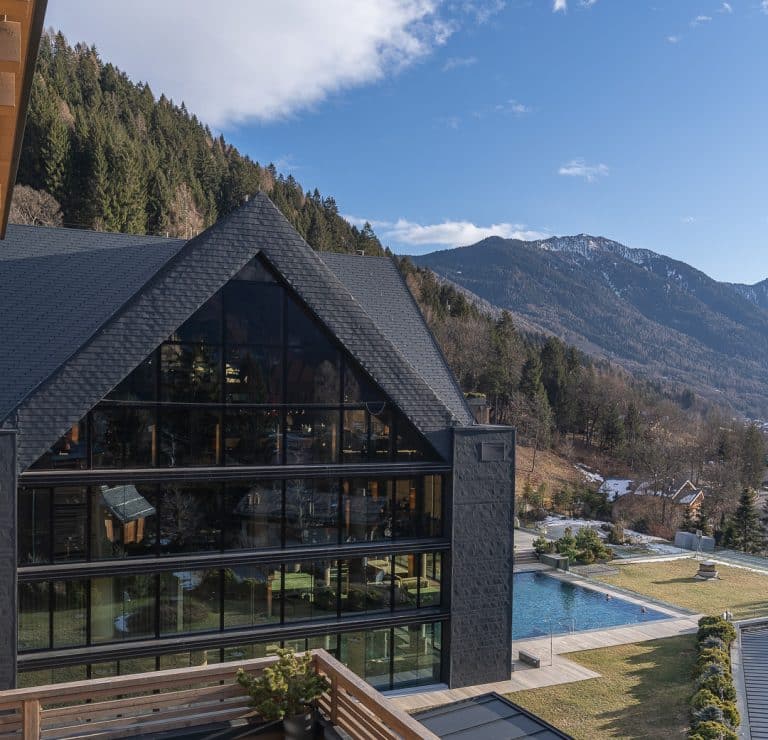 I've never spend a huge amount of time in pools in hot countries. Being in direct sunlight and then shocking your body with cold water, whilst getting beaming hot sunlight on your face, isn't actually super pleasant in my opinion. I tend to quickly dip in and then head for a seat in the shade.
I realised after spending some time at Lefay, that I've been doing things the wrong way round all my life. What you really need is icy cold mountain air and a wonderfully warm pool, steaming away around you. I'd never spent more than an hour at a time actually in a pool, until I came here. At Lefay I struggled to leave the water – it was just so relaxing.
There were also a variety of different stations dotted around, both inside and out, featuring bubbling hydromassage fountains.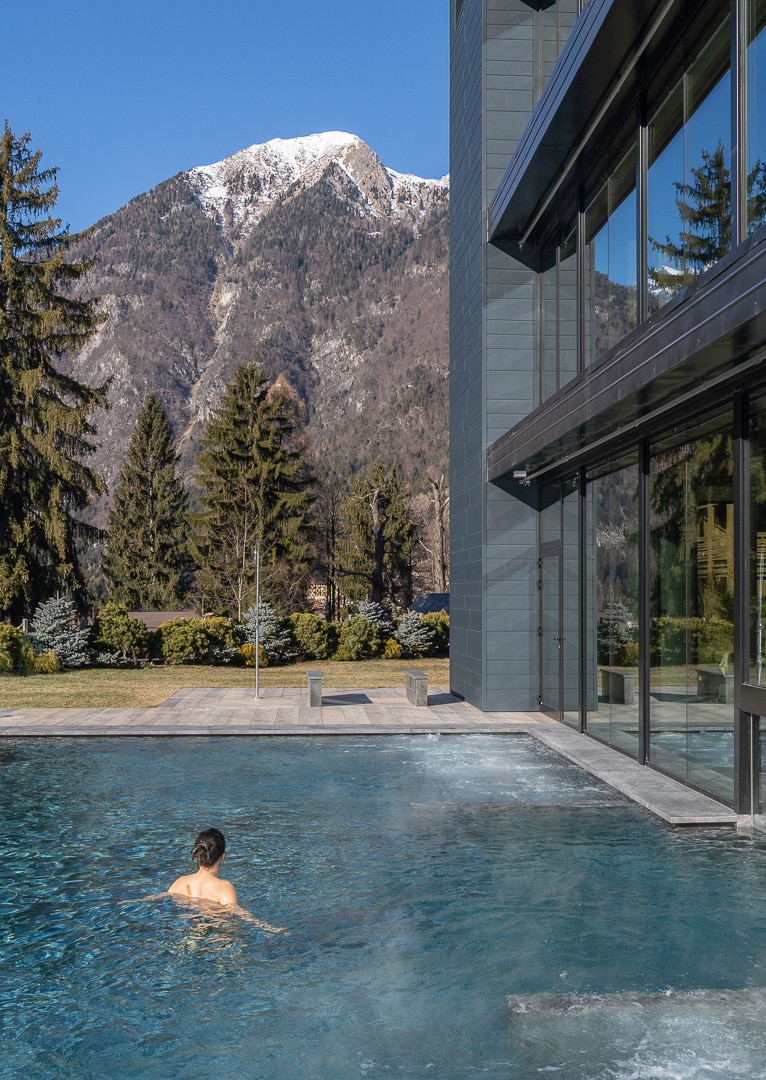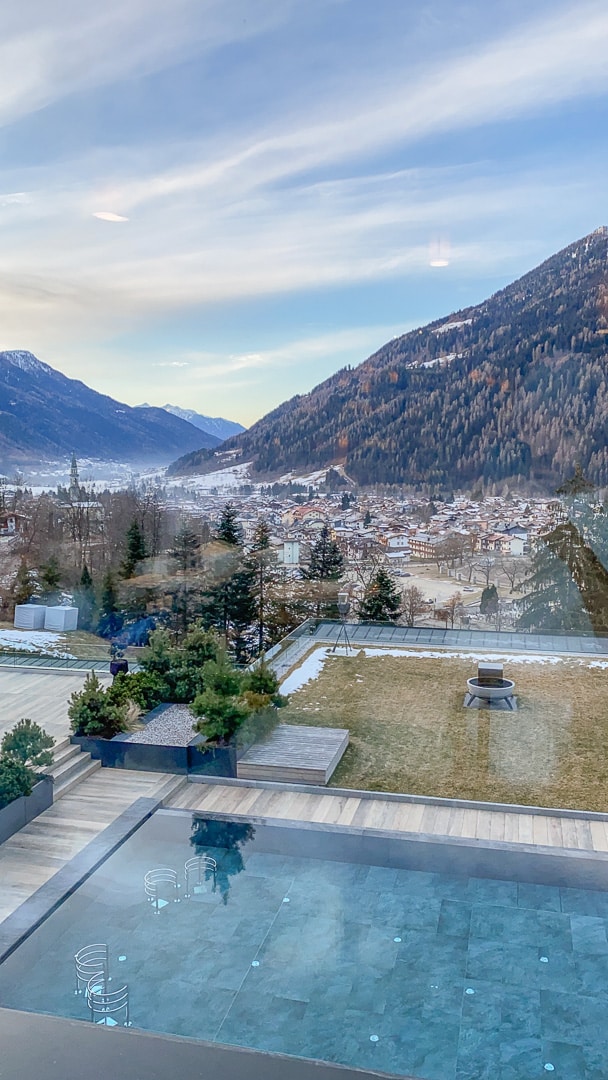 Around the indoor section of the pool were several rows of very comfortable loungers.
There were also showers together with a steam room, although far more extensive spa facilities were located across the 1st and 2nd floors.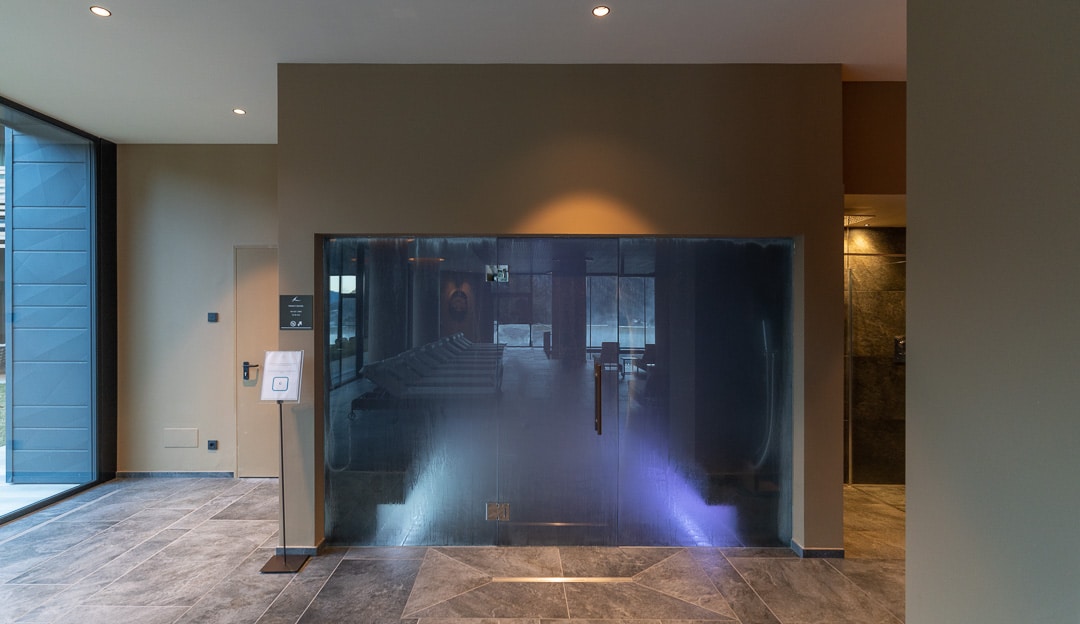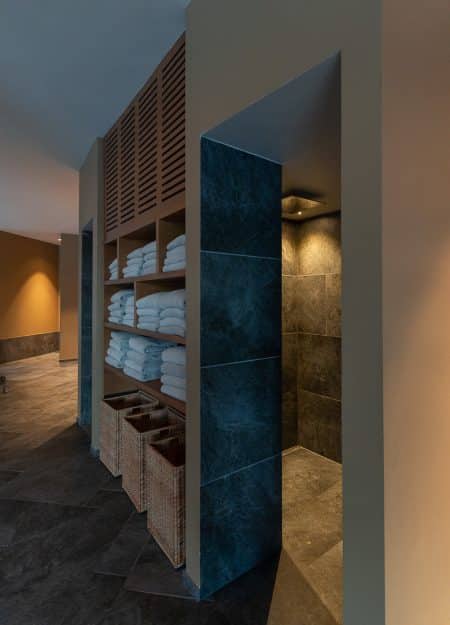 Leading off this main room was another relaxation area, complete with ice cold water, soothing music and a very convincing artificial fireplace.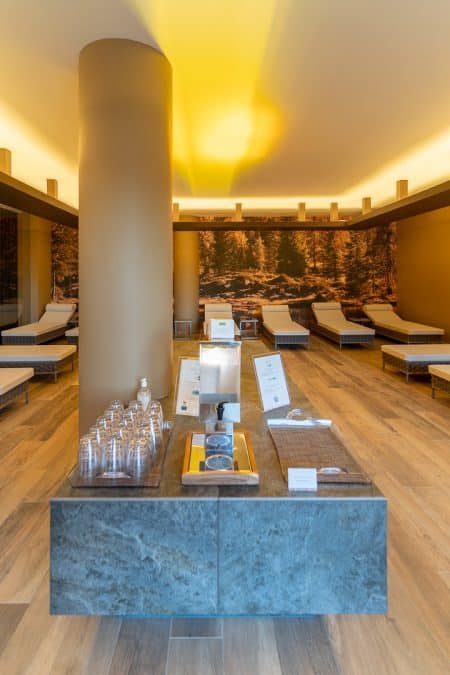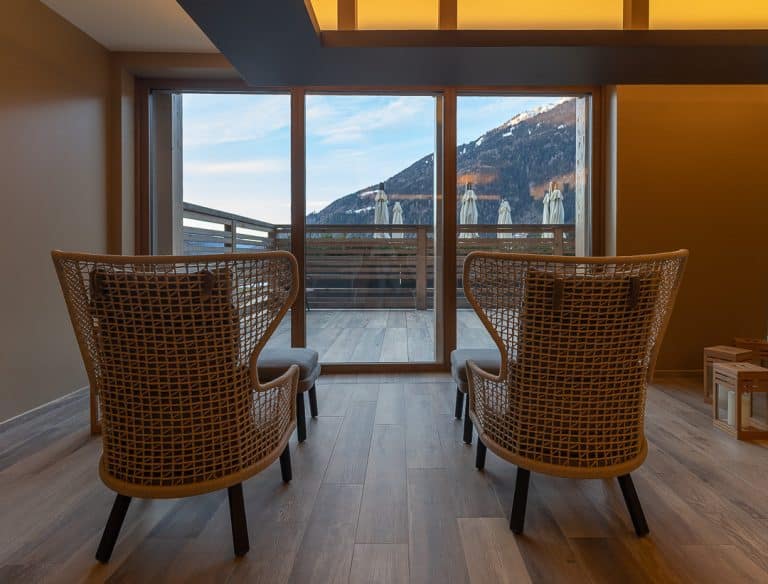 Spa
Impressive though the main pool is, it absolutely pales in comparison to the main spa facilities at Lefay. Spanning the 1st and 2nd floors of the hotel they are without a shadow of a doubt the most impressive spa facilities I've ever seen in any hotel.
It isn't even close. Much though I love the spa at the Four Seasons Tunis, my previous favourite, Lefay Dolomiti is in another league.
Unlike the main pool, access to the spa floor is for adults only and many areas require nudity – something which will no doubt come as something of a shock to non Europeans.
I've no idea why certain saunas prohibit the wearing of swimwear beneath your towel, presumably they are so hot that your speedos will spontaneously combust?
One area that did not discourage swimwear was the lap pool. A haven of tranquility, particularly at times when the main pool was busy.
This is understandably the only area of the spa that I photographed professionally and much like the indoor/ outdoor pool, this was filled with salt water.
The main spa area was centred around a large whirlpool lake, with numerous subsections leading away from it. Each of these was named after a coloured animal.
Adjacent to this was a relaxation area with cushioned loungers and a small buffet area, offering complimentary dried fruits, nuts, teas and flavoured water.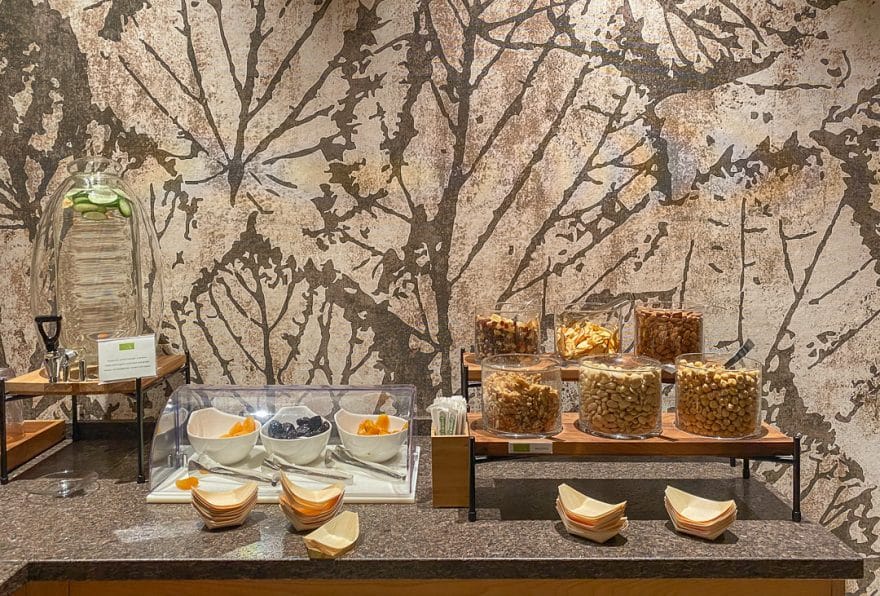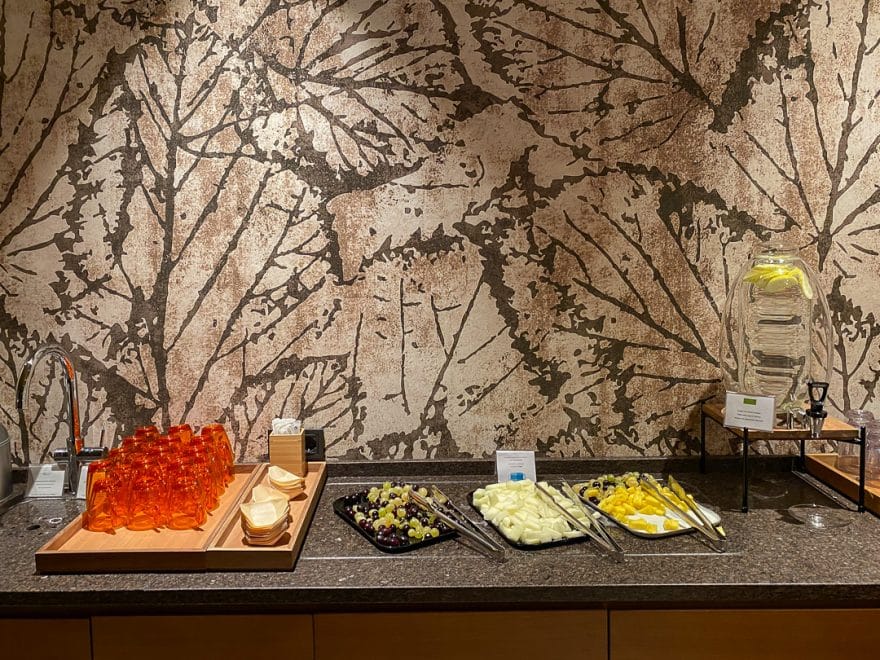 Don't ask me why, but the hotel has never had professional still taken in here and it was impossible for me to go and take proper pictures in there since the facility was constantly in use. As it is, you'll have to settle for my iPhone pictures, taken on the rare occasions when we had a section to ourselves!
THE GREEN DRAGON
Dry saunas with medium temperature and humidity:
Aromatic Saunas (Orange) Temp 50° / Humidity 40%
Sauna of Essences (Rosemary) Temp 60° / Humidity 40%
Lady Sauna Temp 50° / Humidity 45-50% •
Tempered waterfall
Relaxation area with dedicated phytotherapy
Any time we ever looked in here there were always people so no photos, sorry!
THE RED PHOENIX
Dry saunas with high temperature and low humidity:
Finnish Panoramic Sauna Temp 90° / Humidity 10%
Finnish Sauna Temp 70° / Humidity 20% •
Cold water bath
Sensory showers
Kneipp Path
Ice waterfall
Relaxation area with dedicated phytotherapy
This was my favourite area, since it not only featured this panoramic sauna….
…it also featured an ice cold plunge pool, where I did my best Wim Hof impression – recovering after snowboarding each day, with 2 minute plunges in the ice pool.
The Kneipp Path was also one of the best recovery tools I've ever experienced. A path consisting of three alternating foot baths, two very hot and one ice cold, all of them lined with smooth river stones.
A 30 second stop in each (and back again) was enough to completely alleviate all the podiatric aches and pains that come from a day of skiing or hiking.
THE WHITE TIGER
A large area, divided into three zones with wet saunas with high percentages of steam:
Tepidarium Temp 38° / Humidity 70%
Medium Calidarium Temp 42° / Humidity 95%
High Calidarium Temp 48° / Humidity 95%
Sensory showers
Relaxation area with dedicated phytotherapy
Once again this area was always busy, so no pictures.
THE BLACK TORTOISE
SALT-WATER LAKE: the high temperature of this salt-water lake, approximately 36°-38 °C, allows the body to absorb the trace elements and minerals from the alpine salt dissolved in the water. It has a draining, detoxifying and relaxing effect.
SALT GROTTO: for a deep and beneficial effect thanks to the combination of heat, humidity and salt. It clears the airways and regenerates the skin.
The final area came with an additional charge:
€ 50,00 per person (40 min.)
€ 90,00 per couple (40 min.)
When we went, we had it completely to ourselves for the whole time.
The lake was honestly super painful to sit in, the salt content was so high that I felt every little scrape or cut on my body. My skin was very soft afterwards though!
The best part for me was lying on the heated waterbeds below, sipping tea, after finishing our soak.
Gym
The Gym was located in a room one floor below the central spa pool and featured both a cardio room and a weights room.
The selection of Technogym machines was great, although dumbbells topped out at 20kg.
Library Lounge
Located in a mezzanine attic area, above the main bar, was a very cosy library lounge. Nobody but us ever seemed to come up here but the views and tranquility were well worth climbing a small flight of stairs for!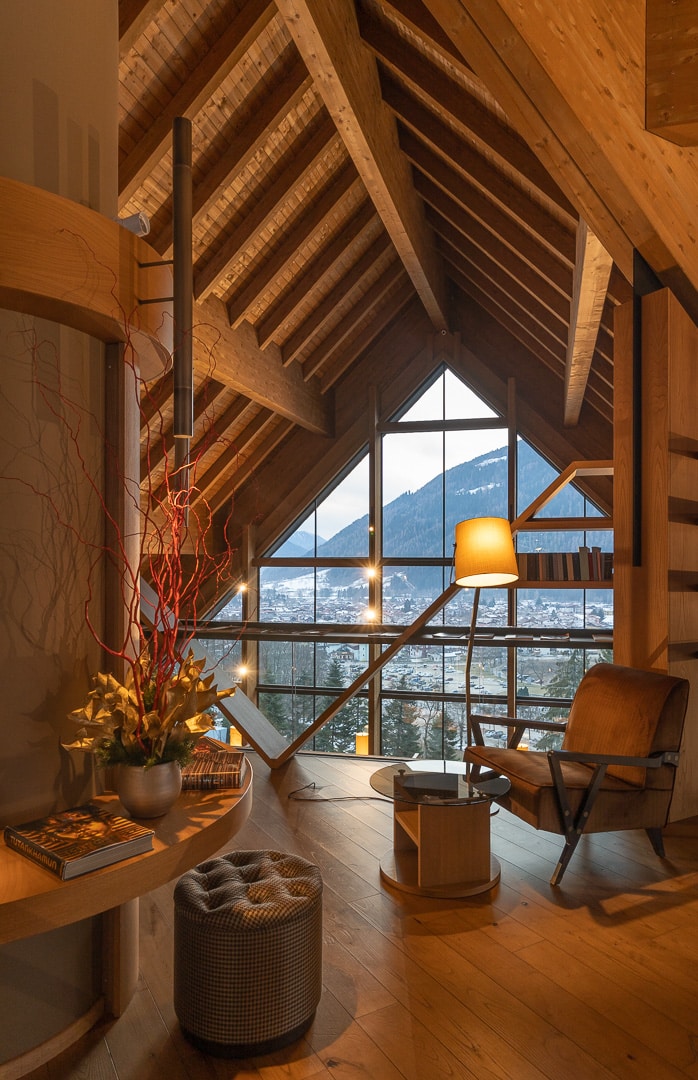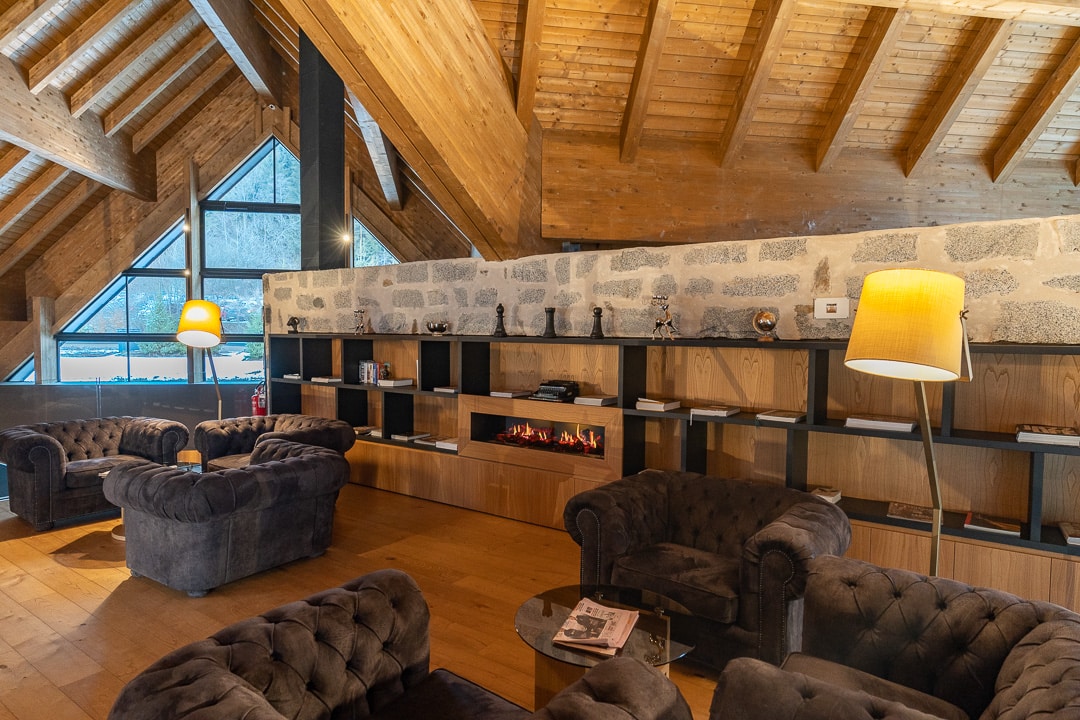 Cigar Lounge
Not only can you drink Aperol spritzes in your dressing gown at the bar, cigar aficionados are also well catered to in the hotel's dedicated and cosy cigar lounge.
Ski Shop
The hotel offers its own dedicated ski shop, where you can hire skis and snowboards as well as purchasing accessories like glove, hats and goggles. Prices were about 50% higher than going to a ski shop in town but the convenience factor is well worth it, since there will be no queuing and all equipment is stored on site and is almost brand new.
I managed to completely destroy my snowboarding boots one morning and within 60 minutes, I'd taken the gondola back to Pinzolo town, been driven the 200m back to the hotel's ski shop, given a pair of rental boots and made my way back onto the slopes again.
Had I been staying anywhere else, I'm sure the entire morning would have been a write off.
---
Skiing at Lefay Dolomiti
---
This leads us neatly onto the main allure of a winter visit to Lefay Dolomiti. The incredible Madonna di Campiglio ski area in the Italian Dolomites.
I must admit that this was a case of me seeing an incredible looking hotel first and then naively hoping that the skiing would at least be somewhat acceptable.
It actually transpires that the snow conditions, variety of slopes and the service at the hotel's ski concierge area were all beyond wonderful.
This was genuinely one of the best experiences I've had on a ski holiday ever (and I've been to Hokkaido!).
Ski Concierge
Located in the basement floor of the hotel, the ski concierge area was a very warm and inviting place to start and end each day on the slopes.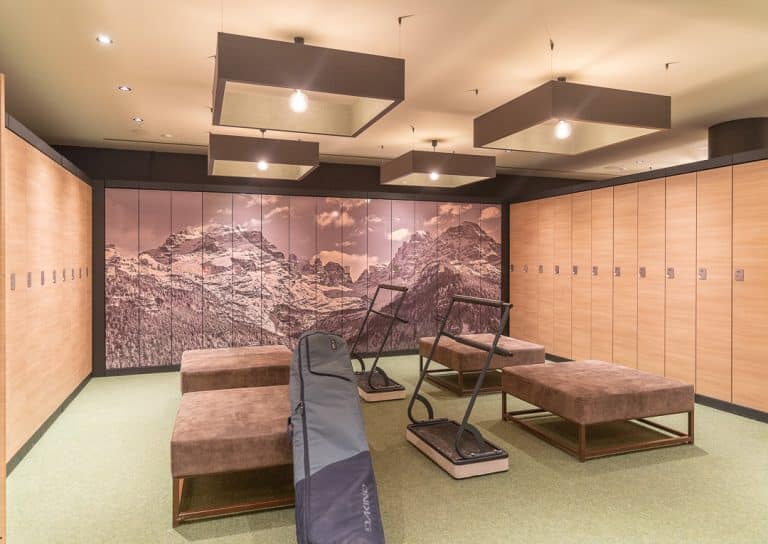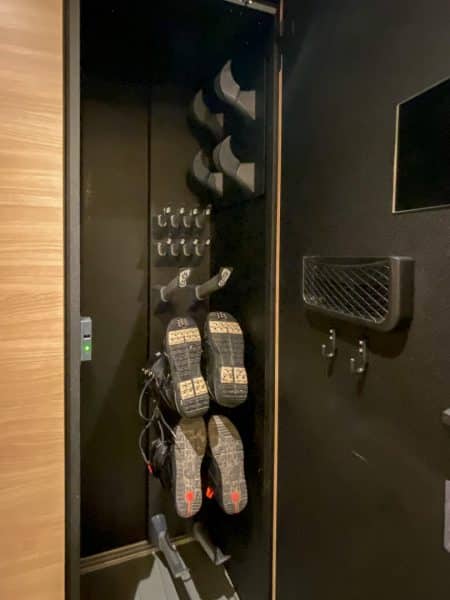 Rubber coated stands and plush suede banquettes were dotted around the carpeted room. None of the usual clutter and noise involved in getting ready for a day on the slopes was anywhere to be seen.
The lockers were fantastic too, fitted with an extractor fan, drain and multiple arms that stuck out like miniature hairdryers – drying and warming gloves, boots and even helmets!
Directly outside this room was the vehicle bay – where a very comfortable van would drive guests the 500m or so down to the ski lift.
Slopes
The amount of skiable terrain really surprised me. Although we had plenty of red and black runs tucked away in our little corner at the top right of the map (Pinzolo) – there was an enormous expanse of terrain to be explored, with breathtaking views and wonderful snow (despite the green landscape around the hotel).
The picture of the Dolomites at the top of the map turned out to be surprisingly accurate!
Often you'd find entire slopes to yourself, with a seemingly endless landscape ahead of you:
One morning I ventured all the way across to Passo Grostè, in the upper left corner of the map. This area offered views far into the distance, beyond all skiable terrain…
… the perfect opportunity for an incognito selfie and a visit to the gigantic snow park.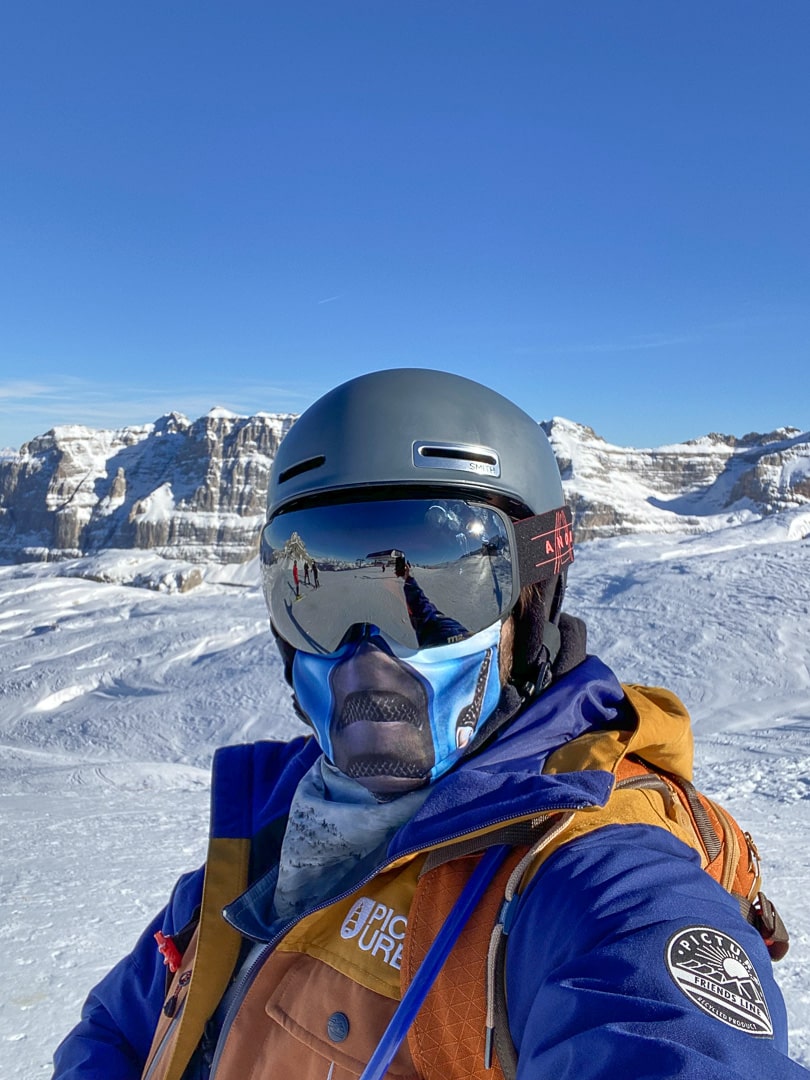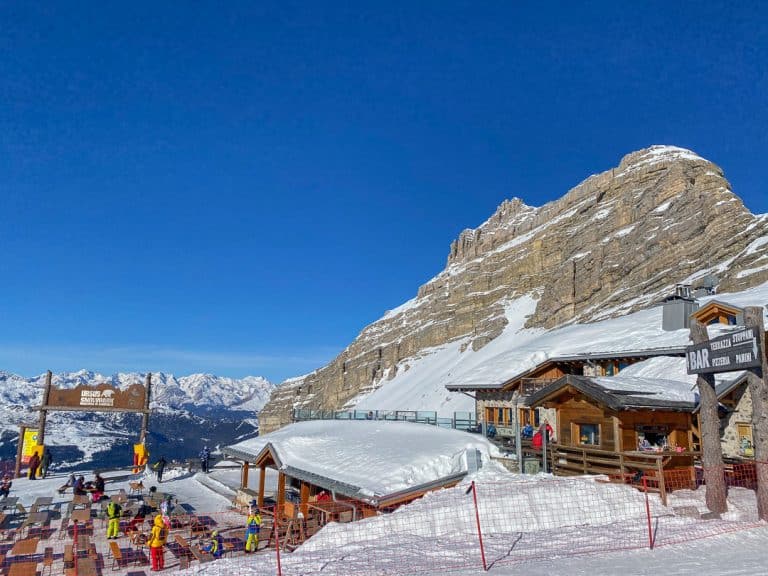 ---
Conclusion
---
Basics Checklist
☑︎ Power sockets near the bed
☑︎ Easy to understand light switches
☑︎ Coffee machine (bonus points for Illy!)
☑︎ Separate shower and bath
☑︎ Blackout blinds
☑︎ Stable, fast and free Wifi
☑︎ Feather pillows
☑︎ Quiet and powerful aircon
This stay delivered all of the basics on my checklist – and so much more!
The property is architecturally stunning, with that mix of modernity and mountain that makes it feel slightly like a Bond Villain's lair.
From the moment that you step into the bar and see the mountain views, perfectly framed by gigantic windows, you know that you're somewhere truly special.
The food at Grual was as good as I've ever had at any hotel in the world. Up there with the Michelin starred dining at the Ritz Carlton Kyoto. I'd be shocked if Grual doesn't get at least one star in the next year.
Service was uniformly excellent too: housekeeping was thorough, waitstaff were super professional, bar staff were well trained in making cocktails to a high international standard. All staff involved in skiing; from the shop to the van driver, went above and beyond when one of my boots broke: the van driver offered to delay his lunch break to drive me back and forth from the slopes, meanwhile the ski shop staff had me in a new pair of boots in record time and offered to fix my old ones for free.
Staff at Lefay aren't just following a handbook. They are willing and empowered to adjust the service to the situation – and it shows.
This alone would be more than enough to recommend the property to those in search of a luxury mountain retreat.
However, Lefay also has the single most impressive spa of any hotel I've ever seen in the world. I've not even heard of anything that could feasibly compare.
The skiing was also really varied, with plenty to keep even the most avid of snow hounds entertained for 7 nights (or more!).
If you can find availability, I would wholeheartedly recommend locking in a stay here.
---
Book Lefay Dolomiti with Virtuoso benefits
---
Virtuoso Booking
Virtuoso bookings always match the best available rate on the Lefay website, but ALSO offer extras such as:
Upgrade of one category,

based on availability at time of check-in.
Full breakfast for up to two in-room guests.
$100 spa credit for either treatments or cosmetics.
One complimentary lunch or dinner (excluding alcohol).
Early check-in/late check-out, subject to availability.
Lefay Dolomiti can be booked directly online, with Virtuoso benefits, by clicking the "BOOK NOW" image.
If you're a first time client and want to learn how our free service works and how to get set up on our booking portal, click below for the guide:
Do you have a more complex booking enquiry, involving multiples rooms or hotels? Email us for immediate booking assistance: