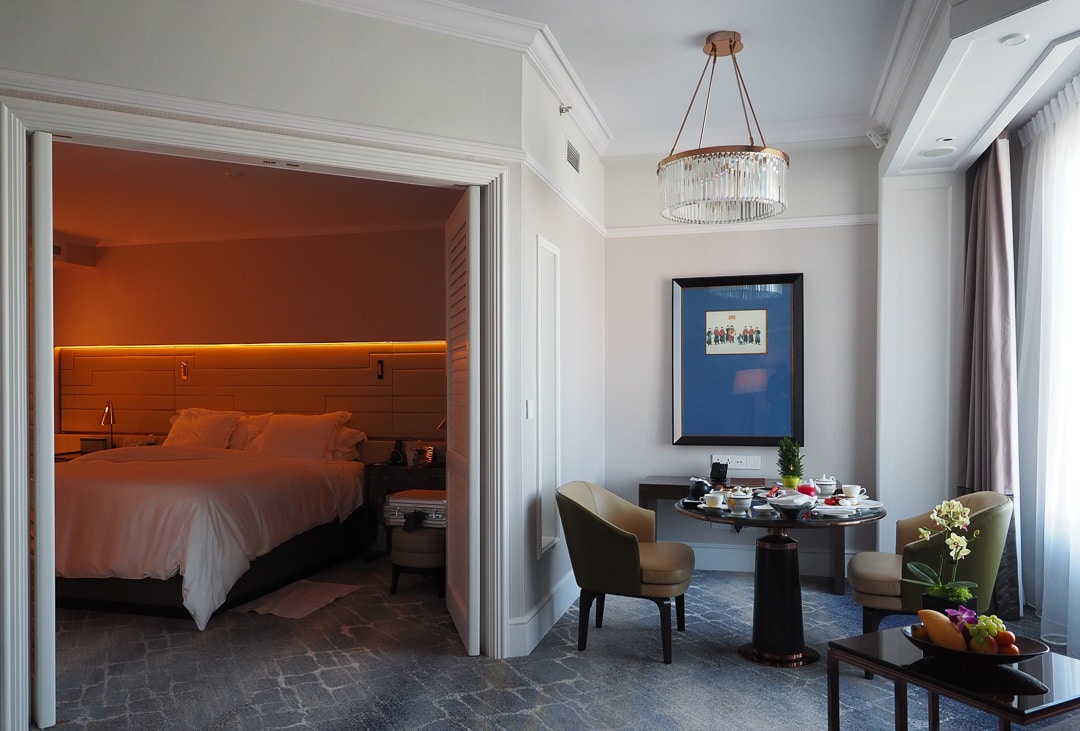 REVIEW – Four Seasons Singapore
March 28, 2022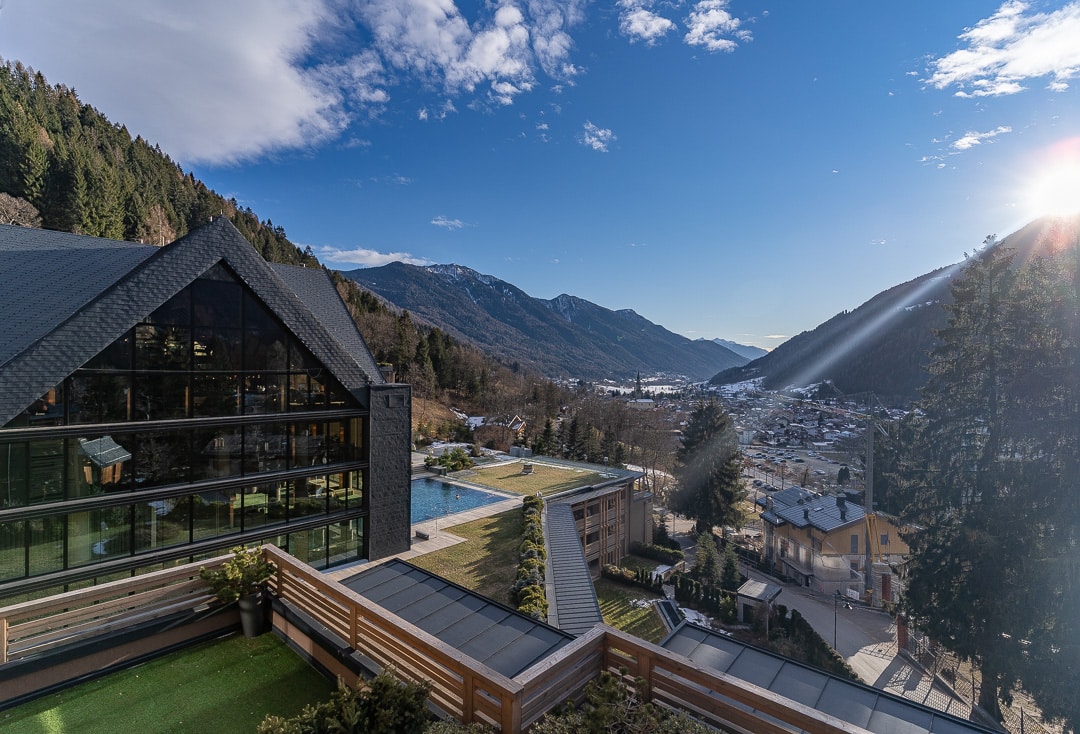 REVIEW – Lefay Dolomiti
April 25, 2022
Sabi Sabi Earth Lodge
Location: Sabie Game Reserve, South Africa
Rate: Complimentary Press Stay
Room Type: Luxury Suite
---
Intro
---
I never thought that safari was for me. Having seen the typical decor – animal print rugs, vintage lamps, etc. – I just didn't see the appeal.
Then, in 2019 I visited Silvan Safari, a property with thoroughly modern decor, fantastic food and truly spectacular animal sightings.
Clearly there were lodges out there that could not only cater to my taste for more modern design, they could also provide luxurious game drives, a world away from the crowded and cramped vehicles so often seen in places like Serengeti and Masai Mara.
Personally I value the following:
Large, open topped vehicles, ideally on a private basis or sharing with, at most, one other couple/family.
A park where driving off-road is permitted, so you can follow animal tracks.
A limit on the number of vehicles at any one sighting, to ensure that animals aren't scared off and that the experience feels more intimate.
If you go to Kruger National Park you're compromising on all of these points.
However, bordering Kruger there are a number of private concessions, where all the above are observed and the resulting game drive experience is truly phenomenal.
Sabi Sabi Earth Lodge is located on one such concession: The Sabie Game Reserve.
It is also thoroughly modern in terms of its design, even though it has been around for 20 years!
---
Booking
---
Here at The Luxury Traveller we are able to offer both single property bookings as well as complete safari tours, taking in multiple lodges, cities and even countries.
Get in touch with us by clicking on the link below and we'll start the process of planning your ideal trip!
---
Arrival
---
There are a couple of options when transferring to a safari lodge from Joburg airport.
Federal air : expensive, limited daily flights, limited luggage space, cramped seating, often makes multiple stops.
Airlink: cheap, many daily flights, normal luggage allowance, spacious seating (with air conditioning), direct.
A lot of tour operators convince people that option 1 is the only way to go. It's romantic and exciting to fly on a tiny little proper plane apparently…
At over double the cost, I don't see the appeal in being limited in terms of comfort and luggage though.
The only upside is that you may eventually land at an airstrip that is only 5 minutes drive from your lodge.
In doing so however, you'll miss a scenic drive from the local airport with potential animal sightings on the way!
We flew into Skukuza airport (SZK) with the 45 minute road transfer to the lodge provided free of charge.
Service on Airlink is great, with a snack and drinks provided on this flight of just under an hour.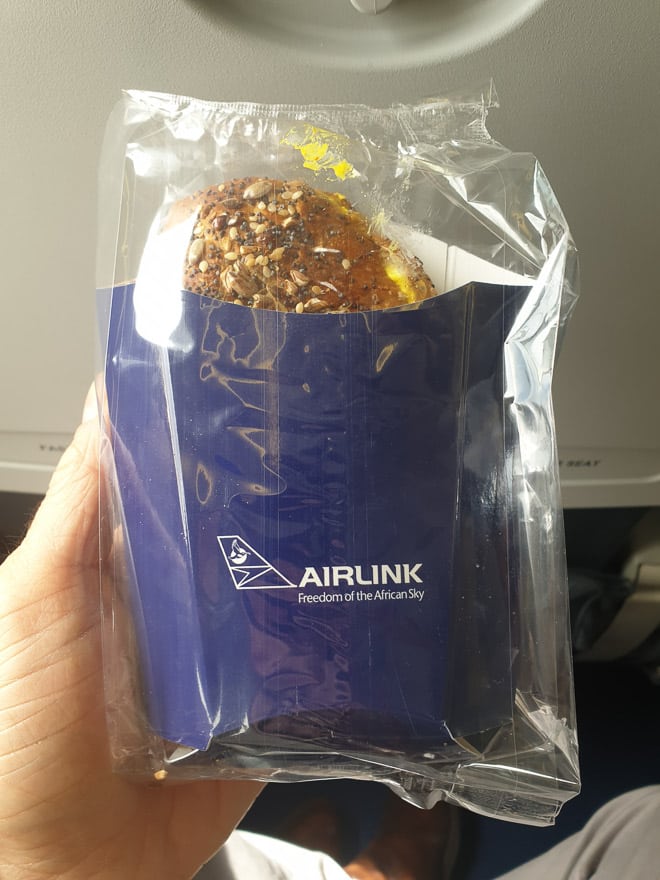 The views of the Drakensberg mountain range and of Kruger National Park were fantastic too.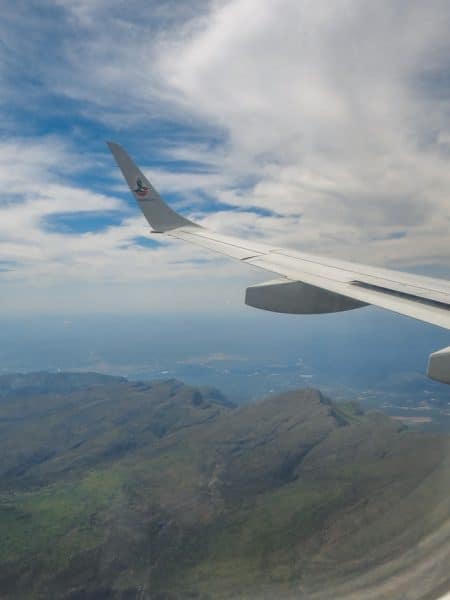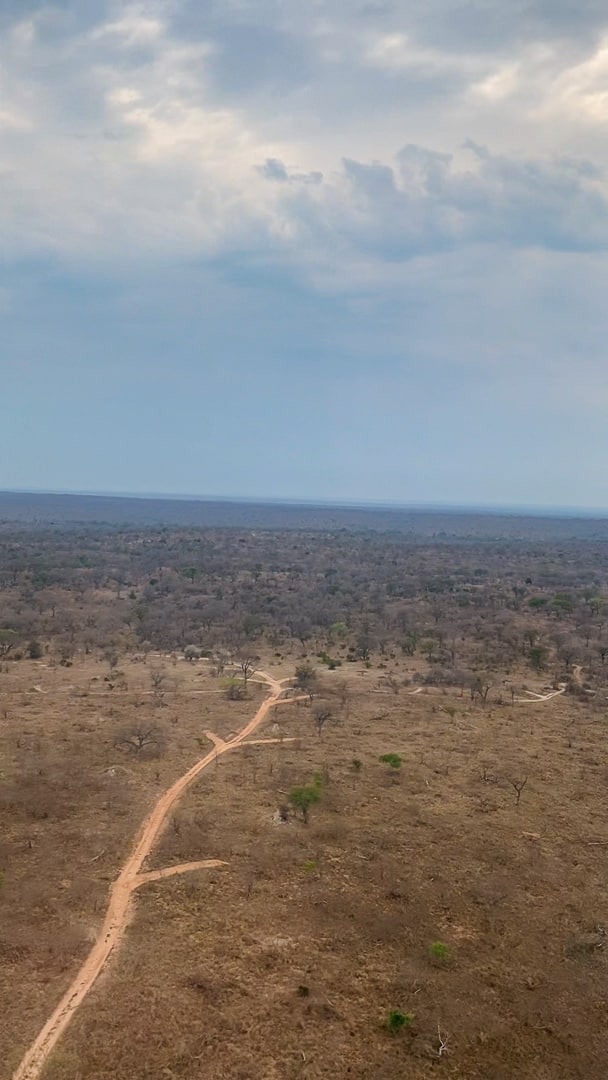 Arriving into Skukuza airport we were immediately immersed in the safari experience. The baggage claim hut, with items delivered by hand, was particularly unique!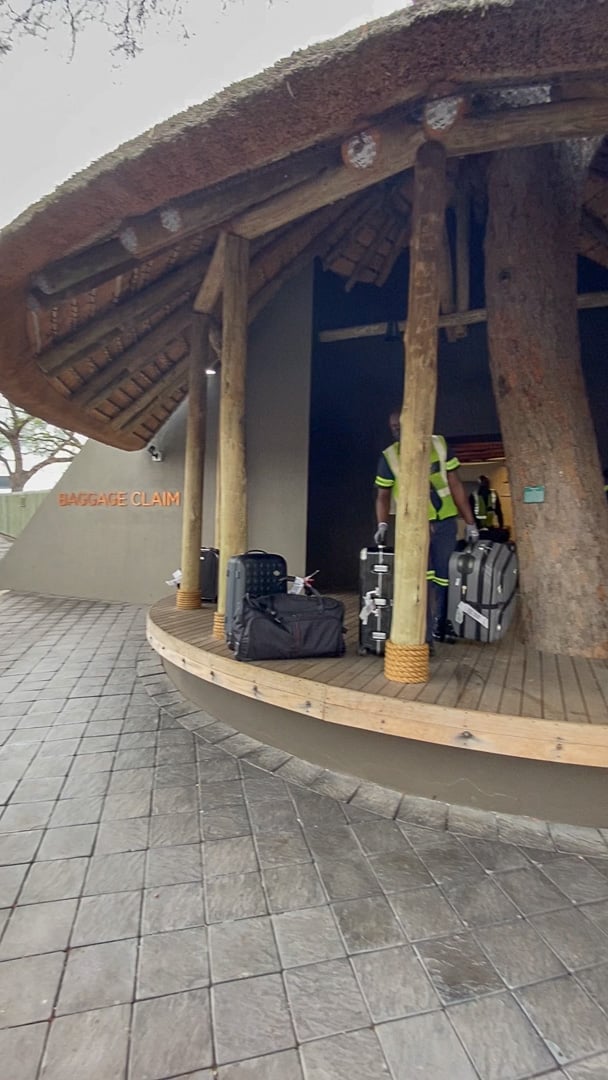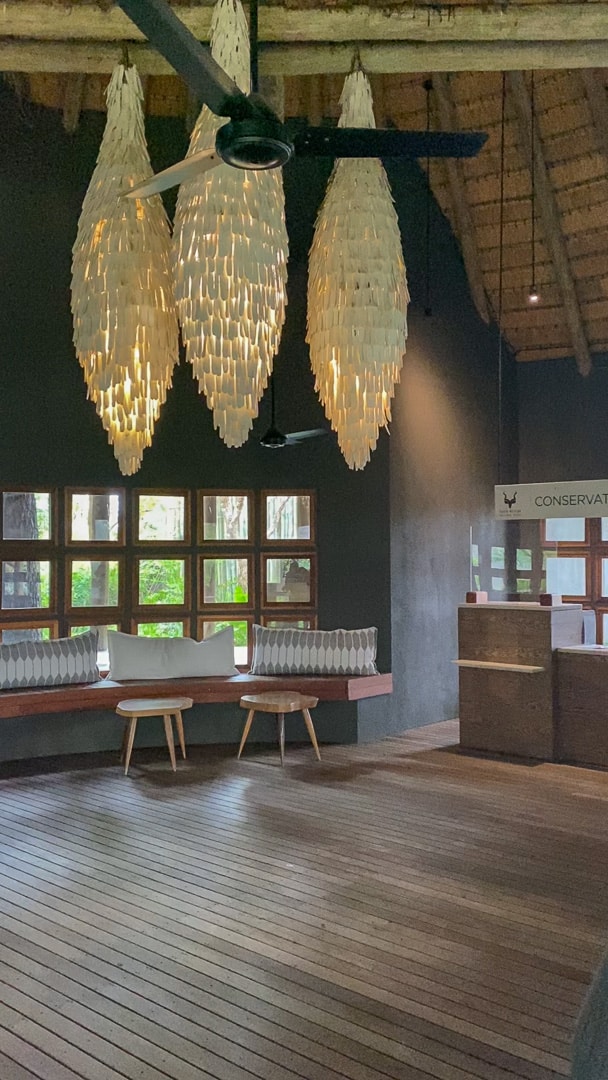 We were met in the departure hall by Viviane, who would serve as our safari guide for the duration of our stay. She was the first female guide that we've ever had and also, being in her early twenties, the youngest.
Earth Lodge has long had a reputation for diversity in its hiring practices and throughout our time at the lodge this shone through.
Viv was absolutely fantastic: super knowledgeable, hard working and very easy to get along with. It honestly felt like we had a close friend showing us around, we could laugh and joke and totally relax in her company.
Since we were driven to the lodge in a proper safari vehicle, we effectively had a game drive on the way.
We spotted the usual impala and warthogs along the way, as well as a rather more unusual (and shy) tortoise.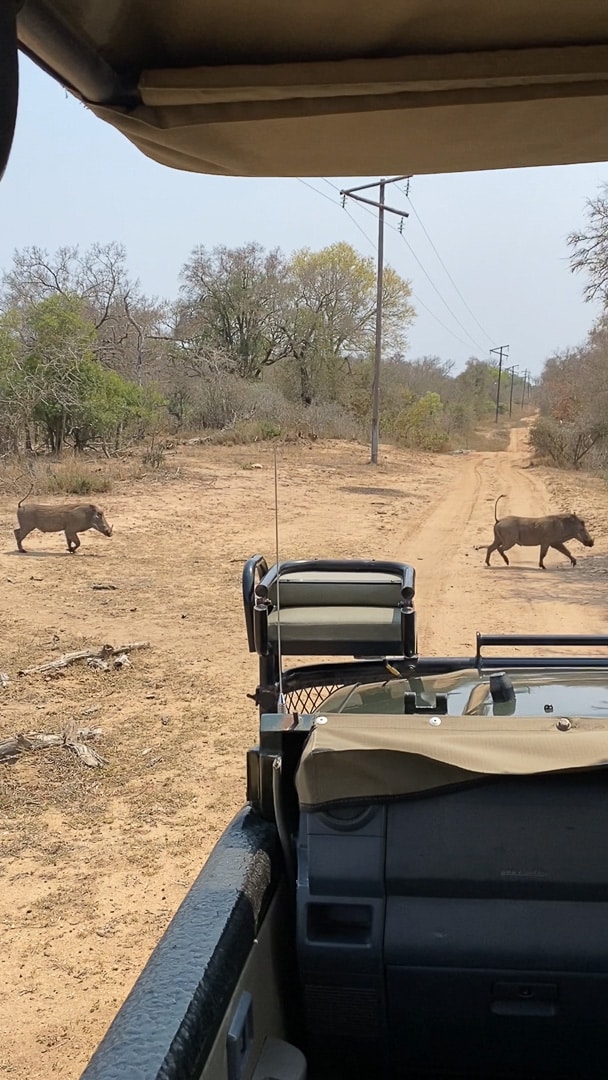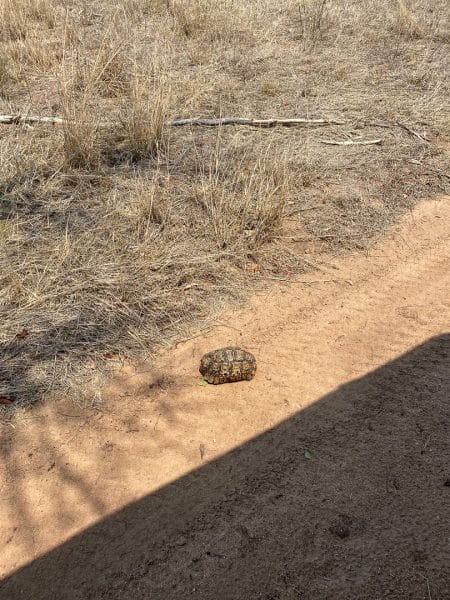 Skukuza airport is rather unique in that it is located within the borders of the Kruger National Park. After 20 minutes or so, we crossed a checkpoint, exiting the national park and entering the confines the exclusive Sabie Game Reserve.
Once inside the reserve it wasn't long until we saw signage for the lodge as well as some giraffes! We only spotted a single giraffe during our entire time at Silvan, so it was great to see a few of them before even settling into our room here!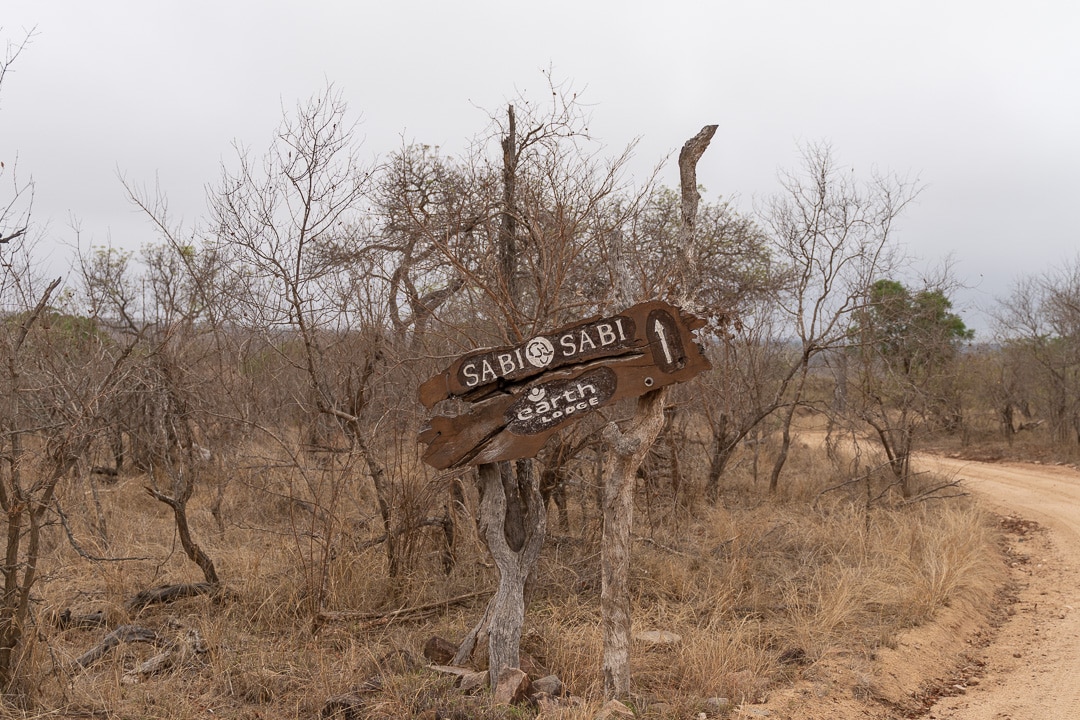 The Lodge has a very cool arrival platform for vehicles, allowing you to get in and out without having to climb a stepladder. Such great attention to detail.
As we made our way down the winding path to the lobby, the sense of anticipation really started to build.
As we turned the final corner, we were greeted by the spectacular view of this perfectly framed, manicured watering hole. This is how you design a safari lobby. Pare everything back and draw all attention to the incredible natural surroundings.
We were greeted by the lodge manager Maryke who offered us a welcome cocktail as we sat to complete the check-in formalities.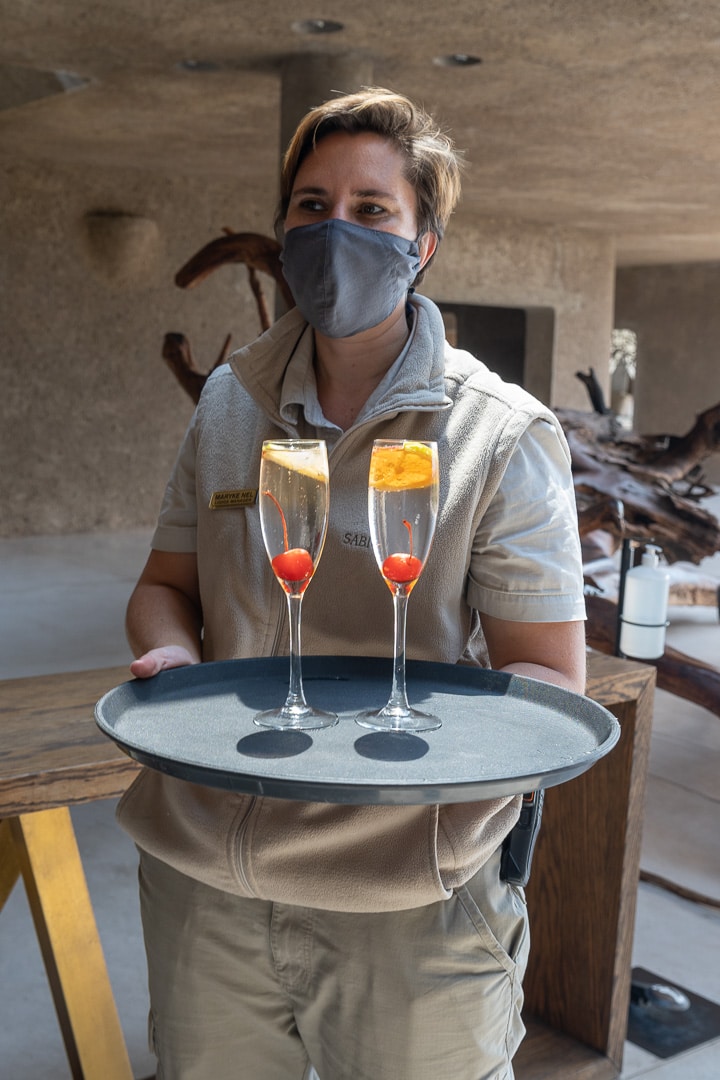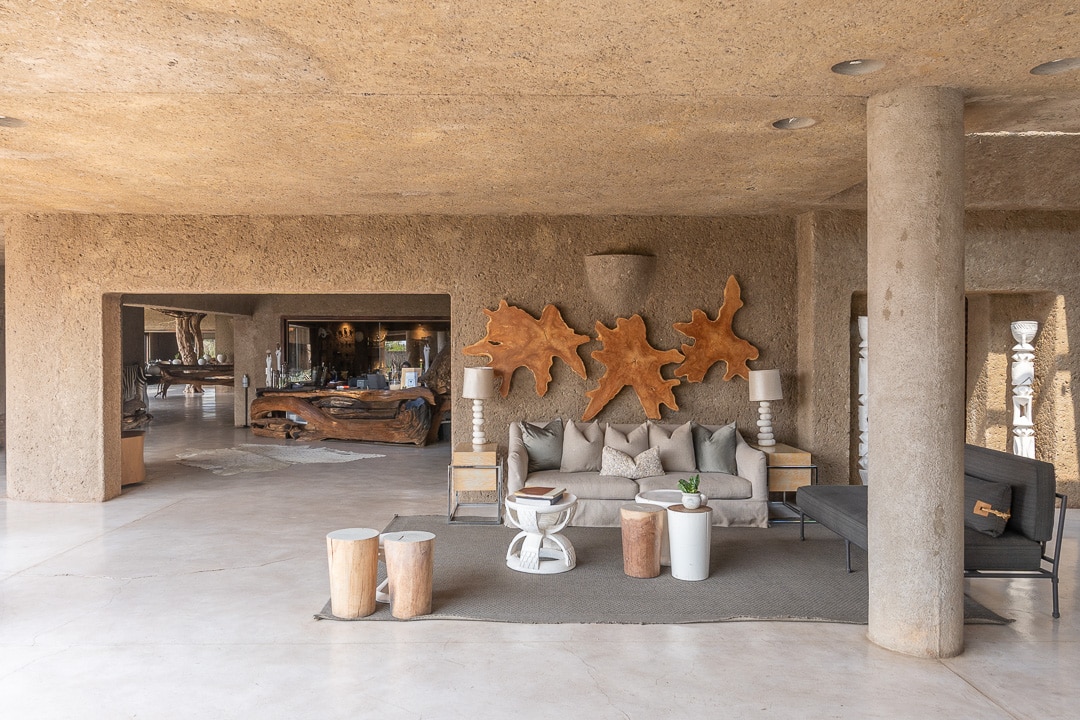 Even within the lobby area we had a couple of animal sightings: a snake and a skink in the watering hole and some resident swallows, who were nesting immediately above the reception desk!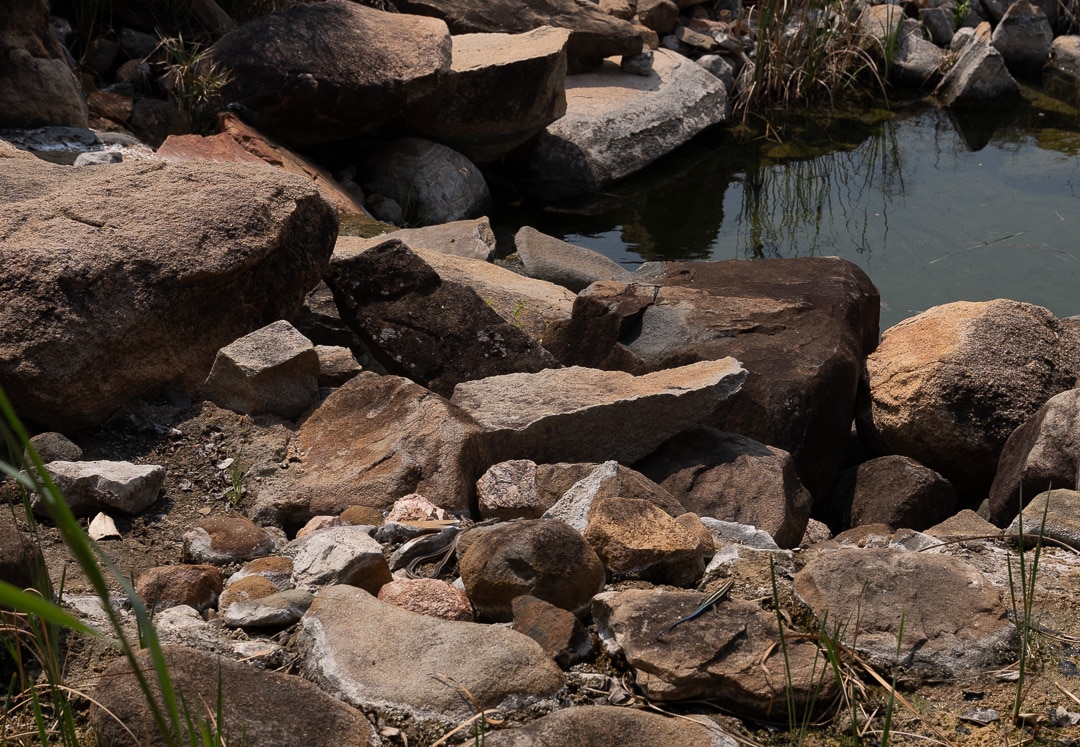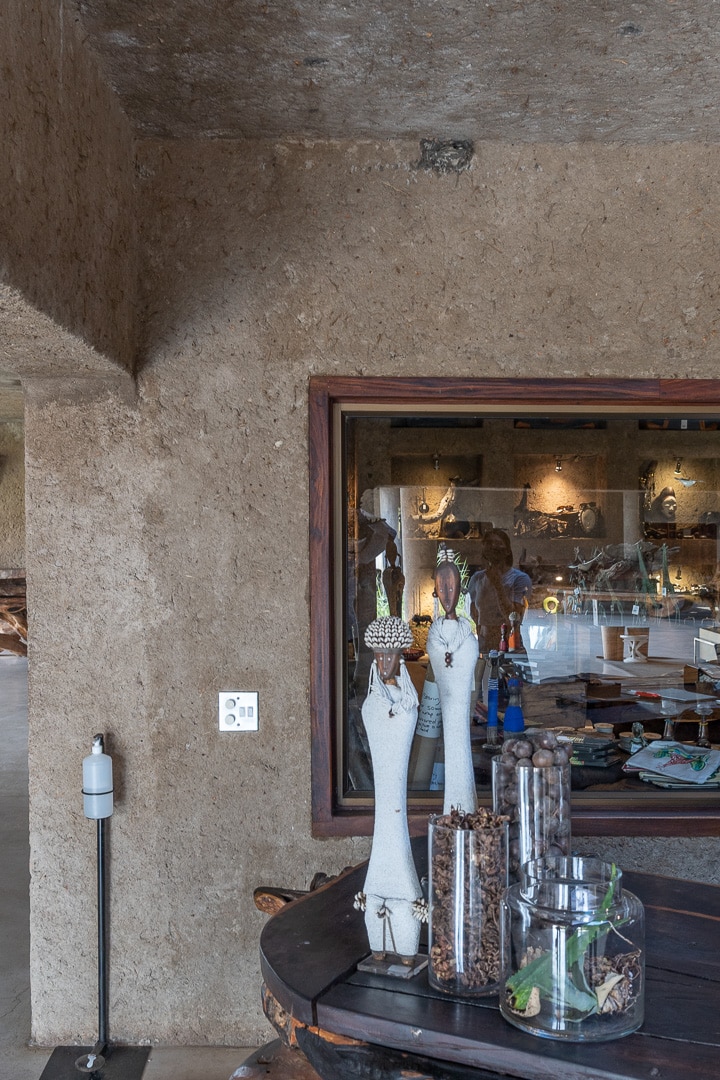 Just behind reception was one of the better gift shops I've seen at any hotel: with plenty of things that you would actually want to buy, at reasonable prices. We bought a beautiful, hand printed, cushion cover here that now adorns our sofa at home.
The property consists of the central lodge building with 13 individual suites surrounding it.
Our Suite was the second on the left in the below image. A one minute walk from the main building, albeit one that required a ranger escort at night, just in case a leopard or hyena was on the prowl!
As we approached the simple earthen exterior of our suite, we could hardly have imagined how spectacular the interior would be.
---
Earth Lodge Suite
---
Video Room Tour
View this post on Instagram
Entrance
As we entered the suite we were immediately greeted by a dramatic array of lighting and texture. A Tom Dixon style chandelier hung above a black glass table, upon which was an oversized vase filled with animal horns.
The view beyond the table was wonderfully relaxing too, an expansive wilderness – as far as the eye could see.
In an all inclusive resort, a welcome amenity is really not necessary but it was very thoughtful of Earth Lodge to chill a bottle of MCC for our arrival. Some snacks were also laid out for us and we were told that these could of course be replenished whenever we wanted.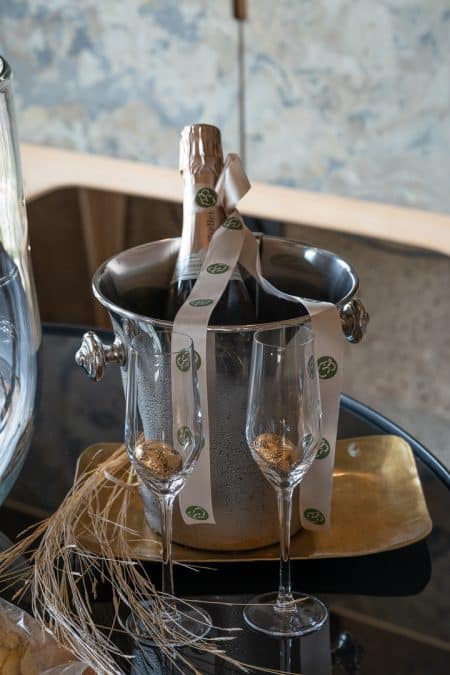 To the left of this was a long table, set up for making hot drinks. There were so many thoughtful details, like the cookies placed atop the teacups and the small black towel, which could be used to quickly remove any minor spillages.
The contrasting textures were great here too: leather lamp, metal tray, wooden table and earthen walls. All of these elements blended harmoniously to create a truly timeless elegance.
Less elegant were the off-brand capsules provided for the coffee machine. They produced an intensely sour coffee which was markedly inferior to genuine Nespresso capsules. At a hotel of this price point you'd expect either the real thing, or one of the many compostable alternatives made with high quality beans.
On the right was an absolutely beautiful handcrafted liquor cabinet, a true work of art that would doubtless cost as much as a small car. Even if I wasn't really thirsty I was always tempted to head over and open it, just because it was such a joy to operate, with the doors closing so perfectly that you could almost hear the air rushing out.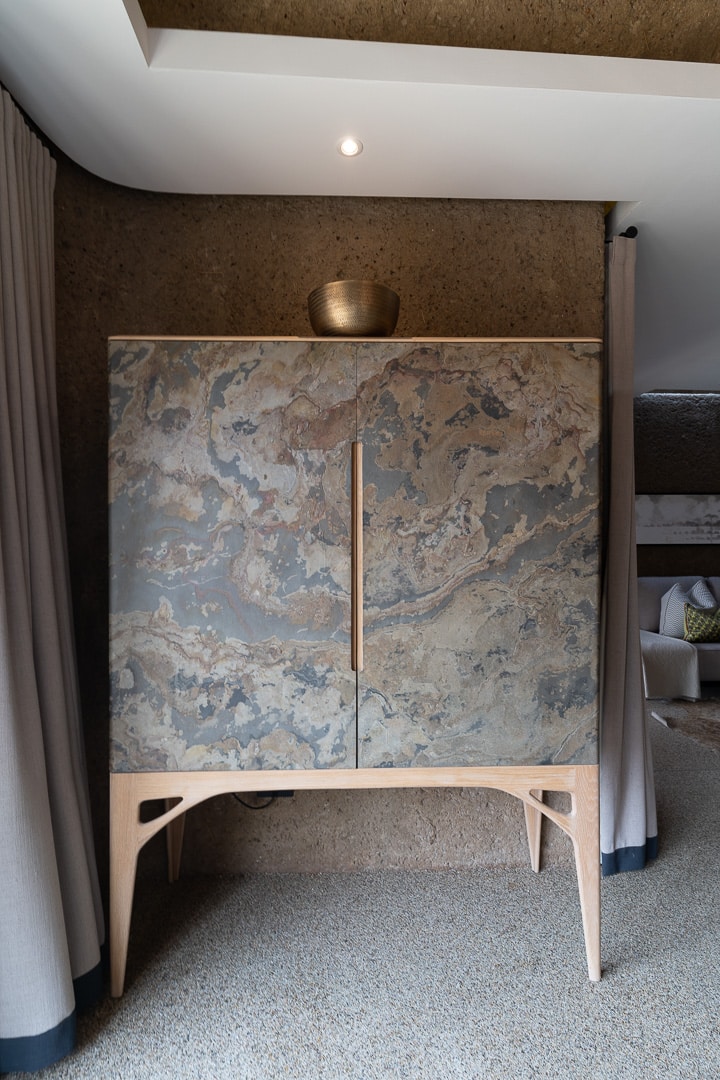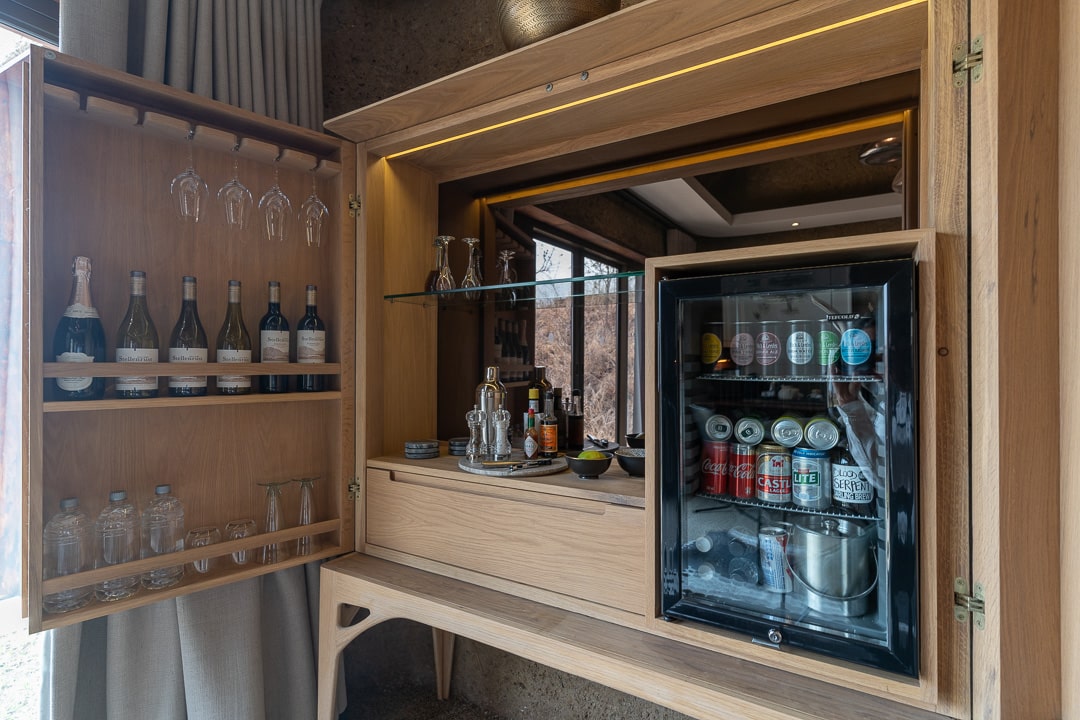 Everything inside the cabinet was complimentary and could be refilled upon request: although Oliver Reed in his prime would have struggled to get through all of this, in between the twice daily visits from housekeeping.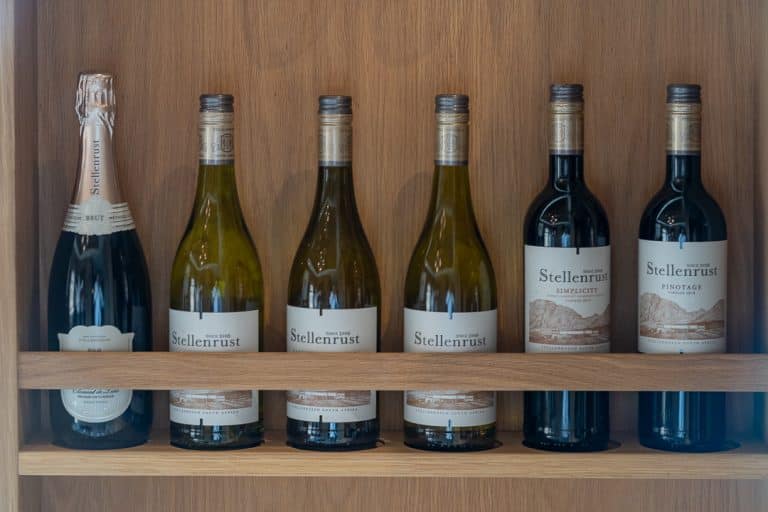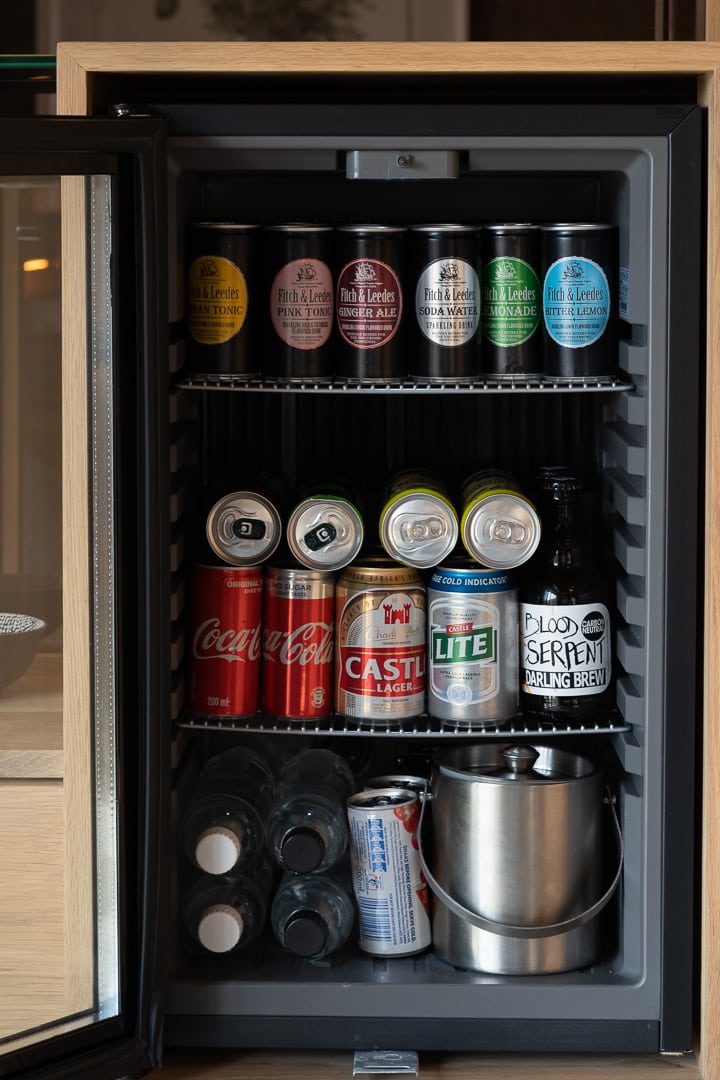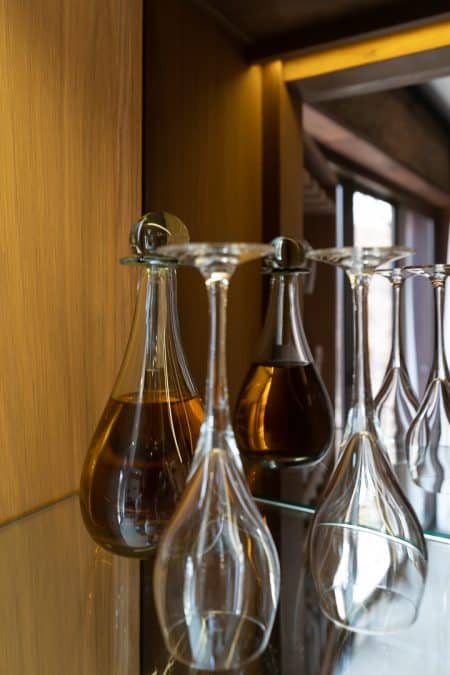 Bedroom
Given the open plan nature of the suite, the entrance, living room and bedroom all blended into one. A large sitting area sat at the foot of the bed, facing a console style desk.
This desk was the location of the only universal power socket in the room. Unfortunately the hotel didn't have any universal adaptors to lend either. We had to take it in turns to charge our laptops and had to leave our phones charging all the way over here rather than having them close by for our morning alarms (or if we needed a torch in the middle of the night).
Thankfully there were 4 USB ports in addition to the single universal power socket, so we could charge multiple devices at once.
Adding universal power to the bedside tables and bathroom would be a very simple fix that would considerably improve the experience for international guests.
The bed itself was very comfortable and I was happy to see that the mosquito net surrounded not only the bed but also the bedside tables. Less impressive were the synthetic pillows. At luxury properties I'd expect to at least be given the option of a feather pillow, if not a full menu including buckwheat, memory foam etc.
Sleep comfort is particularly important when you're waking up at 5am every day!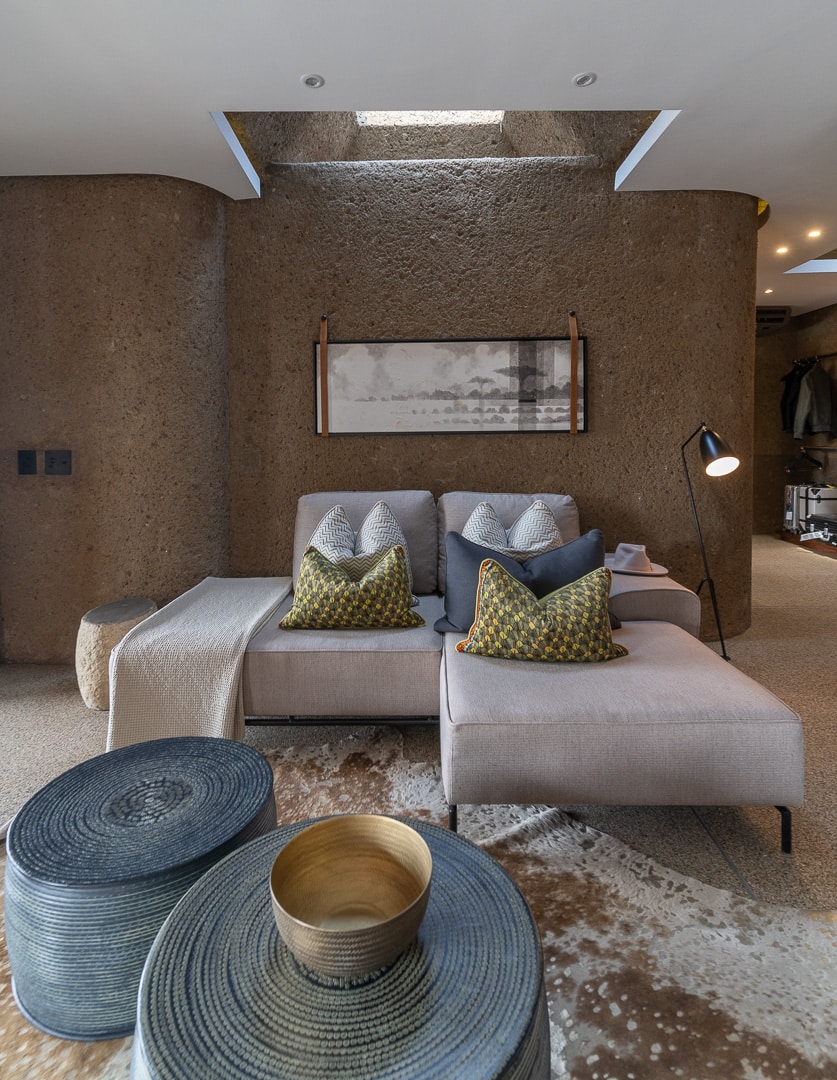 In terms of sleep comfort there was also one other issue. The air conditioning unit was capable of comfortably cooling the suite, no mean feat in the African bush. However the system was both incredibly loud and also intermittent.
After a period of total silence the system would suddenly kick into action, waking us up in the middle of the night.
After the first night we used earplugs but obviously it would have been better not to have to deploy countermeasures!
Next to the bed was a very well designed dressing area, featuring both a full length mirror and a skylight, to provide natural lighting for the make-up area.
I really liked how the drawers were lined with leather and absolutely loved the fact that complimentary laundry was included as standard. (Now that PPV movies and wifi are no longer cash cows for hotels, laundry is one of the final vestiges of egregious price gouging.)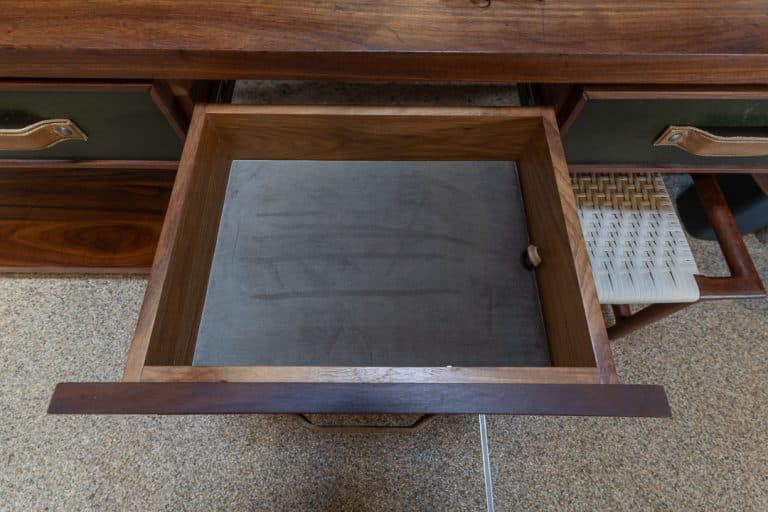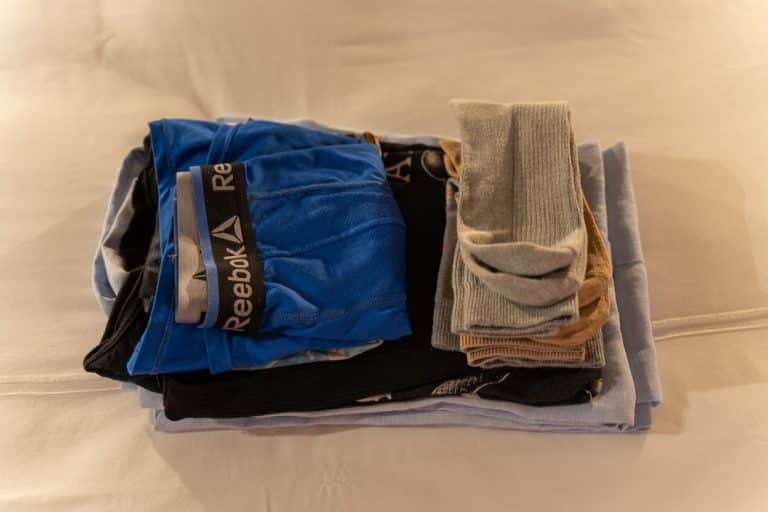 Bathroom
The bathroom was a real showstopper. Indeed, it is one of my favourite bathrooms in any hotel ever. Natural light flooded in from the sliding doors, a skylight and best of all: a huge window in the shower.
Modern touches like the Flo lamps and white marble were juxtaposed beautifully with the stone sinks, rustic wooden table and natural fibre rugs.
It took a while to get used to showering with a view of the wildlife but in many ways this reminded me of showering in the Maldives in an overwater villa. You just never knew if some exciting creature was going to spring into view…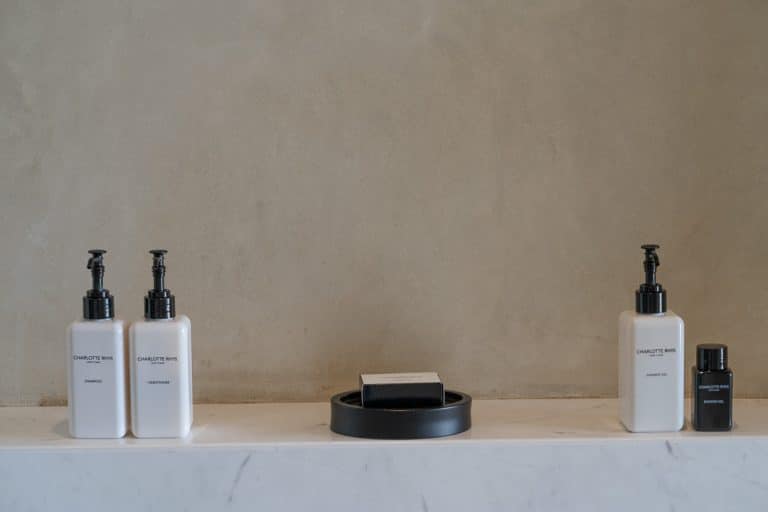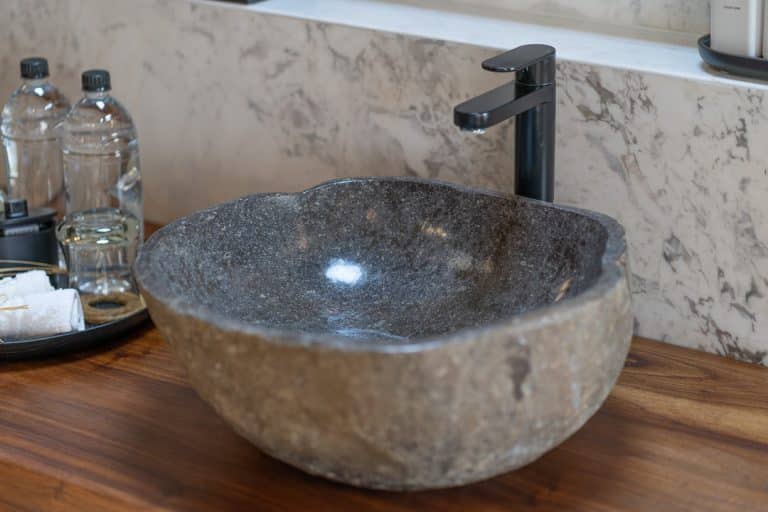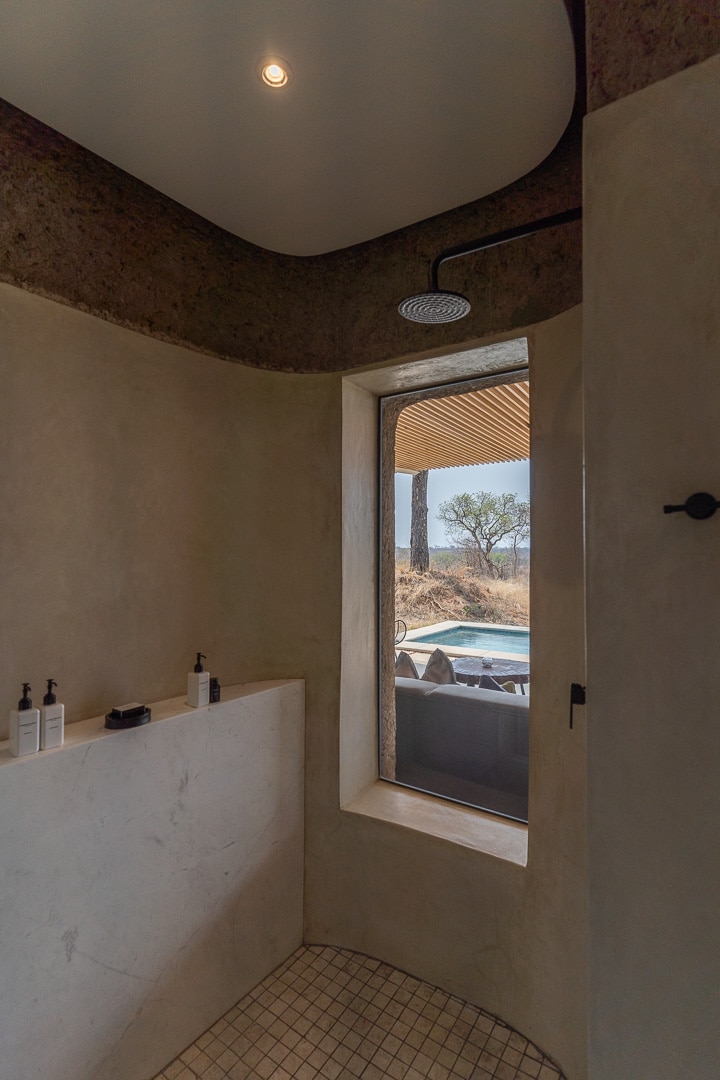 …like this guy!
The Charlotte Rhys toiletries were high quality and very abundant, as was a selection of fluffy white towels, found throughout the bathroom.
Every little detail was meticulously thought out, right down to the bow tied around the toilet paper and the room spray next to it.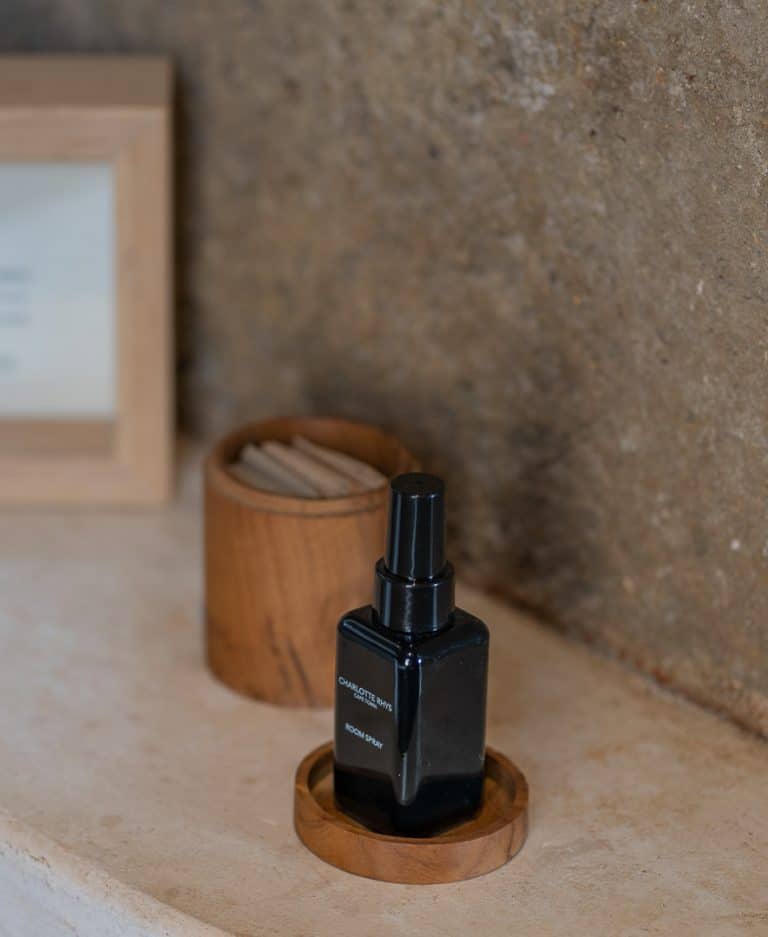 Given the cold temperatures during our game drives, it was always a pleasure to return to the suite for a relaxing soak in the bath. The addition of face towels, candles and a book/ kindle stand were wonderful details here.
Pool Terrace
Other safari lodges that we've stayed in had large decks and pools but they didn't feel particularly well suited to the circumstances. Shade was rather limited and there was no cooling of any kind.
The outdoor terraces at Earth Lodge are more like outdoor living rooms, fully furnished and surrounded by thick earthen walls. The walls provided natural cooling and solid shade, whilst a pair of very elegant looking fans supplied additional ventilation.
Given that guests will spend the hottest hours of the day here, the design is very intelligent and much like the interior of the suite, the decor was supremely stylish too.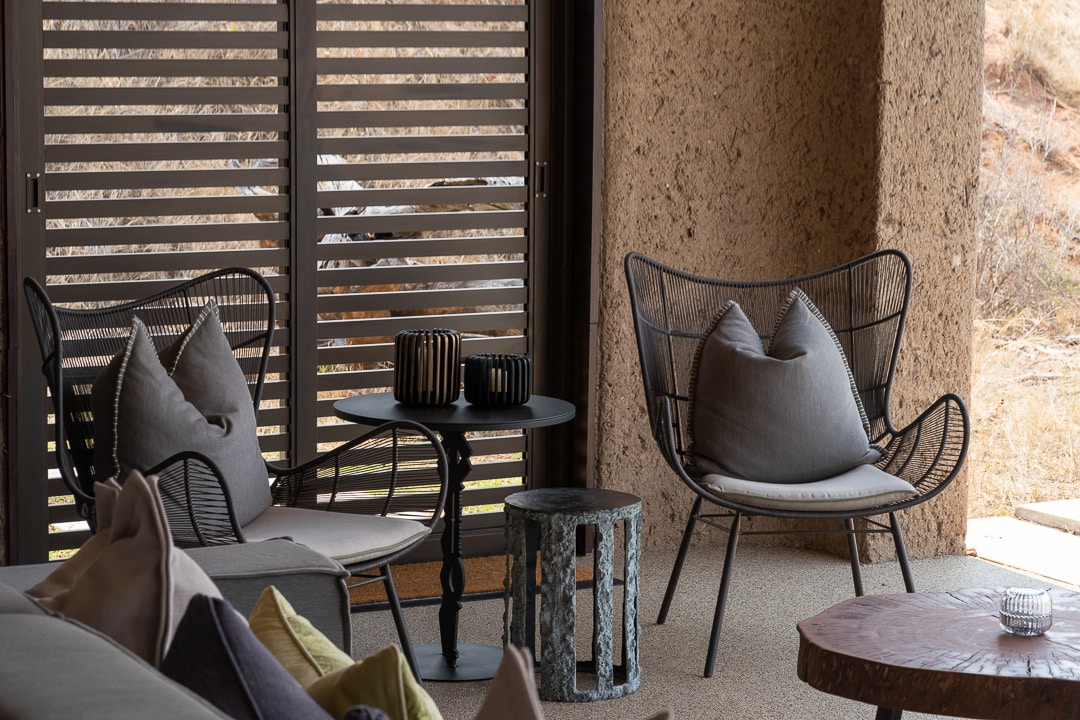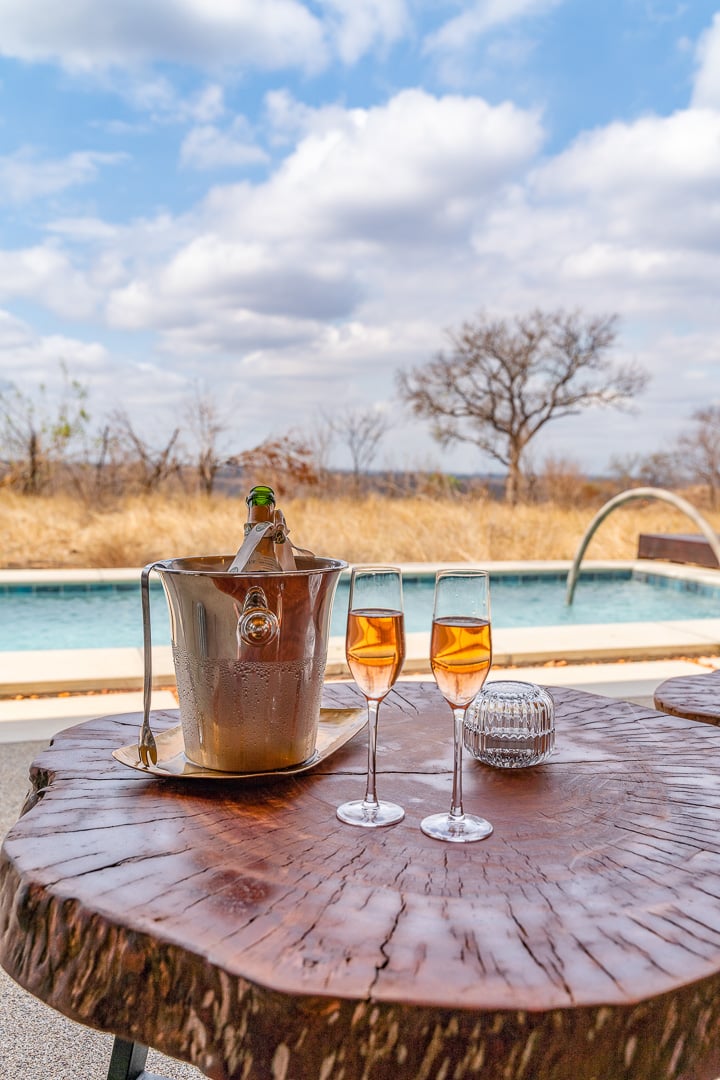 A very solid cantilever parasol provided additional shade for a pair of poolside sun loungers.
Additionally, a shower was located on one side of the terrace with a bench made of reclaimed wood on the other.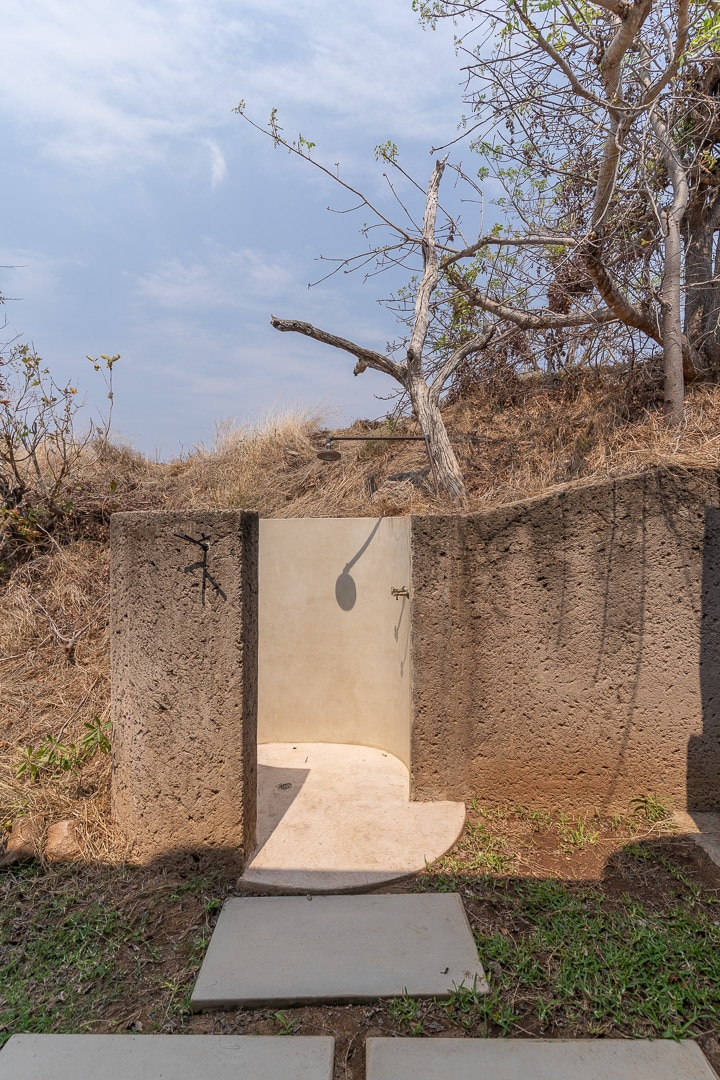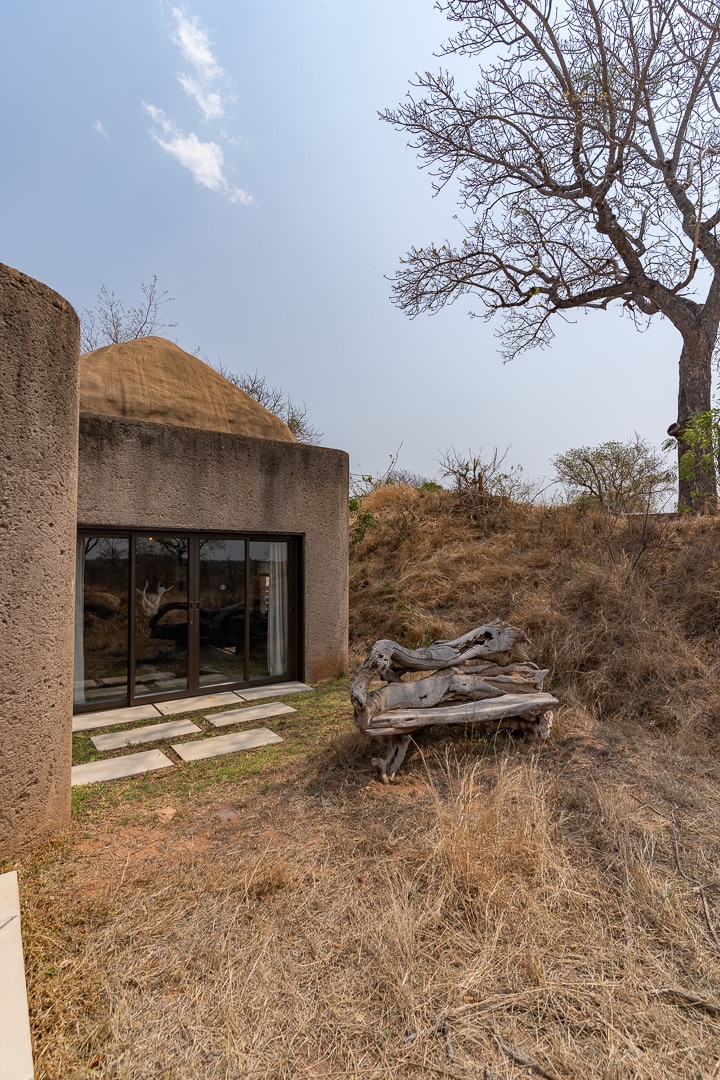 Overall, this is without question one of the most elegant and well designed rooms we have ever stayed in. If they fixed the pillows, plug sockets and AC it would be hands down the best.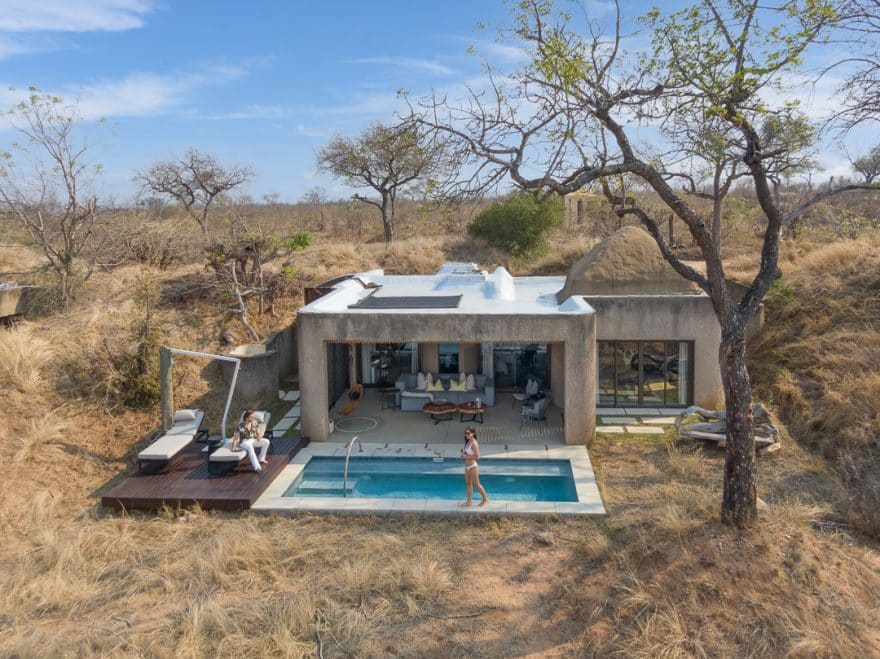 ---
Food and Drink
---
I've previously described eating and drinking on safari as being similar to the approach of Hobbits:
The key difference is that on safari you are fed and watered slightly more frequently.
5:30am Morning Coffee
Morning coffee was served in the lounge area of the main lodge building, moments away from our suite.
Calling this morning coffee is a bit of an understatement though, as this was closer to a continental breakfast buffet.
Staff were on hand to make teas and coffees but the latter was only of the filter variety. I could help but yearn for the extra strong morning cappuccinos served to our room in Matetsi.
I wasn't usually very hungry at 5:30am but couldn't resist having a single raisin rusk each morning to go with my coffee: they were homemade and so, so good.
7:30am Bush Breakfast
Midway through the morning game drive, our tracker and guide would set up something not dissimilar to the morning coffee, only this time with an incredible view of the African bush.
There was also the very important addition of a healthy slug of Amarula to this second coffee of the day. This concoction could be further enriched by adding hot chocolate powder, to create something called Bush Mix. I love Bush Mix, it's the best.
9:00am Breakfast
After the morning game drive we would return to the main lodge for a very relaxing a la carte breakfast.
The dream team of Goodness, Simon and Zweli took fantastic care of us and each of them was personable, professional and caring in their own individual style.
It really struck me how much the personalities of the staff shone through, throughout our time at Earth Lodge. When people are comfortable enough to truly be themselves, whilst still remaining professional, you know you have a great team.
Breakfast Menu
Almost everything that we ate at Earth Lodge was completely made from scratch, including the astonishingly good scone croissants, served with cheese. Between this and the fresh berries with granola and yoghurt, we had plenty to keep us busy as we waited for our main dishes to arrive.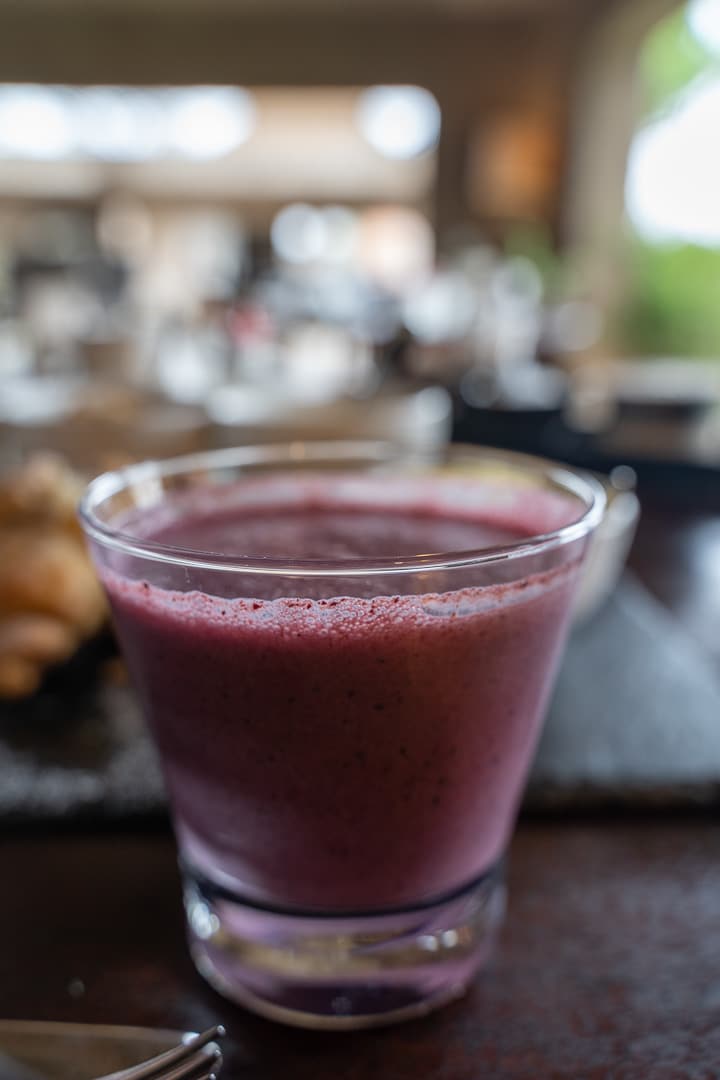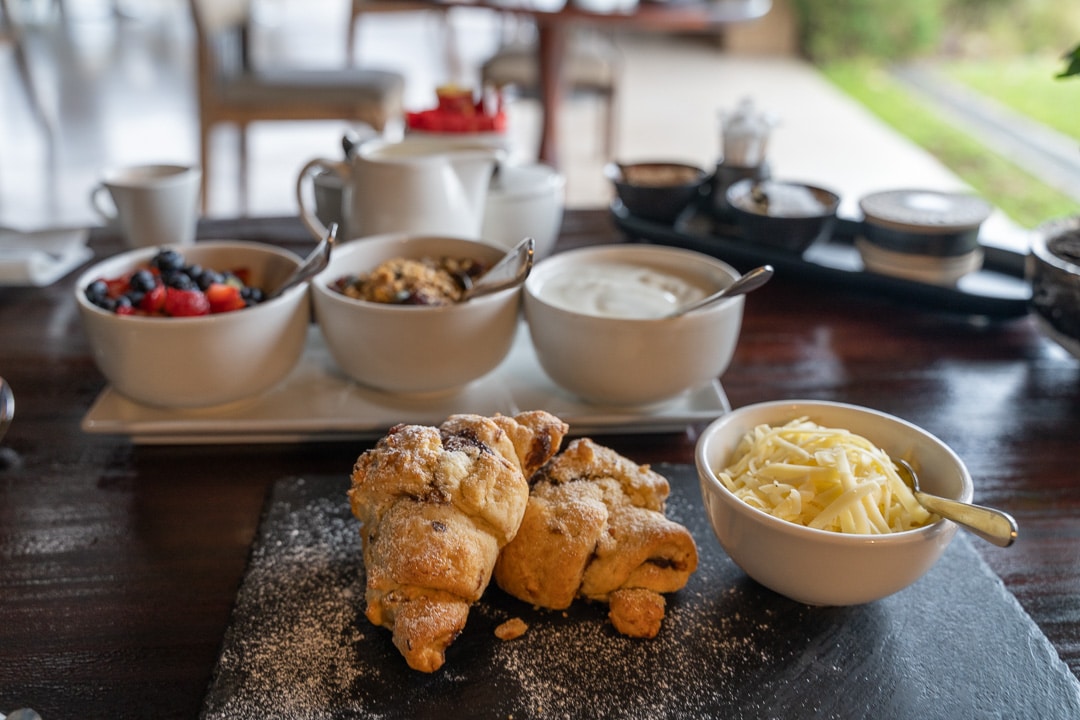 Over the course of 4 days we made our way through most of the menu, with the Ranger's Favourite Benedict being my personal favourite too! The crispy bacon was also exceptionally good.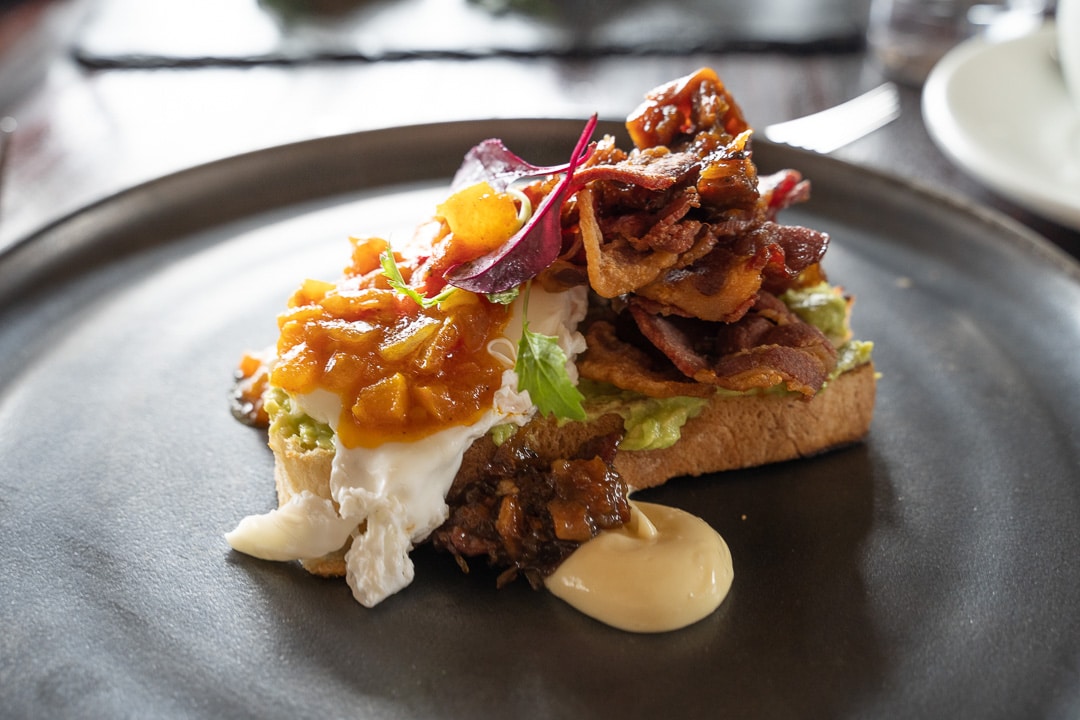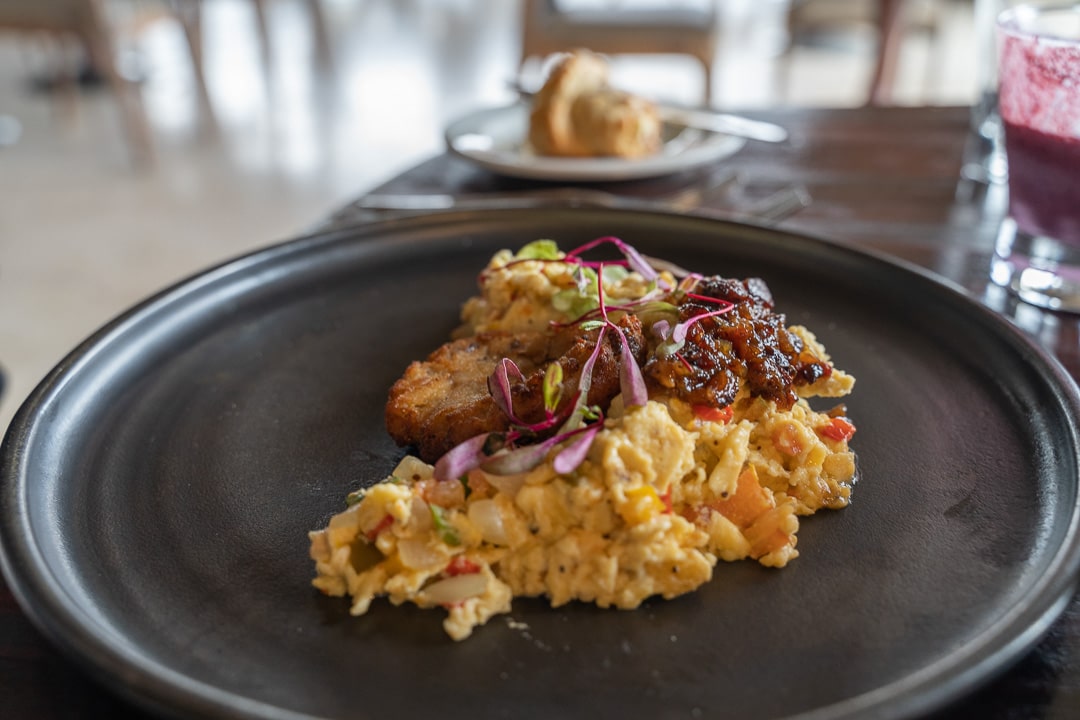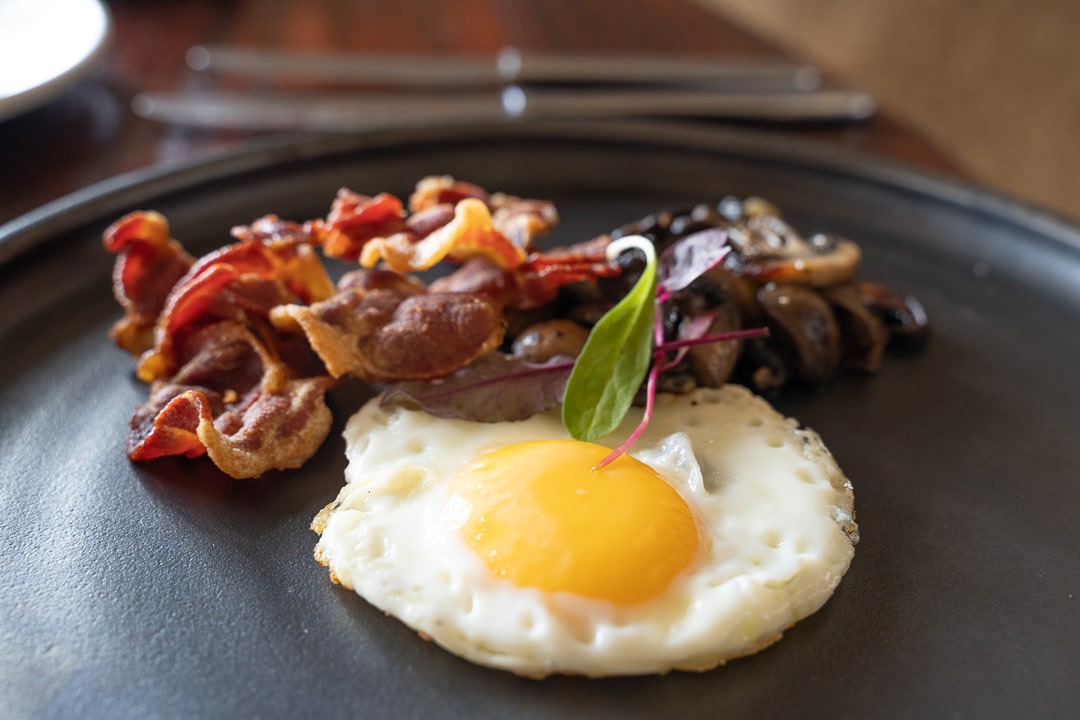 1:00pm Lunch
After a few hours of sitting around and relaxing by our pool, we headed back to the main lodge building for lunch.
Much like at Aman hotels, you could pretty much eat lunch wherever you wanted, pulling a chair up at the bar…
…or even dining with your feet splashing into a shallow lake!
However we tended to stick to the main dining room as it was very comfortable and afforded us the opportunity to easily view wildlife as we ate.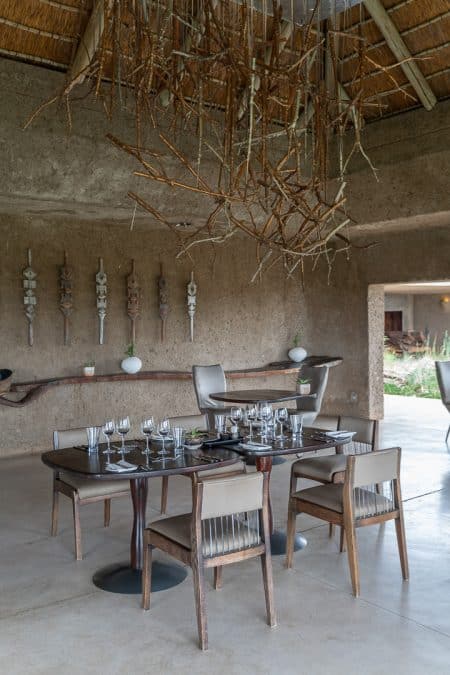 (Whenever we arrive at a new resort a helpful staff member will invariably offer to help us take a photo, this is how we look with zero posing or preparation…)
Lunch Menu
Lunch always started with bread, accompanied by olive oil, balsamic vinegar and a daily spread. The daily spreads were phenomenal, packed with intense flavours and so good that we practically licked the presentation board clean.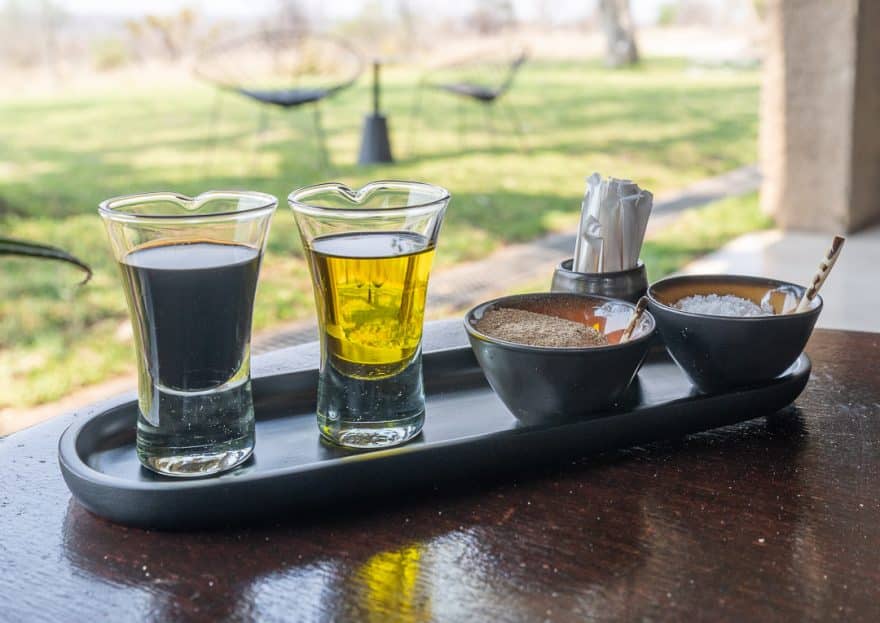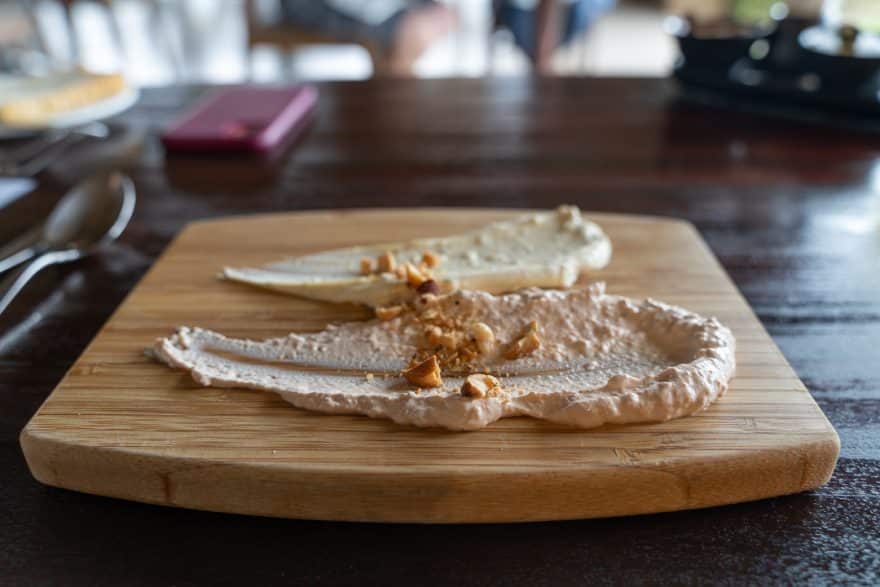 We tended to eat a light lunch, knowing full well how much you are overfed on safari! Soups, salads, fish dishes and even Vietnamese summer rolls were all excellent.
The technique, presentation and synergy of flavours was all of the very highest calibre.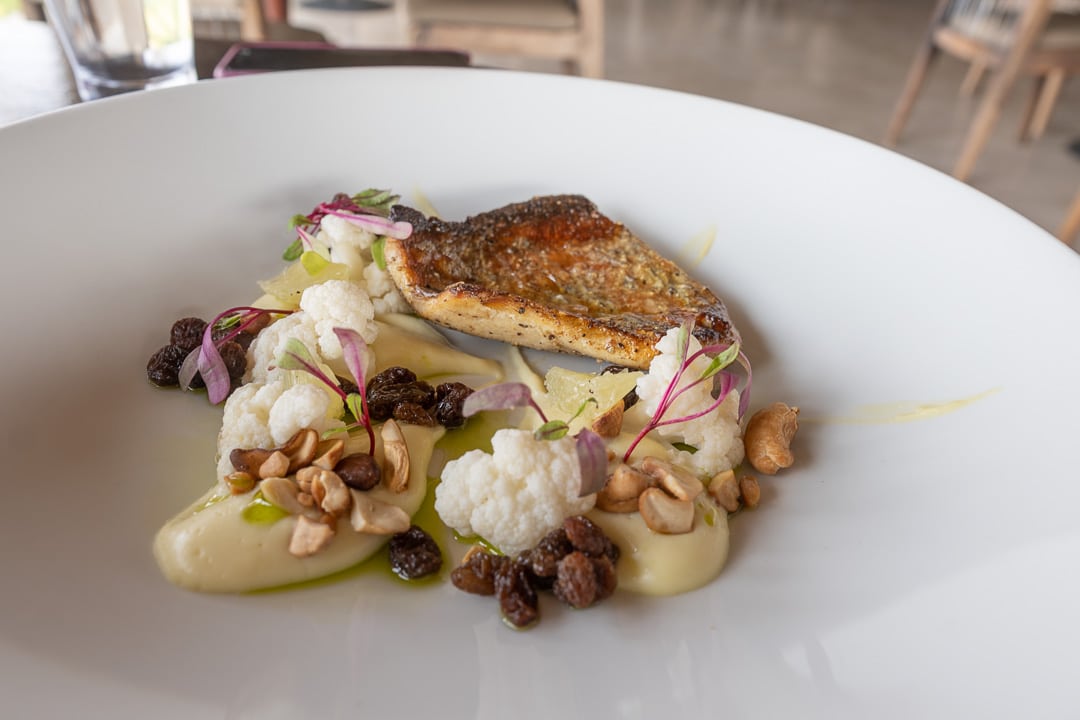 We only had one token dessert on one day, much to the chagrin of the staff – who looked visibly pained whenever we said that we couldn't manage another bite!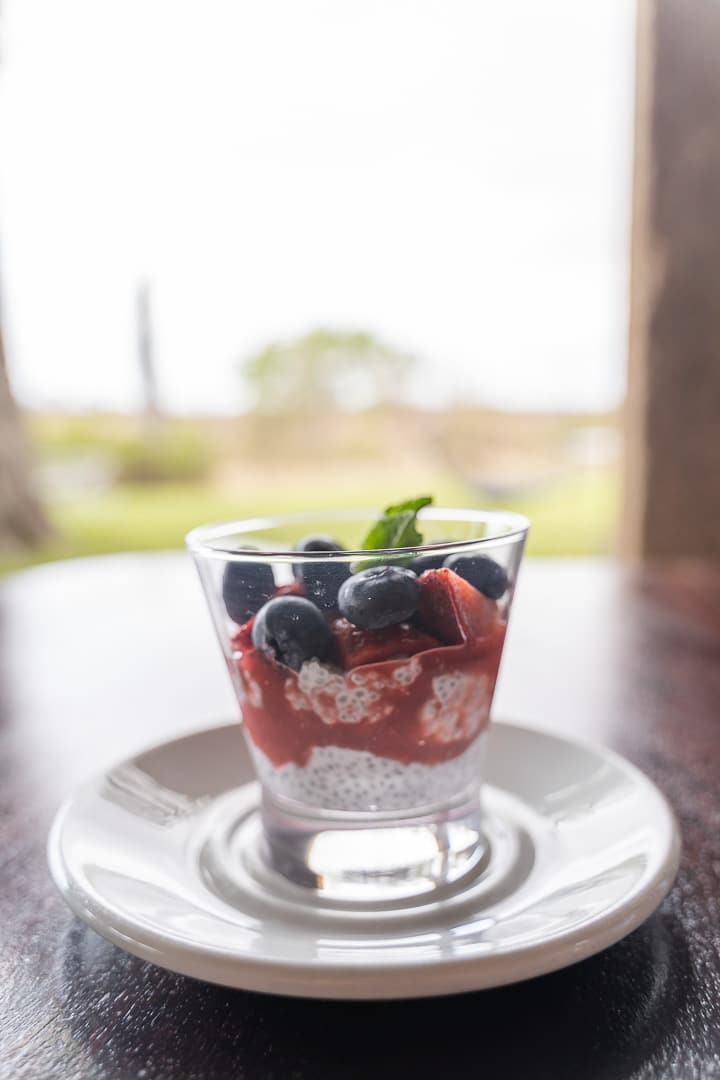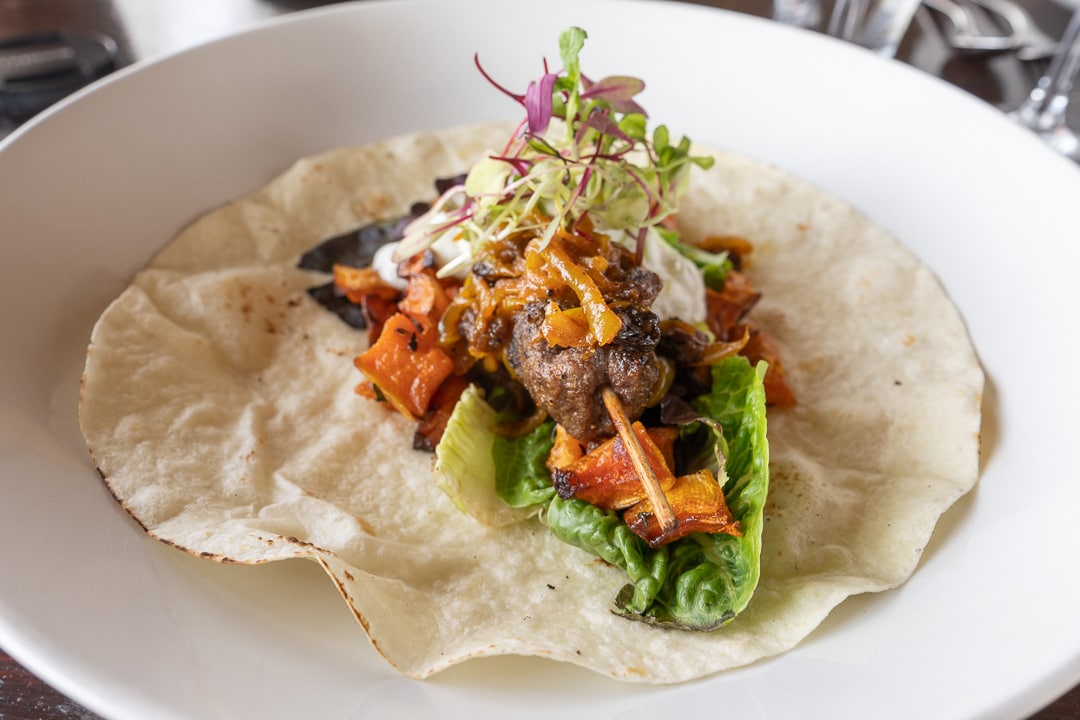 After lunch you could relax and enjoy a drink, watching the animals pass in front of the lodge: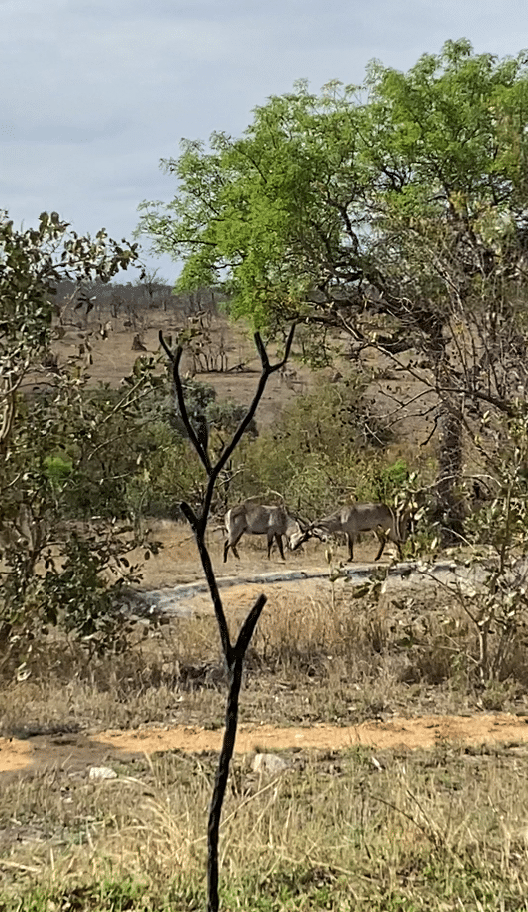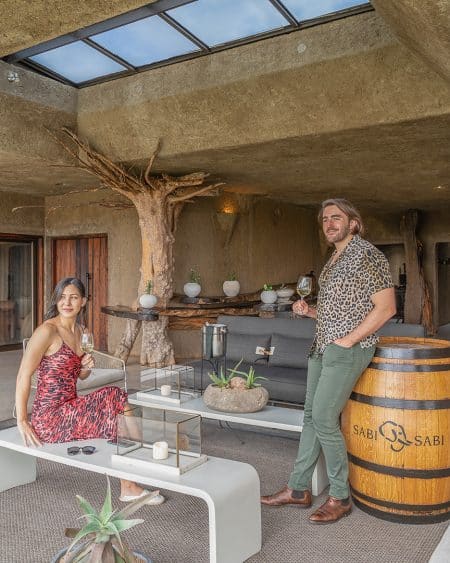 4:00pm Afternoon Tea
After returning to our room and getting ready for the afternoon game drive, it was almost immediately time for afternoon tea. In all honesty, we only went once – on the first day. After this, it was impossible to fit any more food into our bodies.
Afternoon tea was served in the open lounge, directly opposite the dining tables in the small lake.
A variety of teas, coffees and freshly made juices were offered, together with a beautifully presented selection of sweet and savoury treats.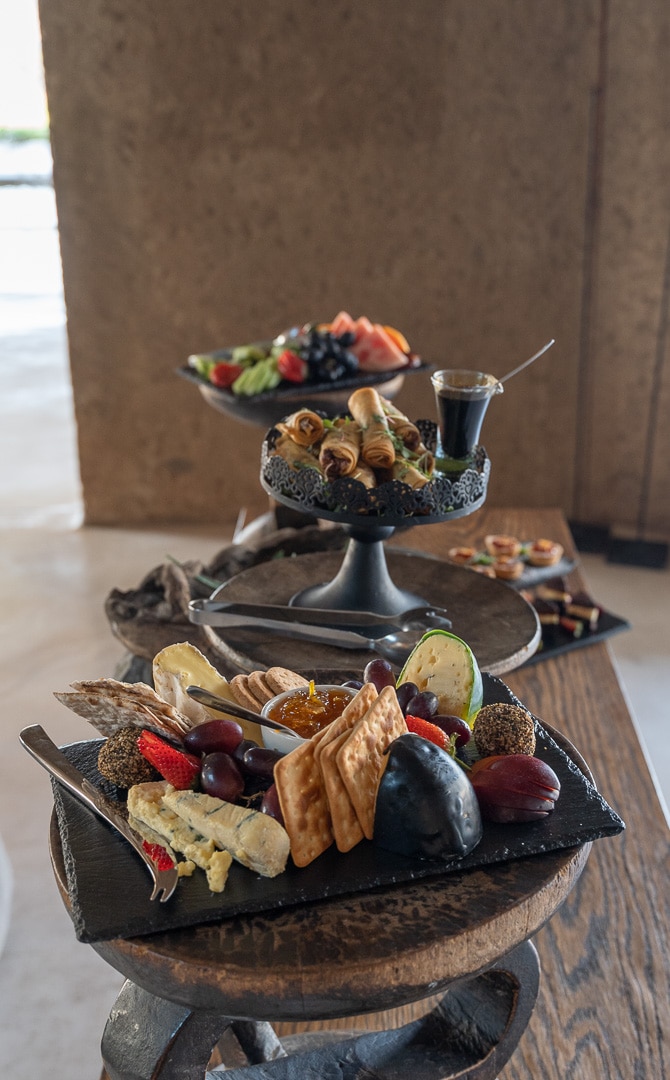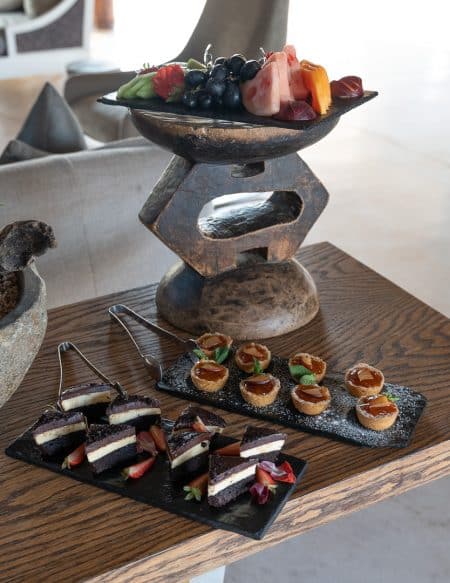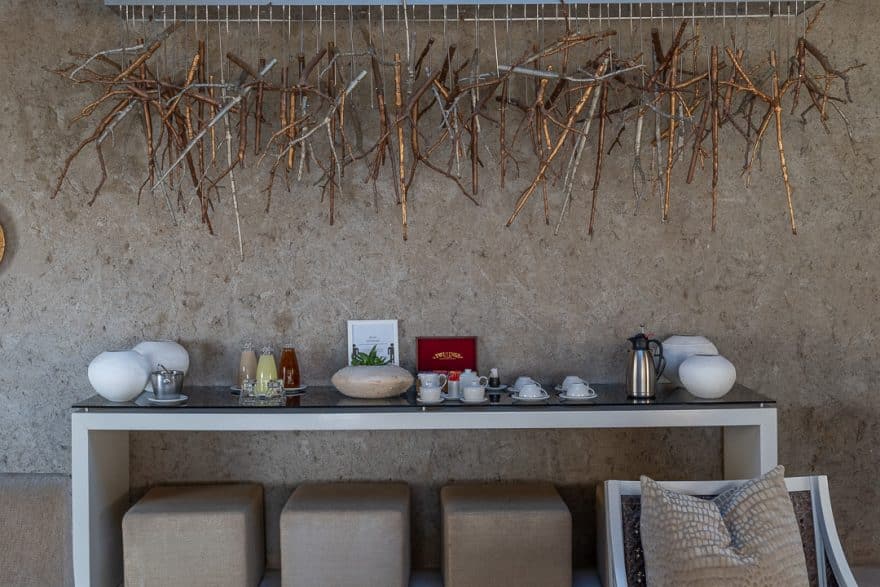 6:30pm Sundowners
Once we were finished with afternoon tea, we headed straight to our waiting vehicles for the evening game drive. Just as the sun was setting, our guide Viv and tracker Richard would set up the vehicle for sundowners.
We were able to choose the drinks that we wanted from the bar, before setting off on the drive. We mixed it up with various craft gins, served with both pink and blue tonic. A selection of cured meats, nuts, pastries and fruit were presented alongside this.
7:30pm Pre-Dinner drinks
After the evening game drive, most people headed straight to the main lodge, rather than heading back to their suites to dress up for dinner.
Generally, people gathered in the outdoor lounge area or at the bar counter, taking the opportunity to mingle with other guests and discuss the day's game sightings.
One evening there was even a tasting of Ken Forrester wines set up at the entrance to the bar, with cheeses to match. I hear Ken is a big fan of Earth Lodge himself and often comes to visit.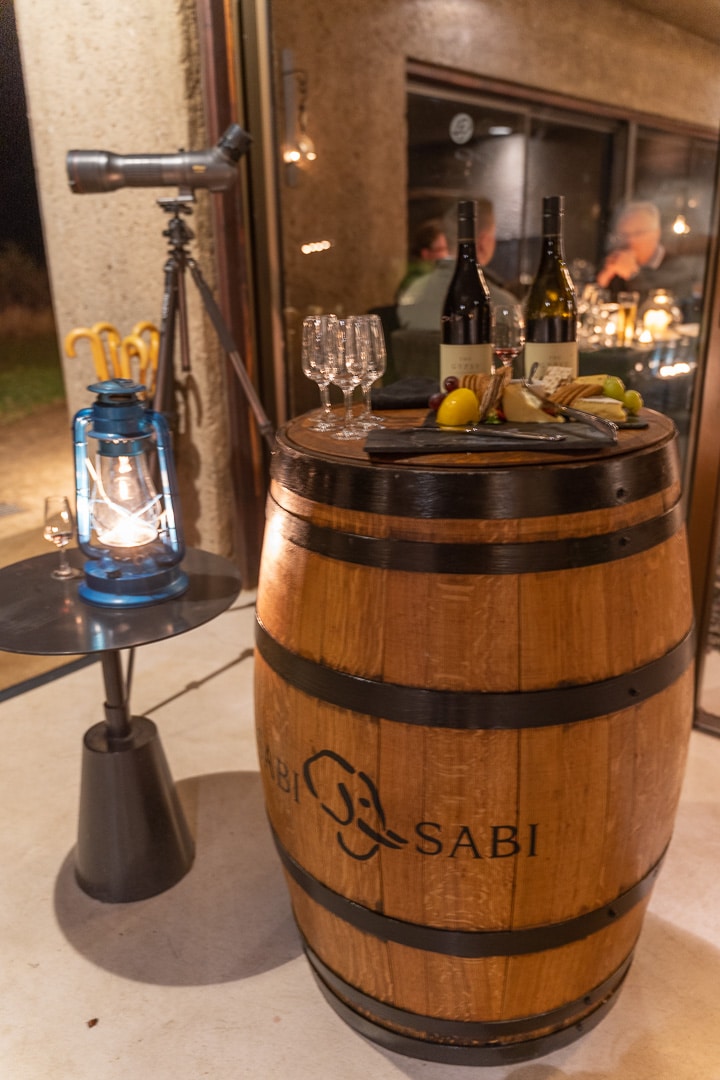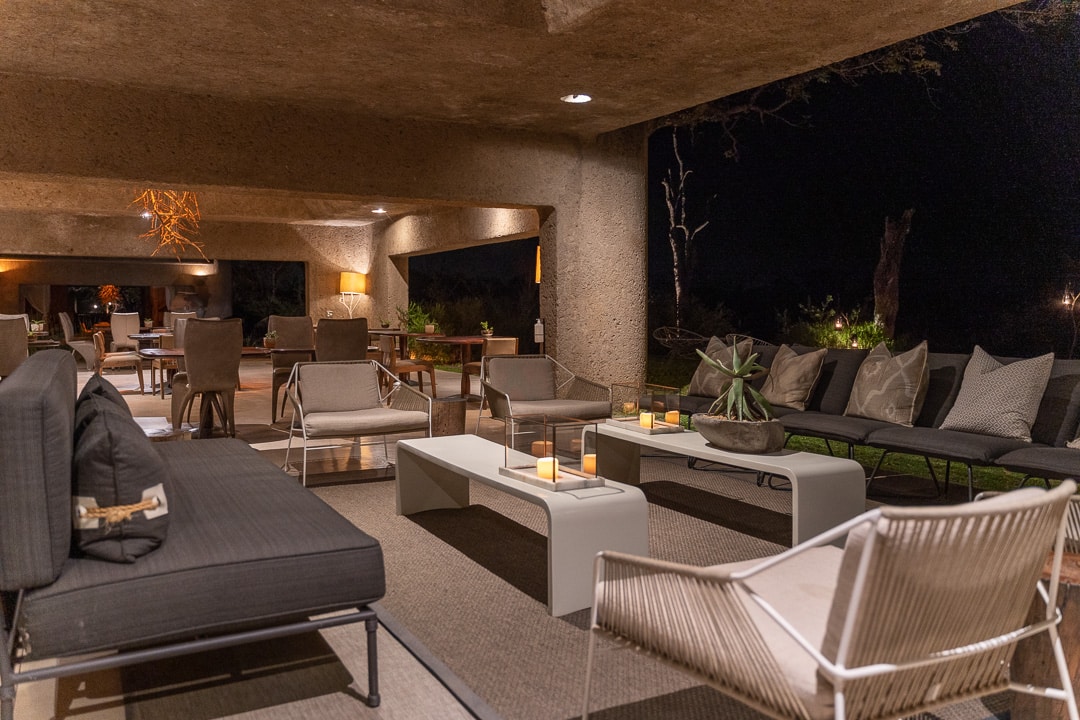 8:30pm Dinner
Each of our dinners was arranged in a different location throughout our four nights in the lodge, ensuring that we never got bored of the offering.
The four dinner locations were: Library, Fireside at the Bar, Outdoor Boma and The Wine Cellar.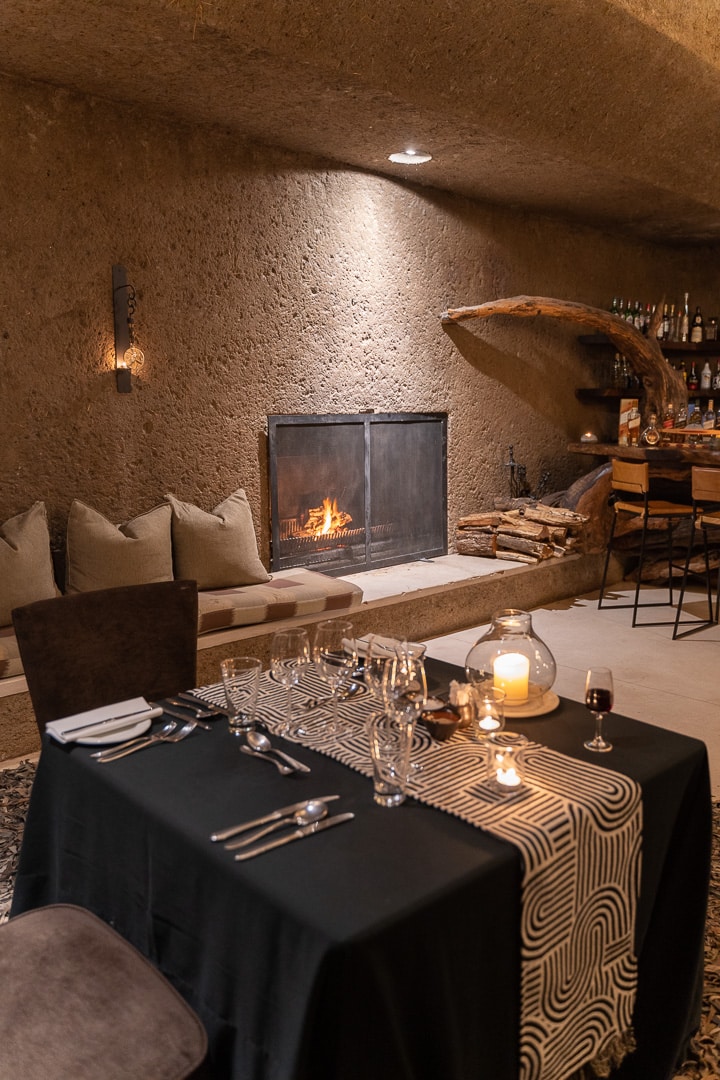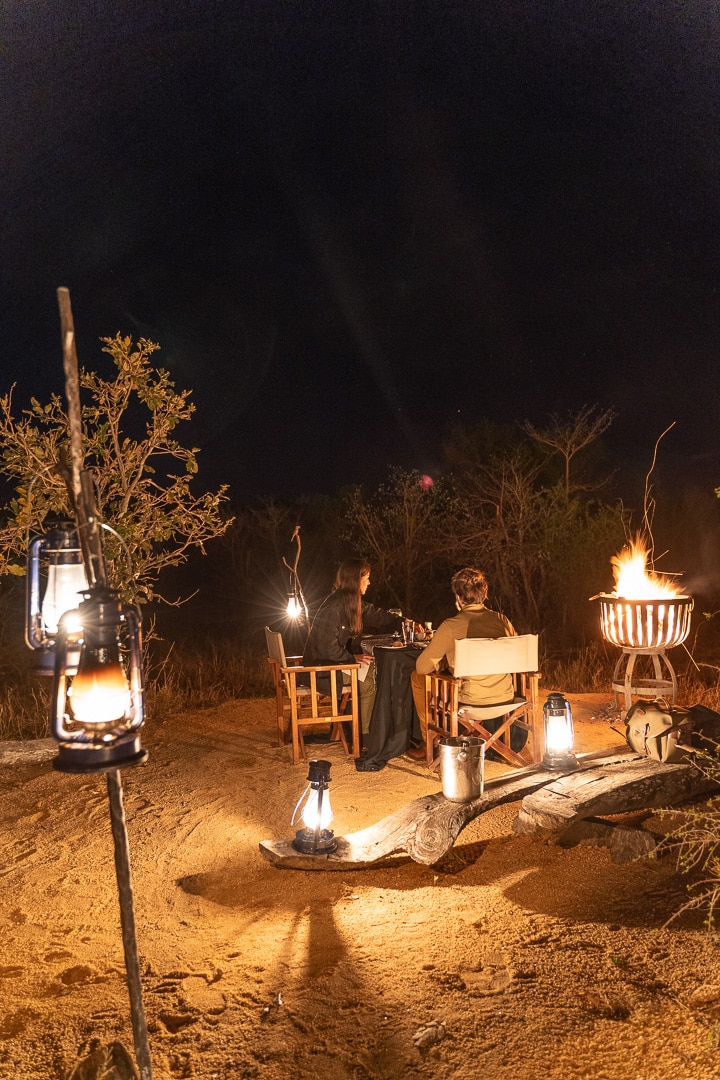 The dinner menu changed every evening, although much like lunch, it always started with a smear of some incredible mixture of vegetables, which we eagerly mopped up with fresh bread.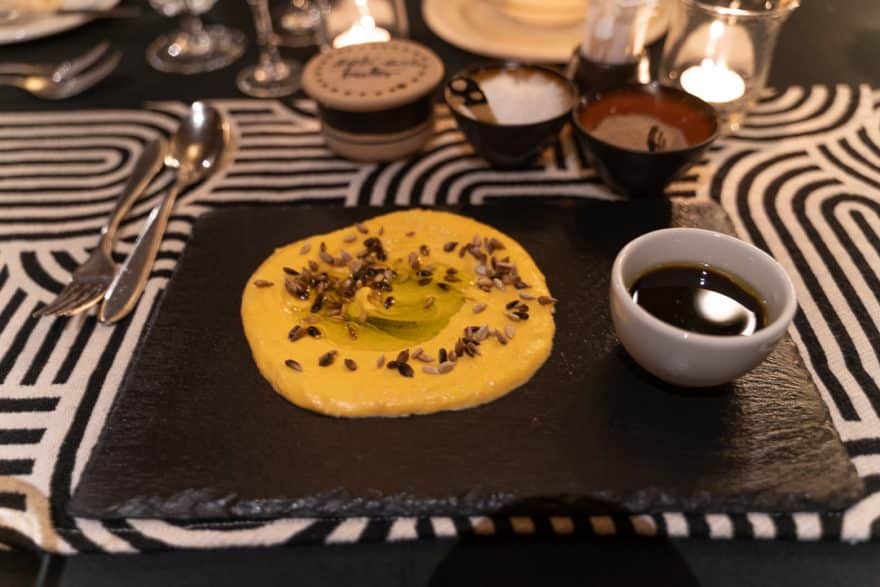 Soups, vegetables, proteins – everything was beautifully cooked and presented.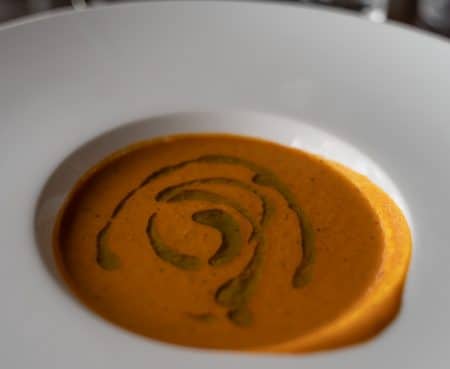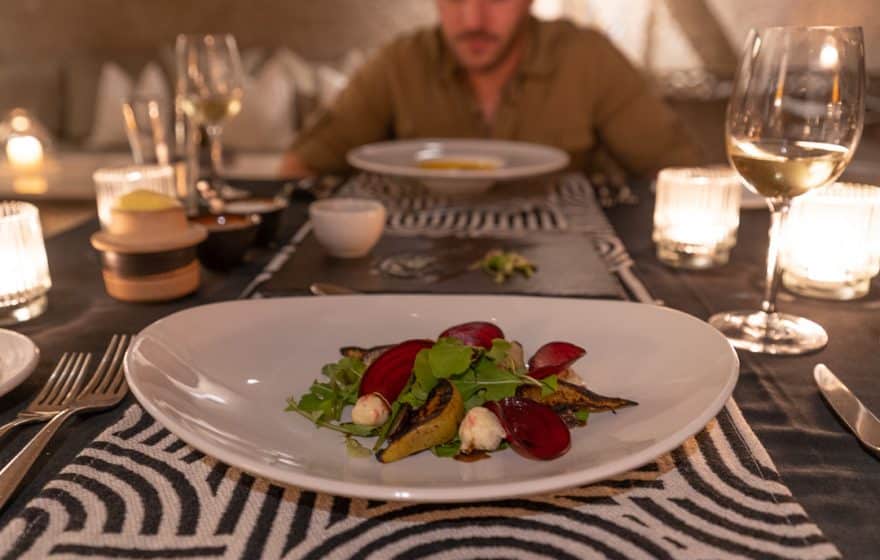 The wine cellar dinner was a particularly extravagant affair and one that threatened to inflate us beyond the point of no return: a multi course tasting menu, where the portions were scarcely smaller than a regular dish!
---
Game Drives
---
This, of course is the main reason for coming on safari.
It is also an area in which it really pays to do your research.
The key things to look for when picking a safari destination:
number of vehicles permitted at any one animal sighting
number of lodges sharing an area of land
type of vehicle
typical number of guests per vehicle
ability for vehicles to go off-road
Earth Lodge did very well with regards to the list above.
The lodge is one of a very limited number on the Sabie Game Reserve, so we seldom encountered many other vehicles. It felt a lot quieter here than in the nearby Sabi Sand where Silvan is located.
We also had a private vehicle, as do most guests at Earth Lodge. Giving each set of guests their own vehicle, guide and tracker ensures that staff are constantly honing their skills and keeping poachers at bay with their presence.
Of course, this meant that we were able to see all of the Big Five game animals with ease.
Amazingly, there are also anti poaching units that dress in camo and camp out amongst the wild animals. We spotted a couple of them on one occasion, or rather our tracker did. They were extremely well camouflaged (just like the leopard below).
Both our guide Viv and our tracker Rich, were fantastic at their jobs, super knowledgeable and a lot of fun to be around. It was amazing to see how hard they worked, with Viv even helping out during the meal services, in addition to her guiding duties!
We were not very lucky at all with the weather, but the flip side of visiting in October is that we came at the perfect time to see baby animals!
This was my first time ever seeing a rhino jump! The calf was very curious and basically frolicked like a lamb.
We followed a herd of elephants into some undergrowth since we wanted to take a look at the little ones. However, when they suddenly changed direction, it meant we got a closer than they would have liked, something that one of the teenagers informed us of in no uncertain terms!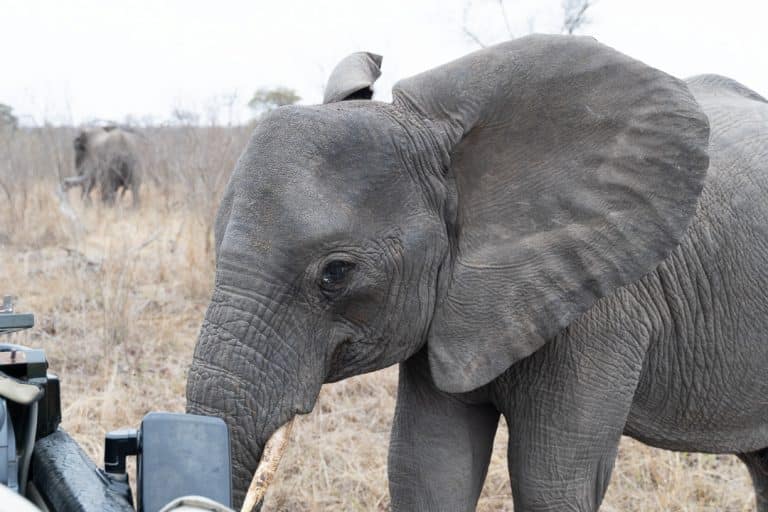 Of course with all the babies around, this means that the mothers become a lot more protective.
However, the predators often succeed in thinning the herd, as we witnessed with this group of three male lions feasting on a baby zebra.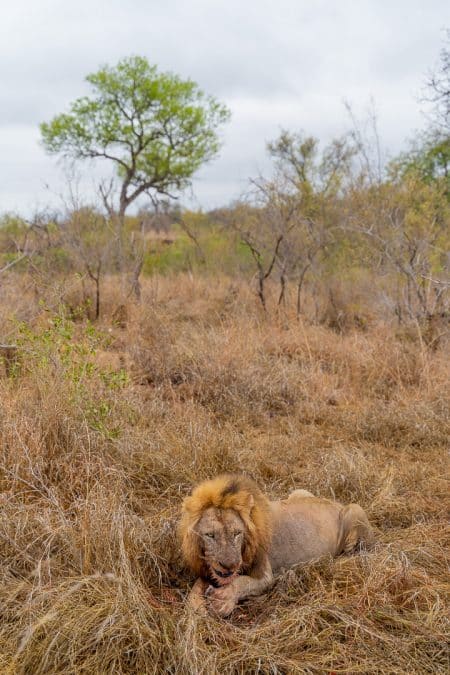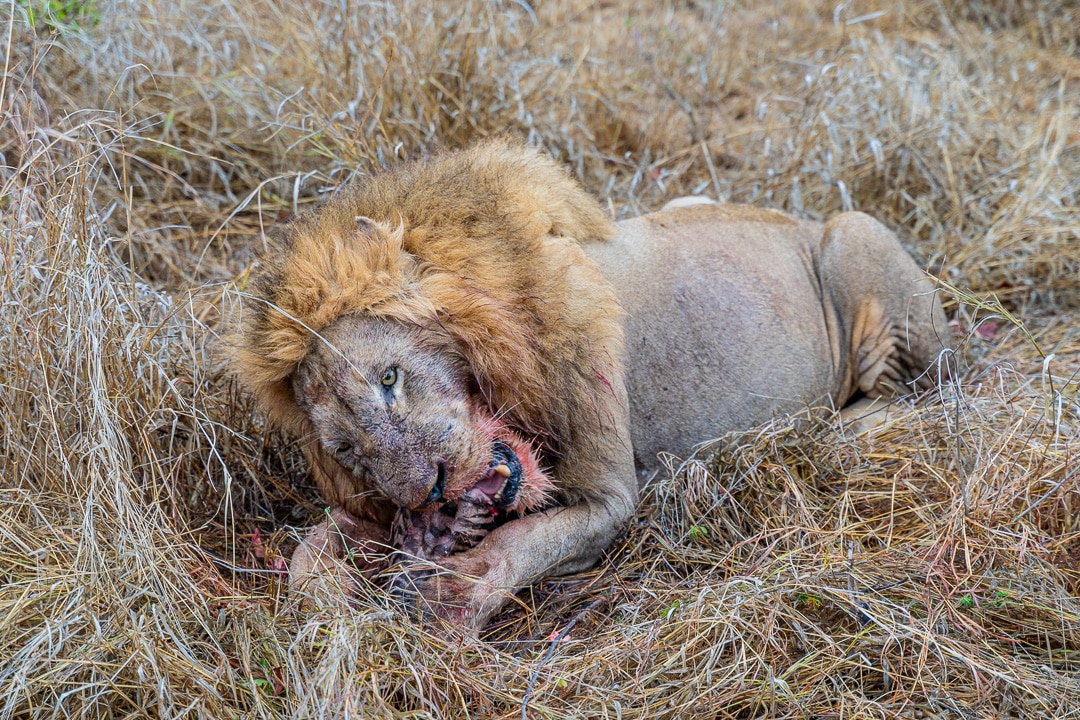 The lions were not the only animals that we saw with a kill. We had the distinct privilege of witnessing a pack of African wild dogs digging up the burrow of a scrub hare and decimating the animal therein.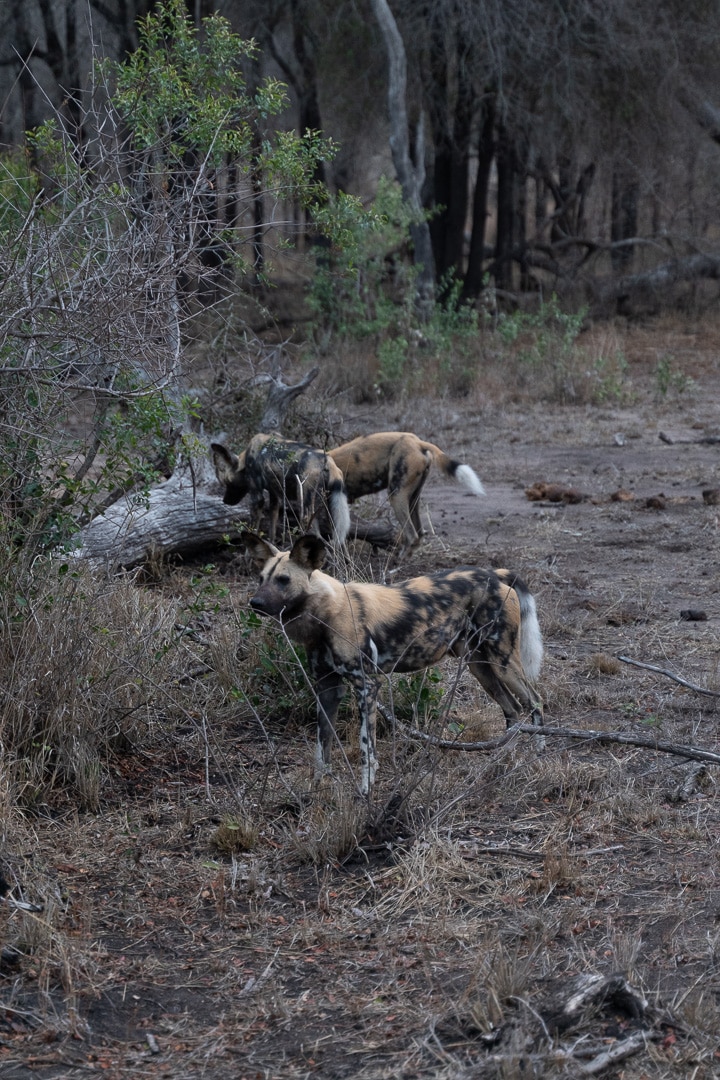 Despite being the most successful predators in Africa, they are not my favourite animal. That particular distinction lies with the hyenas, some of which got so close to our vehicle that we could smell them!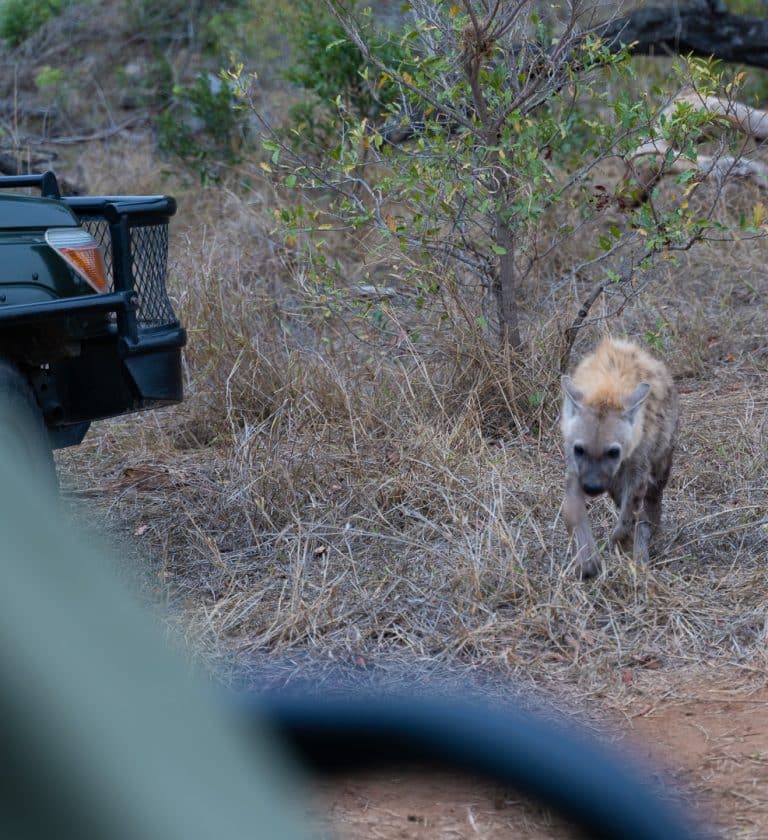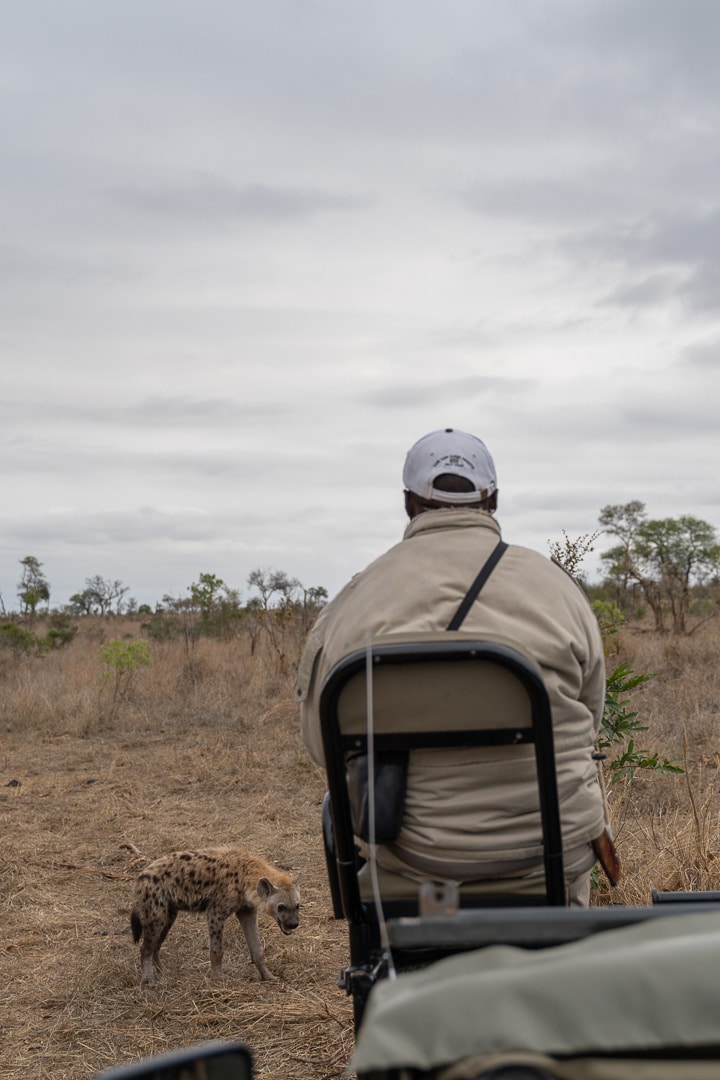 It wasn't just land based animal that we saw. We also spotted lots of African red-billed hornbills (aka Zazu from the lion king), lilac-breasted rollers, vultures and even an incredibly rare saddle billed stork.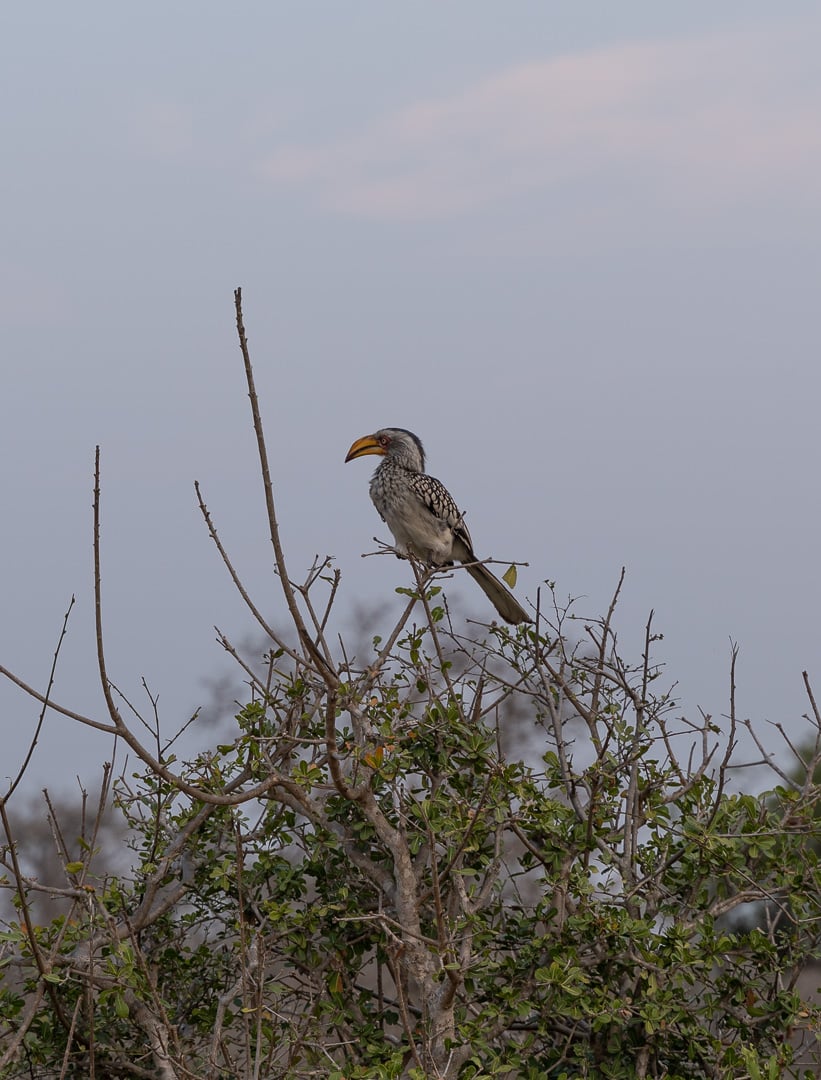 To round out the list of basically every major animal in Africa, we also spotted hippos and crocodiles – moments away from the lodge, at the nearest watering hole. Those buildings in the background are rooms at Earth Lodge!
---
Other Activities
---
Gym
Between the tremendous amount of eating and the action packed game drives, we had most of our day accounted for. However, we were really happy to see that Earth Lodge had a gym – something of a rarity at safari lodges.
Thankfully the air conditioning worked really well and I was really impressed with the fact that they actually had weights and cable machines, rather than just providing a token cardio room.
The water feature in front of the gym also attracted some curious onlookers…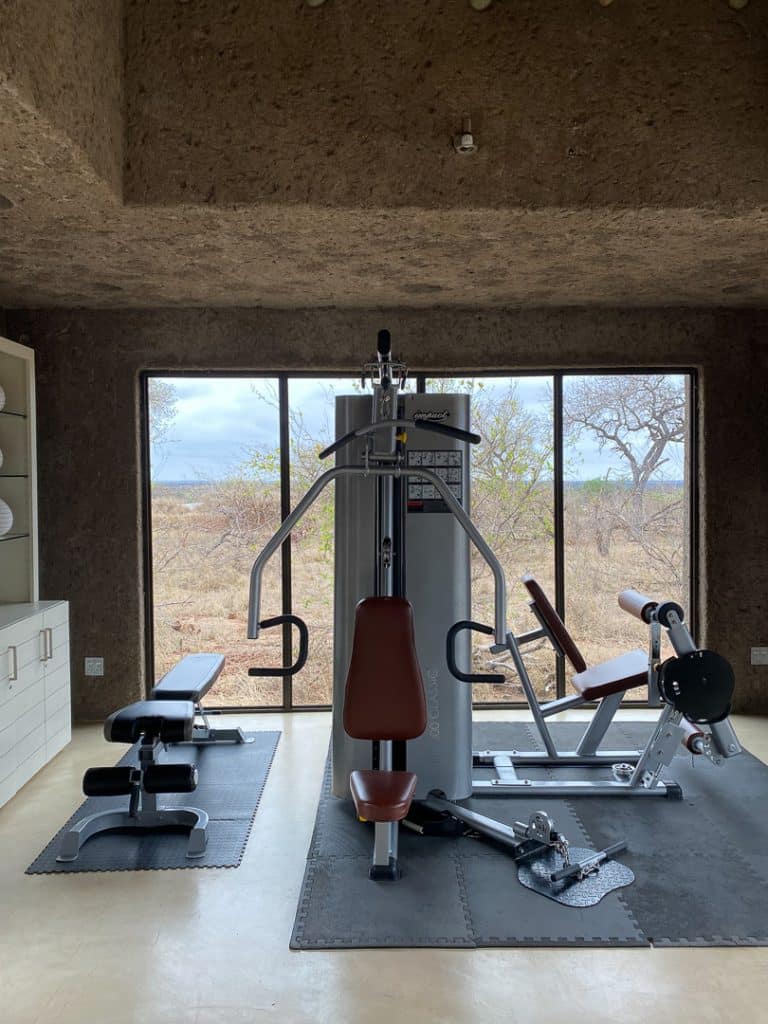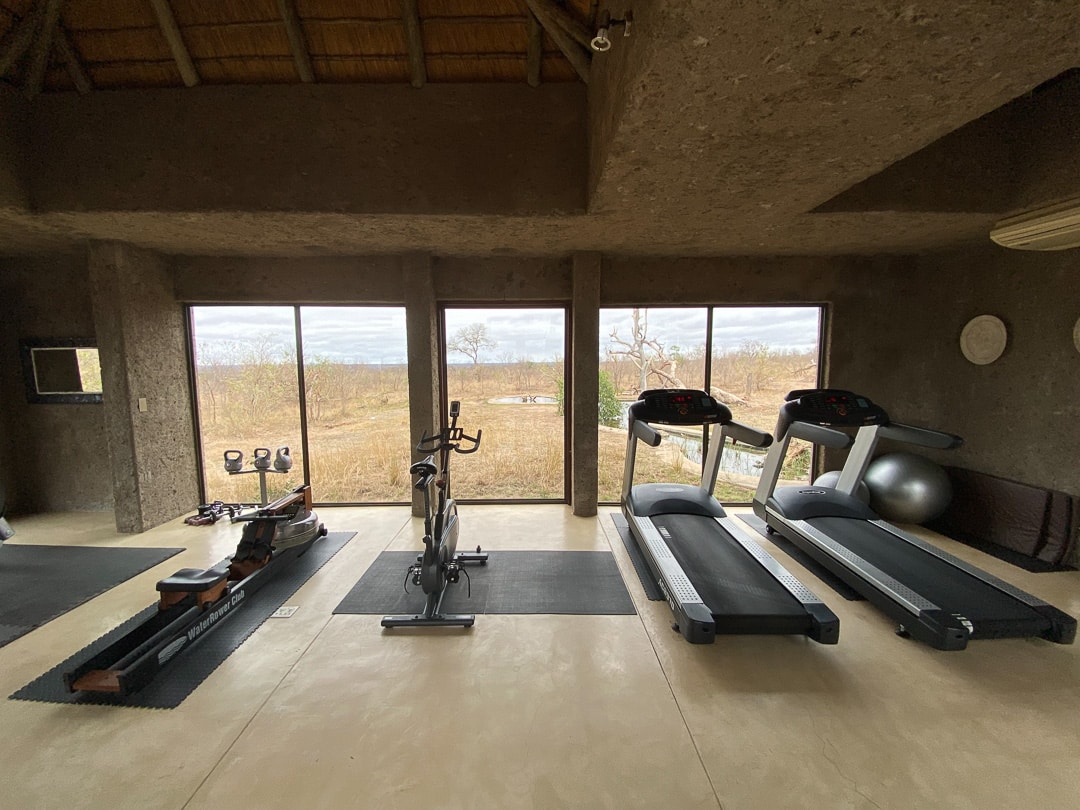 Amani Spa
The Amani Spa was located in the main lodge building, in a quiet corner, on the opposite end to the bar. The beautifully manicured garden outside really helped to set a relaxing tone before our treatments.
Interestingly we weren't offered any kind of drink or scented towels before our treatment, which I would have expected. Although perhaps these omissions were COVID related: during our visit both we and our therapists were required to wear masks throughout.
The treatments were very relaxing with a good amount of pressure applied, as requested.
I found the room to be quite spartan and bright though. I feel the space would benefit from much softer lighting and the addition of some plants to bring some life in.
---
Conclusion
---
Basics Checklist
– Power sockets near the bed (local only)
X Easy to understand light switches
☑︎ Coffee machine
☑︎ Separate shower and bath
☑︎ Blackout blinds
☑︎ Stable, fast and free Wifi
X Feather pillows
X Quiet and powerful aircon
On the face of it, this doesn't look like a great performance. It's been a while since a property failed on so many of the basics and to be honest even the wifi speed was borderline!
However, despite missing the mark on some simple issues, which are easily corrected, Earth Lodge gets so much right!
The warmth and professionalism of the staff here was truly remarkable. You could tell that people were genuinely delighted to work here and this shone through in every interaction with us, as guests.We felt truly welcome and could see staff making an effort to constantly challenge themselves, finding new ways to surprise and delight us.
Despite the minor issues with the room, the overall quality of the hardware was fantastic, an absolutely enormous and beautifully decorated suite which easily rivalled some of the very best that we've encountered anywhere (including the Maldives).
The game drives were spectacular too, with every single one of the Big 5 spotted within our first two drives and the sightings continuing nonstop thereafter.
The fact that they had a gym was a huge positive for me too. Given the amount of eating that is expected of you on safari, having somewhere to work up a sweat (and a hunger) was much appreciated!
Overall I wouldn't hesitate to recommend Earth Lodge to our clients (just remember to pack a universal power converter and earplugs for now!).
---
Book Earth Lodge with The Luxury Traveller
---
Here at The Luxury Traveller we are able to offer both single property bookings as well as complete safari tours, taking in multiple lodges, cities and even countries.
Get in touch with us by clicking on the link below and we'll start the process of planning your ideal trip!