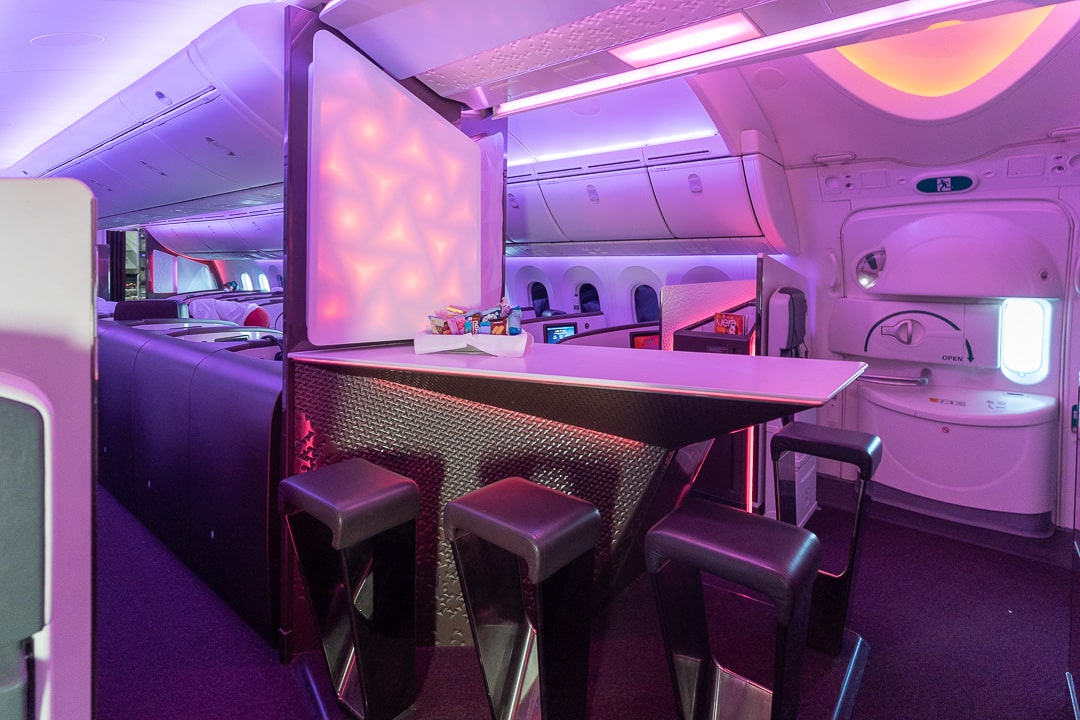 REVIEW – Virgin Atlantic : Upper Class – B787 – London (LHR) to San Francisco (SFO)
May 11, 2022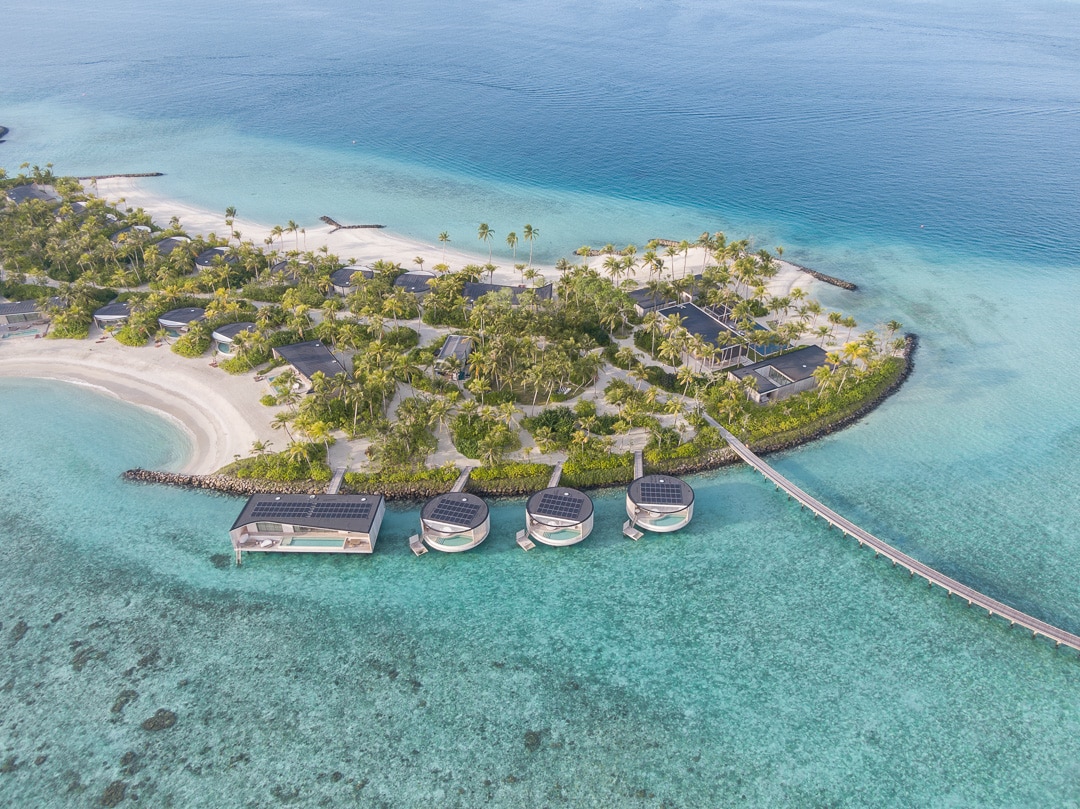 REVIEW – Ritz Carlton Maldives
June 16, 2022
Four Seasons Bangkok
Room Type: Premier River-View Room
Typical Rate: 14,000 THB per night
Price Paid: Hosted stay
Loyalty Program: FSPP
---
Intro
---
Bangkok is quite possibly the greatest city in the world for luxury hotels.
Almost every single top hotel brand is represented here and pricing is extremely competitive when compared to room rates in Europe and North America.
Having closely followed the hotel scene here for a number of years, I was very excited to hear that a new riverside hotel complex was being developed to offer a resort-like experience within one of the world's busiest cities.
As we discovered when staying at Oberoi Amarvilas in Agra, it is an incredible feeling stepping into a tranquil sanctum, when all around you there is chaos. This is true luxury.
The complex consists of two hotels: Capella and Four Seasons, with restaurants, bars and spa easily accessible between both.
We ended up staying at both properties but started our trip to Thailand with a stay at the Jean Michel Gathy designed Four Seasons.
JMG is the visionary architect behind my all time favourite hotel: Amanoi as well as Aman Sveti Stefan and One & Only Reethi Rah and Cheval Blanc Randheli in the Maldives. The idea of staying in a resort designed by him, whilst spending time in one of my favourite cities on earth was enough to make me feel like a child anticipating the arrival of Christmas!
---
Booking
---
Since I am a Four Seasons Preferred Partner (FSPP) agent, I can offer you FSPP benefits at any Four Seasons property.
An example of FSPP benefits, which may be available on your stay:
Upgrade of one room category

, based on availability at time of check-in.
Full breakfast, for up to two in room guests. Either at the restaurant

or via in-room dining

.
$100 Hotel Credit.
Early check-in/late check-out, subject to availability.
There are numerous additional offers available throughout the year too, including:
free nights
guaranteed upgrades
Your booking will be direct with Four Seasons but since I'm managing the booking on your behalf, I am able to negotiate all the above extras for you.
Additionally, if you find a cheaper rate elsewhere, I can help to get the price matched AND STILL add the FSPP benefits to your booking!
EMAIL FOR FSPP BOOKING ENQUIRIES
---
Arrival
---
Everything that I had seen online looked fantastic in terms of room hardware and landscaping, but I was concerned that a hotel that had opened during the pandemic may not be up to true Four Seasons standards, so soon after opening.
As such, there was a mix of anticipation and trepidation as we were greeted by the Four Seasons representative at the eerily quiet Bangkok Suvarnabhumi Airport.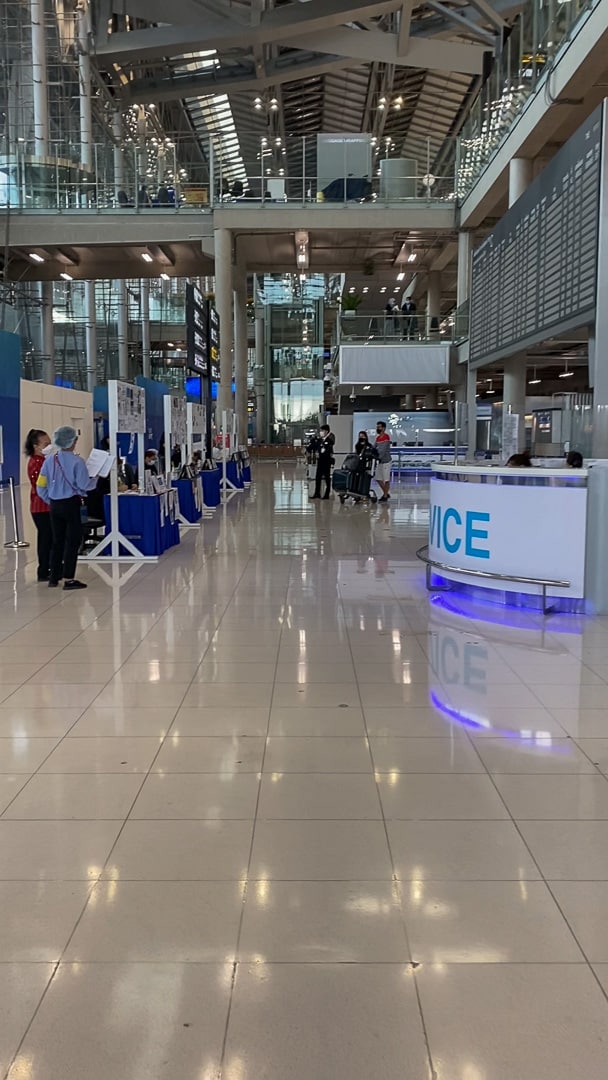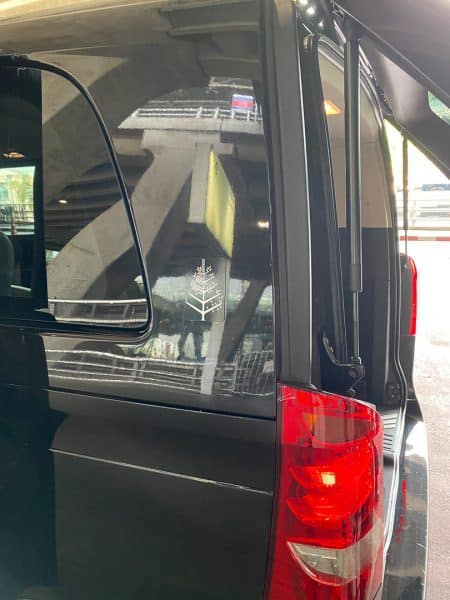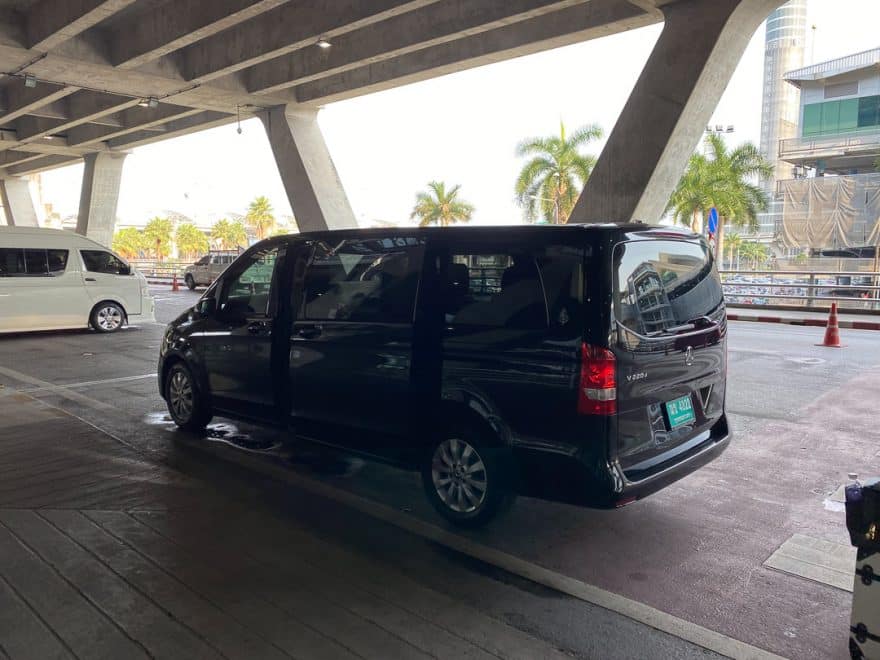 Since we were visiting during Thailand's initial Test&Go reopening phase, we were obligated to book a hotel transfer in a sealed vehicle which took us to a drive-thru PCR test centre on the way to the hotel.
Thankfully, this requirement has now been dropped by the Thai government.
Despite this minor inconvenience, the overall transfer experience was very luxurious and comfortable indeed. Our vehicle feature two large Captain Kirk style white leather seats which were thickly padded and reclined to an almost completely lie flat position.
There was even an entertainment screen, together with multiple charger types and plenty of mineral water.
Check-in
Upon arrival at the property we were greeted by a variety of smartly uniformed staff members, offering to assist with our bags and giving us a brief introduction to the property.
The entrance to the hotel made one hell of a first impression, with oversized plant pots and dramatic, waved walls, opening out onto an interior courtyard pond.
The combination of lighting and textures was very impressive indeed.
Of course, this wouldn't be a Four Seasons hotel without a variety of extravagant floral arrangements to greet guests.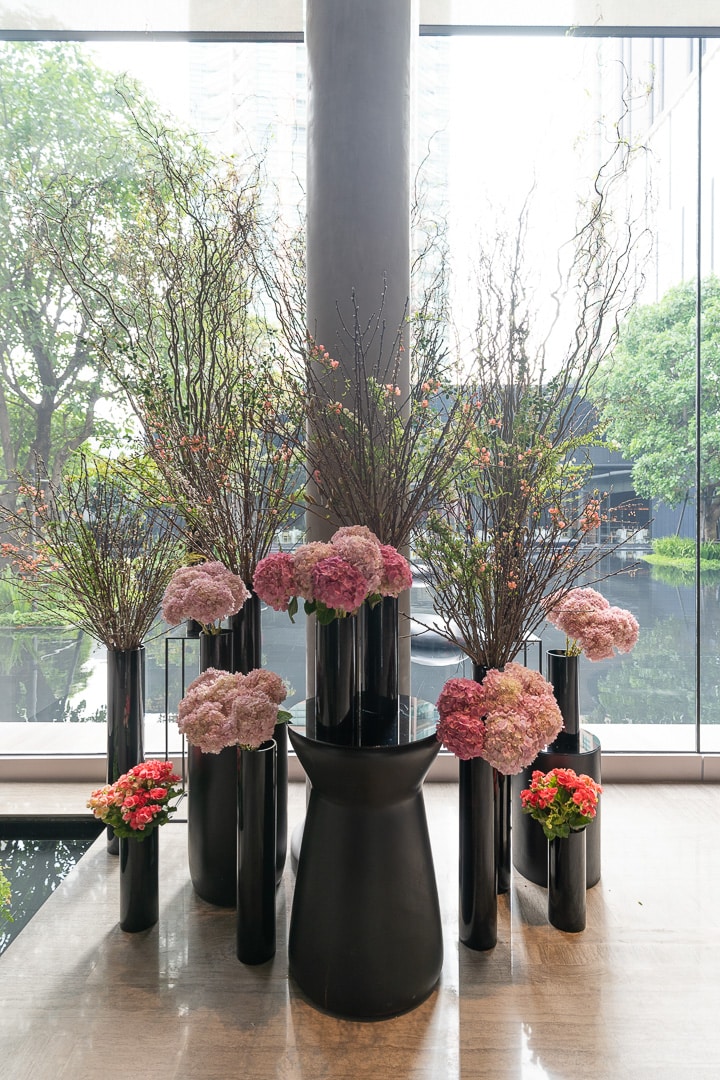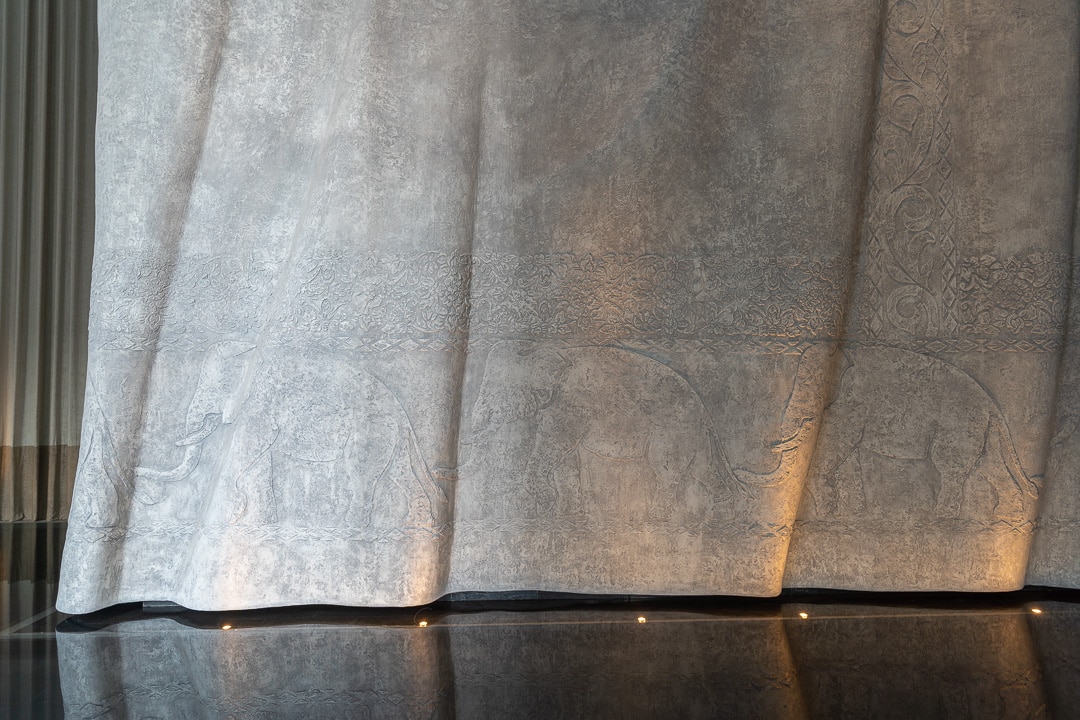 After a brief walk along a water lined path, we arrived at the main lobby area. Once again the design had the effect of making one feel small: with gigantic tassels hanging from the outer walls, leading to a glowing orange inner sanctum that felt like a window onto the Earth's core. A circular window was carved into the ceiling with the suspended golden shards shaped like the glistening point of a drill bit.
Not your typical luxury hotel lobby.
Ordinarily, guests will check in here although given the COVID protocols at the time, we were handed our room keys the moment that we first stepped through the entrance and were told to come back here at our leisure to leave a card on file (once we'd produced a negative PCR test).
Tucked away inside a corner of the lobby was a special complimentary crane game to celebrate Valentine's day. The marketing team told me that they always like to have something fun planned for guests, so that this feels more like a resort and less like a typical city hotel.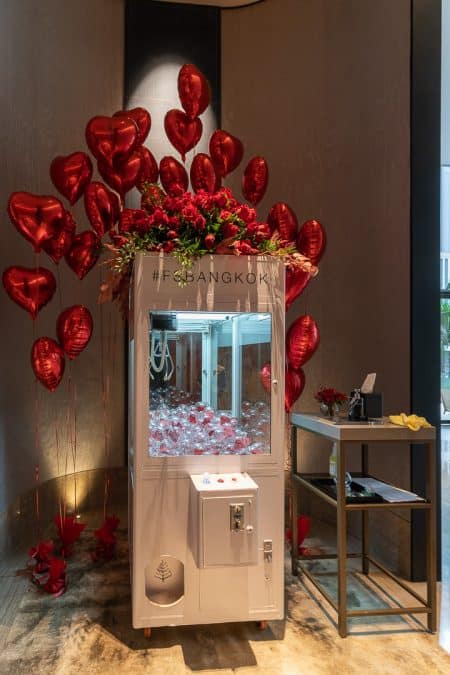 The long hallway that led beyond the lobby has a much more residential feel and featured wonderfully elegant furniture, modern art and more floral displays. At the very end was a piece of art depicting the Chao Phraya river, upon whose banks the hotel sits.
Seeing a long hallway with white walls and a piece of highly lacquered art at the end, had me reminiscing about many amazing hours spent in the JAL First Class Lounge at Haneda airport…
Everywhere I looked there was a comfy chair I wanted to sit in, a sculpture I wanted to look at, a book I wanted to pick up.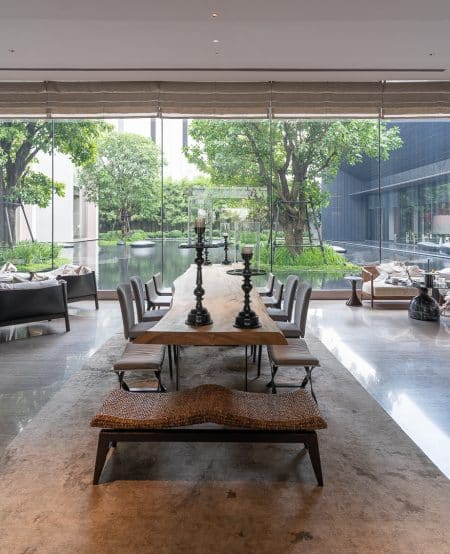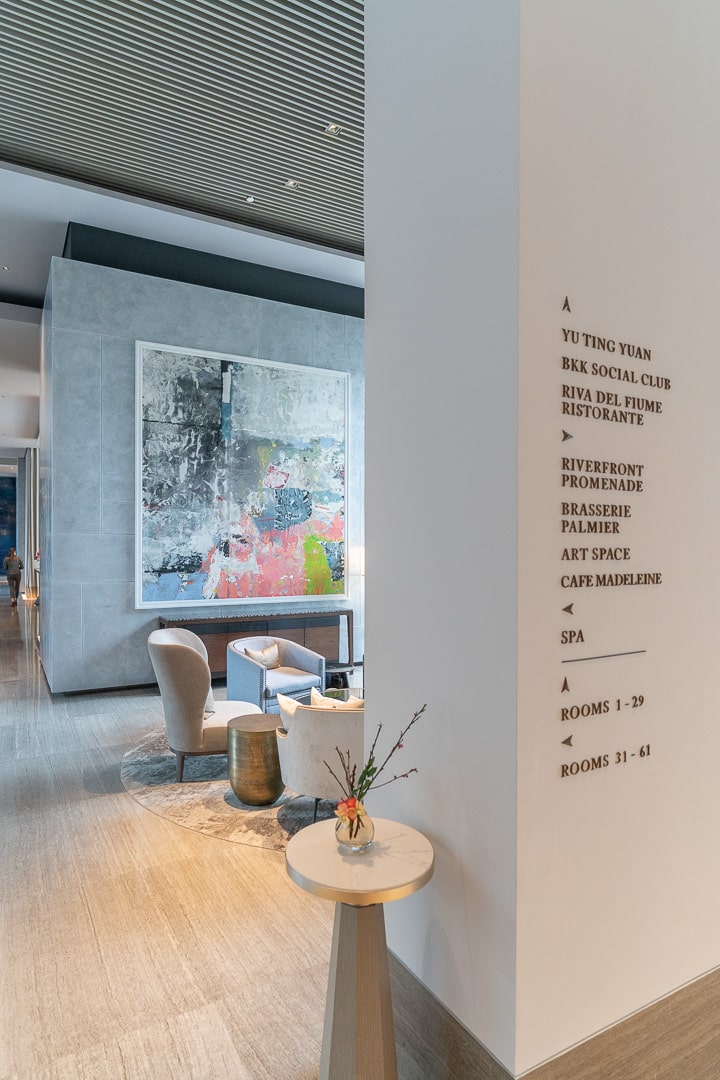 Also located in this area was The Lobby Lounge: a coffee shop/ bar which was open throughout the day and gave a real buzz to the space. Afternoon teas were particularly popular, with well dressed locals filling both the indoor seating areas as well as the magnificent lakeside terrace.
The fact that a city hotel even has an enormous artificial lake, surrounded by lush foliage, is astonishing in its own right. Sure, the Peninsula has some nice gardens and is also on the river (albeit on the wrong side), but this is something else entirely.
The audacity of the architecture here is really quite something.
Continuing along the lakeside pathway we approached the building which would be our home for the next three nights.
Directly outside our building was another lakeside seating area, this time with views of the pool and the Chao Phraya river – together with an incredible copper panelled art installation.
These panels filled the area with a warm glow, lighting a space that was otherwise almost permanently in the shade.
As we stepped into the building where our room was located, I was immediately enamoured with the aesthetic. The hallways were incredibly spacious and bright, with benches and artwork dotted around to make them feel more like an art gallery than a hotel.
There were even shagreen handles inside the lifts!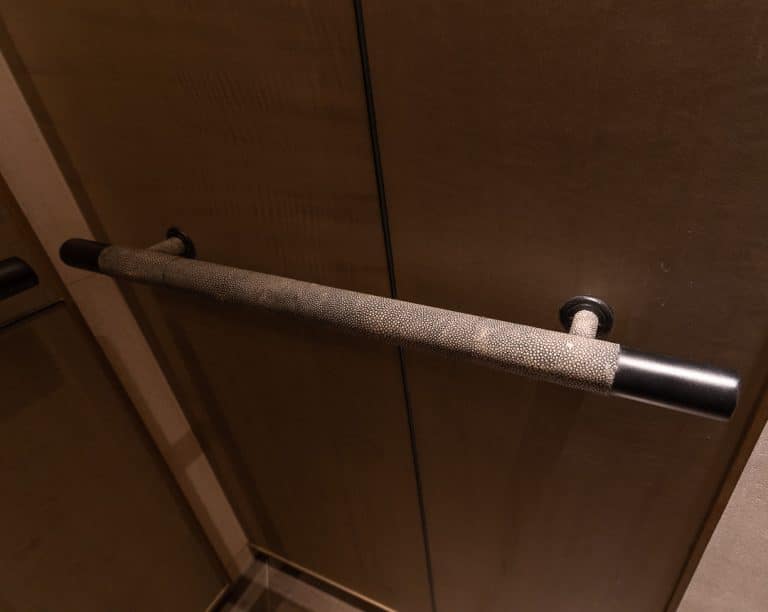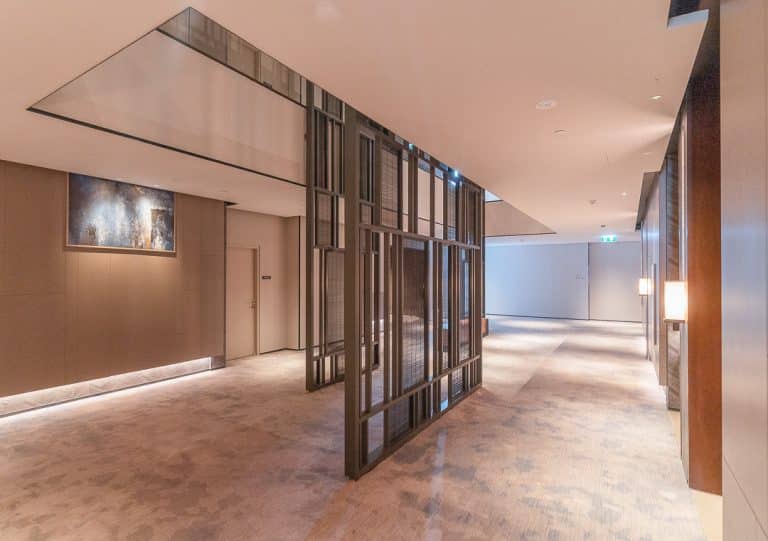 Our room was located on the 7th floor, in the middle of the block, with a perfectly aligned view of the Chao Phraya river. Again, the herringbone texture of the walls, the illuminated room numbers and the artwork that subtly matched the carpets; everything was incredibly aesthetically pleasing.
---
Premier River View Room
---
Entrance
The room opened onto a small reception area, with an enormous full length mirror perfectly positioned next to the wardrobe. This kind of architectural demarcation between the door and the rest of the room is a clever design trick which made the whole space feel a lot more residential.
The first thing we saw upon entering the room was a vase sitting inside an illuminate lacquered insert. Similar pieces were dotted throughout the room.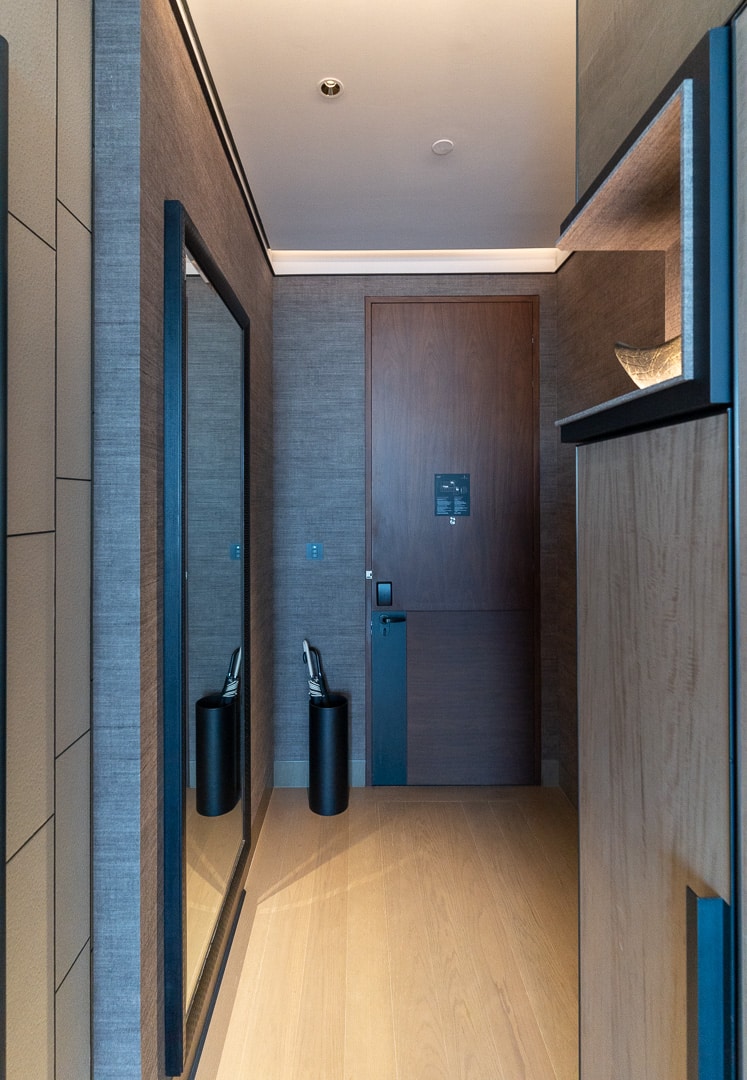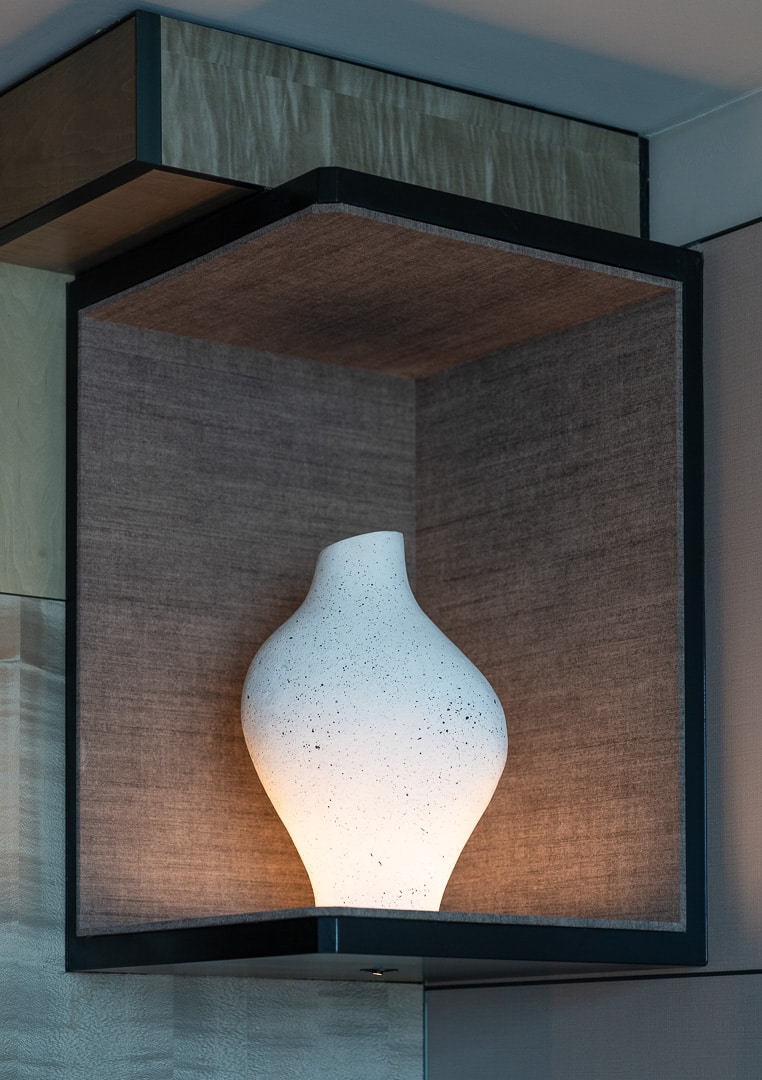 Such fantastic use of texture and lighting…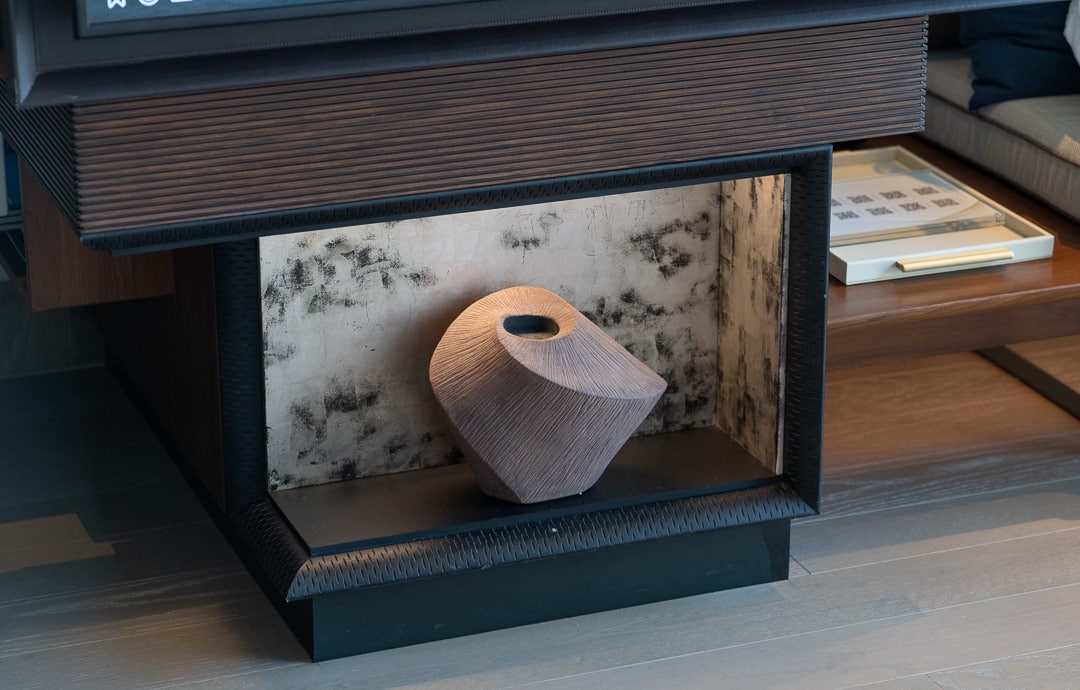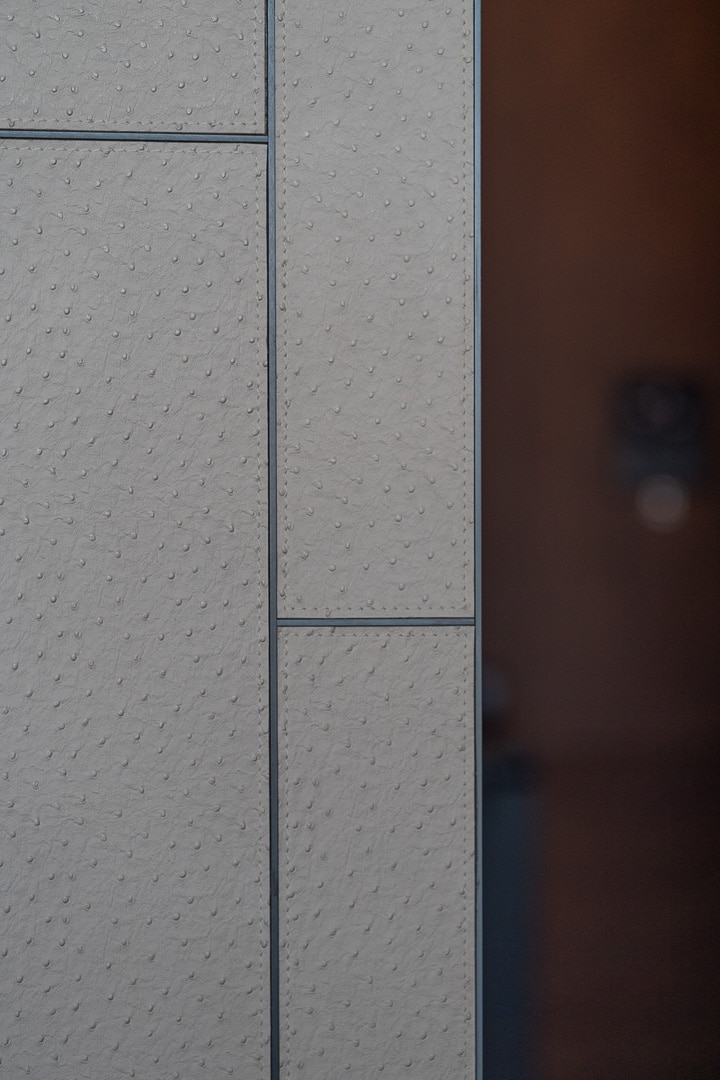 The wardrobe space was plentiful and I was as delighted, as always, to hang my clothes on the wonderful Four Seasons hangers. These really are the best of any major hotel chain.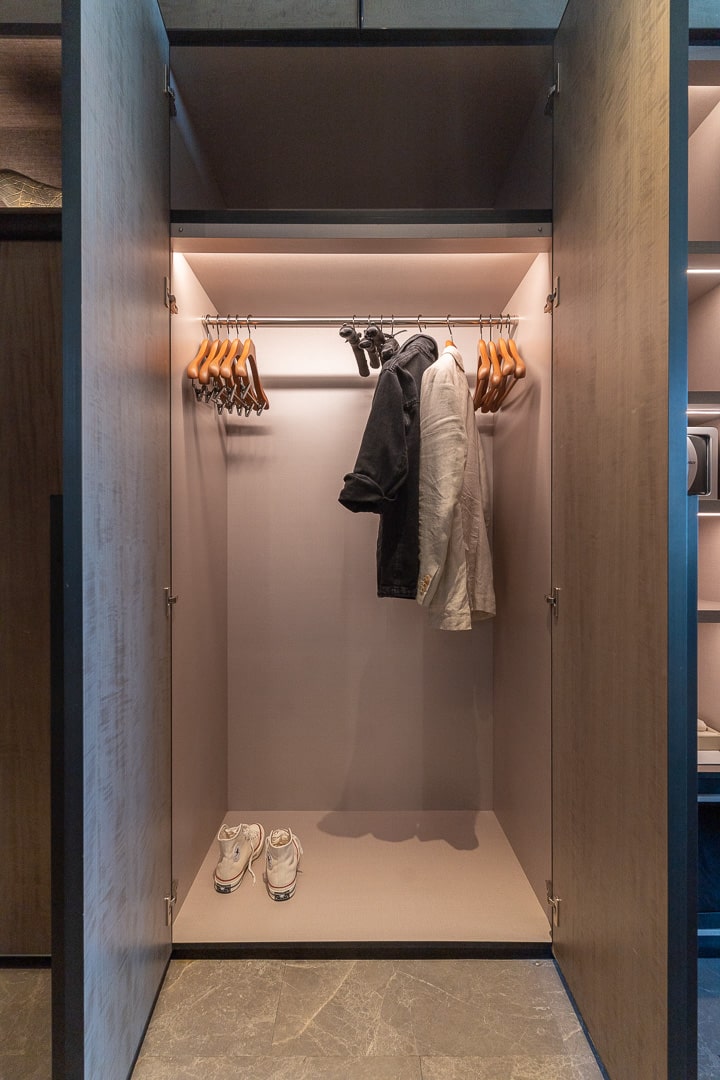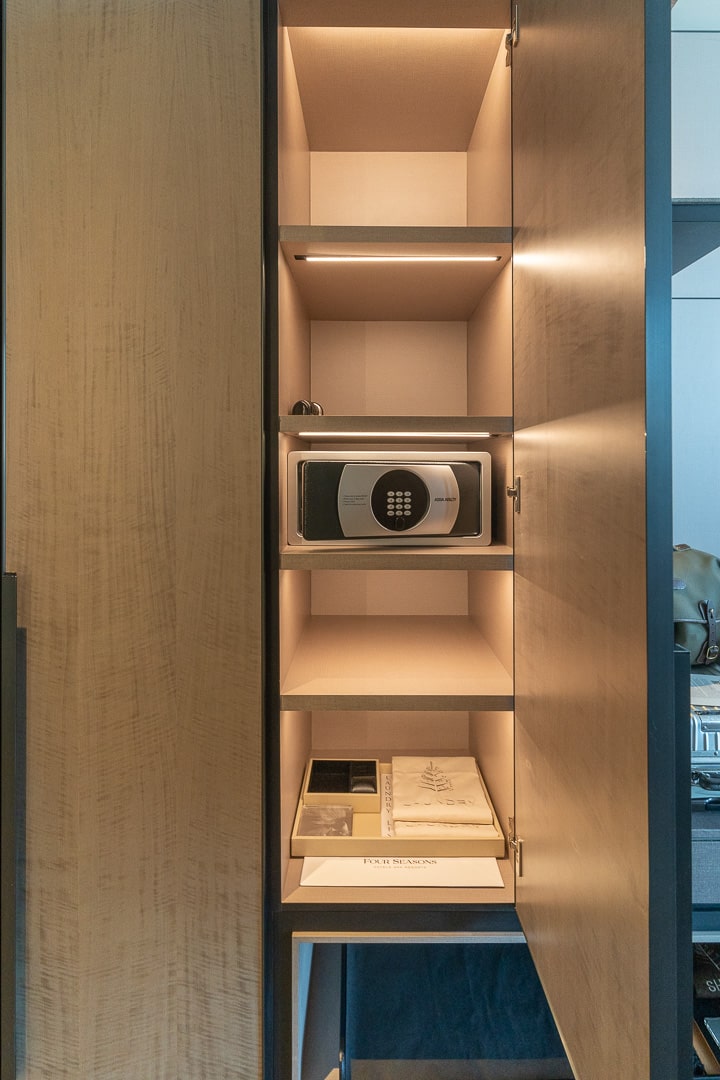 It is worth noting that there were no pull out drawers though – I feel like these could have been added beneath the clothing rail.
An additional slimline wardrobe was provided, which contained waffle knit dressing gowns and a very high quality beach bag. The beach bag was another subtle indicator that this was not to be the usual Four Seasons city hotel experience.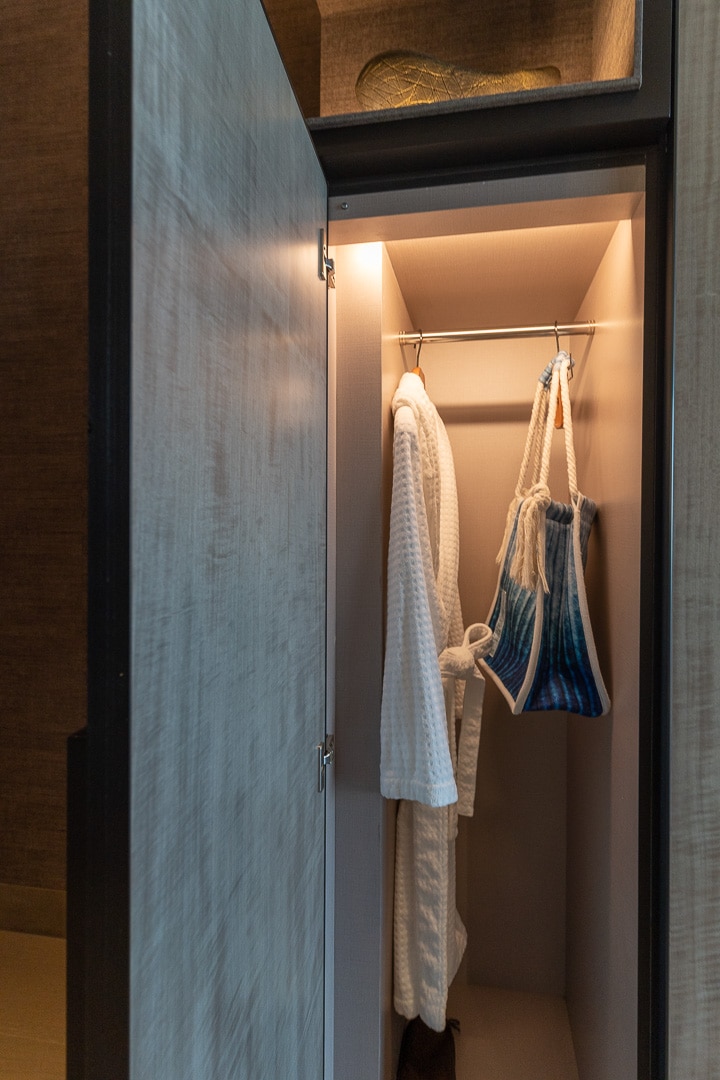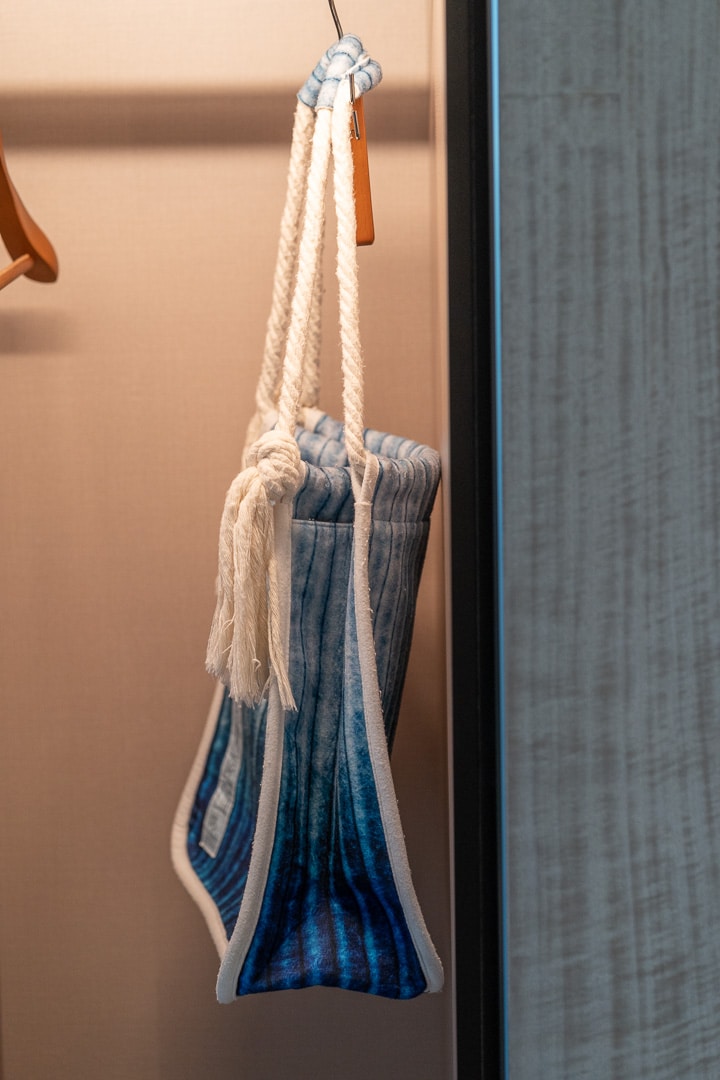 Bedroom
The bedroom was very spacious and featured various sitting areas, in addition to the supremely comfortable Four Seasons bed that we all know and love.
My one complaint with Four Seasons bedding is that the feather pillows are far too soft. You need three of them stacked together to achieve the same result as just one of the incredible Ploh pillows used at hotels such as Naladhu.
The technology and design around the bed was amazing though. The intricate bedside lamps hung above the tables meant that all the table space was free to use. Additional reading lights were built into the extended headboard and universal power and multiple USB ports featured on both sides – together with a series of well labelled light switches.
One side of the bed featured a Bose speaker and the other had an iPad, pre-loaded with the Four Seasons app (which I much prefer to just use on my phone).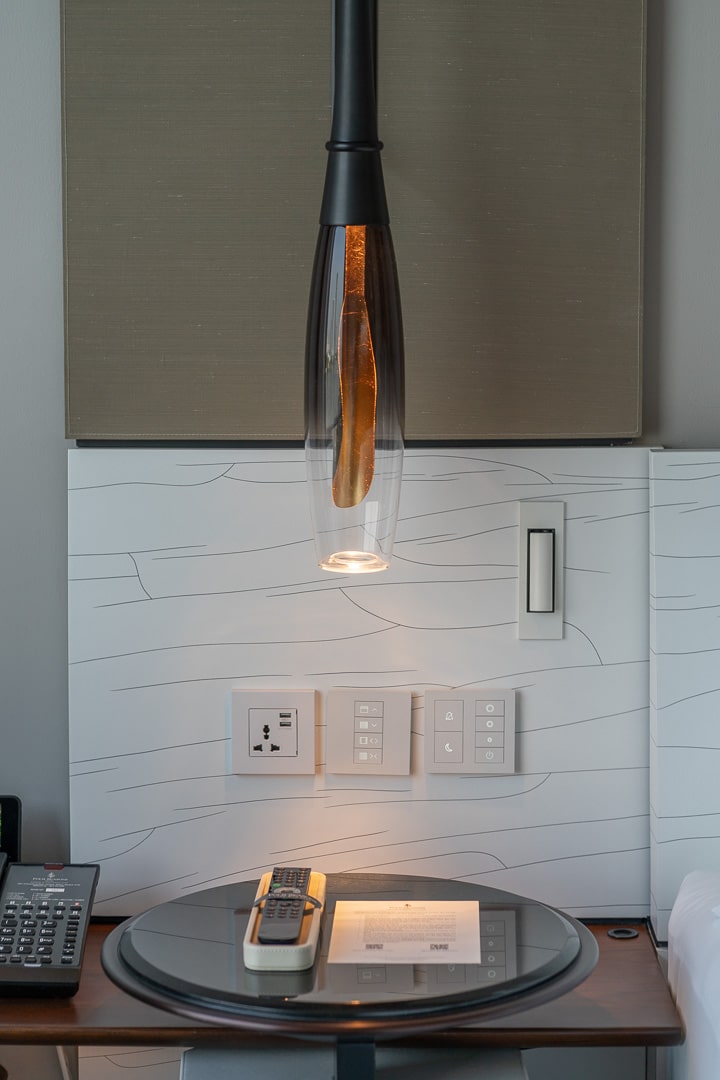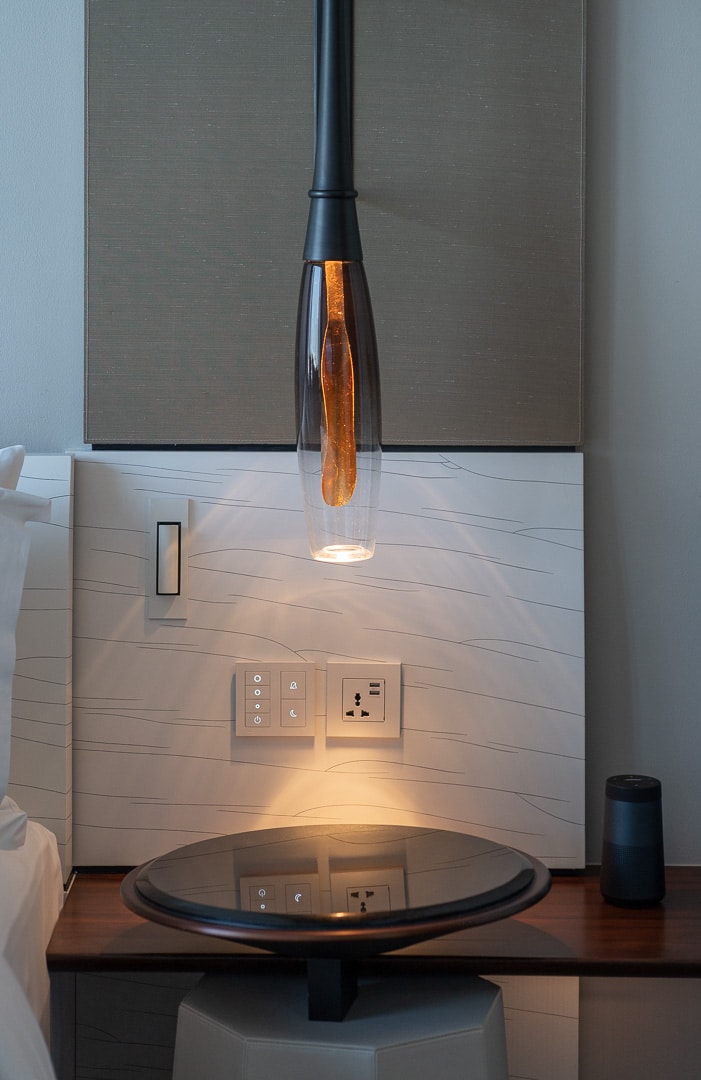 The bathroom also featured sliding panel style doors, which meant that the bedroom felt even larger. This also meant that the bathroom benefited from a source of natural light, as well as river views.
A beautifully presented welcome amenity awaited us on the dining table and a bowl of fruit by the chaise longue was replenished daily.
In addition to the chaise and the dining table there was a very comfortable daybed area, located just behind the giant TV set.
On one side of the daybed there was a small literature rack featuring a variety of magazines as well as books on Thai culture. A series of QR codes were also provided, featuring information on various aspects of the hotel.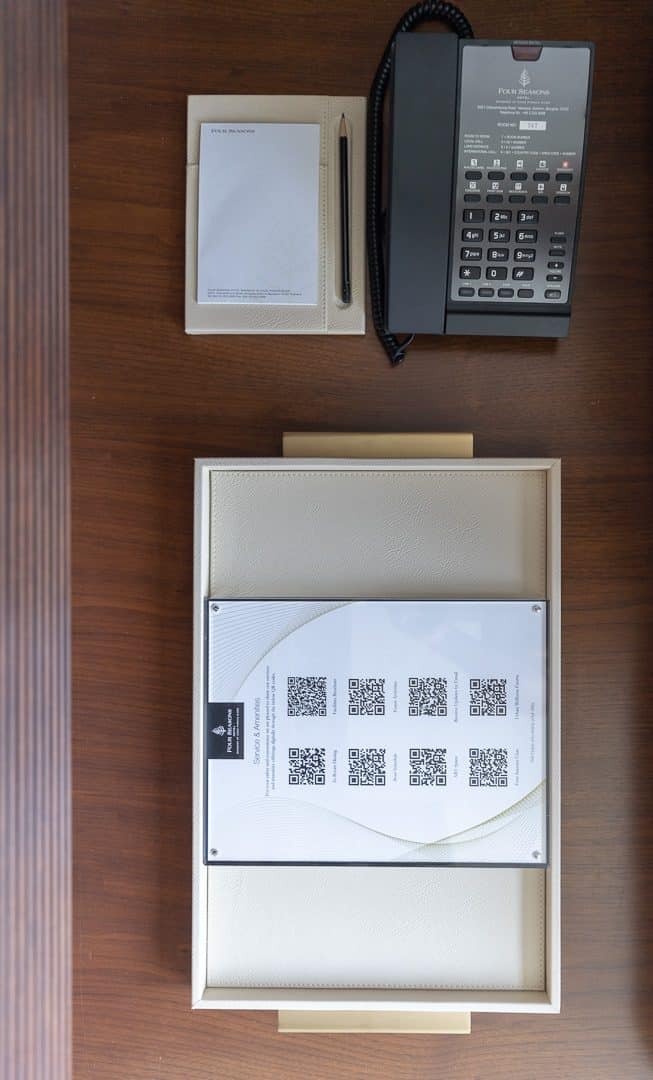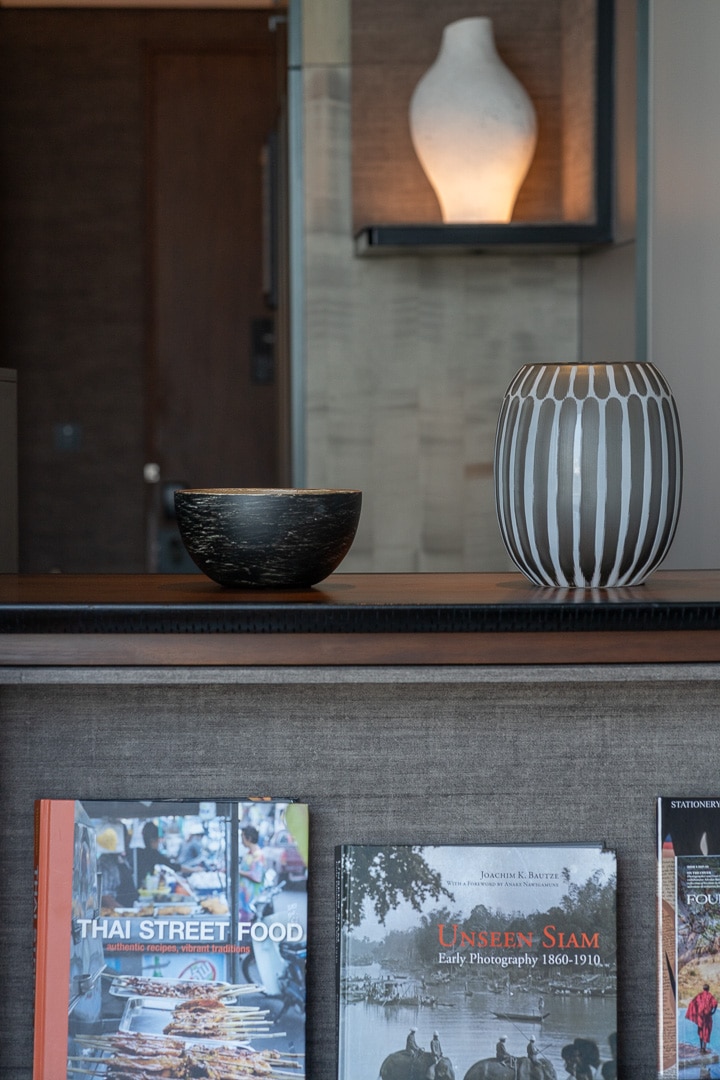 The view from the windows was very relaxing indeed, lounging on the daybed and watching the boats go by was a fantastic way to pass a lazy hour or two in the mornings.
The location of our tower not only ensured excellent views, it also meant that we were only a few footsteps away from Riva del Fiume (the hotel's fantastic Italian restaurant) as well as the magnificent riverside swimming pools.
Behind the TV, on the other side of the daybed was a luggage area, providing ample space to opens cases. Additional storage space for closed cases was available at the top of the wardrobes.
This backed onto the room's very well stocked minibar.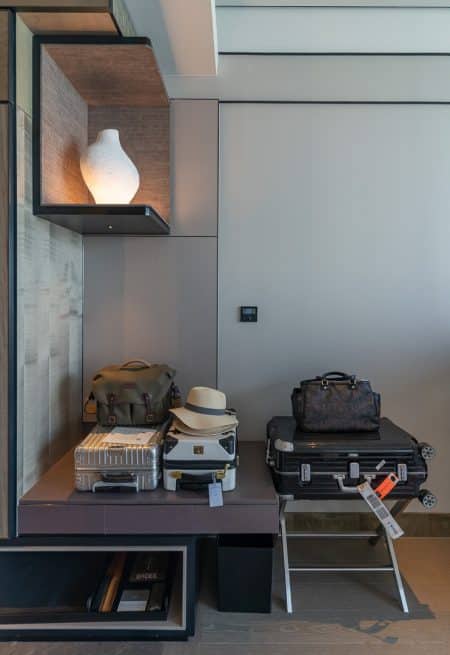 I particularly enjoyed small details, like how the saucers echoed the shagreen motif found in the railings around the hotel…
…or how fresh milk had been provided (rather than plastic cups of creamer) AND scissors had been given so that the carton could be opened cleanly.
Bathroom
A bathroom can truly make or break a luxury hotel room… and is often the tell tale sign of a half done refurbishment in older properties.
Thankfully there were no half measures here. The bathroom felt sleek, modern and inviting. The dark tones contrasted beautifully with the brightness of the bedroom, imbuing the space with a deep sense of tranquility.
There was an abundance of counter space either side of the two sinks and the various bathroom amenities were very tastefully presented. So many bathrooms feel sterile due to a lack of greenery; the small wheel-like piece here was the perfect antidote to this dilemma.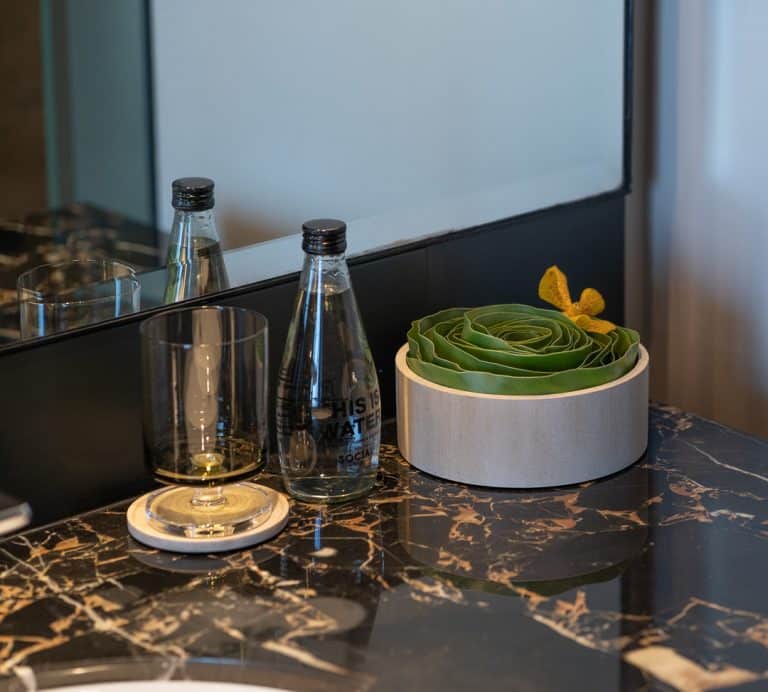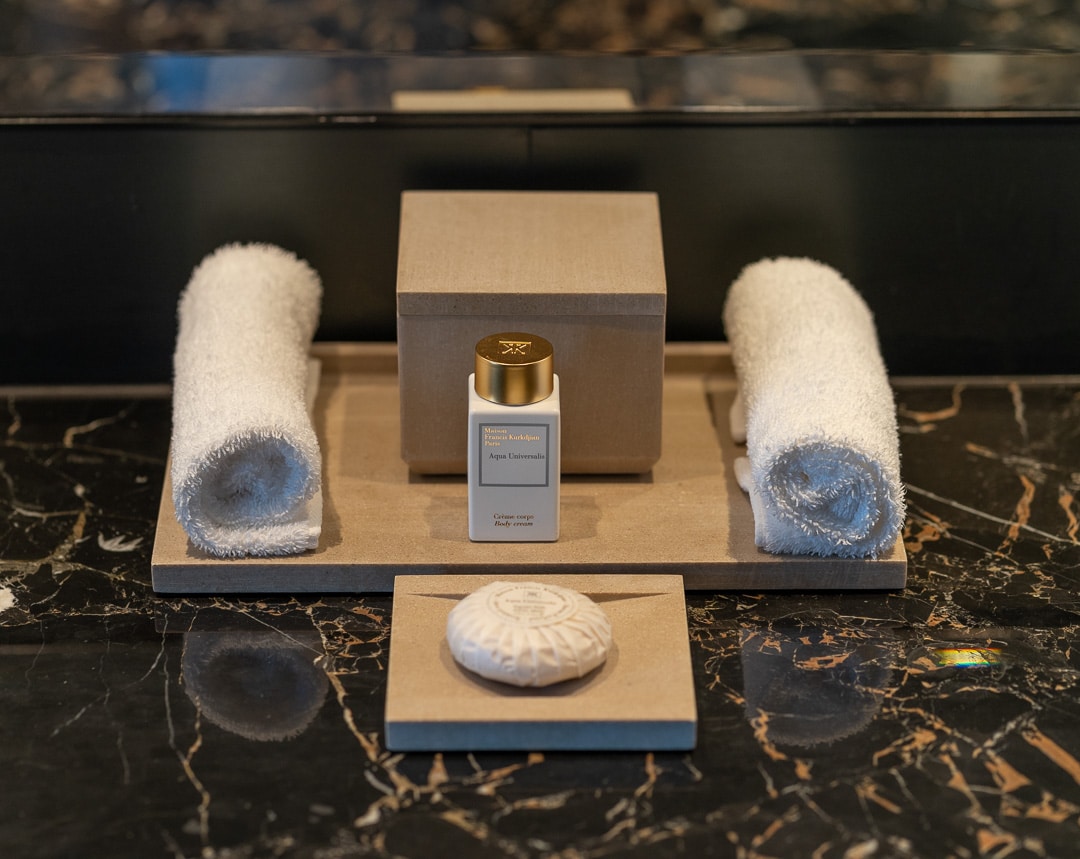 The oversized bath was quick to fill and when the panels were drawn shut, the corner position next to a softly illuminated vase was very cosy and relaxing.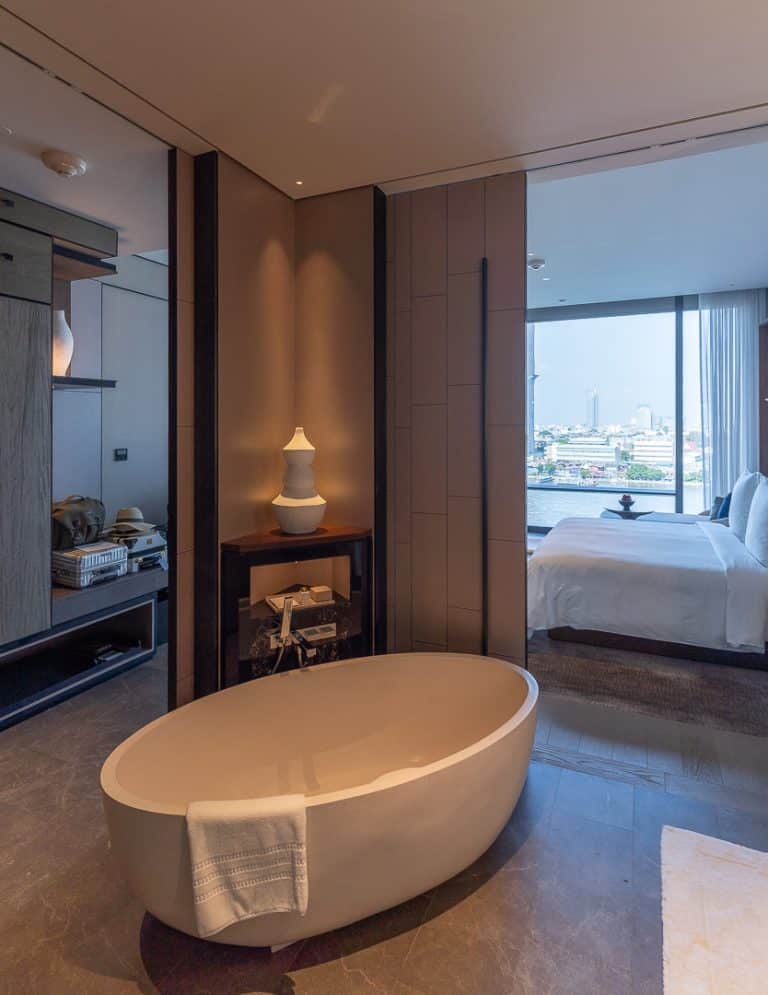 The toilet and enormous rainfall shower were located within separate cubicles, at the back of the bathroom.
Although the toilet felt spacious thanks to the additional nook and 'bookshelf', I was disappointed not to see a Toto washlet in a 5* Asian hotel.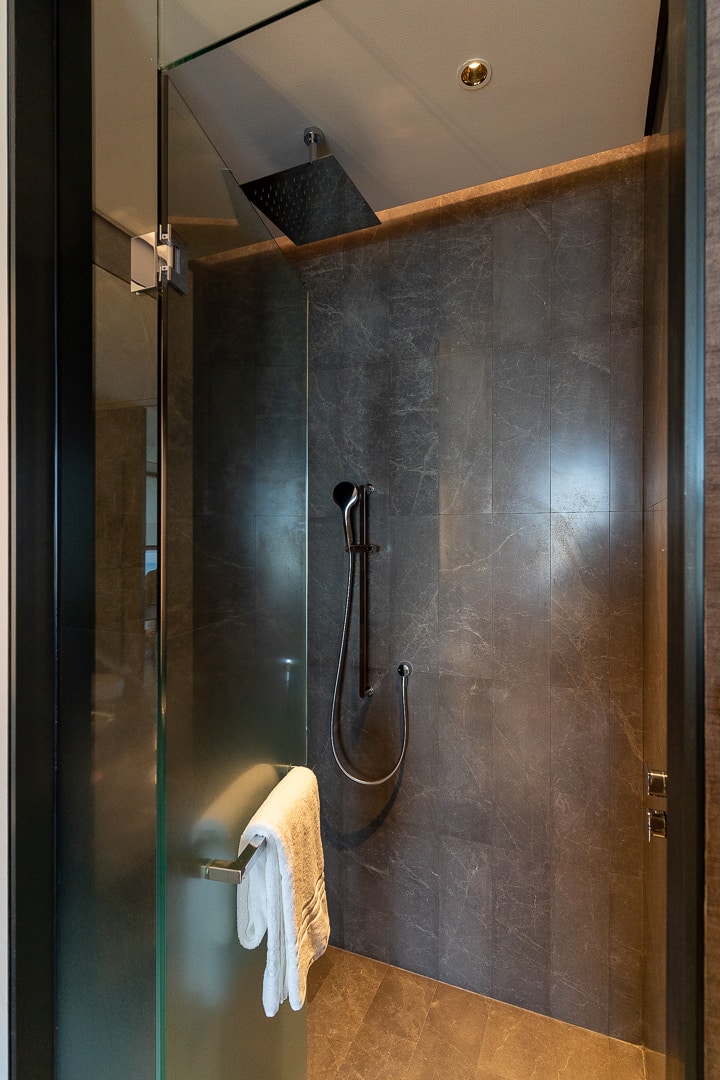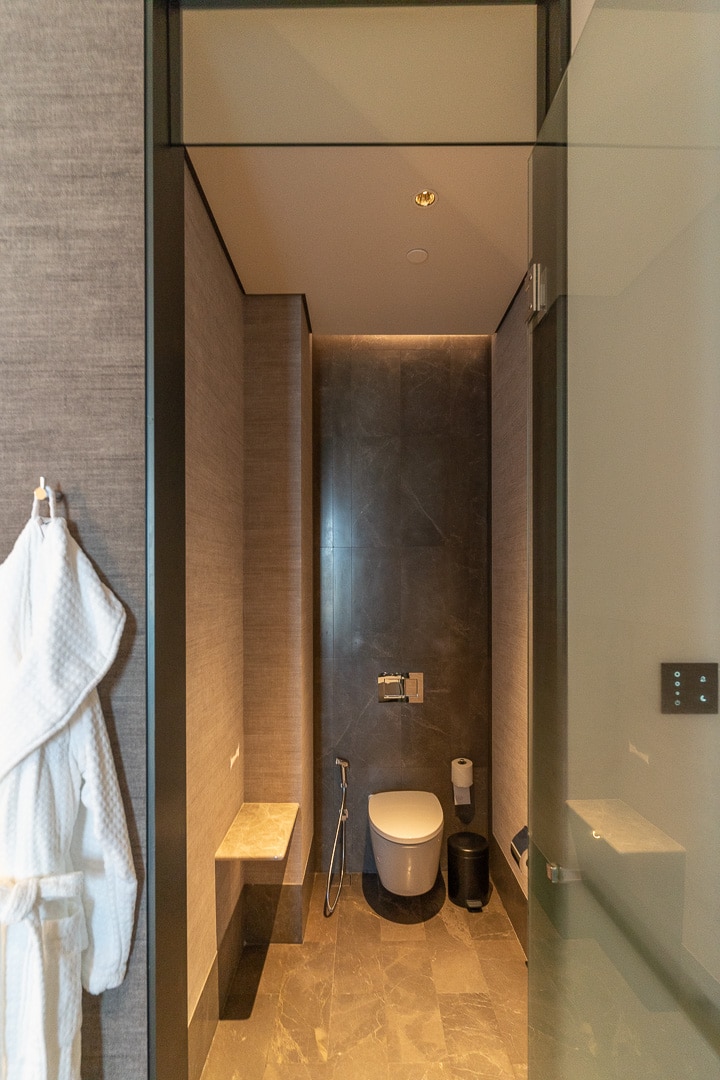 The shower was truly excellent though and thanks to the positioning of the glass door, you could shower with a wonderful river view – if you left the sliding wall panel open.
The toiletries had a great smell and texture to them and were made by Maison Francis Kurkdjian. Great though they were, they were still not a patch on my favourite ever Sodashi toiletries at the Four Seasons Dubai DIFC.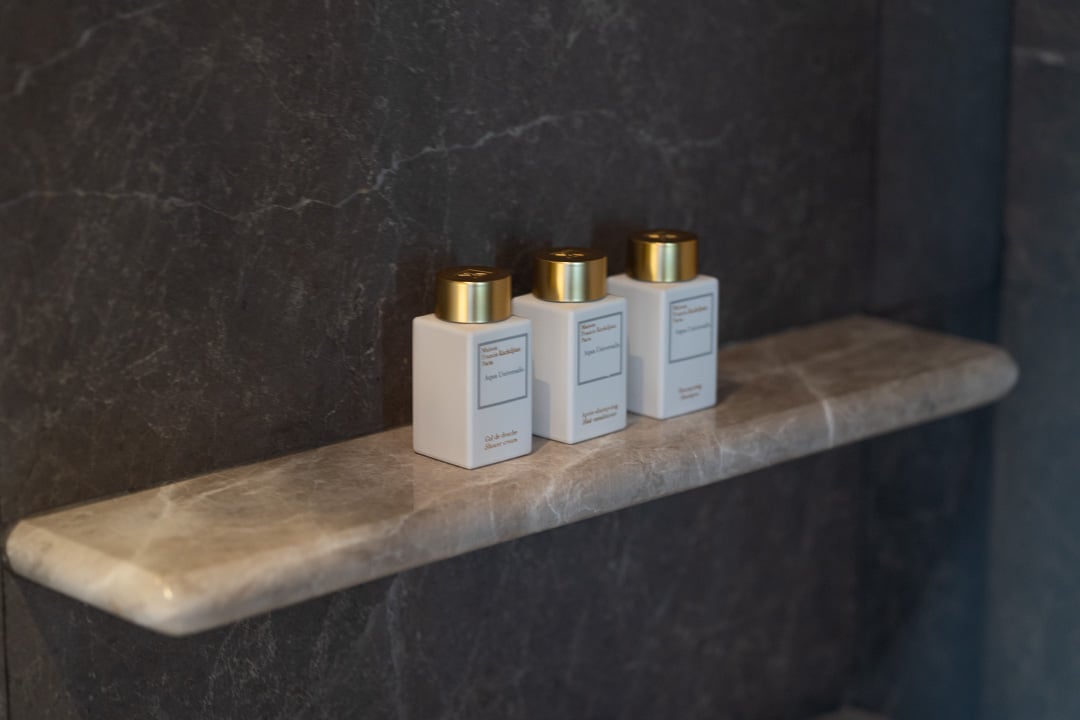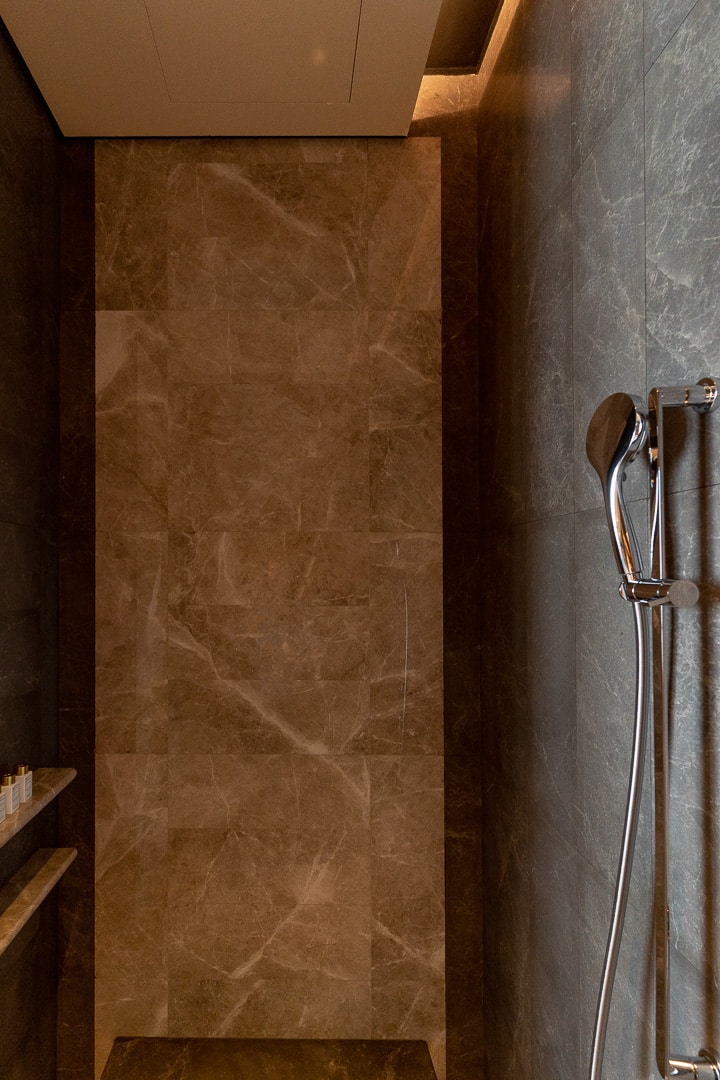 Service
Housekeeping was fantastic, with truly top tier service provided. We never once bumped into them and never had to call to have them service the room.
Presumably they coordinated with our breakfast visits and performed turndown when we were at the pool in the afternoon.
Small gifts have become increasingly common during turndown, even in city hotels. Something we first experienced at Oberoi Amarvilas in Agra.
Here, every pair of glasses left anywhere in the room would be neatly arranged atop a Four Seasons Bangkok lens cloth. Meanwhile, cables were tidied by way of leather Four Seasons clasps.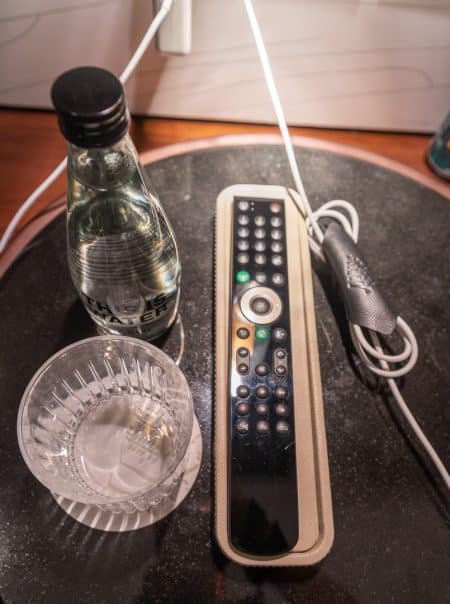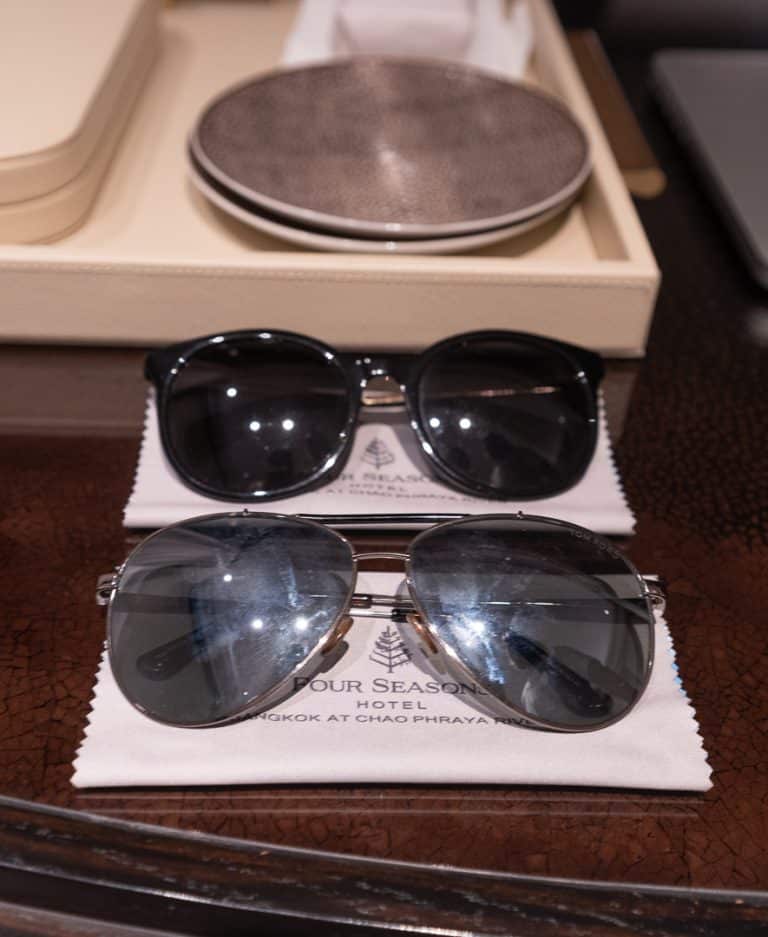 During turndown the curtains were drawn, pillows arranged correctly and slippers placed upon pressed linen mats. Toiletries were methodically arranged and placed on smaller linen mats.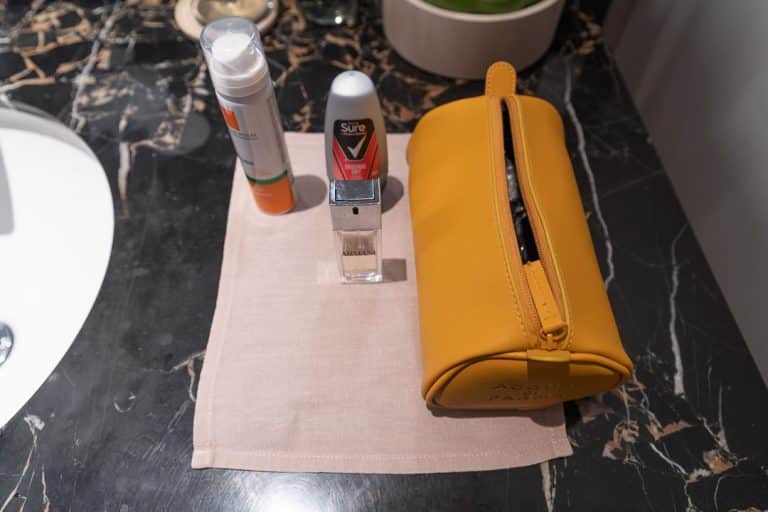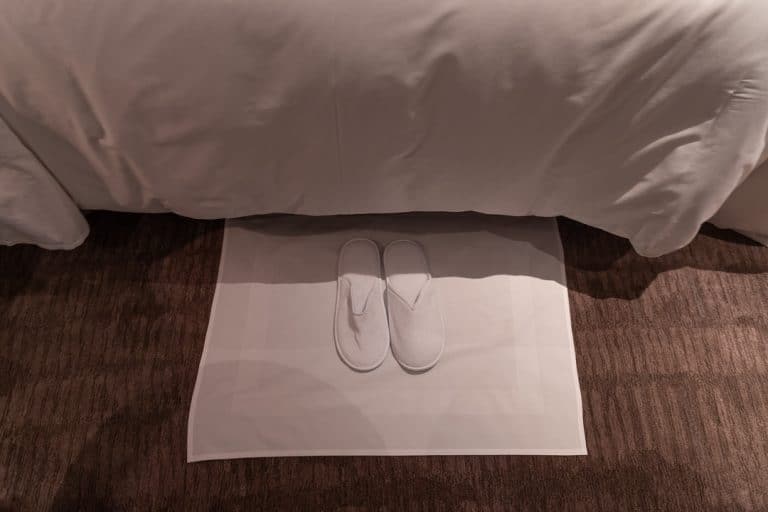 ---
Studio Family Suite
---
Part of my job as the owner of a travel agency involves touring various different room types. I was particularly interested to view the Studio Family Suite as this appeared to present excellent value for a room that can comfortably accommodate 2 adults and 2 children.
(One of my clients was so happy with the videos I sent him from this suite that he booked the very same day!)
Bedroom
The Studio Family Suites have proper reception areas in which people can sit to put on their shoes – something very useful when travelling with children! There is also plenty of space here for jackets and umbrellas.
Entering the bedroom itself, the first thing you come across is the minibar. The bar surface extended all the way through to the entrance hall. Meaning that there was a handy space on which to store, keys, hats, sunscreen etc. near the door.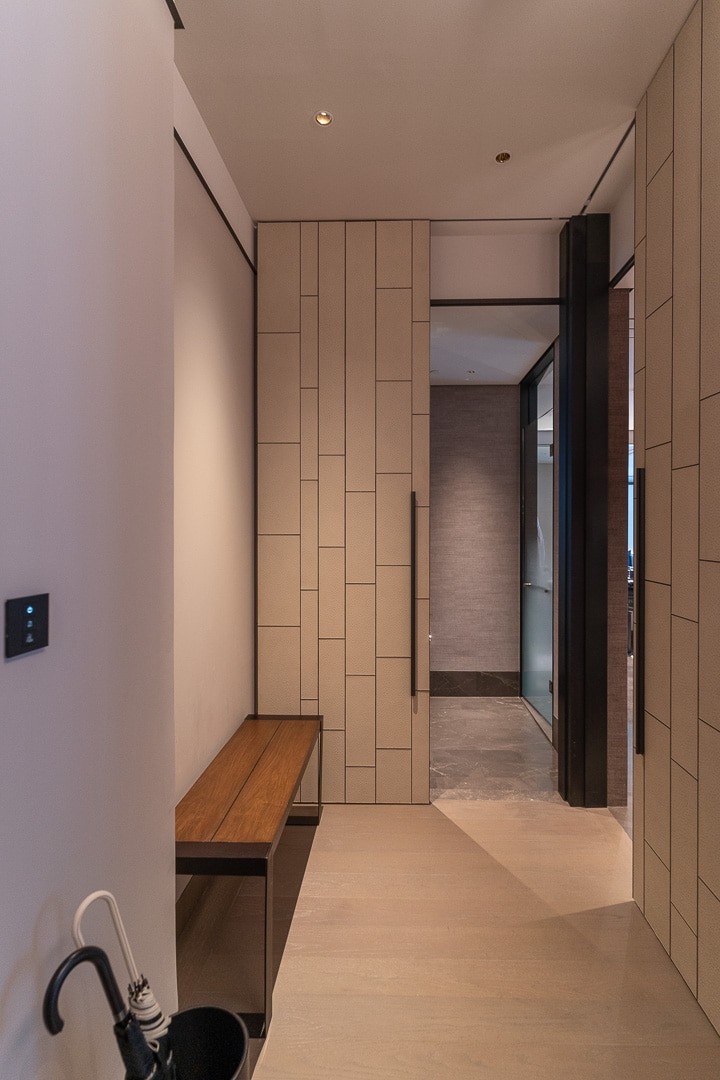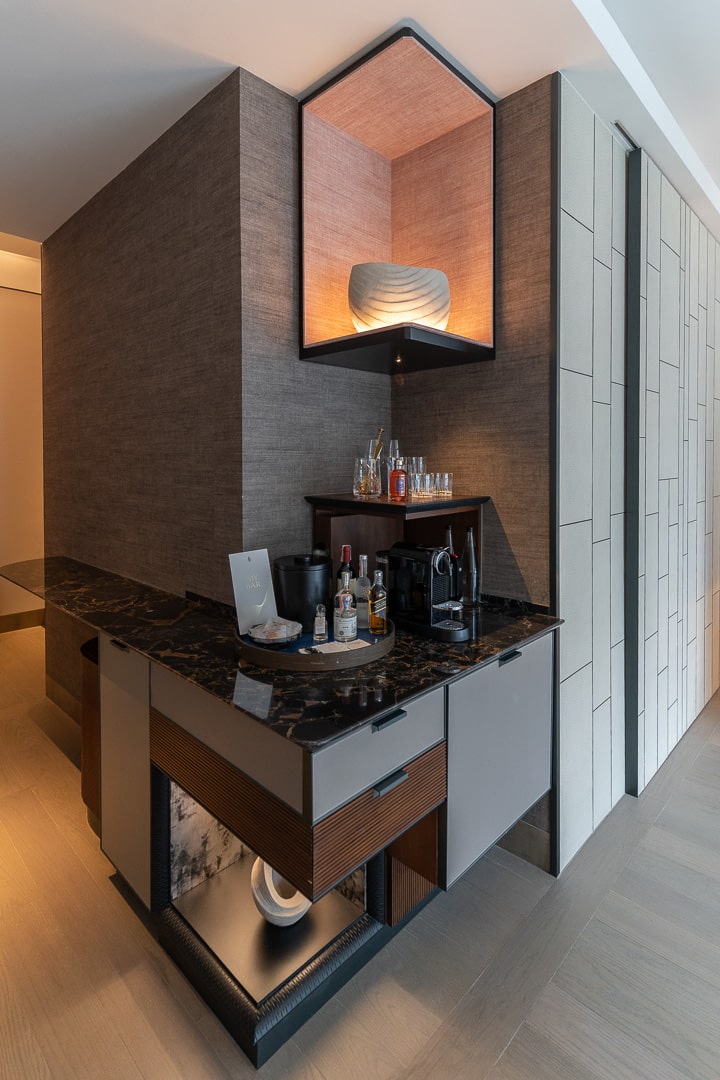 There was no separating wall between the seating area and the bed, hence this suite's 'Studio' designation. However, the sitting area was very large indeed, with a sofa which could be made into a child's bed.
My main criticism would be that the table seemed too small and only had one chair. I imagine that families will sometimes want to stay in and order room service. Something not easily done with the furniture on offer.
It is also worth noting that the TV, opposite the bed, could not easily be swivelled to face the sofa for family movie time. It feels like a dividing wall is missing here, which would help to make the bedroom feel cosier, give extra privacy to a teenager sleeping on the sofa and provide the living area with a space on which to hang its TV.
The bed area was almost identical to ours in the Premier room.
The key difference being that there was a desk behind the bed, leading to the bathroom (this could be closed with a sliding panel). Tucked into the far corner of the bedroom was a private and cosy little tent featuring a child's bed.
Bathroom
The bathroom was more or less identical to that of the Premier Room.
The key difference being that the bathroom door led into a walk-in wardrobe, which then connected back to the front door.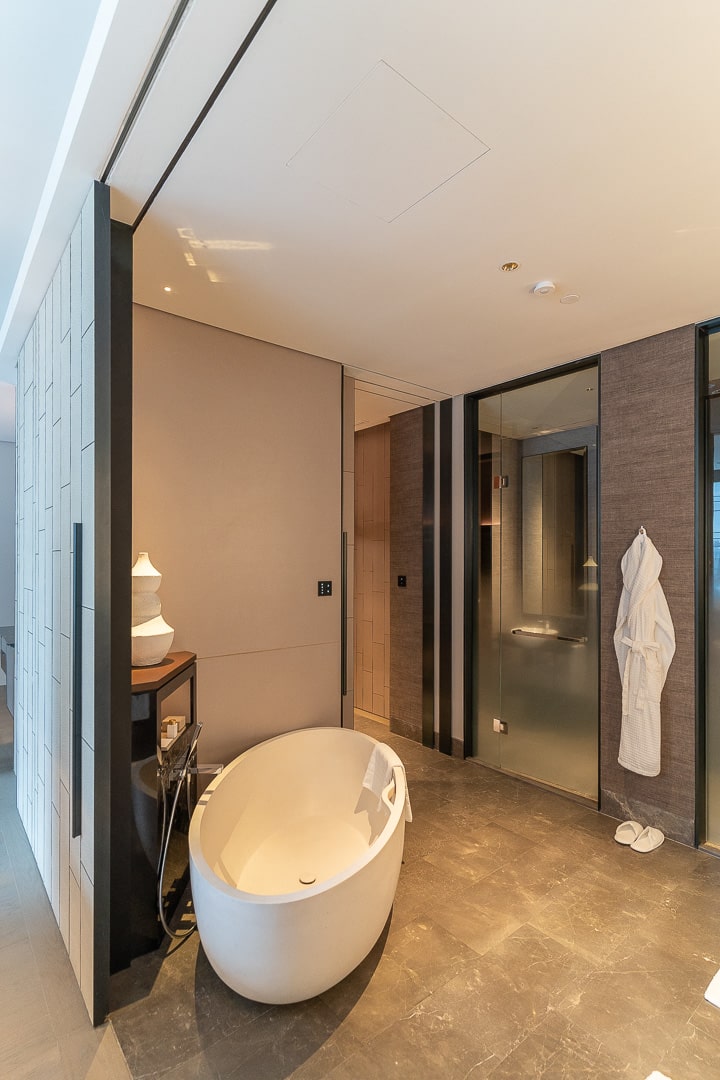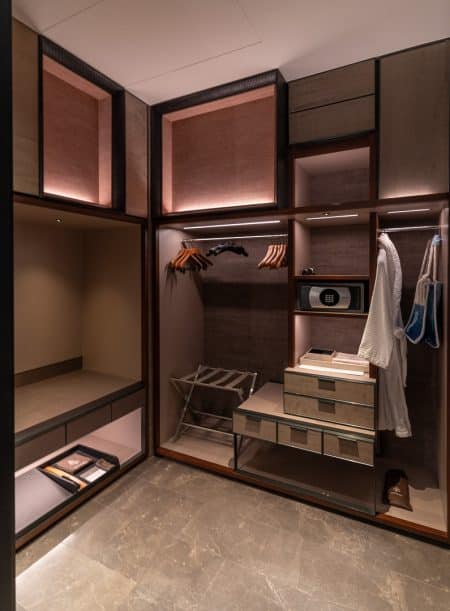 ---
Four Seasons Executive Suite
---
A true suite with an extensive living and dining space, separate from the bedroom.
Living Room
The door opened onto the minibar area and featured a guest bathroom immediately adjacent to this.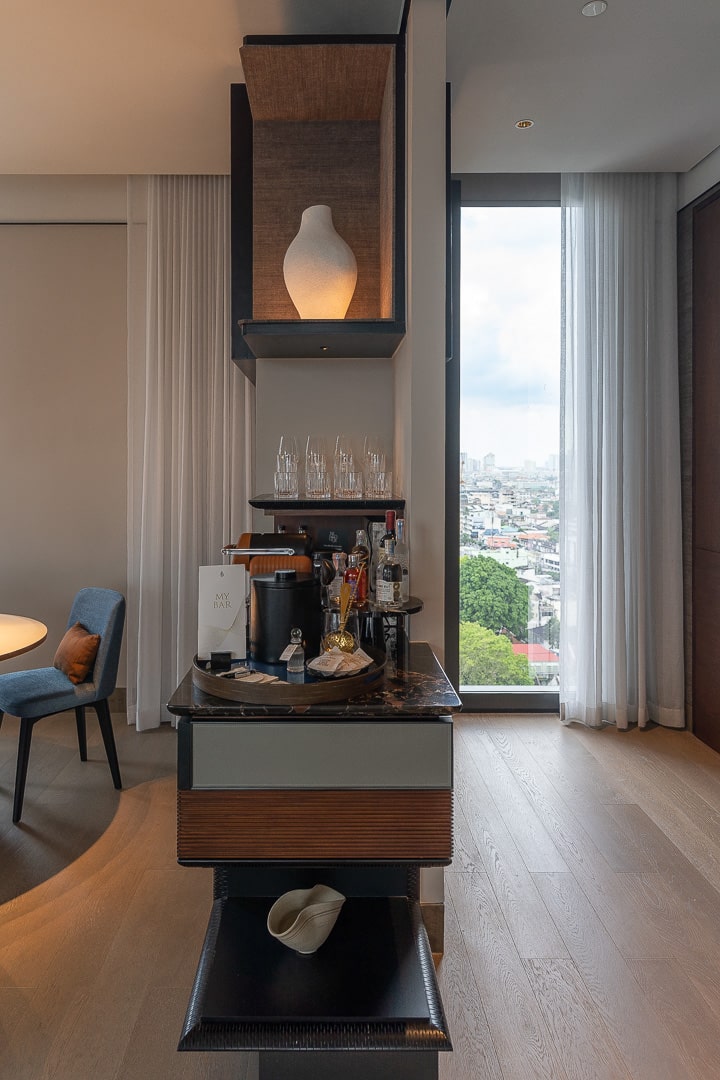 At the far end of the living room was a dedicated dining space, with a console table demarcating the separation between this and the next seating area.
This next area featured two deep sofas topped with a variety of cushions. These could easily be converted into children's beds.
Beyond this was a further, main living room. The great thing about this setup is that there would still be ample relaxation space for a family of 4, even if 2 beds had been permanently set up on the blue sofas.
Bedroom
Despite being in the building further from the river, the bedroom still enjoyed great views.
Bathroom
Different suite – same bathroom.
---
Riverside Terrace Suite
---
This is one of the most prestigious room categories at the Four Seasons Bangkok. One thing to note is that one of the terrace suites is located on the rear block of rooms, with the other being located much closer to the river, in the same block as our Premier Room.
Despite this major difference the two terrace suites are priced equally. This is where booking with a good FSPP agent (like me!) will help. I would always work to ensure that my guests only ever receive the Terrace Suite nearest the river and not the one further away (which we toured).
Living Room
Immediately upon entering the suite there was a large guest bathroom and a door leading into the walk in wardrobe.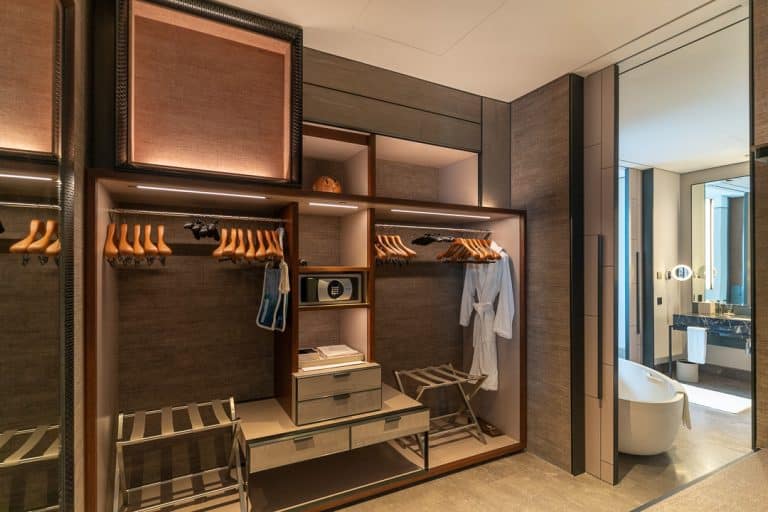 The walk-in wardrobe then led on to the main bathroom but let's take a step back into the living room first…
The living room had a very similar layout to that of the executive suite.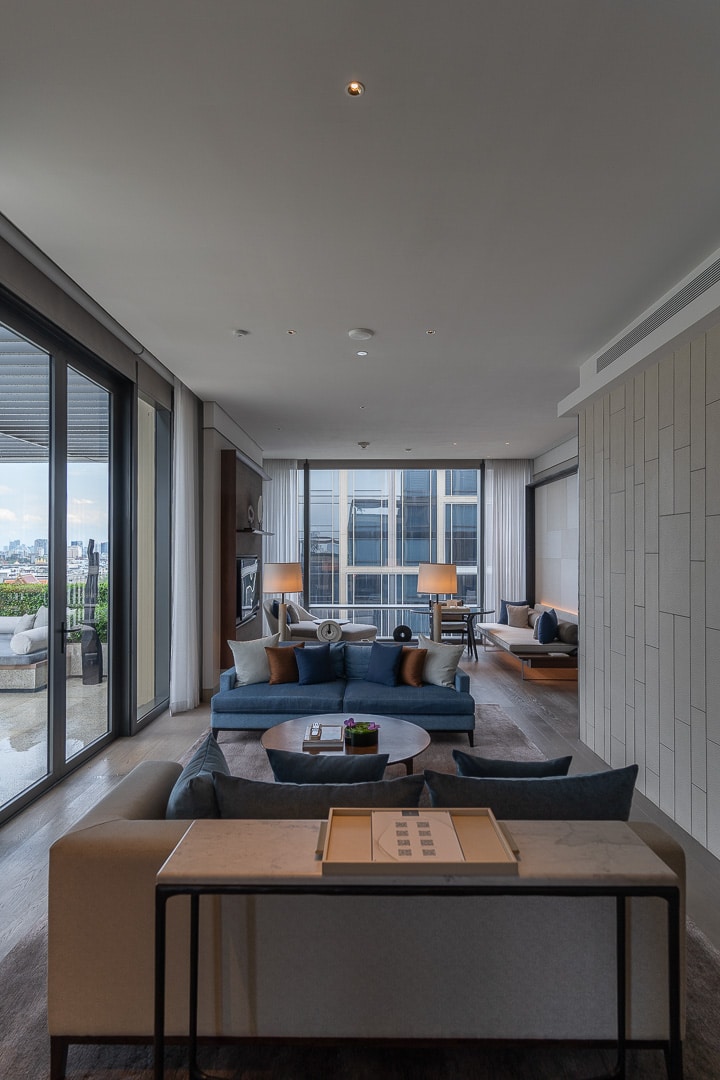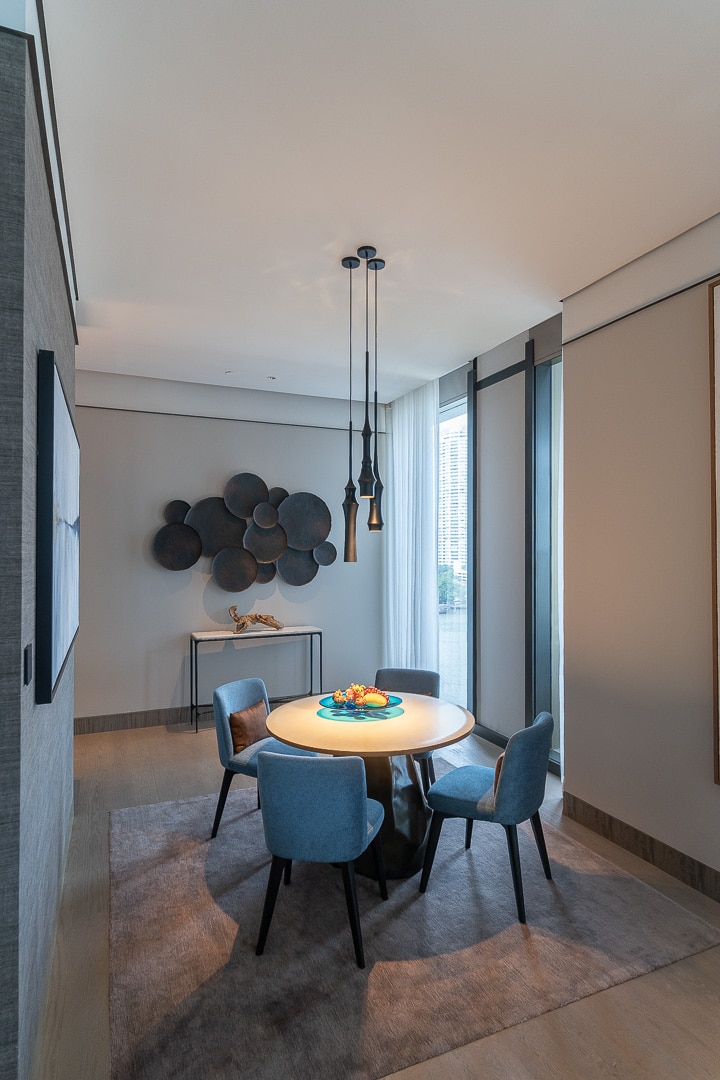 The internal view of other rooms from the sofa was not ideal however.
Outdoor Terrace
We were unlucky with the weather on the day that we toured the suite but I can imagine that this would be a fantastic entertaining space, when the sun is shining.
The design of the furniture and the overall landscaping was fantastic but there was no proper shade provided. I also struggle to see the appeal in this terrace when there is no plunge pool.
Why would you sit out here getting hot when you could enjoy a terrace suite with proper shade and a cleaner line of sight to the river, for a cheaper price, at Capella next door?
Where this space would excel would be for hosting a private cocktail reception, where the lack of a pool means that there is more space for guests to mingle. This seems like quite a niche demographic to target a suite to though.
Bedroom
The bedroom featured a partial river view but suffered somewhat from being overlooked by the building across the courtyard.
Bathroom
The bathroom was once again more or less identical to that of all the other rooms. It is a testament to how great these bathrooms are, that they don't look out of place in one of the hotel's top suites.
---
Facilities
---
It is no exaggeration to call this an urban resort rather than a city hotel. The beautifully landscaped grounds are only part of the appeal here though.
Courtyard Pool
The hotel's courtyard pool was located well away from the main hustle and bustle of the riverfront area and we never once saw anybody using it. The clean lines and wide spacing between the impossibly comfortable loungers felt very Aman-like (no great surprise, given the hotel's architect).
Gym
The gym was located directly behind the pool and was an incredibly large and impressive facility.
Not only was there a huge variety of Technogym stations, there was also a smith machine, preacher bench and a variety of different bars.
A full selection of kettlebells, medicine balls and dumbbells was also on offer…
…dumbbells topped out at a very impressive 42kg. It's not often you see dumbbells over 20kg in hotels, let alone this!
Art Gallery
The hotel features an art gallery connecting the main lobby area with the riverside pool and restaurants.
This was actually a very impressive space and felt like a legitimate gallery, rather than just some random afterthought / gift shop.
Riverside Pool
The crowning glory of Four Seasons Bangkok is without question the stunning riverside pool complex. Even before catching sight of the pools themselves, as you exit the art gallery, the various ponds and waterfall walls let you know that something magnificent awaits.
The landscaping at this property is truly off the charts. It's incredible what they've done here.
Our usual path to the pool was from above, walking a few steps down from the entrance of our room block.
At the base of the stairs there was a station set up with towels, water, sunscreen and reading material. Attendants were on hand all day long and would immediately come over to greet us as soon as we approached.
The pool area encompassed two main lap pools, together with a very shallow kids pool.
Padded loungers were available around the edges of the pool, with mesh loungers located within the shallow waters of the lagoon like expanse.
Thai style daybeds were also offered at the very back of the pool area.
This pool was arguably better for swimming laps.
Whereas the other one had a closer view of the river and featured a fantastically relaxing jacuzzi section.
There was even an additional set of 'hidden' sun loungers just in front of this pool.
Service at the pool was great for the most part. Staff were super proactive in moving us around and preparing different sun loungers when they saw that we wanted to avoid the direct sunlight.
I love the way that Four Seasons does pool service, with two towels per guest: one over the lounger and another to be used as a pillow. I first encountered this at the Four Seasons Tunis and always try to grab extra towels to replicate this at other hotels, with lower pool service standards.
Pool staff were very proactive in providing both water and complimentary fruit drinks too.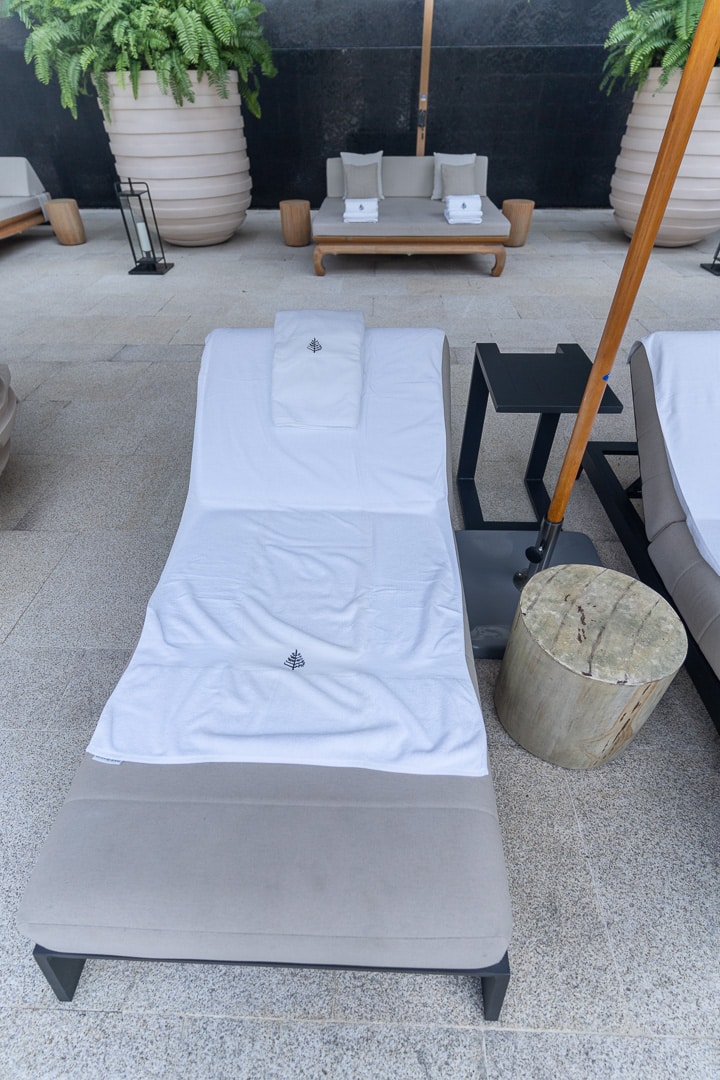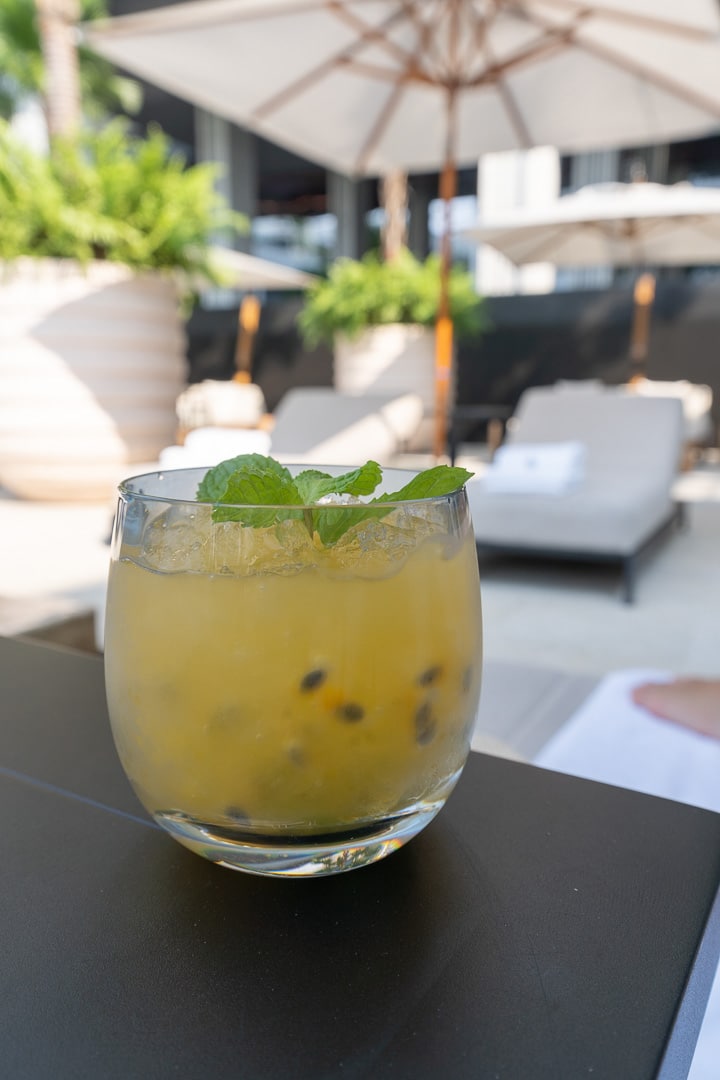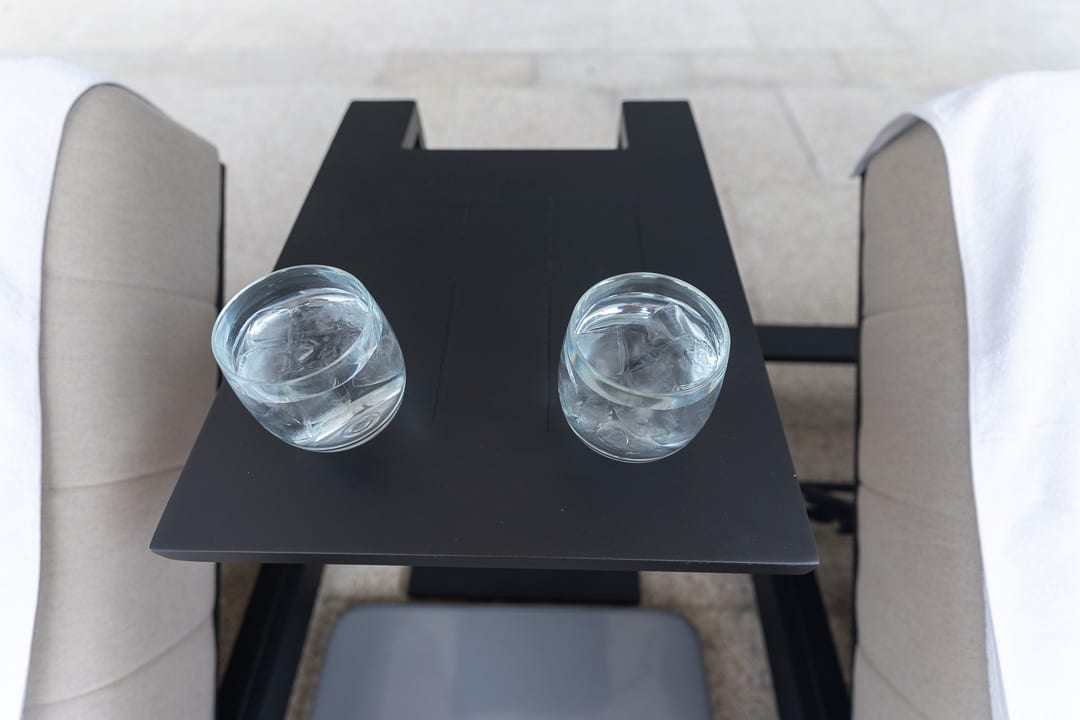 My one complaint is that the pool service menu wasn't offered during our stay and we were obligated to order from the room service menu.
What we really wanted was a pizza from Riva del Fiume, which directly overlooks the pool. However staff said that we would have to go and get changed and eat in the restaurant if we wanted pizza, since it couldn't be delivered to the pool.
I get that they can't flambee a crepe Suzette or prepare a fresh steak tartare poolside but to not allow us to order a pizza from a restaurant 10 metres away? This didn't seem very Four Seasons.
Having said all that, the food that we ordered from the room service menu was delicious, so it wasn't the end of the world!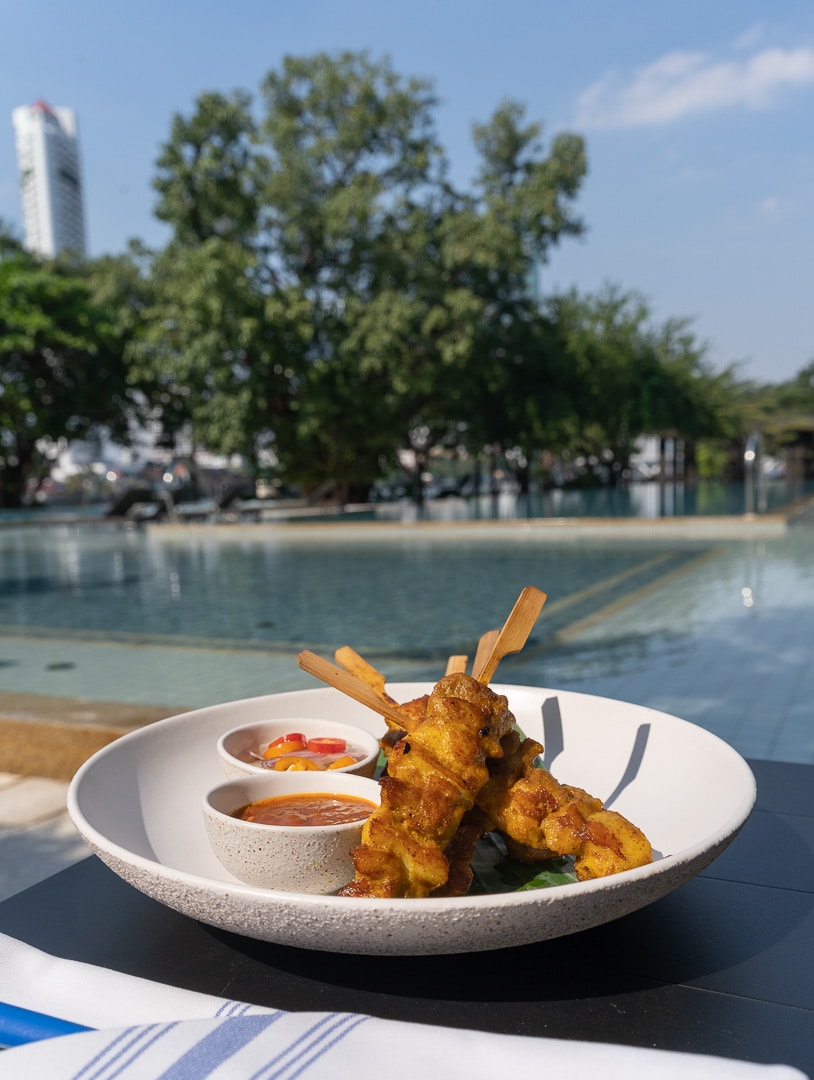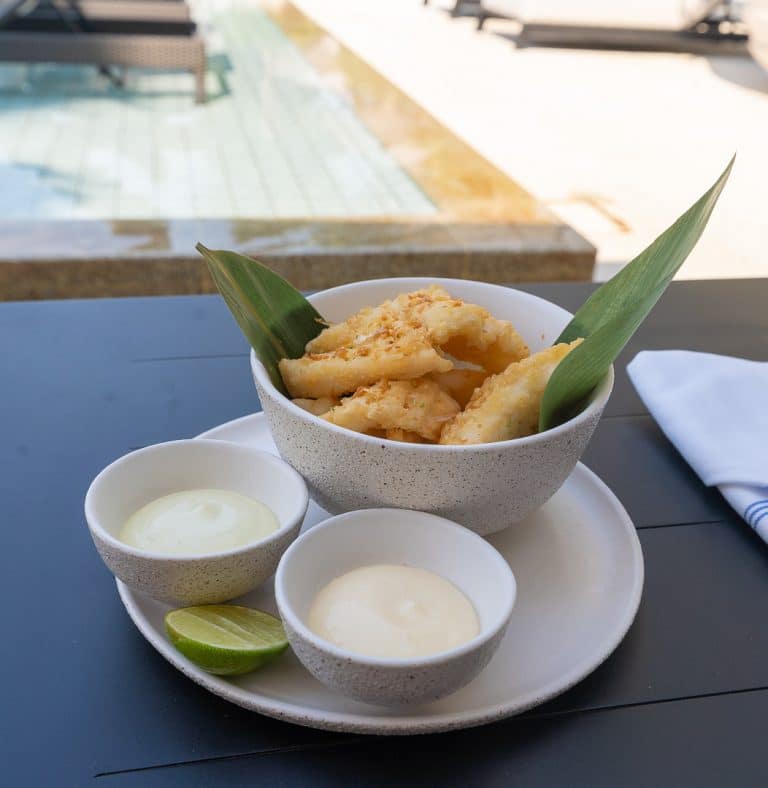 Boat Service
Being a riverside property, the Four Seasons Bangkok offers a complimentary shuttle boat service to guests. This departs from the pier that sits directly in between Four Seasons and Capella, with boats shared between the two properties.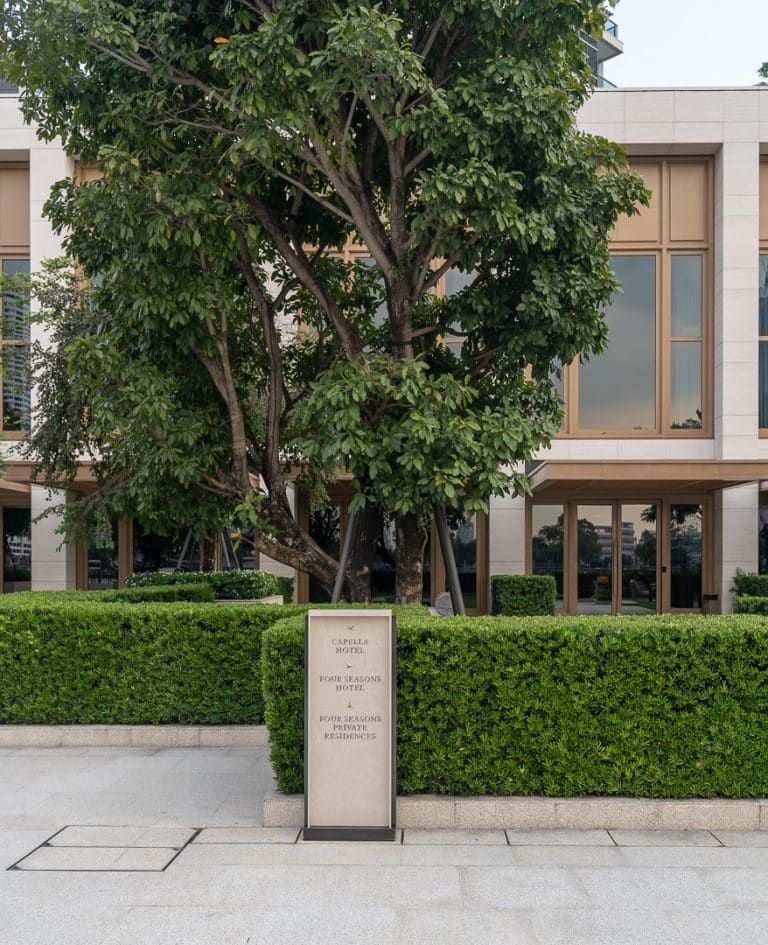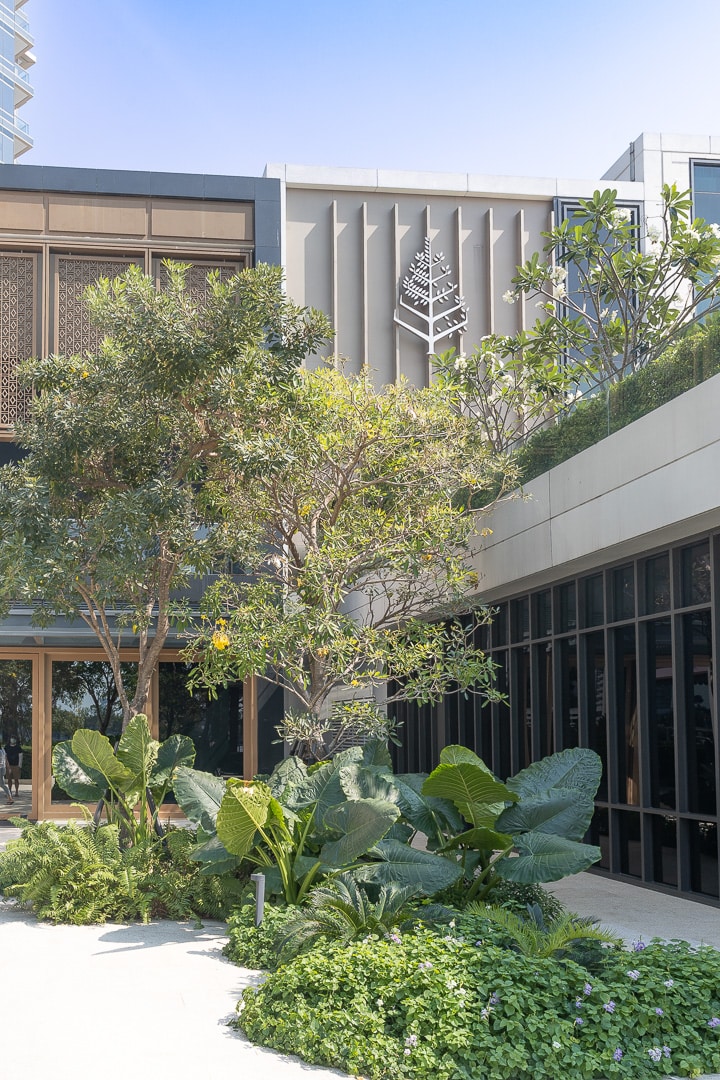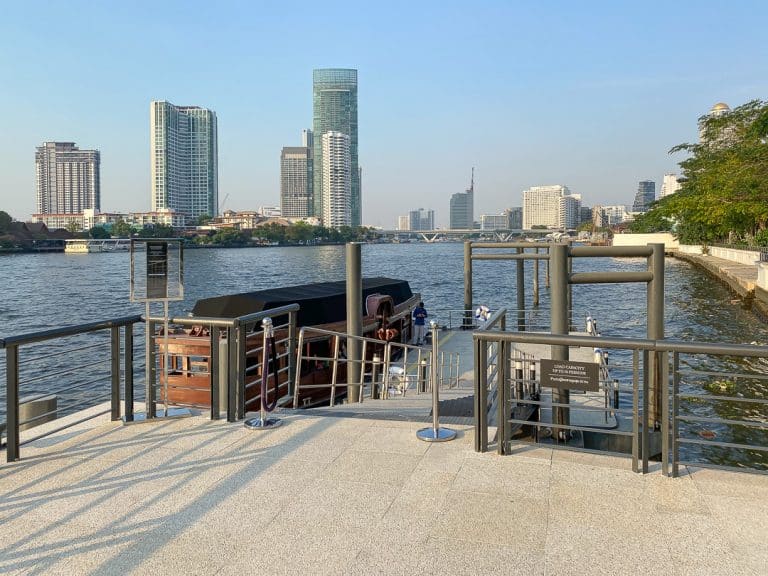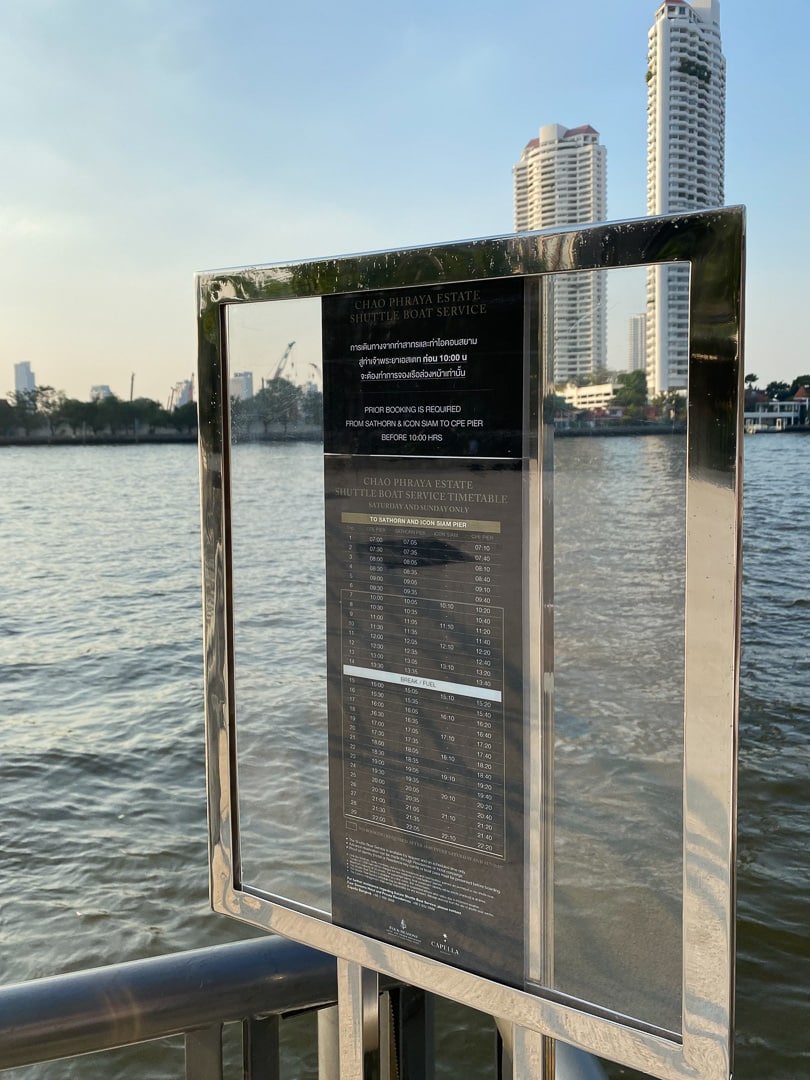 The boat service stopped at both Taksin pier, for connections with the BTS skytrain, as well as the very impressive new ICON Siam mall.
---
Food and Drink
---
In addition to the wonderful landscaping and extensive leisure facilities, I found Four Seasons Bangkok to have an absolutely incredible range of bars and restaurants.
I love it when a hotel's restaurants feel like proper dining destinations, somewhere that you'd go out of your way to visit, even if you weren't staying at the hotel. Every single F&B establishment at Four Seasons Bangkok ticked this box for me.
Breakfast at Riva del Fiume
Riva del Fiume's location was supremely convenient to our Premier River-View Room. The entrance was located about 20 paces from the entrance to our tower.
We were politely greeted at the reception counter each morning before being escorted to our choice of seating location.
There was the option to either sit on the poolside terrace, inside the bustling brasserie style areas or on the rear garden patio, facing the river.
The decor had a playful art deco feel to it, executed with a great deal of polish and with clear regard to the quality of materials used. Upon first walking into the main brasserie room I couldn't help but feel that I wanted to try every seat and inspect every fixture up close.
The private dining rooms looked excellent too, with an abundance of natural light and lots of comfortable sofa seating for people wishing to relax with a post dinner cocktail.
My personal preference was to sit on the riverside terrace though. Surrounded by foliage and with the gentle hum of boat motors, there was a relaxing energy here which made it the perfect spot to enjoy the first meal of the day.
Service from the wait staff was very prompt and friendly. Staff remembered our preferences on day two, asking if we'd like the same coffee, noodles etc. as we'd had the previous day.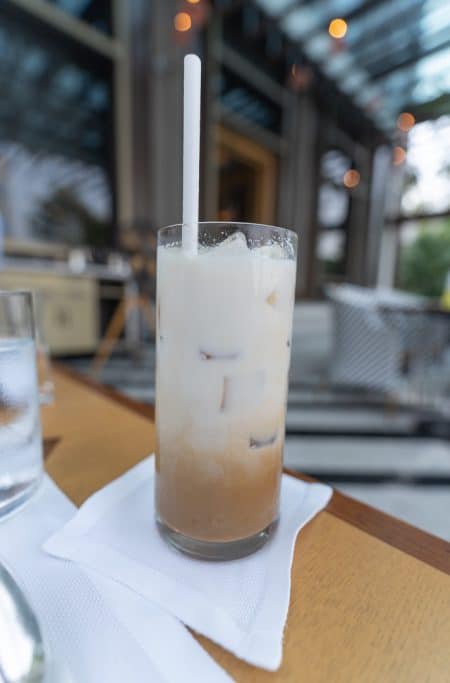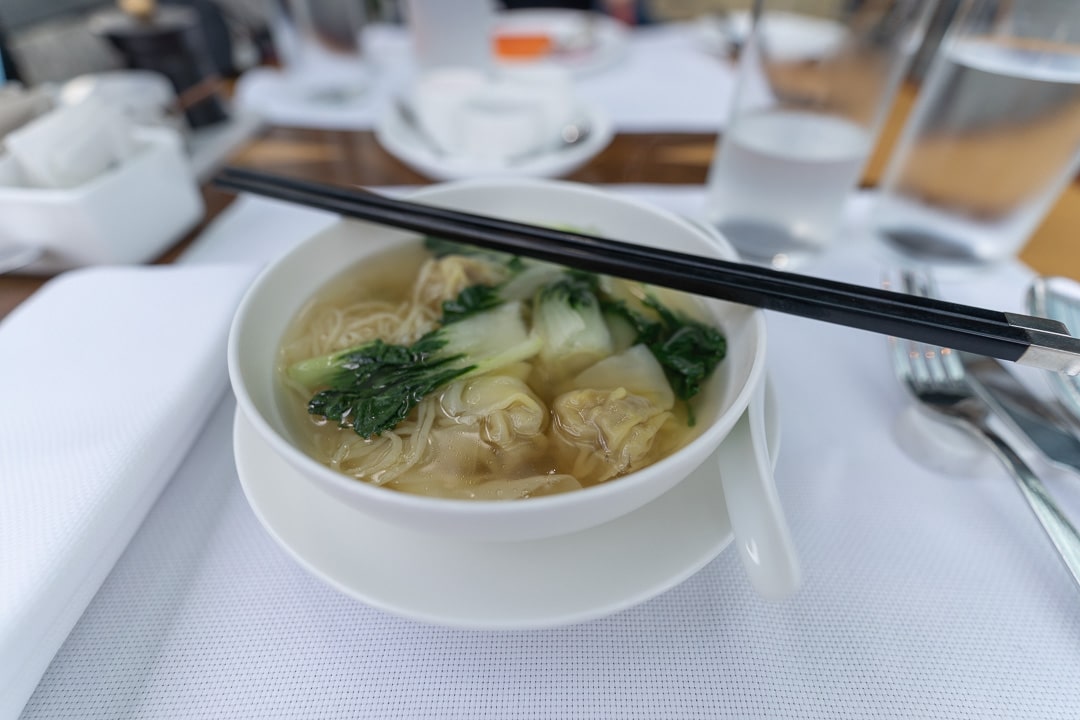 As is the case in most hotels, a request for a strong iced coffee resulted in something resembling a milkshake, with something more appropriate delivered on subsequent occasions.
I get that breakfast was served in an Italian restaurant but it was strange to see so few Asian food options on offer. The noodles were the only a la carte dish able to scratch that itch, with everything else being simple variations on egg dishes.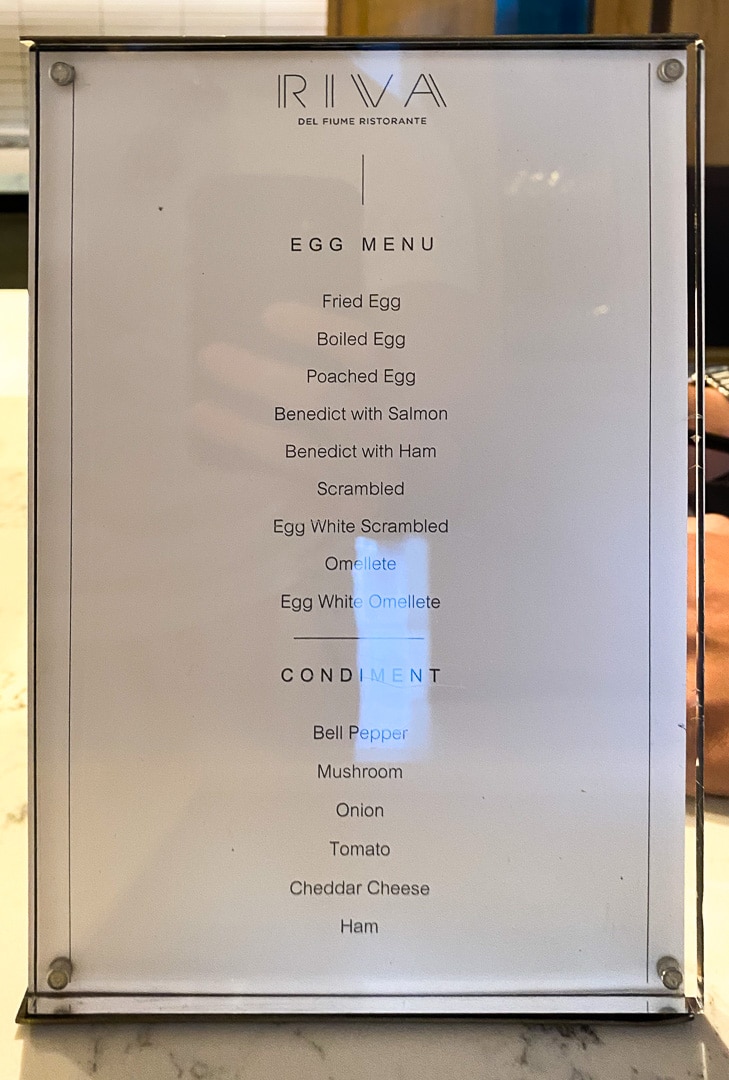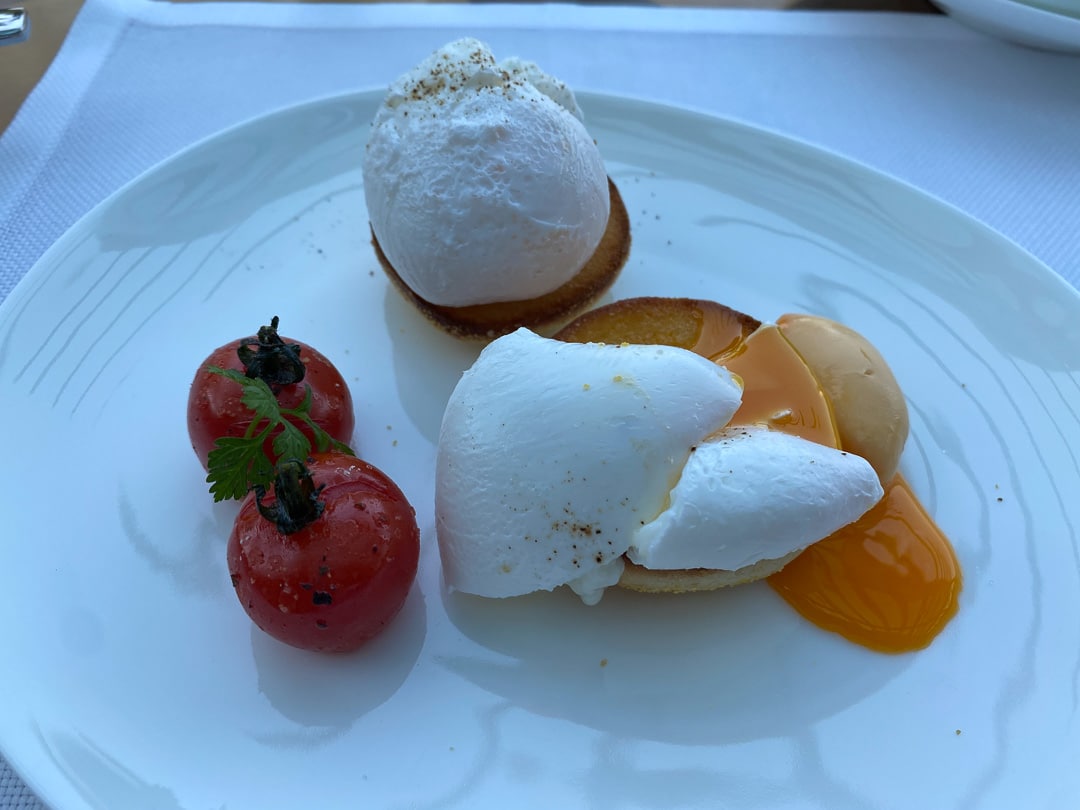 Although the buffet options were similarly skewed towards Western flavours, the freshly baked pastries were fantastic.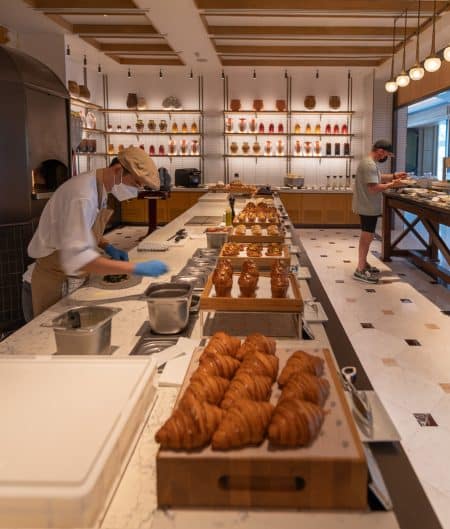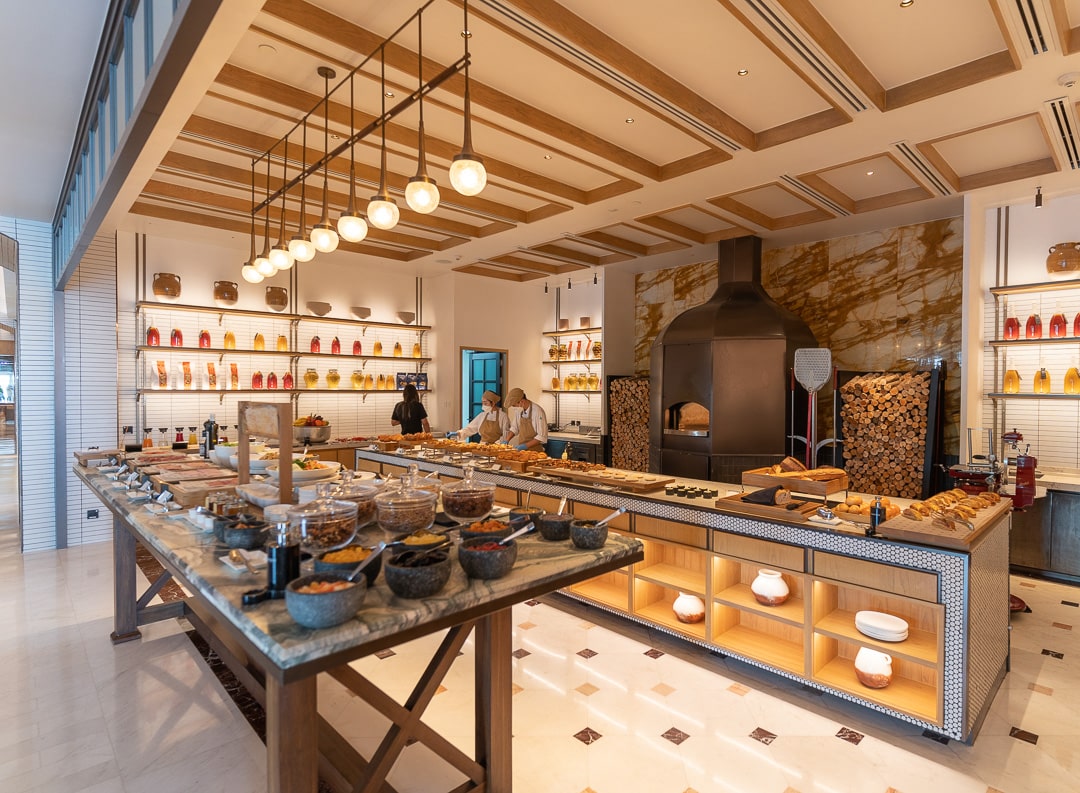 The cold cuts were not of a particularly high standard though. Hand carved prosciutto was kept aside for guests at lunch or dinner, with Costco style sliced bologna offered at breakfast instead.
Sausages and bacon were offered alongside egg dishes and pancakes.
I managed to track down some dim sum in a separate room too!
Overall, breakfast was by far the weakest aspect of our stay at this property. Thankfully this is something which could easily be rectified with the addition of higher quality ingredients, more variety of Asian options and the introduction of more complex a la carte dishes – beyond just eggs and noodles.
Capella next door is a perfect example of how a hotel at this price point can do breakfast right.
Room Service Lunch
On our first day at the hotel we were obligated to stay in our room as we awaited PCR test results. This gave us the opportunity to try room service.
I love the Four Seasons app for ordering food, it removes any language barrier and allows you to fully customise every dish with specific instructions. The only minor drawback is that there aren't pictures to show you the size of the dishes that you're ordering.
As such, our presumptive light lunch ended up looking like something that Henry VIII would have had trouble finishing! Every single dish was absolutely incredible and delivery was extremely prompt and efficient.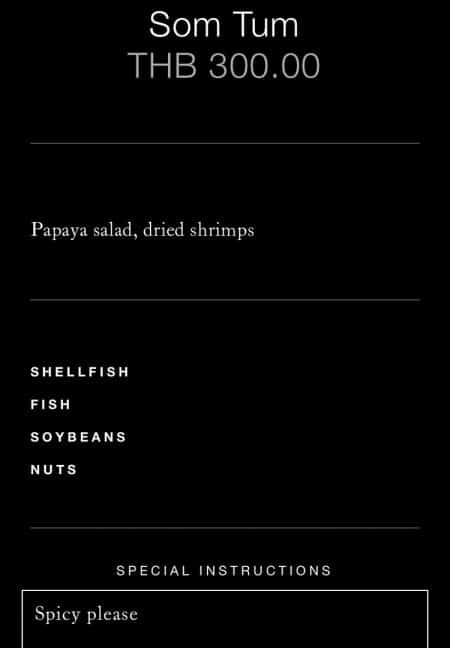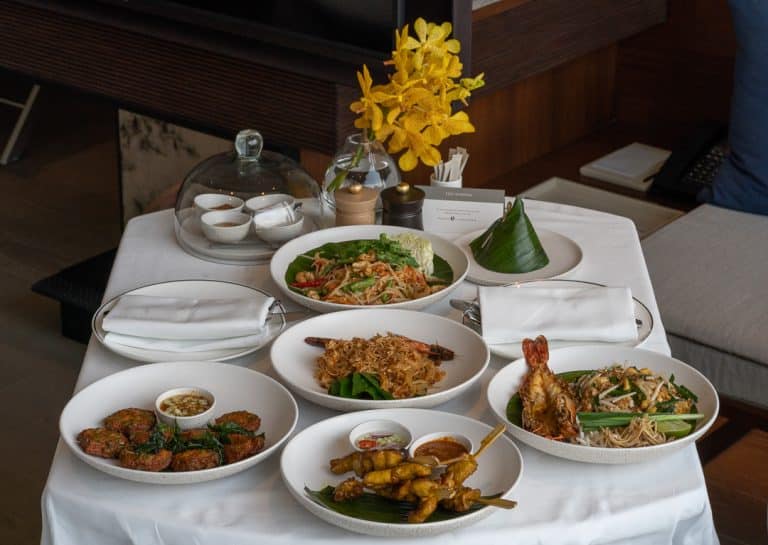 There is no shortage of outlets at this property vying for your $100 FSPP credit but room service may be the one that most surprised me in terms of the overall quality (and competitive pricing).
Brasserie Palmier
We never actually made it to lunch at Palmier Brasserie. The place was full every day, mostly with locals enjoying leisurely lunches. The menu has a focus on seafood and classic brasserie style dishes like steak tartare.
Much like all of the F&B outlets here, the decor is eminently Instagrammable.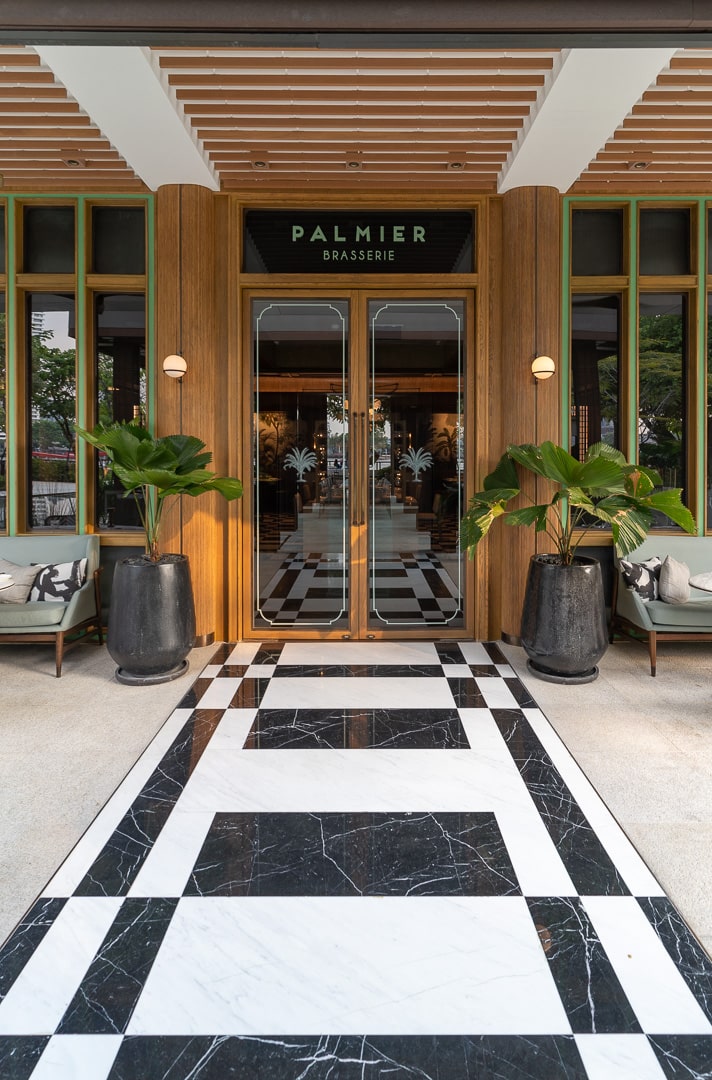 Cafe Madeleine
The delicious French pastries at this property are not limited to breakfast. Cafe Madeleine has fast become one of the most popular bakeries in Bangkok, with tables hard to come by for non hotel residents!
We stopped by to enjoy a couple of coffees, which we won at the crane game in the lobby. We moved on quickly though as we felt bad taking up a table when so many people were waiting!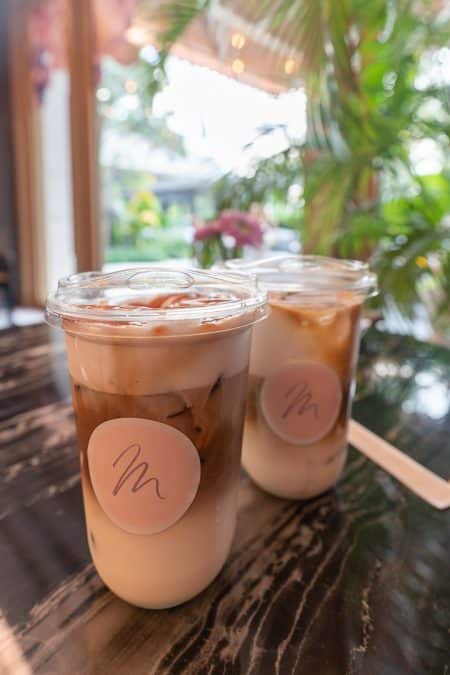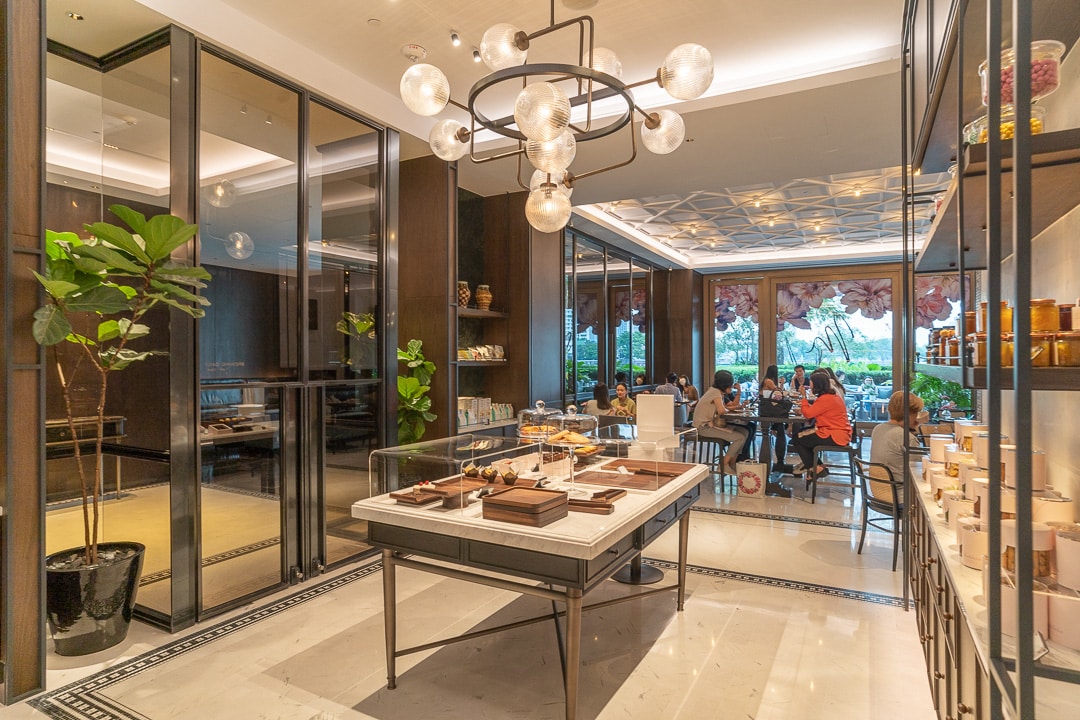 BKK Social Bar
Food Menu
Wine List
Signature Cocktail Menu
Unquestionably one of the trendiest bars in Bangkok right now. The setting on the edge of the hotel's lake is spectacular, you can see why the ambiance alone would draw in locals in search of an escape from the city.
The jungle style art deco theme has been wonderfully executed. During the day, guests tended to gather in the lake facing terrace rooms.
As darkness fell the main bar area quickly filled up and was constantly abuzz with chatting guests.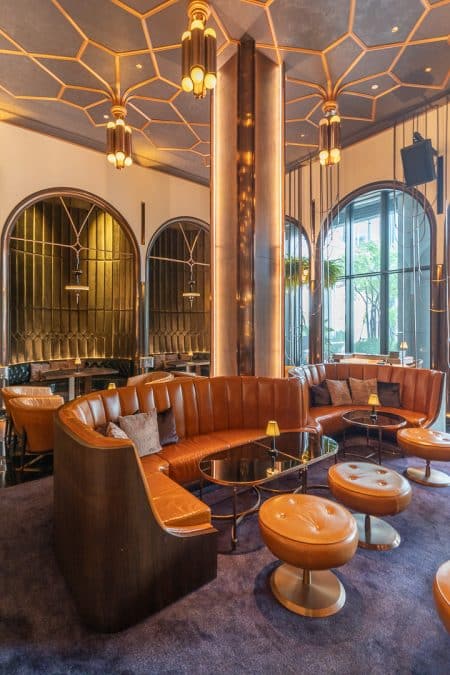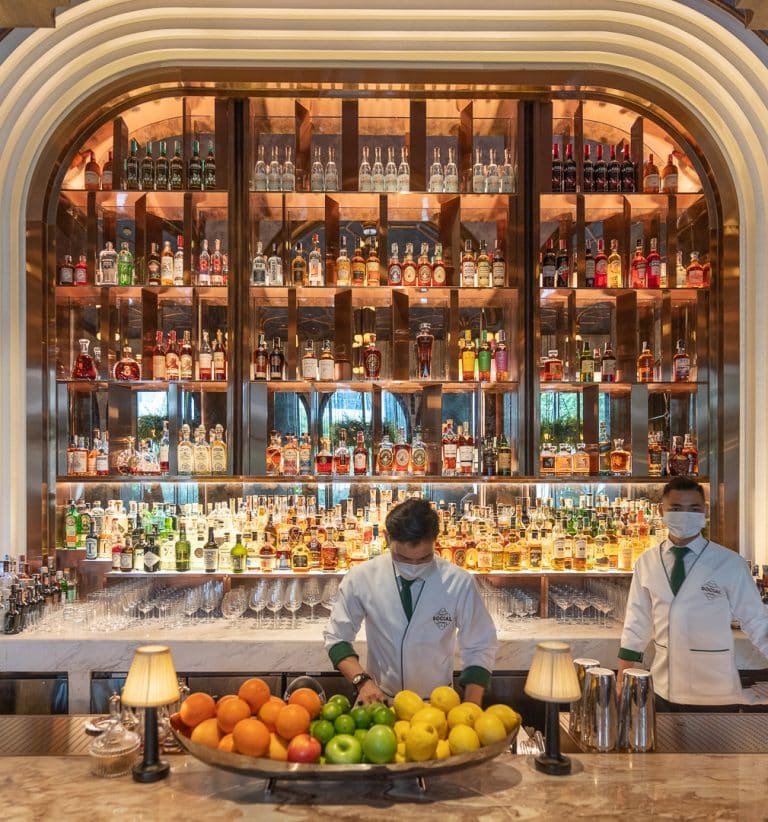 Service at BKK Social was exemplary, with miniature aperitif cocktails, flavoured water and snacks offered before drinks orders were taken.
Staff were deeply versed in the menu and more than capable of guiding us through various options, presenting drinks to suit our individual tastes.
The bar's original signature drinks were not only inventive and wonderfully executed, there was an air of playfulness to the presentation and cocktail descriptions too. This is a cocktail bar which produces serious drinks… but doesn't take itself too seriously.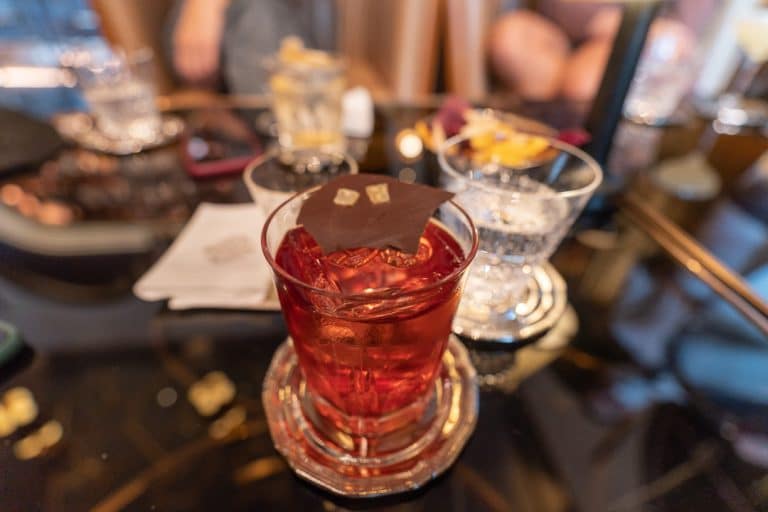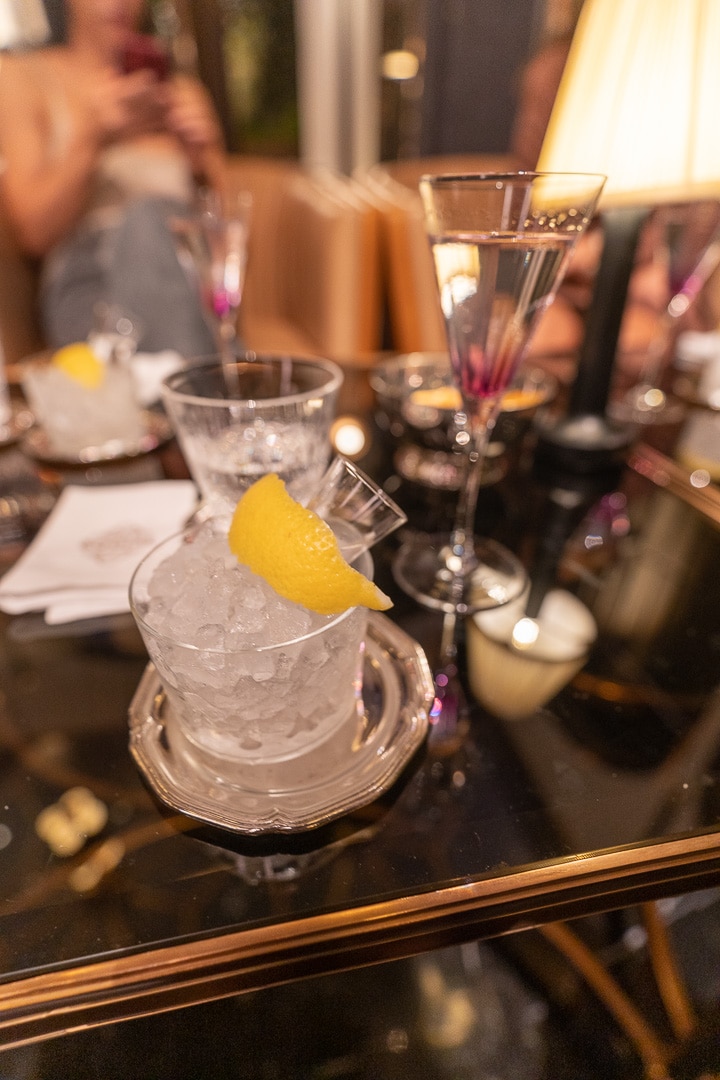 Yu Ting Yuan
It was impossible for us to get a table at this extremely popular Michelin starred Chinese restaurant. Hopefully I'll be able to come and try the food here another time!
This is as close as I got on this occasion:
Dinner at Riva del Fiume
Riva del Fiume is a wonderful restaurant to visit for dinner, we found the poolside setting at night to be particularly inviting and peaceful.
Service was excellent, with staff showing a deep knowledge of all the dishes on offer. Despite being seated outdoors, staff passed by regularly to ensure that we never had more than a moment's wait for anything.
Our dinner began with a selection of breads served alongside a delicious olive oil and balsamic vinegar from Modena.
After this we ordered one of the (very) small cicchetti, alongside a spectacular crudo of sea bream, sea urchin, bitter orange and dill. This was then followed by two wonderful, freshly cooked pasta dishes: sea urchin, nduja and aubergine tagliolini together with the stracinati of blue belly shrimp, langoustine and bottarga.
The quality of ingredients and technique on display were beyond reproach. Truly incredible.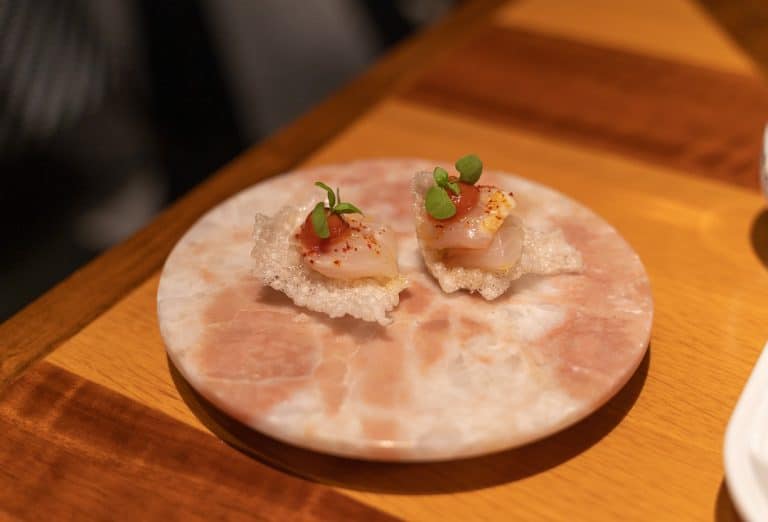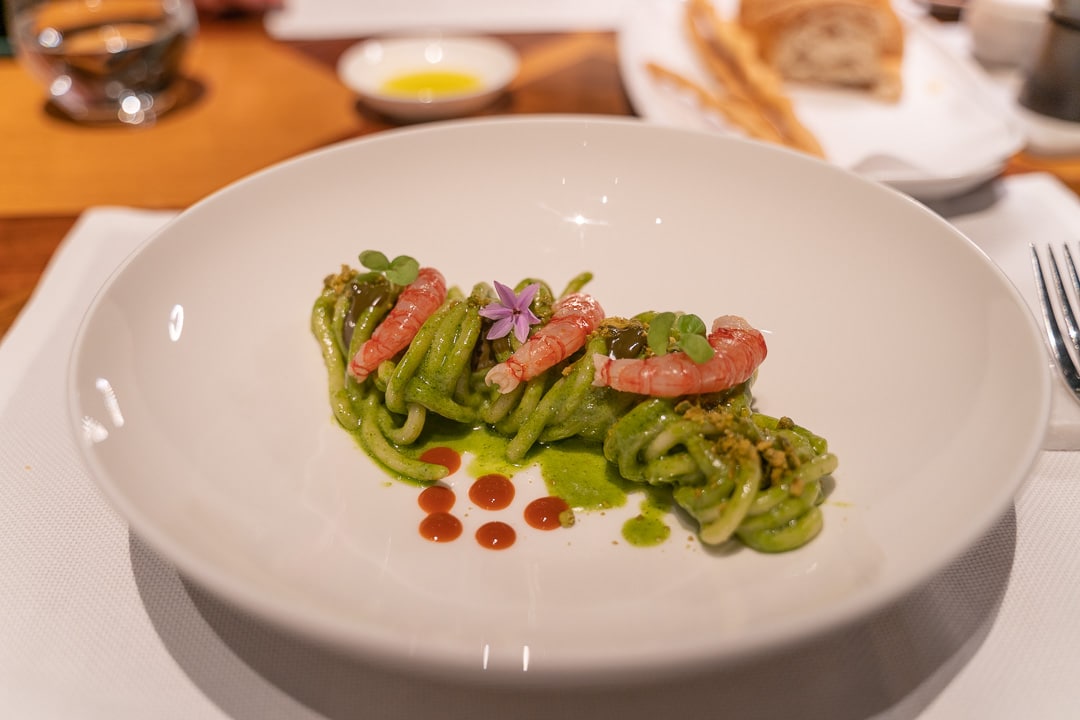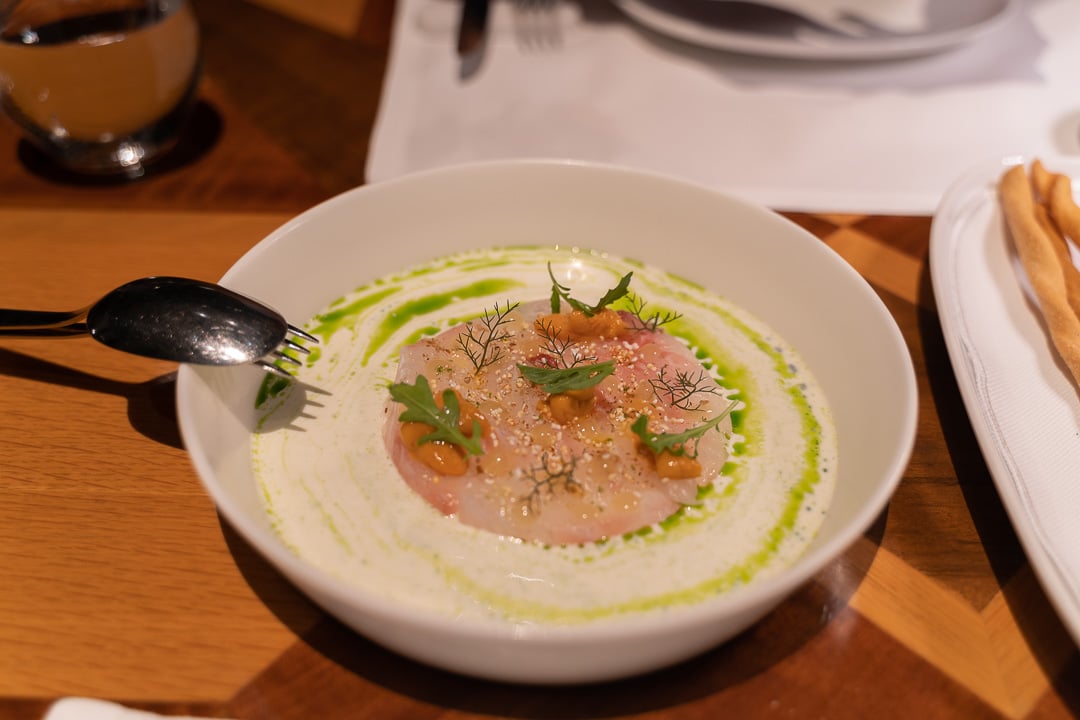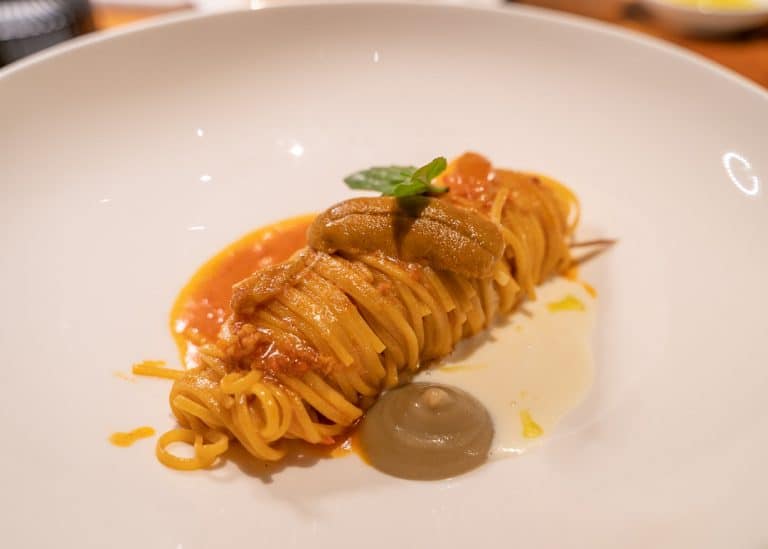 We followed this with a tagliata of chocolate fed Mayura Platinum Label full breed Wagyu, cooked on lava stone. It was exactly as delicious as you might imagine.
---
Conclusion
---
Basics Checklist
☑︎ Power sockets near the bed
☑︎ Easy to understand light switches
☑︎ Coffee machine
☑︎ Separate shower and bath
☑︎ Blackout blinds
☑︎ Stable, fast and free Wifi
☑︎ Feather pillows
☑︎ Quiet and powerful aircon
Four Seasons Bangkok is an absolutely spellbinding property. This hotel is a tremendously exciting new proposition in a city which already offers so many alternatives within the luxury space.
Other riverfront properties pale in comparison to the beautifully manicured campus shared between Four Seasons and Capella next door.
The dining options are fantastically varied and of such a high quality that one could easily spend five nights here and never tire of the restaurants on site.
The room hardware is not only beautiful and thoroughly modern, the design is also wonderfully considered in terms of the ergonomics. In the public spaces, the architecture is as impressive as any hotel I've ever had the pleasure to encounter.
The signature Four Seasons service is everywhere to be seen too, with staff quickly adapting to guests' preferred levels of formality.
My only reservation would be in recommending this property to first time Bangkok visitors, unless they had 3 or more nights to experience it fully. If you're going to be out sightseeing for the majority of the time, you'll miss a great deal of what this astonishing property has to offer.
If you can spare the time to truly enjoy this property, the reward will be a stay which is easily in the top 5 of any city hotel on earth.
---
Book Four Seasons Bangkok with FSPP Benefits
---
Four Seasons Preferred Partner Booking
An example of FSPP benefits, which may be available on your stay:
Upgrade of one category,

based on availability at check-in.
Full breakfast for two in room guests. Either at the restaurant or via in-room dining.
$100 hotel credit.
Welcome amenity.
Early check-in/late check-out, subject to availability.
EMAIL FOR FSPP BOOKING ENQUIRIES