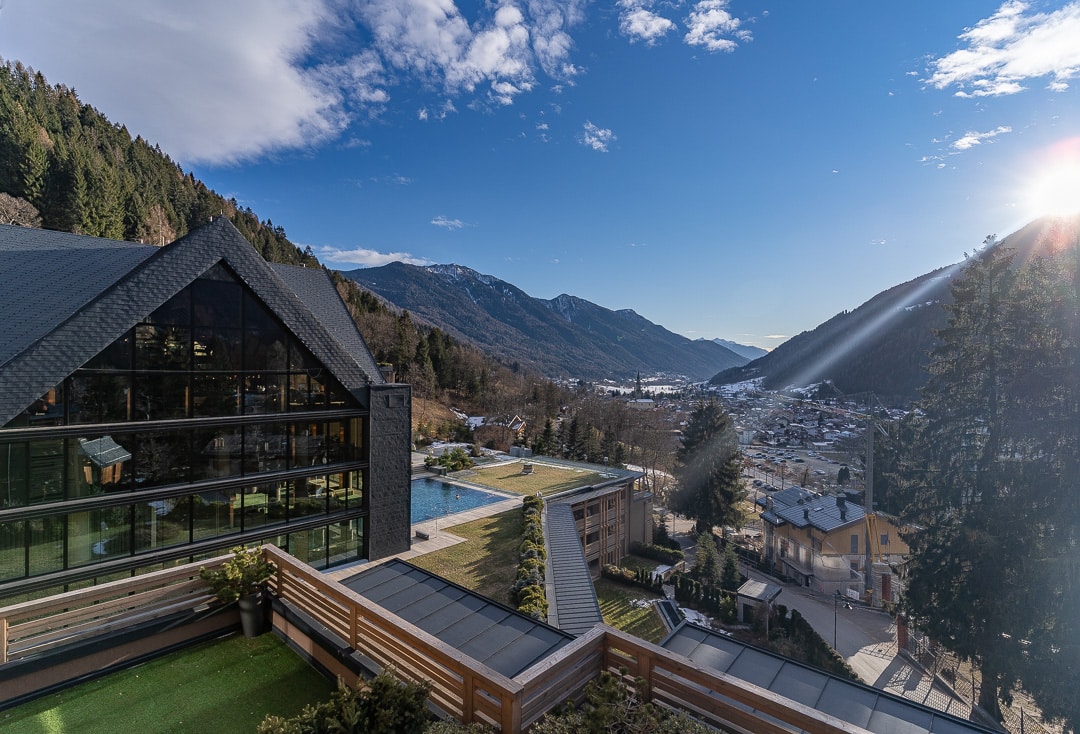 REVIEW – Lefay Dolomiti
April 25, 2022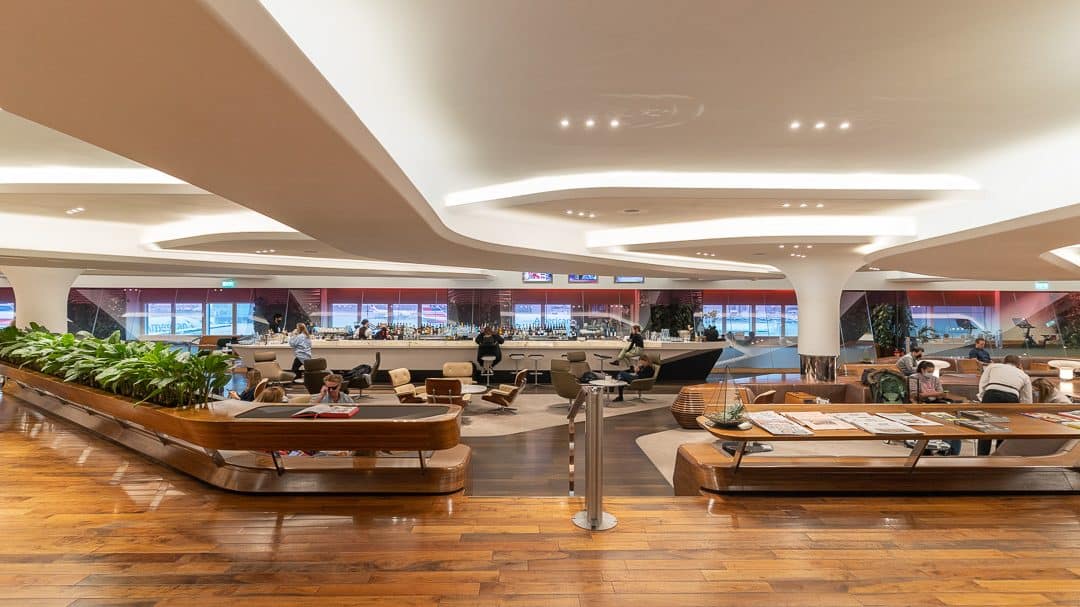 REVIEW – Virgin Atlantic Clubhouse – London (LHR)
May 4, 2022
Naladhu Private Island
Room Type: Ocean House with Pool and Private Beach Cabana
Typical Rate: $1800 per night ☔️ season / $2500 per night ☀️ season
Stay Type: Hosted stay
Loyalty Program: GHA Discovery
---
Intro
---
Thailand's Anantara hotel chain operates a number of properties throughout the Maldives:
Niyama – a twin island resort with underwater restaurant in the Dhaalu Atoll
Kihavah – home to possibly the best house reef in the Maldives (and another underwater restaurant), in the Baa Atoll
Veli, Dhigu and Naladhu – a cluster of three natural islands, close to Male Airport in the South Male Atoll
We previously enjoyed a stay at Veli, the adults only resort, within the South Male cluster. Whilst staying there we had full access to all the facilities at Dhigu too.
However, Naladhu is another level above both Dhigu and Veli. Guests at Naladhu enjoy total freedom to explore the other two islands but guests of Veli and Dhigu cannot visit Naladhu.
Naladhu is billed as a private island resort: having non reciprocal access to other resorts definitely solidifies the validity of this claim.
---
Booking
---
Our clients are able to enjoy additional benefits when booking Naladhu (or any other Anantara resort):
$150 resort credit
Room upgrade (subject to availability)
Early check-in/ late checkout (subject to availability)
Welcome amenity
Prices and payment terms match Anantara.com exactly, with payment taken directly by Anantara. The only difference between this and a direct booking is that you get preferential treatment for being our clients!
---
Arrival / Speedboat transfer
---
Anantara staff were ready to greet us at the airport arrivals hall and walked us the 20 metres or so from arrivals to the Anantara lounge (located right next door to the Four Seasons lounge that we visited when visiting Four Seasons Kuda Huraa just before this).
Anantara Lounge
Once inside, we were offered a selection of soft drinks and access to the speedy lounge wifi.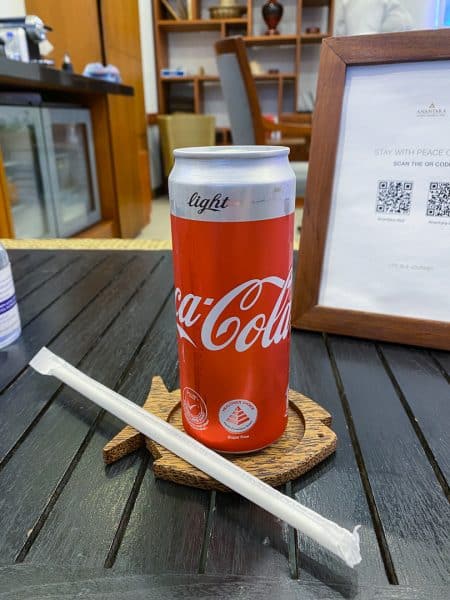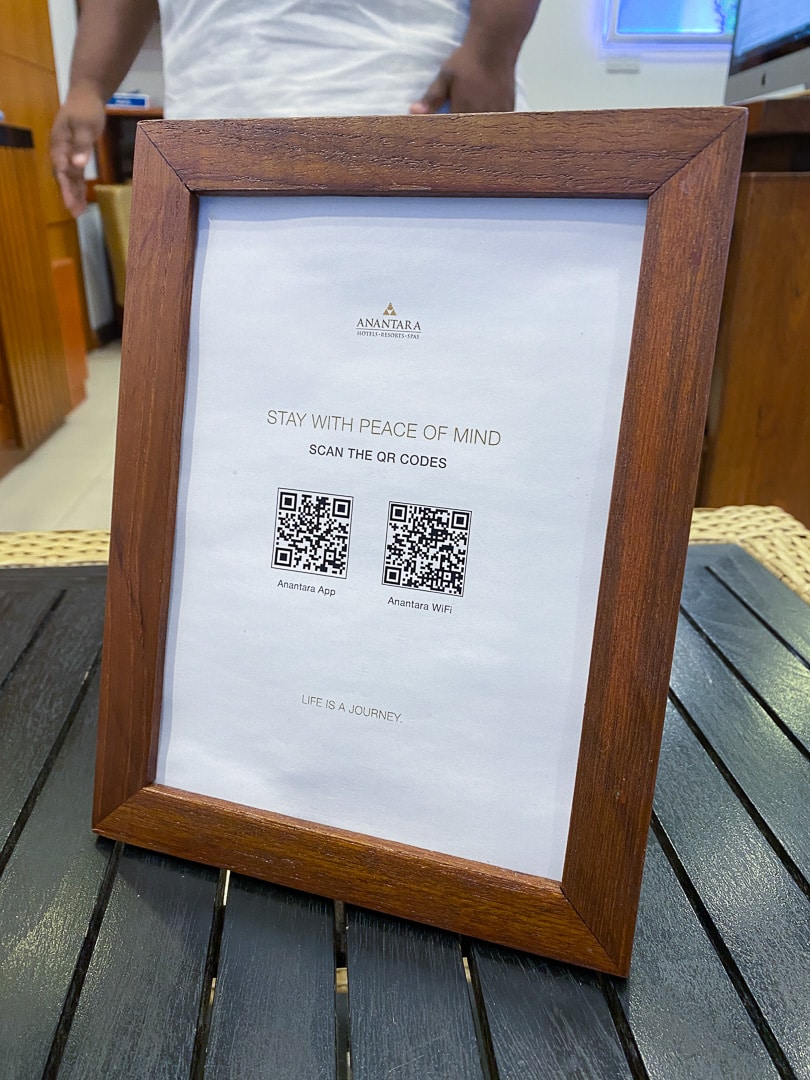 The decor was fairly plain but honestly most people spend so little time in here that it hardly seems worth it to splash out, like some properties do in their seaplane lounges.
Since we were the only passengers on the boat, we only had to wait a couple of minutes until we were escorted over to the boat dock. This was located around 90 seconds walk away, just in front of the airport terminal.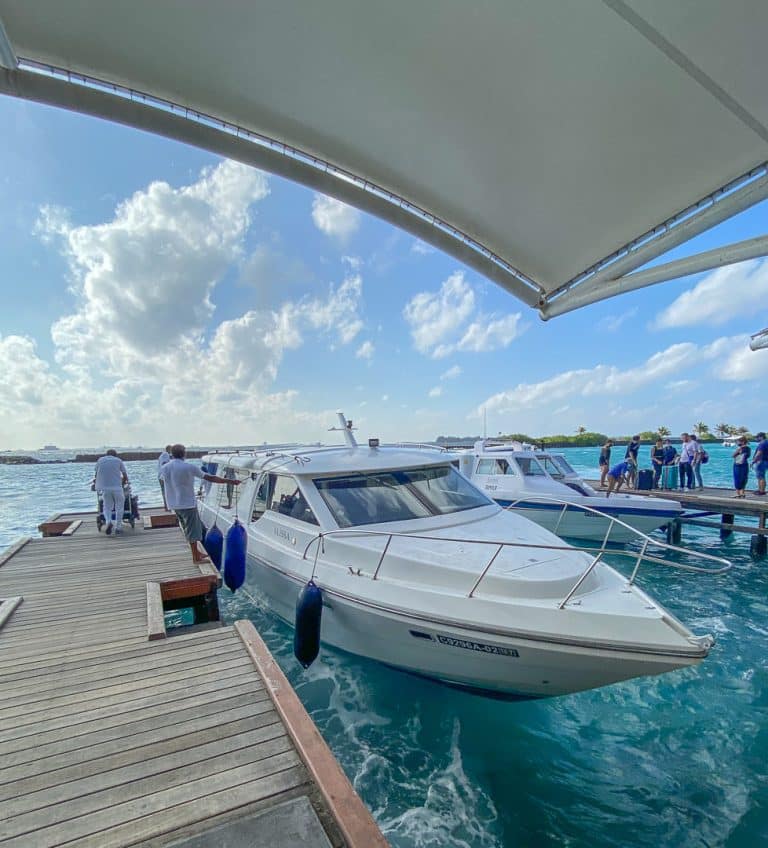 Speedboat
Naladhu uses its own speedboat, different to those used by sister resorts Anantara Veli and Dhigu. In a bizarre turn of events, we'd actually already been on it – having chartered it to collect us from the Waldorf Astoria, when we visited Anantara Veli in early 2020.
The decor on board is…interesting. It reminded me of riding in pimped out people carriers in China: white leather seats, thick carpets, patterned curtains and glossy tables. All that was missing was a KTV machine dropping down from the ceiling.
All jokes aside, the Lay-Z boy style seats were super comfortable and the wifi worked well. Service was a little brusque though – I got the impression that the crew weren't very fluent in English. It would have been nice to have a more polished member of staff on board, to cement the fact that this was a truly premium offering.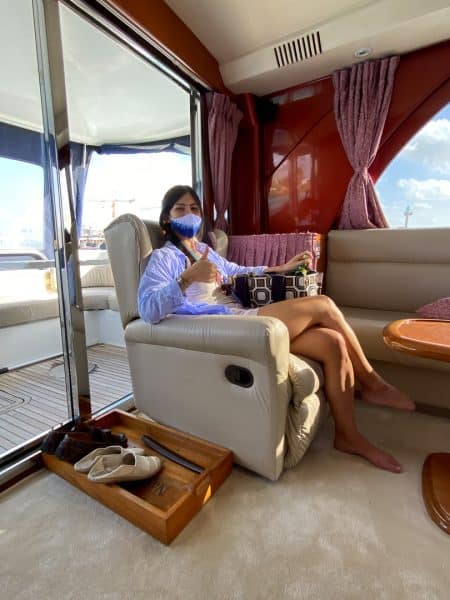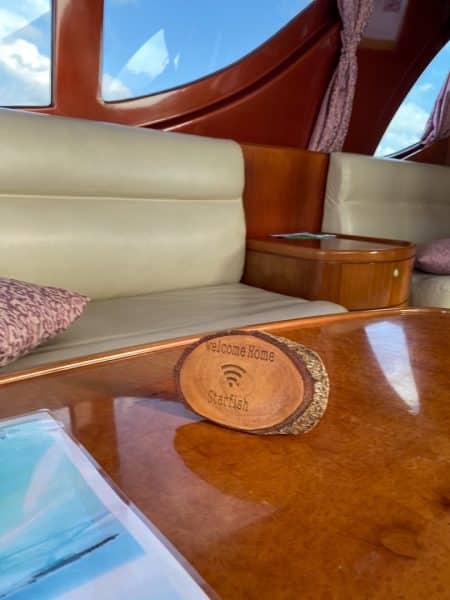 It was hard to suppress a smile as we approached the Anantara resort cluster, some 25 minutes later. This lagoon may not have been new to us but familiarity by no means dulled the impact of its captivating shades of blue.
Despite the proximity to Male airport, this really is one of the most beautiful lagoons I've ever encountered in the Maldives.
We were met at the arrival dock by Giles, the GM of the resort cluster, as well as our personal butler for this stay : Aslam.
We were first handed cold towels, followed by welcome drinks. As we walked down the wooden jetty to the island, another member of staff showered rose petals at our feet. He then struck a loud gong, to herald our arrival, the moment that our feet first touched the sand of Naladhu island.
Certainly one of the most elaborate and absolutely extra arrival experiences that I've ever witnessed. It verged on feeling like too much but I'm not going to lie….I liked it.
Check-in
Since the service concept at Naladhu is that this is your own private island, there isn't really a lobby – although the GM has an office on the island next to the spa facility, with some comfy seating in front of it.
Instead, guests are meant to feel like they're at home, which meant that our check-in took place in the comfort of our villa.
Our butler Aslam led us through the dense but manicured foliage, through the island's centre, as he briefly explained the service concept and facilities to us.
With the recent proliferation of artificial islands near the airport, it's good to know that options like this still exist – offering both convenience and a completely natural lagoon, fine sand and foliage thick enough to provide shelter from the unyielding rays of the equatorial sun.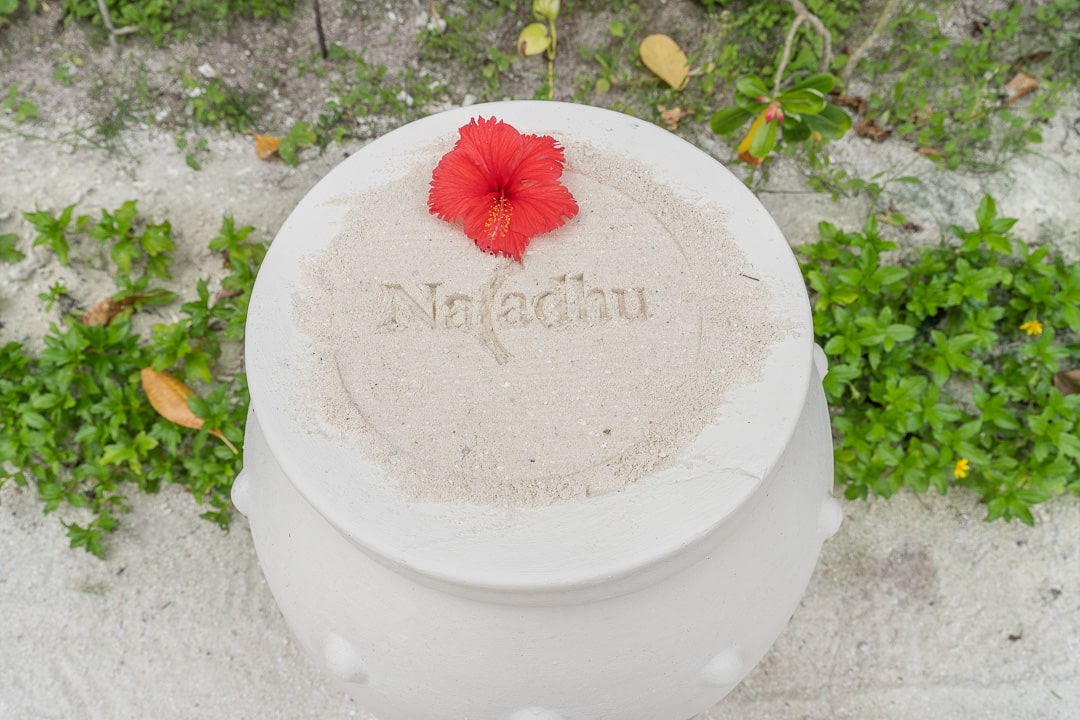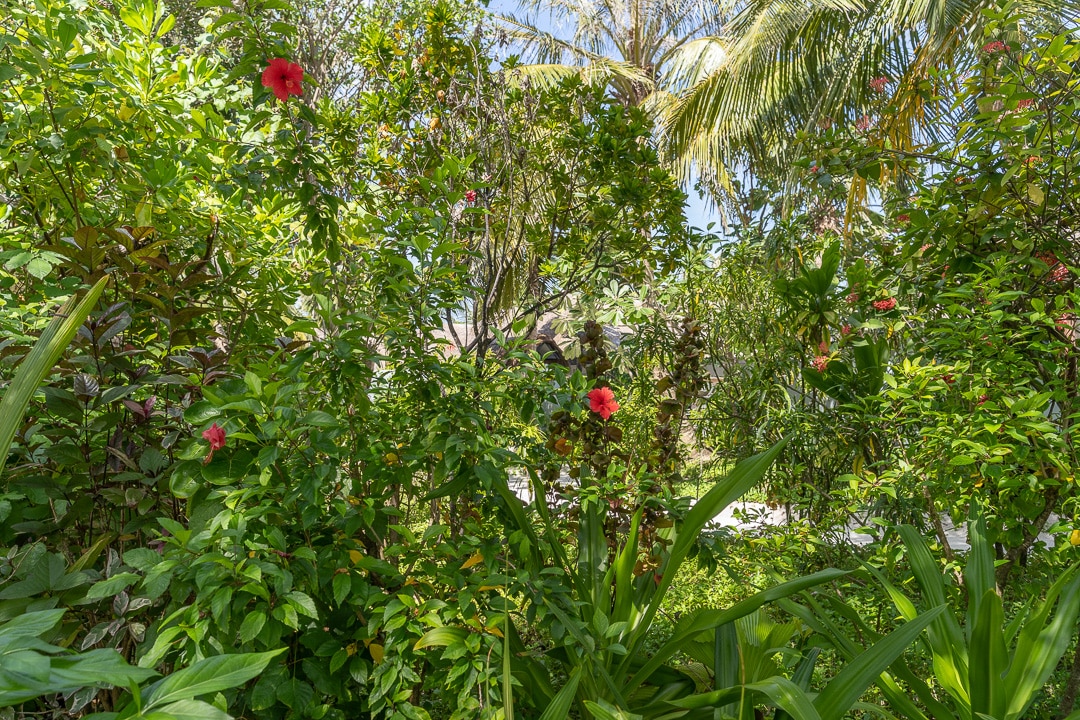 ---
Ocean House with Pool and Private Beach Cabana
---
Room Tour Video
View this post on Instagram
Entrance
As we approached our villa, I was overcome by a complete sense of tranquility. The lack of a lobby or any busy public areas truly made this feel like visiting a friend's private island, rather than just another big Maldivian resort.
There was a very elaborate sand sculpture of a turtle welcoming us and we immediately grew attached to it and decided that we would never walk over it for the duration of our stay. Something which was also observed and respected by all staff who came to our room.
Aslam had placed two sets of fins for us at the villa entrance according to the sizes that we provided pre arrival. As with most resorts, the snorkel equipment was provided free of charge. It also honestly looked like we were the first people to ever use these Scubapro fins.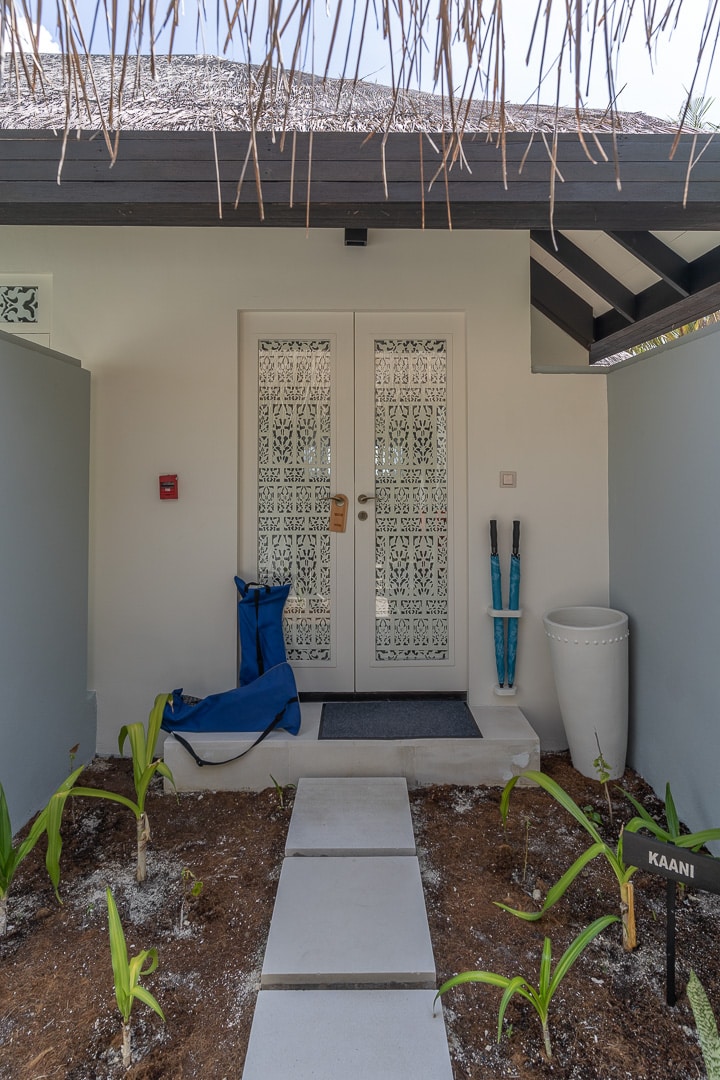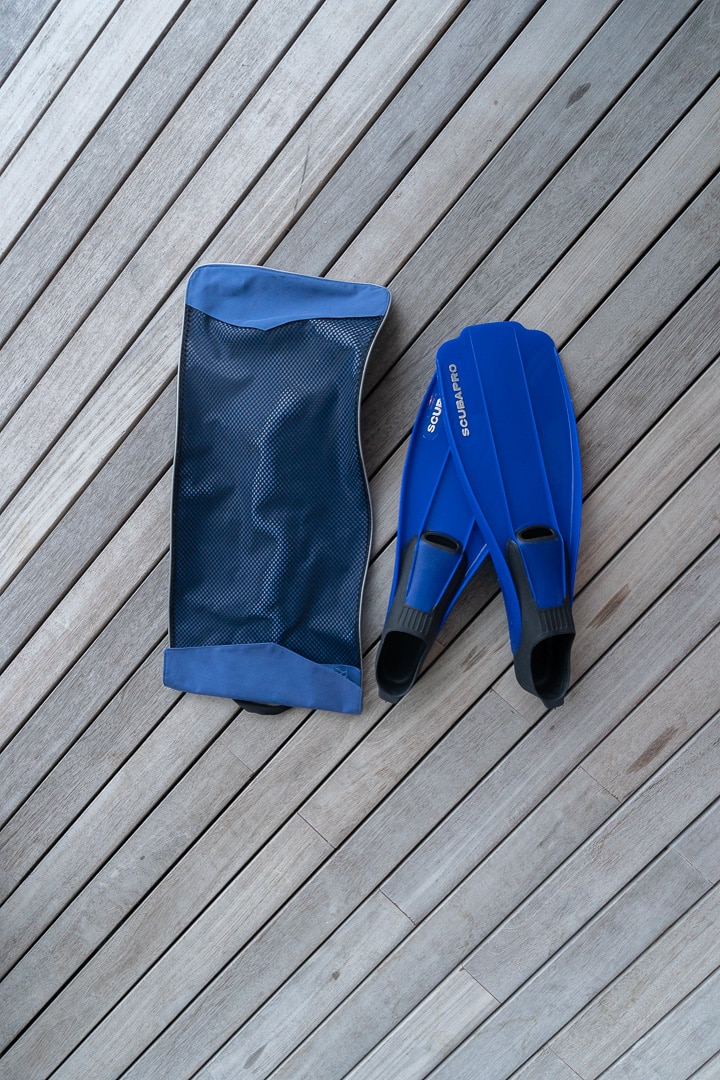 Reception Area
As we passed through the front door we came to an atrium of sorts. A very large and impressive bar ran along the entire length of the right hand wall, with a full length mirror to its side.
Although I personally would have preferred Illy or Lavazza coffee machines, I did appreciate the fact that the Nespresso machine used genuine capsules and also came with a very effective milk frother.
I loved how the cabinets had been custom designed to fit the tea and coffee but I do feel the Dilmah tea bags were lacking the premium feel of something like T3, Jing or TWG.
Something that was by no means lacking in premium feel was the custom Häagen-Dazs ice cream drawer. Something which I have never seen in any other hotel room or villa in the world!
Aside from the usual fridge there was also a proper wine chiller, filled with a very decent selection of bottles.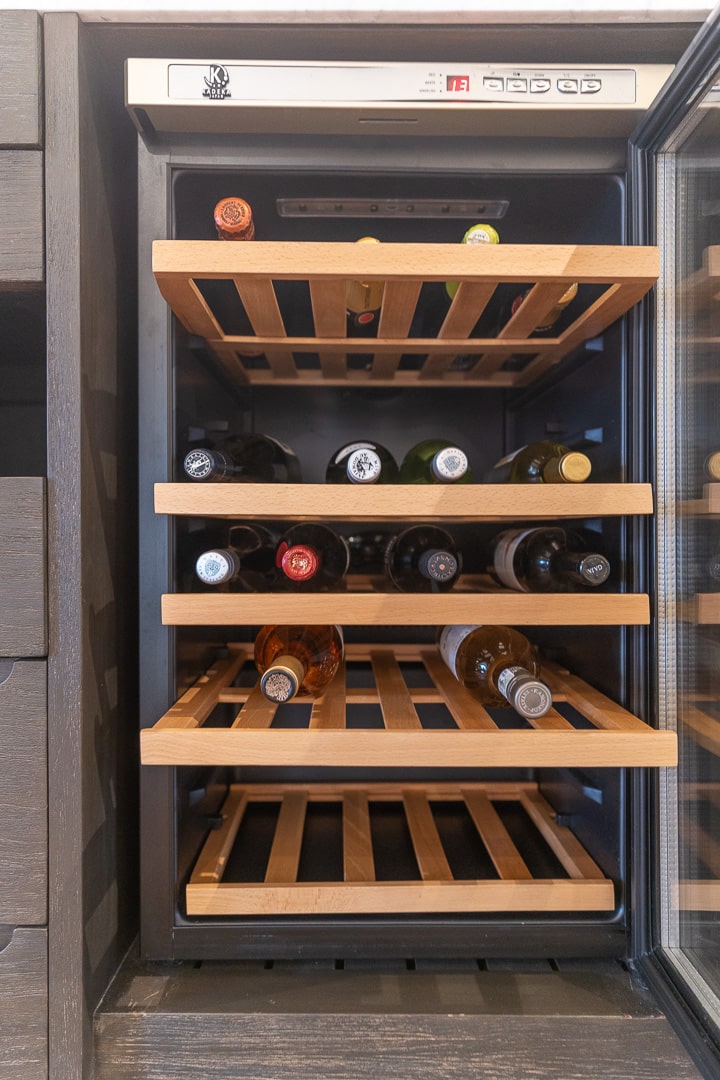 Still and sparkling distilled water was provided free of charge and ice was refilled more or less every time we left the room. In addition to the distilled water, coffee, tea and milk were complimentary, with all other items chargeable as per the below QR code.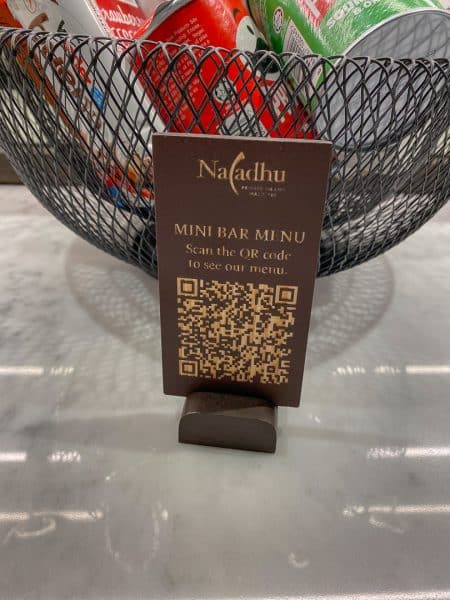 Many prices were actually pretty reasonable by Maldivian standards ($75 for a bottle of Bombay Sapphire for example) and I appreciate the fact that Anantara resorts in the Maldive list real prices including the dreaded "++".
To the left of the bar was a desk, complete with two comfortable chairs, plenty of space for multiple screens and access to a variety of power ports.
Sitting on the desk was a welcome pack, together with a Naladhu amenity kit, filled with masks gloves and sanitiser and a portable wifi signal booster (the only time I've ever seen this in the Maldives – not that we ever needed it).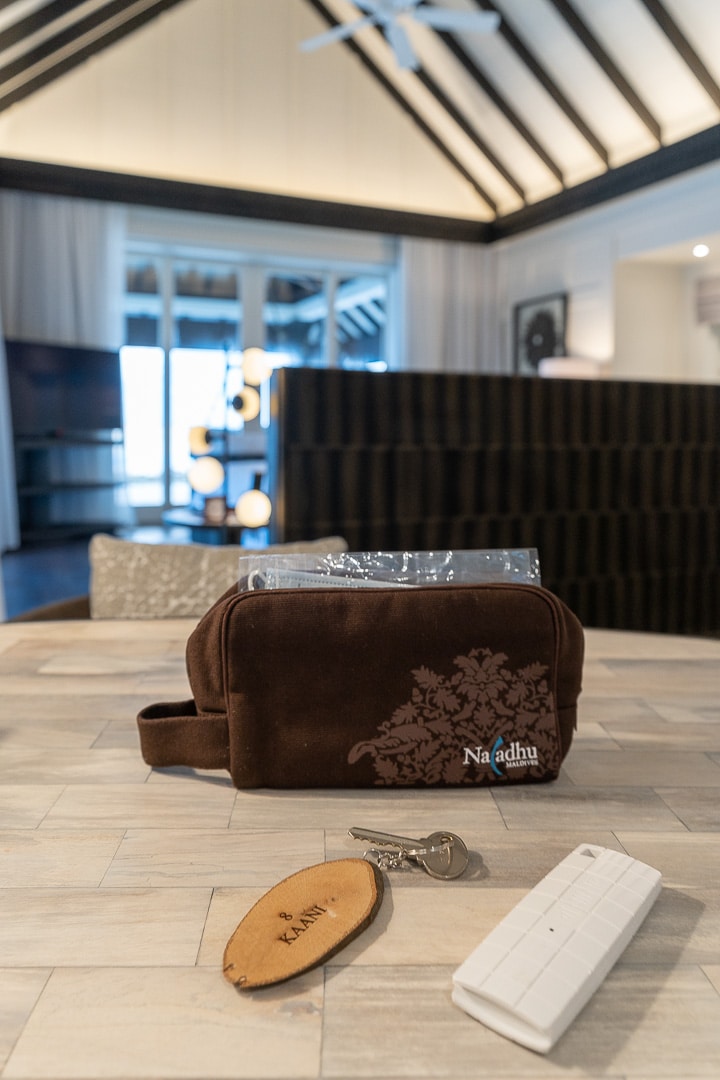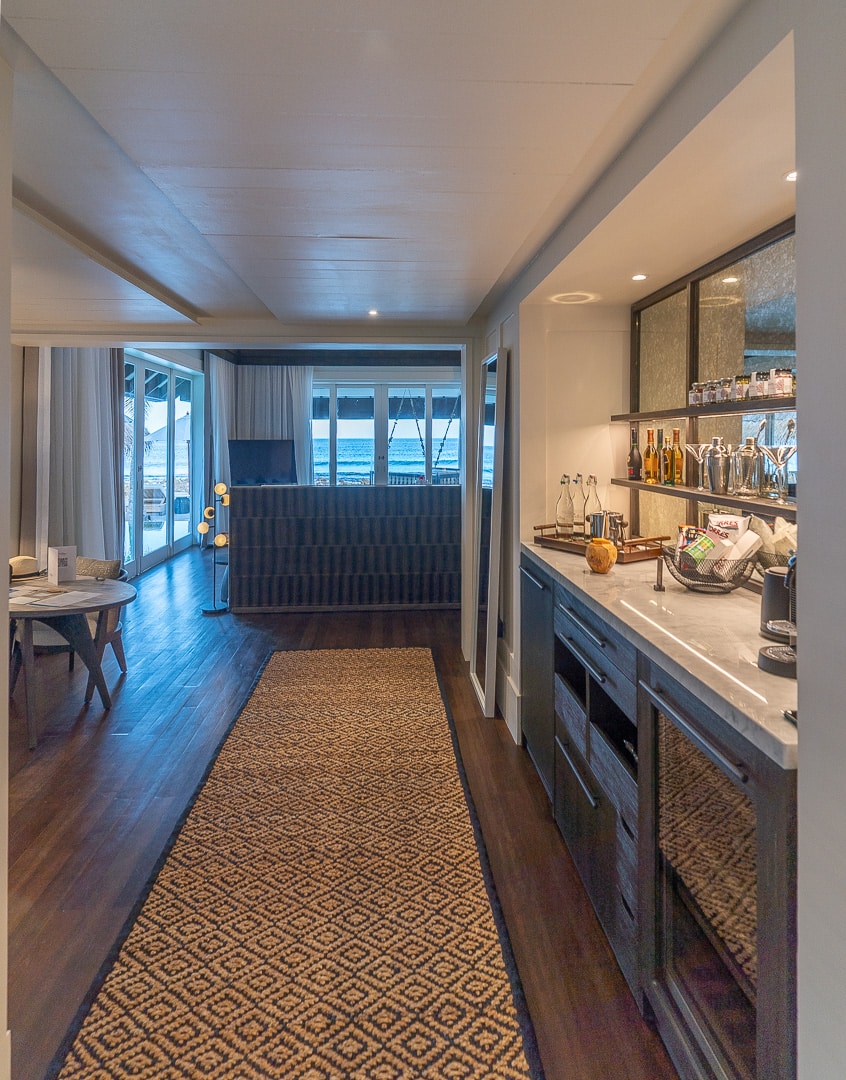 Dressing Area
Immediately behind the desk was the dressing area. Although it was great to have dedicated space for our clothing and suitcases, it was a bit of a tight squeeze. We were obligated to fully unpack everything, rather than keeping suitcases open as we usually do.
There simply wasn't enough room to have open suitcases in here.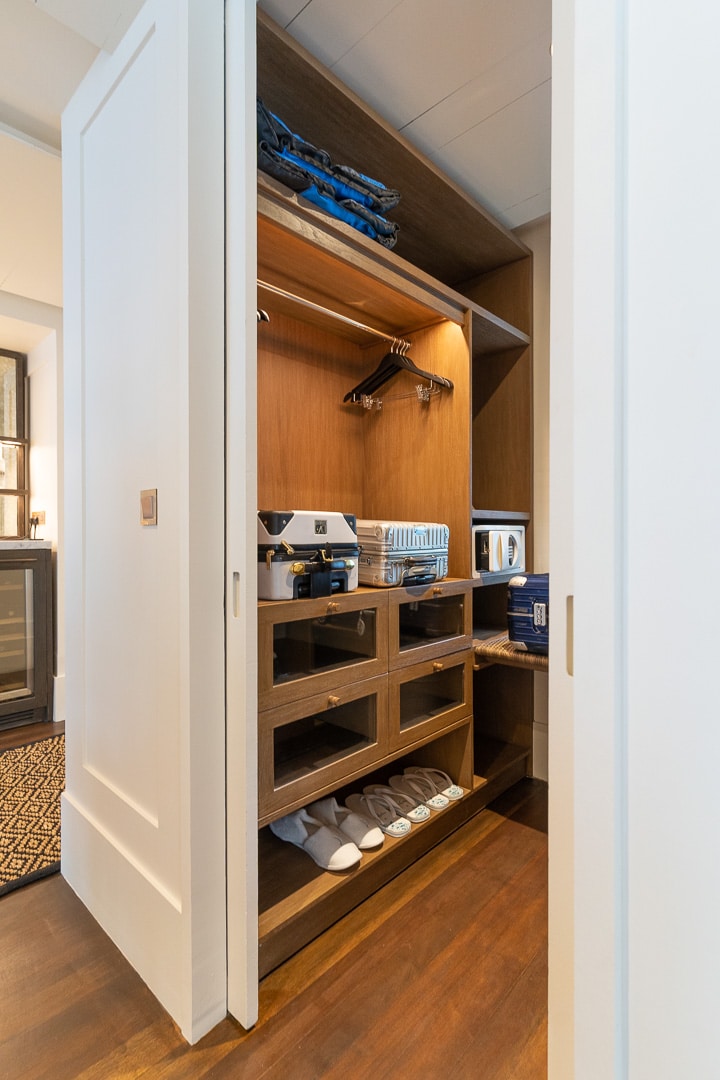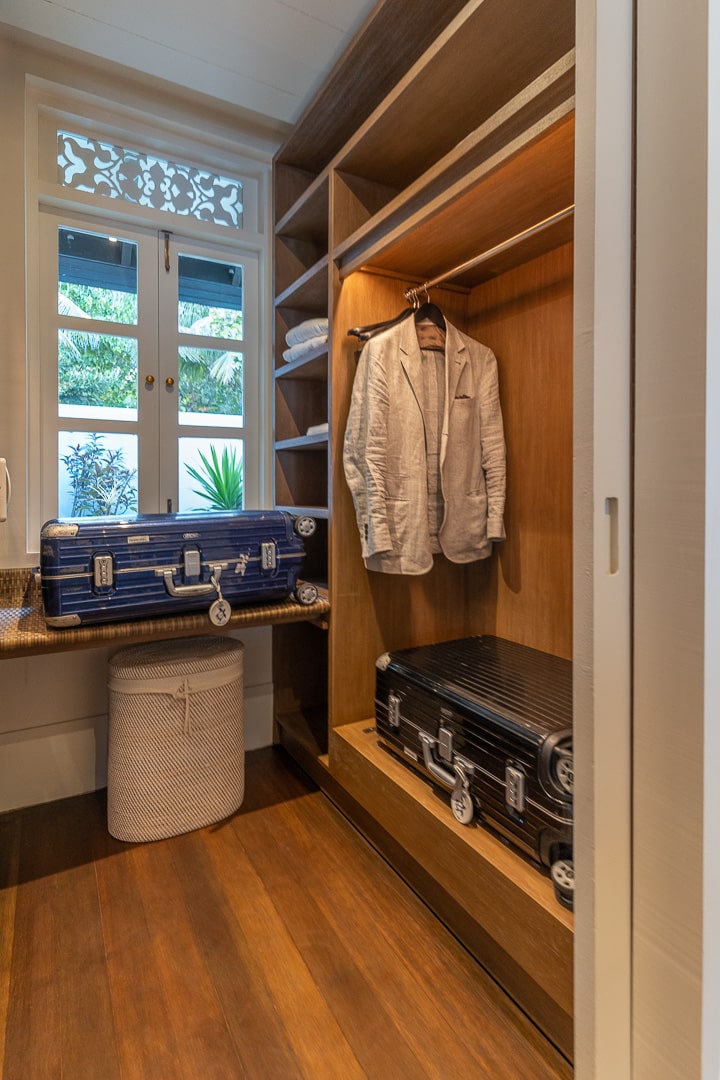 There were plenty of great touches though, like the complimentary Naladhu flip flops, the glass fronted drawers and the proper jacket hangers, with flared shoulders.
Perfect for those of us who wouldn't be caught dead in the tropics without a linen jacket.
The mosquito survival kit was also a thoughtful touch but thankfully surplus to requirements during our stay.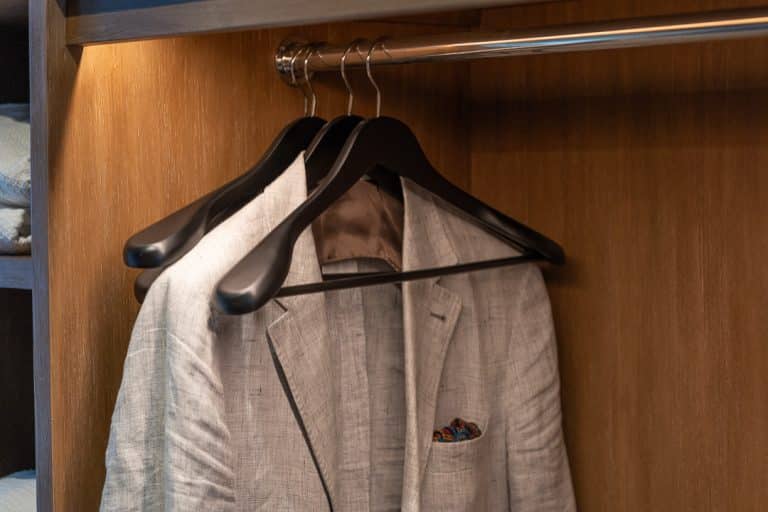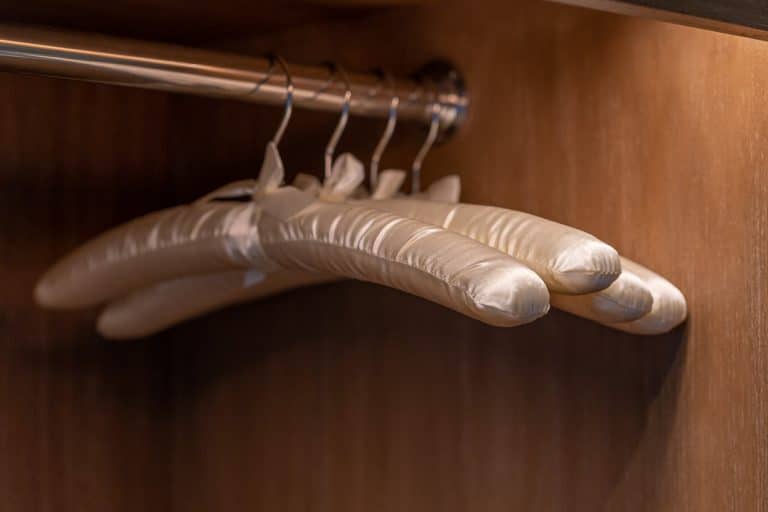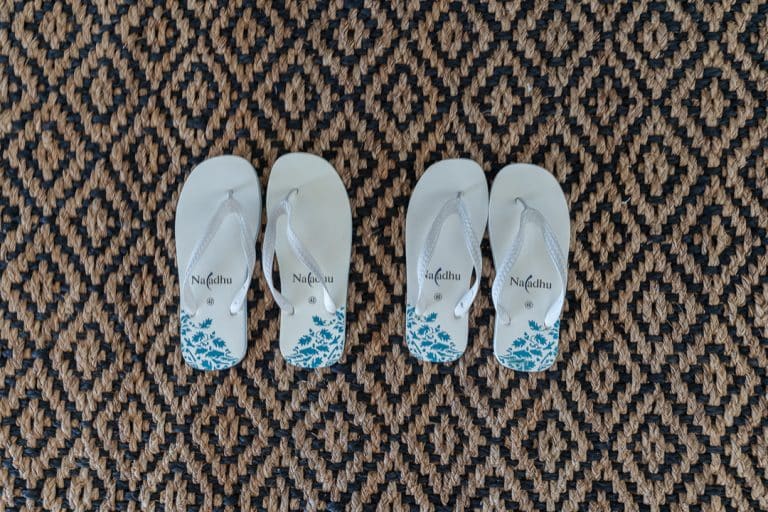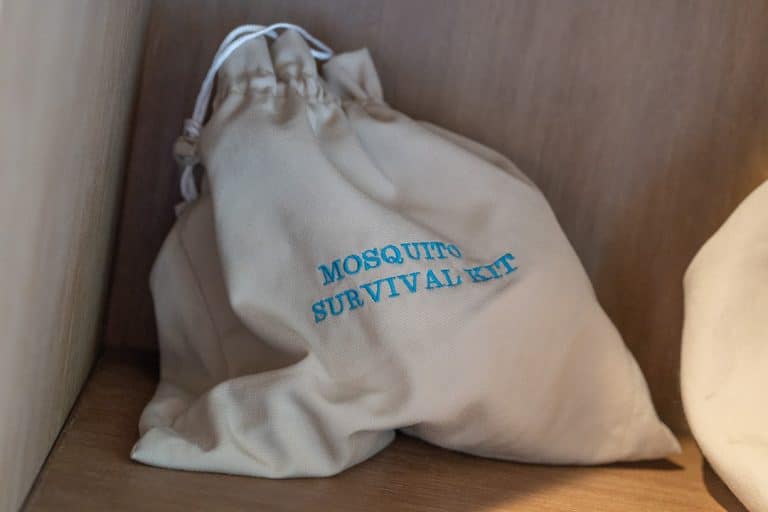 Bedroom
The bedroom was beautifully decorated in a blend of coastal US, Thai and island styles. The white washed walls and high beamed ceilings really made the room feel incredibly spacious.
This feeling of space was further emphasised by the glass walls on two sides of the room, one facing into the swimming pool and the other out towards the Indian Ocean.
The bed was spectacularly comfortable and the pillows are without exaggeration the best I've ever experienced in my life. In fact they were so good that I ended up taking one out of its case and pillow protector so see what make it was.
The brand is called Ploh. I searched online and it turns out that their standard Kingsize pillow retails for $234. I'm obsessed. Worth every penny, without question.
(interestingly Ploh is also used by Alila Villas Uluwatu and Amanoi – two of my favourite ever hotels)
The bedside lamps had a very unique and modern design and both sides of the bed had access to plenty of power sockets, together with clearly labelled light switches.
Having a clearly labelled master light switch by the bed is a must for me. It really has a big impact on my overall experience if I have to spend 5 minutes each night trying numerous light switch panels throughout a room, eventually stumbling my way back to bed under the light of my phone.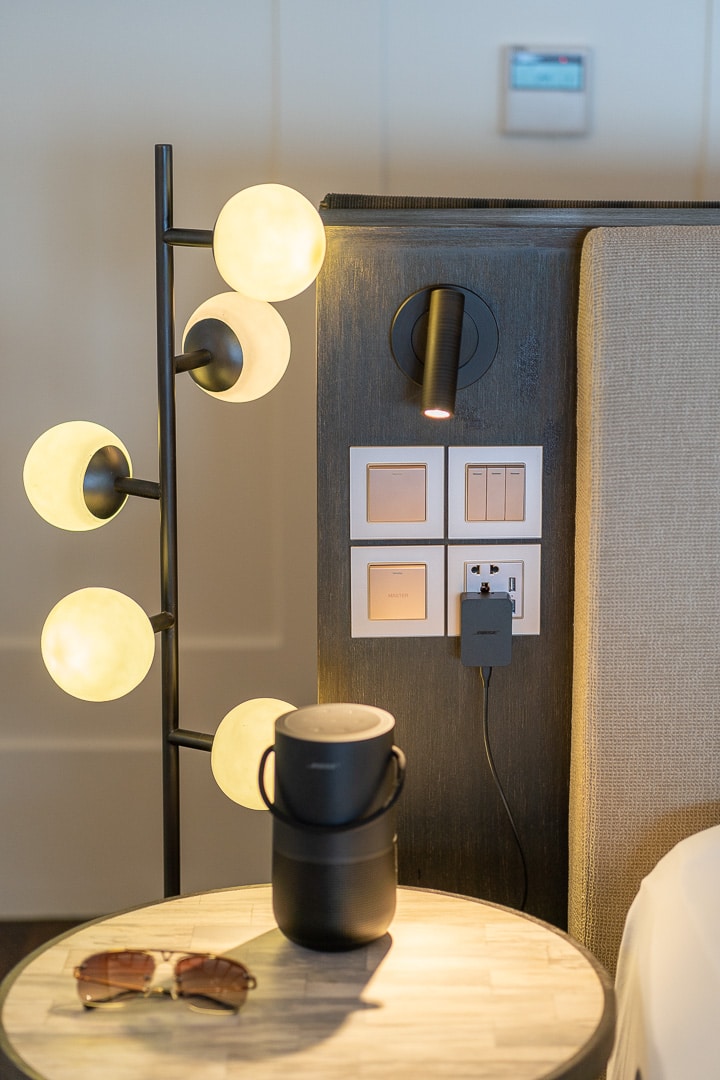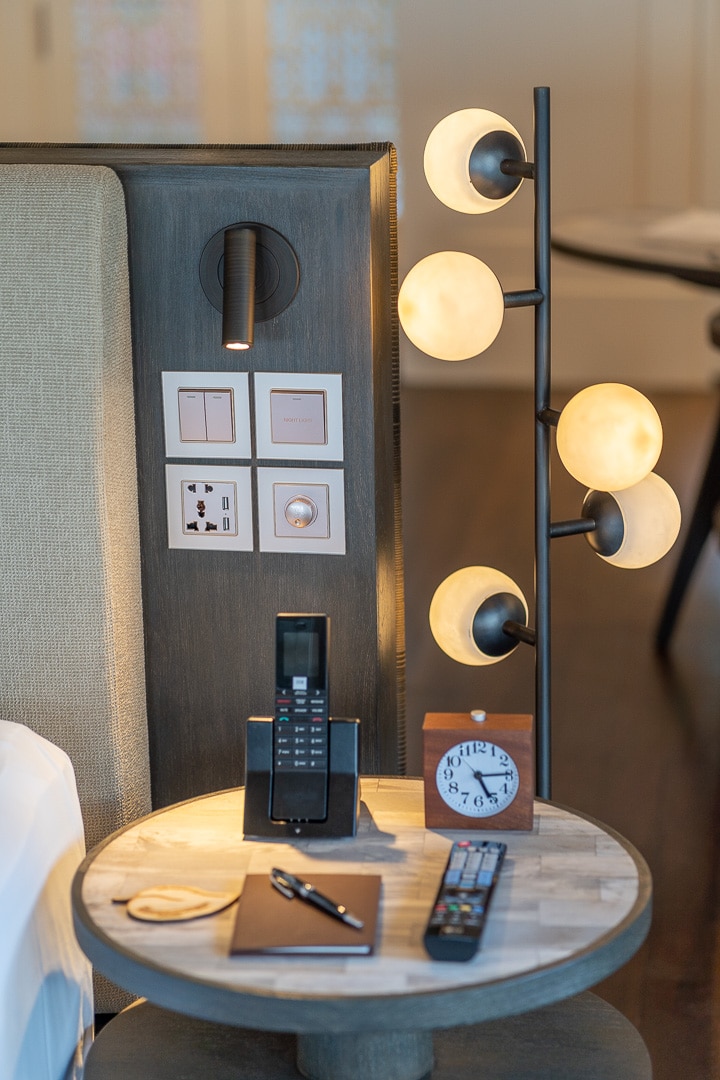 Next to the bed was a very cosy reading nook, which could also double up as a bed for a young child.
An extra deep sofa was placed at the foot of the bed; very comfortable for lounging whilst enjoying our welcome amenity and also ideally sized to be converted into a second child's bed.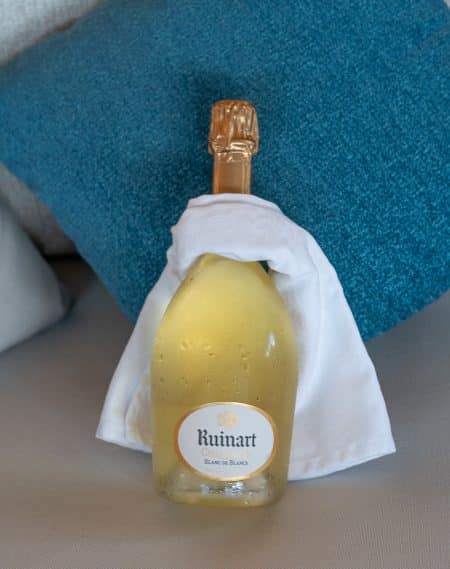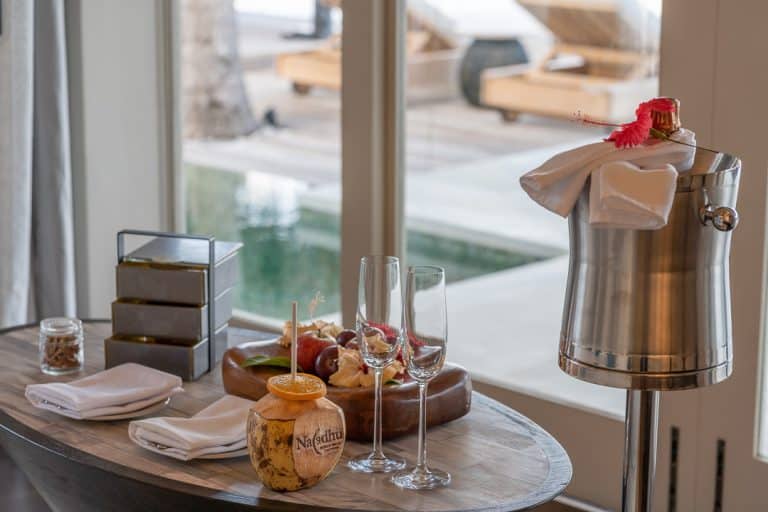 The welcome amenity was very generous and I was particularly impressed with the tiered drawers that were used to present some of the snacks.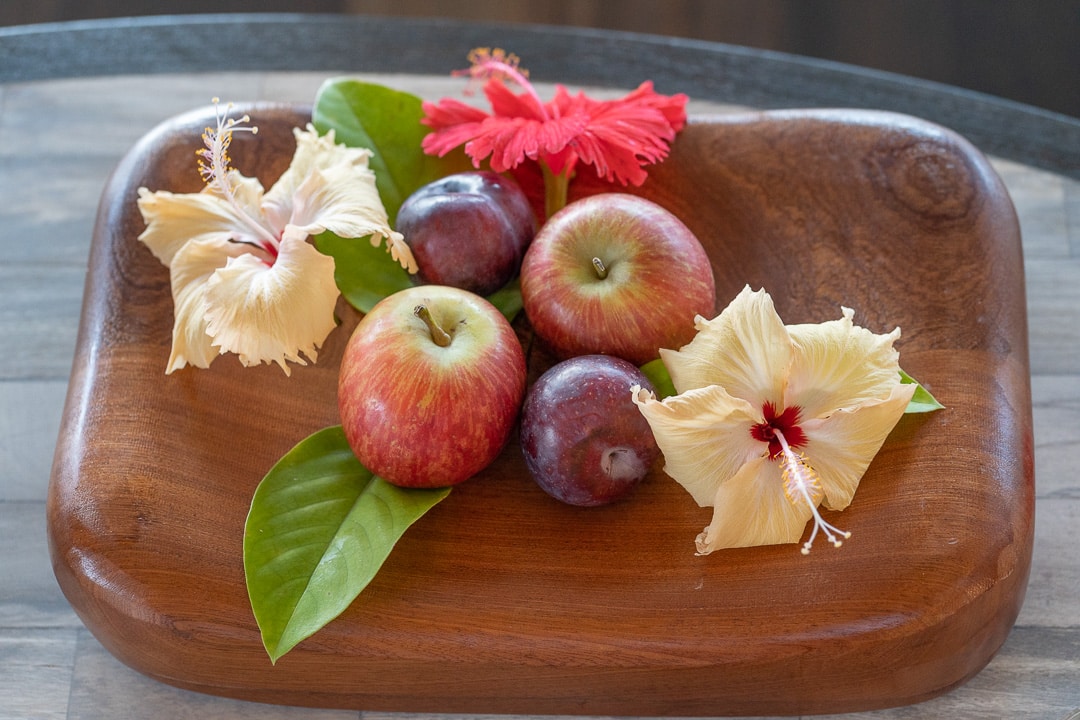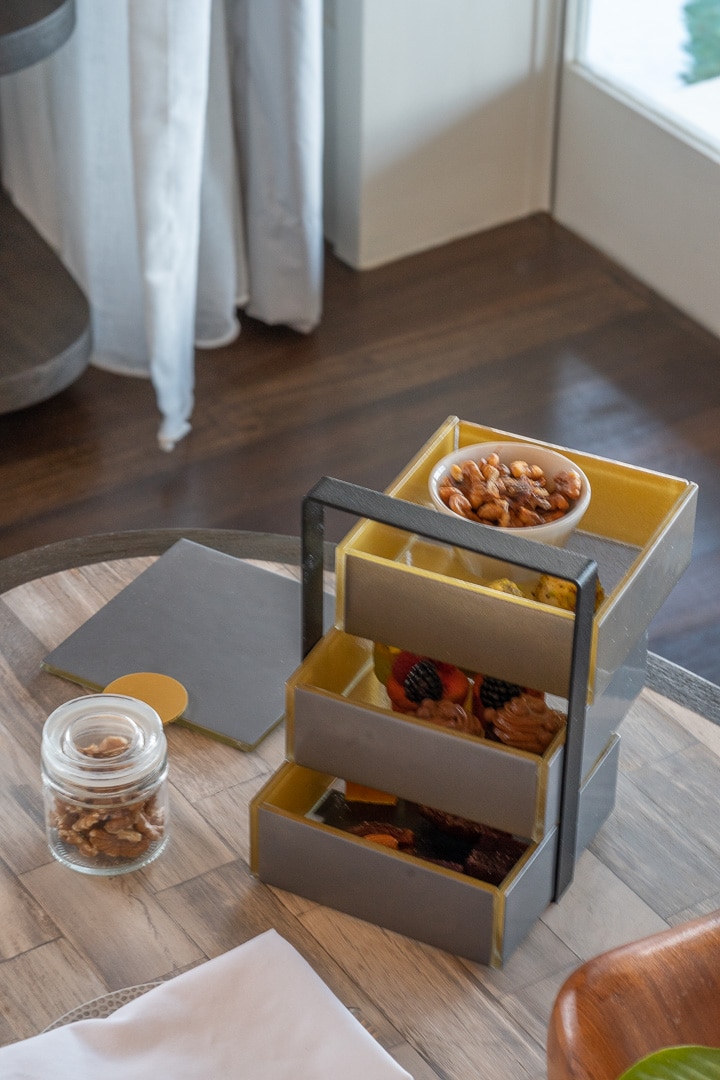 Bathroom
The bathroom was undeniably the focal point of the villa and was right up there with my top hotel bathrooms ever – indeed, I think it might be the best.
The matte blue finish of the bath, the delicate curve of the walnut sink cabinets, the impossibly thick and luxurious chaise longue: it all combined to create a truly elegant and spa-like atmosphere.
At the far end of the room was a toilet with a view of our water garden. I would have like to see a Toto washlet (or equivalent) but the view largely made up for the toilet's lack of technical prowess.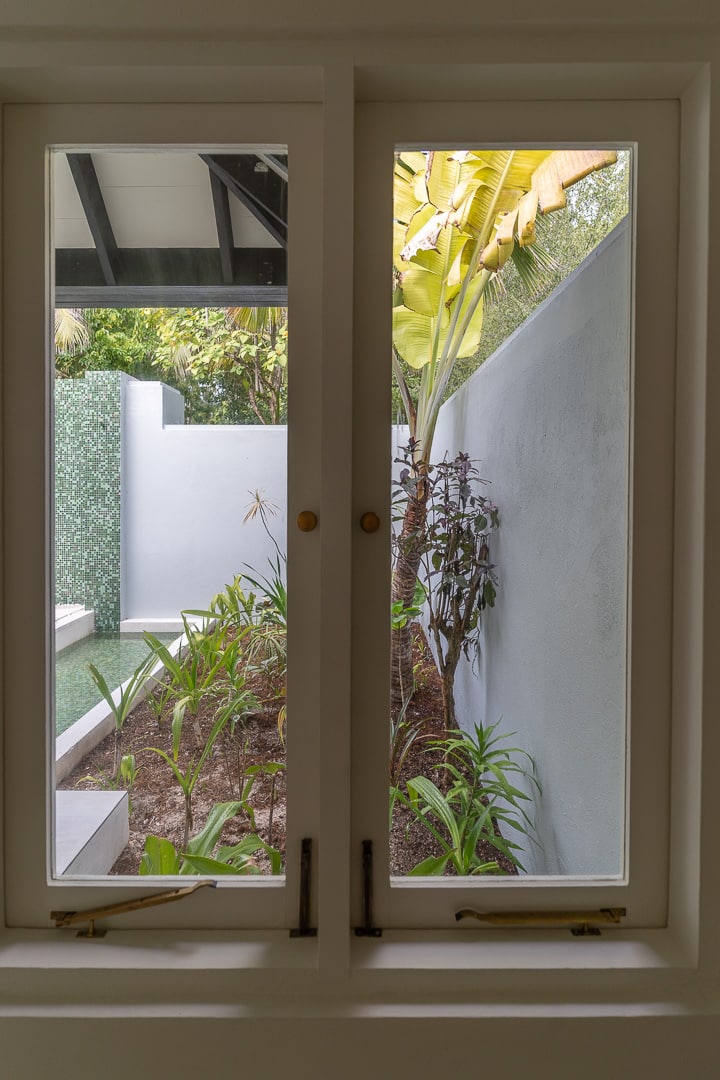 Next to the toilet was our indoor shower and private steam room, not something you see every day! Toiletries were presented in some very attractive, stone effect containers. The steam room had one glass wall affording us a view outside.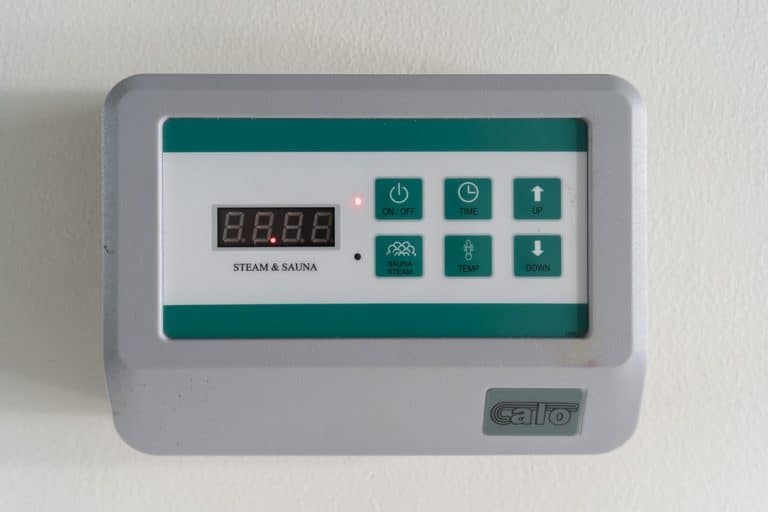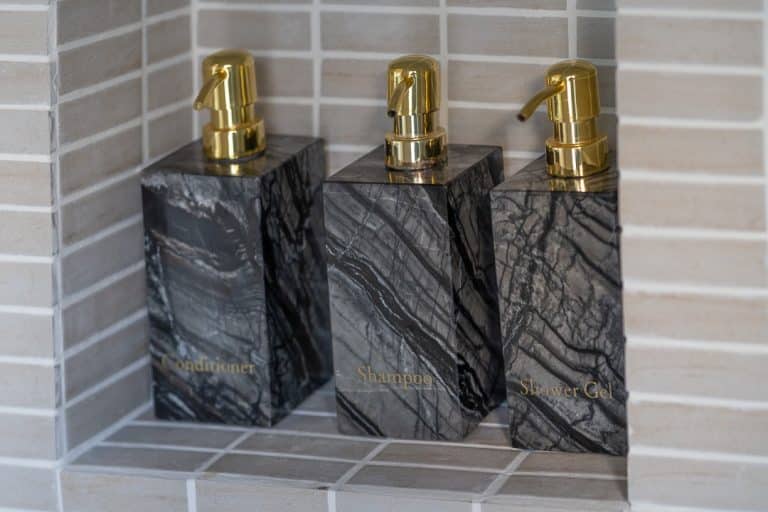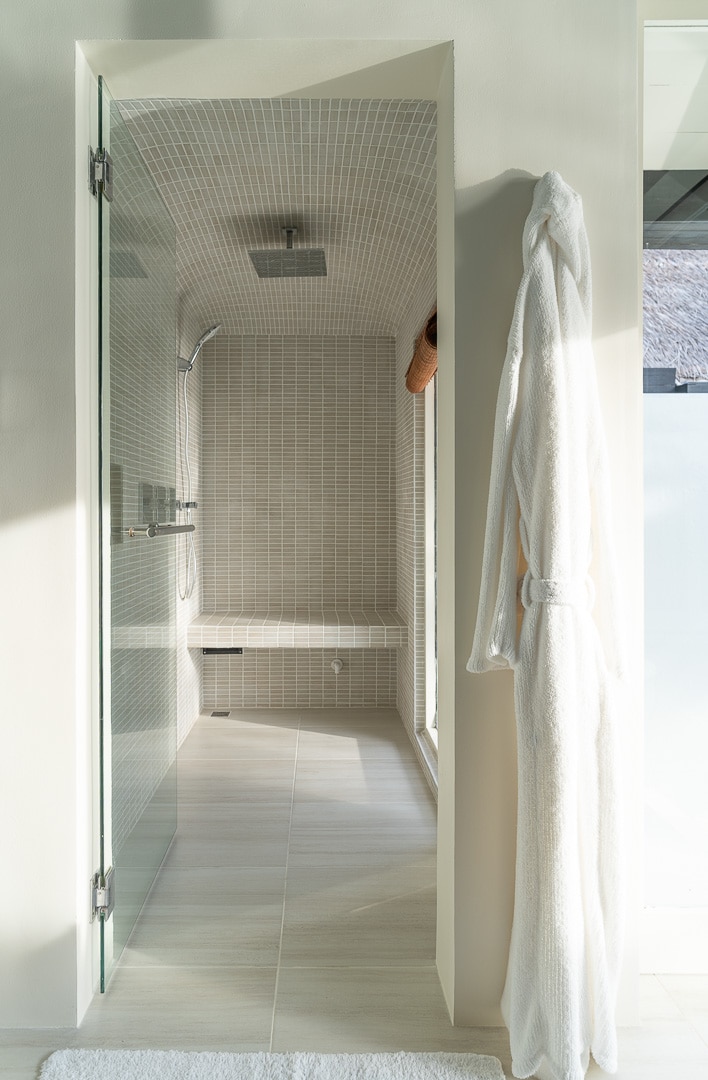 The view from the bathroom was magnificent, a roaring ocean scene offering true and complete privacy.
Ocean Houses at Naladhu aren't billed as water villas despite having a panoramic ocean view, right on the water's edge. There are rocks and coral near the villa (clearly visible at low tide) and the view is out to the fierce and open ocean, on the very edge of the South Malé atoll.
We never once saw a single boat and even the bravest of swimmers wouldn't dare to swim here.
For me, this feeling of total tranquility, oneness with the ocean, was the single greatest appeal of this room.
Kamara was also a big fan of the dedicated makeup area next to the bathtub, with its abundance of natural light.
Body lotion was supplied on top of this table and a pull out drawer beneath contained a veritable cornucopia of additional toiletries. The only visible piece of branding in the bathroom was on the Elemis hand soaps, though I suspect, given experience from visiting BA lounges, that all other toiletries were by Elemis too.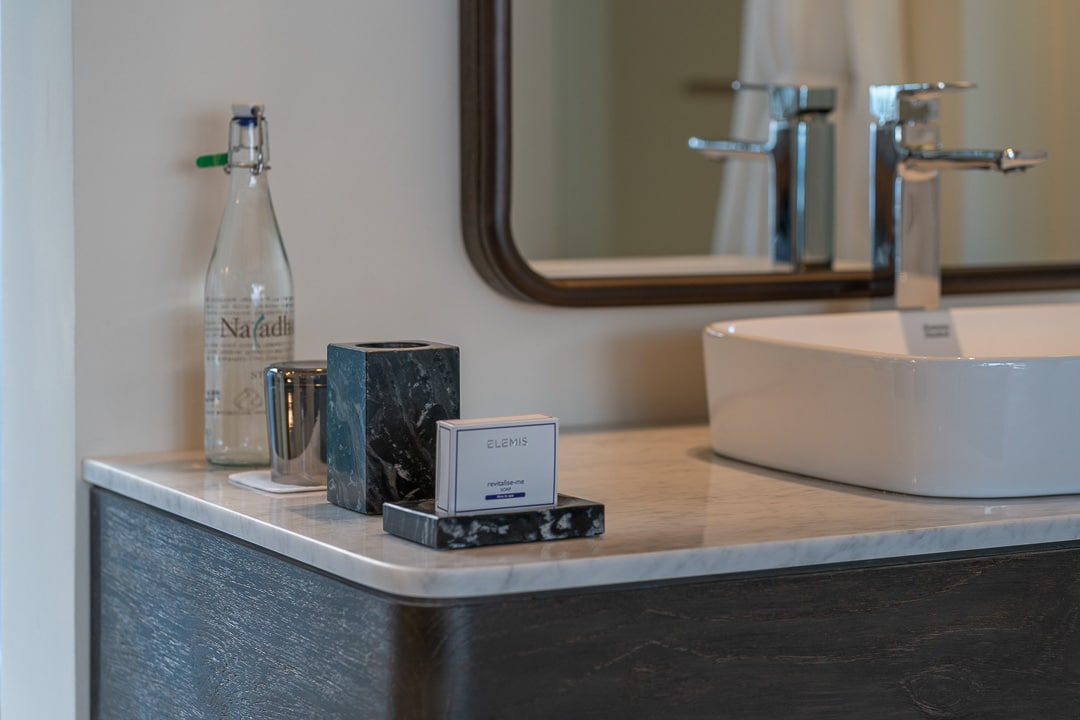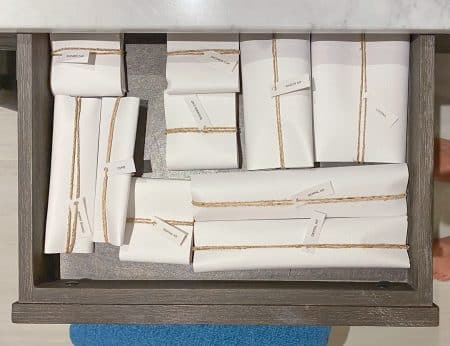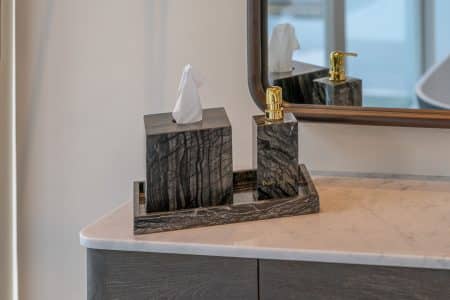 Our dual vanities had an abundance of counter space and the very large mirrors provided us a view of the ocean behind us. Each sink had its own bin for used towels although, strangely, there was nowhere to hang them.
It felt a little wasteful to throw them in to be washed after a single use, so we ended up just leaving them bundled up, back on the shelves.
Between the sinks was a doorway to our water garden: one of the most elaborate and beautiful settings that I've ever seen for an outdoor shower.
Privacy was absolute but it almost felt a bit weird at first since the shower area was so enormous and bright. I love the small detail of the white pebbles surrounding the main shower stone. This kind of textural observation in the design is relatively rare and very pleasing to observe.
Plenty of resorts in the Maldives have great outdoor showers in the villas: Amilla and Park Hyatt come to mind, but both pale in comparison to this.
Outdoor Space
The drone shot below gives you a better idea of the design of the resort: a long row of houses separated by high and solid walls, facing out towards the wild ocean.
The combination of the high walls, the sound of the roaring ocean and the lack of swimmable space in front really made the villa feel more private than any other that we've ever encountered in the Maldives.
Our outdoor space was dominated by a gigantic swimming pool, which began in front of the bathroom and wrapped its way all the way up to the front of our bedroom. It is worth noting that all the Ocean Houses at Naladhu are sunrise facing, which meant that the pool got rather chilly in the afternoons.
Given the lack of direct ocean access from these villas, I think it would be smart to add a heating system to the pools. That way guests wouldn't feel obligated to move to the beach or main pool, later in the day.
On the left hand side of our deck was a gazebo housing a very stylish and robust outdoor dining setup. The table and chairs had the kind of simple lines and high quality feel that you find at Aman resorts.
Adjacent to the gazebo were a pair of sun loungers, the perfect spot for drying off after a dip in the pool.
My personal favourite spot was the swinging daybed, which very cleverly has fold out legs, should you wish to have it made into a bed at night. I spent every morning here drinking my first coffee of the day and reading a book with nothing but birdsong and ocean sounds to be heard.
The overhead fan provided some very welcome respite during the hotter hours of the day, although most of the time there was a gentle ocean breeze passing through as well.
The outdoor power socket was a thoughtful touch too. Those of us fortunate enough to be working from The Maldives could use our laptops on the daybed.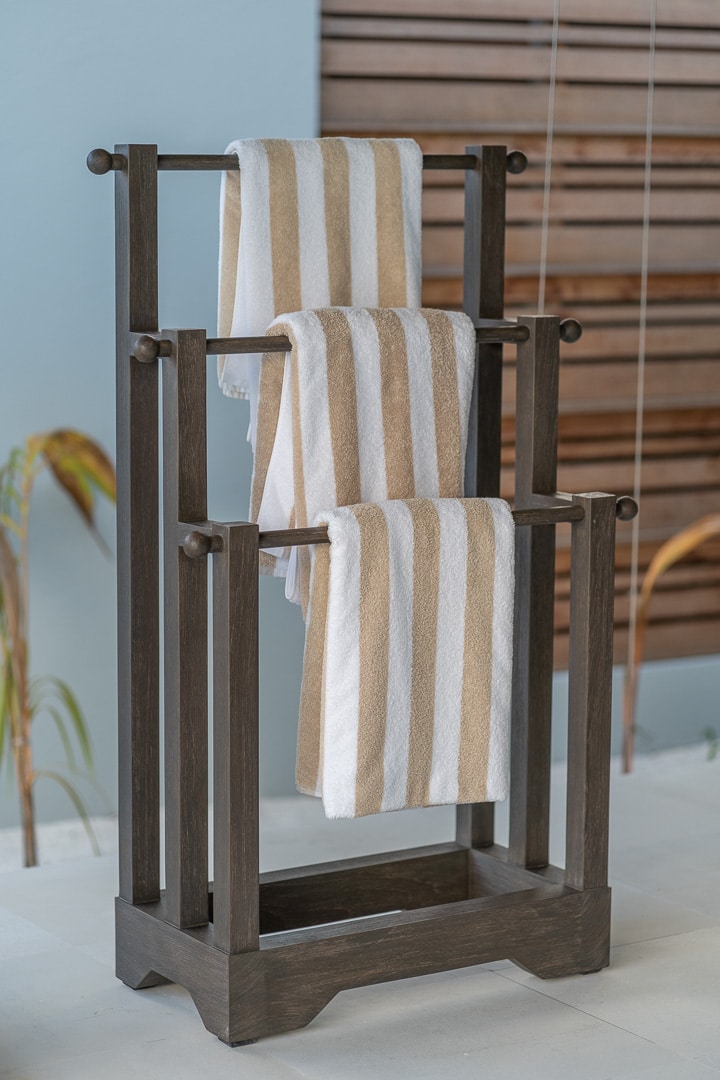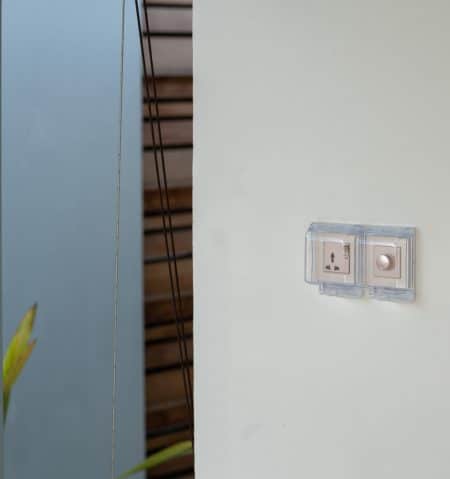 If I could change one thing about the design of the outdoor space, I'd place a second pool horizontally across the front of the deck. This would allow for a deeper sense of connection with the ocean whilst swimming and also result in the pool being heated by the sun for many more hours of the day.
The existing pool could have then jets and heaters added to turn it into a large jacuzzi (like the spa terrace rooms at the Ritz Carlton Mega Kuningan).
Beach Cabana
Although the Ocean Pool Houses at Naladhu don't have direct beach access, they do each have an associated beach cabana on the opposite side of the island (their extended phenotype, if you will).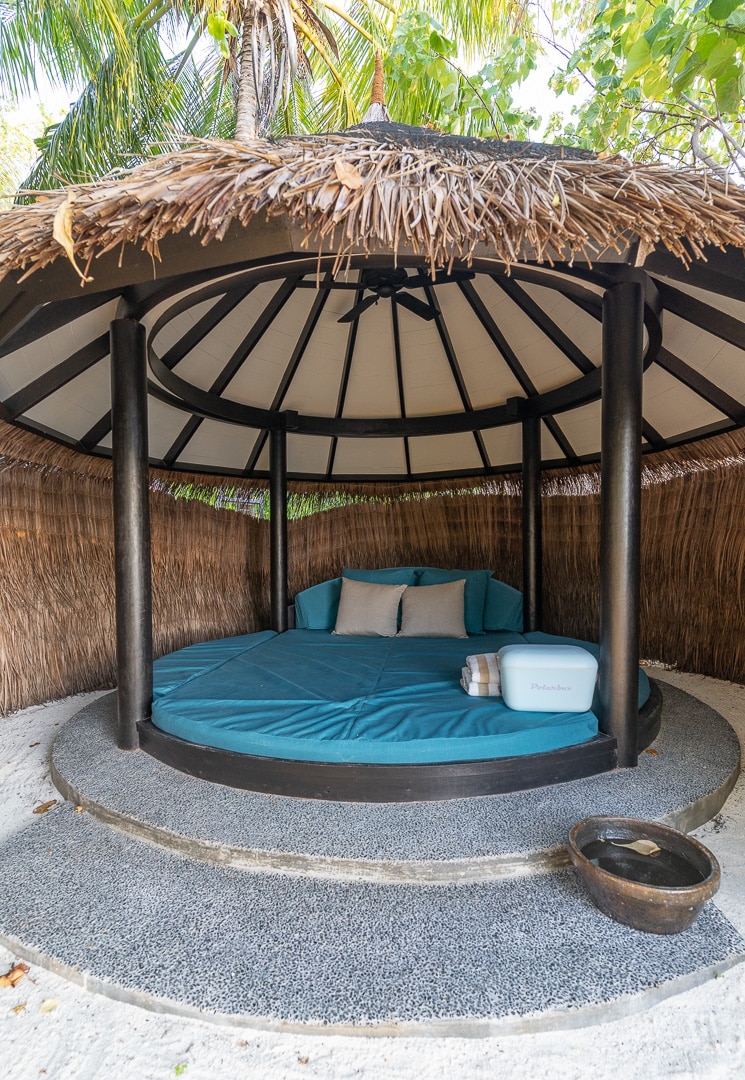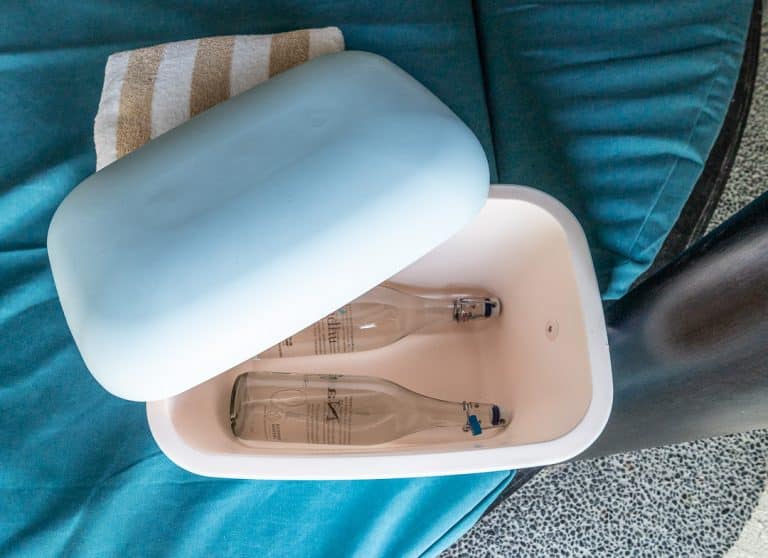 The cabanas were individually numbered and provided a comfortable, shaded day bed, with an electric fan overhead. Inside there were towels, pillows, a foot bath and a chiller filled with ice cold water.
The only thing missing in my opinion would have been a call button, for people wanting to order food or drinks here (although Whatsapping the butler always works!).
Service
This may seem like an odd place to discuss the service but nowhere was the service more tangible during our stay than in our villa. Housekeeping were wonderful even before we arrived, arranging the turtle sculpture in the sand and the elaborate welcome mural on our bed: a display that was several orders of magnitude beyond the usual folding a couple of towels, in the shape of swans.
In addition to this we were given a couple of handwoven sun hats, which we never used as hats but came in handy as fans when sitting at the gazebo. The resort was also very generous in providing us each with a complimentary Naladhu rashguard together with our Naladhu washbag and even a cotton Naladhu sun shawl.
Every time we returned to the room, we found lens cloths placed beside our glasses and screens, as well as Naladhu branded leather cable clips – used to tidy all of our electronics.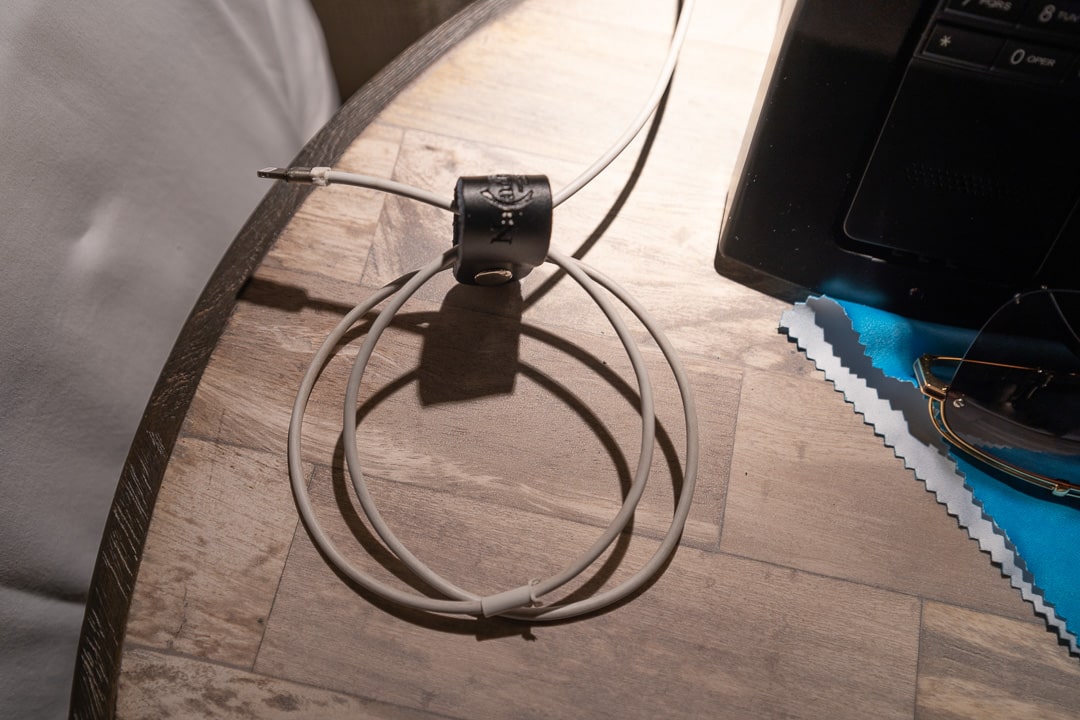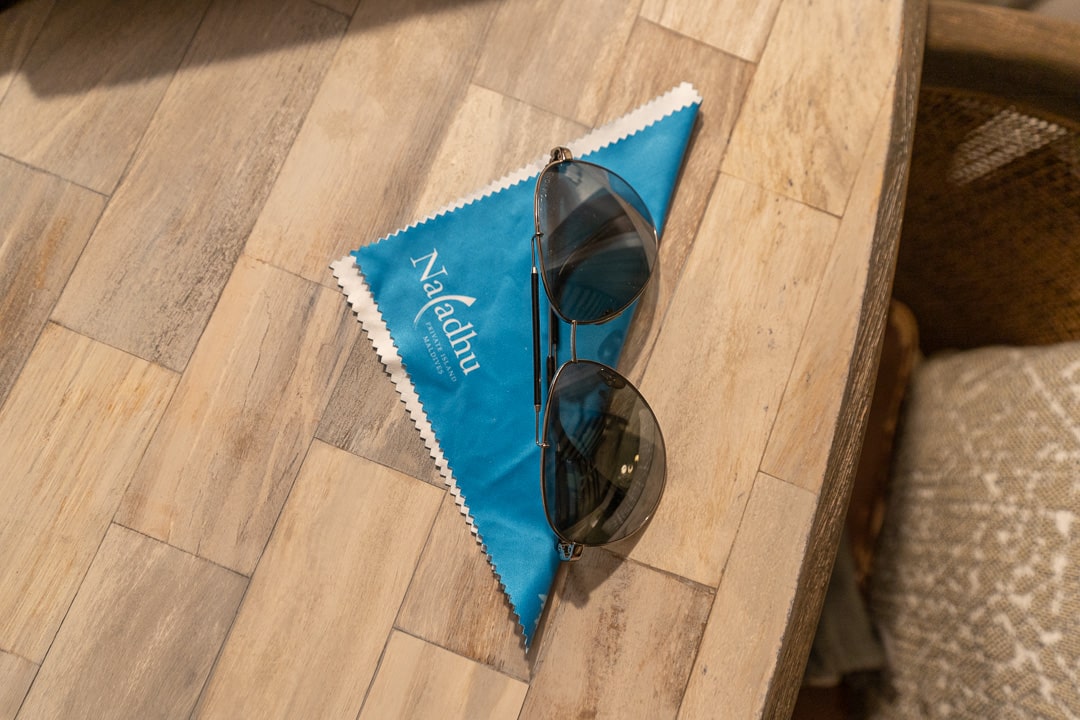 During turndown each evening, our room attendant would leave us a handwritten note on a leaf and also meticulously placed our toiletries upon linen cloths.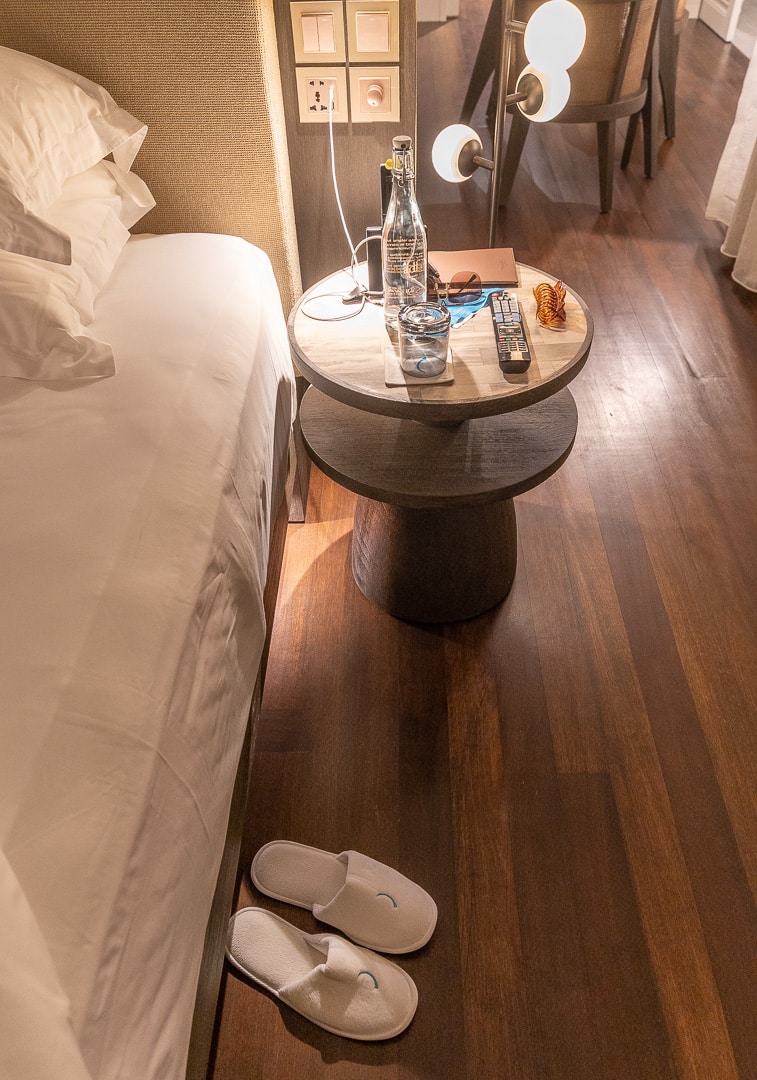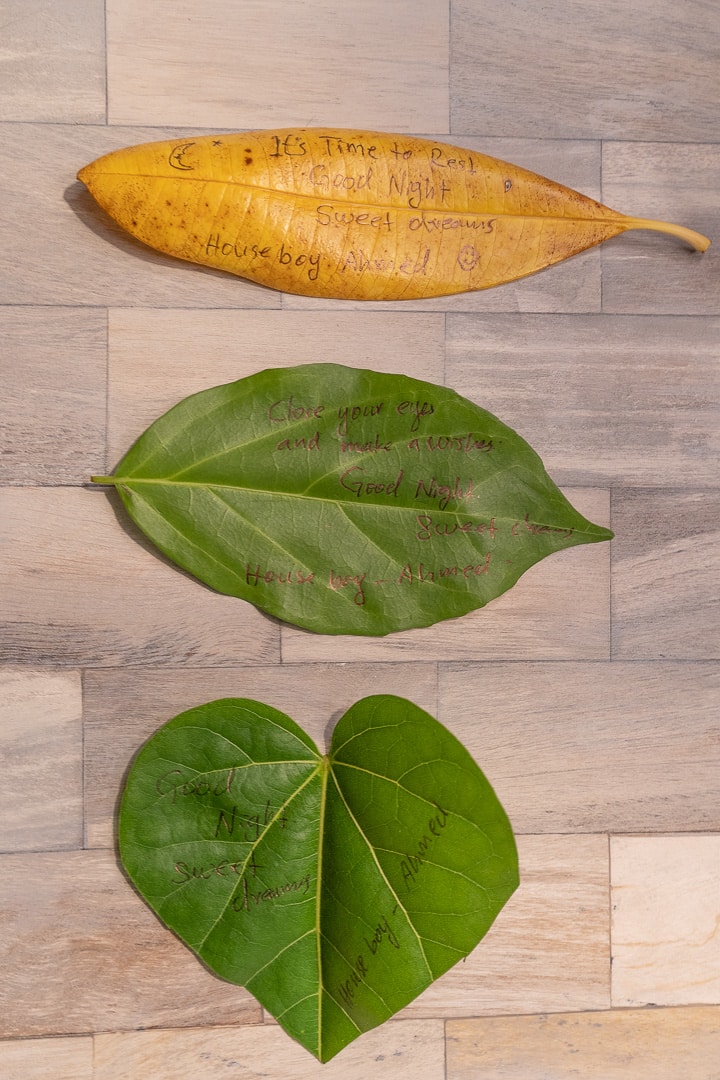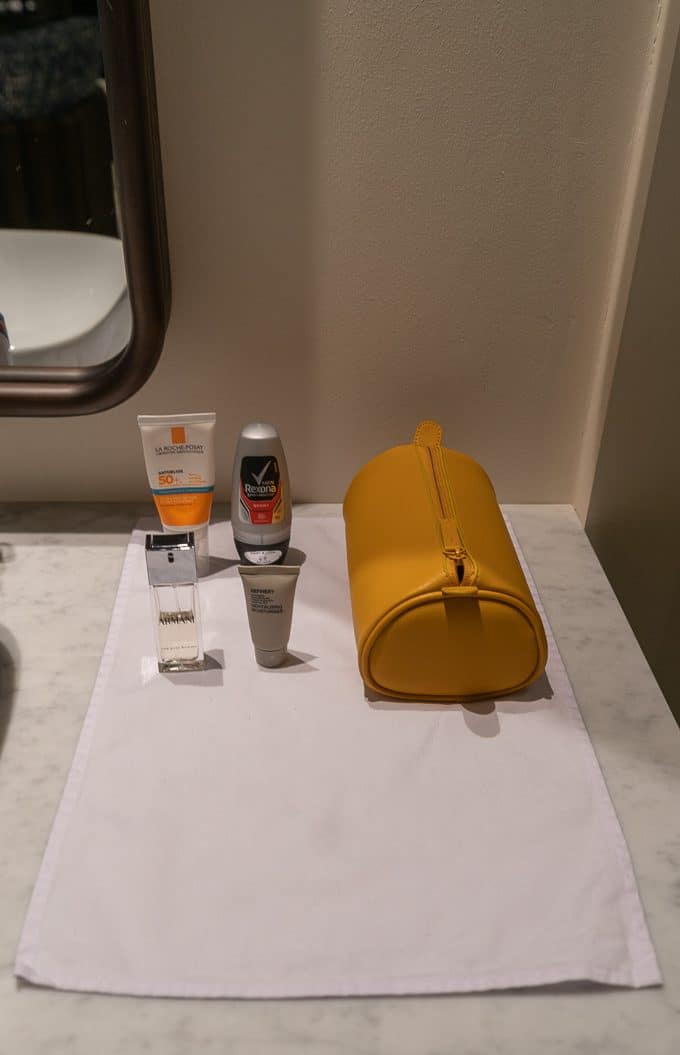 ---
Two Bedroom Beach Pool Residence
---
During our three night stay we had the opportunity to briefly visit the resort's flagship villa, the Two Bedroom Beach Pool Residence. This is located at the far corner of Naladhu island and in addition to a sunrise facing pool, it also offers a private sunset facing beach.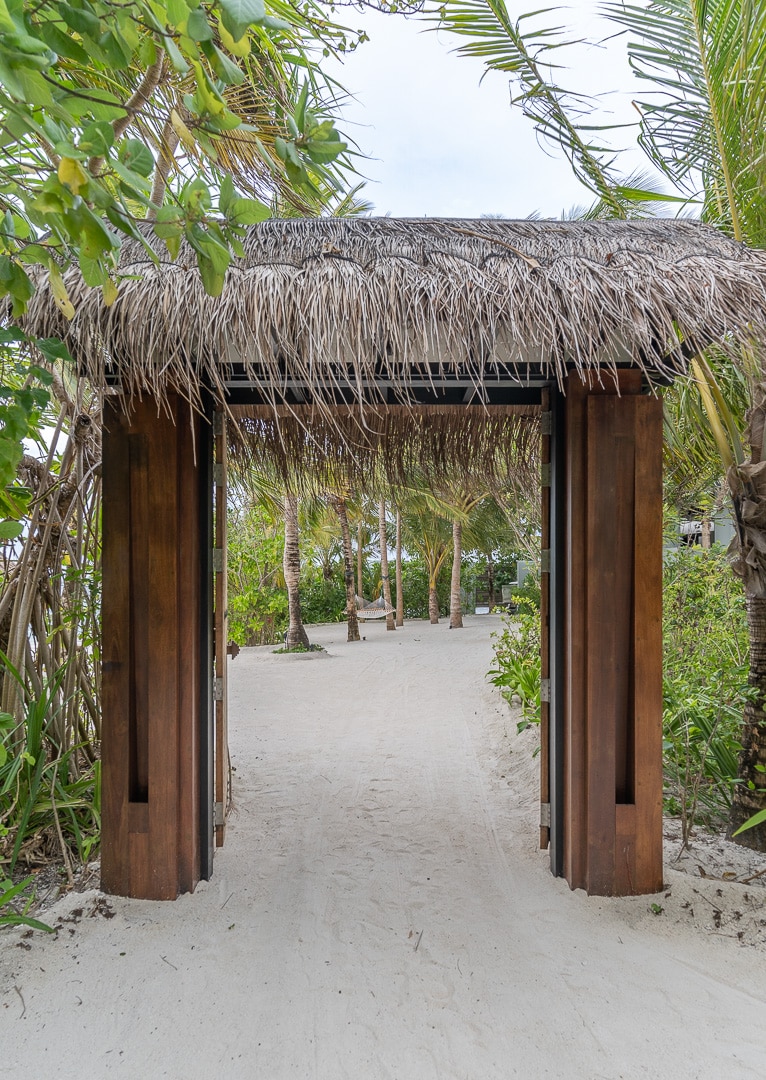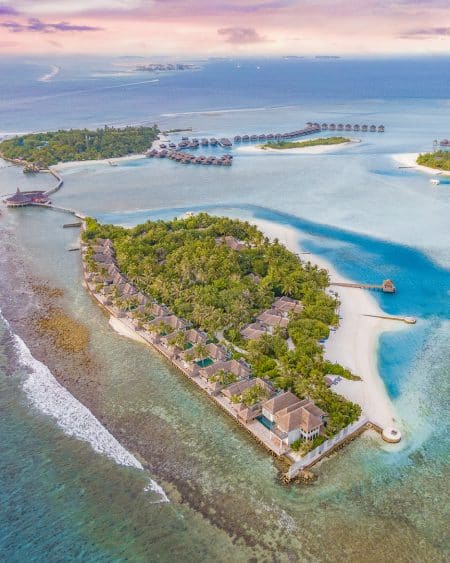 Private Beach
As soon as we passed through the wooden gates, it became immediately apparent why this Residence commands a significant premium over booking two adjacent Ocean Houses.
The residence's private beach was very large and beautifully maintained.
Outdoor Space
Once inside it was also abundantly clear that this was so much more than just two standard Ocean Houses stuck together. Much like the multi bedroom villas at Four Seasons Kuda Huraa, this multi room villa included a huge amount of shared living space and benefited from a materially larger swimming pool too.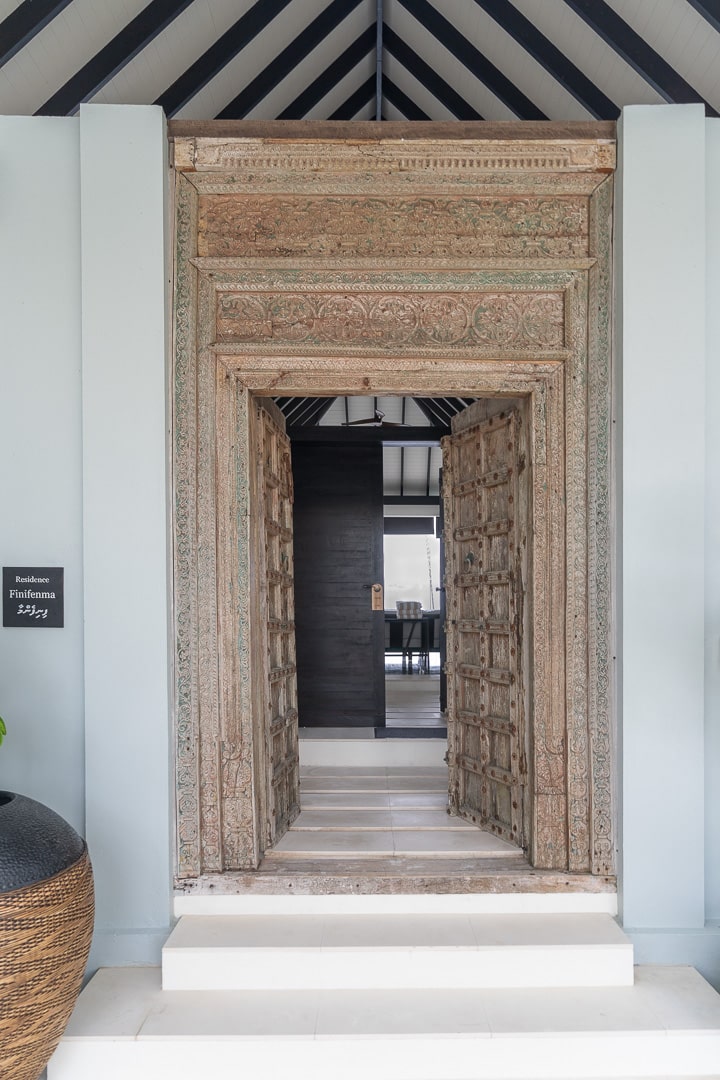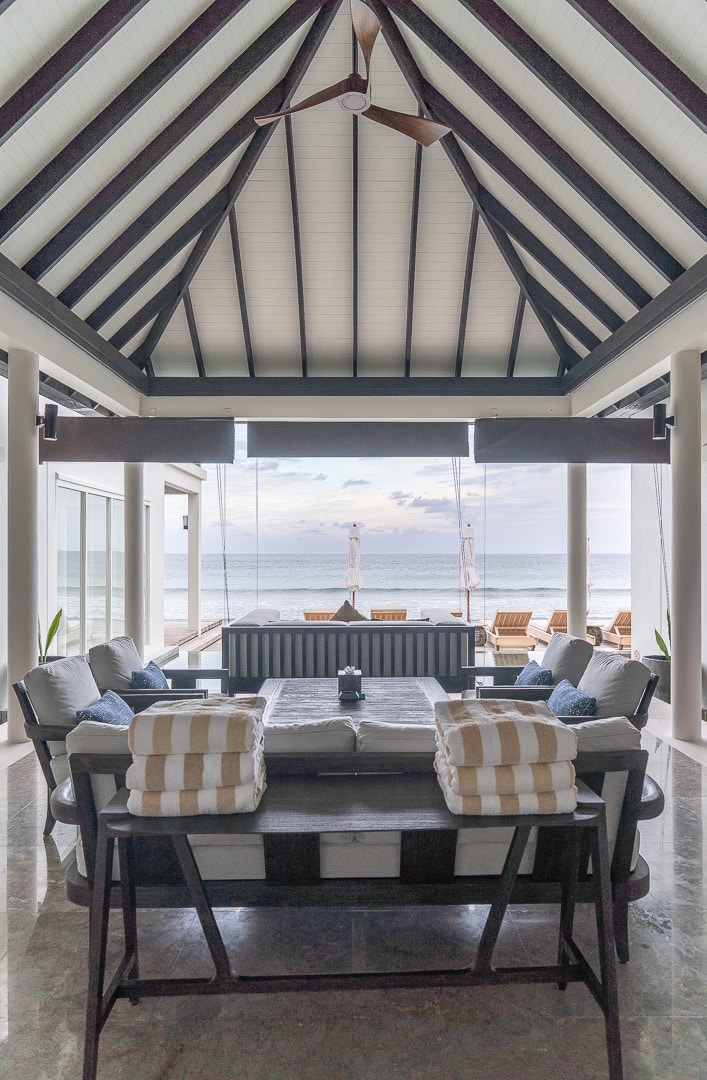 The swimming pool was capped by a row of sun loungers, looking out towards an uninterrupted ocean view. There is nothing but open water between here and the coast of Aceh, in Indonesia, 2600 kilometres away.
At the far end of the pool deck was a covered dining terrace, set up for 6 guests.
Main Bedroom
The main bedroom looked a lot like ours, albeit without the extra reading nook and with a slightly more condensed minibar area.
One huge advantage over our room was the panoramic ocean view visible from the bed, sofa and desk.
The Main bedroom's balcony was located directly above the outdoor dining area and the GM shared with me that this was his favourite spot in the entire resort cluster.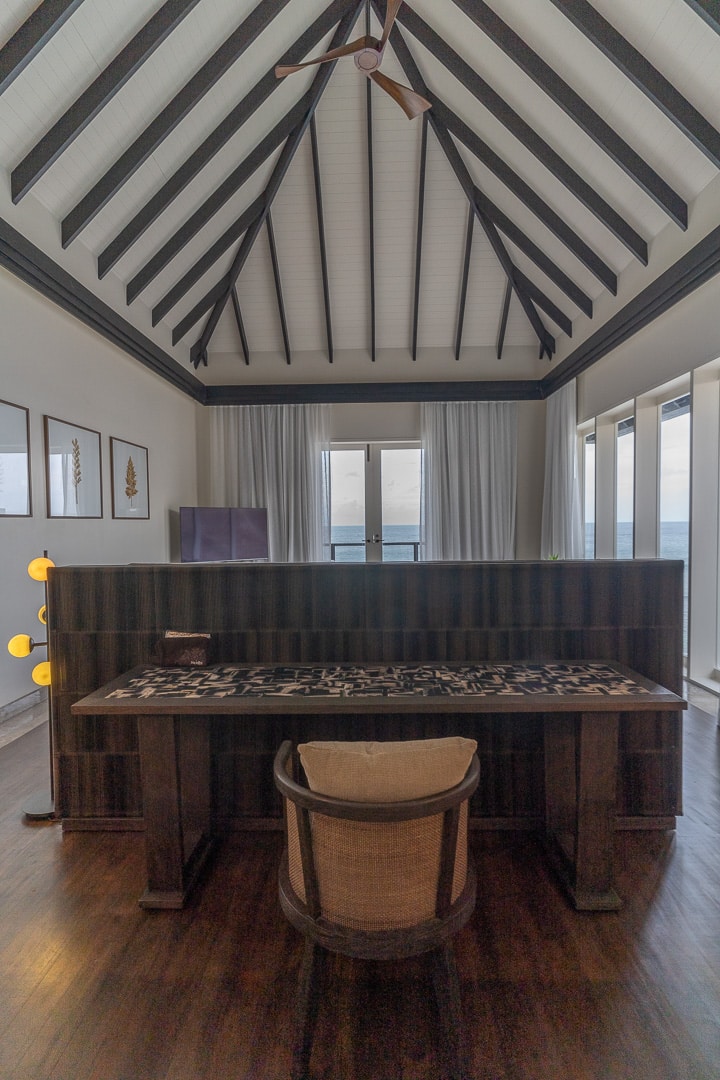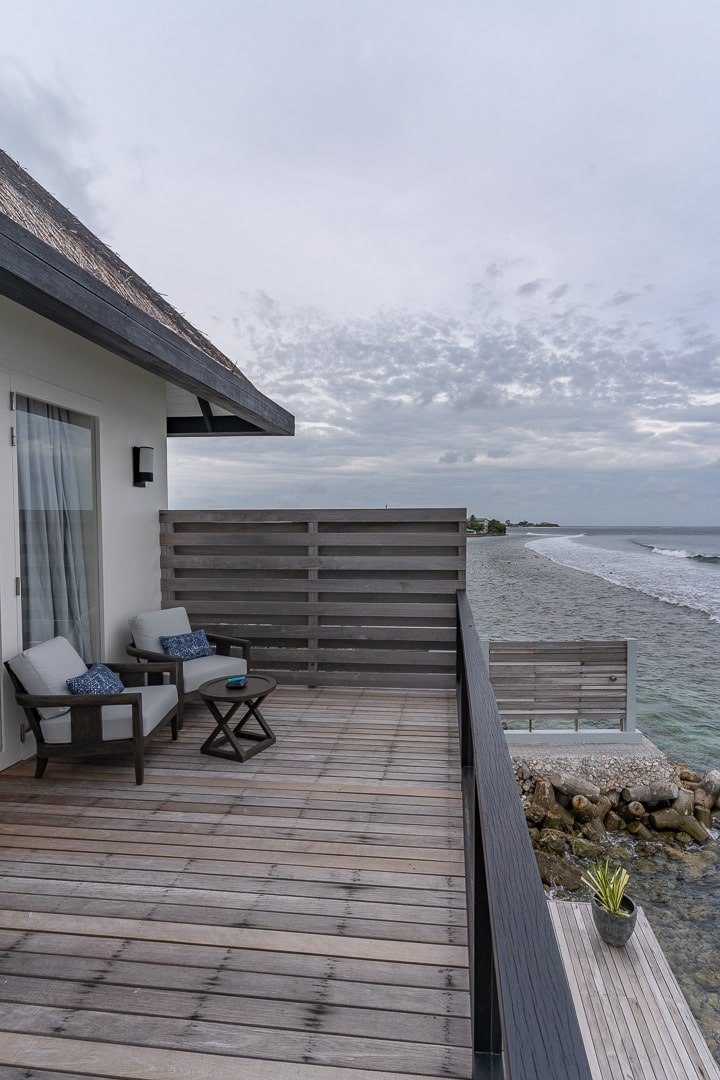 At the back of the bedroom was a gigantic dressing area. There would certainly be no problem living out of open suitcases here!
Each half of the dressing area had its own dedicated wardrobe space, with a makeup table also added to one side.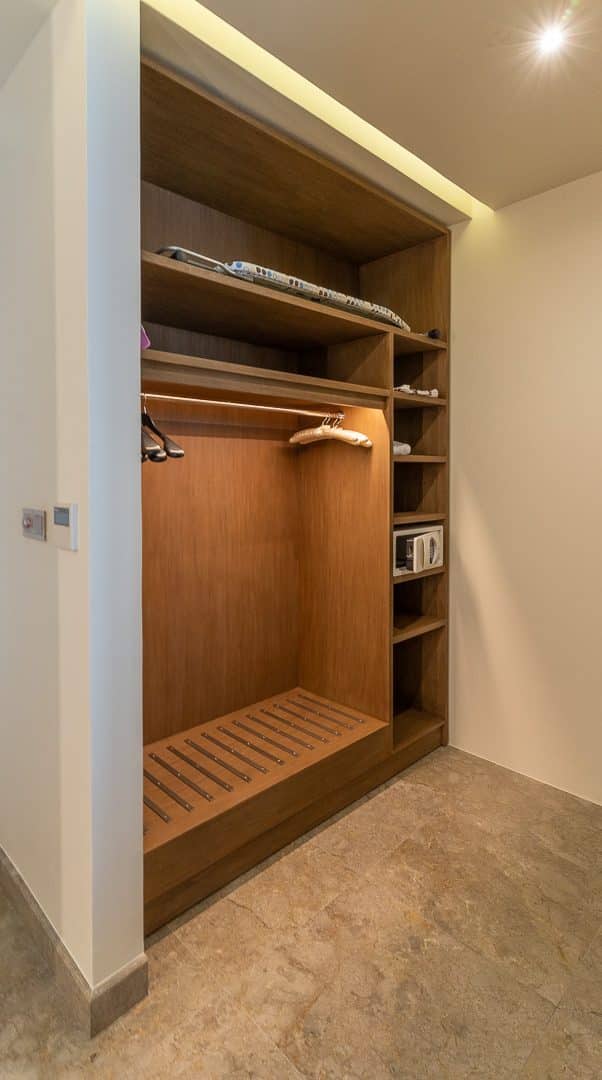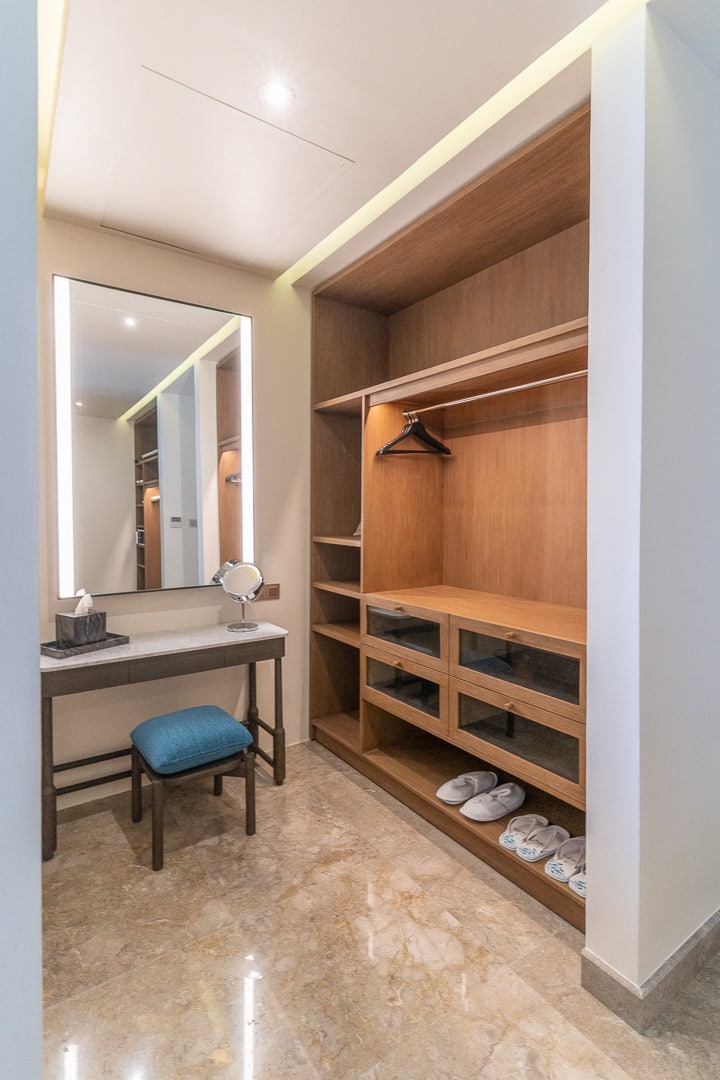 Main Bathroom
The main bathroom had a very tropical feel, nestled amongst the palm trees, with views across the lagoon to Anantara Dhigu and the snorkelling island.
From the bathtub you had the feeling of complete privacy amongst the palms. Once outside, on the bathroom's private balcony, you could see the lagoon views beyond.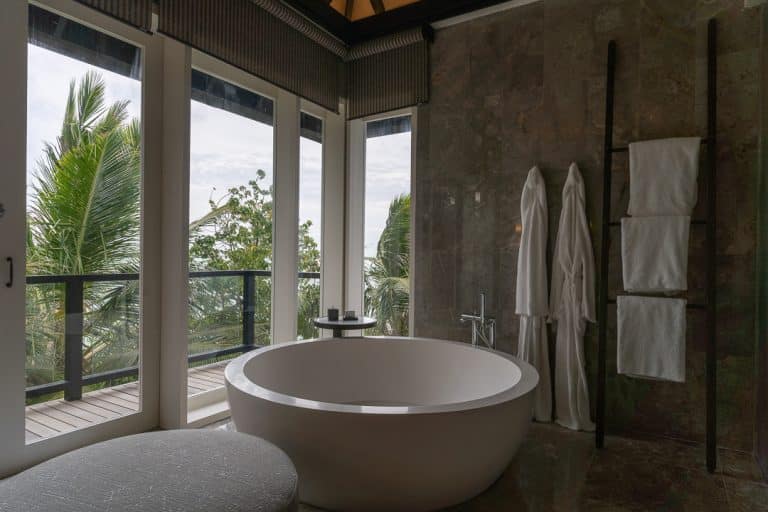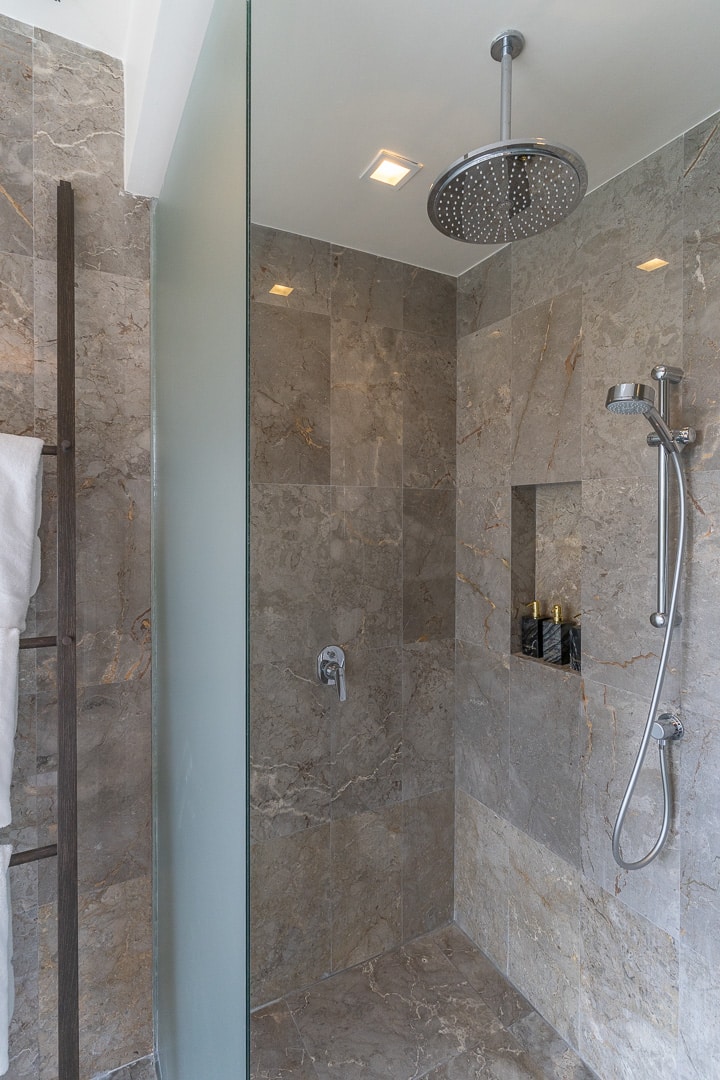 Indoor living area
Immediately downstairs was a large kitchen, intended primarily for use by staff.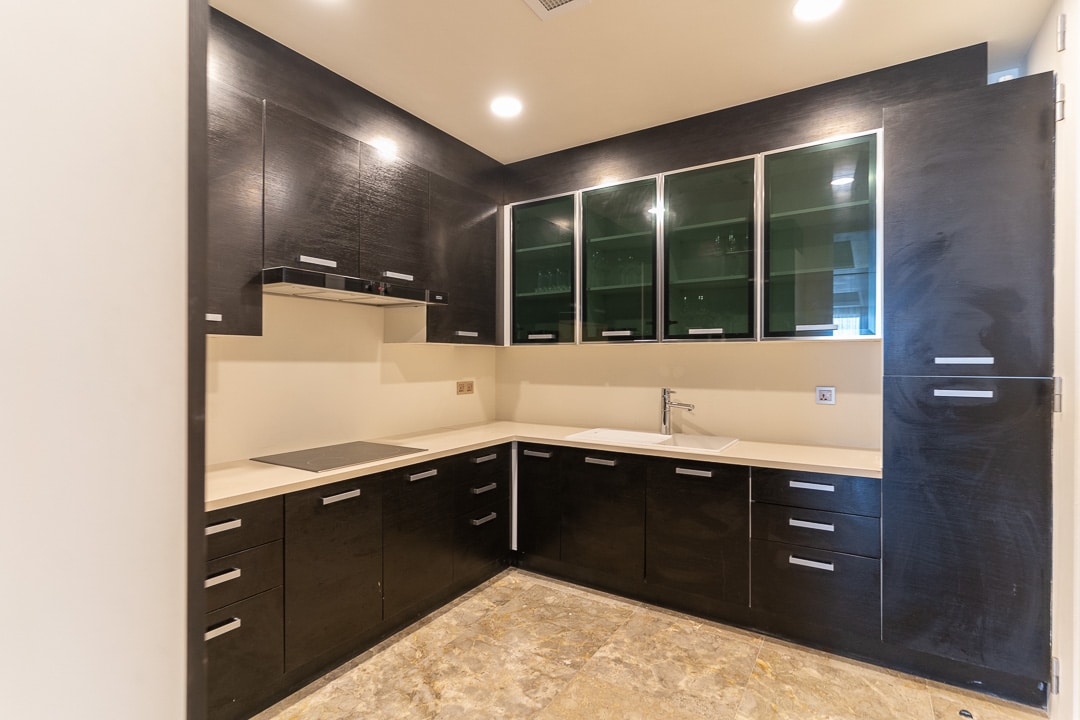 Staff were busy hoovering and preparing welcome amenities for incoming guests, during our visit. Here is a stock image of the indoor living area (taken on a much brighter and sunnier day!)
Second Bedroom
The second bedroom was tucked just behind the pool, in a separate, single story building.
This bedroom also featured twin walk in wardrobes, although these were smaller than in the main bedroom.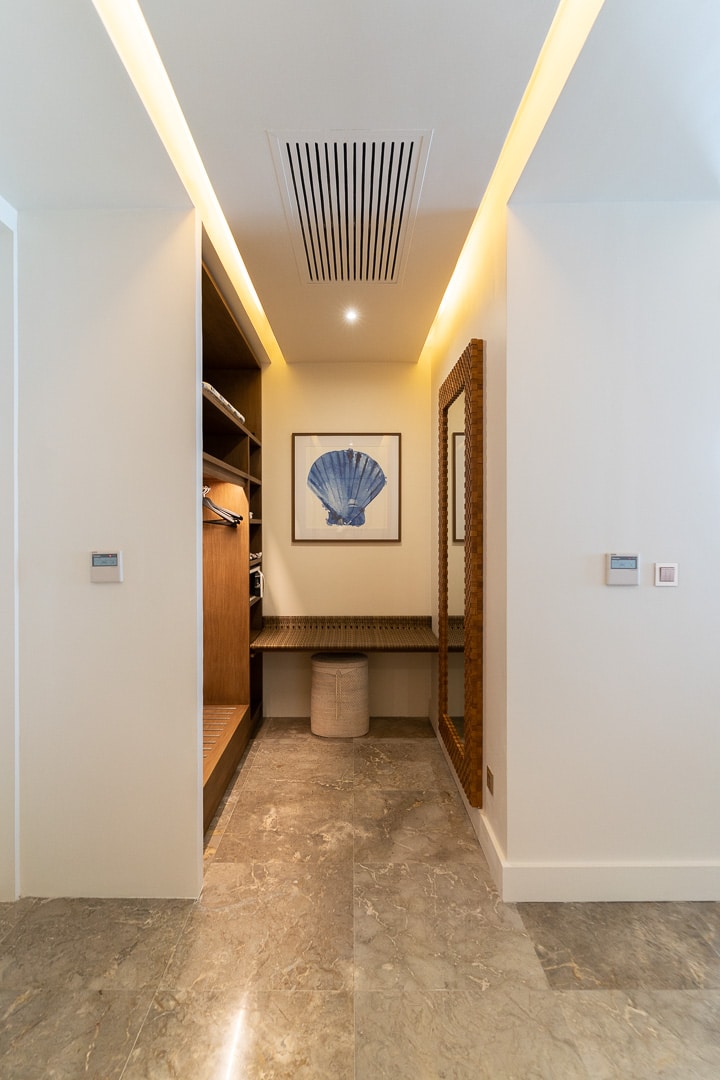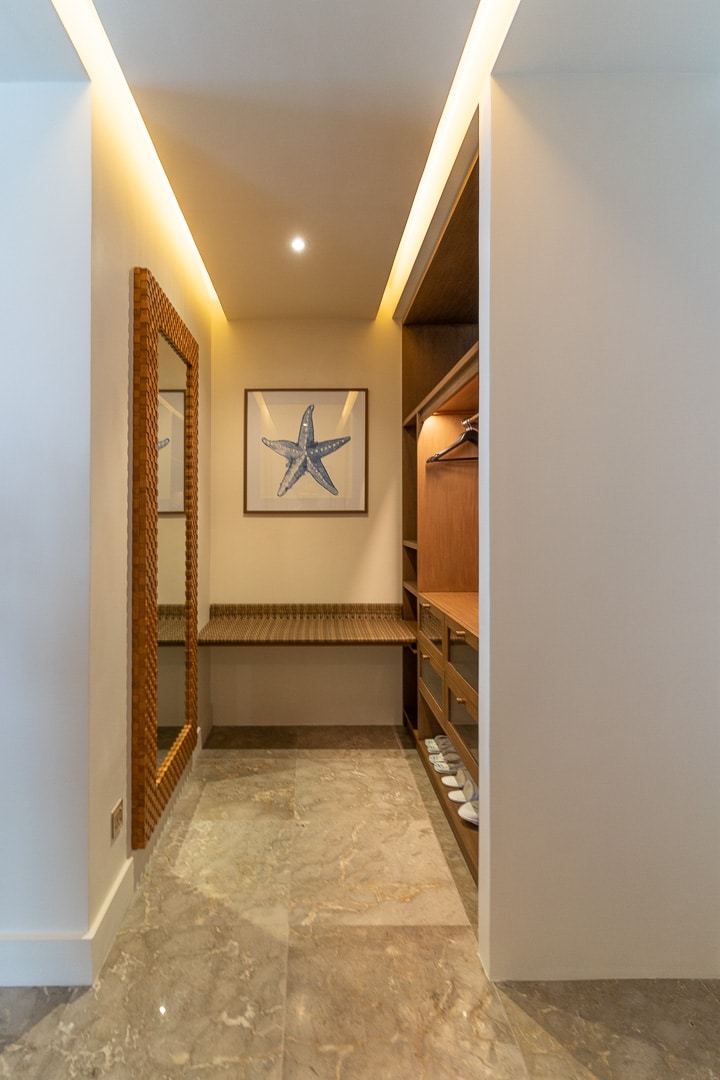 Second Bathroom
The second bathroom didn't enjoy the same wonderful palm tree views as the main bathroom.
However, the outdoor shower area was a very cool addition and provided a huge stream of natural light into the bathroom.
---
Facilities
---
At this stage it is important to note that guests at Naladhu not only have access to the facilities on Naladhu itself but also all of the beaches, pools, gyms, spa and dining outlets on Anantara Veli and Dhigu islands.
These can be accessed in under 5 minutes via the pontoon boat service, that runs continuously throughout the day.
Pool
The heart of Naladhu was centred around the beachside pool and the Living Room building next to it, where all meals were served.
As is so often the case in the Maldives, we never saw other people using the pool, since everybody had the option of swimming in private in their villas.
We quite enjoyed coming here the afternoons though, when our pool was in the shade.
Gym
Just behind the sun loungers was the gym. A compact facility, offering three cardio machines, a cable crossover and some free weights up to 22kg.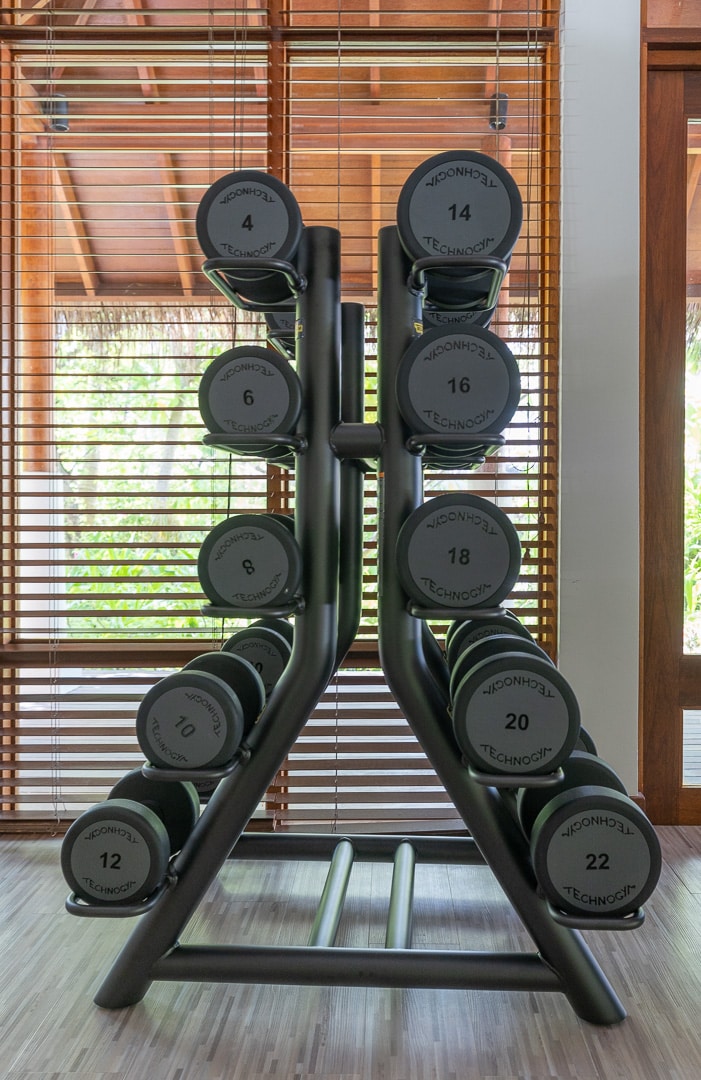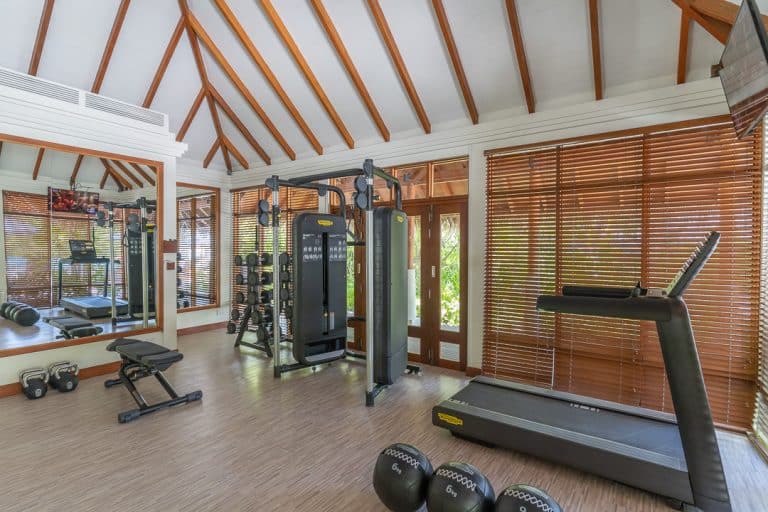 Given the space constraints, I can understand that the offering was always going to be limited. However, the addition of a single Smith machine would be absolutely transformative here. Changing this from a facility where you just make do, to somewhere where you can get in some proper training.
Spa
The spa facilities on Naladhu were similarly space constrained and consisted of a single treatment room, in the island's interior, next to the GM's office.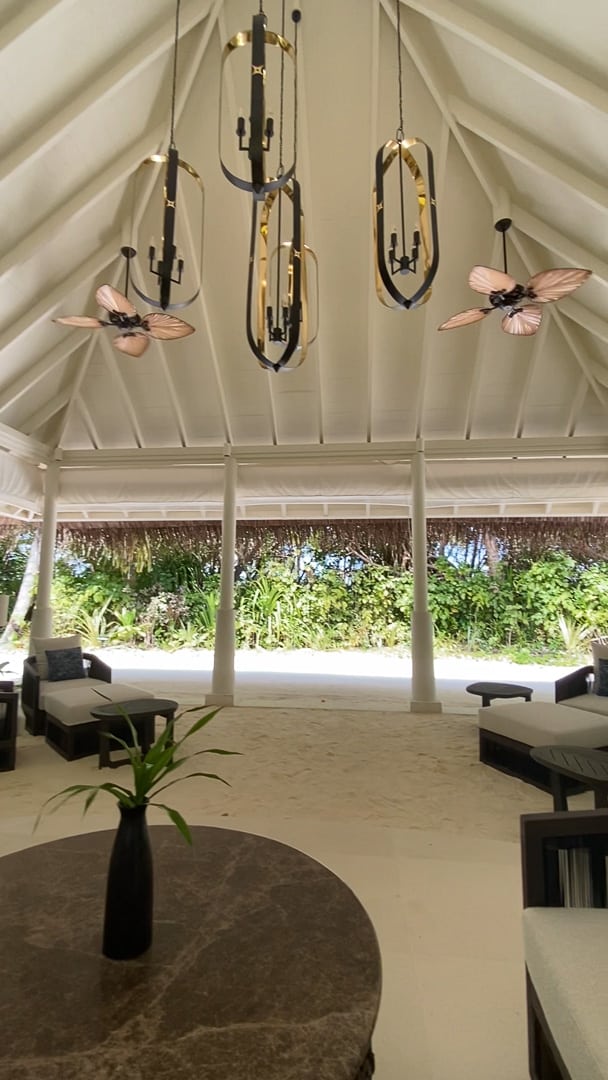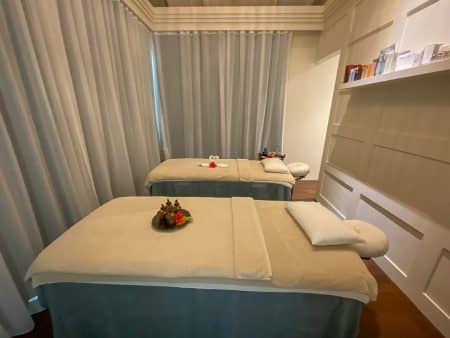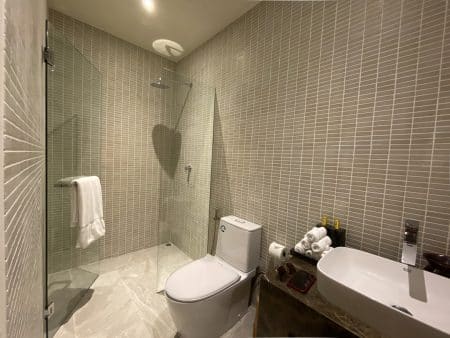 The therapists were very friendly and our treatments were every bit as well executed as at Dhigu, however the setting was vastly inferior to the wonderful overwater spa.
Kudos to the team for providing this option for those who really can't be bothered to quickly hop on a boat across the lagoon. Personally though, I can't imagine being so short on time that I'd prefer getting a treatment in this room versus the wonderful Dhigu spa:
Beach
Naladhu's private beach faces into the lagoon and provided picture perfect views during the day…
…and during sunset.
The sand was fine and soft, unlike the sand on the man made resorts near the airport.
---
Food and Drink
---
The dining concept at Naladhu is rather unique in that there is technically no limit on the menu, with all menus merely serving as suggestions. We were encouraged to order absolutely anything we wanted, with the only constraint being availability of ingredients on the island.
Naladhu only has a single dining venue, called The Living Room.
Unfortunately our visit to Naladhu coincided with some windy weather so the plastic screens were down for the duration of our visit.
The decor was very stylish and perfectly in keeping with the island location.
Breakfast
Breakfast at Naladhu operates on a 24h concept, meaning that late risers can have a steak breakfast at 1pm if they so choose. We stuck to normal meal times though and enjoyed the full experience of a leisurely breakfast, on the lagoon's edge – with the early morning breeze.
As soon as we sat down, we would be approached by a member of staff with a giant crate of freshly baked pastries.
Drinks were very promptly delivered but I was disappointed to see Nespresso being served even in the restaurant. I know that resorts get a good deal by buying in fully with Nespresso but the result is that you can't get a decent coffee until you leave the property.
Naladhu is certainly not the only top tier establishment to inflict this upon customers (I had this situation at the Mandarin Oriental in Barcelona just the other day) but I'll continue to call this out whenever I see it.
On the plus side, the juices were great and San Pellegrino was included in the breakfast (unlike Four Seasons Kuda Huraa where they'll charge you $15 a bottle).
On our first morning we accepted the offer of a plate of fresh fruit.
However by day 2 we knew what we liked the most and stuck to that instead.
As we ate our fruit and pastries, we came up with a couple of ideas for breakfast that were wonderfully executed by the chef.
A bowl of Vietnamese Pho and a soft shell crab Eggs Benedict. I was genuinely surprised by how well and how quickly the kitchen nailed the brief!
The pho was clearly not super authentic but the actual combination of flavours was excellent. Meanwhile, the soft shell crab Eggs Benedict was one of the best breakfast dishes I've ever eaten. It should be on every breakfast menu in the world in my opinion.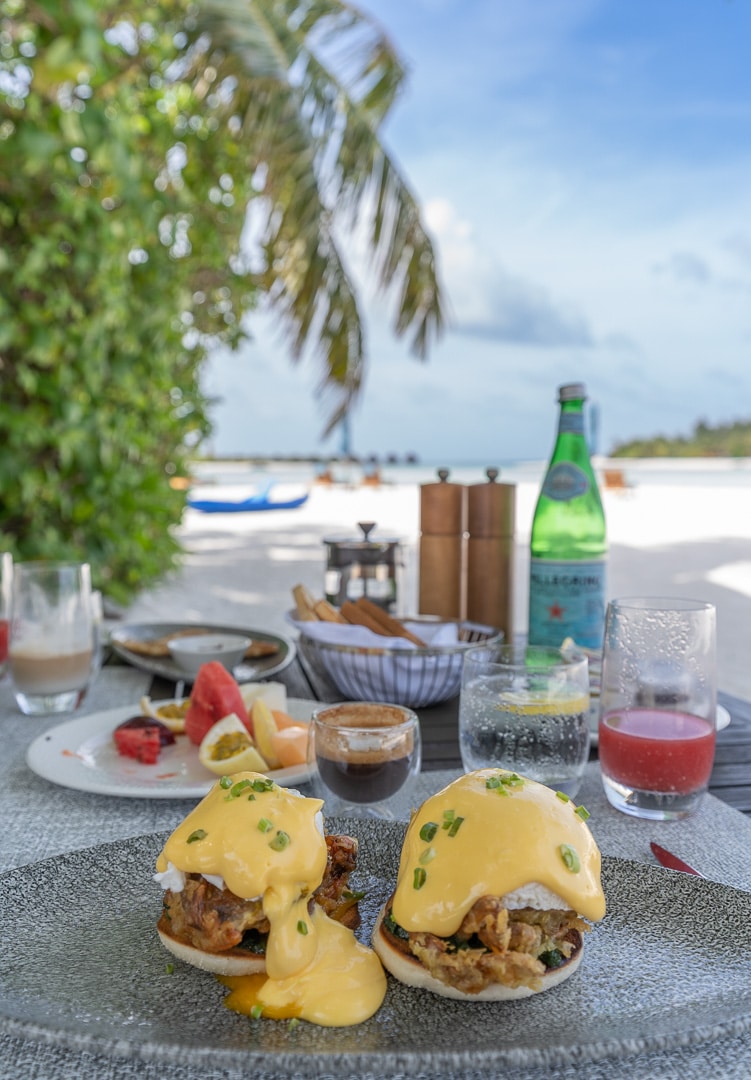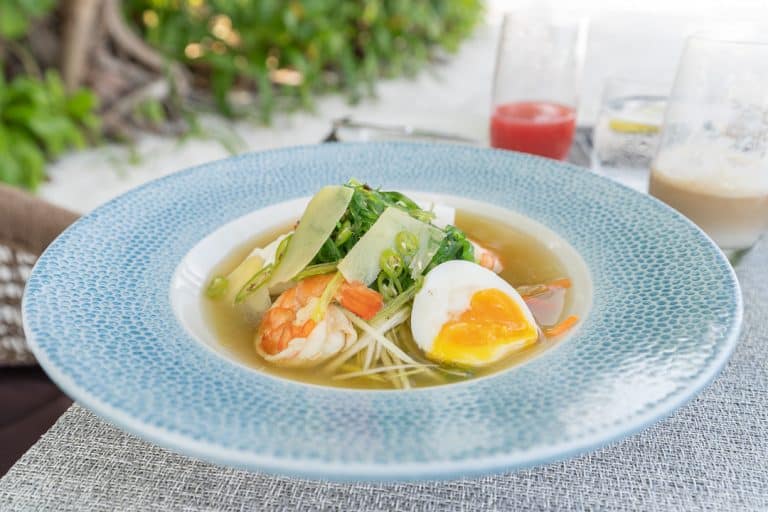 Floating Breakfast
I've made my thoughts on floating breakfasts clear in the past.
I prefer not to change into swimwear and get into a cold pool, to eat food which is not at the correct temperature, as it floats away from me on an awkward table.
Plenty of others however seem to go bananas for this nonsense and I felt bad when our butler got really excited about getting this prepared for us, on the final morning.
So we played along and ordered a breakfast that would be as un-wasteful as possible and took a picture of it….before taking the tray to the edge our pool and setting the food down at the table.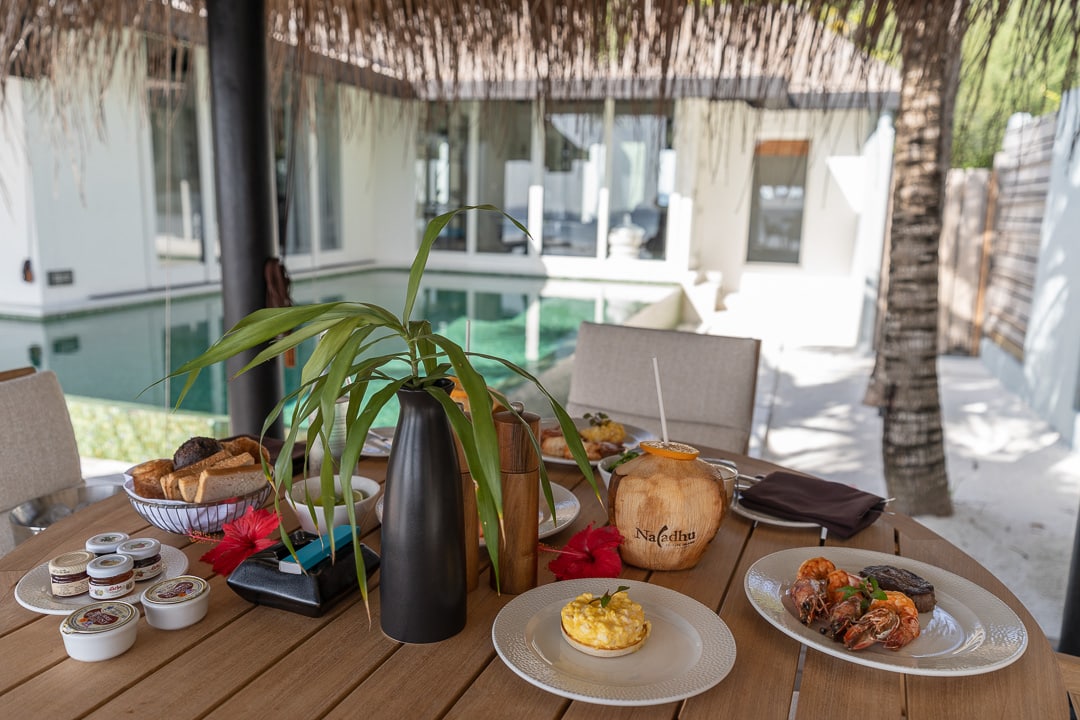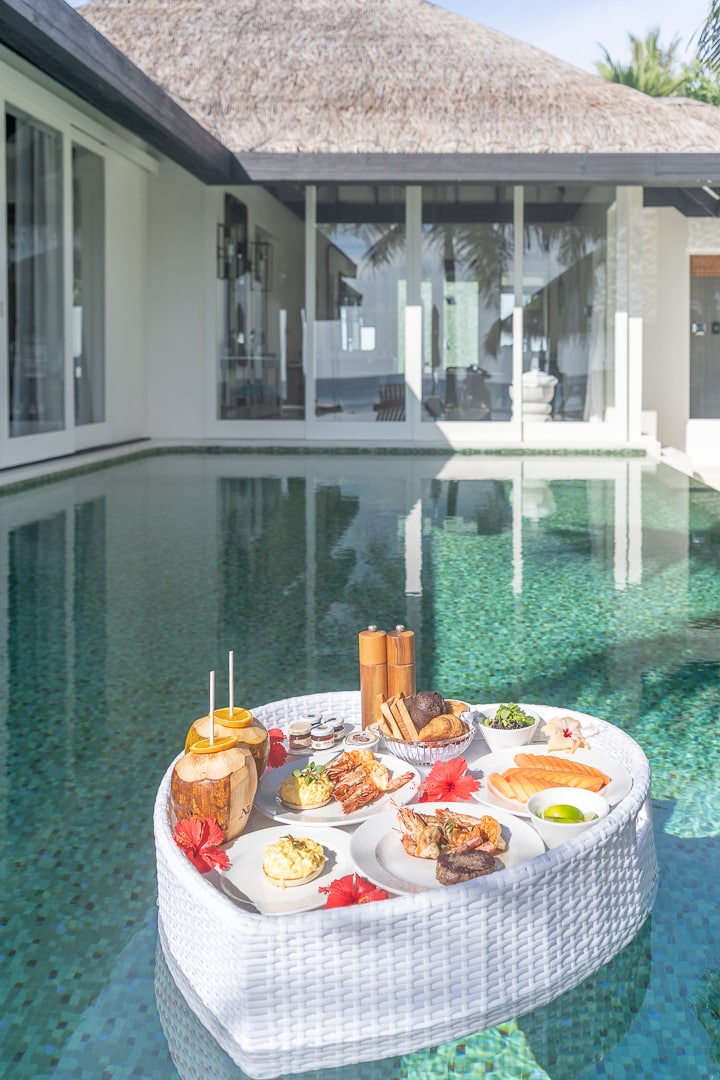 We actually ordered this a little later than usual as we knew that we would be moving between resorts and would likely miss out on a proper lunch in the process.
Since it was brunch time, I ordered a surf and turf of king prawns with rare filet steak and Kamara ordered just the king prawns, both served with side of scrambled eggs.
Everything was super fresh and cooked to perfection (albeit lukewarm by the time we got around to eating it).
Lunch
We tended to order quite a light lunch, given the heat in the middle of the day. Although ordering off menu was encouraged at most meals, people appeared to be ordering exclusively from the menu of suggestions. This menu included both lunch and dinner options.
All the dishes that we tried at lunch were great but for me the real standouts were the incredible salad, with freshly seared tuna, prawns and avocado as well as the tuna tartare, wrapped in a paper thin belt of cucumber.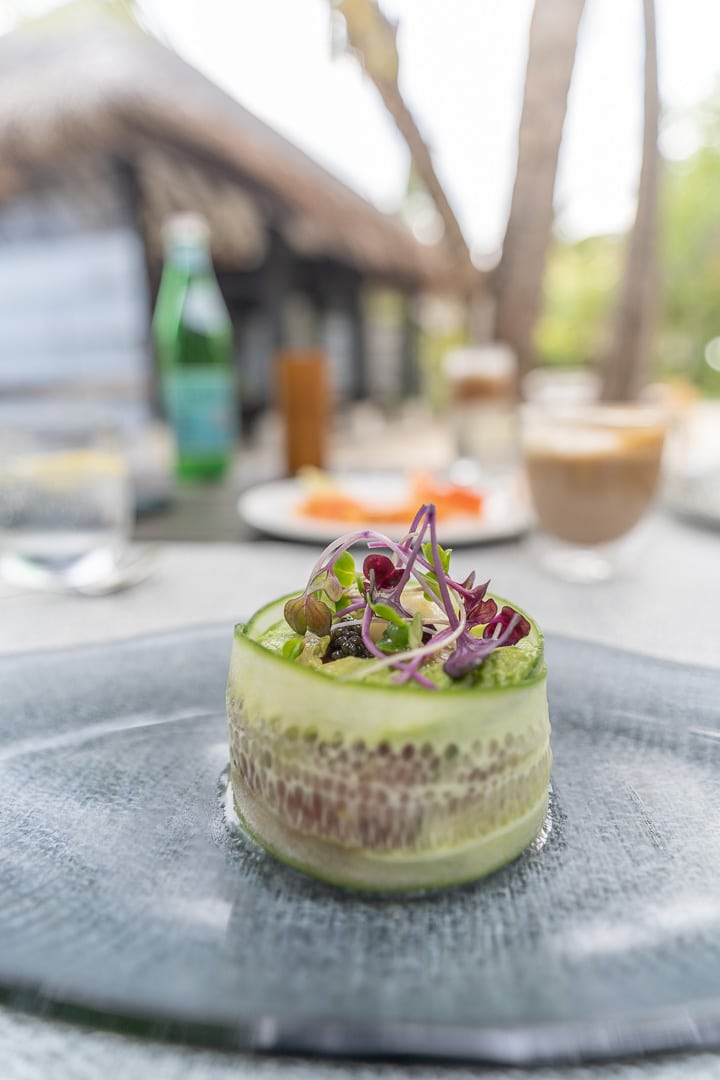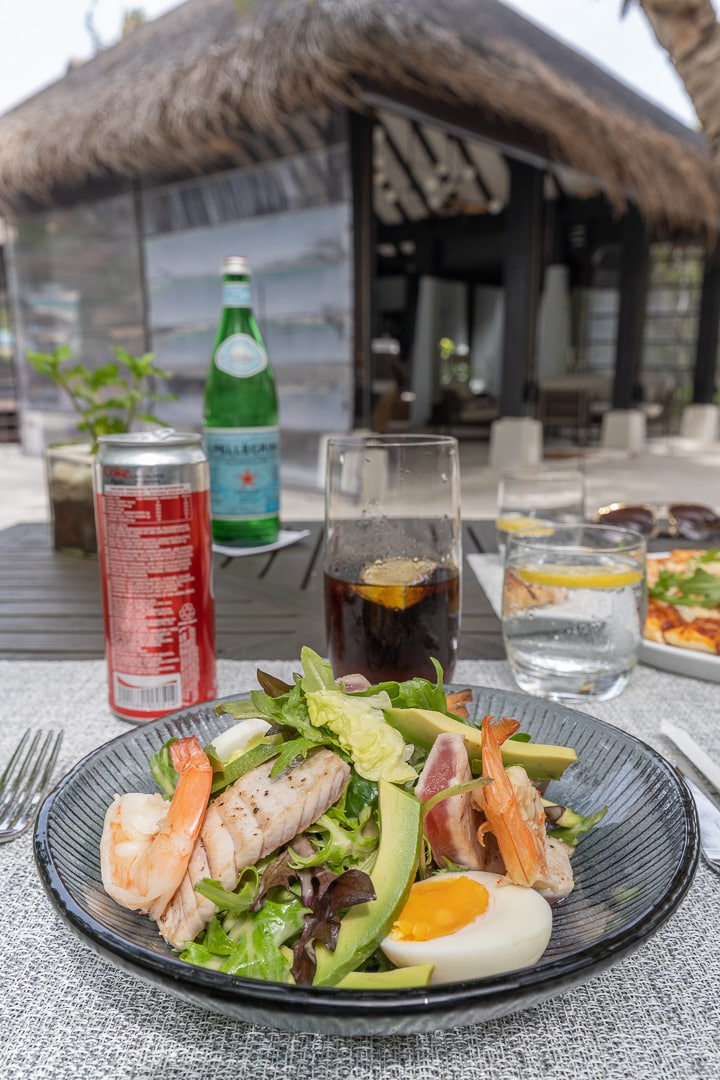 Other dishes that we tried were the seafood pizza with seafood (light on the seafood) and the 'White Spears', a dish from the breakfast menu that combined white asparagus with poached eggs and truffled hollandaise.
Dinner
On our first night we ate from the a la carte menu since we didn't bother to call ahead with personalised options prior to our arrival at the resort.
The food was universally excellent in terms of presentation and flavour.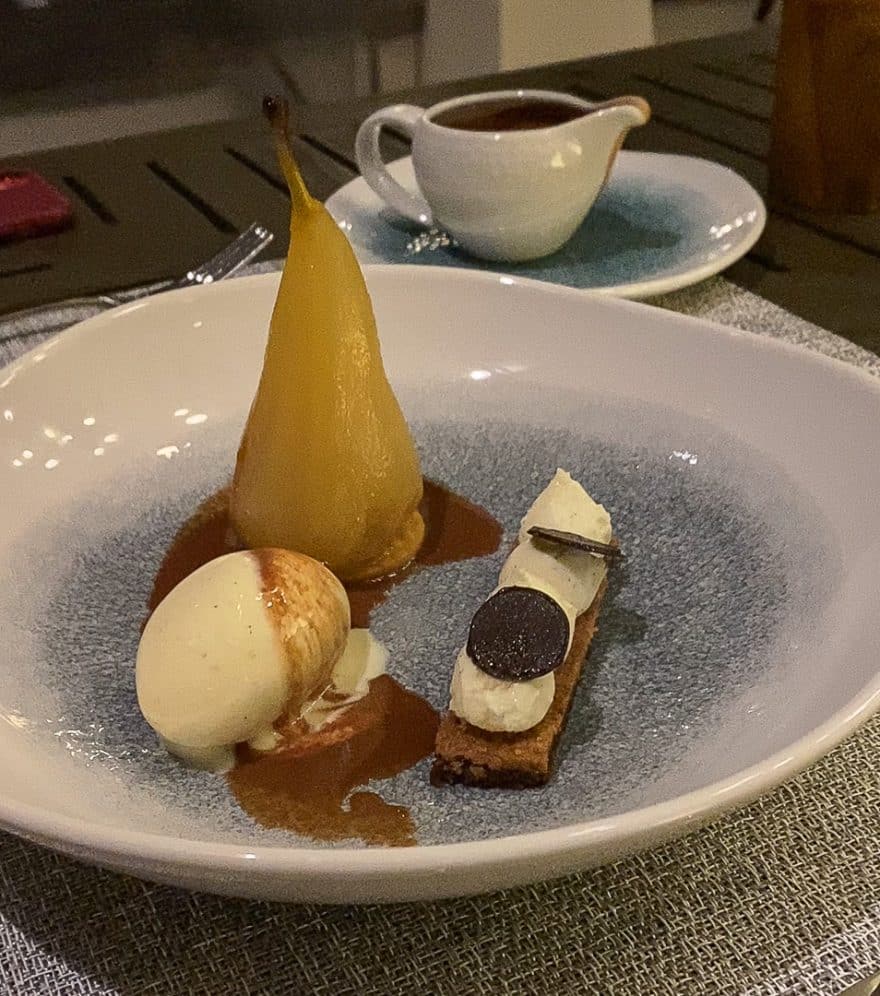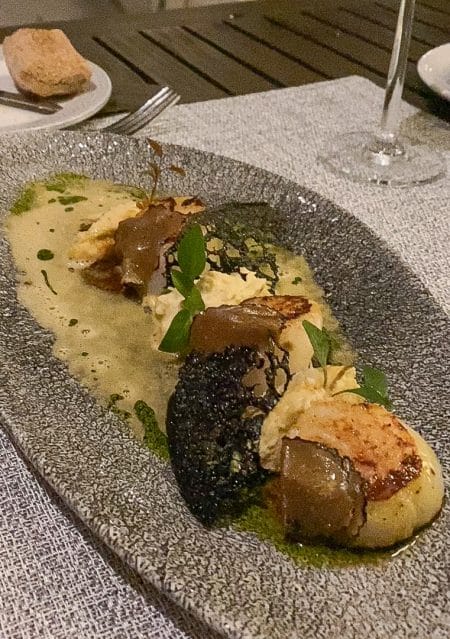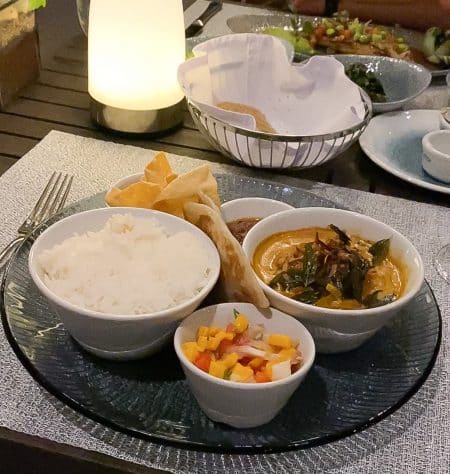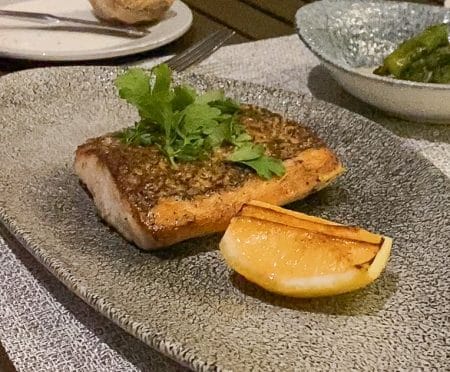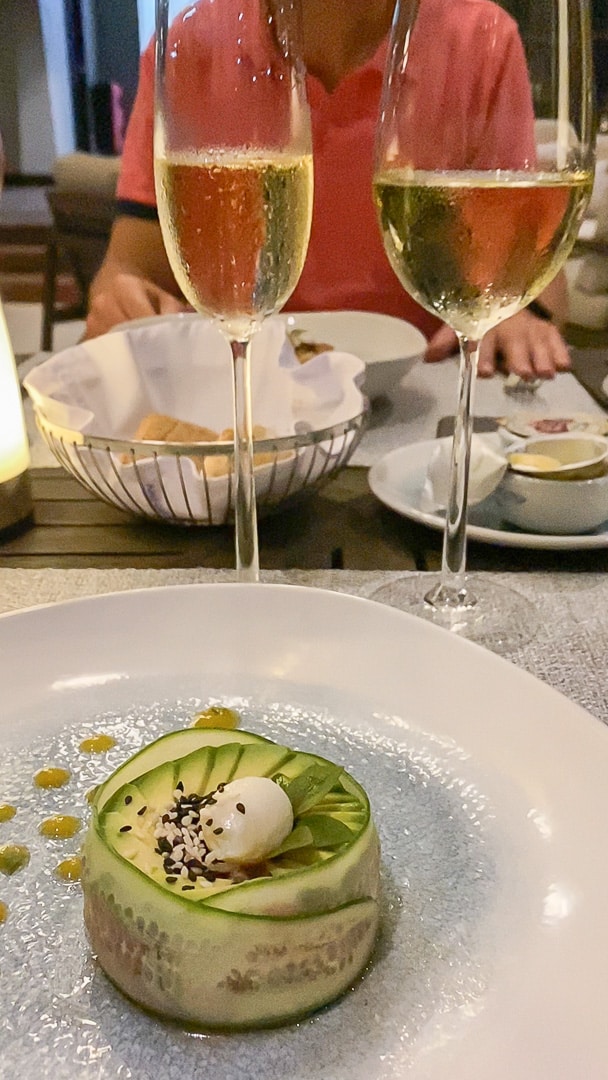 On the second evening, we couldn't resist returning to the incredible Baan Huraa, undoubtedly the Maldives' most authentic Thai restaurant, filled almost exclusively with Thai staff.
Baan Huraa sits at the centre of a bridge that connects Naladhu to Anantara Veli…
…and only guests with Naladhu keycards can pass the ominous looking barricade.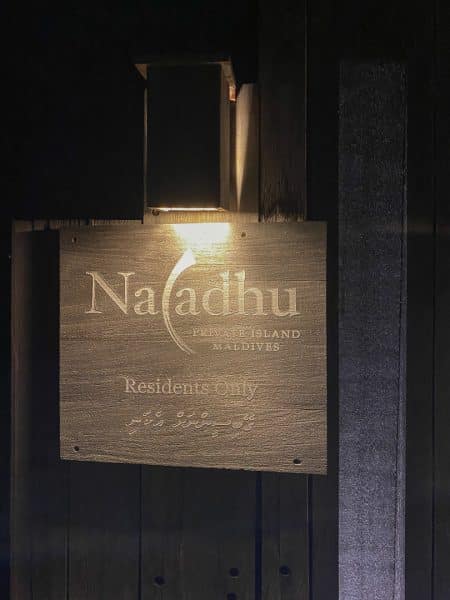 Private Dining
On our final evening, we were offered the opportunity to enjoy a private dining experience. In all honesty there's less of an appeal in this concept when staying in Naladhu, since all meals are customisable and feel very private anyway.
Still, the setting was beautiful and the chef went to a real effort to accommodate our requests, even if they were a little more challenging than he was used to!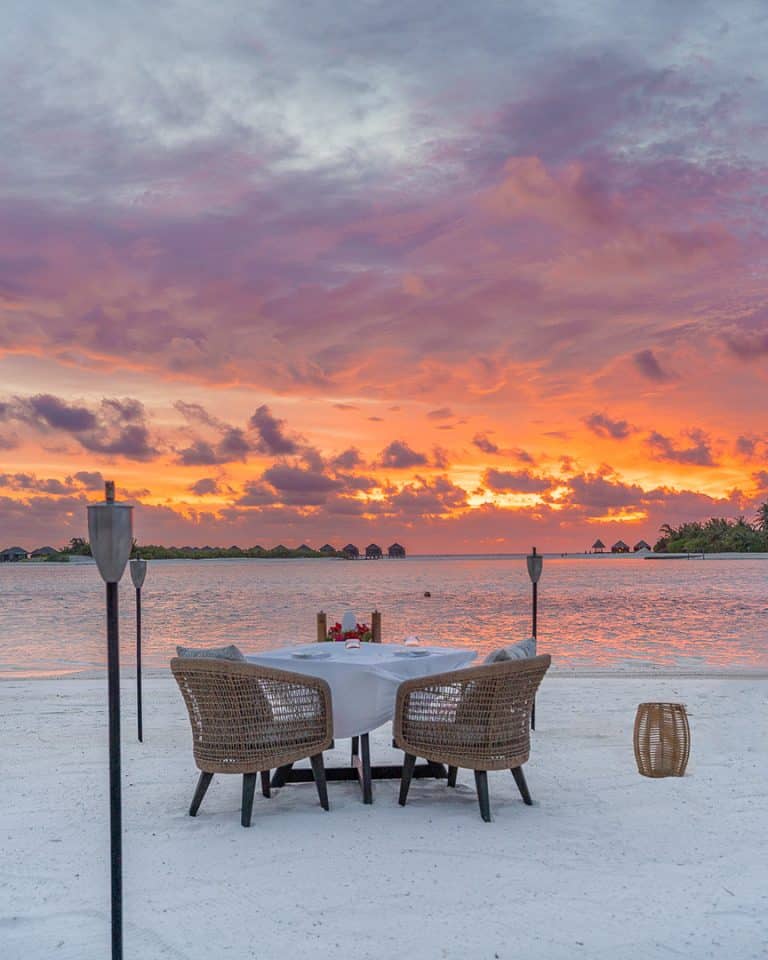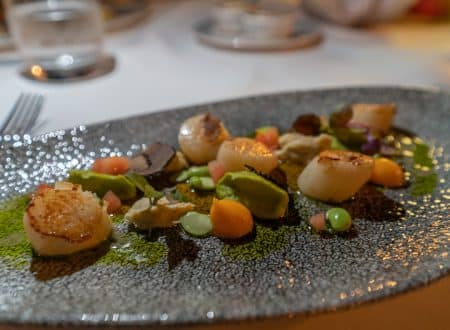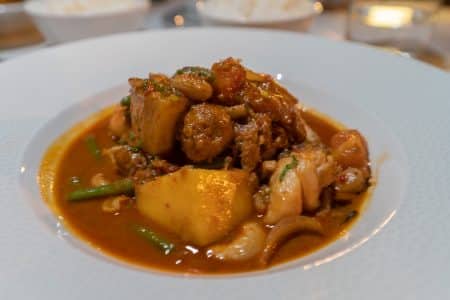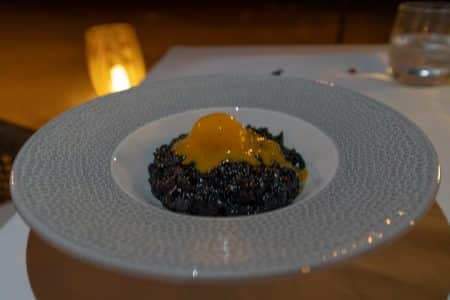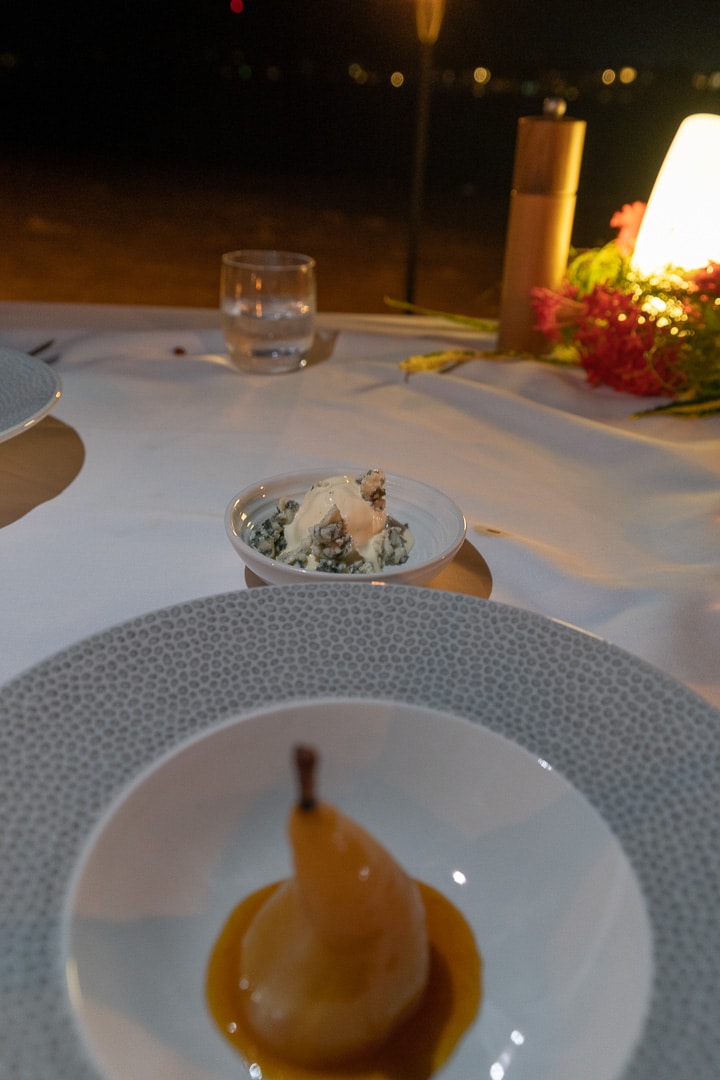 Sitting at our private table, surrounded by lanterns, on the edge of the lagoon, was the perfect way to end our wonderful stay at Naladhu – a truly unique and special resort.
---
Conclusion
---
Basics Checklist
☑︎ Power sockets near the bed
☑︎ Easy to understand light switches
☑︎ Coffee machine
☑︎ Separate shower and bath
☑︎ Blackout blinds
☑︎ Stable, fast and free Wifi
☑︎ Feather pillows
☑︎ Quiet and powerful aircon
Having only just completed a huge refurbishment in November of 2021, I was not surprised to see Naladhu comfortably meet all of the criteria on my basics checklist.
Indeed our Ocean House, despite being the most basic room type available, is one of my favourite villas ever in the Maldives.
So many people are drawn into advertising, thinking that an overwater villa is the ultimate experience, then they realise that there's limited privacy: music and conversations from neighbours are clearly audible, the water by the villa is often only waist deep and people can wade in front of your villa and see you in the bath.
None of that is an issue here. Naladhu offers the most private and relaxing setting that you could possibly wish for. The sound of the ocean truly soothes my soul and here the waves are clearly audible at night, over the sound of the whisper quiet air conditioning. Not only do they provide a wonderful soundtrack to days here, they serve as an auditory privacy shield, ensuring that you never hear the slightest noise from your neighbours.
Our villa also had numerous features that I'd never seen before : an ice cream drawer, an outdoor shower set in a lake, a steam room and of course, countless small gifts left for us throughout the room.
The dining concept is great, pull up a chair any time and eat whatever you want : we'll call it breakfast and it'll be free. Honestly that's hard to argue with.
Service was friendly and well meaning but I did feel like there was something of a language barrier here with a few of the staff. Perhaps this was a result of us visiting so soon after the reopening. It felt during a couple of interactions that we were guiding staff rather than them pre-empting our needs.
If you want to party or have dance music playing by the pool, Naladhu won't be for you (although you can definitely find a livelier atmosphere 5 minutes away by boat at Veli).
Indeed, I'm not sure this is really a resort for first timers in the Maldives. As somebody who has had the very good fortune to visit this remarkable country on many occasions, I appreciate the lagoon, the ease of the speedboat transfer, the privacy and the room hardware.
I'm not overly fussed about dining at 10 different restaurants (though again, the access to the sister resorts gives you the option). I also value the view and the privacy from a villa more than I do the novelty factor of it being completely overwater.
Guests filling out our Maldives Booking form often have completely different priorities – which is why we encourage them to fill it out before we give any advice on which properties to pick!
For me personally though, this is one of the very best options in the Maldives and that daybed on the deck may just be the most relaxing place I've ever experienced…
---
Book Naladhu with Additional Benefits
---
Our clients are able to enjoy additional benefits when booking Naladhu (or any other Anantara resort):
$150 resort credit
Room upgrade (subject to availability)
Early check-in/ late checkout (subject to availability)
Welcome amenity
Prices and payment terms match Anantara.com exactly, with payment taken directly by Anantara. The only difference between this and a direct booking is that you get preferential treatment for being our clients!
If you aren't sure which Maldives resort to book and would like our advice, please fill out our quick & easy form and we'll match you up with your perfect property:
We also have a dedicated Maldives page featuring all of our hotel reviews and deals: