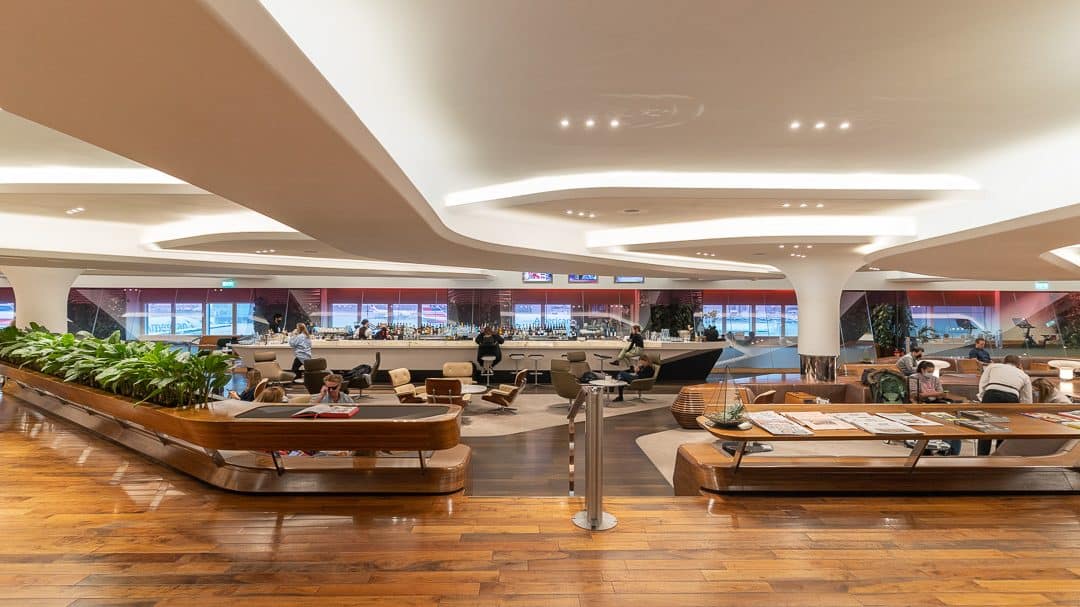 REVIEW – Virgin Atlantic Clubhouse – London (LHR)
May 4, 2022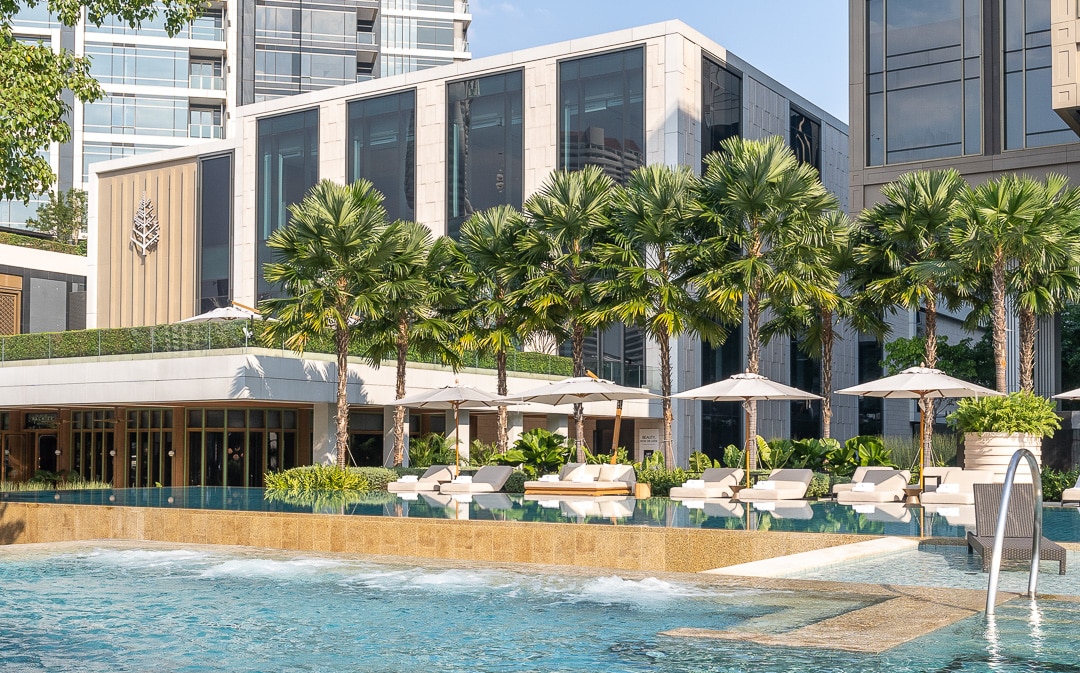 REVIEW – Four Seasons Bangkok
May 24, 2022
Virgin Atlantic (VS)
Flight: VS19
Class: Business Class
From: London (LHR)
To: San Francisco (SFO)
Duration: 10h50m
Aircraft: B787
Seat: 5A
Frequent Flyer status during flight: Virgin Atlantic Gold
Booking type: Cash fare (LHR-SFO r/t for £999)
Flight date: December 2021
---
Intro
---
My first ever luxury travel review was published on flyertalk back in 2013 and later re-published here.
It was a flight on Virgin Upper Class on the A340. Back then I was blown away by the experience, since I only really had economy and a handful of 90s Business Class experiences to compare it to.
Over 8 years later, Virgin are still flying an almost identical seat, when many airlines have private suites with closing doors in Business Class. When I booked these flights they were scheduled to be operated by an A350 with a competitive product but unfortunately there's a huge chasm in seat quality on Virgin. The dreamliners and A330s offer one of the worst seats currently operating in Business Class on any airline.
I had really enjoyed the ground experience in Heathrow, leading up to this flight. The Upper Class Wing and Clubhouse still offer one of the greatest Business Class experiences in the world.
With this in mind, I wondered if the overall experience could still shine despite the old 'coffin' seats…
---
How I booked Virgin Upper Class
---
---
Virgin Dreamliner Upper Class
---
Boarding
Boarding was rather shambolic, with a huddle at the gate area and no distinction between classes of service.
Once we were on board the plane though, things improved. The crew were just as friendly and welcoming as their counterparts in the Clubhouse and the small onboard bar made a great first impression as we turned left into the Upper Class cabin.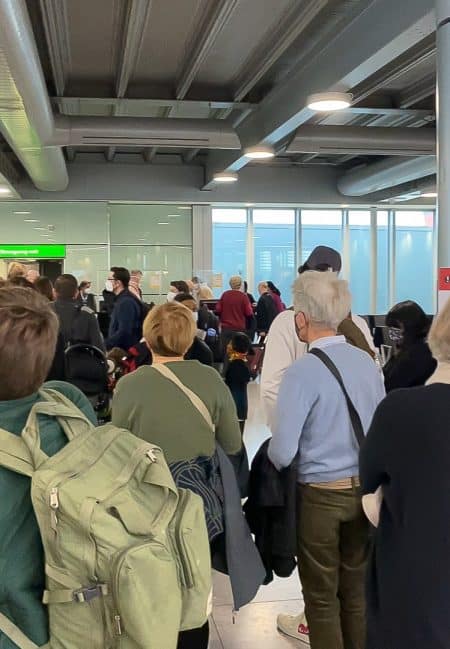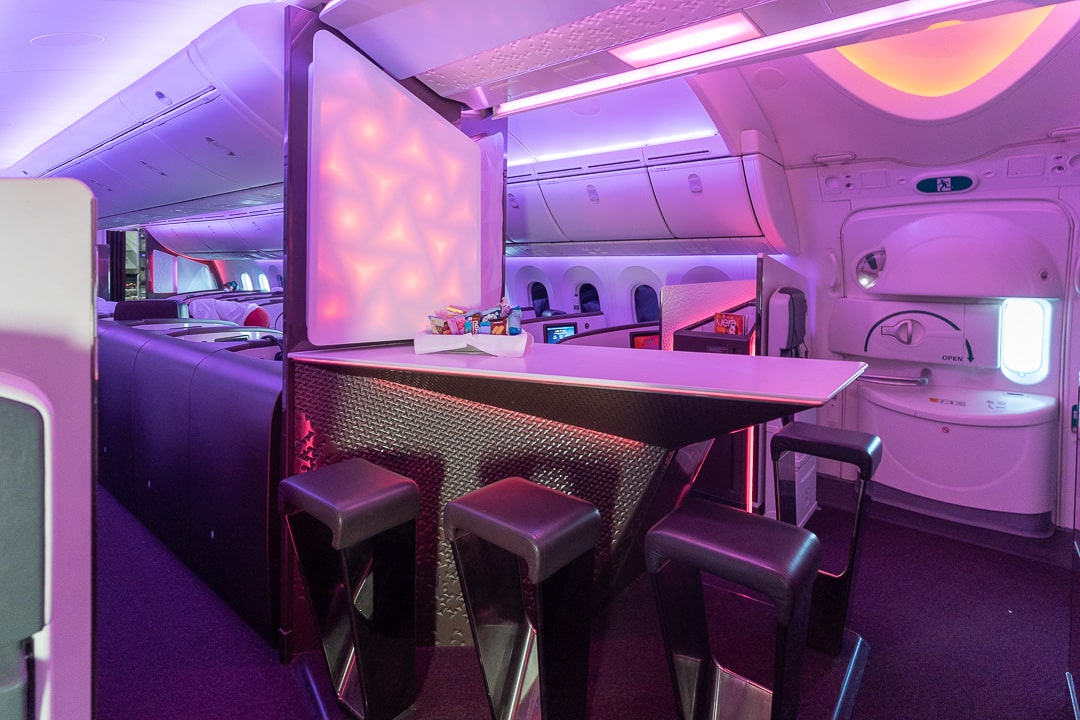 Seat selection
The Virgin Atlantic Dreamliner offers 3 rows of seats in a herringbone formation. The best seats, without question, are on the A side – where passengers face a wall, rather than facing other passengers.
We picked seats 5A and 6A, figuring that it would be a good idea to be neither too close to the galley nor too close to the bar.
A word of warning: Avoid seats in Row 7, as these have no window!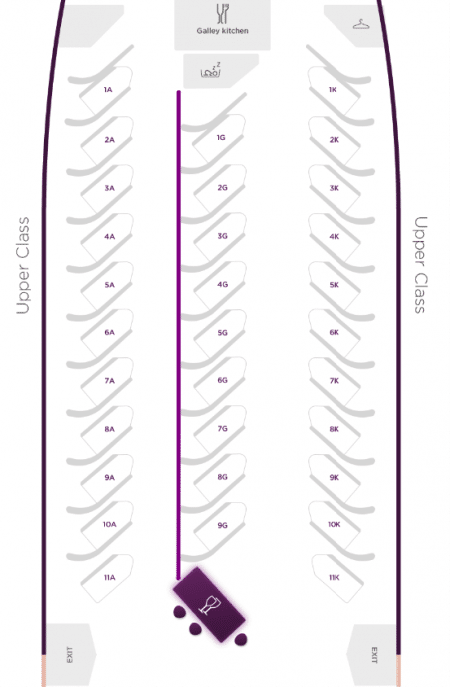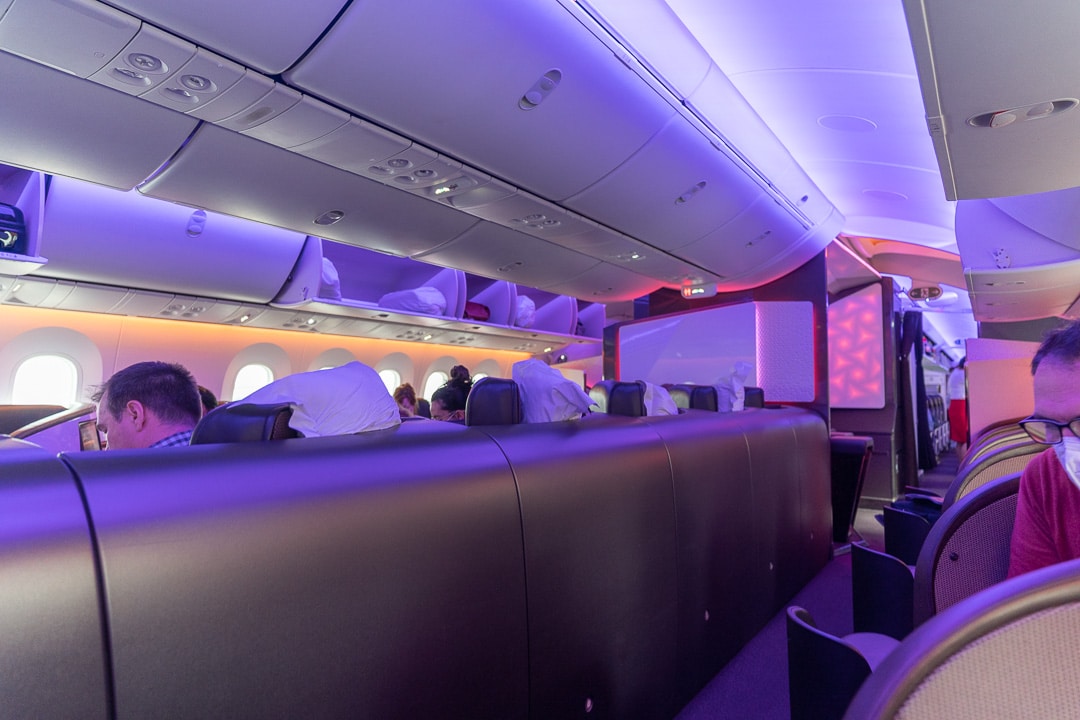 Despite the added privacy of facing a wall, it was jarring to have direct lines of sight to every other passenger in the cabin. Strangest of all was the proximity that we had to neighbouring passengers' heads, that peered up over the very short walls of their seats.
In a seated, upright position it was hard to shift the impression that this was more of a Premium Economy product in terms of overall privacy.
Virgin 787 Upper Class Seat
In addition to the lack of privacy, the seat suffered from both a distinct lack of width and storage space. My shoulders felt quite squeezed in and the right hand armrest was the width of a candy bar.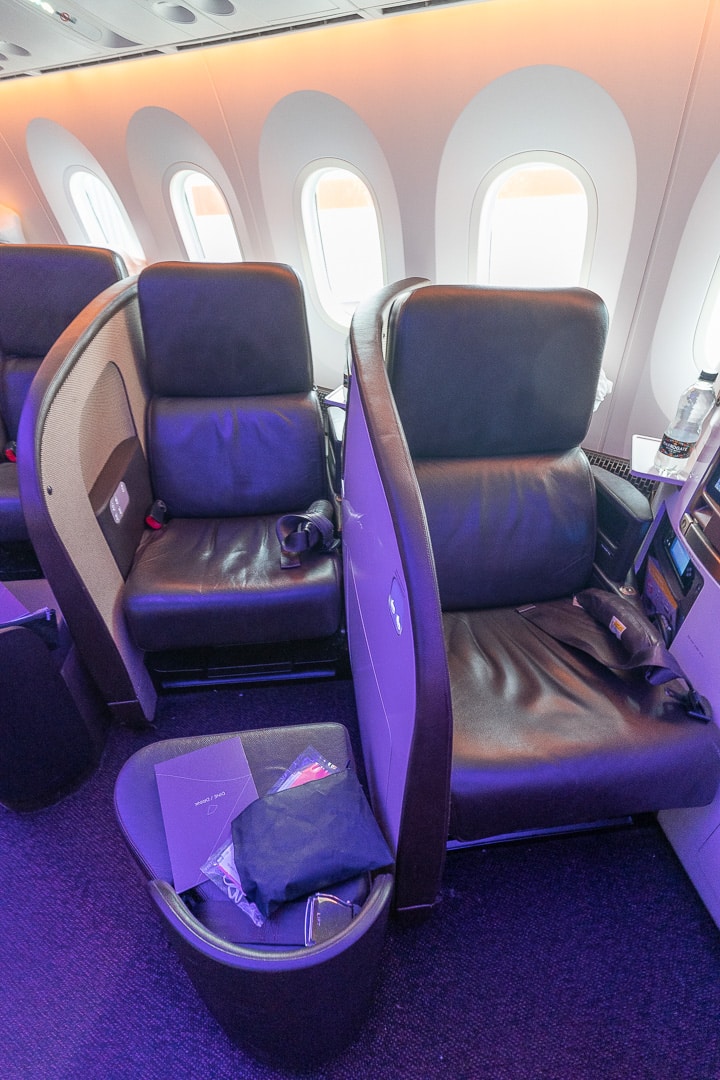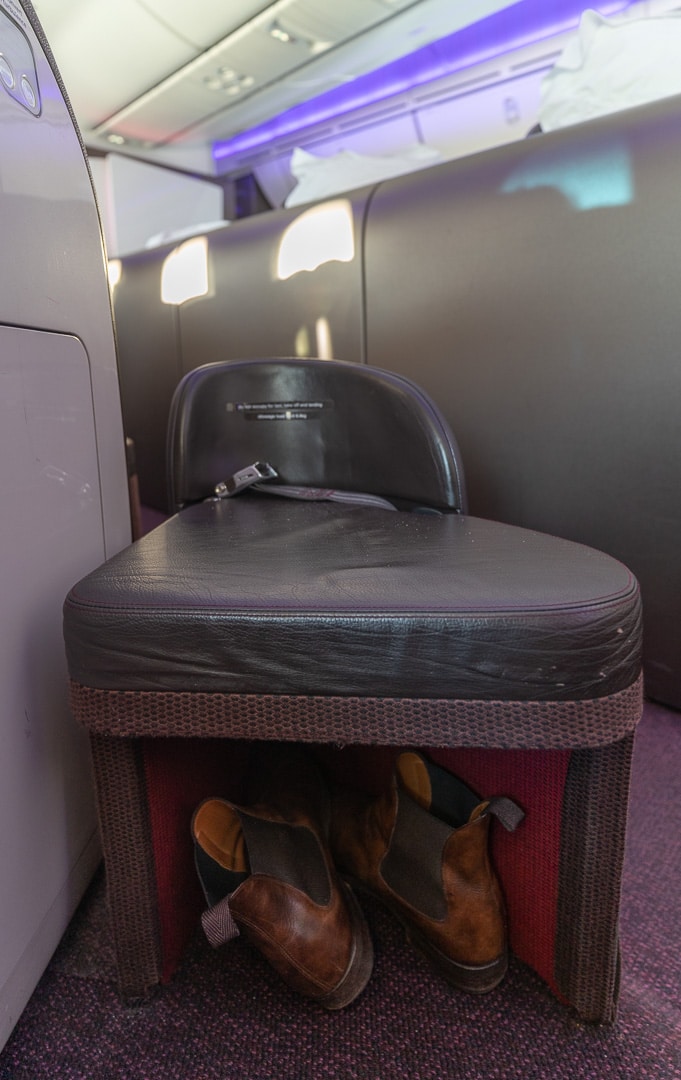 A bottle of water was waiting for me at my seat and this was placed on a small fold out cocktail table, with a push out lamp above it. The image below serves to highlight another major issue with these 'window' seats: they face into the aisle rather than the window.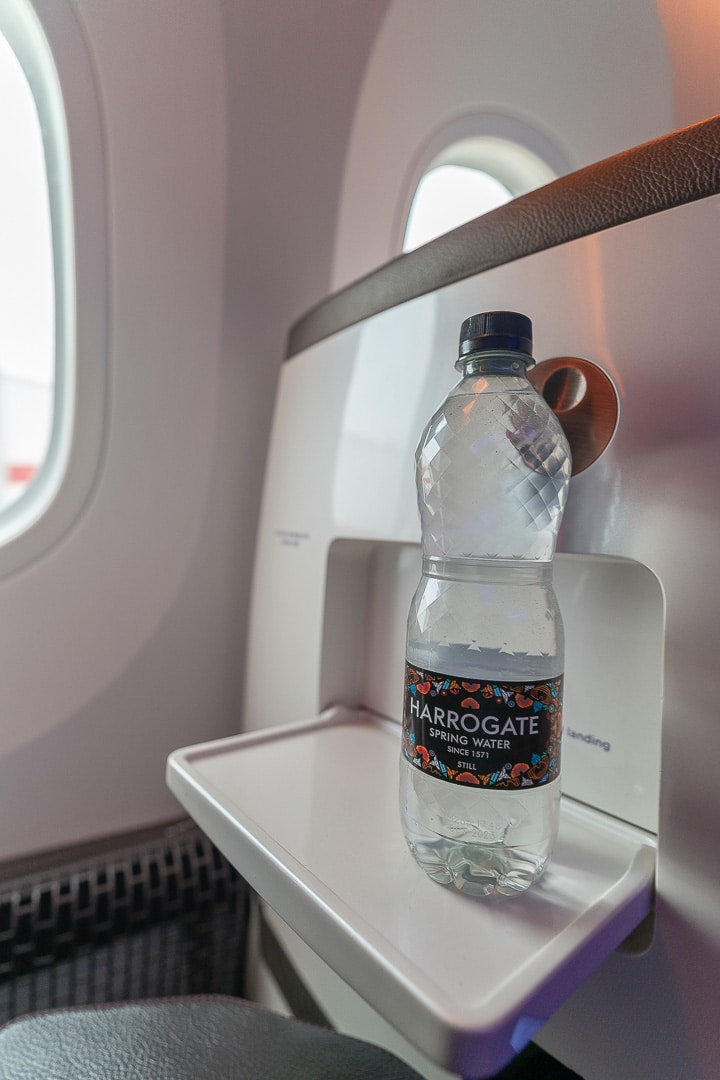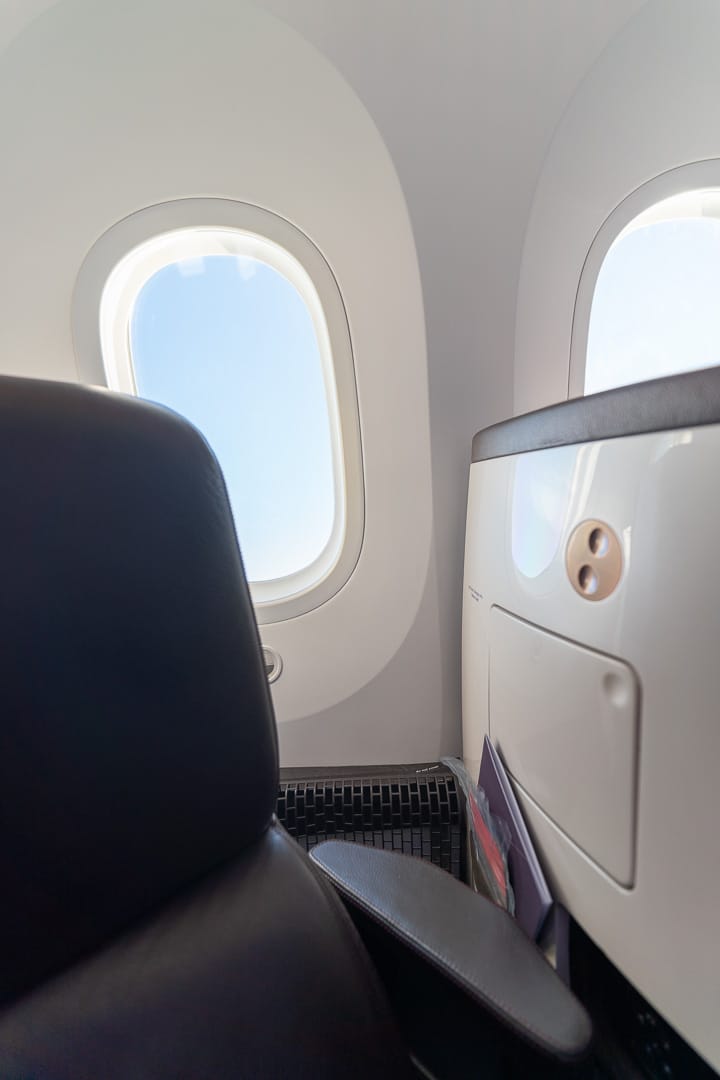 Other than the shoe cubby, the only dedicated storage space was integrated into the left hand armrest and this was barely large enough to fit a phone and a passport. There was also a magazine compartment, just beneath the IFE controller – which featured an empower charging socket.
The overall maintenance and cleanliness left a lot to be desired…
…especially when it came to the rickety ventilation grate next to the armrest. There was enough room to slot a bottle of water between the grate and the armrest. However, you had to be very careful not to place a thinner item here, as it would invariably fall into the wretchedly filthy area below.
Evidently numerous passengers before me had fallen foul of this trap, in a desperate bid to find viable storage space.
The seat featured the smallest in-flight entertainment screen I've seen on any plane in Business Class, although the resolution was up to modern standards. There was also an integrated USB port built in to the screen, next to the headphone jack.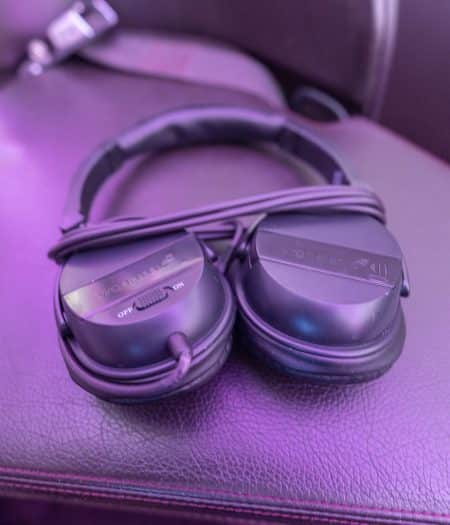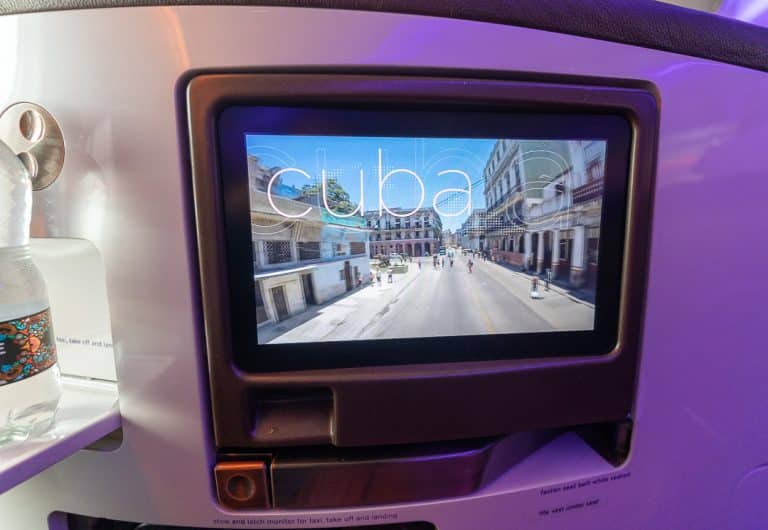 The headphones were very plasticky and cheap feeling, a world away from the excellent noise cancelling headsets provided by American Airlines in Business Class.
---
The Flight
---
In flight service
The crew were very friendly and welcoming during the boarding process. In addition to the bottle of water, we found an amenity kit waiting for us at our seats. We were also offered pyjamas, which is still something of a rarity in Business Class.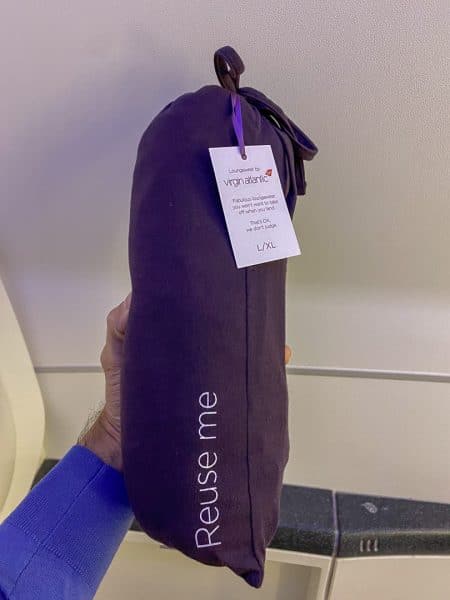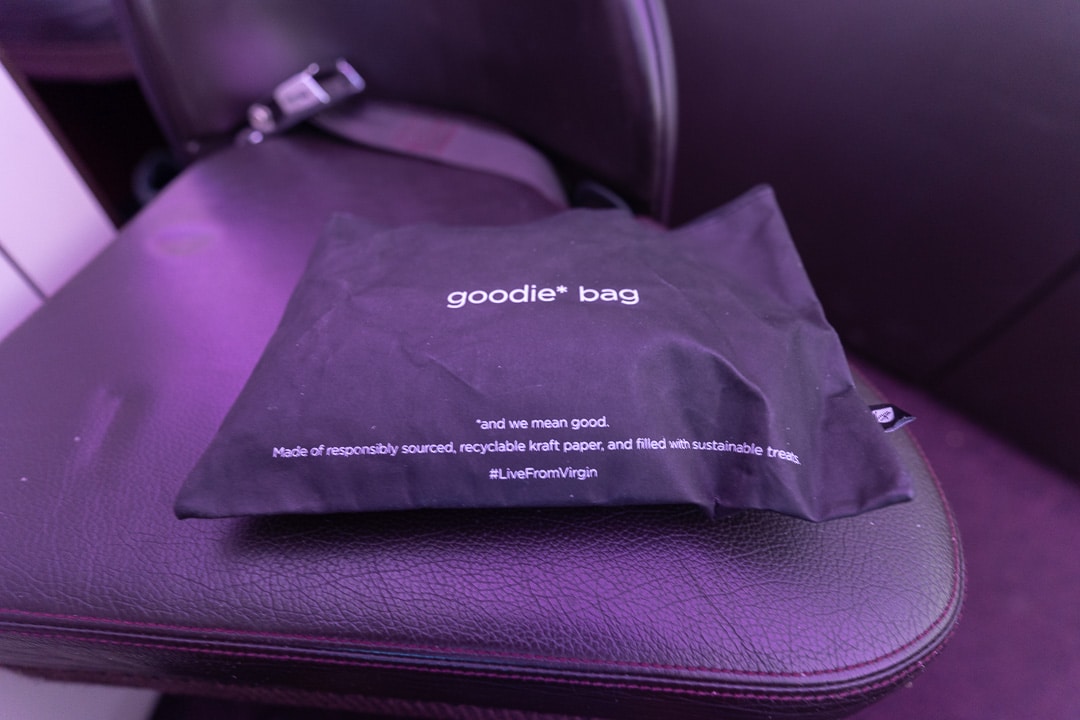 The amenity kit contained actual socks that you'd want to keep (as opposed to the usual tubes with no ankle, given away by most airlines).
Water, champagne and orange juice were also offered from a tray, prior to take off.
Virgin Upper Class Menu
Virgin is almost entirely back to pre-covid catering now and the menu included multiple options for each of the three lunch courses. As of May 2022 this is still not something that British Airways is able to offer.
Virgin made headlines some time ago, when they decided to remove beef from all flights due to the environmental impact. This isn't something that particularly bothers me since airline beef is often cooked to the consistency of boot leather, unless you're flying on ANA First Class.
Lunch
A drinks service was offered prior to lunch being served. Although I was tempted by both the Ayala and the Hambledon (made 5 miles away from my childhood home), I decided to stick with Coke Zero. It felt like I was very much at a tipping point, having enjoyed 3 glasses of champagne and an espresso martini before midday at the Virgin Clubhouse…
I appreciated the fact that the Coke Zero was served in a proper tumbler with full sized ice cubes, rather than the thimble-like vessels used by some other carriers.
Alongside my drink I was served a packet of sour cream pretzels. This seemed like more of an Economy Class snack; many airlines will serve a ramekin of warm almonds or cashews in Business Class.
After the drinks service, trays were brought over with our starters. The trays had a tablecloth integrated into them, as opposed to the crew setting a tablecloth directly on our tables.
A small detail but one which really sets the top carriers like Qatar and Singapore apart from the competition.
The smoked duck breast was very basic in terms of presentation and execution. 5 slices of smoked duck breast from a packet, a few dry slivers of bread, a dollop of chutney and some fennel shavings.
I'm always happy to get a decent amount of protein when flying but overall this dish was very dry and felt unfinished.
I appreciated the fact that each course was served in succession, rather than getting an Economy style tray with all courses presented together (something that many airlines are still doing under the pretence of COVID safety).
The cutlery was full sized and of course the iconic Wilbur and Orville salt and pepper shakers were present too – with crew encouraging passengers to take them home.
I selected the braised pork cheek with cauliflower puree, kale and fondant potato as my main course. Despite the aggressively beige appearance, the food was delicious. I couldn't help feeling that a redcurrant based sauce could have added a much needed dash of colour and acidity though.
I opted to skip dessert since neither the cheese nor the coconut dome appealed much to me.
Sleep
Since we were planning to see Metallica a couple of hours after landing, I figured it would be a good idea to try and get some sleep beforehand.
There are two dedicated Business Class bathrooms on the Virgin Dreamliner (for 30 seats), which meant that there was no wait at all to get changed into sleepwear.
The bathroom was also very generously proportioned, with a separate seat next to the toilet. The all grey colour scheme and factory standard sink didn't exactly scream luxury though.
Toiletries were by Ren, a brand previously used in the suites and club rooms at the Grand Hyatt Tokyo.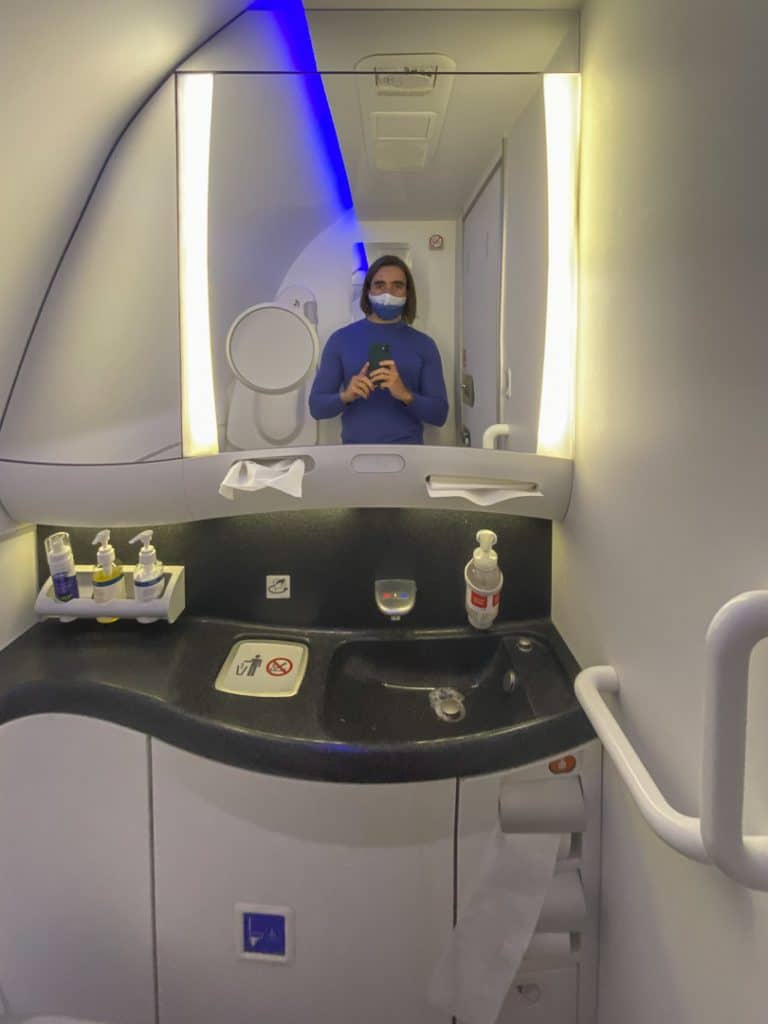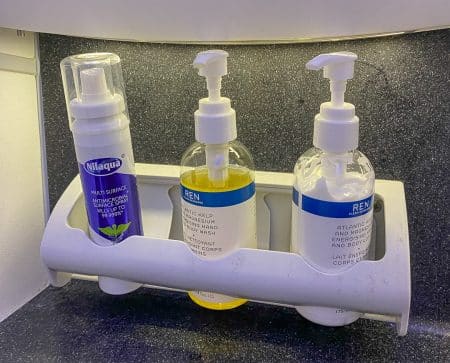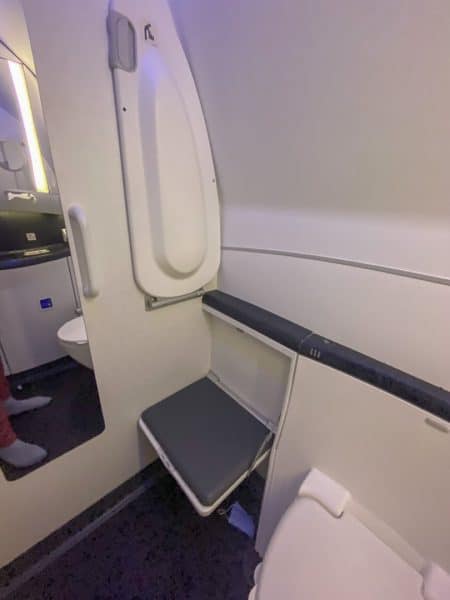 The crew were very proactive in offering to help with my bed. Which flipped down completely revealing a special sleeping surface under the seat (much like the old Singapore A380 seats).
Despite the addition of a thin mattress pad, the surface was still very uncomfortable and I struggled to get any sleep at all. I tried watching TV for a while but the design meant that the monitor's arm kept digging into my legs as I was lying down.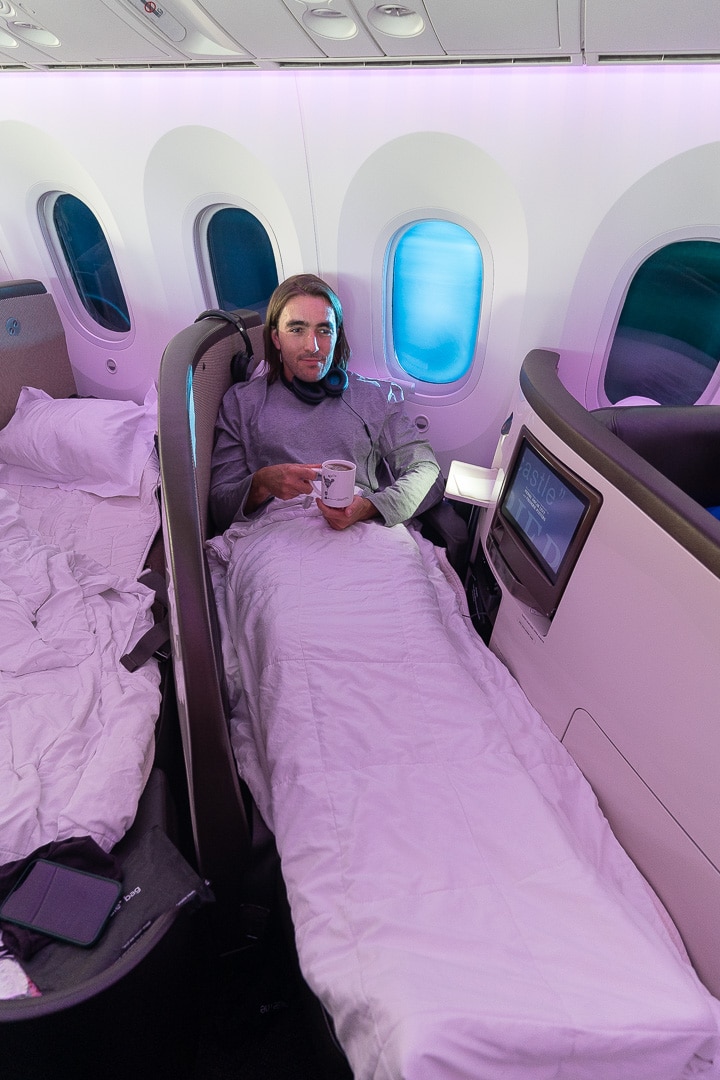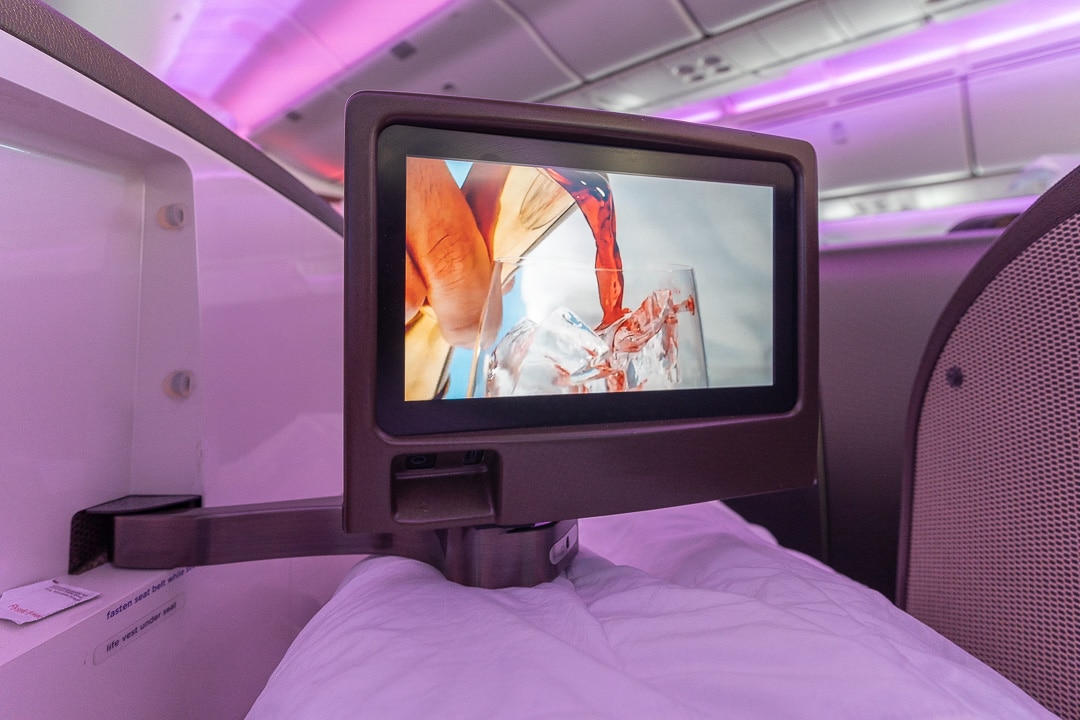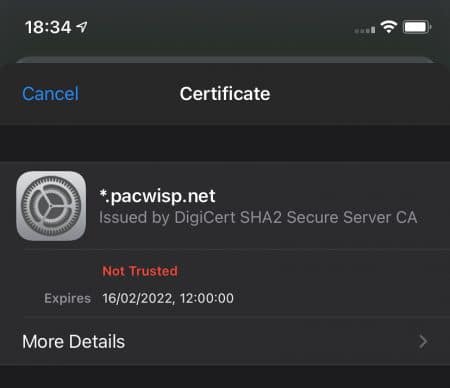 Despite multiple attempts to connect, the in flight wifi just wouldn't work for me – on any of my devices. The crew were really great in trying to help but ultimately they were just as stumped as I was.
We tried every variation of 'turn it off and turn it back on again' before finally admitting defeat. The cabin manager very kindly offered me 20,000 points as compensation as she said she could see that I was a Virgin gold card holder.
This was fantastic service recovery and not something I was expecting at all.
The crew passed through the cabin every 15 minutes or so to check on passengers and around halfway through the flight they offered organic fruit ice lollies.
Second lunch
Around 90 minutes before landing I completely gave up on sleep and asked Kamara if she wanted to head to the bar with me to grab some food.
A small snack basket had been set up but there was no permanent bartender or indeed much uptake from other passengers wanting to use this space.
I figured that this would make for a much more spacious and sociable meal setting than sitting in my little coffin, watching a monitor the size of a gameboy.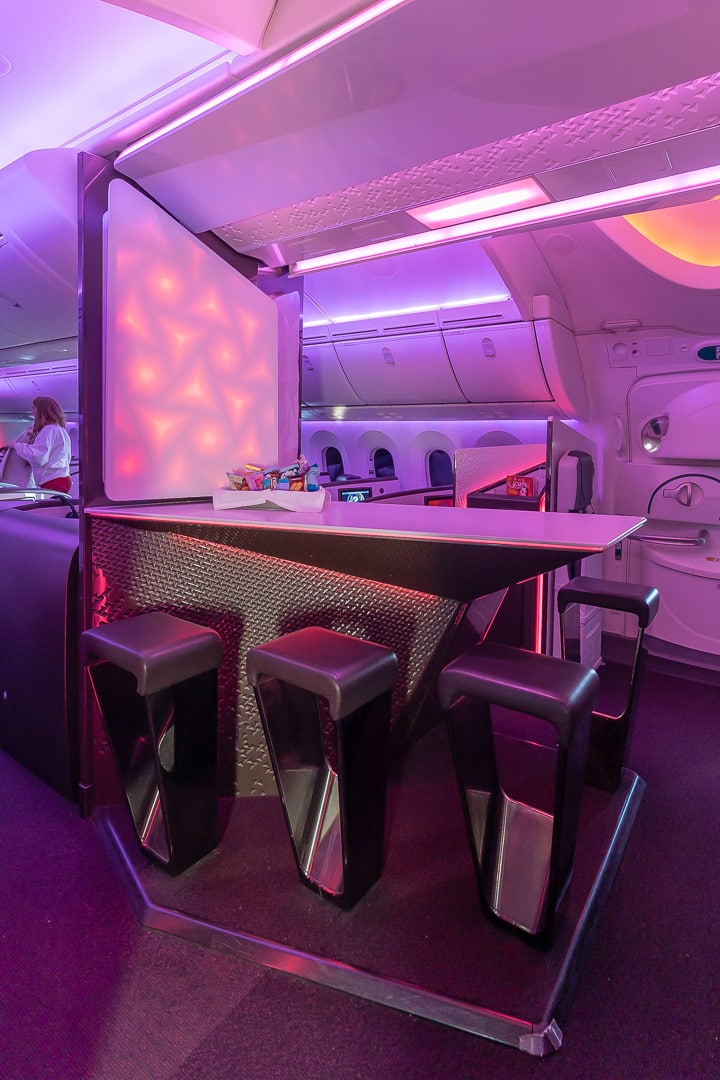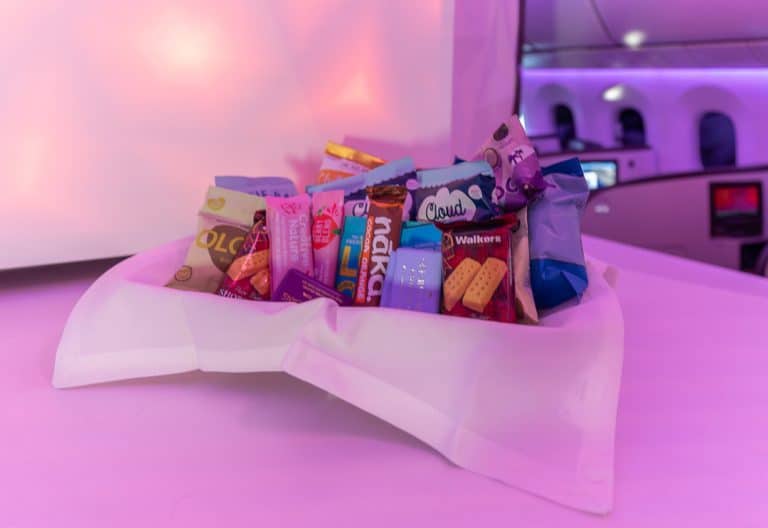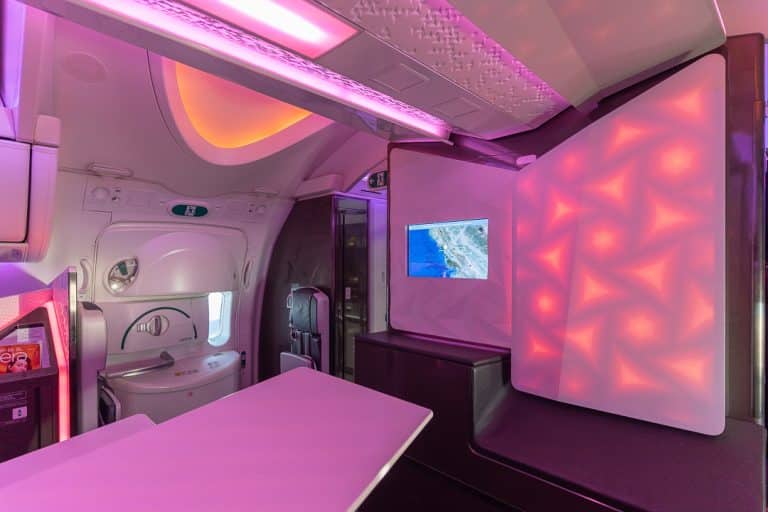 The crew were very happy to set up a meal for us here and commented that it was a great idea!
Kamara ordered the Mediterranean mezze, which much like my earlier main course, were awash in a sea of beige. Kamara picked at a few things but noted that overall the dish was quite dry and not a patch on the mezze served by the likes of Emirates, Qatar or Etihad.
It definitely felt like I made a far wiser choice with the chicken burger, served with a packet of crisps and a chocolate cake. Quite possibly the least healthy meal I've ever seen in my life, especially since I was back on the champagne at this point…but delicious nonetheless.
After this meal it was time to get changed back into regular clothes but I kept the seat down in bed mode for as long as I could, so I could enjoy the views from the window, without the seat getting in the way.
During our final approach I had to carry out quite the act of contortion, to snap this quick picture of the Golden Gate Bridge.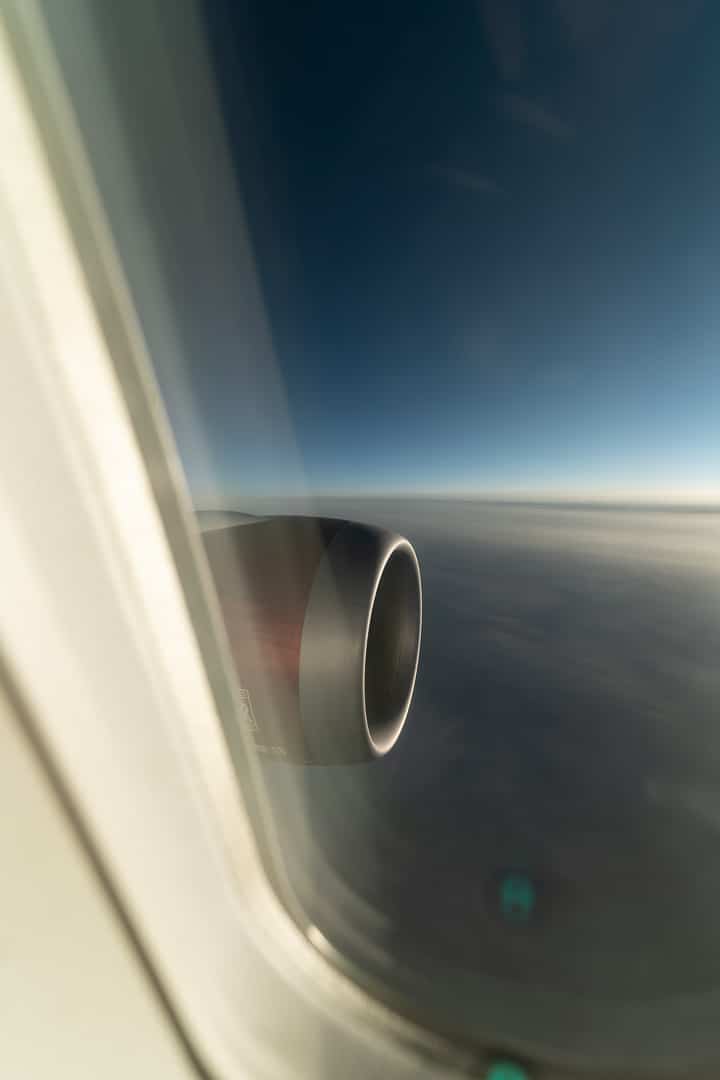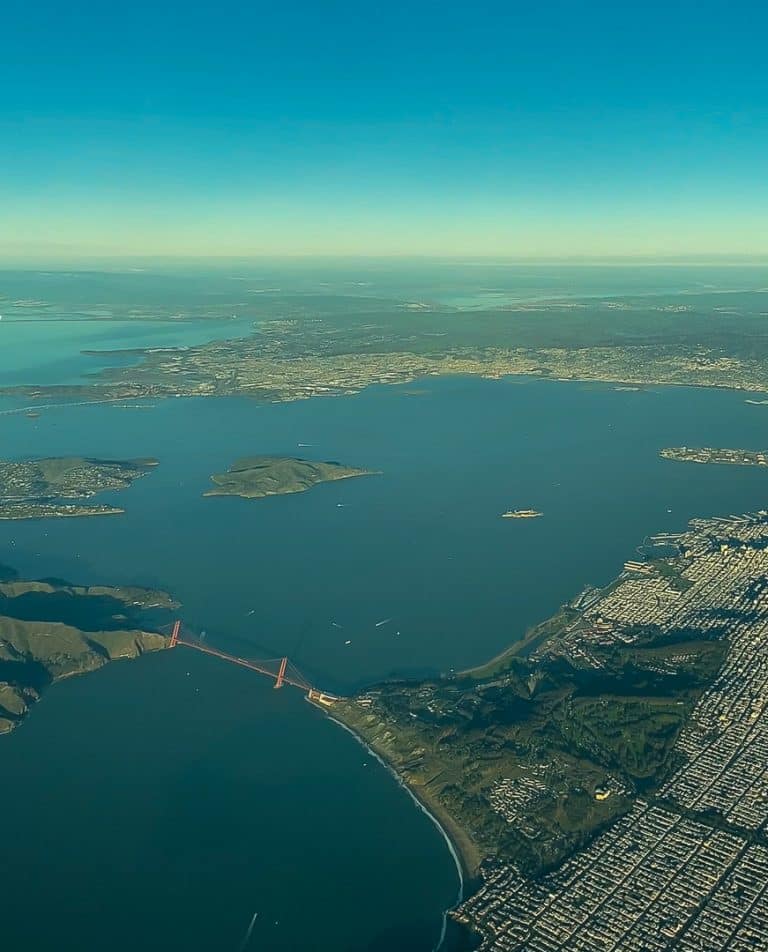 ---
Conclusion
---
Virgin Atlantic have a bottom of the barrel seat on the majority of their aircraft. I can't think of a modern Business Class product that I would be less inclined to fly in than this.
The seats are very narrow, lack storage, are devoid of privacy and are uncomfortable for sleeping in. The IFE screens are tiny and the pull out arm digs into your body when you're lying down. You also can't see out of the window unless you're in bed mode, or willing to risk a minor neck injury.
The onboard bar and purple lighting are all well and good but ultimately do little to make up for the woeful seats.
The crew on our flight were fantastic and also helped to make up for some of the shortcomings of the hard product.
However, I can't help but wonder what it would be like if you were to fly in these seats with a crew that was having an off day.
The fact that Virgin won't allow passengers to retain A350 bookings, when operational issues lead to an aircraft change, means that you're always risking a bait and switch with this company.
You could have paid and booked for a market leading seat with window views, privacy, storage and a large IFE screen… and end up with this instead.
As such, Virgin Atlantic is not an airline that I would currently recommend flying, unless the cost is materially cheaper than the alternatives.