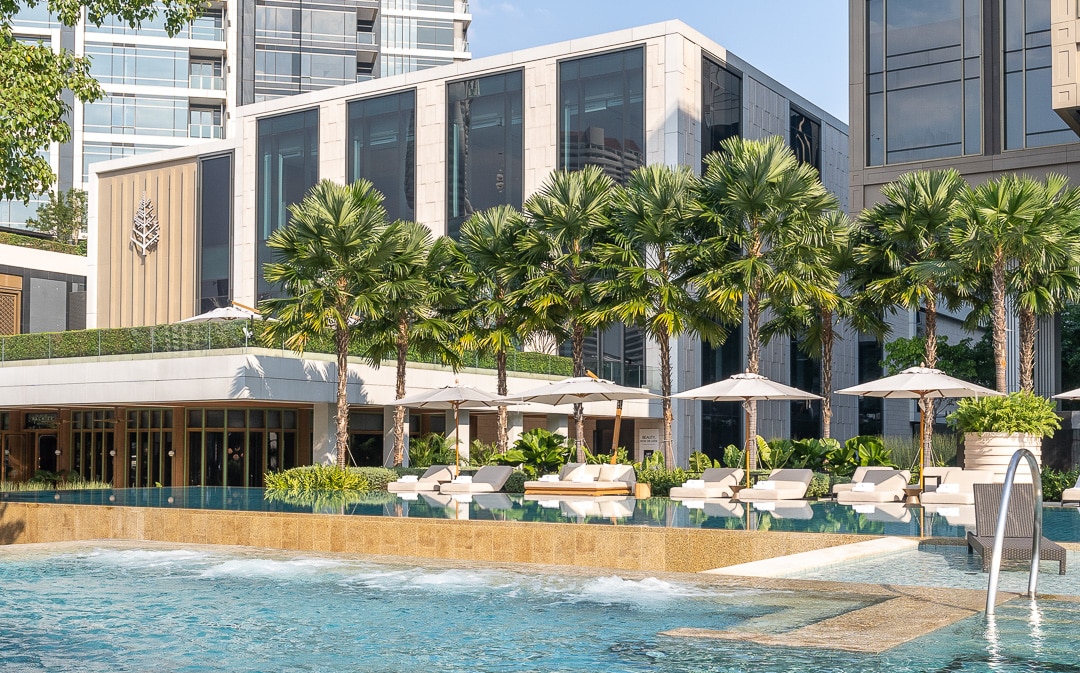 REVIEW – Four Seasons Bangkok
May 24, 2022
LAST MIN OFFER – Incredible Rates on Beach Villas at Park Hyatt Maldives
June 23, 2022
Ritz Carlton Maldives
Room Type: Ocean Pool Villa
Typical Rate: $3300 per night ☔️ season / $3800 per night ☀️ season
Stay Type: Hosted stay
Loyalty Program: Marriott Bonvoy
---
Intro
---
The Ritz Carlton Maldives is one of the hottest new openings in a Maldivian hotel scene which has no lack of contenders, vying for the top spot.
It is one of three resorts that form the Fari Islands development. A series of completely man made islands – created with dredged sand, not unlike many of the construction projects in Dubai.
The other two resorts in this development are Patina and Capella, the latter of which is projected to open in 2025.
Although there are plenty of empty islands in far flung atolls in the Maldives, the appeal of dredging to produce the Ritz Carlton was in creating a resort that is at once close to the airport but also far enough away that it retains a remote feel.
Guests can reach the resort via a 40 minute speedboat transfer from Malé International airport, meaning no waiting around for the famously erratic seaplane schedules.
---
Booking
---
As a Marriott STARS agency, we are able to offer our clients additional benefits when booking the best available rate at Ritz Carlton Maldives.
Complimentary breakfast for 2 guests
$100 resort credit
Room upgrade (subject to availability)
Early check-in/ late checkout (subject to availability)
Welcome amenity
Prices and payment terms match Marriott.com exactly, with payment taken directly by the hotel. Marriott status and points earning will also be recognised as usual.
The only difference between this and a booking on Marriott.com is that you get preferential treatment for being our clients!
Other offers which may be available on your dates include:
enhanced $300 credit
Pay 3 nights, stay 4
Pay 4 nights, stay 5 AND receive complimentary half board (breakfast + dinner)
---
Arrival / Speedboat transfer
---
Anantara Lounge
Since we were moving to the Ritz Carlton after 3 wonderful nights at Naladhu we were able to make use of the Anantara lounge, as we waited for the speedboat to the Ritz Carlton.
As it currently stands, there is no more space for lounges at the existing airport terminal and the Ritz Carlton has already paid for space in the new terminal – which was originally scheduled to open in 2019 but keeps on being delayed.
The delays are something of a running joke in this country. Asking Maldivians when they think the new terminal will open is as good a conversation starter as asking an Englishman about the weather.
These circumstance have led to an unfortunate situation where Ritz Carlton guests have no lounge to wait in for the speedboat.
Our first encounter with Ritz Carlton staff was excellent though; the porters had a degree of polish and English fluency that I've not seen from any other resort in the Maldives. They quickly placed Ritz Carlton tags on all of our bags and diligently stood guard outside the Anantara lounge, as we waited for two other passengers who were arriving by plane.
Speedboat
After a wait of around 10 minutes, our hosts walked us to the speedboat pier, a 20 second walk from the front of the airport terminal.
Despite the $678 per adult price tag for the round trip transfers, make no mistake – this is just a speedboat.
Where the Waldorf Astoria uses Princess yachts with bedrooms, sun decks and free flowing champagne, Ritz Carlton has made do with a speedboat that features some recessed lighting and Bamford toiletries.
The boat featured two main indoor sitting areas, with a bathroom located in between them. Small touches like the Bamford diffuser, lacquered tissue boxes, throws and cushions set this apart from standard speed boats used by Four Seasons Kuda Huraa.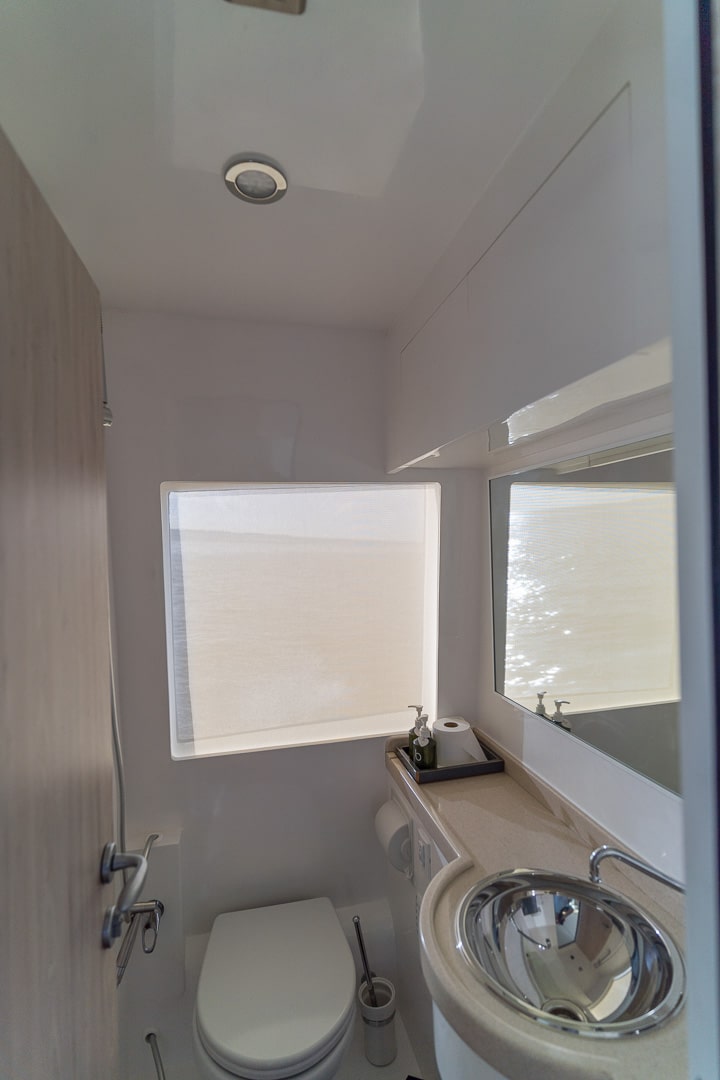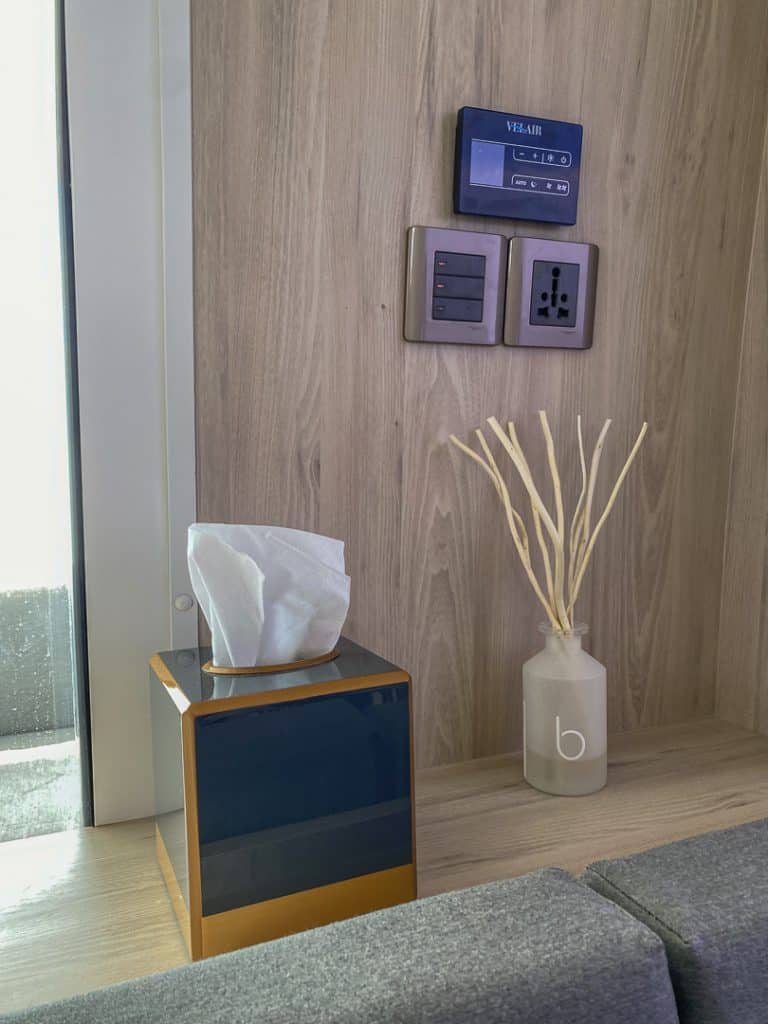 Unlike the staff at the airport, the speedboat staff barely spoke English and didn't even offer water to guests. We had to wander over to the kitchen area and start looking for ourselves before the youngest staff member was sent back to assist us, by the group of 'big boys' at the controls.
Once we were past Malé and in some relatively open water, we decided to venture back for some fresh air (and lots of engine noise!) at the rear of the boat.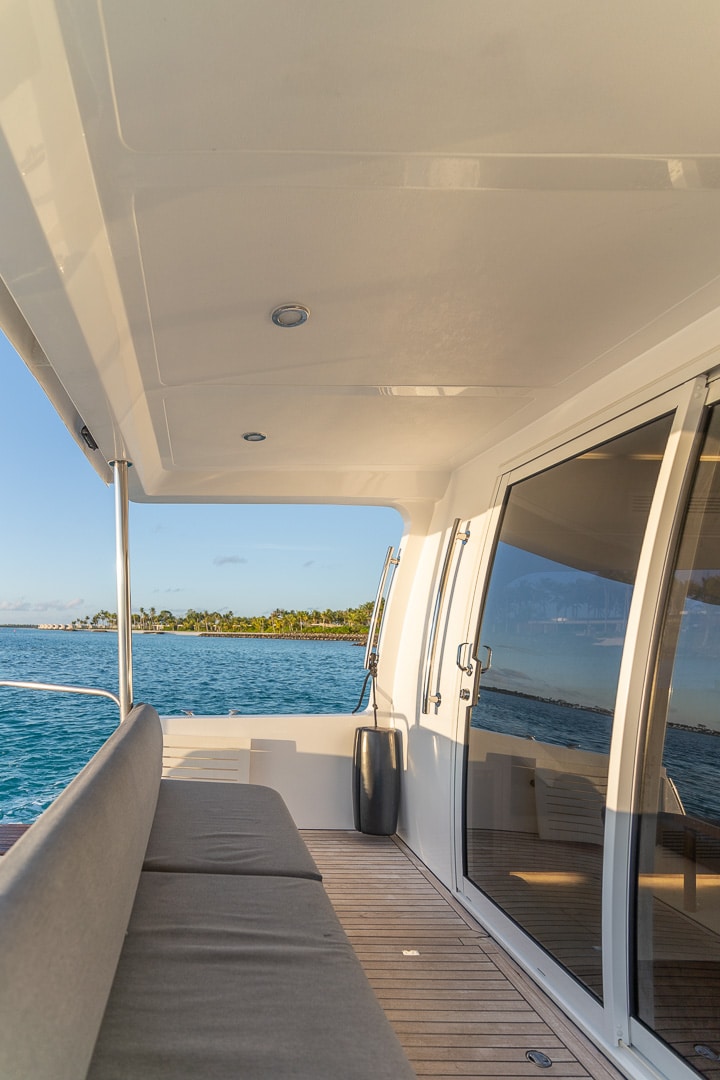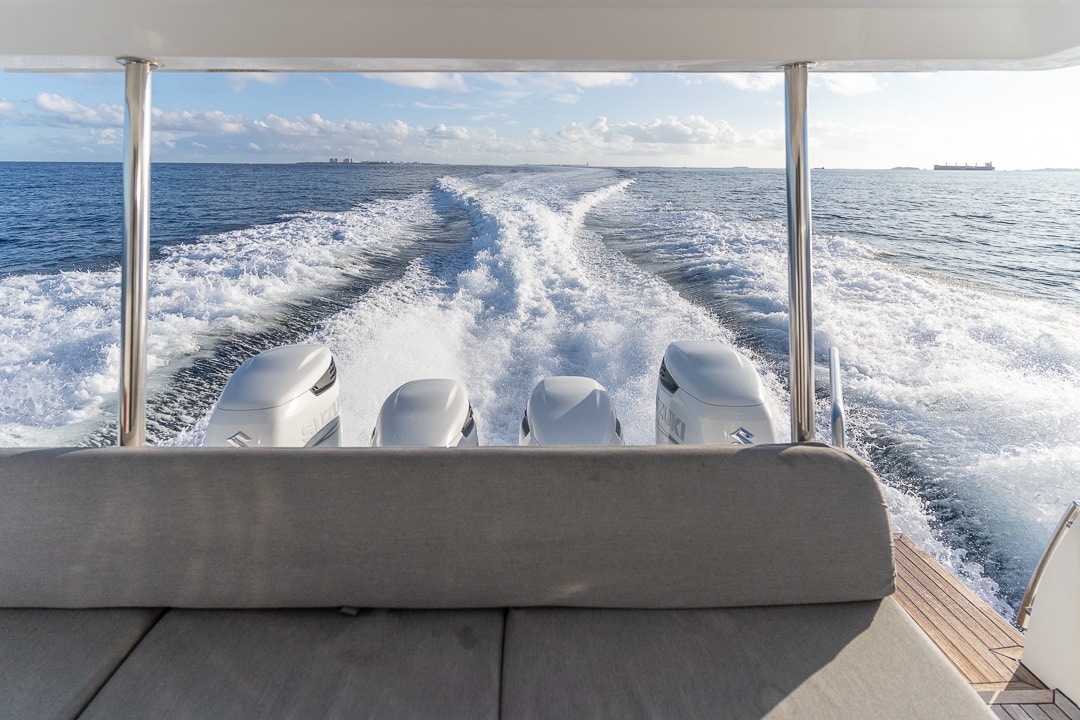 40 minutes after setting off from the airport, we approached the arrival pier at the Ritz Carlton. Where other resorts really emphasise 'island vibes' with dramatic docks shaped like mantas or dhonis, The Ritz Carlton decided to take a far more restrained and minimal approach.
We would soon discover that this concept is echoed throughout the entirety of the resort.
The number of staff on hand to greet us was very impressive, particularly since speedboat service allows for far more arrival and departures each day than a seaplane. Numerous senior staff were pulled away from their duties to form part of the welcome committee.
A high degree of polish and professionalism was once again displayed by all staff, from the moment that we stepped foot on the arrival jetty.
The first person to introduce himself was a softly spoken gentleman by the name of Moosa, our Aris-Meeha (butler). He assured us that he would take care of absolutely everything during our stay. Immediately all of our bags were whisked away, as his colleagues offered us ice cold towels and welcome drinks.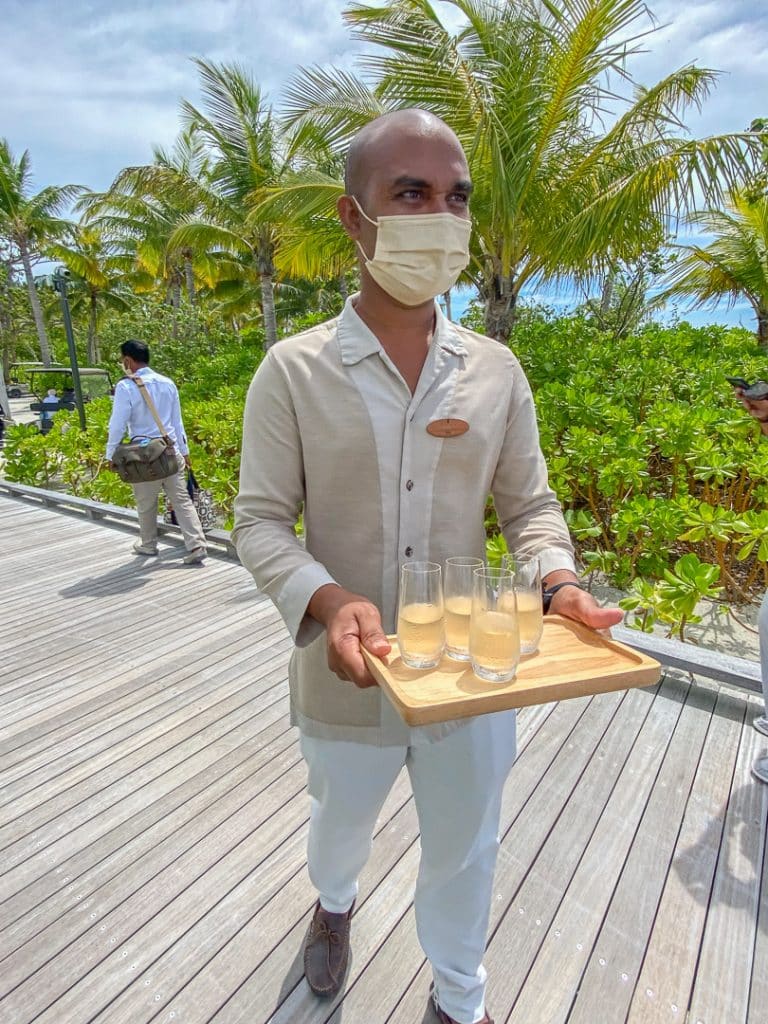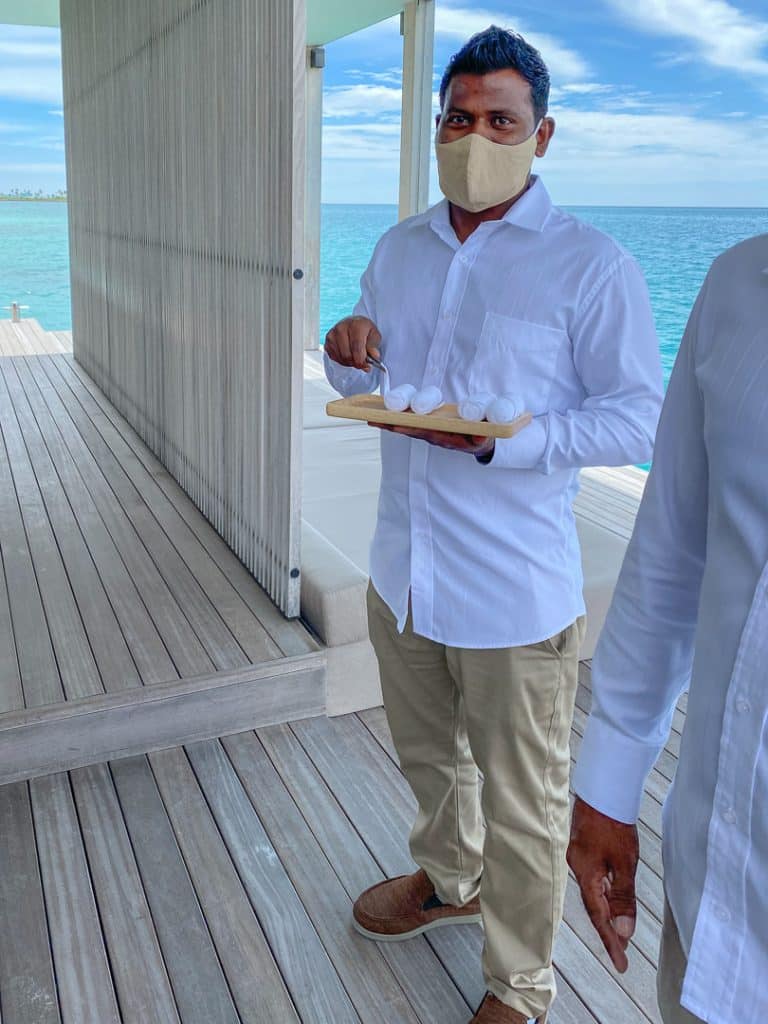 As we made our way towards the end of the jetty another staff member emerged, blowing a gigantic conch shell to herald our arrival…which made me feel like the leader of an orc raiding party.
Check-in
A reception pavilion was located at the foot of the jetty but all check-in formalities took place in our room.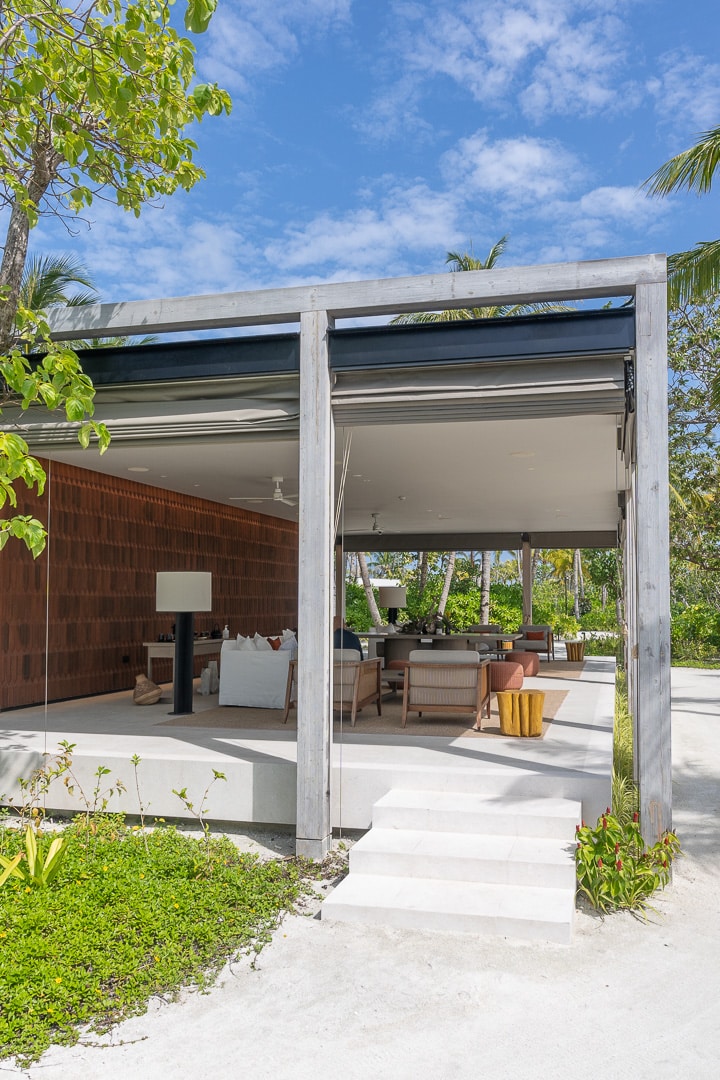 In practice, this space served as a waiting area for people wanting to take the boat over to Patina (or the dreaded boat home).
Moosa had prepared a buggy for us at the reception pavilion and he took the opportunity to briefly explain the layout of the resort as he drove us to our Ocean Pool Villa: 215.
From the arrival pier we crossed onto the culinary island, where the resort's spectacular circular pool is located and from here we continued onto our island, containing villas numbered in the 200s.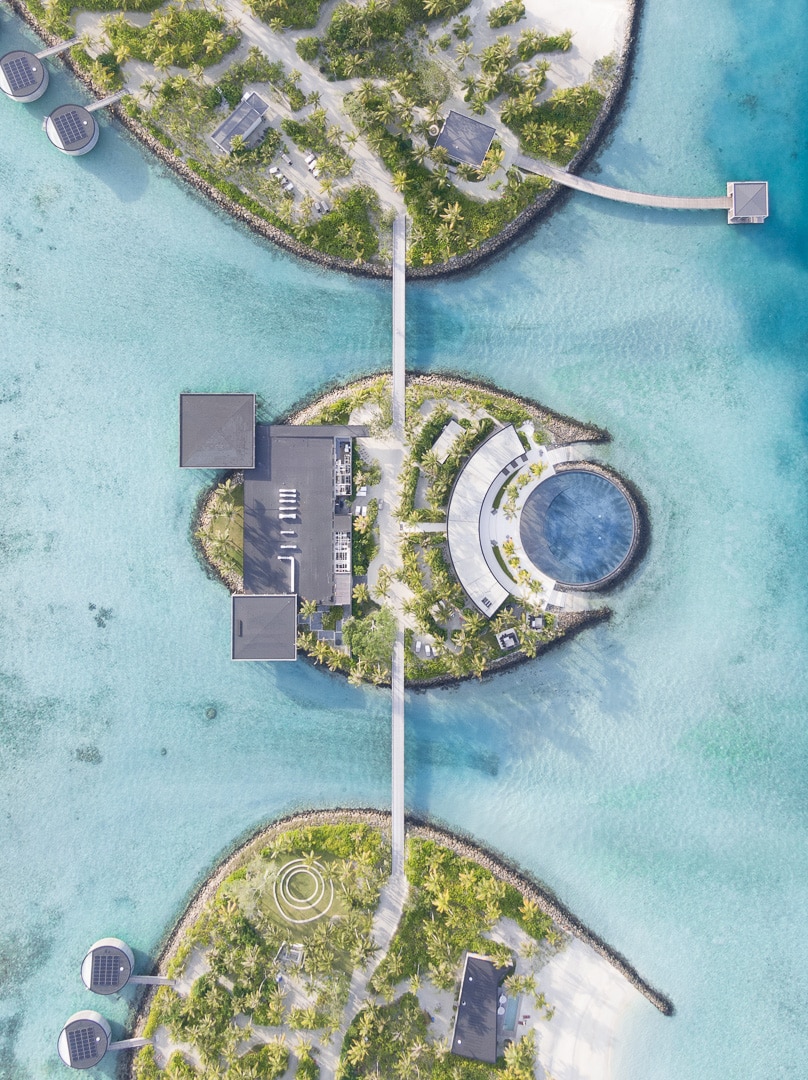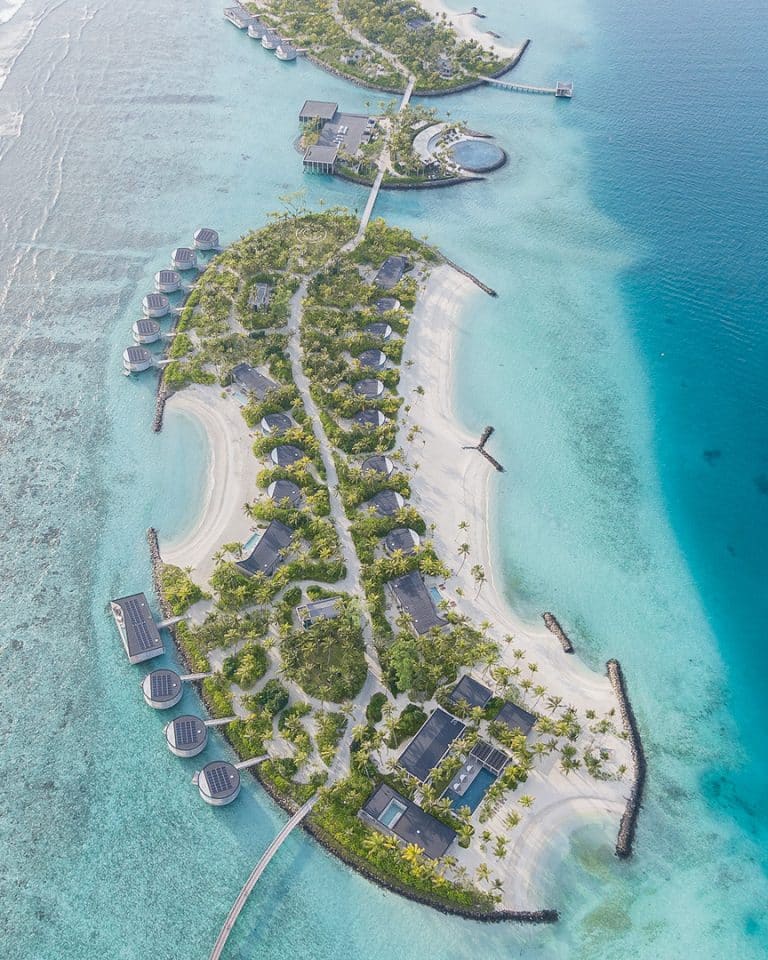 At the entrance to our island was a memorial to the late, great Kerry Hill – after a storied history of incredible architectural projects around the globe: Ritz Carlton Maldives was sadly his last.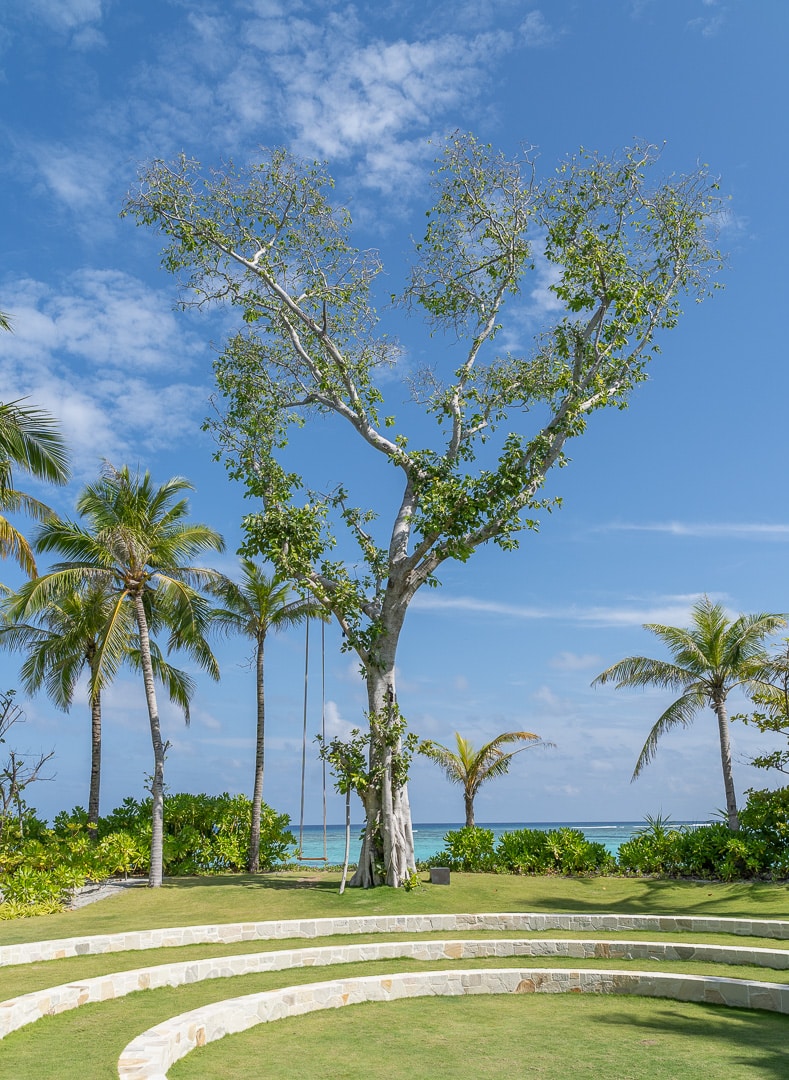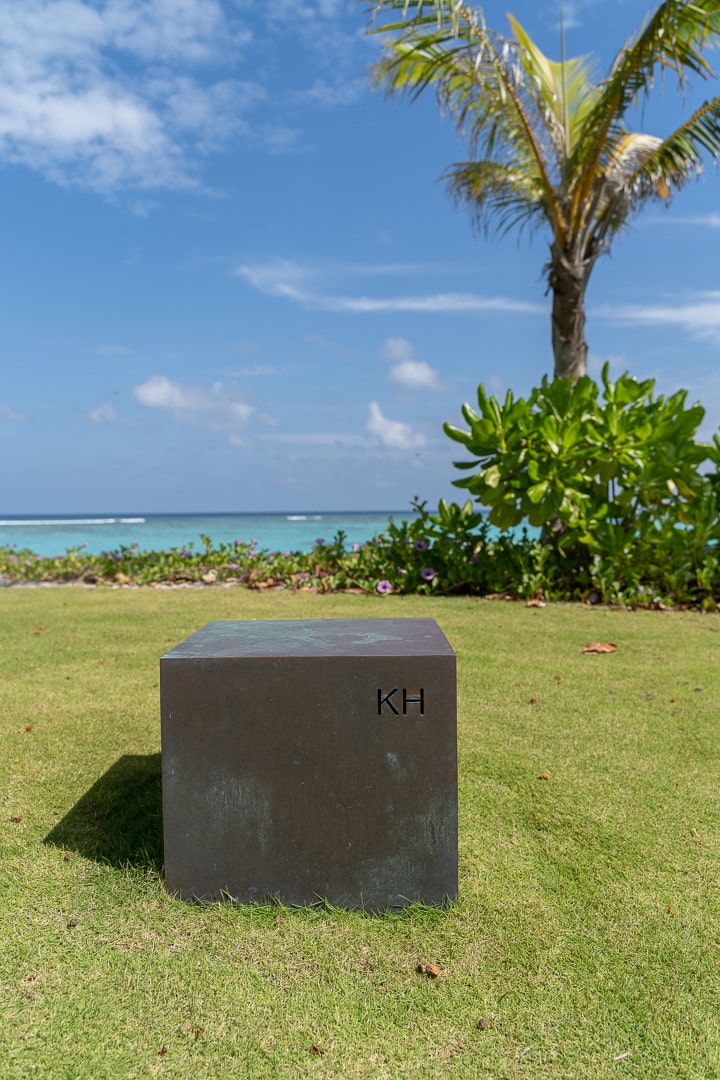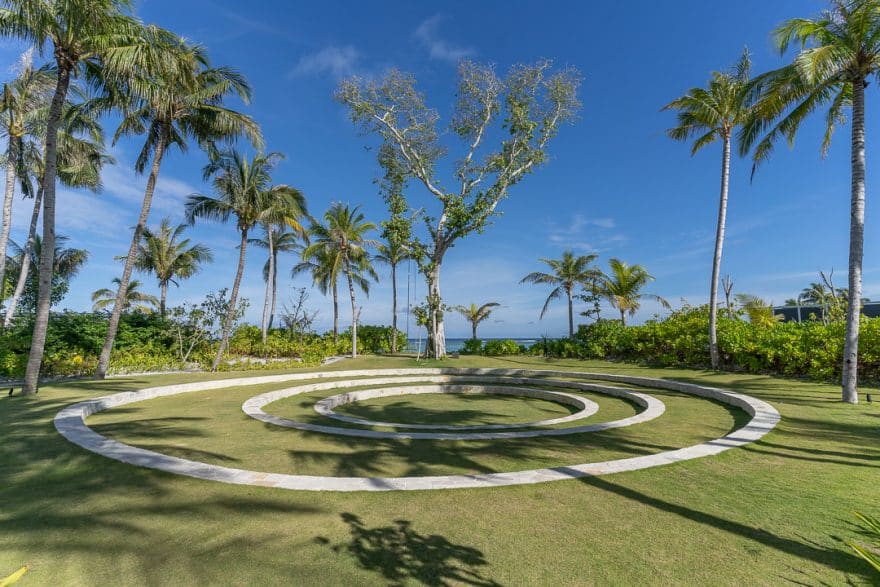 When we first visited the Waldorf Astoria, it was readily apparent that many of the trees had only just been planted. In contrast, at the Ritz Carlton it was clear that a lot of effort had gone into thoroughly landscaping this artificial island, before opening.
Palm trees displayed complete foliage and many had been angled to create some shade on the paths. However, this was still a far cry from the jungle like canopies of dense shade that you experience on natural islands.
Our villa was located at the far end of the island, close to the main overwater villa pier.
In the next section, I'll discuss which factors you may want to consider when selecting a villa at this resort….
---
Villa Selection
---
Resort Map
Please note, North is completely mislabelled on the official map below. In reality the top of this map faces East and the bottom faces West (i.e. the sunset beaches actually face the sunset).
There are two main islands housing Ocean Pool Villas and Beach Pool Villas, in between them is the Culinary Island where numerous restaurants and the main pool are located.
At the far end of the the resort is an enormous overwater pier which consists of half Ocean Pool Villas (sunrise) and half Lagoon Pool Villas (sunset).
If privacy is important to you I would avoid villas on the overwater pier in general, since there are so many of them housed so close together. They are also the furthest from all of the facilities and restaurants (other than the spa).
My one caveat would be the few villas at the far tip of the pier. These are the only water villas that will enjoy sunlight throughout the day, as opposed to being limited to either morning or afternoon.
I would also specifically avoid the entire Lagoon Pool Villa category. These villas see constant boat traffic passing in front of them during the day. We could easily see into people's villas when taking the boat to and from Patina.
Similarly if selecting a beach villa, my preference would be to take a villa on one of the small coves, rather than the sunset beaches.
You'll not only have a much smaller and more private beach in the east facing coves – you'll also have access to a reef for snorkelling.
We stayed in an Ocean Pool Villa that was directly attached to the smaller of the two main islands. Conceptually I always prefer these types of water villa as they enjoy the benefits of the overwater view, whilst still being much closer to hotel facilities than those built on long piers.
[Note – At Waldorf Astoria Maldives this type of villa is its own category: Reef Villa.]
I would caution though that a few of these Ocean Pool Villas were lacking in privacy (ours included).
Ocean Pool Villas to avoid:
212, 215, 216 – these are overlooked by the main overwater pier. Buggies and bike riders could look into our villa all day and night.
100, 101, 102 – the pools of these villas are clearly visible to people eating at La Locanda.
---
Ocean Pool Villa
---
Floor plan
Room Tour Video
View this post on Instagram
Entrance
All guests at the Ritz Carlton Maldives are provided with their own bikes, although buggies were also available within no more than 15 minutes, whenever we called for one. Since our villa was close to land there was plenty of space in which to park bikes and turn a buggy around.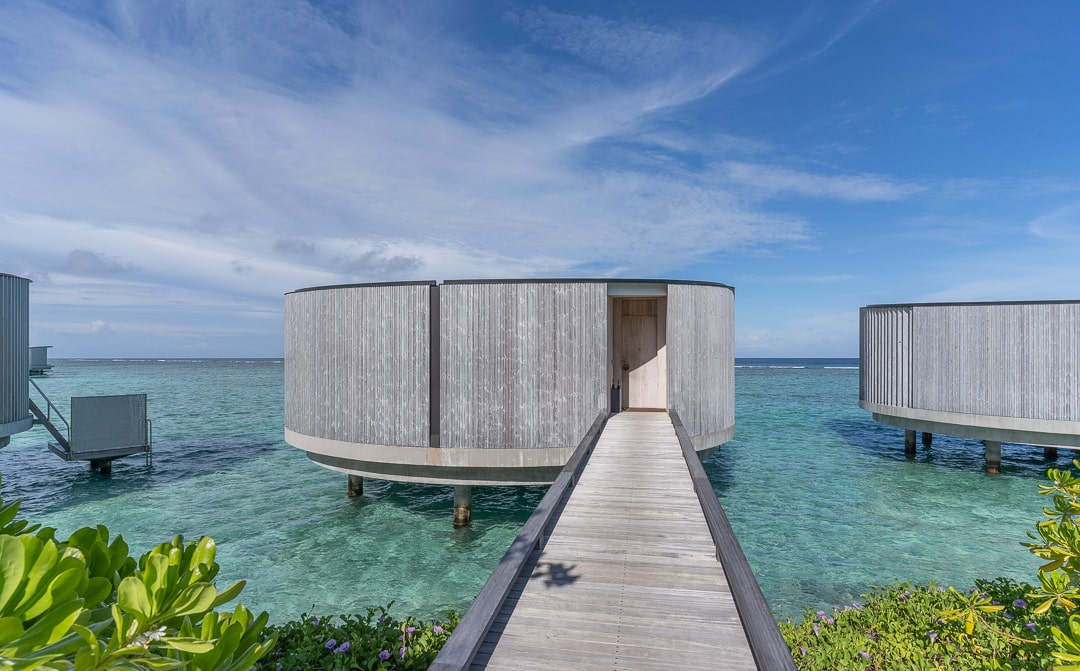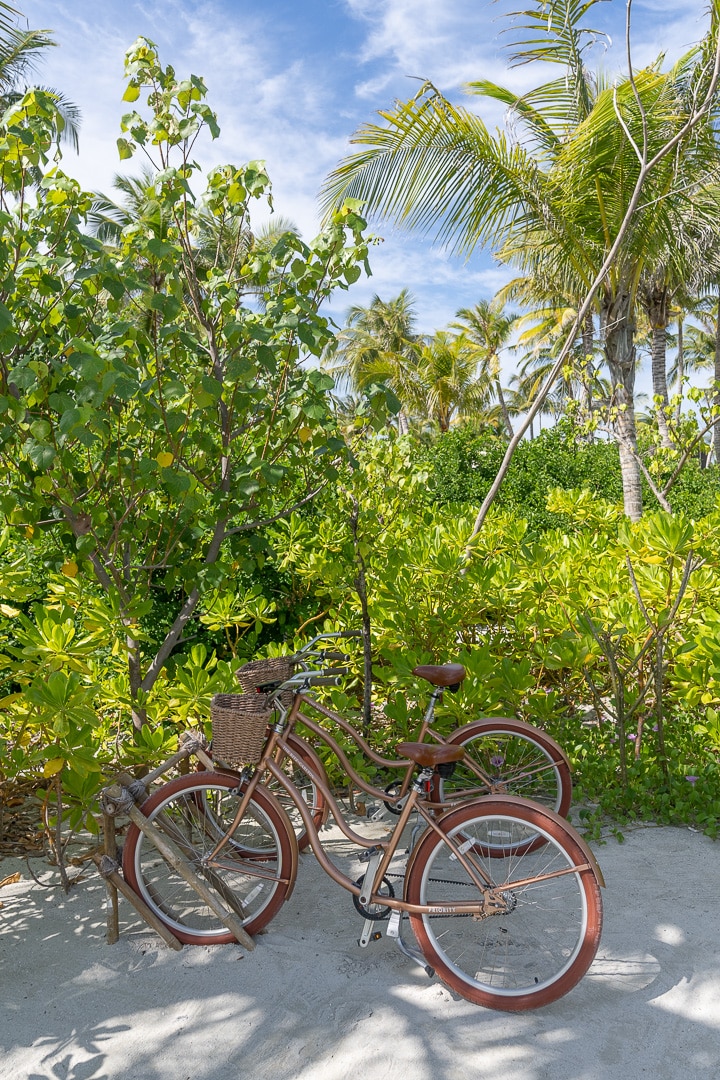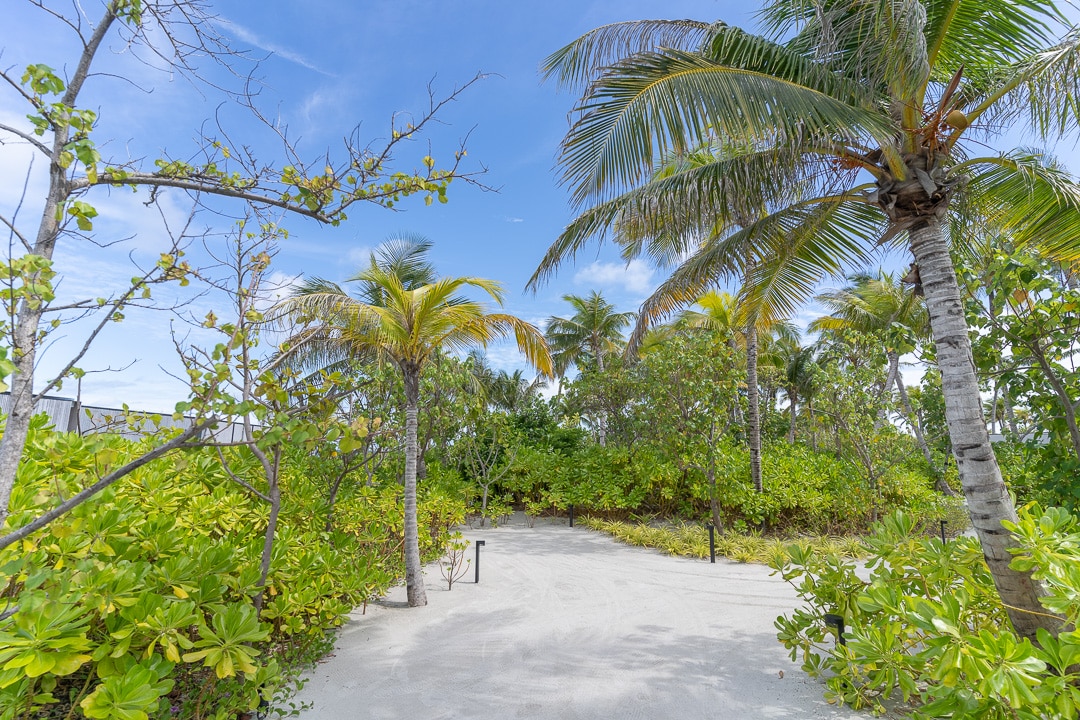 From the outside our circular villa was very striking, a radical departure from the island themed architecture that one usually sees in the Maldives.
As we approached, the quality of the finishes was immediately apparent. Every slat of wood was perfectly sanded and not a single nail was visible. I transpires that the villas at Ritz Carlton Maldives were all pre fabricated and shipped over in an almost complete form, in order to reduce the construction impact on the local island.
The overwater and beach villas are identical inside, with the only difference being the location in which they are set.
Bedroom
As we first entered the villa my jaw almost hit the floor. I've had the good fortune to stay in a great number of properties throughout the Maldives but all too often the design at the top end is focused on size above all else: oceanic McMansions.
The design of our villa at the Ritz Carlton was the antithesis of this. The perfect amount of space for two people to spread out in, without feeling overly separated from one another.
The gentle upward slope of the ceiling served to cleverly draw our eyes out towards the impossibly blue horizon beyond.
Meanwhile, the gigantic pocket doors that opened the bedroom onto the ocean, were without question one of the most impressive pieces of design I've ever witnessed in my travels (even if we generally kept the doors shut for the sake of the air conditioning).
The design of the bed's headboard, with wings around the bedside tables, was highly reminiscent of the beds at the Ritz Carlton in Kyoto.
The bed was very comfortable and a variety of different pillows were on offer. We ended up ordering buckwheat pillows in addition to the four feather pillows initially provided.
Each bedside table featured a full complement of universal power sockets, USB ports and clearly labelled light switches. Although this was really just the tip of the iceberg in terms of the careful thought that had clearly gone into the ergonomics of the room.
The bedside tables each featured a slim drawer for storing items, with plenty of empty space left underneath.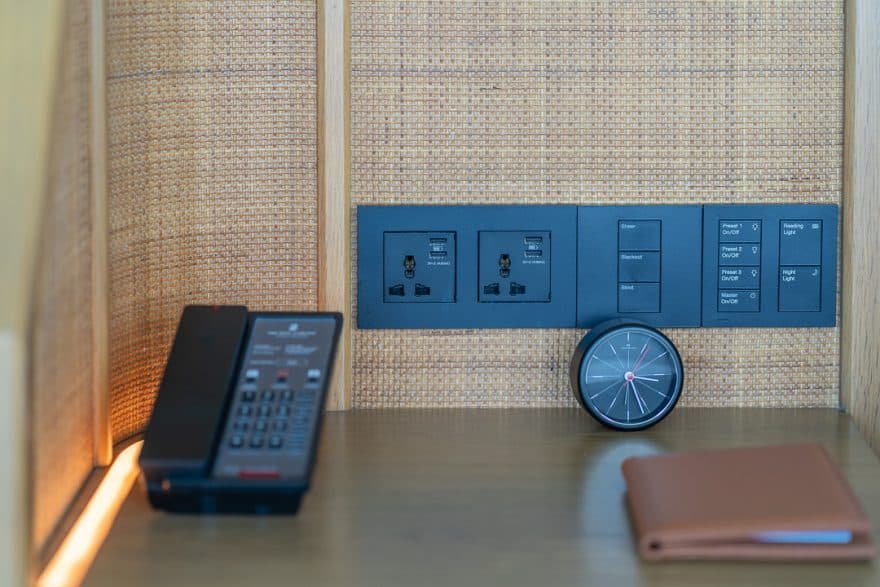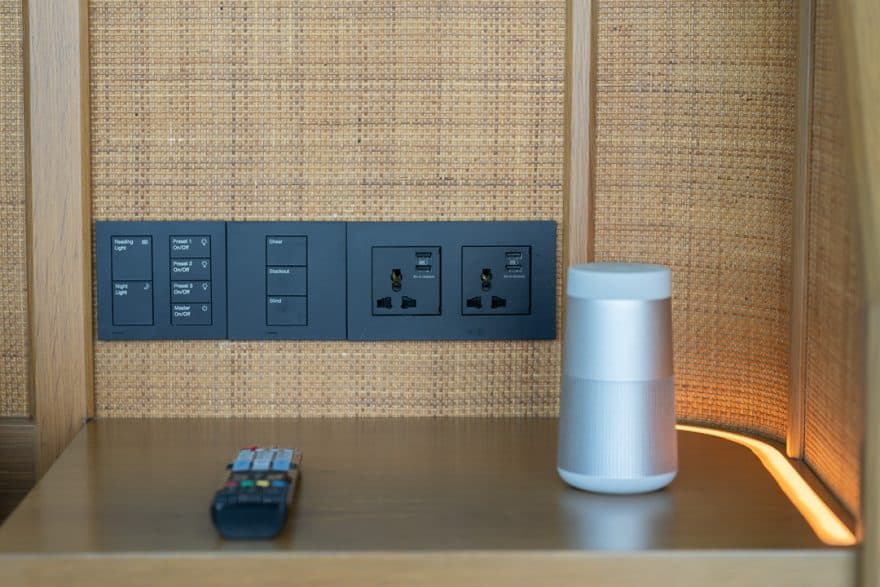 Elegant curves featured throughout the room design, with the resort's circular motif given particular emphasis.
Next to the bed was a beautiful marble bathtub. Some may think this an odd choice of location but a bathtub on the deck makes less sense in my opinion, as outside is always far too hot (and anybody swimming outside can see you). Inside the bathroom there was no space and no view.
Even with the AC on, once inside the bath, the temperature was perfect and it was great to be able to just jump straight into bed after a soak.
I found the bath to be particularly suited to a rainy afternoon, when we didn't need the AC at all and outside was miserable. Enjoying a hot soak whilst watching the downpour was a very relaxing way to pass an hour.
Sitting Area
Immediately adjacent to the villa's entrance door was a very cosy sitting area. Once again this reminded me of our room at the Ritz Carlton Tokyo, which featured an Engawa section clad in blonde wood, with a pull out TV and orange toned recessed lighting.
A very elaborate welcome spread had been prepared for us including a fruit bowl, a basket of dried fruits and nuts as well as various different desserts.
My favourite part was the chocolate and caramel cigar, which I could pretend to smoke – like a grown up.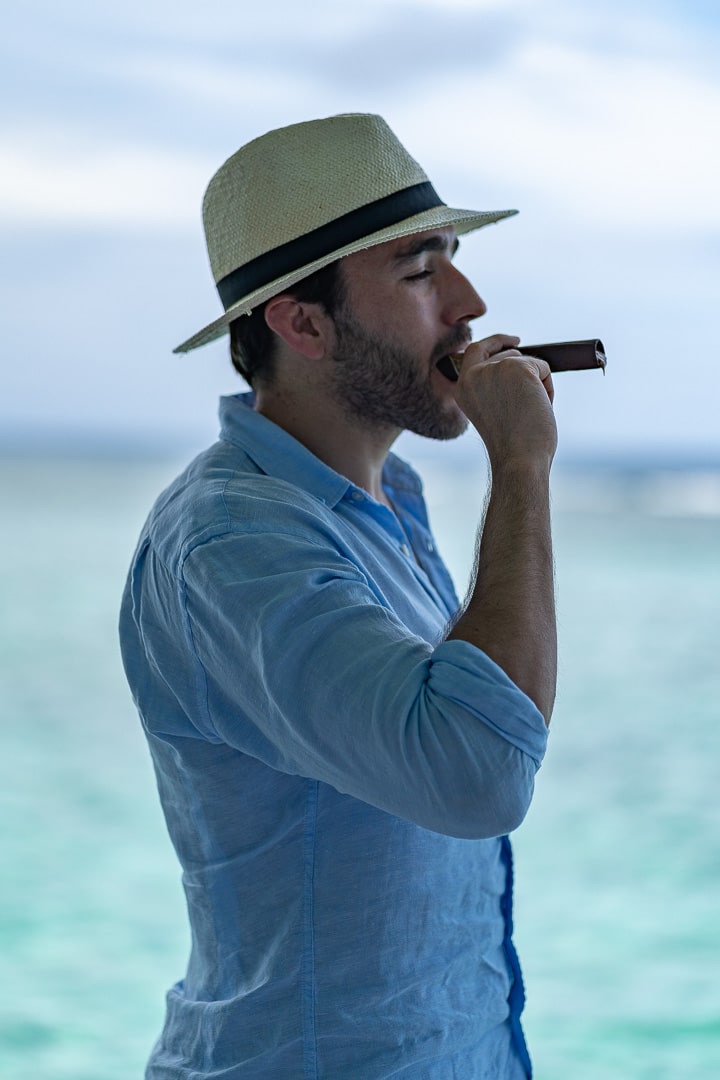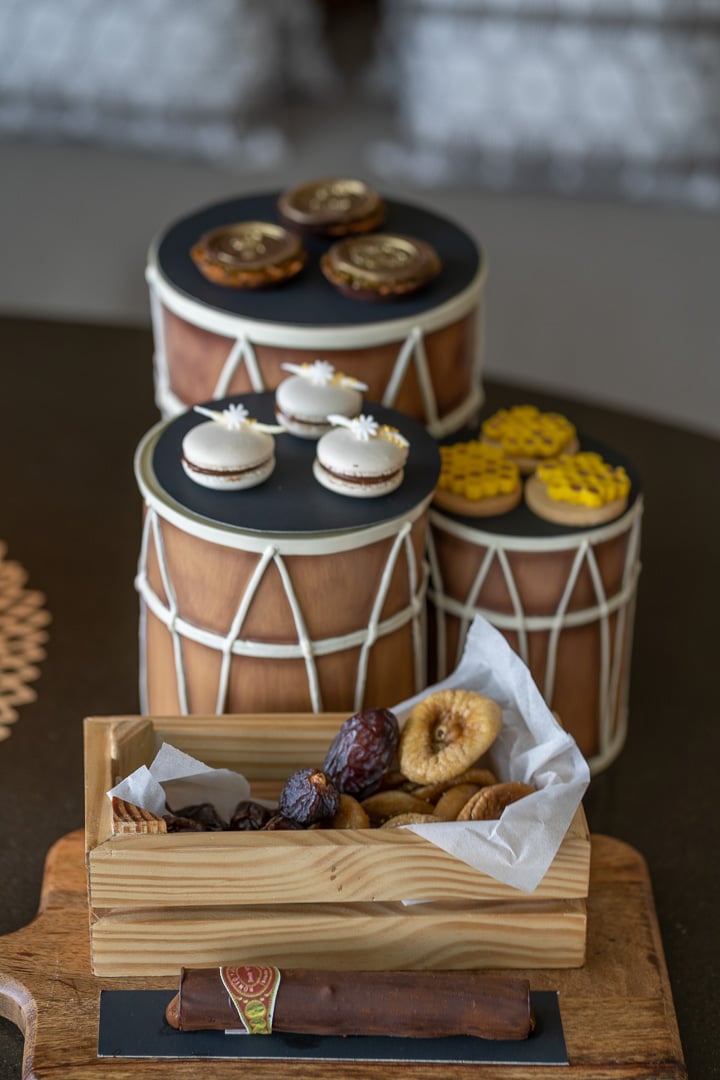 I was less keen on the Prosecco; honestly for a resort at this price point I'd expect a bottle of champagne. Even something like Feuillatte would make a better impression than a bottle of Franciacorta. Despite telling the property that I was allergic to walnuts, we were also given a walnut heavy jar of mixed nuts.
I'd say this happens around 50% of the time in the Maldives. Operations teams always seem to be stretched to their limits and adding in COVID to the mix certainly hasn't helped.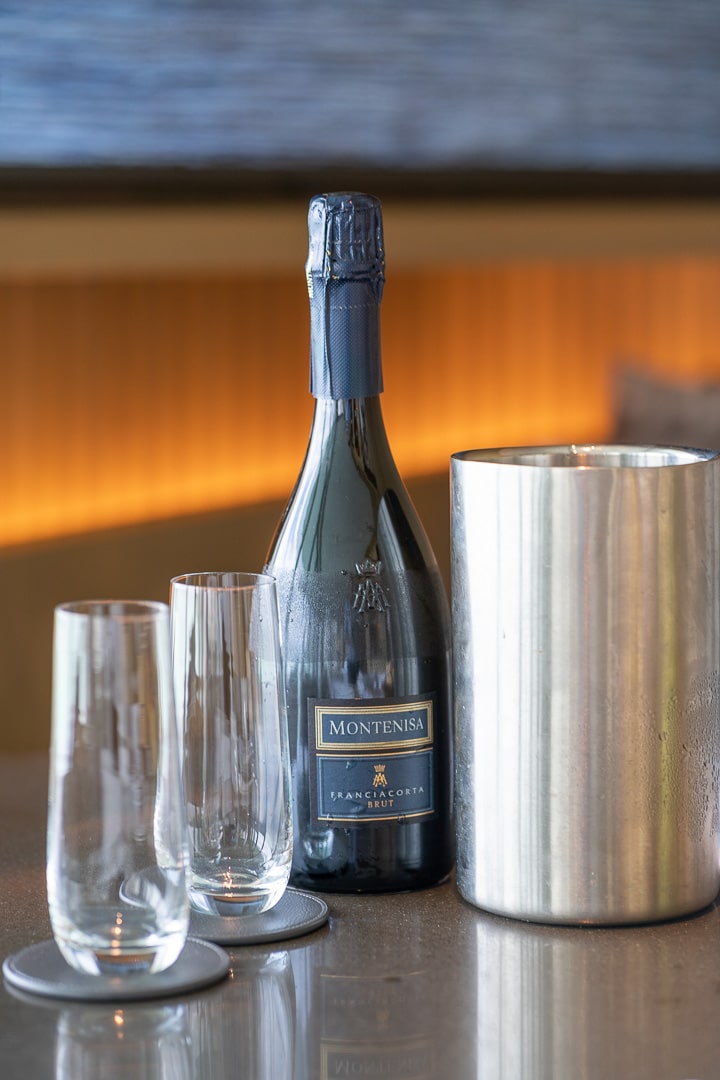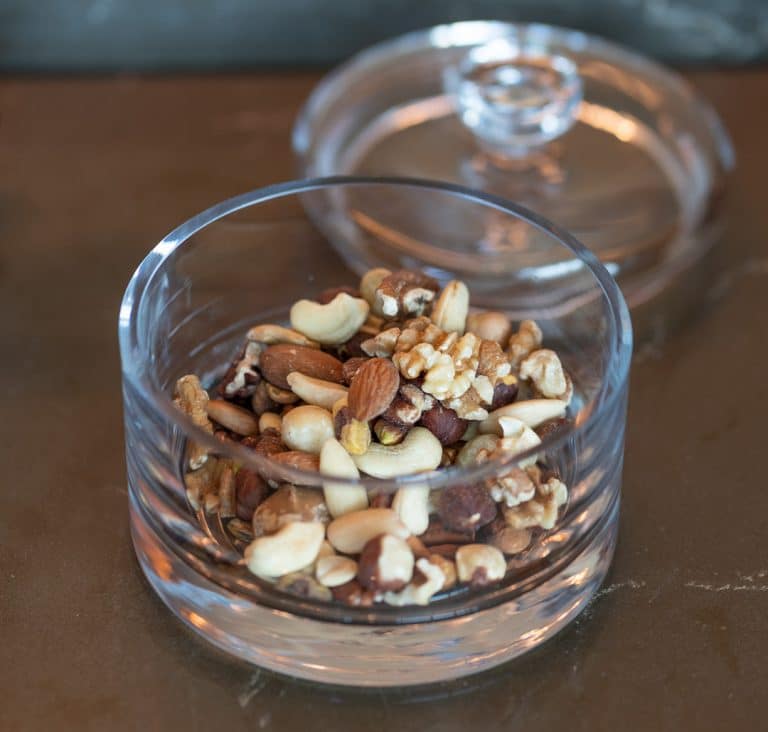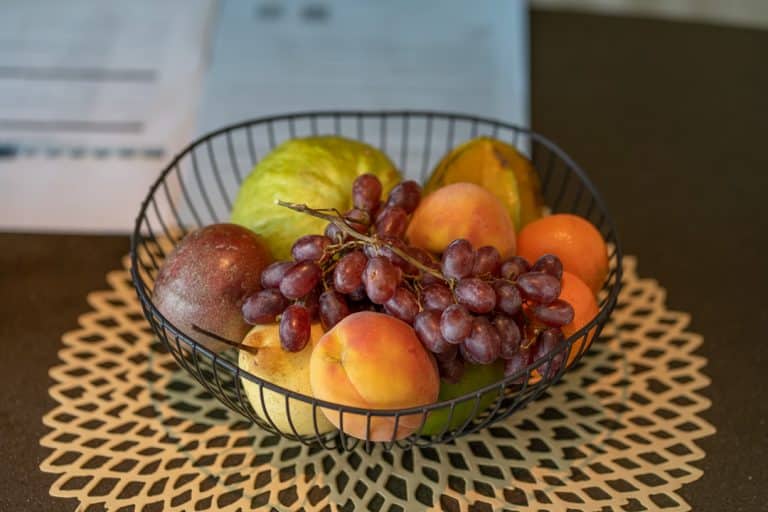 The sofa area was very elegant and the abundance of pillows made it rather comfortable for sitting in whilst working on my laptop. I was a massive fan of the thick marble slab of a side table too. You rarely see this level of hardware in top city hotels, let alone islands in the middle of the Indian Ocean.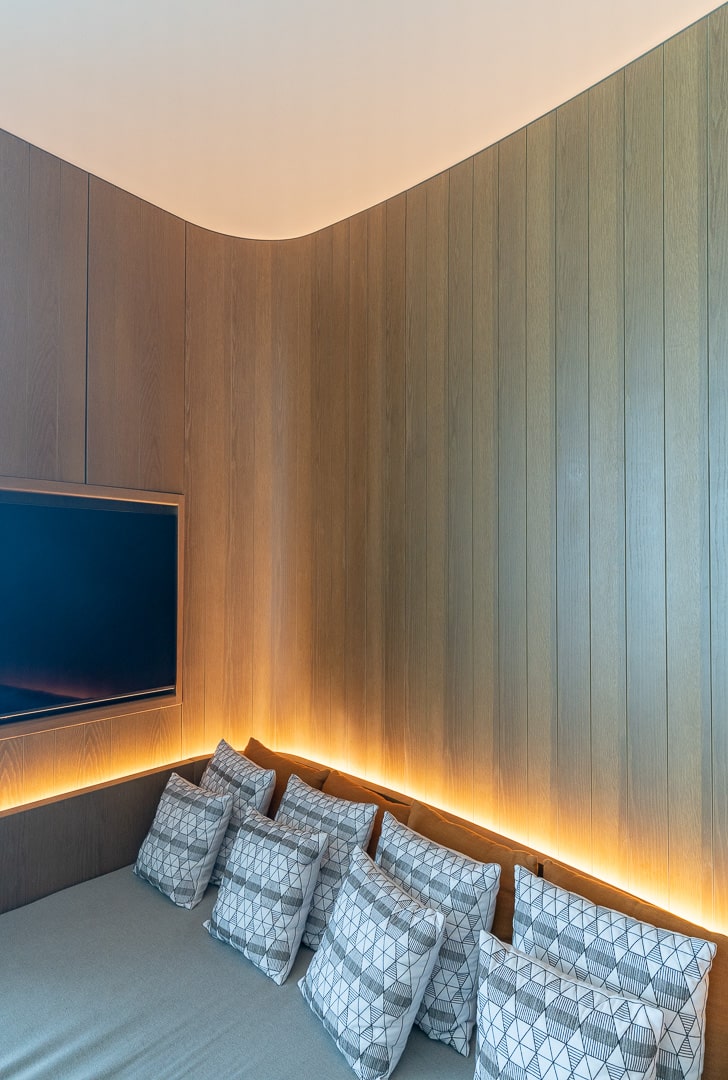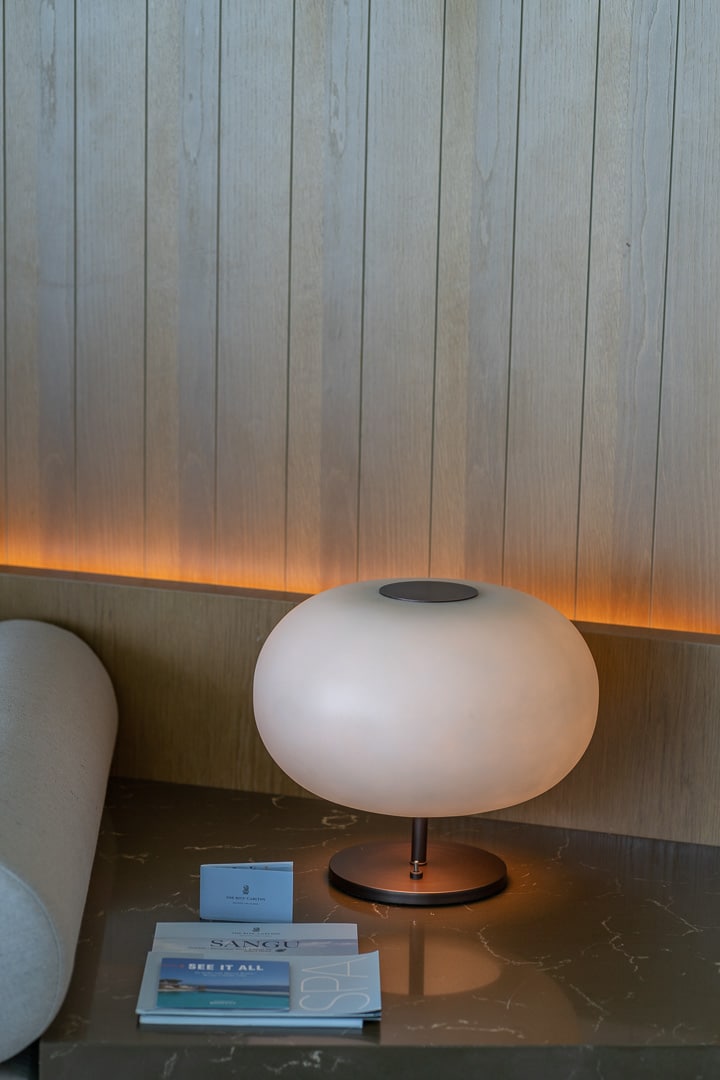 Between the sitting area and the bed was an extensive minibar. All of the non alcoholic drinks and snacks were provided free of charge, a very generous gesture on the part of the property, especially given the quality of the contents.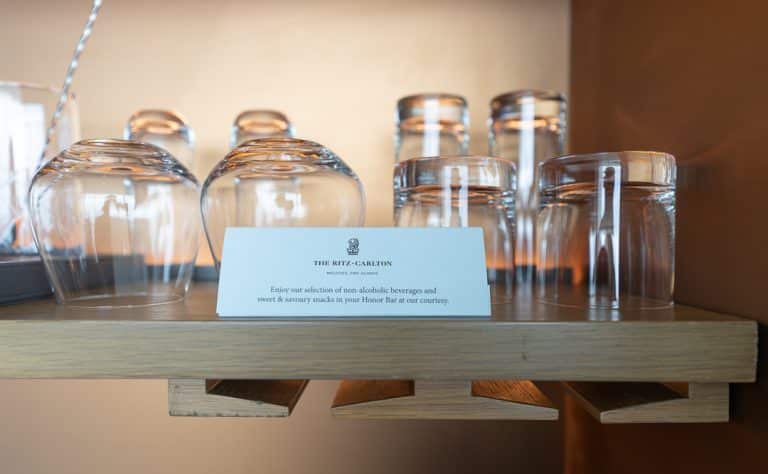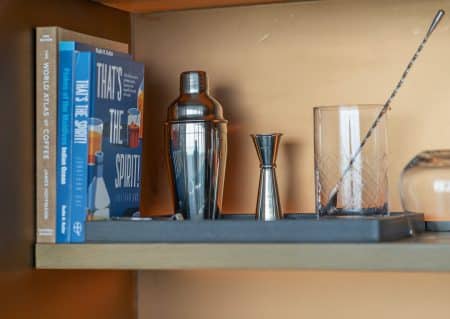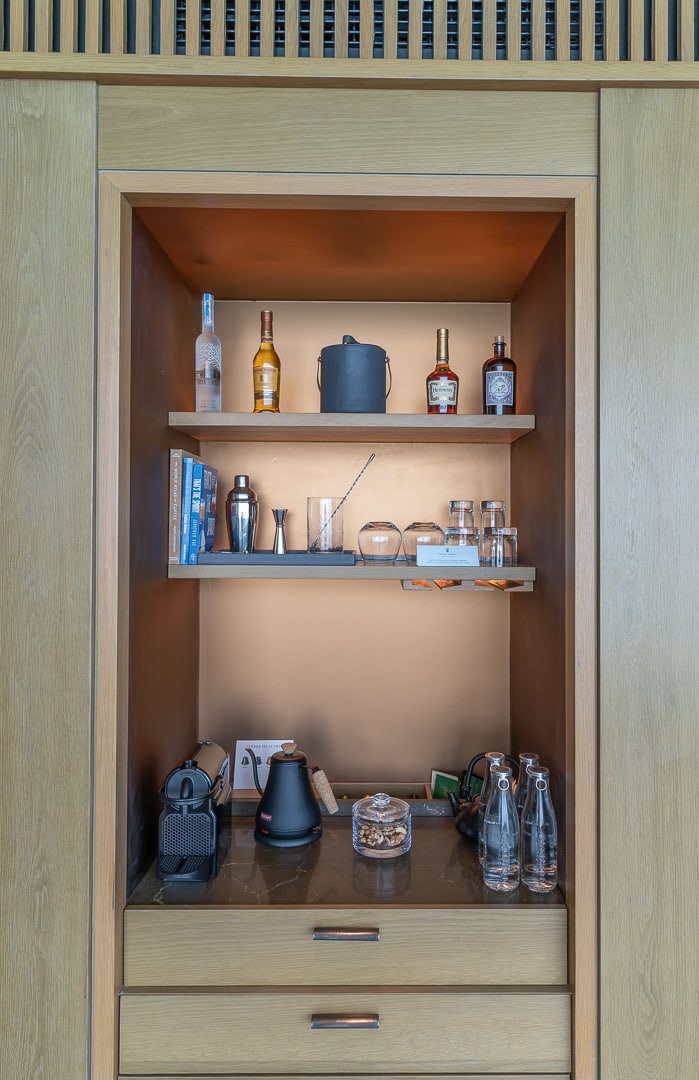 In addition to the usual coke, sprite etc there were some fantastic sodas and tonics by the Australian company: Strangelove. The grapefruit soda was my personal favourite – I really enjoyed sipping this over ice, on the terrace, with my first coffee of the day.
The white truffle crisps were absolutely incredible too.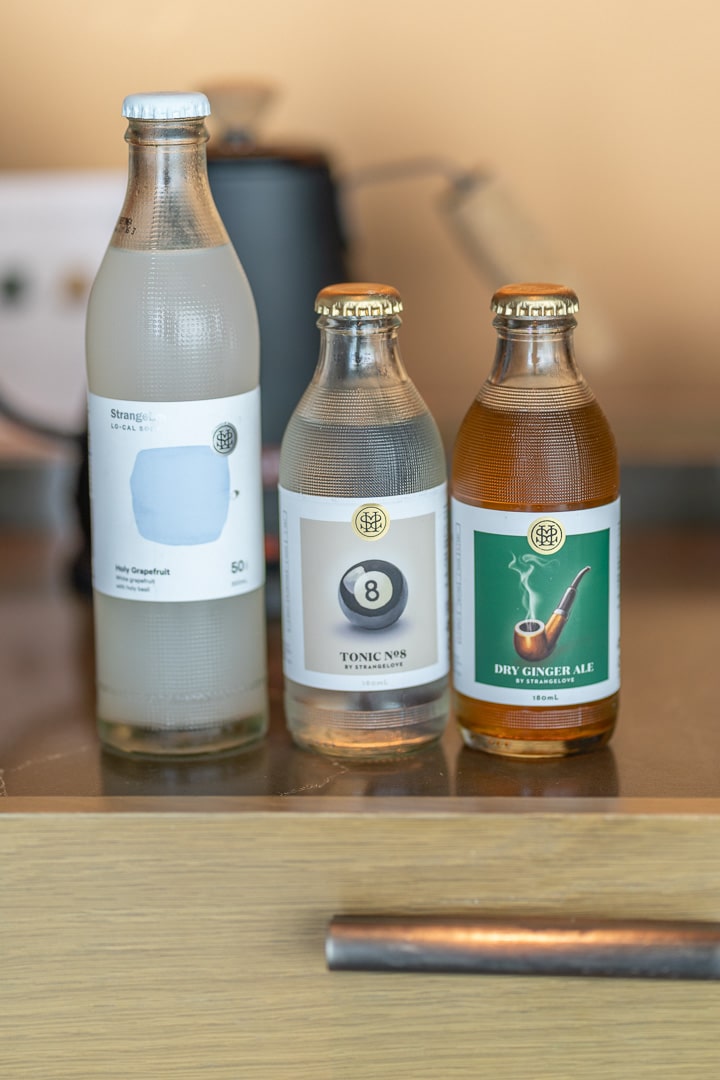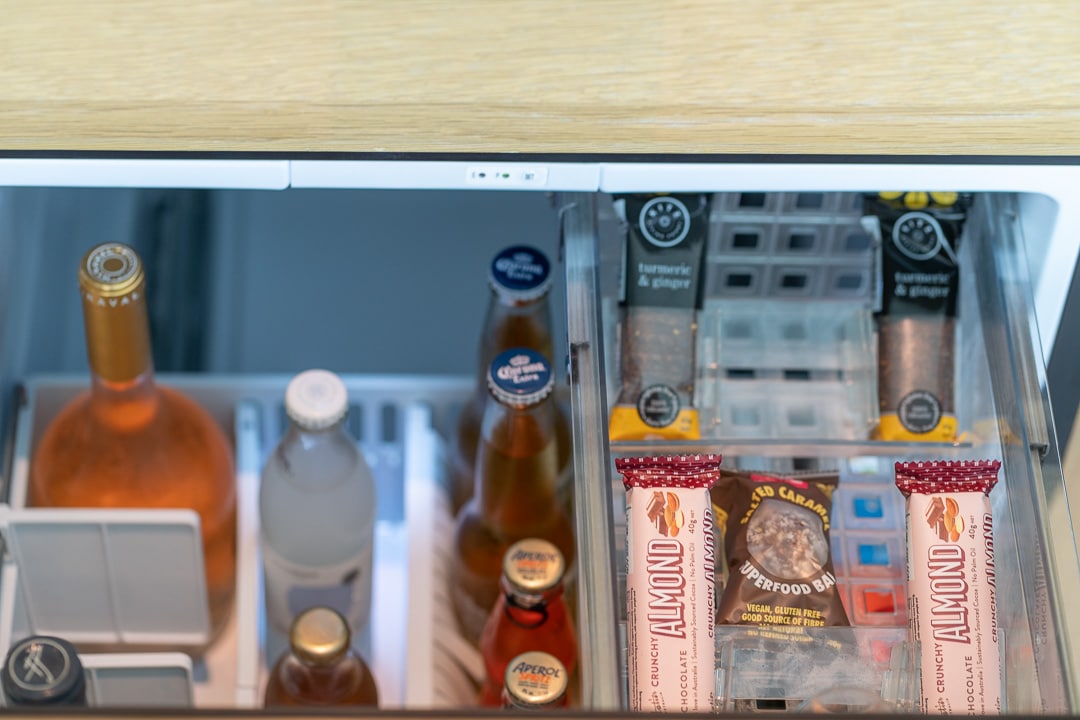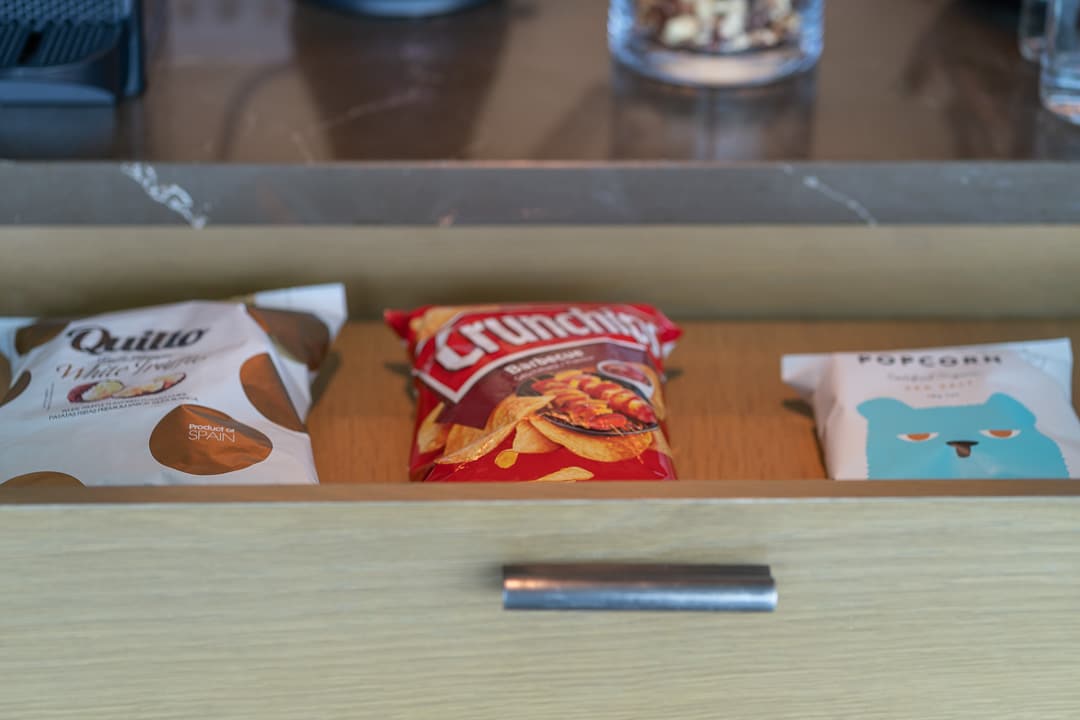 The coffee machine was by Nespresso; if this had been Illy or Lavazza this would have been the best minibar I've ever encountered. Bonus points for the gooseneck kettle and the cast iron teapot too!
Water was purified on site and provided in unlimited quantities, although only still was offered.
Bathroom
The bathroom was utterly fantastic. The level of attention to detail and the high quality finishes made this a space that was a genuine joy to spend time in.
The entire back wall was effectively a walk in wardrobe, with a marble topped counter large enough to fit a huge amount of luggage. Beneath the marble were a variety of deep, pull out drawers.
A series of very high quality hangers were supplied, in every possible iteration from suit jacket to trouser bars. The number of thoughtful touches was incredible, from the complimentary suit bag to the shoe trees, slippers, flips flops and sun hats.
Absolutely everything had been thought of and the quality level was spectacular, with the exception of the rudimentary beach bag, which was far worse than the ones supplied at Four Seasons Bangkok…a city hotel.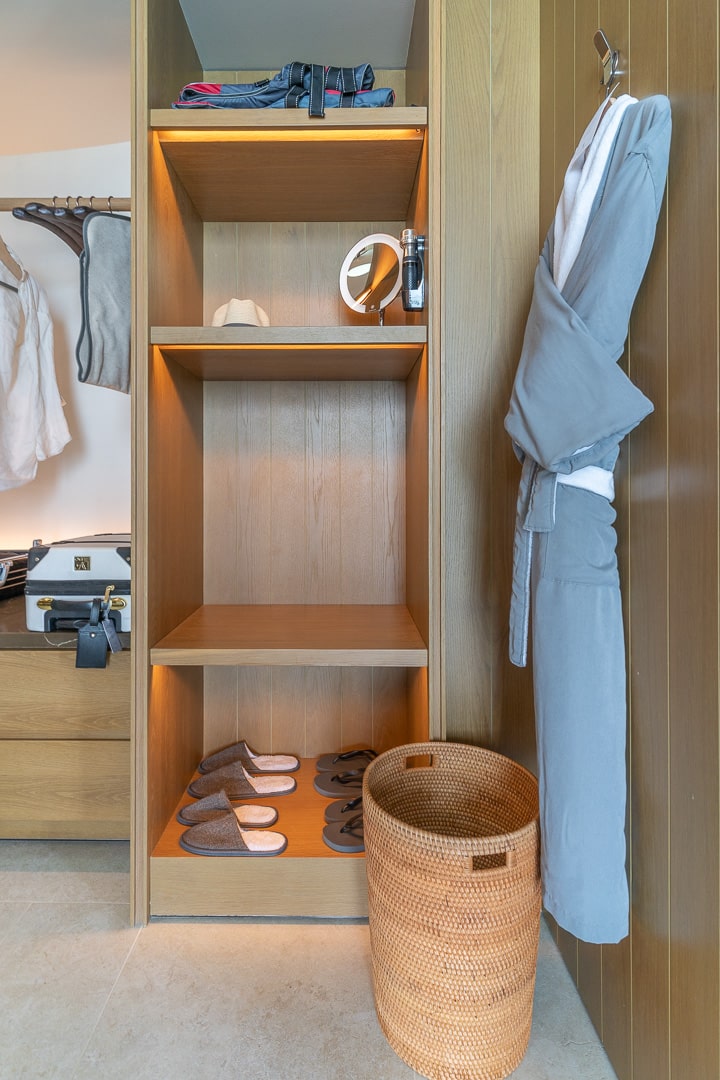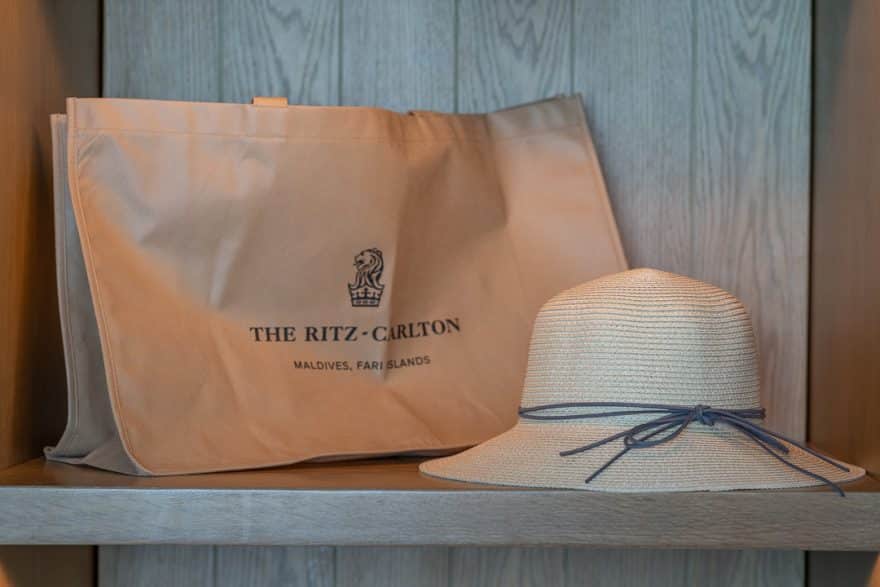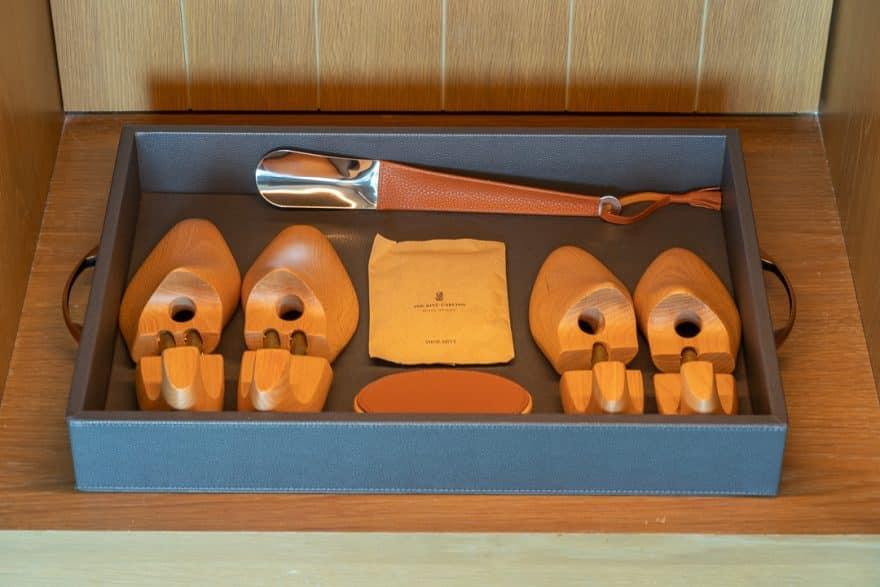 The dual vanities spanned the width of the wall behind out bed. Counter space was abundant and power sockets were provided. Thankfully there were towel rails too. I'm not sure why but an increasing number of luxury hotels nowadays seem to have done away with these.
Personally I feel the central panel was wasted. They could have easily installed a sliding mirror panel which would make the centre useful as a makeup area when deployed. When pulled back, the mirror panel would reveal the view of the ocean and fill the bathroom with more natural light.
Despite this minor concern, everything else was fantastic. The Bamford toiletries had an amazing smell and consistency and the way that the bins fit into the custom slots under the sinks was enough to give me goosebumps.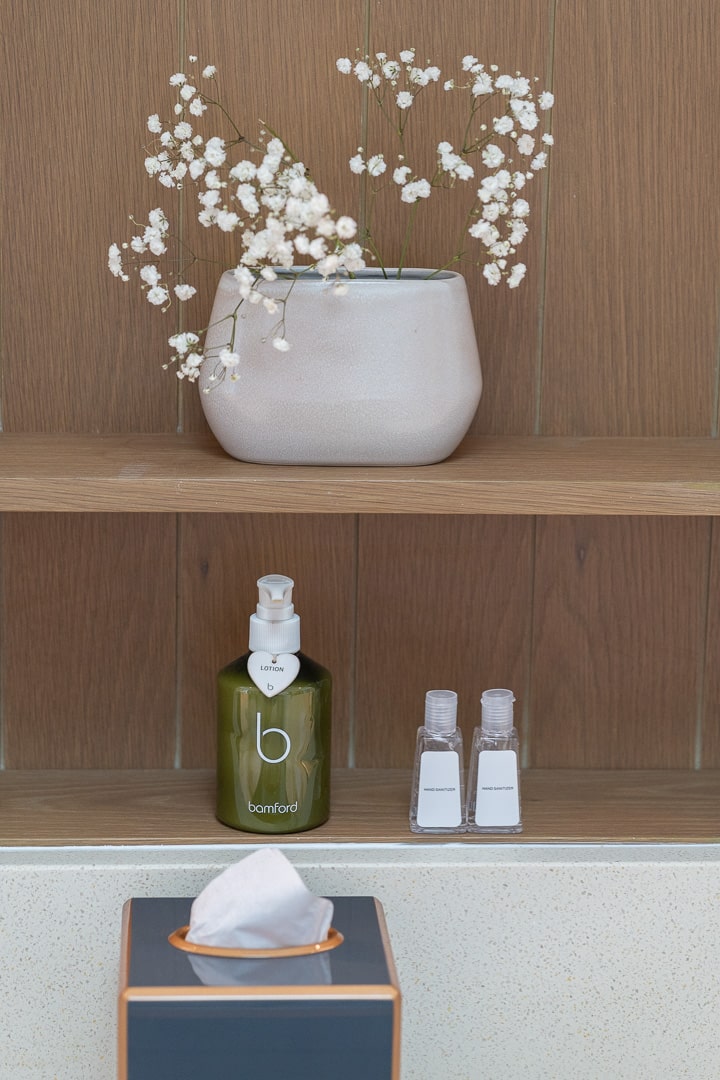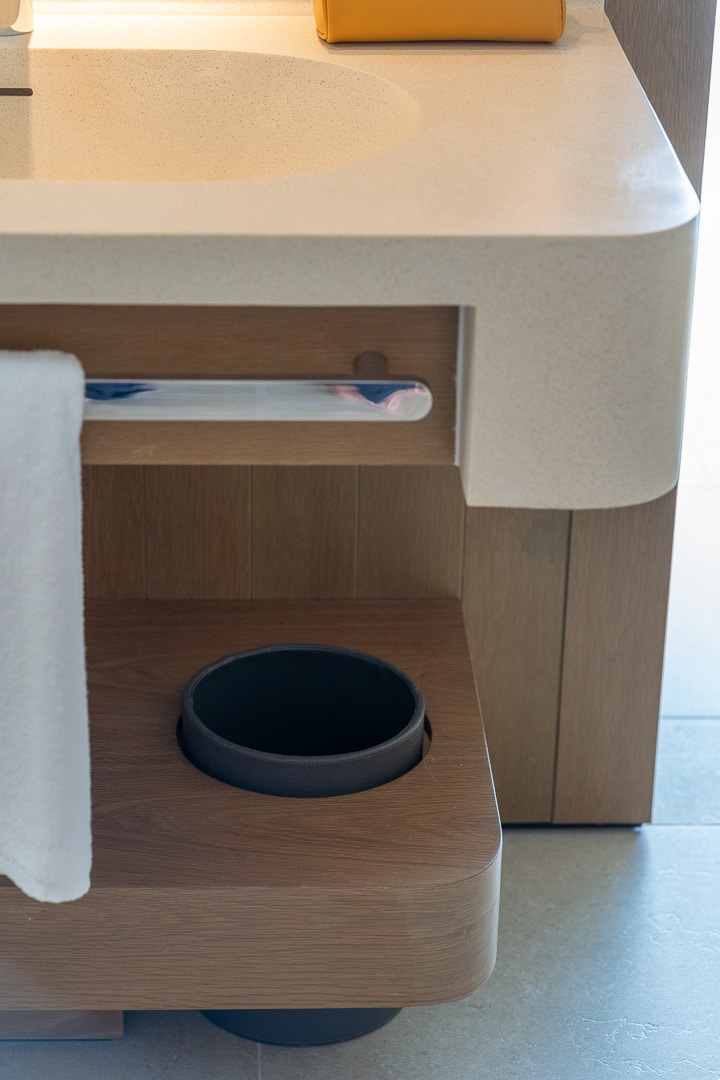 The lacquered box in between the sinks contained any toiletries that one could possibly require and was more than a little reminiscent of another favourite Japanese hotel: Conrad Tokyo.
The toilet and shower were located behind doors on either end of the wardrobe space. The toilet featured a full array of electronic functions and didn't include a superfluous landline phone.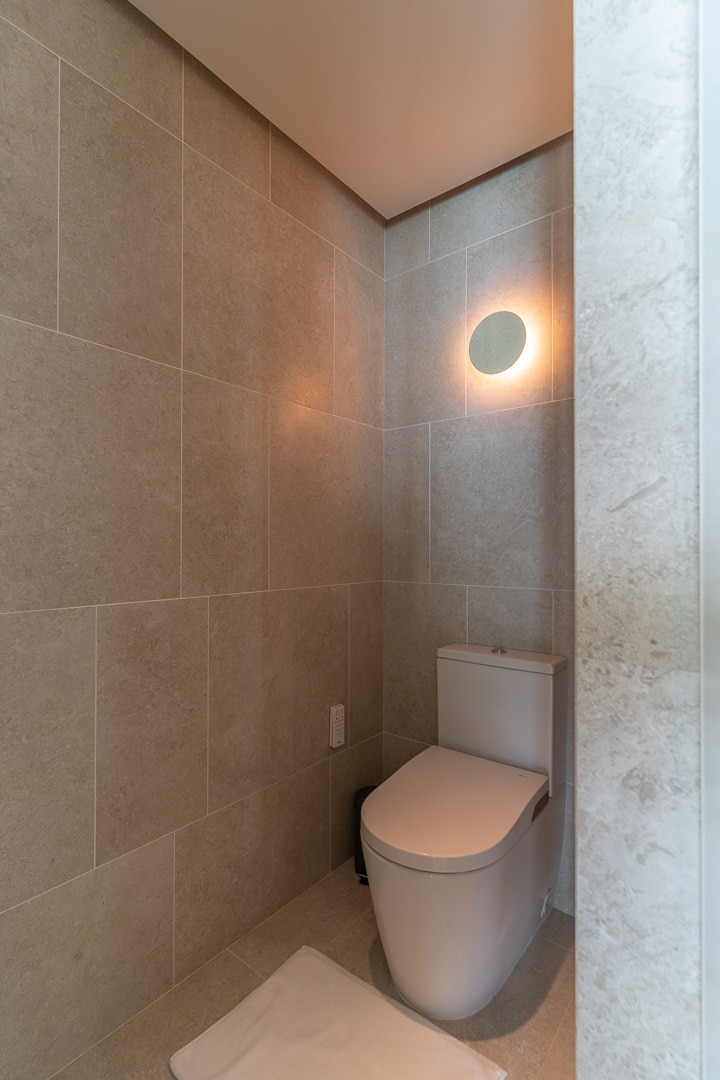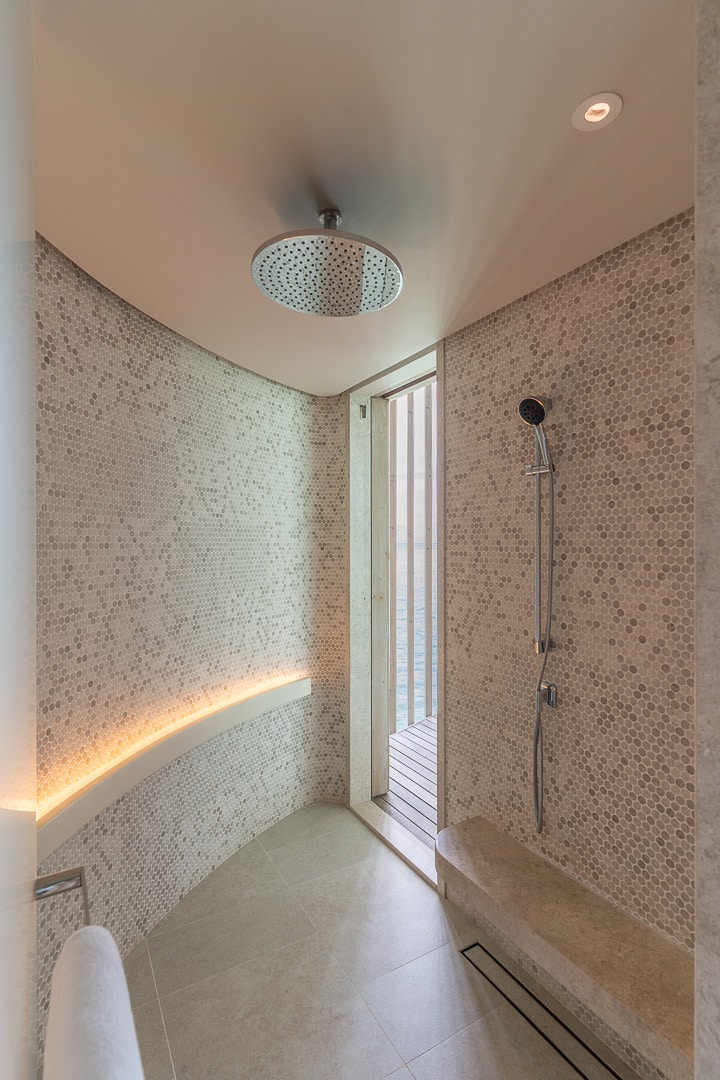 The shower was extremely spacious and featured a very powerful rainfall head. The recessed lighting and tiling gave this the feel of a high end spa rather than just a hotel bathroom. Bamford toiletries were provided in full size bottles.
I was informed that these are refilled on site, with the contents arriving in gigantic vats before being bottled on the staff island.
The indoor shower was cleverly designed to link with the outdoor shower, although privacy was something of a concern for us – given the unique location of our villa.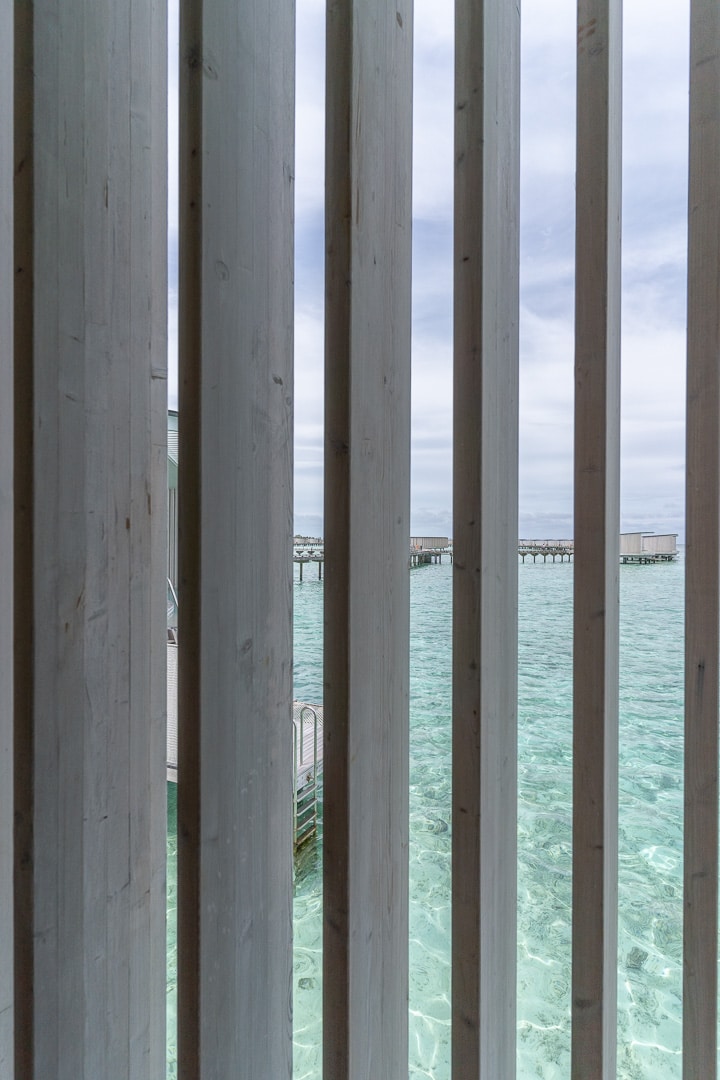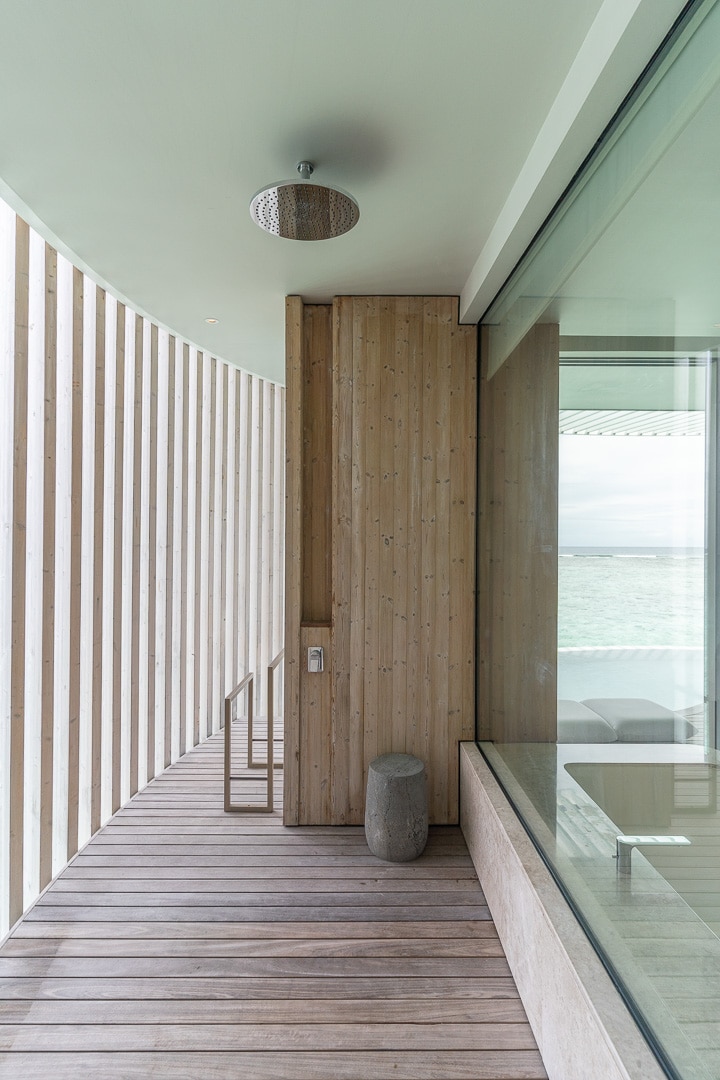 Outdoor Space
Around the corner from the far end of the outdoor shower was this view:
As I mentioned previously, this was considerably more compact than many other properties in this price point, yet it felt supremely luxurious. The design meant that you truly felt as if you were suspended over the ocean at all times. Villas in other resorts will all too often focus on filling an enormous deck with all kinds of furniture, which leads to a feeling of separation from the ocean.
Here, the sloped ceiling, together with the slatted sides, meant that the ocean was omnipresent. The overall feel of the space reminded me of the Ciutat de les Arts i les Ciències in my native Valencia.
One small criticism is that the pool pillows seemed a little unnecessary and you had to actively skirt around them, rather than walking comfortably across the deck.
The orientation of our villa also meant that we were in complete shade from 11am onwards.
The mornings were great though:
Really, really great.
My favourite place to sit in the morning was the little nook in the far corner, just by the stairs down to the water.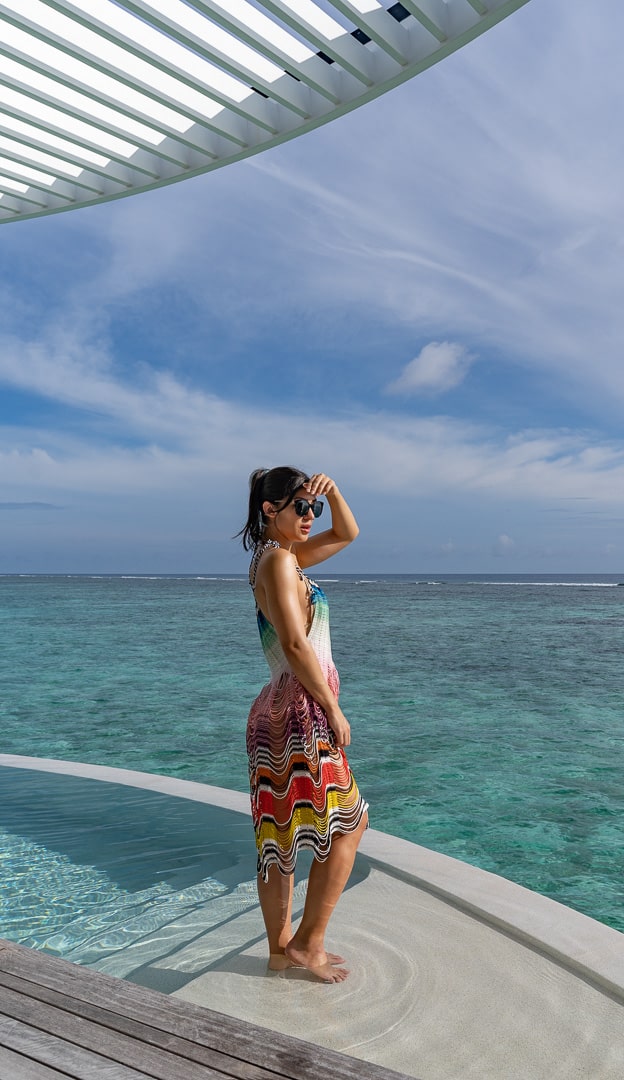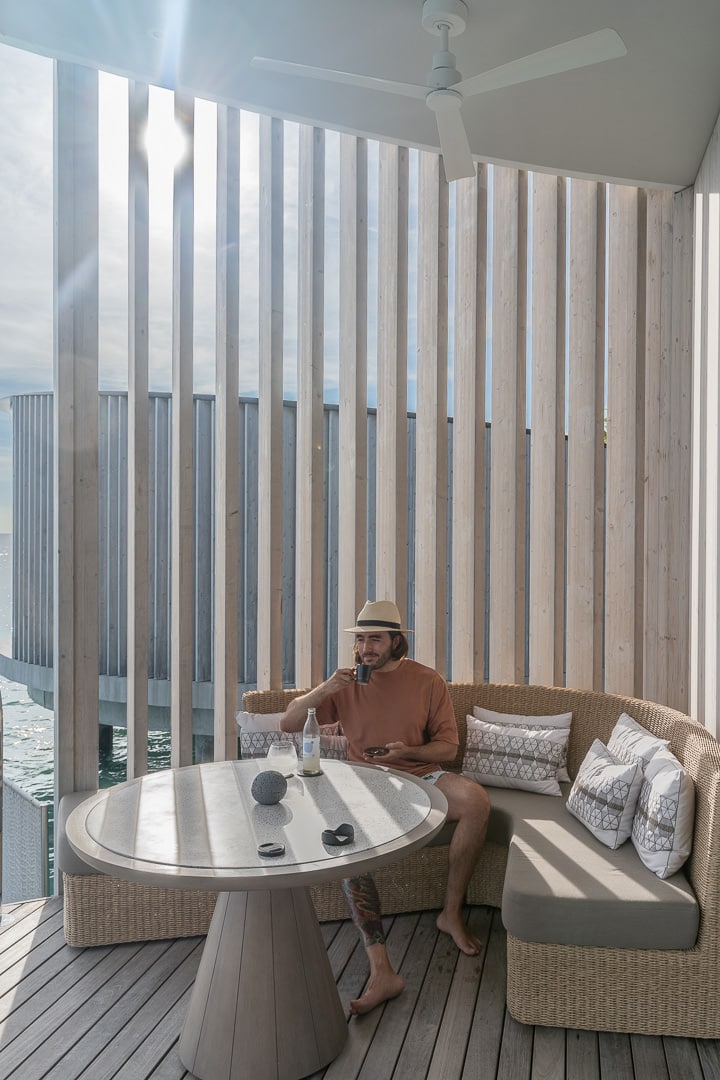 Since the villas here are so high up, they cleverly decided to create an intermediate platform with a net, rather than having a super steep set of stairs to navigate with fins on.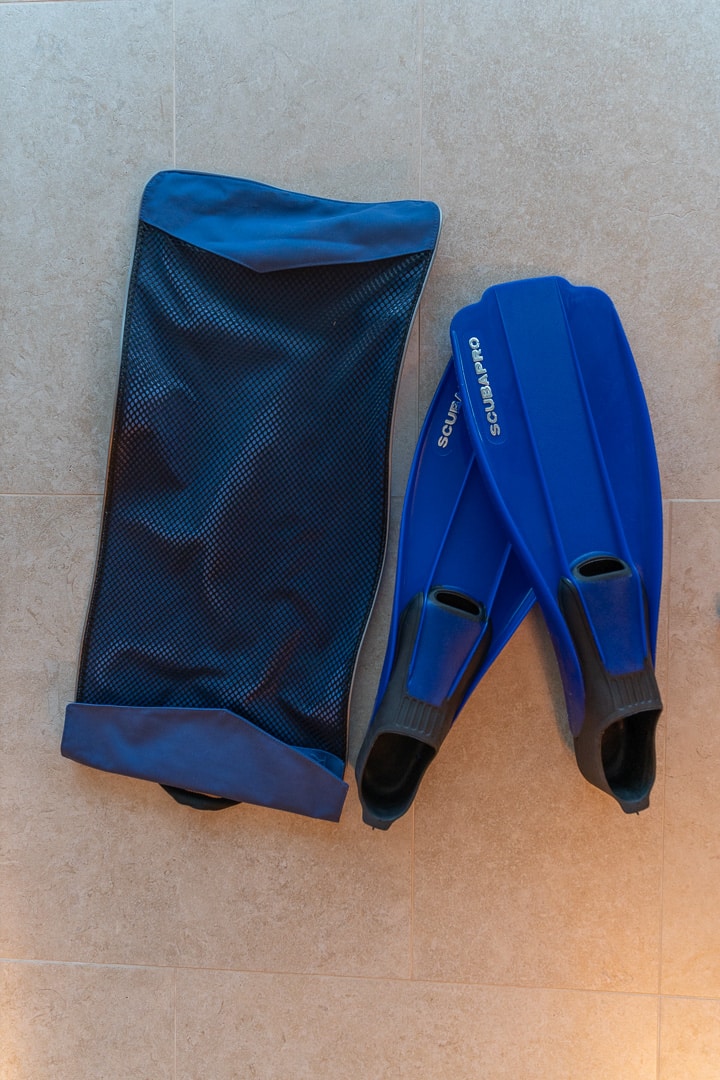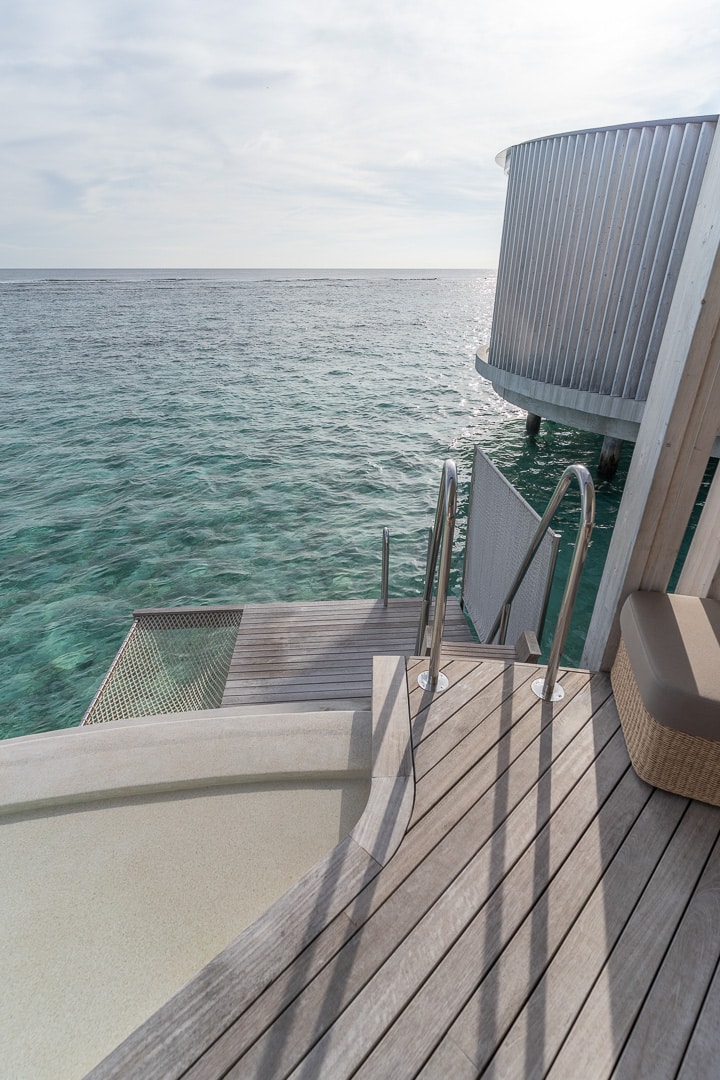 Speaking of fins, these looked to be absolutely brand new and were provided for us shortly after checking by Moosa, once we'd confirmed our sizes with him.
Being a man made island, there wasn't a whole lot to see underwater. The original reef which predates the construction of the Fari Islands is located next to Patina.
---
Beach Pool Villa
---
Floor plan
As I mentioned earlier, the modular design of the villas at Ritz Carlton means that the key differences between villa types lay in their external environment.
The Beach Villas provide a lot more space than the water villas but less privacy. The height of the water villas means that people swimming in front need to swim relatively far away to see up into your room. Whereas people walking on the beach can easily see into most of the beach villas.
Somewhere like One & Only Reethi Rah has a better setup for beach villas, where there is a significant stretch of landscaped beach leading up to the water in front of each villa. Here, the price you pay for being on the water's edge is a loss of privacy.
Having said this, the coves are much more private than the large beaches, with minimal foot traffic.
The great advantage of having dry land around the villa is that the shade problem goes away. You could sit on the sun loungers and enjoy sunlight all the way from sunrise until sunset.
---
2 Bedroom Beach Pool Villa
---
Floor Plan
The 2 bedroom units at Ritz Carlton Maldives are greater than the sum of their parts (just like at the Four Seasons Kuda Huraa).
The amount of shared living space in the 2 bedroom units totally eclipses what is available in the entry level villas.
Both inside…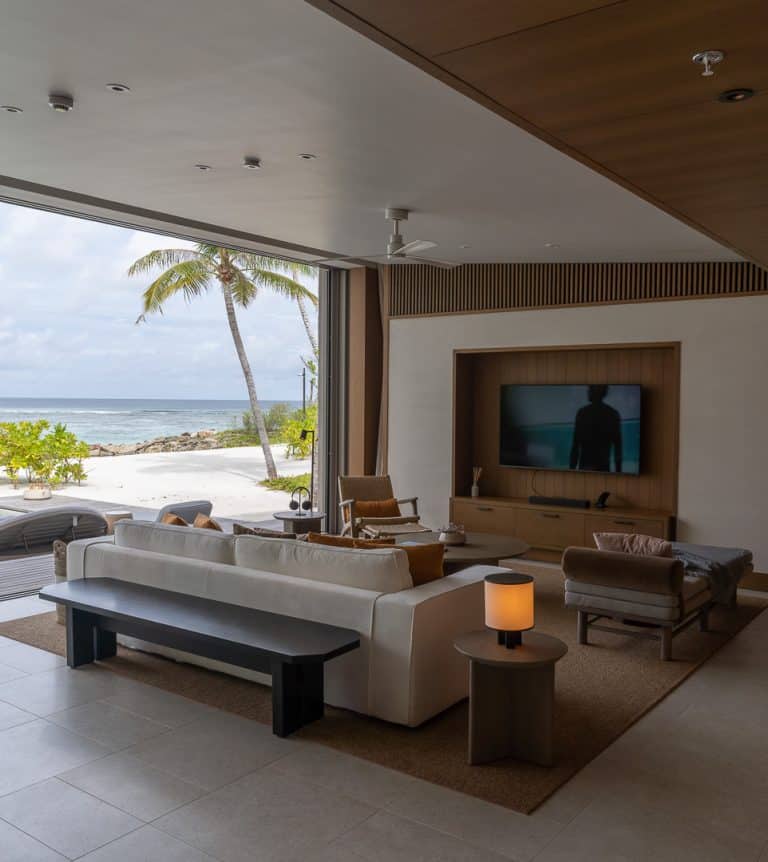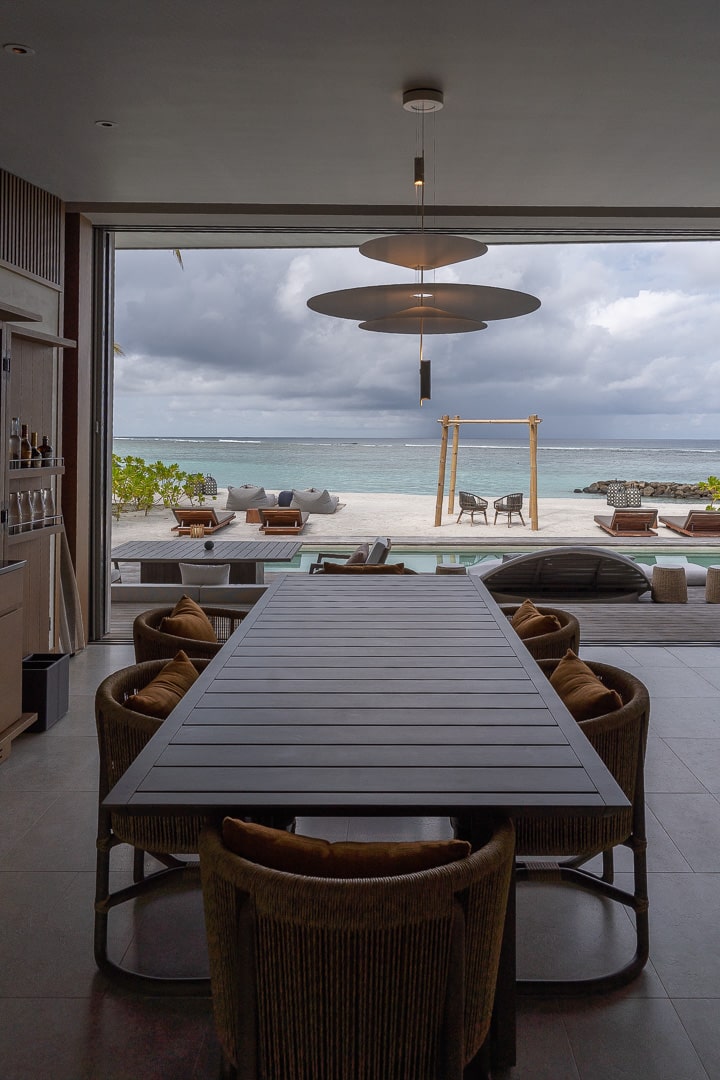 …and out.
The main bedroom was laid out almost identically to those of the one Bedroom villas. However the second bedroom was planned with children in mind.
As such, it featured twin beds and its bathtub was located in the en-suite bathroom, rather than the bedroom.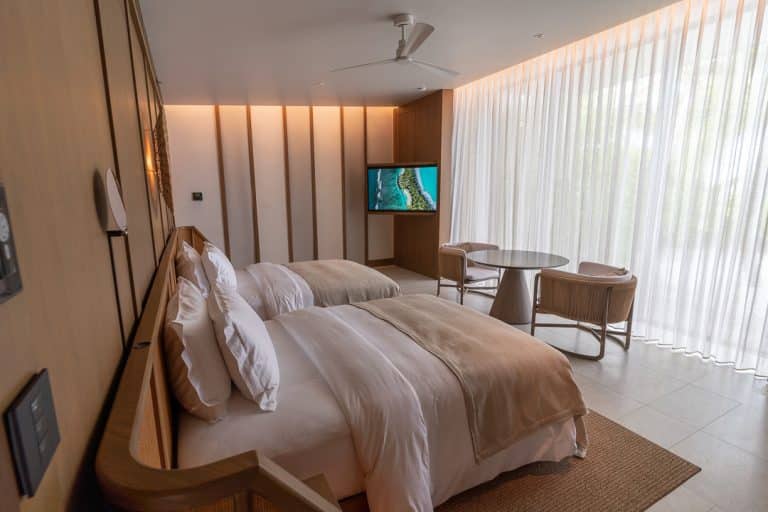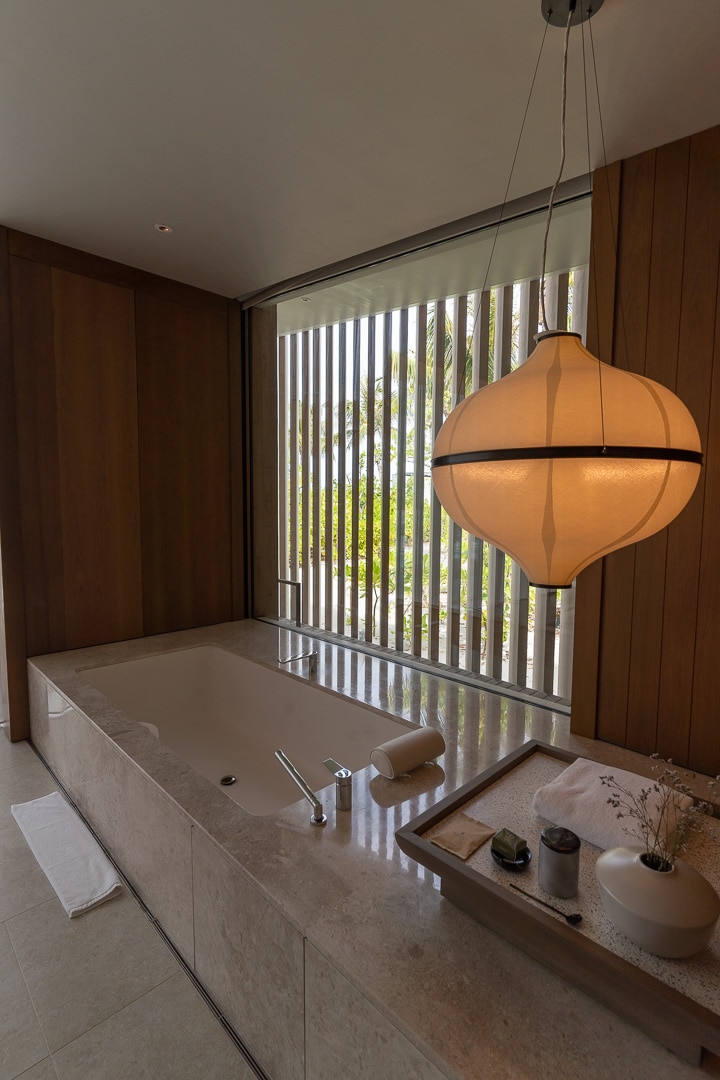 ---
Facilities
---
Spa
One of the most instantly recognisable features of this property is the circular spa building, located in the centre of the overwater villa pier.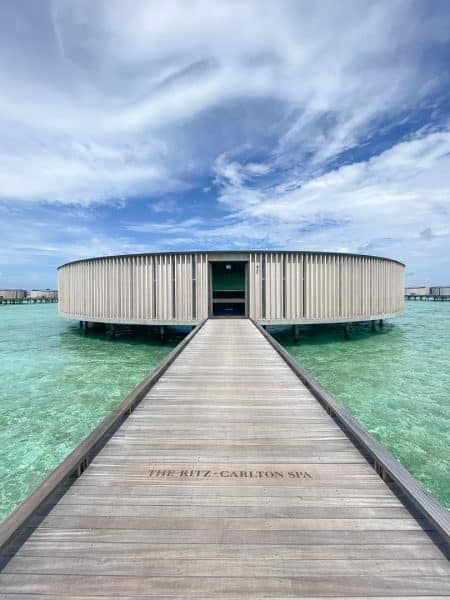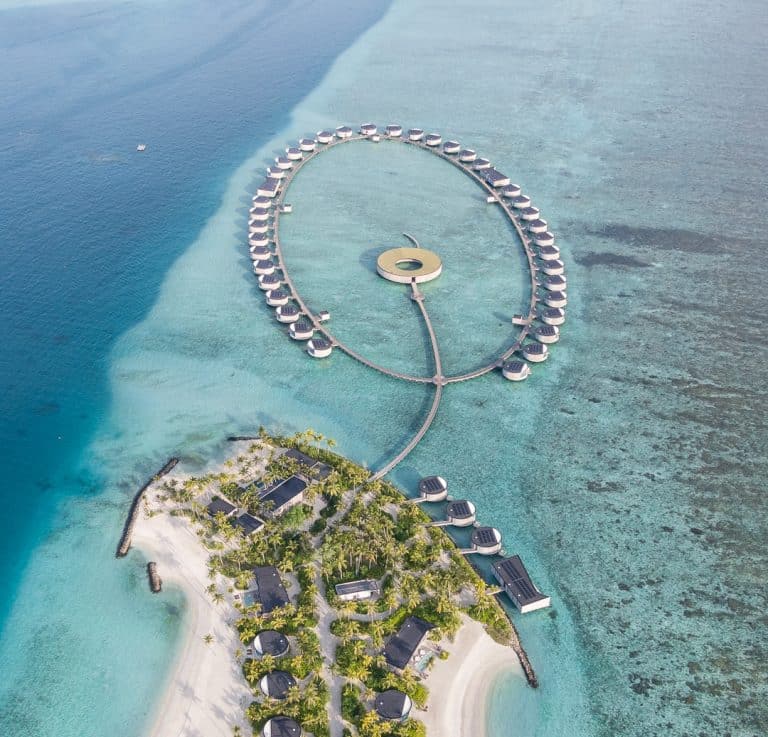 The spa was located moments away from our villa and was of course surrounded by many more. I was a little sceptical about just how peaceful and private this facility would feel.
I needn't have been.
As soon as we entered, we were fawned over by at least four different spa attendants, who offered us cold oshibori and a refreshing welcome tea.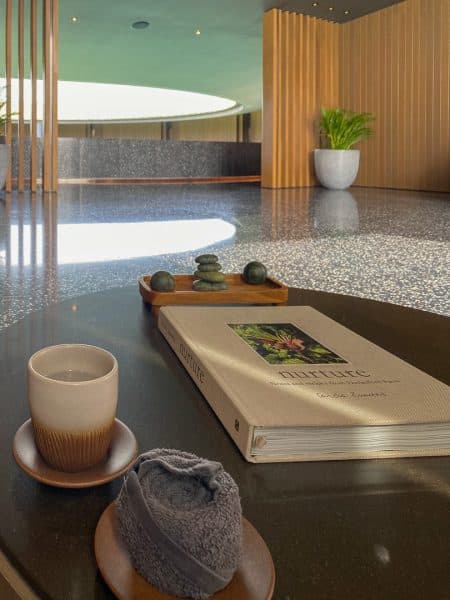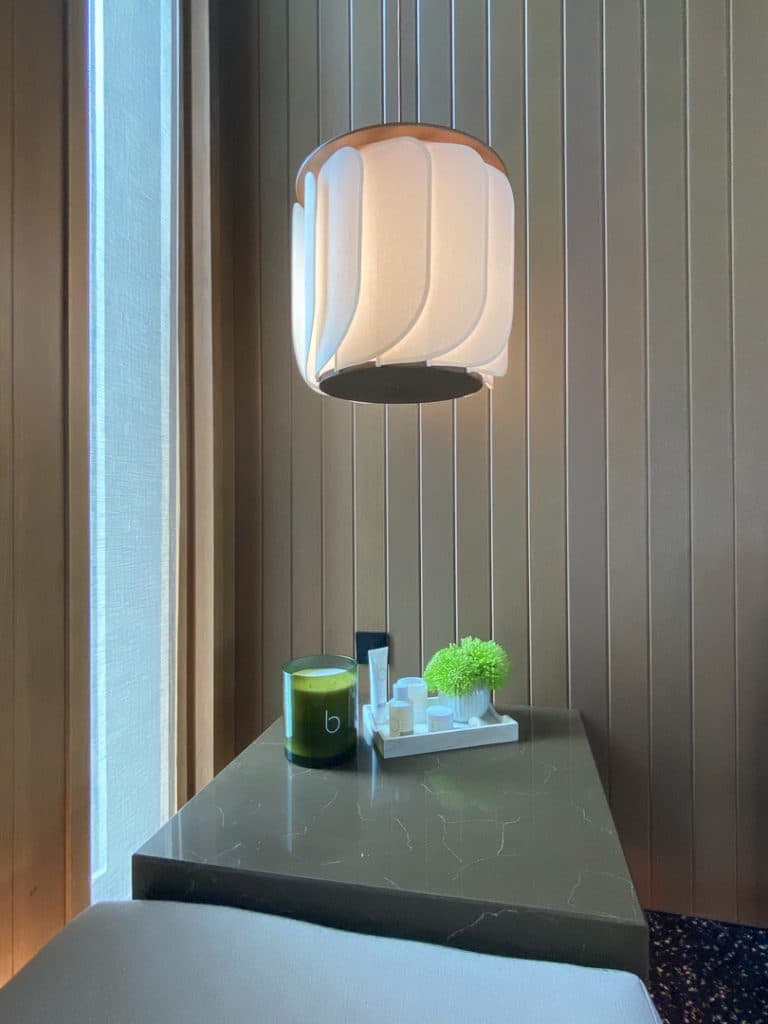 The decor was extremely minimal and zen like, with the combination of dark stone, light wood and greenery reminding me of Ilse Crawford's latest lounges for Cathay Pacific (which also incidentally, now use Bamford products).
When you're actually inside the circular structure itself, it's hard to describe the sense of peace that washes over you as a slice of sky opens above, illuminating a patch of ocean in the centre.
There was certainly not a hint on any noise other than the lapping of waves against the support posts.
Treatment rooms were located all around the perimeter of the circular building with Kamara and I being allocated one of the couples rooms.
The frosted glass of the windows provided just the right amount of natural light, helping to diffuse the harsh sunlight whilst providing total privacy.
The same feeling of opulence and abundance filled this space, just as it did our villa's bathroom. Amenities were plentiful, including supremely fluffy gowns and Dyson hairdryers.
The seat and beds were very thickly padded and supremely comfortable. I love when spas have adjustable beds too, so that you can finish with a proper neck and shoulder massage.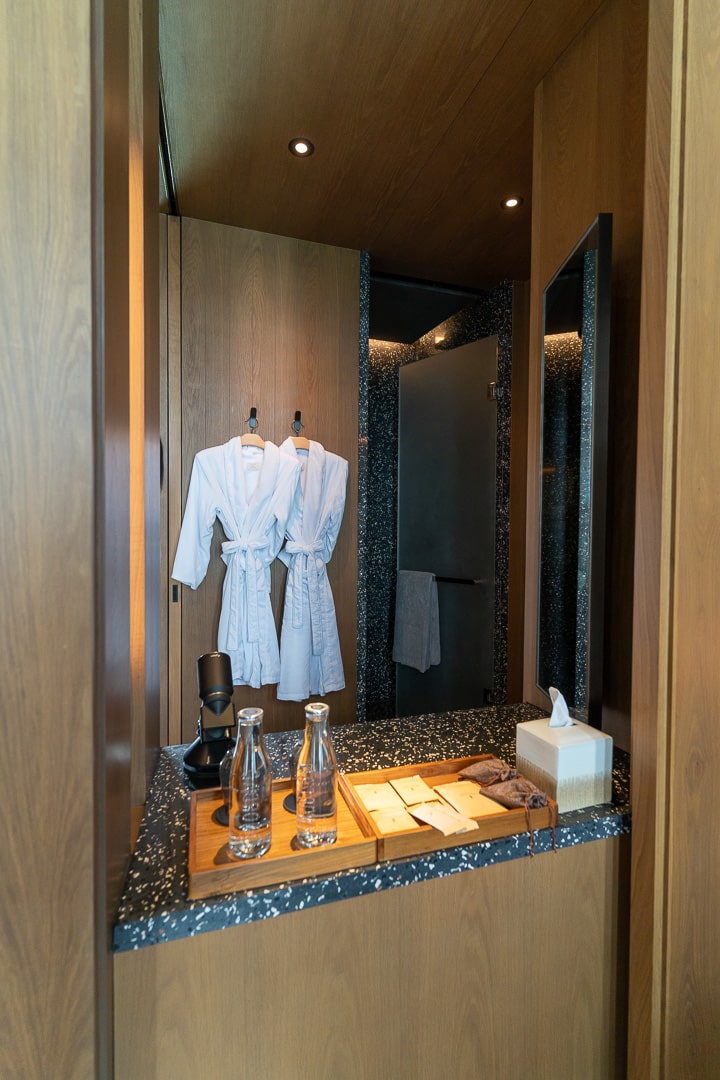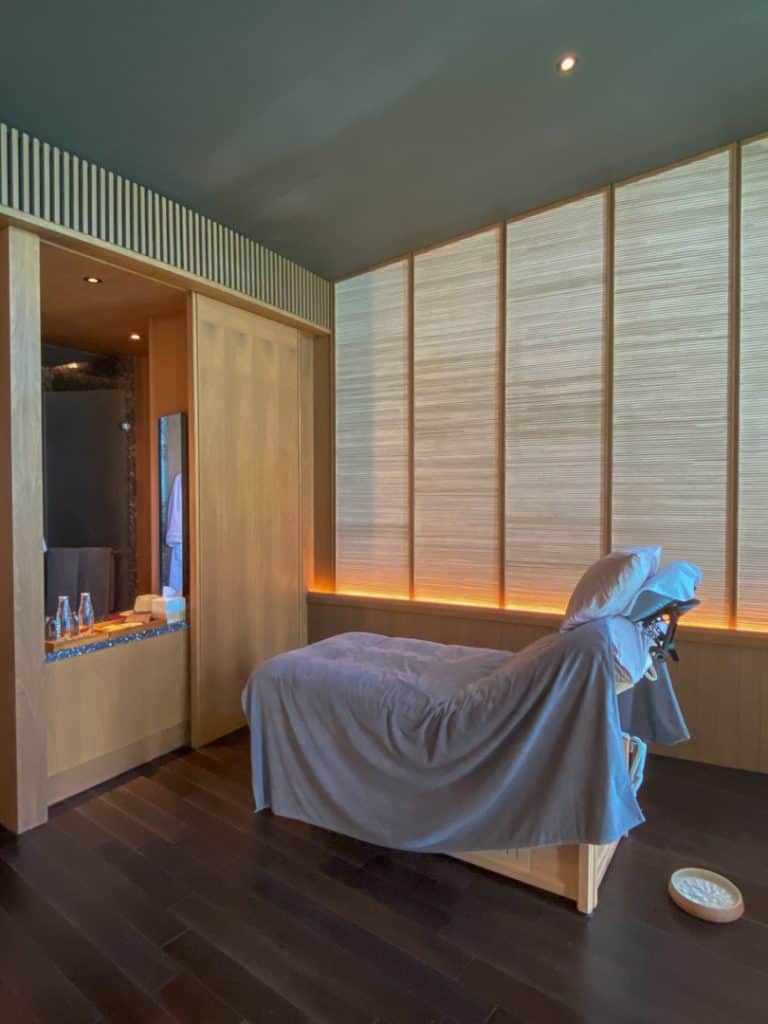 Our treatments were very well executed, with great attention paid to our comfort throughout. The post treatment teas and snacks were much appreciated…even if the walnuts to which I am allergic, once again reared their ugly heads.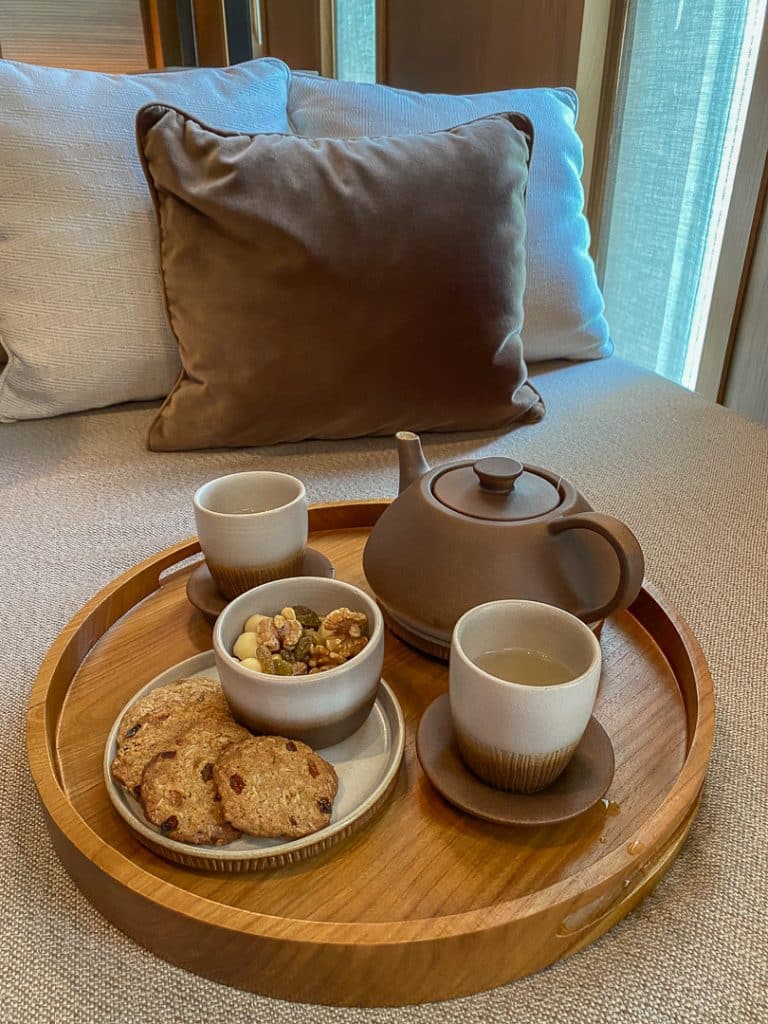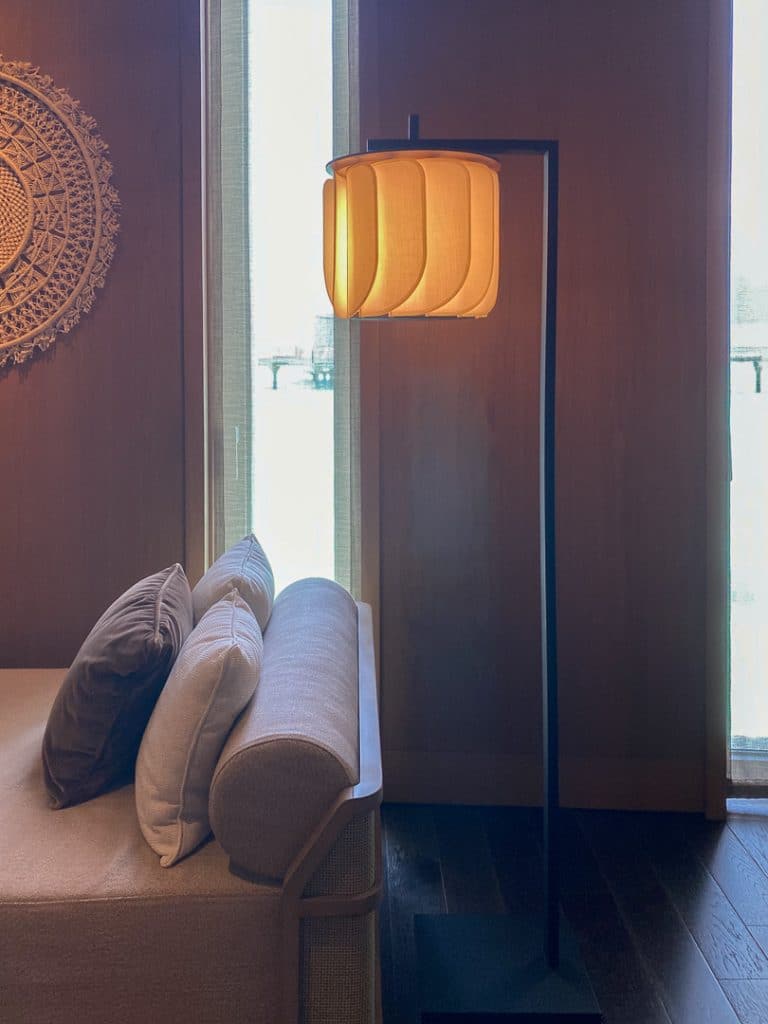 Kids Club
The largest of the resort's islands (featuring villas numbered in the 100s) is home to the kids club, gym, tennis courts, main beach, water sports centre and a gigantic kids club.
I was shown around the very impressive kids club during my tour of the property but will leave you with stock images as I didn't want to take pictures containing other people's children.
Suffice to say, this is perhaps the greatest kids club in the history of the world. A self contained UFO type structure, with a hobbit house door, a water slide, a pool and all manner of climbing frames and toys.
If I was a kid I'd never want to leave….which I'm sure will mean that parents will be extra relaxed when visiting this property!
Teens Club and Tennis
Teenagers are very well catered to at the Ritz Carlton and are kept completely separate from the young children. The Teens Club featured a pool table, foosball and two TV areas, one for movies and another for the PS5.
At the time of my visit I was told that the Ritz Carlton has 5 PS5 consoles on site, with 1 in the Ritz Carlton estate and the other 3 delivered to villas on a first come first served basis.
Apparently these 5 units were very hard to acquire, particularly since somebody managed to steal one of the PS5s and swap it with a PS4, resealing the box before it arrived on the island!
The windows by the PS5 faced out towards a very impressive, floodlit tennis court. During the day the sun can be unbearably hot for strenuous activity, so having the floodlights for an evening match is a great idea.
Fitness Centre
The fitness centre was one of the best I've seen in the Maldives. Right up there with Four Seasons Kuda Huraa and Amilla.
In the main room there was an incline smith machine and a leg press, as well as a cable crossover station.
There were also numerous bands, kettlebells and even a trap bar for deadlifts! the dumbbells only went up to 25kg though.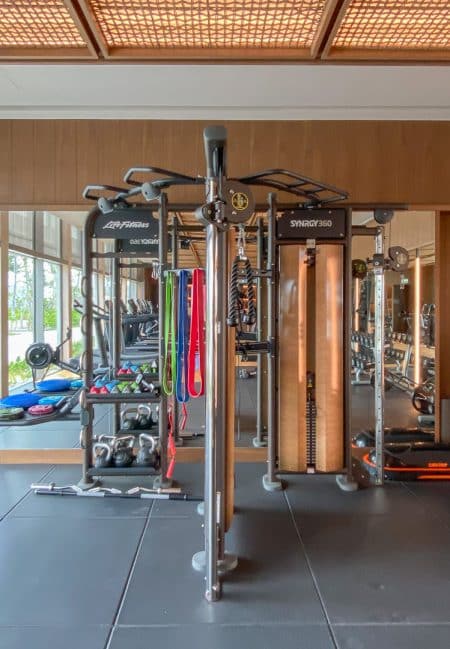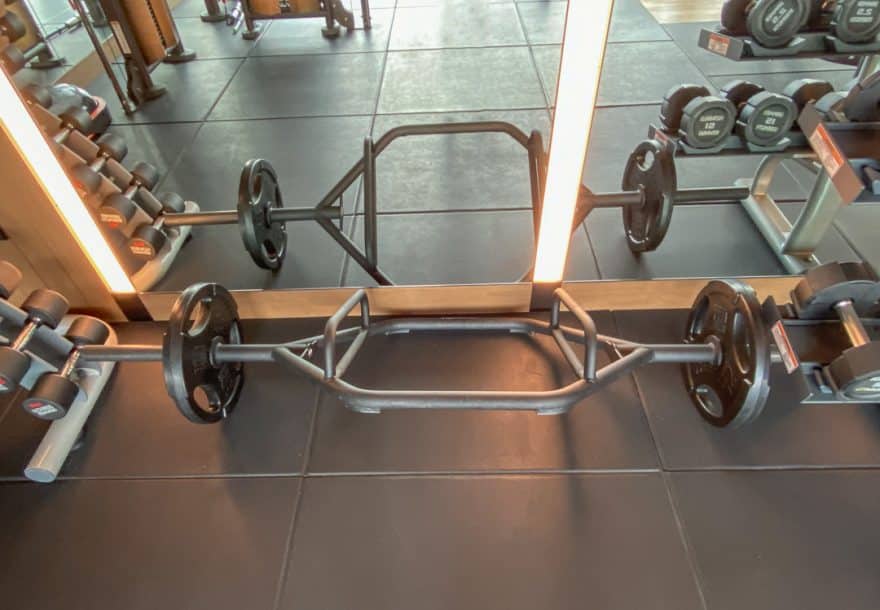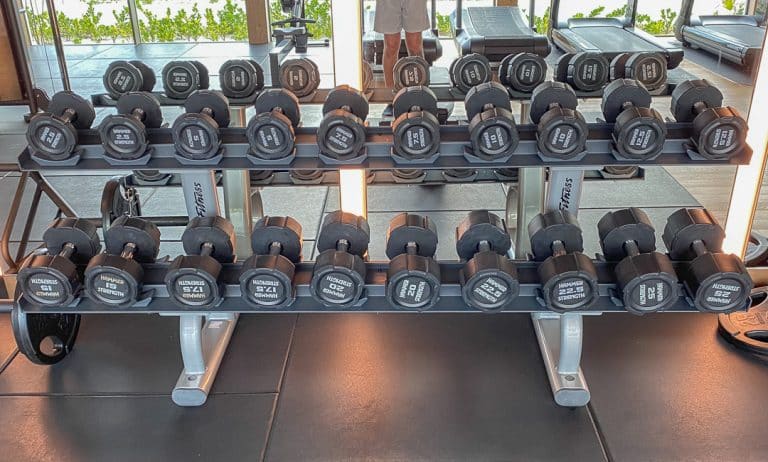 Cardio machines of pretty much every variety were also on offer, including curved treadmills, a mountain climber, a concept 2 rower, ergo bikes and a ski machine.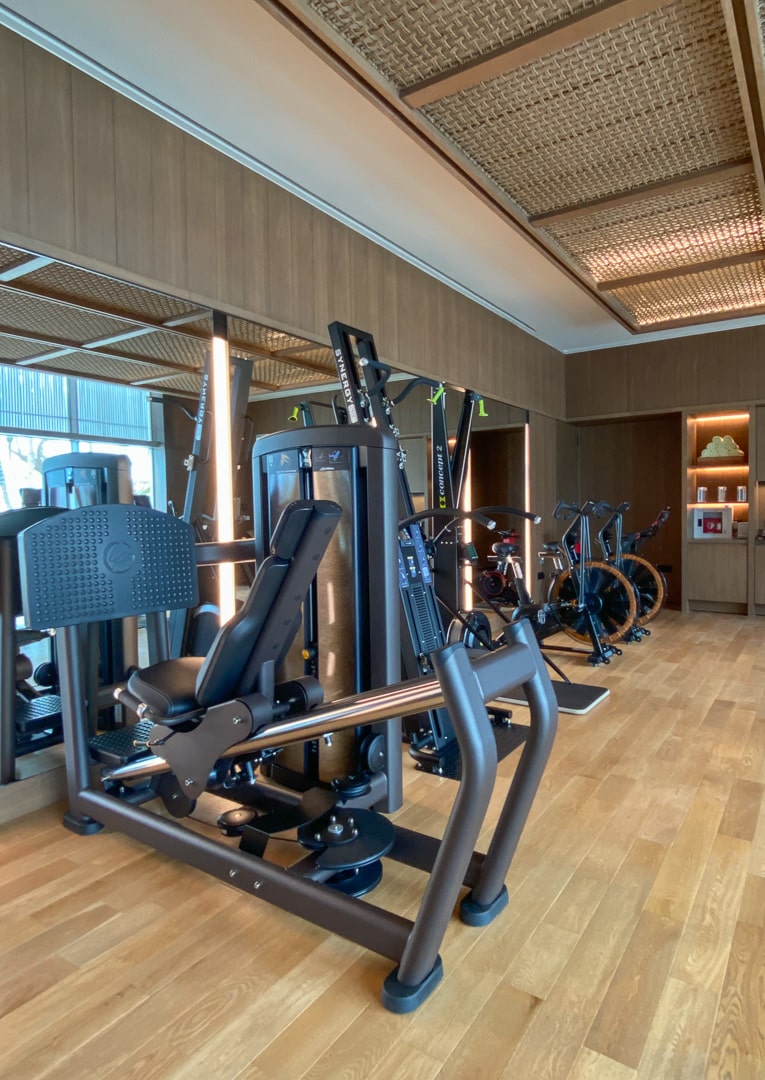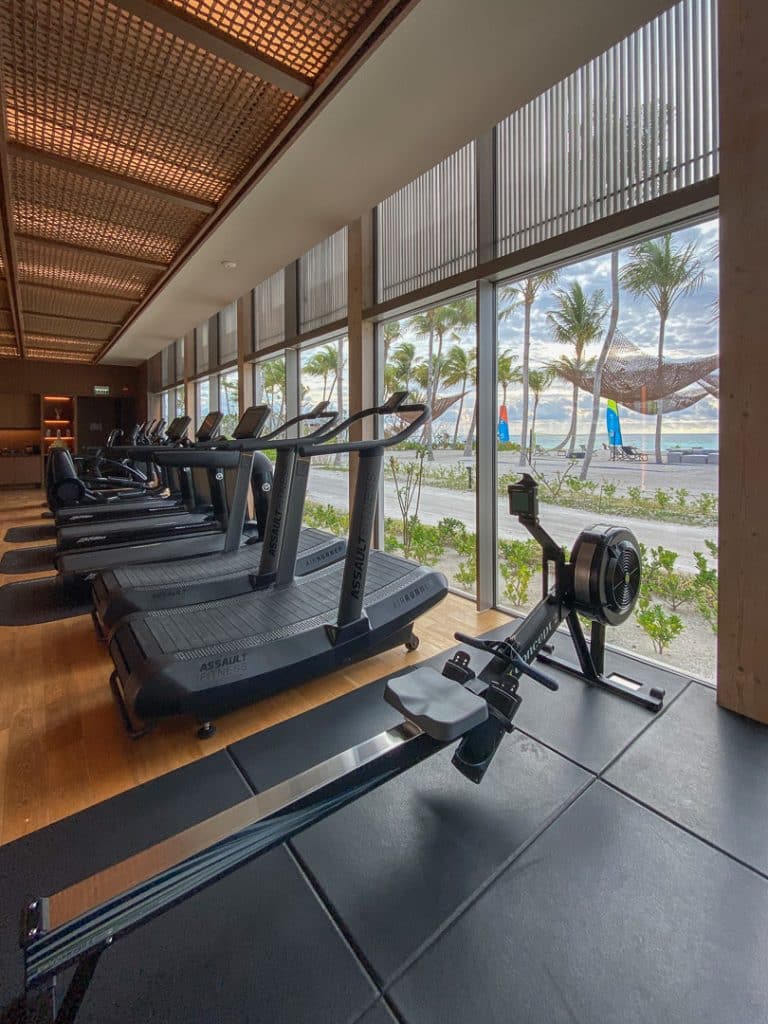 In addition to the usual water and fruit, there was also a Nespresso machine. A great idea for anybody who forgot to pack their pre-workout!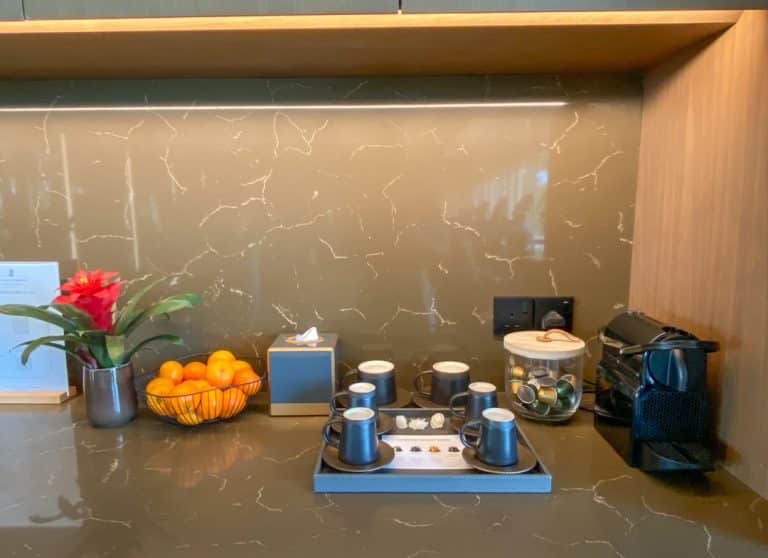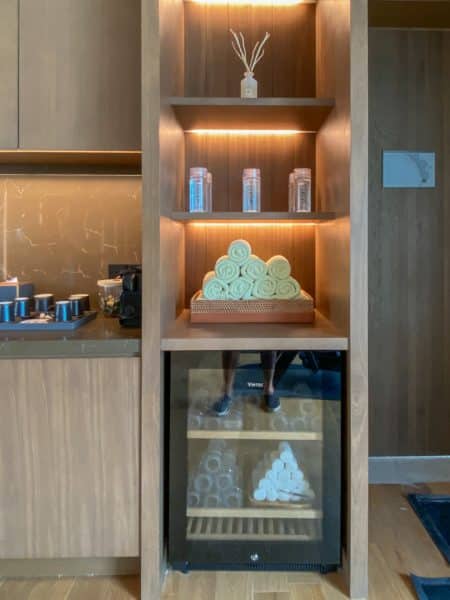 At the far end of the gym was a second room featuring antigravity yoga slings, spin bikes, plyo boxes and another cable crossover station.
Finally, the gym had some very luxuriously appointed changing facilities complete with steam room and sauna. Given the design of the spa, I think it was a smart move to put these types of amenities on the main island, close to the recreation area, avoiding unnecessary footfall at the overwater pier.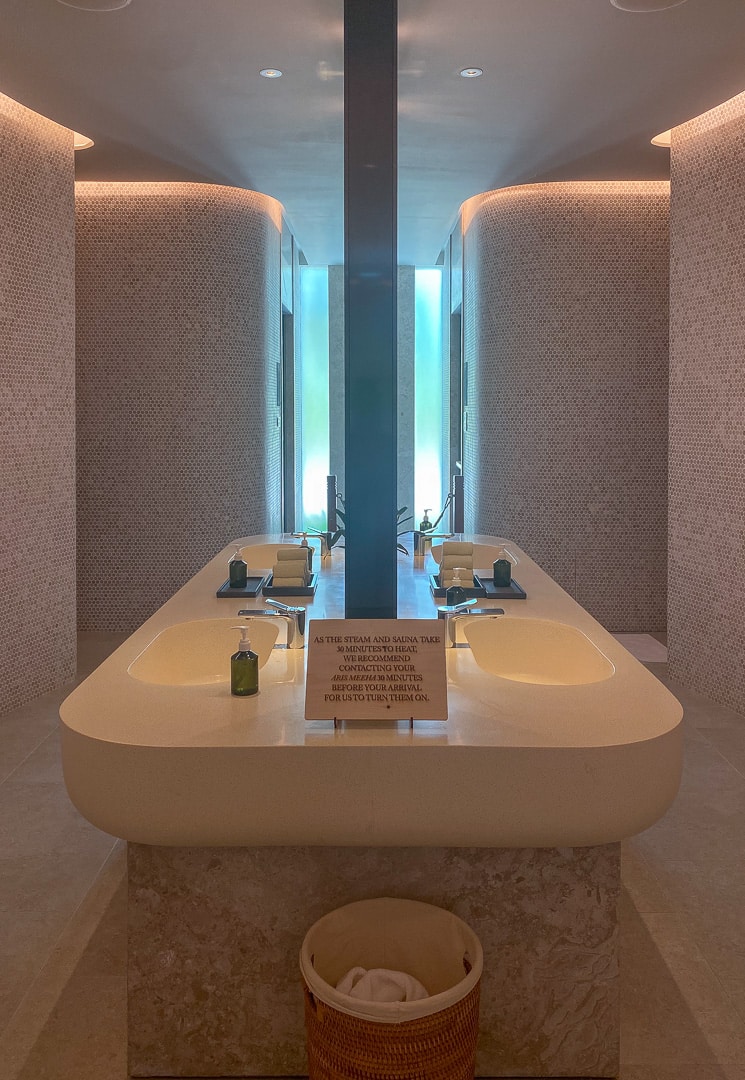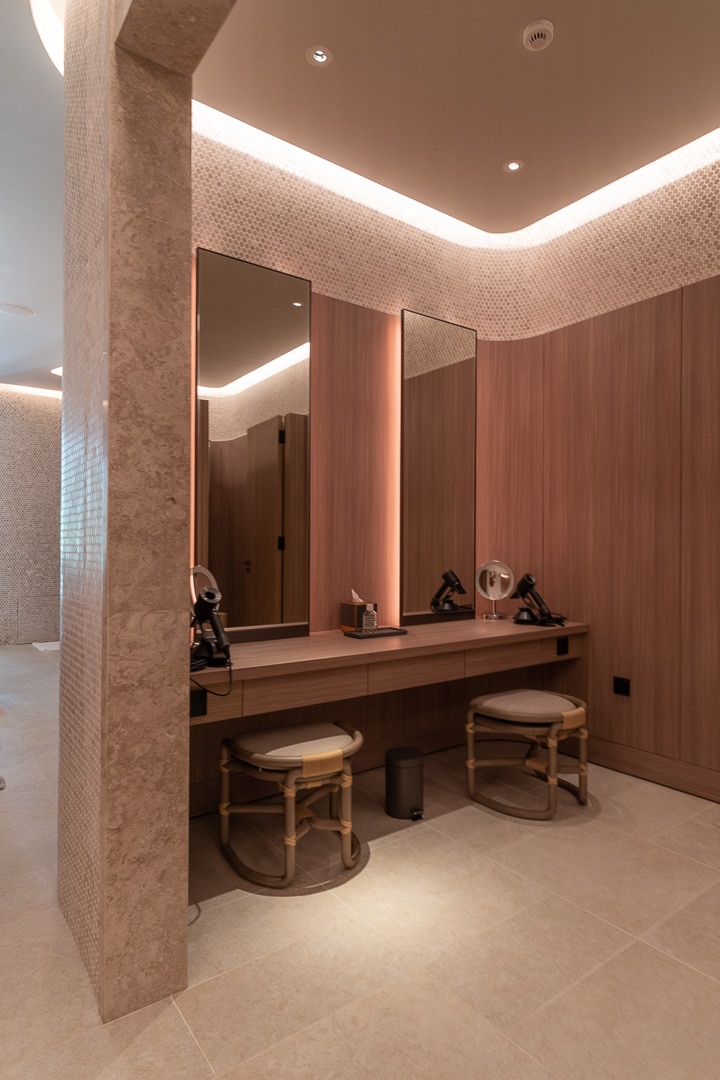 Pool
Moving up to the 'culinary island' at the centre of the resort, you will find the mesmerising main pool.
At many resorts the main pool can seem like a bit of an afterthought when everybody has their own private pool too. However the tranquil expanse of water, perched over the ocean was very enticing.
Even when the pool was it its busiest it still felt very private, given the fact that the sun loungers were placed in pairs, with foliage separating them.
One notch behind this inner ring of sun loungers were series of rudimentary daybeds. I never saw anybody using them since they had no shade and were so thin and basic looking.
Another level further still was Eau bar. The bar supplied a steady stream of staff, ensuring that service by the pool was always excellent. There was also house music playing most of the time, it wasn't super loud but there was definitely a livelier atmosphere than back in our villa pool!
At either end of the pool there was a ramp into the water, again I never saw anybody making use of these.
---
Food and Drink
---
Eau Bar
Located at the main pool, Eau Bar was in many ways the social centre of our stay at the Ritz Carlton. Many Maldivian resorts are quite dispersed, with guests keeping largely to themselves. At Eau Bar however there was always a buzz, particularly during the manager's weekly cocktail reception (held on Thursdays) – which featured free flowing Veuve champagne and cocktails.
The variety of seating meant that the space felt very inviting, whether you wanted to sink into a comfy sofa with a cocktail, chat with a mixologist at the bar or sit down for a full meal.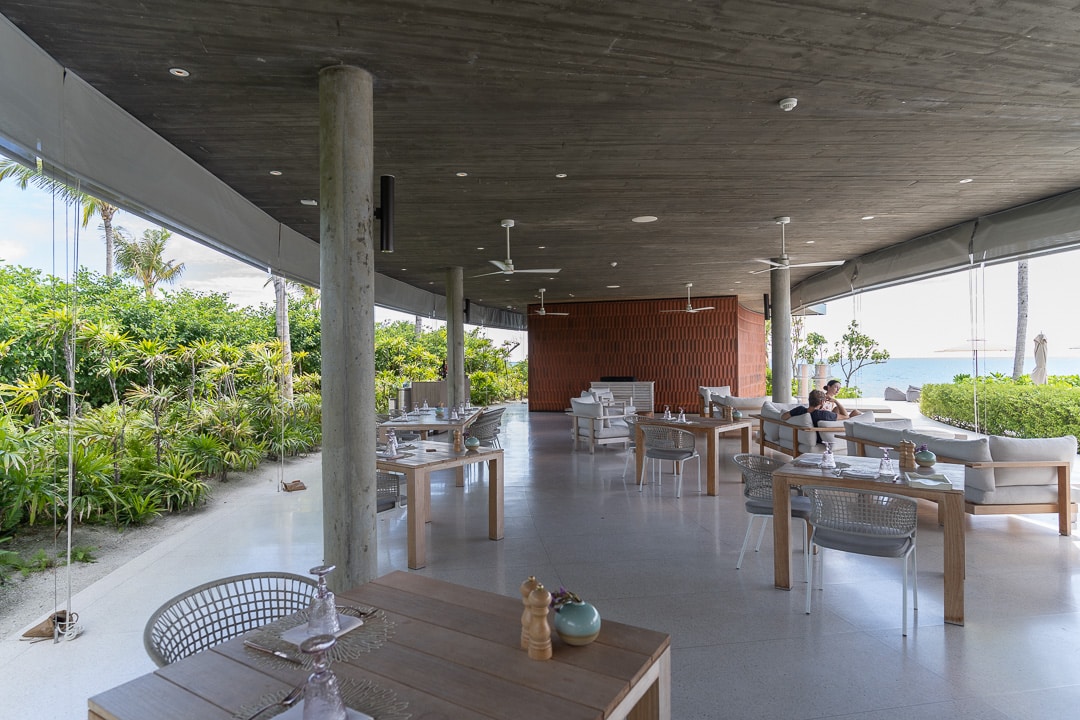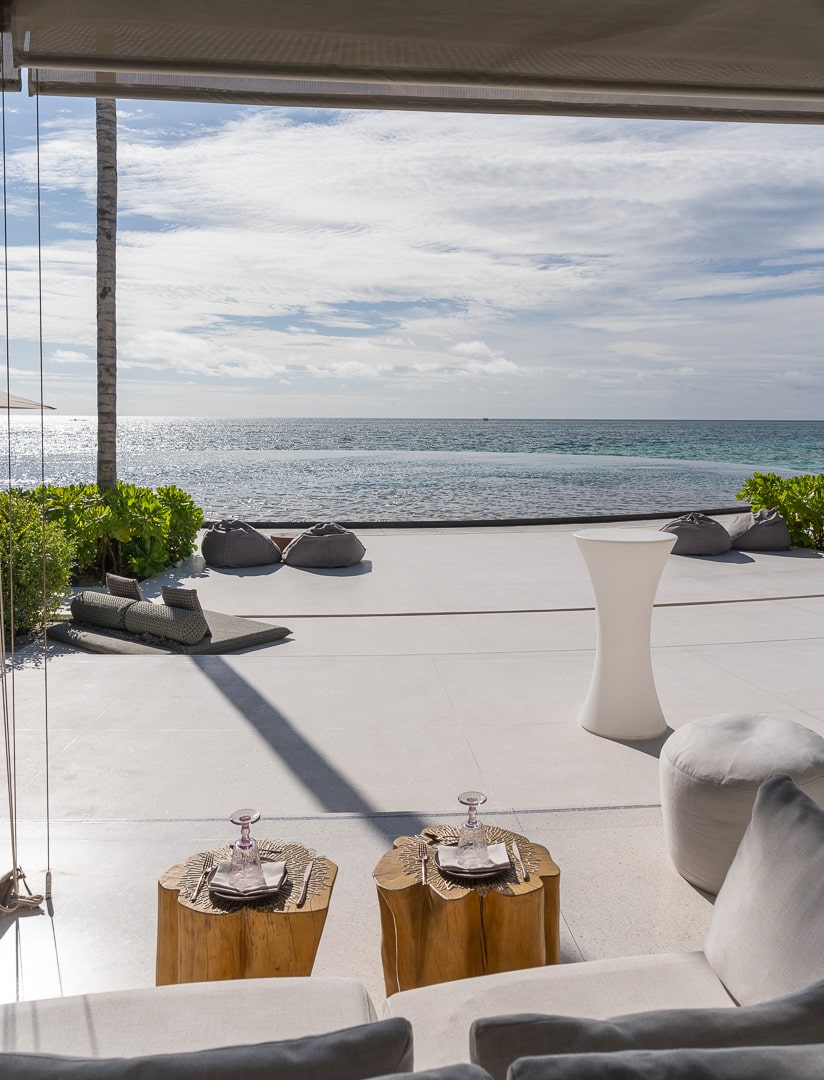 Lunch
The first meal of our stay a the Ritz was lunch at Eau Bar. Service was very polished and friendly and all of the dishes that we ordered were beautifully executed and generous in terms of portion size.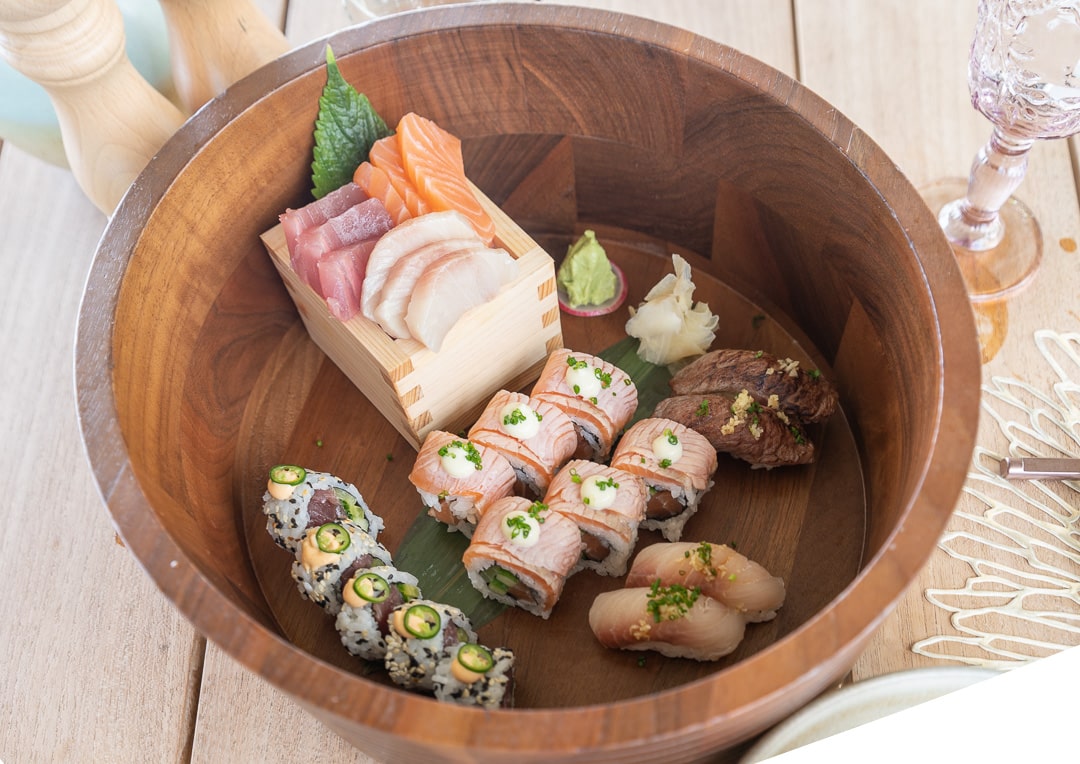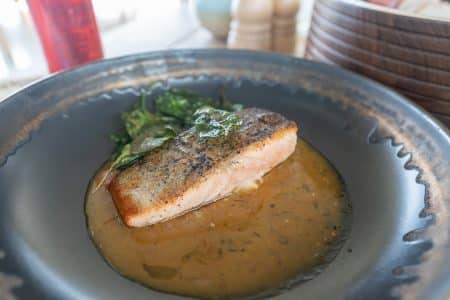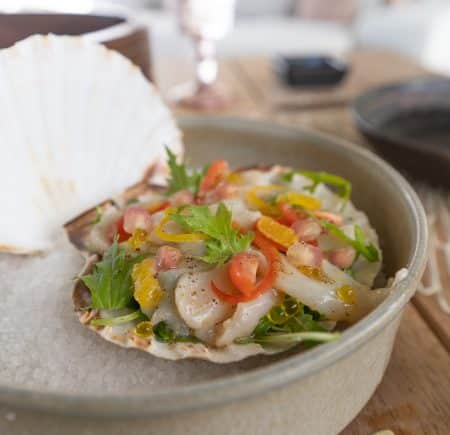 Pricing was on the high side though, even for the Maldives. $136++ for a single glass of Dom Perignon and $90++ for 6 oysters, were some of the more onerous prices on display.
Scan the QR code below for the latest food and beverage menus: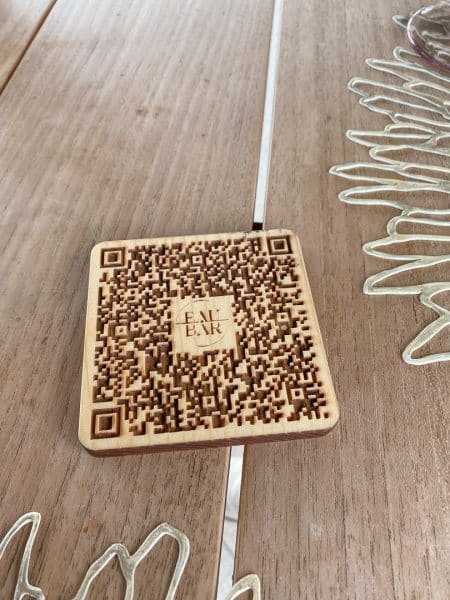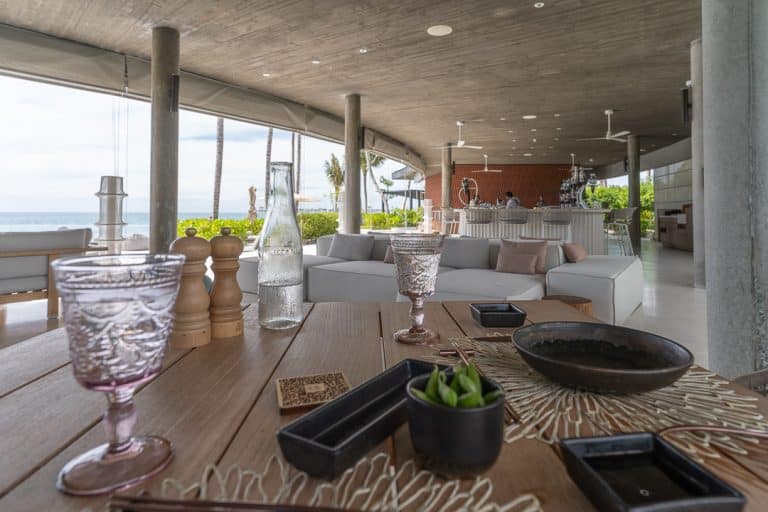 Afternoon Tea (4-5pm)
This is offered free of charge to all Bonvoy members and usually held at La Locanda, however due to an event, this was moved to Eau Bar on the first day of our stay.
The buffet style layout worked really well and meant that we could pick mostly savoury options which we tend to far prefer over desserts and cakes. The number of items on offer was incredible as was the overall quality level.
This certainly put the meagre afternoon tea at the Conrad Maldives to shame.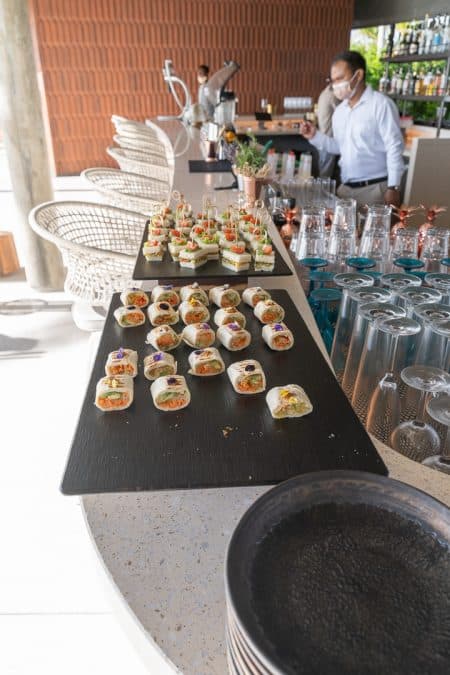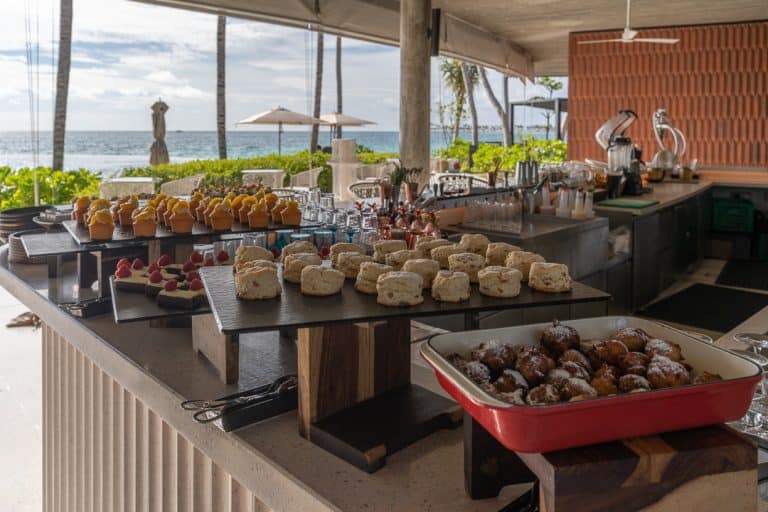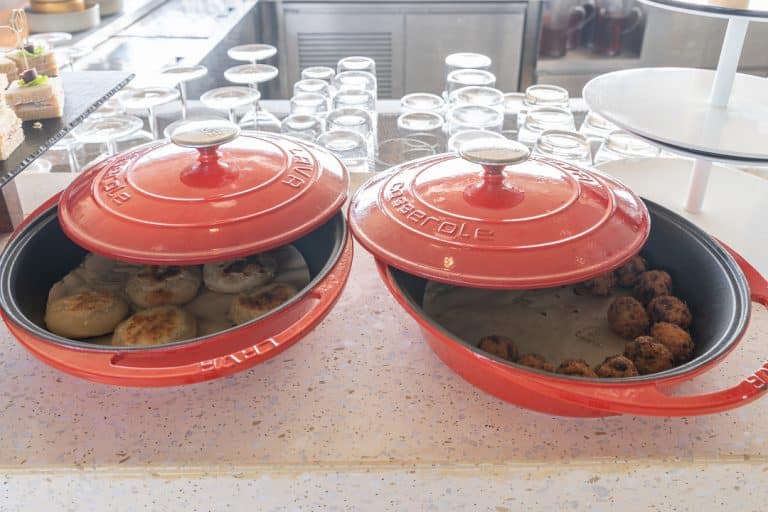 Manager's weekly cocktail reception (Thursdays 7-8pm)
Again, due to an event, this was moved from the usual Beach Club location to Eau Bar during our stay.
This really felt like a proper event, with staff diligently doing the rounds to offer canapés and refills. Guests also appeared to make far more of an effort to dress up than at any other Maldivian resort I've visited in the past.
Drinks on offer included a variety of different cocktails and mocktails as well as freshly sabered Veuve Clicquot champagne.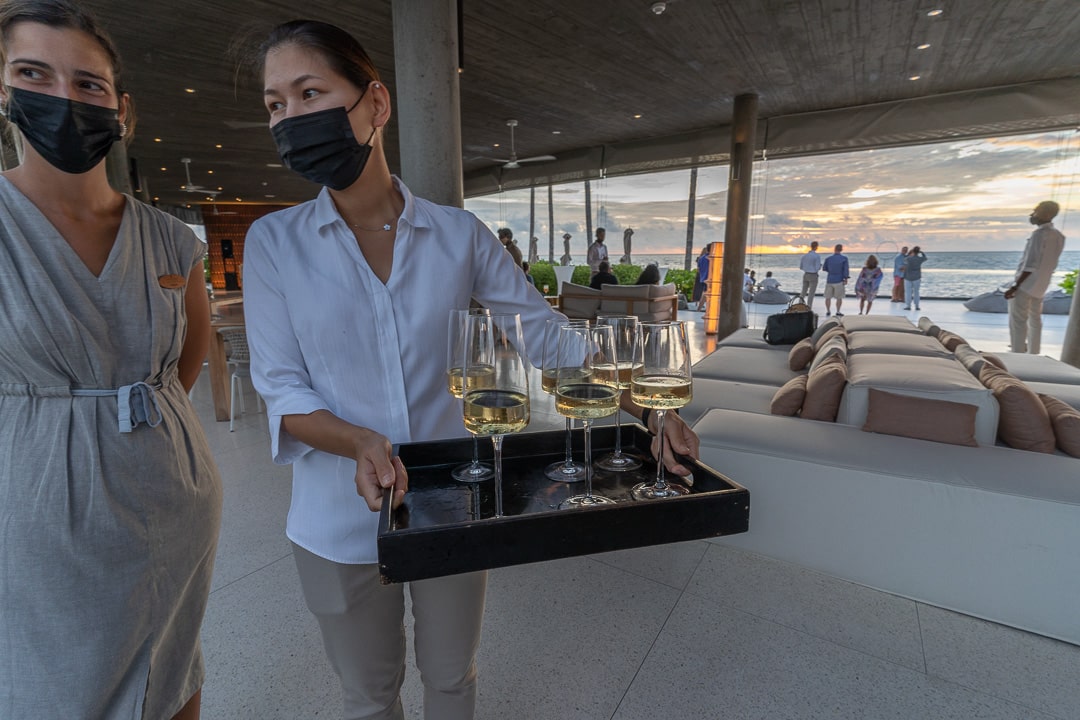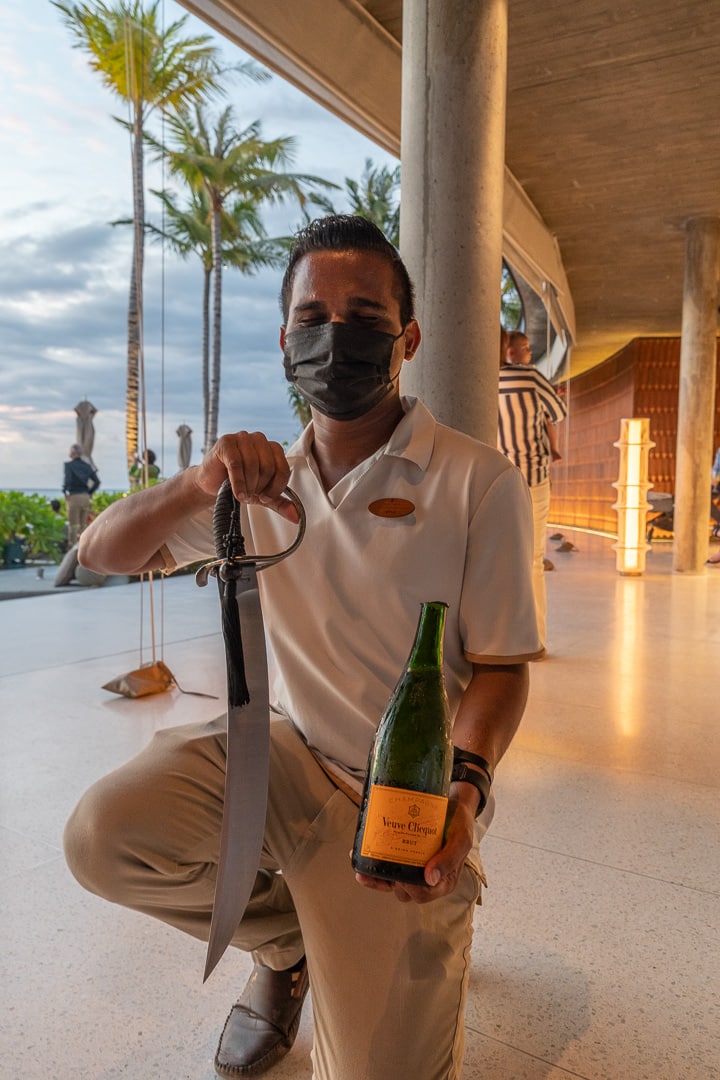 There was a real sense of bonhomie during the reception with guests mingling and taking pictures for one another, as the sun began to set and the daily sunset ceremony took place.
Iwau
Iwau is located immediately to one side of Eau bar and offers an intimate kappo-style Japanese dining experience. Unfortunately on the night of our visit the weather did not cooperate, so our dinner was served under the shelter of Eau Bar.
Obviously being sat in a busy bar with music and people chatting was rather a different experience to being sat at the chef's counter as he prepared dinner in front of us.
I also found the portions to be laughably small for the price. Having visited the Maldives on many occasions over the last few years, I thought that I was somewhat immune to sticker shock. The $335++ price per person was nothing short of egregious.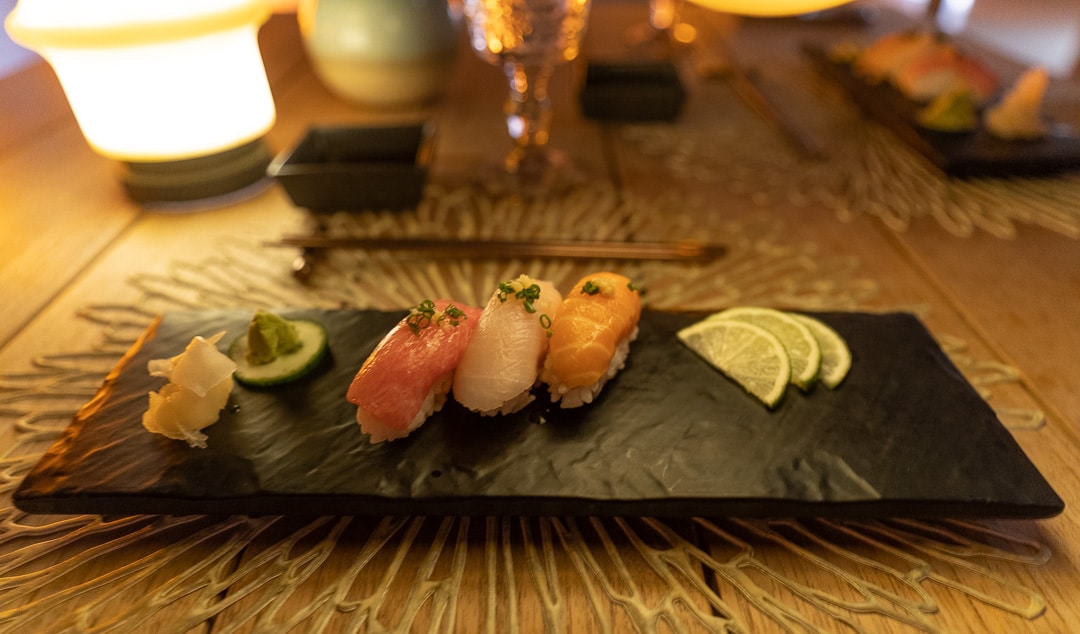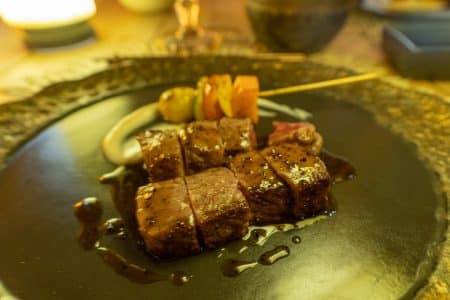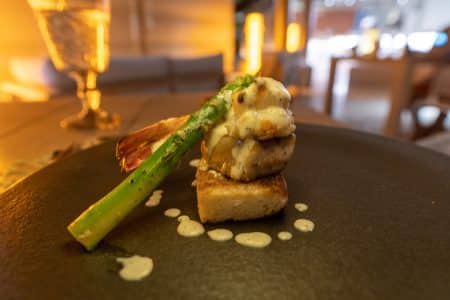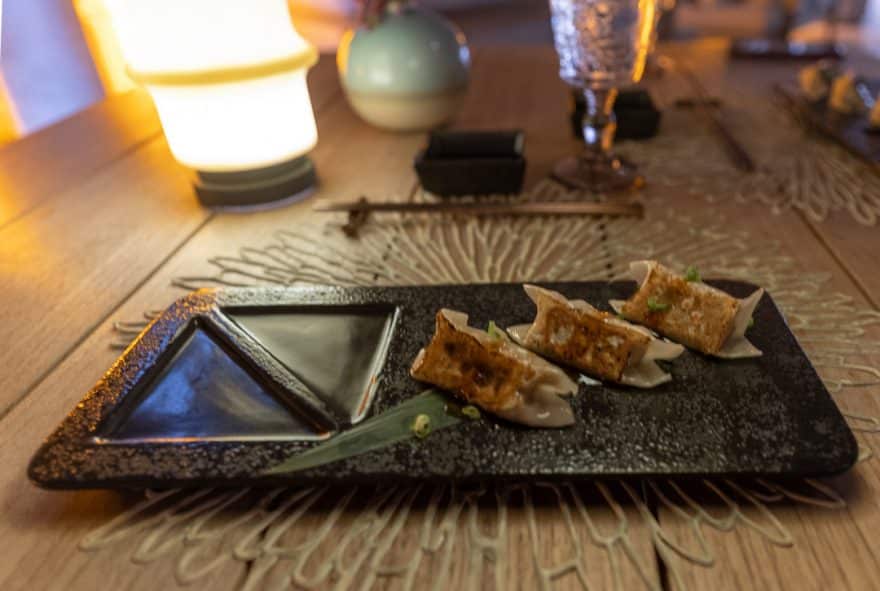 Putting this into context, the most expensive seasonal kaiseki tasting menu at 3* Michelin Wa Yamamura in Nara is less than half the price…and they don't put sweet vanilla sauce on seafood.
Other than the vanilla sauce, nothing about the meal at Iwau was particularly memorable; the gyoza, nigiri and steak were all at the level that you'd expect from a local neighbourhood Japanese restaurant in London.
La Locanda
LaLocanda Breakfast
La Locanda Lunch Menu
La Locanda Dinner Menu
La Locanda is located just across from Eau Bar on the same 'culinary island'. On our first visit Moosa, our butler, handed us over to the restaurant staff – quickly letting them know that we would need to be shown around, since it was our first visit.
This kind of service really stood out to me, in a country where excellent service is already the norm.
A wonderful architectural trick allows La Locanda to enjoy ample light, as well as proper shade and views in all directions.
Much though I enjoy breakfast on a sandy beach, there is something truly special about starting one's day suspended over the luminous turquoise water of the Indian Ocean.
The main dining area featured smaller tables around the edges…
… as well as tables for larger groups in the centre.
There were also a couple of tables available on the island itself, looking out to the ocean.
For those in need of icy cold air conditioning, there were also numerous tables located indoors, by the buffet. I really loved the decor at La Locanda, the furniture had a robust and high quality feel to it and the small splashes of colour, combined with the cream and wood palette, really set the tone of island luxury wonderfully.
Breakfast
Most room rates at Ritz Carlton Maldives include breakfast (including those that we offer as a Marriott STARS agency) and this entitles guests to the full buffet plus anything they want from the a la carte menu.
The menu was offered to us via QR code: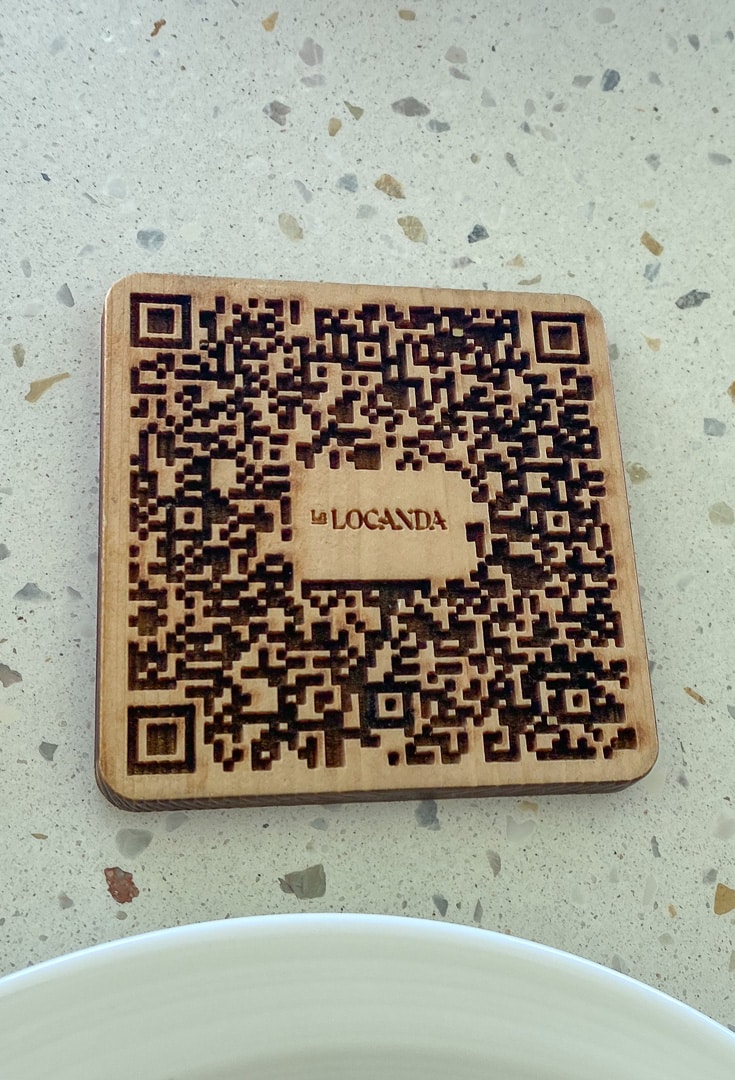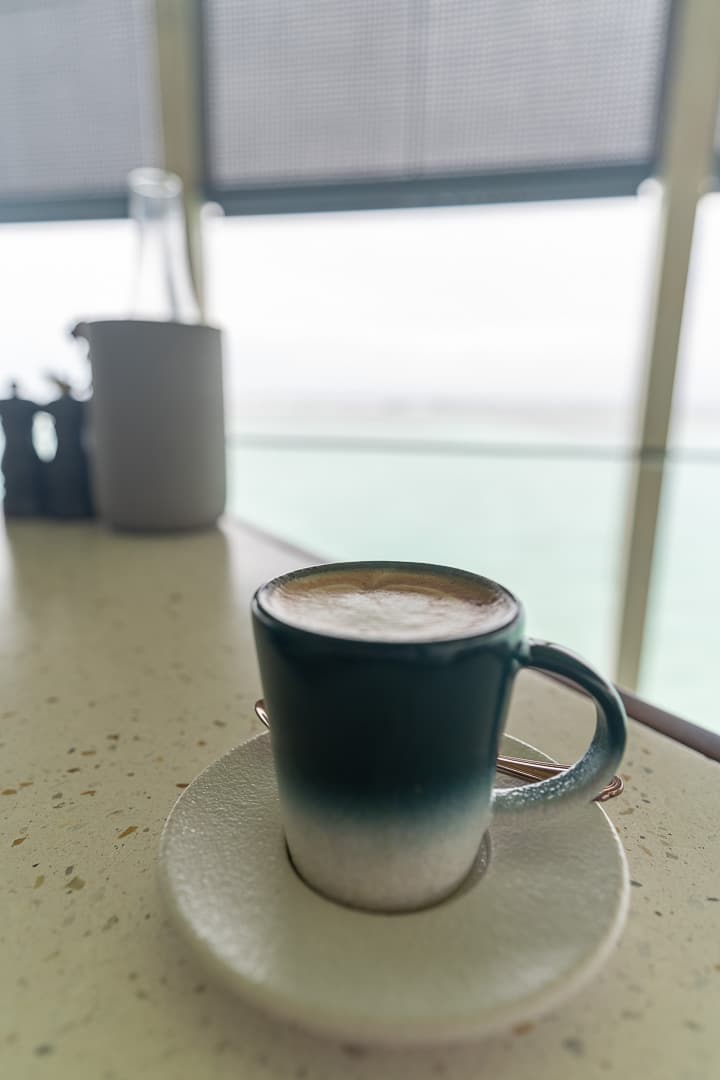 Service was very attentive, with staff ensuring that we were able to order drinks as soon as we sat down. Coffee was from a proper machine and not Nespresso (sadly this isn't always the case, even at resorts with room rates north of $3000 a night).
However, Kamara had her usual issues when trying to order a very strong iced cappuccino with little milk…and ended up getting something resembling a milkshake on the first attempt.
Thankfully her preference was correctly noted after some prompting, with strong iced cappuccinos served for the remainder of our stay.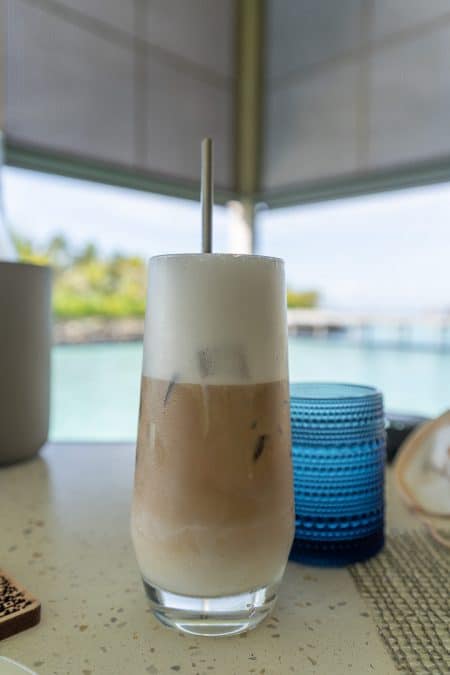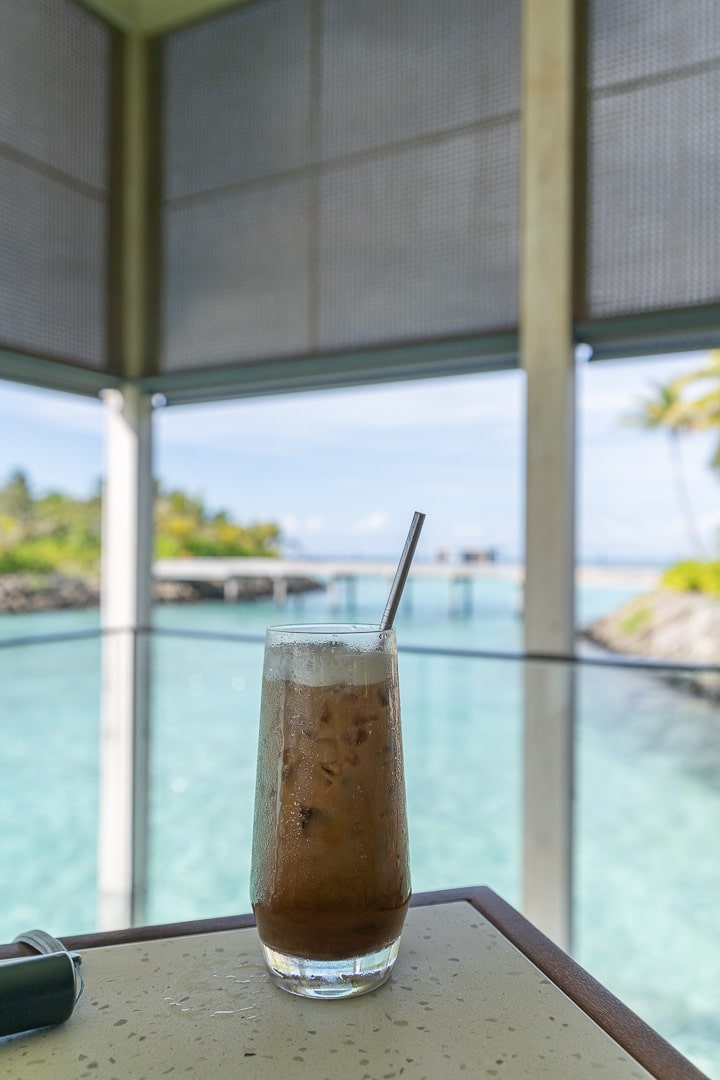 The buffet selection was very extensive, with all pastries freshly baked on site and a fantastic fruit selection too. Staff were very friendly and welcoming, talking with visible pride about the food offered in their particular sections.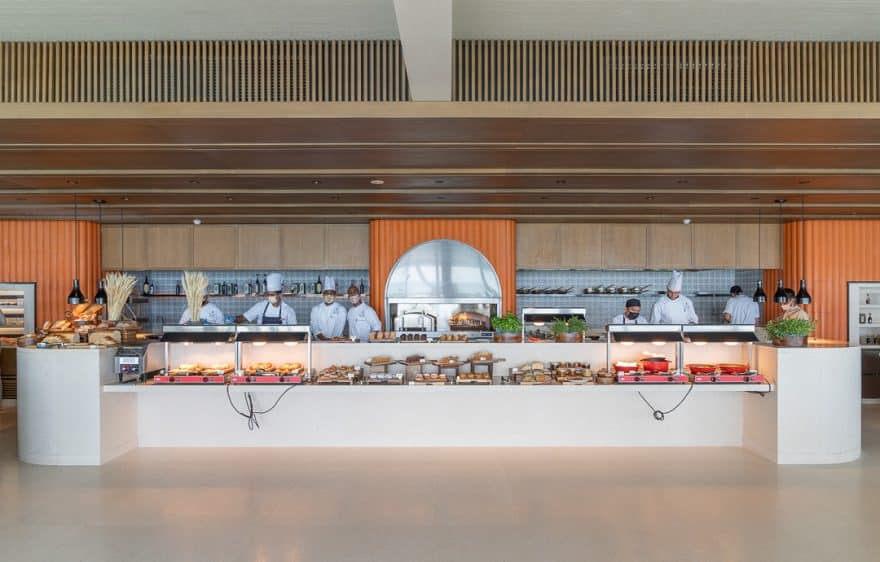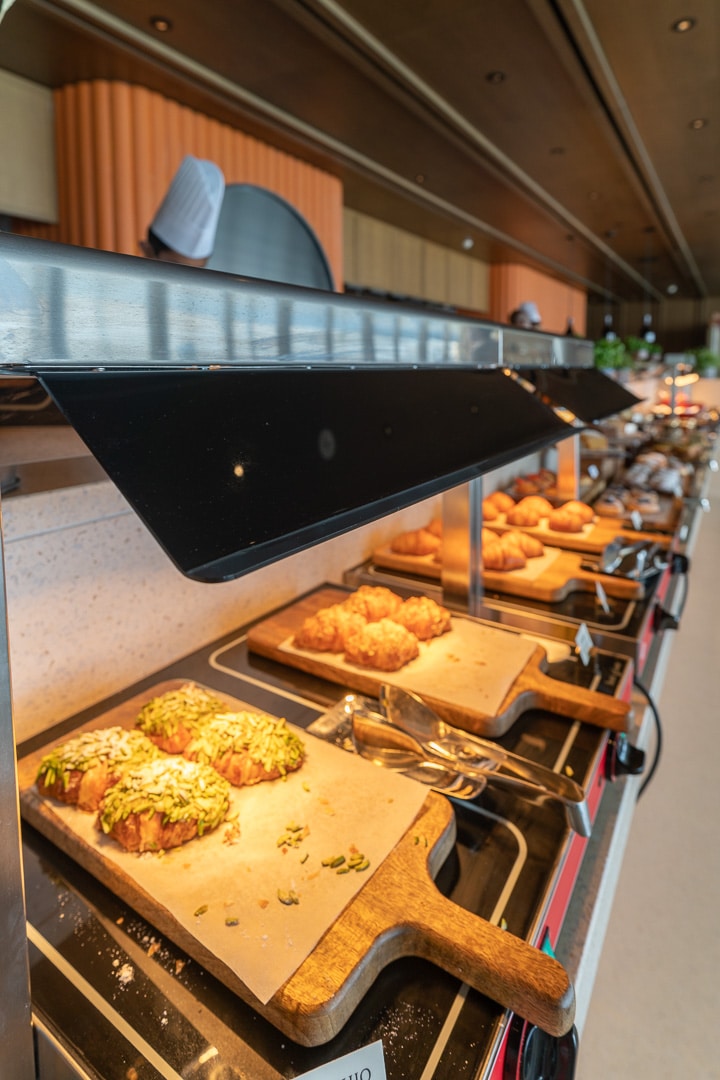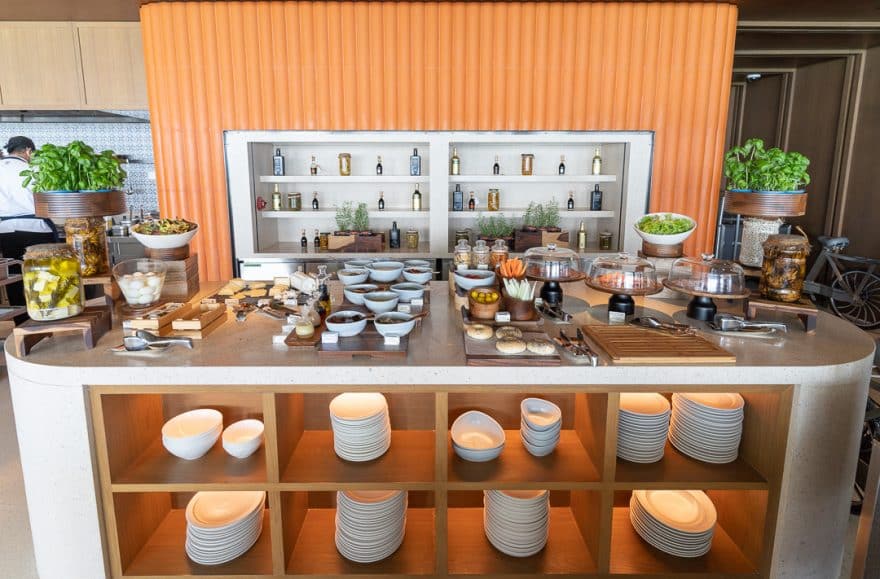 When we asked if there was any snake-fruit, the lady in charge of the fruit's eyes immediately lit up, "you know salak!?". This resulted in us having a lengthy conversation with her about our love of Indonesia and in particular the amazing food.
Another fantastic touch was the fact that staff were on hand to shuttle plates back to our tables for us, so that we wouldn't have to walk them back to our tables ourselves.
We stuck almost entirely to the buffet, the sole exception being the amazing egg white and fresh crab omelettes.
Afternoon Tea (4-5 pm)
La Locanda is the usual venue for the complimentary afternoon tea.
The afternoon tea was served at our tables on tiered stands and whilst the food was decent, it wasn't a patch on the huge variety of dishes on offer when the afternoon tea was served at Eau Bar.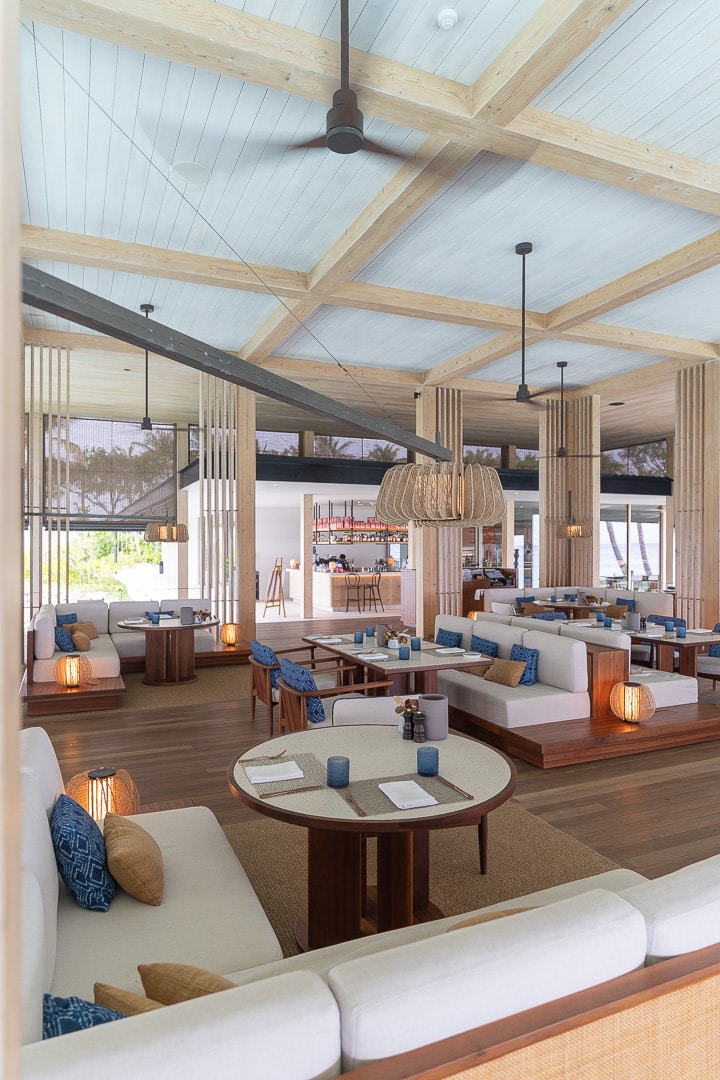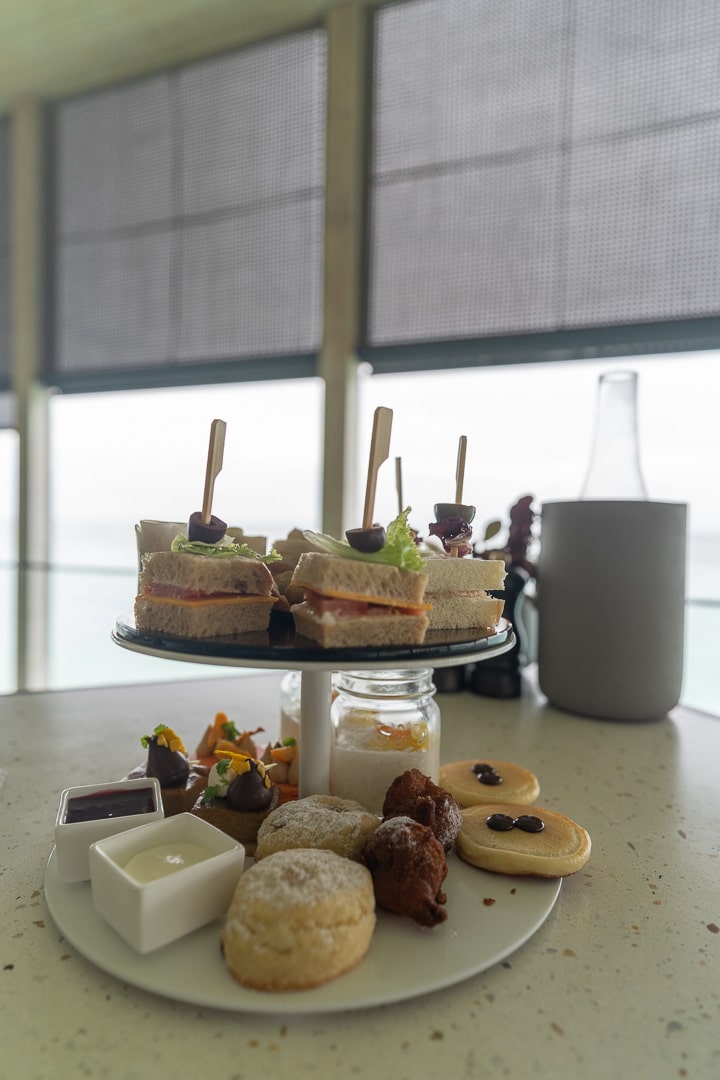 Summer Pavilion
Summer Pavilion is the resort's Chinese restaurant and is located next to La Locanda, in a similar overwater structure. Summer Pavilion is only open for dinner and was my personal favourite restaurant at the Ritz Carlton Maldives.
The design is very striking, with the circular doorway and light projected logo setting the tone for a Hakkasan style high-end dining experience.
The interior was an exercise in elegant, zen-like minimalism with very high ceilings adding to the sense of drama in the room.
Every single dish that we tried was truly excellent and portions were quite generous. Overall, this felt like a massive improvement over the Waldorf Astoria's Li Long restaurant.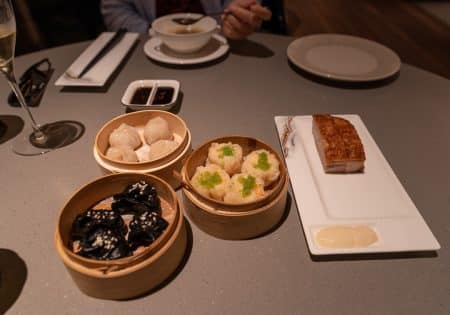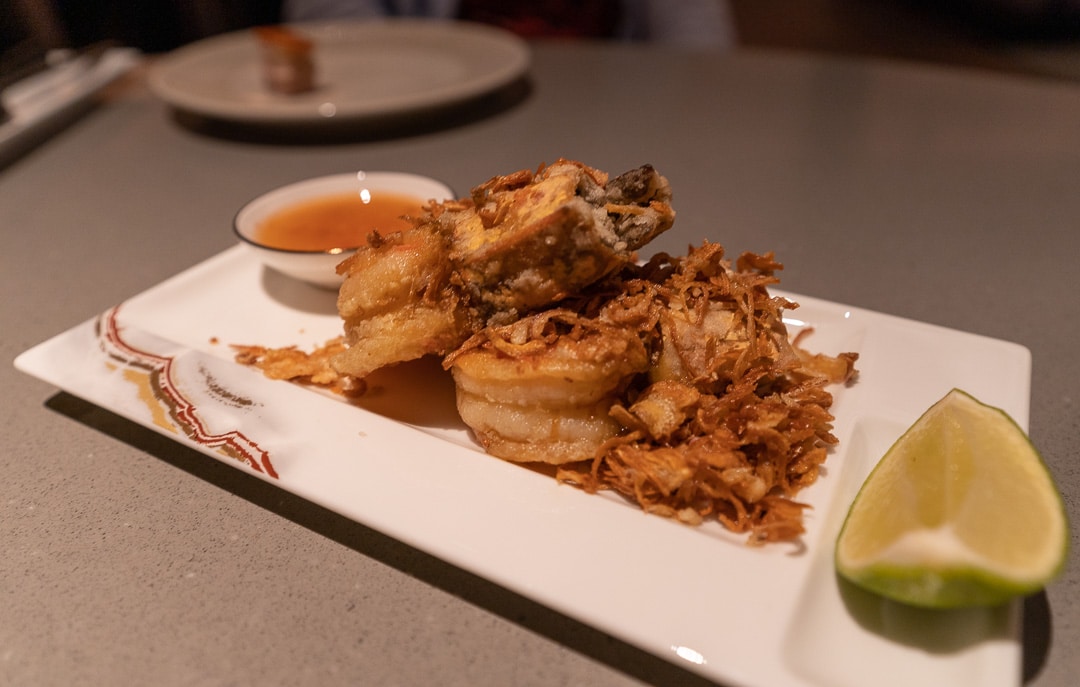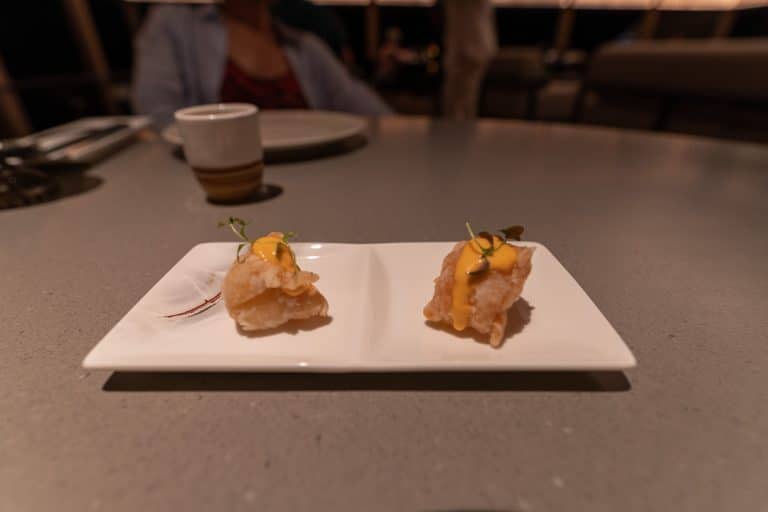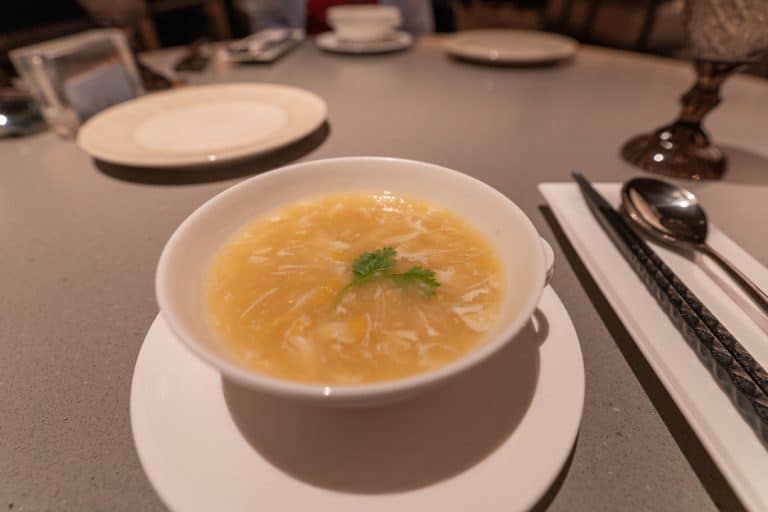 Beach Shack
Despite the rather humble name, Beach Shack had more in common with an Ibiza day club than a small hut selling coconuts. This was the only dining establishment located away from the culinary island and was very conveniently located for parents, just a few metres from the Kids Club.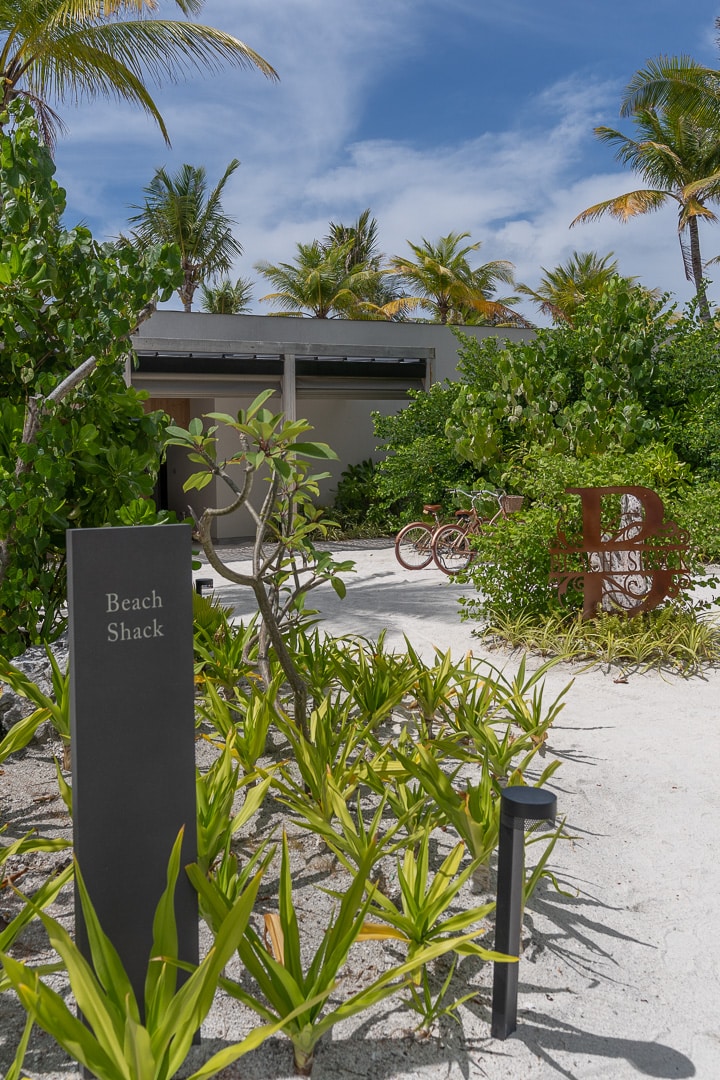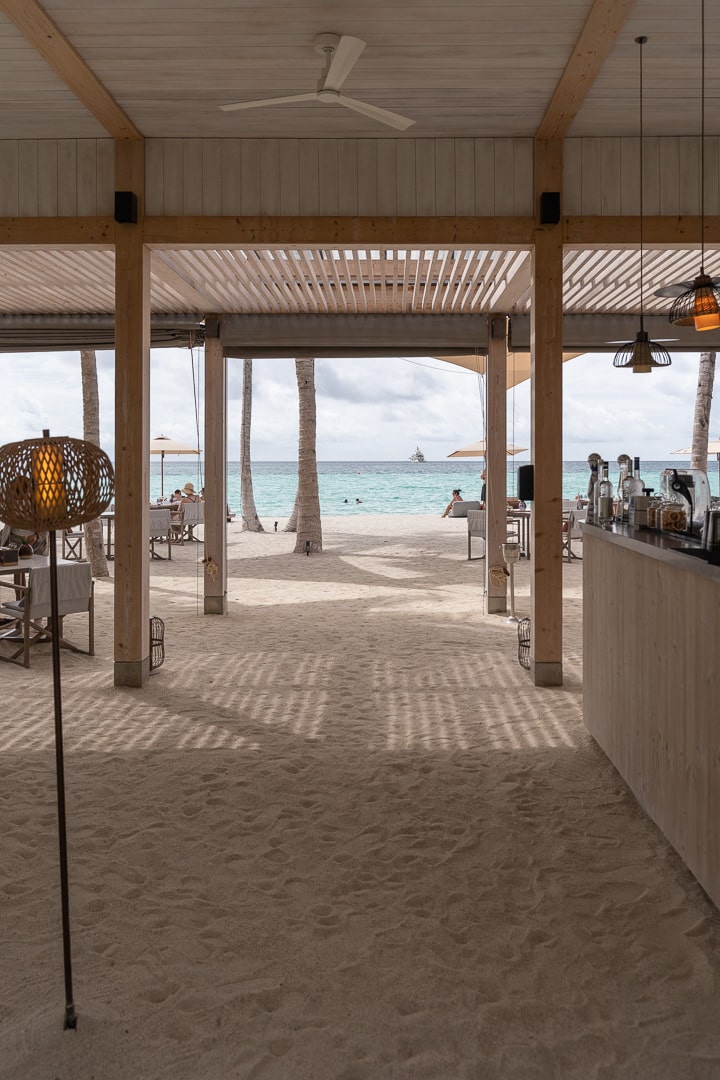 I appreciated the fact that there was plenty of shade for those who wanted it, including a fully covered and ventilated area by the main bar.
The tables out on the beach also received plenty of shade from the sail like structures above them.
Service here was really great. When the waiter recommended the paella to me I noticed that he had a Spanish accent and asked him with a smile, in Spanish, if he'd stick to that recommendation if he knew that I was from Valencia…He didn't miss a beat and said "I would absolutely recommend anything except the paella in that case".
This interaction was indicative of the way in which staff at this property would read guests and match their energy. This is the best kind of service in my opinion, treating each guest as they would like to be treated rather than overly relying on stiffness and formality.
Our meal started with some freshly baked breads and a dip, I also ordered a grapefruit soda, since I had really enjoyed drinking these in the room. Despite this not being on the bar menu, the staff retrieved one for me in a matter of minutes.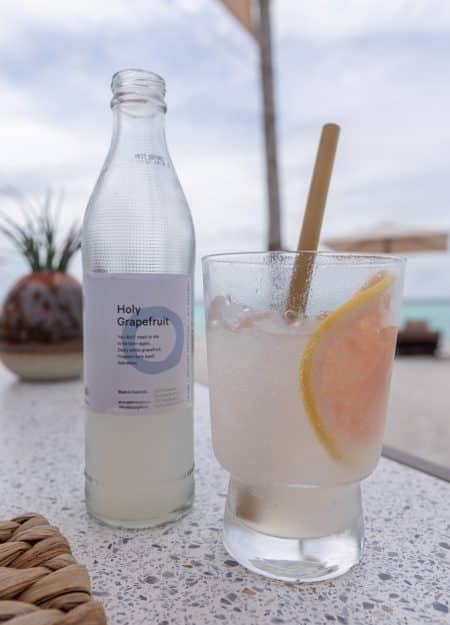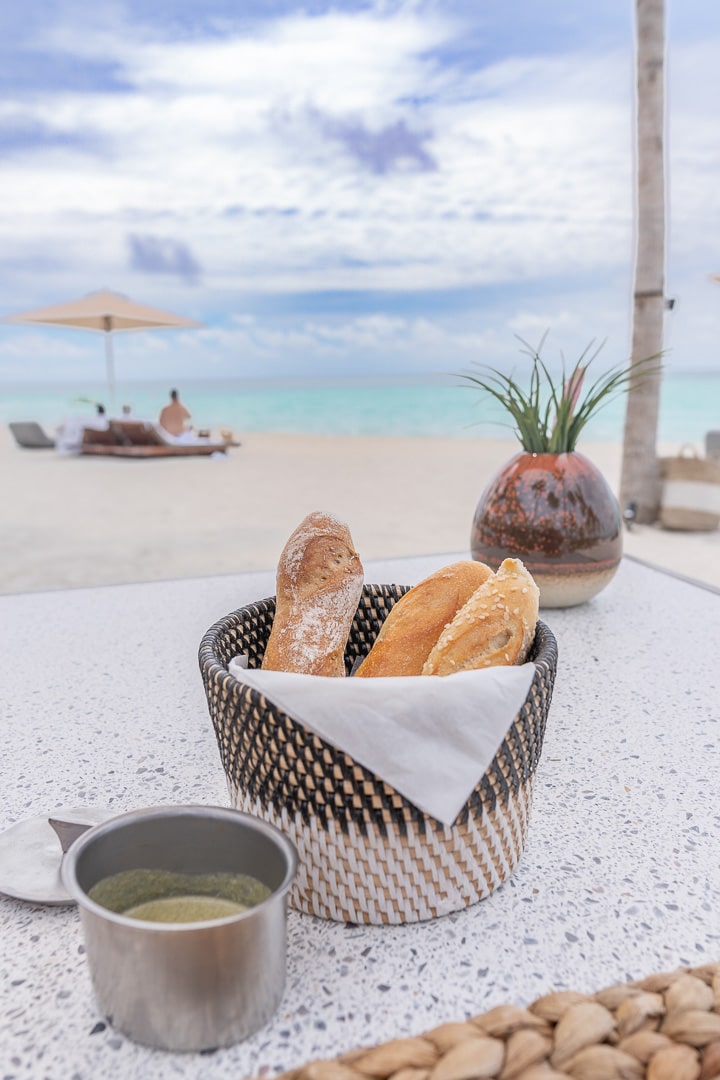 The food that we ordered here was ok but not great. The croquettes were overly creamy with not much in the way of protein. The sushi was a bit gummy and the crab legs tasted like water and had no sweetness to them. In something of a recurring theme at this property, the quality of the food just didn't stack up with the prices.
The exception to this was my order of soft shell crab tacos, which were very tasty, albeit lacking in a proper slaw.
I really enjoyed the presentation of the coffee too.
Arabesque (Fari Marina Village)
A rather unique proposition.
Arabesque is actually not located at the Ritz Carlton but instead is located within the Fari Marina Village area of Patina, a short complimentary boat ride away.
Boats depart every 30 minutes and take 15 minutes to transfer guests between the two resorts.
Upon first disembarking, chances are that you'll be greeted by the sight of Patina's magnificent house yacht: Ad Astra.
We actually never ate at Arabesque but from what we were told by other guests, it was the best meal out of any dining establishment at the Ritz Carlton.
I can believe this because the quality of food was so much higher at Patina (at half the price in some cases). Given its location, Arabesque undoubtedly had to improve to compete.
TumTum (Fari Marina Village)
Set up like a food truck, this is by far the most casual dining option available at the Ritz Carlton Maldives (or Patina for that matter). The menu serves a variety of pan-Asian street food.
Room Service
I love ordering room service when staying in the Maldives. Why leave the comfort of your own private villa when you have a wonderful dining table with a sea view and no other people to disturb you?
Dinner
I hit one of my regular food walls on the last night of our stay. Spending weeks at a time in the Maldives usually lends itself to overeating, no matter how much you try and cut back! As such, I ordered a delicious caesar salad, which came with a rather generous amount of prawns.
Meanwhile Kamara ordered seafood pasta, which she loved, since she's "never too full for pasta".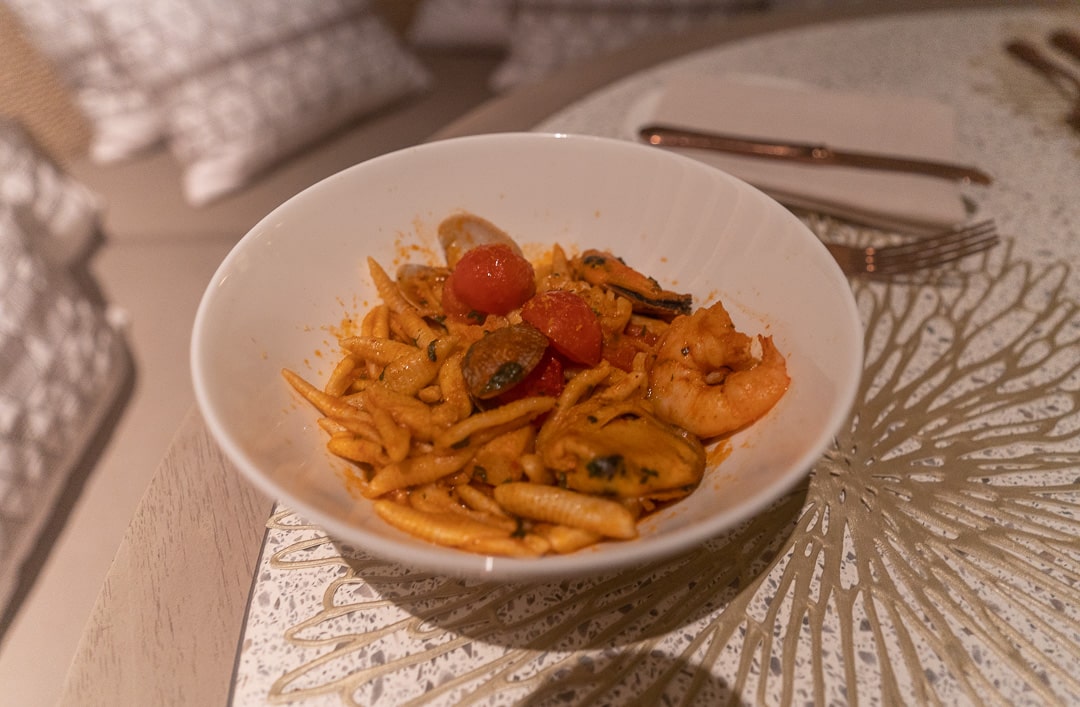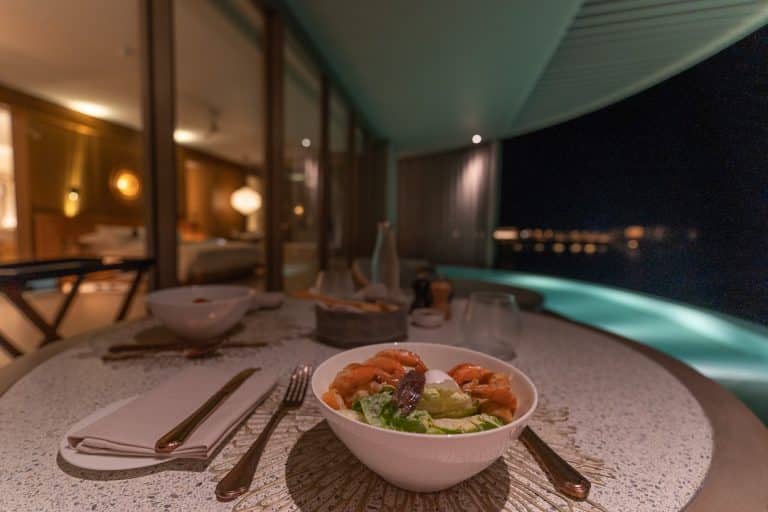 Breakfast
Since we had a relatively early check out, we thought it would be far more convenient to have breakfast in the villa rather than going back and forth to La Locanda.
I ordered the Japanese breakfast, which was ok but in no danger of passing as anything even remotely Japanese, other than the presence of a couple of pickles.
Kamara woke up completely full after her pasta dinner and said she'd just order a bone broth and perhaps eat some fruit from the fruit basket. However, what arrived was an ice cold bag of commercial bone broth which was expired.
This brings us neatly onto the final section of the review…
---
Service
---
The mix up with the breakfast soup was taken care of immediately by the resort, with an apology and the offer to bring another dish free of charge. Unfortunately we didn't have time to wait for food to arrive prior to check-out, so the resort ended up waiving the cost of my breakfast instead. A very generous offer.
When the room service dinner was delivered, the delivery man was not only extremely polite and efficient, describing our food to us in detail, he also asked, "is there anything else at all that I can help with?".
A phrase that we heard often during our stay.
We mentioned that our AC had just started making a lot of noise, a few minutes prior to his arrival. His response, "I'll ask a member of engineering to come and investigate this. Would you like me to call him straight away or ask him to wait so that he doesn't disturb your dinner?"
Not only was a member of the F&B team suitably empowered to deal with a request completely outside of his department, he also had the foresight to consider our position and ask how best to deal with the issue, without disturbing us.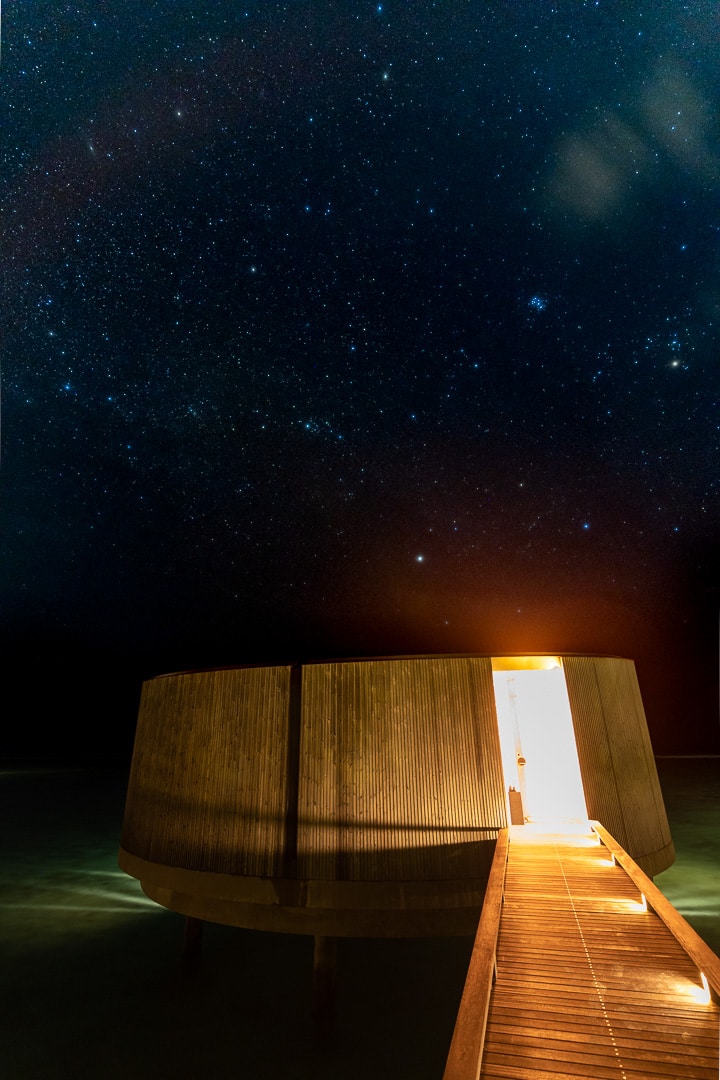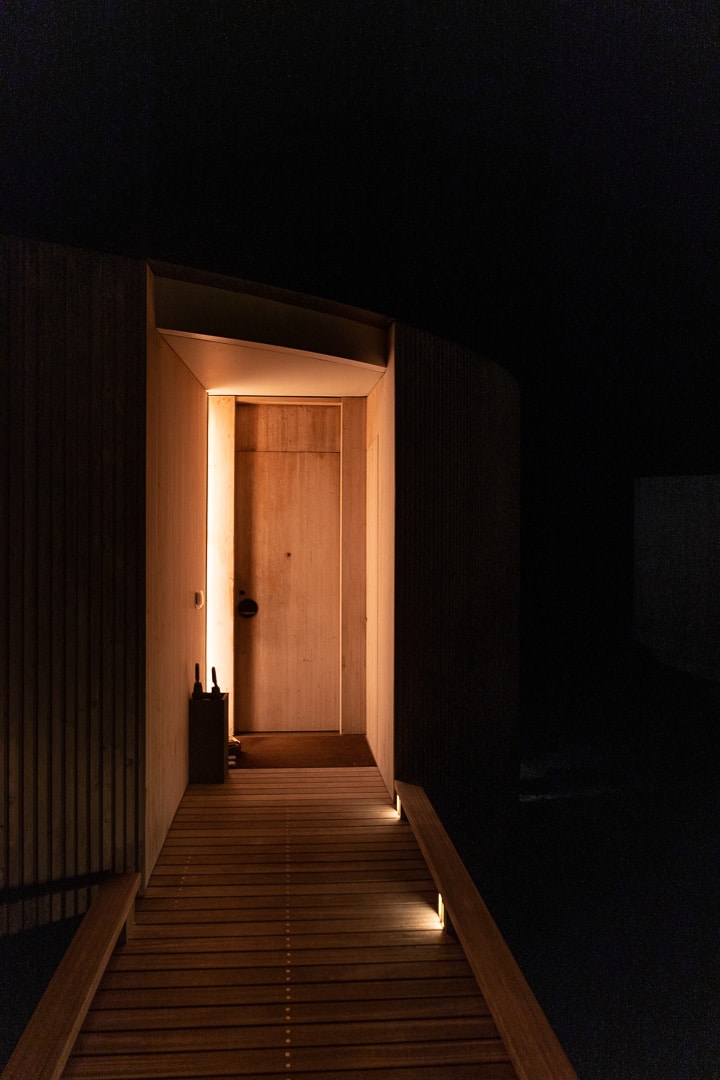 On nights when we had dinner at a restaurant, it was a true pleasure to return to our villa and see it transformed into a cocoon of warmth and comfort.
Water was positioned on our bedside tables, beautiful herringbone tweed slippers with fluffy insides were placed on linen mats alongside the bed and a tray was laid out with a daily selection of sweets.
As a man who always wears linen in the tropics, I loved the fact that 8 pieces of complimentary pressing are included per room, per stay.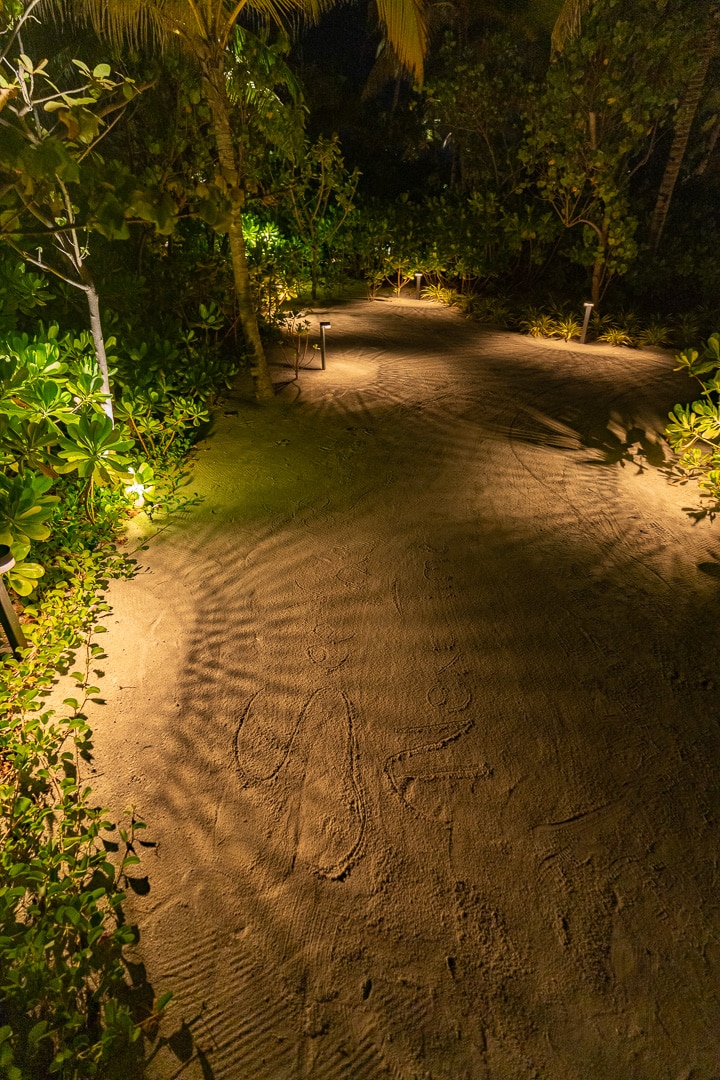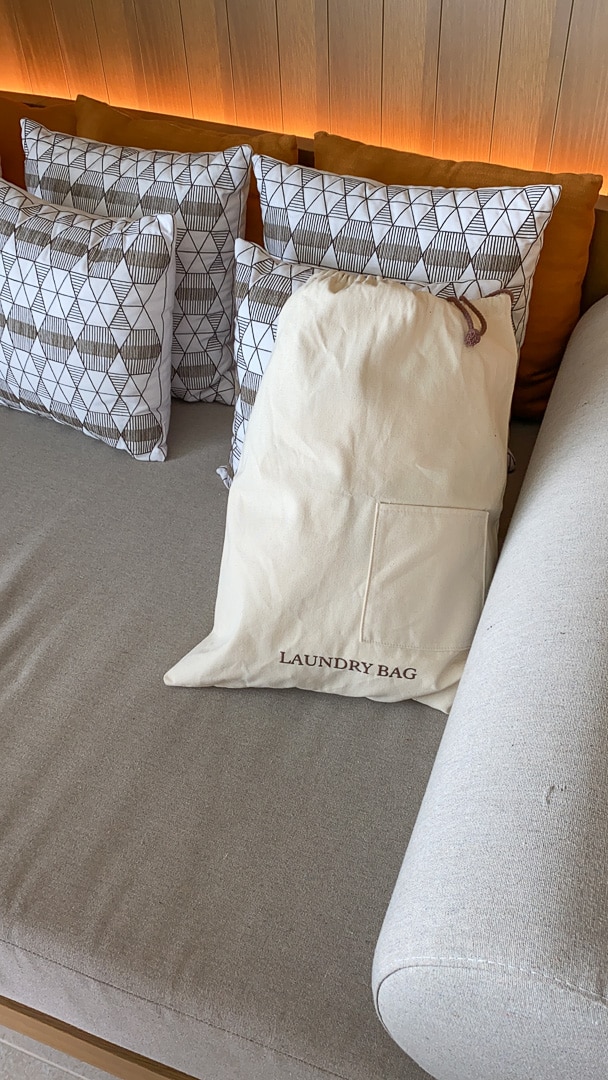 Every day, the resort staff found new ways to surprise us with their thoughtfulness. Right down to carving the words "see you next time" into the sand outside our room on the final night. Inside we found a parting gift of a high quality picture frame waiting for us.
Overall the service was as good as any we've ever encountered in the Maldives. Staff always smiled and stopped to greet us as we passed. Everybody was highly fluent in English and "no" was never an answer. More often than not, staff would proactively suggest ways to improve our stay and on the rare occasion that we asked for things they didn't know about they would immediately go in search of an answer.
Moosa, our butler, was exceptionally polished, having served for many years at Cheval Blanc Randheli, prior to being posted at the RC. At other resorts we've had butlers who were overburdened, or out of their depth. In Moosa we found somebody who was remarkably capable and collected. It felt like there was no chance that anything could go wrong as long as we had him on our side, taking care of us.
---
Conclusion
---
Basics Checklist
☑︎ Power sockets near the bed
☑︎ Easy to understand light switches
☑︎ Coffee machine
☑︎ Separate shower and bath
☑︎ Blackout blinds
☑︎ Stable, fast and free Wifi
☑︎ Feather pillows
☑︎ Quiet and powerful aircon
The Ritz Carlton Maldives is a truly remarkable and exciting proposition in the highly competitive Maldivian hotel market.
Ordinarily when you visit a resort within the first year or two of opening, you expect service issues to be rife. Instead the Ritz Carlton Maldives provided us with one of the highest standards of service that we have ever encountered in the Maldives.
It is impossible to truly relax when you're unsure if reservations have been made, wait times for buggies are long or maintenance issues plague your stay, no matter how large the villa. Having close to perfect service meant that our time at the Ritz Carlton was genuinely carefree.
The architecture is breathtaking in person. Kerry Hill did amazing things with Aman hotels and the fact that he was able to lend his touch to this most luxurious of destinations prior to his passing, is a truly wonderful thing. The villas aren't gigantic but they are designed with a remarkable sensitivity to the needs of their inhabitants, with a palpable feel of quality to all the fittings and fixtures.
Why live in a McMansion when you can enjoy a luxury penthouse?
Food is something of a weak point, with breakfast being the most appealing meal but lacking the variety of dishes on offer at somewhere like the Waldorf Astoria or even the Intercontinental. Elsewhere, the restaurants are pricing in the very upper echelon of an already very expensive market and offering little in the way of quality to justify this.
Having said that, Patina is accessible to Ritz Carlton guests and features quite possibly the best food of any resort in Maldives, edging Four Seasons Kuda Huraa for the top spot in my opinion.
The Spa, recreation facilities and kids club are all top tier and I would have absolutely no reservations in recommending this property to either families or honeymooners. Children are so well taken care of at the Kids Club that you hardly see them anywhere else!
My largest reservation here would be in recommending the property to people for whom marine life is important. There is effectively no house reef and you can count the number of decent local dive sites on one hand. The flip-side of this is that the resort is located a speedboat ride away from the airport, meaning that early arrivals and late departures are no problem at all.
In summary, Ritz Carlton Maldives offers Kerry Hill architecture and the best service we've ever encountered in this atoll nation.
Perhaps one day Aman will open a property in the Maldives… for the time being though, this is as close as it gets.
---
Book Ritz Carlton Maldives with Marriott STARS Benefits
---
As a Marriott STARS agency, we are able to offer our clients additional benefits when booking Ritz Carlton Maldives:
Breakfast for 2 guests
$100 resort credit
Room upgrade (subject to availability)
Early check-in/ late checkout (subject to availability)
Welcome amenity
Prices and payment terms match Marriott.com exactly, with payment taken directly by the hotel and Marriott status and points earning will still be recognised.
The only difference between this and a direct booking is that you get preferential treatment for being our clients!
Other offers which may be available on your dates include:
enhanced $300 credit
Pay 3 nights, stay 4
Pay 4 nights, stay 5 AND receive complimentary half board (breakfast + dinner)
If you aren't sure which Maldives resort to book and would like our advice, please fill out our quick & easy form and we'll match you up with your perfect property:
We also have a dedicated Maldives page featuring all of our hotel reviews and deals: