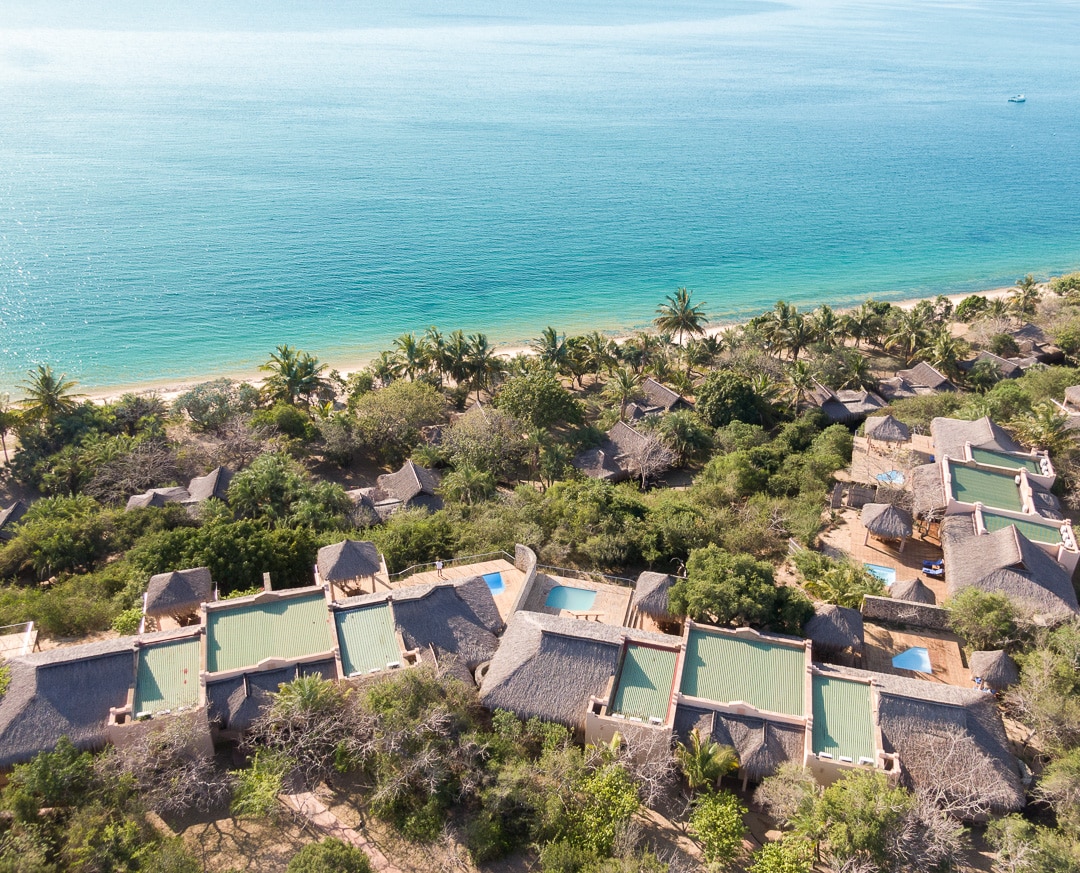 REVIEW – Anantara Bazaruto, Mozambique
June 28, 2022
Eight New Suites Aboard the Legendary Venice Simplon-Orient Express
July 28, 2022
Four Seasons Landaa Giraavaru
Room Type: Sunrise Water Villa with Pool
Average Rate:
Stay type: hosted stay
Loyalty Program: FSPP
---
Intro
---
There are a huge number of amazing luxury options in the Maldives but, of course, there's always a certain reassurance that comes from booking a Four Seasons hotel.
Whenever you stay at a Four Seasons hotel: the service is great, the beds are comfortable and the app makes interacting with staff seamless.
There are two Four Seasons properties in the Maldives: Kuda Huraa and Landaa Giraavaru.
If you are arriving late or departing early from the Maldives, it can make a lot of sense to think of Kuda Huraa as the 'airport hotel' (albeit the most luxurious airport hotel in the world!).
You can read our full review of Kuda Huraa here:
If you are combining the two properties, our packages will often offer a free night at Kuda Huraa and/or free seaplane transfers to Landaa Giraavaru (the more remote Four Seasons property).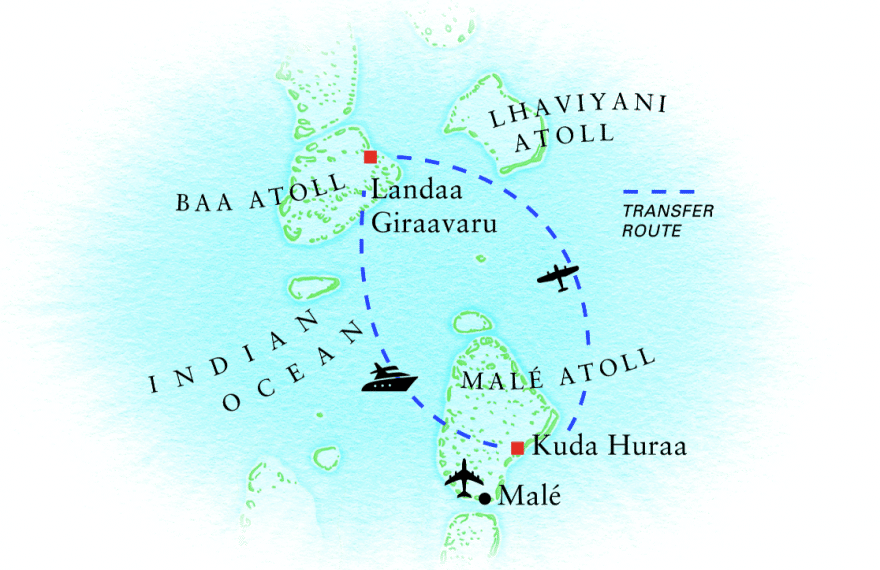 Guests will generally complete their entire stay at Kuda Huraa if convenience is their primary motivating factor, since the resort is so close to the airport.
Those who opt to make the onward seaplane journey to Landaa Giraavaru are rewarded with:
bigger and better villas
a far larger island with little to no boat traffic or light pollution
world class diving on the Baa Atoll, in close proximity to the mantas of Hanifaru Bay
a significantly larger and more private series of beaches
---
Booking
---
Since we are a Four Seasons Preferred Partner (FSPP) agency, we can offer you FSPP benefits at any Four Seasons property.
An example of FSPP benefits, which may be available on your stay:
• Upgrade of one room category, based on availability at time of check-in.
• Full breakfast, for up to two in room guests. Either at the restaurant or via in-room dining.
• $100 Hotel Credit.
• Early check-in/late check-out, subject to availability.
There are numerous additional offers available throughout the year too, including:
free nights
free transfers
$500 additional credit
….and much more!
Your booking will be direct with Four Seasons. However, since we are managing the booking on your behalf, we are able to negotiate all the above extras for you.
Additionally if you find a cheaper rate elsewhere, we can help to get the price matched AND STILL add the FSPP benefits to your booking!
EMAIL FOR FSPP BOOKING ENQUIRIES
---
Arrival / Speedboat transfer
---
Four Seasons Lounge (main terminal)
Four Seasons actually operates two lounges at Malé airport, one in the main terminal building and another at the seaplane terminal.
We were greeted at the arrival gate by a Four Seasons representative, although it wouldn't have exactly been difficult to find our own way to the lounge! (Especially since this was our second visit in two weeks.)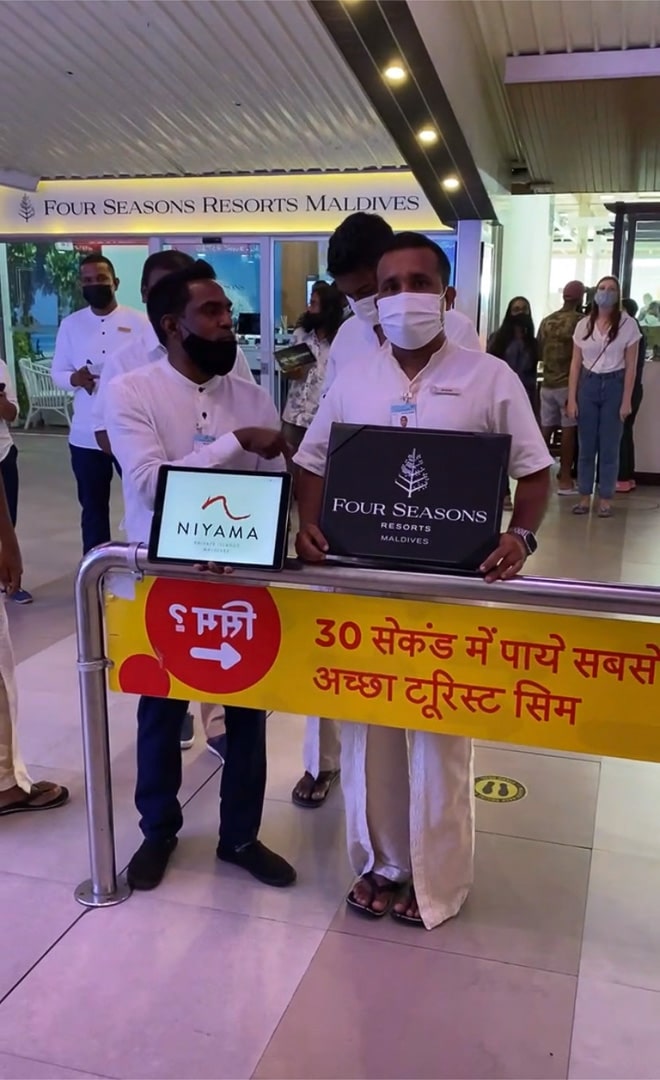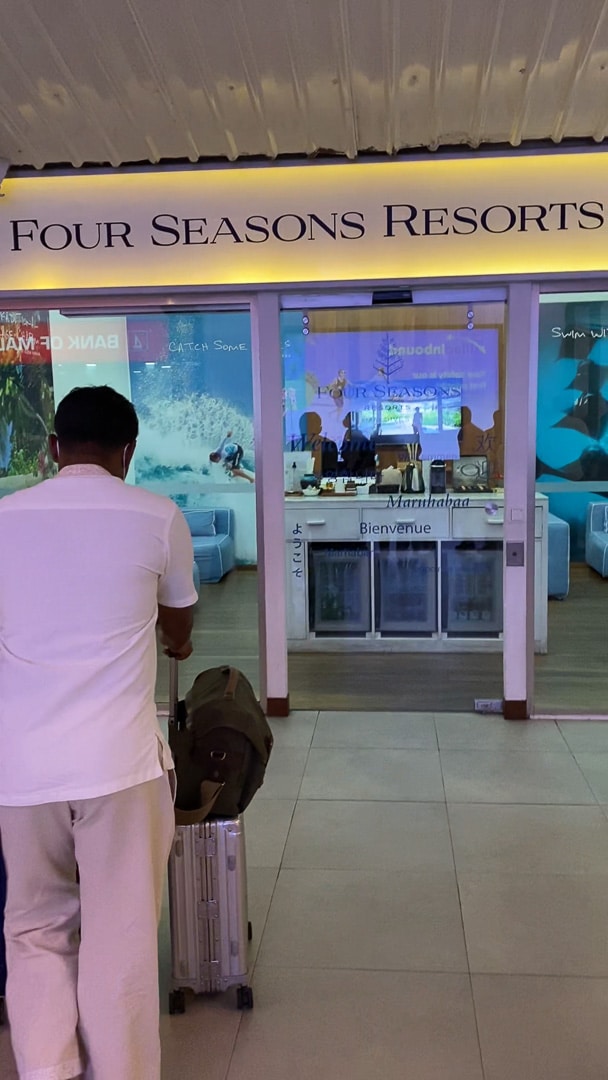 I'm sure Four Seasons paid dearly to secure this super prominent location in the airport. It's basically the first thing you see when you enter the country.
After escorting us into the lounge, our host offered us a soft drink. There was a decent selection, including diet coke – which is often bizarrely difficult to find in the Maldives. Alcohol wasn't served since the Maldives is a strict Muslim country with alcohol only permitted on resort islands.
Wifi was very fast and I now have the password saved so I never need to deal with the horrible airport wifi ever again!
There was a charging station by the TV offering every type of charger imaginable, although I don't imagine many guests spend long enough in here to really make use of it.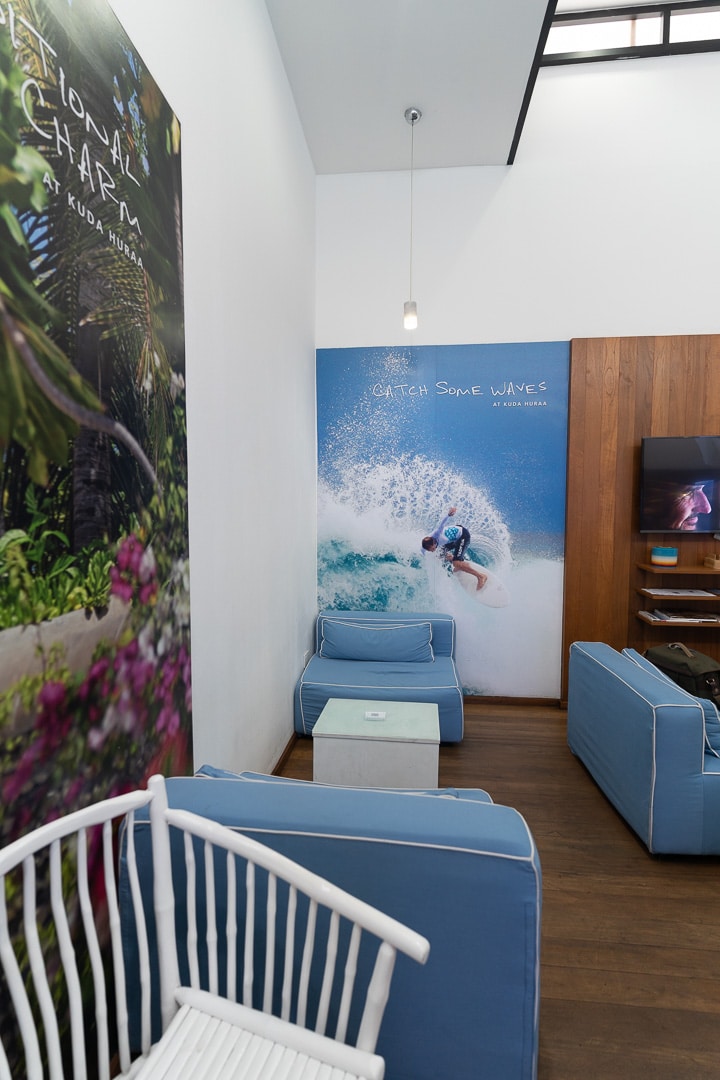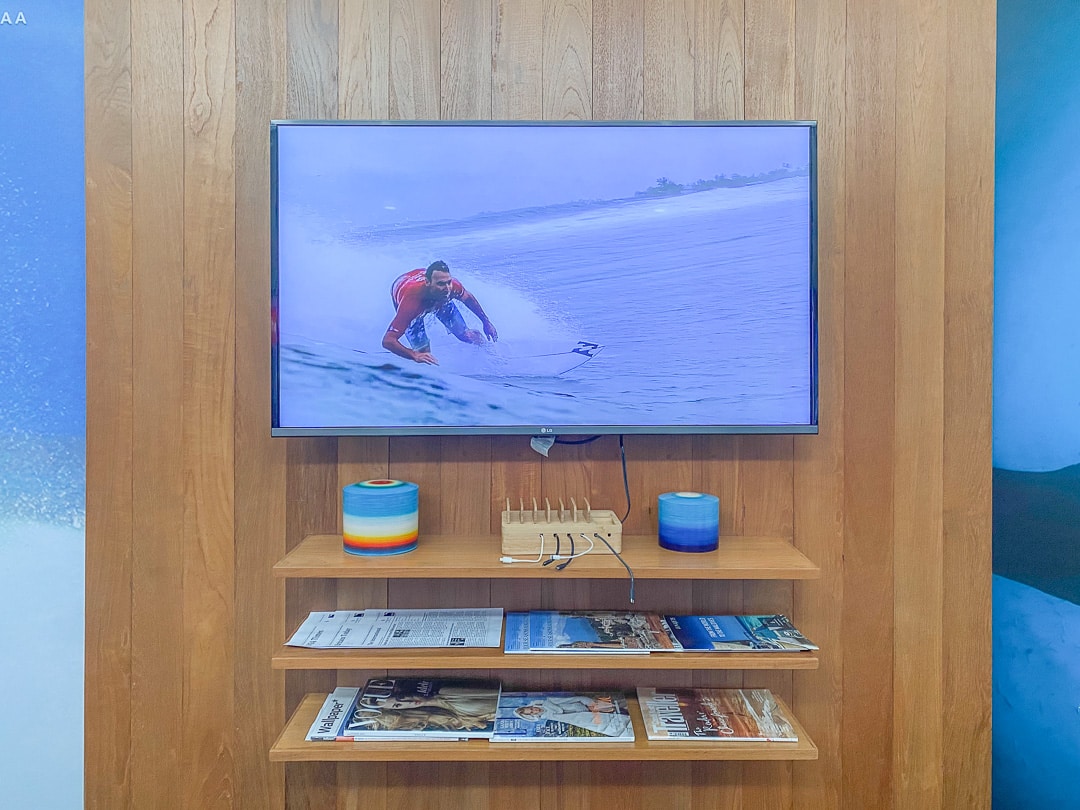 After a brief wait here we were told that our car was ready to drive us around the main runway and over to the seaplane terminal.
The car was waiting directly in front of the terminal, approximately 30 seconds walk from the lounge and it offered wifi, chargers, water and newspapers – despite the ride to the seaplane terminal taking less than 5 minutes!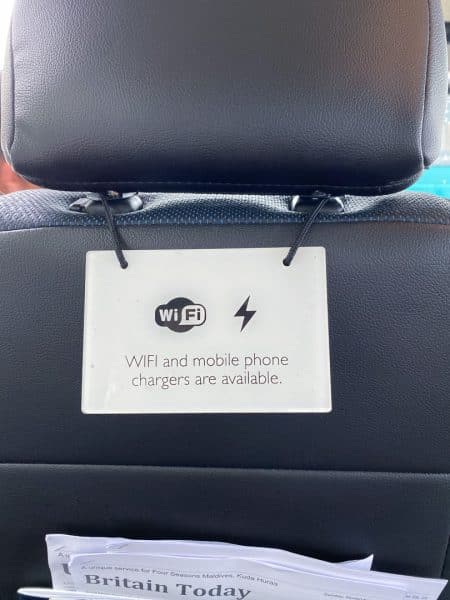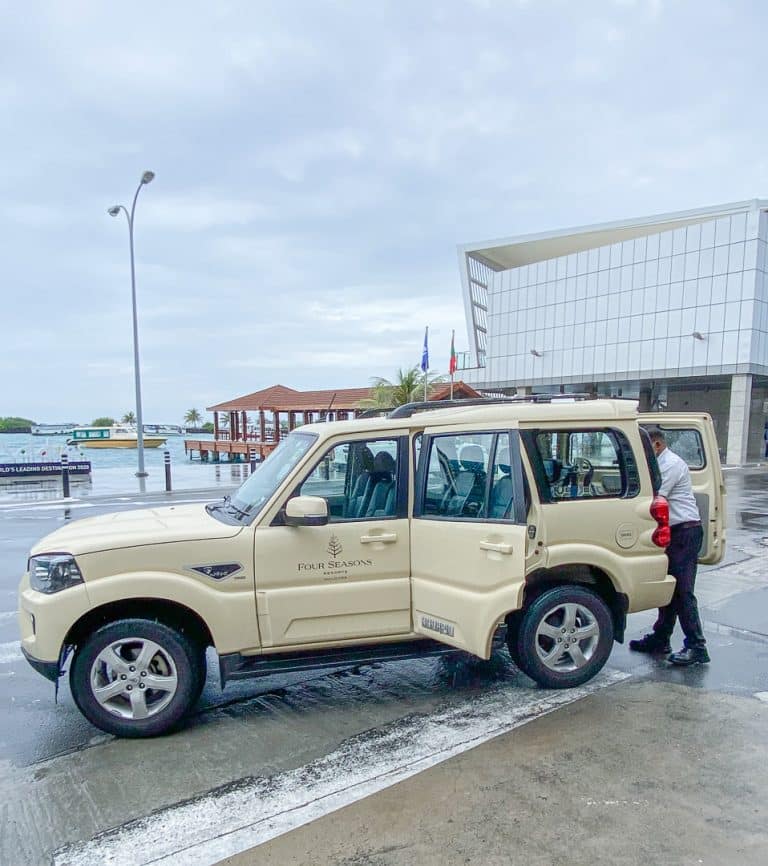 Four Seasons Seaplane Lounge
Much like the international terminal lounge, Four Seasons' seaplane lounge has an extremely prominent location: right on the boardwalk of the seaplane terminal. Other properties like the Conrad, Intercontinental etc. have lounges tucked away in upper floors of nearby office buildings.
Being able to see not only the water but even your actual plane, a few metres from your seat, is a rare luxury in these parts.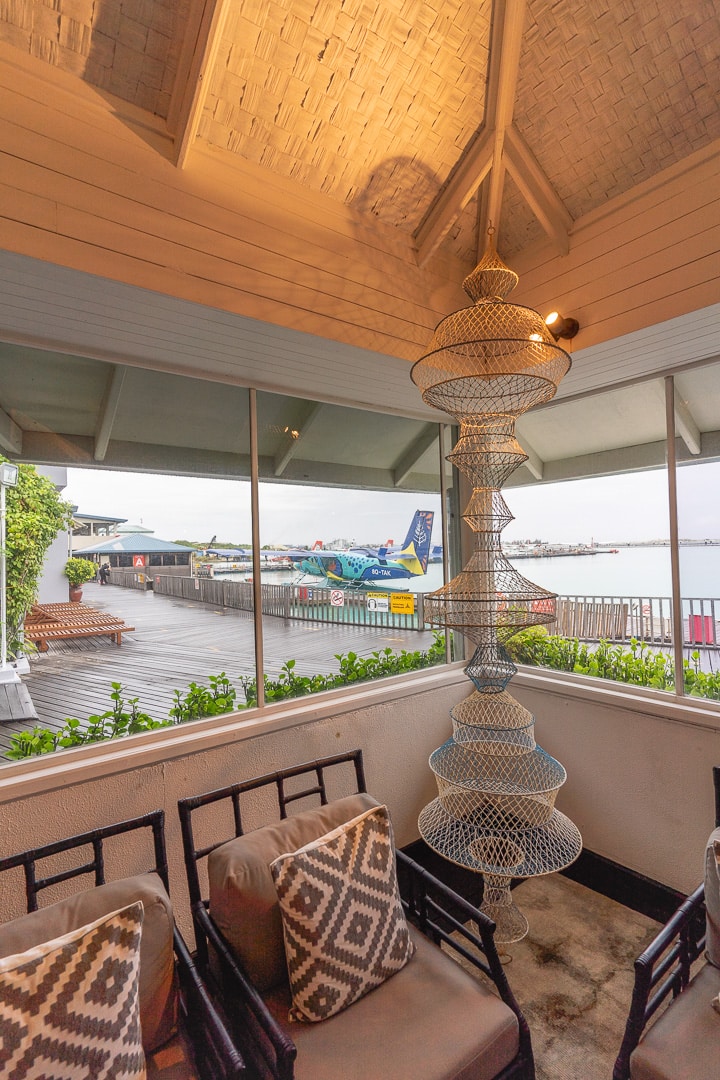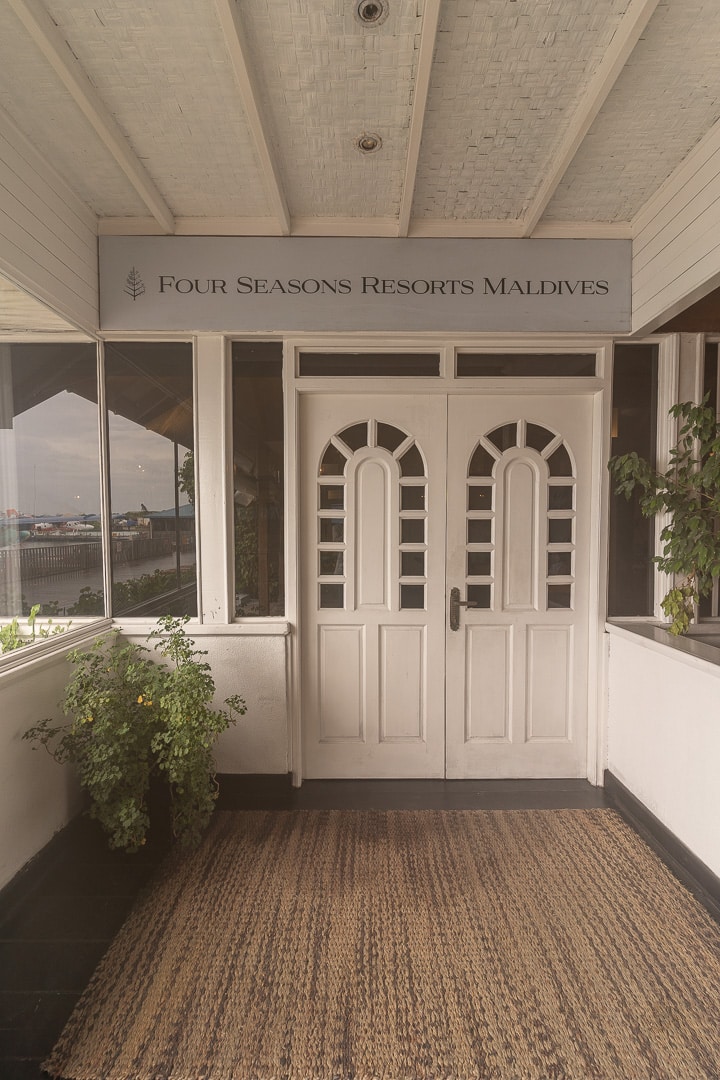 The lounge was very bright and spacious, with high beamed ceilings and island themed art pieces interspersed amongst the various seating areas.
There was even a kids area with toys and video games, away from the tranquility of the main seating areas.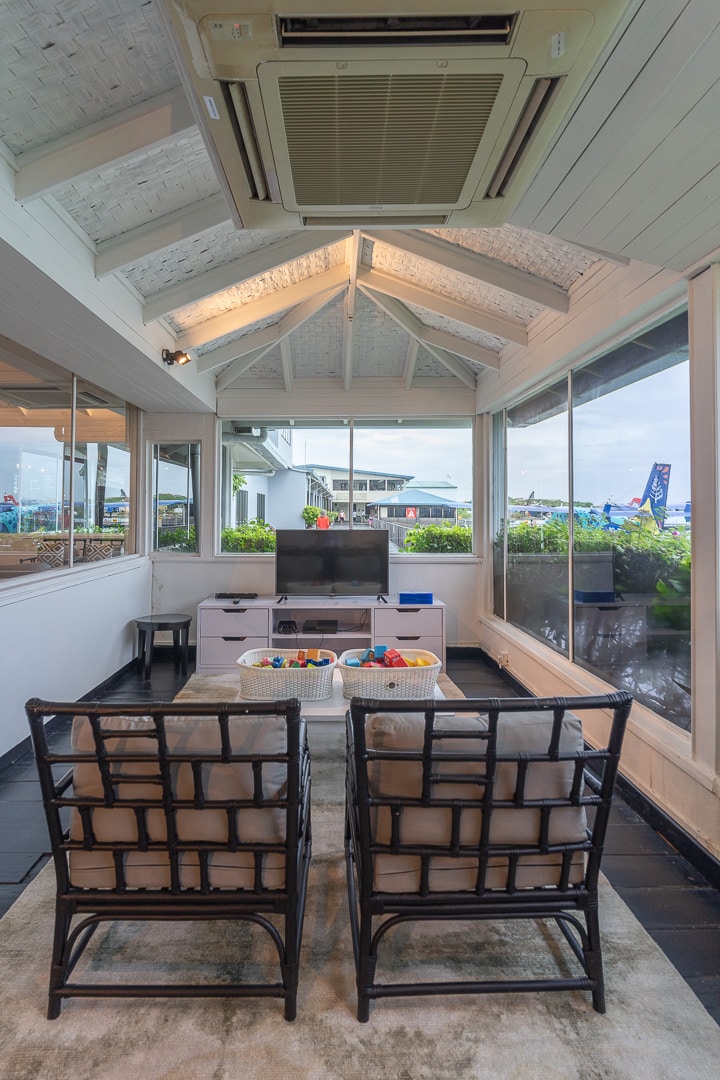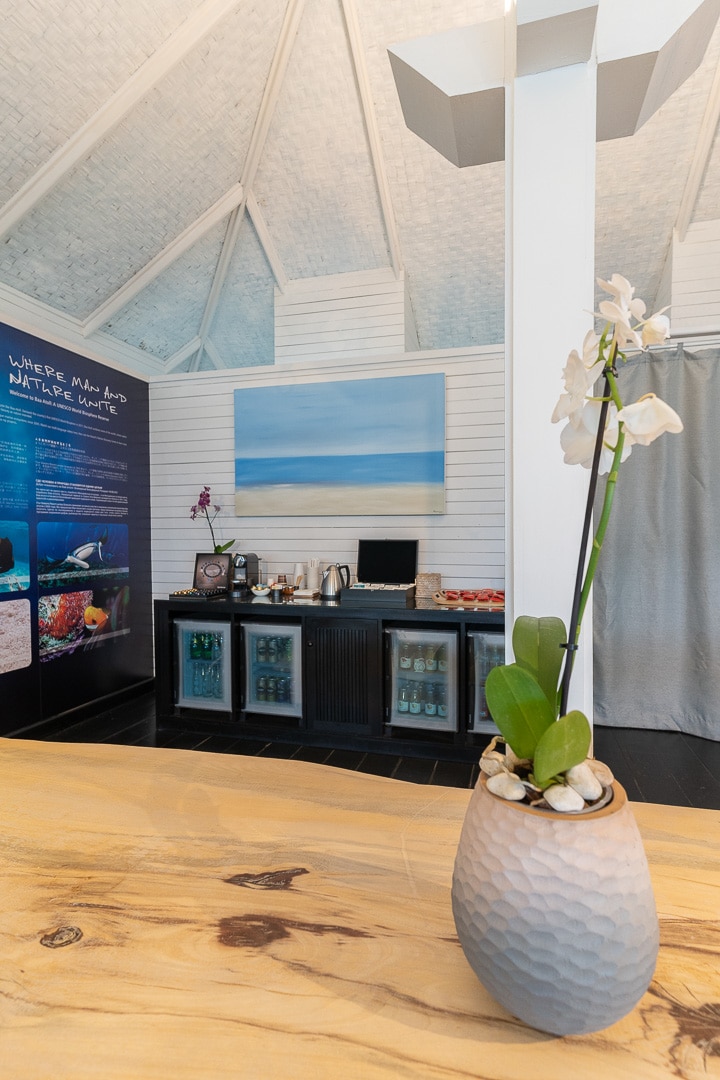 Staff in the lounge were extremely attentive and offered us table service, even though the self service drinks and snacks were very readily accessible.
The lounge also offered shower facilities, for guests wishing to freshen up after a long international flight.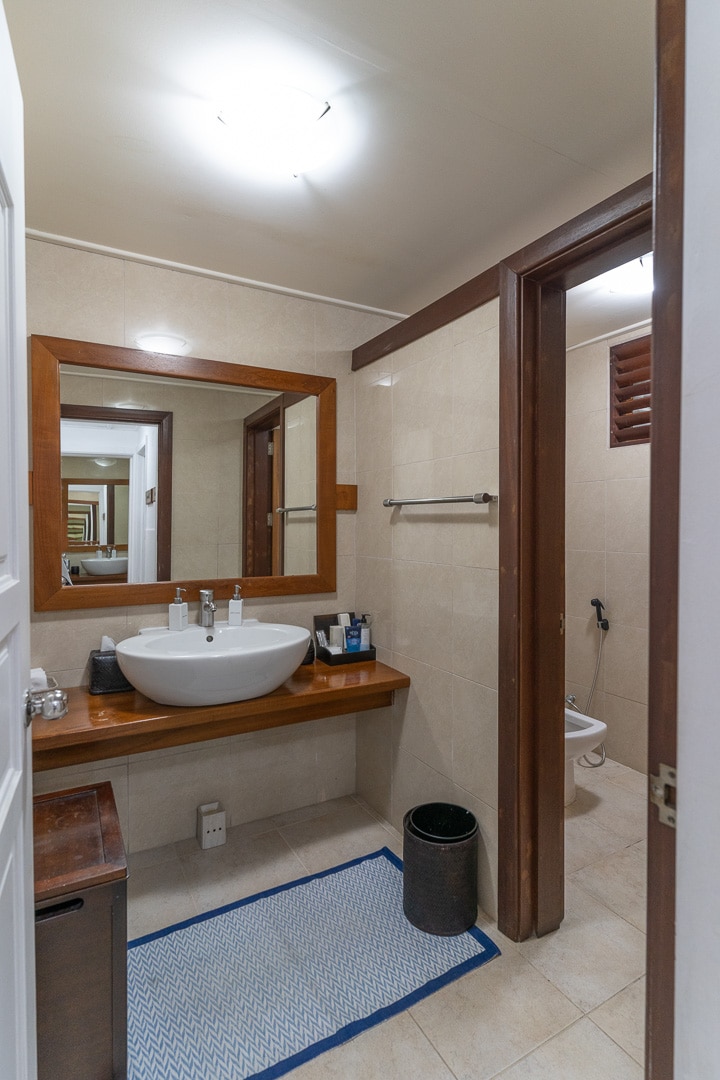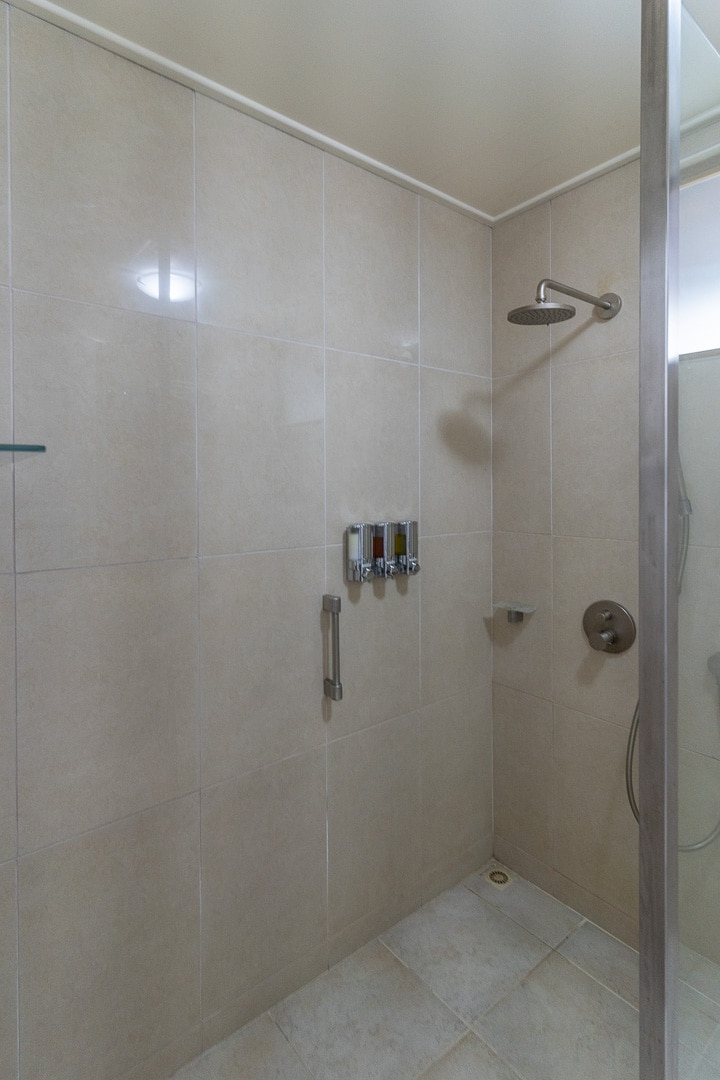 Flying Triggerfish seaplane transfer
---
2022 Rates:
Four Seasons 'Flying Triggerfish' (Luxury): US$720 per person per way, subject to 23.2% Service charge & GST (Children below 2 years on parent's lap travel free of charge).
Trans Maldivian Airways: US$370 per adult per way and US$185 per child per way (2-11 years), subject to 23.2% GST (Children below 2 years on parent's lap travel free of charge).
---
After an hour or so in the lounge we were escorted a few metres down the boardwalk to Four Seasons' own seaplane: The Flying Triggerfish.
In reality there are now several Triggerfish, as Four Seasons wants to ensure that a Four Seasons plane is available for guests wherever possible. Note: Triggerfish transfers aren't guaranteed though unless you pay a substantial surcharge, so there's always a chance you'll end up on a regular seaplane if you've paid the regular transfer fee.
Aside from the brightly coloured exteriors, Four Seasons seaplanes are configured far more comfortably inside than a regular seaplane. Where regular seaplanes have 15 seats in a 1-2 configuration, the Four Seasons Flying Triggerfish has only 8 passenger seats in a 1-1 configuration.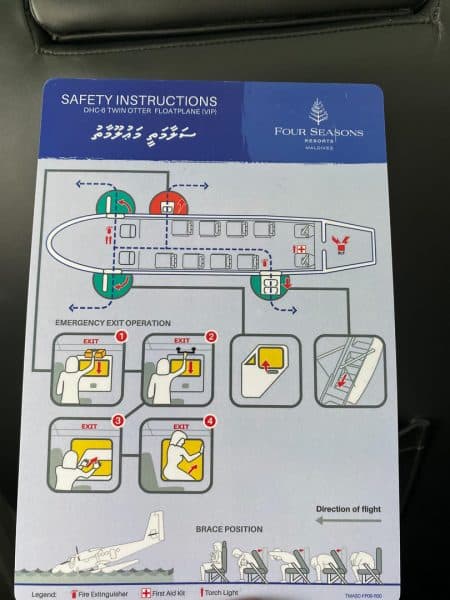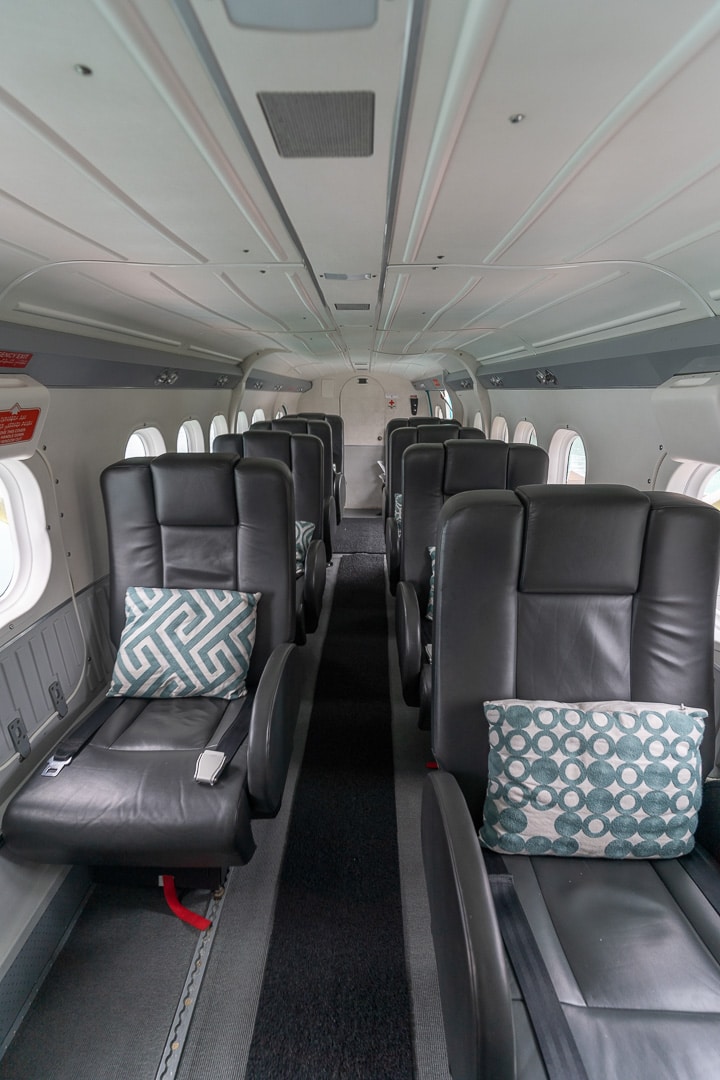 The seats are also thickly padded and feature proper armrests as well as decorative cushions. In terms of overall comfort there's no contest between this and a typical TMA seaplane:
Four Seasons Seaplane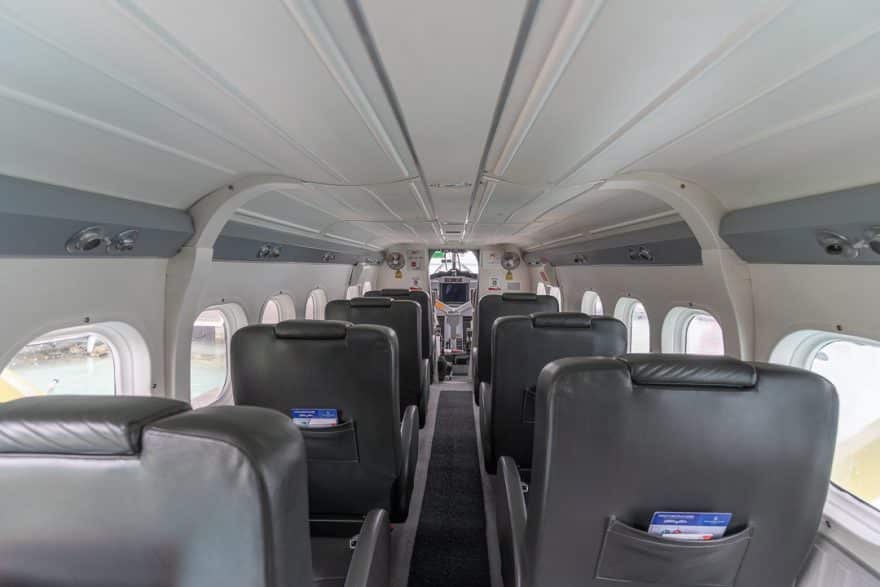 TMA Seaplane
Prior to take off, the crew presented us with bottles of chilled water, together with some cold, scented towels.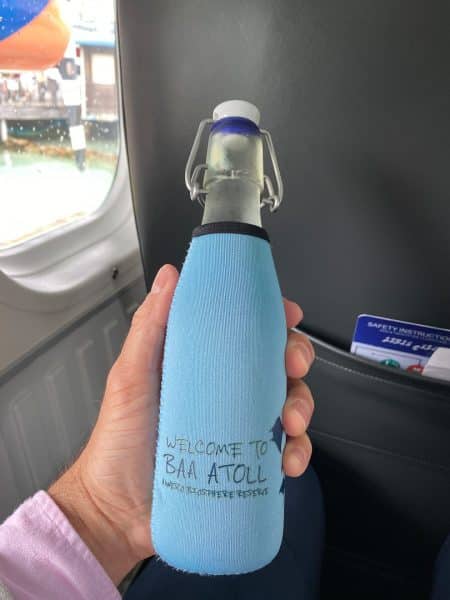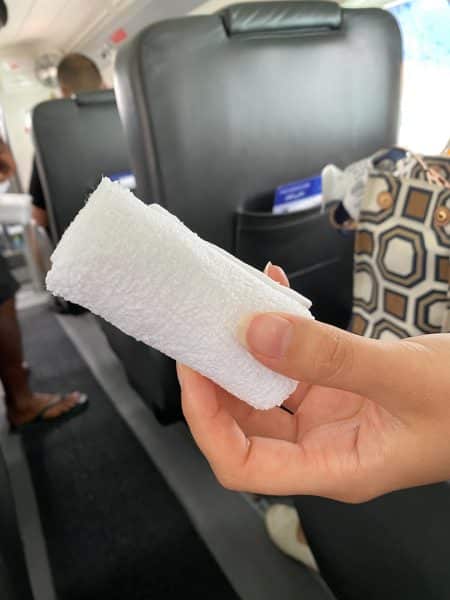 No matter how many times I visit the Maldives, it's always a lot of fun to be up in the air, watching the scenery below, as barefoot pilots fly me to my resort.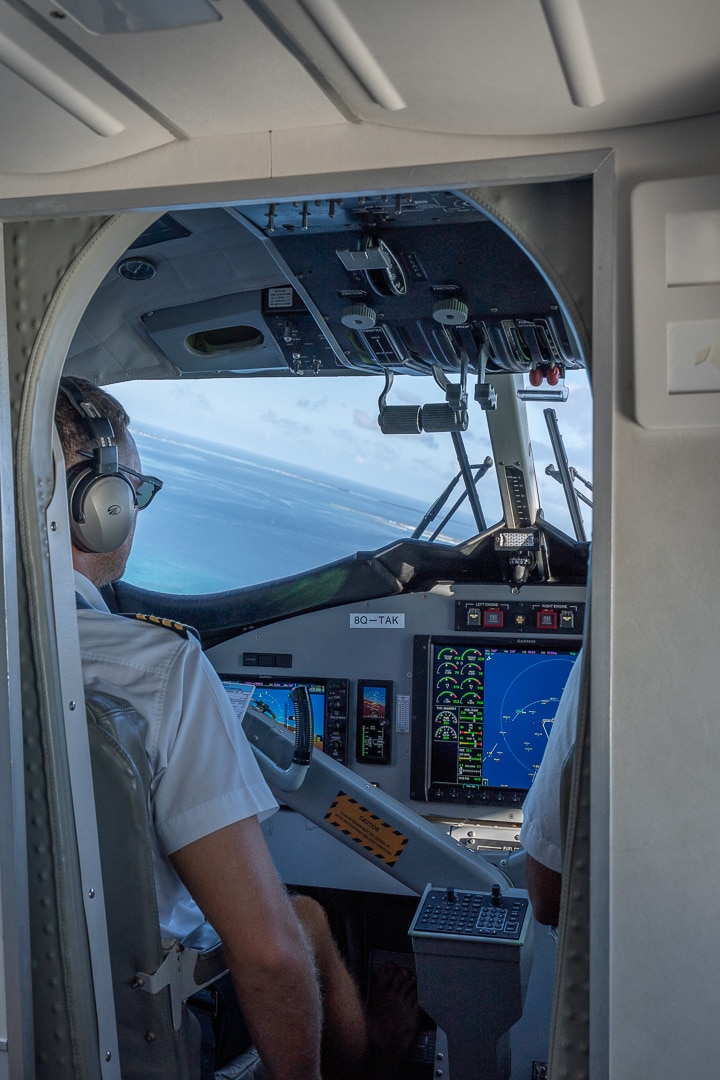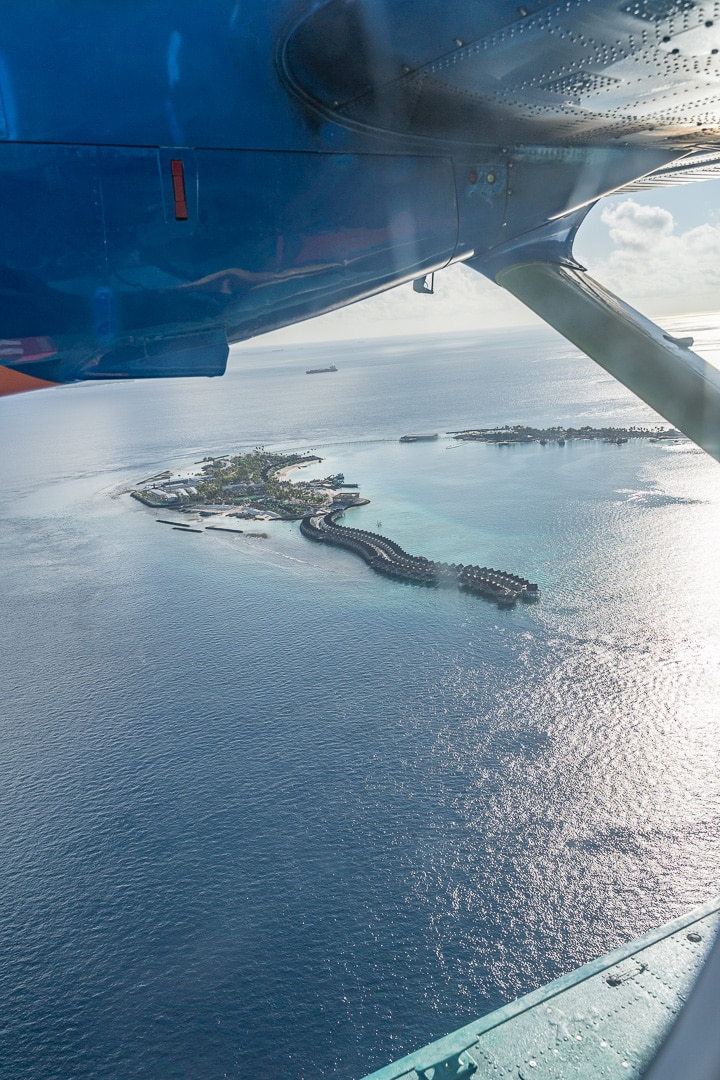 The plane actually made a brief stop at Kuda Huraa, 5 minutes after departure, to collect some guests. Once we were airborne for a second time it took around 30 minutes to reach Landaa Giraavaru.
We were met at the resort's seaplane platform by a gathering of Four Seasons staff, who took us 2 minutes or so by boat, to the resort's arrival jetty.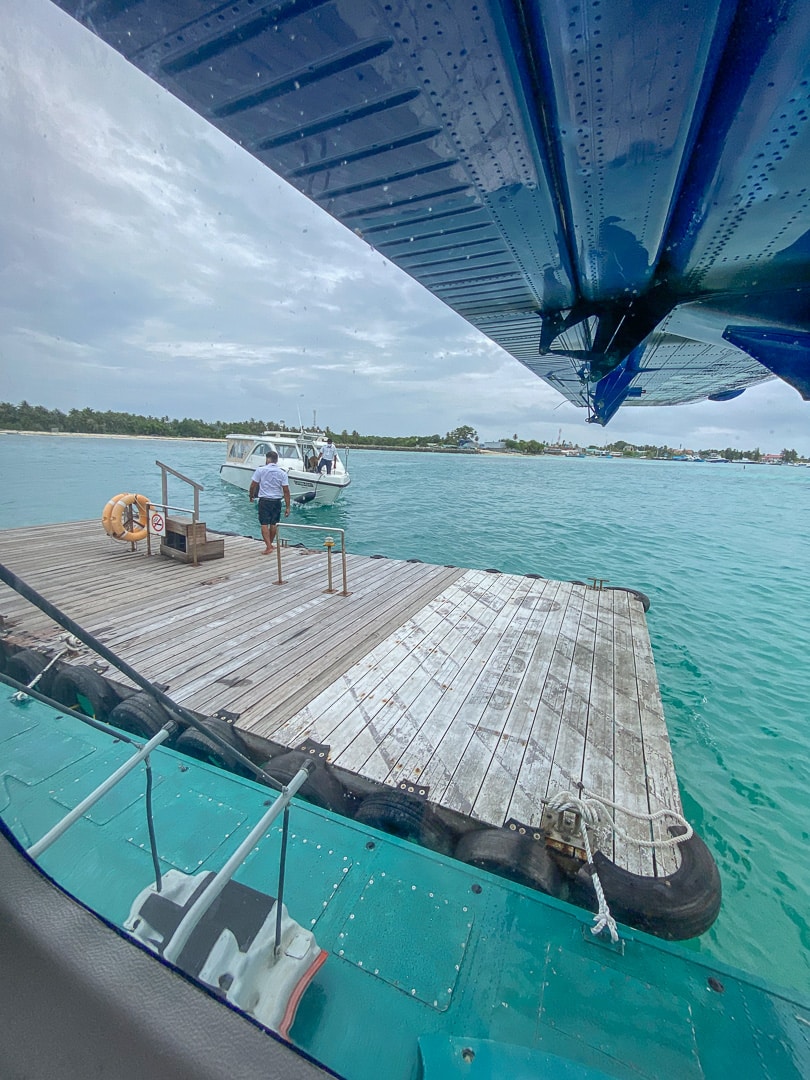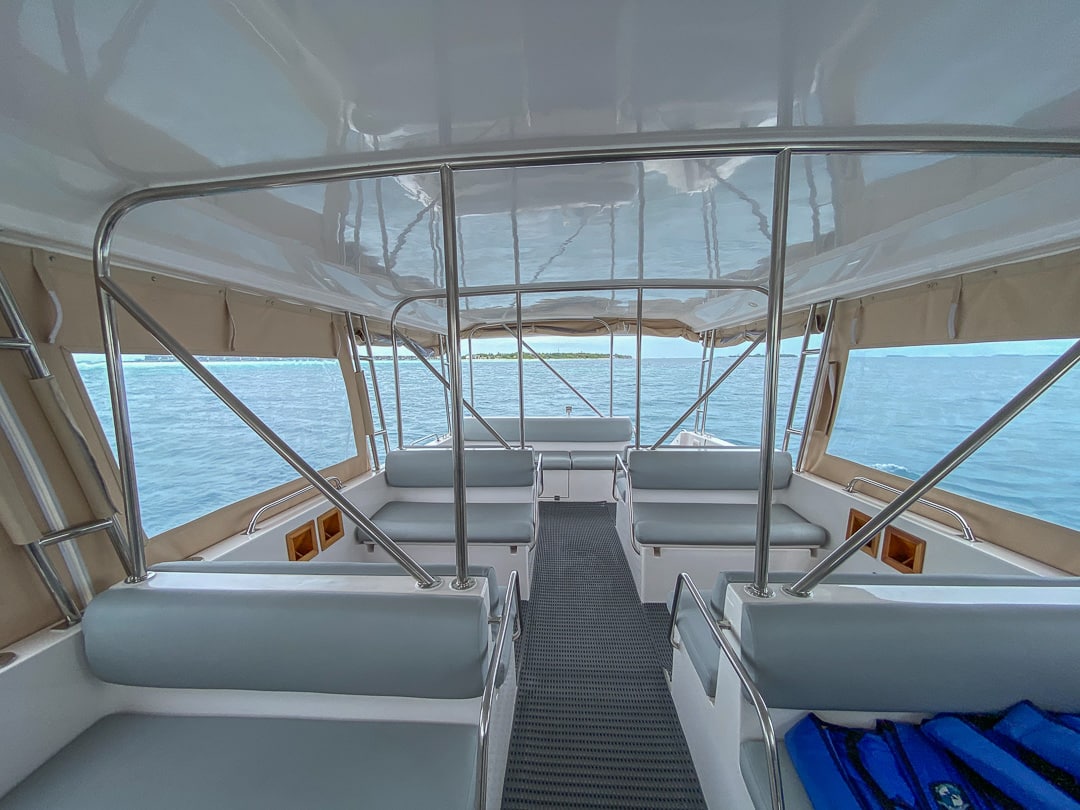 Once we were finally on dry land it was hard not to be blown away by the incredible beauty of the surroundings. Seaplane transfers are undoubtedly less convenient than taking a speedboat, to an island close to the airport, but the effort is more than rewarded by the quality of the sand and the foliage (not to mention the marine life!).
We walked along one very long and straight path, dramatically flanked by enormous and ancient palm trees, on the way to the resort's main lobby.
The lobby itself was every bit as grand and imposing as the path, with a gigantic two story chandelier hanging over an extravagant centrepiece table.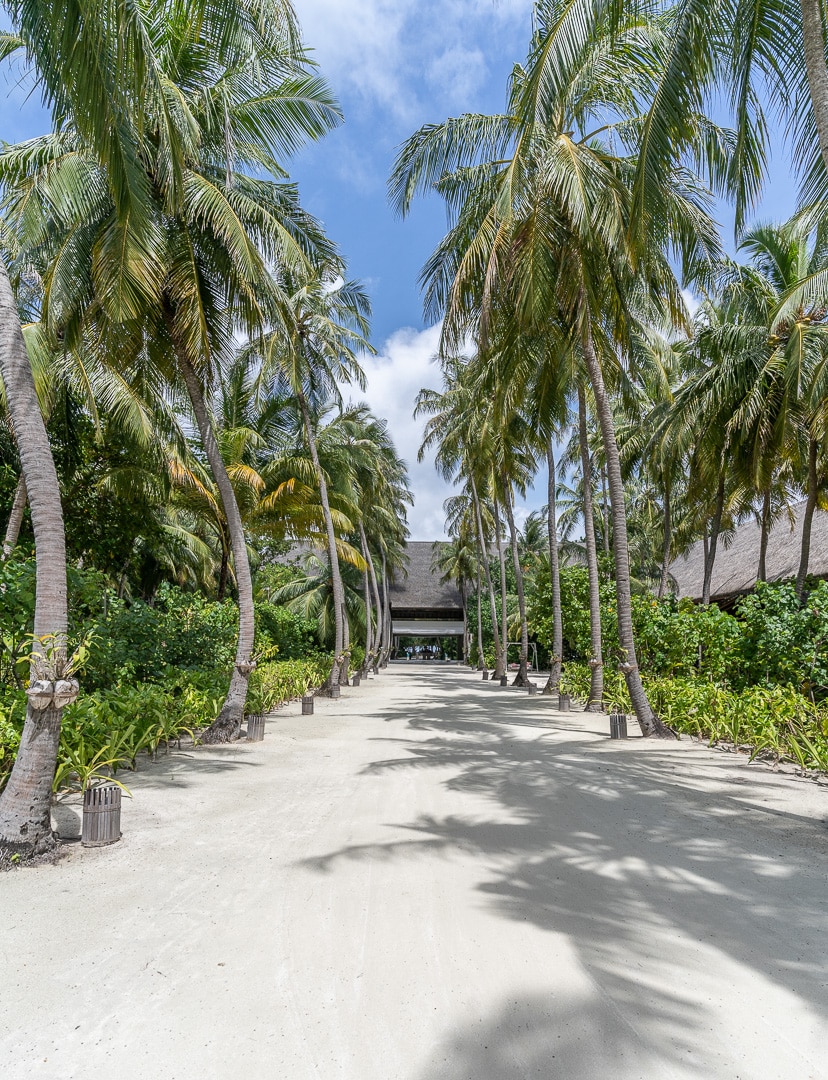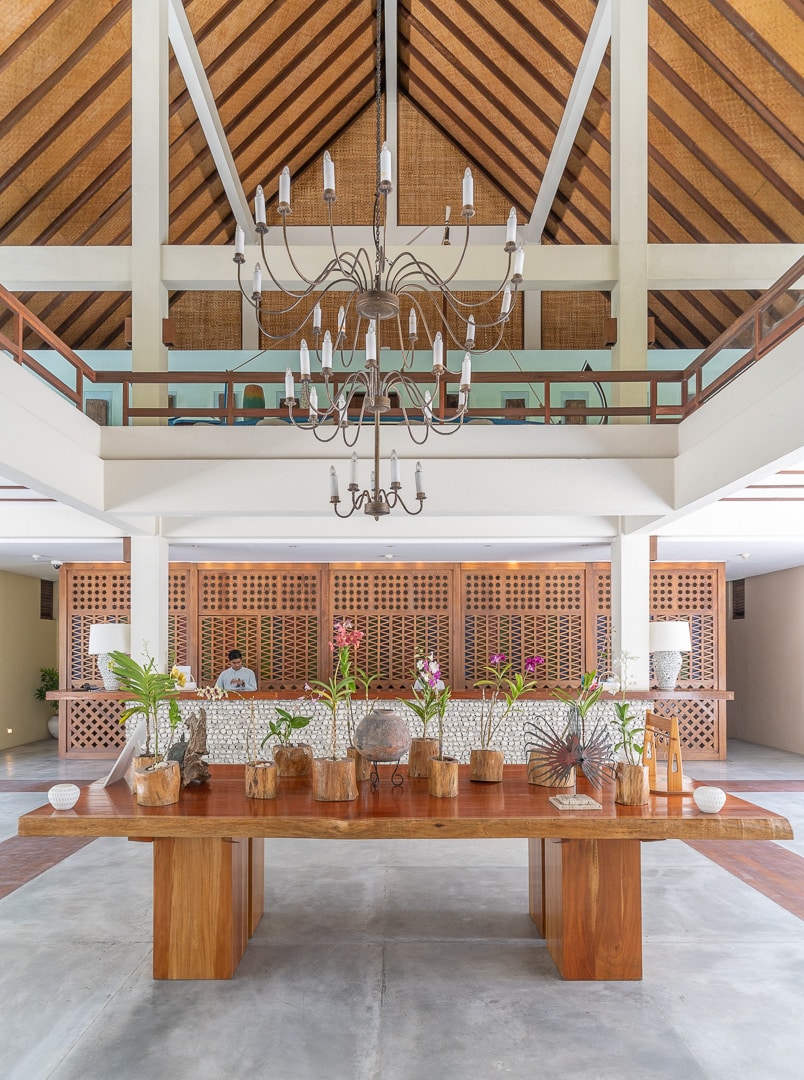 The lobby tended to always have a lot of life to it, with guests coming and going or even just sitting to relax and read a book – as they enjoyed some complimentary teas and coffee.
Check-in
As soon as we sunk into our seats in the lobby we felt immediately relaxed and at ease. We were asked for our passports and credit card, for the purposes of registration and in exchange we received two incredibly delicious young coconuts, decorated with flowers, together with some chilled, lemongrass scented towels.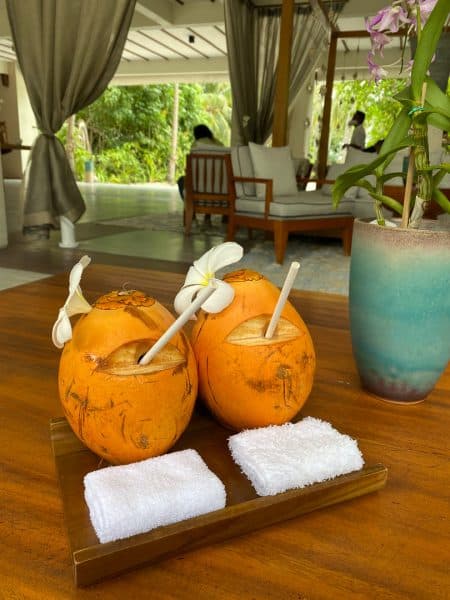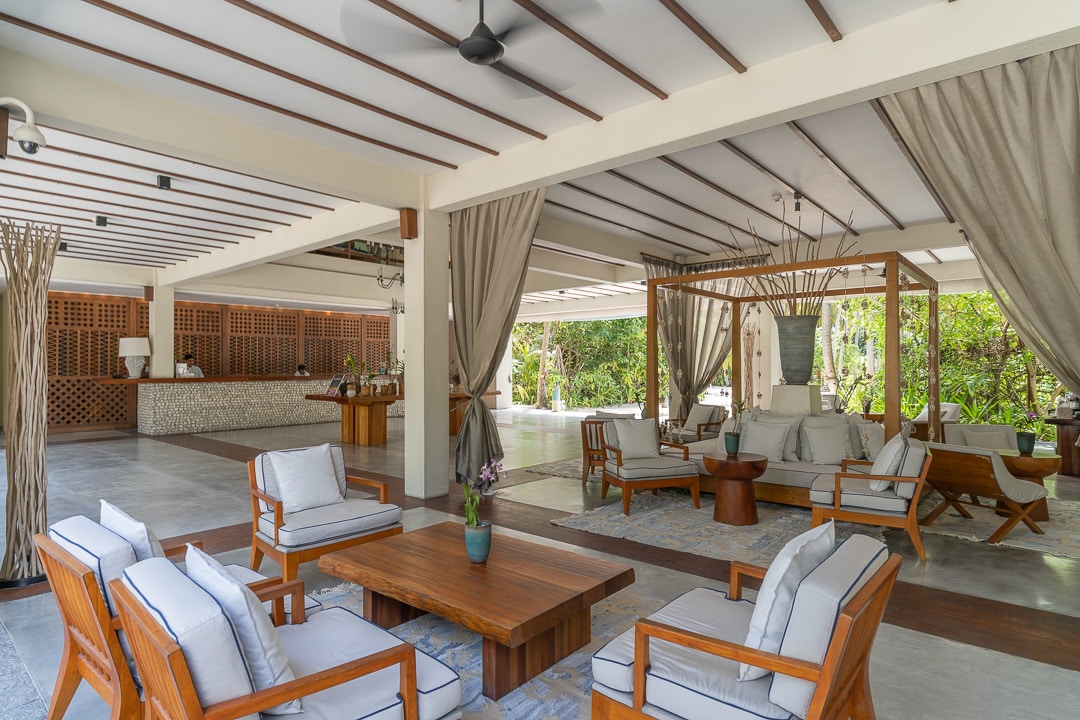 We were also provided with a calendar of activities together with a map of the resort.
Resort Map
Our Sunrise Water Villa with pool was located in the top left hand area of the map, just above the resort's sandbar and main pool. Since the distances on Landaa Giraavaru are quite large, we were driven to our villa in a buggy, passing through the dense foliage of the island centre on the way.
Soon we passed Blu bar and restaurant, where the main hotel pool is located:
…then we continued onto the overwater villa pier, which was dotted with swinging chairs and even featured some small garden areas.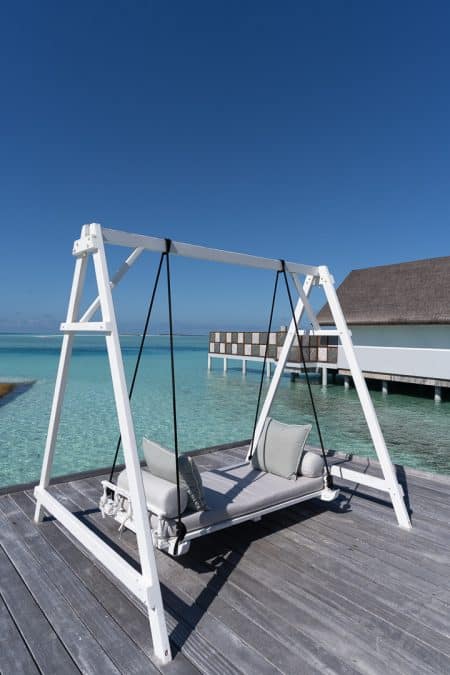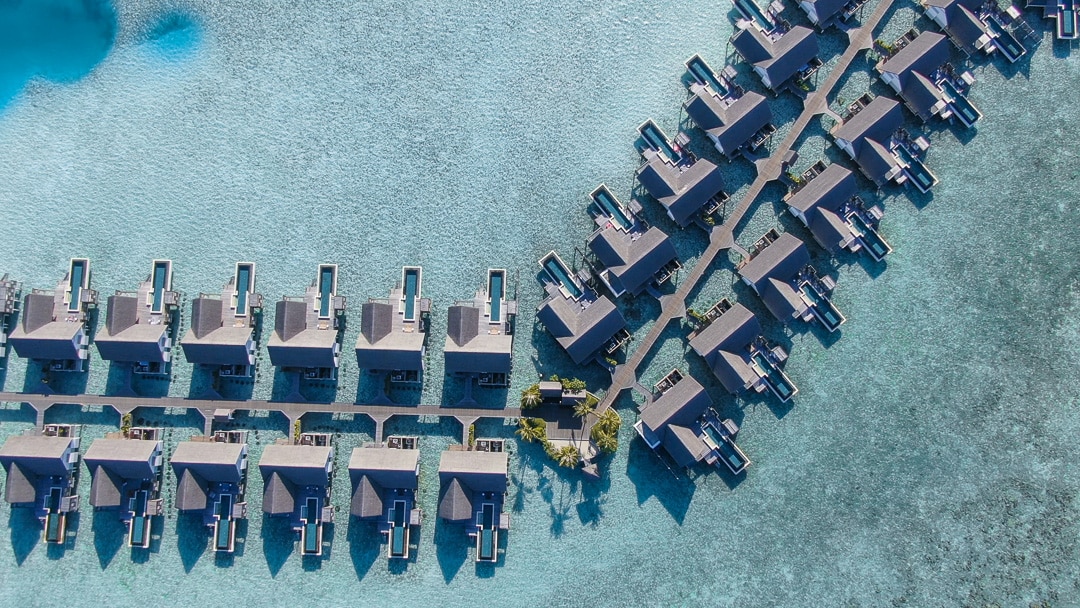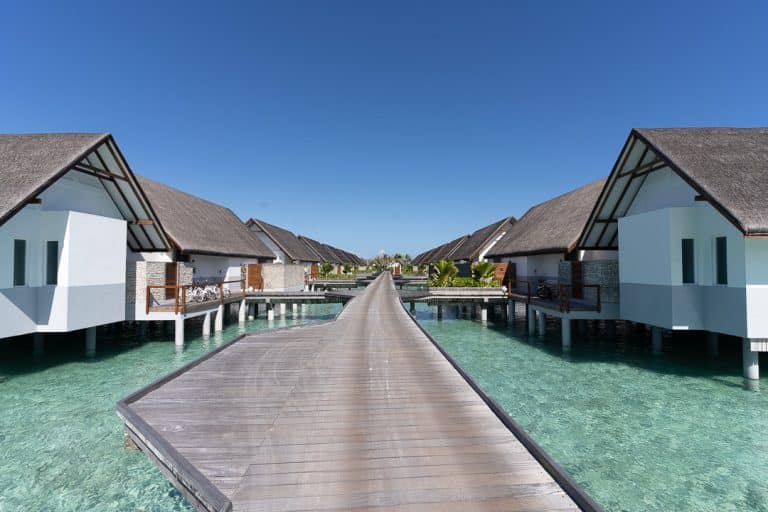 Looking down into the water it was great to see all the coral regeneration frames taking hold, with shoals of fish gathering around them.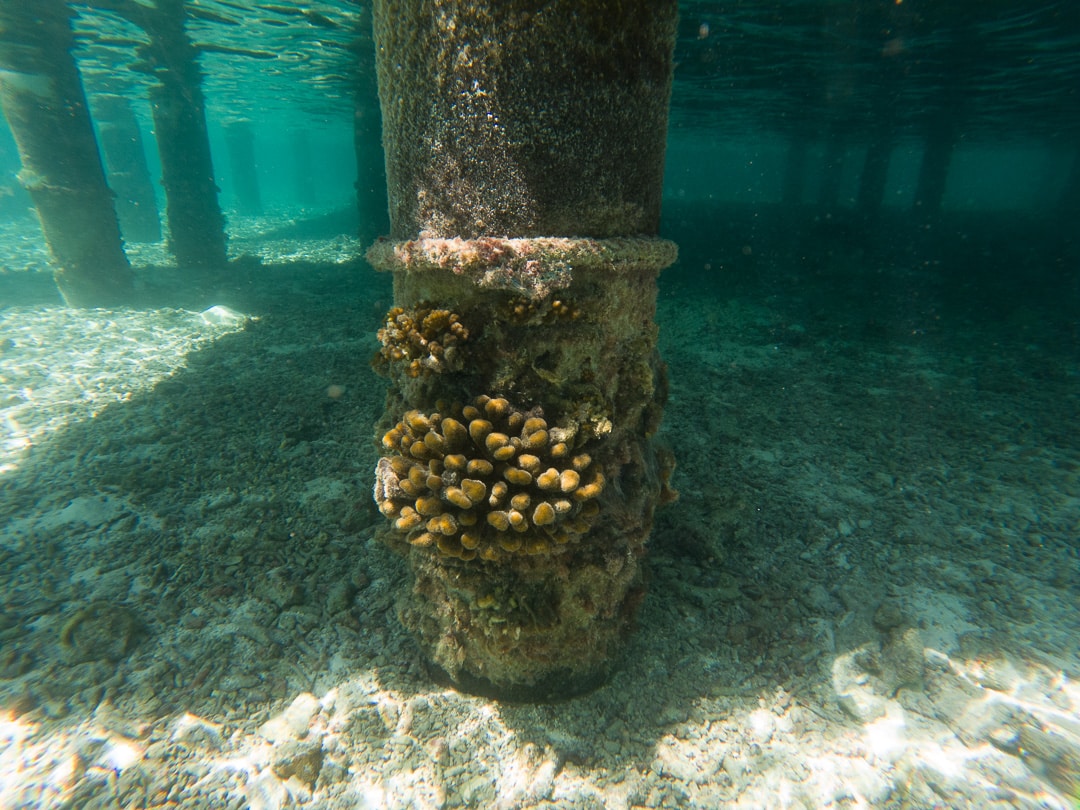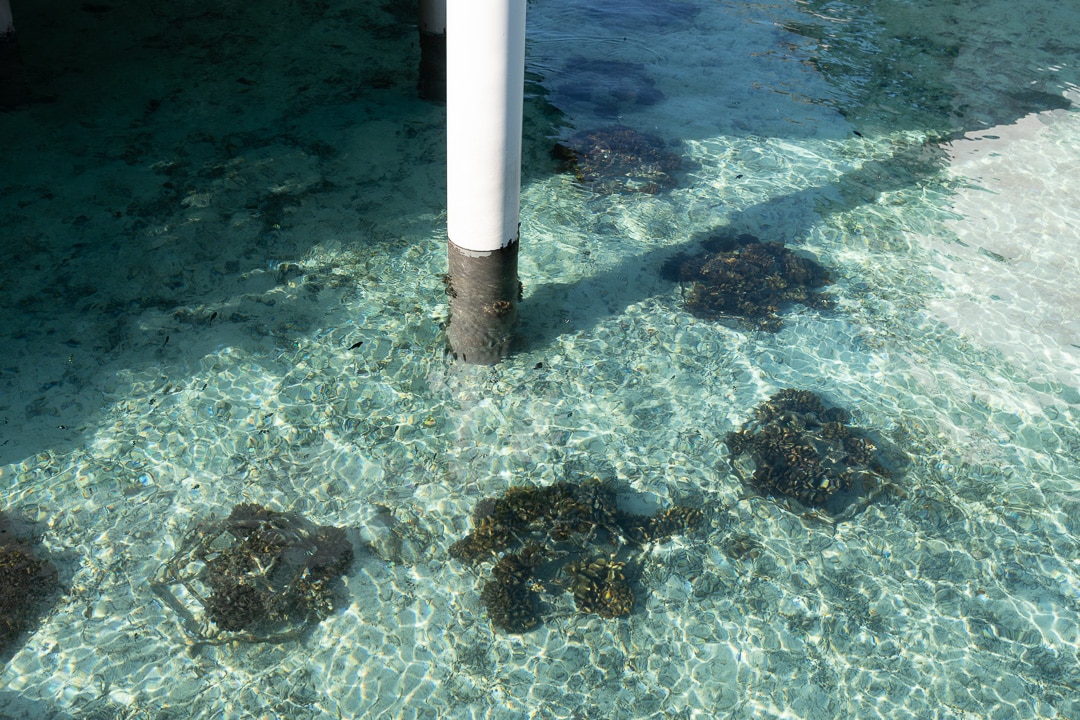 ---
Sunrise Water Villa with Pool
---
Floor Plan
Room Tour Video
View this post on Instagram
Entrance
As we hopped down from the buggy and walked towards our villa, it was immediately apparent that this would be up there with the very largest water villas we'd ever stayed in previously, at the Waldorf Astoria Maldives.
One particularly interesting feature was a wall made of dead coral, made with special permission from the Maldivian government, which surrounded the villas outdoor bathroom.
There were also bikes placed outside the villa for us, with personalised license plates which you used most of the time when moving around the island. Buggies were a better option whenever it rained and thankfully the villa had a covered bench in case we found ourselves waiting in the rain.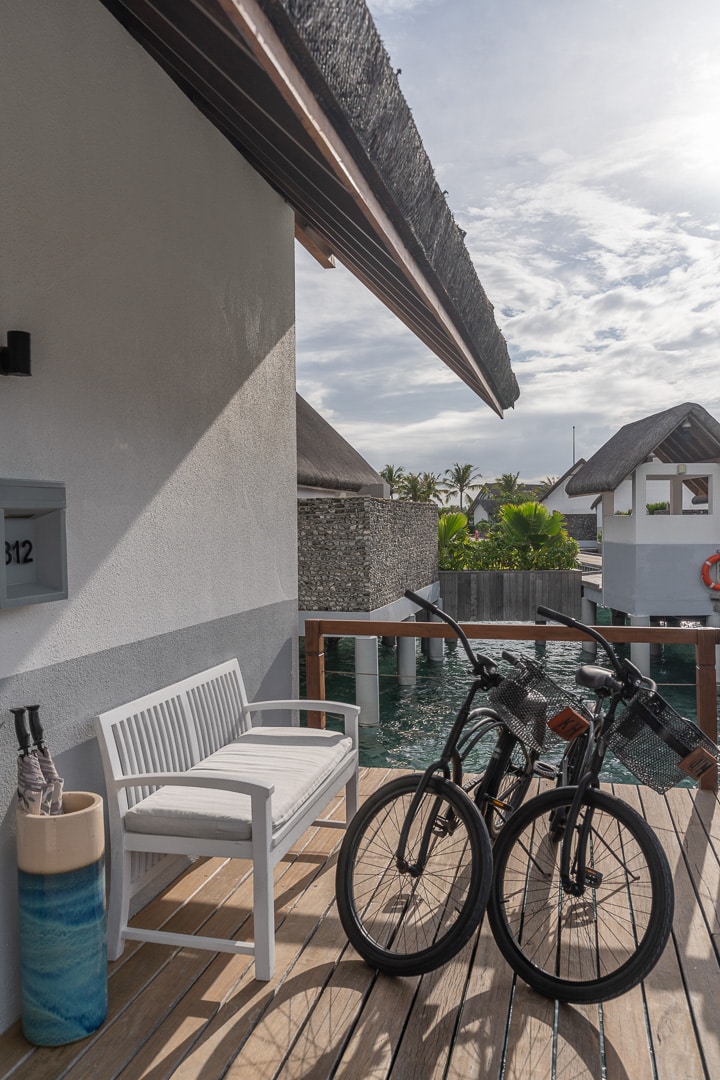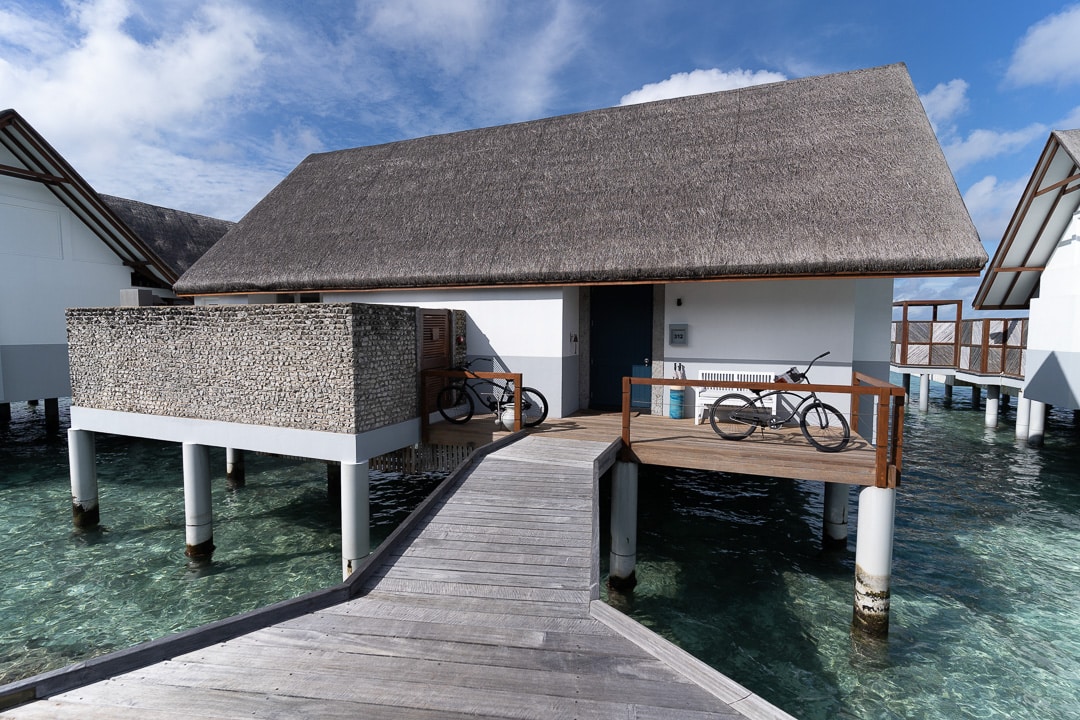 Living Room
Once inside, I was immediately struck by the cavernous height of the ceilings. The heavy use of whitewash and the contrasting use of blue gave the decor something of a Hamptons feel, much like the villas at Amilla.
The golden tone of the lighting, the woven chairs and the patterns on the wall and cushions helped to solidify the fact that we were in a tropical setting, however.
The overall feel of all the furniture was very high-end, tables and chairs all felt heavy and well made. There were also no noticeable scuffs or scrapes of any kind on the walls, floors or indeed anywhere!
The circular table served as my work desk during this stay; thankfully there were a multitude of power sockets available, with enough space to fit a Mac charger (I hate when sockets have a border around them that is too high, preventing me from plugging in my laptop!).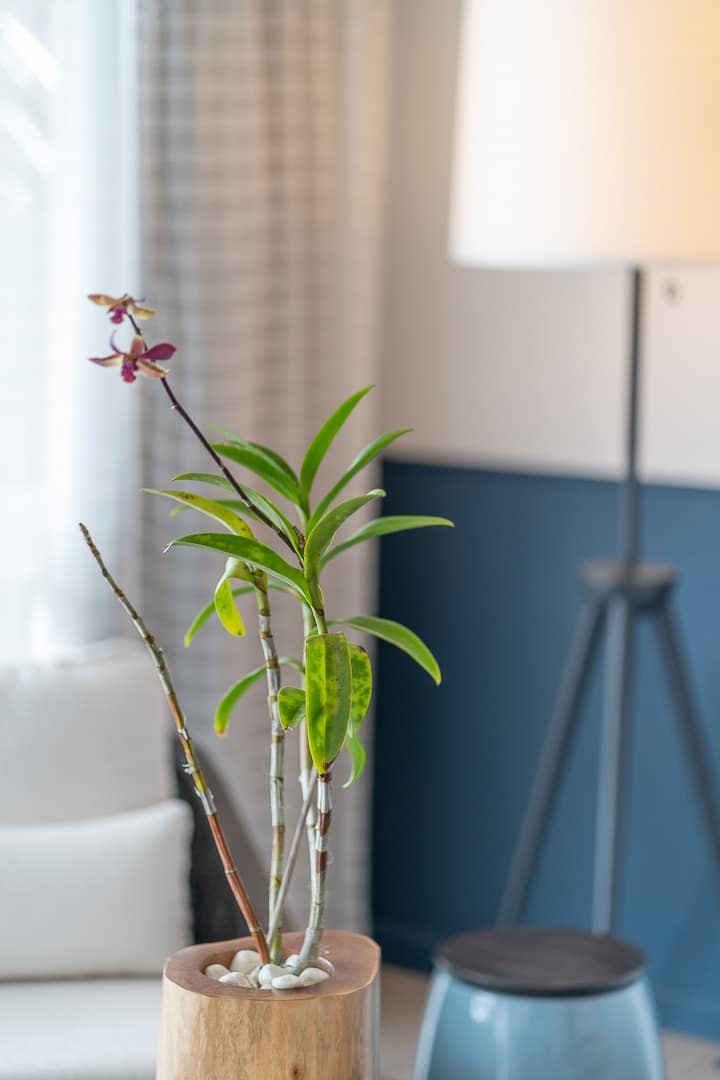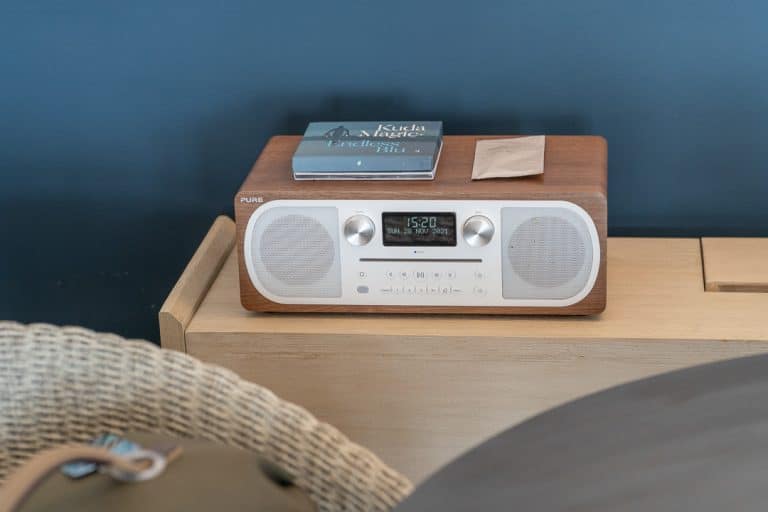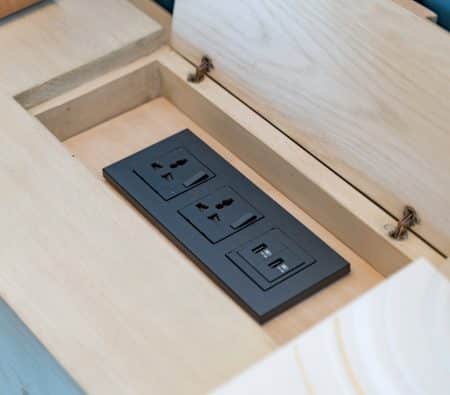 At the far end of the living room was the minibar area.
In addition to the Nespresso machine there was a very unique looking tea kettle, which dispensed hot water at the press of a button.
I feel like we're at the stage where decent hotels need to start offering Illy, Segafredo or Lavazza machines now, with Nespresso reserved for lower tier business hotels. Nespresso is just about drinkable but simply can't compare to the Italian brands. I do enjoy Dilmah teas however and huge bonus points for actually providing a champagne stopper in the room!
We usually travel with our own stopper these days, as we never want to drink a full bottle of welcome champagne in one sitting and asking for a champagne stopper tends to result in confusion at many hotels.
A wide variety of drinks were available with the usual egregious Maldives markups. Soda water at $6++ for a tiny bottle seemed particularly offensive since only still water is provided free of charge to guests. At this price point I would expect all hotels to provide both still and sparkling filtered water to guests.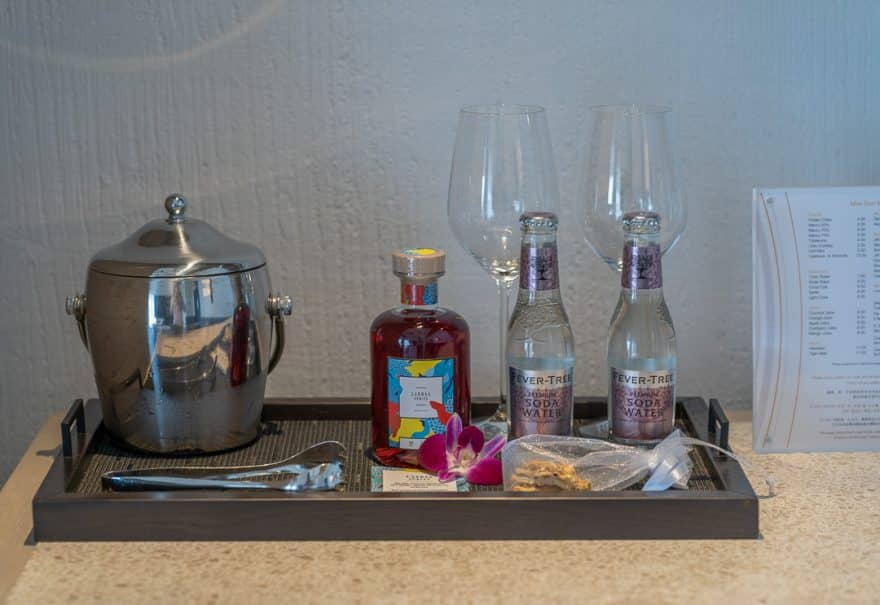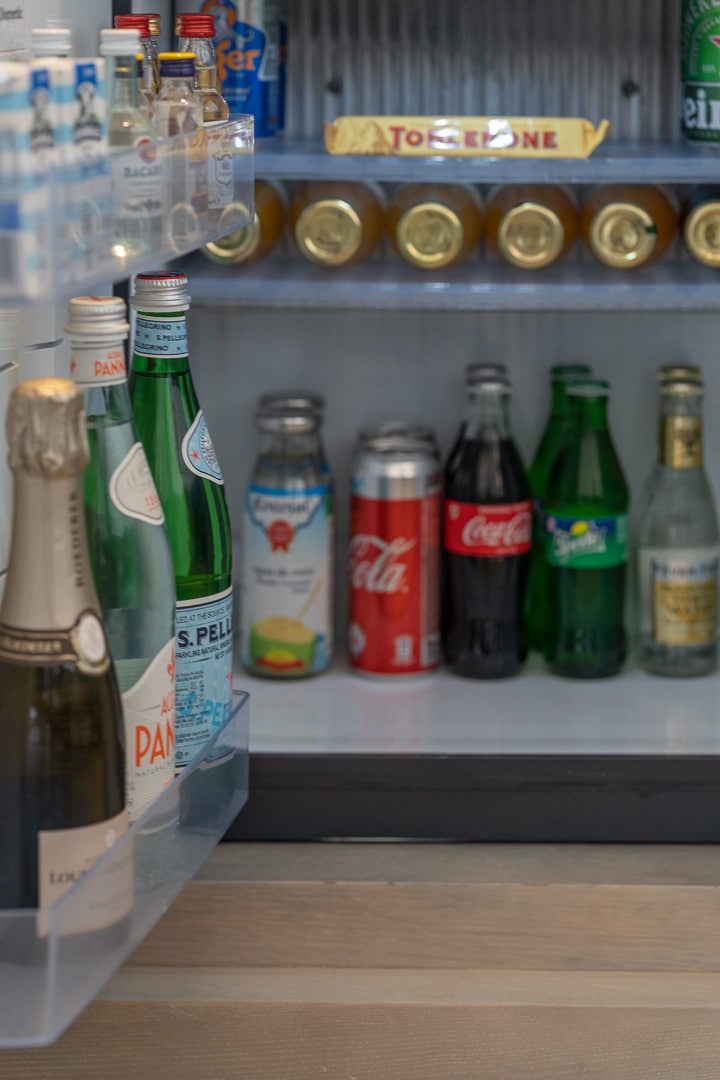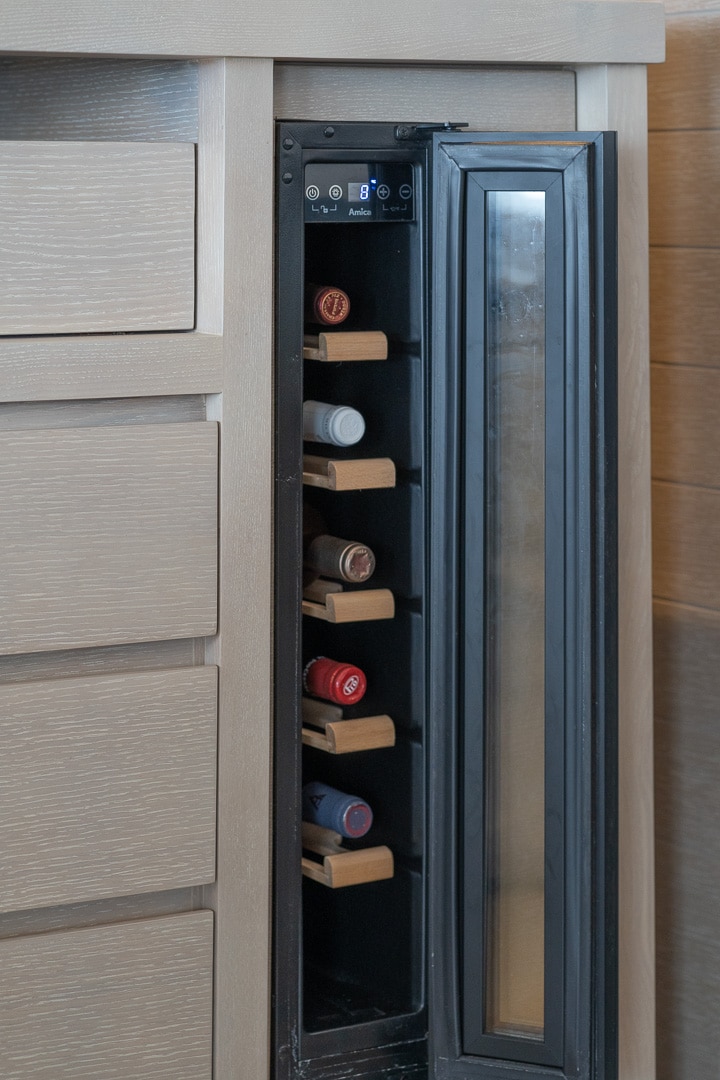 In contrast to this, the welcome amenity was very generous indeed, occupying most of the available real estate on the living room table!
We were not only given a bottle of Bruno Paillard champagne, we also received a large bowl of tropical fruit (which was refilled regularly), handmade Maldivian snacks, a giant bowl of spiced cashews and almonds and a selection of chocolate truffles.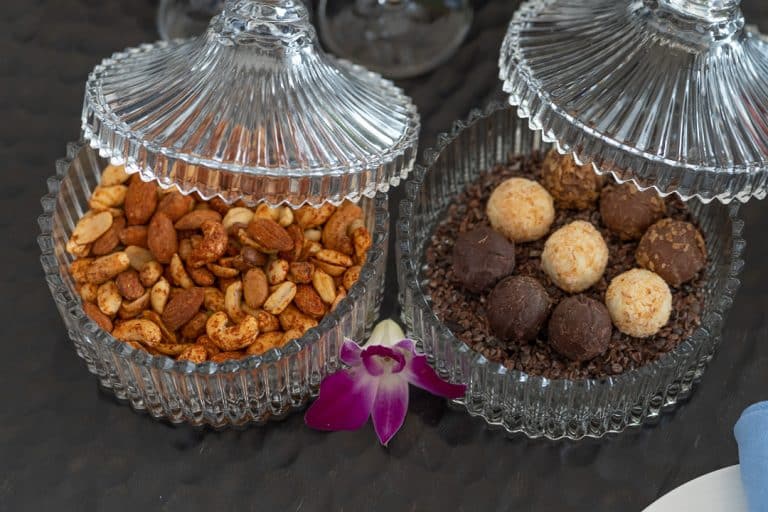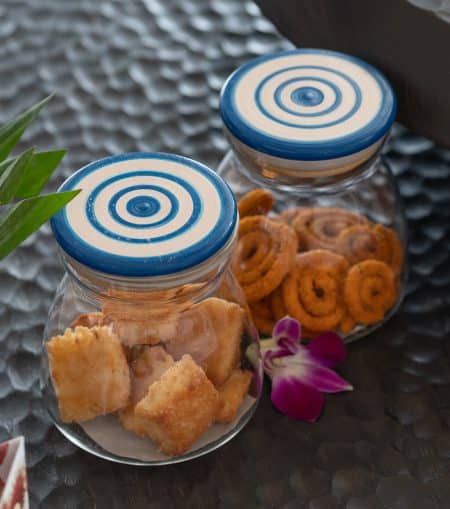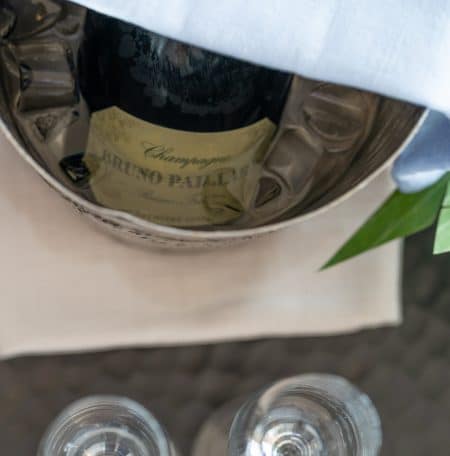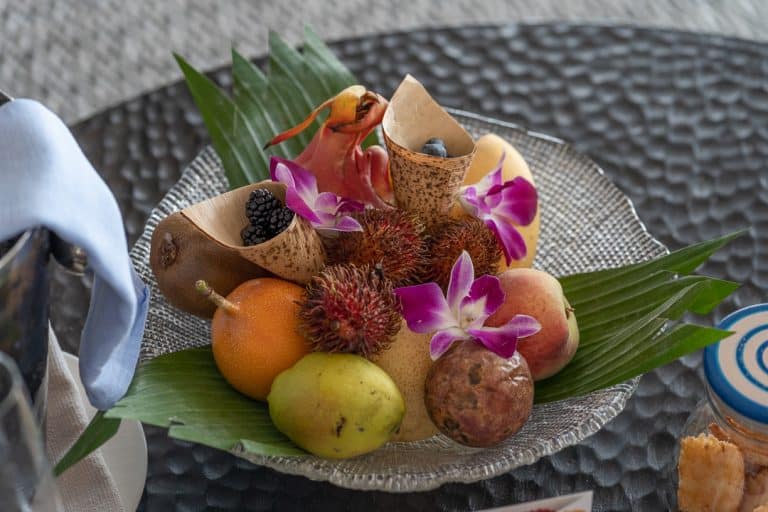 Bedroom
A partition separated the bedroom from the living room, with identical enormous televisions on either side. There was also a conveniently located table underneath, with power sockets available.
This was my first time seeing a four poster bed in the Maldives but within the context of the room design it worked perfectly. The draped top of the bed made it feel much cosier than if we fell asleep looking up to the cavernous ceiling beyond.
The bedside tables were absolutely amazing. A huge clutter free tabletop with a lip to prevent items rolling off, drawers for storage and wireless charging pads, USB, power sockets and a full selection of well labelled light switches on either side.
This is the new benchmark from which all future bedside tables will be judged.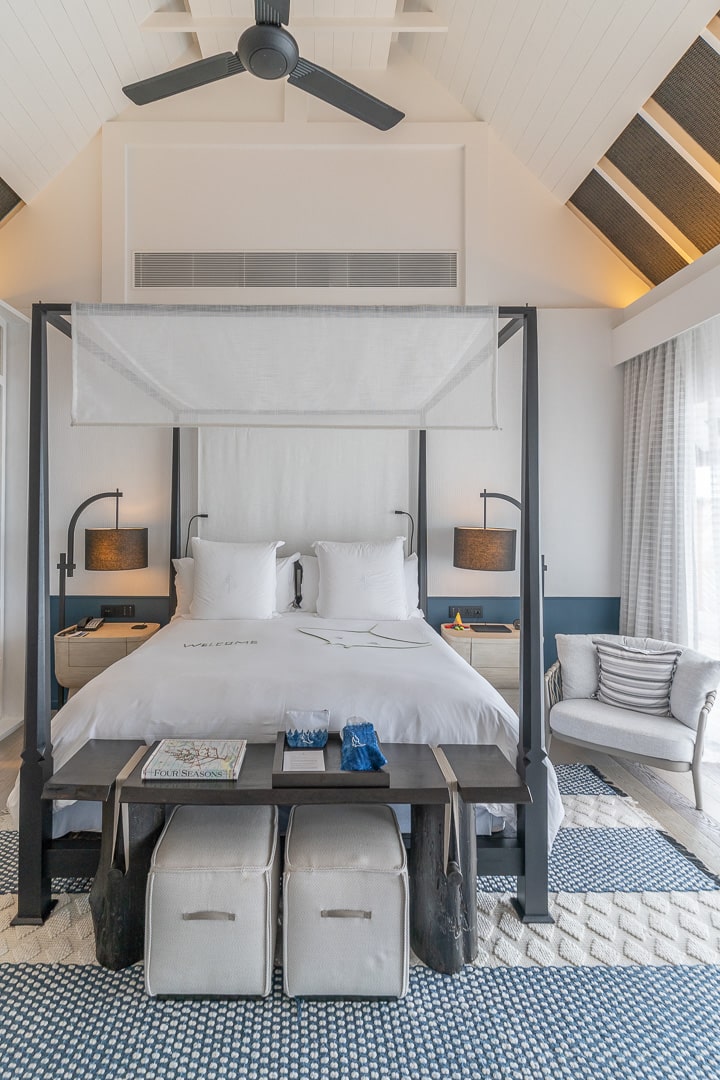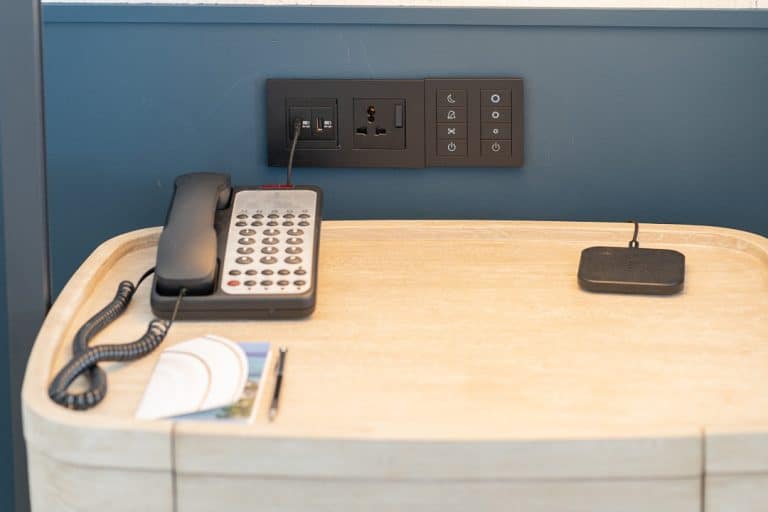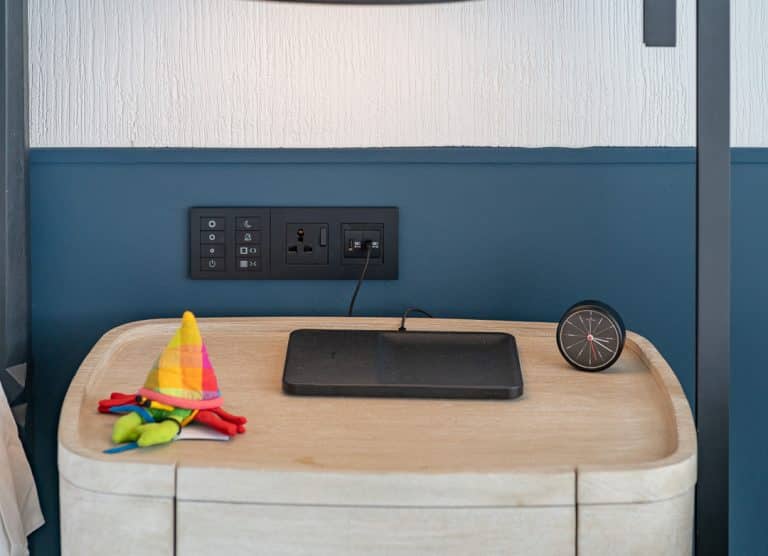 At the foot of the bed was a small table with two ottoman style seats tucked underneath. Upon our arrival we found a set of masks, sanitiser etc as well as island style flip flops provided.
View from the unbelievably comfy chair in the corner of the bedroom:
Walk-in Wardrobe
Running along the entire length of the bedroom was a gigantic walk-in wardrobe, which honestly felt more like an expensive boutique than the component bedroom.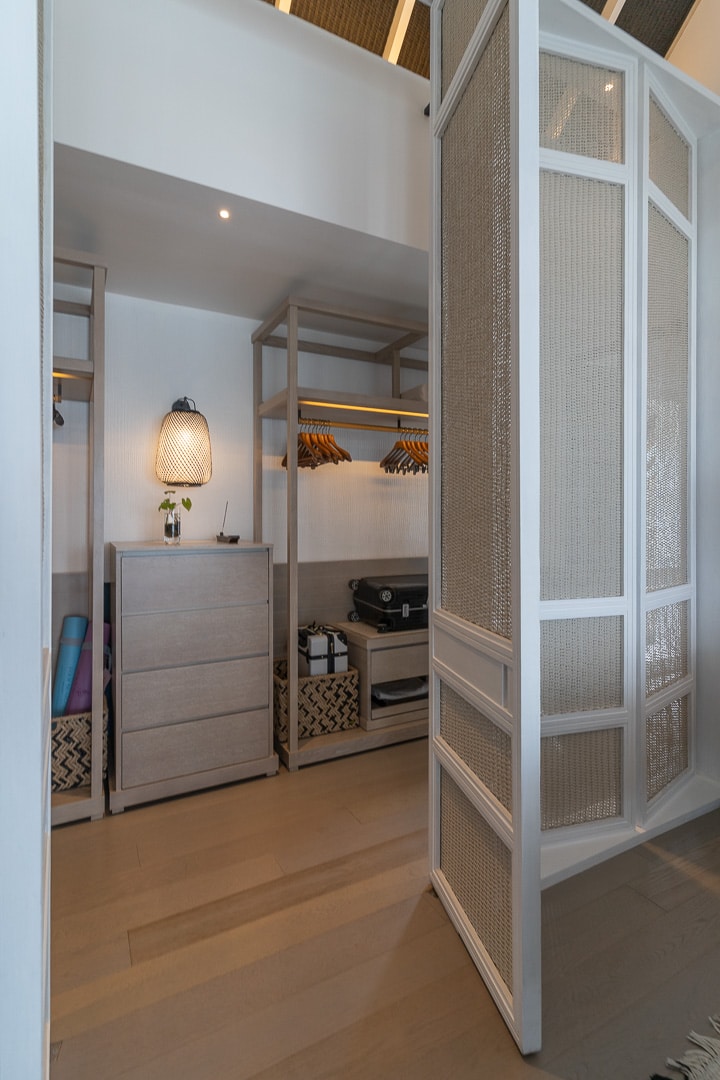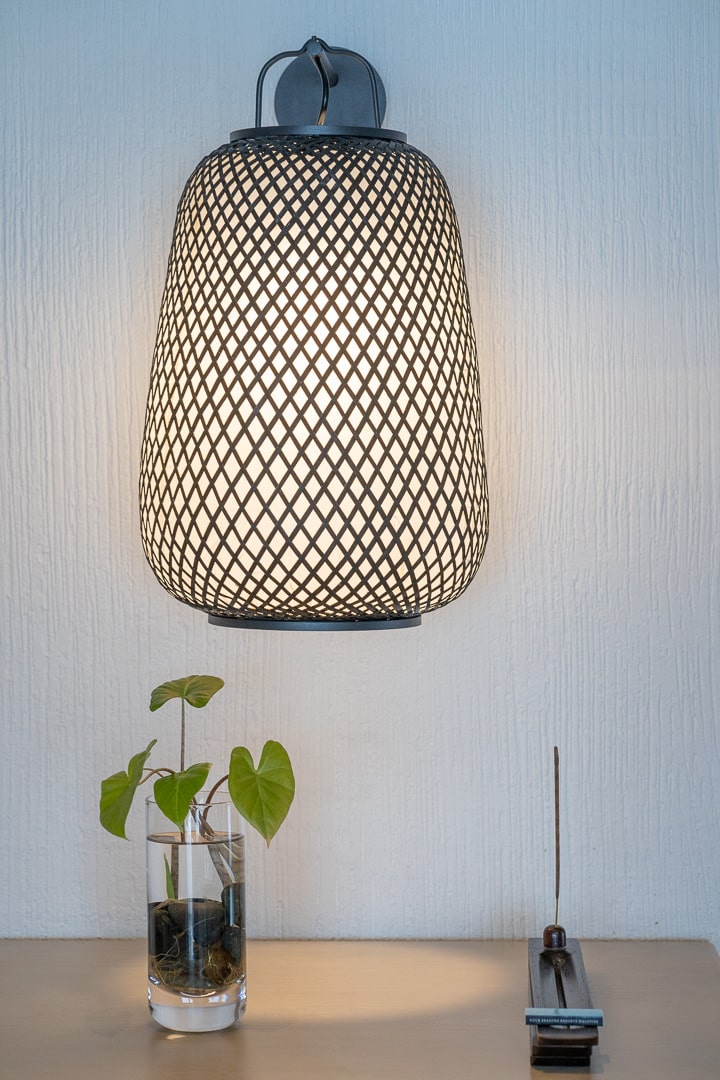 There was a huge and varied amount of storage space, including shelves, bags, baskets, drawers and of course: the best clothes hangers in the hotel industry.
There was even a set of yoga mats provided, for those wishing to partake in some early morning sun salutations on the deck. A beach bag was also left hanging at the far end of the wardrobe, for use during our stay.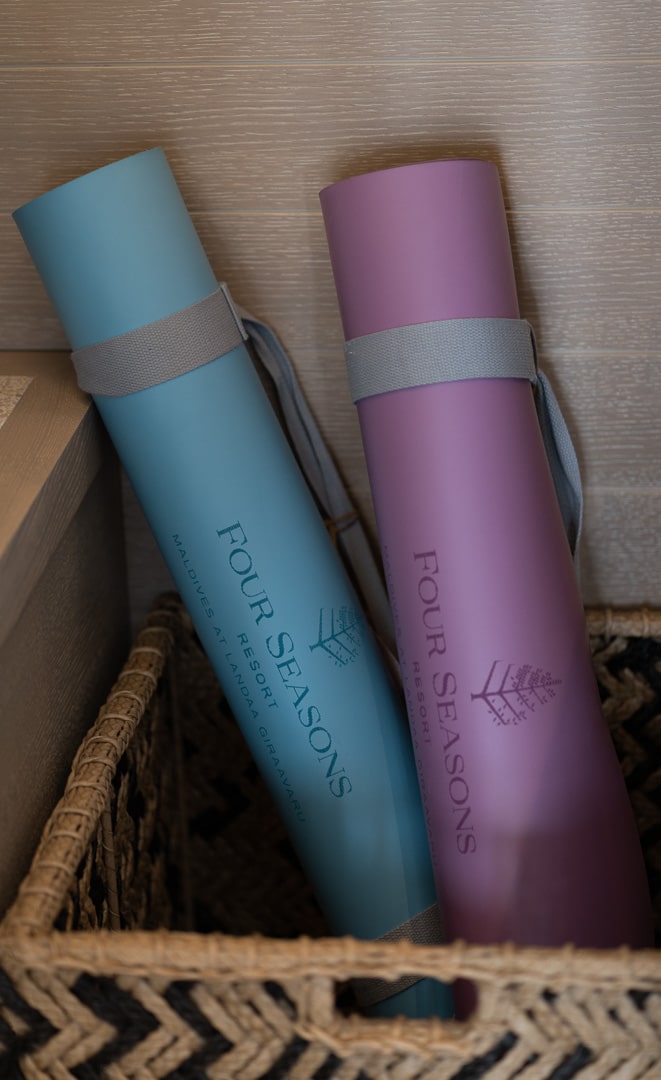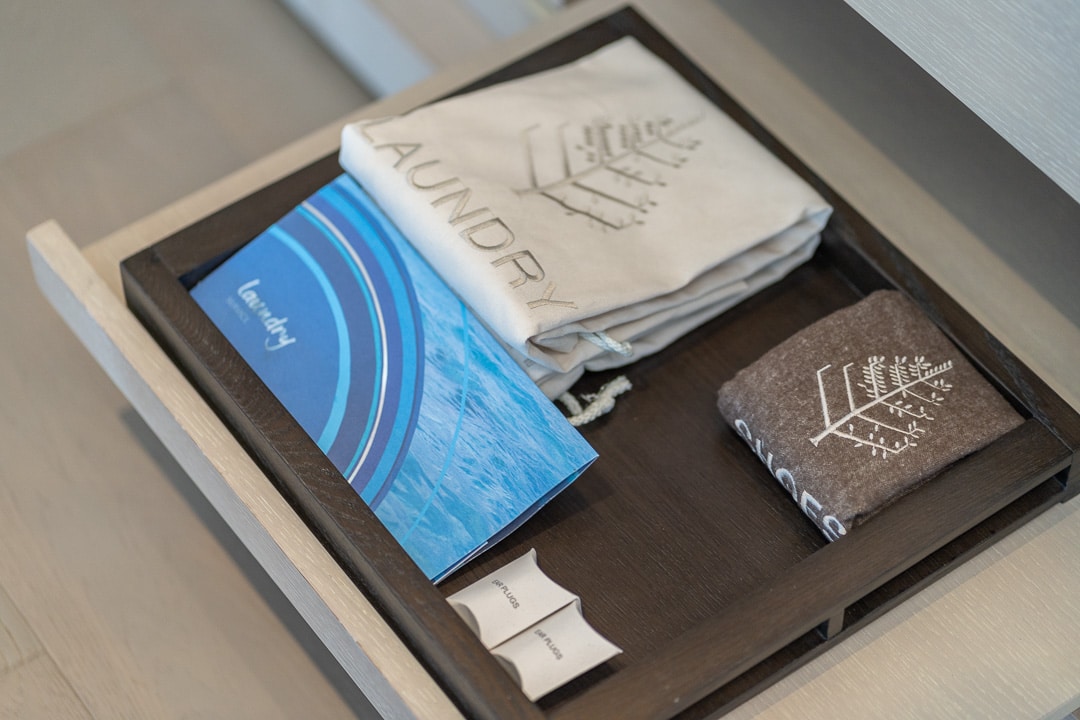 Bathroom
Continuing on from the wardrobe was our villa's bathroom. The long and narrow design, coupled with the lower ceiling, gave this a smaller and cosier feel than the rest of the villa.
The glass floor in the toilet was a particularly cool feature, with underwater lights illuminating the water at night.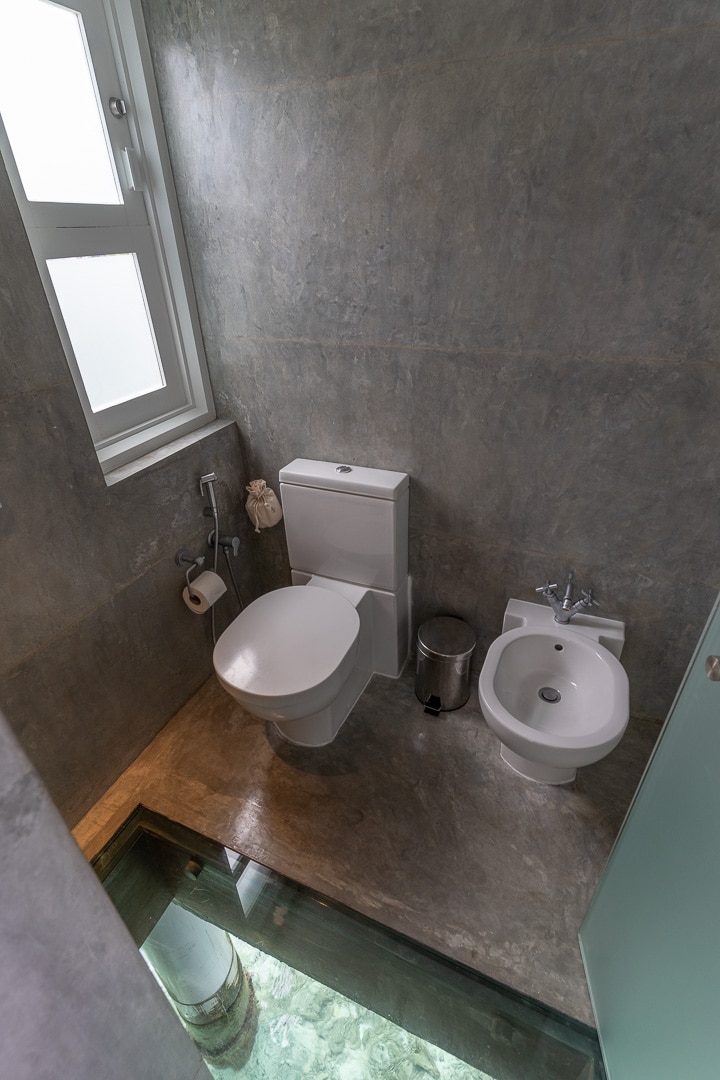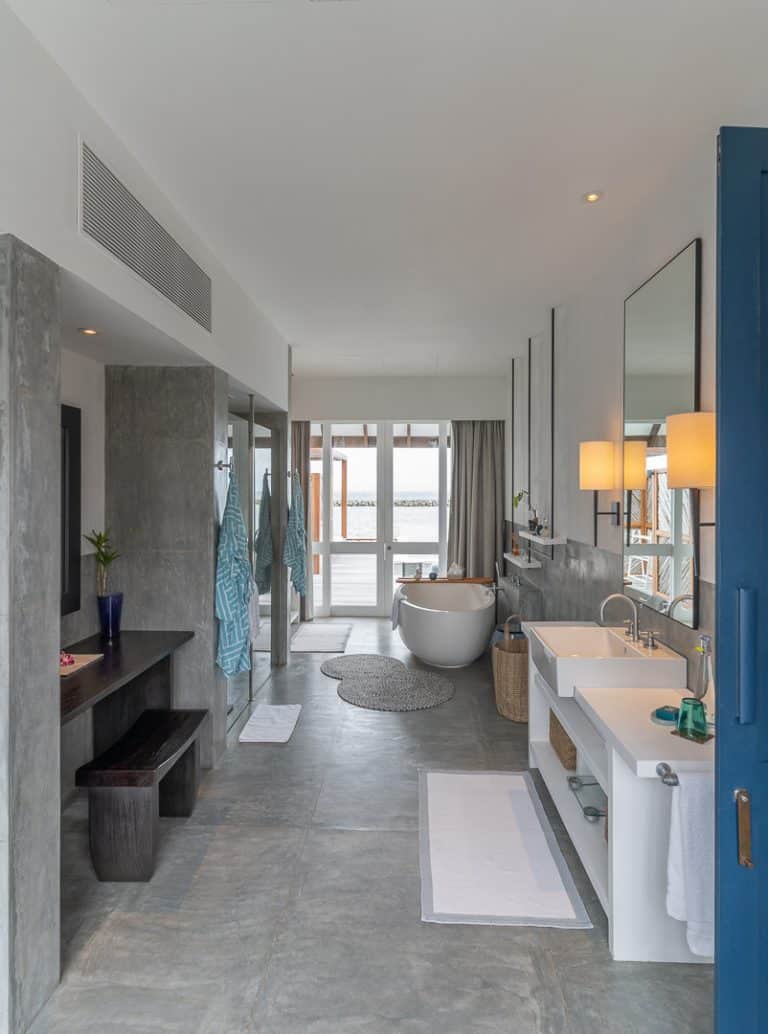 Interestingly the two sinks were located at opposite ends of the bathroom. Kamara set herself up in the one closest to the door, since this had a makeup area directly behind it.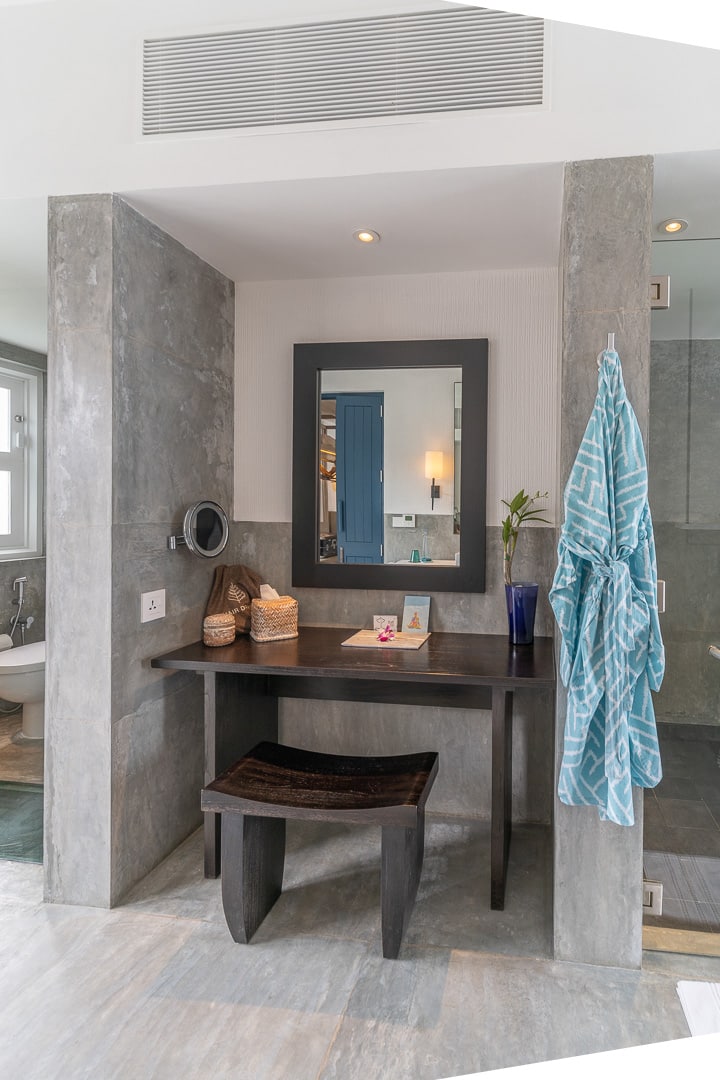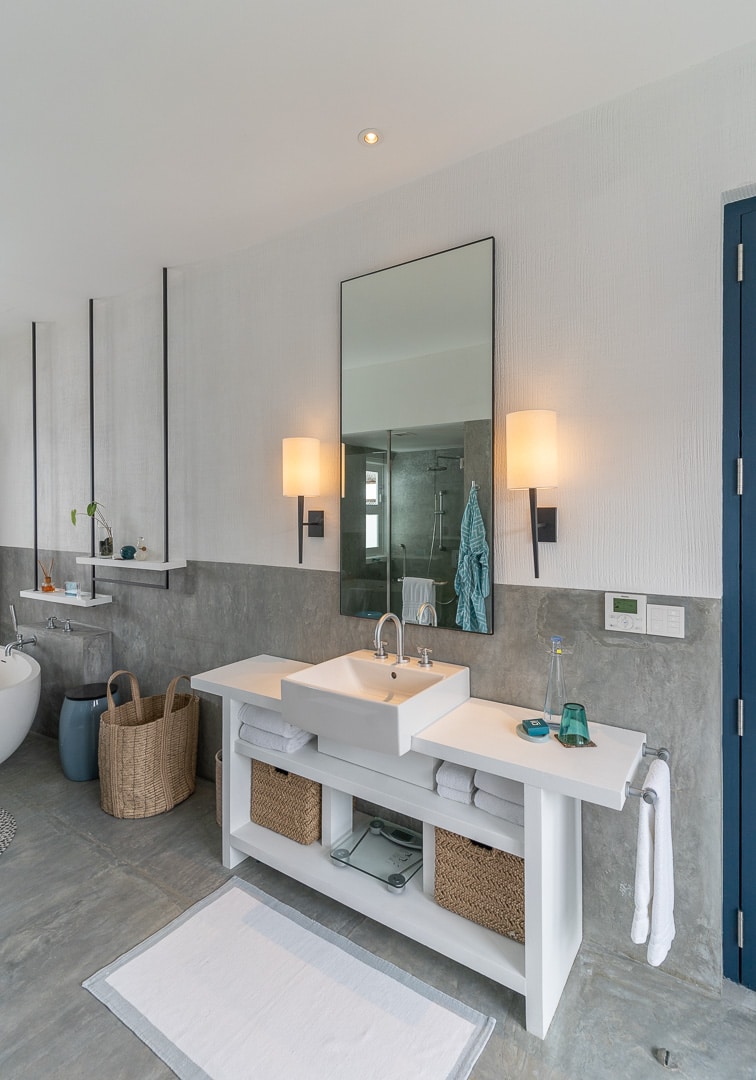 Meanwhile I took the smaller sink, which was wedged between the indoor shower and the door to our deck. I loved the blue yukata robes that were supplied with the room, looking at them now I wish I'd bought one to take home. Realistically though I'd only ever wear it at another resort… which would probably supply yukatas of its own.
Obviously this wouldn't be the Maldives without an outdoor shower and despite being substantially smaller than the extravagant outdoor bathrooms at the Park Hyatt or Naladhu, I still really enjoyed the overall aesthetic of our open air courtyard shower.
The indoor shower was very spacious and even featured a small window that looked out onto the ocean. Toiletries were unbranded and came in refillable containers, as is the case in almost every Maldivian resort now.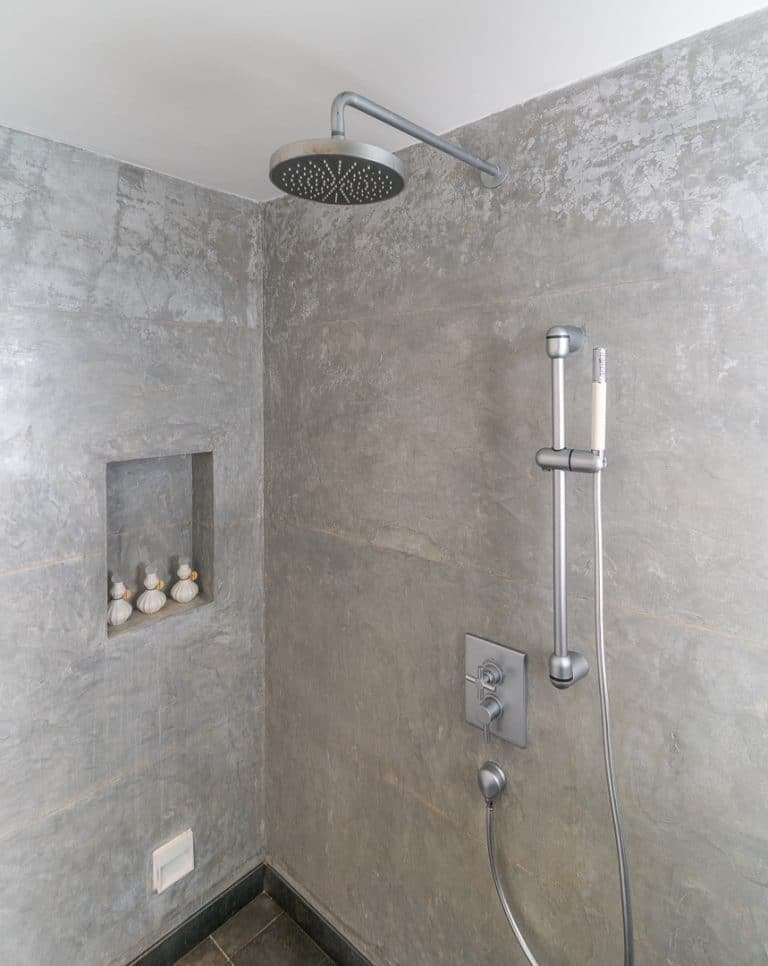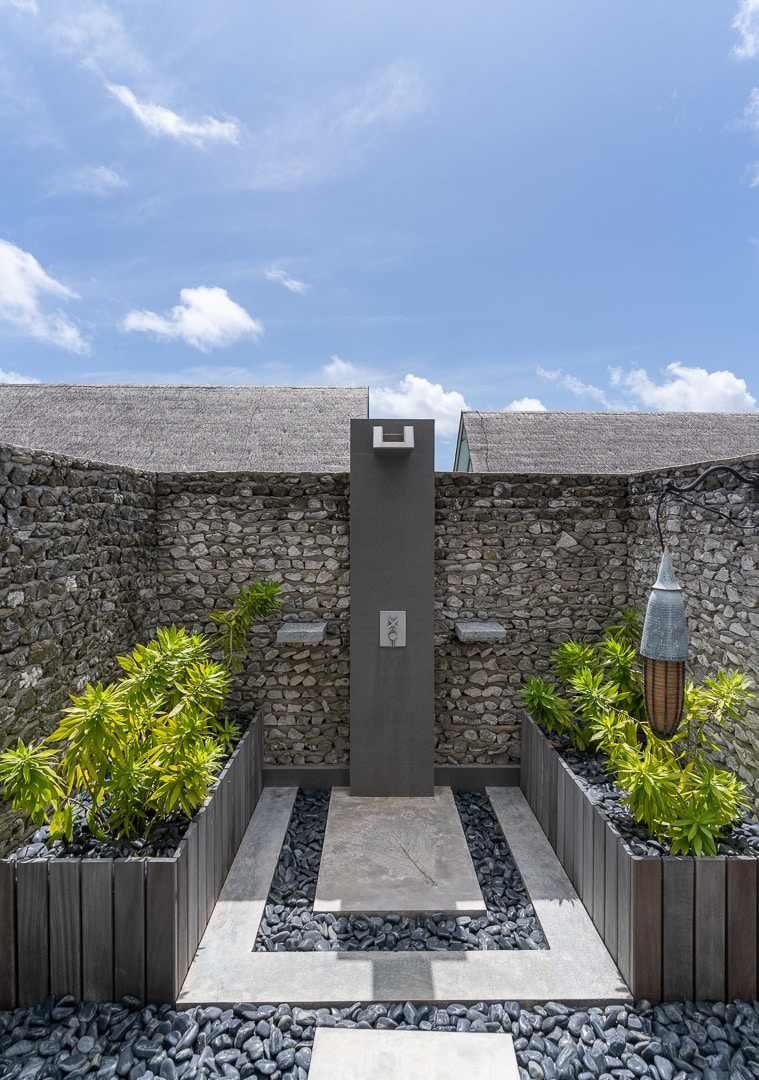 Something that really stood out to me in the bathroom was the attention to detail. A small tub filled with aloe vera, facial tissues, a variety of plants and flowers, a scent diffuser. These were strategically placed around the space in a way which felt very natural and uncluttered.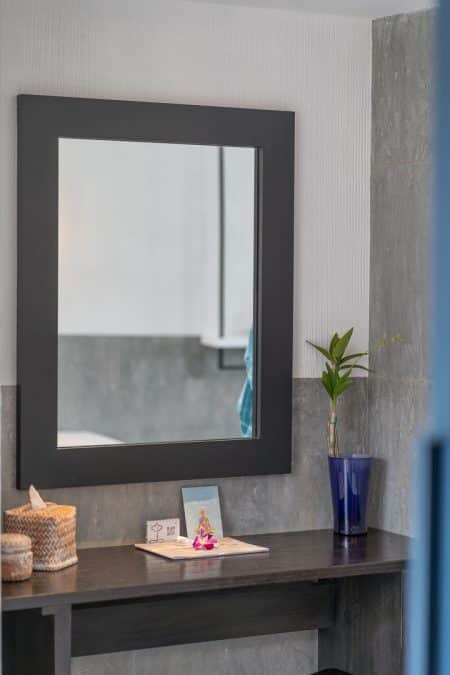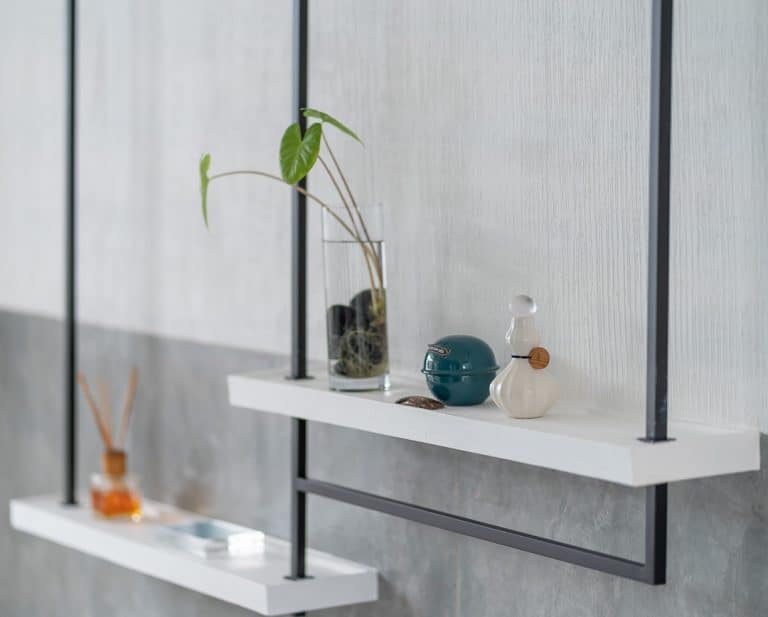 Outdoor Deck
The outdoor space afforded to us by this entry level water villa was absolutely colossal. Stepping out of the bathroom, we faced a 12m long infinity pool which stretched beyond the confines of the deck and out into the lagoon.
There are plenty of villas in the Maldives that feature plunge pools; being able to swim laps in your villa is a whole different level of luxury.
The sea walls are a relatively new feature at Landaa Giraavaru, with the resort finally relenting after years of dredging, to replace the shifting sand. If these walls bother you then you will be better off in a Sunset Water Villa, or a Sunrise Water Villa closer to shore.
The vertical orientation of the pools and the zigzag shape of the pier means that neighbouring villas are fully visible from the pools of most of the water villas too.
This won't be a huge deal to most people but if you want to guarantee privacy you'll want to opt for a Sunset villa in the final section of the pier.
There was a large amount of space around the pool, with thickly padded sun loungers fitted with custom towel covers, pillows and topped with additional Four Seasons towels.
The loungers were joined together and didn't have any wheels though, so moving them in and out of the shade required a team effort!
There was also the option of sitting in the shaded daybed at the far end of the deck, which had a completely open front from which you could look onto the ocean.
So far you've seen roughly half of the deck, with the other half located under cover and featuring a multitude of seating options:
I'm a huge fan of a swinging chair, nothing is more relaxing than gently rocking back and forth as you read a book, listening to the sounds of the ocean. There was not only shade here but also a large ceiling fan, to keep us cool during the hottest times of day.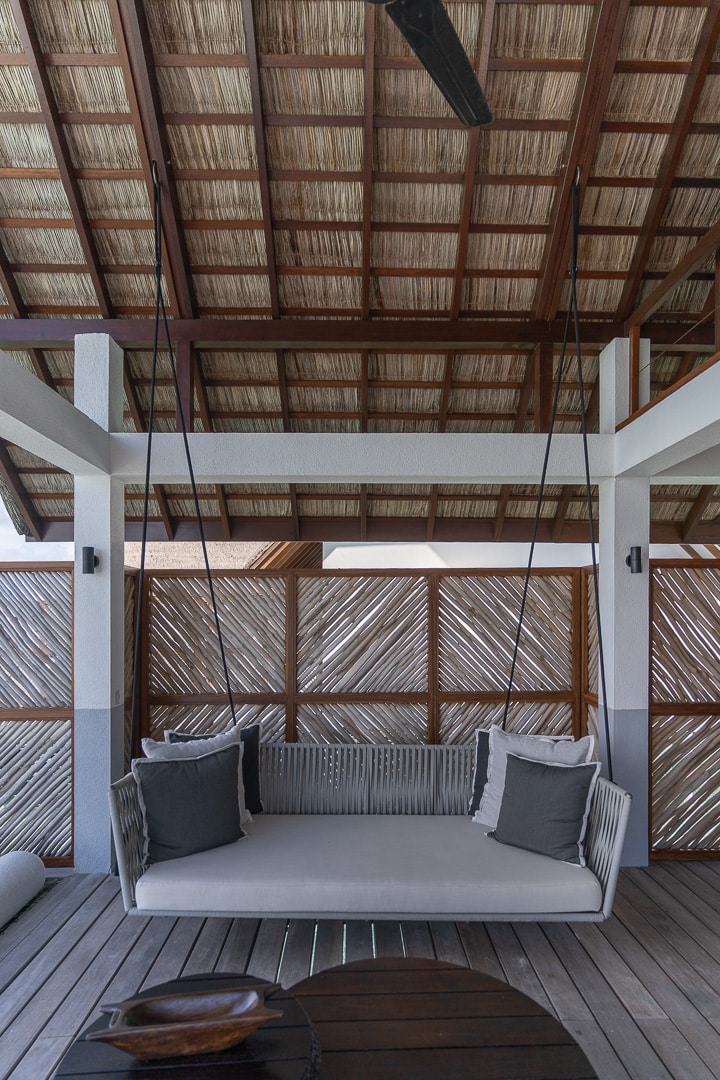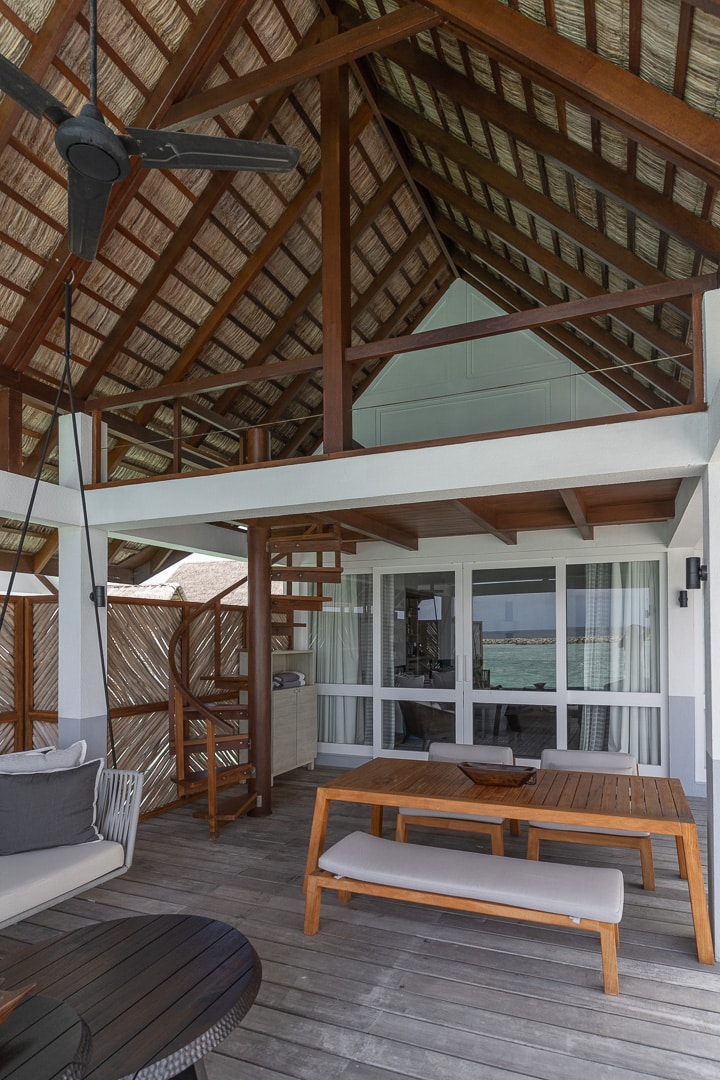 A rather unique feature of our deck was the mezzanine floor above (is it just me that can never look at that word without thinking of Massive Attack?) . From the top of the stairs it was even possible to catch the sunset…just.
I think this space is more useful if you have kids though, honestly we came up here once to have a look, took a couple of pictures and then never returned!
Nice view though.
Our overwater net was once of the best I've encountered in the Maldives. It was huge and felt extremely stable, since it had a wall on one side and a large amount of deck on two others. Thanks to the variety of cushions (and the shade), it was actually very comfortable to spend extended periods of time here.
The amount of marine life visible from here was extremely impressive as well, huge shoals of fish swarmed at all times of day and we saw multiple reef sharks and groups of rays too!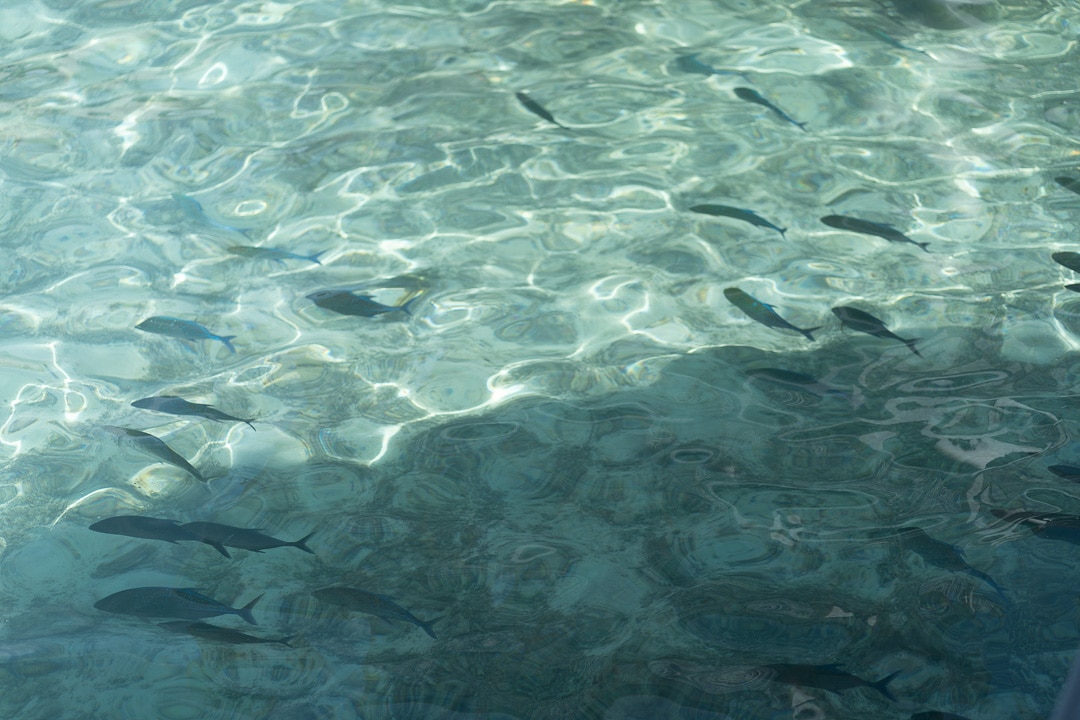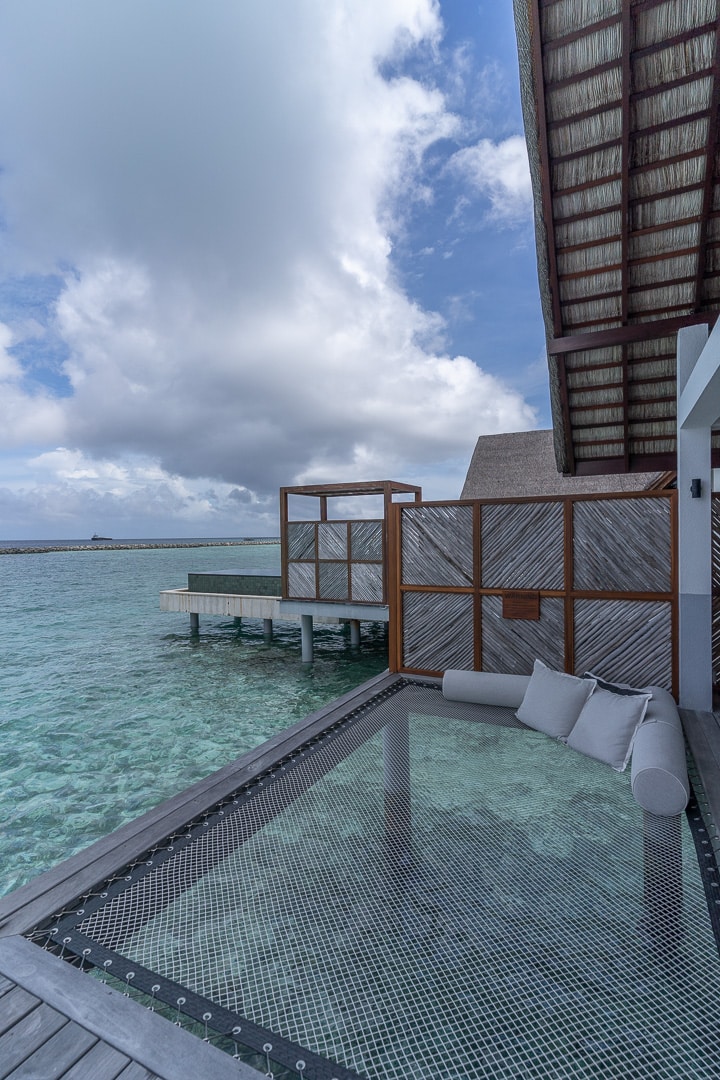 My favourite time of day to spend time on the deck was at night though, when the temperature was cooler and the pool was still warm. The fish were also attracted to lights under our net which meant that there was constant activity.
The opportunity for some star gazing and astrophotography was excellent too.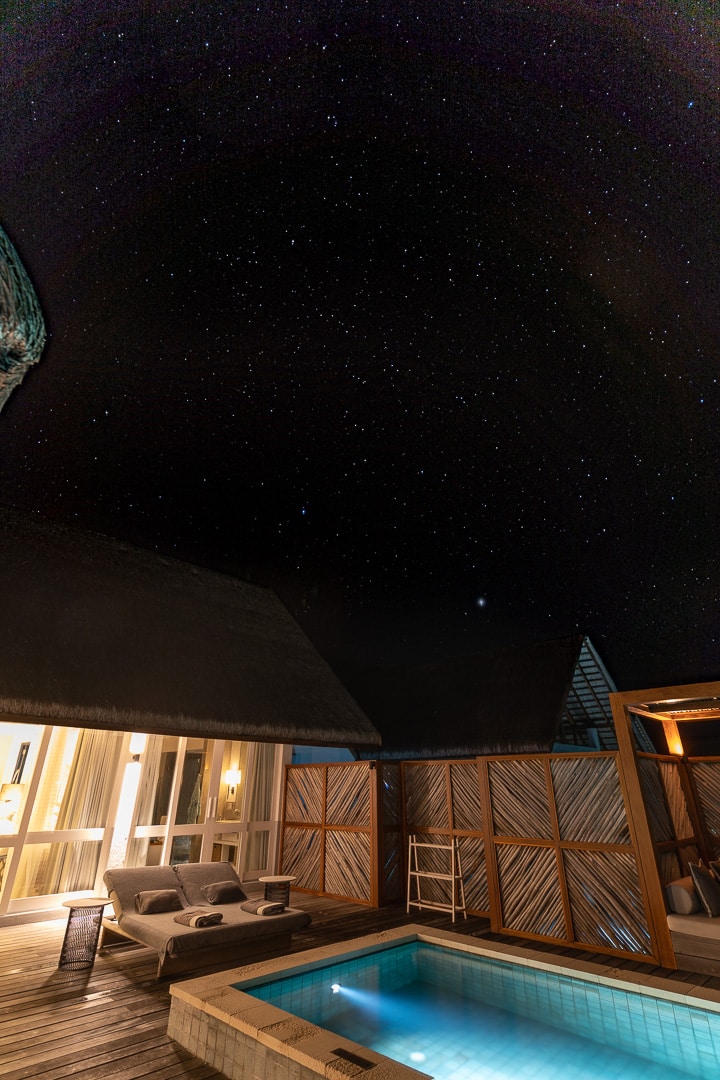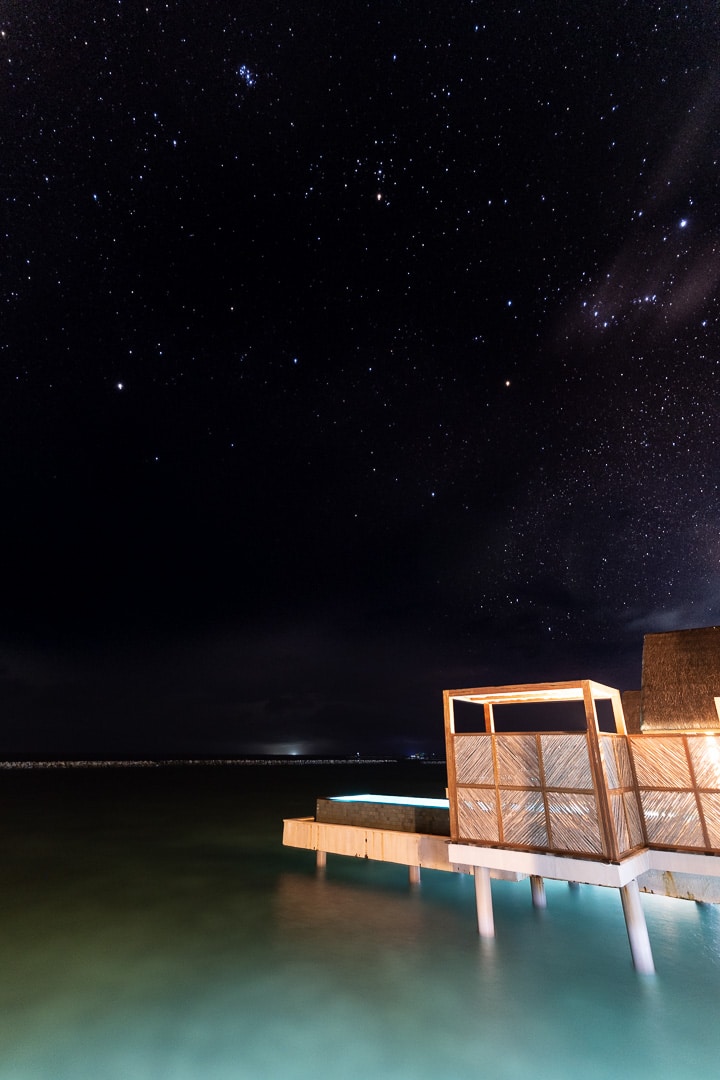 Turndown Service
Returning to our villa each evening, we found that great care and attention had been paid by the housekeeping team who carried out the turndown service.
On our first evening, we bumped into housekeeping just as we were leaving the room and mentioned that a corner of our rug was loose and had become a tripping hazard. This was immediately fixed with adhesive upon our return.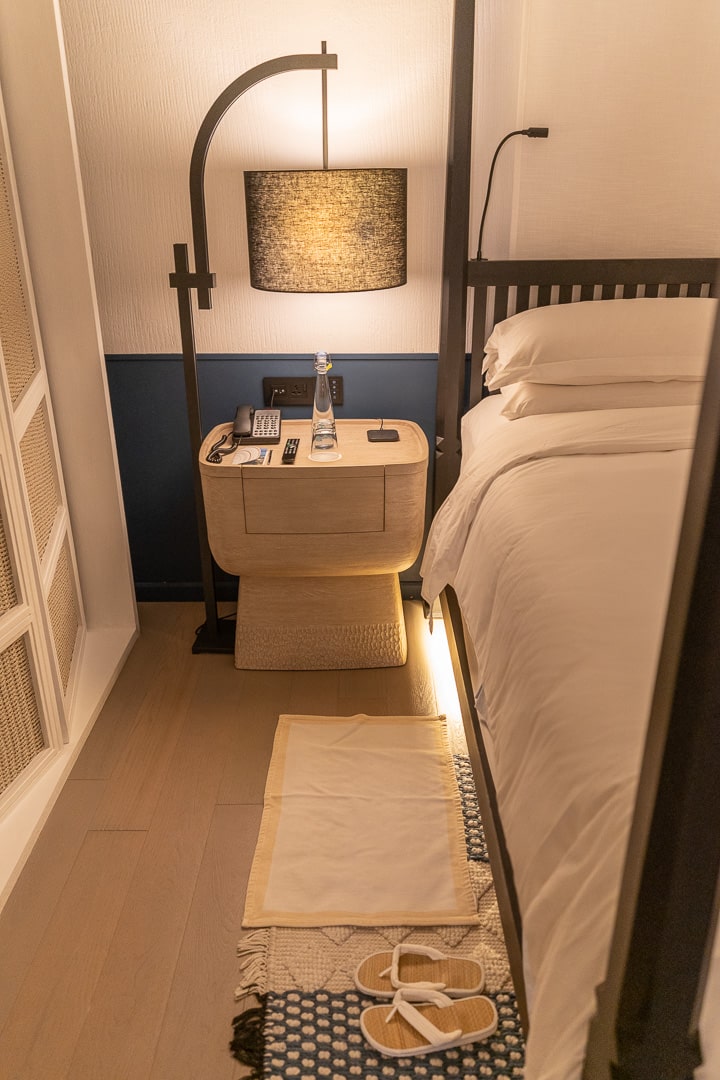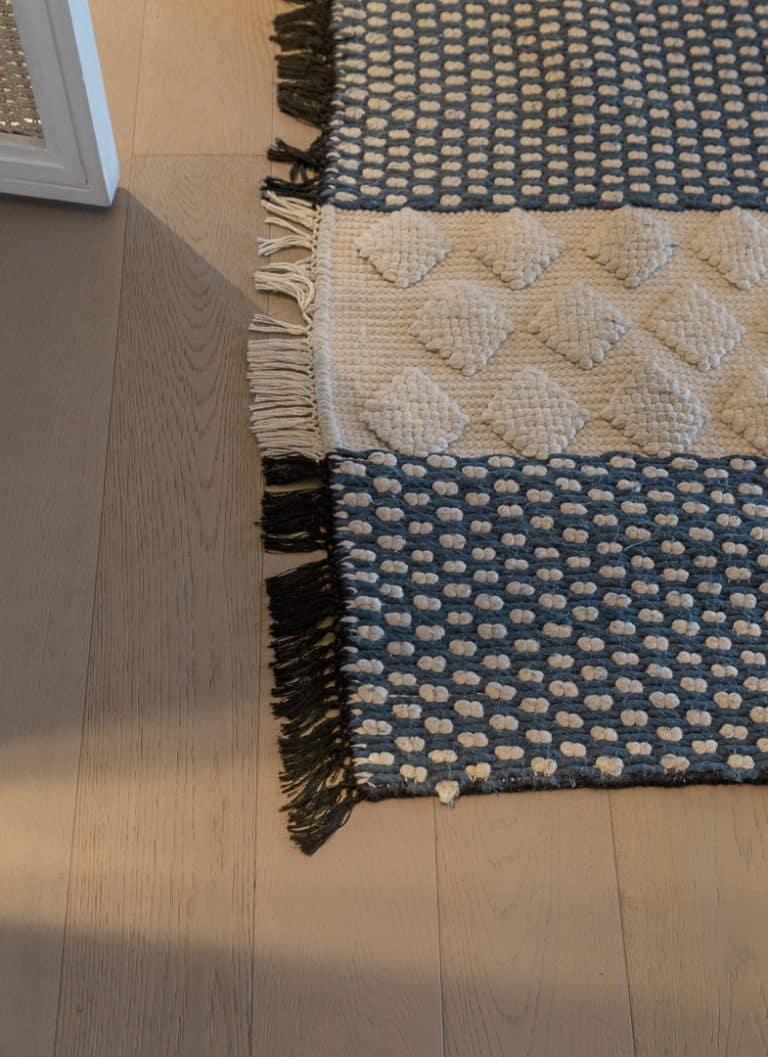 During turndown, a different Ayurvedic scent would fill the room each night, with a card describing the particular properties of that evening's scent. Together with this was a daily card highlighting a particular aspect of conservation that Four Seasons was involved with, in the Maldives.
Four Seasons cable tidies were provided for any devices that required them, together with appropriately sized lens and screen cloths for all of our devices: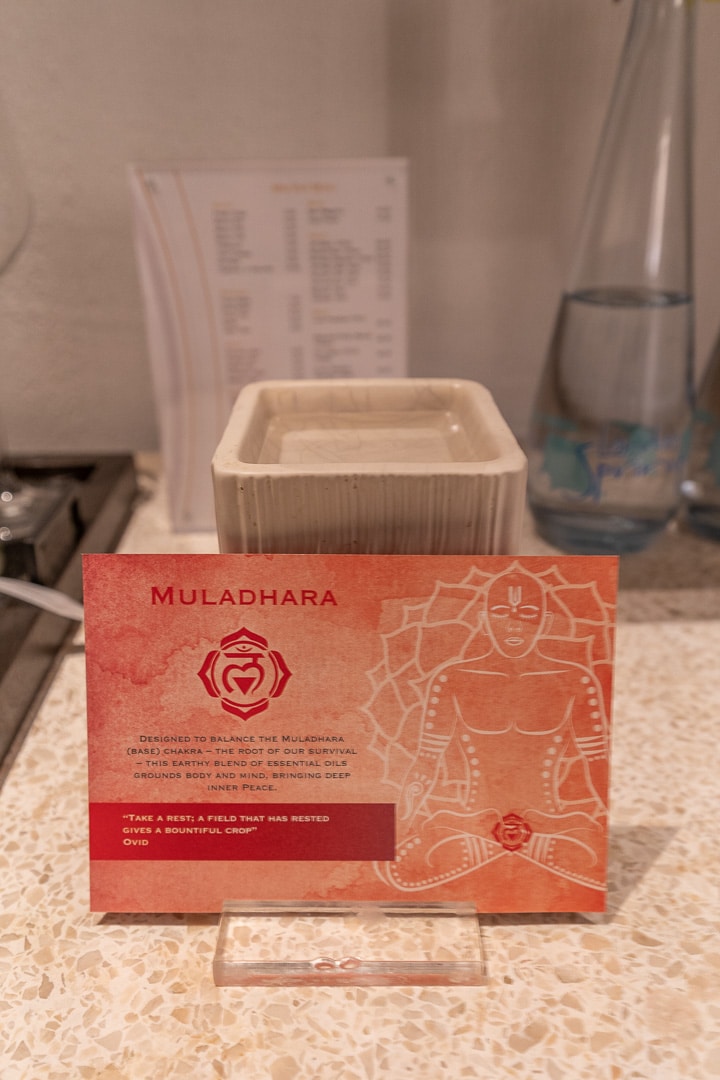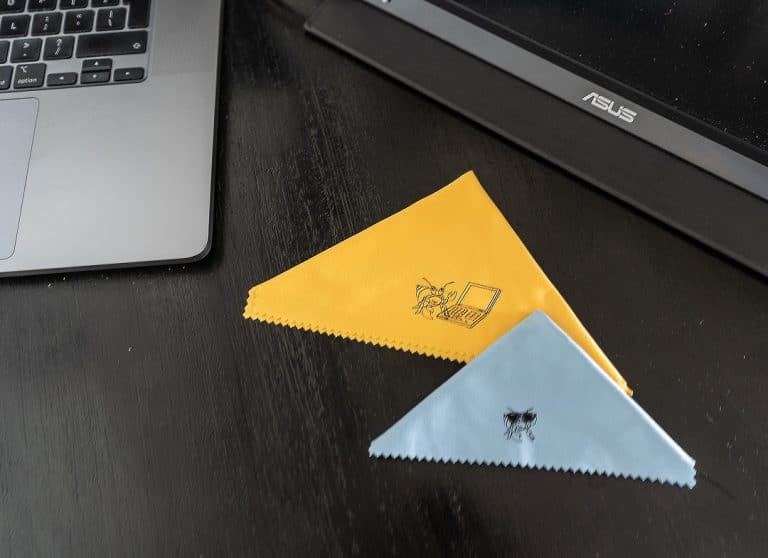 Not only were all of our toiletries arranged on linen cloths, I also noticed that housekeeping not only gave the soap dish a rinse, they even placed the soap upright every evening.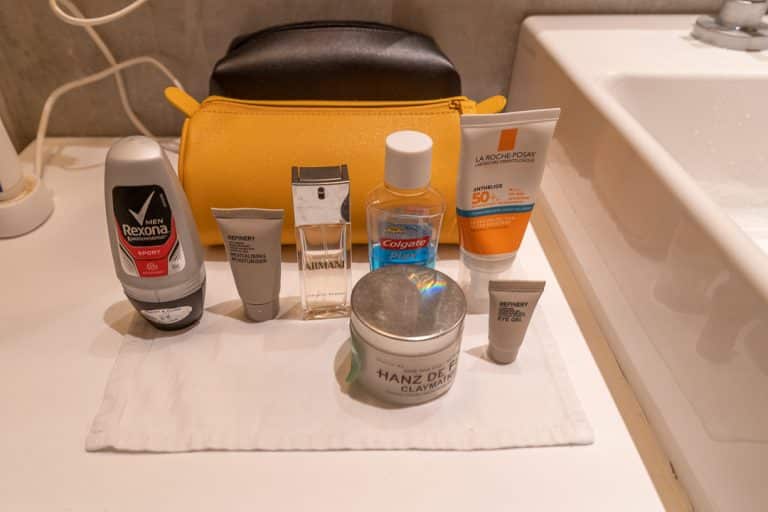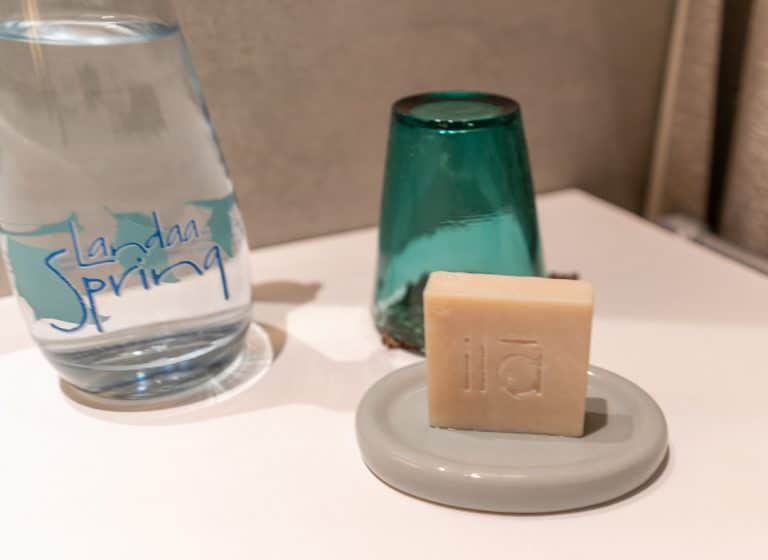 ---
Family Beach Villa with Pool
---
We always try to tour a multitude of rooms during our visits to hotels, in order to showcase everything that's on offer to our clients. I was most intrigued to see the beach villas, since over time my tastes have tended to veer away from water villas. This also tends to be the case for many of our clients.
Not only is the white sand of the Baa Atoll absolutely pristine and soft, the beach villas are also extremely private, thanks to the thick foliage that separates them. The snorkelling is excellent too, thanks in part to the planting of coral regeneration frames, which you can see dotted close to the shore.
Floor Plan
Entrance
The Beach Villas at Landaa Giraavaru feature blue wooden doors which are kind of 'disembodied' and reminded me of the entrance to Per Se in New York. Once again, the adjacent wall was made from dead coral, with special permission from the Maldivian government (the coral washed up on the island during a particularly violent storm).
Since there is quite a lengthy path between this door and the villa itself, staff will ring the bell to alert guests to their presence.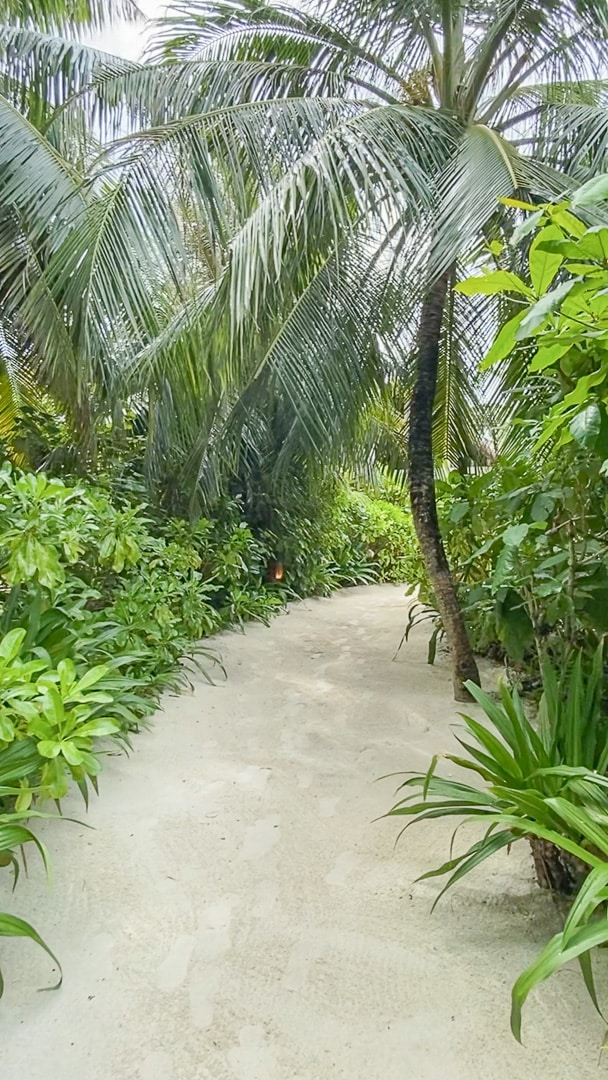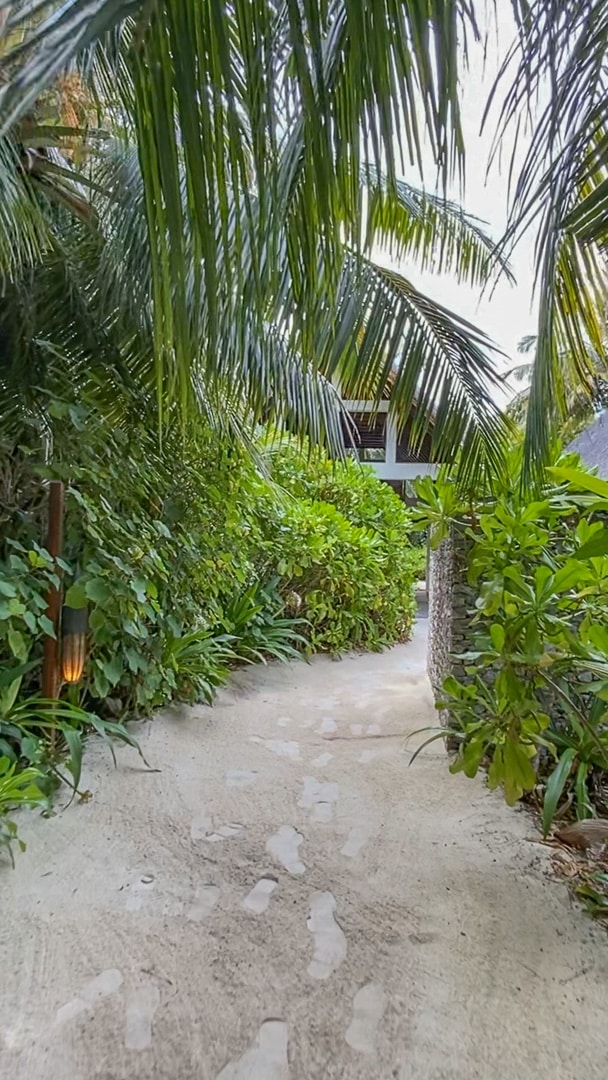 Outdoor Space
After walking along the narrow path from the entrance, we came upon the main outdoor pavilion of the villa. This featured a large covered living room area, with a ceiling fan and immaculately raked sand.
Much like our water villa, this too featured a mezzanine; this one not only offered a daybed but also a large hammock.
The view from the mezzanine:
Much like the water villas, the pools in the beach villas were recently renovated to 12 metres in length.
This pool also featured a daybed with a cascading water feature directly beneath. Unfortunately our tour of the room was scheduled to coincide with the worst weather of our stay, so you'll have to imagine the sunshine.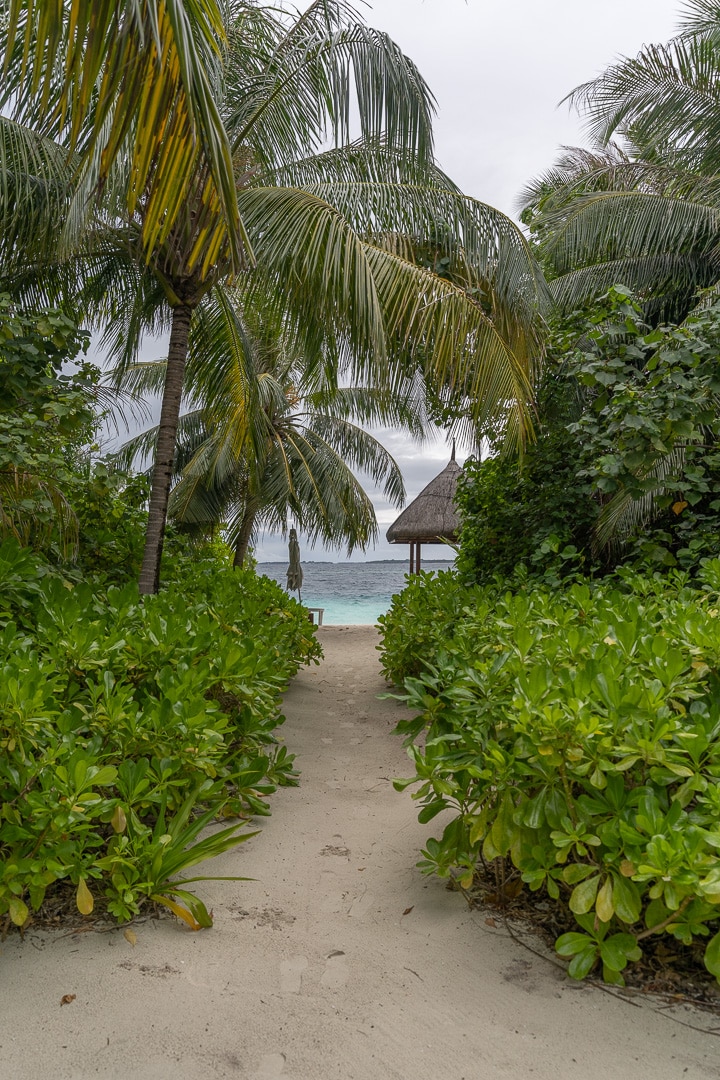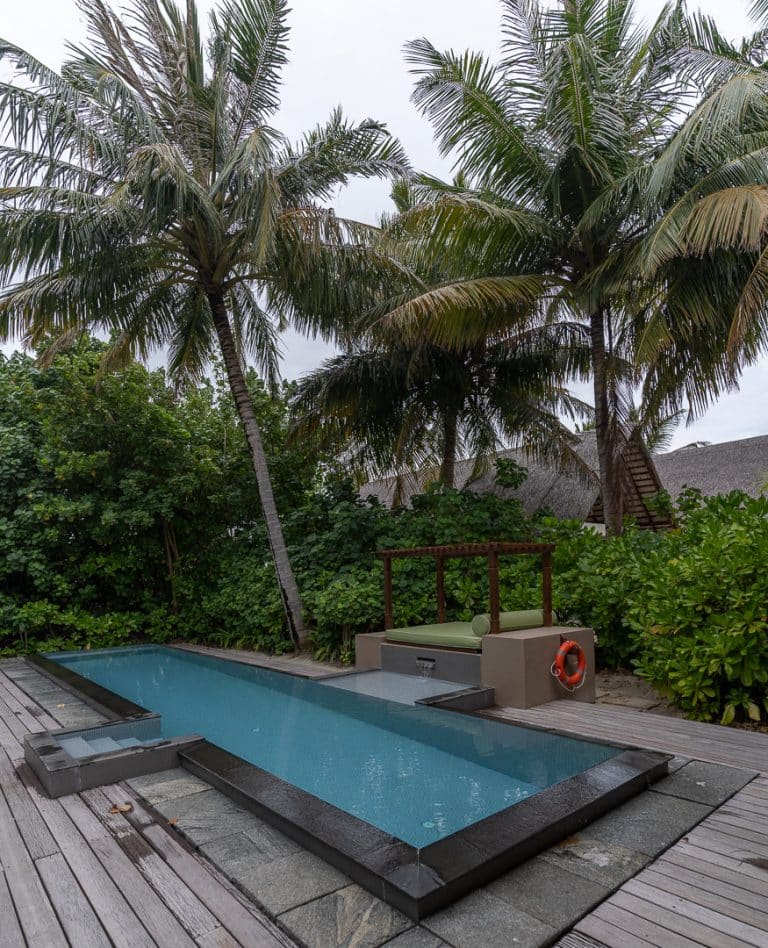 A long path separated the pool area from the beach, ensuring maximum privacy (unlike the beach villas at the Ritz Carlton, which are completely open to the beach).
The villa had its own private beach area with the loungers and daybed belonging specifically to the villa (unlike the beach villas at Four Seasons Kuda Huraa, where beach seating is completely open).
During low tide it's possible to walk along the entire length of the beach in front of all the beach villas, however when we visited during high tide, the villa's beach was 100% isolated and private.
Main Bedroom
Once inside the villa, the door opened directly onto the Main Bedroom.
There was enough space for a family to gather on the sofa, as well as a separate writing desk behind.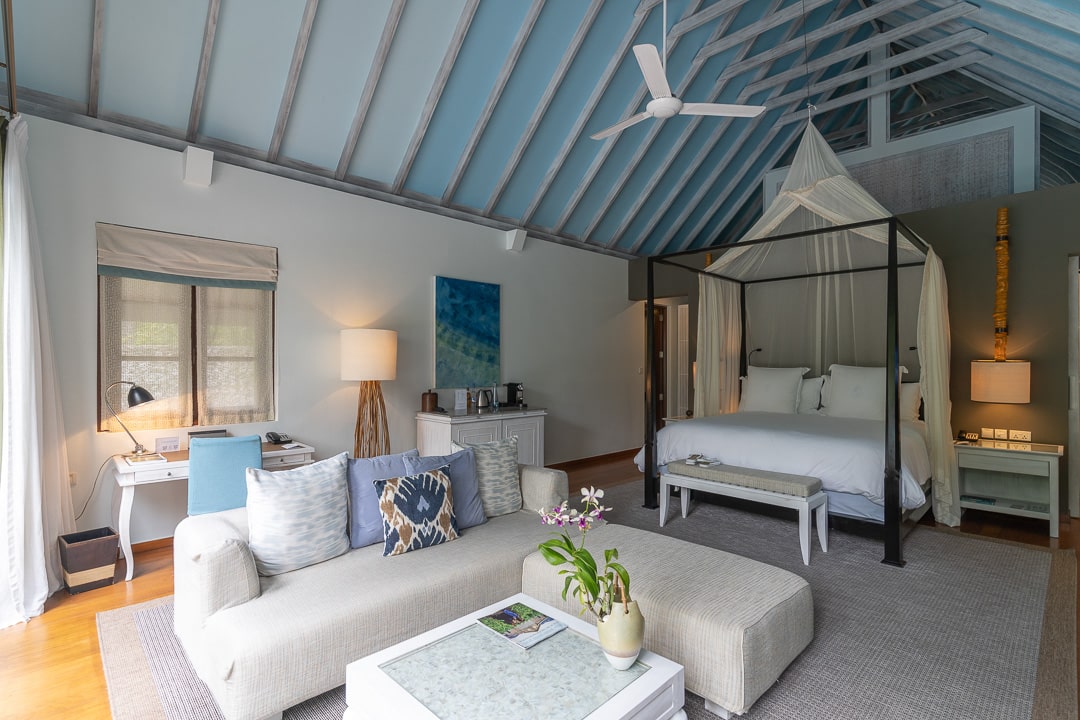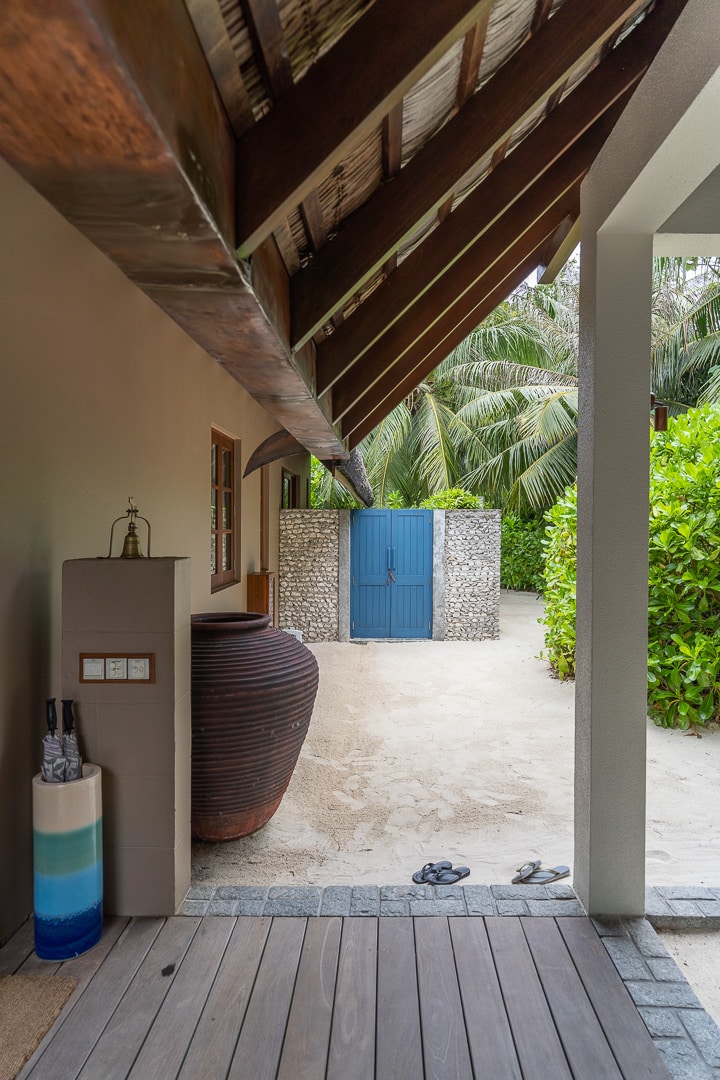 Sliding doors also allowed direct access to the pool.
The bedside table featured universal power but no USBs. However plans are underway to fully renovate these villa interiors as well. Unlike the water villas, this villa only featured a single bedroom TV, which couldn't easily be viewed from the bed.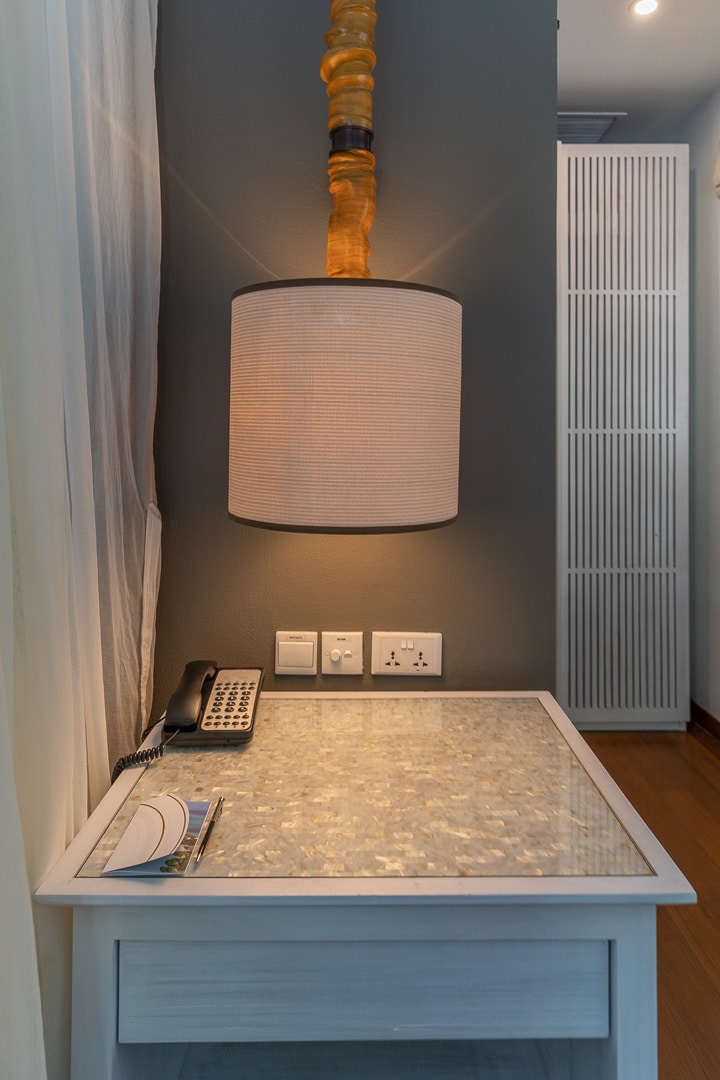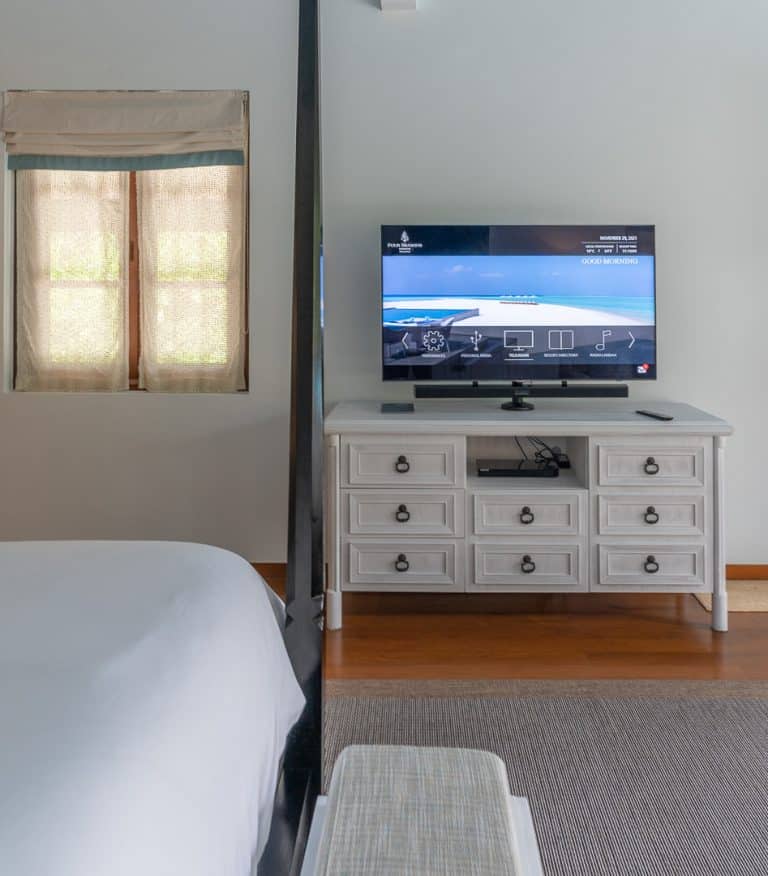 Children's Room
This is the sole differentiator between a Beach Villa and a Family Beach Villa. An extra room located just off the main bedroom. This seemed significantly more spacious than what was on offer in the family villas at Four Seasons Kuda Huraa.
Secondary Bathroom
A hallway lined with wardrobes ran behind the main bedroom, leading to both of the villa's bathrooms. The children's bathroom was rather compact but would doubtless keep kids away from the main bathroom.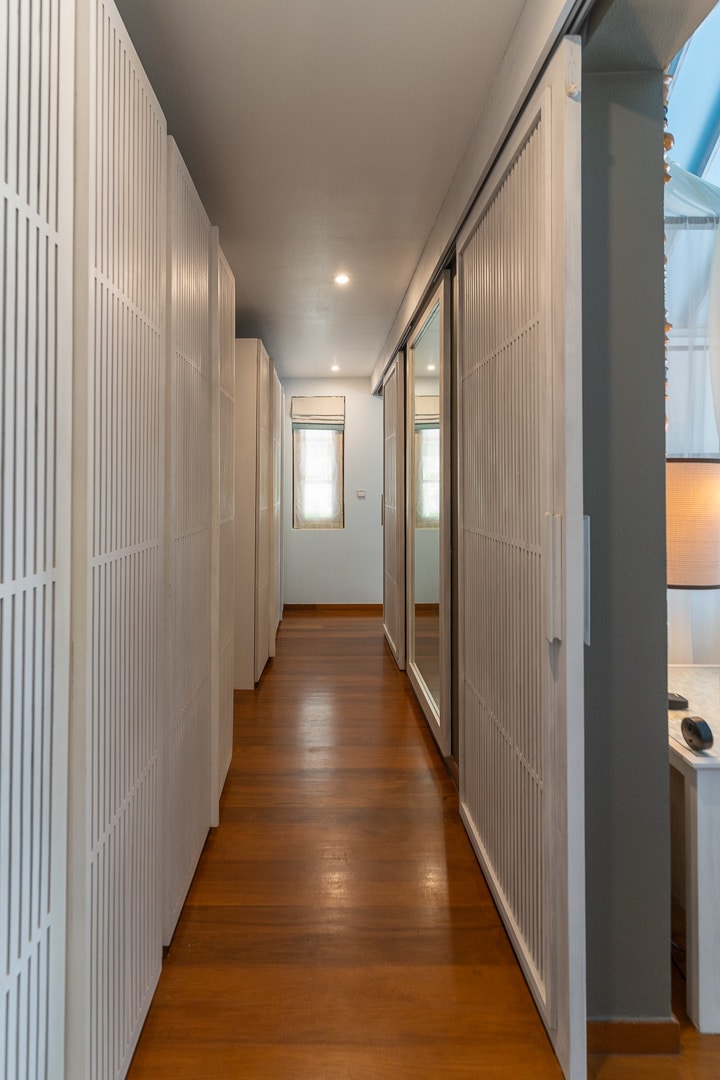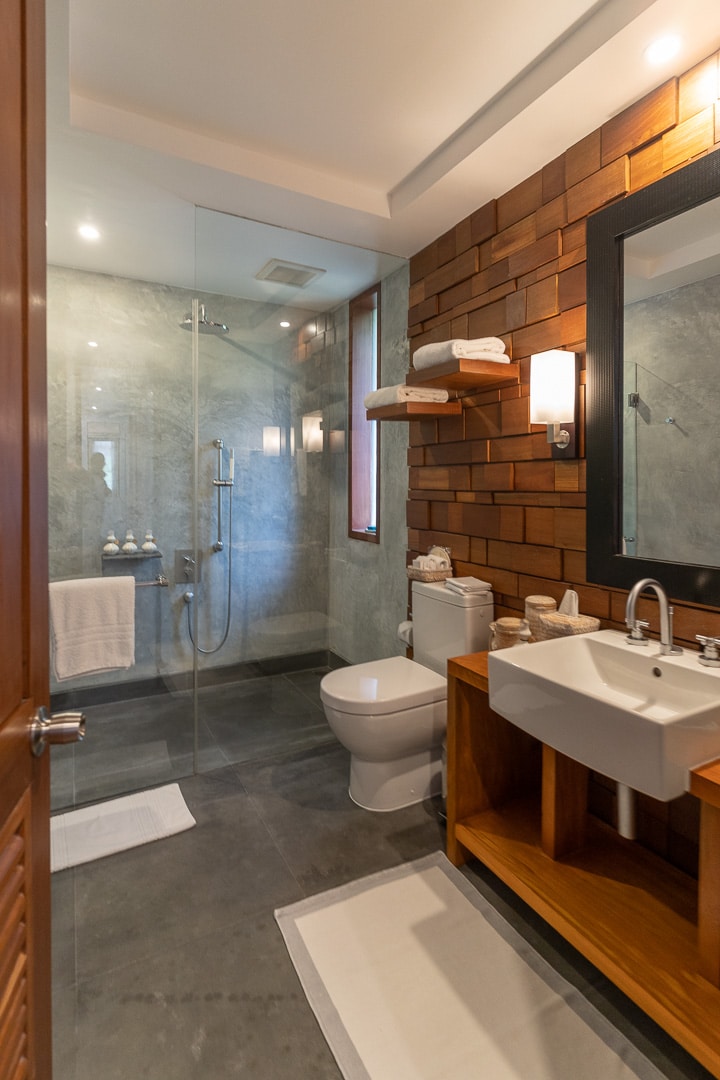 Main bathroom
The main bathroom was considerably larger, more stylish and brighter.
Both sides of the bathroom opened onto outdoor spaces, with an outdoor shower courtyard located immediately adjacent to the indoor shower….
…and the bathtub, at the other end of the bathroom, facing a walled garden.
Rather unusually for an open plan bathroom, the toilet had no door. It did have a lovely garden view though.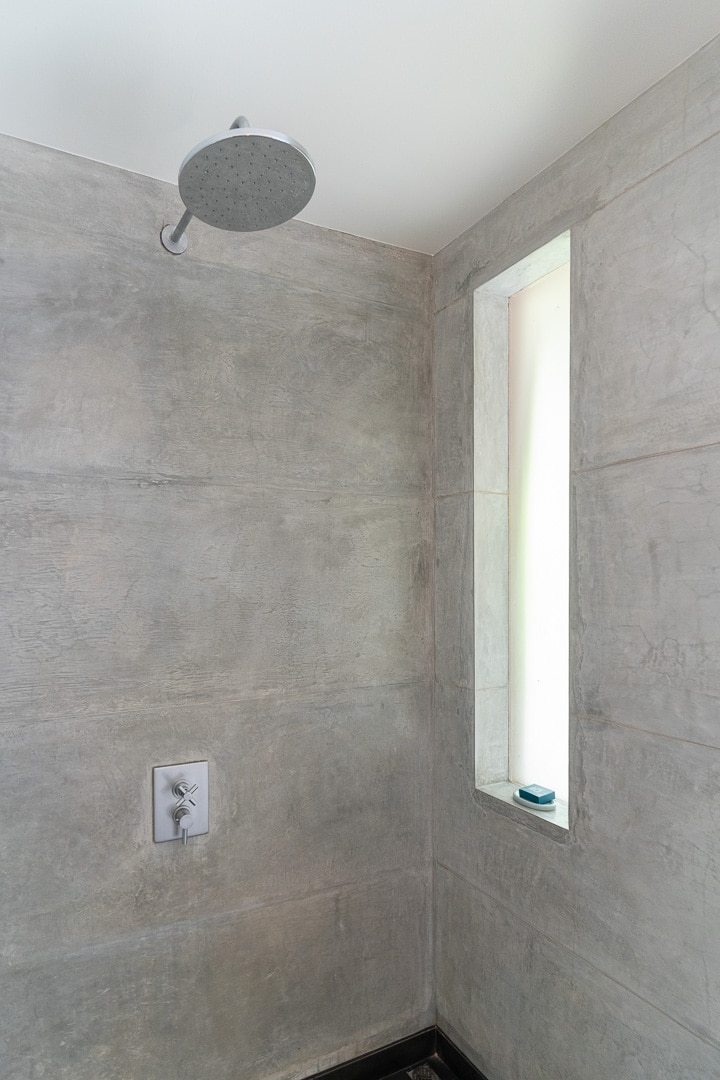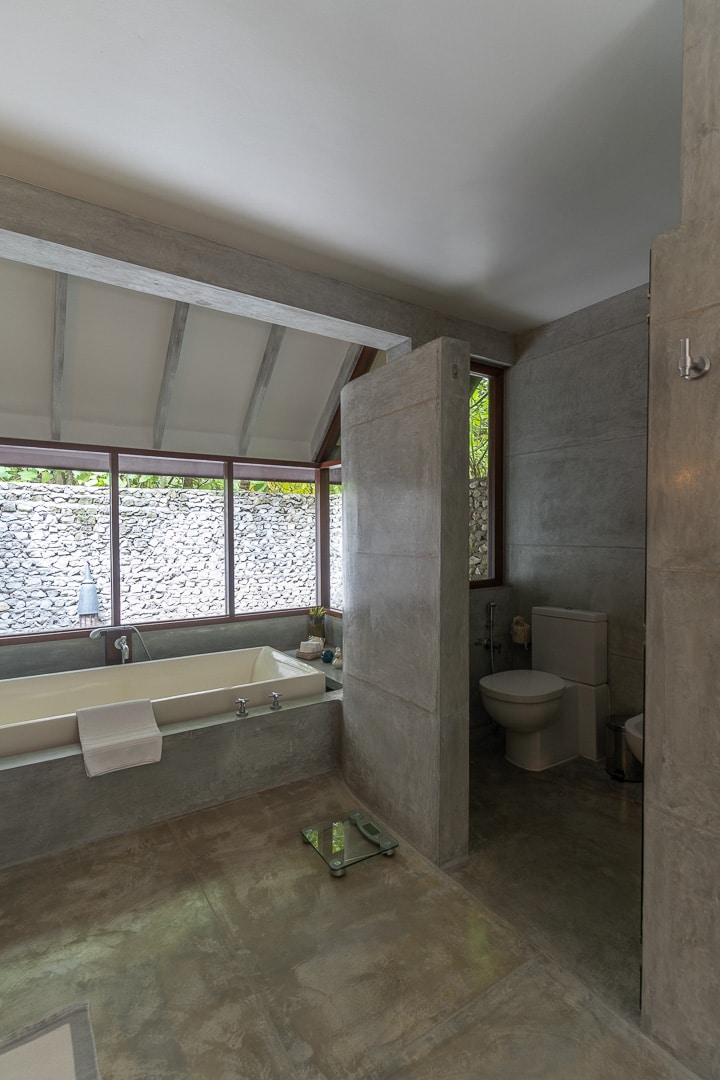 ---
Sunset Two Bedroom Water Suite
---
Located at the very beginning of the overwater pier, the two bedroom water suites not only enjoy the convenience of easy access to Blu and the main pool, they also have horizontally orientated pools. This means that they enjoy a far wider view of the ocean and neighbouring villas aren't visible from the pool.
Floor Plan
Living Room/Dining Room
The entrance of the villa opened onto a living room with a similar design to the standard water villa, next to this was a dining table and a sizeable pantry.
Guest Bedroom
The guest bedroom was located immediately next to the pantry and featured a set of twin beds, with the same bedside table setup as our regular water villa.
A small sitting area was placed at the foot of the beds, together with a sleek and gigantic TV.
The entrance to the guest bathroom was flanked by a wardrobe on either side.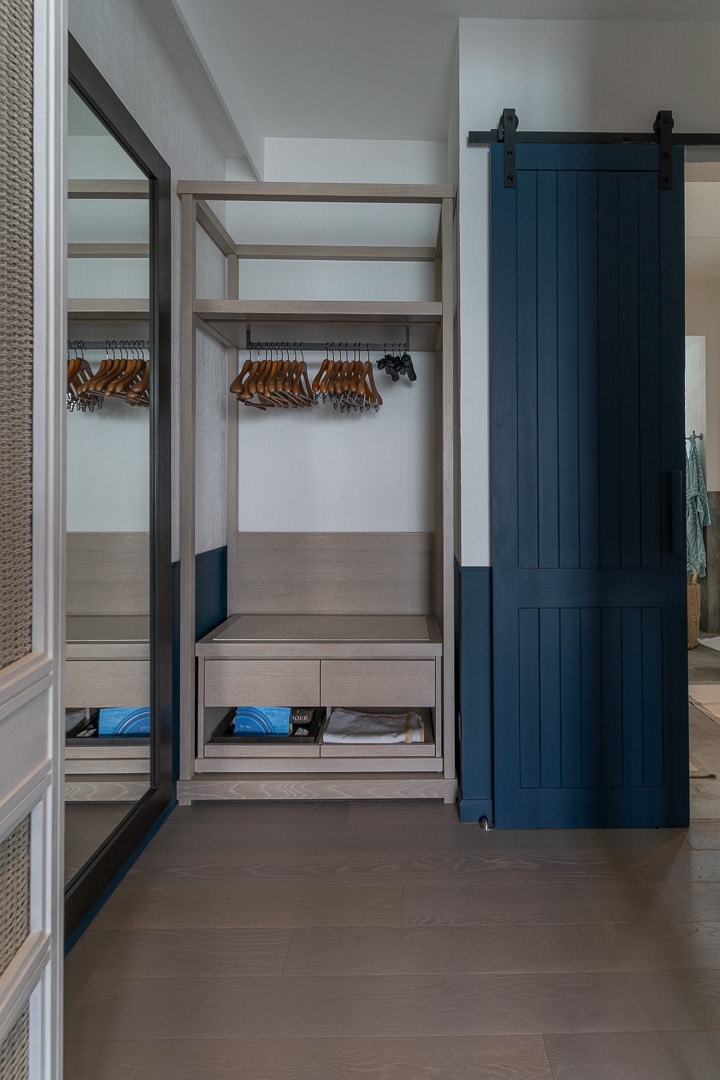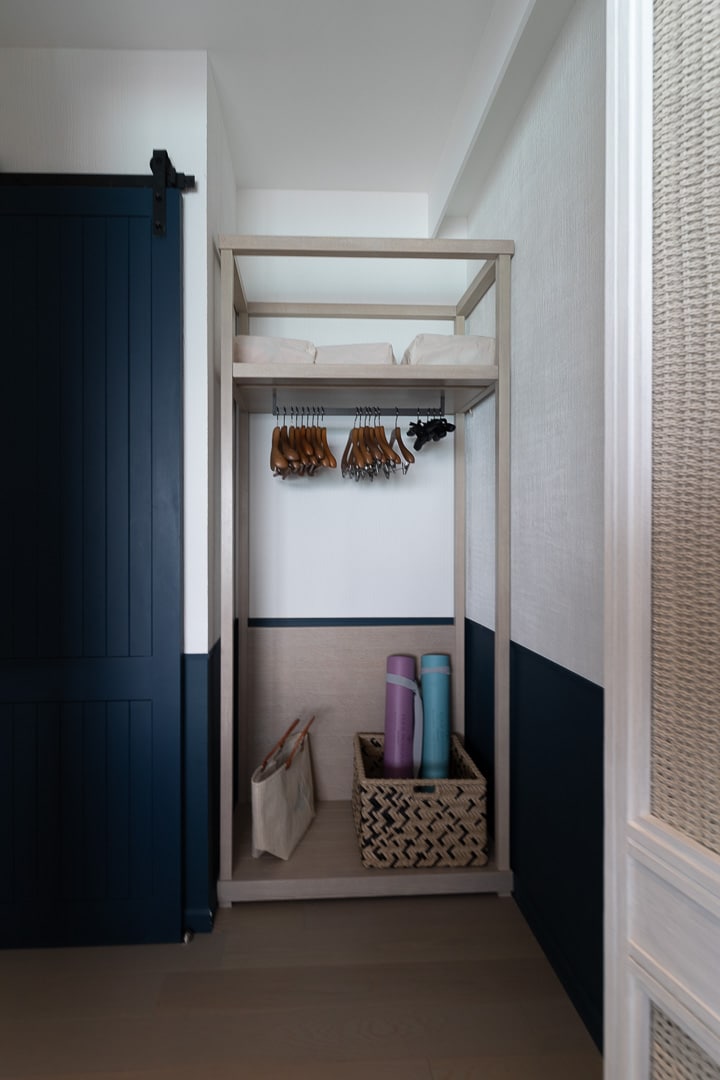 Guest Bathroom
The guest bathroom was a little dark for my liking but featured a fantastic rainfall shower head, twin vanities, a deep soaking tub and plenty of counter space.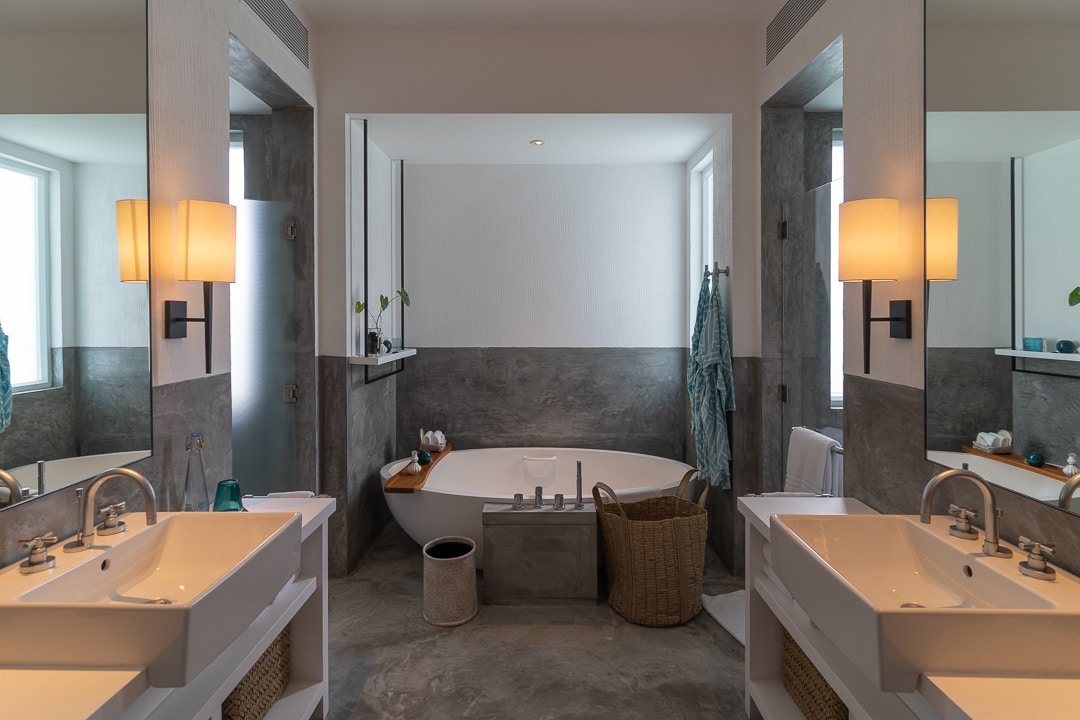 Main Bedroom
The layout of the main bedroom was virtually identical to ours in the standard water villa.
Main Bathroom
Likewise, the main bathroom was a clone of our own.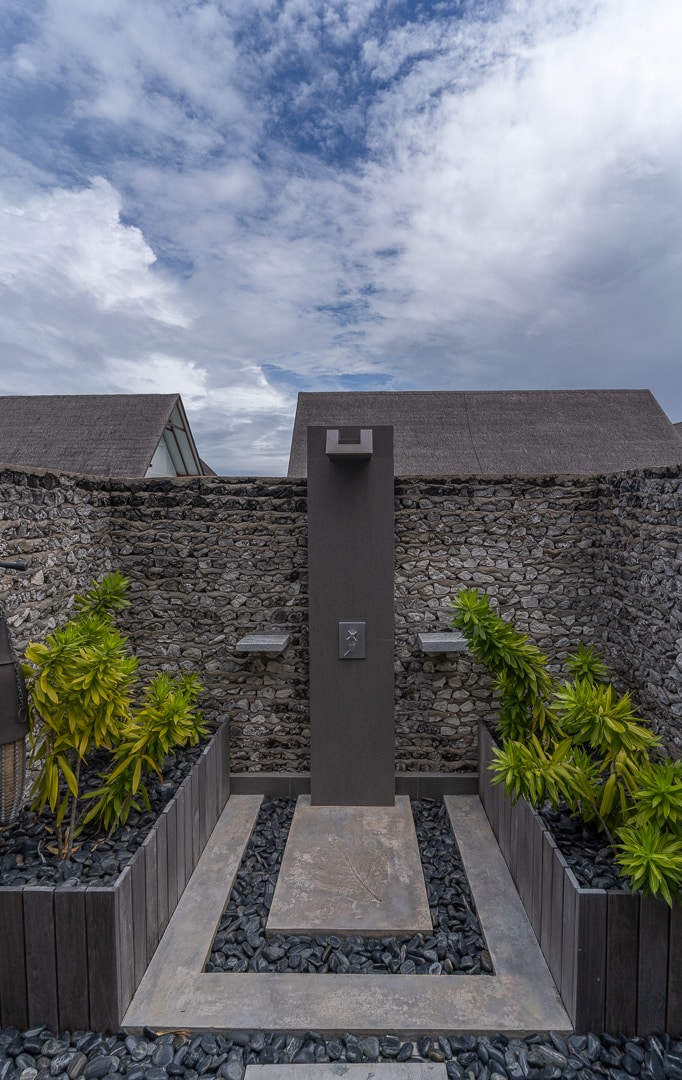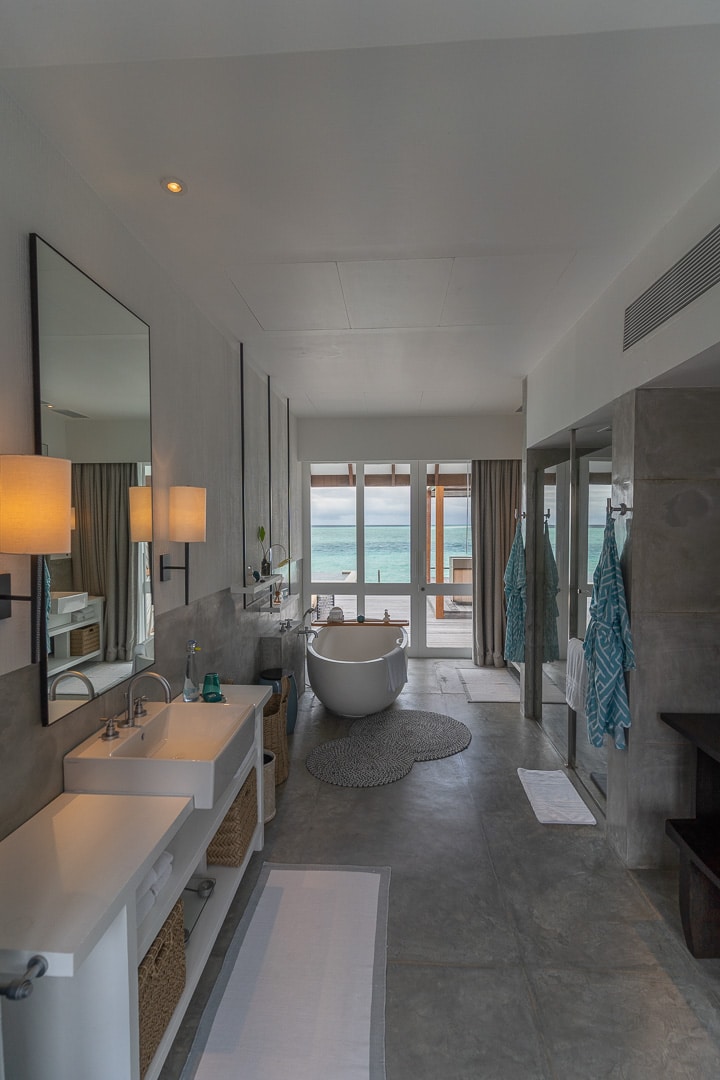 Outdoor Deck
The showstopper and clearly the main reason to pick this over two separate, standard villas. [Please excuse the terrible weather once again]
---
Two Bedroom Royal Beach Villa
---
Another level of luxury beyond the two bedroom water suites. The two bedroom Royal Beach Villa is a gigantic beachfront estate, complete with an indoor/outdoor living pavilion, ancient trees and a gigantic swimming pool, right on the shoreline.
Floor Plan
Outdoor Space
Immediately upon entering the villa grounds we were wowed by the gigantic living room.
I managed to take this picture just as we were leaving, when the sun came out for a second….
Closely followed by a swimming pool which was large enough to be the main resort pool at many other hotels!
Primary Bedroom 1
Both bedrooms in the Royal Beach Villa are large enough that they are considered 'Primary' Bedrooms. Having said that, Bedroom 1 was clearly the large of the two and its bathroom is designated as a 'Spa'. To be fair, this isn't much of an overstatement.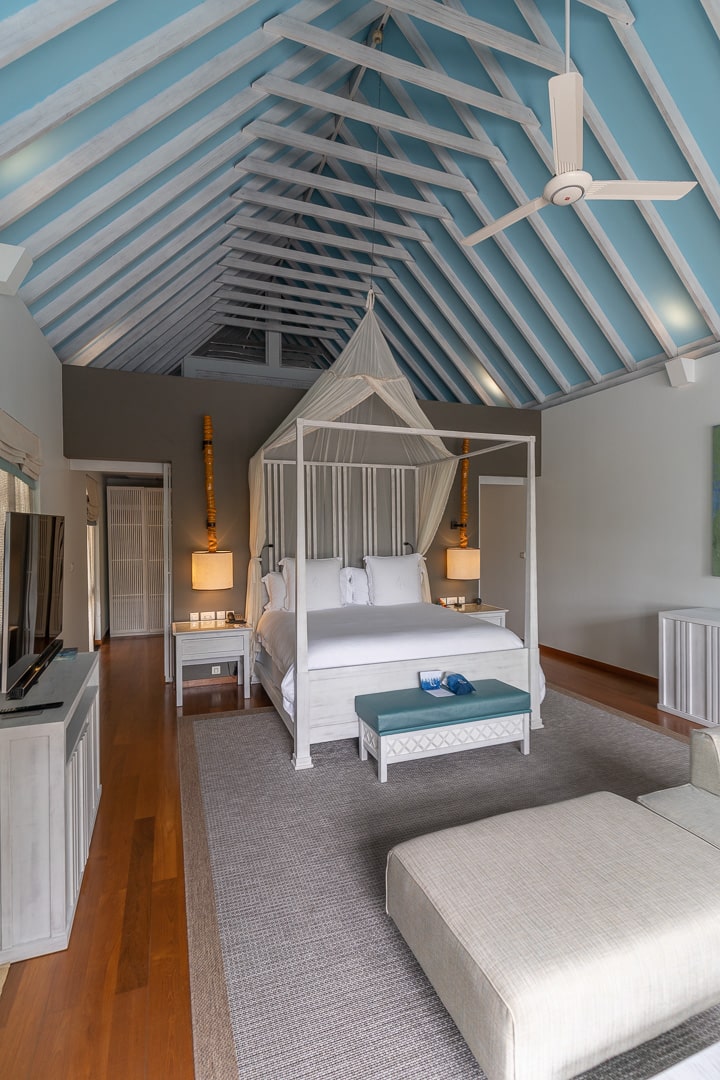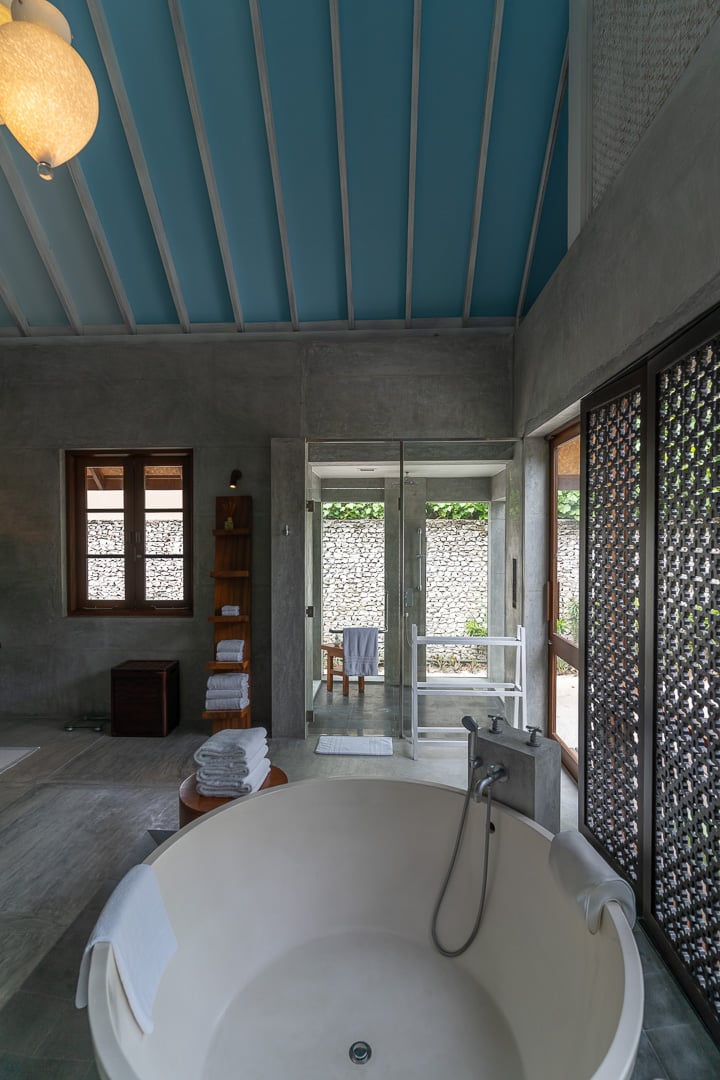 Spa Bathroom
The gigantic outdoor shower area was impressive but felt like it could have done with a jacuzzi, bath or plunge pool to really fill the empty space.
Study
Both bedrooms also featured study areas with oversized desks and more wardrobe space than you could reasonably ever expect to use on a beach holiday.
Master Bedroom 2
The second bedroom was locked during our visit as it was undergoing some maintenance but looking at the floor plan you can see that the key differentiator is that the bathroom is slightly smaller and the outdoor shower space is many times smaller than that of Primary Bedroom 1.
---
Facilities and Activities
---
Gym
The gym at Landaa Giraavaru is a little hidden away, we got lost the first time we looked for it since it is located close to the staff quarters and we were almost certain that we'd gone the wrong way!
Once there we found my favourite type of gym, one with a huge variety of machines – built at a time when they were a. built to last and b. built with an amazing degree of precision with which to isolate muscle groups.
Training on these Cybex machines is a rare treat and I loved every minute of my time here.
Aesthetically the machines look old school and the lack of chrome and NFC scanners means that they'll probably disappear soon (just like we saw at Four Seasons Singapore).
For now though, this is as close to a perfect gym as I could hope for at a hotel.
My only real complaint is that the dumbbells topped out at 25kg, where at Four Seasons Kuda Huraa they went up to 40kg.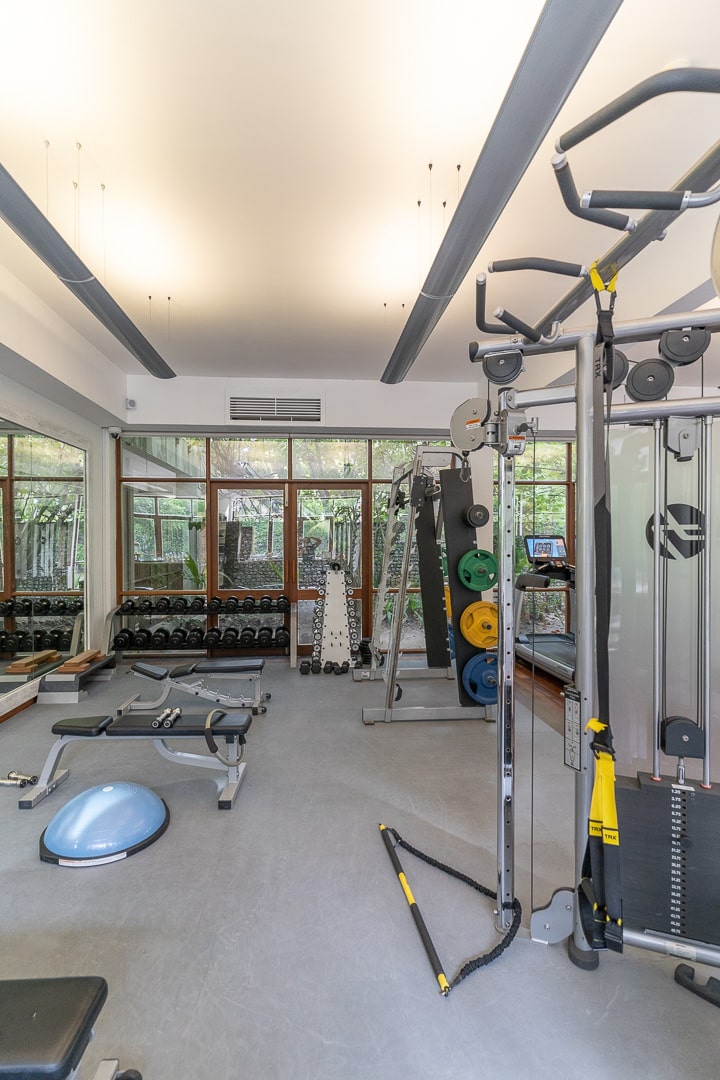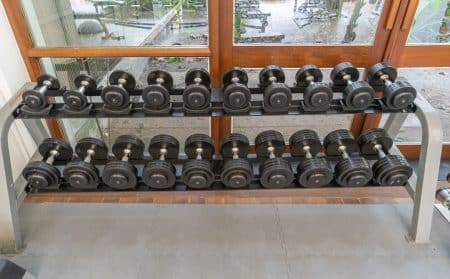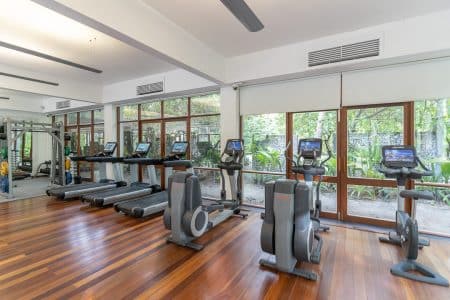 Tennis Court
Right next to the gym was the resort's tennis court, topped with astroturf.
Yoga Trail
Dotted around the island (and even the overwater pier) are a series of numbered yoga stations. Many of these feature specialised pieces of equipment to assist guests in performing designated yoga poses.
Our favourite was station number 1, which featured a springy, trampoline-like floor. Station 11 was always good for a cheeky set of tricep dips though, on the way back to our villa.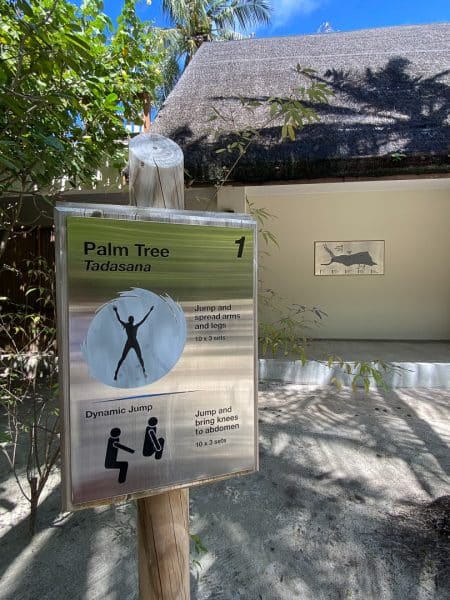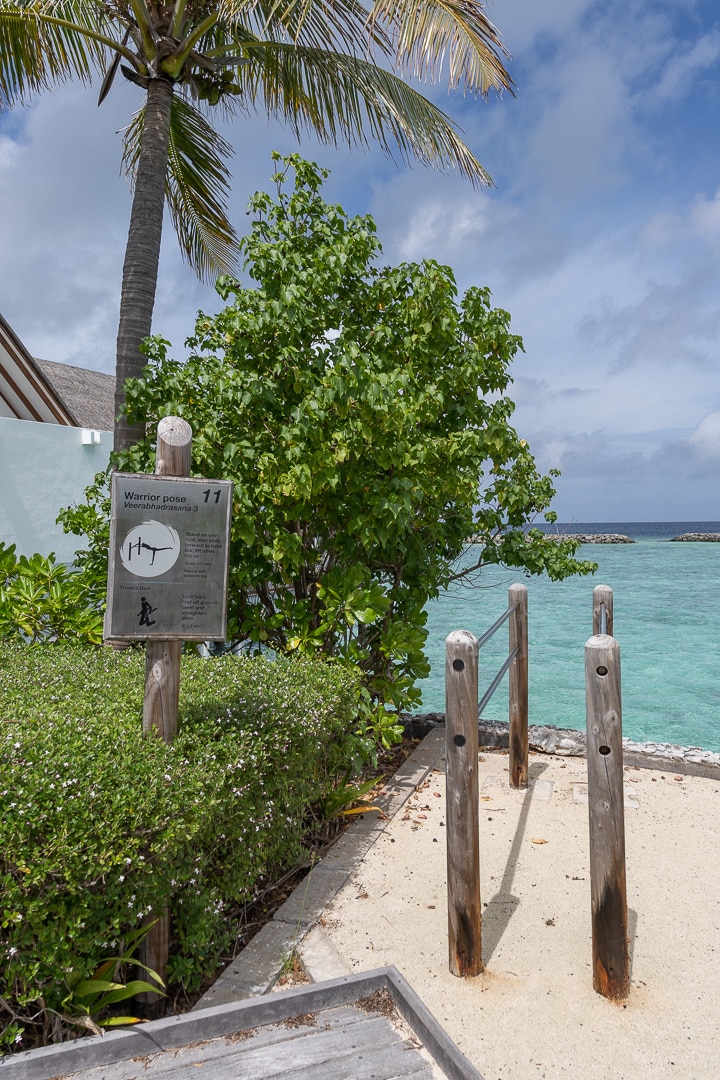 Kuda Velaa Kids Club
Four Seasons has a reputation for being the best hotel chain for families and with good reason. Kids from the age of 4 are welcome at the kids club and here they can participate in a wide variety of complimentary activities from 10am to 6:30pm.
Information from the Four Seasons website:
PASSPORT TO ADVENTURE This new program introduces children ages 4 to 12 to the island's extraordinary natural wonders through a series of exciting challenges, puzzles and activities. They'll enjoy up to eight daily activities alongside a "passport" of puzzles, facts and challenges – from coral-reefscaping to wishing-tree walks, dosha discovery to lizard spotting. In addition to enjoying each activity, kids who complete the related challenge earn a stamp. Seven or more stamps earn a toy, and the collection of all 14 stamps leads to ice-cream sundaes at Blu Restaurant & Sunset Bar.
MISSION: LANDAA GIRAAVARUDesigned for older children (ages 9 to 12), this complimentary, new and exclusive kids program encourages budding explorers to venture into the wider wilderness of our Resort and immerse themselves in the island's wonders and workings. A carry-case style booklet contains 14 mission levels to challenge everything from kid creativity and accuracy to their skills in report-taking, behind-the-scenes investigation and even bed-making.
Children's Amenities
WELCOME AMENITY
PERSONALIZED BIRTHDAY AMENITIES FOR GUESTS AGES 12 AND UNDER
BEACH ESSENTIALS FOR CHILDREN AGES 12 AND UNDER
FREE MEALS FOR CHILDREN UNDER 6
STROLLERS AND PLAYPENS
ORGANIC AND SUSTAINABLY PRODUCED BATH AMENITIES
POP-UP TENTS
BABY MONITORS, BOTTLE WARMERS AND BATHTUBS
DIAPERS, SWIM DIAPERS AND WIPES
ITEMS TO CHILDPROOF YOUR ROOM
Marine Discovery Centre
Ostensibly a children's activity but we actually really enjoyed visiting too! The Marine Discovery Centre is home to a group of marine biologists who have been invited by Four Seasons to base themselves on Landaa Giraavaru and assist in their monitoring of oceanic life, coral regeneration and turtle rehabilitation.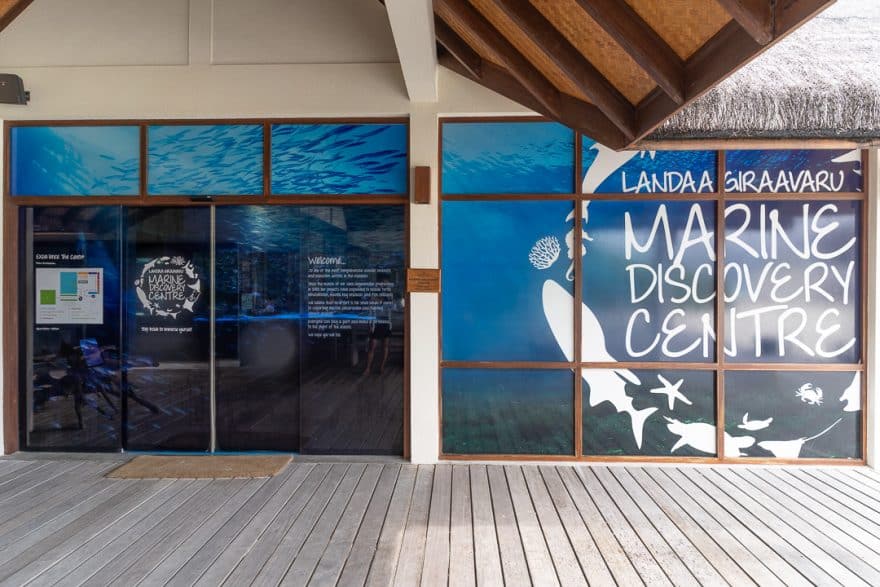 The centre is extremely professional in terms of its design and layout, reminding me of exhibits at the Natural History Museum in London!
Since both Kamara and I are advanced divers, we really enjoyed chatting with the team here about the Indian Ocean and all of the amazing creatures that they had encountered here.
Turtle Rehabilitation Centre
Just outside the Marine Discovery Centre is the Turtle Rehabilitation Centre, home to numerous turtles who are either being nursed back to health or who are too sick to be released back into the wild.
Turtles whose injuries prevented them from being released were each given their own homes, with periodic visits to the bigger pool, when the recovering turtles were out for ocean swims.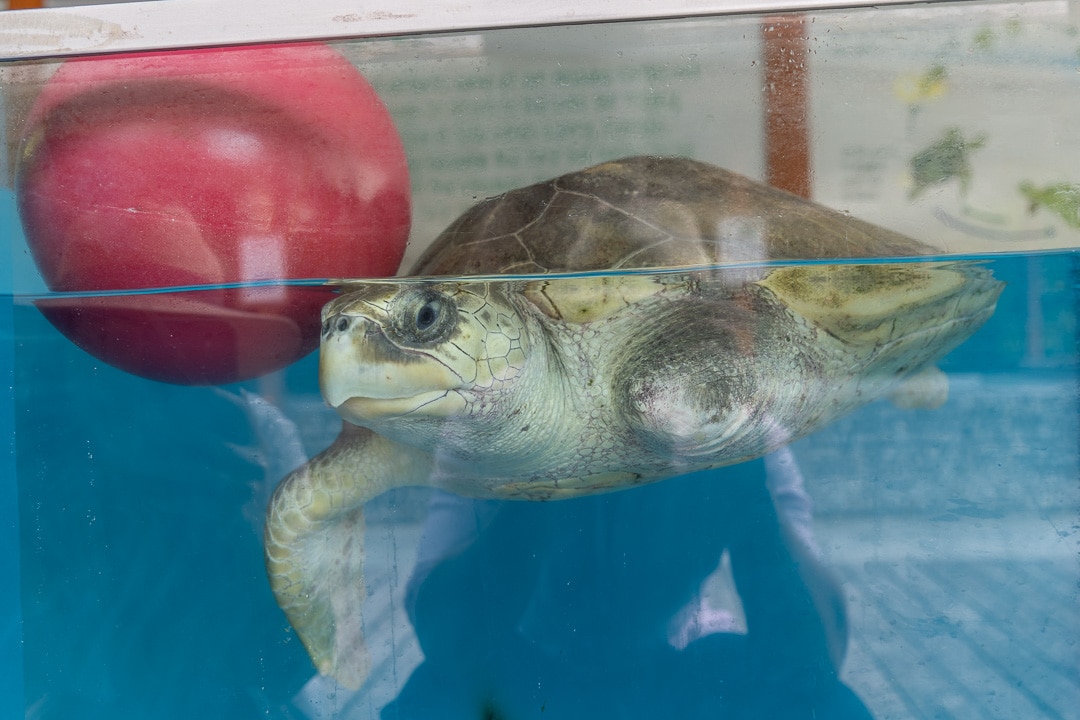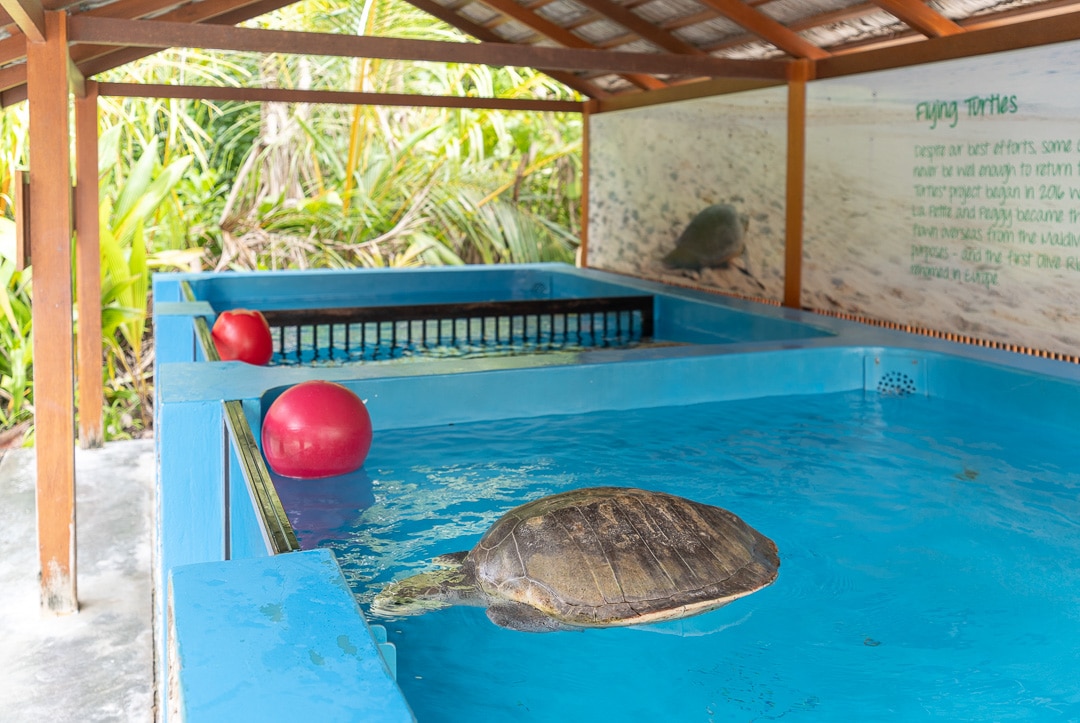 Although it's sad that some turtles will never fully recover, the wall of golden plaques illustrated the great success of this centre – with one placed on the wall each time that the team has successfully nursed a turtle back to health.
Shark Feeding
Unfortunately, despite all the best efforts of the marine biologists, the property still caters to tourist demand for daily shark feeding. Other hotels like the Conrad have outlawed the practice recently, since it is so disruptive to the marine ecosystem.
Although it's amazing seeing sharks close up, it's even better swimming in an ocean where the delicate balance between species isn't disrupted!
Honestly we were more than happy to enjoy the incredible sight of a variety of fish species from our villa, rather than heading to the shark feeding each night.
Manta on call
One really amazing activity offered by Four Seasons Landaa Giraavaru is the 'Manta on Call' service. Since the hotel is one of the most proximate to the world famous Hanifaru Bay, there are plenty of opportunities to spot Mantas during the rainy season (May-November).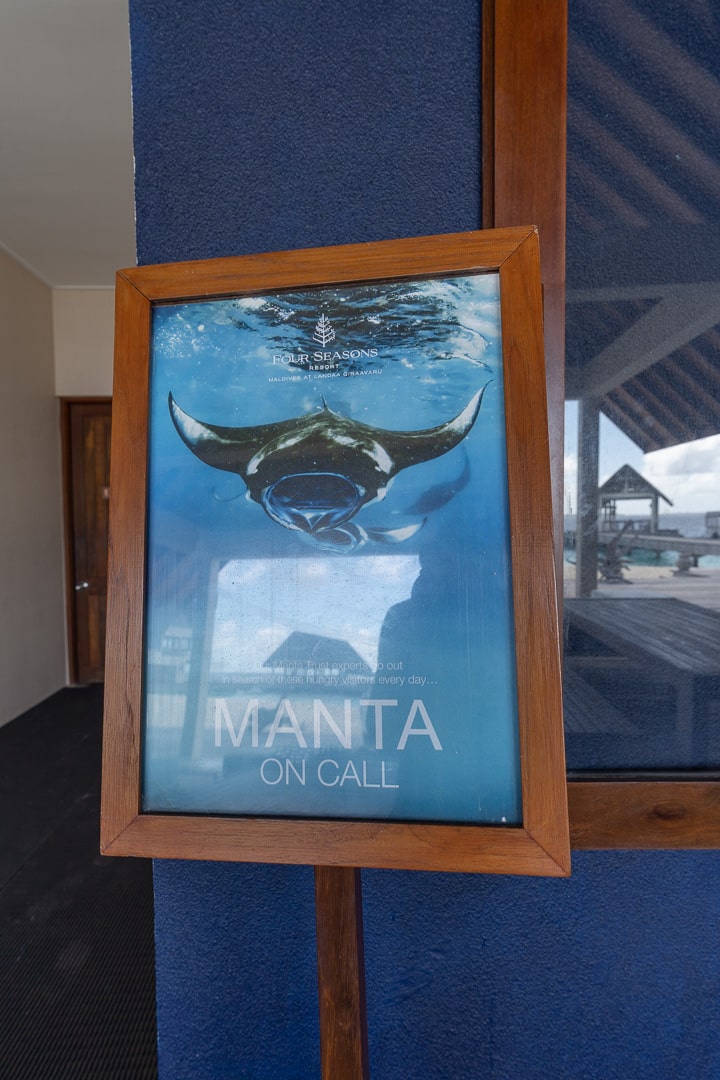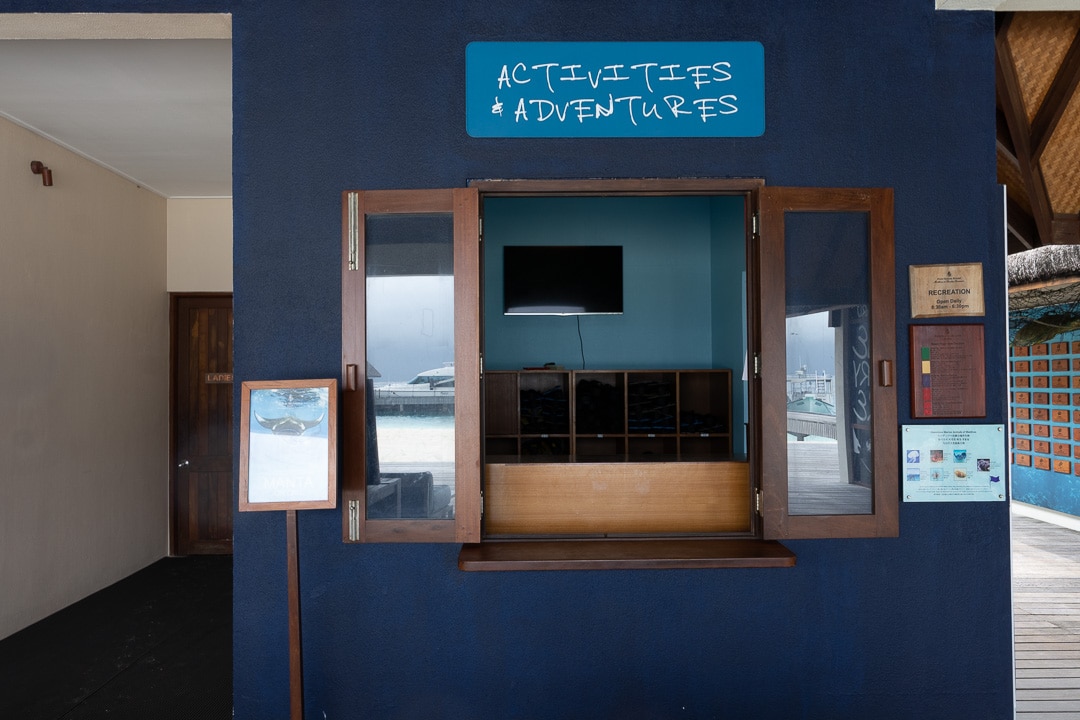 Guests who opt to participate are issued with a waterproof pouch containing a mobile phone. This phone can ring at any time between 9am and 5pm and when it does you quickly have to rush to the Dive Centre and get ready to board a boat to the sighting.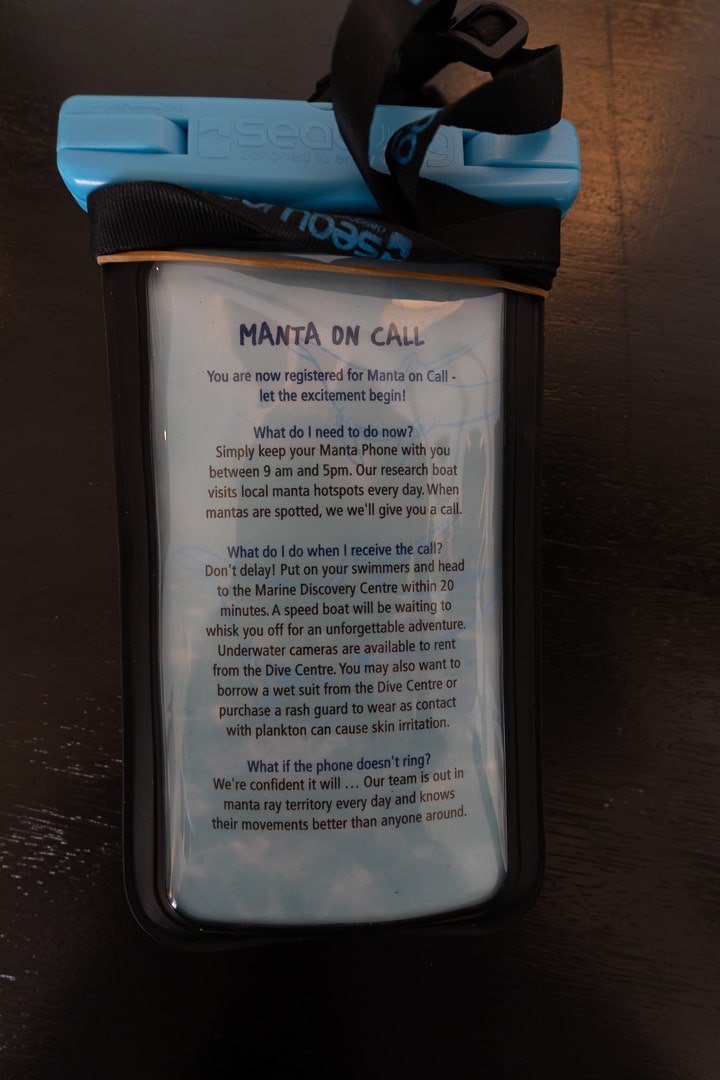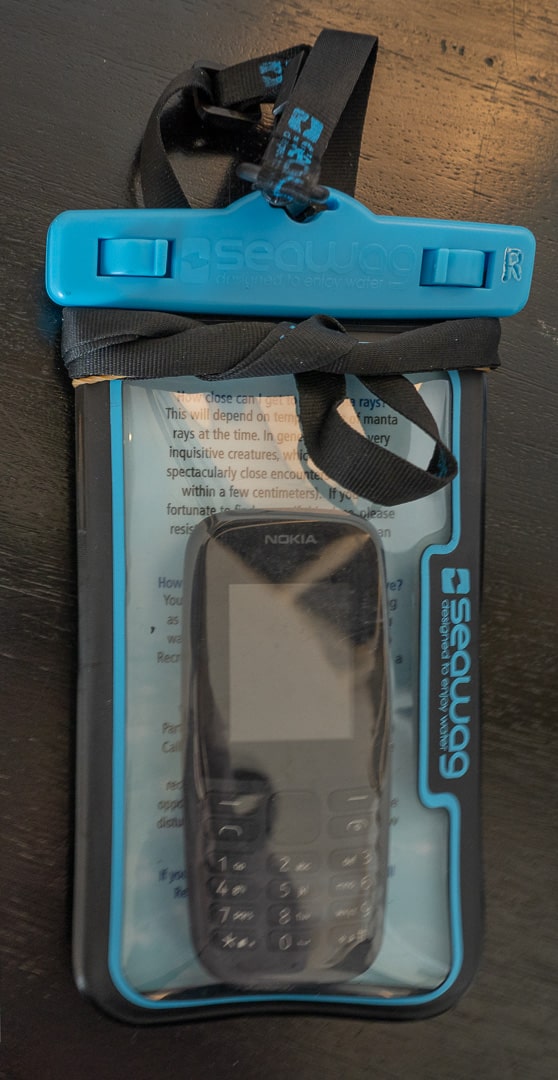 At $150++ per person this is a great value activity for the Maldives, especially since there is no charge and no wasted boat trip if the local teams don't spot any mantas.
Unfortunately since we were visiting during shoulder season, the mantas never made an appearance at Hanifaru Bay during our stay.
However, we were able to take matters into our own hands…
Diving
The Dive Centre at Landaa Giraavaru is operated by Ocean Dive, who we also went diving with at the Intercontinental, Conrad and Waldorf Astoria previously.
The Dive boat was one of the best equipped and most modern that I've seen in any resort. It felt more like a luxury yacht than a dive boat..
There was wifi, a bluetooth speaker system, ice cold towels upon embarkation and full preparation of all equipment before each dive.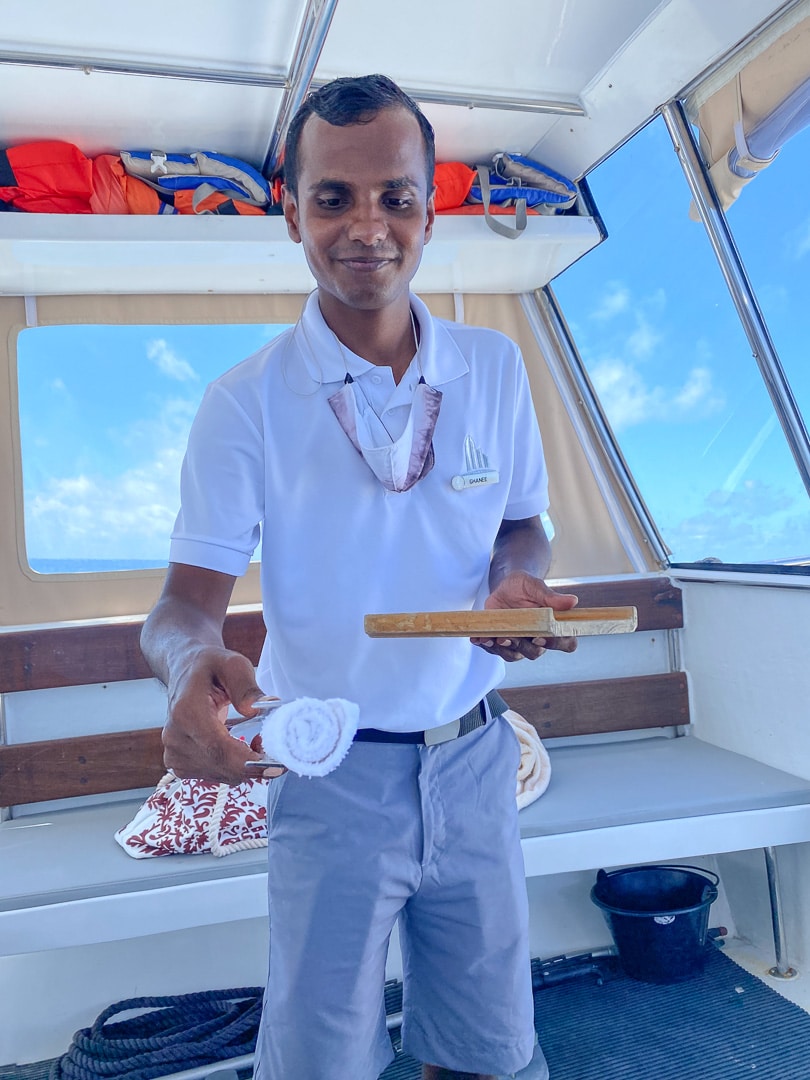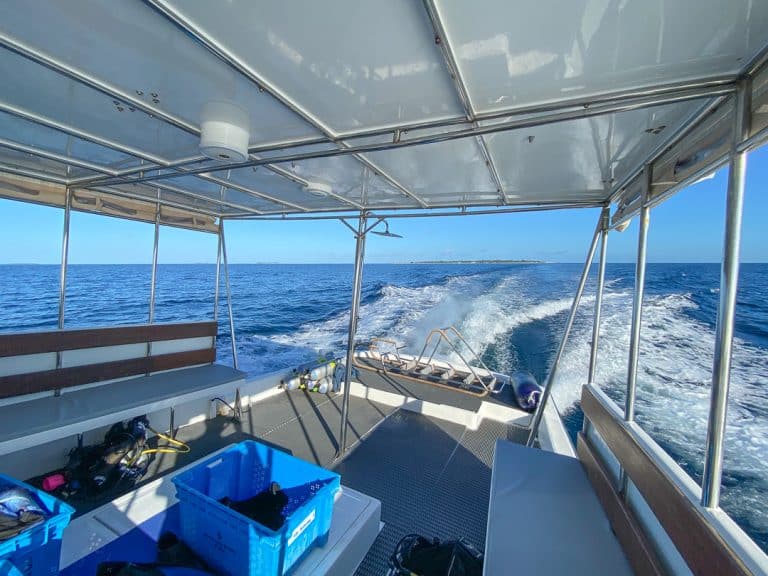 There was even a dining table with curved seating toward the bow of the boat.
The Four Seasons wetsuits and the rainfall shower were great touches too!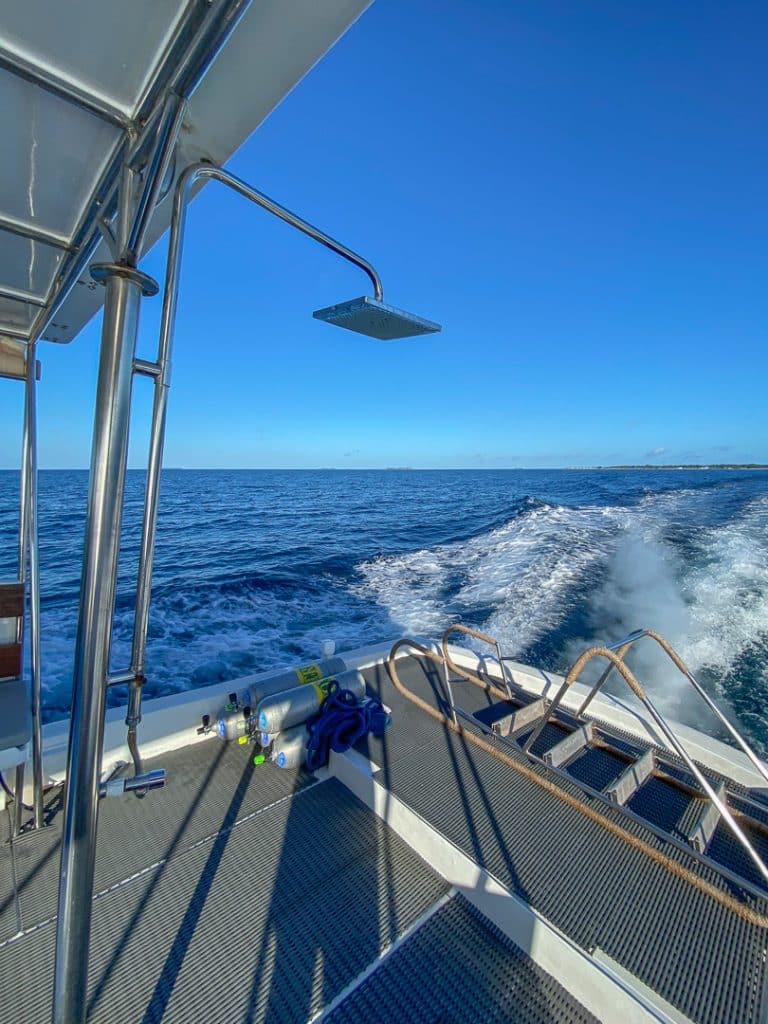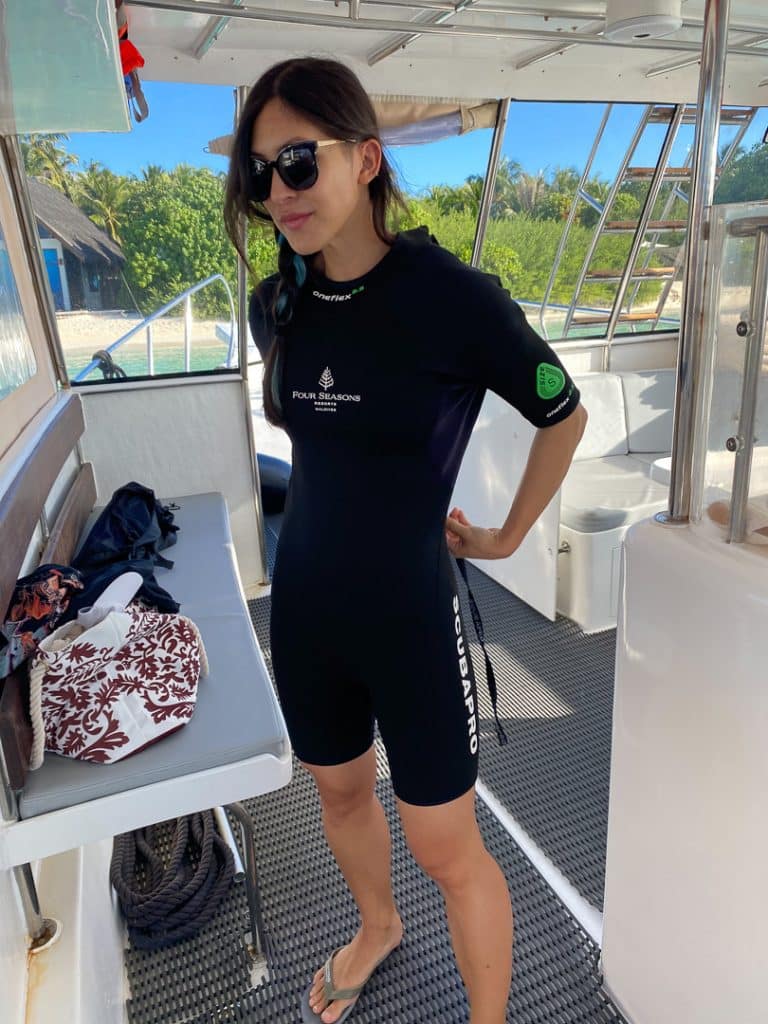 Since we were diving in the Baa Atoll, it goes without saying that the conditions were spectacular. We were even lucky enough to spot some shoulder season Mantas on our second dive!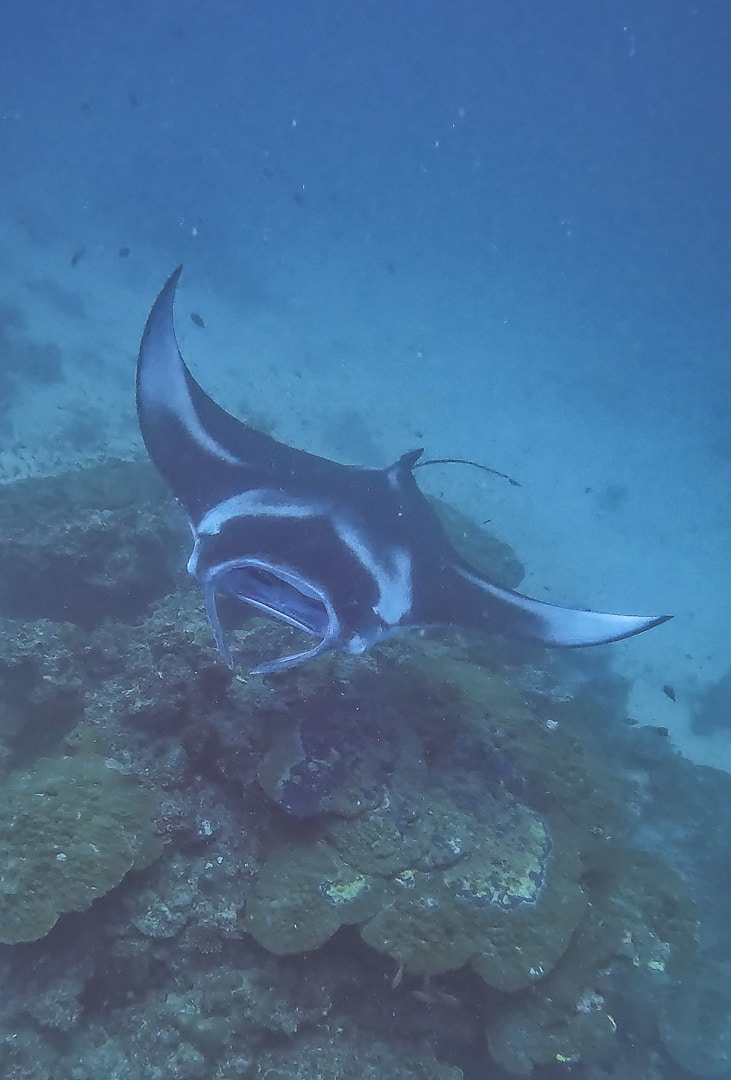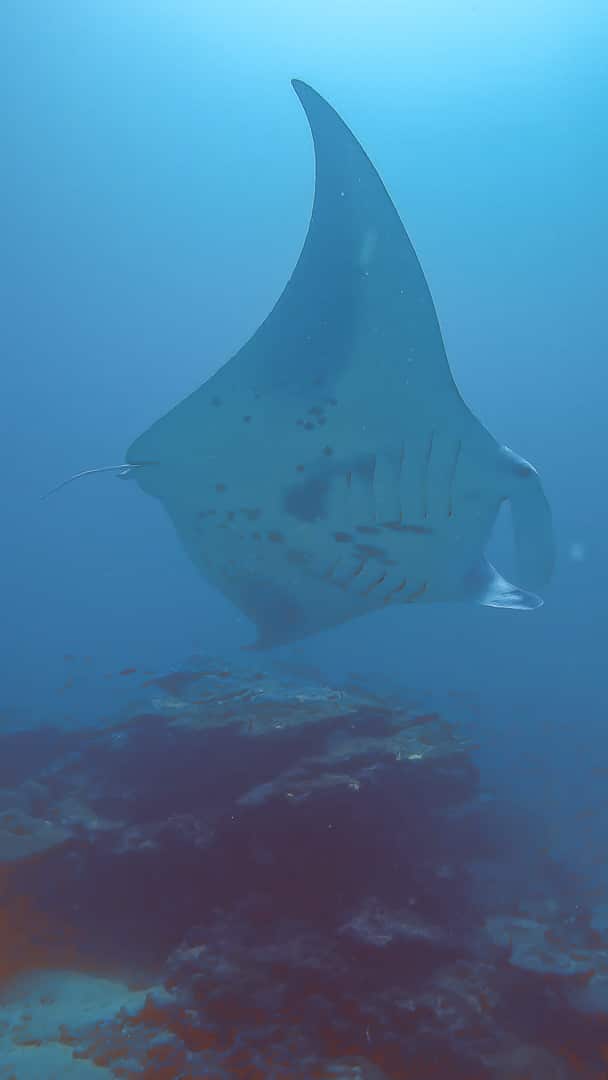 After diving I really enjoyed heading upstairs to enjoy the padded sundeck, as we made our way back to the property…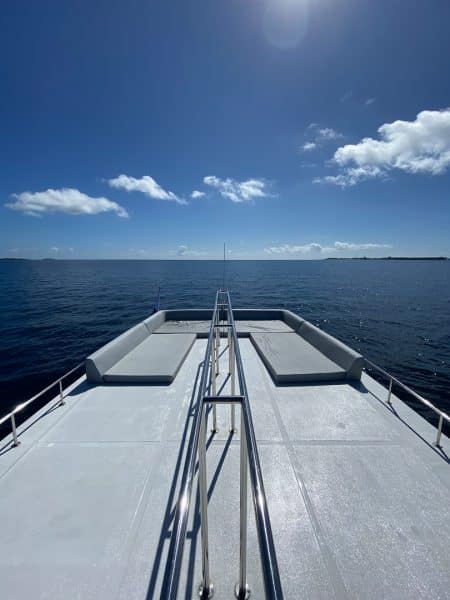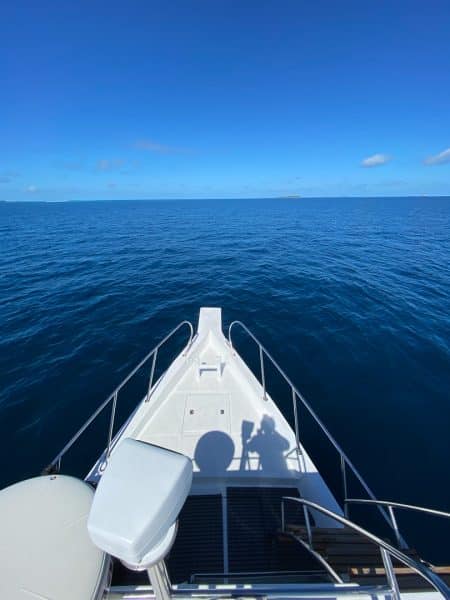 …whilst eating freshly baked cookies and fruit skewers.
Beach
There are many reasons to eschew the convenience of a quick boat transfer and instead take a seaplane to a resort in the Baa Atoll. Interestingly, this is believed to be the oldest atoll in the Maldives, which means that not only is the vegetation thicker and more mature, but the sand is also much finer than in other parts of the Maldives, having an almost milk-like consistency.
Aside from all of this, the Baa Atoll is UNESCO protected biosphere, due to the incredible variety of marine life that is visible, as soon as you put your head under the water.
Thanks to the efforts of the resort's marine biologists, coral regeneration has resulted in a boom of amazing aquatic visitors.
There's simply no way that resorts closer to Malé airport can compare with this: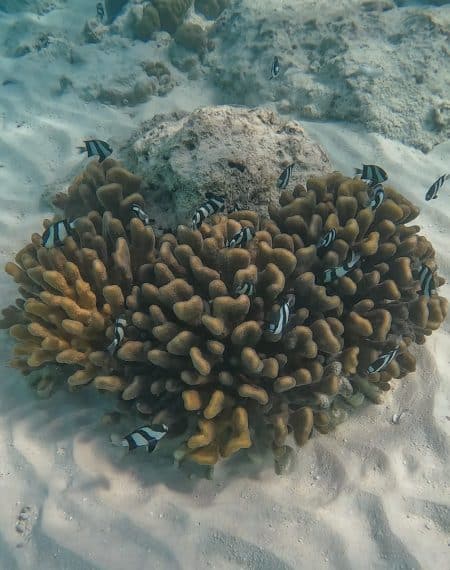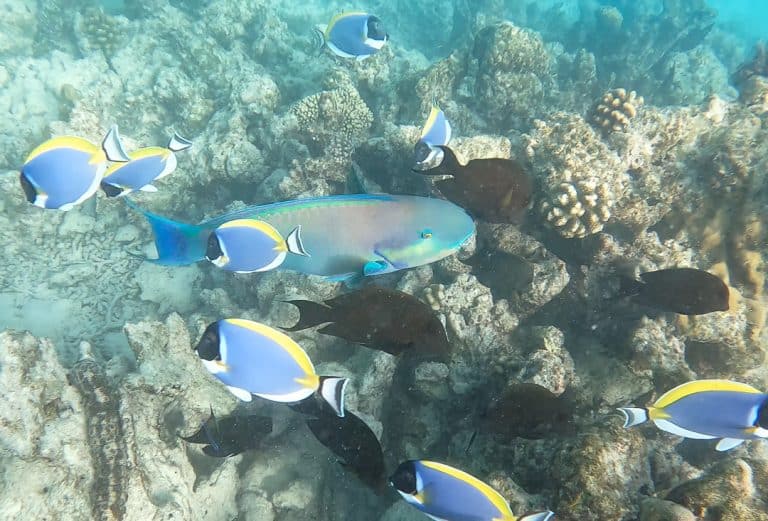 The beach area directly in front of the pool featured a long sandbar stretching into the water, as well as a multitude of serviced loungers and shades.
Staff here were remarkably quick to serve us, offering multiple towels and fresh water the moment that they saw us approaching after a long snorkel.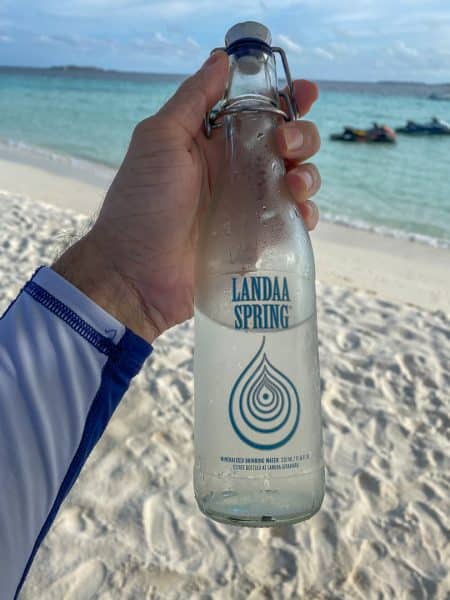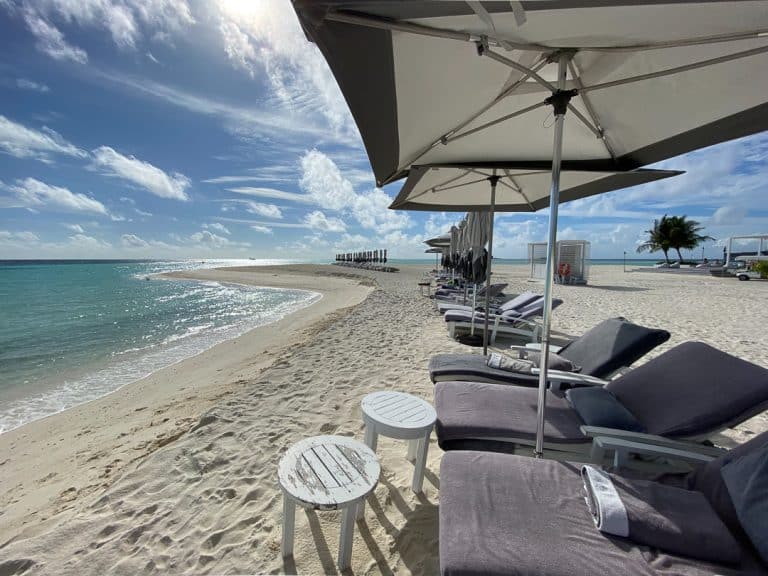 Just behind the loungers was the watersports centre, where non motorised equipment could be hired free of charge….
…jet skis were also available for an additional charge.
Blu Pool
The beach pool at Landaa Giraavaru sits on a stretch of perfect white sand and is flanked by Blu restaurant and Beach Bar. It was also very convenient to reach from our Water Villa since it was located only 50 metres or so from the overwater pier.
The pool was surrounded by cargo net style seating.
There were also plenty of relaxing sofa style seats, where people would gather for sundowners in the evenings.
Service at the pool was absolutely fantastic, we only had to so much as look in the direction of the bar and somebody would immediately run over to ask if they could help with anything.
When my keys fell out of my pocket and under a cargo net, a member of staff immediately came over to skilfully retrieve them with a hook on a stick!
Olympic Pool
The resort's main pool is located close to the reception and faces towards the sunrise side of the island. At 50m long it was the first ever Olympic sized swimming pool in the Maldives (Note: The Fairmont claims to have a 200m long pool but it is really a series of smaller pools, with walls between them and only ankle deep in places).
Running along one edge of the pool was a swim up bar, where all the pool staff were based.
The pool is so long that the tip of it is cantilevered over the lagoon!
Service was exceptional, with hosts walking us to our selected spot and setting up beds with fitted towels and towel pillows. The spacing between loungers was truly luxurious and a world away from the cramped rows of chairs that you see at many high end resorts around the world.
Not only were numerous magazines available to peruse, there was also a station where we could fill up coconut shells with complimentary Sun Bum sunscreen and aftersun. The fact that so many resorts provide body lotion yet see fit to overcharge for SPF is a travesty, given that one is much more of a medical necessity than the other.
So bravo to Four Seasons for not profiteering here.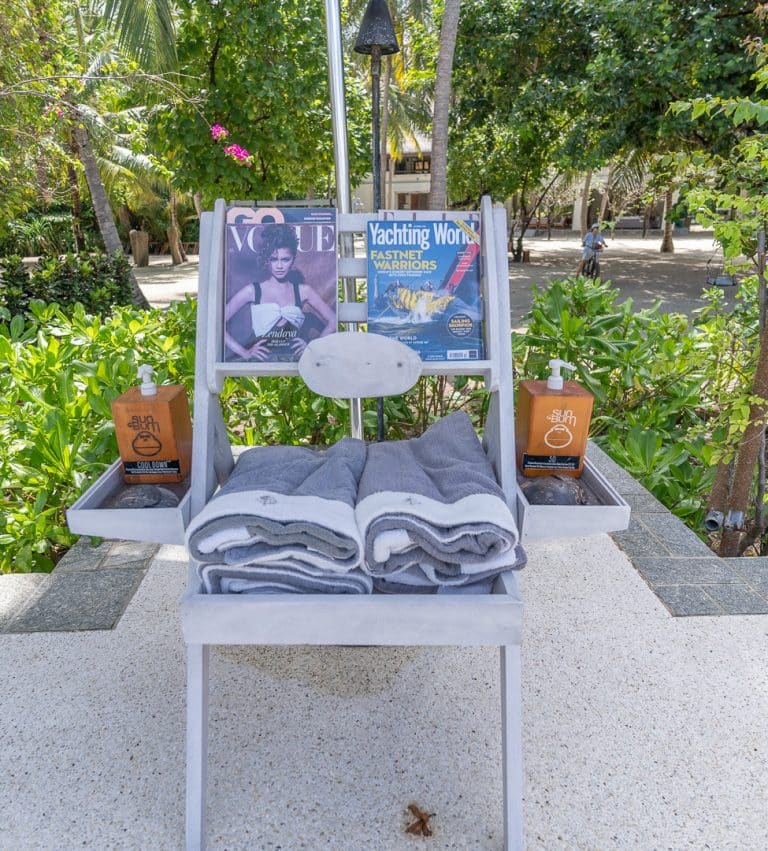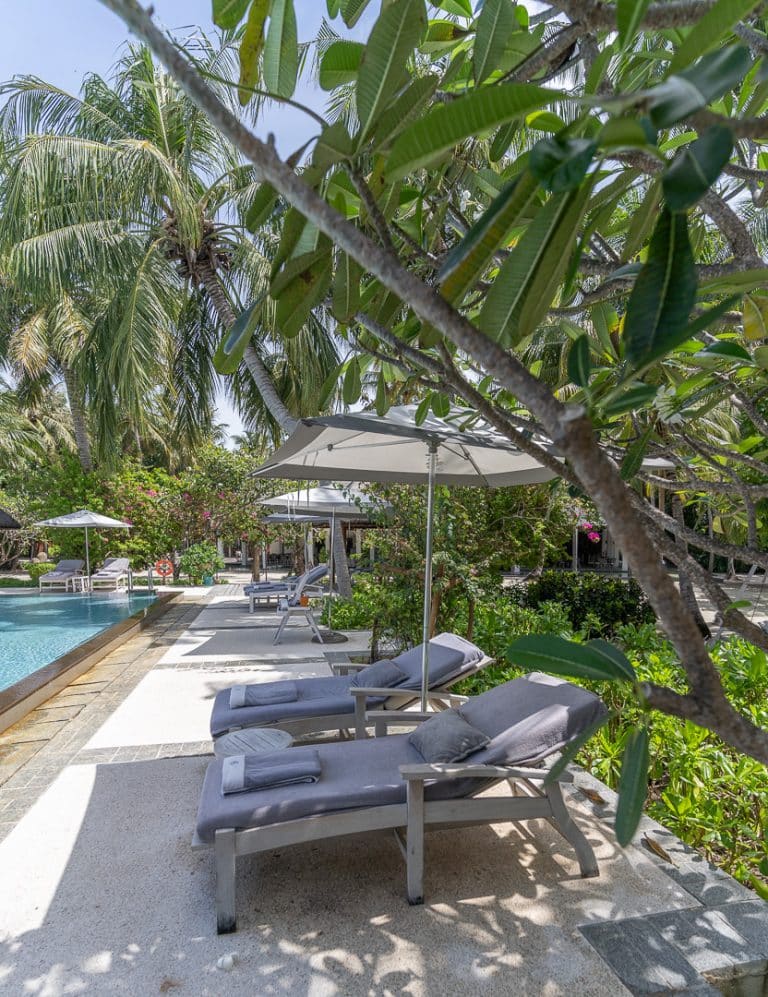 Not only were we provided with comfy fitted towels and cushions, we were also brought an amenity tray containing a bottle of cooling mist spray, iced water and cold towels.
Members of the team would also pass periodically to offer small shots of smoothie or skewers of fruit.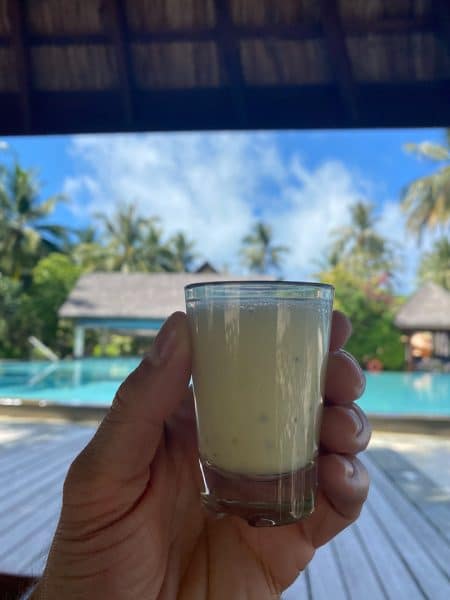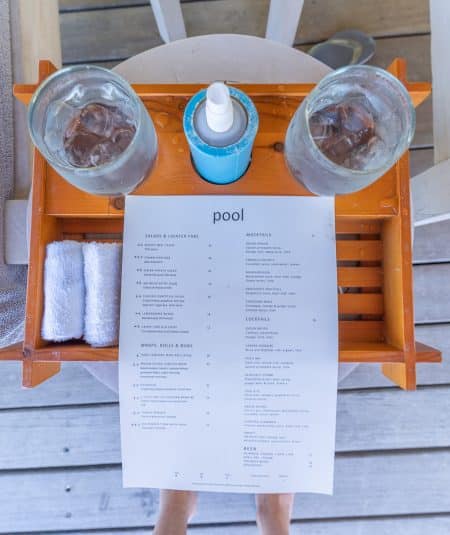 Seawater Pool
Next to the Olympic Pool was a 20m seawater pool, which doubled up as a kids pool and a place for people to participate in elementary scuba lessons.
Overwater relaxation area
Just along from the seawater pool was an overwater pier featuring various comfy seating options, including overwater nets. This is where the nightly shark feeding took place.
This would have been the perfect spot for those residing in a beach villa to capture the essence of an overwater villa experience…were it not for the fact that there was absolutely no shade here at all!
AyurMa Spa
The resort's AyurMa spa building is located in the jungle centre. There are also a series of overwater treatment rooms located between the olympic pool and the water villas but these were closed for renovation during our visit.
The pathway to the spa was flanked by a dramatic series of banners, a fitting lead in to the equally grand spa reception.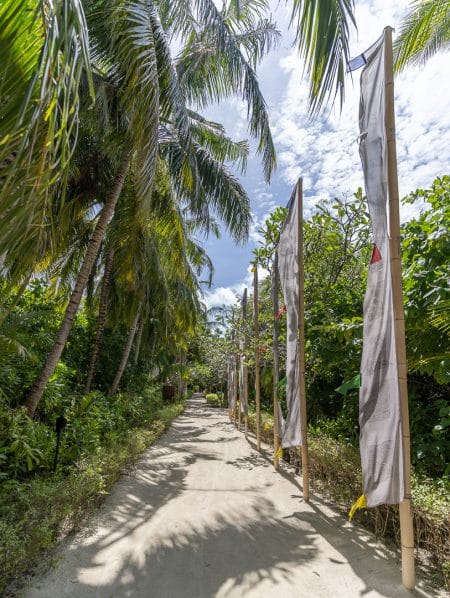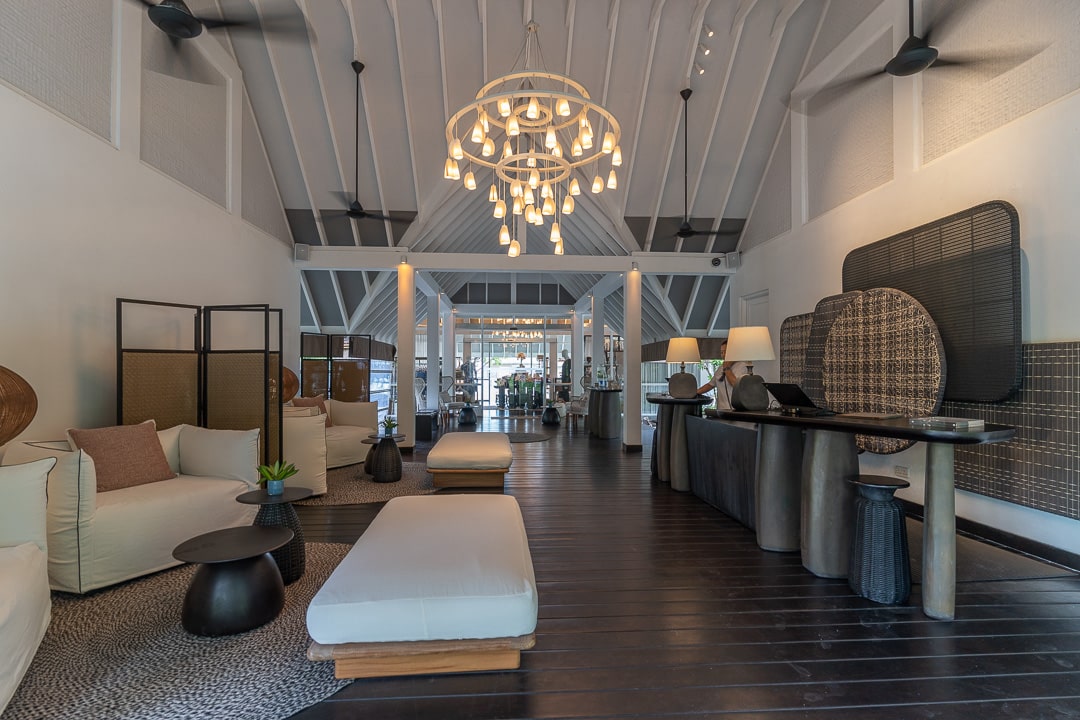 Unfortunately, as is so often the case on our trips to the Maldives, we didn't have time to squeeze in any spa treatments but were strongly encouraged to participate in a complimentary Ayurvedic consultation.
Before starting, we were offered a herbal tea and ice cold towels in the spa reception.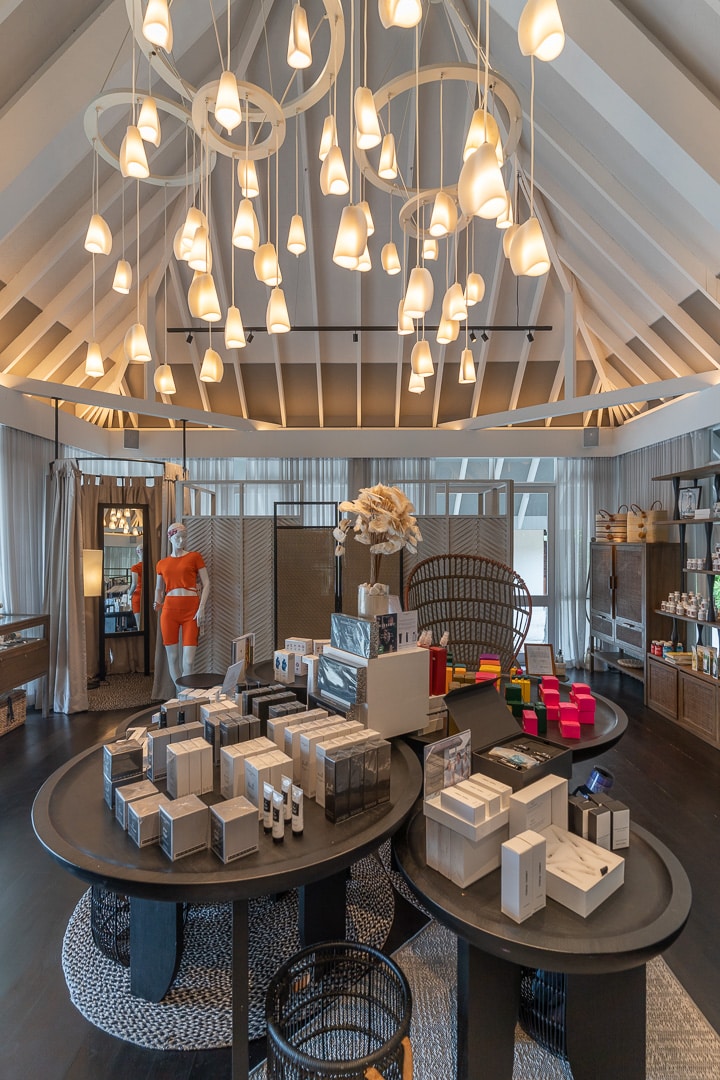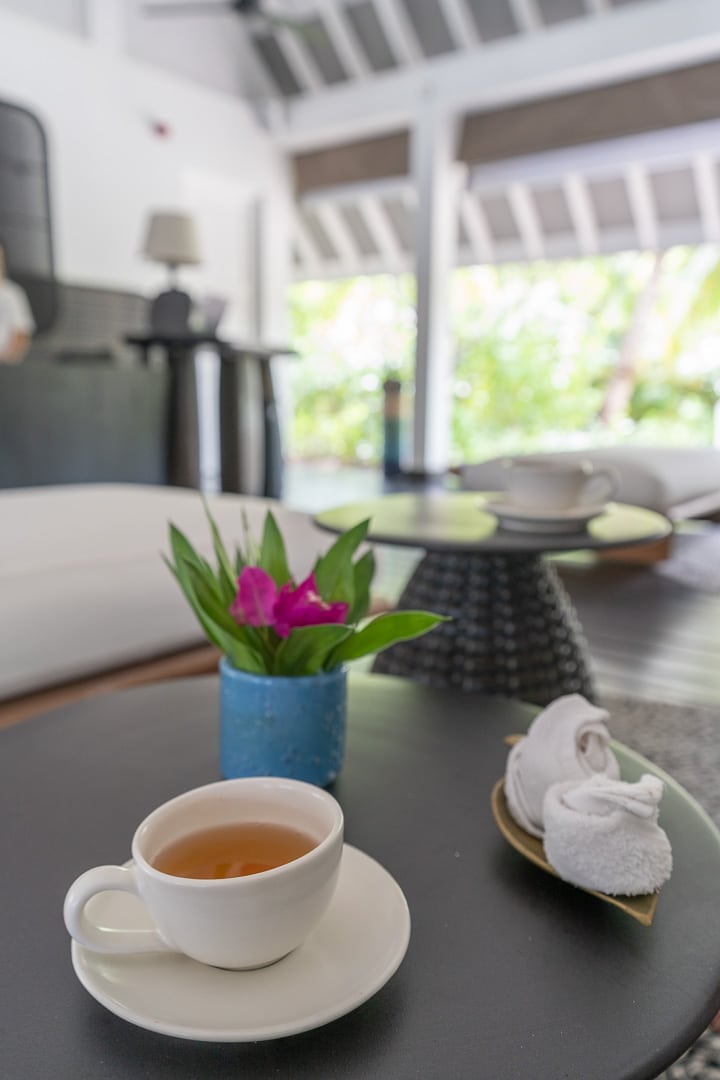 We were then ushered into a pavilion where one of the resident doctors talked through our individual Ayurvedic body types and explained to us all of that foods that we should eat and avoid.
After this we took a tour of some of the treatment rooms, which were frankly more akin to villas in size!
The regular spa treatment rooms featured oversized soaking tubs and outdoor showers.
The treatment beds were located inside a well ventilated and open pavilion.
Next to this was a treatment room dedicated to Vichy shower therapy.
After visiting the regular treatment room, we headed over to one of the highly specialised Ayurvedic treatment spaces.
Immediately upon entering we were faced with a set of twin granite bathtubs and cascade style showers.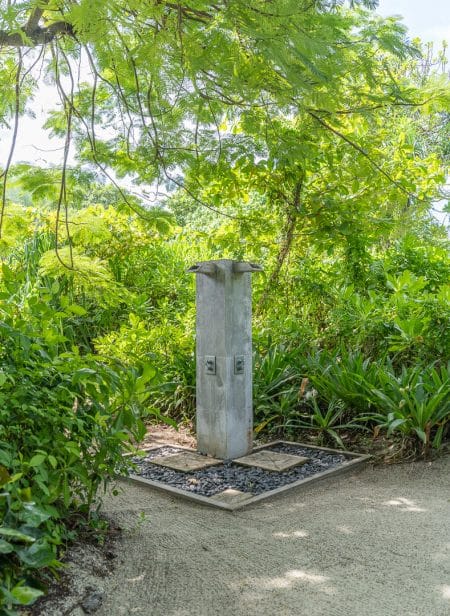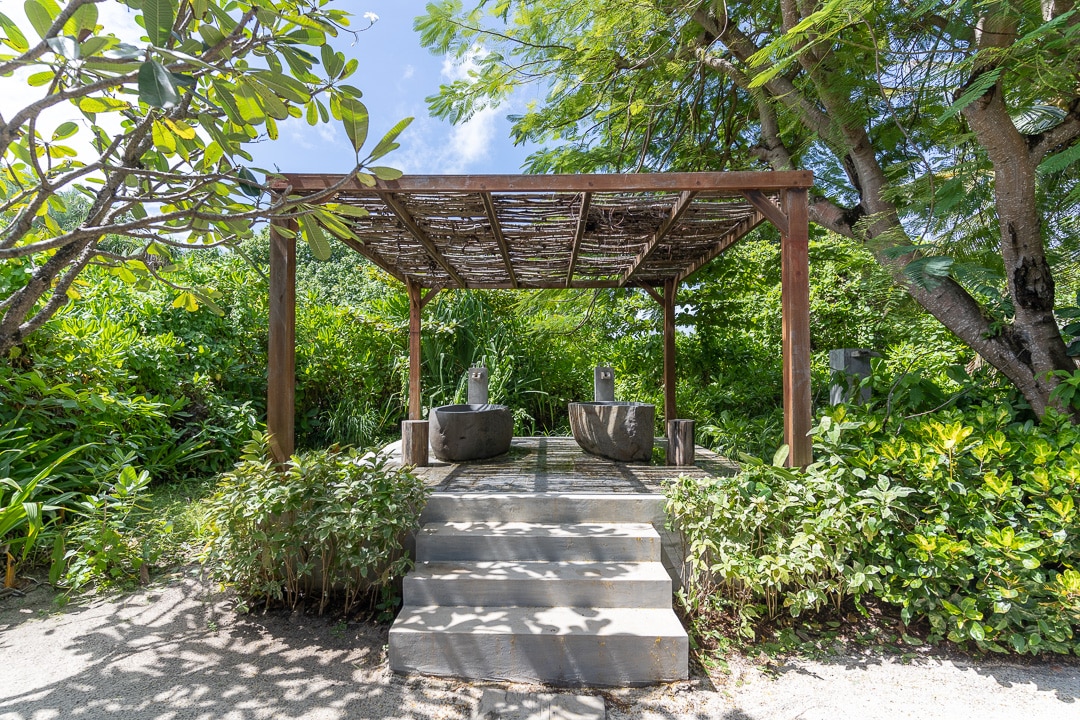 The main treatment space featured a rather unique set of wooden tables, designed with channels that permit the free flow of Ayurvedic oils. There was also a sauna designed in a circular 'sweat lodge' style.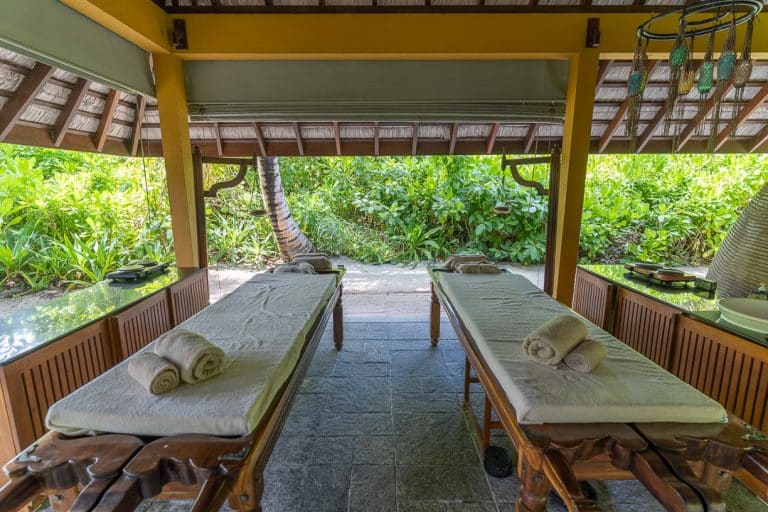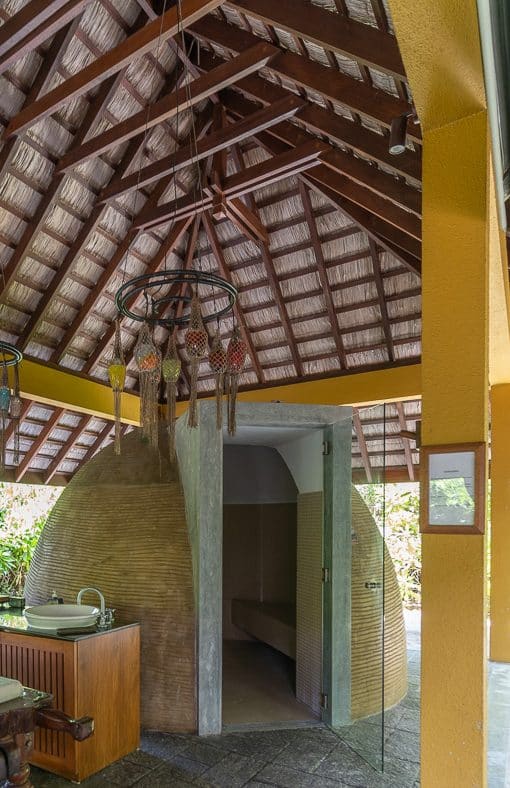 ---
Food and Drink
---
The food and drink at Landaa Giraavaru was for the most part exceptional, albeit not quite on the spectacular level of sister property Kuda Huraa.
Having said that, the breakfast at Landaa Giraavaru was far superior to Kuda Huraa and the service was equally amazing. During our time at the resort a great number of Balinese staff were on secondment here, since Bali still hadn't reopened fully to tourists.
I've long said that Bali feels like a second home to me and a great part of this sentiment is driven by the innate warmth of the people. We honestly felt like we were being cared for by close family members when we saw Putra, Agus and the rest of the team at the various dining establishments.
I'm certain that their service ethos will have served to further elevate, what I understand to have already been, excellent service here.
Room Service Breakfast
My favourite benefit as a Four Seasons Preferred Partner agent: All of our clients receive complimentary breakfast at all Four Seasons hotels AND this can be taken as room service at no extra charge!
At a city hotel this is already amazing, as I spoke about when we visited the Four Seasons DIFC Dubai for example. However, when you have an overwater pool villa with an enormous deck and an outdoor dining room, this benefit is even more incredible….especially when you look at the usual cost of ordering room service here.
Of course, if you're feeling extra lazy you can always have breakfast in bed, especially since there's a table at the foot of the bed and plenty of space on the bedside tables.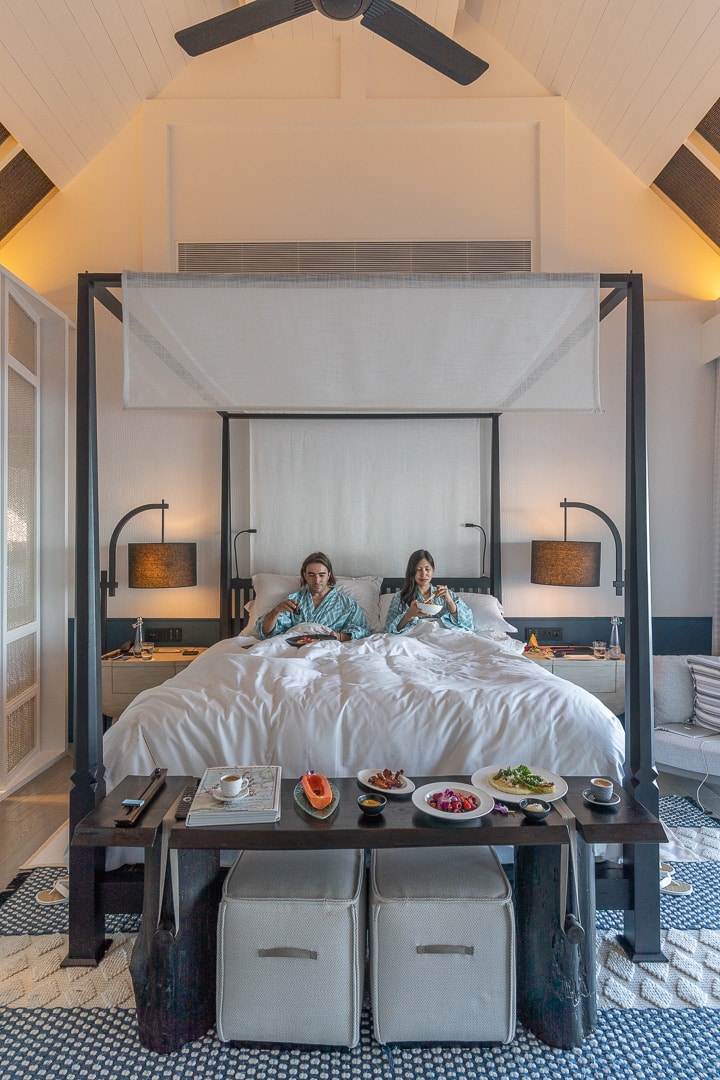 I love the Four Seasons app. It's by far my favourite of any hotel chain, ordering room service was incredibly simple – including any dish by dish customisation that you can possibly imagine. We ordered the night before, requesting delivery at 8am and we heard a knock on the door a couple of seconds after the clock moved from 7:59am.
The bacon was as crispy as you could possibly hope for, the pancakes were perfectly fluffy and the papaya and berries were all perfectly sweet and fresh. Kamara was also a huge fan of her breakfast noodles (and she's hard to please when it comes to her most beloved holiday breakfast dish).
Blu Restaurant
Menus
Click below for PDFs of menus with prices.
Blu Breakfast menu
Blu Lunch menu
Blu Dinner menu
Blu Vegetarian Vegan menu
Blu Dessert menu
Breakfast
Other than room service we had two options for breakfast at Landaa Giraavaru: Blu restaurant and Café Landaa. Blu was by far our favourite of the two since it was fully a la carte, had a wonderful ocean view and was located moments away from our overwater villa.
The setting is just about as perfect as you could ever hope for. Indeed, I struggle to think of any other resort in the Maldives with a better restaurant ambiance than this.
The neon blue colours of the lagoon stretched as far as the horizon, with the beachfront pool running across the length of one side. The interior decor also struck a fantastic balance between playfulness and elegance.
What a place to start the day!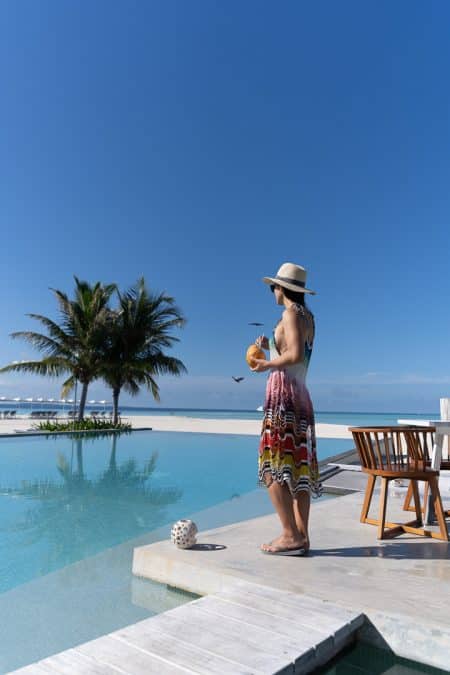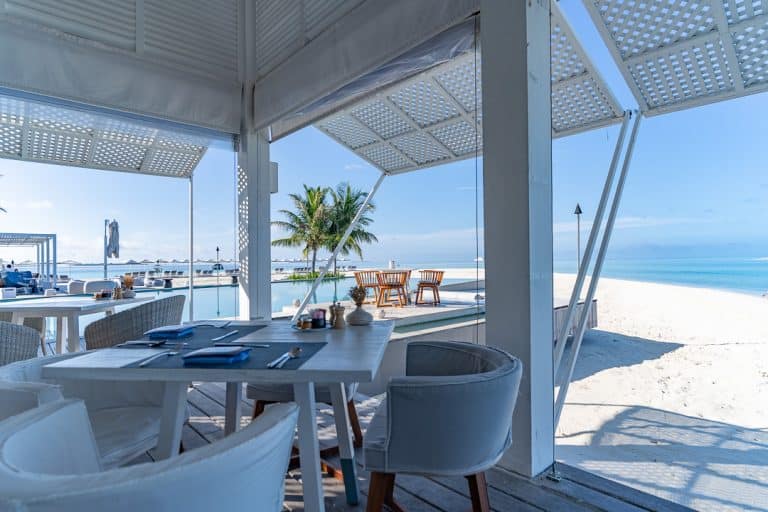 Service was absolutely exemplary, with staff greeting us by name, engaging in friendly chats and always remembering preferences from previous visits.
Iced cappuccinos were made very strong, as requested, without any additional prompting – something that less than 5% of hotels ever manage. The watermelon juice was also the best I've ever had anywhere on earth.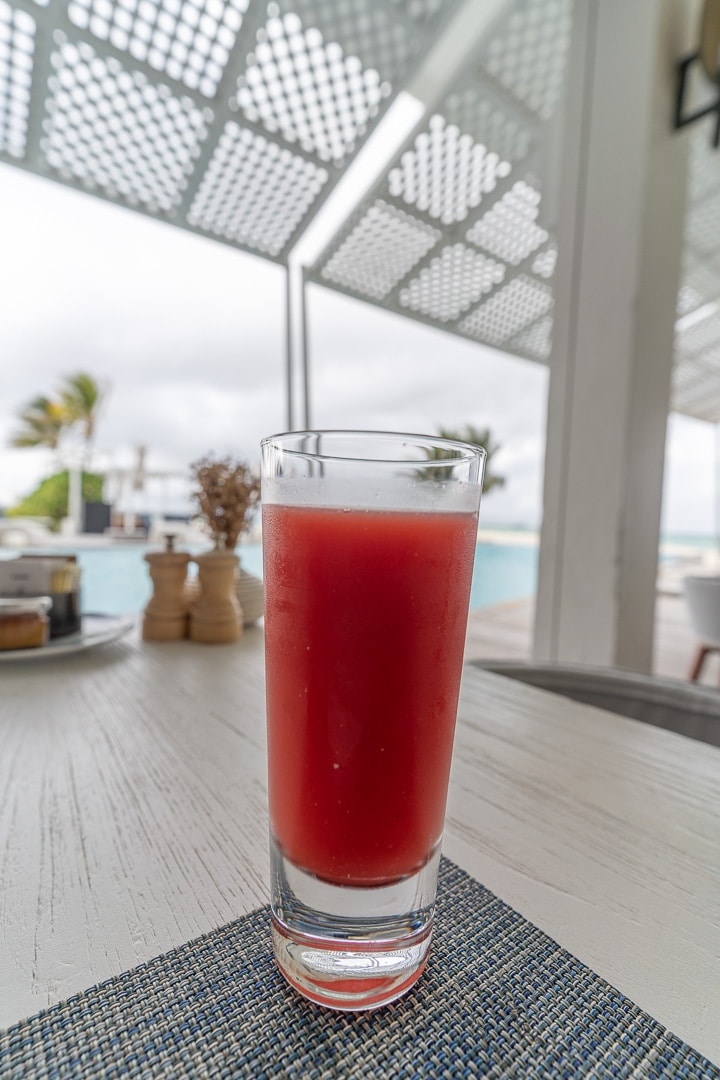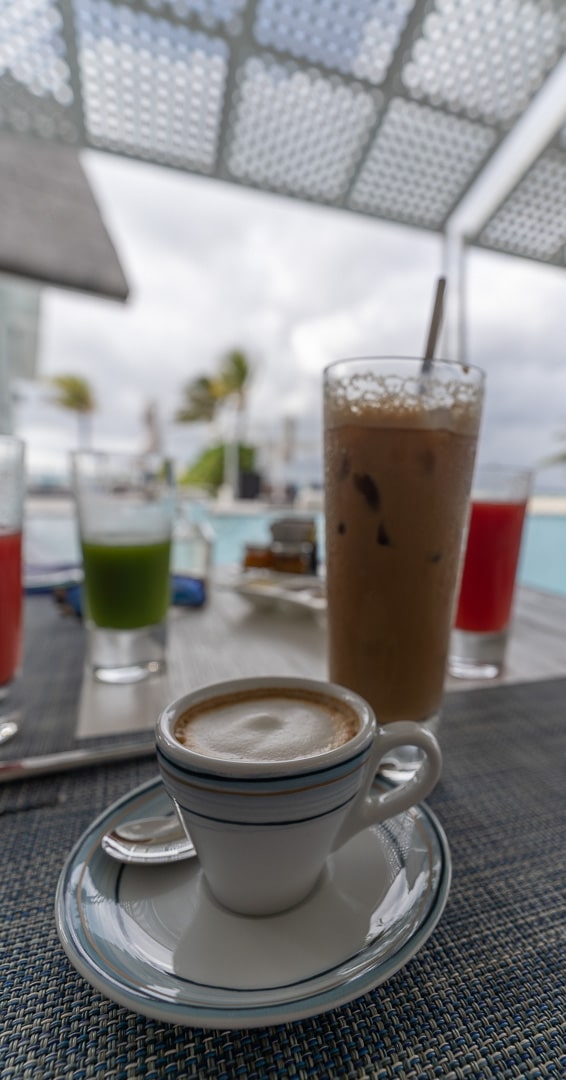 Breakfast always started with a freshly baked pastry basket, which we would enjoy as we waited for our main courses. We also ordered the charcuterie as this came out almost instantly (and was delicious).
The poached eggs with avocado, salmon and asparagus were great, although I would have preferred a proper slice of sourdough rather than this soft wholemeal bread.
The Spanish omelette with chorizo and manchego was amazing and a firm favourite of ours. The perfect low carb way to start the day.
Speaking of which, Kamara's biggest regret is that she never ordered the Ferrero waffles – we'll have to make sure to order those when we return!
Lunch
At lunch time, all guests at Blu are offered a selection of freshly baked rolls together with olive oil, balsamic vinegar and a tomato dip. Despite the simplicity of the offering the ingredient quality really shone through – it took a lot of willpower not to devour the entire basket in seconds!
The menu offered a large variety of lighter dishes, like the tuna tartare as well as beach restaurant staples like the fish tacos and burgers.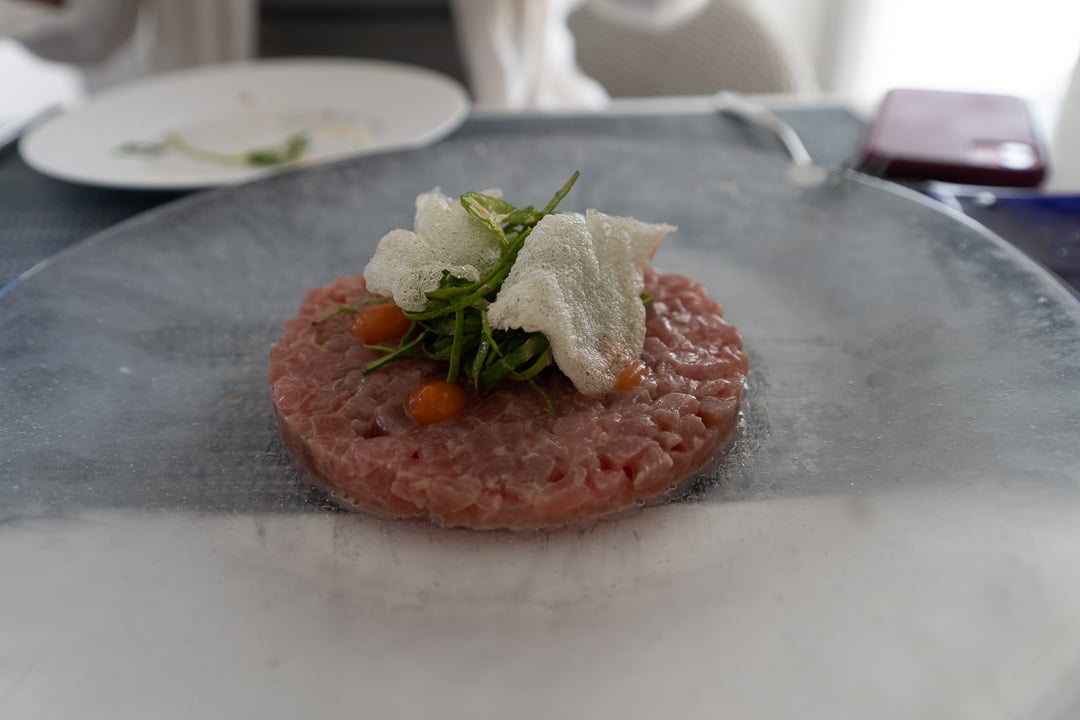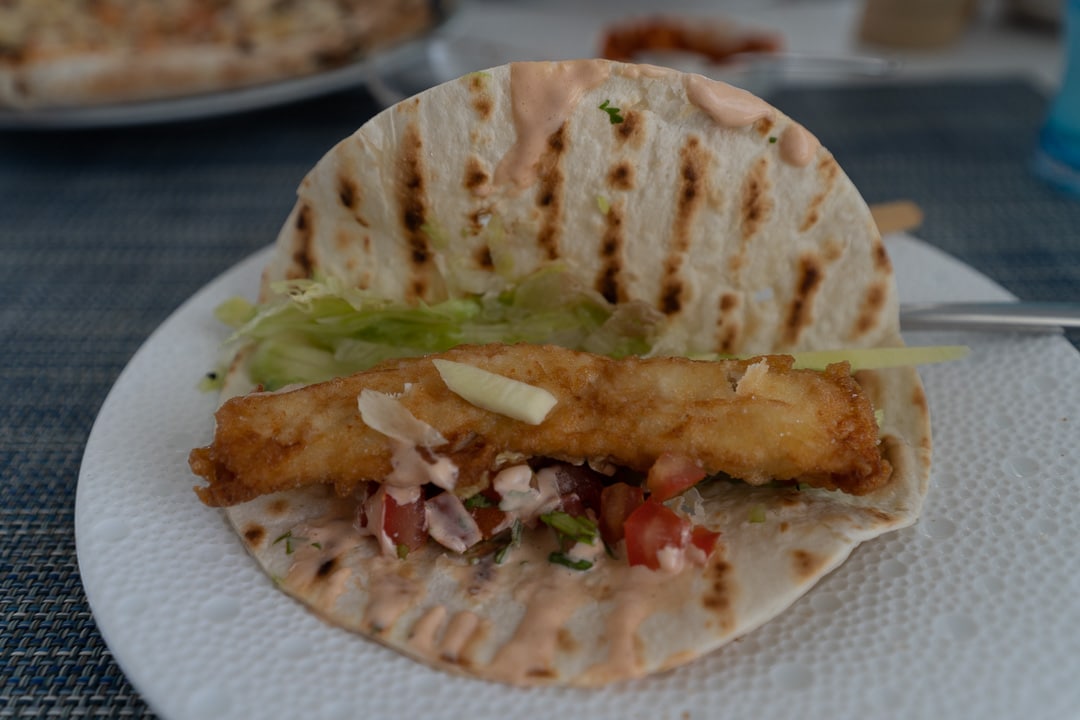 The real standout for us though was the Neapolitan style pizza, which was absolutely phenomenal.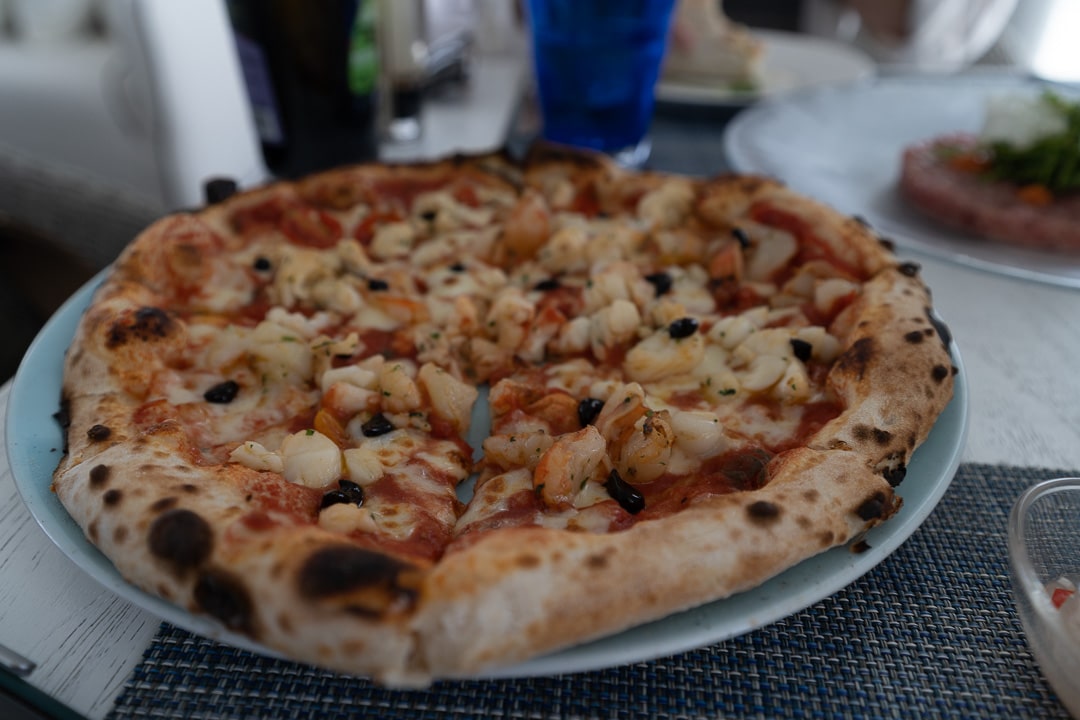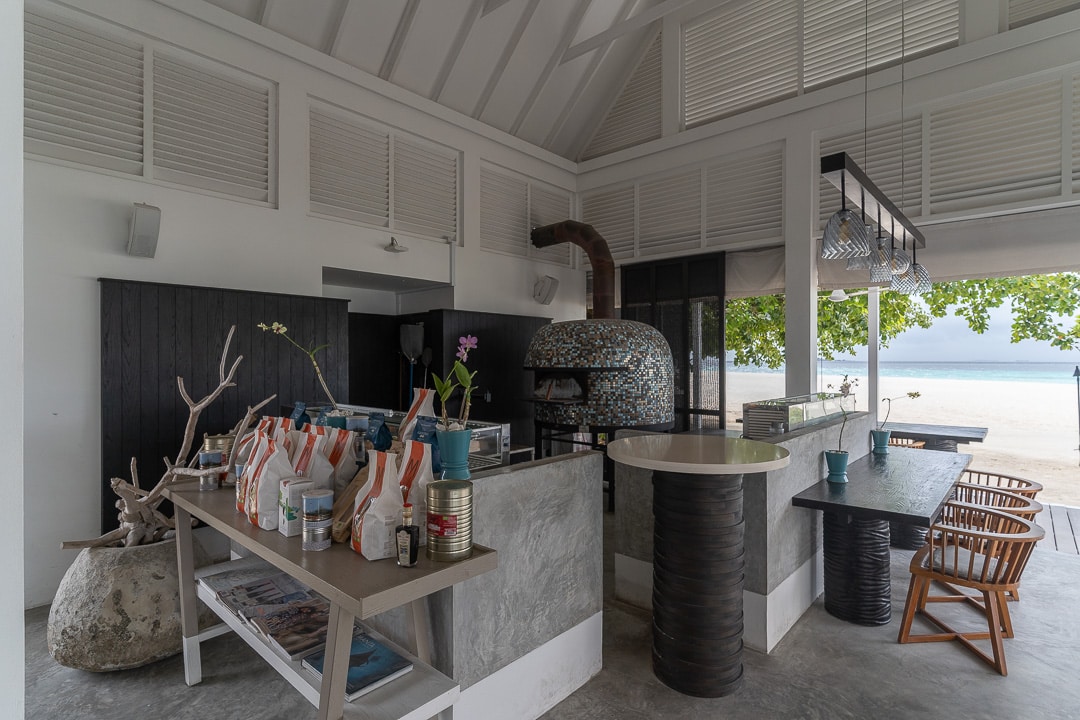 Dinner
At dinner time the space was completely transformed, with lanterns lit around the building and the swimming pool illuminated like some sort of galactic runway.
Indeed, one of our favourite spots to watch the sunset was this swinging chair, overlooking Blu from the base of the water villa pier: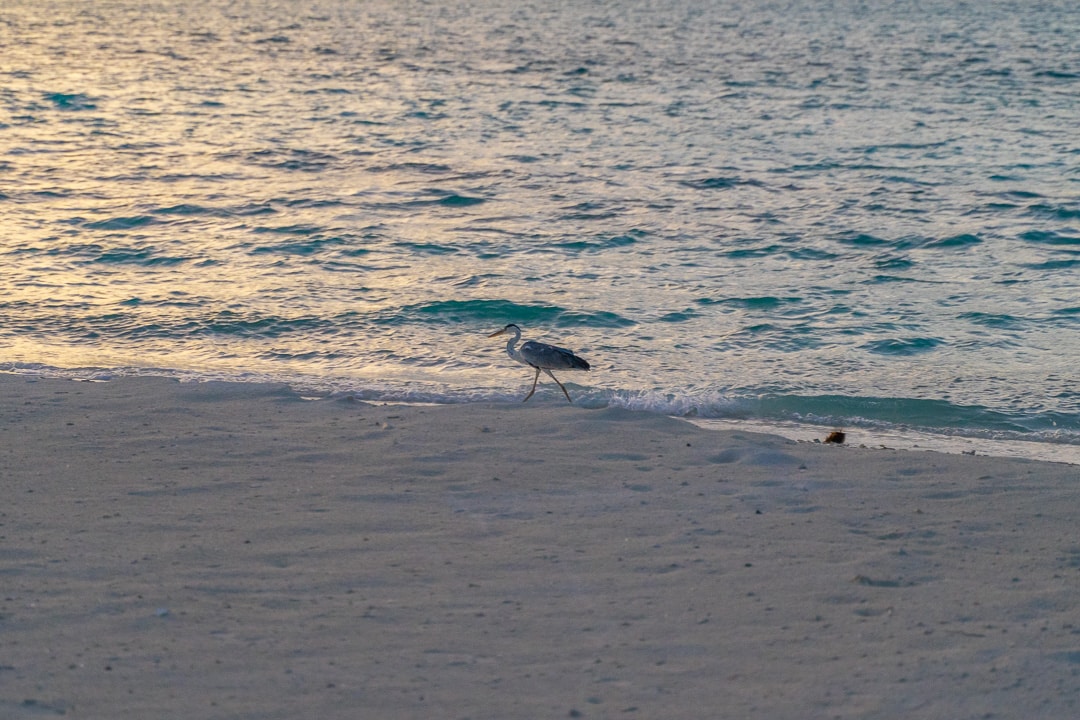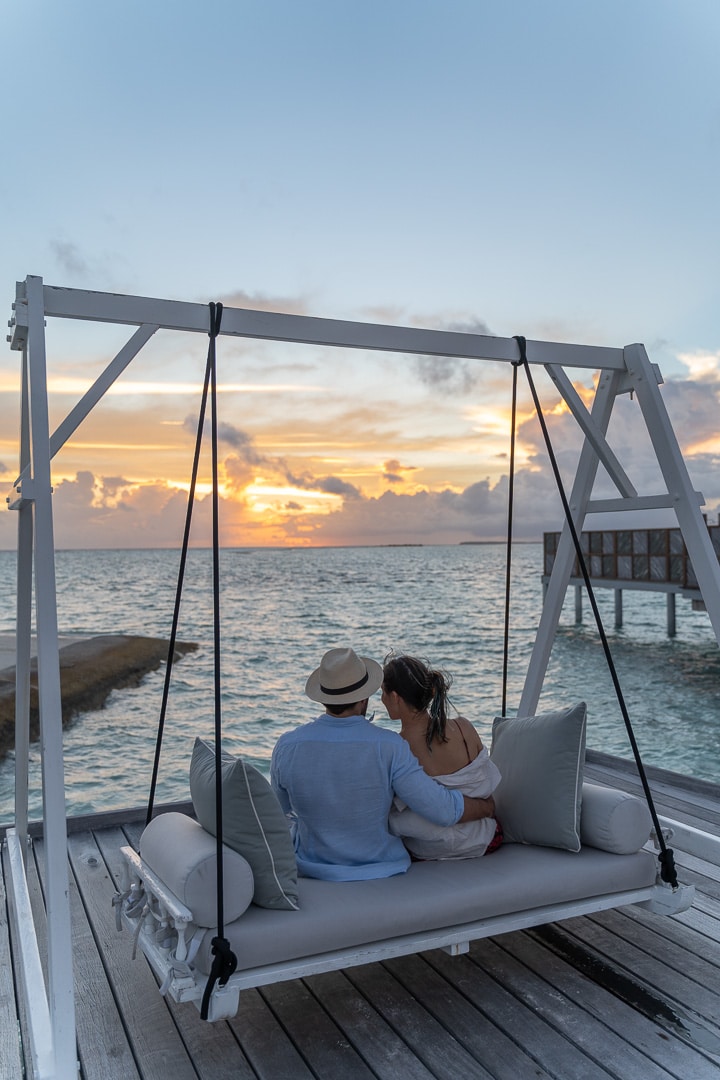 At night the bread course was further upgraded to feature a tapenade and a flavoured butter. Alongside this we were presented with an amuse bouche from the chef.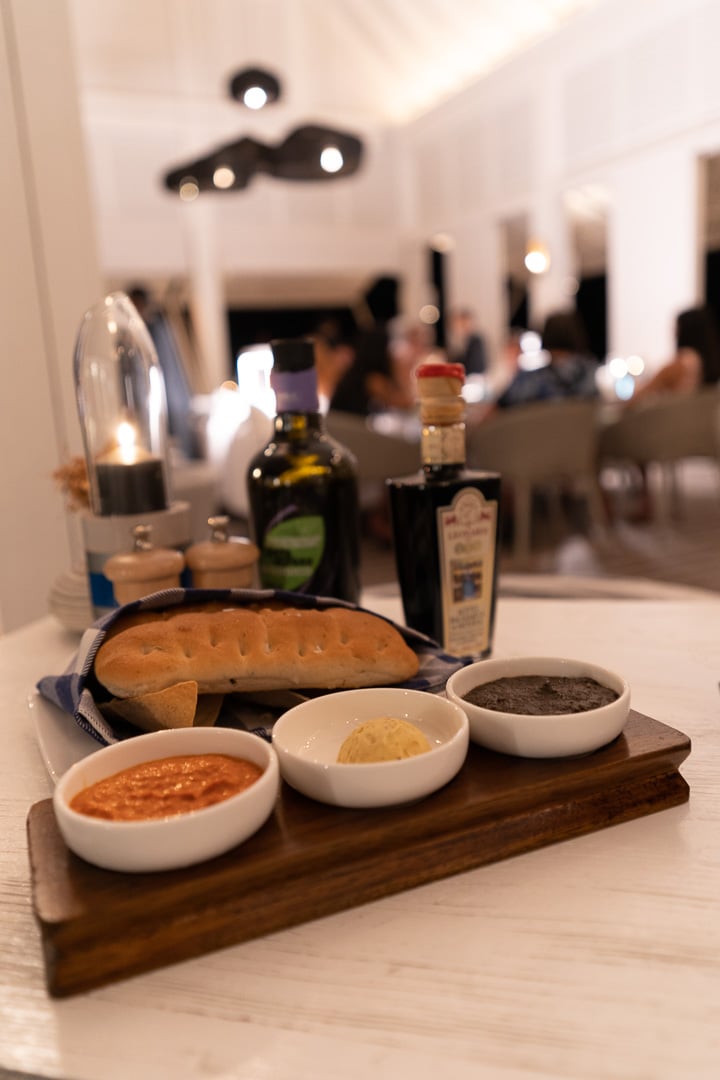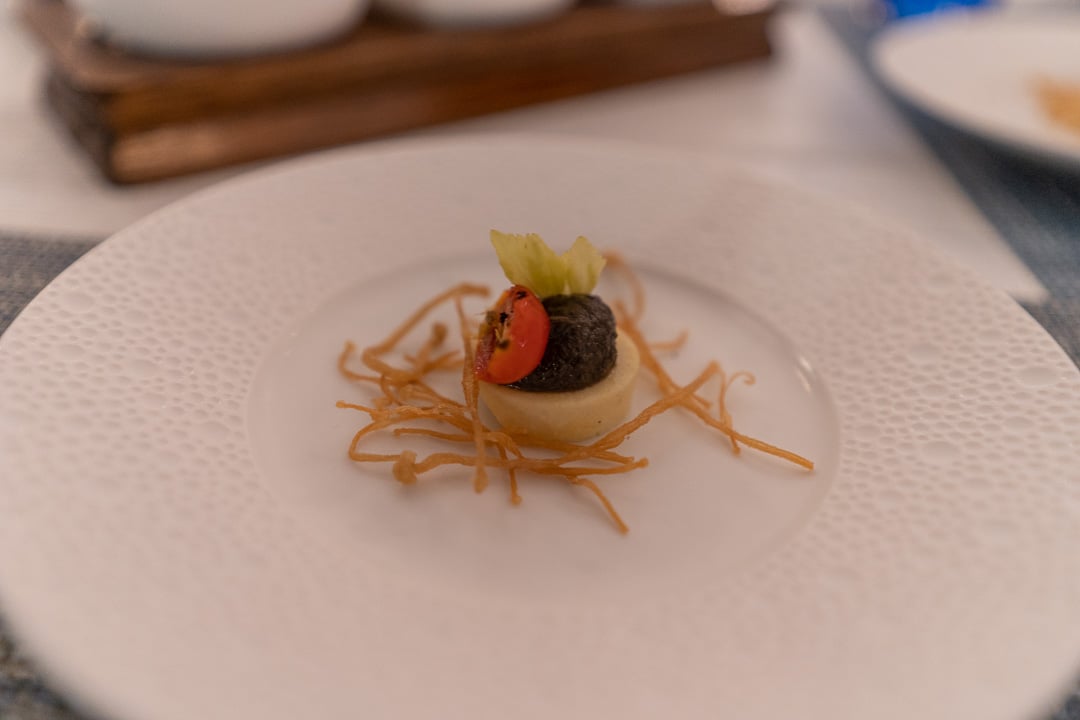 To start, we shared a beautifully presented steak tartare that combined a premium cut of tenderloin with black garlic and fennel. It was incredible.
Kamara opted for the squid ink passatelli and I had the cacciucco for my main. Again, both dishes were as good as anything we've had in Italy.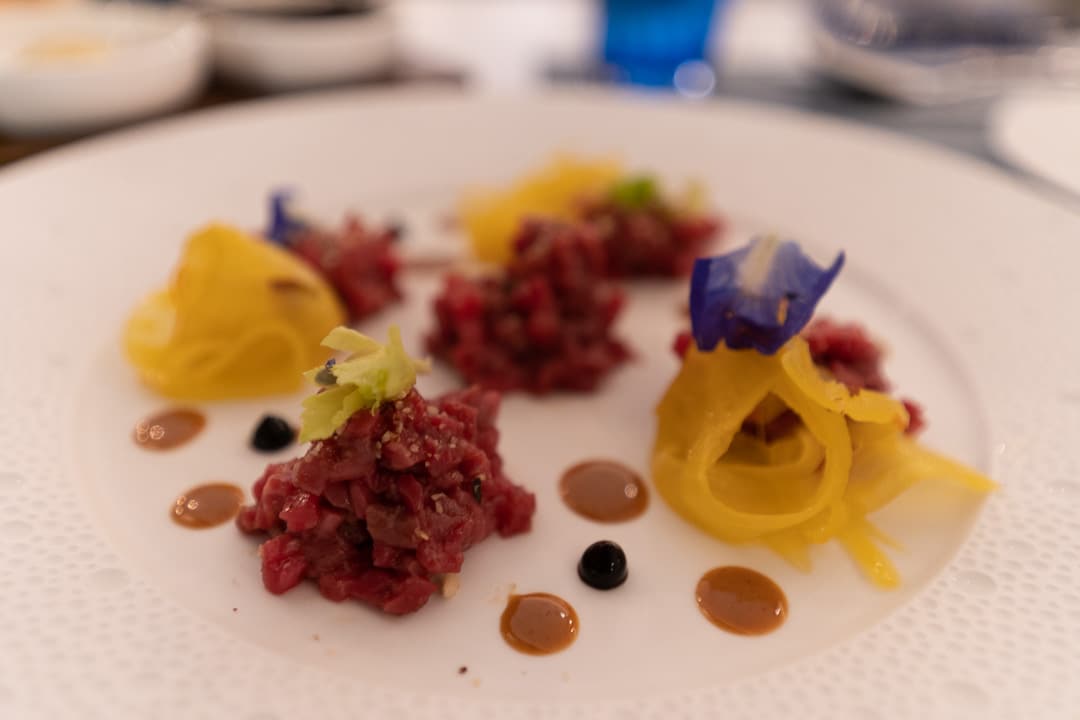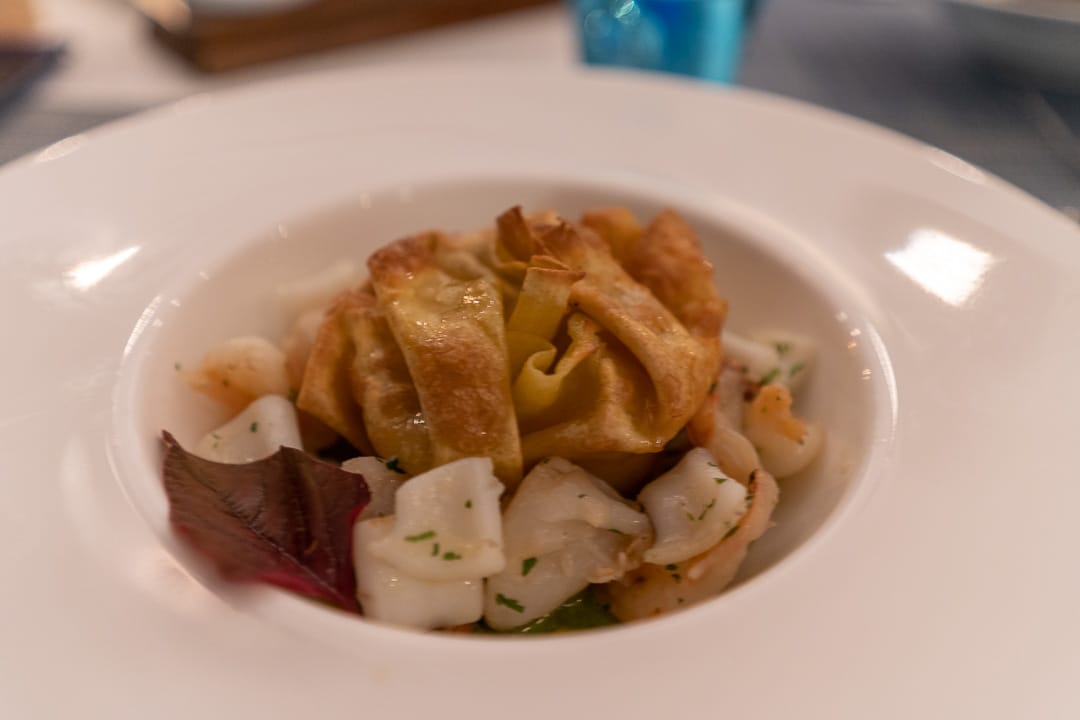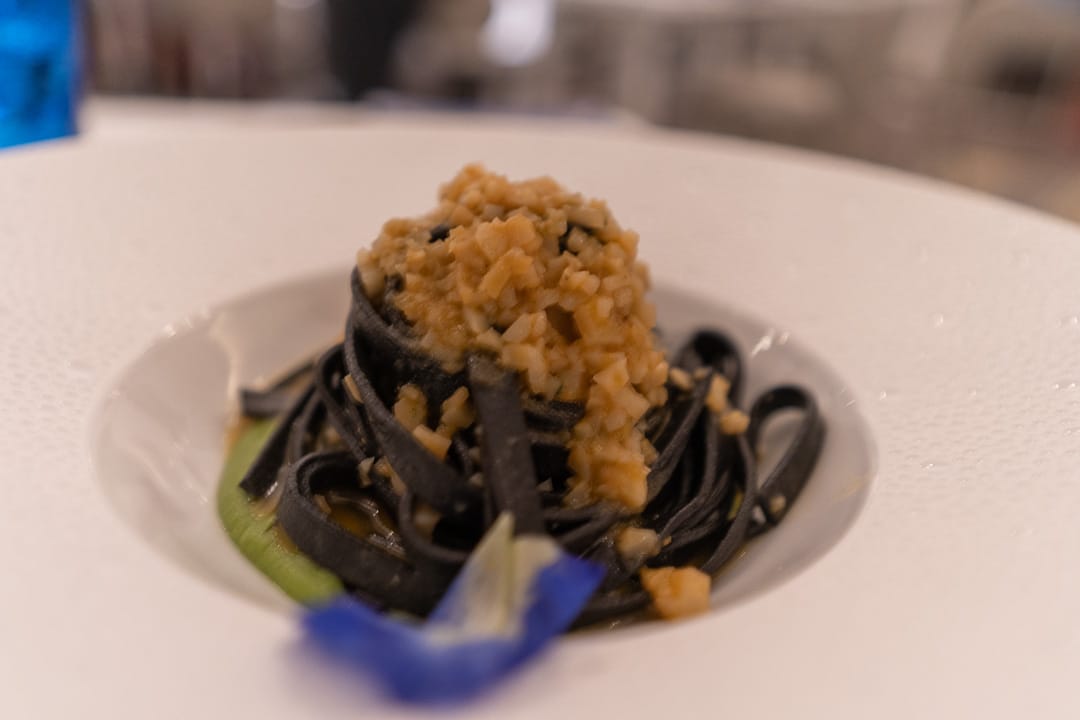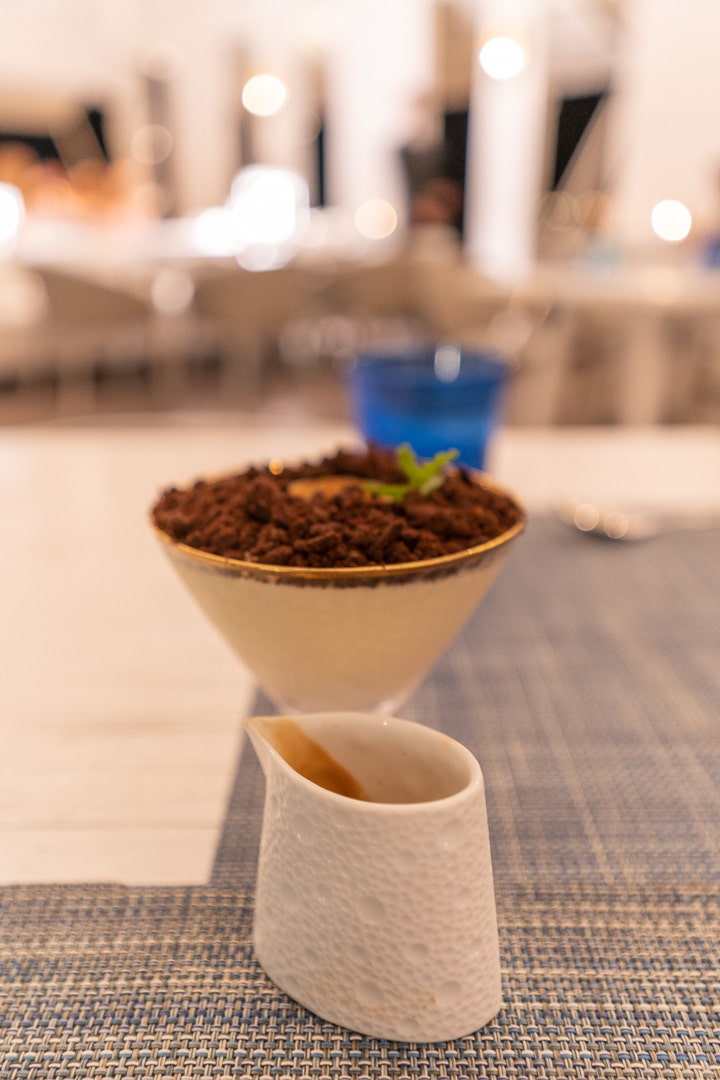 To finish, we had the tiramisu between two… it barely lasted 30 seconds on the table.
Café Landaa
Cafe Landaa Lunch menu
Cafe Landaa Dinner menu
Cafe Landaa Dessert menu
Cafe Landaa Vegan Veg menu
Located at the centre of the resort, close to the lobby and the olympic pool, Café Landaa is a family friendly buffet style restaurant – which would be your default option if for some reason you were unable to secure a reservation elsewhere.
Breakfast
We tried the breakfast here one morning for the sake of completing this review, however this would not have been my preferred choice, given the lack of views, children running around and the fact that this was a buffet rather than a la carte.
Having said all that, service was exceptional. Staff not only took drinks orders immediately upon seating us, they also offered to give us tours of the buffet and helped you shuttle plates back and forth for us, so that we wouldn't have to carry dishes to our table for ourselves.
The fruit selection was excellent and as is often the case at top Maldivian hotels, you can always request fruit that isn't on show and it'll be brought out for you (mangosteens, salak and fresh berries tend to be on request only).
The selection of freshly baked goods was very good.
I was also a fan of the fact that the cold cuts, salads and dairy products were all kept in an icy cold, air conditioned room.
In terms of main courses, there was a selection of Asian dishes on offer, such as dim sum, sashimi and noodles, as well as Westerns options like frittatas, sausages and bacon. There was also a live cooking station featuring pancakes, crepes, waffles and all manner of egg dishes.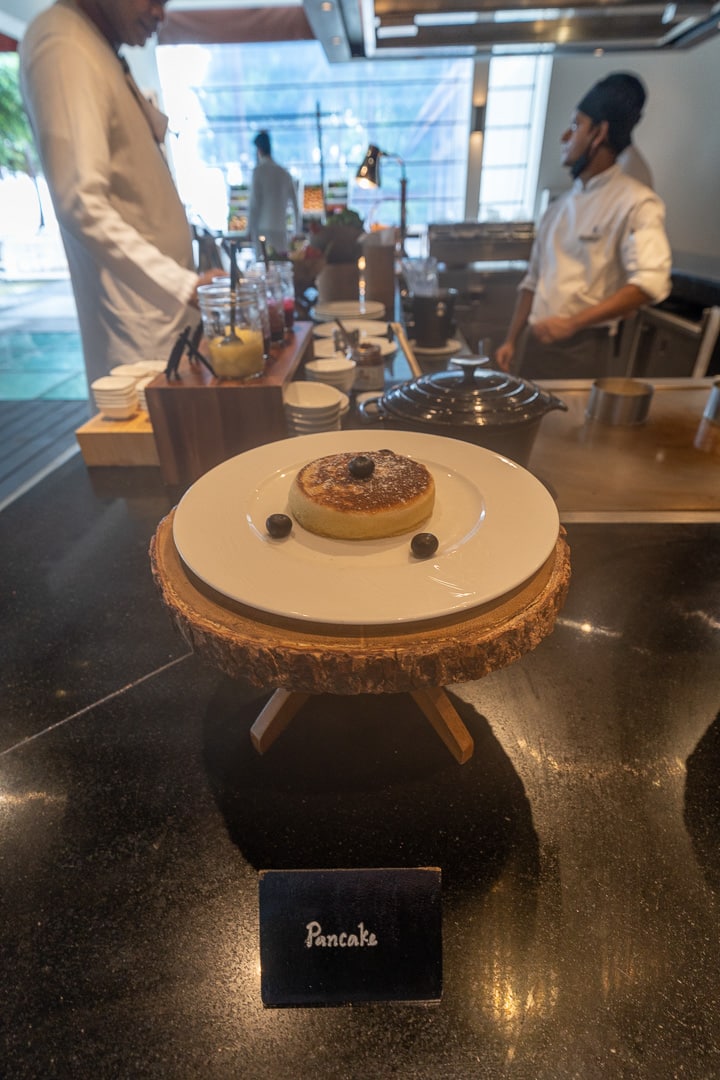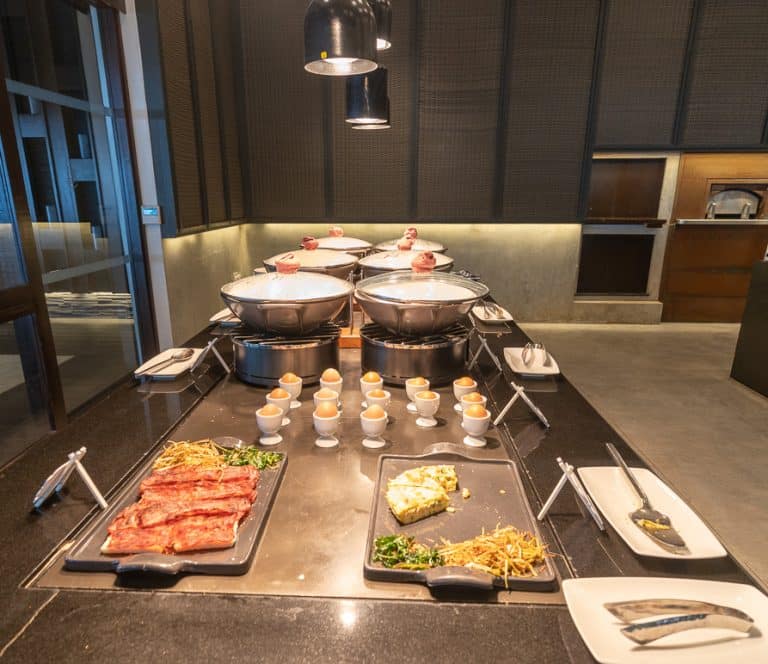 Overall, the coffee fruit and service were great. However, the poached eggs featured store bought bread which was a step below the pseudo sourdough at Blu. The quality of the rest of the buffet was good but not great. It definitely felt like a notch down from the buffet at the Waldorf Astoria or even the Intercontinental.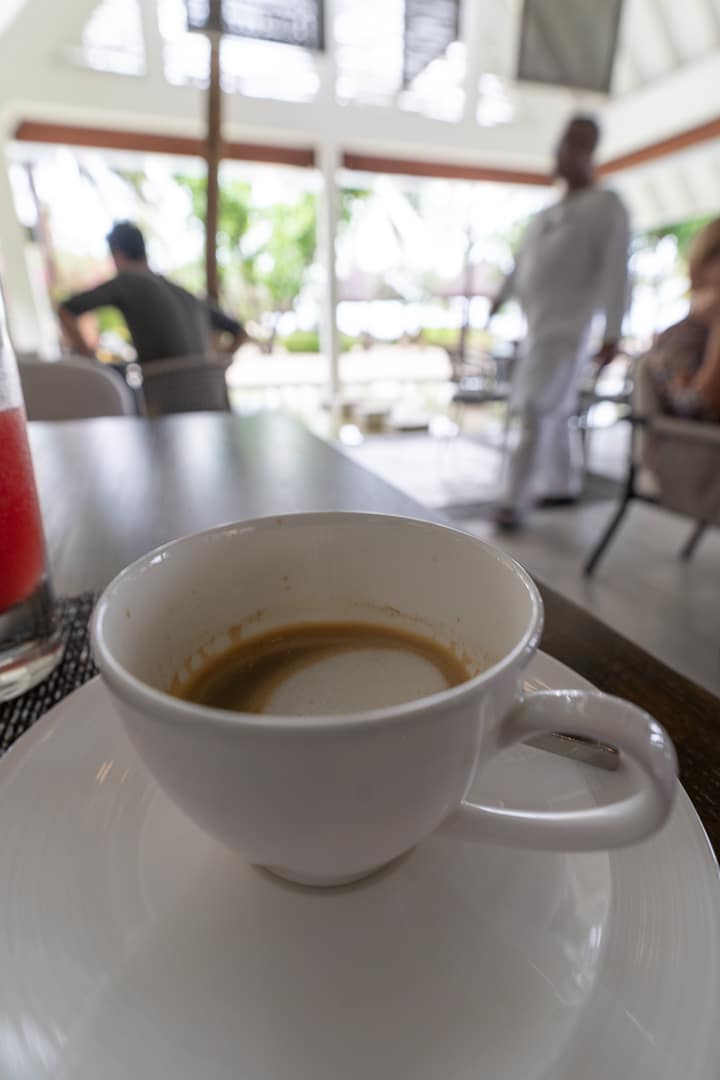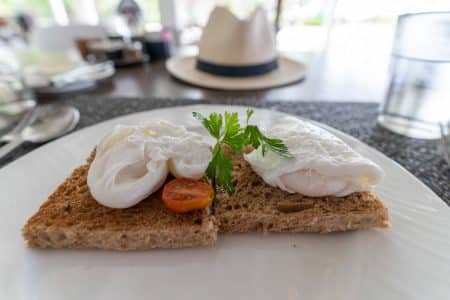 Most of all, with a view like this – once you've made it all the way to the Maldives, I figure you'd much rather make the effort to start your day at Blu.
Dinner
I preferred the atmosphere at Café Landaa in the evening, there was more of a buzz here and the place settings and table service represented an upgrade from what was on offer at breakfast.
Most evenings there's a themed buffet and we visited when the offering was primarily focused on seafood and Asian flavours, which is exactly what we would have selected, given the choice.
The inside room was filled with all manner of high quality and delicious chilled seafood.
A selection of prepared, cooked dishes were also available, although we focused entirely on the freshly grilled meat and seafood at the live cooking station.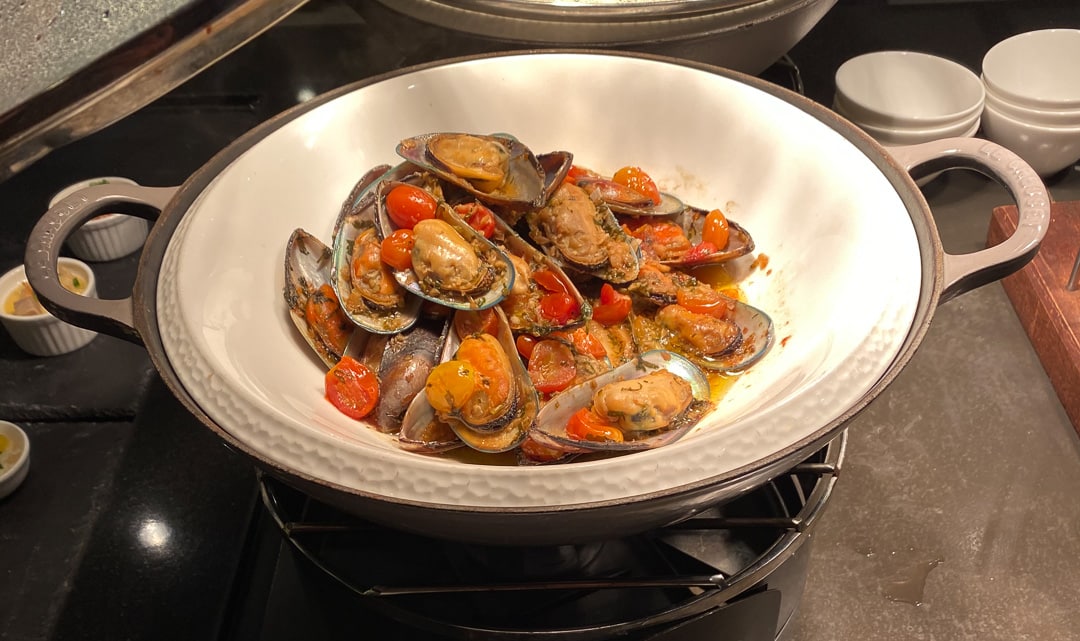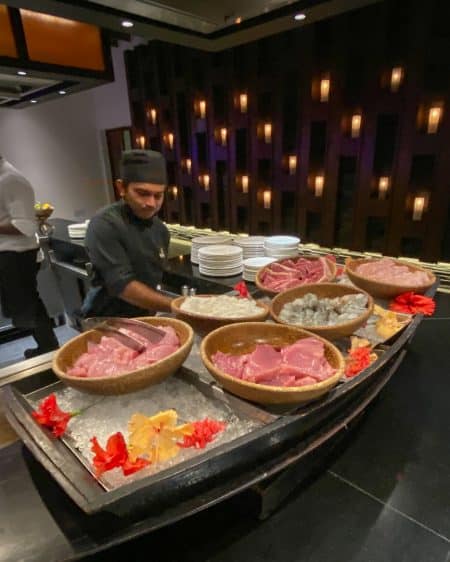 There was also a dedicated dessert area, which was of almost zero interest to me after all the seafood; Kamara enjoyed one or two small treats though. The fresh fruit was excellent, just as at breakfast time.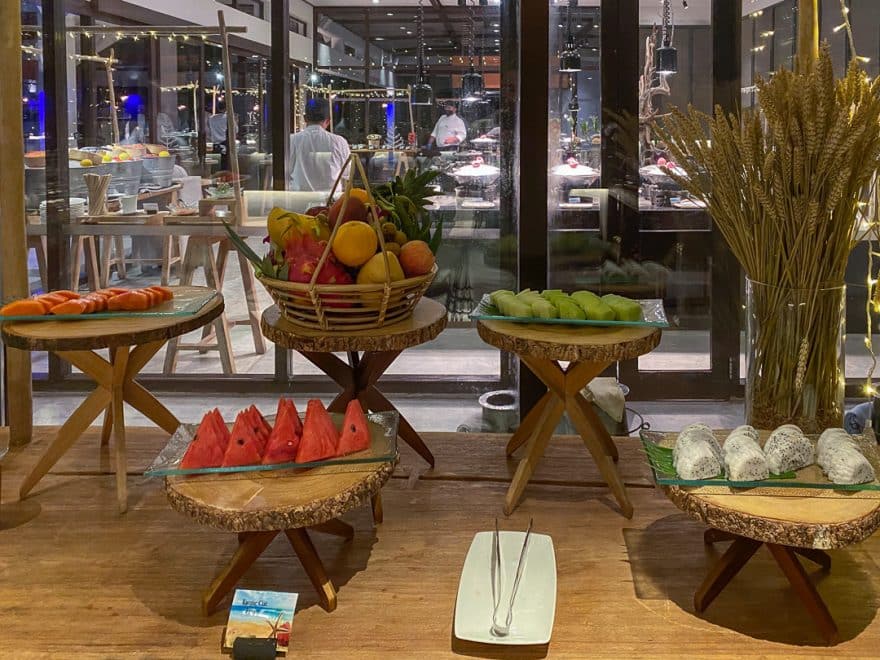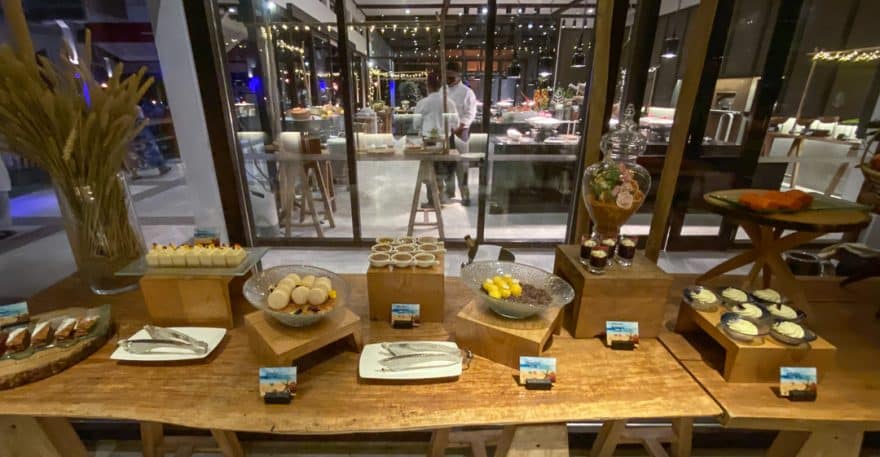 Fuego Grill
Fuego Dinner
Fuego Vegetarian/ Vegan
Fuego Dessert
Fuego grill is the resort's casual, waterfront dinner option, serving a selection of grilled seafood and steaks as well as a selection of vegetarian and vegan options.
The restaurant is located just outside Café Landaa, next to the saltwater pool.
Unfortunately, on the evening of our visit a brief but intense shower was scheduled to hit the island around dinner time, so our meal was instead served in Café Landaa, albeit with better tableware, better chairs, and better service than the usual Café Landaa experience.
The Fuego Grill food was universally excellent. There's no question that pricing in the Maldives is elevated but the quality was up there with top restaurants in London.
My starter was the the 'Water Pate', featuring: Truffle lobster, tuna tataki, seafood ceviche and white fish sashimi. To be honest, they had me at truffle lobster.
Kamara went with the scallop tiradito with chili and coriander. A heaping portion of sweet and succulent scallops, with only mild hints of spices – allowing the natural flavour of the scallops to really shine.
For the main course I went with the Indian Ocean lobster which was topped with a decadent heap of sweet crab meat.
Kamara had the freshly grilled king prawns, her favourite seafood dish and one which in this case was cooked to perfection.
We split two desserts to finish the meal. The 'crunchy bar' consisted of salted peanut caramel, milk chocolate mousse and was served with yoghurt ice cream. We then tried a single scoop of roasted rice ice cream, which featured as part of one of the other desserts and was absolutely extraordinary.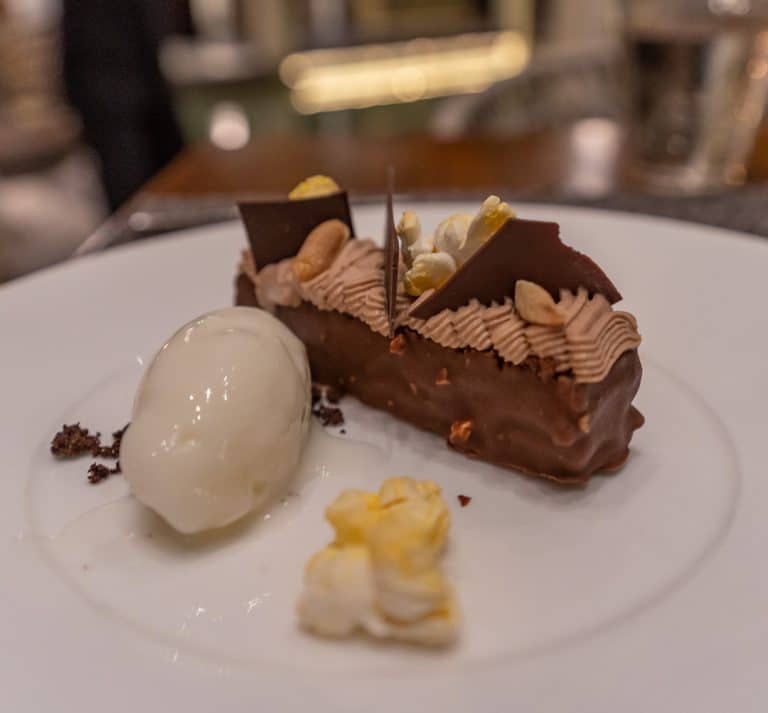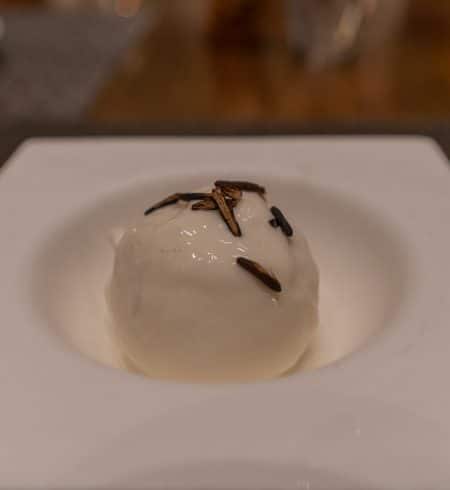 Al Barakat
Al Barakat Dinner menu
Al Barakat Vegetarian menu
Al Barakat Dessert menu
Al Barakat is the resort's only truly overwater restaurant and is located right by the arrival pier, where we first set foot on the island. In addition to serving Lebanese, Moroccan and Armenian dishes, Al Barakat is also home to an overwater Bar and Shisha lounge.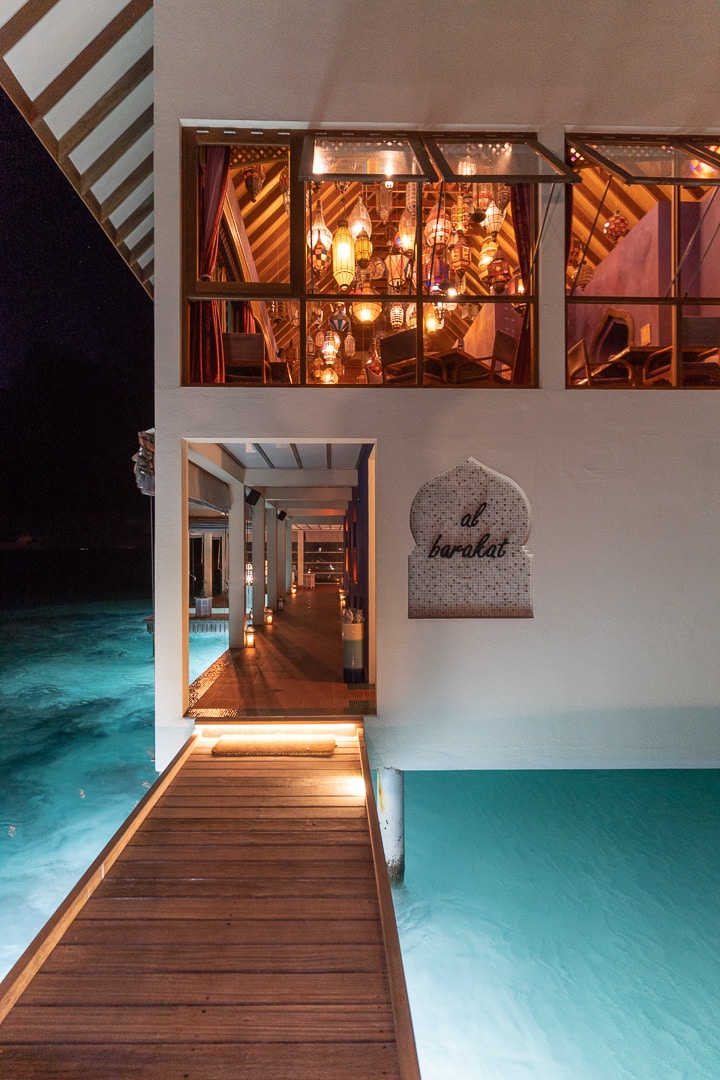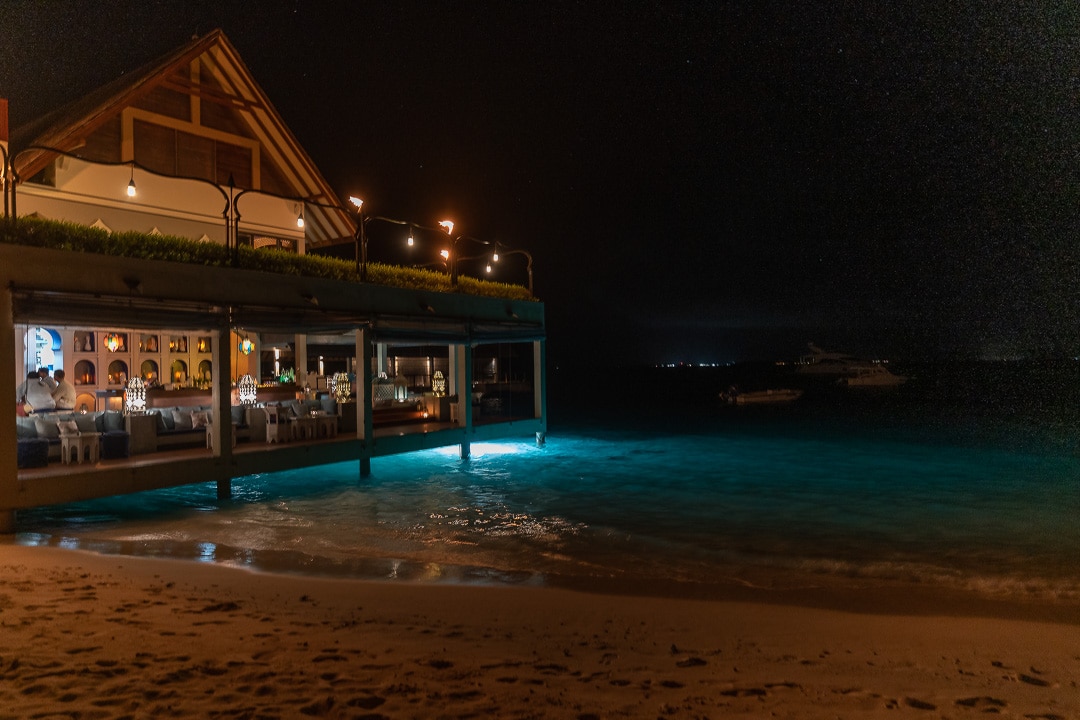 One of the coolest things about the location is that gigantic nurse sharks are drawn to the plankton, which are lured by the restaurant lights. As such you get an incredible show whenever you visit (without the disruption to the food chain caused by deliberate human feeding).
The lounge and bar are located downstairs…
With the upstairs featuring both an air conditioned dining room, adorned with countless glass lamps, as well as an open air dining terrace.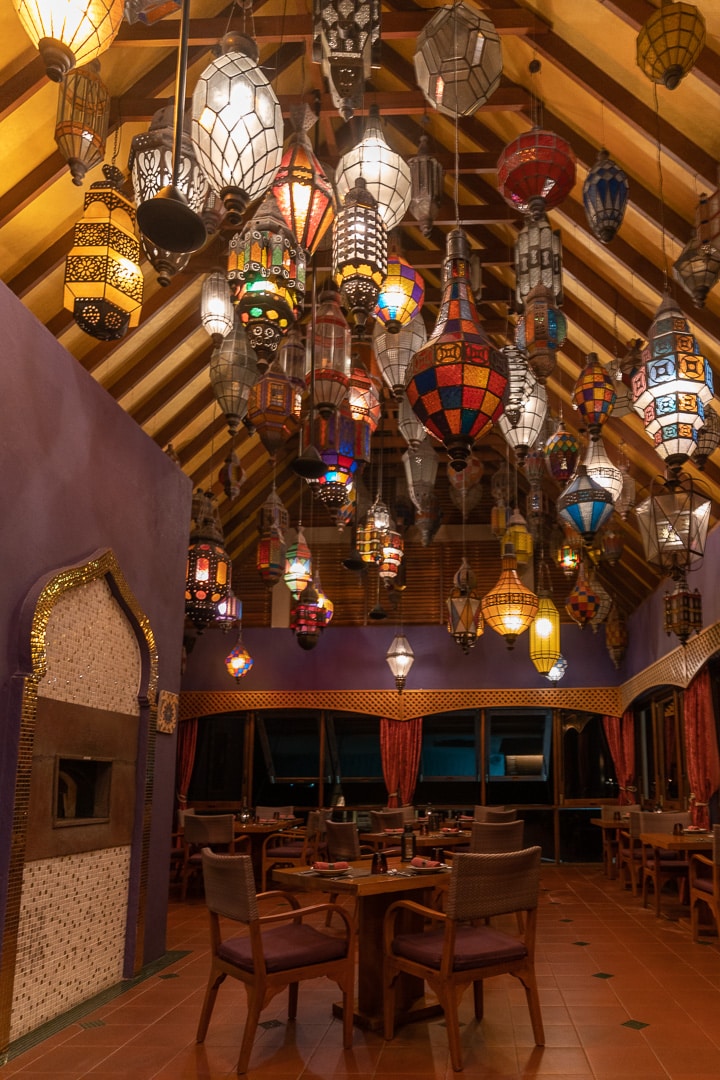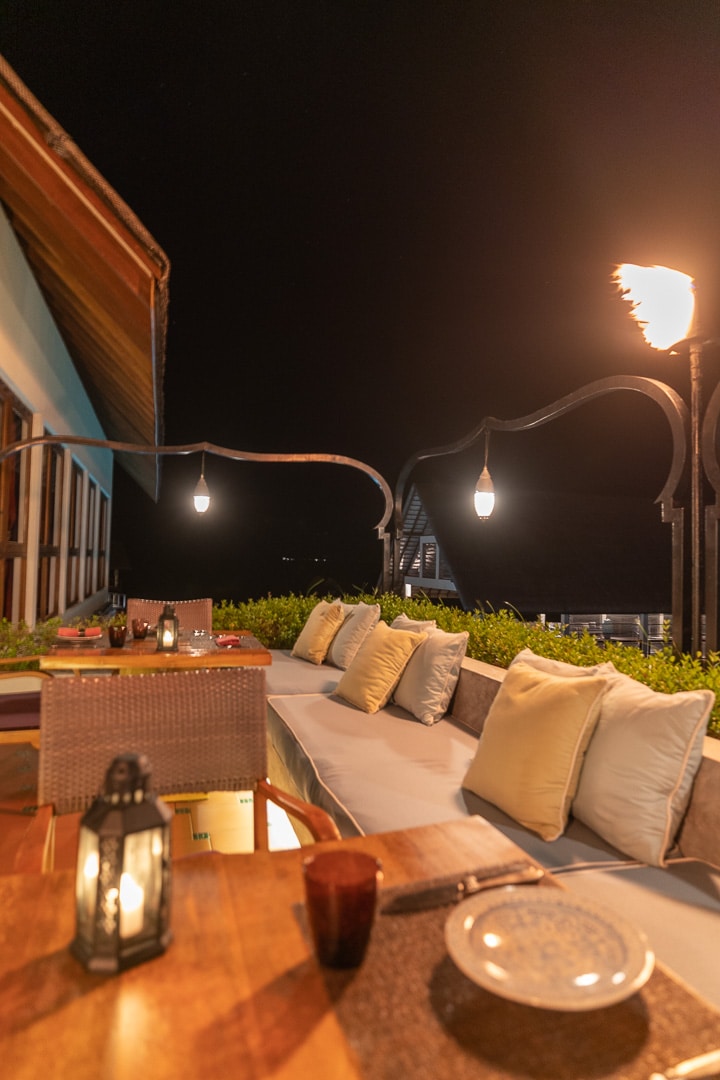 We started our dinner at a wonderful corner table on the outdoor terrace, however just before the starters came out we were hit by a 3 minute torrential downpour which took the terrace out of action for the rest of the night.
Thankfully the indoor dining room was very atmospheric in its own right and staff were able to very swiftly arrange a table for us there as we scrambled for cover!
We're very spoilt when it comes to the quality of Levantine food in London but I must say that this meal was up there with the very best that we've ever eaten.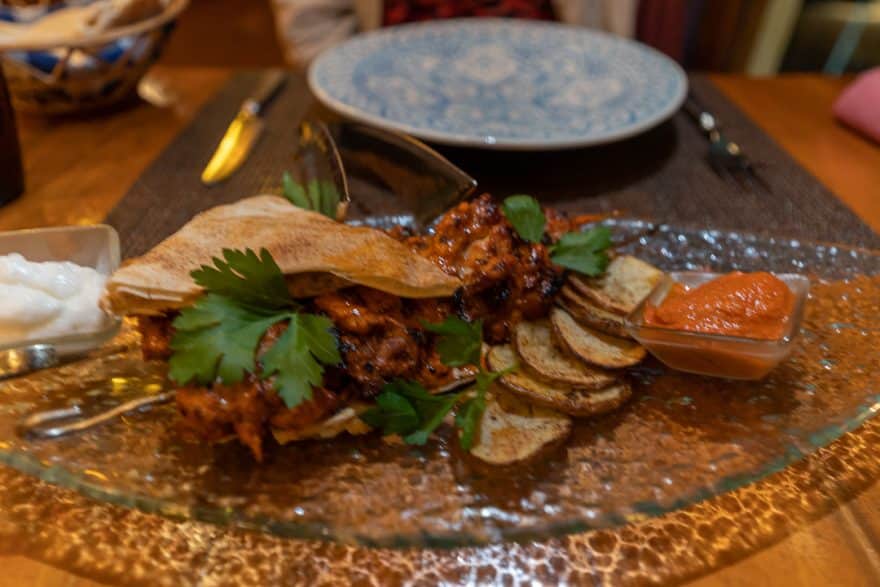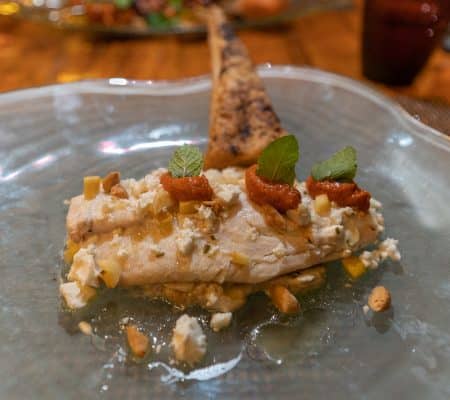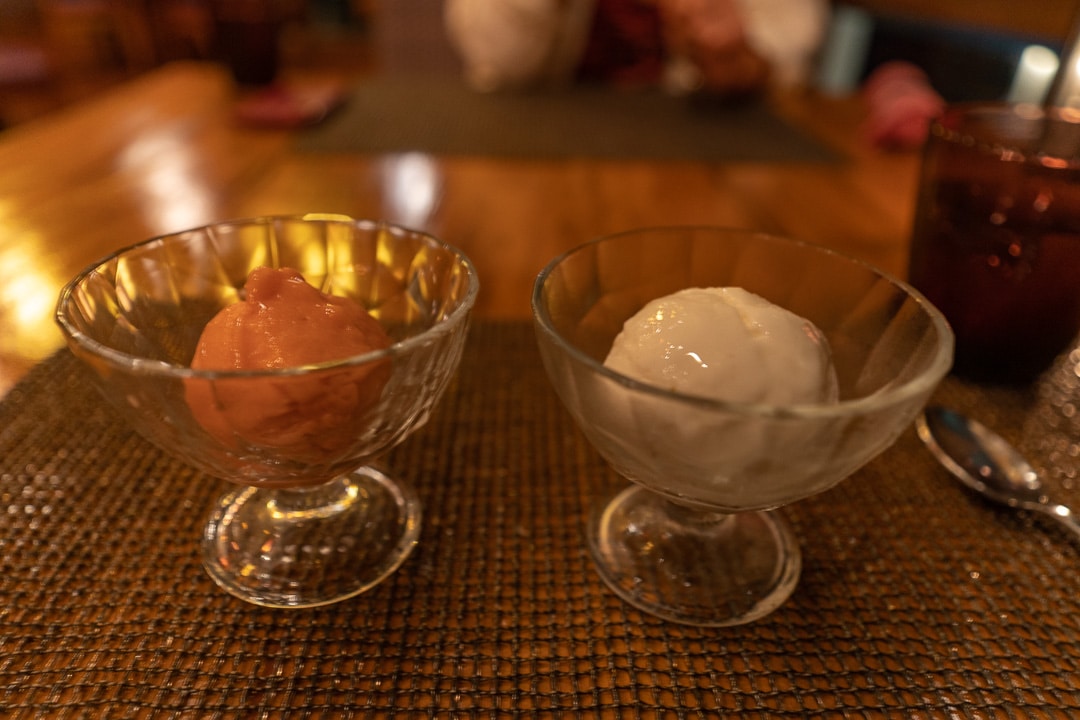 Given how rich and heavy this style of cuisine can be I was particularly happy to see some lighter dessert options in place of the usual Baklava, Halwa etc. We shared one scoop of saffron and rosewater ice cream and another of Cardamom ice cream – both of which were excellent.
---
Conclusion
---
Basics Checklist
☑︎ Power sockets near the bed
☑︎ Easy to understand light switches
☑︎ Coffee machine
☑︎ Separate shower and bath
☑︎ Blackout blinds
☑︎ Stable, fast and free Wifi
☑︎ Feather pillows
– Powerful aircon but not quiet.
Four Seasons Landaa Giraavaru almost checks every single box on my standard checklist, with the one neutral being that although the aircon was more than capable of cooling our villa, it was loud. This is understandable given the very high ceilings and certainly not a problem unique to this property in the Maldives.
Service was absolutely excellent, with small details like branded cable tidies and lens cloths part of the regular turndown service. Staff remembered our names and preferences even as they moved from one restaurant to another and buggy service was always extremely prompt.
There was never a long wait for a cheque, drinks or indeed anything. The service was completely seamless throughout the property.
There are many upsides to being overwater here: the marine life is hugely varied and plentiful. Lying on our cargo net it almost felt like we were at an aquarium, with all manner of incredibly bright fish swimming past at all times of day. The sheer amount of outdoor space and the length of the pools are huge plus points too.
If you're big on privacy then the water villas here are probably not your best bet though. You will almost certainly spot your neighbours from the deck and pool. For complete privacy you'll want to opt for one of the gigantic beach villas, which also have the distinct advantage of being situated close to the best snorkelling.
Although seaplane transfers can be a pain, this was mitigated massively by the quality of the Four Seasons experience. It almost felt like taking a private jet, where taking seaplanes at other resorts is like flying commercial… in economy.
The plane is parked right outside the lounge, with the schedule dictated by Four Seasons and the interiors finished to a high specification, with seats in a 1-1 configuration. This is a true luxury experience from the outset.
The size and beauty of the island is hard to overstate too, the thickness of the foliage, the quality of the reef, the powdery white sand and the proximity to the mantas of Hanifaru bay. None of this can be replicated by resorts close to the international airport (no matter what price they may charge).
If you want a truly pristine island experience, enjoying all the natural wonders for which the Maldives is so justly famed, then few places will match the overall quality of experience at Four Seasons Landaa Giraavaru.
---
Book Four Seasons Landaa Giraavaru with FSPP Benefits
---
Four Seasons Preferred Partner Booking
An example of FSPP benefits, which may be available on your stay:
Upgrade of one category,

based on availability at check-in.
Full breakfast for two in room guests. Either at the restaurant or via in-room dining.
$100 hotel credit.
Welcome amenity.
Early check-in/late check-out, subject to availability.
EMAIL FOR FSPP BOOKING ENQUIRIES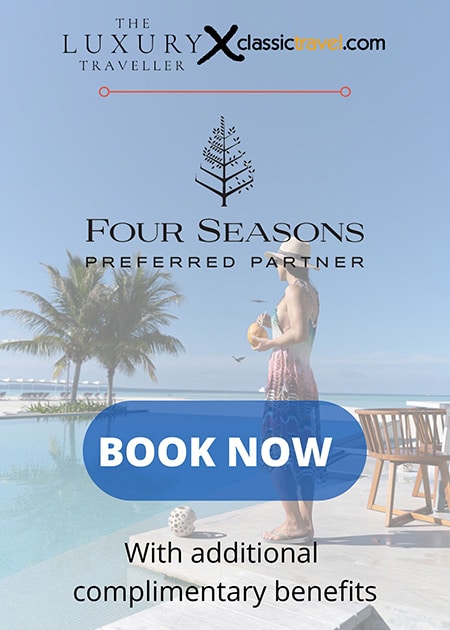 If you aren't sure which Maldives resort to book and would like our advice, please fill out our quick & easy form and we'll match you up with your perfect property:
We also have a dedicated Maldives page featuring all of our hotel reviews and deals: