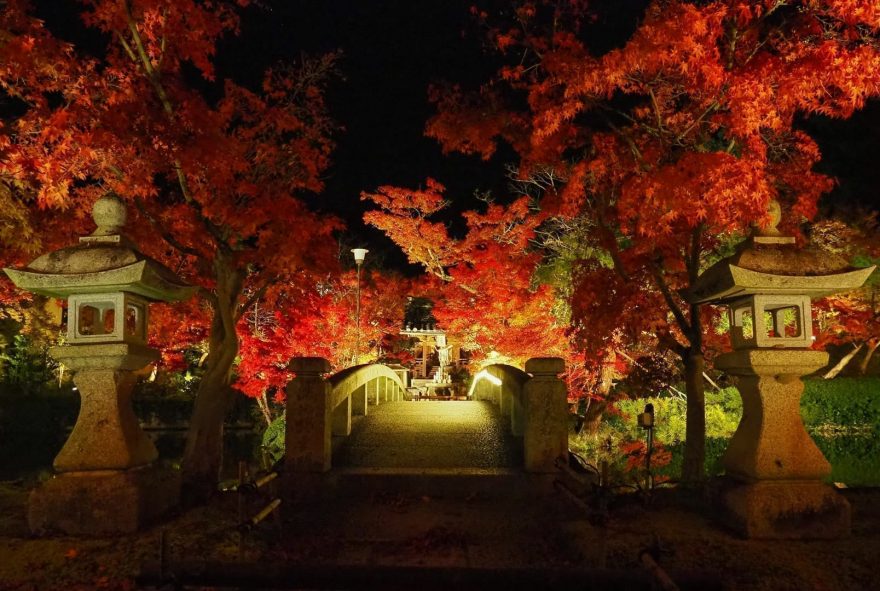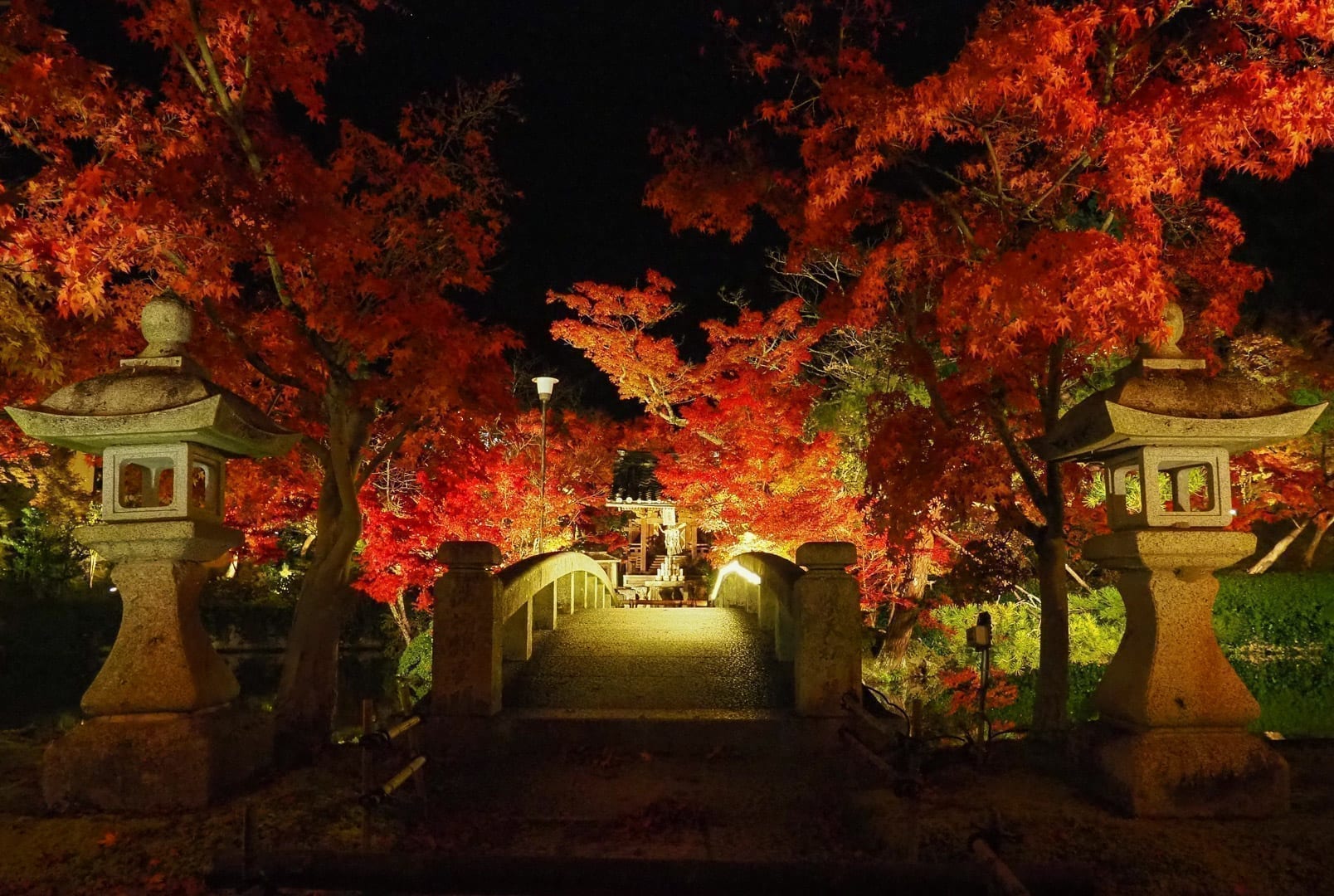 Why You Should Be Booking Hotels in Japan Now
August 25, 2022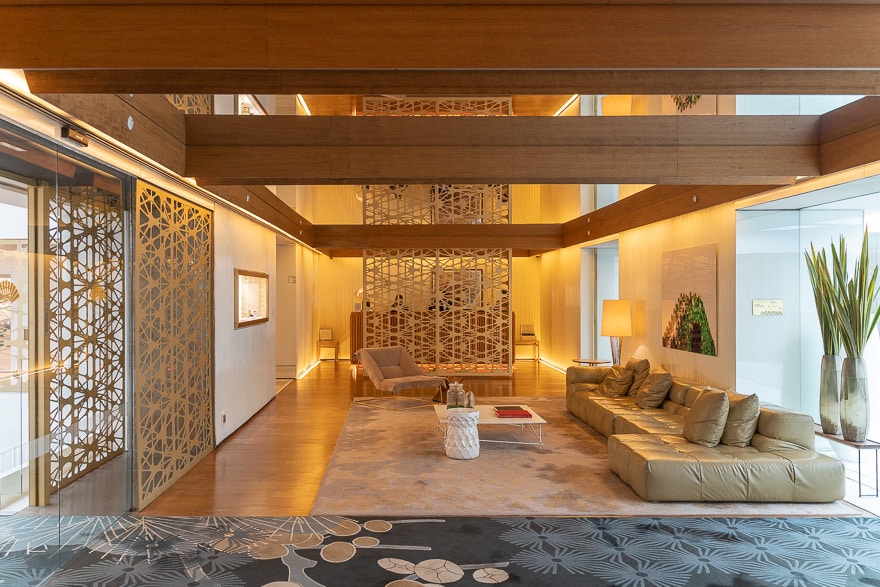 REVIEW – Mandarin Oriental Barcelona
September 29, 2022
Amanpuri
Room Type: Partial Ocean Pool Pavilion
Typical Nightly Rate: ☀️$3,500 , ☔️$2,100
Stay Type: Hosted stay
Loyalty Program: Virtuoso
---
Intro
---
Aman is famed for being the world's most luxurious hotel brand.
A place where guests never need to give their room number or sign at the end of the meal because staff will always know who they are.
Where other hotels might have 100 sun loungers around a pool, Amans will have 20.
When you're at Aman, even when the occupancy is high it should feel like you almost have the place to yourself and there's never any need to ask for anything. All of your needs will be anticipated, often well in advance of you realising that there is anything more that you may desire.
Having visited a number Amans in the past and still considering Amanoi to be my personal #1 hotel in the world, I was very interested to finally visit "The Mothership".
Amanpuri was built in 1988 as the first ever Aman hotel and has developed an almost cult-like following over the decades since….
---
Booking
---
Our clients are able to enjoy additional Virtuoso benefits when booking Amanpuri, such as:
Upgrade on arrival, subject to availability
Daily breakfast for up to two guests per bedroom
$100USD equivalent Food & Beverage credit utilized during stay (not combinable, not valid on room rate, no cash value if not redeemed in full)
Early check-in / Late check-out, subject to availability
Complimentary Wi-Fi
Room rates and payment terms match the Aman.com website exactly, with payment taken directly by Aman during your stay.
You can book a Virtuoso rate at Amanpuri using our online booking portal:
BOOK AMANPURI WITH VIRTUOSO BENEFITS
If you're booking with us for the first time, here's a quick guide on how to use the booking portal:
It's also always worth dropping us an email to see if a better offer is available, or if you need help building a more complex itinerary with multiple hotels
---
Arrival
---
I would always suggest booking a hotel car for the full Aman experience.
Hosts will greet you directly in the airport arrivals hall and from the moment that you catch sight of them, you instantly feel like you are free from the chaos of Phuket airport.
The interior of the luxury van was incredibly spacious and comfortable:
The driver spoke perfect English and we were offered glass bottles of Evian, scented towels topped with a fresh flower, Aman sanitiser and of course charging cables and wifi.
Interestingly there are no signposts for Amanpuri, we appeared to be following signposts for The Surin the whole time until we caught our first glimpse of some Amanpuri branding.
Security is always very tight at Amans. Given that the 1% of the 1% tend to holiday here, the need for both discretion and security is paramount. Once we were through the checkpoint it felt like we'd entered a different world.
As our car approached the reception pavilion it felt like we were entering a grand temple rather than a hotel.
A row of smartly uniformed staff were waiting to greet us and unload our baggage for us, with management staff sparking up a brief explanation in which our previous Aman experiences were discussed together with a brief history of this particular property.
We were asked if we'd like a brief overview of the hotel as our bags were whisked away to our room. Passing through the entrance of the lacquered wooden pavilion it was hard to believe that this hotel was 34 years old.
Thanks to an annual closure in the month of June, the hotel is kept looking immaculate. Together with the maintenance work, small updates are made each year to ensure that the latest technology is always subtly incorporated into the design. (Much like the Park Hyatt Tokyo, which manages to be a perfect time capsule of the 1990s, with not a single scratch or scuff to be seen.)
As we walked towards the ocean view, the floorboards very gently creaked beneath our feet and suddenly we were met with our first glimpse of the hotel's iconic pool.
It was a similar feeling to setting foot in New York for the first time, in my early 20s. Images of Amanpuri's pool are so ubiquitous in the luxury travel space, that I almost felt like I'd been here before.
Nothing however can truly prepare you for how pristine this setting is in person. Aman hotels don't feel like hotels, they feel like palaces; you half expect to see guided tour groups walking through them, learning about how emperors from a bygone era used to live.
The act of being in such a serene and tranquil space almost feels transgressive. You can't help but think to yourself, "Is this really for me? Do I get to be the emperor?"
That, in effect, is the essence of Aman.
But I'm getting ahead of myself.
During our brief tour, our wonderful hostess Nan noticed that Kamara was using her hand to shade her forehead from the sun and immediately ran over to fetch her an umbrella for some proper shade. An example of the small but subtle ways in which Aman service works.
As we looked around these beautiful tropical surroundings we saw a great deal of wildlife. The balance between architecture and nature is done in a way which allows one to genuinely complement the other.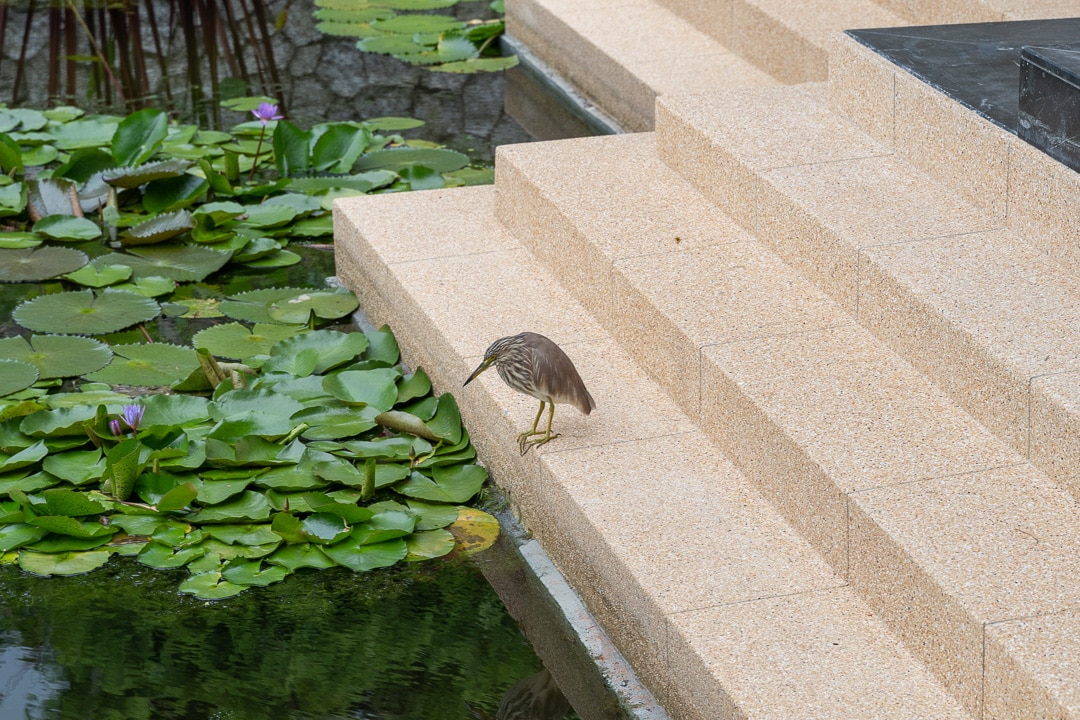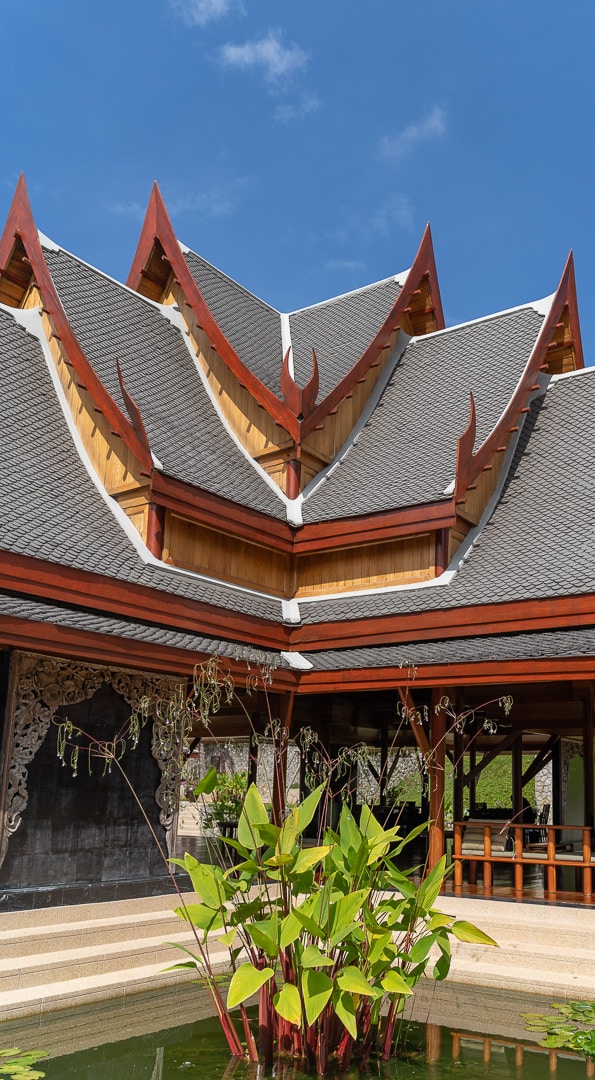 After being shown the location of various restaurants and facilities, Nan offered to drive us to our villa, taking a scenic route to show us the gym on the way too, since we had mentioned that we liked to exercise every day.
Since the roads at Amanpuri are quite steep, the resort has switched to using customised Mitsubishi cars to shuttle guests around the resort.
I found the attention to detail of the vehicle customisation to be rather remarkable.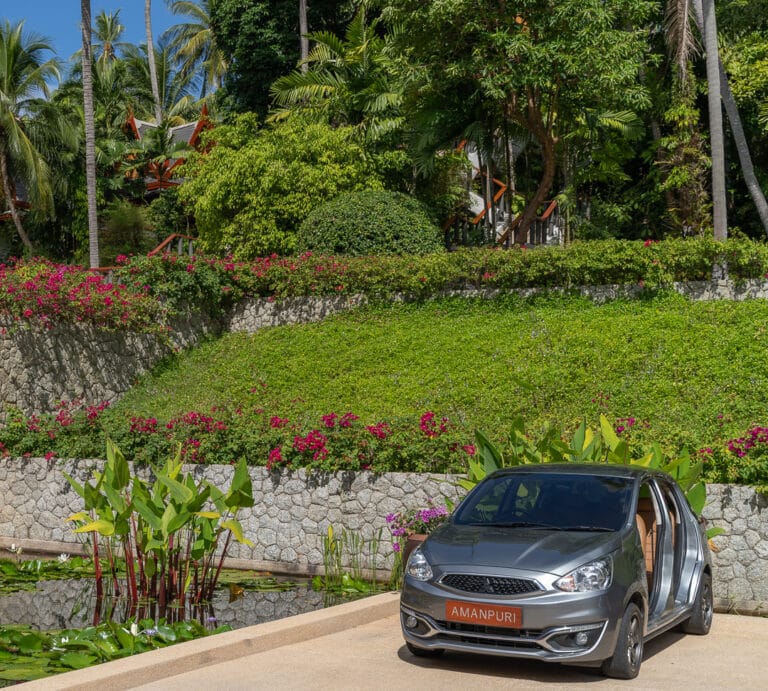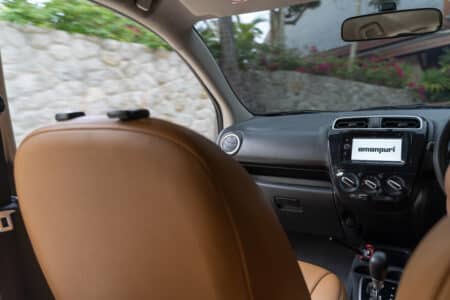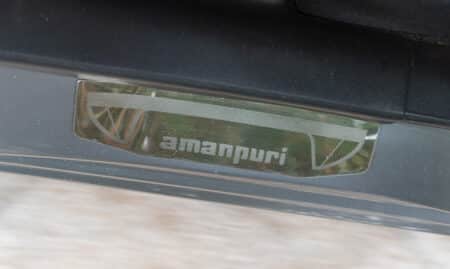 ---
Partial Ocean Pool Pavilion (905)
---
Resort Map
Amanpuri consists of the central pool area and beach, with the Pavilions located at either side. Further outside of the blue box you have Phase 2 and Phase 3 villas on the left and Phase 4 villas on the right.
Pavilion 905 Location
Our Pavilion was located to the East of the main pool area, in the smaller block of pavilions.

Interestingly, when looking at an early Ed Tuttle sketch for Amanpuri, it seems that 905 was the only pavilion initially designed with a private pool (and to this day it remains the only pavilion with two outdoor salas, rather than one). Presumably this means that it would have been Aman founder Adrian Zecha's room, when he was staying on property.
[I highly recommend reading Radit Mahindro's excellent "A Quite Long History of Balinese Hotel Architecture" from which this image was taken.]
Our Pavilion could easily be accessed on foot – via a series of jungle walkways.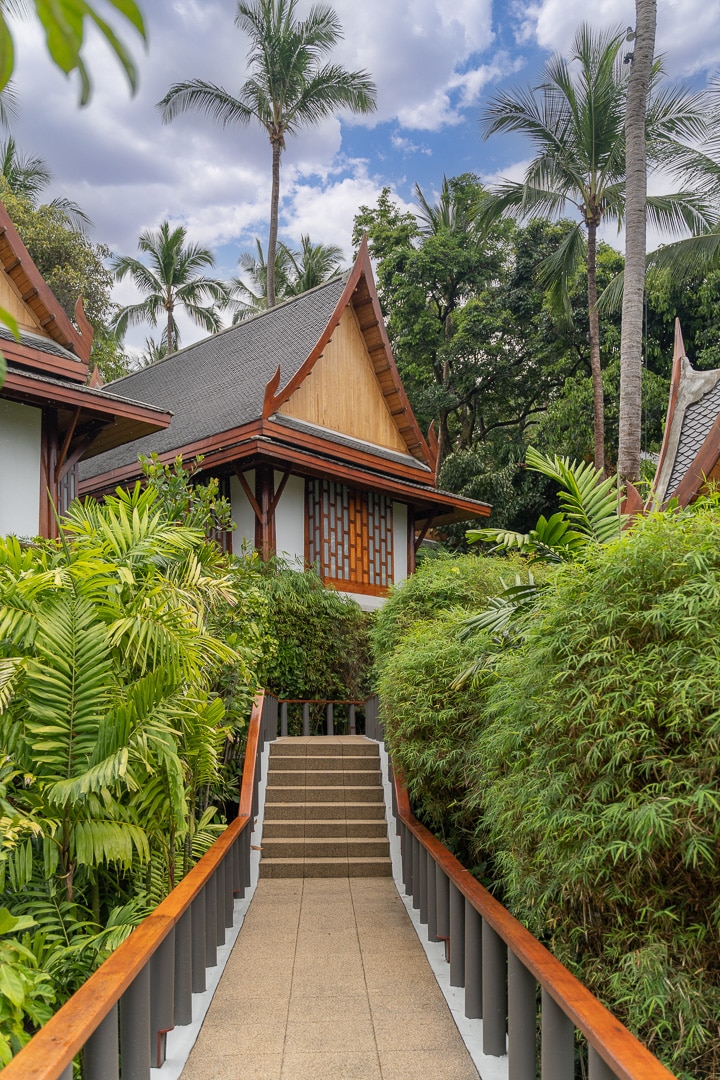 During our trips back and forth to the room, we walked past some of the lower category pavilions. On these walks it became abundantly clear that, for us at least, any room category below Partial Ocean Pool Pavilion would have been distinctly suboptimal.
I took these pictures on a rainy day, when I could be sure not to intrude on the privacy of those enjoying the outdoor space around their pavilions. Clearly, privacy is more or less non existent for any of the lower room categories at Amanpuri.
Compare this to Trisara, where even the most modest rooms feature sunset facing infinity pools and complete privacy. Personally I'd be tempted to ignore the existence of the lower room categories at Amanpuri entirely.
I understand that staying in an entry level room grants you access to all of the facilities and wonderful service here but for me the trade off is too high. When I'm staying somewhere tropical I need a pool and that pool needs to be private.
In contrast to this, our Partial Ocean Pool Pavilion was located at the very top of the footpath, with no pavilions overlooking it, or even at the same height for that matter.
Reaching the top of the stairs, we emerged right onto our expansive and private outdoor pool area: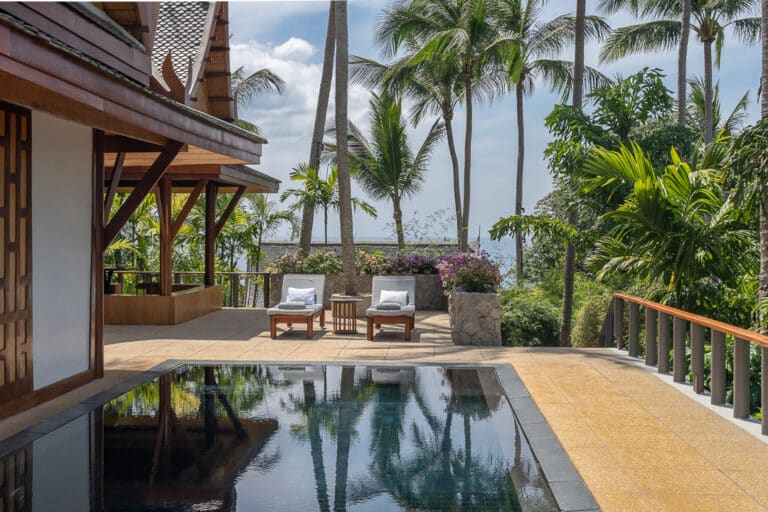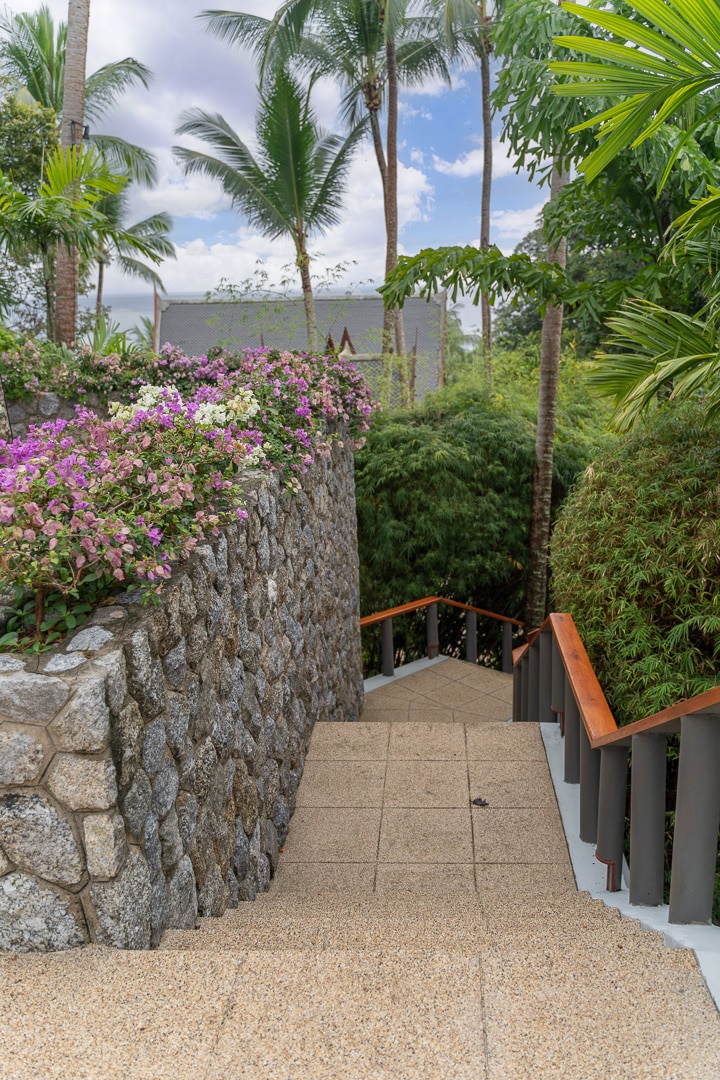 Video Room Tour
View this post on Instagram
Outdoor Space
The outdoor space surrounding our pavilion was truly remarkable. We had ocean views on multiple sides, with this sala giving us a West facing view over the hotel's beach.
When we first arrived out our pavilion, having been driven here by Nan, we found some ice cold coconuts waiting for us under the shade of this beautifully ornate sala.
Nan said that she'd arranged for this, as she'd noticed that we looked hot when showing us around. She said that coconuts are perfect for cooling down on a hot day. (It also helped that the sala had a powerful overhead fan that could be controlled from the bedroom.)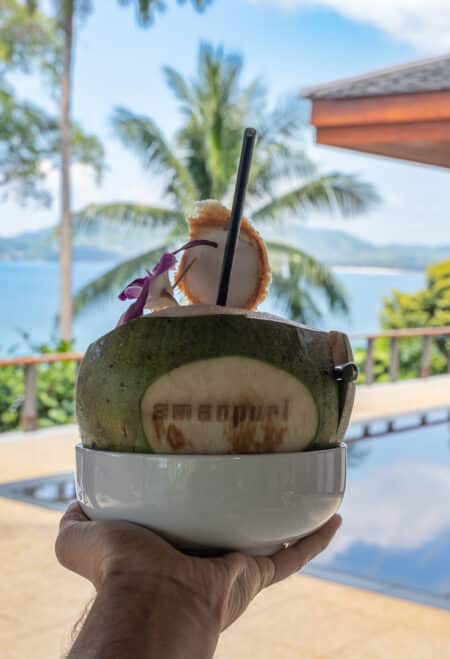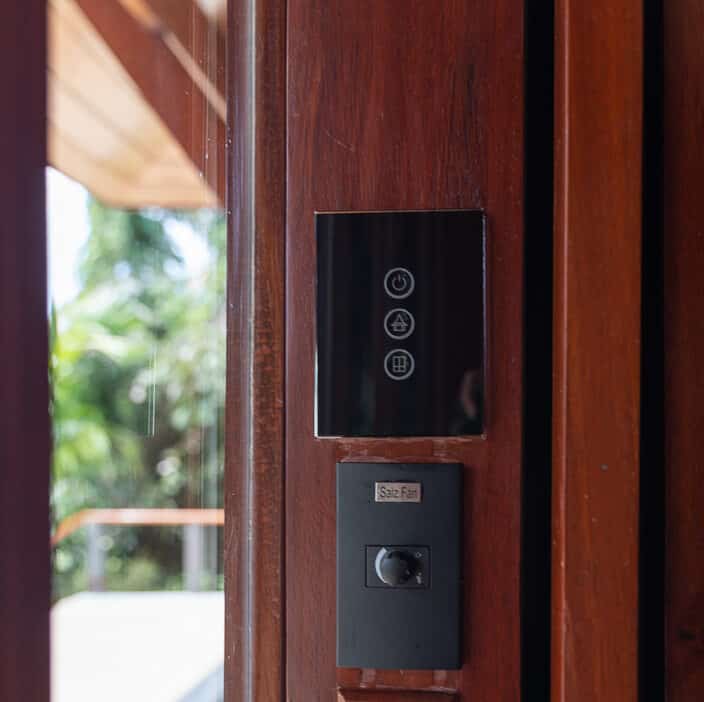 Next to the sala was a set of luxuriously padded sun loungers featuring fitted towel sheets, towel pillows and extra towels for good measure.
Throughout Amanpuri, the quality of the joinery was readily apparent. These loungers felt heavy and robust but of course had been fitted with pads to reduce noise, should you choose to move them around.
You may be asking yourself where the shade is but of course the Aman team thought of this. A second set of sun loungers was located at the opposite end of our pool, complete with a large parasol.
The ocean view from the sala may indeed have been vanishingly distant but the views around the pool were another matter entirely. Privacy along the pool was absolute, as it faced over a wonderful wilderness of palm trees.
Somehow this view managed to both give me Apocalypse Now vibes, whilst also feeling incredibly peaceful…that probably says more about me than it does about the view.
At the far end of the pool was the Partial Ocean View for which our accommodation was named. The only thing obstructing the view was the density of the tropical foliage around us, which in my mind was no great burden.
I've had the good fortune to stay in many overwater villas in my time but views like this are harder to find. (The far tip of the peninsula is actually Trisara.)
Next to these shaded sun loungers was a second sala; this one featured a Thai style sunken table, pillows and padding.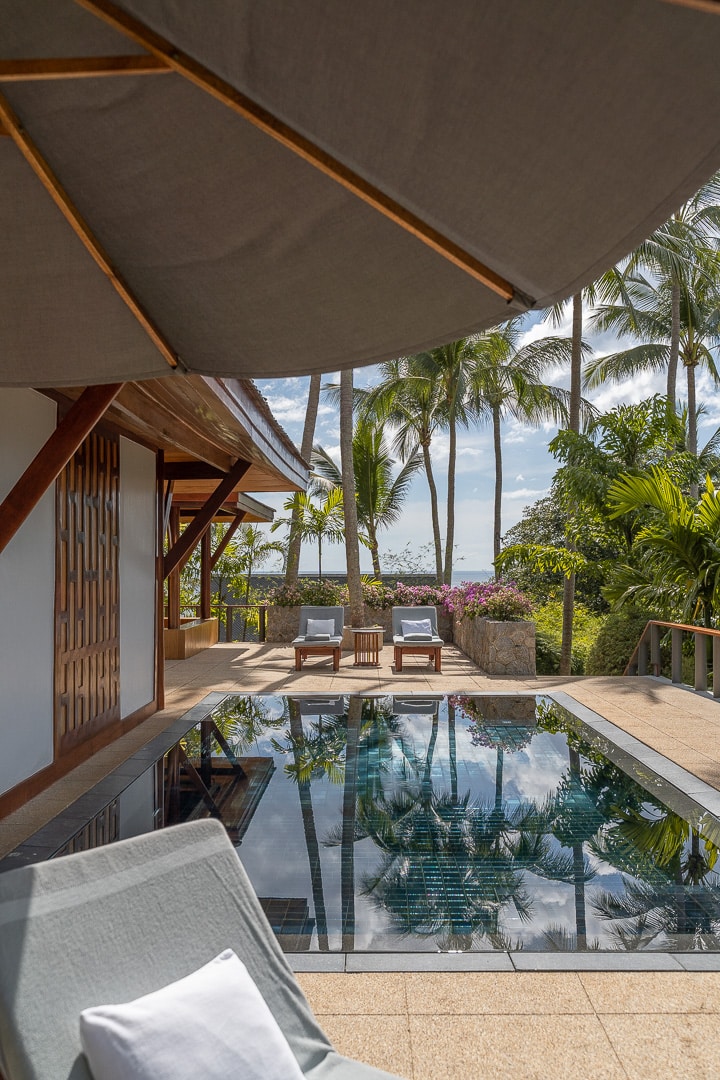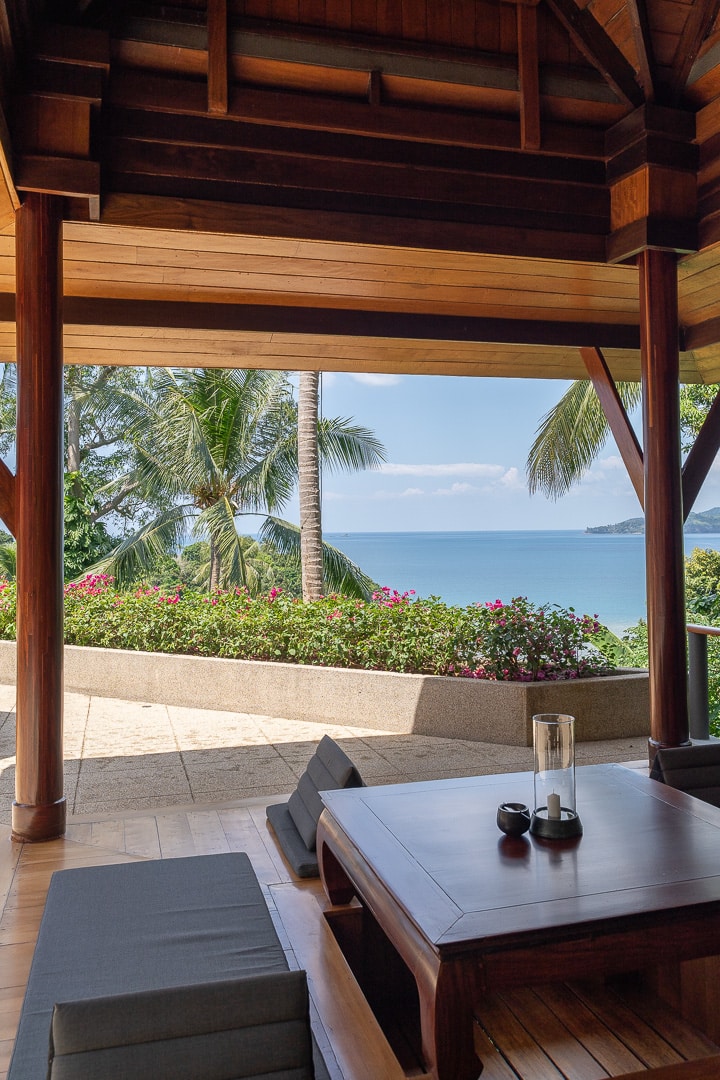 Bedroom
Much like the exteriors of the resort, the rooms are almost identical to when they were first built in 1988, with a few subtle changes to keep them modernised.
My camera corrupted my shot of the bed but thankfully this photo from the Aman website is identical to what we had. A gigantic bed, featuring firm feather pillows and an abundance of space on the adjacent bedside tables.
Placed on each of our bedside tables were images taken from my Instagram feed which had been printed out and framed. Anywhere else this would seem OTT but at Aman hotels this is fairly standard behaviour.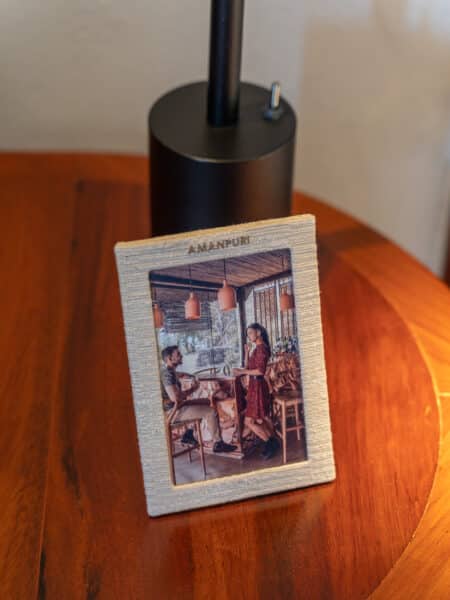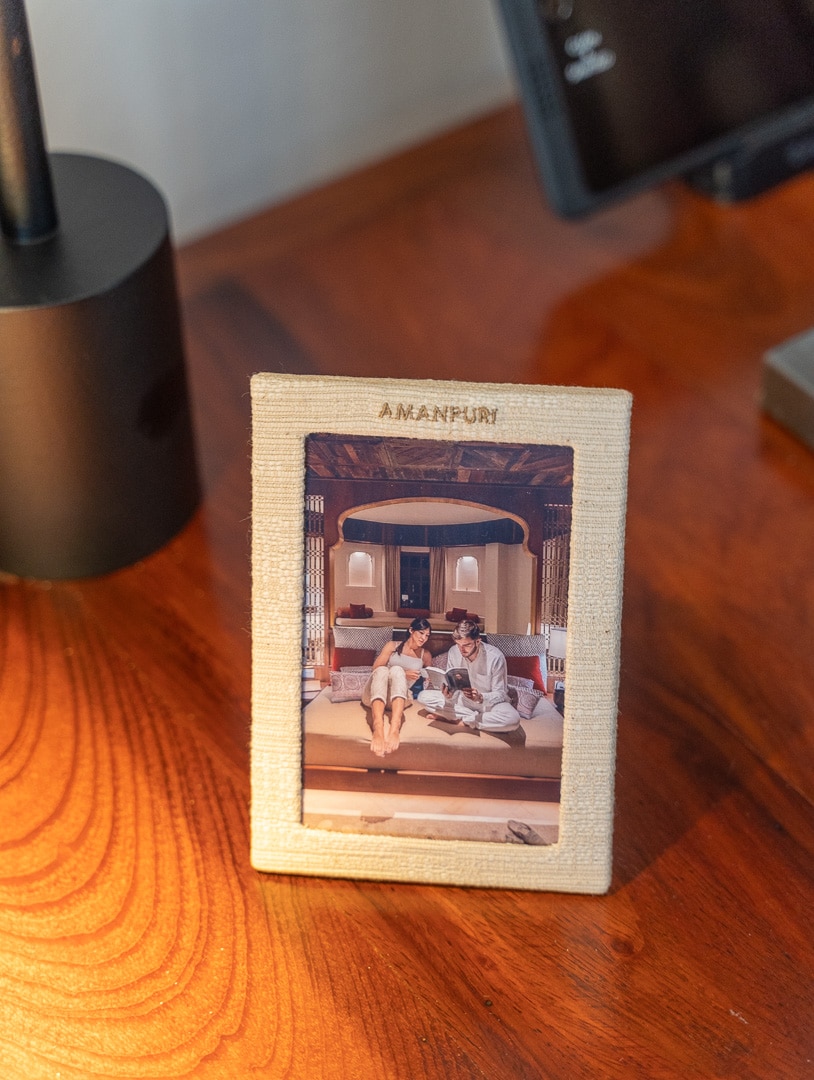 Each side of the bed had a panel of very easy to understand light switches that genuinely felt great to touch. The haptic quality was similar to that of Apple devices. Clearly some thought had gone into this.
The power situation was not as good though, power sockets were hidden away underneath the bedside tables and were difficult to access. I'd like to see these moved up to table height during a future June closure.
In fairness, on Kamara's side of the bed there was a tablet which not only featured room controls and resort info, but also offered USB power ports.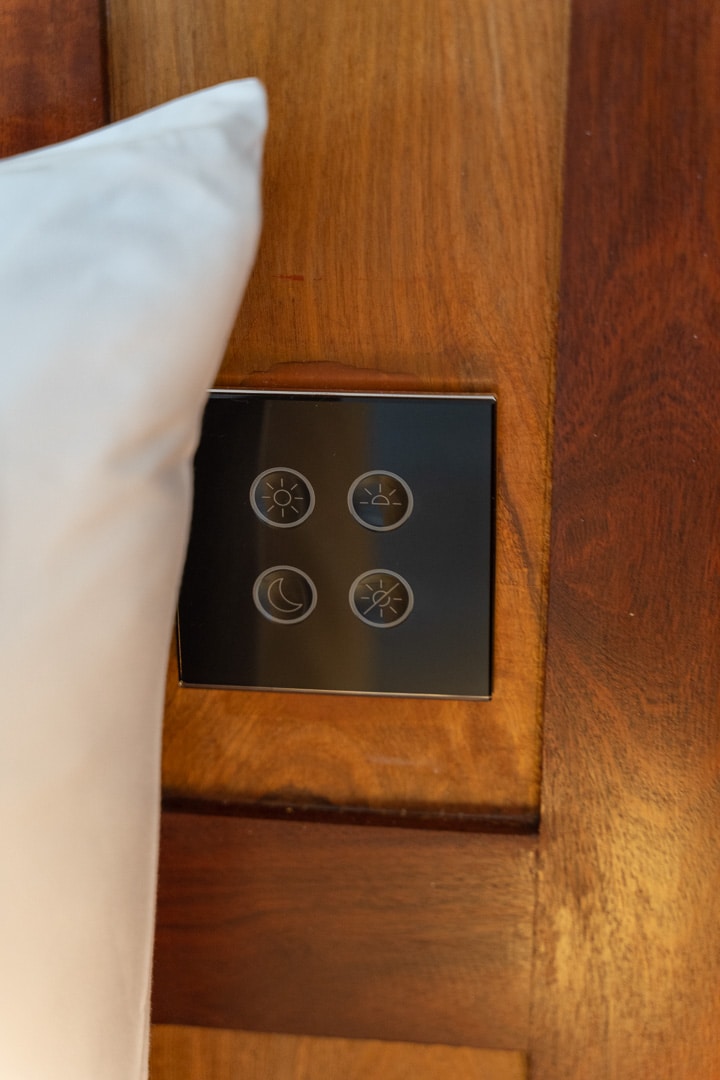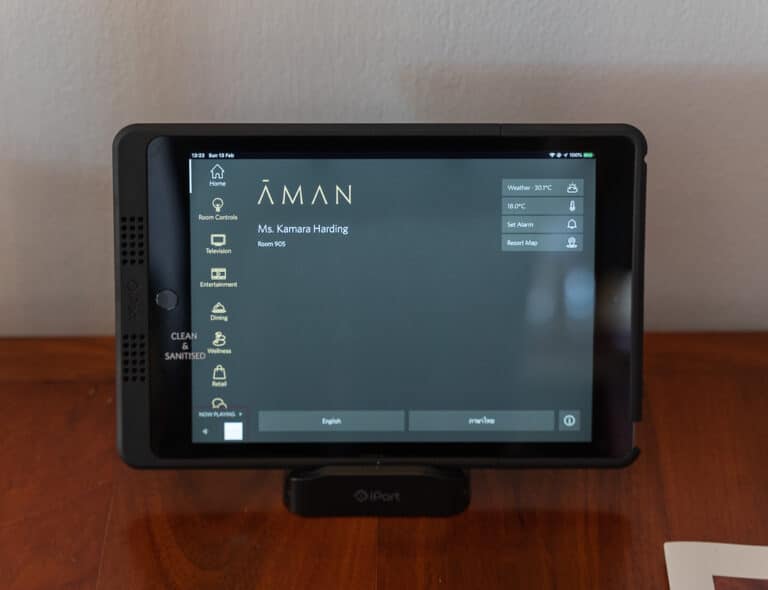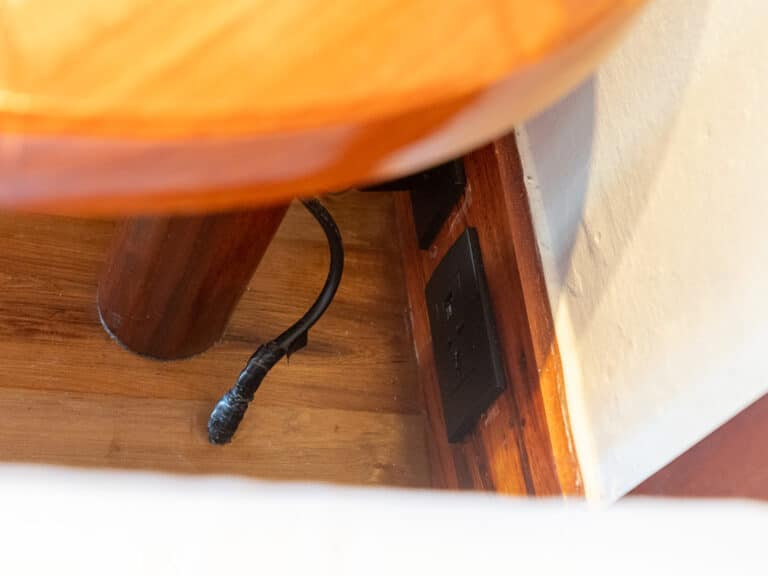 At the foot of the bed was a small sitting area that featured an armchair, an ottoman and a coffee table. This is where regular treats would be left for us throughout the stay.
When we first arrived there was bowl of tropical fruit (which was frequently replenished) together with a selection of delicious Thai sweets.
Aman hotels famously never used to have TVs, although in the era of flat screen TVs this has now changed. The TV in our pavilion was only visible when we slid closed the panel separating the bedroom from the bathroom.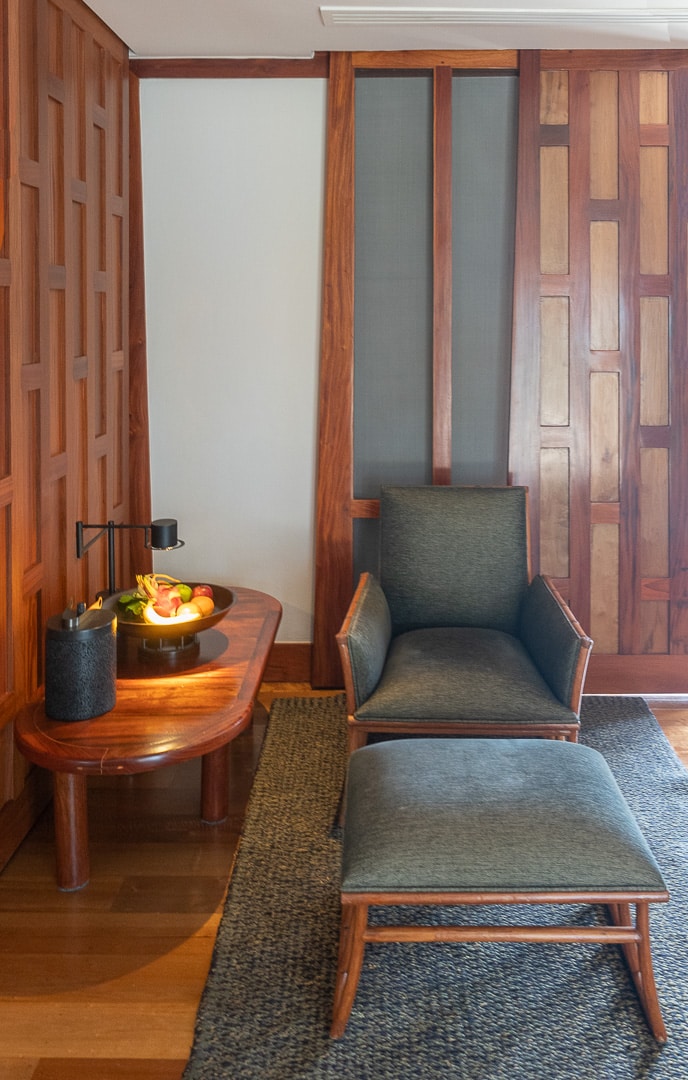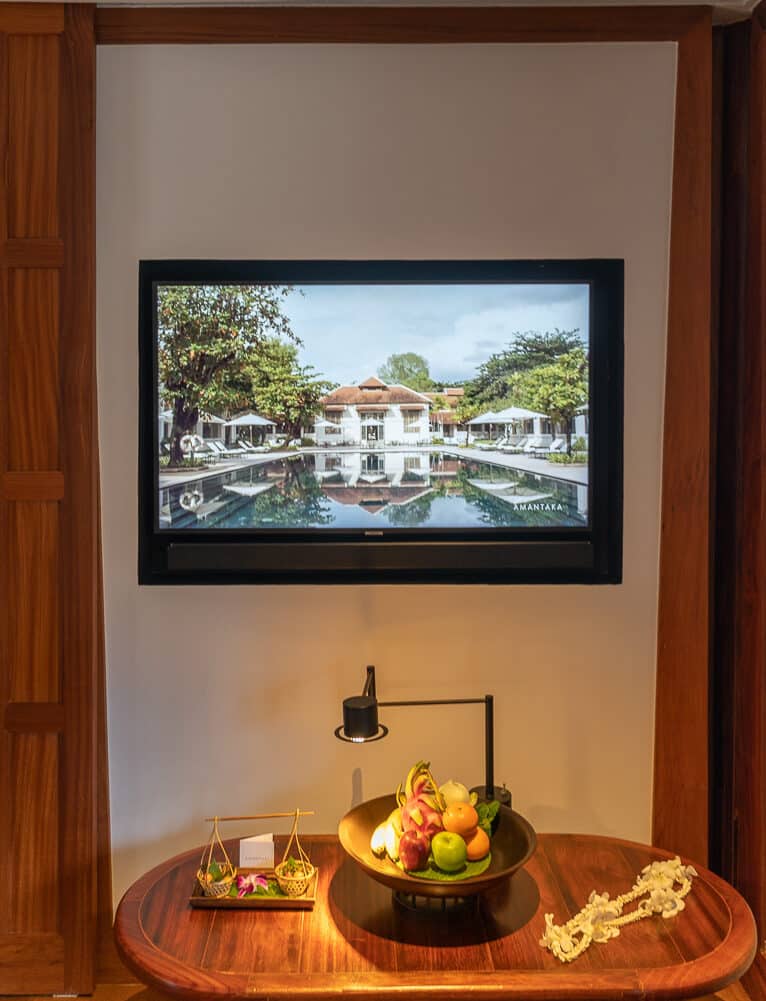 On the opposite side of the bedroom was an L shaped table that served as a desk and minibar area. Here there was a bottle of Laurent Perrier to welcome us, together with an LP branded champagne stopper.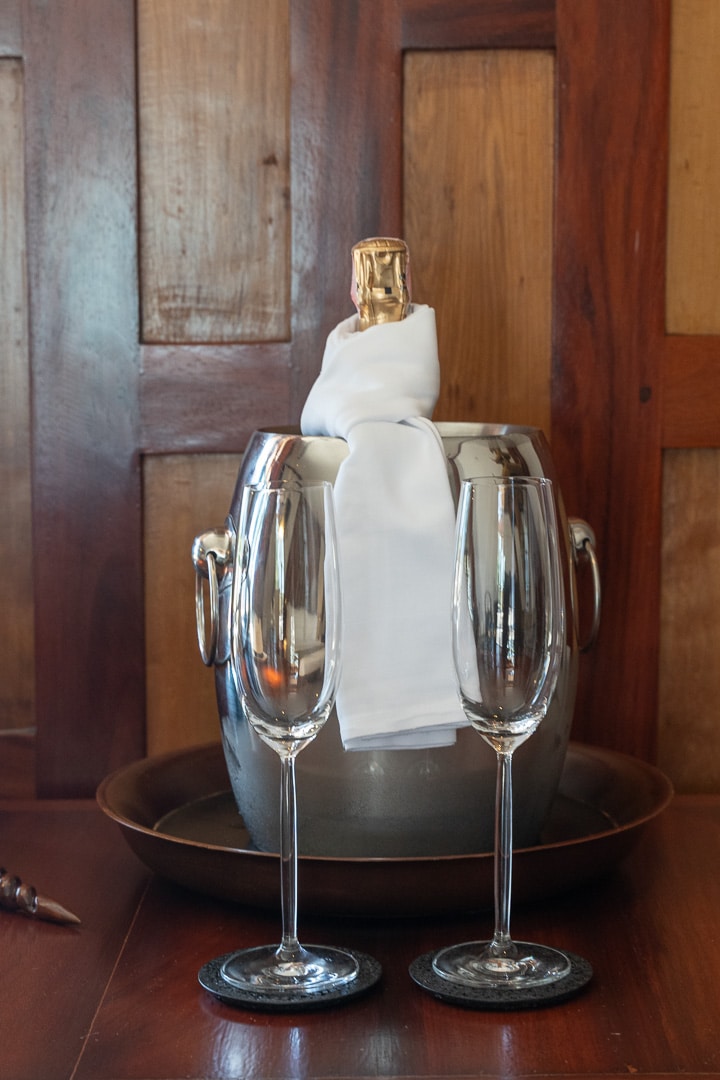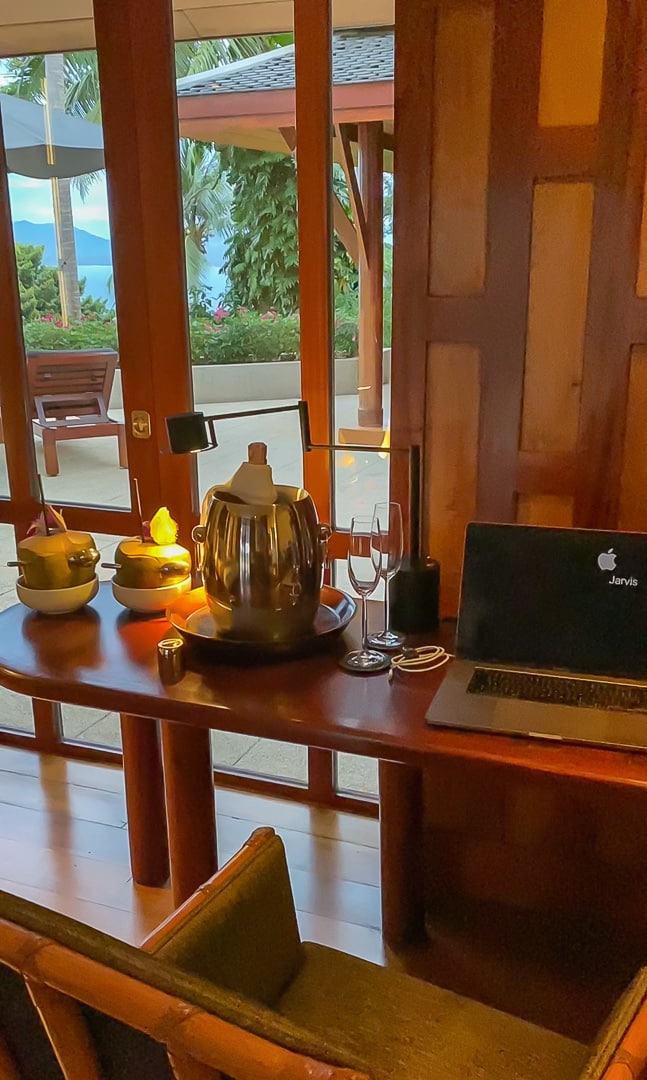 I made this my workspace and had plenty of room for two screens and had a pair of universal power sockets at my disposal. The moment that housekeeping first came into the room they immediately tidied all my cables, clipping high quality leather Amanpuri tidies around them, as well as providing a notepad and Amanpuri lens cloths.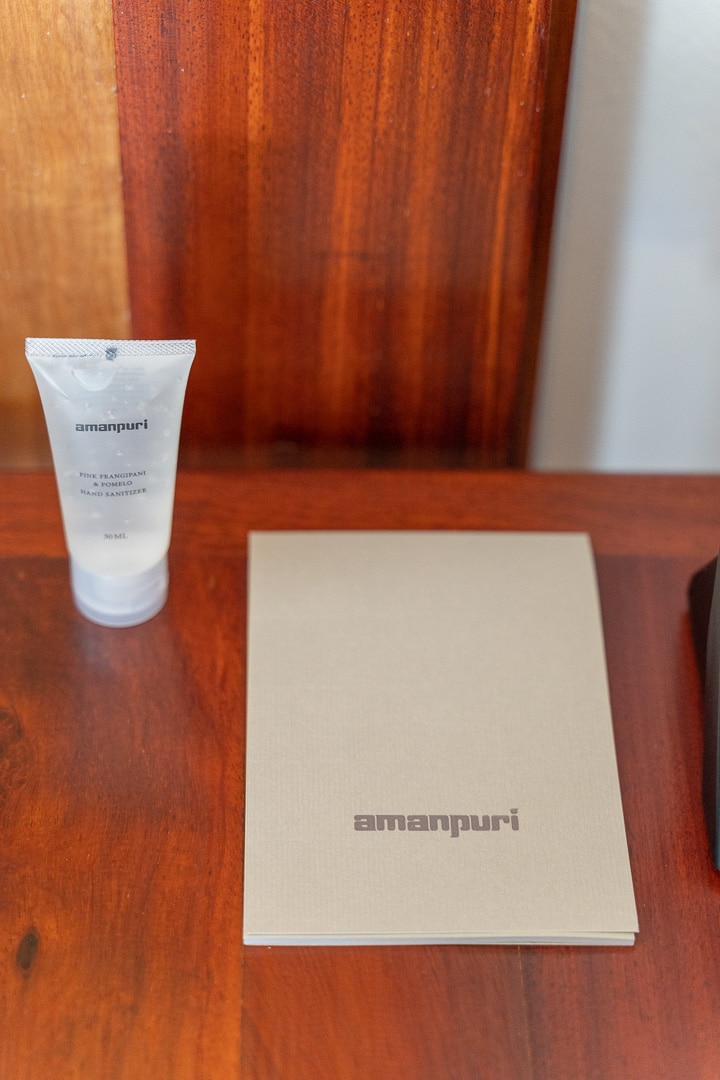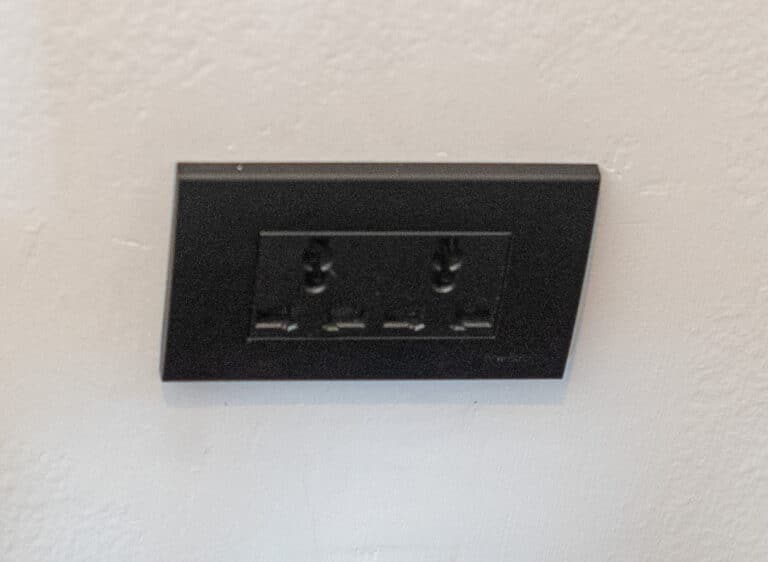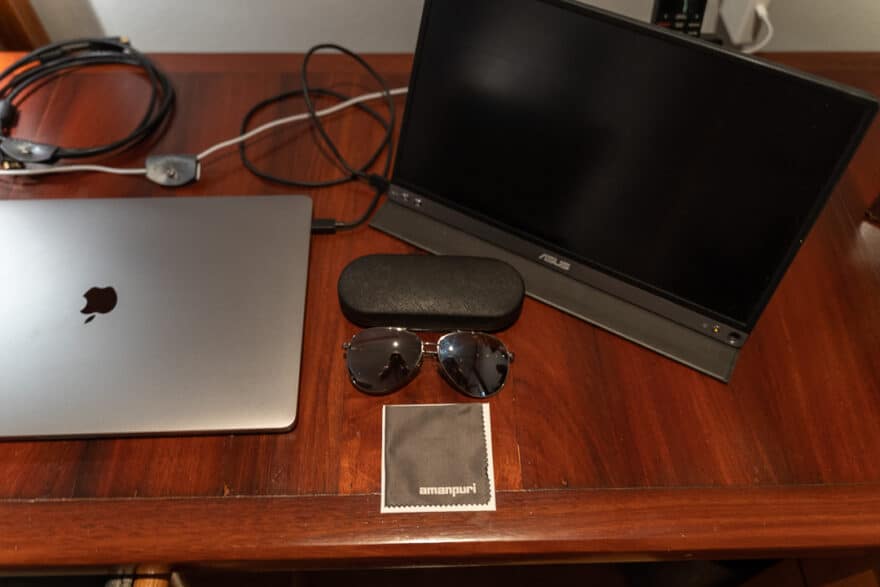 The minibar snacks and drinks are provided free of charge at Amanpuri and included some very high quality chocolate, lemongrass cashews and dried mango slices. When Nan was showing us the minibar she said we could have the drinks customised. I mentioned that we preferred Coke Zero to Coke and as soon as we returned to the room after taking a walk to the beach, the Coke Zero had been stocked.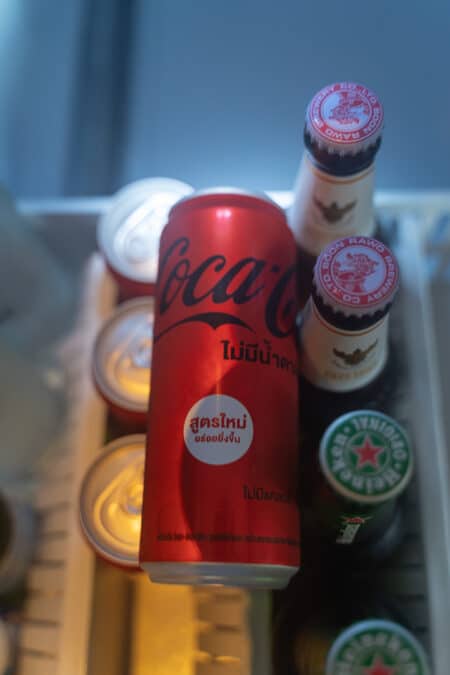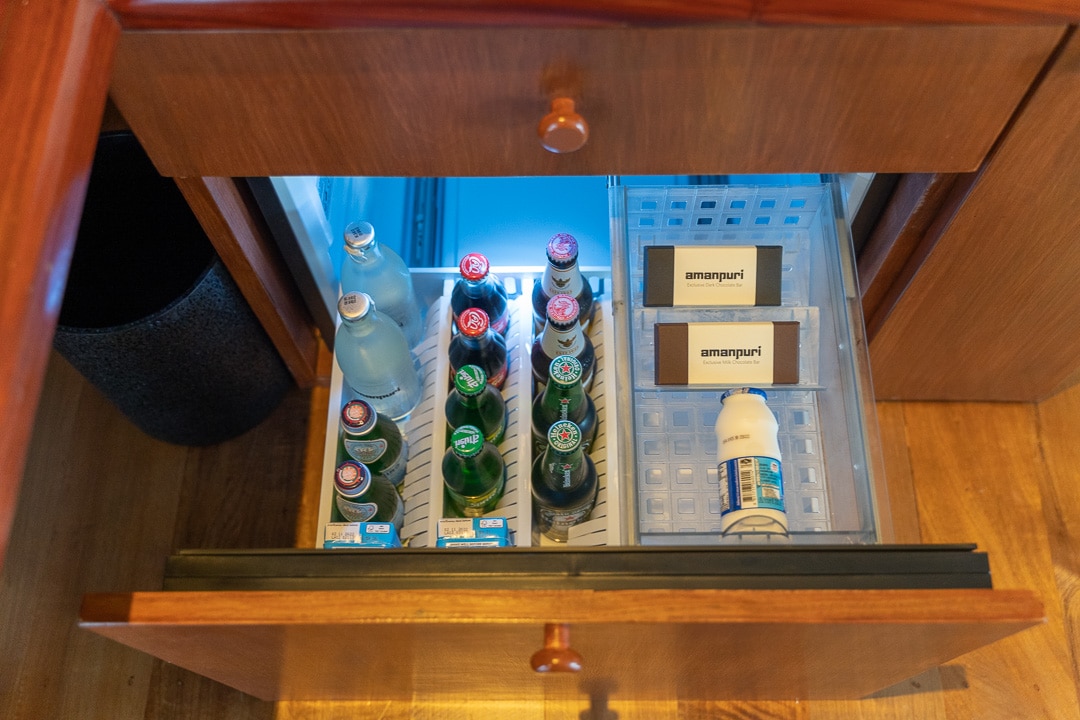 A full set of cutlery, plates, mugs and glasses was provided in the drawer above the minibar and included the same brand of cutlery that we use at home! Cutipol.
Prior to our arrival, the hotel reached out to see if we had any specific preferences, including any daily rituals that we might enjoy.
I mentioned firm feather pillows, which most hotels can't seem to manage (they're usually either firm OR feather – the answer to this is Ploh pillows, in case you were wondering) and I also mentioned that I make coffee every morning using a Vietnamese phin, ever since we stayed at Amanoi.
They sorted the pillows but didn't quite manage Amanoi robusta coffee, instead they supplied me with a pour over coffee kit including a hand grinder.
The gesture was greatly appreciated but given that the in-room coffee machines are Illy branded and approximately 100x faster at making coffee, I went with the machine after my one and only pour-over coffee on the first morning.
I've long argued that Nespresso machines are a bare minimum at somewhere like a midscale business hotel, with luxury properties needing machines by Illy, Segafredo or Lavazza. I'm glad to see that Amanpuri got the memo.
Bathroom
Another thing that I mentioned, pre-arrival, was that Kamara's favourite flowers are bird of paradise flowers. A huge bouquet of these was placed in the centre of the bathroom, filling the space with life.
(So far only one Aman has been unable to provide these flowers in the room upon request and that was my least favourite Aman stay overall: Amanbagh.)
We each had our own sink on opposite sides of the bathroom. These featured plenty of counter space and came with bottled water, Aman toiletries and a supply of fluffy towels of varying sizes.
I took the sink on the right, which was adjacent to the sliding panel, which opened onto the outdoors.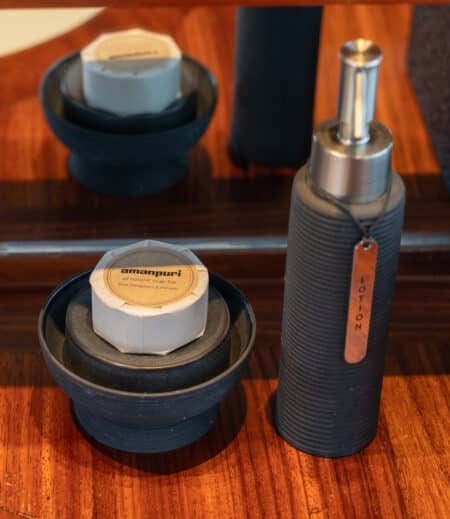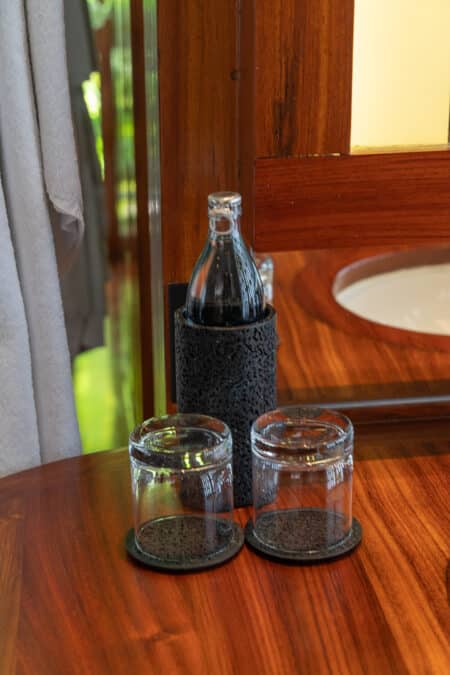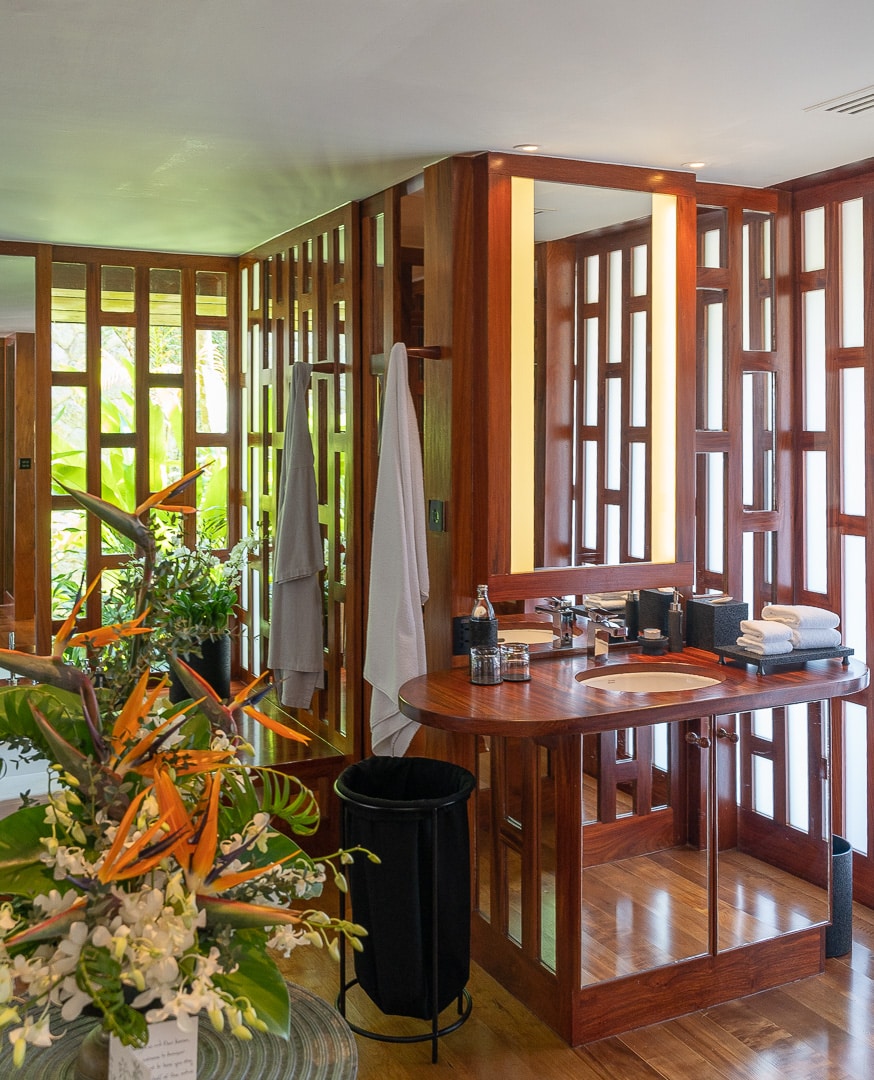 Kamara's sink had a magnifying mirror and an additional luggage storage space to the left of it, with multiple drawers underneath.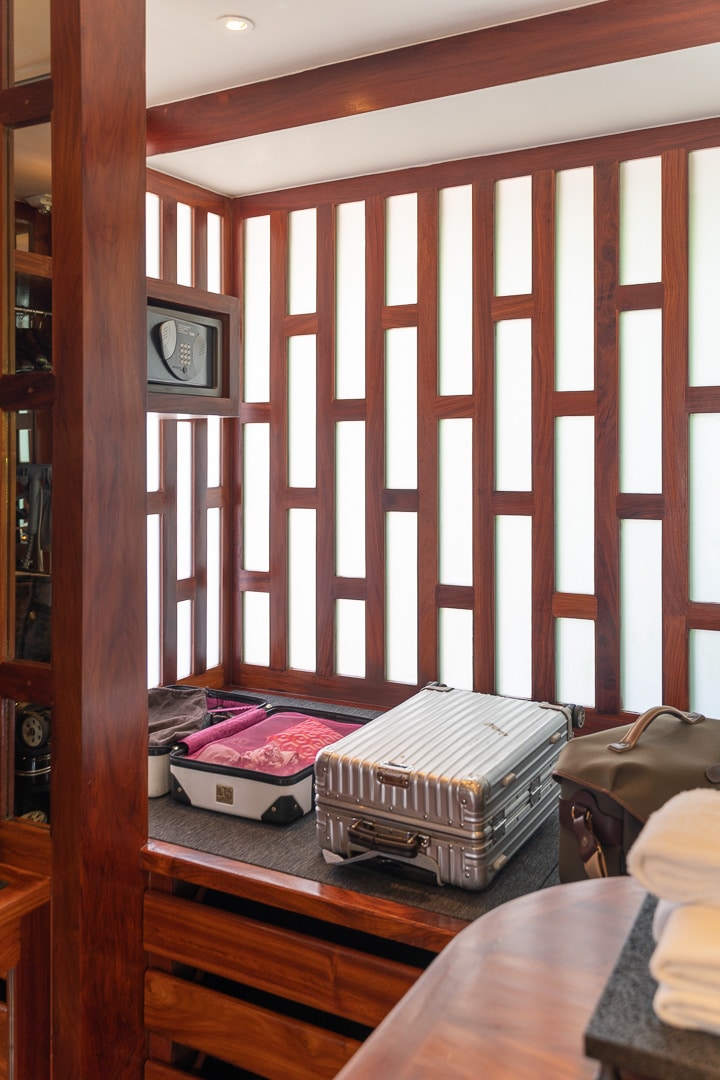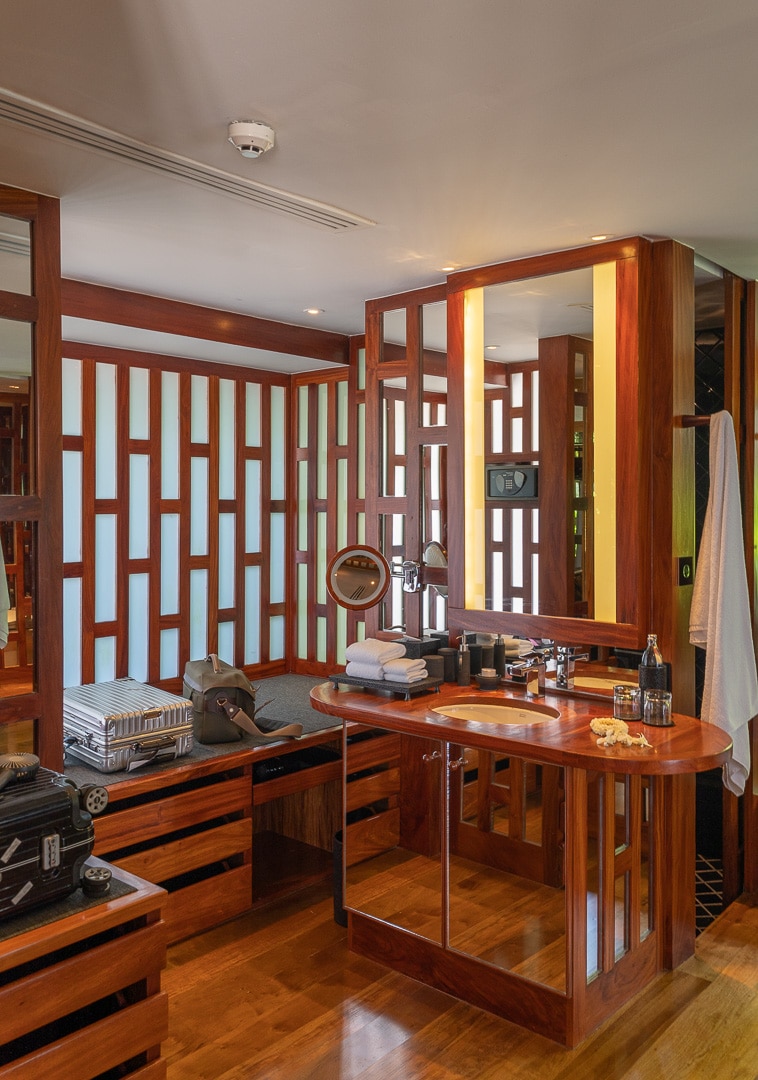 In addition to this we each had an open wardrobe space behind each of our respective sinks. These also came with additional storage drawers.
On Kamara's side there was an Amanpuri beach bag complete with internal pockets and a magnetic clasp. She'd also been left a broad brimmed sun hat but when Nan saw that Kamara already had one of her own, she arranged to have it switched out for an Amanpuri cap, "so you have a reminder of your stay".
We had asked for a steam iron in our pre-arrival email and somehow ended up with a commercial, floor standing steamer!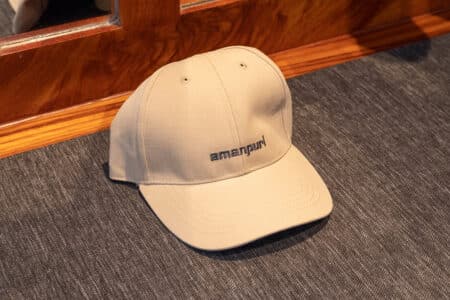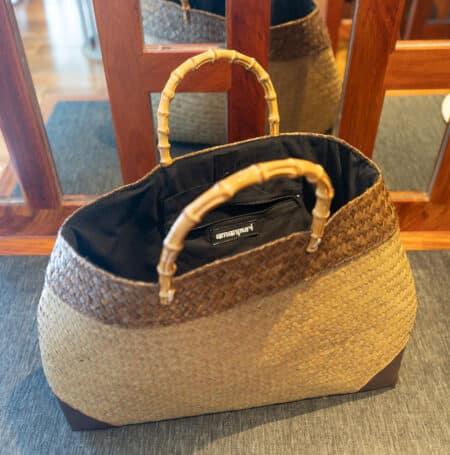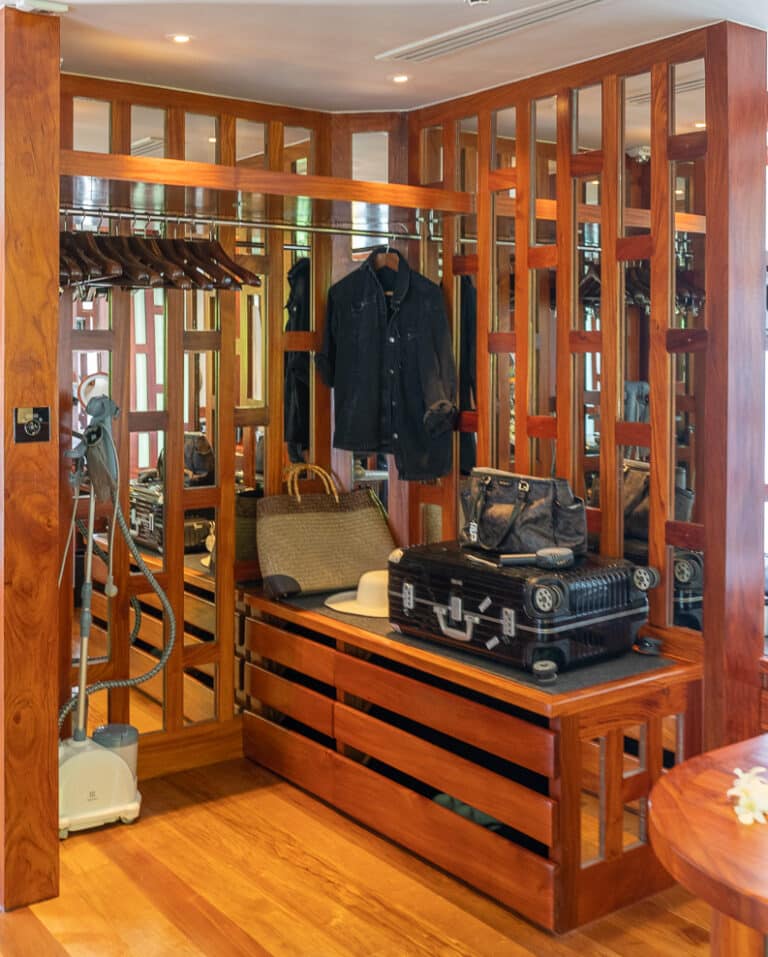 I was also given an Amanpuri cap but it was too small for my giant head (my Mum used to have to cut open the necks of my jumpers when I was in school: true story).
We were also both provided with some wonderfully cushioned house slippers as well as flip flops. I must say that I was impressed with the quality of the hangers on offer too.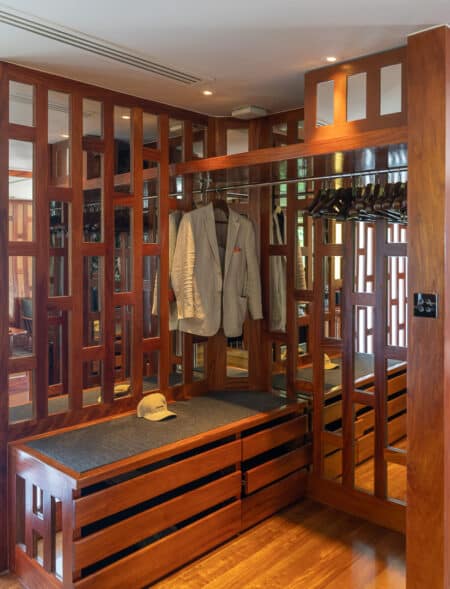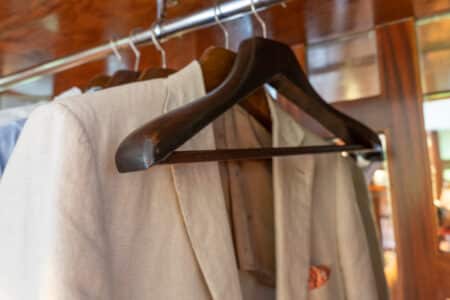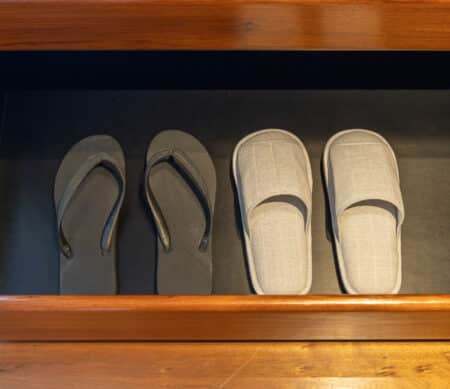 At the far end of the bathroom was a beautiful bathing area, featuring a deep soaking tub with abundant surrounding space for books, candles, wine, Barry White CDs, etc.
The combination of the windows and the mirrors really made the space very bright feeling. The addition of the flowers was a clever touch which helped to blur the boundaries between the inside and the outside.
On either side of the bath tub were two side rooms, one for the shower and one for the electronic Toto toilet.
The shower pressure was excellent and the quality of the Aman toiletries was wonderful too.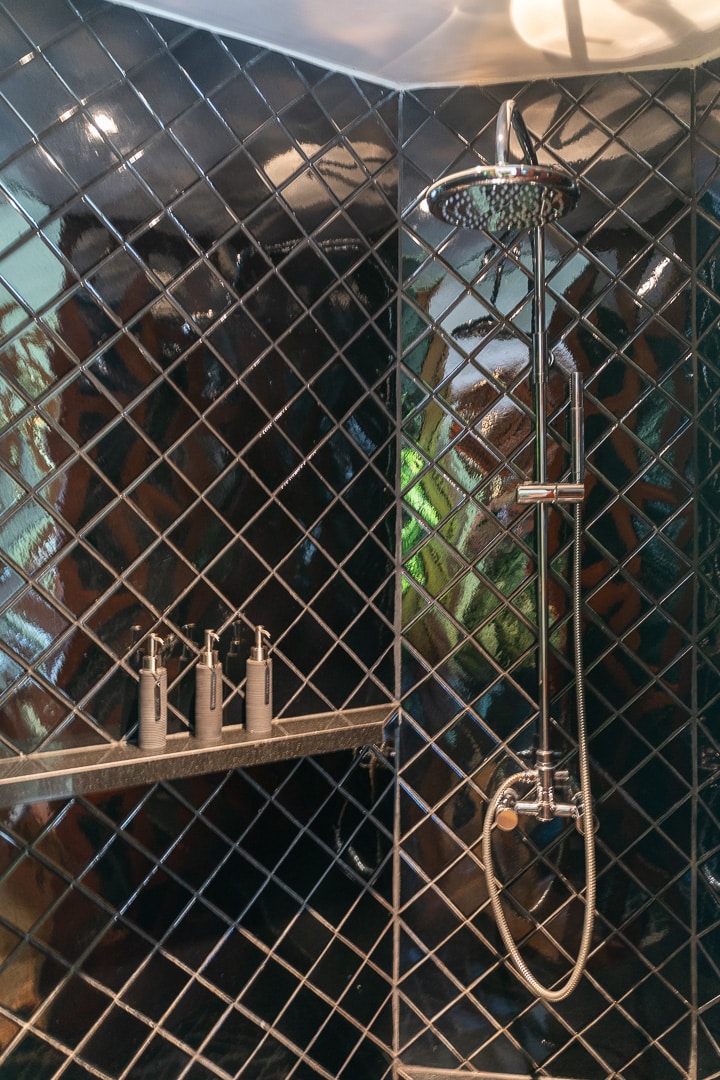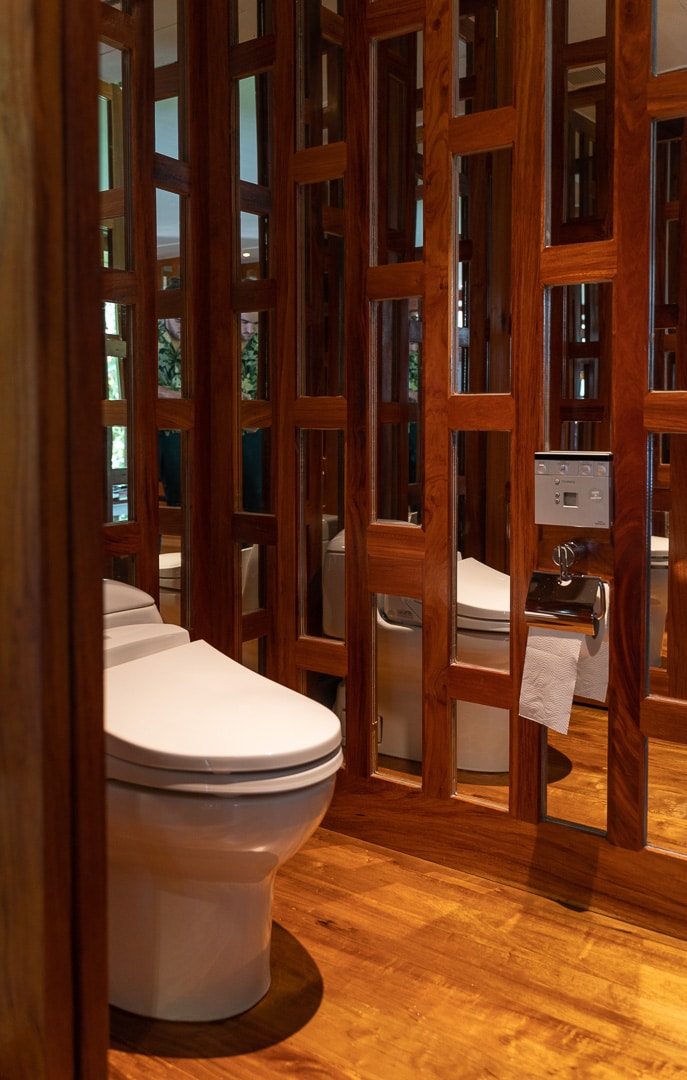 The bathroom also had its own separate A/C controls to ensure that one person could comfortably sit at the bedroom desk, as the other enjoyed a bath. There was also a tray of extra necessities on offer.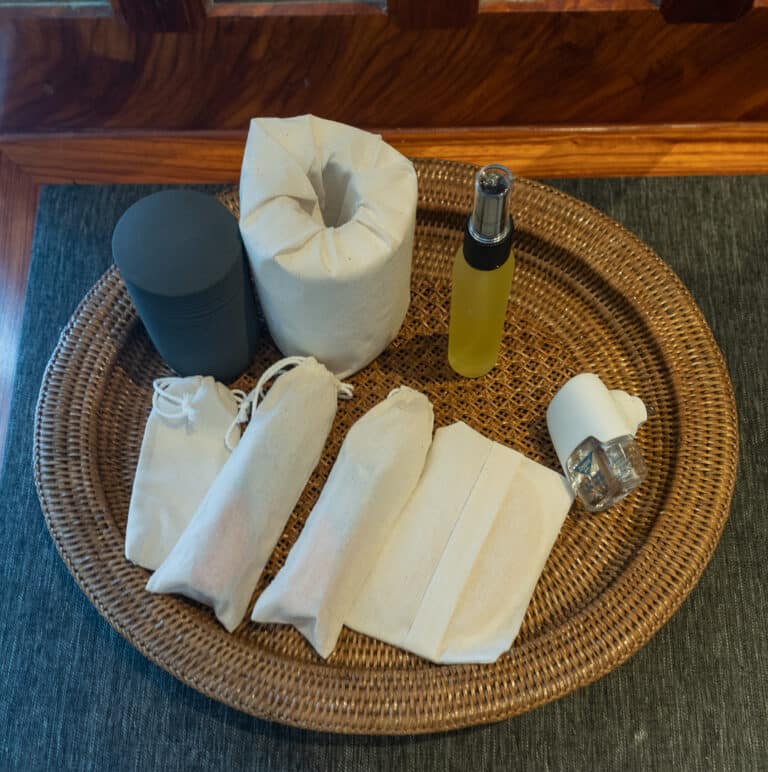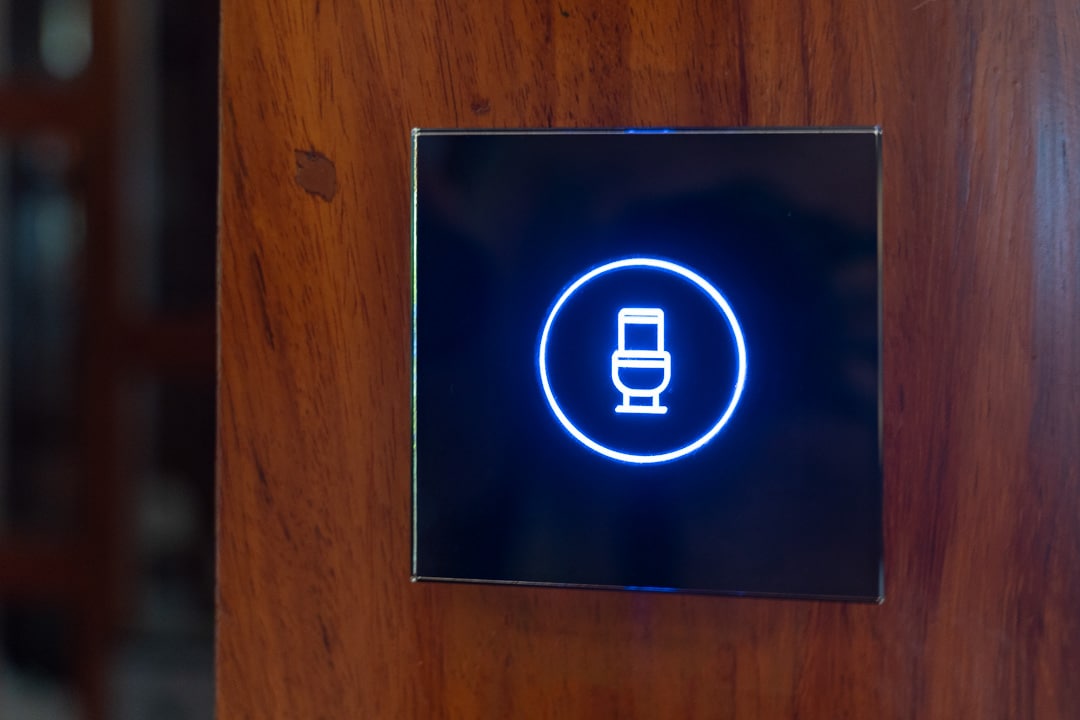 ---
Villas at Amanpuri
---
In addition to the hotel's Pavilions there are three of phases of standalone villas on offer. These are located on either side of the public resort areas and the regular guest pavilions.
Although villa guests are welcome to use the main resort facilities, most will spend the day at their private pools and have meals cooked for them by their personal villa staff.
It isn't much of a stretch to think of the Amanpuri Villas as being small standalone resorts.
The main resort is referred to as Phase 1 and was completed in 1988. The villas located in Phases 2 (1992) and Phase 3 (1994) are traditionally designed. Meanwhile those in Phase 4 (2012) tend more towards multi tiered buildings and less towards courtyards and individual pavilions for each bedroom.
Interestingly, Aman prices all villas equally depending on view (Garden or Ocean) and number of bedrooms. Neither the modernity of the villa or the layout have any bearing on the price.
On this occasion we visited Three Bedroom Villas in Phase 2 and Phase 4 as well as a Nine Bedroom Villa in Phase 4.
If you are interested in booking a villa at Amanpuri, we would be happy to help you make your decision based on which particular variables are most important to you.
Many of the villas have unique touches, implemented by their respective owners. This means that there are a huge number of elements to consider:
Views, steps, beach access, unique interiors, design of common areas, private gyms….even a golf simulator!
EMAIL FOR AMANPURI VILLA ENQUIRIES
---
3 Bedroom Villa (Phase 2)
---
This villa had a stepped entrance flanked by what appeared to be oversized elven bows from LOTR.
The steps mimicked the overall design of the villa, which worked its way down a hillside, to culminate in a pristine view of the water of The Andaman Ocean.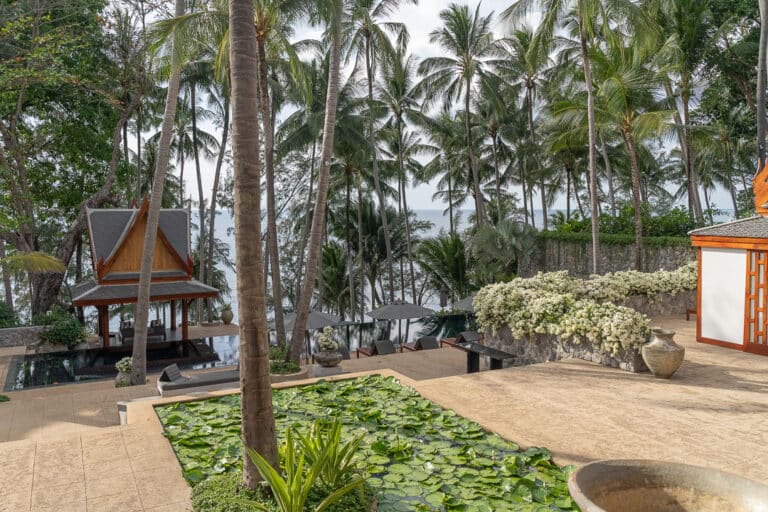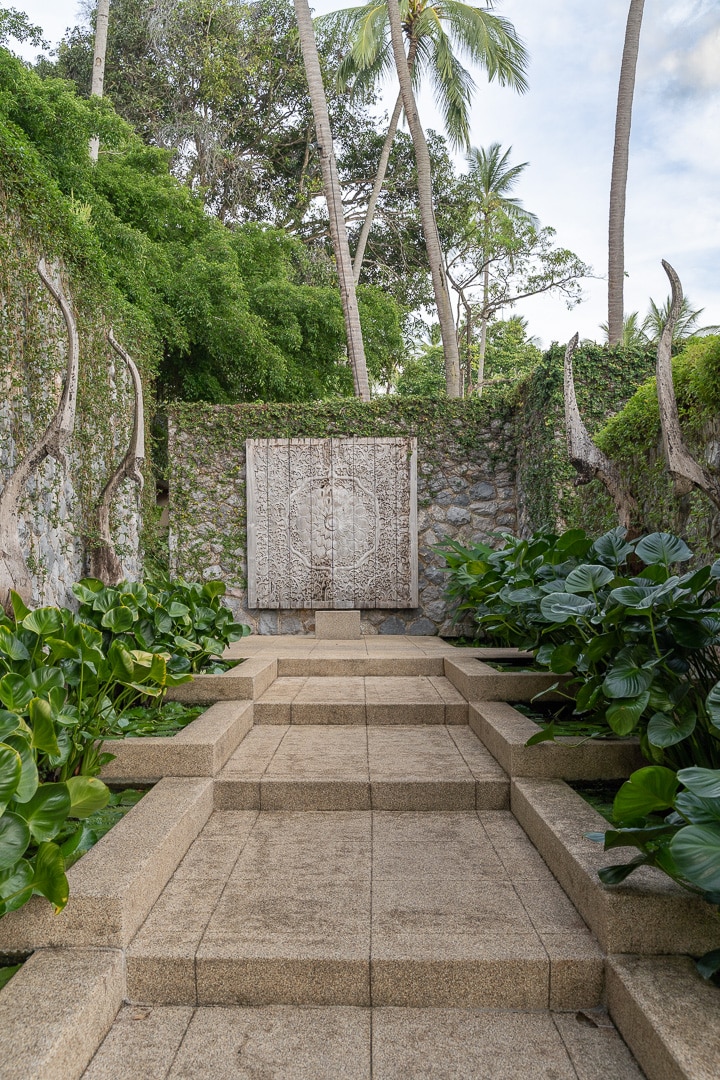 On the top level of the villa, next to the entrance, was a large indoor living room pavilion:
The interior was immaculately kept and the ceiling joinery looked like something you'd see inside a Thai temple. Extraordinary craftsmanship.
Adjacent to this was an outdoor sala, which enjoyed a privileged vantage point over the rest of the villa.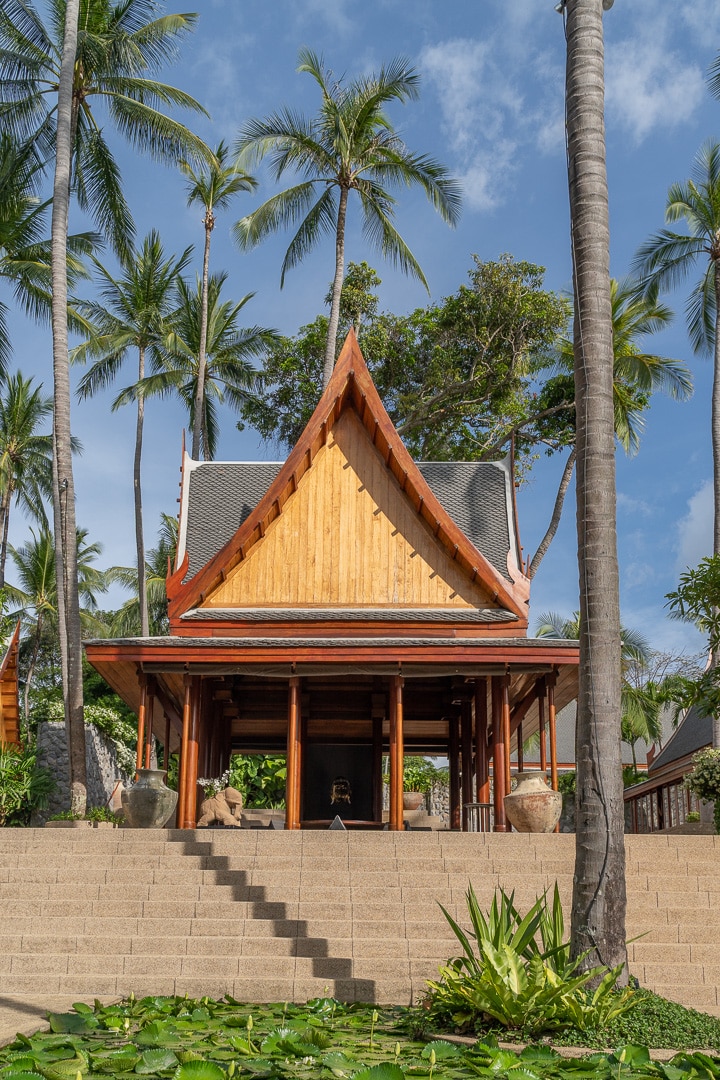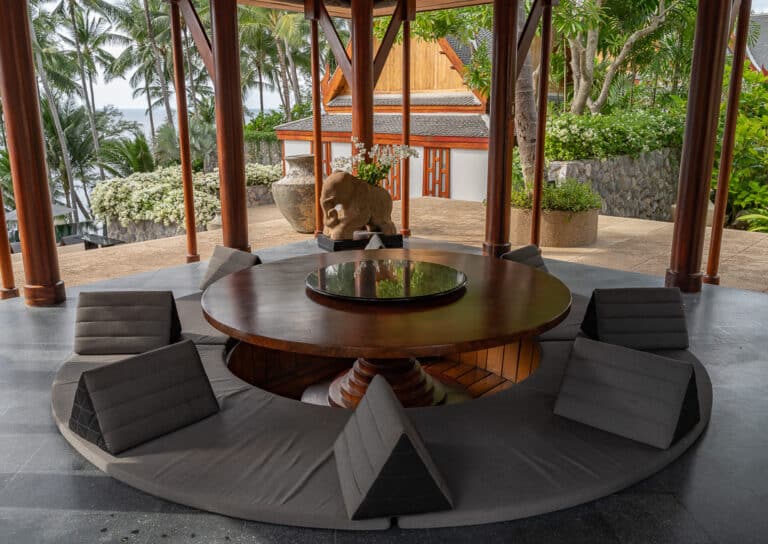 Standard Bedrooms
There were two bedroom pavilions located another level down, each of which was identical inside.
There is an Amanpuri housing association which ensure that all villas are maintained in a style which fits the aesthetic of Ed Tuttle's original design, as much as possible. However, there were some subtle differences between these rooms and our pavilion.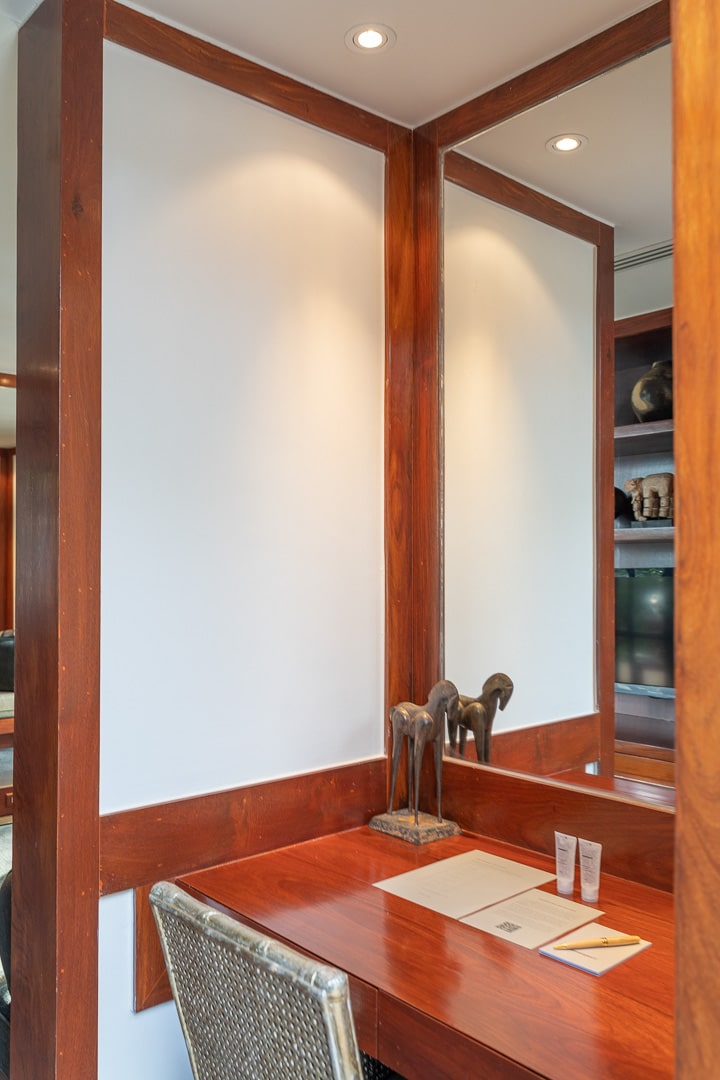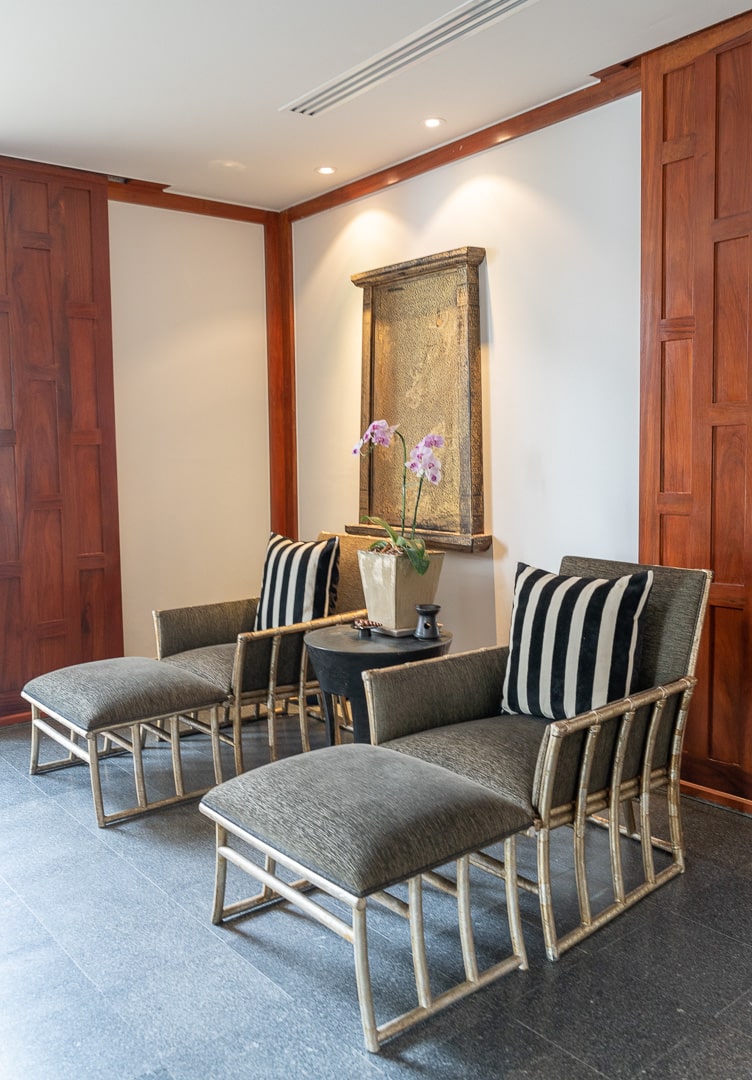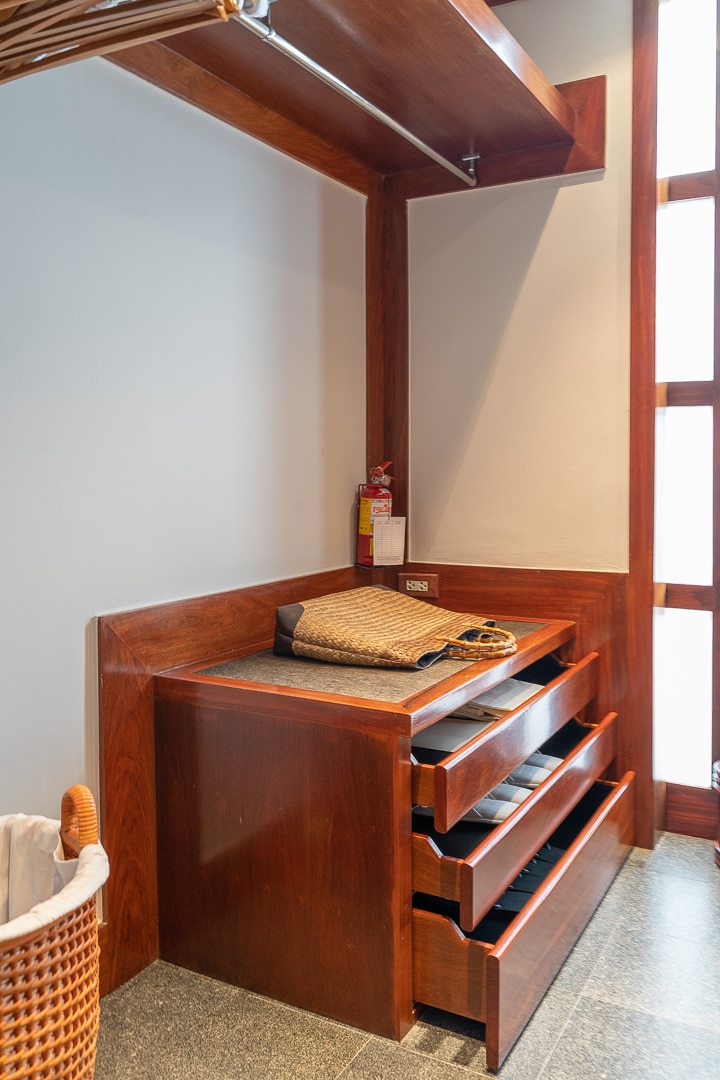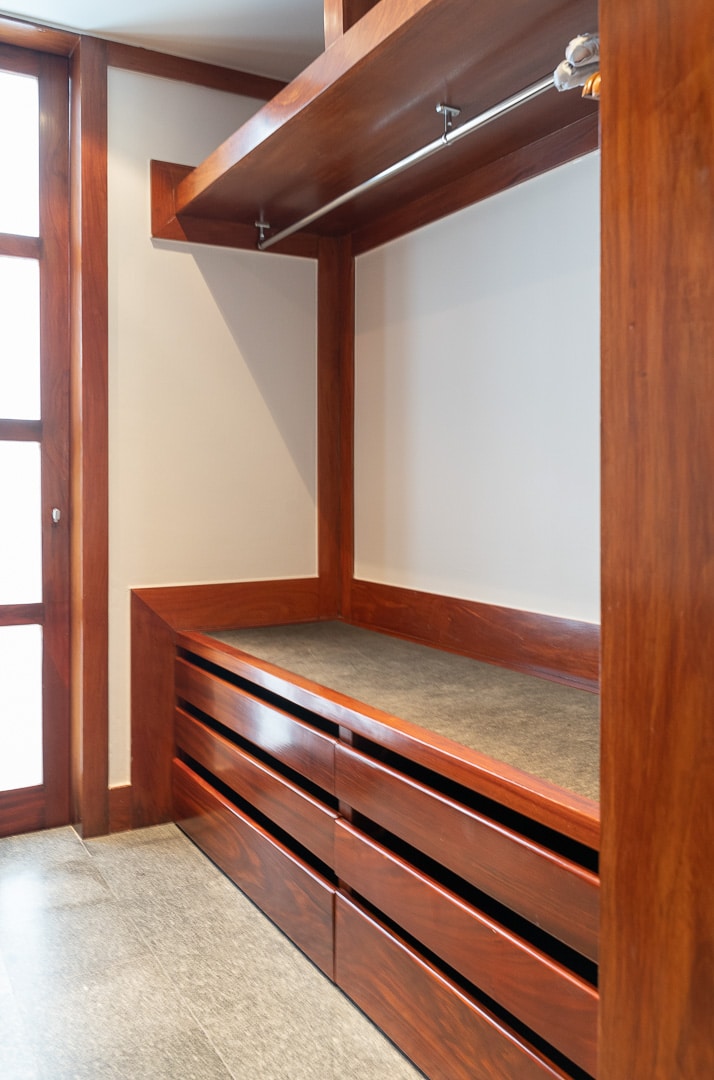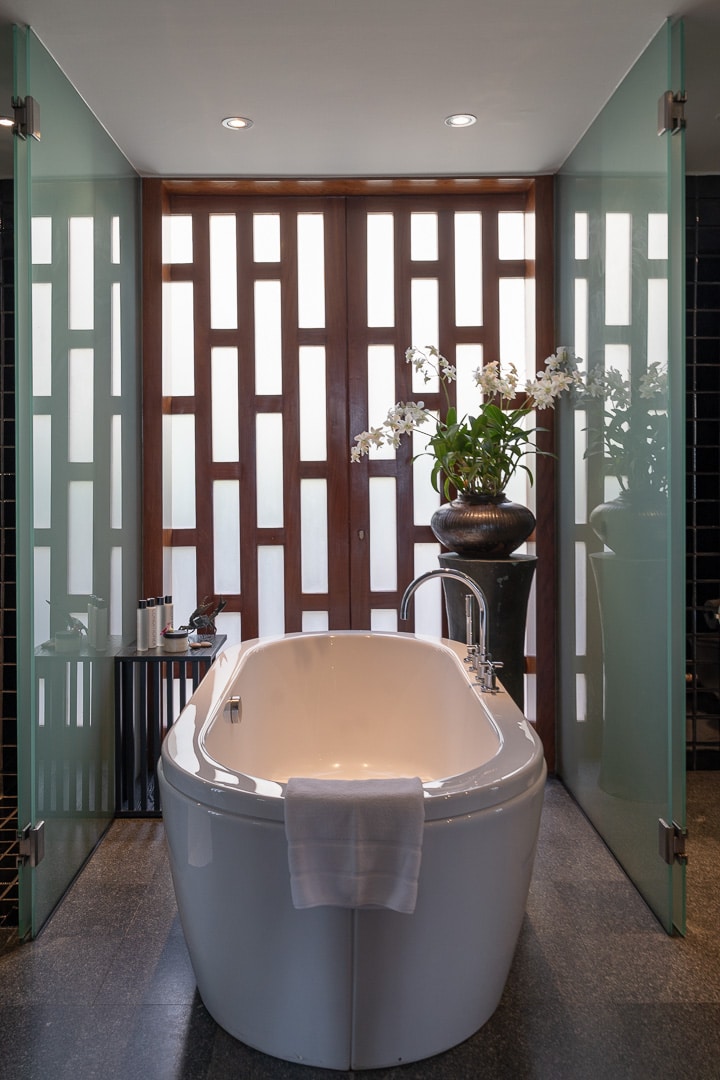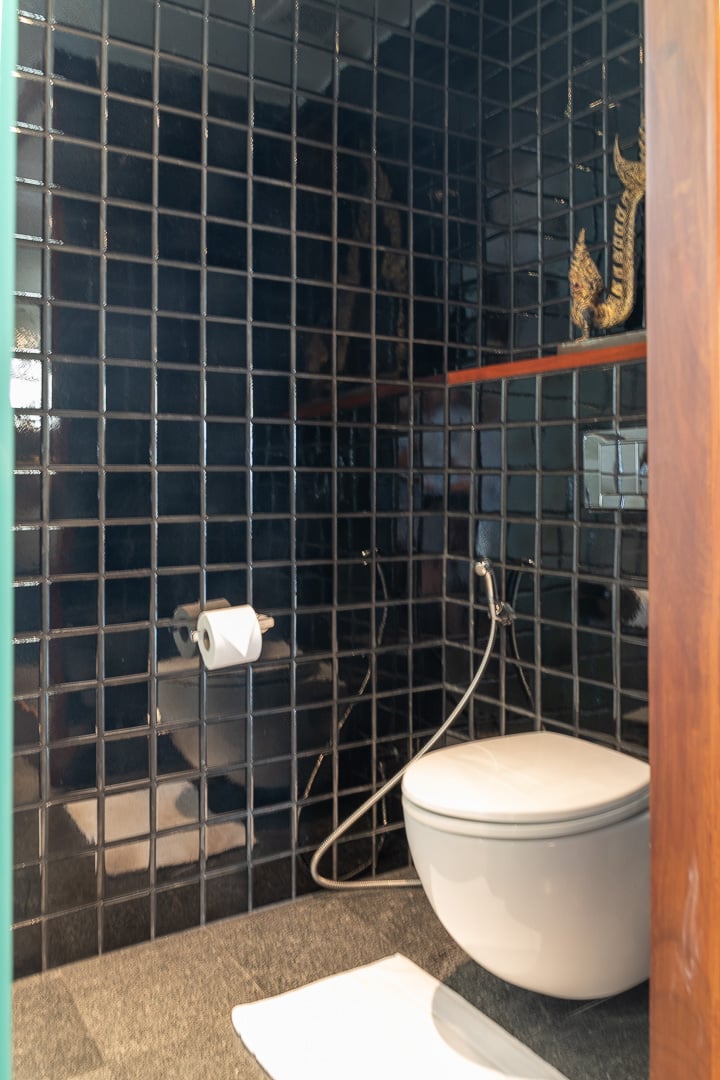 Villa Pool
Located one step below the two standard bedrooms was the villa's stunning pool.
The size was more than adequate for only six people to share, honestly it didn't seem much smaller than the main resort pool!
The pool was West facing, which meant that it would receive sunshine for most of the day and there was also a view of the ocean.
Along from the pool was the sunset sala….
…However the master suite had an even better sunset vantage point, right on the water's edge.
Master Suite
Since this villa is owned by a famous Italian designer, the Amanpuri housing association gave a little more leeway than usual with the design of this bedroom. There is still a certain Aman minimalism here but it's safe to say that the bold patterns and the bull's skull probably won't be making their way into any other Aman hotels…
The master suite featured its own dining area and living room, in a far more modern style than the living room pavilion near the villa's entrance.
Behind the bed was a gigantic bathroom and dressing area.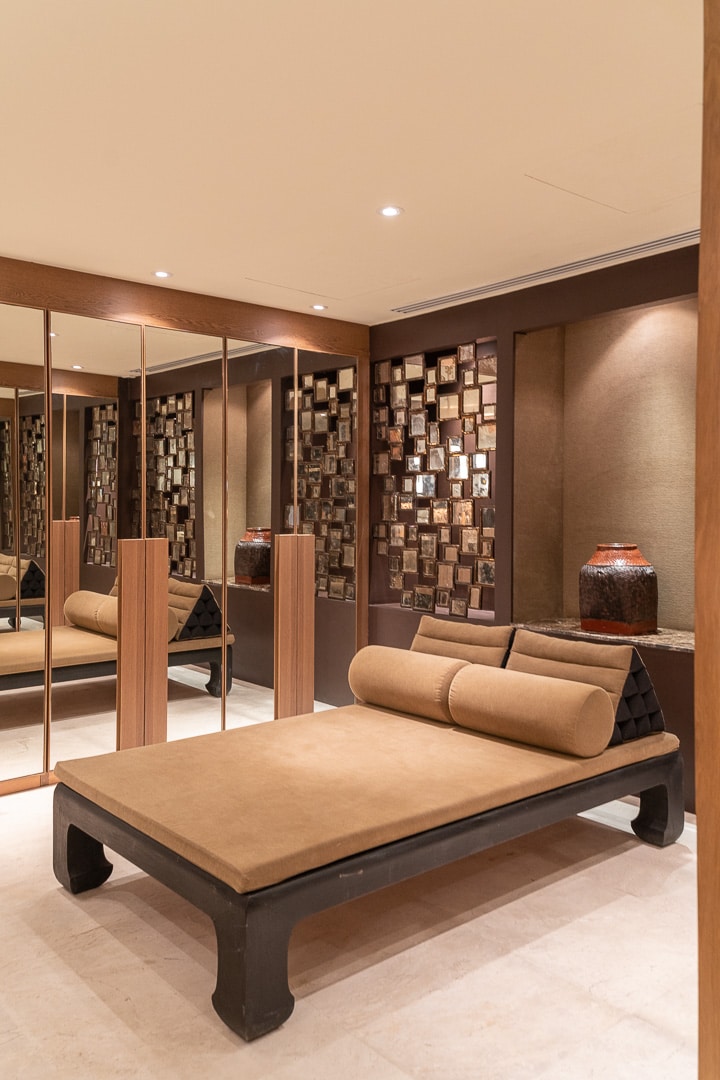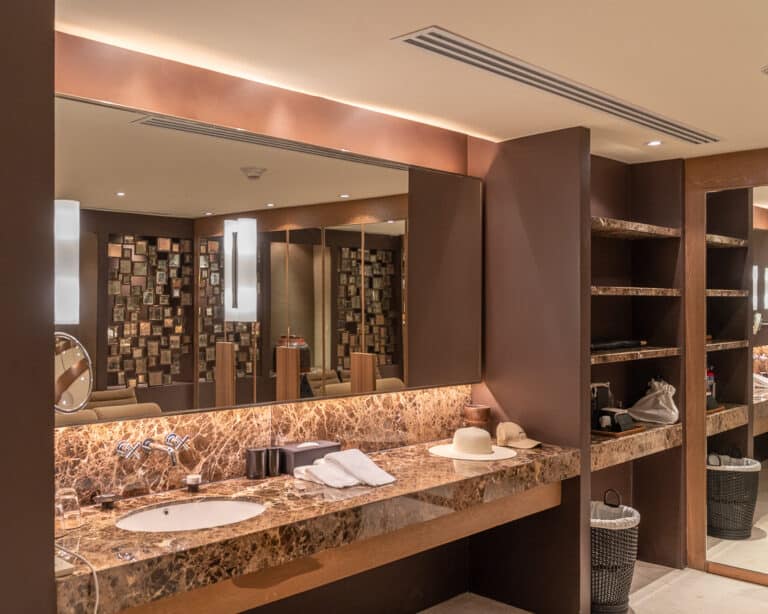 The bathroom also featured a shower with the largest shower head I've ever seen in any hotel.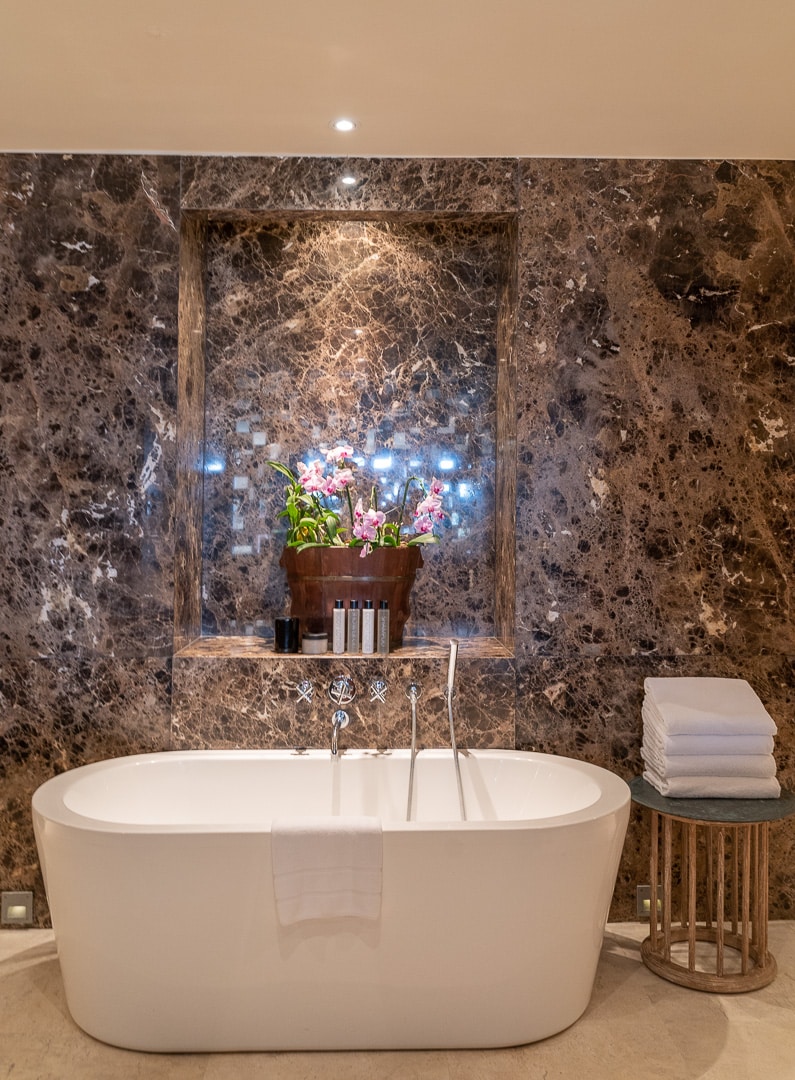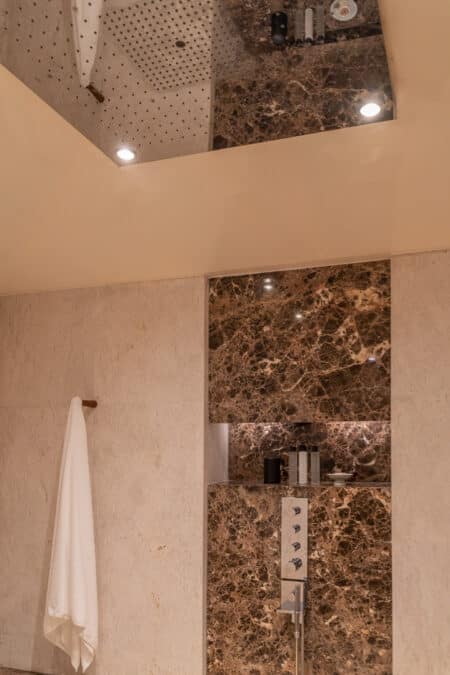 ---
5 Bedroom Villa (Phase 4)
---
Driving around Phase 4 it was clear that the area had a very different feel to the other 3 phases. The Phase 4 villas have been built vertically and have dramatically imposing walls. From the outside they look like ancient castles, covered in foliage.
The entrance to this villa had a very different feel to it than the delicate pathway of the Phase 2 villa: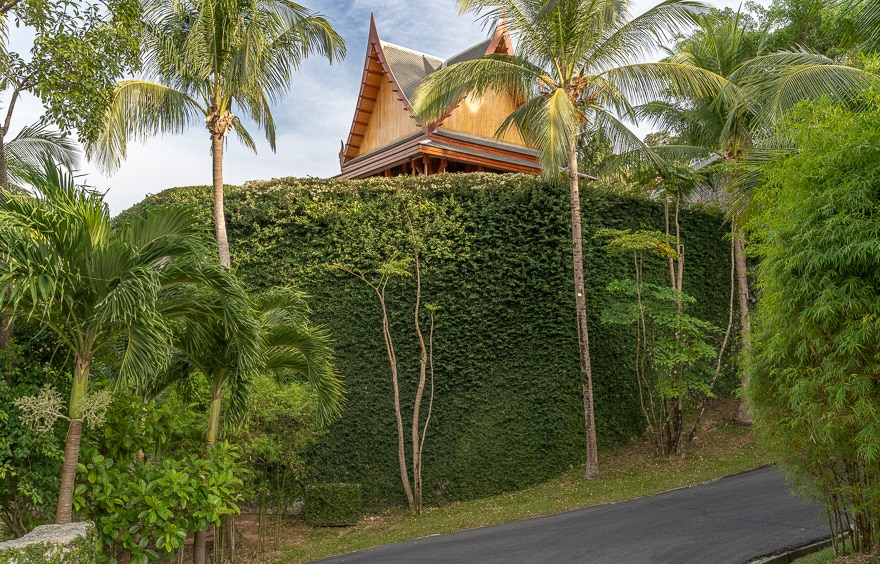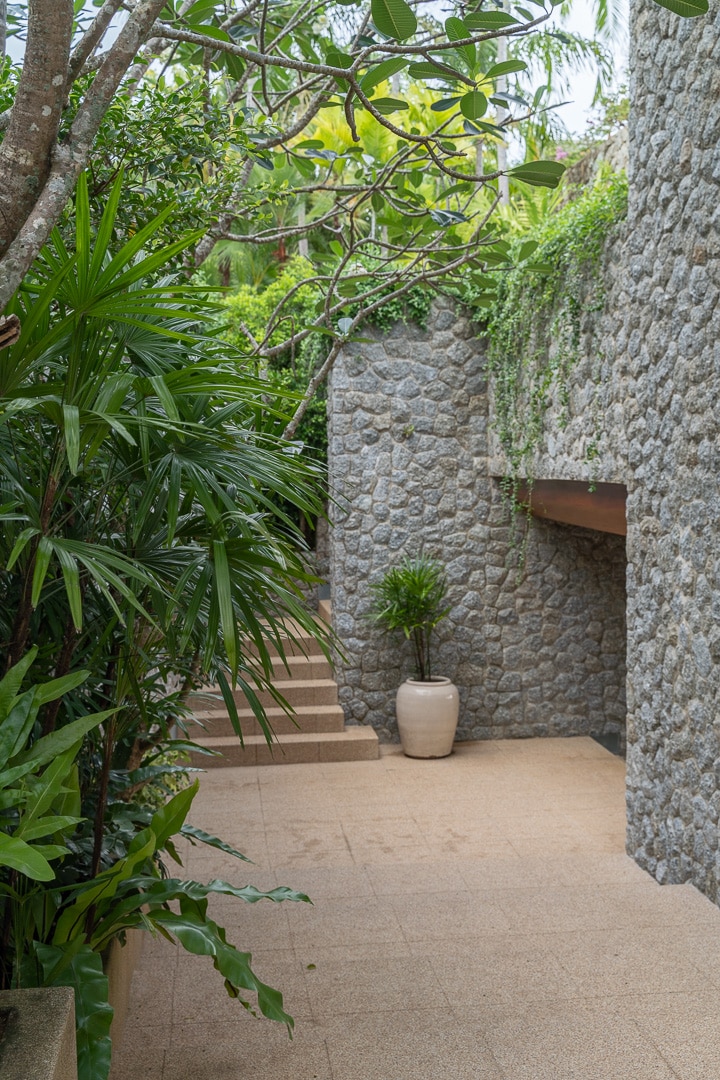 The feel inside the villa was completely different too, with the entrance opening directly onto an open air living room area.
There was also an indoor living and dining area which was fully air conditioned.
Bedrooms
The bedrooms in this villa were all more or less identical, with no real distinction between them.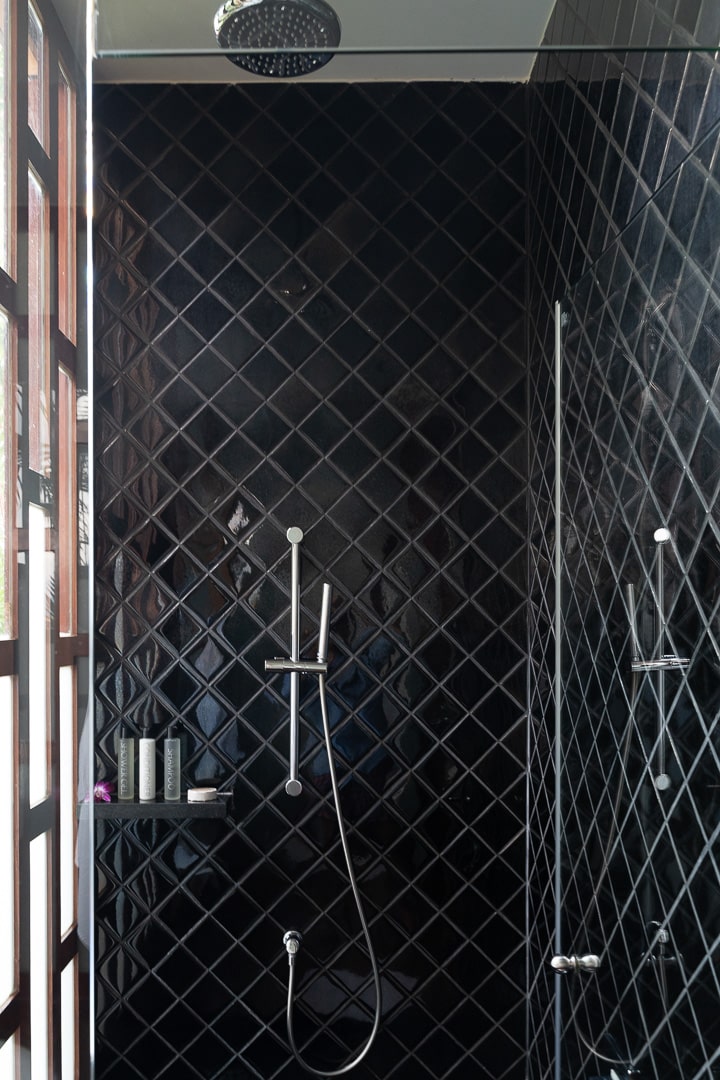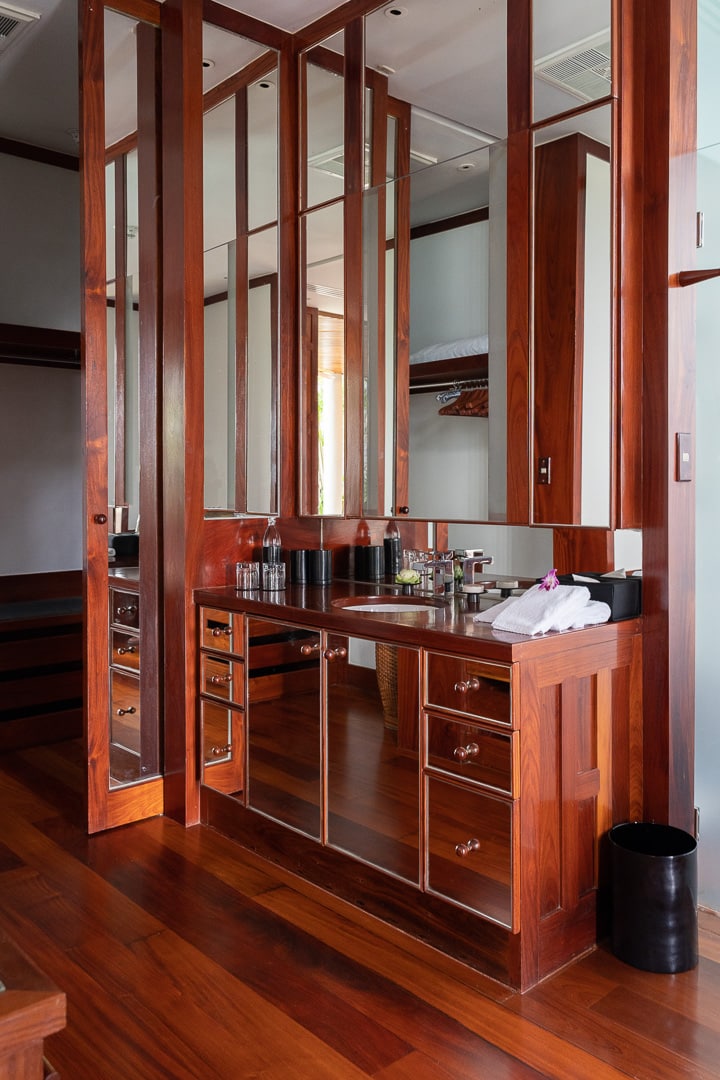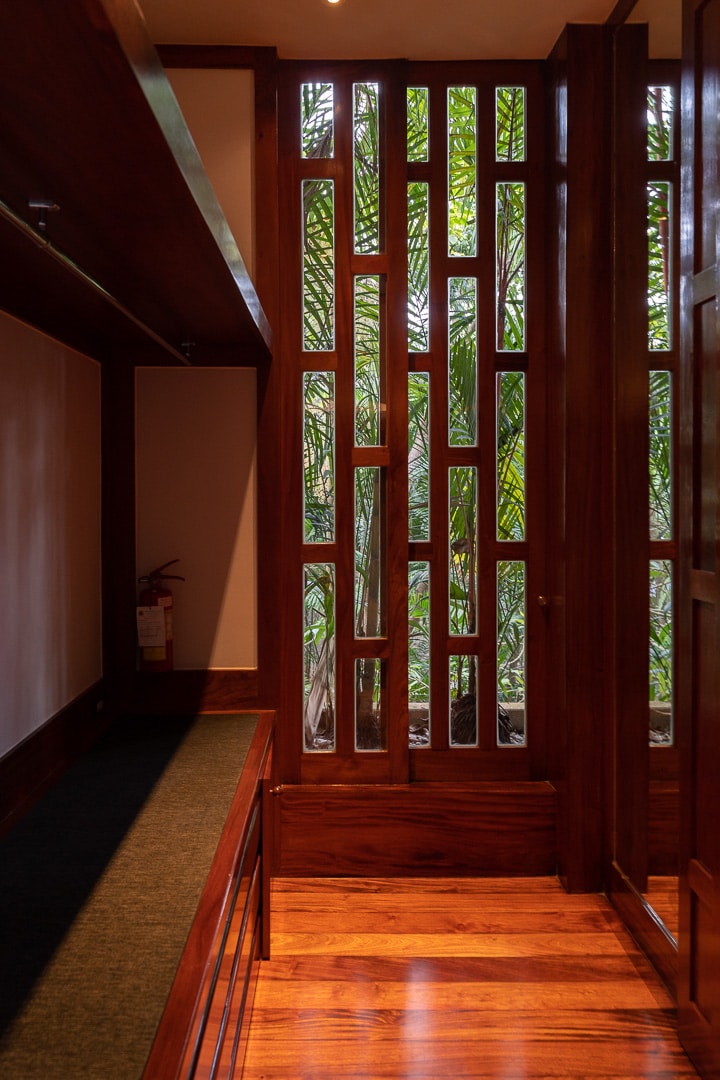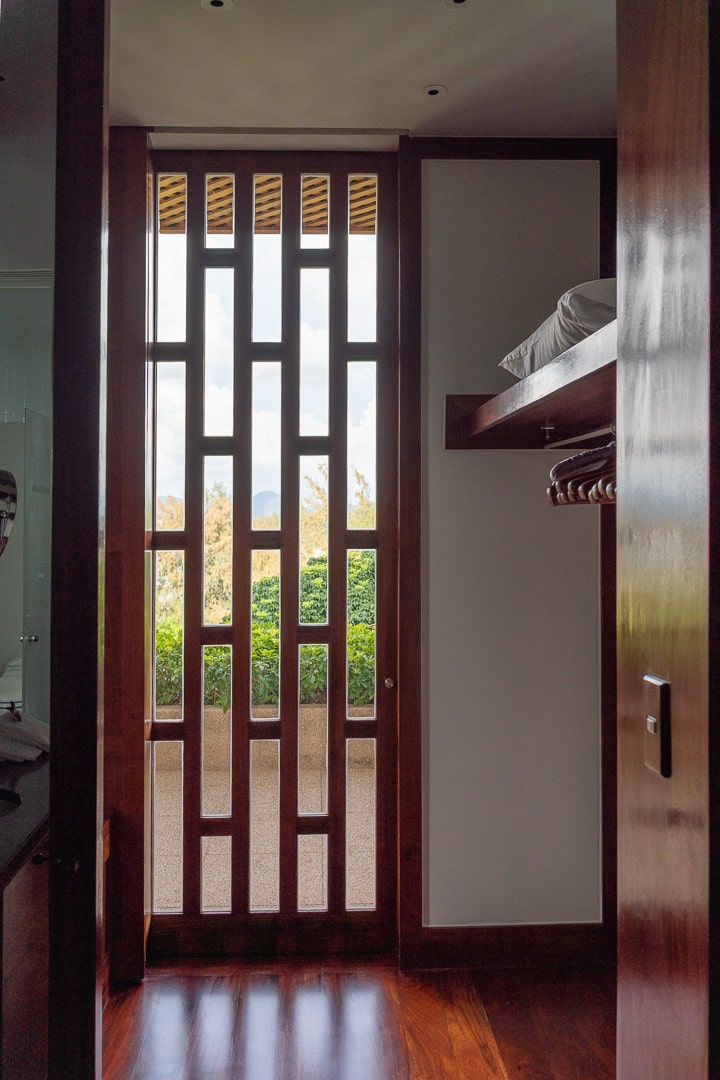 Each bedroom had dedicated loungers outside as well as central mini lounges, shared amongst the bedrooms on each floor.
In fact there were even more, full sized lounges on other floors:
The pool was located on the lowest level of the villa:
The view here was quite different to the tranquility of Phase 2 though, since half of the villas in Phase 4 look directly out over Bang Tao beach and the many apartment buildings that sprawl up the adjacent hillsides.
Thankfully most of the buildings were obscured by foliage though, with an opening left for guests to view the much quieter bay to the west.
This bay was also visible from the bedroom balconies on the floor above.
Thankfully, given the layout, there was an elevator to allow easy movement between floors. The rooftop offered even more dining and living spaces.
These included a traditional open air Thai sala:
An air conditioned dining sala:
And a more contemporary patio space:
---
9 Bedroom Villa (Phase 4)
---
The final villa that we viewed was the 9 bedroom villa, Amanpuri's largest and most prestigious accommodation. The villa was still in the process of being prepared for guests so we only had a chance to look around the top floor.
The vantage point of this plot of land is remarkable, from the top floor of the villa we were able to survey not only all of Bang Tao beach and the mountains beyond to the east…
… we also looked out over the entirety of Phases 1, 2, 3 and 4 of the resort.
The bedroom located on this floor even had its own private plunge pool.
This was in addition to the enormous, sunset facing pool, which was shared by the rest of the villa's occupants.
---
Facilities
---
Main Pool
Undoubtedly the most prevalent and enduring image of Amanpuri is that of the hotel's spectacular main pool. Not one single palm tree was torn down in the original construction of the hotel. The result is a charmingly haphazard distribution of greenery, in an otherwise immaculately symmetrical space (a Thai nod to wabi-sabi aesthetics perhaps).
In any other hotel, having the main pool right by the lobby, with two bars and two restaurants in close proximity, would result in chaos. At Amanpuri however, despite 80% occupancy when we visited, we found that we were invariably the only people using it.
Indeed, the proximity to Buabok and Arva restaurants meant that staff immediately rushed towards us as soon as we vaguely headed towards a set of loungers.
Towels were deployed and water was provided in an instant.
Of course, the reason the pool doesn't get a huge amount of use is because there is no shade here. In the early morning there will also be people eating breakfast right by the pool; so that really only leaves late afternoons as a time when you can come and enjoy the pool without getting cooked.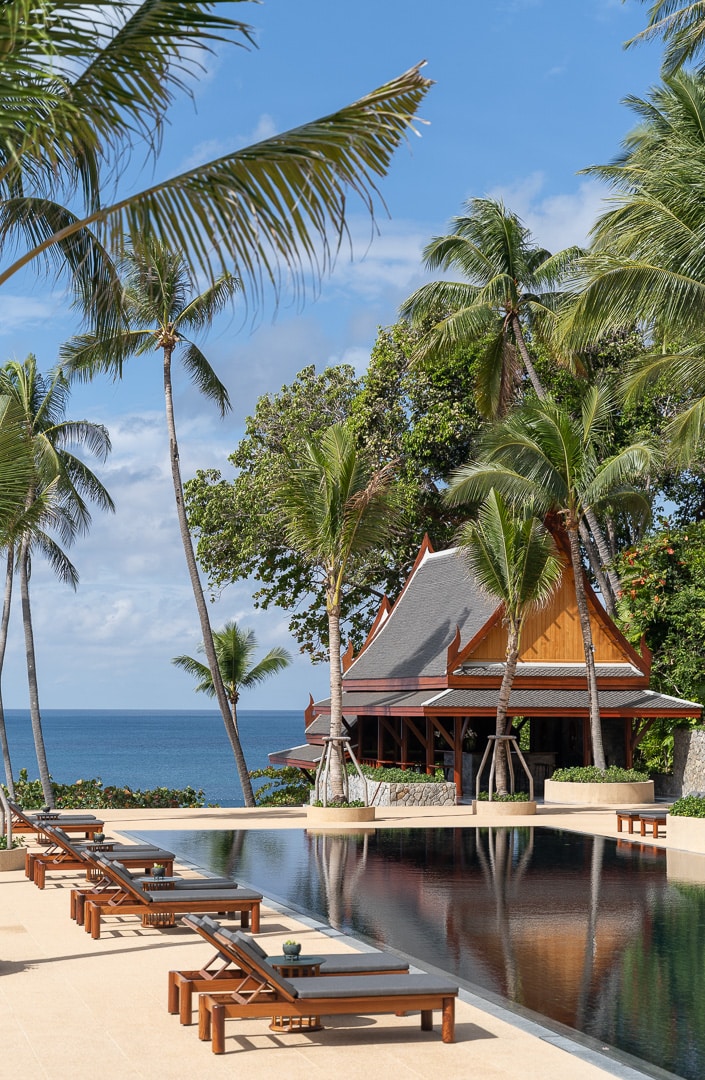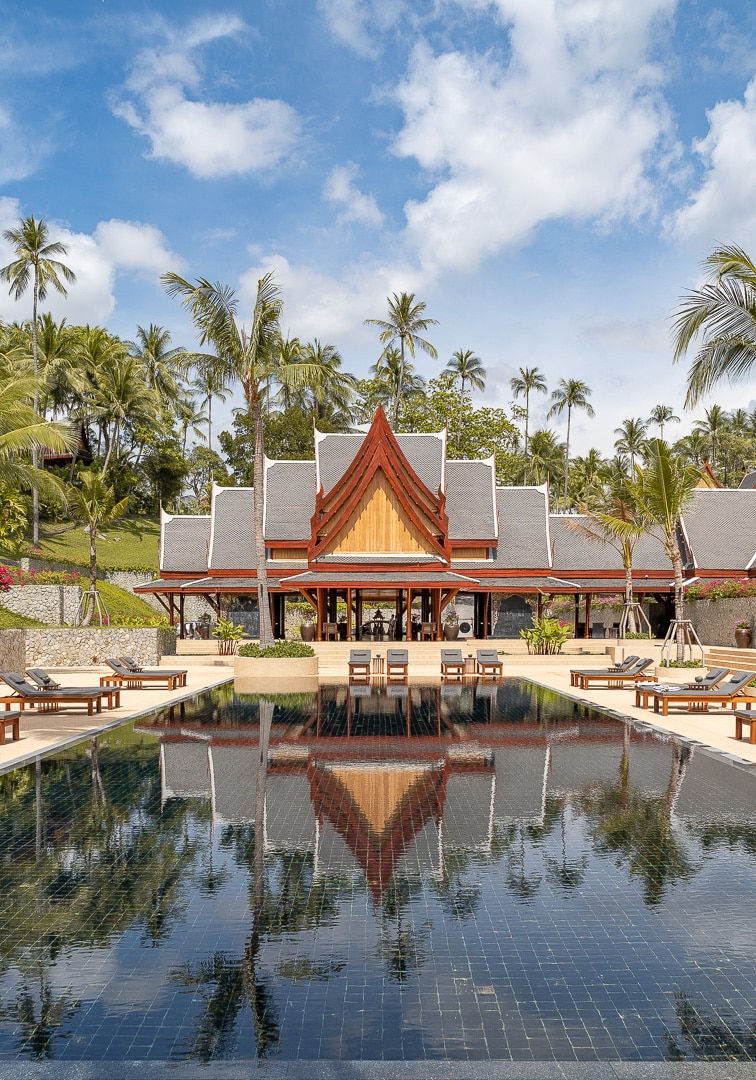 Later in the evenings the best thing to do was to have a dip in the pool, just after the afternoon tea was served and then move to one of these chairs to watch the sun set.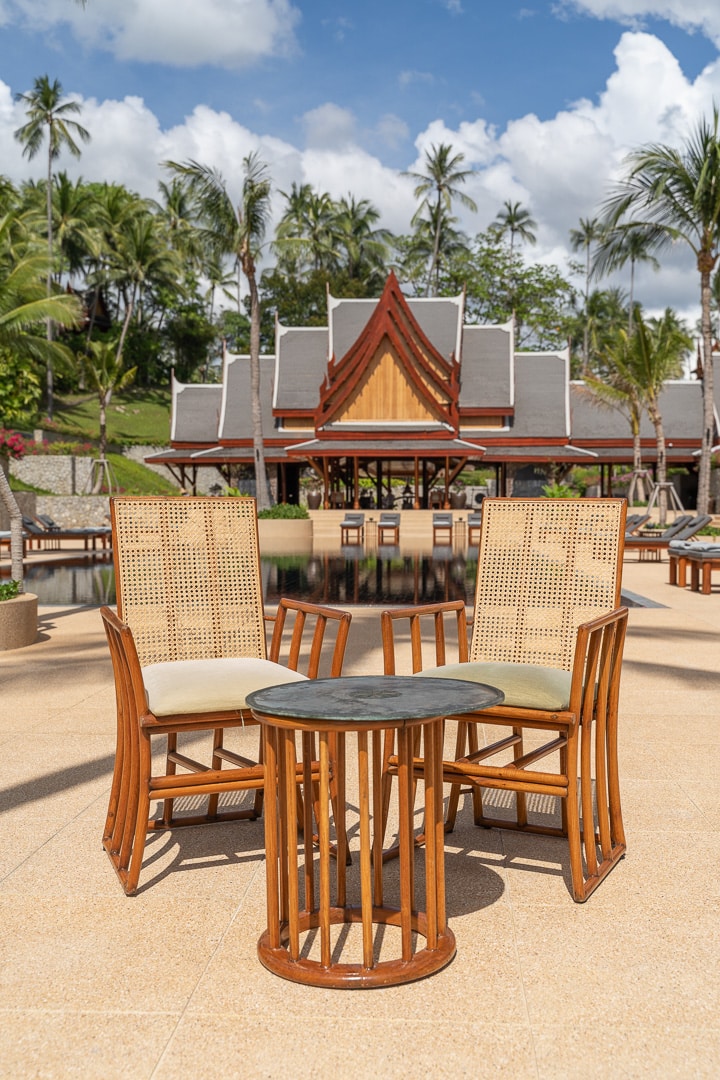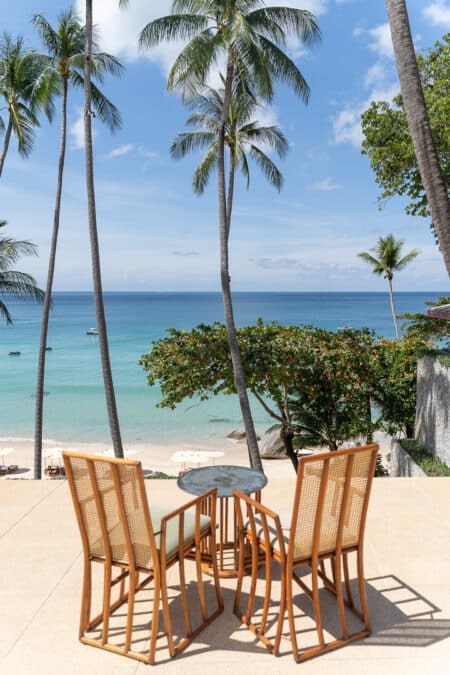 Beach
During the day though, almost everybody headed to same place: down a set of very grand steps to the beach below.
For those with mobility issues, or even just a disinclination to descend the stairs, hotel cars will make the trip around the side and deposit guests right on the beach, next to the kids pool and Nama restaurant.
Personally though, I enjoyed the dramatic descent after breakfast each morning.
The beach is technically public, as are all beaches in Phuket. In practice though, you'd only ever see one or two people wander over from The Surin resort next door.
On the other side was a rocky coastline, which sat directly beneath a number of the pavilions and villas of Amanpuri.
The beach at Amanpuri is split into an awesome side and a regular side. The awesome side is right at the bottom of the steps and features a sparse dusting of sun loungers. It feels relaxed, exclusive and private.
At the base of the stairs was an outdoor shower, featuring plenty of Aman toiletries as well as SPF and aloe vera gel. Behind the shower was a bathroom.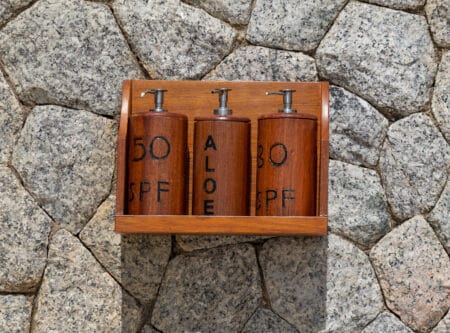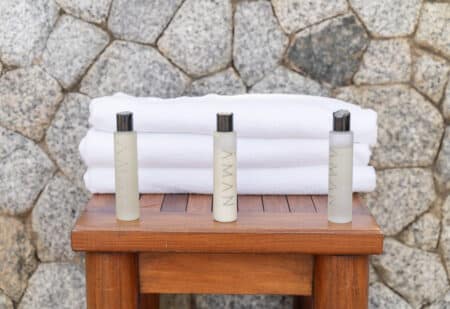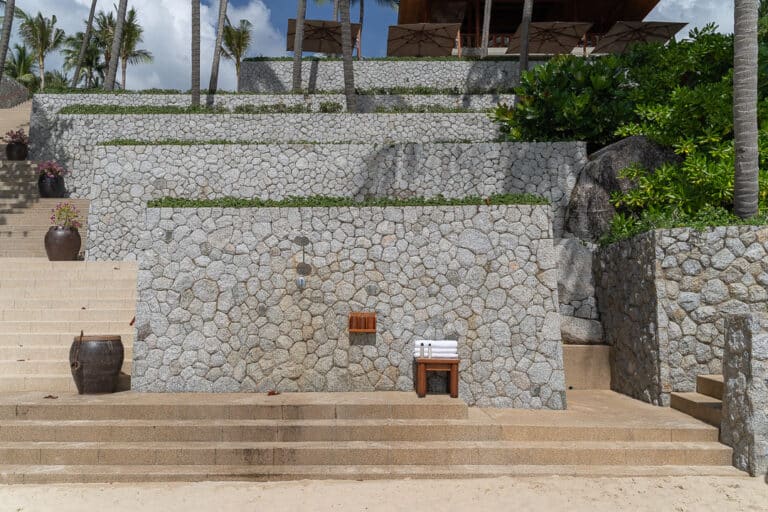 My favourite spot was on the far right hand side of the beach, to the right of the big boulder…
…This little enclave felt even more exclusive and private.
Service here was beyond anything I've ever encountered at a beach before. Staff would arrange parasols around us, guarding us from the merest ray of direct sunlight, like Roman legionnaires in a turtle formation. As soon as the sun moved, somebody would be over to rearrange the parasols or add an extra line of fortification.
Life really is great at Awesome Beach.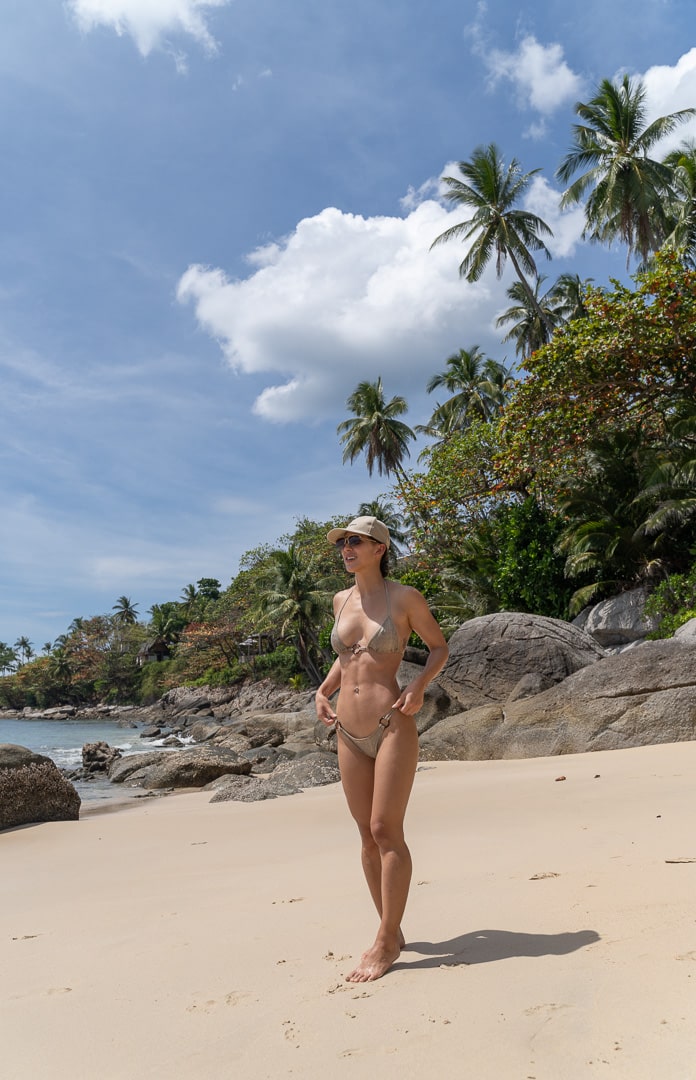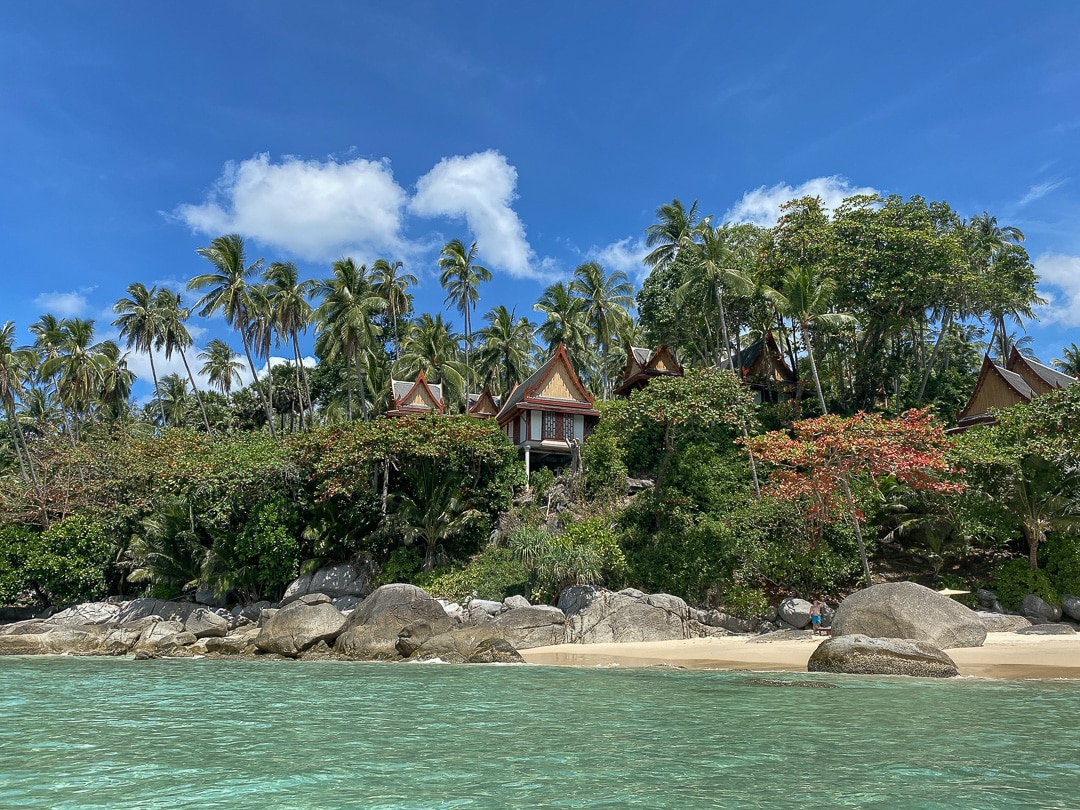 At the far end of Awesome Beach was another large boulder, which demarcated the line of separation with Regular Beach.
Beyond this boulder, things looked a lot more like they would at a normal hotel…
Loungers here were much further back from the water's edge, packed tightly together and arranged in a seemingly endless sea of row after row.
A water sports centre and volleyball net were located at the far end of this beach, which also detracted somewhat from the sense of relaxation.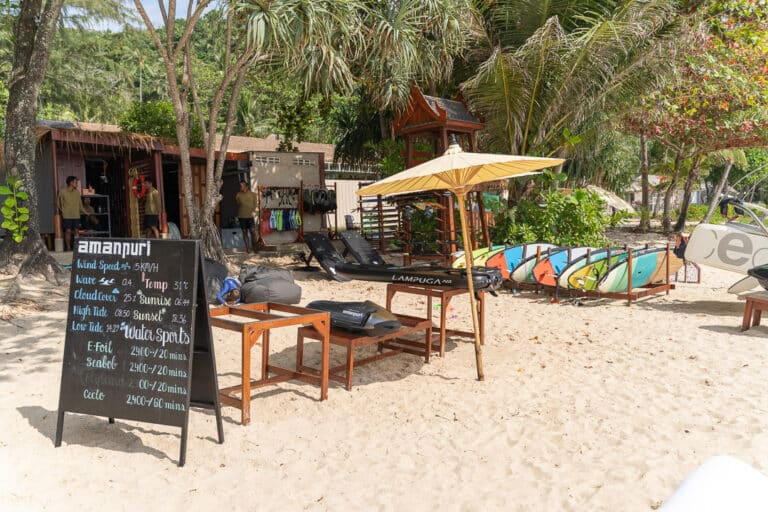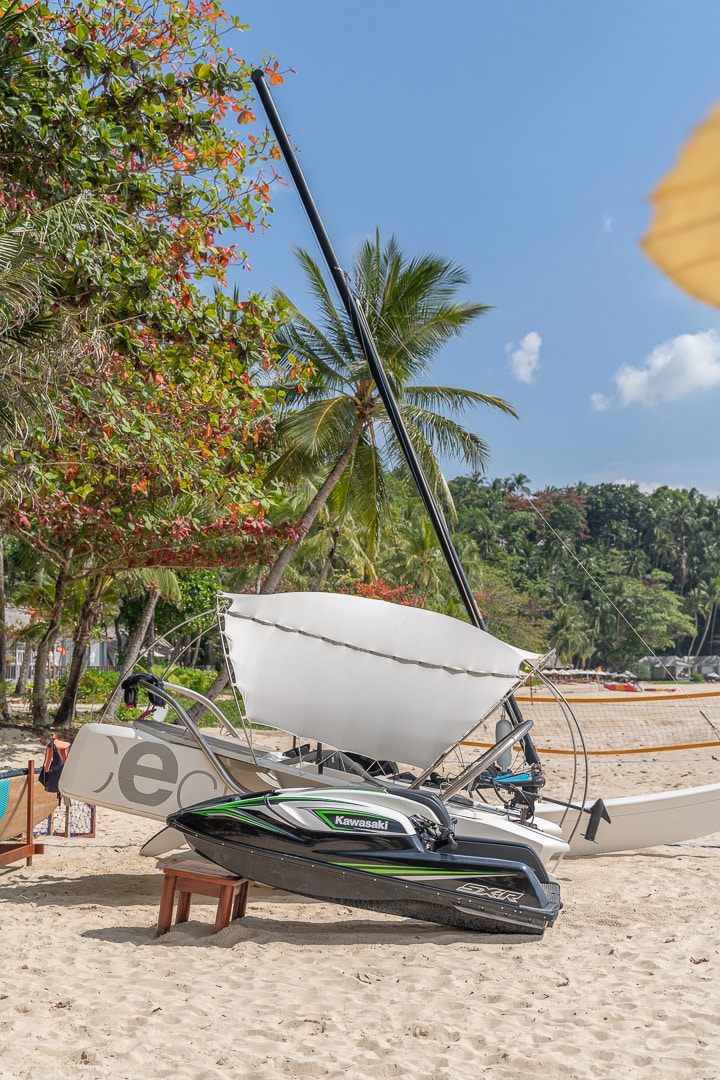 There were even some cabanas here which were chargeable at an extra 10,000THB per day. We never saw anybody using them.
You may however have noticed that in the image above, there are some wet areas of sand. This is because even on the regular beach, Aman service prevails.
This means that staff will hose wet pathways into the sand so your feet don't get too hot whilst walking:
Staff also constantly walk around collecting leaves to ensure that the beach remains pristine at all times. Water is also served with an abundance of ice and then placed in insulated drinks holders, which in turn are served on a wicker tray, to ensure that condensation doesn't ever touch your side table.
These small details are what sets Aman above all other hotel chains.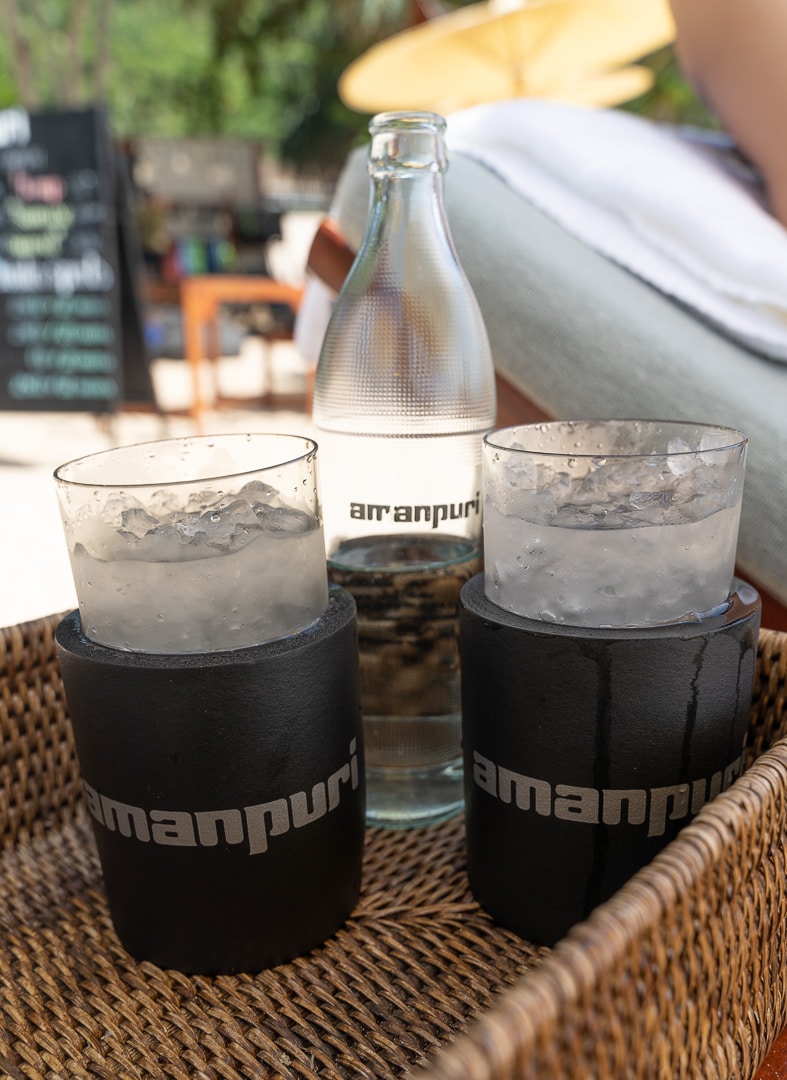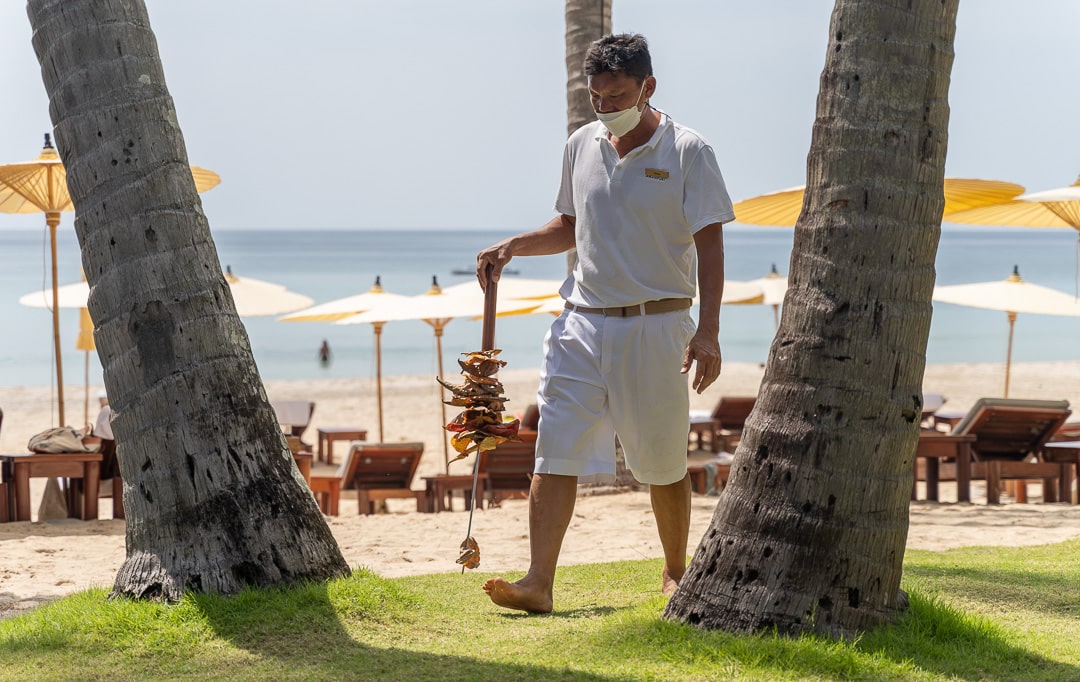 The quality of the sand was excellent, as was the temperature and stillness of the water. It honestly felt like getting into a slightly cool bath. Absolutely perfect.
For more adventurous individuals, there's an artificial island located a couple of hundred metres from the shore, this features a pair of sun-loungers as well as a box filled with water and towels. Given the shade that this structure provides, huge shoals of fish tend to swarm under it, which makes for great snorkelling.
Kids Club and Pool
Located at the rear of Regular Beach was the Kids Pool. We were only ever close to it when we came to eat lunch at Nama, next door. At lunch time the kids pool was invariably empty, although I imagine it gets busier during the rest of the day.
Directly behind the pool was the Kids Club itself. On the far right hand side you can just make out where cars drop people who want to come to the beach, without taking the stairs.
Beach Club
Perched in a quiet little area above the beach was the Beach Club. If you're expecting pumping house music, bikinis paired with high heels, crypto bros and bright orange champagne buckets, you'll be disappointed.
The Amanpuri Beach Club is an oasis of complete tranquility, surrounded by greenery, with a fantastic view of the surrounding coastline.
Apologies for the single leaf in the bottom right. I trust that a staff member was sent over with a harpoon, moments after this picture was taken.
Art Gallery
Much like the art gallery at Patina Maldives, the 'art gallery' here is an act of self-indulgent onanism, which serves solely to promote the existence of another Aman property. In this case: Aman Nai Lert Bangkok.
Gift Shop
This is a structure which to many die hard #Amanjunkies embodies the shifting attitudes of the Aman brand: a building which resembles a Swiss ski-chalet, filled with overpriced items stamped with the Aman logo.
The space is beautifully designed and the products do all appear to be high quality at least; something which can't always be said of the plastic and polyester that infiltrates so many LVMH products.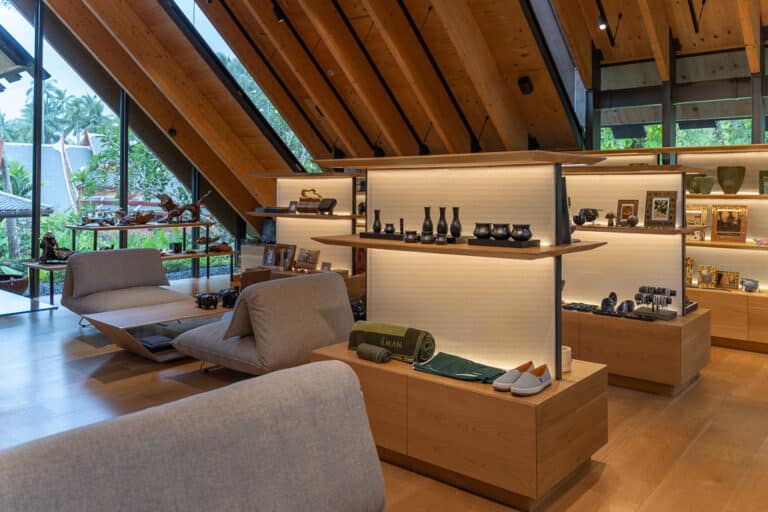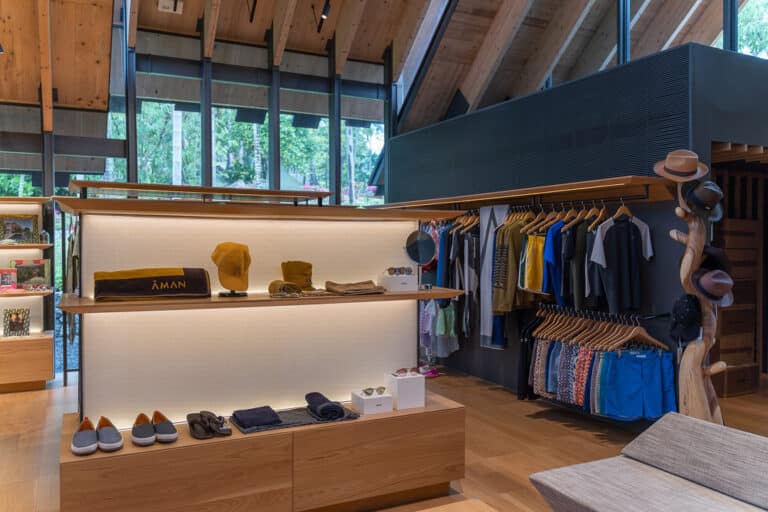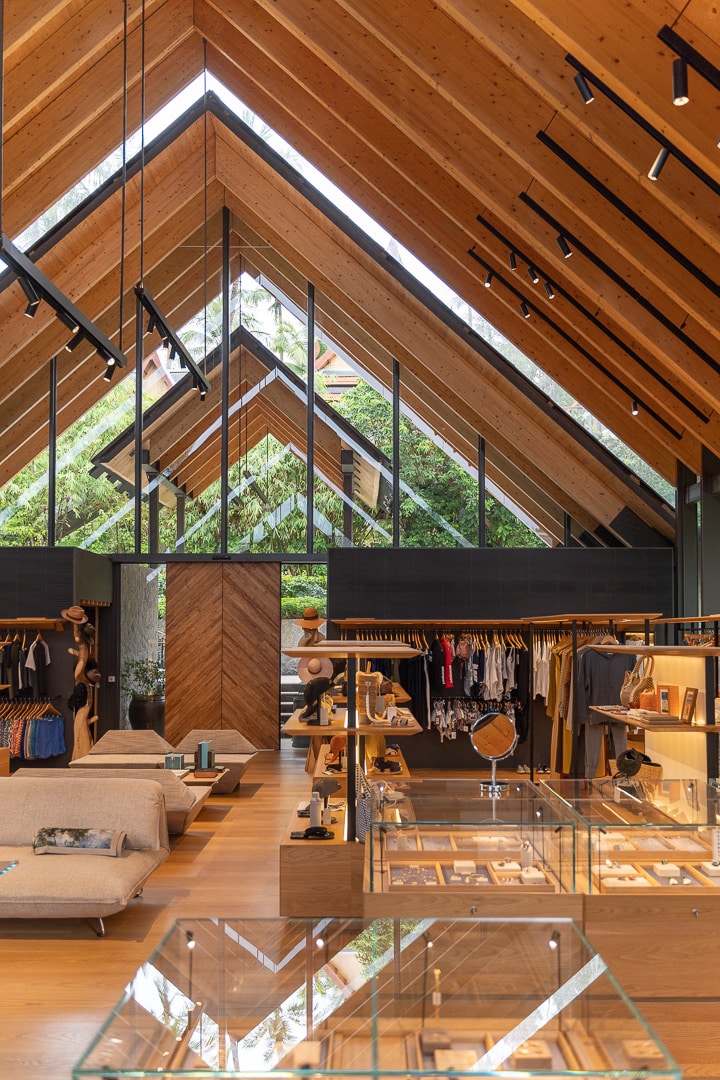 Spa
Located a few steps from the lobby and the gift shop was the hotel spa.
The spa facilities can be used by guests at any time, without the requirement to book a treatment. The facility is built around a central fountain courtyard, which overlooks the same bay that we could see from our pool.
Treatment rooms were built as standalone pavilions with their own integrated changing areas and bathrooms.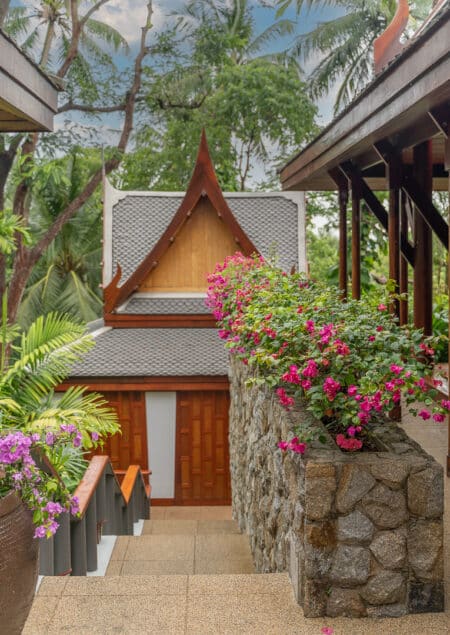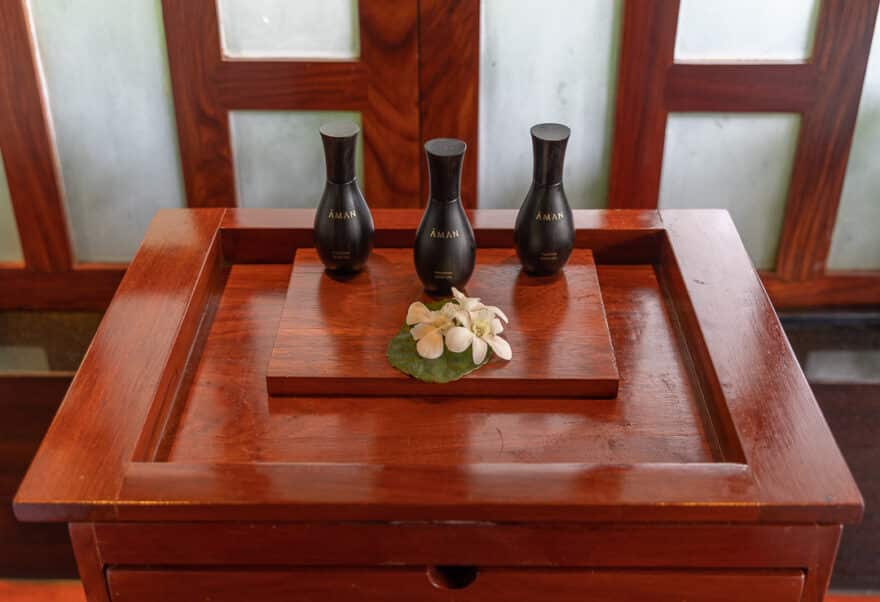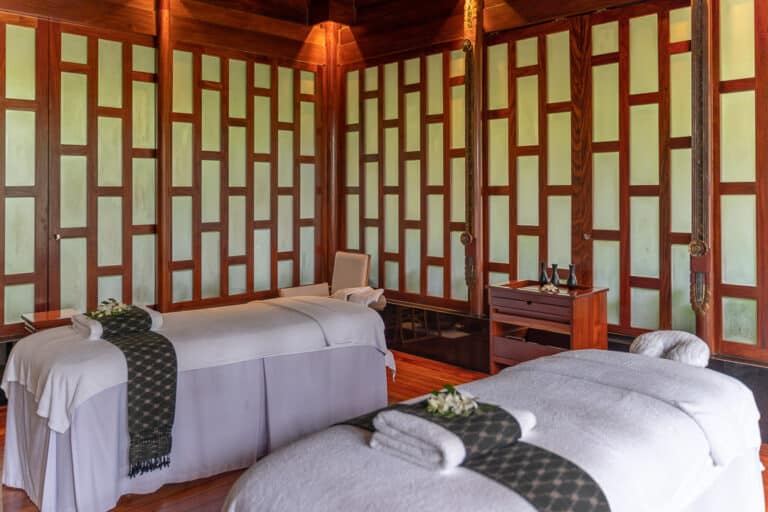 Saunas and steam rooms were on offer, with views of the jungle canopy.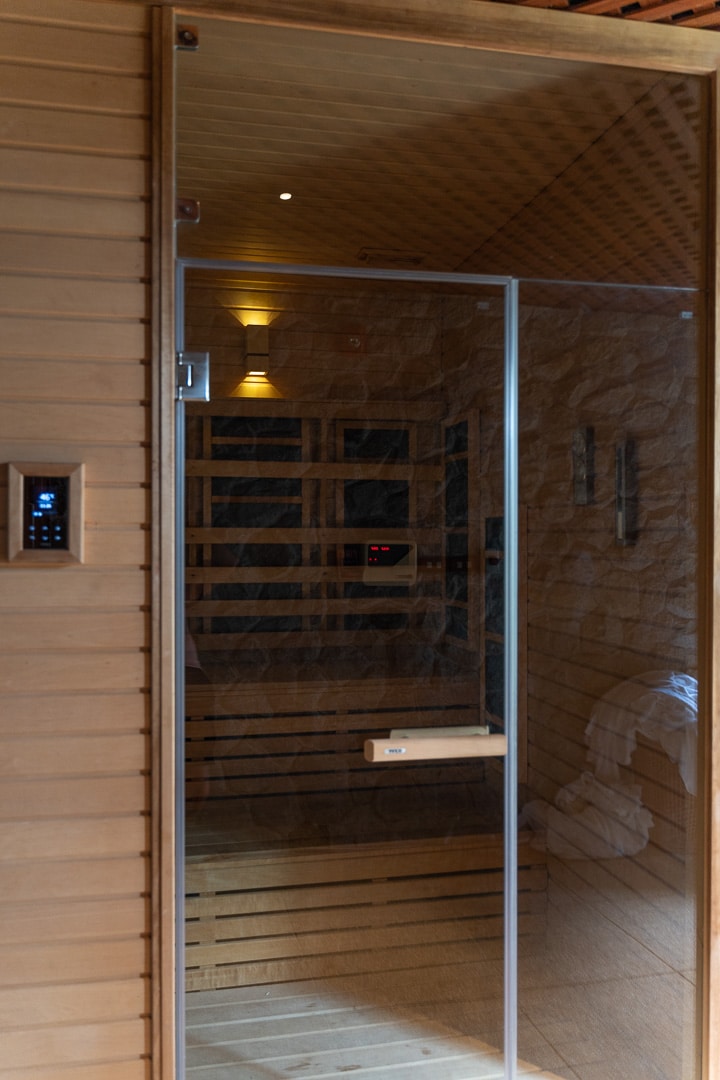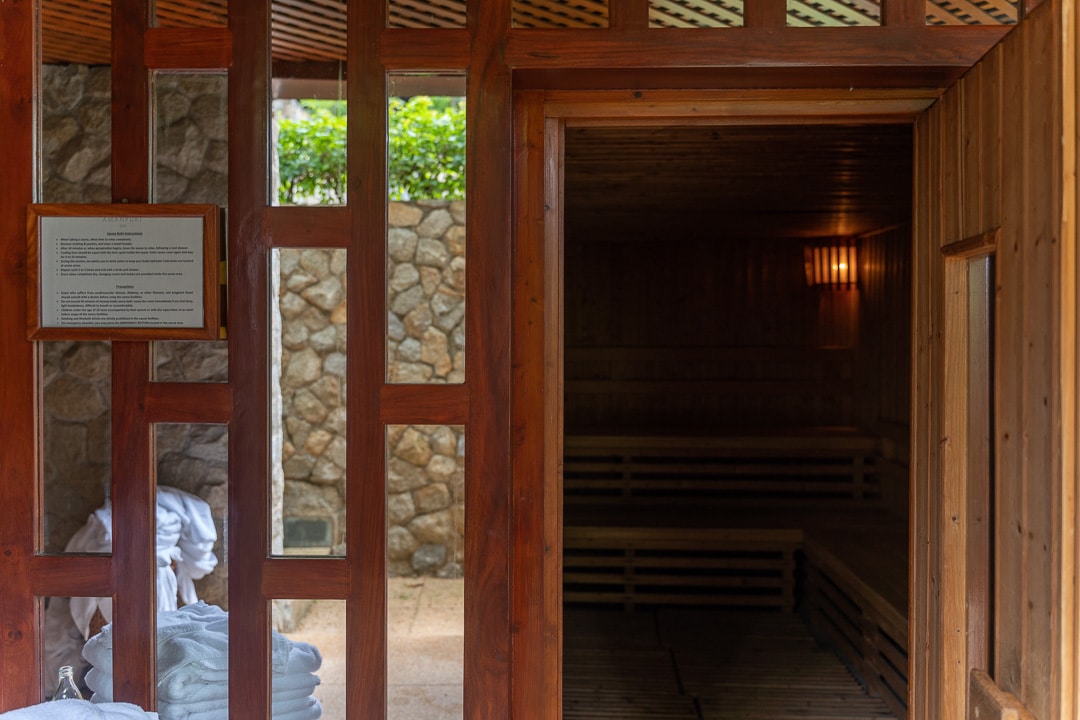 Between bouts of heat you could indulge in showers, dips in an ice cold plunge pool or a relaxing soak in the jacuzzi.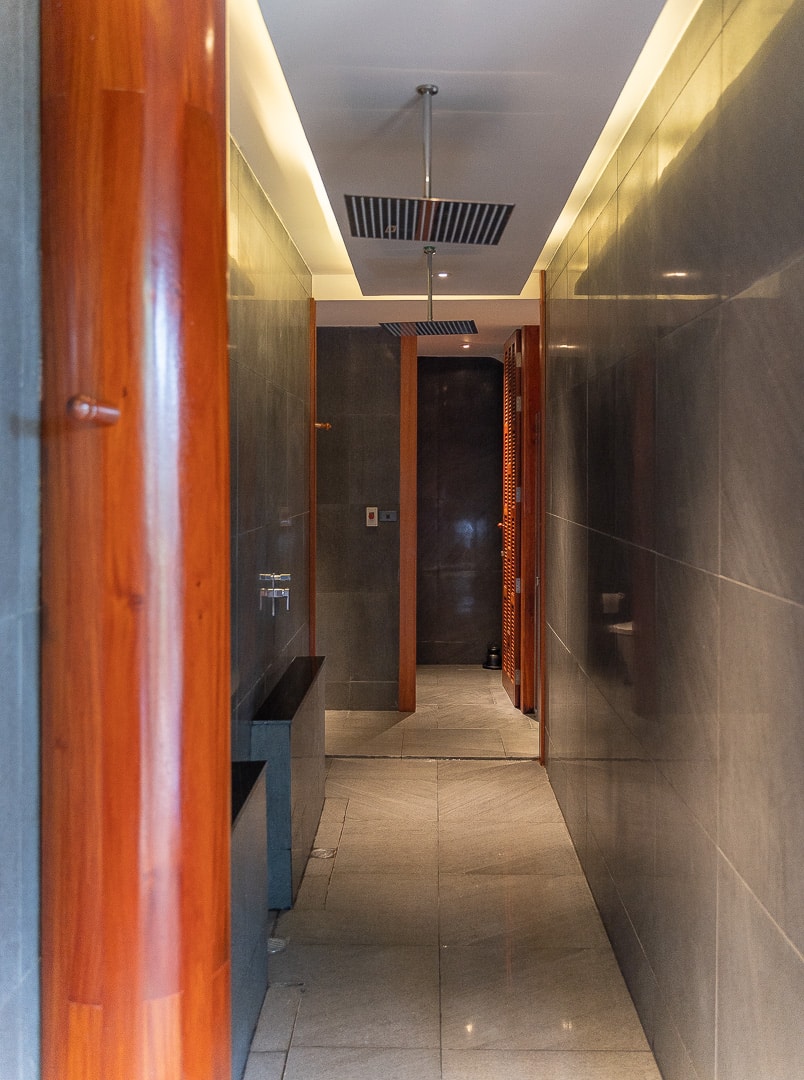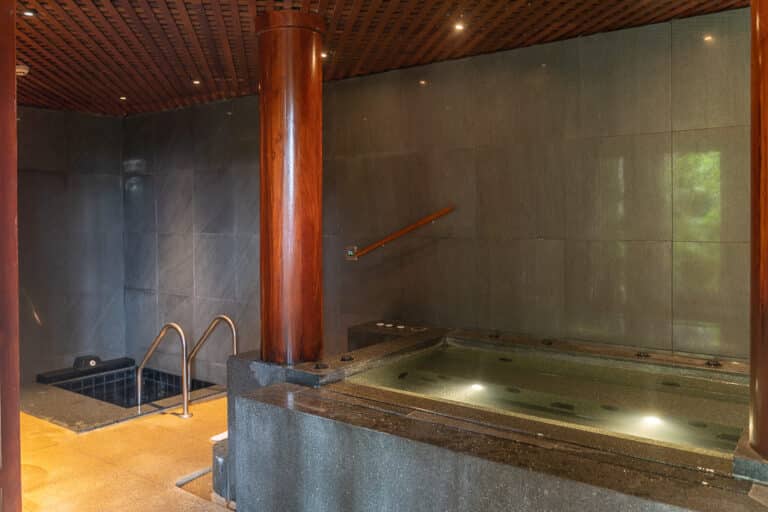 After that you could sit back and relax on one of the loungers, dotted around the various terraces of the spa complex.
Gym
The gym at Amanpuri is an impressive glass walled structure, located at the highest point of the resort.
The upstairs of the gym featured a section dedicated to cardio, with views over the water.
This spilled over into another cardio area.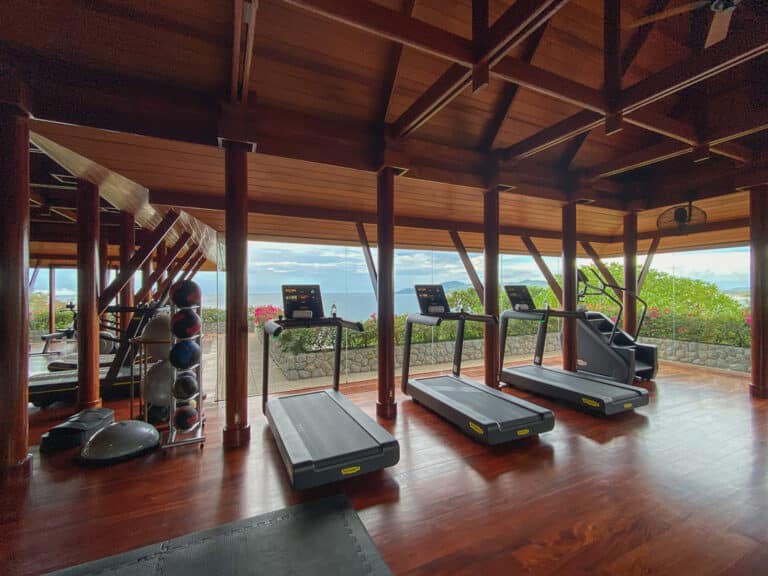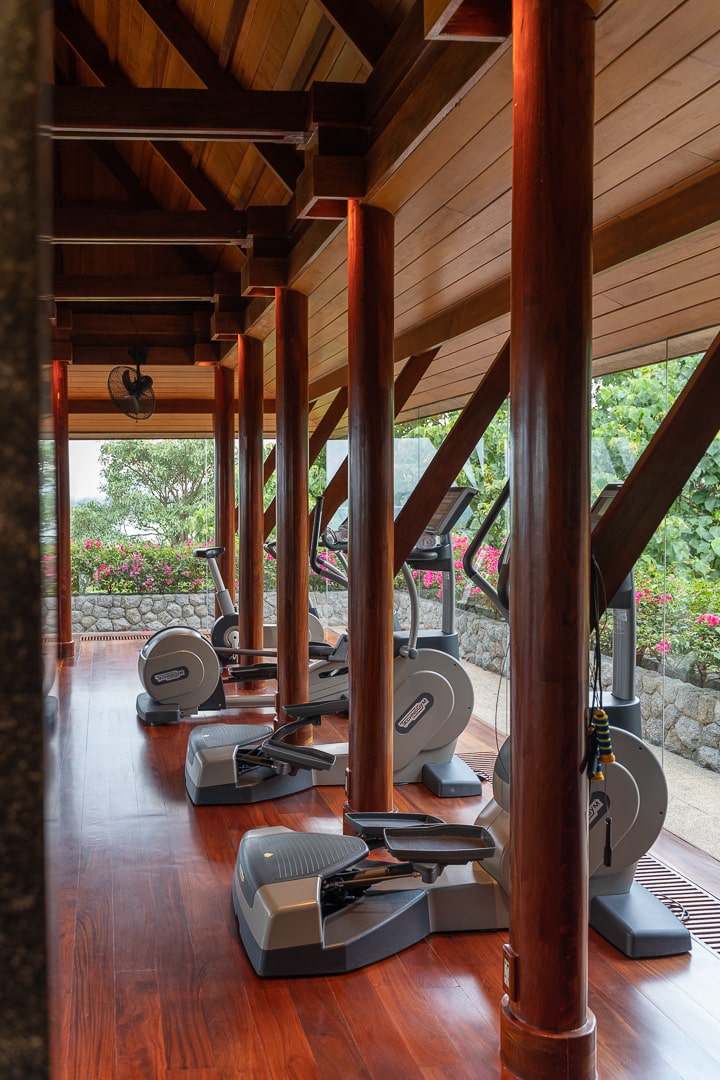 The weights section had a decent variety of equipment, including an incline Smith machine and cable crossover. The dumbbells only went up to 20kg though.
Downstairs there was a Muay Thai ring together with pads and a heavy bag.
There was also a gigantic and very elegant looking pilates studio.
---
Food and Drink
---
The latest food and drink menus can be viewed directly on the Aman website, although prices are hidden.
---
Breakfast at Buabok
Walking down to Buabok for breakfast each morning was an absolute joy. I suspect that Ed Tuttle designed the hotel deliberately so that in the morning the pathway to breakfast was perfectly shaded, even while the pool and main courtyard were bathed in sunlight.
Service during breakfast was exceptional, with staff familiarising themselves with our tastes and preferences after the first morning. There may not be an ocean view from the restaurant but I found the sight of the beautiful pool, surrounded by pavilions and palms, to be very special indeed.
The physical menus given to us didn't feature any prices, guests are free to order whatever they would like as part of the standard breakfast inclusion.
Strong cappuccinos came out exactly as expected without having to send back experimental lattes, or request extra shots of espresso on the side (which is generally the case at most hotels). The eggs Benedict were great, with hollandaise that hadn't split, runny yolks and properly toasted muffins.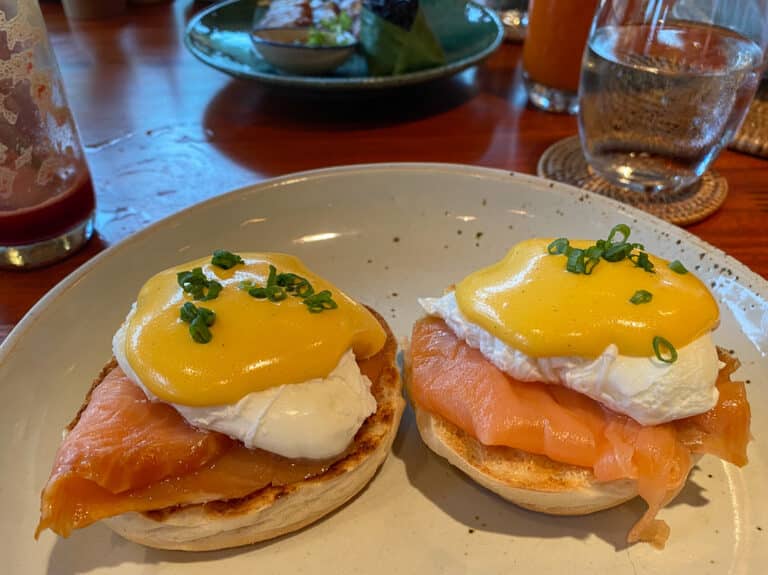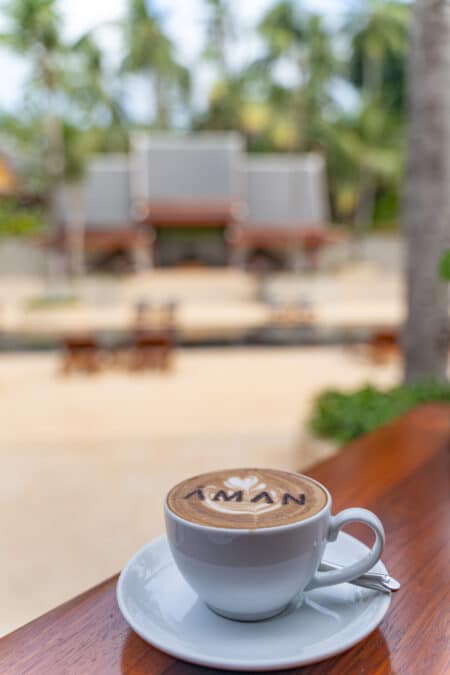 However, the real standouts here were the Thai dishes. Grilled pork skewers, noodle soup, Thai sausage and eggs, deep fried omelette with chillies and crabmeat – all of it was amazing.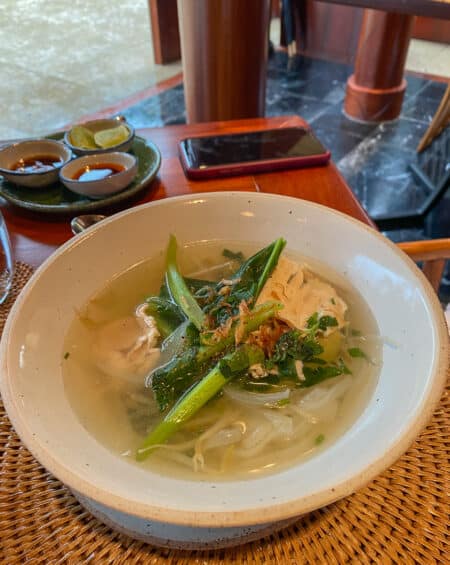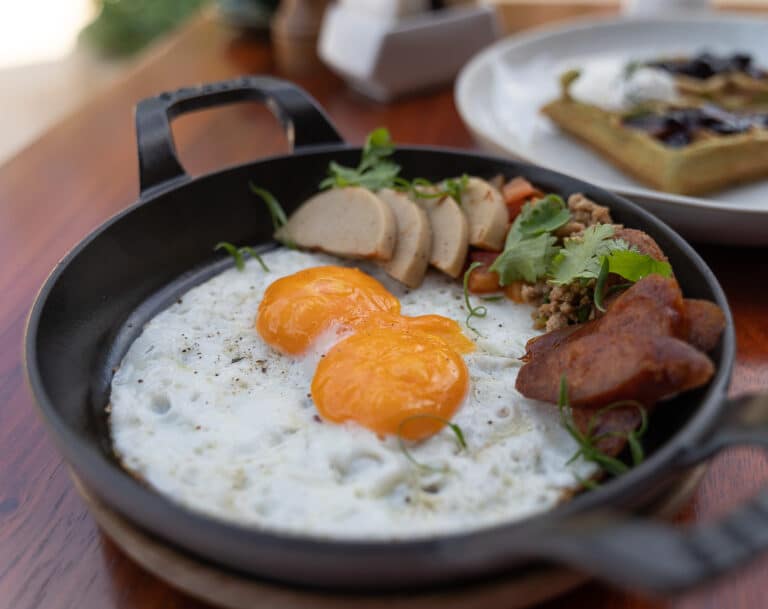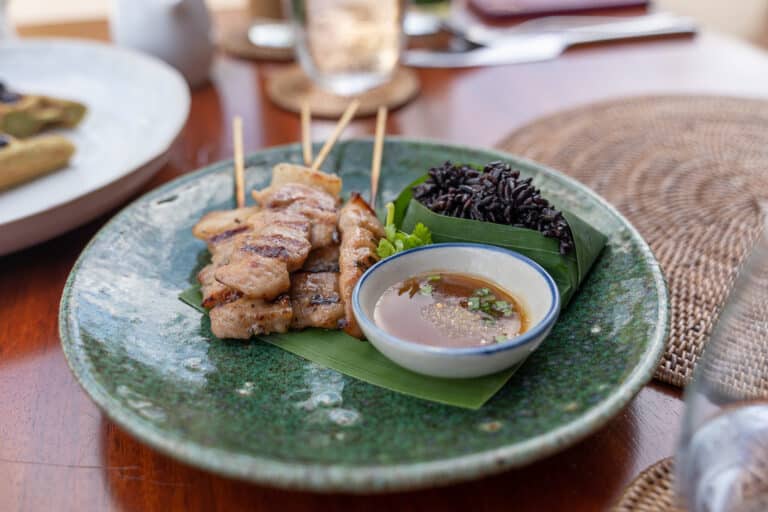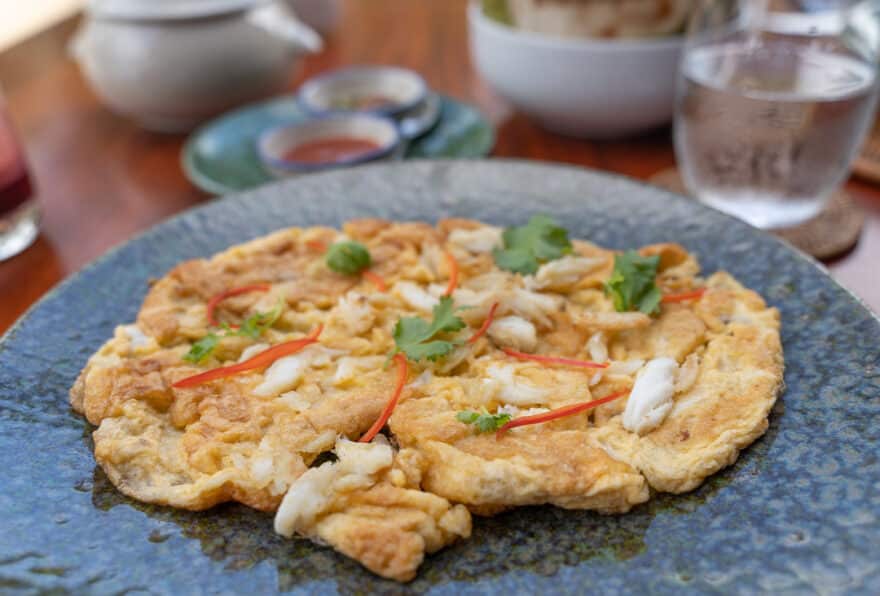 The açai wasn't as good as our local Brazilian spot here in London but then again, hotel açai never is. You tend to either get a purple soup, or a ton of granola with one scoop of açai on the side. It seems like nobody in the international hotel industry has actually eaten a real bowl of açai before…
The matcha waffles on the other hand were excellent.
Lunch at Nama
Nama is the hotel's signature Japanese restaurant, located on the beach and only open at lunch time during our stay.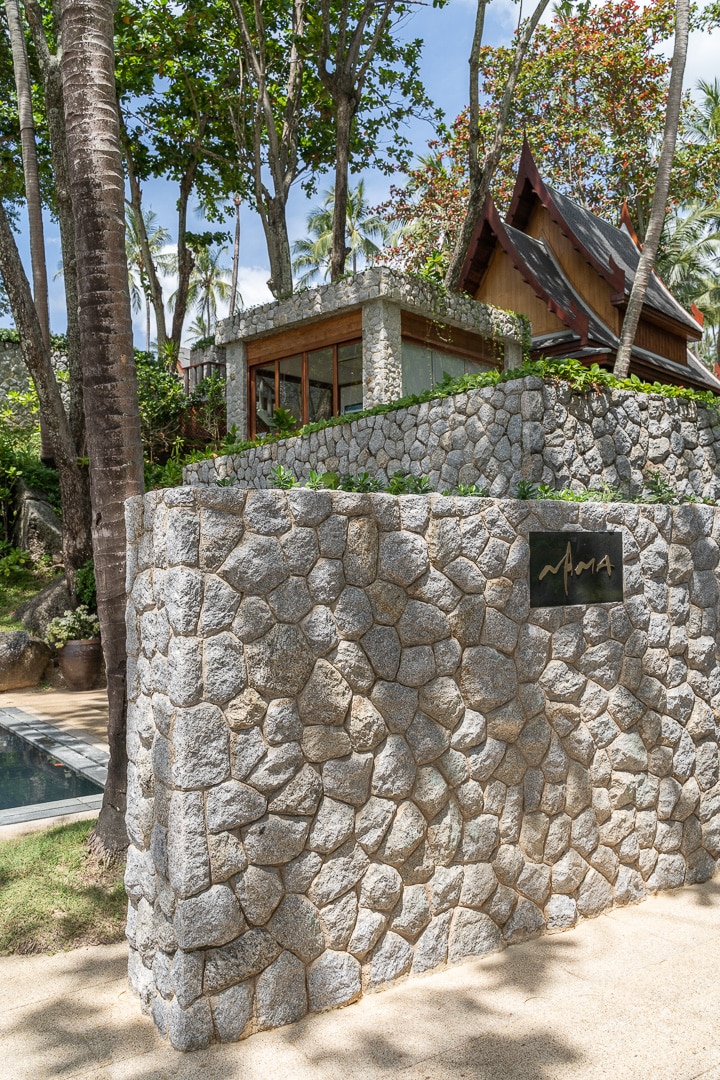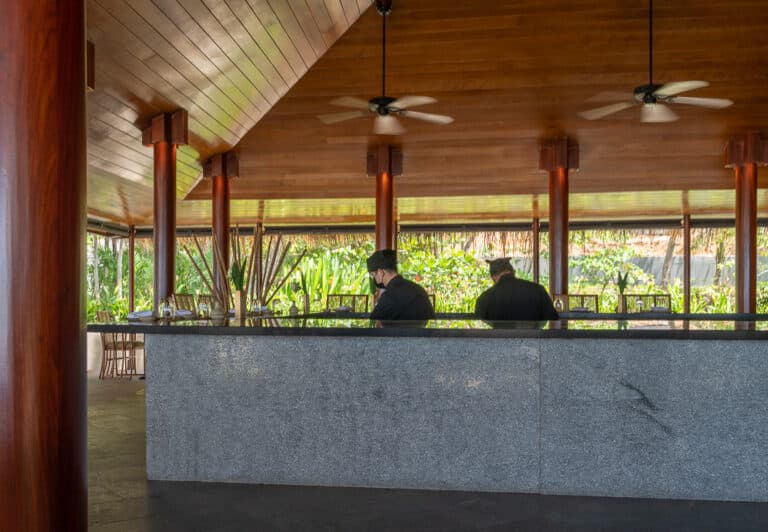 The interior decor was rather dark and austere but the row of tables facing the ocean had a great view and benefitted from lots of natural light. The kids pool is right next door but we never heard or saw children there when we were eating lunch (and we ate here every day of our stay).
Meals here began with the delivery of an ice cold, scented oshibori towel – something which was greatly appreciated given the heat! The unsweetened iced matcha was absolutely amazing too.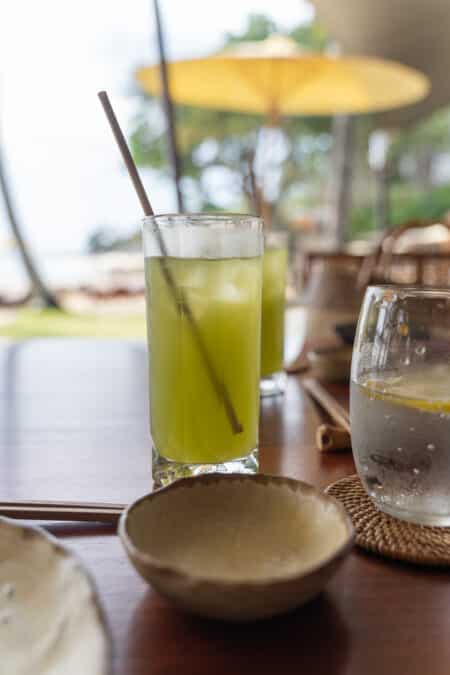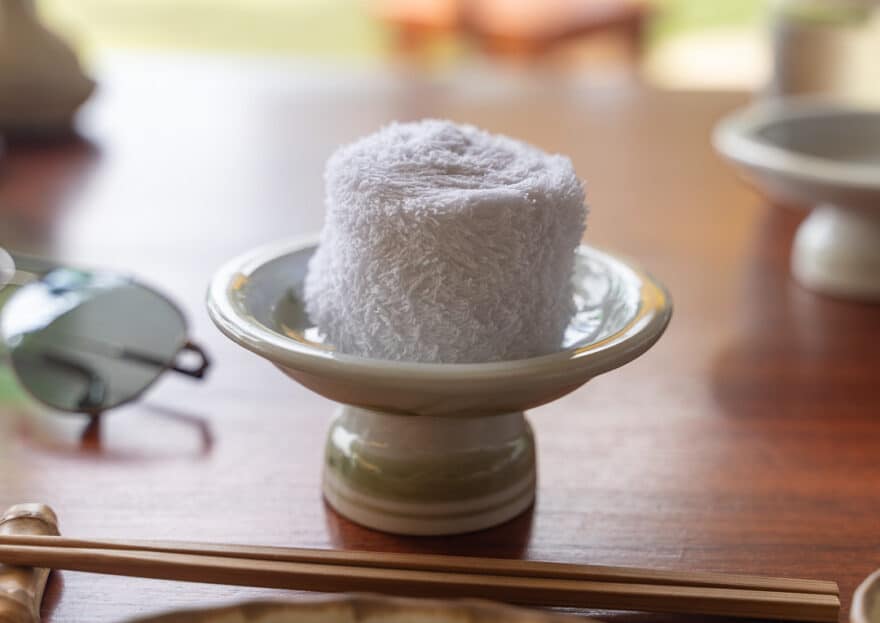 The quality of the sushi here was absolutely fantastic. At the very top level that you would expect internationally (I say this as a person who has made multiple trips to Japan for the sole purpose of eating).
The Otoro was as good as I've ever had anywhere and at 1500THB, was fantastic value for 5 slices!
The tableware and the presentation were absolutely excellent too. There's no question that sushi is all about the quality of ingredients but when the presentation is this great, it really take the whole experience to another level.
Even the salads were amazing and packed with a very generous assortment of fresh and delicious seafood.
The Amanpuri Roll with toro, amberjack and ikura was a particular favourite of ours too.
On a hot day, looking out towards the ocean, it was hard to resist the allure of a scoop of matcha to end the meal. This was the one slight miss at Nama though, since this had a few ice crystals in the centre, which detracted from the usual smoothness that you'd expect.
Beach Terrace Lunch
Amanpuri Beach Terrace Lunch Menu (PDF)
During the dry season, Amanpuri sets up a lunch venue on the steps between the two beaches. This serves an eclectic mix of grilled and Mediterranean food. We couldn't bring ourselves to miss a single lunch at Nama, so never ended up trying it. It actually seemed to be the more popular option with other guests though and was full most days.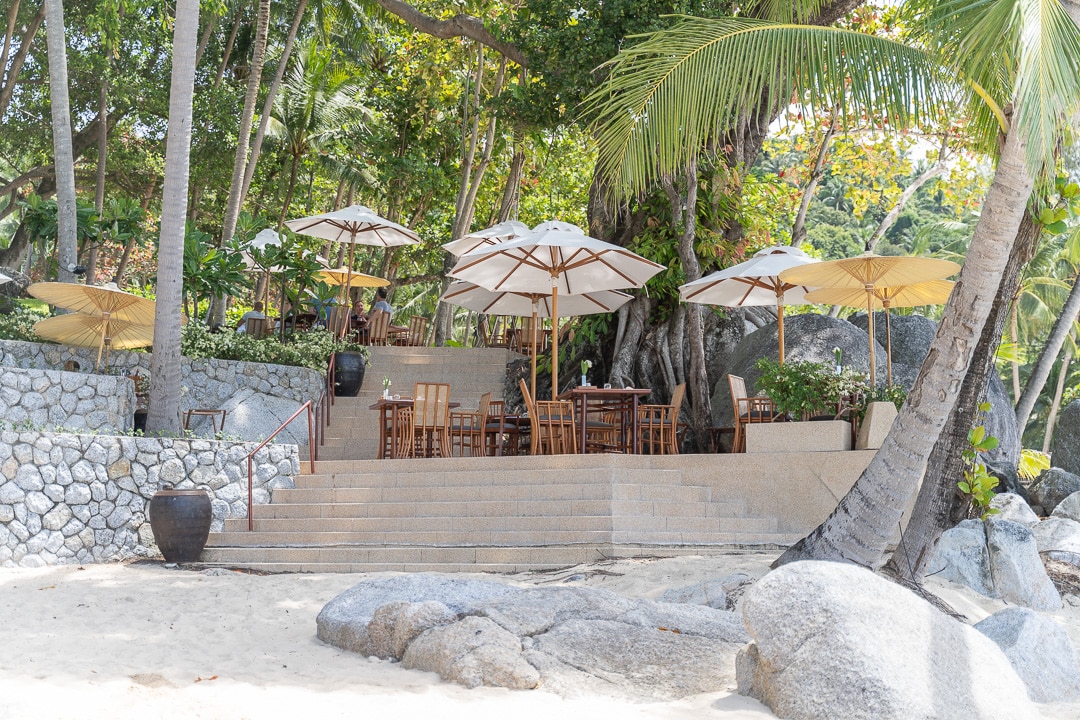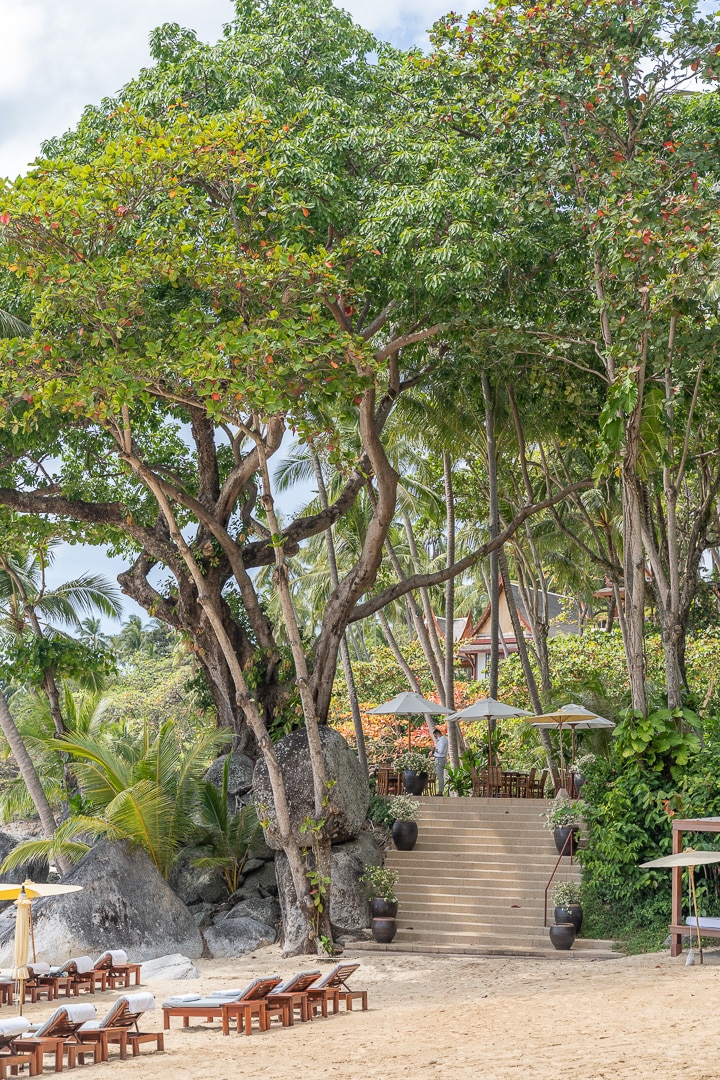 Complimentary Afternoon Tea (5pm-6pm)
A hallmark of the Aman brand is that their properties generally offer a complimentary afternoon tea, with a local twist. At Amanpuri this was served at the pavilion opposite Buabok, at the main pool.
The selection of different cakes, jellies, biscuits and fruit on offer was incredible. I also love that Thai sweets tend to have a savoury edge to them, I'd personally take this over a British afternoon tea any day.
There were also all kinds of teas and juices offered too, including a variety of homemade ice teas featuring local ginger and lemongrass.
Drinks at the Amanpuri Sunset Terrace
Amanpuri Sunset Terrace Drinks (PDF)
Once afternoon tea was over, the perfect spot to retreat to was the Sunset Terrace. This was located a few steps below the main pool, overlooking the beach below.
The ambiance inside was great too, which is important since very brief torrential downpours are not unheard of in this part of the world!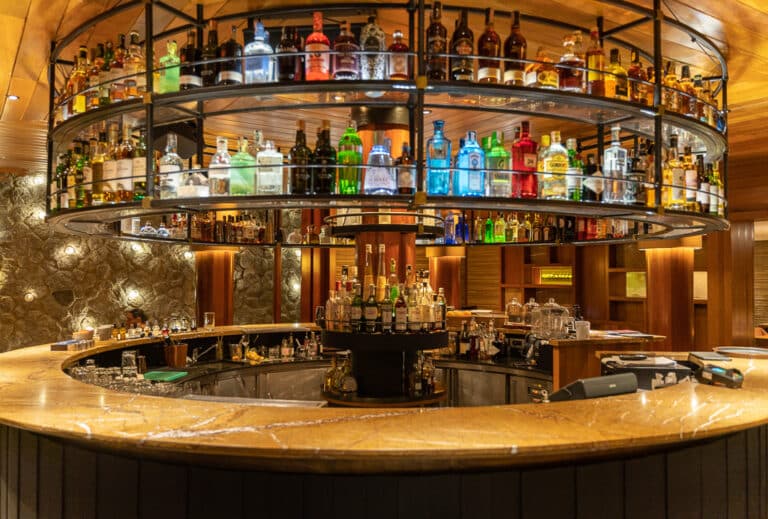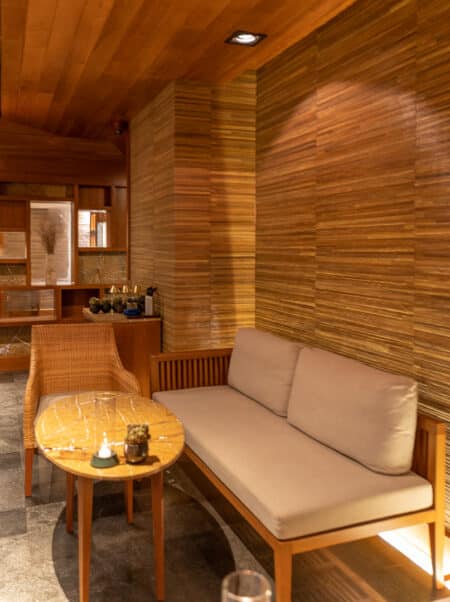 The menu featured an incredible DIY negroni section with all manner of gins, vermouth and amari to choose from. Complimentary snacks were of a very high standard indeed and when I asked for a spicy mezcal margarita, they nailed the brief admirably.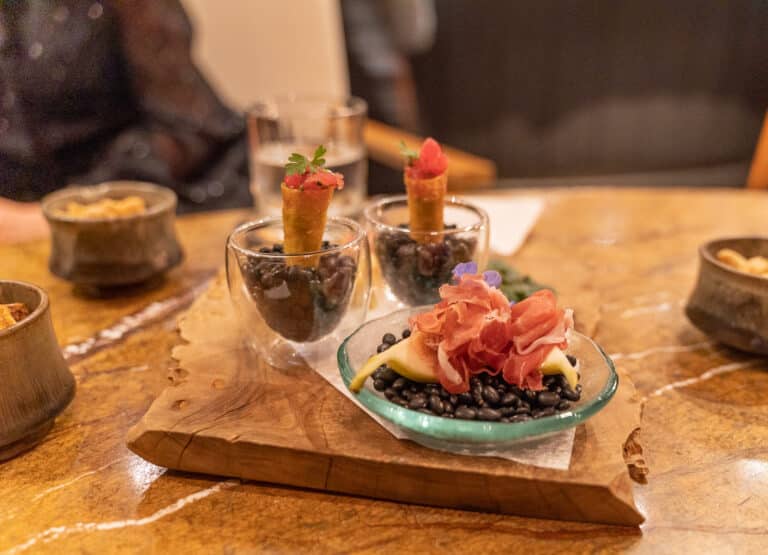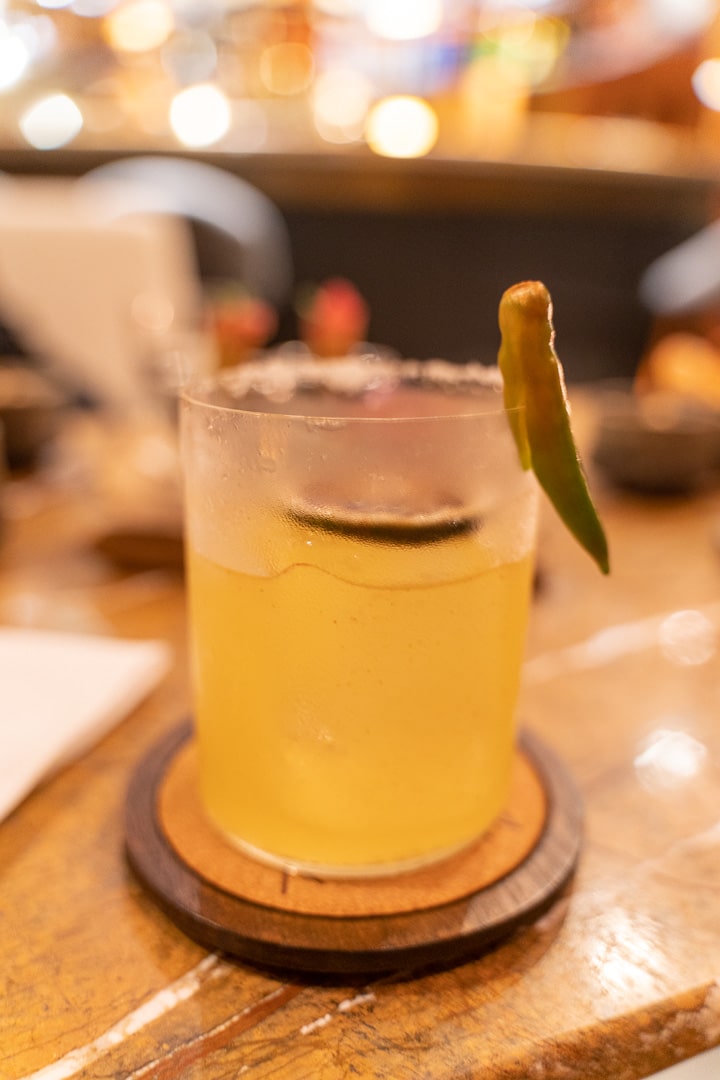 The Other Bar
This isn't listed on the hotel website but there is another bar on the opposite side of the step to the Sunset Terrace. This appears to open at random, presumably whenever guests request it.
I'm guessing that if you sit inside or even if you pull up a seat outside, staff will rush over and open the place up.
Dinner at Arva
Arva is Amanpuri's Italian restaurant. Indeed the Arva name is used throughout the Aman chain and we very much enjoyed our meals at Arva at Aman Sveti Stefan in Montenegro.
However we never made it to dinner here, we had it pencilled in for the final night but ended up having dinner at Buabok with our friends who own the incredible Lupaia in Tuscany. Understandably, they weren't thrilled with the idea of eating even more Italian food on holiday and we were more than happy to eat more Thai food too!
Dinner at Buabok
Amanpuri Buabok Lunch/Dinner Menu (PDF)
Amanpuri is wonderfully transformed in the evenings, with the pavilions and pools being gently illuminated and the sound of live music flowing softly through the still night air.
The service at night was a notch above that at breakfast, with staff really slowing down to engage with individual guests and to provide guidance with the menu.
The quality of the food on offer was exceptional too. Good Thai food is so hard to find outside of Thailand and here it was a complete joy to explore all manner of incredible dishes.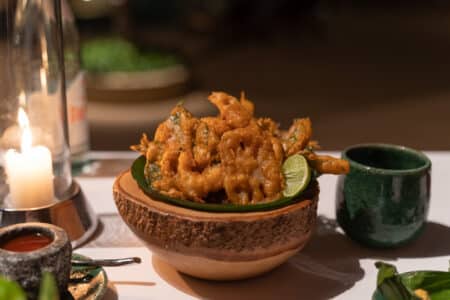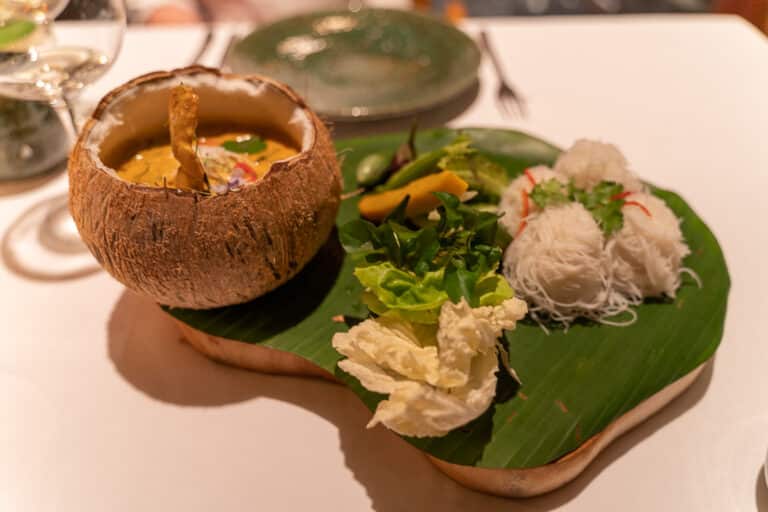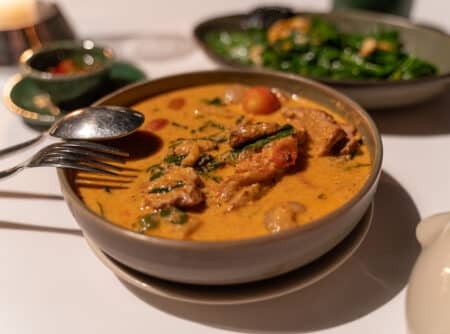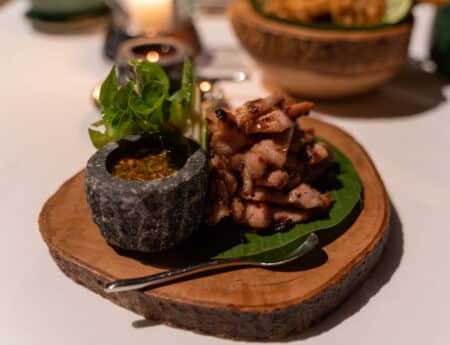 Much like my penchant for very strong coffee, I feel it sometimes takes a while to convey to hotel restaurant staff that I want my food spicy. I famously managed to spend two weeks in India without encountering spicy food.
However, staff here understood. Once they saw me pour an entire dish of chilies in fish sauce over my rice and finish it, they were over with more. They were sure to always have chillies on hand from then on, for the rest of our stay (at breakfast too).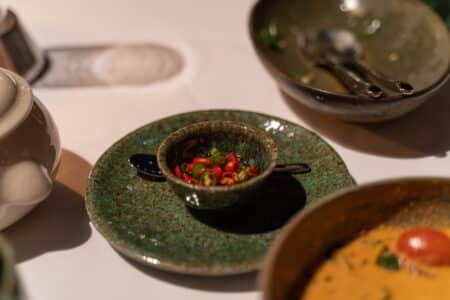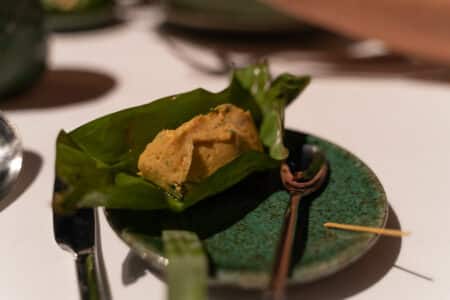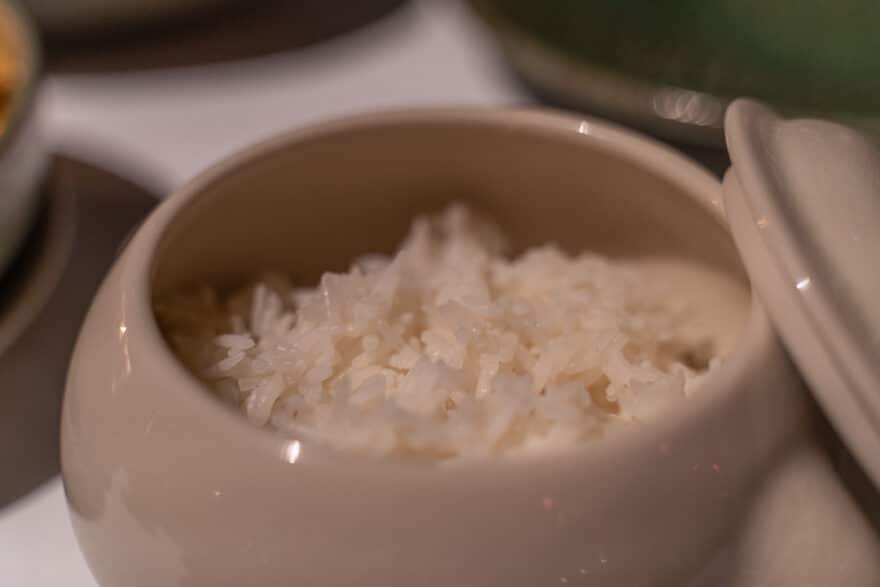 Mango sticky rice is a dish which many establishments try to put their own twist on, with varying degrees of success. At Buabok the focus was firmly on ingredient quality above all else. The execution was simply perfect.
Dinner at Carpe Diem Beach Club
Our stay at Amanpuri fell on Valentine's day and relaxing though the atmosphere is at the hotel, we were in the mood to get out and enjoy more of a lively ambiance.
Carpe Diem beach club is located about 50 metres down the road from the Phase 4 villas, so was extremely easy to get to. The website also made it look like no expense had been spared in terms of the decor and the waterfront location.
We arrived just before sunset when the club was still quite empty, which gave me a chance to snap some pictures.
I was very pleasantly surprised with the ambiance and decor in person: although this was a really lively spot it didn't feel like we were slumming it at all, even in comparison to Amanpuri. It was also great to be able to eat on the water's edge.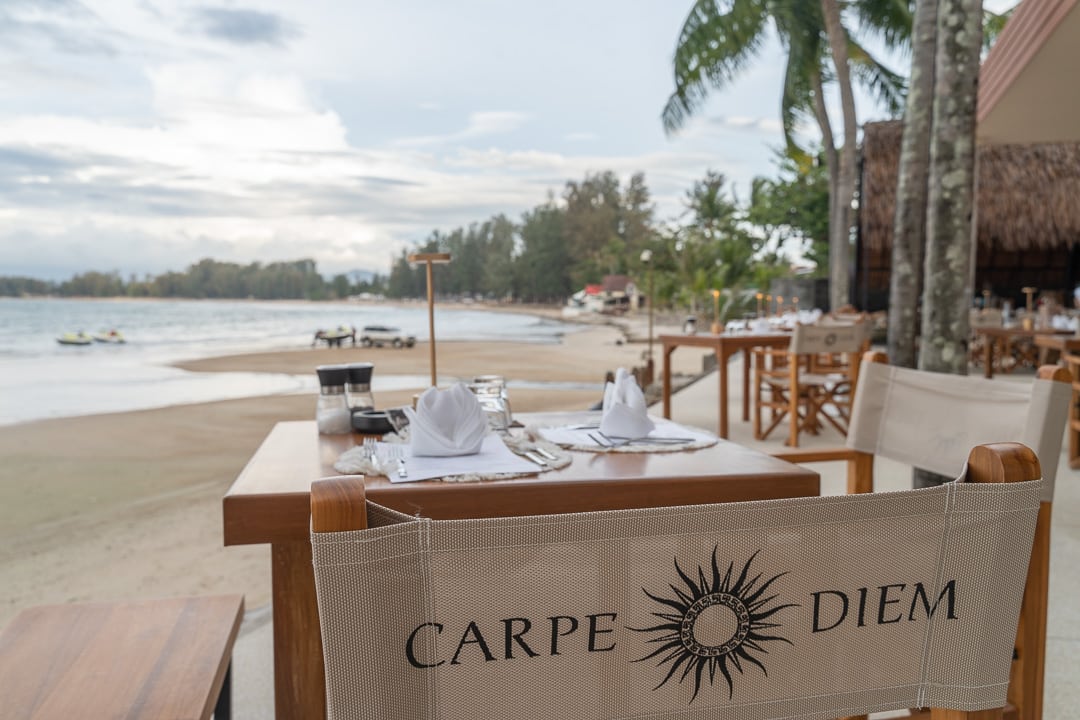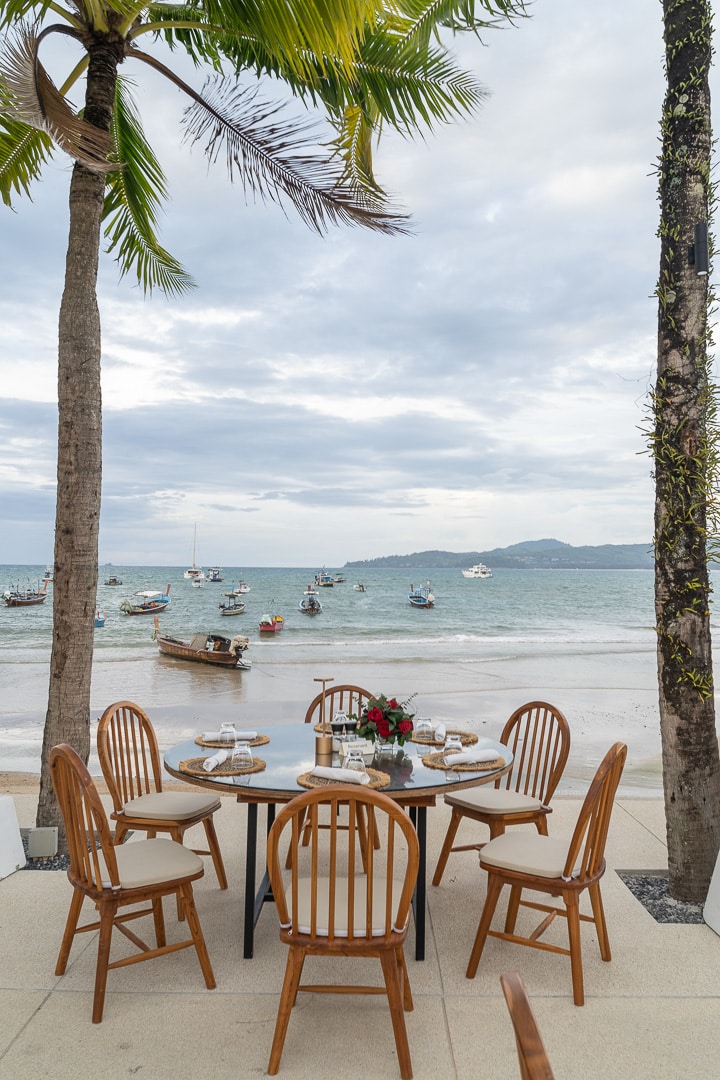 The quality of the food was excellent and service was very friendly and playful as is often the case in Thailand. There were numerous torrential downpours during our meal but staff remained in high spirits and expertly moved everybody around every time the rain came again.
We started with a deliciously sweet King Crab tian.
This was followed by freshly made lobster ravioli in an incredibly rich and complex seafood sauce.
For the main course, Kamara had some gigantic scallops topped with ikura and served atop mushroom risotto.
I went with a beef filet steak, which had a nice char on the outside and was perfectly rare in the centre, as requested.
When we headed back at 10pm the party was really pumping and it looked like most people were there for the long haul. This is definitely somewhere where that you can enjoy some after dinner drinks too.
---
Service
---
Service at Amanpuri was exceptional throughout the stay.
The thoughtful touches when we were first shown around were just the tip of the iceberg: complimentary coconuts and hats because we mentioned the heat, our preferred drinks placed in the minibar, a coffee set being prepared prior to our arrival.
All of this is standard practice at Amans. Of course we never saw a member of housekeeping, they always perfectly timed their visits when we left the room….and the room was refreshed every single time we left.
Housekeeping always went the extra mile: folding rash guards, rearranging toiletries or placing lens cloths by our glasses and Amanpuri clips on our cables.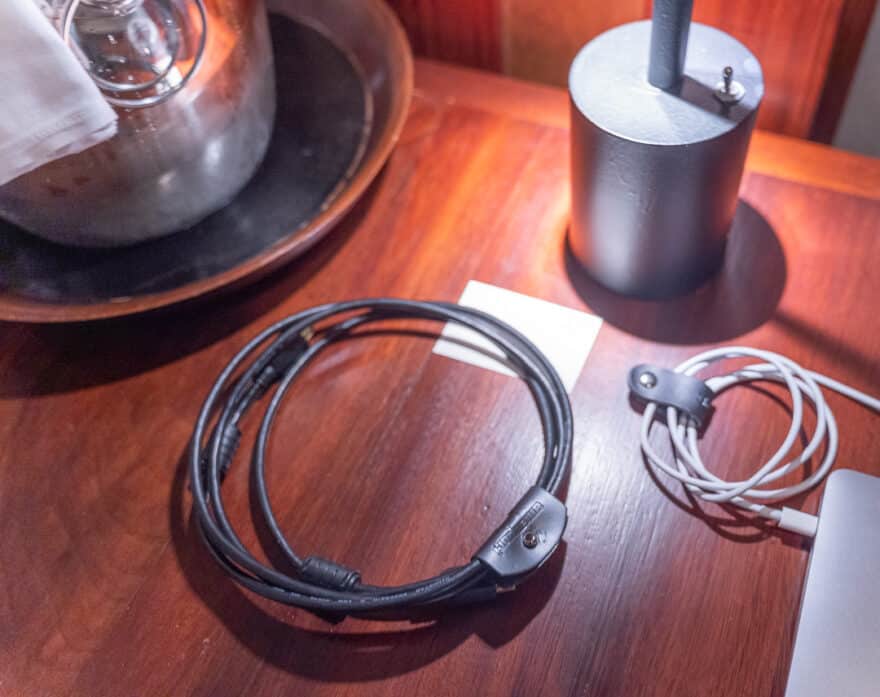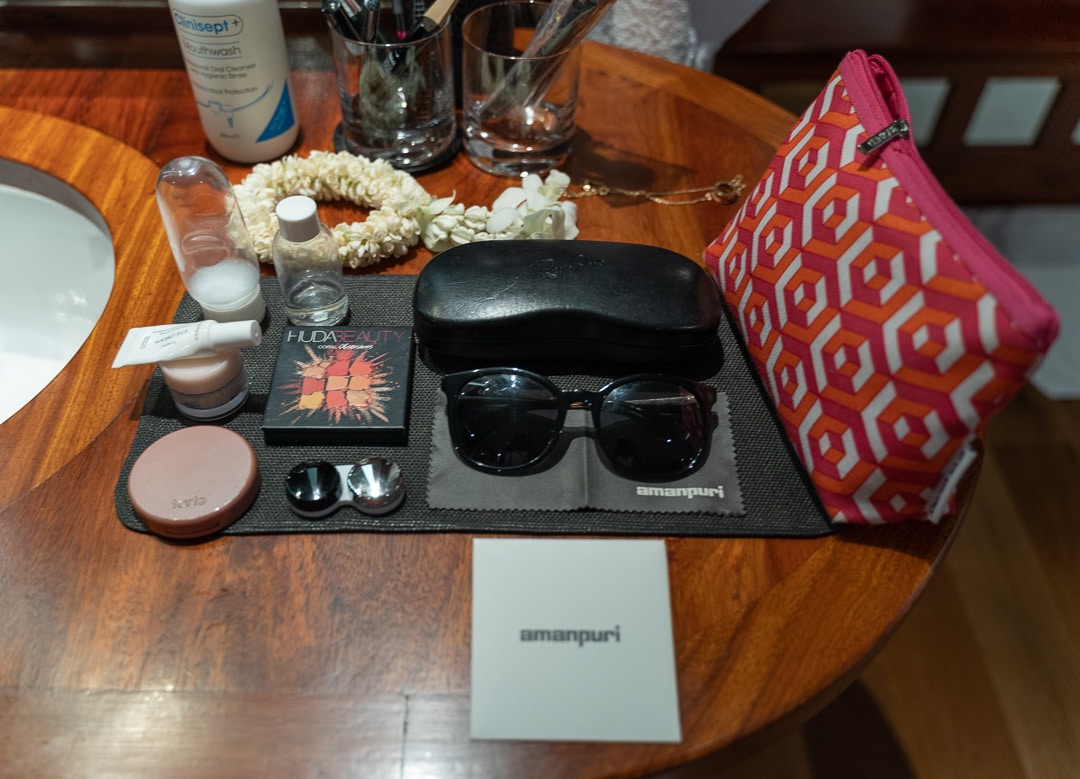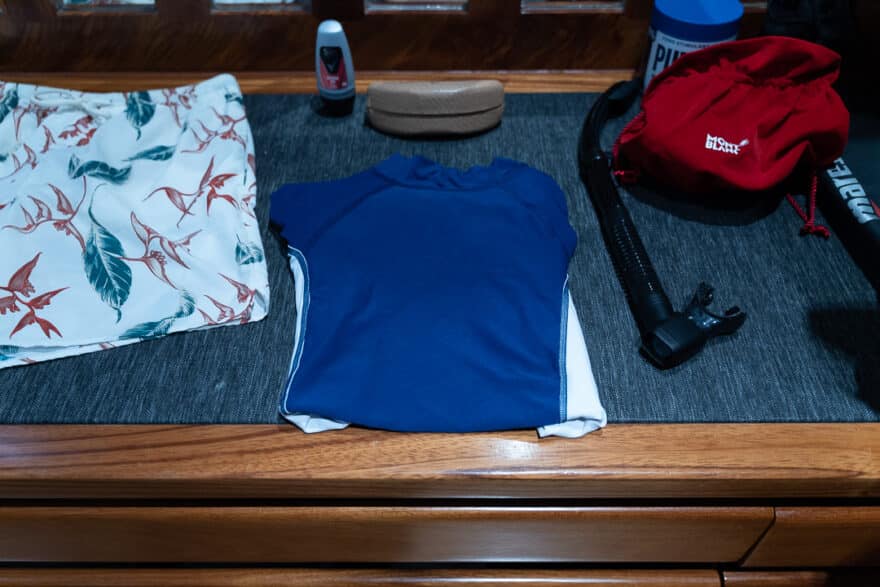 On our first evening we walked up the jungle stairs to our pavilion, only to see our pool and indeed our entire outdoor area completely illuminated by candles. The effect was absolutely magical and was repeated each evening, with candles of differing colours.
Swimwear that had been left on the edge of the bathtub to dry was instead brought outside and placed on a wooden rack. Meanwhile a mosquito coil had been lit next to each sala, in case we wanted to sit outside and enjoy the candlelight.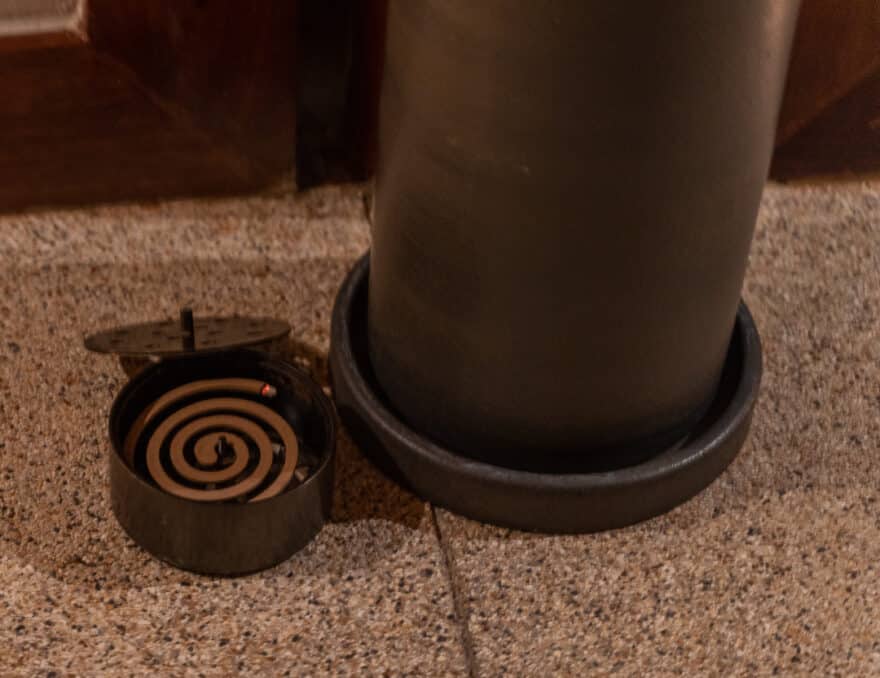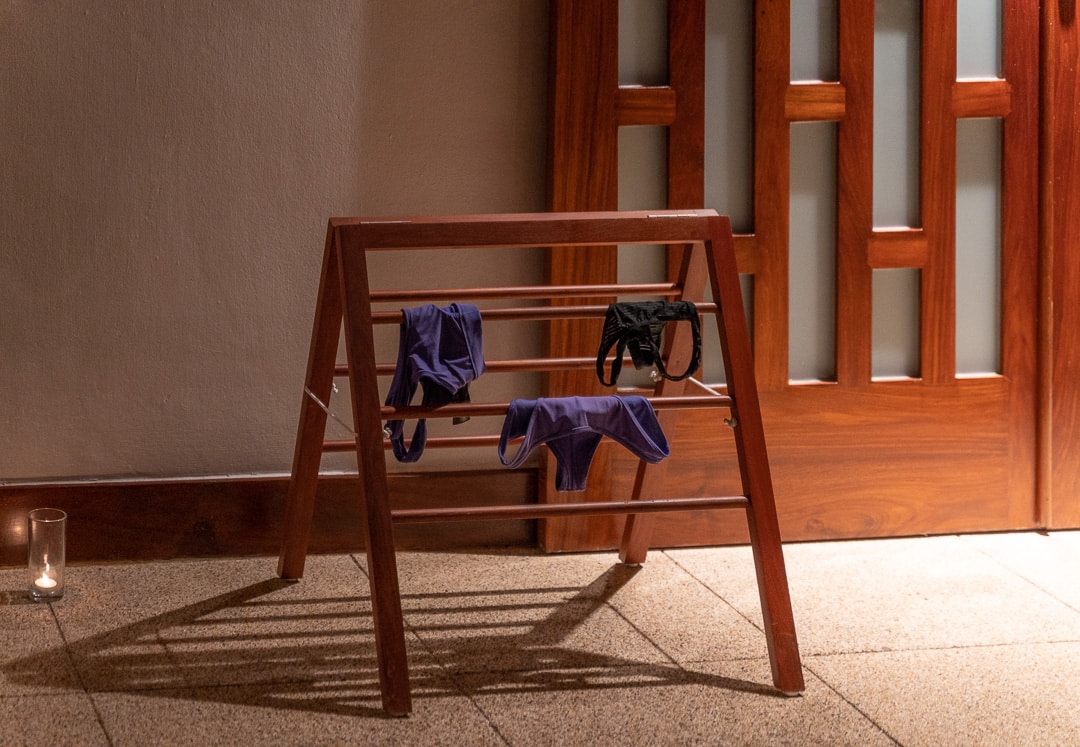 Inside, there was always a different turndown treat; on the first evening we were given a negroni kit. I later discovered that this happened because our friends from Lupaia had mentioned to the GM that we had enjoyed drinking Negronis together in Tuscany.
Another evening we were given G&Ts.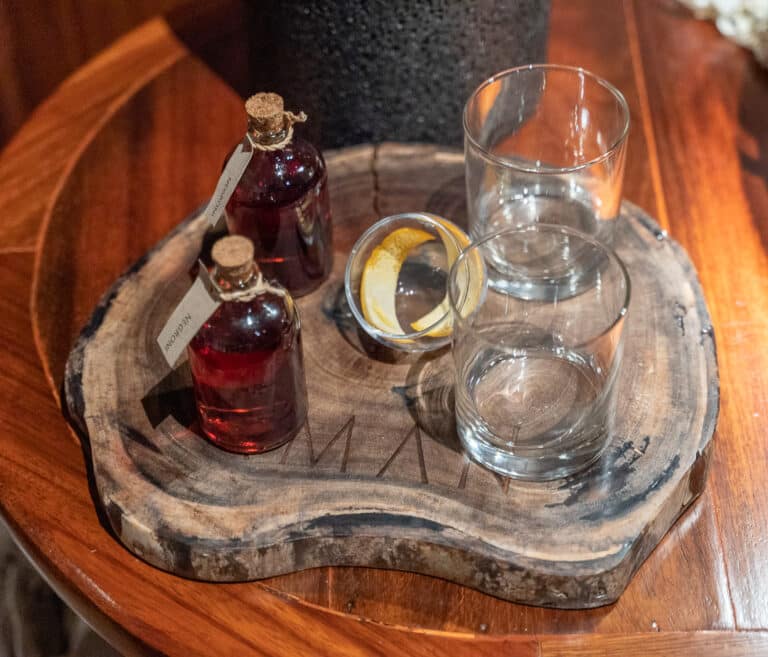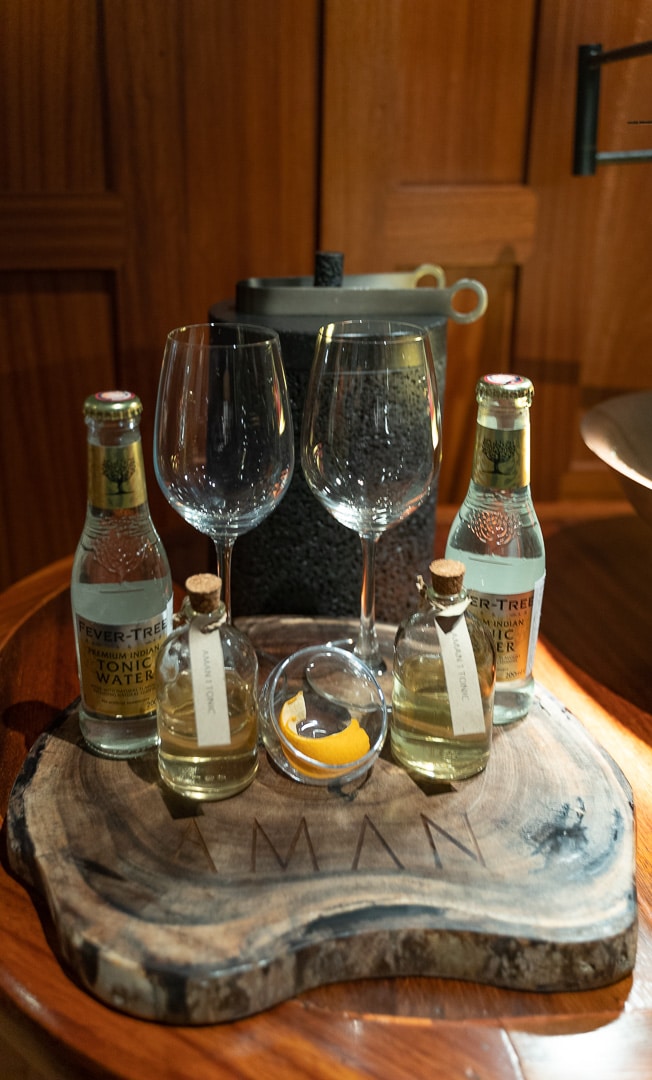 We also received a few random gifts to take home, like these Amanpuri branded atomisers and of course there was always water and lavender pillow mist placed on the bedside table.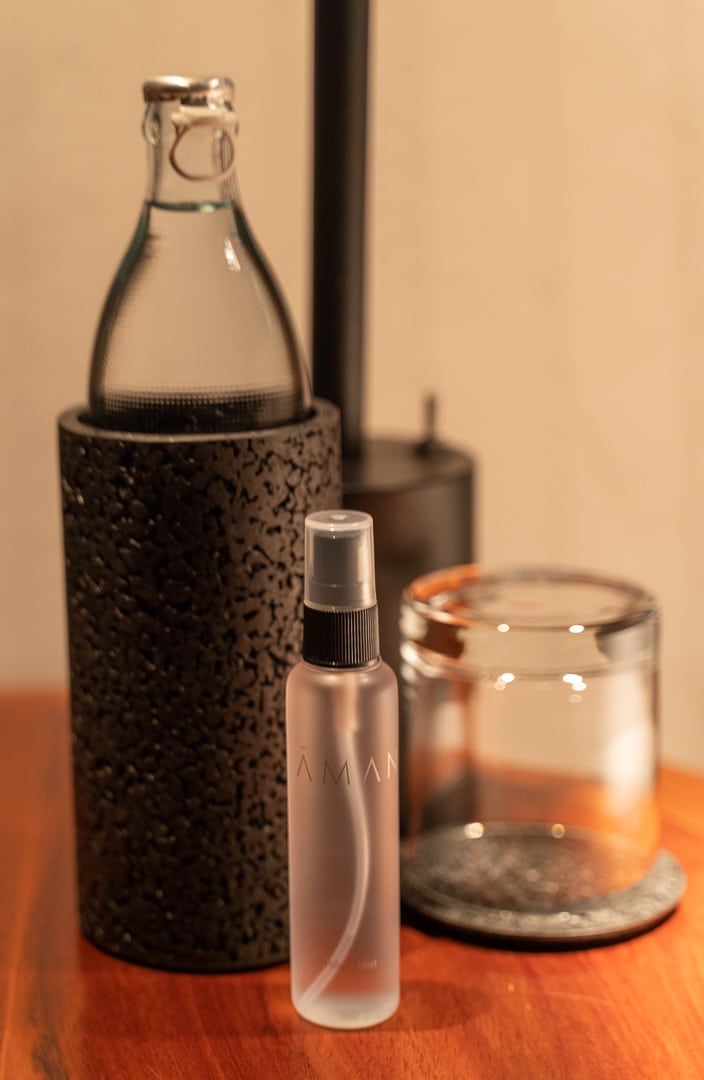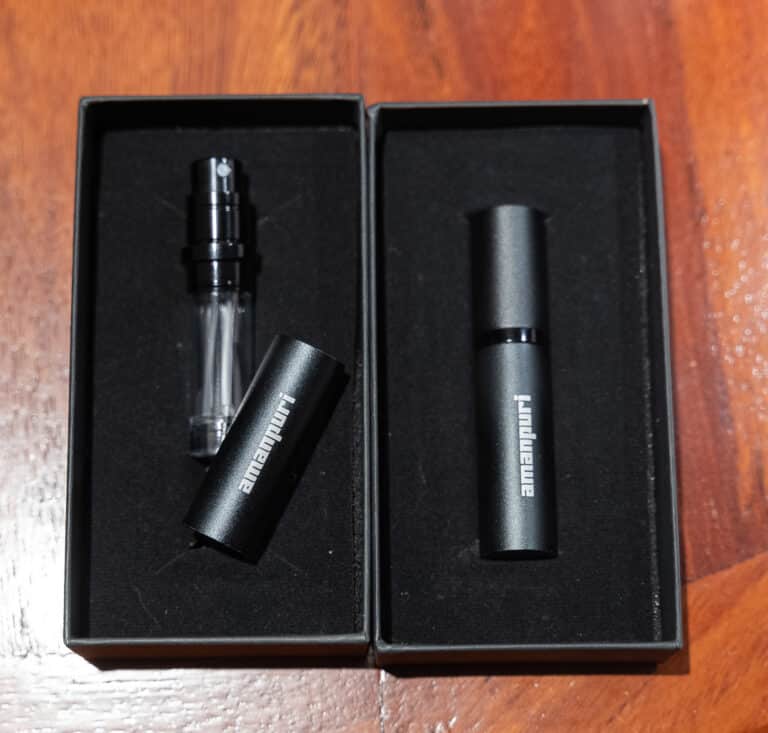 Housekeeping really kicked things into high gear on Valentines day though, with a chocolate and almond tree in the bathroom…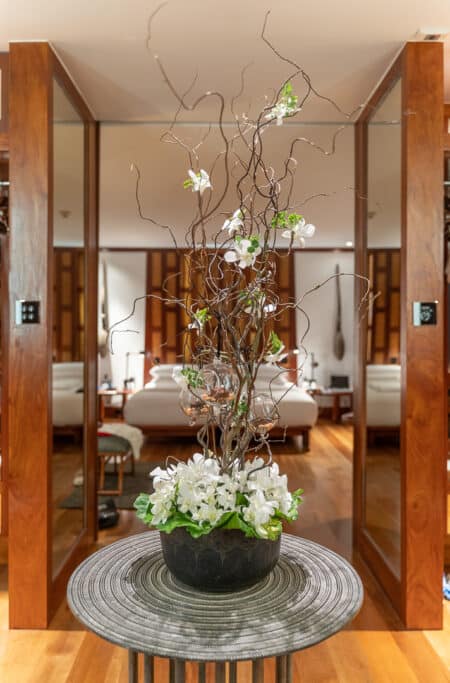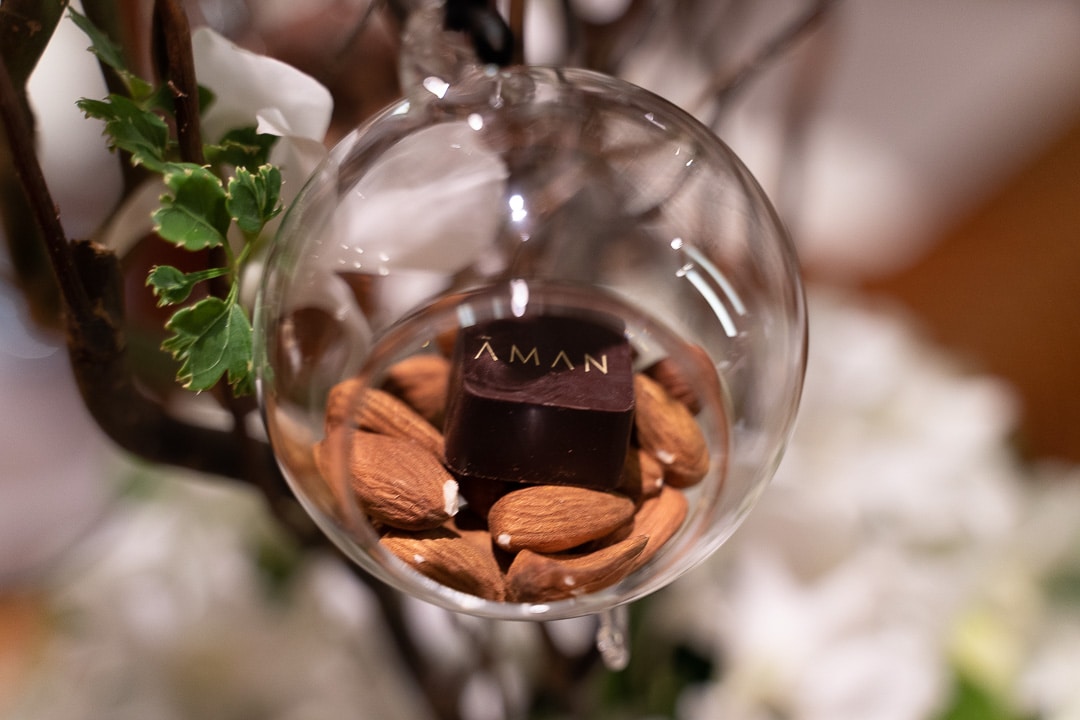 …red velvet cake lollipops and Aman massage oil, presented on a heart shaped bed of rose petals.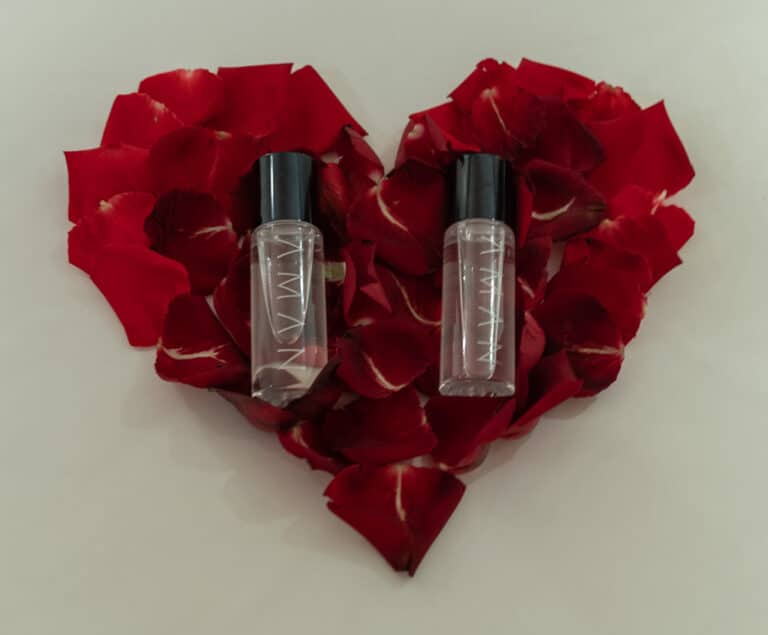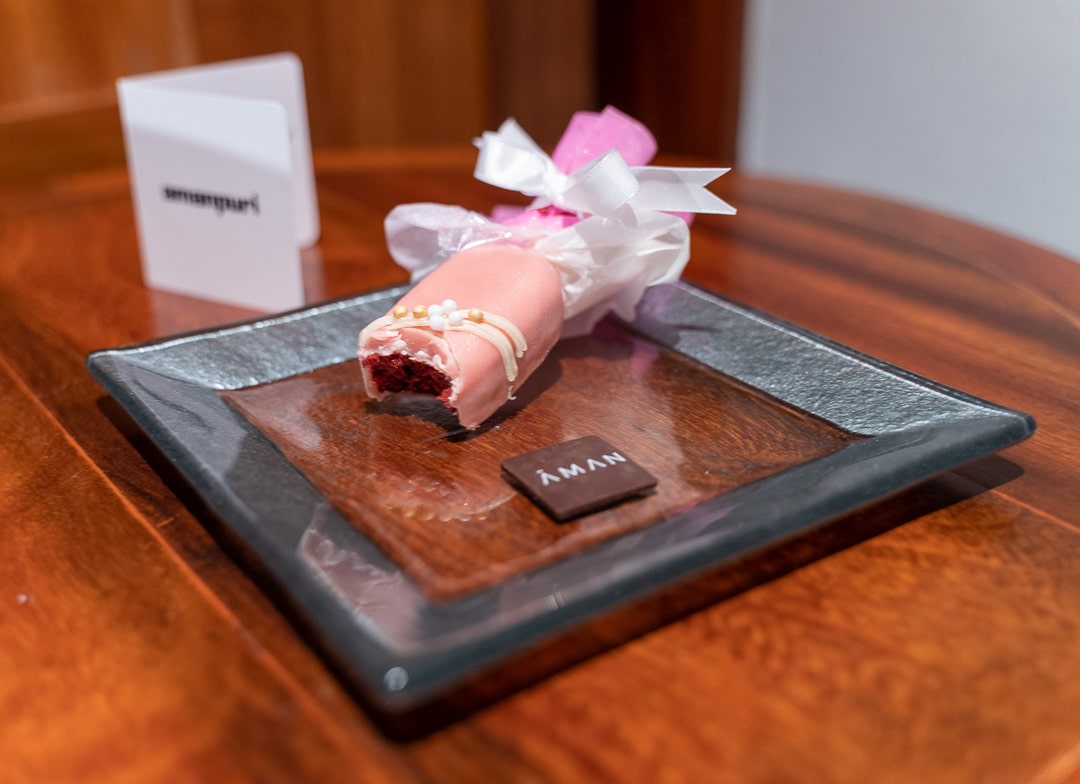 Of course, elsewhere it seemed like every member of staff was always fully empowered to get things done. If you asked somebody on the beach about restaurant opening times, they'd know. If you asked somebody in the gym about snorkelling, they'd know. The level of training at a normal hotel just can't compare with this.
We also never had to give our room number or sign a bill at the end of a meal. Everything was seamlessly communicated and showed up on our final bill during checkout, which in reality is the only time we ever felt like customers here.
The rest of the time the service was on such a level and we felt so well looked after that we genuinely felt like we were staying with friends. Friends who build fortresses out of parasols and hose the sand around you, so that your feet don't get too hot.
---
Conclusion
---
Basics Checklist
☑︎ Power sockets near the bed
☑︎ Easy to understand light switches
☑︎ Coffee machine (Illy branded!)
☑︎ Separate shower and bath
☑︎ Blackout blinds
☑︎Stable, fast and free Wifi
☑︎ Feather pillows
☑︎ Quiet and powerful aircon
Amanpuri is the most expensive hotel in Phuket; a villa with a private pool and direct sunset view at Trisara will cost you less than half the price of a Partial Ocean Pool Pavilion here.
However there is no question that the room maintenance and the level of service are in a different league at Amanpuri. Service is at the very highest level of any hotel you are likely to experience in the world and for many people, especially in the post pandemic world, this is the most important criterion when selecting a property.
There are no slip ups, no training issues and no misunderstandings. Amanpuri is a well oiled machine that is still operating at peak efficiency when so many other hotels are struggling to rehire inexperienced staff, to replace experienced works who left during the pandemic.
The property closes in June of every year, solely for the purposes of maintenance and subtle hardware improvements. As such, it manages to be both timeless and surprisingly modern. Even if the traditional Thai style is not to your taste, the quality of the hardware is still remarkable.
There is an undeniable air of elegance to everything at Amanpuri and perhaps this will make the hotel feel too formal for some. Having said that, staff are very welcoming and jovial, clearly adjusting their service delivery to the needs of individual guests.
The beach is absolutely fantastic. Very private feeling with astonishing service, phenomenal sand quality and beautifully tranquil water. That being said, this only applies to half the beach, the number of loungers in the other half is an indicator of just how large Amanpuri has become over the years.
The spa, gym, restaurants and beach are shared by an ever increasing number of guests and villa owners and at times the strain was felt. The property certainly isn't for those looking for the remote tranquility of Amanoi, where guests can spread their time between a beach club, mountains, cliff top pools or a serene lake.
At Amanpuri, the focus is firmly on the beach and the beach is only so big.
Overall it is hard to deny that Amanpuri is the best resort in Phuket. This is manifestly clear. However the leap in price between Amanpuri and its very close peers means that the resort will continue to work to prove itself….a fact for which I am deeply thankful.
---
Book Amanpuri with Virtuoso Benefits
---
Our clients are able to enjoy additional Virtuoso benefits when booking Amanpuri:
Upgrade on arrival, subject to availability
Daily breakfast for up to two guests per bedroom
$100USD equivalent Food & Beverage credit utilized during stay (not combinable, not valid on room rate, no cash value if not redeemed in full)
Early check-in / Late check-out, subject to availability
Complimentary Wi-Fi
Room rates and payment terms match the Aman website exactly, with payment taken directly by Aman during your stay.
You can book a Virtuoso rate at Amanpuri using our online booking portal:
BOOK AMANPUTI WITH VIRTUOSO BENEFITS
If you're booking with us for the first time, here's a quick guide on how to use the booking portal:
It's also always worth dropping us an email to see if a better offer is available (especially during the off peak months of April-October)