Eight New Suites Aboard the Legendary Venice Simplon-Orient Express
July 28, 2022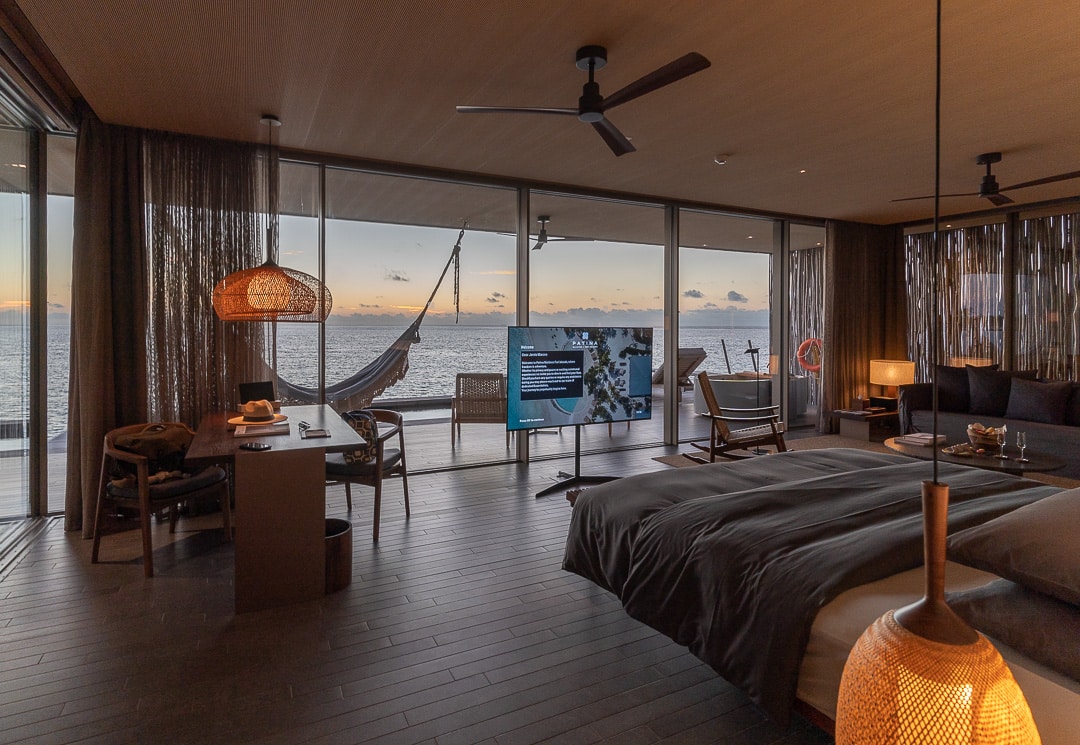 REVIEW – Patina Maldives
August 19, 2022
Trisara
Room Type: Ocean View Pool Villa
Typical Rate: $1000 USD per night
Price Paid: Hosted stay
Loyalty Program: Virtuoso
---
Intro
---
Thailand has long had a reputation as a mecca for backpackers, with buckets of alcohol (literally) and cheap street food available on almost every corner. The island of Phuket is no stranger to this type of tourist.
However, much like Bali, this tropical island is also home to a thriving luxury hotel market – with competition in the space ramping up ever since the Aman chain was born here in 1988.
There are a number of resorts vying for the title of best hotel in Phuket, with many savvy travellers still giving the nod to Amanpuri.
On this trip I was interested in visiting Trisara first, since it seemed to offer many advantages over its more famous rival:
All rooms have sunset facing infinity pools
Trisara has a far lower room count than Amanpuri
Trisara is home to the only private beach in Phuket
Trisara hosts the only Michelin starred restaurant in all of Southern Thailand : Pru.
Add to this the fact that a private pool villa here retails for less than 1/3 of the price of something similar at Amanpuri and you have the recipe for something rather special indeed…
---
Special offer at Trisara
---
Trisara participates in Virtuoso. As such, our clients are able to enjoy the following benefits at Trisara:
Upgrade on arrival, subject to availability
A complimentary 50 minute massage for up to two people, per room, once during stay
Early check-in/late check-out, subject to availability
Up until 31st October 2024 our clients will receive even better benefits!
A 10% discount on the best promotional rate showing on Trisara.com
GUARANTEED upgrade at the time of booking (valid for all standard one-bedroom suites and villas)
A complimentary 50 minute massage for up to two people, per room, once during stay
20% discount on additional wellness treatments at Jara Spa
Early check-in/late check-out, subject to availability
[Rates at Trisara always include wi-fi, breakfast and round-trip airport transfers as standard]
EMAIL FOR TRISARA BOOKING ENQUIRIES
---
Arrival
---
I really like the fact that all guests at Trisara receive round trip airport transfers as part of the standard offering. This really ensures that you are enveloped in a complete feeling of luxury, throughout your time as a Trisara guest.
Communication with the property was great prior to our stay and a host was waiting for us with a Trisara sign, as soon as we entered the arrivals area at Phuket airport.
Everything from the greeting, the vehicle and even the snacks and wifi on board reminded me of our transfer experience at Amanoi.
Which is to say, it was excellent. As far as first impressions go, Trisara was off to a great start.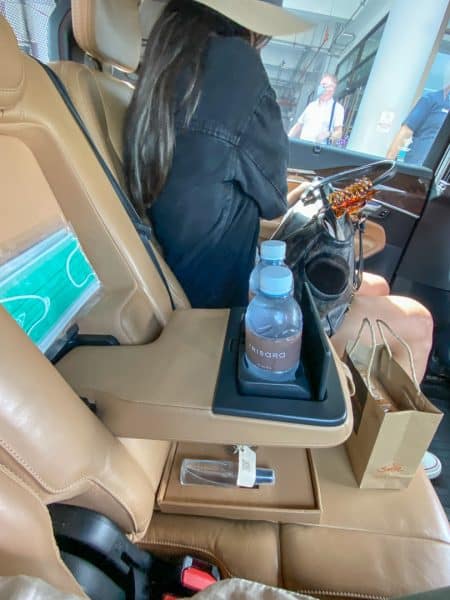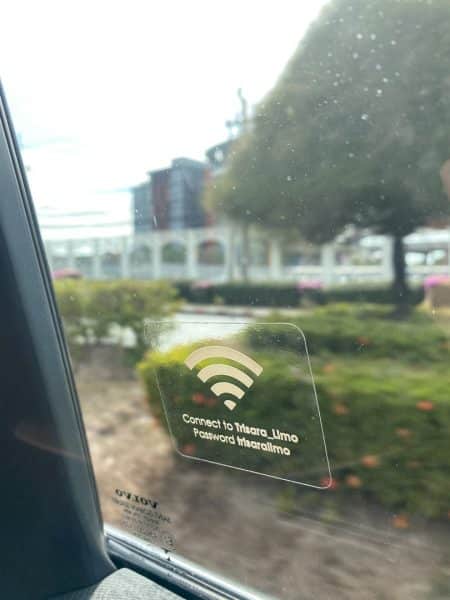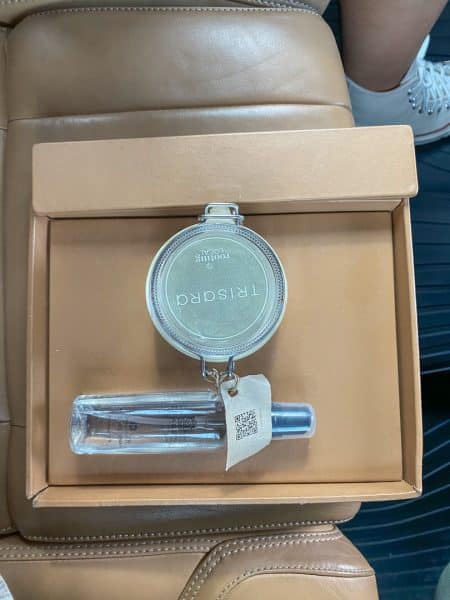 Check-in
As our vehicle pulled into the arrival pavilion we saw several staff members assembled in a row, waiting for us.
The main lobby was rather understated and minimal. Despite not having much of a view, it did feel very relaxing to be surrounded by greenery and the sounds of nature.
Check-in was a rather relaxed affair, with our passports quickly taken from us and just the most simple of forms to fill in. More than anything, this was an opportunity to sit back and enjoy a complimentary (non-alcoholic) welcome drink, whilst hearing some information about the resort.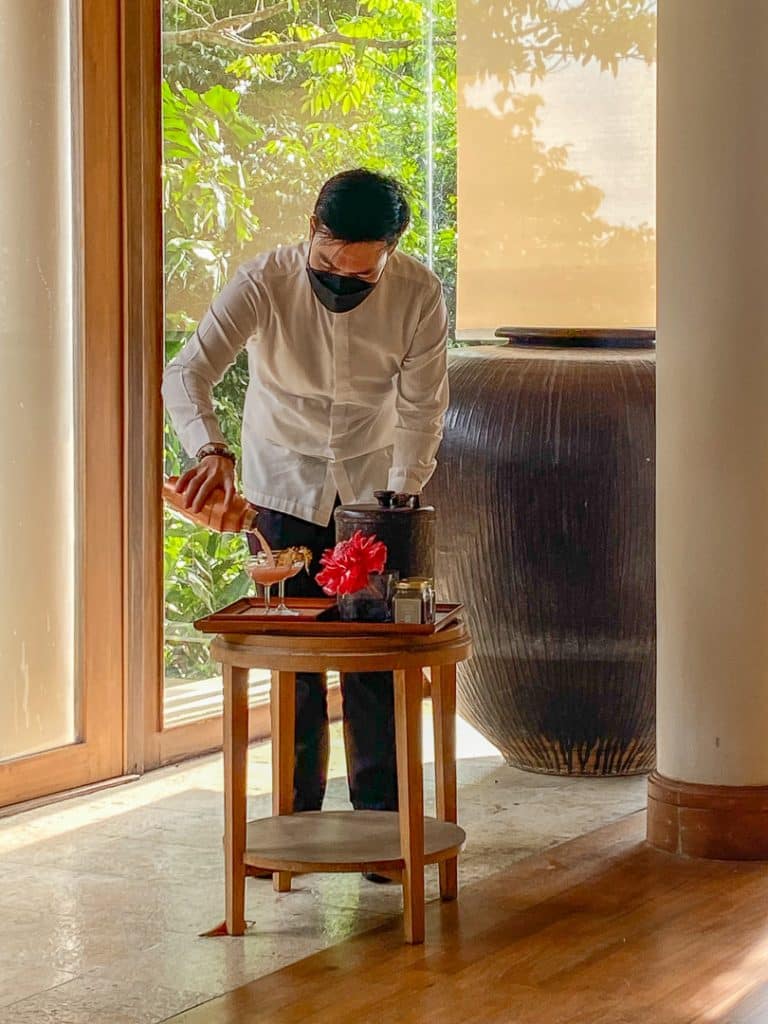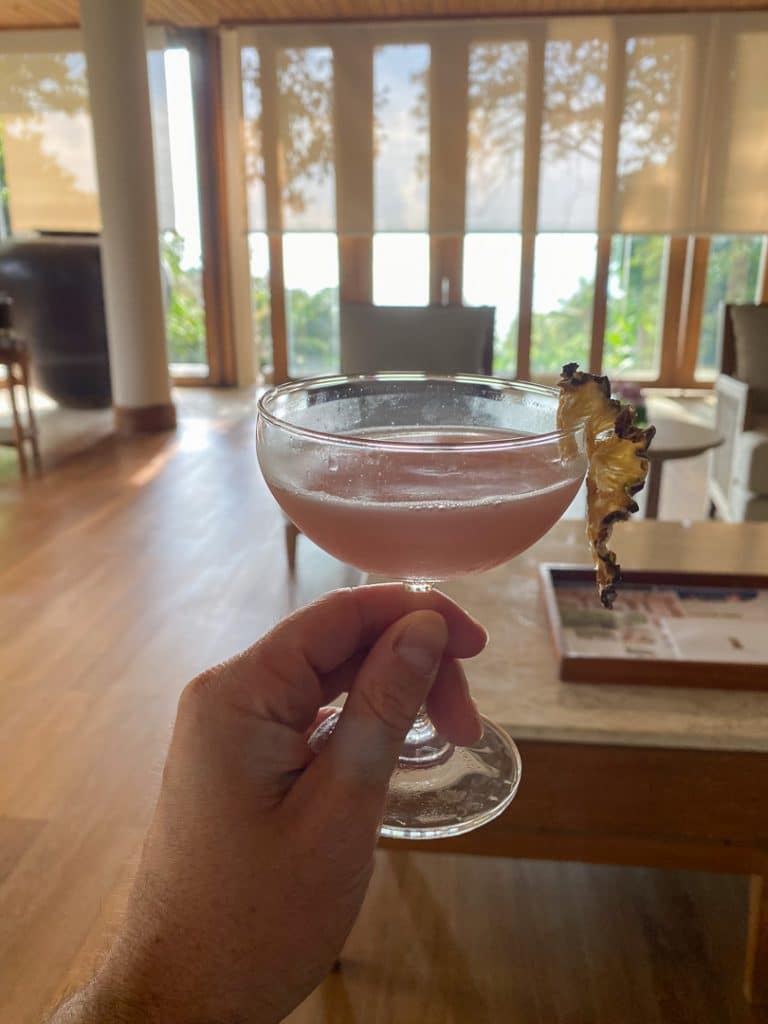 Resort Map
(our villa 201 is highlighted)
---
Ocean View Pool Villa
---
Once we'd finished our drinks we were driven to our Ocean View Pool Villa in a buggy. Although a buggy was necessary to transport luggage, our villa was very conveniently located on foot too.
The steps to the gym and lobby were only a few paces away from our villa, as was the main hub of the resort, with the restaurants, pool and beach.
Despite being so close to the action, villa 201 suffered no loss of privacy or excess noise. Indeed it would be my top pick within the Ocean View Pool Villa Category.
One small thing that I noticed on the way there, was that the roads inside Trisara weren't always in the best condition, especially when compared to the likes of Conrad Koh Samui or Banyan Tree Bali, which have a very similar resort layout.
The random patches of differently coloured asphalt gave a haphazard impression to an otherwise pristine looking environment:
Villa Tour Video
View this post on Instagram
Entrance
This small maintenance issue was soon forgotten though as I gleefully pushed open the double doors to our villa, with my oversized room key in hand.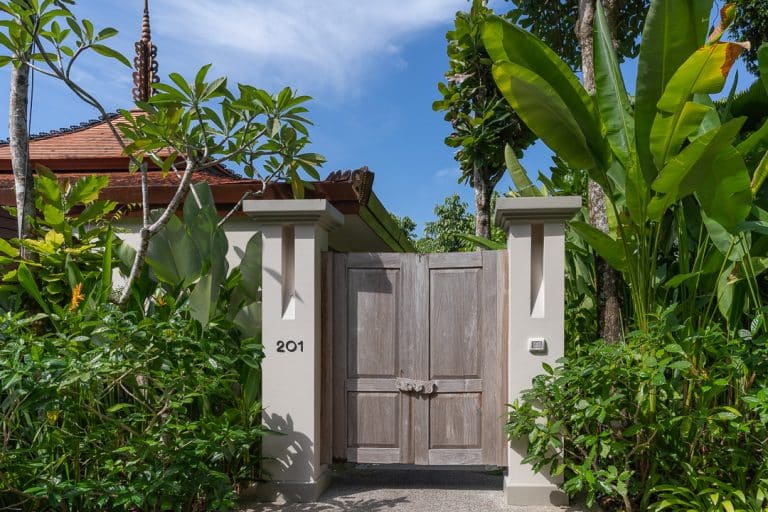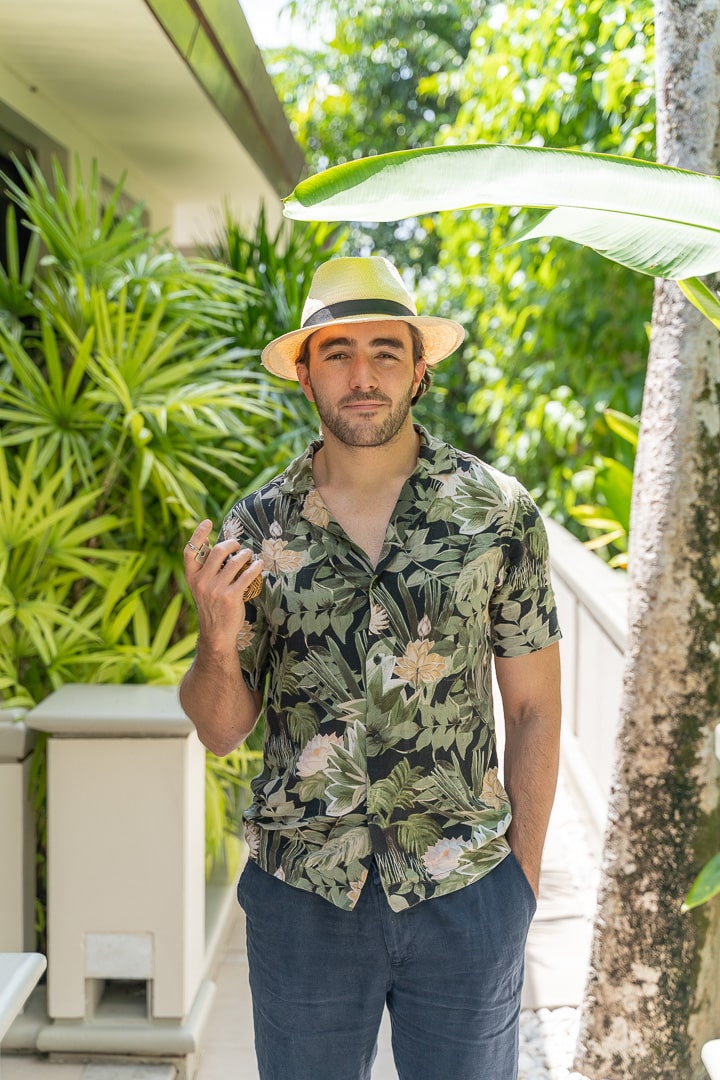 I'm still in two minds about clunky resort keys, there's something fun about a proper key, since you'll almost never see one outside of a city hotel. However my preferred option would be the electronic wristband method employed by many Maldivian resorts.
This is still different to a standard room card and is actually far more convenient to keep hold of, if you're spending a lot of time at the beach or in the water.
Anyway, that digression aside, the foliage around our villa was immaculately kept. As soon as I swung open the double doors it felt like I was in a botanical garden.
Floor Plan
Bathroom
Interestingly, the entrance to the villa opened into a dressing area, at the far end of the bathroom.
Storage space was plentiful with three, double doored, wardrobes in which to hang clothing (there was also a lot of additional storage space in the bedroom).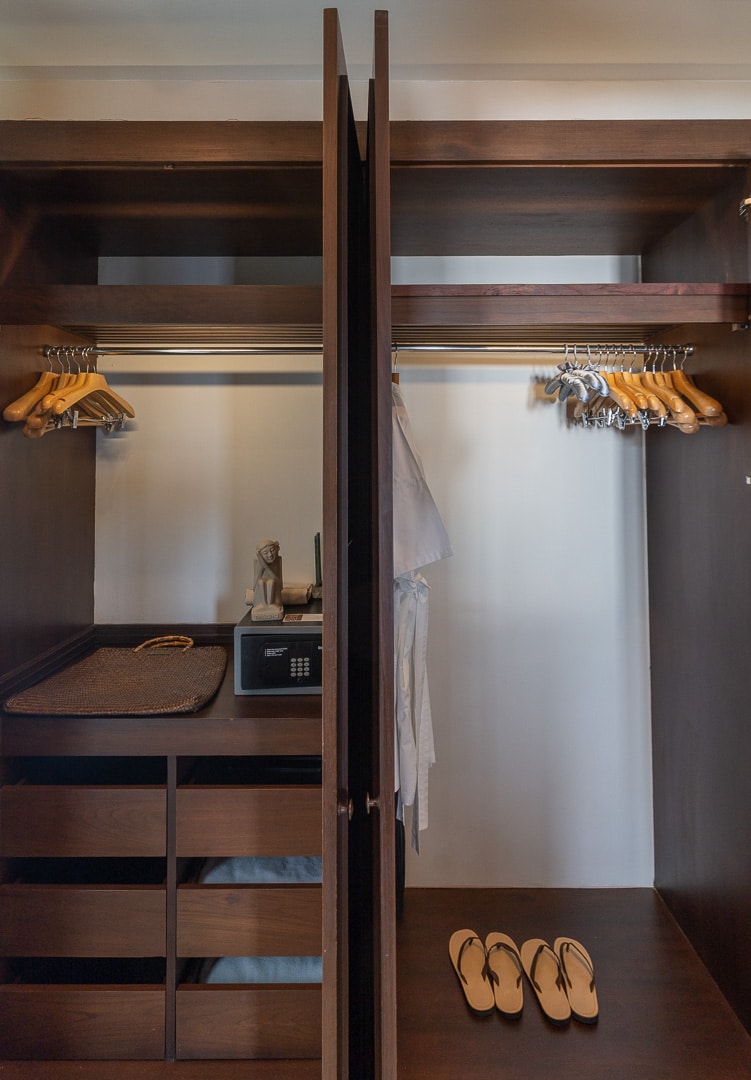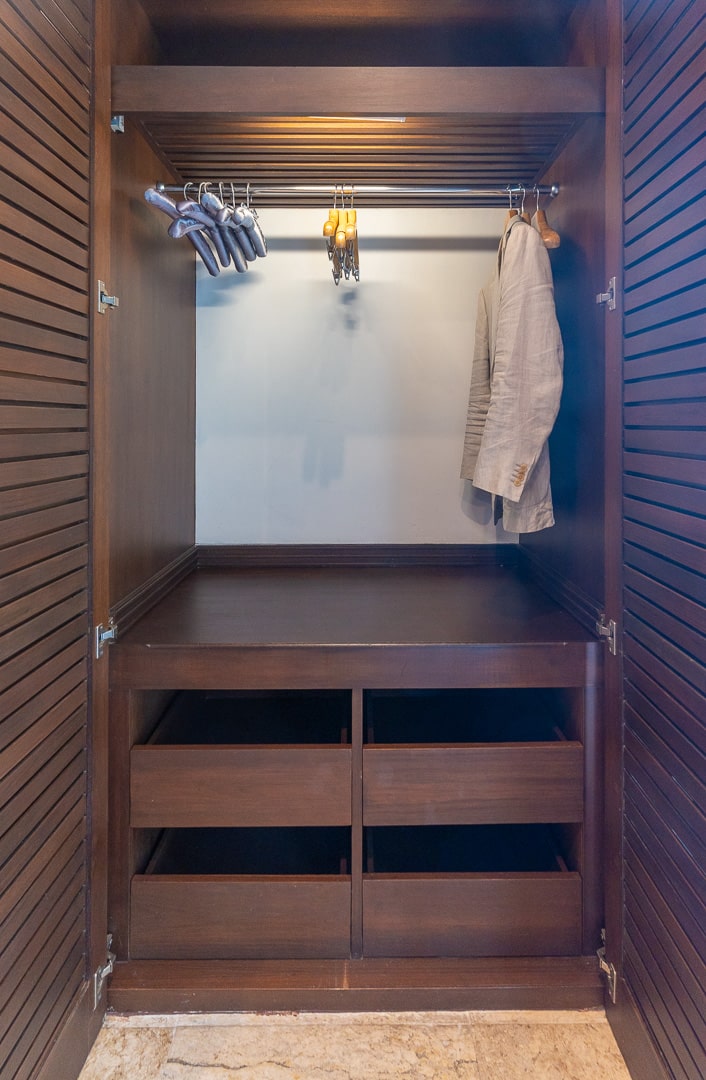 There were a variety of different hangers available, including ones robust enough to properly hang a linen jacket (for the few of us who bother bringing them to the tropics).
There was also a woven beach bag, a set of flip flops for each of us and even some sealable Trisara bags for packing wet swimwear upon departure.
[Bonus points for the very cute Do Not Disturb Statue.]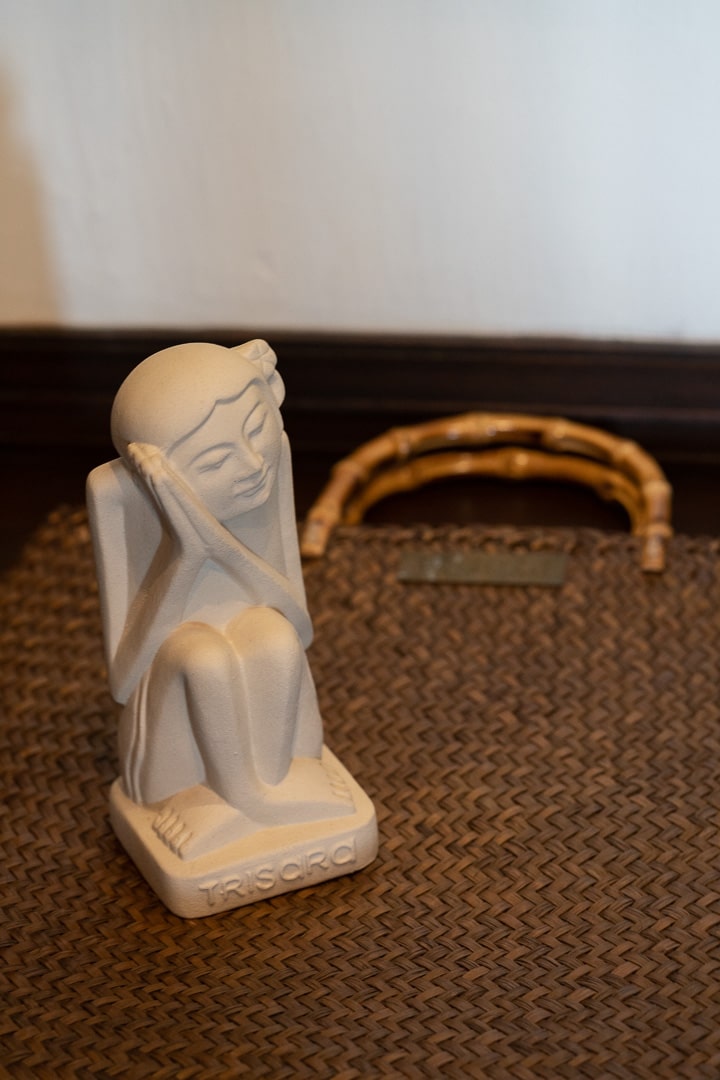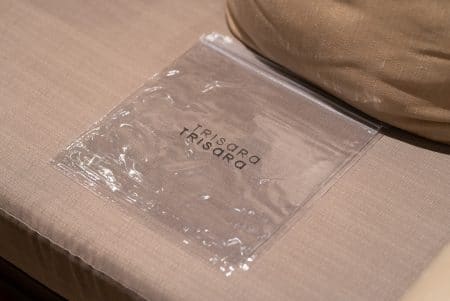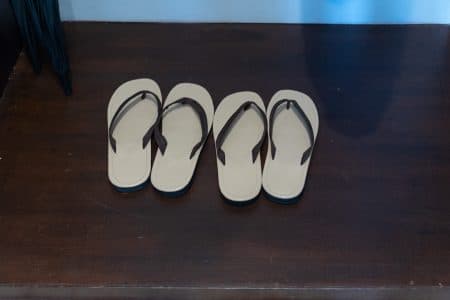 The bathroom ran the entire length of our villa and had a truly spa like feel to it (helped by the piles of folded towels left for us by housekeeping each day). There was so much space that it was hard to imagine how to fill it all.
Kamara hates baths as much as I love them. Thankfully the deep soaking tub with sofa opposite was perfect for us! Kamara and I were able to hang out and watch Netflix on a laptop, whilst each sitting in the environment which we preferred.
Behind the sofa was a sliding panel which we kept open during the day, allowing more light to enter via the bedroom.
At the far end of the bathroom was a toilet, with blinds that could be opened in case you wanted to watch somebody having a bath.
There was also a phone, so that particularly impressive bowel movements could be reported upon without delay.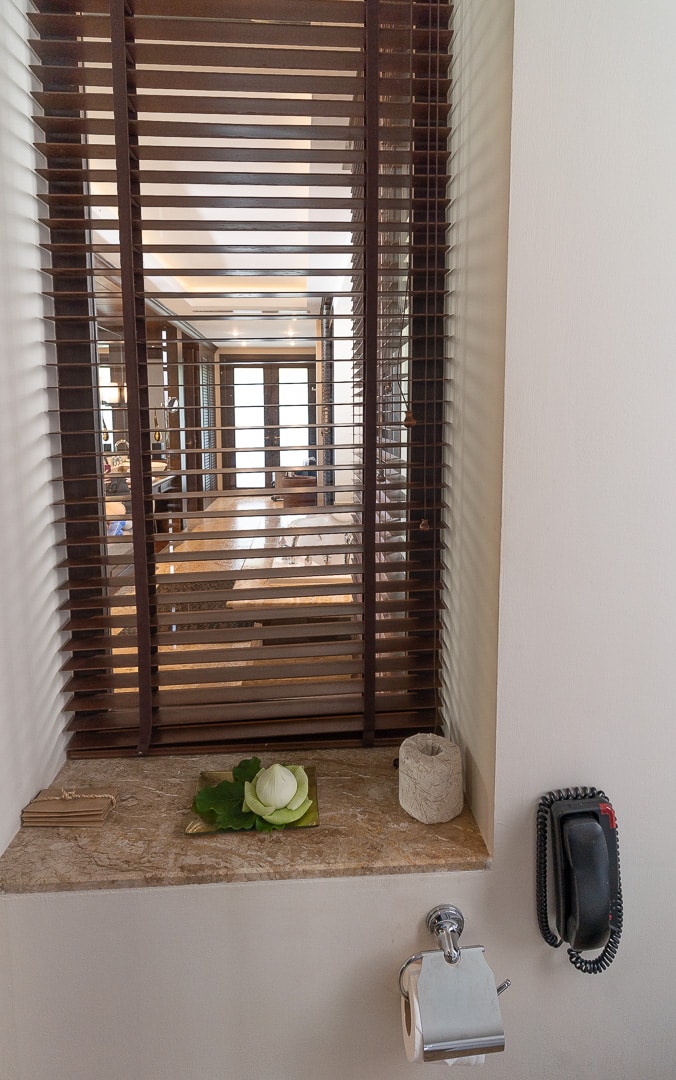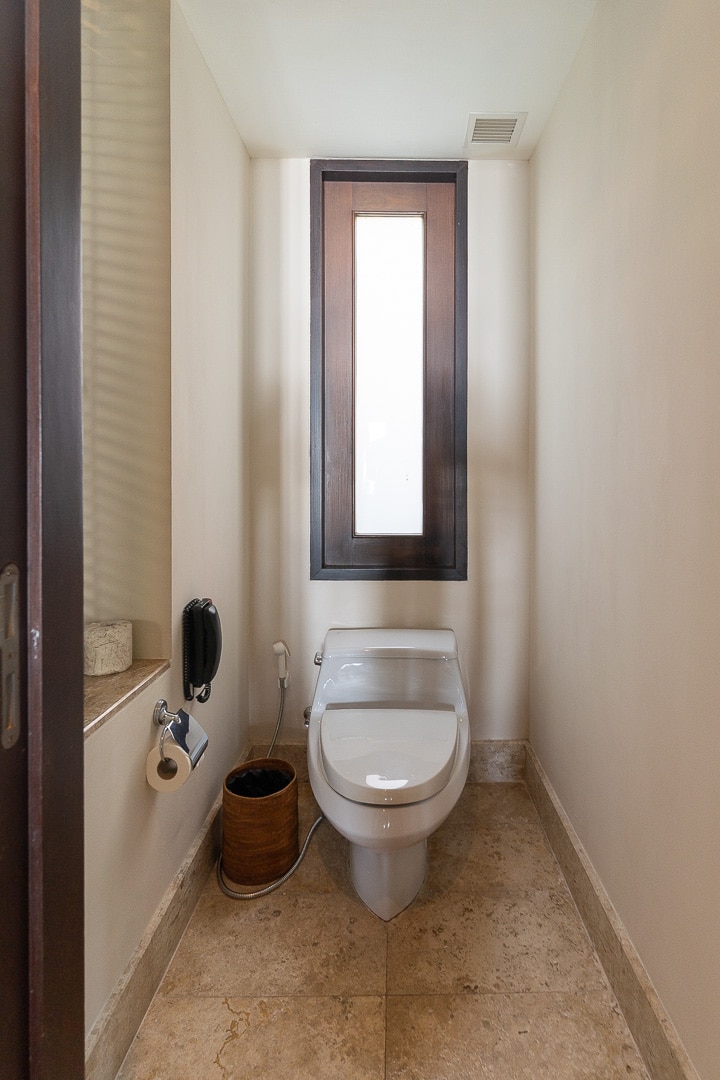 Next to this was a large, marble clad shower with a frosted window facing the garden. Trisara's own branded toiletries were provided; these had a wonderful fragrance and consistency. I was however slightly disappointed to see only a regular shower head rather than a rainfall shower.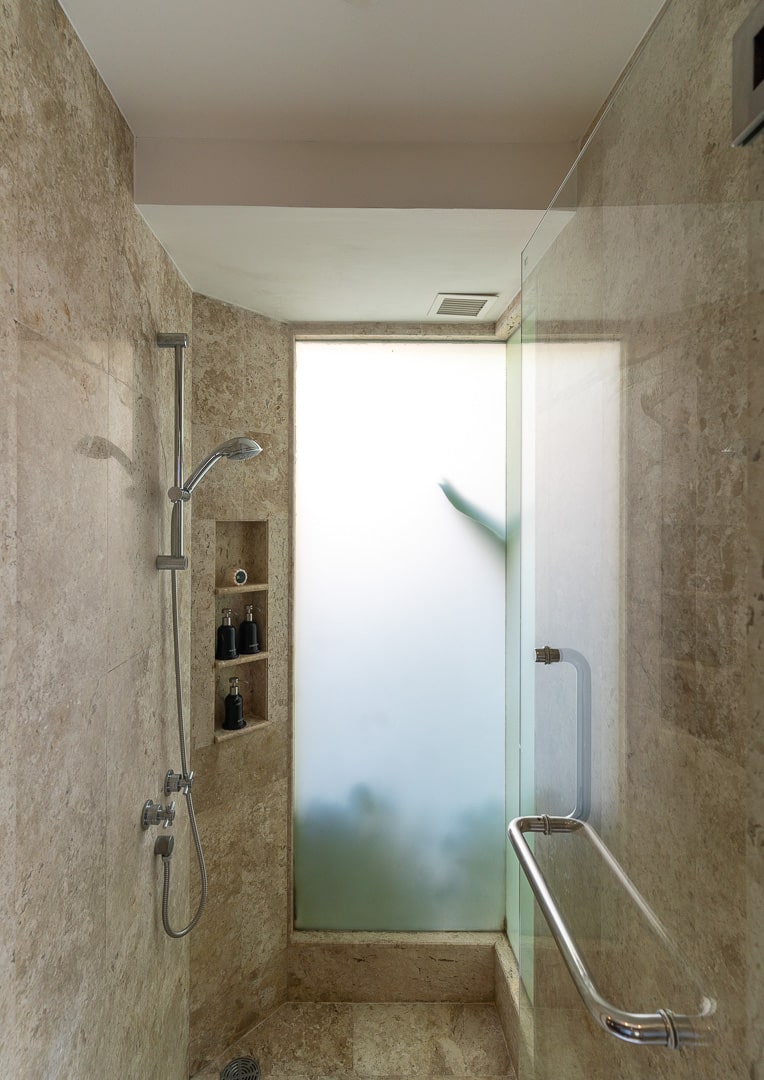 Opposite the shower was a vanity area, which featured plenty of natural light, mirrors, power sockets and various bits of beauty paraphernalia.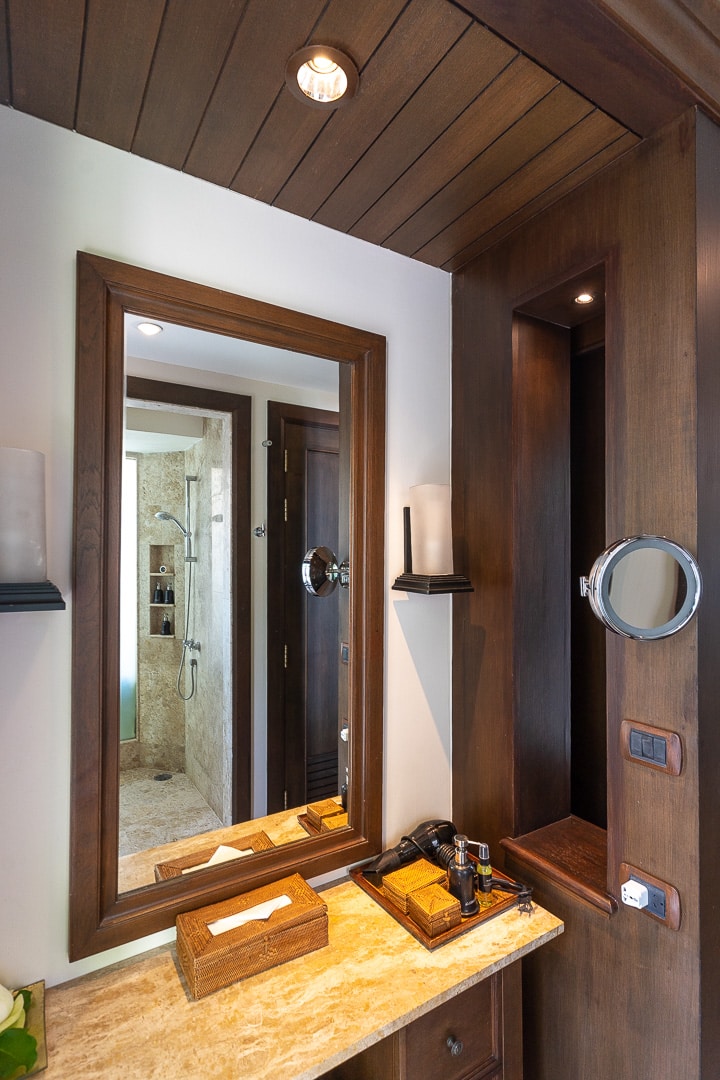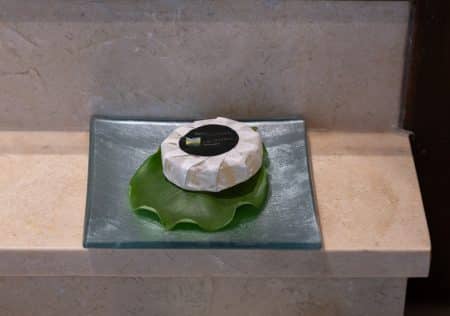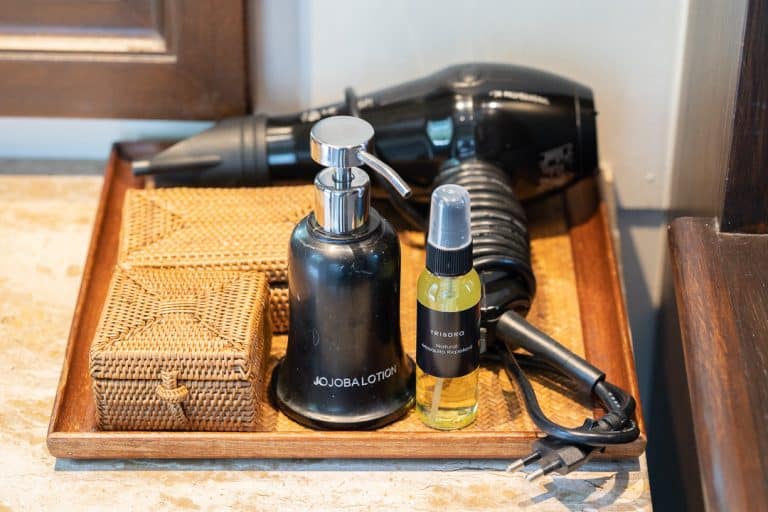 Continuing on from this was a doorway, leading to an enormous outdoor shower area. The amount of space felt borderline unnecessary but I guess that's a defining feature of luxury.
I honestly never bothered with the indoor shower, given that the outdoor option featured a powerful rainfall head and the setting was so tranquil. I always find that there's something particularly relaxing about showering outside.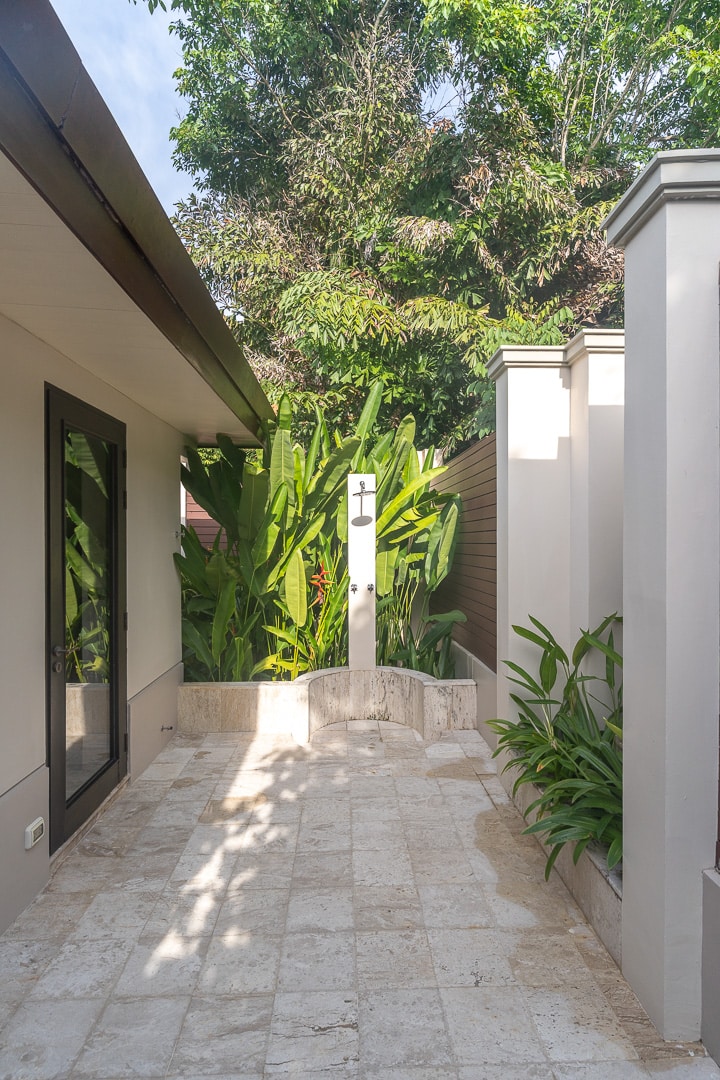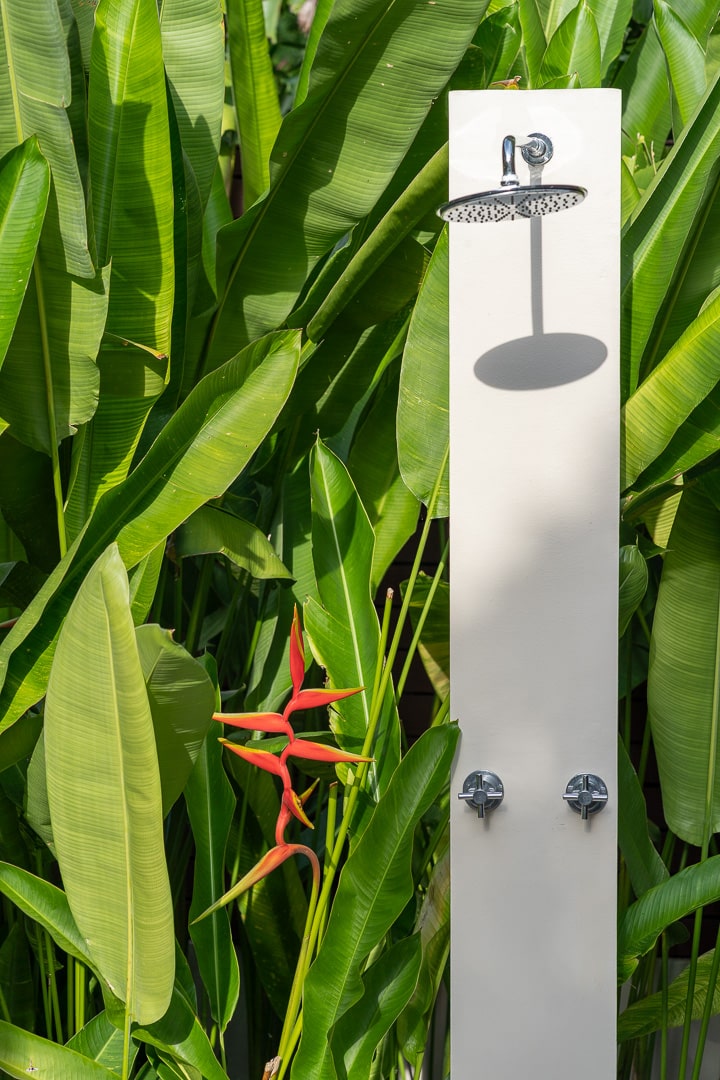 Bedroom
Back inside, we finally come to the villa's bedroom. Something to note is that the Ocean View and Ocean Front Villas at Trisara are open plan. There is no separating wall between the bed and the sitting area on one side and the workspace on the other.
For us this was not an issue but if you're travelling with children or if you keep a very different schedule to your partner, it's certainly something worth bearing in mind.
Personally I usually wake up at least an hour before Kamara but I'm happy sending emails on my phone outside. I'm sure Kamara wished the Nespresso machine was quieter though!
The bed was very large and very comfortable, with gigantic bedside tables that featured universal power sockets, USB ports and pull out drawers.
I'm usually not a fan of big lamps on bedside tables but given the amount of available real estate, this really wasn't an issue here. The footprint of the bedside tables even extended onto a lower shelf, making the overall setting of the bed feel very grand.
I also loved the detail of the stepped, recessed lighting, leading up to a pointed ceiling above.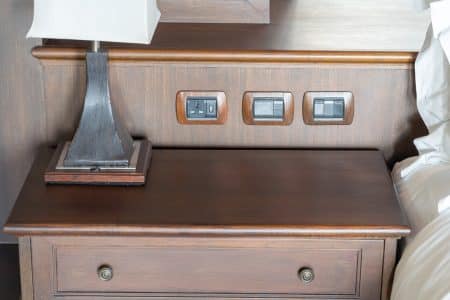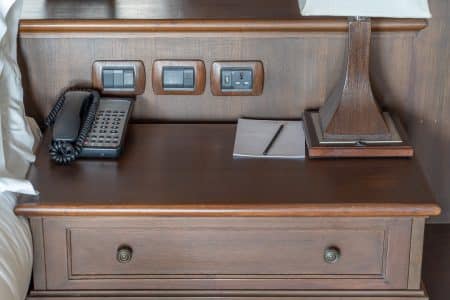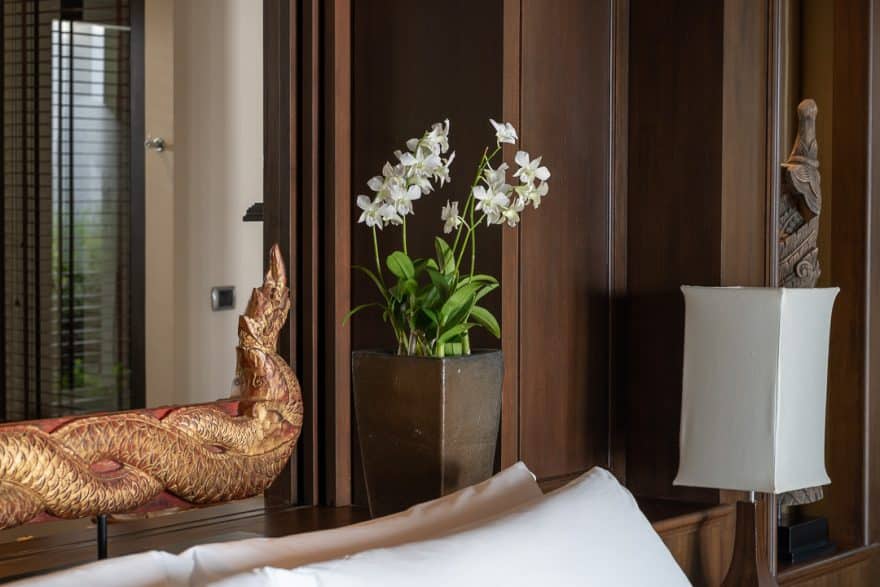 Study Area
On one side of the bed was a study area of sorts, featuring an impressively sized desk with a beautiful view of the pool and the ocean beyond.
There was padded seating available along the length of the windows as well as a storage cupboard, where I kept all of my photographic equipment. Under the padded seats were some enormous pull out drawers, providing ample additional storage space.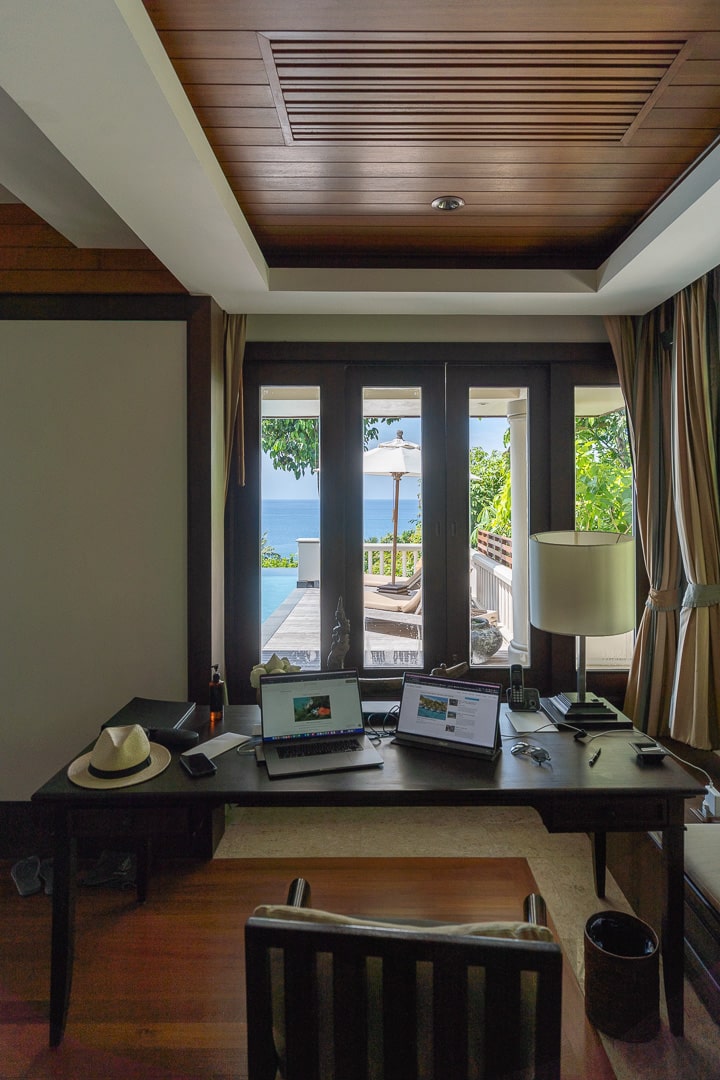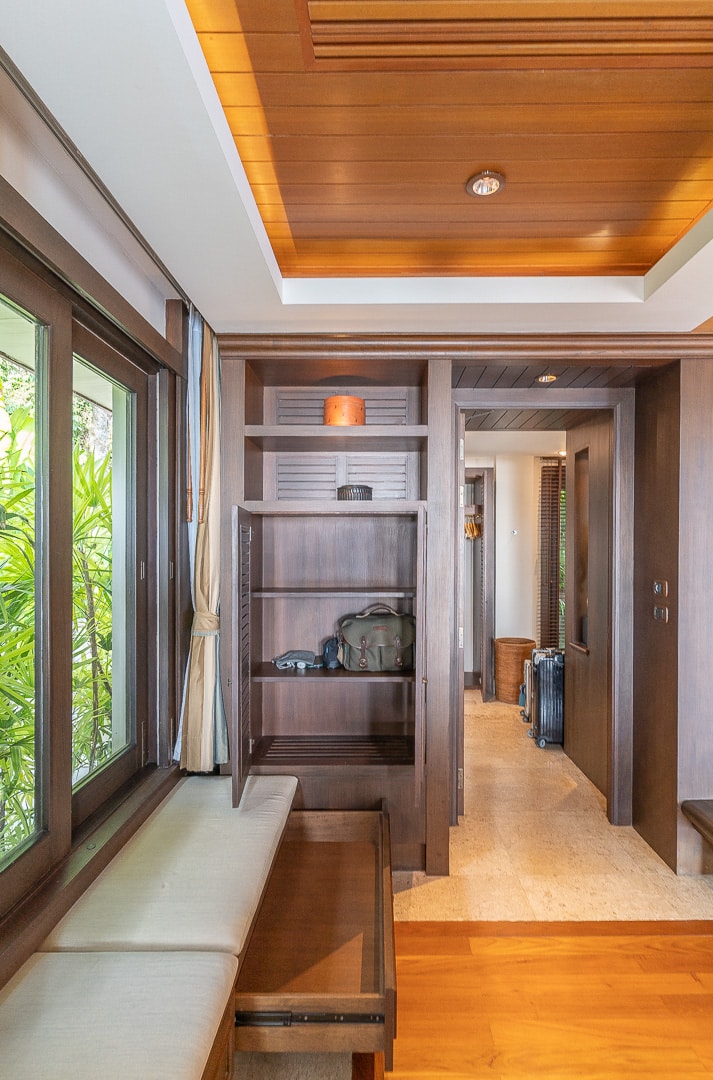 One minor annoyance was that the power sockets here were local only. Indeed it felt as though all the switches and sockets in the room were overdue for replacement.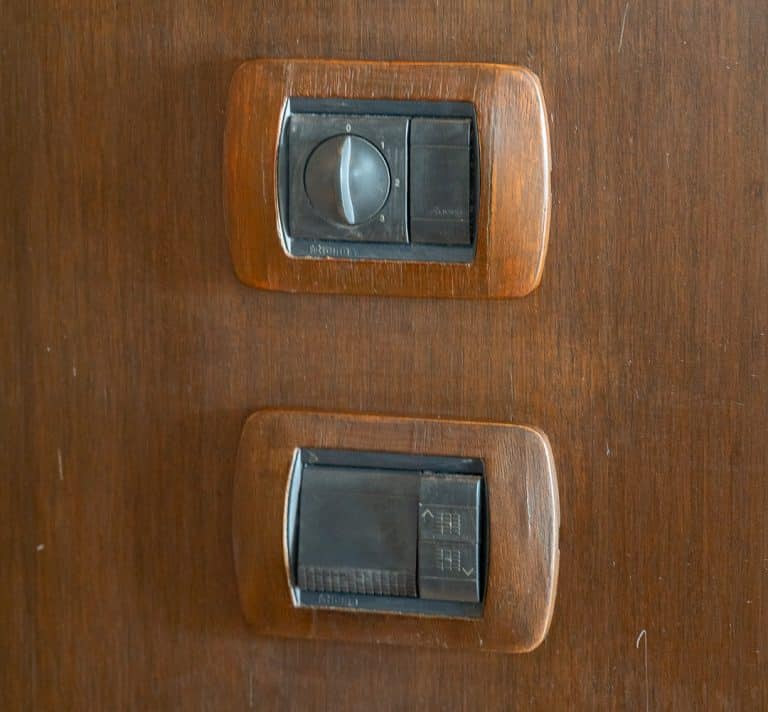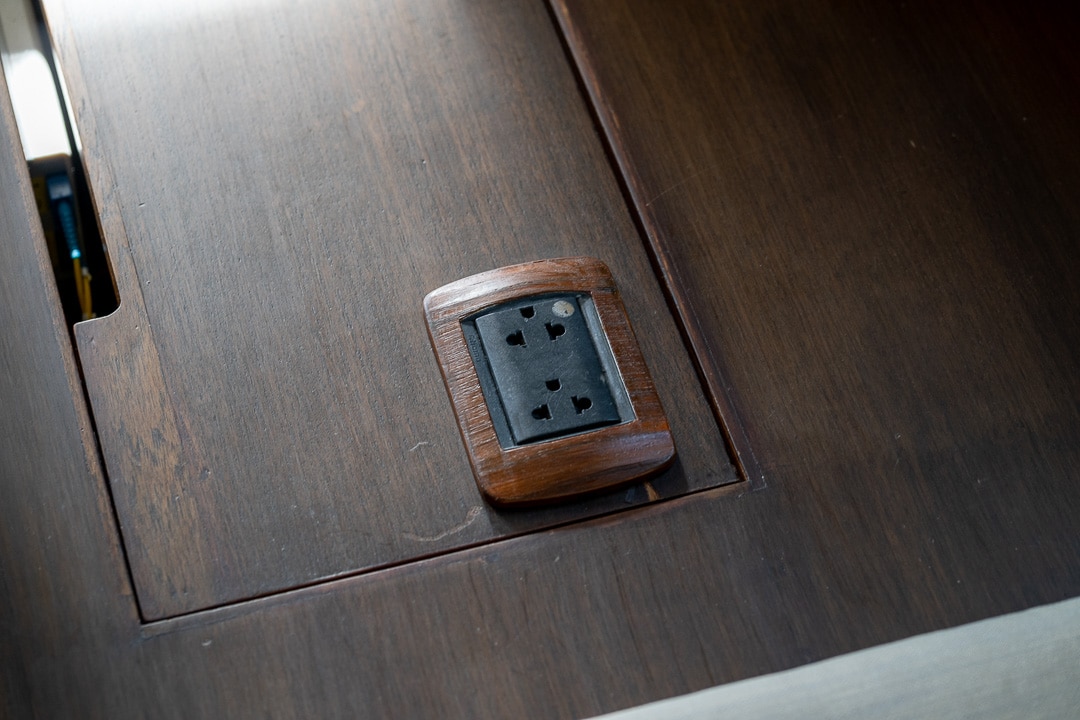 Sitting Area
The sitting area had a slightly odd feel to it, with the sofa facing away from both the view and the TV. Still, the furniture was of a very high quality and the TV could easily swivel towards either the armchairs or the bed.
The smart TV featured Netflix and was connected to a Bose speaker system, which was relatively intuitive and featured a simple, leather bound instruction sheet.
A bowl of delicious tropical fruit was also kept frequently refreshed for us, atop the marble table.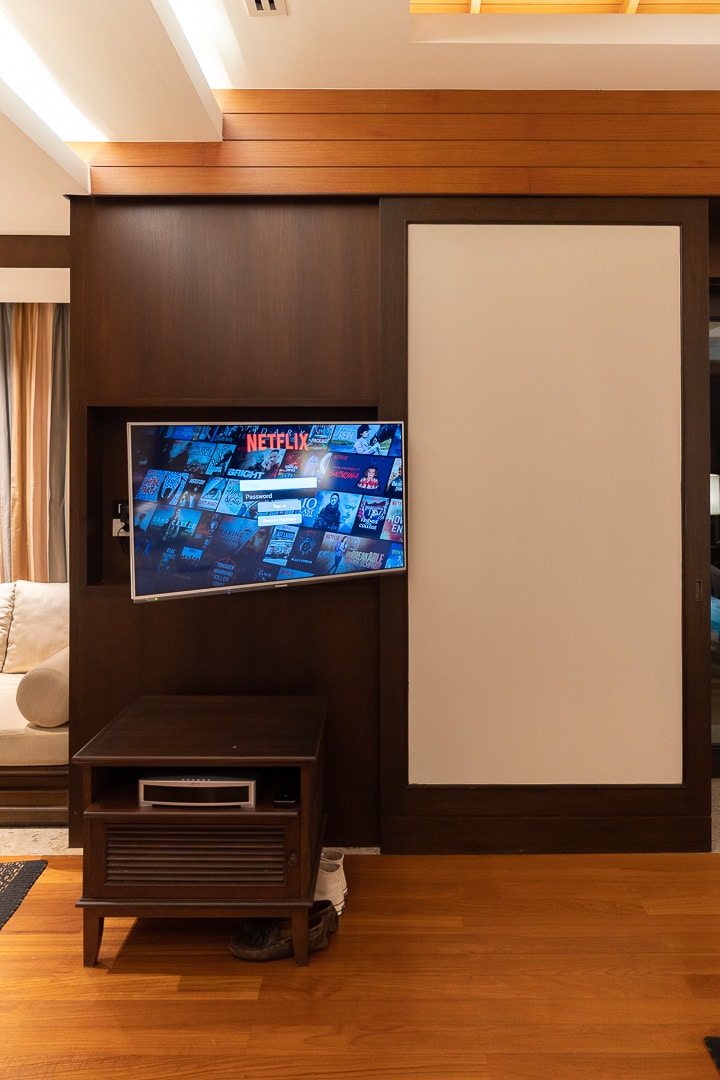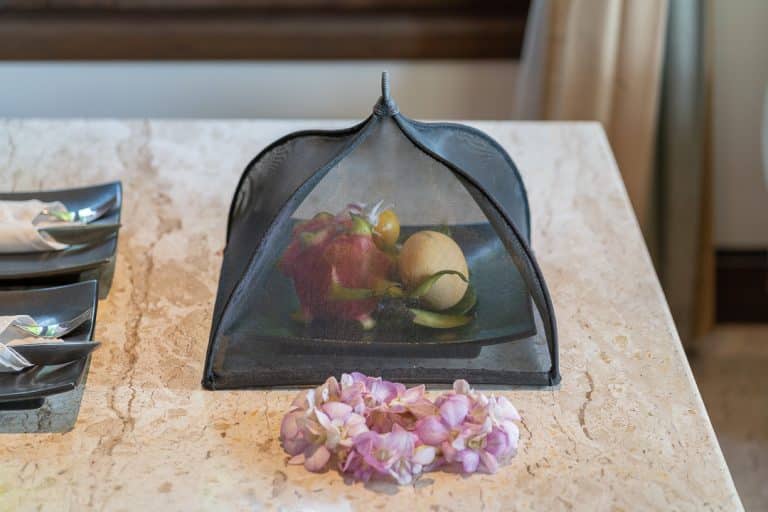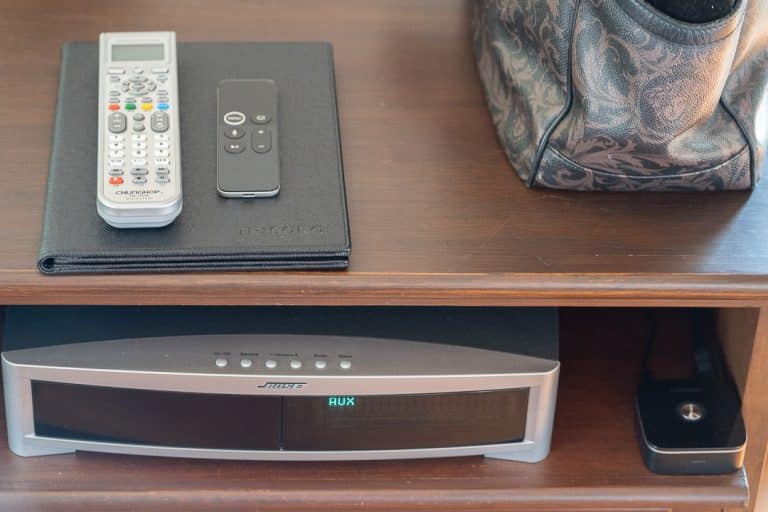 Behind the armchairs was a minibar area, containing a decently sized fridge as well as tea and coffee facilities.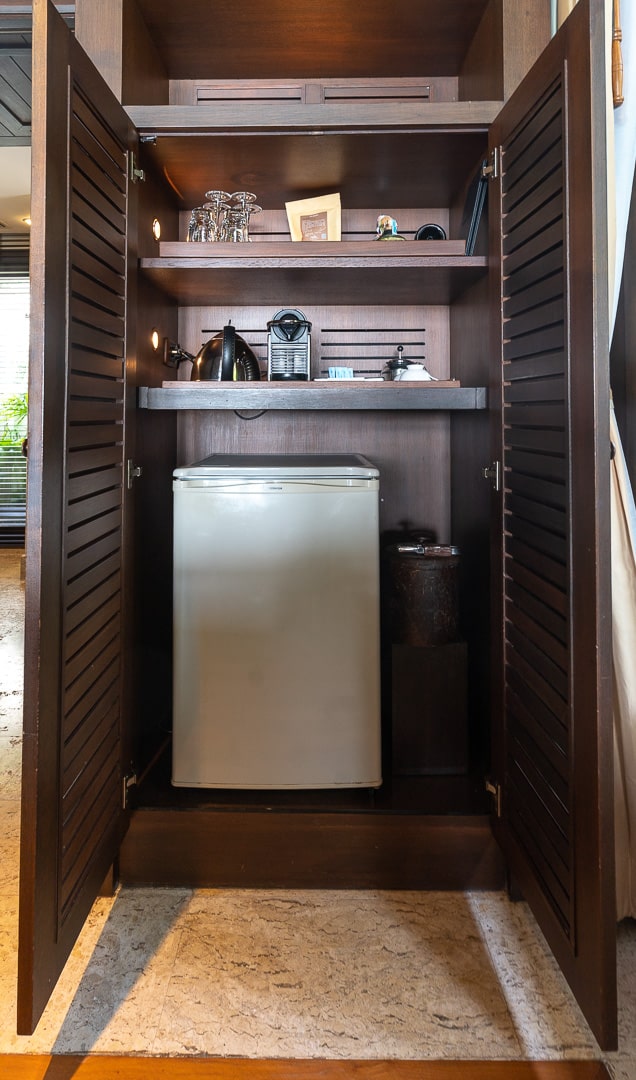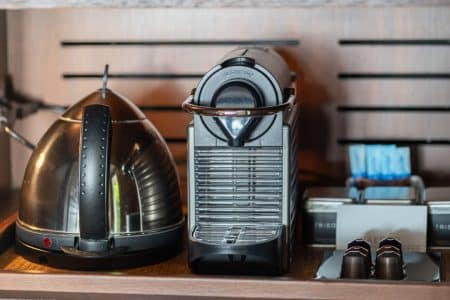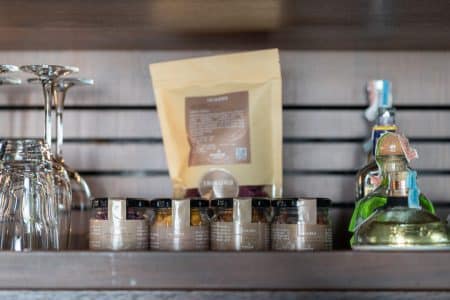 One fantastic touch was the provision of a complimentary supply of delicious homemade cookies, together with possibly the best chocolate truffles I've ever eaten.
Minibar soft drinks were chargeable, with the exception of filtered water which was provided free of charge, in unlimited quantities.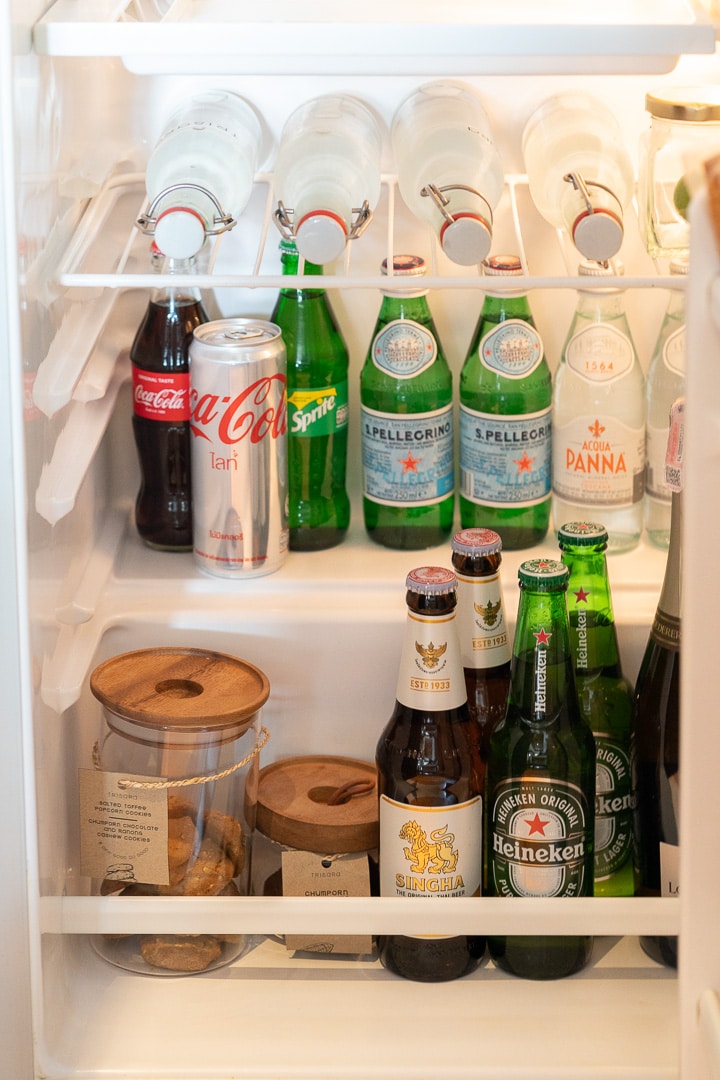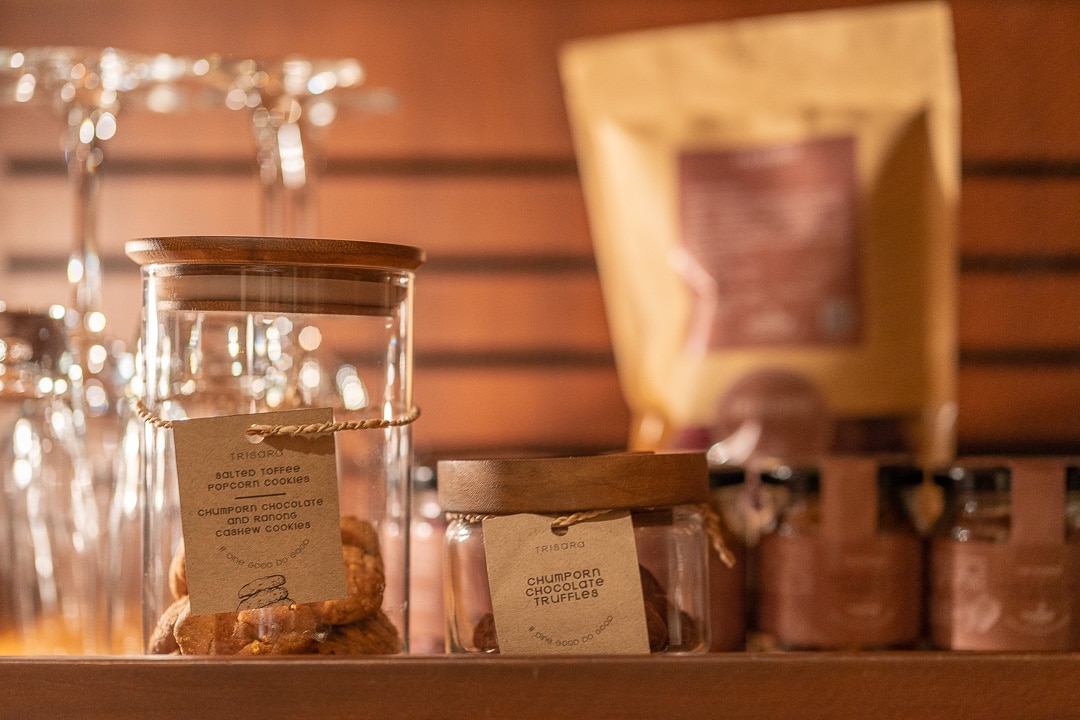 Outdoor Space
One of the defining features of Trisara is that all of the regular suites and villas have private infinity pools with direct sunset views. This truly means that there are no bad rooms and no bad views here.
Indeed the key difference between Ocean View Pool Villas and Ocean Front Pool Villas is proximity to the ocean. Ocean View Villas are located midway up the resort and number in the 200s, whilst Ocean Front Villas are closest to the water and are numbered in the 100s.
I'm not convinced that I would have been happier in a villa closer to the water's edge and certainly wouldn't be inclined to pay extra for the privilege!
I mean look at this view:
Our pool deck was elegance and simplicity personified. I've complained about vertically orientated pools at places like Four Seasons Landaa Giraavaru but here there was no loss of privacy.
At no point could people in other villas look into any portion of our outdoor deck. The privacy was absolute.
There was also an abundance of shade, with the parasols and overhanging villa roof giving us plenty of opportunities to seek shelter from the direct sun. At every point in the day there was at least one spot in the sun and one in the shade. An ideal situation.
The seats were all thickly padded and very comfortable, with staff diligently coming to remove and shelter the padding at the first sight of rain.
It's honestly hard to imagine what more you could want from an outdoor pool space for two people. The last time I was this happy was at Amanoi (my favourite hotel in the world).
Even when it rained or got overcast, the setting managed to be even more spectacular. Swipe from left to right to see what it looked like when it rained just before sunset one day. How is that even a feasible colour on planet earth!?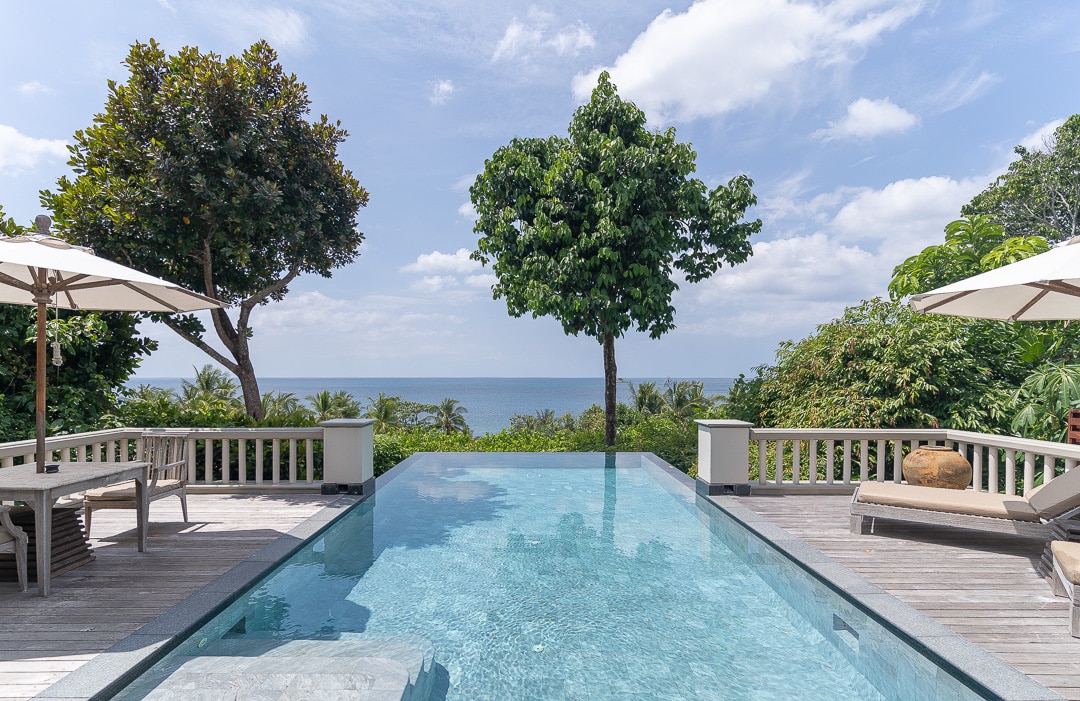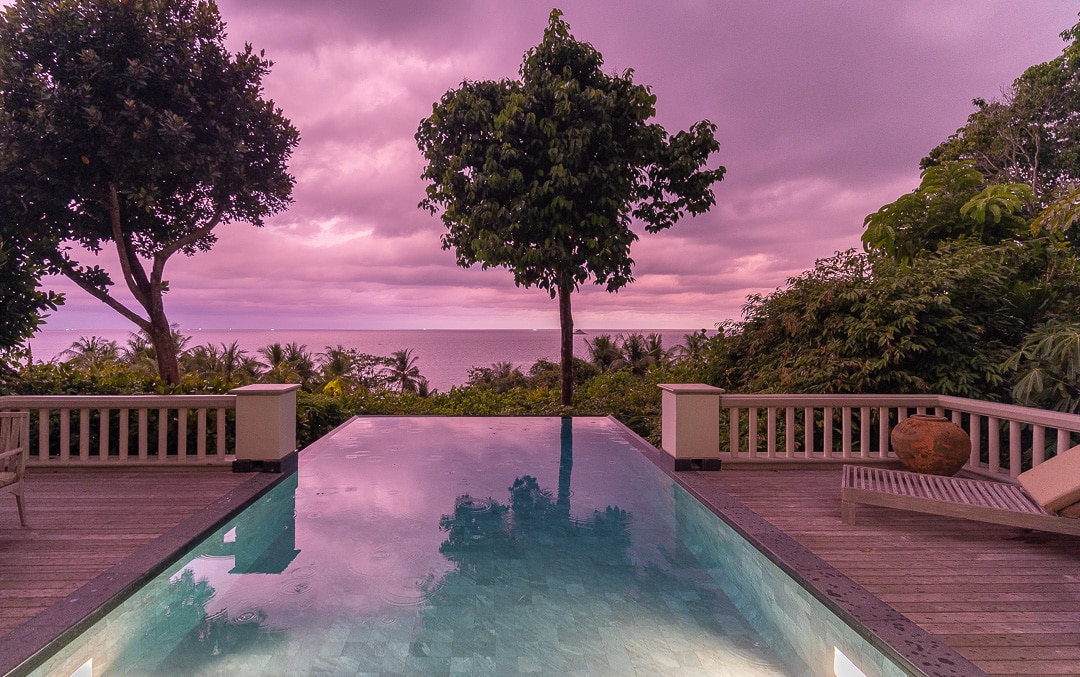 Out on the deck I really enjoyed a few little details, like the felt pads placed on the underside of the chairs to eliminate noise when moving them, as well as the water urns which were filled with fresh flowers every day.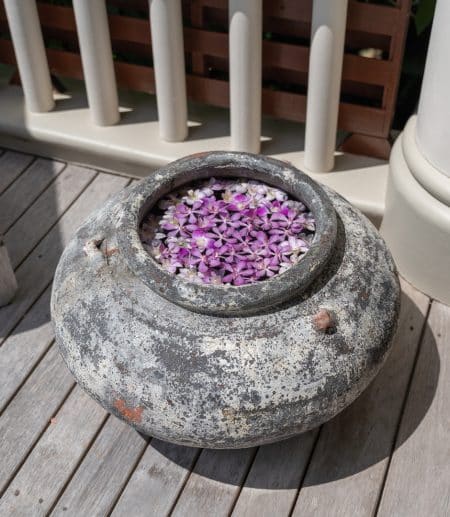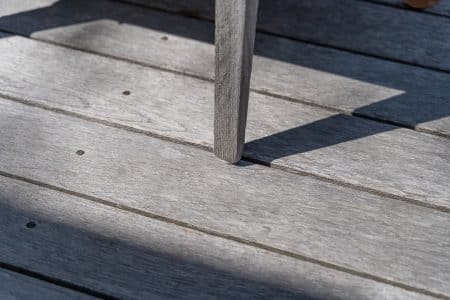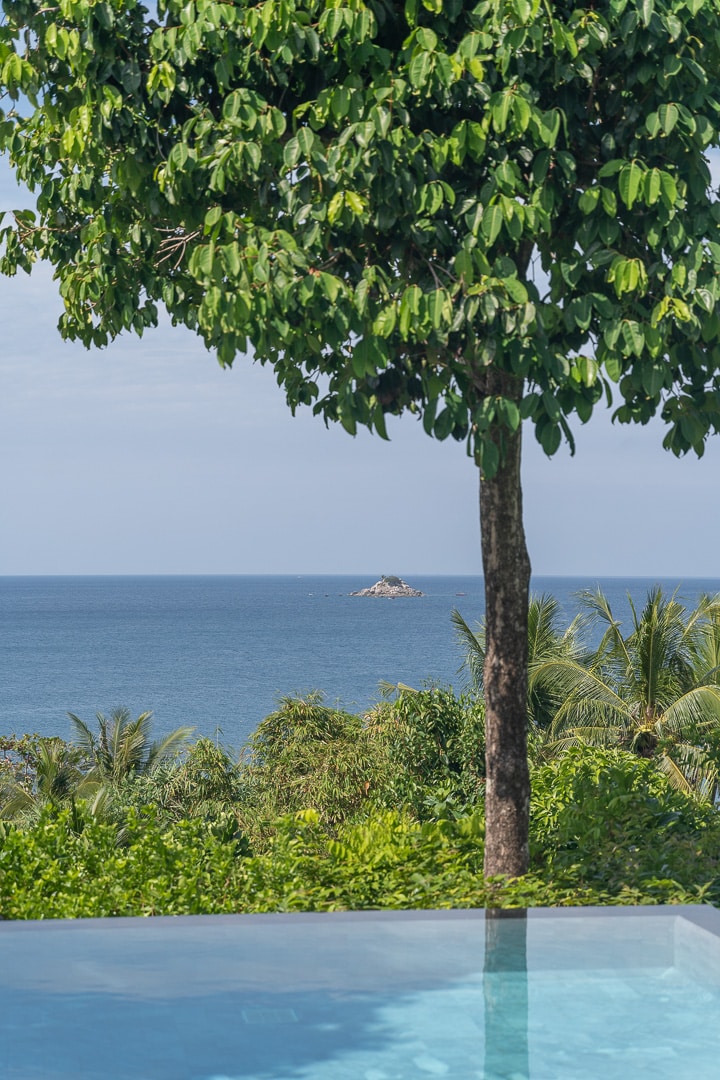 [I also really enjoyed our pool's tree and the view of the nearby snorkelling island.]
---
Ocean View Pool Junior Suite
---
We toured numerous room types during our site inspection of the property, beginning with the entry level Junior Suites: all of which are numbered in the 300s and located on the highest level of the resort.
As I mentioned earlier, there really are no bad rooms at Trisara and for a couple, the 135m² would be ample space. In practice few of our guests should end up in this room though if they book a Virtuoso rate with us. Unless the Ocean View Pool Villas are completely sold out upon arrival, our guests can expect to be upgraded accordingly.
However, I do always preach that you should book the minimum room that you would be comfortable with and unless you're travelling with children, I can't imagine how you'd be unhappy with this!
Floor Plan
Outdoor space
Unlike our villa, the suite could only be accessed via the double doors in front of the bedroom. This meant that we were greeted by a rather spectacular view, right off the bat.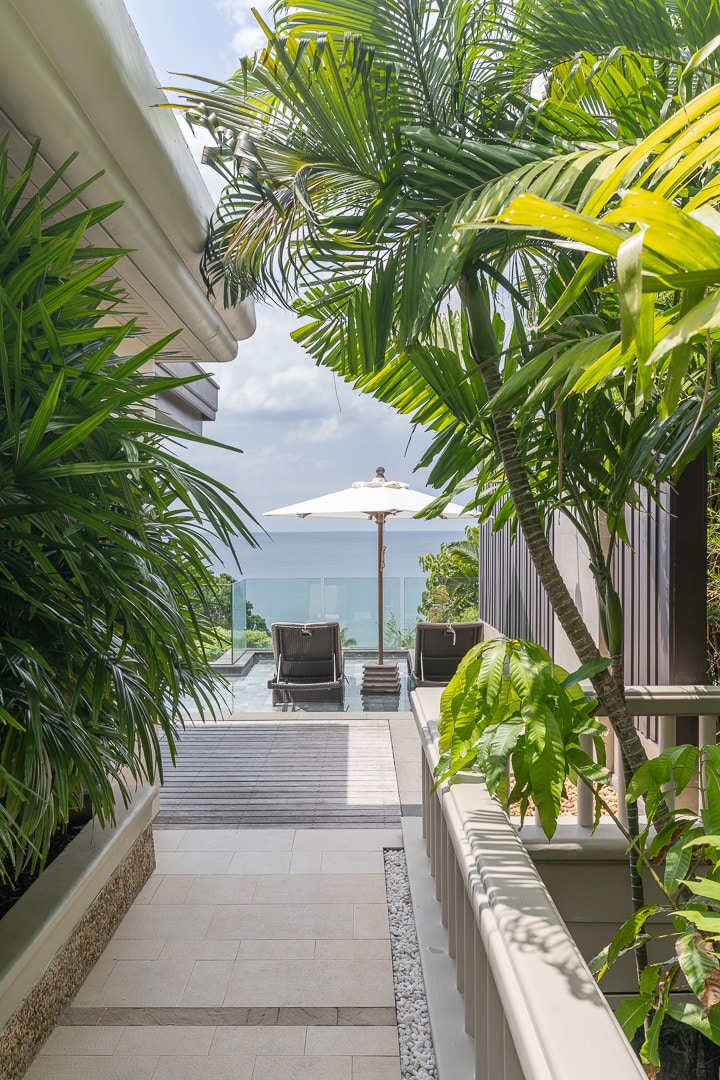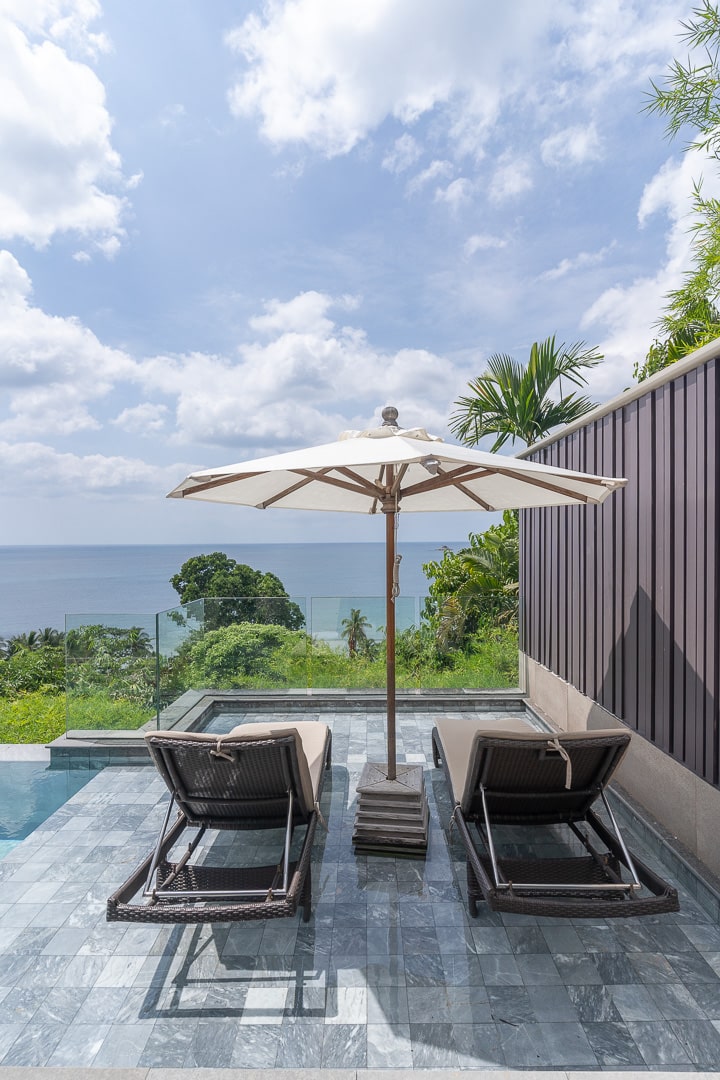 I loved the little platform for the sun loungers but couldn't help feeling that the parasol was a bit too small and immobile, given the limited opportunity to move the loungers themselves.
The infinity plunge pool was much smaller than the one in the villa but still by no means a bathtub. The addition of the waterfall wall was a lovely touch too.
However, on balance, I personally would have preferred for the pool to run at full depth the entire way and to keep the loungers on the deck instead.
Bedroom
The suite's doors opened directly onto the deck, with a small living room space created by placing a sofa/ottoman at the foot of the bed.
Since the Junior suites are housed in blocks of two, with shared walls on one side, it felt a little darker in here than inside our villa. I still wouldn't classify the space as dark though, by any stretch, just not quite as bright.
The expanse of white on one side of the room did feel a little unfinished though. I would have liked to see a mirror or some artwork here to break it up, perhaps even a change of colour and texture to denote the separation between the bed and the sitting area.
Behind the bed were two nooks, one featuring the minibar and the other featuring a desk/ beauty area.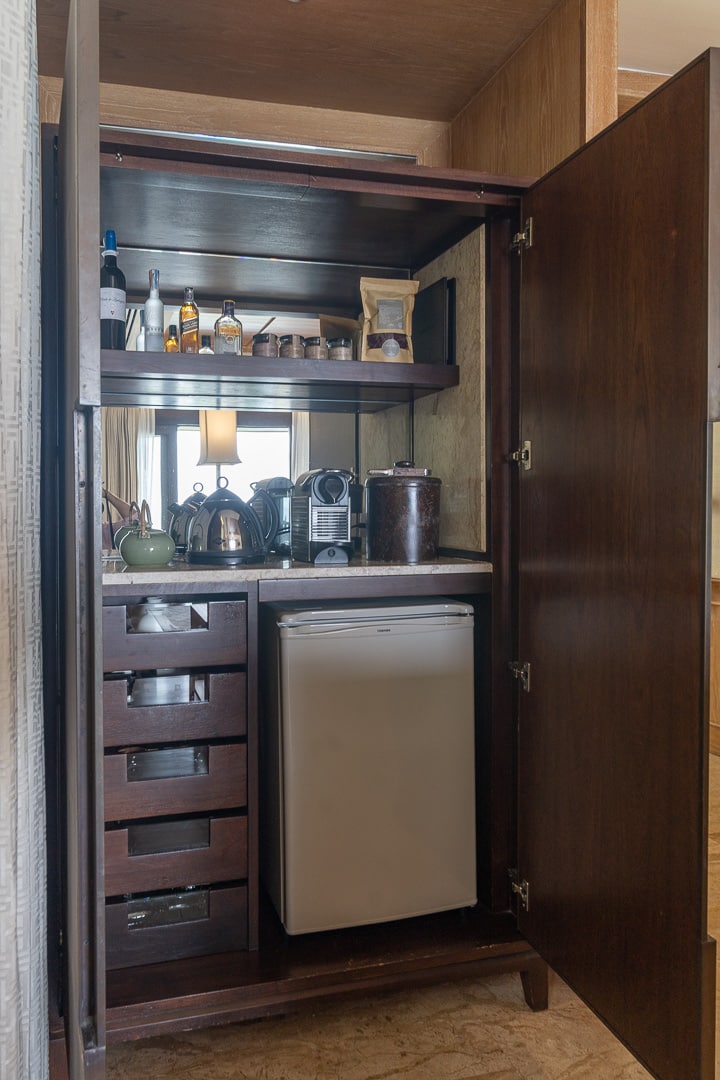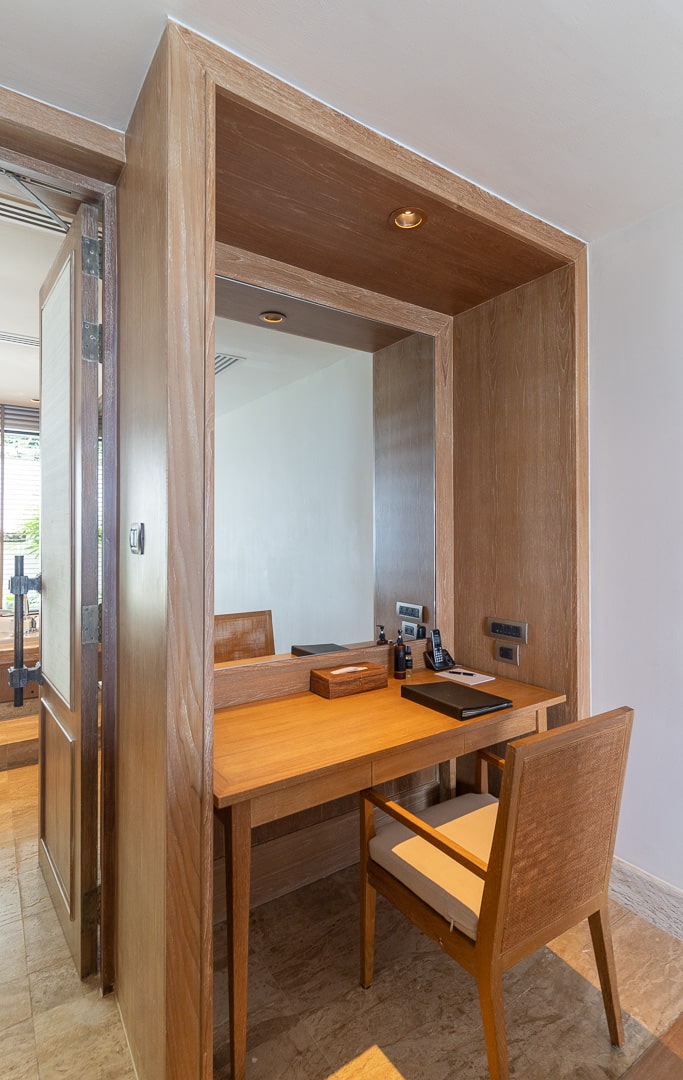 Bathroom
Much like our villa, the bathroom was open to the bedroom and the ocean view. This time with full length doors creating the separation.
There was also a deep soaking tub with a view of the suite's courtyard garden and outdoor shower.
---
Signature Ocean View Pool Suite
---
Confusingly, despite being billed as a suite, this room type is not only double the size of the Jr Suites, it also has significantly more indoor space than the Ocean Pool Villas.
Elsewhere, I'd expect this to be called a Grand Villa or Family Villa.
Signatures Suites feature a dining / living room which is separated from the main bedroom and also features a guest bathroom. As such it is perfectly suited to families travelling with older children, as the corner sofa can be converted into a bed and there is plenty of space for an additional rollaway too.
Just like the Jr Suites, Signature Suites are numbered in the 300s and are located on the highest level of the resort.
Floor Plan
Outdoor Space
One similarity that this room type shares with the Jr Suites, is that access is via the outside pool deck only. Before you even set foot inside, you are greeted by this spectacular view:
Once again there is an abundance of outdoor space but unlike the regular Ocean Pool Villas, these pools wrap around the deck and have a horizontal orientation, meaning that you have a much larger, unobstructed view.
One other key difference is the addition of an outdoor shower by the pool. This is in addition to another outdoor shower, located in the garden behind the main bathroom.
Living Room
The separate living room is very large and features none of the odd drawbacks of the small sitting space in the the Ocean Pool Villas.
Here there was a large corner sofa, together with an armchair, that all faced out towards the view – as well as the TV in the corner.
Behind this was a beautifully appointed dining room featuring another sofa, which could be converted into a bed, together with a guest bathroom.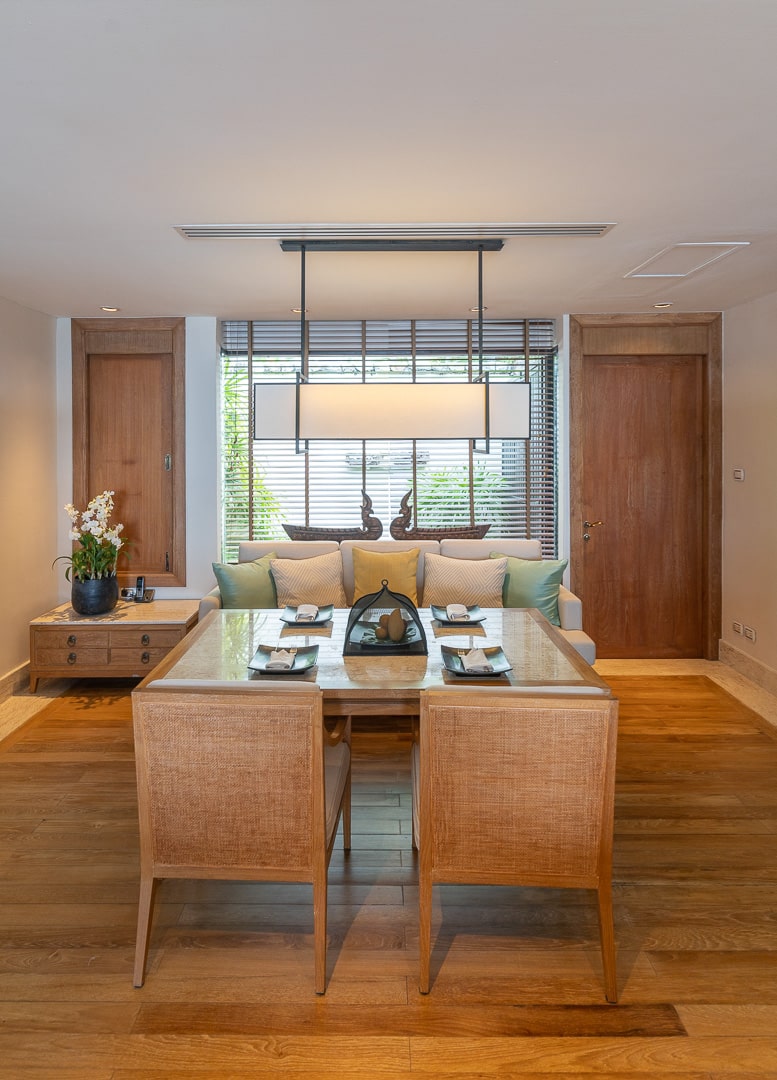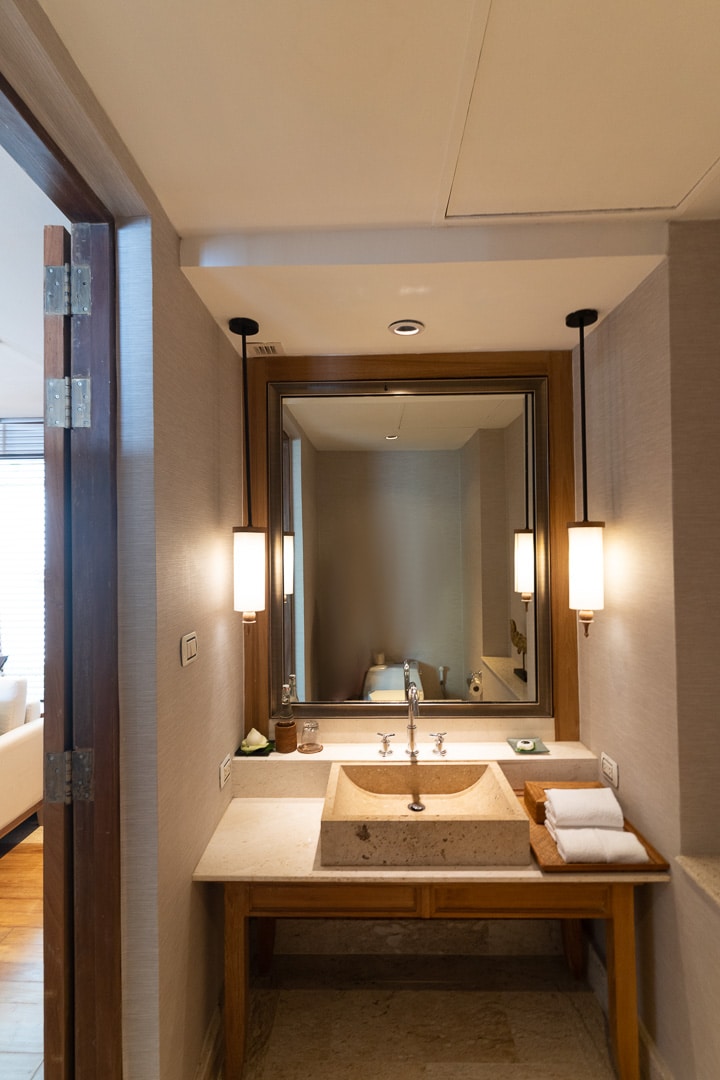 Bedroom
The bedroom was almost identical to the one in the Jr Suite…
….with updated electronics throughout.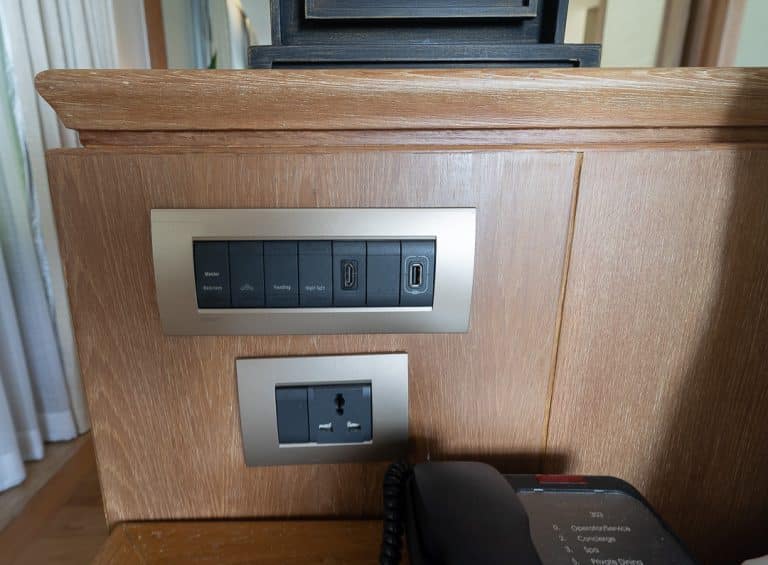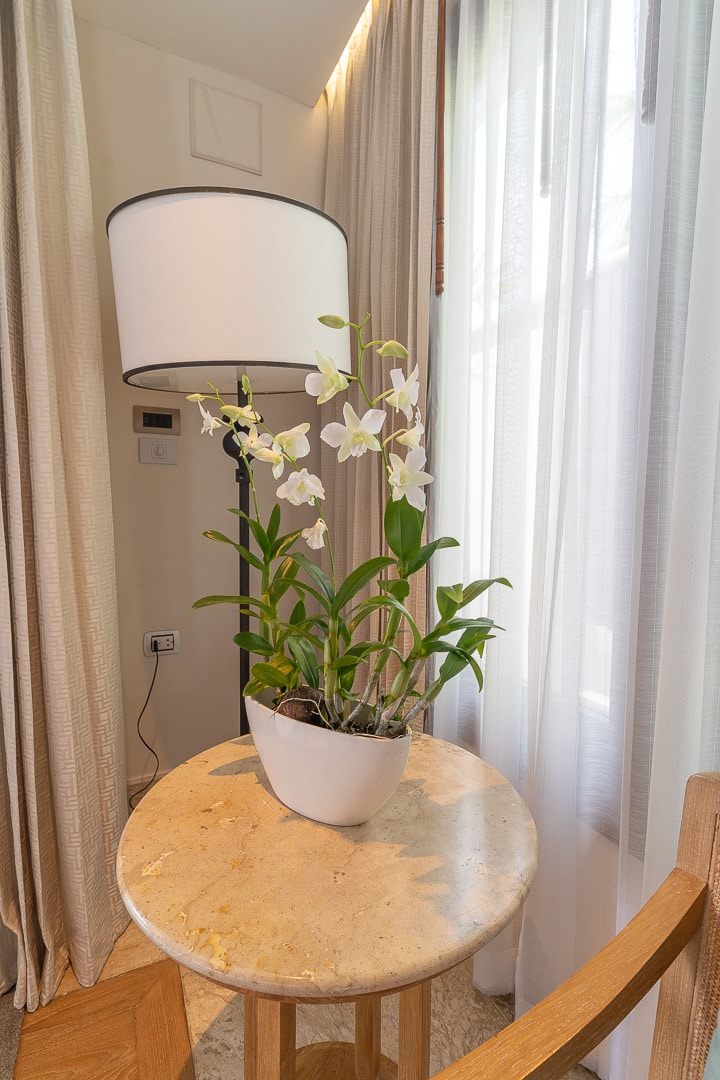 Bathroom
The main bathroom was identical to the Jr Suite too, which made it substantially smaller than the bathrooms in the two Villa categories below!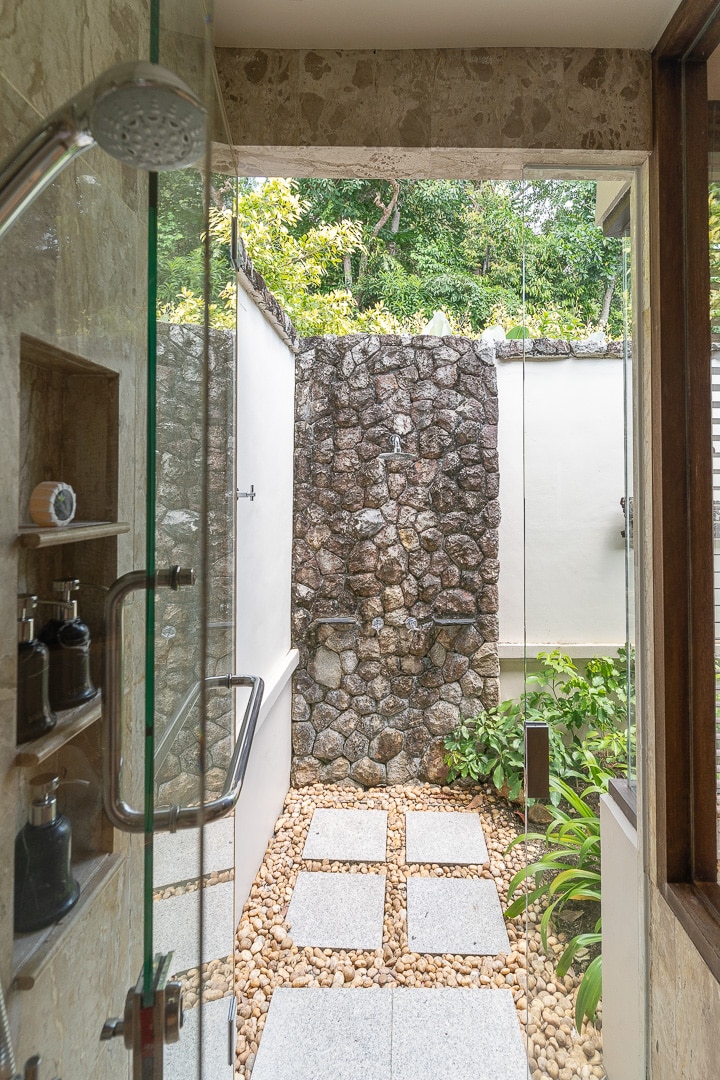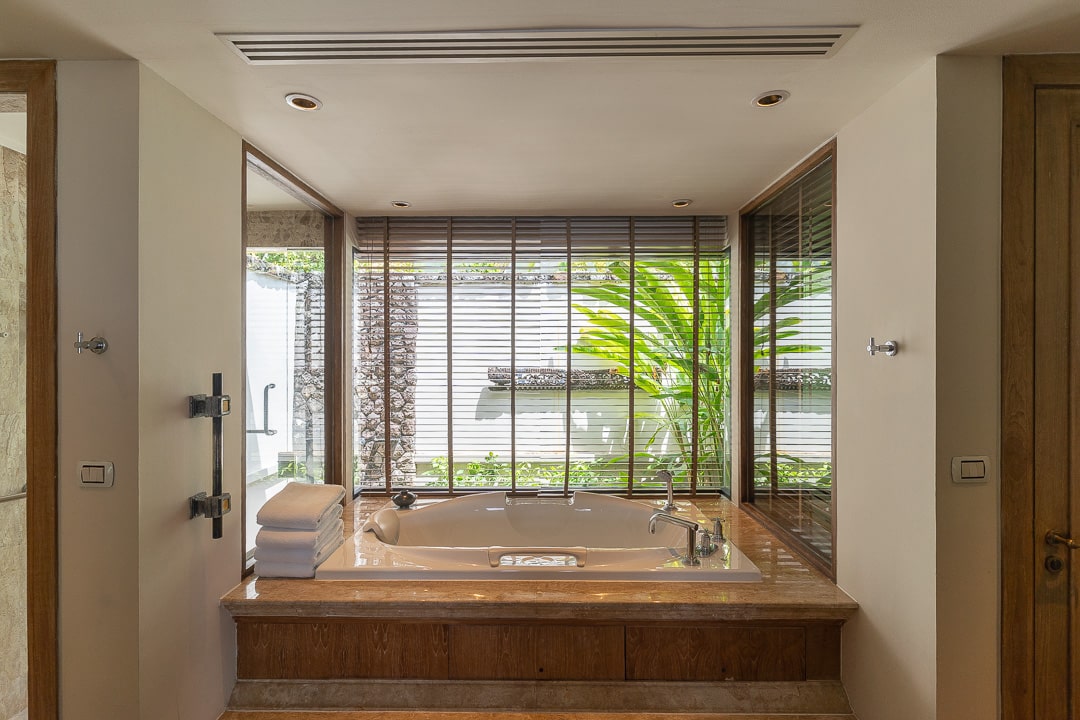 ---
Trisara Signature Villa: 2 Bedrooms
---
Effectively serving as self contained resorts within the resort. The signature villas at Trisara come fully staffed with butlers, chefs, cleaners and many even have additional staff quarters to be used for a nanny.
The amount of space and the degree of privacy is absolutely incredible, although some have no views to speak of and others are decorated in all kinds of weird and wonderful ways to suit the tastes of the owners (who lease them back to Trisara when they aren't there).
The main thing to note with pricing is that on a per bedroom basis, the villas compare very favourably with the regular Ocean Villas. When you consider that this gives you a full complement of staff, catering to your every need, as well as a considerable amount of socialising space, these villas are a genuinely fantastic deal for larger groups.
We toured a 2 bedroom signature villa, which is owned by Trisara and kept in the standard Trisara style.
Floor plan
Living and Dining Space
We entered into a grand reception area that featured marble floors, high ceilings, numerous flowers and paintings dotted around. The feel of the space was a lot more high end than the already excellent villas and suites that we'd seen so far.
A guest bathroom was accessible and located immediately across from the entrance to the villa. This bathroom felt larger than the half bathrooms in a lot of hotel suites and more like a guest bathroom in an actual house.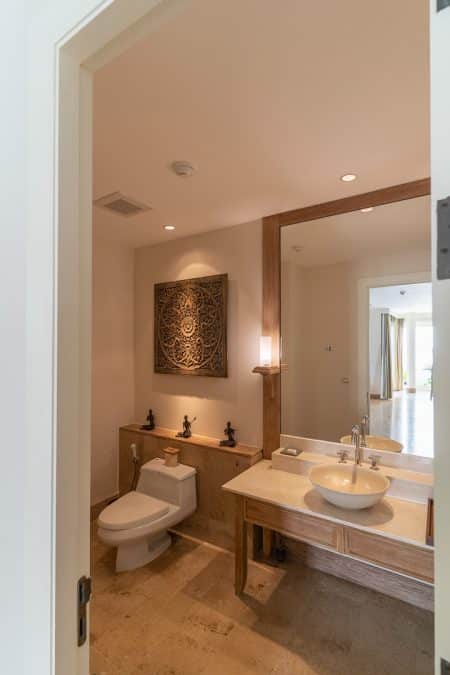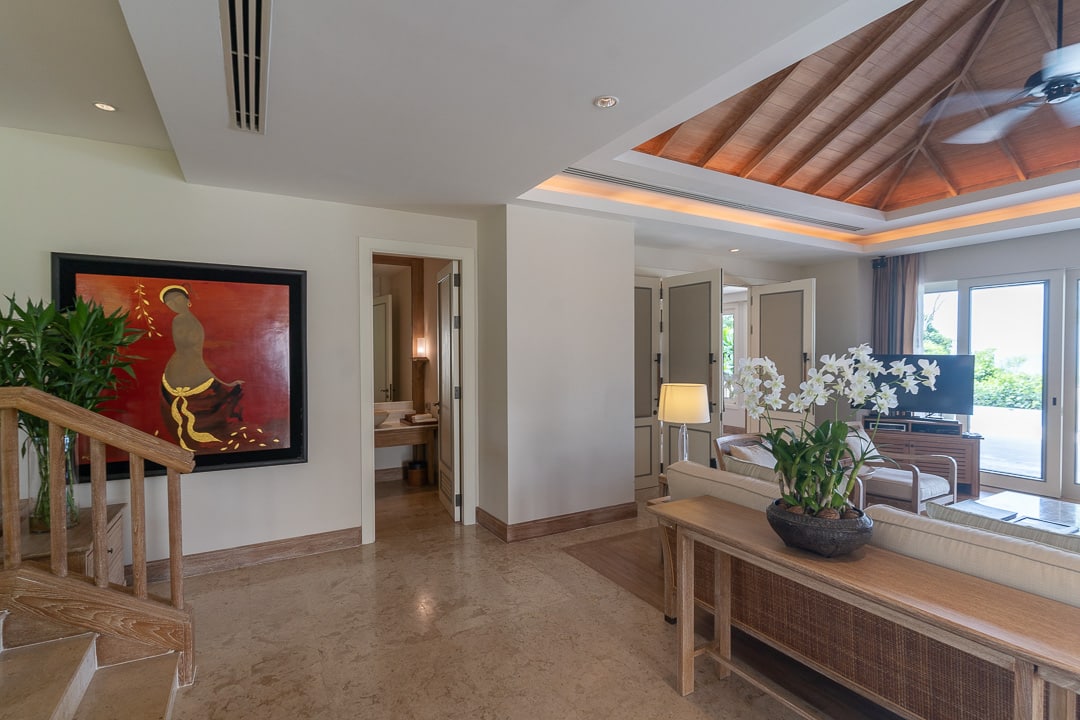 Perched slightly above the reception was a dining area, which had space for 8 guests at the table…and space for another 20 at least in the cavernous expanse surrounding it.
Across from this was a spacious living room, featuring a sofa, armchairs and a chaise (very) longue.
King Bedroom
The 2 bedroom signature villas at Trisara feature identically sized bedrooms, configured with either twin or king beds. The bedrooms were very spacious, using the lighter colour palette of the suites, combined with a larger overall footprint, just like the Ocean Villas.
Truly the best of both worlds.
I really liked the full sized desk, facing the window in the King Bedroom.
The King Bedroom featured a small additional dressing space attached to the en suite bathroom (between numbers 5 and 7 on the floor plan), where the twin bedroom didn't. Otherwise, both bathrooms were identical.
Twin Bedroom
The desk space was rather smaller here though, with increased wardrobe space offsetting the lack of a dedicated dressing area.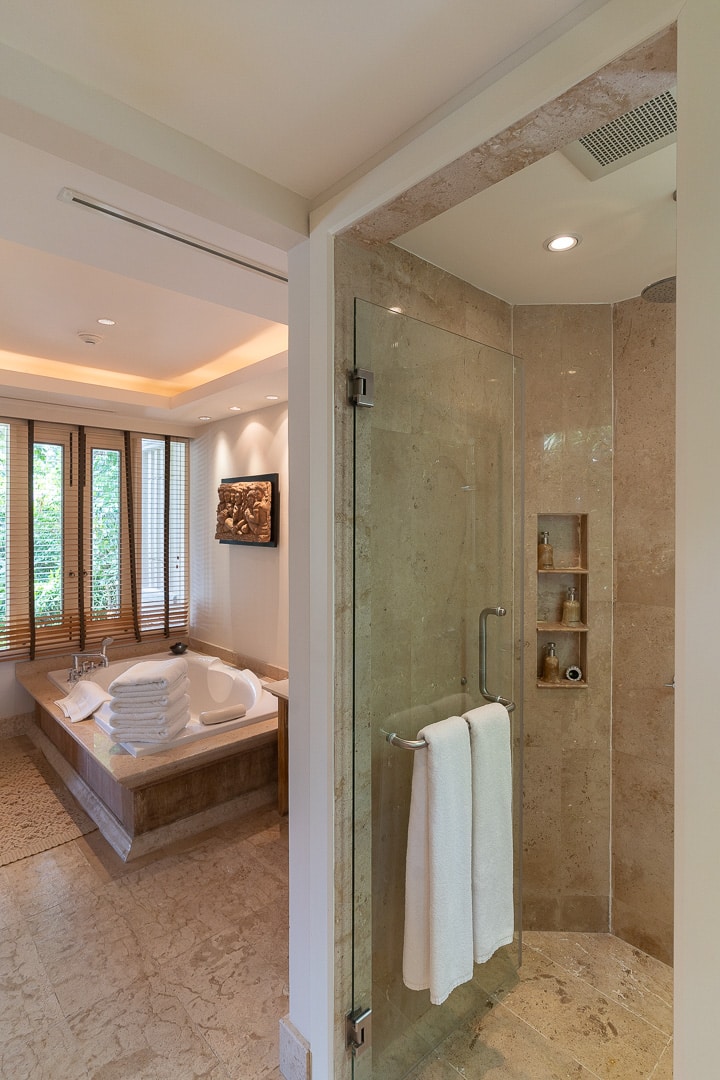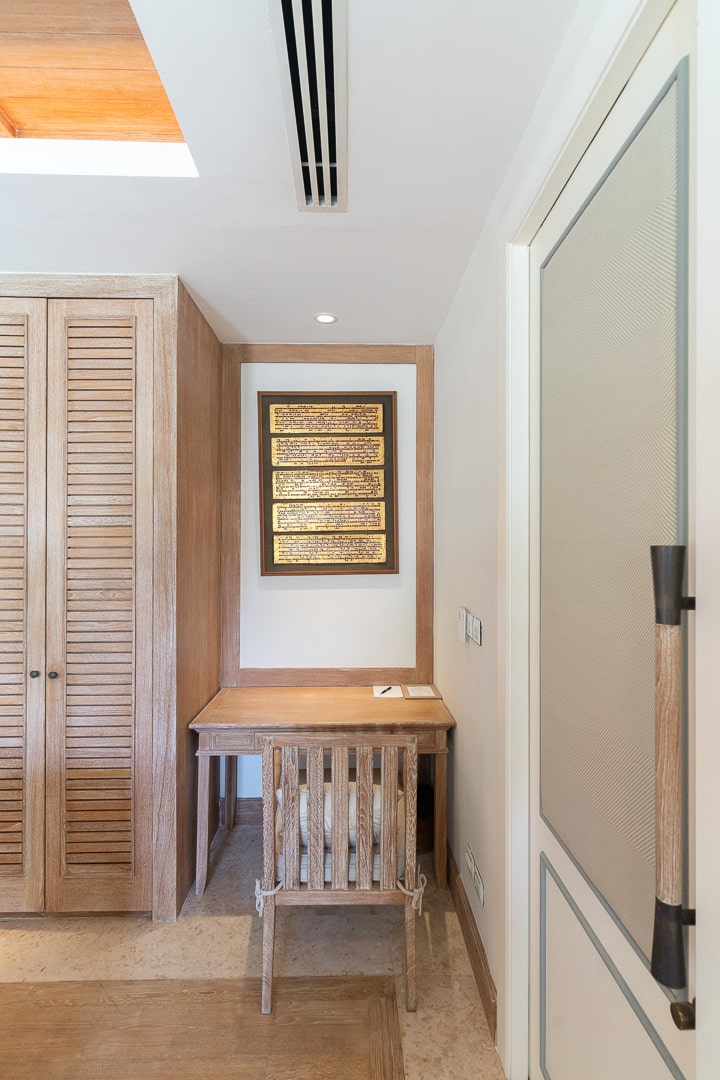 Nanny Room
Located in the greyed out area of the map, by the kitchen.
Honestly this could easily be sold as an additional kids room for a family travelling with Parents, Grandparents and 1 or 2 children. Although this bedroom was smaller and didn't overlook the pool, it was still finished to a very high standard and featured an entertainment system and en-suite bathroom.
It was also the only room with ocean views!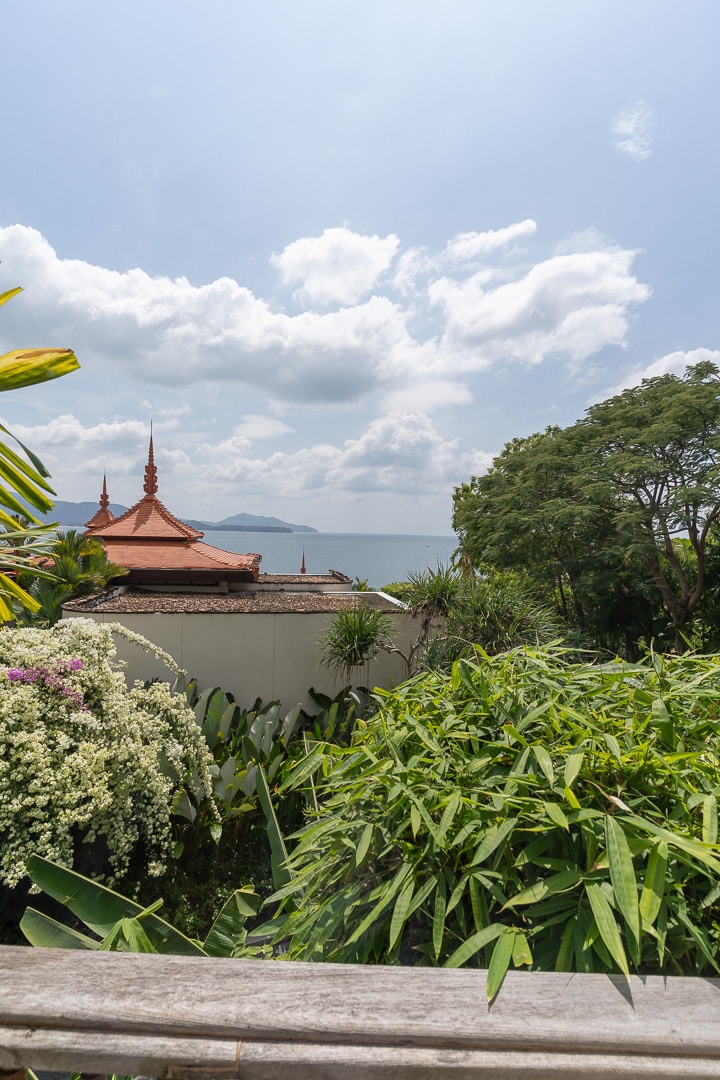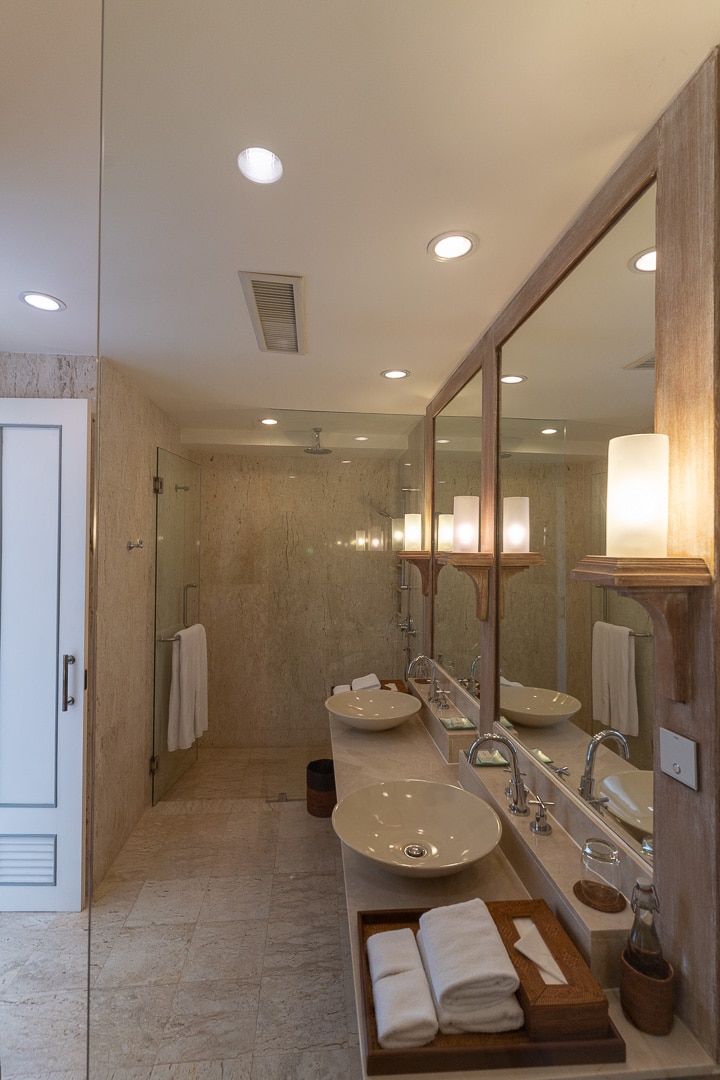 Seriously, nannies here have better accommodation than paying guests in most Phuket hotels!
Kitchen
Since the signature villas come fully staffed, the villas feature very modern and spacious kitchens too.
Outside space
This villa had an ocean view but still felt wonderfully secluded and tropical, thanks to the very dense foliage.
As with the Ocean Villas and Signature suites, there was plenty of space to relax and unwind, either in the sun or the shade.
I really loved the aesthetic of the baby blue pool against the whites and greys. The overall feel here was very similar to the main hotel pool, right down to the oversized vases.
Villas here go all the way up to 10 bedrooms (perfect for hosting a wedding or other large event) with decor and configurations varying significantly between them.
If you're interested in finding the best deal for your group, please feel free to contact me personally to look after this for you!
EMAIL FOR TRISARA SIGNATURE VILLA ENQUIRIES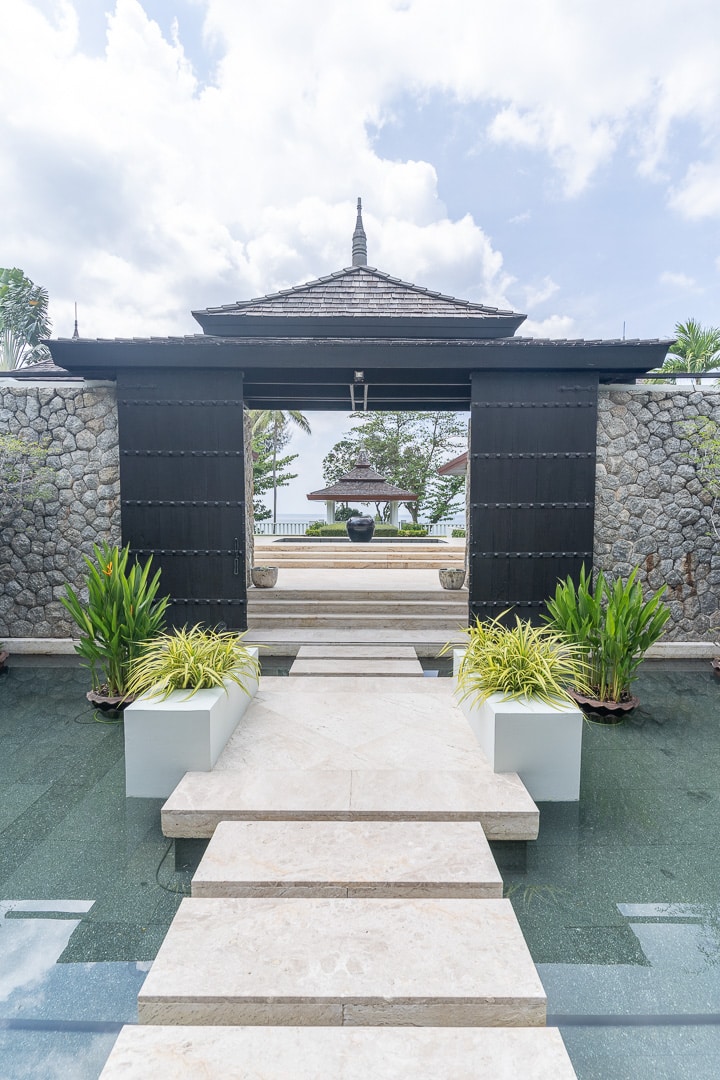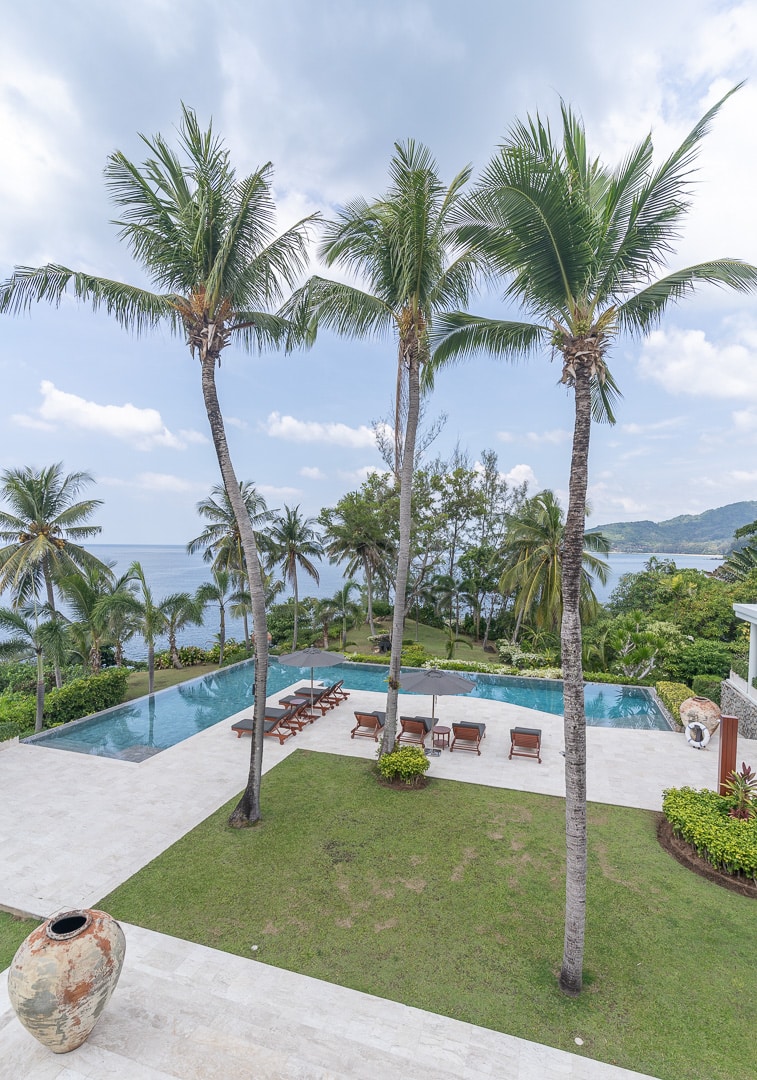 ---
Facilities
---
Facilities Map
The Deck
Despite having a very large footprint overall, the hotel's public facilities are all conveniently close together, centring around the the absolutely breathtaking central deck (J).
The gigantic twin palms, numerous pagodas and tiered water feature really are an extraordinary sight to behold.
All the bars and restaurants are located on this lower level and staff will happily serve you food and drinks, no matter where you sit.
Inside one of the two pagodas at the top of the stairs (D) was a concierge area where staff were on hand to help with requests throughout the day.
Across the water from this were three more pagodas, set on a lake, featuring a digital studio (F), the hotel boutique (G) and the kids club (H).
The kids club is deliberately quite small, as children are not expected to be confined there. Instead the Trisara team will curate experiences for each child that involve plenty of outdoor and cultural activities to keep them entertained!
The Library
Directly beneath the concierge pagoda was the hotel Library (D). Much like at Alila and Aman resorts, this was mainly somewhere to come for great A/C and not somewhere that we actively saw other guests using.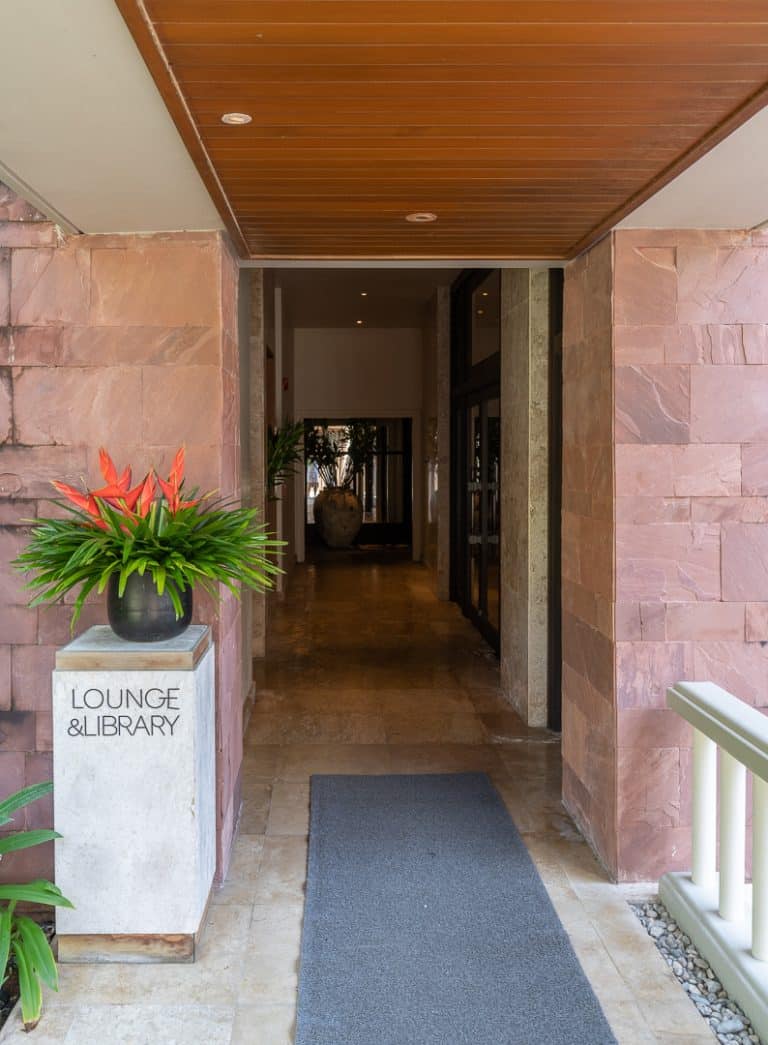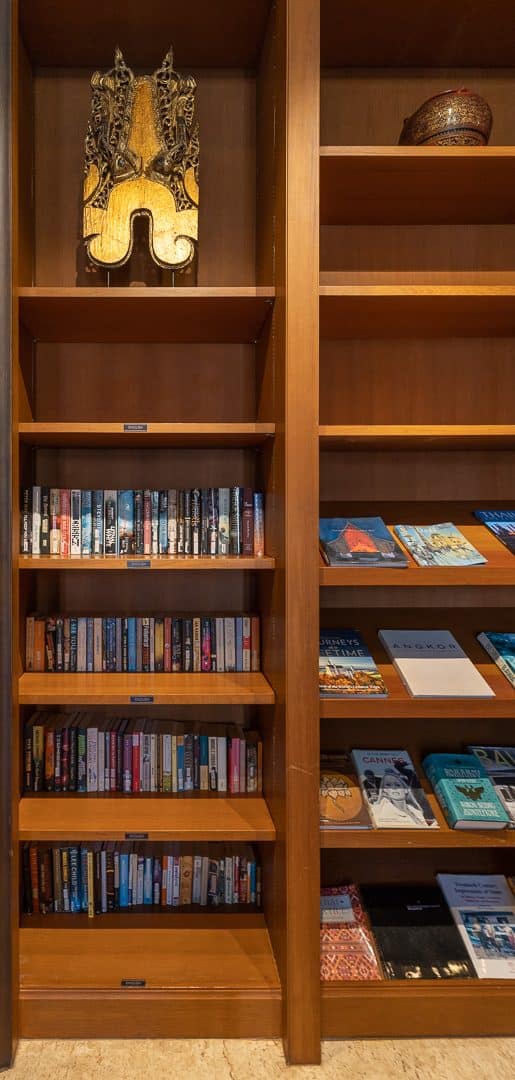 Swimming Pool
Although every guest at the hotel will have access to their own private pool, this wouldn't be much of a beach resort if there wasn't also a much larger main hotel pool.
I absolutely love it when resorts have a pool right by the beach like this. This means you can enjoy all of the beach facilities, without feeling that you've been relegated to some secondary pool area, without a view.
I'm honestly not sure if I've ever seen such an inviting pool in all of my life. This even edges out Oberoi Amarvilas, Amanbagh and Park Hyatt Maldives in my opinion.
The cabanas were a great touch, for those of us wanting to maximise shade and provided a wonderful spot in which to enjoy lunch by the pool.
Beach
The beach was easily reached by heading down a few steps, past the beach hut – where staff were on hand to prepare loungers for guests and where a steady supply of complimentary sunscreen was on offer.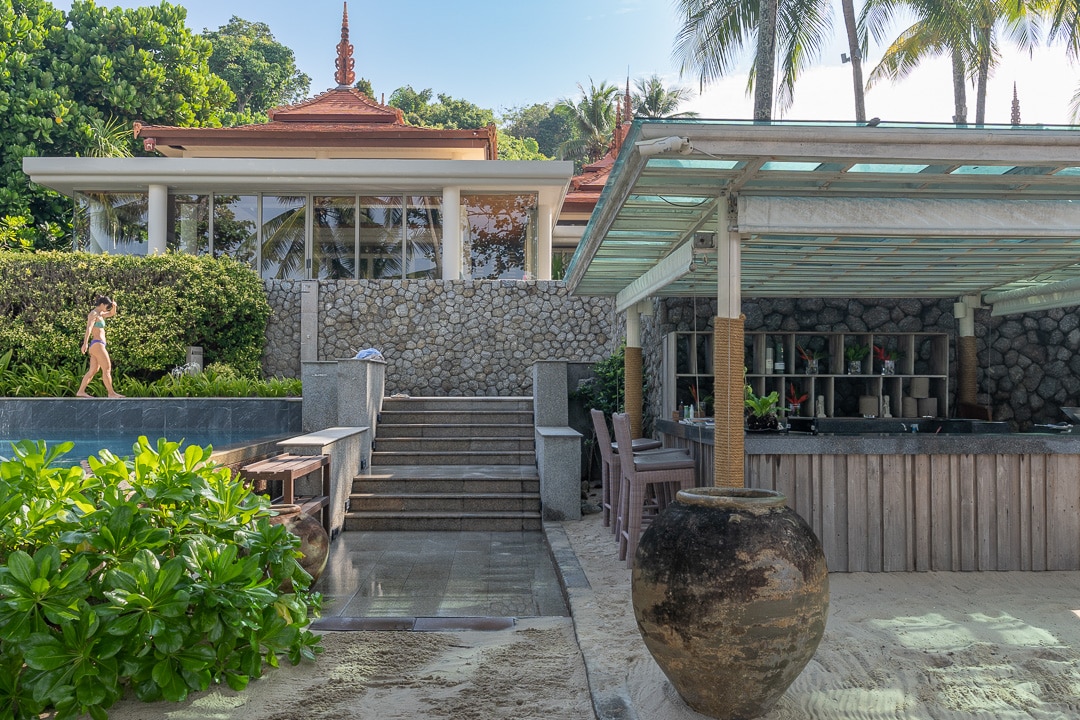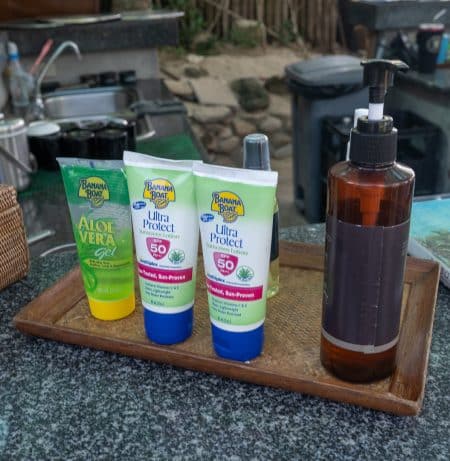 Sun loungers were placed in several locations, some shadier than others.
I really loved how dense and ancient the foliage was. It managed to look both wild and perfectly manicured at the same time, which is no mean feat.
Although private beaches are technically illegal in Thailand, Trisara is effectively the only resort in all of Phuket with a private beach. This is because there is no way to access it without either passing through the hotel grounds or mooring at the hotel dock.
The only drawback is that the first few metres out to the ocean are made of stone, before you hit sand (this is why motorised boats can't just dock directly on the beach).
I really value the privacy of a truly secluded beach though and for me the small inconvenience of either walking across some flat stones, or jumping off the wooden pier into the water, was no issue.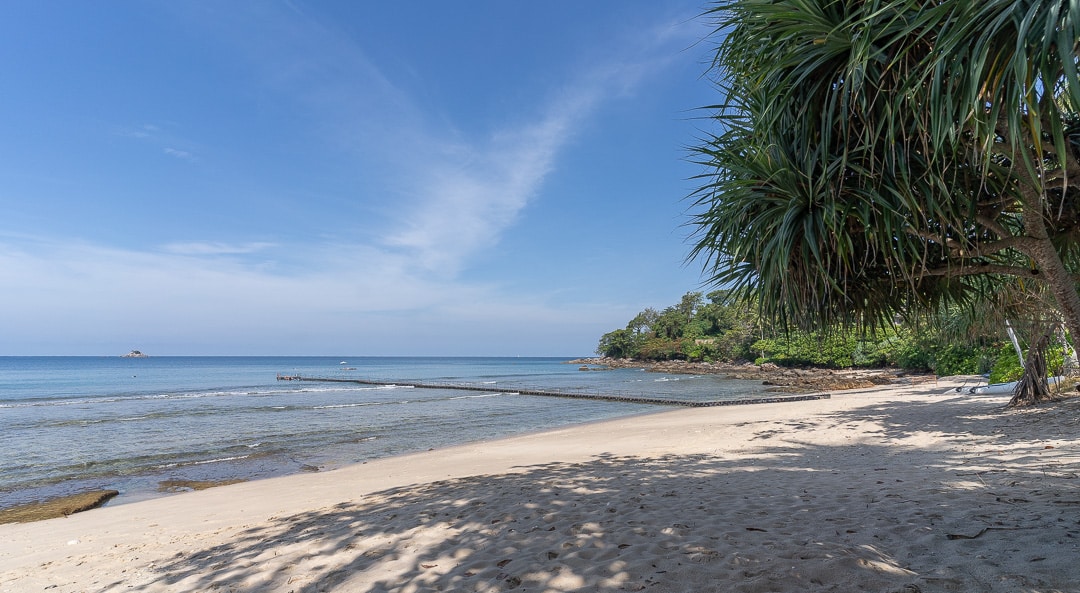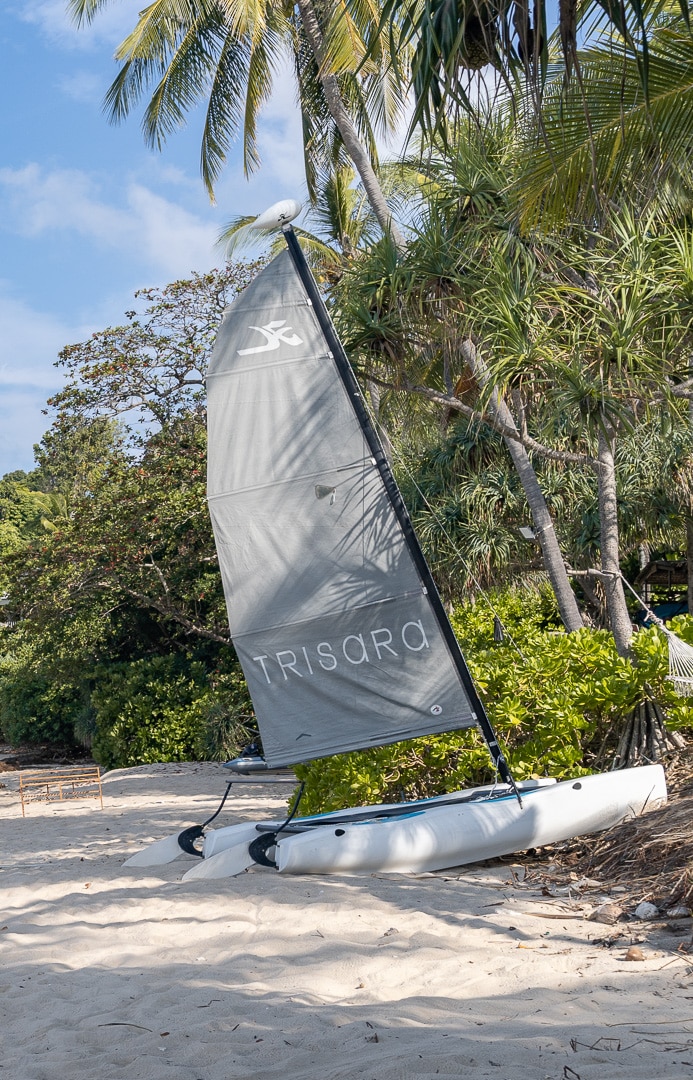 Gym
The gym was located up a set of stairs right outside our villa.
Thankfully there was a decent amount of shade and the stairs provided us with ample opportunity to warm up, ahead of a training session.
The gym building was located directly opposite the main lobby and reception area.
The inside was well air conditioned, despite there being a lot of windows. A leg press would have been nice but otherwise there was a fairly decent selection of equipment, with an even split between cardio and weights.
Between the incline smith machine, cable crossover and dumbbells, there was enough to get a decent workout in. The latter topped out at 20kg, which is fairly standard for a hotel gym (albeit not the one at Four Seasons Bangkok!).
There was also an area in the corner that featured swiss balls, yoga mats and other miscellanea.
The changing facilities were rather small, presumably most guests come here in their gym gear, like we did. However there was a small sauna located in each of the changing rooms.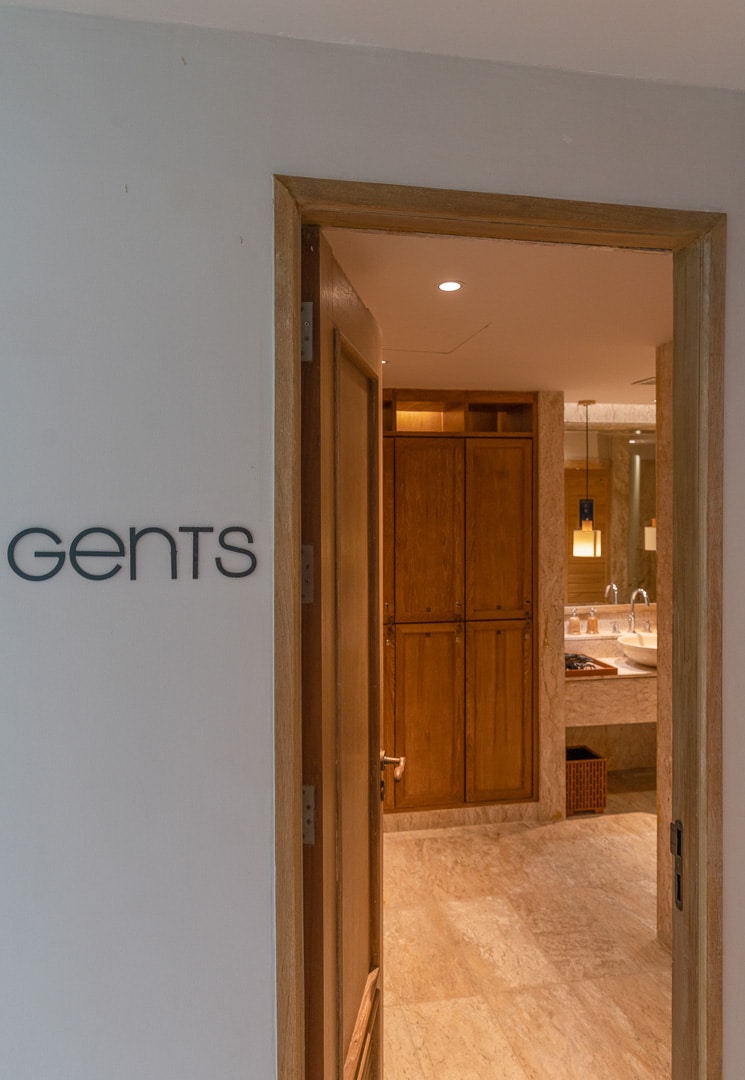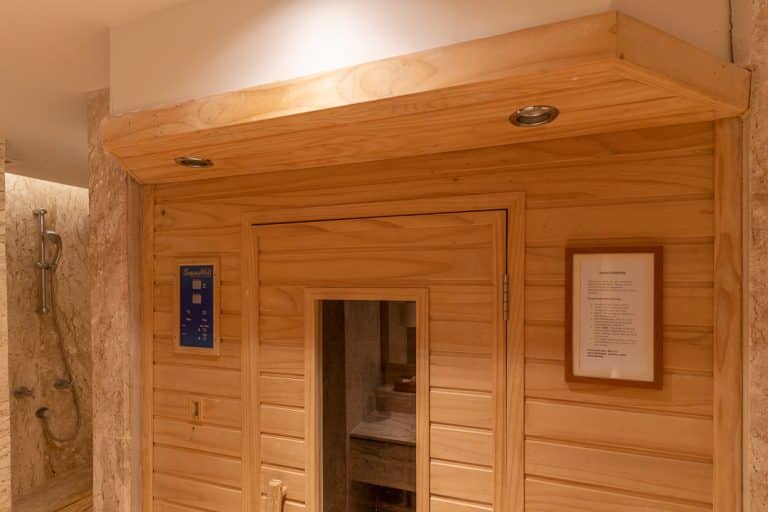 Spa
Between photographing every detail of the property, emailing clients and resorts, posting on social media and still maintaining some semblance of regular exercise, we really couldn't find any time for a spa treatment.
We passed through briefly on the way to the gym but that was it.
Hopefully next time we can return for a longer and more relaxing stay!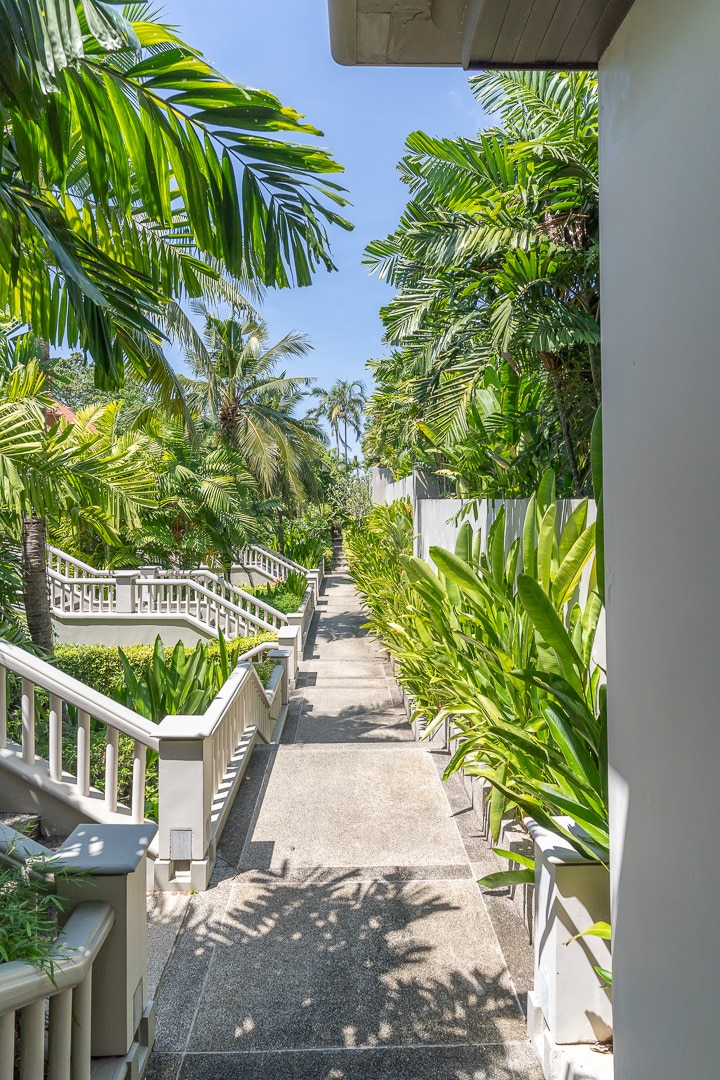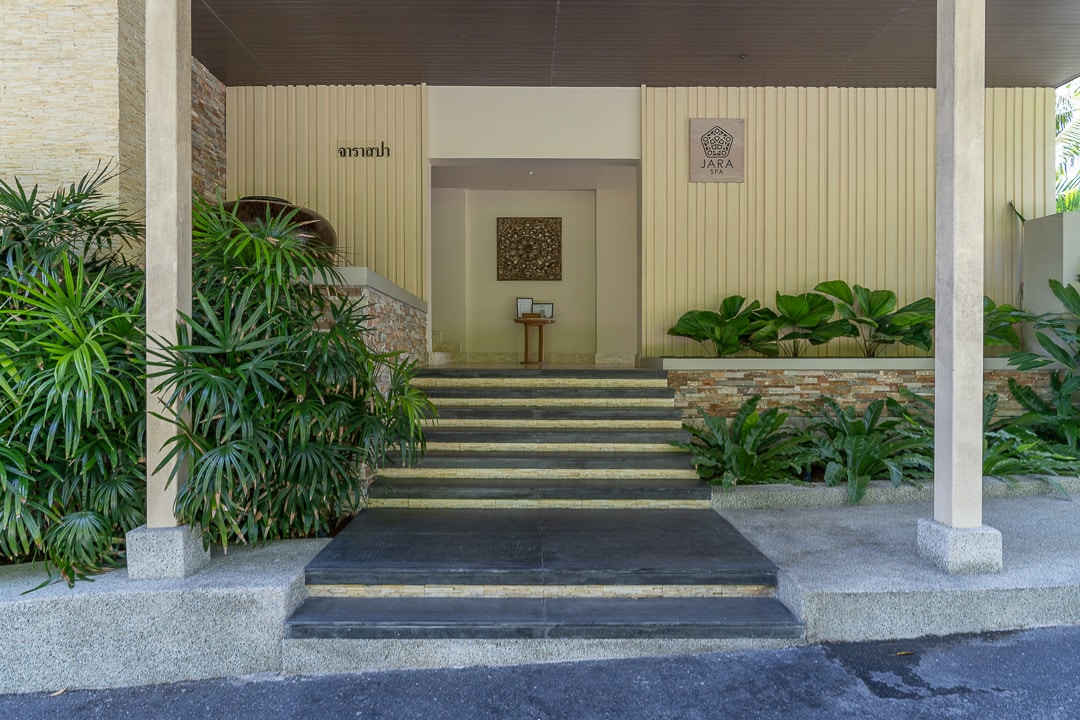 ---
Food and Drink
---
Trisara Breakfast
Breakfast at Trisara was served on The Deck, a truly magical setting overlooking the water, surrounded by pagodas and palm trees.
Walking down the steps each morning, basking in the sun's rays as we headed towards the ocean, honestly felt like a dream.
All too often, breakfast at resort hotels can feel chaotic and impersonal. At Trisara the atmosphere was one of complete relaxation.
Personally we found the morning breeze and the sound of the ocean to be perfect. However, additional seating was offered indoors for those who absolutely cannot live without A/C!
Service at breakfast was exceptionally good. With one server in particular, Kate, making sure to know and understand our preferences and always being thoughtful and proactive in her approach.
"Would you like a strong cappuccino and sparkling water, like yesterday?"
"Do you want me to bring fish sauce with chilies? I noticed you used a lot at lunch yesterday."
These types of interactions are simply impossible at larger resorts but at Trisara it genuinely felt as if we had been welcomed as family. It was like going to visit your parents and seeing the fridge stocked with your favourite childhood foods!
I tend to prefer ordering a la carte, rather than eating buffet food. Luckily Trisara offers guests both options as standard.
Trisara Breakfast Menu
Despite my general preference for a la carte, the buffet was of such exceptionally high quality that I rarely bothered ordering extra dishes.
The variety and freshness of the tropical fruit was incredible and we got through multiple plates each day! After ordering what we wanted, the fruit was freshly sliced and sent back to our table, meaning that our hands were free to continue perusing the offering.
A selection of pre-sliced fruits was also available for those without the patience for fruit to be prepared and sent to the table.
Freshly squeezed fruit juices were also offered, topped with adorable palm leaf hats.
The Thai breakfast options were particularly great: with grilled pork, sticky rice and crab fried rice available, together with dumplings and breakfast noodles.
In the centre of the room was an island featuring various cereals, granola and an entire fresh honeycomb.
Behind this stood two refrigerated cubby areas. One contained a selection of yoghurts. The other contained numerous high quality cheeses and charcuterie items, each of which had been thoughtfully paired with an appropriate garnish, pickle or sauce.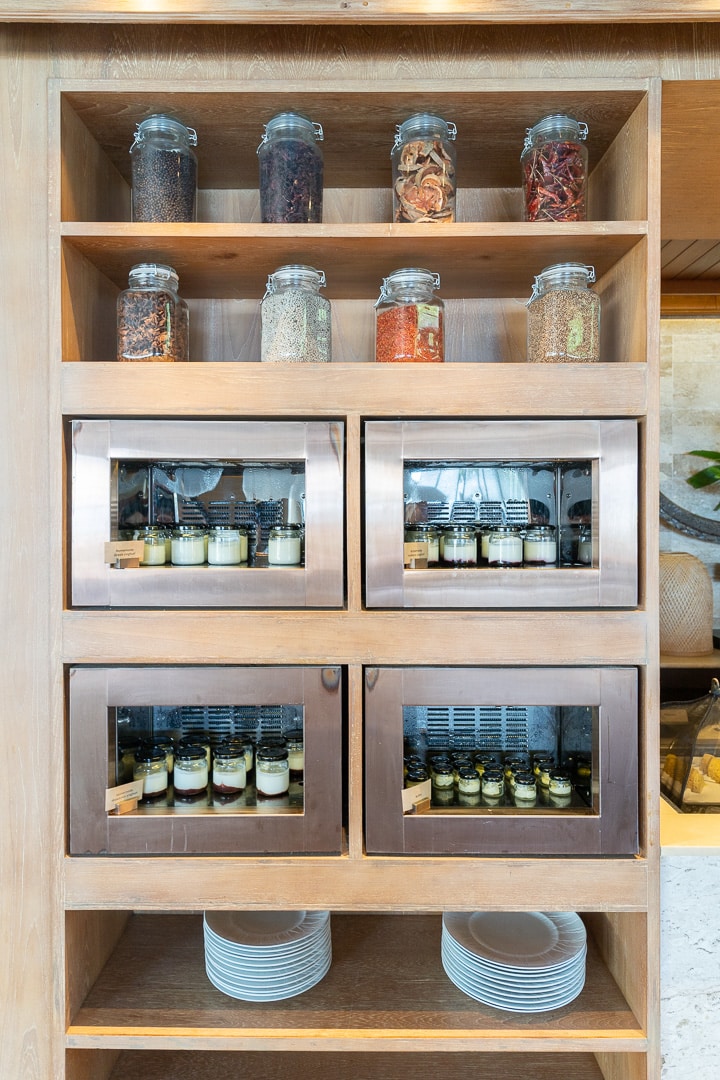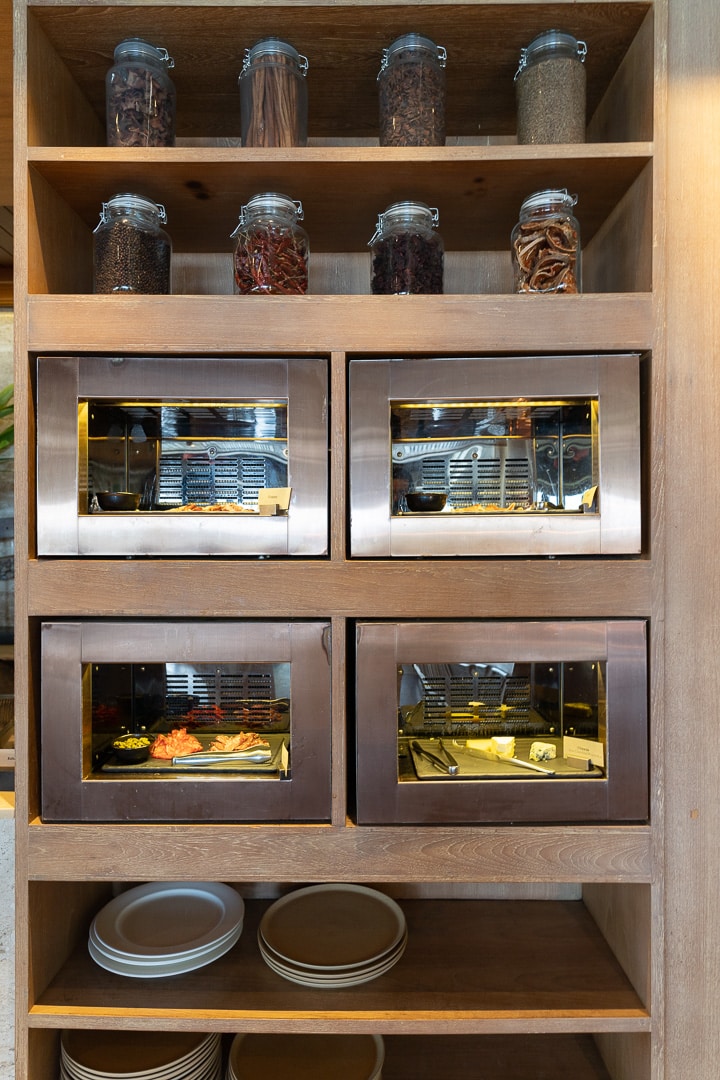 Finally, a variety of pastries were offered, freshly baked on site.
It's funny how much energy you have in the mornings on holiday, when you know that you have this to look forward to!
Trisara Lunch
The Deck offered the same menu for both lunch and dinner and this was very extensive, inventive and keenly priced for a resort of this calibre.
The bread basket served at the beginning of lunch was exceptional. I'm not usually a fan of gobbling down unnecessary carbs but I must admit I took to the pretzel bread like a frenzied goose.
The Thai dishes were unbelievably good. Sweet, sour, salty, spicy all balanced perfectly. I was in heaven.
The only dish I wasn't super keen on was the squid schnitzel. A cool idea but the execution didn't work, because the squid remained as one giant piece with the breading just pulling away. They need to either tenderise or perhaps even fully mince the squid, for this dish to work.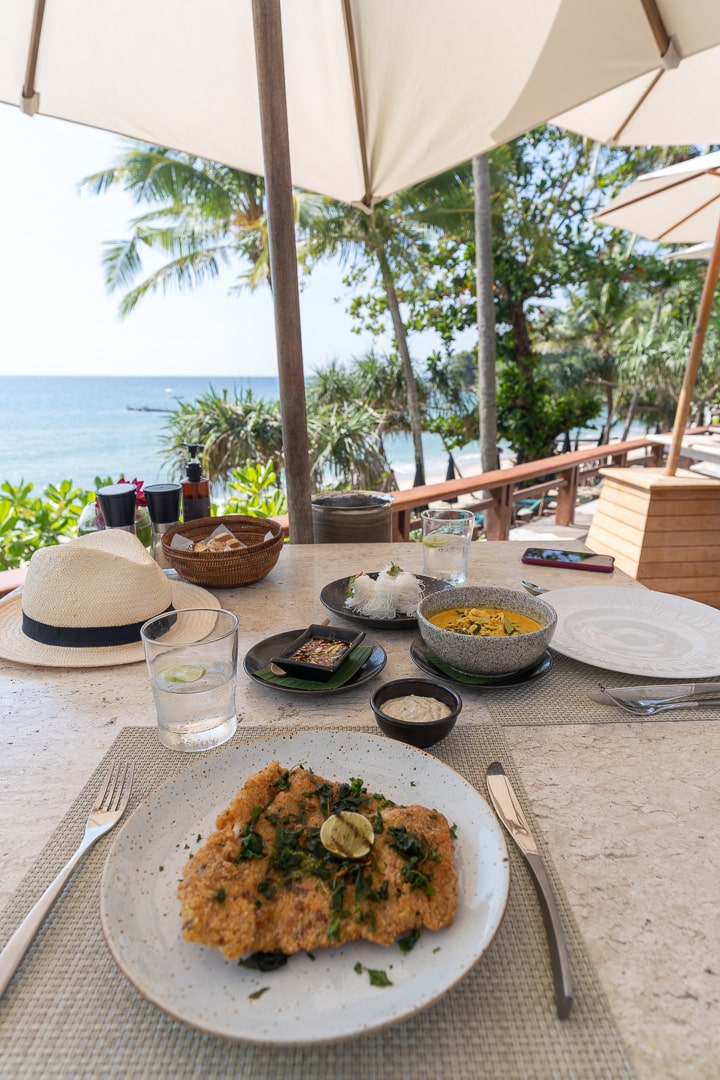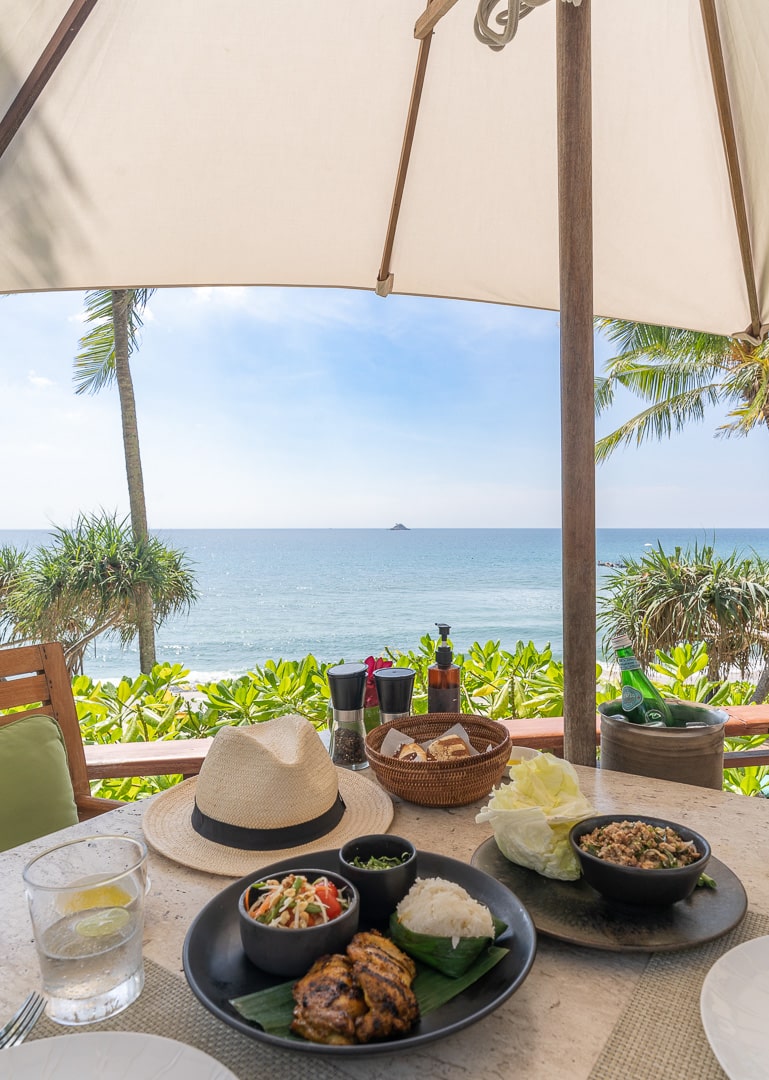 The grilled chicken, somtum and sticky rice were as good as I've ever experienced though.
Dinner at Pru
Pru is the only Michelin starred restaurant in all of Southern Thailand and happens to be very conveniently located opposite the library at Trisara.
Tables are often booked up months in advance and even hotel guests will struggle to squeeze in on short notice. It is also closed on Tuesdays and Wednesdays, so plan your trip accordingly.
We didn't so we ended up having a look at the room when it was being prepared for service but that's it! (another thing to plan for a future visit.)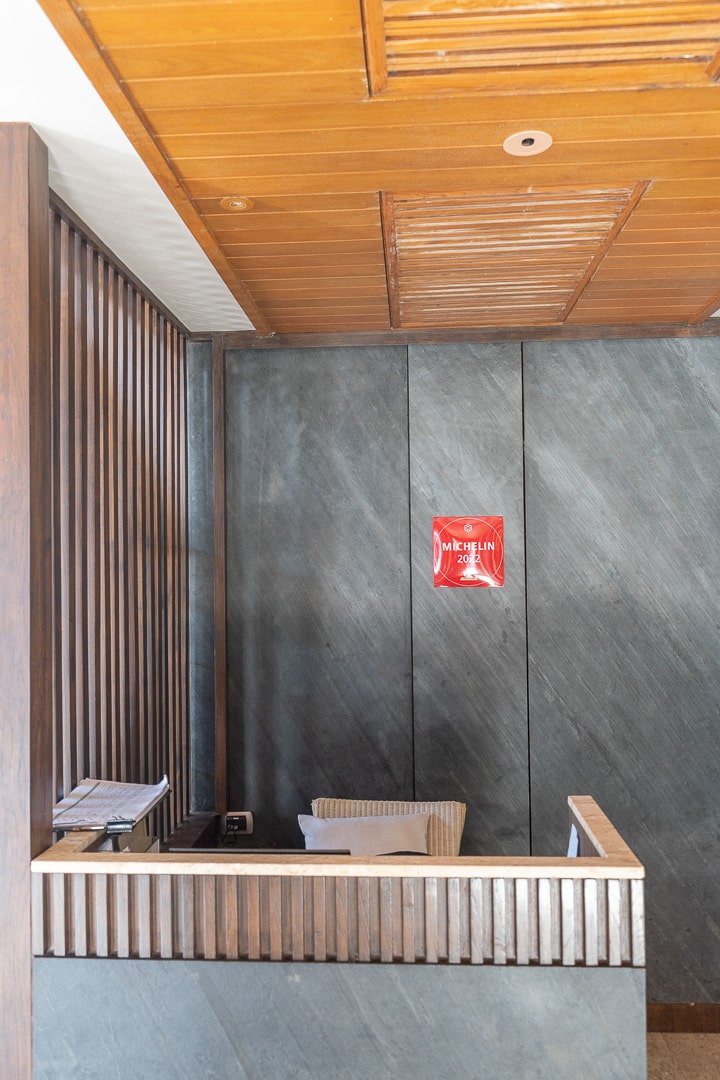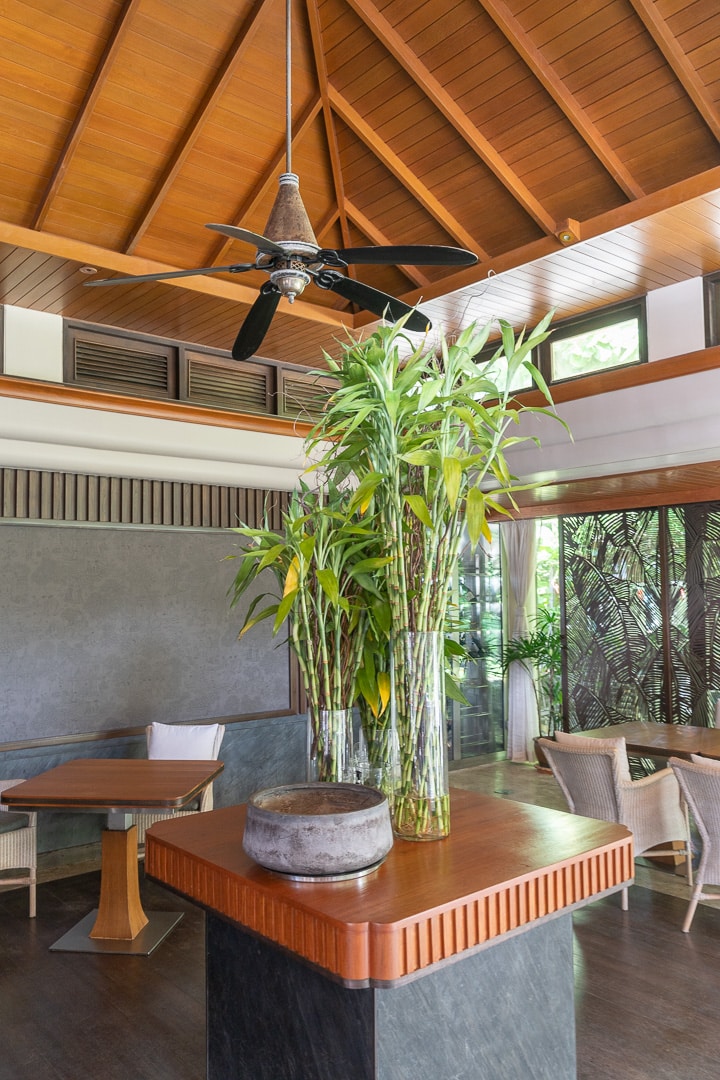 Trisara Dinner
The Deck Menu (PDF)
Seafood at Trisara Menu (PDF)
The indoor space, where the breakfast buffet is served, is referred to as Seafood at Trisara; meanwhile the outdoor space is referred to as The Deck.
In practice, food from either menu can be served either indoors or outdoors, so the distinction between restaurants is effectively moot.
The seafood menu included some lesser known and very interesting regional Thai dishes, all of which were amazing.
The soft shell crabs were the largest I've ever seen. The skin was paper thin and inside, the density of the protein and the depth of flavour were remarkable.
The Pla Muek Phad Dum was described as "A long forgotten family recipe, squid stir fried in its own ink with garlic". The recipe may be long forgotten but the incredible flavour is one that I'll remember for some time…
Western dishes were superbly executed too: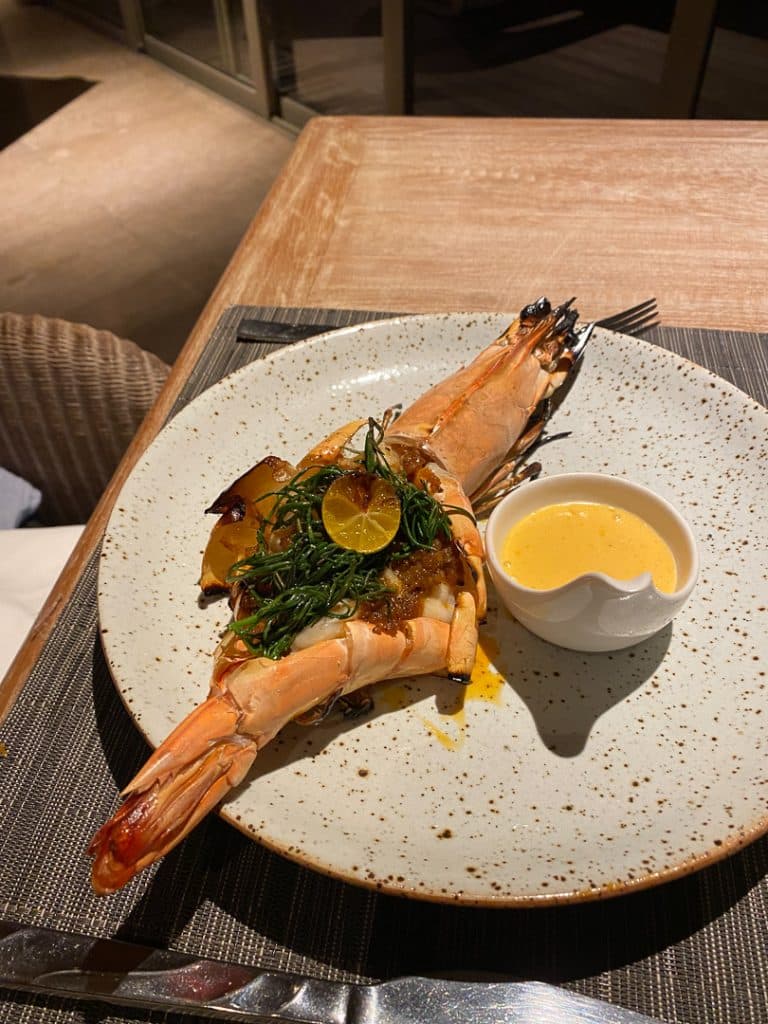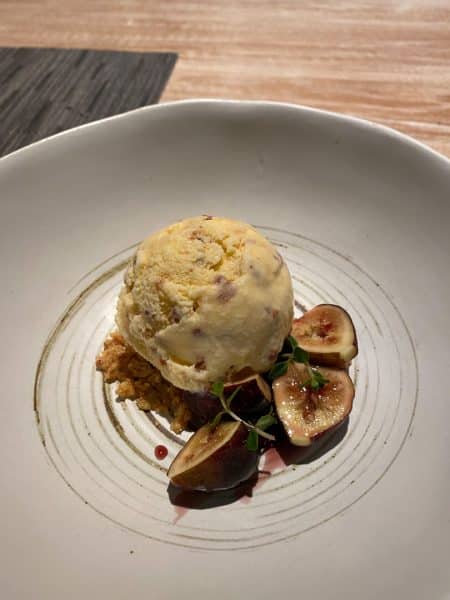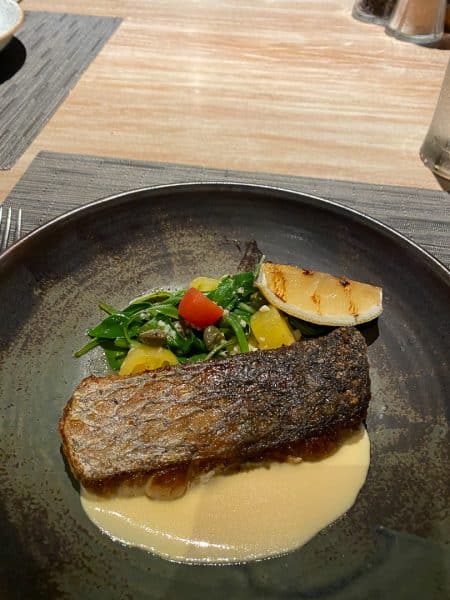 ---
Conclusion
---
Basics Checklist
☑︎ Power sockets near the bed
☑︎ Easy to understand light switches
☑︎ Coffee machine
☑︎ Separate shower and bath
☑︎ Blackout blinds
☑︎ Stable, fast and free Wifi
☑︎ Feather pillows
☑︎ Quiet and powerful aircon
Trisara is a resort that offers a tremendous amount of value at the very top end of the Phuket hotel market.
It offers the only private beach in Phuket, the only Michelin starred restaurant in all of Southern Thailand and even the entry level rooms feature sunset facing infinity pools. (And for all of 2022 our guests are GUARANTEED to be upgraded above the entry level room too!)
The low room count and relatively small footprint of the hotel's common areas means that this feels a lot more boutique and exclusive than some of the 'resort factories' elsewhere on the island of Phuket.
Service was fantastic throughout, with staff proactively anticipating our needs. This allowed us to feel like we could completely switch off, rather than actively having to manage our stay.
With such enticing surroundings it can be tough to find the motivation to leave the resort for meals. Given the quality and value on offer, this was absolutely fine by us! The food was as good as any resort we've visited. Up there with the likes of Four Seasons Kuda Huraa.
If you're looking for a party style beach club or proximity to Patong then this is not the resort for you. Otherwise, it's hard to imagine anybody being disappointed with the wonderful offering at Trisara.
---
Book Trisara with Virtuoso Benefits
---
Virtuoso Booking
An example of Virtuoso benefits, which may be available on your stay:
Upgrade on arrival, subject to availability
A complimentary 50 minute massage for up to two people, per room, once during stay
Early check-in/late check-out, subject to availability
Up until 31st December 2022 our clients will receive even better benefits!
A 10% discount on the best promotional rate showing on Trisara.com
GUARANTEED upgrade at the time of booking (valid for all standard one-bedroom suites and villas)
A complimentary 50 minute massage for up to two people, per room, once during stay
20% discount on additional wellness treatments at Jara Spa
Early check-in/late check-out, subject to availability
[Rates at Trisara always include wi-fi, breakfast and round-trip airport transfers as standard]