Alaska Airlines Stealth devaluation
October 3, 2022
AWESOME DEAL – Free Transfers and Half Board at the Waldorf Astoria Maldives!
November 13, 2022
Capella Bangkok
Room Type: Riverfront Premier
Typical Nightly Rate: $600
Stay Type: Hosted stay
Loyalty Program: GHA Discovery
---
Intro
---
Bangkok has always been a city with a highly competitive luxury hotel market, with almost every major luxury hotel brand in the world represented.
During the pandemic though, two major new luxury properties opened on the banks of the Chao Phraya river: Four Seasons Bangkok and Capella Bangkok.
The two properties form part of a single riverside campus, owned by the same company. Room rates at both hotels closely follow one another and dining venues can be accessed by guests of either hotel (and indeed members of the general public).
As such, I was interested to see how Capella could effectively differentiate itself from the much stronger branding of Four Seasons.
We had already enjoyed an absolutely fantastic stay at Four Seasons Bangkok prior to this stay and this was still fresh in our minds as we came to check in…
---
Booking
---
Our clients are able to enjoy additional Virtuoso benefits when booking Capella Bangkok:
Upgrade on arrival, subject to availability
Daily breakfast for up to two guests per bedroom
$100USD equivalent Food & Beverage credit utilized during stay (not combinable, not valid on room rate, no cash value if not redeemed in full)
Early check-in / Late check-out, subject to availability
Complimentary Wi-Fi
Room rates and payment terms match the Capella website exactly, with payment taken directly by Capella during your stay.
You can book a Virtuoso rate at Capella Bangkok using our online booking portal:
BOOK CAPELLA BANGKOK WITH VIRTUOSO BENEFITS
If you're booking with us for the first time, here's a quick guide on how to use the booking portal:
It's also always worth dropping us an email to see if a better offer is available, or if you need help building a more complex itinerary with multiple hotels:
---
Arrival
---
We were immediately greeted by name upon approaching the entrance and whisked through the very elegant and understated lobby.
The decor here is a lot more muted and understated than the gigantic and extravagant spaces of the Four Seasons. I couldn't help but feel a little underwhelmed in comparison but I can see how some might prefer the more cosy and elegant feel here.
There was a great deal of subtle texture in the design and artwork was dotted around in a couple of places but again, on a much more subdued scale than Four Seasons.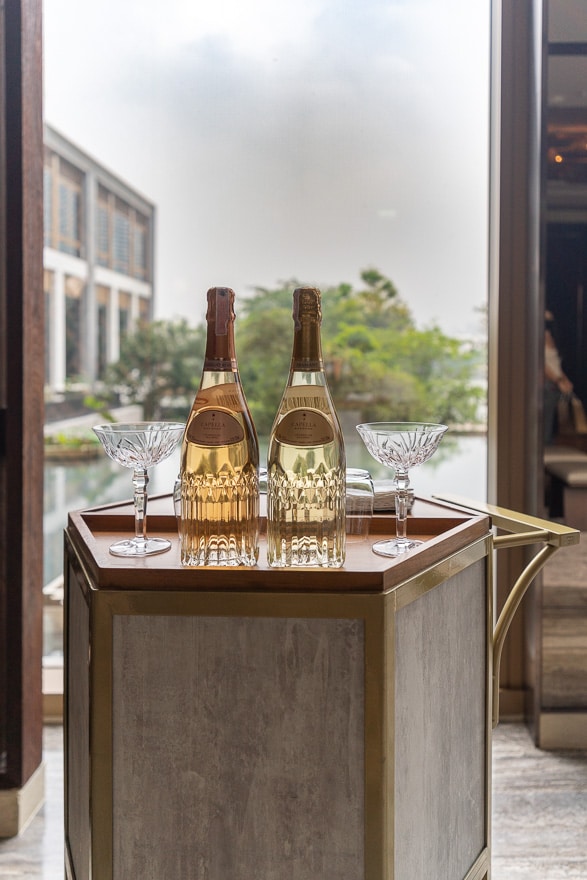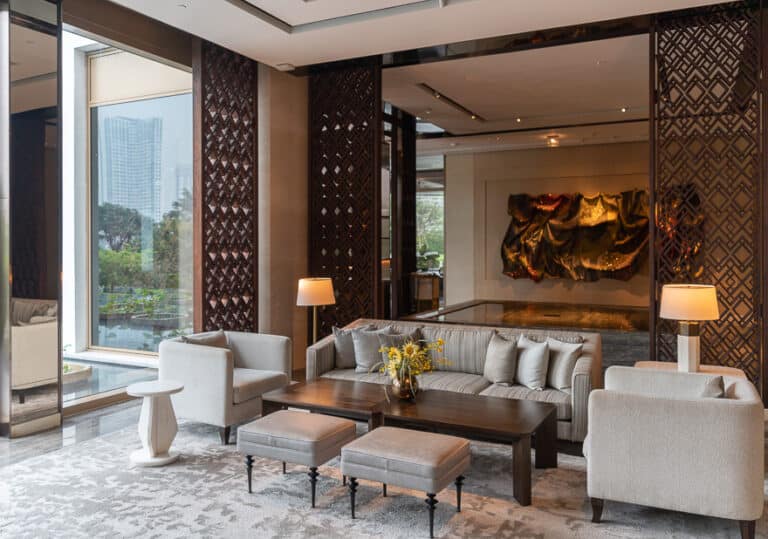 The lobby looked out onto water but in this instance the pond was much smaller and lacked the large outdoor terrace that we so enjoyed next door.
In contrast to the hustle and bustle of the Four Seasons, the Capella lobby felt rather sleepy, with the front desk left unattended in the evenings.
Ordinarily, this wouldn't be a great sign in a luxury hotel… however Capella Bangkok is no ordinary hotel.
We never had a reason to approach this desk because we were escorted directly past it, through a frosted glass access door, to the Living Room for check in.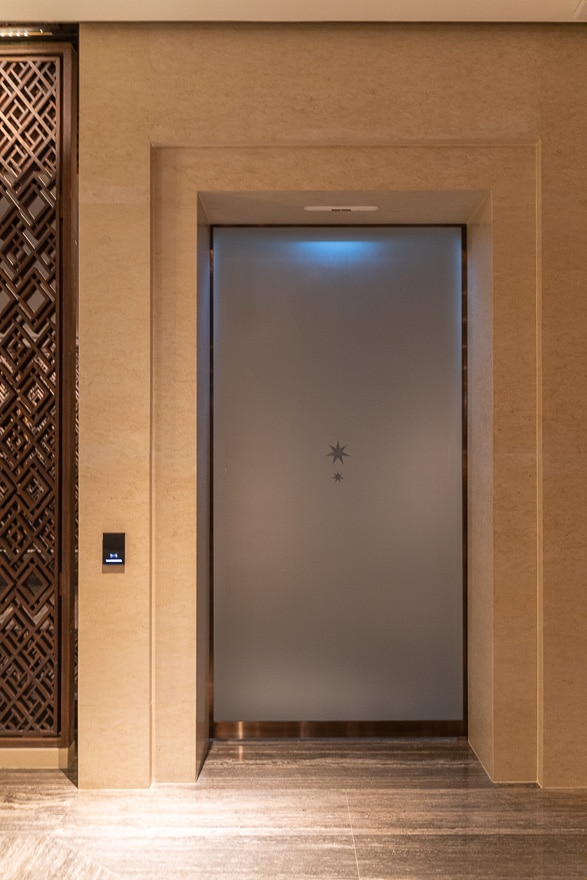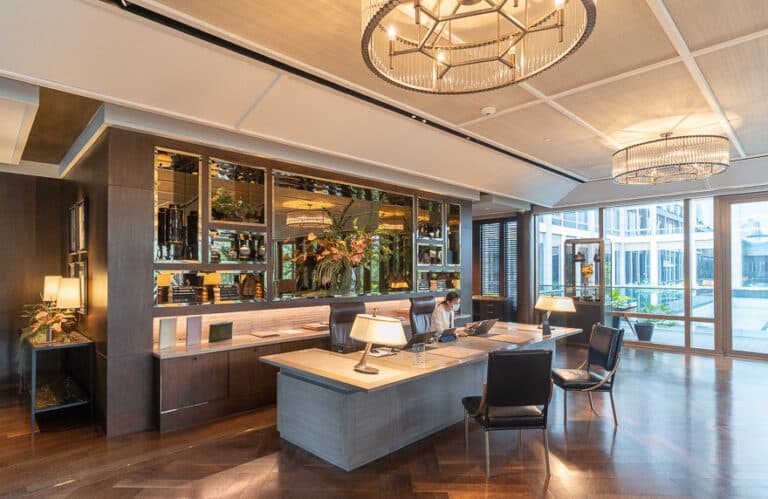 ---
The Living Room
---
The Living Room is a rather unique concept.
The reason the lobby seemed so sleepy is because it doesn't serve the function of an ordinary hotel lobby. It is deliberately quiet, in order to make the hotel feel like a private home.
In the Living Room, guests can relax and enjoy complimentary soft drinks throughout the day, served via table service.
There is a large desk here where members of the hotel's 'Culturist' team are constantly on hand to assist. The Culturists serve as a complete butler service, assisting with everything from restaurant reservations, to making barista style coffees and entertaining young guests playing on the outdoor terraces.
Having a visible team here, rather than people on the end of a phone really made a difference. St Regis hotels famously offer butler service too but the butlers are hidden away, with a traditional concierge desk as the visible point of contact with hotel guests.
I much prefer the concept at Capella.
Check in took place at a very comfortable sofa with a trolley of sparkling wine being wheeled over to us, together with a selection of Thai sweets. It was later explained to me that Capella's own champagne would usually be served but COVID supply shortages had necessitated switching to another sparkling wine for a few weeks.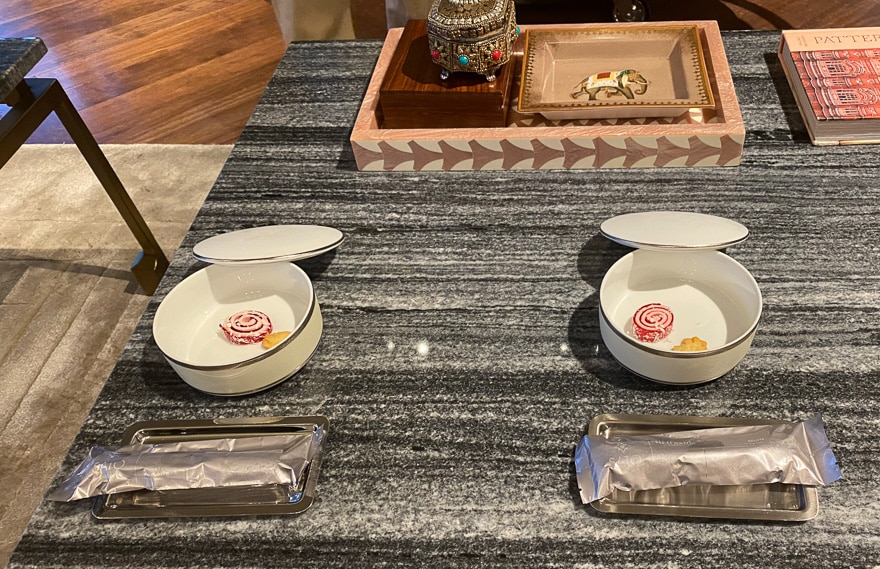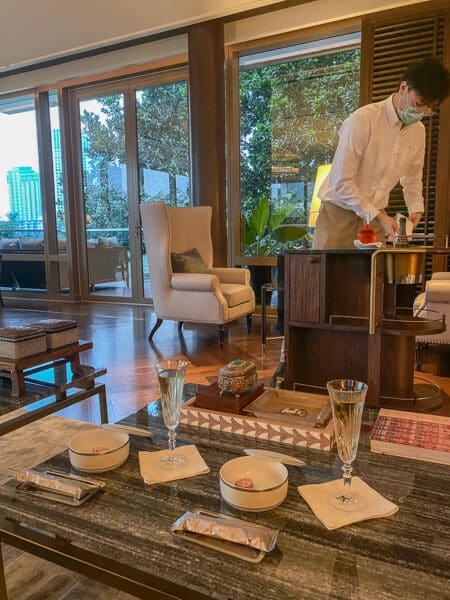 In addition to the indoor space, The Living Room also featured terraces running along two sides; one of these was used for children's activities like mask painting, in the mornings.
The other terrace had a more secluded and jungle-like feel to it and was the perfect place to sit with a book in the mornings.
After completing our check-in formalities, we were escorted upstairs to our Riverfront Premier room.
Again, in comparison to the Four Seasons, I found the hallways to be very plain, verging on Spartan: endless white walls punctuated by emergency exit signs and service cupboards. I definitely didn't feel like I was in a luxury hotel as we walked to the room.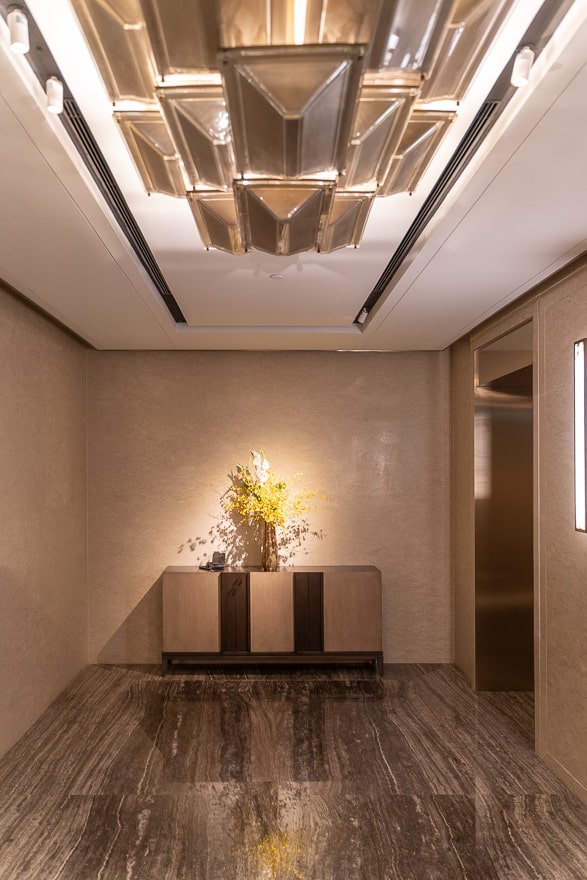 Also, where the Four Seasons cleverly hides the view behind the hotel, Capella's hallways featured windows framing this panorama:
---
Riverfront Premier Room
---
Entrance and dressing area
As we entered our room I was pleased to see an entrance hall, strongly demarcating the separation between the bedroom and the hallway. This design consideration is seldom observed in non-suite room categories.
Already it was great to see small details like the flowers and the leather valet tray, placed atop the console table.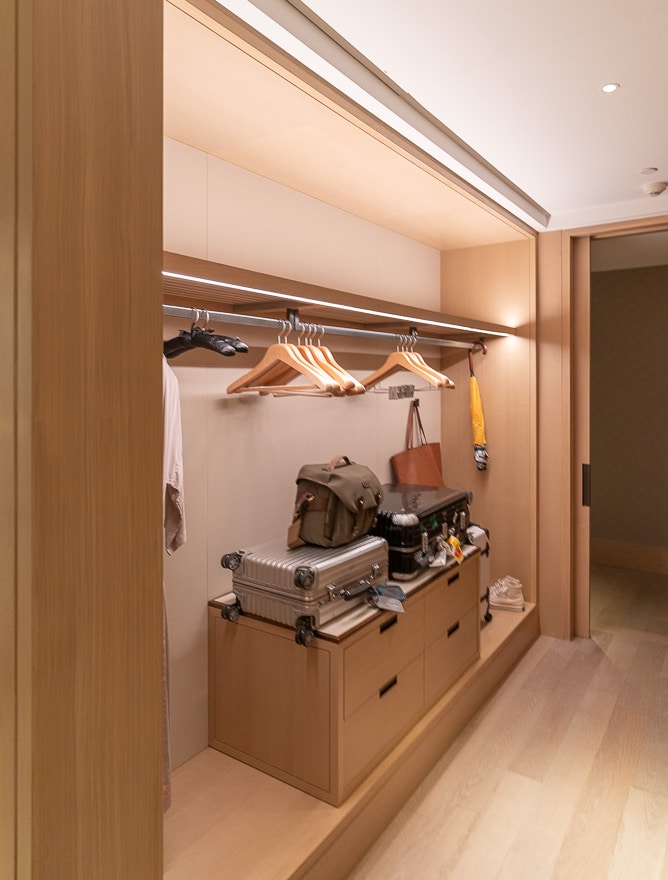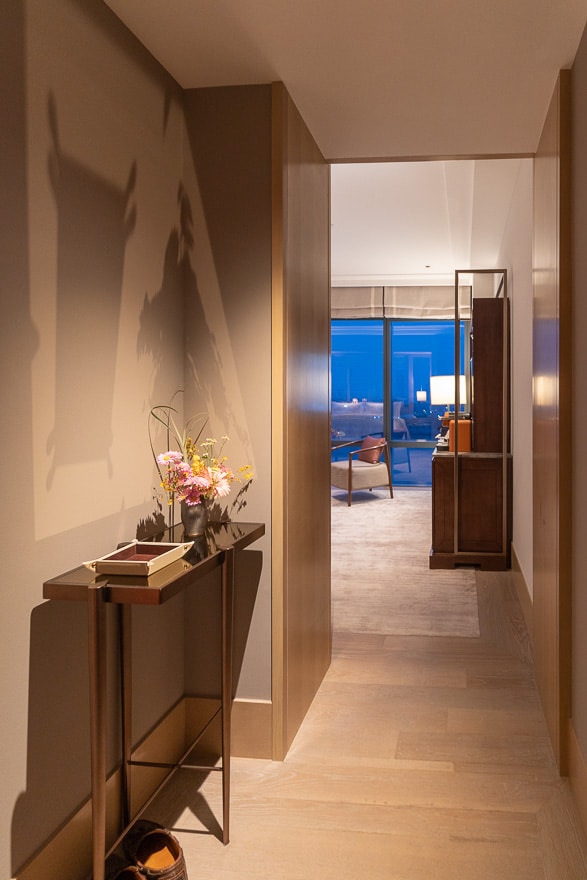 Straight ahead was the bedroom and to our left was the walk-in wardrobe.
Again, it is unusual to see such a large, dedicated dressing area in a non-suite room. However, at 61m², the footprint of the lead in rooms here is far from usual…
Everything about the wardrobe area was washed in a veneer of quality. The thickness of the hangers (and buttons on the end of the silk ones), the texture of the laundry bags, the provision of a shoe polishing kit (and complimentary shoe polishing service) – even a beach bag was offered, so guests could carry their things to the pool or spa comfortably.
It was abundantly clear that a great deal of care and attention had gone into providing exactly what guests might need.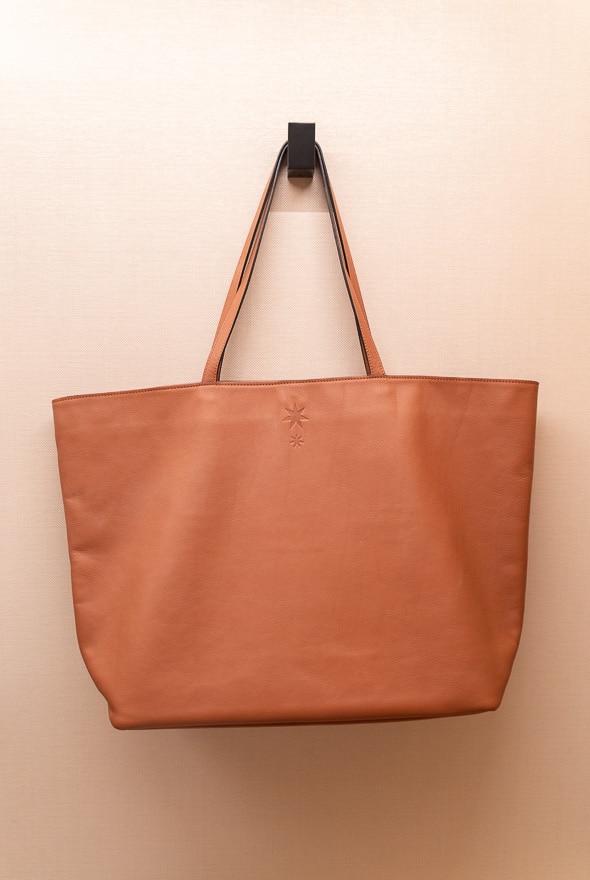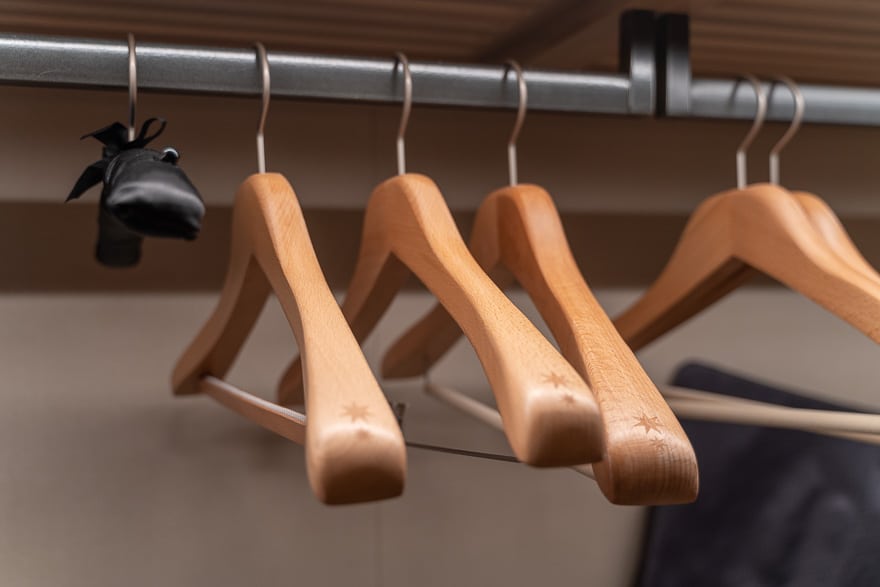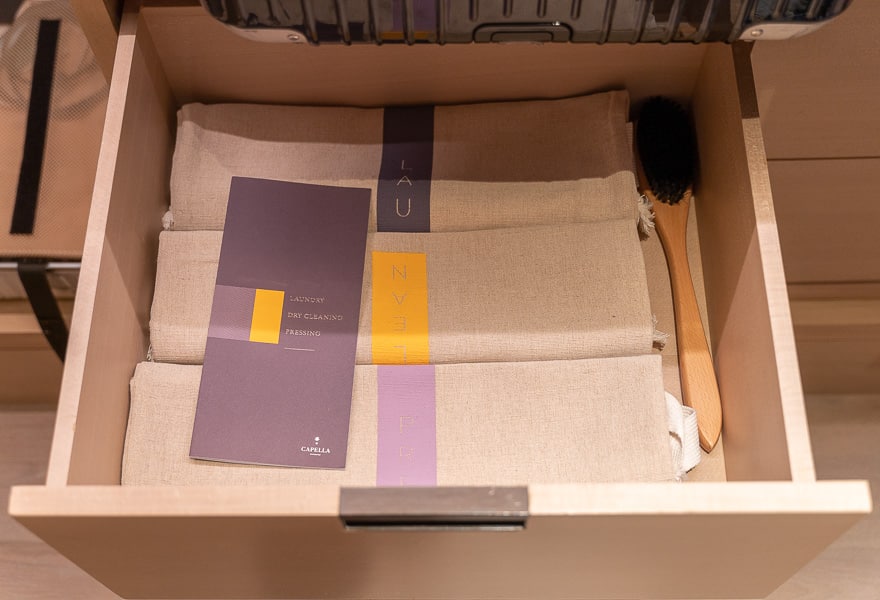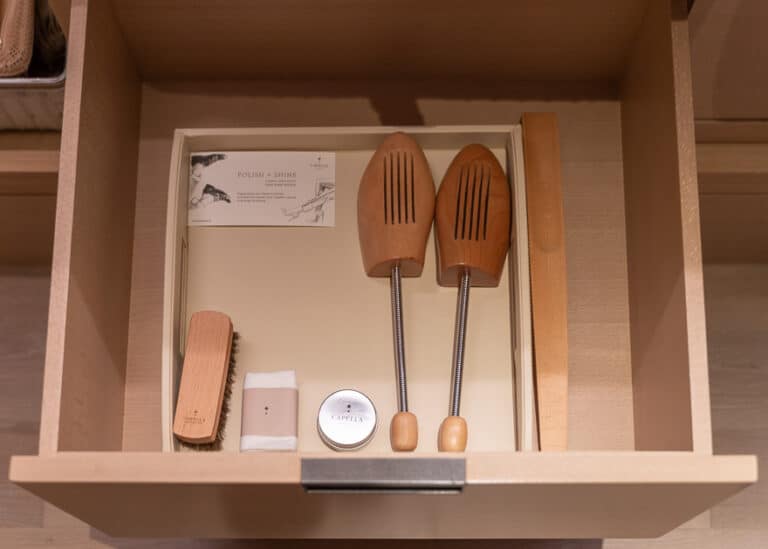 The dressing room also featured a decent amount of closed storage, with a valet rail built into one side (just like at the Prince Gallery in Tokyo!). Here we placed our 5 items of complimentary pressing soon after arriving in the room.
Within two hours of closing the cupboard and clicking the 'Service' button, they had been returned in a beautiful Capella garment bag, adorned with copper zips.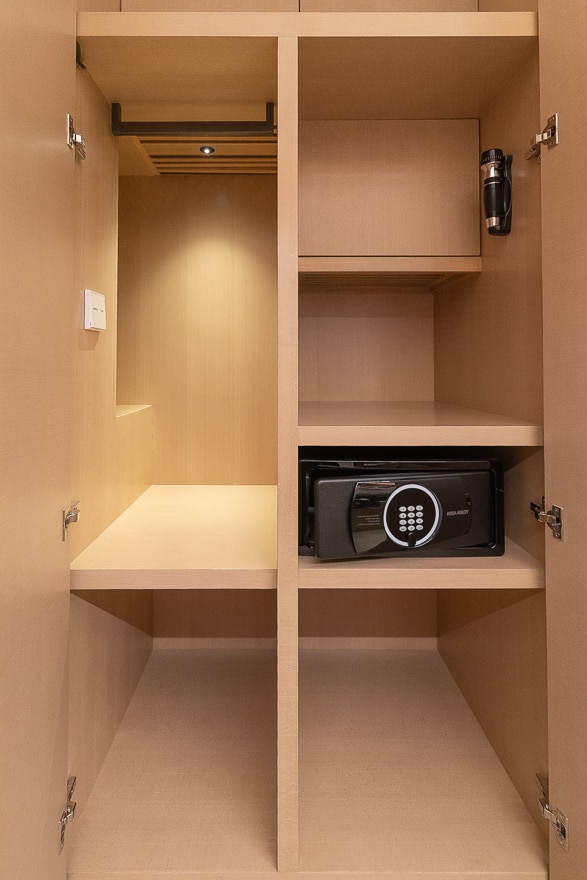 The dressing room also contained a well lit vanity area with a comfortable seat and accessible power for hair straighteners, hairdryers etc.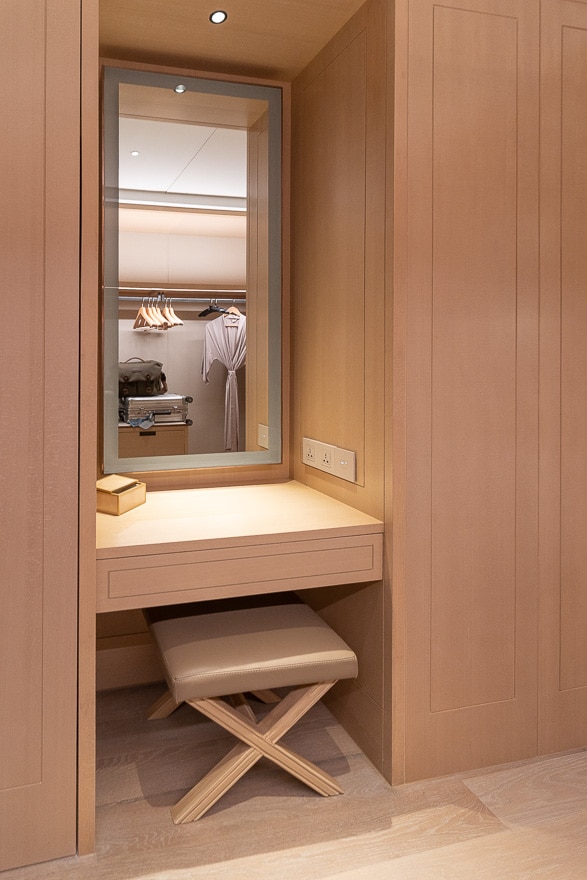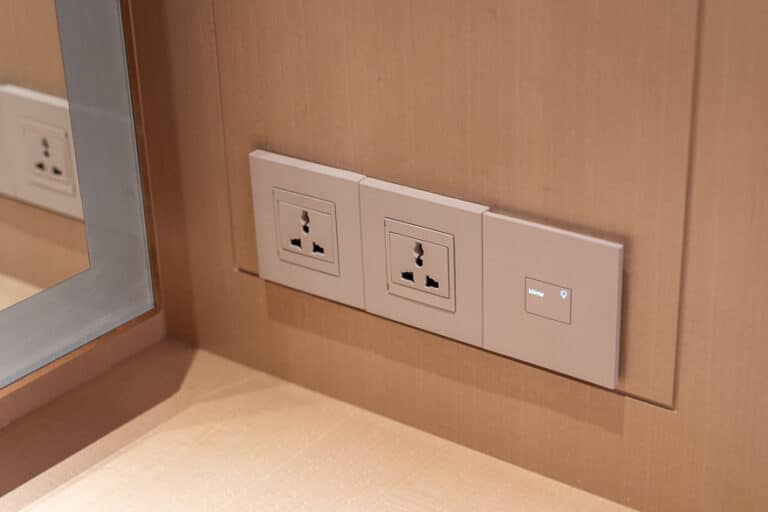 Bedroom
The bedroom felt very elegant and restrained, bordering on sterile for my taste. The mirrored headboard added some interesting texture but I couldn't help feeling that the lack of colour detracted from the overall ambiance.
The sitting area and the desk were well positioned though and the overall ergonomics of the room flowed cleanly.
Floor to ceiling windows provided plenty of natural light and the low profile of the furniture meant that the view was not materially obscured.
Most importantly, the bed was very comfortable indeed, the blackout blinds worked as expected and there was adequate counter space on the bedside tables. Light switches were very well labelled (in both words and images) and universal power sockets were in abundant supply throughout the room.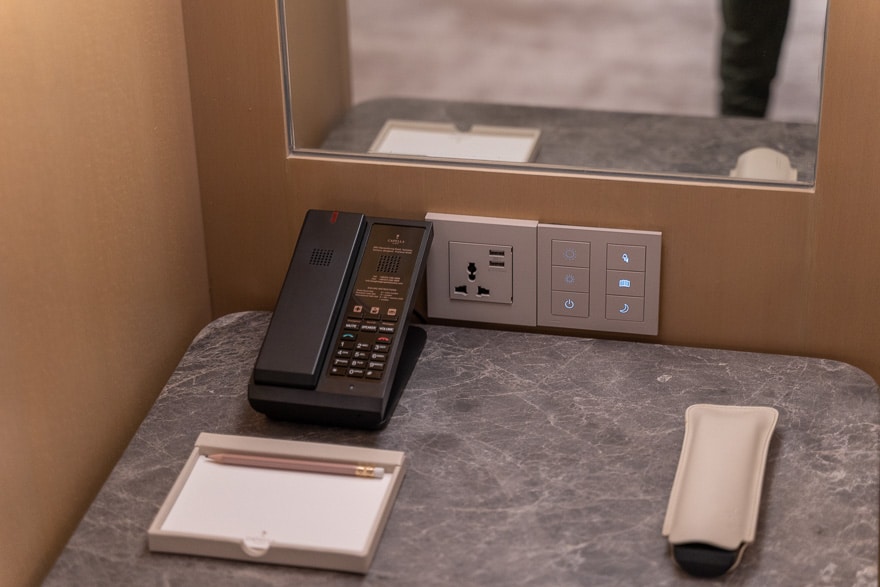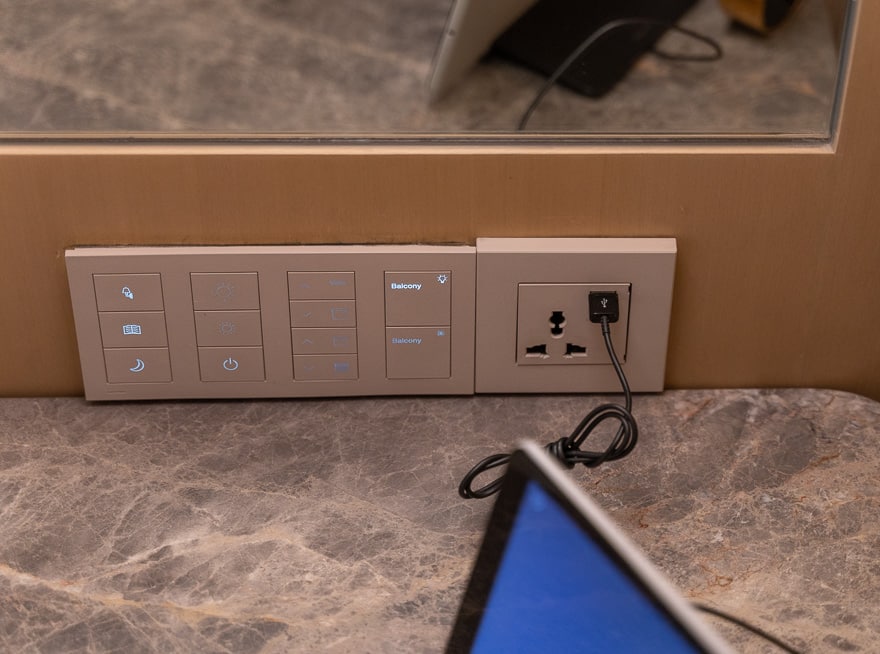 The fact that the head of the bed was located within an alcove, really helped to make it feel cosier at night too.
The iPad room controls were very user friendly and intuitive, although we personally felt it took up too much space on the bedside table and opted to move it to the desk instead.
The desk was a real pleasure to use – the moment you sit here to work, you can immediately feel that this is a robust and well engineered piece of furniture.
The lamp was absolutely beautiful, there were plenty of power sockets as well as an HDMI port for the TV. Even the sanitiser came in an elegant frosted glass diffuser.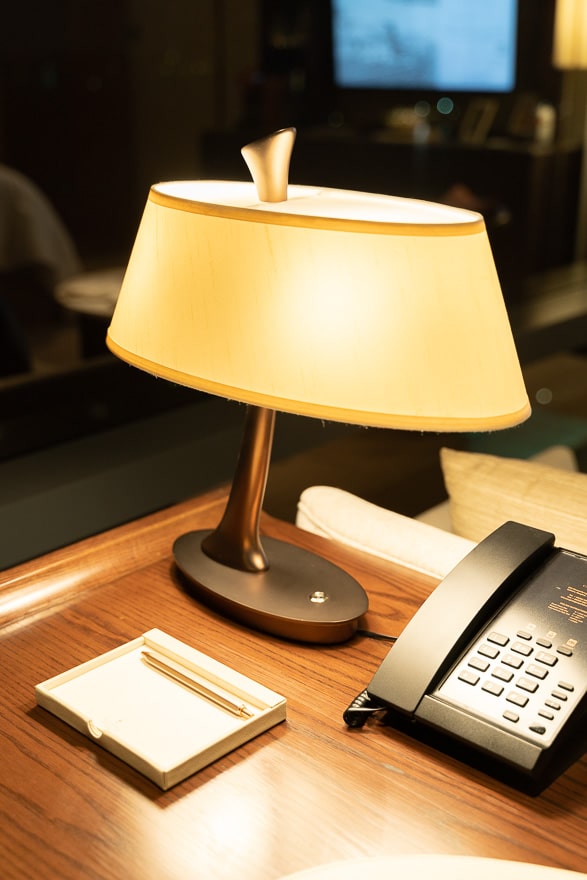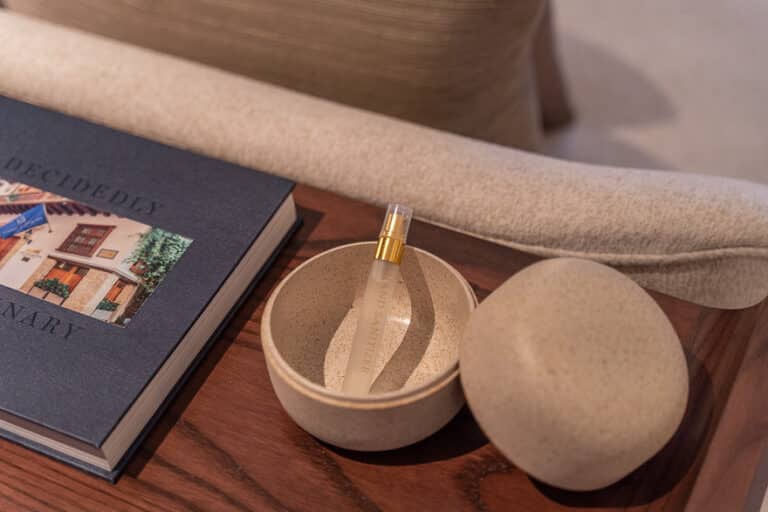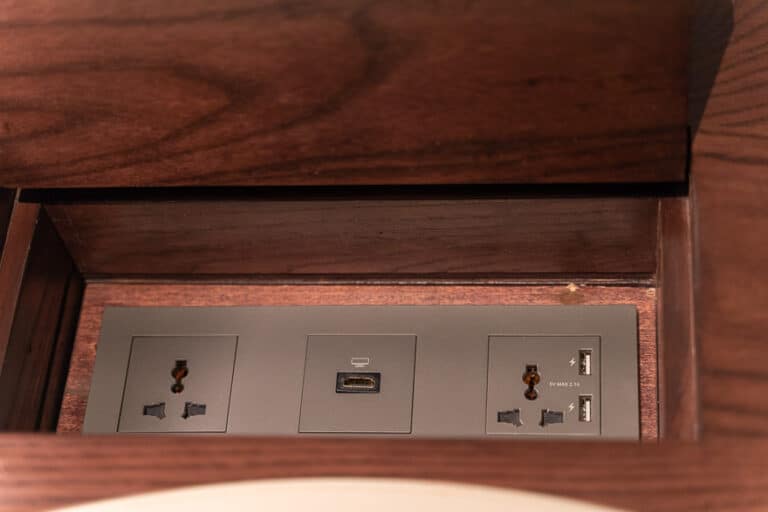 One slight issue for UK travellers though:
Waiting for us on the coffee table opposite the sofa was a small welcome amenity of delicious Thai sweets. Nestled in the corner just beyond this was a lounge chair with intricately carved wooden arms.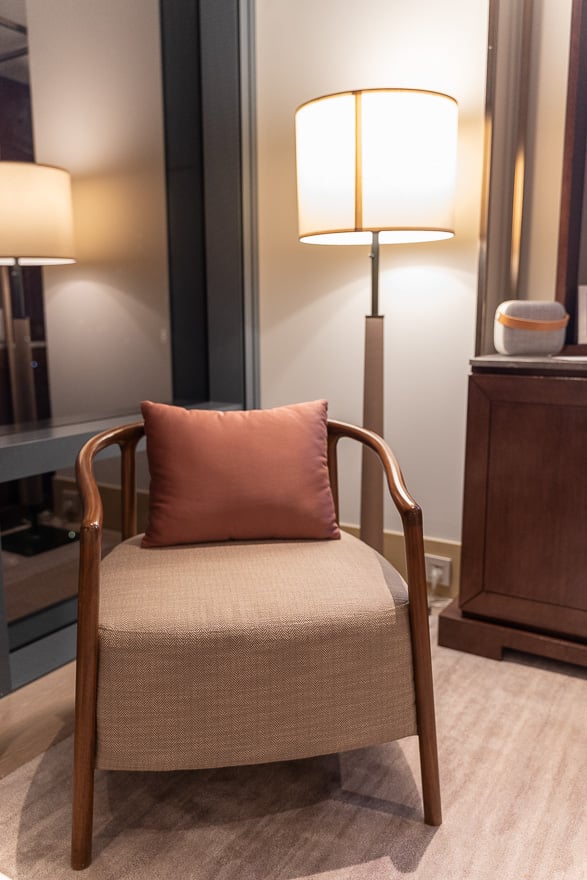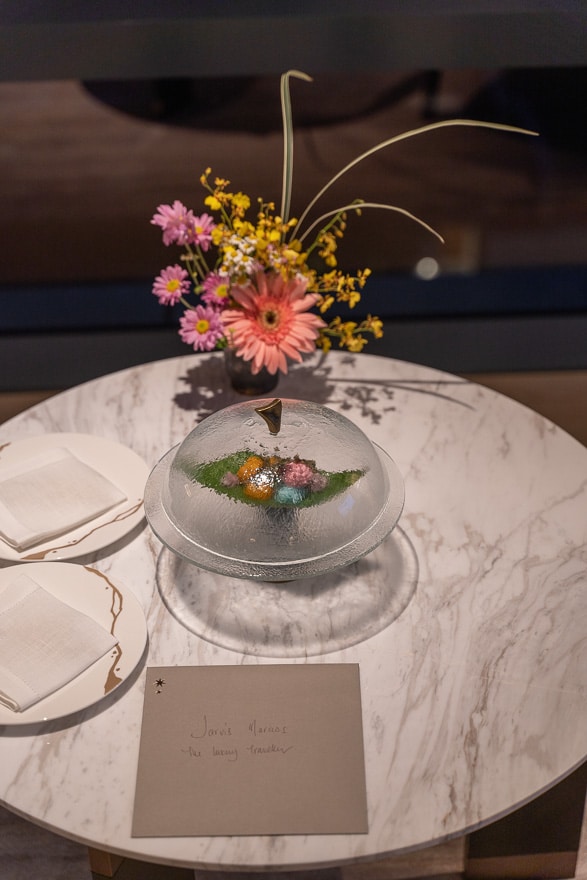 Behind this was a very elegant, stone topped entertainment area – consisting of a large TV, a bluetooth speaker and the minibar.
Our butler had left a small note for us on the table together with a couple of framed pictures from our travels, much like we had encountered at Amanpuri in Phuket.
The room featured a saucer style Nespresso machine, which is the same that we had in my old office. It'll do when real coffee isn't available but it isn't comparable to machines by Illy or Lavazza. The minibar featured a surprisingly limited stock of cold beverages for a hotel of this calibre. I would personally have expected more and larger bottles of alcohol, perhaps even a dedicated wine fridge.
Having said that, all of the non alcoholic beverages are complimentary across all room categories at Capella Bangkok.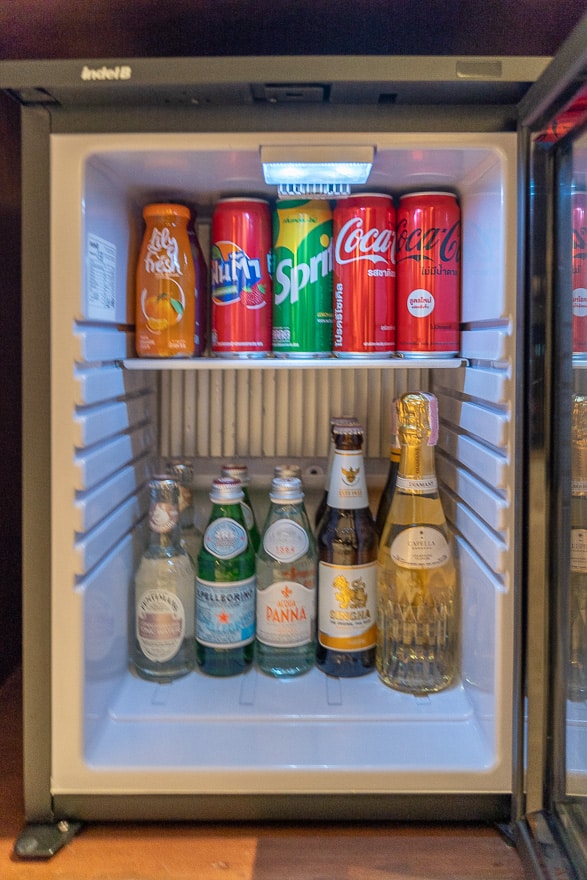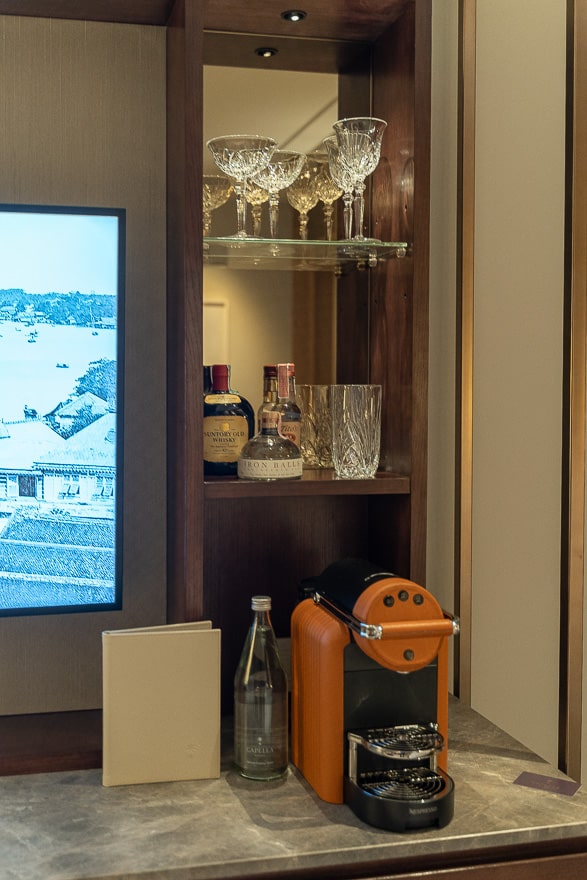 A selection of teas was available in addition to the Nespresso saucers and both the tea pot as well as the cups and saucers were beautifully designed.
I particularly liked the fact that the minibar also included a variety of local snacks, together with locally produced craft spirits.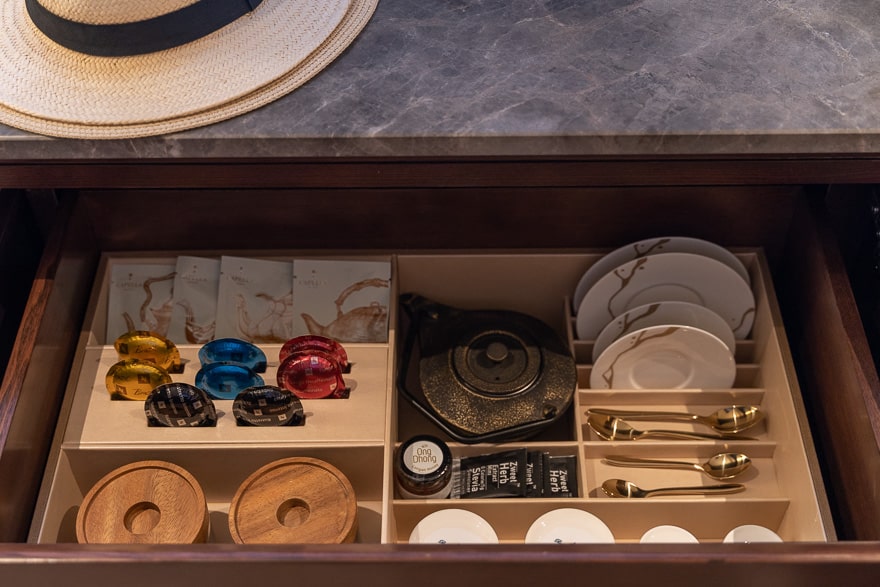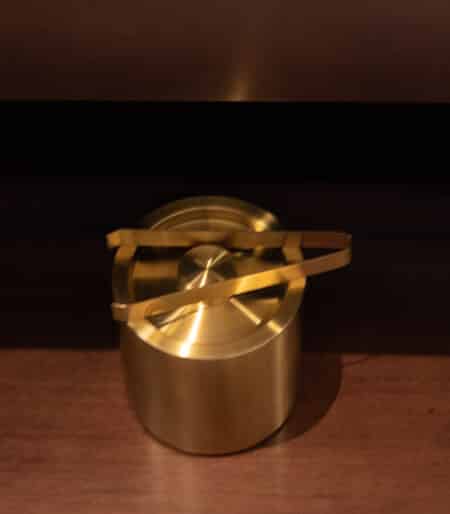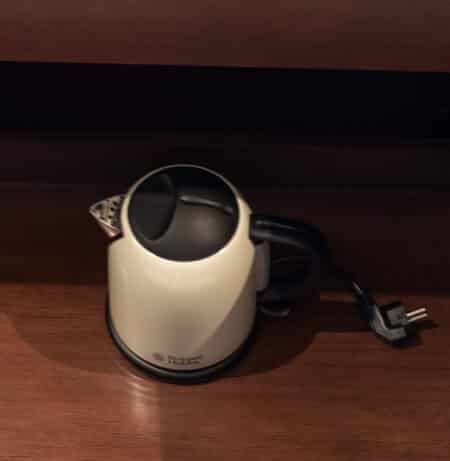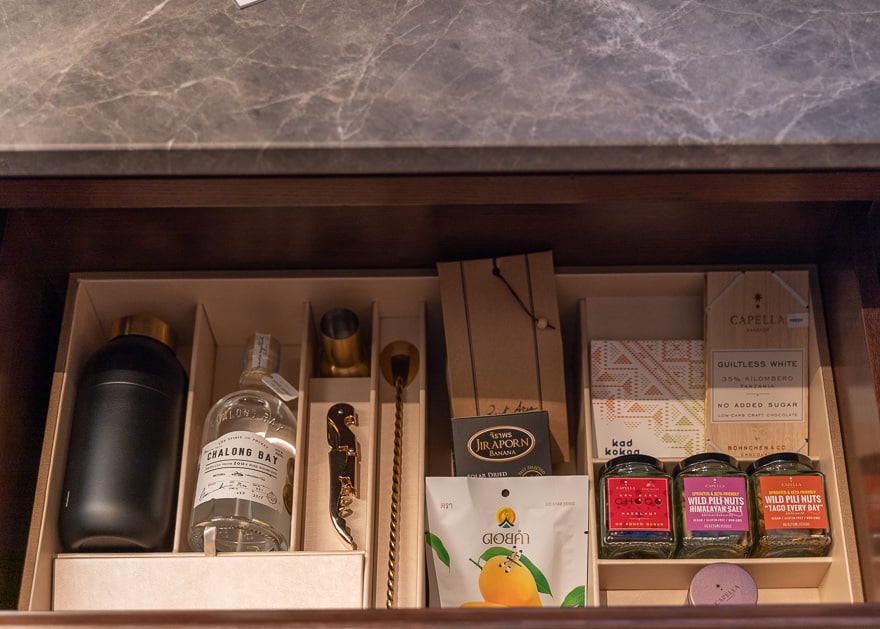 Terrace
One unique feature of Capella Bangkok is that all rooms offer an outdoor lounging area. Personally nothing rouses my senses quite like the feeling of stepping out into the tropical humidity of South-East Asia. It is a truly intoxicating feeling and every morning as I stepped outside to enjoy a morning coffee, I got that same sensation as when you first step out of the air conditioned plane onto the jet bridge at Suvarnabhumi airport.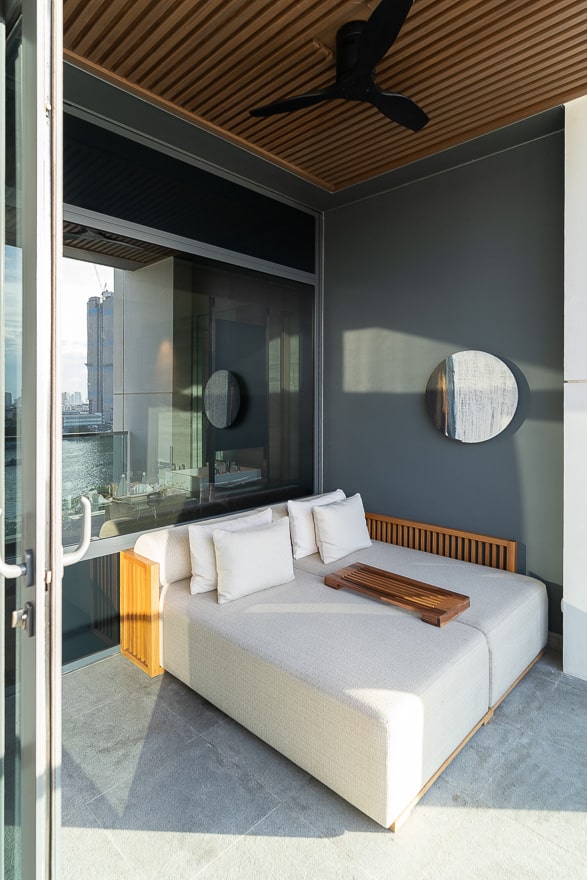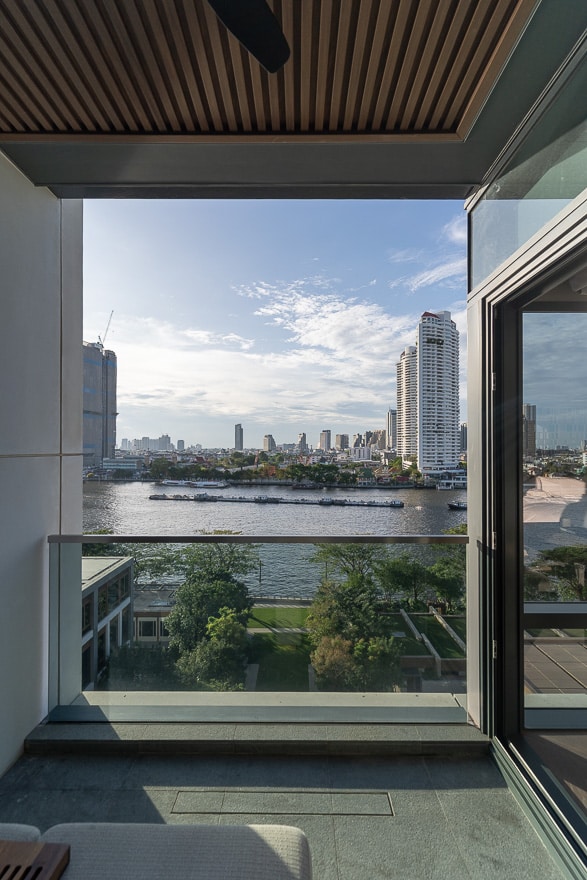 The view of the river and the hotel gardens was wonderful too.
The door to the terrace was needlessly clunky and noisy though. I really feel like this is one area where the design could be improved, it was a struggle to get the door open and closed each time.
I also noticed that the windows here would steam up a lot as a result of the air con, something that never happened at Four Seasons next door.
Bathroom
The bathroom tends to be an area in which true luxury hotels shine, the place where the demarcation between luxury and merely 'upscale' takes place.
Despite the relatively compact footprint, there was absolutely no questioning the quality of the finishes here. I also love the fact that there was natural light and a river view!
A deep soaking bathtub dominated the centre of the room and featured the most luxurious sponge I've ever seen offered by a hotel, together with bath salts presented in a traditional Thai vessel.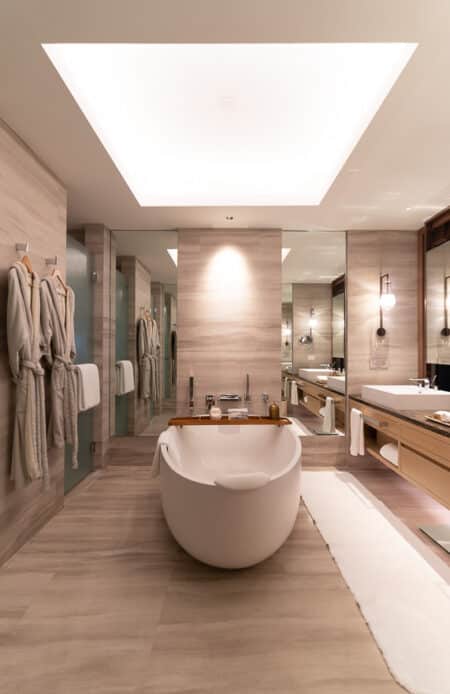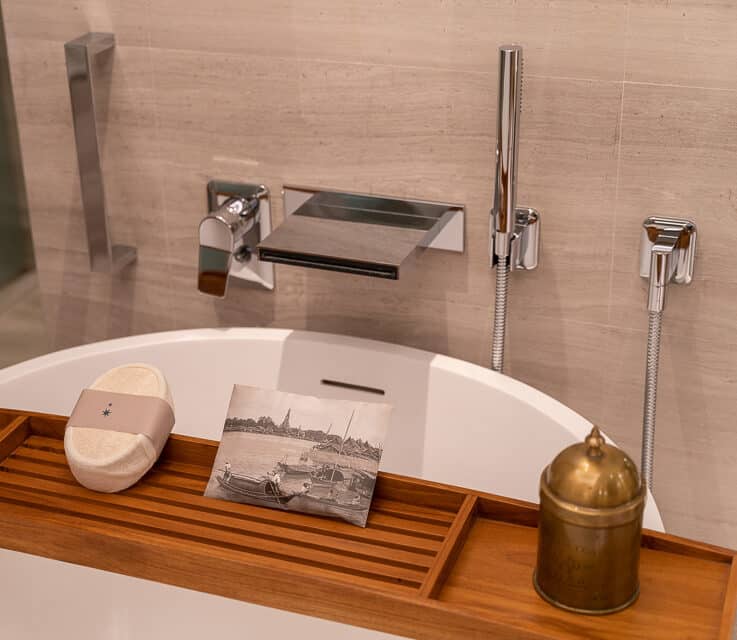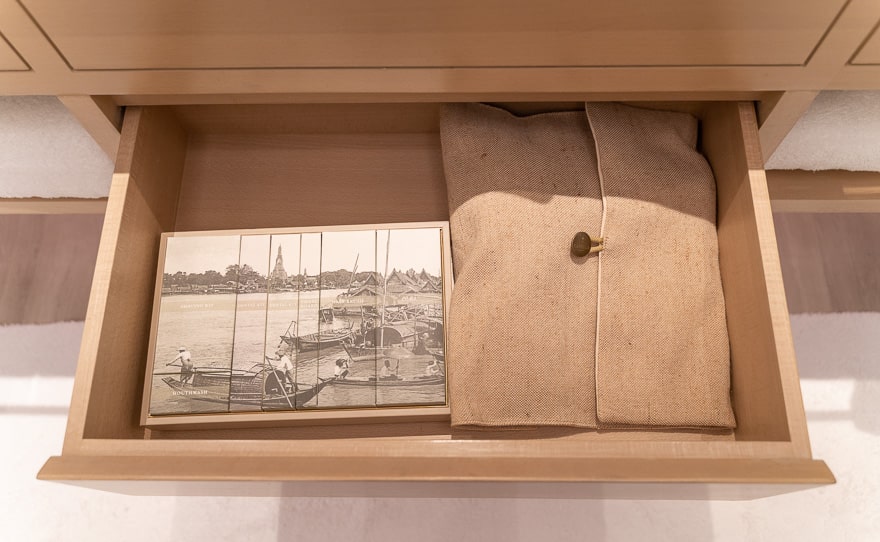 Elsewhere, the attention to detail was amazing. A custom quilted bathmat ran the entire length of the dual sinks. Amenities such as toothbrushes, nail files and combs were arranged in printed boxes, which slotted together perfectly to form a vintage picture of the Chao Phraya river.
The plush dressing gowns were some of the most luxurious that I've ever felt and the drinking water setup by the sinks featured the most incredibly elegant presentation that I've ever seen.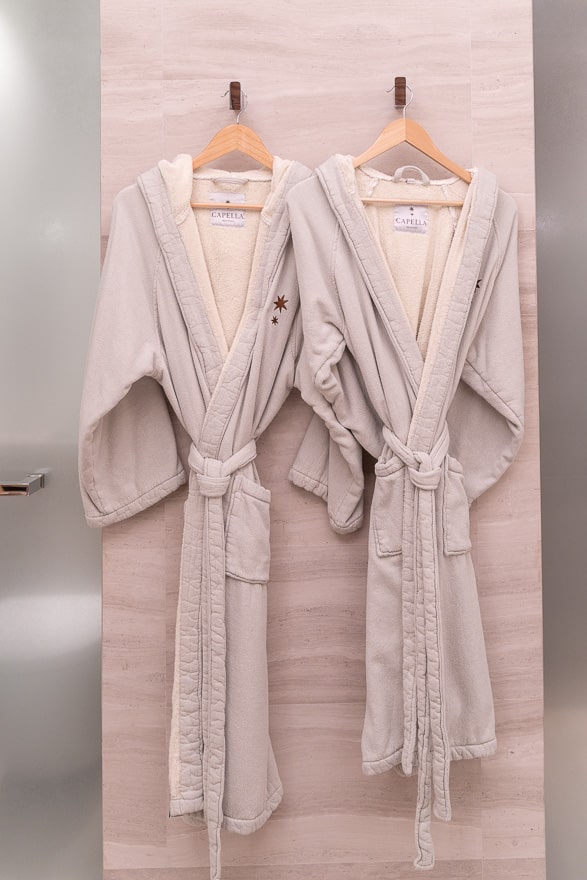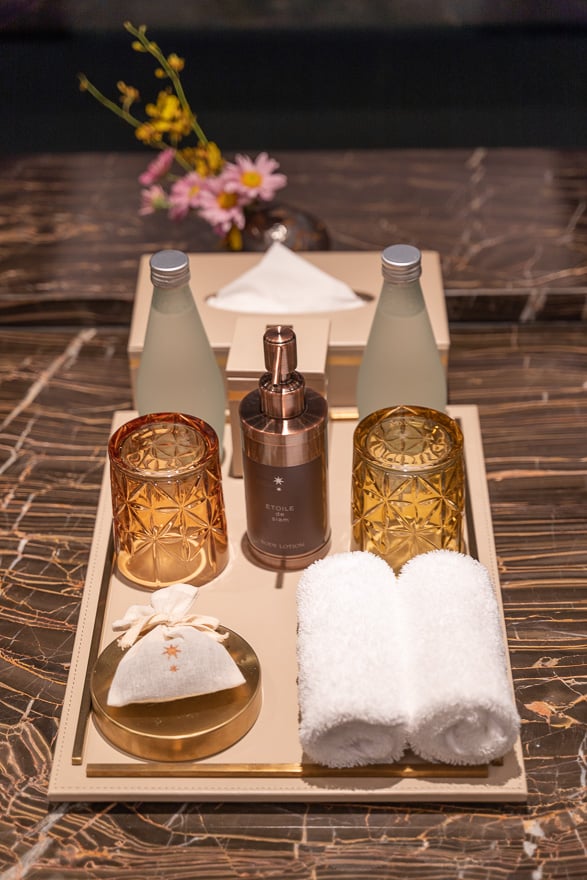 The shower and toilet were placed behind glass doors by the bathtub. The positioning meant that you could still enjoy a river view from the shower (or indeed the toilet if you left the door open!).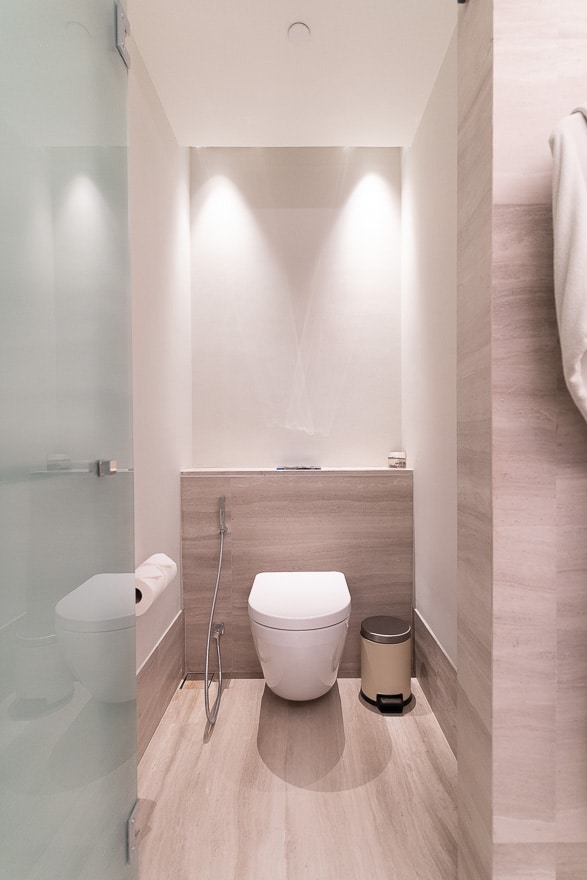 The shower was very spacious, the pressure was excellent and the Capella bathing amenities had a wonderful aroma and texture.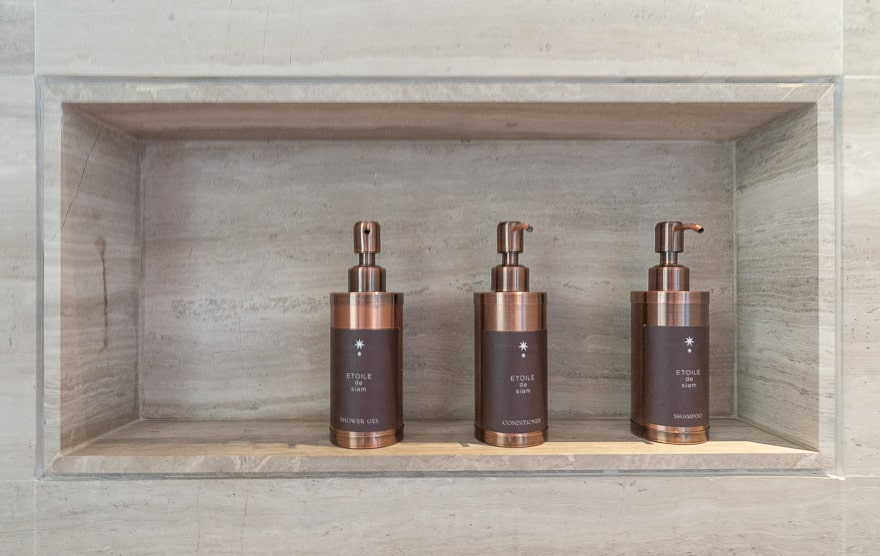 I feel that at this price point you need a Toto washlet, as opposed to a hand held hose but outside of Japan this is still very hit and miss (much like using a handheld hose).
Turndown
The evening turndown service was very thorough and truly transformed the room into a sanctum for rest and relaxation.
Water and slippers were placed by the bed, the blackout blinds were drawn and a small sweet treat was placed under a glass klosch on the coffee table.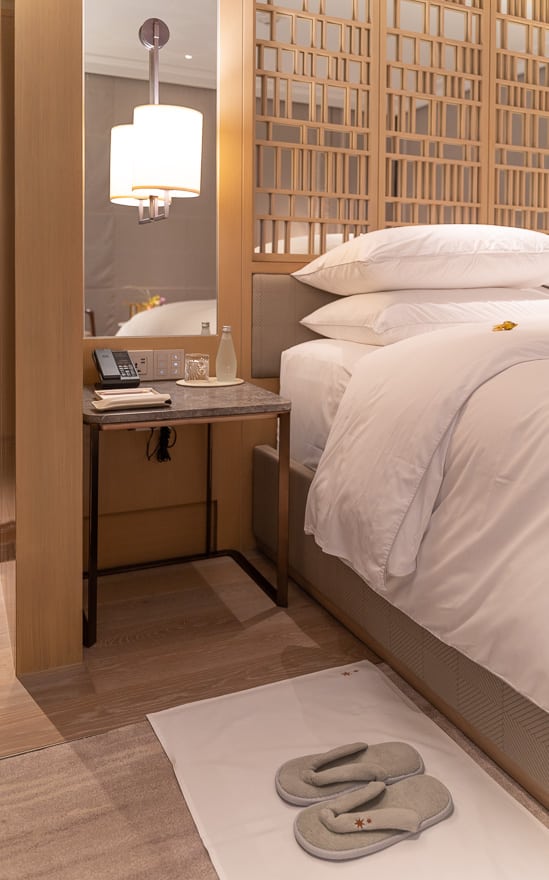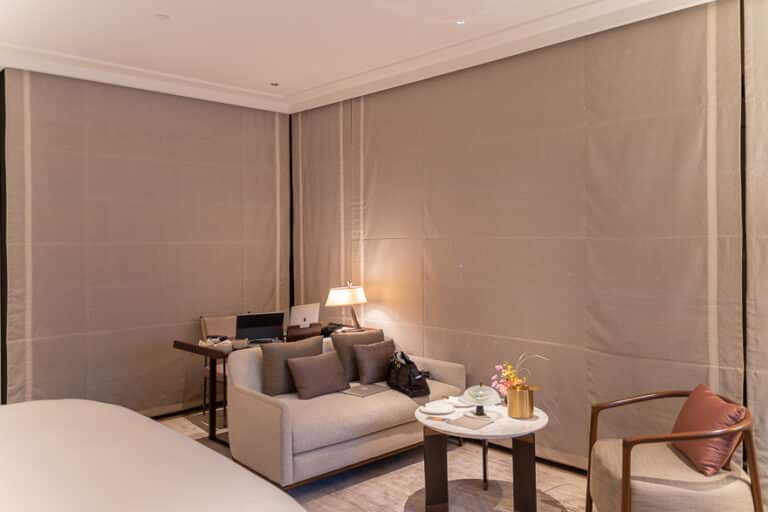 Toiletries were impeccably arranged on linen cloths…
…and suede Capella cable tidies were attached to all of our loose cables – much like we experienced at Four Seasons Landaa Giraavaru and Naladhu in the Maldives!
---
Riverfront Suite
---
During our site inspection of the hotel we checked out a few different room types, the first of which was a Riverfront Suite.
The suite featured a reception area with separate guest bathroom.
Guest Bathroom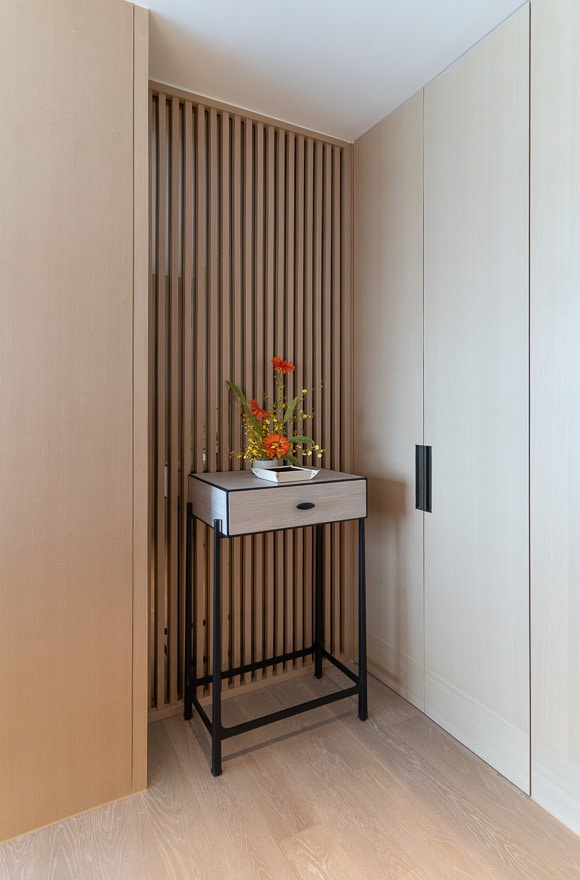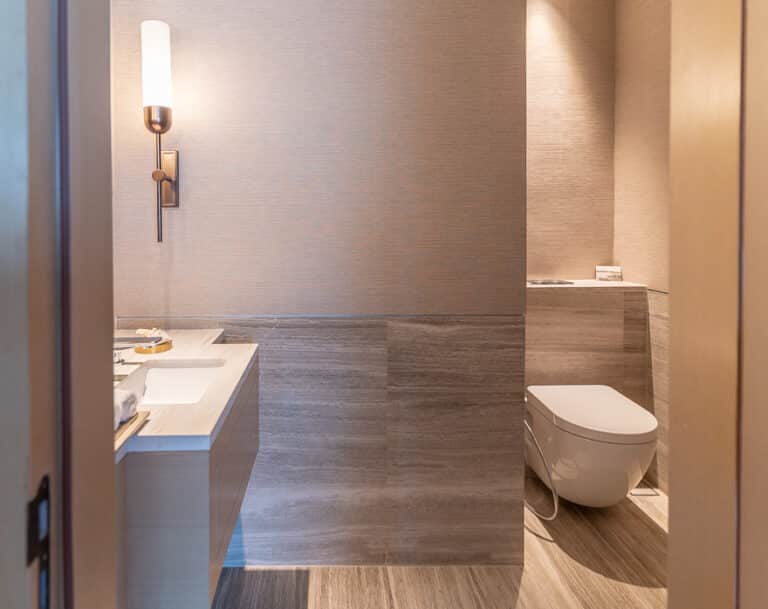 Living Room
Leading on from the reception area was the suite's living room. Although there was plenty of seating space, I found the desk arrangement here to be suboptimal and far preferred the setup that we had in our Premier Room.
It felt rather makeshift to have the desk space directly beneath the TV.
Unlike the standard rooms, the minibar was located away from the TV though, in a dedicated space between the front door and the guest bathroom.
Dressing Room
The suite had a dedicated dressing room, which served to further distance the bedroom from the front door. To me this is a critical component of suite design. Putting as much space (and doors) as possible between the bedroom and the outside.
Here, the vanity area was absolutely huge and featured not only a very well lit mirror but also an abundance of natural light, coming in from the bathroom opposite.
Bathroom
Speaking of the bathroom, this was similar in design to the one we had in our Premier Room. It felt much larger however since a sliding panel allowed it to be completely open to the dressing room.
One major difference was that the shower was placed next to the twin sinks, meaning that it also enjoyed a wonderful river view.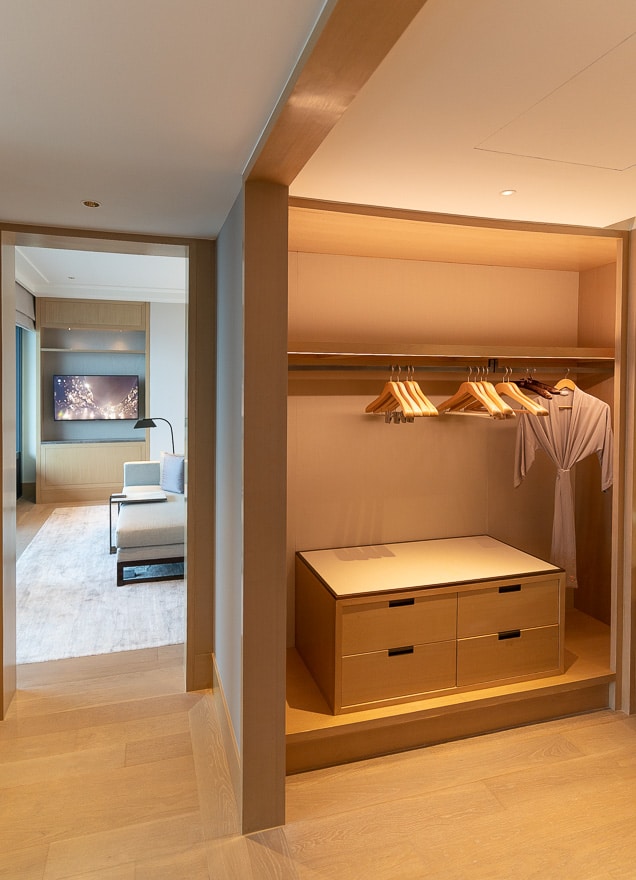 Bedroom
Continuing on from the bathroom and dressing area, we arrived at the bedroom. This has a cosier feel than in our Premier Room, since there was no additional mini bar and only a low profile ottoman between the bed and the window.
This looked and felt like an actual bedroom, rather than a hotel room.
Terrace
The suite had a much larger outdoor area than the regular rooms with a wonderful panoramic view of the river. My only concern is that is felt very grey and sparse. I think that the addition of some plants would really go a long way to making the space feel less stark.
---
King Verandah Room
---
When renderings of the hotel were first released, it was this room category that put Capella Bangkok front and centre in everybody's minds.
The idea of having your own private pool in a city hotel is not entirely new, indeed I enjoyed a wonderful Spa Terrace room at the Ritz Carlton Mega Kuningan many years ago. However, having a plunge pool on a landscaped outdoor terrace, with views of the Chao Phraya river? That's something else.
The Verandah Rooms are identical to the regular rooms inside, with the sole difference being in the outdoor space.
Interestingly these rooms are so popular with locals that they are almost perpetually at 100% occupancy (we viewed this one just before guests were due to check in) and are now categorised above the suites in terms of pricing and upgrades.
Unluckily for the guests checking in on this day, the weather resembled London in February (albeit 20 degrees warmer). However, it's not hard to imagine how great it would be to have this space to yourself on a sunny day with blue skies.
The pool is definitely more of a hot tub than an actual pool though. You certainly won't be swimming morning laps in this.
One entire floor of the hotel is dedicated to Verandah rooms, with Verandah Suites located at either end. These are identical to the regular suites inside with an extra seating area bolted onto the side of an otherwise identical outdoor area. A shame really, as it feels like they could have used the additional space to put in a much larger pool.
It is also worth noting that the pools are not particularly private; anybody in the rooms above can look down into the verandah pools.
---
Capella Bangkok Pool Villa
---
Not content with offering rooms and suites with plunge pools facing the river, Capella Bangkok also offers a collection of ultra exclusive riverfront villas.
These villas are located inside a gated community of sorts, right on the water's edge, well away from the main hotel building. Unlike the Verandah rooms, which are looked upon by all the room above, the villas are completely private.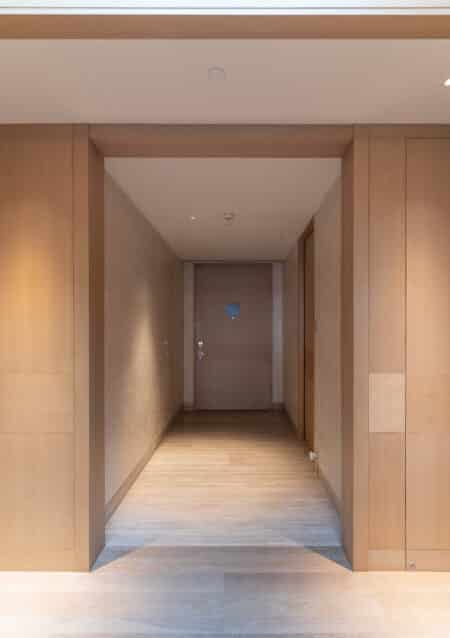 Reception Area
The villa's reception hall featured a large, dedicated bar space with a double height skylight providing plenty of natural light. There was also a guest bathroom which was decorated to a noticeably higher standard than the guest bathroom in the Riverfront Suite.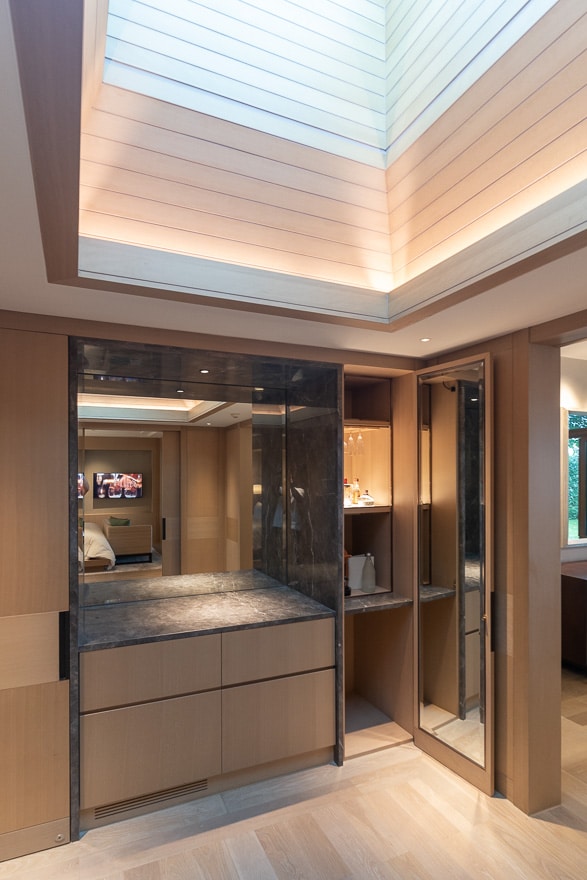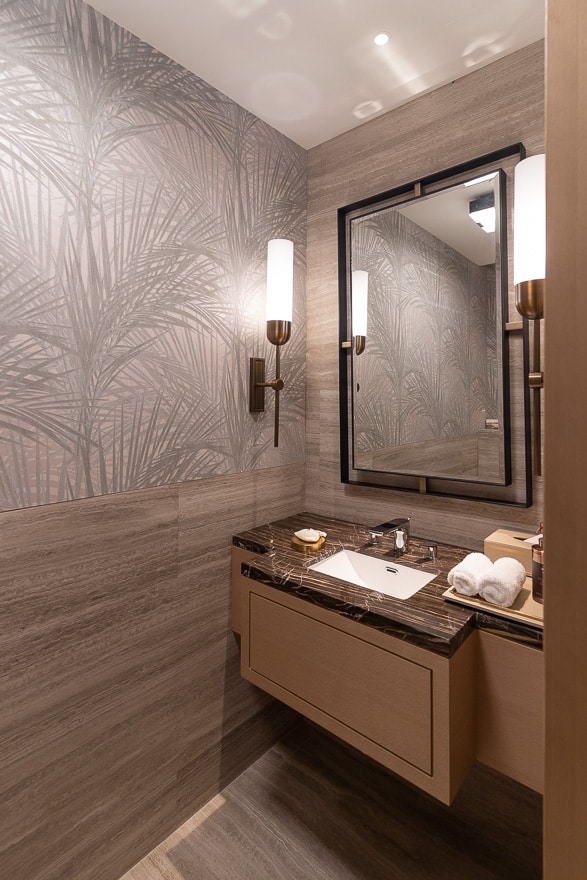 Living Room
The living room featured a separate dining area, offering a six seater marble dining table, topped by a dramatic golden lighting sculpture.
The seating area was centred featured a four seater sofa and two comfortable armchairs, with lighter, more movable chairs placed closer to the pool. These thinner chairs could easily be moved outside if required.
Garden
Speaking of the pool, this was larger than those in the Verandah rooms but still not exactly huge. Given the footprint of the garden it felt like a shame for it not to have been vertically orientated, running along one side of the garden.
I liked how there were two distinct sitting areas, one close to the indoors and one right on the water's edge. Given the strength of the sun and Thailand's propensity to deliver unpredictable rain showers, it was a smart idea to place both of these spaces under cover.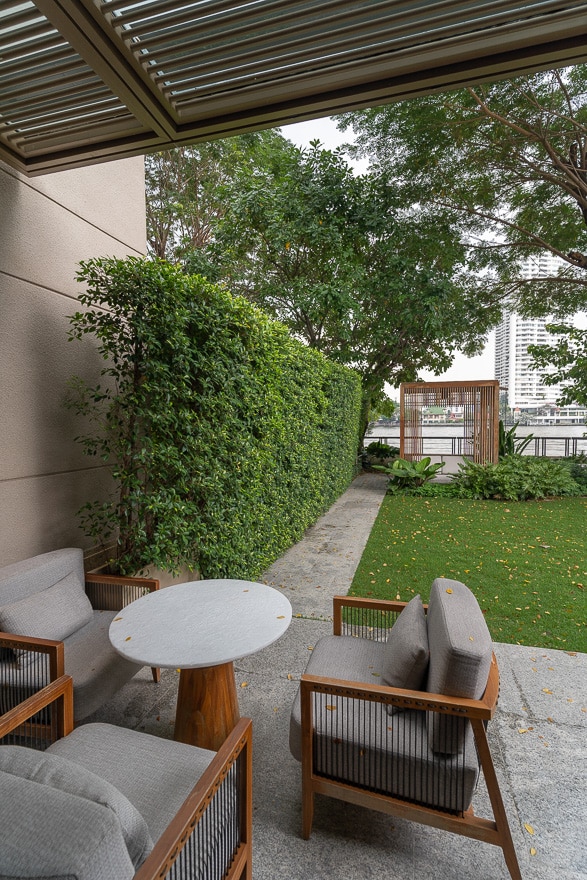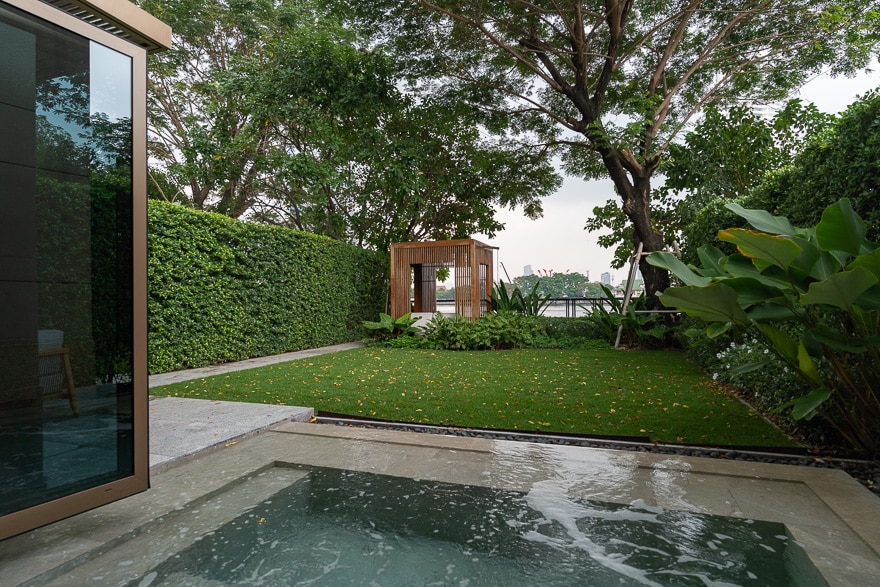 Bedroom
The bedroom was separated from the living room by a set of sliding doors and was otherwise identical to that of the Riverfront Suite.
Given the size of the villa overall, it seemed odd that the dressing room was so small, compared to the suites. It felt like a bit of an afterthought to have it tucked away on the way to the bathroom. In terms of storage space there was no more on offer here than in an entry level room.
Around the corner from this, tucked behind the bedroom, was the bathroom.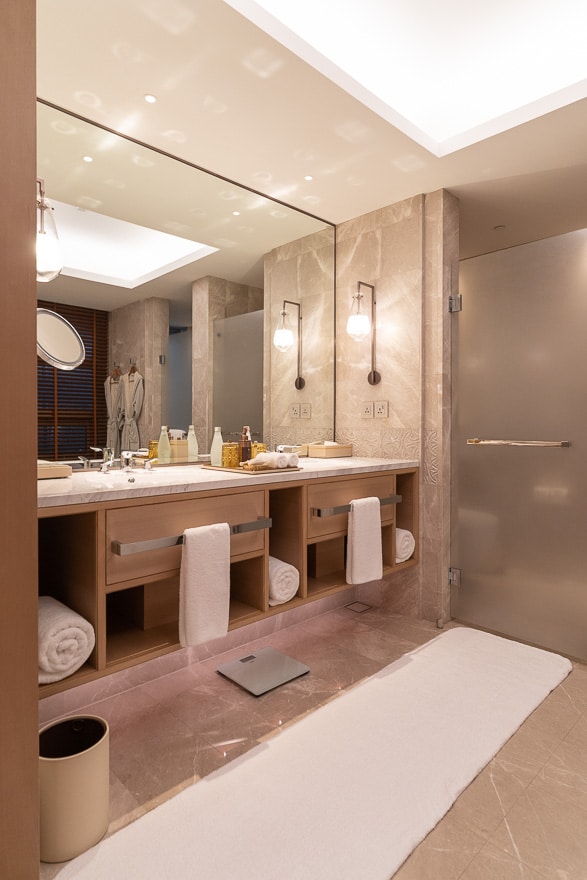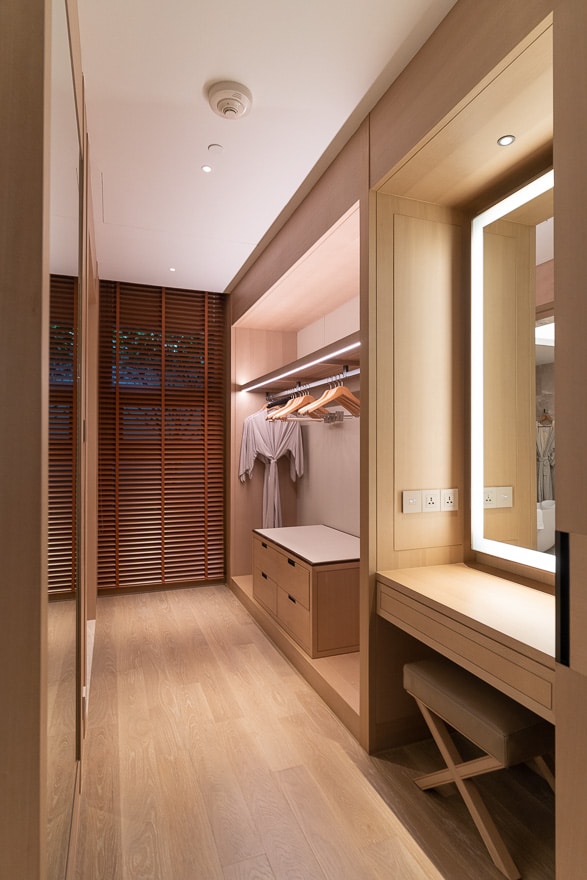 Again, the bathroom felt quite compact for such a large villa but as with all the bathrooms at Capella Bangkok, the quality of the finishes was remarkable.
I liked that the bathtub was nestled inside a cosy alcove, with a garden view, rather than being placed in the centre of an open bathroom. The indoor shower, leading to another outdoor shower, was a great touch too.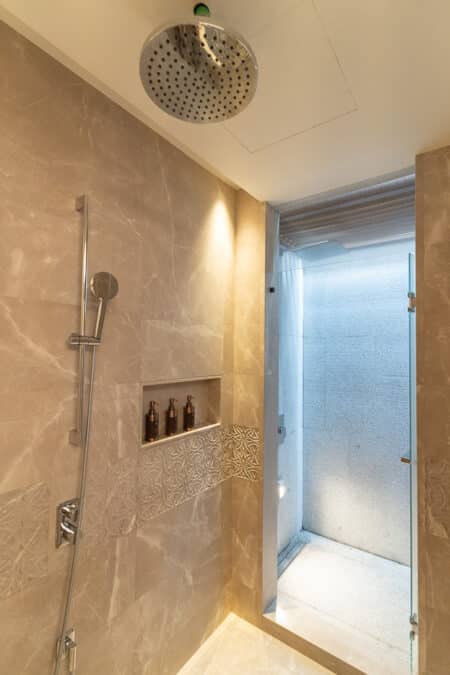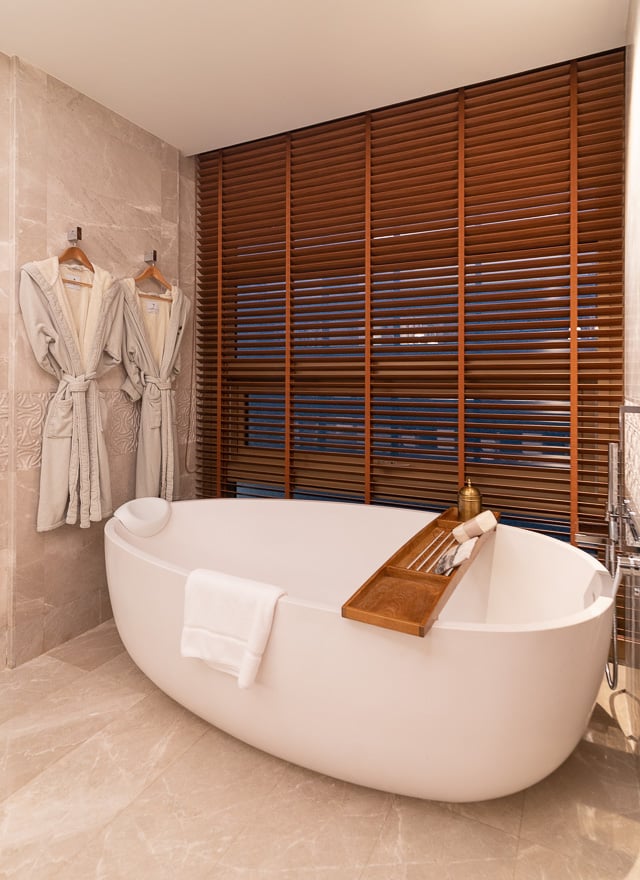 ---
Facilities
---
Spa
Capella's spa is located right next to the villas, within a beautifully manicured garden setting. In all honesty I can't think of a more elegant and impressive looking spa reception in the world.
Clearly no expense was spared when designing the facilities here.
They had a hydrotherapy pool and sensory showers available for all hotel guests to use: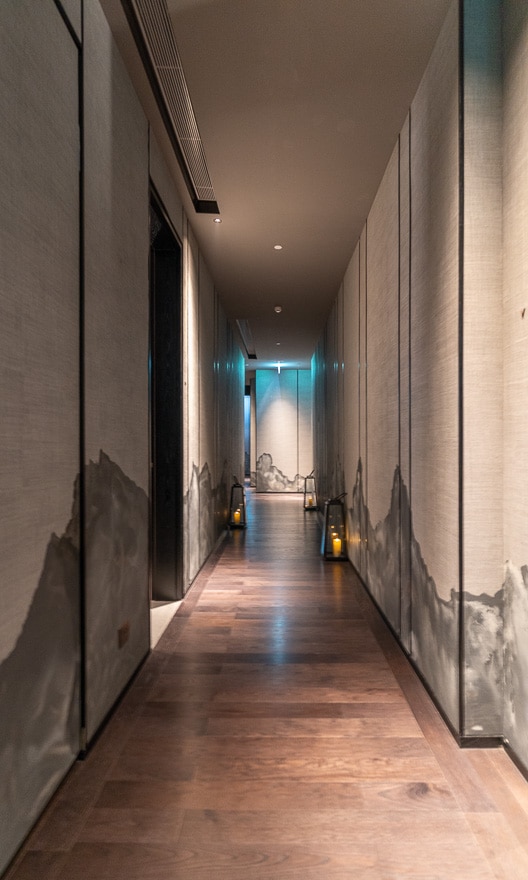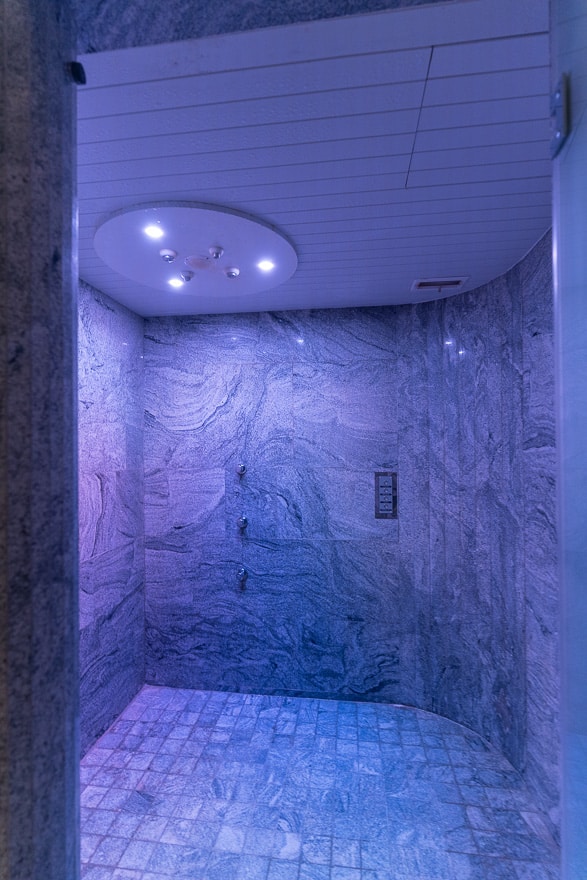 We didn't have enough time to schedule any spa treatments during our stay but we were able to quickly look inside one of the couples' treatment rooms, which was absolutely incredible.
Gym
The gym was located right next to the spa and featured a decent variety of equipment. However, it was not a patch on the gigantic facility at the Four Seasons next door.
Technogym seem to have cornered the market on luxury hotels by developing machinery that looks sleek/interesting, but no credible gym would ever have a kinesis machine when a cable crossover costs half as much (or less) and allows you to do approximately 100x as many exercises.
There was no smith machine or squat rack either but at least they had a lat pulldown machine – which is a rare sight in hotel gyms.
There was a dedicated free weights room that featured fixed dumbbells and kettlebells.
Dumbbells went up to 22kg…. which is fine if you're rehabbing an injury or in your first year of strength training.
There was a pretty decent balance between cardio and weights, although the best cardio machines were missing: a rower and an airdyne.
Overall this seemed like a gym where clearly the Technogym sales rep got a great commission but nobody who has ever set foot in a gym before was ever consulted on equipment selection.
Clearly the machines here were viewed as pieces of furniture, neatly slotted into the room, rather than functional pieces of training equipment. The cargo cult version of a gym.
Pool
The pool at Capella Bangkok is set within a garden area, which almost has a river view…
…but is blocked by the rooftops of the villas in front.
There is no question that Four Seasons offers better pools than Capella, indeed Four Seasons' lap pool next to the gym is comparable to the one and only pool at Capella. That's before you even take into account the three interconnected main pools, with proper views of the river that Four Seasons offers as well.
Of course Capella is a much smaller hotel in terms of room count, so the pool never felt crowded.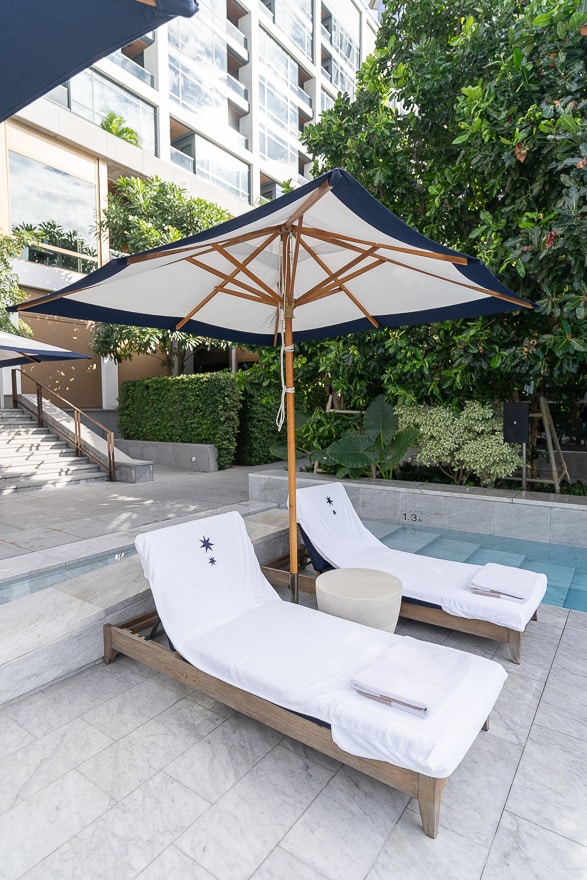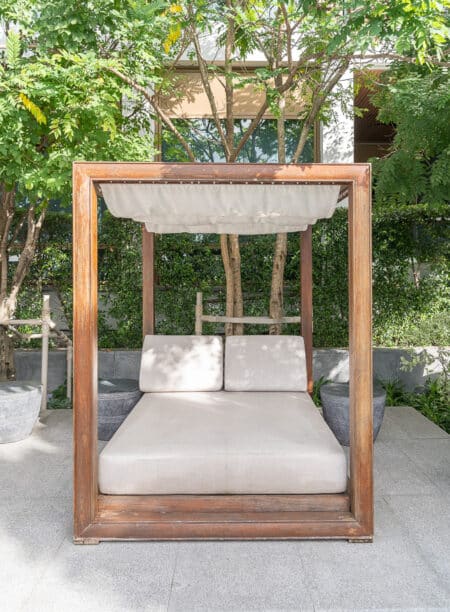 However, there's no place to escape if there are screaming children here – as was the case on one of the occasions that we came to relax by the pool.
Having said all of that, I did like the fact that the area enjoyed a decent amount of shade, thanks to the surrounding foliage. Service was also excellent here, far better than the confused and at times slightly awkward service at the Four Seasons pool.
Staff immediately rushed over to place fitted towels over the loungers, providing extra towels, water, menus and even Aesop sunscreen as well.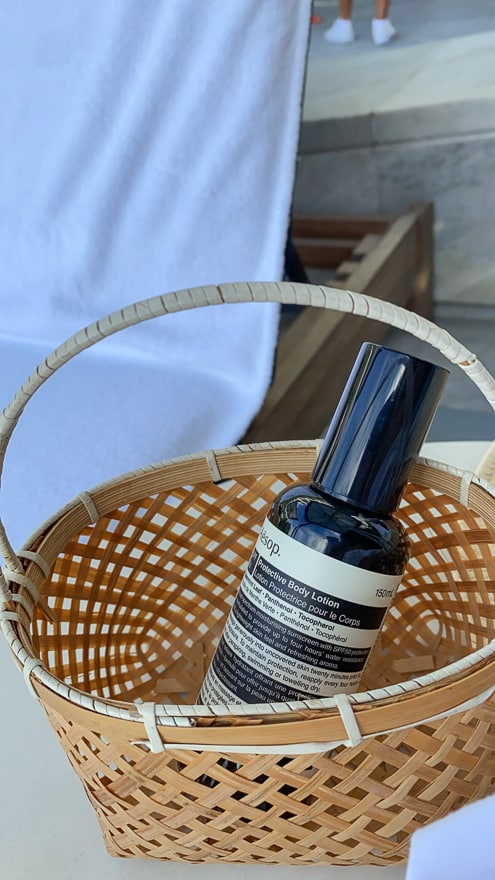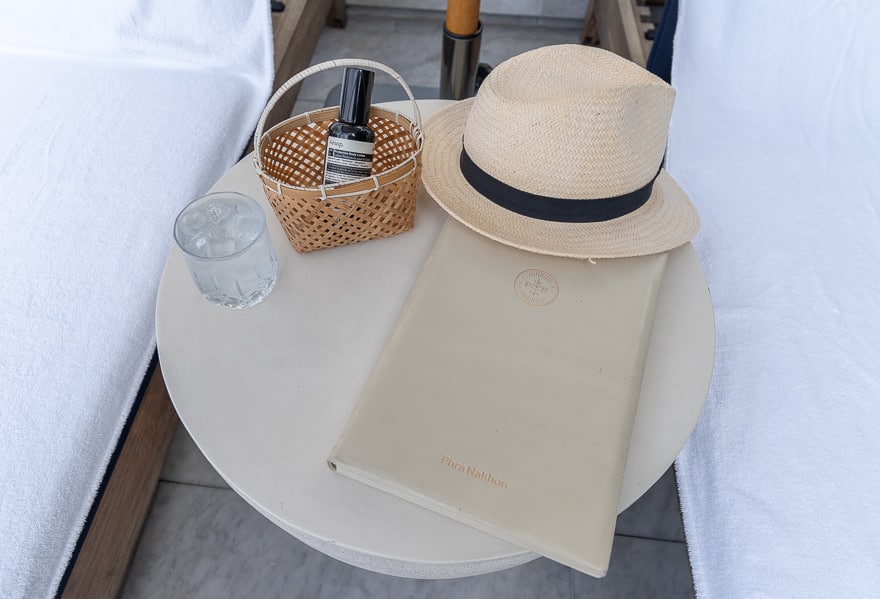 ---
Food and Drink
---
Breakfast at Phra Nakhon
Phra Nakhon is Capella's Thai restaurant, offering an eclectic variety of buffet and a la carte dishes in the morning.
Breakfast is one area in which Capella resoundingly beats Four Seasons. Honestly, it's not even close. The quality of the buffet offering was incredible.
The cheeses and house cured charcuterie were at the level you'd expect in a top restaurant. Indeed both were available for sale in the hotel's deli next door.
You know the breakfast buffet is good when there are three different types of organic honey on offer.
The presentation and quality of the fresh fruit and vegetables was beyond reproach.
All the breads and pastries were freshly baked on site and were at the quality level of a top Parisian hotel.
The room itself was filled with light and very elegantly decorated, the perfect place to start the day.
There was plenty of seating outside too, although service was a little slower here in our experience.
Staff were always quick to provide menus and a welcome drink, as soon as we sat down though.
Coffee was excellent and when we ordered extra strong cappuccinos, that's exactly what we got. (Where many hotels will still bring you a large pool of beige milk).
By far the most impressive drink though was the fresh young coconut, which was presented completely peeled, yet intact! I can only imagine how labour intensive the process of preparing coconuts in this way is.
The a la carte menu was both extensive and inventive, with plenty of exciting dishes that pushed beyond the usual eggs Benedict and pancakes.
The two standouts were both Japanese influenced. My favourite was the Unagi Benedict : a mouthwatering combination of eel, an onigiri and a lightly poached egg with soba hollandaise.
I was also a big fan of the grilled salmon, although I felt that it was missing a bowl of steamed rice and a miso soup to complete the set.
Kamara tried the omurice, which fell a little flat. Ordinarily you expect a barely cooked omelette that is split open to spill all over the rice. In this case though the omelette was overdone, which meant that the dish lacked the necessary moisture to be enjoyable.
Apparently the Shibuya Toast is the most popular dish at breakfast. It was really good French toast but I struggle to see what this has to do with Tokyo's famous pedestrian crossing, or the surrounding neighbourhood. Still very tasty though…
Capella Bangkok Deli
The quality of the produce at breakfast is so high that locals clamour to the deli next door to stock up!
The Deli counter also encompasses a gift shop, selling various locally produced trinkets.
Stella Bar
Although BKK Social at the Four Seasons is now recognised as the number 14 bar in the world, there's a lot to be said for Capella's offering: Stella Bar.
Once again, no expense has been spared when it comes to the design. The staircase sculpture and the ornate metallic podium, surrounded by marble, give a hint of the opulence that lies beyond…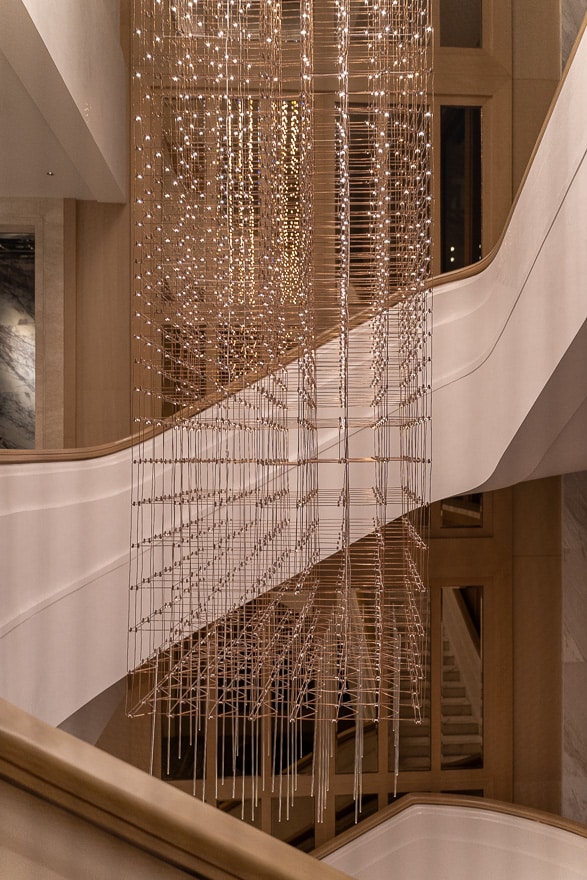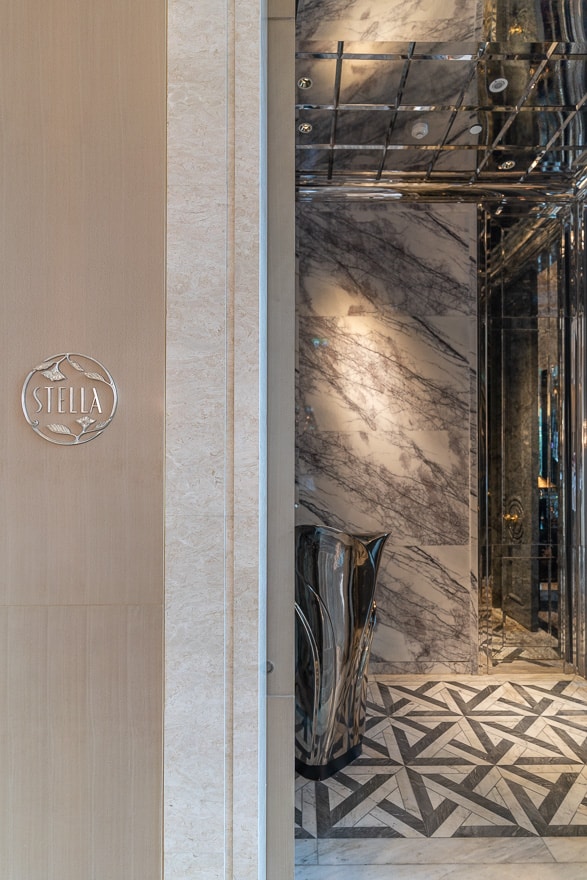 The bar itself is one of the most visually striking that I have seen.
Next to the main bar was a cosier room filled with sofas and extravagant four poster lounge beds.
Cin Cin Hour 5-6pm
A wonderful part of the experience at Capella is that all guests are welcome to enjoy a complimentary cocktail and nibbles at Stella, between 5pm and 6pm.
I love that this service takes place in a proper bar rather than within the confines of the Living Room. This ensures that the Living Room doesn't get too crowded and also ensures that drinks are prepared to the highest international standards by trained mixologists.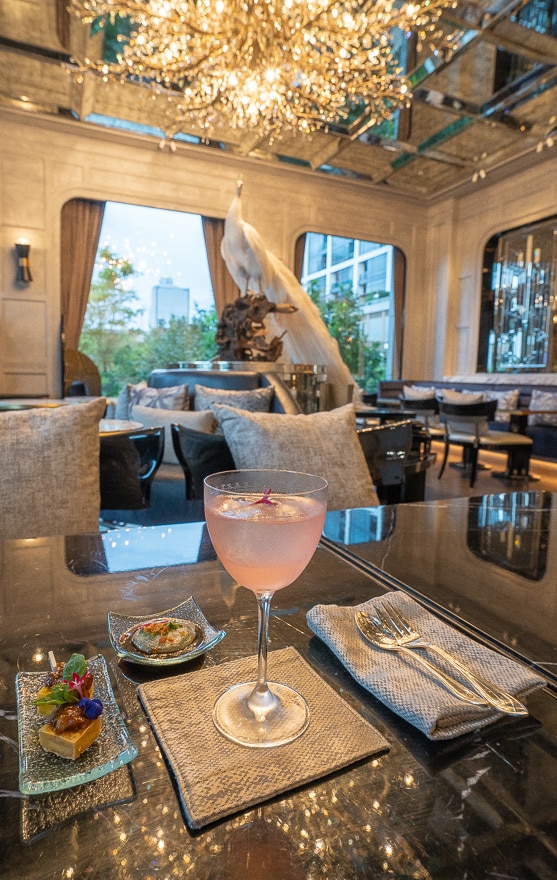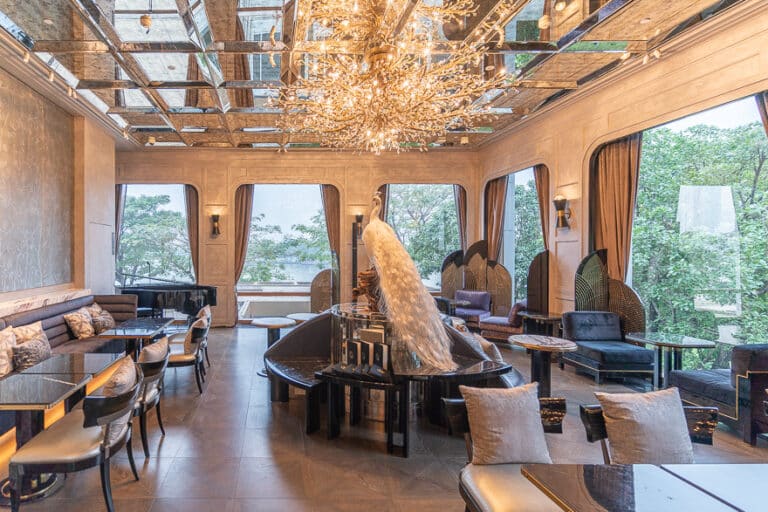 We returned for after dinner cocktails one evening and were surprised at how lively the bar was. It was filled with fashionably dressed locals in their mid 20s, all of whom had gathered to watch the very talented singer who performs multiple nights per week.
As the evening wore on she pointed to me and asked if I had any requests and in my bacchanalian wisdom I asked for 'Chandelier' by Sia. The most difficult song I could think of….and she absolutely nailed it.
As did the bar staff with all the drinks that we ordered.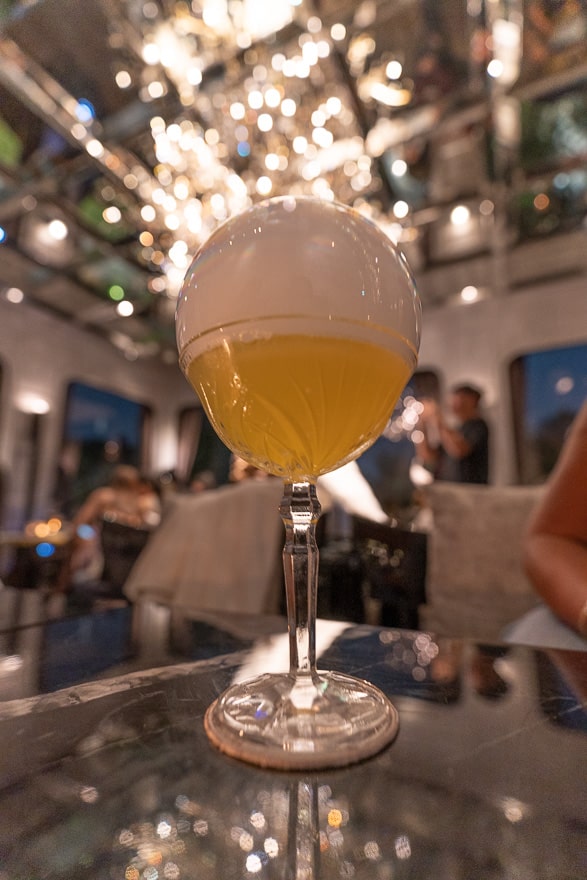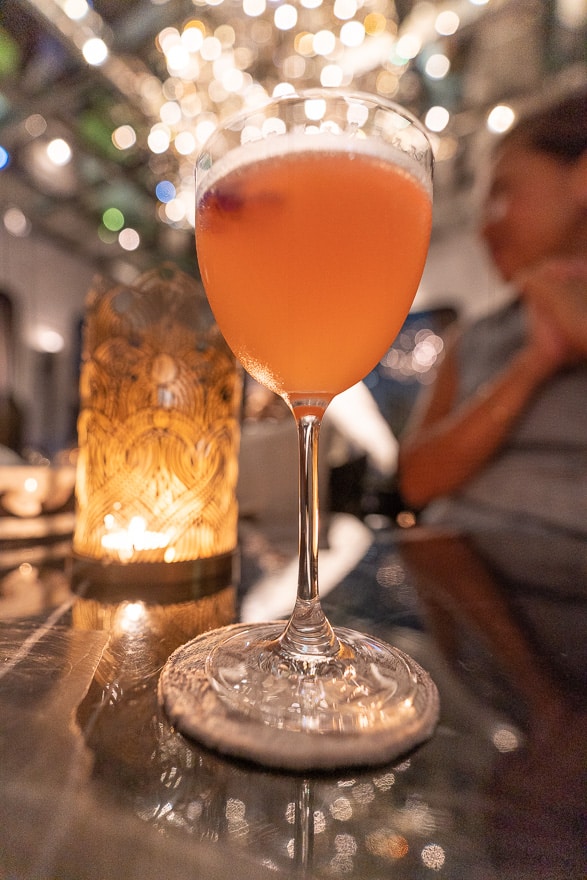 Dinner at Phra Nakhon
Ordinarily, I'd be a little wary of a luxury hotel restaurant that purports to deliver an authentic local dining experience. However, every review that I'd read indicated that Phra Nakhon was the real deal.
As such, I was rather excited to try the food here on our final night. We took a table outside, on a warm and lightly breezy evening, watching the lights of the river cruise boats slowly passing by.
Since Capella seemingly think of everything, we were presented with not only sanitister but also frosted glass bottles of Capella branded mosquito repellent (which thankfully weren't necessary).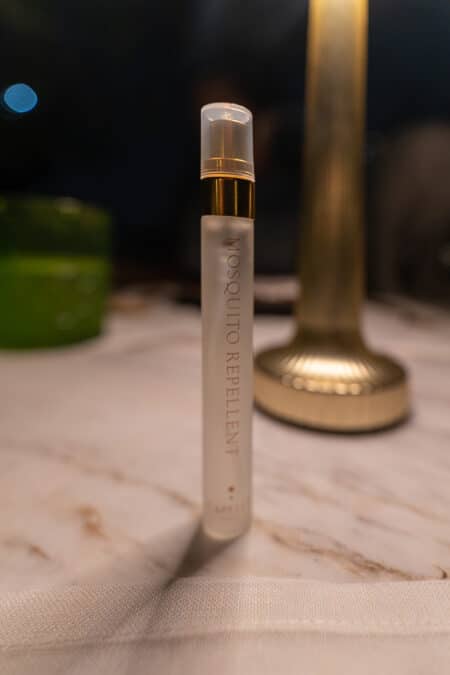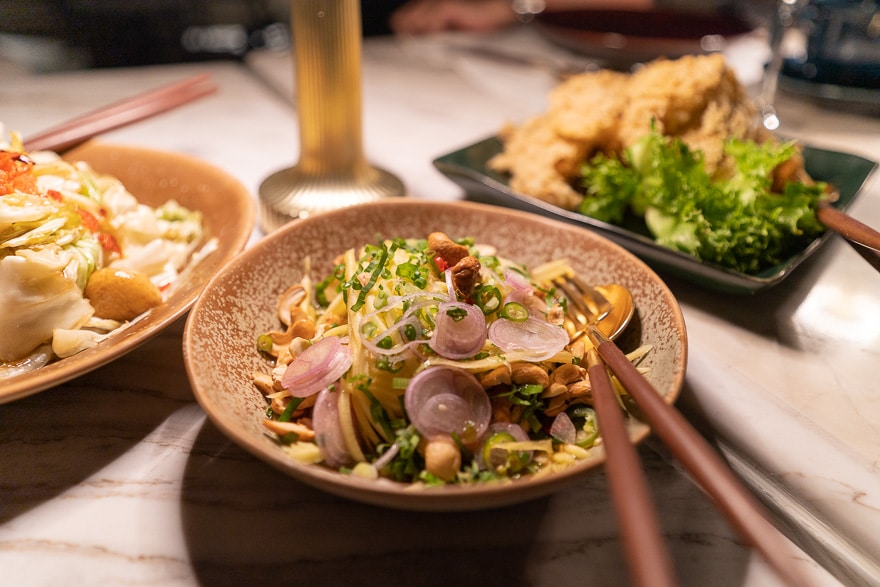 Dishes were pitched to a proper level of spice but only after we confirmed that we were happy with this.
More importantly, the depth and subtlety of all the different flavours was incredible and included ingredients that I'd never even considered as being part of Thai cuisine – like goji berries for example.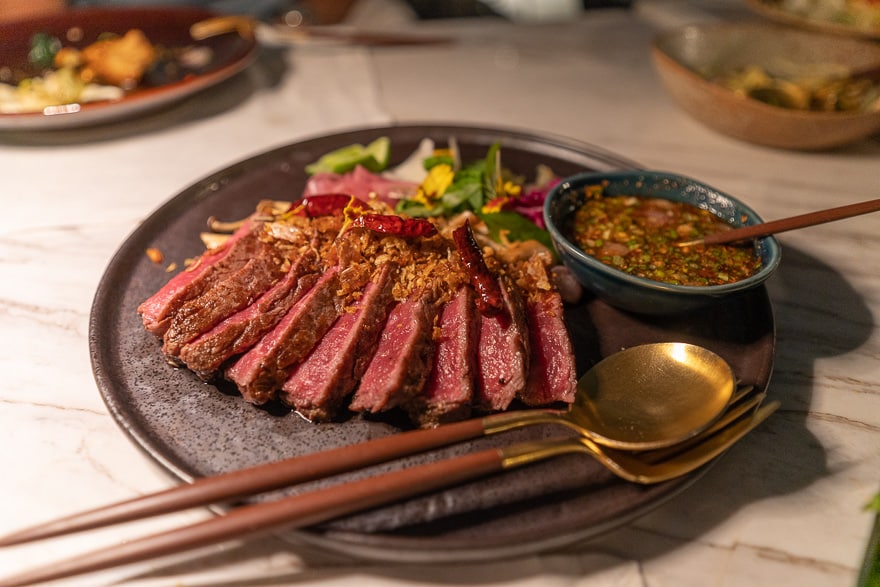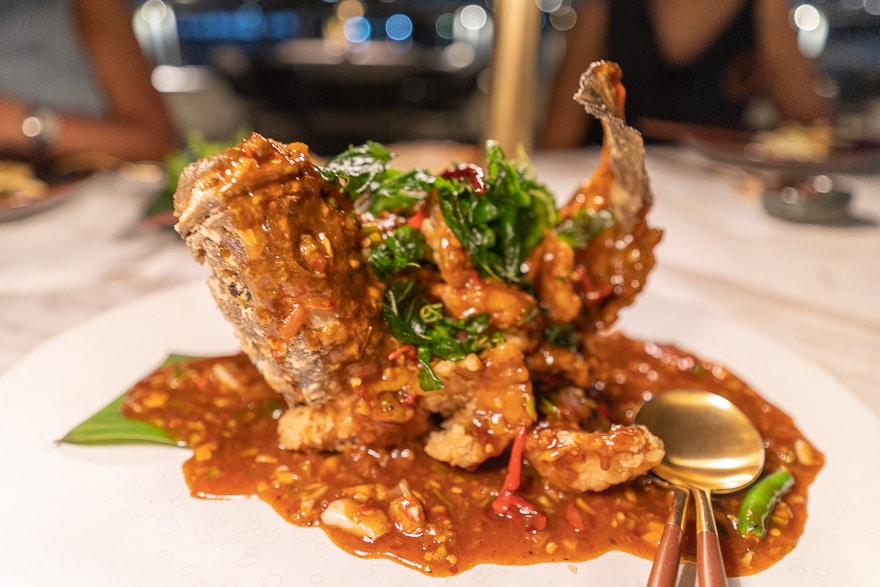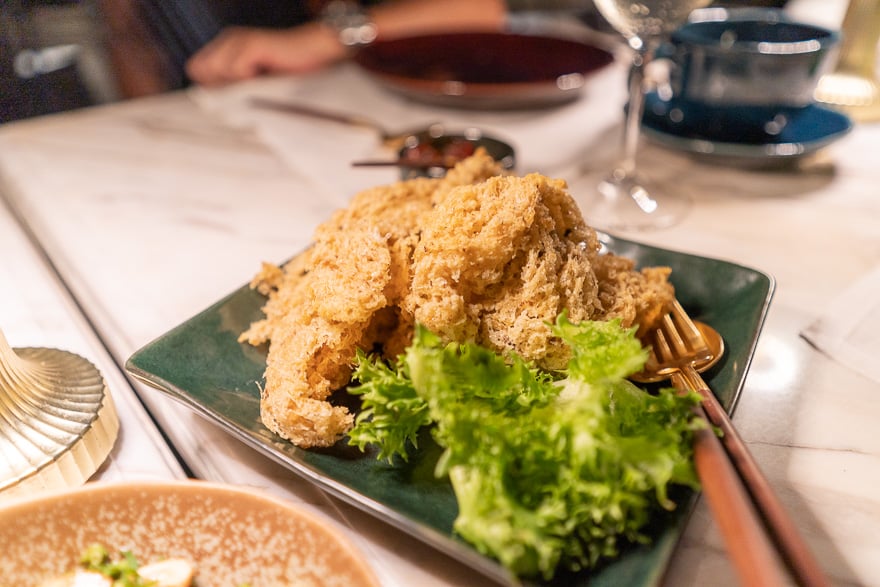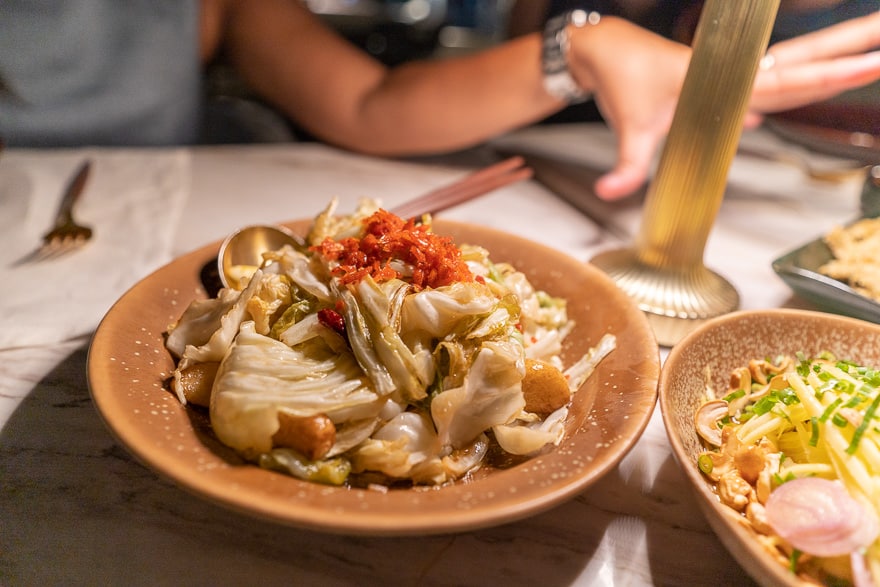 I had previously lamented the lack of Thai dining options at the Four Seasons but it transpires that Capella more than makes up for this.
Côte by Mauro Colagreco
Capella Bangkok's Michelin starred restaurant is so tough to get into that even we as hotel guests were unable to find a table at either lunch or dinner on any of the 3 nights that we stayed. The reviews speak for themselves though and I would highly recommend planning in advance and securing a reservation if you can!
---
Conclusion
---
Basics Checklist
☑︎ Power sockets near the bed
☑︎ Easy to understand light switches
☑︎ Coffee machine
☑︎ Separate shower and bath
☑︎ Blackout blinds
☑︎Stable, fast and free Wifi
☑︎ Feather pillows
☑︎ Quiet and powerful aircon
It was inevitable that this review would draw heavily upon our experiences of the Four Seasons next door, since the hotels effectively share a single campus. A campus which is unquestionably THE place to be in Bangkok right now.
Although the Mandarin Oriental will always have fans, it barely has a pool or public spaces – the only thing that could really have stopped Capella and FS from rising to the top of the Bangkok scene would have been a failing in the service quality. Thankfully, this is not a problem that either hotel suffers from.
Indeed, service is an area in which Capella not only shines, it clearly outshines its larger rival next door. The dedicated team of 'Culturists' were always on hand to deliver prompt and personalised service and the Living Room felt like a private members' club.
Turndown service and housekeeping in general were as good as you could reasonably expect, anywhere in the world. Beyond this though, there were moments when you could tell that Capella is really a hotel that is on it's 'A game' when it comes to service. The fact that the doormen always addressed us by name was already great. The fact that a member of housekeeping held a lift for us after breakfast one day, addressed us each by name and then sent the lift directly to our floor, without asking where our room was? Unbelievable.
I genuinely never expected to experience service on that level outside of Aman hotels.
In terms of room design, I'm not going to lie, Four Seasons is more my style. I find the Capella aesthetic to be quite severe and neutral. The quality of the finishes is remarkable, there's no doubting that, but the decor just isn't to my personal taste.
That being said, if you want a riverside villa or a private pool, then Capella is your only choice. If you want an extensive Kids Club or a dedicated family room, then you'll head to Four Seasons.
Similarly, if the pool and gym are important to you, then Four Seasons will be your choice. Whereas if dedicated butler service, complimentary evening cocktails and a dedicated residents' lounge are more important to you, then you'll go with Capella.
Both are great hotels and neither is better than the other. They each shine in different ways and both are spectacular properties.
There is no question that Capella is not only one of the top hotels in Bangkok – it is probably in the top 10 city hotels in the world.
---
Book Capella Bangkok with Virtuoso Benefits
---
Our clients are able to enjoy additional Virtuoso benefits when booking Capella Bangkok:
Upgrade on arrival, subject to availability
Daily breakfast for up to two guests per bedroom
$100USD equivalent Food & Beverage credit utilized during stay (not combinable, not valid on room rate, no cash value if not redeemed in full)
Early check-in / Late check-out, subject to availability
Complimentary Wi-Fi
Room rates and payment terms match the Capella website exactly, with payment taken directly by Capella during your stay.
You can book a Virtuoso rate at Capella Bangkok using our online booking portal:
BOOK CAPELLA BANGKOK WITH VIRTUOSO BENEFITS
If you're booking with us for the first time, here's a quick guide on how to use the booking portal:
It's also always worth dropping us an email to see if a better offer is available, or if you need help building a more complex itinerary with multiple hotels: