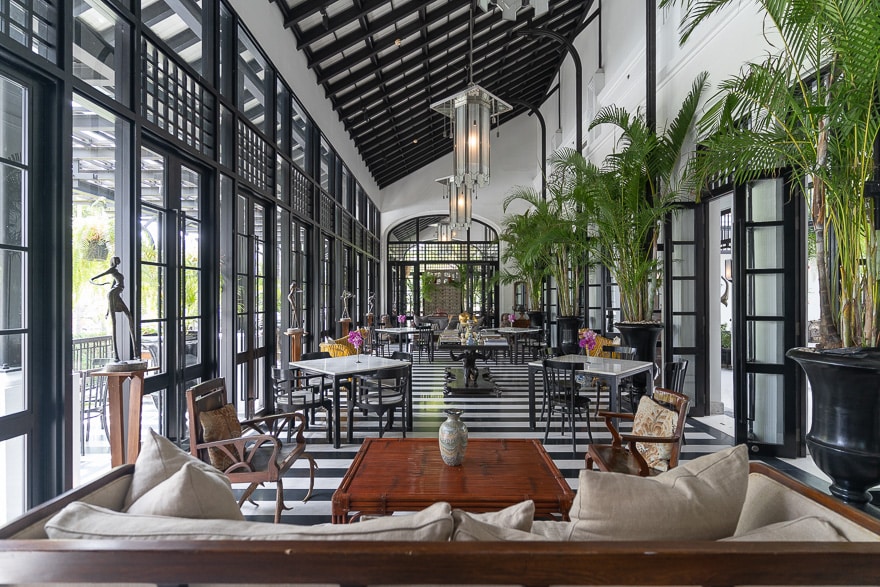 REVIEW – The Siam (Bangkok)
November 28, 2022

Booking hotels with Rosewood Elite benefits
January 7, 2023
Lizard Island
Room Type: Beachfront Suite
Typical Nightly Rate: $3,349 AUD
Stay Type: Hosted stay
Loyalty Program: Virtuoso
---
Intro
---
In the depths of the pandemic, Australia seemed like an impregnable fortress. However when the shock announcement of a full reopening was made in early 2022 I immediately booked flights from Thailand (where we'd been busy reviewing: Four Seasons Bangkok, Capella Bangkok, Amanpuri, The Siam and Trisara) to Sydney.
I hurriedly booked a few nights at the Park Hyatt Sydney, keen to return for my sixth visit, after all these years.
Then I started looking for somewhere fun and new to explore.
Despite having lived in Sydney for several months in 2002 and having returned on many occasions since, I'd never made it to the Great Barrier Reef. As an Advanced Open Water diver with 50+ dives under my belt I felt like this really was one to tick off the bucket list.
When it comes to the Great Barrier Reef there are two main luxury options: Qualia (a traditional resort with pool villas, located on Hamilton Island) and Lizard Island.
Amazing though it looks, Qualia is fundamentally a modern luxury resort located somewhat near the Great Barrier Reef. Meanwhile, Lizard Island is a private island and a bona fide national park, sitting right on the edge of Great Barrier Reef itself.
This of course means that Lizard is tougher to get to but the rewards for doing so seemed self evident…
---
Booking
---
Our clients are able to enjoy additional Virtuoso benefits when booking Lizard Island with us:
Upgrade on arrival, subject to availability
Daily breakfast for up to two guests per bedroom
$100USD equivalent Food & Beverage credit utilized during stay (not combinable, not valid on room rate, no cash value if not redeemed in full)
Early check-in / Late check-out, subject to availability
Complimentary Wi-Fi
Room rates and payment terms match the Lizard Island website exactly, with payment taken directly by Lizard Island during your stay.
To book a Virtuoso rate at Lizard island please drop us an email below, with details of dates, rooms type and number of guests:
---
Arrival
---
East Air Terminal
Our journey to Lizard Island started with a car transfer between Cairns International Airport (CNS) and the East Air Terminal on the other side of the runway. (The car transfer is included in the price of the air transfers to Lizard Island.)
Interestingly, our car driver was from England but had spent over 30 years living in the area. We didn't have too long to chat though since the transfer took less than 10 minutes. The experience reminded me of transferring between the main terminal and the seaplane terminal at Malé airport in the Maldives.
Once at the East Air terminal, our driver helped us with our bags and we were quickly checked in for our flight. Our bags were given a cursory weigh but since we were the only passengers on the flight, not much attention seemed to be paid to the weight.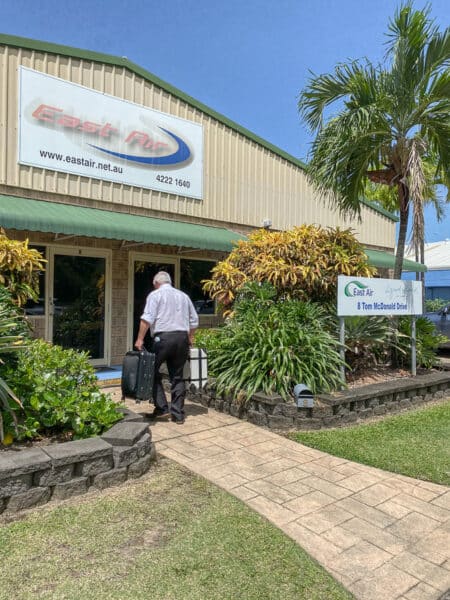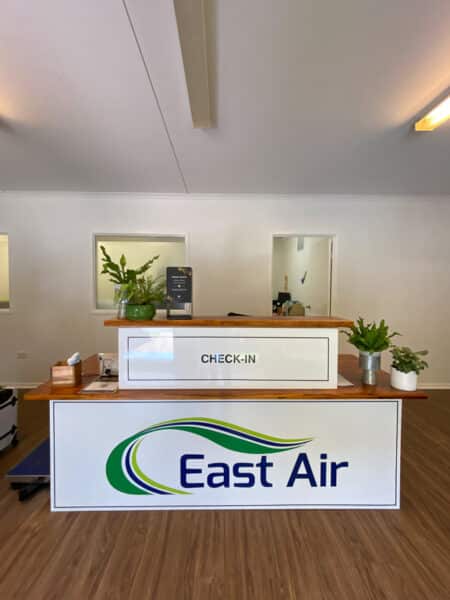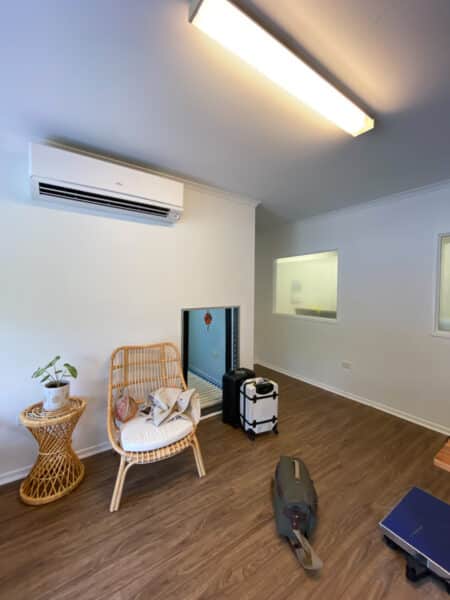 After receiving our boarding passes we were escorted straight to the departure lounge, where we quickly enjoyed some snacks and soft drinks – before the pilot came to give us a safety briefing.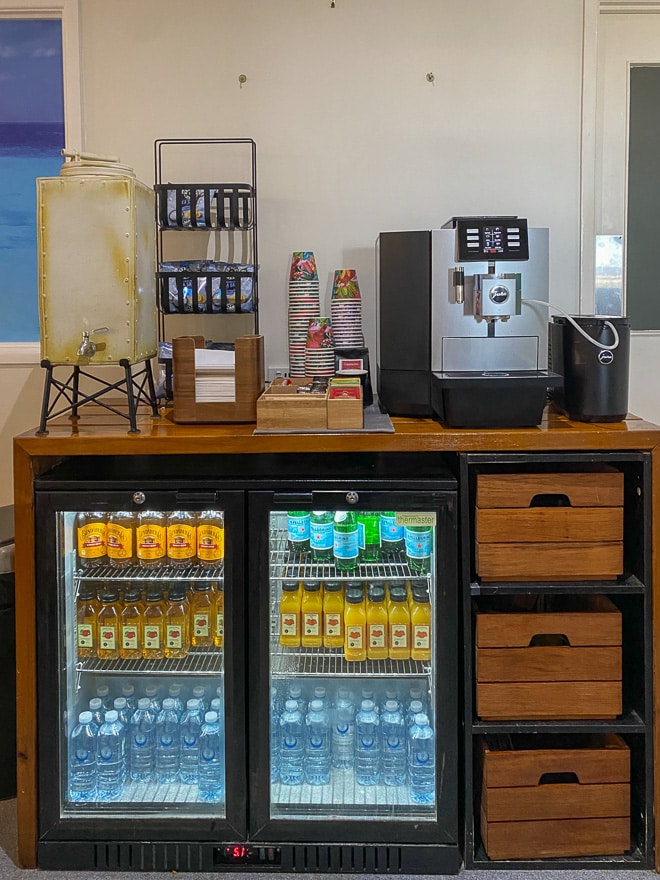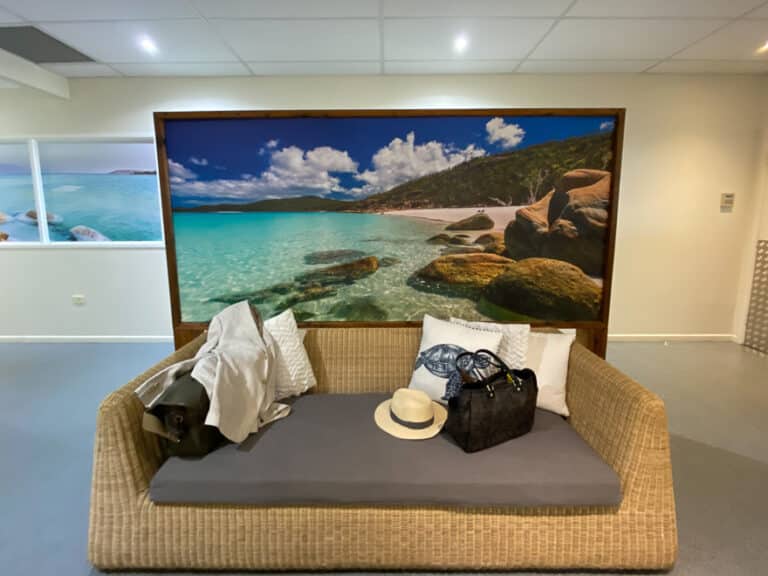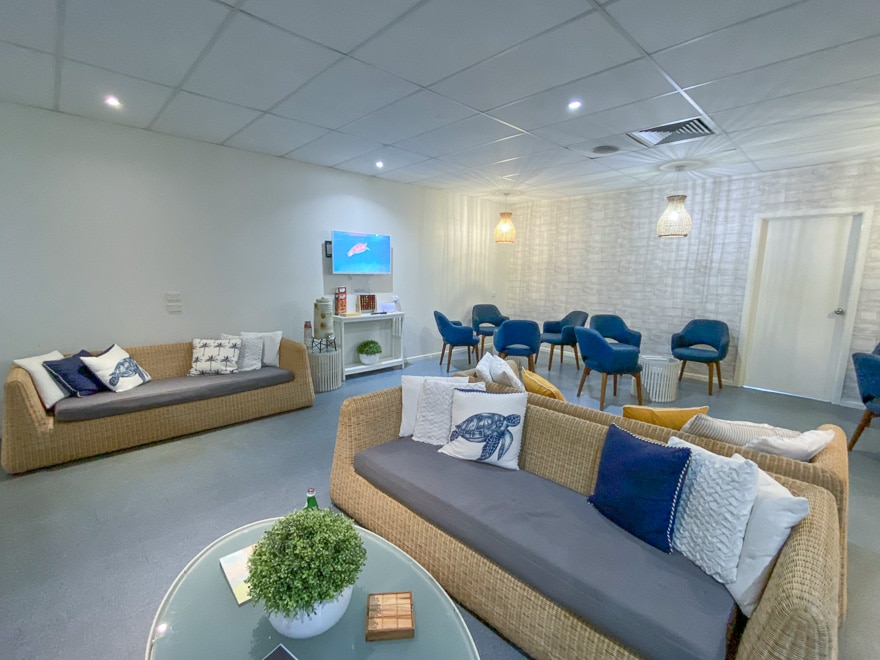 Scenic Great Barrier Reef Flight
Lizard Island has its own branded Cessna Grand Caravan, which is operated by East Air pilots.
We previously flew one of these planes from Colombo to Sigiriya on a flight operated by Cinnamon Air. As such, I knew that we were in for a treat in terms of comfort and – most importantly – the size of the windows!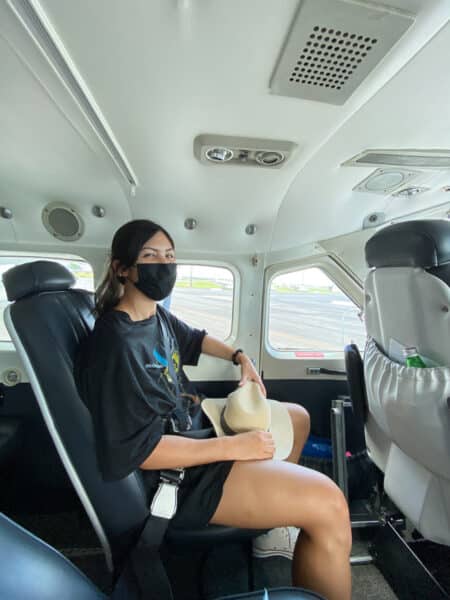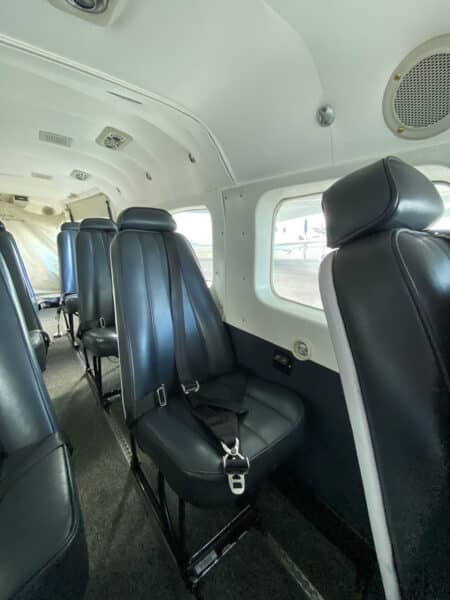 Not only were the seats far more comfortable and better spaced than your average Maldivian seaplane, the cabin also had proper air conditioning.
It gets better though. Since the airplane is operated by a single pilot, the copilot seat is usually empty and available for guests to sit in.
As if having a private plane over the Great Barrier Reef wasn't incredible enough, I was able to sit next to the captain and see one of the great natural wonders of the world from the flight deck!
The views were absolutely incredible. Having had the good fortune to visit the Maldives on so many occasions it kind of felt like stepping into an alternate universe, where the atolls are larger, filled with gigantic coral gardens and right next to a hilly coastline.
The flight took around 45 minutes but felt much shorter; I honestly could have spent another hour up there, witnessing the natural spectacle below.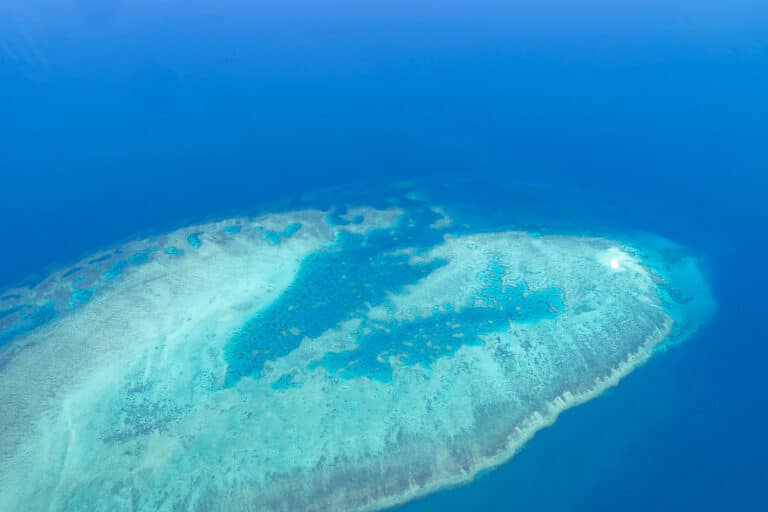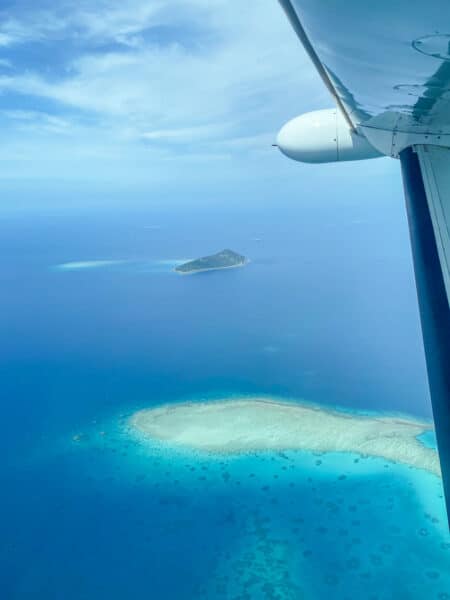 As Lizard Island came into view, I couldn't help but smile. It was hard to believe that this pristine natural playground was going to be our tropical home for the next 3 days!
We were met at the plane by a pair of staff members who despite their youth were very professional and welcoming. We were each handed a thick and refreshing ice cold towel to help us to adjust to the heat of the runway.
Meanwhile, our luggage was loaded on to a buggy, which was waiting to whisk us to the reception building.
Although Lizard Island covers over 1000 hectares, the majority of the island is completely untouched, with the resort occupying only the Westernmost tip.
The buggy ride past the staff village and up towards Anchor Bay took only around 5 minutes or so.
The restaurant and reception building operates as the central hub of the resort and was very conveniently located, a few metres away from our beach villa, facing Anchor Bay.
The design of the main lodge building is totally open fronted, with the focus firmly on the natural environment.
Having said that, it was clear that the fixtures and furniture were finished to a very high standard. The reception area, bar and restaurant presented a very inviting environment.
Check-in took place in a rather fantastic fashion. We were invited to take a seat at one of the dining tables on the building's perimeter and immediately offered welcome fruit drinks and a cheese board. The latter was particularly welcome since our flight had us arriving a little too late for a full lunch.
It was suggested to us that perhaps we may want a glass or two of champagne in order to proper relax into our new environs. An offer which we gladly accepted.
I was rather impressed to see that Louis Roederer champagne was offered and this was also included throughout our stay, as part of the all-inclusive offering.
After enjoying our welcome drinks, we were escorted through the beachfront gardens to our suite.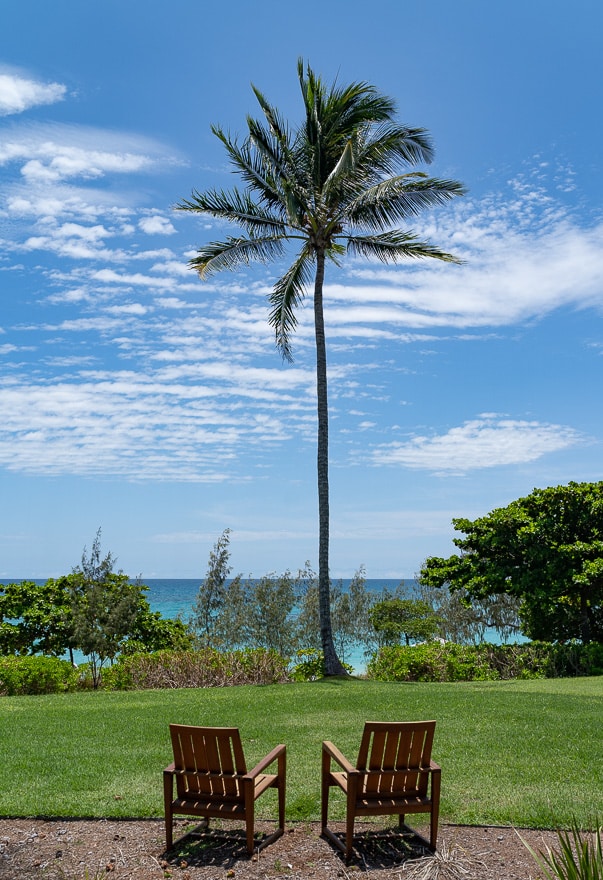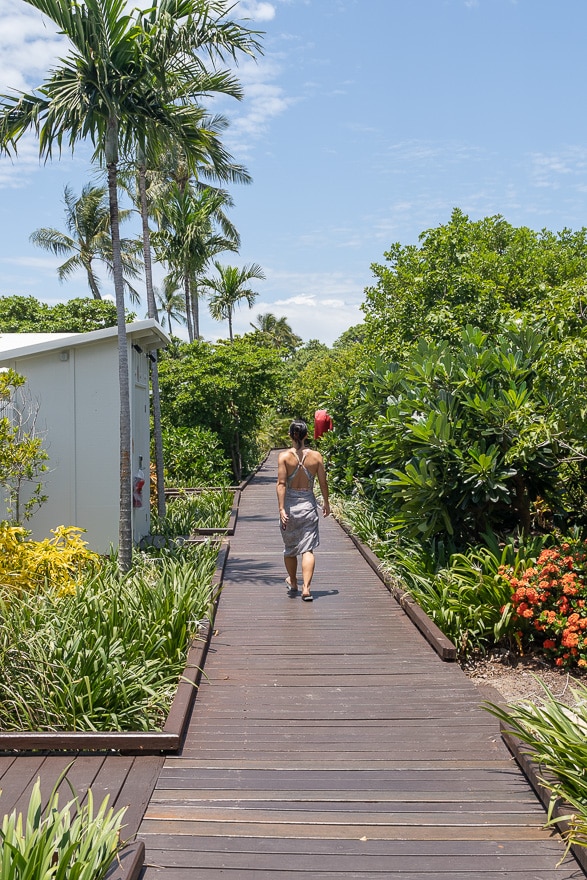 Despite being beautifully manicured, the garden pathway contained many wild island inhabitants, including some rather large monitor lizards (and adorably tiny ones too!), for whom the island is named.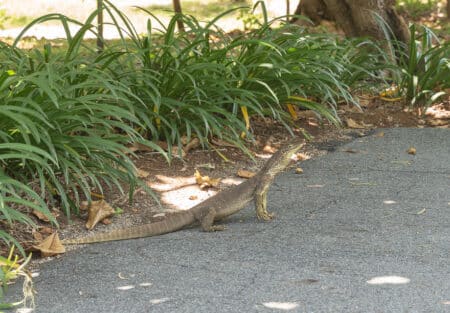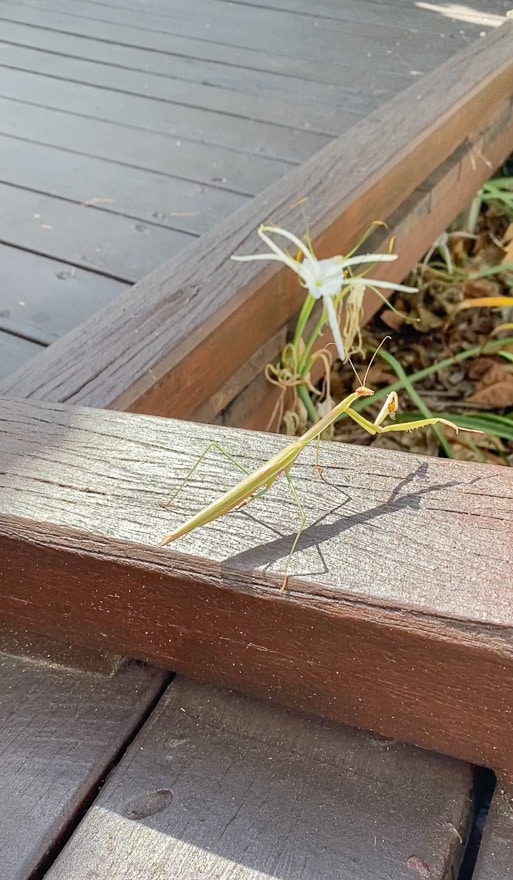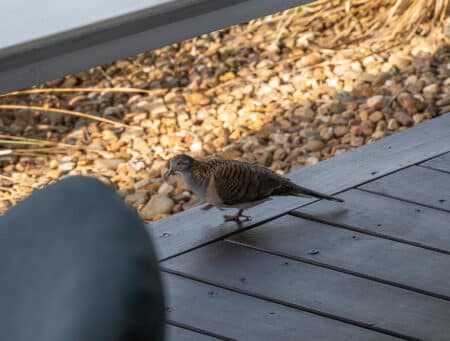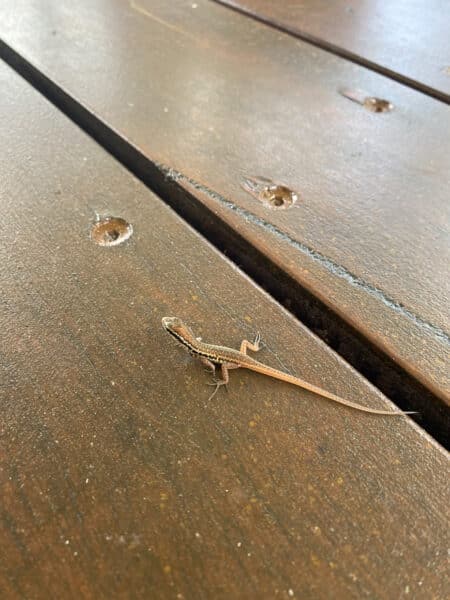 ---
Beachfront Suite
---
Beachfront suites at Lizard Island are located in semi-detached blocks, with every two suites sharing a dividing wall.
The initial approach to our suite via the garden walkway was absolutely mesmerising. This is the kind of view that you expect from a private island in the Great Barrier Reef:
Bedroom
Despite being billed as Suites, there is no dividing wall between the living room and the bedroom in any of the standard accommodation types at Lizard Island. (this includes Rooms, Suites and Villas).
Our open plan living/bedroom was very bright, clean and minimal, with the focus firmly on light and drawing attention to the natural surroundings.
This is a refreshing change from the Maldives, where the focus appears to be on making rooms as OTT as possible, to the point that you almost feel bad leaving and spending time outdoors!
The bed was very comfortable and a variety of pillows were offered on a pillow menu card. Unfortunately on our first night, when we called at 10pm, nobody picked up the phone but the pillows that were delivered the following day were excellent.
The bedside tables had no storage though, which I think always makes a room feel cluttered (perhaps because I have at least 5 different supplements and vitamins that I take before bed!).
Both sides featured power sockets but they were local only. At this price point I'd expect universal power sockets catering to international guests. Luckily the front desk had some international chargers on hand for us to borrow.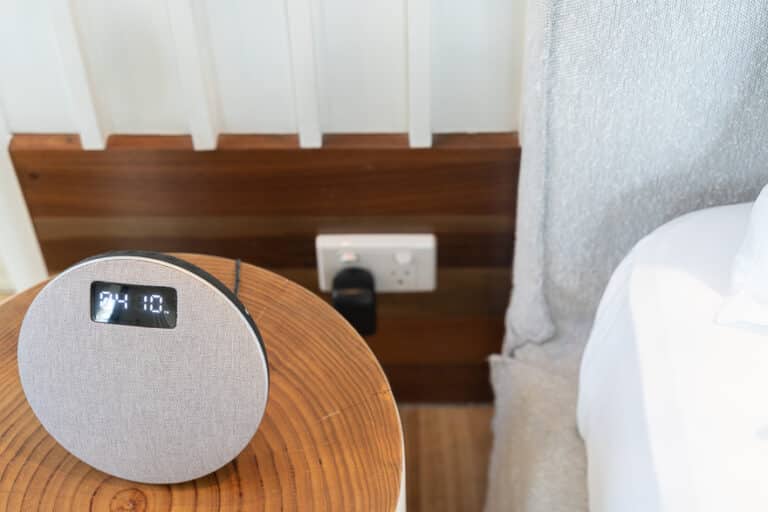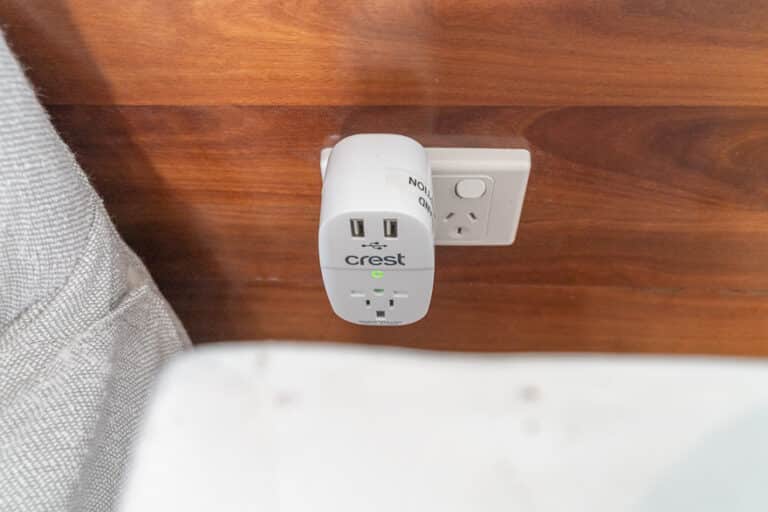 On one side of the bed there was a nook set up with a proper work desk. Not something that most people will use on a tropical island but certainly something that I appreciated, given that we have a travel agency to run, full time, even when we're on the road!
The desk handily featured a USB charging port, in addition to an Australian power socket.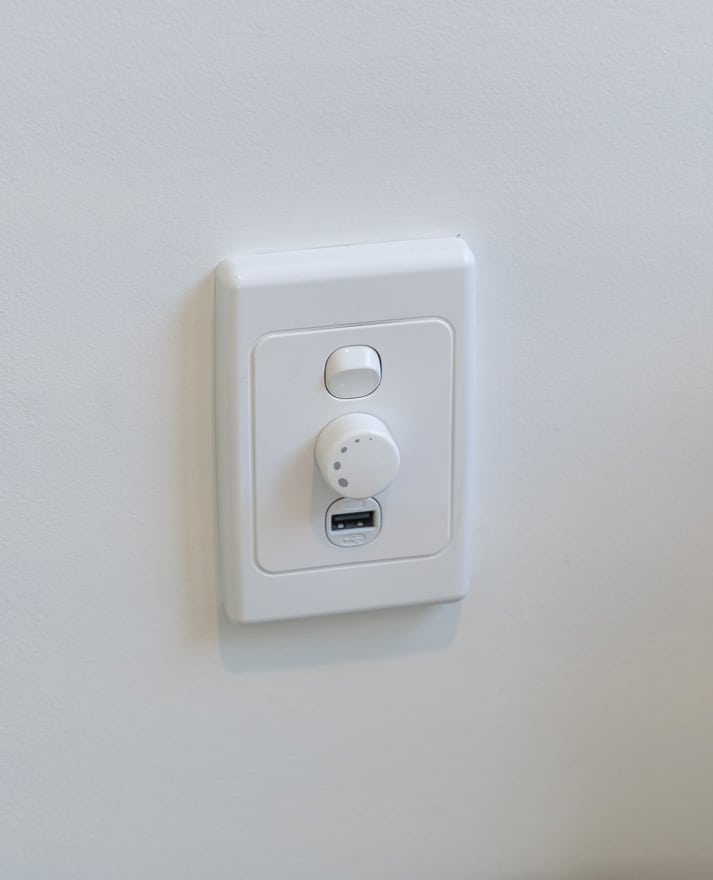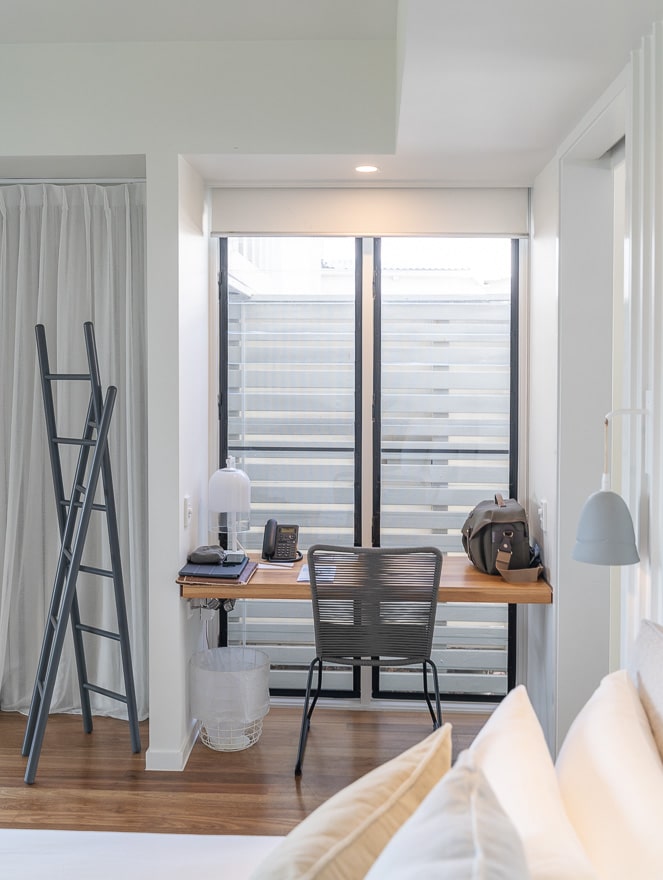 Upon arrival there was a weekly schedule of activities (both complimentary and paid), as well as a rather shocking warning note.
Shocking misuse of possessive apostrophes.
Two lounge chairs were located at the foot of the bed, facing out towards the ocean. The one AC unit above the door seemed to struggle at times and get rather noisy. It was much better in the evenings but it the middle of the day it was definitely necessary to turn the fans on as well.
On one side of the sitting area there was a nook featuring a large table, topped with a basket of snacks.
Next to this was also another cabinet featuring a fully stocked, complimentary mini bar.
I was excited to see that our room featured the same Vittoria coffee machine that we had encountered a week earlier at The Siam in Bangkok. Bonus points for providing fresh milk in the fridge too, without having to call for it.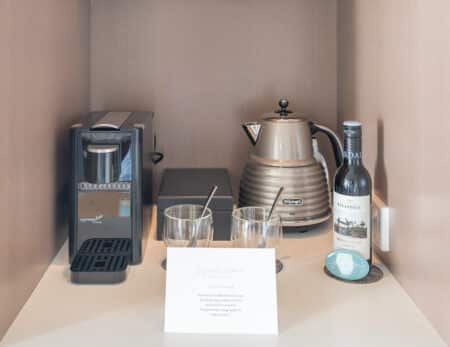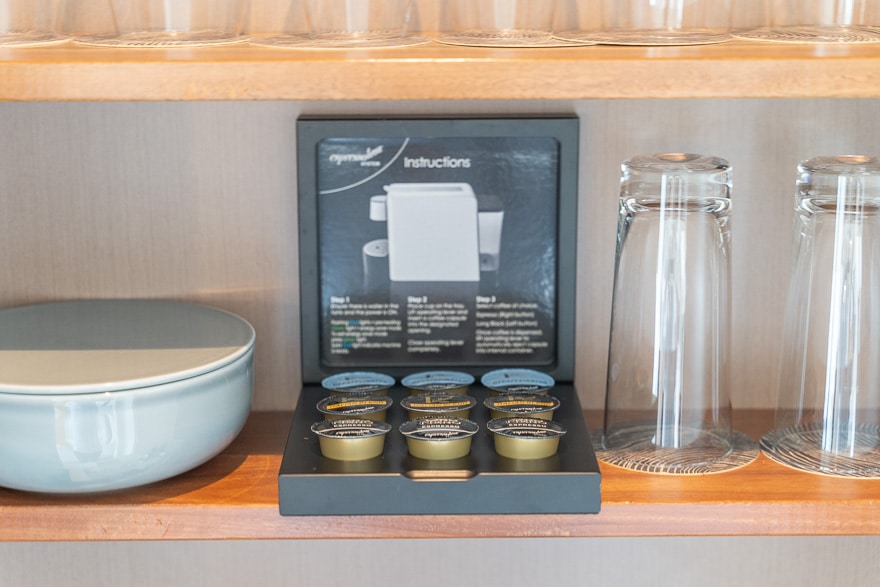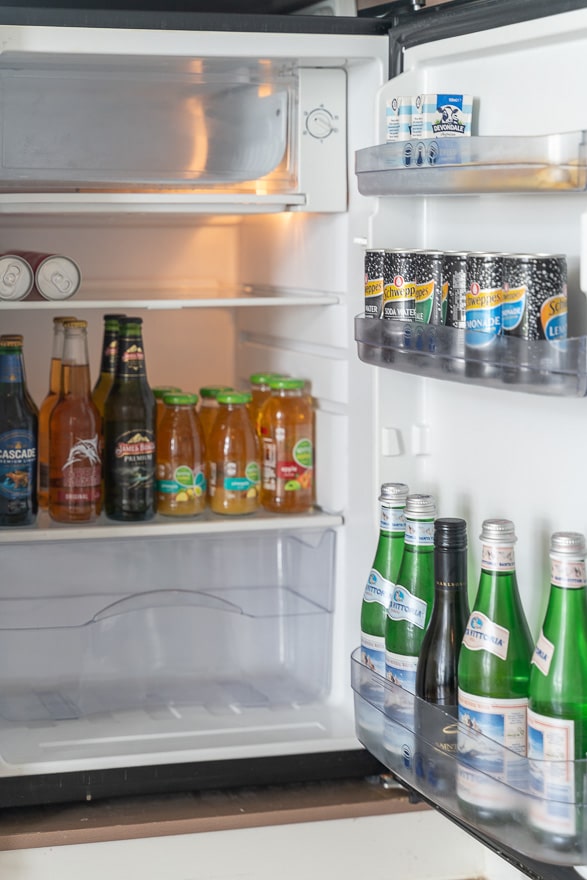 When we were being shown around the room our host mentioned that there wasn't any champagne in the room but to ask if we ever needed a bottle sending over!
The entire minibar was replenished once a day free of charge with additional re-stockings incurring a charge. I struggle to see how anybody could ever manage this though, given that food and drink were also available all day long, included in the room rate, at the Salt Water restaurant and bar.
On the other side of the sitting area was the suite's TV, hidden inside a large cabinet.
Bathroom
The bathroom was located behind the bed, with entrances on either side. The bathroom featured multiple large frosted windows facing an internal garden, which meant that it was bathed in light throughout the day.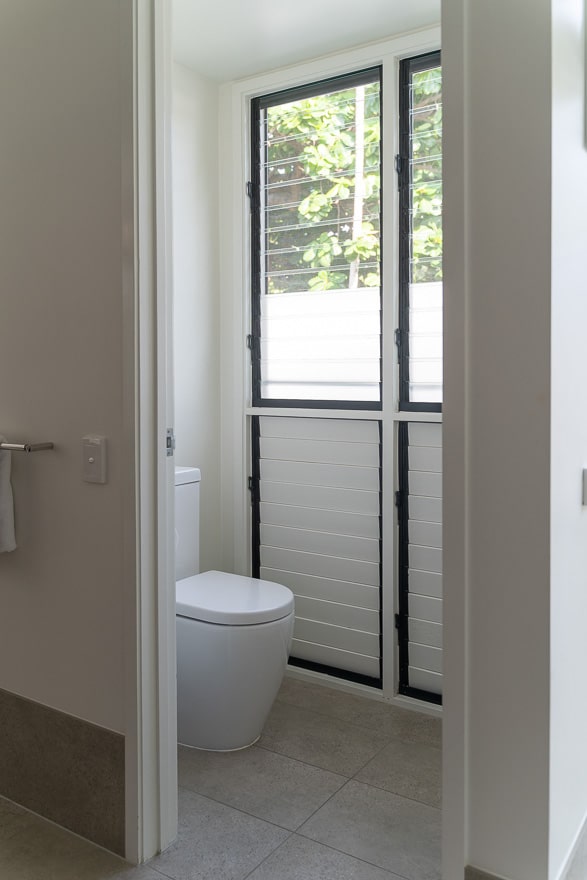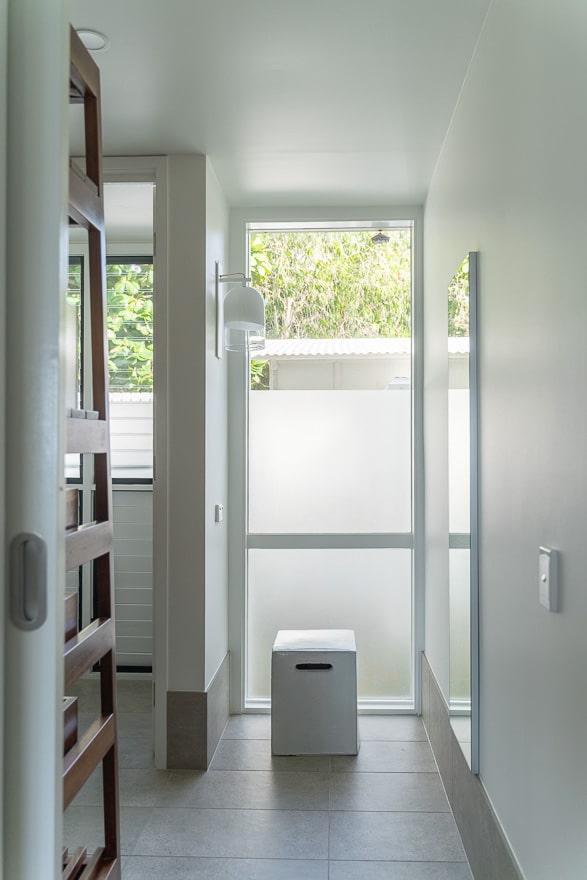 An open wardrobe ran the length of one wall. Surprisingly for an all inclusive luxury stay, laundry wasn't included. Given the price point and the remote location, I had been expecting a policy similar to Silvan Safari, where laundry is included due to restrictions on luggage and the lack of alternatives!
Compared to other luxury beach resorts around the world it also felt that quite a few standard items were missing: complimentary flip flops, sun hats, a beach bag, SPF and even bug spray were all notable in their absence.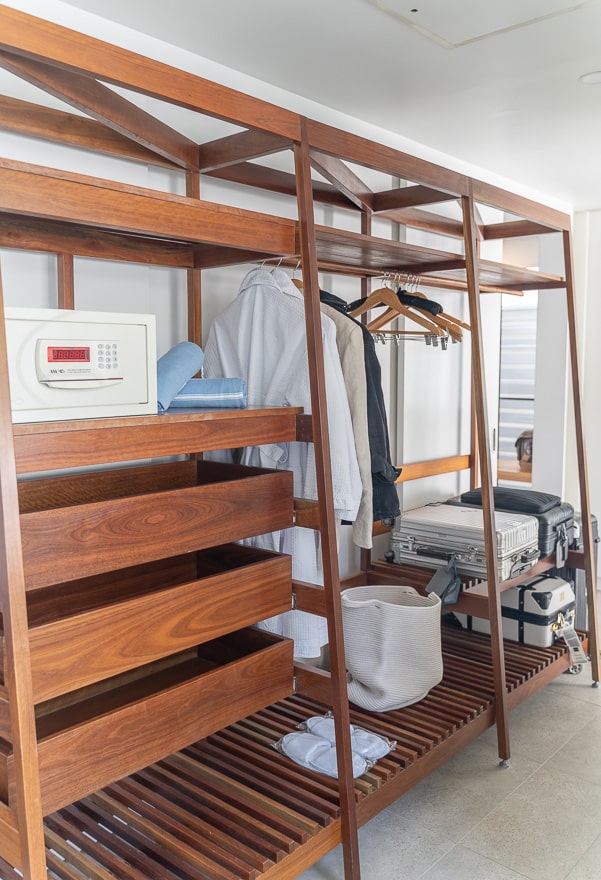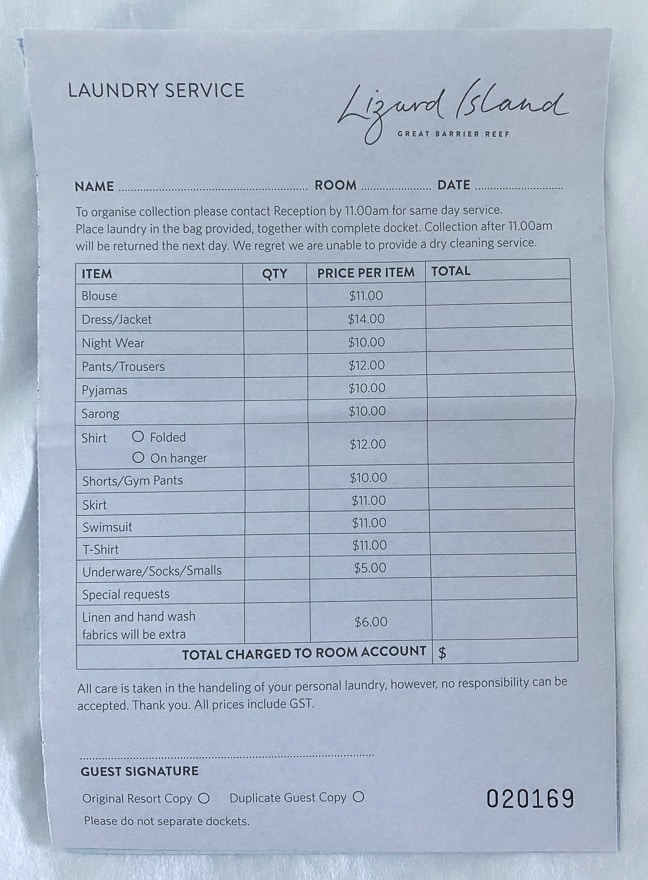 I'm all for minimalism but the decidedly utilitarian sinks and shower felt like they could have come from an airport Radisson.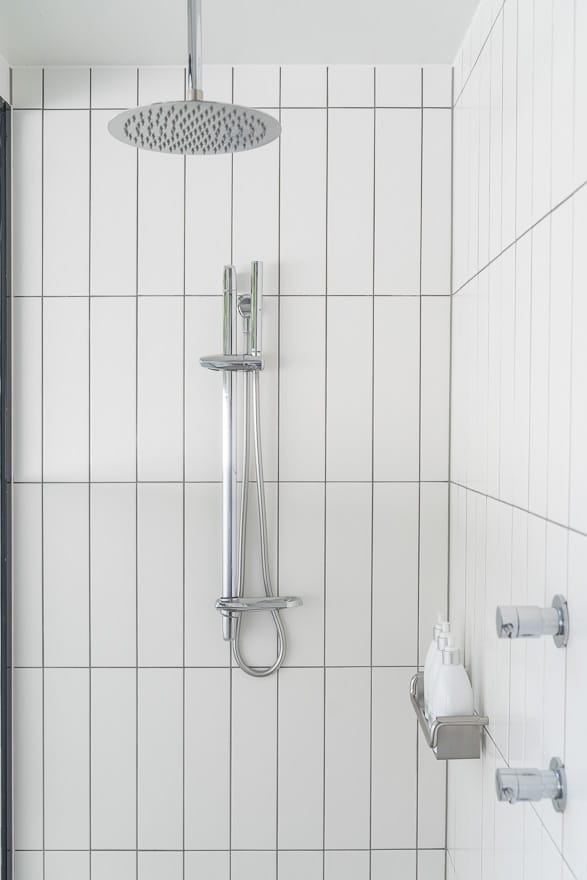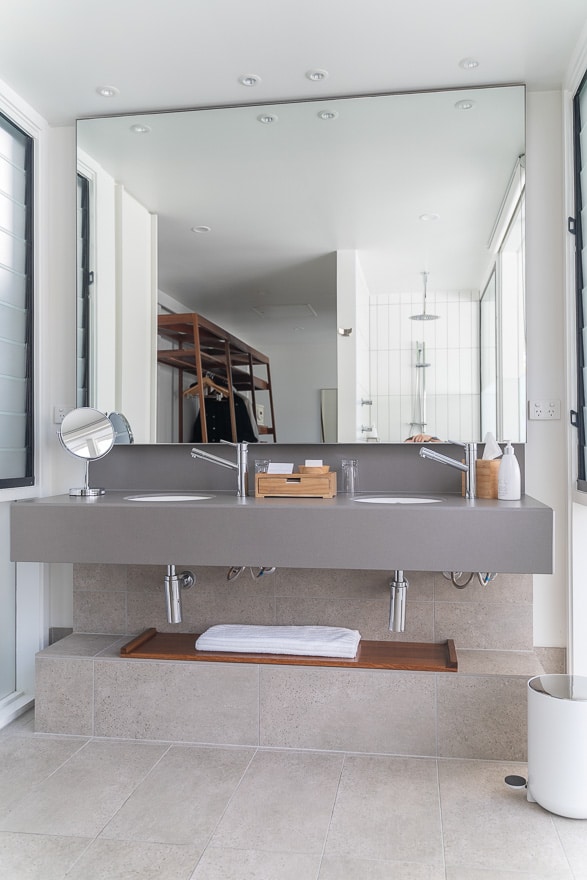 Counter space was at something of a premium too, given the pull out design of the amenity box.
Outdoor Space
The outdoor terrace at the end of our suite featured a picture postcard view of the gardens and beach. The chairs felt very solid and showed no signs of wear and tear despite the maintenance difficulties created by a location such as this.
The daybed would have been my preferred place to sit though, were it not for the fact that it lacked a ceiling fan. There was also a beanbag on the floor which didn't appeal much in comparison to the other seating options.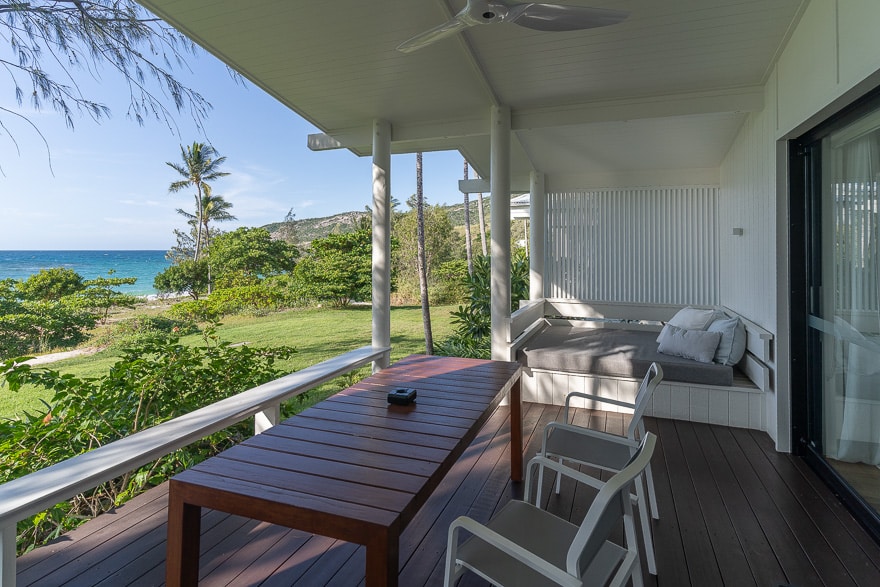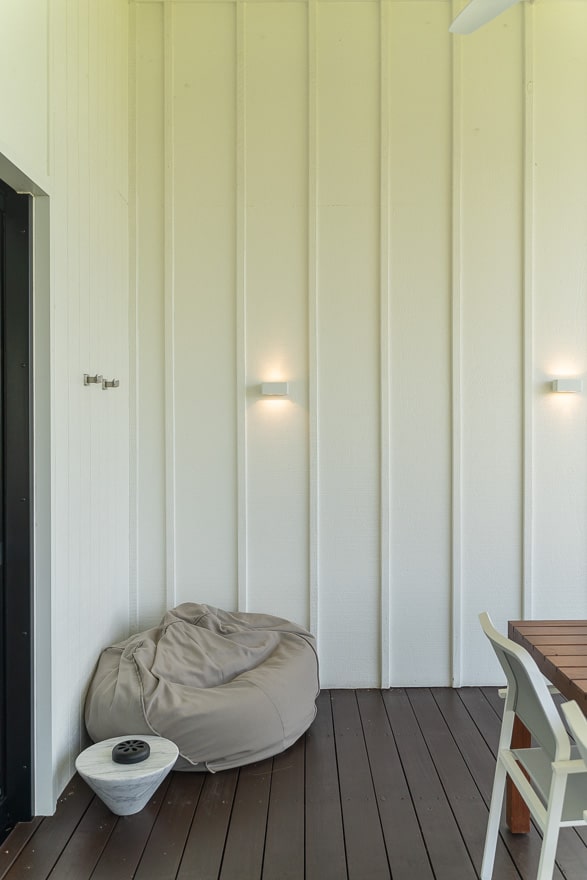 ---
Facilities
---
Anchor Bay Beach
A few steps from our terrace was the spectacular Anchor Bay Beach.
Even though the resort was at close to 80% occupancy it was rare that we would come into contact with other guests during our time here. Given the size of the island and the number of beaches to explore, it genuinely felt like we had the place to ourselves outside of meal times.
Although the water at Anchor Bay is usually lake-like in its absolute tranquility, our visit coincided with a brief change in wind direction. This rendered the ocean a little a choppier than usual…
Depending on the season, you may find that a 'stinger suit' (effectively a wetsuit no thicker than a rashguard) is necessary to avoid potential jellyfish stings too.
Showers, loungers and daybeds were dotted around the beach, with no apparent numbering or pre-allocation to specific rooms (much like Four Seasons Kuda Huraa in the Maldives).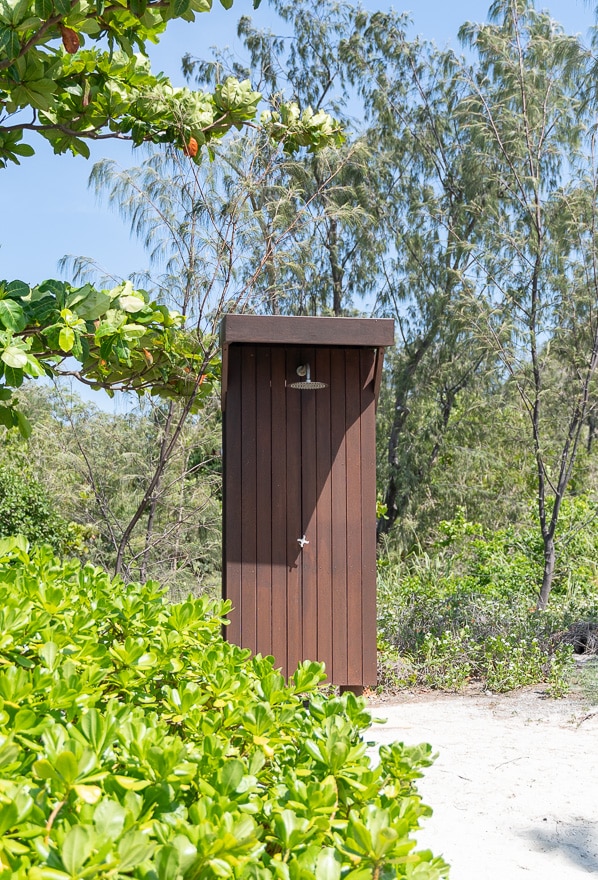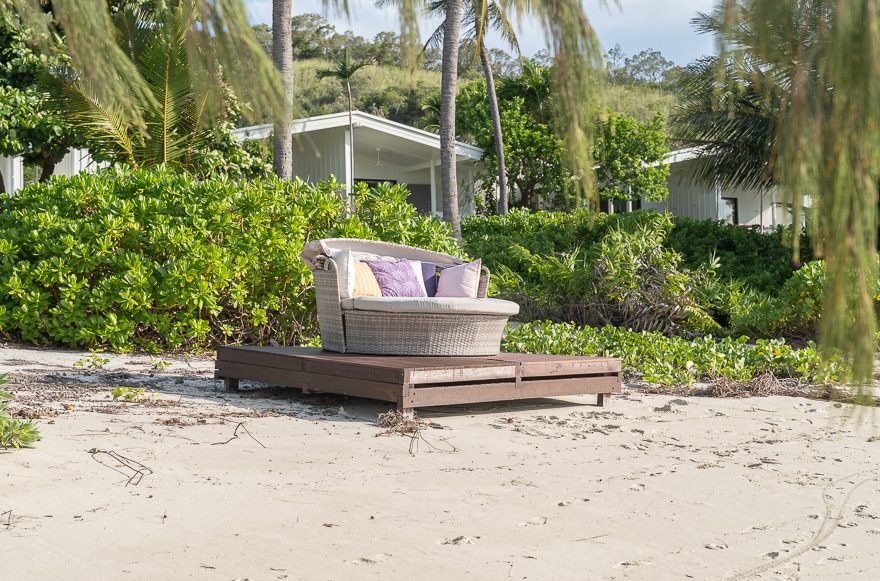 Although we didn't spend much time in the water at this beach, we were more than happy to relax one of the larger cabanas located directly in front of the main lodge building. Not only was there ample seating and shade, the convenient location meant that we could easily order bottles of Roederer from the bar. Perfect to enjoy whilst reading a book and relaxing to the sound of the ocean.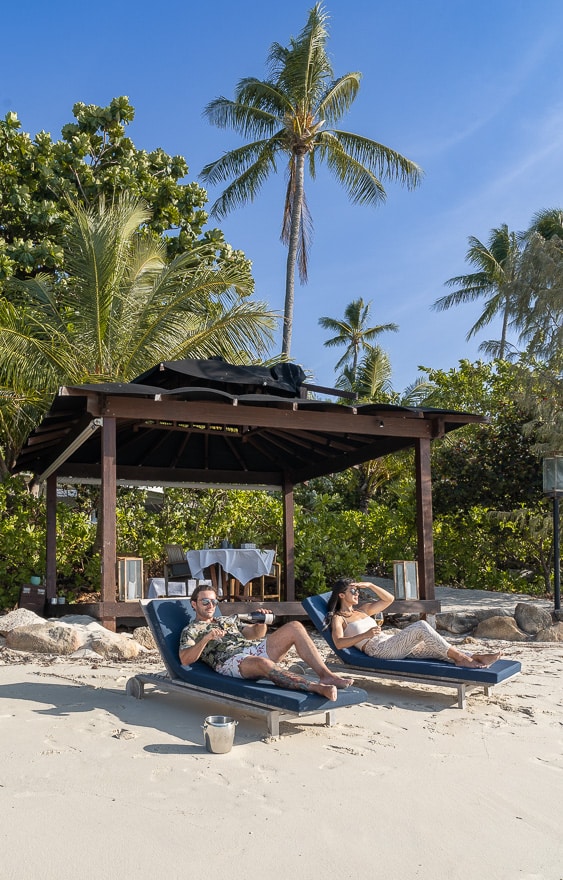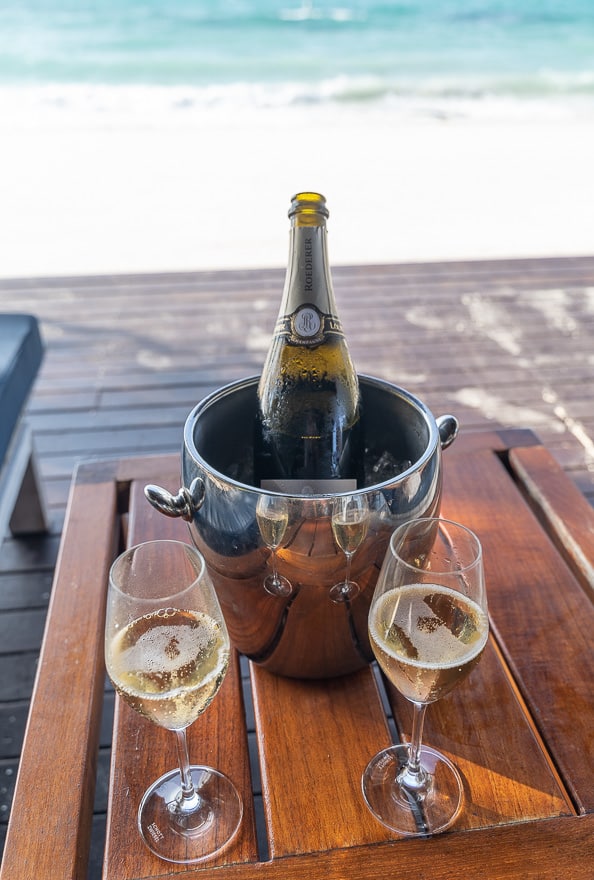 Watersports Centre
The watersports centre was located at the far end of Anchor Bay, overlooked by the resort's presidential villa high above.
The area in front was set up like a beach club but in practice nobody ever seemed to use the tables or loungers here. Opting instead to use loungers further along the beach or to sit inside the main lodge building.
Perhaps this was due to the atypically rough seas during our stay.
Although bug spray and SPF weren't supplied in the rooms, there were was an abundant supply of them here!
The watersports centre served as a base from which to book activities, both paid and included. Ordinarily, small 'tinny' motor boats would be moored here for guests to use free of charge. However during our stay they were moved to a temporary home on the other side of the island.
The staff here were very welcoming and professional and were very helpful in setting us up with complimentary snorkelling gear, advising us on the best spots and helping to plan the best possible itinerary of activities during our brief three night stay.
Sunset Beach
Located just around the corner from Anchor Bay, Sunset beach is overlooked by the resort's Oceanview Villas.
The location certainly lives up to its name, providing magical sunset views.
It felt like a true privilege to have such a wild and beautiful looking beach to ourselves.
However, the area did feel like it was a little neglected by staff, with some cheap looking loungers strewn about rather unceremoniously.
Higher quality furniture, properly placed, with shade and at least one staff member or a call button, would make a world of difference.
Blue Lagoon
Lizard Island's Blue Lagoon is located in a sheltered bay in the South of the island. This is accessible to guests via a 5 minute car transfer, the majority of which takes place along the runway.
Upon reaching the far end of the runway, we had to take a ten minute hike down to the bay itself.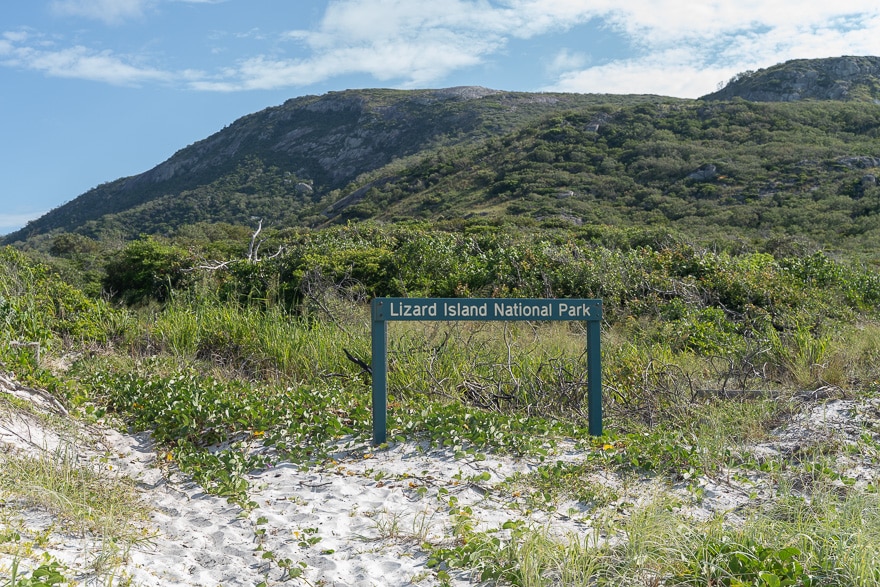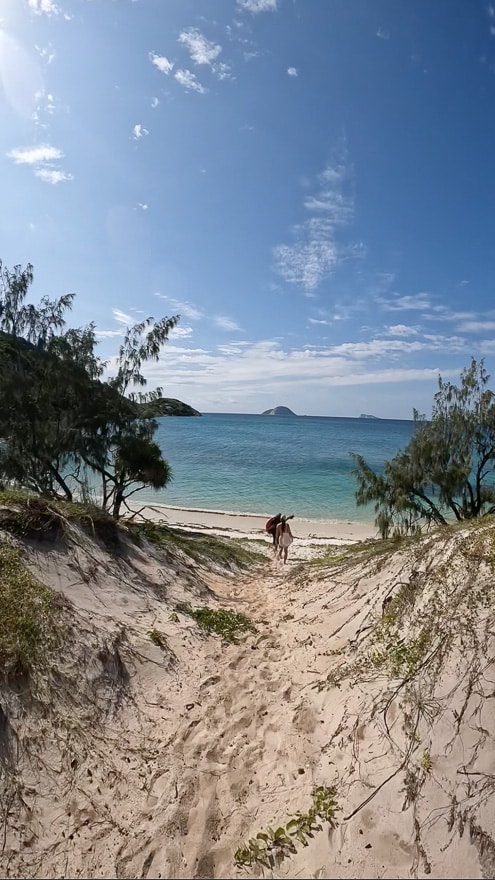 Here we found the temporary watersports centre, which included some much needed coolers filled with ice cold drinks.
To be honest, we never got round to grabbing one of the tinnies and exploring, since it was a bit of an inconvenience coming all the way here, rather than having them parked at Anchor Bay.
It would have been fun to relive our trip to Dunk Island many years ago but I'm sure we'll have plenty more opportunities on future trips to Australia!
The Blue Lagoon certainly lived up to its name; the powdery white sand, set against the incredible azure hues of the ocean, was truly a sight to behold.
We visited the Blue Lagoon on a couple of different occasions, once as part of a complimentary hike and snorkel activity and again on a dive.
Diving
The dive boat was very small, especially since we were sharing with another couple. Perhaps I've been spoilt by the Maldives, where boats with sundecks, bluetooth, bathrooms and coffee facilities are the norm.
At $340AUD per person for a 1 tank dive, I was expecting something more akin to the deep sea fishing vessels at Lizard:
Where in actuality we spent the morning on this:
With a small plastic box of fruit given to us post dive.
Of course, the main appeal of diving the GBR isn't the snacks or the quality of the boat, it's the wealth of oceanic life that calls the area home.
We didn't see much in the way of large or interesting fish but the coral was vibrant and colourful, in a way that you rarely see anywhere on earth nowadays.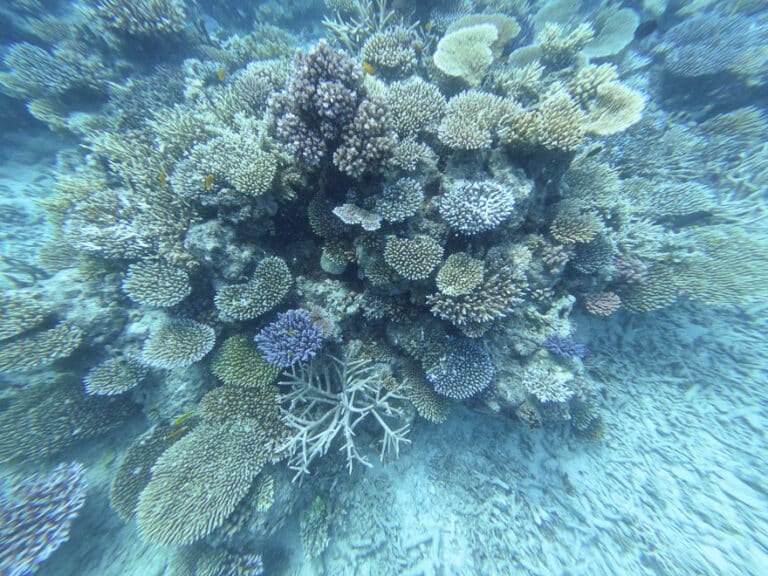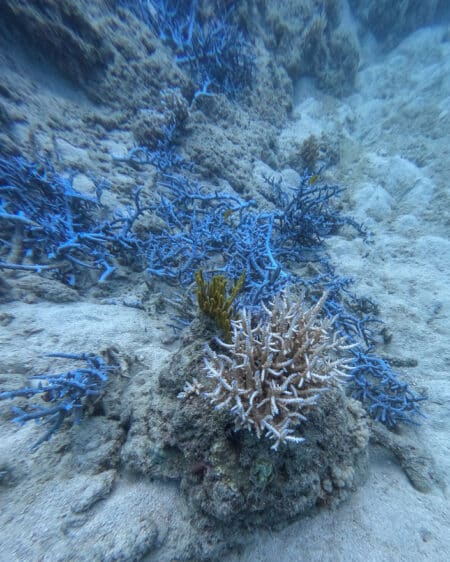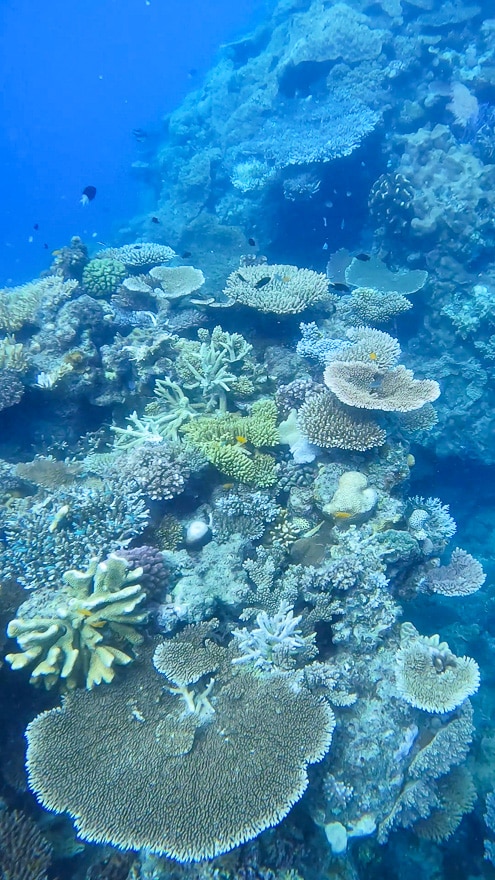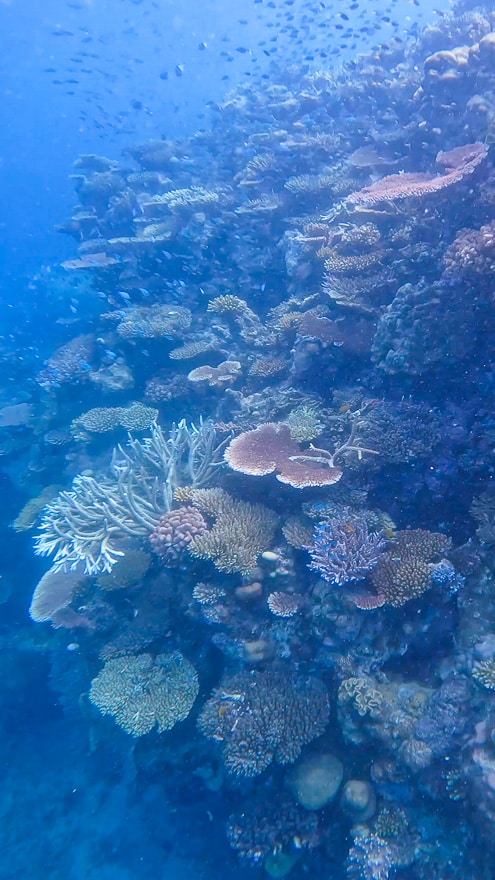 Coconut Bay
On the flight to Lizard we flew over an absolutely incredible looking beach, which I asked about as soon as we were on the island. I don't think I've ever seen any beach so pristine and perfect looking in my life.
Luckily for us, the changing of the winds which made Anchor Bay's waters so choppy, also led to Coconut Bay looking like it was filled with turquoise glass. There are only 5 weeks a year when the beach is accessible and we had coincided with one of them!
As soon as we were done with our dive, the boat captain agreed to take us over to check the place out.
The combination of the dramatic white cliffs, the incredible colour of the ocean and then an open field, dotted with palm trees, was absolutely magical. It almost felt like a smaller version of Waipi'o valley in Kauai, without the crowds.
Gym
Aside from the island's natural charms, there was also a decently equipped gym. It's amazing how rare it is to find a Concept2 rower in any hotel these days, so that was a particularly pleasant surprise.
There were two full racks of rubber hex dumbbells too…
…with weights going all the way up to 40kg!
The cable station was very versatile too, featuring leg extensions, lying hamstring curls, horizontal and vertical pulls and a multi-degree press station.
In addition to the water fountain there was a supply of sparkling water in the fridge. I'm pretty sure it's the first time I've ever seen that in a gym. Not great during your workout but very refreshing at the end!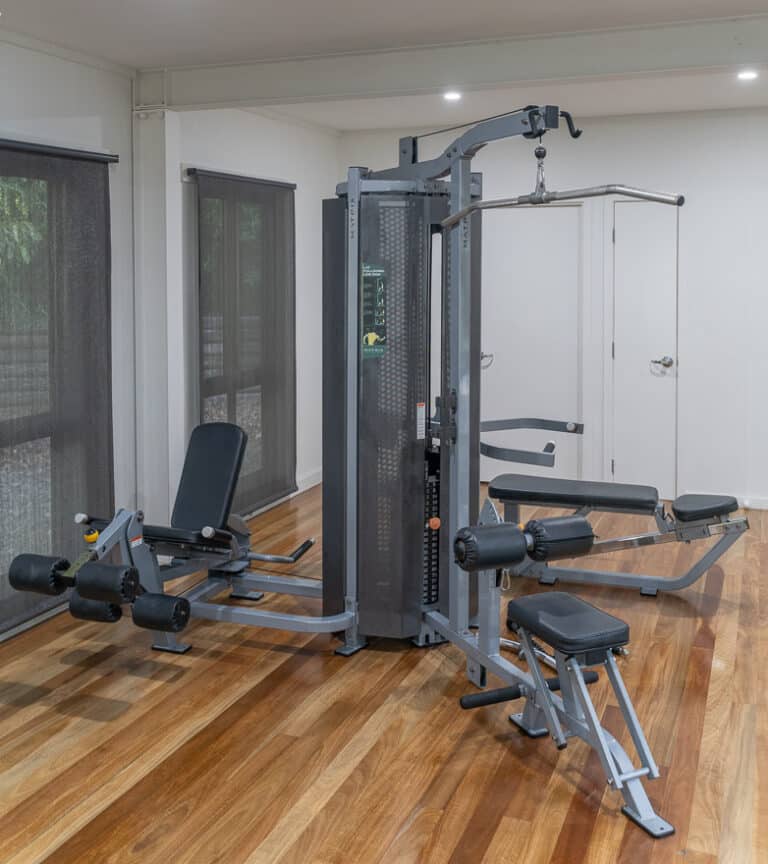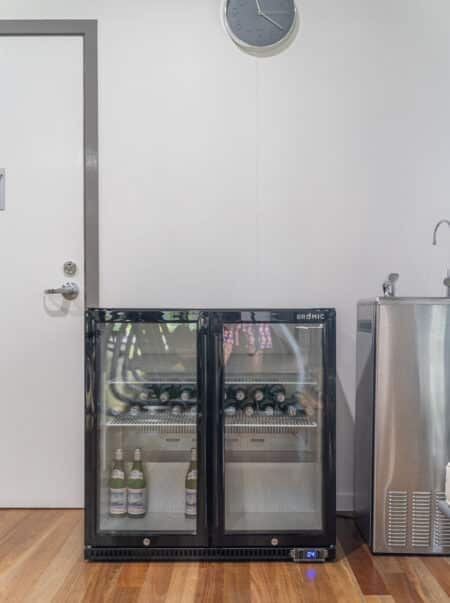 Tennis Court
Right next to the gym was a tennis court. It was so hot during our stay that it was basically unusable during daylight hours though.
It did feature flood lights, so had we wanted to we could have played tennis instead of having sundowners at the bar!
Pool
The hotel's pool had a bit of an odd feel to it. Like many parts of the resort it was unstaffed, which made it feel private but also kind of empty. The amount of shade and the thickness of the padding on the sun loungers were both great but the pool felt undersized versus the expanse of the deck.
---
Food and Drink
---
There is one main bar and restaurant at Lizard Island, Salt Water, where most guests will eat all of their meals.
Additionally, there is a far more casual venue located at the opposite end of Anchor Bay to the watersports centre. This venue is called the Marlin Bar and is open not only to Lizard Island guests but also visitors who moor their own boats, as well as the resort's staff.
Breakfast
The idyllic walk along the sunny path to breakfast was the perfect way to start the day. Blue skies, gently swaying palm trees and the sound of the ocean – perfection.
The young staff at Lizard Island were extremely bright and cheerful; it was always a delight to interact with them in the mornings, since they seemed as happy to be here as we were!
The breakfast menu offered all the usual breakfast staples like granola, eggs and bacon, pancakes and of course avocado toast. However the execution was, in all cases, truly superb. The bacon was perfectly crispy, the soufflé style pancakes were extremely fluffy…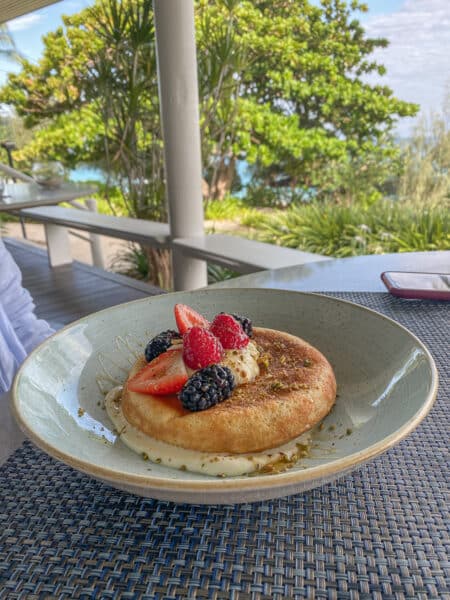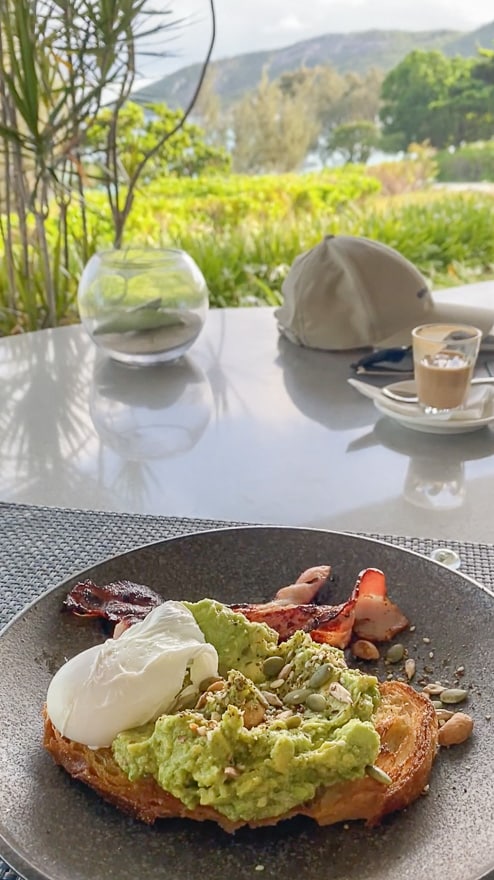 …and of course, with this being Australia – the coffee was superb too!
Lunch
The lunch and dinner menus varied every single day, according to the produce delivered to the island.
I had worried that since we were a captive audience, the food quality would be less than stellar. I had similar doubts the first time we went on Safari in South Africa and they were dispatched in equally swift fashion here!
Alongside the food options was a selection of suggested wine pairings; other beers, spirits and cocktails could be ordered from a huge list shown further below.
Sample Lunch Menu
The quality of the food on offer was universally excellent. From fresh and healthy starters like carpaccio and ceviche…
…to beautifully cooked and presented proteins.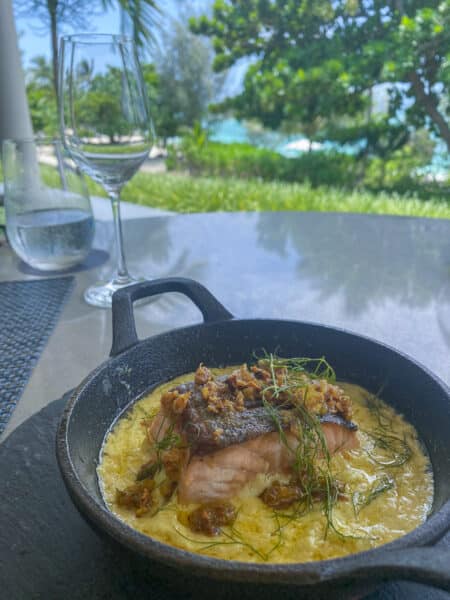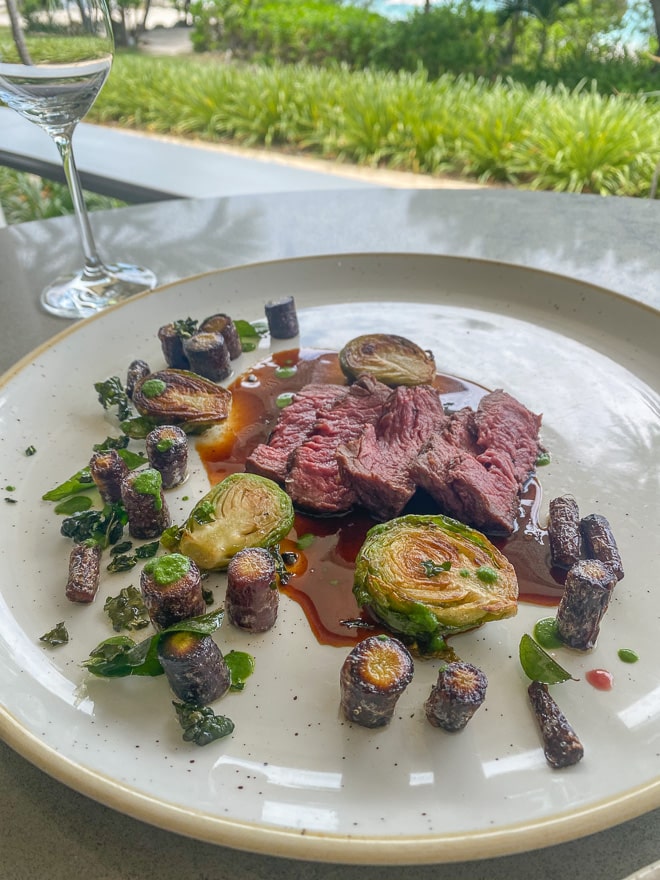 Even simple dishes like a side order of potatoes or a squid ink linguini were executed superbly.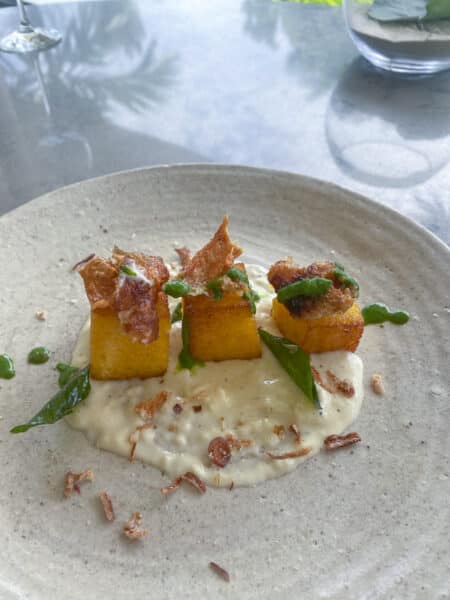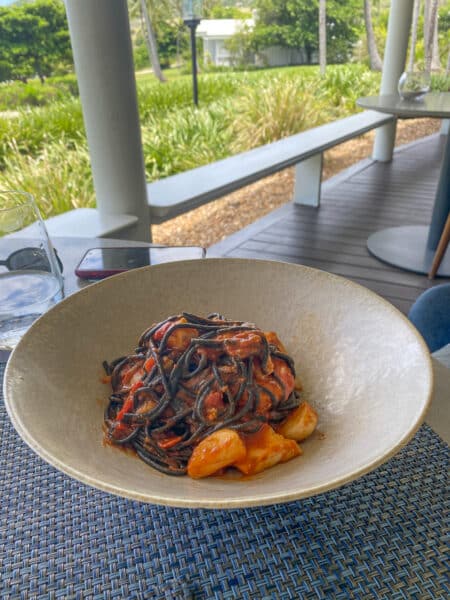 We didn't have room for a huge number of desserts but the two that we did try were spectacular. A milk ice cream with honeycomb and figs and a homemade saffron ice cream.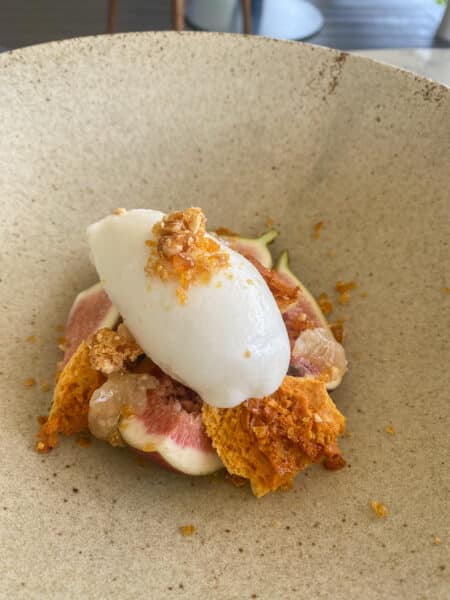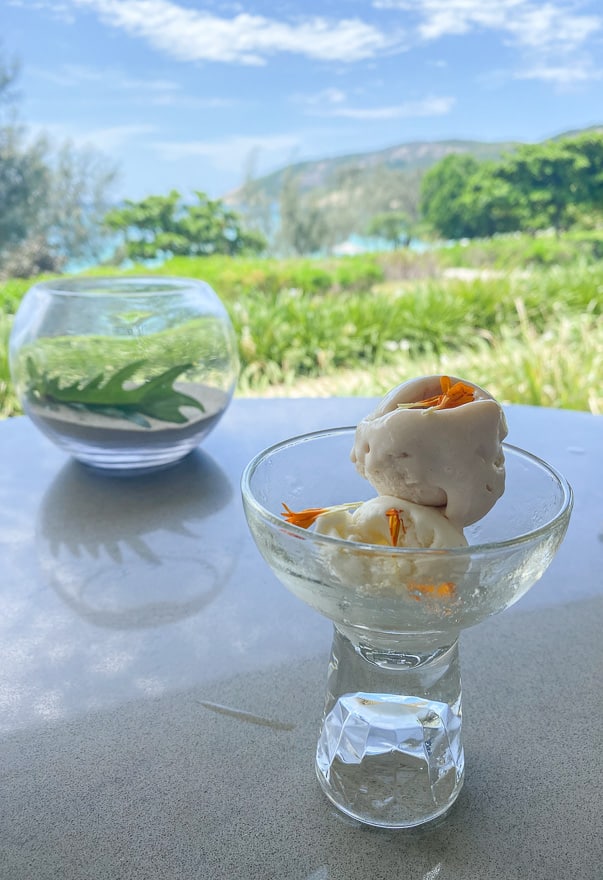 Bar service
There was an area at the back of the dining room with the daily selection of red, white and champagne ready to be poured at a moment's notice.
In addition to this there was a very extensive list of beers, spirits and cocktails – the majority of which were included free of charge.
Lizard Island Drinks List
During the day the drinks were best enjoyed at one of the dining tables. As the evenings wore on, this pavilion next to the bar was a popular gathering spot for sundowners.
Meanwhile, the interior lounge area was the ideal spot to retire to, for a postprandial nightcap.
Dinner
As night began to fall at Lizard Island, there was always an excited gathering of guests, eager to enjoy some cocktails and secure the best tables for a leisurely dinner.
In reality though, the tables were all equally excellent at night since of course there was no view to speak of! One minor issue with the open plan design of the dining area is that table lamps weren't provided as standard (although they could be requested), since they would attract all manner of nocturnal flying creatures!
Sample Dinner Menu
In addition to the usual wines, the dinner menu featured a suggested reserve wine each evening – these were very keenly priced.
Much like at lunch, the food was truly wonderful, although by the time dinner rolled around we were so full from the day's eating that dessert was an impossibility.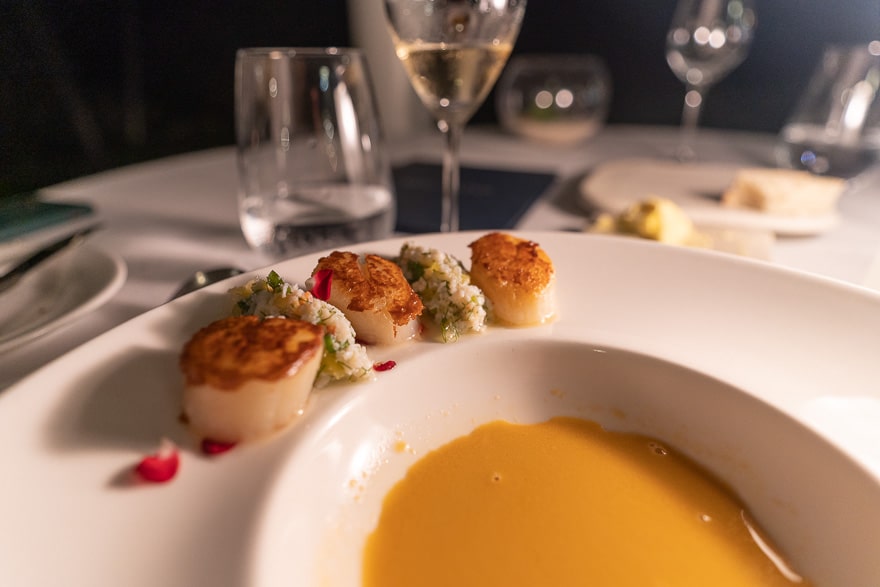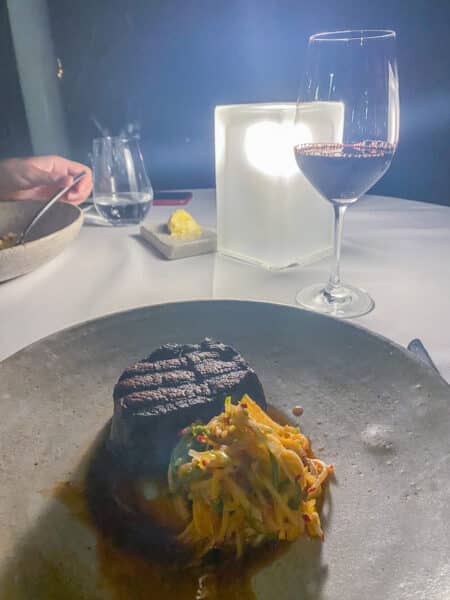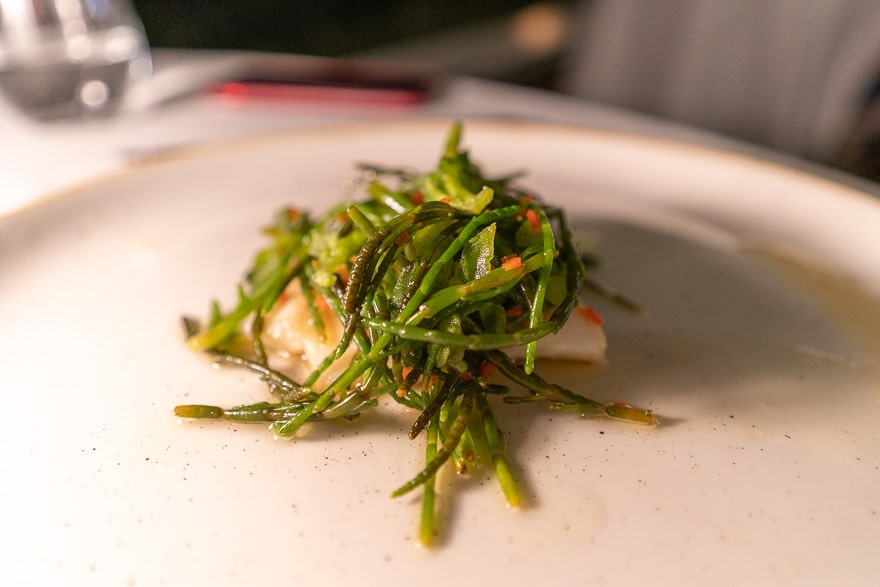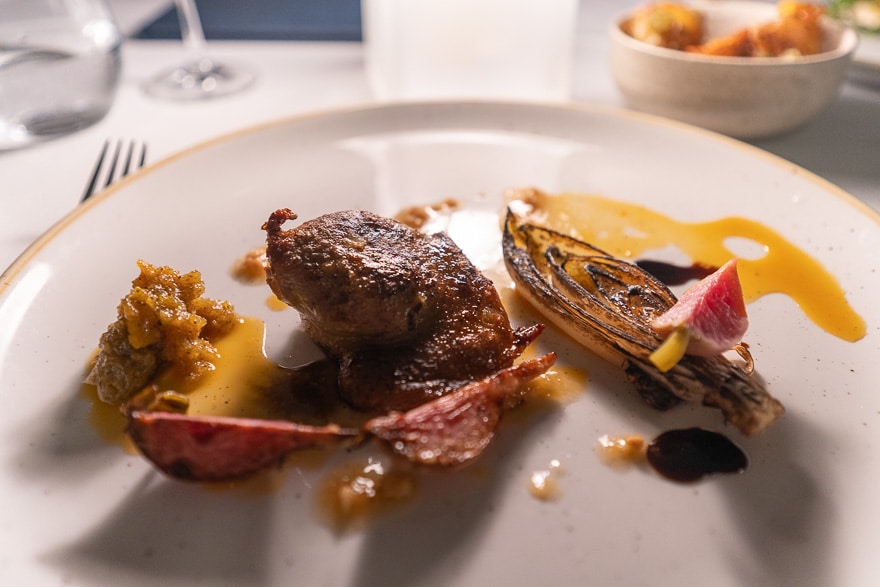 On our final evening I decided to order the cheese section since I still had a generously poured glass of red wine to polish off. The cheese itself was great but the real stars of the cheese plate were the raisins on the vine. I've never seen this before or since!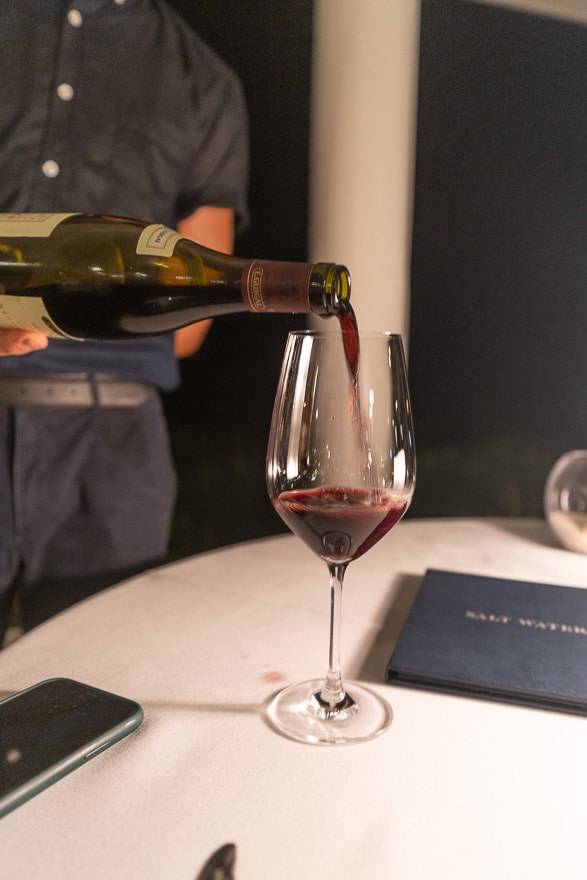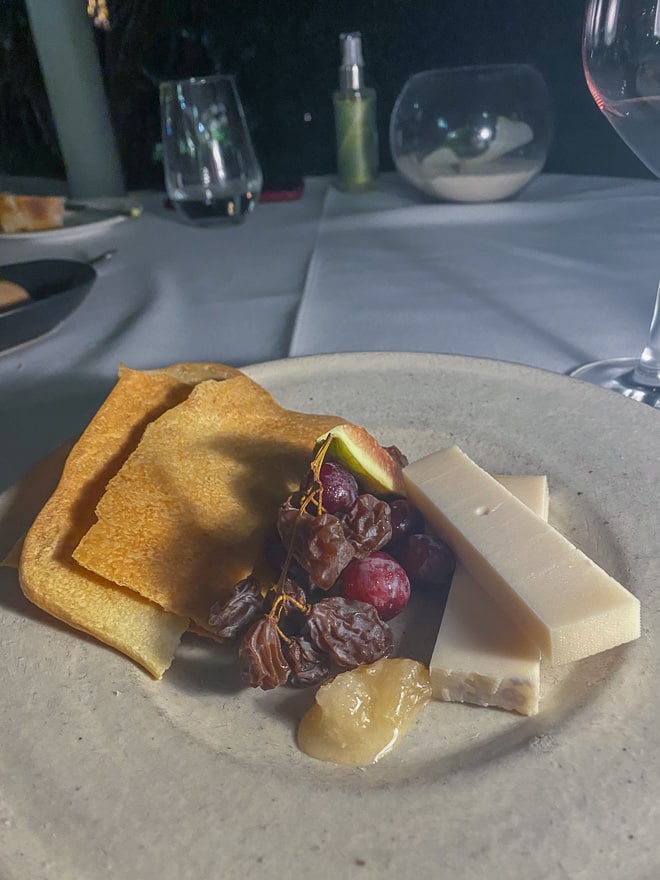 Marlin Bar
Open only on Tuesdays and Fridays from 5pm until the last person leaves – this offers a far more casual option than the resort's main Salt Water restaurant.
Although dinner is offered here, we opted to dine at Salt Water on our final night before heading over to Marlin bar for a nightcap… that somehow became three.
Above the Bar there is a life sized replica of the largest Marlin ever caught locally. An absolute beast.
Despite the bar being A LOT more casual than the luxury side of the island, we had a really great time here, listening to 2000s pop songs (including our request for "It's gonna be me" by NSYNC). Although prices were listed and drinks were supposed to be ordered at the bar, our drinks were included and staff insisted on taking our orders at our table and even going all the way to Salt Water to retrieve a bottle of mezcal for our spicy margaritas!
This blurry camera phone picture of me with my shirt all creased up and a smile on my face, with a massive drink in the foreground, is a pretty accurate representation of our time here.
---
Conclusion
---
Basics Checklist
☑︎ Power sockets near the bed
☑︎ Easy to understand light switches
☑︎ Coffee machine
☑︎ Separate shower and bath
☑︎ Blackout blinds
X Stable, fast and free Wifi (patchy and slow at times)
☑︎ Feather pillows
X Quiet and powerful aircon
Lizard Island offers a very unique experience to adventurous travellers who also enjoy a touch of luxury. The location, a private island on the edge of the Great Barrier Reef, is basically unbeatable with no direct competitors of any kind. Amanpulo in the Philippines and Four Seasons Desroches in the Seychelles are private island resorts in tropical locations, but neither enjoys direct access to the world's largest coral reef system and indeed the only living structure visible from space.
The similarities to the Maldives are hard to ignore: you take a flight on a small plane with wonderful views of reefs, on the way to a private island, where the rooms cost many thousands of dollars a night. There are powdery white sand beaches and the snorkelling is fantastic.
However, there are also many differences. The rooms are comfortable but by no means luxurious. The bathrooms in particular are extremely basic for the price point. The A/C and Wifi have issues too, which is somewhat forgivable given that this is a remote tropical island…yet the competitors mentioned above don't suffer from similar problems.
Service was excellent despite the fact that not many staff members appeared to be over 30. However, many of the beaches and public facilities were deserted. Tracking staff down anywhere other than Salt Water restaurant or the water sports centre was next to impossible.
The all inclusive nature of the island is a real selling point and goes quite some way towards justifying the cost. The food was genuinely excellent, easily in the upper echelon of resorts that we've encountered anywhere on earth. The list of included wines, spirits and beers is staggering, although non-drinkers do appear to be punished as they're the ones subsidising this!
Exploring the remote beaches reminded me of the wild side of Amilla, where you can enjoy hundreds of metres of white sand to yourself. Meanwhile the rugged and hilly terrain was rather reminiscent of the hiking at Amanoi (another resort inside a national park). Lizard Island felt a little less curated than either of those experiences though, you can truly just wander off by yourself and explore at Lizard; guests are even offered complimentary motorboats and left to their own devices!
If you want to be waited on hand and foot, with a butler taking care of your daily itinerary of activities, Lizard Island is not the place for you.
If you like hiking, snorkelling and being on the open water and want to do this in a truly breathtaking and secluded environment, with comfortable rooms and excellent food – then Lizard Island should be at the top of your list.
---
Book Lizard Island with Virtuoso Benefits
---
Our clients are able to enjoy additional Virtuoso benefits when booking Lizard Island with us:
Upgrade on arrival, subject to availability
Daily breakfast for up to two guests per bedroom
$100USD equivalent Food & Beverage credit utilized during stay (not combinable, not valid on room rate, no cash value if not redeemed in full)
Early check-in / Late check-out, subject to availability
Complimentary Wi-Fi
Room rates and payment terms match the Lizard Island website exactly, with payment taken directly by Lizard Island during your stay.
To book a Virtuoso rate at Lizard island please drop us an email below, with details of dates, rooms type and number of guests: