SPECIAL OFFER – Stay 4 Pay 3 at St. Regis Maldives
January 21, 2023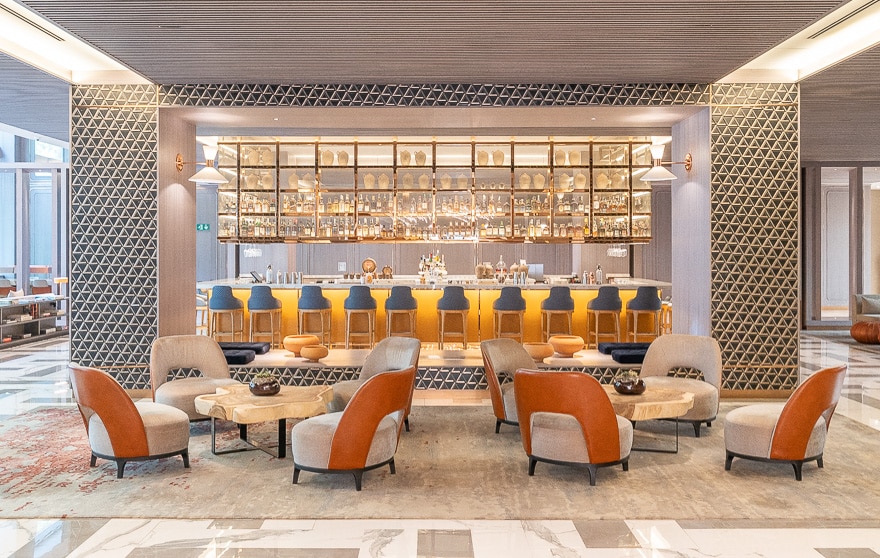 REVIEW – Intercontinental Barcelona
February 24, 2023
Four Seasons Amman
Room Type: Four Seasons Executive Suite
Typical Nightly Rate: 600 JOD
Price Paid: Hosted stay
Loyalty Program: FSPP
---
Intro
---
Amman is a city with a decent number of upscale and luxury hotel options….many of which are agglomerated, Vegas style, around a single intersection. The Four Seasons is the original inhabitant of this hotel neighbourhood.
The Four Seasons property has for a long time been considered the grande dame of Jordan's hotel scene. This is the default property for international conferences as well as family celebrations for the country's elite.
At the time of our visit, the Ritz Carlton had just opened across the street and quite frankly I wasn't willing to risk the service at a newly opened hotel, mid pandemic, in a city that was completely new to me.
The other nearby hotels are the Fairmont, which looks decent but not on the level of FS and the Sheraton….which looks like a 1980s time capsule.
Despite the fact that the Four Seasons has been around since 2003, it was most recently refurbished in 2021. This to me is always the ideal scenario. Provided there isn't some underlying failing in the structure of the building, a refurbished property brings all the advantages of a new hotel with the added advantage of having experienced staff. In the case of Four Seasons Amman, a fair few have been around for the full 20 years since opening!
---
Booking
---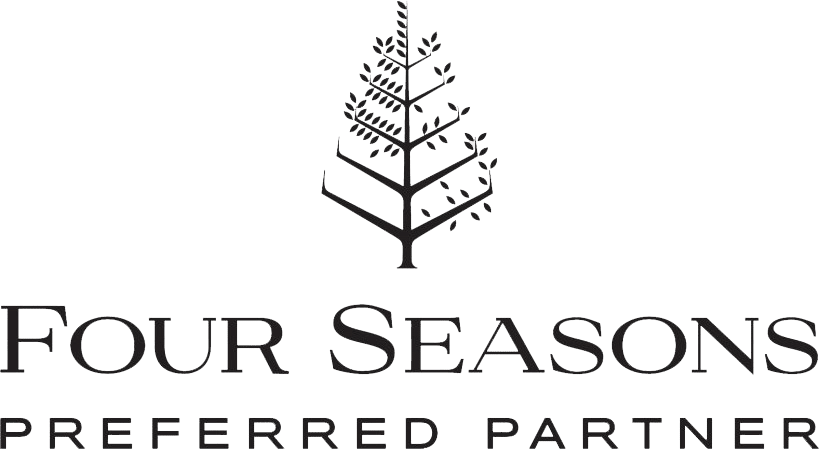 Our clients are able to enjoy Four Seasons Preferred Partner (FSPP) benefits when booking any Four Seasons hotel through us.
An example of FSPP benefits, which may be available on your stay:
Upgrade of one room category

, based on availability at time of check-in.
Full breakfast, for up to two in room guests. Either at the restaurant

or via in-room dining

.
$100 Hotel Credit.
Early check-in/late check-out, subject to availability.
There are numerous additional offers available throughout the year too, including:
free nights
guaranteed upgrades
Your booking will be direct with Four Seasons however, since we are managing the booking on your behalf, we are able to negotiate all the above extras for you.
Additionally, if you find a cheaper rate elsewhere, we can help to get the price matched AND STILL add the FSPP benefits to your booking!
EMAIL FOR FSPP BOOKING ENQUIRIES
---
Arrival
---
We opted to use the hotel's car transfer service, given our late night arrival on the RJ flight from London. The cost of this Mercedes E-Class transfer service is 70JOD.
We were met by a very professional driver who was perfectly fluent in English and happy to chat to us about his country, telling us lots of interesting facts on the way to the hotel.
Despite the total absence of traffic, it took around 30 minutes to reach the hotel, as the airport is located 35km from the city centre.
Check-in
Much like our experience at the Four Seasons Tunis, we first had to pass a security checkpoint where our vehicle's underside was searched with a bomb mirror and the trunk popped open, prior to us being allowed to enter the hotel compound.
We were met at the vehicle by a member of bell staff who confirmed our names and assisted us with our bags.
At this point we were asked to pass through a metal detector, as our luggage was x-rayed.
Once this final security check was complete, we were then free to pass through the atrium and into the grand hotel lobby.
Inside, we were greeted by a signature Four Seasons floral display. No matter where you are in the world, you know that the flowers at a Four Seasons hotel are bound to impress!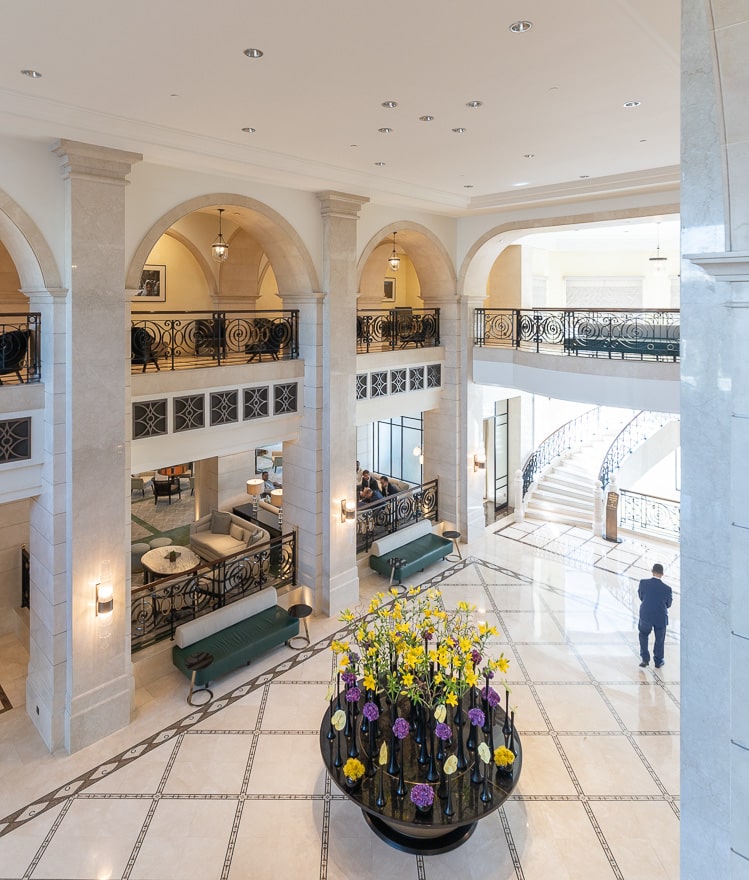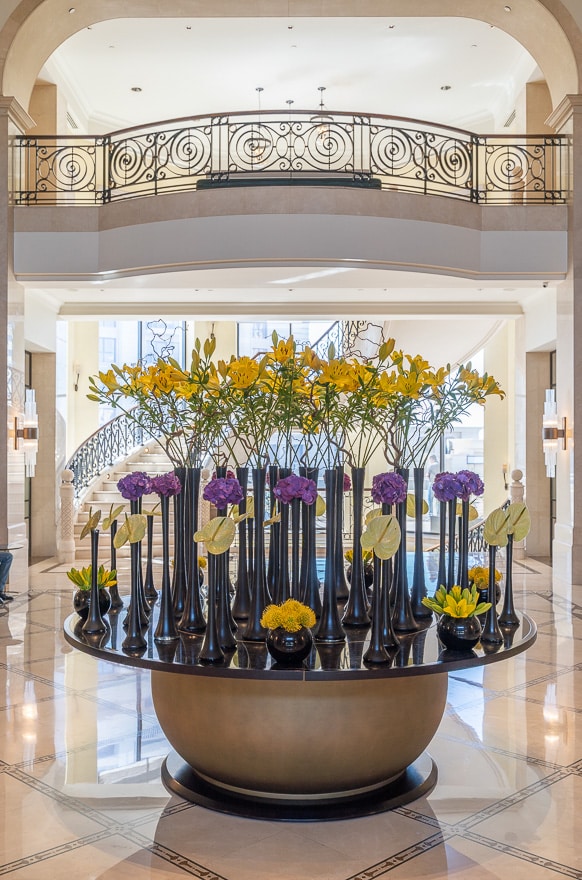 Around the lobby all of the furniture appeared to be brand new, although check-in took place around the corner, in a section of the hotel that still bore some decidedly old school decor.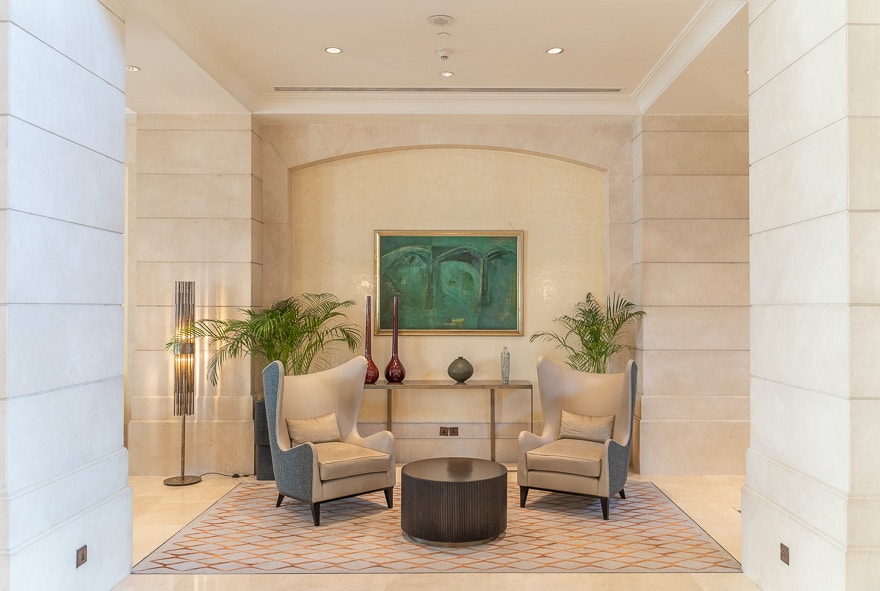 The check in agent was very professional and courteous, with the whole process taking under a minute.
---
Four Seasons Executive Suite
---
On the walk to our room, it was clear that time had been spent significantly remodelling the hallways. These weren't quite up there with the likes of the stunning Four Seasons Bangkok but they were certainly fresh and modern looking. The geometrically etched wooden panels, together with the lanterns, really served to give the hotel a sense of place too.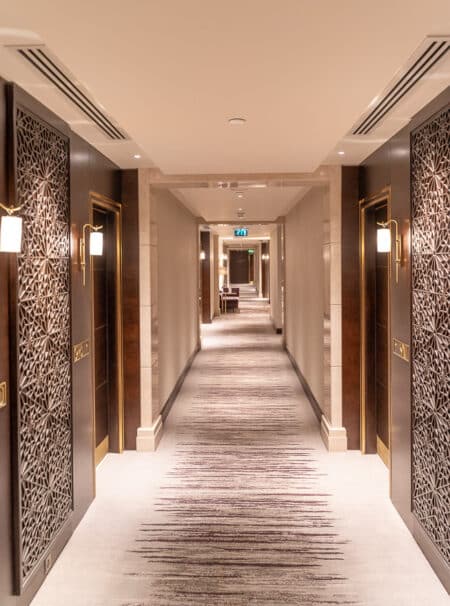 The Executive Suite is the entry level suite at the Four Seasons Amman, with the category above this being arguably the most desirable room type at this hotel, since the interior is identical but it also has a balcony.
Living Room
Upon entering the suite we found ourselves in an open plan hallway with the living room immediately to our right. I thought this was a great piece of design, which made both the living room and the hallway feel much more welcoming and open than if doors had been installed.
The floor to ceiling windows running along one side of the living room completely bathed the space in natural light. This feeling of brightness and space was further accentuated by the light colour of the furnishings, the reflective surfaces and the recessed lighting around the statement mirror.
Despite being an entry level suite, it felt like the amount of space and the overall layout would be very conducive to travelling comfortably with children, even older teenagers.
Although the immediate view from the window was of a major road, we were able to see right to the horizon and privacy was absolute.
Peering to the right revealed another endless sea of white coloured buildings.
A minibar and sitting area ran the length of one of the living room walls. There was a plentiful supply of drinking water here, together with tea and coffee facilities.
Although I appreciated what they were trying to do with the design, personally I would have moved the table and chairs to the other end of the living room, in order to free up the desk, which featured numerous universal power sockets.
Inside the minibar were various alcoholic beverages, as one would expect given Jordan's reputation as one of the more liberal countries in this part of the world.
There was also a drawer containing nothing but a mousepad, which felt a little odd in a room that had deliberately done away with the desk.
The very generous welcome amenity included a bowl of fresh fruit and a bottle of Evian, together with a selection of Arabic sweets, placed against the backdrop of the iconic Treasury at Petra.
We also received a small box of dates (similar to the ones offered at Four Seasons Dubai DIFC) and an extra box of Arabic sweets, in case one plateful wasn't enough!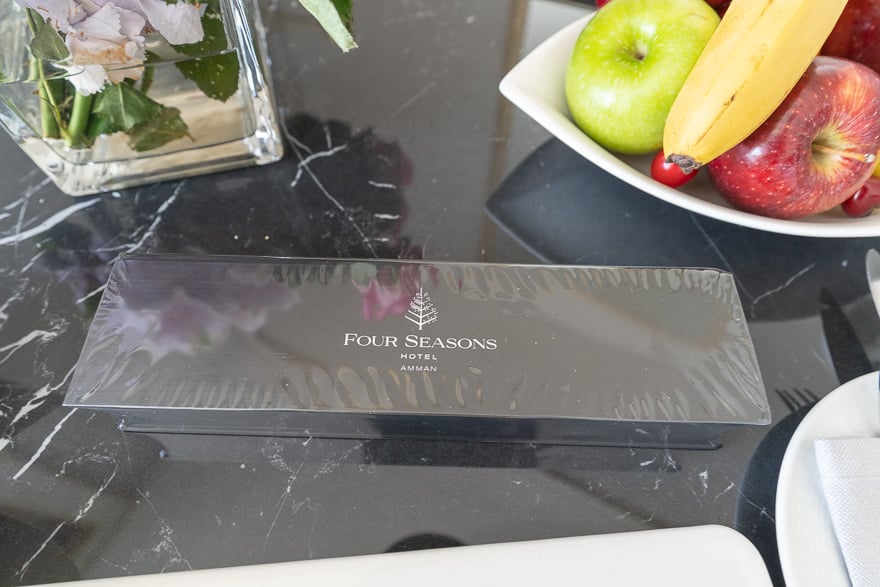 Bedroom
Much like the living room, the bedroom was bathed in natural light…
…despite having a carpark view, it was quite beautiful in the evenings as the sun set.
Although it has to be said that in a Middle Eastern city which is almost entirely painted white, they should really have installed blackout blinds:
Obviously Four Seasons beds need no introduction. Wherever you are in the world, you can count on getting amazing quality of sleep. I loved the modern design touches like the recessed lighting around the headboard and the wall mounted lamps, which ensured that bedside tables were free for use.
Both sides of the bed featured universal power sockets, USB ports and very simple and intuitive lighting controls. One side featured a slim and upright phone, which again helped to keep the table clear and tidy.
The other side featured a Bose bluetooth speaker and radio. I love all the small details and textures at Four Seasons hotels; the grain effect on the wallpaper, the subtle contrast between wood and marble, the small metal jewellery pot – all combined to give a feel of quality to the room.
Between the bedroom and the bathroom was a very ample dressing area. This featured a double wardrobe and a single wardrobe, with the industry leading Four Seasons hangers that we all know and love.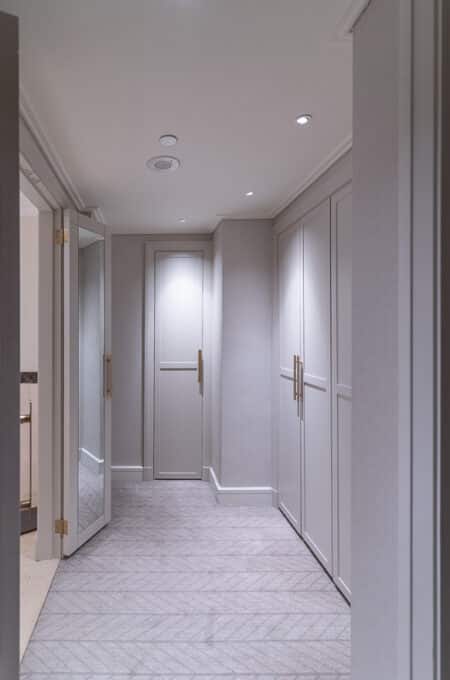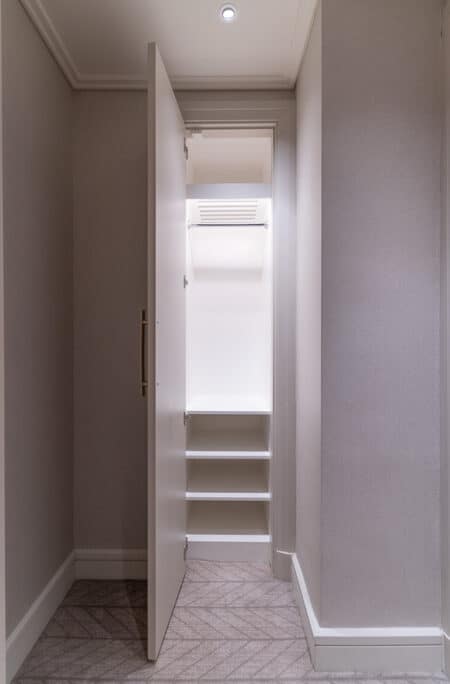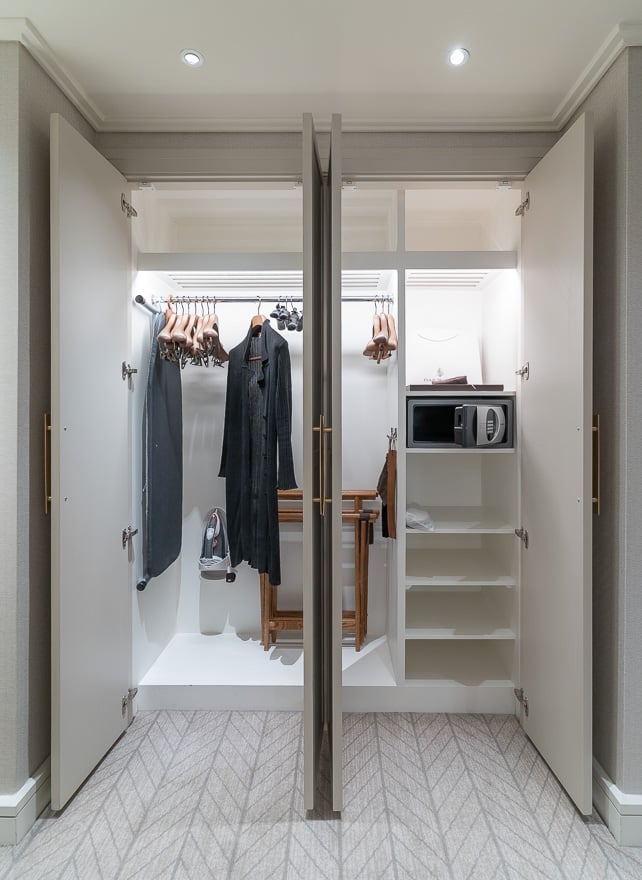 Bathroom
The bathroom was separated from the dressing room by a pair of mirrored doors which opened outwards. This meant it was possible to get dressed immediately after showering, without having to brave the microclimate of a fiercely air conditioned bedroom on the way.
Although an attempt had clearly been made to modernise this bathroom, it was clear that this was an updated version of old hardware, rather than a full refurb – much like I found at the Four Seasons Singapore. I guess it can be hard parting ways with lots of expensive marble, even if it looks a little antiquated by today's standards!
Having said that, the bathroom was very well lit, featured plenty of counter space and even contained a decent amount of under counter storage – something you rarely see in most hotels.
I always feel like a small succulent or orchid would add a touch of life to a windowless room but had to settle for a picture of some flowers, on the front of the spa brochure provided.
The inclusion of this frayed spa brochure seemed a little odd and the silver packaging covered in dents looked quite cheap. I don't think I've ever seen as complete a nail kit at any hotel before though – I just hope that it wasn't intended for use by multiple guests!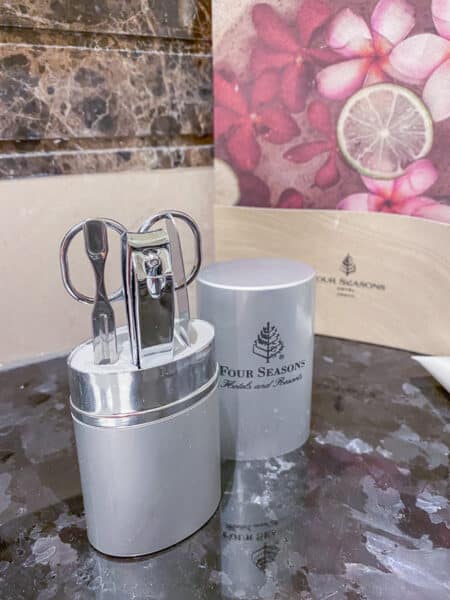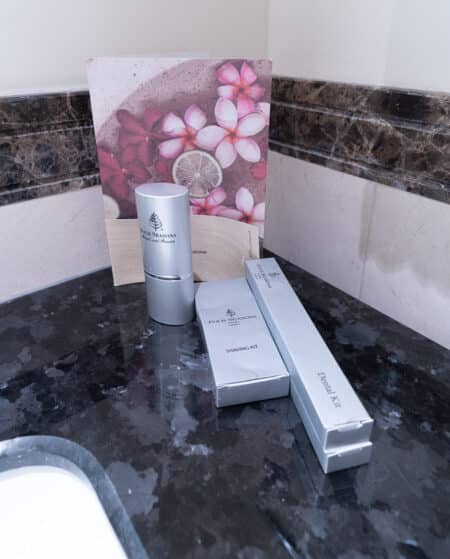 The toiletries were equally no frills. Rather than partnering with an internationally recognised cosmetics or perfume brand, this property provides generic looking toiletries with the word ARGAN boldly stamped across them.
In an unusual twist for a property of this age, the toilet didn't feature a phone.
The shower head had a fixed style design, commonly favoured by properties in the USA. I personally would have preferred to see a proper rainfall shower head, especially since the bathrooms have been recently renovated. Having said that, the pressure was fantastic though!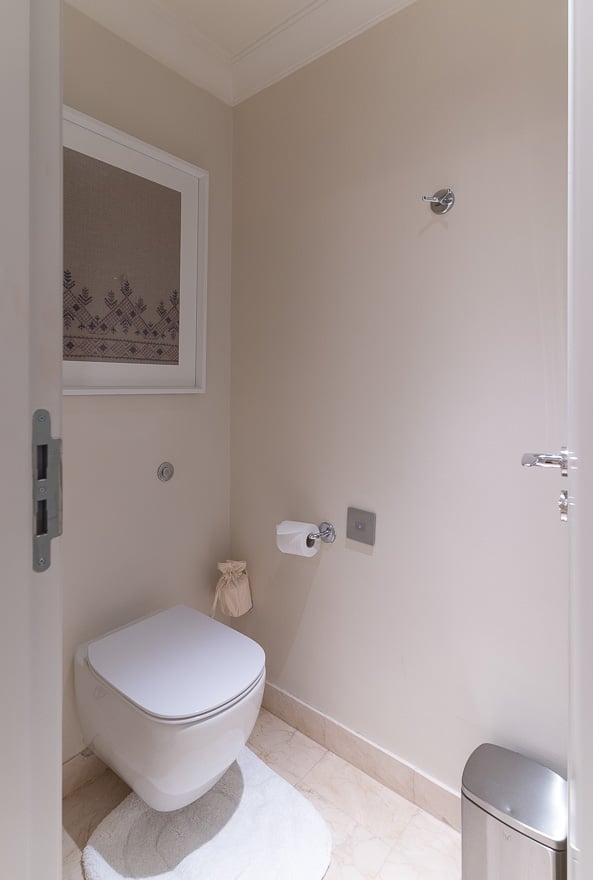 ---
Food and Drink
---
Room service breakfast
For me there's no question that the greatest strength of the FSPP program is being able to order room service breakfast free of charge! (The other huge improvement over Virtuoso and Amex FHR is that the FSPP benefits also apply to special offers and prepaid rates.)
As with most properties outside of North America, Four Seasons Amman doesn't set any specific limits on how much you can order for your complimentary room-service breakfast. I love the Four Seasons app and genuinely believe it is the industry leader by quite some margin.
Ordering room service was incredibly simple, with customisation options presented for almost every item on the menu. No language barrier, no confusion, just tap what you want and when you want it and it appears.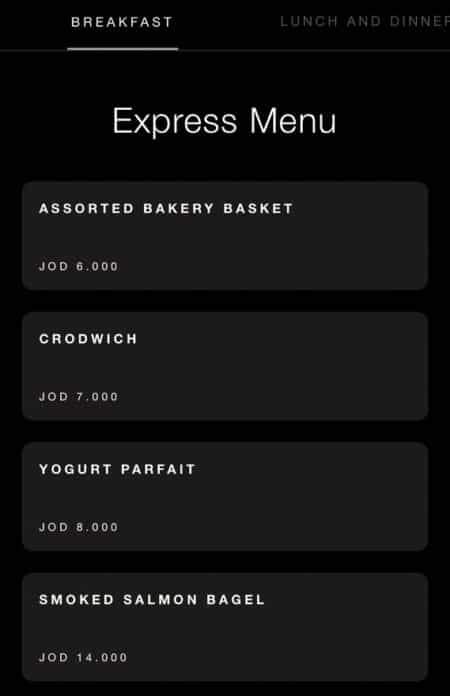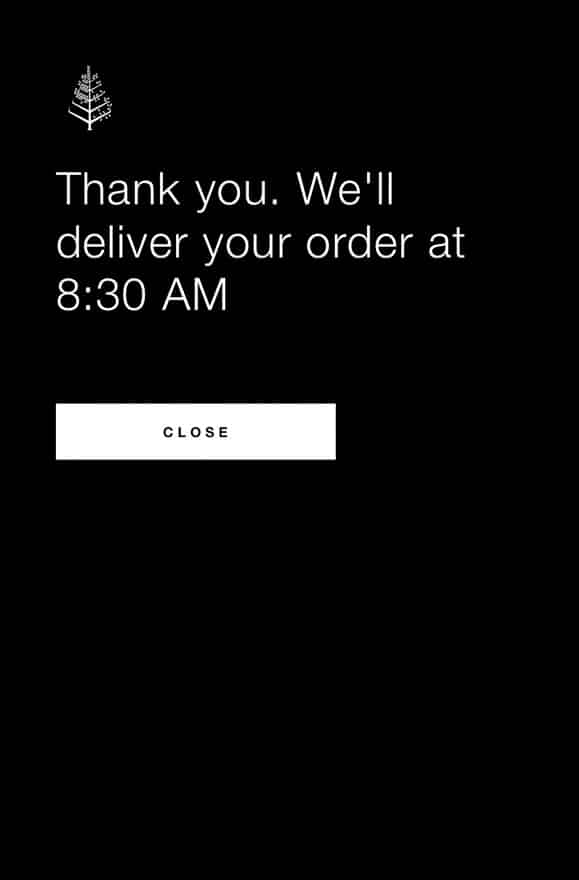 I say no confusion…a quick Google search determined the fact that this hotel is the sole inventor of the word 'crodwich' an unusual portmanteau of the words sandwich and croissant.
Obviously we had to order it and you know what? It was pretty fantastic, as were the Eggs Benedict with orange scented hollandaise.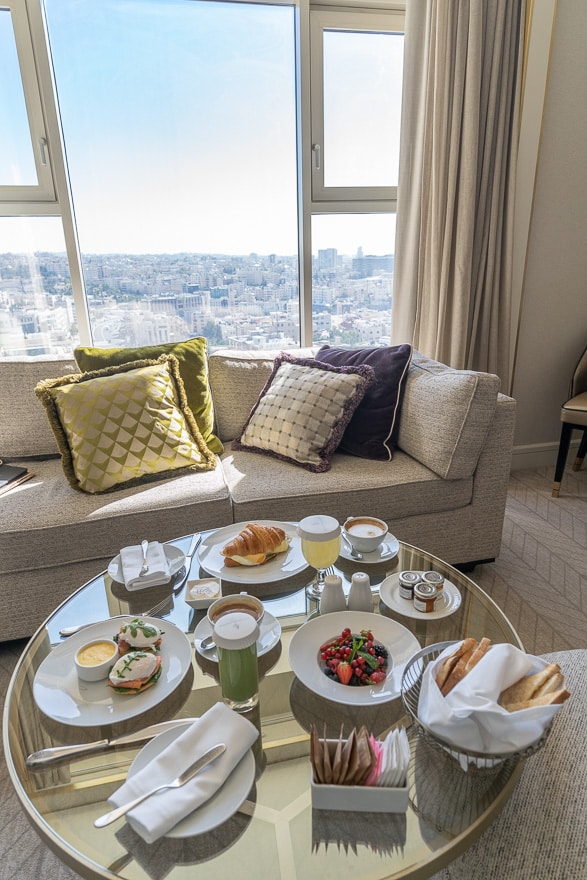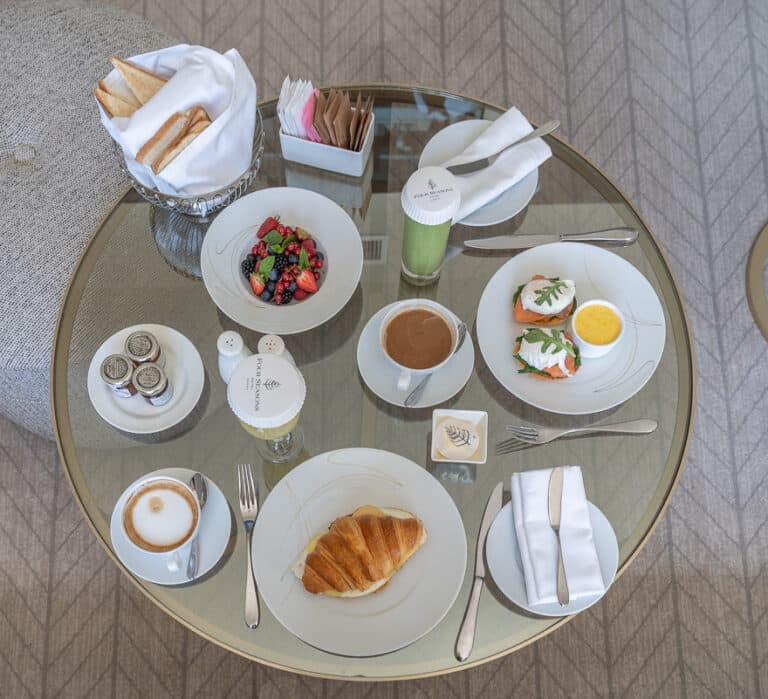 Breakfast at Olea
As with most Four Seasons hotels, there was a complimentary tea and coffee station set up for guests without the time for a full breakfast.
As we approached Olea restaurant, it was clear that we were in a part of the hotel which had yet to be refurbished, awash in brown and beige marble, with plenty of yellow lighting for good measure.
It felt like the dining room had seen better days and overall the atmosphere was quite drab. It didn't help that the servers all seemed to be simultaneously in a big rush but also unable to clear tables of dirty dishes.
The dining room wrapped around the buffet in an 'L' shape, with an outdoor terrace that looked empty thanks to the high temperatures.
After waiting for a couple of minutes, we set down our keycard to show that our table was occupied and headed to the buffet; since it was impossible to flag down a server for coffee.
The buffet was fantastic. With a really great selection of local dishes. All too often you find that larger chains will fall back on international standard dishes, so it was a welcome surprise to see so many interesting local dishes on offer.
Moutabel, tahini, humous, tabouleh, stuffed vine leaves and much more…
The variety of healthy and freshly made vegetable options was particularly impressive.
The fresh fruit section included a good mix of European and tropical fruits.
Pastries and breads were all freshly baked.
I was a particular fan of the delicious manakeesh that were ready to eat, the instant they came out of the oven!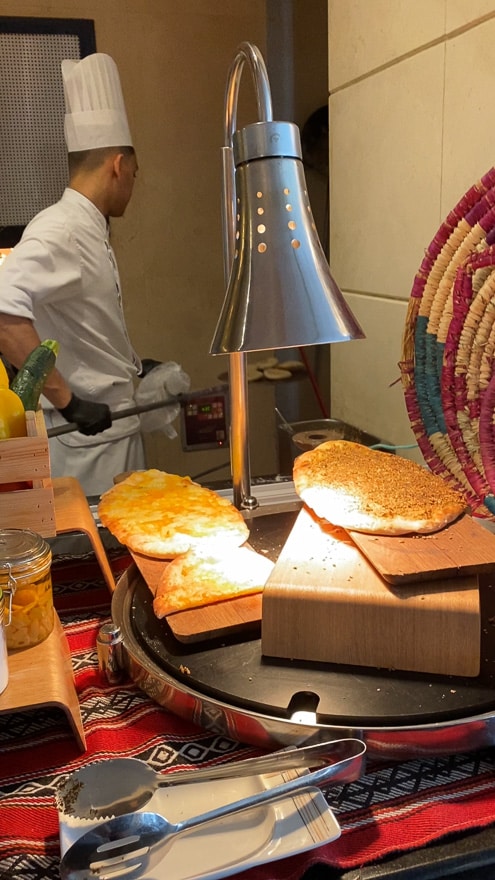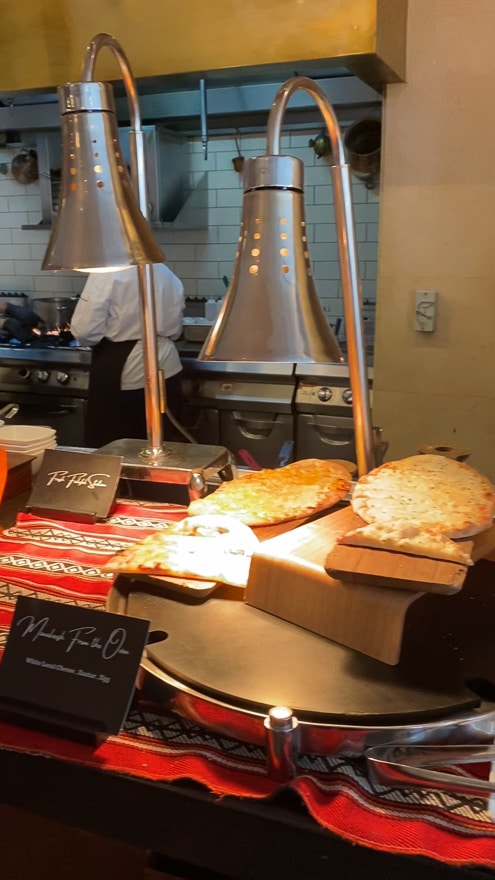 There were also numerous desserts and large chafing dishes filled with scrambled eggs, turkey bacon and chicken sausages.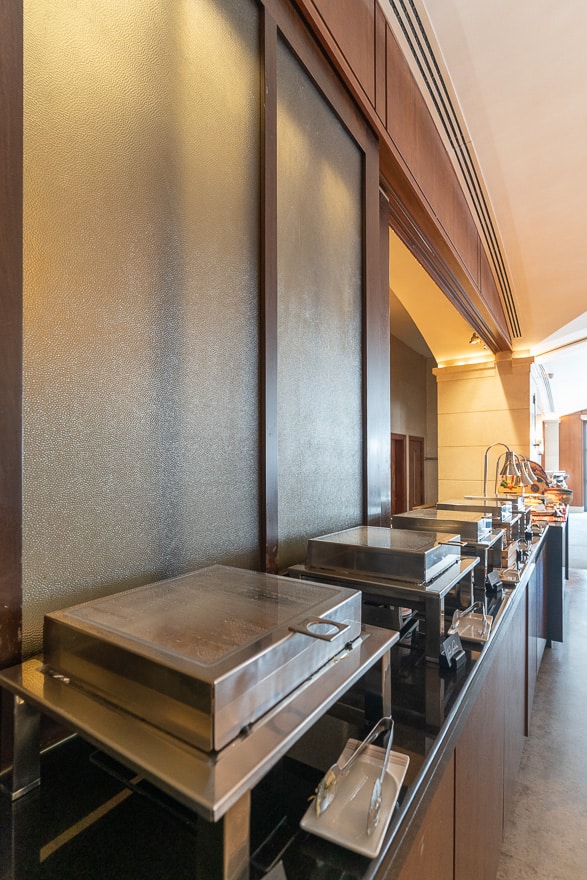 In the centre of the room were various different cheeses, fish and cold cuts as well as chefs preparing the usual egg and pancake dishes.
We started with a variety of local delicacies, together with some smoked salmon.
Kamara followed this with a crepe, which she said was a bit too thick and dry.
Overall breakfast was a bit of a disappointment, due mostly to the sea of uncleared tables and the time it took to actually get a coffee. The staff working at the buffet were all friendly and helpful but this didn't quite make up for the lack of decent table service or the overall drab feel of the room.
For all of our FSPP clients the choice is clear: order the complimentary room service instead!
Lunch at the Foyer Lounge
Looking at the decor and branding of the Foyer Lounge, you'd be forgiven for thinking that it was in an entirely different hotel to Olea. From around 10am onwards the room was constantly buzzing with locals, meeting for coffee or snacks – and the decor was modern and tasteful.
The Foyer Lounge was split into two main areas, one with sofas where people sat to drink tea and coffee and a separate room which felt like a very upmarket cafe, with proper dining tables. There was also an outdoor terrace running the length of both rooms.
Service here was absolutely excellent, very thoughtful and proactive. The food was excellent too. The presentation and execution of my Niçoise was remarkable.
Kamara's pressed shawarma and fries were the clear wining dish though; the taste was absolutely incredible.
Dinner at La Capitale
La Capitale is the hotel's signature restaurant and you can tell that a great deal has been spent on the decor, from the moment that you approach the ornate archway entrance.
As you enter the restaurant you walk through a hallway flanked by an illuminated glass wall, filled with heather.
We came to take pictures during the day because at night there wasn't a single empty seat to be found, even midweek.
The room was divided into multiple subsections, which were neatly positioned in a way which really added to the atmosphere, without making the room feel cavernous. Personally I couldn't help thinking how much better it would be if breakfast had been served here instead!
At one end of the room was a very impressive looking bar, with plenty of comfortable seating.
Service was impeccable throughout our meal and pricing was very reasonable by European standards. Our meal began with some freshly baked bread and whipped Normandy butter.
To start, we shared some wonderfully fresh grilled prawns with herbs and garlic : Crevettes à la Provençale.
Alongside this we tried a Niçoise salad, which was completely different to the one served in the Foyer Lounge, still absolutely delicious and if anything: a little more balanced.
For the main course we felt obliged to try the house speciality: 1kg Black Angus beef T-bone with truffle mashed potato, grilled organic vegetables and fries.
The flavour of the meat was excellent and the sides were cooked to perfection. However, we ordered the steak rare and instead received this:
I suspect there is a cultural barrier at play here and don't necessarily hold this against the restaurant, as there are plenty of countries around the world where the concept of raw or undercooked meat holds rather negative connotations.
When we were asked how our steak was (staff came to enquire about each of our dishes minutes after they were served), I mentioned that I would have liked it a little less cooked…immediately the team sprung into action, apologies were forthcoming from at least three different members of staff, including the chef himself who was brought out from the kitchen.
The team offered to either bring out another steak but I told them that I could handle eating a steak that was slightly more well done than usual.
This level of service was what you might expect at a top restaurant in London or New York. Nowhere else that we ate in Jordan came close to this.
The chef finally accepted us not having another steak but insisted that he was going to bring us a dessert selection to apologise. The vanilla millefeuille and the crème brûlée were both excellent, I was rather less convinced by the candy floss and cake concoction though.
Sirr Speakeasy Bar
Located behind a 'hidden' purple door next to La Capitale is the hotel's speakeasy style bar. We peered in at about 9pm on a Saturday and didn't see any other patrons so we quickly took a picture and moved on.
Five Grill and Lounge
If we'd had more nights at the hotel, we definitely would have made it here for dinner and drinks one night. The outdoor terrace was very lively from the moment the sun went down and much like La Capitale, this seems to be a real local hotspot.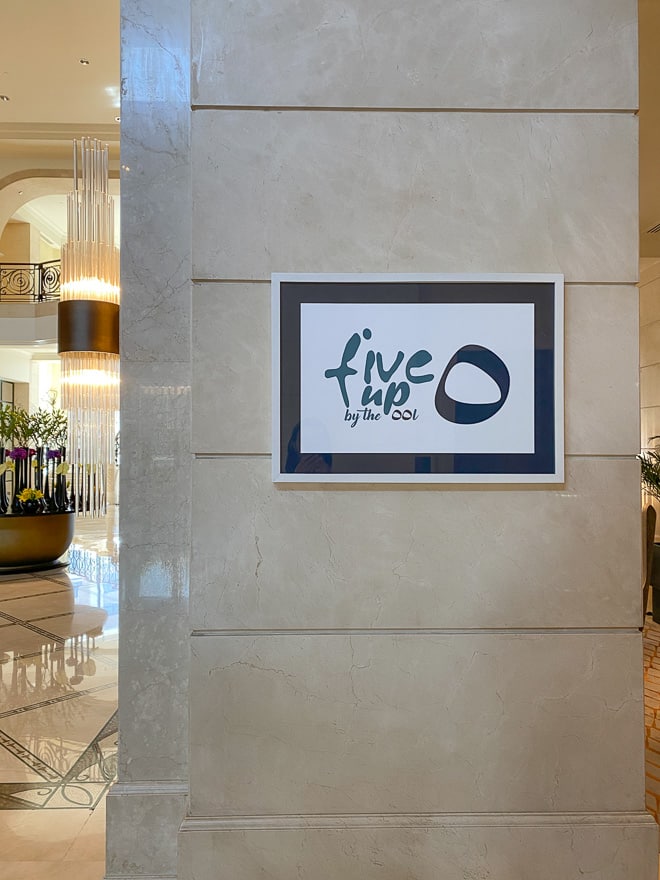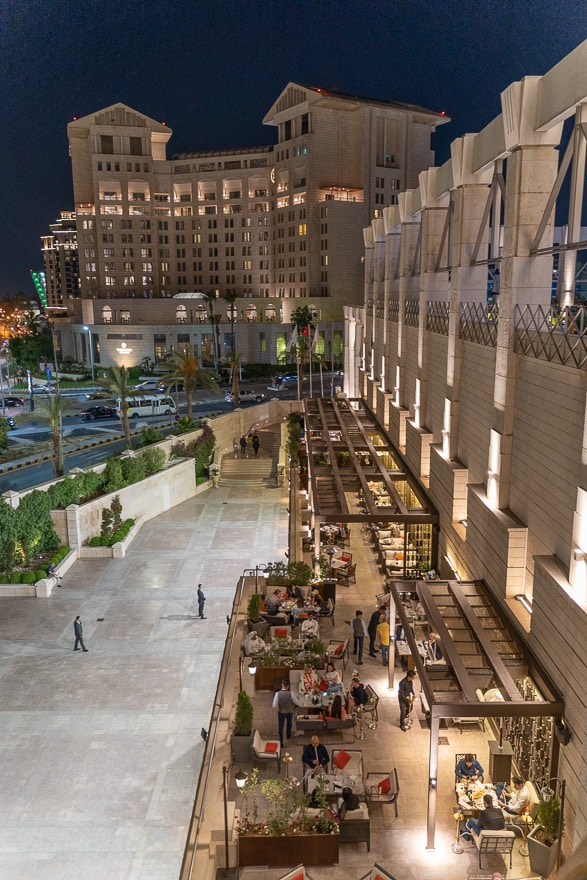 ---
Facilities
---
Gym
The hotel has a very complete gym which features a lounge area of sorts, offering complimentary tea, coffee and healthy snacks. Having a fully functional squash court is something of a rarity in a hotel too. The last time I remember seeing one was at Umaid Bhawan in Jodhpur, India.
The gym itself had a phenomenal resistance training section, filled with my favourite old school Cybex machines. Seriously, there's nothing in the world like them, they're so much better than that wobbly, useless Technogym stuff.
There was even a Cybex smith machine and full width cable crossover.
The usual array of cardio equipment was on offer, including a Concept 2 rower.
Outdoor Pool
Just along from the gym was the hotel's impressive pool deck, an area which felt more like a resort than a city hotel. The multitude of cabanas, the thickly padded loungers and the combination of colours, it all combined to create an atmosphere that was a cut above your average city hotel pool.
The views from up here were pretty great too.
We didn't have much time to sit by the pool, since we had plenty of sightseeing to do but it certainly looked very inviting. Towels and tables were cleared very quickly from what I could see, with plenty of staff on hand to serve guests.
The pool bar seemed to be particularly popular, so much so that we had to come back at a quieter time to take this picture!
Indoor Pool
For those visiting in the colder months, there is also a large indoor pool, which receives plenty of natural light.
Although the pool seemed to be used only by people swimming laps, loungers and a jacuzzi were available for those wishing to come here to relax.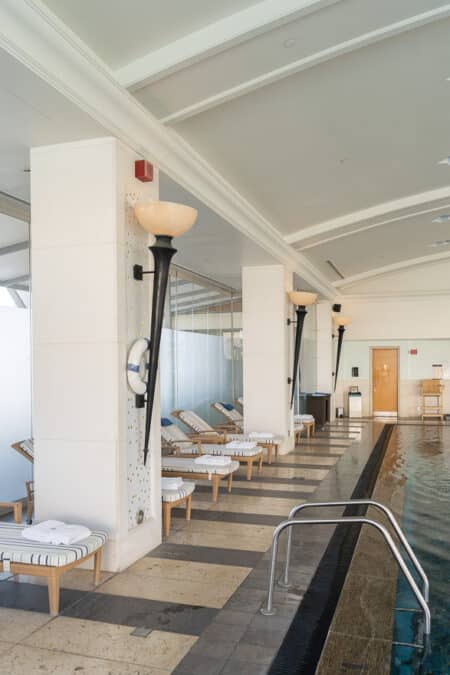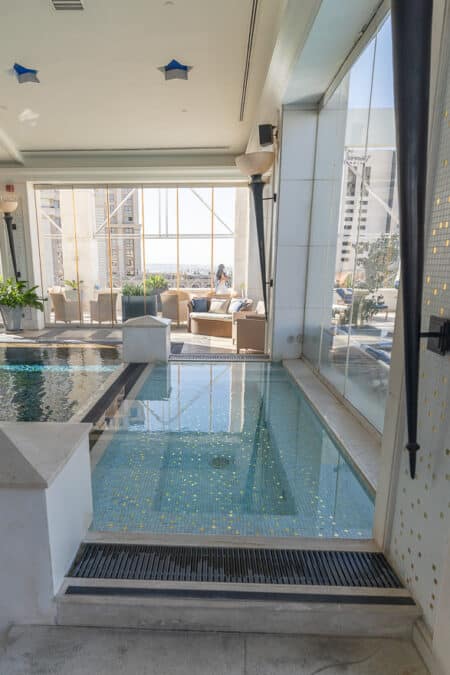 ---
Conclusion
---
Basics Checklist
☑︎ Power sockets near the bed
☑︎ Easy to understand light switches
☑︎ Coffee machine
☑︎ Separate shower and bath
X Blackout blinds
☑︎ Stable, fast and free Wifi
☑︎ Feather pillows
☑︎ Quiet and powerful aircon
Four Seasons Amman is undoubtedly the grande dame of the Amman hotel scene and it is clear that this is a hotel which is held dearly in many locals' hearts.
Thankfully, this isn't just some rose tinted nostalgia. Clearly a lot of money has been spent on modernising the hotel, since its original opening twenty years ago.
Service was very much at an international Four Seasons level, with the sole exception of Olea, which I felt was in need of both a refurb and a change in service concept. The room service breakfast was excellent however and something that our FSPP guests can enjoy free of charge.
The room hardware is excellent, indeed it is clearly a cut above many North American properties, which have still to be brought up to the new Four Seasons brand standard. The recessed lighting, flat screen TVs, modern lamps and accent cushions combined superbly to convey a sense of modern elegance. The bathrooms could do with freestanding tubs and rainfall shower heads but otherwise they are more than adequate.
What appeals most about Four Seasons Amman is that this hotel has been delivering consistently high levels of service for two decades and it feels more like a resort than a typical hotel. The gym, pool and F&B outlets are all at the apex of what you can find in this country.
During our stay, it was clear that a sense of occasion is ingrained in everything that takes place here. Looking around at the staff, the guests and the decor it was abundantly clear that we were staying in THE place to be in Amman.
---
Book Four Seasons Amman with FSPP Benefits
---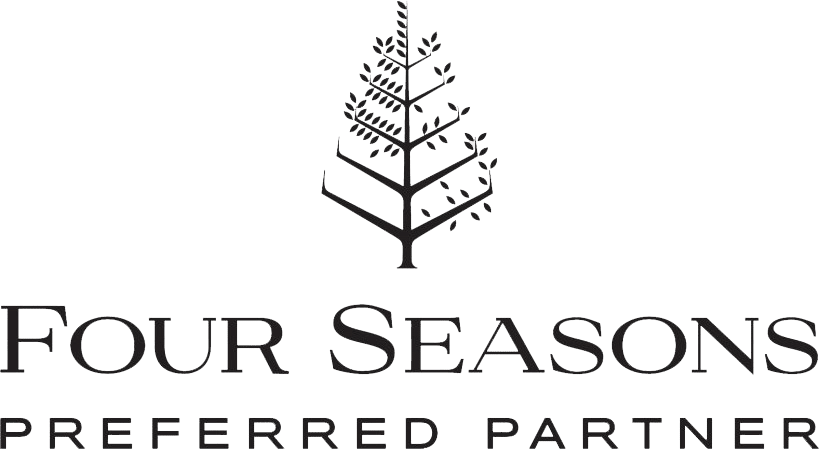 Our clients are able to enjoy Four Seasons Preferred Partner (FSPP) benefits when booking any Four Seasons hotel through us.
An example of FSPP benefits, which may be available on your stay:
Upgrade of one room category

, based on availability at time of check-in.
Full breakfast, for up to two in room guests. Either at the restaurant

or via in-room dining

.
$100 Hotel Credit.
Early check-in/late check-out, subject to availability.
There are numerous additional offers available throughout the year too, including:
free nights
guaranteed upgrades
Your booking will be direct with Four Seasons however, since we are managing the booking on your behalf, we are able to negotiate all the above extras for you.
Additionally, if you find a cheaper rate elsewhere, we can help to get the price matched AND STILL add the FSPP benefits to your booking!
EMAIL FOR FSPP BOOKING ENQUIRIES