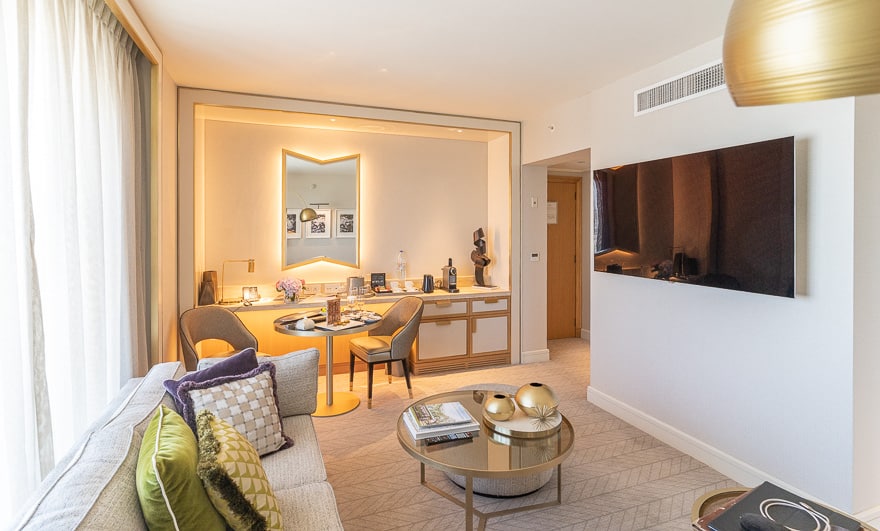 REVIEW – Four Seasons Amman, Jordan
January 26, 2023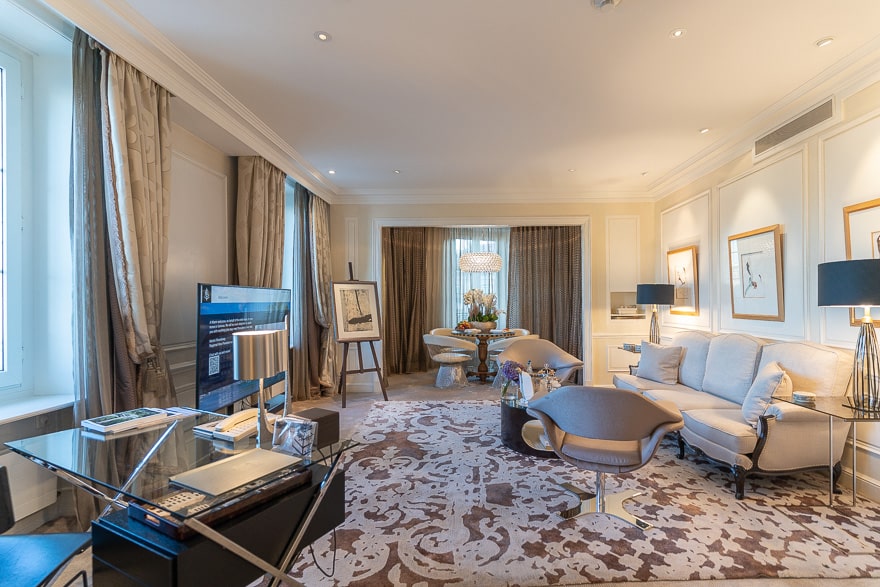 REVIEW – Four Seasons Geneva (Hotel des Bergues)
March 30, 2023
Intercontinental Barcelona
Room Type: Classic Room
Rate Paid: €261 per night
Booking Program: IHG Luxlife
Loyalty Program: IHG Rewards
Status during stay: IHG Diamond Elite
---
Intro
---
Having stayed at Mandarin Oriental Barcelona a few months prior to this stay, I came away with the impression that it was a great hotel, albeit one that charges a significant premium for a location in a busy shopping area…which may not be that desirable to most people.
On this return visit to Barcelona, we were in town to see Iron Maiden at the city's Olympic stadium, so it made sense for us to look for a hotel which was within walking distance. The location is also right next to the very impressive Montjuic National Palace, a major tourist attraction in its own right.
Intercontinental is an extremely variable brand. The Hong Kong property used to have fantastic views and service but the room hardware left a lot to be desired. The Intercontinental Maldives is in my opinion one of the weakest luxury hotel offerings in the country.
However, everything I could see online indicated that the newly built Intercontinental Barcelona was not only amazing to look at, the pricing was orders of magnitude beneath the MO.
Add to this the fact that the hotel was bookable with IHG Luxlife benefits and staying here became a foregone conclusion.
---
Booking
---
Our clients are able to enjoy additional IHG Virtuoso Luxlife benefits when booking Intercontinental Barcelona:
Guaranteed late check out 2pm
Breakfast for 2 daily at hotel restaurant
100 USD value added amenity specific to hotel
Turndown service
Handwritten card on arrival
Water, Fruit, Snacks upon arrival
Room rates and payment terms match the IHG.com Best Flexible rate.
Although the member rate is slightly cheaper, it doesn't come with all the extra benefits, so usually it's worth booking the IHG Virtuoso Luxlife rate instead.
You can book an IHG Virtuoso Luxlife rate at Intercontinental Barcelona using our online booking portal:
BOOK INTERCONTINENTAL BARCELONA WITH VIRTUOSO BENEFITS
If you're booking with us for the first time, here's a quick guide on how to use the booking portal:
---
Arrival
---
The Intercontinental Barcelona is located on the corner of a quiet, leafy, residential street, which is the antithesis to the likes of the W or the MO.
As soon as we walked into the lobby I was immediately impressed by the scale of the ceilings and the overall quality of the design.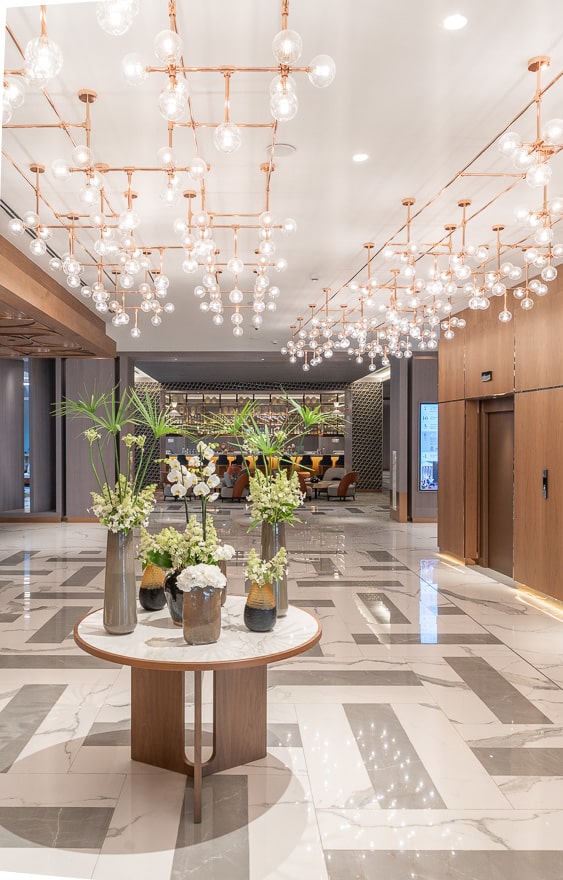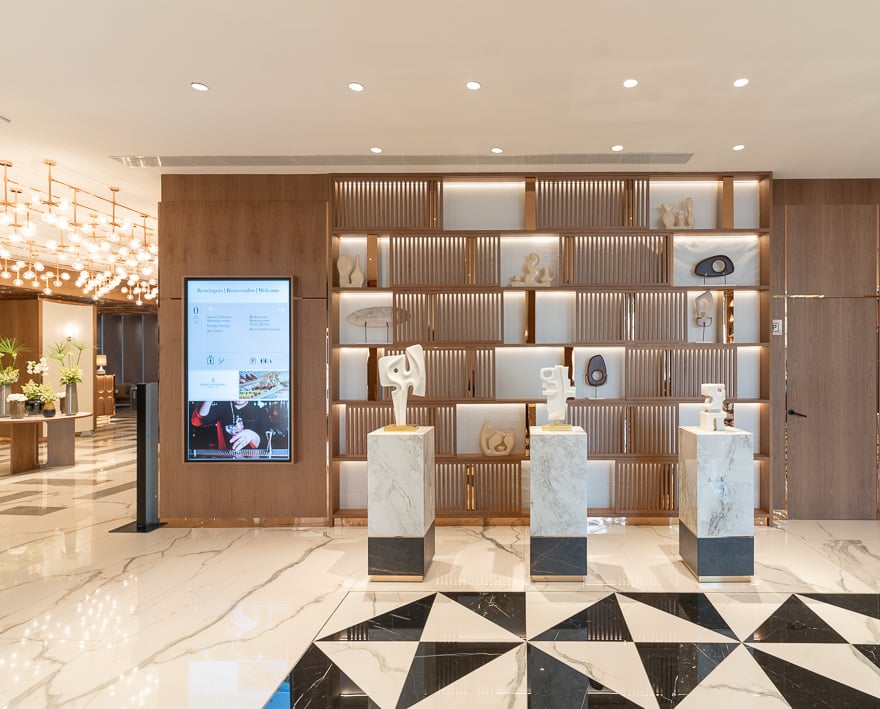 All three desks were staffed when we arrived and the agent checking us in was very professional, immediately asking if we preferred to switch from speaking in Spanish, after he heard me asking Kamara for her passport in English.
He was great at explaining both the IHG Luxlife benefits as well as telling us that we could use our IHG Diamond free drinks voucher at any of the hotel's many F&B establishments.
Given the price point of the hotel, I wasn't surprised that we were shown where the elevators were, rather than being walked to our room by a front desk associate.
It was great to see that the hotel's modern design was truly incorporated all throughout the property, rather than being focused on one or two key public spaces.
---
Classic Room
---
As with most Intercontinental hotels, there are tons of room types at this property. However there really isn't much to pick them apart. Classic rooms can have the sofa bed made up, feature different views and even have Club Access. Besides Classic Rooms you also have suites, suites with balcony and a Presidential Suite.
What this all boils down to is that most of the hotel's 273 rooms are, for all intents and purposes, identical.
Despite being both IHG Diamond and Luxlife guests, we didn't receive a Club Room upgrade, nor did we really expect one.
Classic rooms are perfectly comfortable and spacious and we were going to be out all night anyway so we had zero use for a Club Lounge.
Bedroom
The bedroom featured modern design, with fluted wooden walls, recessed lighting, mirrors and chrome combining to give a sleek and contemporary feel. The size of the sofa and desk actually made this feel almost like a Jr Suite in terms of overall footprint and layout. Indeed, with a second chair, two people could very comfortably work side by side, given the length of the desk!
The bed was very comfortable, featuring high thread count linens and feather pillows. The bedside lamps were wall mounted, meaning we were able to fully utilise the space on the bedside tables. Both sides of the bed featured power, USB ports and a full complement of light switches too.
Unfortunately, the power sockets were local only. Given how new the rooms are I would have expected universal power, particularly since Intercontinental touts itself as being a truly international hotel chain.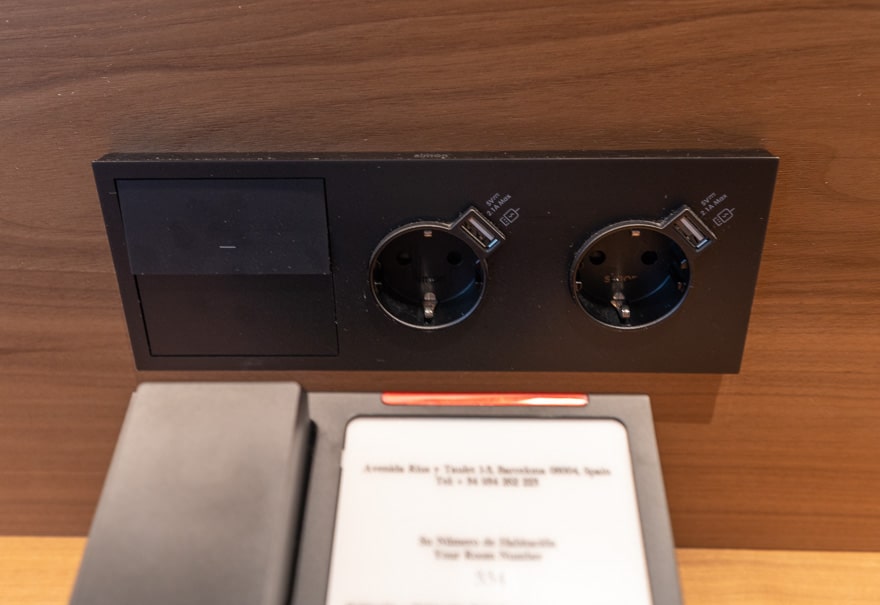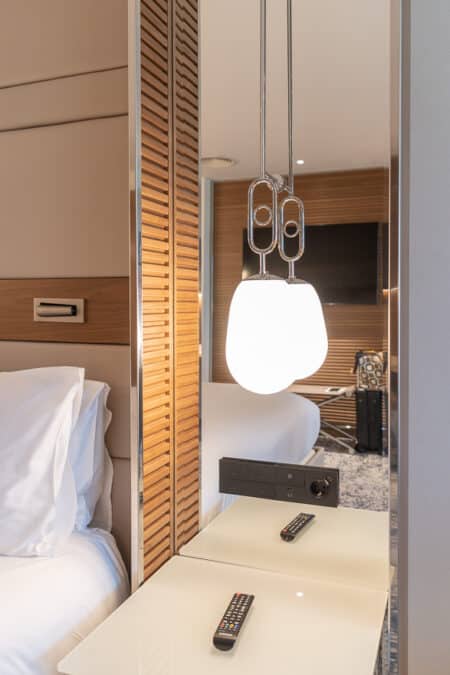 A Virtuoso Luxlife welcome amenity and handwritten card had been placed at the end of the desk.
At the far end of the room was the minibar, together with a Nespresso coffee machine and some additional complimentary drinking water.
Bathroom
The bathroom was located directly opposite the wardrobe, next to the entrance to the room. The wardrobe was a little on the small side, compared to the size of the bedroom. It would certainly be a bit of a squeeze to unpack if a teenager was sharing the room with parents.
The bathroom was also a considerable step down from the bedroom in terms of size and the utilitarian design.
I don't know anybody in Spain who actually uses a bidet, yet hotels here still insist on installing them. I couldn't help but think that the space could have been better used to extend the counter space and add a second sink.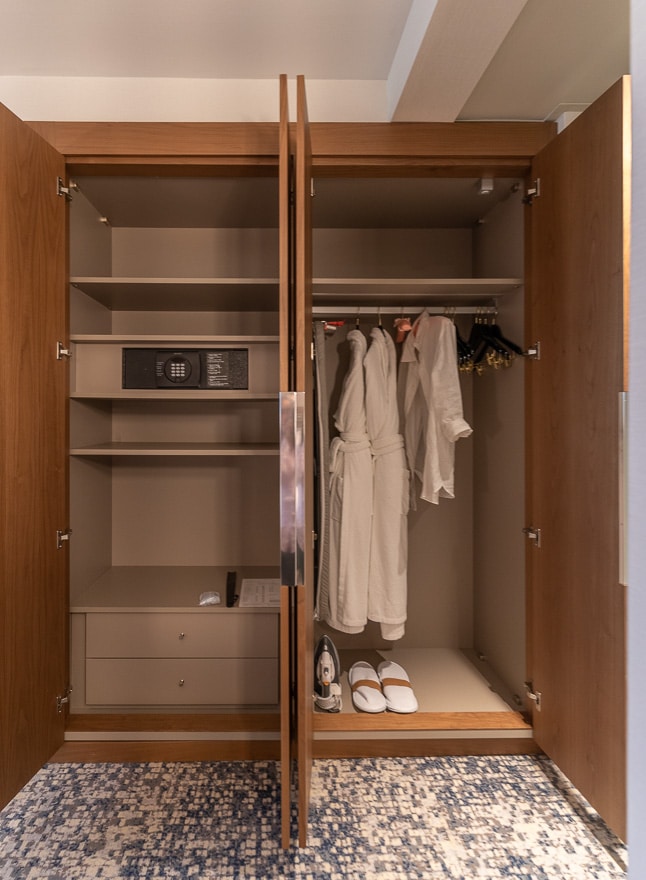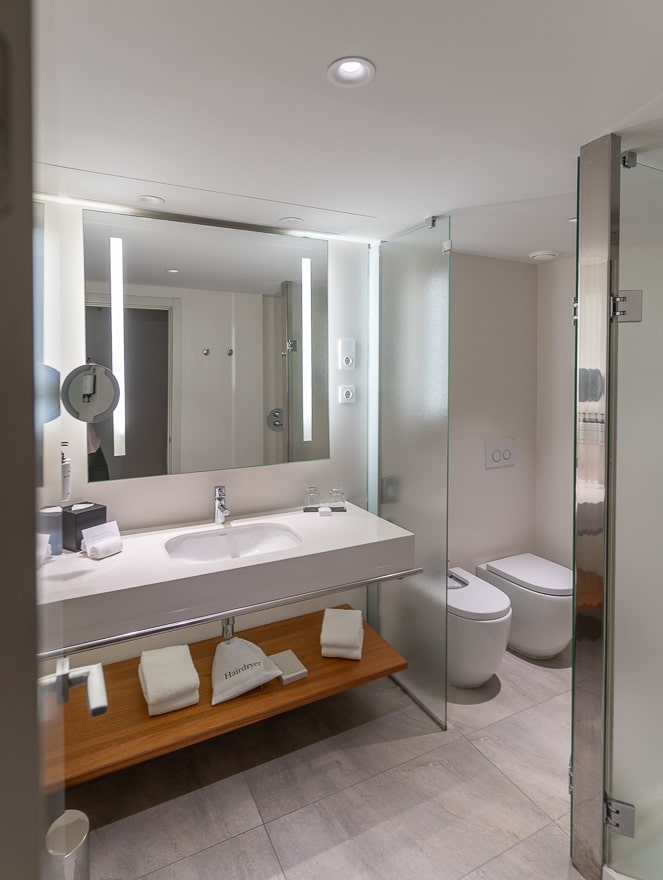 The shower was great though, providing plenty of pressure via the oversized rainfall head.
Toiletries were by Byredo, a fantastic cosmetics brand, which I was pleasantly surprised to see at a hotel of this price point.
It was also particularly refreshing to see an entry level room, in a European hotel, with a separate bath tub!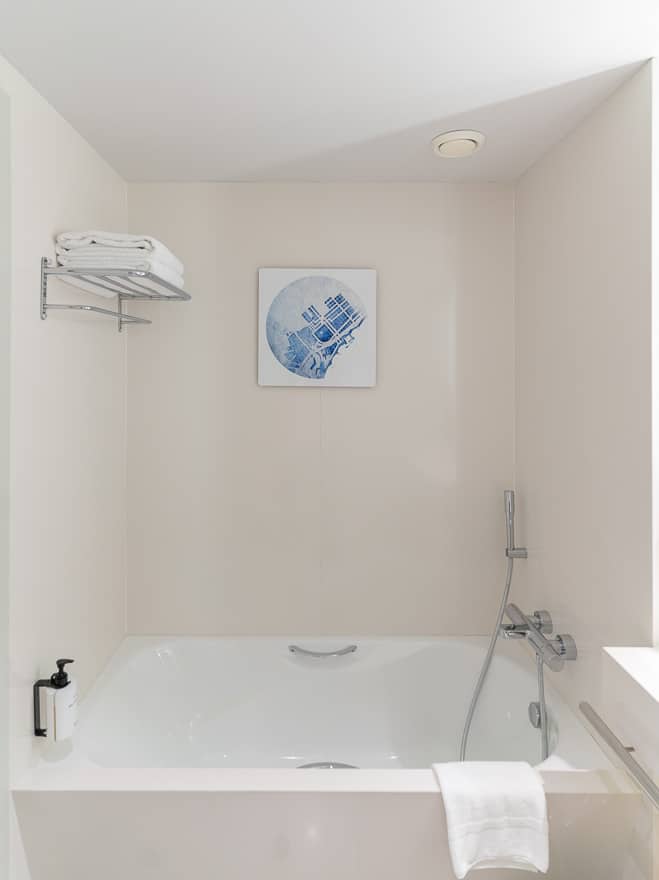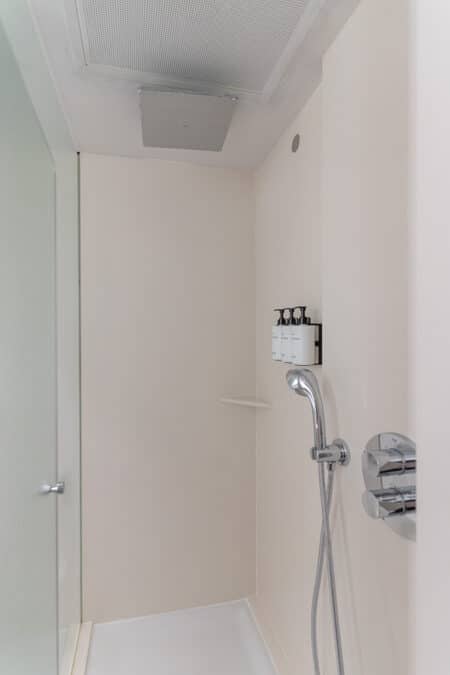 Turndown
Turndown service was simple but well executed, with pillows plumped, curtains drawn and slippers prepared. Each side of the bed was also given a bottle of water, together with a drinking glass and bottle opener.
---
Facilities
---
Indoor Pool
The hotel features an indoor pool which is considered to be a spa and is therefore a chargeable extra – even for Virtuoso guests or those with IHG Diamond status.
The price was a rather steep 40EUR for 45 minute; as such, nobody ever seemed to be using it.
Gym
The gym was tucked away above the indoor pool, in a high ceilinged room with bright lighting and a mirror wall running along one side. Despite the modern appearance of the gym and the expensive Technogym cardio machines, there really wasn't enough resistance training equipment to get a decent workout in.
As is all too often the case, it appears that a lot of money was spent on machines that were viewed as pieces of furniture by an interior designer.
The free weights also topped out at a meagre 14kg.
Rooftop Pool
The rooftop pool is a key selling point of this hotel but in all honesty I found it massively unappealing. It's ostensibly a similar proposition to the incredible rooftop pool at the Four Seasons Dubai DIFC, however unlike this wonderfully tranquil sanctuary, the pool at the Intercontinental Barcelona is permanently overrun with people.
There was no way I could take a picture without 20 people's faces in it, so these publicity shots will have to suffice.
Despite the pool being a victim of its own success, the rooftop in general is a great feature of the property, offering expansive views of the city.
---
Food and Drink
---
Breakfast at Arrel Restaurant
Breakfast is included in all Virtuoso Luxlife bookings and was served in Arrel Restaurant – a beautiful and bright room opposite the lobby.
The setting was perfect for starting the day, as gigantic glass walls framed a view of the neighbourhood's busy streets and greenery. Kamara and I really enjoyed our leisurely breakfast here, watching all the neighbourhood dog walkers passing by.
The buffet was very extensive and beautifully presented, looking more like a display from a farmer's market than a typical hotel buffet.
My particular favourite part was the station set up with delicious Spanish cheese and charcuterie.
I'm not usually one for breakfast toast, but it's hard to resist a traditional Spanish tostada con jamon : toasted bread topped with tomato, olive oil and slices of jamon serrano.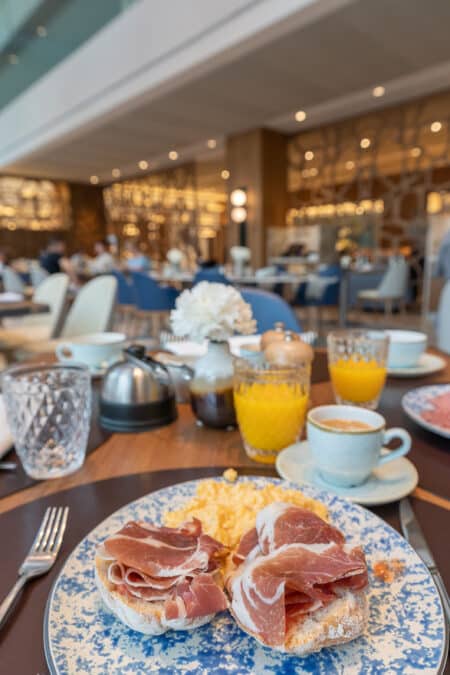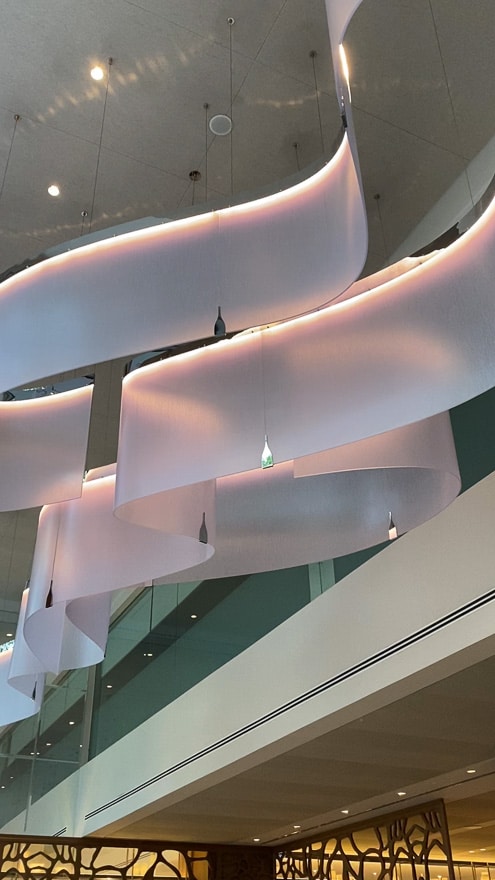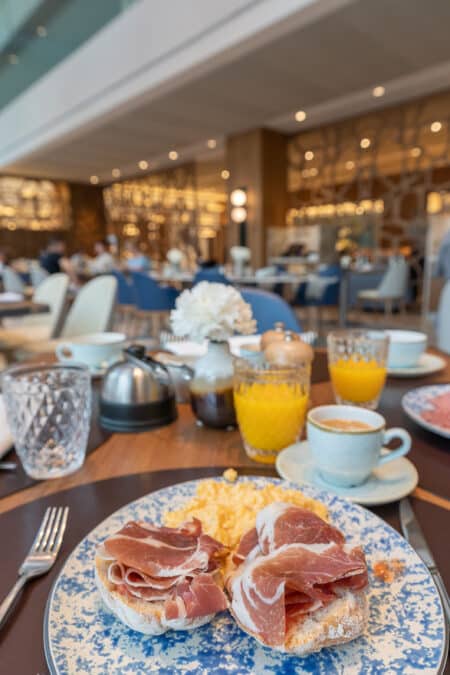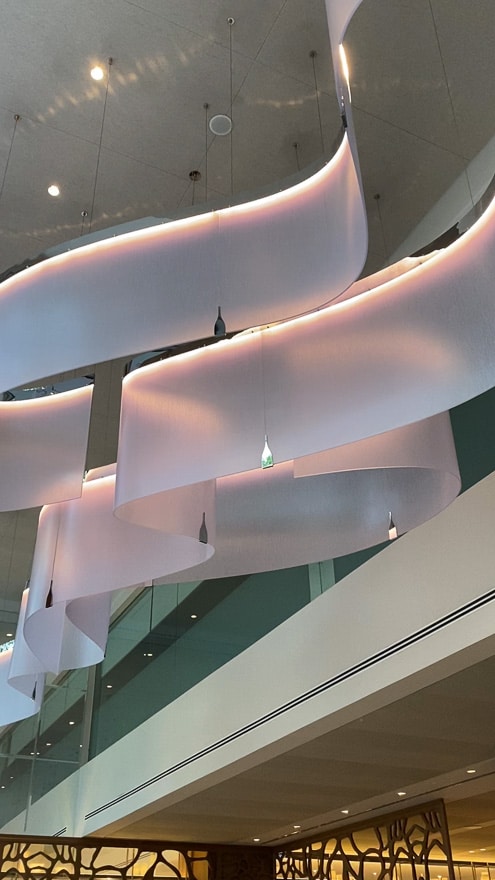 Lunch at the 173 Rooftop Terrace
The rooftop isn't just home to a pool and view, it also features a bar serving drinks and tapas all day long. We enjoyed a delicious lunch there and were pleasantly surprised by the quality of both the food and the service.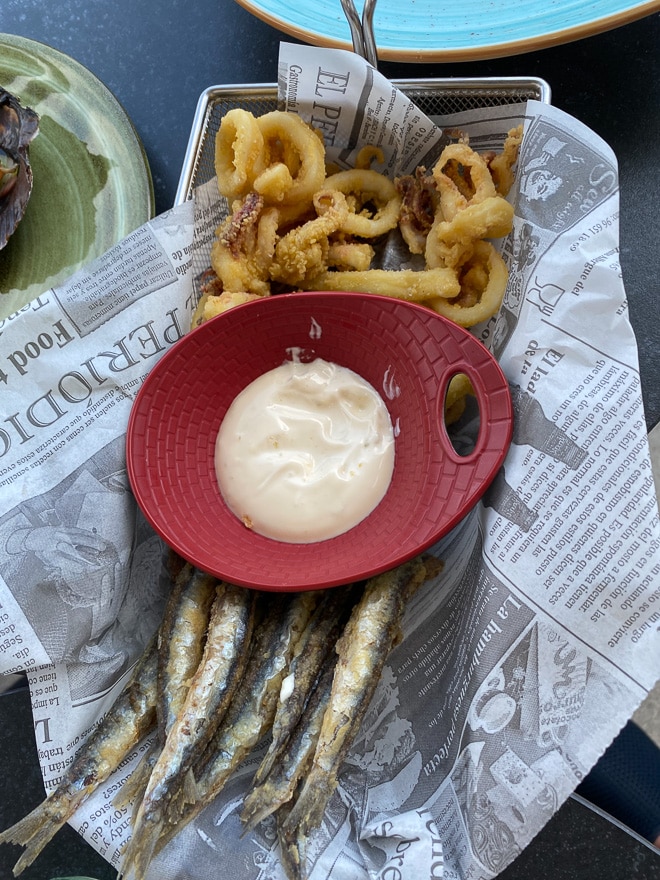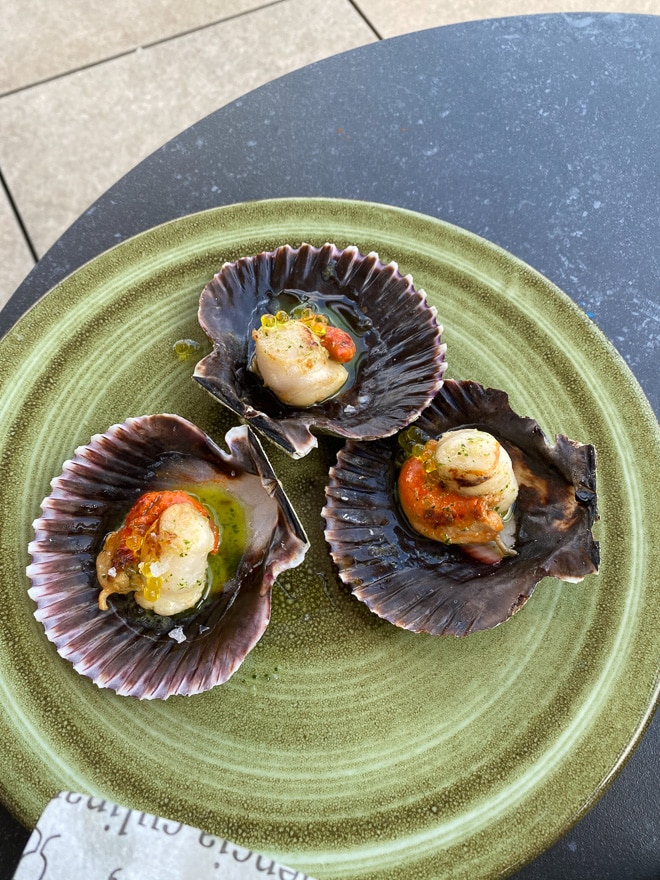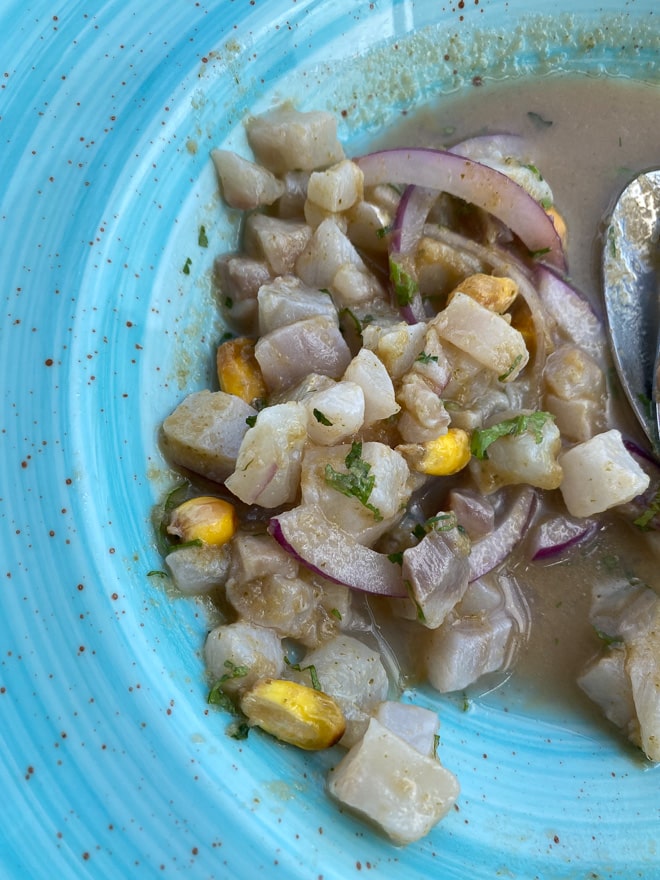 Lobby Bar
The lobby bar didn't seem to get much use, which is a shame as it's a beautiful space and the staff there were excellent.
We were told upon check-in that we could enjoy our IHG Diamond welcome drink at any of the hotel's venues and were surprised to find that we had free rein in terms of drink selection too!
We enjoyed two VERY full glasses of Veuve Clicquot here before heading off to see Iron Maiden, a few blocks away, at the Olympic Stadium.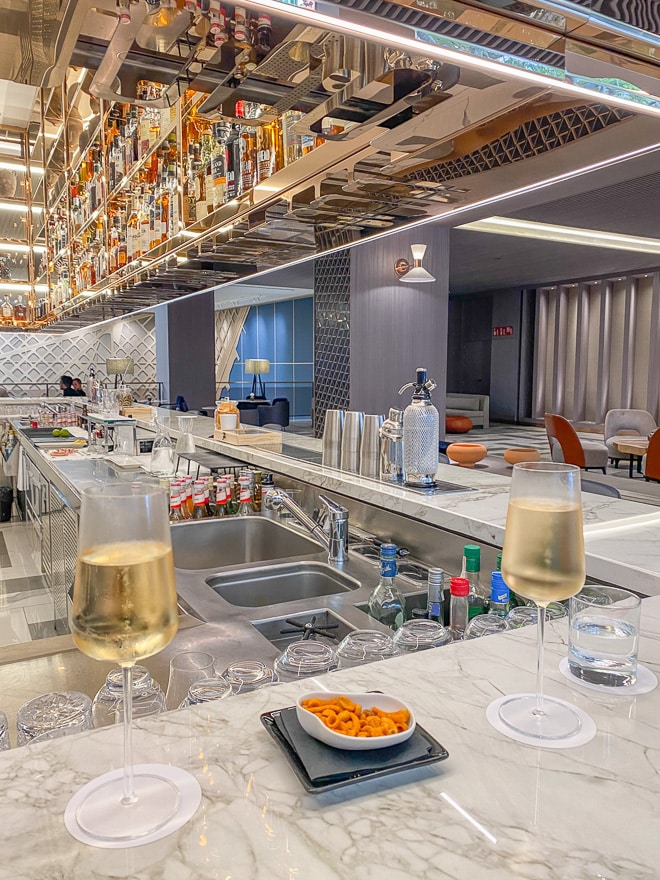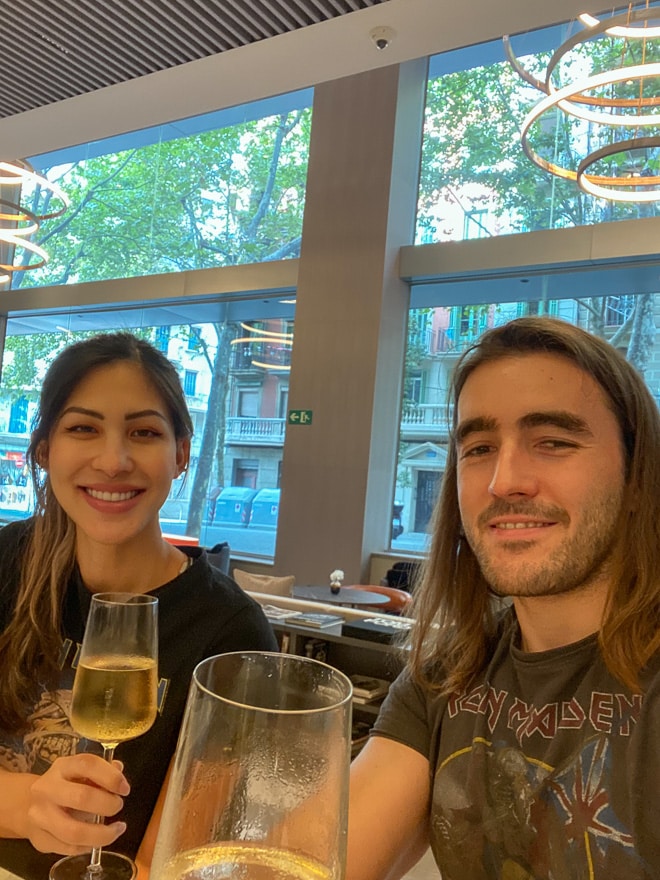 ---
Conclusion
---
Basics Checklist
☑︎ Power sockets near the bed (not universal)
☑︎ Easy to understand light switches
☑︎ Coffee machine
☑︎ Separate shower and bath
☑︎ Blackout blinds
☑︎Stable, fast and free Wifi
☑︎ Feather pillows
☑︎ Quiet and powerful aircon
Intercontinental is a weird hotel brand. It is so inconsistent from one location to the next that it's impossible to pin down what exactly the brand stands for and what one can reasonably expect when selecting an Intercontinental hotel.
I'm very pleased to report that in the case of Barcelona, the result is a hotel that is absolutely beautiful to look at, modern and effortlessly elegant with high quality finishes throughout.
Personally I find the location to be a huge positive as I can't stand the busy shopping streets of las Ramblas, although I understand that for many people the opposite is true. Still, as a tourist you'll find yourself very close to Palacio de Montjuic, which is one of the city's major tourist attractions.
Service was very professional and polished throughout the property, easily on a par with Mandarin Oriental Barcelona – if not slightly less stuffy and formal.
Rooms here are also a wonderful size, albeit with rather lackluster bathrooms.
The pool could be double the size and still be too busy, although in all honesty Barcelona is not Bangkok; it is unusual to find giant pools in city hotels in Europe.
Overall this is a property which ticks every item on my basics checklist, it offers large and comfortable rooms, great service, a fantastic breakfast and beautiful design. At €261 per night it felt almost larcenously priced and is a property which I would absolutely return to.
---
Book Intercontinental Barcelona with IHG Virtuoso Luxlife Benefits
---
Our clients are able to enjoy additional IHG Virtuoso Luxlife benefits when booking Intercontinental Barcelona:
Guaranteed late check out 2pm
Breakfast for 2 daily at hotel restaurant
100 USD value added amenity specific to hotel
Turndown service
Handwritten card on arrival
Water, Fruit, Snacks upon arrival
Room rates and payment terms match the IHG.com Best Flexible rate.
Although the member rate is slightly cheaper it doesn't come with all the extra benefits, so usually it's worth booking the IHG Virtuoso Luxlife rate instead.
You can book an IHG Virtuoso Luxlife rate at Intercontinental Barcelona using our online booking portal:
BOOK INTERCONTINENTAL BARCELONA WITH VIRTUOSO BENEFITS
If you're booking with us for the first time, here's a quick guide on how to use the booking portal: