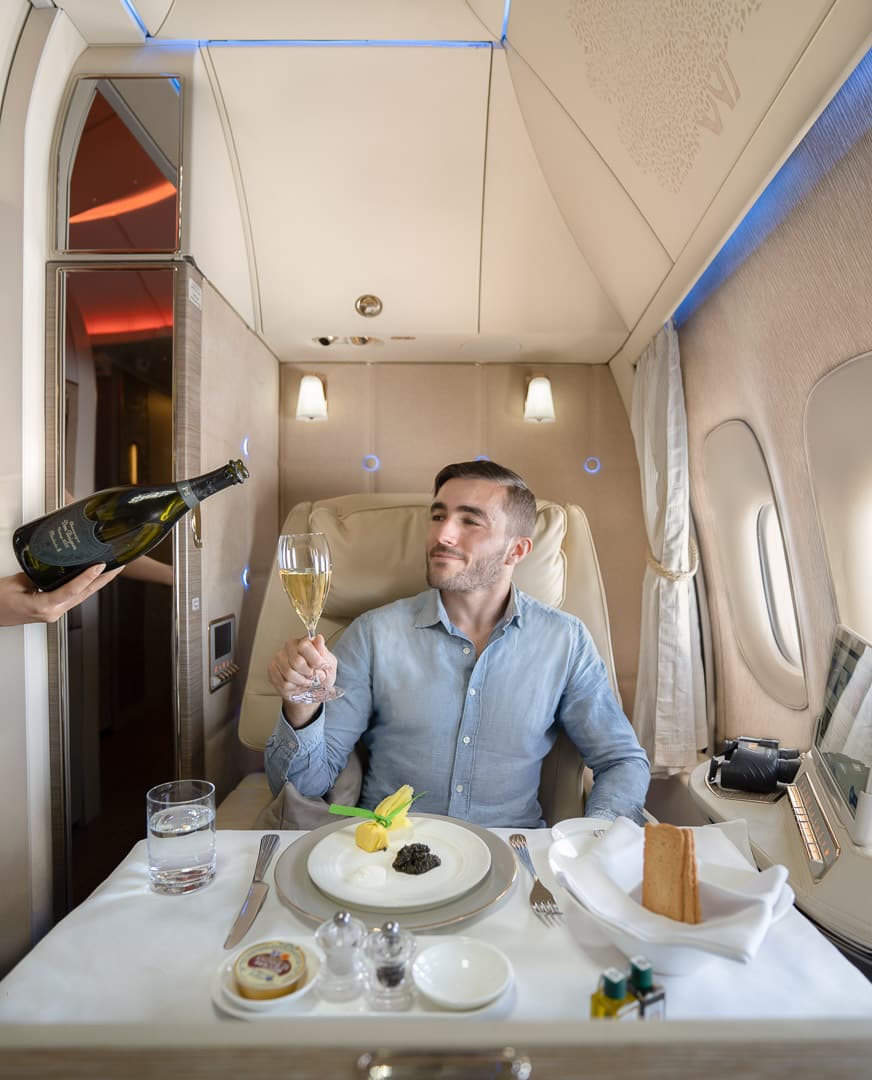 My name is Jarvis Marcos, I'm a London based frequent flyer and when I'm not here (or on a plane), you'll find me over on Flyertalk.com posting under the username: Jermyn.
I travel the World in Business and First class, flying upwards of 100,000 miles a year. I do all of this whilst holding down a regular job and often pay less for my seat than the people sat in Economy.
This website contains my reviews of many of the World's best airplane products and luxury hotels with tips on how you too can travel like this!
I have always been fascinated by aviation and was heavily influenced by the fact that my grandfather was one of the engineers that worked on the development of Concorde.
Ever since first setting foot on a long haul plane in the 90s, I was wowed by the premium cabins that we would walk through on our way to Economy. I vowed that one day I would get a chance to sit in one of those seats.
Fast forward to today and I'm lucky enough to have flown in First and Business Class on the majority of the World's top carriers.
The best thing about premium travel is that it effectively adds days to your life: You arrive at your destination and are able to immediately explore; on the other end you can fly overnight and be ready for the office the next morning (although it can be tough leaving your Overwater Villa in the Maldives, boarding a seaplane and knowing that technically your commute to work has just begun!)
I'm always happy to answer questions, which you can ask by clicking: here
Frequently Asked Questions
What is your job?
Aside from running TheLuxuryTraveller.com I have a full time financial career in London. Back in 2009 I applied to an internship program on Wall Street as a bit of a joke with my friends. I had dreadlocks at the time and thought I'd never get in.
The joke was on me though as I was accepted! So I cut off my dreads, moved to New York and over a decade later I've made a career out of it 😅
My day job is mostly unrelated to travel and this page really just started as a way for me to let friends and family know about great deals and interesting places to visit, without having to keep repeating the same tips and recommendations over and over, in person.
How do you find the time to travel this much?
I get 28 days of paid holiday a year, which is pretty standard in the UK.
I will often make use of national holidays and combine my personal holidays with these, in order to maximise my travel time.
I am also not averse to taking red eye flights wherever possible as a means of squeezing every last drop of time out of my holidays. When you are flying in Business or First class you can usually get a very decent night's sleep and arrive just in time to head straight to the office.
Timing-wise you can do something like this:
5pm Friday – Go straight from the office to the airport
9pm Friday – Fly to Dubai
7am Saturday – Go to hotel and check-in early
All day Saturday and Sunday – Hang out with friends, enjoy the sunshine whilst it's 10 degrees in London etc.
Midnight Sunday – Head to the airport for the late night flight
7am Monday – Arrive back in London and head straight to the office, well rested.
I can spend two full days in Dubai and only pay for one night's accommodation, whilst taking zero time off work!
How do you afford to fly like this?
On the face of it, business class travel is insanely expensive. It never ceases to amaze me, the sums of money thrown around by companies in order to fly their executives around the world. Even a quick 7 hour hop from London to New York can cost as much as £3000 for a round trip.
First Class is often another level of cost again, with a price two to three times that of business class being the norm.
However, there are numerous ways to get the cost down considerably. If you plan in advance and are flexible with your choice of destination you can often fly business class for around £50-70 per hour.
I tend to look at that price level as my upper limit, as long as I stick to this I can fly in style, on a regular basis.
This may still sound like a lot of money but I figure that I can often save myself a couple of nights' accommodation by sleeping on a flat bed in both directions.
I keep to my budget in the following ways:
I buy paid flights using inventive routings which usually take a little longer than the direct route. This is not an issue for me, extra time in the air is pretty good when you have a flat bed, unlimited food and drink and sometimes even a shower or bar onboard.
I buy points and miles when airlines and hotels put them on deep discount sales
I earn points and miles from credit card signup bonuses
What is your favourite airline?
How do you afford to stay in luxury hotels?
I first got into luxury hotels as I was getting into the world of frequent flying. The two kind of go hand in hand.
As I learnt how to leverage airline miles and status for an improved on-board experience I also got to learn the ins and outs of all the various hotel programs:
World of Hyatt
Hilton Honors
Marriott Bonvoy
IHG Rewards
Slowly but surely I discovered tricks which allowed me to stay in incredible suites costing thousands of dollars for a tenth of the price or less.
The best way to understand all of these hotel loyalty programs is to go back and read my reviews where I discuss how I book each stay. Here are some good examples:
REVIEW – Waldorf Astoria Maldives Ithaafushi : King Reef Villa & King Ocean Villa
I then spent 6 years writing reviews, booking everything with my own money (and points). As my social media and website grew I started to attract the attention of hotel management and marketing teams…
Nowadays I'm in the fortunate position of being offered complimentary press stays at some absolutely remarkable properties but I'm not going to lie, it's taken a lot of unpaid work to get here!
I still insist on total transparency though, so I will always let my audience know how I've booked a hotel or flight and I will never accept an invitation of a complimentary stay or flight that comes with any strings or editorial control attached.
I still also book plenty of stays with my own money as it gives me the freedom to travel exactly where and when I want without always depending on publicists.
Nine times out of ten I'll book using my partner agency Classic Travel since they match the direct hotel website price AND throw in some substantial additional benefits.
How do I get upgrades and freebies at hotels?
The simplest way to get free perks is to book hotels via a Luxury Travel Agent.
I personally use Classic Travel to book my hotel stays since they charge the Best Available Rate, exactly matching the hotel's own website but also give all of these COMPLIMENTARY additional extras:
Breakfast
$100 USD hotel credit
Upgrades, early check-in and late check-out subject to availability
3rd/4th night free promotions subject to availability
You can also book everything online instantly, without having to do a whole lot of back and forth with a travel agent (although they're always available to talk if you need them)
---
Aside from this, the major hotel chains have their own loyalty programs. These are designed to reward customers and to incentivise people to prioritise the brand of the hotel over other factors such as convenience and price.
For those of us that don't travel for work, clocking up the necessary number of hotel nights, to gain status is almost impossible (stay requirements of 50 nights per year are not uncommon for upper tiers of loyalty programs). However, in the UK the American Express Platinum card comes with Hilton, Shangri-La and Melia hotel statuses thrown in for free.
The features of each loyalty program (and tiers within the loyalty programs) vary quite a bit but generally include some variation of these benefits:
Room upgrades
Executive lounge access (featuring free food drink)
Free breakfast
Early check-in/Late check-out
As you can see, this is pretty similar to the benefits provided by Classic Travel however you are limited to specific chain hotels, you don't get the $100 credit and there's no way to get 3rd/4th night free on paid stays via having status.
I just bought an Economy ticket how do I get upgraded?
To be honest, once you've already committed to buying an economy ticket, your options are very limited.
Most airlines will let you use points/ miles to upgrade tickets but there are usually some very prohibitive terms and conditions attached. You will tend to find that the cheapest economy fares are non-upgradeable or only upgradeable with a substantial additional cash component as well.
A number of airlines offer bid for upgrade systems which can get you upgrades very cheaply (eg. Emirates and Qatar), whereas others will offer a discounted fixed price upgrade, either online or at the airport (BA offers both of these options).
Complimentary upgrades are very hard to come by and tend to be reserved for frequent fliers with high level airline status.
How do I get status with an airline?
The simplest idea would be to pick an airline which flies from your home airport and look towards always flying with them.
In doing so you will begin to enjoy benefits such as:
Access to airport lounges (the benefit people often care about the most)
Priority check-in
Priority boarding
Free seat selection
Increased points/ miles earning
Increased chance of free upgrades
The above benefits are so enticing that people will sometimes fly somewhere and immediately back again, solely in order to earn status with an airline. Alternatively people will attempt to fly the most circuitous routing possible between two cities, in order to maximise the distance traveled. These practices are referred to as mileage running.
The other way to get status with an airline is via something known as a status match.
What is a status match?
A status match is a process whereby an airline or hotel will attempt to poach loyal elite customers from a rival.
As a Hilton Diamond member you may find that Hyatt are willing to extend you Globalist status for a year.
The following year, if your Hyatt Globalist status is about to expire you could then ask Marriott to match you to Platinum and so forth.
As long as you have one initial elite status, you can endlessly match back and forth each year, leveraging the fact that at one point in history you held status with one hotel chain or airline.
StatusMatcher.com is a fantastic resource for everything you need to know about the world of status matching.