Ever since Emirates first announced their ground breaking new First Class cabin, I've had a deep yearning within me to try it out.
The cabin consists of only six suites, each of which is completely enclosed with floor to ceiling doors. The suites feature completely customisable lighting, a video room-service feature, high end binoculars and a luxurious cream leather seat that converts into a bed, designed in conjunction with NASA to simulate the feeling of weightlessness.
I've never flown Emirates before as typically their airfares are nowhere near as discounted as the likes of Qatar, Etihad or even BA. I always told myself that they were an airline I had to try but I never saw an airfare that was within nodding distance of my golden rule: Pay no more than £80 per hour of flight.
Then in a fine stroke of luck, this February I was looking at airfares for a December trip to South Africa and stumbled across this gem:

This is a spectacular ex-London price for a business class flight to South Africa on any airline. On Emirates this was absolutely unprecedented. I immediately began to get into action, checking upgrade costs and making sure that I could make this work.
Everywhere I looked people were saying that the Gamechanger F was unbookable with miles but I figured a lot can change in the next few months and worst case, I'd finally get to try Emirates in Business and hopefully upgrade at least one of the A380 sectors to First.
Not only was this a great airfare, it just so happened to appear at a time when UK Amex Platinum Cardholders were being offered £200 off a reservation made with Amex Travel. This is one of the best perks of the card and is usually offered twice per year.
I immediately booked one ticket for myself on my card and another for Kamara on her supplementary card. This gave me an instant £400 return on my £450 annual Amex Platinum fee and we got our entire trip covered with Amex Platinum's insanely generous travel insurance to boot!

At this point I had business class flights from London to South Africa locked in for under £1400 per person but still needed to do some work if I wanted to fly in First.
I started off by setting up seat availability alerts on expertflyer.com. Emirates.com actually has a pretty cool feature where you can opt to auto-upgrade your flight once seats become available but this is reliant on having Emirates miles in your account for immediate use. I didn't want to risk moving my Amex points over to Emirates speculatively. I wanted to know for sure that I'd be able to use them.
Aside from the need to have miles in your account there is also a little known fact: Expertflyer alerts you of upgrade availability before the Emirates website does. In fact Emirates won't auto-upgrade or alert you of availability more than 30 days before your flight or less than 72 hours before it. If you want to be first in line to upgrade your flight, you need to be using Expertflyer.
So I set up seat alerts for all 4 of my segments:
LGW-DXB A380
DXB-JNB A380
JNB-DXB A380
DXB-STN B77W (Gamechanger)
A couple of weeks after setting up these alerts I had begun to hear reports that First Class Award seats were opening up on the 77W 48 hours before flights. This was a glimmer of hope, even though it meant I'd likely be scrambling to transfer miles at some point this December, whilst in South Africa.
As it turns out, it wasn't Expertflyer that first alerted me of a matter relating to my flights, it was this email: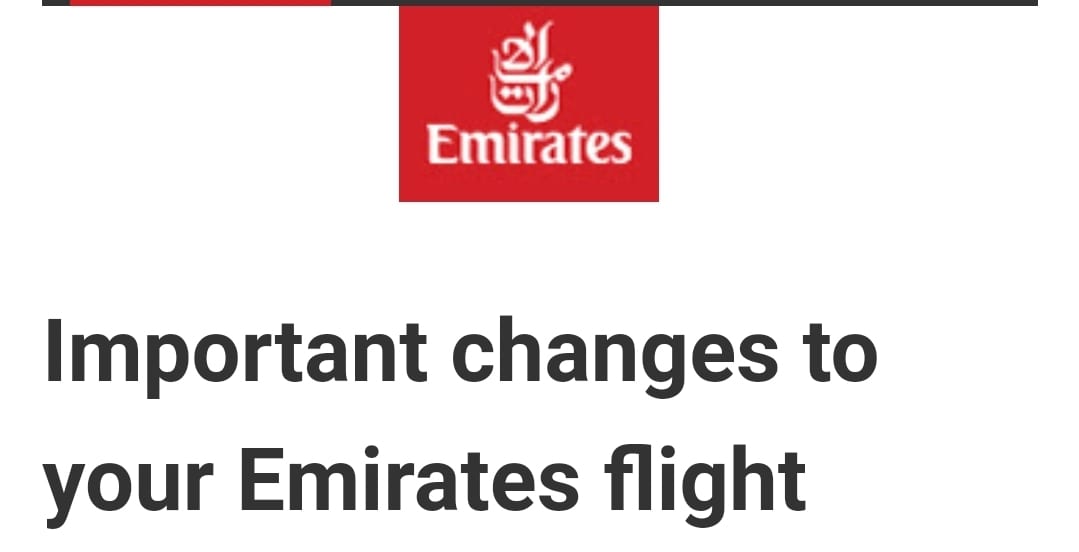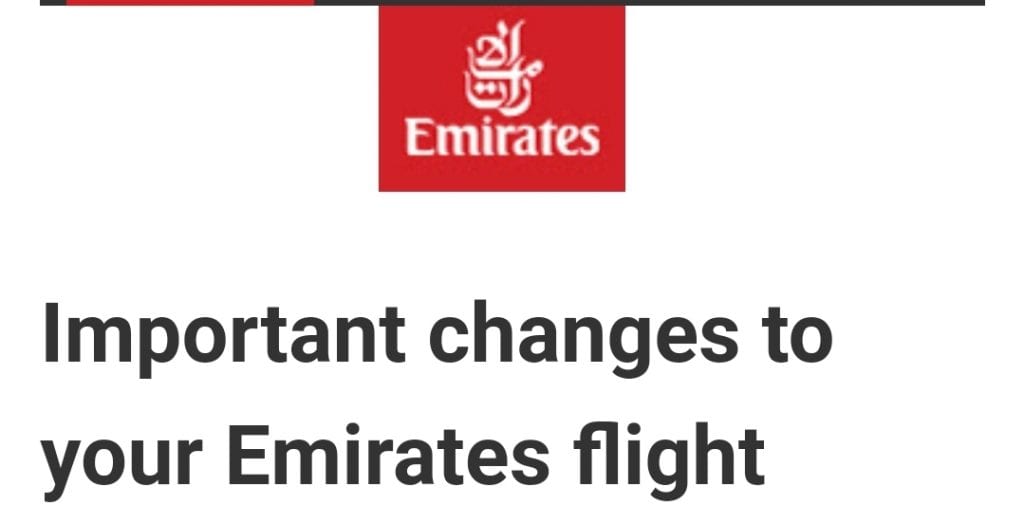 I clicked the link and noticed that the flight time had moved by 10 minutes. Not a big deal in and of itself (although I did write an article about how this can be massively leveraged to your advantage on certain airlines).
What was more interesting was that the flight number had changed.
Now I've witnessed first hand what kinds of technical screw ups can result from seemingly minor changes in airline computer systems and I saw this as a real opportunity. I had a strong suspicion that Emirates was set up to release at least 2 First Class seats on every flight with a First cabin – unless the flight number was specifically blocked. My hope was that Emirates IT staff would have inadvertently omitted to put this block in place when the flight number changed.
So I went to Expertflyer and ran a manual check on my seat alert.
My hunch was correct.
I immediately picked up the phone and asked the Emirates call centre agent to confirm what I was seeing. She said that she could indeed see two available First Class seats and confirmed the upgrade cost of 39,000 per person one way.

Then the line fell silent for a while.
When I finally heard the agent's voice again she said that something strange was happening and that she would need to call through to another team to get the upgrade fully processed. This sort of thing is never good news. Back in the days of US Airways, the last thing you wanted was for somebody in the pricing team to get involved. All of a sudden your one way trip from London to Barcelona via Buenos Aires would go from 20k to 80k miles ?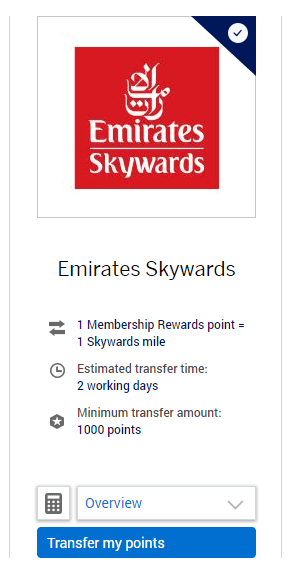 However she assured me that she had taken the two award seats out of the inventory for me and that she would automatically apply the upgrades for me as soon as possible.
She said however that she needed to see the available miles in my account before she could proceed.
Thankfully I knew that despite the wording on the Amex Website, transfers of UK Membership Rewards points to Emirates Skywards are instantaneous. So I clicked to move 78,000 points over for the two of us and the agent confirmed that she could see them a few seconds later.
All I could do now was wait and hope that the back office team processed the upgrade for her. At this stage I had never heard of anybody getting a single award seat in the new Emirates First more than 3 days out, let alone booking up 1/3 of the cabin 10 months in advance!
I'm not going to lie, getting to sleep was pretty tough that night. I kept waking up and checking my phone, hoping that I'd get a notification telling me that the upgrades had cleared. I made my way to work the following morning, bleary eyed and slightly anxious. I kept imaging different scenarios of how this would play out, most of which involved the award seats disappearing entirely or some sort of technical error being blamed for the upgrades not clearing.
Then this popped into my Inbox:

I could barely contain my excitement but held off on jumping out of my chair and completing a celebratory lap of the office until I opened the email and saw this:


First Class on the 777-300ER into Stansted confirmed, ten months in advance!!!
Why did this all work out?
There was definitely a lot of luck involved but also pro-activity and preparation.
Key Lessons
Monitor your flights on expertflyer
Hold a balance of easily convertible Amex points and be familiar with the timescales for their use
Stay on top of flight changes and use them as an opportunity to improve your booking
Always test the rules and look for the opportunity to break them
As an aside: This was my first time dealing with Emirates call centre staff and I must say that the experience was excellent. My call was picked up quickly, the agent precisely understood what was going on and was very proactive. Not only did she get another team involved to ensure my upgrades would clear, she also called back the next day to let me know that everything was confirmed and offered to assist me with my chauffeur bookings. All of this as a bottom tier, Blue member of Emirates Skywards.
I have since upgraded another of my segments online and this was a completely seamless experience too.
If the pre-flight service is anything to go by, my in-flight experience is going to be absolutely off the charts.