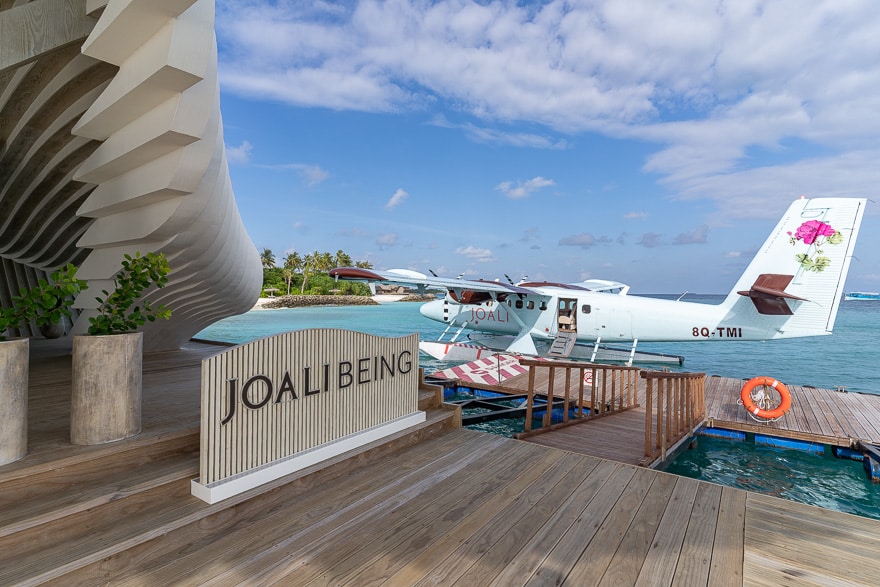 REVIEW – Joali Being, Maldives
July 16, 2023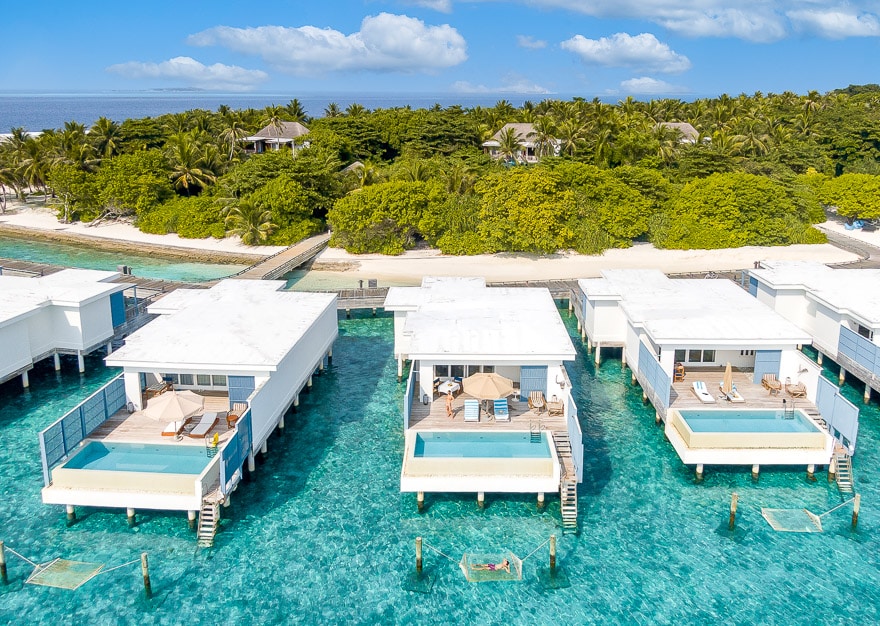 2023 OFFER – Half Board and 30% Off at Amilla Maldives
August 10, 2023
Belmond Hiram Bingham
Current Pricing: $504 per person, per way

Note: We were offered a discounted rate as travel agency owners

Loyalty Program: Belmond Bellini Club
---
Intro
---
Belmond is a brand which is synonymous with old school luxury. Although Belmond owns and operates some iconic properties like Copacabana Palace in Rio and the Hotel Cipriani in Venice, it is perhaps best known for operating the Venice Simplon-Orient-Express (VSOE) train, between Venice and Paris.
The VSOE is certainly the best known of Belmond's trains but the train portfolio is actually rather ample, particularly in Peru, where Belmond operates both the Andean Explorer and the Hiram Bingham.
The pricing for the Hiram Bingham is aligned with that of the Belmond British Pullman (i.e. 1/5 of the price of the VSOE), thereby making it a very enticing proposition for people wanting to travel to Machu Picchu in the most extravagant way possible.
---
Booking the Belmond Hiram Bingham
---
Since The Luxury Traveller is a Belmond Bellini Club agency, our clients are able to enjoy some significant benefits when booking the Hiram Bingham train with us:
$50USD equivalent Food & Beverage credit per passenger, per direction
VIP on-board welcome amenity
Much like their parent company LVMH, Belmond never offers discounts of any kind. However the on-board credit serves as a 10% rebate on your ticket price!
If you would like to make a Belmond Bellini Club booking with us, please drop us an email including:
Full passenger names
Desired date of travel
Ticket type: One Way or Round Trip
---
What's included on the Hiram Bingham Train?
---
Not only do passengers on the Hiram Bingham enjoy a wonderfully spacious and beautifully restored carriage for their journey to Machu Picchu, the list of inclusions genuinely provides incredible value!
Welcome drink at the departure station
Onboard meals with Peruvian, Argentinian and Chilean wine, Cusqueña beer, Pisco Sour, soft drinks and hot drinks (lunch on outward journey, dinner on return)
Onboard entertainment
Bus transfers between Aguas Calientes station and Machu Picchu
Entrance to the Machu Picchu Sanctuary with professional guides
Afternoon tea at the Belmond Sanctuary Lodge
A Hiram Bingham branded, suede effect backpack
A Hiram Bingham aluminium water bottle
$50 additional on board credit per person per way (only for bookings made via a Belmond Bellini Club agency, such as The Luxury Traveller)
All of these inclusions apply on both one way and round trip journeys, so the argument can certainly be made that a one way journey provides even greater value than a round trip.
This is because you don't end up receiving two afternoon teas, two backpacks, or two guided visits of Machu Picchu on a round trip journey!
Indeed, we ended up taking the Hiram Bingham on the outbound and the Vistadome train back to Cusco, since we stayed overnight at the Sanctuary Lodge and wanted to make the return journey earlier in the day, allowing us to make the connecting flight back to Lima (and the wonderful Belmond Miraflores hotel).
---
Belmond Hiram Bingham Schedule
---
Although timings can vary slightly according to the seasons, the standard schedule for the Hiram Bingham Train is as below:
9:05am | Departure from Poroy train station (20 minutes drive from Cusco)
12:25pm | Arrival at Machu Picchu station (Aguas Calientes). Transfer by bus to the Belmond Sanctuary Lodge
1:00pm | Guided tour of the Machu Picchu ruins
4:00pm | Afternoon Tea at the Belmond Sanctuary Lodge
4:45pm | Bus transfer to Machu Picchu train station (Aguas Calientes)
5:50pm | Train departs for Cusco
9:15pm | Arrival at Poroy train station
The idea is that guests purchasing a round trip on the Hiram Bingham will experience a relatively short visit to the incredible ruins of Machu Picchu, followed by a quick afternoon tea and then head straight back to Cusco, later the same day.
Honestly this feels pretty rushed to me and I'm glad that we stayed overnight at the Belmond Sanctuary Lodge, really taking the time to fully absorb the experience.
However, if you're short on time, there's no question that Hiram Bingham provides an extremely luxurious and hassle free way to explore one of the greatest architectural marvels on earth!
---
Hiram Bingham on board experience
---
Our day began at around 8am, with a 20 minute car transfer between the Belmond Monasterio hotel in Cusco and Poroy station.
This was arranged by the hotel at a cost of $45.
Our driver set the mood by playing traditional pan pipe music on the car's sound system, as we wound our way through some beautiful mountain roads. The towns that we passed were all inexplicably filled with stray packs of show breed dogs: Alsatians, Poodles… the Dulux dog. I've no idea how or why this number of amazing dogs is wandering the streets near Cusco but I remember that this was very exciting for Kamara in particular, who can always be relied upon to spot cute dogs, anywhere that we travel to!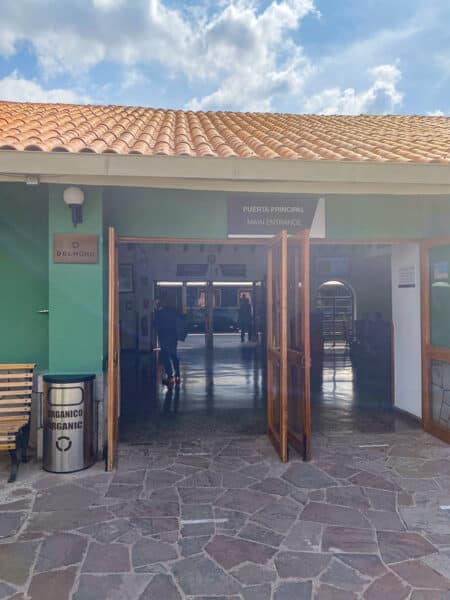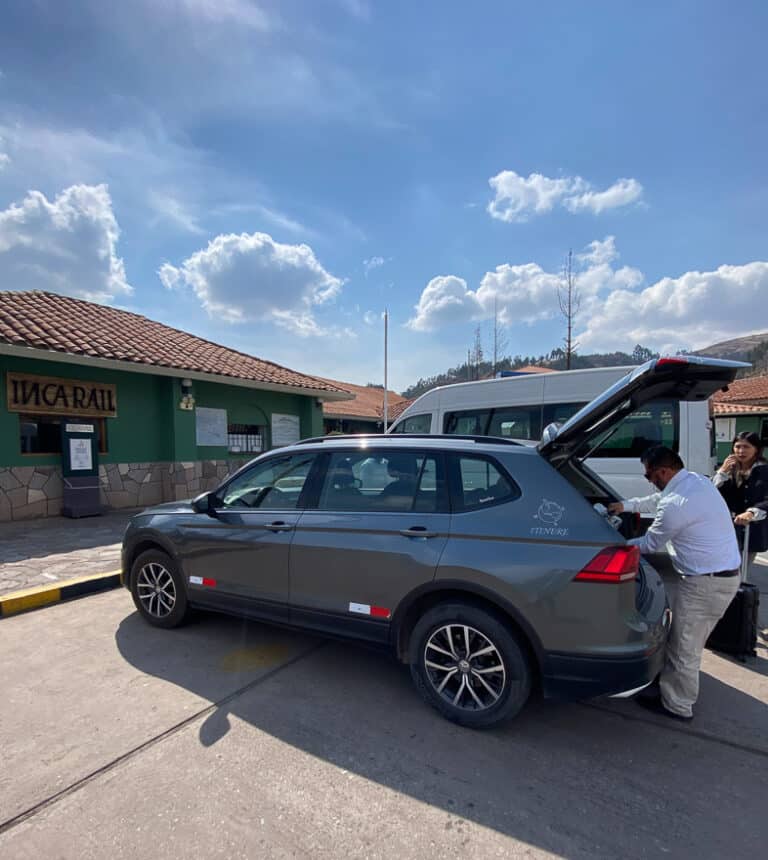 At Poroy station our luggage was handed over to one of the cavalcade of porters, waiting to greet us at the station entrance.
A note on luggage: space is limited on the train and also on the buses between Agua Calientes station and the citadel of Machu Picchu itself. As such, it is recommended that guests only carry hand luggage with them on the journey. Large suitcases can only be accommodated in the areas around the doors of each carriage and space is realistically limited to around 4-5 large cases per journey.
Personally, we opted to leave all of our large cases at the Belmond Miraflores in Lima. Upon our return to the property, our cases were laid out on luggage stands inside our suite.
The building that we were dropped at seemed to be exclusively for the use of Belmond guests and was decorated with a large number of plush armchairs, centred around some rather cheap looking black tables.
First impressions here weren't great, as it seemed that staff were rather overwhelmed, having left half empty glasses of welcome drinks uncleared on most tables.
Given that nobody seemed to have taken more than one or two sips of their drinks, it felt like we dodged a bullet by not being offered one!
---
An interesting development: one of my clients (and very good friends) was actually on the Hiram Bingham yesterday (July 18th 2023) and it seems that my feedback has been taken on board. The welcome drinks are now far more elaborately presented and even include the choice to have champagne instead!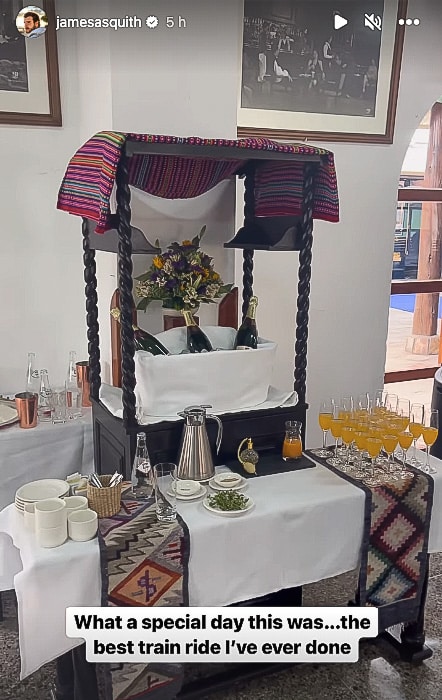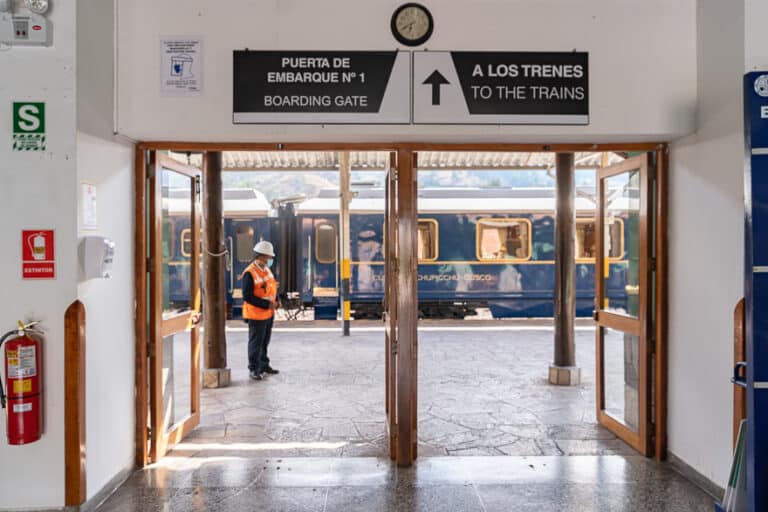 ---
Having decided that there was no sense spending any more time in the lounge, we headed out to the platform area, for our first glimpse of the magnificent blue Hiram Bingham train!
A series of musicians and dancers were performing at the end of the platform, as guests excitedly stood outside the train, taking photos and videos.
Having spotted glimpses of the beautiful carriage interiors from the outside, I felt a real sense of excitement as we made our way across the blue carpet and up the steps to the train.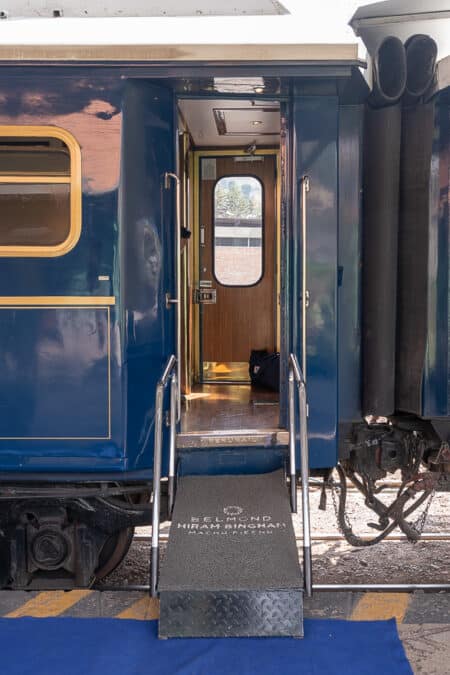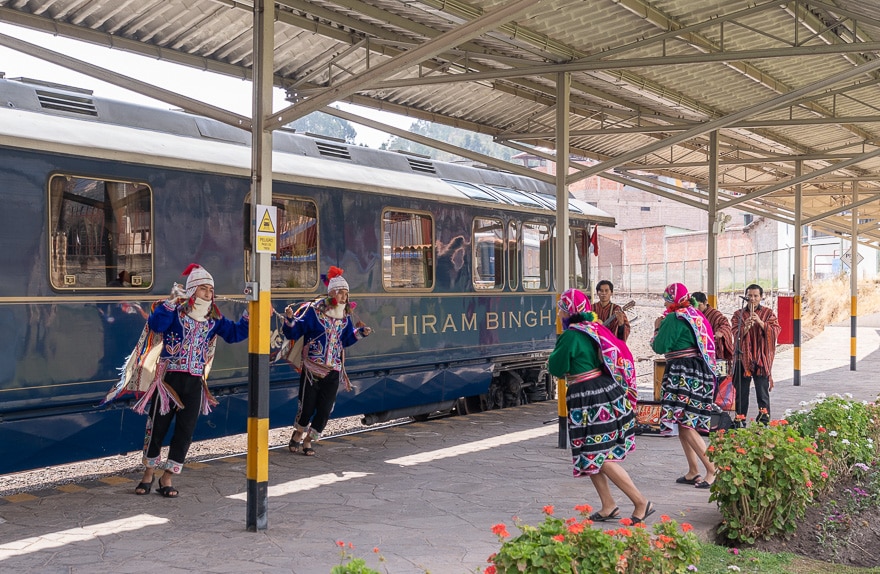 Once onboard, we were greeted by one of the uniformed guards who guided us through the dining carriage to our allocated seats. I almost feel like pictures don't do justice to just how lovingly this train has been restored and maintained.
Every surface was immaculately polished without a single visible scuff mark, tear or fingerprint anywhere to be seen.
The Hiram Bingham often sells out, since seats are extremely limited. There are only 42 allocated seats on board, all of them located in the dining carriage.
These 42 passengers are then free to move around the bar and observation car, where spaces are unreserved.
All guests will be allocated private seating in a table of either 2 or 4, depending on how busy the train is. Parties will never be co-mingled, so you can rest assured that your table will not be shared with strangers.
Couples will generally be seated on tables for two, which enjoy mountain views.
However, we were fortunate enough to be allocated a large table for four, giving us plenty of space to stretch out, as we enjoyed views of the river (once we got clear of the villages near Cusco).
After settling into our seats, we decided to head over to the bar carriage and snap some pictures, before it filled up with other passengers. Staff here were great, immediately coming over to ask if they could make us a drink or take our picture.
We noticed that there was a basket of croissants on the counter but Kamara didn't need to grab one as she'd come prepared with an 'emergency croissant' from our room service breakfast. She brought this just in case she got hungry on a train journey, where the main activity is eating and drinking…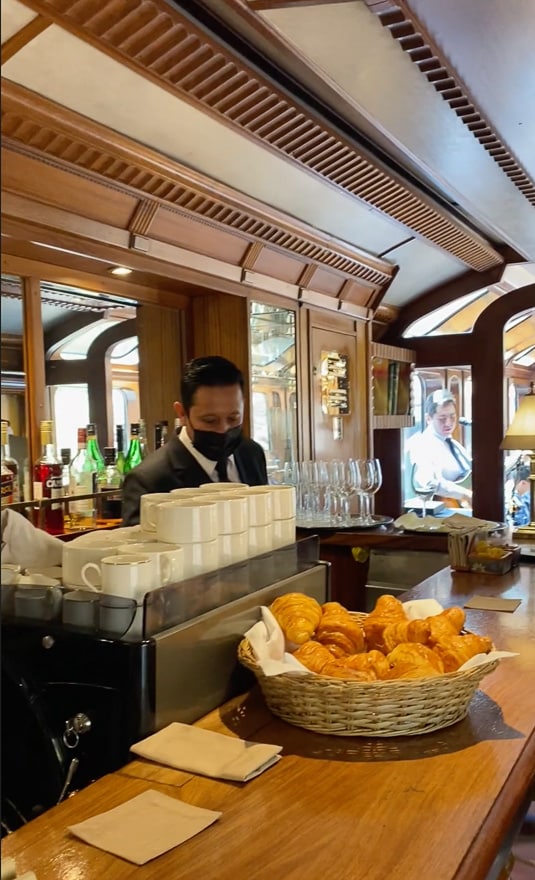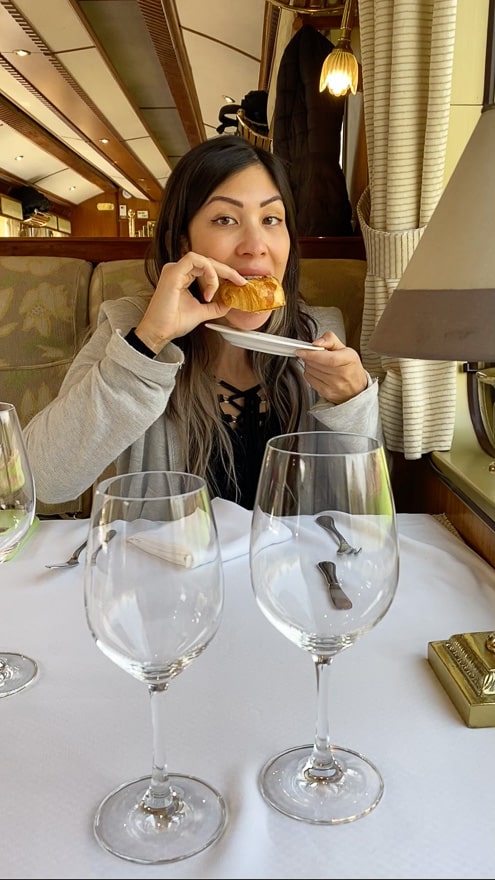 After our brief visit to the bar carriage, we headed back to our assigned seats where the crew was handing menus to all guests and offering around more croissants and coffee. After a quick read of the menu we headed straight back to the bar carriage, since lunch wouldn't be served for another 90 minutes or so.
In order to get things started, we ordered a couple of espresso martinis…an order which was initially met with some confusion.
To the best of my knowledge, what was brought to our table was vodka mixed with Baileys.
Ordering a couple of espressos on the side and mixing them in, kind of did the trick (as anybody who has ever tried to make a DIY espresso martini in an airport lounge can attest to).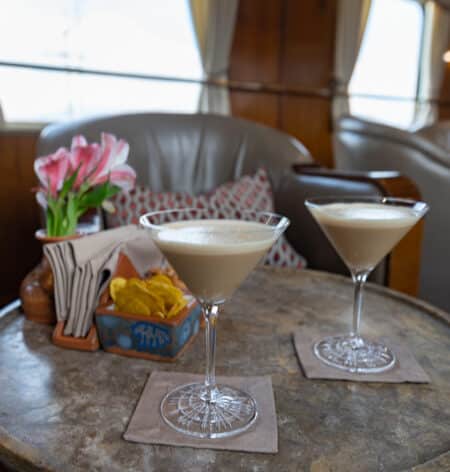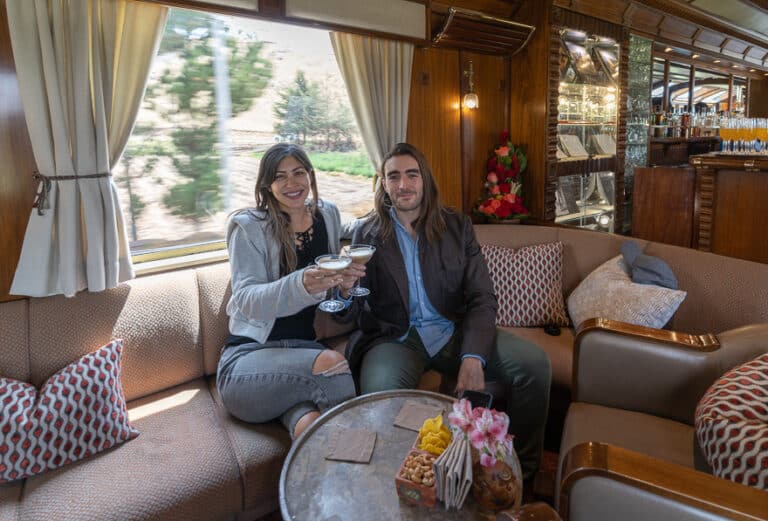 I'm happy to report that cocktails with a local flair were significantly more impressive than the 'espresso martinis' though.
Our margaritas were even finished with a flourish, as the barman misted them with a final hit of tequila, before serving.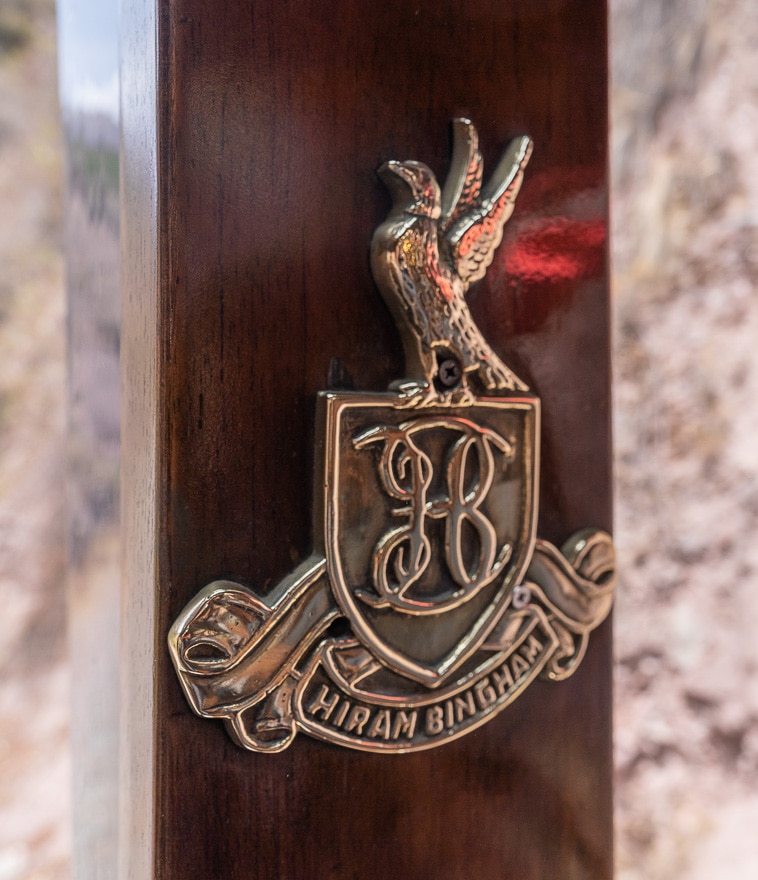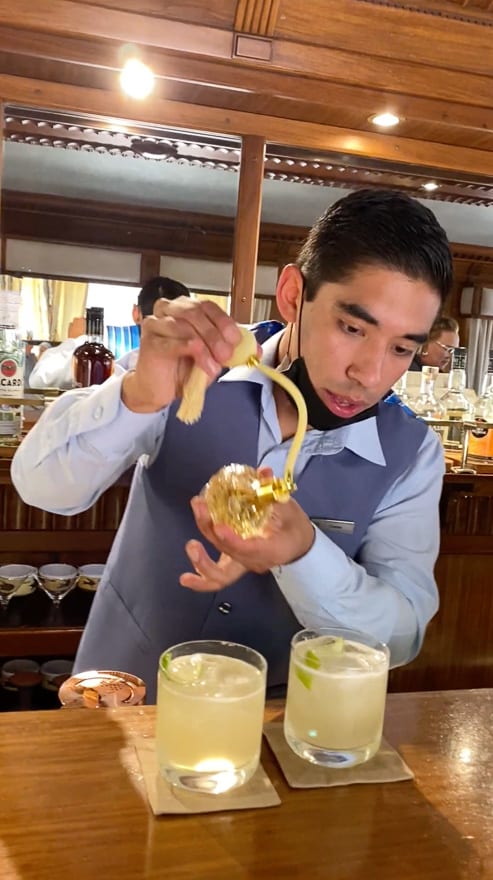 ---
Another update: I'm pleased to report that once again it looks like my feedback was acted upon, with the cocktail offerings having now been completely overhauled!
Where before we weren't even shown a list, now there's a wonderfully whimsical multi-page booklet, adorned with hand drawn illustrations of the train's route and the cocktails that have drawn inspiration from it!
Not only have espresso martinis now been added to the list, they're the first thing on the menu AND they look incredible (James reported that in terms of flavour it was also one of the best he's ever had!).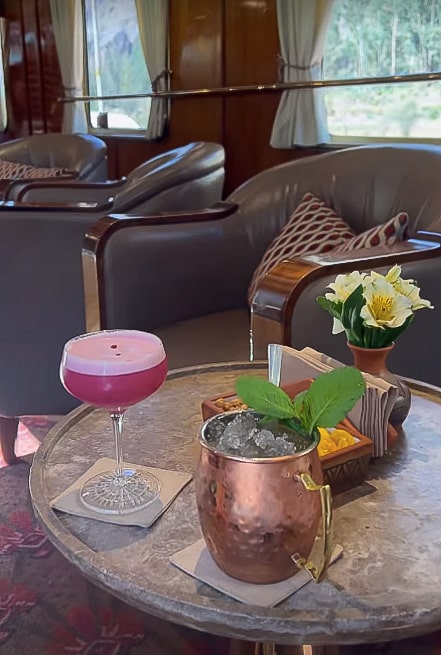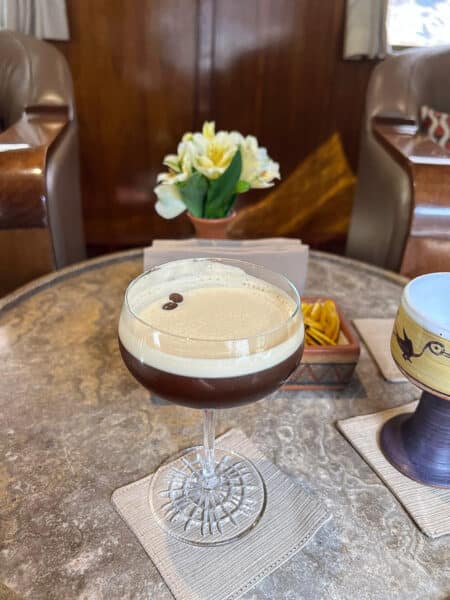 ---
Back to our journey….soon enough, more and more guests filtered into the bar carriage, with most gathering in the observation car section at the far end.
Not only were the the views absolutely amazing, there was a real party atmosphere, as the train's live band played through a selection of classic pop and rock covers.
After several rounds of drinks the atmosphere was fantastic, with people mingling with one another, helping each other to take pictures and genuinely appreciating this magical experience.
All too soon though, we were called back to the dining car, as lunch was soon to be served.
I stopped by the bathroom on the way and was very impressed with the quality of the fixtures. As a man who has spent 5 days on the trans-Siberian railway (as well as my fair share of trips on Virgin Pendolinos) I can assure you that most train bathrooms do not look like this: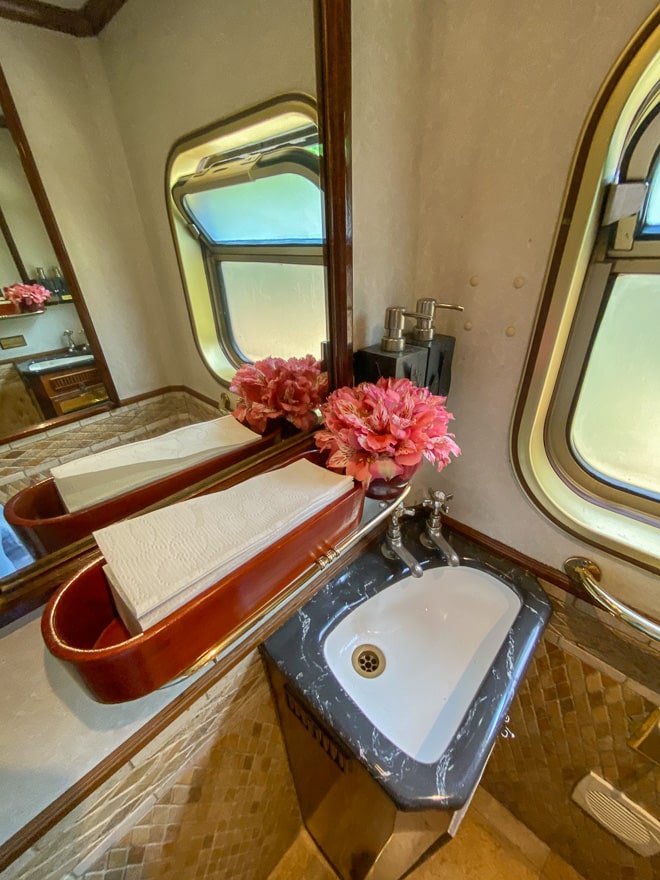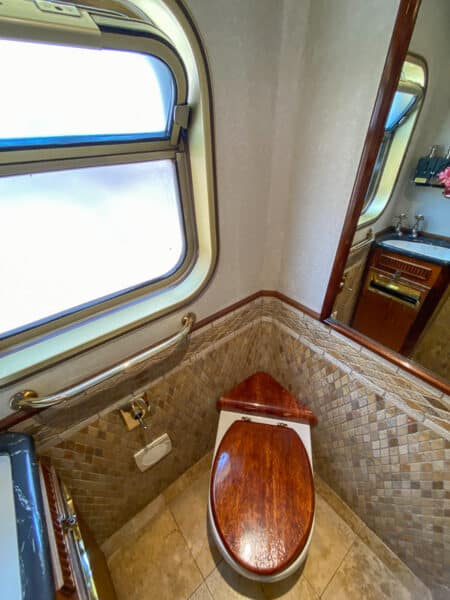 Back in the dining car, the staff had left a very high quality Belmond backpack and aluminium water bottle for every guest.
These could be used on the afternoon's guided tour through Machu Picchu and then kept as a memento afterwards.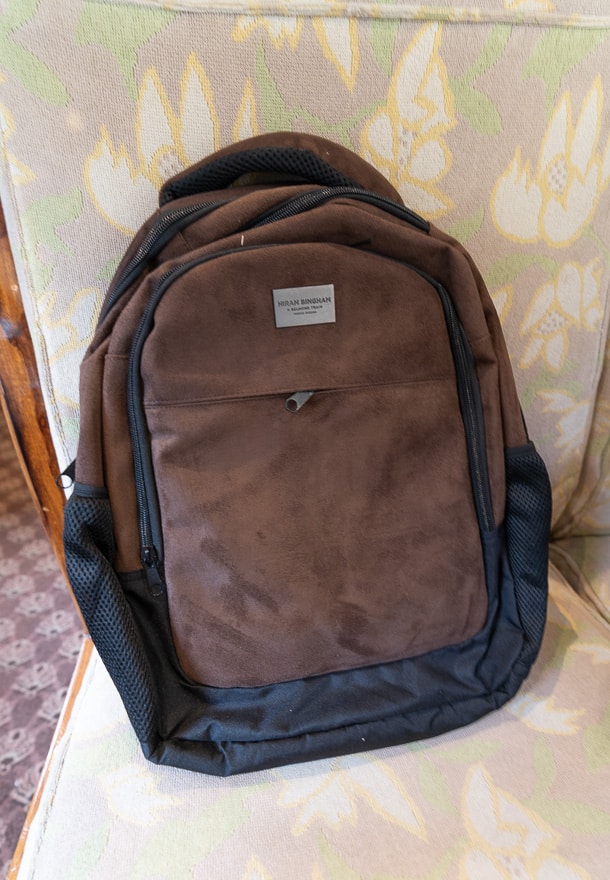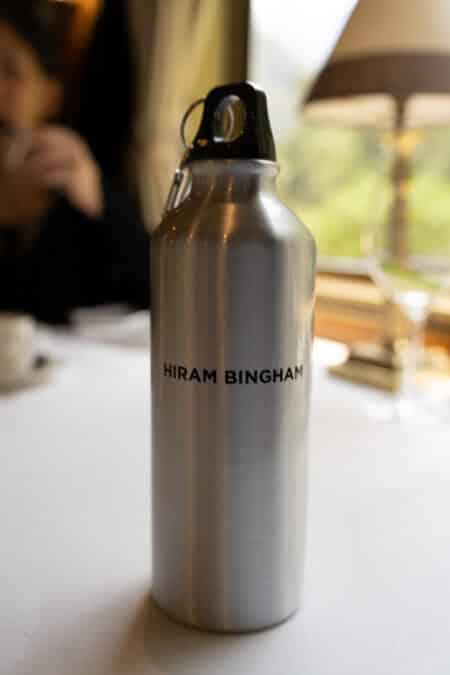 Once all guests had settled into their seats, lunch was served.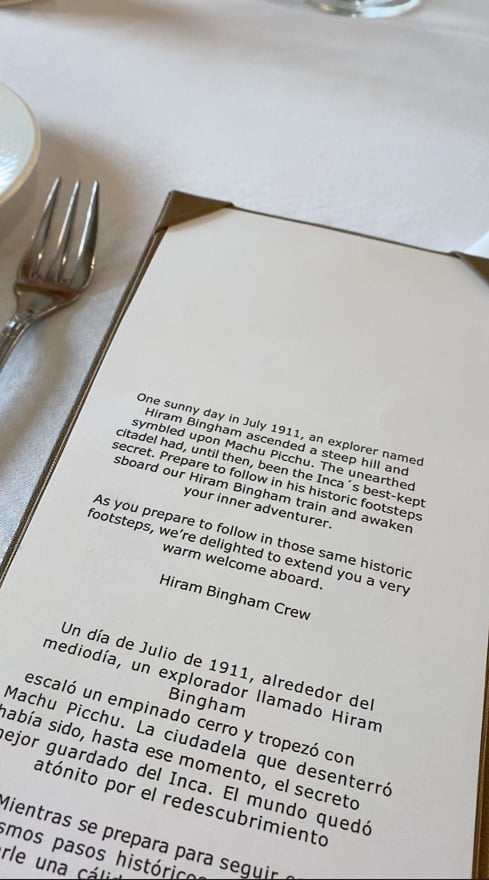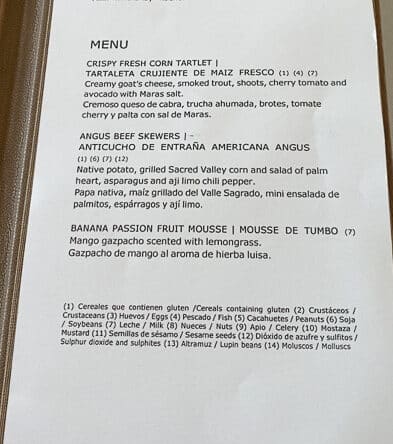 First, we were brought a selection of different breads, together with butter and salt.
Shortly thereafter we were brought our starters, consisting of local smoked trout, shaped like the nearby mountains and adorned with various local leaves and herbs, served upon a corn tartlet.
At this stage in the journey, the views were absolutely fantastic.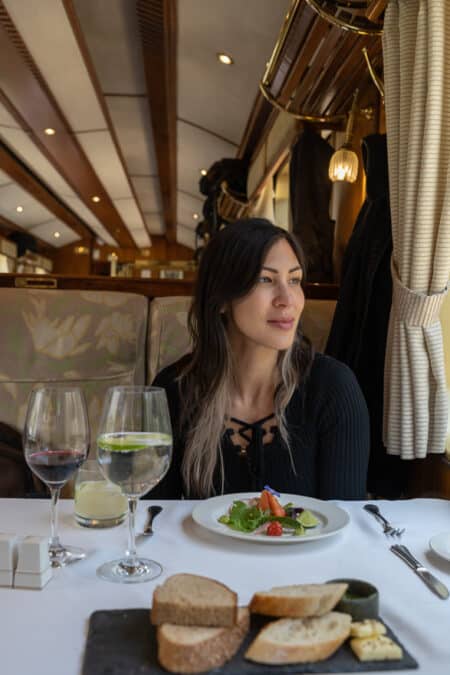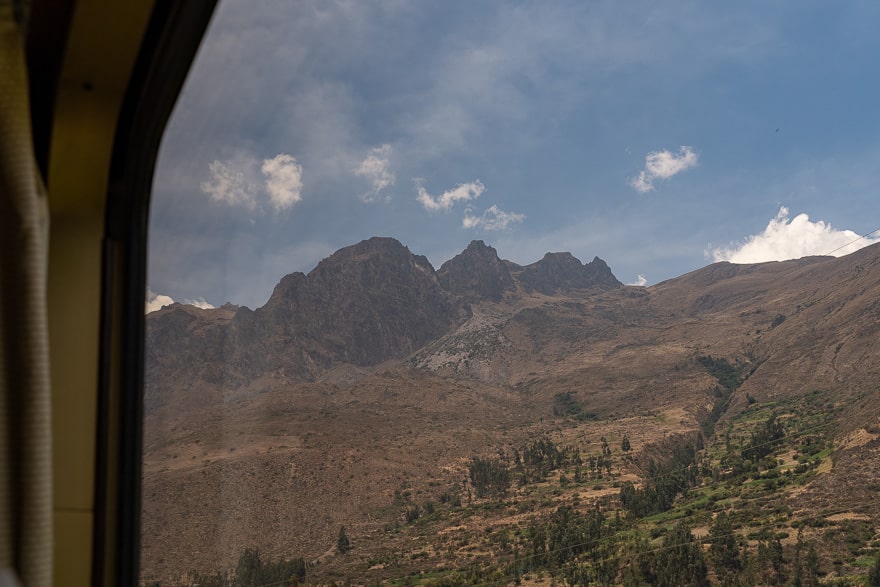 The next course was a beef anticucho skewer (reminding me of our lunches at Joali Being, in the Maldives). This came with a selection of delicious native potatoes and corn, which was incredible; some of the individual kernels were the size of scallops!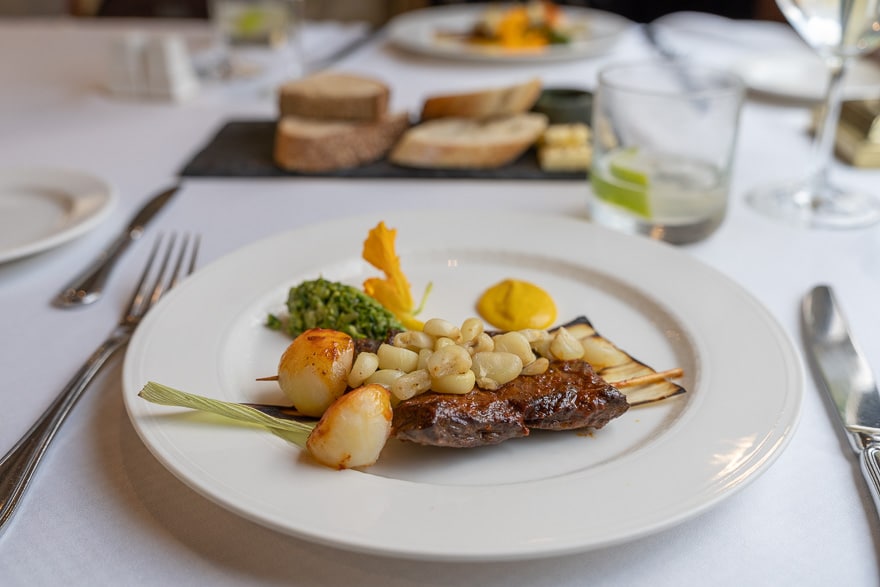 At this stage of the journey, the train tracks were directly adjacent to the Urubamba river, which runs through the centre of the Sacred Valley.
After this it was already time for dessert. Generally, I'm not a fan of dessert or sweet food in general but I have to say that I was still hungry and absolutely devoured the banana passion fruit mousse with mango and lemongrass gazpacho!
Given the early departure time of the train, many people will skip breakfast and perhaps only eat a single croissant, before consuming a folded slice of trout and perhaps 100g of beef, together with less than a fistful of vegetables.
There's no faulting the quality of the food but I have to say that the quantity seemed insufficient, given that the passengers were then expected to embark on a 3 hour hike, at altitude, based on this level of sustenance.
Tea and coffee was offered from carafes at the end of the meal, together with some petits fours.
I asked if it was possible to order an espresso but after waiting 10 minutes I figured it would be easier to head to the bar and get served instantly, as the waitstaff were very busy clearing tables.
This came with the added bonus of having the band to ourselves and eager to take requests. I asked if they knew any Metallica and sipped my espresso, listening to a live rendition of 'Nothing Else Matters' as we made our way into Aguas Calientes (Machu Picchu) station.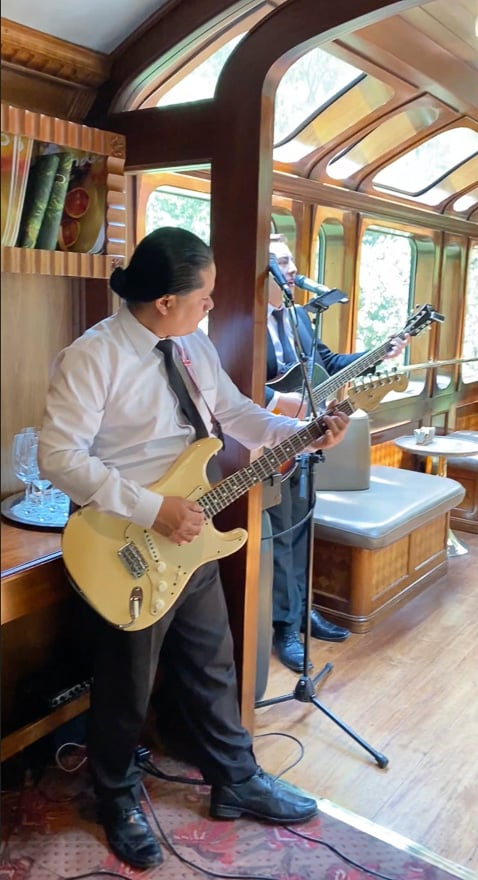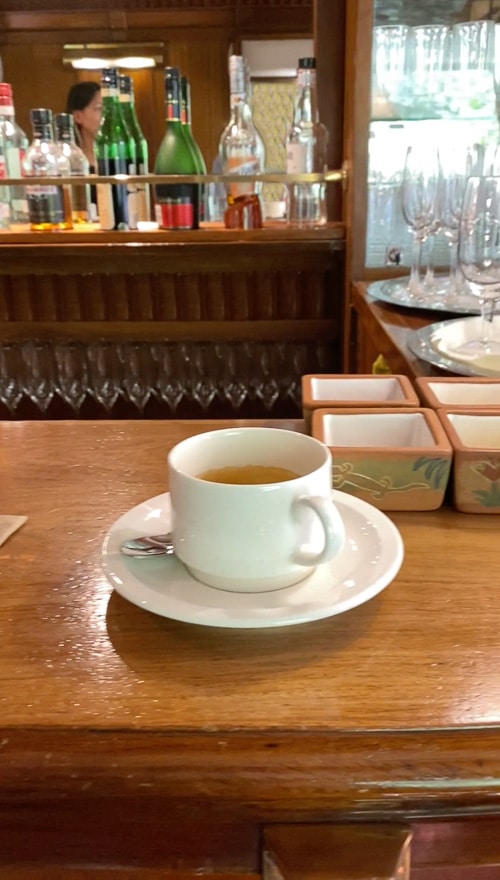 Upon arrival into Aguas Calientes station we were greeted by porters, holding a cart that was designated for guests staying at Belmond's Sanctuary Lodge. The porters took our small cases from us and ushered us towards the Hiram Bingham lounge.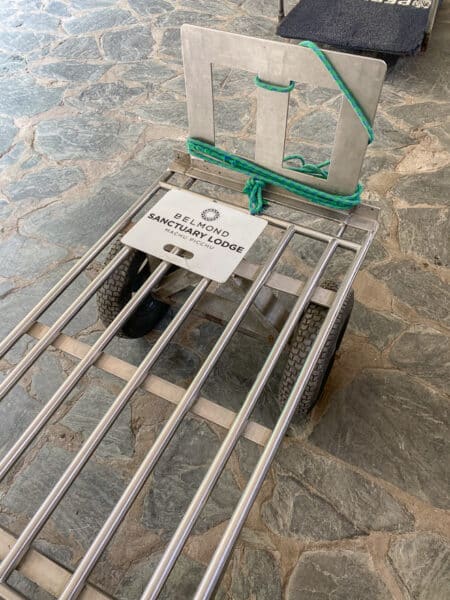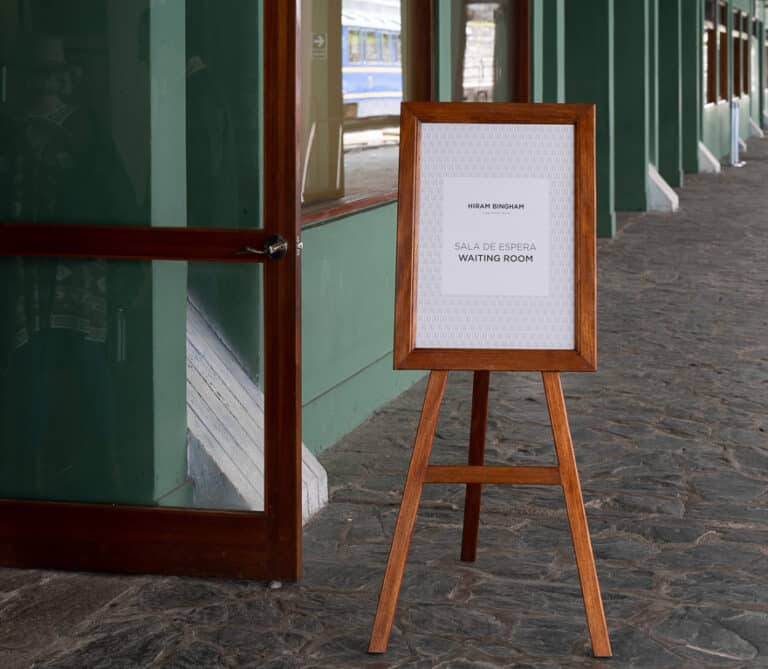 To be honest this facility was rather unnecessary at this point in the journey, since our buses were already waiting outside.
I imagine that the lounge would be stocked with beverages later in the day, in time for the evening departure back to Cusco.
From Machu Picchu station to Cusco there's only one legal means of transport available to tourists: the government-run bus service.
Unless you're on the Hiram Bingham or staying at the Sanctuary Lodge, you will need to wait in a long line to catch a bus to the citadel ruins. Thankfully, Belmond's guests are allocated their own government bus; it's still not exactly luxurious but at least it's private and ready to depart the instant that Belmond's guests require it!
As you can see from the map, the mountain roads are very tight and allowed us to gain altitude very quickly. With each successive hairpin bend, the views got more and more dramatic!
Soon enough, we pulled up to Belmond's Sanctuary Lodge, which is the only hotel next to Machu Picchu rather than in the town of Aguas Calientes below.
Here, guests were greeted by their assigned tour guides and escorted to the entrance to the ruins, 10 metres away:
---
Hiram Bingham guided tour of Machu Picchu
---
Since we were staying at the Sanctuary Lodge we opted to skip the afternoon guided tour, instead requesting tickets for the following morning.
This did mean that we forewent the use of a guide, however we felt that this would be the best use of our time, given that we were staying in a hotel that would make an early morning wake up very convenient!
Early in the morning you will not only see fewer crowds, you can also enjoy cooler temperatures and the dramatic sight of the mist parting to reveal the full extent of the wondrous ruins.
Generally speaking, Hiram Bingham guests taking a guided afternoon tour can expect to see more people but also more sunshine, as all the morning mist will have been burned away. Indeed I took this photo at around 8am, by which time there was no mist to be seen within the citadel.
---
Hiram Bingham afternoon tea at the Belmond Sanctuary Lodge
---
After a three hour visit to the ruins of Machu Picchu citadel, Hiram Bingham guests are invited to a complimentary afternoon tea within the Belmond Sanctuary Lodge hotel.
At this point I think it's worth mentioning that anywhere else on earth, the Sanctuary Lodge would be classified as a 3* hotel or even a motel. The only reason this property carries the prestigious Belmond name is because of the location.
Unlike most Belmond hotels, this property is only operated and not owned by the company, as such there are major restrictions in terms of investment into the building.
However, I still don't think this excuses the quality of the afternoon tea offering.
We filed into something that looked like a school canteen, with pre-made afternoon teas stacked up on cake stands right by the entrance. It was clear that we were walking into an assembly line.
The sandwiches and pastries all appeared to be factory made and were served alongside an insanely sweet welcome drink in a plastic tumbler.
The stand was placed in front of us with no explanation as to what we were being served just a quick, "here is your afternoon tea". A different server then approached to ask if we wanted tea or coffee, served from metal flasks.
I asked if it was possible to get an espresso and I was told that this would probably result in an additional charge. I said that this seemed strange given that espresso wasn't a chargeable extra on the train but to go ahead and bring the espresso regardless.
In the end I was told that there wouldn't be a charge "this time".
Most guests experiencing the afternoon tea would soon be back on the Hiram Bingham, enjoying cocktails and dinner, so perhaps the drop in quality wouldn't be as perceptible to them.
However for those of us ending our journey here, it was certainly an anti-climactic way to end a wonderful day.
---
Conclusion
---
Belmond's Hiram Bingham is a beautifully restored and maintained train, which truly immersed us in the golden age of rail travel.
There is no question that the overall experience is very luxurious and that it is the ideal way to circumvent some of the more onerous government regulation, that makes visiting the citadel of Machu Picchu so complicated.
You not only pay for the luxurious surroundings, the delicious food and the open bar, you pay for the convenience of heading straight to Machu Picchu without lines, delays or touts. If you're on a tight timeline, the ease of visiting this iconic wonder of the ancient world as a leisurely day trip, is hard to overstate.
However, my experience definitely highlighted some areas for improvement. The initial welcome was lacklustre, the afternoon tea was abysmal and the cocktail menu was not up to international standards.
The continued improvement and investment post-pandemic is great to see though. Our clients travelling in July 2023 experienced a significantly better welcome experience and a vastly improved cocktail menu to what we encountered in October 2022.
Not only are Belmond listening, they also have the distinct advantage of being owned by the world's richest man. Clearly the desire and the means to improve are there and honestly at the current price of $504, the experience offers absolutely phenomenal value.
If you bought the backpack, the water bottle, lunch, a regular Perurail ticket and an afternoon tea separately, plus Machu Picchu tickets and a guide; I can't see this costing much less than $350 and that's before you factor in the free flowing alcohol.
My guess is that given the limited capacity, high demand and improving product, prices will rise. I would absolutely recommend taking the Belmond Hiram Bingham over a regular train to any of our clients.
---
Book Hiram Bingham with Belmond Bellini Club Benefits
---
Since The Luxury Traveller is a Belmond Bellini Club agency, our clients are able to enjoy some significant benefits when booking the Hiram Bingham train with us:
$50USD equivalent Food & Beverage credit per passenger, per direction
VIP on-board welcome amenity
Much like their parent company LVMH, Belmond never offer discounts of any kind. However, the on-board credit serves as an effective 10% rebate on your ticket price!
If you would like to make a Belmond Bellini Club booking with us, please drop us an email including:
Full passenger names
Desired date of travel
Desired direction of travel (Cusco-> Machu Picchu / Machu Picchu -> Cusco OR Round trip)
If you're interested in booking hotels as well, or perhaps even arranging a complete Peru package, including tours and transfers, we'll also be very happy to help!
EMAIL FOR PERU ITINERARY ENQUIRIES