GUARANTEED UPGRADE – Rosewood Elite Benefit
July 9, 2023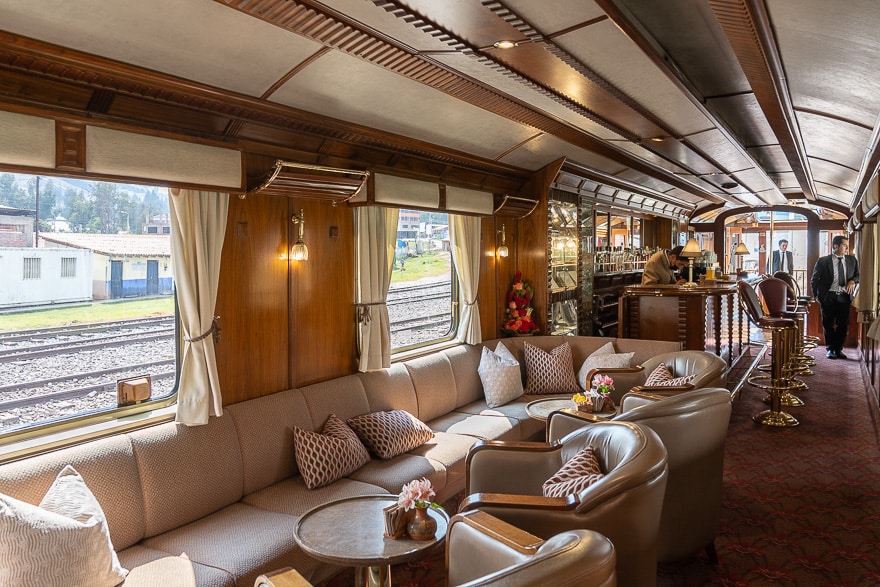 REVIEW – Belmond Hiram Bingham Train (Machu Picchu)
August 2, 2023
Joali Being
Room Type: Grand Ocean Pool Villa
Typical Nightly Rate: ☀️$3,000 , ☔️$2,000
Stay Type: Hosted stay
Loyalty Program: Virtuoso
---
Intro
---
Joali Maldives stormed onto the Maldives hotel scene in 2018, redefining what a top end luxury experience could be. This was no mean feat in a country that appeared to already be saturated at the top end of the luxury hotel market.
Joali's design focused approach offered an entirely new aesthetic, one which was neither the barefoot luxury of Gili Lankanfushi nor the sleek elegance of Cheval Blanc. And people flocked in their droves to experience it. Seeing Joali almost completely sold out for its first two years of operation, the family that owns the property decided to build on this concept and launch Joali Being.
With Joali Being, the aim was to keep the incredible aesthetics and service of Joali, whilst also adding a wellness focus.
The hotel has been designed to be so aesthetically pleasing (you'll struggle to find a single angled corner anywhere on the property) that you are already visually at peace before even working on physical relaxation.
Of course, whenever you do something completely new you are bound to invite criticism. Do people spending thousands per night really want to focus on health and wellbeing, or is luxury only possible when eating fatty foods, drinking fine wines and avoiding physical activity?
My suspicion was that the wellness concept had the potential to be overbearing and certainly seems like a niche offering, but it is one that I was very intrigued to experience nevertheless….
---
Booking
---
Our clients are able to enjoy additional Virtuoso benefits when booking Joali Being:
Upgrade on arrival, subject to availability
Daily breakfast for up to two guests per bedroom
One-time $250 USD equivalent Wellbeing credit per room
Early check-in / Late check-out, subject to availability
Complimentary Wi-Fi
Otherwise, room rates match the best rates offered on the Joali Being website, with payment taken directly by Joali Being during your stay.
No advance deposit is required for clients of The Luxury Traveller.
---
Joali Seaplane Lounge
---
Since we were transferring from the St Regis Maldives, we were met just outside the main seaplane terminal building by representatives from both properties. The St Regis staff handed us over seamlessly to the Joali Being representatives and after quickly identifying our bags we were ushered inside the gleaming new seaplane terminal building.
Ordinarily, guests arriving on an international flight will be met by a hotel representative the instant that they step into the arrivals hall. They will then be whisked over to the seaplane terminal in a very comfortable SUV, featuring chilled towels mineral water, wifi and seat-back entertainment… on a 5 minute drive.
Having the great fortune to be a frequent visitor to the Maldives, I was very excited to finally see the brand new seaplane terminal. Now there is plenty of space to build full sized lounges with plenty of natural light, inside a large and air conditioned building, directly above the departure gates.
What a contrast to the previous experience: a multitude of office buildings scattered around perimeter roads, with lounges crammed into dark corners, often a bus ride away from the actual seaplane departure gate!
As our host guided us towards the entrance of Joali's lounge, it was immediately apparent that we were in for a very special experience.
The lounge is shared by both Joali properties but given the exclusivity of these resorts, we never saw more than four or five other people here.
The style and ambiance of this lounge far exceeds anything I've ever seen in the Maldives. For the first time ever, it genuinely felt as though a lounge was operating at the level of a luxury resort, in terms of both design and service.
As we entered the facility we were handed off to a member of lounge staff, Yasmin, who immediately offered us scented cold towels and a chilled wellness tea. She also offered us a QR code to scan, where we were able to browse a full menu of food and drink.
This was also a first for me. Generally you're lucky to see a loaf of factory bread next to a plastic toaster and some shrink wrapped pastries.
[Note: you can either scan the QR code below to see the latest lounge menu, or click here.]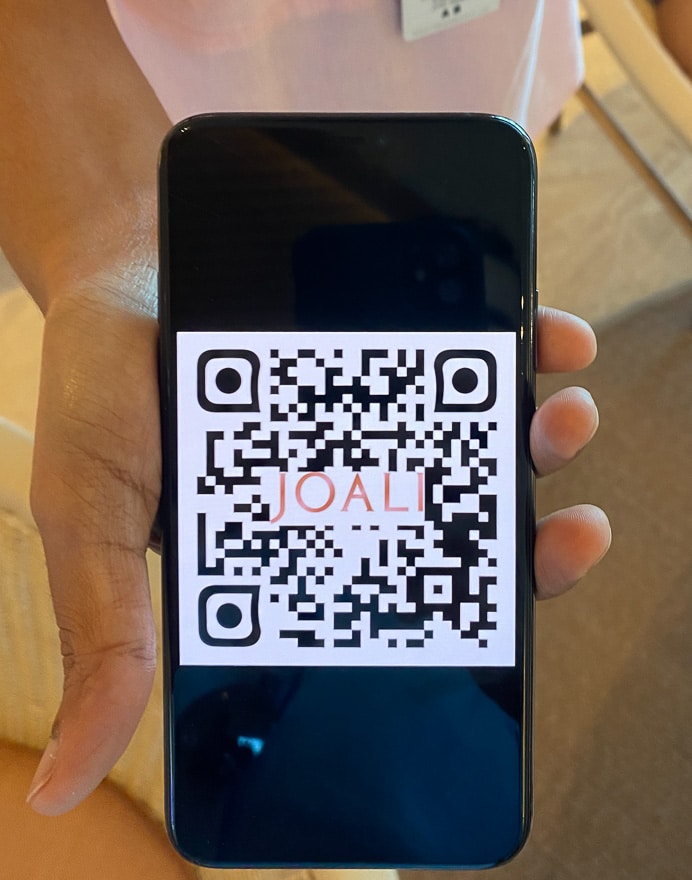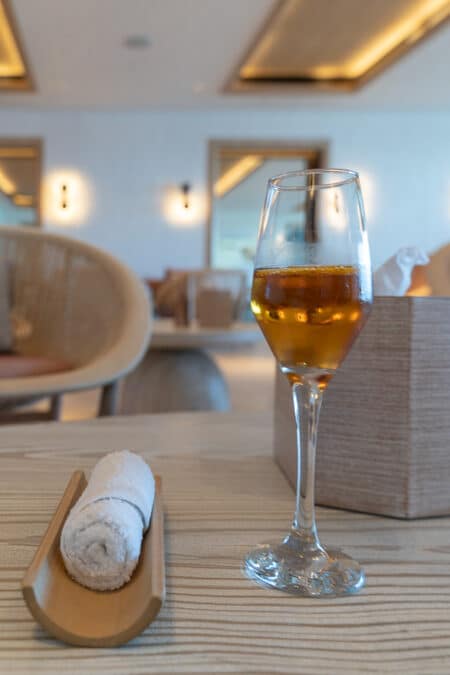 When I ordered a double macchiato I was asked which type of milk I wanted and whether I preferred Acqua Panna or San Pellegrino to accompany it. Again, quite a departure from the usual Nespresso machine and fridge full of Dasani that other luxury properties offer at their Maldives seaplane lounges.
My coffee was served on a custom set, featuring an incredibly light and comfortable coffee cup. The handle was ergonomically perfect; slightly rough and slate like, meaning that the cup never slipped or moved in the slightest.
I would later discover that the cups used by both Joali resorts are handmade in Turkey by friends of the owners, with colours selected to match the decor of the villas and various F&B establishments throughout the resorts.
This spine tingling level of attention to detail is something that I would soon become very accustomed to…
After finishing my first cup of coffee, Yasmin came over to ask if I would like another. She also asked if I would like to quickly complete check-in whilst waiting in the lounge. This was much appreciated, as it meant that we could proceed directly to our villa upon arrival at the island, without the burden of any added admin to slow us down!
Aside from the lavish decor, it was also abundantly clear that Joali had paid handsomely for a central top floor location. The enormous terrace was the perfect spot from which to watch the seaplanes come and go.
Ordinarily you'd expect to see children running around outdoor spaces like this. However, Joali also has the most incredible Kids Room that I've ever seen in a lounge, meaning that young travellers were very well cared for, inside.
Indeed, it looked like a branding team had come in and custom designed an entire children's universe filled with characters and stories, specifically for Joali!
Seeing this, I kind of wished that the main area had adult sized hammock chairs to relax in!
It's worth noting that officially Joali Being doesn't accept children under 12, with families encouraged to instead book Joali Maldives. However, Joali Being is flexible on this policy and will allow one or two children at the resort, particularly for families on longer stays.
During our 7 nights at the property we saw one child who appeared to be around 8 or 9 years old and she was always very well behaved and in no way disruptive to us.
However, I would recommended that families book Joali Maldives regardless. The property has one of the most incredible Kids programmes ever, with a multi-phased approach targeting children of various different ages with varied facilities and activities.
One of the bathrooms in the lounge actually offers a very well designed baby changing room: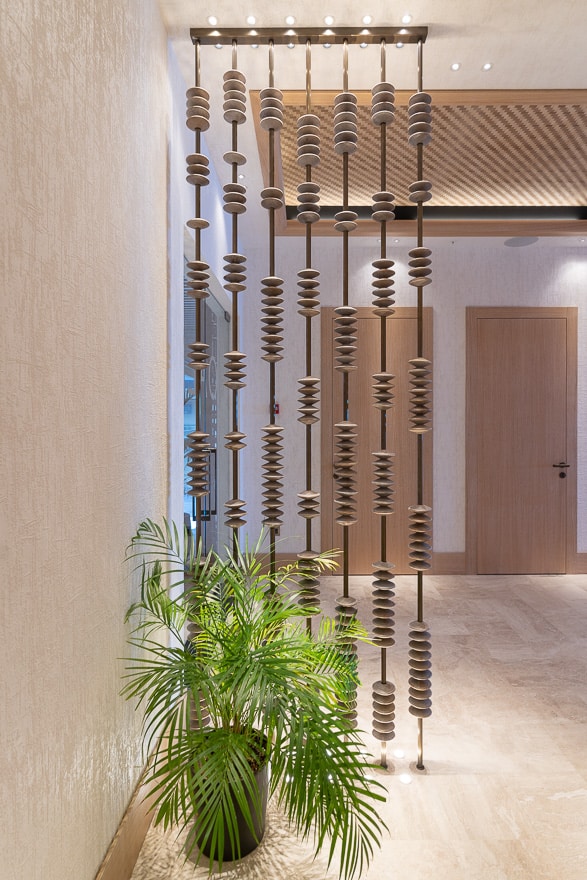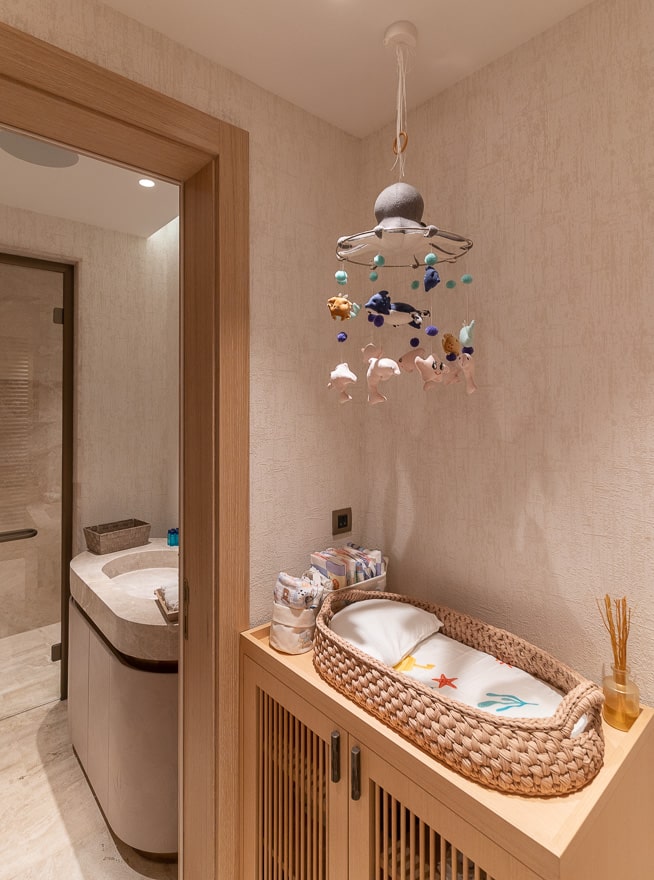 It will come as no surprise that the bathrooms are also the most opulent that I have ever seen in a Maldives lounge, with decor and amenities to match those at the resorts.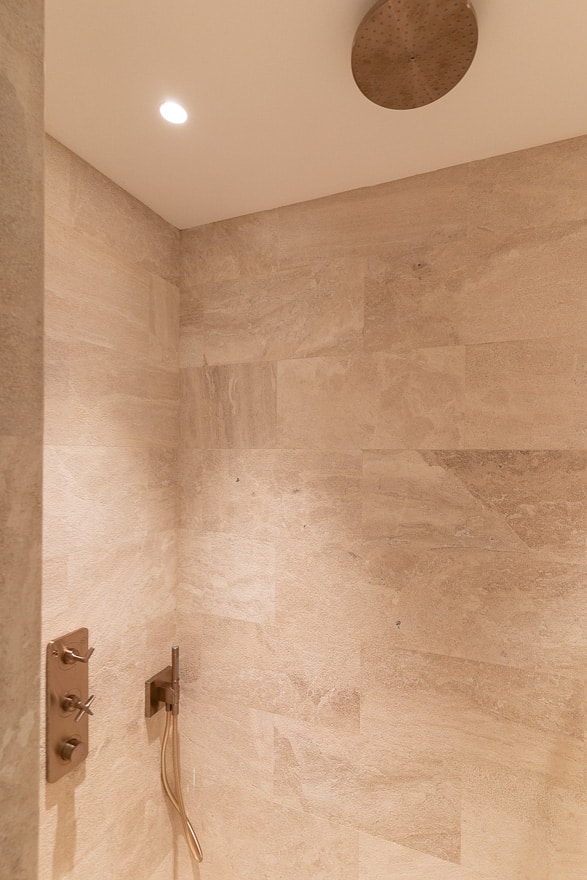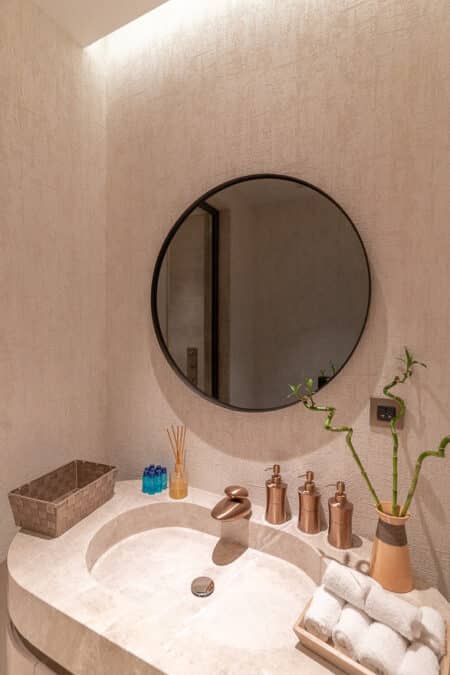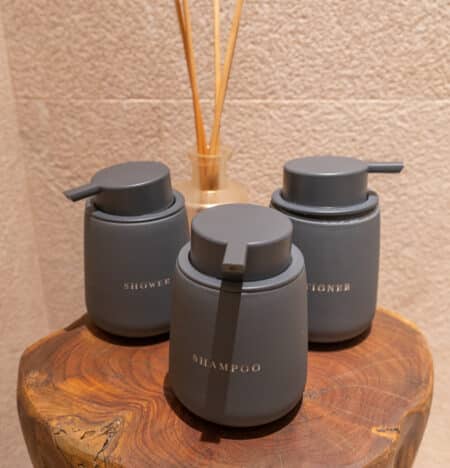 The tap in the sink was one of the most ergonomically pleasing objects that I've ever experienced. I was so excited when I came back from the bathroom that I insisted that Kamara had to go in just to wash her hands and enjoy the tap. She rolled her eyes at me but disappeared briefly to humour me, returning moments later with wide eyes, exclaiming "it's amazing!".
After an action packed hour of tap touching and play area photography we were told that it was time for us to board the seaplane….
---
Joali Being Seaplane Transfer
---
We were escorted to the ground floor gate area by a member of Joali staff, who handed our boarding passes over to the gate agent and wished us a safe flight.
Transfers at Joali are operated by TMA, the national seaplane carrier. Despite the high transfer costs ($1500 per adult, round trip at the time of writing) the plane will usually be shared with passengers heading to resorts close to Joali. Thankfully Joali will generally be the first stop, with other passengers (at cheaper resorts) having to suffer the added inconvenience of the extra stop.
Joali guests are also provided with a small amenity kit of sorts, containing bottled water and earplugs.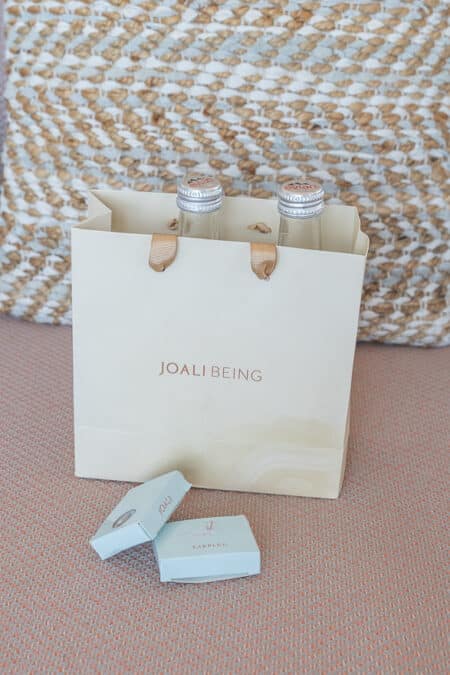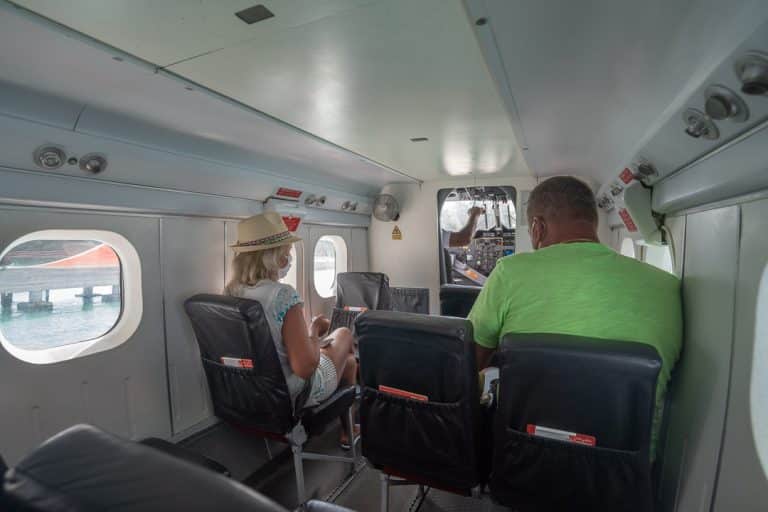 Joali also offers a luxury seaplane which guests will sometimes receive as a complimentary upgrade, as we did on our return journey.
Otherwise the cost is $9,350 to charter the entire luxury plane, each way.
The Joali luxury seaplane features 8 plush leather reclining seats in a 1-1 configuration.
The seats also feature cushions for added comfort.
There's even an extra legroom seat in row 1, with a view of the open cockpit.
Since the plane is solely for Joali Maldives and Joali Being guests, there is also more attentive service on board, with moist towelettes and bottled water offered to guests pre-take off.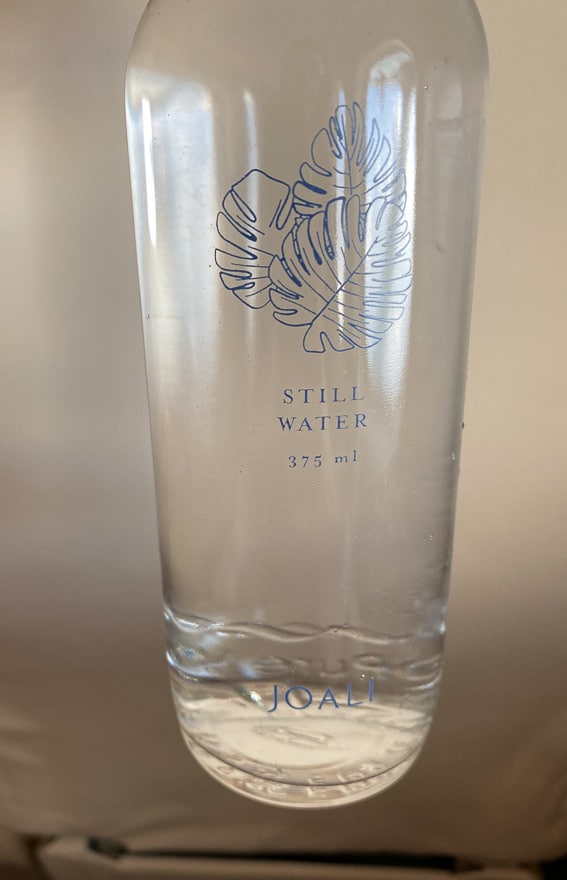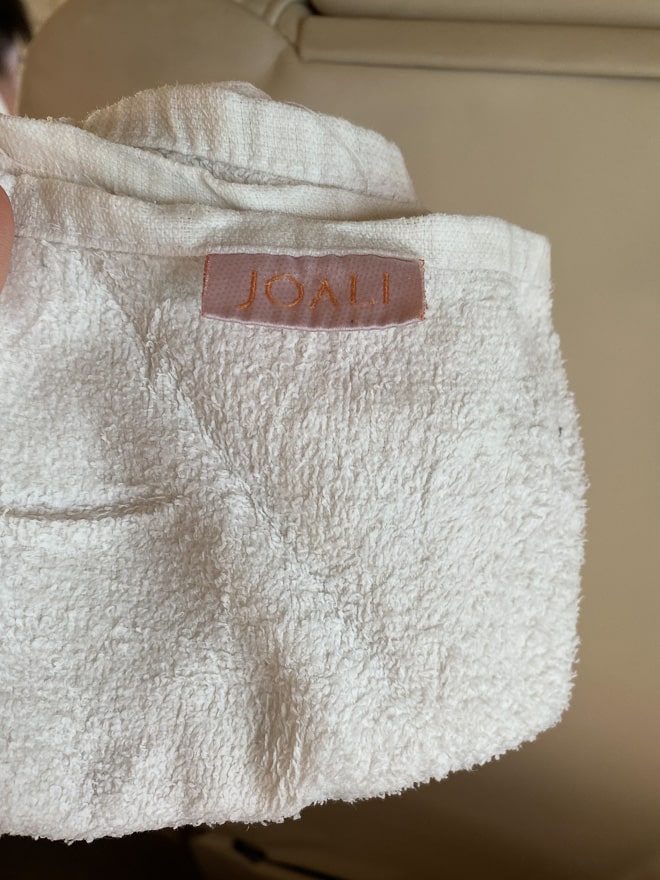 The seaplane landed at a stunning looking arrival dock which has the rather mystical moniker of: The Gate of Zero.
As soon as we stepped onto the dock we were warmly welcomed by a cavalcade of staff, dressed in white uniforms, including several members of the management team.
Honestly it was hard to concentrate on the various names of people, as well as our welcome towels and drinks, because I was so focused on trying to visually absorb this architectural marvel.
As we were introduced to our Jadugar (Joali's chosen word for butlers, meaning Magician in Maldivian), I made a quick mental note that it would probably be a rather sad moment, the next time I saw this comfy looking sofa and rocking chairs.
Still, this thought did not last long, as I was far more focused on the excitement of finally seeing Joali Being in the flesh!
Much in keeping with the experience so far, the buggy featured the most elegant and comfortable upholstery that I've seen in any resort buggy. Fold down armrests were attached to individual racing car style bucket seats.
As we made our way down the weaving path from the Gate of Zero, I couldn't help but chuckle to myself about how the winding pier was twice as long (and expensive to build) as a straight one. Naturally, it would have been unbecoming to offer guests a straight and simple pier, in conjunction with such a beautiful overwater pavilion…
Joali Being Island Map
Joali Being is definitely on the smaller side when it comes to resorts in the Maldives. You can cycle from the far end of the Ocean Sala to the middle of the water villa pier in 10 minutes.
Even with a couple of stops to explain various facilities to us, our buggy ride to the villa was very quick.
Although we almost always cycled during our stay, we found that on the few occasions where we requested a buggy (post dinner or spa for example) we never had to wait more than 5 minutes. Meanwhile, on a larger island wait times can often exceed 15 minutes!
Another thing to note is that the island is 100% natural and despite its relatively small size, the jungle interior felt properly dense and wild, with all the visible signs of wildlife that you would expect.
---
Joali Being Villa location and selection
---
The water villas at Joali Being are almost exclusively located on a single sweeping pier.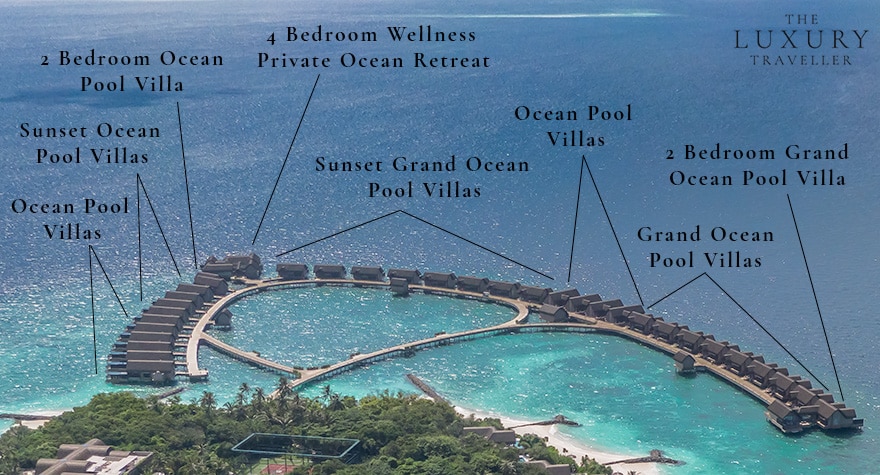 The key distinction between the Grand and regular Ocean Villas is that the regular ocean villas have pools on a vertical orientation to the ocean, whereas the Grand Ocean Pool Villas have horizontally orientated pools.
The Grand villas also have proper living rooms, with sliding doors separating them from the bedroom. The living rooms also feature separate access doors to the outside deck, to avoid disturbing those who may still be sleeping in the bedroom.
Much like the villas at Ritz Carlton Maldives or Patina, the villas at Joali Being are modular. This means that an Ocean Villa is almost identical to a Beach Villa and a Grand Ocean Villa is almost identical to a Grand Beach Villa. The upside is that Beach villas enjoy added privacy, more outdoor space and they also feature additional outdoor showers and tubs.
---
Joali Being Ocean Pool Villa
---
Since we arrived early in the day, our Grand Ocean Pool Villa wasn't quite ready for us. However, we were offered an entry level Ocean Pool Villa to relax in for a few hours.
Despite being the most basic accommodation type at the property, there is no question that these villas are utterly spectacular, featuring finishes and furniture at the level of top villas in other resorts.
In a way it was almost a good thing that we saw this room first before seeing our Grand Ocean Pool Villa, otherwise the shock would have probably been too much.
Ocean Pool Villa Bedroom
The open plan bedroom was a masterpiece of soothing design; a dove grey canvas awash with pastel shades of pink, peach and green.
The bed was stocked with the pillows that we had selected in the pillow menu section of our pre-arrival questionnaire.
Pillow Menu
The quality and variety was clearly excellent, although I really would have liked to get firm feather pillows like the Ploh ones used at Amanoi and Naladhu.
The bed itself was very comfortable indeed, with high thread count sheets and a medium firm mattress.
Joali Being deliberately avoids placing charging ports next to the bed, in order to encourage guests not to experience blue light before sleeping.
Of course this does make it very difficult if you have your phone next to you for the purposes of using a sleep monitoring app, since these are power hungry and will fully drain a battery overnight…Thankfully we always travel with USB power banks.
At the foot of the bed was a very deep and comfortable sofa, covered in a cornucopia of cushions, with the backrest level to the sleeping surface, so as not to obstruct the ocean view.
Since we visited so soon after the opening of the property it is understandable that there would be a few kinks left to iron out. The most obvious of which was the fact that the frosted and clear windows were the wrong way around.
The frosted window faced a wall and plants, with the frosting serving only to block a natural view. Meanwhile the clear window was placed directly in front of the desk, giving our villa a clear line of sight to the neighbours' front door and pool. I expect that this will have been corrected by the time that you read this review.
The desk featured a very unusual stool that purports to provide optimal support whilst sitting. As a man who had two hip surgeries in his early 30s, I can actually vouch for this. Despite the odd appearance, I didn't feel any aches or pains at all whilst sitting on this stool for extended periods.
Sitting atop the desk was a very attractive B&O bluetooth speaker. This was supplemented by an array of curios and instruments on the adjacent shelving unit.
On the opposite side of the bed was a very well equipped mini bar area, featuring an incredible array of teas and coffees.
The minibar featured the same beautiful handmade cups that we encountered in the lounge, this time in a colour palette to suit the villa.
The Nespresso machine was also top of the range and again designed to blend seamlessly into the surroundings. It really is uncanny how much your overall feeling of relaxation can be aided by ocular rest.
Typing that sentence feels borderline ridiculous but now that I've personally experienced it, I can genuinely see the benefit in this type of design.
It isn't supposed to be showy or flashy, which means that Joali Being would probably struggle to capture eyeballs in the Instagram era, were it not for the fact that the overall effect of the design is so manifestly beautiful.
Normally I'm not a fan of Nespresso, I far prefer the coffee produced by Illy, Lavazza and Segafredo capsule machines. However, the Julius Meinl capsules provided the best coffee that I've ever tasted from a Nespresso machine.
In addition to the four types of coffee there were also four types of high quality tea bags. Notably there was no matcha, despite the presence of a bowl and whisk; I wasn't expecting a packet of ceremonial grade Uji matcha but a simple canister of the cheap(er) stuff would have made sense.
Although a few resorts at this price point provide complimentary soft drinks and snacks (Ritz Carlton Maldives for example), at Joali Being all of the healthy treats were chargeable.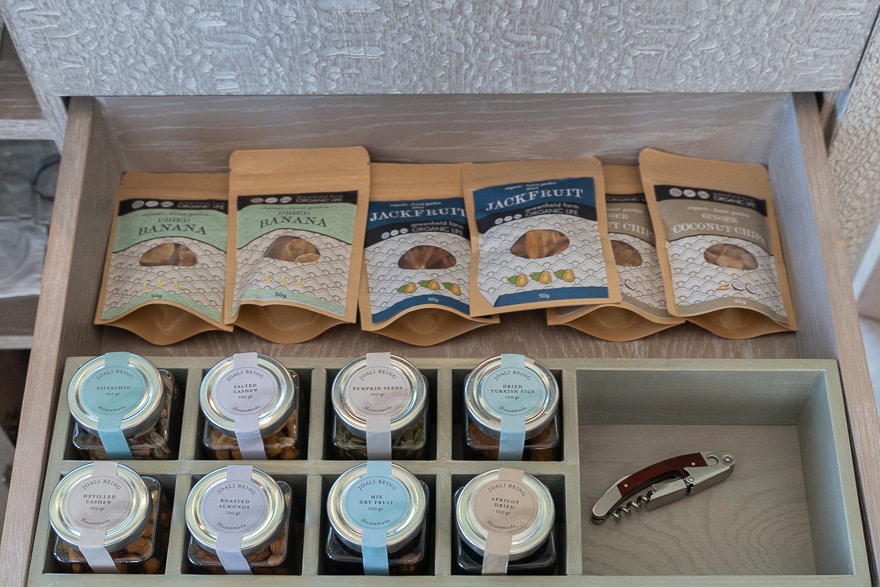 The complimentary Joali Being water bottles were a lovely gesture though, albeit one which has now been adopted by so many luxury hotels that I no longer have the space to take the bottles home with me!
It's always appreciated when hotels offer proper milk to use with the tea and coffee, however I was surprised to see only full cream milk and no non-dairy alternatives.
Perhaps this was due to us asking for regular milk in the lounge (it takes a lot for me to trust a barista enough to use almond milk in my drink, without savagely scalding my coffee).
Since Joali Being is a wellness resort, there is no alcohol in the room. Indeed, when the property first opened there was no alcohol anywhere on the island – although nowadays separate alcoholic drinks menus are offered to guests that ask for them.
The lounge area at the end of the bedroom was very spacious and had plenty of natural light, thanks to the floor-to-ceiling glass on three sides.
Despite this only being a temporary villa, we were offered a very impressive welcome amenity!
The welcome amenity consisted of various low sugar sweets and a giant fruit bowl, as well as a bottle of genuinely fantastic Sparkling Tea.
In fact the sparkling tea was so good that we've since made a habit of buying it at home!
Once again, everywhere that I looked there were small designed flourishes, hand carved wood, soothing lighting, textures and colours that were immediately pleasing to the eye.
Ocean Pool Villa Bathroom
The bathroom was separated from the bedroom by a series of woven green panels, which appeared to be inspired by the design of traditional fishing baskets…albeit ones that comfortably fit into cathedral ceilings.
The mosaic tiling in the bathroom was absolutely extraordinary, I can only imagine the amount of time it must have taken to painstakingly create the intricate wave-like patterns.
The free standing bathtub was the centrepiece of the bathroom, with an open plan boutique style wardrobe space and a full length mirror flanking it on one side.
The wardrobe featured numerous additional amenities like a yoga mat, printed kimonos, a very handy canvas beach bag and the most unbelievably plush and cloud-like slippers I've ever worn!
At the far end of the bathroom was an oversized trough style sink with two sets of taps, unfortunately this design meant that counter space was very limited, particularly since there was nowhere to hang the hand towels.
The toilet and shower were located within frosted green glass pods, on either side of the sink. The shower felt very spacious and featured an enormous rainfall shower head. Toiletries were Joali's own brand, supplied in custom made pump bottles that had a non slip texture and a very satisfying pump action.
The toilet featured a handheld hose gun though, rather than a more luxurious Japanese style washlet.
Because I'm obsessed with every tiny detail when I'm in a hotel, one thing that bothered me a bit was the fact that the bath mat didn't fit under the door of the shower. I did love the bamboo style towel rack though, which was designed to match the design of our sofa.
On the opposite side of the bath to the wardrobe there was a luggage area, which given our personal travel style, I found to be rather undersized!
Ocean Pool Villa Outside Bathroom
Leading out from the bathroom was a beautiful outdoor shower area. Joali Being's designers really went all out adding plants and an ornate stone enclosure around the shower, which served to provide much needed shade.
In contrast the water villa showers at the Waldorf Astoria, for example, look positively Spartan; shadeless wooden boxes with no greenery and little light.
Ocean Pool Villa Pool Deck
Beautiful though the outdoor shower area was, this paled in comparison to the spectacular pool deck.
There are almost too many amazing details on which to focus here but I particularly loved the height and curvature of the villa roof, which really added a dramatic feel to the main sitting area.
The circular lighting and the swinging chair were great design touches too.
Much like the water villas at Four Seasons Landaa Giraavaru, the Ocean Pool Villas at Joali Being feature pools which are vertically orientated. This is of course a design trick that allows villas to take up less space on the pier while still having large decks.
The flipside of this is that you get a 'tunnel' style view, framed by fences, rather than the true panoramic views offered by horizontally orientated pools. You will also see neighbouring villas, when you swim to the end of your pool.
However, privacy really wasn't an issue until you got into the final couple of feet at the end of the pool.
Something I really enjoyed was the multi tiered approach to the deck, with stairs used to great effect to separate the different areas (much like at Four Seasons Kuda Huraa). I was also a fan of the border of dark river stones running along the side of the pool, obscuring the plastic drains, which allowed for the infinity edge.
Again there were plenty of pleasing details here, like the fact that the parasol was on a wheeled base, meaning it was very easy to adjust the shade. The loungers always had a spare towel and cushion placed on them, in addition to the fitted towel. The side table was also very light and had a handle in the centre, allowing for easy movement.
Personally I'm not sure that the miniature net added much value but these seem to be obligatory nowadays, ever since Jean Michel Gathy installed them at O&O Reethi Rah. The little hand shower was useful for washing sand off our feet but I couldn't help feeling that a full height pool shower was missing from the deck.
Unlike the wild 13 step drop at Patina Maldives, there was a gentle descent to the ocean, with ample space to comfortably put on snorkels and fins before getting into the water.
---
Joali Being Beach Pool Villa
---
As I previously mentioned, the only difference between the Ocean Villas and the Beach Villas at Joali Being is in the layout of the outdoor space.
The pools are orientated horizontally and there is thick jungle foliage providing additional shade and privacy from neighbours.
There are also full sized outdoor showers next to the pool.
Best of all, the outdoor bathrooms are set in Balinese style jungle gardens, featuring deep soaking carved stone tubs!
---
Joali Being Grand Ocean Pool Villa
---
It's worth taking a moment to stop and appreciate the fact that up until now, we have only discussed the most basic, entry level rooms at Joali Being.
Those gigantic lap pools, the scalloped and mosaic surfaces, the cathedral ceilings…all of this is the bare minimum that Joali Being offers to guests. Allow that to sink in for a moment.
The Grand Ocean Pool Villas take all of this to an even more extravagant level and interestingly, this is the only water villa category that has the potential to be away from the main pier.
In fact, there are two Grand Ocean Pool Villas located at the opposite end of the island, next to the Ocean Sala.
Ours however was allocated on the main pier, which I really enjoyed. This area was particularly beautiful at night, when it looked like a magical neighbourhood of illuminated gingerbread houses, with fish seeking refuge under the glowing walkways.
Grand Ocean Pool Villa Living Room
One of the main differences between the standard overwater villas and the Grand versions is in the fact that the latter feature entirely separate living rooms.
You will probably have noticed that in this room there was a TV set up for use. Joali Being uses Samsung frame TVs, which funnily enough is the exact TV we have in our bedroom at home. It was quite the shock walking into this remarkable villa and seeing the familiar screensaver image of the salt flats!
Initially the TV was placed in an awkward spot behind the sofa but I managed to run some wiring under the carpet and move it to a much more usable location.
The great benefit of this living room was that I was able to wake up an hour before Kamara every morning, make myself a coffee and the head out to the pool deck, without disturbing her.
One thing I didn't mention yet is that all the villas at Joali Being feature iPad room controllers. This handily provided a set of very well labelled lighting controls, which allowed us to adjust each of the villa lights individually.
Grand Ocean Pool Villa Bedroom
The bedroom here felt even more zen-like than in the standard villa, thanks to the additional space which was freed up by moving the sofa to the living room.
I preferred the fact that the bed was up against a wall too, rather than having lots going on behind it.
The desk was identical to the one in the standard Ocean Villa, although the location meant that there was less glare from outside.
Grand Ocean Pool Villa Bathroom
In general I far preferred the "L" shaped layout of the Grand Villa as it also made the bathroom feel more distinct and separate from the bedroom.
It also allowed for a bathtub that was front and centre, with amazing views of the Indian Ocean!
Although I understand the desire to do something interesting with the design, my concerns with the sink remained the same in this villa. The open trough style meant that there was almost no counter space to speak of.
This property also adheres to the annoying trend of not having towel racks for hand towels, thereby further reducing the viable counter space.
Ultimately we ended up using the space under the sinks to store all of our toiletries.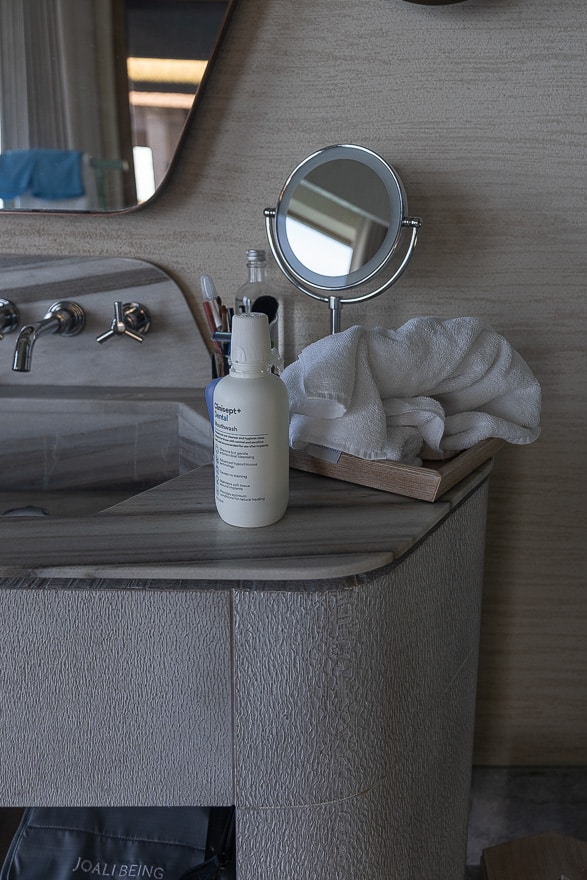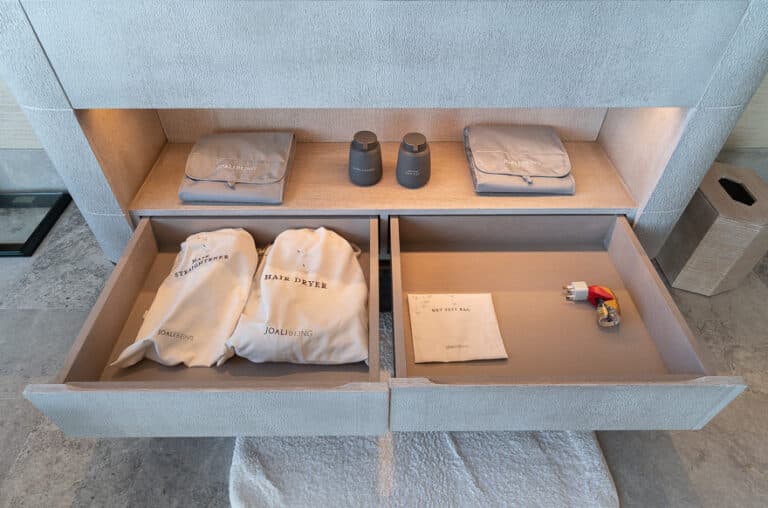 It's worth mentioning that Joali Being is very generous when it comes to bathroom amenities though: not only did we have two types of dressing gown each, we were also provided with flip flops, incredibly thick and plush slippers and even individual amenity kits!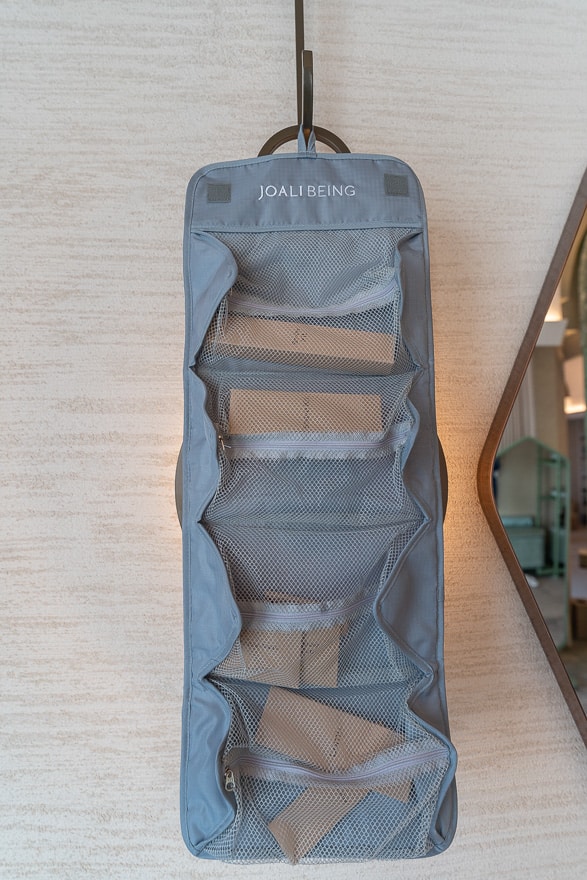 The toilet and shower were located within two frosted glass pods at the rear of the bathroom, next to the screens which divided it from the bedroom.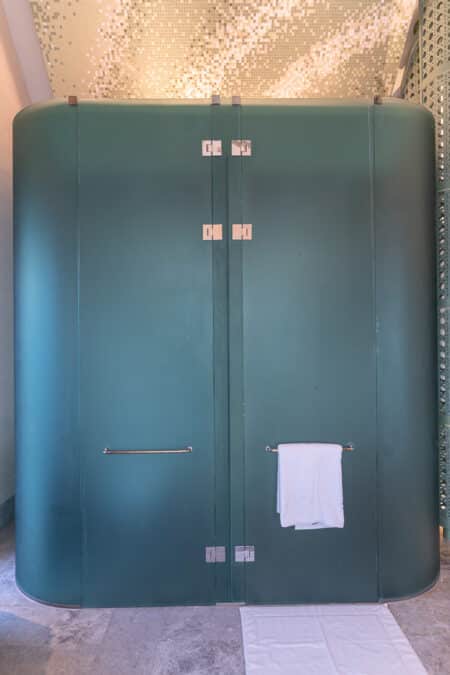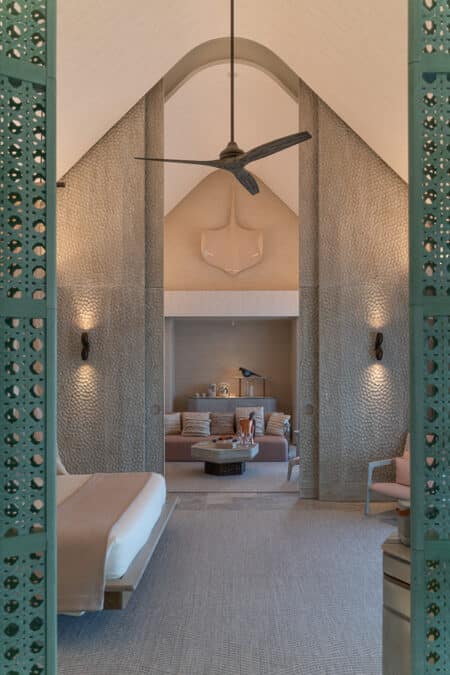 Despite all the modernity in the villa design, the toilet still featured a manual 'bum gun', which is a considerably less elegant and efficient device that a Toto washlet. The toilet also featured a landline phone, in case you're the kind of person who is simultaneously so important that they have to take urgent calls in the toilet but also not important enough to own a mobile phone.
The shower was absolutely amazing, featuring a rainfall shower that generated a force approximately equivalent to Iguazu falls. I also really loved the reclaimed wooden stool, which added a much needed organic counterpoint to the chrome, glass and tile.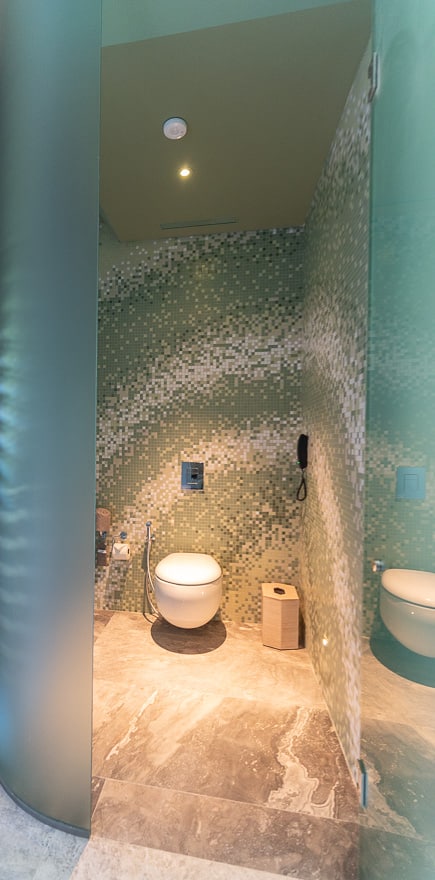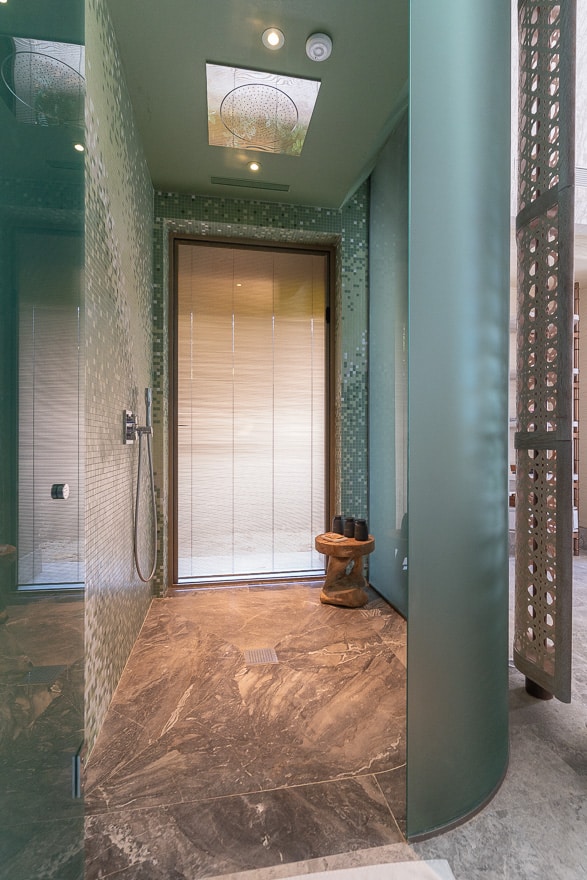 Wardrobe space was plentiful and the layout was akin to that of a luxury boutique. All too often we'll live out of open suitcases when travelling but here it was a joy to fully unpack and to have all of our clothing so stylishly displayed!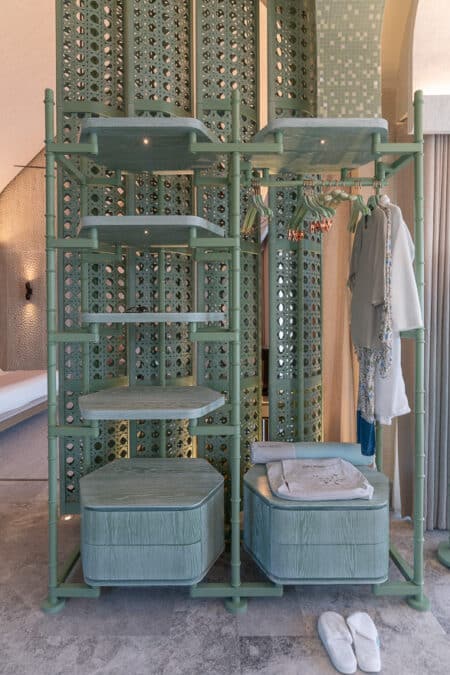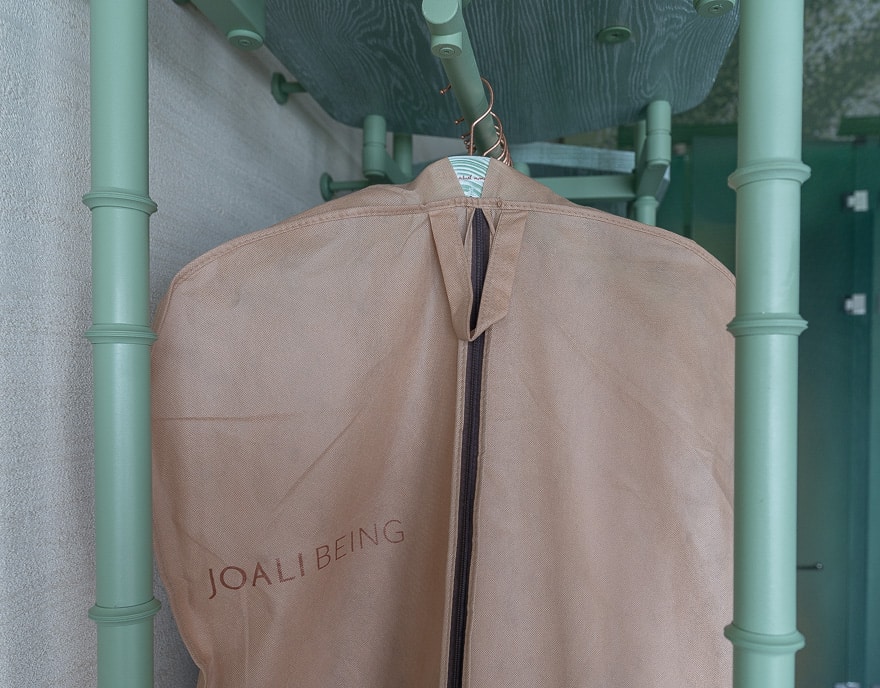 Grand Ocean Pool Villa Deck
Having a horizontally orientated deck is the sign of a truly high end Maldivian villa.
Vertically orientated pool decks offer narrower fields of vision and situations where neighbours become visible from the ned of your pool. Meanwhile horizontal decks feel completely private and offer panoramic horizon views.
When people picture themselves in the Maldives, enjoying an overwater villa, what they're usually picturing is this:
Having personally visited 23 Maldives properties at the time of writing this review, it's hard for me to overstate how rare it is to enjoy this degree of privacy and a truly unspoilt horizon in the Maldives.
Another really great feature of this deck design was that the main sitting area was protected from the wind by the glass walled bathroom.
Even on occasions when the wind picked up and rain started to fall, we were able to enjoy the sofa area, whilst reading a book and sipping a coffee.
We've also been in other villas where the space honestly felt too large for two people, like Waldorf Astoria or Four Seasons Landaa Giraavaru, for example. Here the amount of space on offer for two people was more or less perfect.
One of us might prefer to sit on the sofa, whilst the other decided to lie in the sun…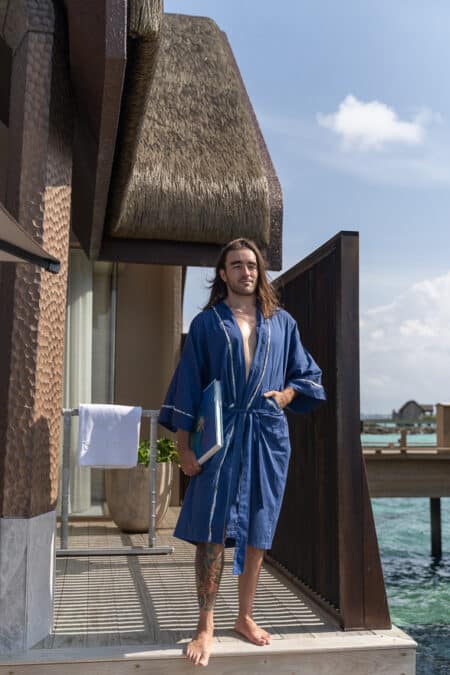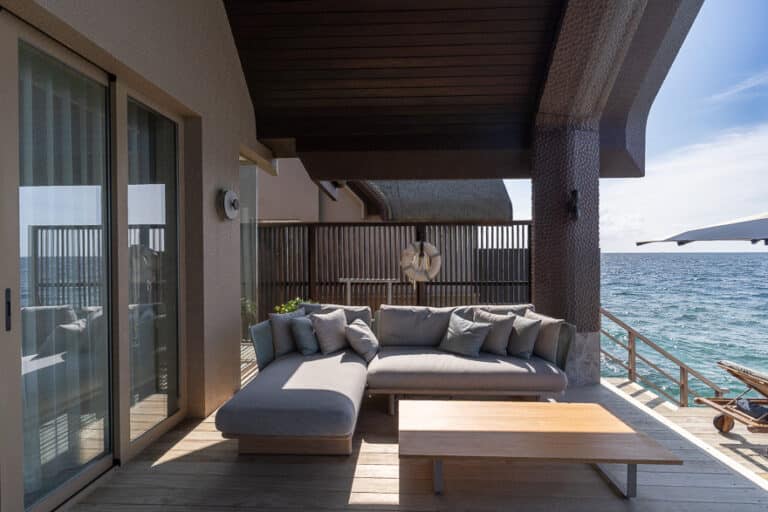 …but we would still be close enough to each other that it felt like we were still hanging out together, rather than each going off and doing our own thing.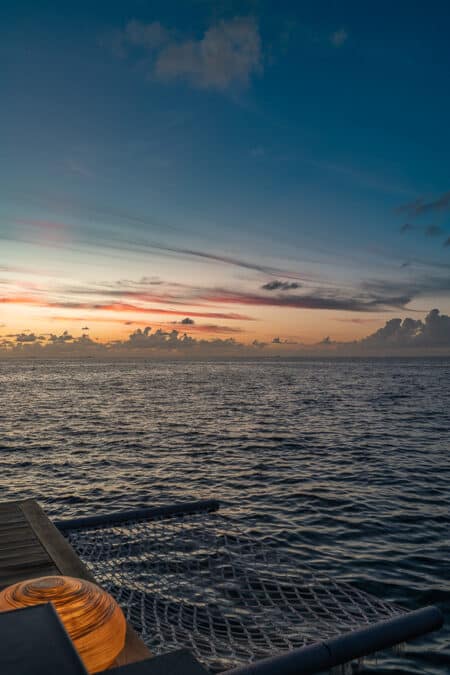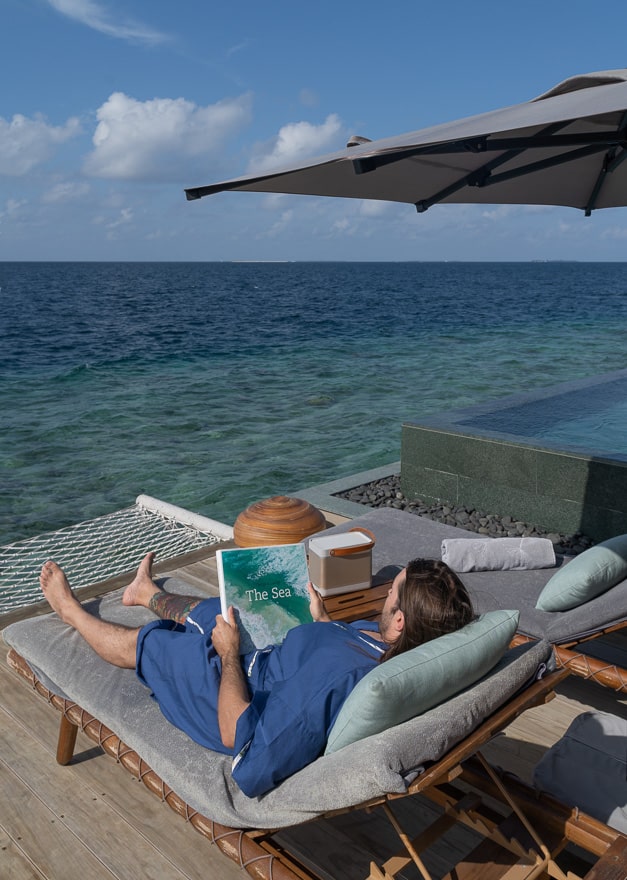 Despite the manifest benefits of this deck over those in the entry level water villas, I did notice the absence of an outdoor shower here too. It would have been great if the designers had found a way to fit one into the design of the deck.
Turndown
I personally find that the best time of day to enjoy a pool villa deck is in the evenings, when the ocean is no longer as appealing and you can fully enjoy your pool without fear of getting sunburnt! This sentiment is particularly true in the case of the Grand Ocean Pool Villas at Joali Being, which I found to beautifully illuminated as well. The soft glow emanating from the circular lamps was very inviting indeed.
Inside the bathroom I couldn't help but marvel at the gently curved rails, which meant that the curtains closed without unsightly corners being visible from the outside.
In fact, the villa as a whole seemed even more impressive at night, thanks to the incredibly thoughtful use of recessed lighting, which accentuated the unique architectural details.
The turndown service itself was fairly simple. The bed was turned down, slippers were placed upon a linen cloth and water and glasses were placed on the bedside tables. There were no turndown gifts or ornate bed decorations but honestly I didn't much miss these things.
One thing to note though is that the curtains didn't provide a true blackout – this is a picture taken first thing in the morning using my iPhone's low light mode. Certainly not enough to actively disrupt sleep but also not a full blackout.
---
Joali Being Four Bedroom Ocean Wellness retreat
---
During our site inspection of the property, we were shown around the largest of the overwater villas: the Four Bedroom Ocean Wellness retreat.
In-Villa Wellbeing Facilities
All of the larger villas at Joali Being are designated as Wellness retreats, since they offer private wellness facilities such as saunas and gyms.
In the case of this particular villa, it offers both!
The private overwater sauna is definitely up there with the most extravagant features I've ever seen in any hotel room in the world.
However, despite the inclusion of some obviously very expensive machinery, this gym was clearly designed for people who are unfamiliar with the concept of muscular hypertrophy. People who train even moderately seriously, would be MUCH better served by the property's incredible main gym.
Not content with offering a private sauna and gym, this villa also comes equipped with a massage room:
Bedrooms
The four bedrooms are decorated in a similar style to the those found in all of the other room categories.
One of the King bedrooms also features glass panels on either side of the bed, offering a view of the water below.
This bedroom also features a small private terrace and as such would be ideally suited to the grandparents in a multi-generational family, who may well want some peace and quiet!
There is also a smaller King Bedroom…
…together with a pair of Twin Bedrooms:
Shared Spaces
The main appeal of multi-bedroom villas is not only that all the guest bedrooms are close to one another, but also that guests are able to socialise in private, in the shared spaces.
This villa's pool is almost as large as the main resort pool at many hotels and features an amazing panoramic view of the Indian Ocean.
On one side of the pool there is a clear shaded deck area, ideal for yoga.
On the other side is the outdoor living space, complete with sun loungers, both inside and outside the pool.
Indoors, the villa features a kitchen, where a chef can come to prepare meals for the residents.
Ordinarily the kitchens in multi bedroom villas are quite basic, with the premise being that the guests themselves never spend any time inside. However, at Joali Being it's clear that the brief was to create a showpiece kitchen that the guests would gladly use!
The dining room not only offers a dining table with room for 8 guests, cathedral ceilings and bespoke glass cabinets, it also features an incredibly high powered Meade telescope.
The living room features a gigantic sofa, which almost completely engulfs the central coffee table. It also features a second tea and coffee station for good measure, despite being literally next door to the dining room… which also offers this.
Overall there's no question that the experience of spending time in this villa is a material improvement over taking four individual villas, next to one another and it is priced accordingly.
---
Joali Being Beach Villa
---
The Beach Villas and Grand Beach Villas at Joali Being are almost exact carbon copies of their overwater brethren.
The key differences are that the beach villas enjoy a higher degree of privacy than water villas, thanks to the vegetation, direct beach access and outdoor showers.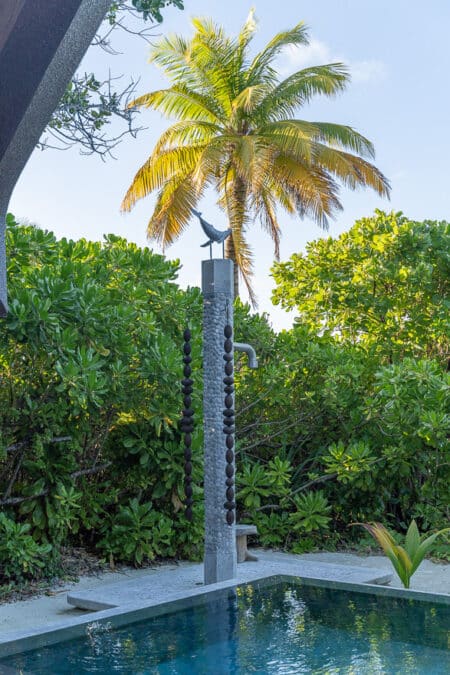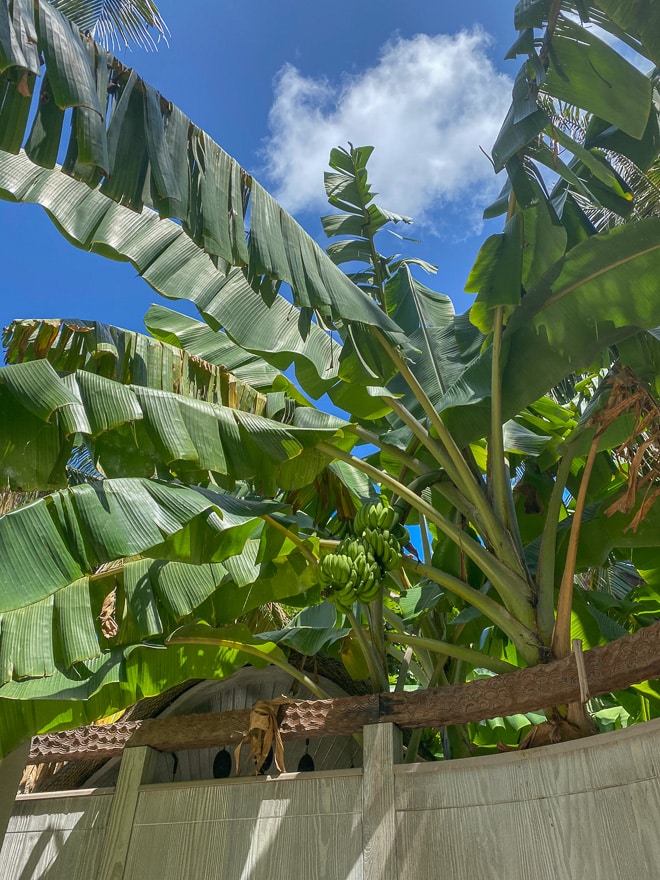 The bathrooms also extend outdoors with carved stone bathtubs, set within sheltered garden gazebos. They also feature a second outdoor shower in this space.
Given all of these advantages, the Beach Villas at Joali Being are offered at a higher price point that the Ocean Villas.
---
Joali Being Three Bedroom Wellbeing Beach Residence
---
On the morning of our penultimate day, we were offered the opportunity to switch to the Three Bedroom Wellbeing Beach Residence for the seventh and final night of our stay.
Honestly we're in a very fortunate position as owners of a luxury travel agency. We travel extensively and get to experience some truly incredible products, all around the world. 9 times out of 10 we will turn down the opportunity to switch rooms, if we can just tour the superior room type instead.
Moving from one room to another, even with assistance, can be a major upheaval and we are always mindful of our time when travelling, since our workload is already effectively doubled.
Having said all of this, when our butler told us that this villa was being offered to us, we couldn't resist. The pictures made it look like the most impressive villa I had ever seen in my life and this was going to be the final night of our trip. The urge to end things on a high was just too great.
As we descended the buggy and entered the grounds of our new home, I couldn't help but feeling that from the entrance, the villa looked rather demure and understated.
This feeling was resolutely dispatched the moment that we set foot inside.
Kitchen, Living and Dining Room
Although the Four Bedroom Ocean Residence is more expensive and accommodates more guests, it was clear from the outset that this Residence was superior in almost every way. There's just no way that an overwater villa could compete with the gigantic footprint of this oceanfront estate.
Gone were the demure grey stone floors and in their place was marble as far as the eye could see, pink walls and a ceiling height which rivals the most extravagant of New York Penthouses.
You can really imagine how amazing it would be to enjoy this space with a group of friends or family, without the separating walls that are necessary in an overwater villa.
The kitchen island would be a show stopping centrepiece in most homes but here it played more of a supporting role: as the location of the bottled water and the tea and coffee making facilities.
The kitchen was fully operational and even featured a built in bean to cup machine. However, the pink panels could easily be pulled across to cover it, should one wish.
The dining room felt like it was missing an art piece on the wall but otherwise the seating was more comfortable and the stone table was far more impressive than what was offered in the Ocean Retreat.
With overwater weight limitations lifted, you really feel like the design team was able to go all out with the design here.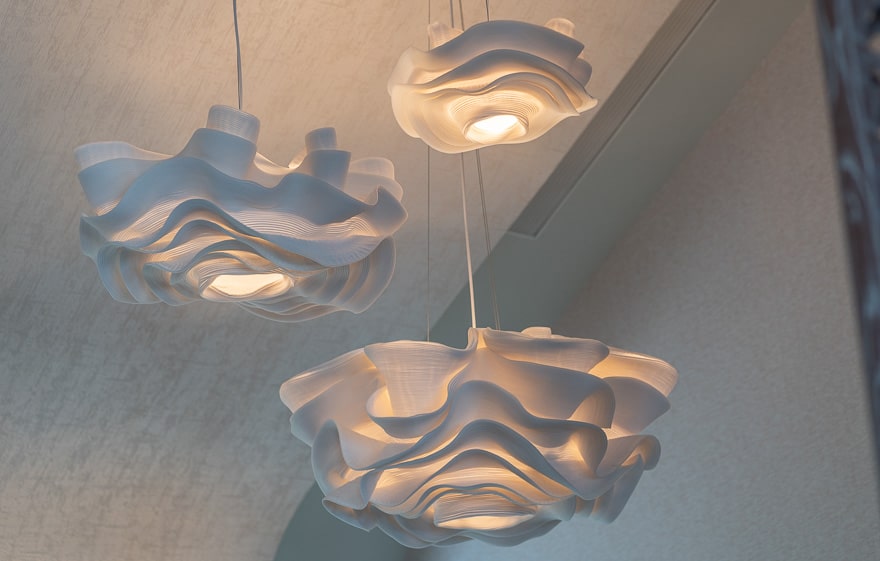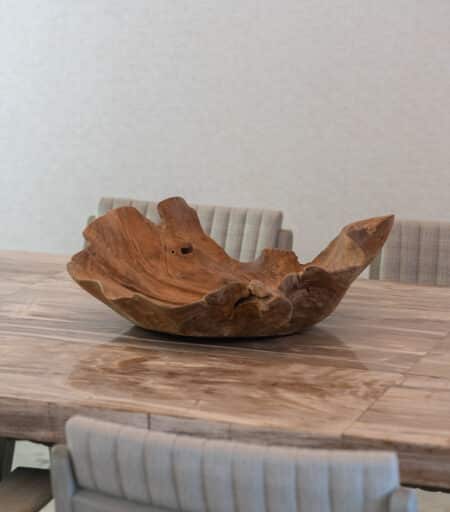 The living room featured a semi-circular pink sofa which was flanked on either side by a pair of workstations.
As Kamara and I sat here answering client emails, we agreed that we had discovered the ideal goal for our home office, if we ever win the lottery.
The work stations were each flanked by a series of shelves, displaying a variety of art pieces.
Both desks featured a variety of integrated power sockets.
One of the desks even featured an incredibly heavy and expensive looking B&O Bluetooth speaker as well as a gigantic Meade telescope. The fact that the bluetooth speaker was upgraded, to reflect the overall quality and cost of this villa, is indicative of an attention to detail which clearly shines in everything that the team does at Joali Being.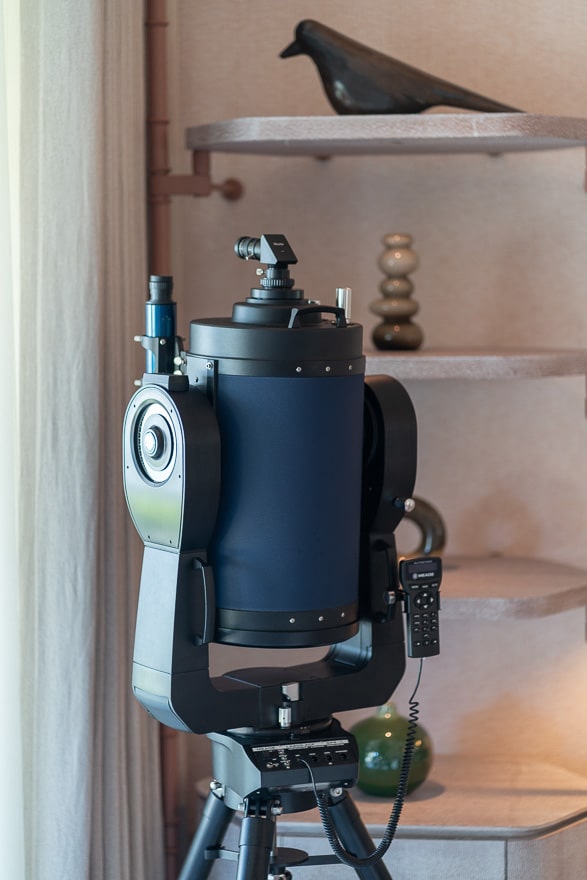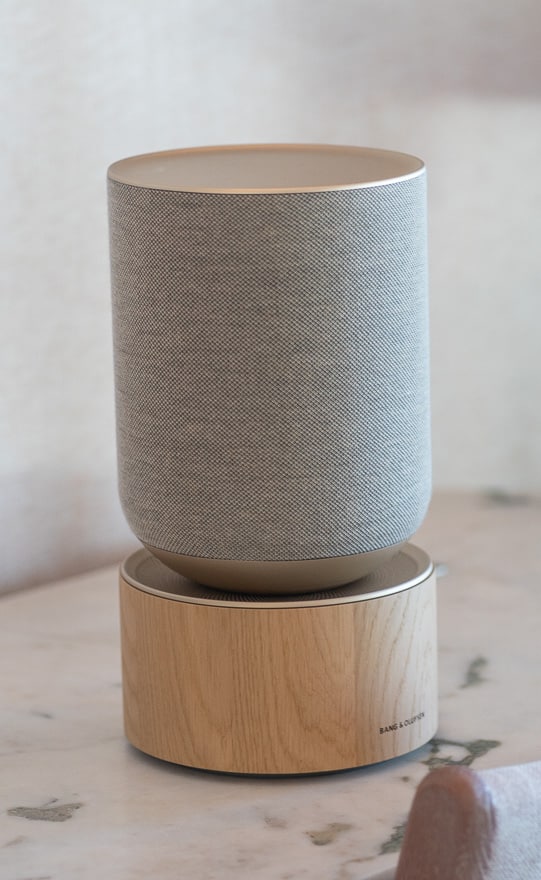 Speaking of which, our change in room resulted in a whole new welcome amenity being laid out for us, since our butler wanted us to truly feel like we were being warmly welcomed to our new home!
Primary Bedroom
Once again this Wellbeing Residence was designed with the idea of an extended family in mind. One King Bedroom and one Twin Bedroom were connected directly to the living room, with the final King Bedroom located in a separate building.
Our Primary Bedroom was laid out in an almost identical fashion to the entry level Ocean Villa.
However there was materially more luggage space in this room, since the dressing area didn't feature a bath.
I also much preferred the fact that our bathroom had separate sinks with a very decent amount of usable counter space around them.
The reason for the lack of a bath in the dressing area was that a very extravagant alternative was offered, in our beautifully landscaped outdoor bathroom!
Twin Bedroom
Leading off from the other side of the living room was a Twin Bedroom:
The bathroom here was more or less identical to the one in the King Bedroom.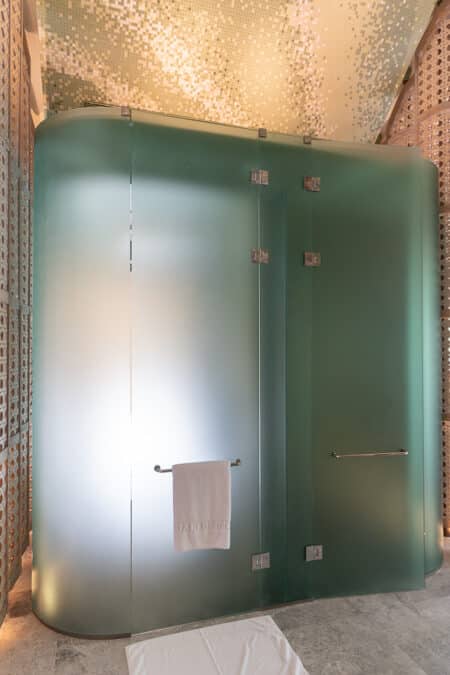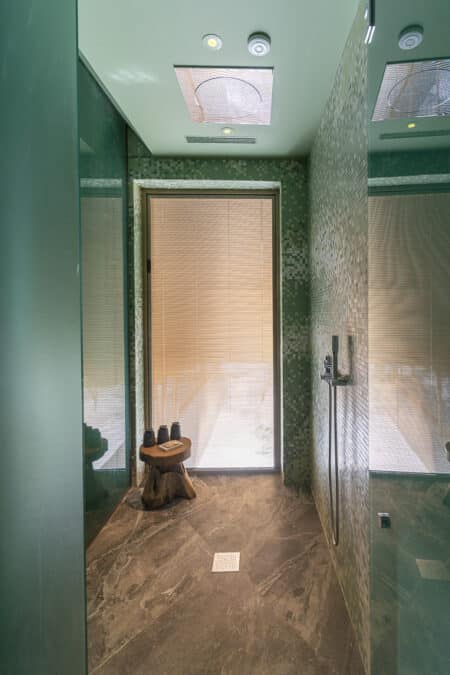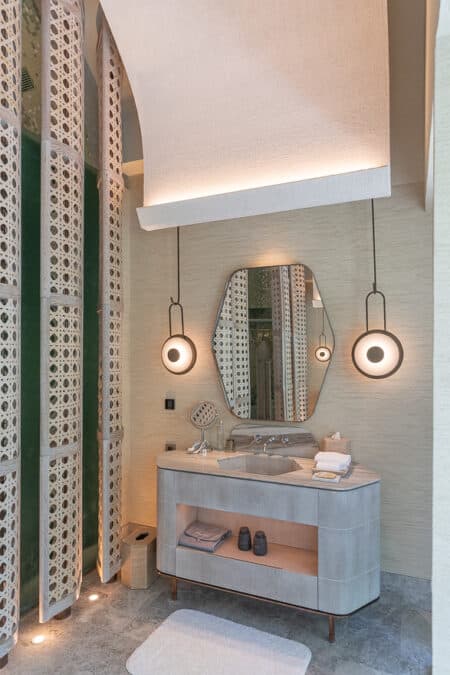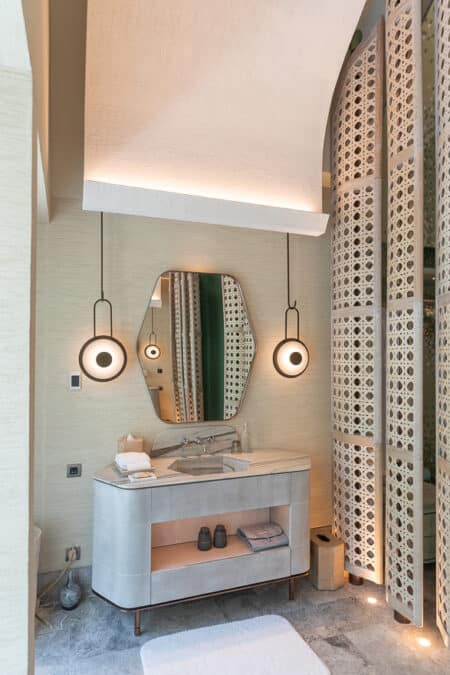 Wellness Area
Where the primary King bedroom had its own private outdoor bathroom, the Twin Bedroom and the secondary King Bedroom actually shared a kind of outdoor wellness area.
The centrepiece of this area was a deep soaking barrel tub.
A shower and steam room were located inside the pavilion building which covered the tub area.
Secondary King Bedroom
The Secondary King Bedroom was located in a standalone wing of the Beachfront estate. Perfect for grandparents who want some separation from children staying in the main building!
This bedroom was a little more compact than the Primary King Bedroom but I liked how the bed was closer to the pool and the beach.
Private Gym
You may have noticed from the images above that this Beach Residence also comes with its very own gym, with prime ocean views!
Much like the gym in the overwater Wellness Residence, this one featured very expensive electronic gym equipment but not much in the way of actual weights!
Outdoor Space
The Three Bedroom Beach Residence has an absolutely enormous exterior footprint of 1355m² and honestly having this much outdoor space, to me, felt a lot more luxurious than being overwater.
The swimming pool was more than large enough to swim laps in and stayed warm even at night.
The pool even featured a shallow platform with semi submerged sun loungers.
Of course, there were plenty of regular sun loungers located to one side of the pool.
Wave breakers are a necessary evil, to halt beach erosion, but even this was considerably softened by the addition of a dramatic sweep of plant life in front.
One 'amenity' that I certainly hadn't counted on was the presence of a turtle nest, which had been cordoned off by the resort's marine biologist! I love how they even printed off a sign in the hotel's font for an extra touch of class.
Although the beach itself could be accessed by anybody at the property, we found that people generally didn't venture over to our section, once they realised that this gigantic space was actually part of a private villa!
On one side we were flanked by a few beach villas, leading to the Gate of Zero.
On the other there was an outdoor massage pavilion, together with an oversized daybed gazebo.
Even all the way out here, the attention to detail was extraordinary, with a perfectly positioned ceiling fan, angled and scalloped archways and perfectly pristine floor planks, with the massage bed perfectly positioned to view the ocean, between two stone walls.
Back at the main building, each bedroom featured its own outdoor terrace, with the Primary King Bedroom also featuring a terrace with sun loungers in front.
I really enjoyed spending a few hours here, first thing in the morning, reading a book on the swinging chair.
As the sun moved throughout the day, different terraces would be in the shade. It was fun to just move around and find a different spot to relax in as the day wore on.
Towards the end of the day, the Secondary King Bedroom terrace was the place to be, as this enjoyed a wonderful view of the sunset.
For those that enjoy al fresco dining, there was even a fully covered outdoor dining area with space for 8 guests.
---
Food and Drink at Joali Being
---
Joali Being Flow Restaurant
Flow restaurant is the only breakfast venue and is also the main dinner venue at Joali Being. It is also without question the most spectacular restaurant I've ever seen in the Maldives.
The stepped terrace leading down to the water looks like something out of a dream, with the polished brass lamps and immaculately curved wooden rails adding touches of luxurious class to a setting which otherwise puts the natural beauty of the island front and centre.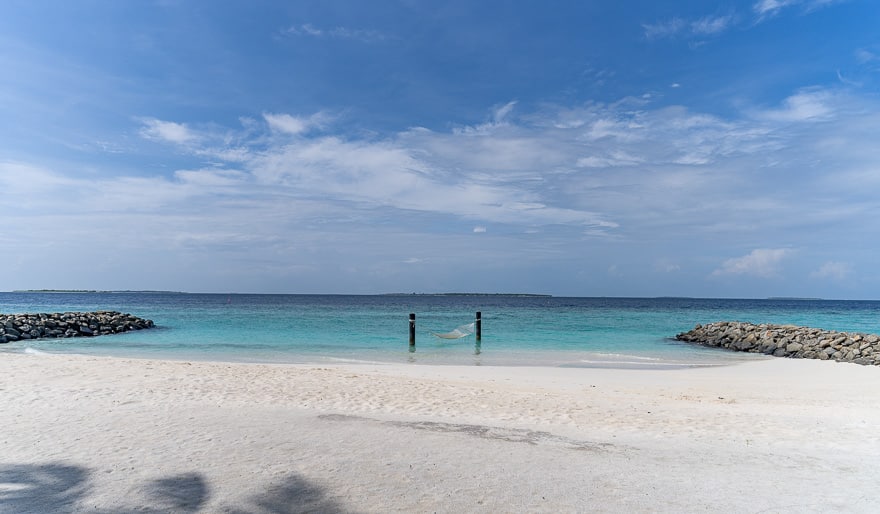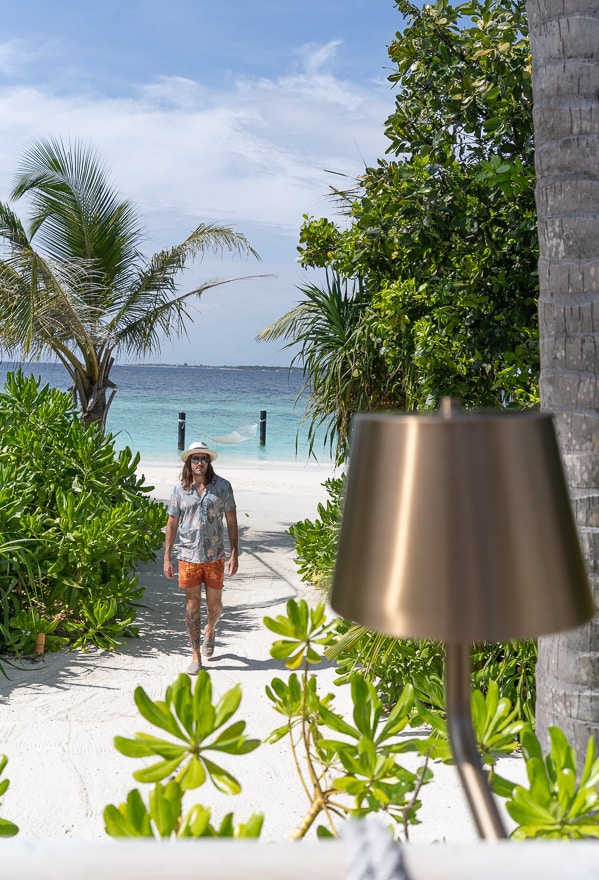 In the mornings it was far too hot to sit outside in the direct sunlight but thankfully the interiors of Flow were equally remarkable.
Each morning would start with a leisurely bike ride through the palm tree lined paths, until we reached the parking rack outside of Flow. Here we would leave our seafoam green bikes, before walking into the impressive atrium of the restaurant. This atrium was adorned with a circular eye into the clouds and a series of gigantic stones, suspended from the ceiling.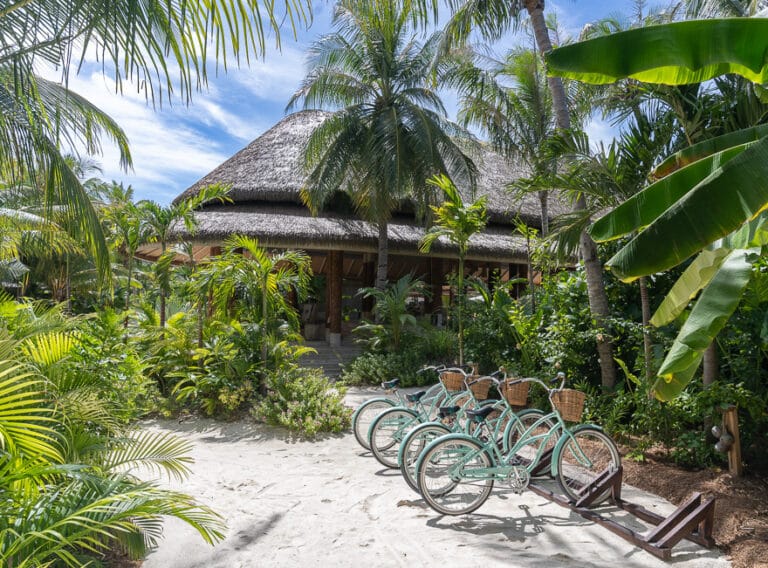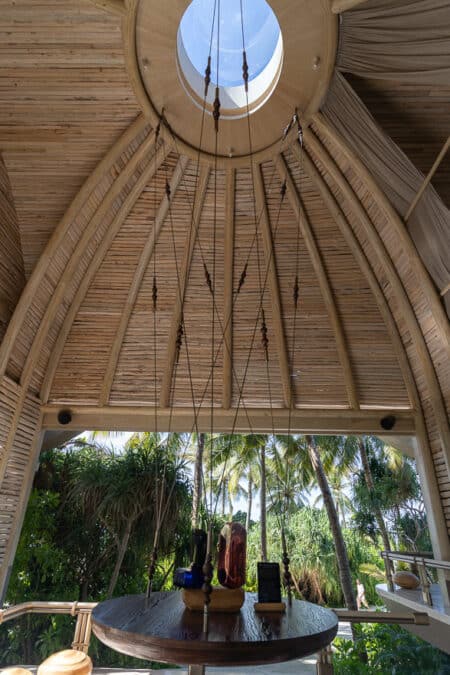 As we approached the restaurant each morning we immediately felt a sense of total tranquility. The design here is incredibly thoughtful, as you immediately feel the shift in energy from being outside in the bright sunshine to crossing the cool and shaded threshold of a grand building with cathedral height ceilings.
The space is broken down into three glass walled kitchens, coloured red blue and green, to represent the meat, seafood and vegetables prepared in each of them.
It's hard to fault the aesthetics here, although I did notice that none of the chairs at Joali Being's dining venues featured felt pads on the bottom. You can imagine how the sound of a heavy chair reverberating on natural stone sounds, with ceilings this high.
This is a super quick fix, which I did mention to the F&B director, so hopefully this will no longer be an issue at the time of this review's publication!
That small issue aside, it's hard to overstate how serene and peaceful the setting is compared to every other breakfast I've had in the Maldives. Obviously the lack of children running around helps but there was a palpable sense that we were somewhere special and guests and staff alike were conspiring to keep it that way.
The only other time I've felt something similar was during breakfast at Amanoi, sat high on a stone walled terrace overlooking the coastline of a pristine national park.
Joali Being Flow Breakfast
Of course, aesthetics alone do not make a great restaurant. Thankfully, despite being a rather condensed offering, the quality of the breakfast buffet was excellent. The entire buffet was housed within an air conditioned room with glass doors, which ensured that all food was kept at a suitable (and safe) temperature.
In the centre of the room was a large circular table featuring a variety of nuts, dried fruits and homemade jams and spreads.
In keeping with the wellness theme of the resort, there were all manner of weird and wonderful options like a jar of bee pollen, turmeric granola and even a homemade tahini Nutella!
Alongside one wall was a selection of dairy and dairy alternative options.
In addition to the milk alternatives there were also numerous healthy shots as well as freshly pressed juices.
There was also a crudité station featuring a revolving line up of salads, together with a hummus, baba ganoush and a selection of oils and vinegars.
At the far end of the room there was an area featuring all manner of pickled fruits and vegetables.
Next to this was the only animal protein on offer: a few slices of air dried beef and some chicken bologna…that's it.
This honestly seems ludicrous for a resort purporting to be wellness focused. Protein is the cornerstone of a healthy diet and I'm used to eating 60 grams of protein per meal at home.
I have to say that this 'yoga mom' interpretation of healthy nutrition is not for me.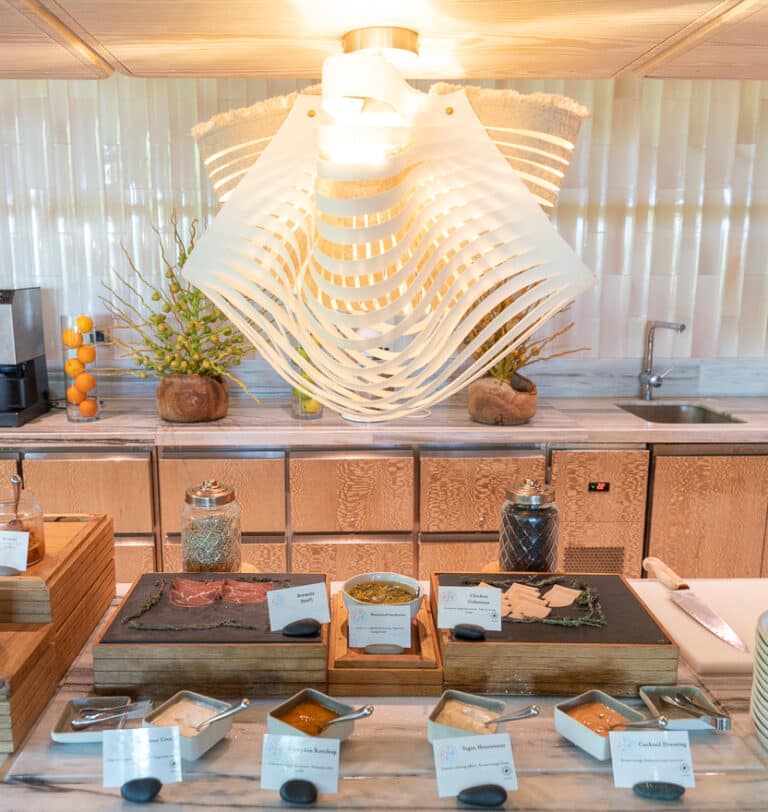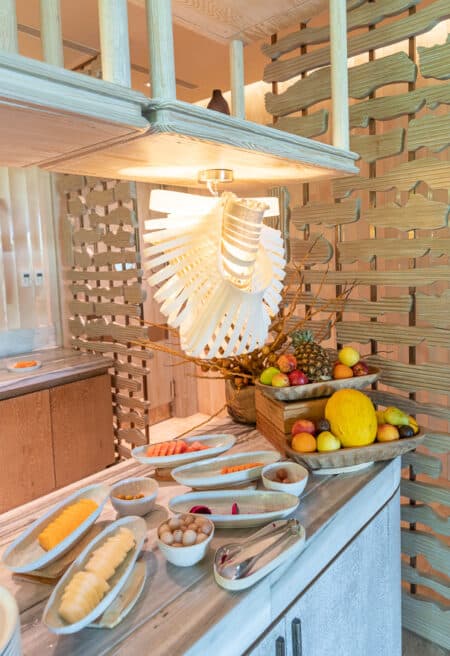 Thankfully, there was also an a la carte menu, which you can view by clicking below:
JOALI BEING – FLOW_Breakfast Menu
This featured a variety of egg options including a delightfully fluffy souffle omelette.
Combining a couple of egg dishes with the buffet resulted in a great meal overall, especially since there was Thai som tum in the salad station. I also want to take a moment to acknowledge the fact that Joali Being uses Meraki coffee.
All too often you find that $3000 per night hotels in this country cut corners by using Nespresso capsules in the F&B establishments. At this price point, that's unforgivable. If you pay Dom Pérignon prices you don't expect to be served Lambrini.
Joali Being is serious about quality so they source beans from the only speciality coffee roasters in the country. My morning coffee here was every bit as good as at a third wave coffee shop in Melbourne (and I say that having visited at least 20 of them!)
One of my favourite things about breakfast in the Maldives is being able to eat my favourite exotic fruits like mangosteen and salak (a.k.a. snake fruit). Between this, the great coffee and the fact that I discovered smoked salmon as an a la carte side dish, I actually ended up having pretty great breakfasts!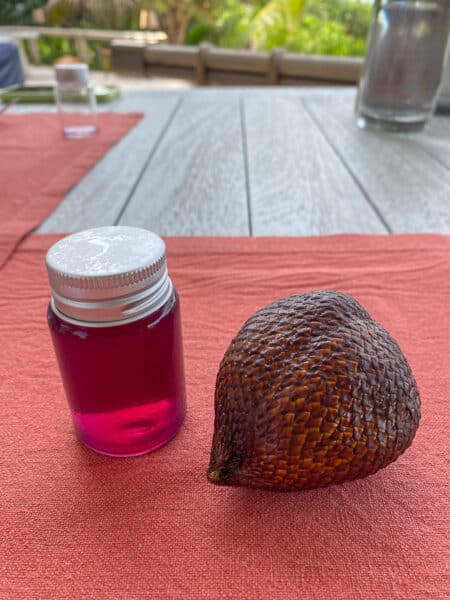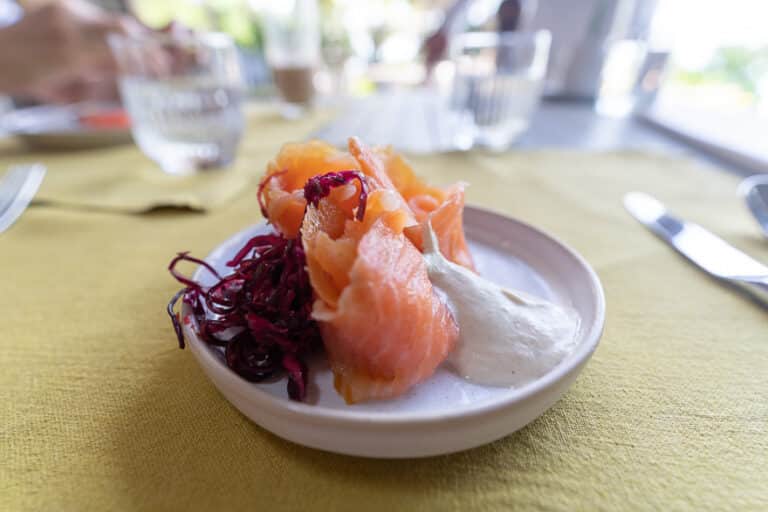 However, I did mention to the F&B director that not only was there a lack of protein at the buffet, there was also a complete dearth of any local food beyond a token 'Maldivian omelette'.
For me, food has always been a cornerstone for how I engage with a culture. The Maldives may not be a destination which draws tourists to ruins, temples etc. but I must say that a key feature of any trip here is enjoying dishes like mas huni and mas riha, garnishing my food with fried curry leaves and heaps of fiery Maldivian chillies.
When I voiced this to the staff at the restaurant they were delighted and agreed that it was strange not to have more local options on the menu. Initially I was told that a mas riha (fish curry) would be waiting for me the next morning….but 10 minutes later one arrived for me so that I needn't go another day without my fix.
Needless to say it was spectacular and I ended up ordering it every day after this.
The service at breakfast was really proactive, with staff always ensuring that drinks were refreshed, napkins folded between visits to the buffet and even lighting coffee grounds one morning when it had rained overnight, causing mosquitoes to come out.
Nothing was too much trouble (as my request for local cuisine demonstrated) and we were even served by an old friend, Imaz, who we immediately recognised from his time working at Amilla!
Dinner at Flow
JOALI BEING – FLOW_Dinner Menu
JOALI BEING – FLOW_Beverage Menu
I really love how the best resorts are able to magically metamorphose as night closes in, with once bright and airy spaces transformed into cosy and atmospheric enclaves.
The entire resort underwent a wonderful transformation at sunset each day but nowhere was this more keenly felt than at Flow, the palindromic beginning and end of almost every day here.
The staircase which previously was illuminated by a shaft of light from the sky, was now lit by a series of glowing stones.
The inside tables which were so popular in the morning were more or less abandoned…
…with everybody opting instead to hear the gentle sound of the waves lapping the shore, outside on the stepped terrace.
The menu was divided into three sections; red, green and blue, to correspond with the three kitchens previously mentioned.
Our half board package included the option to take one Light or Broth, followed by a Substantial and then a Finale.
On most nights I opted to have both a Light and a Broth with no Finale and this was accommodated without any issues. Aside from tuna and a limited selection of vegetables, almost everything else needs to be imported to the Maldives, as such a la carte pricing was as you would expect in a resort of this calibre: $50 for starters, $40 for soups and anything from $50-200 for mains.
What's hard to overstate though is both the quality of the technique and the level of technique displayed. Although import costs are clearly high, the end product certainly looks and tastes as you'd expect at this price point.
Every dinner would start with us being served a kind of miniature broth, containing a mixture of different herbs and vegetables. These purportedly had digestive benefits but beyond this they were universally delicious.
When Joali Being first opened it went all in on the wellness, eliminating all alcohol from the island. When storm damage led to Joali Maldives guests being relocated to Being for a number of months in 2022, accommodations were made so that they could enjoy the 'full fat' holiday that they had been hoping for.
The first of these was the provision of an alcoholic drinks list. Non-alcoholic drinks are prominently displayed on the main menu, encouraging guests to eschew alcohol, but now the choice is certainly there for those who prefer to engage in Bacchanalian pursuits.
However, Kamara and I felt that it was our duty to stick to the wellness focus as much as possible and opted to try a different mocktail each evening before our starters were served.
(It's also worth mentioning that the mark-ups on alcohol are absolutely astronomical, even for the Maldives. You'll pay over $3,600 for a bottle of Cristal which retails for around $360.)
Once we made it clear that we didn't want anything too sweet, we actually ended up finding a few mocktails that we really liked, that offered a complexity of flavour and sometimes even a proper foam, like a sour.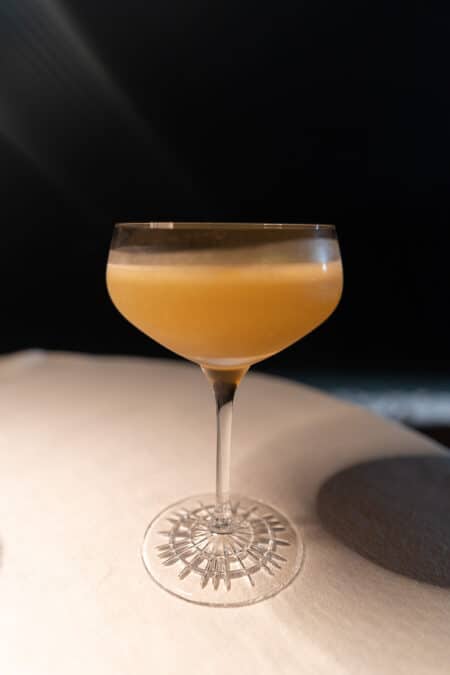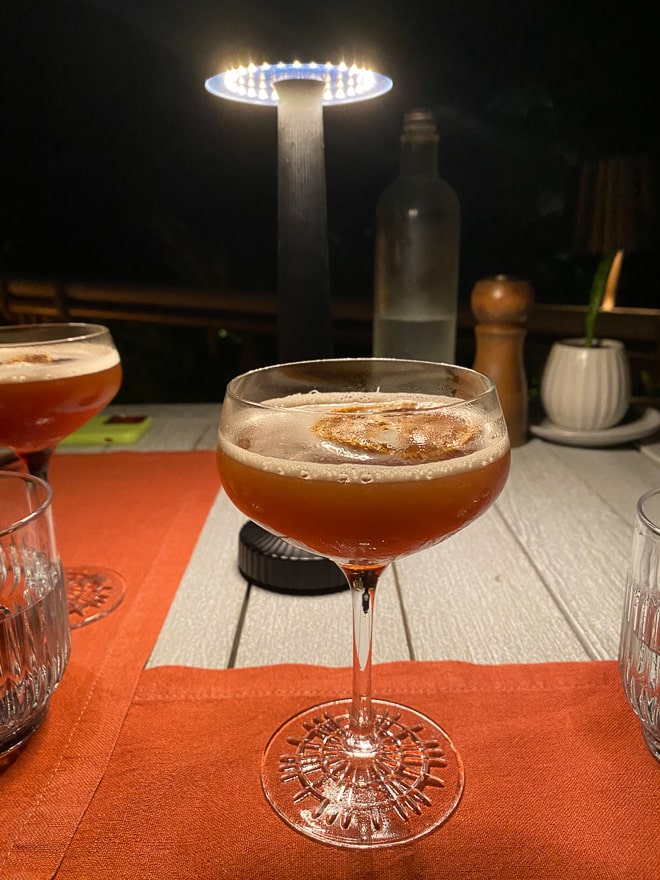 Over the course of 7 nights we tried pretty much everything on the menu. My favourite soup was the chicken and coconut (a.k.a. tom kha gai), which had fantastic flavours of galangal and lemongrass punching through the coconut.
In terms of starters, we both loved the tuna tartare with aji amarillo and yuzu gel and the ravioli stuffed with beef short rib.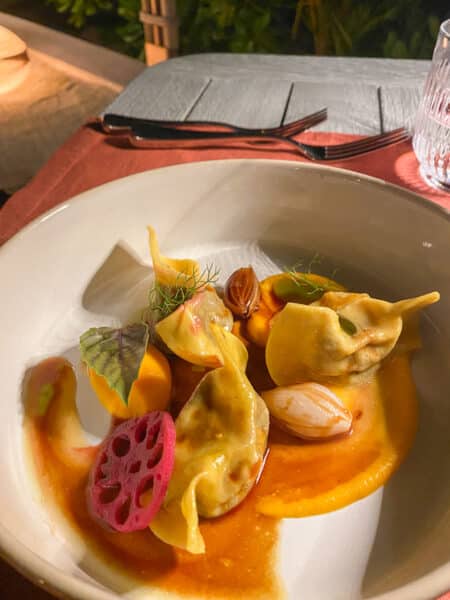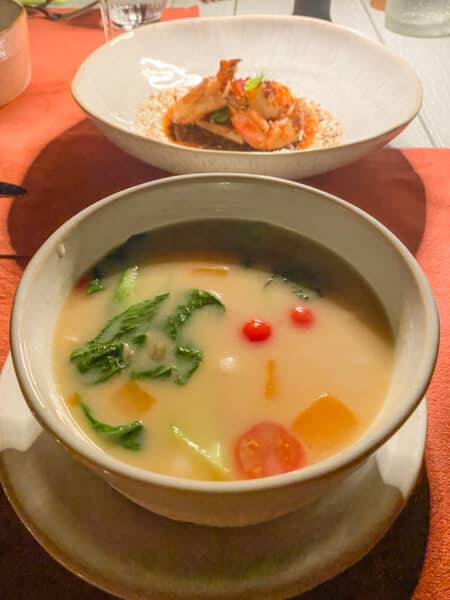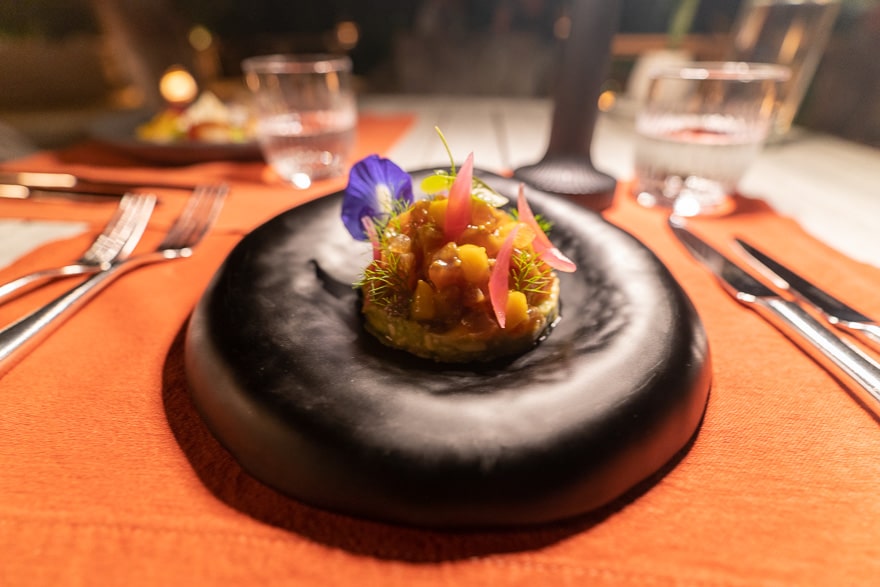 I alternated between the wagyu beef and the lobster each night, both of which were cooked to absolute perfection, really showcasing the quality of the ingredients on offer. In both cases, the choice of vegetables and the complexity of the sauces was superbly executed too.
I'm not much of a dessert guy but if you were to twist my arm I would always order the matcha ice cream, which had an incredibly creamy texture and was almost a parfait. The chocolate dessert was also very good.
Having said, that my favourite way to end the meal was to order a pot of freshly brewed ginger tea, which came served in a glass pot, with large pieces of ginger floating in it.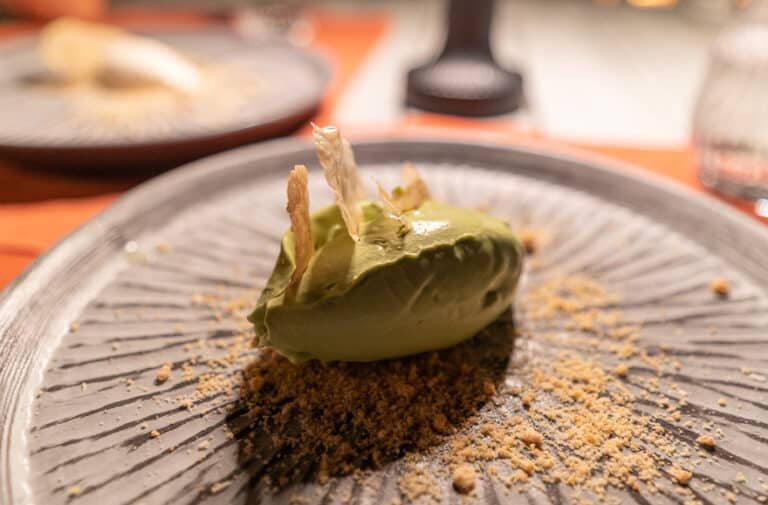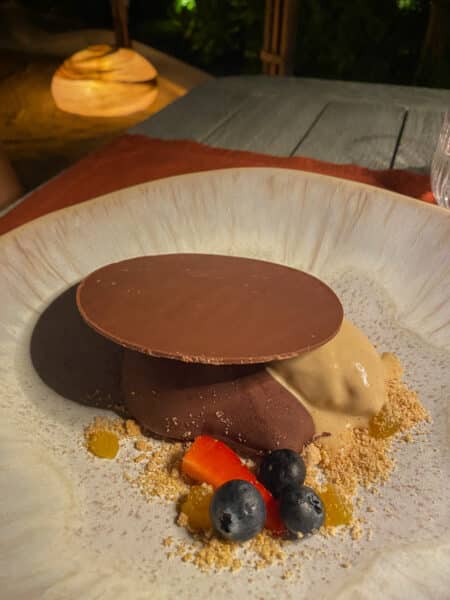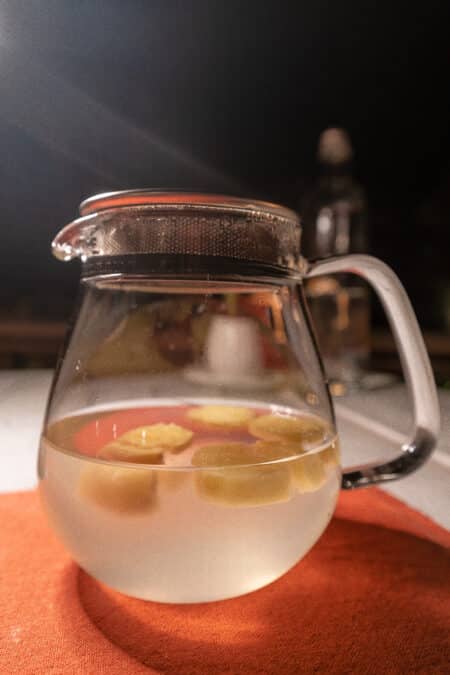 Joali Being MOJO Restaurant
JOALI BEING – MOJO_Menu Dinner
As of the time of writing, MOJO is the only standard lunch option available at Joali Being. You can book private dining, teppanyaki or even take a boat trip over to Joali Maldives for lunch. However, if you want a quick and casual meal, MOJO is your only option. This meant that lunches did get a little repetitive for our liking, over the course of 7 days.
It is worth nothing that since our visit, the Ocean Sala has opened as a dinner venue, with plans to fully open the space for lunch as well. This will be a very welcome addition to the resort!
All this aside, the setting of MOJO is beautiful, with the multitude of lamps dramatically hanging from the ceiling reminding me of a bigger and better version of the decor at Fari Beach Club at Patina.
There is a large circular sofa area for those wanting to lounge and relax in a larger group…
…with the dining tables set close to the main pools, with views of the Indian Ocean.
We'll come to the main pool area later in the review but it's safe to say that it is without question one of the most jaw droppingly beautiful pools I've ever seen, anywhere in the world.
The menu during our visit was rather limited, although this has now been substantially expanded (you can find the latest lunch menu here: JOALI BEING – MOJO_Lunch Menu).
One surefire hit that we ordered every day was the beef anticuchos; wonderfully tender meat with hints of lime and cilantro.
I was also a big fan of the Niçoise salad, which came with a very generous amount of local Maldivian tuna. The ceviche was good but a little too creamy for my taste.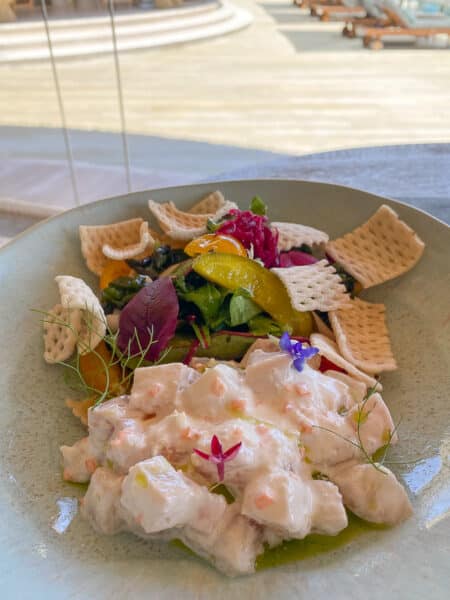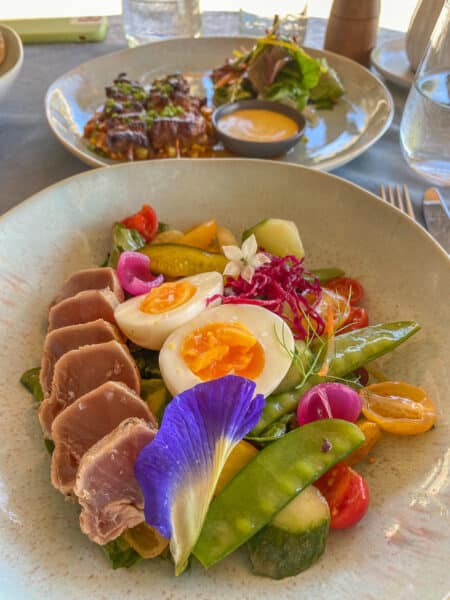 In terms of main courses I really enjoyed the grilled prawn wrap (although I did have to send it back one day when a different chef must have made it and it was swimming in oil).
I also loved the chicken curry. In the Maldives I find that you really can't go wrong with anything even vaguely South Asian.
Although the food and the setting were great for the most part, small details were missing during the lunch service at MOJO: we were almost never offered a side table for bags, cameras, hats etc. It happened once or twice but certainly didn't seem to be a service standard.
Having come straight from the St Regis we also noticed small things, like how much longer it took for staff to notice empty water glasses here, or the fact that napkins weren't placed on our laps like they were at the St Regis.
Tiny details of course but at this price point the competition is fierce and details do matter.
Dinner at MOJO
Although dinner is served at Flow every night, MOJO is also available as a dinner option, three nights per week. This is viewed as more of a 'special occasion' restaurant, despite the pricing being very much aligned with Flow.
The reason I say this is because staff would make an effort to seat guests in private tables around the pool, giving them much the same feel as a private dining experience – without the added inconvenience and cost.
The tables were also dressed with pressed linen tablecloths and a variety of storm lanterns, a considerably more formal setting than at Flow.
We only dined at MOJO once and were seated at the far end of the pool, which was actually one of our favourite spots during the day!
Service was excellent, a big step up from lunch time. Staff were very quick to check on us and ensure that the food was to our liking. Despite the waitstaff having a bit of a walk to our table, we never felt neglected in the slightest.
From the starters we selected the same anticuchos which we knew and loved from lunch time, as well as a very well executed tuna tataki.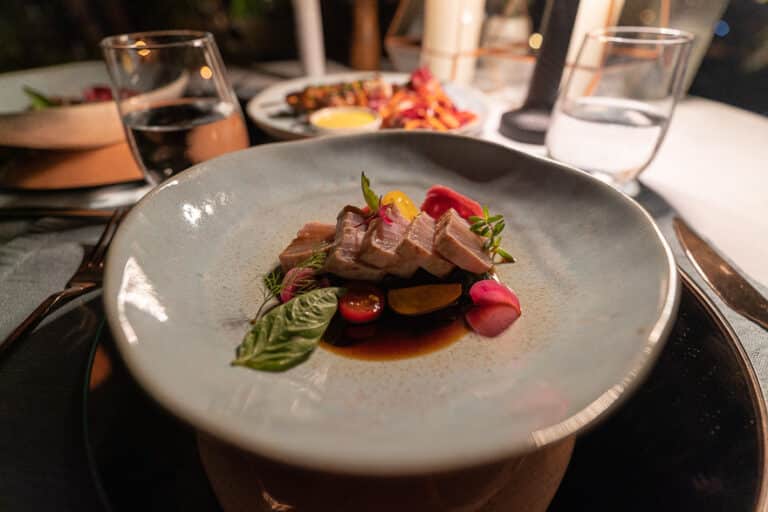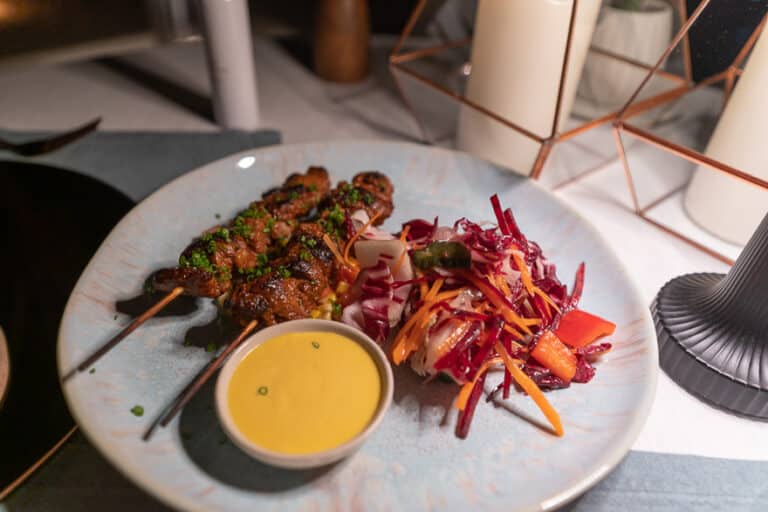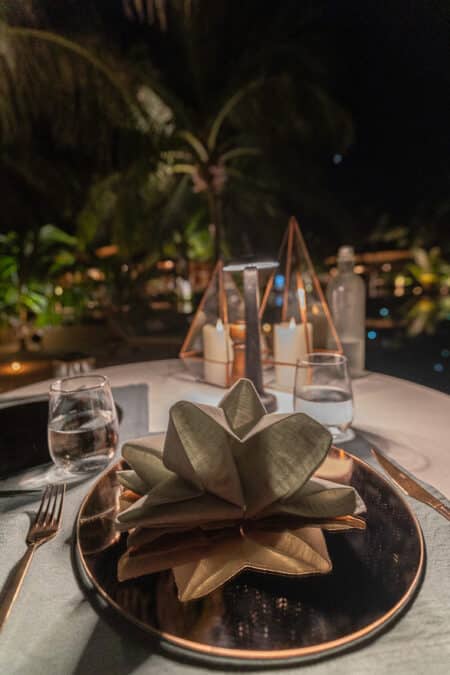 For the mains I went with the wagyu beef tenderloin…
…and Kamara opted for the grilled prawns, which she remarked were very fresh tasting (and gigantic).
My only criticism is that overall this was quite simple fare, with the side vegetables being identical, regardless of the choice of main. Where the kitchen at Flow was really pushing boundaries with interesting uses of technique and combinations of flavour, here the food was simple, albeit well cooked and presented.
Joali Being Sai bar
Located next door to MOJO, also facing the main pool, is Joali Being's tea bar: Sai.
Much like everything else at Joali Being, the overall design is extremely aesthetically pleasing. The bar is designed to look like a luxurious castaway apothecary, which sounds ridiculous but is actually extremely well executed.
The overall idea reminded me of the teahouse at Cathay Pacific's Pier Business Class lounge in Hong Kong. The big difference being that Cathay Pacific's tea is complimentary, whereas the offerings at Joali Being are anything but.
I understand that bars tend to generate a huge amount of revenue in the Maldives and that alcohol taxes and duties are very high here. That's widely understood.
What is a little tougher to comprehend is why an alcohol free bottle of sparkling tea that retails for less than £15 in the UK, is sold for $153 per bottle. A markup of nearly 1000% for sparkling tea is absolutely outrageous, however you look at it.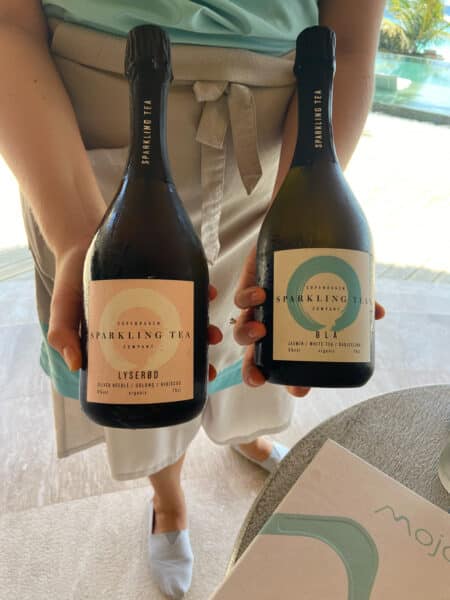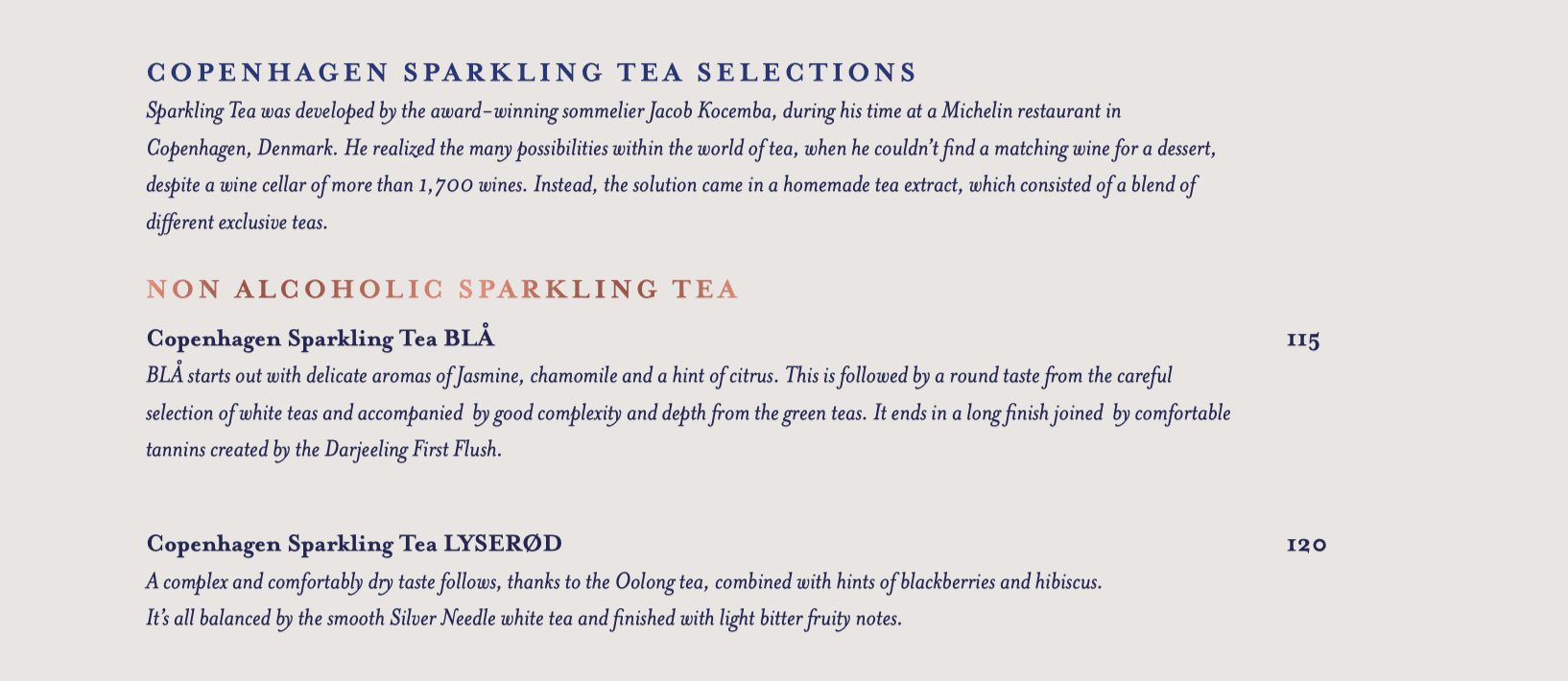 On the other hand, the mocktails that we tried were the usual $15++ that you would expect but were clearly very well executed and adjusted to our tastes over the course of our stay. The coffee with orange peel and cardamom was amazing, even if it was just an elaborate iced coffee.
Nutritional info and calorie counts at Joali Being
Given Joali Being's wellness focus, I feel obliged to mention just how inaccurate the calorie counts on the dishes are. It's a laudable goal to inform guests about what exactly they're eating but some of the totals just made no sense at all. This Nasi goreng is apparently only 290kCal. Never mind that there was at least 60g of cooked rice in it – which is already 240kCal.
This kind of erroneous logic was applied throughout the menus in both Flow and MOJO.
When you know that carbs and protein both have 4 calories per gram and fat has 9, you can very quickly see where things have gone wrong.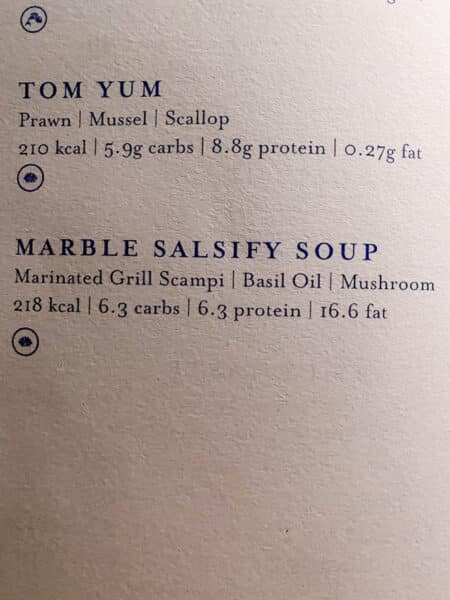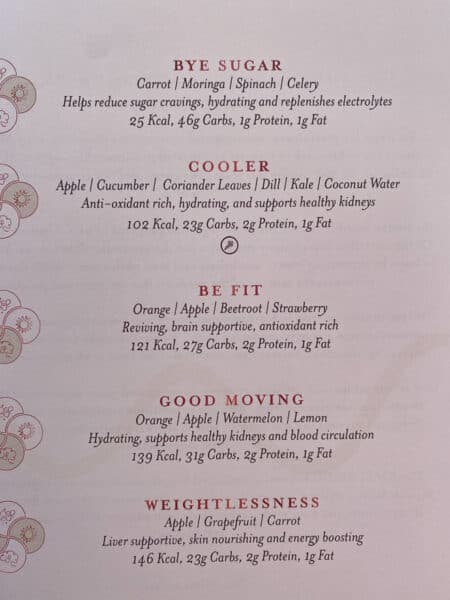 Tom Yum
(5-9*4) = 23.6 kCal / 8.8*4 = 35.2 kCal / 0.27*9 = 2.43 kCal = TOTAL calories 61.23 kCal (versus 210 kCal shown on the menu)
Bye Sugar
(46*4= 184 kCal / (1*9=9 kCal) / (1*9=9 kCal) = TOTAL calories 202 kCal (versus 25 kCal shown on the menu)
So really you have a mixture of problems:
incorrect maths (46*4= 184kCal not 18.4kCal)
Dry and wet weights being confused, as was the case with anything containing rice
Downright erroneous measurements and copy pasting errors, like the two Macro Bowls below
In the grand scheme of things I know that most people either don't look at the calories, or if they're like me and are truly into their nutrition, it comes as second nature to fact check all of this anyway. However this did stand out to me as being needlessly careless, when every other aspect of Joali Being is so meticulously curated.
Joali Being Ocean Sala Restaurant
JOALI BEING – Ocean Sala Beverage Menu
During our visit the Ocean Sala was only used for yoga classes and private dining, since then it has been transformed into a fully fledged dinner venue.
This area already had bathrooms with showers, as well as direct reef access at the end of the pier. My suggestion to the management team has been to convert this into a secondary resort hub, for those who want to hang out overwater instead of spending all day at the main pool and beach.
The venerable Soneva Fushi executes this concept superbly with 'Out of the Sea' and I can see Joali Being's Ocean Sala developing in much the same way over time, although perhaps without the water slide…
Joali Being Private Dining
JOALI BEING – Turtle Tree House_Dinner Menu
JOALI BEING – Destination Dining_Menu
JOALI BEING – In-Villa Dining_Menu
In addition to the regular restaurants, Joali Being offers an extensive In-Villa Dining Menu, together with numerous destination dining options.
A private Teppanyaki experience is offered at the Gate of Zero:
For those wanting a more intimate venue, there's a treehouse shaped like a turtle, nestled in the treetops, overlooking the beach.
On our final night we enjoyed a private dining experience on the beach, just in front of MOJO. Which to me offered the best of both worlds. The privacy, service and customised menu of private dining, with the convenience of location and access to bathrooms of a regular restaurant.
The path from MOJO down to the beach was illuminated by a variety of lanterns…
…and the staff clearly took a very long time to carve a manta design into the sand, decorating it with LED lights:
The overall effect was very special indeed, especially since our table was so beautifully presented and offered us a view of the Gate of Zero. It almost felt like we had the Maldivian equivalent of a Sydney Opera House view!
Since we'd shown such a keen interest in Maldivian food, the resort's F&B manager CJ personally took charge of curating and serving a Maldivian menu for us.
This started with a delicious tuna and fresh herb salad, served alongside one of our favourite mocktails.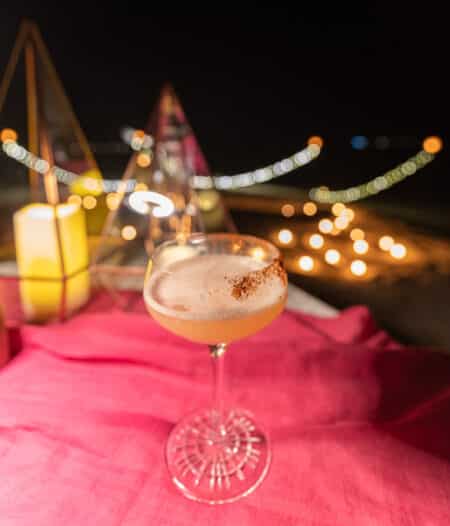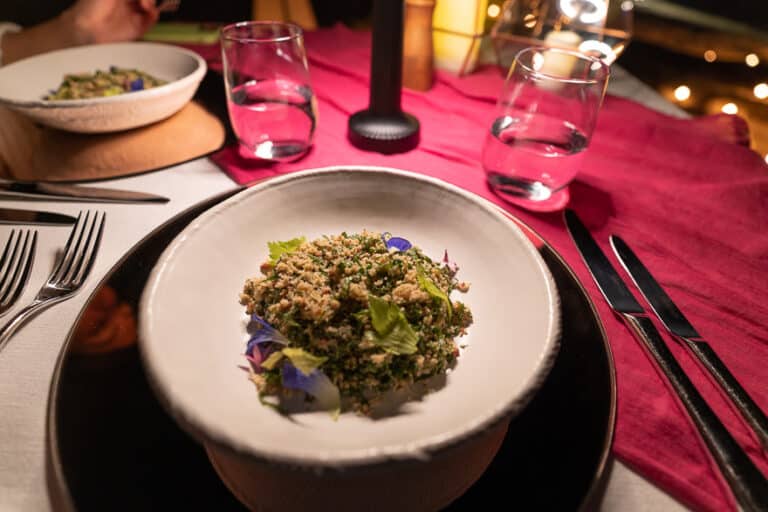 After this came a selection of Maldivian curries, with freshly cooked rotis and saffron rice.
To end, we were offered a wonderful coconut cake with cinnamon ice cream and caramel sauce.
Overall, a fantastic way to end our seven nights at Joali Being. Delicious food, thoughtfully prepared and highlighting local ingredients and techniques.
---
Joali Being Facilities
---
Joali Being Gym
Joali Being's gym is the largest in the Maldives. Which is no small feat, given the amazing facilities we encountered at the Ritz Carlton.
As soon as you enter, you are greeted by a welcome podium set against a verdant jungle backdrop. The overall impression is more like a high end spa than a gym. In terms of overall polish and ambiance, it is unquestionably the best presented gym I've ever seen.
How many gyms can boast a hand-washing and water station like this?
The building itself features the same architecture as the villas, with the walls coming to a rounded point in the ceiling and no trace of hard edges anywhere in the design.
I can't imagine that there's a single serious gym goer that would ever pick one of the awful Technogym cable machines over a regular cable crossover but thankfully Joali Being offers guests both options!
Dumbbells went all the way up to a very impressive 46kg and there were more than enough Olympic bumper plates for people who want to move serious weight too.
Technogym rowers are terrible compared to Concept2, since the computers don't allow you to train splits with rest periods but I'm sure the property was obliged to take the rower as a package deal. Otherwise, it was great to see a half rack and a separate lat pulldown machine.
Personally, I would have liked to see a glute-ham raise, reverse hyper and prone leg curl machine and pendulum squat to round out the offering. However, a leg press and leg extension offered some extra variety for those wanting to use machines in addition to the squat rack.
Aside from the main gym hall, there is a yoga/ boxing studio.
We also really enjoyed using the cryo chamber every day after training. Apparently a two minute session burns between 500-800 calories, which sounds…dubious. However I did feel super energised after each session and my recovery was genuinely fantastic. I hit the gym six times in seven nights, which is even more than what I manage when I'm at home!
The process involved getting changed into disposable underwear and wearing a warm headband, which not only protected our ears but also played music – I picked 'Trapped Under Ice' by Metallica, of course.
We also had to wear gloves and crocs. Even then, this didn't stop our eyelashes from freezing!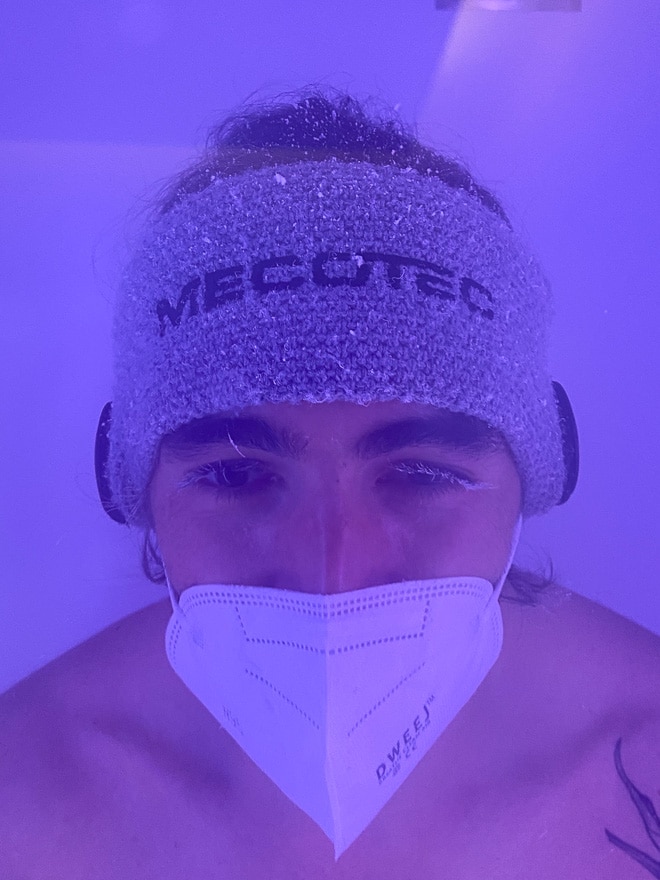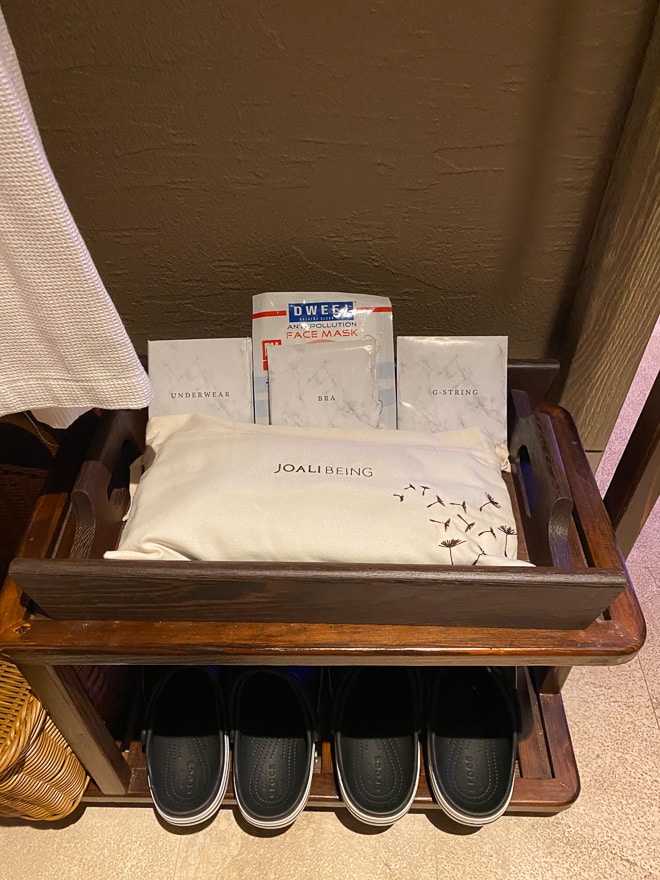 Overall the facilities are truly fantastic but I did find the lack of showers and changing rooms to be odd and whilst there are lockers, they aren't numbered….which can get quite annoying.
I also noticed that basic things like a tricep rope attachment were missing, which seems odd when they've splashed out on a cryo chamber which costs approximately 1000x as much. Also they didn't spring for the cable crossover with the full weight stack, so increments jumped quickly and topped out at 25kg, thereby significantly limiting the number of possible exercises.
Yoga Pyramid
Attached to the main gym building was a gigantic pyramid, topped with a glass point. It was pretty surreal to see this as we cycled around the exquisitely manicured jungle pathways.
However, once inside, it was all the more impressive! The pyramid's edges were all rounded inside, in keeping with the architectural style of the property. In addition to this the use of recessed lighting really served to add a dimension of grandeur to the space…and to distract from my Tai-Chi moves.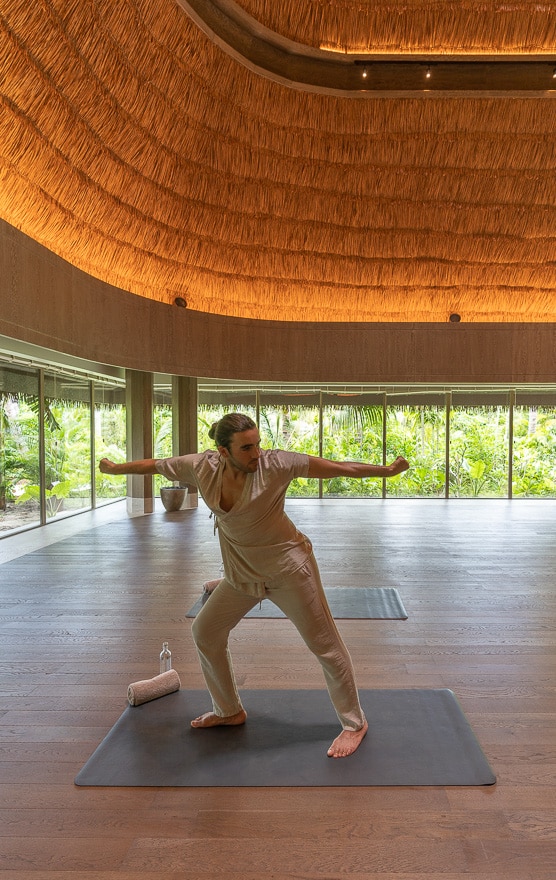 Joali Being Areka Spa
Joali Being's Areka Spa is by quite some margin the most impressive that I've seen in any hotel in the world. Honestly, it almost makes the astonishing facilities at LeFay Dolomiti look like a YMCA.
I've never been hugely into spa treatments in general and have always viewed this as something that people do when they don't actually want to work up a sweat by doing exercise but still want to feel like they're taking care of themselves.
To be fair, that may still be true but this was one of the rare occasions in my life when I've actively looked forward to using the spa and really wanted to try as many of the facilities as possible.
As you would expect, the entrance was jaw droppingly beautiful and much like the gym, it managed to look both extravagant and understated. It also gave an impression of total cleanliness and space, yet was in no way sterile or clinical. I've honestly never seen anything like it, this type of design has no peer.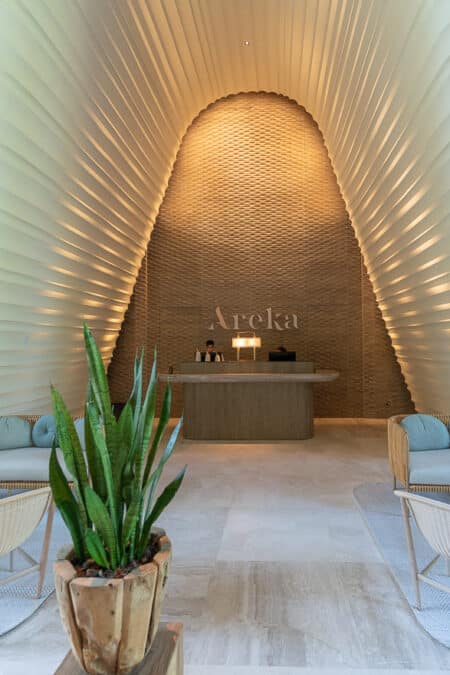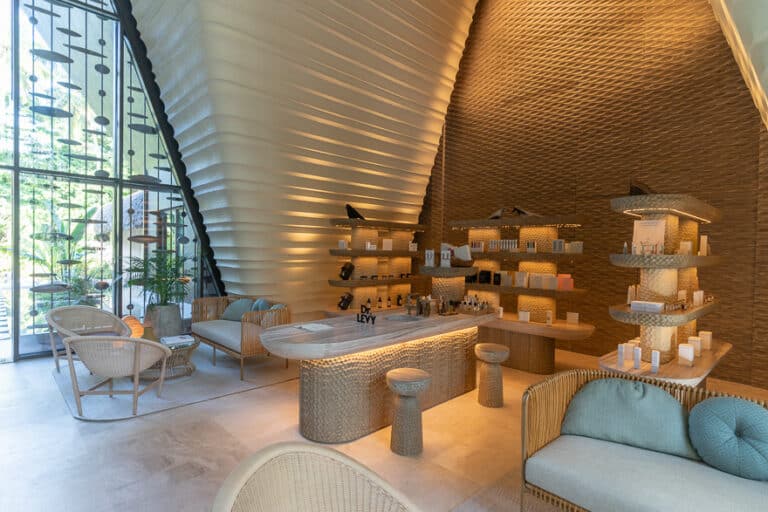 During our visit it was clear that some of the front desk staff were very junior and a couple of them seemed quite nervous, but over the course of a week it was great to see them improve. Little details were missed, like just putting a tray in front of me without telling me what was in the jug or even pouring a glass. However this was far from enough to detract from the overall experience.
Continuing on from the reception area was a jungle pathway, featuring oversized stepping stones set into water and male and female changing areas, flanking it on either side. This path was particularly impressive when illuminated at night.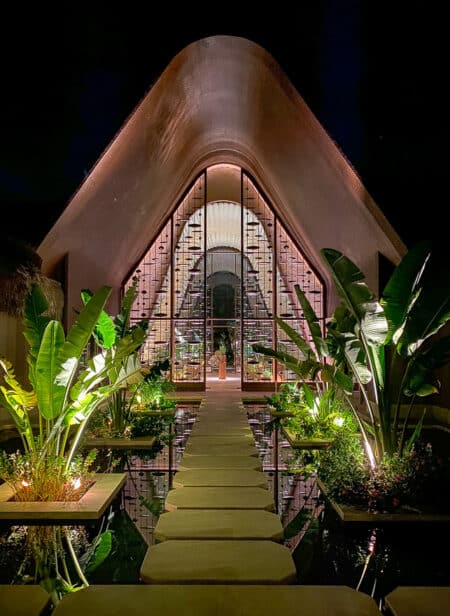 Spa Changing Rooms
In keeping with the theme of Joali Being, the changing rooms were stunning and more like mini spas unto themselves. Indeed, under normal circumstance I'd view these changing rooms in isolation as fantastic spa facilities in any other hotel.
The lockers were individually stocked with gowns, towels, Joali branded woven flip flops and a selection of amenities like combs and cotton buds.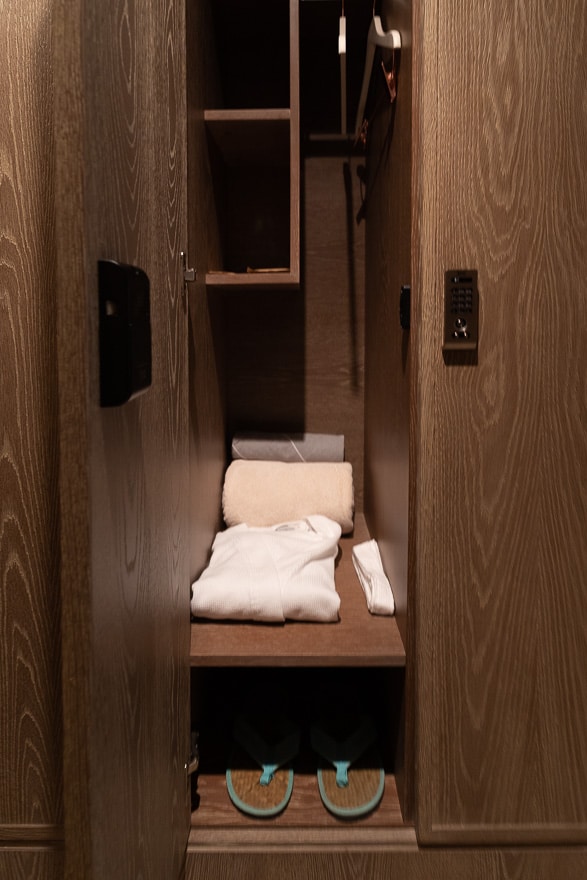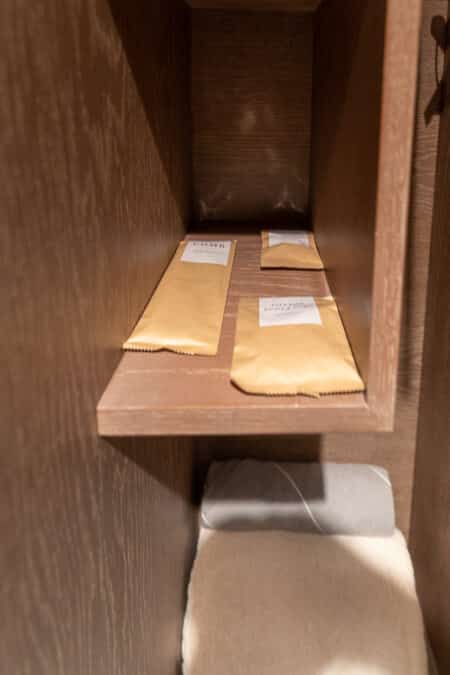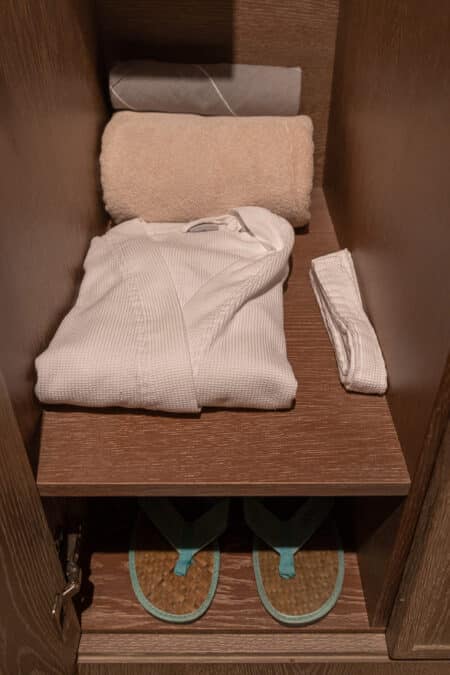 Once outside of the locker area, there was an indoor relaxation lounge, featuring individual loungers and tables, sectioned off with fine mesh dividers.
This space looked out onto the changing rooms' private outdoor pool area.
Bear in mind that this is still just the male locker room you're looking at. A locker room which features its own outdoor hydrotherapy pool, set in a jungle courtyard.
In addition to this was the most sleek and elegant looking sauna that I've ever seen. The dark wood, rounded edges and expansive glass wall combined to very impressive effect.
Indeed my one major criticism of these facilities is that they were needlessly separated by gender. Couples wanting to enjoy the hydrotherapy pool or sauna have to split up and do this alone.
I understand the locker rooms being separate but can't help but feel that it would be much better to leave the remainder of facilities open to all guests.
Main Spa Building
At this stage, we haven't even gotten to the main spa facilities. When I first entered the spa my jaw nearly hit the floor. It felt like I'd stepped into a modern art museum. Only guests who have booked treatments are able to use the various rooms here, since almost all require the participation of a spa therapist.
Watsu Pool
Kamara and I enjoyed a fantastic 90 minute treatment in the couples' watsu pool. Seeing even a solo watsu pool measuring 3×3 metres is unusual (indeed the only other time I've encountered one in the Maldives was at Patina), to find a Roman style watsu coliseum, of these epic proportions, is utterly extraordinary.
Himalayan Salt Room
One particularly unique facility offered is the Himalayan salt inhalation room, where guests can sit and breath the saline air to improve respiratory health.
Hammam
True to Joali's Turkish routes there is a beautiful hammam treatment room, clad in light grey marble.
Banya
Joali Being also offers a traditional Russian banya, decked out in the same elegant dark wood as the saunas and featuring actual birch branches, which presumably have to be imported on a regular basis to be replaced after each use.
Sauna and Relaxation Room
For couples wanting to enjoy a sauna together, there is the option to do so, free of charge after completing any other treatment. There is also a relaxation area where you can sit and recuperate after some of the more intensive treatments.
Joali Being Aktar Herbology Centre
Every time that we enjoyed a treatment at the spa, we were invited to complete the process by taking tea at Aktar, the resort's herbology centre, located within the spa's jungle interior.
On our first visit to the spa we were each given a health assessment, which was used in conjunction with answers provided in our pre-arrival questionnaire, to create a customised health profile for us.
According to this profile we were told which combinations of herbs, teas and aromas would be most beneficial for us.
This information was kept at the herbology centre, so that each time we visited we were each offered a combination of teas and herbs that corresponded to our profiles.
Joali Being Main Pool and Beach
As I mentioned earlier when talking about MOJO, the poolside restaurant, Joali Being's main pool is absolutely stunning. A series of pools of different heights and shapes flow into one another, right on the beach, facing the Indian Ocean.
The uppermost pool is the largest and runs alongside the front of MOJO and Sai. It features a hydrotherapy area on one end, which enjoyed a decent amount of shade in the mornings.
Swimming along from here there were a couple of submerged sun loungers (just like the ones in the 3 bedroom Beach Villa). However these never saw any shade at all, although they did have a wonderful view of the ocean.
After these sun loungers there were a few steps leading up to the sunken dining area. This again offered zero shade, so didn't get any use during the day, given the strength of the sun here, right by the equator.
To complete the 'top floor' of the pool there was a deeper pool which was perched dramatically, overlooking the pools beneath. This is definitely what I would classify as the most instagrammable area of the main pool complex, since it was flanked by palm trees and flowers and enjoyed a wonderful ocean view…again though there was very little in the way of shade.
I'm sure you're sensing a theme here and it's part of the reason why the pool was almost always empty. Save for one little section at the far end of the pool, there was just no shade at all. Zero protection from the scorching hot Maldivian sun.
To compound the issue, the parasols used at Joali Being are partially transparent. I'm sure that this aids in the aesthetics (as does removing all shade in general). However the impact of partially transparent shade is very obvious.
Lifting up one of the cushions revealed the extent to which the towels had been bleached by the sun. This is the impact that will be felt by guests sitting in the 'shade'.
If anything, the lap pool area on the next floor down was even worse when it came to shade, save for the first two or three metres, at one end.
Indeed this area is where we preferred to sit in the afternoons, after lunch, although by this time the natural shade was gone and needed to be replaced by the partial shade of a parasol. This spot is also where we enjoyed dinner at MOJO one night.
Complaints about the lack of shade aside, the service was truly excellent at the pool. The fact that we stayed here after lunch most days, rather than going straight back to our own private pool, is a testament to this.
Staff not only provided us with a steady stream of ice cold water and face towels, they even brought over lens cloths and cleaning spray for our sunglasses (although they didn't offer to polish the sunglasses for us, like at the Conrad Rangali).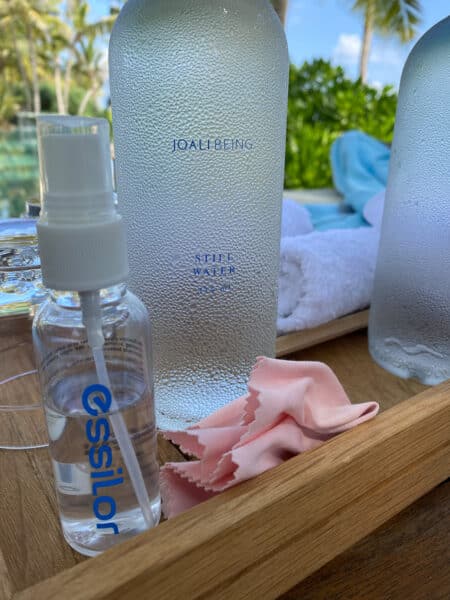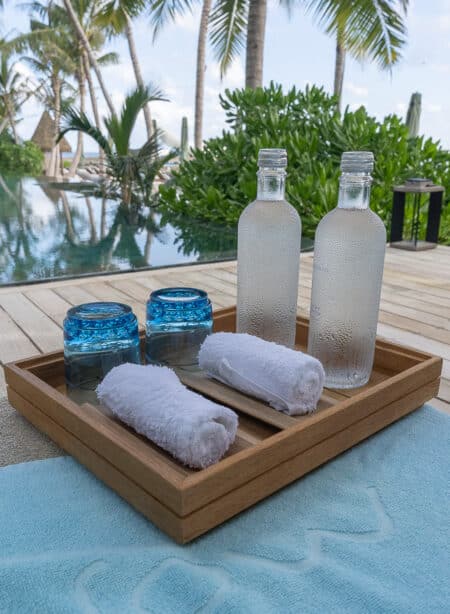 Beneath this mid-level of the pool was a much shallower pool, featuring sunken sun loungers and direct access to the beach.
The beach featured powdery soft white sand and looked exactly like you'd expect of a tropical paradise.
However, it is worth noting that seawalls are visible all around the island, including at the main beach, so you don't enjoy the unspoilt stretches of endless sand like what you might find in the resorts of Baa Atoll, just South of here. (Amilla is particularly blessed in this regard with a phenomenal stretch of beach running along one whole side of the island, with no villas looking onto it at all.)
Water Sports at Joali Being
JOALI BEING – Marine Centre Brochure
Joali Being's water sports offering is operated by a company called Best Dives. Big players like Ocean Dive and Dive Butler tend to dominate the Maldivian market, with the majority of credible luxury properties siding with one of these two.
When I saw that Joali Being had opted to go with Best Dives I was sceptical but figured that I would reserve judgement until I got to the property. First impressions were…not great. As with all luxury hotels in the Maldives, fins and snorkels were provided free of charge. The Scubapro fins were in decent condition and looked relatively new.
However, the bag that they came in was abysmal.
Most luxury properties in the Maldives will give you a proper backpack with a zip pocket, straps and side pockets. Best Dives offers guests: a large shoe bag, in a primary shade of blue with Best Dives written on it, in one of the fonts that comes free with MS word.
Compare this to the bag given to guests at the Waldorf Astoria Maldives (on the right):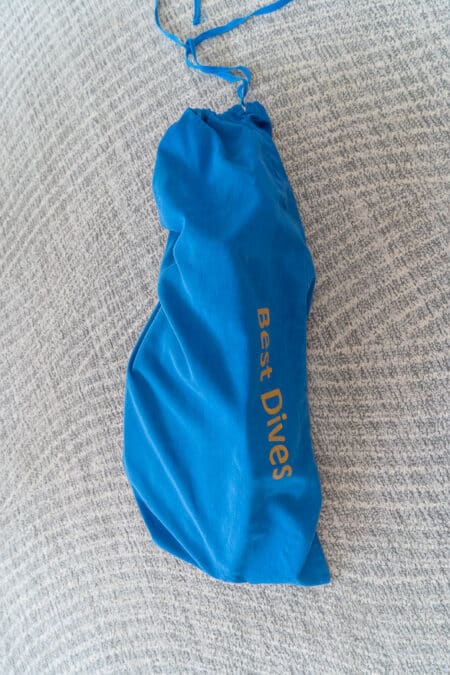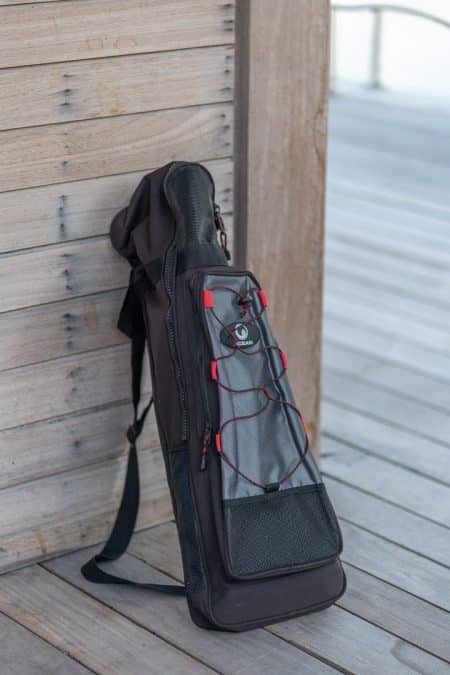 Of course this meant that we couldn't comfortably carry snorkelling gear anywhere, since the only way to carry our fins was by placing them in the baskets on the front of our bikes. These were far too shallow and any time the wind picked up the fins would come flying out.
I figured that perhaps these bags were a temporary solution, whilst proper snorkelling backpacks were on order. However, one visit to the Dive Centre made it immediately clear that this is just the way that Best Dives operates.
Unlike every other resort we've visited in the Maldives, Best Dives was completely hidden away in a little side pier with seemingly no connection to the hotel.
When we cycled up there to enquire about diving, the whole atmosphere was just off. There were loads of staff members sitting around, playing on their phones and looking uninterested. The service culture was basically zero.
There was no reception area, no dive shop, nothing. Just a little outdoor table with some poorly photocopied scraps of paper and clipboards lying around. After much deliberation, the group of people here picked somebody to be their representative and actually speak to us.
It genuinely felt like we may have been the first guests to ever go to the dive centre and enquire about diving. There was enough of a lack of confidence from staff and a weird vibe that Kamara and I decided not to dive. We genuinely didn't feel like we'd be safe.
Perhaps this was an overreaction on our part but this had much the same feel to it as walking into a tourist trap restaurant. You just know when the vibe is off.
Ultimately diving may not be at the top of your agenda; if it isn't, this will basically have zero impact on you. However if you were hoping to head out and see some Mantas during the peak season, I'd strongly recommend pairing your stay at Joali Being with another property until the dive centre changes radically.
Tennis Court
Joali Being offers a very high quality synthetic grass court, however this court is fully exposed to the sun and rain. As more resorts are moving to provide shaded courts which can be used at all times of day and all times of year, hopefully Joali Being will take note!
Football pitch
Believe it or not, football pitches are key to attracting and retaining the top talent in the Maldives. I've spoken to plenty of staff members who mentioned that they decided to work at a property based on nothing other than the quality of the football pitch offered to staff.
Many resorts will keep the football pitch 'backstage' within the staff area but Joali Being's pitch is located along one of the main pathways of the property. This means that it is also open to guests and that often there are guests vs staff football matches arranged.
Personally I'm more into combat sports than ball sports but it's great to see that staff are well looked after and that the opportunity is there for guests to break down cultural barriers by playing a common sport with people who come from a very different culture.
---
Conclusion
---
Basics Checklist
X Power sockets near the bed
☑︎ Easy to understand light switches
☑︎ Coffee machine
☑︎ Separate shower and bath
1/2 Blackout blinds
X Stable, fast and free Wifi
☑︎ Feather pillows
☑︎ Quiet and powerful aircon
Let me start by saying that Joali Being is an incredible property.
It is clear that Esin Güral Argat is a visionary, who has created something truly remarkable here. In terms of design the two Joali Maldives properties are so far ahead of the curve that it's almost laughable.
The fact that the coffee cups are handmade and coloured to match the surroundings that they are placed in, is just the tip of the iceberg. You won't see a hard line or a sharp corner anywhere. The moment you set foot on the island you immediately feel a true sense of calm and the lack of anything visually jarring is a huge part of this. Without wanting to be unduly harsh to a specific competitor, dotting the property with neon yellow, for the sake of adding a 'splash of colour', is the antithesis to Joali Being's ethos.
Clearly the design here is not only aesthetically pleasing, it is carefully considered. However, there is still room for improvement. The lack of shade by the pool and the loud scraping sound made by furniture in the restaurants is something that I think can be fixed relatively quickly, as is the issue with the wrong windows being frosted in the standard water villas!
The food is excellent for the most part, although it does feel like more variety could be introduced and that menus are somewhat lacking a concept. Both main restaurants seem to do a little bit of everything, without having a true speciality. Personally I think that making the Ocean Sala a restaurant dedicated to cuisine from one part of the world would be a great start, as would keeping it open for lunch.
Service throughout our stay was friendly and well intentioned but staff seemed a little confused about the service concept at times. This is understandable during the first two years that a property opens, especially given that Joali Being opened during the pandemic and has adapted to consumer demands materially since opening.
The initial concept of Joali Being was:
no alcohol
no wifi outside of the bedrooms
no children
'healthy food' only
This has now changed quite substantially; with alcohol and burgers featuring on the menu, wifi offered throughout the property and July 1st to August 31st being dubbed a "Kid's Retreat".
What was previously a resort that imposed its world view on guests is now a resort that has taken feedback on board, adapted and improved.
It isn't that health and wellness are ignored, it's just that now they are an option (a very well executed one at that) for those who choose to partake, rather than an imposition.
Generally speaking, the luxury hotel industry acts like the key to guest's hearts is to ply them with food and drink, in order to make them happy. Joali has gone in a completely different direction with this and honestly I think they've done a fantastic job.
At the end of seven nights I felt very well rested, healthy and happy – both physically and mentally. In other words I felt like at Joali Being, I was genuinely living my best life. I would gladly return and do it all again.
---
Book Joali Being with Virtuoso Benefits
---
Our clients are able to enjoy additional Virtuoso benefits when booking Joali Being:
Upgrade on arrival, subject to availability
Daily breakfast for up to two guests per bedroom
One-time $250 USD equivalent Wellbeing credit per room
Early check-in / Late check-out, subject to availability
Complimentary Wi-Fi
No advance deposit is required for clients of The Luxury Traveller.
Payment will be taken directly by Joali Being during your stay.
It's always worth dropping us an email to see if a better offline offer is available too (especially during the off-peak months of April-October)
If you'd like more help picking the perfect Maldives resort for your trip, fill out our simple Maldives preferences form and we'll get back to you with a personal recommendation :