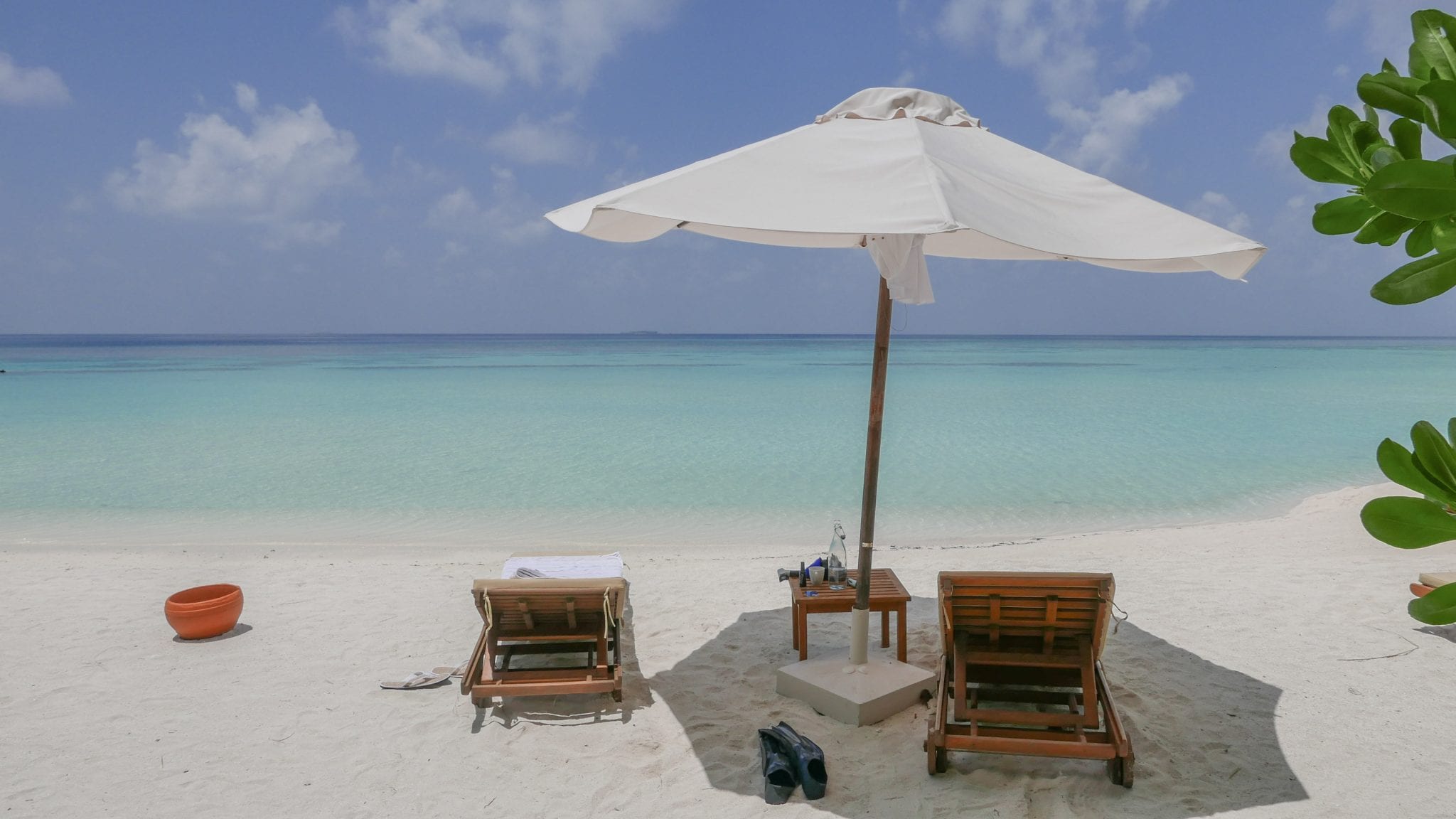 REVIEW – Conrad Maldives : Beach Villa (pre-renovation)
September 9, 2017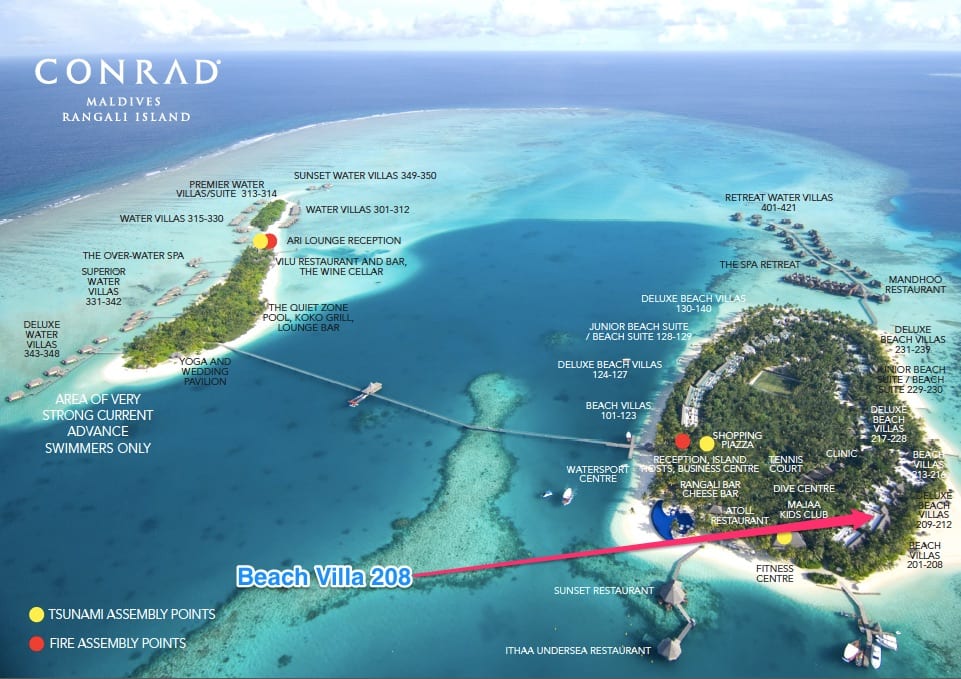 GUIDE – A comparison between the Main Island and Quiet Island at the Conrad Maldives
October 5, 2017
---
---
Intro
---
During our stay at the beach villa, our island host Naeem kept in constant contact with us. Each morning at breakfast he would check in with us to see if we had any activities planned and whether he could organise any dinner or lunch reservations for us. On the first morning he asked how we slept and I mentioned the super loud air conditioning plant next to villa 208. He said he'd ask the engineers if there were any issues and would report back.
True to form, later that afternoon he came and found us on the beach outside our villa. He said that the engineers didn't know of any faults but he would leave us some earplugs for now and see if there was anything else he could do.
I asked if there was any possibility of getting moved to another beach villa, even if it was facing the bridge. Naeem said to leave it with him and he'd see what he could do.
After a fantastic morning diving with Manta Rays we arrived back at the Rangali dock to be greeted by Naeem.
"I have some good news and some bad news", he said.
I asked him to start with the bad news.
"You have to pack all your bags by midday tomorrow".
The good news?
"We are moving you to one of our Retreat Water Villas".
I'm not going to lie. I high fived him then and there. It was like all my Christmases had come at once.
That evening we packed our bags and took a final nighttime walk on the beach before heading to sleep with some earplugs in. However, sleep was now difficult as a result of the sheer excitement at the prospect of moving to a Retreat Water Villa!
The following morning we waved goodbye to our room as we made our way to the Dive Centre.
---
Arrival at our new Villa
---
On our return from our morning dives we were once again greeted by Naeem at the dock. This time he had a buggy waiting for us, ready to take us to our new room.
At this stage I had no idea which villa we would be assigned. I was happy to be in any kind of villa not adjacent to a clunking industrial behemoth; the fact that we were being assigned one of the largest overwater villa categories was absolutely astounding. If we ended up on the lagoon side, right next to the spa I definitely would not have minded!
As each second passed and our buggy got further and further up the jetty, my anticipation levels kept cranking up.
The layout of the Retreat Water Villas is rather unique, they all have their own private spa rooms, overlooking the ocean as well as a multi-tiered outdoor deck with a hot tub and shower. Looking back at that sentence I just realised all over again, how utterly next level these villas are.
I was almost over it. Now I'm not again.
The RWVs are also the only water villas on the main island; the Standard Water Villas, Superior Water Villas, Deluxe Water Villas, Premier Water villas and Sunset Water Villas are all located across the water, on the quiet island. The benefit of this is that you are closer to the house reef and also have quite good snorkelling (with no currents to worry about) right on your doorstep!
---
Bedroom
---
As soon as you open the door to the villa you are greeted by a full length view of the turquoise lagoon below. Immediately you are transported to an entirely different world, one bathed in light where spectacular scenery abounds.
---
Bathroom
---
The bathroom is where things start to get really special. Dual vanities, freshly cut plants, acres of counter space and a large sofa/ seating area. Aside from all that though, the star attraction has to be the glass floor which gives you a window onto the impossibly beautiful waters below.
I must admit to really taking my time brushing my teeth each morning, in the hopes of catching sight of something special. On day two, no word of a lie, I saw a turtle swim by!
Looking at the main bathroom photograph you'd be forgiven for thinking that the bath is quite plain and boring. Definitely not the sleek and elegant standalone tub with separate taps that most design focused hotels use. You'd be right about that but you know what? I wasn't too bothered by that…
---
Spa Room
---
The most outrageous, indulgent and frankly unnecessary room feature ever: the spa room. We went in here once to take pictures. That's it. Oh yeah, there was also a yoga mat.
---
The Deck
---
Cool though the indoor areas are, the primary allure of the Retreat Water Villa is undoubtedly the outdoor deck. The instant I went outside I felt compelled to video what I was seeing. The colours were just so perfect that I needed to capture video evidence!
---
Wildlife
---
The views from this villa were undoubtedly spectacular but the the more time I spent here, the more I felt myself drawn to the wildlife. I've never been on a safari holiday before and only discovered diving relatively recently. I also never had pets growing up (unless you count my imaginatively named stick insect: Sticky). For me sitting on the deck and watching stingrays, turtles, crabs, sharks, doves and herons was a real revelation. I feel that after this 5 night trip to the Conrad Maldives I now 'get' animals and that's kind of awesome.
Too lazy to put my snorkelling gear on in the evening, I opted instead to mount my GoPro to a selfie stick and put it into the water under the villa…
Of course in life one has to learn to take the rough with the smooth. Alongside the delightful selection of friendly creatures, we were relentlessly hounded by a group of gigantic black bees.
The bees were unrelenting in their dive bombing and basically made it impossible to go out on the deck on our second afternoon. It is pretty damned hard to relax when the sound of lapping lagoon waters and cooing doves gives way to what sounds like a belligerent blender heading straight for your head.
Here's a video of George coming to visit. You'll notice the interloper at the end [top right corner].
After a wonderful night's sleep in the super comfortable bed, I headed outside with a cup of coffee to enjoy some sunshine. At which point the bees came back. I called reception again and this time one of the senior guys in maintenance was with the team. He took one look and said that the bees had eaten the wood and made nests.
He told us not to worry, he would come back with all the necessary equipment to cut out the damaged wood and fill in any nests. In the meantime we just made the most of the lagoon. No bees there.
Ultimately the issue was fixed but it did take a full 24 hours. Given that we only had three nights in the villa, the impact was not insignificant. Overall we spent less time lounging on the deck and more time snorkelling and exploring the resort instead, which I guess isn't such a bad thing. Luckily the bees were never present in the evenings or at night, which leads me conveniently to my next section…
---
Sunsets at Villa 421
---
Much like the standard water villas over on the quiet island, the Retreat Water Villas do not guarantee a sunset view. However RWV 421 gets a perfect head-on view just like the top room category, the Sunset Water Villas.
---
Conclusion
---
It is hard to put into words the excitement I felt when I was told by our island host that we had been upgraded to a Retreat Water Villa. I had seen what these rooms looked like online and had a pretty good idea of what they would look like. Nothing can really prepare you for the reality of actually living directly on top of a lagoon in the Indian Ocean with infinite blue in all directions.
The RWVs are not as modern and sleek inside as some of the other water villas at the Conrad but they more than make up for this with their palatial dimensions, not to mention the fact that the villas themselves are far more generously spaced than the tightly packed standard, superior and deluxe water villas over on the quiet island.
The experience of being on the lagoon with multiple outdoor lounging areas at your disposal is truly a world away from the big resort feel of the beach villas.
During our time at the RWV we basically never saw other people, save for our two daily jaunts to Vilu for breakfast and happy hour. We had dinner on the deck every night instead. With such privacy and a backlit canopy of twinkling stars above with a gently lapping ocean below, it felt like a shame to eat anywhere else.
When you stay in a beach villa you have a base of operations from which to enjoy the resort, in the RWV the villa itself becomes your resort and totally comes to define your experience.
I absolutely loved spending time in this villa and almost as important as the experience itself are the memories that I created. Every time I have a stressful day and life is getting me down I remember that first morning coffee on the deck, catching sight of a stingray, the waves on the horizon or the bright white brushstroke of the milky way against an ink blank sky above – and suddenly everything is ok.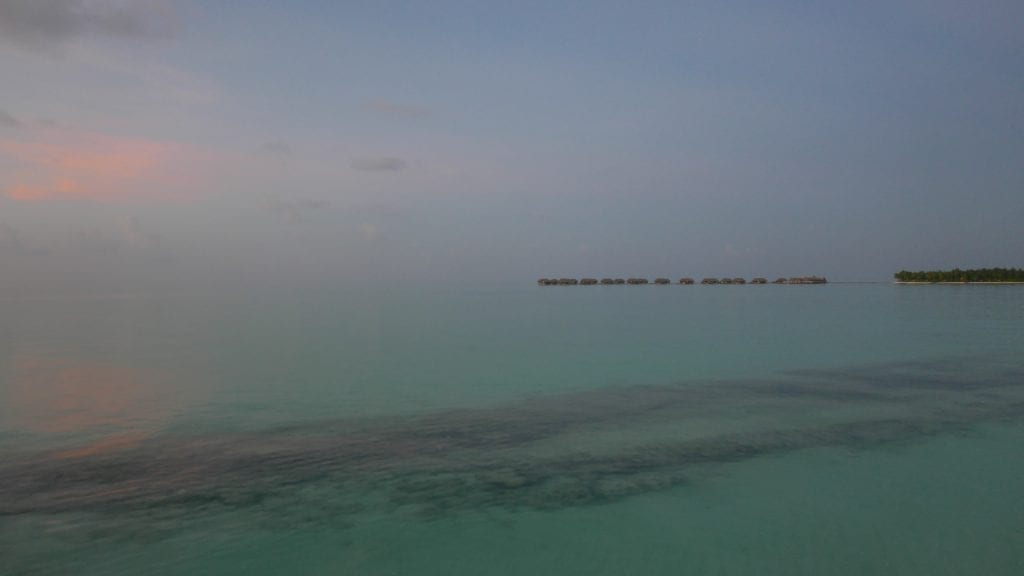 ---
How I booked for $380 per night
---
Related reviews
---
GUIDE - Eating and Drinking at the Conrad Maldives
Waldorf Astoria Maldives Review
---
Book online with Hilton Impresario Benefits
---
Hilton Impresario Partner Booking
Click the image to get the best available, flexible rate and also receive:
Upgrade of one category,

based on availability at time of check-in.
Full breakfast for up to two in-room guests.
$100 Hotel Credit.
Welcome amenity.
Early check-in/late check-out, subject to availability.
Double Hilton Honors points and stay credit.
The Conrad Rangali Maldives can be booked directly online, with above benefits, by clicking the "BOOK NOW" image.
First time booking with us? Here's how to quickly get set up: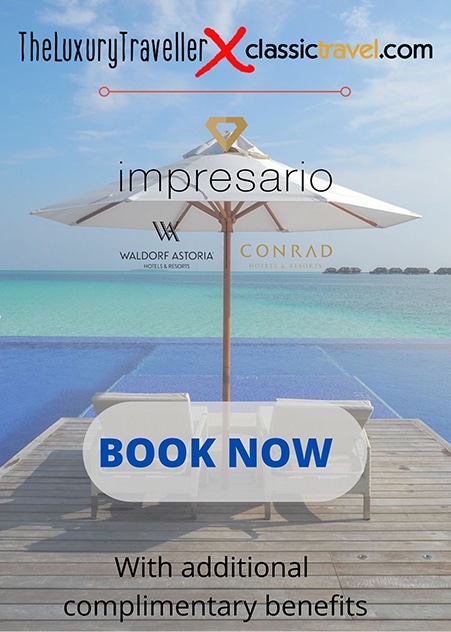 ---
Enquiries
---
Do you want to stay at multiple properties? Send us an email here and we'll manage your booking for you and secure you extra benefits, over and above a direct booking.
If you aren't sure which resort to choose and would like our advice, please fill out our quick & easy Maldives form and we'll match you up with your perfect property.
More Maldives Reviews
---
We are a luxury travel agency specialising in the Maldives, with plenty of first hand experience!
Here is a selection of our most recent Maldives hotel reviews:
---