Etihad Airways (EY)
Flight: EY278
Class: Business Class
Seat: 2K
From: Malé (MLE)
To: Abu Dhabi (AUH)
Duration: 4h30
Aircraft: Airbus A320
Status during flight: Etihad Guest Gold
Booking type: AA Miles Award

30k Miles one way for MLE-AUH-LHR in business class

Date: May 2016
---
FOR INFORMATION ON HOW I BOOKED THIS FLIGHT CHECK OUT THE INTRODUCTION TO THIS TRIP REPORT HERE:
FIRST CLASS APARTMENTS TO THE MALDIVES
---
This is a follow up review, for full details on the seats please read the original here:
---
The Flight
---
The aircraft on the return featured the same shorthaul Recaro recliner seats as the outbound. I like the comfortable mixture of a leather headrest and fabric seat combined with the large pillows and squishy blanket. As somebody that lives in Europe I never cease to be amazed when I get to experience ACTUAL short-haul business class, with a business class seat!
The crew was very smiley and efficient and got the plane boarded extremely quickly. So quickly in fact that we didn't have time for a pre-departure beverage, as we had been granted a slot to take-off within seconds of the doors closing!
Once in the air, menus were distributed:
Pre-Dinner Drink
Dinner
Around 20 minutes before commencing our descent, the cabin manager came around with a tray of 'white sangria'. I'm not sure if this was in some way inspired by our Spanish captain (we actually had the same captain on both the inbound and outbound flight) but it was certainly unexpected.
I wasn't exactly sure what to expect but the result was pretty good! I assume this was just an ingenious way of using the leftover wine from the bottle I'd been drinking earlier. If so what a great idea, way better than just pouring the contents away.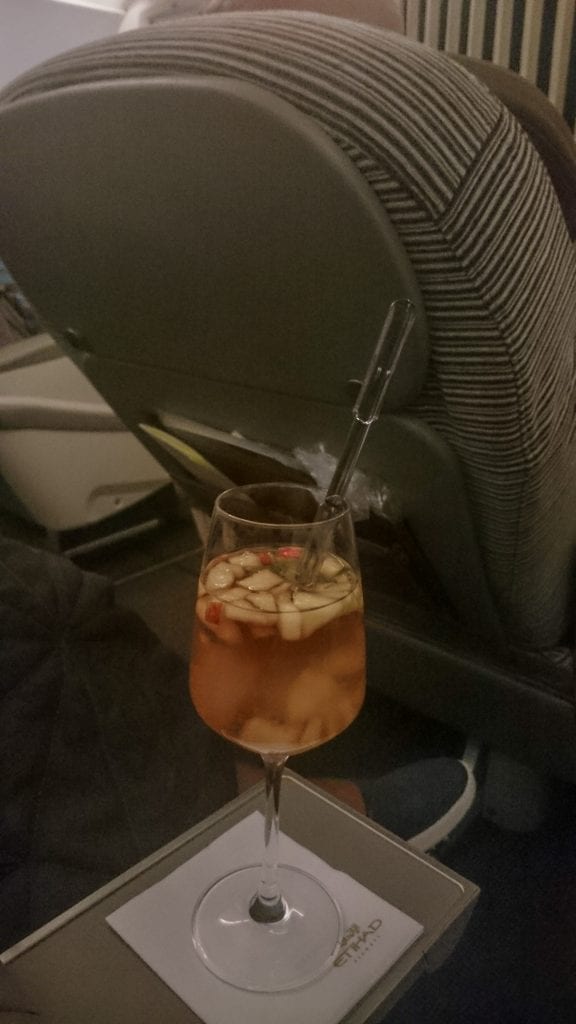 ---
Conclusion
---
Etihad's short haul product is great for a flight of this length. I was able to relax comfortably, enjoy some good drinks and chat with the relaxed and friendly crew. The food could use a little work, as could the IFE but otherwise this was a fantastic flight.
---