Conrad Maldives Seaplane Lounge
Access:

All guests staying at the Conrad Maldives have regular access on their way TO the resort
Guests on their way BACK from the resort can use the lounge as follows:

Conrad Lounge Package: $50++ per adult / $25++ per child under 12. Snacks only.
Deluxe Conrad Lounge Package: $85++ per adult / $42.50++ per child under 12. Includes full dinner buffet.

Hilton Diamond Status holders have complimentary FULL use of the seaplane lounge at all times.
---
FOR INFORMATION ON HOW I BOOKED THIS STAY AT THE CONRAD USING POINTS, CHECK OUT THE INTRODUCTION TO THIS TRIP REPORT HERE:
---
We were first off the plane – as were our bags – so we found ourselves in a totally empty customs and immigration hall. After a quick check of our passport and putting all of our bags through a scanner (because the resorts sure as hell don't want you bringing your own booze when they can charge you $30++ for a glass of wine), we were out in the warm breeze of the arrivals area.
We made our way to the Conrad sign and were escorted by one of the Conrad hosts, over to the Seaplane counter, where all of our bags were weighed individually and tagged.
Be careful though, the weight restrictions are quite strict: Luggage allowance is 25kg per person plus 5kg of hand luggage and the maximum weight is 32kg per item. In order to reach 32kg though, you'll need to pay $9 per kg over the 25kg allowance.
We retrieved a couple of chargers and our camera equipment after our bags were weighed and took them with us to the Conrad van, which was waiting to take us to the lounge. The host travelled with us all the way to the lounge and was great at making small talk and getting us excited for our stay. We had the van to ourselves, which made the transfer experience seem more exclusive, though I imagine at peak times you may have to share.
After our quick tour of the runway we pulled up at the seaplane terminal, where several of the high-end resorts host their guests in private lounges. Judging by what I've seen online, the Conrad has one of the most extensive facilities, with enviable views of the water below.
Our host introduced us to Afeef, who took care of us for the 1h20 that we waited in the lounge. There was one other couple when we first arrived but they left within ten minutes or so, meaning that we had the entire place to ourselves!
Afeef was an absolute delight, very friendly, welcoming and also quite mischievous! He really couldn't have done any more to make us feel welcome and to help the time fly by. First he took us on a tour of the lounge:
Afeef said that we were welcome to help ourselves to whatever we liked from the buffet and that he would prepare any hot drinks we wanted and bring them over to us. During the day the lounge doesn't serve alcohol but does offer a variety of soft drinks, including some pretty decent coffee.
After grabbing a quick snack and getting our various devices plugged in, Afeef came over to ask if we would like a complimentary 10 minute massage each, or if we would like to use the shower.
Kamara is super ticklish and hates massages so was visibly reticent. I thought it would be a good idea to grab a quick shower first as I didn't want the masseuse to be forced to endure my delightful travel aroma.
After my shower, I headed back into the lounge and happened upon a most unusual scene. Afeef had invoked some form of sorcery and actually convinced Kamara to have a massage. As soon as he caught sight of me a grin took over the entirety of his face. He put his finger to his lips and gestured for me to walk over to him.
I went over and he whispered to me:
"Switch places with the masseuse and I'll take some pictures, don't tell Kamara anything and then show her the pictures once you get to your room"
After Kamara's massage I had time for an excellent ten minute massage of my own. As soon as it was over Afeef came to tell us that our flight would soon be departing. He handed us a Conrad bag containing two bottles of water and two sets of earplugs.
We were then met at reception by a Conrad representative who escorted us to the lift, down to the ground floor and around the corner to the Seaplane dock. Our Maldivian paradise was so close now…
---
Book the Conrad Maldives with Hilton Impresario Benefits
---
Hilton Impresario Partner Booking
Click the image to get the best available, flexible rate and also receive:
Upgrade of one category

based on availability at time of check-in
Full breakfast for up to two in room guests
$100 Hotel Credit
Welcome amenity
Early check-in/late check-out subject to availability
Double Hilton Honors points and stay credit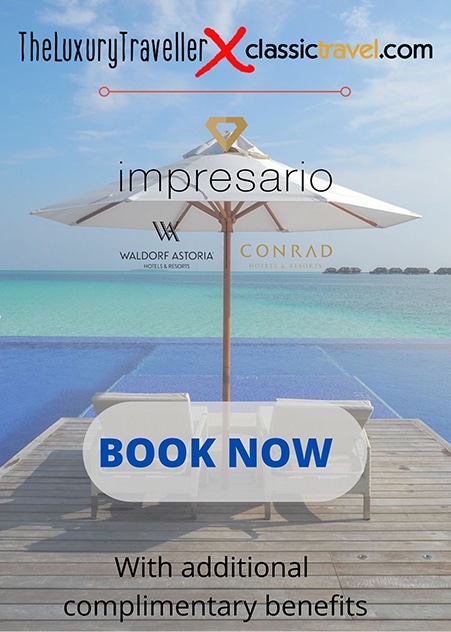 ---
Enquiries
---
Do you want to stay at multiple properties? Send us an email here and we'll manage your booking for you and secure you extra benefits, over and above a direct booking.
If you aren't sure which resort to choose and would like our advice, please fill out our quick & easy Maldives form and we'll match you up with your perfect property.
Maldives Reviews
---
We are a luxury travel agency specialising in the Maldives, with plenty of first hand experience.
Here is a selection of our most recent Maldives hotel reviews:
---