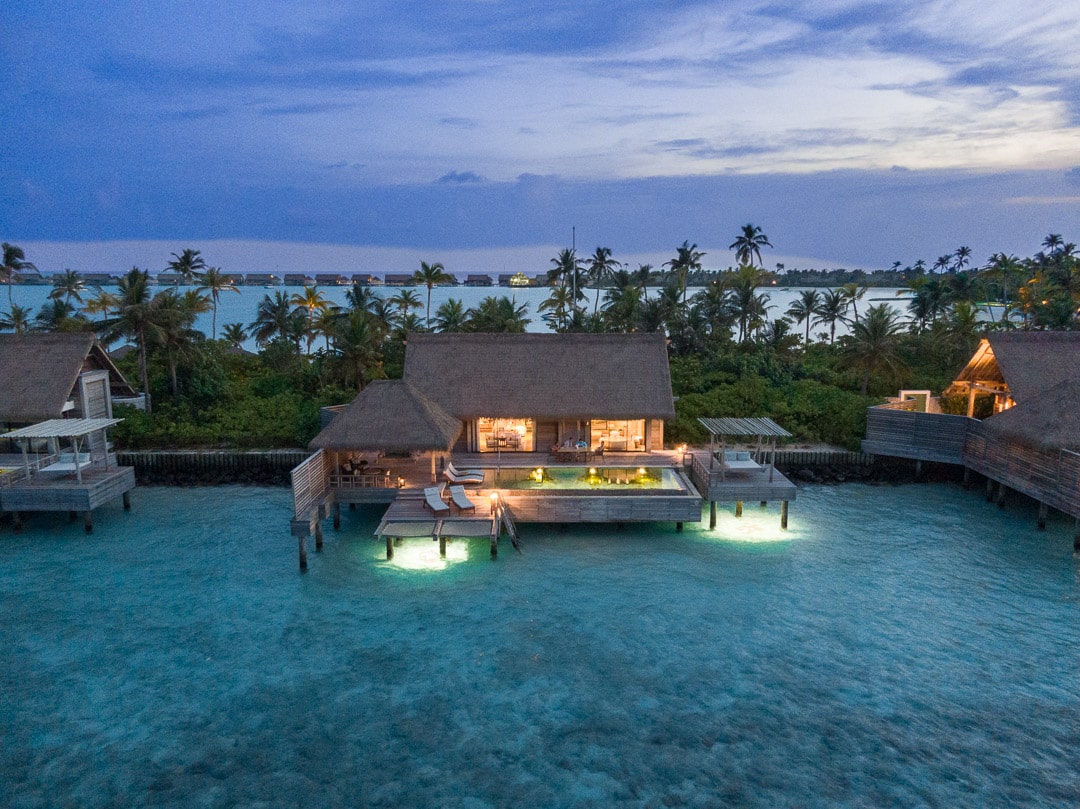 TRIP REPORT – The Maldives: the ultimate socially distant destination?
January 27, 2021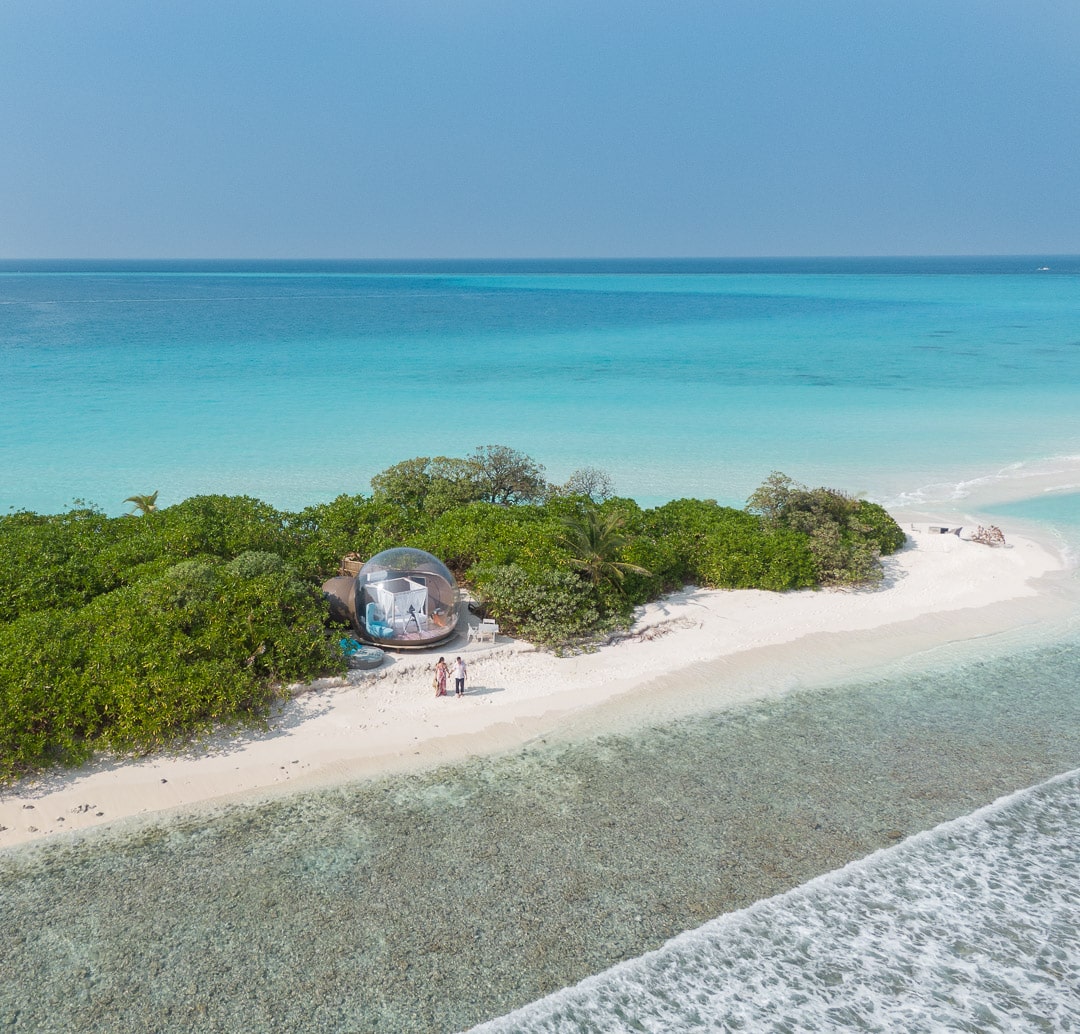 REVIEW – Finolhu
February 12, 2021
Waldorf Astoria Ithaafushi
Location: Maldives
Rate: 150,000 Hilton Honors points per night

reduced to 120,000 points with 5th night free promo

Room Types:

King Reef Villa
King Ocean Villa

Loyalty Program: Hilton Honors
Status During Stay: Diamond
Stay Dates: February and November 2020
---
Intro
---
Prior to booking this hotel, I had enjoyed two fantastic stays using Hilton Points at the Conrad Maldives. At the time, this had been my most aspirational use of hotel points ever. Better still, by buying Hilton points on sale, it was remarkably easy to book $1000 a night rooms for $380.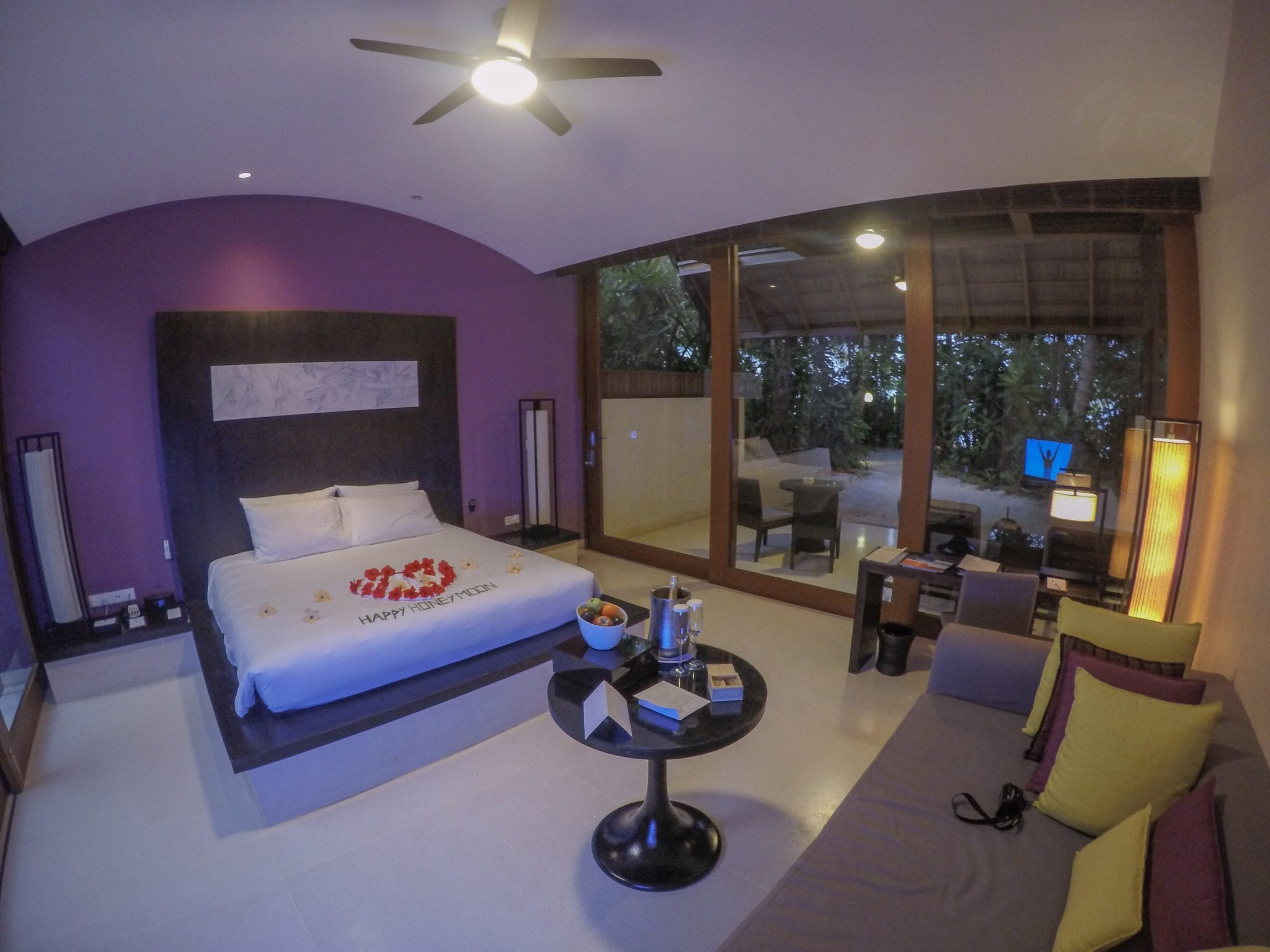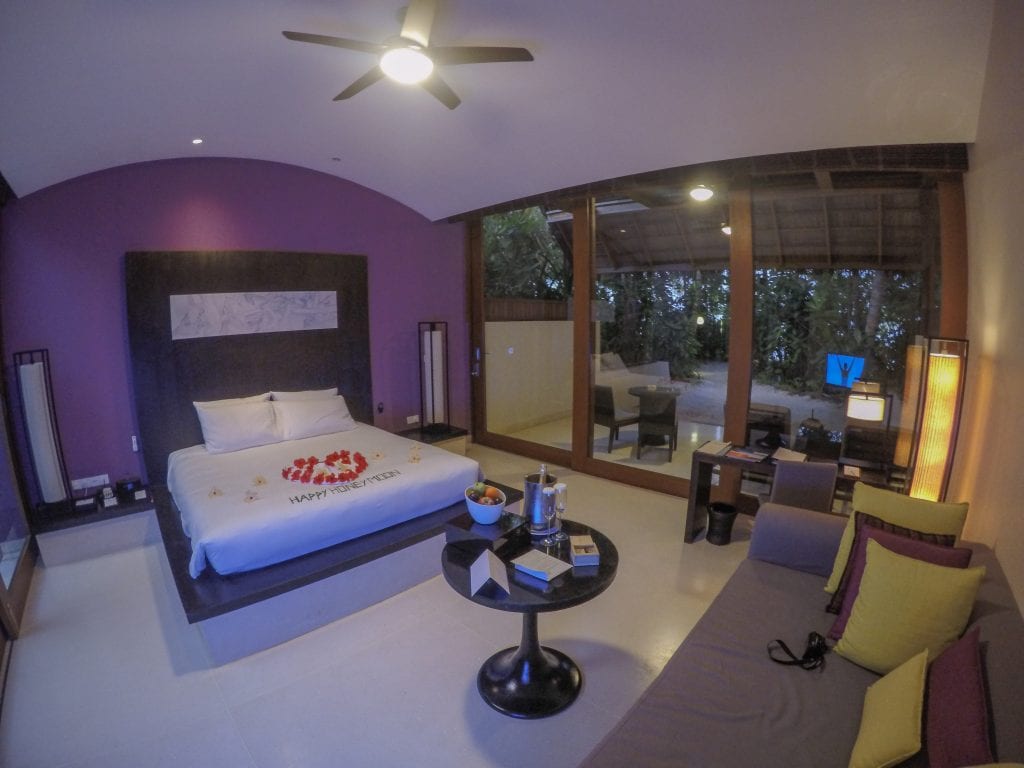 A Standard points room at the Conrad Maldives.
When word first got out that Hilton's Waldorf Astoria brand was going to be opening in the Maldives, this upped the ante considerably.
At the Conrad, St. Regis or Park Hyatt you need to either get very lucky or pay a supplement, beyond your initial points outlay, for a villa with a proper overwater pool. Standard rooms, bookable on points, range from Garden Villas to Overwater villas with tiny plunge pools – the size of a bathtub.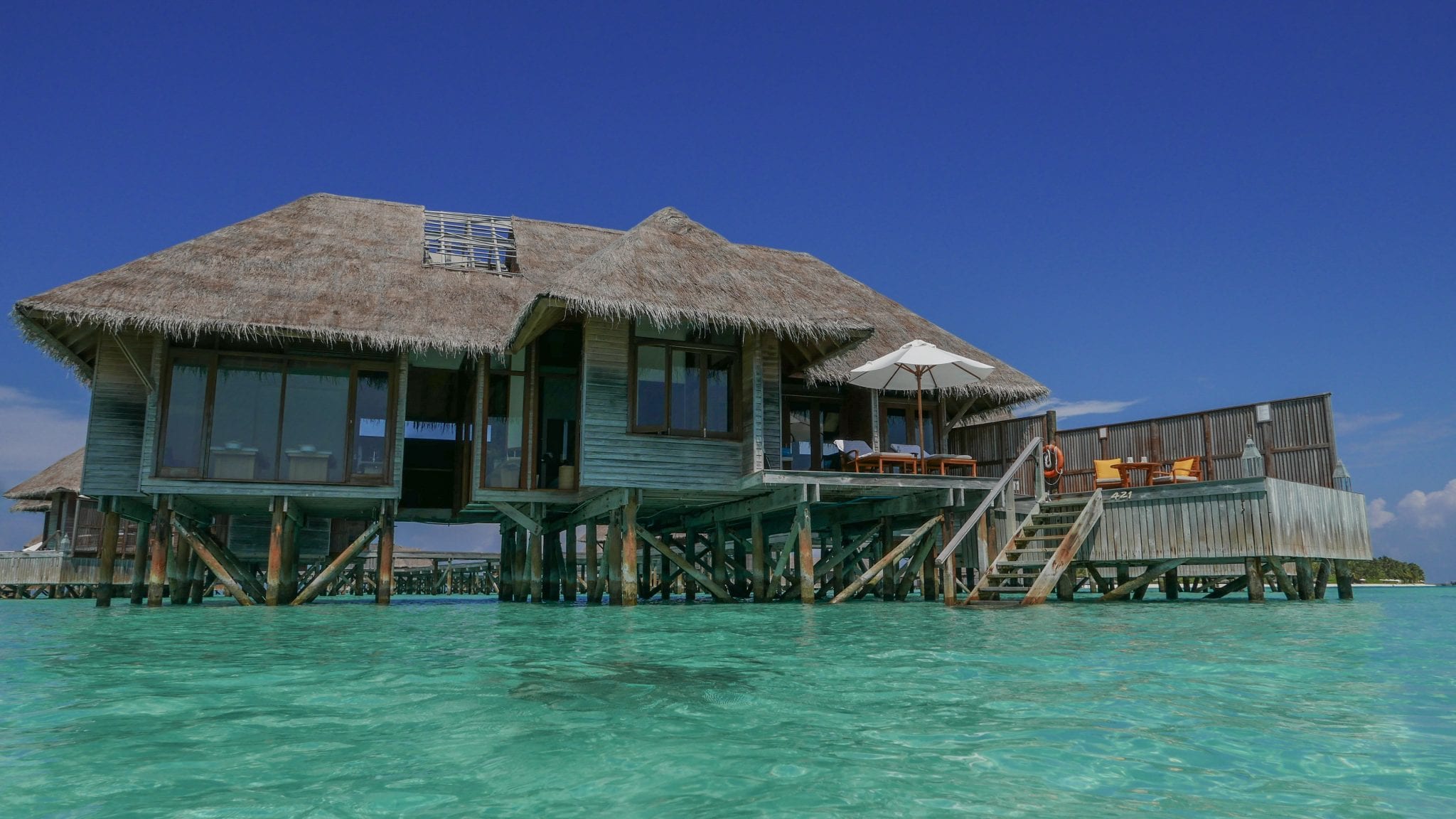 Want a villa like this at the Conrad Maldives? You'll have to get very lucky with an upgrade or pay hundreds of dollars extra per night.
The Maldivian hotel market commands some of the highest room rates on earth and as a result there is something of an arms race at play, particularly when it comes to new hotel openings.
The underlying concept at the Waldorf Astoria is that this is the pinnacle of luxury, as such there is no such thing as a bad room at the resort.
The entry level room is a 279m² Reef Villa. This is an overwater room with an infinity pool that you can swim laps in, with outdoor seating for 18 people.
---
Booking
---
If you'd like to book this property with Hilton Honors points the cost is 150,000 Hilton Honors points per night
Those with Hilton elite status of Silver and above will receive every 5th night free on a points booking, reducing the overall cost to 120,000 points per night.
However, availability for points bookings is incredibly scarce these days, with blocks of 5 nights almost impossible to find.
***
As a Hilton Impresario agency The Luxury Traveller is able to offer the below extras on bookings at the Waldorf Astoria Maldives:
$150 resort credit per stay
An additional 10 Hilton Honors points per $1 spent
Welcome amenity
Complimentary breakfast for 2
Complimentary villa upgrade (subject to availability at the time of check-in)
We make our guests' Impresario bookings directly with Hilton. This means that all Hilton status benefits are honoured and points are earned (with a huge extra uplift!).
Outside of the peak season we can usually offer the below extras (on bookings of 4 nights or more):
25% discount on the best flexible rate
Complimentary half board (breakfast and dinner)
Complimentary transfers
If you aren't sure which resort to choose and would like our advice, please fill out our quick & easy Maldives form and we'll match you up with your perfect property!
---
Arrival
---
Seaplanes are an icon of the Maldives with a scenic flight over this nation's turquoise waters being a defining part of the holiday experience for many travellers.
The views are undeniably beautiful but this mode of transport is not without its problems.
It is expensive: TMA has a monopoly and charges whatever the hell it wants for resort transfers. $600-800 for a round trip is average for the top tier hotels.
Waiting around: TMA decide when they want to fly and their schedules are driven by filling up planes to the brim to maximise revenue. As such, you will often have a long wait in a lounge before heading to your resort.
It is uncomfortable: The seating is cramped, there is no A/C and the propellers are so loud that you need earplugs.
Luggage limitations: You may have arrived into Malé with a 100kg First Class baggage allowance but TMA limits you to 20kg of checked bags with a 5kg hand luggage allowance.

---
Yacht Transfer
---
The Waldorf Astoria is located very close to the airport though, meaning that yacht transfers are offered instead of the usual seaplane.
As with all prices in the Maldives, the Waldorf Astoria advertises its yacht transfer prices with an additional 23.2% tax and service charge on top.
I have translated the prices below to show the all-in price including taxes and service.
The price of the transfer was initially advertised as $430 round trip and this was the price which I paid on my first stay in February 2020.
The price then doubled to $860 round trip a few weeks after I booked (and before the hotel had even welcomed its first guests).
Since the onset of COVID the price has come down slightly to $800 round trip, which is clearly a very large sum of money to spend for a total of 90 minutes on a boat.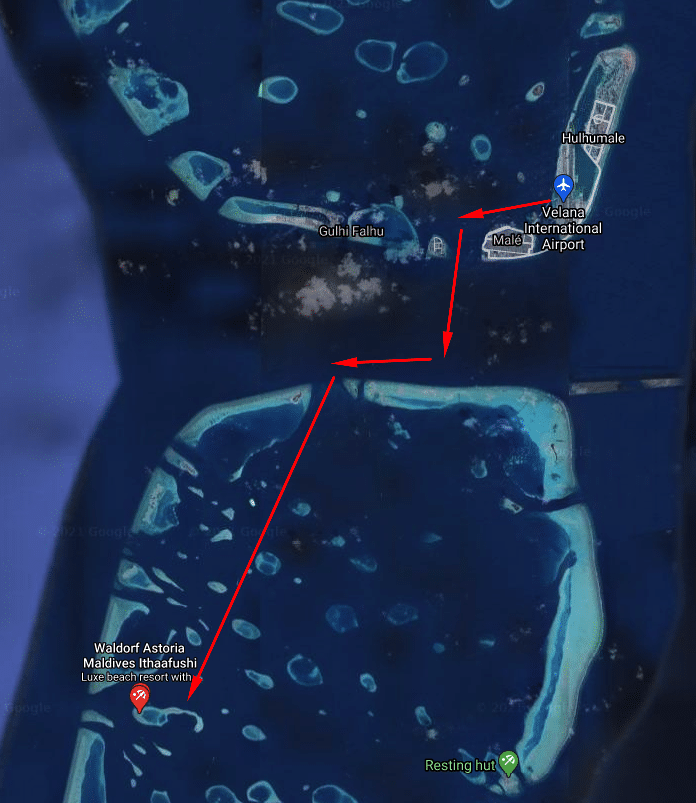 However, here is where I differ from a lot of other travel writers: I think that in the context of the Maldivian market, the Waldorf Astoria yacht transfer offers decent value for money.
Here is a quick video I made explaining why:
1. The price is similar to transfers at other top tier Maldivian resorts.
St. Regis Seaplane $745
Soneva Jani Seaplane $1100
Joali Seaplane $800
One & Only Yacht (without champagne) $890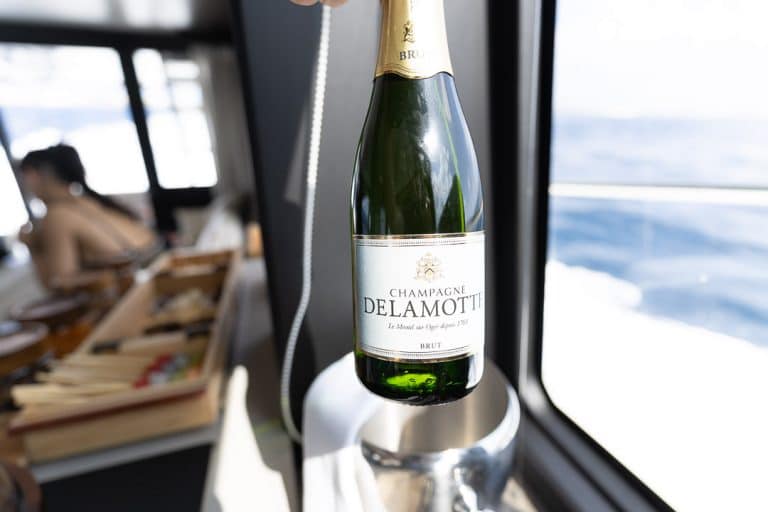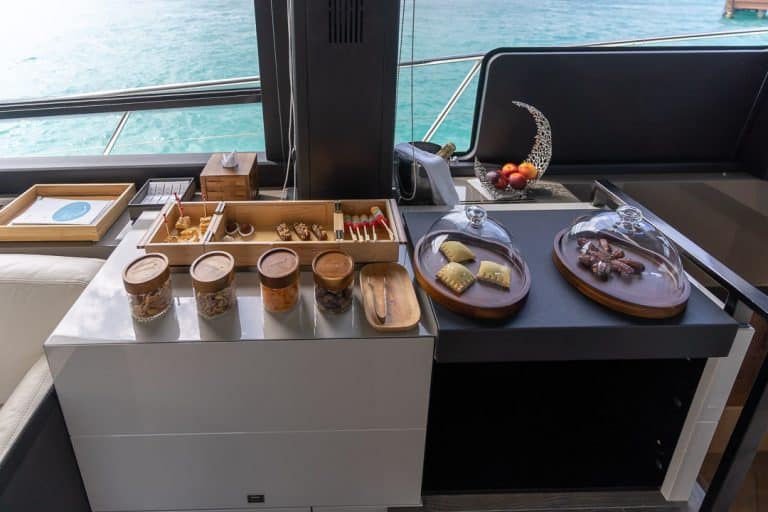 If I'm stuck paying $800 for a transfer regardless, I'm going with the option that includes free flowing Delamotte.
2. Convenience.
The yacht runs 24h a day so you aren't limited to daylight hours like you are on seaplanes.
There's nothing worse than having to leave your resort early on your final day, spending hours waiting at the airport for your flight home.
The boat also waits directly outside the terminal entrance, you can board it in seconds. On both visits to the Waldorf we were on the yacht within five minutes of entering the airport arrival hall. We reached the Waldorf itself around an hour after touching down in Malé. With seaplanes you're lucky to make it to your resort within 2-3 hours of your international arrival.
3. High level of luxury.
Free flowing champagne and an array of canapés on a yacht with an outdoor sundeck, several bedrooms and a butler vs…a cramped seat on a noisy plane with earplugs and a bottle of water.
They even gave us special cooling gel masks for our eyes in case we were drained from our international flight!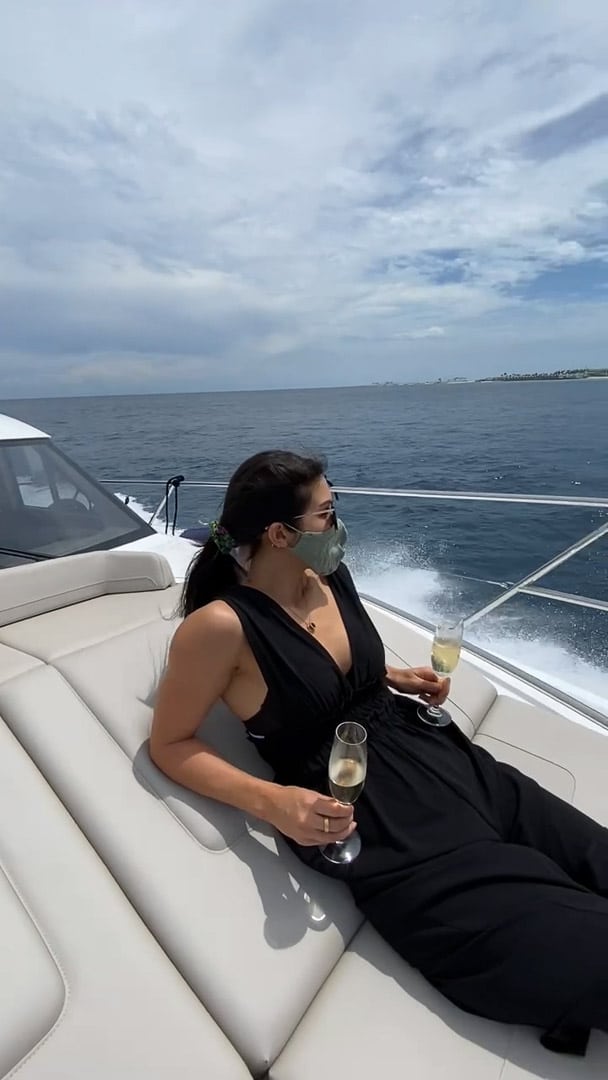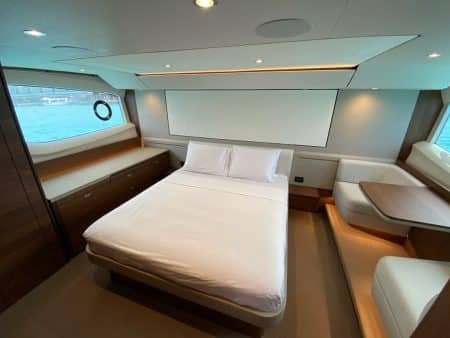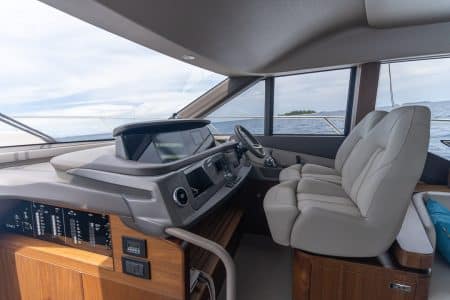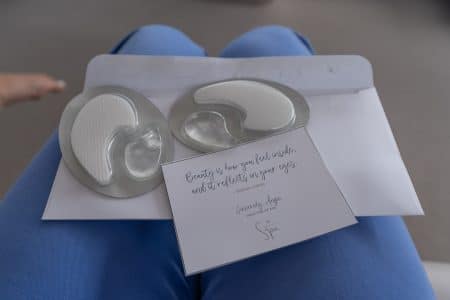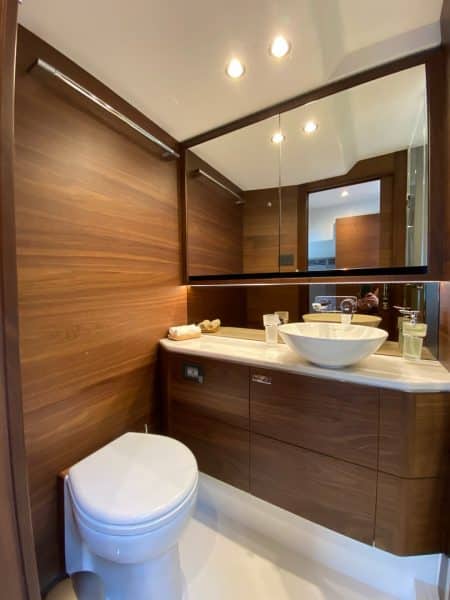 As far as first impressions go, the Waldorf's yacht transfer blows the competition away. It is more luxurious, faster and a lot more fun than the alternatives at a similar price point.
On both of our yacht trips we were almost sad to see the resort's dock come into view, knowing that our time on board would soon come to an end.
Check-in
We were greeted at the dock by a smiling welcoming committee of staff, including our island host Shawki (who was so great during our first visit that we requested him specifically for our return stay in November).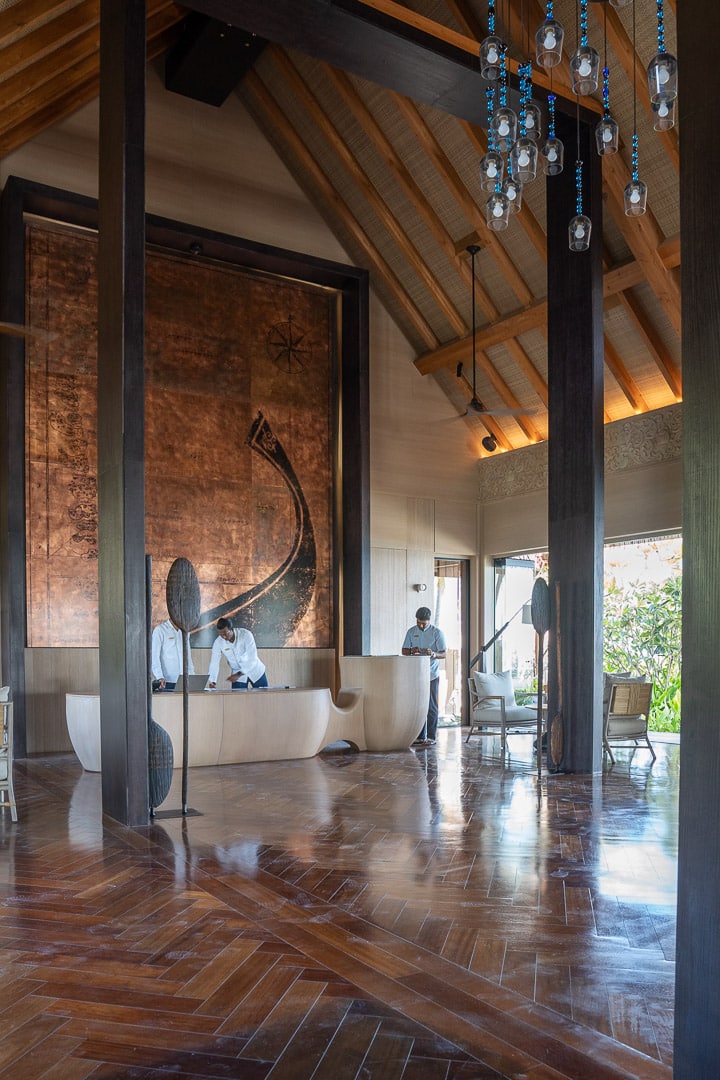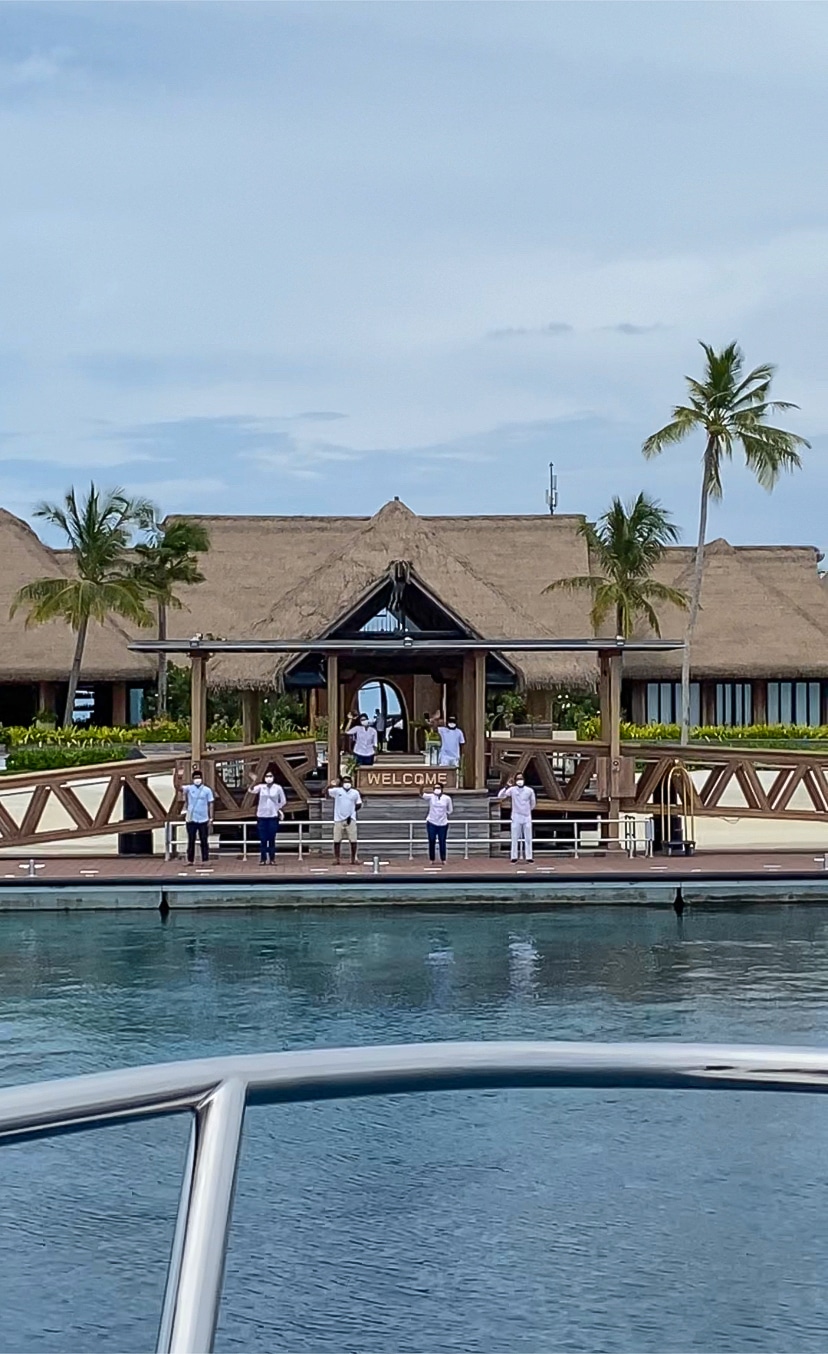 Entering the main reception area I was immediately struck by the height of the ceilings and the polished wooden floors, if the yacht transfer hadn't already made it abundantly clear, these first steps into the resort confirmed that this resort is a significant step up in luxury from the Conrad.
There were no COVID measures in place in early February but in November all guests had to pass through a temperature scanner before being escorted to their rooms via buggy, for check-in.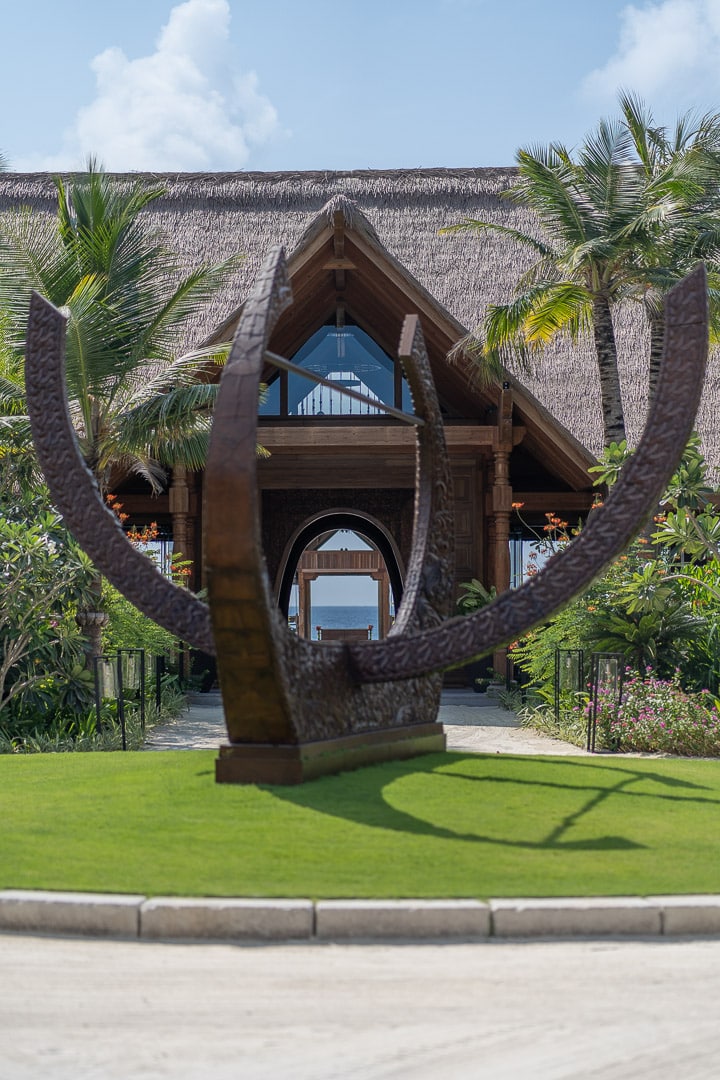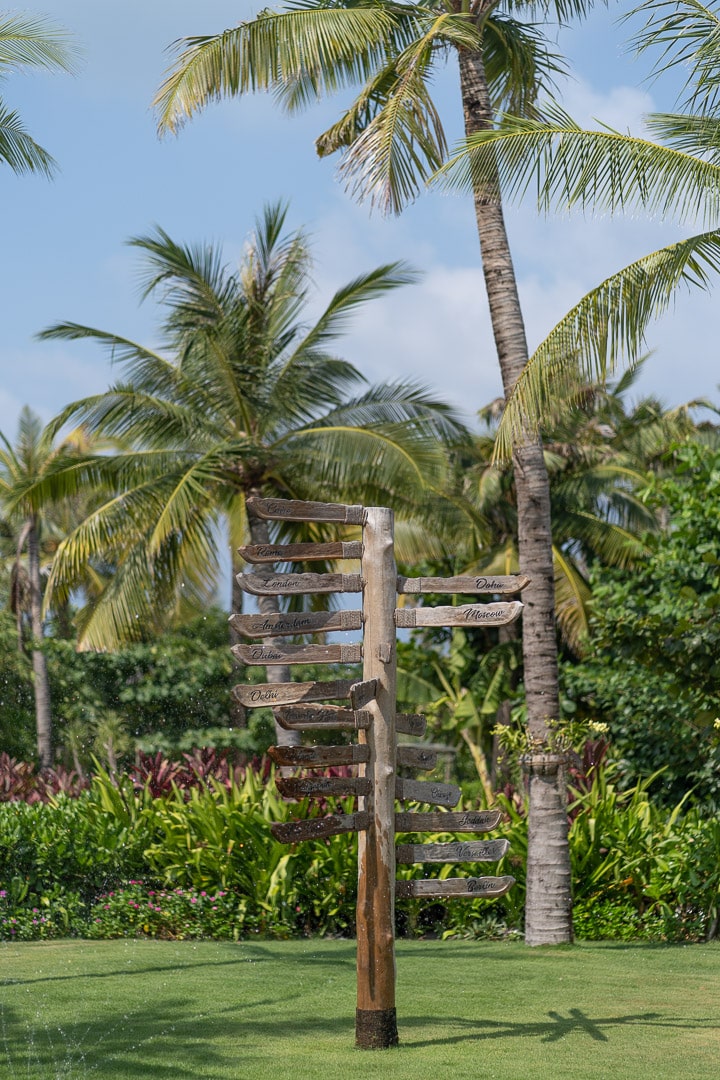 ---
The Villa
---
Choosing a Villa type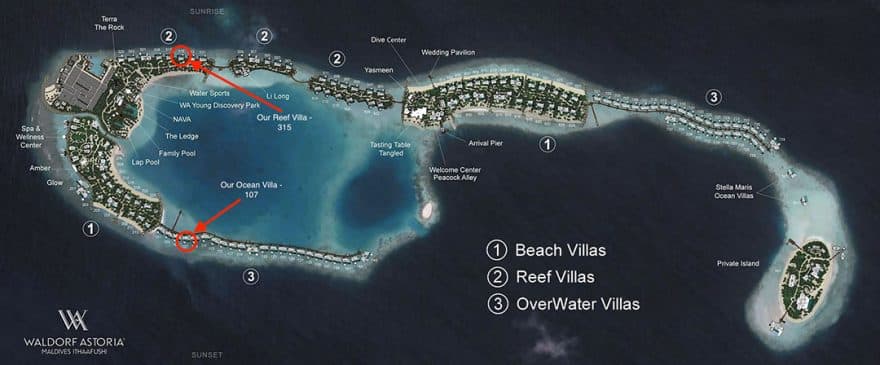 The Waldorf Astoria Maldives has three normal villa types: Beach Villa, Reef Villa and OverWater Villa. These all come in standard and Grand versions.
The Grand villas are identical to their standard counterparts outdoors and add a small living room indoors. The incremental cost in terms of either cash or points makes zero sense to me for such a minor upgrade.
An additional living room, yours for a mere $1000 more per night…
…or if you're booking on points, that'll be an additional 1,024,000 per night (not a typo).
At the time of writing, the Standard Room (bookable with Hilton Points) is either a Reef Villa or an Ocean Villa. You'll notice that on the map, there's no such thing as an Ocean Villa. That's because they are the exact same thing as the OverWater Villas. However if the property made all of the OverWater Villas bookable on points it would have very few villas left to sell for cash.
Inventing the category of Ocean Villa is a way to ensure that only a certain number of OverWater villas can be booked using points.
Booking an Ocean Villa doesn't mean that you get a worse OverWater Villa, you have the exact same physical rooms available to you. So our Villa: 107 could be inhabited by somebody who booked the Ocean Villa category one week followed by somebody booking the OverWater villa category the next week.
On our first stay we opted for an Ocean Villa located at the South of the Island in the 100s. I specifically requested a villa numbered from 100-110 as I wanted to not be too far from the facilities of the main island and despite what the resort map says, sunset can only be properly viewed by these select few villas in February.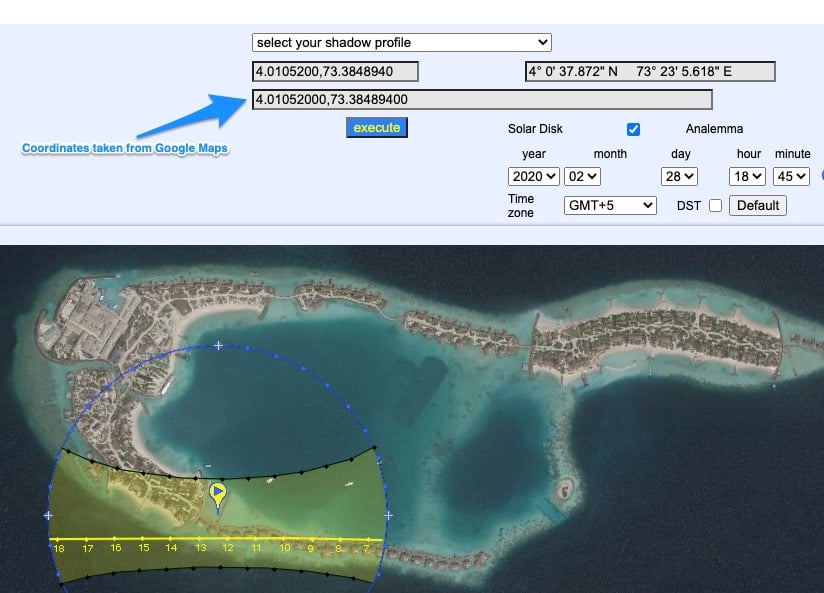 If you're a real nerd like me, you can check the location of sunrises and sunsets at different times of year by clicking the image above. The coordinates I used for the resort were: 4.010520, 73.384894.
For our second stay in November I actually opted to book a Reef Villa even though Ocean Villas were available as personally I think the Reef Villa is a superior category of room. Read on to find out why…
On our second stay we opted for Reef Villa 315, which was located directly across the lagoon from our old Ocean Villa.
IGTV Ocean Villa Room Tour Video
For those of you with a short attention span, here's a video tour of the Ocean Villa from our first stay.
View this post on Instagram
Entrance
The Overwater Villas are all packed relatively close together, with not much privacy around your front door, since it is only a metre or so from the main path.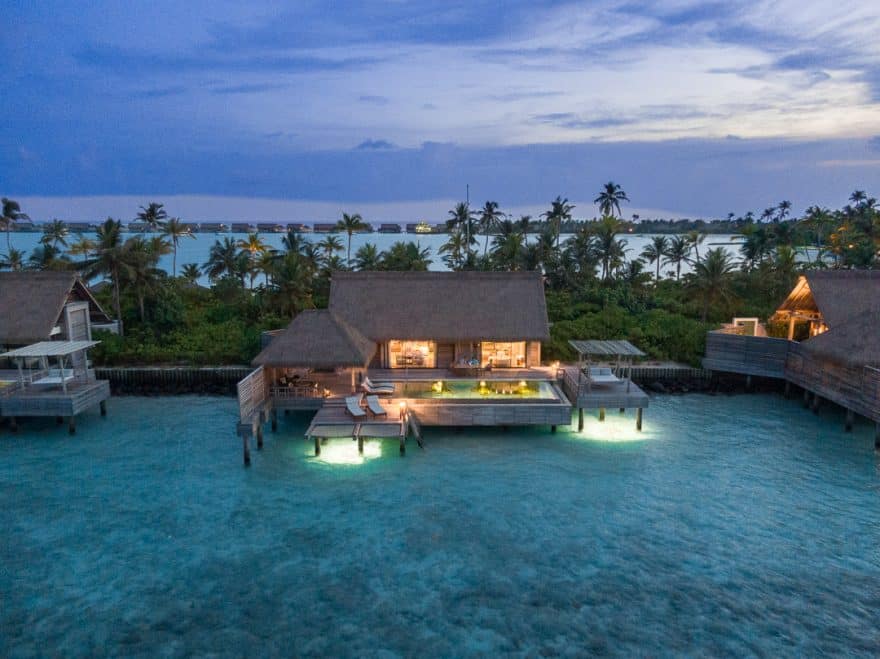 In contrast, the Reef Villas are a lot more spaced out and have a decent amount of foliage and a private driveway of sorts leading up to the villa entrance.
Reef Villas are not only more private, they are closer to all the restaurants and the best snorkelling. On our first stay in the OverWater villa, we spent a fair amount of time waiting for buggies since we were so far from everything.
In the Reef Villa, we were close enough to quickly cycle to breakfast (no matter how hot it was) and close enough to walk to dinner in most restaurants.
This Reef Villa driveway included an area to park our bicycles as well as ample room for the bikes, or a buggy, to turn around in.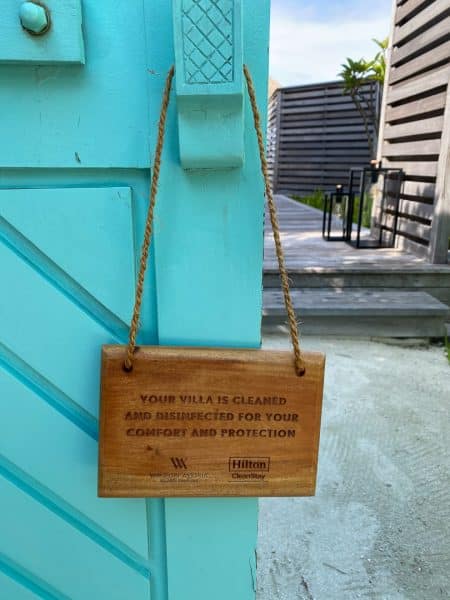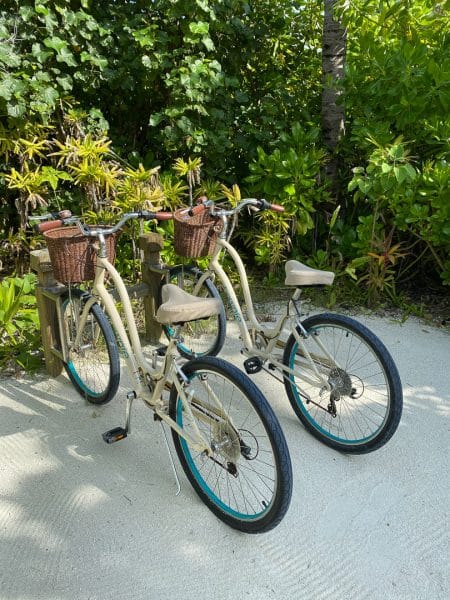 The reception area of both villas featured a small bench, with space set aside for bikes on the OverWater Villa. This space around the villa entrance was larger and of course much greener in the Reef Villa.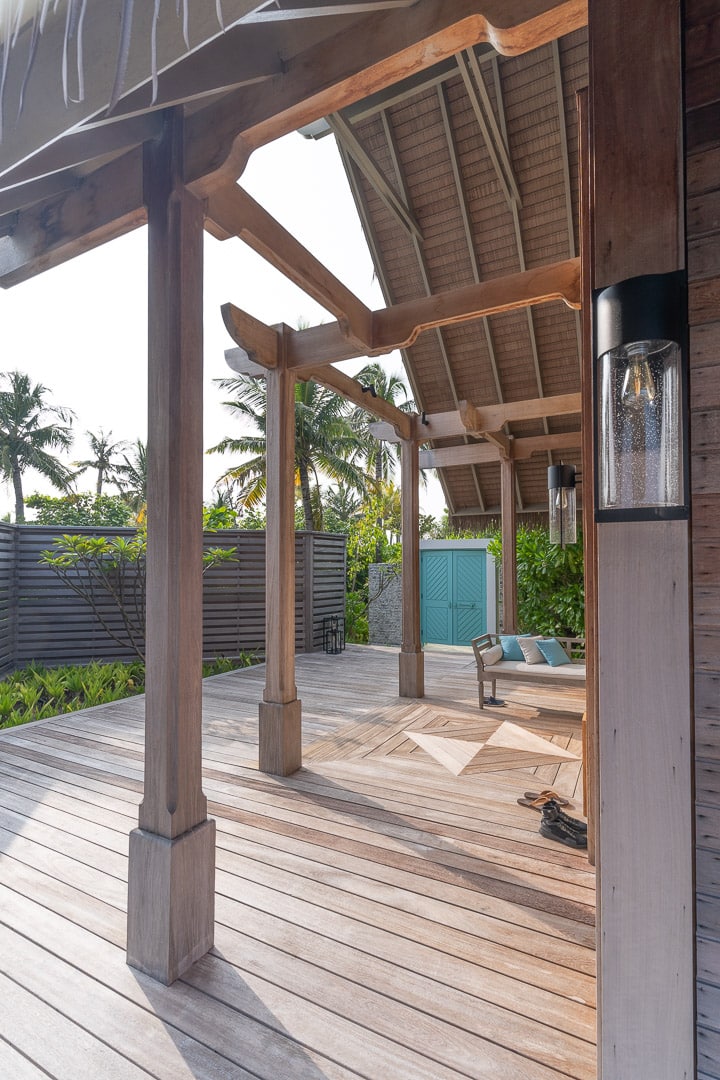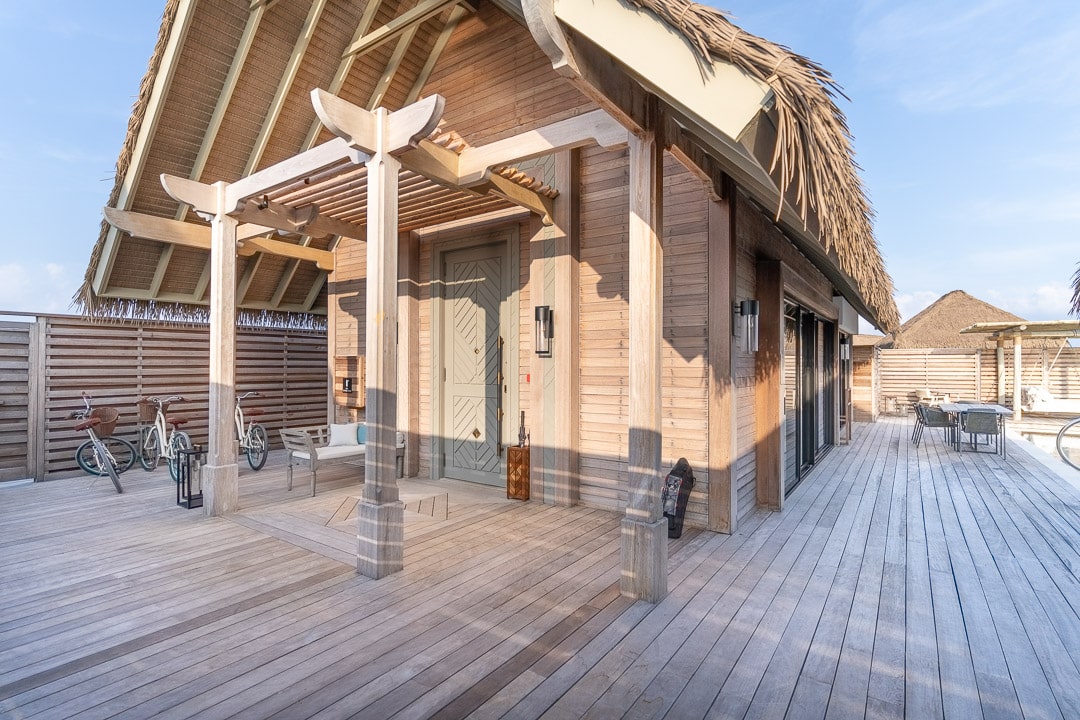 Bedroom
The bedrooms of both villas were identically incredible. Illuminated cathedral height ceilings and an oversized chandelier really set the tone. This is not castaway chic, this is extreme luxury – with the closest nod to the island surroundings coming in the form of the two woven armchairs at the foot of the bed.
On our first stay there wasn't much in terms of pre-arrival service. However, three weeks before our second stay I was contacted by the front office team with a questionnaire that included all manner of personal preferences. In addition to things like still vs sparkling water, it included an extremely detailed pillow menu. I selected numerous pillows…none of which were in our room when we arrived.
Thankfully, there was a printed menu available in the room, and all manner of intriguingly shaped and sized pillows were quickly brought over to us when we asked Shawki.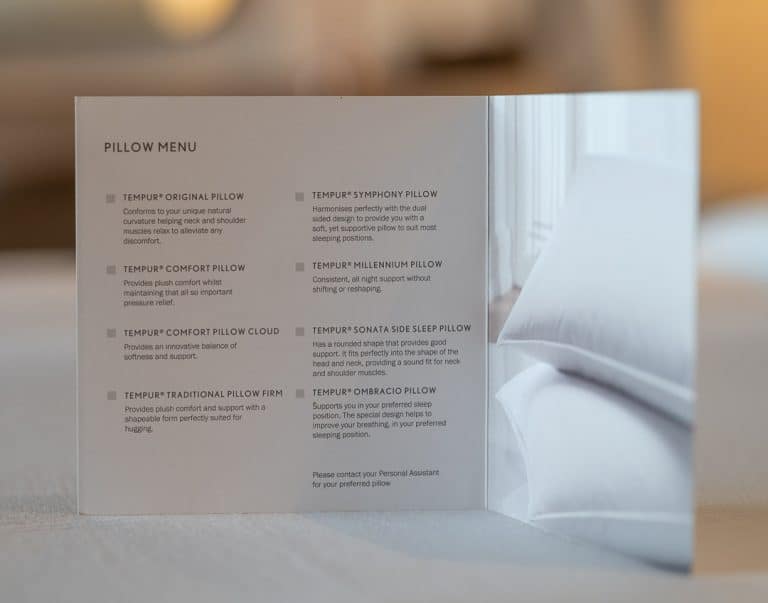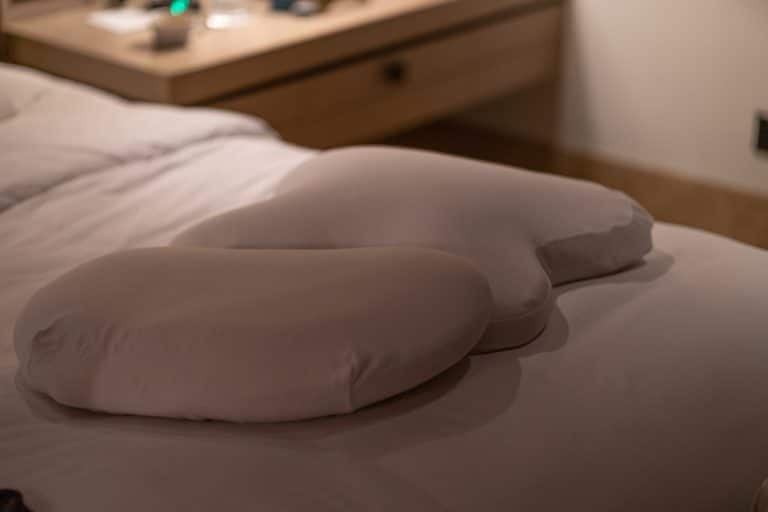 On our first visit there was a bottle of Delamotte champagne waiting for us alongside a bowl of fresh fruit and some chocolate madeleines. Delamotte is a superb champagne, produced by the same grower that makes Salon (as served on JAL First Class flights). It was rather daring of the WA to opt for a lesser known champagne as its house pour but the decision is laudable; the quality is clearly superior to LVMH champagnes at a similar price point.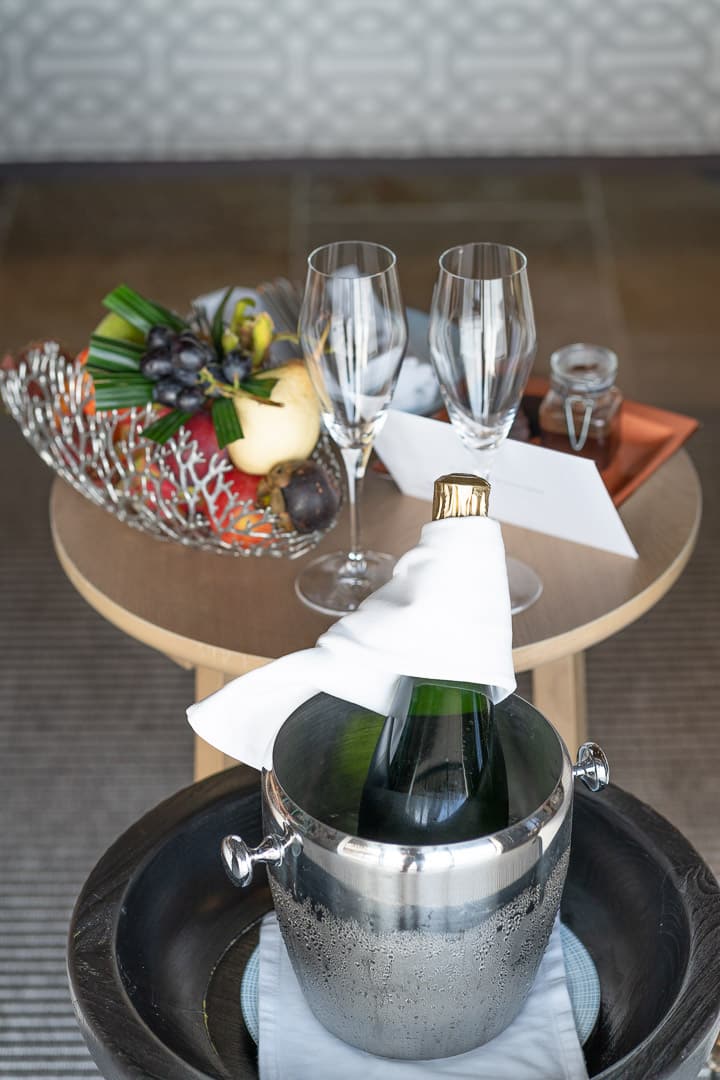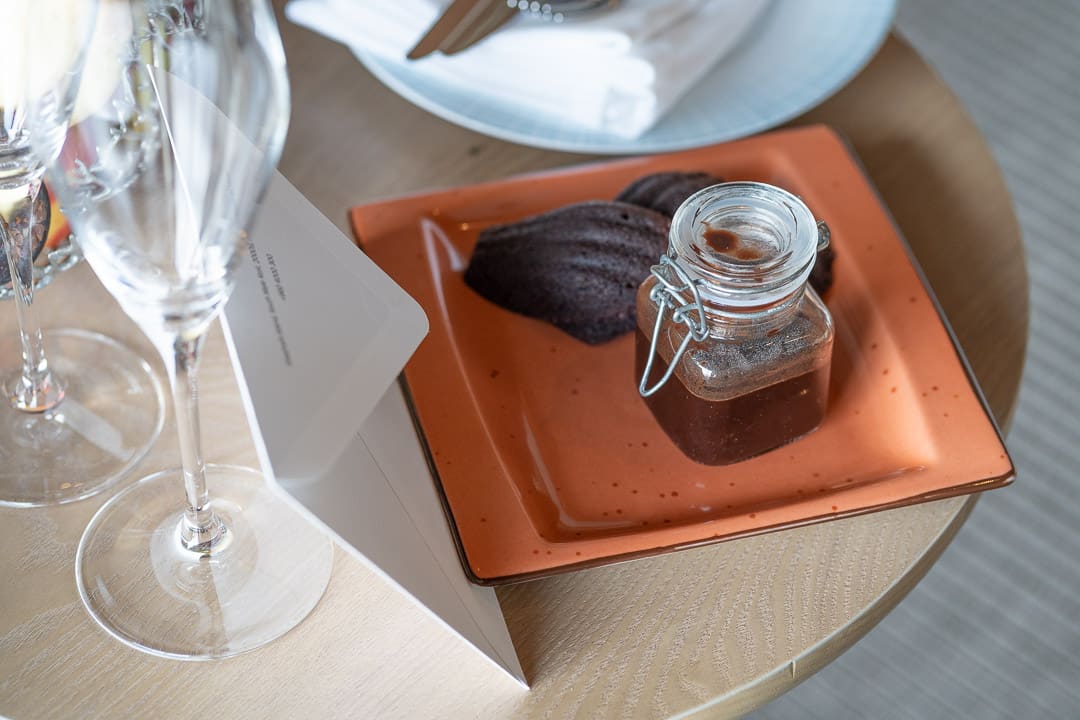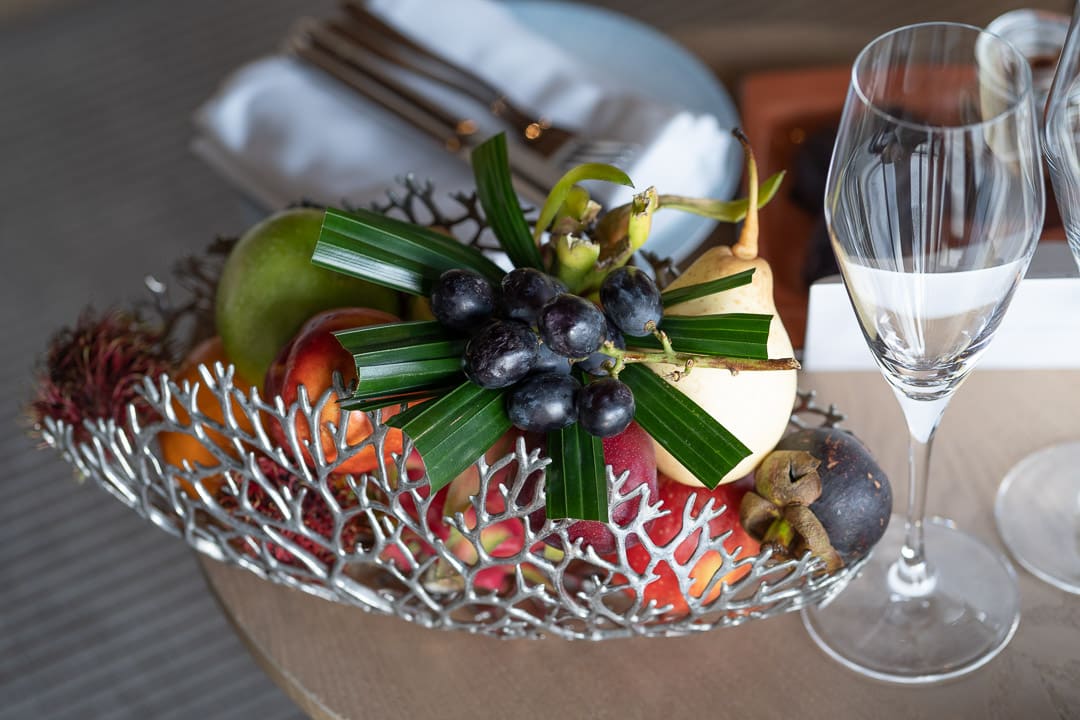 On our second stay, the welcome amenity was rather drastically downgraded to a £5 bottle of Spanish red. The optics of this are clearly terrible but one of the hotel's guest relations associates tried to defend the decision by saying that this was a special upgrade, as not all guests like champagne…she could probably get a job 'enhancing' award charts at Delta.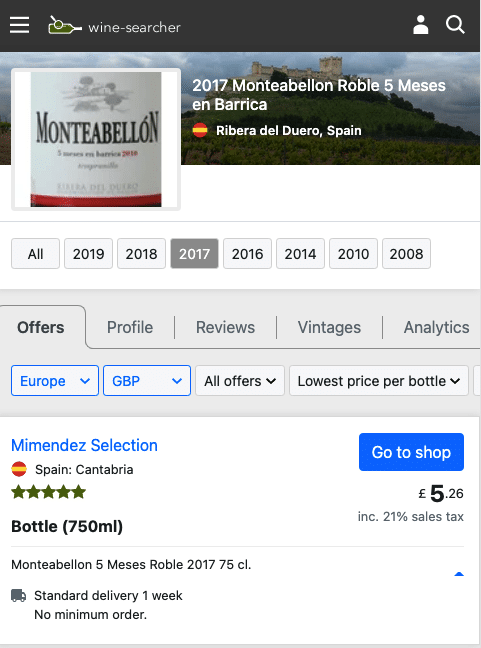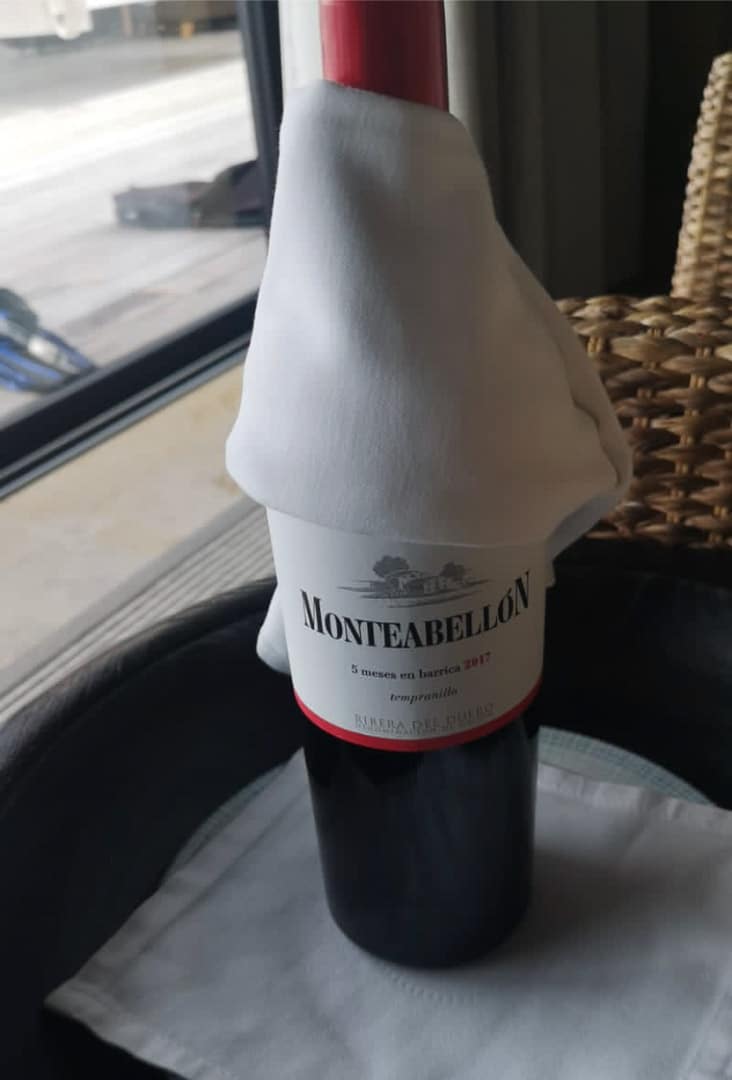 Thankfully, Shawki didn't bat an eyelid when we said we much preferred the champagne that we had received on our previous stay. He immediately got on his phone and the wine was taken away and replaced with a bottle of Delamotte before we'd even completed our in room check-in.
I told you Shawki was great.
During check-in, a letter was handed to us detailing our Hilton Diamond benefits:
In-villa VIP welcome champagne and sweet amenities (now downgraded to red wine for first time guests).
Additional 30 minutes on selected 60 minute massages at the spa.
Complimentary drinks and canapés from 4-5pm (downgraded from canapés to peanuts on our second stay).
50% off drinks at Nava Beach Club from 10pm-11:30pm (changed to Peacock Alley on our second stay).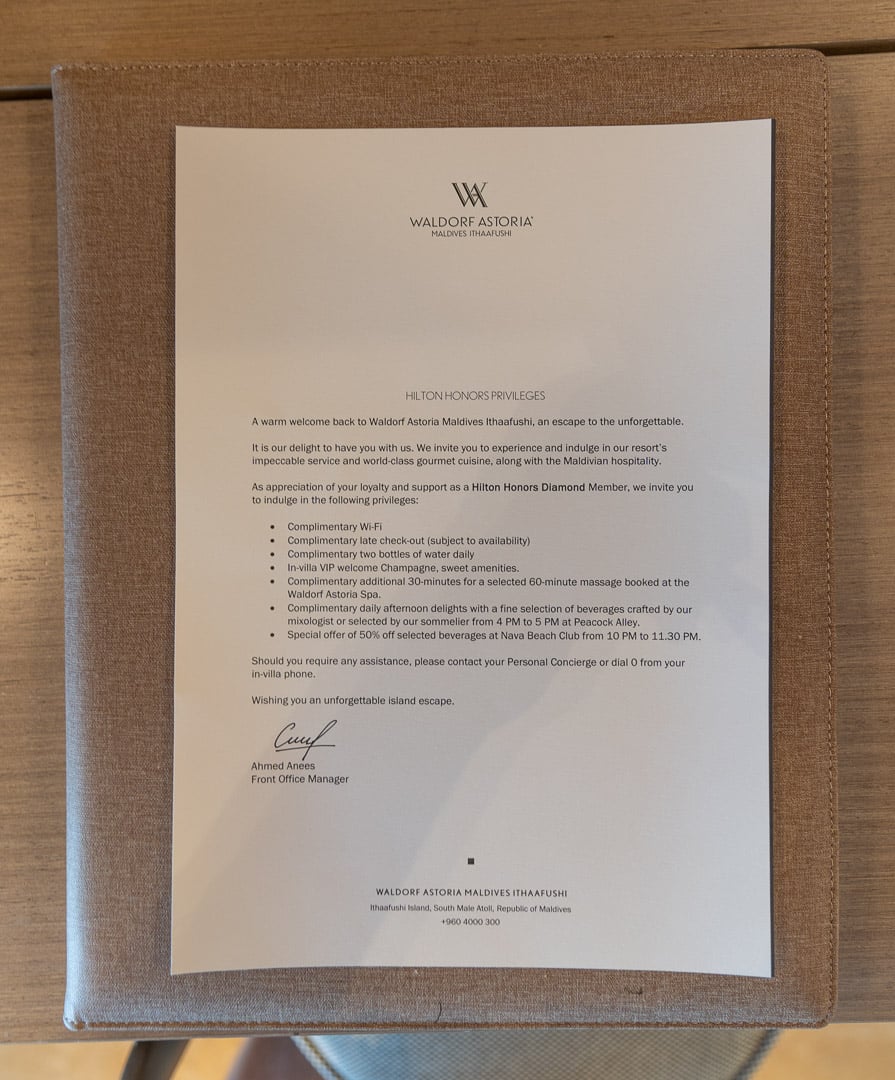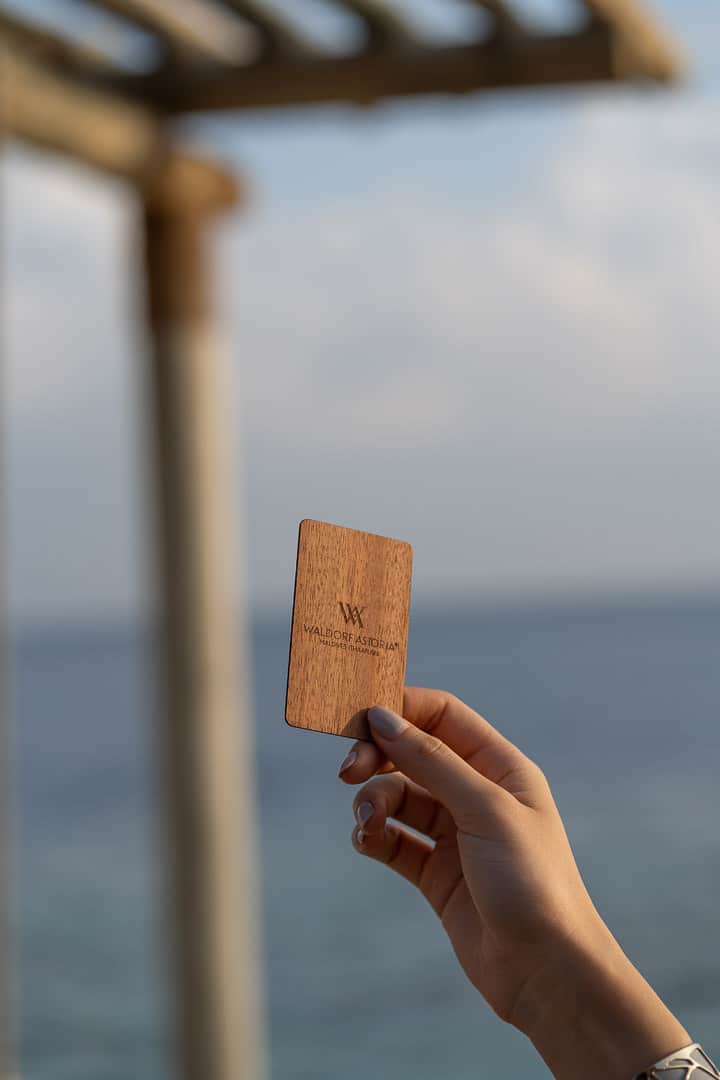 (How cool are the wooden keycards by the way?)
Hilton have been really great at dealing with COVID, in my experience (even though I wasn't a huge fan of the Waldorf Cavalieri, I did feel genuinely safe there) and in addition to the temperature scan on arrival and the sign on the door showing that the villa had been fully disinfected, we received a welcome bag containing masks, gloves and two full sized bottles of hand sanitiser.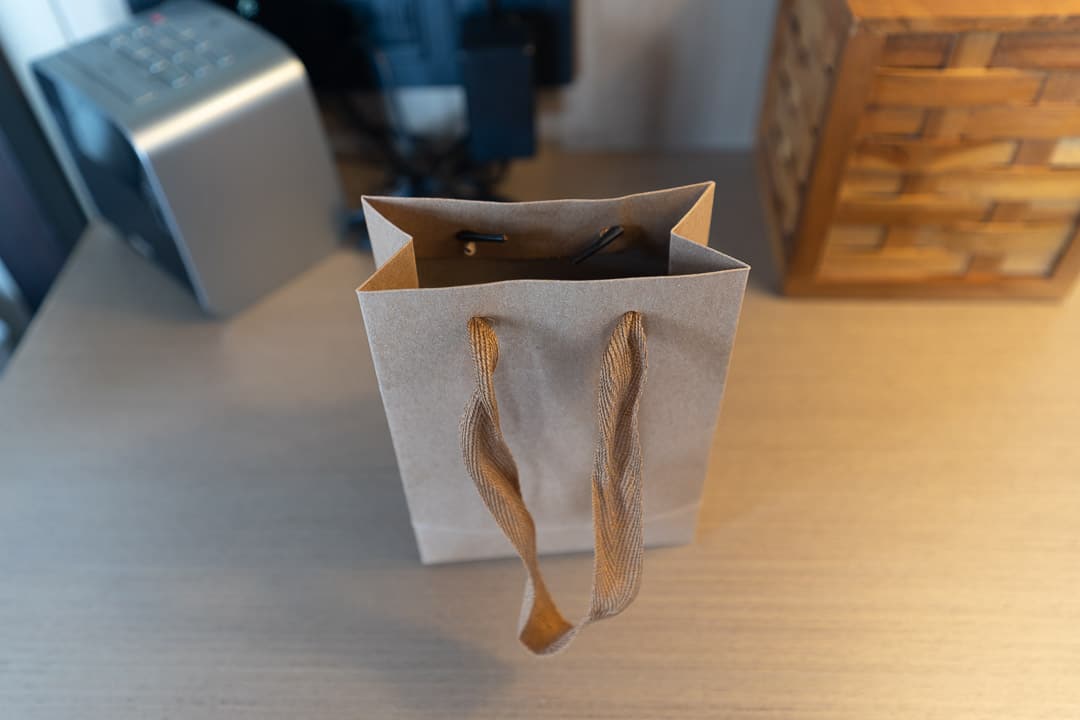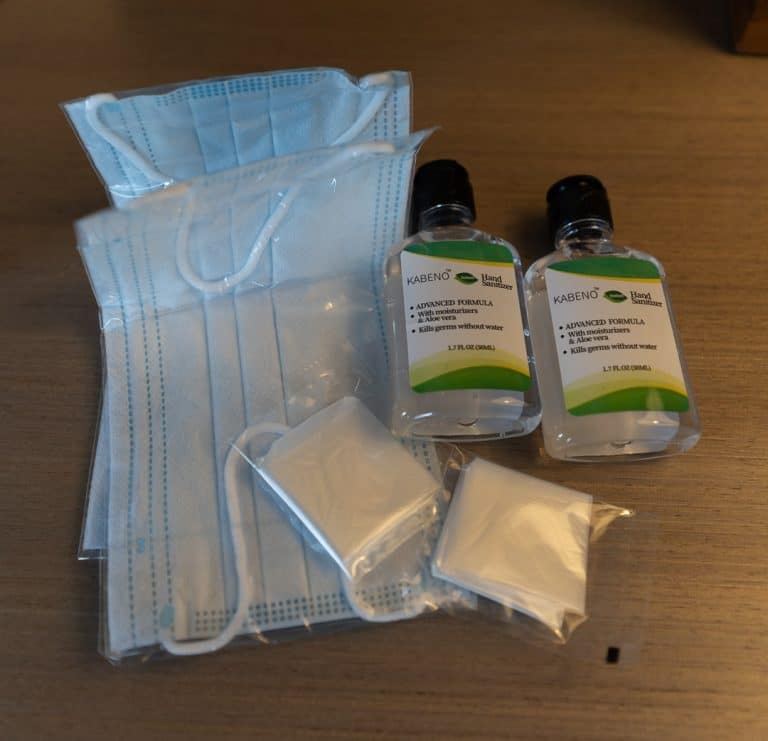 On to the room hardware:
The bed itself was absolutely enormous and very comfortable. The fact that they decorated it with a 'welcome back' message on our second stay was a nice touch.
The floating bedside tables were gigantic and featured multiple USB sockets and a universal power socket on each side, although we had to unplug the radio and resort mobile to free up the universal sockets.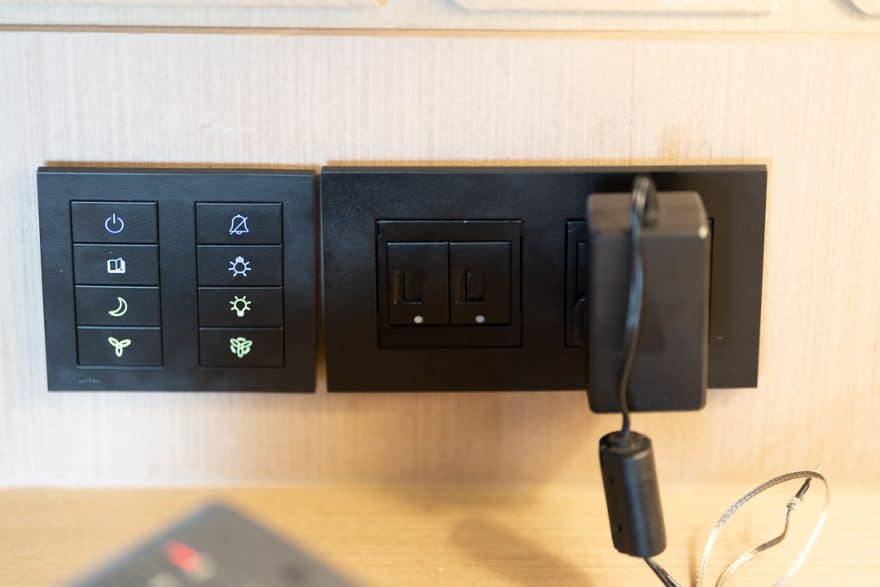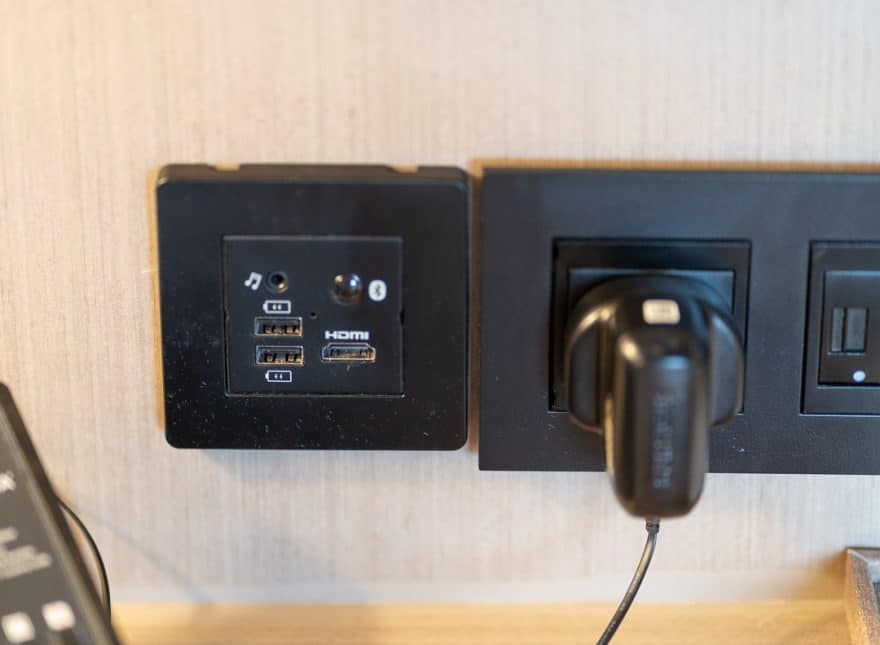 This old school mobile phone was our direct line to Shawki any time that we needed anything, lightweight with tons of battery life, you could throw it in your beach bag for the day and not worry about it.
The iPad on the bedside table could be used to control the lighting, curtains and A/C. Unfortunately, it was super bright and the screen couldn't be switched off. If you took it off its heavyweight base, it stopped charging and lost all of its charge QUICKLY.
On both stays we had a problem with the iPad losing its entire charge during the night, which in turn disabled the A/C. This required a full maintenance crew to fix, as the independent A/C panel on the wall still showed the A/C as being switched on.
Brighter than the sun and equally able to heat up our room…
To the hotel's credit, when we encountered the issues on our first stay, the Director of Food and Beverage came over to talk to us at breakfast and offer a sincere apology (despite it being nothing to do with him). We returned to our room to find the A/C fixed and an iced bottle of Delamotte Blanc de Blancs waiting for us, together with a note of apology.
On our return visit, I was able to tell the engineers exactly what had happened and how to fix it quickly, so thankfully we didn't have to go through a whole night with no A/C, in a glass fronted room on the equator.
Either side of the door were the minibar and makeup area.
The minbar area was the only splash of colour in what is otherwise a very neutral colour palette. A playful, sea foam green nod to the villa's holiday setting.
The ice, drinking water, fresh milk and coffee capsules were all replenished twice a day, perfect when you drink as many iced coffees a day as I do. The minibar price list was perhaps one of the greatest pieces of comedy that I've ever encountered: $240+23% tax and service for a 500ml bottle of gin anybody? What about a 200ml carton of juice for $16 including tax?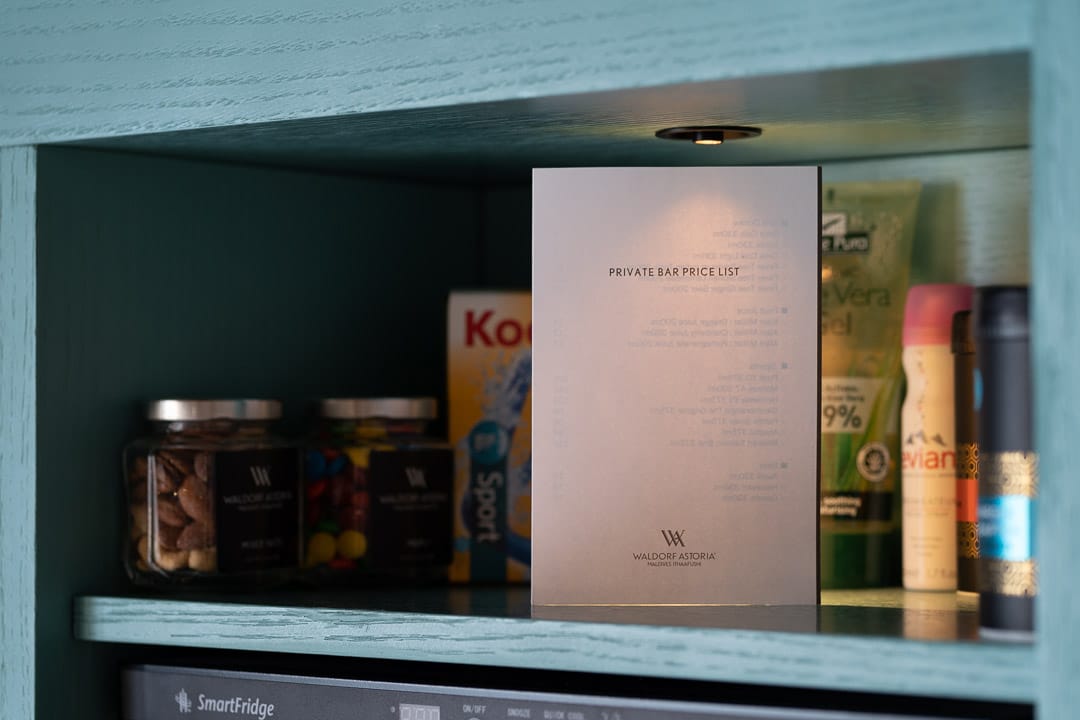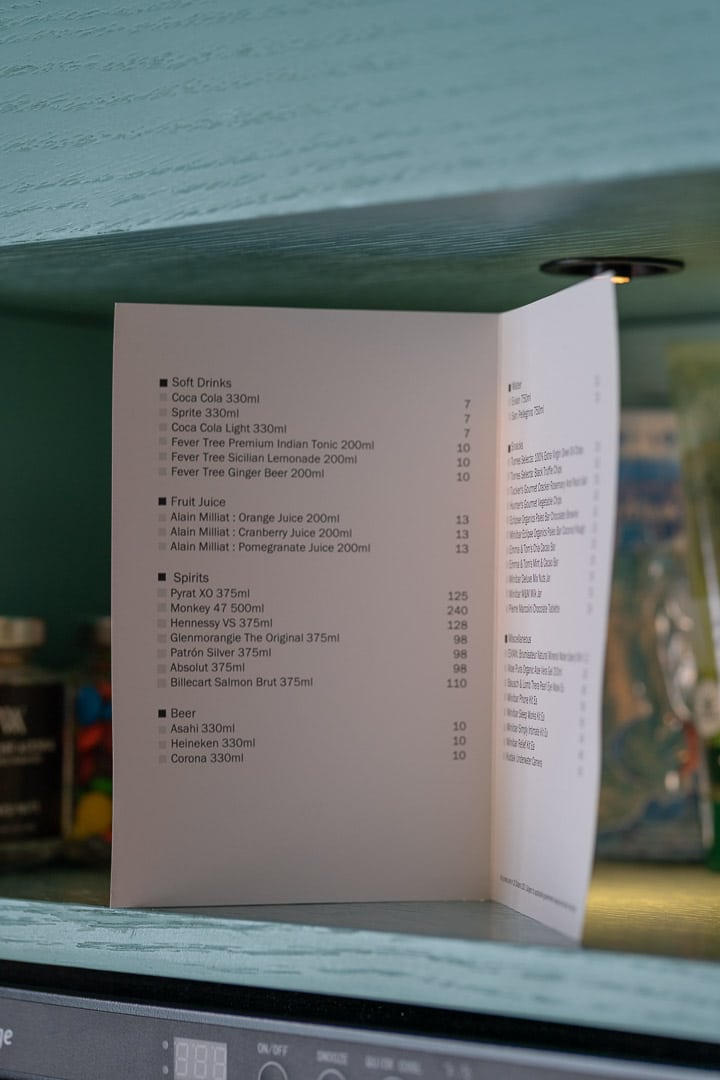 The make-up area was very well thought out. I can't tell you the number of times we've had issues with bathroom design in resorts where they don't consider the fact that after showering, people want to be in an air conditioned room to apply make-up, not a steamy bathroom. The worst culprits are the resorts with fully outdoor bathrooms and nowhere to get ready inside (a few of which you'll find in the Maldives).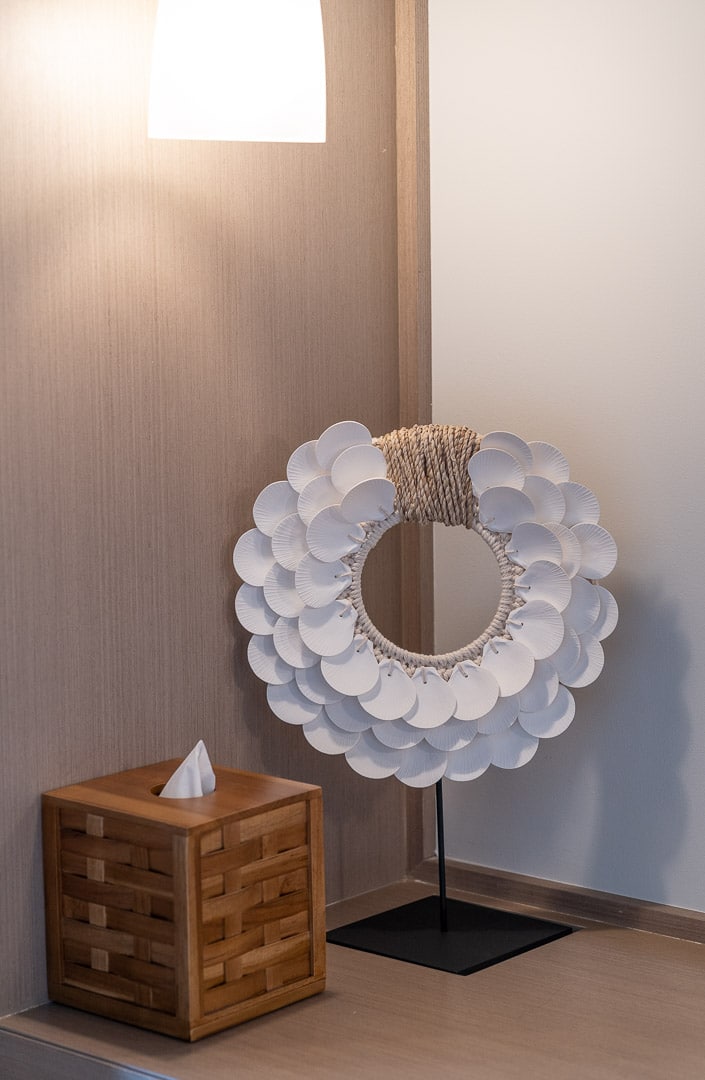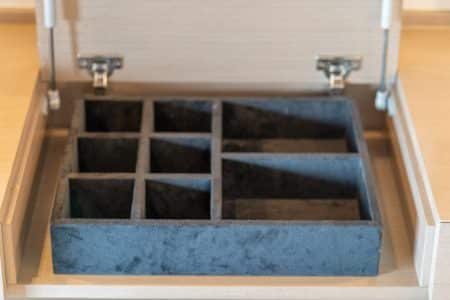 Dressing Area
An enormous set of sliding doors separated the bedroom from the bathroom and immediately behind them was a dressing area that was effectively a walk-in wardrobe.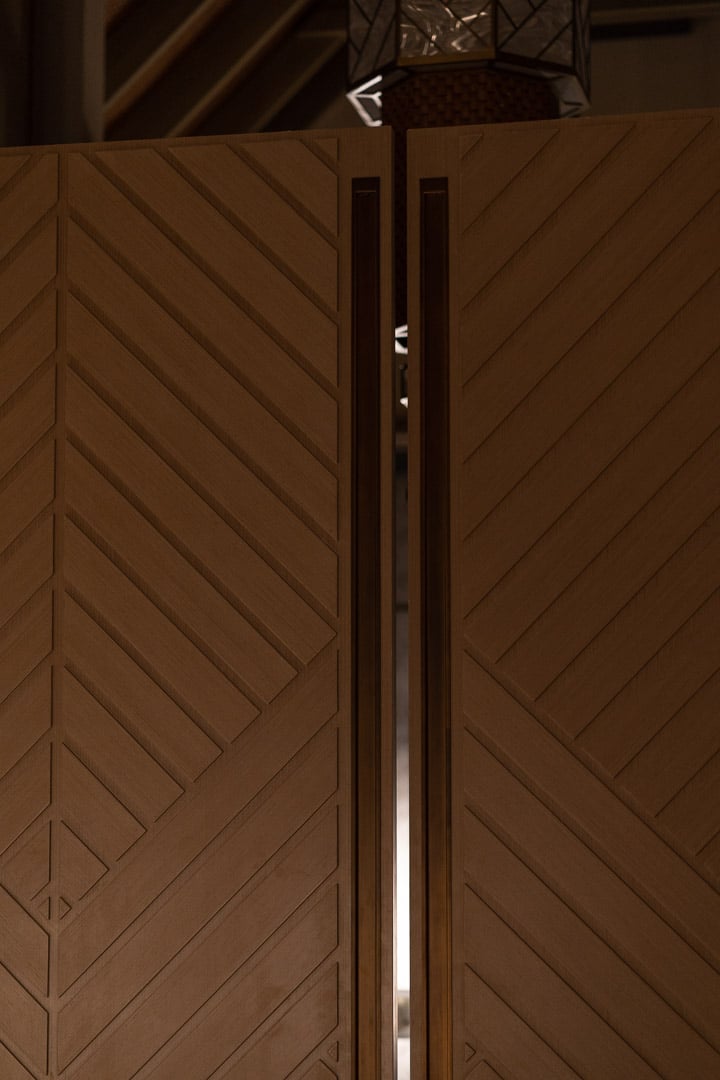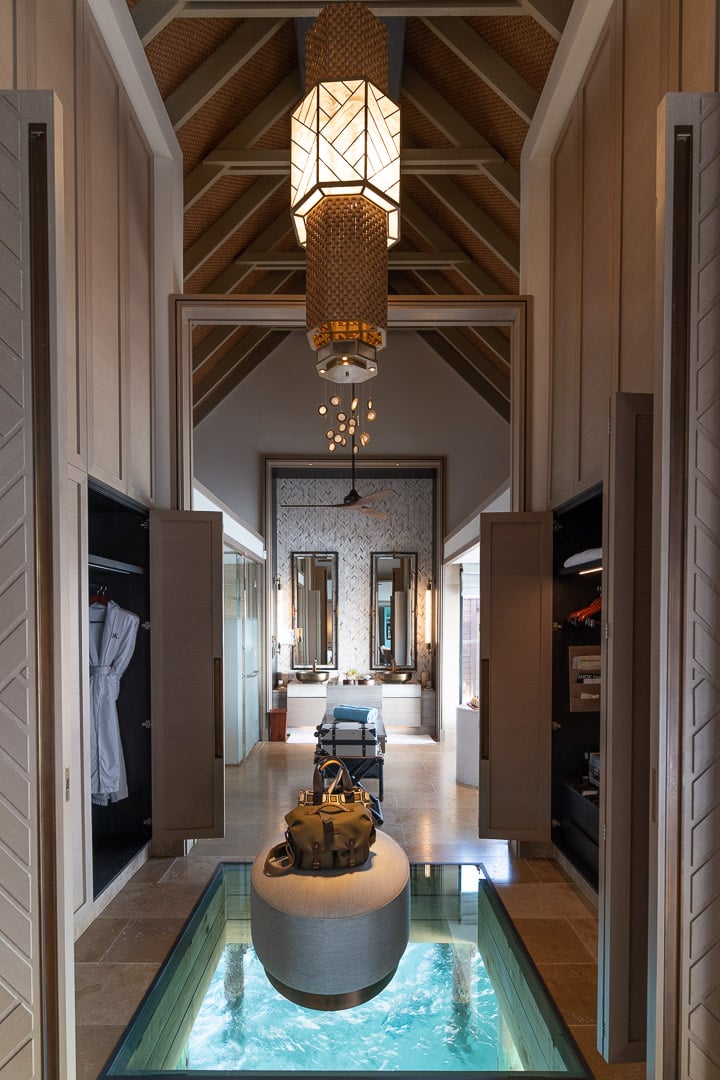 The glass floor is one of the key differences between OverWater Villas and Reef Villas. It's fun to have, but certainly not a dealbreaker in the context of what is already an incredible villa.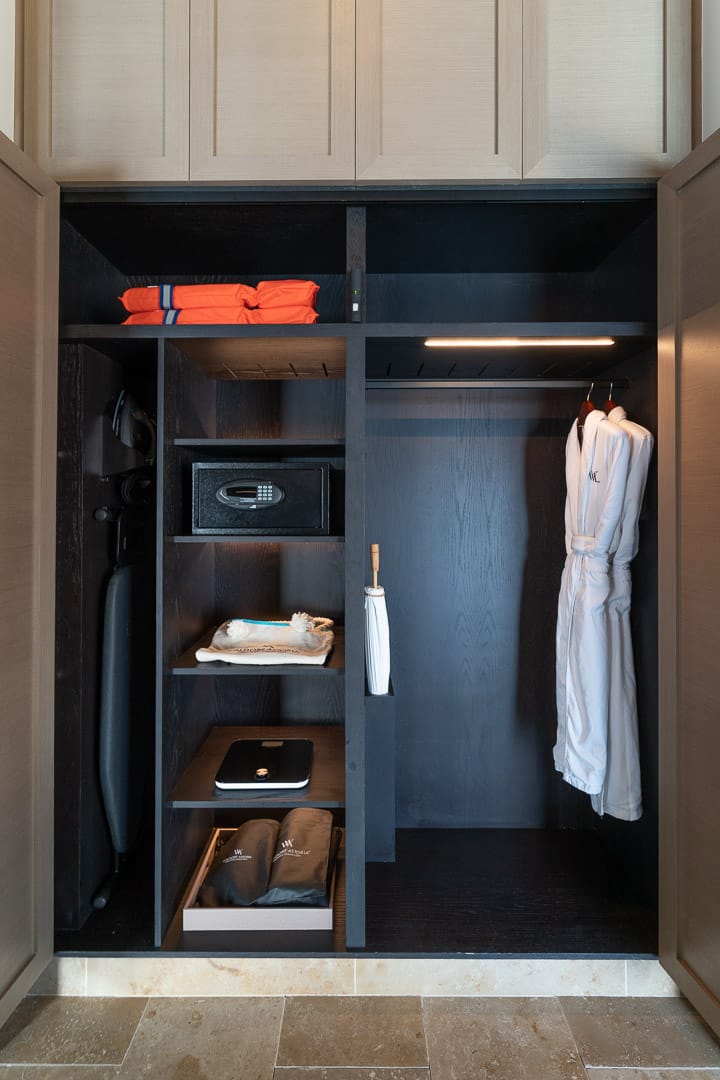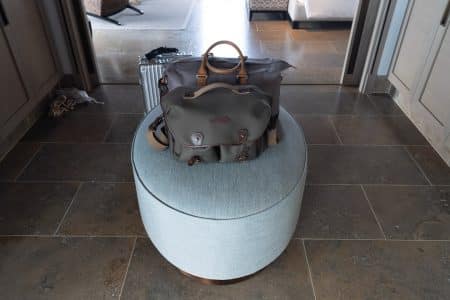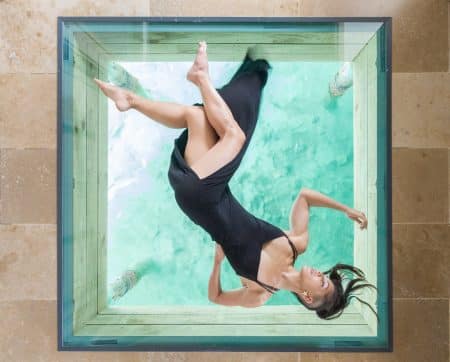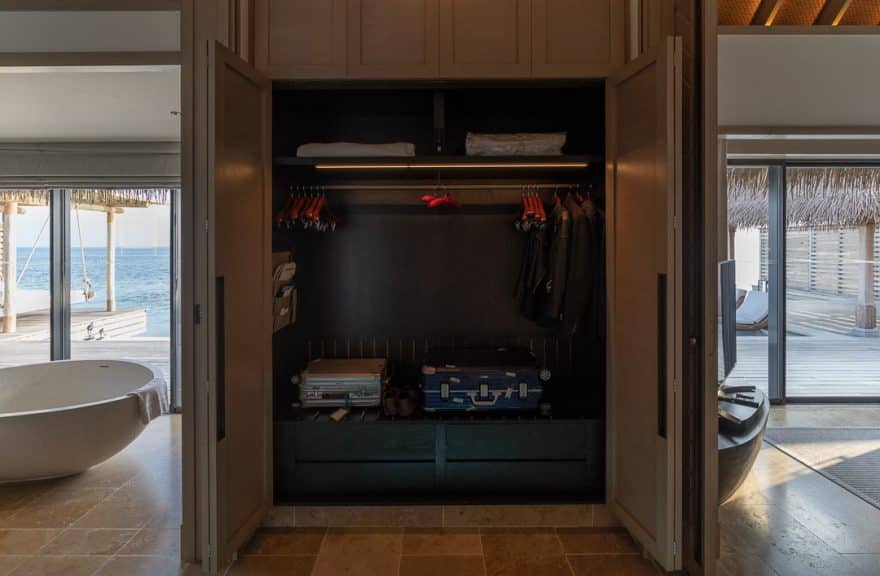 The wardrobe space was more than enough for a 5 night stay and there were a variety of different high quality hangers. There was only one type of dressing gown unlike at Amanoi where we were offered a lightweight one for lounging by the pool and a heavier traditional towel gown for use indoors. This is a relatively minor point but when you're looking at the very top levels of luxury these are the small details that stand out.
Similarly, the hotel has some of the most spectacularly soft and cloud like slippers ever but didn't offer any outdoor footwear – something that Constance Moofushi thought of at around 1/3 of the room rate.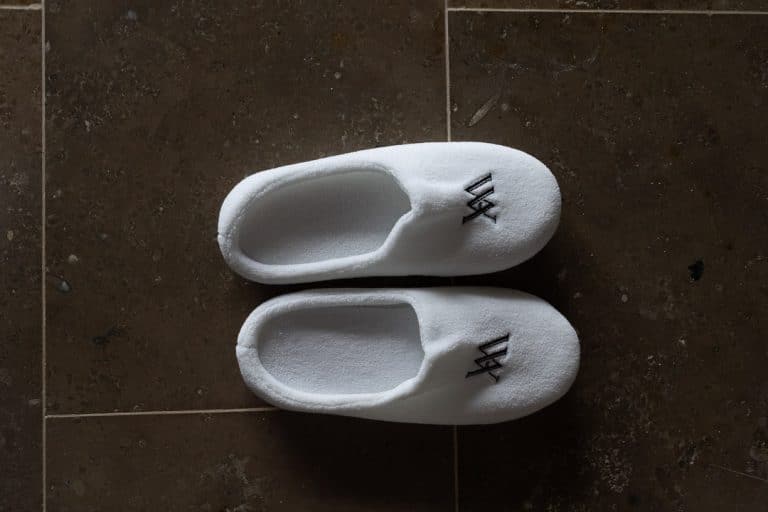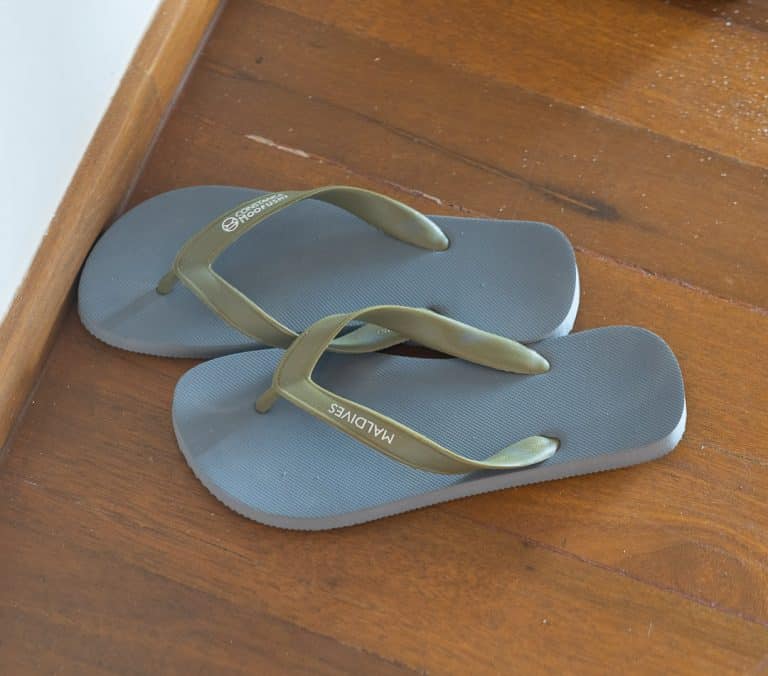 Bathroom
Directly beyond the dressing area was the villa's palatial bathroom; in many ways it felt like an upgraded version of the bathrooms at the Conrad Koh Samui (in my opinion one of the best value luxury resorts on earth).
The indisputable highlight of the bathroom was the deep soaking tub, with a view of the turquoise waters of the Indian Ocean.
The bathroom was almost as large as the bedroom and featured a central island on which to lay out towels, bags and clothing. We tended to use this as a prep area of sorts, to pack our beach bag before heading out of the villa.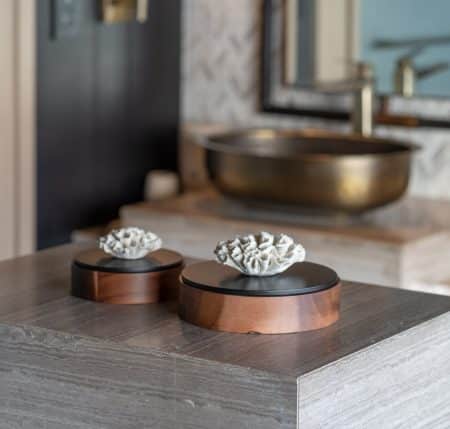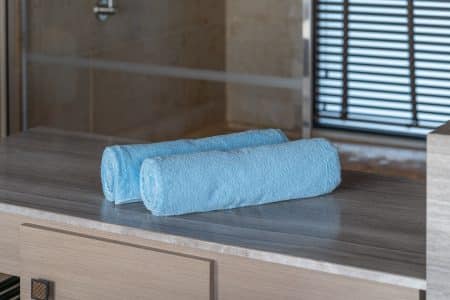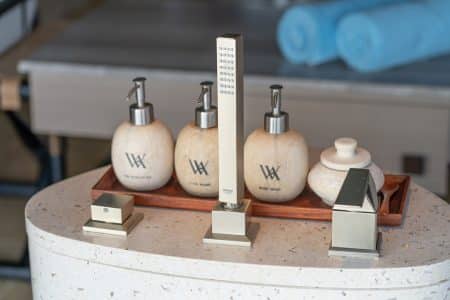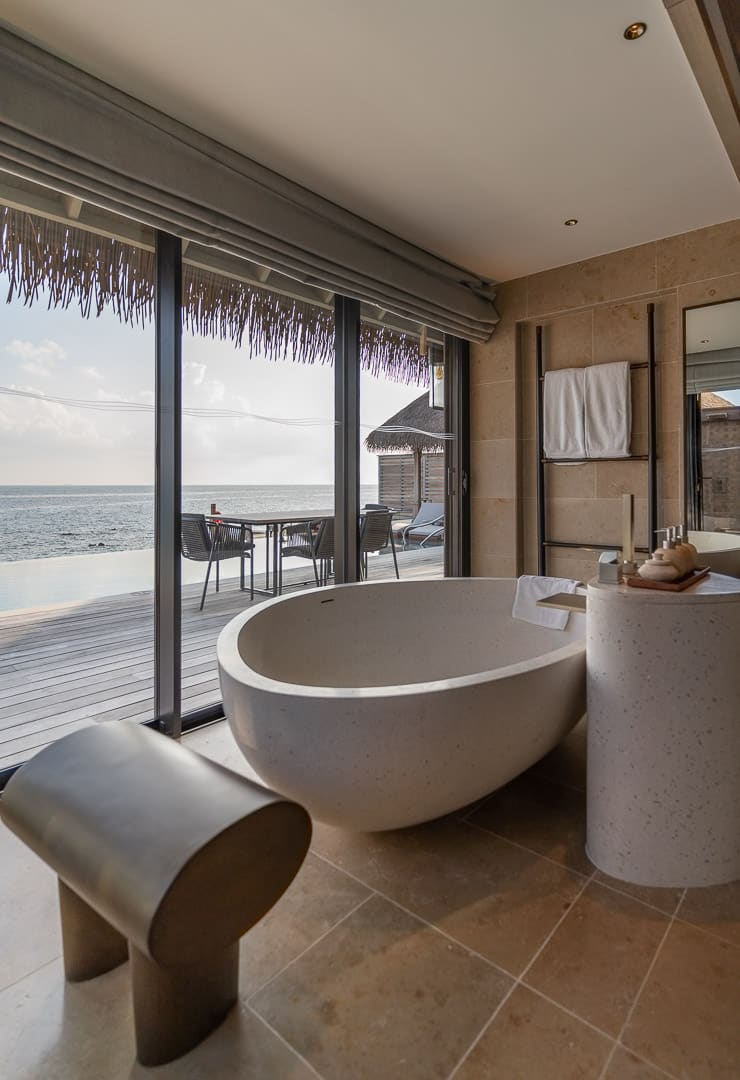 Waldorf Astoria's signature Salvatore Ferragamo toiletries were supplied in polished stone containers throughout the bathroom.
On either side of the twin sinks were large stone pots marked 'HIS' and 'HERS', containing additional amenities like nail files, shower caps and toothbrushes.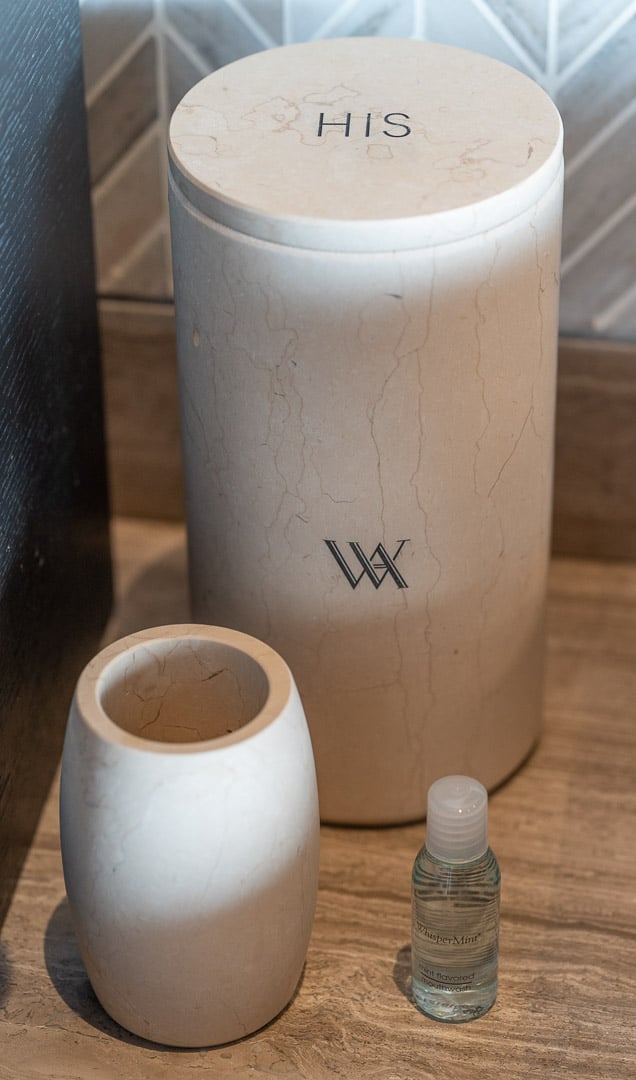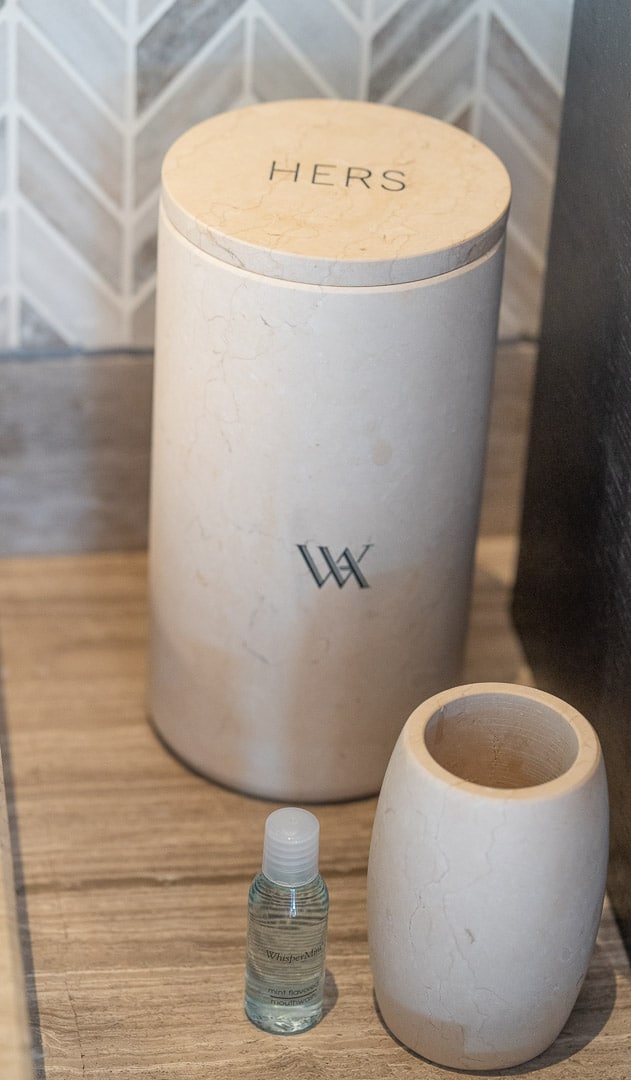 The toilet featured both a hand held hose and one of the most high tech Japanese Toto toilet panels I've ever seen. You could probably fly this toilet to the moon (and use the hose attachment for extra thrust).
The stone clad shower was large enough to host a small gathering in and featured an amazing rainfall head, mounted to the ceiling.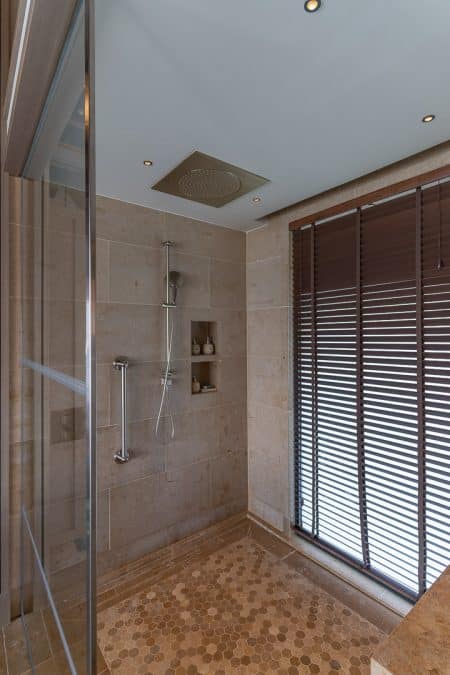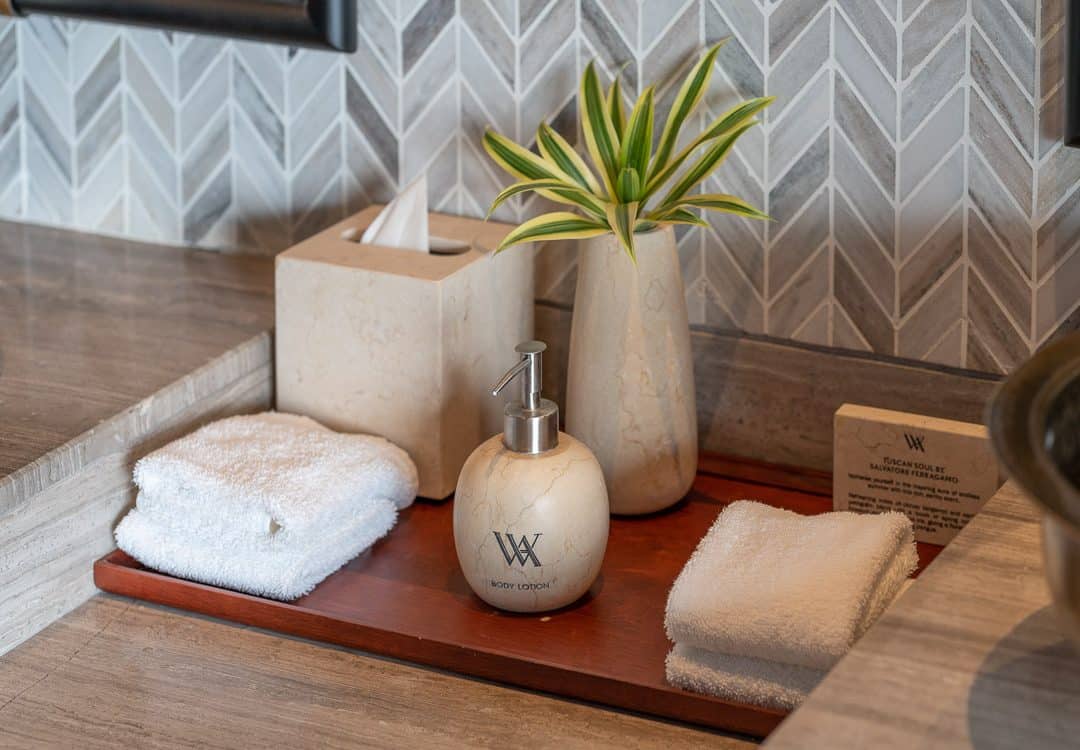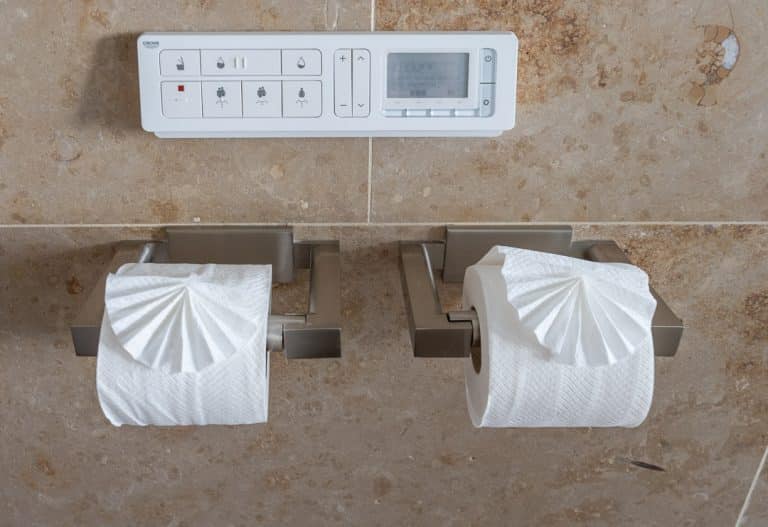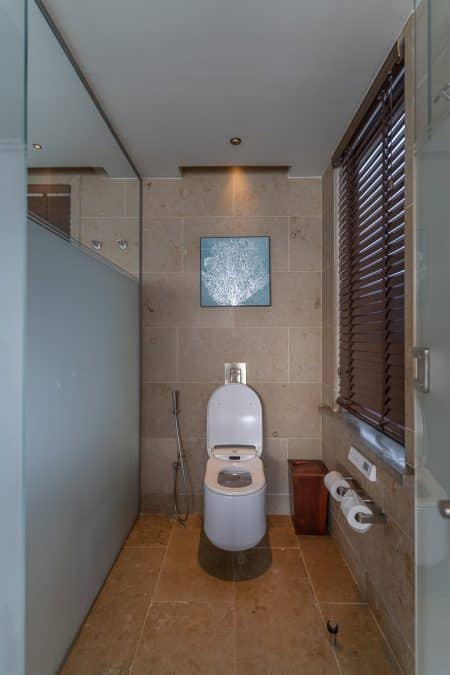 Both villas also featured an additional outdoor shower. This was one area in which the Reef Villa firmly beat the OverWater villa:
The outdoor shower in the OverWater villa was basically just and enclosed wooden box. The outdoor shower in the Reef villa, however, was set into a spacious and verdant oasis.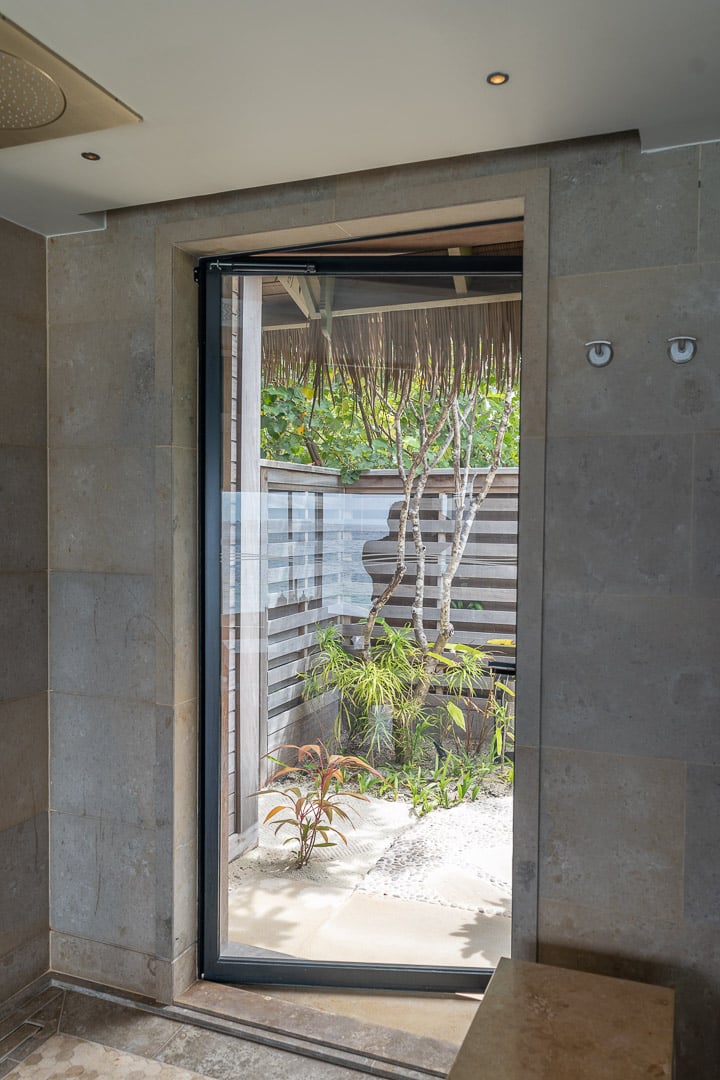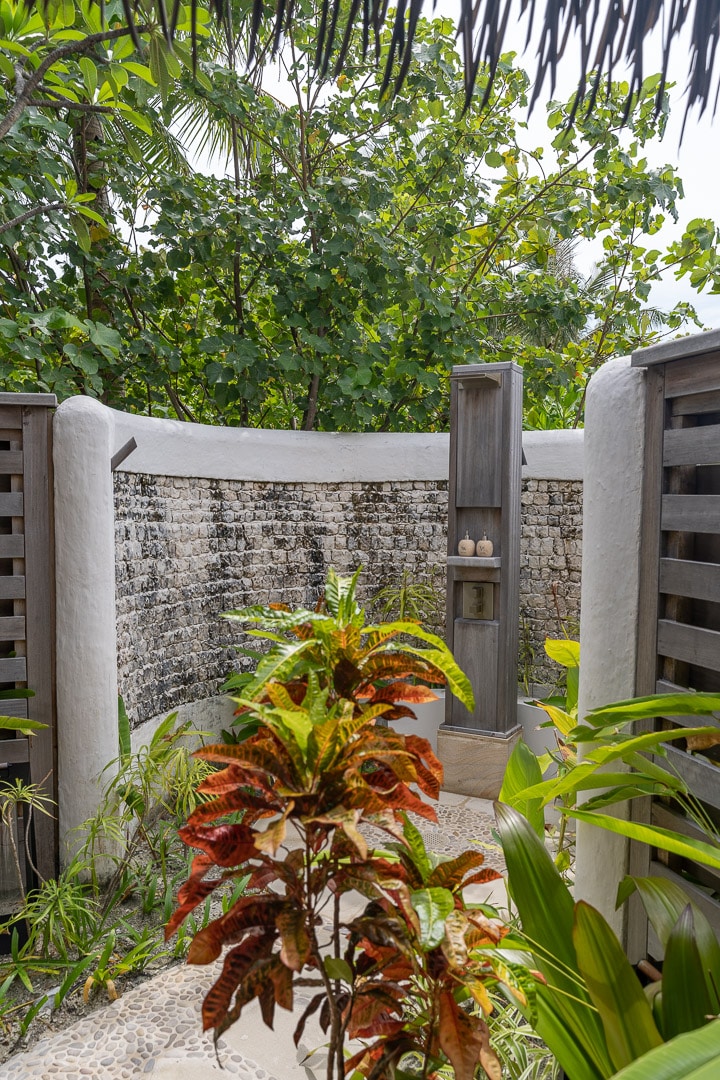 Outdoor Space
Clearly, the interior space of these villas is unbelievably large but if anything, the outdoor space in the Waldorf's standard villas is even more impressive. I counted and there were no less than 18 seats spread across the deck, none of which felt cramped or crowded in the slightest.
Most Maldivian resorts don't even have Presidential Villas which are this good. The fact that this is a Standard room is absolutely staggering.
The Reef Villas and OverWater villas both look identical in terms of the view, since both decks are completely over the water, the major difference is that Reef Villas are a lot further from their neighbours and have more surrounding greenery.
Look at how open the Reef Villa on the left is compared to the OverWater Villa on the right, where the neighbouring villa is right on top of us!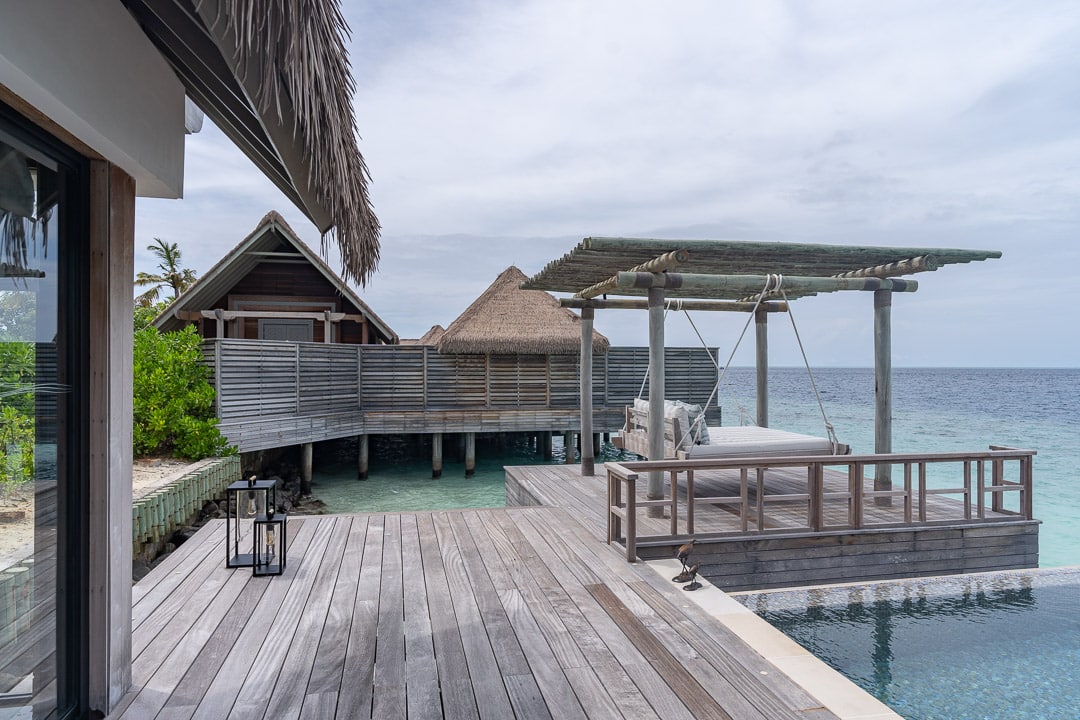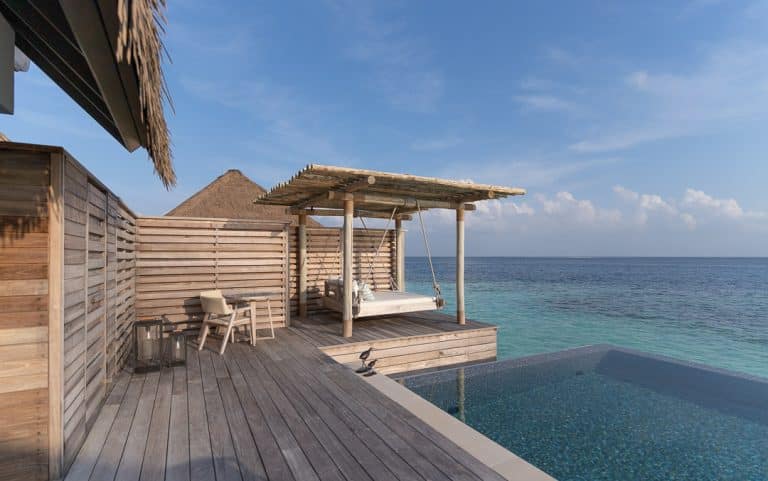 A few things changed in terms of the outdoor layout between February and November last year. The image above actually shows two of them: the table and chairs near the daybed were moved to a spot under the covered pagoda, one guard rail was placed around the floating daybed and another was added at the end of the pagoda.
No guard rail or breakfast table at our villa in February 2020.
Both were added by the time we stayed in a Reef Villa in November 2020.
One thing to note is that the snorkelling was significantly better in the Reef Villa than it was in the OverWater Villa. There were also a lot more sharks and even dolphins visible from our North facing Reef Villa deck than the South facing deck of the OverWater Villa.
However, the proximity to Malé comes at a price: No matter which villa you're in, you will not get the same castaway feeling that you do at the Conrad Maldives. At the Waldorf there is constant boat traffic and at night the lights of nearby islands let you know that you're only minutes away from a major city.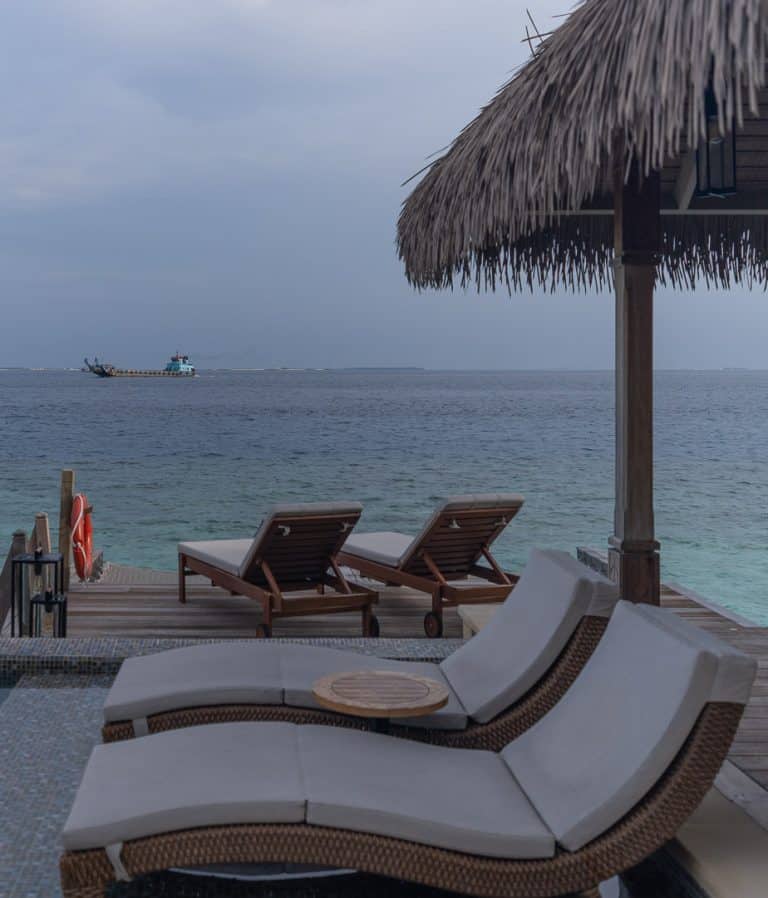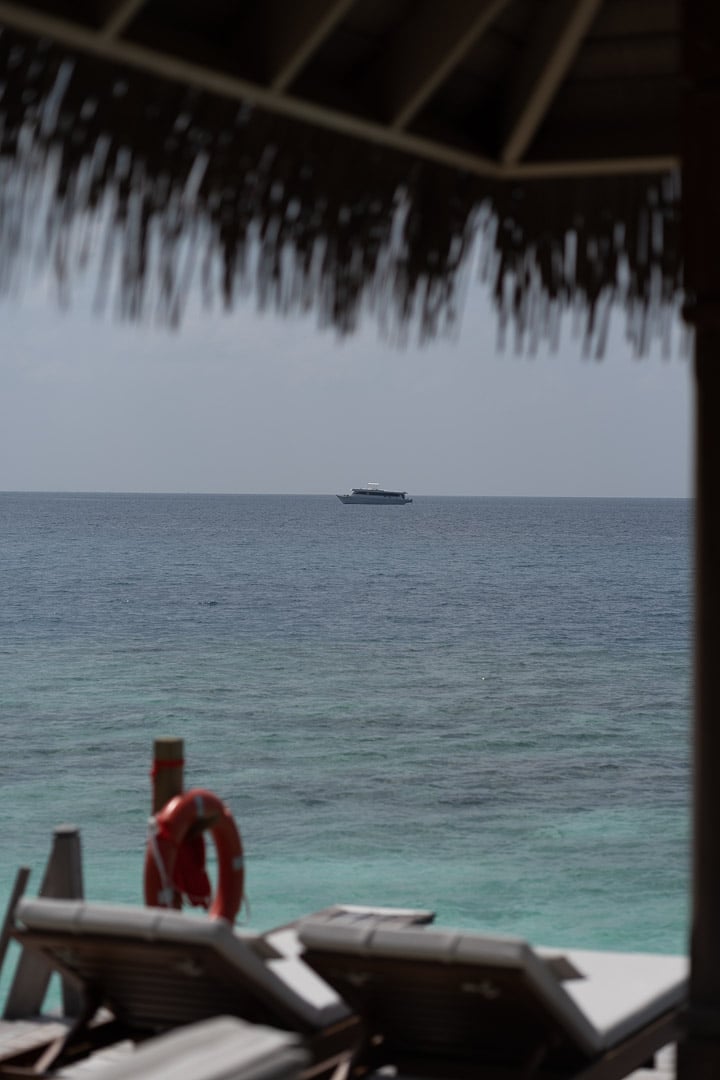 Being close to a major city also means that there is a lot more plastic waste here than at other resorts we've visited in the Maldives. This was particularly noticeable as plastic bottles would get trapped in the rocks adjacent to the Reef Villa.
The outdoor housekeeping also left a little to be desired, no doubt a consequence of the sheer enormity of the space to be cleaned.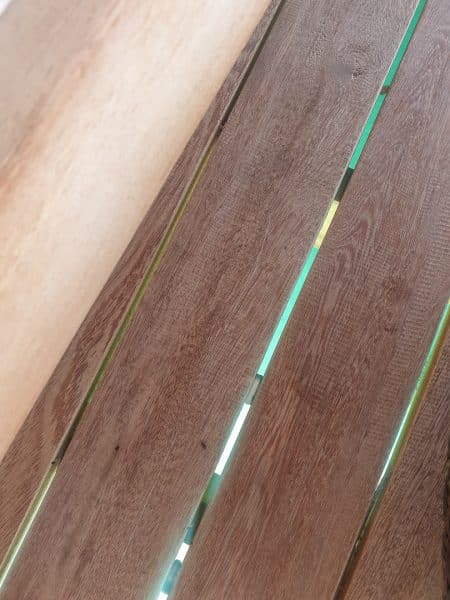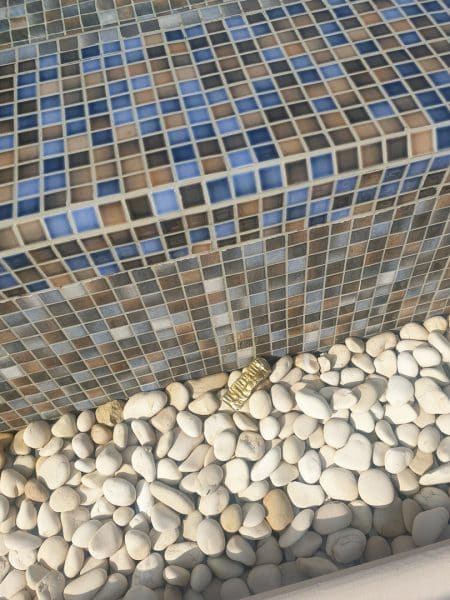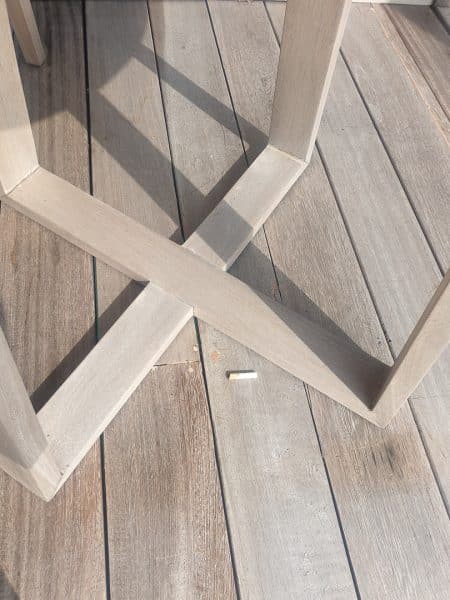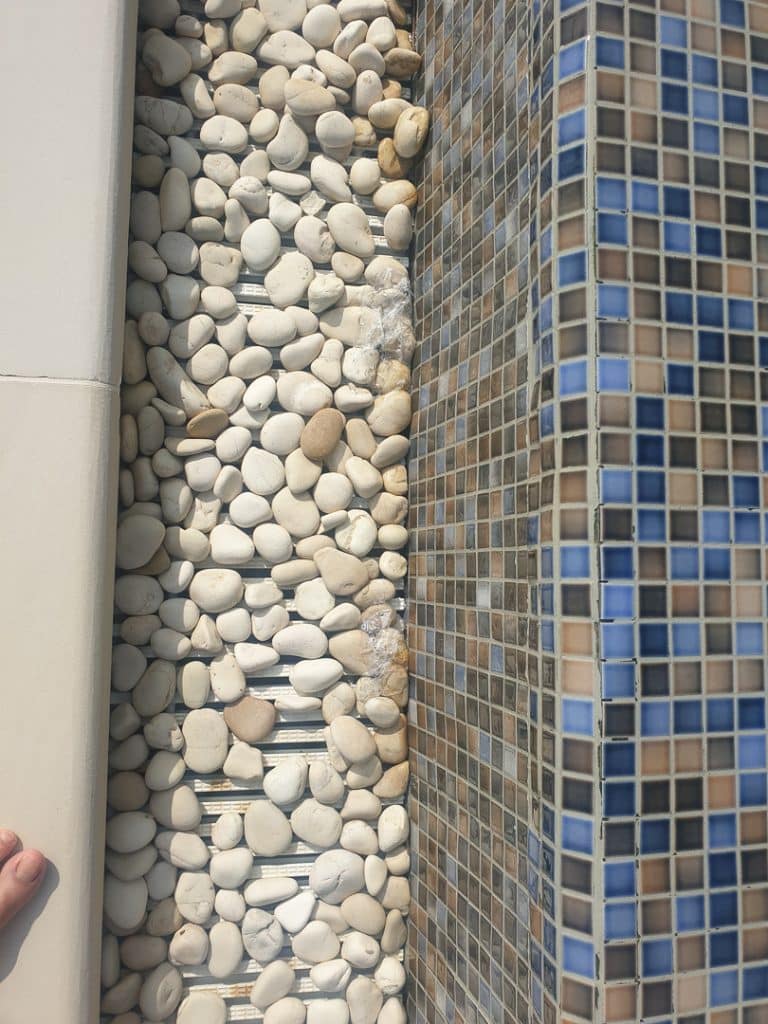 Still, on a sunny day, lying out by the water it wasn't exactly a hardship spending time on the deck.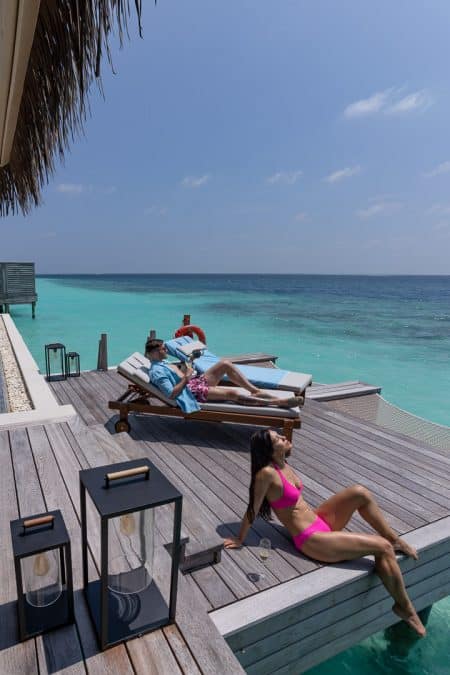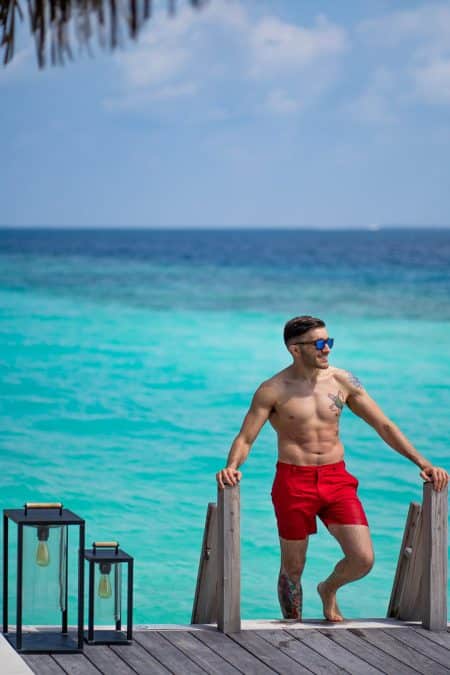 We noticed a material increase in visitors to our villa on our second trip too; the staff joked that since the island is brand new, it has taken the sharks a while to find it.
I actually preferred to spend time outside later in the day when the sun wasn't so intense and we could make full use of the space. Sunsets in the OverWater villa were absolutely magical.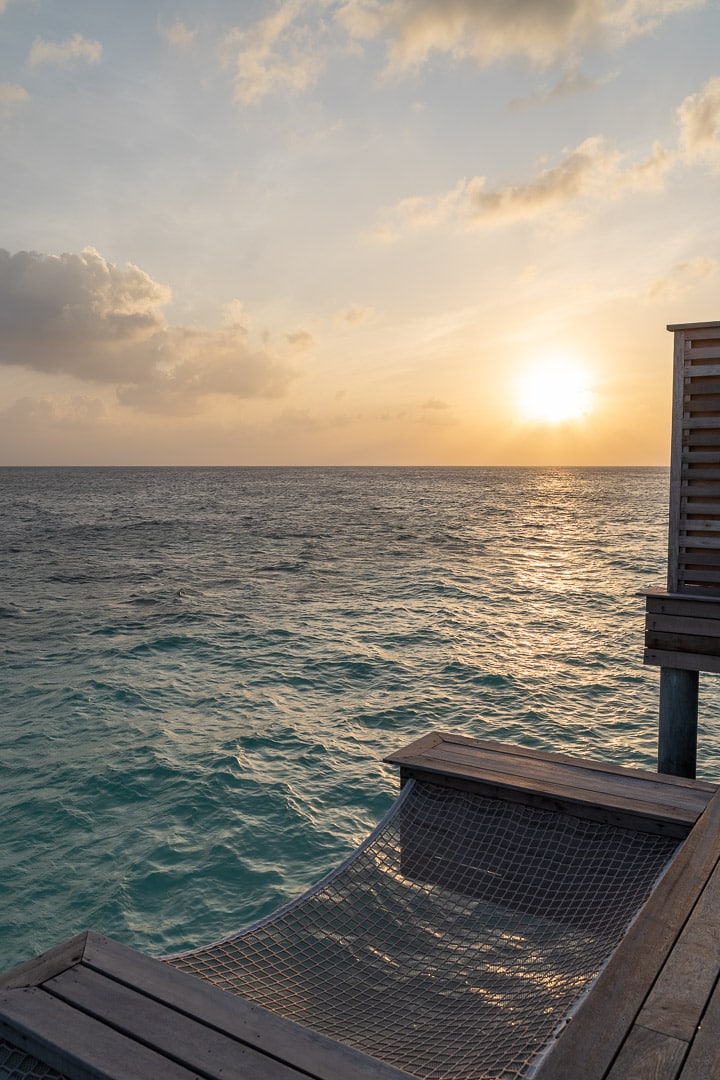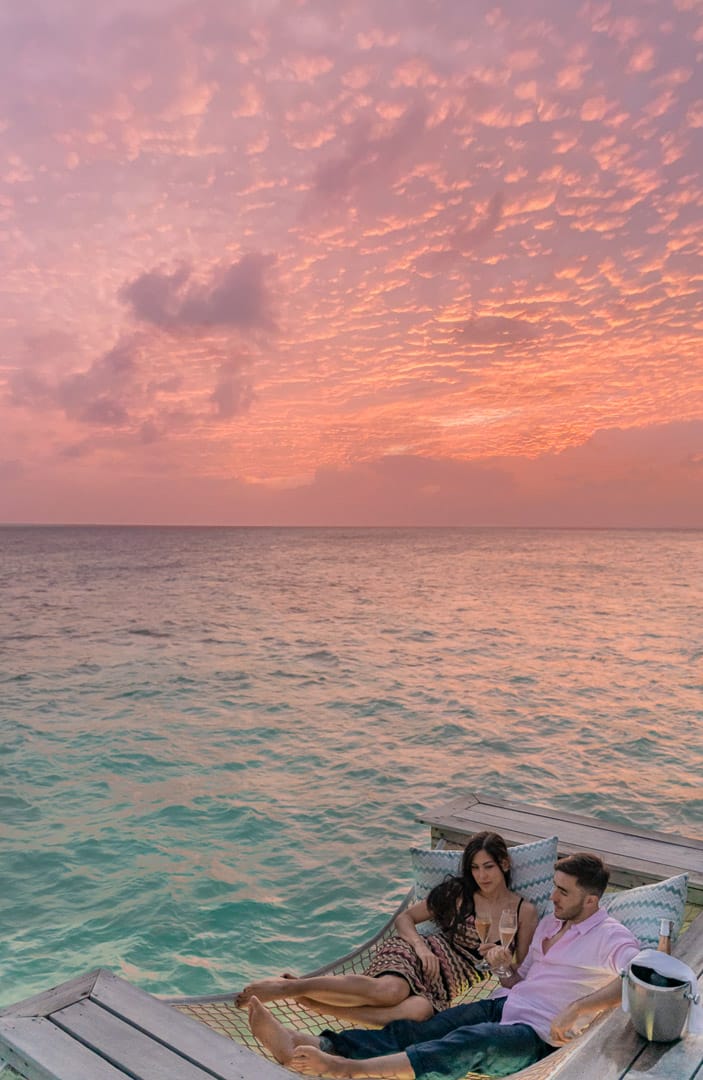 Walking back to our villa after dinner in the evenings was such a pleasure, with the resort's lighting doing its best to compete with the canopy of glittering stars above (clouds permitting).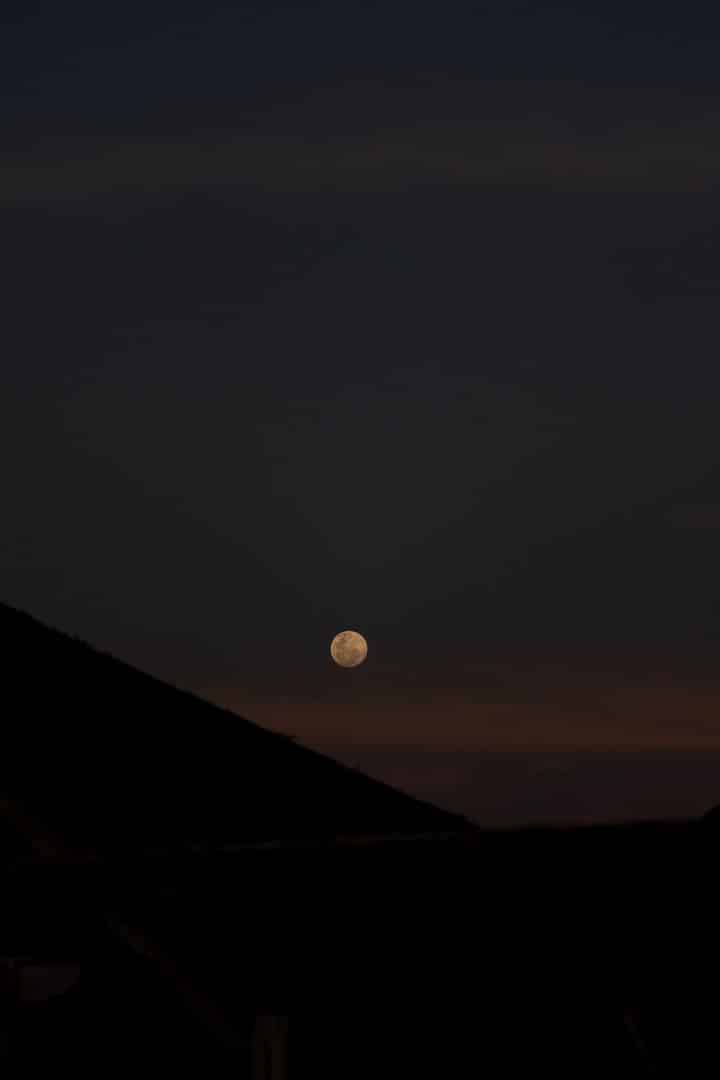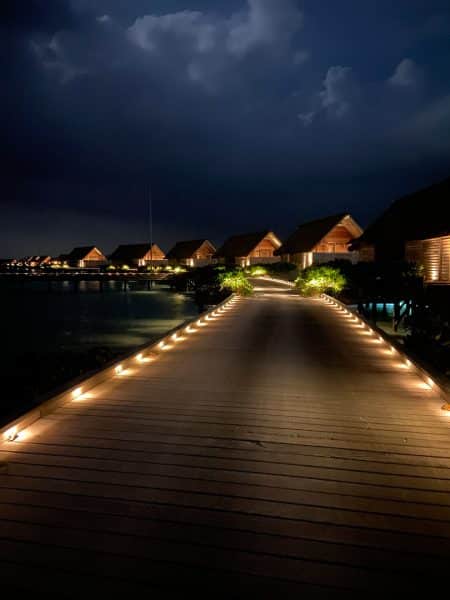 I really loved how tranquil our illuminated pool was at night, with the temperature still very comfortable for a quick nocturnal dip. Indeed it was a lot more enjoyable than avoiding the scorching equatorial sun during daylight hours.
The tranquility spread to the bedroom where slippers were laid out for us and all of our personal items were carefully folded or laid out neatly on towels and coasters. We always made sure to leave room after dinner for our turndown treat too!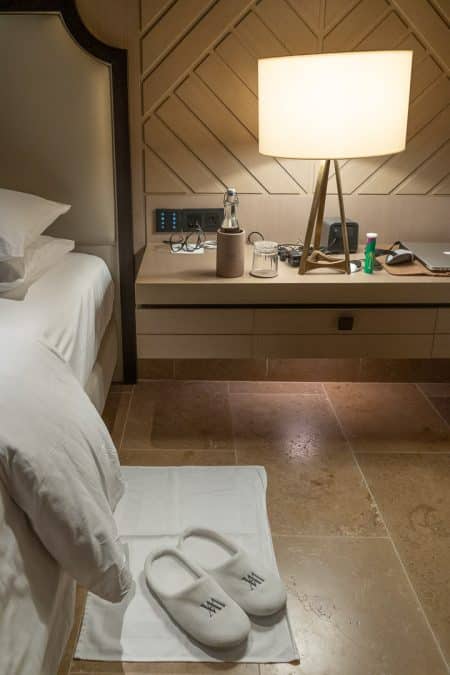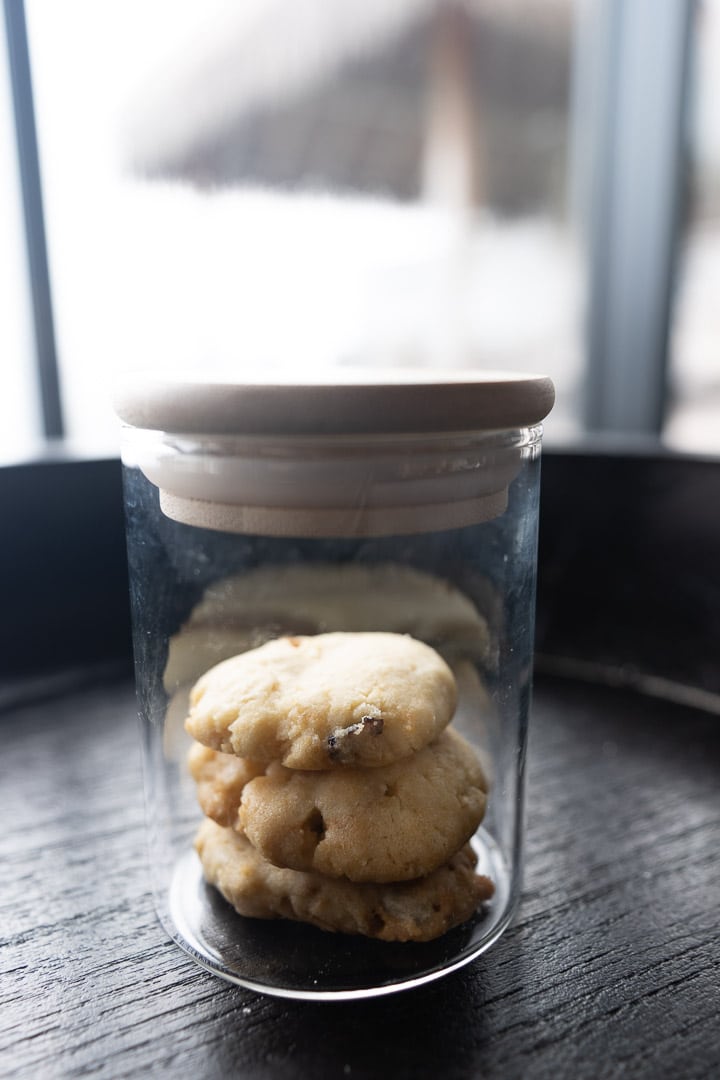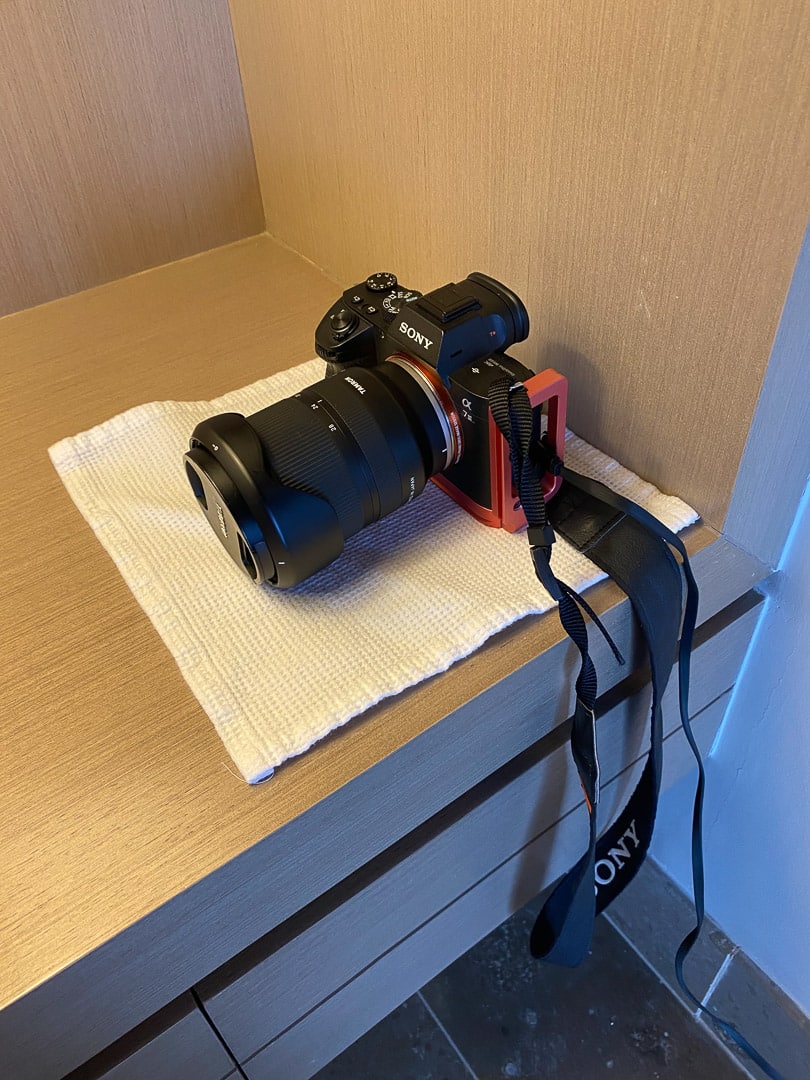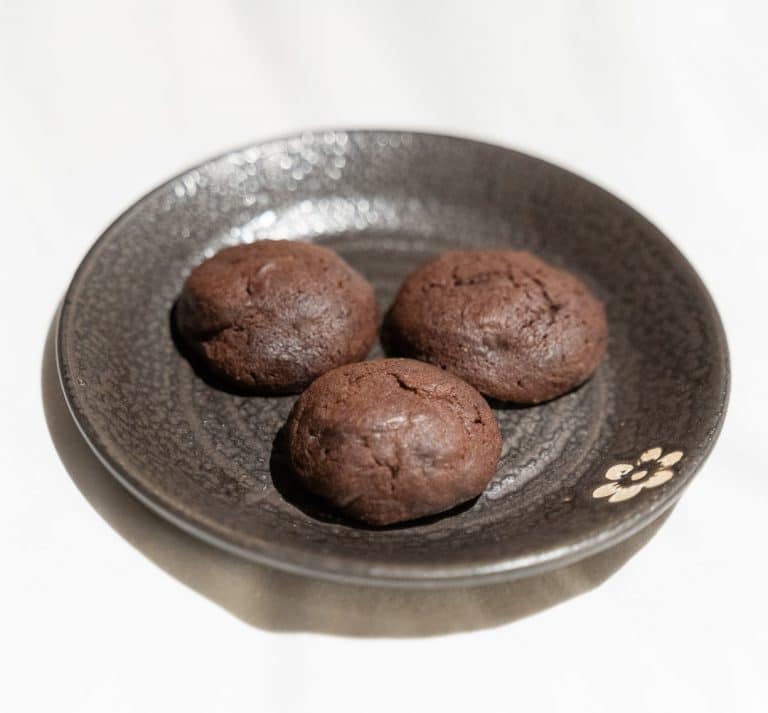 ---
Leisure facilities
---
Beach Club
The beach club was located almost directly behind our reef villa and ran the length of the main island, facing the lagoon.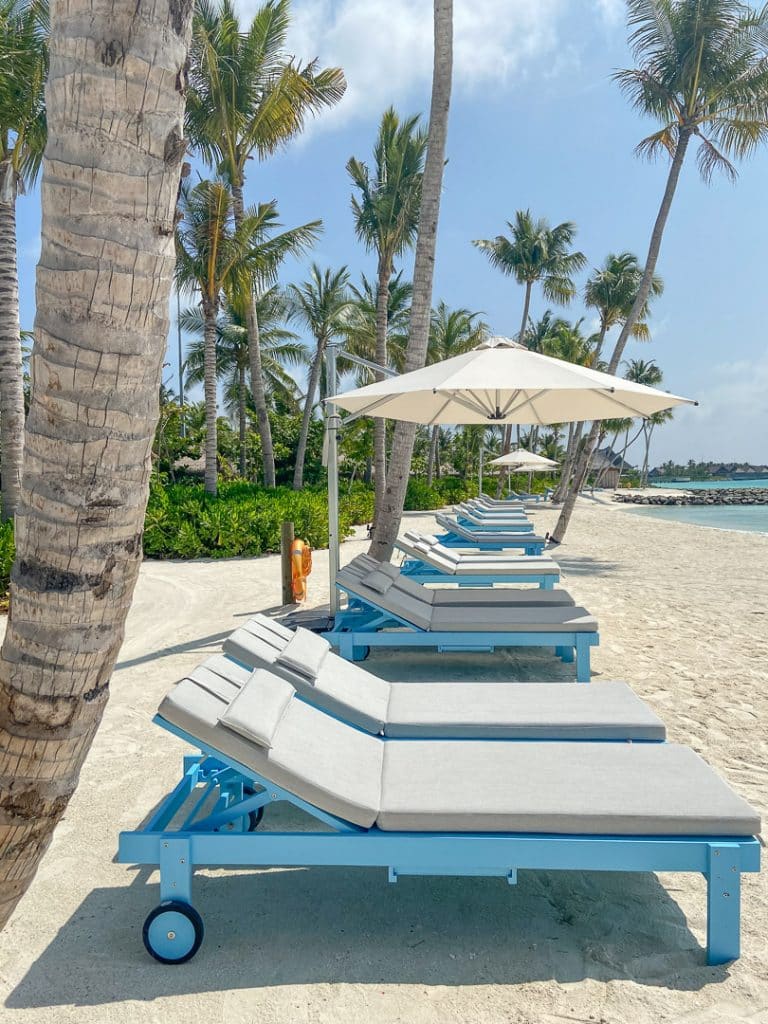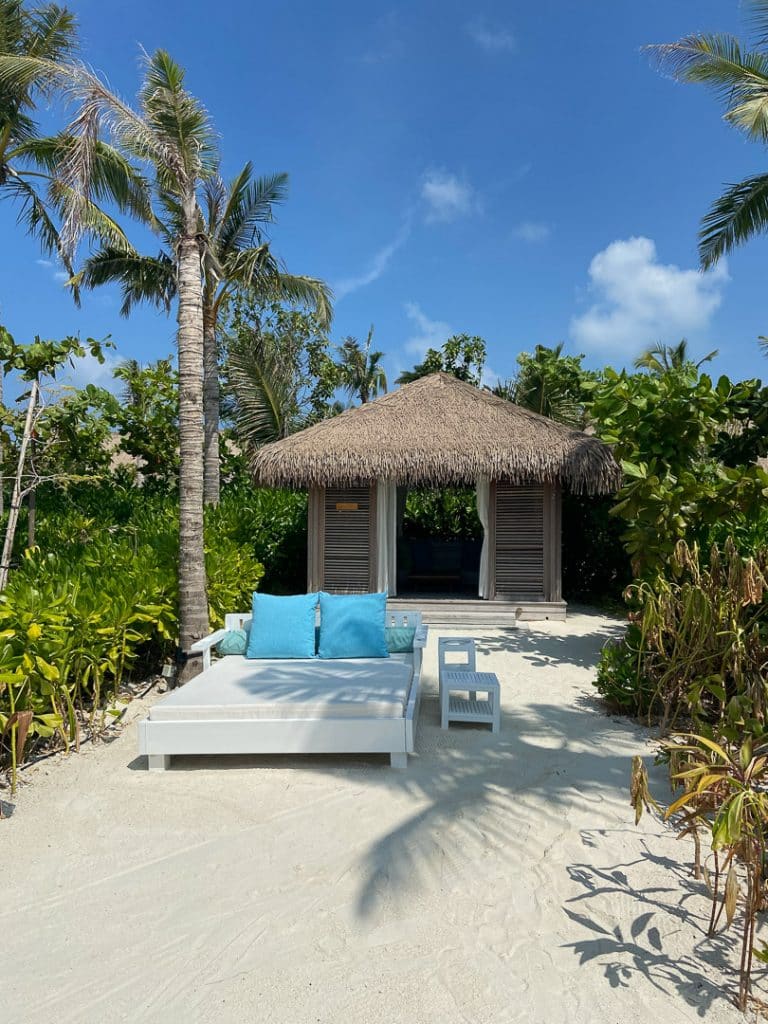 Honestly though, I'd rather enjoy my private over water deck than sit on a public beach, watching people scream as they engage in motorised water sports…
If you want to relax facing the lagoon from a public area, then this secluded spot just off the Reef Villa pathway is a lot more to my liking.
The Pools
The Waldorf Astoria Maldives has two main pools located in the centre of the main island, adjacent to the beach club, facing the lagoon. Naturally though, given that fact that every villa has its own pool, the public pools were pretty quiet.
I never saw a single person in the family pool.
The adults only pool was slightly busier, with people gathering here in the evenings. Service was patchy to nonexistent though. We had to fetch our own towels and saw empty loungers with bunched up towels just left on top of them. A far cry from the skewers of frozen fruit and complimentary sunglasses polishing offered at the adults only pool at the Conrad Maldives.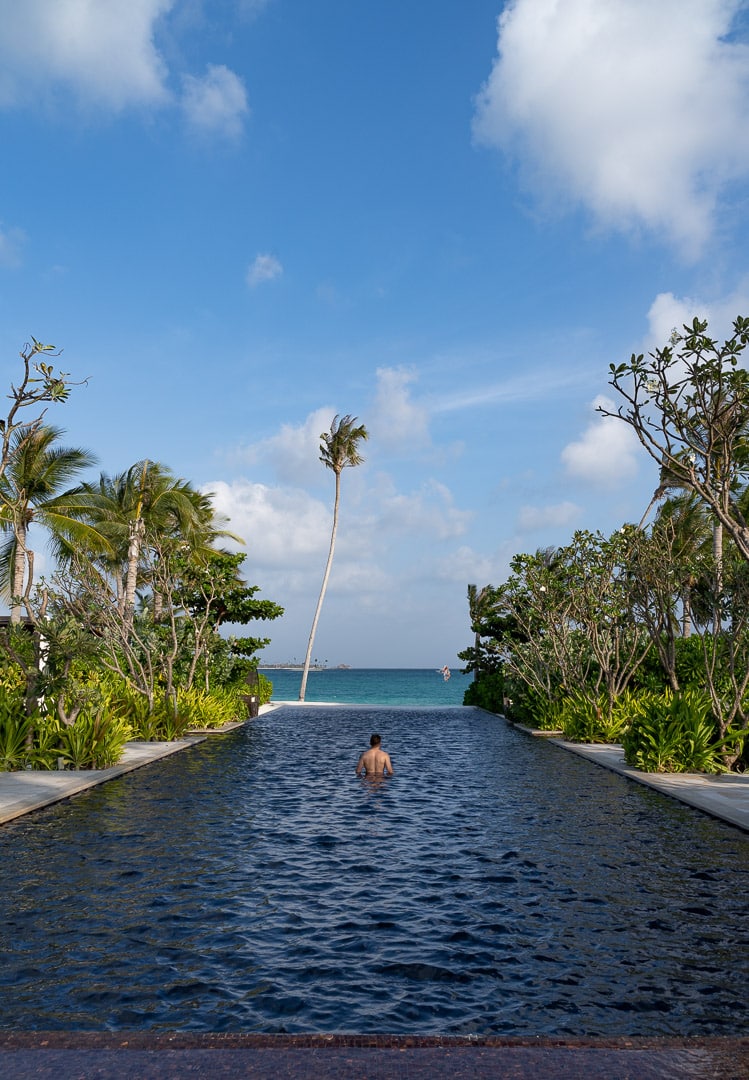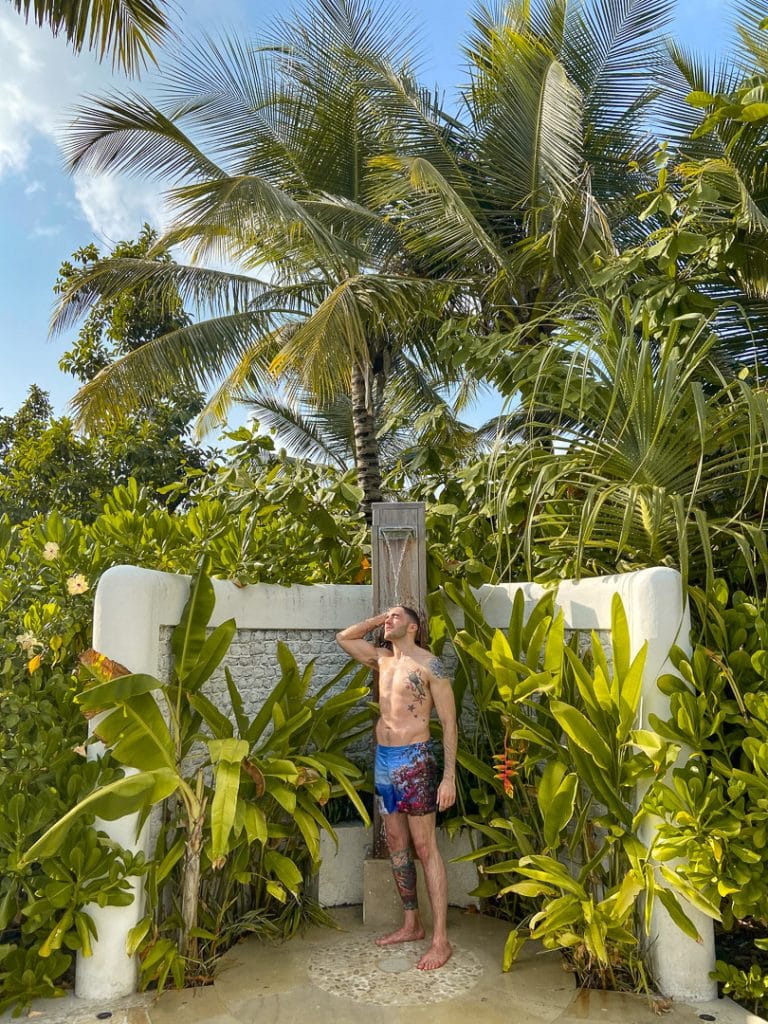 Spa
We didn't spend any time getting spa treatments, but did enjoy the extensive gardens with the variety of relaxation areas on offer. The staff here were great and offered us cold towels and iced fruit tea when we first passed through, looking slightly sweaty after a gym session next door.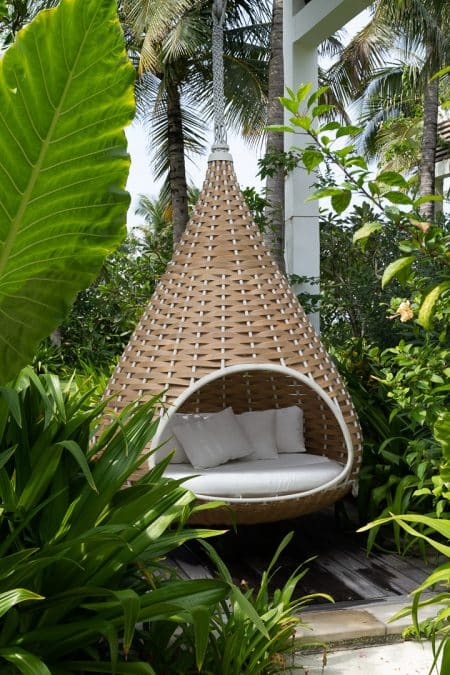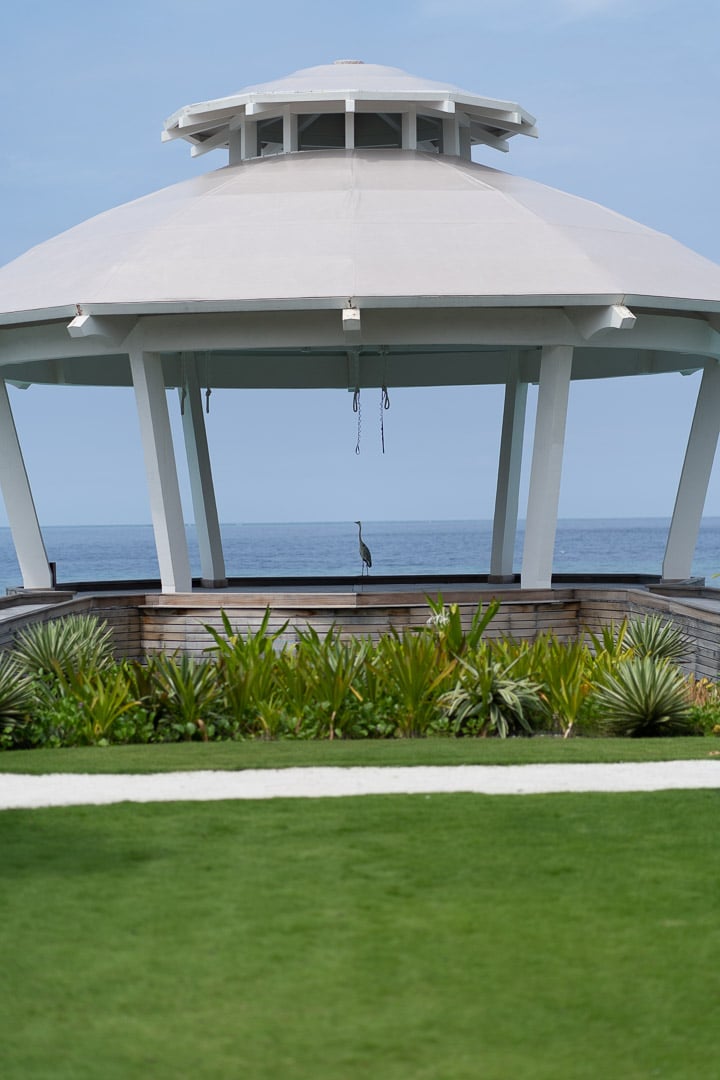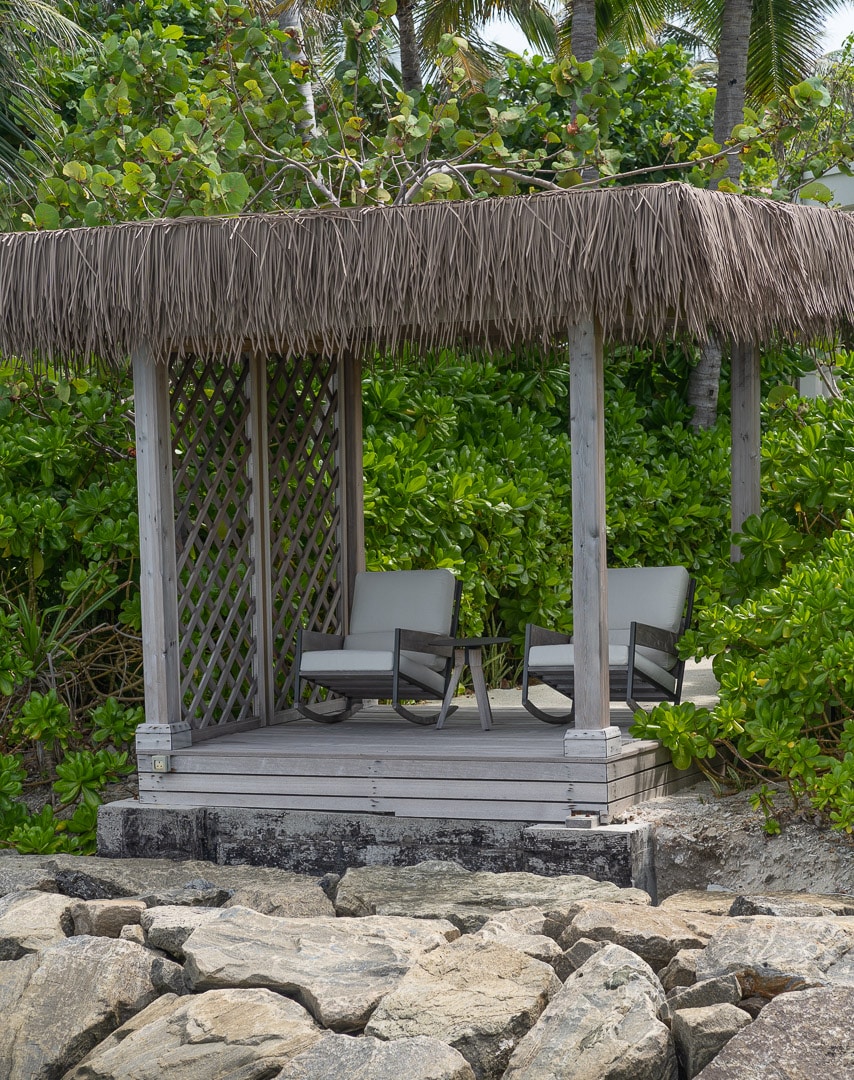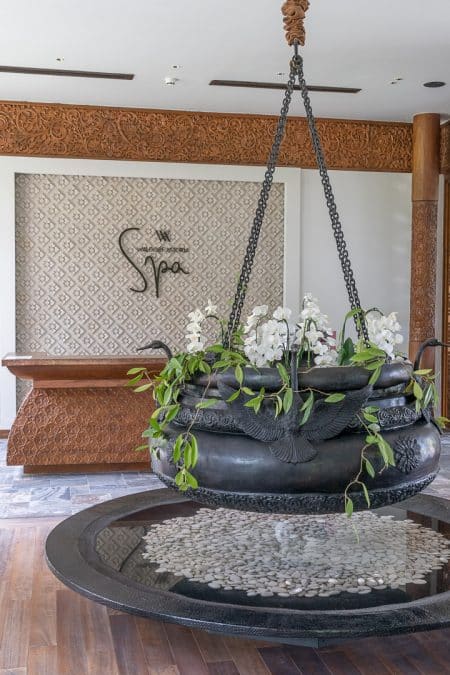 The Gym
The resort's gym is located in a pavilion that sits on a canal, running between the lagoon and the ocean.
There were always personal trainers on hand to ensure that we were provided with fresh towels and individual flasks of filtered water.
Healthy snacks were also available in February but were understandably absent, thanks to COVID, in November.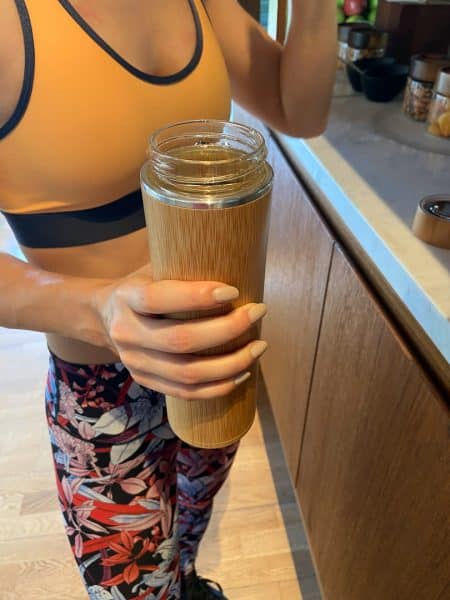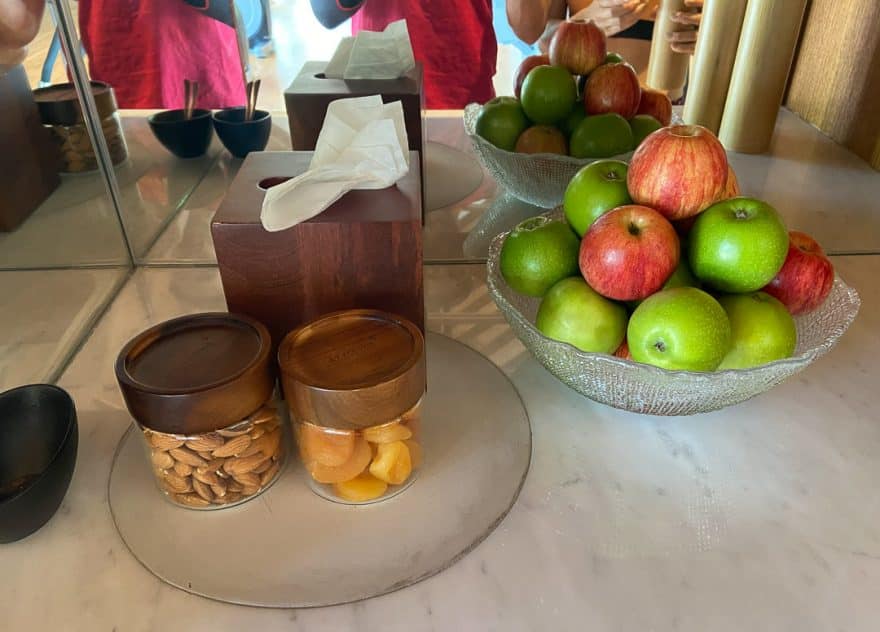 The facility featured very new equipment but was missing a few of the basics, like a Smith machine or a leg press. Dumbbells also maxed out at a mere 20kg.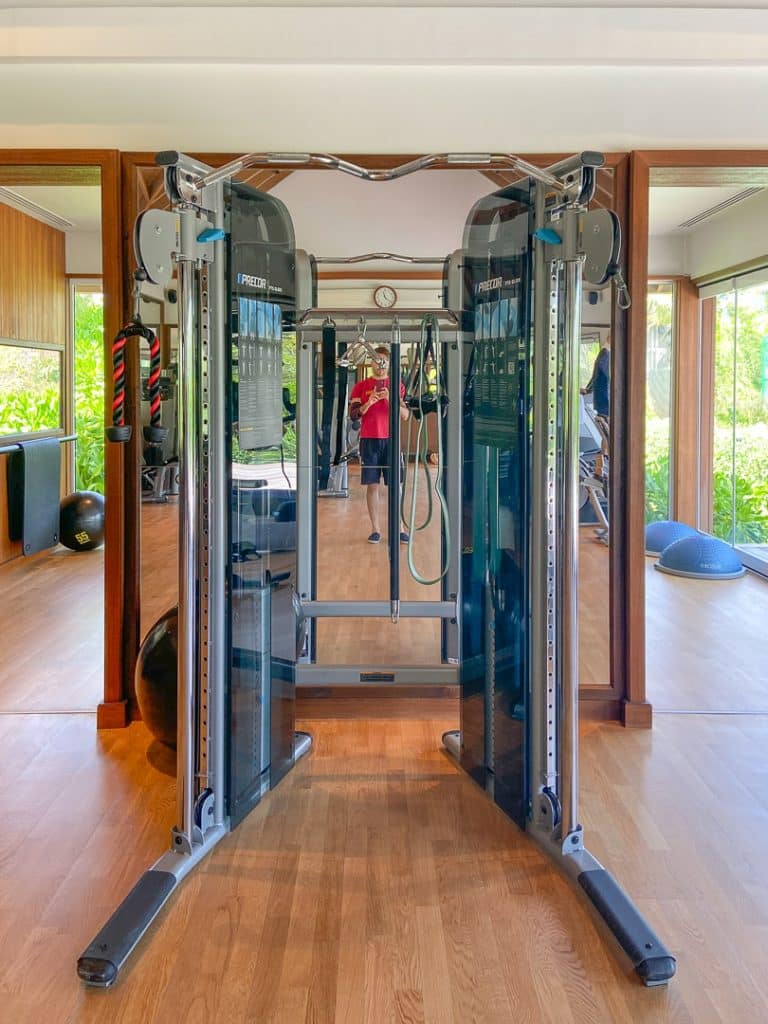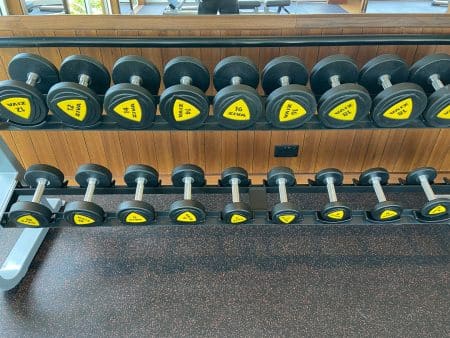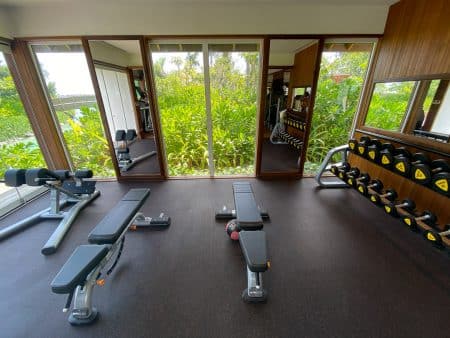 Not the widest selection of resistance machines.
During COVID, signs have been placed to block alternating pieces of equipment, allowing for greater social distancing inside the gym.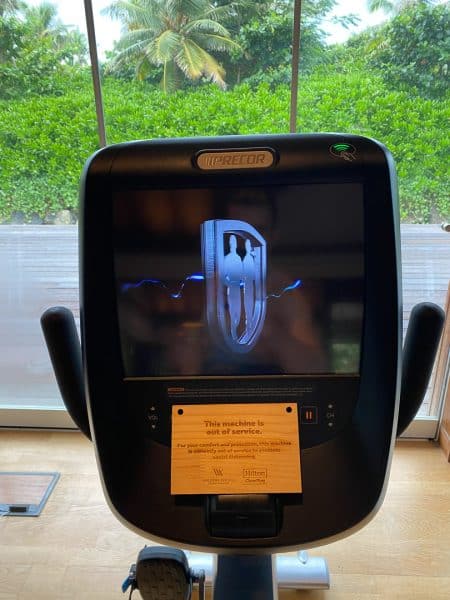 The resort also has a tennis court (which you can make out to the left of the cardio machines in the image above) but it didn't appear to get much use, thanks to the heat.
Snorkelling and diving
Snorkels, masks and fins are provided free of charge for all guests and all the equipment is absolutely pristine. Our snorkelling gear was delivered to our room in a dive bag with the mouthpieces of the snorkels wrapped in cling film – the only hotel that I've ever seen going to this extra level of hygiene.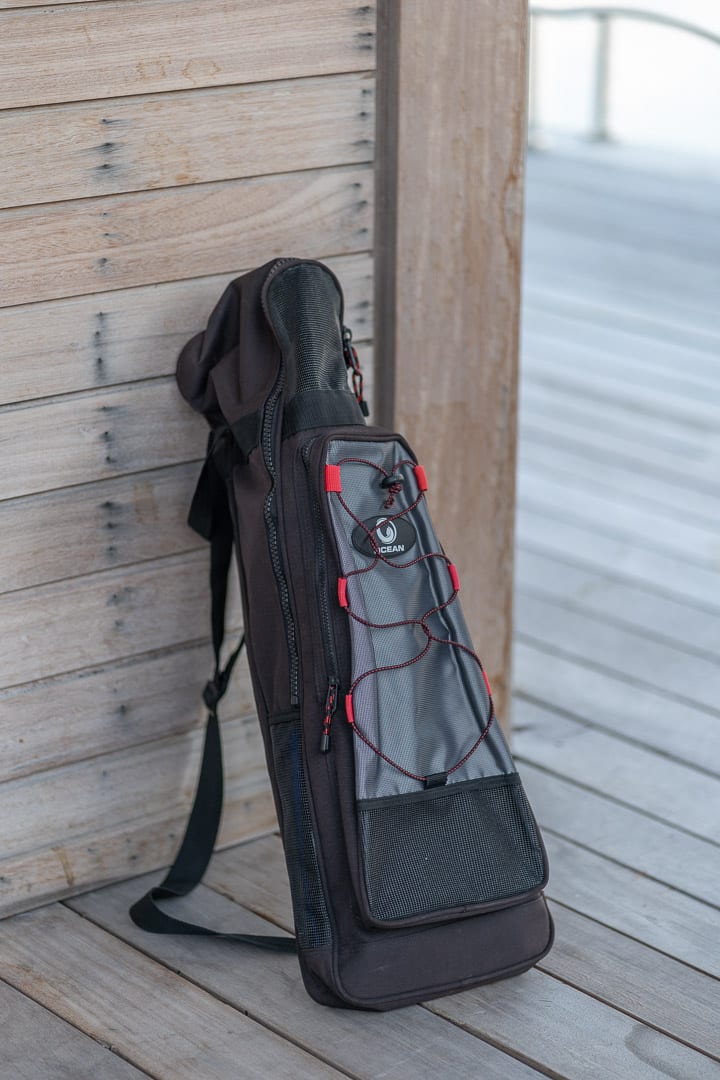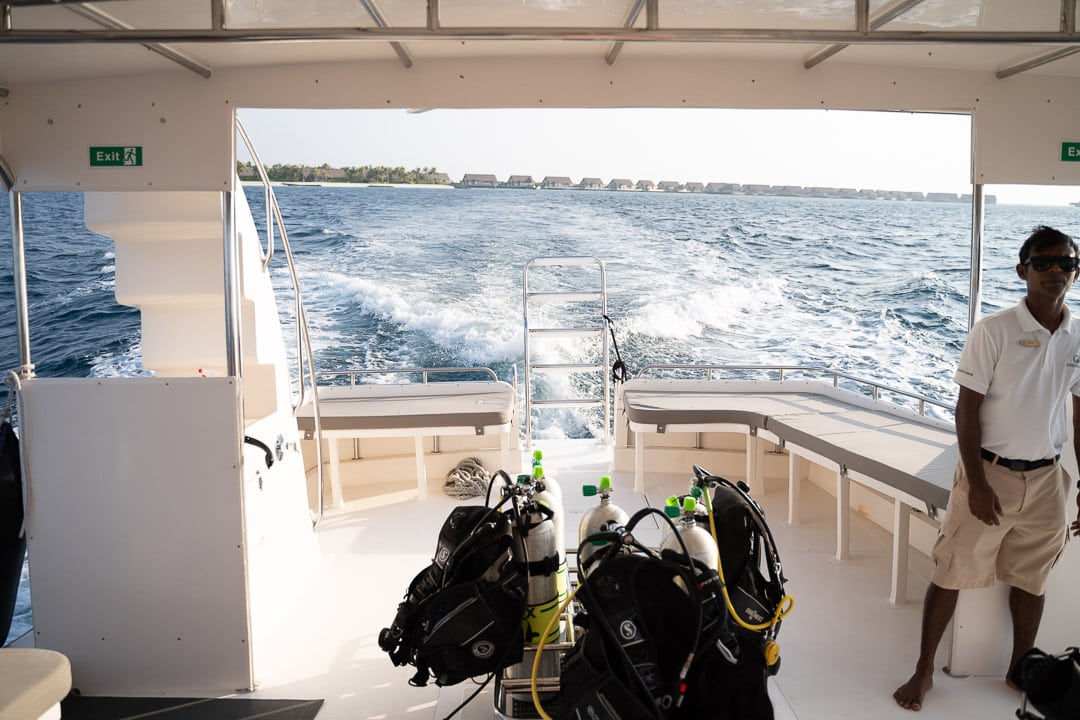 We also went out for a couple of dives but really wished we hadn't.
The crew and dive staff were friendly, but unfortunately on our first dive we hardly saw anything. On the second dive the conditions were extremely choppy, with currents that felt like we were in a washing machine. It felt like we shouldn't have gone in the water at all but the instructor seemed happy to go ahead.
Afterwards, he said he's not seen conditions like that for a long time and that it was great that we stayed calm and made it back safely.
When Shawki asked how our diving had gone we answered honestly; that we felt relieved to be alive! Being the absolute rockstar that he is, he got the dive centre to remove the charge for the second dive – which I felt was fair, given the circumstances.
Snorkelling was significantly better from our Reef villa than the OverWater villa but still didn't feature the variety of marine life that we saw at resorts like the Conrad, Finolhu or Anantara Veli. One of the best spots, as suggested on Flytertalk.com, can be found by jumping into the water on this bridge and swimming out to sea away from the lagoon.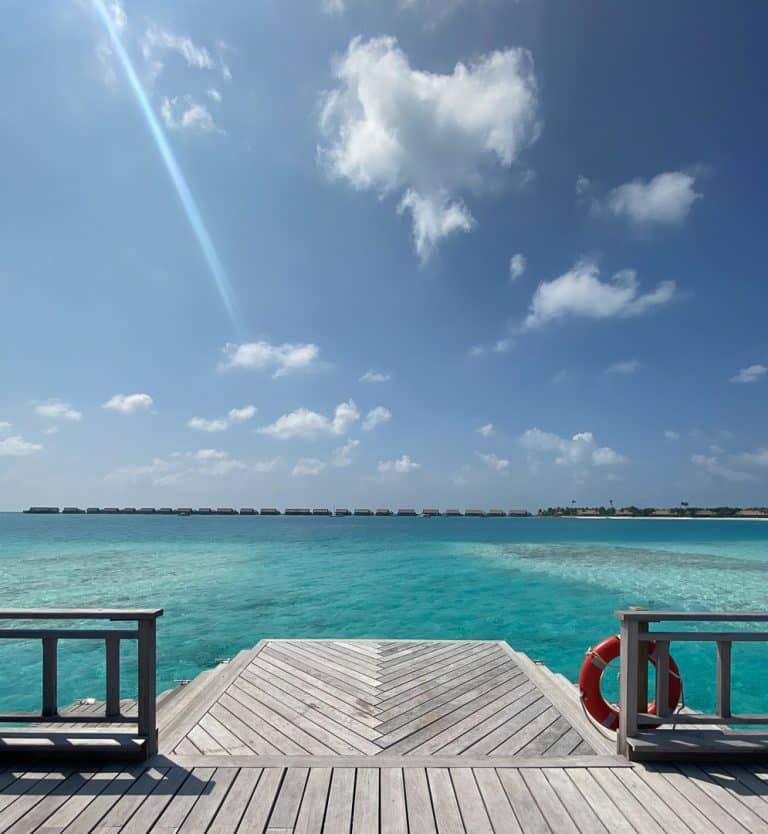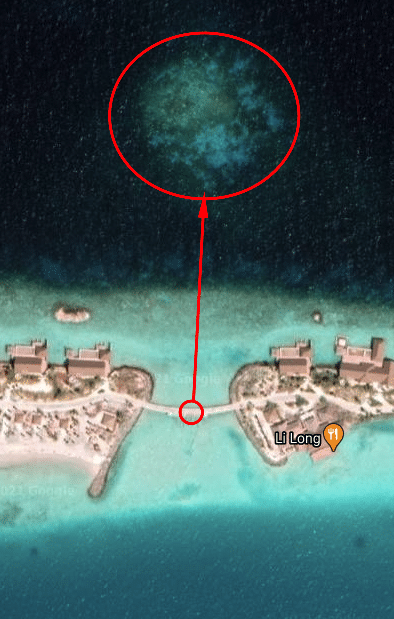 Bonus: a day at a secluded beach
One of the main problems with this resort is the fact that it is entirely man made, meaning that every square inch of land is precious. As such, you don't really have any remote and quiet beaches, like we experienced at the Conrad…unless you're in a Beach Villa, facing away from the busy lagoon and out towards the slightly less busy ocean.
Each Beach Villa is assigned its own sun loungers, shade and hammock, but obviously we didn't want to just camp up in front of somebody else's villa….so I came up with a plan.
I asked our island host if we would be allowed to use the loungers outside one of the Beach Villas that was currently empty – this was actually the one day that Shawki was away but his stand-in host was onto the task straight away.
After a bit of investigating, she told us that one of the Beach Villas right next to us was empty: a perfect base of operations for the day.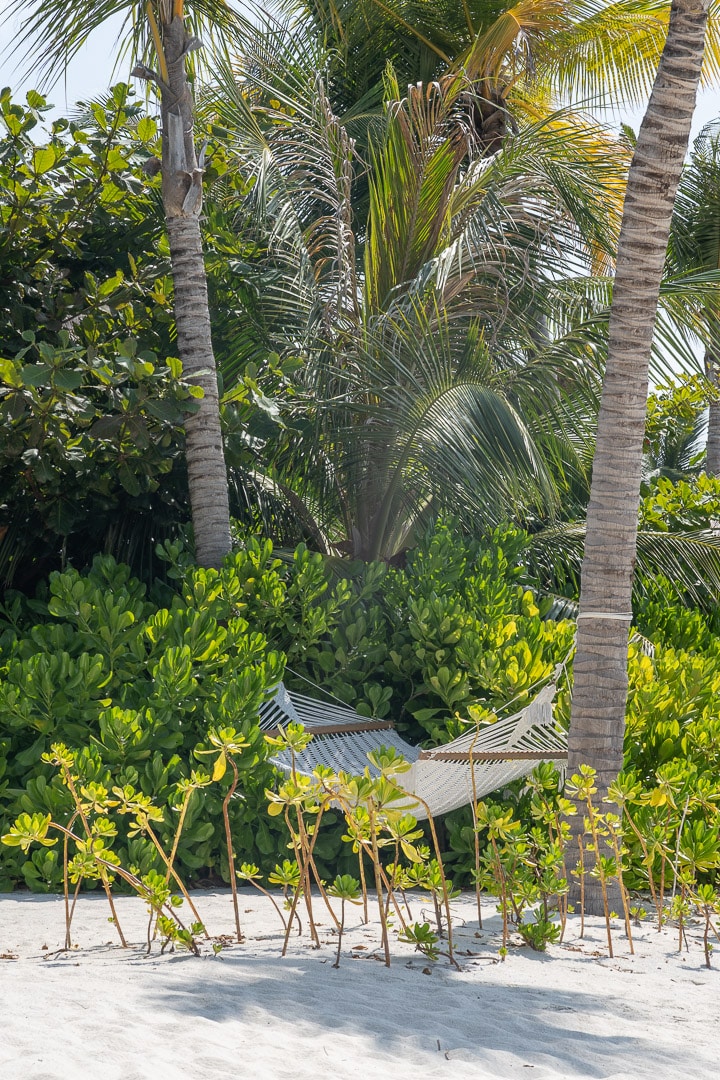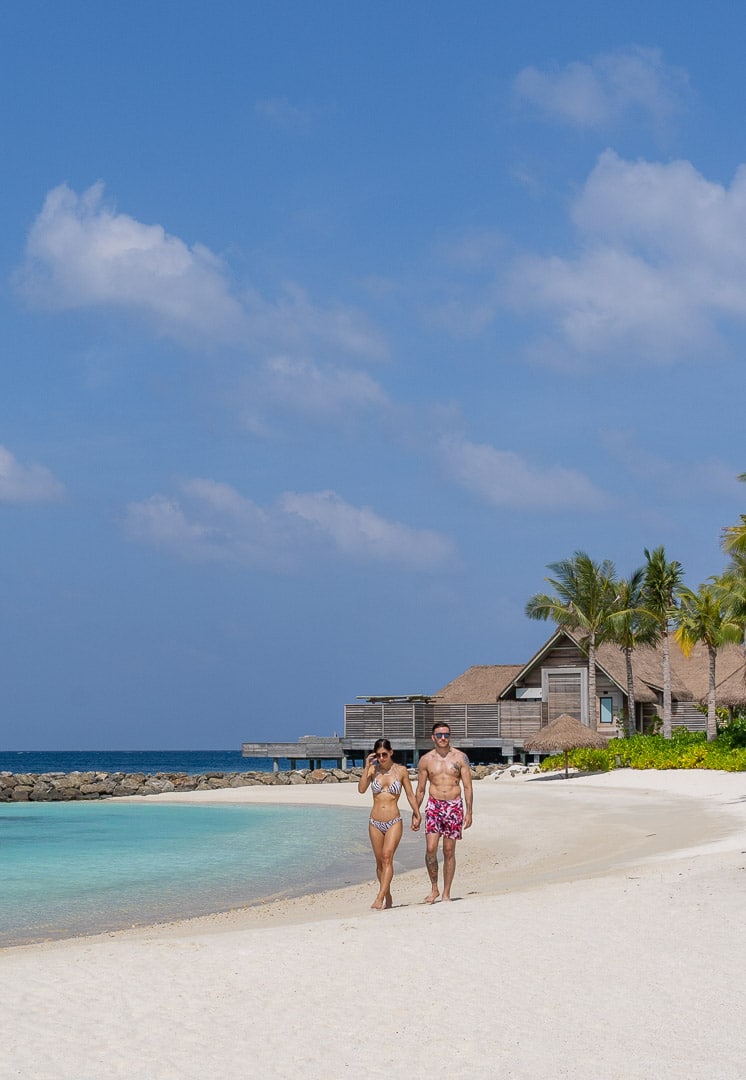 Obviously, given the fact that all the sand at the Waldorf has been either dredged or imported, it was a lot more coarse than on one of the more remote, naturally formed atolls. Still, this was the closest we came to that elusive feeling of remote isolation at this resort.
There are a few little stretches of beach to explore at the Waldorf, but generally they are quite rocky as the sand needs to be trapped, lest it get washed back into the ocean.
If you are looking for a proper tropical beach this hotel will feel like a let down and somewhere like Amilla, with its combination of both manicured and wild beaches, or Anantara Dhigu, with its two deserted islands, will be a lot more to your liking.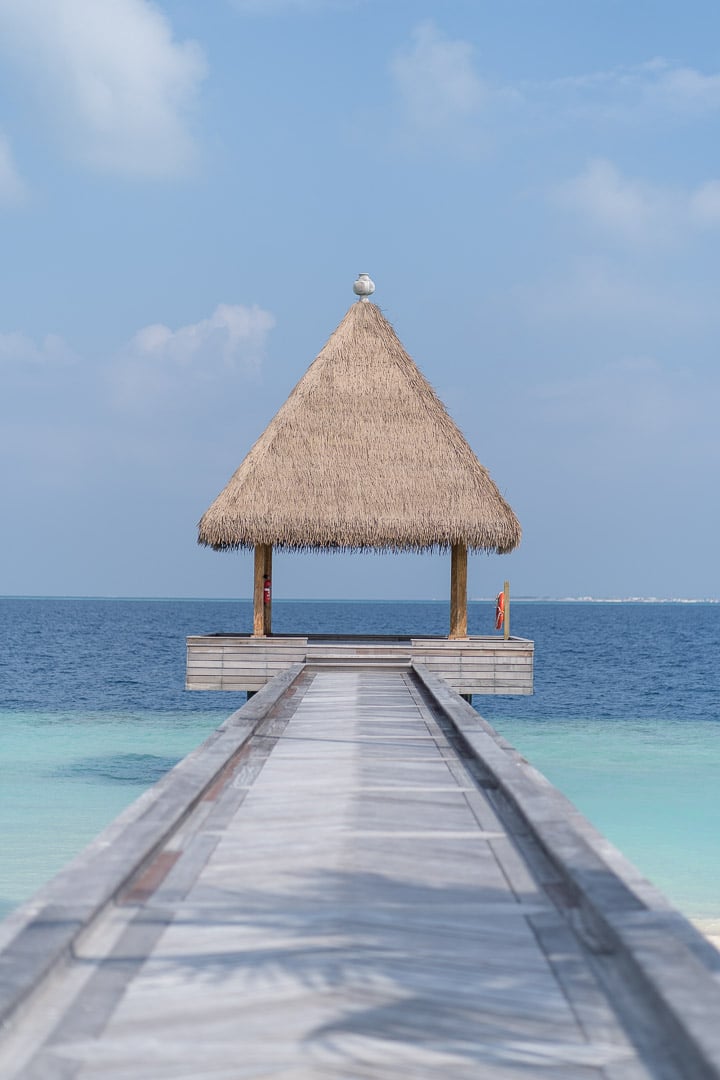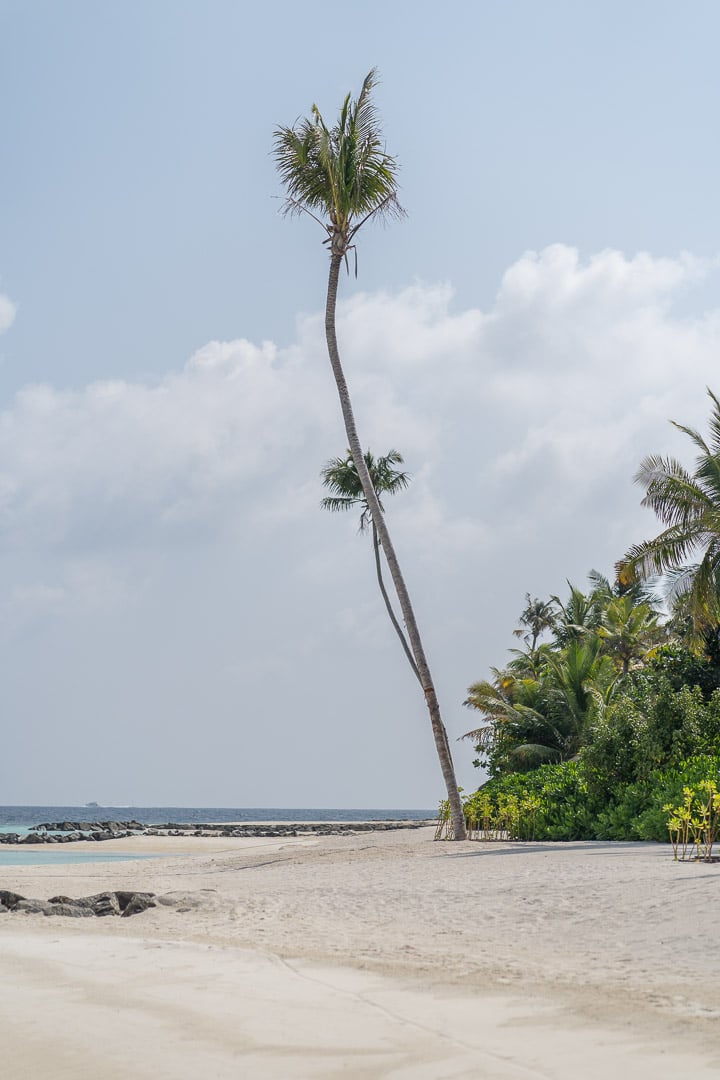 One thing that was very noticeable on our first trip was that a lot of the palm trees looked scraggly and half broken (as you can see in the image above). I'm happy to report that the rainy season in between our two visits worked wonders and that now the resort's greenery feels a lot more natural.
One place where the foliage didn't take root was this island in the middle of the lagoon, the surface of which was being flattened by bulldozers on our return visit. Apparently no matter how hard they tried, any sand or trees placed on this man made concrete block just got washed/ blown away.
---
Food and Drink
---
All current menus and prices can be accessed directly from the hotel website on this link.
I have also included QR codes where possible, which you can scan to see the very latest menus (including ones missing from the hotel website).
---
Breakfast at Tasting Table
Breakfast is included for everybody with Hilton Gold or Diamond status and is also included on most cash rates that I've seen. If you're one of the few people to whom neither of these applies, I'd suggest going down one of the easy paths to Hilton status, as it'll almost certainly work out cheaper than paying for breakfast every day (where the buffet costs $65++ per person).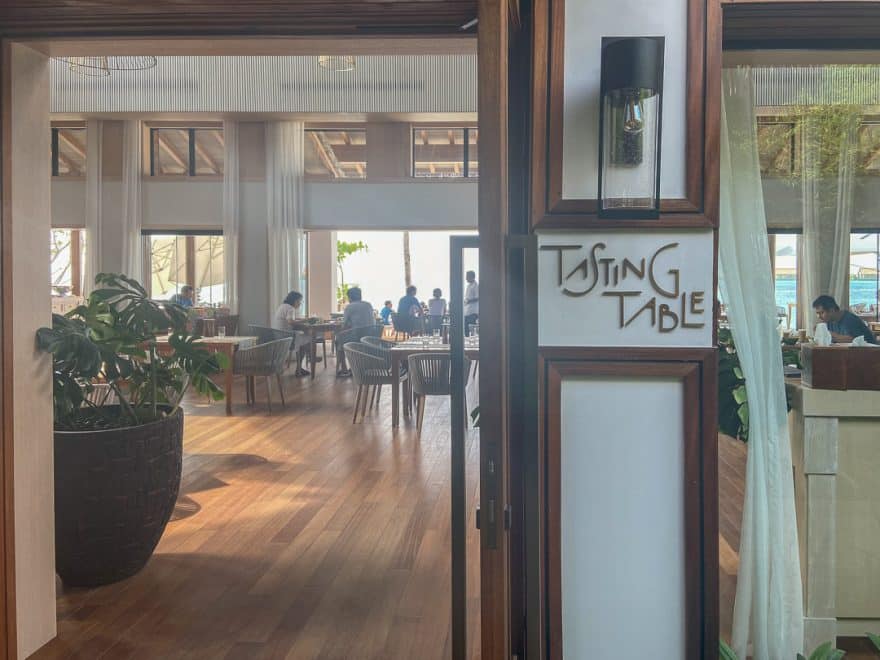 If you're US based, your best bet is to apply for one of the Amex Hilton Cards. If you're in the UK the easiest method is to get Hilton Gold included with the Amex Platinum card, although the annual fee is rather high you'll still come out even on a 5 night stay, particularly since your gold status will give you the fifth night free.
There is plenty of space to sit indoors at Tasting Table and the ceilings must be at least 25ft high, meaning that it all feels very bright and open.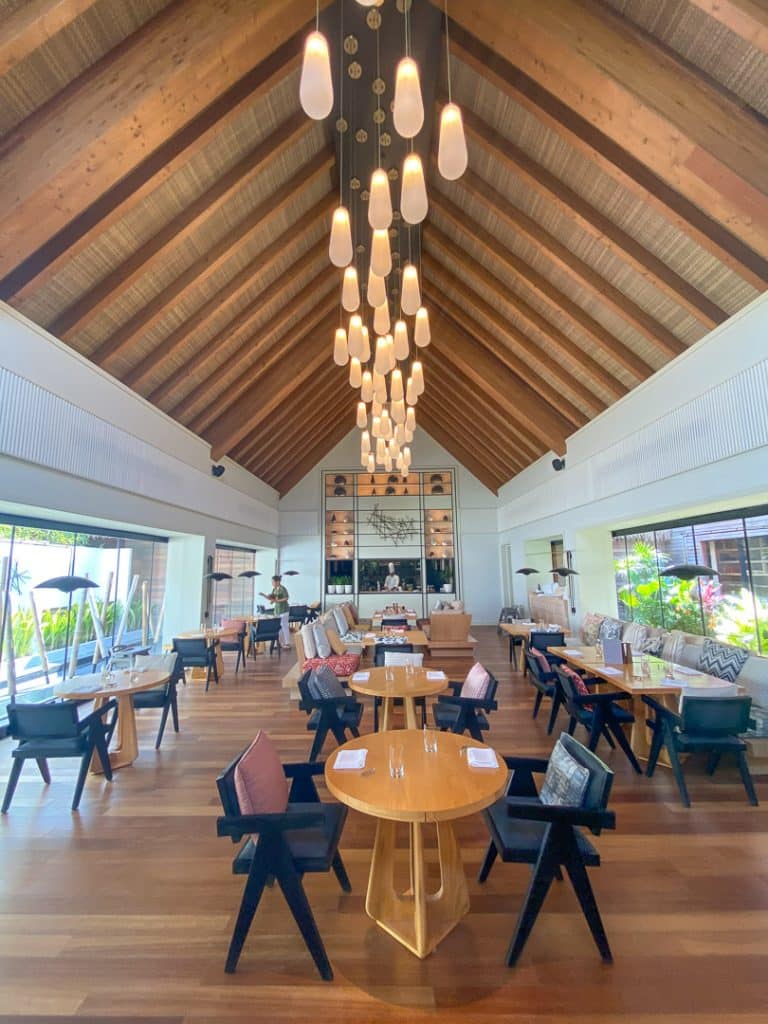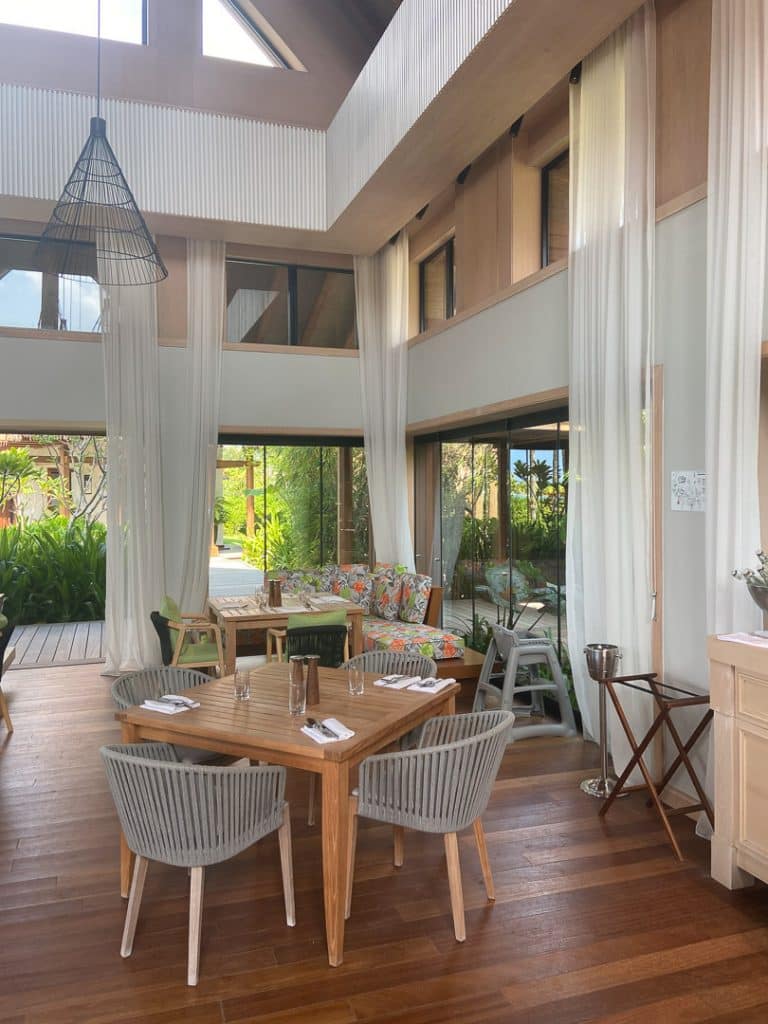 Still, we always opted to sit outside when the weather permitted. How could you resist having breakfast with the sand between your toes and a view of the lagoon?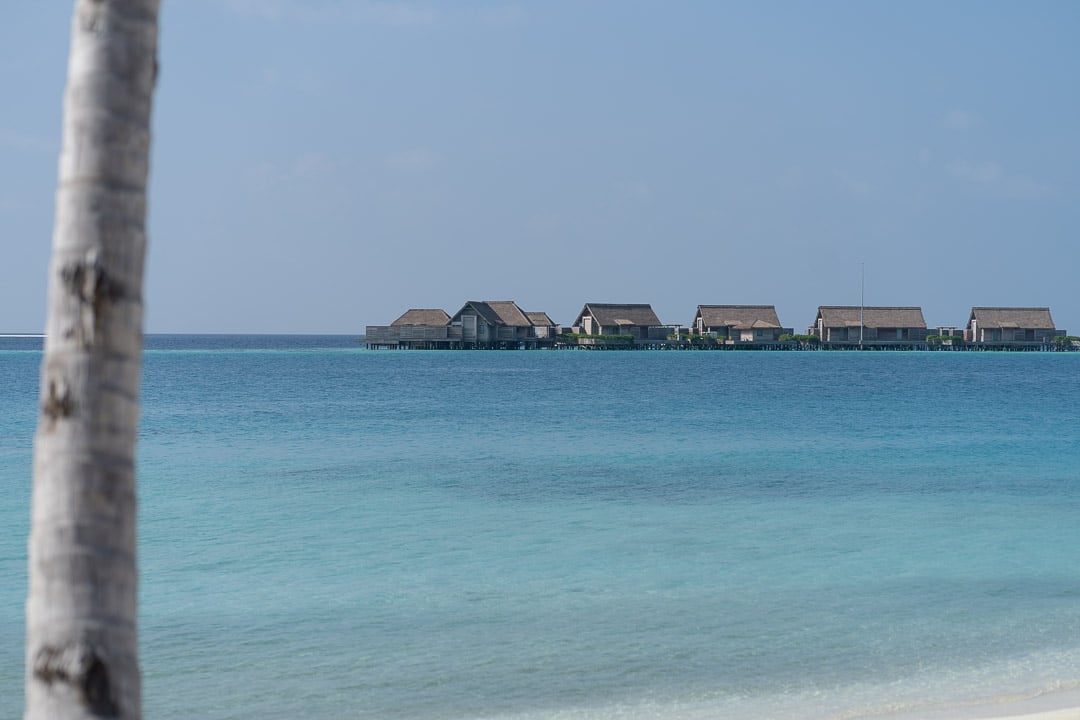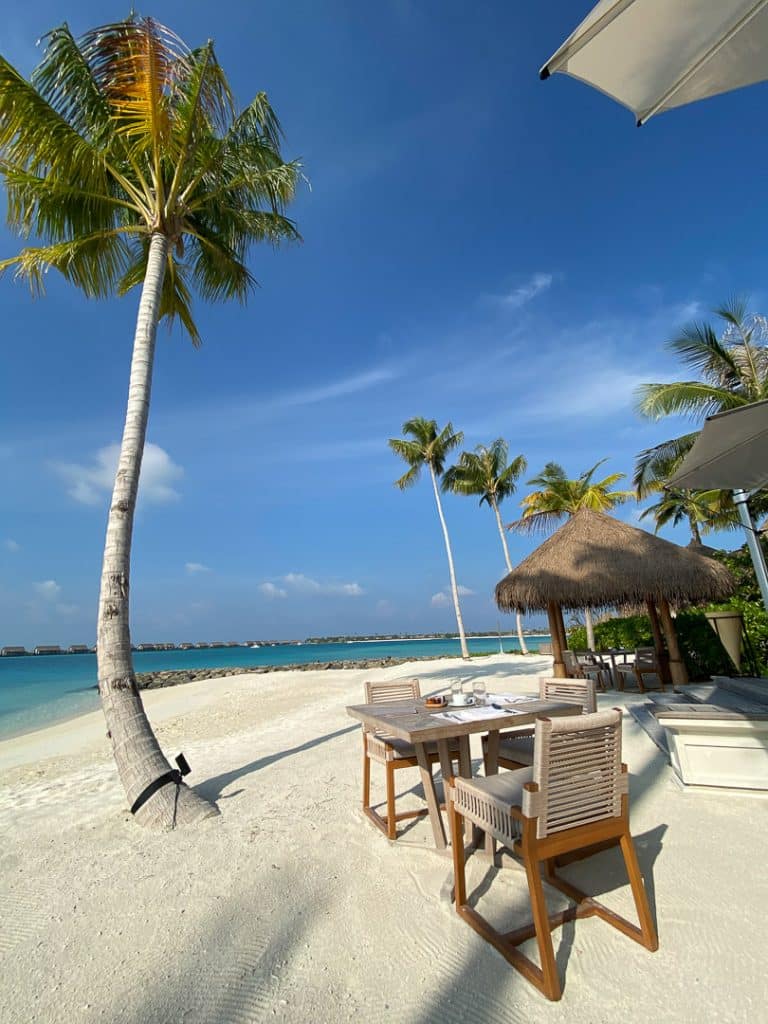 Service was extremely efficient and friendly; we never waited to be seated at a table and as soon as our glasses were even half empty, we'd be asked if we'd like anything else to drink.
A buffet was offered on both of our visits but in November, it was less spread out with staff proactively offering to help guests to serve items. I was actually surprised to see any type of self service at all and had thought that our July 2020 visit to NH Convento di Amalfi would be indicative of things to come.
This bakery area was moved into the main buffet room in November.
However, the system here didn't feel unsafe at all and most guests (us included) wore masks any time that they came inside. This was actually the only time that we ever really saw guests wear masks at any Maldivian hotel during COVID.
This was no doubt due to the fact that masks and sanitiser were provided in an envelope as soon as we sat down each day.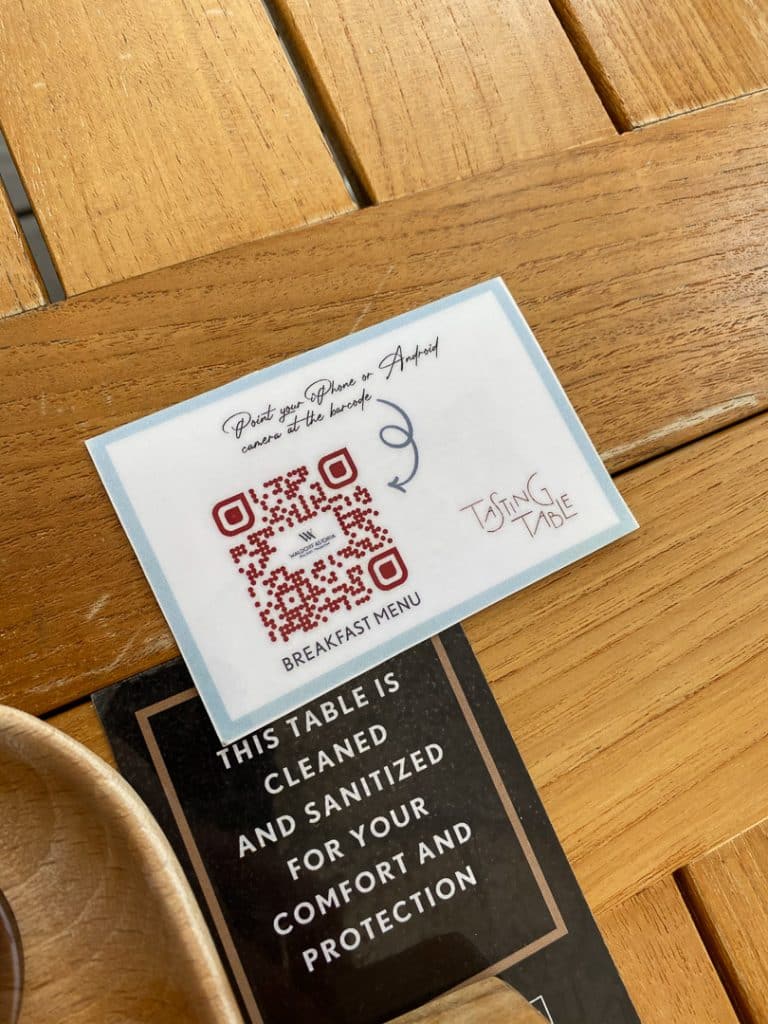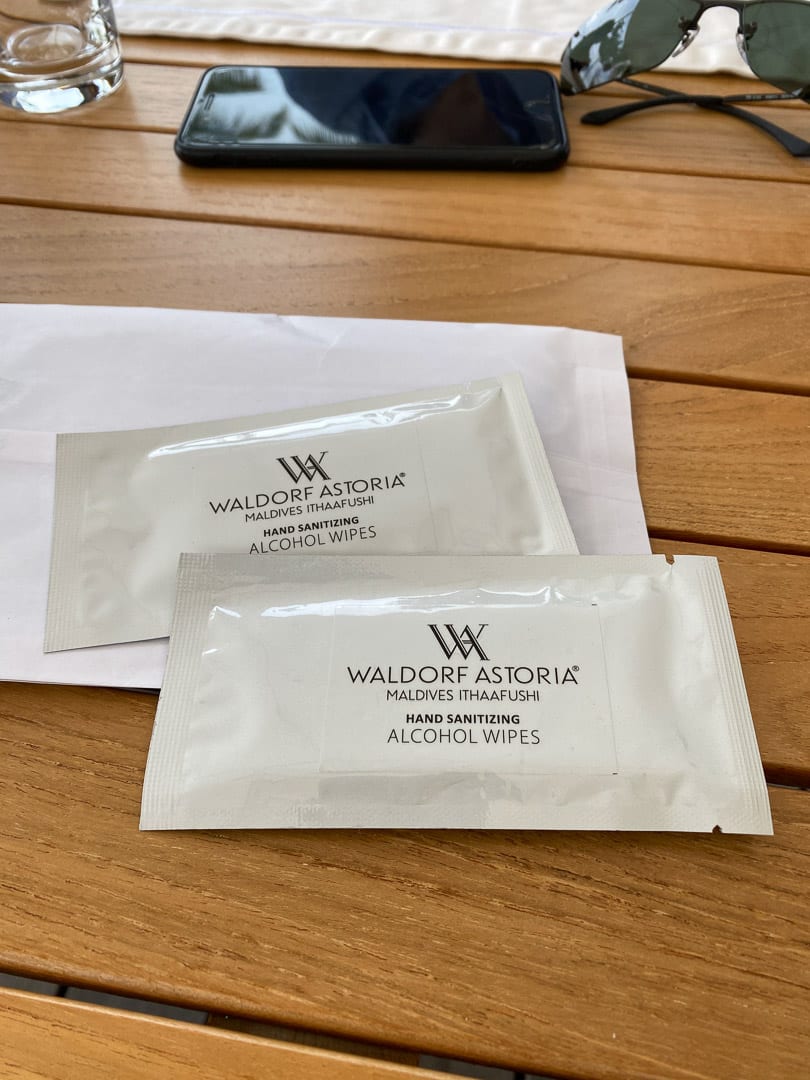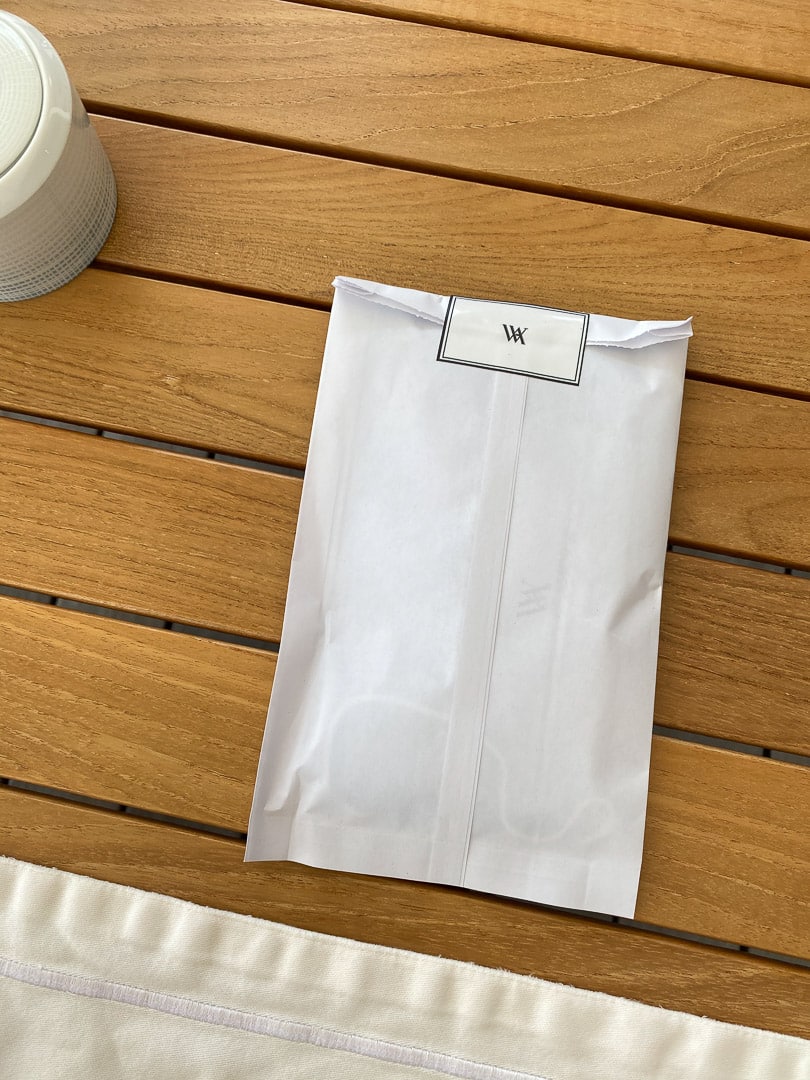 The buffet selection was as good as I've seen in any hotel, right up there with the Reverie Saigon, Fairmont Manila and Ritz Carlton Kyoto.
A vast array of antipasti, smoked fish and cheese.
A vast array of Western, Chinese and Indian breakfast dishes, all of which were perfectly presented. Ultra crispy bacon, crunchy hash browns and mushrooms devoid of any excess liquid.
There was also an abundance of healthy options, for those looking to hone their physiques whilst on holiday.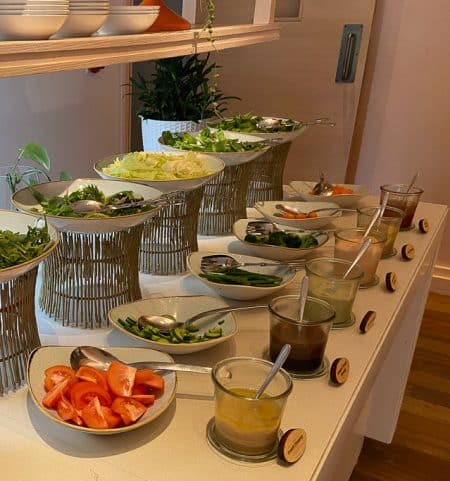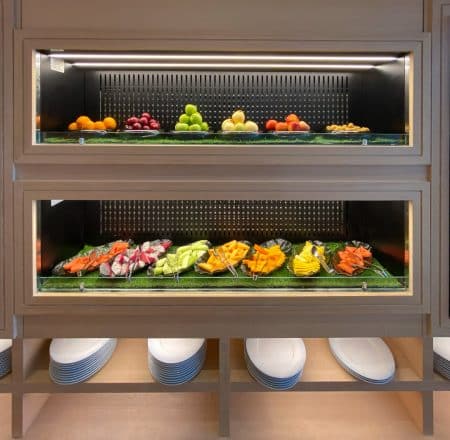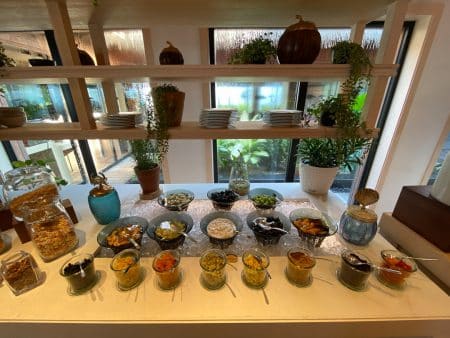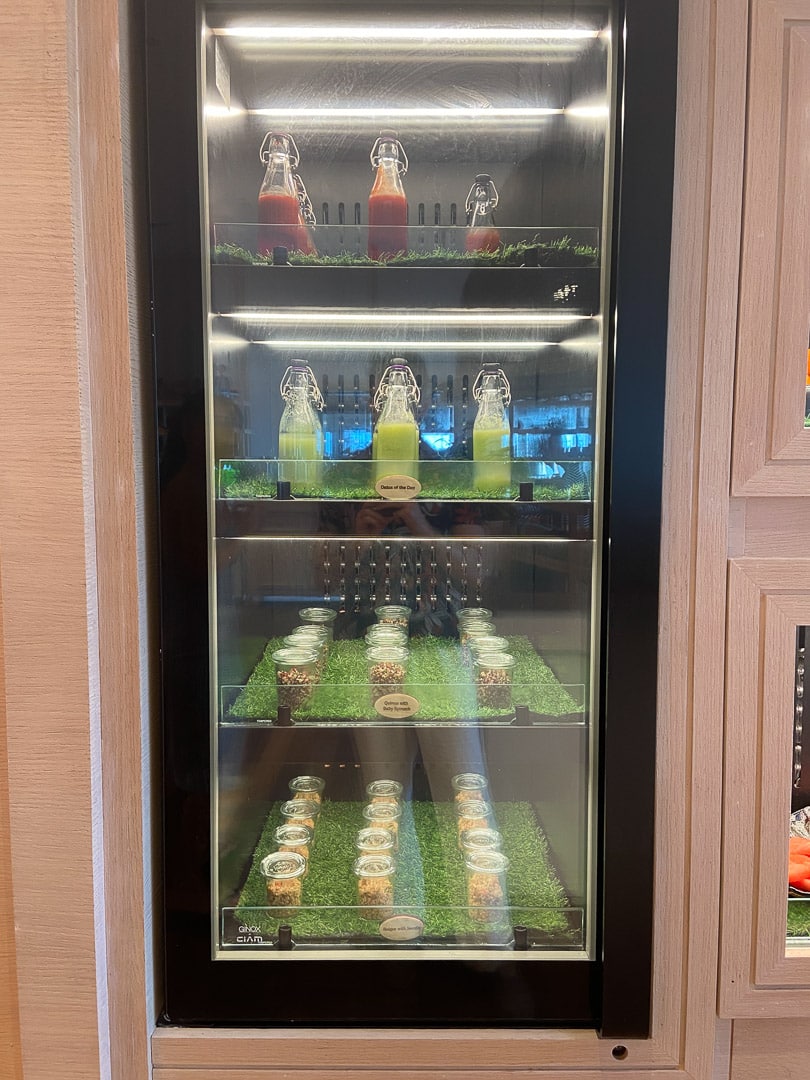 One area of the buffet that disappeared between February and November was the giant stone champagne bucket, filled with iced bottles of Delamotte. Thankfully, this was still available to order by the glass, free of charge.
Cocktail Hour at Peacock Alley (4pm-5pm)
Much though I loved the complimentary happy hour at Vilu in the Conrad Maldives, Peacock Alley is a clear cut above. The setting is far more elegant with very comfortable furniture, polished wooden floors, fine glassware and live musicians performing every day.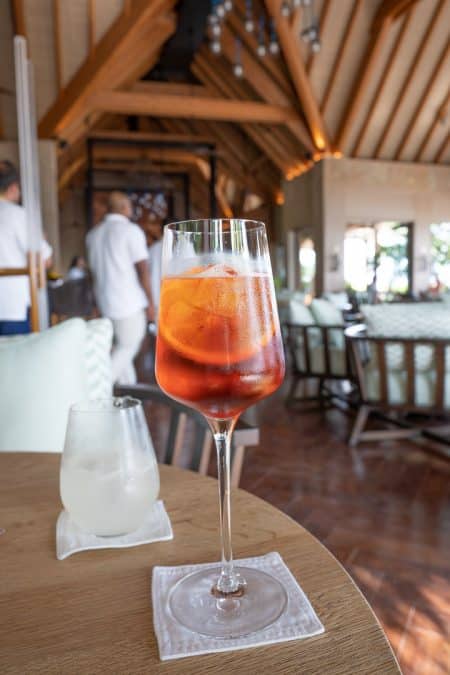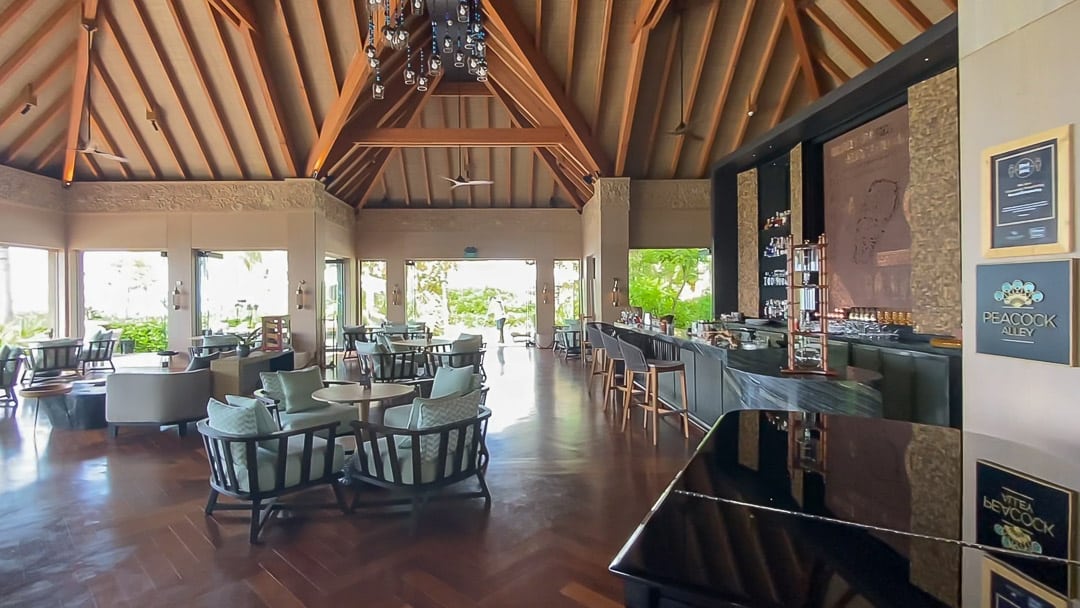 During our first stay all guests were presented with tiered cake stands filled with canapés, although this has now been downgraded to bowls of peanuts.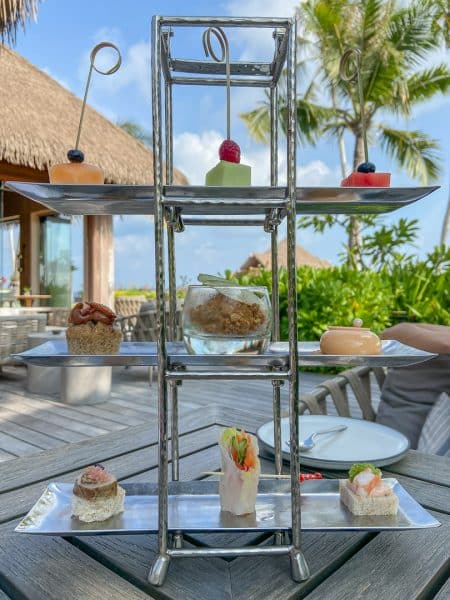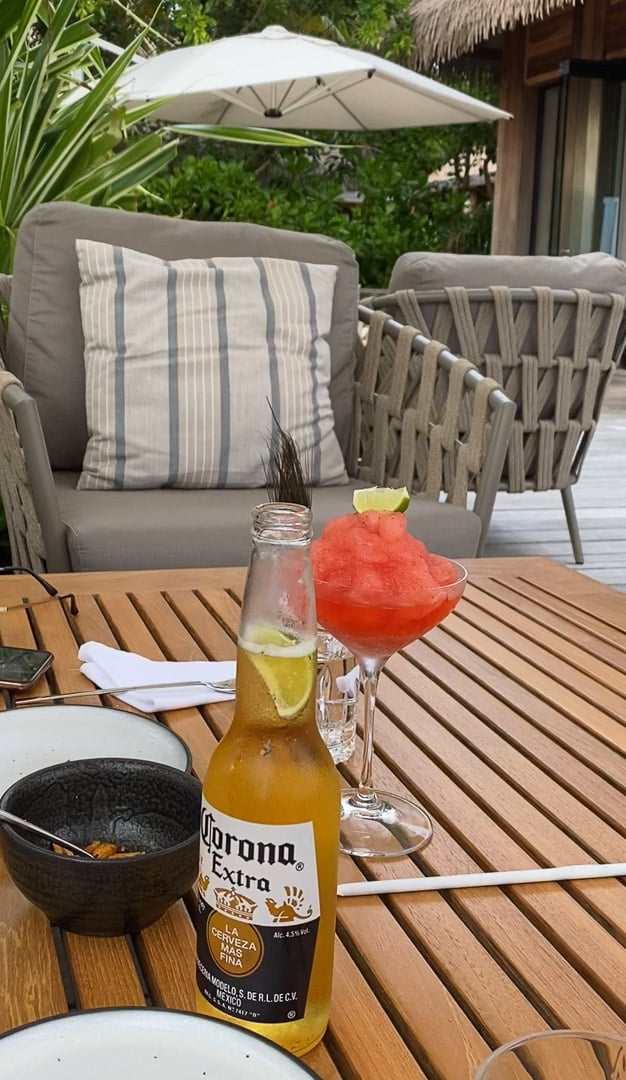 When I asked about this, the lady from guest relations explained without a hint of sarcasm, that "guests were bored of the old concept, so we introduced a new concept". She's the same lady that explained the downgrade from Delamotte champagne to £5 bottles of plonk at Hilton's most expensive hotel…
Still, to the hotel's credit, they've now shifted from a fixed cocktail menu to an 'order whatever you like' concept.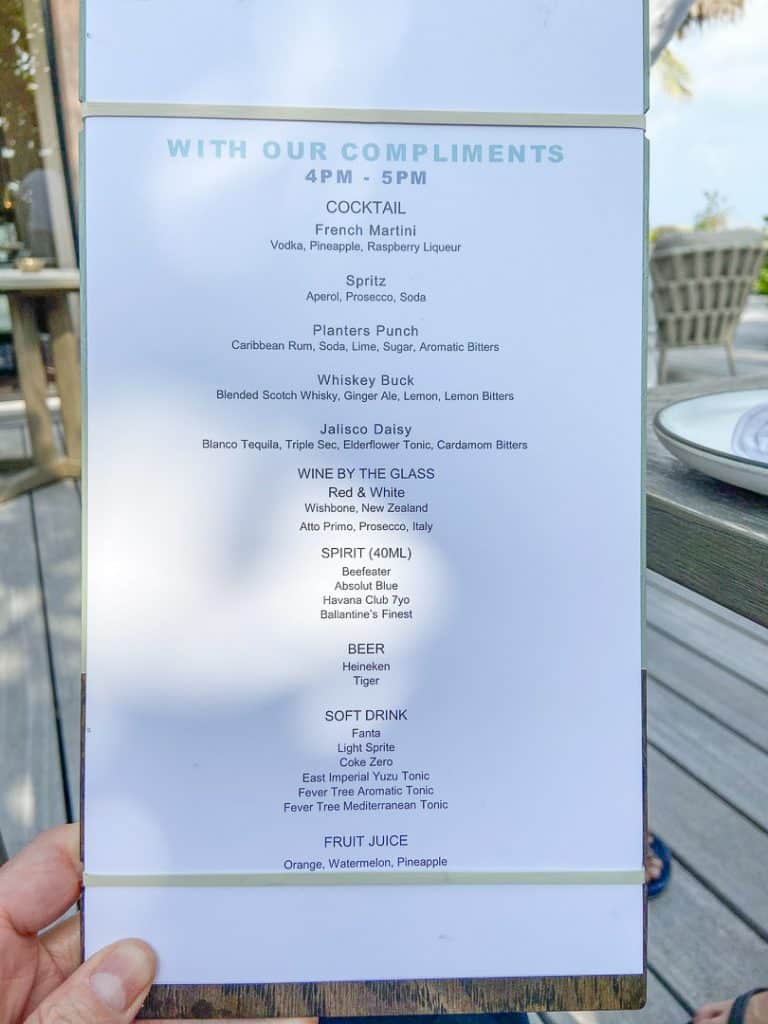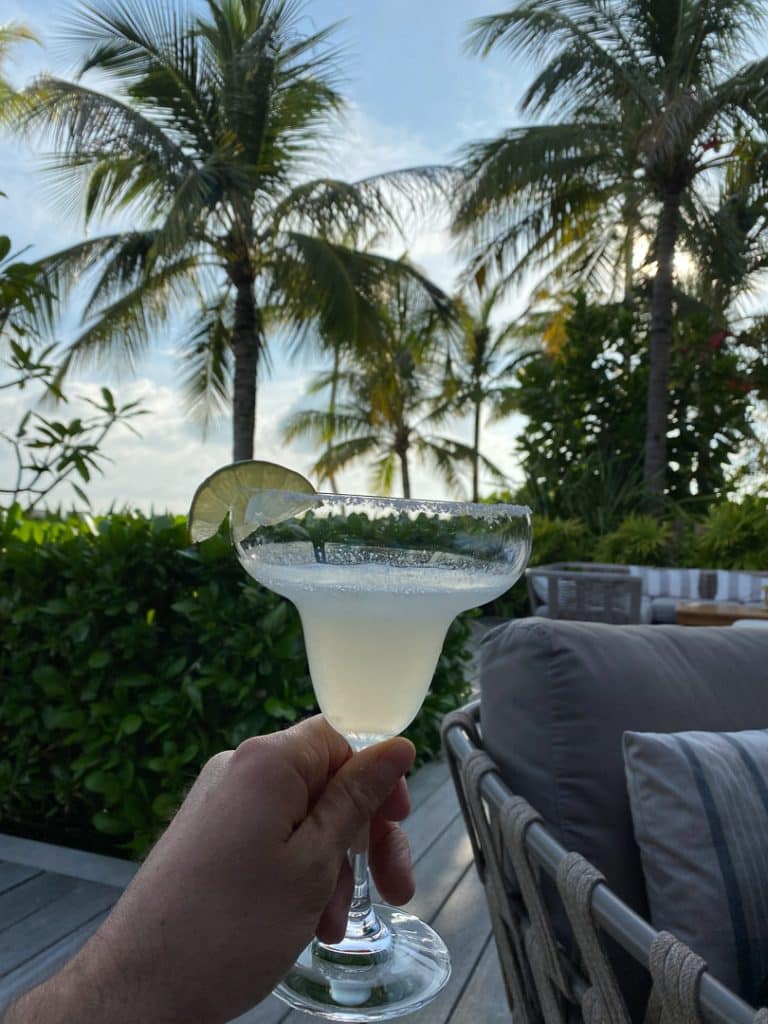 The old menu had a revolving selection of five different cocktails each day and these were not just sugary mixed drinks, they were proper cocktails: the type you'd expect to find at a respectable bar in a major city. There's still a drinks menu now but we were told to just think of it as a collection of suggestions:
However, when you're on holiday, it can be fun to order some silly drinks. The frozen margaritas were good, the ultra spicy margaritas were better and the banana daiquiris were probably as flamboyant a drink as this bar usually serves….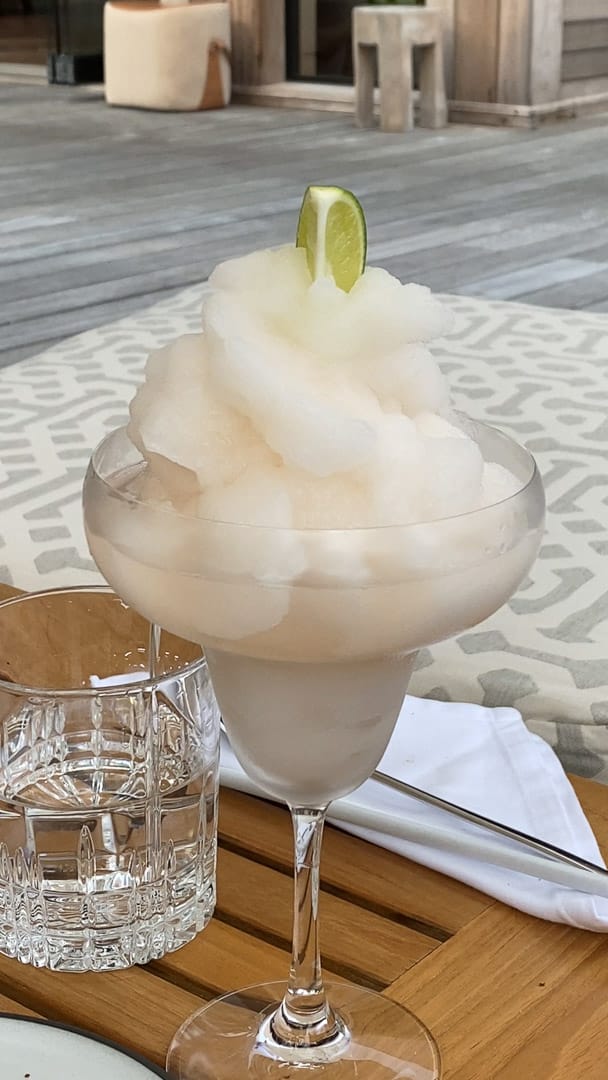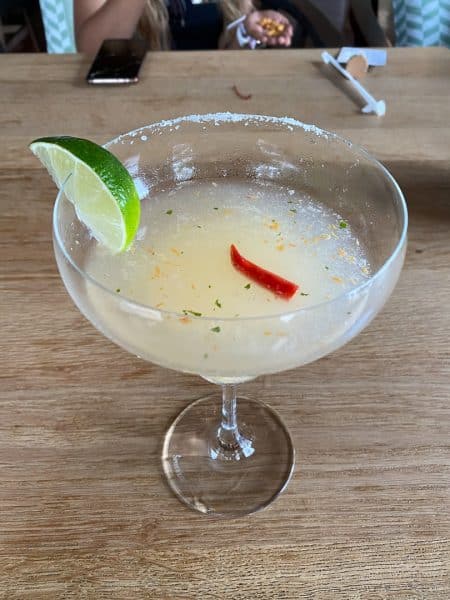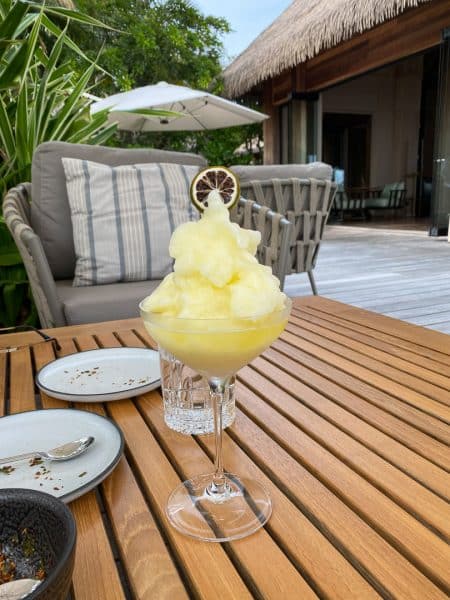 …Until I came up with a challenge for the barman. Ladies and gentlemen, behold: the Baby Yodatini.
Dinner at Yasmeen
Yasmeen is a restaurant that serves Levantine cuisine inside a scale replica of a Syrian village, a concept which is laudably audacious.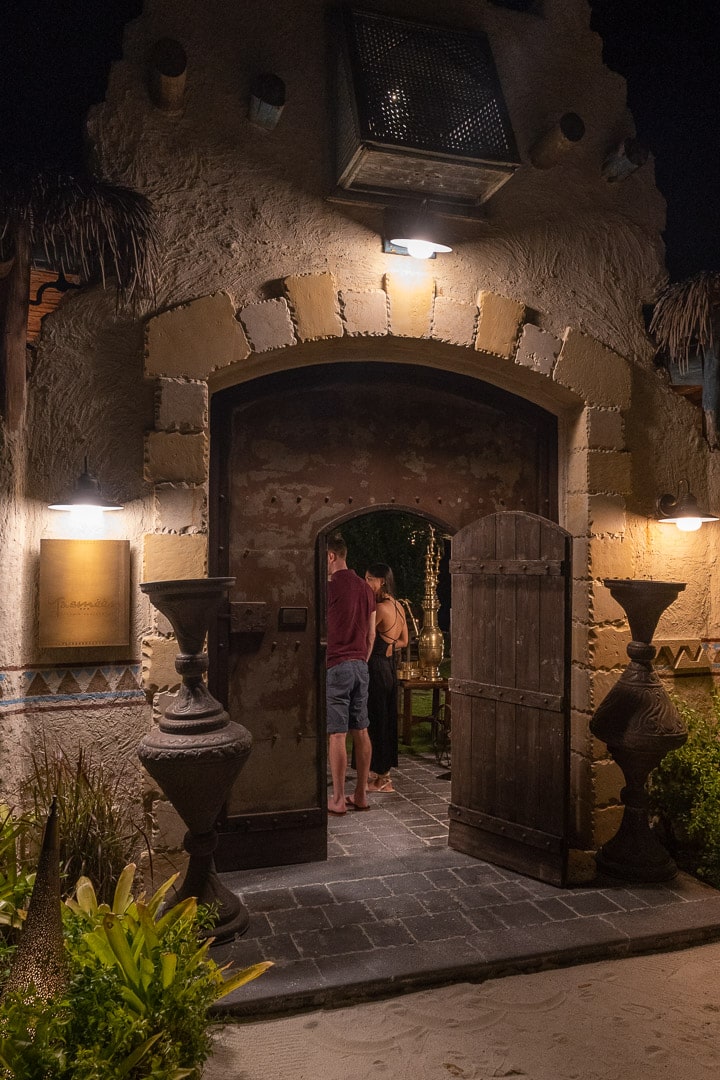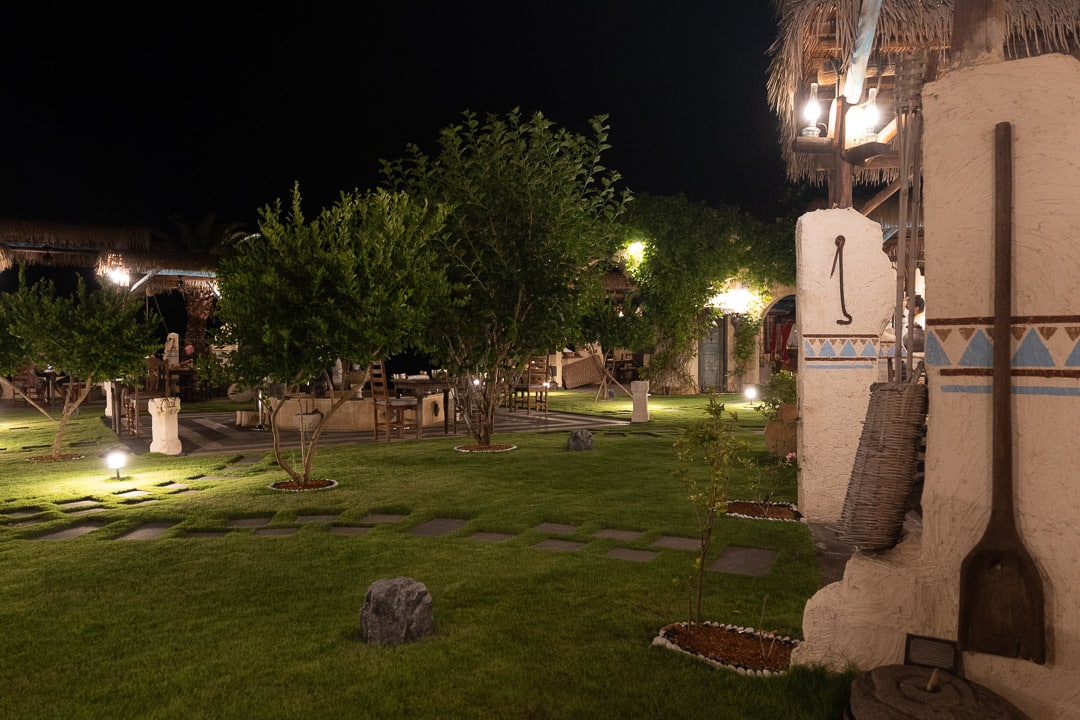 Setting foot in this space is a truly extraordinary experience. It doesn't feel like you're in a restaurant, it feels like you're in a town square; with winding cobble stones, a fountain and multiple different 'houses'.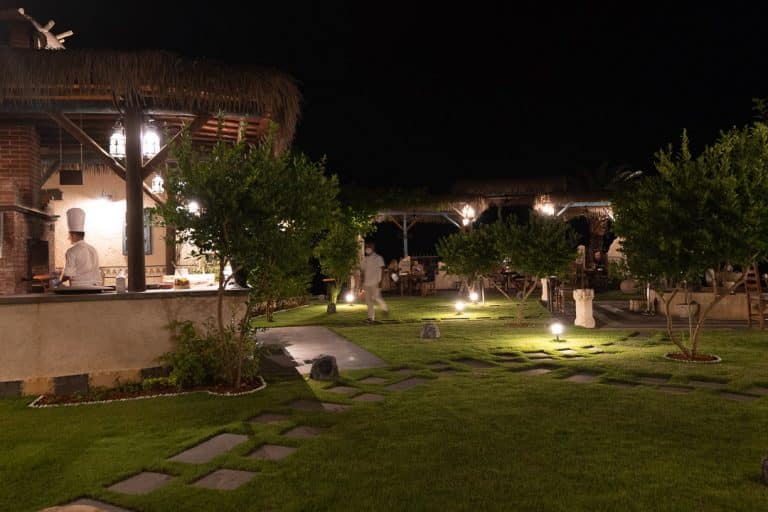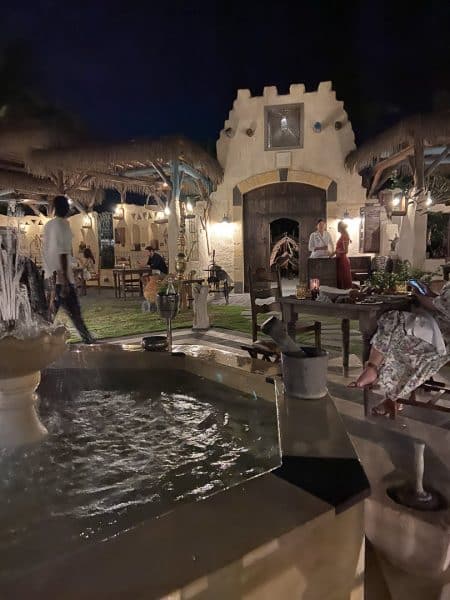 Some might say that this gives Yasmeen something of a Disneyland feel, where showmanship trumps authenticity, but honestly the food is so good that those fears are quickly cast aside.
The only real problem with Yasmeen is that the amount of food served is outlandish. Staff joke about the fact that nobody ever finishes the set menu and this seems unnecessarily wasteful. Why not serve a set menu that people can actually finish?
Interestingly, they no longer price it at $148++ per person, they now price it as $278++ for two. Presumably because a lot of couples were ordering a one person set menu and sharing.
On our return trip, we had dinner with our friends so we were able to split the menu for two between the four of us… and we still didn't finish everything!
Since we visited Yasmeen twice, we were able to try both main course options, seafood and meat: both of which were excellent. The proteins were cooked to perfection and only lightly seasoned to highlight their freshness.
In February, the set menu included a selection of desserts (left) – this has now been reduced to a choice of a single dessert. We went with the Knefe, which was undeniably delicious but perhaps the single richest and heaviest food substance I've ever tasted in my life.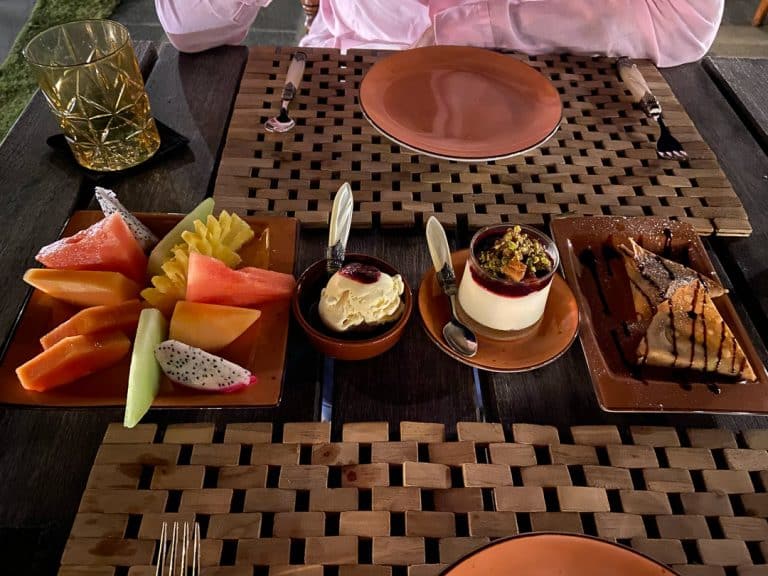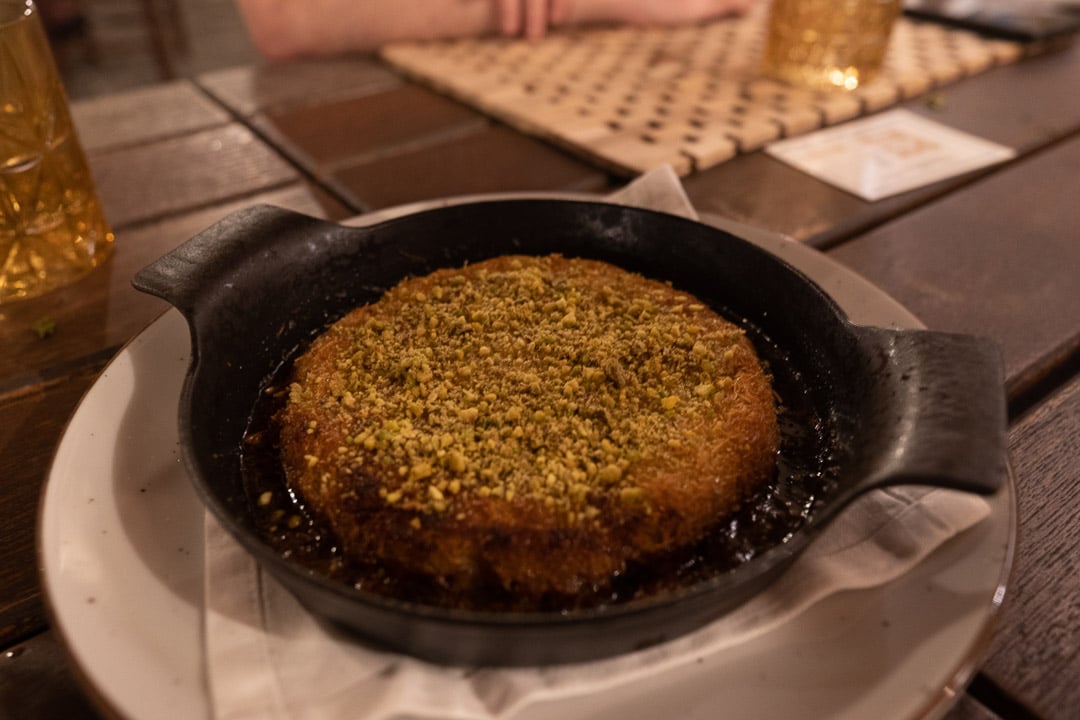 Comparing this to London restaurants, I'd say it's on a par with places like Maroush or Hazev but with far better service and an incredible setting. Obviously the price is high, but by Maldivian standards I felt like we were getting considerably more for our money than in the majority of archetypal beach restaurants.
Dinner at Li Long
Li Long was completely shut during our February visit, at the time this was the only indicator that something was amiss and that COVID was actually having a measurable impact outside of China. On our return trip in November we were keen to give it a try, since the idea of getting proper Beijing duck in the middle of the Indian Ocean sounded amazing.
This was the only proper over water restaurant in the whole property, until the Japanese Shimizu restaurant opened in January of 2021 (right behind our former Villa 107).
There's no mistaking what type of the restaurant this is when you see the roof or the entrance.
I love how the tranquil courtyard facilitates a measured break from the outside world of sand and palm trees, transporting you seamlessly into the ornate and delicate domain of gilded abundance within.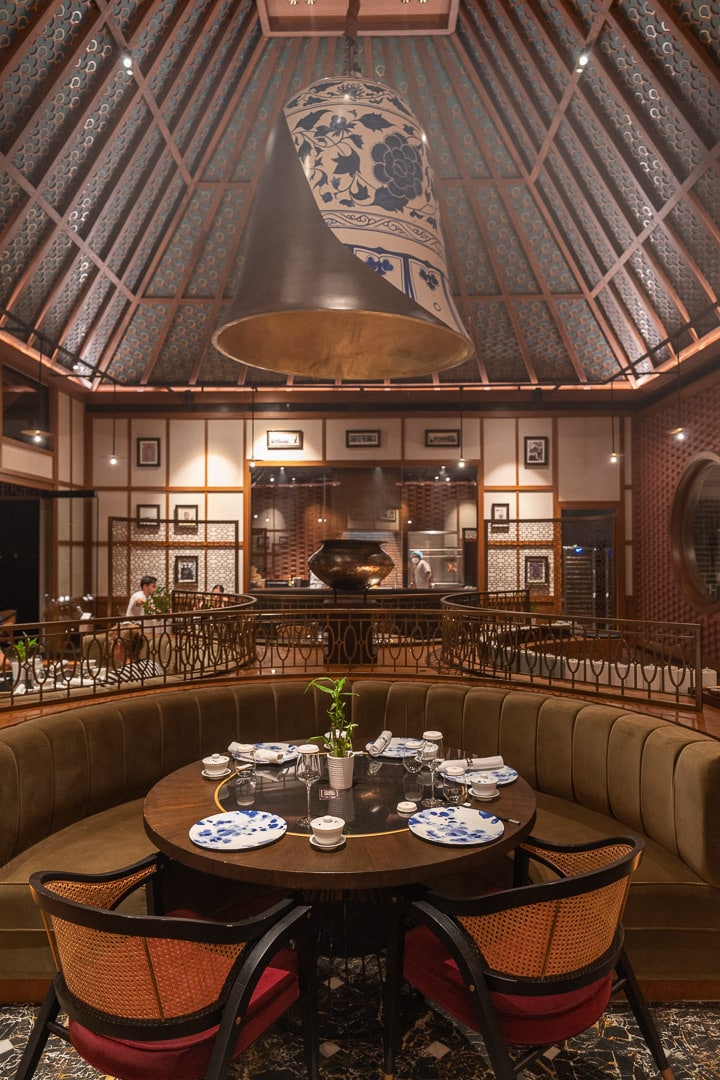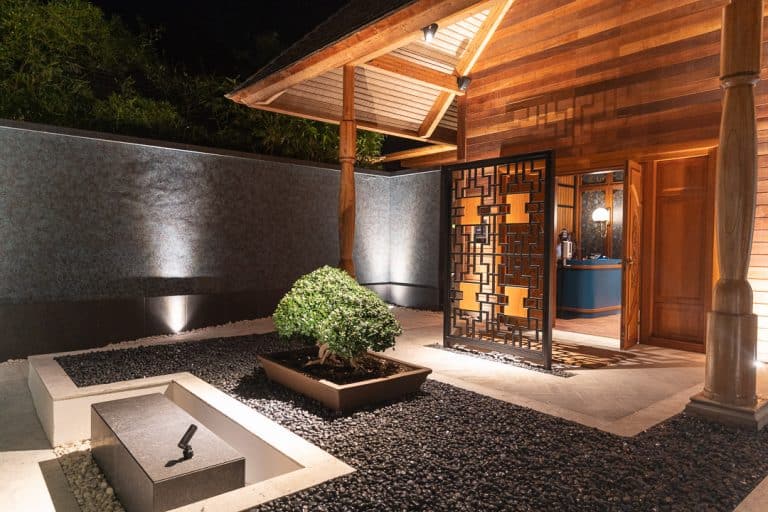 Service was fantastic, as was the case throughout the resort, and menus were provided via QR code – I, for one, am delighted to move on from the world of unwieldy menus with small lamps awkwardly clamped to the top of them.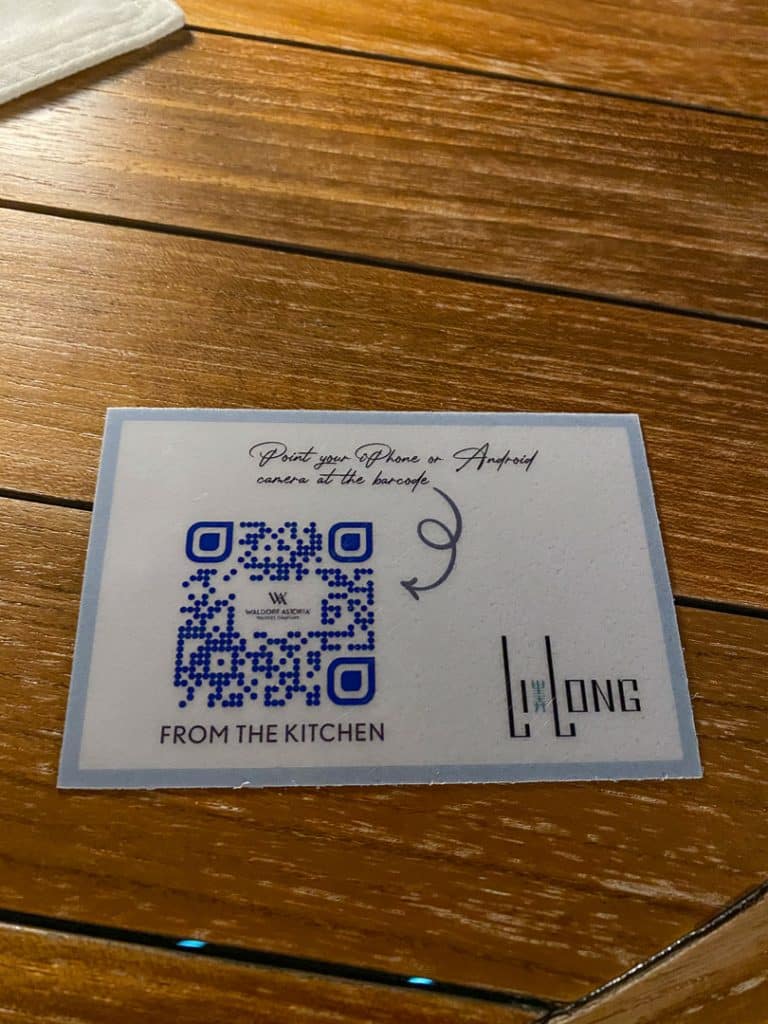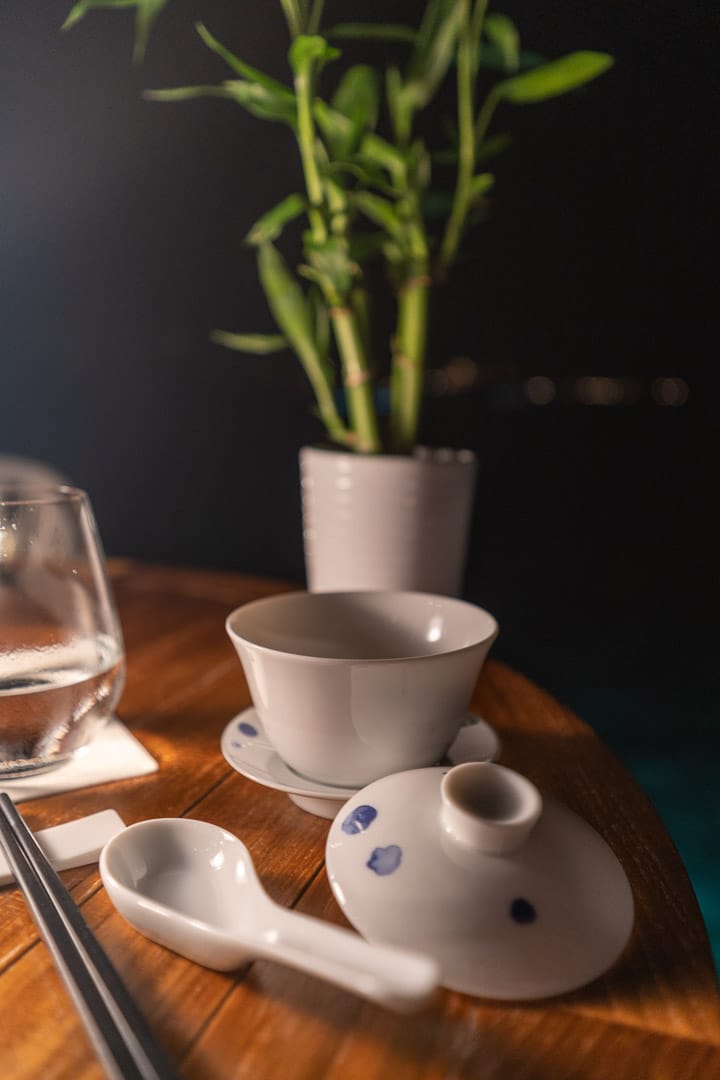 However, the food was average, at best. Twice the price of Hakkasan and half as good, in my opinion. A full Beijing duck for $188++ is already an extremely elevated price, however what you receive is not even the whole duck. You get the two breasts with some pancakes, cucumber and spring onions – that's it. For that price, I'd want everything including the beak.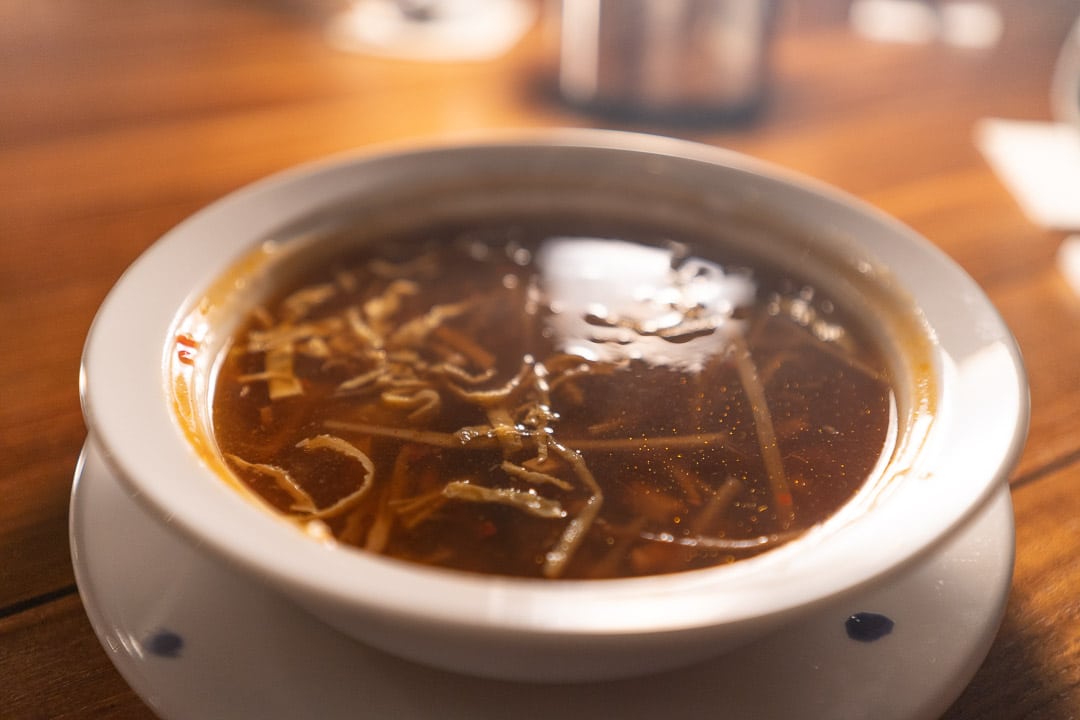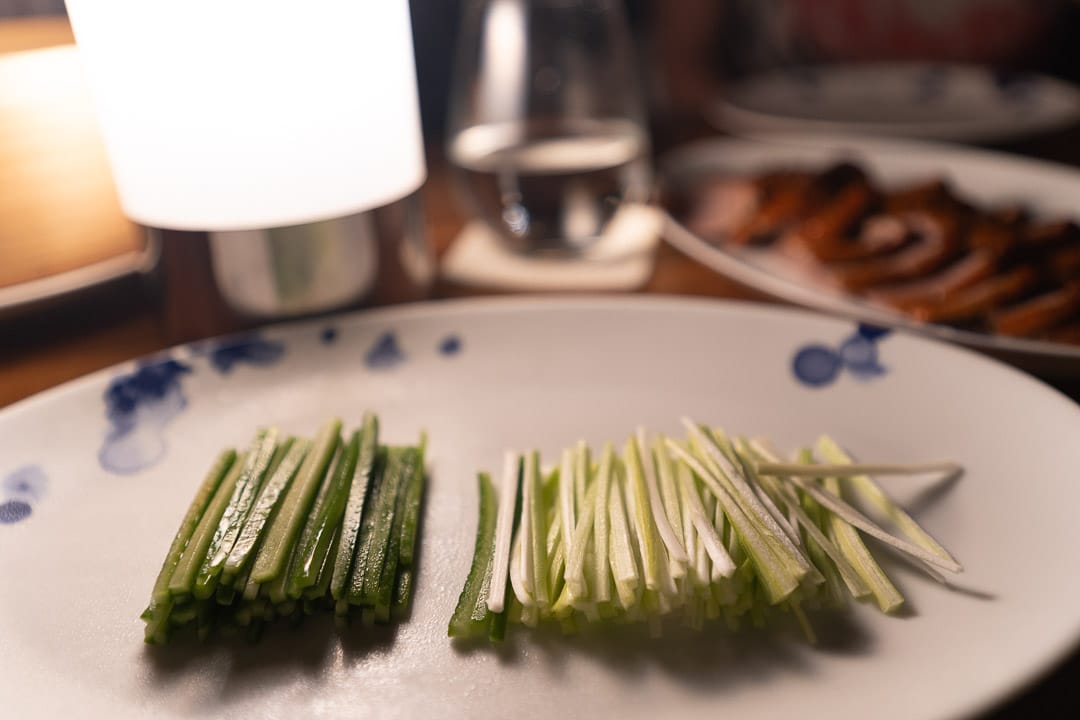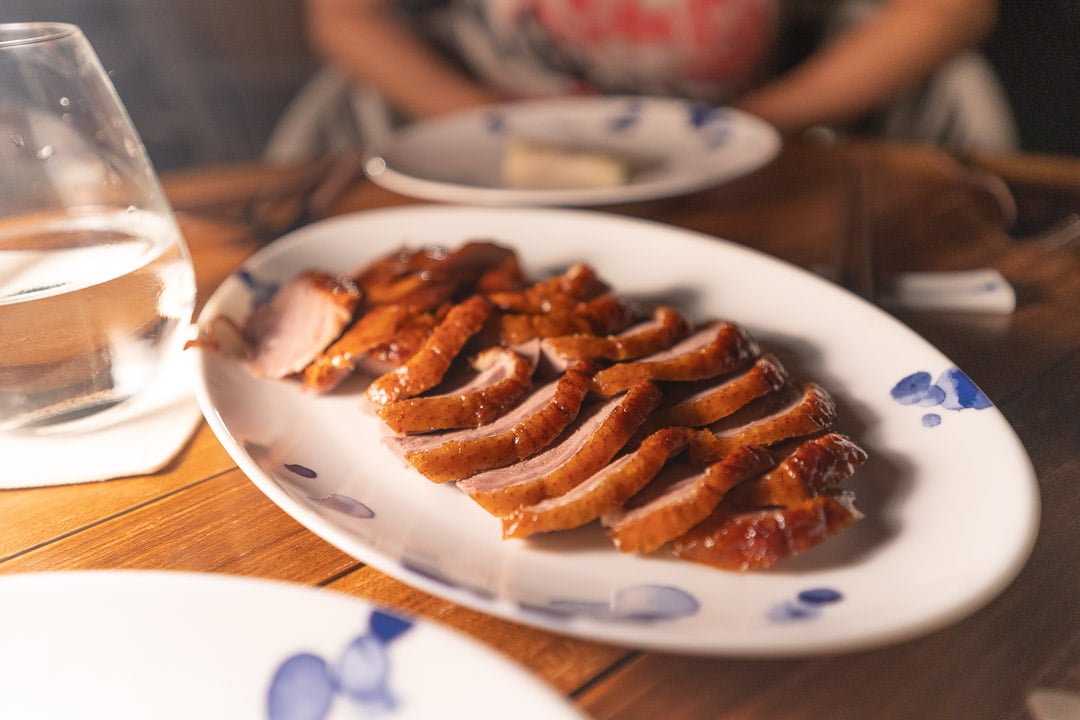 Dinner at The Ledge
A sister restaurant to Michelin starred Burnt Ends in Singapore, The Ledge is arguably the Waldorf's flagship dining venue. It has none of the extravagant decor or lagoon views of the hotel's other restaurants but the food here was easily the best that we encountered during our two stays.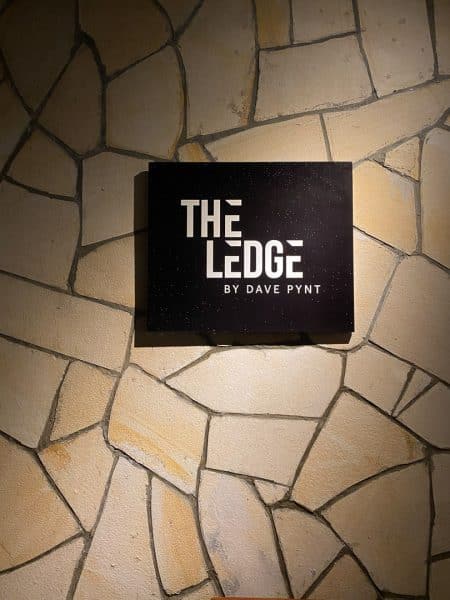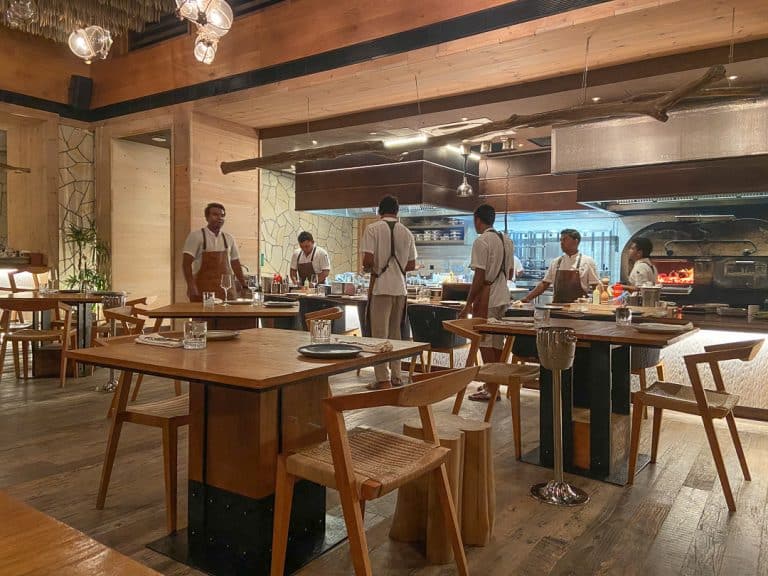 The open kitchen gives a real buzz to the dining room and as such, I would personally recommend sitting inside rather than taking one of the tables outdoors.This is especially true since the outdoor seats only have a view of the family swimming pool.
Despite the lack of an obvious stylistic theme in terms of the decor, I'd say that The Ledge was as adept as Li Long and Yasmeen in making you feel like you were far away from the Maldives.
It genuinely felt more like dining somewhere like ABC Kitchen in New York than a beach restaurant. Since it was so busy, it was hard to get clear shots of the interior, so I had to ask Kamara to be in the frame for my shot of the bar – a bar which produced spectacular cocktails, even better than those at Peacock Alley.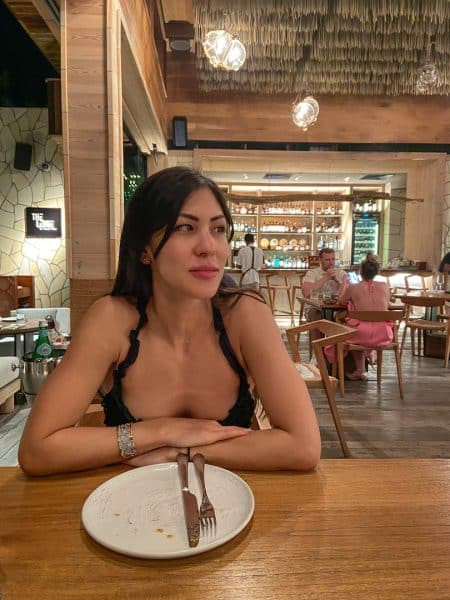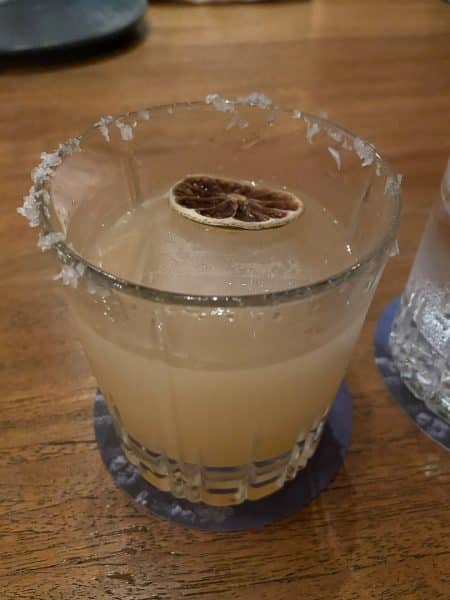 The Ledge's menus don't appear on the Waldorf website since they vary daily, but you should be able to scan the QR code below to see today's menu and prices.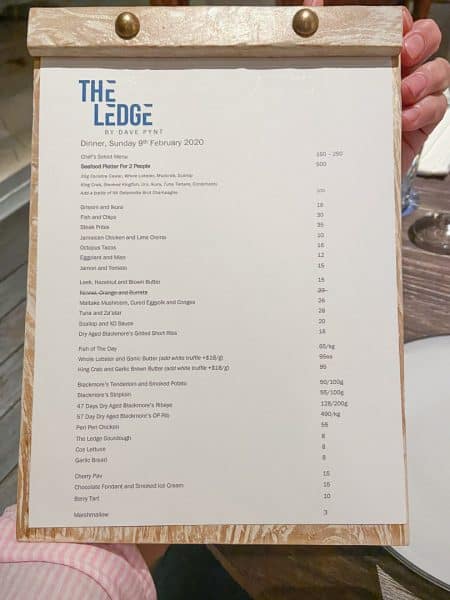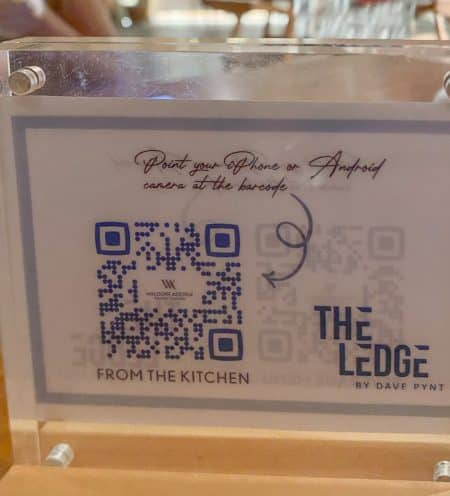 You'll notice that the pricing is all over the place. The top section of the menu contains mostly bite sized portions which vary wildly in size, with some costing as much as a burger whilst barely providing a mouthful of food. The scallops and ikura grisini fall firmly into that category whereas the 'meat marmalade' with pickles was unreal – one of the most intensely meaty and savoury foods I've ever tasted and very filling as a result.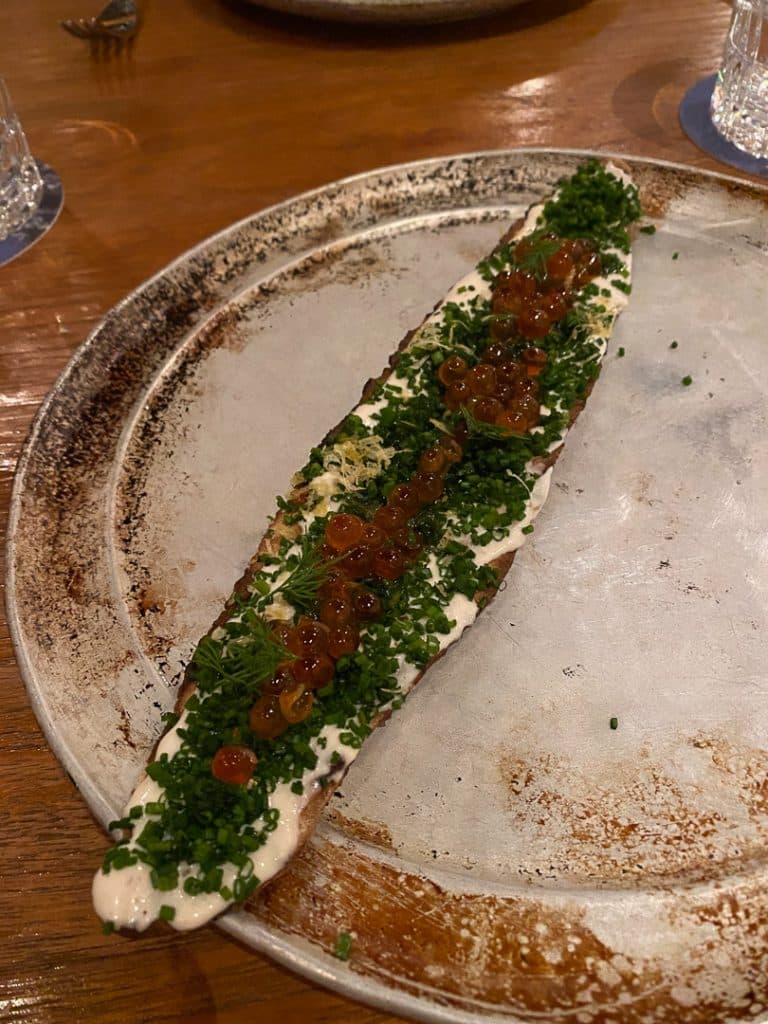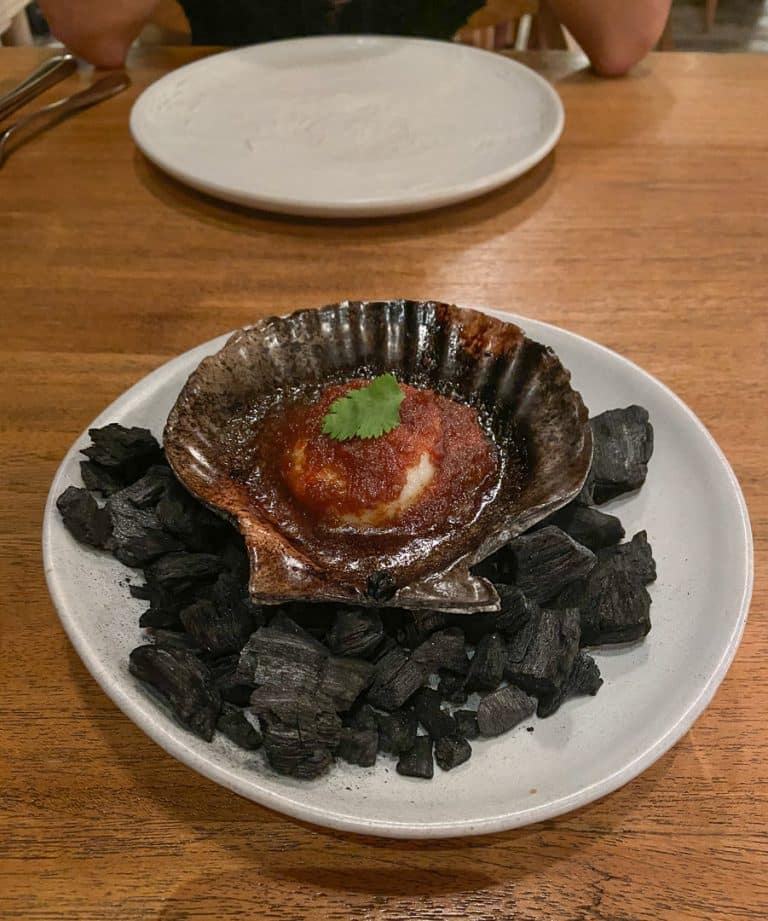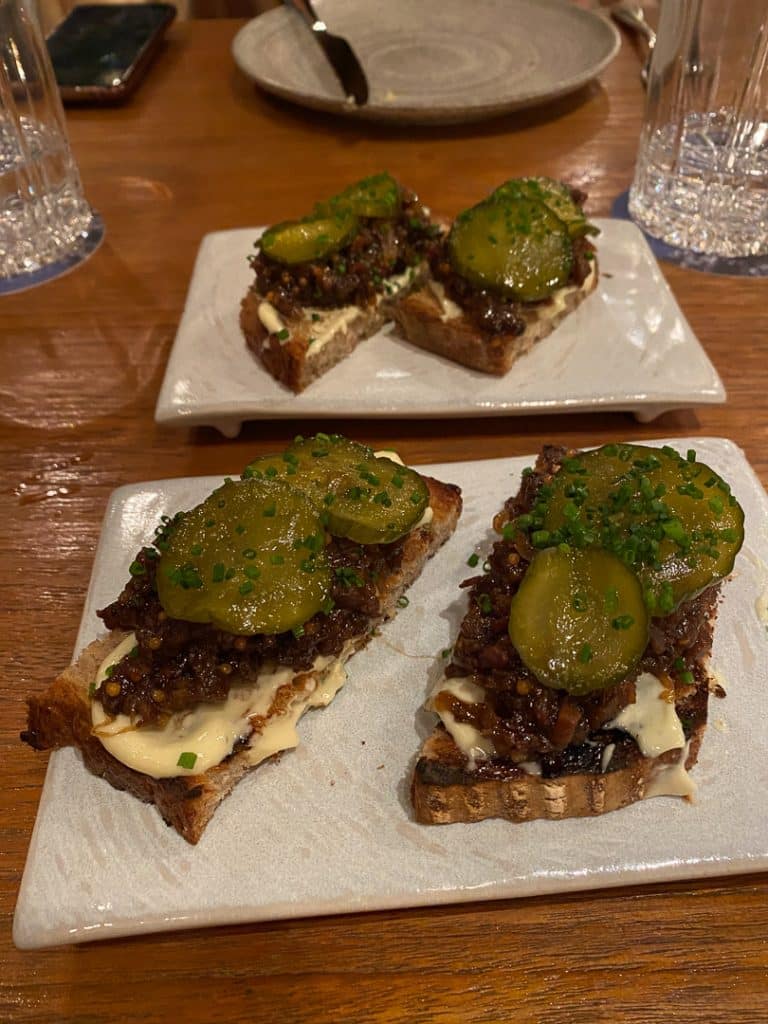 The absolute star both in terms of flavour and value though were the grilled short ribs that featured as a starter for $18++ on our very first visit in February. Not only was this a sizeable portion of food, the price was orders of magnitude lower than the the $490/kg quoted for the 57 day aged OP rib from which they were cut.
The short ribs were so good that I had to DM Dave Pynt himself to explain how much I loved them before flying back for our November visit.

Dave's a very nice guy and we chatted for quite a bit after this about life, travel and of course meat.
I then received this via email from the Waldorf concierge, a few weeks later, the night before we headed back to the resort:

Quickly followed by this:
Obviously this isn't going to be typical of everybody's experience and I definitely wouldn't suggest inundating Dave with unsolicited DMs before your visit. However, I have to say that its a real credit to the guy that he took time out to ensure that a return guest had a great experience at one of his restaurants.
When we arrived, we were immediately greeted by the head chef and made to feel like true VIPs with an assortment of starters, and later desserts, sent to us compliments of the house. Speaking to other guests, it seems like this type of welcome is not unusual. They go out of their way to take care of repeat visitors here, much like you'd expect in a 'regular' restaurant.
This is partly what gives The Ledge its fantastic atmosphere, it feels like a 'proper' restaurant where staff have a real rapport with guests – which is something that I can't say about many other resort restaurants, anywhere in the world.
Anyway, I've digressed. In terms of main courses, we almost always went with freshly grilled fish because it was locally caught, absolutely delicious… and 1/10th the price of the steaks. I don't doubt that a 1kg OP steak would be absolutely spectacular but I've eaten similarly sized Bistecca Fiorentina at top restaurants in Florence for 65EUR – parting with nearly eight times that just seemed insane.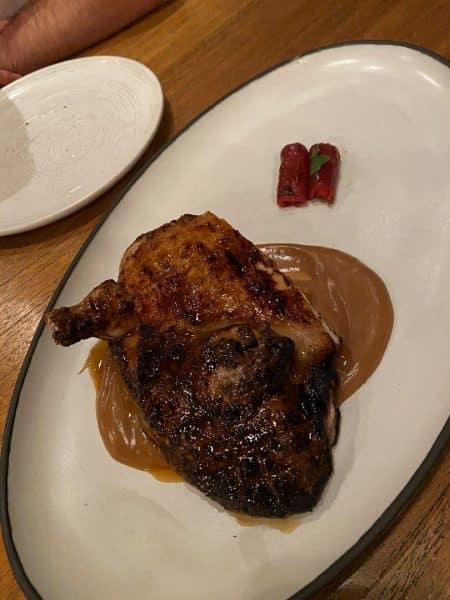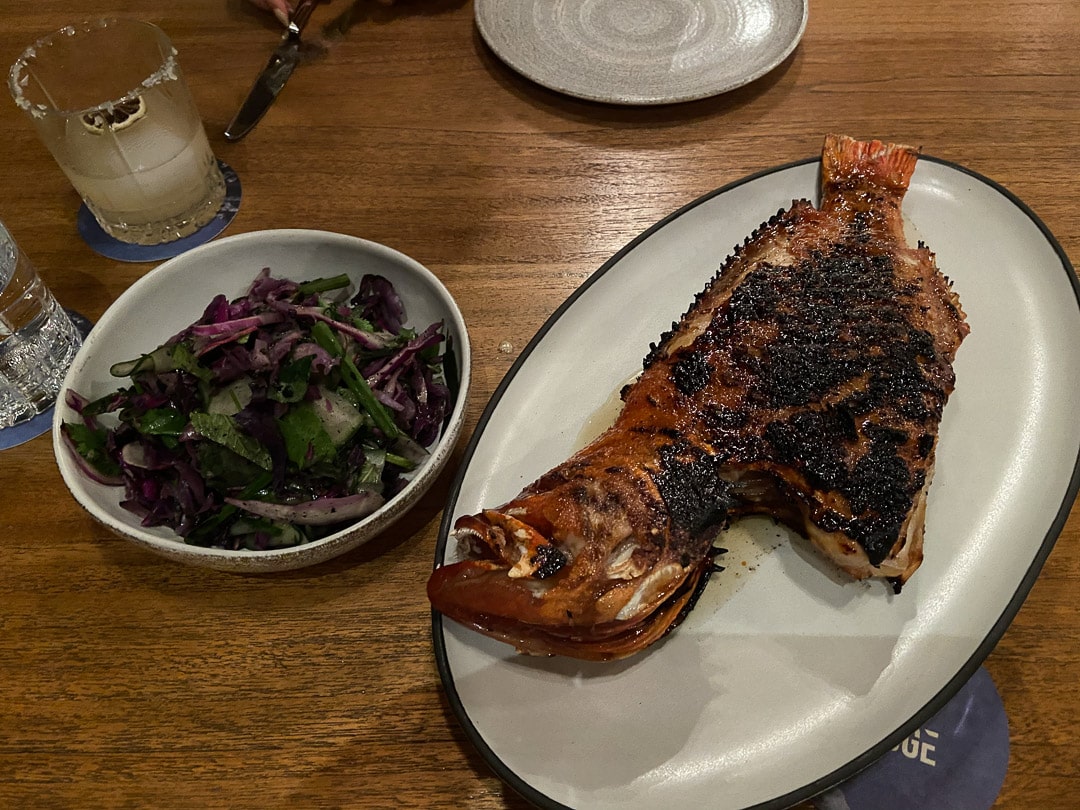 One meat based main course that we did try was the Peri Peri chicken. This was good but there's only so much you can do with the most boring meat in the world. Was it better than Nando's? Yes. Was it 6.5x better than Nando's? No. But then again I can't imagine any chicken is.
With this being an Australian BBQ restaurant, we couldn't resist trying the lamb chops the day that they appeared on the rotating menu. These were delicious and offered decent value at $55++ for 4.
Burgers aren't on the evening menu but the chef mentioned to us that they were one of The Ledge's signature items and that we should give them a try. I'm glad that he did! They were absolutely delicious and cooked to a perfect medium rare. The price was $32++ each.
The desserts that we tried were all delicious and I particularly loved how they added a smoky barbecued flavour to the meringue and marshmallows – I've never tasted anything like it. Even when we were super full, we'd always order at the least the marshmallows to finish the meal.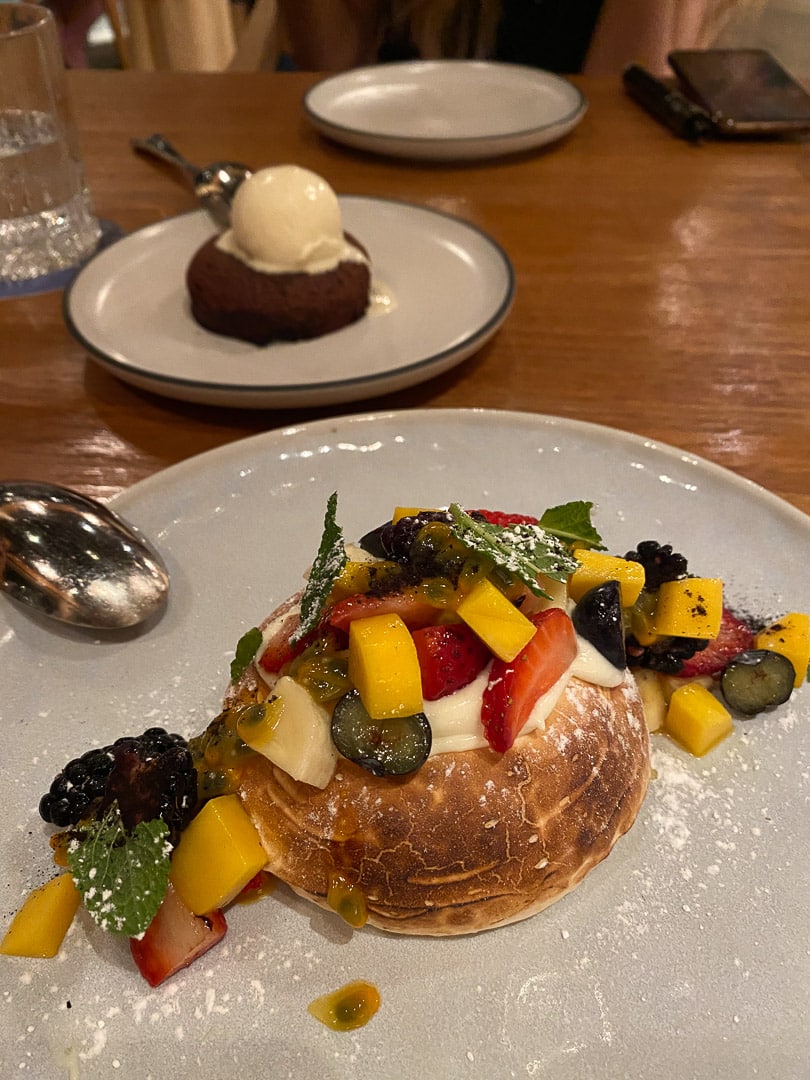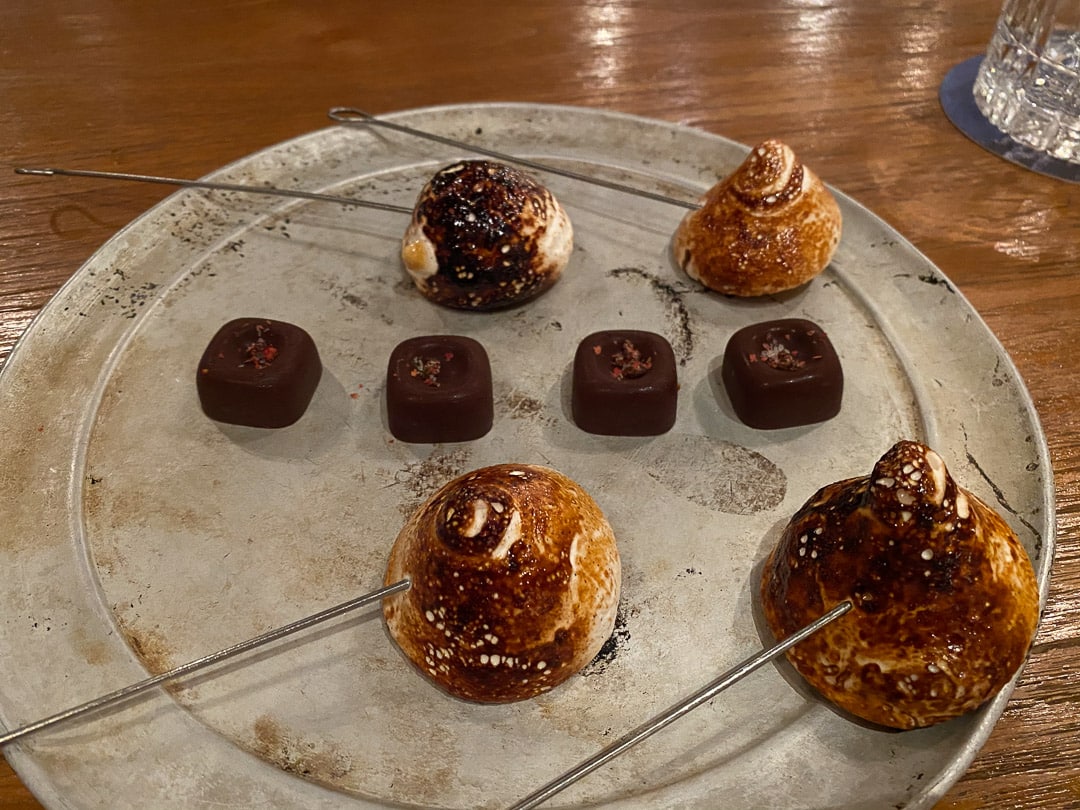 Room Service Dinner
I figured it would be a real shame not to take advantage of the beautiful outdoor deck of our villa. It's hard to imagine a more perfect setting for a private, romantic dinner. Service was super quick, the presentation was excellent and we were able to enjoy our welcome bottle of Delamotte alongside the meal. Why go out when 'eating in' is this good?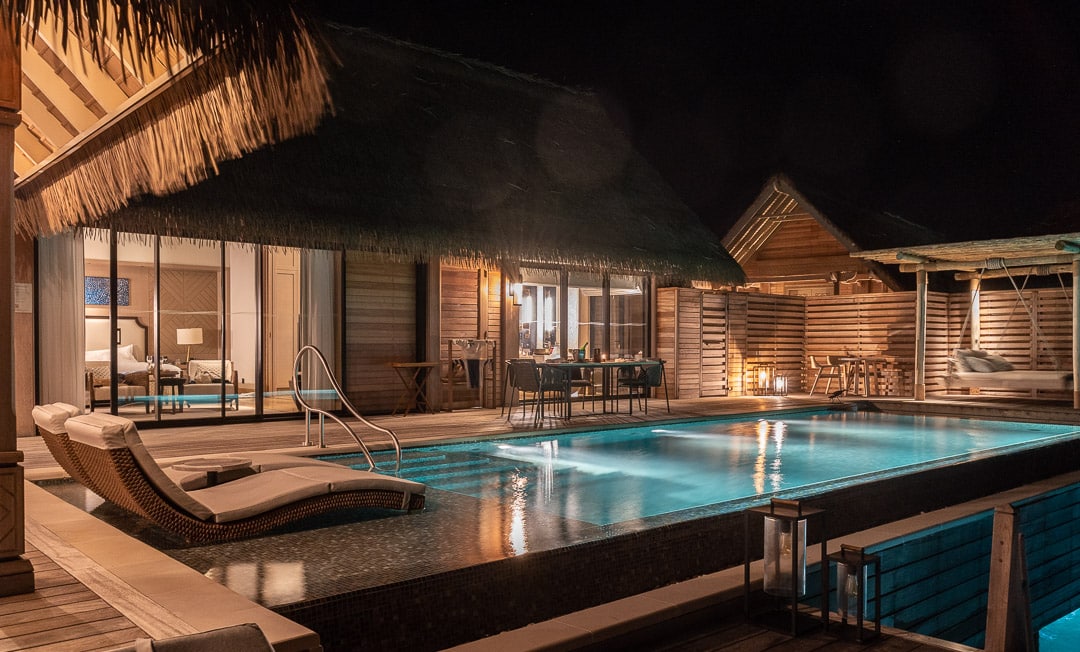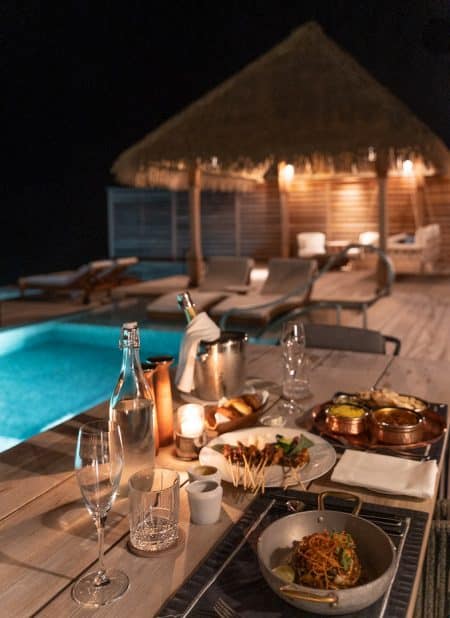 Other restaurants
We never bothered with lunch since breakfast was enormous and temperatures north of 30℃ really aren't conducive to developing an appetite.
People rave about the pizzas at Nava Beach Club at lunch time…but we never ate lunch. We were tempted to head there for a nightcap after having dinner at The Ledge next door, since Gold/Diamond guests get half price drinks there…but we ended up being lazy and just having cocktails at The Ledge since they were so good.
There were also a few restaurants that we had zero interest in for dinner. Tangled was so universally panned that it was completely shut down in mid-2020.
I don't see the appeal in eating a set menu in one of these at Terra, when you can eat whatever you want on your villa deck, which is far more of a private dining experience.
Glow is the resort's 'healthy' restaurant. Apparently, the best way to stay healthy is to eat tiny portions which cost the same as large ones elsewhere…
There is also a dining venue called The Rock, which offers a menu at a set price of $750++ per person. You can view a sample menu here on Flyertalk. It includes a wine pairing of several wines which retail for around £10-£25 per bottle in the UK. This is not something that appealed to me.
---
Conclusion
---
Basics Checklist
☑︎ Power sockets near the bed
☑︎ Easy to understand light switches
☑︎ Coffee machine
☑︎ Separate shower and bath
☑︎ Blackout blinds
☑︎ Stable, fast and free Wifi
☑︎ Feather pillows
X Quiet and powerful aircon
(we had issues on both stays with the A/C switching off)
Nine months after our initial visit, we returned for another four night stay. This fact alone should tell you a lot.
If you're booking this hotel using points (like we did), it's a complete no brainer. The villas are utterly spectacular and no other chain hotel on earth comes close to this in terms of value when redeeming loyalty points.
The cost of food and drinks will add up, as will the yacht transfer but overall on a 5 night stay, I struggle to see how you could equal this experience, at a lower cost. The value is undeniable, especially if you are earning your points for free rather than paying cash for them when they go on sale.
Using hotel points you used to only have access to hotels offering beach villas or tiny overwater villas with a small plunge pool. This is slowly changing with the Intercontinental and JW Marriott both offering overwater villas with a pool as standard. The W has now also altered its categories so that overwater villas are the standard points room too.
Still, all of those rooms pale in comparison to the Waldorf. Indeed, you'd struggle to find a more impressive standard room anywhere in most major chain hotels in the Maldives.
I personally find the island to be a little sterile and missed going out onto a sandbank or a wild stretch of beach, but I know that this isn't a priority for everybody. Similarly, the reef – whilst undeniably improving over time – is still no match for those you'll find further afield in the Baa or Raa atolls for example.
Service was superb throughout the resort and our island host Shawki was particularly excellent, really going above and beyond for us.
***
If you're booking with cash (as many people will be, given the extremely limited points availability). Many rates do include half board and even free yacht transfers, given the standalone cost of paying for these, this is phenomenal value – particularly since we've been able to offer this to our clients all the way from April to early December!
If you want to consider another resort accessible by boat, both One & Only Reethi Rah and Four Seasons Kuda Huraa fit the bill and we are able to offer our guests a wide variety of booking benefits at both.
However the transfers aren't as luxurious and the entry level rooms are nowhere close to the level of the Waldorf.
***
With the opening of the Waldorf Astoria Maldives, the WA band has finally found a true global flagship. The Waldorf Astoria Platte Island in the Seychelles, due to open in 2023, will certainly be looking to stake its claim however…
---
Book Waldorf Astoria Maldives Ithaafushi with Hilton Impresario benefits
---
As a Hilton Impresario agency The Luxury Traveller is able to offer the below extras on bookings at the Waldorf Astoria Maldives:
$150 resort credit per stay
An additional 10 Hilton Honors points per $1 spent
Welcome amenity
Complimentary breakfast for 2
Complimentary villa upgrade (subject to availability at the time of check-in)
We make our guests' Impresario bookings directly with Hilton. This means that all Hilton status benefits are honoured and points are earned (with a huge extra uplift!).
Outside of the peak season we can usually offer the below extras (on bookings of 4 nights or more):
Complimentary half board (breakfast and dinner)
Complimentary transfers
If you aren't sure which resort to choose and would like our advice, please fill out our quick & easy Maldives form and we'll match you up with your perfect property!
---
More Maldives Reviews
---
We are a luxury travel agency specialising in the Maldives, with plenty of first hand experience!
Here is a selection of our most recent Maldives hotel reviews:
---