This may well be the most insanely luxurious trip I have ever taken, using miles and points.
From the moment that I first laid eyes on the press release for Etihad's apartments, I knew that I would have to find a way to try this product as soon as humanly possible. The idea of having a bed, armchair, fridge, lamp, widescreen TV, wardrobe and vanity area for every passenger in First Class was just unimaginably amazing. I had a horrible feeling that Etihad would limit availability or crank up the price to some ridiculous level (like Singapore did when they first introduced suites to the market), however none of that turned out to be the case.
Before the 2015 award chart devaluation, AA offered First Class flights on any Oneworld or partner airline (including Etihad), between Europe and the Middle East for 40,000 miles one way. An incredible value. I was able to book return flights between London and Abu Dhabi at this rate.
The cost nowadays is still a very reasonable 62,500 miles but for 40,000 they were more or less giving the flights away.
[This particular spot on the AA award chart is one which I have made use of in the past with this trip: QF vs QR Showdown. I've also used it a couple of times since the price change…]
How did I get all of these AA miles?
I earned the AA miles by flying business class between London and New York, on a number of occasions, at a price of £350 round trip. You can read about my experience of "The Viking Fare" here: The £350 return business class trip to New York.
That LON-NYC airfare really set me up for a number of months to follow. I earned Executive Platinum status with AA and amassed over 100k AA miles for around £2100, in addition to flying to the US six times in business class. One flight alone earned me 46,750 miles as it took place during a transatlantic points promo with AA. Put into context, that means I got a round trip in business class from New York to London and a one way flight in an Etihad Apartment (and 6,570 miles left over) for £350!
Sure, I could have just tried Apartments between LHR and AUH but whenever I'm faced with these kinds of situations I always remember the (paraphrased) words of Hunter S Thompson and aim to push things as far as they will possibly go…
When redeeming my AA miles I always try to follow these rules:
Add free connections of under 24h, to enjoy more destinations on a single trip
Add free connections across entire regions to maximise flight time in premium cabins
Add free connections in order to try more than one new product or airline on a single trip
Abu Dhabi is all well and good but an extravagant flight requires an equally opulent destination and when it comes to picture perfect paradise, nowhere on Earth holds the undeniable allure of The Maldives. I was able to add business class flights on Etihad to Male for free – this would enable me to not only fly to an amazing new country but also to try Etihad's regional business class as well.
So, I had the outline of a journey but nowhere to stay. Hotel prices in the Maldives can be absolutely stratospheric. Taxes are high, everything has to be imported from overseas and the level of hardware available in some of the hotels is absolutely extraordinary. Not to mention the fact that most resorts require an expensive seaplane transfer as well.
5* resorts tend to begin at $700 a night, for an entry level room, and prices can absolutely skyrocket during peak times.
Thankfully, the majority of hotel points programs have a fixed cost for rooms. This means that during off-peak times the value of your points is lower, conversely during peak times the value you gain by booking rooms with points can be outstanding.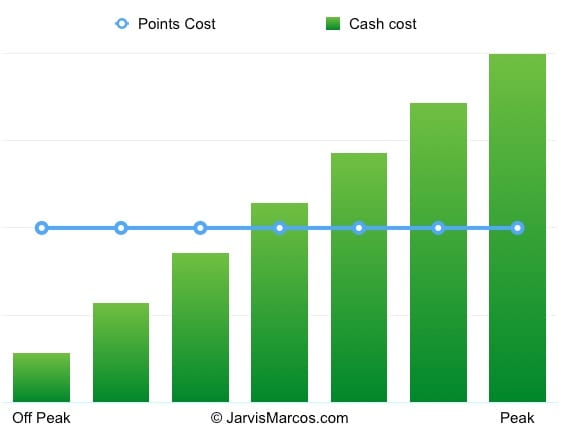 Which resort did I pick for our stay? The Conrad Maldives Rangali Island. I did this for several reasons:
1. I hold Hilton Diamond status, which I gained as a result of holding Hyatt Diamond status, which I gained as a result of holding Accor Platinum status. How did I get Accor Platinum status? Via my UK American Express Platinum card. Whilst it may seem like I'm 'gaming the system' by getting these hotel statuses (I most definitely am), the relationship works both ways. As a result of my Hilton status, I very often choose Hilton hotels, even if they're ostensibly more expensive than other chains, thanks to all the additional benefits I gain when staying.
Diamond status at the Conrad Rangali comes with the following benefits:
A bottle of sparkling wine plus fruit and chocolate platter on arrival
Complimentary Daily Breakfast (7am-11am)
Complimentary Daily Afternoon Tea (4pm-5pm)
Complimentary Daily Happy Hour (5pm-6pm)
Given the cost of food and drink in the Maldives the value of these benefits is immense. Whilst upgrades are not guaranteed at this hotel, Diamonds are still upgraded whenever possible.
[Hilton Golds get all of the above except for the sparkling wine, instead receiving a bottle of still wine. Their chances of an upgrade are also much slimmer than for Diamonds. Nevertheless, given that Hilton Gold status comes for free with the UK American Express Platinum card, the annual card fee can more than pay for itself in the first two nights of a stay at the Conrad Maldives.]
2. As a result of many recent stays I had accumulated quite a stash of Hilton Honors points but not quite enough for this stay. As luck would have it, at the time that I was putting this trip together Hilton had a sale on points, a sale which would permit me to buy the remainder of the points I needed at 0.5¢ each (this is something that Hilton does a couple of times per year).
The cost of the Conrad Maldives is 95k points per night, regardless of season – so buying the points outright, even if you have earned none the traditional way, would make for an equivalent room cost of $475 per night. However, there's a further benefit for anybody holding elite status with Hilton (Silver, Gold or Diamond): If you stay 5 nights, using points, you only pay for 4. This brings the cost down to 380,000 points, or thinking of it another way: $1,900 for 5 nights = $380 per night.
Let's compare that to the cash cost for next Easter:
Ultimately I was able to secure a stay at the Conrad Maldives, over the Easter holidays, including daily cocktails and canapes, afternoon tea and breakfast – on a fully flexible basis – for 38% of the lowest cash price per night. Bear in mind that the lowest cash price is a sale rate which cannot be altered or cancelled and needs to be prepaid fully in advance, whereas Hilton points bookings can be cancelled and amended to your heart's content. Furthermore, an ordinary member of the public would be looking at an additional $200 per person per day to cover the cost of the extras that come with the Hilton Gold or Diamond status.
I looked around for a few weeks trying to see if there was any way to put together a similar value for anything approaching this price point but nothing came remotely close. Also, whilst I was aware of the fact that the Conrad Maldives is excluded from the standard Hilton upgrade policy, which more or less guarantees you an upgrade, I had a feeling that my chances were good…
3. Aside from the points and status reasons, the Conrad Maldives is a great resort in its own right. It is really big, so big that you can stay here for two weeks and not get bored. For somebody like me who prefers to always be doing something, this sounded ideal.
The resort has a reputation for having one of the best house reefs in The Maldives; it has two enormous and distinct islands, each with their own unique atmosphere; there are a multitude of dining and drinking options plus the accommodation goes from the standard beach villas all the way up to overwater villas with their own pools, bungalow and speedboats.
If a resort is able to fill villas of that category, villas which command north of $20,000 a night, its training service standards have to be absolutely on point.
Make no mistake, this trip report is a labour of love. Half the reason I took months out of writing, in order to build this website, was so that I would have the necessary framework to document this trip to its fullest. So sit back and enjoy the ride… it's going to be a good one!
---