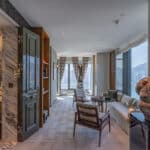 REVIEW – Rosewood Hong Kong
August 21, 2023
Four Seasons Maui package – Maui Strong
The Luxury Traveller is honoured to be a top Four Seasons Preferred Partner agency, offering exclusive Preferred Partner benefits to clients.
For any new bookings between now and 15 December 2023, our guests can book Four Seasons Maui at Wailea with Preferred Partner benefits, while simultaneously contributing to the island's recovery. Up to USD 200 per night will be donated by Four Seasons directly to the Maui Strong Fund.

Stays must be taken by 15 December 2023 in order to qualify.
Has Four Seasons Maui been affected by wildfires?
Thankfully the Four Seasons Maui property did not suffer any damage as a result of the Maui wildfires and all access roads are in perfect working order.
Unfortunately many travellers have cancelled bookings at hotels across Maui, assuming the worst. This is adding a further negative economic impact to the physical damage caused by the wildfires.
The message from hotels across the island is clear: a rebound in tourism will be a vital component in Maui's recovery efforts
How much will be donated and what is Maui Strong?
Maui Strong is a fund that has been created by Hawaii Community Foundation (HCF), an organization that invests in the community to create a better Hawai'i.
The Maui Strong fund has been created in direct response In response to the Maui wildfires , Hawaii's most severe natural disaster ever.
All donations support needs including shelter, food, and financial assistance for those impacted by the fires.
Four Seasons will make donations to the Maui Strong fund, in accordance with your booked room rate:
USD 200 donated to Hawaii Community Foundation's Maui Strong Fund

per paid night

in the following accommodations: Ocean-View Prime Suite, Ocean-View Prime Four Seasons Executive Suite, Garden-View Suite, Deluxe Garden-View Executive Suite or Garden-View Executive Suite
USD 125 donated to Hawaii Community Foundation's Maui Strong Fund per paid night in the following accommodations: Club Deluxe Ocean-View Room, Club Ocean-View Room, Deluxe Ocean-View Room, Ocean-View Room, Deluxe Garden-View Room, Garden-View Room or Mountainside Room
Four Seasons Preferred Partner guaranteed upgrades in Hawaii
In addition to this wonderful initiative, clients of The Luxury Traveller are entitled to guaranteed upgrades at the time of booking at Four Seasons properties in Hawaii:
Guaranteed upgrade offer applies to:
Standard FSPP benefits apply in combination with the above offer
How to book Four Seasons Maui on the Maui Strong rate
If you'd like to book this Four Seasons Maui offer with our Preferred Partner benefits attached, please contact us below with your preferred booking dates, room type and number of guests (including ages for any children).
We look forward to helping you plan your Four Seasons Maui stay!