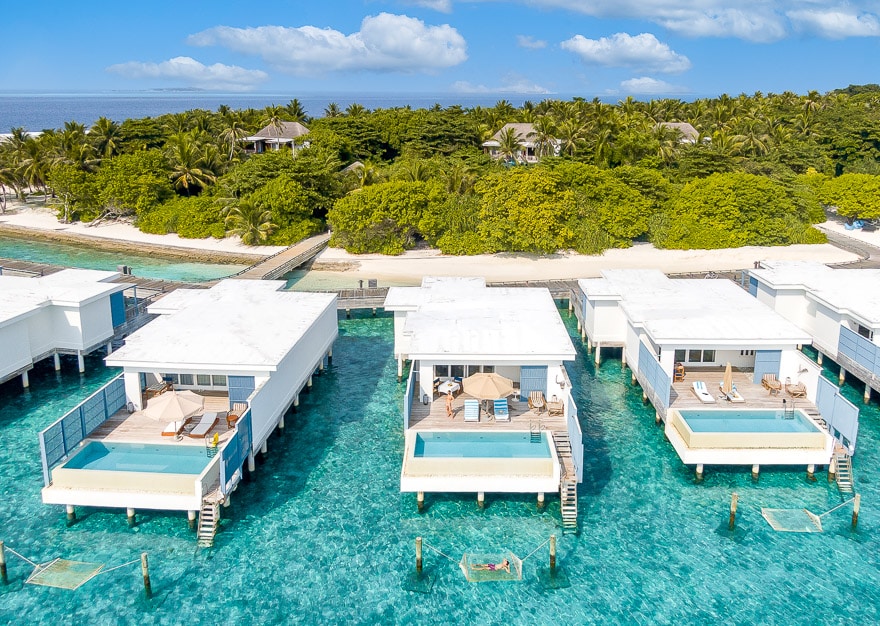 2023 OFFER – Half Board and 30% Off at Amilla Maldives
August 10, 2023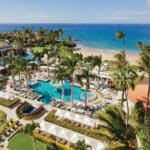 Maui Strong – Four Seasons Maui Offer
September 9, 2023
Rosewood Hong Kong
Room Type: Grand Harbour Corner Suite
Typical Nightly Rate: 18,000 HKD
Price Paid: Hosted stay
Loyalty Program: Rosewood Elite
---
Intro
---
Rosewood is a hotel chain that is making huge waves at the moment.
What started as a small boutique collection of properties with a focus on Asia, is fast spawning into a truly global chain, with a reputation on a par with Four Seasons or Mandarin Oriental.
Indeed, in many markets Rosewood now commands a premium over these long established players, with fans of the brand citing the incredible service and the fact that the room hardware is far more reflective of the local destinations than the larger chains.
Having visited the London property on a number of occasions to dine and drink at the wonderful Scarfe's bar, I was excited to finally get the full stay experience at a Rosewood property. Of course, this Kowloon hotel is not just another Rosewood either: it is the chain's flagship property.
The owners of Rosewood hotels, the Cheng family, are from Hong Kong and clearly they have spared no expense in creating their flagship property in their hometown.
With all this in mind, Rosewood Hong Kong was an obvious choice for our first visit back to Hong Kong, post COVID.
---
Booking
---

Our clients are able to enjoy Rosewood Elite benefits when booking any Rosewood hotel through our agency.
GUARANTEED UPGRADE at the time of booking (at select Rosewood hotels)
Complimentary Breakfast for two adults at Holts Cafe
Early check-in / late check-out subject to availability
$100 USD equivalent Food & Beverage & Spa credit to be utilized during stay
NOTE: Unlike rival programs like FHR, Virtuoso etc. Rosewood Elite benefits apply to all promotional and prepaid rates, as well as fully flexible standard rates.
Your booking will be made directly with Rosewood Hotels. However, since we manage the booking on your behalf, we are able to negotiate all the above extras for you.
Additionally, if you find a cheaper rate elsewhere, we can help to get the price matched AND STILL add the Rosewood Elite benefits to your booking!
EMAIL FOR FSPP BOOKING ENQUIRIES
---
Arrival
---
Despite being on the 'wrong' side of Hong Kong (just like the Ritz Carlton, Peninsula and Regent) the hotel is very well connected. The hotel is attached to the very trendy K11 Musea mall and also the East Tsim Sha Tsui MTR station.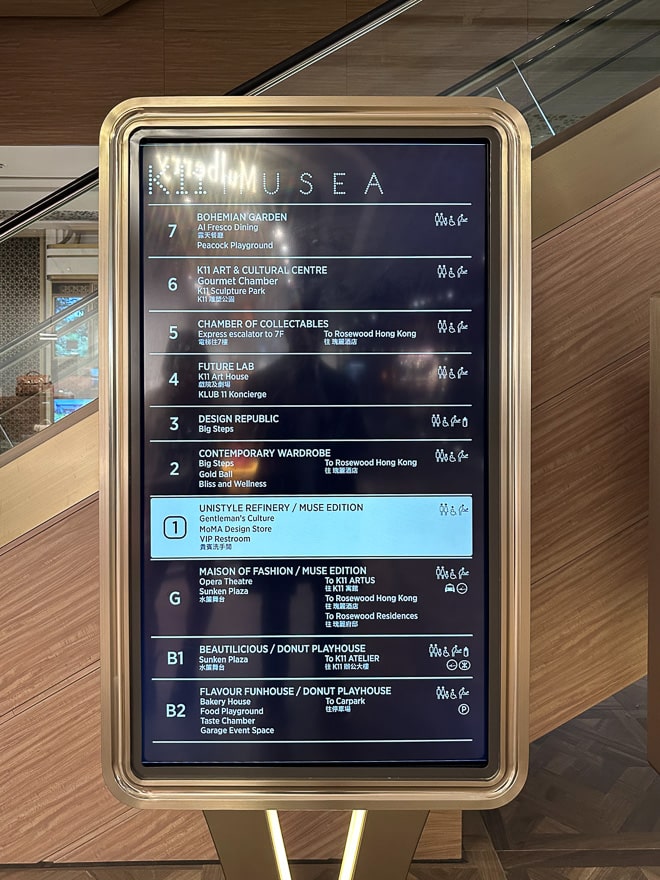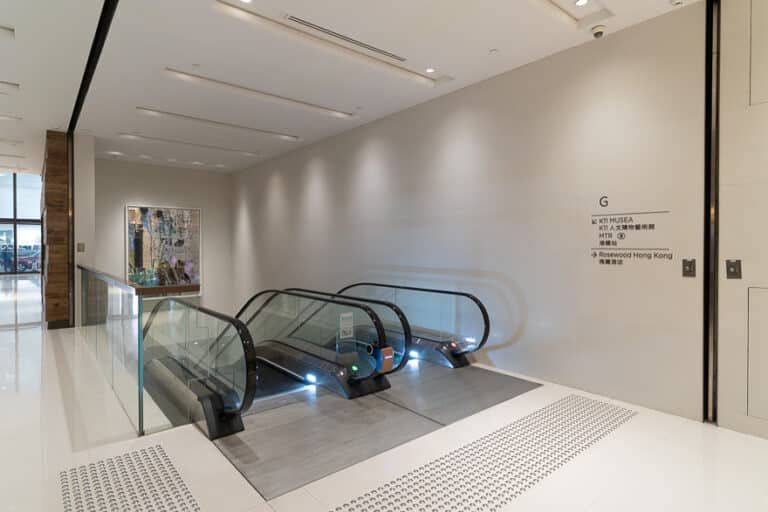 However, since we had a lot of luggage with us for our 6 week trip, we opted to take a cab. There is quite a steep ascent leading up from ground level to the hotel's lobby floor. This serves to add a real sense of drama to the hotel's main entrance; towering above street level with the entirety of Hong Kong Island perfectly framed in front.
Despite the huge number of people coming and going, we were immediately greeted by a very polished and professional bellhop named Mars. After asking for my name so that our luggage could be appropriately tagged, he never forgot it again – for the duration of our stay.
Initially the entrance felt a lot like the Ritz Carlton Hong Kong, with a brooding darkness punctuated by the amber glow of oversized lanterns.
Once inside the lobby though, the style changed completely. A bronze sculpture of a pair of walking figures dominated the brightly lit space, lending a unifying touch to the numerous lines and patterns on display.
Rosewood Hong Kong Manor Club Check-in
Although we briefly headed towards the reception desk, we were intercepted by a very eager member of staff who greeted us by name.
Since we were staying in a suite with Manor Club access, we were led to the 40th floor to check in. On the way, our host gave us a brief explanation of the hotel's facilities, taking the time to point out the Tony Chi design and the Joe Bradley piece hanging by the lifts.
Walking through the hallway on the way to the Manor Club, I was struck by how gigantic and residential the space felt. It felt more like being in Cathay Pacific's Wing First Class lounge, or the top floor of Fortnum's than a hotel.
The only other time I've seen hotel hallways remotely as generously proportioned and beautifully designed was at the Four Seasons Bangkok and honestly those still paled in comparison.
In a city where space is at such a premium, this abundance of space is a real statement.
Bear in mind, we had yet to enter the Manor Club at this stage…
The moment that we stepped into the Manor Club we were greeted by a selection of staff who effortlessly took over from our host and asked us to take a seat in the main restaurant area.
Despite arriving on the early morning Cathay flight from Heathrow, our Manor Club host informed us that our room was already ready for us. However, she first asked if she could get us some coffees or other drinks and suggested that we may want to grab some breakfast from the buffet as she did this.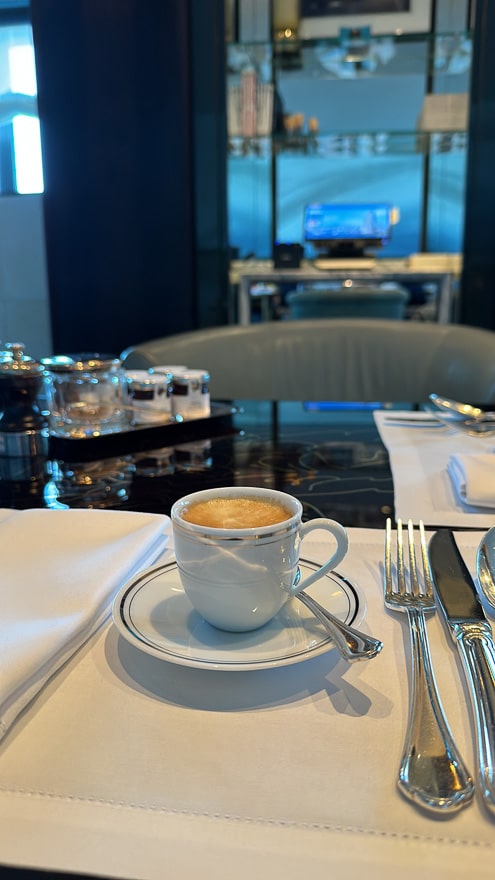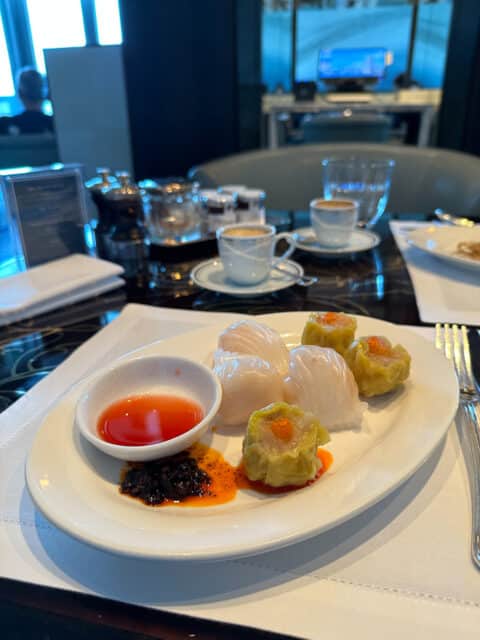 Once we had finished our food and drink, our host returned with the guest registration forms and escorted us to our suite on the 38th floor.
---
Grand Harbour Corner Suite
---
Even before entering the room, I noticed another way in which a residential feel was imparted upon our surroundings. Umbrella stands sit outside of the rooms, rather than inside. The subtle messaging here is that guest's items are safe in the hallways, since the entire building is living space, belonging to guests.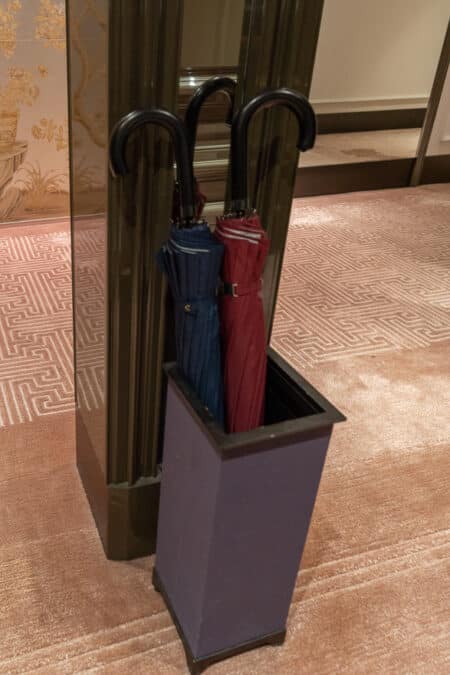 Floorplan

Living Room
A long internal hallway led into the main living room of our suite. This hallway featured a small guest bathroom, fitted with a Toto washlet.
Even before fully entering the suite, it was clear that the level of the finishes was absolutely off the charts. I had already spotted walls made of lacquered wood, chrome accents, marble and even a bin clad in fine calf leather.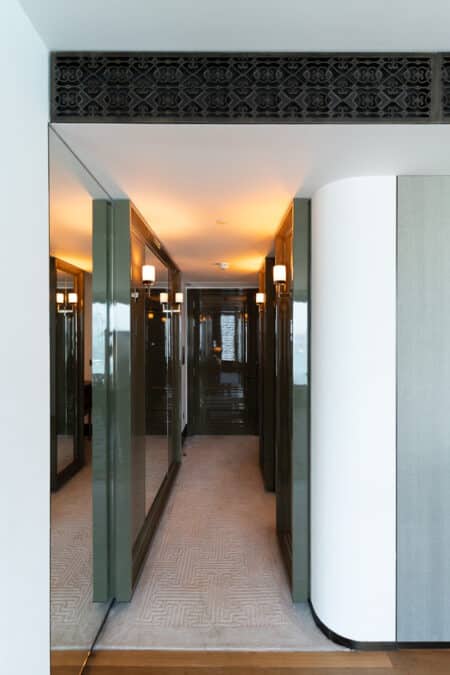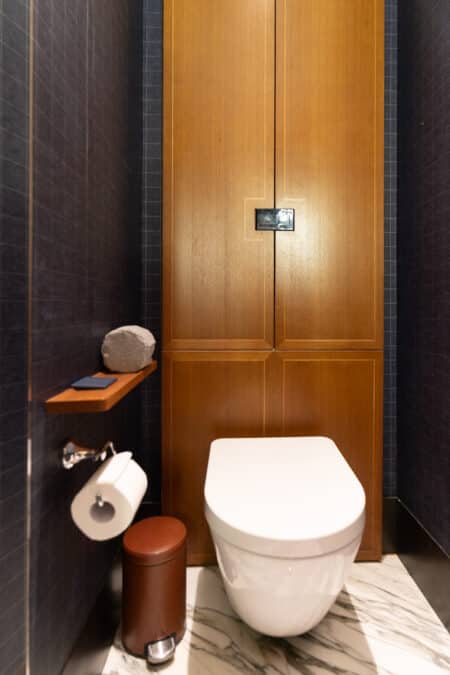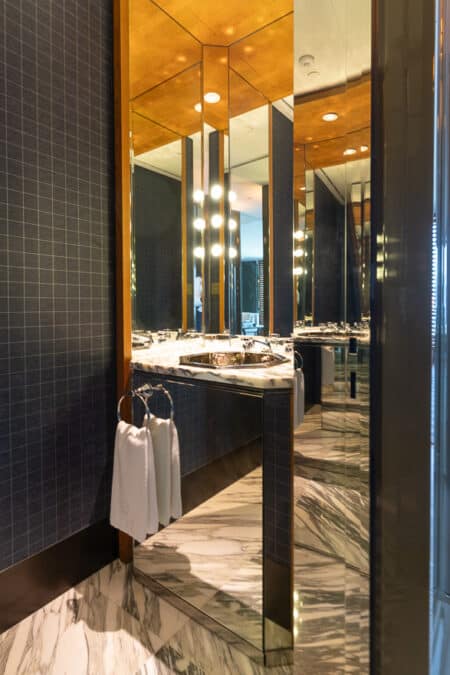 Corner Suites are located on one of the building's two Southern corners, with the standard Harbour view being to South East and the Grand Harbour view being to South West.
We were fortunate enough to be in a Grand Harbour View suite on the building's South West Corner. This meant that we not only enjoyed incredible views of Hong Kong but also had a spectacular vantage point from which to enjoy the sunset.
A local welcome amenity had been placed for us on a side table. Hotels often claim to provide 'local' welcome treats but often this will be a highly tokenistic effort. I really appreciated the fact the Rosewood gave us Hong Kong Milk Tea and freshly baked pineapple buns:
The overall design aesthetic of the living room was on another level to most hotels. A wabi sabi style approach had been employed, with all manner of varying styles and patterns being combined to amazing effect.
No matter how elegant the design, often hotel rooms feel mass produced and a little soulless as a result.
Tony Chi has managed to do something very different here though; the design of our suite gave the impression that this was a private apartment that had been very tastefully decorated over the course of many years.
The minibar area was beautifully designed with the Nespresso machine clad in what appeared to be blue museum calf leather from the Ilcea tannery (something I noted due to my fondness for John Lobb shoes).
I'm not going to lie though, I would take pretty much any capsule machine over Nespresso. Illy and Lavazza capsules just taste so much better.
The complimentary bottles of Evian were a wonderful touch though.
I was also a real fan of the amazing tea selection of F&M teas, as well as the beautiful Chinese tea set.
My one minor point of contention was that the teas were all caffeinated. I tend to drink coffee throughout the day but in the evening I prefer rooibos, mint, chamomile etc.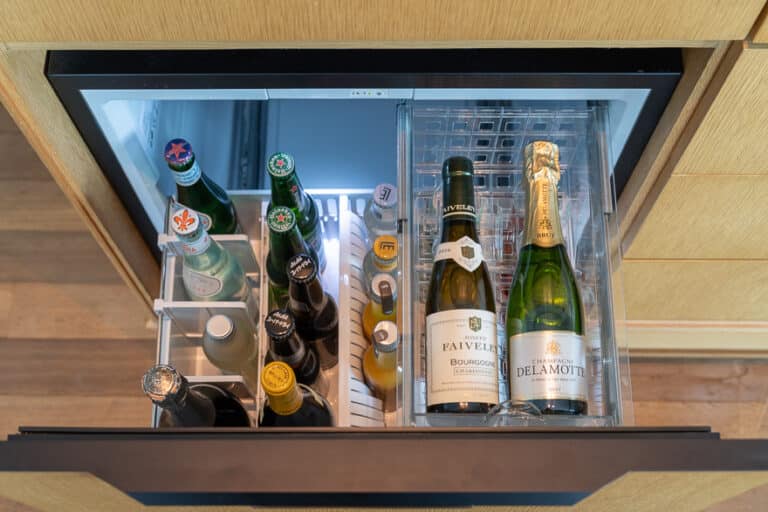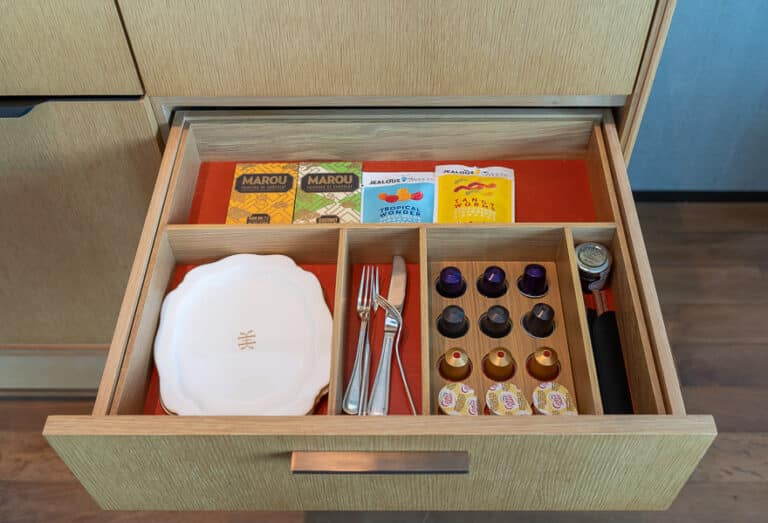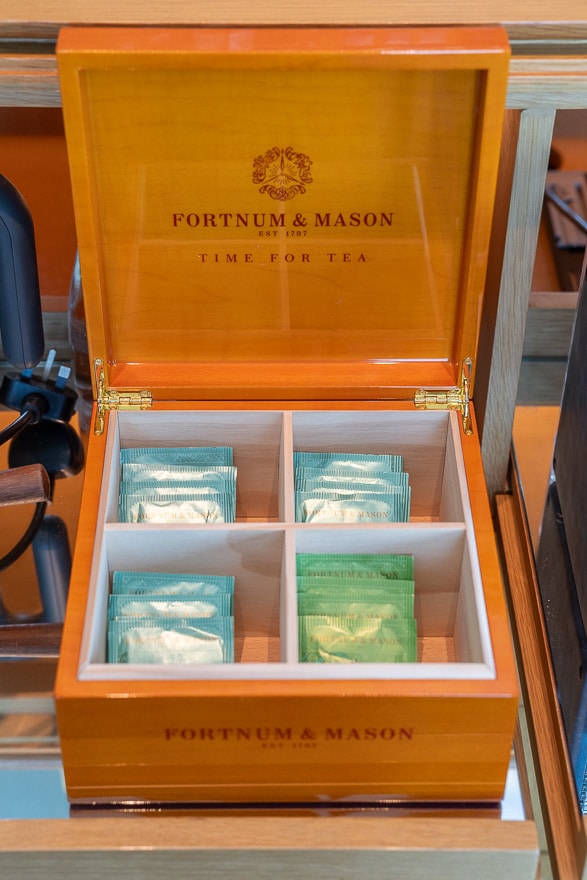 However, one quick Whatsapp message to the butler team resulted in a selection of decaffeinated teas being delivered to the room, as well as two cups of freshly brewed chamomile tea, "so you can drink it straight away".
The silver side tray of decaf teas was then restocked each day, during turndown and also morning cleaning.
This experience was very much emblematic of the service throughout our stay. Which is to say: the service here at Rosewood Hong Kong was spectacular.
Tucked away behind the main sitting area was a very elegant bar cart, featuring cocktails from "Darkside", Rosewood's critically acclaimed cocktail bar.
The leather armchair here was the perfect spot from which to imbibe one of these delectable drinks, whilst watching the boat traffic below.
Second Living Room
Leading on from the main living room, behind a set of doors, was a second living room of sorts. What was most remarkable here, other than the amazing amount of texture and detail, was the fact the this was ALSO a corner room, just like the main living room!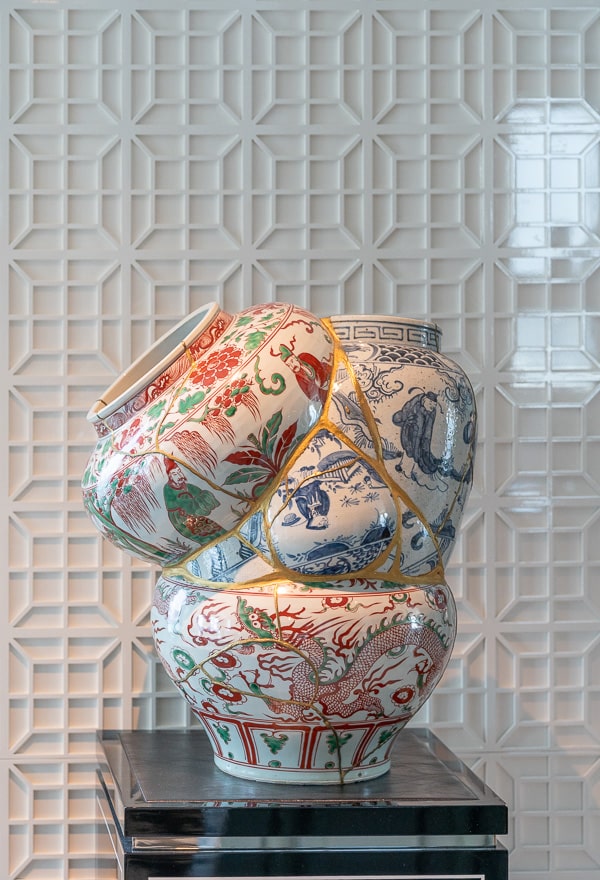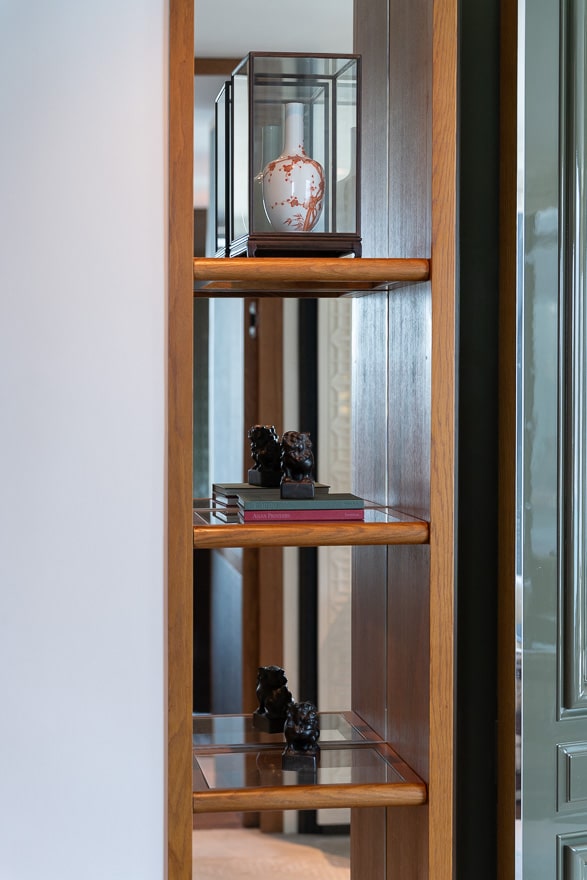 The quality of the furniture here was absolutely beyond reproach and so many additional details had been taken into consideration….
…dotted around the shelves were boxes filled with cables. Meanwhile, a wooden surround housed power sockets for use at the sofa, once again evoking memories of the Cathay Pacific Pier First Class Lounge.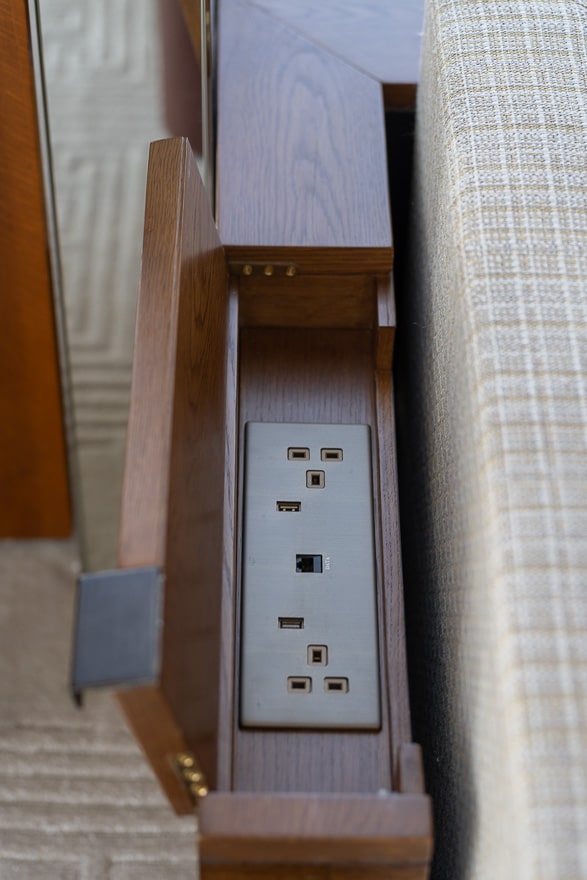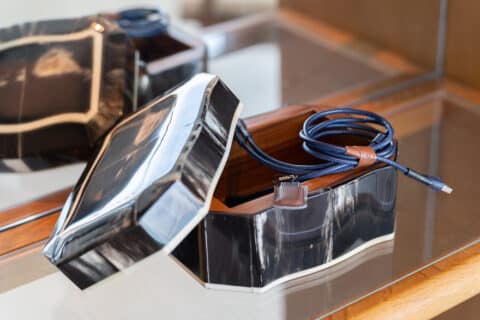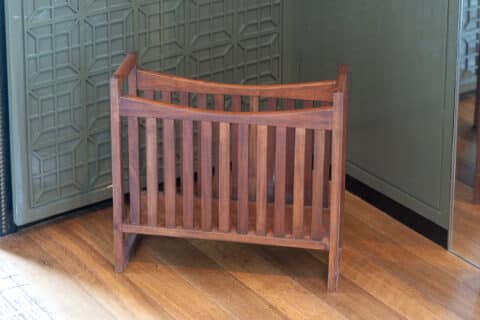 At the far end of this secondary living room was another small minibar area with a spectacular view of Hong Kong Harbour.
Bathroom
Although the bathroom could be accessed from three different doors (bedroom, dressing room and secondary living room), the main entrance was via a set of beautifully lacquered double doors in the secondary living room, featuring silver stags' head door handles.
Even before fully stepping inside, I could tell that this bathroom would be a real showstopper.
The bath tub in the centre was as much a sculpture as it was a piece of bathroom furniture, adding a flamboyant centrepiece to the already exuberant sea of marble and chandeliers!
At this stage I quickly realised two things:
This was already my favourite city hotel room ever
Although I love understated minimalism on the whole, when done right, I can't help but fall for this type of maximalist aesthetic.
The only other hotel where I've seen such a mishmash of styles, textures and colours was at The Reverie Saigon and it also blew me away.
Behind the bathtub was a set of two full sized showers enclosed in a unified space. Unbelievably, this is actually a feature of ALL rooms at this hotel, as is a bathtub.
Toiletries at Rosewood Hong Kong are supplied by British brand Votary – it seems that this property leans into the British past of Hong Kong more than many other hotels, with the F&M teas and liberal use of tartan print too. (Not to mention the Dyson hair dryers.)
Personally I was surprised to see smaller nozzles, as opposed to ceiling mounted rainfall showers but the pressure was excellent nevertheless.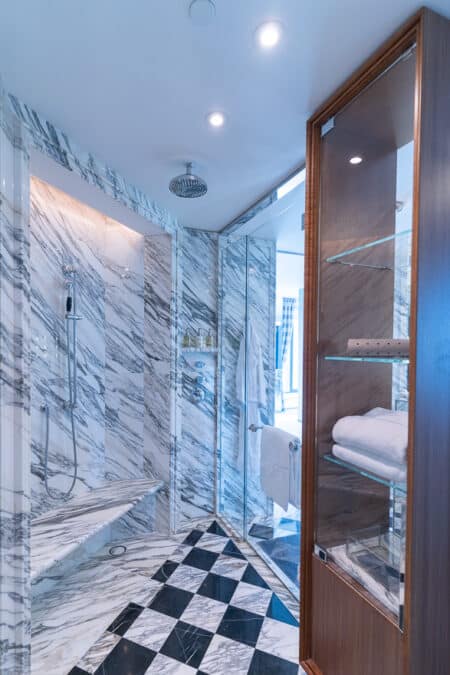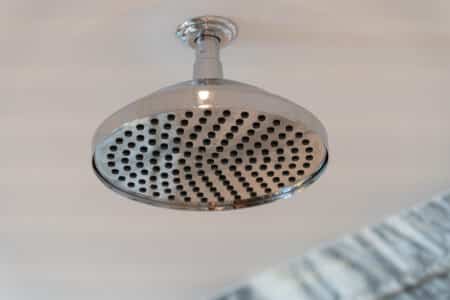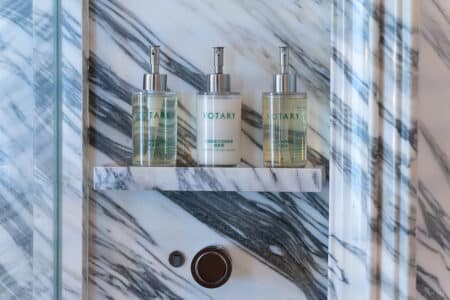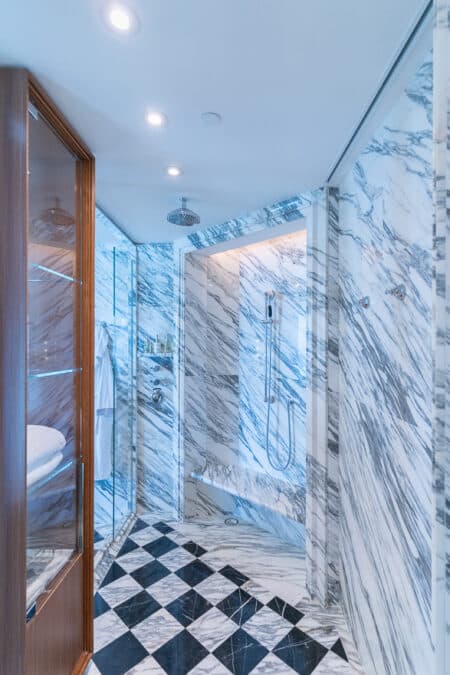 Of course, in addition to the twin showers there were two sinks, each of which was extremely well lit and featured ample counter space.
Dressing Room
Leading on from the bathroom was an extensive dressing room, which featured a makeup area with the aforementioned Dyson hair dryer. I have a simple rule that I should never have to actively downgrade my life when spending time in a luxury hotel. I use a Dyson at home because it's the best hair dryer and everybody knows it.
I really don't understand why any luxury hotel would use inferior brands, knowing full well that most of their guests will be used to better at home.
Rosewood Hong Kong not only has Dyson hair dryers, they've also been clad in blue museum calf…giving me a new life goal to aspire to.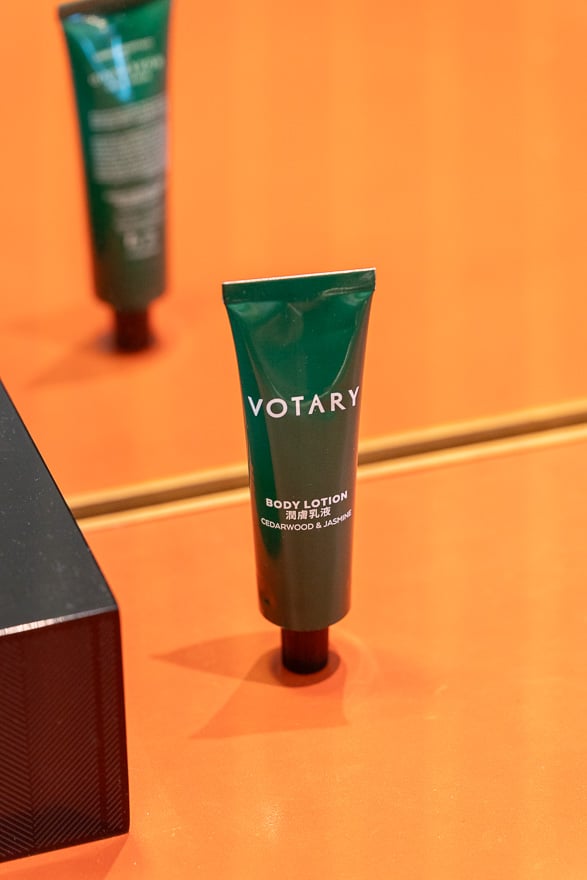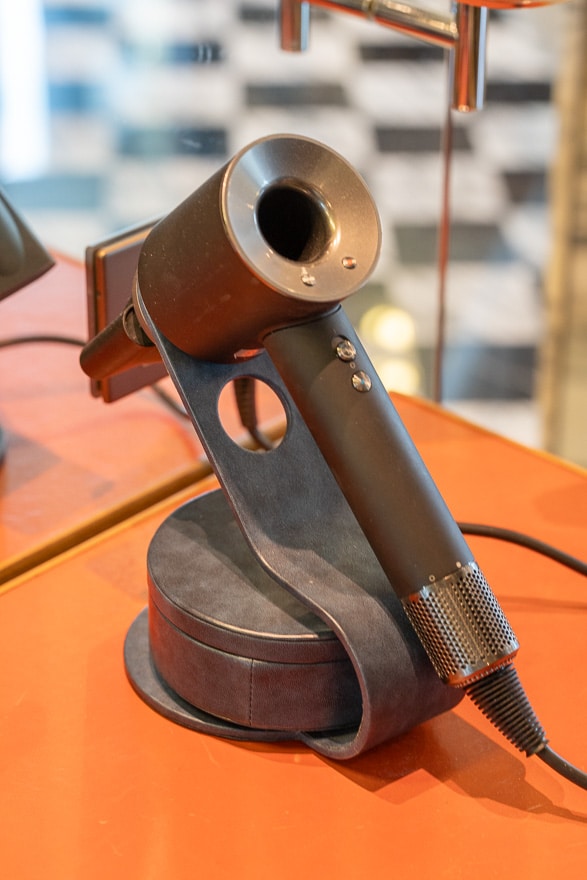 Just behind this vanity area was another Toto toilet (and another bin clad in cognac calf leather).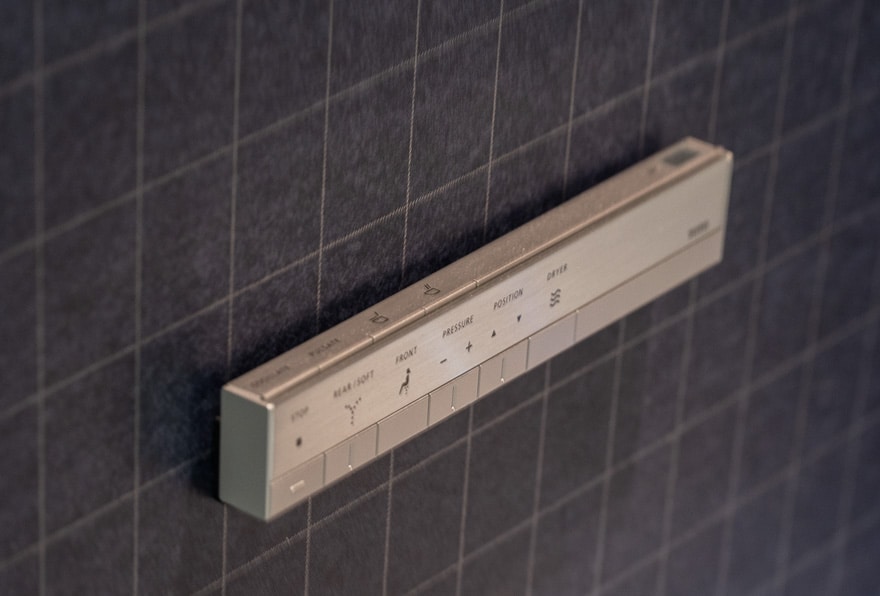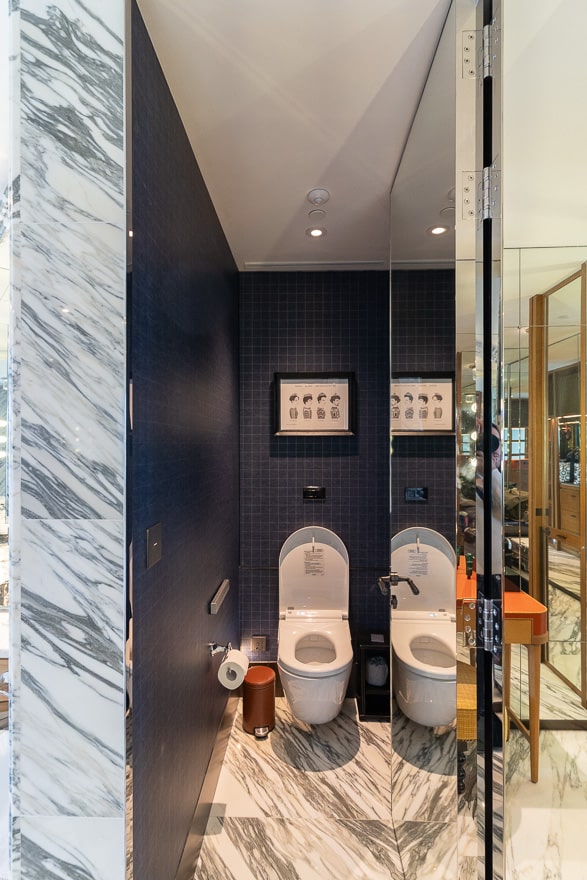 Continuing on from here was the mirrored wardrobe area. This space featured a very spacious luggage area, which was reminiscent of our room at Amanpuri.
On one side of this was a valet wardrobe, accessible from the hallway, where we could leave items to be washed and pressed on a complimentary basis (2 items per day).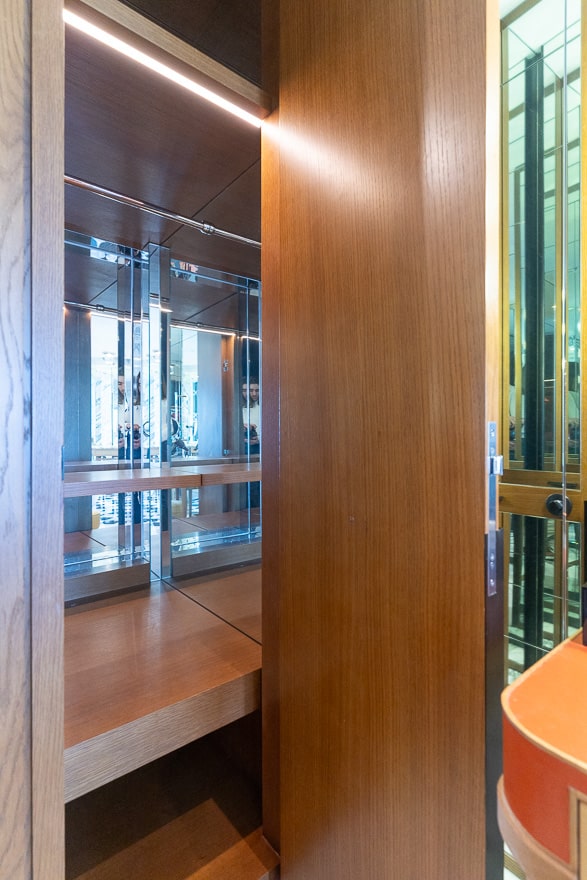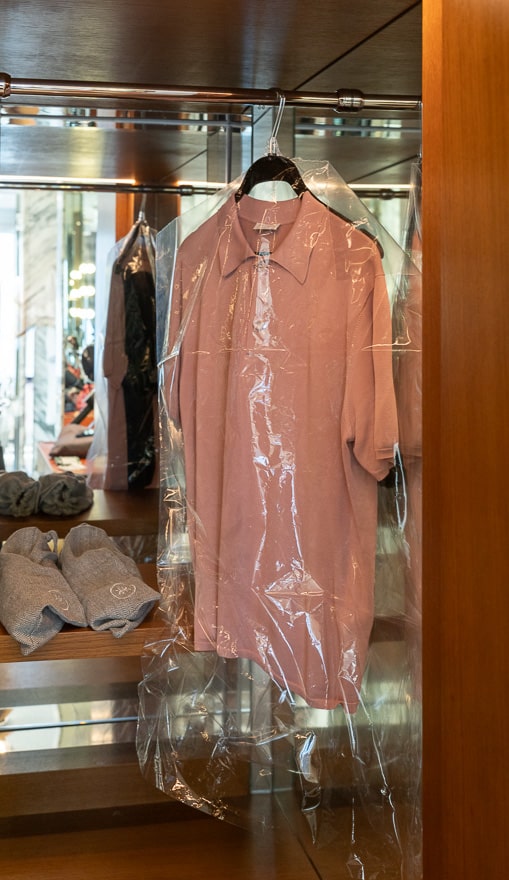 On the other side of the luggage space was an open plan wardrobe that looked very much like a high end boutique. The quality of the finished here was unbelievable and once again the level of attention to detail went beyond anything I've ever seen before.
The shoehorn was a work of art in and of itself…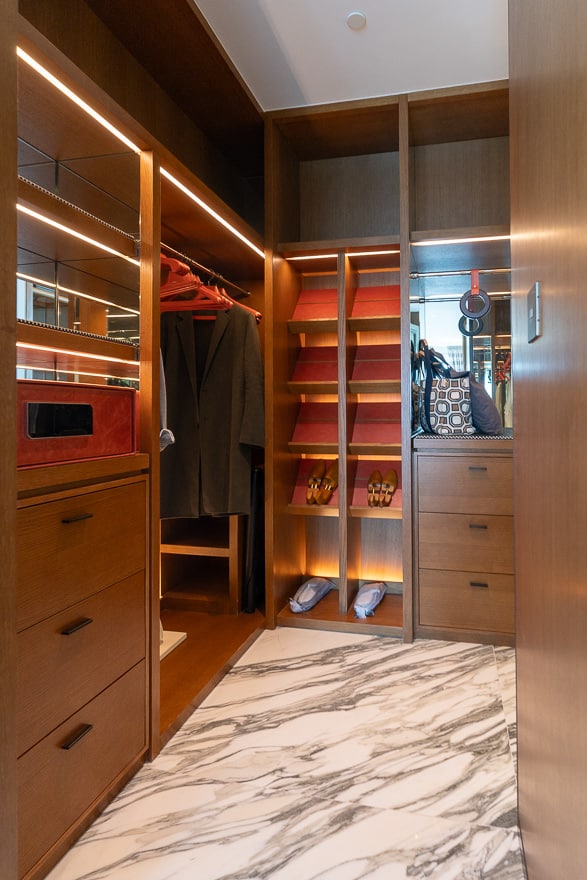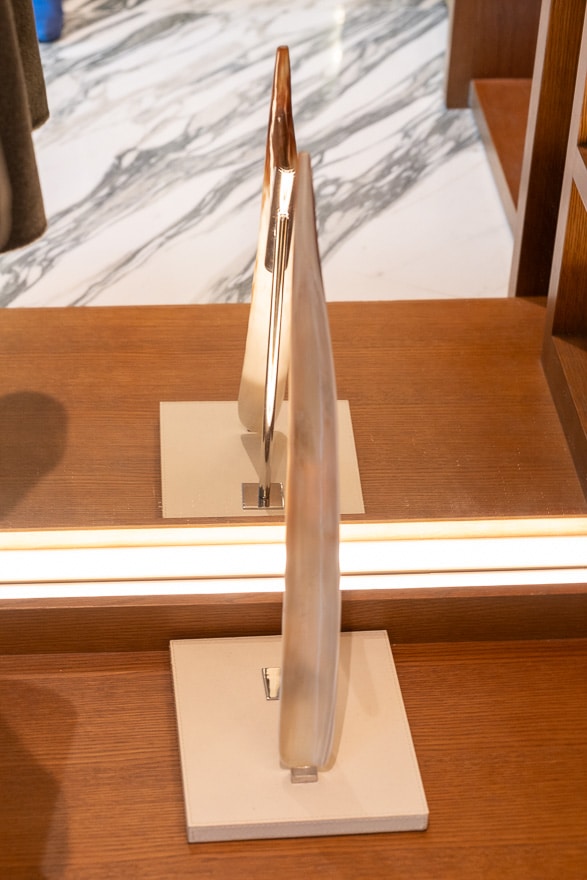 But then there were smaller details like the leather clad drawers, shelves, hangers and safe.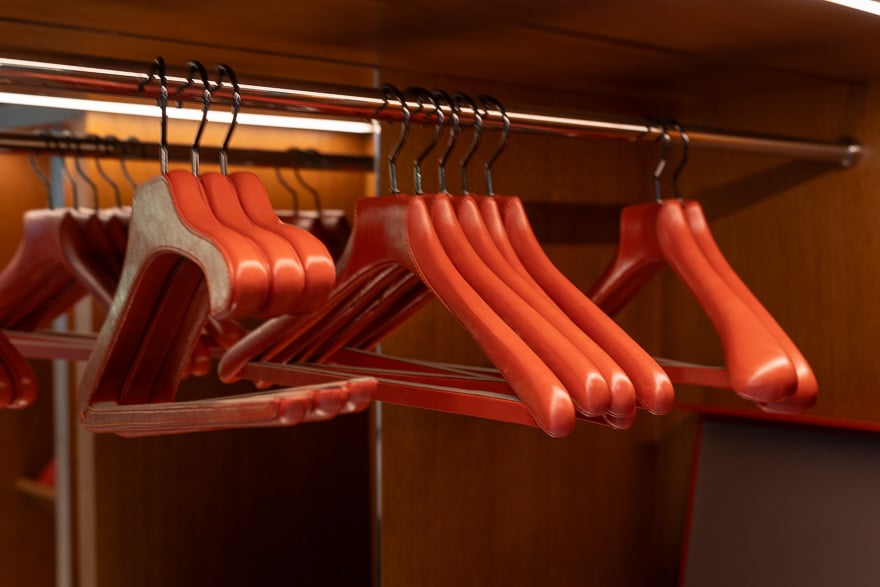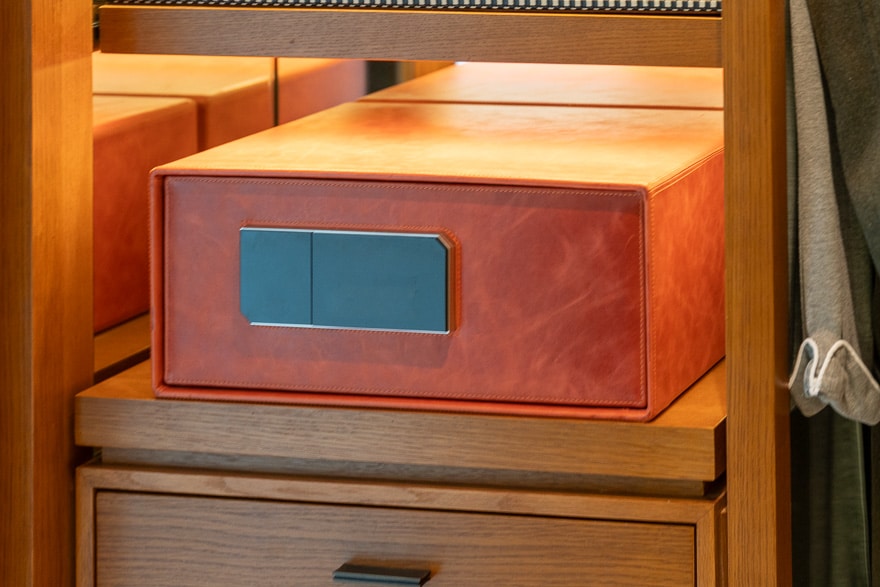 There were even scarf rings and proper shoe trees, together with some of the highest quality slippers I've ever encountered in any hotel.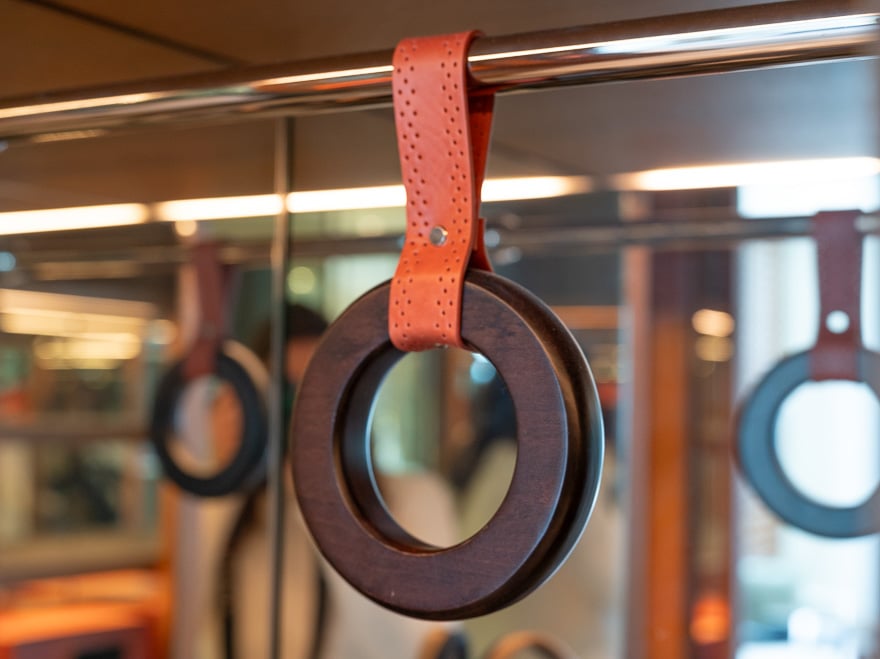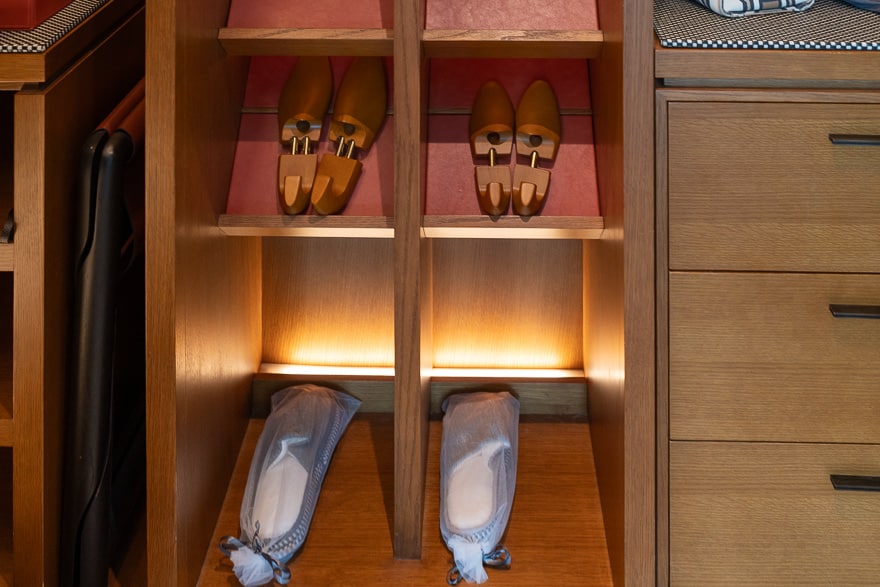 Overall, it felt like an absolute joy to select clothes and get ready to go out during our time here.
Bedroom
Nestled away in the far corner of our suite was the bedroom itself.
Not only were there panoramic views from the bed, the sleep quality here was truly excellent, with plump feather pillows that kept their size and a mattress that perfectly cocooned us without any transfer of movement from one side of the bed to the other.
In addition to the heavy curtains, there were lighter blinds and also true 100% blackout blinds…
…all of which could be easily controlled from the bedside tables.
A hallmark of Rosewood's hotels is that the bedside tables and lamps tend to be different on each side of the bed. This conscious effort to avoid the cookie-cutter approach employed by most hotels is very well executed.
Although each side of the bed was different, there was no 'bad' side (and therefore no arguments!). As a UK resident I was more than happy with the standard HK plug sockets but it did feel strange that universal sockets hadn't been installed, since so few countries adhere to this electricity standard.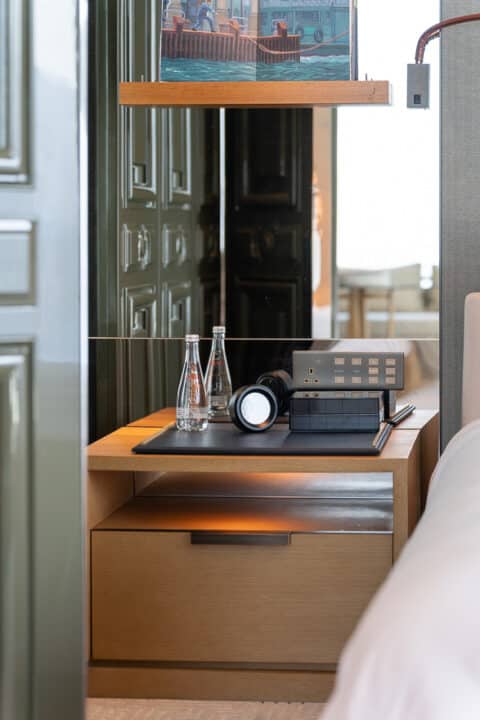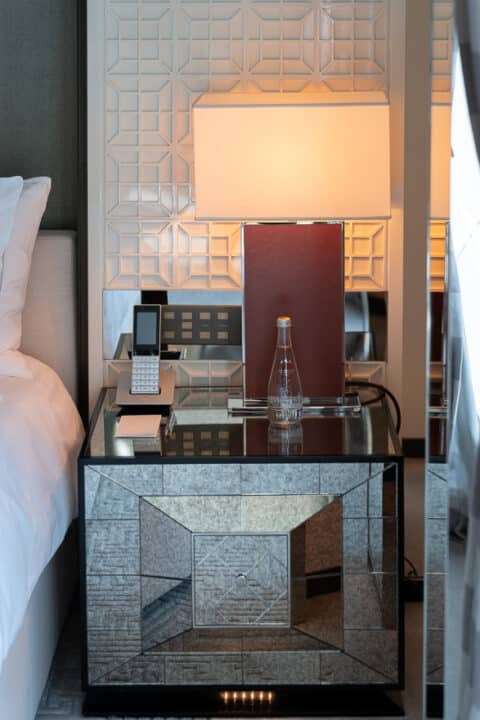 Once again, the small details really stood out here, like the earplugs tucked away in a lacquered box…
…and the TV remote encased in the same cognac calf as the bins and the wardrobes (not to mention the herringbone Loro Piana fabric wallpaper).
Rosewood Hong Kong Housekeeping
Impressive though our suite was during the day, it was utterly transformed at night.
On our first night, we returned from dinner to find Part 2 of our welcome amenity: a bottle of Perrier-Jouët champagne.
What a treat to enjoy this generous turndown gift together with these incredible views!
I appreciated the fact that during turn down the blinds and curtains were kept open, in order for us to fully enjoy the impact of the hotel's location.
Of course, fresh water bottles were placed on the bedside tables and slippers were laid out on linen cloths.
Additional smaller additional touches were also employed: retrieving pyjamas and placing them folded upon the bed, ensuring that all cables were tidied away, etc.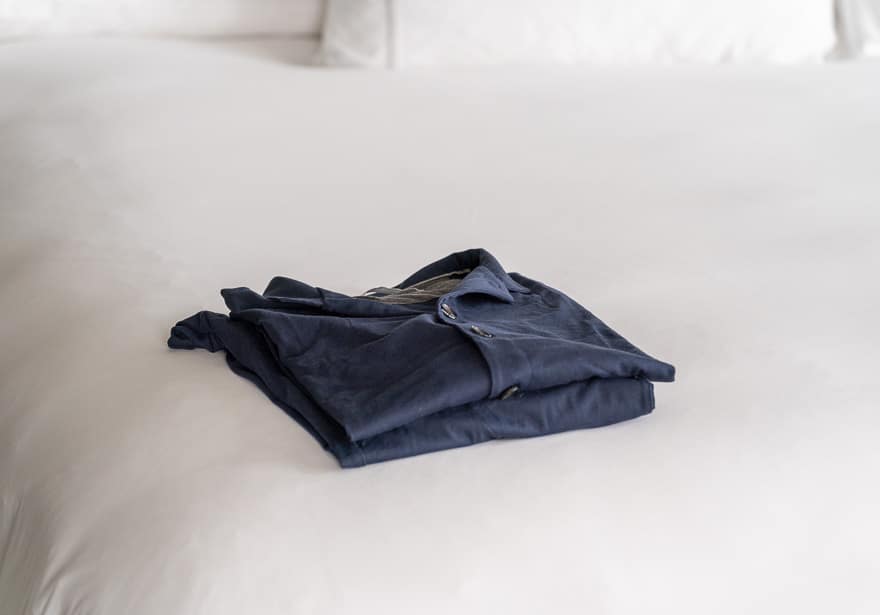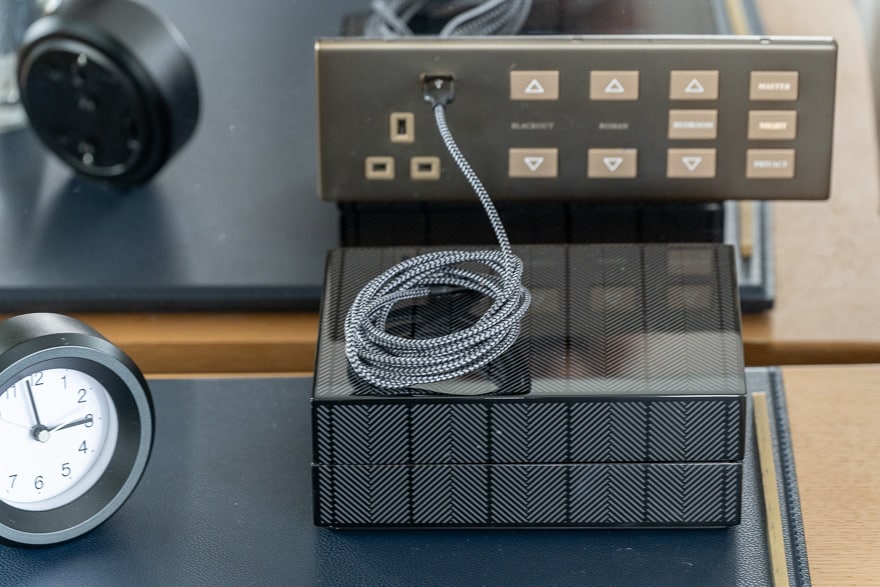 In the bathroom, toiletries were perfectly arranged on black marble slabs and the bars of soap were even stood on their edges!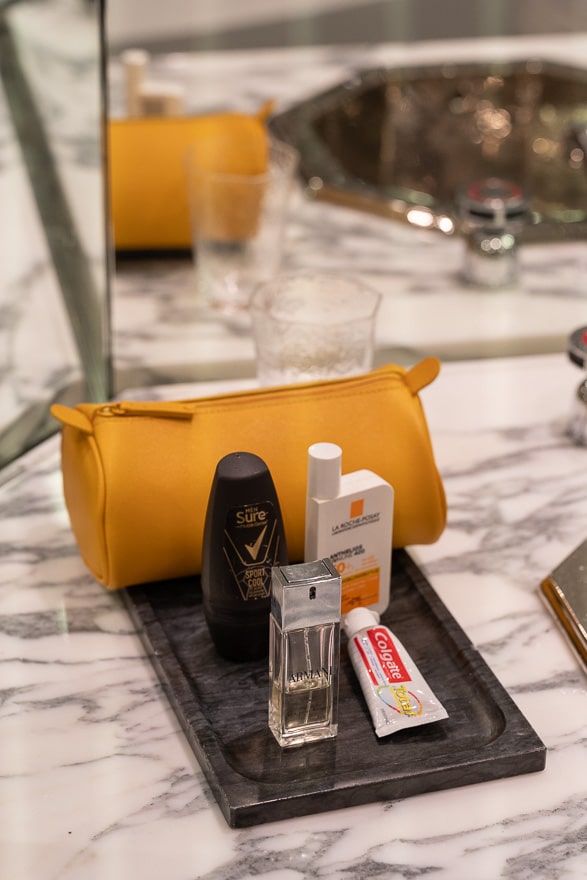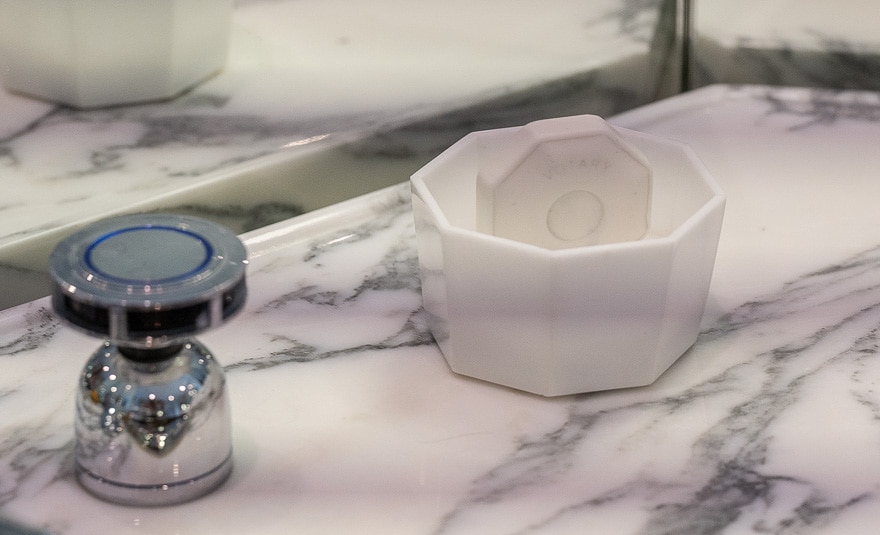 However, unlike Four Seasons hotels, Rosewood Bangkok didn't place lens cloths next to glasses and computers and also didn't provide any cable tidies. I feel like there's been something of an arms race in this regard, with many top hotels now offering these two items as a standard facet of housekeeping.
---
Kowloon Peak View Room
---
NOTE: Our Rosewood Elite guests will never be allocated this room unless they specifically choose it. The complimentary upgrade to a Harbour View Room is GUARANTEED at the time of booking.
During our site inspection of the property, we were shown one of the hotel's entry level Kowloon peak view rooms, which face North.
I really like how a reception area was employed, adding physical separation between the bed and the public hallways.
Given the quality of the soundproofing in the walls, this added separation and the fact that there's thick carpet in the hallways, I can't imagine that noise is ever an issue at this property.
Bedroom
At 53m² these rooms are incredibly spacious, for the entry level category and once again the combinations of multiple different styles really made this feel more like a private residence than a generic hotel room.
Once again each side of the bed was different but both sides had full access to power and room controls.
I love how the design here effectively allowed for two different 'living rooms' within an entry level room. One sofa facing the TV and another cosily nestled by the window.
Although the Kowloon Peak View is considered the least premium option here, I still found it very impactful.
I was happy to see my favourite power socket surround make an appearance in this room too.
Bathroom
The bathrooms at Rosewood Hong Kong are incredibly impressive; free standing bath tubs, marble everywhere, twin sinks, a makeup table and…
…dual showers as standard!
The toilets are also Toto washlets. Which in my opinion should be a standard offering in all true luxury hotels.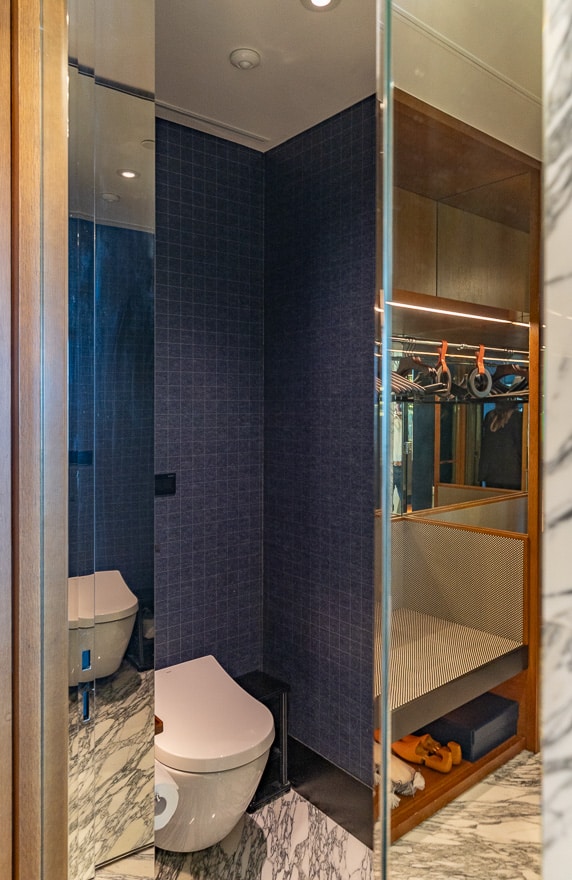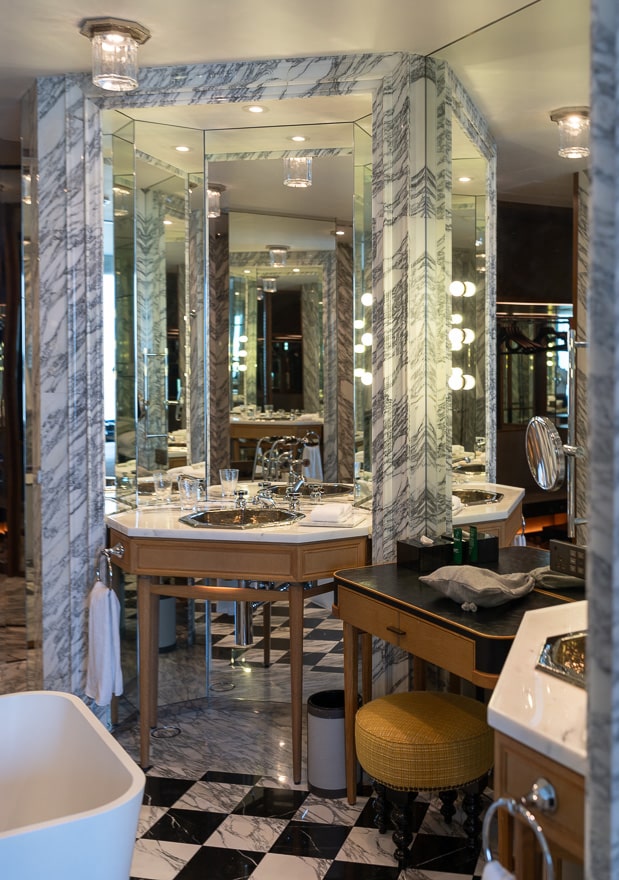 Dressing Area
Leading on from the bathroom was a small dressing area. Despite being a condensed version of what was offered in our suite, it was still more than ample enough for a week long stay.
One minor detail is that the hangers here weren't clad in leather. However, they still looked very elegant indeed and many different types were provided.
---
Rosewood Hong Kong Manor Club
---
Given the relatively small price difference between regular rooms and those with club access, I would emphatically recommend booking a Club Room or suite when visiting this property.
The list of added benefits is considerable:
Rosewood Hong Kong Manor Club Benefits
I've already touched on our wonderful experience checking in at the Manor Club. I also have to say that this feels like a great 'hack' in general, if you have an early arrival or late departure.
Even if early check in and late checkout aren't possible, you can still enjoy the Manor Club prior to accessing your room and after being asked to vacate it, giving you a wonderful base of operations in which to rest and relax in comfort.
The Manor Club is broadly broken down into four main areas: The Reception, The restaurant, The bar and The terrace.
Manor Club Reception
The reception area featured two staff desks where the butler team was always on hand to assist with requests. They also unfailingly greeted us by name any time we entered or left the club.
Manor Club Bar
To the left of the reception was the bar. Despite the wonderful views, this space tended to be quite empty, with most people choosing instead to sit within the restaurant area.
There was also a meeting room / private dining room next to the bar but again this never seemed to get much use. This would be a great spot for a family to gather though, especially since this room has its own access to the outdoor terrace!
At the far end of the bar was a games room, this featured a full sized pool table as well as numerous board games.
Manor Club Terrace
The Rosewood Hong Kong Manor Club features an enormous outdoor terrace, which stretches all the way along the Western side of the building. At the Northernmost end you have views of Kowloon, including the various peaks….
… however the real showstopper is the Harbour view from the Southern end of the terrace.
The best spot is undoubtedly the small courtyard at the South West corner, which features larger tables and the prime view!
At night, the terrace was even more impressive.
More on this later…
Manor Club Restaurant
The restaurant area is the beating heart of the Manor Club and is by far the largest of the spaces on offer. However, a great job has been done in subdividing the space, to make it feel like a series of intimate nooks, rather than one large dining room.
Service here was truly excellent with staff constantly on hand to take food and drink orders. Although evening drinks are specifically allocated a time slot from 5pm-8pm, there is no restriction in place and guests are welcome to enjoy a glass of Duval Leroy champagne (en magnum) with breakfast if they so choose.
Wine fridges were also available throughout the day as was a selection of soft drinks.
Although the daily food displays are arranged in a buffet style, staff actively offered to bring guests what they wanted, in order to make the experience more akin to a restaurant.
Speaking of the food displays, these were rotated throughout the day and varied slightly from day to day as well. The quality of the food served was also absolutely extraordinary.
Rosewood Hong Kong Manor Club Breakfast (7am-11am)
Breakfast featured a great mix of both Western and local favourites, with the very friendly chefs always on hand to explain dishes or offer suggestions.
In addition to an ever changing fruit selection, there were also large bowls of house-made granola and very fresh berries, as well as parfaits and chia puddings.
Cold cuts, smoked salmon and cheeses were also of the quality you'd expect from a top deli and definitely did not have the factory made appearance which is so prevalent in hotel buffets.
The bakery at Rosewood Hong Kong is truly excellent and featured numerous local favourites like pineapple buns, sausage buns and milk rolls as well as more international fare like croissants and millefeuille.
Of course, no breakfast in Hong Kong would be complete without dim sum and again, the selection here was freshly made and delicious.
Finally, there was the option to order a la carte dishes, including eggs, avocado toast, noodle soups and more…
Rosewood Hong Kong Manor Club Afternoon Tea (2pm-4pm)
I must admit, I'm usually not a fan of afternoon tea. This is because it generally involves eating loads of cold carbs in a hotel lobby, at a similar price to an actual meal in a proper restaurant.
Having said all of this, I absolutely loved the overstuffed lobster rolls in brioche buns, finding them to be the perfect complement to an afternoon glass or two of champagne.
Those wanting something more substantial could order freshly made bowls of wonton noodles.
There were also pan fried pork and scallion buns as well as some amazingly crunchy fried chicken!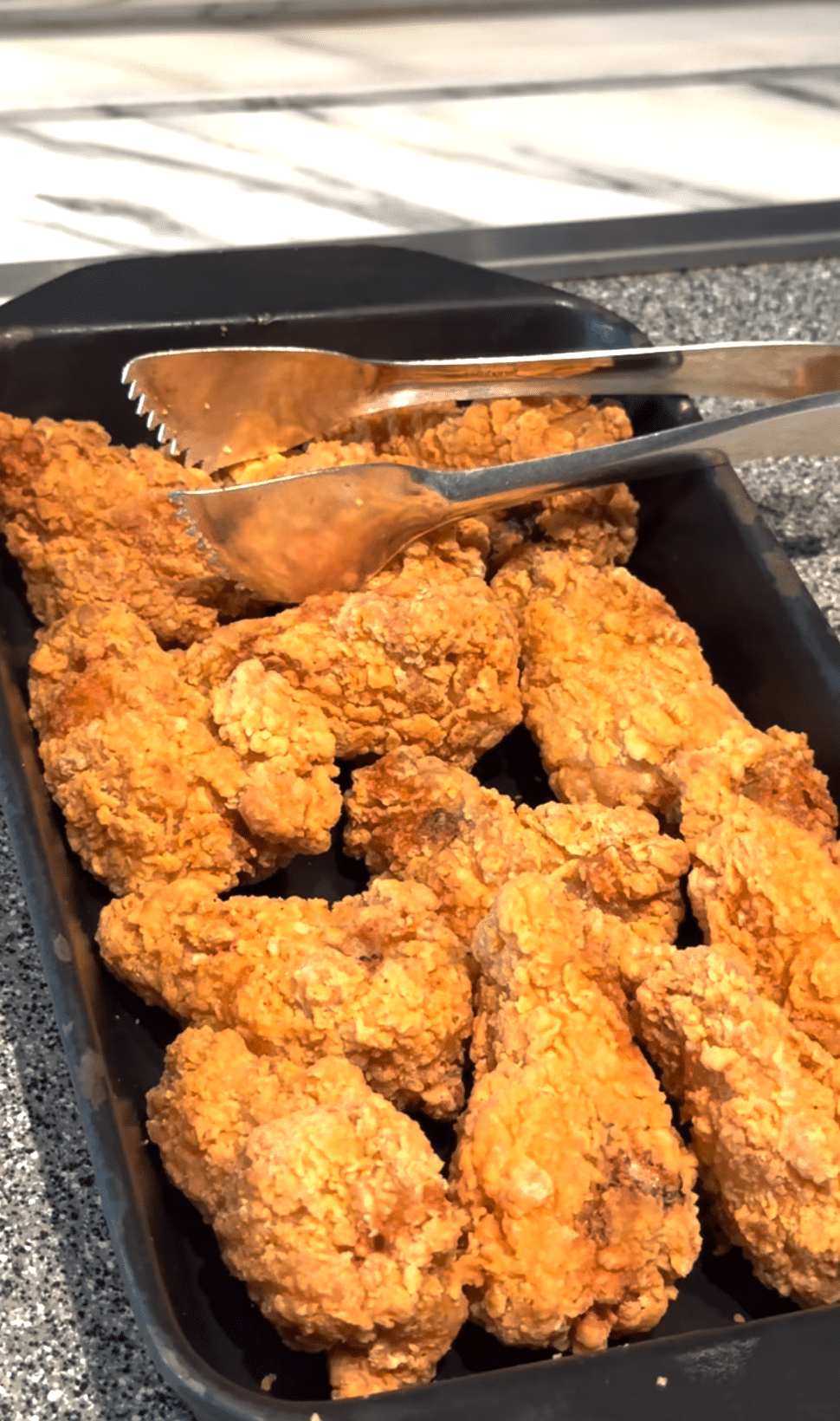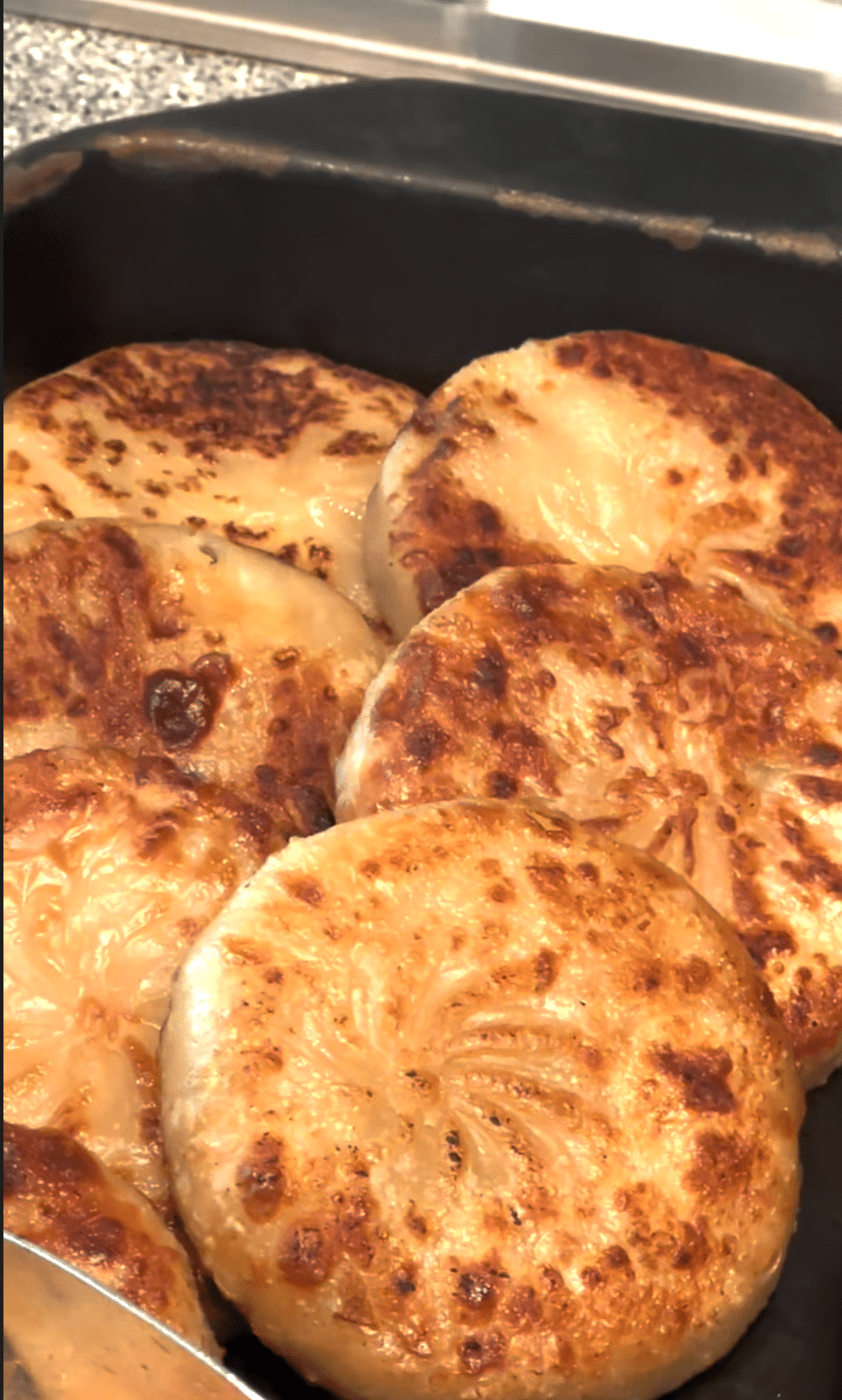 I must admit that I never tried anything from the pure sugar section but a lot of the items on offer appeared to have been freshly made.
This was also true of the scones, which came in both plain and raisin versions and were served with proper clotted cream!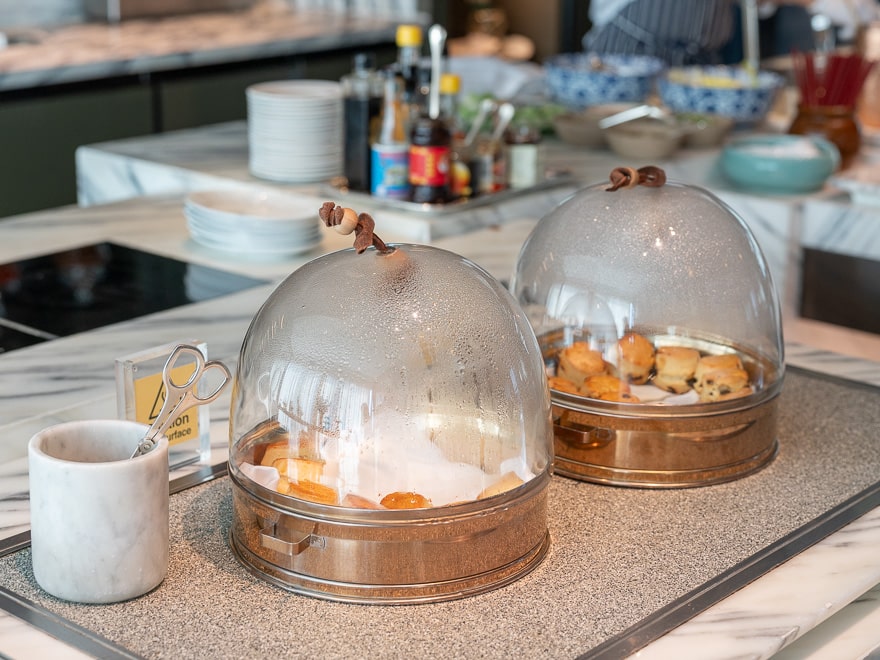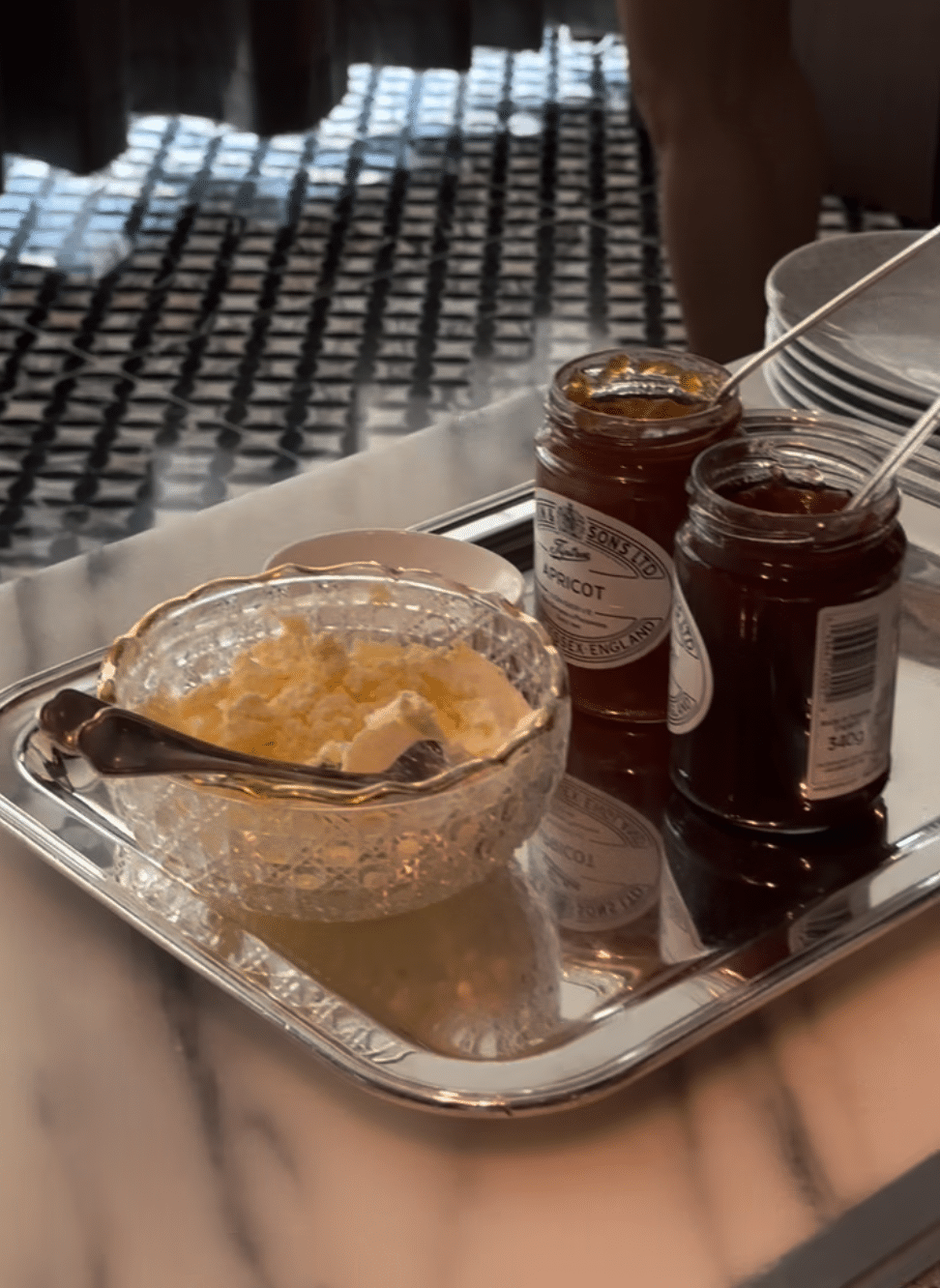 I also appreciated the fact that the fruit selection differed from the one offered at breakfast.
Rosewood Hong Kong Manor Club Evening Canapés (5pm-8pm)
Although the welcome letter lists this as "Evening Drinks", this is something of a misnomer, as drinks are available throughout the day. What really changes in the evenings is the food on offer.
In fairness, even the term canapés is somewhat inaccurate, as what is actually proposed is something bordering on a full dinner buffet. On our first evening there was a full roasted pork belly served, together with mac and cheese and mushroom vol au vents.
The bruschettas were also particularly excellent, as was the selection of breads.
These could be paired with the wide selection of salads or incredibly high quality charcuterie…
As well as a variety of cheeses, which included a wonderful wheel of Tête de Moine.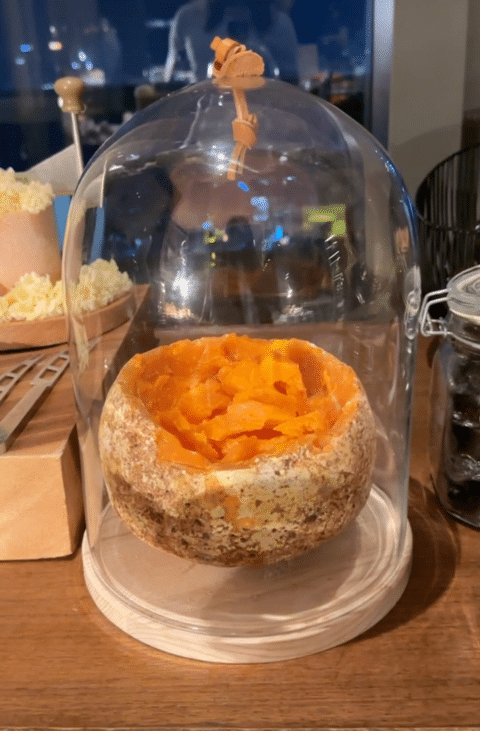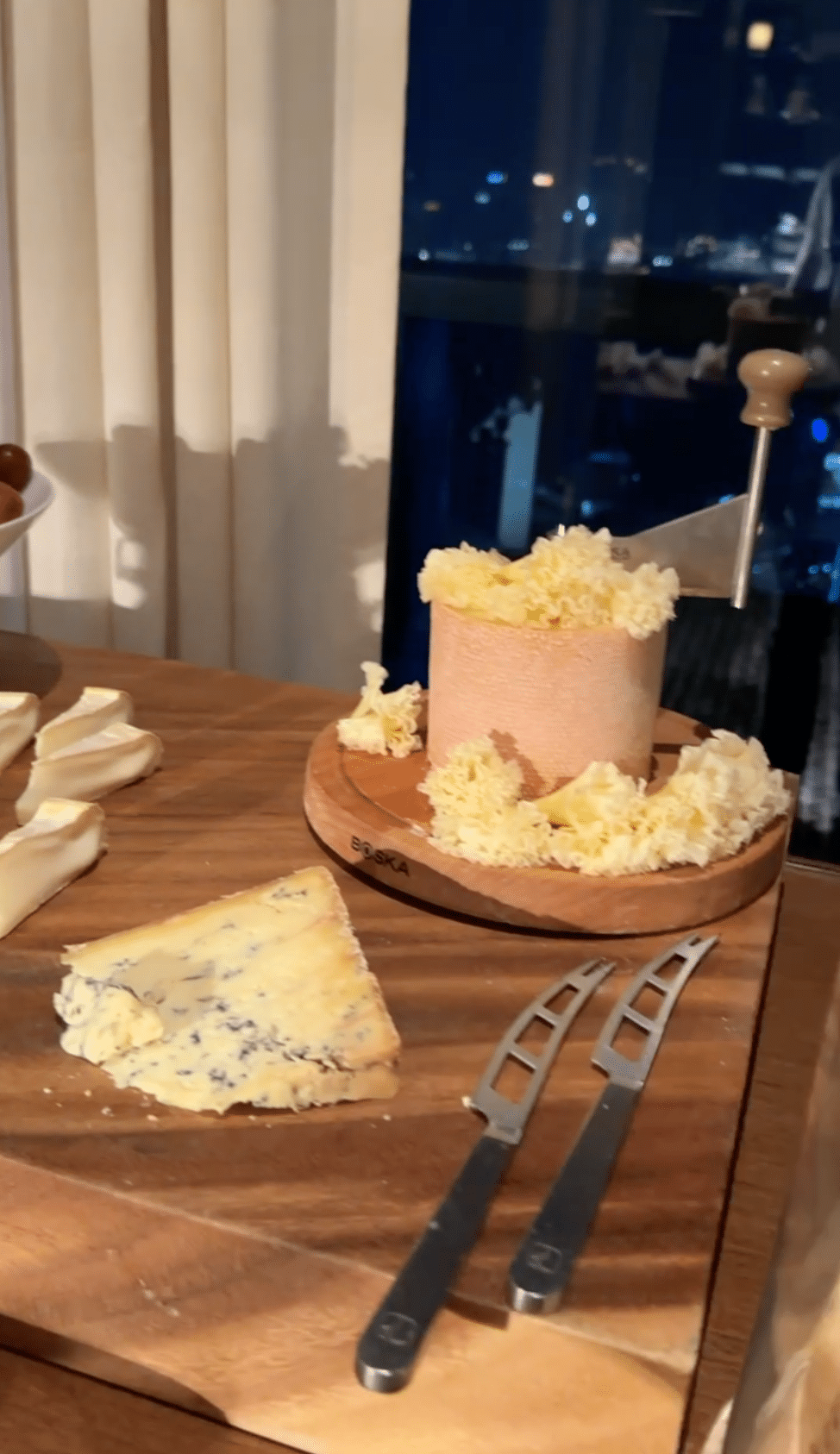 My absolute favourite item on offer was the salmon roe a.k.a. ikura. On our second and final night here we were already pretty full from various lunches and dinners, so decided to just eat ikura, sip champagne…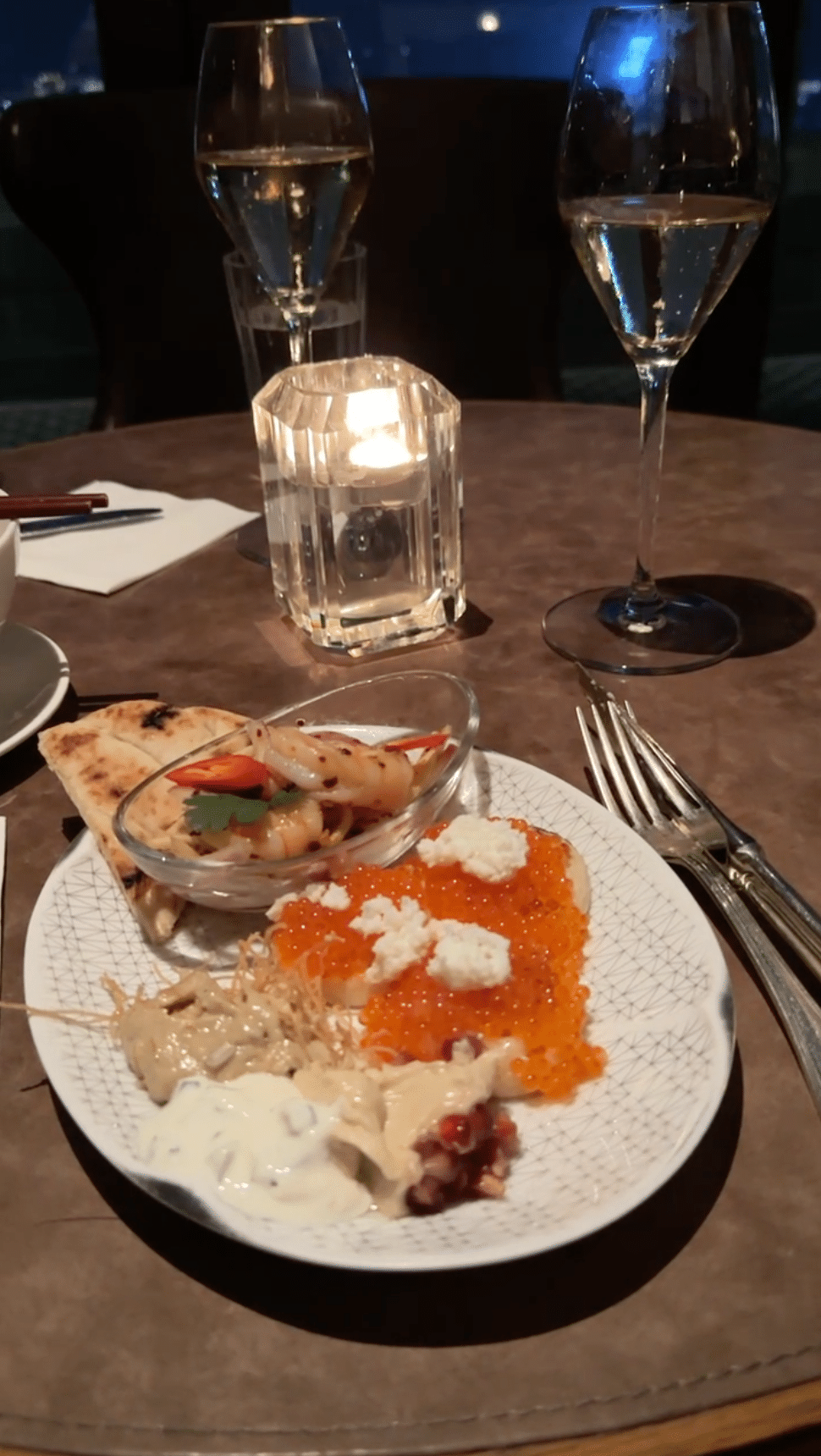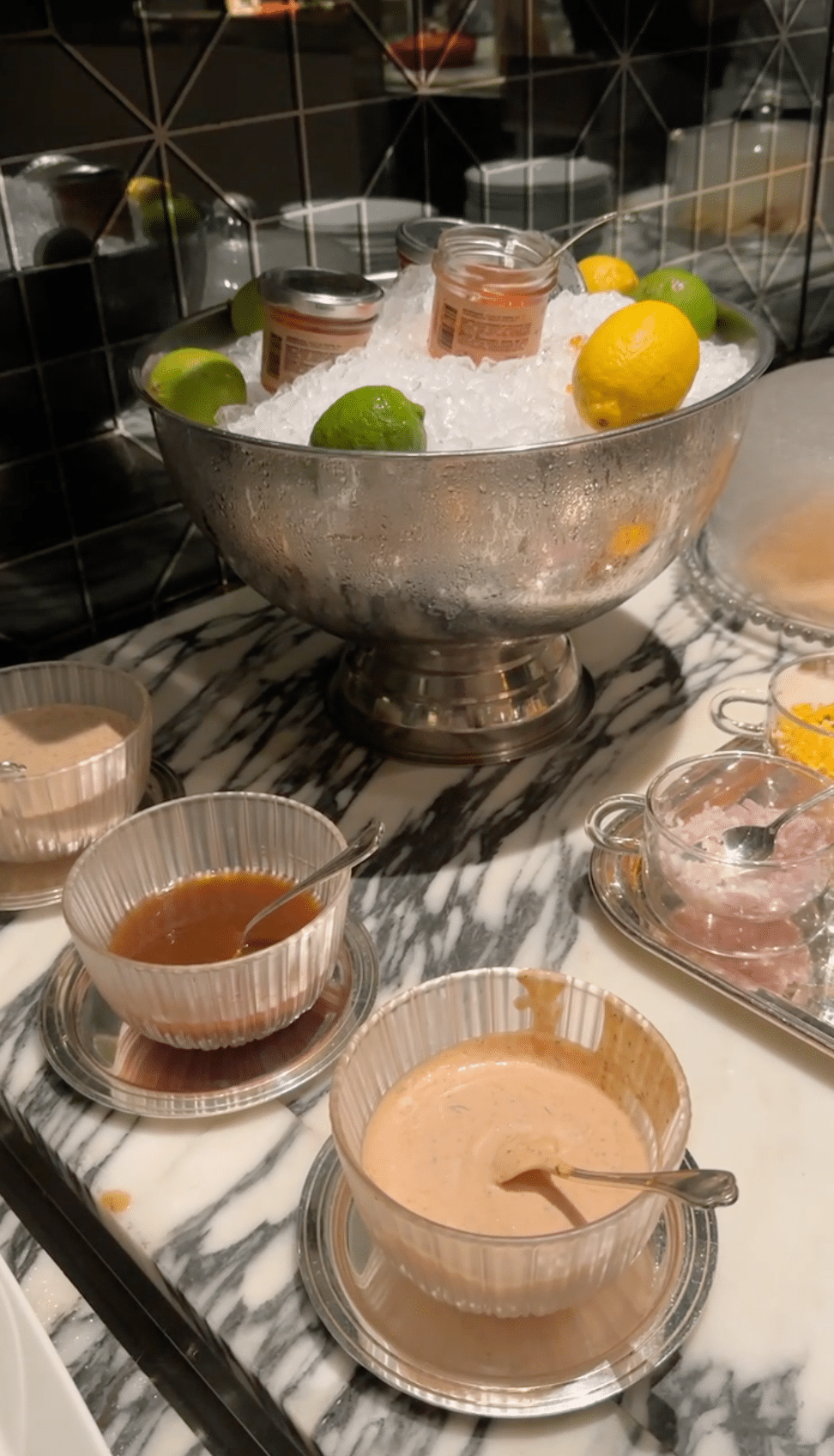 …and take in the spectacular laser show from the terrace.
---
Food and Drink
---
Rosewood Hong Kong Darkside Bar (#9 in Asia 2023)
On our final evening, after watching the laser show, we headed down to Darkside bar. Named for the hotel's location on the "Darkside" of Hong Kong (as opposed to Hong Kong Island itself).
This is currently ranked as the Number 9 Bar in Asia according to the World's Best 50 list. Although I personally find the concept of these lists to be spurious at best, I have to say that the drinks, service and live music were all excellent.
I enjoyed the mahjong menu concept and in particular, the cocktail which was designed to evoke flavours of goji and ginger tea.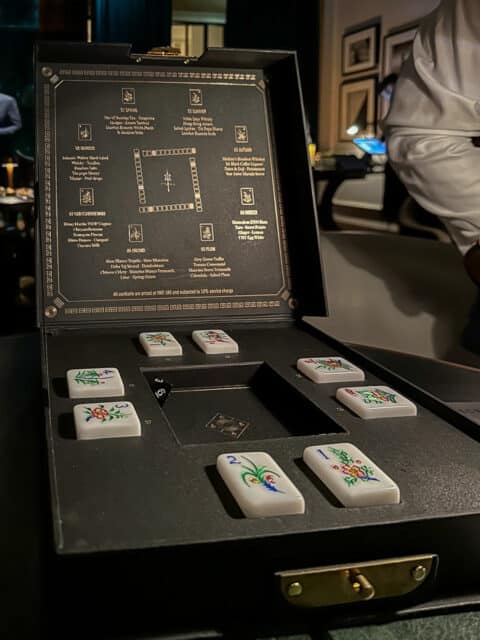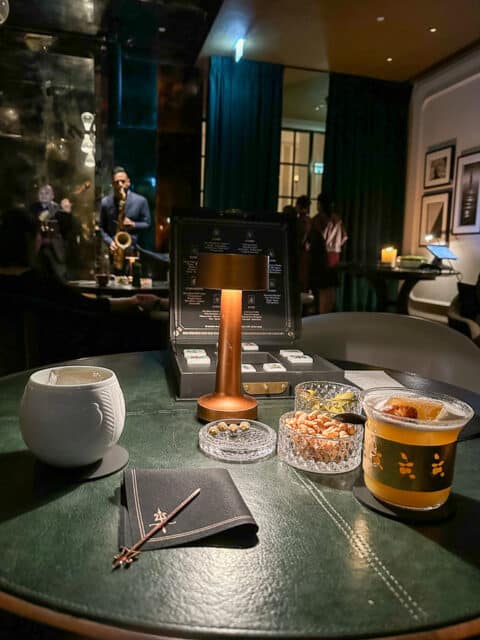 Rosewood Hong Kong Breakfast at Holt's Café
Despite having access to breakfast at the Manor Club, I felt that for the sake of completeness, I should see how this compares to the standard breakfast offering.
No matter which room type you book, the "Full Breakfast" here will be offered to you free of charge as a Rosewood Elite guest.
In all honesty, despite the beautiful decor, the experience here felt like a real step down from the Manor Club. This hotel is incredibly popular, often selling out for weeks at a time. As a result, the breakfast is rather frenzied.
Staff here are very competent and did a remarkable job of turning tables around and taking orders in a timely fashion. However, our breakfast here felt like organised chaos, where the Manor Club was luxurious and relaxing.
What I found most interesting is that there was almost no difference between the buffet offering here and upstairs at the Manor Club.
Often you'll sacrifice variety, for the sake of serenity (for example at the Conrad Tokyo) however at Rosewood Hong Kong you get the full breakfast selection in both the restaurant and the club lounge!
I have to say that I was also impressed to see staff offering assistance at the buffet, helping to plate food for guests and even carrying it back to their tables. This really did add a sense of luxury to the otherwise rather mass market feel of a hotel buffet.
The one way in which this buffet beat the Manor Club was that more variety was on show at the same time. At the Manor Club, you'd have half of these fruits displayed at breakfast and the other half during afternoon tea, for example.
You could always ask for what you didn't see displayed but here at Holt's Café it was all on display, all of the time.
Rosewood Hong Kong BluHouse
During our site inspection we learned that Rosewood Hong Kong has an incredible eleven different F&B establishments on property!
We didn't have the chance to visit all of them during our brief stay but we did take a tour of BluHouse. What's clear is that in offering so many very high level bars and restaurants in one place, Rosewood Hong Kong has become a huge focal point within the local community.
Throughout our time on property this made it feel like we were anchored and integrated into the fabric of Hong Kong rather than just being tourists, looking in from the outside.
BluHouse is an enormous waterfront space, with all manner of different areas, ranging from cosy bakery chic…
…right through to extravagant dining rooms.
What's clear is that the imported produce is of such high quality that people can't help but notice. Overall, this really reminded me of the excellent job that has been done with the F&B at Four Seasons Bangkok and Capella Bangkok next door.
Rosewood Hong Kong Lunch at the Legacy House
Legacy House is the hotel's signature Cantonese restaurant, featuring Tom Dixon lighting and spectacular views of the harbour.
There are even some tables outside on the terrace for those who prefer to dine al fresco.
At $630 HKD per person for the set Dim Sum lunch, the restaurant also offers excellent value in a city which is usually on a par with L.A. when it comes to high-end dining.
Service was impeccable throughout the meal and the design of the tableware was every bit as considered and curated as everything else at this property.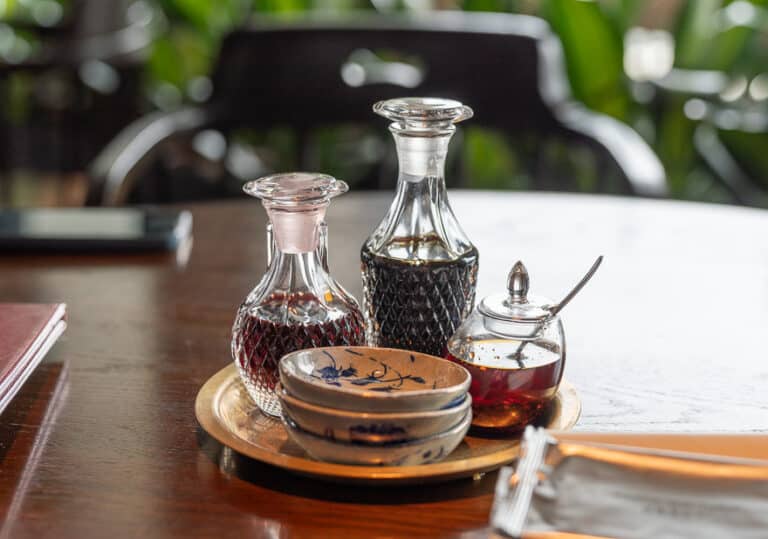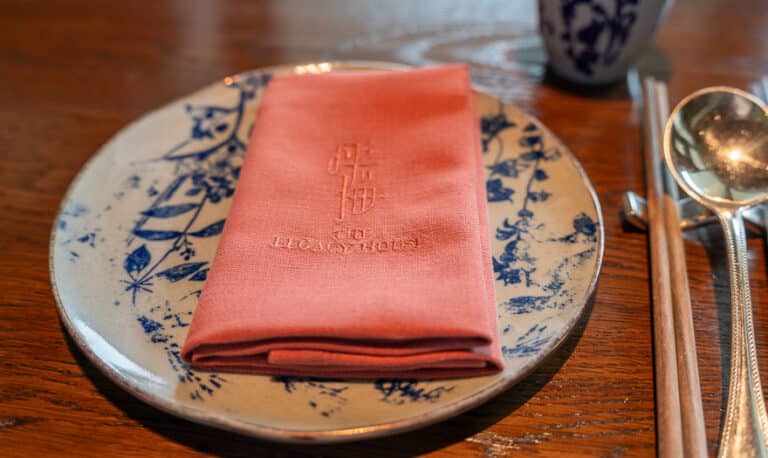 The meal started with a selection of steamed dumplings, including sophisticated ingredients such as sea cucumber and matsutake mushrooms.
Next came an exquisite soup of minced fish, fungi, dried tangerine peel, ham and olive seed.
This was followed by an incredible dish of deep fried duck with taro, featuring some tiny and deliciously spicy chillies.
Next came the main course, which was almost evocative of Japanese curries, with a focus on bringing the delicate flavours of vegetables and goji berries to the forefront.
The final savoury course was a 'supreme soup' featuring steamed fish, pork and shrimp dumplings.
As if all this food wasn't enough, the meal concluded with a selection of superbly executed desserts, which sounded like they were going to be overly sweet but ended up being perhaps the highlight of the entire meal: black sesame roll, fried milk roll and white sugar pudding.
This meal was truly extraordinary in every way and having paid a similar price for terrible service, a poor atmosphere and mediocre food, for lunch at Mott 32 – I can emphatically recommend escaping Central and coming here instead!
---
Rosewood Hong Kong Facilities
---
Of course, all this food and drink would secure us a one way ticket to the bariatric ward, were it not balanced by the wonderful wellness facilities on offer at this property.
Indeed, it's abundantly clear that the focus here has been on creating a city resort, rather than just another HK skyscraper hotel.
Rosewood Hong Kong Asaya Spa
What's most impressive about the facilities at Rosewood Hong Kong is that there is an entire sprawling floor dedicated to wellness. As soon as you step out of the lifts here, you are greeted by an entirely different design aesthetic to the rest of the property.
The spa is the only one to be awarded a 5* Forbes rating in all of Hong Kong, something which the property is understandably very proud of.
The retail space here is absolutely huge too, offering a selection which compares only to the dizzying area of products at Joali Being in the Maldives.
What's particularly interesting is how the treatment rooms are located through a private outdoor garden, to really give a sense of separation between them and the chaos of the city outside.
The whole time that we were walking around the spa, it was impossible to tell that we were in a major city.
There are even rooms located on this floor, dubbed Asaya Houses, for those that want complete immersion in this space.
Asaya Kitchen
Although this would usually belong in the food and drink section of the review, it's worth noting that the wellness floor has its own restaurant, separate from all the others at the hotel. It also seems to be extremely popular with locals.
Although the focus of the menu is firmly on wellness, I can imagine that the bar area still becomes quite lively on sunny days!
Since our visit to Hong Kong coincided with some very windy weather, the main dining room just behind the pool didn't get much use. On a sunny day though, enjoying lunch just a few feet from the pool would be very convenient indeed.
Rosewood Hong Kong Pool
Speaking of the pool, Rosewood Hong Kong's offering is a real stunner. An infinity edged masterpiece offering expansive view of Hong Kong island.
The sun loungers are well spaced, thickly padded and feature fitted towels as well as large individual side tables.
In addition to the row of loungers along the water's edge and the added seating in the dining room, there's also an additional lounging space at the far end of the pool.
I just wish it hadn't been so windy during our stay, so that we could have enjoyed a quick dip!
Rosewood Hong Kong Gym
For me personally, one of the most important aspects of a luxury hotel stay is a proper gym. Going to the gym is part of my every day routine and I love upgrading this aspect of my life with new and varied equipment, great views and no crowding.
Thankfully it seems that Rosewood Hong Kong well and truly got the memo on this!
Those that enjoy cardio are more than covered by a huge array of machines facing out towards the water.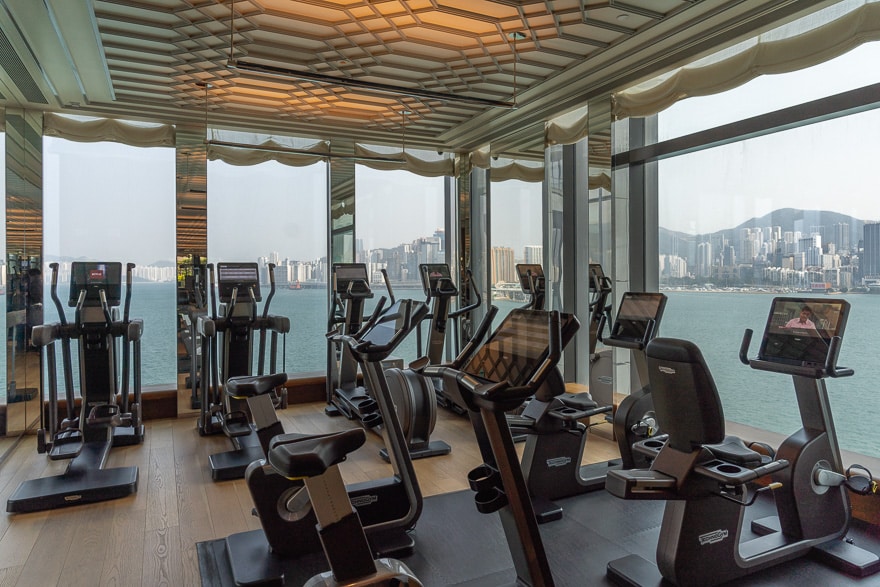 In terms of weights, there is a smith machine and a cable crossover (with full stacks, not those ones that top out at 25kg).
Dumbbells go to 30kg which is better than average but still not close to bothering the 50kg monsters at Four Seasons Geneva, for example.
Unfortunately since this is a Technogym fit out, there were plenty of superfluous machines too. All of which could have been replaced by better and cheaper Hammer Strength equivalents (or just an additional cable crossover).
I can't stand the pseudo cable crossovers from Technogym. Low resistance, useless planes of motion, compromised adjustability, limited attachments…and about 3x the price of a proper cable crossover.
Great commission for the Technogym salesperson though.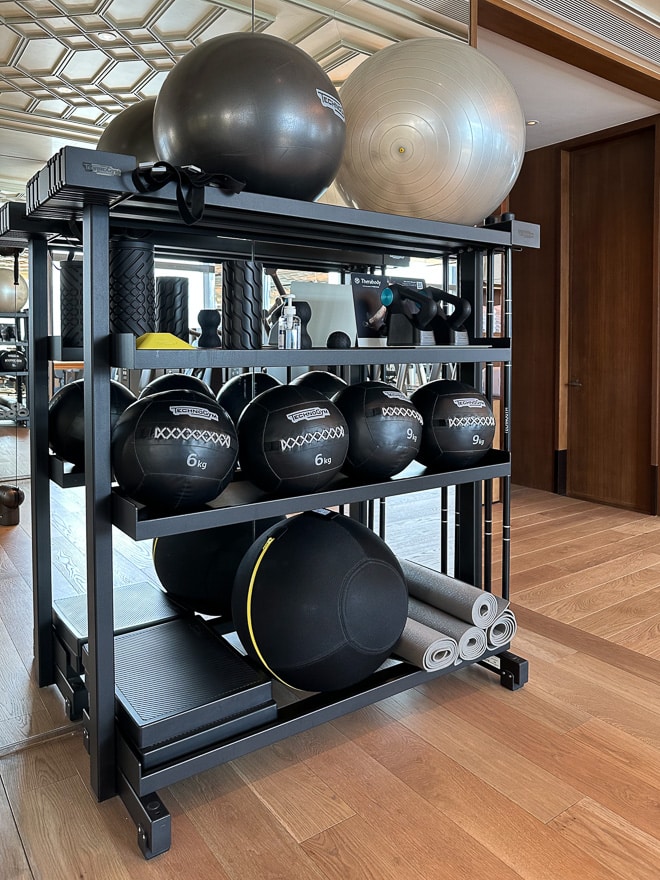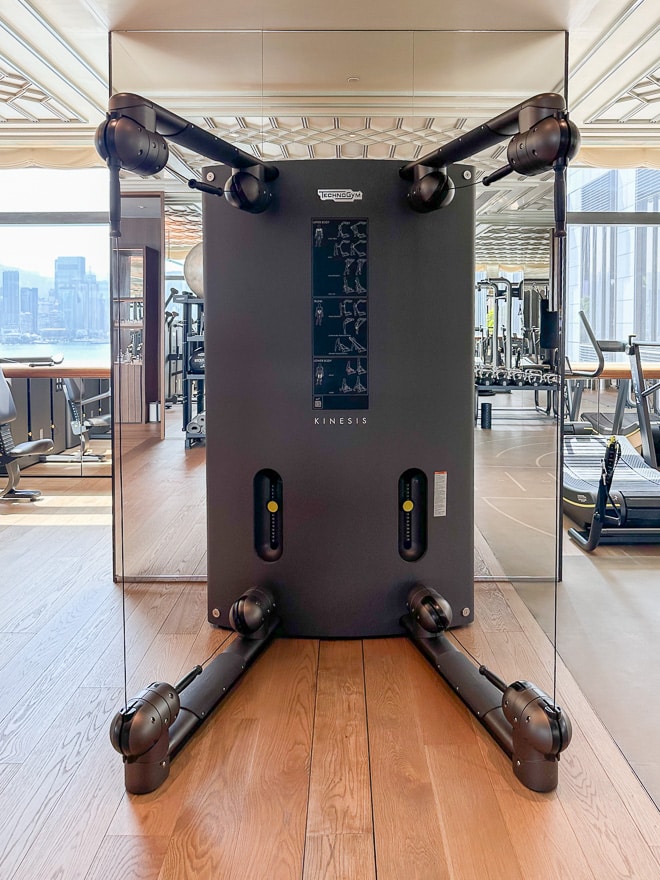 At the far end of the gym was an open space where you could use kettlebells, ropes and other functional training equipment. There was also a row of skillmills, which are actually pretty cool, since you can perform sprints and simulated sled drags on them.
I also couldn't help noticing that the ceiling was an enlarged replica of one of the walls inside our suite. I love seeing little touches of continuity like this, dotted around properties.
---
Conclusion
---
Basics Checklist
☑︎ Power sockets near the bed
☑︎ Easy to understand light switches
☑︎ Coffee machine
☑︎ Separate shower and bath (and steam shower!)
☑︎ Blackout blinds
☑︎ Stable, fast and free Wifi
☑︎ Feather pillows
☑︎ Quiet and powerful aircon
I had high hopes for my first ever stay at a Rosewood hotel and it's safe to say that these were very much exceeded!
The room hardware is up there with the very best I've ever seen, like a slightly more restrained and elegant version of The Reverie in Saigon. The views from our suite were also beyond spectacular.
Service was on the level of the very best city hotels that I've ever experienced: we were addressed by name by all staff, at all times; tea was brought to us late at night with two managers coming to deliver an apology for the prior lack of decaf options. Most amazing of all was when we found ourselves in a local restaurant that accepted Octopus but not Apple Pay, a member of the Manor Club team came all the way to the restaurant to meet us, bringing cash along so that he could purchase an Octopus card on our behalf and then charge this to our room….incredible.
The hotel also has an absolutely astonishing number of extremely high level food and beverage outlets. You can see why this hotel did so well during the pandemic, it's effectively got the footprint and facilities of a fully fledged resort, in the middle of a city. In many ways this reminded me of our stay at Capella and Four Seasons in Bangkok.
If you're only in town for a day or two, especially if this is your first visit, then perhaps you'd be better served by a property that has less to offer. Honestly a key 'problem' that we faced here is that we had to really drag ourselves away to explore the city. Any moment spent outside of the hotel seemed like a waste because being on property is just that good.
As far as criticisms go, that's hardly a damning indictment and honestly I struggle to take issue with anything else here.
FINAL CONCLUSION: Only stay at Rosewood Hong Kong if you're prepared to be so blown away that you cancel any plans that you may have had outside the hotel.
---
Book Rosewood Hong Kong with Rosewood Elite Benefits
---

Our clients are able to enjoy Rosewood Elite benefits when booking any Rosewood hotel through our agency.
GUARANTEED UPGRADE at the time of booking (at select Rosewood hotels, including Rosewood Hong Kong)
Complimentary Breakfast for two adults at Holts Cafe
Early check-in / late check-out subject to availability
$100 USD equivalent Food & Beverage & Spa credit to be utilized during stay
NOTE: Unlike rival programs like FHR, Virtuoso etc. Rosewood Elite benefits apply to all promotional and prepaid rates, as well as fully flexible standard rates.
Your booking will be made directly with Rosewood Hotels. However, since we manage the booking on your behalf, we are able to negotiate all the above extras for you.
Additionally, if you find a cheaper rate elsewhere, we can help to get the price matched AND STILL add the Rosewood Elite benefits to your booking!
EMAIL FOR FSPP BOOKING ENQUIRIES