Ritz Carlton
Location: Hong Kong
Loyalty Program: Marriott/ Ritz Carlton Rewards
Status During Stay: None
Room Type: Deluxe Harbour Room
Cost: 2,900 HKD for one night
---
Intro
---
Our layover in Hong Kong was due to take around 18 hours. Given that this is a city we've both visited multiple times we decided to pick The Ritz Carlton, with a view to spending the whole time there. Sure, with 18 hours you can run around like crazy trying to cram lots in but this is what I would classify as self defeating travel.
The Ritz Carlton is a true destination hotel: Spectacular views, opulent decor, a restaurant with two Michelin stars (and another with one), a destination bar, spectacular views and the world's highest swimming pool. If you're only here for one night, it would be a shame to leave.
The location is amazingly convenient, housed within the top floors of the ICC at Kowloon station, a quick and direct journey on the airport train. The ICC also houses the Elements Mall, which is home to hundreds of shops and restaurants.
The ICC as seen from Hong Kong island.
We were greeted by a bellhop and had our cases taken from us and tagged. Another employee then escorted us to the elevators and showed us to the main lobby on the 103rd floor.
Everything about the experience at The Ritz Carlton Hong Kong feels immensely solid and polished. Our check in took less than two minutes. Despite having no status at the time we were proactively upgraded to to a room with a partial harbour view. Much like our hotel in Tokyo, I was happy to pay for the upgrade if necessary as I knew it would be absolutely worth it, particularly as we were planning on spending all of our time at the hotel.
I had gotten in touch with the concierge beforehand to arrange reservations at Tin Lung Heen and Ozone bar; I can't say for sure if this factored into us being upgraded but I always feel that it makes sense to get in touch in advance, if you will be spending extra at the hotel. Whilst hotel cars are usually poor value, for example, a hotel car plus a complimentary upgrade can often be a decent deal. No guarantees of course, but this line of thinking has yet to let me down.
The extravagant decor didn't let up on the way to our room.

---
Deluxe Harbour View Room
---
Bedroom
The rooms at The Ritz Carlton Hong Kong are rather more understated than the public areas, I think they were right to go with more neutral tones here.

There are still quite a few cool touches, like the padded window seats, fantastically comfortable chairs and the Chinese screen features on the wall.

Despite only being a 'Partial harbour view room', the view was nothing short of jaw dropping.

The bed was ludicrously comfortable, like sleeping on a cotton cloud. Apposite given that we were at a height where its organic cousins could easily pop up against our window.

The reassuringly robust bedside tables, topped with a thick slab of black marble. Given the relative youth of the hotel I'm not sure why the controls are so dated, although I do prefer this to hotels where there's technology overload, where it can take an hour to figure out how to turn all the lights off.
Similarly, as an Englishman it's lovely to see one of our plug sockets but as an international traveller I'd rather see a universal power point.
Another small note: it's very nice of the RC to provide an iPod filled with a huge variety of music. However the music is only amplified by the small dock speaker rather than playing through an integrated speaker system as you'd expect in a hotel of this calibre.
The room featured a minibar area with a Nespresso machine and a selection of red and white wine glasses. The RC branded water was complimentary.

A selection of fine china plates, silver cutlery and even a serving slate (for those of us looking to emulate a tapas bar c. 2006).

Bathroom
The bathroom was a very decent size, with enough onyx, marble and limestone to boost Rio Tinto's share price.

Note towel beneath the twin vanities, so plush that it stands at nearly two foot tall when folded. Fantastic oshibori style presentation for the flannels too.

The deep soaking tub with integrated HDTV.

I love seeing little extra details like this waterproof bath pillow.

The rainfall shower (enormous shower head above not pictured). The water pressure on this was all the more impressive given the fact that this water had to be pumped up 110 floors!

Asprey amenities (as seen at Four Seasons in Hampshire), again a nice extra to have the body scrubber.

Even more amenities. I really dislike having to call for a toothbrush at a 5* hotel, thankfully in Asia this kind of amenity-box setup tends to be the norm.

---
118th Floor Pool
---
After settling into the room we headed up to the pool on the 118th floor. It occupies one half of the floor whilst Ozone bar occupies the other. If you want to see the sunset, you'll need access to the pool as the bar faces the other way.
As soon as I walked into the pool area my breath was taken away. It is a serene oasis of tranquility, nestled amongst the clouds. I've never been tempted to stay at the MBS in Singapore, just to use the pool. Here I can unequivocally state that the pool easily justifies the price of a night's stay.
Inside is the main lap pool, which has floor to ceiling windows running the entire length of HK Harbour. Spending as much time on planes as I do, it was strangely comforting being up here, seeing miniature life played out thousands of feet below…

After a couple of hours at the pool we got dressed and headed to Tin Lung Heen, the hotel's 2 Michelin star Chinese restaurant.
---
Tin Lung Heen restaurant
---
The restaurant is housed on the 102nd floor of the hotel and has been very cleverly designed to be viewed from the reception on the 103rd floor above. The decor managed to be both over the top and rather understated. I've never really seen anything like it before. This definitely isn't bling but it is also quite far from being subtle.

Descending the escalators to the 102nd floor.

The dark, brooding and shiny (another juxtaposition) lounge bar is straight ahead upon descending. This is far more my scene than Ozone bar, if you can live with being 16 floors lower, you'll get better views, less people and better service here. This is a place to come for a relaxing drink. Ozone is a place to 'go wild'.

Tin Lung Heen is on the right of the escalators.

We were warmly greeted upon arrival and immediately shown to our table. The service was impeccable throughout.

All the small touches you expect at a Michelin starred restaurant are here in abundance. A small banquette for K's handbag, sterling silver heater for the teapot, a fresh flower display on the table – even noting K was left handed and immediately re-arranging her place setting to reflect this.

We ordered a variety of dishes a la carte although numerous amuse bouches, palate cleansers and desserts were brought out free of charge, as tend to be the case when ordering a la carte at a place that features tasting menus.
The trio of barbecued meats was spectacular. The pork belly was an absolutely remarkable combinations of flavours and textures. The skin was intensely crispy; the fat, soft and creamy with the meat an intensely flavourful and tender base holding it all together.

Deep fried scallops with truffles and caviar. A dish of exceptional poise and quality. The intense smell of truffles reached our nostrils from the moment the waiter was within thirty paces of our table. The scallops were cooked to tender perfection.

Abalone with star anise and foie gras. Another perfectly cooked protein delicately counterbalancing a stronger flavour. The star anise made for an exciting and unexpected match to the foie.

I call this one, The Lady and The Fool.

We were given a small box of tea as a gift to take home. All too often you are given a small bag of pralines/ mignardises after a giant meal, when the last thing you want to do is eat more. I quite like the idea of giving tea instead.

---
Ozone Bar
---
We planned to have drinks at Ozone because we figured that being guests of the hotel would ensure better treatment. It is a very popular bar with tourists, backpackers etc. given its location so it can get very busy.

The decor is not to everybody's taste. It is like finding oneself within the neon caldera of space volcano, from the future.

Despite confirmation to the contrary earlier on, we found ourselves at an indoor table with no view of the outside. We enquired about moving to the terrace but were basically told that it was a free for all and that we were on our own.

I have to say though, the selection of G&Ts is amazing and quite reasonably priced (especially if you're used to the price of drinks in London). The generous bowl of cashews would have been hard to resist had we not just come from a rather large meal.

After half an hour or so we just decided to head outside and chance it (our 'hostess' assured us that she would let us know as soon as an outdoor space became available). As luck would have it, a couple of seats were available.

The view is very cool but as I mentioned earlier, the best view on this floor is to be found at the pool. If you want a front on view of the harbour, head to the bar on floor 102.

We ordered one more drink each and then headed back to the room, where we could pick our own music, enjoy a better view, more space and enforce a far stricter door policy.

After a wonderful sleep we woke up bright and early at around 5:30am, as I was deliriously excited at the prospect of visiting The Cathay Pacific Pier First Class lounge. We didn't get to experience breakfast at the property but I was quite impressed to see this area providing complimentary breakfast items in the 103rd floor reception area.

---
Conclusion
---
The Ritz Carlton is probably not the best location for a first time visitor to HK. It is easy to access from the Airport Express but a little tough to use as a base of operations for sightseeing.
For the return visitor on a short layover though, it is perfect. A self contained retreat from the busyness of both the airport and HK below. Thematically I would say it has a lot in common with the Park Hyatt Tokyo in that regard.
If you have an interest in hotels and want to see something quite special, this hotel is a good reason to visit Hong Kong. I've honestly not seen anything like it before.
---
Book The Ritz Carlton Hong Kong with STARS Benefits
---
STARS Booking
Pay the hotel's best available rate and ALSO receive:
Complimentary Breakfast for two.
$100 Hotel Credit.
Early Check-in/late Check-out (based on availability upon arrival).
Complimentary room upgrade (based on availability upon arrival).
Welcome amenity.
VIP status granted.
The Ritz Carlton HK can be booked directly online, with STARS benefits, by clicking the "BOOK NOW" image.
First time booking with us? Here's how to quickly get set up: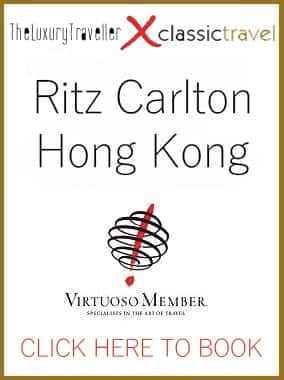 ---
Back to Bali
Part 1:

Part 2:

Part 3:

Part 4:

Part 5:

Part 6:

Part 7:

Part 8:

Part 9:

Part 10:

Part 11:

Part 12:

Part 13:

Part 14:

Part 15:

Part 16:

Part 17:

Part 18:

Part 19:

Part 20:

Part 21:

Part 22:

Part 23:

Part 24: