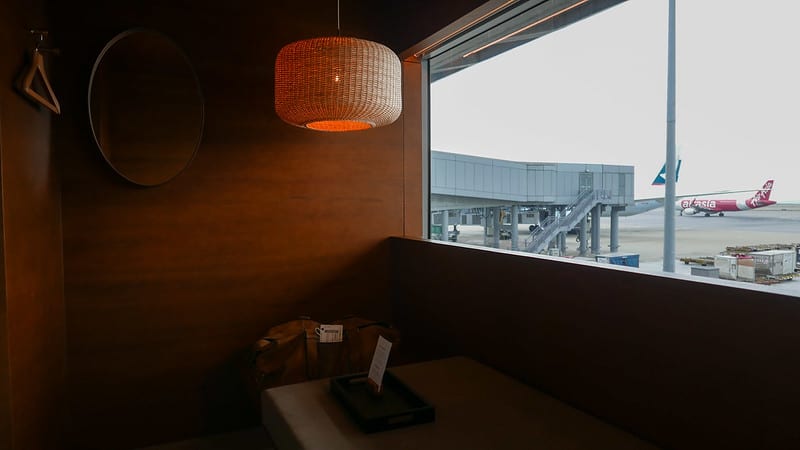 REVIEW – Cathay Pacific: The Pier First Class Lounge, HKG (Lunch service)
October 20, 2016
Super cheap First and Business fares thanks to Egyptian Pound devaluation
November 3, 2016
Cathay Pacific (CX)
Flight: CX 253
Class: First
From: Hong Kong (HKG)
To: London (LHR)
Duration: 13hr05
Aircraft: Boeing 777-300ER
Seat: 2A
Cost: Europe to Asia for 100k US Airways Miles in First

Full route: LHR-HND-HKG-CGK-NRT/HND-HKG-LHR

Date: October 2015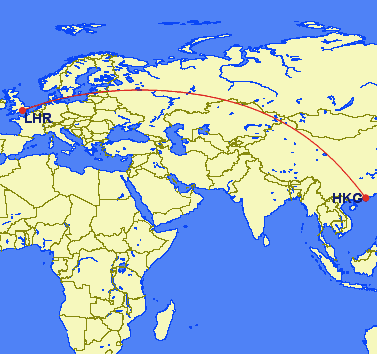 ---
I mentioned in the introduction to this entire Trip Report that this flight was more or less the raison d'etre for the trip as a whole. I had never flown Cathay First long-haul before and felt that this was a glaring omission in my 'repertoire'.
I had to fight for this flight. I had to fight for it HARD.
I was originally booked on CX 257, the 9am flight. For a couple of months I would blissfully go to the trips section of my Awardwallet and grin to myself as I saw the pieces for my trip coming together, with my Cathay First flight the crowning glory.
Then one morning I got a horrible, horrible email. There had been a schedule change. Strangely though, the schedule hadn't changed. I went to my MP account and checked the seatmap to see if this supposed schedule change had led to me losing my seat allocation.
Then I saw it, I was no longer in F, I was now in Business. The plane had been switched to a 3 class 777 with no F cabin.
I immediately called up AA to see what I could do. The first knee jerk response from the AAgent was to say that this was a US Airways award and that nothing could be done.
HUCA (Hang Up, Call Again)
I started this conversation by asking if AA now manages and is able to make changes to US awards. The agent said yes. I then explained that I had paid for an F cabin and been placed in J, I wanted F but there was no availability.
The AAgent said that I was basically SOL but to keep checking back regularly as award availability etc. etc. etc.
I asked if she could refer this case to an the OW alliance liaison and get CX to open up space. She laughed and said that I was basically making things up. I asked her to ask her supervisor as she may be aware of the process and would probably have spoken to a OW liaison as part of the AA and US merger.
I was put on hold for 30 minutes and greeted by a new voice on the phone. The supervisor said that she didn't have much hope for me but would plead my case. More than anything I think, because it would be easier to get CX to open up space than it would be to calculate a pro-rata refund for a single segment downgrade on a multi sector F award, issued by a different airline. I was told that the process could take a couple of weeks but she would call me back and let me know how things were going. I took her name and location and began the wait.
3 days later I got a call. It was the AA supervisor again, CX had opened up an F seat for me on my preferred option, the CX 253 flight (which actually had a much better timing as it would allow me to spend extra time in HK in the morning as well as giving me time to relax for much longer in The Pier).
I said that I was happy to be placed on this flight, thanked the supervisor profusely for her help and held on the line as she got the itinerary re-ticketed.
Result!
As the time came to finally head to the gate and get in line for CX253, excited doesn't come close to describing the overwhelming sense of anticipation that was washing over me.
I stood at the front of the F / DM line trying my best not to break out into a massive grin. A middle-aged businessman at the front of the Business Class line struck up a conversation with me, he had been to 14 countries in the last month and was keen to share his story. I was surprised to hear that he'd managed all that but wasn't OWE but thought he probably wouldn't appreciate me mentioning it! Shortly after hearing his story First Class boarding was called, I wished the businessman a good flight and did my best to hold back from skipping down the jetbridge.
My first impression of the cabin was great. I am instinctively programmed to expect 8 seats in an F cabin on the 777, this spacious, quiet and luxurious six seat cabin was quite shocking, in a very positive way. I definitely made the right call in selecting 2A. It is super private as the A side only features two seats, with a wall blocking the remaining four seats in the cabin. I also prefer being in row two as you are further from the galley and can see the whole cabin, which permits you to take shots like this:
After a couple of minutes, Chris returned with my PJs and upon spotting that my glass was empty, he immediately rushed to the galley and returned to offer me a top up.
Chris also brought over the menu before take-off (and offered a third refill of my Krug!)

Once the crew had been released, Chris came over to take my order. I had been given another menu earlier, showing a promotional tie in with the Mandarin Oriental. Thinking that this looked rather good, I asked if an MO could be held aside for me, as my second meal. Chris said that this should be fine as long as they weren't all snapped up by other pax as their first choice.
Meanwhile I ordered a combination of Western and Chinese options for Lunch.
Whilst Chris went to get the food, Josephine the cabin manager came over to introduce herself and also to warn me that there would perhaps be some strong turbulence in an hour's time. She also took the time to explain that we were delayed as a result of misconnecting pax having their bags offloaded.
After all of that I was quite ready to change into my PJs and get some sleep. I'm a big fan of this time slot, arriving into LHR from Asia in the late evening. If you take a small nap on the plane, you arrive home with enough time to unpack and then go straight to bed again. I don't have any trouble keeping my sleep time short on planes because I'm always so damned excited to be in the sky. Likewise, I have no trouble at all getting to sleep at home, when my body tells me that I've only had a short nap all day and it's now nearly 6am.
I woke up with around four hours to go until landing. I went to the bathroom and didn't see an FA in the fore galley, so I headed back to my seat and pressed the call button. Usually CX's FAs are razor sharp, they'll be at your seat before your finger even comes off the call button. This time though, I waited for a couple of minutes and… nothing. I waited five minutes and tried again. Still nothing. I went to the galley and saw one of the pilots coming out of the bathroom but no FA.
A minute later, a female FA rushed over and apologised profusely. She explained that she was the only FA in the F cabin at the moment, since her colleagues were now resting. She had been required to enter the cockpit whilst the pilot went to the bathroom as regulations required two people to be in the cockpit at all times.
I told her not to worry and said that I would love to get my second meal whenever she had a chance. She said that she would check to make sure that all the ingredients were still fresh. When she returned to set my table, she said that the soup didn't smell good so she didn't want to risk serving it to me. I told her not to worry, another helping of caviar would do me just fine. She asked if it would be ok to bring it without blinis as they had all dried up. I told her that all I needed was a spoon but I would be happy to take whatever garnishes she had!
The food was great but the service was not so good during this meal. The FA seemed to be in a rush and didn't explain what any of the dishes were, she would also bring the next dish as she came to clear the last. Worst of all though, she never once offered to top up my drink!
---
Conclusion
---
Cathay puts out an excellent First Class product. The ground handling is non-existent but The Pier in HKG is a beautiful facility. The fact that CX fits 6 seats into a space where other airlines place 8 is absolutely laudable and the result is a very spacious and comfortable product which short of having a closing door, is about as private as any you'll see in the sky.
The drinks list was very decent and of course, it is extremely hard to go wrong when your usual pour is Krug Grande Cuvee NV. The food was otherwise a little mixed but on the whole, quite good. I'd place this on a par with Thai and Singapore and below JAL and ANA.
The Aesop amenities are fantastic but the creams should either be larger or more numerous. The PYE PJs, eye mask and slippers are peerless, no other airline comes close to providing this level of comfort and sophistication in their sleepwear.
The service, on the whole, was absolutely excellent despite the slightly lacklustre service during the second meal.
CX is rightfully deserving of its status as a top tier airline and with its latest series of lounge refreshes, appears to be moving in the right direction. I am very excited to see what the next generation of seats will look like and am really looking forward to my upcoming flights, on the current generation of seats in the meantime.
---
Trip Report : Back to Bali
Part 1:

Part 2:

Part 3:

Part 4:

Part 5:

Part 6:

Part 7:

Part 8:

Part 9:

Part 10:

Part 11:

Part 12:

Part 13:

Part 14:

Part 15:

Part 16:

Part 17:

Part 18:

Part 19:

Part 20:

Part 21:

Part 22:

Part 23:

Part 24: